Sometimes you crave trips where you explore the mega-cities of Asia, where you tackle the challenge of bargaining at night markets or conquer the top of a mighty mountain. But sometimes you simply want to explore somewhere new, somewhere invigorating and welcoming, filled with delicious food and inviting pool parties … and all under the blazing sunshine.
Voila, let us introduce Palm Springs!
Arising from the Sonoran Desert in southern California like the best kind of oasis, this fabulous hangout of the Rat Pack in the 1950s and 60s embodies retro-chic and can still confer on visitors a hell of a good time.
While there's an increasingly hipster – fashionista crowd here, Palm Springs still very much has an open-to-everyone vibe that makes it expressly appealing for weary travelers looking to unravel. Perhaps that's because it's impossible to feel stressed when the sun shines 300 days a year?
The astonishing thing about Palm Springs is how wonderfully chilled it is. With the cerulean sky stretching endlessly above, time seems to slow down. Whether you want to hike, bike from coffee shop to coffee shop, cherish the midcentury architecture, or just lie by a pool, you'll be able to do that and leave all your worries behind.
Island time, without the island…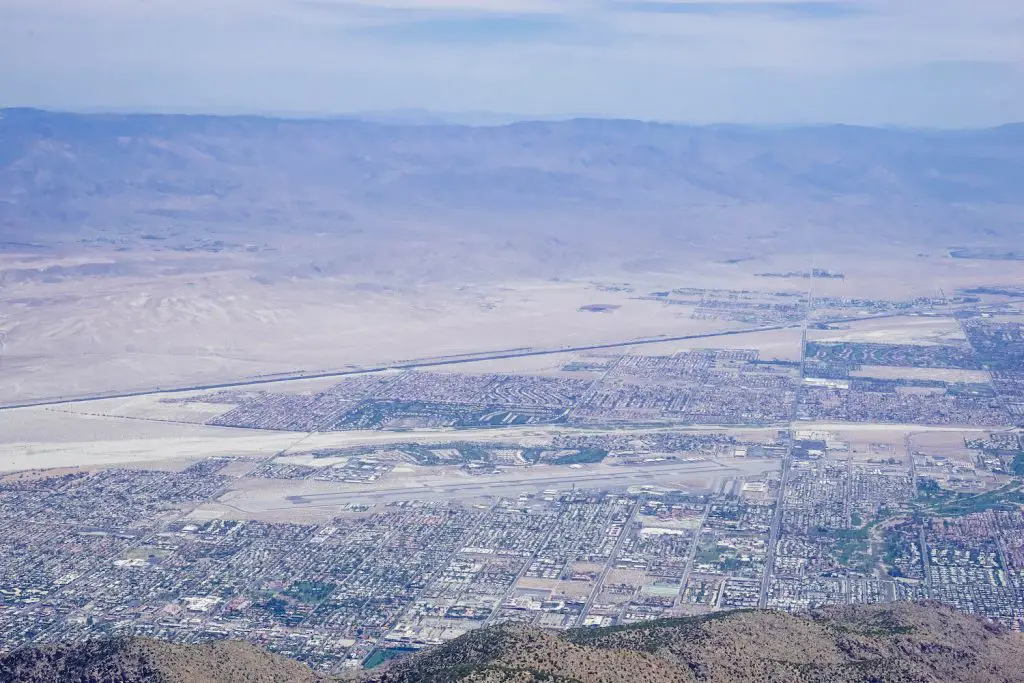 Palm Springs might have the reputation of being home to golf-playing retirees, but the contemporary resurgence means that it's bursting at the seams with fashionable and colorful hotels, restaurants, and shops. There's some truly great food to be eaten here, and we could easily spend the whole time going from restaurant to café to restaurant again.
But the place isn't without culture or art. After all, a city that hosts an 11-day event dedicated to midcentury architecture (Modernism Week) and is moments away from the Coachella Festival Ground has to have a great culture scene. It's also one of the more LGBT friendly cities in America with the highest concentration of same-sex couples in the country.
With such excellent credentials, now you won't be surprised that there are loads of unique things to do and the surrounding areas. But how should you fit them all in? With a long weekend in Palm Springs, of course, and thankfully we have put together a fabulous itinerary for Palm Springs in 3 days to make everything easy for you.
And if you are traveling as part of a more significant trip, and hiring a car, might we suggest stringing together a trip to Palm Springs with San Diego, Santa Monica and Las Vegas for the ultimate road trip.
You're welcome…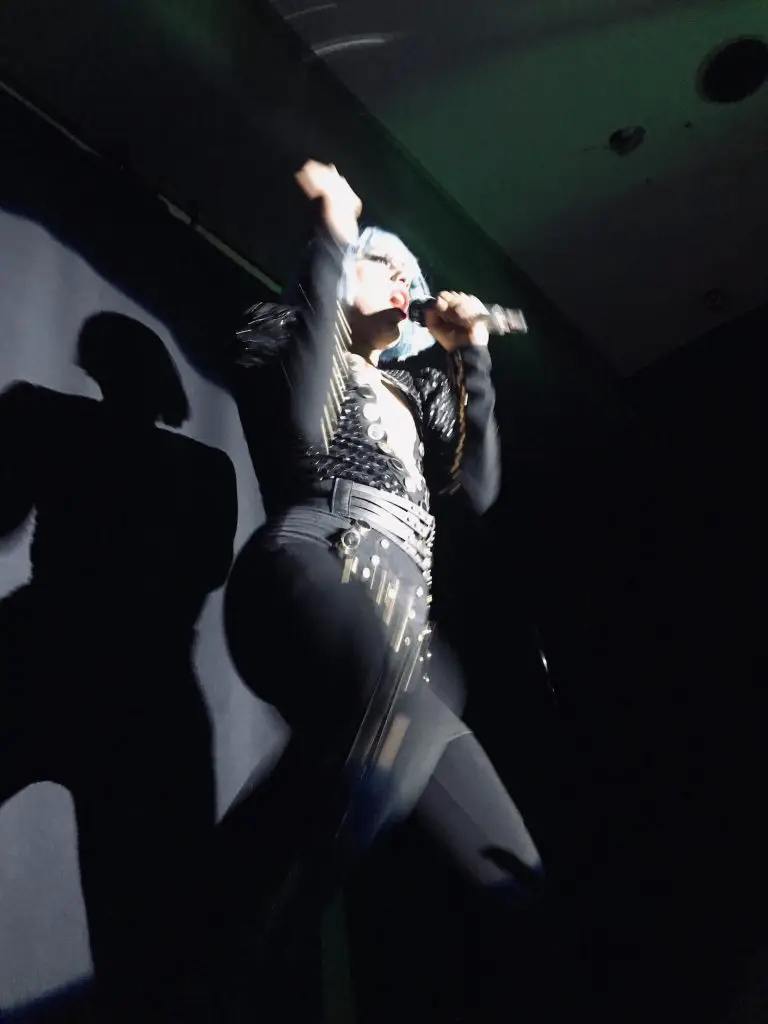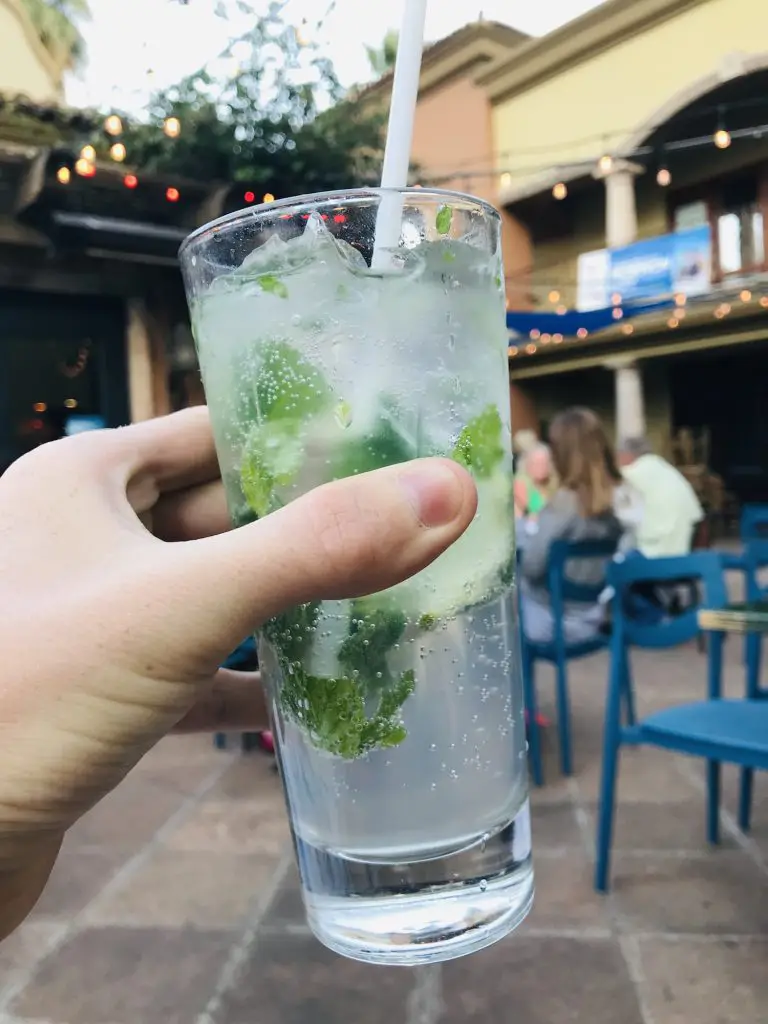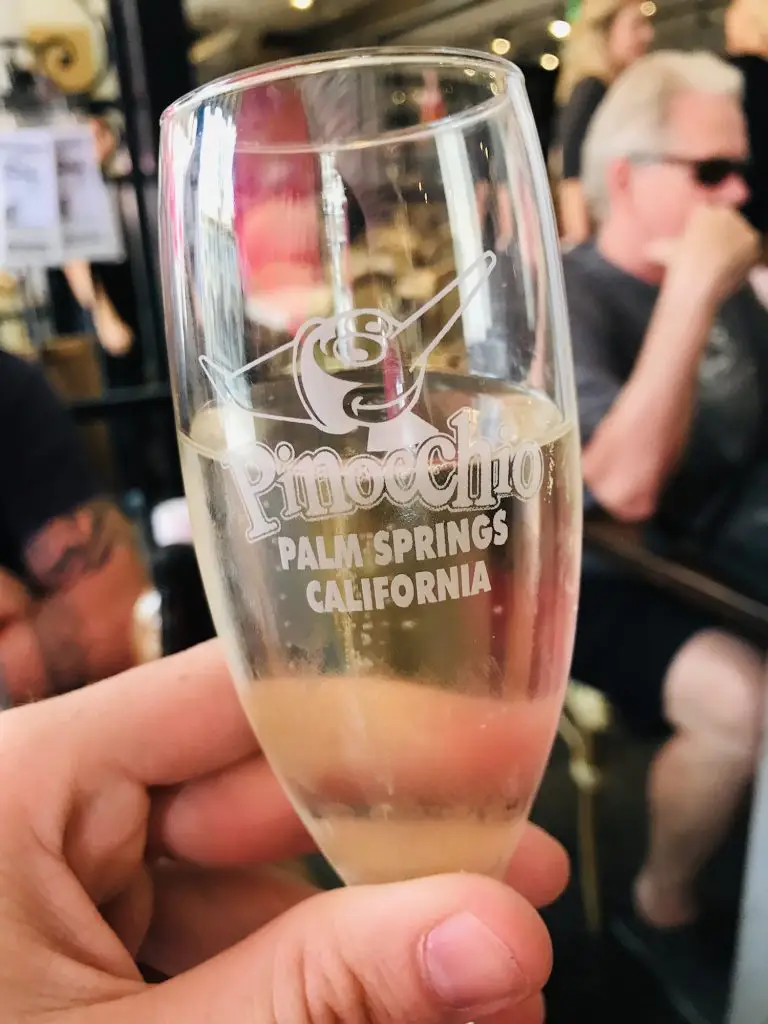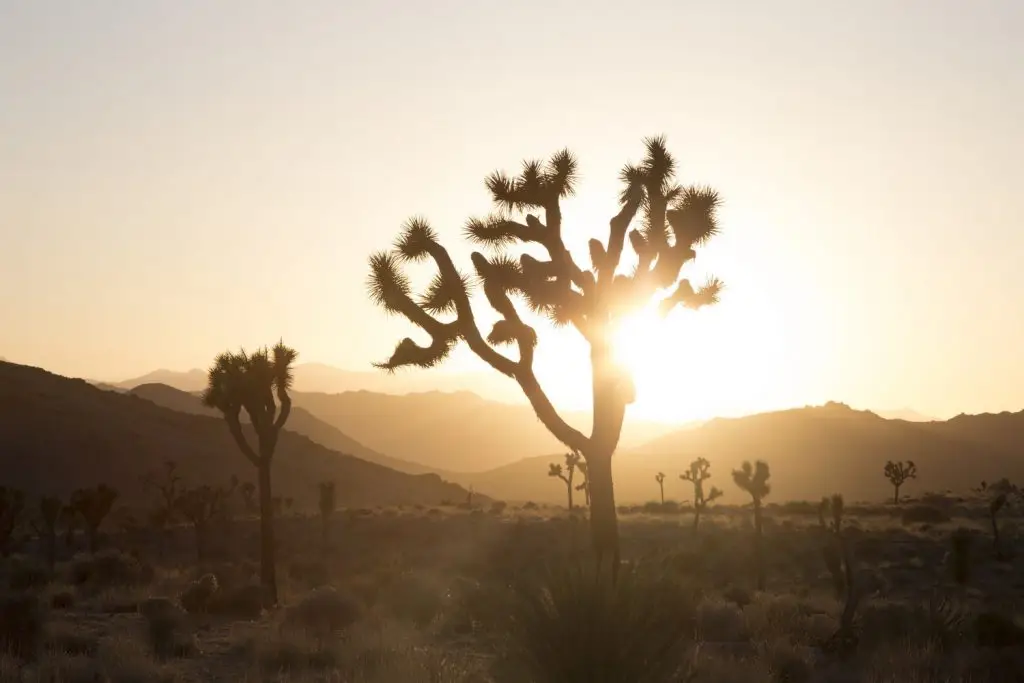 3 Days In Palm Springs: The Perfect Long Weekend Getaway! 🌴
Arrive in Fabulous Palm Springs
Recommended Host Hotel For Three Nights: Saguaro Palm Springs
Palm Springs is a Mecca for those who love the sun, heat, grand architecture, and healthy living. The Saguaro Palm Springs offers all of that with exceptional flashes of color and modern design.
The Saguaro captures the full color and modernity and palm springs in a neat hotel-sized package. Into the mix of careful curves and shaded walkways, add in excellent food available at two separate restaurants, and your preferred cocktail mixes available by the pool, and you have a winning formula.
The hotel features 245 guest rooms and also has facilities for daily yoga classes, morning and night. Expect a fully equipped room with TV's wireless internet and iPod Docking stations as well as 24-hour fitness facilities and a full-service spa.
Three days here will get you in the Palm Springs vibe and prepare you for further adventures into the desert. If you are not convinced we have ten reasons to stay at the Saguaro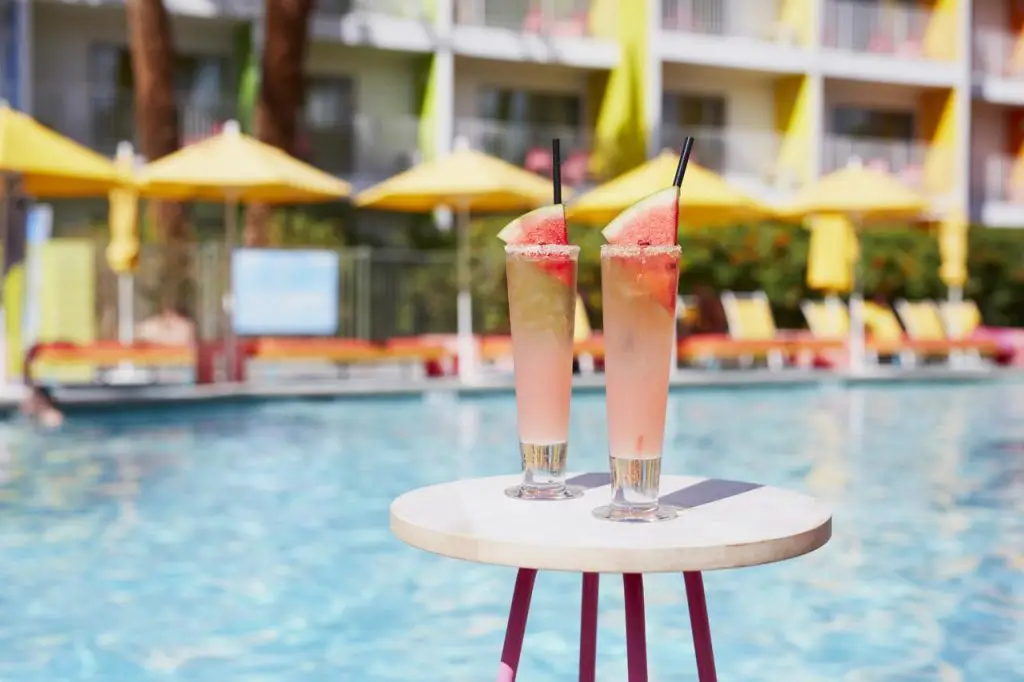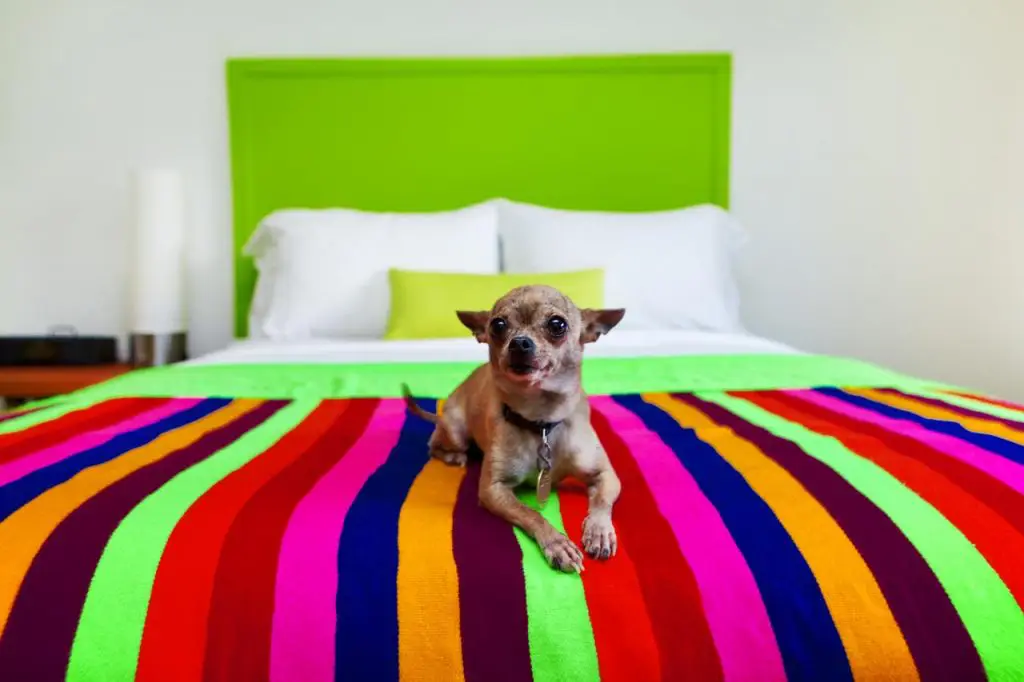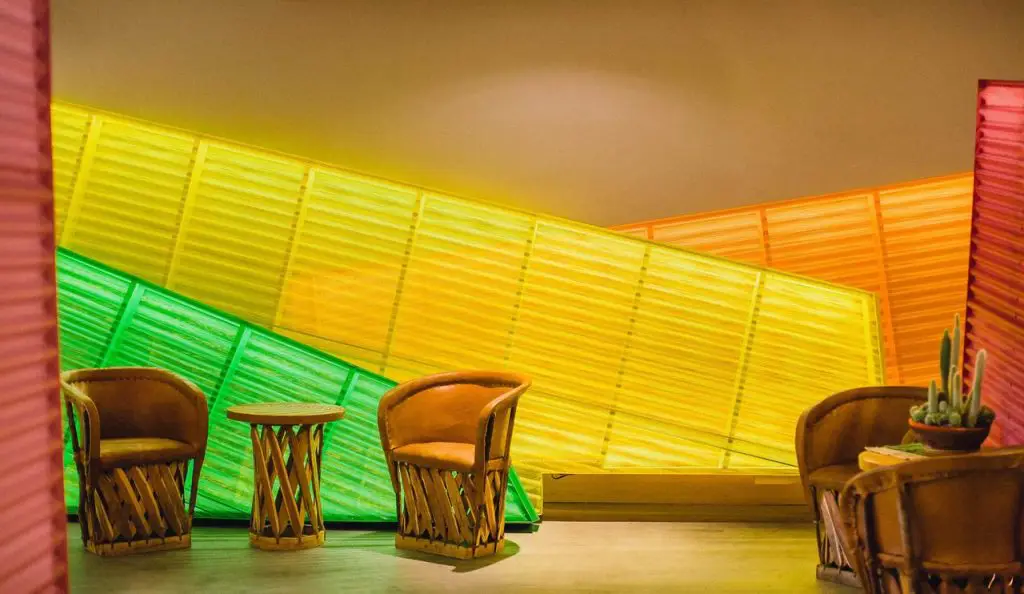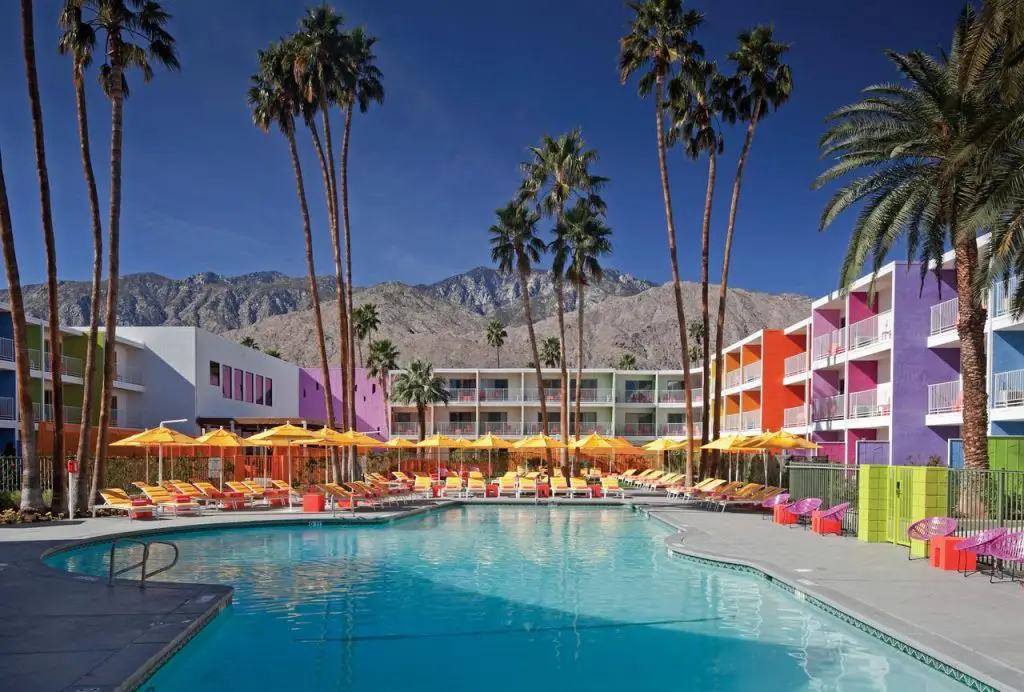 Pool Time & Dinner @ El Jefe
Chances are you'll be tired from your drive out from LA, or flight into Palm Springs airport, so now it is time to relax.
Grab a lounger and chill by the pool before heading the El Jefe for fast-flowing tequila alongside delicious Mexican street food. A rustic and chic spot without pretense conveniently located at the Saguaro Palm Springs – so you don't need to stress over leaving the resort tonight.
There is a daily Happy Hour from 3–6 pm with great drink specials, and Taco Tuesday + Taco Thursday specials since once a week is not enough! Enjoy their small-plates menu, which is extensive yet not overwhelming, filled with south-of-the-border delights that we enjoyed in Mexico City and Campeche.
Afterward, keep drinking, head out to explore the Palm Springs nightlife, or turn in early. The choice is yours!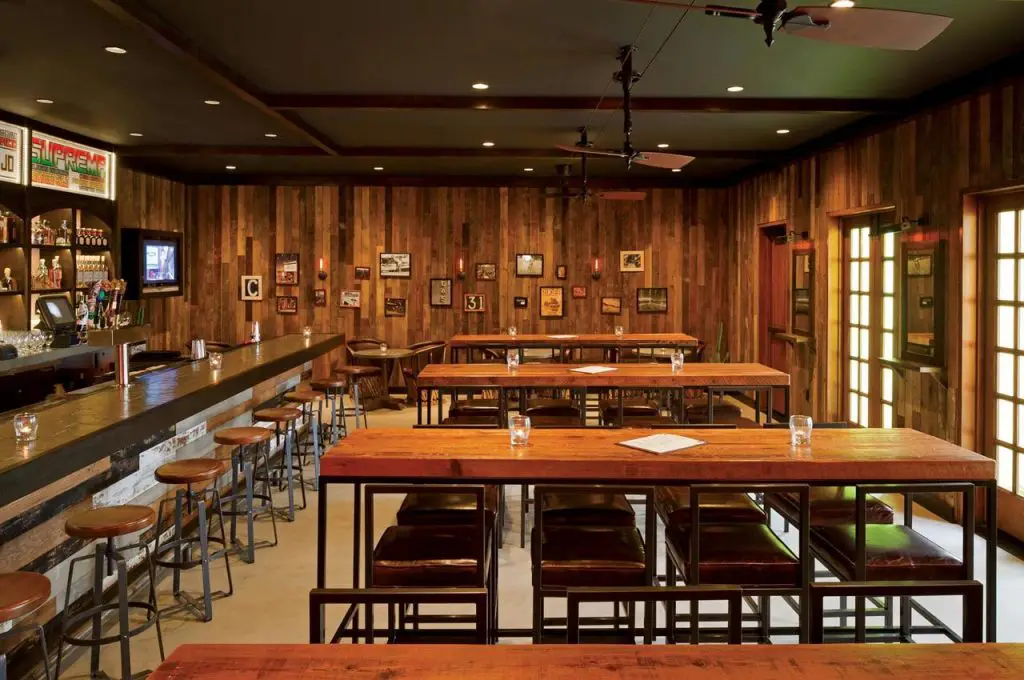 Day One In Palm Springs – Head Into The Iconic Desert

8:30 am – Desert Adventures Jeep Tour Of The San Andreas Fault
Desert Adventures Jeep Tour is the largest and most established outdoor and adventure and eco-tour company operating out of the California desert. As a result, there are a large number of different tour and adventure packages available.
If you're out on a group trip, there are a number of team-building adventure packages, or if you would like to learn more about the history and culture around San Andreas, you can opt for one of the slower options.
Whatever you choose, you will quickly find yourself immersed in the unique geology, flora and fauna of the vast and sweeping desert landscape.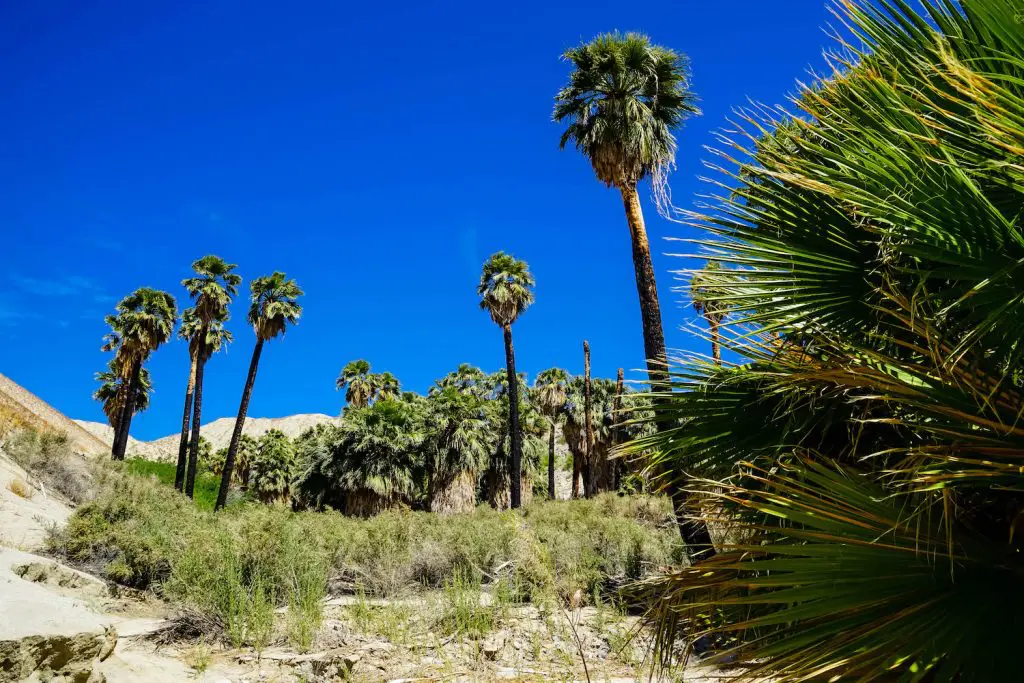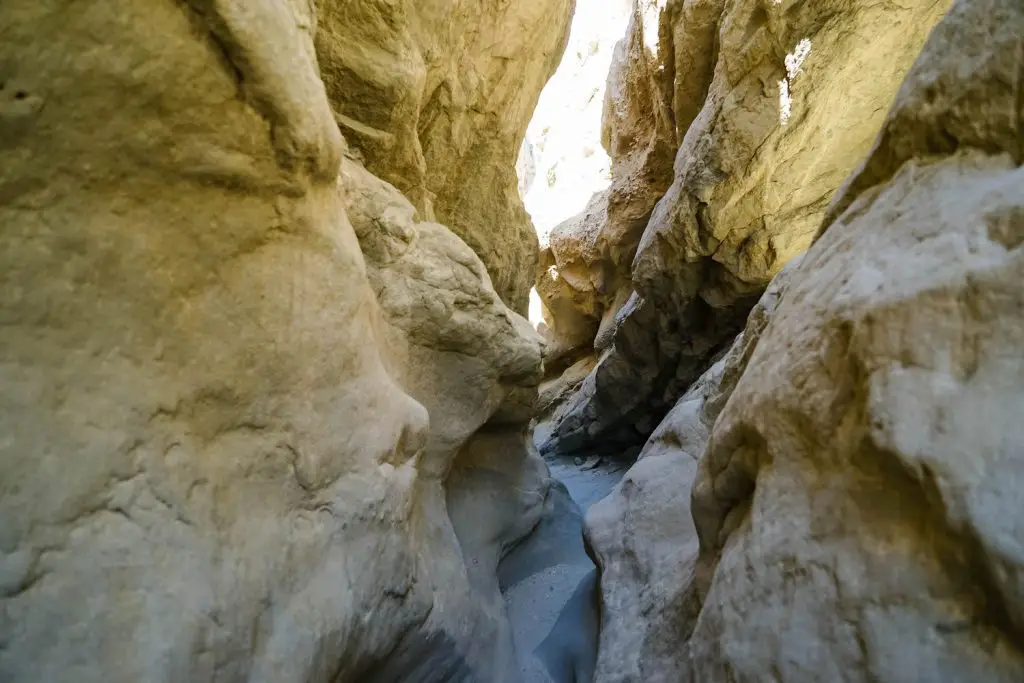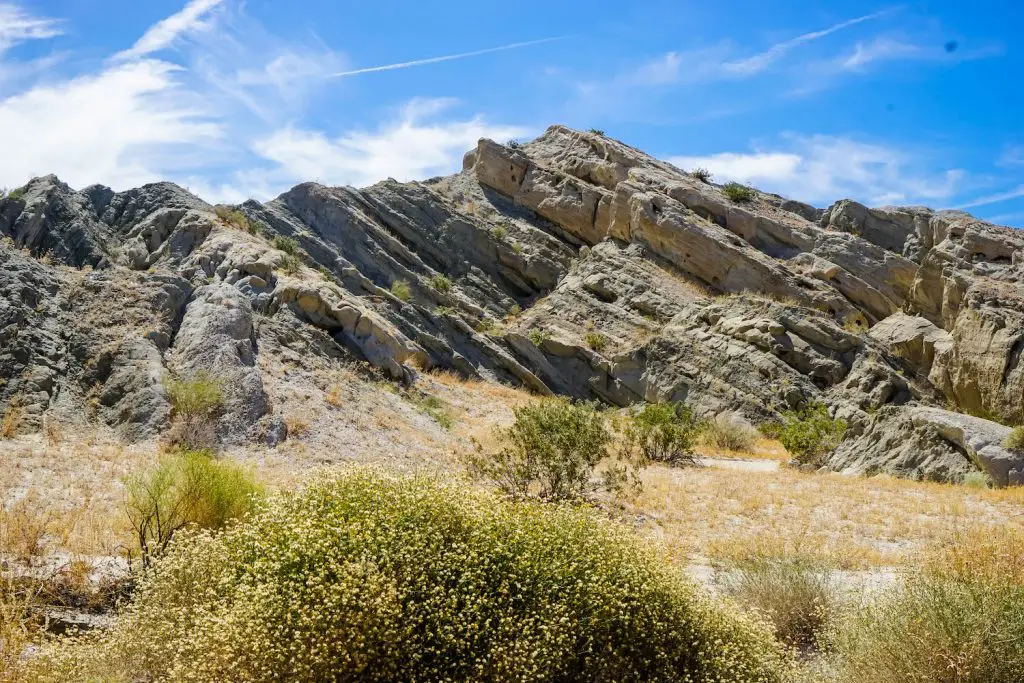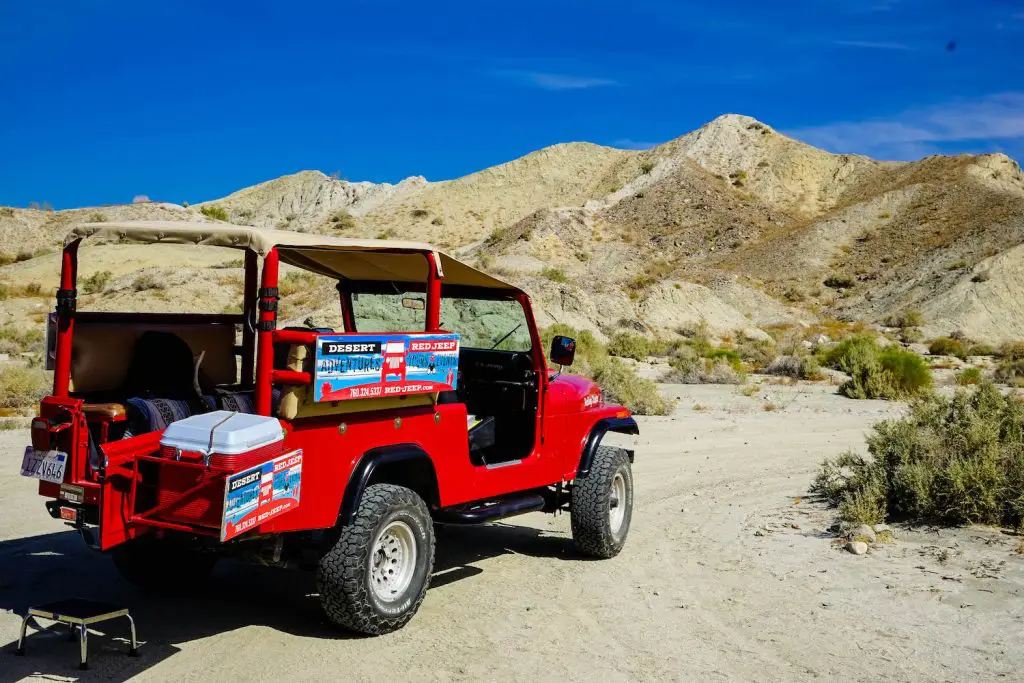 12:30 pm – Lunch @ BlackBook + Explore Arenas Road
This chic establishment is a great place to grab a burger and some tasty fries. The waiters are polite and attentive, and the quick bites here are delicious and will keep you going for the day as you make your way around Palm Springs. The outdoor seating is perfect for people watching, though sitting inside gives you a prime view of the happening bar.
While all of Palm Springs is exceedingly LGBT-friendly for the inexperienced, the biggest concentration of LGBT owned venues in Palm Springs is on E. Arenas Road around Blackbook, so if you have extra time why not explore a little.
There is so much to see and do here – by day or by night – we couldn't possibly list it all, but some of the highlights have to be BIKE Palm Springs Rentals is with affordable rates and fun itineraries you can recreate as a do-it-yourself tour – and don't miss popping into Krave and Kulture for some truly vibrant, out-of-this-world gay fashion choices.
There is also a video bar, piercing shop, Paino bar, fetish stores, nightclub, and more – plus plenty of annual rainbow community events that let everyone know that are welcome as they are 24/7.
The Arenas Road Gaybourhood has a fabulous feeling about it – and no list of unique things to do in Palm Springs would be complete without a visit here.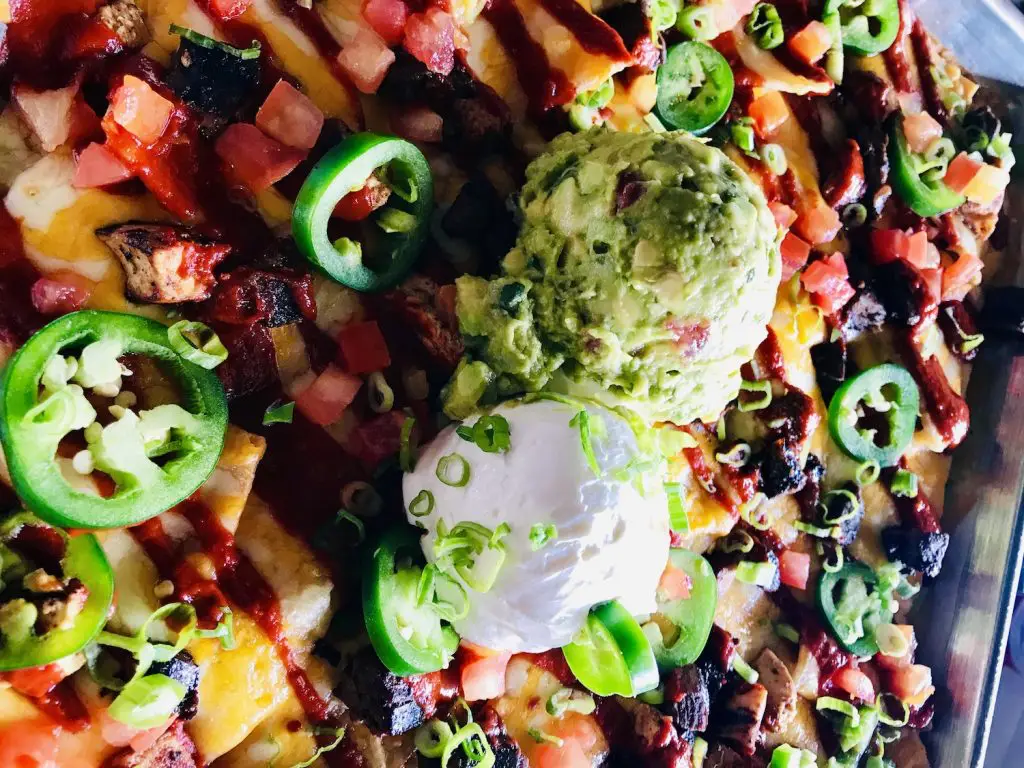 2:30 pm – Sake Tasting at Wabi Sabi Japan Living
Wabi-Sabi Japan Living is the incredible creation of Darrel Baum and Osamu Sagara. These guys love Japan and are hoping to show the countries cuisine in a completely new light. Here you'll be able to find exotic delights such as Shochu, a specialty Japanese distilled liquor famous for its sweet aromatic flavors.
Of course, Sake is available here, but the collection curated with intense care, and it's likely that the staff can help you explore and discover the new flavors. It's not quite the all-you-can-drink-sake-session we had in Tokyo, but we still have plenty of fun. Finally, there is a selection of Japanese beers that offer a different take on your favorite drink.
The taste experience here is all possible due to the creators Darrell and Osamu's passion for Japan, so if you want to learn more about the country and the drinks, feel free to ask the staff. They take annual trips back to Tokyo, Osaka, Nasu and the likes to ensure their selection remains relevant and of the highest quality.
Ultimately Wabi-Sabi Japan living aims to be a little home for Japanese culture in Palm Springs, CA. And we think they have achieved that.
Afterward, explore the Palm Springs downtown more – or head back for cocktails by the pool.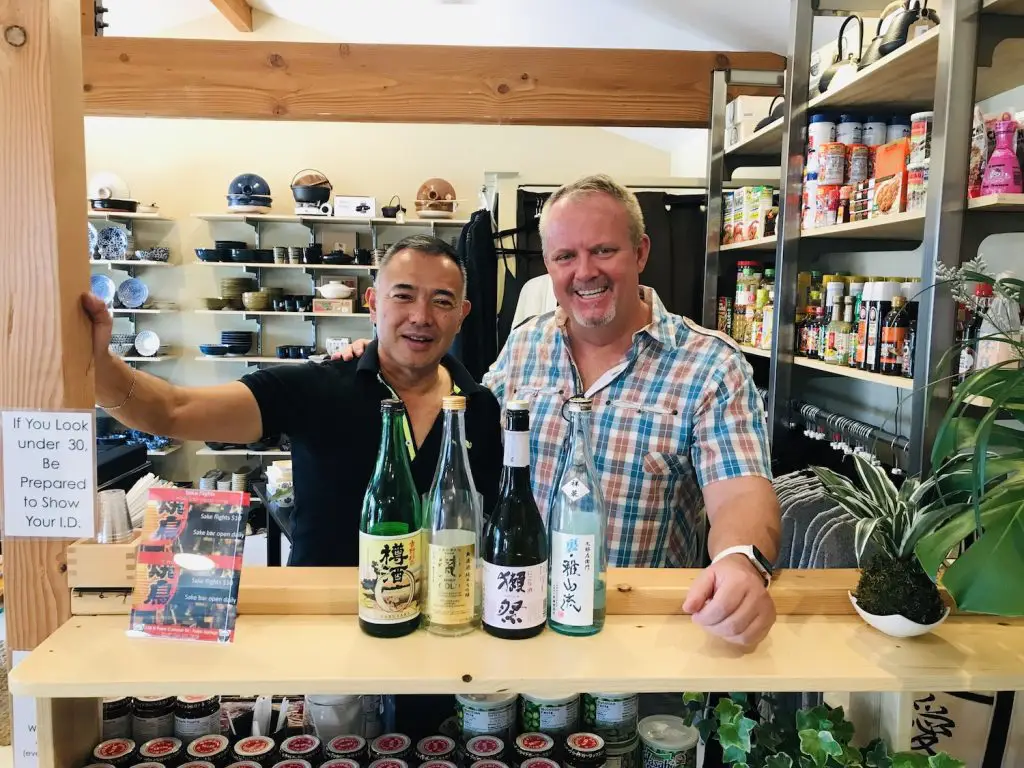 7:00 pm – Dinner @ EightFourNine
A great dinner in the Uptown Design District is found in the refined but homely EIGHT4NINE restaurant.
This new establishment uses classical farmhouse tables paired with clean and modern chairs to blend luxury with warmth creating a comfortable atmosphere that is the perfect base for chef Chuck Courtney's unique cuisine. The restaurant also features a spacious lounge area which mixes Louis XIV ghost chairs with a bold and brilliant backlit Onyx black bar.
The Lounge is the place to find fine wines and fruity cocktail blends, as well as an all-day reasonably priced menu offering lighter bites. The main menu aims to celebrate modern American cuisine through both presentation and taste. There is a four-course set menu available for $48.
The main portions are all generous and are set off by the unique surroundings. Each meal is crafted beautifully in its own right, and you should expect to be amazed by Chef Courtney's incredible concoctions. There is both inside and outside dining available.
Head to the patio to sit alongside an incredible collection of sculptures and with views out on the marvelous San Jacinto mountains.
Afterward, you can opt to explore the nightlife of Palm Springs or return back with a full stomach for a much-deserved sleep.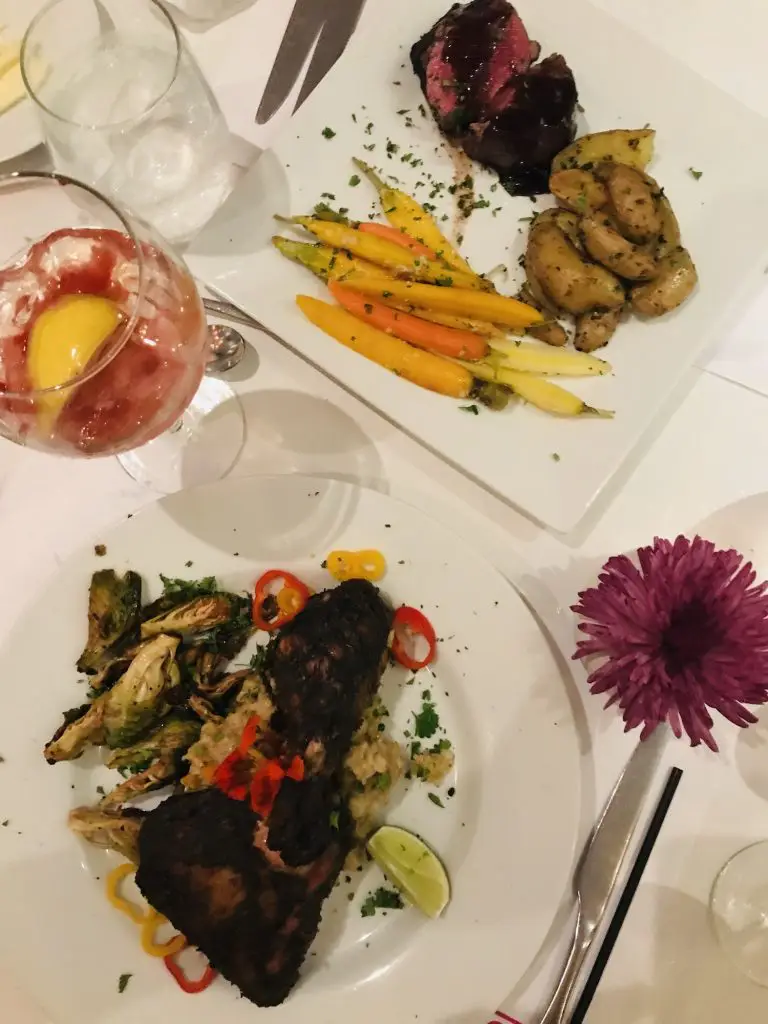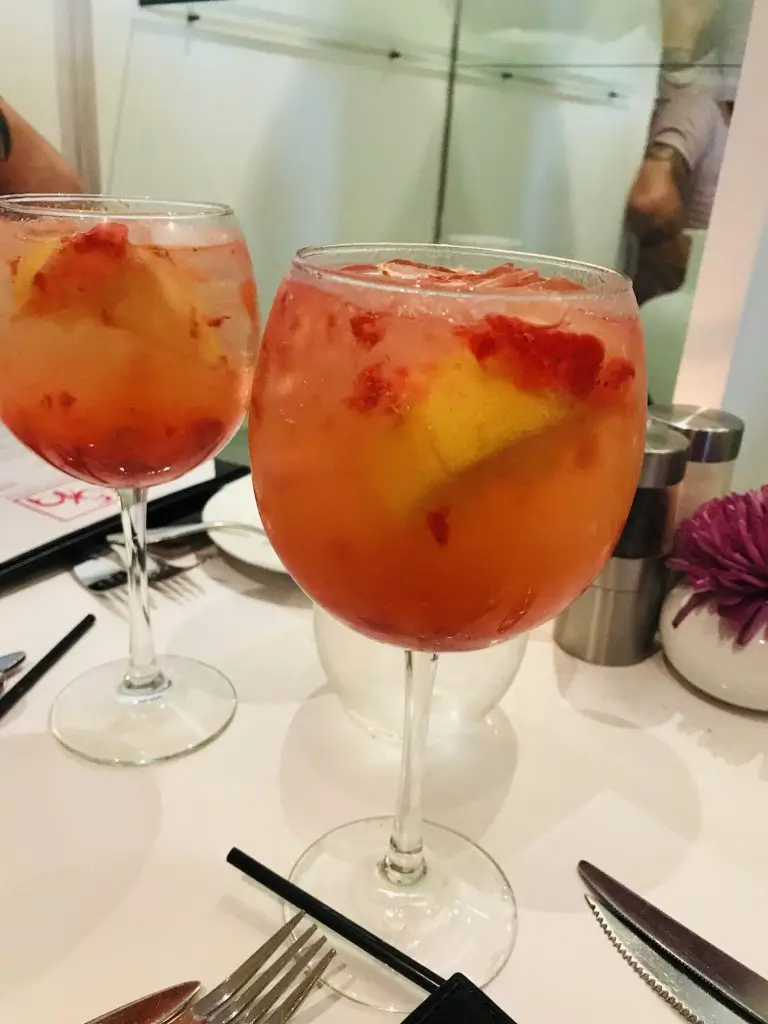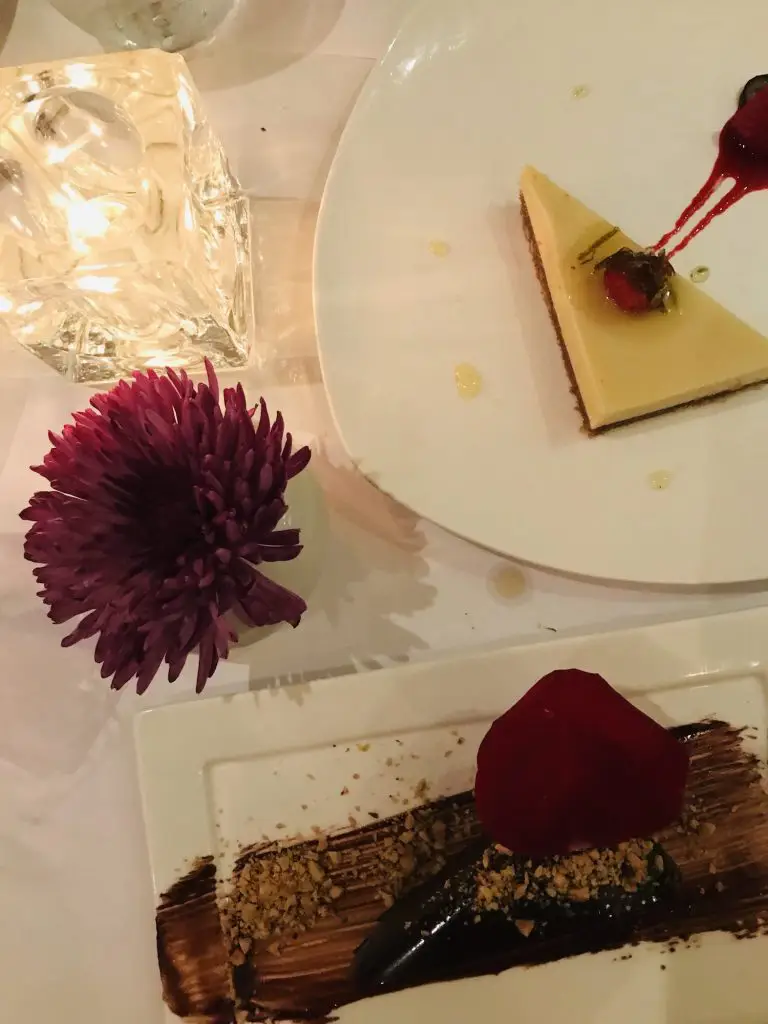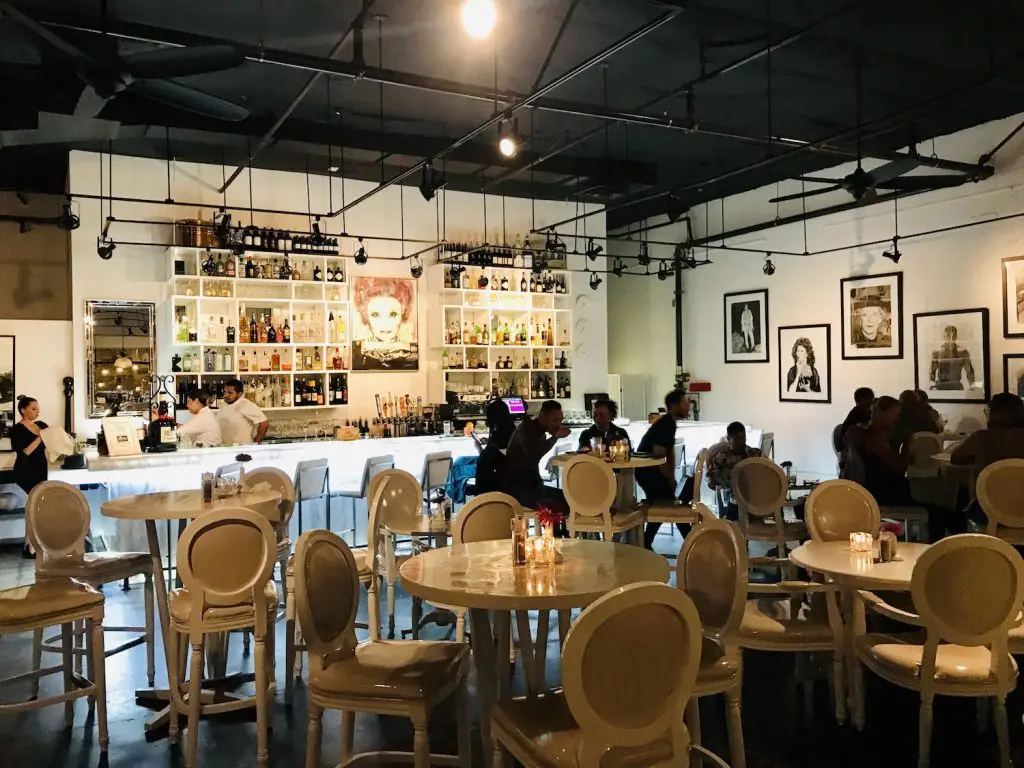 Day Two In Palm Springs – Up That Gorgeous Mountain…
8:30 am – Breakfast @ Pinocchio in the Desert
Pinocchio's will ensure that you have a big start to your day with American classics served in healthy-sized portions. If you're looking to really enjoy the day, you could go for their bottomless champagne options. However, if you need the bump start of coffee to get you moving, they have that too.
Fun, hip, and affordable – this is the perfect place to recover from a hangover—the hair of the dog and all that. The bottomless champagne is the famous go-to for most clientele, but we loved the fishbowl Bloody Mary's combined with lobster benedict!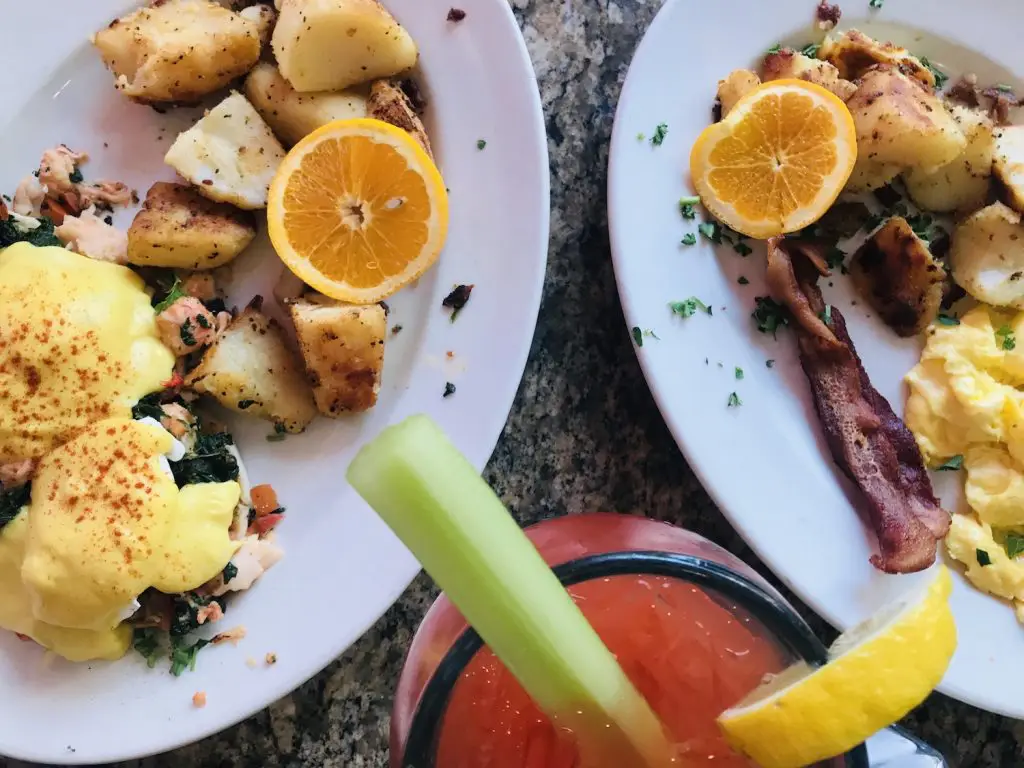 10:00 am- The Palm Springs Aerial Tramway
Chino Canyon is the site of the world's largest rotating tramcar, the Palm Springs Aerial Tramway. The journey starts, as with all things in Palm Springs, with walking through great architecture at the base station. You'll then soon find yourself drifting up the 1700 meters to the mountain station.
The journey takes just under thirteen minutes, which you'll be whizzing past the valley sides and through a range of different temperature regions. Keep your eye out for the endangered Big Horn Sheep that lives in the region. When you reach the top, make sure that you've brought a jacket as you're now standing at a remarkable 2,500 meters, and the temperatures here can be a lot colder.
There is an observation point from which to admire the view at the Mountain Station, an architectural marvel built at the top of the valley. Alternatively, head to the restaurant or cafeteria where you'll be able to find food or the lounge bar that overlooks the entirety of Palm Springs laid out on the desert floor below.
Finally, if you're looking for some adventure and exercise after admiring the view, you can head out on the 50 miles of hiking trails, but it's best to plan your root ahead to avoid getting lost and so you can make the most of your time on the mountain.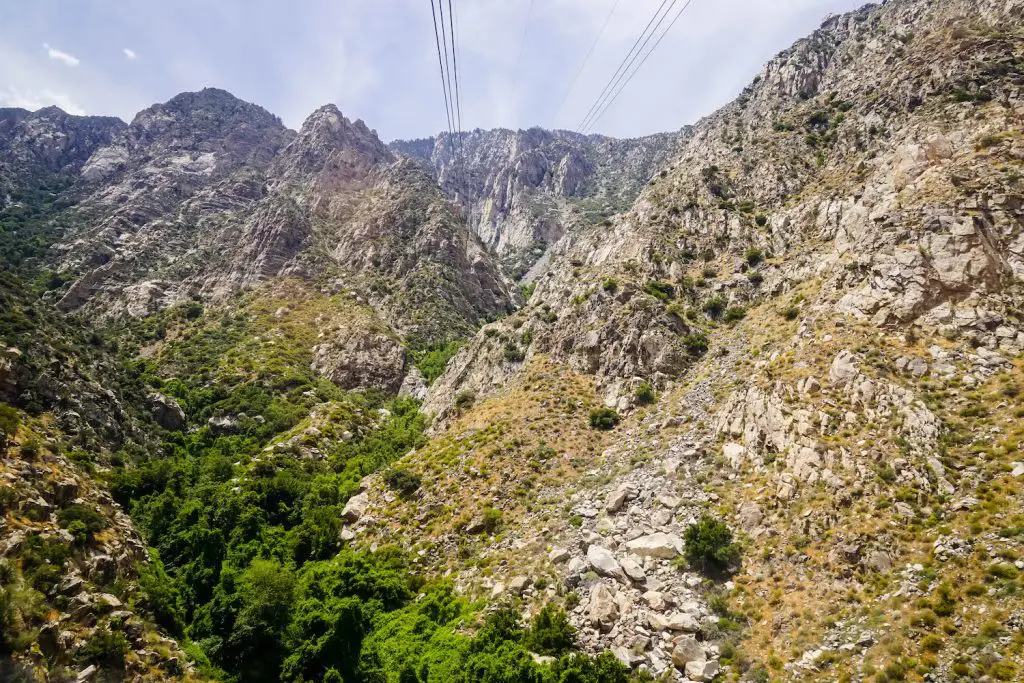 2:00 pm – Lunch @ Trio Palm Springs
You'll find chic modernish at Trio Palm Springs. The staff knows all the best combinations are happy to help you pair your wine with your starter or a main with a great dessert. The food is here is elegantly crafted and well presented with great meat and fish options served with dazzling glazes and marinades.
Whilst you're waiting for your meal, it is worth taking a look around at the incredible art on display, all of which makes dining at the tri palm springs a complete sensory experience.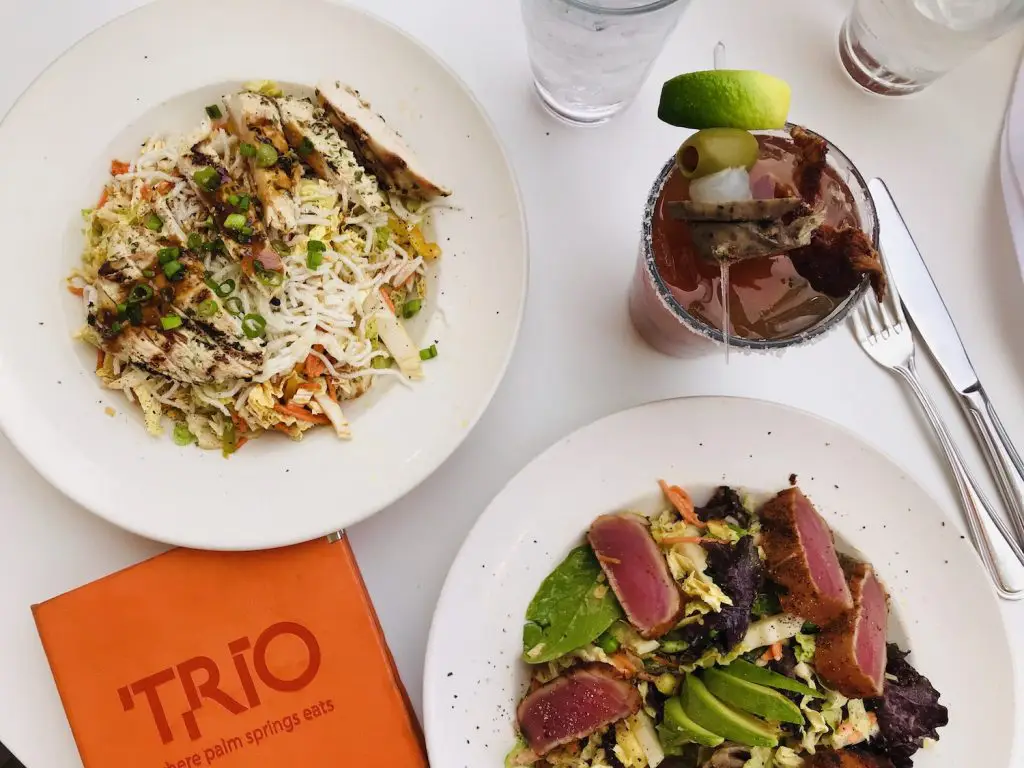 3:30 pm – Escape Room Palm Springs
If you're not familiar, the concept is both simple and surprisingly fun. As a group, you enter a room, and you have 60 minutes to solve a range of clues to get out. All escape rooms have different themes, and the activities may include finding and using objects within the room, as well as solving riddles and answering questions.
At the Escape Rooms in Palm Springs, there are six award-winning games to choose from, and the Palm Springs Escape Room is rated one of the top things to do in all of Southern California.
Trust us. We questioned if this would be a good idea as well, but had the best time – loved the challenge and bonding experience. Whether you are heading as a couple or larger group, the team here can suggest the best room for you to test your skills at!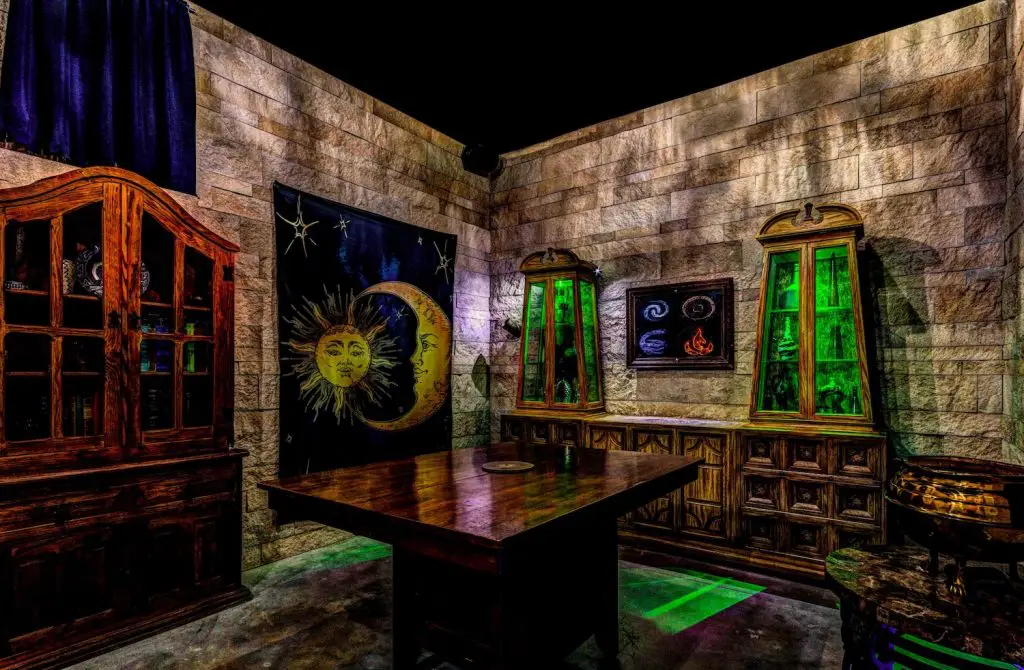 7:00 pm – Dinner And Show @ Oscar's Cabaret
Palm Springs longest-running show since The Follies, Oscar's Cabaret is a world-class celebrity female impersonation dinner-show, starring the world's most famous female. We have seen some pretty amazing drag shows in Providence, Washington DC and Montreal, and can promise you the acts at Oscars are up there with the best of them…
Every Friday and Saturday night, you will find the world-famous James 'Gypsy' Haake! Sit in and grab a cocktail for the exceptional celebrity impersonation show and see how long it takes you to guess the character. Food and drinks are served from 6.30 pm with the show starting at 8 pm, which makes Oscar's a great evening of entertainment.
Can't time your visit for a Friday or Saturday? They have a fantastic tea party LGBT dance on Sunday afternoons and comedy shows and other events throughout the week that draws in a crowd.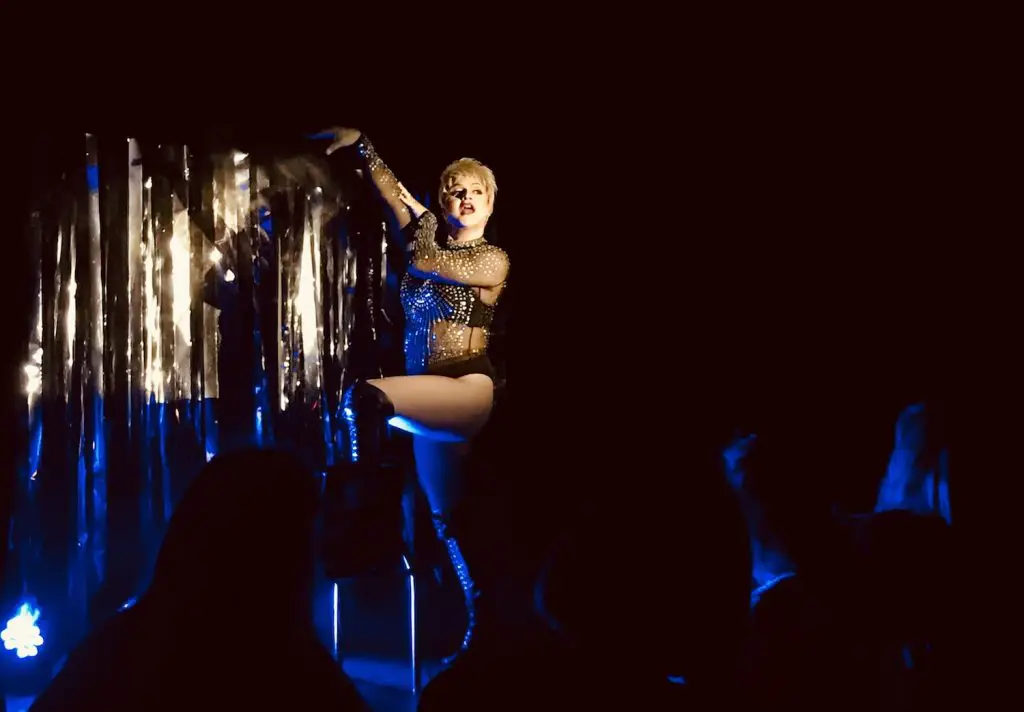 Day Three In Palm Springs – Time To Say Goodbye!
8:00 am – Breakfast @ACE Hotel & Swim Club Palm Springs
The ACE Hotel and Swim Club is all about regeneration. Originally the site of the classic desert modern buildings of the '50s is an intriguing twist on what regeneration could be for these American boom time buildings.
There are some amazing clubhouse exteriors which just out from the sides of the building. Carefully selected color schemes and intriguing positioning mean that you'll constantly feel like you're sitting in a curated art piece. Your Instagram feed will thank you.
We first fell in love with the Ace Hotel in New York, but they have 12 other locations worldwide including Kyoto, Toronto, and London. For style enthusiasts, as with so much in Palm Springs, this hotel is a must-see. The hotel is nestled just under the San Jacinto hills, and with bold edges and sharp shadows cuts into the hillside.
The renovation of the hotel was directed by Commune, an architectural firm famous for transforming old 20th-century spaces into luxurious 21st-century accommodation. There are, of course, nods to the building's foundations, with bare stone walls and slanted ceilings of the golden age of America, but the other overall feeling is of something completely different.
It's enough just to spend the day walking around this beautiful hotel, but once you're done taking pictures or basking in its wide-open spaces, know that you can head to the restaurant Kings Highway for ACE Hotels reimaging of the roadside diner.
The food is built around local and fresh ingredients and tastes as synonymous with old California as rich mahogany. Guests can also head to the Amigo room for artisanal cocktails and craft beers or Stumptown Coffee for coffee beans roasted with as much style as the architecture.
There are two big pools on sight, which are great from relaxing and all rooms come equipped with a garden patio. If you tired of sunbathing by the pool, head to your room and the patio for a more private experience. On the weekends local DJ's arrive at the pool, getting the party going with disco and house sets, whilst if you're looking for live music on the weekend head for the amigo rooms.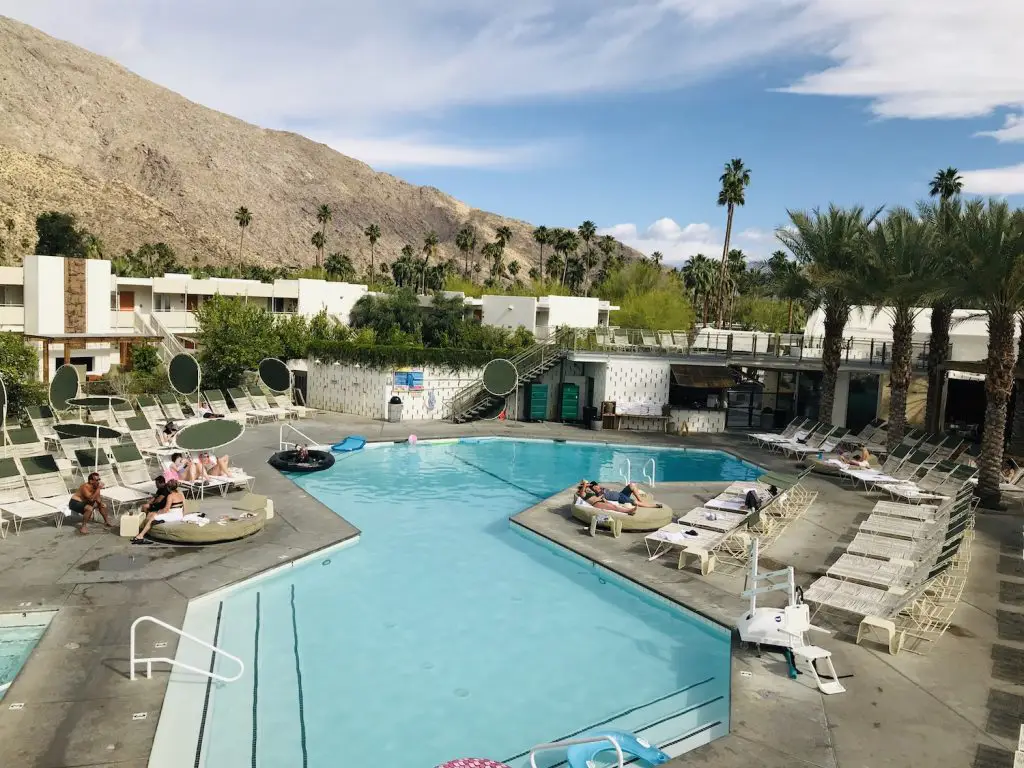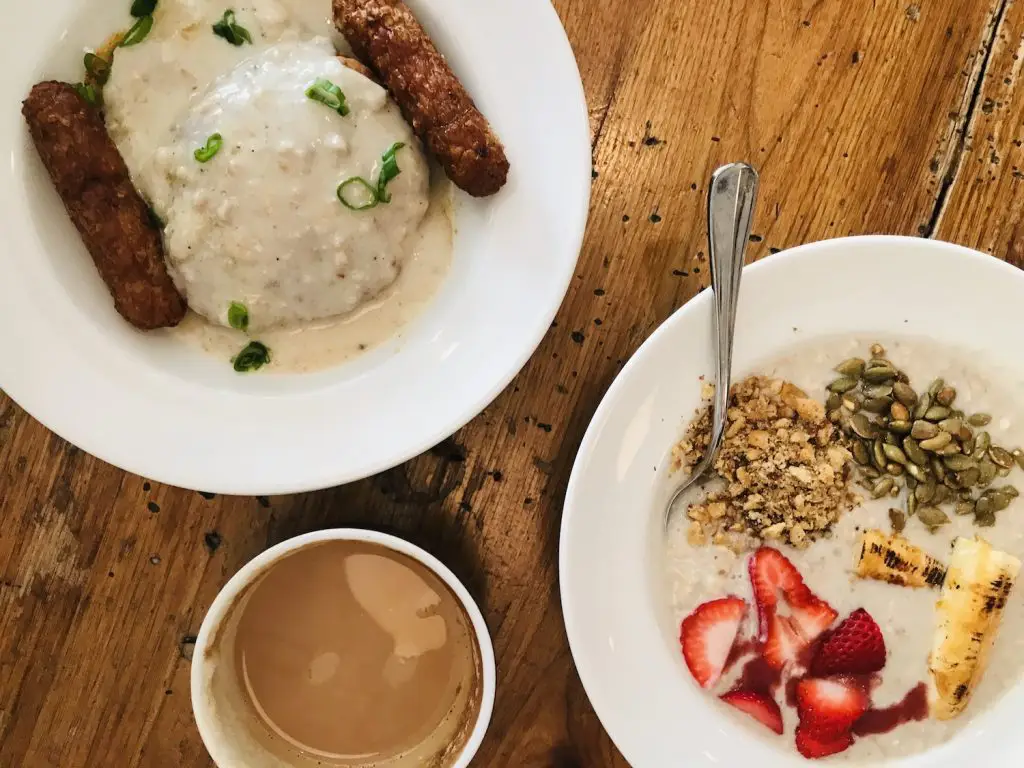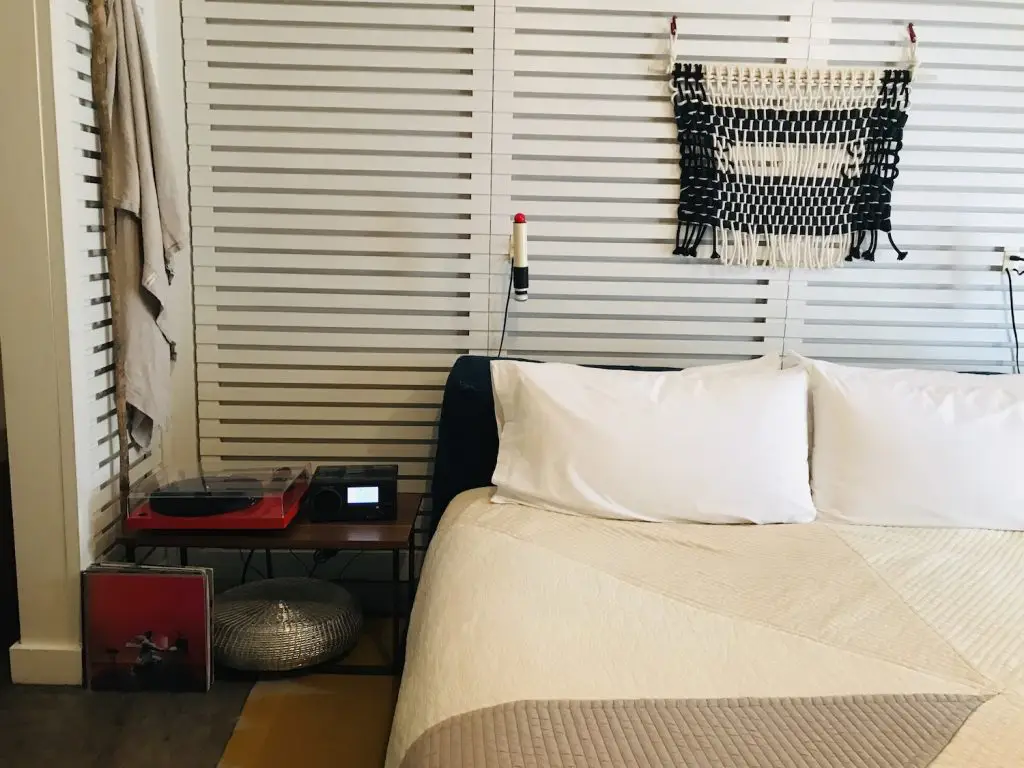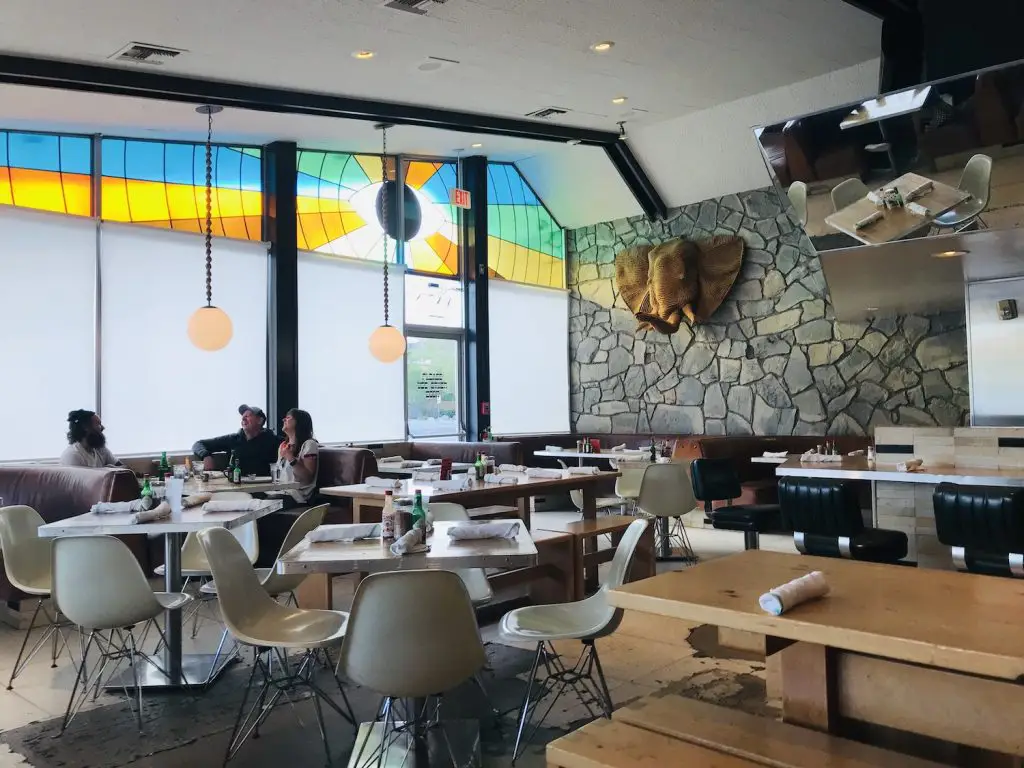 Staying Connected While Travelling
In today's increasingly connected world, staying online while traveling has become essential for a seamless experience. That's where eSIMs come into play, revolutionizing the way we access mobile networks during our global adventures. Say goodbye to hunting down local SIM cards at the airport; eSIMs provide instant activation the moment you land, sparing you the fortune usually spent on international roaming and allowing you to genuinely travel like a local (without getting hopelessly lost!).
With eSIMs, tasks like restaurant recommendations and reservations, up-to-the-minute public transport instructions, checking opening hours, and accessing further information become a breeze. And, of course, sharing your journey on social media is easier than ever. To stay connected wherever you roam, consider using either Airalo or Holafly. Airalo boasts the most extensive range of destinations worldwide, offering smaller data bundles tailored to your needs, while Holafly provides unlimited data packages and fantastic EU data deals.
So why wait? Embrace the future of travel connectivity with eSIMs and make your next journey effortlessly smooth.
Further Things To Consider Before Any Adventure
Now you're all set and prepared to explore our big wide world, why not sort out everything else out all in one go? If necessary for your travel plans make sure you have brought proper travel insurance, protected your privacy by getting a secure VPN, compared all the top hotel booking sites to find just what you're after, reserved an unbeatable rental car price and - of course - booked the best flight deals!
Or maybe just forget it all and go for a last-minute cruise or effortless tour instead?
Many budget travelers (including me) indulge in worldwide airport lounge access, so we can experience luxury while still slumming it in economy. Naturally, we would never leave home without a more general travel guide since we couldn't possibly cover everything here!
Just add an adventurous attitude and plenty of smiles - they go a long way - and that about covers it all! Now go out, find your own path and don't forget to share your best inspiration stories with me on Facebook, Twitter, and Instagram...I'd love to hear from you!