Movies set in Peru had an early start in the South American region, tracing their roots backthe 1890s with thefirst silent films and the early start of the local Peruvianfilm industry. While not being as prolific as other country's production, Peru has always made great quality movies that we will showcase here for you.
In recent years, the local film industry has experienced unprecedented growth, with many films reaching international success, both at the box office and at award ceremonies all over the world. One factor that has remained unchanged throughout these different eras is the display of gorgeous locations that make Peruvian cinema so unique.
Known for the presence of mountains, jungles and coastlines, Peru is indeed home to wildly different landscapes. From the depths of the Amazonian jungle to the beautiful coasts of the Pacific, filmmakers have been inspired by this country to create stories and images that have a lasting impact on the audience. International directors, such as Herzog and Besson, have traveled to Peru to get the most wonderful locations for their films. In this article, we'll trace over some of the best movies set in Peru, that are guaranteed to inspire a desire to travel.
We love this because one of the reasons why we watch movies is that they are an excellent way to travel to different places while staying at home – and to determine if a destination elicits that oh-so-important spirit of wanderlust in us before ever investing in a ticket there.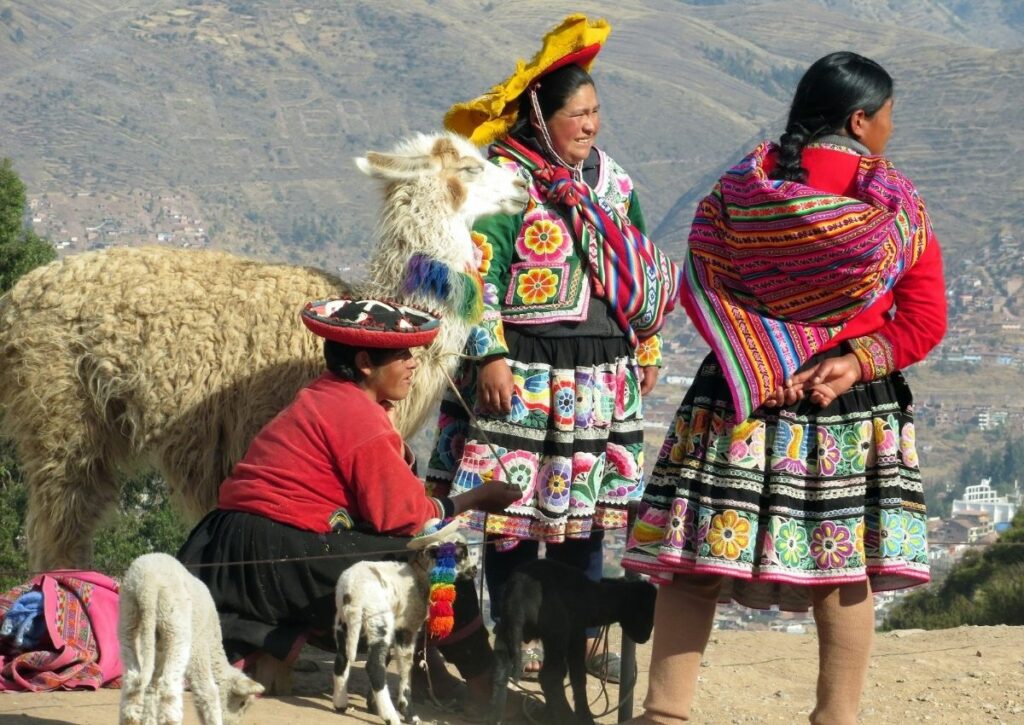 This is what motivated us to visit Mexico, Ireland, and New Orleans – among many other places. Then there are those glorious moments you can step out in a real-world location and feel spontaneously transported back inside to an iconic movie scene (thus the abiding popularity of visiting Jurassic Park a.k.a Kauai in Hawaii or Shinjuku and Shibuya where Lost in Translation was set in Japan).
In Peru, of course, such magical places exist too like the Nazca Lines, Machu Picchu, Puerto Maldonado or all the other amazing places and things to do in Peru.
In the following paragraphs, we will take a dive into some of Peru's best films and the amazing places where they take place.
Wondering where to watch? It depends on where you live in the world and which streaming services you have. We link to the streaming service we watch on in each case - be it Netflix, Amazon Prime, Apple TV+, or elsewhere.
You can get one month free of Amazon Prime (or a 6-month trial for students) of Amazon Prime and also get immediate access to FREE Two Day shipping, Amazon Video, and Music. While you won't be charged for your free trial, you'll be upgraded to a paid membership plan automatically at the end of the trial period - though if you have already binged all these, you could just cancel before the trial ends.
Apple TV+ also has a one-week trial, and Hulu has a one-month trial (which can be bundled with Disney!). Another option might be using a VPN to access Netflix titles locked to other regions. Netflix is now available in more than 190 countries worldwide and each country has a different library and availability. US Netflix is (understandably) one of the best.
While we wish everything could just be in one place - for now, it seems these are the best streaming platforms to watch on.
The Motorcycle Diaries [Diarios de motocicleta] (2004), by Walter Salles, is a biopic, representing the real road trip of Ernesto "Che" Guevara and his friend Alberto Granado through South America.
Guevara, who is played by Mexican actor Gael García Bernal, is –to say the least- a controversial figure, due to his revolutionary nature. Even though he was born in Córdoba, Argentina, he got Cuban citizenship and was one of the leading men in the Cuban Revolution. The Motorcycle Diaries begins before his revolutionary activity when he was still a medical student. The film was nominated for two Academy Awards and won one of them for Best Song, "Al otro lado del río" by Jorge Drexler.
The Motorcycle Diaries is one of the best road movies ever made, as it captures the wonders, joys and sorrows of traveling. Parting from Buenos Aires, the two friends visit different parts of the continent, stopping by Chile, Venezuela, and Perú. As they go farther and deeper into Latin America, Guevara will become more conscious of class differences and the ways in which native communities are oppressed. But the journey is not fully political, Alberto and Ernesto have their share of fun, meeting all kinds of people especially women.
One of the climatic moments in the film is when the pair arrive in Machu Pichu. It's standing in the ruins, that Guevara has a revelation that will change his life forever. While admiring the ancient civilization, he confronts the modern cities, where people suffer from inequality, with the advanced urban system the Incans had in place, and he struggles to believe that modernity has brought real progress.
The shots of Machu Picchu are absolutely breathtaking and will inspire anyone to reflect on the Latin American identity. The protagonists also visit Cuzco, the historic capital of Peru, and Iquitos, the biggest metropolis in the Peruvian Amazon.
Knives in the Sky [Cuchillos en el cielo] (2013), by Alberto Durant, is a dramatic film about a family torn apart by politics and an unjust justice system. Milagros, played by Alejandra Guerra, is a woman who has spent the last ten years in prison, accused of terrorism. She's released after being found not guilty, but now she must face a new challenge. During her prison stay, Milagros was raped and conceived a daughter, Noemi, who grew up with her grandparents, thinking that her mother was living abroad. Now they must reconnect after being apart for so long, while Milagros tries to put the man who raped her in prison and keep the truth away from Noemi.
Durant has stated that he wanted to make a film that didn't focus on Milagros' experiences in prison, but more on the consequences of it and how difficult it would be for her to rebuild her life, including her family relationships. This is a great movie to get acquaintance with Peruvian politics and economic situation. From the terrorist attacks of the 1990's and the economic crisis of the early 2000s, Knives in the Sky weaves Milagros' personal tragedy with the country's history and injustices.
Alvaro Delgado Aparicio took the world by storm when he released Retablo ("Altarpiece") in 2017, to the extent that it won twenty-five awards.
It follows the story of Segundo Paucar, a fourteen-year-old boy who lives in a small rural town. He wants to follow his father's steps and become an artisan, making intricate altarpieces called "retablos". However, his enthusiasm quickly fades away when he finds out that his father (Noé) is not exactly who thinks he is. Retablo brings us a beautiful exploration of same-sex attraction and toxic masculinity in a traditional environment, such as this small rural community. Segundo must reunite his admiration for his father as a person and a craftsman, with this different version of him that he accidentally stumbled upon.
The film was shot in the Ayacucho department of Peru, a region full of history and stunning architecture. While the film centers on the countryside, all the region is worth exploring. The rural areas offer many activities to connect with nature and explore the fantastic lagoons.
In Ayacucho, you will also find the Vilcashuamán Archeological Complex. Vilcashuamán was an important Inca city and the leading administrative center of the region. In these ruins the Temple of the Sun was built, an impressive construction with stepped terraces and trapezoidal niches. On top of this temple, the Spanish conquerors built their own catholic temple, the San Sebastian Colony, so it now displays the two main cultures that converged to create the modern Peruvian society.
Ayacucho is also the name of the main city in the Ayacucho department. It is known as the city of churches, due to the immense number of colonial churches that were built by the Spanish conquerors. Ayacucho is also known as the "Stately City", because of its beautiful architecture, rich traditions and art. If you want to know more about Peruvian traditional art, then both this film and this region are right for you.
The Big Blue [Le Grand Bleu] (1998) is a French cult film, by the critically acclaimed director Luc Besson. The story centers on two professional divers, Jacques (played by Jean-Marc Barr) and Enzo (played by Jean Reno). They've known each other since childhood, and while not fully becoming friends, they both shared a passion for the sea.
After Jacques' father dies in a diving accident, the two of them lose touch. That is until a young woman, Johana, is sent to Peru by her company and comes across Jacques. He's being studied by scientists due to his uncanny diving abilities. The studies reveal that he shares many traits with dolphins. Johana becomes obsessed with this man and begins to follow him around the world, which leads her to meet his now rival, Enzo.
This film exudes wonder. At every turn, it provokes fascination, whether that is with the sea, the two protagonists, or the art of diving itself. The movie was shot in several parts of the world, including Greece, Italy, France and Peru. It is in Peru where Johana first meets Jacques. When she arrives, we can see the train station La Raya Pass. When the movie was filmed this train line would have still been part of Ferrocarril del Sur, but is now part of Peru Rail. The line travels between Cusco and the Lake Titicaca.
The journey between these two points is unforgettable, since this is the second-highest railway in the world, and La Raya Pass is the highest point in the trip. From your seat, you'll be able to admire Los Andes from a privileged position and if you get down at the station you will meet the artisans who sell their products, made from alpaca wool, and other local materials.
Miguel, married man with a kid on the way has to face his attraction to another man, Santiago. But, before Miguel can even make a decision about this situation, Santiago drowns in the sea. The story sounds terribly dramatic, but Undertow [Contracorriente] (2009), by Javier Fuentes-León, adds a fantastic twist that prevents the film from being just a sad story: Miguel can see Santiago's ghost.
The movie was critically acclaimed, winning the audience award at Sundance Film Festival. With top-notch performances, beautiful coastal locations, and moving inner-conflicts, Undertow leaves the audience feeling joyful and sad at the same time. Miguel must grieve his lover's death as he tries to reconcile his own identity with society's expectations of what a man should be.
Despite living a double life, he still cares very much for his wife, Mariela, and his future son. However, Santiago's shadow still haunts him even when he's trying to be present for his family. The sea becomes a sorrowful presence, as it evokes Santiago's death, but it's also a souvenir of the happy days the two of them spent there.
The movie was shot in Cabo Blanco, in the Piura Regions, which in real life is also a fishermen community. It also attracts a lot of tourists, since there are many different activities that visitors can enjoy. There's whales and dolphins' sightseeing, scuba diving and lots of different water sports, such as kitesurfing. You can also visit the Hippocampus Aquarium, a one-of-a-kind experience for sea-life enthusiasts – though not quite as iconic as the Lima sea lion adventure.
If you're looking for a sincere coming-of-age story, Paradise [Paraíso] (2009), by Hector Galvez, is the right movie for you. This film won Best First Work and the Critics Awards at the Lima Latin American Film Festival.
Paraíso is the name of a neighborhood on the outskirts of Lima, Peru's capital. It was founded by a group of Peruvian migrants who fled from areas attacked by terrorist groups. They might have escaped that violence, but life in Paraíso is no walk in the park. Galvez focuses on a group of five teenagers who live there; some of them dream of escaping, while others view leaving the area as a form of treason to their own identity.
Paradise does not shy away from showing poor living conditions, crime and marginalization. However, it also displays the sandy landscapes that remain unpopulated, right in the periphery of the big city. The protagonists will walk through these desertic lands to pay respect to a fallen gang member. The desolated nature of this region matches the hopelessness that the characters feel when it comes to their future. But, through it all, they stick together, dreaming and hoping for something better.
Galvez presents a real Peru, filled with characters that, just like us, are neither good nor bad, they're doing their best with what they're given. And if you want to see this side of Lima when you visit, we can highly recommend taking this Alternative Lima Tour and exploring Peru's capital off-the-beaten track.
Wiñaypacha (2017) is Óscar Catacara's first and only film. The story focuses on Willka and Phaxsi, a couple of elderlies who live in Los Andes. Their son, Antuku, has left them to go live in the city and they must take care of themselves without any help, but they still hope that Antuku will return someday.
This was the first movie to be filmed in Aymara, one of Peru's native tongues. Catacara was inspired by his own experiences to make this film. He grew up in a rural town, where he lived with his grandparents. As a kid, he saw his parents and other relatives leave the area for opportunities in the city and how this affected the older members of the family. The film was very well received by the critic, in fact, Catacara received funding to make another movie, but during the shooting of his second film, he died of appendicitis at the age of thirty-four.
Wiñaypacha is a slow, thoughtful film. As we are enchanted by the beautiful landscapes, the couple reflects on the loss of their son, the abandonment of traditions, the national identity, and the future of family structures. This is a film that grieves for a past before modernity when people's lives were as steady and unchanging as the mountains.
The movie was shot in Allincapac, a very important mountain in the Andes, since it is considered an Apu. Apus are mountains that are seen as living deities by various native groups of Peru, so they hold special religious significance over people's lives. Through the scenes, we can see different shots of the Allincapac. The green grass and the sharp rocks, in combination with the perpetual mist create a magical atmosphere.
Every 21 of July, the Allin Cápac Raymi, "Farmer's Day", is celebrated at the foot of the hill, so if you are in Los Andes at that time of the year you won't want to miss the celebrations.
Madeinusa (2006), by Claudia Llosa, has a similar concept to The Purge, with a religious twist. Every year, for easter, the people of a small rural town called Manayaycuna (meaning "the town no one can enter") in the Peruvian cordillera believe that God is dead. Since Jesus was killed on Friday and resurrected on Sunday, for the span of three days, there is no sin, and no one can be held accountable for the evil doings, because God isn't watching. During this time, they select a girl to be crowned as that year's virgin.
The film follows the story of a fourteen-year-old girl, called Madeinusa, who is selected as the virgin and what happens when an outsider from the big city goes to see the festivities. This movie is not for people who are susceptible to violence. A lot of sins are committed during the three days, some small and some gut-wrenching. But for those who are interested in seeing the lengths to which religious fervor can drive people mad, this is the perfect movie.
It must be remembered that Manayaycuna is a fictional place. The film creates such an intense atmosphere, and the performances are so well played out that some people think Madeinusa was a documentary film. This is not the case; however, the locations are real places from the Cordillera Blanca, a mountain range located in the Áncash region.
You can access some parts of the Cordillera Blanca by going to the Huascarán National Park – one of Peru's UNESCO World Heritage Sites. There, they offer many different activities to get to know the mountains and connect with nature. You can see the glaciers, go trekking, admire the perpetual snows and visit the lagoons. In wintertime, mountain sports are practiced there too.
Don't Tell Anyone [No se lo digas a nadie] (1998), by Francisco J. Lombardi, is a cinematographic adaptation of Jaime Bayly's biography. Bayly is a journalist and TV presenter, who gained popularity in the 1980s, due to his freshness and conservative political views.
Because of this popularity, he hid his homosexuality until the 1990s, when he released his first autobiographical book, which documented his life from an early age, when he discovered he was attracted to the same gender, up to his youth, showing his experimentation with sexuality and the excesses of the entertainment industry. Both the book and the film created great controversy, due to the open discussion of repressed topics in the Peruvian society of the time.
In Don't Tell Anyone, we can really get the feel of Lima, Peru's capital. Both the good and the bad are seen in this, one of the most realistic movies set in Peru. The luxury, the wild nightlife, and the fun and lively people, but also the turmoil, the prejudice, and the hypocrisy of the big city. Bayly's story is an inspiring account of how to discover our inner truth and express it publicly, in spite of what others may think.
Fitzcarraldo (1982) is, to put it mildly, an insane film. Directed by Werner Herzog and starred by Klaus Kinski and Claudia Cardinale, Fitzcarraldo tells the story of Brian Sweeney Fitzgerald, a very determined man who wants to build an opera theater in the middle of the Peruvian jungle.
There are many reasons why this film is controversial. Kinski is known for being a troubled actor and he had a diva attitude on set, which created a lot of tension between him and the director. Herzog, on the other hand, was already stressed due to the filming conditions.
In order to shoot this movie, the crew had to figure out how to take a 320 tons steamboat to the top of a mountain, and from there, film its descent to the Amazonian River. This very difficult task, on top of the unpredictable Amazonian weather, made for a complicated shooting. In fact, there's another film, Burden of Dreams (1982), which documents the making of Fitzcarraldo.
The film is considered a masterpiece by critics and the general public alike. It has amazing shots of the Amazonian jungle, both from the air and from the ground, where we can see the dense vegetation and the many bodies of water that plow through the green. Our protagonist is filled with dreams and ambitions. To a normal person these dreams may seem demented, but, at any rate, Fitzgerald's drive and determination become inspiring.
The Amazonian jungle constitutes 70% of Peru's territory and is considered one of the world's capital for wilderness diversity. The government and private companies offer different options to get to explore this beautiful ecosystem. From ecotourism to extreme sports, there are many ways to experience the jungle.
There are many species of animals that only live in this region, and because of the reduced human presence, it's possible to see many of them in a short span. If you're visiting the Amazonian, make sure to book a guide who can make sure you're safe during your trip and teach you all the wonderful things Peru has to offer.