Films have the potential to be magical. They have the ability to transfer audiences to other worlds, planets, continents, or even just a new city. A case in point is movies set in Washington D.C., the capital of the United States – easily one of the most interesting locations films can transport their audiences.
This city is known for its history, politics, and iconic landmarks that can be found in the city and in the surrounding areas. If you are an American history and movie buff, there are few cities that are better suited to visit. It is the gateway to the past as it has many museums that allow its visitors to take a look at what created this country – and as anyone who has been (or plans to go) knows, there are so many things to do in Washington DC.
Many times throughout the storied history of film, there have been tales that were put to the screen that shows off the thrilling energy that can be found in Washington, DC through its politics and its sometimes corrupt nature. There is also an often unexpected level of artistic value that can be found in the beauty of Washington DC. It also has some of the most fascinating architecture through its monuments and the Athenian style that the government buildings are modeled after.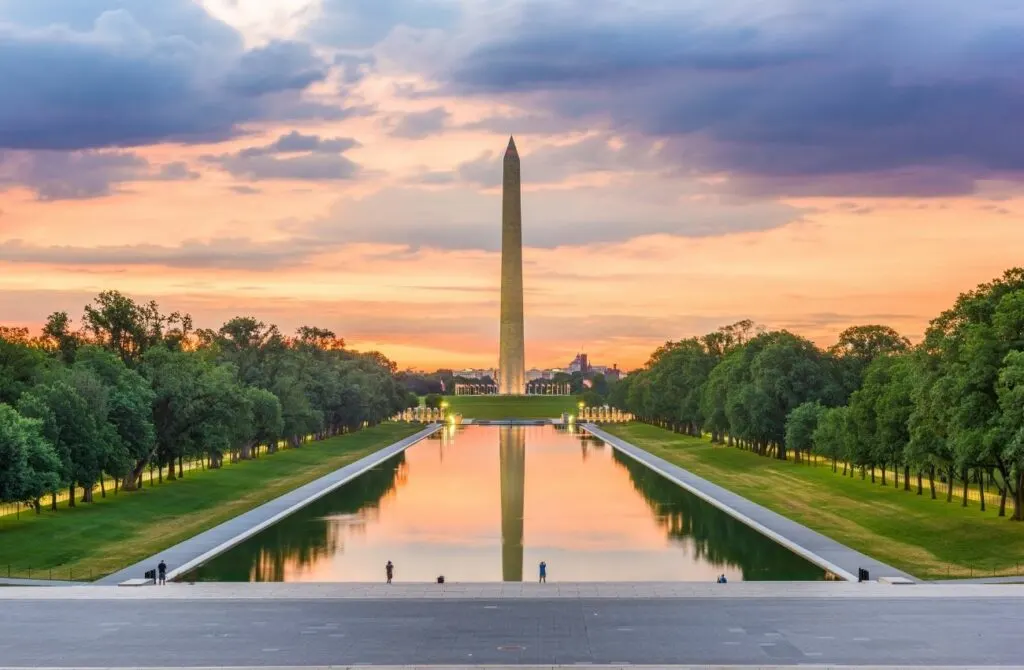 Not to mention it is the beating heart on which U.S. democracy is based. So it is no wonder directors seem to love filming here, and there are so many movies set in Washington.
One of the reasons why we watch movies is because they are a perfect way to travel to different places from the comfort of your own home. It is what inspired us to visit Chicago, Australia, and Japan – and what originally made us dream of visiting Washington DC.
However, with so many great classic and blockbuster films set in Washington DC, just be sure not to overdose with an all weekend Netflix binge. Or do – we always thought moderation was overrated anyway.
So off we go with our list of thirteen movies set in Washington DC…
Wondering where to watch? It depends on where you live in the world and which streaming services you have. We link to the streaming service we watch on in each case - be it Netflix, Amazon Prime, Apple TV+, or elsewhere.
You can get one month free of Amazon Prime (or a 6-month trial for students) of Amazon Prime and also get immediate access to FREE Two Day shipping, Amazon Video, and Music. While you won't be charged for your free trial, you'll be upgraded to a paid membership plan automatically at the end of the trial period - though if you have already binged all these, you could just cancel before the trial ends.
Apple TV+ also has a one-week trial, and Hulu has a one-month trial (which can be bundled with Disney!). Another option might be using a VPN to access Netflix titles locked to other regions. Netflix is now available in more than 190 countries worldwide and each country has a different library and availability. US Netflix is (understandably) one of the best.
While we wish everything could just be in one place - for now, it seems these are the best streaming platforms to watch on.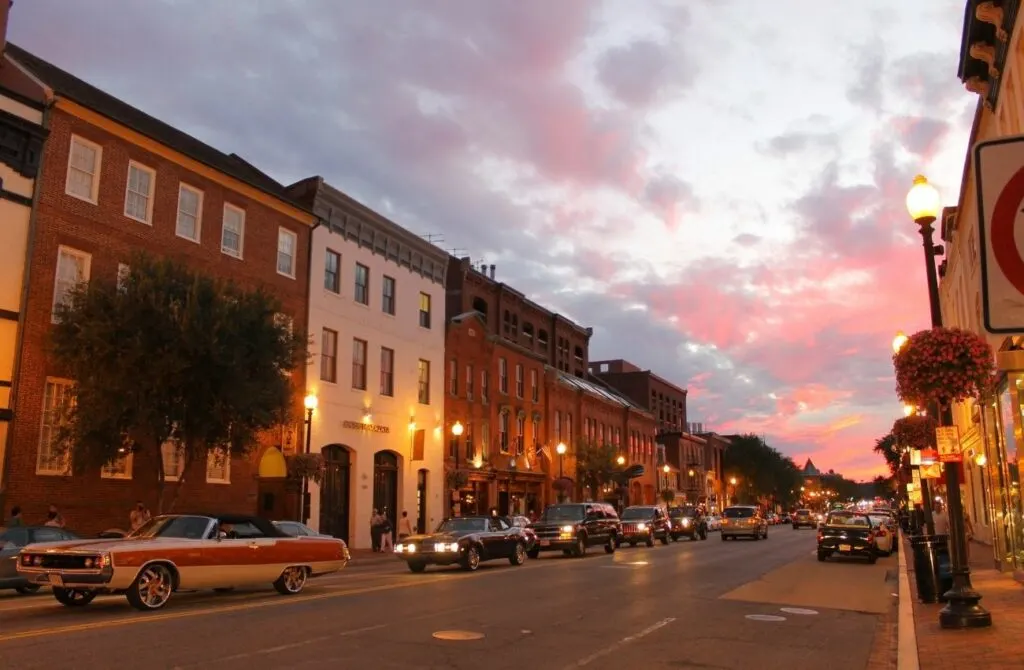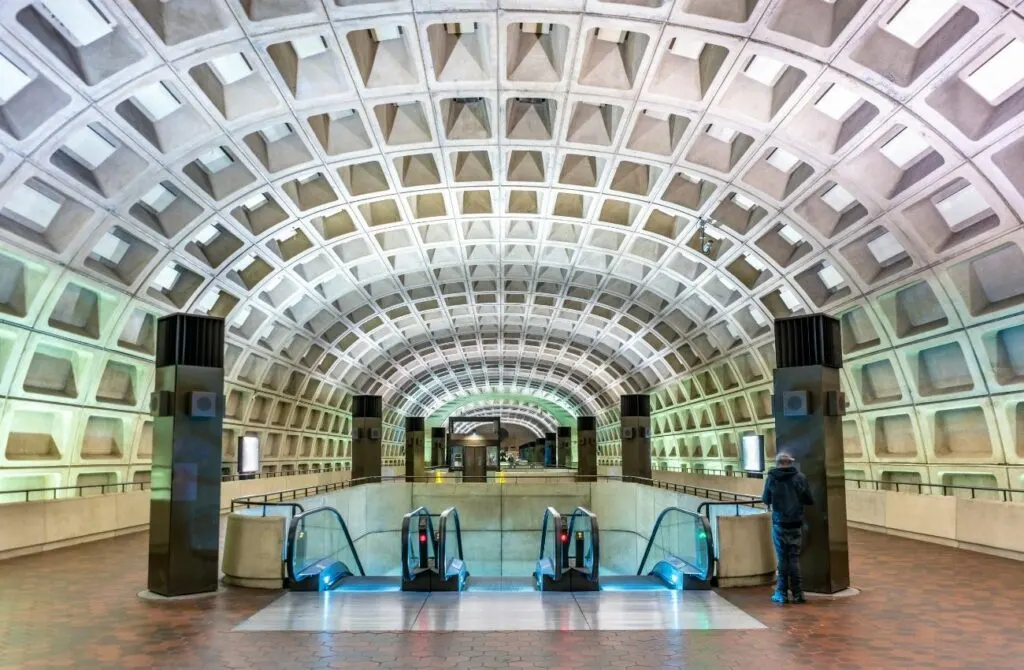 The Exorcist, now regarded as one of the finest horror films of all time, has a particular place in D.C. history, with locals and visitors alike sharing images of the iconic "Exorcist steps" in Georgetown. The plot revolves around 12-year-old Regan, played by Linda Blair, demonic possession, and her mother's played by Ellen Burstyn, who tries to save her.
It is the only horror film that will be appearing on this list. There are not many films that have a focus on horror while being centered in Washington DC. It doesn't have the same focus on history or politics as many other Washington DC films do, but the film itself has added its own section of history to the city.
It remains an effective story forty-plus years later and has carved out its own history within the city. There are even some tourist attractions that you can see from the film when you visit the infamous city.
The iconic D.C. film follows Washington Post reporters Bob Woodward played by Robert Redford, and Carl Bernstein, played by Dustin Hoffman, as they discover the major Watergate scandal that included (and eventually led to) President Richard Nixon's resignation.
The city is one of the key characters of the film, as it is presented as a spooky contraption of Brutalist architecture and power systems. Even if you know the finale, there aren't many moments when you aren't completely engrossed in the story, making All the President's Men essential watching even more than 40 years later. ​
There is something about stories and films that highlight stories from the 1960s and 1970s that always seem to win me over as a viewer, and All The President's Men. It is a film that does an excellent job of highlighting one of the tensest, tumultuous, and uncertain times in post-World War II history.
This film is a must-watch for those that have a fascination with United States history and good storytelling. It's a brilliant watch about one of the more fascinating political events in one of the most historically rich cities in the United States.
A Few Good Men, perhaps the quintessential courtroom drama, combines a stellar cast and a gripping tale to produce one of cinema's most unforgettable endings. Lieutenant Daniel Kaffee, played by Tom Cruise, a lawyer who despises trials, is assigned to represent two US Marines accused of murdering a fellow Marine at Guantanamo Bay during a brutal, extrajudicial punishment.
Kaffee uncovers foul activity on the part of Colonel Nathan R. Jessup, the Base Commander at the Bay, with the aid of Lieutenant Commander JoAnne Galloway, played by Demi Moore and Lieutenant Sam Weinberg played by Kevin Pollak, culminating in an epic clash.
There are so many monumental court cases that have happened in the city limits of Washington DC, but there seems to be a real lack of higher-quality courtroom dramas. When talking about certain court cases, it can be difficult to do so without coming across as boring, and A Few Good Men does so without boring the audience one bit.
It's an engaging and significant film that highlights a part of the history of Washington DC (the court systems) in ways that other stories and films seem to brush aside.
To be honest, Forrest Gump is now more of a cultural symbol than a film. The picture grossed moreover $677 million in the United States, won six Academy Awards including but not limited to Best Picture, Best Director, and Best Actor, and has been broadcast on television for the past 20 years. And rightfully so!
Forrest travels from his Alabama home to the Vietnam War, Washington, DC (the city will be hard to miss in this one), New York City, the Bayou, and back to his Alabama home. Forrest Gump is a cinematic journey unlike any other, including a litany of historical events and iconic music. ​
While the entire film does not take place in Washington DC, the moments that do feel like they are some of the most crucial ones to the story. While this is a film that has plenty of cool CGI tricks and tools that it uses throughout, it highlights Washington DC in such a naturalistic way.
This is a film that is about the history of the city, but in a much more real way – it is a film about the history of the United States presented in the simplest and most accessible of ways.
Is this another film set in Washington, D.C., that deals with themes of privacy, security, and monitoring while also including a government conspiracy? Yes, absolutely! Does this imply that it isn't worth your valuable social distancing time? Certainly not.
How can Enemy of the State not be amazing with a prime Will Smith, a nutso Gene Hackman in a part that echoes back to his famous portrayal as Harry Caul in 1974's The Conversation, and a slew of late-90s studs like Jamie Kennedy, Scott Caan, Barry Pepper, Jason Lee, and, yes, Jack Black. This action-packed thriller, directed by the late and great Tony Scott, races through D.C. and Baltimore at breakneck speed.
Films that are set in Washington DC seem to be at their very best when they focus on the real-life thrills of political dramas that everyday people have had to deal with and fight against. This deals with a lot of issues that Americans will deal with in the mid-2000s in terms of what privacy and surveillance issues become the forefront of the conversation among Americans with the Patriot Act.
It's a film that seems about five to ten years ahead of its time and deals with its themes as well as any other within its genre.
This Steven Spielberg-directed sci-fi adventure stars Tom Cruise and is based on a short novel by famed author Philip K. Dick. It's 2054, and Cruise's character, John Anderton, works for D.C.'s PreCrime police department, which employs "Precogs" to anticipate crimes before they occur.
When Department of Justice agent Danny Witwer played by a teenage Colin Farrell, joins the fight, a prophecy states that Anderton will commit a murder within the next 36 hours, setting off an epic confrontation. Minority Report is a visually spectacular reflection on current technology and monitoring, with futuristic D.C. scenes.
While many of the films on this list about Washington DC feel grounded in reality, Spielberg's film is a tad different. It certainly has a lot of the same appeal as other films set in D.C. and focuses on the beauty of the city and the surrounding areas, but it might not always have the relatability that the other films on this list might have.
Since it does take place in a very futuristic setting, it still has the D.C. thriller aspect that has been done so well in previous stories.
National Treasure is a classic Disney adventure with a slew of D.C. monuments. Cage's character, Benjamin Franklin Gates, is a historian and treasure hunter on the lookout for the ultimate prize. But he'll have to grab the Declaration of Independence from the National Archives to do it.
This family favorite features the National Mall, the Library of Congress, and the J. Edgar Hoover Building, as well as extravagant set pieces and magnificent action sequences. ​
It's another film that does a rather remarkable job of highlighting the history of the city through its various landmarks and founding documents. This remains one of the must-see Washington DC films for those who love history and have an admiration and desire to visit all that Washington DC has to offer.
Wedding Crashers was a big success in 2005, and it was rowdy, filthy, and hilarious. Two DC-based divorce lawyers, John Beckwith, played by Owen Wilson, and Jeremy Grey, played by Vince Vaughn, crash weddings to meet and seduce women.
That is until John and Rachel McAdams arrive for the Cleary wedding when John soon falls in love with Claire, played by Rachel McAdams, who is regrettably in a relationship with the pompous Zachary played by Bradley Cooper, in a breakout role.
Throughout the film, there are references to the location, so keep a watch out for glimpses of the Lincoln Memorial and the Washington Monument. ​In many of the films that are about or feature Washington DC, it highlights a different type of beauty through its cinematography, and that is no different in Wedding Crashers.
There is a talent to highlighting the beauty of a bustling city like Washington DC, and so many of the films set in D.C. do a fantastic job of honing in on that beauty.
Brad Pitt plays one of his funniest roles in Burn After Reading – and one that is utterly out of character for the Hollywood hunk – in this underappreciated Coen Brothers masterpiece. In this adventure, idiocy reigns supreme, as George Clooney portrays a buffoonish US Marshal who is nearly as ridiculous as Pitt's gym teacher.
The humor derives from Pitt's colleague's played by Frances McDormand's parallel desire for reconstructive surgery and an innocuous set of files abandoned at a gym by an unhappy CIA analyst (acted with utmost power by John Malkovich).
You'll be laughing so hard that you won't notice. Keep an eye out for images of Georgetown and other parts of D.C. ​It's another film that does its best job of demonstrating the urbanistic beauty of Washington DC. There is a reason that this continues to be at the top of tourist destinations in the United States.
In this tightly packed drama based on a BBC miniseries starring Russell Crowe, Ben Affleck, Rachel McAdams, and Helen Mirren, many noteworthy landmarks in D.C. are included, including Ben's Chili Bowl, the Maine Avenue Fish Market, and the Washington Monument.
Crowe and McAdams portray reporters for the fictional Washington Globe newspaper who are tasked with solving the mystery surrounding the murder of a congressman's assistant and mistress, Affleck. Expect to see a lot of the District along the way.
State Of Play is a fantastic narrative about newspaper romance, and it's part of a tradition that dates back to Ben Hecht and The Front Page. It might also be the end of the genre. Russell Crowe, Ben Affleck, and Rachel McAdams offer excellent star performances in this fine piece of Hollywood filmmaking that delivers an engaging two-hour movie.
It's one of the many political thrillers that is set in the city and demonstrates what the appeal to visit this historic town is, on such a high level.
This sequel to Night at the Museum stars Ben Stiller and takes viewers into Smithsonian Institution museums like the National Air and Space Museum and the National Museum of Natural History to see historical items and artworks come to life.
Stiller's character, Larry Daley, is joined by a cast of Smithsonian personalities, including Theodore Roosevelt, played by Robin Williams, Amelia Earhart, played by Amy Adams, and Ivan the Terrible, Ivan the Terrible played by Christopher Guest. With an exceptional ensemble, the film offers a strong blend of comedy, history, and adventure. ​
Night at the Museum: Battle of the Smithsonian hasn't strayed far from the winning formula of simple story and complex CGI set down by the first film. Clever, charming, and with enough firepower to hold the attention and raise a chuckle, Night at the Museum: Battle of the Smithsonian hasn't strayed far from the winning formula of simple story and complex CGI set down by the first film. Why should it, when it's proving to be a successful, long-lasting, and stable family franchise?
This sequel is a delight for anyone that needs a quick fix for the museum culture of the nation's capital. It highlights why any history buff would want to visit the Smithsonian in the first place.
Washington, DC plays an important role in this Marvel Cinematic Universe film, which made over $880 million worldwide upon its debut. This chaotic adventure stars Tom Holland as Peter Parker, who tries to balance his life between being Peter Parker and rescuing the world as a superhero, and marks the start of the second re-boot of the Spider-Man film franchise.
There will be a fight between Spider-Man and Vulture played by Michael Keaton, as well as other MCU characters like Iron Man and Captain America, all capped off with a stunning set-piece in the nation's capital.
Spider-Man: Homecoming is a very enjoyable film. It saved the Spider-Man series from the dreck that was the tedious, incomplete emo-man trilogy and reminded everyone why Peter Parker is such a likable character. Holland's interpretation of the role has evolved to be my favorite, and the rest of the ensemble is fantastic as well. I
t's amusing, has a wonderful villain, and the noisy CGI action is kept to a minimum. It doesn't repeat previous narrative lines that have been done with this franchise before. It's certainly a different Washington DC film, but the portion that takes solace in the city is magnificent.