The Algarve has captured the hearts of millions with its rugged coastline, emerald seas, and glorious golden beaches. Lively, bustling Lagos is one of its most popular destinations and the epitome of everything that makes the Algarve so attractive.
Here you'll find beaches of all shapes and sizes. You can discover a secluded cove surrounded by cliffs, join the crowds at long expanses of sand in open bays, or explore the limestone arches and caves at Ponta da Piedade; or do all of this and more. The coastline around Lagos is a wonder.
Even if you don't enjoy basking all day on the sand, you can hire a boat to discover the rock formations, or hike to the more challenging to reach spots.
As well as the natural beauty on offer here, Lagos also has a fascinating history. It was a major port town during Portugal's Age of Discovery, and many a naval excursion set sail from here. Statues of sea adventurers are all over the town to remind visitors and locals of its noble past.
The old town is encircled by 16th-century city walls, and within them, you'll find picturesque cobblestone streets, historic whitewashed houses, pleasant squares, and ancient churches.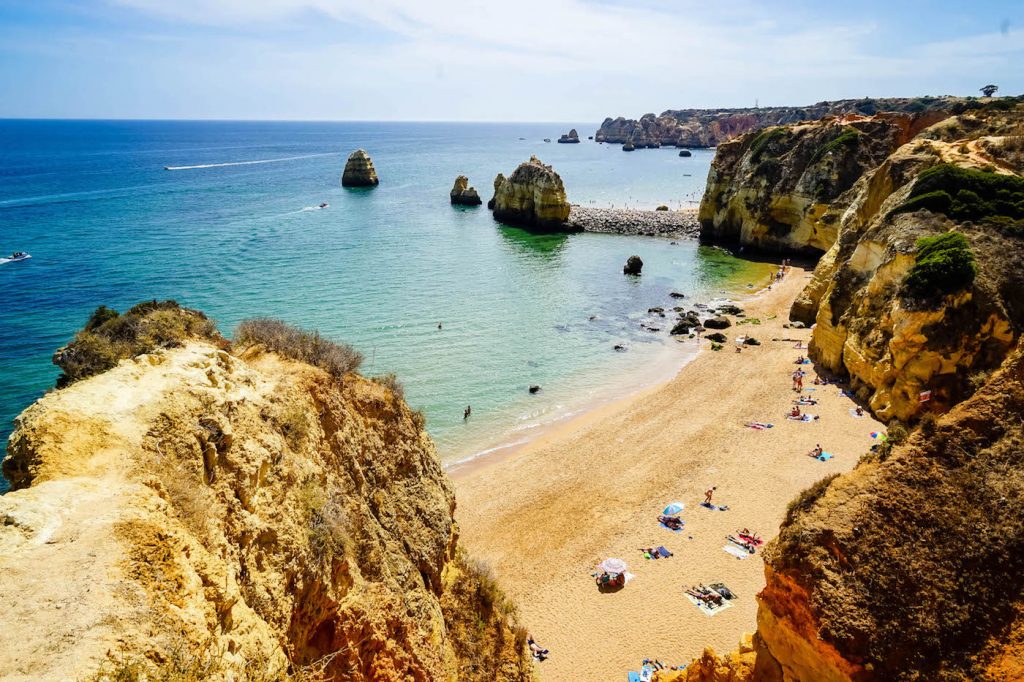 In between the beaches and the sightseeing, it's hard to imagine needing anything else for a perfect holiday, but Lagos keeps delivering.
Tons of activities like dolphin spotting, water sports, and horse riding are available; there are also markets and events galore. The Centro Cultural is an arts venue that houses an auditorium and three galleries, so there are regular exhibitions and shows. The stunning landscape that surrounds the town is also perfect for day trips.
Most importantly (for some of us!), food and drink are an integral part of the lifestyle in Lagos. Fresh seafood is everywhere in the Algarve, so make the most of it. Cataplana, for example, is a bowl of seafood rice with clams that we couldn't get enough of.
After a delicious fishy meal, head out for a drink and experience for yourself how quickly one after-dinner drink can turn into a night of laughter and dancing!
With so much on offer, it's hard to know where to start, so we've collected some of our top suggestions for things to do in Lagos to inspire you.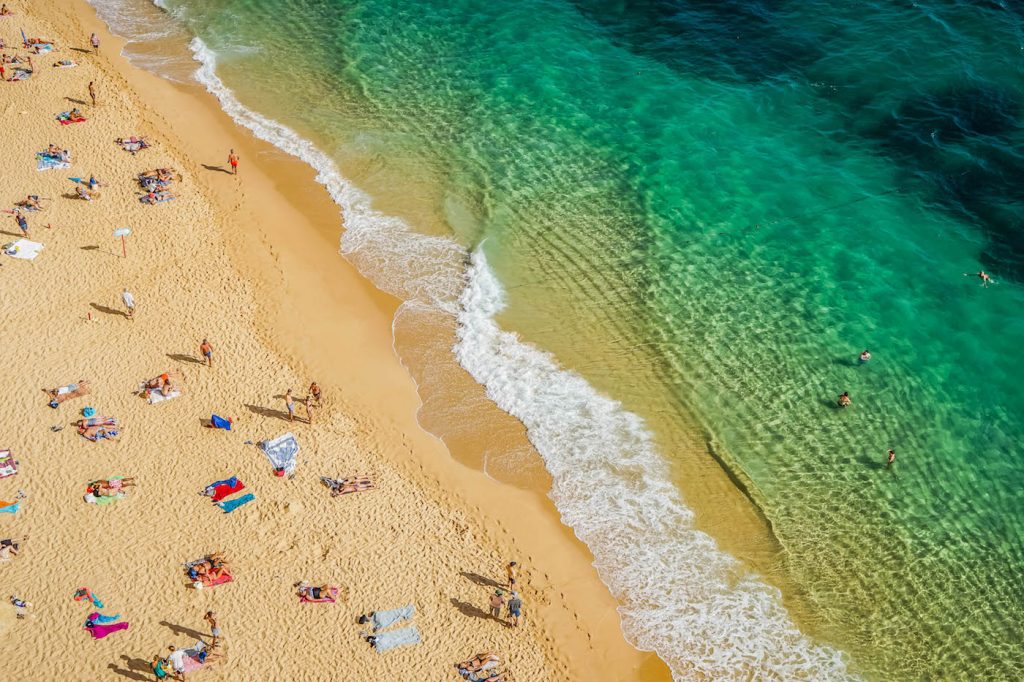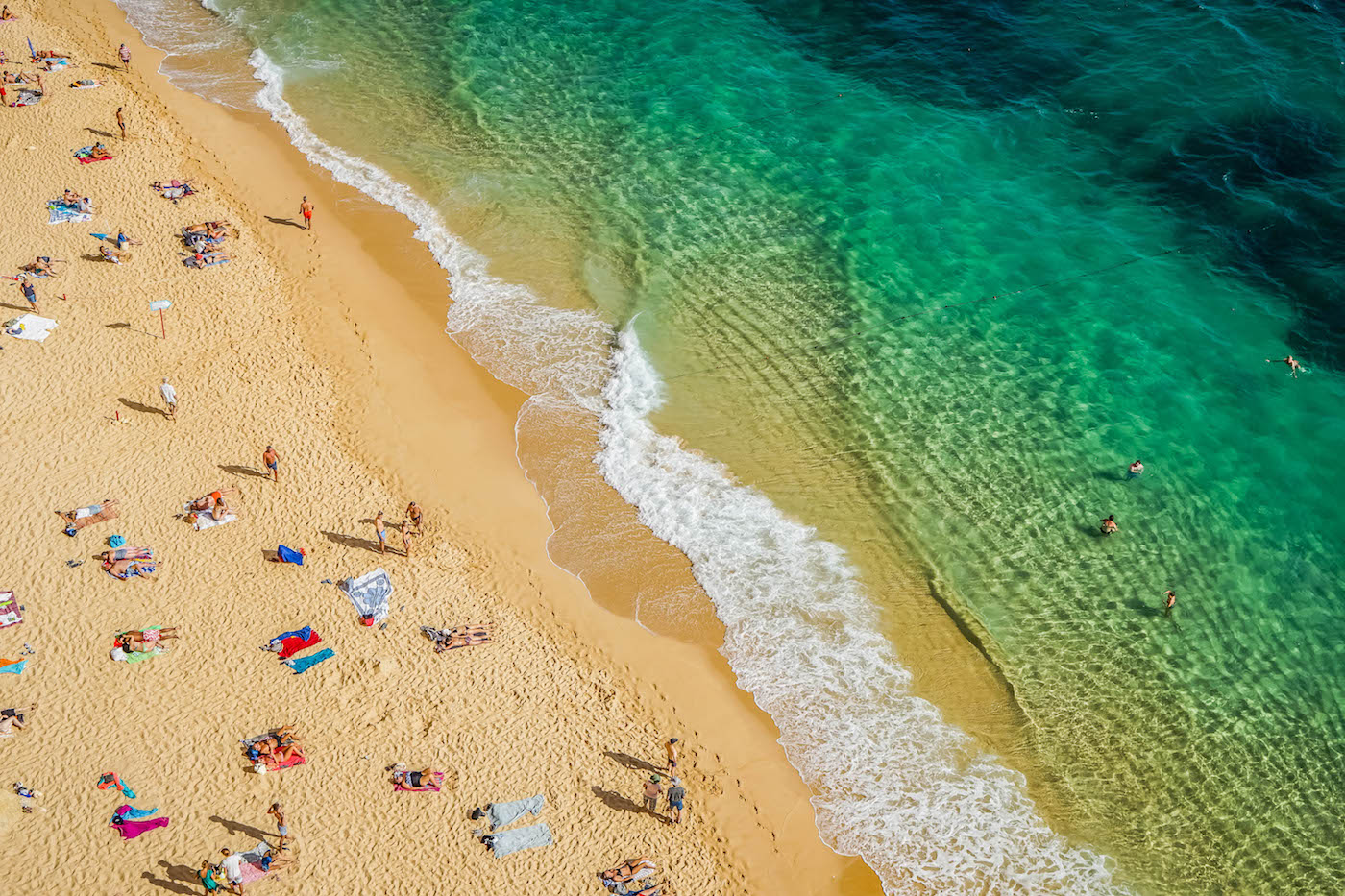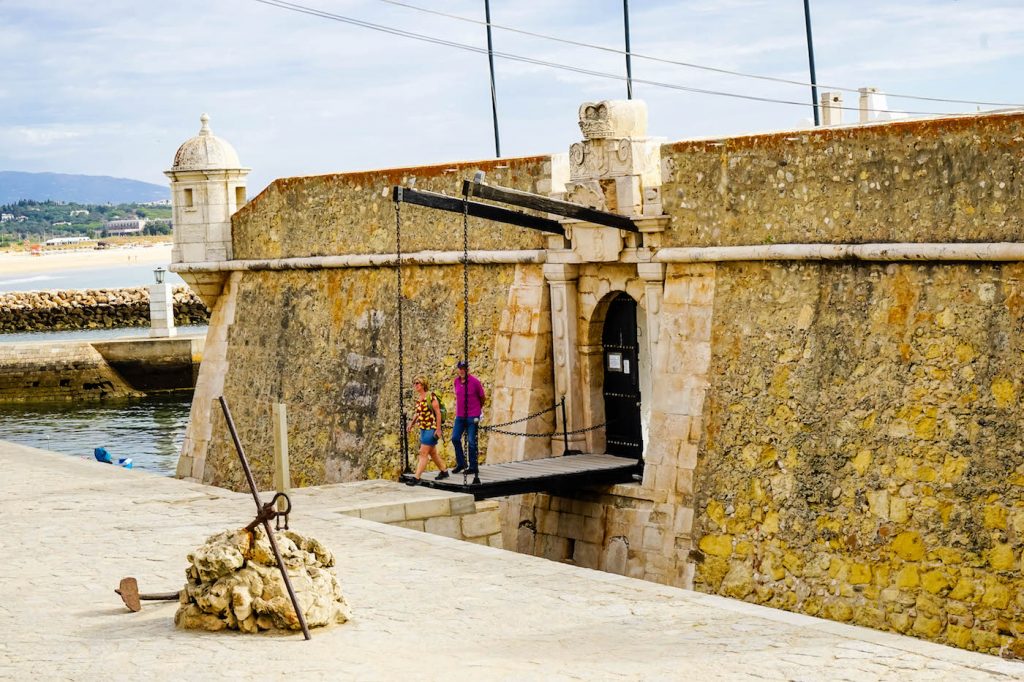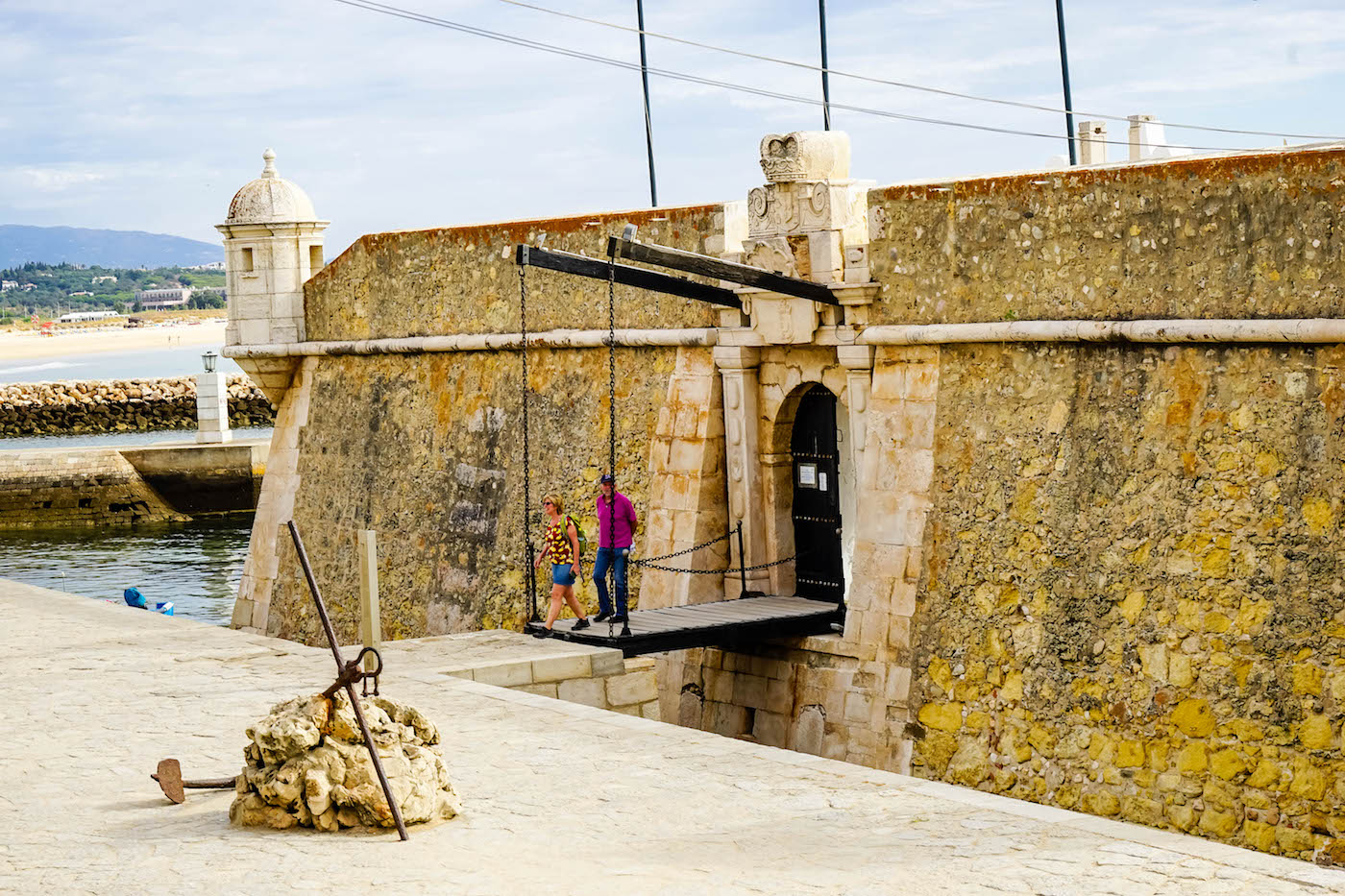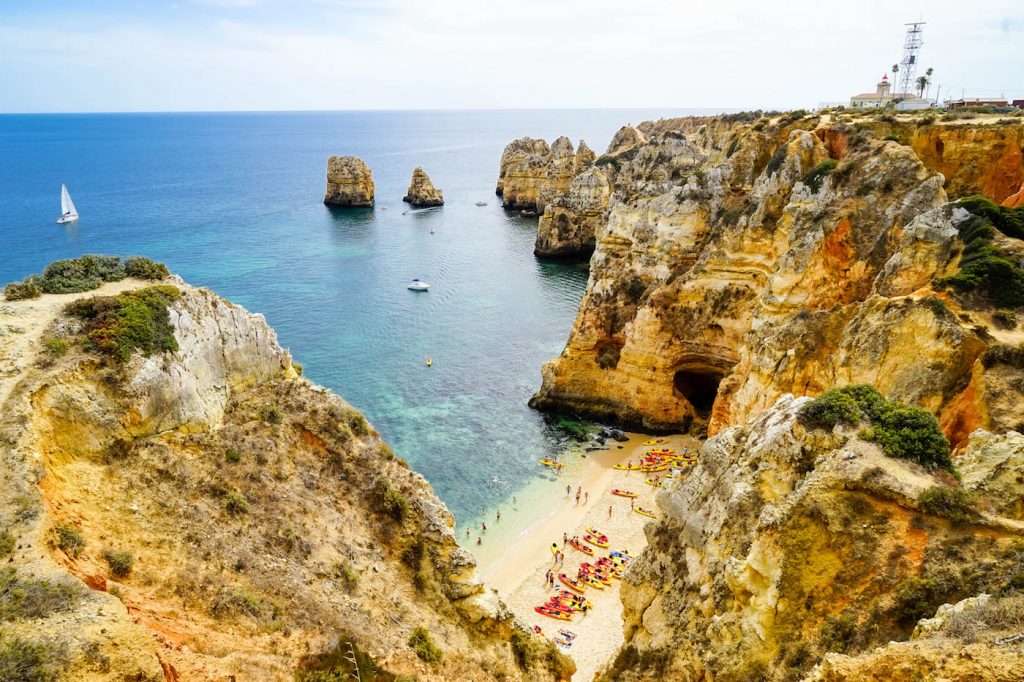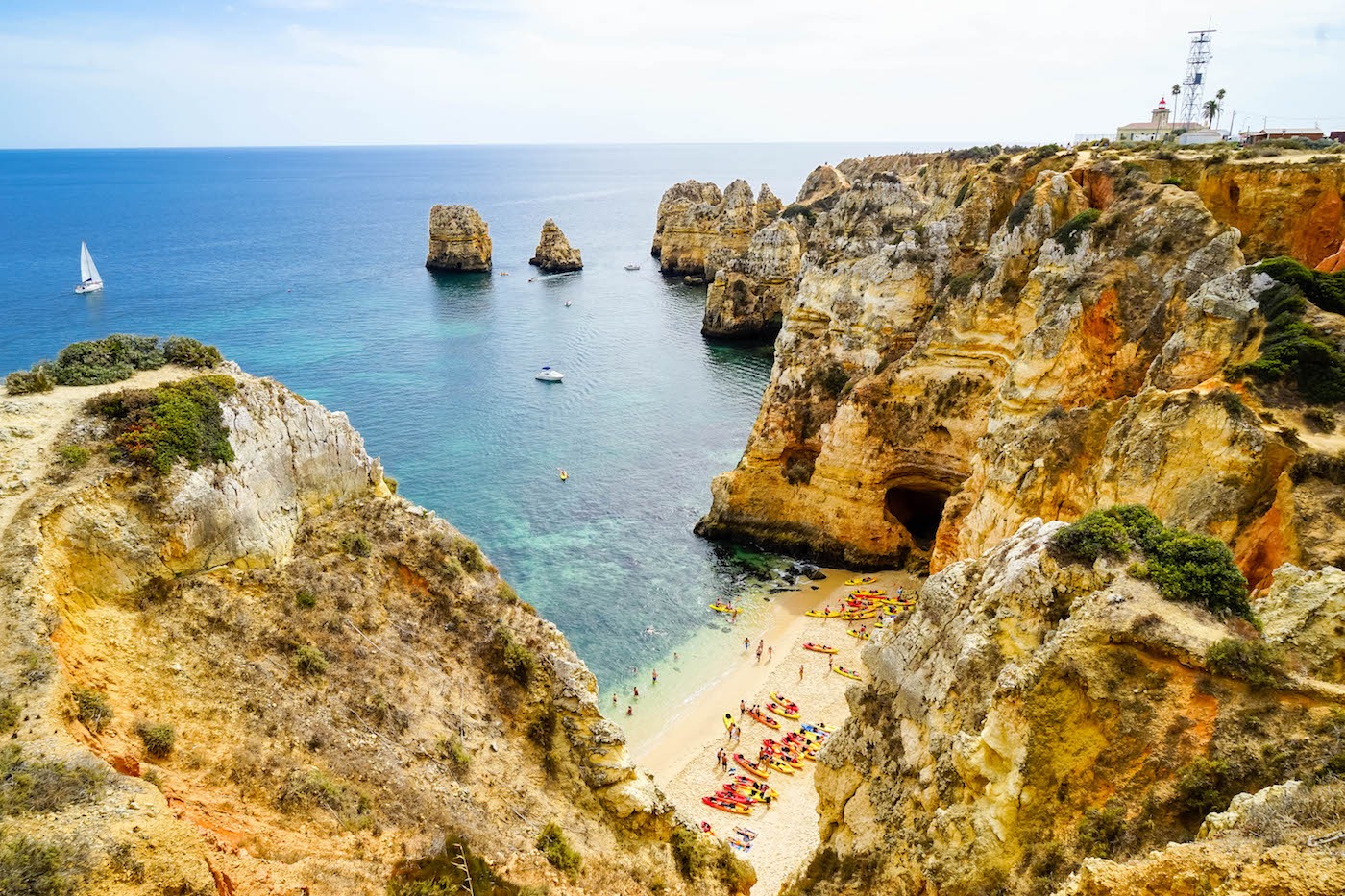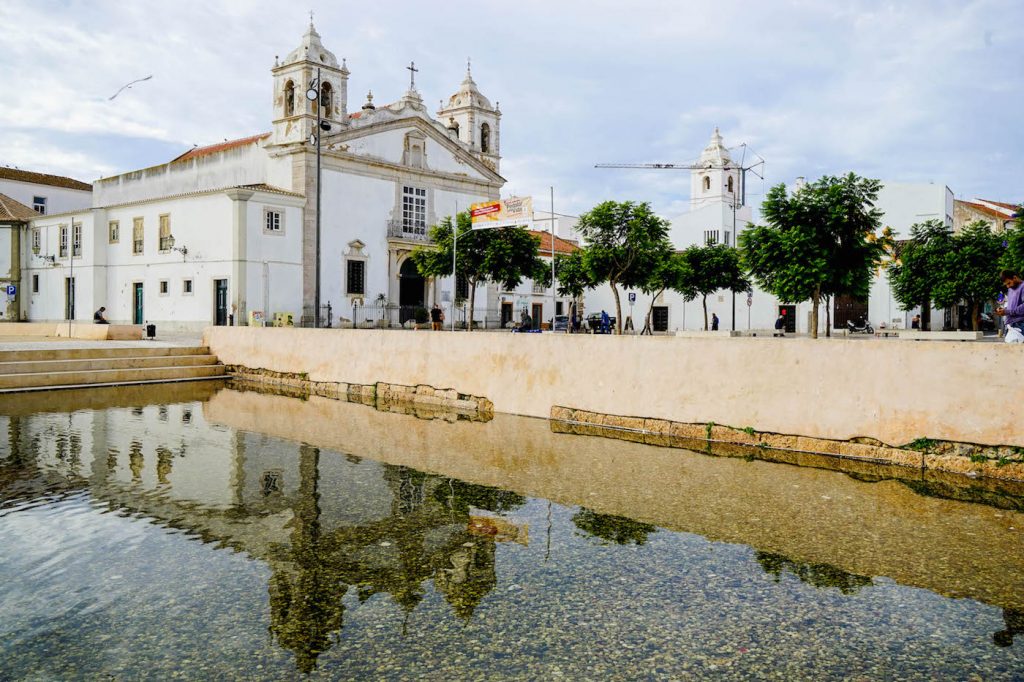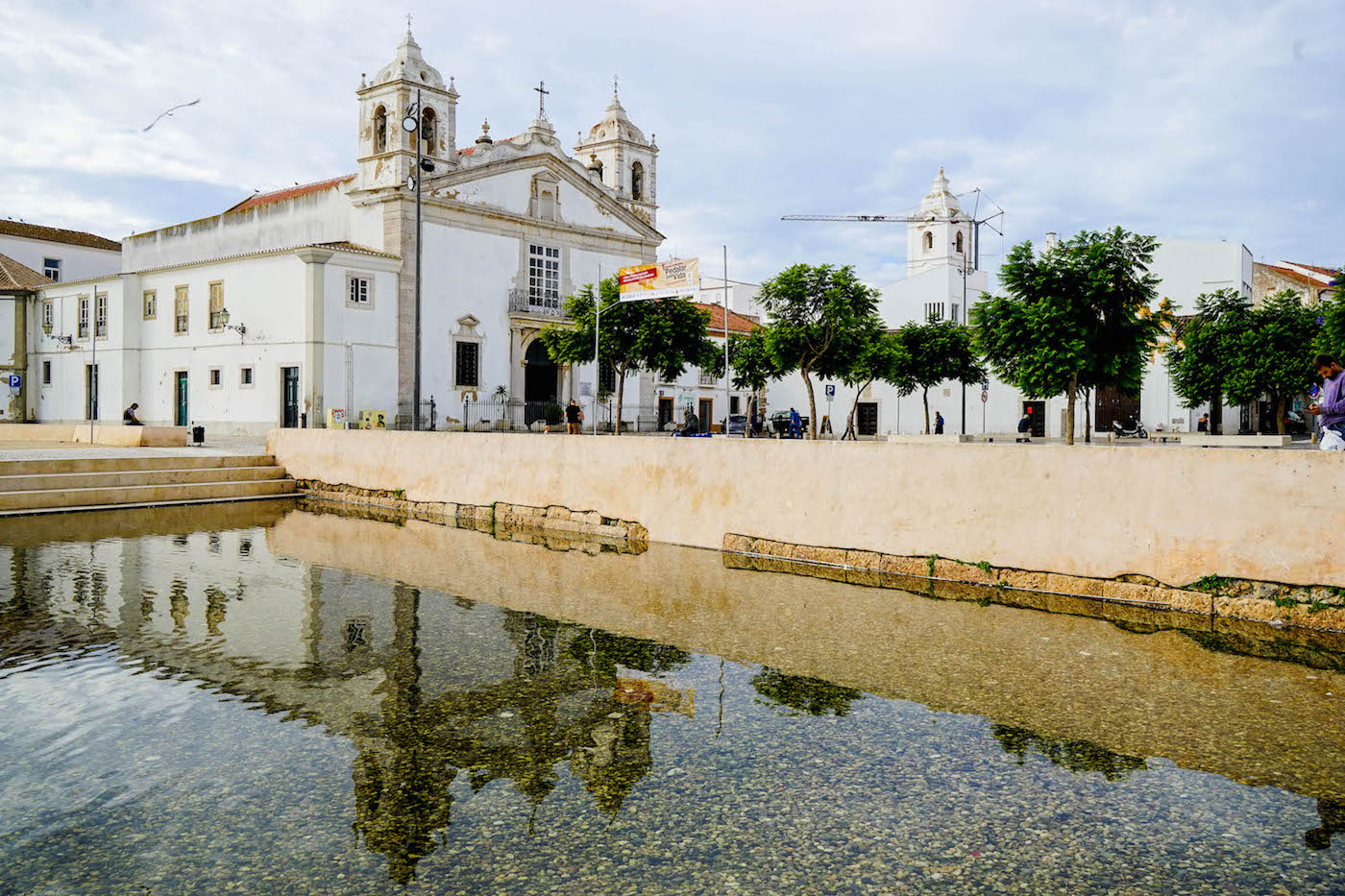 15 Unique Things To Do In Lagos: Seaside Bliss In The Algarve! 🇵🇹
1. Walk Around The Saturday Farmers' Market
Taking a stroll through Lagos' farmers' market is the perfect Saturday morning treat. Here you'll find inhabitants and visitors eying up the local produce, wondering what to make for dinner and what to indulge in. Even if you have no need for ingredients, it's a charming place to spend an hour or two, particularly for foodies.
The shed beside the bus station is transformed with the hustle and bustle of transactions, gossip, and cooking advice. It feels like you could get almost anything here – live chickens, fresh fruit and vegetables, olives and their oils, homemade jams, fresh flowers. You'll never want to go back to an impersonal supermarket again.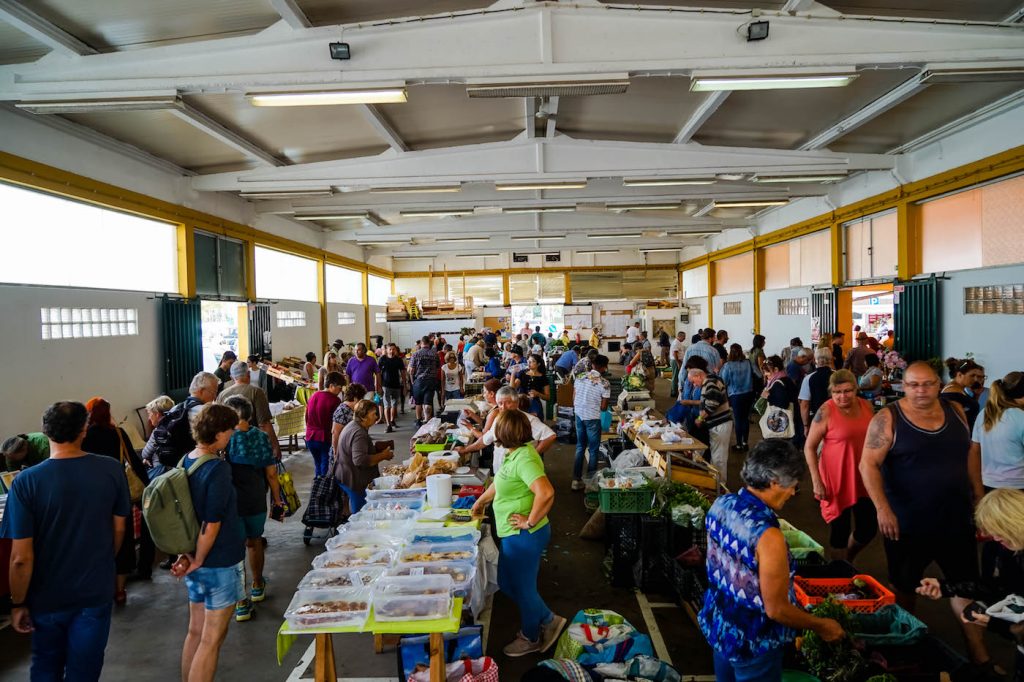 2. Indulge Your Inner Gastronaut With A Lagos Food Tour
The food in Portugal is absolutely incredible – delicious, healthy, diverse, and with an intriguing history. The only problem? The recent tourism boom in the Algarve has made authentic local delights difficult to find amidst the glut of so-so tourist restaurants.
Thankfully, we solved this problem with a "crash course" on Portuguese cuisine with Algarve food tours – run by a passionate local team whose sole goal is to ensure that eating in Lagos remains an unforgettable experience for the less initiated. During our adventure, we made new friends, laughed, and learned as we stopped at five hidden local gems and sampled ten dishes – with drinks!
A fantastic night out that we recommend you book as for your first night so you can head back to other spots that are pointed out – and you'll also get a wonderful cultural and historical tour of the city as you wander its charming, small streets. Be regaled by hilarious stories, uncover spots emblematic of traditional Lagos, meet real locals, and sample some of the best food you'll ever try – anywhere on earth.
It was actually one of our favorite food tours of all time too…A bold claim we know – but we stand by it. That is just how much we loved to eat, drink, and discover with Algarve Food Tours!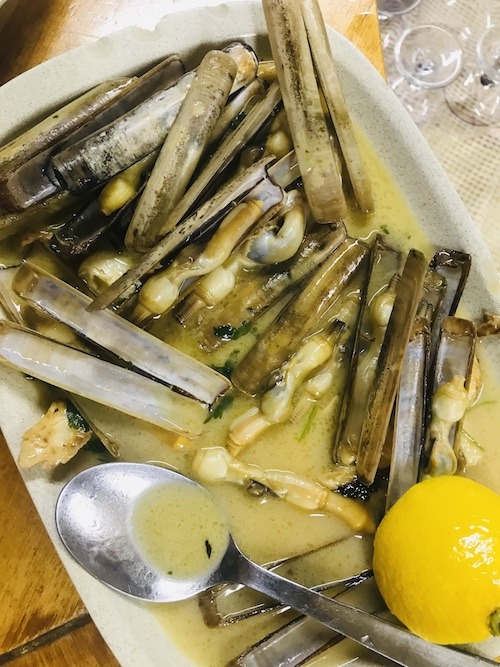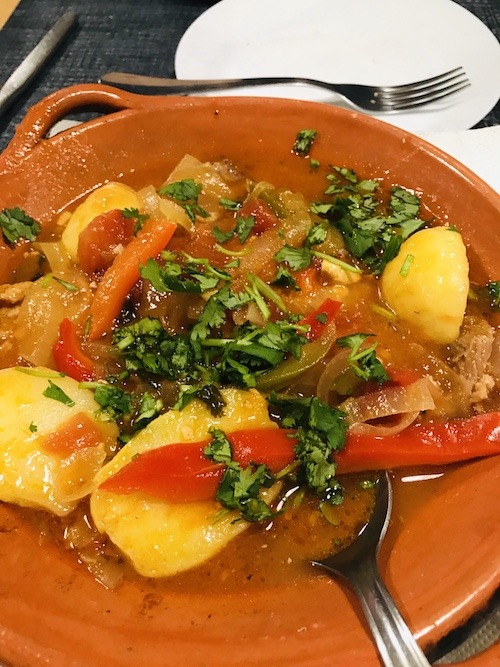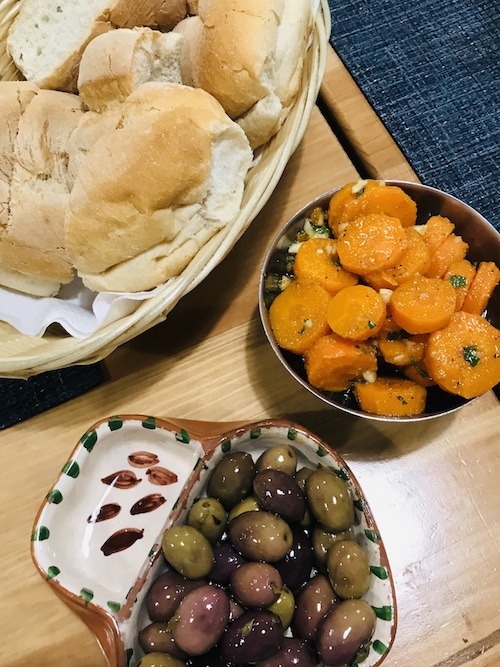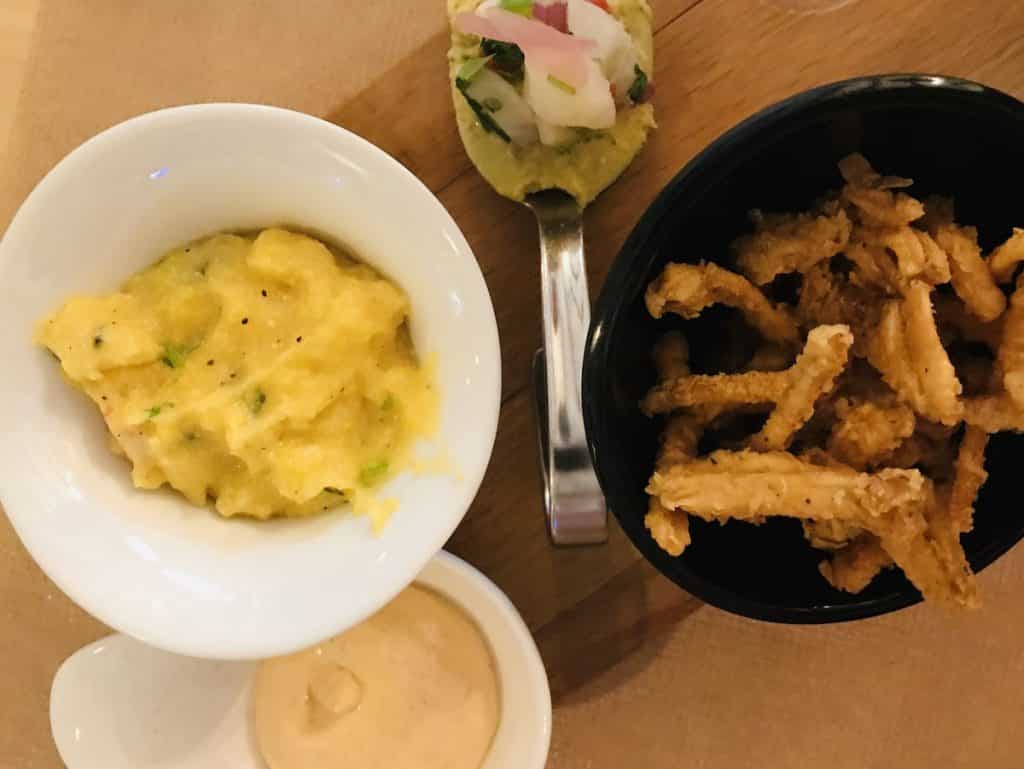 3. Grab Your Towel And Head To The Beach
You are in the Algarve, with some of the most beautiful beaches in Europe – so you had to know this was coming. And in Lagos, in particular, you are spoiled for choice when it comes to golden sands to lay in and lap up the sea, sun, and salty air.
Just walk south away from the city, and you'll be met with a plethora of beach options – all hidden amidst rocky crags and begging to be explored. There is no right or wrong choice – we love all of them from Praia da Dona Ana with its entrancing orange cliffs, and wide-open stretches of sand to the tiny Praia do Pinhão, almost hidden from sight and only accessible by some steep stairs.
Head out in the morning, and stake claim to your spot by the Azore water or why not grab some drinks and enjoy the phenomenal sunsets…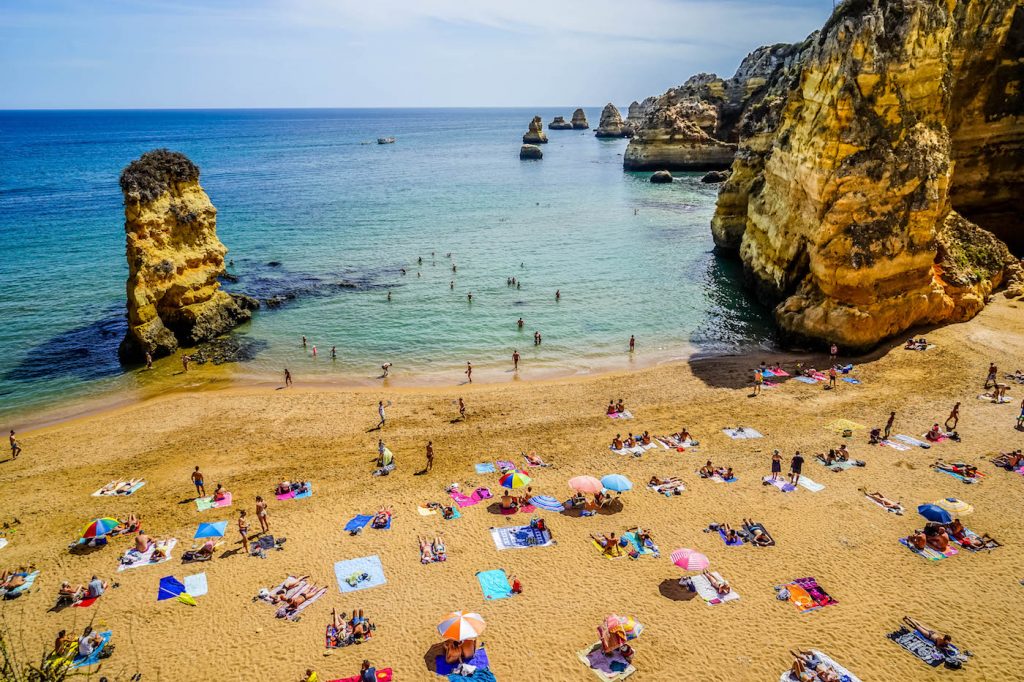 4. Explore The Old Town Of Lagos
Spending time in the historic center is one of the unavoidable things to do in Lagos, but we believe you should take your time over it, not merely rush through it on the way to the beach!
Here you will find some beautiful examples of architecture from the past, laid out along the criss-cross of patterned streets. Among these noble, whitewashed mansions, you'll find the deliciously ornate (on the inside) Igreja de Santo Antonio, a Baroque church with a soaring ceiling, carved woodwork, and traditional tiles.
In the streets and squares of the historic core of Lagos, you'll also find statues of Henry the Navigator and Dom Sebastiao, the founder of the town. A science museum lives in an 18th-century manor house on the off-chance that it rains. Otherwise, enjoy walking around the area and soaking up the historical atmosphere.
The cobbles and the romantic buildings, alongside the marina, mean that a stroll is the perfect way to experience Lagos.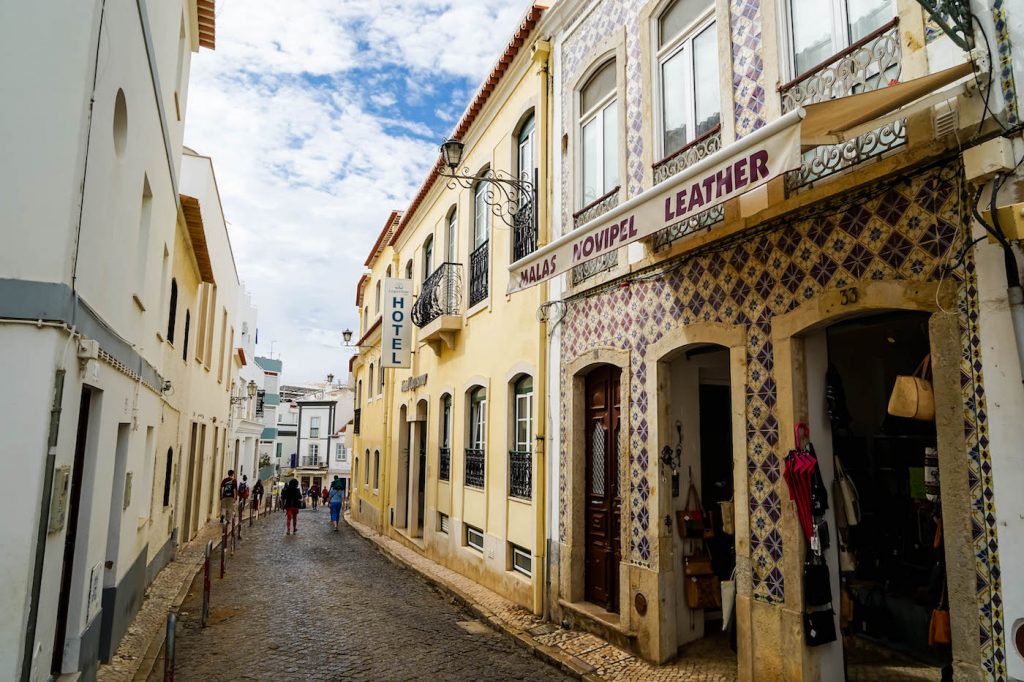 5. Splash About On A Kayak And Snorkel Trip
The shoreline around Lagos is both unique and beautiful. With so much to see around here, by far the best way to experience it is from the water rather than from the land.
That's why a kayak and snorkel trip is one of the best things to do in Lagos. From your kayak you can explore every nook and cranny of the intricate coast. Glide into the caves and grottos, getting up close to the amazing rock formations that have developed over centuries.
This three-hour trip includes time to stop on a secluded beach to swim and snorkel in the sparkling water. It's an excellent way to cool off after the exertions of paddling your kayak! Additionally, you get a chance to explore the underwater world of the Algarve coast.
A knowledgeable guide will take the time to explain the history and significance of the beaches, caves and rocks. It's a beautiful experience, but be warned: your arms will definitely hurt the next day!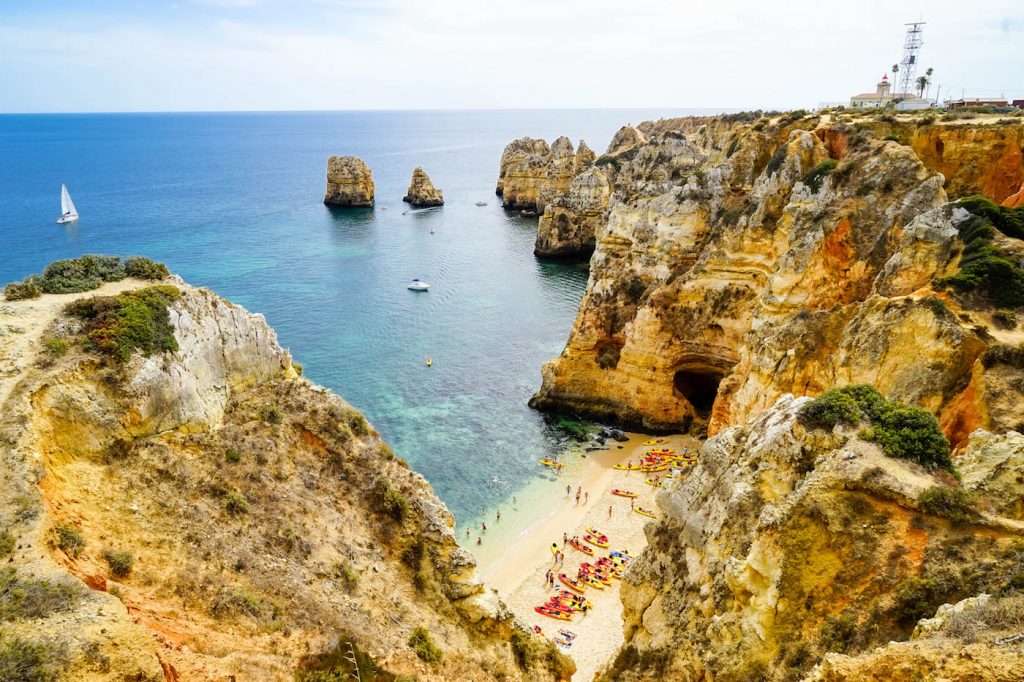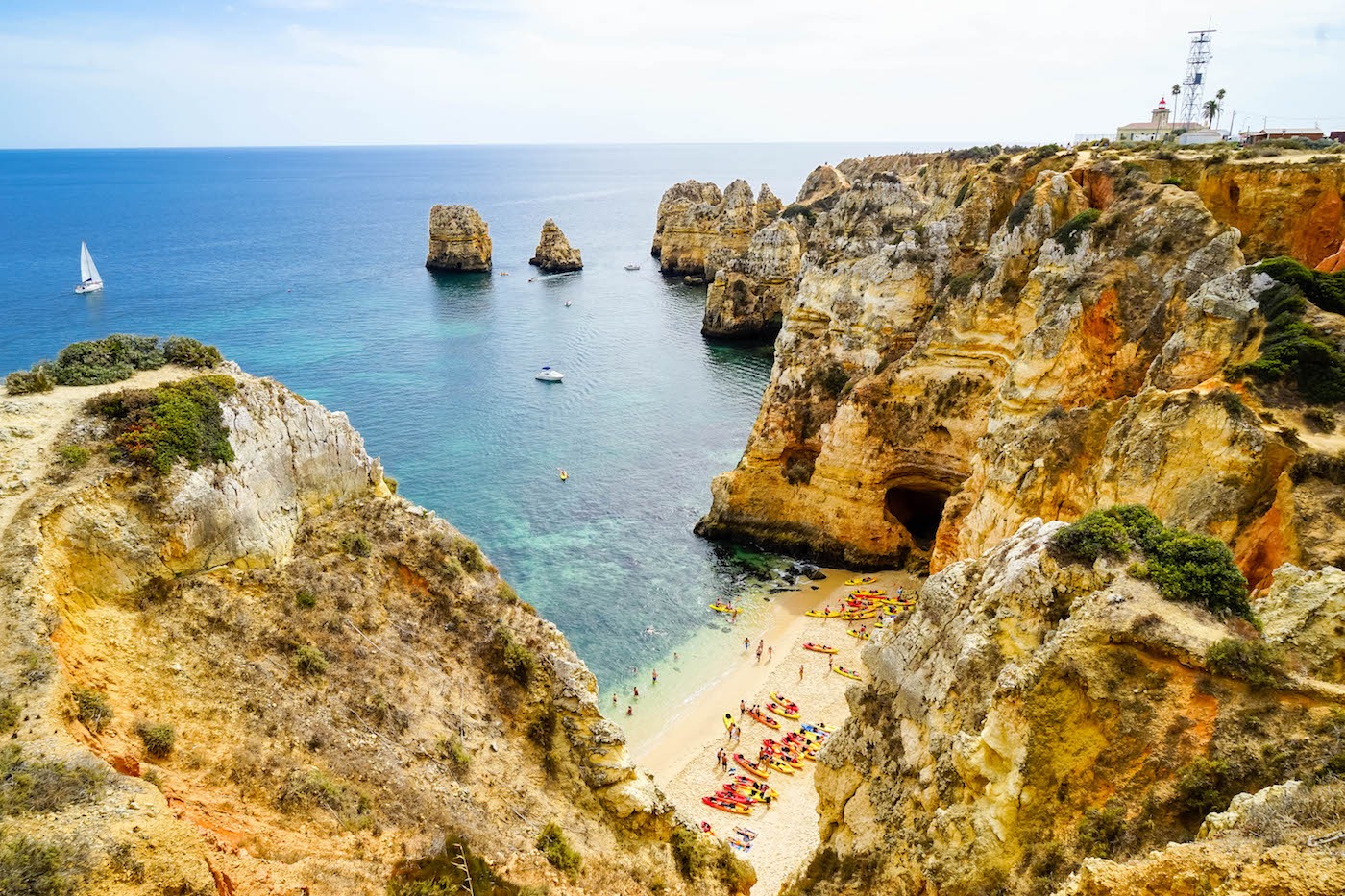 6. Wander Through The Fish Market
Meandering through a bustling fish market is definitely on the list of 'typical Portuguese' experiences. In a town like Lagos, it means getting a glimpse of all the day's fresh catches before they're whisked away to be whipped up into something delicious at one of the many restaurants in town or for a local family.
It's located in the marina – so the seafood really has not had far to travel! – and is an incredible three floors bursting with fishy goodness.
It's not exclusively a place for seafood lovers, either. Among the stalls of glistening cod fillets and chilled crustaceans, you'll find cheeses, fruit and vegetables, meat, and homemade Portuguese condiments. It's open Monday to Saturday, so make sure you check it out.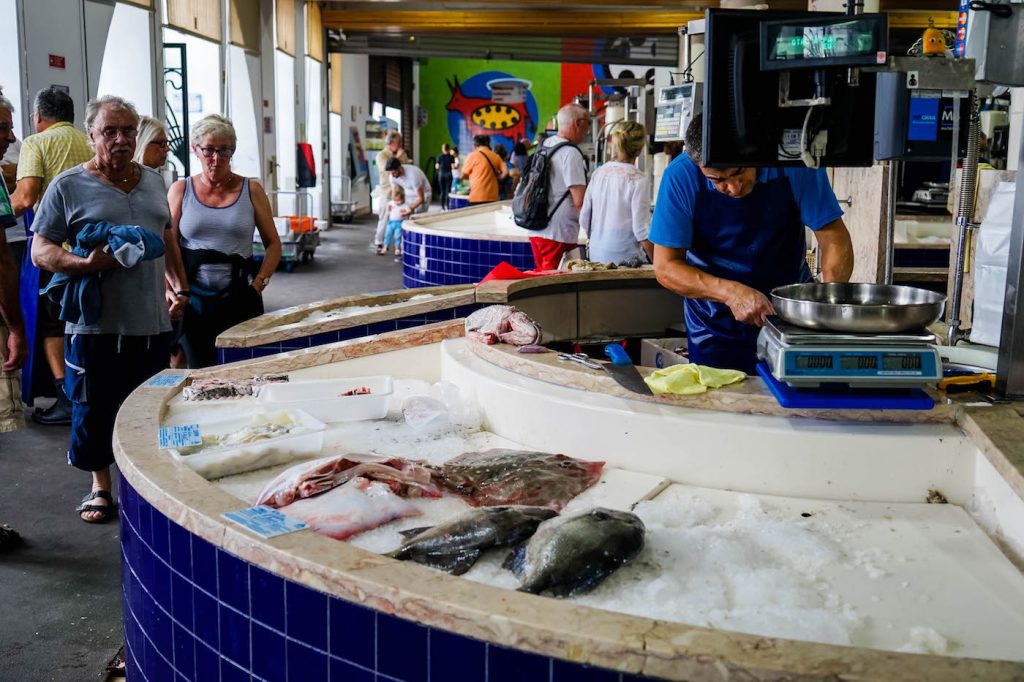 7. Experience The Wonder Of Dolphin Watching
Obviously, we can't guarantee that you'll be lucky enough to see dolphins off the coast of Lagos. Still, there's a considerably higher chance if you're on a wildlife-watching expedition with experienced guides.
Even if you don't see our intelligent sea friends, you'll get to go out on the waters around Lagos and soak up the spectacular views of the Algarve shoreline. It's a lightweight boat that won't frighten the dolphins away, can move swiftly, and is eco-friendly. Passengers get lifejackets and a thorough briefing before heading out. You can go at any time, but morning cruises are more likely to see wildlife.
The knowledgeable skipper and crew are committed to trying to track down the bottlenose and common dolphins who frequent the Atlantic sea here (without using any unethical methods, of course). While you're searching, they'll entertain you with information about marine life and behavior. If you do come across a pod of dolphins, it's a magical feeling. You feel so privileged to see these beautiful animals in the wild that it can have quite an emotional impact (no, YOU'RE crying!).
Occasionally, you might even see a whale going about its daily life as well, which is the cherry on top of the cake.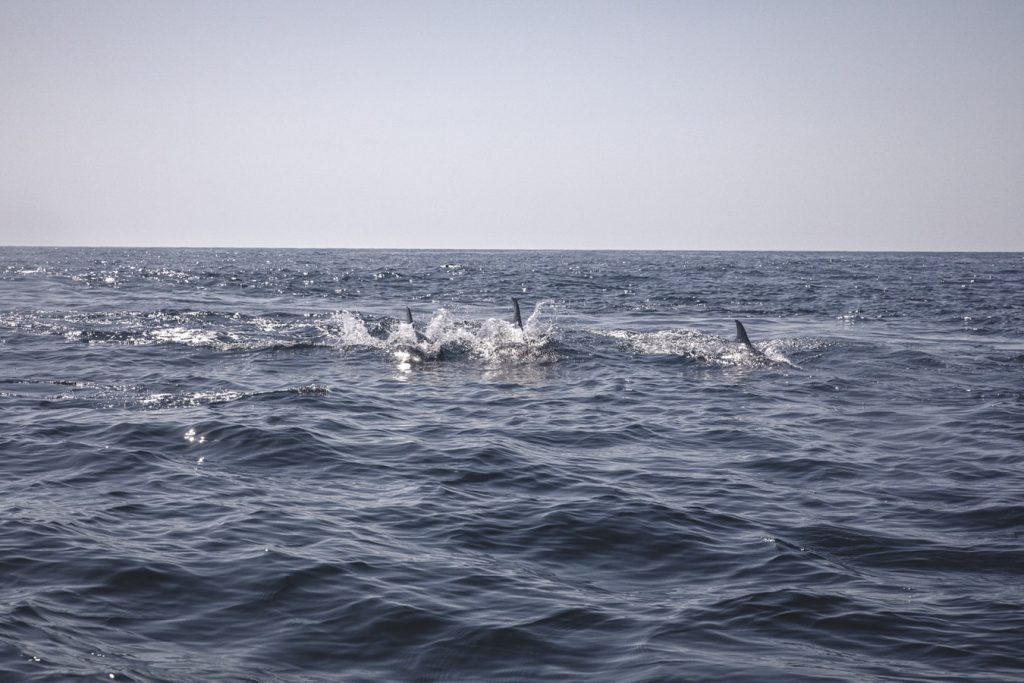 8. See The Sun Go Down At The Edge Of The World On A Sagres Sunset Tour
Sagres is a tiny village at the south-westerly tip of Portugal, about 45 minutes' drive from Lagos. Its isolated position on a cliff means it is renowned for its spectacular views, and what better way to enjoy these than at sunset? But if you're going there on your own, it can be tricky to navigate the area or know where you can see the best views, so hooking up with a tour is our best suggestion.
Start with a visit to the exterior of Fortaleza de Sagres (the fortress), which looms on the cliffs resisting a battering from the wind.
See the views off the beaches and cliffs from outside the walls of the fortress, before heading to the fishing harbor of Baleeira Port to look around. The final stop is the most romantic – Cape Saint Vincent, the westernmost point of Europe, home to a lighthouse and the best place to watch the sun go down. After all, this is the edge of the world, and the Atlantic seems to stretch forever.
A local treat and some port wrap the experience up nicely. Go with that special someone to maximize the romance.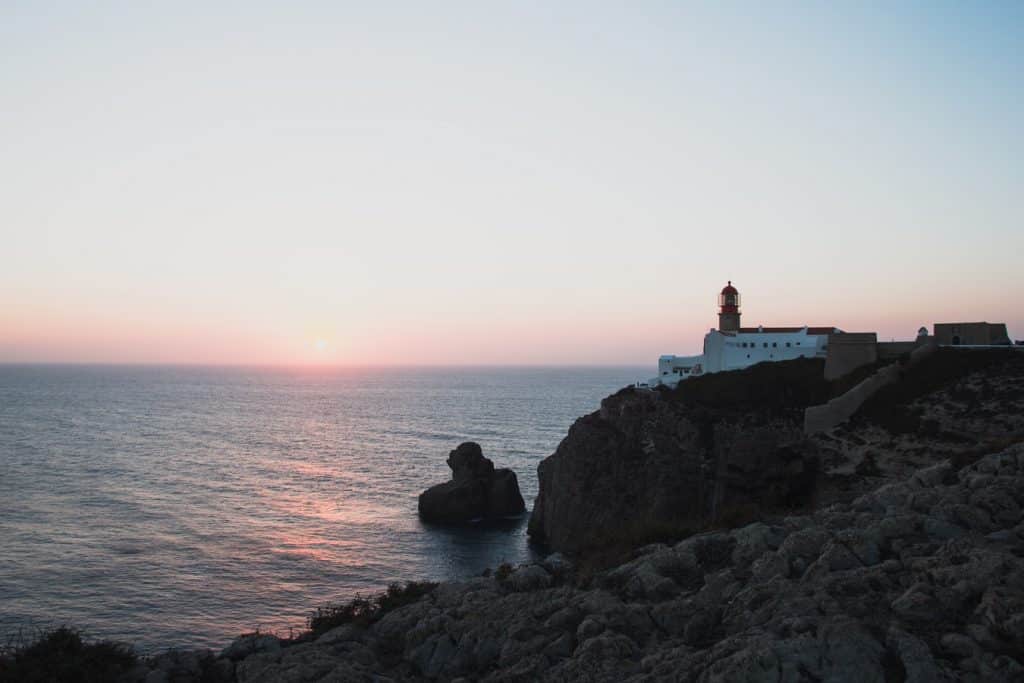 9. Marvel At The Benagil Cave
The Algarve abounds in spectacular natural sights; Benagil Cave is probably the most iconic of these. While it might look like all the other rugged cliffs along the shoreline, once you get inside the mouth, you realize it's an enormous seaside cave of sandstone that glows in the sunlight that streams through a hole in the ceiling.
The way the layers of stone are illuminated and how the glittering blue water laps around the base of the rock makes this a really magical place to visit. The only way to access is via the water, and it's strongly advised not to swim there – it might look easy, but the currents are strong – so a boat trip, kayak trip, or paddle-board tour are your best options.
Although the cave seems enormous, it can get pretty full up when there are lots of boats zooming in and out, so try to get there as early in the day as possible. Morning also often has the clearest light, so you can really appreciate the natural beauty on display.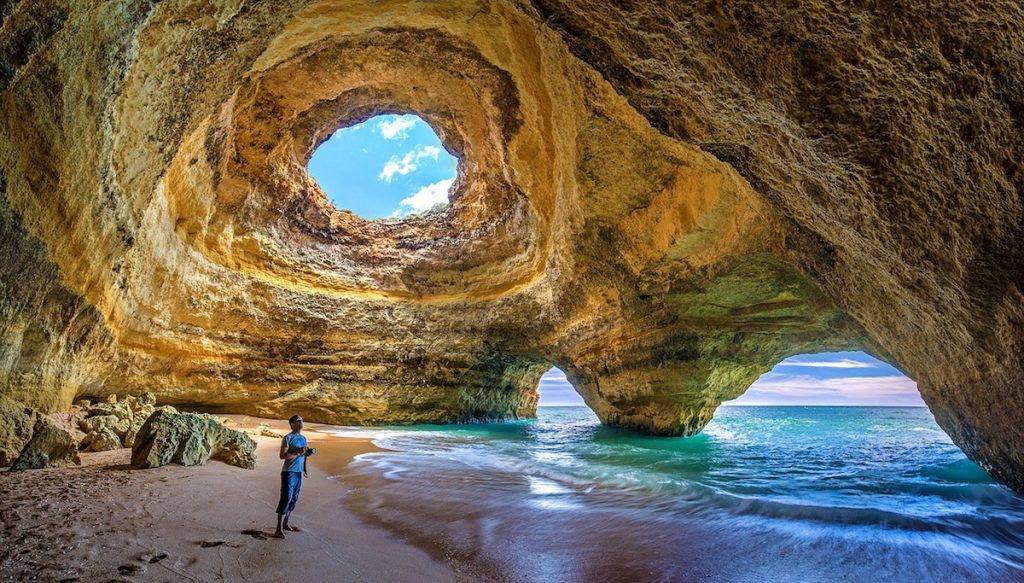 10. Sip Your Way Around An Algarve Wine Route
Move over France and Italy, Portuguese wine is where it's at now (please don't tell the French and Italians we said that!). If you're not sure whether you agree or disagree, then you need to head on an Algarve wine tour to sample some local wines and learn something in the process.
Remember guys; wine tasting isn't just about drinking as much as you can, it's about education!
This half-day trip takes you around wine producers in Lagoa and Silves. You'll get a guided tour of the farms and learn more about how those grapes become something delicious to drink.
Experts can give you interesting facts about the production of wine, for example, how old traditions can combine with new technologies. Tasting red, white, and rose wines give you a great overview of the quality of wine that is made in this region. Just don't blame us if you end up buying bottles to take home!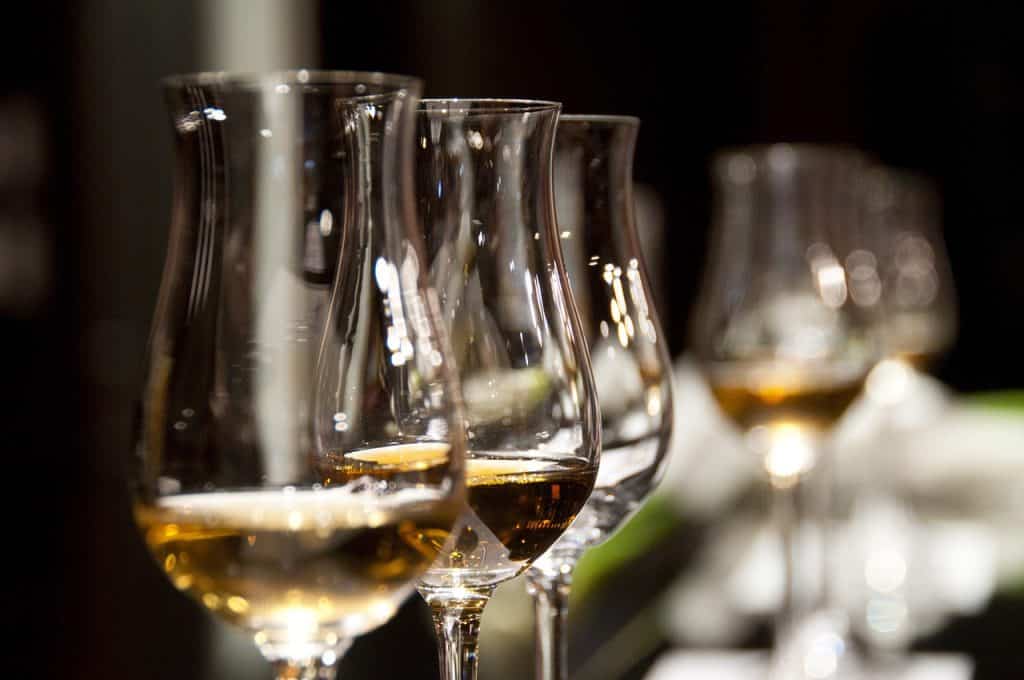 11. Be Adventurous With A Surf Lesson
The Atlantic ocean is many things, but it isn't placid, so why not take advantage of this and sign up for a surfing lesson?
Sagres isn't only suitable for sunset tours; it's also the perfect place to learn to surf, as its beaches are partially sheltered from the really big waves, so people of every level can give it a shot. Including pick up and drop-off, this 2-hour lesson with professionals might not leave you hanging ten, but you'll undoubtedly feel more confident on a board – and have a healthy respect for the ocean!
The team's enthusiasm for the sport is infectious, and many people have started off with the short lesson and ended up extending it to a couple of days. It's 100% safe, and you get lots of personalized attention due to the small group. Finish off with a much-needed lunch nearby.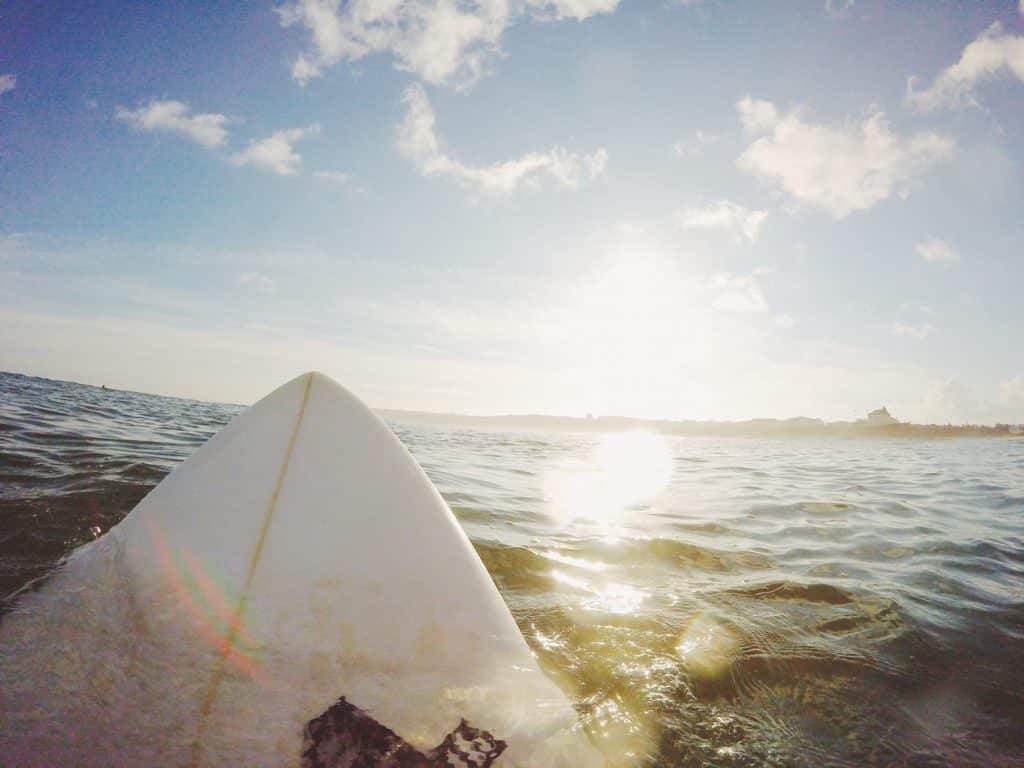 12. Uncover Lagos Darker Side At The Slave Market
The building where you'll find the recently-opened Mercado de Escravos museum is believed to be the first slave market in Europe and has a bleak history.
The first slaves were brought here in 1444 and the place has seen terrible suffering, as this museum recounts. It isn't always easy to face the darker aspects of history, but it is essential. The Age of Discoveries brought slavery to Portugal, and it lasted until 1761.
This museum tackles the problematic subject through a range of exhibits that include panel displays, artifacts, and interactive multimedia guides. It's incredibly educational and helps give some necessary perspective on the many monuments to the naval age, so make sure you set aside a couple of hours to spend here.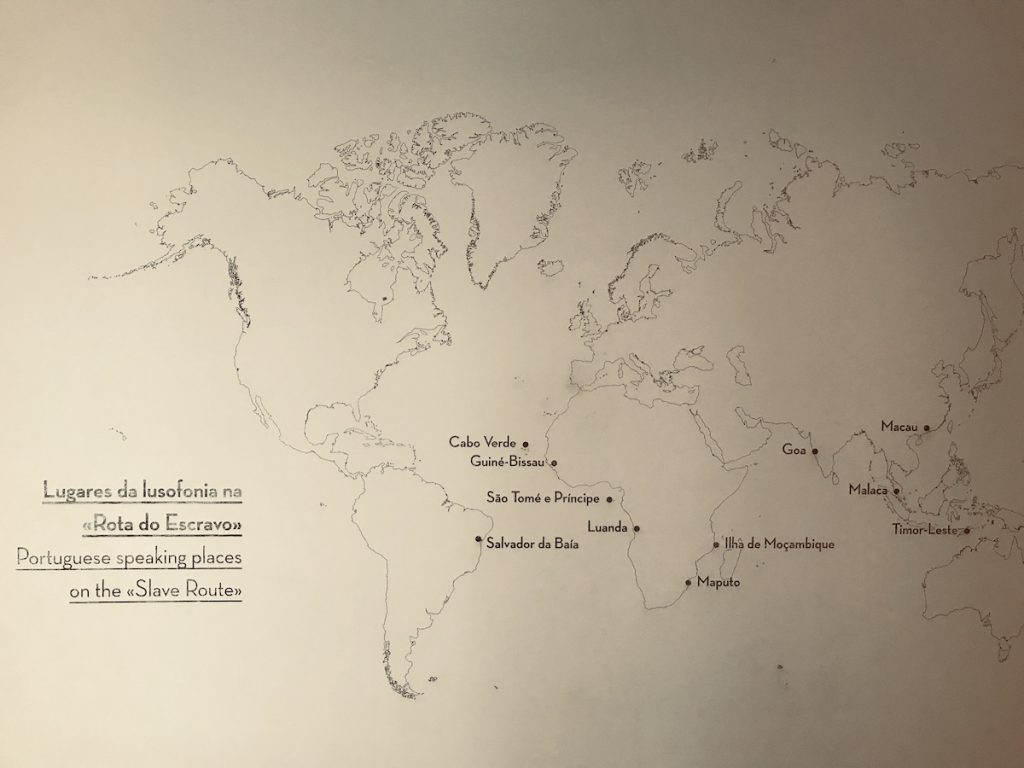 13. Sample The Wild Portuguese Nightlife
You might this Lagos is just a sleepy little seaside town, but after dark, it is anything but with a variety of clubs and bars materializing in the Old Town. Thankfully, however, the nightlife here is a little more orientated to foreigners that mean unlike Lisbon and Porto, things get busier earlier, and closing time is generally around 2 am.
For chilled cocktails and great conversation, we recommend trying Fusion Bar – owned by a young Irish / Brazilian couple – or Taninos Wine & Kitchen for … well, wine and delicious snacks. Later at night, you could head to Three Monkeys Bar, which is always crazy or Grand Cafe.
Personally, we just love to follow the crowd and see where the heat and the passion of the night take us. Everything is close by, and it's all very safe after all…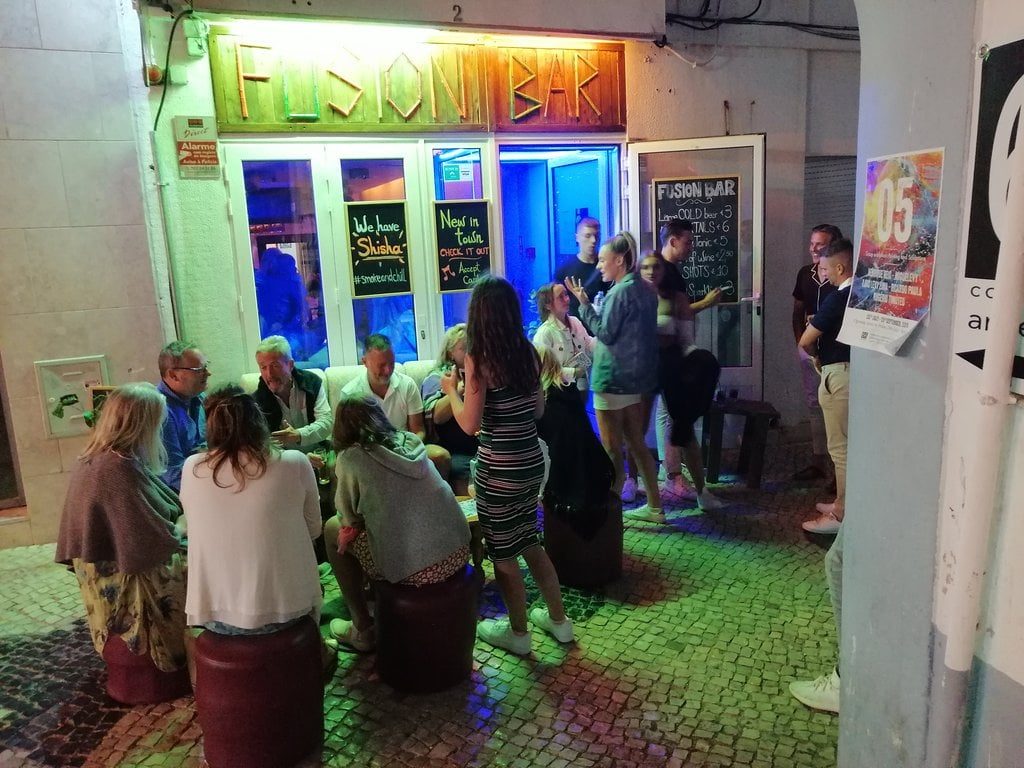 14. Have Fun Learning At The Portuguese Discoveries Wax Museum
Newly opened and only a little bit creepy, the Wax Museum of the Portuguese Discoveries in Lagos takes you on an impressive and stimulating journey back in time to when Lagos and Portugal were at its peak and out 'discovering' the world.
Wander through rooms that cover 16 different significant events, in an educational but also entertaining way that will help you understand more about the role the Algarve had in these expeditions and how Lagos influenced and was influenced by the world.
Starting with the Battle of Aljubarrota, the marriage of King John I and Philippa of Lancaster (The Treaty of Windsor), The Conquest of Ceuta, the Discovery of Brazil and the Arrival of Vasco da Gama in India, each room sheds a little bit more light on this rich and fascinating history.
True historians will want to dig deeper after, but for those wanting a fun cultural excursion – or something for a rainy day, the Portuguese Discoveries Wax Museum in Lagos is just perfect.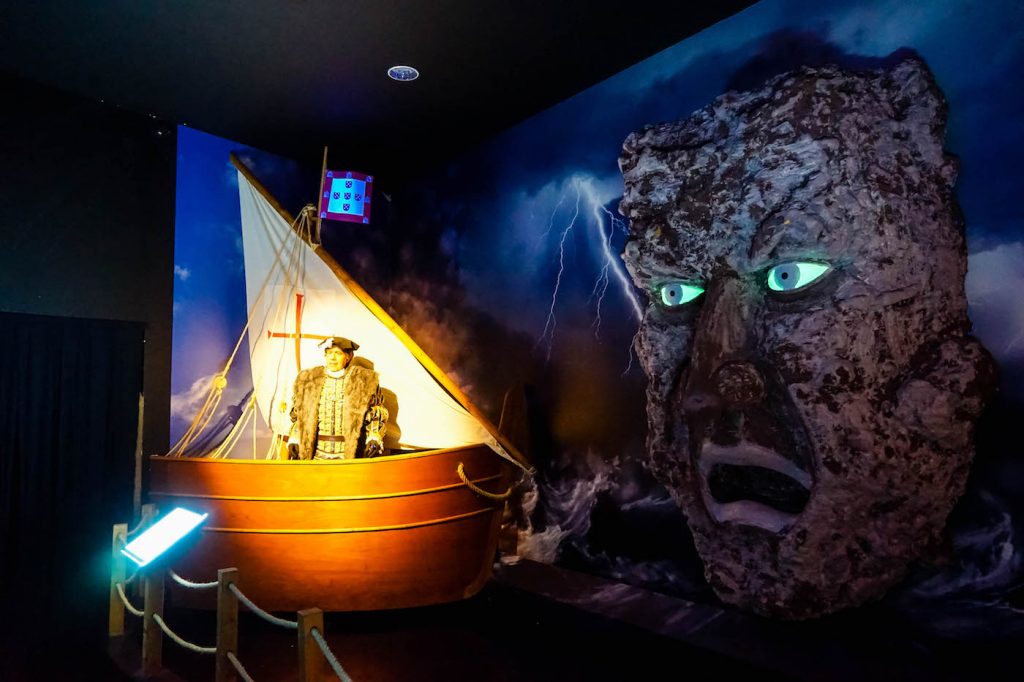 15. Spurge And Stay Amidst Total Luxury At The Palmares Beach House Hotel
Prices are very affordable in Portugal and Lagos, especially outside of the peak season – so why not go ahead and enjoy every second of your stay…While there are countless beautiful hotels and cute B&Bs in the Old Town, our absolute favorite place to stay has to the Palmares Beach House Hotel.
Designed for adults, this house by the sea concept is harmoniously integrated between the greens of the golf course and the blues of the majestic ocean. At every turn you are connected with the intimate nature of the Algarve, but also just a short walk to bustling Lagos and all of its attractions.
In this place, special attention was given to the smallest detail to bring inside the calm and relaxation – and all just 700 meters from an open invitation to swim in the sea. The 20 rooms, including two suites, are all decorated in soft colors and with spacious balconies designed in order to frame a panoramic view over the fascinating Lagos Bay and the long beach of Meia Praia, which stretches from the estuary of the "Ria de Alvor" to the historic walls of the city of Lagos.
At night the bar lounge becomes a meeting place where you can taste a cocktail while you rest and enjoy the calm of the sea waves and the tranquility that the landscape offers at every minute.
Prices are very affordable if booked in advance, and we can personally attest this is one stay we will never, ever forget. Much like our time in Lagos…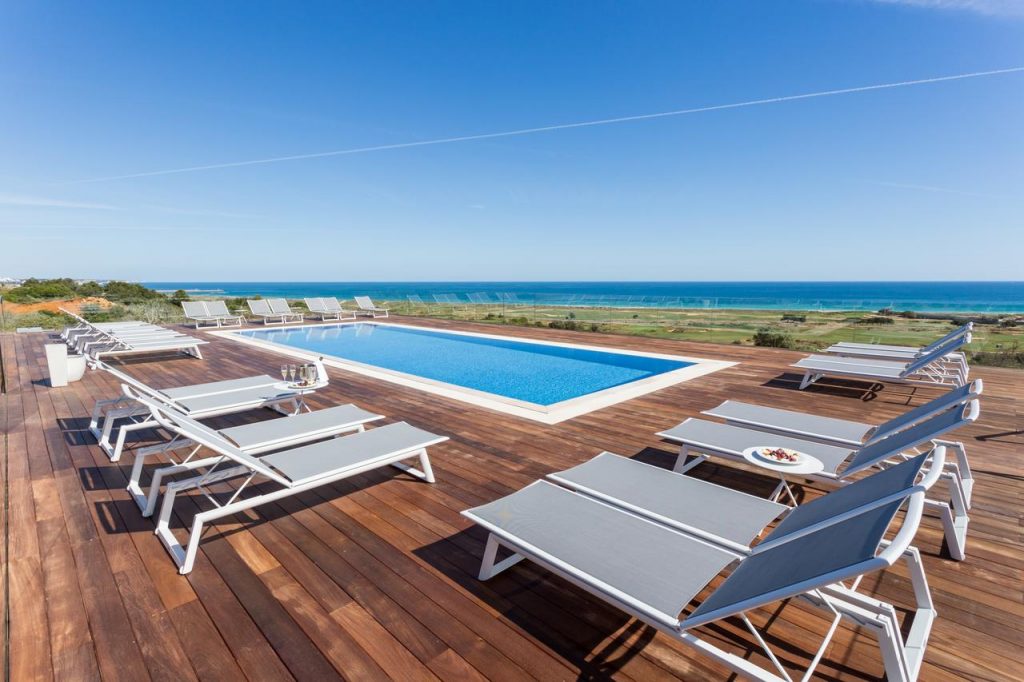 Further Things To Consider Before Any Adventure
Now you're all set and prepared to explore our big wide world, why not sort out everything else out all in one go? If necessary for your travel plans make sure you have brought proper travel insurance, protected your privacy by getting a secure VPN, compared all the top hotel booking sites to find just what you're after, reserved an unbeatable rental car price and - of course - booked the best flight deals!
Or maybe just forget it all and go for a last-minute cruise or effortless tour instead?
Many budget travelers (including me) indulge in worldwide airport lounge access, so we can experience luxury while still slumming it in economy. Naturally, we would never leave home without a more general travel guide since we couldn't possibly cover everything here!
Just add an adventurous attitude and plenty of smiles - they go a long way - and that about covers it all! Now go out, find your own path and don't forget to share your best inspiration stories with me on Facebook, Twitter, and Instagram...I'd love to hear from you!