Cuba is well known for its exceptional natural diversity, rich culture, and remarkable urban landscapes. Appropriately, Cuba is also home to nine of the more than 1,000 World Heritage Sites worldwide, as inscribed by the United Nations Educational, Scientific, and Cultural Organization (UNESCO).
Cuba's fascinating UNESCO sites include astonishing colonial towns, lush national parks, and geological wonders. These sites range from the iconic Old Town of Hava and the spectacular Viñales Valley to the far-flung Alejandro de Humboldt National Park and the majestic San Pedro de la Roca Castle.
The theme of culture is prevalent throughout these nine sites. However, two intriguing sites reflect Cuba's bountiful natural heritage. Some of these sites are landmarks of Cuba, but a few are rather obscure and likely only known to the most persistent of travelers or those who are fastidious watchers of movies set in Cuba.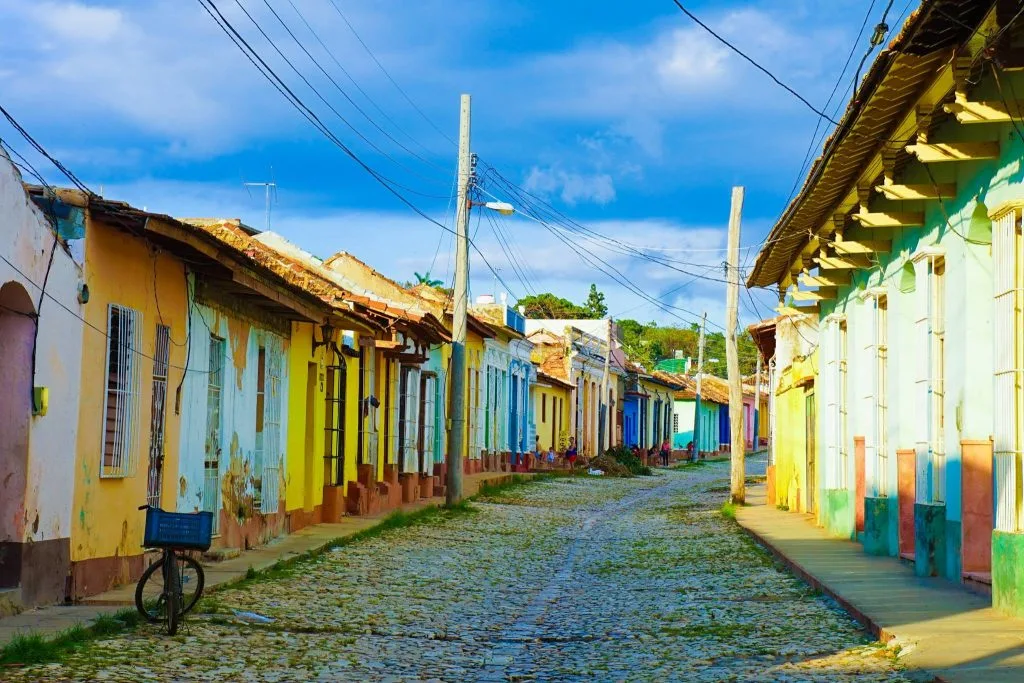 UNESCO is a bureau of the United Nations that endeavors to support the protection and growth of the world's intellectual and cultural property and elects UNESCO sites due to their "outstanding universal value" in science, history, or culture. As a result, these world heritage sites are meaningful to the mutual interests of humanity – and legally guarded by international treaties.
Travel influenced by UNESCO sites allows visitors to explore esoteric spots, aid preservation, obtain specific knowledge about the history of Earth and humanity – and to wonder at unequivocally majestic sites.
While a few such as the botanic gardens of Singapore and the historic district of Old Québec are famous around the world, there are far more untouristy UNESCO sites worthy of insertion in any 'off-the-beaten-track' bucket list.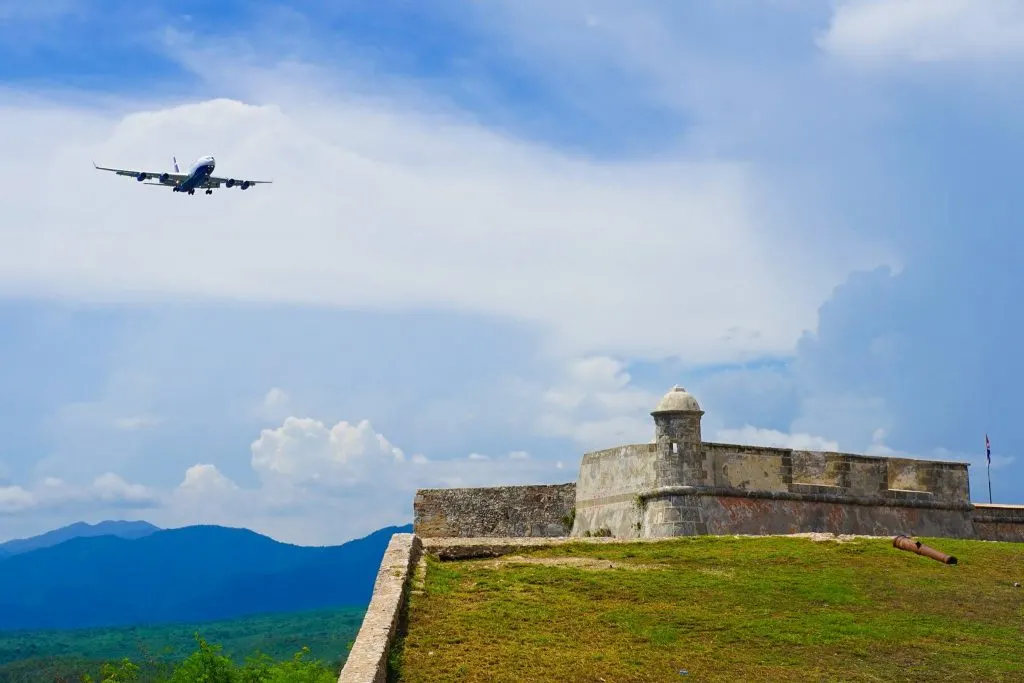 Inscriptions settle into two categories: cultural and natural locations, or a combination of both (mixed). There are currently 9 UNESCO world heritage sites in Cuba, seven cultural ones, and two natural ones. While I have visited most of them myself, I have included all sites here – so you can get an idea of what makes each special.
So, why not immerse yourself in one or more of these sites on your next Cuba vacation? From breathtaking natural wonders to unprecedented feats of human engineering, check out our exhaustive list of Cuba UNESCO sites to determine which places resonate with you.
You can then use them as a roadmap for the adventure of a lifetime.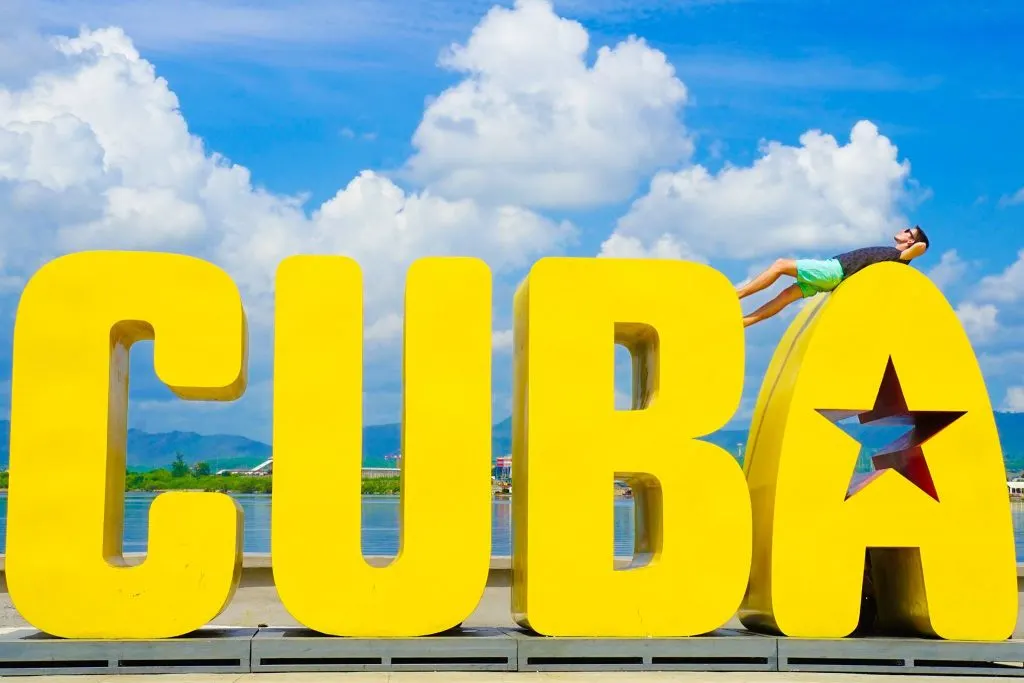 Cultural UNESCO World Heritage Sites In Cuba
Archaeological Landscape Of The First Coffee Plantations In The South-East of Cuba
Coffee has a long and proud history in Cuba. It dates back to the 18th century, where French farmers fleeing the revolution in nearby Haiti, brought their knowledge and plantations to the Western Mountains of Cuba. UNESCO recognizes this captivating history in its inclusion of the archaeological landscape of the first coffee plantations as a Cuba world heritage site.
Coffee production proliferated in Cuba in the 18th century but peaked a century later as Costa Rica, Colombia and Brazil produced vastly more and at lower prices. Besides, Cuba became far more focussed on its sugar empire to the detriment of almost every other crop. The later revolution and the nationalization of Cuba's coffee industry dealt it a death blow, and what was once a famous export is relatively insignificant and somewhat hard to find outside of Cuba.
Today the scattered remains of this once grand 19th-century coffee plantations in the foothills of the Sierra Maestra mountains are a testament to this history. UNESCO has inscribed them as a pioneering innovation in agriculture that allowed coffee to be grown in difficult terrain. The plantations also provide evidence into the economic, social, and technological challenges and development of the Caribbean and Latin American region at the time.
One hundred seventy-one individual coffee plantations, or cafetales, are included in the listing, along with their associated irrigation infrastructure – and series of roads and bridges used to get the coffee to export. The steep and rugged topography of the foothills speaks to the ingenuity of the plantation owners' of the time – though the back-breaking work was mainly forced upon African slaves.
Specific plantations survive today in fluctuating states of preservation. However, one of the best spots to visit is the restored La Isabelica coffee plantation farm museum. Should you wish, there are also ruins to be explored throughout the mountains, which are little more than archaeological sites.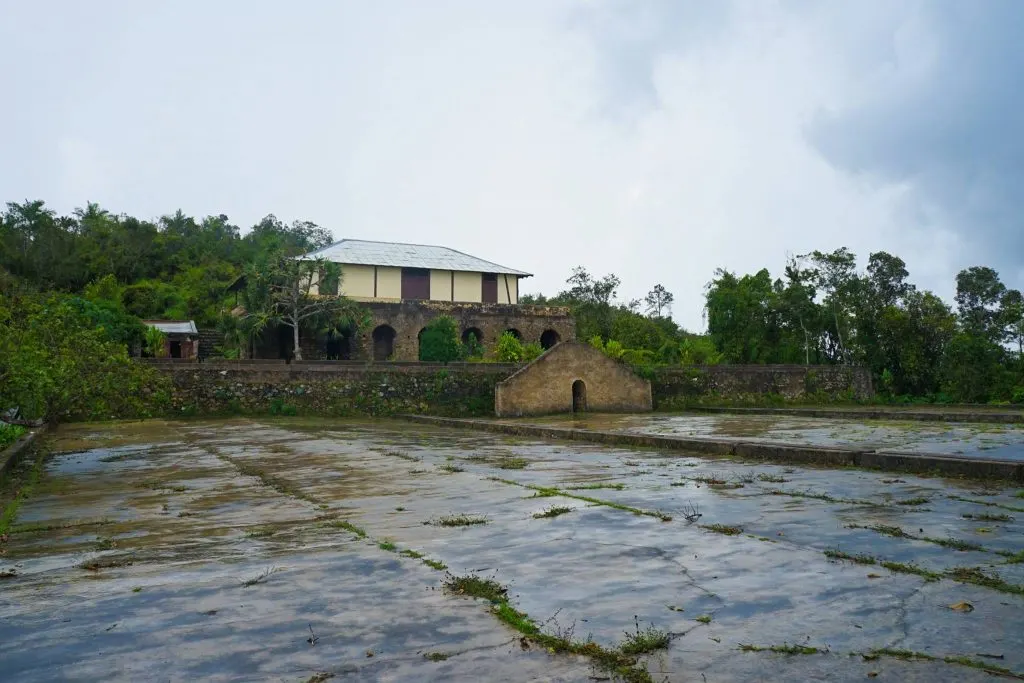 Historic Centre Of Camagüey
One of the first villages founded by the Spaniards in Cuba – and the only set inland – performed a notable role as an urban center serving the burgeoning cattle breeding and sugar industry at the time.
Established in 1528, Camagüey is an outstanding representative of a traditional settlement that developed in relatively isolated from main trading routes of the time. While most Latin American colonial towns located on plain territories have a grid system, the Spanish colonizers at Camagüey embraced medieval European layout and traditional construction techniques.
This unique development is still visible today in that Camagüey remains a maze of irregularly connected streets, alleys, giant blocks, and serpentine roads, all of which were designed to confuse invading pirates in the past.
Even more curious is the mismatch of architectural styles that have developed since including neoclassical, eclectic, Art Deco, Neo-colonial, as well as some Art Nouveau architecture -ensuring Camagüey a great stop in the middle of Cuba for tourists to explore for a few days. More if you get lost in its streets.
Cheap, with the main shopping street, multiplex cinemas, and incredible food – it's the kind of place which sucks you in and begs you to stay longer. For the best view, visit the Gran Hotel Camagüey Cuba rooftop at sunset for a sight you will never forget.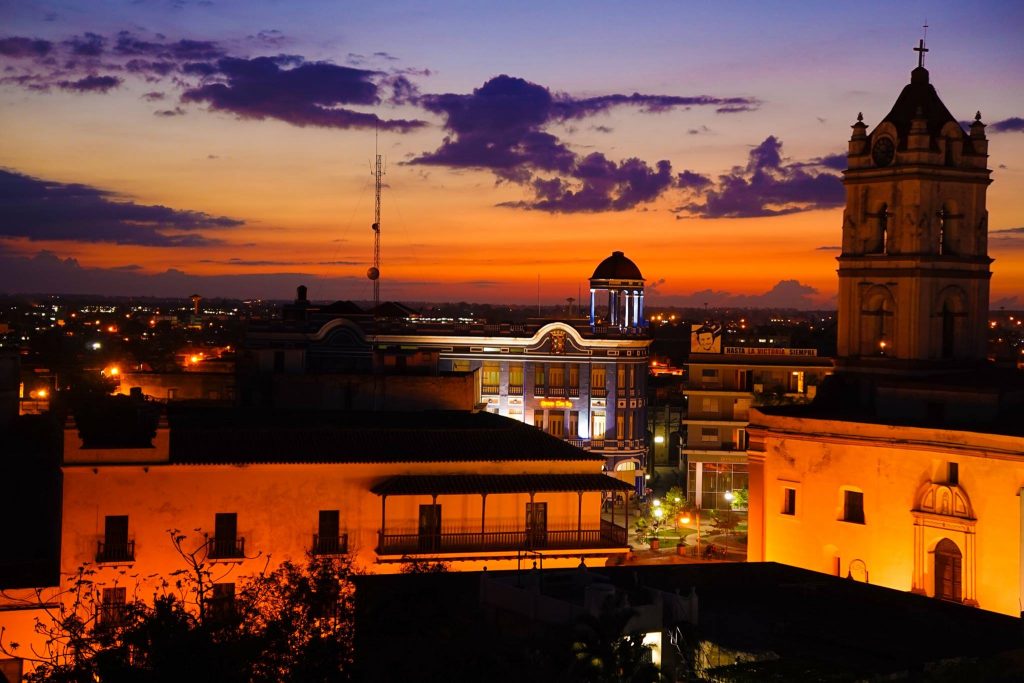 Old Havana And Its Fortification System
The centerpiece of any trip to Cuba (and potentially the only destination if you opt for a short Miami to Cuba vacation) – The Old Town of Havana has it all!
Founded in 1519 as a ship-building center for the Caribbean, it quickly became fabulously wealthy. This shows through the eclectic mix of Baroque and neoclassical buildings and monuments today protected by UNESCO. In the second half of the 16th century, Havana became the largest port in the Caribbean and, by the 18th century, was the most comprehensive dockyard in the New World. The proliferation of economic activity necessitated military protection.
Thus an extensive network of fortifications was developed, including some of the oldest and largest stone fortifications remaining in the Americas. Today it is these former city walls that demarcate the extent of the Old Havana world heritage site.
While hoards of tourists descend here on cruises to Cuba or short Cuba vacations, it still has not lost its charm, and local life still dominates many streets. The historical authenticity of the old town UNESCO world heritage site is even more impressive when you consider the sprawling metropolis of over 2 million people that has now developed around it.
Take your camera, get lost, explore quieter streets, and let the unique vibes of Old Havana fill you. Take note of the plazas, the neoclassical monuments, the wrought-iron gates, romantic balconies, and hidden internal courtyards – all of which are part of its UNESCO inscription. This overall sensation of architectural, historical, and environmental continuity makes Havana so special, and there is nothing like Havana anywhere else in Latin America or the world!
And you're wondering where to stay in Havana; I can categorically say the old town is the best place! And here you will find everything from a quaint casa particular in Old Havana to 5-star luxury hotels in Cuba.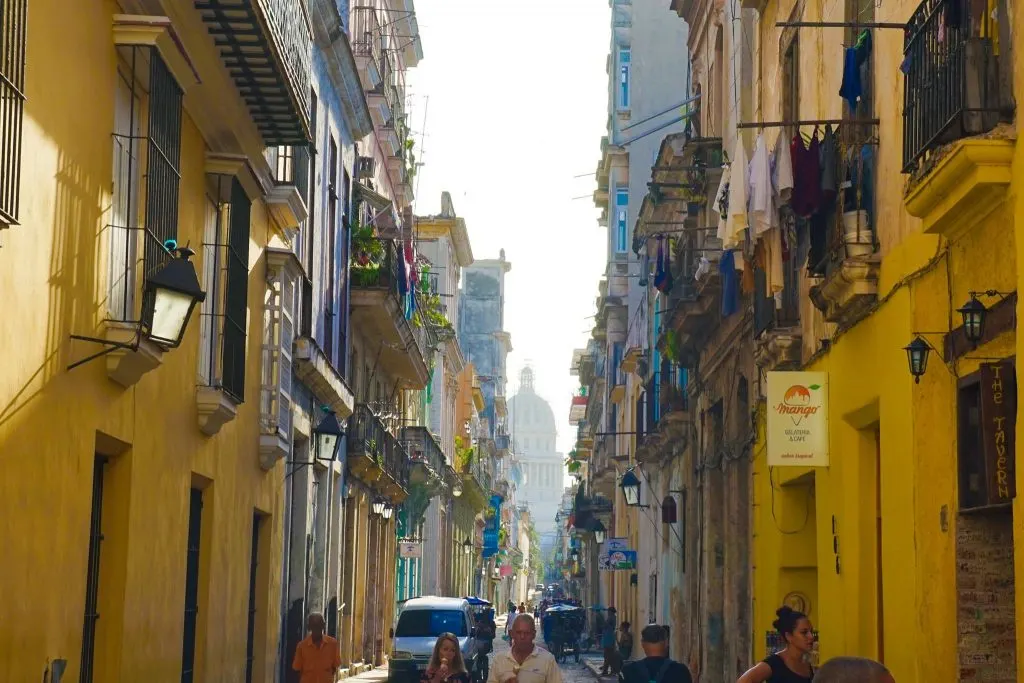 San Pedro De La Roca Castle, Santiago de Cuba
In the 17th century, commercial and political rivalries throughout the Caribbean region led to a rush of fort construction to protect Spain's fledgling colonies and the all-important gold trade.
One of the most complex and imposing of all these is San Pedro de la Roca Castle – a massive series of fortifications, based on Italian and Renaissance design principles, built a rocky promontory to protect the nearby port city of Santiago de Cuba.
An intricate site which is the most complete and best-preserved example in all of the Caribbean (even better than those in Panama, Cartagena, and Campeche!) and was awarded UNESCO World Heritage status as such.
This extraordinary fortress and its complex of protective works also provide important insight into the adaptation of Renaissance military engineering to the necessities of European colonial powers in the Caribbean. Built as a direct result of rising tensions between Spain and England in the 17th century, San Pedro de la Roca Castle underwent various expansions and repair as technology developed and earthquakes and attacks took place.
Its current iteration is the result of a mid-18th-century reconstruction. It has remained largely unchanged since except for the addition of batteries in 1898.
Fortress maintenance ceased not long after, and the San Pedro de la Roca Castle dwindled into the early 20th century. Thankfully, however, its uniqueness was recognized, and restoration began in the 1960s. As a result, today, this is the most exhaustive and best-preserved illustration of Spanish-American school of military architecture in the word, and one world heritage site in Cuba that travelers should not skip!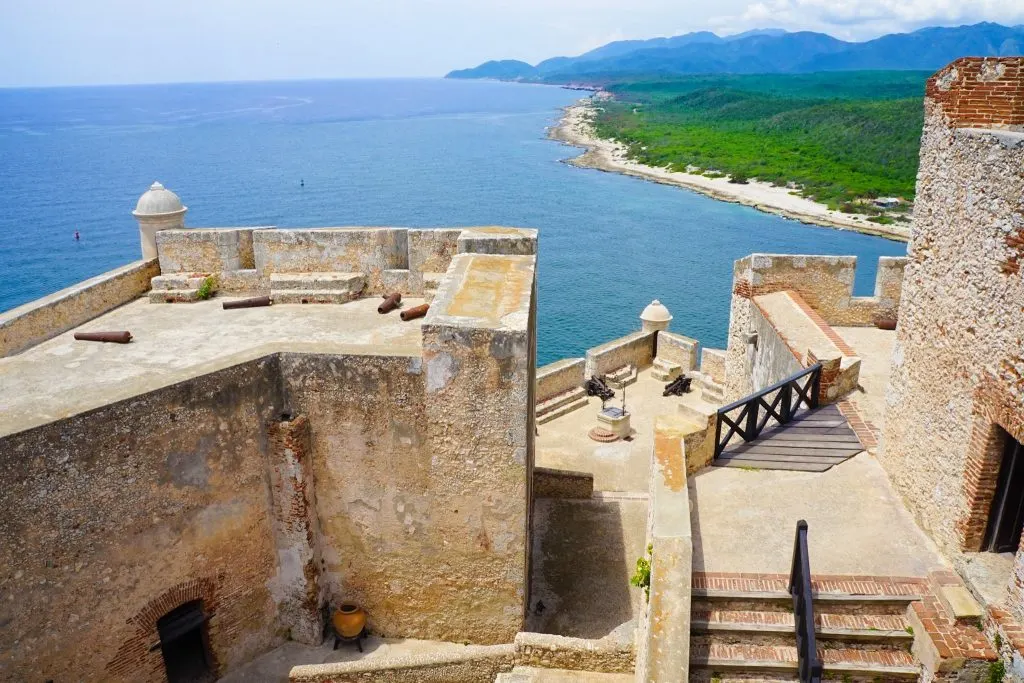 Trinidad And The Valley De Los Ingenios
Trinidad was established in the early 16th century quickly became an essential bridgehead for the subsequent conquest and colonization of the American continent.
Its historical raison d' être and reason for inscription as a UNESCO world heritage site came later in the 18th- and 19th-century thanks to the prosperity brought by the sugar trade that flourishing in the nearby Valley de Los Ingenios (Valley of the Sugar Mills).
This period prosperity is today exemplified by Trinidad's built environment with elaborate, luxurious mansions such as the Palacio Brunet and the Palacio Cantero – along with plantation houses, barracks, and other buildings associated to the industry.
The nearby Valley de Los Ingenios is also included as part of the inscription as it is something of a living museum of the once-great Cuban Sugar Empire – and easily explored on a day trip from Trinidad. At its peak, there were over 70 mills here though today you can only visit the remnants of the structures.
Eery and beautiful, these fabrications represent the most precious example of the Caribbean sugar agro-industrial process of the 18th and 19th centuries, and of the slavery phenomenon on which it relied. Tour to the Valley of the Sugar Mills can be organized in Trinidad with Cubatur, your guesthouse, or via an infrequently run and unreliable train.
If you want to learn more about the incredible rise and even more spectacular fall of the Cuban sugar empire, you should read The Sugar King of Havana: The Rise and Fall of Julio Lobo, Cuba's Last Tycoon before you go.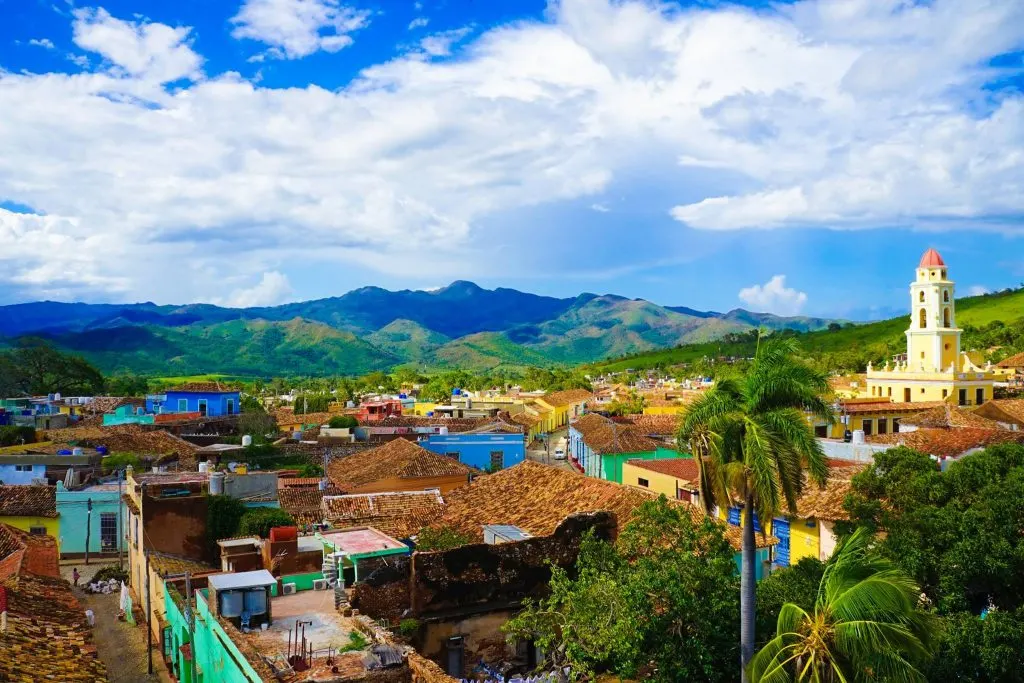 Urban Historic Centre Of Cienfuegos
Founded in 1819, the colonial town of Cienfuegos was quickly settled by immigrants of French origin who came to trade sugar cane, tobacco, and coffee. Today, this city on Cuba's Caribbean coast has a distinctly different feel.
Built-in the neoclassical style with an architectural ensemble that was awarded UNESCO World Heritage status for its modern ideas (at the time) in hygiene and urban planning. Over time its buildings have become a bit more eclectic, but the overall feel of the town is very harmonious.
Specific buildings to visit include the Government Palace (City Hall), San Lorenzo School, the Bishopric, the Ferrer Palace, the former lyceum, and some rather glorious residential houses.
Like many UNESCO sites around the world, including Tallinn and Hoi An, its biggest threat is urban growth. Still, so far, the historic core of Cienfuegos has preserved its traditional appearance without radical changes.
As a result, when you visit, you will quickly see why they still call it the Pearl of the South!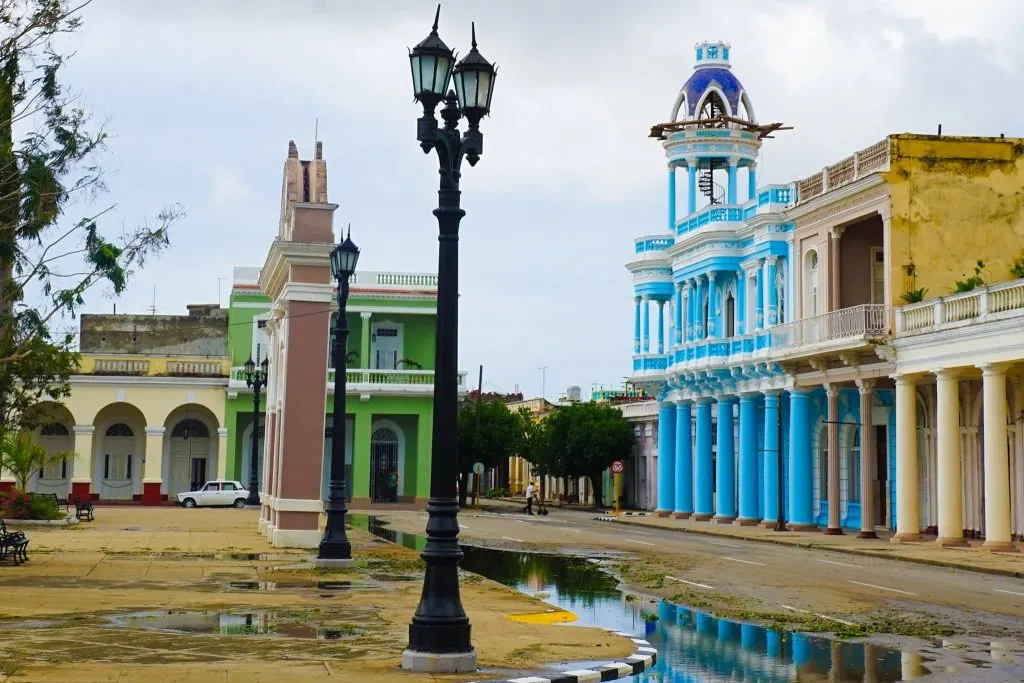 Viñales Valley
Located in the province of Pinar del Rio, the Viñales valley is filled with verdant farmland surrounded by jagged mountains and dramatic rocky outcrops reminiscent of Halong Bay or Mua Cave – Trang An Landscape Complex in Vietnam.
Famed for its old-school farming techniques and the quality of the tobacco produced here, Viñales is a not-to-be-missed location with small restaurants, bars, hiking, horse riding, caves, and more. However, it is not the natural scenery but the cultural landscape of farms and villages which have earned Viñales Valley its UNESCO status.
The inherited architecture of its traditional farms and villages is evidence of the vigorous multi-ethnic society that has emerged here, mainly as a result of tobacco production. Mechanized harvesting and cultivation degraded the quality of tobacco, so time-honored techniques such as animal traction remain popular in Viñales, leading to its time-warped rural character.
Most buildings here remain very simple, and even the town center still primarily consists of one-story wooden colonial architecture.
Since its colonial settlement Viñales is cultivated an original culture, a synthesis of the influences of indigenous peoples, Spanish conquerors, and African slaves who worked the original tobacco plantations, which is expressed in the music, visual arts, and traditional crafts here.
All this, and more, results in the strong cultural attachment most Cubans have with the Viñales Valley even today – and its popularity with tourists.
Due to it's proximity to Havana, it seems like almost every house is a casa particular in Viñales, so you are truly spoilt for choice when you visit. Many are even on Airbnb today, should you want to explore options outside of a few garish hotels.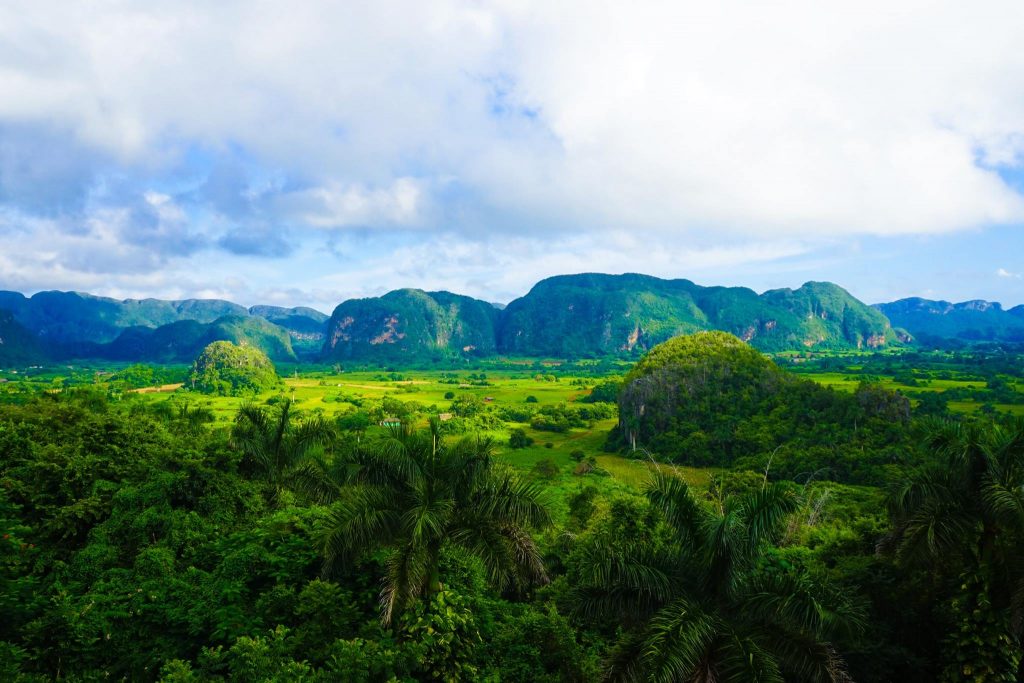 Natural UNESCO World Heritage Sites In Cuba
Alejandro De Humboldt National Park
Varied geology, altitudinal range, and sheer topographical variation have allowed a diversity of unique ecosystems and species to evolve at Alejandro de Humboldt National Park that is unsurpassed in the islands of the Caribbean.
The results are one of the most biologically diverse tropical island sites on Earth, and one that many travelers to Cuba never discover due to its extremely isolated location. Much of the rocky geology and resulting soils here are poisonous to flora, so plants species found here have had to adapt, resulting in extreme rates of endemism.
This also extends to the vertebrates and invertebrates found here, many of which are novel species found nowhere else.
Located in the eastern provinces of Holguín and Guantánamo, access to the Alejandro de Humboldt National Park is limited to the peripheral 'transition' zone. A visit is still well worth your time to discover why UNESCO decided to inscribe it as a natural world heritage site. There are three short walks available with the longest talking only 2 hours, and all must be done with a guide. At the same time, there are also options to see manatees in the Bahia de Taco in season.
While avid hunters of world heritage sites in Cuba might be dismayed to discover how limited their exploration of this site will be, this is an essential precaution as the Alejandro de Humboldt National Park has historically been an area of land little used by man, even in pre-Colombian times. The town of Baracoa near the Park's edge is fascinating and makes an effort to get here worthwhile.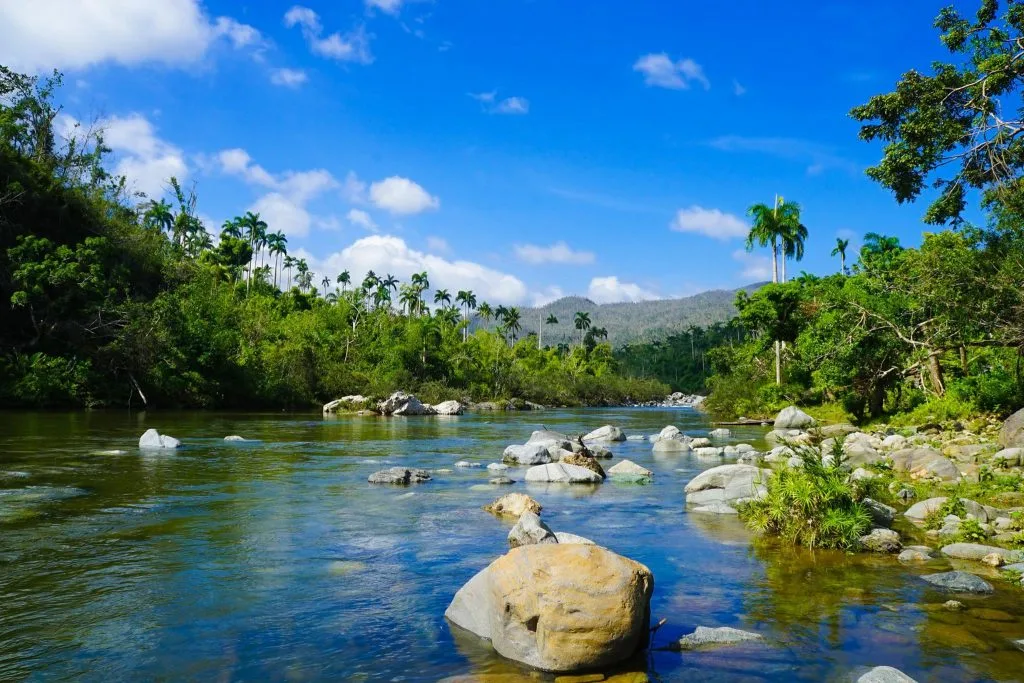 Desembarco Del Granma National Park
Another extremely isolated national park, Desembarco del Granma in the south-eastern of Cuba, is awarded world heritage site status as a result of its geology, including unique uplifted marine terraces and connected continuous developments of karst topography and features. The terraces were the result of tectonic uplift and sea-level fluctuations through various climate change events. Their number and height are as exceptional as the condition they remain in.
As a result, the Park represents a globally notable instance of geomorphologic and physiographic features. The ongoing geological processes here continue to remain of interest to scientists. Desembarco del Granma is situated in and around Cabo Cruz and draws in visitors thanks to its panoramic terraces and coastal cliffs with impressive views over the western Atlantic.
This little-disturbed landscape also contributes an ample spectrum of karst phenomena, including giant sinkholes, canyons, and caves.
Desembarco del Granma National Park is also famous as the location where Fidel Castro, Che Guevara, Raúl Castro, and 79 of their supporters landed after voyaging by sea from Mexico to Cuba in 1956 to incited the Cuban Revolution. The Park is named after their vessel, the Granma.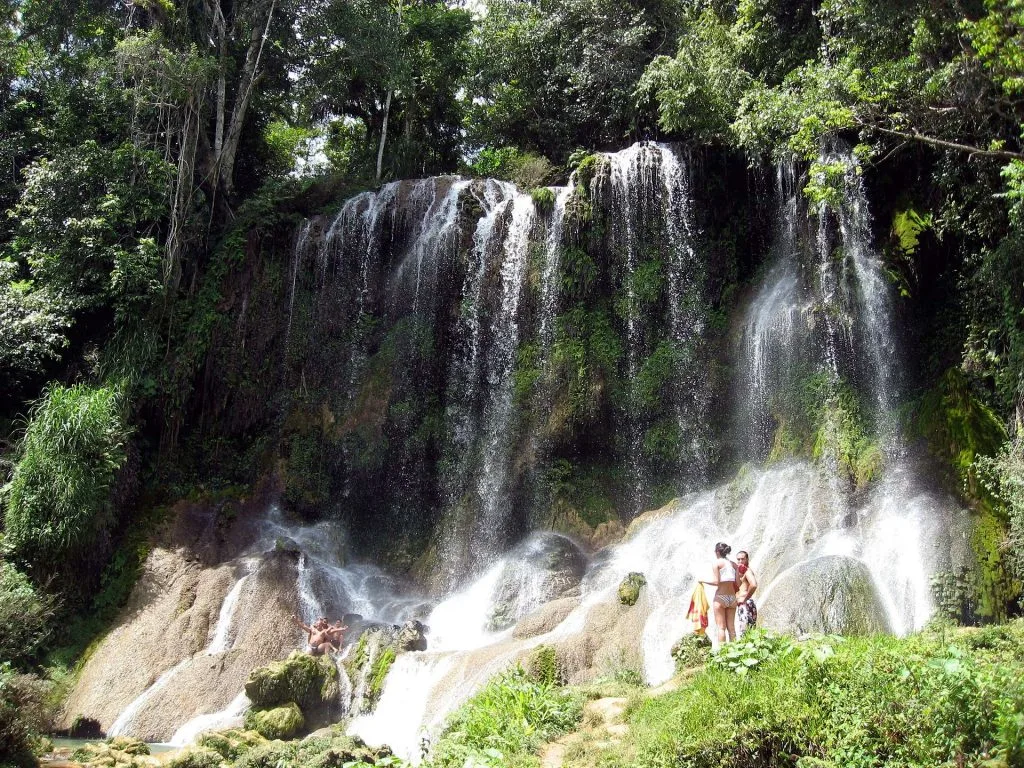 ---
And there you have it—all of the world heritage sites in Cuba. Hopefully, you have learned something about this country's history already through these sites. Maybe some of them have even inspired your future travels. While overtourism has been creeping up in places, Cuba has recognized this issue and is taking steps in the right direction.
If you get the opportunity to visit, please make choices that encourage the protection of these special places for future generations. This includes consideration of the transport you take in Cuba, along with which Cuba tour companies you choose to support.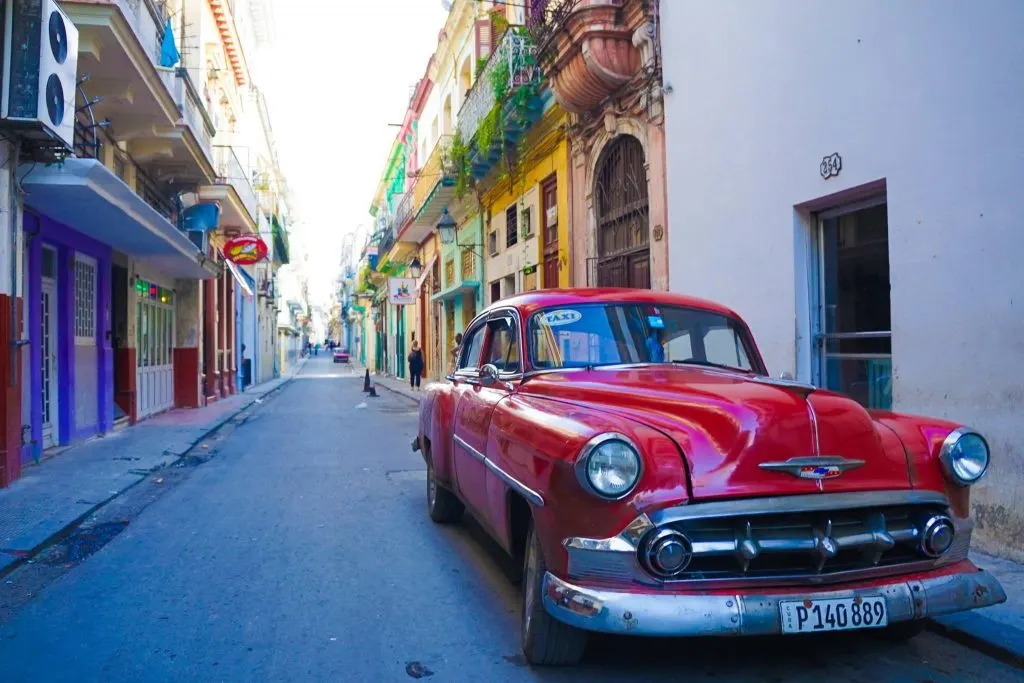 If you haven't quite had enough, Cuba also has tentative UNESCO sites which it has proposed but has yet to be ratified. These may or may not be included at a future date but are very telling in that they are what each country considers to be it's cultural and/or natural heritage of outstanding universal value.
They typically are worthy candidates for inscriptions and should be of interest for adventurous travelers who want to explore under-the-radar spots before they become touristy. For Cuba, these tentative sites are the National Schools of Art in Cubanacán, Ciénaga de Zapata National Park, and the Reef System in the Cuban Caribbean.
Happy exploring!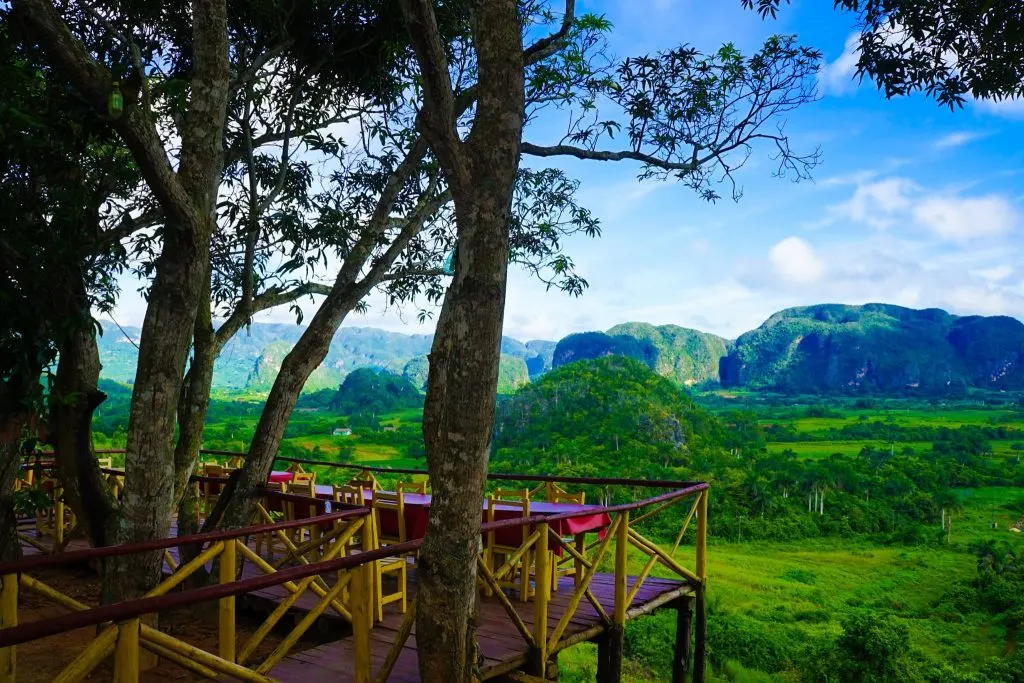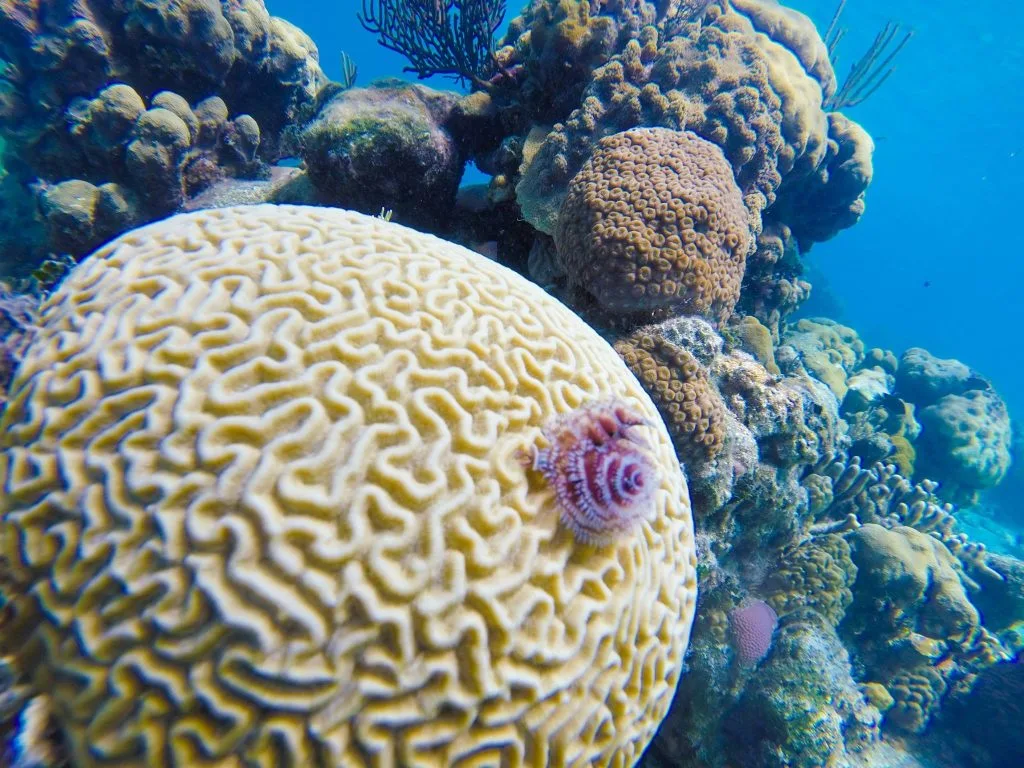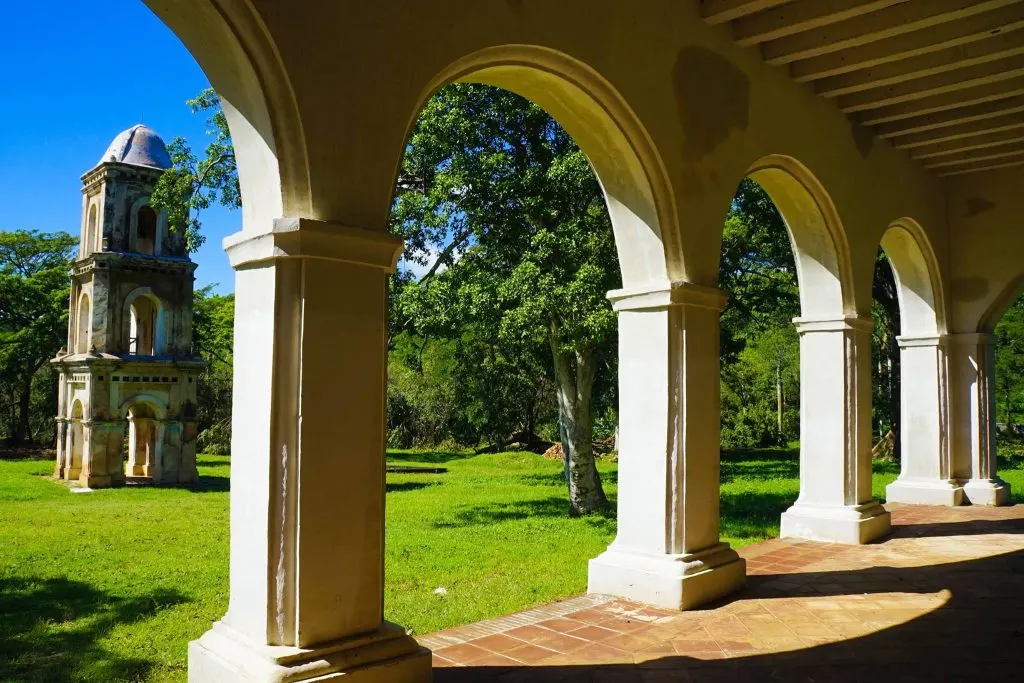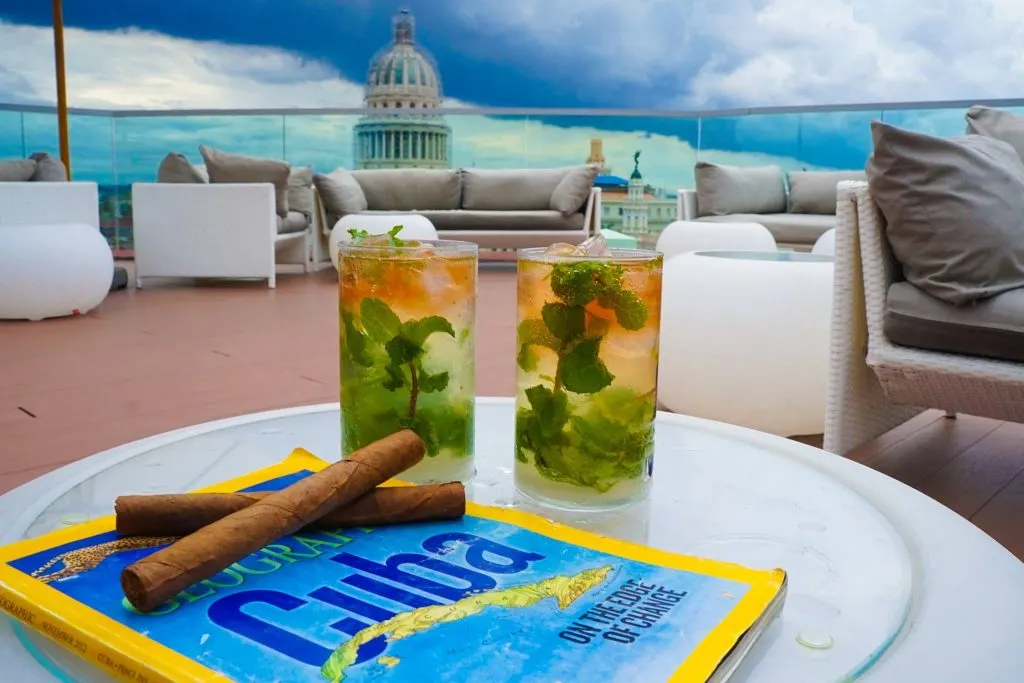 Staying Connected While Travelling
In today's increasingly connected world, staying online while traveling has become essential for a seamless experience. That's where eSIMs come into play, revolutionizing the way we access mobile networks during our global adventures. Say goodbye to hunting down local SIM cards at the airport; eSIMs provide instant activation the moment you land, sparing you the fortune usually spent on international roaming and allowing you to genuinely travel like a local (without getting hopelessly lost!).
With eSIMs, tasks like restaurant recommendations and reservations, up-to-the-minute public transport instructions, checking opening hours, and accessing further information become a breeze. And, of course, sharing your journey on social media is easier than ever. To stay connected wherever you roam, consider using either Airalo or Holafly. Airalo boasts the most extensive range of destinations worldwide, offering smaller data bundles tailored to your needs, while Holafly provides unlimited data packages and fantastic EU data deals.
So why wait? Embrace the future of travel connectivity with eSIMs and make your next journey effortlessly smooth.
Further Things To Consider Before Any Adventure
Now you're all set and prepared to explore our big wide world, why not sort out everything else out all in one go? If necessary for your travel plans make sure you have brought proper travel insurance, protected your privacy by getting a secure VPN, compared all the top hotel booking sites to find just what you're after, reserved an unbeatable rental car price and - of course - booked the best flight deals!
Or maybe just forget it all and go for a last-minute cruise or effortless tour instead?
Many budget travelers (including me) indulge in worldwide airport lounge access, so we can experience luxury while still slumming it in economy. Naturally, we would never leave home without a more general travel guide since we couldn't possibly cover everything here!
Just add an adventurous attitude and plenty of smiles - they go a long way - and that about covers it all! Now go out, find your own path and don't forget to share your best inspiration stories with me on Facebook, Twitter, and Instagram...I'd love to hear from you!