So your heading to the mythical Skye – how perfect! Even better, I have all the absolute highlights and top things to do in the Isle of Skye right here for you to hunt down on your multi-day trip.
How needs crowds and expensive tours after all, right! But first, for those that have not already heard – what is Skye?
The Isle of Skye, named 'cloud island' in Old Norse, is the second-largest of Scotland's islands but undoubtedly the most beautiful. A jumbled mess of mysterious moors, jagged mountain peaks, deep lochs, and towering sea cliffs that has drawn tourists in for centuries — and today makes it Scotland's most prominent tourist destination after Edinburgh!
The otherworldly scenery here is always center stage (which is why Prometheus and many other Scottish movies were filmed here), but this is a place full of history and legends. The majority of tourists tend to stay in the small towns of Portree, Dunvegan, and Trotternish — but if you have a car (and you should when visiting Skye!), then freedom camping is a way to get away from it all and have a slice of Skye to yourself!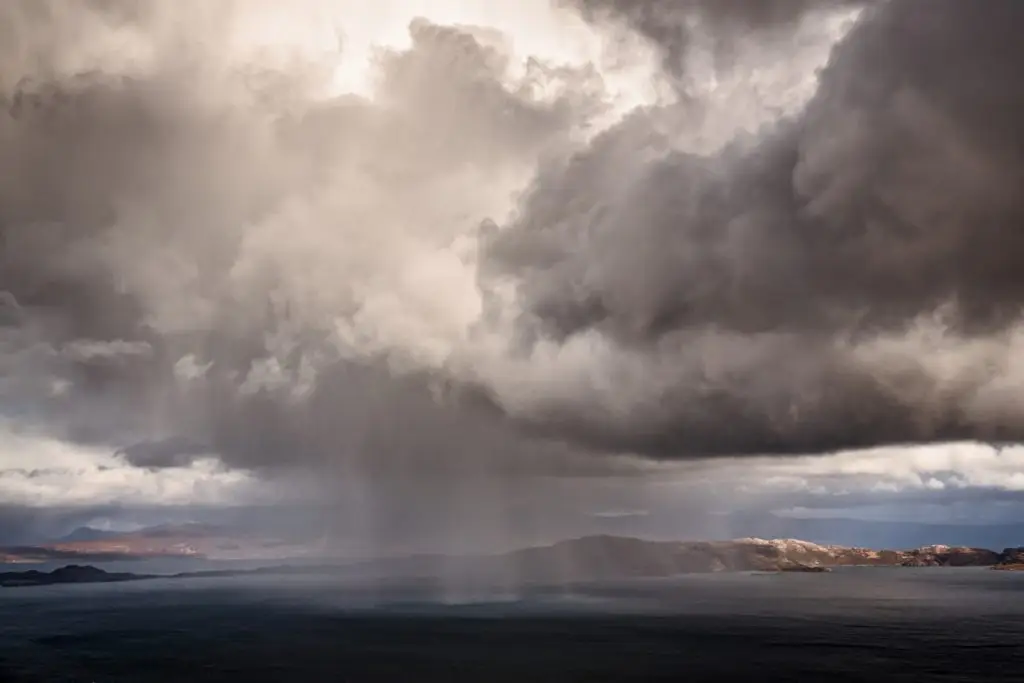 Populated since the Mesolithic era, there are around 10,000 people currently living on the island, though visiting outside of peak season, you would never believe it. Of course, during the summer months, the population explodes with tourists with come in droves thanks to Skye's extraordinary landscape and ease of access from mainland Scotland. The Skye Bridge and ferry both being popular options if you hire a car.
You can also catch a train and then bus in from nearby towns, but the wonders here do not reveal themselves quite so quickly if you cannot explore on your own. Check out the section at the end for more information on how to get to the Isle of Skye.
Adding to the otherworldly charm is the fact that a sizeable amount of the local population speaks Gaelic – around 30% – and there is plenty of vibrant local culture and heritage to sink your teeth into. Nature-lovers should be on the lookout for the plentiful wildlife, including the Golden Eagle, Red Deer, and Salmon, easily spotted amidst the spectacular – if somewhat stark – Isle of Skye highlights.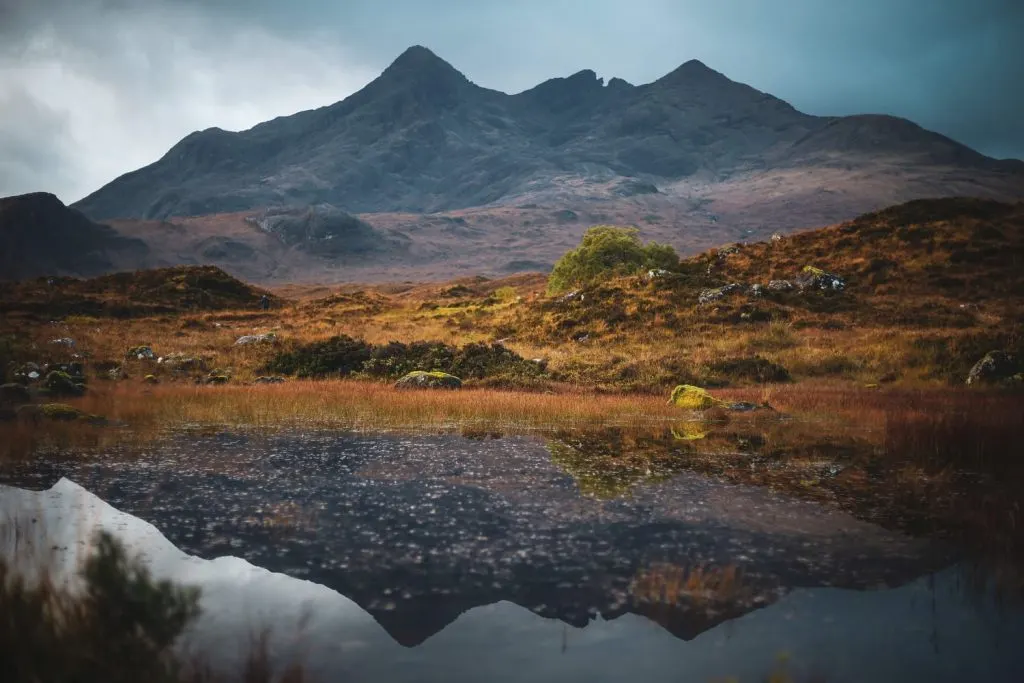 Barren and windswept is the new sexy, as they say… right?
There is no doubt; this land is magic and one of the top places to visit in Scotland. You will be drawn in and never want to leave, every inch of this island draws 'oohs' and 'ahhhs' – A land seemingly untouched by the modern world. And let's all agree to help keep it this way. Take only pictures, leave only footprints.
Be prepared, however, as the weather in these parts can change in an instant. You are going to need both wet weather gear, sunscreen, and hardcore insect repellant if you are visiting in the summer. And a good tent if you plan on visiting the Isle of Skye on a budget – to withstanding the rather erratic climate. But you wouldn't expect anything less from a worthy lassie now, would you?
All locations on this list of Skye highlights can be found easily by typing the names into Google Maps. Just save their location and download the offline map, and you will never get lost. Also, be sure not to forget the entire island is one vast, stunning vista, so even if you make a few wrong turns, you will never be bored. You can catch a bus, hiring a car is the easiest way to visit Skye by far (more on that later).
Dive slowly, pull over often, and take in each and every turn of this majestic land!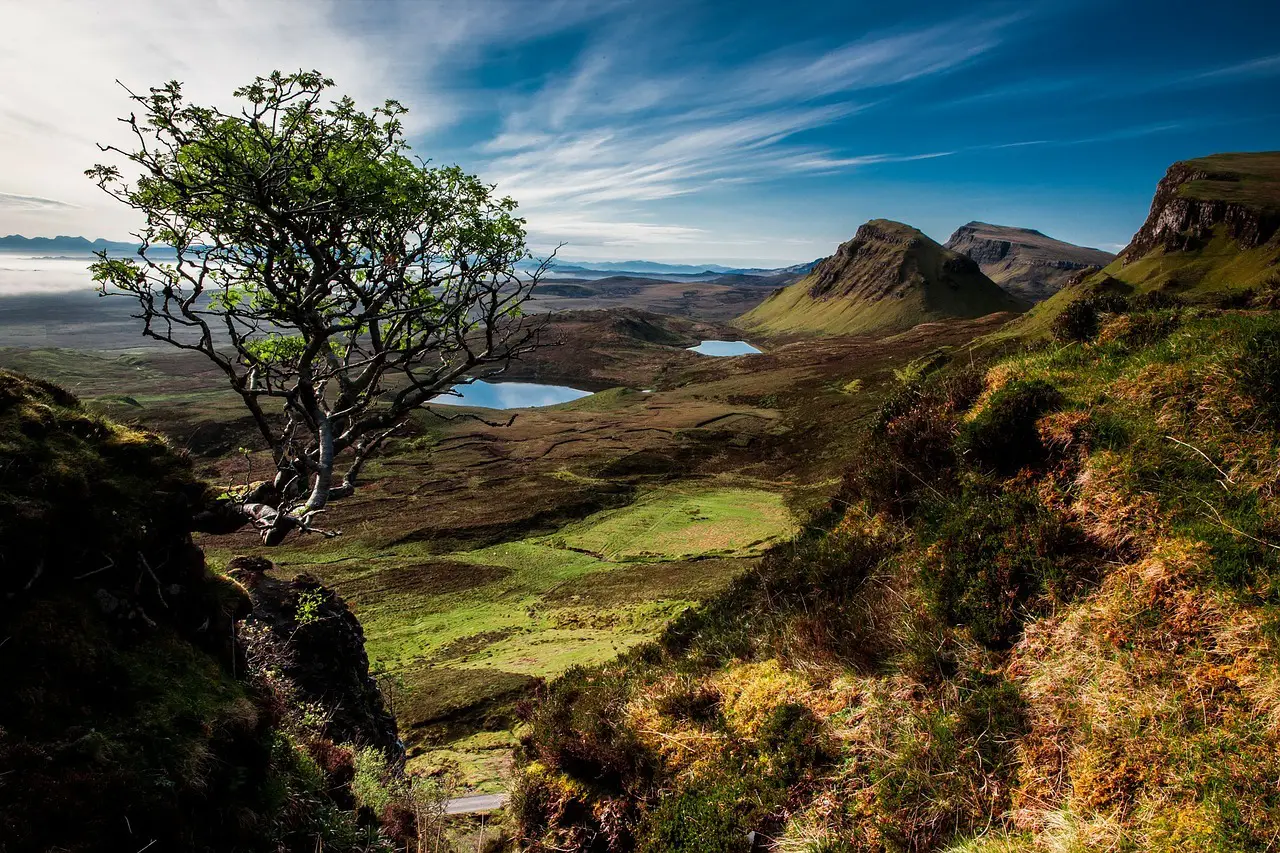 1. Sligachan Old Bridge
Located close to the small settlement of the same name, the Sligachan Bridge is a popular camping spot on Skye – being close to the Cuillin mountains and providing a majestic view towards the Black Cuillin mountains when you wake up.
Historically a critical junction in Skye, the bridge crosses the River Sligachan and formed part of the only road, which leads to the western end of the Isle. In this modern era, it has been superseded by a new bridge, but thankfully, the glorious Old Bridge has been left and is still crossable on foot. Built-in the 1820s, its three-arch design is highly photogenic, and no matter what time of day you visit, there is sure to be a few keen photographers finding their unique angle of this Isle of Skye icon.
For the extra keen, why not take a dip in the chilling waters below!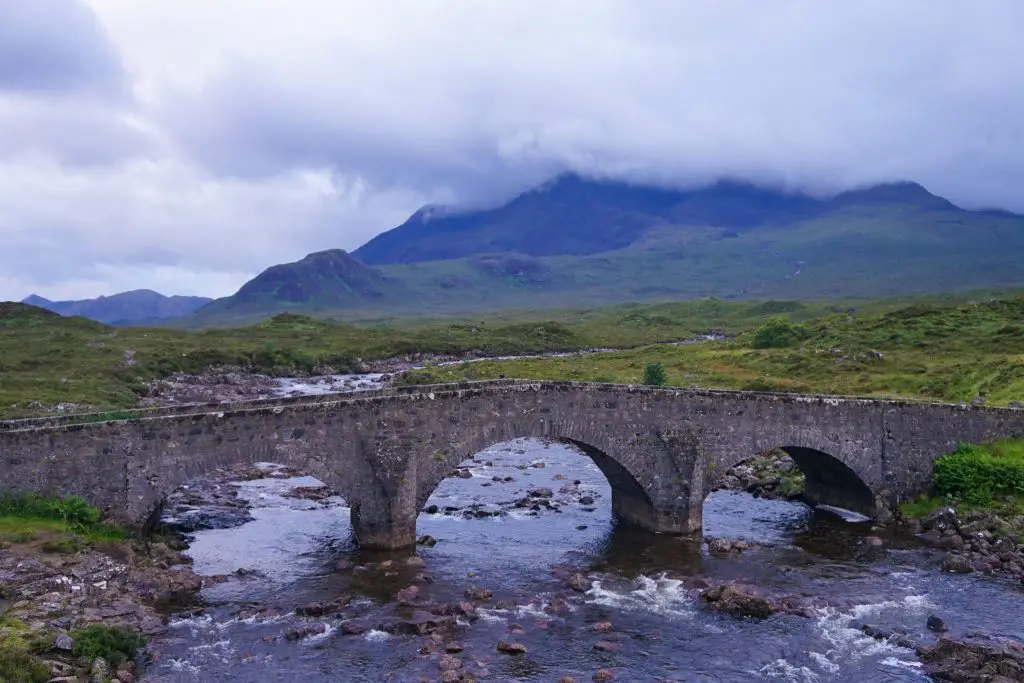 2. Armadale Castle & Gardens
The dark and ominous is the Armadale Castle is a ruined country house in Armadale in Skye that was once the grand home of the MacDonalds. Much like the (much more desolate Buchanan Caste), the castle was built in the romantic Scottish mock-castle style – and has seen better days.
It was abandoned in 1925 by the Macdonald family though curiously, the gardens around the building are still maintained. The site is now home to the
Clan Donald Centre, which administers the Museum of the Isles – which you should explore. After wall, what better place is there to hear about the story of Scotland's most powerful clan then a magnificent garden set around idyllic ruins.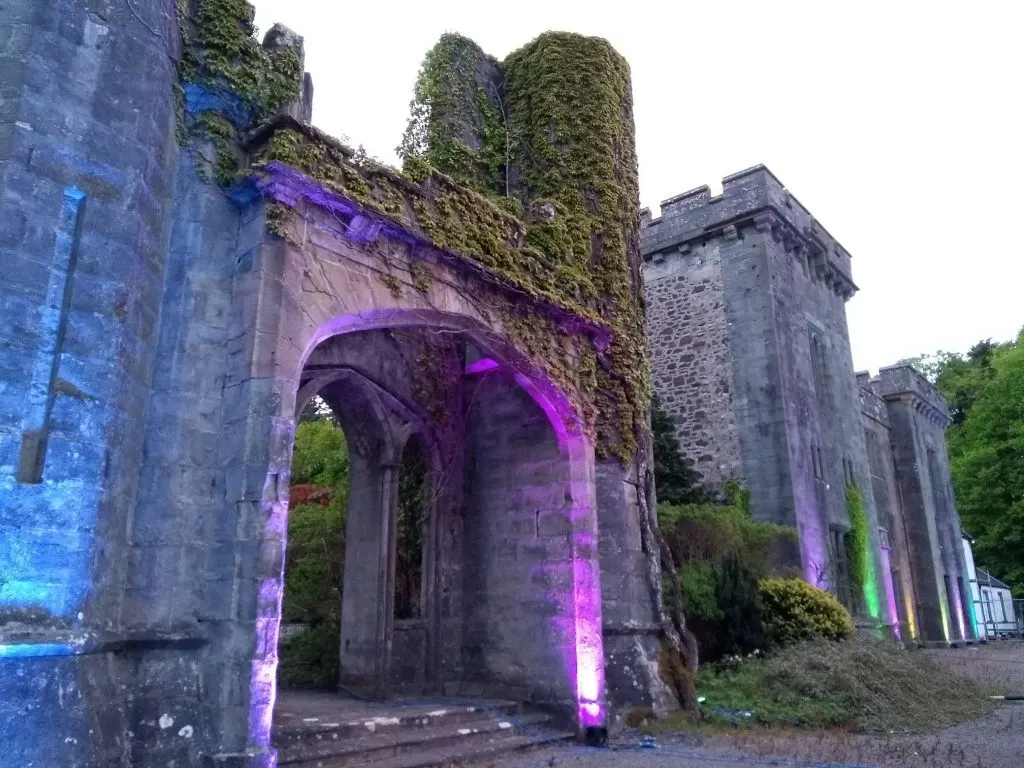 3. The Talisker Distillery
The oldest working distillery on the mystical Isle of Skye, the Talisker Distillery supremely positioned on the rocky shores of Loch Harport with climactic views of the Cuillins.
The distillery was founded in 1830 and rebuilt in 1960 after a fire devastated the distillery (after which five exact replicas of the original stills were assembled to defend the unique Talisker flavor).
It might be a little troublesome to get to, but Talisker is worth the drive for all lovers of single malt Scotch whisky! There is an excellent tasting room with multiple options. Just don't forget to reserve your spot in advance as space is limited and you won't want to miss out.
Composing an alluring, rich, full-bodied single malt, the spirits distilled by Talisker Distiller are much like the Isle of Skye itself: easy to enjoy, and oh-so-hard to leave.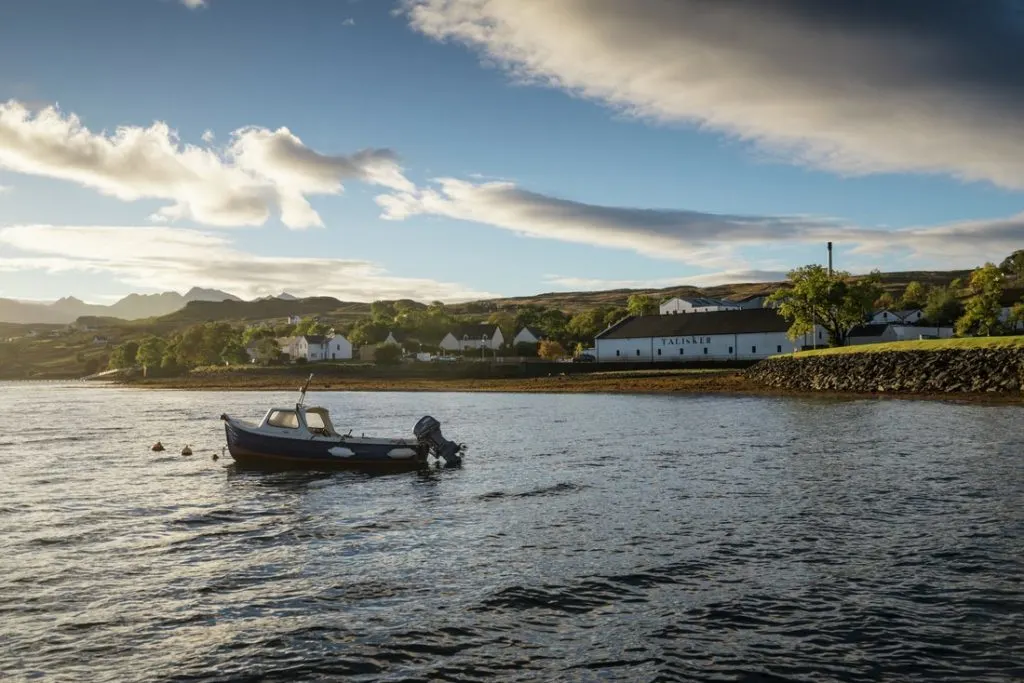 4. Elgol Beach
If you love to enjoy a mountain view while wandering a windswept beach, this Elgol Beach is for you.
Located in a sea loch evocative of the majestic Fjords of Bergen (Scotland is slightly Nordic after all), Elgol Beach is a dazzling combination of tranquil serenity and raw natural power. Named one of the best shingle beaches in Britain, up there with those in Devon and Cornwall, there is nothing quite like wandering the shoreline here and starring up at the Cuillin Mountain range, which looms across the water.
Along the southern end of the beach, you can also find Boonie Prince Charlies cave, the famous hiding place used by the prince in his final days.
Somewhat frustratingly, the gravel road out to Elgol Beach is long, winding, and one-way, meaning you need to back-track but makes this highlight of Skye more peaceful and less touristy than other spots. Its southern proximity also means boat trips to destinations such as the Isles of Rum, Eigg, and Canna are possible from the town of Elgol – though the magical Isle of Muck sadly cannot be reached from here.
If you need to warm up after wandering the beach (or perhaps taking a swim – if you are insane), the Cuillin View Coffee Shop is the place to go for a warming drink and a caffeinated pick-me-up!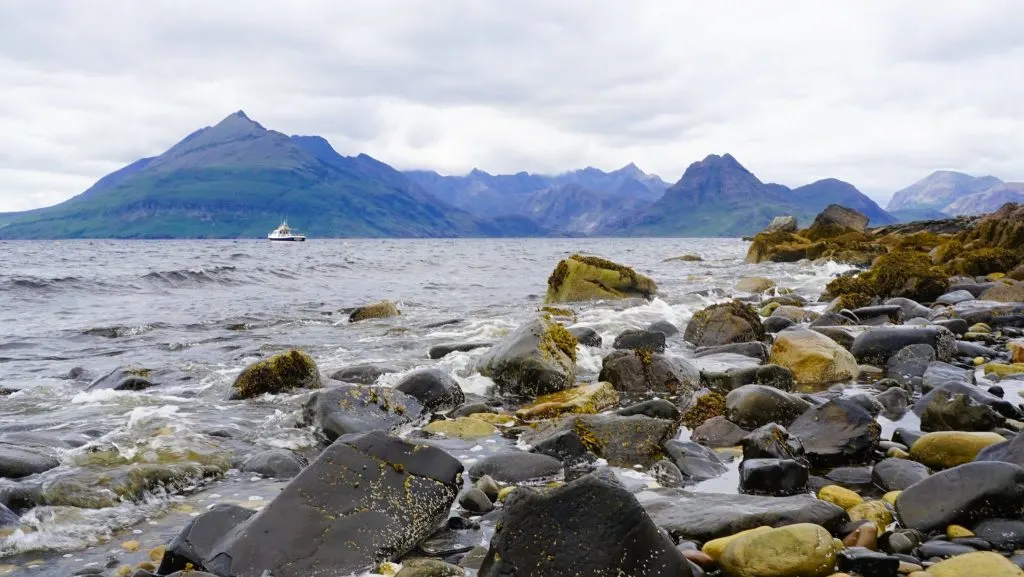 5. The Mealt Waterfall And Kilt Rock
A 2-for-1 highlight both visible from the same observation point; don't miss these primordial cliffs that somewhat resembling a kilt, and it's a waterfall which produces a mesmerizing sound.
I'll let you be the judge of whether the 90-meter Kilt Rock looks like a pleated kilt, but one thing you cannot deny is its utter magnificence. A rare combination of basalt columns atop a sandstone base, the colors of the rock also seen to be tartan – with a bit of imagination.
The other Skye Highlight visible here is the Mealt waterfall fed by the nearby Mealt Loch, which leaves terrafirma here and plummets over the cliff into the icy sea below. When the wind blows just right, there is an eerie – almost haunting – howling, but don't worry. It is not actually produced by the waterfall but the pipe fencing surrounding the lookout, which combines with the wind to create an organ of sorts.
Also rather hauntingly, sometimes, when the Skye wind is blowing particularly strong, the Mealt waterfall's water is blown away and doesn't reach the rocky bottom. It simply…vanishes.
Hmmm, maybe not. But either way, these dual attractions are one of the top things to do in Skye and a popular stopping point between Portree and Staffin.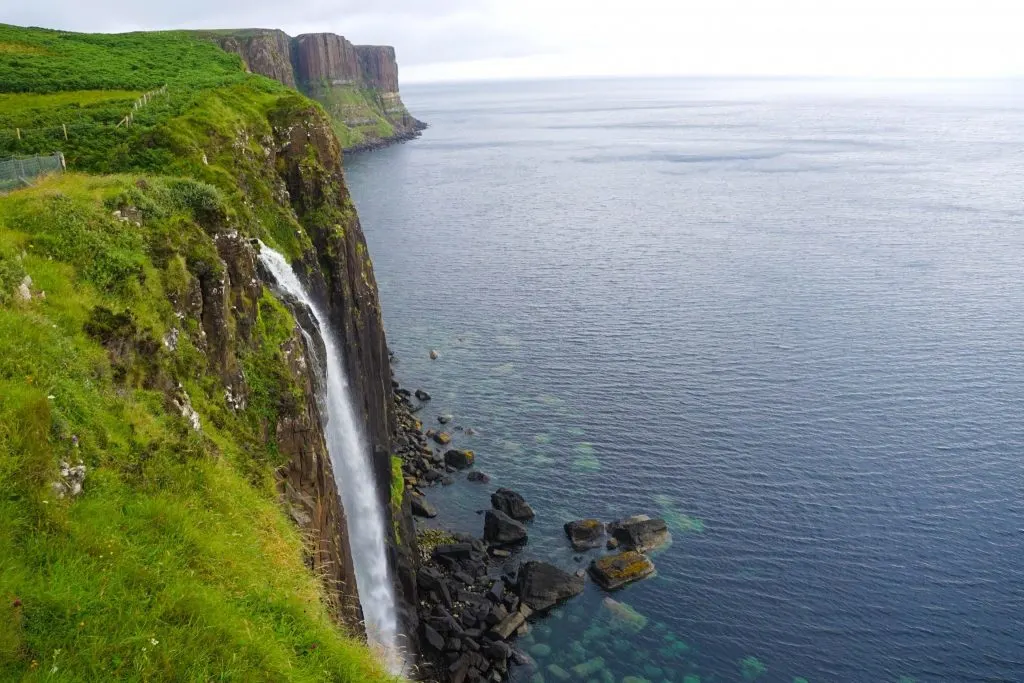 6. Loch Coruisk
The Loch Coruisk is one of those hidden highlights of the Isle of Skye that people don't seem to yet know of. A 40-meter deep loch overshadowed by the serrated peaks of the Cuillin mountains with inky black water; Coruisk is eerie and foreboding.
It is no wonder the loch has many fairy tales, folklore, and stories associated with it. Coruisk is even said to be the home of a kelpie or water horse, a shape-shifting creature that can feign human form and drag people to the loch's depths.
The loch is most commonly reached by boat from the coastal village of Elgol, though it is possible to cover the 8 miles on foot from Sligachan. It is also conceivable to walk from Elgol, but the path is known locally as "the Bad Step." It's best to head out with either of the two boat companies in Elgol and then undertake the 7-kilometer hike from the drop off point. It is nothing short of incredible and enduring landscape like Milford Sounds or the mountains of Romania where humans are dwarfed, and you are reminded how ephemeral life is.
In the summer, both companies offer regular trips (with limited departures in winter based on demand). You can choose either 1.5 hours or 4.5 hours shore time…You are going to want to 4.5 hours! There is just so much to see and do here.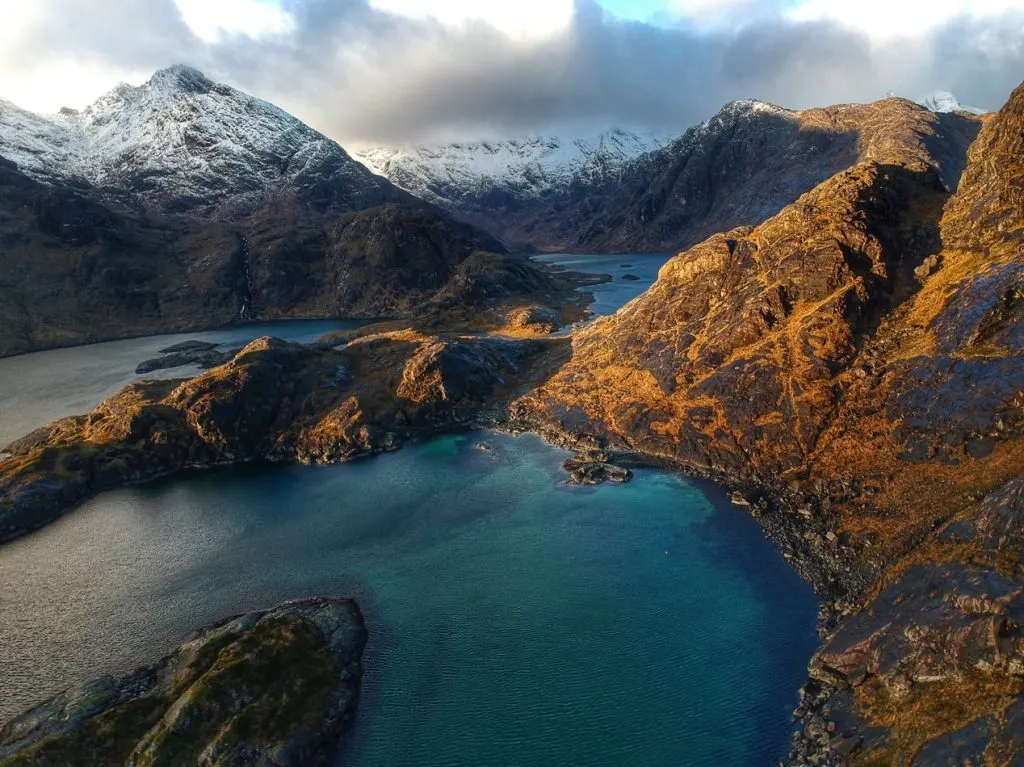 7. Camas Daraich Beach
If you want to brave the cold for a swim or find beaches that look straight out of Australia or Cuba, this is the place for you. A beautiful white sand spot, the tropical similarities of Camas Daraich beach end there – I can promise you the water is as cold as you would imagine. But its clean, and you will feel incredibly refreshed afterward.
It's a bit of a hike from the closest road, however, and must be accessed along the walk as the Point of Sleat (also known as "the garden of Skye" and home of the clan MacDonald of Slea). Why not do both at the same time…
You can also try the stunning Coral Beach in Claigan (close to Dunvegan), which is one of the most beautiful beaches on the Isle of Skye. What doesn't Skye have, right?!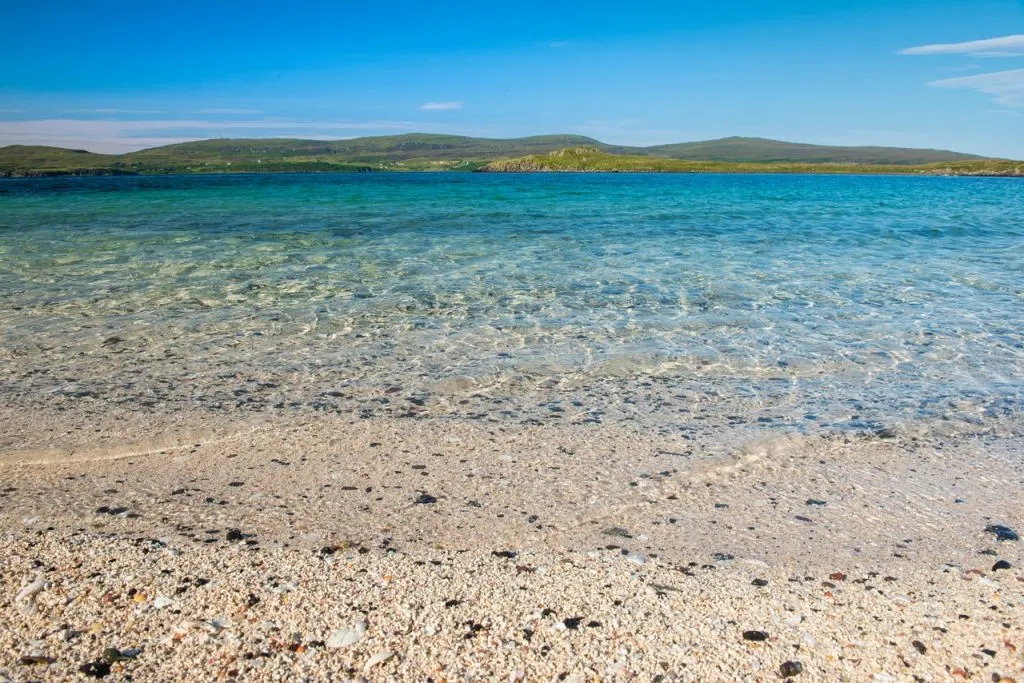 8. The Fairy Glen
Here be, ermmm, fairies?
Yes, this bizarre and enchanting miniature scene of grassy, cone-shaped hills is said to be home to spritely people who remain hidden by day and come out at night to cause mischief. Across Skye, many places are associated with fairies thanks to Dunvegan Castle and their 'Fairy Flag,' including the Fairy Pools and Fairy Bridge, but this is perhaps the cutest fairy bolt-hole and almost otherworldly.
Wandering around here involved mostly grassy paths are reaching the top with Castle Ewen necessitates an uncooperative scramble, while the somewhat indistinct paths make it easy to get lost. Those dam fairies at work again. This, however, is all part of the charm of the Fairy Glen since exploring on your own is the highlight. Trust me, the exact route you take does not matter at all.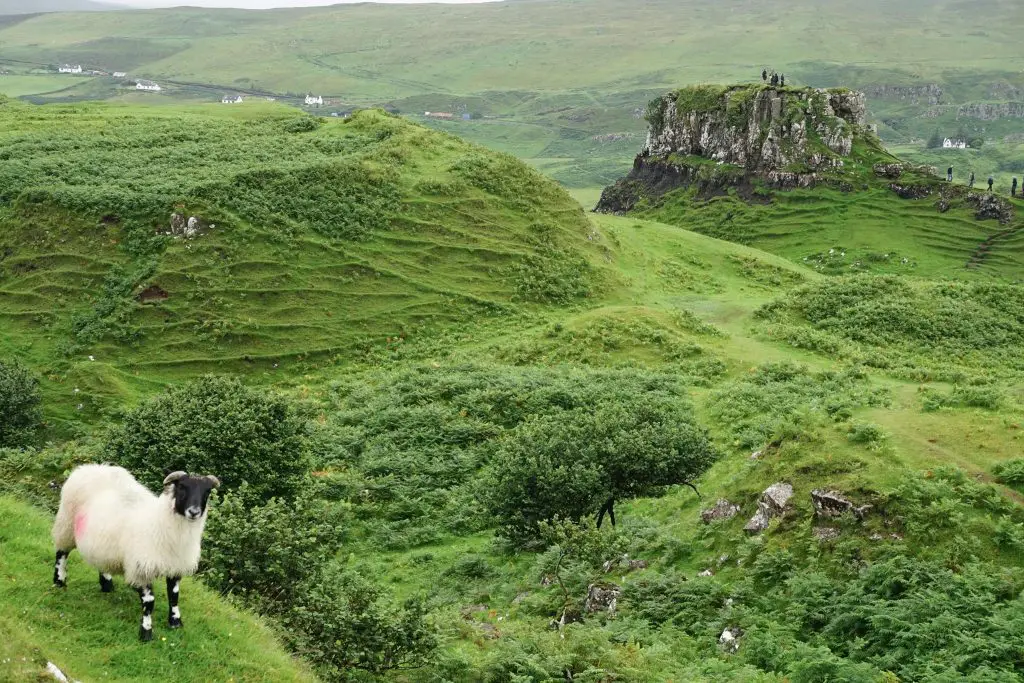 I should also clarify (since I was somewhat confused) Castle Ewan is not a castle and has (inexplicably) been named as such. It is actually a basalt hill which – like many things here – with a vivid imagination looks a bit ruin-esque from a distance. Whether it is home to the Fairy Queen, however, I cannot say.
A modern trend has been for tourists to create rock spirals on the ground, and there are even a few rituals encouraged by tour guides to receive a fairy blessing. Be warned, though, that the locals on Skye seem unhappy about this and continually remove said rock spirals in order keep the Glen in its natural state. While I always want to encourage leaving nature as pristine as possible, these spirals do seem quite harmless and are rather photogenic.
Unlike most things to do in Skye, there is no parking here, so be careful and don't block the narrow road. Word is out amongst avid fairy hunters – and the odd unicorn enthusiast – so the roads can get very crowded in peak season. Why not choose a misty day to explore the ethereal spirit where low cloud and slight dampness in the air make it all the more magical.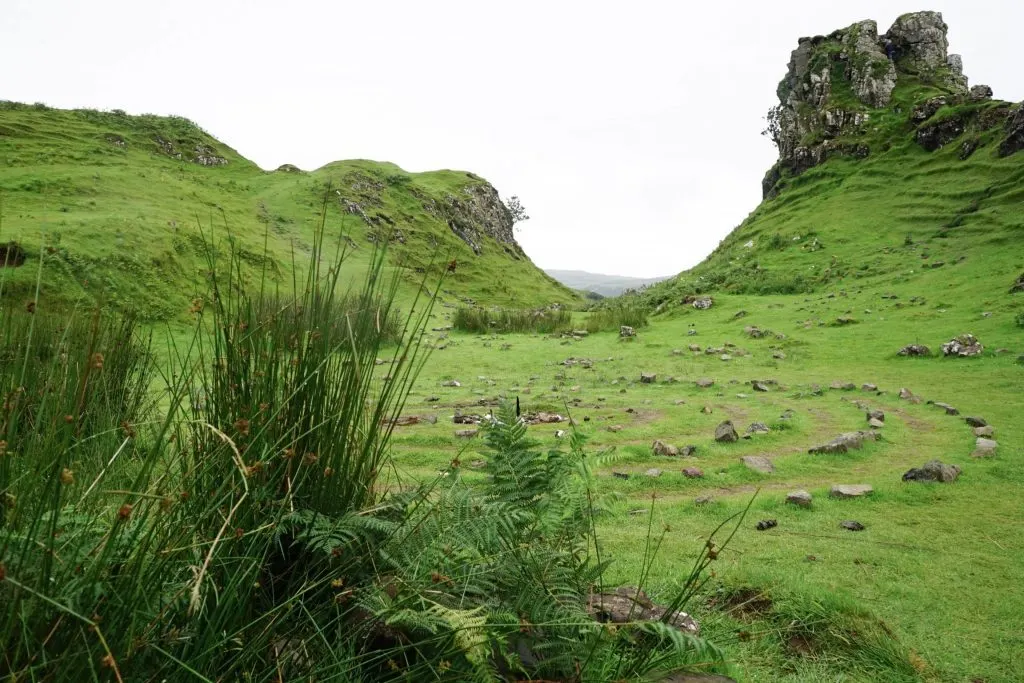 9. Neist Point Lighthouse
Probably the most beautiful lighthouse in Scotland, regally guarding the most western tip of Skye close to the town of Glendale. The lighthouse itself is unmanned and owned by the Northern Lighthouse Board, built back in 1909 and fully automated since 1990.
A straightforward concrete walk leads you to jaw-dropping views of the surrounding cliffs and the lighthouse, but if you can time your visit for sunset – all the better! On a clear day, you can even see out over the Minch to the Western Isles. Be careful to follow the safe route, as some more…death-defying travelers go off the path, but the cliff is steep and often slippery.
Those Instagram shots are not worth it, guys!
The point is often deemed as the best place on Skye to see whales, dolphins, porpoises and basking shark, but you will have to look super hard to maybe organize a tour from the nearby town. Spotting sea-birds such as gannets, black guillemots, razorbills, and shags is a lot easier from the land. There is also plenty of sheep to try capture for a photo, but believe me – they do not like it!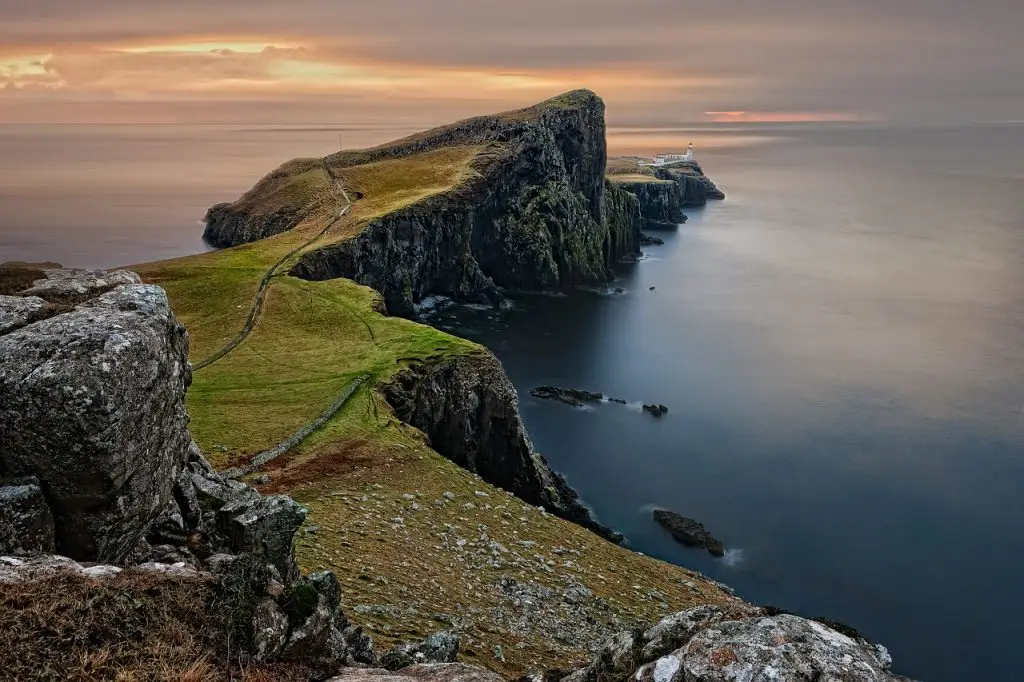 10. Rubha Hunish
The divine Rubha Hunish is the northernmost point of Skye and is even magical that the rest of the island. You can take a walk for excellent seabird and marine mammal spotting on a moorland path – though it can be a bit boggy at points.
The hike covers around 8.5km / 5.25 miles and is renowned as a spot for seeing Minke Whales (along with Killer Whales / Orca and Humpbacks) due to the deepwater right offshore.
The rocky staircase looks alarming from the top but isn't as bad as it looks and will get you down to the headland. You can also stay at the top. Dolphins, seals are also frequent visitors, and on a clear day, you are gifted with sublime views out to the Orkneys (and their incredible world heritage site).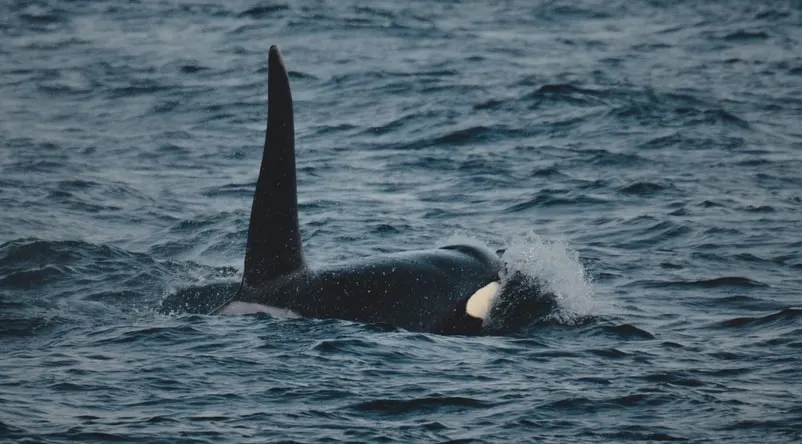 11. The Fairy Pools Of Glenbrittle
No list of things to do in the Isle of Skye could ever be complete without this well-known highlight that includes multiple waterfalls of vibrant blue's & green's connected by fridged yet swimmable pools.
Crystal clear and all so clean, the pools are accessed by a 2.4-kilometer walk from the car park. For such a hike, you are rewarded with stunning scenery out across the bogs and up to the rocky mountains. Keep your eyes out for red deer, rabbits, and sheep – and birds aplenty. Heavily promoted in media (and I guess I am not helping this), it is advisable to arrive either very early or rather late in peak season if you want to experience these magical pools on your own.
At busy times, the car park in a chaotic mess, and you will question whether you are in quiet Skye or bustling Tokyo. Still, even crowds could not diminish the majesty of the Fairy Pools waterfall phenomenon.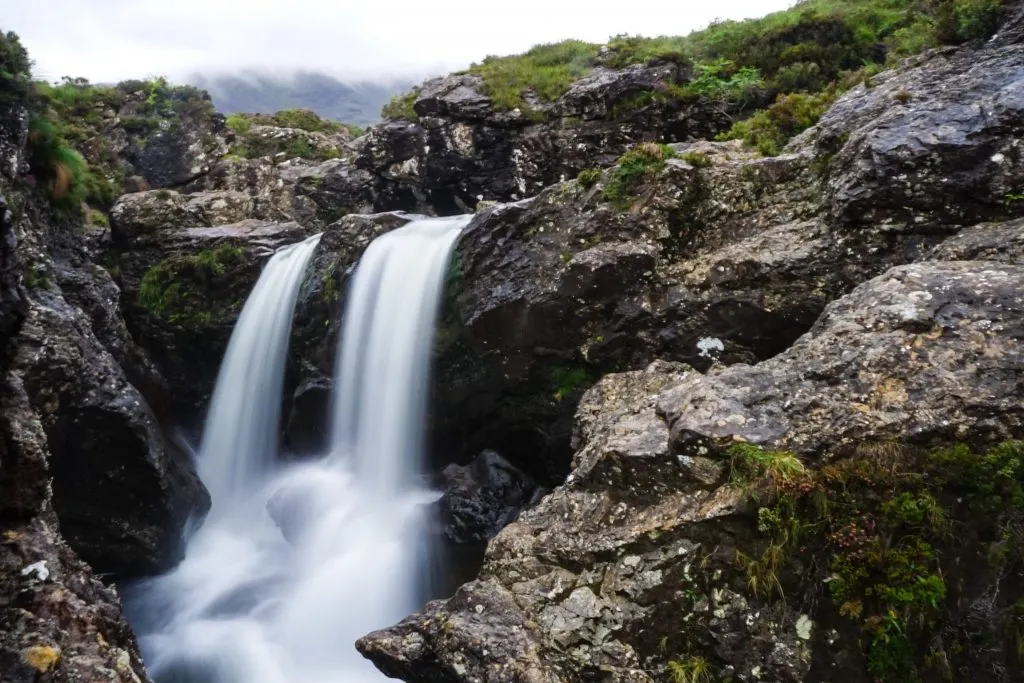 12. Quaint Portree
The adorable village of Portree, positioned on the eastern side of Skye, is an unmissable highlight of the Isle of Skye – if only because it is the most significant settlement, you will inevitably pass through and stock up on supplies.
Overlooking a sheltered bay and surrounding by soaring hills, Portree is the capital of Skye and offers cute cafes, supermarkets, hotels, tourist information, design stores, petrol stops and more.
Founded around 200 years ago, this fishing village has since shaken off its back-water vibes and comes of age thanks to the influx of tourism, and regular bus services around Skye and to bigger cities in Scotland.
There are also plenty of fun annual events here, including the Portree Show and Skye Highland Games, which are a sight to behold! Even if you plan to pop in for a quick coffee and to grab a map at the tourism office, take your time to admire the windy streets and colorful buildings.
There are other things to do in Skye besides gawking at nature, after all.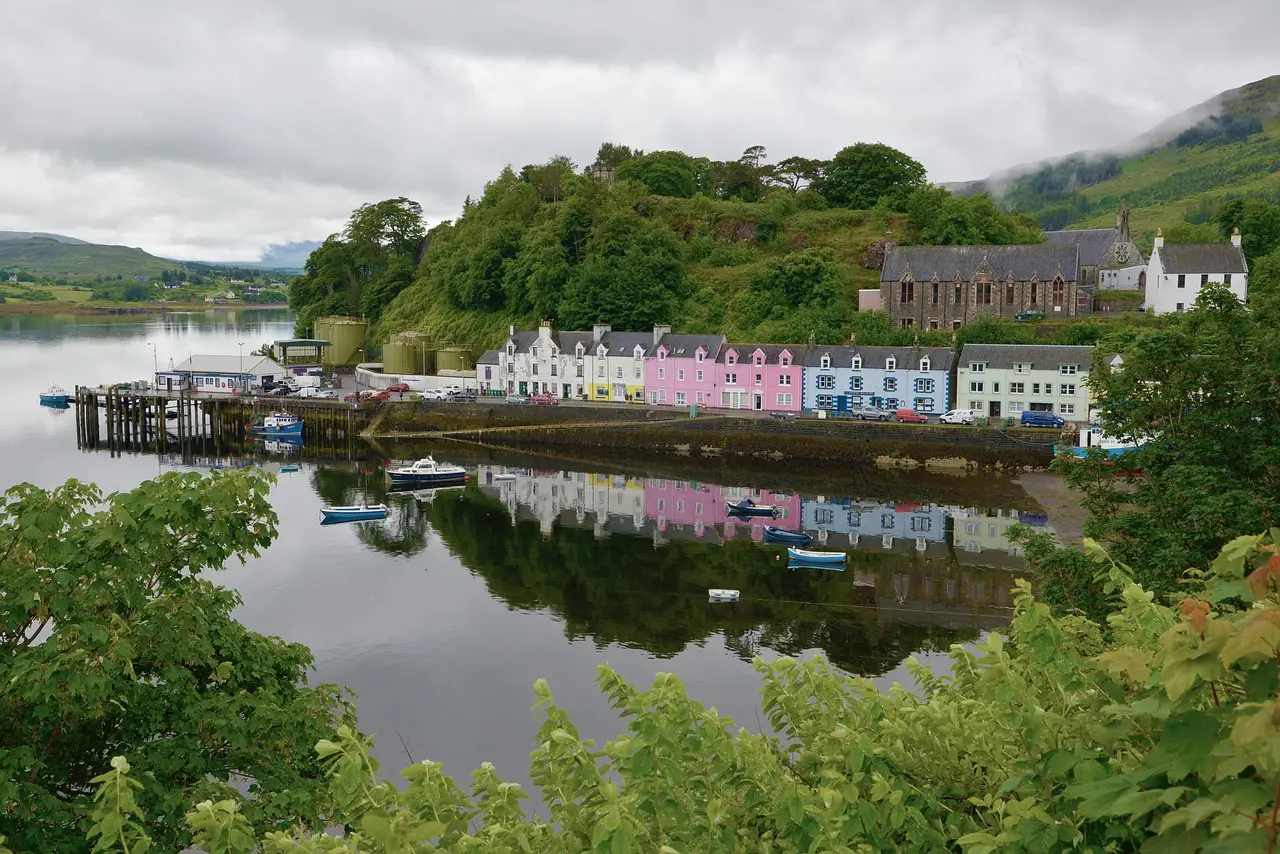 13. The Old Man Of Storr
Yes, you probably know this one from Instagram or Pinterest wish lists, but listen to me when I tell you the Old Man of Storr is even more incredible in real life if you manage to see him on a clear day, that is.
The most famous hike on the island, and the most photographed highlight of the Isle of Skye, the Old Man of Storr in a magnificent pinnacle of rock that stands proud and tall – visible for miles around. A combination of ancient lava flows and landslides, the Old Man of Storr is part of the Trotternish Ridge, which continues behind it. Be careful when getting in amongst it here; however, as rock falls are an omnipresent danger and many areas around the base of the landform are off-limits.
The walk up to the best viewpoint takes around 45 minutes one-way, including breaks, and while the carpark is a circus in the peak season (thanks to Skye's rocketing popularity), this is one walk where people did not detract from the ancient landscape.
Everyone looks like little ants from up there anyway.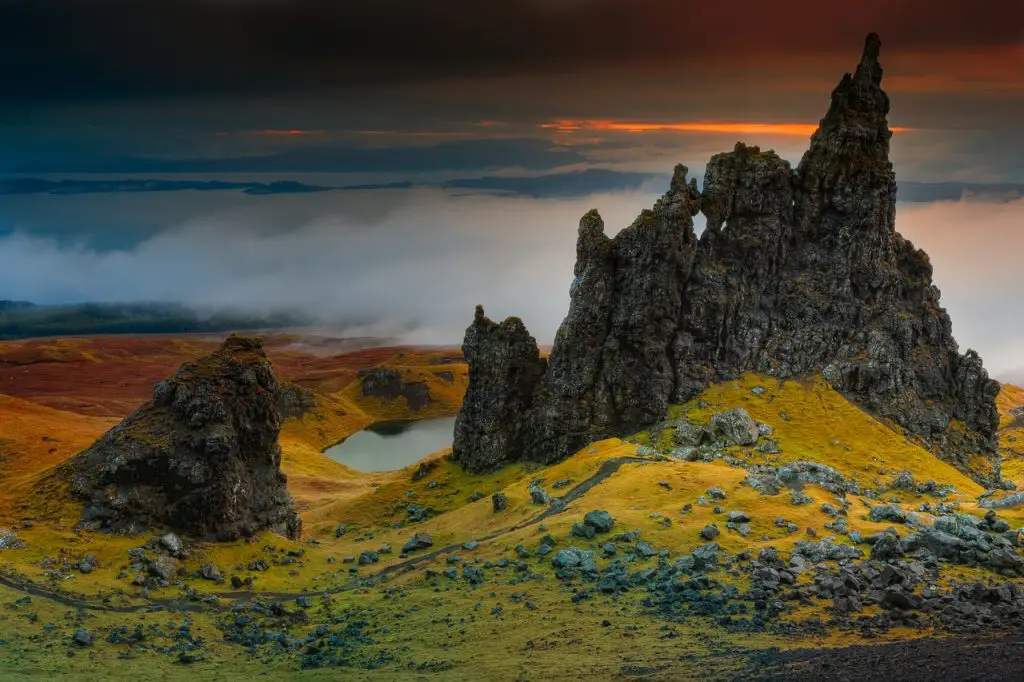 When you reach the top – keen fans will recognize the view as that from the opening scenes of Prometheus, which were shot at the Old Man of Storr. My second favorite movie location filming spot in Scotland – after the James Bond Skyfall location, though Harry Potter fans will disagree and place the Harry Potter train in the Scottish Highlands higher/
Now, if you are wondering about the name -as I was – local folklore claims that the Old Man of Storr gets its title because the rocky outline and the jutting pinnacle look like the face of an old man. Not sure I can see it personally.
The word "Storr" is Norse in origin and means "Great Man," which is somewhat fitting when you also know this seemingly unclimbable rock was only first conquered in 1955 by English mountaineer Don Whillans and has only been scaled a handful of times since. Don't think I'll be claiming the title of "Great Man" here any time soon and will stick to dominating easier climbs such as Jeju, Tai-shan, and Poon Hill.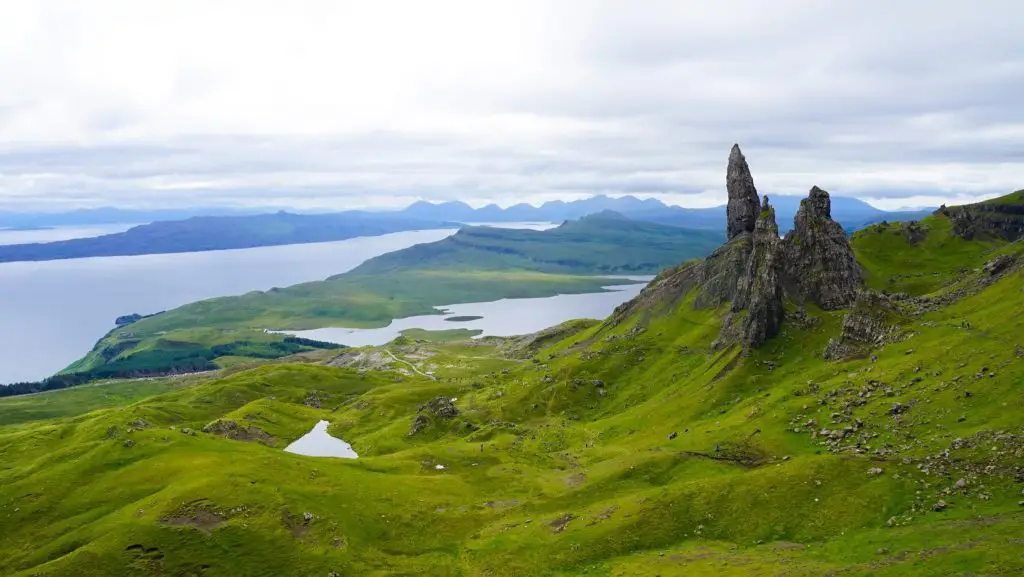 14. Kylerhea Otter Hide
This magic place truly has it all, and one of the best things to do in Skye is to go otter spotting. And at Kylerhea, it is made very easy with an otter hide.
The shielded hide gives you protection for the elements and keeps you somewhat sheltered while you wait for adorable otters to grace you with their presence. It is easily reached via a short and scenic trail with remarkable views across to Glenelg. Inside there are facts about the marine life in the area – and what you might hope to spot.
Otters, dolphins, sharks, and more are all possibilities. There is also an Eagle hide in the carpark should you be more interested in looking to the sky! The marine mammal trail to the hide is 2.1 kilometers. While it is one of the best places in Britain for spotting otters, even if you are unlucky, the panoramic views overlooking Kyle Rhea make the trip worthwhile.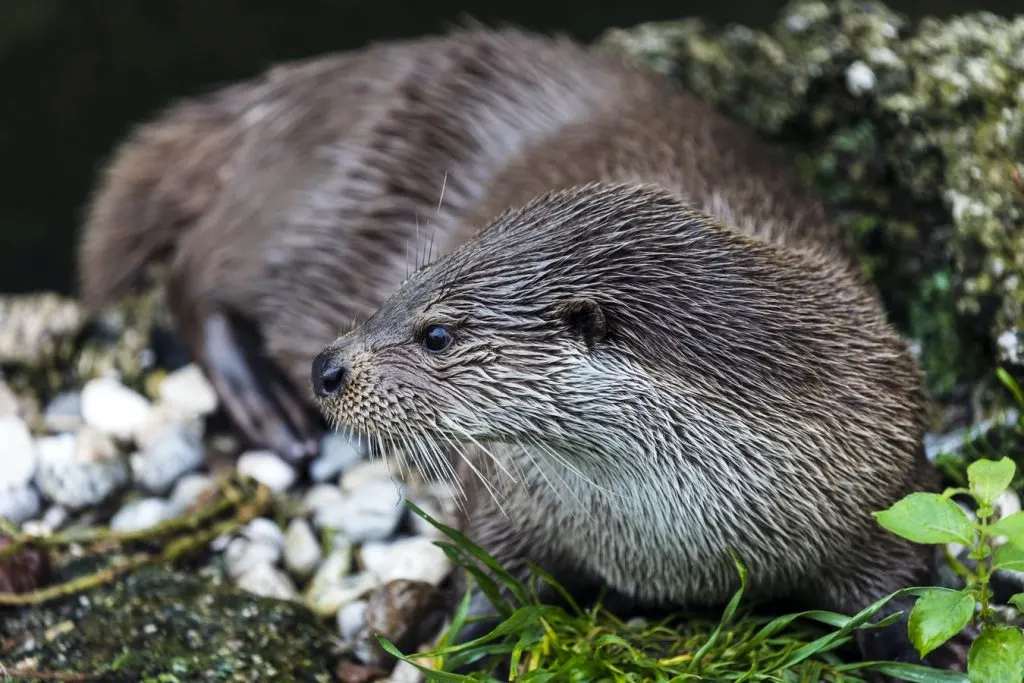 15. Bog Myrtle Cafe

Stop in at this hidden gem of a cafe for a sugar burst, homely vibes, and incredible views. Residing about halfway between the Fairy Pools and Dunvegan Castle on the magnificent West Coast of Skye, settle in with home baking and a strong coffee.
All with remarkable views of up Loch Harport to the Cuillins (on a clear day at least). If it's raining, a hot chocolate and a browse of the second-hand book collection is a must. I recommend heading straight for the Scottish poetry. For more substantial meals, there are delicious brunch and lunch options inspired by locally sourced ingredients.
The cheddar and beetroot muffin was terrific, as were the pancakes. Well worth seeking out.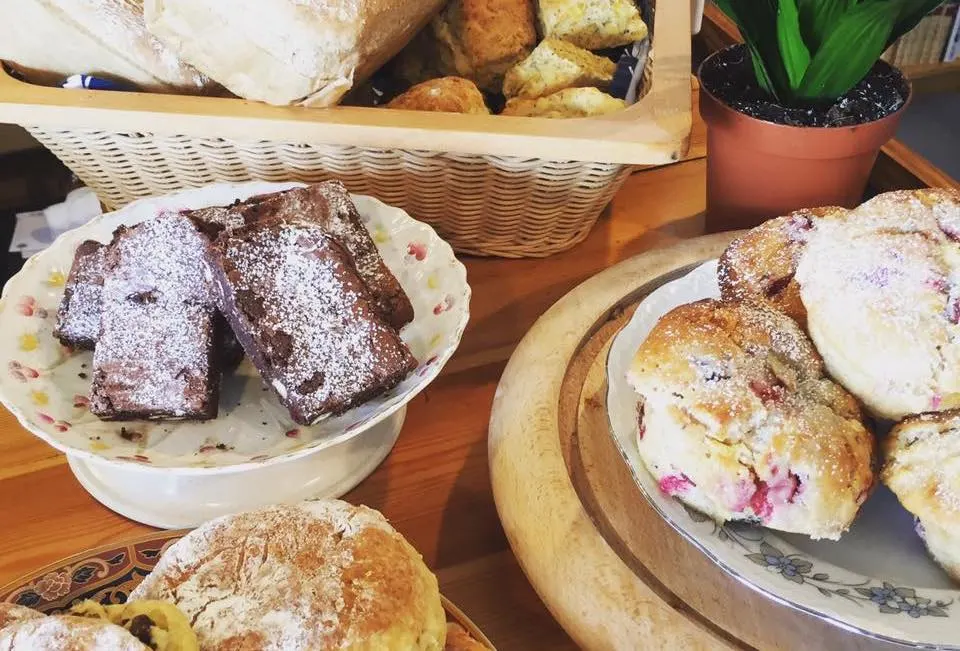 16. Dino Footprints At Staffin Beach
If you hear anyone talking about dinosaurs on Skye or the 'Dinosaur Isle'… this is what they are talking about!
For all you geology geeks out there, most of Skye is comprised of fossil-free basalt rocks, leading to the majestic, strong, and enduring landforms everyone visits for. However, along the broken coast, there are a few places where the softer sedimentary layers are exposed, providing a quirky little Isle of Skye highlight for amateur fossil seekers.
Staffin is one of the best places to try, with the beach here hosting some outstanding footprints left by a happy little family of Ornithopods dinosaurs – small, bipedal, grazers – some 165 million years ago. Well, at least I imagine they were happy since it was left in the sand and who could ever not be happy at the beach.
Please, don't ruin the illusion for me!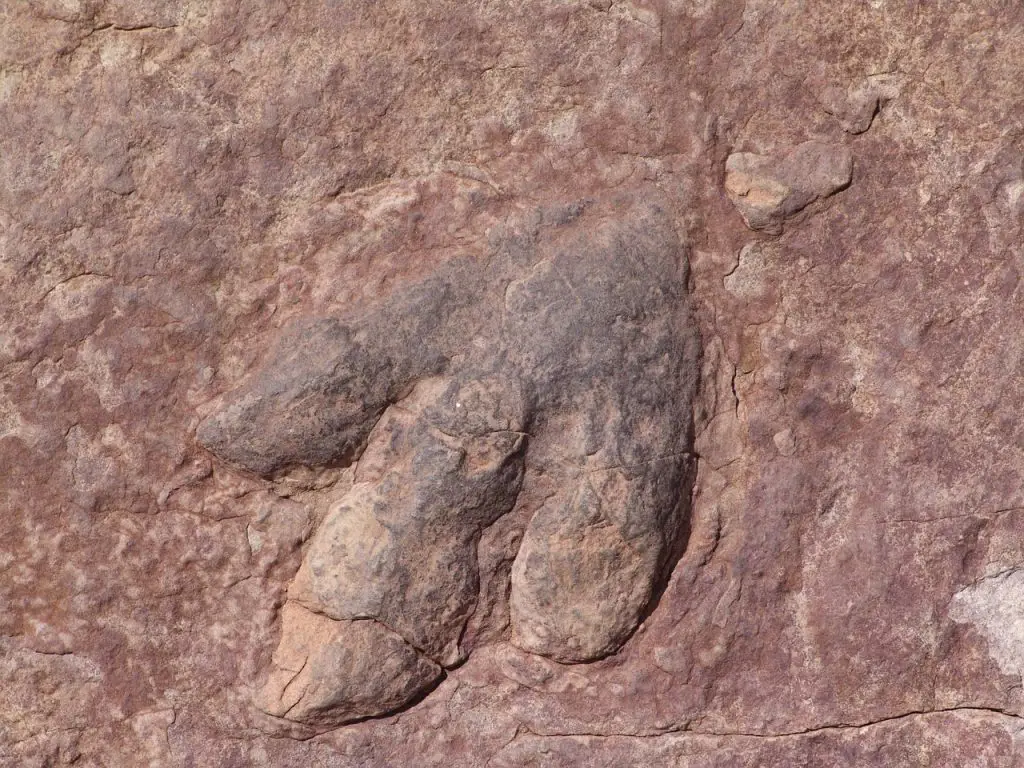 Exposed thanks to the hard work of retreating glaciers in the last ice age, it is genuinely unique and exceedingly rare to be able to see and touch these dinosaur footprints in real life. An experience to be cherished by adults and children alike. They are also visible in Sucre in Bolivia, but that is a rather long way to go.
Most footprints here are only exposed at low tide and sadly can be covered by sand in summer, so visiting in winter is beneficial for this attraction – after a winter storm is better. The main dino prints a short distance from the ramp that runs down to the Staffin Beach, but given the beauty of the beach, it is worth a look at any time of year.
Remember, a real dino hunter wouldn't let anything get in the way of an extraordinary find! But there is always the nearby Staffin Dinosaur Museum, home to an internationally acclaimed collection of dinosaur fossils if you don't have any luck on the beach.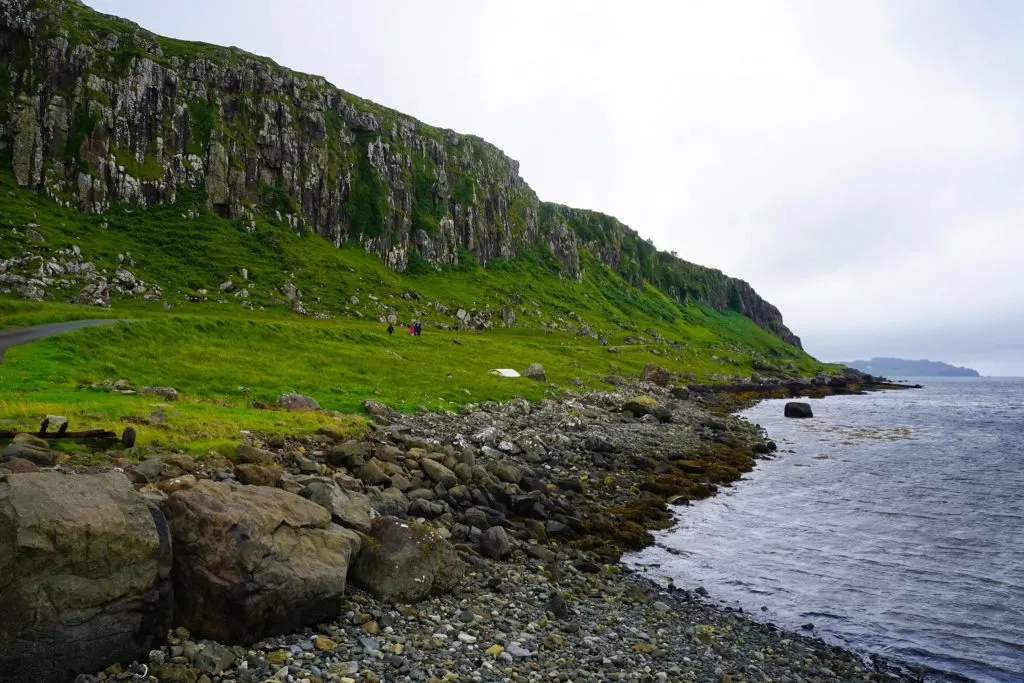 17. The Quiraing Vista
The truly outstanding Quiraing is an emblem of Wild Scotland and a photographer's dream.
Sure, you can traverse its windy road and take in the breathtaking views – but for the full experience, you need to head out on the 6.8 km loop track taking around 2 hours to stop. This is without breaks, or photo stops – which you will 100% want to take!
Just on from the Old Man of Storr and still part of the same Trotternish Ridge here, you will find soaring cliffs, beautiful plateaus, and jagged rock pinnacles await you on a clear day. Be sure to have your camera fully charged for what is undoubtedly one of the most impressive landscapes in Scotland.
A bold claim I know, but after you visit, you'll see it's hard not to agree.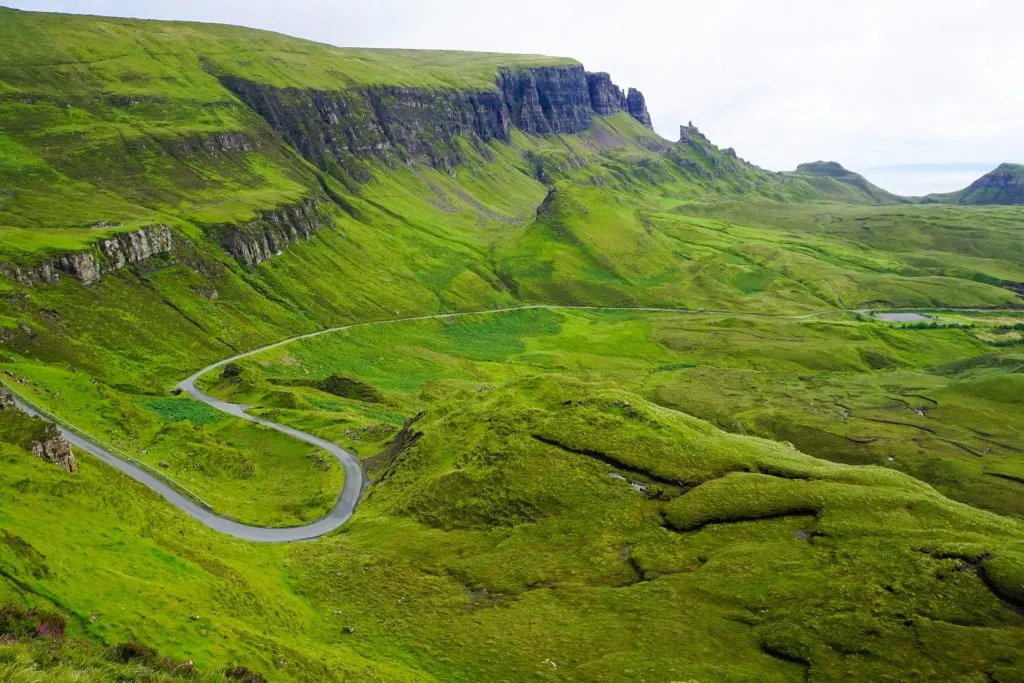 18. Kilchrist Church
The moody ruins of Cill Chriosd or Kilchrist (Christ's Church) is a former parish located on the Isle of Skye. It was assembled initially around the 16th century, superseding an earlier medieval church.
It was used for around 200 years until 1840, where the church was moved, and this site fell into ruins. Today, intrepid explorers can roam the eery ruins which lie at the top of a small mound, and explore the surrounding graveyard. Chances are you will be the only one here. When the mist set in, Cill Chriosd is in its prime and has a very much otherworldly vibe.
Located on the B8083 road that leads out of Broadford to Torrin and Elgol. It is part of the deserted township of Boreraig, one of the best cases of a cleared village on Skye.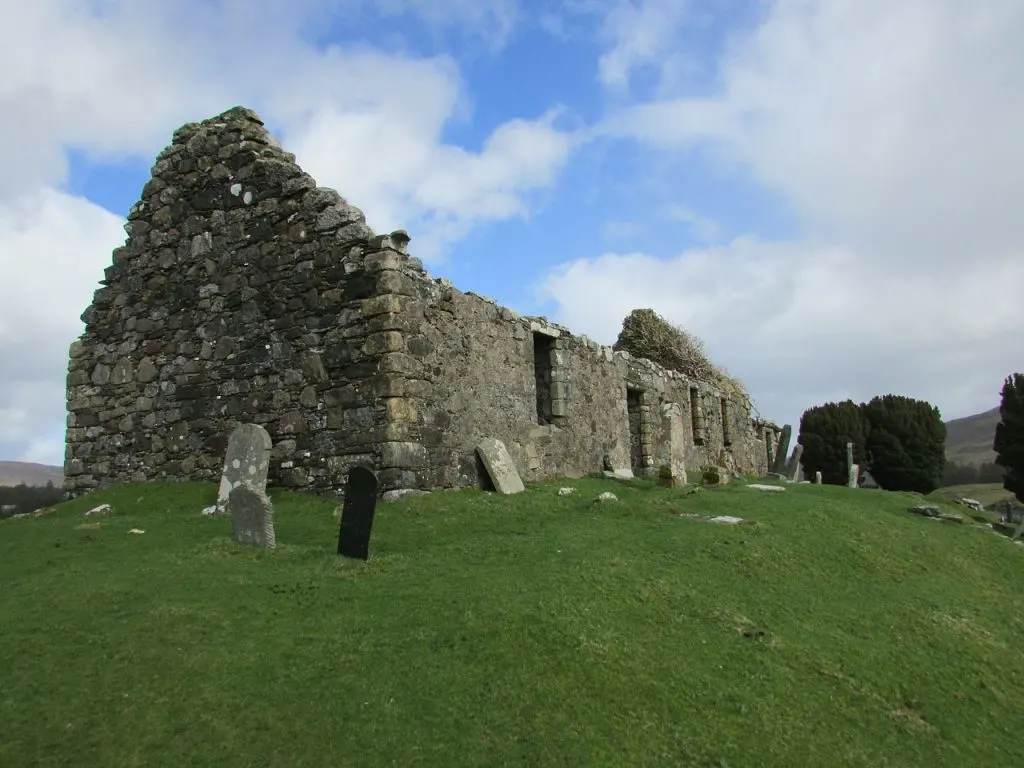 19. The Fairy Bridge
Yes, we are back on the fairies….
At this point, I have done some research since I am curious. What's with all the fairies? Well, local folklore goes that one of the chiefs of Clan MacLeod married a fairy, but sadly, after 20 years, she had to leave him and return to fairyland (sidenote: how do I get there, and can we please name a gay bar this!).
Apparently, she said her final good-byes to the chief at Fairy Bridge (around 4.8 km from Dunvegan) and gave him the flag as a parting gift. The fairy then promised that if the flag was ever to be waved in times of distress; help would swiftly be given. There was a trade-off, however (because of course there was). While the flag has the power to save the MacLeod clan, whoever waves it would later be dragged away from this world by an invisible being, never to return.
So, if you do happen to find a flag lying around while completing these things to do in the Isle of Skye, it is probably best not to wave it!
Either way, the somewhat modest Fairy Bridge at Waternish Point is worth a visit and the ideal place to have peace, quiet and tranquility in the absolute middle of nowhere! Sure, it might not be a top highlight of Skye, but it sure is cute…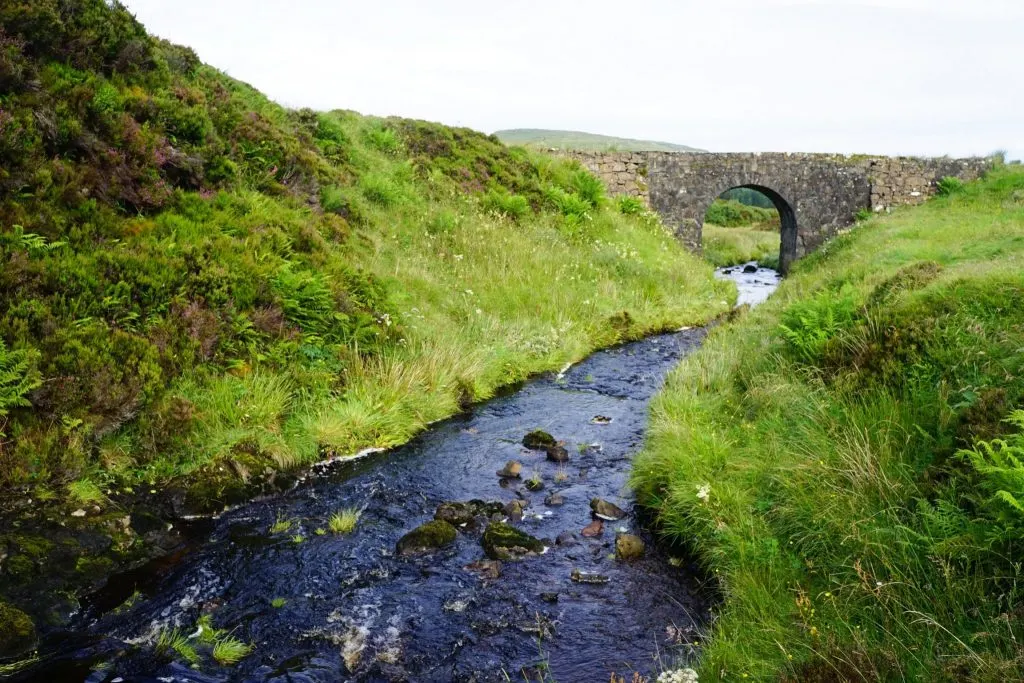 20. Dunvegan Castle
Located in the north-west of Skye, the mystical Dunvegan Castle was built back in the 13th century and has been expanded gradually over the centuries. Its contemporary mock-medieval style was actually completed in the 19th century but is never the less romantic and oh-so photographic.
Located on a majestic elevated rock overlooking a sea loch, this castle is truly a sight to behold – and is still used as a residence of a Scottish clan Lord.
The gardens are excellent, with waterfalls, ponds, and rare trees all worthy of exploring. While the caste is used as a home, thankfully, it is open for viewing and kept to museum quality. From the sea gate to the dungeon to the drinking horn, the entire Dunvegan Castle & Gardens is one of Skye's best places to visit!
The famous Fairy Flag is also said to be kept inside, and there is even a high chance that you can spot seals unwinding on the foreshore around the castle.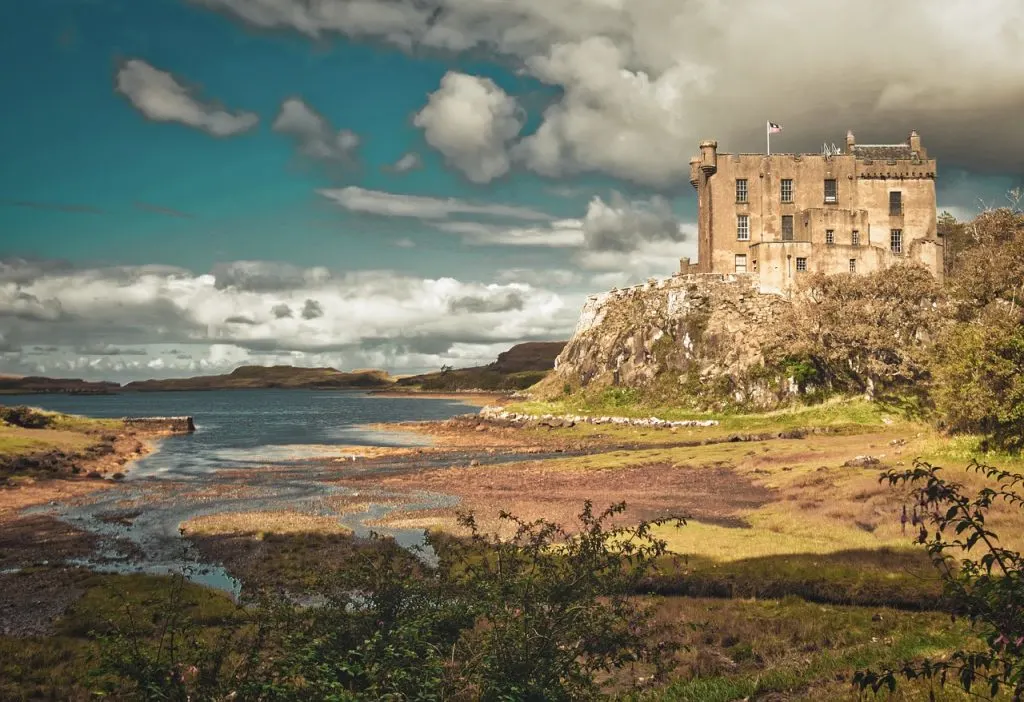 How To Get To The Isle Of Skye
I have to be honest with you; seeing the best things on the Isle of Skye necessitates hiring a car – or if you are super eco-conscious, you could consider biking around.
The main road into Skye is the A87 towards Uig, which takes you over the bridge from Kyle of Lochalsh on the mainland to Kyleakin on Skye. The bridge opened since 2004, is free, and has made Skye accessible without needed to get on a boat.
If you want to take an equally scenic route in-or-out to mix things to try the famous "Road to the Isles" aka the A830, from Fort William to Mallaig and then ship yourself and your car over by ferry (the Caledonian MacBrayne, also known as "CalMac") to Armadale.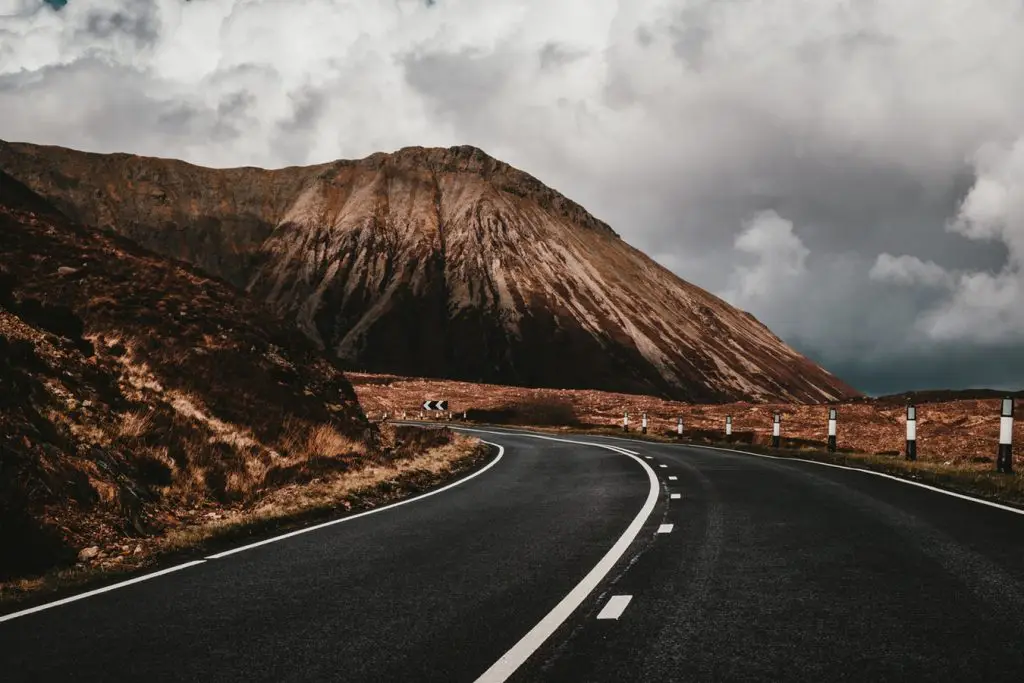 In peak summer, there is also a boat crossing from Glenelg and Kylerhea, which you can reach from the A87 on both the mainland and Skye via minor roads though it is a bit of a hassle and only worth it for the adventure.
CalMac also runs ferries from Uig on Skye to Tarbert on Harris and Lochmaddy on North Uist, if you want to continue to the Outer Hebrides.
Buses and trains also each Skye from most major cities in Scotland, but if you are planning on following this list of things to do in Skye – you really, really will need your own wheels so I won't bother outlining the options here.
Yes, there are bus services around Skye and an excellent Scottish train service – but it is probably still easier to bite the bullet and hire a car in Scotland.
Where To Stay On The Isle Of Skye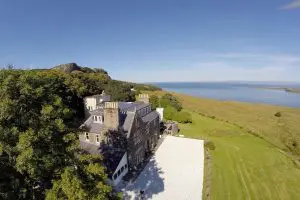 LUXURY Flodigarry Hotel
A luxurious country house sitting on a hill and offering sea views. The hotel and 18th-century cottage are surrounded by ancient woodland and gardens on the Quiraing. –> Check it out!
MID-RANGE Storr Apartments
Spoil yourself a little and mix rugged nature with refined elegance. All the comforts of staying at home, and then some. A must-stay – and it won't break the budget! –> Check it out!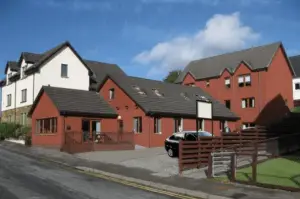 BUDGET Portree SYHA Hostelling
Affordable dormitories and private rooms. Probably the cheapest place to stay on the island. Heating throughout and close to Portree's small port and its colored houses –> Check it out!