Vienna has a lot to offer for both national and international filmmakers. The city has fabulous natural landscapes, as well as being well known for its rich history and culture and stunning palaces. So it will come as no surprise that there are so many wonderful movies set in Vienna.
It is widely known that Europe holds some of the most magnificent cities in the world. With its rich history of monarchs and artists, it's no surprise that places like Rome or Paris were built there.
Among the jewels that are the cities of this continent, there's one that is sometimes overlooked by the mainstream. A city that can be found right in the heart of Europe. A city that packs as much charm as Venice and as much artistry as Florence. A city that is widely considered to be one of the most enjoyable places to be at. That city is Vienna. And it has many, many wonderful things to do.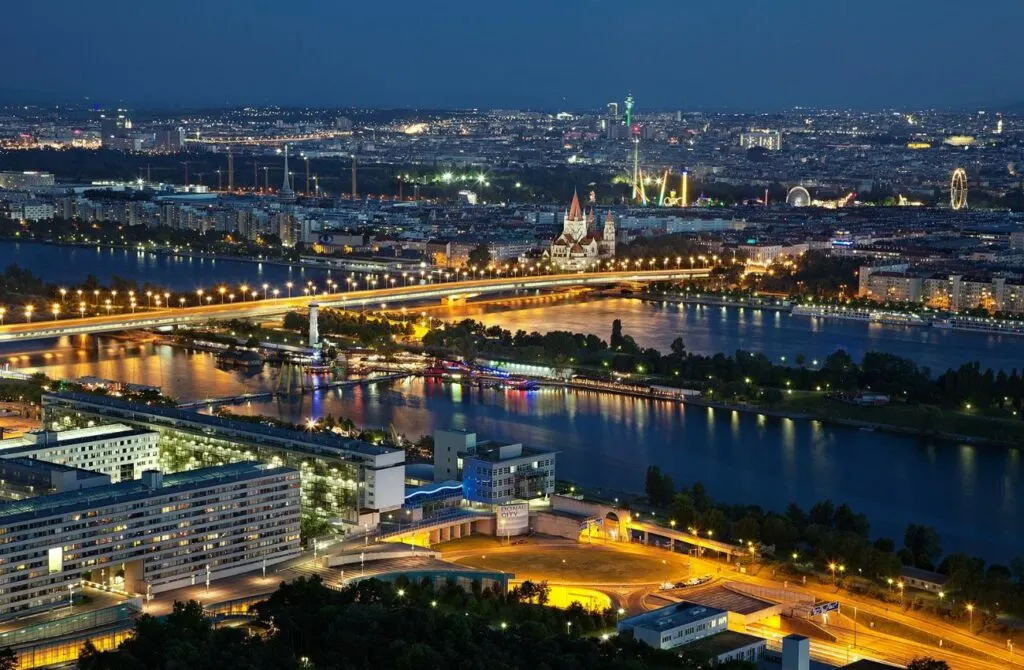 When thinking about this wonderful city, many things come to mind. Its diverse architecture, that ranges from Gothic cathedrals to Art Nouveau buildings. Or its artistic beauty: since the city is one of the oldest continually inhabited cities in Europe, Viennese art can be traced back centuries.
But one should not forget the title by which this city is known: "the Music Capital of the World". Vienna has been at the heart of European music since its birth, with many of the greatest composers having written their best works while living there. Even to this day, one can enjoy beautiful nights at the opera as well as delightful classical music concerts.
Vienna has been captured again and again through the eyes of the many talented filmmakers who come from Austria. They were there ever since the beginning of cinema, working just as hard as their other European compatriots.
In fact, many of the best Hollywood classics were the product of Austrian directors who emigrated there during World War II. From Fritz Lang to Billy Wilder, the country has always had some of the best filmmakers in the world. In this list, you'll be able to find how these innovative minds approached the representation of their own home country, together with some excellent foreign directors.
These films set in Vienna have narratives that rely on their settings as much as their main protagonists, and as a result, spectators get a glimpse of this iconic city through the director's eyes. To honor the concept of cinematic travel, we have also assembled lists of our favorite films shot in some of our all-time favorite travel destinations: Prague, Toronto, Venice, Vermont, Germany, and Philadelphia.
Wondering where to watch? It depends on where you live in the world and which streaming services you have. We link to the streaming service we watch on in each case - be it Netflix, Amazon Prime, Apple TV+, or elsewhere.
You can get one month free of Amazon Prime (or a 6-month trial for students) of Amazon Prime and also get immediate access to FREE Two Day shipping, Amazon Video, and Music. While you won't be charged for your free trial, you'll be upgraded to a paid membership plan automatically at the end of the trial period - though if you have already binged all these, you could just cancel before the trial ends.
Apple TV+ also has a one-week trial, and Hulu has a one-month trial (which can be bundled with Disney!). Another option might be using a VPN to access Netflix titles locked to other regions. Netflix is now available in more than 190 countries worldwide and each country has a different library and availability. US Netflix is (understandably) one of the best.
While we wish everything could just be in one place - for now, it seems these are the best streaming platforms to watch on.
Amadeus is the perfect film to begin a list of the best films set in the "City of Music". The film is a fictionalized retelling of the life of Wolfgang Amadeus Mozart, one of the greatest composers to ever live, based on a 1979 stage play of the same name by Peter Shaffer (who was in charge of adapting his work to the film script).
With some incredible performances and overall, a surprising sense of storytelling and narrative, Amadeus is widely regarded as one of the best films ever made.
The film was made by Miloš Forman, a Czech director who had gained quite some recognition with his 1975 film "One Flew Over the Cuckoo's Nest", which won him all five major Academy Awards, being the second film in history to do so. However, Amadeus wasn't without its own critical praise: going beyond his earlier success, the film won eight Academy Awards, making it one of the most awarded movies of all time.
While the film does carry Mozart's name, the main character of the film is arguably Antonio Salieri (F. Murray Abraham), Austria's court composer and his longtime admirer and rival. The whole film is told from Salieri's perspective, who sees Mozart's rise to fame from his early childhood to his untimely death due to his bad health and addictions.
While some of the film takes place in the court of Salzburg, where Mozart (Tom Hulce) first showed himself to be a talented young player and composer, most of the film is set in Vienna. It's in the City of Music that Mozart did his best work: the film shows the process behind many of his works, but the most notable may be "The Magic Flute", which he finished right before his death.
Sissi, by Ernst Marischka, is a biographical film about Empress Elisabeth of Austria, known also as the Queen Consort of Emperor Franz Joseph I of Austria and Empress consort of King Ludwig II of Bavaria. While she was born Princess Sophie and was named after her mother, she became known in the court by the loving nickname "Sissi".
The film is only the first in a trilogy featuring beloved French-German actress Romy Schneider as Empress Elisabeth, with the next two films being "The Young Empress" and "Fateful Years of an Empress". Together, the three films chronicle the Empress' whole life: her childhood and her ascension as she marries Franz Joseph; her struggles with being a royal wife and becoming an Empress to the whole kingdom; and her later years as she becomes a mother.
In Sissi, we get to see her life as a young princess being raised in the Possenhofen Castle in Bavaria. While a big part of the film takes place there, there are several scenes set in Vienna, including the most important one: the ending scene where Sissi rides a steamboat with her new husband down the Danube. When the excitable traveler Sisi was in Vienna, she resided in Schönbrunn Palace with her husband, the children, and an oversized royal household.
Sissi is a great film to become acquainted with the country's luxurious royal past, as well as the way that Vienna worked and looked during the 19th century.
Waltzes from Vienna is a biographical film focusing on a fictional account of the lives of the Strauss family. For those unaware, there were actually two composers by the name of Johann Strauss: the father, Strauss the Elder (played by Edmund Gwenn), and the son, "Schani" or Strauss the Younger (Esmond Knight). The two of them had distinguished careers but were known to butt heads with each other every now and then.
Surprisingly enough, this film was directed by the father of suspense films, Alfred Hitchcock. While many movie buffs are surprised to find out that Hitchcock directed a musical film, it is clear that he's someone who loves the use of sound in films, particularly when it comes to music.
In fact, Hitchcock himself has said that Waltzes from Vienna allowed him to experiment with ways to use sound to make an effect on the audience. The techniques he learned through this film would be used in the foundational suspense films that he'd direct years later.
The Strauss were two of the most important composers in the country and their compositions are a key part of Vienna's cultural heritage. One doesn't have to look further than to "The Blue Danube", perhaps the most iconic waltz ever composed, composed by Strauss II. As you may gather from the title, the waltz's lyrics sing about the beauty of the beautiful blue Danube River that crosses through the city.
Considered to be one of the best films ever made, The Third Man has had a very strong influence on crime movies and cinema as a whole.
This is an excellent film no matter how you look at it: from its cinematography by Robert Krasker to its score by Anton Karas; from Orson Welles' iconic performance to its unmistakable noir atmosphere; there's nothing in this film that hasn't had a big influence in the filmmakers that saw it. It's no surprise that director Carol Reed is considered one of the best British directors of all time.
The film is set in Vienna sometime during the postwar period, The Third Man follows Holly Martins (Joseph Cotten), an American western writer who travels to the Austrian capital in order to meet with a friend from his childhood who had mysteriously offered him a job.
However, he quickly learns that his friend, Harry Lime (Welles), was killed in a car accident just a day before. He decides to investigate what happened with his friend and ends up finding out something that doesn't add up: while some people tell him that two men took his body away, others said there were three. So, the question arises: who is the third man?
The Third Man was a key film in Vienna's cinematic history. To this day it is shown regularly in the city. In fact, in 2005 a museum dedicated to the film was opened in the city. While it's not as big as some of the museums one can find in Vienna, it does show the love and passion that the city's locals have for this marvelous film.
The Illusionist, by Neil Burger, is a captivating mystery film based on one of Pulitzer Prize-winner Steven Millhauser's short stories. It's a fantastical story that mixes fictional elements with real-life events that took place in the city of Vienna during the time of the dual monarchy of Austria-Hungary.
With its main cast (Edward Norton and Paul Giamatti) delivering some truly great and subtle performances, the film offers thrilling mystery as well as an imaginative look at 19th-century Vienna.
The story of The Illusionist is told by Walter Uhl (Paul Giamatti), a member of the Vienna Police who is investigating a man known as Eisenheim (Norton) due to the claim that he performs "necromancy". As the investigation finishes, Uhl recalls the man's story. He was the son of an artisan with the dream of becoming a magician.
Not only does the film show us his prowess with magic as he grows up and becomes a truly great magician, but it also poses the idea that Einsenheim was the forbidden lover of Sophie (Jessica Biel), the Duchess of Teschen. She is, in fact, the main reason behind the things that Eisenheim does during the film. Mainly his plan to take her away from the man she's supposed to marry, Prince Leopold (Rufus Sewell).
Before Sunrise tells the story of two young Americans (played by Ethan Hawke and Julie Delpy) who meet on the Euro rail on the way to Vienna, Austria. While he's going to the city to get back to his home country, she'll only pass through it on her way to Paris, where her grandmother lives.
He convinces her to spend the night with him, but in a literal way: she helps him kill time until his flight as they walk through the streets of Vienna and about topics of commitment, friendship, and sex.
As you may imagine, a film where two people wander the streets of Vienna is a must-watch for anyone planning to visit the city. By watching this film you'll be able to enjoy the most beautiful parts of the city at night, as well as some of its most hidden secrets.
The locations visited by the protagonists in the film are very well documented: you can even go on a tour based on Before Sunrise. As such, this is one of the better movies to enjoy before visiting this lovely city.
This title is one of those films that everyone should experience at least once. The first installment in his three-part meditation on sudden love throughout the years, Before Sunrise, is one of Richard Linklater's best films. It's an endearing film that will have you falling in love with its characters just as they fall in love with each other.
Museum Hours, written and directed by Jem Cohen, offers a unique outlook on the city of Vienna. During one particularly cold winter, Johann (Bobby Sommer) is doing his job as a guard at the Kunsthistorisches Museum of Vienna, when a strange visitor wanders in.
This visitor is Anne (Mary Margaret O'Hara), a middle-aged Canadian woman who came to the city due to a severe illness that is affecting her cousin. Lost and unable to speak the language, she found her way to this particular museum, which is one of the biggest and most beautiful in all of Vienna.
The guard doesn't know all this, but he observes her with interest and caution. Finally, he decides to approach her and offer help. Turns out that Anne doesn't need much help, just a place to stay for a couple of hours. However, she is grateful for Johann's company.
The two of them begin to wander around the museum, talking about their lives and about the way that art can affect them. As they walk, they also explore the history of the city and of the artifacts that are now standing in front of them.
Museum Hours is a film that has more to do with Before Sunrise than with any other of the films on this list. It's a movie mostly consisting of dialogue about life and the human experience, but mediated by the many works that are shown in the museum. Anyone looking forward to visiting some of the many museums located in Vienna should watch this film.
The Interpreter is a Slovak film that takes place in the city of Vienna. Directed by Martin Šulík, the film tells the story of a man who journeys to the city in the search of a long-retired Austrian Nazi. The man, Ali (Jiří Menzel), is a retired interpreter who, after finding the diary of the man he believes killed his parents, decides he's going to find him and kill him.
Even though he's in his later years, he is set on killing the officer, visiting his home armed with a gun. However, Ali doesn't find the officer there. Instead, his son Georg (Peter Simonischek) takes Ali in and hears his story. While he does admit that his father was murdered, he disappoints Ali by telling him that his father is dead.
The film sees Georg reaching out to Ali after the latter called him a Nazi and marked a Swastika on his door. The son of the Nazi officer proposes they visit the places that his father wrote about in his diary. As Ali reluctantly accepts, the two of them embark on a journey that will leave them both changed forever.
The Piano Teacher follows the titular piano teacher, Erika Kohut (Isabelle Huppert), a single woman in her forties who is still living with her mother. She works at one of Vienna's most illustrious conservatories, but she doesn't seem to get any satisfaction from it.
Needing some release from her pent-up emotions, she finds herself in a relationship with Walter Kellmer (Benoît Magimel), her new student.
Among the many talented directors to have come out of Austria in recent years, there's no one quite like Michael Haneke. This master of his craft has managed to tell some of the most chilling and at the same time captivating stories ever.
While his films touch on many plots and genres, he's known for tackling social issues that are often left untouched and undisturbed in modern society. As such, he has become one of the most interesting directors working today. The Piano Teacher is often cited as one of his best works.
However, they are not a normal couple: a strong power dynamic forms between them, with Erika dominating Walter and getting mad when he doesn't do as she tells him. The Piano Teacher is a dark film that gets darker and darker as it goes on. It's a truly unique experience that has shaped the way people look at Austrian cinema.
There's one man who was key to the cultural development of the city of Vienna that still has to be talked about. When Austrian neurologist Sigmund Freud shared his theories about the workings of the mind with his colleagues of the world, everything in the way psychologists understood the human mind changed.
As this film shows, the irrational and sustained act of killing that was World War I could not be understood with the theories that people had at the time. So, when Freud started theorizing about an irrational part of ourselves that was unconscious, everyone latched onto his ideas in order to explain the horror they had just been part of.
A Dangerous Method was directed by acclaimed horror director David Cronenberg. Although the film doesn't present much of his usual horror style, it does delve deep into the sexual nature of Freud's studies and theories, which is an element that's ever-present in Cronenberg's films.
The film doesn't focus on Freud (Viggo Mortensen), but rather on Sabina Spíelrein (Kiera Knightley), a psychiatric patient that was treated by Carl Jung (Michael Fassbender) and later became a psychoanalyst in her own right.
It chronicles Sabina's stay at a hospital in Zürich, as well as her trip with Jung to Vienna to meet Freud. During this time, we are witness to the dissolution of Freud and Jung's friendship. If you weren't aware, the two of them were very close, even developing part of the psychoanalysis theory together.
Their relationship became strained however as they disagreed on more and more matters regarding the human mind. In the film, Jung's love for Spielrein is the reason he ends up cutting all ties with Freud.
The Seven-Per-Cent Solution, by Herbert Ross, is an adaptation of a homonymous book by Nicholas Meyer, who wrote the script for the film. It's a pastiche Sherlock Holmes story, meaning that Meyer took the character and reinserted him into a new setting where he finds himself hunting down a kidnapper in Vienna with the help of Sigmund Freud.
While Meyer has published many pastiches of the type, with the last one having been published in 2021, The Seven-Per-Cent Solution is regarded as his best work.
The film is set in the early 20th century and sees an old Dr. Watson (Robert Duvall) trying to reason with a cocaine-addicted Sherlock Holmes (Nicol Williamson). He's worried about his friend, not only due to his addiction but also because he's harassing Professor Moriarty (Laurence Olivier) by accusing him of being a criminal.
Since in this version of Sherlock Holmes Moriarty isn't a bad guy, Watson decides to take Holmes on a trip to Vienna where he'll enlist the help of Freud (Alan Arkin) to treat his partner. However, a mysterious kidnapping will take place in the City of Music, and Holmes will take on the role of detective once more.
Staying Connected While Travelling
In today's increasingly connected world, staying online while traveling has become essential for a seamless experience. That's where eSIMs come into play, revolutionizing the way we access mobile networks during our global adventures. Say goodbye to hunting down local SIM cards at the airport; eSIMs provide instant activation the moment you land, sparing you the fortune usually spent on international roaming and allowing you to genuinely travel like a local (without getting hopelessly lost!).
With eSIMs, tasks like restaurant recommendations and reservations, up-to-the-minute public transport instructions, checking opening hours, and accessing further information become a breeze. And, of course, sharing your journey on social media is easier than ever. To stay connected wherever you roam, consider using either Airalo or Holafly. Airalo boasts the most extensive range of destinations worldwide, offering smaller data bundles tailored to your needs, while Holafly provides unlimited data packages and fantastic EU data deals.
So why wait? Embrace the future of travel connectivity with eSIMs and make your next journey effortlessly smooth.
Further Things To Consider Before Any Adventure
Now you're all set and prepared to explore our big wide world, why not sort out everything else out all in one go? If necessary for your travel plans make sure you have brought proper travel insurance, protected your privacy by getting a secure VPN, compared all the top hotel booking sites to find just what you're after, reserved an unbeatable rental car price and - of course - booked the best flight deals!
Or maybe just forget it all and go for a last-minute cruise or effortless tour instead?
Many budget travelers (including me) indulge in worldwide airport lounge access, so we can experience luxury while still slumming it in economy. Naturally, we would never leave home without a more general travel guide since we couldn't possibly cover everything here!
Just add an adventurous attitude and plenty of smiles - they go a long way - and that about covers it all! Now go out, find your own path and don't forget to share your best inspiration stories with me on Facebook, Twitter, and Instagram...I'd love to hear from you!