Israel has seen its fair share of movie productions, both nationally and internationally with blockbusters as well as low-budget films. It has a long and rich history that has sparked the interest of storytellers through the years – which explains why there are so many remarkable movies set in Israel.
In 1953 the Kirk Douglas epic war film The Juggler was the first feature to be filmed in the new State of Israel. And other international blockbusters quickly followed. But in the early seventies of the last century the Arab boycott of Israel, occasioned by the 1973 OPEC-instigated oil crisis, put an end to big-budget foreign movie productions, at least for the time being. This resulted in a lot of low-budget films being filmed in Israel, which was suddenly a rather cheap place to shoot your movie in.
But, why travel via cinema – and by extension, watch movies set in Israel? Because wanderlust can take grip at any time, and nothing compares to an on-location movie when it comes to transportive experiences that may be done from home. These films frequently feature magnificent cityscapes, inspiration geographies, and diverse cultures, and they motivate us to travel to new places or relive our experiences when we return home.
In these Israeli films, the destination becomes the star.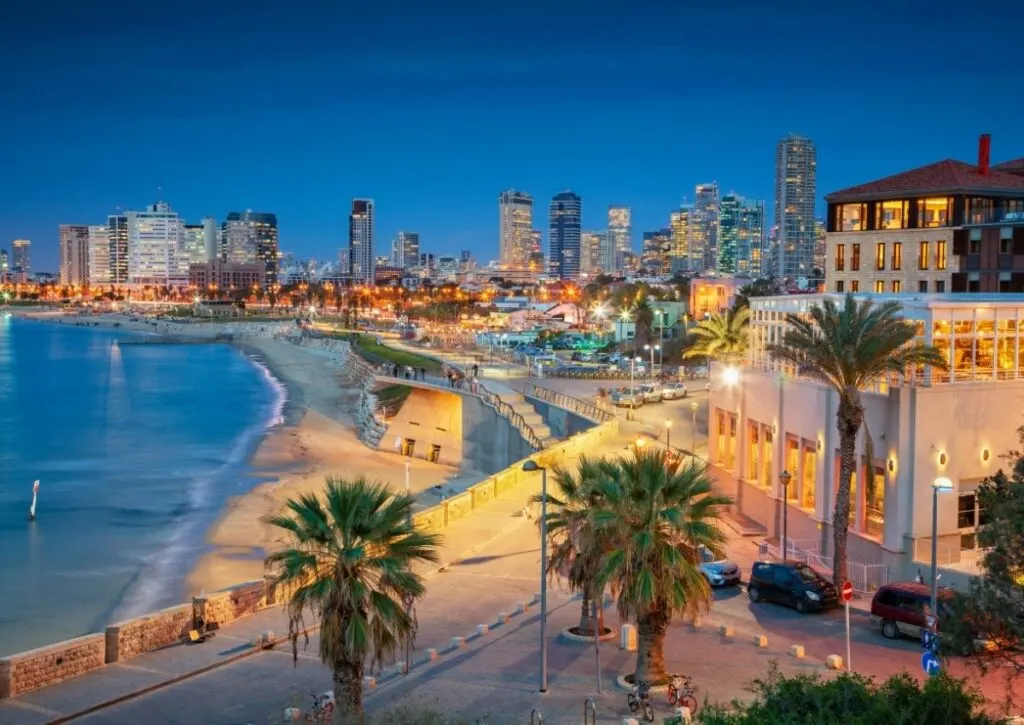 Although not all of these films are happy – tragedies and misery are as unavoidable in cinema as they are in life – each one provides panoramic vistas of the storied Promised Land.
These Israeli films have narratives that rely on their settings as much as their main protagonists, and as a result, spectators get a glimpse of this iconic country through the director's eyes. To honor the concept of cinematic travel, we have also assembled lists of our favorite films shot in some of our all-time favorite travel destinations: Costa Rica, Japan, France, Las Vegas, Washington DC, China, and Norway.
It will be a brief but enjoyable journey, regardless of which film you choose, and will have you wanting to book a ticket on the next flight out to visit the Dead Sea, the Israel Museum, Masada at Sunrise, or any of the 9 iconic UNESCO World Heritage Sites of Israel.
Wondering where to watch? It depends on where you live in the world and which streaming services you have. We link to the streaming service we watch on in each case - be it Netflix, Amazon Prime, Apple TV+, or elsewhere.
You can get one month free of Amazon Prime (or a 6-month trial for students) of Amazon Prime and also get immediate access to FREE Two Day shipping, Amazon Video, and Music. While you won't be charged for your free trial, you'll be upgraded to a paid membership plan automatically at the end of the trial period - though if you have already binged all these, you could just cancel before the trial ends.
Apple TV+ also has a one-week trial, and Hulu has a one-month trial (which can be bundled with Disney!). Another option might be using a VPN to access Netflix titles locked to other regions. Netflix is now available in more than 190 countries worldwide and each country has a different library and availability. US Netflix is (understandably) one of the best.
While we wish everything could just be in one place - for now, it seems these are the best streaming platforms to watch on.
Sallah Shabati is an Israeli comedy film directed by Ephraim Kishon and starring Haym Topol, Arik Einstein, and Geula Nuni.
The movie revolves around Sallah Shabati and his Yemeni Jewish family, who are flown to a residence camp set up by the Israeli government during "Operation Magic Carpet". They have to live with the whole family in a one-room apartment and Sallah Shabati does everything he can to earn money to eventually find a better place to live.
Sallah Shabati was at the time of release one of the most successful Israeli movies, and it introduced some of its cast and productions members to audiences worldwide. It won several awards and is still considered by many to be an Israeli film classic.
The movie was filmed on location in HaKfar HaYarok, a youth village located in southern Ramat HaSharon, along the northern border of Tel Aviv-Yafo.
Exodus is an American historical drama film produced and directed by Otto Preminger, and starring Paul Newman, Eva Marie Saint, and Ralph Richardson.
The movie tells the story of the founding of the state of Israel. Jewish immigrants aboard a ship bound for Israel are transferred to a boat heading to Cyprus. An officer tries to guide them through the English blockades to their destination Israel.
Exodus was filmed on location in Israel and Cyprus. One of the Israeli filming locations was Acre, a city in the coastal plain region of the Northern District of Israel. Filming was also done in Israel's capital Jerusalem.
Kazablan is an Israeli musical film directed by Menahem Golan and starring Yehoram Gaon, Efrat Lavie, and Arieh Elias. It is based on the musical of the same name and still today is one of the most famous movies set in Israel.
The movie is about Kazablan, an Israeli war veteran turned gang leader who lives in the port of Jaffa. He has a crush on Rachel, a young woman who lives with her father and stepmother. Their budding relationship is a scandal in the community and an embarrassment to her parents, as Kazablan and Rachel are not of the same parentage. Meanwhile, local residents are in an uproar because there are plans to demolish their houses. When they collect all their money to save their homes, the money is stolen. A culprit is soon identified.
At the time of writing Kazablan was the second most successful film in Israeli cinema history. It was filmed on location in Jaffa, an ancient port city located in the southern and oldest part of Tel Aviv-Yafo.
A Tale of Love and Darkness is an Israeli / American drama film written and directed by Natalie Portman and starring Natalie Portman, Gilad Kahana, and Amir Tessler.
The movie revolves around Fania, a beautiful mother who is struggling with bipolar disorder as she tries to raise her son Amos in Jerusalem at the end of the British Mandate of Palestine and the early years of the State of Israel. Faced with the harsh realities of the married life of unfulfilled promises and integration in a foreign land, Fania battles the depression and can only escape in her world of daydreams.
Filming on A Tale of Love and Darkness took place in Israel's capital Jerusalem, as well as in Tel Aviv-Yafo, the most populous city in the Gush Dan metropolitan area of Israel. The scenes involving the two monks were filmed at the Jordan River. The kibbutzes Beit Nir and Hulda can also be seen in the film.
Jesus Christ Superstar is an American musical drama film directed by Norman Jewison and starring Fred Johanson, Rik Mayall, and Cavin Cornwall. It is based on the musical of the same name.
The movie is about the last seven days of the life of Jesus. In that week Jesus enters Jerusalem. He becomes popular very quickly, but with his sermons, he provokes the animosity of the Jewish religious leaders. When he is betrayed by Judas, Jesus still manages to challenge Herod. Pontius Pilate is amused by Jesus, but is forced by the chief priest to pronounce the sentence, thus condemning Jesus to crucifixion.
Jesus Christ Superstar was filmed on location in Israel, primarily at three locations. The first is Avdat, a ruined Nabataean city in the Negev desert. The second location is Beit Guvrin-Maresha National Park, a national park located in central Israel. And at Beit She'an, a city located in the Northern District of Israel. The Dead Sea and Herodium Hill can also be seen in the movie.
Ajami is an Israeli Arab drama film directed by Scandar Copti and Yaron Shani, and stars Shahir Kabaha, Ibrahim Frege and Fouad Habash. It is about Ajami, a neighborhood with various cultures, and where Jews, Muslims and Christians regularly clash.
13-year-old Nasri and his brother Omar live in fear as their family is in danger after their uncle shot an important member of another clan. Malek, a naive Palestinian refugee, works illegally in Israel to pay for the operation that could save his mother's life. Rich Palestinian Binj dreams of leaving Ajami and moving in with his Jewish girlfriend. And then there's Dando, an Israeli police inspector whose life was turned upside down when his younger brother disappeared without a trace.
Ajami was filmed on location in Ajami, a predominantly Arab neighborhood in Tel Aviv-Yafo, located south of Old Jaffa and north of the Jabaliyya neighborhood on the Mediterranean Sea. Some characters in the movie were played by non-professional actors who live in Ajami which makes it even more intriguing and believable as a movie set in Israel.
Rambo III is a 1988 American action film directed by Peter MacDonald and starring Sylvester Stallone, Richard Crenna and Marc de Jonge. It is the third entry in the Rambo series of films.
The movie revolves around Vietnam vet John Rambo (Stallone), who now lives in a monastery. Then his former Colonel Trautman and the US ambassador visit him with an offer for a mission. John refuses, and Trautman decides to leave for Afghanistan himself. However, his mission goes awry and he is captured by the Russians and tortured in a heavily guarded fortress. When John learns of this, he decides to leave for Afghanistan and to rescue his colonel. Once arrived Rambo gets help from Afghan rebels.
A large part of Rambo III was shot on location in Israel. One of the filming locations was the ancient port city Jaffa, located in the southern and oldest part of Tel Aviv-Yafo. Filming was also done in Eilat, a busy port and popular resort at the northern tip of the Red Sea. The cave scenes were filmed at Beit Guvrin-Maresha National Park situated in central Israel.
The Summer Of Aviya is an Israeli drama film directed by Eli Cohen and starring Kaipo Cohen, Dina Avrech, and Rami Baruch.
The film is about Henya, a woman that survived the horrors of a concentration camp and now lives in Israel. She has trouble coping with her memories and the camp syndrome dominates her life. As a result, she isolates herself from the small community in which she lives. Her daughter Aviya arrives for a big holiday and doesn't fully understand her mother's behavior. She misses her father and can't believe that he never returned from World War II.
The Summer Of Aviya is considered by many to be an Israeli film classic. It won many Israeli awards as well as a few international ones. The movie was filmed entirely on location in Petah Tikva, a city situated in the Central District of Israel. Most of the filming was done in Kfar Avraham, a neighborhood located in the northern part of the city, that used to be a moshav, a type of Israeli town or settlement.
The Insider is an American drama film directed by Michael Mann and starring Al Pacino, Russell Crowe and Christopher Plummer.
The movie is about '60 Minutes' TV producer Lowell Bergman (Pacino), who smells a story when Jeff Wigand, a former researcher at tobacco company Brown & Williamson, refuses to talk to him. When the manufacturer forces Wigand to fulfill an agreement, he decides to confide in Bergman and reveal the truth about his employer. However, both Bergman and Wigand find out that this is not as easy as they initially thought.
A small part of The Insider was filmed on location in Israel. In Umm al-Fahm to be more precise, a city located on the Umm al-Fahm mountain ridge. The city is considered to be Arab, as nearly the entire population of Umm al-Fahm are Arab citizens of Israel.
Sahara is a British / American adventure film directed by Andrew McLaglen and starring Brooke Shields, Lambert Wilson, and Horst Buchholz.
The movie is about Dale, a beautiful young woman, who grants her father Gordon's last request and takes part in the desert race Sahara World Rally. She dresses up as a man and registers. Her formidable opponent is Von Glessing. Dale definitely wants to win and decides to take a few shortcuts. However, she is then captured by Sheikh Jaffar.
Sahara was partially filmed in the Negev Desert of southern Israel near the city of Eilat, where the cast and crew stayed for four months working on the film. Additional scenes were shot in Jaffa, an ancient port city located in the southern and oldest part of Tel Aviv-Yafo.
We hope watching some of the great films on this list of movies set in Israel. will make you decide to take a trip to Israel. It is a country of world-class culture, immense natural beauty, unbeatable history, and great people. And of course, there is Jerusalem, the Dead Sea, Tel-Aviv, and many other interesting places to visit and sights to see. Happy travels!