Helsinki is a city break with a difference – and one you know that not everyone has been on! It's quirky, original, and completely immersive. Book a weekend trip here, and you'll end up wishing it was a week; book a week, and you'll wish it was two!
You will have to be living under a rock to not know that Helsinki is having a serious moment – and for good reason. It's gloriously eclectic, easily navigable, and both super-cool and welcoming at the same time.
Scattered along the Baltic coast, its streets interwoven with the many inlets of the intricate shoreline, Helsinki is an extremely attractive city. There's a great mish-mash of grand neoclassical architecture from its time in the Russian empire, art nouveau constructs from the era after its independence, and the bold, contemporary design that's become synonymous with modern Finland.
Walking around Helsinki is almost like being in a museum of design and architecture, with something to see around every corner, whether it's the modernist house of Alvar Aalto or the futuristic Helsinki Central Library Oodi.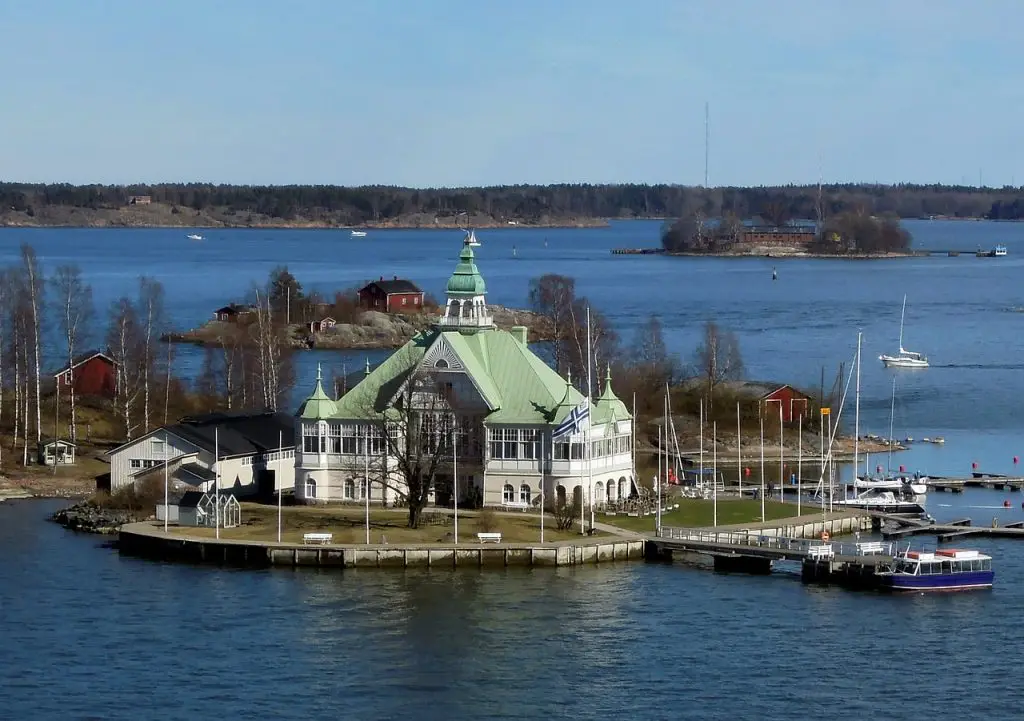 Luckily, when we compare Helsinki to a museum, we don't mean that it's fusty and impersonal. On the contrary, it's a city that's buzzing with life. Its seaside position means that there are always boats gliding past, the markets are bustling, and residents love to be out and about.
You'll find something for everyone here, whether you want to spend your time shopping, museum-hopping, and sampling all the best coffee shops in Helsinki (there are a lot!). Or if you prefer to enjoy the natural delights surrounding the city, there are over 300 islands and dense ancient forests to explore.
Finland, especially Helsinki, also has a burgeoning food scene with a strong emphasis on locally sourced, seasonal food. Innovative chefs give traditional dishes and flavors a modern lease of life. We challenge you to find food that feels fresher or more creative than in the many bistros of the capital. In between eating and sightseeing, visitors can shop in the concept stores of the city center, explore hipster Kallio or enjoy a traditional Finnish sauna (particularly appealing if you visit in the depths of winter).
You're never more than 15 minutes away from invigorating outdoor activities, including skiing and ice-skating in winter and hiking in the forests or on the shores in summer. It's a city with the perfect mix of fascinating urban design and breathtaking natural surroundings. Everyone who told us to skip Helsinki – Sorry, but you are wrong!
Not only is Helsinki worth a visit, but it is one of the best places to see in Finland. Period.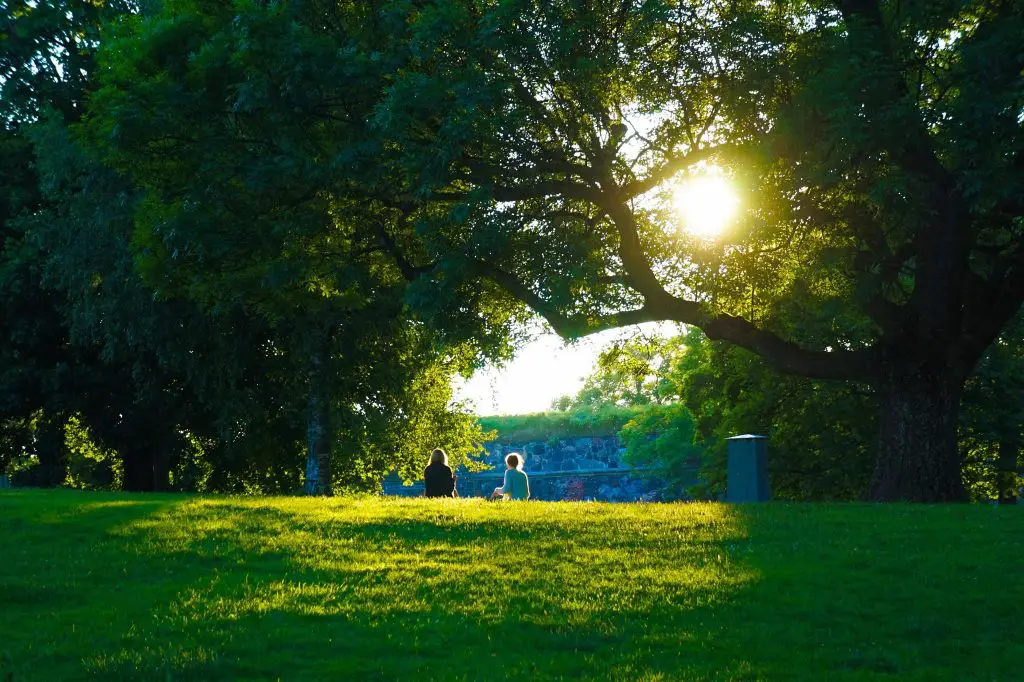 If you like your city breaks to be full of culture, then Finland's capital won't disappoint on that front. Sophisticated and innovative design appears at every corner, and there's even a whole Design District for lovers of art to explore. The architecture keeps pace with the design scene with an exemplary art nouveau train station, contemporary concert hall, and modernist rock-carved church among the gems.
The art nouveau style is, in many ways, the Nordic country's architectural redeemer thanks to its prominence as a style when Finland gained independence from Russia. The Wilkman House, Pohjola Insurance Building, and the Finnish Stock Exchange all built at this time proudly display their rough-hewn granite facades that incorporate authentic Finnish traditions and rural mythology in a uniquely nationalistic style.
While many today might ignorantly claim Helsinki to be an architectural wasteland, the Art Nouveau showcase of around 600 buildings in Helsinki is famed around the world – along with other Riga and Prague who also embraced the style with particular feriocity. In between all this aesthetic beauty, there are also plenty of treats for your tastebuds. Helsinki has put itself on the map as a foodie paradise with a long history of locally sourced and sustainably found ingredients providing a fresh taste to the creative dishes.
Seriously, don't be put off by tales of the long winter – Helsinki has enough to brighten up the dark, cold seasons and is also an excellent summer spot. If you're now convinced enough to book a flight, then you'll be ready to think about what to do. We've got some suggestions for the best things to do and places to visit in Helsinki.
Enjoy!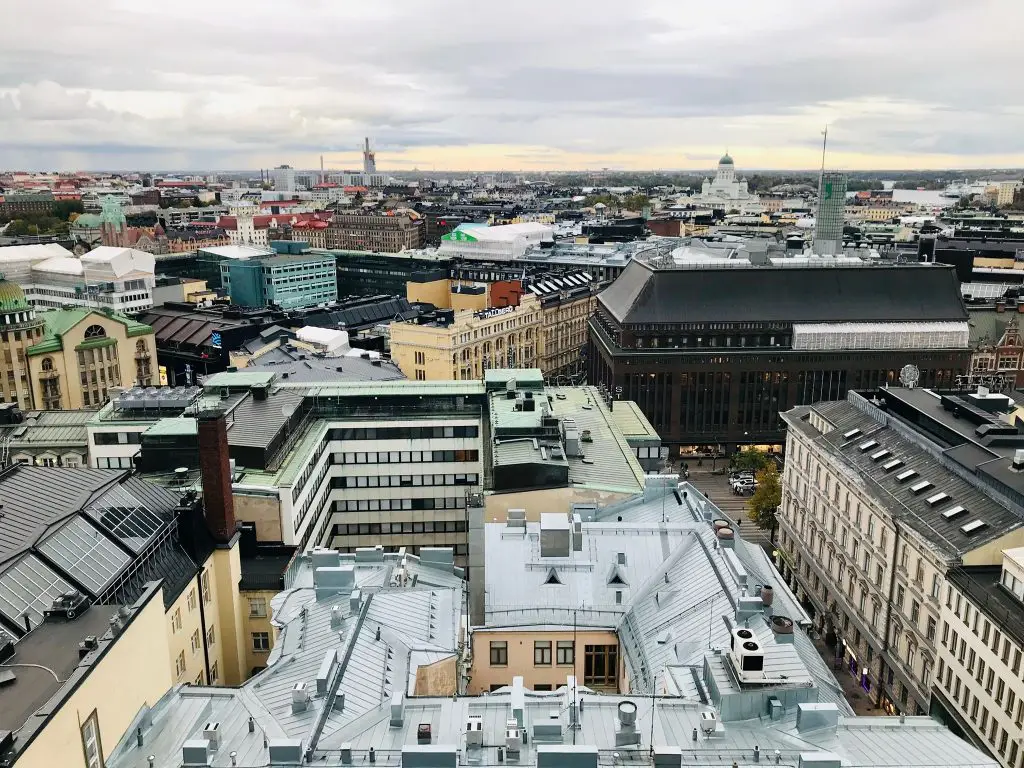 50 Fun Things To Do In Helsinki: The Most Underrated Nordic Capital! 🇫🇮
1. Visit The Marvellous Uspenski Cathedral
This towering orthodox cathedral, the largest in Western Europe, overlooks the city from a hill on the Katajanokka peninsula and is one of the most prominent representations of the Russian impact on Finnish history.
Built from 1862 to 1868, the iconic golden cupolas and redbrick facade of Uspenski Cathedral rose to commemorate the Russian Emperor Alexander II, who was the sovereign of the Grand Duchy of Finland during the cathedral's construction. This is why most Finns today simply call it the Russian Church, though it is not the only church in Helsinki constructed during this period.
Take a moment to count each of the thirteen towers, complete with crosses on each, symbolizing Jesus and the twelve apostles. Afterward, step inside and admire the interior dome covered in impressive decorative paintings and religious allusions.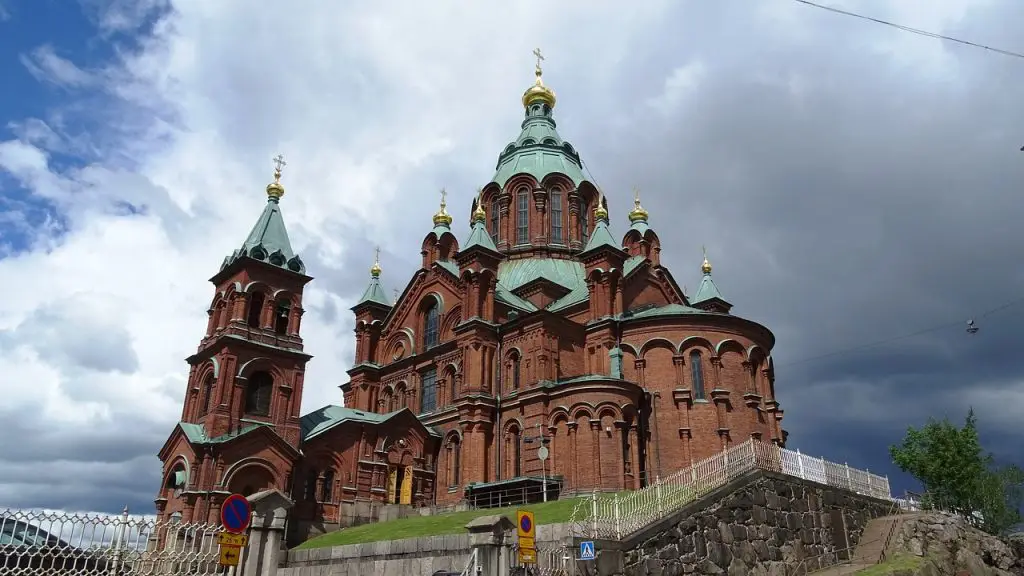 2. Take In The View At The Incredible Clarion Sky Room
Atop the soaring 78m Clarion Hotel on the edge of the Helsinki city center is the aptly named Sky Room; one of the city's most in vogue meeting places. Boasting magnificent views across Helsinki, this is a fabulous spot to come for sunset cocktails or late-night partying with DJs and many of Finlands most glamorous socialites.
We recommend going just after opening to get a great seat and to take in the panoramic views before the crowded arrive later at night – and before the rather expensive cover charge kicks in. With luxurious design, funky cocktails inspired by the ingredients of Finland, and exceptionally friendly staff, the Sky Room was a place we found ourselves returning to time and time again.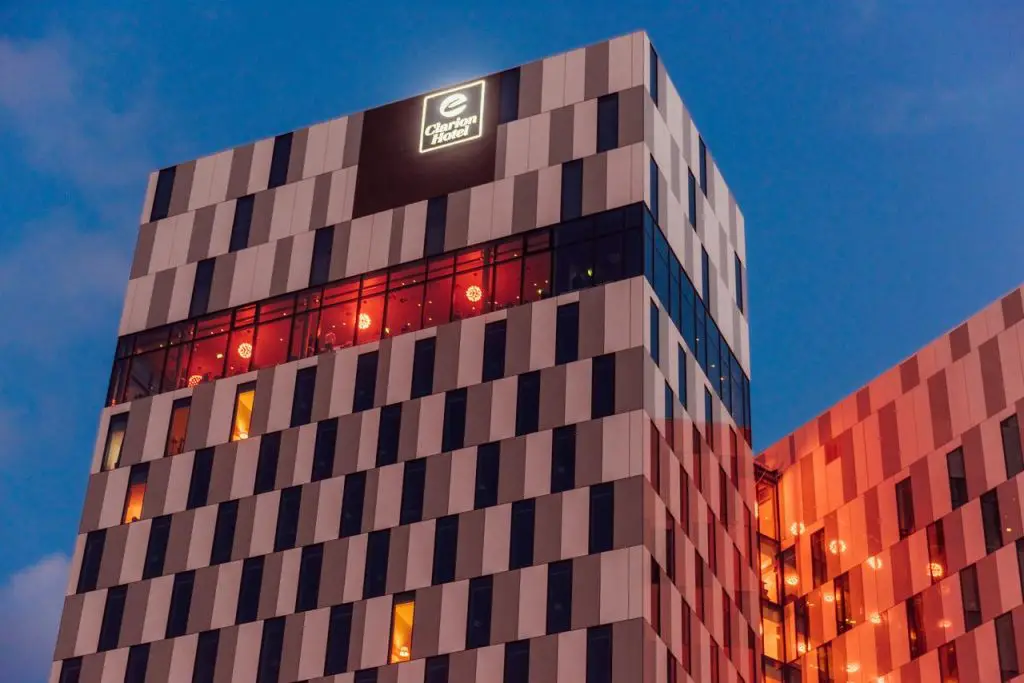 3. Get Your Adrenaline Pumping At Linnanmaki
A fun amusement park on a hillslope just to the north of Helsinki city center opened in 1950 visited by over 1 million people each year.
There is a range of 43 rides of different sizes along with arcades, games, small shops, restaurants, and an outdoor stage on which various performers appear throughout the year. Unlike Liseberg in Gothenburg and Tivoli in Copenhagen, entrance is free, and you just need to pay for the rides you want to go on – meaning even if you feel a little cash poor Linnanmaki is a great place to wander around and enjoy the vibes. There is also an all-inclusive wristband, which allows access to all of the park's rides for one day.
The Vuoristorata wooden rollercoaster from 1951 was our favorite ride, but coaster fans have seven more to chose from. Other standout rides were also the Ferris wheel, the three-tower rides, the river rapids ride and the Karuselli ( carousel), built-in 1896. Another amazing thing?
Linnanmaki is run by the non-profit Lasten Päivän Säätiö (Children's Day Foundation), which means that all the funds raised here are used for Finnish child welfare work. How cool is that?!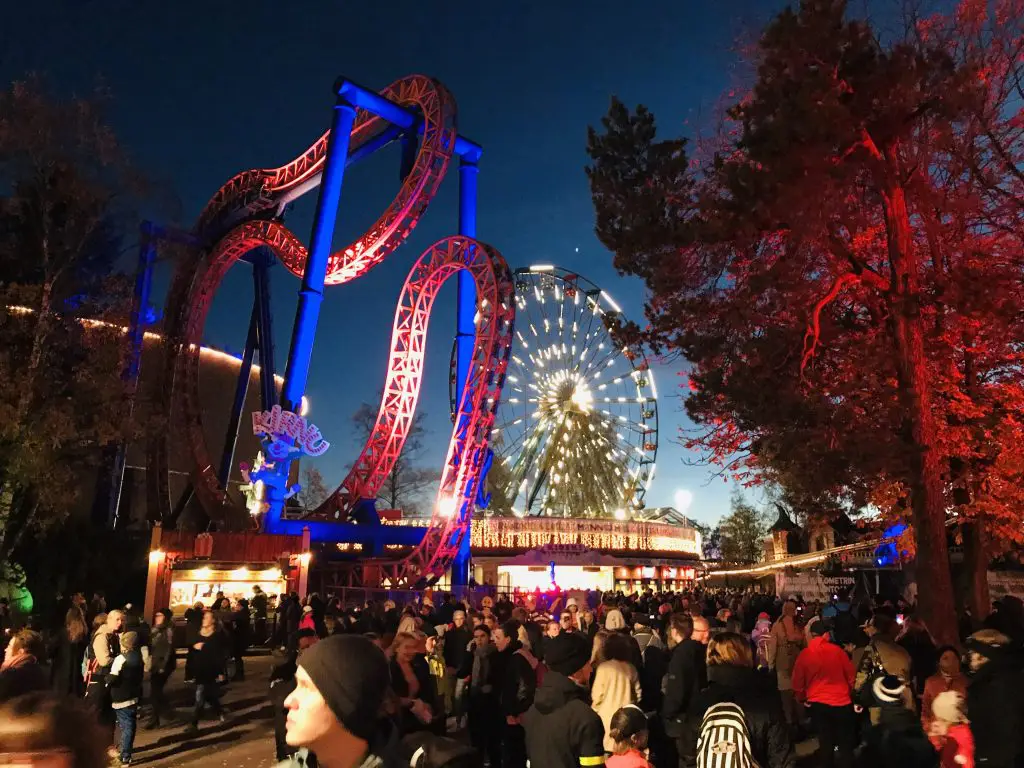 4. Admire Contemporary Art In The Modern Kiasma Museum
A contemporary art museum, part of the Finnish National Gallery that boasts a collection of works by around 8,000 artists. The Kiasma museum was designed by renowned American architect Steven Holl, in a somewhat controversial design competition thanks to its positioning near the equestrian statue of Marshal Mannerheim – the 'greatest Finn of all time.' The Kiasma opened in 1998 and, since then, has delighted, provoked, impressed, surprised, and inspired with its showcase of contemporary art.
Kiasma is Finnish for chiasma, a word that defines the point of contact, the physical link between two chromatids belonging to homologous chromosomes. The name is, therefore, a fitting representation for a museum that bills itself as a place of encounters and exchange of opinions. Contemporary art might not be for you, but there is no denying the rotating collections here provoke though conversation and ideas. Whether you like what they say is a personal choice.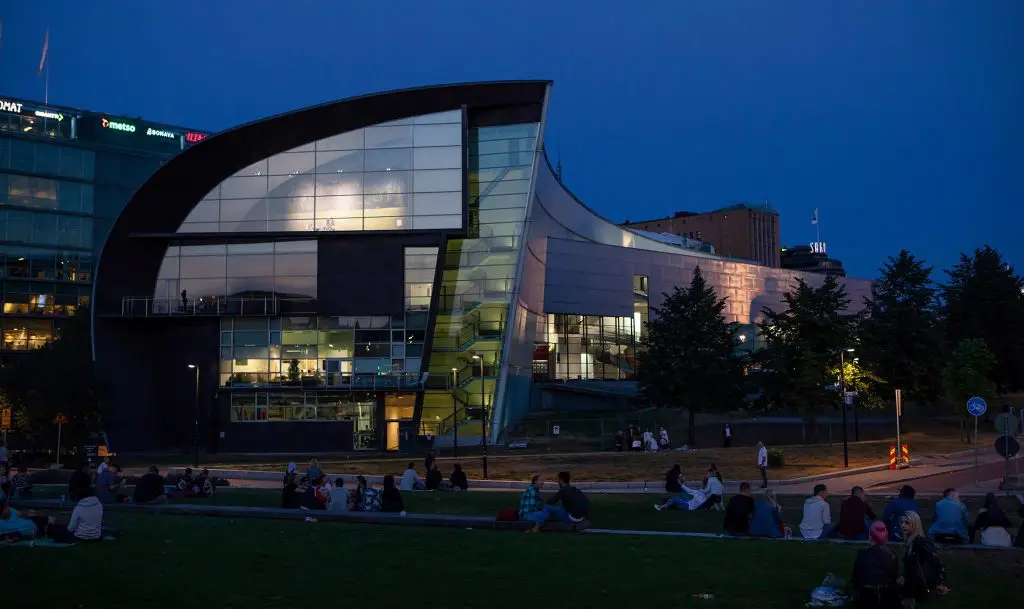 5. Explore The Highlights Of Helsinki With This Tour Of Helsinki And Suomenlinna Island
The Suomenlinna is a cultural treasure recognized by UNESCO as World Heritage and located a short boat trip away from the center of Helsinki. Its construction began in the mid-18th century when Finland was still part of Sweden and is a unique monument of military architecture. Another special feature of the fortress is that in the course of its history, it has served in defense of three realms: Sweden, Russia, and Finland.
Today, many head here for its car-free tranquility, plentiful cafes and picnic spots, incredible views, laid-back beaches, and surreal fortress walls,
Combine culture and nature in this half-day tour of the streets of Helsinki and the World Heritage Site of Suomenlinna island. A knowledgeable guide will take you around some landmarks of the city, including the Olympic Stadium, Market Square, and Sibelius Monument. This is a great way to get your bearings if you've only just arrived. Take some fabulous photos then hop on the ferry. Enjoy walking around and learning the stories before heading back to the Market Square.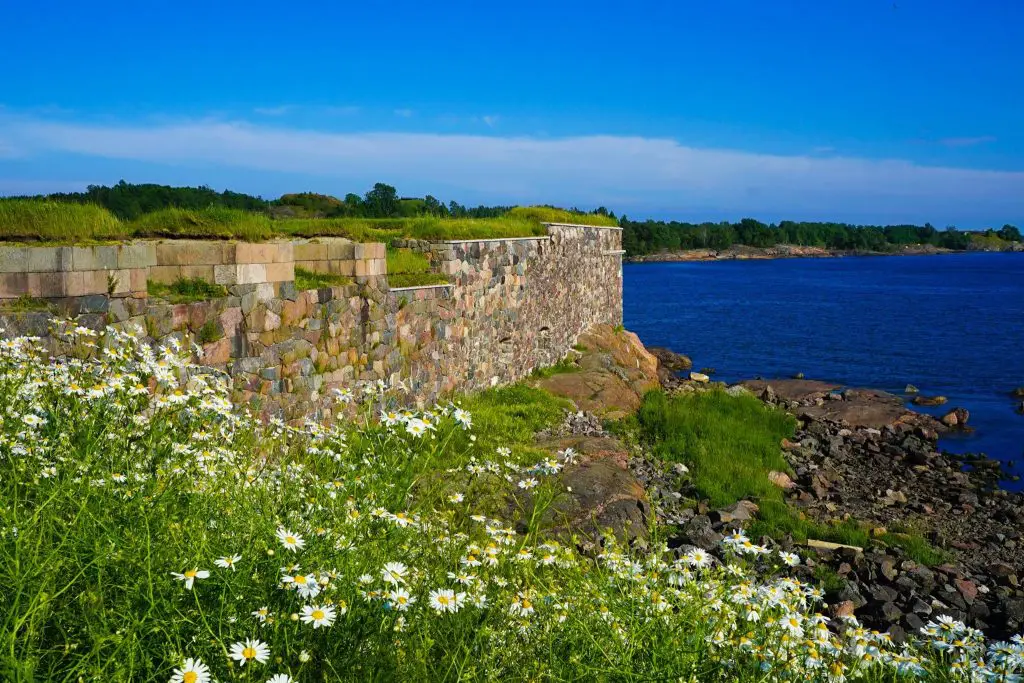 6. Dive Into Classical Art At the Ateneum
Finland's best-known art museum and the home of Finnish art. One of the three museums forming the Finnish National Gallery, along with Kiasma and the Sinebrychoff Art Museum, the Ateneum offers the most significant collections of classical art in Finland right in the center of Helsinki on the edge of Rautatientori square.
Established in a custom-built building in 1887 – an extraordinary achievement for the Finnish cultural establishment at a time before independence – the Ateneum gloriously elaborate exterior belies its nickname, "the Palace of a million marks." Inside is equally bustling with 4,300+ paintings and 750+ sculptures, of which the vast majority are Finnish creations ranging from 18th-century rococo portraiture to the experimental art movements of the 20th century. There are, however, a few works of international fame, including Vincent van Gogh's Street in Auvers-sur-Oise, which was included in the collection in 1903 and made the Atenum the first gallery in the world to own a van Gogh.
The exhibits here guide visitors through the development of Finnish art, and – by extension – the Finnish psyche of the time. Many of the works are imbued in the collective memory of the Finnish people, and, after a few hours here, you are guaranteed to have a deeper appreciation for Finnish art, history, desire, and fears of this tenacious nation.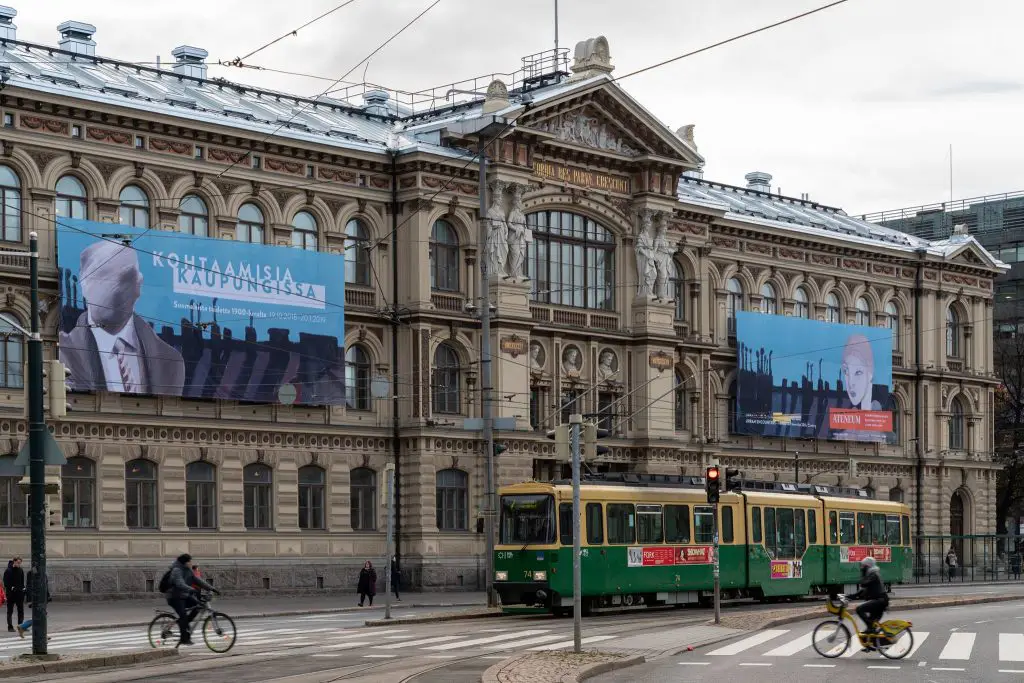 7. Discover Innovative Design At The Design Museum Helsinki
Nordic design is all the rage at the moment, and where better to get a taste of it in Helsinki than the exalted Design Museum. Positioned in the heart of the Helsinki Design District, just a quick walk from the Helsinki harbor, this internationally recognized treasure researches, collects, stores, and documents design from both Finland and further abroad.
Design doesn't respect national borders (as we learned), and here you can see how different influences have come together to create Finnish design. And where this design aesthetic might go in the future.
Established in 1873, making it one of the oldest design museums in the world, the first 700 objects were acquired from the Vienna World's Fair of the same year. Today the Design Museum's permanent collections contain over 75,000 objects, 45,000 drawings, and 125,000 photographs. Then there is the ever-changing range of international touring exhibitions offered, as well as a small cafe and excellent store.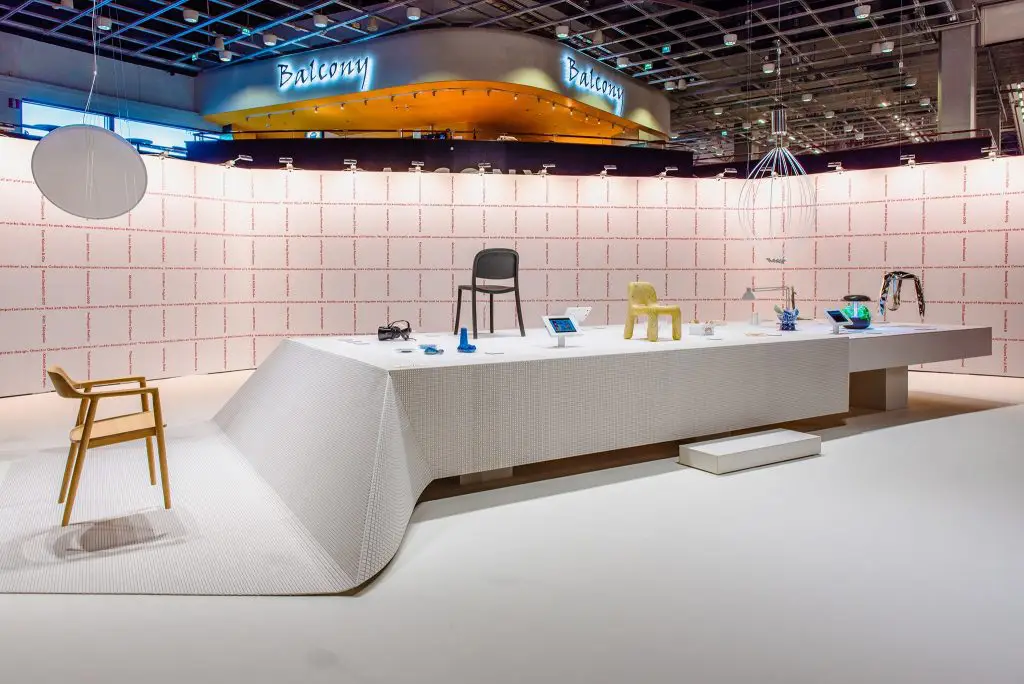 8. Stroll Around The Historic Town Of Porvoo
You'll find this charming town 50 kilometers from Helsinki, so it's the perfect place to visit on a day trip. Porvoo is a city to fall in love with idyllic streets that steal your heart and the shops, cafés, and restaurants that treat all your senses.
Established around 800 years ago, Porvoo is the second oldest city in Finland, and confirmation of its lengthy history can still be detected and felt as you stroll its lovely streets. For centuries, the town has provided a home as well as a fount of inspiration for many Finnish artists – so perhaps you too will be inspired by its red buildings and laid pack surrounding.
This small-group tour will help you get the most out of your half-day there, with a guided walking tour that highlights all the most exciting places. This way, you can learn more about sites like the 15th century Porvoo Cathedral, one of the oldest churches in Finland. Weaving through the narrow streets, you'll find antique shops, craft stores, and a wealth of fascinating buildings.
After all that walking, you'll be hungry, so enjoy a delicious lunch at one of the many local restaurants before heading back to Helsinki.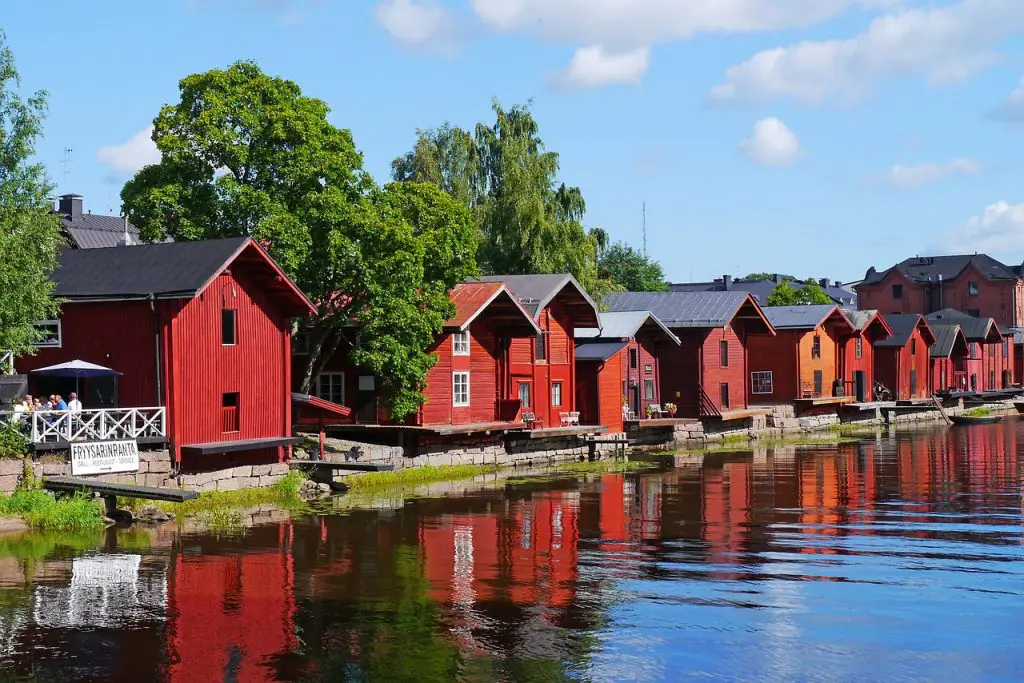 9. Wander Amongst History At The Hietaniemi Cemetery
Positioned on the western edge of the Helsinki peninsula, Hietaniemi Cemetery is the most important cemetery in Finland. Instituted in 1829, Hietaniemi is the final resting place for many famous Finns, including General Carl Gustaf Emil Mannerheim, the commander-in-chief of Finland's defense forces during World War II, and the sixth president of Finland. Other heads of state, artists, writers, and alike can also be found here.
The cemetery is split into five areas reflecting the periods in which they were used, and each is worth wandering around. The silence and majesty of the space are indescribable, and while it might seem morbid – visiting the graves here can be an incredibly powerful and calming experience. One of our other favorite cemeteries in the world – along with the Panteón de Dolores in Mexico City and Recoleta Cemetery in Buenos Aires.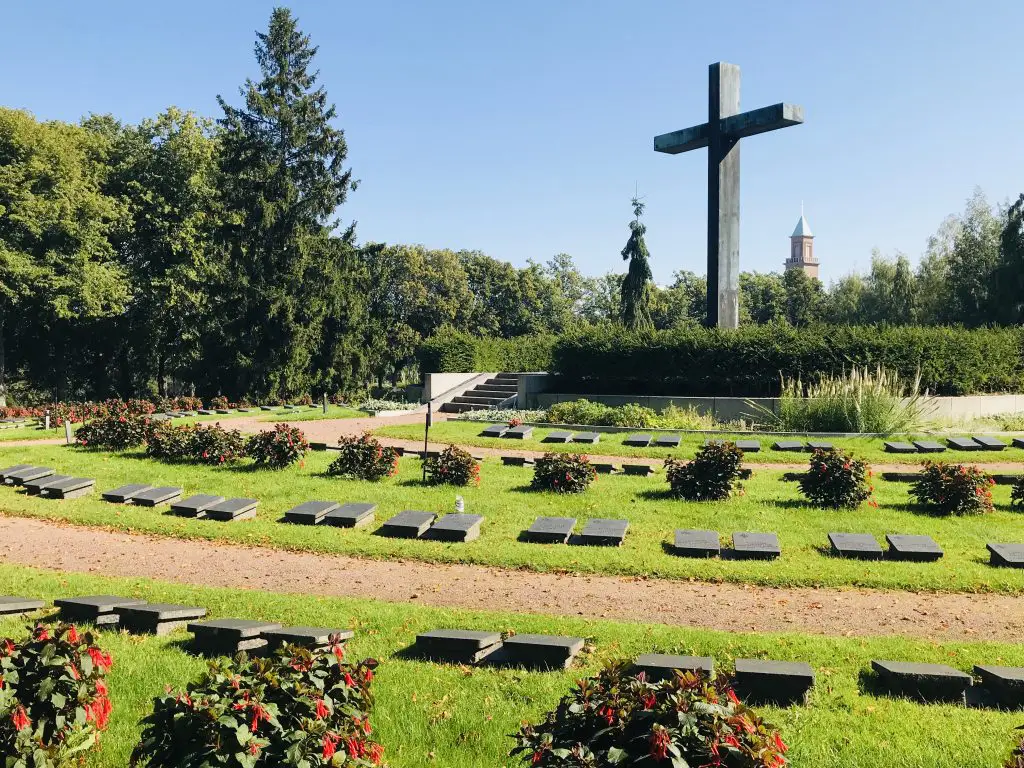 10. Learn More About Finland At The National Museum of Finland
Finland is one of the countries that most people know very little about – which is a shame as its history is as fascinating as Japan, Iran, Cuba or any other country that often make peoples bucket lists. While you can read books, talk to locals or watch films to uncover the history of Finland, you could also just add the National Museum of Finland to your Helsinki attractions list for a turbo-charged introduction to Suomi.
Nowhere else in the world has the story of Finland been told in such a touching way, from a settlement in the prehistoric era 10,000 years ago, through to Swedish and Russian rule, independence, and into the modern era. Discover what it means to be Finnish, and what makes this engrossing nation tickets through six permanent exhibits and various temporary showcases. Weirdly enough, the museum also houses the most extensive collection of Mesa Verde items outside of the USA, along with one of the largest collections of native Americana. Go figure.
The building of the National Museum in itself is also worth looking at as its national romanticism exterior reflects Finland's medieval churches and castles while the interior is mostly art nouveau. The museum's entrance hall ceiling frescoes, which are painted in the national epic Kalevala theme, are also laudable. And can be observed without an entrance fee if you are visiting Helsinki on a budget.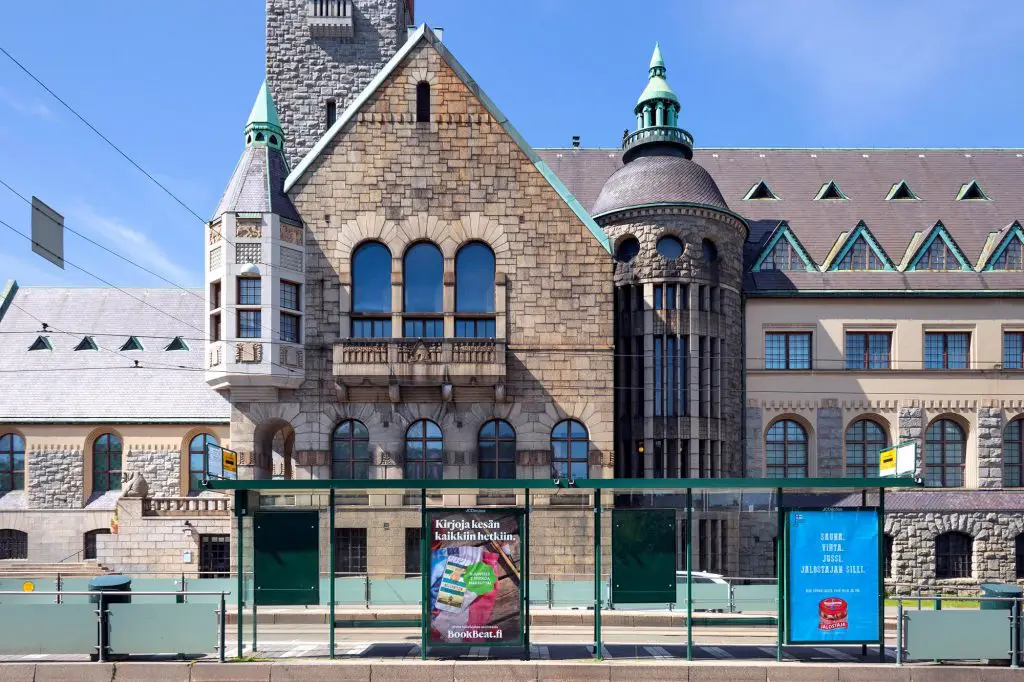 11. Discover More On Red Buses 24-hour Hop-On Hop-Off Tour
We love a Red Bus tour – they're one of the best ways to get an overview of a city and highlight places you want to come back to later. Or, if you just can't wait until later, you can jump off the bus to explore more.
Your ticket gives you unlimited travel for 24 hours, so no need to rush. The route takes you past all the best places to visit in Helsinki, like the Senate Square, Kaivopuisto Park, and all of those photogenic architectural wonders. A fabulous way to get an overview of a new city, and particularly useful in the depth of winter. You could always use the excellent public transport system here – but the Hop-On Hop-Off bus is more orientated for tourists meaning less time wasted getting between Helsinki attractions.
Naturally – the best views are from the top deck, of course!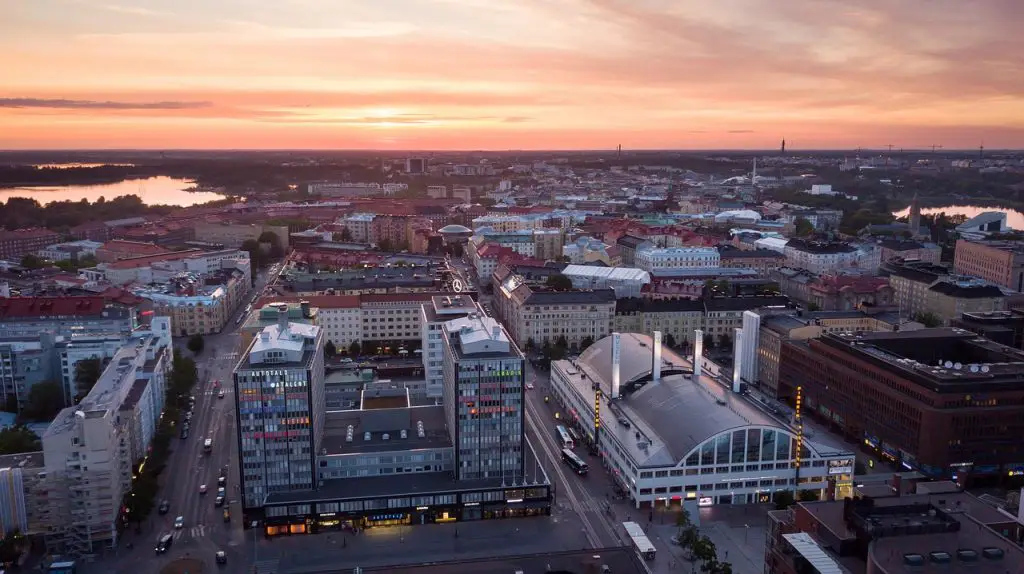 12. Roll The Dice At The Casino Helsinki
While it is most certainly is no Macau or Las Vegas, the centrally located Casino Helsinki is a fun place to head out at night with locals. Open 363 days a year from 12 PM to 4 AM with slots and table games includes roulette, blackjack, poker, and baccarat along with restaurants, a sports bar & live dinner shows, and drag performances.
After just a few days visiting Helsinki, you'll notice how much Finns love gambling. They even have slot machines in most supermarkets with a small area around them designated R18. Finland IS bizarre. While the ethics of gambling are questionable at best, at least all profits from the Helsinki casino are donated to charity.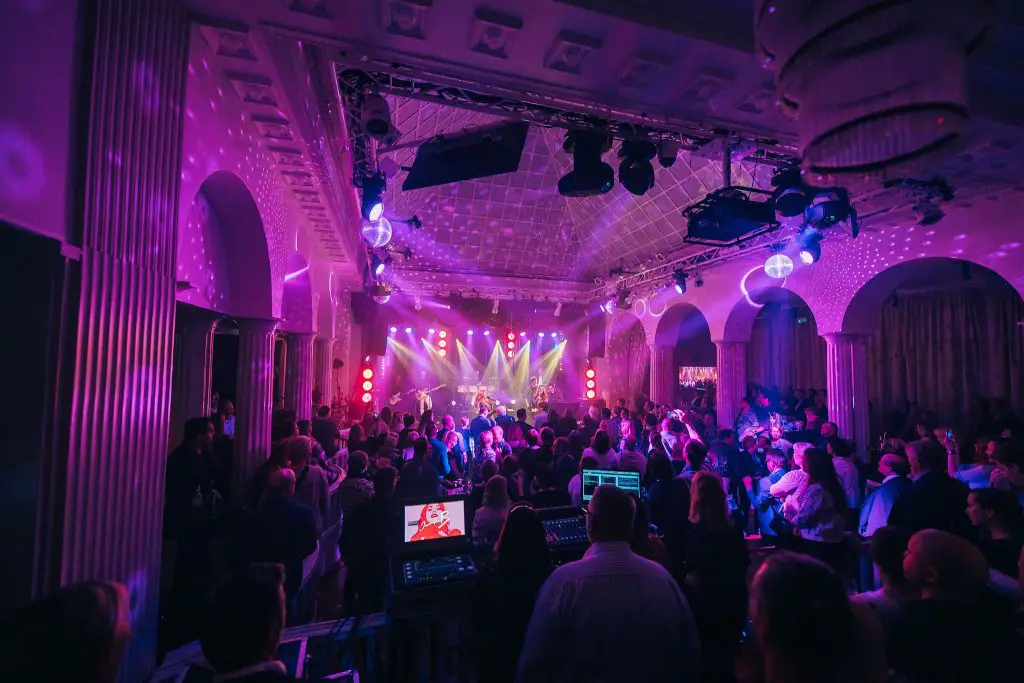 13. Enjoy The Hidden Helsinki Winter Garden Oasis
A magnificent 19th-century greenhouse that is free for everyone to enjoy with palms, cacti, flowers, and a carp pond. Open all year round, this extravagant sanctuary of exotic plants is the perfect pick-me-up, with unique seasonal displays around Easter and Christmas that only add to its attraction.
While there is no cafe on-site, you can bring your picnic, and there are plenty of places to enjoy it – either on your own or as part of a larger group. Warm and away from the hustle and bustle of the city – making it a firm local favorite for Finns who want to shake a gloomy mood over winter.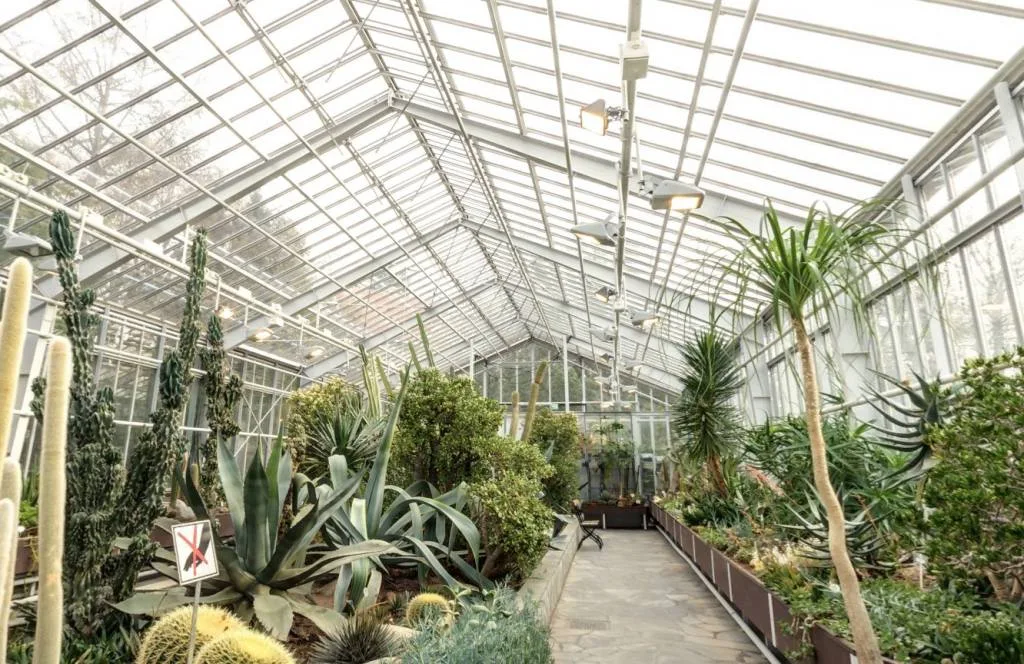 14. Embrace Nostalgia At The Wonderful Regatta Cafe
One of our favorite cafes in the world, nothing beats the magical atmosphere of Regatta Cafe on a blue sky day. Offering fresh cinnamon buns, blueberry pie, and other treats in a charismatic setting, this is a proverbial Finnish experience that is often hard to find in cosmopolitan Helsinki.
Located on the edge of the sea, close to the Sibelius monument, this traditional red cottage cafe has been bringing the Finnish countryside to the middle of Helsinki since 1952. Order a coffee, grab a seat and people watch or relax by the fire and grill gratifying sausages. In the summertime, you even rent stand up paddleboards or kayaks next door.
We love the modern cafes of Auckland or the regal cafes of Vienna…but this. This is something else. The location, the environment, the food, the service, everything at Regatta Cafe combine to create an enchanting cafe that you will struggle to leave. So why rush? Just order another Karelian Pie (Karjalanpiirakka) with egg butter and settle in for the long haul.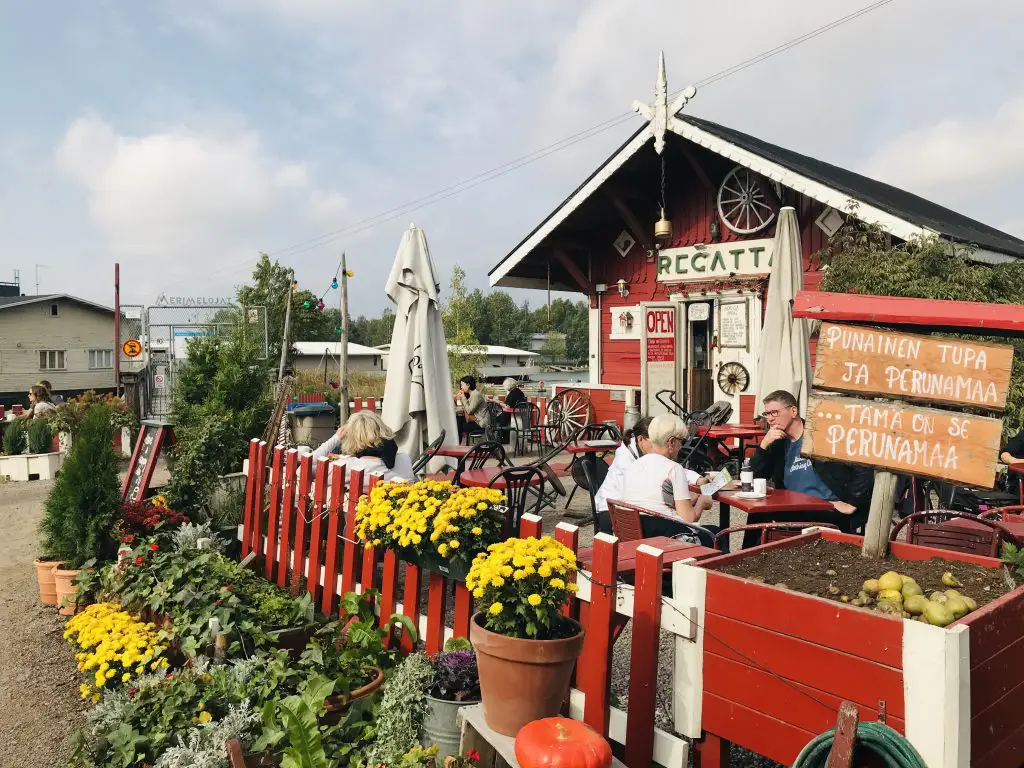 15. Get Snap Happy On A Design Walking Tour Of Helsinki
This is a must-do for anyone with more than a passing interest in design and how it has influenced the Finnish capital. The guides are so knowledgeable that you'll feel like you should be taking notes for later revision!
Start at the famous Design Museum before heading off to explore the Design District on foot. Make sure you've got your camera (OK, or your phone) at the ready to take photos of all of the concept shops, restaurants, galleries, and museums that show off the Finns' passion for design.
You finish after two hours inspired by the aesthetics. There is plenty of amazing design-oriented attractions in Helsinki, but this walking tour wonderfully combines the best of them all – making for a good synopsis or a great starting off point.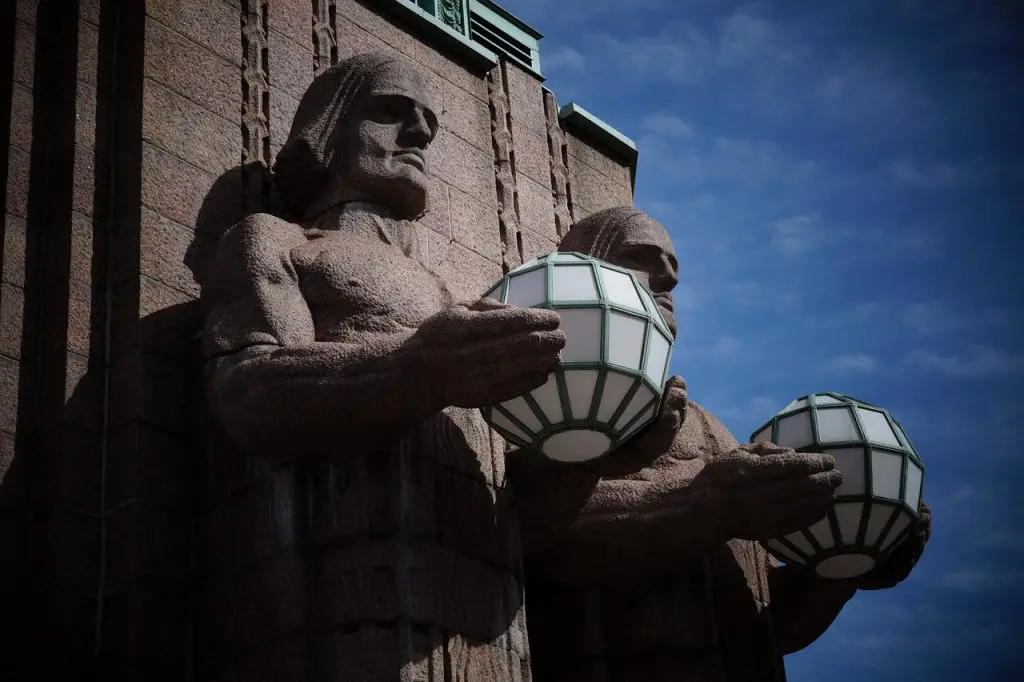 16. Get Relaxed With A Real Finnish Sauna Experience In Nature
Yup, we know you've been waiting for it – an authentic Finnish sauna experience. If there's anything Finland is famous for, it's getting steamy out in the open (not like that!).
With this half-day trip, you can learn what all the fuss is about. Head to a lakeside sauna complex where you can try both a modern sauna and a traditional smoke sauna before cannonballing into a freezing lake to cool off (if you're brave enough!).
It's really more than just a leisure activity; it's almost a form of meditation; that's how relaxing it is! For true sauna fans, however, you are going to want to head two hours north to Tampere, the sauna capital of the world…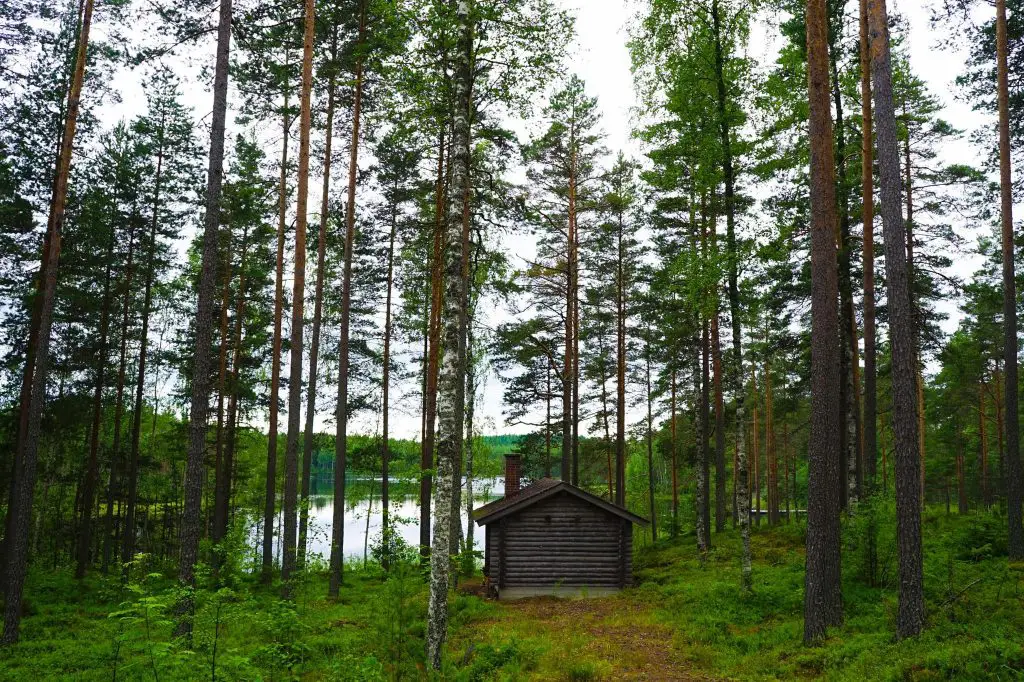 17. Be Drawn In By The Captivating EMMA – Espoo Museum of Modern Art
Yes, we know Espoo is technically not part of Helsinki – but let us be honest. Do any tourists really know the difference?
Culture lovers won't want to miss the chance to jump on a subway and explore this significant art museum in Espoo, the largest museum by floor area in the whole of Finland. EMMA aims to inspire with the power of art, foster creativity, and create a safe space for boundary-pushing exchanges. As such, there is a diverse calendar of rotating exhibitions exposing contemporary and modern art, design, and immersive experimental pieces. You are never quite sure what you'll bear witness to at EMMA, but it is certain to be unprecedented and thought-provoking.
Part of the WeeGee house, a building complex that houses a café, a museum shop, an art school, and three other museums: KAMU – Espoo City Museum, the Hevosenkenkä Finnish Toy Museum and the Finnish Museum of Horology. All museums are included in one admission. For those exploring Helsinki on the cheap, there is also free admission every Friday from 5 pm onward.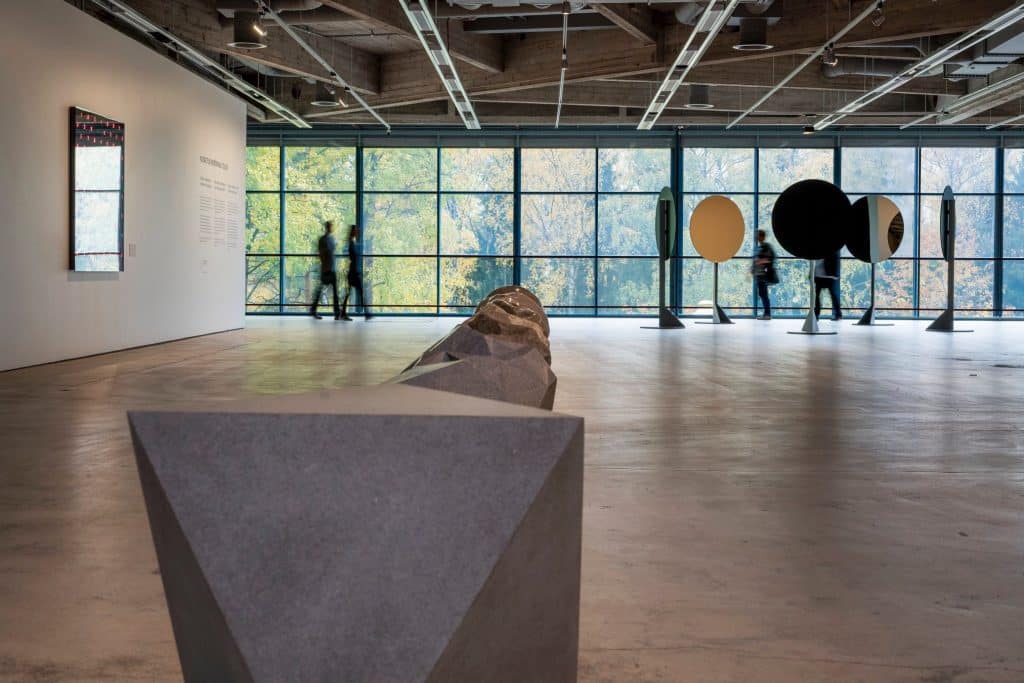 18. Make Your Own Discoveries At The Hakaniemi Market Hall
Built back in 1914, the Hakaniemi Market Hall is a vivacious and bustling bi-level market hall. Downstairs, food stores and restaurants are offering a mixture of must-try Finnish delights, including fresh fish, bread, and pastries. Upstairs there are non-food stores selling everything from tourist knick-knacks to quality Finnish design from the likes of Marimekko.
Closed in 2018 for renovation, but should be back open again in late 2020. The same vendors are currently housed at a temporary market hall next door – but sadly, it does lack the original atmosphere. When they do reopen, there is no better place to head for food, handcraft, local people, and good vibes.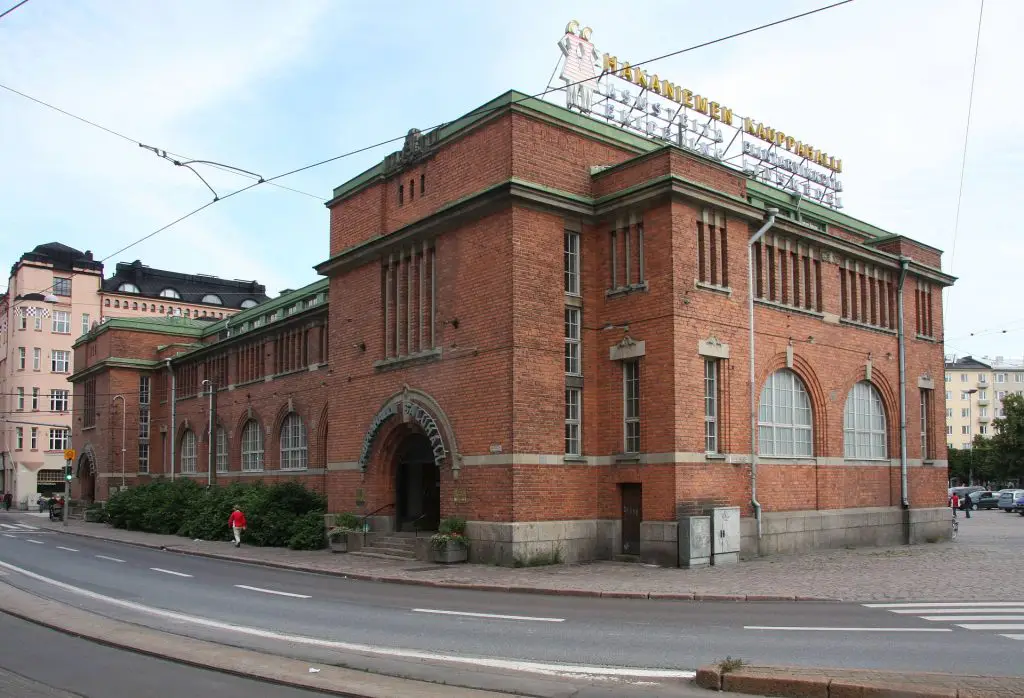 19. Get All The Juicy Gossip On A Tom Of Finland Experience Tour
A bit of a niche topic, but as one of Finland's most famous cultural exports, we simply couldn't leave off any fun things to do in Helsinki list.
Touko Valio Laaksonen, best known by his pseudonym Tom of Finland, was a Finnish artist known for his stylized highly masculinized homoerotic art and for his influence on late twentieth-century gay culture. Tom of Finland is said to have helped pave the way to gay liberation, and to this day, his works are still revered around the world.
Delve into the history of this gay icon who lived in Helsinki for the majority of his life, producing gay erotic art, on this fascinating walking tour. Takes a look at his life, inspiration, and impacts both in the past and on pop culture today – and see sights associated with his life here. Kick things off with an audio-visual presentation and a glass of champagne to get you on the mood. Then head off on foot around some of the locations in the city that inspired or were inspired by Tom of Finland.
It's fun and interesting in equal measure – but only for over 18s! You could also watch the new film, which is a fabulous introduction to Touko and Helsinki in general…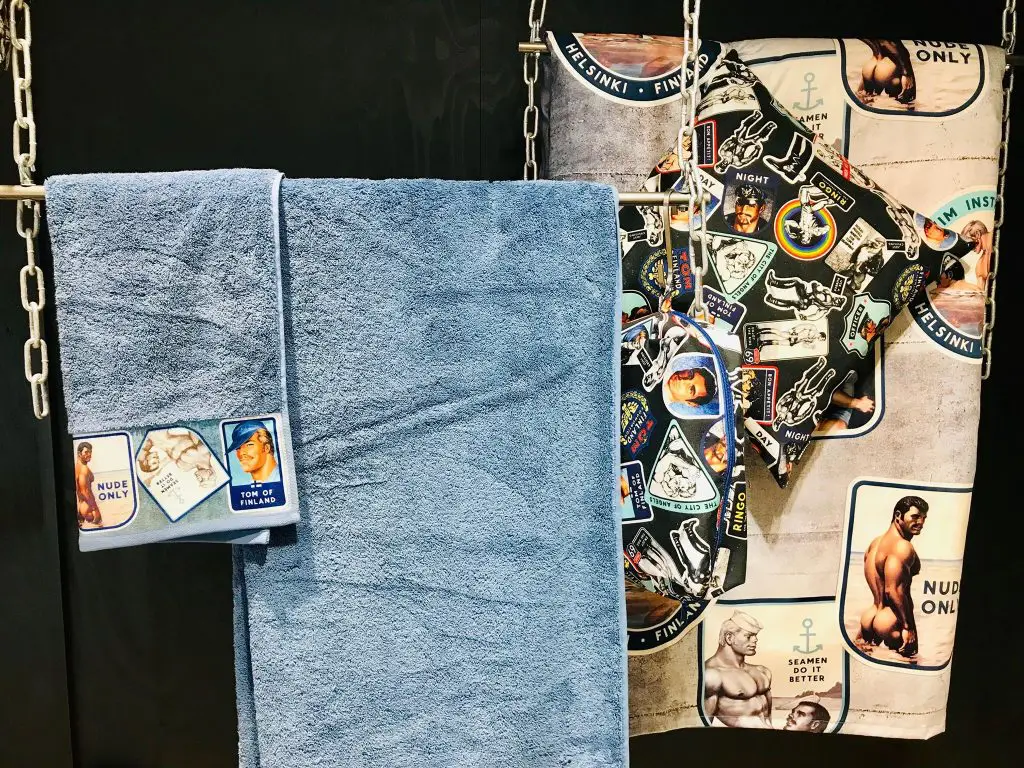 20. Get Steamy At The Modern Löyly Sauna
Extremely Finnish and remarkably modern, Löyly is an absolute essential on any list of Helsinki things to do. Located in a former industrial area on the Helsinki seashore, the unique architecture of Löyly has won numerous prizes – as has its fabulous sauna amenities, restaurant, and bar.
On a glorious summer's day, the 1600m2 three-level ocean terrace is the place to be. Finns and tourists alike gather to watch the waves roll in…cocktails in hand. Obviously. The saunas are available year-round and are particularly welcome in the middle of Finnish winter when you want to warm your soul. Hint: Coffee doesn't quite do the trick.
There are a traditional smoke sauna and a wood-burning sauna available for public use, both of which boast direct access to the sea outside for the obligatory cool-down swim between steams. There is also a smaller wood-fired sauna available for exclusive hire.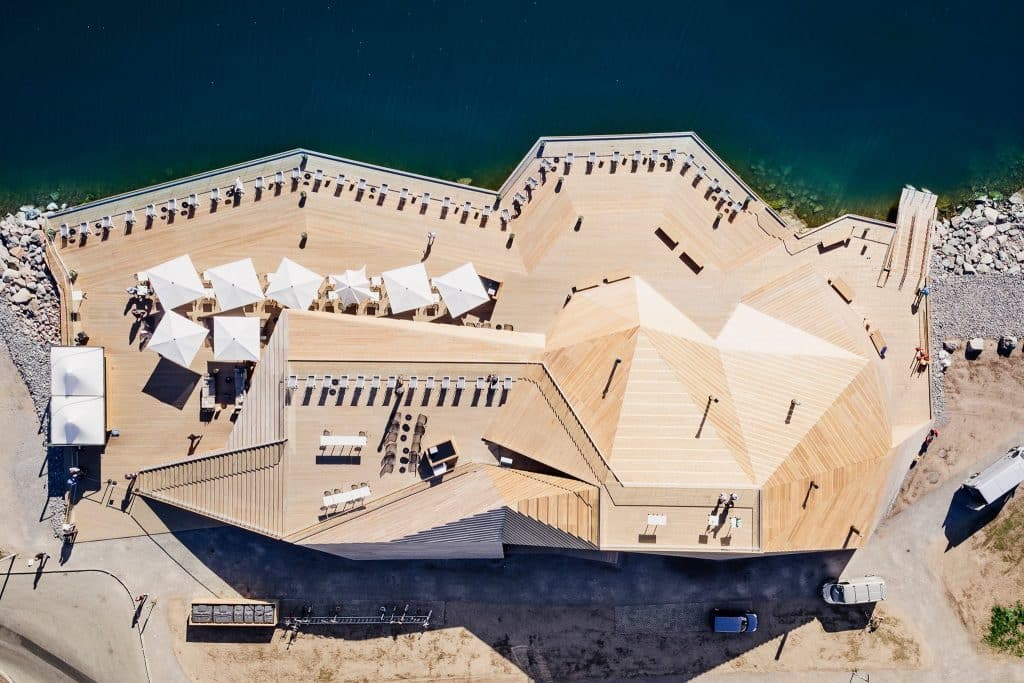 21. Adventure Out To The Didrichsen Art Museum
A quirk art museum located on the island of Kuusisaari that is famed for its modernist architectural style designed by prestigious Finnish architect Viljo Revell. Built to the contours of the surrounded land and enclosed by trees, the peaceful Didrichsen Art Museum perfectly blends art, architecture, and nature. The collection on display mostly centers around Finnish art from the 20th century. However, there is a small array of modern international, Oriental, and Pre-Colombian art.
Another highlight is the recently renovated sculpture park outside filled with modern and contemporary pieces. It is free to visit – even when the museum is closed.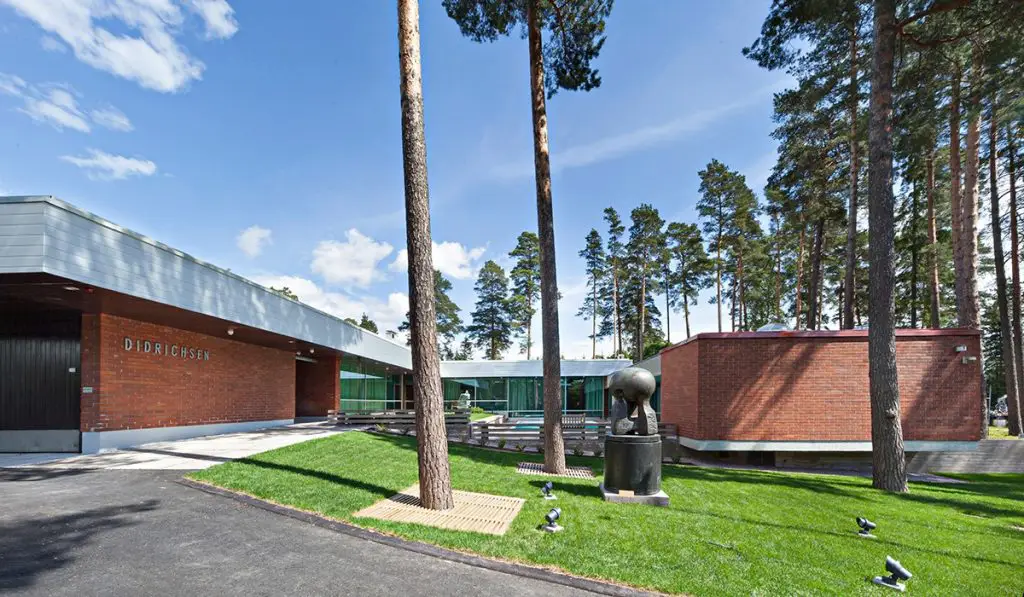 22. Embrace The Silence At Kamppi Chapel
An ecumenical chapel in the center of Helsinki that welcomes everyone irrespective of religion, philosophy of life, or background. While this isn't particularly noteworthy in itself, what makes the Kamppi Chapel unique is its landmark contemporary architecture that fascinates and inspires. A wooden bath-shaped chapel on the edge of a busy square, the construct is designed to give a moment of silence in one of the most hectic areas in Finland.
Inside, you will find a superbly minimalist design: fresh, clean, unassuming, respectful, and above – quiet. There is always a priest and community worker on hand to chat should you need, but it is also a tranquil space to read a book, enjoy the silence or escape the cold.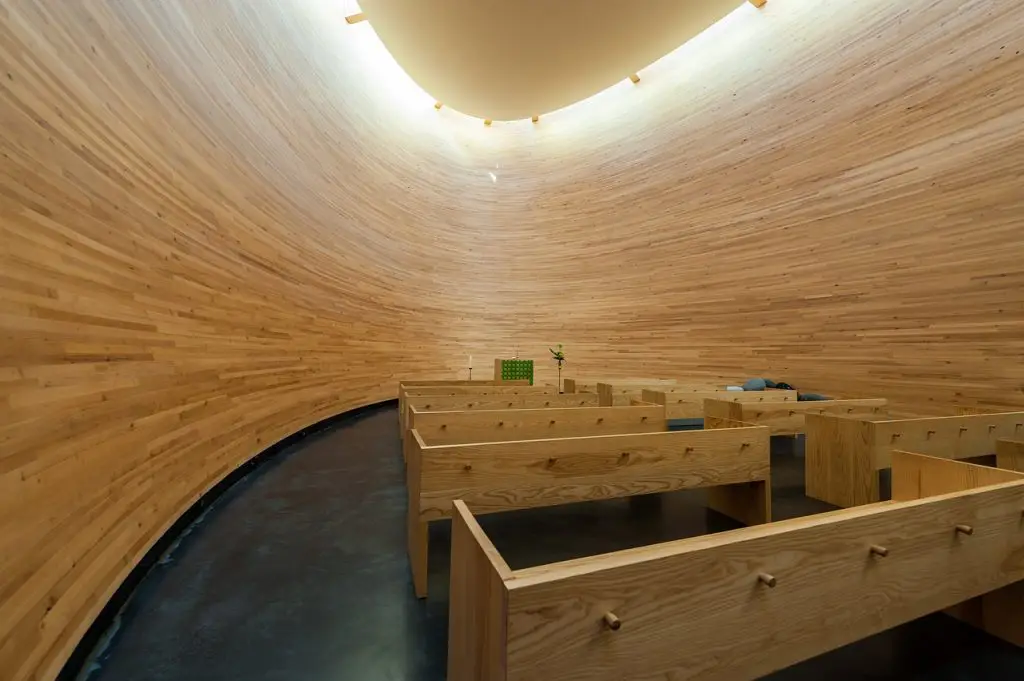 23. Let Nature Inspire You On A Tour Of Finnish Lakes And Forests
Finland has some of the world's most beautiful nature, no matter the season. This round trip to Nuuksio National Park demonstrates this perfectly as you wander through the surrounding forest and explore Haltia nature center.
Here you'll find exhibitions on all aspects of Finnish nature, from the archipelago to the fells in Lapland. A walking tour around the forest provides some context to why nature is so important in this country.
You'll get some free time to explore for yourself and maybe even go swimming. Sure, it is not quite as stunning as wild camping in the untamed wilderness of Finland, but it is a taste…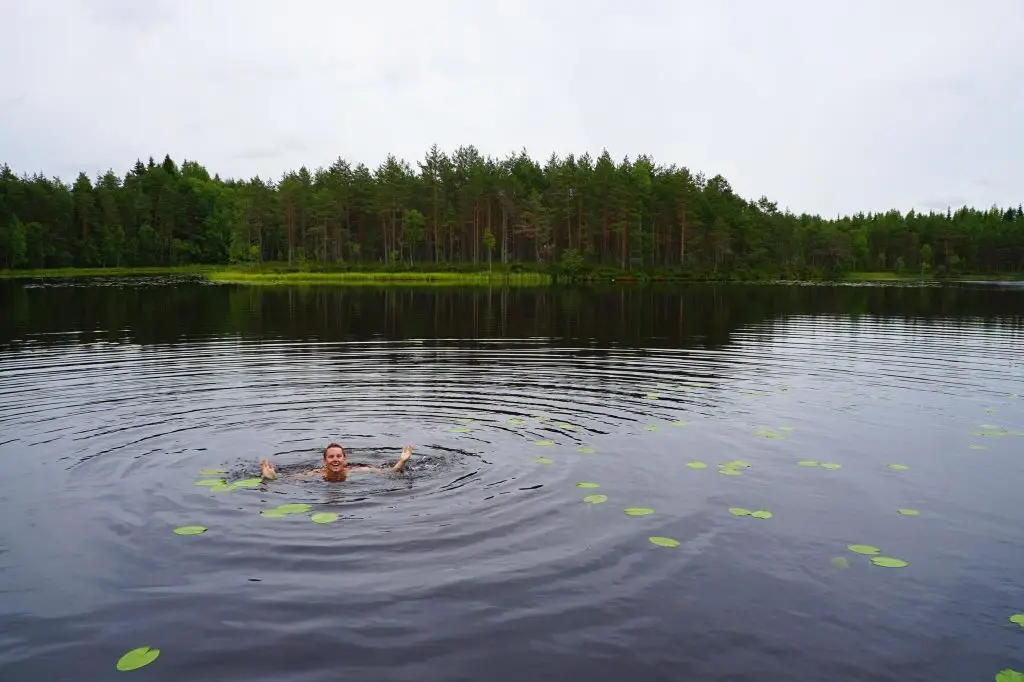 24. Save Your Euros With A Relatively Affordable Buffet Lunch
Finland can be an expensive destination to visit, but one trick we discovered in Norway and Sweden that also applies here is to gorge yourself at the ubiquitous buffet lunch deals. Once you spend a bit of time here, you will see it is less typical to go out for dinner than other cities like Auckland, Providence, and Lisbon.
Locals in the known flock to lunch buffets where their favorite restaurants often offer all-you-can-eat meals or set menus for half the price of dinner. If you are on a budget, you often just have one big meal a day and a small breakfast before and dinner after – trust us, you won't be the only one doing it.
You can find signs for different buffet deals around town, but our personal favorite is at Sandro in Kamppi Shopping Center, Moroccan inspired with plenty of amazing fresh ingredients and wonderful views out over Helsinki.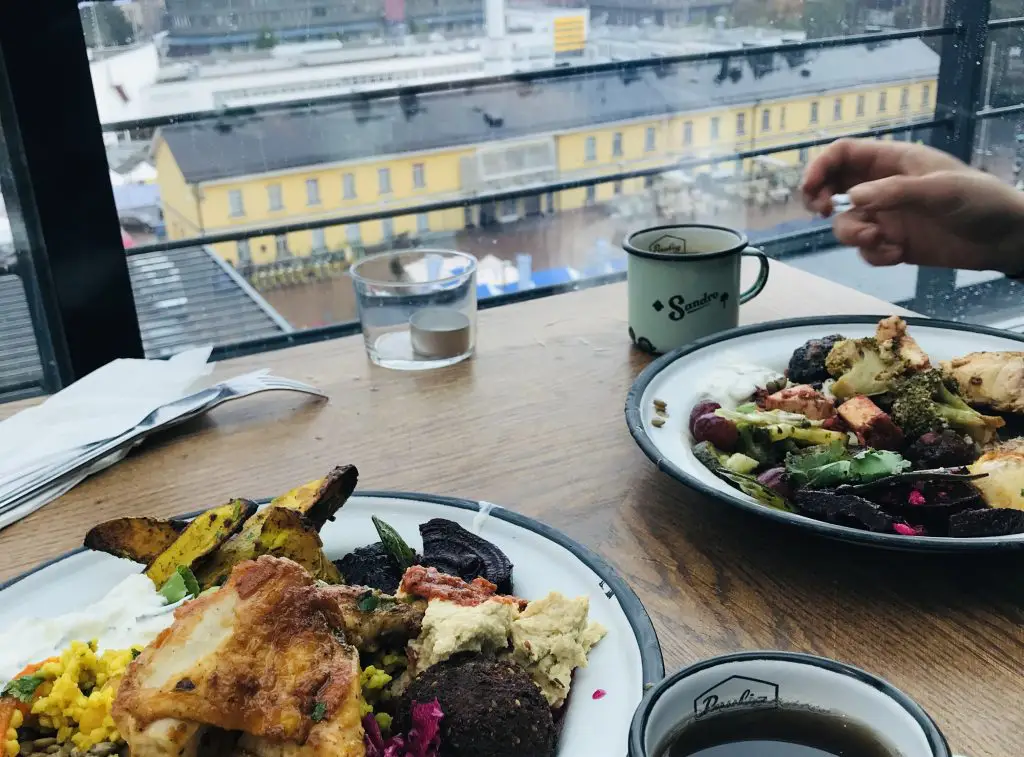 25. Plan Your Trip Around The World-Class Flow Festival
Flow Festival, a music and arts festival in Helsinki, has quietly grown since 2004 on the international scene. Taking place over three days in early August at a former Suvilahti power plant and its surroundings, Flow Festival attracts a broad range of international and locals acts. Even better is Flow allows tourists to experience the very Finnish music festival vibe that generally takes place in far-flung countryside destinations.
This industrial backdrop is perfect for the diverse line-up at Flow, which has evolved from being a soul and jazz event to highlighting a huge variety of musical styles and artists. The first year had a mere 2000 people; 2019 saw 83,000 attendees. It might not fit the (unfair) stereotype, but Finns love music festivals. They approach them with the same mixture of dedication and levity that they approach so much else, and Flow Festival is an excellent example of that.
The three days of Flow Festival Helsinki have a relaxed yet imaginative atmosphere, all to the soundtrack of some transcendent music and with plenty of sustainable food options. One of the best things to do in Helsinki that is well worth timing your trip for, or a reason to plan another visit in the future if you can't…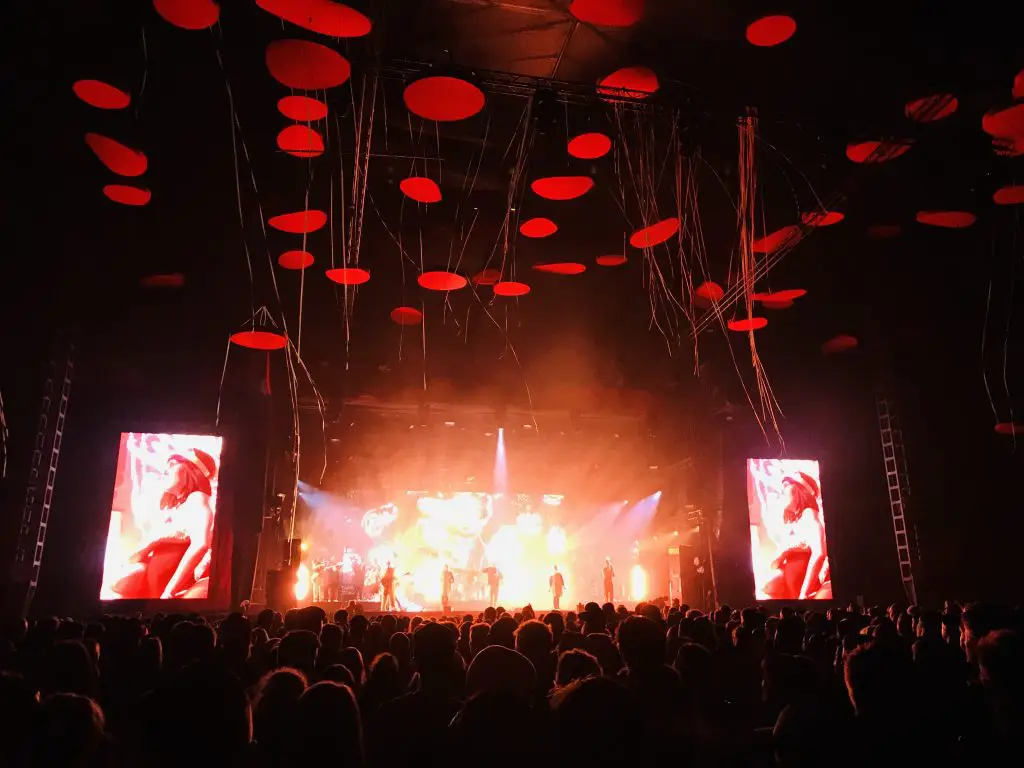 26. Explore Turku, The Oldest City In Finland
Turku, the oldest city in Finland, is an invigorating fusion of historic buildings, contemporary design, delectable dining, and buzzing nightlife. Add to the mix the dreamy River Aura – the heart and soul of Turku – and plenty of relaxed cafes, and you can quickly see the appeal of an urban escape to this eclectic city.
And you thought Turku would just be a sleepy city still mourning its loss of capital city status in 1812….Not a chance!
Half the fun of a side trip to Turku from Helsinki is exploring at your own pace and letting yourself wander. To get your bearings, the Turku Castle and Turku Cathedral are the two poles of Turku, linked by the River Aura – between these points, almost everything of immediate interest to a tourist can be found…Following the tranquil Aura River makes it difficult to get lost, but most of the 'new city' is also built on an easy-to-navigate grid pattern thanks to the Great Fire of Turku in 1827, which destroyed much of the old town.
Turku is also blessed with hundreds of local events taking place regularly, which might be worth planning around. There is the annual Turku Day, the Night of Art, the Medieval Market of Turku, or the Turku Christmas Eve ceremony – just to name a few. And then there are the summer music festivals to be on the lookout for including Ruisrock, Finland's oldest and largest annual rock festival, Down by the Laituri and Turku Jazz.
Only 2 hours away from Helsinki via train, let us tempt you further with the full story of the culture, food, design, and history of Turku.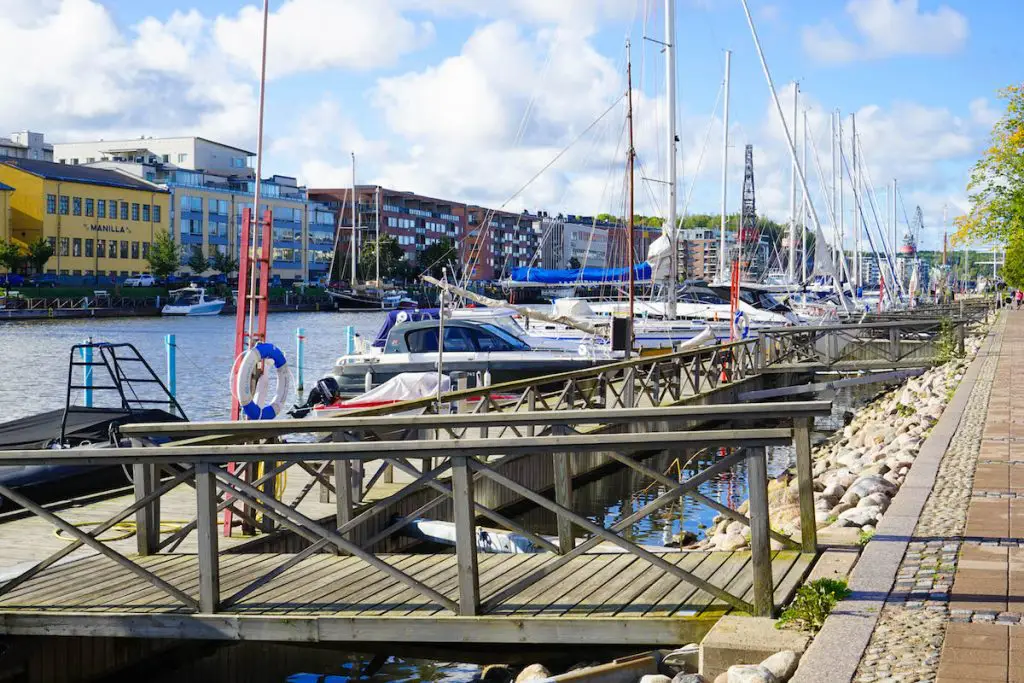 27. Check Out The Secret Chihuahua Julep Bar
A uber-stylish, agave friendly, cocktail bar providing a stylish yet cozy retreat for conversation and meeting new people. The changing menu of drinks focussed on South and North American spirits, with a set of fan favorites, are not exactly cheap – but they are amazing. The innovative flavors combinations, short stories, and side snacks make them worth the price.
A mobile-free zone, meaning absolutely no social media posting or even getting your smartphone out of your pocket. This can feel a little strict during quiet periods, but it ensures Chihuahua Julep has a great vibe when it's busy. Socially very refreshing, this gem is hidden away on a quiet street – but just ring the doorbell, and you'll be warmly welcomed in.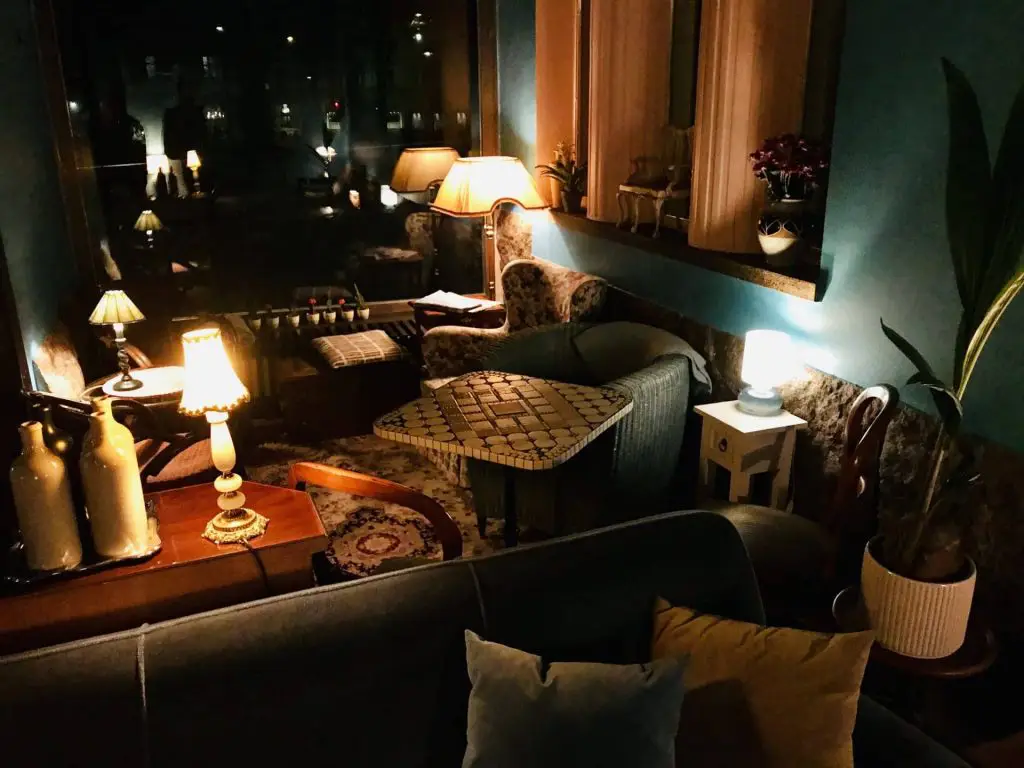 28. Stop By The Newly Opened And Absolutely Fabulous Amos Rex
A new art museum built in a subterranean annex under the iconic Lasipalatsi ("glass palace" in Finnish) -a functionalist gem and textbook example of the open-minded new architecture – right in the center of Helsinki. Titled after publisher and arts patron Amos Anderson, Amos Rex is the largest private art museum in Finland.
It displays 20th-century art and a versatile array of contemporary art exhibitions where the past, present, and future meet, including photography and video art, sculpture, textile arts, and performance.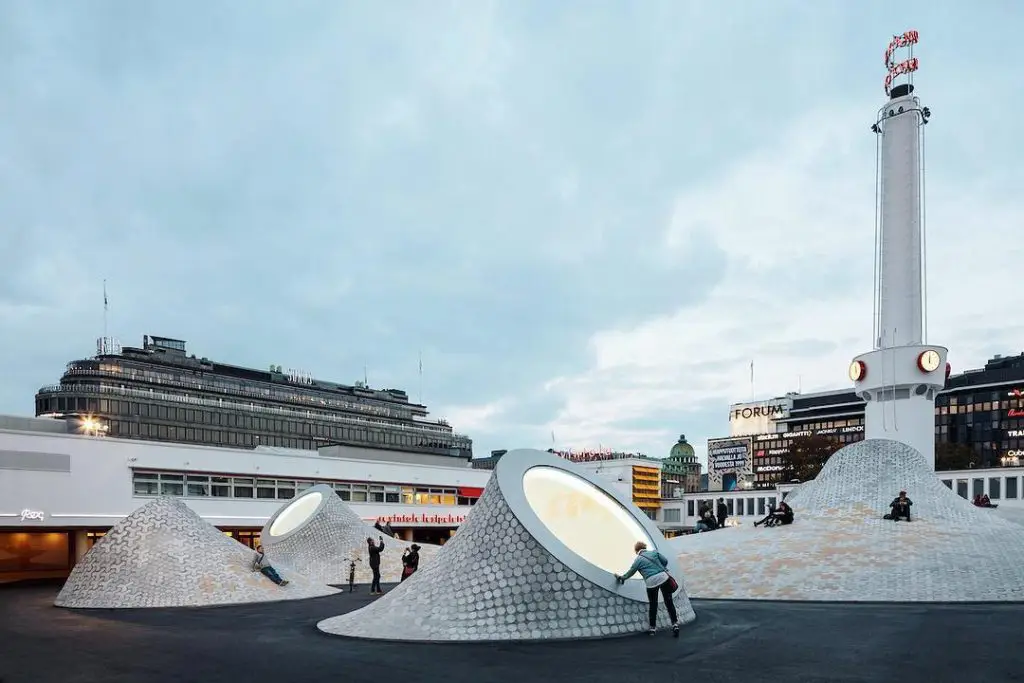 29. Admire The Diversity Of Nature At The Helsinki Zoo
Founded in 1889, this cute zoo on an island in the Baltic Sea showcases more than 150 species, including big cats, reptiles, and common animals from around Finland. The acquisition program of the Helsinki Zoo has focussed on outdoor animals that can happily live in the Finnish climate, meaning you won't find typical charismatic megafauna here like elephants, rhinoceros, and hippopotamuses.
Instead, you will find unique animals like wolverines, forest reindeers, Amur tigers, and Bactrian camels – all species adapted to extreme winter. There are two tropical houses Africasia and Amazonia, however, for you to warm up in during winter – and which house more exotic animals like sloths, iguanas, and months.
During the summer, there is access via ferry from the Market Square and Hakaniemi – but there is also a bridge to the mainland, ensuring access to the zoo all year round. Our second favorite zoo in Finland, after the wonderful Ranua Wildlife Park near Rovaniemi.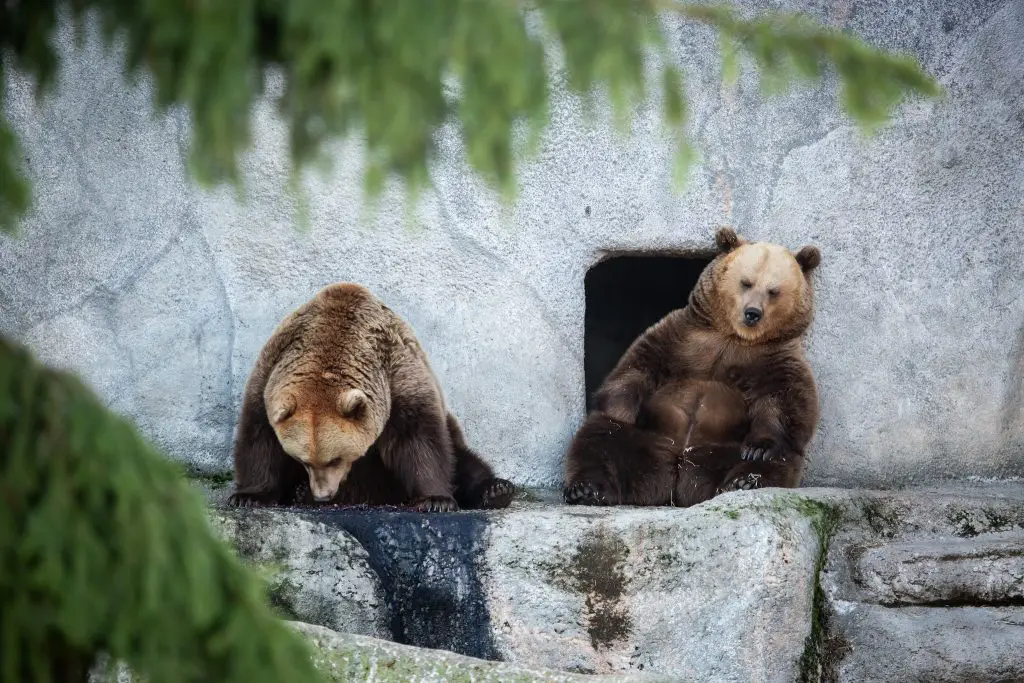 30. Get Your Caffeine Kick At Kaffa Roastery
Probably the best place for coffee in Helsinki – a bold claim in this nation of caffeine addicts, but one we are willing to stand by.
Located in the fashionable Punavuori neighborhood, Kaffa houses a modern cafe, a roastery, and home to the Helsinki School of Coffee. The team here has perfected the art of coffee brewing here and has helped cultivate the Finnish coffee culture, which is "all about socializing – having a cup of coffee and a bun or pastry with friends."
Ask your barista about the origin of your coffee and let your taste journey begin. They have everything from Colombian, Nicaragua, Borneo, Vietnam, and beyond – all roasted by hand, onsite, and to Finnish taste. If you leave with a few bags of coffee for your onwards journey, don't worry – you are not alone.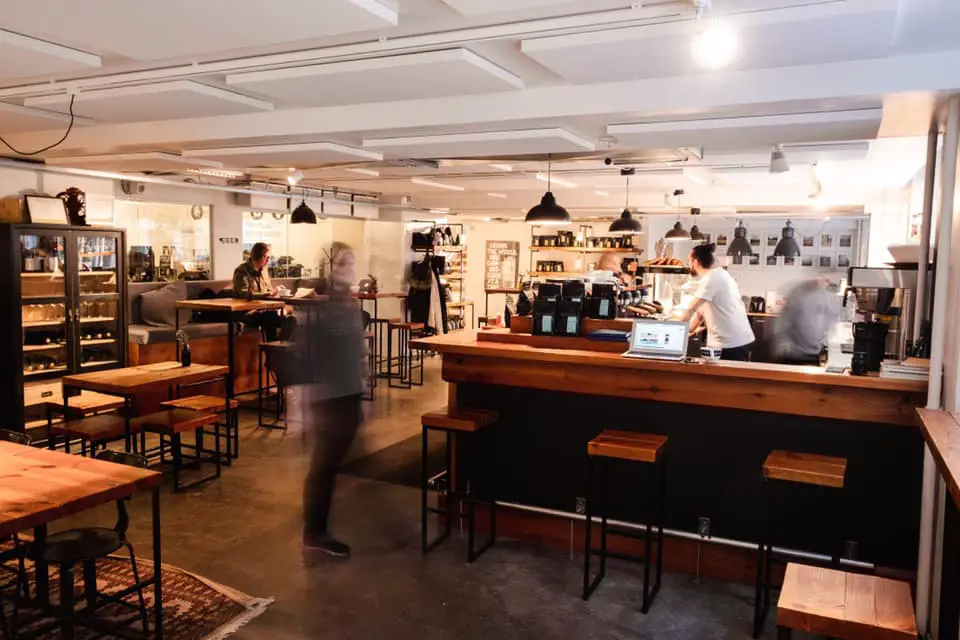 31. Make A Pilgrimage To The Helsinki Moomin Store
If you are visiting Finland and are not yet sure what a Moomin is – you better get educated and quick. The Moomins are the central characters in a series of books and a comic strip by Finnish illustrator Tove Jansson that have been a mainstay of Finnish culture since there release of the 1950s. The Moomins are a family of white, round fairy tale characters with large snouts live in their house in Moominvalley, where they many adventures along with their various friends.
Successive generations of Finns have grown up with their stories through comics, books, TV shows, and movies – and are almost universally loved. You will find the Moomins everywhere you look, from Moonin Museum in Tampere to Moominland near Turku, but in Helsinki, fans will want to go to the Moomin shop in the Forum shopping center. Even if you don't buy anything, its a great education in these lovable creations.
32. Take A Day Trip To Industrious Tampere
Tampere – Finland's second-largest urban area, is authentically Finnish, a place to connect this down-to-earth culture and unique gastronomy set against a backdrop of quirky revitalized industrial buildings and the iconic Tammerkoski rapids.
Helsinki might be the pulsing capital, but many say Tampere is where the real Finland begins. Slow-paced, filled with eccentric museums, remarkable dining, a ridiculous amount of saunas, and of course – the world's only Moomin Museum, Tampere is a destination with something for everyone!
Set between two vast lakes (there are over 200,000 in Finland!) Tampere is not your traditional European 'fairytale' city but instead a refreshingly different mix of open-public spaces, red-brick industrial buildings, quaint cafes, and grassy banks to relax on. An industrial city re-invented for the modern era, where you will find something for everyone.
Finns have a firm sense of national identity, and even knowing a little of Tampere's industrial history with textile and metal industries, including Finlayson or Tampere's tragic role in the Finnish Civil War, will quickly gain you, friends – as will discussing your love of sauna!
Just under two hours away by train from Helsinki main station., check out our full guide to Tampere for more information.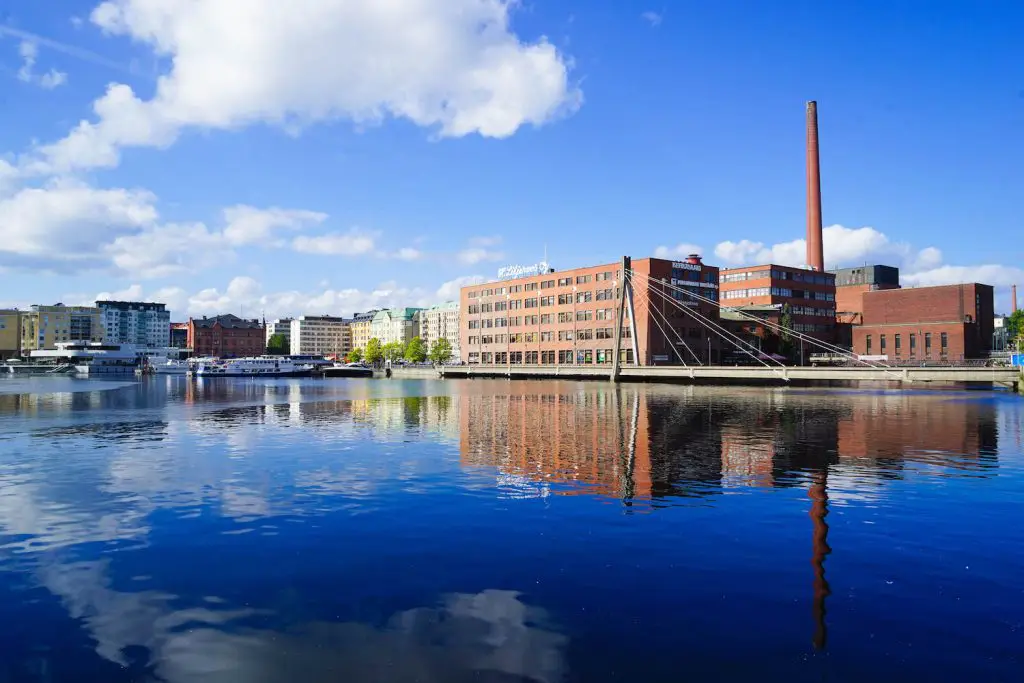 33. Eat Your Way Around Helsinki On This Food Tour With Tastings
This is a tour that will definitely please your taste buds – and we'd definitely recommend not eating beforehand! A two-hour walk will take you around some of the best foodie spots in the city.
For each of the Finnish delicacies you taste, you'll hear the story behind it, giving you a delicious picture of culinary traditions here. From reindeer meat to squeaky 'bread' cheese to champagne (our fave!), there's plenty to experience, and the walking aspect will make you feel like you've really earned those treats!
I personally found the food scene in Turku more authentically Finnish and a little more rustic, so if that sounds more your thing, you should also make the two-hour journey by bus across.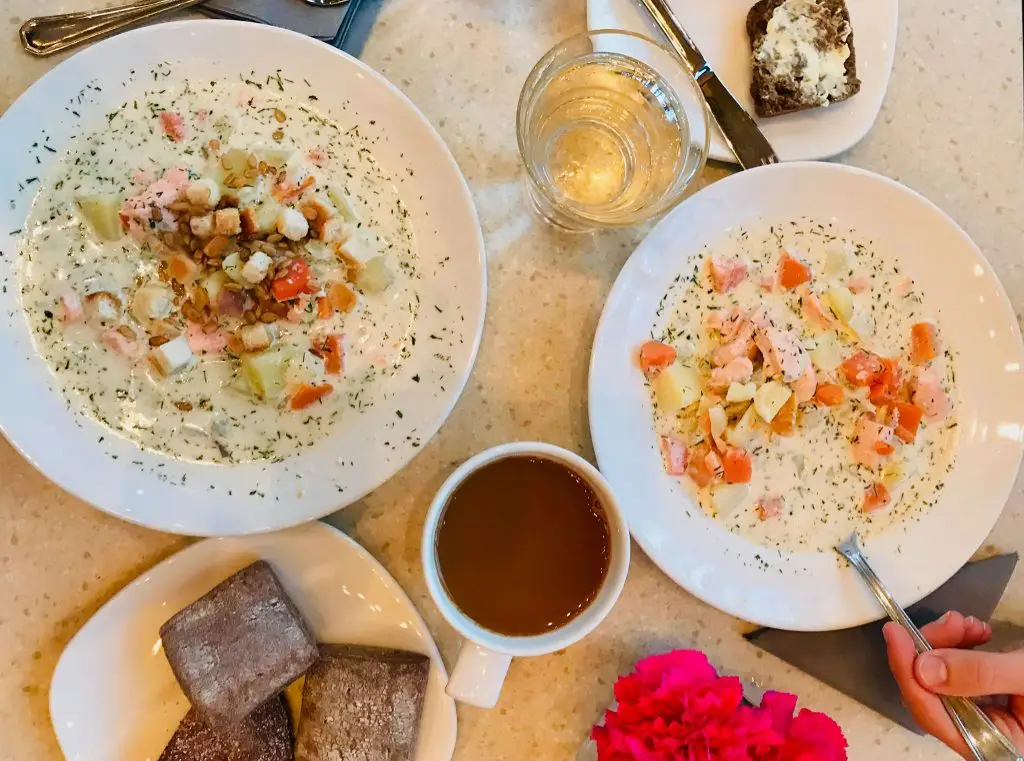 >
34. Check Out – But Not Into – The Lapinlahti Hospital
It wouldn't be Finland without a slightly morbid tour of the oldest mental health hospital in Finland, and one of the oldest in all of Europe. Built-in 1841, the Lapinlahti Hospital operated until in 2008 until it was transformed into modern space for cultural activities.
The museum on the 2nd floor tells the fascinating history of psychiatric healthcare and looks into the evolution of attitudes, practices, and treatments for mental illnesses. As a society, even today, we still too frequently ignore our mental health, so this is a poignant reminder of how important it is. There is also a gorgeous parklike setting, a cafe, a beach, a public sauna, and a 'close the loop' food waste restaurant.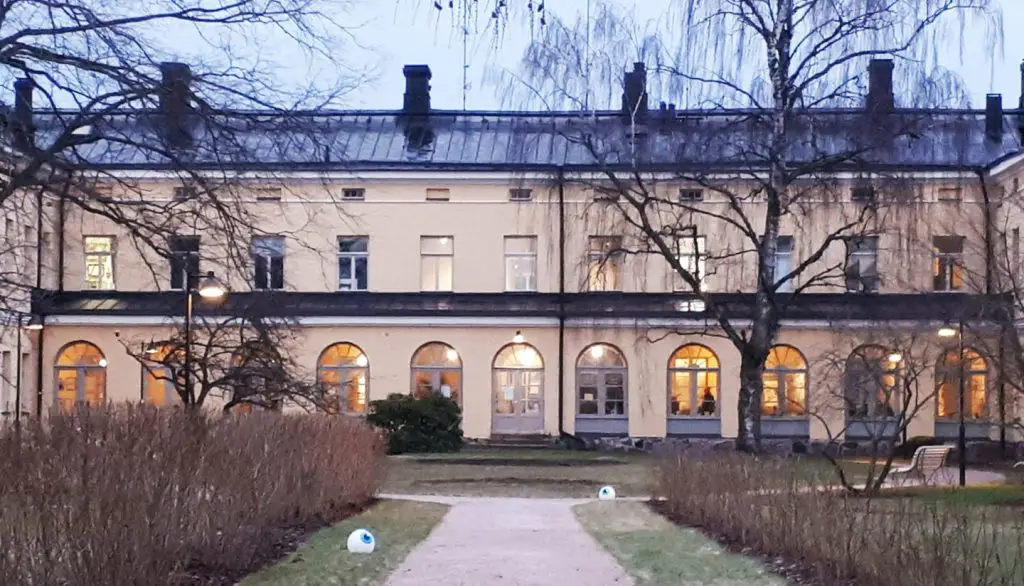 35. Take A Tour Of The Finnish Parliament House
Finland's 200-seat parliament convenes in an imposing 1920s Classicism building in the district of Töölö. Construction started just under a decade after Finnish independence and was complete in 1931. Since then, the Finnish Parliament has been the focus of the nation's political life, especially during the Winter War and Continuation War.
Things in Finnish politics may be rather dull these days – which is probably a good sign compared to the chaos of London and Washington DC – but a visit to this red granite behemoth is still a must-do in Helsinki.
Don't be put off by its solemn, somewhat mausoleum-like impression; visitors are welcome with guided tours with bookings on their website. You can also freely visit the onsite cafe, the visitors' center in the Little Parliament, and the Library of Parliament. If you are visiting on a Tuesday or Friday, you can usually watch proceedings from the public balcony if Parliament is in session.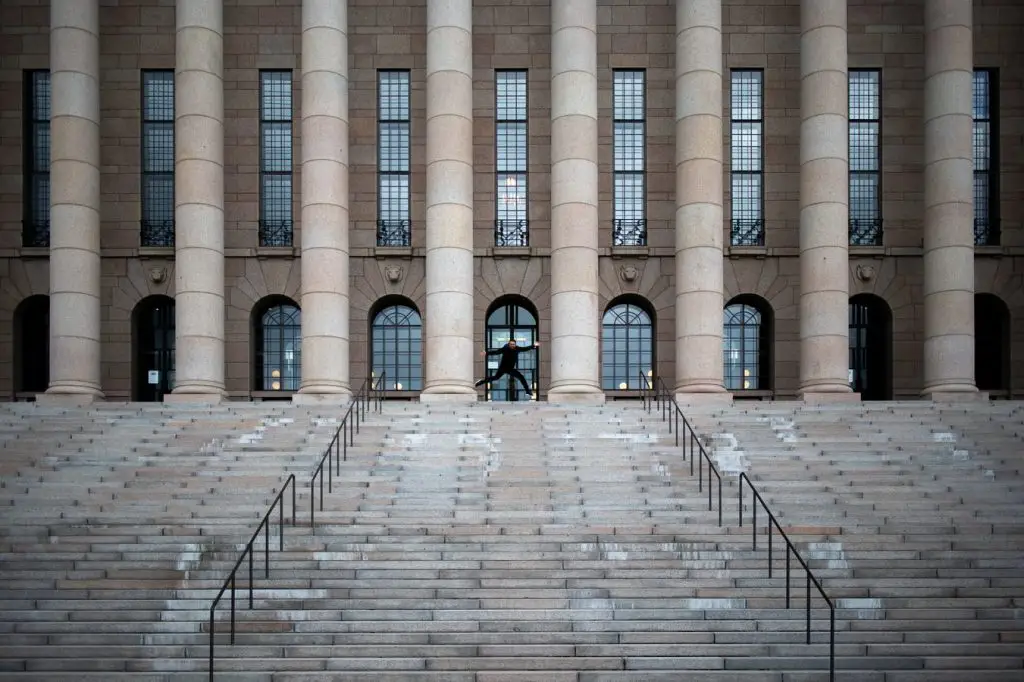 36. Marvel At The Futuristic Helsinki Central Library Oodi
Finland is a country of readers, named the world's most literate nation by the UN. At the same time, Finns are also among the world's most passionate users of public libraries – with each Finn borrowing, on average, 10.8 books per year.
As you might expect then Finland's cities are havens for library lovers, and it's not hard to see why Finland's libraries are so popular when 84% of the country lives in urban areas, and there are long, dark, and harsh winters. Libraries here have become not just places to borrow books and read, but vital places for socializing – a sort of indoor town square. To experience this uniquely Finnish phenomenon, just head to the Helsinki Central Library Oodi, which is also an architectural gem in its own right.
A three-story translucent book heaven complete with workspaces, cafes, sloped floor, a sauna, and specially designed robots that wizz books around – this is a library of the future. Sitting opposite the Finnish parliament, the Oodi is intended to symbolize the relationship between the government and the citizens – and further indicated the importance of books, information, and equality in Finnish culture. Self-guided tours are not only allowed – but actively encouraged.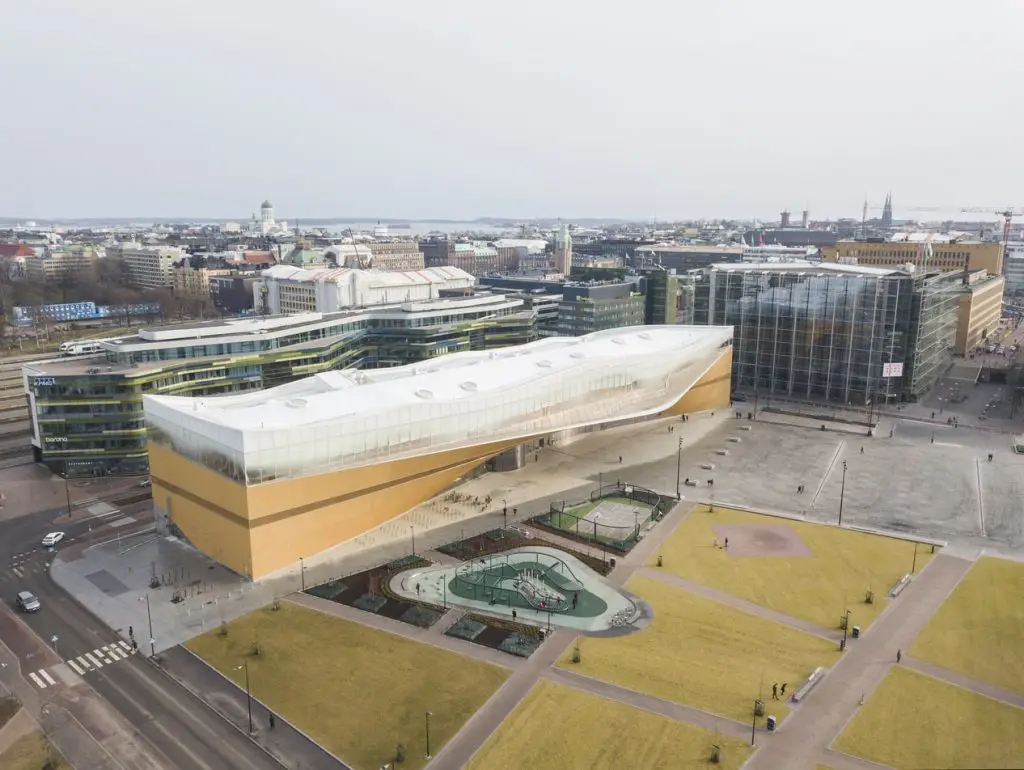 37. Get Inspired By The Music At A Sibelius Finland Live Music Experience
Composer Jean Sibelius played a key role in the establishment of a national identity for Finland, and so it's well worth hearing some of his music for yourself. This one-hour live performance is totally immersive and a quick way to learn more about Finnish culture.
The show at Balder Hall includes some of his masterpieces like 'Romance,' 'Finlandia,' and 'Valse Triste.' While you're listening, you will view stunning images of Finland's natural scenery and enjoy a non-alcoholic drink – so it's a treat for all of your senses!
In addition, don't skip the Sibelius Monument, one of Helsinki's most visited and treasured attractions. It is found in the Sibelius Park, in the district of Töölö on the edge of the sea. The conceptual – and at the time, provocative – monument was revealed in 1967. The purpose of this exalted piece is to capture the spirit of Sibelius' music –and we will leave it up to you to decide if it lives to expectations.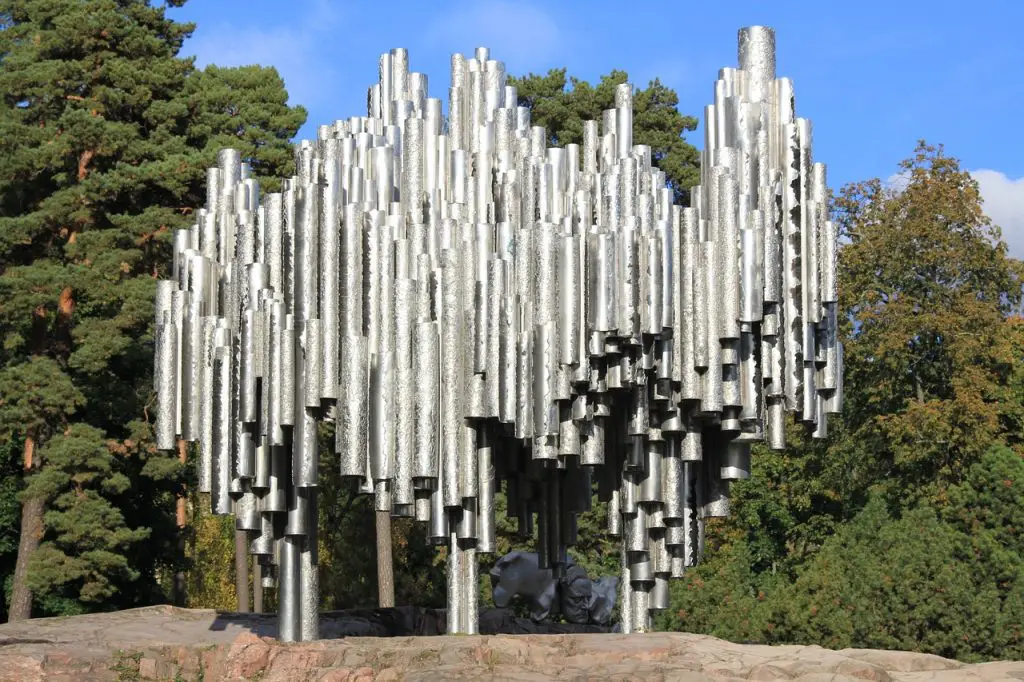 38. Stroll Around Picturesque Tallinn On A Day Cruise From Helsinki
Estonia's capital Tallinn is easily accessible by ferry from Helsinki, so why not take advantage of being so close and visit historic Tallinn on a day trip?
Crossing the Gulf of Finland by boat is always an exciting experience, and you can enjoy lovely views of the sea and coast. Once in Tallinn, explore the UNESCO-listed Old Town and other landmarks on a guided tour. It's just a small group of 9, so there's no chance of missing anything!
You'll hopefully have some free time at the end to see more of the charming cobbled streets before heading back on the ferry. If you are thinking about staying longer, there are so many things to do in Tallinn, not to mention all those amazing new Nordic restaurants at very affordable prices…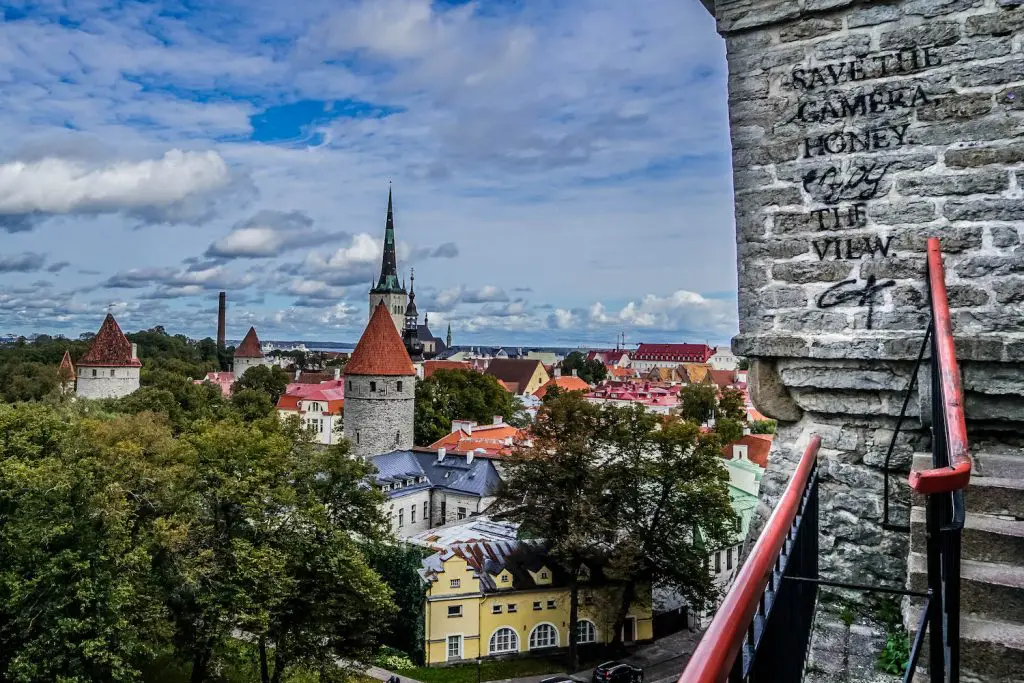 39. Go Further Afield On This 3-day St. Petersburg Cruise Without A Visa
This is definitely one of the best things to do in Helsinki – get out of Helsinki by taking advantage of the fact that you can go to St. Petersburg without needing to get a visa. An overnight ferry takes you to Russia's cultural capital.
Once there, you've got a full day to explore spectacular sights like St. Isaac's Cathedral, the Hermitage Museum, and Peter and Paul Fortress before heading back on the ferry that evening. It's a captivating place to visit if you get the chance, and the boat trip is all part of the fun.
Be warned, however, that Finns are not exactly fans of Russia and won't take kindly to you visiting their rather aggressive neighbor to the East. Still, there is one of the few ways many Westerns can tick Russian landmarks off their bucket list without the hassle of getting a visa, so we thought we should mention it.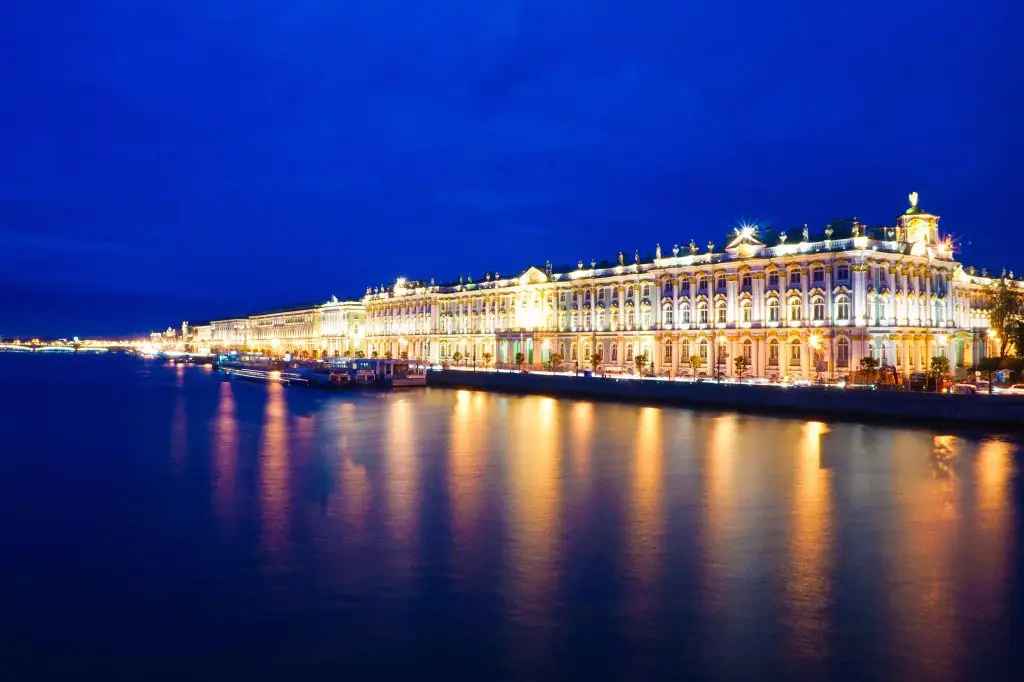 40. Experience Helsinki On The Cheap With The Helsinki Card
At this point in our list, with so many exciting places to see and visit in Helsinki, there will probably be two questions on your mind: how soon can I go and how expensive will it be? While Helsinki is not quite Copenhagen or Oslo levels of pricey, it is still the Nordic's – so it isn't cheap. You'll want to keep as much money as you can to sample all that food and coffee, so why not save on sightseeing with a Helsinki Card?
The Helsinki Card is a euro-saving tourist pass to help visitors see the most prominent attractions at a discount. It includes free entry to over 25 attractions around the city as well as free public transport for the whole validity period. If you want to see something that's not already included on the Helsinki Card, there's a good chance you'll get a discount on it. As a nice little bonus, you also get a bus and a canal cruise as part of the offer. We love that there's no more fiddling around with tickets: access to everything is all via one card (just keep it somewhere safe!).
You also don't need to stress as much about planning an itinerary. All the information you need to help choose attractions is in the Helsinki Card guidebook that you get free. Additionally, once you've invested in the card, you don't need to think about a sightseeing budget anymore. All your leftover money can be spent on treats, nibbles, and drinks with friendly Finns.
You can buy the card for 1, 2, or 3-day periods. However, it actually works on 24-hour periods, so the countdown begins from whatever time you first use it. While it could get shipped to you before you travel, it's cheaper and easier to pick it up when you arrive – there are quite a few pick-up points. We couldn't believe how much easier our Helsinki experience was using this card. It saved loads of money and allowed us to go to all the big attractions we wanted to see – including many on this list.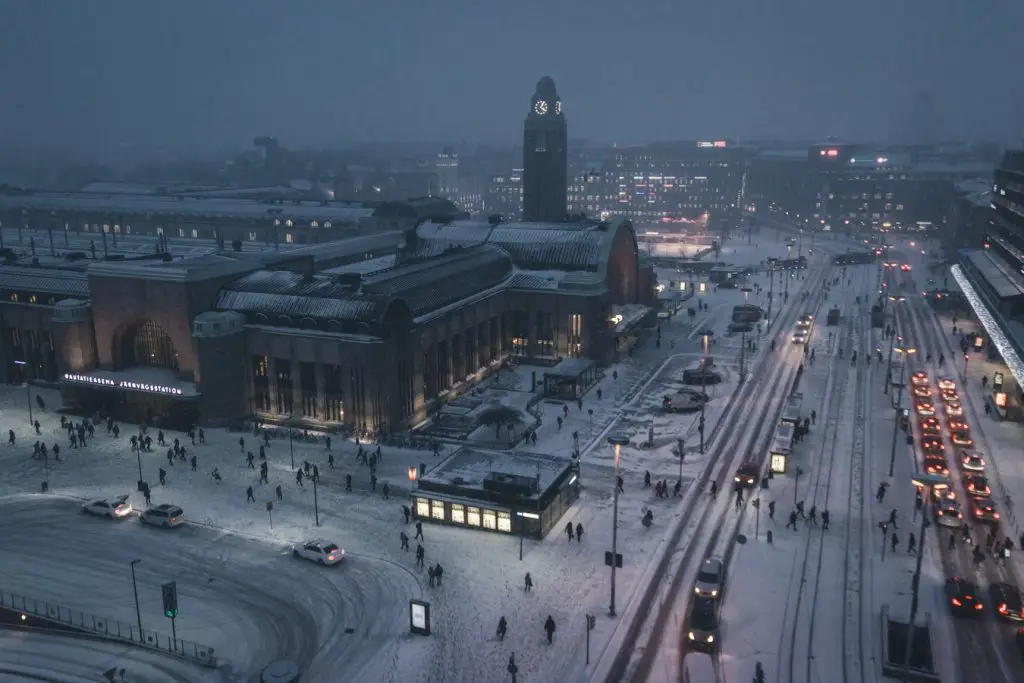 41. Appreciate The Utterly Unique Temppeliaukion Church
The Temppeliaukion Lutheran Church in the Töölö neighborhood of Helsinki is famous, not because of its age or ostentatiousness but because it is built directly into solid rock.
Opened in 1969, the Church Of The Rock as it is more frequently referred to, it's an underground house of worship and one of the world's most unique churches. The interior back wall is built directly into the surrounding rock and bathed in natural light from a copper dome skylight. The rock wall was actually not part of the original design. Thankfully, it made the final cut when its acoustic value was noted during construction.
As such, you will not want to miss a mass or frequently held concerts here when the sound splendidly bounces from the rough stone creating can heavenly atmosphere.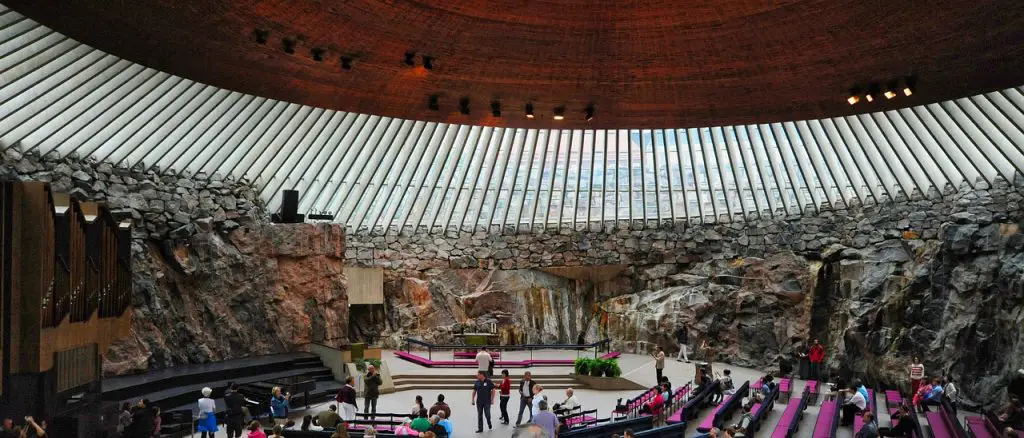 42. Step Back In Time At The Seurasaari Open-Air Museum
A fabulous opportunity to experience rural Finland in miniature, the Seurasaari Open-Air Museum boasts of traditional wooden buildings transposed from elsewhere in Finland. Located on a densely forested island, Seurasaari offers a rural, peaceful atmosphere that is so typical of Finland – but close to the city. A variety of wildlife including birds and red squirrels can be seen here – and there are even beaches for swimming should you wish to make a whole day of your trip out here.
Opened in 1903 to ensure Finland's unique cultural heritage was preserved for future generations. Seurasaari Open-Air Museum harks back to a different era, one of smoke cabins, crofts and manors – and one in which Finland was exceedingly poor. You are free to wander on your own, but there are English tours daily during summer for those who want to learn more.
No matter how you chose to visit, don't miss the adorable Antin Kaffeliiteri café located in a shed for the complete experience.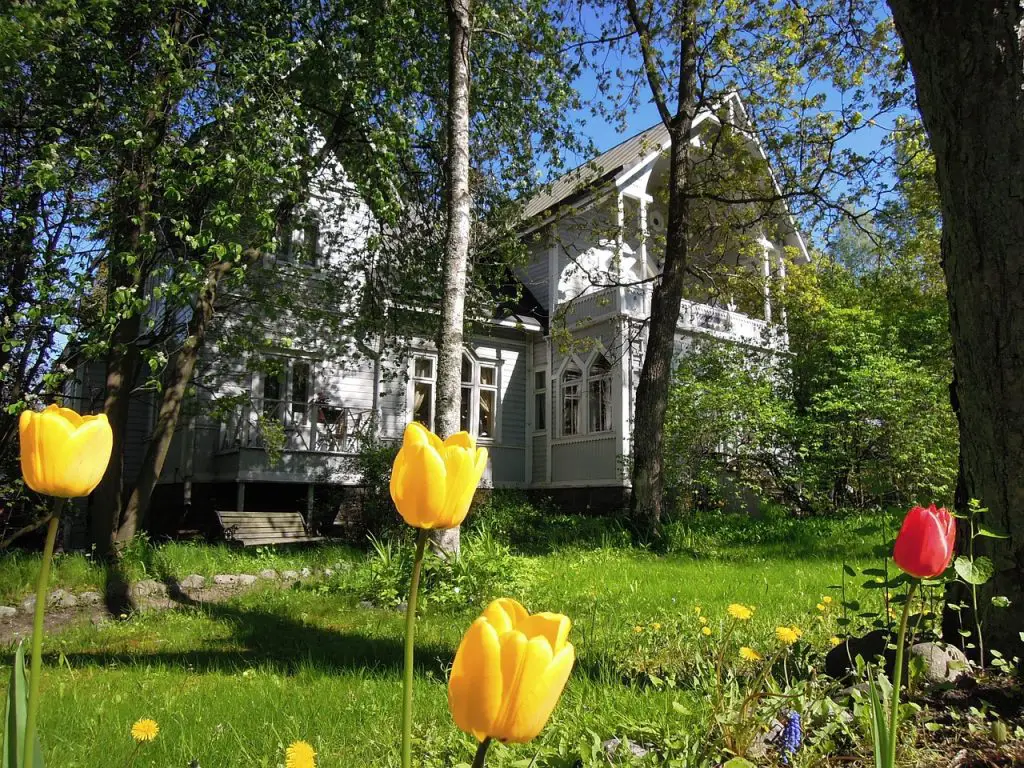 43. Appreciate The History And Architecture Of Alvar Aalto's House
The home of famous Finnish architect and designer Alvar Aalto and today operated as part of the Alvar Aalto Museum. The house is not a posh residence but rather a snug and intimate affair with an uncomplicated design palette. This, however, is the appeal of a visit as it offers the "new" Aalto and the rational International Style Modernism he would later be famed for.
The entire interior and exterior were designed by Aalto, except for three Renaissance chairs that he purchased on his honeymoon in Italy, as was typical of his total work of art approach. A must for the lover of design and architecture, though you could also make a trip to the Alvar Aalto Museum in his home city Jyväskylä. Or to the sensational offices at Toppila Pulp Mill in Oulu.
The Aalto House can only be visited by joining a guided tour. Be sure to book in advance through their website to avoid disappointment. The journey is about one hour, including some free time to enjoy the unique character in the house.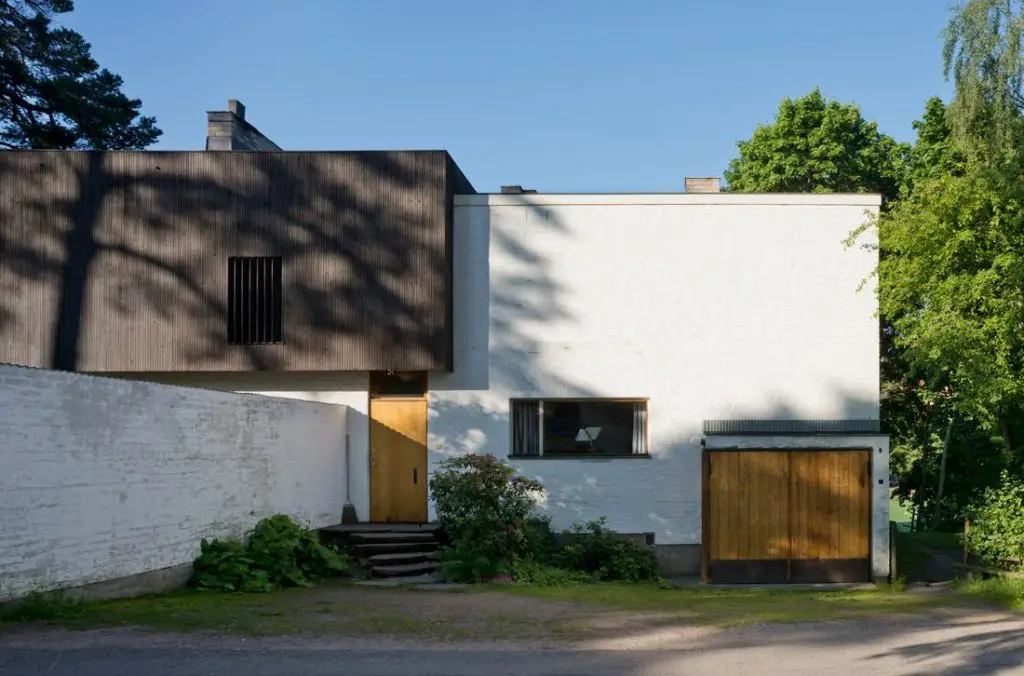 44. Dream Of The Taking Flight At The Finnish Aviation Museum
We are big fans of aviation museums having fallen in love with the Russian Central Airforce Museum and the Smithsonian Air & Space Museum – and so couldn't miss the chance to stop by the Finnish Aviation Museum. While not as grand as the aforementioned, its leading exhibition still contains dozens of aircraft that take you through the captivating history of Finnish aviation.
For real aviation geeks, there are thousands of items, plenty of photographs, archive material, and even flight simulators offer virtual flying experiences for all. A cornucopia of aeronautical delight, contributing something new for everyone, whether you're a devoted airplane aficionado or a novice.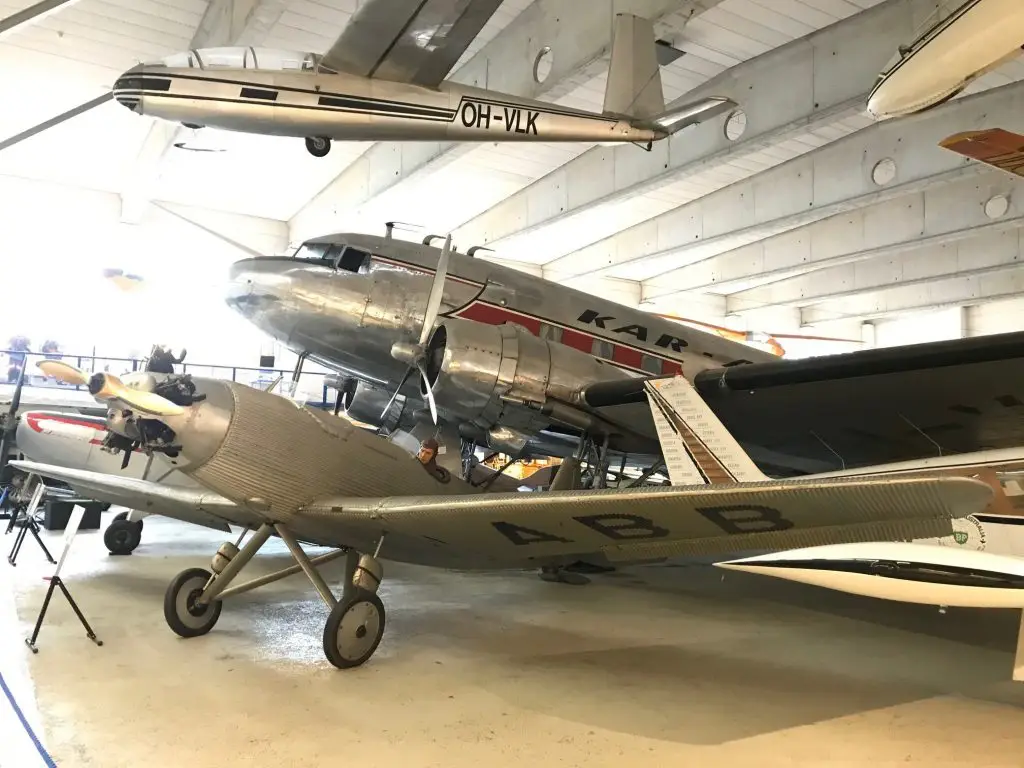 45. Explore The Museum Submarine Vesikko
Vesikko is a prototype for the German Type II submarines launched in Turku in 1933 as part of a secret rebuilding of the German Navy, the Reichsmarine. Under the Versailles Peace Treaty after World War I, Germany was forbidden to build or and operate submarines, so it moved armaments' research to foreign countries like Finland.
The Vesikko was actually ordered by a German front company in the Netherlands but taken over by the Finnish government before completion. It then saw service in the Winter War and World War II as one of only five submarines to serve in the Finnish Navy.
After the war, Finland was banned from operating submarines, and so the Vesikko was kept in storage until later being turned into a museum ship. Today, one of the most popular attractions in Suomenlinna in summer – a visit to the fascinating Vesikko is truly a must for fans of military history.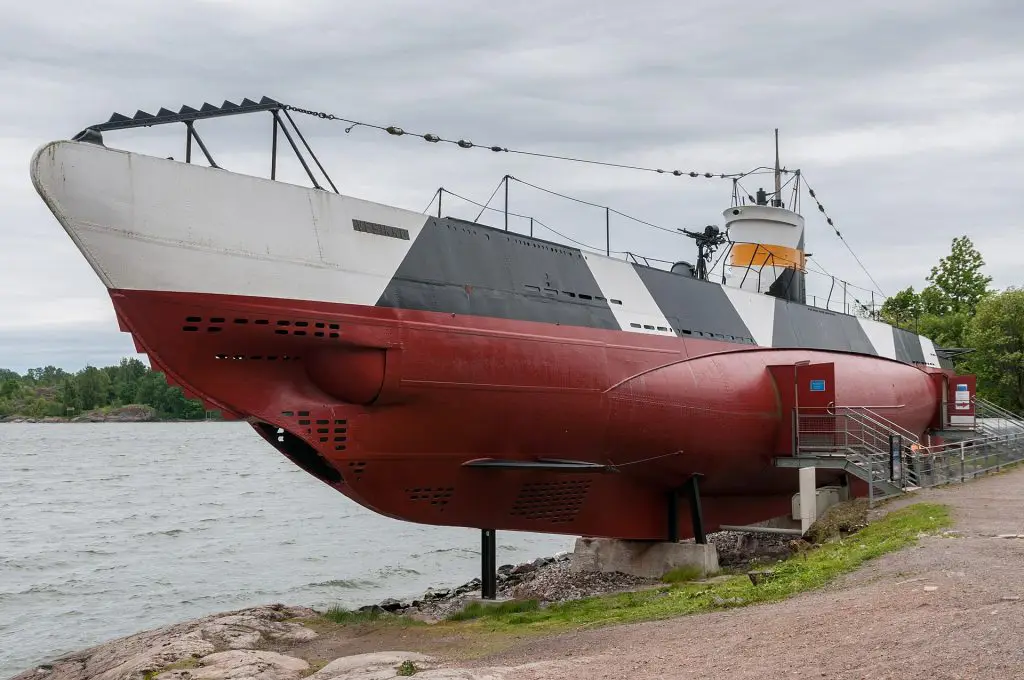 46. Dive Into Helsinki's Past At The Helsinki City Museum
A free museum for those looking for cheap things to do in Helsinki. Found in the oldest part of the city, at the corner of the Senate Square, the Helsinki City Museum documents and displays the history of its namesake city.
Its charge is to preserve and uphold Helsinki's spiritual, material, and architectural heritage, which visitors can get insight into with exhibits that delve into the personal memories of the city's residents. A hodgepodge of buildings and courtyards brought together by a new construction that links them; the museum offers a variety of spaces, atmospheres, and perspectives on Helsinki over time. Well worth a few hours.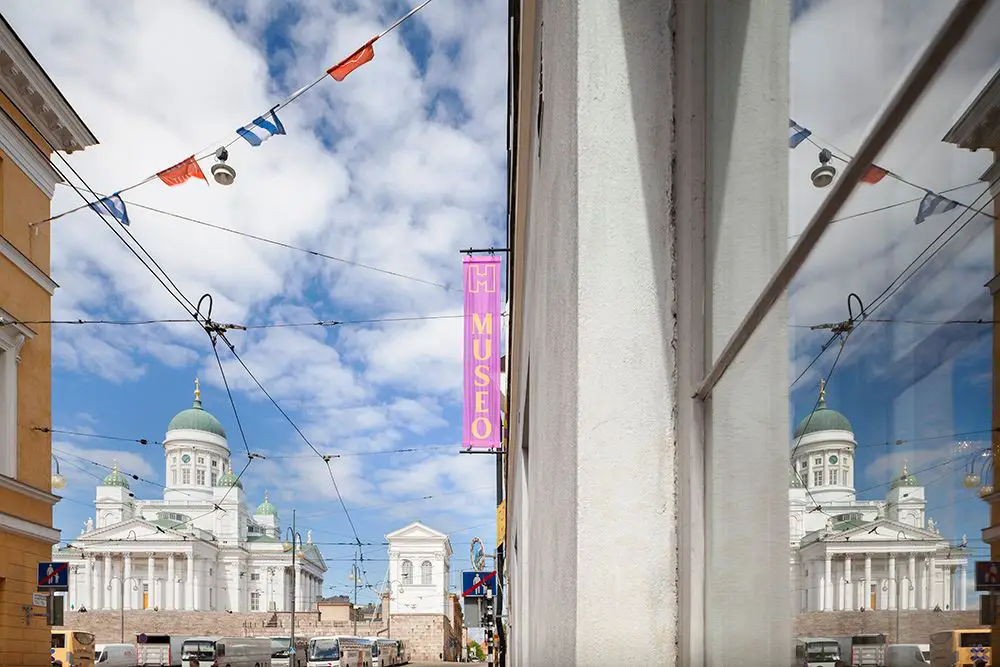 47. Get Lost In The Stockmann Department Store
A symbol of Helsinkian city culture since its completion in 1930, the nordic Art Deco style Stockmann department store is not only a gorgeous building but a popular place to shop fashion, cosmetics, souvenirs, Finnish design, souvenirs, groceries and more – all under one food.
The flagship store of this Finnish retailer, which also has locations in Estonia and Latvia, Stockmann's Helsinki, is the largest department store in the Nordic countries in terms of both area and total sales. Even if you are not interested in shopping – the delicatessen in the basement is renowned for the quality of its food. As is the food court with panoramic views on the top level. Tourists are also eligible for a 10% discount voucher and tax-free purchases in some cases. Just ask at the Visitor Center on the 8th floor.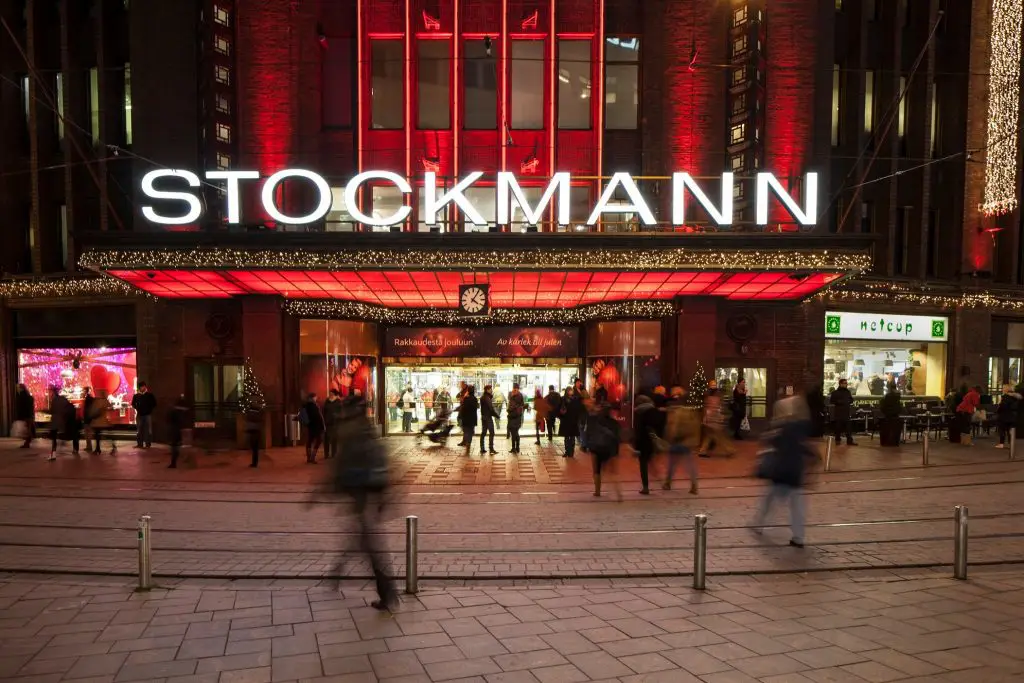 48. Take A Dip In The Allas Sea Pool
A gorgeous urban spa located smack bang in the center of Helsinki. Open year-round, Allas Sea Pool is a popular place for both locals and tourists looking to decompress.
There are three swimming pools at Allas Sea Pool situated on the pool deck that floats over the harbor. One has seawater, one is warmed, and the other is for children. There is also a women's sauna, men's sauna, and private sauna, all of which are electrically heated and offer views out into the Baltic. Allas is about relaxing and enjoying with all senses – both the body and the mind, and if a fabulous way to spend the day in Helsinki. There is also a cafe, restaurant, winter garden, rooftop terraces, and Baltic Sea Centre for those wanting a bit more.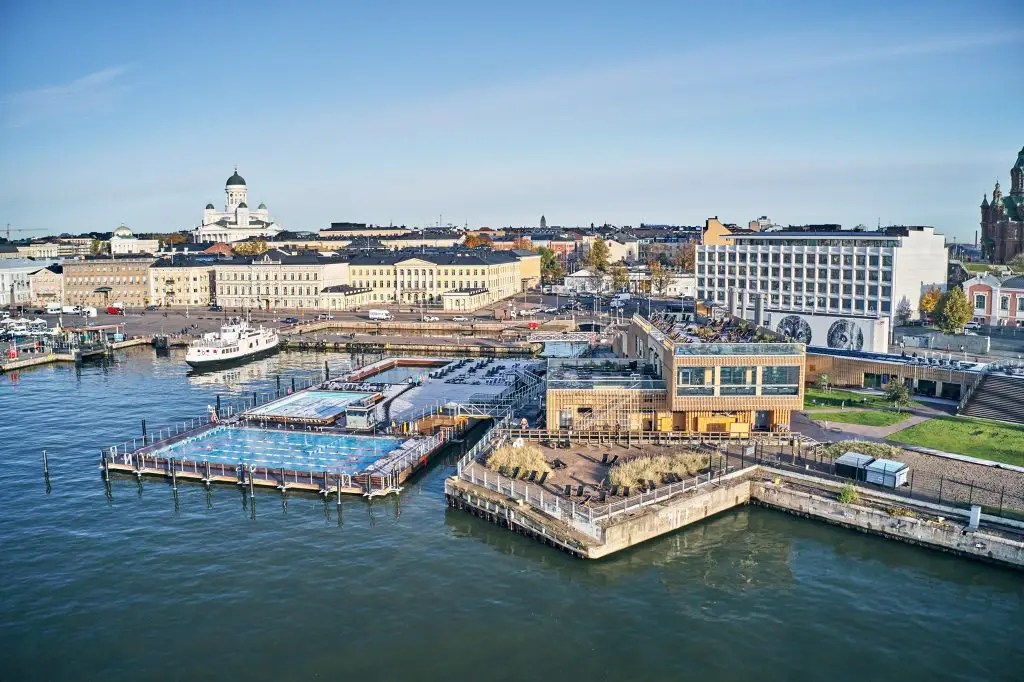 49. Dine In The Rather Decadent Kappeli
A remarkable cafe with rich traditions going back over 150 years, the Kappeli is a real treat. The milieu and views offered by Kappeli's dining hall provide a unique setting for delicious lunches and suppers, with both posh table service areas, or a much more affordable self-service café. Both are stunningly decked out in opulent décor, with large glass windows offering views out to Esplanade Park in all its beauty.
Pop by in the morning for a café latte and a croissant, at lunch-time for a traditional Salmon soup, and in the evening for something small washed down with a glass of wine or beer. Don't feel guilty when you are tempted by all their scrumptious pastries as calories don't count on sunny days. Or holidays for that matter.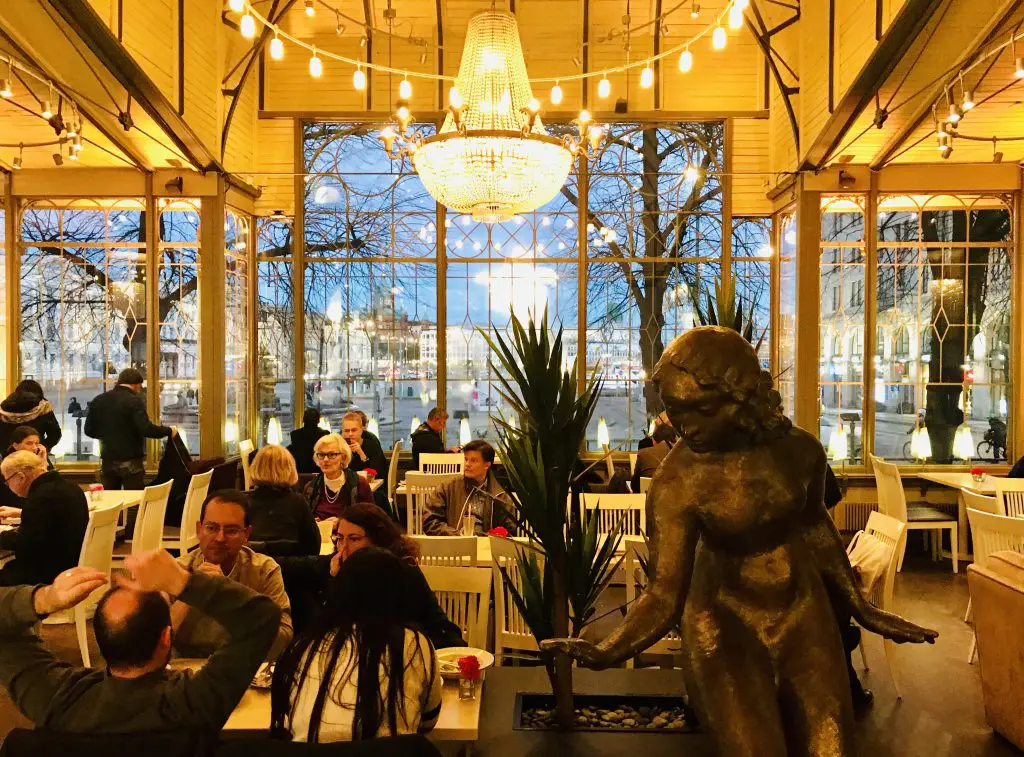 50. Stay At The Luxurious Lapland Helsinki Bulevardi Hotel

Helsinki is somewhere we couldn't ever imagine visiting until we went there. It's a vibrant city with lots to see and do, and Lapland Hotels' Bulevardi hotel is the perfect base to explore from. As with all of the Lapland Hotels, the rooms and dining spaces tell stories about the North with traditional Lappish décorensuring all of their guests get a true feel for the magic of Lapland.
Every comfort is attended to with minimum fuss and contemporary twists. Needless to say, everything here will look pretty fabulous on your Instagram feed too!
Every room has a sauna incorporated, which is a truly brilliant touch. The Lapland Helsinki Bulevardi is the perfect place to unwind; Artic rooms are bright and minimal while the Mystique suites are decorated with soft pelts and evoke the forests. The gorgeous restaurant takes the gleam of gold as its theme, a theme which is continued in the event space above it. Food is classic and flavorsome – and the entire atmosphere, design, and story make a stay here one of the top things to do in Finland!
If your budget doesn't quite extend to this luxury stay in Helsinki, the Clarion Hotel Helsinki often has more affordable rooms with fabulous views. We also love the Scandic Paasi and Yard Hostel for solo travelers on a budget.