Indonesia has a lot to offer for both national and international filmmakers. The country has modern cityscapes, as well as a strong sense of history, and is highly diverse in culture. Not to mention the wonderful wildlife and natural wonders such as the many active volcanoes! So it will come as no surprise that there are so many wonderful movies set in Indonesia.
Although in the last few years Indonesia has become quite a popular tourist spot, it still stands as one of the least-known places in the Western world. Whether it be in films or documentaries, it seems like most of the Asian productions that arrive to us take place either in Japan or Korea, if not in India.
This is a shame: even though these are beautiful places that anyone should visit, their prevalence in Western media makes it so that we don't get the chance to experience the other beautiful places that Asia has to offer.
Indonesia is part of a huge archipelago by the Pacific Ocean. Its diverse geography ranges from lush tropical rainforests and snow-capped mountains to volcanic islands and sandy beaches.
This country alone has over 1,000 islands and countless bays and coves, so you'll have no trouble finding a beach where you can relax and soak up some rays. One can even explore underwater sights at any of the many marine parks scattered around the coast.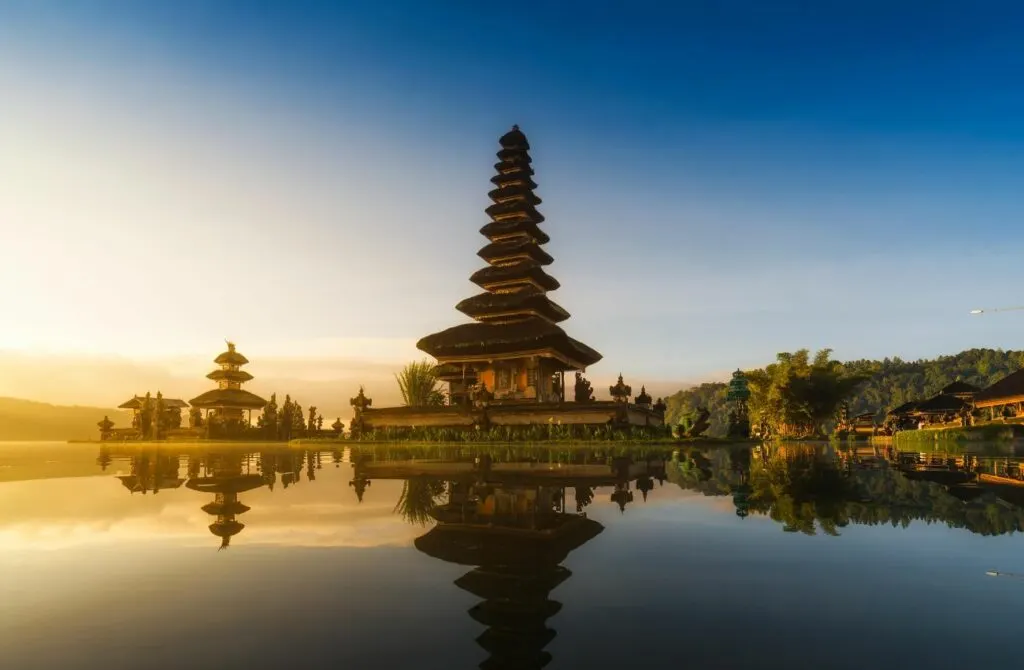 Such diverse landscapes mean that the country also has a huge variety of cultures. That's, perhaps, what's most special about a place like Indonesia: its people. Their practices and way of life have been captured in many films and documentaries ever since the 1930s when the country's film industry began taking off.
However, Indonesia wouldn't become what it is today until the coming of the 21st century when the country reached a cinematic renaissance thanks to the spread of digital technology.
Today, Indonesia boasts one of the most vibrant film industries in its region. Through these films, Indonesian directors have managed to portray some of the most charming aspects of their country, as well as some of the most problematic ones.
Whichever they are, these films are key to understanding what Indonesia is like and a perfect resource for anyone planning their visit to the beautiful country.
These Indonesian films have narratives that rely on their settings as much as their main protagonists, and as a result, spectators get a glimpse of this iconic country through the director's eyes. To honor the concept of cinematic travel, we have also assembled lists of our favorite films shot in some of our all-time favorite travel destinations: Tokyo, Amsterdam, Hong Kong, Ireland, Australia, Japan, Alaska, and Israel.
Wondering where to watch? It depends on where you live in the world and which streaming services you have. We link to the streaming service we watch on in each case - be it Netflix, Amazon Prime, Apple TV+, or elsewhere.
You can get one month free of Amazon Prime (or a 6-month trial for students) of Amazon Prime and also get immediate access to FREE Two Day shipping, Amazon Video, and Music. While you won't be charged for your free trial, you'll be upgraded to a paid membership plan automatically at the end of the trial period - though if you have already binged all these, you could just cancel before the trial ends.
Apple TV+ also has a one-week trial, and Hulu has a one-month trial (which can be bundled with Disney!). Another option might be using a VPN to access Netflix titles locked to other regions. Netflix is now available in more than 190 countries worldwide and each country has a different library and availability. US Netflix is (understandably) one of the best.
While we wish everything could just be in one place - for now, it seems these are the best streaming platforms to watch on.
This charming romantic comedy took the country of Indonesia by storm. Even though neither the director nor the actors and actresses of this feature were well-known, What's Up with Love? became one of the most popular films in the country upon its release.
You may ask yourself: why? Well, it probably has to do with the fact that there weren't many honest romantic films in Indonesia before this one, particularly when it comes to movies aimed at teenagers.
Before What's Up with Love? Films in Indonesia tended to portray teen romance like a children's show, which made Indonesian teenagers very angry. Rudy Soedjarwo's directorial debut was the first teen film in the country to feature an on-screen kiss.
Set in Jakarta, the capital city of the country, the film tells the story of a popular girl facing a tough decision: she's in love with a quirky and unliked boy who goes to the same high school as her. She's unsure whether to confess her love and risk her reputation or keep her feelings to herself.
Even though the premise may seem a little trite, What's Up with Love? Manages to bring a spin into classic rom-com clichés. It's a lovely movie that'll make you understand more about Indonesian teens and their struggles.
If there's one thing that anyone planning to visit Indonesia should look forward to, it's the delicious food that's made in the country. And Aruna and Her Palate, by Edwin, is the perfect movie to get acquainted with that.
Based on a novel by the influential food reviewer and poet Laksmi Pamuntjak, the film sees three friends embarking on a trip through Indonesia where they'll experience the local cuisine of the country's different regions.
However, the plot isn't as simple as that: the reason behind their travel is that one of them, Aruna (Dian Sastrowardoyo), is an epidemiologist investigating an avian flu outbreak. While she takes her two friends (one a chef and the other a food critic) with her, she still has her job to do.
Yet as they visit different places in the country, they find no flu and start to suspect something is wrong with their mission. The film manages to tell a captivating narrative that's filled with lovely food and gripping mystery at the same time.
During their travels, the three friends try different dishes that are prepared in Indonesia. But there's one dish that takes center stage: the nasi goreng. One of the country's national dishes, this fried rice deliciousness is cooked and eaten throughout the country.
Aruna is trying to find the woman who cooked nasi goreng for her when she was little. Surprisingly, her search for this dish will lead her to become a better and happier person.
All coffee lovers should have Filosofi Kopi on their radar. Directed by Angga Dwimas Sasongko, this charming little film is a love letter to one of the most beloved beverages in Indonesia: coffee. The country is known for producing some of the best coffee in the world, but local consumption is also very popular today.
It wasn't always like this: like in many Asian countries, people from Indonesia mostly drank tea with their breakfasts. But recent generations have a newfound appreciation for their locally produced coffee, meaning that drinking it has become a very hip practice.
The film follows two friends, Jody (Rio Dewanto) and Ben (Chicco Jerikho), who own a trendy coffee shop together. While Jody takes care of the numbers and runs the shop, Ben is the one who knows how to make some of the best coffee in the whole country.
They live a happy life as work partners, although they sometimes struggle with debts. When a multimillionaire coffee-lover arrives, their whole lives change: he offers them a large amount of money if they can make a perfect coffee.
However, Ben cannot satisfy the man's desires and is left frustrated. He will travel the country with Jody in search of a way to make a truly perfect coffee.
One Day We'll Talk About Today, by Angga Dwimas Sasongko, is one of those films you must experience at least once in your lifetime. A story about a young woman trying to find her place in the world while at the same time meeting her parent's expectations, it's bound to resonate with the life story of many of those watching it.
The film is told in a very poetic manner, which is very fitting since it's an adaptation of an illustrated novel composed of several flash fiction vignettes by Marchella FP. Both the novel and the film are truly unique and very well-made, which earned them the praise of audiences and critics alike.
The main character of One Day We'll Talk About Today is Awan (Rachel Amanda), the youngest daughter in a family of five. She's thought to be the smartest and most capable of them, constantly compared to her siblings. She's the most pampered of them, the one they all try to take care of.
However, everything turns sour when Awan doesn't meet her family's expectations. The film shows their struggles to understand each other as a family and to accept each other as they are. It's a truly moving film, and one could say it's a cathartic experience.
Perhaps what's best about the film is that it ends on a truly hopeful note that will make you feel that, no matter what, everything will be alright in the end.
Like the previous film, this one is also an adaptation of a popular Indonesian novel. But, unlike the last film, this one comes from one of the best-selling and most-loved books in the country.
The Rainbow Troops, by Riri Riza, does a marvelous job at bringing Andrea Hirata's book to the big screen. Together with a cast of very talented child actors, the team behind this film showed themselves to be true fans of the book who were committed to bringing this Indonesian classic to worldwide audiences.
Like the book, the movie focuses on Ikal (Zulfanny), a young boy living on the island of Billiton, on the east coast of Indonesia. This island is known for being one of the most lucrative tin mining sites in the world, meaning that most of the people that live there are either workers of the Billiton mining company or related to these workers.
Yet not all workers are treated equally: while miners live in an area with very poor infrastructure, the executives inhabit a closed-off space where they can enjoy comfortable lives. Ikal, as you may imagine, isn't part of this wealthy group.
With his "Rainbow Troops" and his friends from high school, Ikal will find a new appreciation for life when he meets a new teacher who is set on teaching these poor children the tools they'll need to live a happy life.
The teacher, Ms. Muslimah (Cut Mini Theo), is only fifteen, but she's set on this task. Finding out which talent each member of the Rainbow Troops has, she'll do her best to help them.
While many of the films in this list are directed by Indonesian filmmakers telling the story of their own country, sometimes it's also a good idea to watch films about a place that are made by foreigners. Being from another country means the filmmaker can look at the subject with fresh eyes and offer a new take on it.
This is exactly what Leonard Retel Helmrich has done with his work: this Dutch filmmaker has traveled all over the world in order to capture ways of living different from his own. With his unique style, which mostly consists of using the least number of shots possible, he has managed to paint very lively portraits of the most diverse people.
His most famous work, however, has been done in Indonesia: Position Among the Stars is the third film in his trilogy, which also consists of Eye of the Day and Shape of the Moon. The three films are focused on the Sjamsuddin, a family living in the Jakartan slums.
Each film looks at a different period in their lives, showing us how this Indonesian family deals with their day-to-day life. As such, these films stand as an invaluable document of what Indonesia is like for its poorest inhabitants.
Even though the premise of these films may seem a bit depressing, you can rest assured that they will leave you with the feeling that a close-knit family can face any challenge that comes their way.
All the way from Australia comes this war film that's set during one of Indonesia's darkest times, that of the Japanese occupation during World War II.
Paradise Road, by Academy Award-winning director Bruce Beresford, tells the real-life story of a group of women from all over the world who were held as prisoners of war in Sumatra, the largest island in Indonesia.
For those unaware, the country of Indonesia is composed of over seventeen thousand islands, amongst which the most known are Sumatra, Java, Bali and Sulawesi.
With this film, you'll be able to take a look into the country's past. Many tumultuous events took place in Indonesia's history, and it's a good thing to keep them in mind when getting to know the country. It's important not to turn a blind eye to tragic events like these, but instead to take them into account when we appreciate the beauty of a country.
Paradise Road begins in the city of Singapore, just in the night of 1942 when the Japanese forces attacked and captured the city. Among the many people living there who were taken as prisoners were a group of women from very different lifestyles.
The best part about this film is the performances by the main actresses, who are some of the most talented in the world: Gleen Close, Frances McDormand, and Cate Blanchett, among others. Together they will endure the hardships of being prisoners, finally finding comfort when they create a vocal orchestra where they play and compose beautiful music.
Considered one of the best documentaries ever made, The Act of Killing takes a hard look at the darkest moment in Indonesia's history: the mass killings that took place between 1965 and 1966.
Joshua Oppenheimer directed the film and it was acclaimed as a truly groundbreaking investigation of the role of the Indonesian military during this event, as well as the cooperation and support lent by the United Kingdom and the United States.
As you may imagine, this is not a happy movie to watch. It's a dark movie about a dark event, yet it shouldn't be ignored. Particularly because they have been erased from history books thanks to the influence of the dictatorial government of Suharto (who became leader of the nation a few years after). Still, the Indonesian government tries to hide the facts: upon the film's release, they claimed that it largely exaggerated their role in the killings.
The movie follows the facts as they took place, focusing on Anwar Congo and Adi Zulkadry, two gangsters who orchestrated much of the killing with the help of the Indonesian government.
The film features several interviews with Anwar, in which he describes hypothetical scenarios where the killings could have taken place as the film shows them in a fantastical fashion.
Blackhat is the last film directed by Michael Mann. The famed crime drama director of such hits as Heat and The Insider returned to the big screen with a daring story that takes the viewer through several Asian locations, most notably the city of Jakarta.
While this action thriller had lots going for it, it didn't do very well, from its director to its star, the popular Chris Hemsworth (who you may know as Thor in the Marvel Cinematic Universe).
However, anyone who has had a chance to see it can attest to the fact that it's a great film and a captivating thriller. What's more, it offers some very powerful and imposing shots of the city of Jakarta.
It's recommended that you watch Blackhat's director's cut, rather than the theatrical release, which actually gave the film a much better sense of the story and the action.
Blackhat follows Nicholas Hathaway (Hemsworth), a convicted hacker whose old code is used to hack into a nuclear plant in Hong Kong and the Chicagoan price market. The film will see him being taken out of jail by his former MIT roommate, now an FBI agent, and the captain of the Chinese cybernetic crimes police.
With his help, they plan to stop whoever is attacking them, a chase that will take them all around the world and finally to the city of Jakarta, where the film's final act takes place.
The release of Gundala, in 2019, marked the first time an Indonesian superhero appeared on the big screen. While Indonesia has had a long history of superheroes in comics dating back to the sixties, it wasn't until the Marvel Cinematic Universe proved this type of film to be successful that Indonesian fans got to see their favorite heroes in the cinema.
The harbinger of this new genre was Gundala, a beloved character that was originally created in 1969.
The film follows Sancaka (Abimana Aryasatya), a young homeless boy living in Jakarta who has the power to summon lightning from his body. He grows up to be a guard who always does what's right.
After helping one of his neighbors with his powers, he will be asked again and again to do good. He'll do his best in order to get over his fear of his powers and ultimately stop the terrible doings of a local crime lord.
However, Gundala's adventures aren't over, for this is only the first film in the Bumilangit Cinematic Universe. Like Marvel, this comic book printer plans to build a team of superheroes from their old properties in order to tell epic stories that appeal to Indonesians and Westerners alike.
To this day, only Gundala has been released, but you can look forward to several more films focusing on the Bumilangit superheroes coming out in the future.
This cult classic martial arts movie was directed by Gareth Evans, a Welsh filmmaker closely associated with the famous Indonesian stuntman and actor Iko Uwais.
If you're familiar with this film, you should know that it is regarded as one of the best modern martial arts movies ever to be made, since it features some incredible choreography and fights. It's a great way to get familiar with the Pencak Silat, an Indonesian martial art that is a very important part of the country's culture today.
The Raid follows Rama (Uwais), a newbie in the Indonesian police task force who is set to take part in a raid on a huge apartment block in the slums of Jakarta. The target is Tama Riyadi (Ray Sahetapy), a crime lord who controls everything that happens in the apartments.
As the raid commences, the task force easily sneaks into the building. But as they reach the sixth floor, Tama announces the location of the policemen to all the residents and orders to have them killed.
That's when Rama's superior tells them that the police are in league with Tama and that only he can get to him. This thrilling film sees him fighting his way to the top to face the crime lord once and for all.
Staying Connected While Travelling
In today's increasingly connected world, staying online while traveling has become essential for a seamless experience. That's where eSIMs come into play, revolutionizing the way we access mobile networks during our global adventures. Say goodbye to hunting down local SIM cards at the airport; eSIMs provide instant activation the moment you land, sparing you the fortune usually spent on international roaming and allowing you to genuinely travel like a local (without getting hopelessly lost!).
With eSIMs, tasks like restaurant recommendations and reservations, up-to-the-minute public transport instructions, checking opening hours, and accessing further information become a breeze. And, of course, sharing your journey on social media is easier than ever. To stay connected wherever you roam, consider using either Airalo or Holafly. Airalo boasts the most extensive range of destinations worldwide, offering smaller data bundles tailored to your needs, while Holafly provides unlimited data packages and fantastic EU data deals.
So why wait? Embrace the future of travel connectivity with eSIMs and make your next journey effortlessly smooth.
Further Things To Consider Before Any Adventure
Now you're all set and prepared to explore our big wide world, why not sort out everything else out all in one go? If necessary for your travel plans make sure you have brought proper travel insurance, protected your privacy by getting a secure VPN, compared all the top hotel booking sites to find just what you're after, reserved an unbeatable rental car price and - of course - booked the best flight deals!
Or maybe just forget it all and go for a last-minute cruise or effortless tour instead?
Many budget travelers (including me) indulge in worldwide airport lounge access, so we can experience luxury while still slumming it in economy. Naturally, we would never leave home without a more general travel guide since we couldn't possibly cover everything here!
Just add an adventurous attitude and plenty of smiles - they go a long way - and that about covers it all! Now go out, find your own path and don't forget to share your best inspiration stories with me on Facebook, Twitter, and Instagram...I'd love to hear from you!