We know that Amsterdam gets all the attention, but there are lots of other awesome places in the Netherlands to explore. Case in point: Eindhoven.
Have you not heard of it? All the better – you'll find a more innovative and less crowded place than the country's (undoubtedly wonderful) capital.
So, where is Eindhoven, and what's its deal? Well, it's in the south of the Netherlands, about an hour and a half away from Amsterdam by train. The fifth-biggest city in the country, it's traditionally well-known for its football stadium and its less-than-spectacular cityscape. However, times are a-changing, and there's now a vibrant arts and culture scene coming to life there.
Known as 'Lichtstad' (City of Light) for its connection with electricity and industry, Eindhoven owes its growth and money in large part to Philips and car manufacturer DAF. Aside from the museums devoted to these two pillars of the cities, you'll also find innovative art galleries, hip cafes, and some gorgeous parks.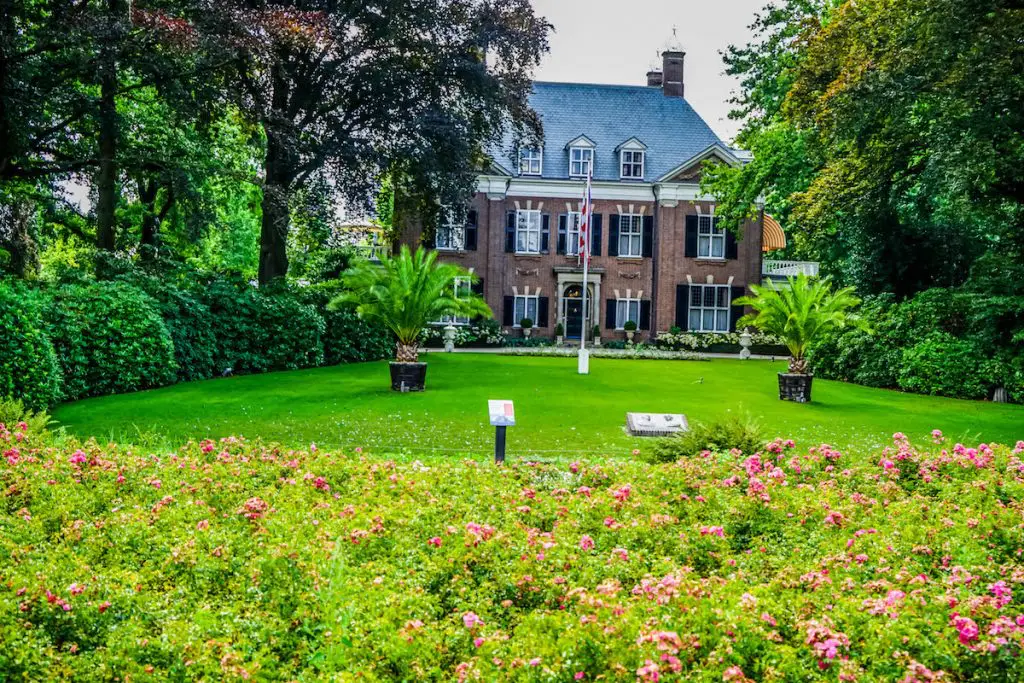 While the city's history dates back to the 12th century, much of that history has disappeared under WW2 bombing and modernist architecture. Nestled here and there, you might stumble across relics of this past in the form of Eindhoven's 140 national heritage sites (Rijksmonumenten). Try hiring a bike to explore these – as well as being quicker than walking; it's a great way to engage with the Dutch two-wheeled lifestyle.
So much for day time activities, we hear you say, but what about the nightlife? While less hectic than Amsterdam's (in)famous party scene, Eindhoven offers a wide range of laid-back and eclectic bars where you can kick back with a beer or a tasty cocktail. Most places are open until 2 am on weeknights, so there's plenty of time to relax and chat with the locals.
Aside from experiencing a more 'authentic' side to Dutch living, what are the other interesting things to do in Eindhoven? We've got some of our favorite suggestions right here.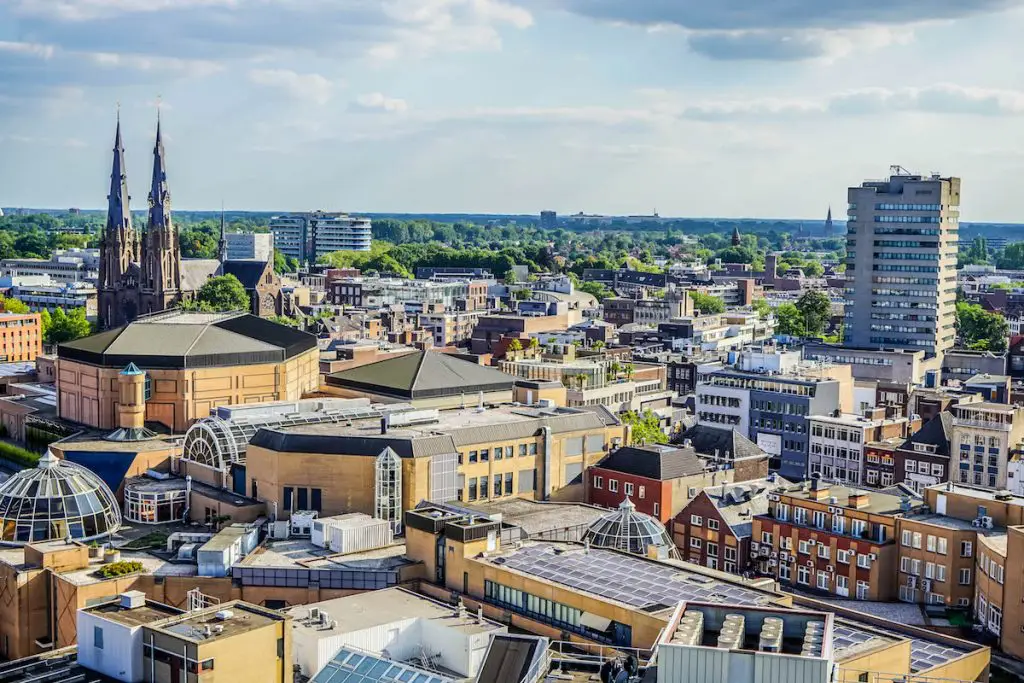 20 Intriguing Things To Do In Eindhoven: Modern Architecture, Design, And Nightlife 🇳🇱
1. Admire The Gothic Architecture Of St. Catherine's Church
One of the most recognizable landmarks in Eindhoven, the imposing Sint-Catharinakerk, is a sumptuous neo-Gothic structure that shares an architect with Amsterdam's Central Station and Rijksmuseum, Pierre Cuypers. It was built in 1867, and the most striking features are the two 73-meter-tall towers that soar above the city and are lit up to look particularly attractive at night.
Interestingly, these two towers are actually different in design, although the same height, which is a common feature of French Gothic churches. The southern is more elegant while the northern looks more like a defended fortress – although some think this is symbolism, the chances are higher that it was a financial reason!
Whatever the cause, it makes St. Catherine's Church a fascinating place to visit – and the exhibition inside of relics found on an archaeological dig here adds to its interest.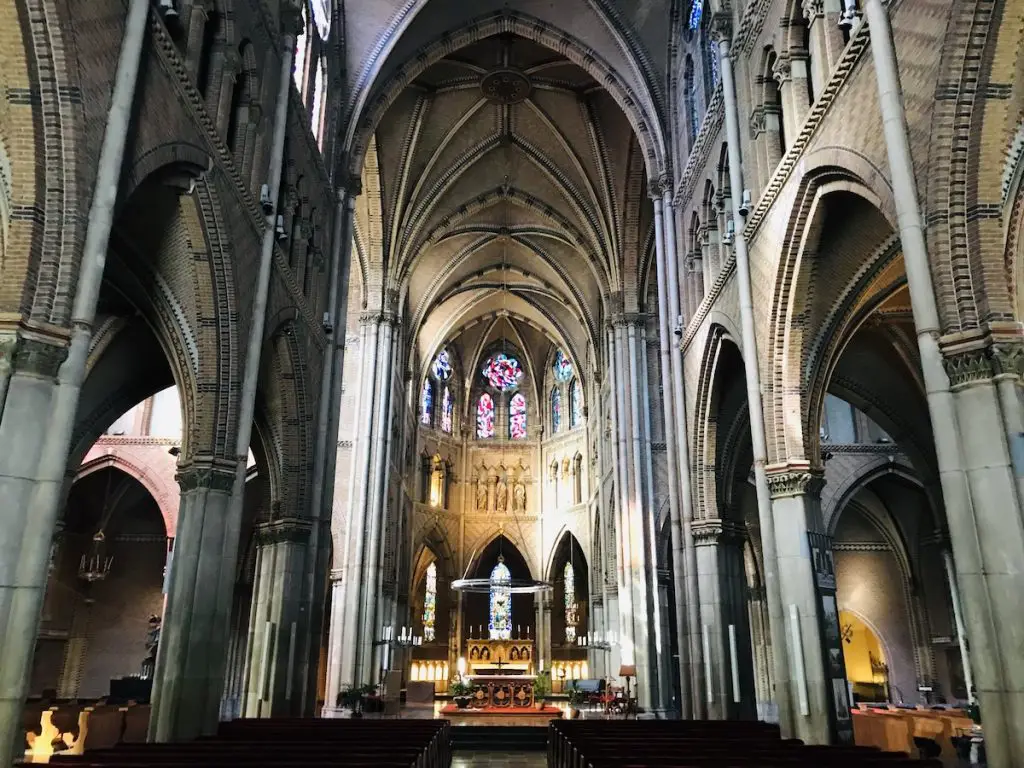 2. See Why Heaven Is A Half-Pipe At The Area 51 Skate Park
From churches to worshipping at the altar of skateboarding, Area 51 Skate Park is one of those quintessential things to do in Eindhoven that gives you an idea of what day-to-day life is like there.
It's an ex-Philips warehouse that's been converted and has over 2800 square meters of space to skate in, complete with the street area, bowl, and mini ramp. It's one of the biggest indoor skateparks in Europe and gives off an incredible energy as soon as you walk through the door.
Whether you're an avid skateboarder or not, we'd still recommend trying your hand at it here. There's a training area for the inexperienced and an excellent bar if you'd rather drink a beer while watching everyone else do cool tricks (*waves*).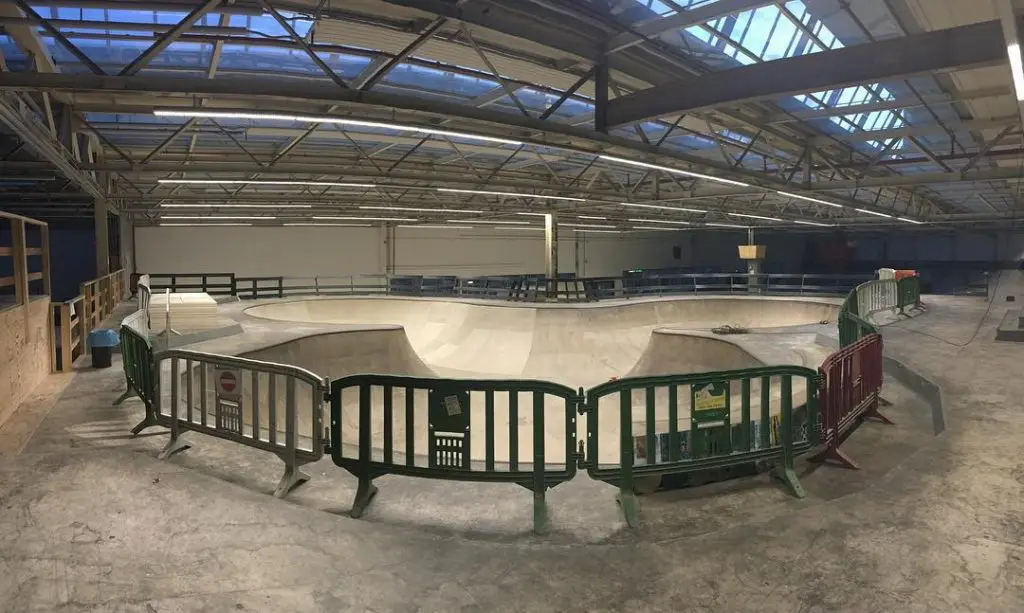 3. Enjoy A Night Out At Fifty Eindhoven
Keeping Eindhoven on its toes is this new concept destination opening in what was originally Eindhoven's very first gas factory. Yes, hip urban repurposing projects are all the rage now, and at Fifty Eindhoven, you will see an example completed to absolute perfection.
Today a hip restaurant, jazz lounge, performance venue, and almost speakeasy bar are hidden here, offering a chic industrial design that is worth a visit alone. Open from breakfast til into the night, the vibe might change here, but there is never a bad time to visit.
Grab a cocktail, chill with live jazz or just enjoy a relaxing lunch in their sun-drenched terrace (weather permitting, of course). This was one of our favorite secret spots in Eindhoven, and we are certain you will love it too!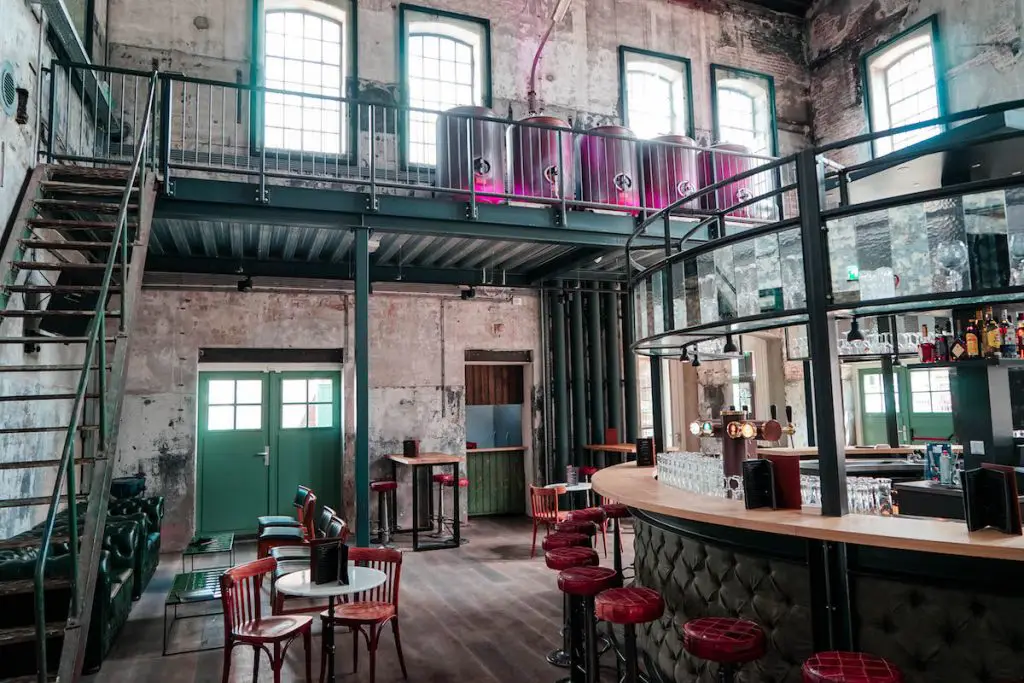 4. Get Inspired At The MU artspace
Say the words' art space', and people will either light up or look alarmed. Whether you're in the former or the latter camp, we're confident that you'll enjoy this trendy and varied destination that shines a spotlight on innovative art, design, pop culture, and media. The MU artspace's proclaimed goal is to provide space for curiosity and discovery, and this it certainly does.
The space was formerly an industrial building (called 'The White Lady'), so there are lots of spacious rooms with concrete walls and ceiling. Against this backdrop, the installations and pieces stand out remarkably. Exhibitions like 2019's Computer Grrrls combine commentary technology, gender, and art to encourage conversation and reflection.
Come here for thought-provoking displays (and some amazing photos!).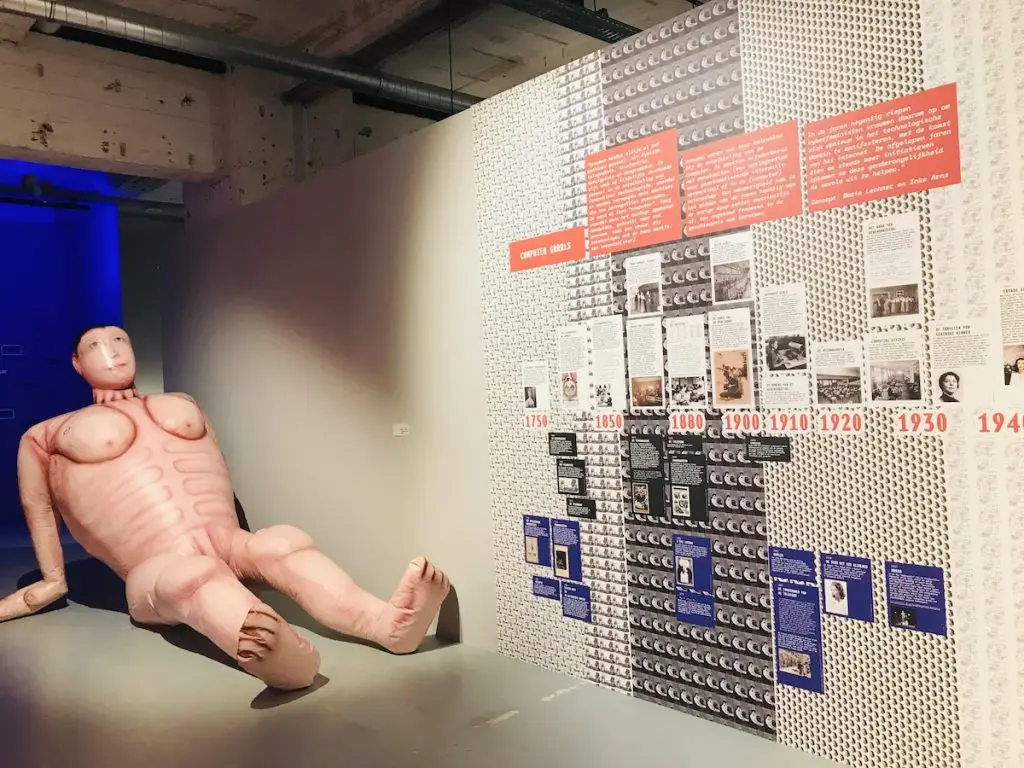 5. Explore The Ex-Industrial Strijp-S District
Unsurprisingly for a city with such a strong industrial past, there's no shortage of warehouses, urban spaces, and old factories to turn into trendy shops, workspaces, and cool places to eat. Strijp-S, the area around the Area 51 Skatepark, is buzzing with new ideas, new places to go, and general laidback vibes – making spending time here one of our favorite things to do in Eindhoven.
The area was actually once known as the 'forbidden city' because only Philips employees could go there (to work). Since those plants started to move, the area has been preserved and updated to become the hub of innovation and culture it is now. You can admire the surroundings while sipping on coffee at uber-cool Radio Royal, a vibrant open-plan café in an old Philips factory, or sampling the moreish ice cream at Intelligentia Taste Rooms (more on that later).
Strijp-S also plays host to events like Dutch Design Week and the STRP festival and has things like the amazing Ontdekfabriek ('Discovery Factory') for kids to have hands-on experiences learning about technology. And we haven't even started talking about the shops! It's a great atmosphere, and you could easily spend all your time in Eindhoven here.
Much like the downtown Palm Springs revitalization project, the Wharf Potomac River development in Washington DC, and the Avenidas Novas district in Lisbon, this is a phenomenal example of a successful revitalization of a historic area and one that is sure to both intrigue and delight.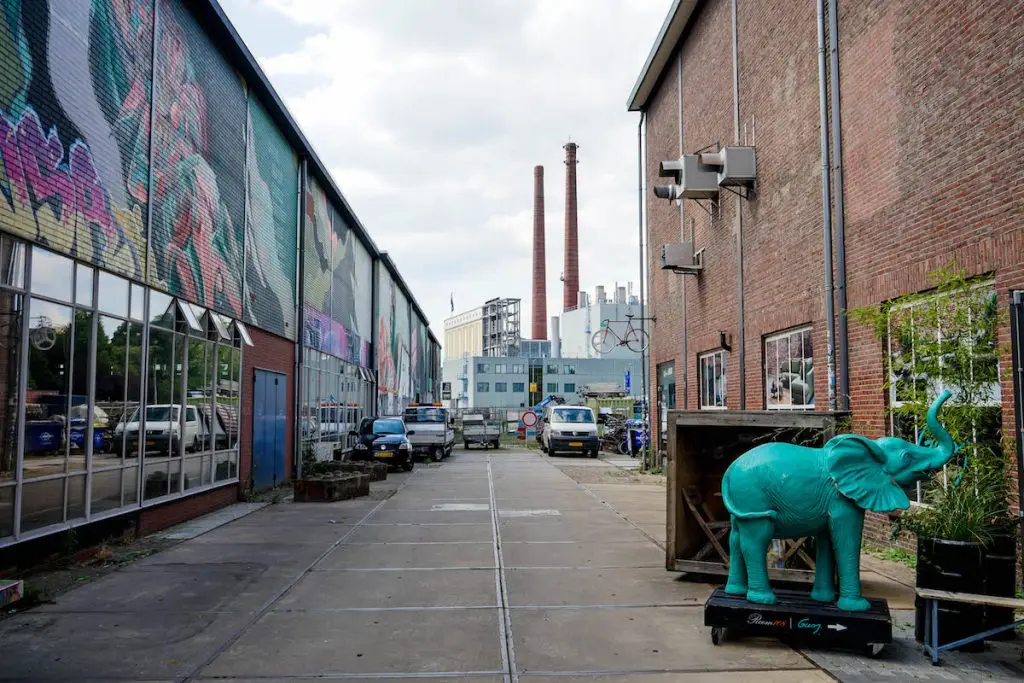 6. Make Your Reality Virtual At Enversed VR Centre
This is one of the many offerings of the Strijp-S. Usually, when you think of VR (virtual reality), you think of it as a solitary pursuit, but Enversed shows you how people can experience VR gaming together. It's the largest VR center in Europe and offers experiences for up to 75 people, whether you're with friends, family, or team-building for work.
This isn't your average VR, either. It's amazingly realistic, stunningly well-designed, and so much fun, even if you're not a gaming fan. You can shoot arrows in an archery simulation, or target drones in a shoot-out one. Alternatively, conquer your fear of heights on the paragliding option.
You can even play games against or with each other – these games include a flipping burger game, which we found pretty entertaining! Zombie survival was almost too realistic, but brilliant.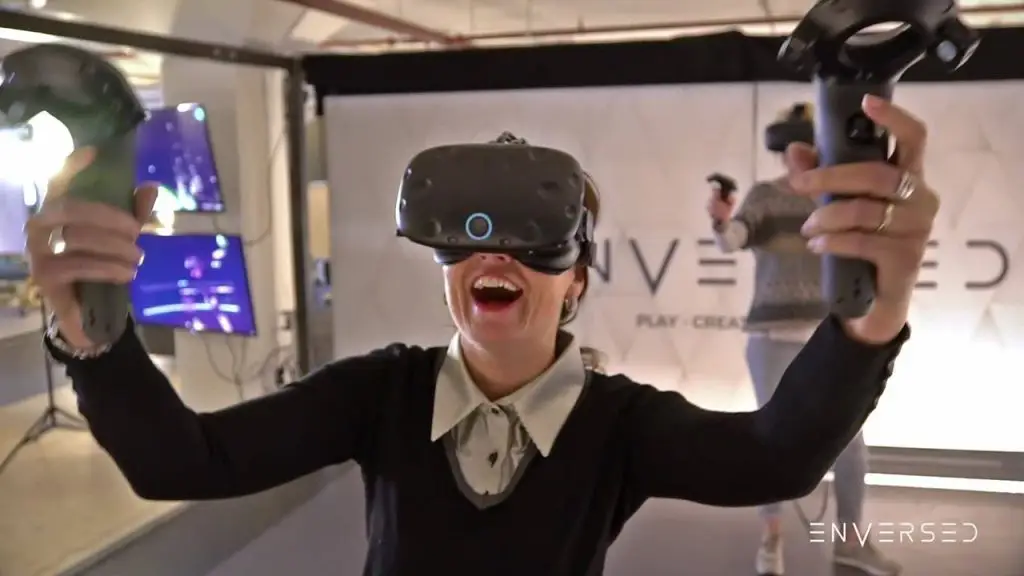 7. See The Future Of Food At Duurzame Kost City Farm
Another example of how forward-thinking the Netherlands is, Duurzama Kost City Farm is a futuristic space in an old Philips factory full of plants and pink LED lights.
Why, exactly?
Well, the cooperative City of Tomorrow (STIR) has developed Duurzame as part of an urban farming project to tackle issues like climate change, food, and pollution. So instead of using chemicals to grow food far from where it's eaten and then wasting energy, transporting it, Duurzame aims to produce food sustainably near where it's consumed.
It's currently at the experimental stage, but they hope to move to be a commercial venture. The way these plants are grown, bathed in pink lights and floating in pools, is called 'aquaponics' and uses fish feces to provide nutrients to the water that the plants are grown in. It might sound bonkers, but it's yielding results. Go and see it to find out more!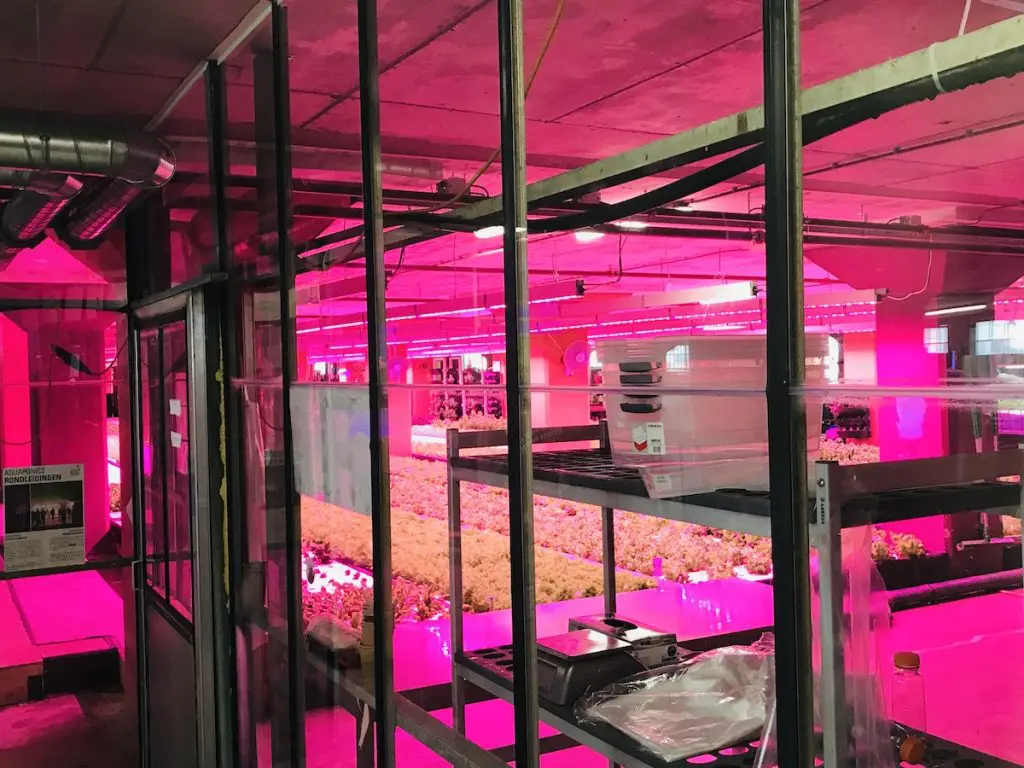 8. Get Inspired By The Piet Hein Eek Design Store And Restaurant
The famous Dutch designer Piet Hein Eek has taken this former Philips workshop and turned it into a haven of stylish design and sophisticated style. Close to the Strijp-S, you'll find a showroom of designs, a shop, an art gallery, and a restaurant; it's almost a mini-village of innovation. The colorful restaurant is a real highlight, full of the designer's signature glossy recycled wood furniture and with a chandelier made of dozens of old lamps fused together.
It's not only a feast for the eyes, as the food is pretty delicious, too. There are plenty of vegetarian options and the wine list is constantly tempting. Alternatively, just grab a coffee and soak up the atmosphere. You'll have to resist buying everything in the boutique shop. We love the green ethos that runs through the space, with a lot of the pieces made from up-or-re-cycled materials.
If you want to see more of Eindhoven's working design spaces, there is also Sectie-C, a tight organic community of more than 250 creative entrepreneurs artists, designers, musicians, communicators, and craftsmen, which open their doors to the public during Dutch Design Week.
It's a unique experience to see and experience the workspaces of this Eindhoven creative up close, such as the innovative work of Enrichers looking at the relation between physicality and emotions. Tours are possible outside of Dutch Design Week if organized 4-6 weeks in advance.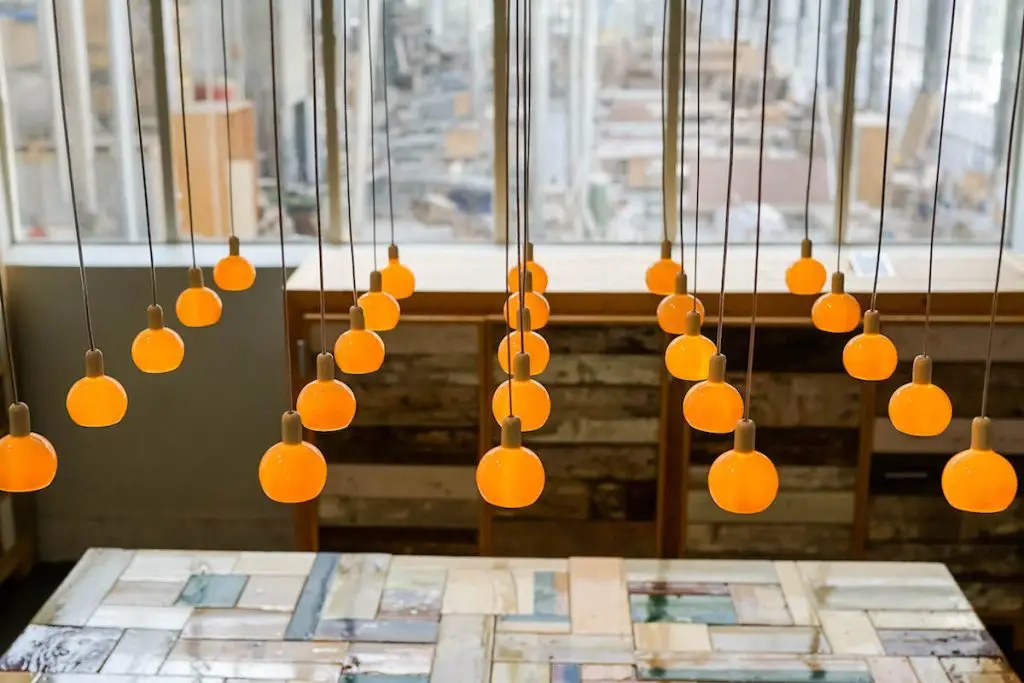 9. Hire A Bike And Explore The City Like A Local
Eindhoven has a far more compact layout than other sprawling cities we have visited, like San Diego, Miami, or Las Vegas… meaning you have the chance to investigate the city's many diverse neighborhoods easily on a bike!
This is because, in the Netherlands, cycling is the transportation de jour with 36% of the people listing the bicycle as their most frequent mode of transport on a typical day as opposed to the car by 45% and public transport by 11%. Eindhoven, in particular, is an exciting destination for a make-your-own -bicycle-tour trip with basically all interesting points of interest easily reachable via dedicated bike paths.
Eindhoven Tourist Information Office rents city bikes that have three gears if your hotel does not provide loaner bikes (Hotel the Match does), and electric bikes and tandems can be booked in advance if that interests you. There is no need to be afraid, as while locals might take cycling seriously – they are nowhere near as aggressive as you will find in Amsterdam and simply shake their head at tourists doing the wrong thing…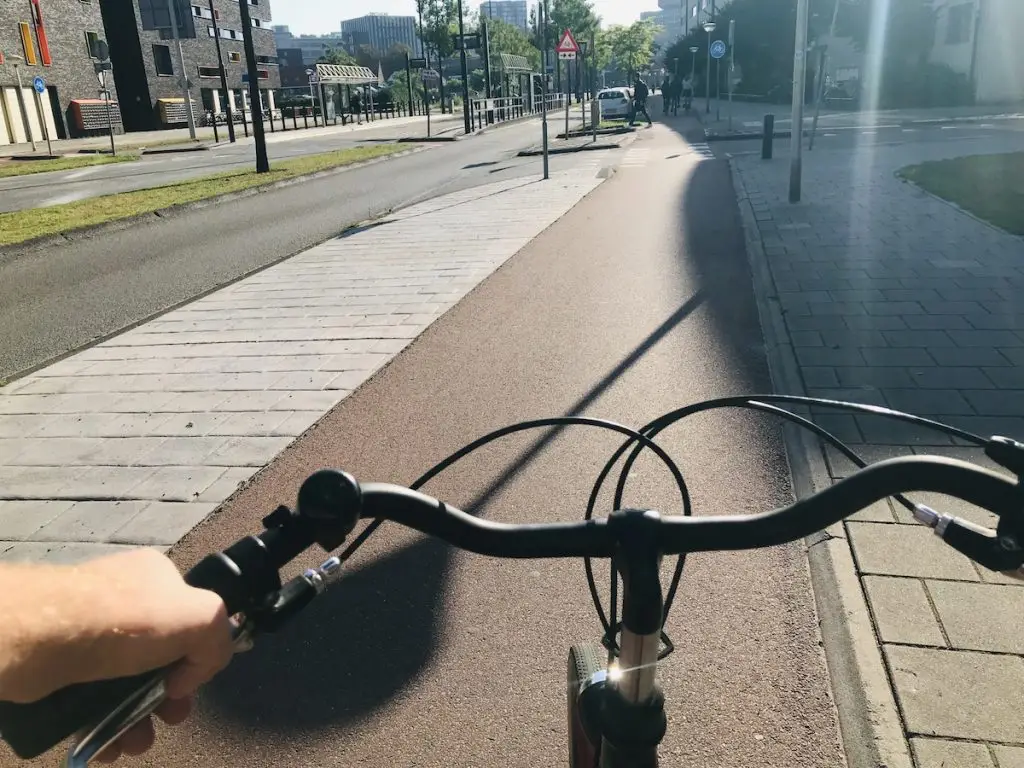 10. Plan A Fun Day Out To Efteling Theme Park
If you're looking for exhilarating rollercoasters, bewitching attractions and impressive shows, head out for a fun day at Efteling, the largest theme park in The Netherlands.
Enjoy precious moments with your loved ones, or simply go solo for the thrill of a lifetime on this day trip only one hour by train from Eindhoven. Grab your day admission ticket and take a step inside a fairytale world full of astonishing tales, enchanting dreams, and adventures at high speed.
Visit the captivating world of fairies in the Droomvlucht dark ride then huddle together during the electrifying spectacular Raveleijn park show featuring stunt horse riders and a fire-breathing monster. End your day on a high at Aquanura, the biggest water show in Europe.
There is also the opportunity to set sail on a raging sea aboard the cryptic ghost ship De Vliegende Hollander and to shoot straight down a deep mineshaft at 90 kilometers per hour in the dive coaster Baron 1898.
Often referred to as 'better than DisneyWorld,' but we will let you be the judge of that…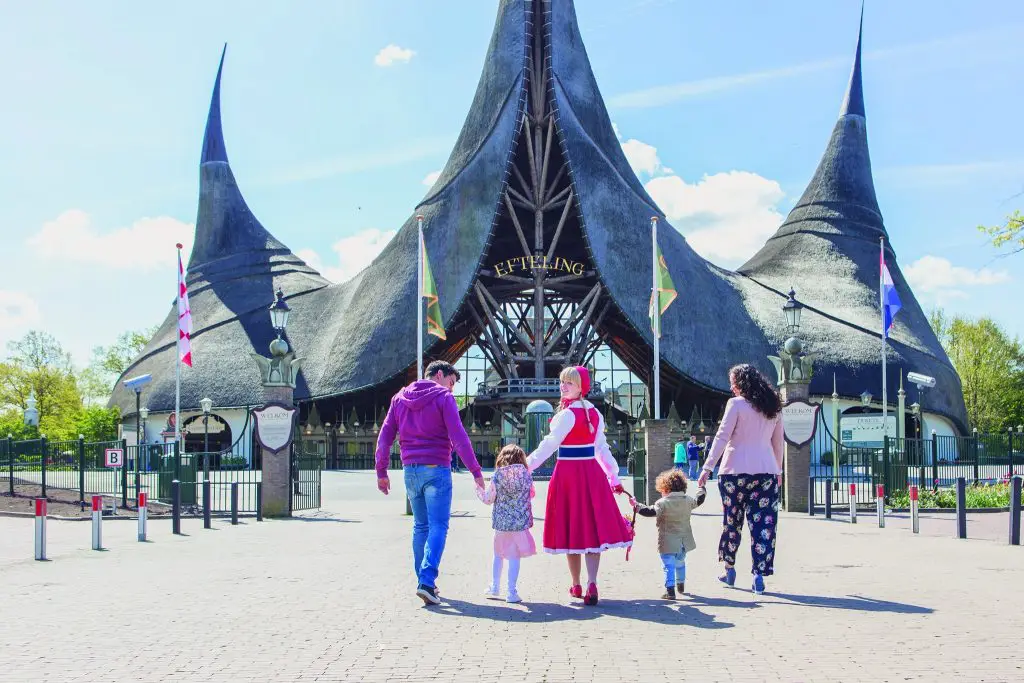 11. Get Cocktail-Happy At Vane Rooftop Bar
Cocktails with a view are one of our favorite things, so we made a beeline for Vane Rooftop Bar in Eindhoven. You'll find this on the 14th floor of the NH Collection Hotel, where the atmospheric bar space leads onto a terrace with panoramic views of the city.
The innovative cocktails come from the creative mind of Tess Posthumus, the best female bartender in the world and are inspired by the four wind directions that gave the bar the name 'Vane.' Special mention goes to the 'Post Pigeon' cocktail inspired by the easterly wind and including spicy rum and pineapple.
If you fancy food after your drinks, Vane restaurant offers both spectacular evening views of the city and delicious food courtesy of Executive Chef Casimir Evens. The five-course menu has a variety of dishes with surprising flavor combinations that are paired with wine or cocktails.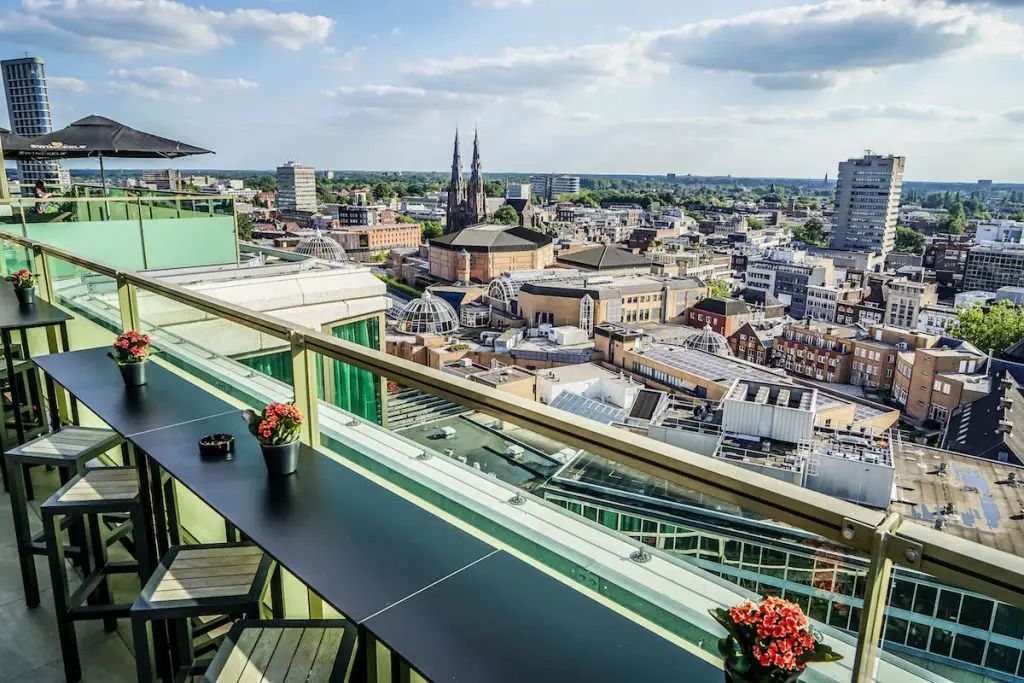 12. Relax At The Affordable Yet Trendy Hotel The Match
Yes, you have to stay somewhere in Eindhoven, so why not opt for this delightfully eccentric hotel that aims to give you all the essentials for an enjoyable stay – and nothing more.
This means Hotel the Match is not only affordable but actively encourages you to get out and explore the city. The rooms are modern with unpredictable design twists, but all include fantastic beds because you won't be able to drag yourself out of the Eindhoven nightlife before 4 am.
There are loaner bikes and smartphones, a seriously cool industrial-chic vibe, helpful staff, and a 24/7 market lobby – but the concept here is truly to immerse yourself in Eindhoven…and no to waste time with hotel breakfasts when there are so many fabulous coffee shops and cafes right on your doorstep.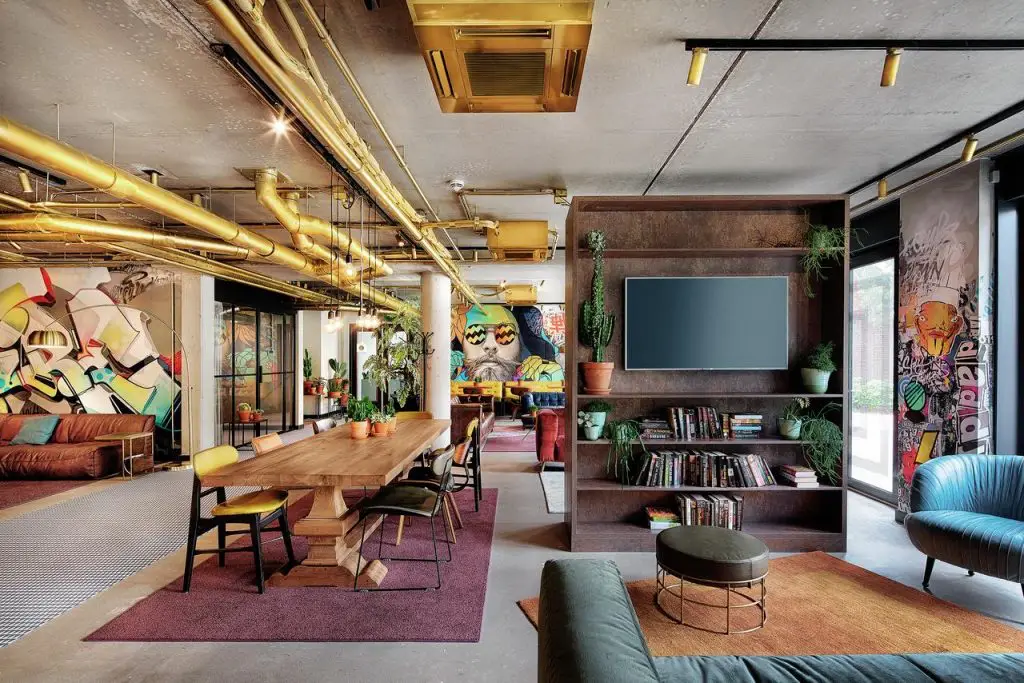 13. Enjoy Where Art and Food Collide At Kazerne Restaurant Degustation
Kazerne is an example of what Eindhoven does best – bringing together lots of different creatives in one venue. There's an exhibition space showcasing world-class design and technology alongside a Mediterranean-inspired restaurant that's open to the gallery. It sounds slightly surreal, but the experience – and the food – is incredible.
The dishes are vegetable-heavy and therefore change regularly to make the most of fresh, seasonal ingredients. Light pasta dishes, salads bursting with flavor, and savory meat options mean that basically everything on the menu will tempt you. However, you'd better leave room for dessert with options like basil panna cotta. High-quality wine to go with it and being surrounded by art make this an experience to remember.
If you are feeling extra luxurious, you could even consider a stay at the utterly unique Kazerne hotel to complete the experience.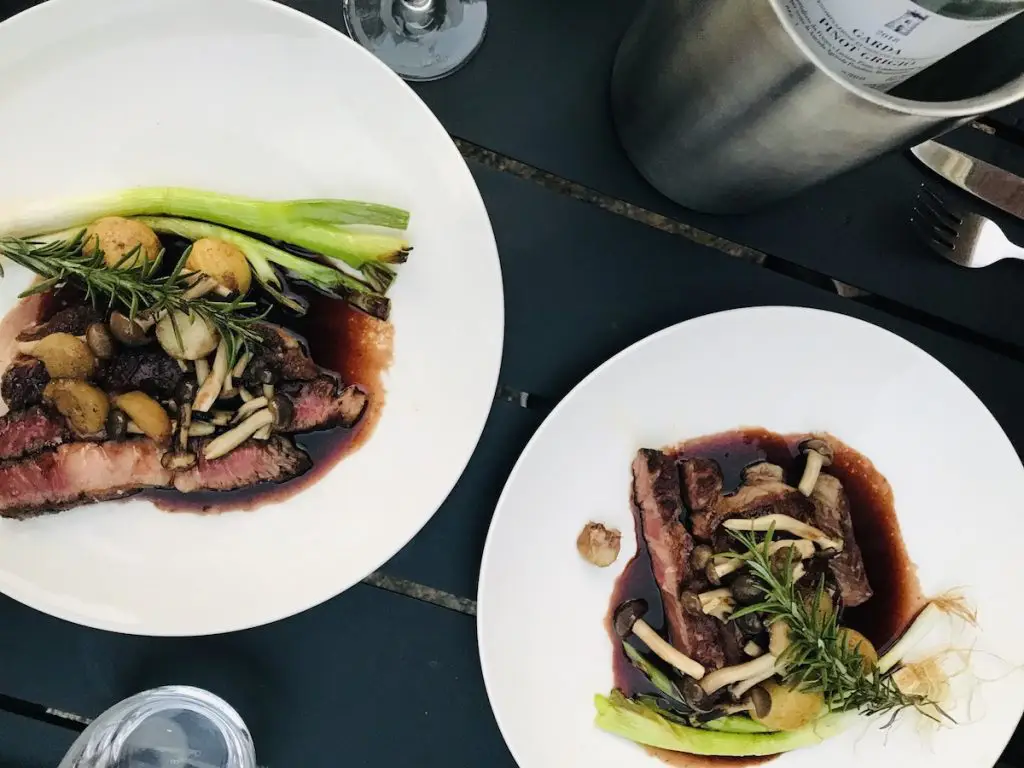 14. Explore Contemporary Art At The Van Abbe Museum
One of the city's treasures, this museum of contemporary art is easily one of the best things to do in Eindhoven.
Originally a private collection, the works were sold to the city council in the 1930s and have grown to include a diverse range of paintings, sculptures, installations, and other works of art. The building is a big part of the appeal, with the modern extension complementing the red-brick museum building with its traditional, symmetrical architecture.
The permanent exhibition at the Van Abbe Museum includes work by Picasso and Kandinsky; there are also always temporary exhibitions by a range of current artists bringing their own personal touch to the art scene of Eindhoven. The café is great, as well (not that we're always thinking about food, honest!).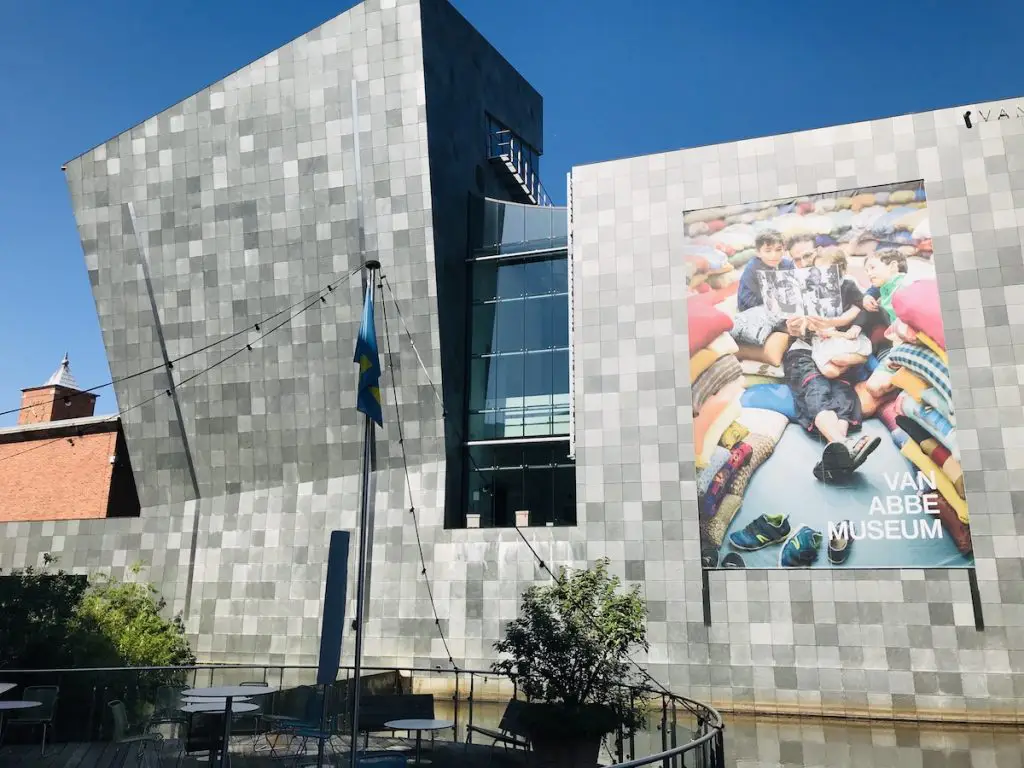 15. Push Boundaries At The TAC
The TAC (Temporary Art Centre) provides a space and a platform for an incredible range of up-and-coming artists, aspiring theatre directors, and young people experimenting with performance and culture. It's stuff like this that really makes you fall in love with Eindhoven; they appreciate established artists but also promote and support new ones.
There are over 70 artist studios here, as well as gallery space, events space, and a theatre. There are often concerts and stage performances here, as well as exhibitions, installations, and social events like BBQs and live music. As a gathering space for ideas and creativity, it's hard to beat.
TAC is situated in the center of Eindhoven, next to the Philips soccer stadium and a 7-minute walk from the central station. They are open Thursday till Sunday but often closed over the summer – even artists need holidays, it seems. Check out their website for fun, off-beat events taking place – or just head to the garden bar, one of Eindhovens hidden finds, or Korean Food lab restaurant concept – all part of TAC.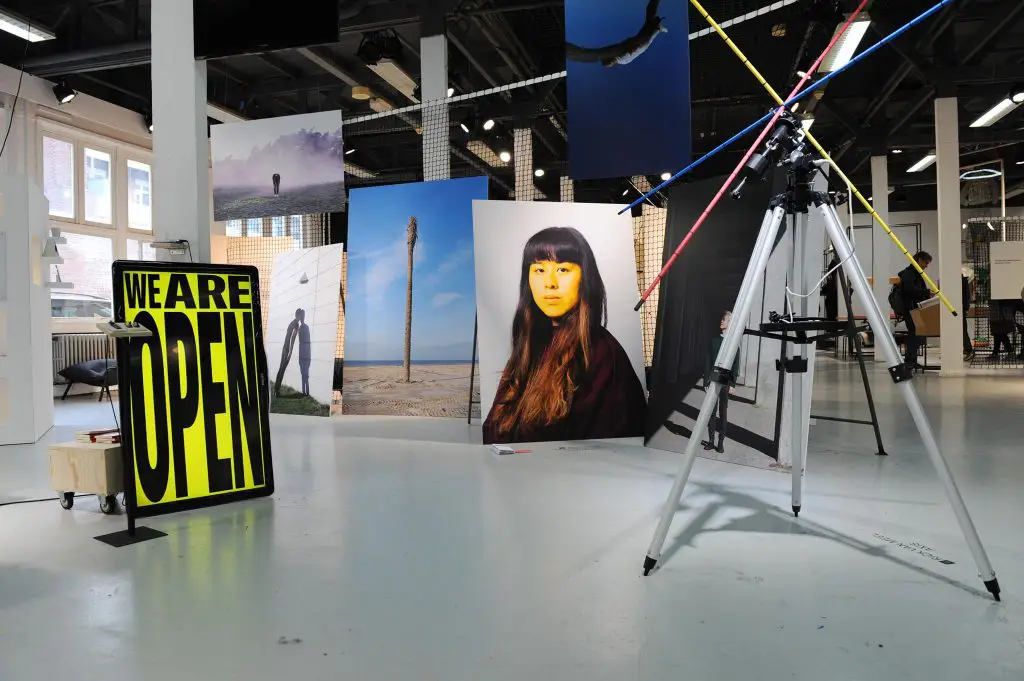 16. Learn About Eindhoven's Most Prominent Industry At The Philips Museum
The roots of this international corporation lie in Eindhoven, and the history of Eindhoven is intrinsically linked with Philips Electrics. No wonder that the Philips Museum is one of the most important sights in this City of Light. Here you get an insight into the inventions and products of Philips with interactive exhibits and kids' workshops.
It's not a huge museum, but it packs a lot in – and in a much more interesting way than you'd expect from a museum that's essentially about a family business! It's fascinating to see how a business empire can grow from humble beginnings. It's also astonishing to see how far the world has come in terms of electricity from that first lightbulb.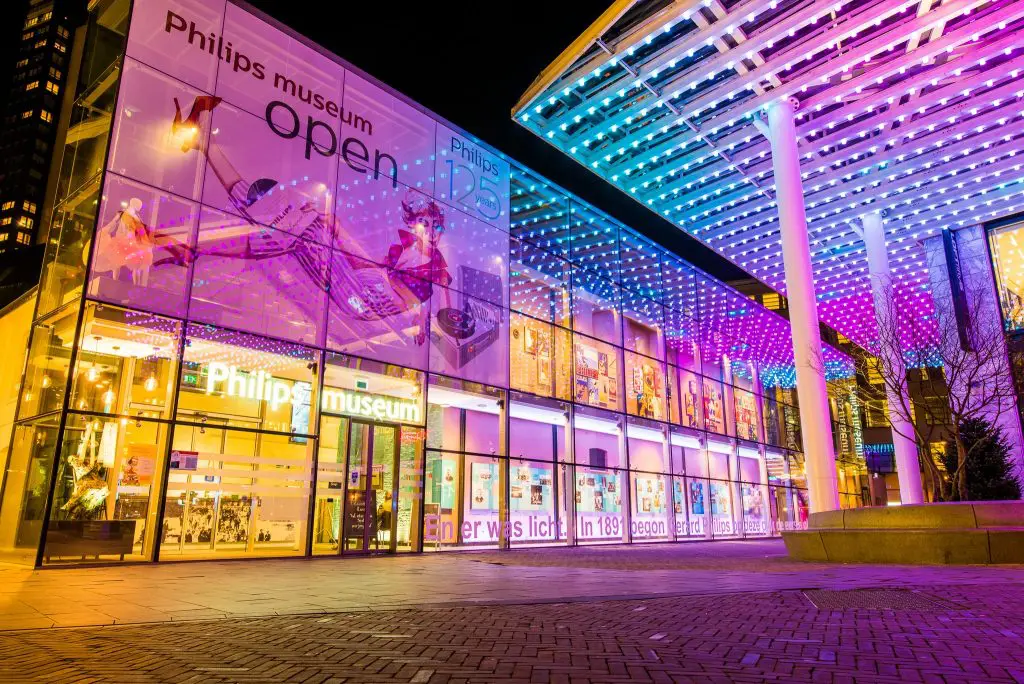 17. Go Out Of This World At Evoluon Eindhoven
It's hard not to see the UFO-shaped structure that was commissioned by Philips in the 1960s. The 77-meter concrete dome was originally used as a science museum but now primarily hosts conferences, events, and meetings. It's the closest Eindhoven has to a symbolic landmark and is a fascinating building even if you're not that into architecture (or UFOs!).
You can go and look around inside, although from indoors, it seems like your average conference center. It's outside where you'll really get the impact, whether you're seeing it by day when you can walk around the lake at the back, or at night when it's all lit up and looking especially extra-terrestrial.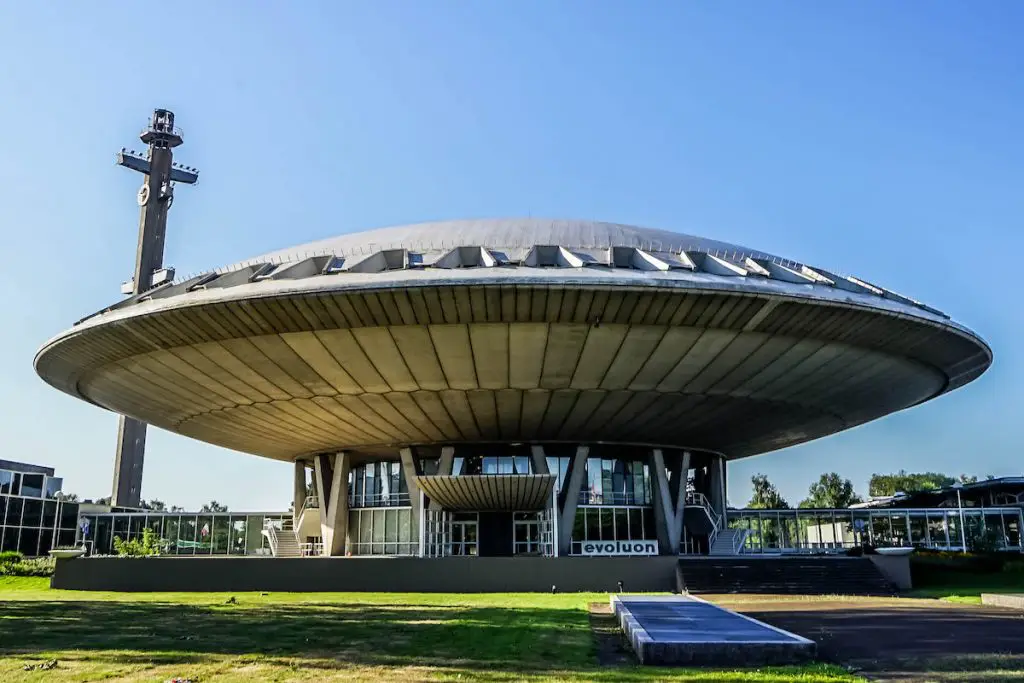 18. Shop And Stroll At The Saturday Market In Eindhoven
A Dutch town would be incomplete without at least one open-air market. In Eindhoven, the biggest and most popular is the Saturday market on Kruisstraat, where you can find anything from bike parts to a wide array of farmers' produce.
It's fairly central, and lots of people go there, so it's a place where you're likely to get chatting to others even as you're sampling the local cheeses.
Apart from the cheese and, of course, flowers, the market also offers olives, fruit and vegetables, sweets, baked goods, and hand-crafted products as well. Walking along the paths and peering at all the delights sold at the various stalls is a wonderful way to soak up Eindhoven's life and pretend to be a local for a bit.
19. Eat Your Way Around The New Down Town Gourmet Market
Since 2017 this hip food hall has brought a range of deliciousness to Eindhoven. There are 21 different eateries at the Down Town Gourmet Market to choose from – or 21 to try if you're feeling brave! – with everything from Vietnamese noodles to tacos to sushi. Anyone who tells you that you can't get good food in the Netherlands needs to be brought here because pretty much everything you try is impressive quality.
You grab a table in the middle, order some drinks there and then go exploring for food that you can bring back to your table (or scan the QR code and order directly to your table – but then you don't get to ogle all the options). It's perfect if everyone fancies something different to eat because here you can all have what you want – but still, sit at the same table!
We loved for all the same reasons we are obsessed with Elliot Stables in Auckland, the Lot 10 Hutong Food Court in KL, and Plant City in Providence — because of the sheer variety of food on offer, and that oh-so-cool-factor. Don't be surprised if you end up coming here for every meal.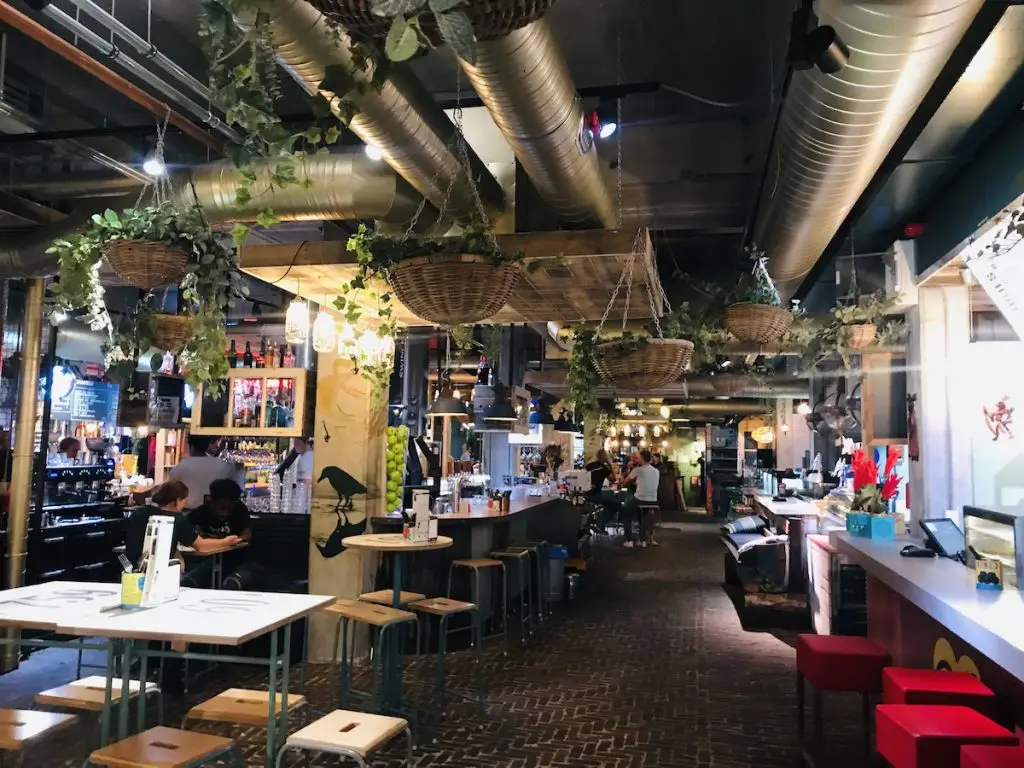 20. Sample Every Flavour Of Ice Cream @ Intelligentia Taste Rooms
We might have mentioned it earlier, but we think a trip to Intelligentia Taste Rooms is a thing to do in Eindhoven in its own right. Not only the best ice cream in Eindhoven but arguably in the continent, this cute spot models itself more as a tasting bar for ice cream connoisseurs than your average ice cream parlor.
It gets busy, but when you get to taste the ices, you'll see why. An amazing range of flavours is on offer, from pandan cake to cinnamon to pistachio and truffle (yup, together!). It's all about experimenting, and the team here seems to have the attitude of: 'if it exists, it probably tastes good as ice cream!'
Definitely worth the wait (and the second wait when you go back for more!).