The 'islands' near NYC (Long Island, Rhode Island) often get a bad rep as nothing more than suburban surroundings to the Big Apple, but to skip over them on trips between New York and Boston would be a mistake.
There are hidden gems between those cities that you don't want to miss.
Providence, in particular, took us by pleasant surprise with its beautiful outdoor spaces, historical spots, and the delicious food in its miracle of a Little Italy area. We loved roaming its streets of 18th and 19th-century buildings, taking endless photos and already mentally picking out paint samples (we can dream!).
Claiming nearly 1,000 buildings on the National Register of Historic Places in the downtown and surrounding neighborhoods, exploring Providence yields a taste of the cities wealthy manufacturing past. Though there is also plenty of engaging arts and cultural attractions to remind you, this is not a city that time forgot.
Providence is one of those rare destinations in the United States, which has a vibrant urban tapestry of both old and modern, and we had a lot of fun exploring both.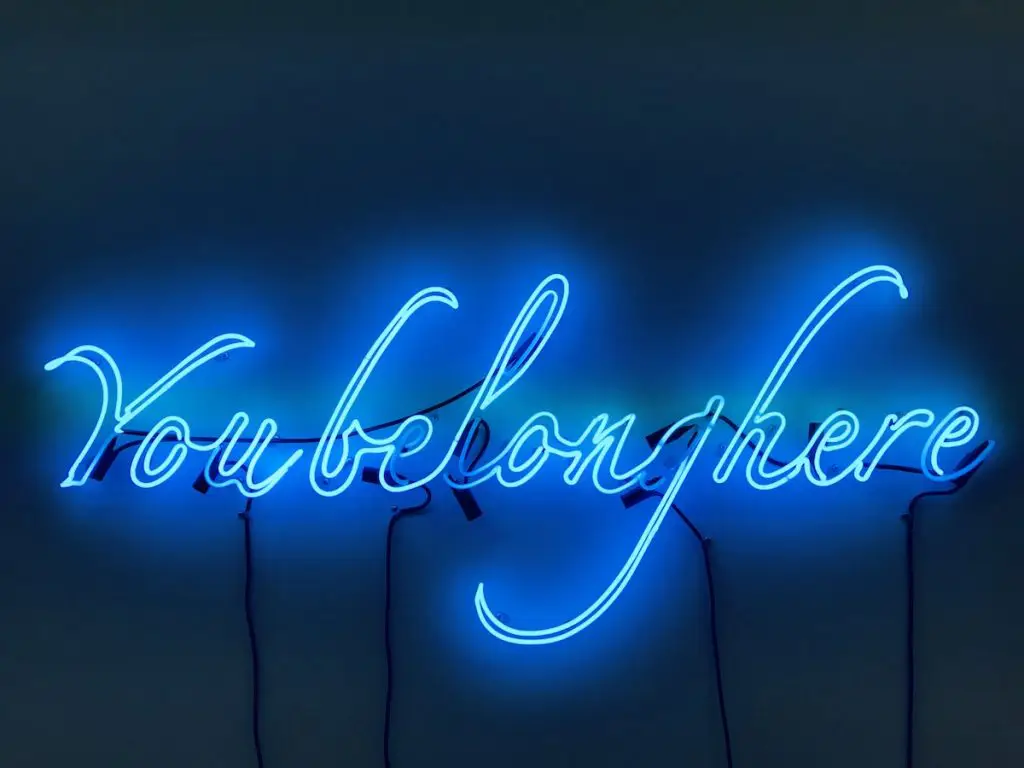 In among all these dream houses, you'll find an abundance of trendy coffee shops, intimate theatres, innovative restaurants, and great places to grab a drink. Providence is a student town; after all, with the famous Brown University on College Hill – any city with this many students has to work to stay hip and relevant, and luckily Providence has done just that.
What we loved most was that there is barely a chain restaurant to be found in the downtown, and instead, in their place, you will find independent brewpubs, chic cafes, and vibrant restaurants to investigate.
In many ways, this enviable food scene is thanks to the prestigious college of Culinary Arts at Johnson & Wales University being located in the city. But, to give Johnson & Wales all the credit would be to overlook that Providence offers the right blend of local support, community ties, and livability that keep people here.
This combination of history and forward-thinkers has resulted in a charming city that is far more progressive than you might expect. We would even go so far as to call this one of the most liberal places in America. You'll find lots to do in Providence, aside from wandering the revitalized Downtown area admiring the three centuries of architecture, and lots of them are uniquely special to this place.
Have a look at some of our favourite unique things to do in Providence and then re-route your USA road trip to include this quaint and creative city!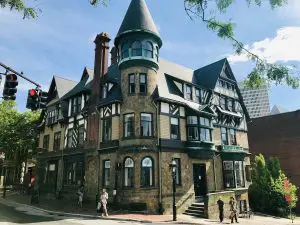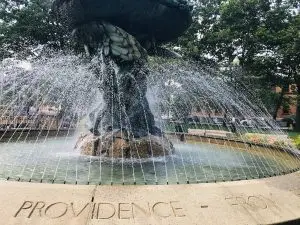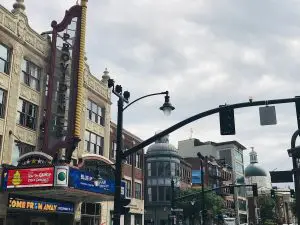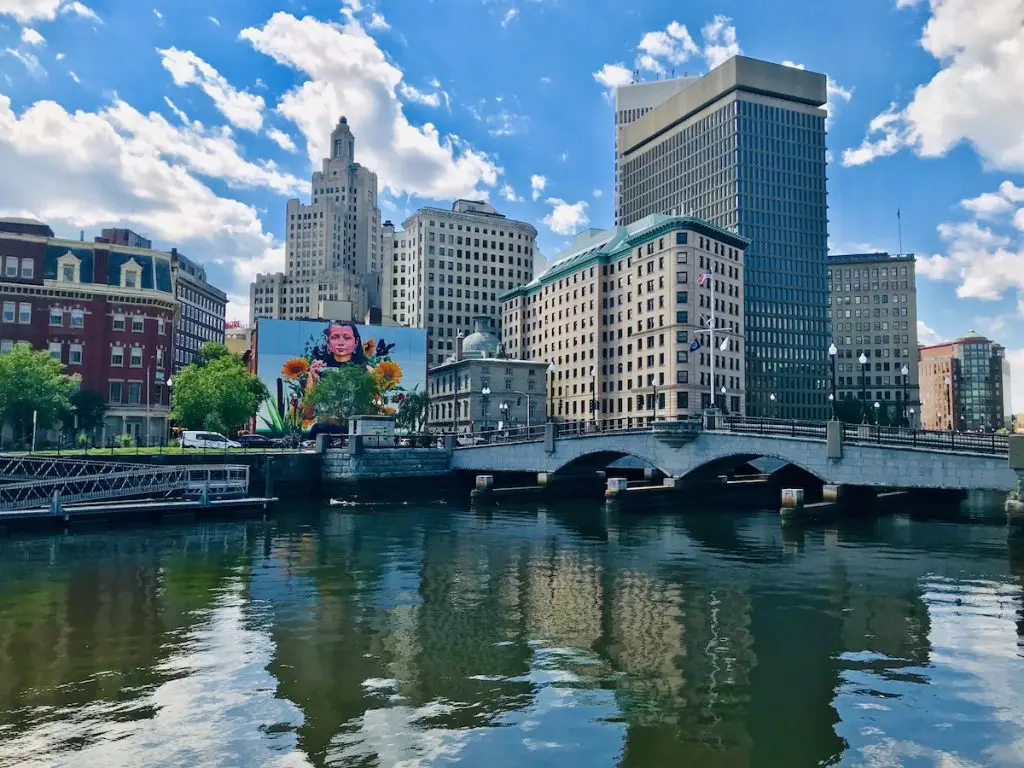 1. Enjoy Meeting The Animals At Roger Williams Park Zoo
With 40 acres of gorgeous woodland, the Roger Williams Park Zoo is a chance to see wildlife from all around the world in a naturalistic environment. It's one of the oldest zoos in the USA as it first opened in 1872 with a collection that included guinea pigs, mice, and squirrels. Things are a bit more exciting now as you can see things like elephants from Africa, snow leopards, moon bears, and even a Komodo dragon – so it's improved a lot over the years!
There are several areas to the zoo, including Marco Polo's Adventure Trek, which introduces you to animals from Asia, the Wetlands Trail, which focuses on species native to Rhode Island, and the new Explore and Soar feature, which offers a zip line ride. There are lots of interactive zones as well, plus a state-of-the-art rainforest building complete with waterfall.
We are obsessed with wildlife when we travel – orangutans in Borneo, whale sharks in Mexico, tigers in Indias, so normally would avoid zoos. But we made an exception here, and we're glad we did. The Roger Williams Park Zoo really does let you get up, close and personal with the animals – and we can't wait for them to complete their renovations and become one of the world's best zoos.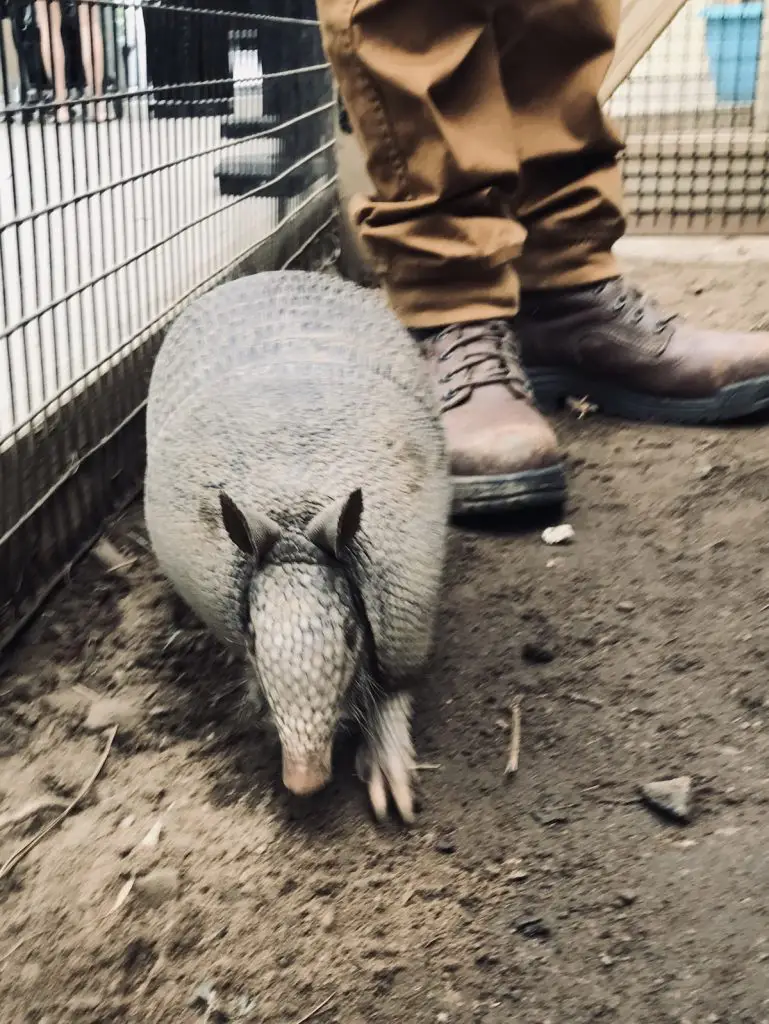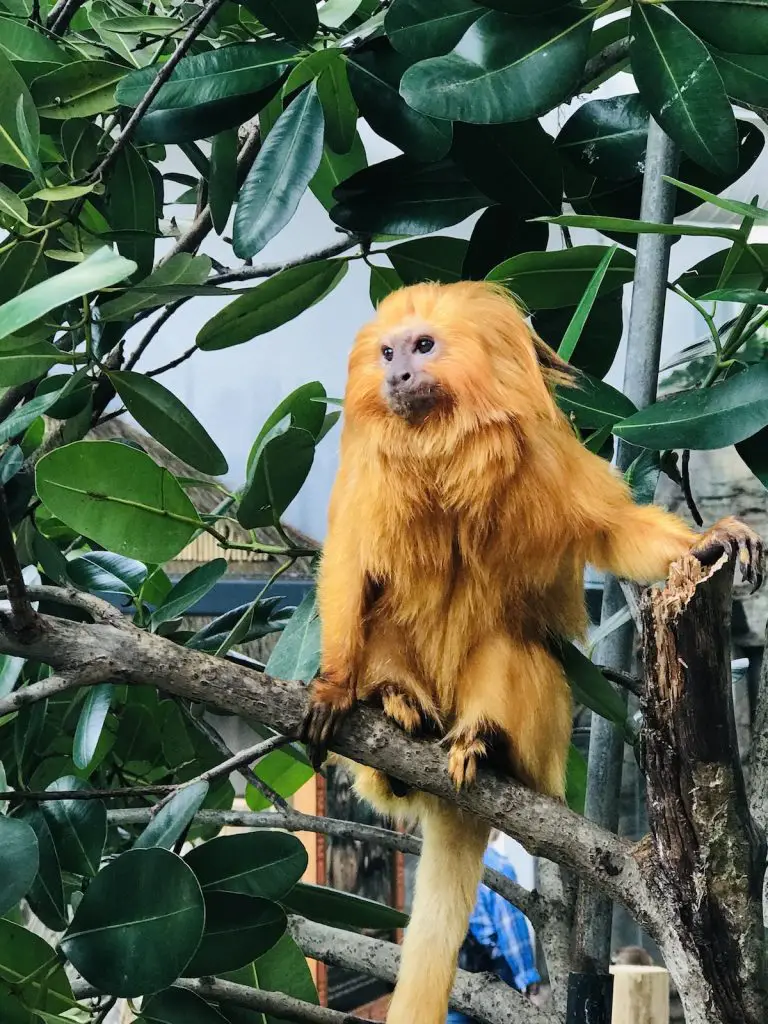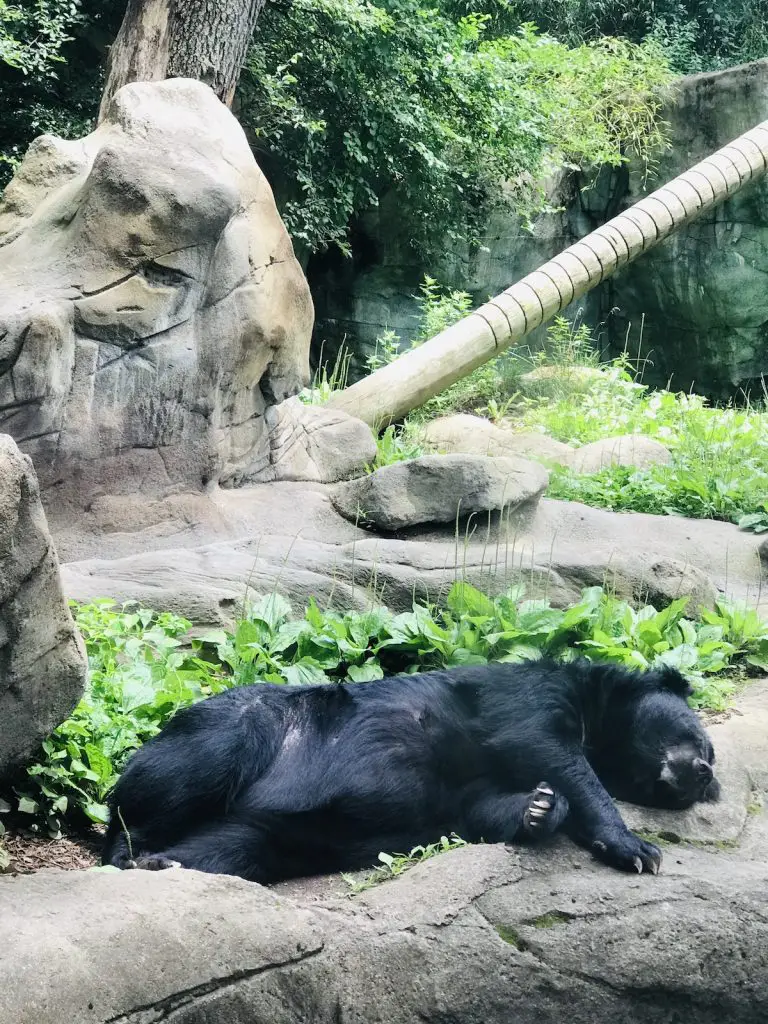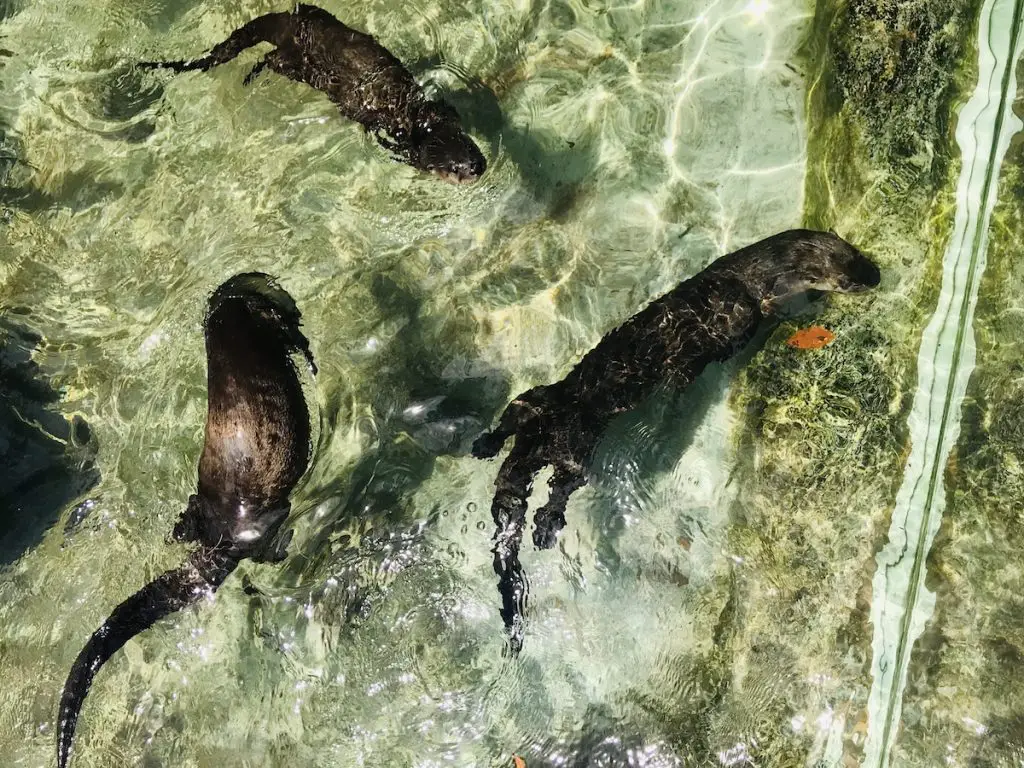 2. Sample Authentic Greek Food At Yoleni's Providence
Love Greek food but don't want all the hassle of actually jumping on a flight to Europe? Well, thankfully, the guys behind the Yoleni concept store have solved this issue.
Opened in 2018 (in a historic 1895 landmark building) in downtown Providence this is Yoleni's first US store after their flagship store in downtown Athens. We told you Providence has a thriving scene, and Yoleni's is just one of the many incredible highlights here.
This innovative store – think the 'Greek Eataly' – tempts visitors with the opportunity to sample the complete range of authentic Greek gastronomy. Relish a handmade pita, indulge in (mind-blowing) authentic Greek yogurt, mouth-watering sandwiches, fresh salads, Greek wines, and more! Breakfast, lunch, or dinner – Yoleni's is a standby that will never let you down, with a central location, friendly staff, and chic interior design (including an upstairs bar that is a great early evening watering hole).
Even if you are not hungry, you can stop by and investigate the more than 800 authentic Greek products in the deli and store. Just don't blame us when you leave with more than you bargained for…many of the products here are not for sale anywhere else in the US!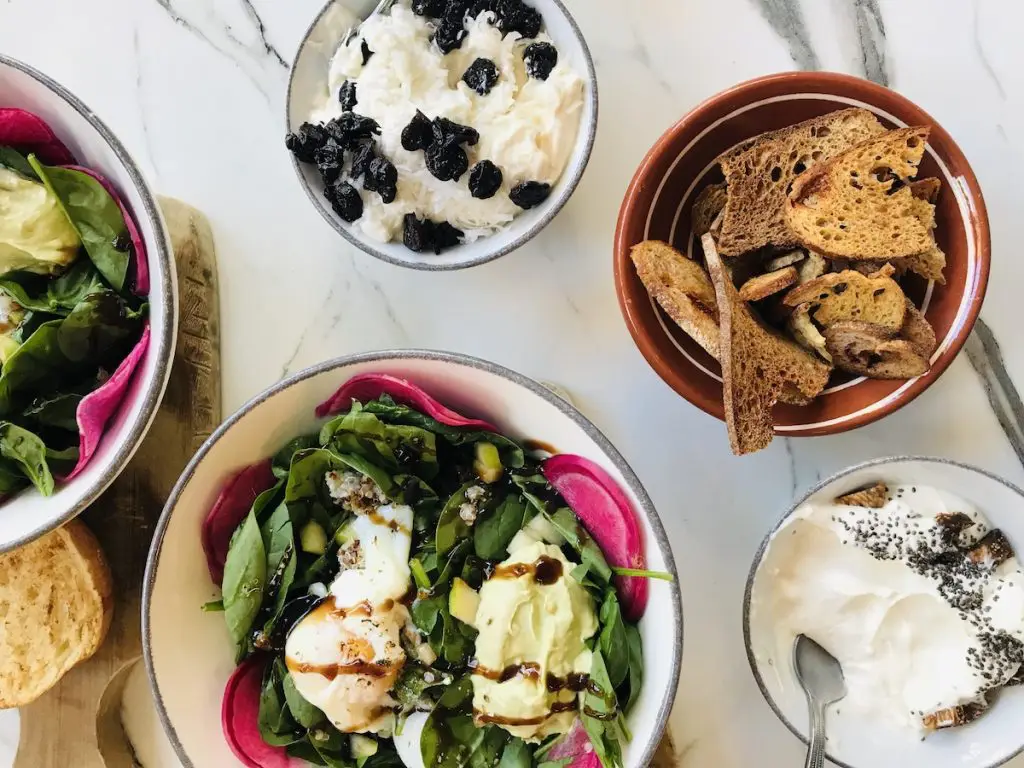 3. Get Closer To US History At Rhode Island State House
We can't pretend that we think US politics are in the best state right now, but this neoclassical building is a fascinating window to the intricate workings of the system and where it all began. It was built when Rhode Island was at its peak during the industrial revolution, and its marble dome makes a noble silhouette on Smith Hill.
Inside you'll find (along with a lot of carved marble) a museum that houses the 1663 Colonial Charter signed by King Charles II of England to guarantee religious liberty. You can also take a guided tour around the State Library and other historical artifacts led for free by very knowledgeable and enthusiastic college students.
4. Absorb Wisdom At The Independent Providence Athenaeum
Don't be put off by the fancy name and the imposing columns out front; this independent, member-supported library is welcoming to all (children and pets included). The Providence Library Company made the building their home in 1836 and devoted themselves to providing the literary of Providence with books from around the world.
Amongst the collection, you can find things like an 1855 edition of Leaves of Grass, and the artwork includes a bronze bust of Lovecraft. The Old Fiction collection is fascinating for anyone raised on American fiction, containing old editions of books by Louisa May Alcott and Herman Melville. Scots in America will also enjoy the Robert Burns collection of 450 volumes. As well as providing reading material, the 'Ath' has become a cultural space, so look up what's going on there during your stay in Providence.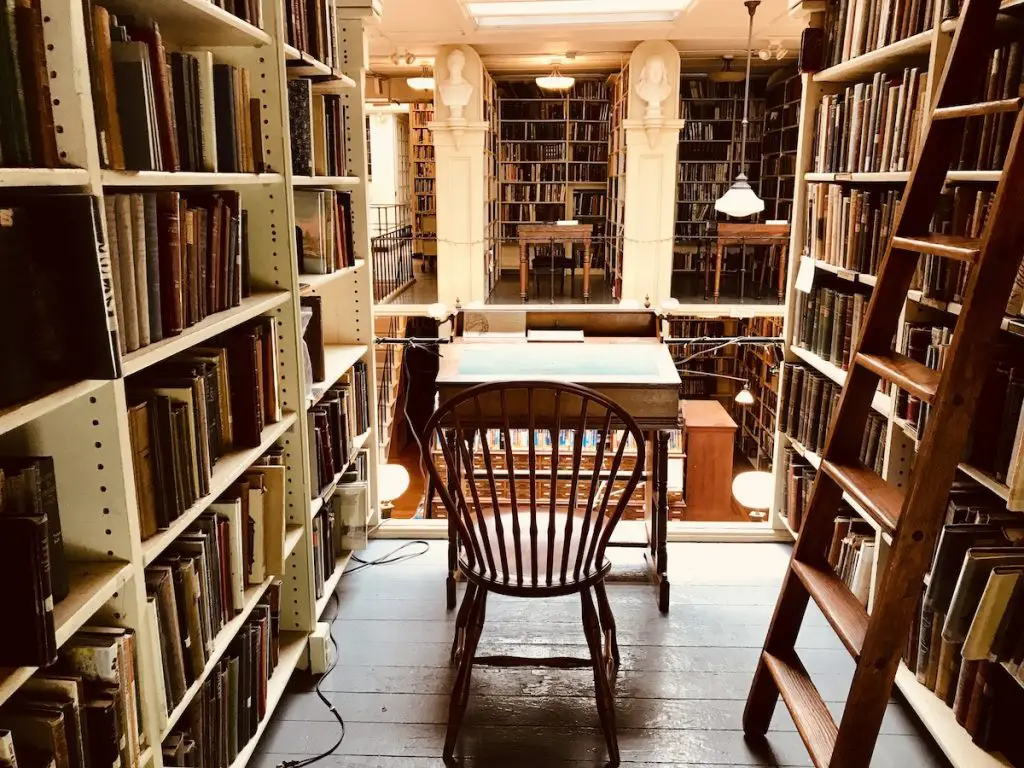 5. Stroll Along Benefit Street, Providence's Mile Of History
Cutting through the center of Providence is this cobblestoned street that features Victorian lampposts and an intense concentration of original Colonial homes. It's been described as an outdoor museum, and as you pass landmarks like the John Brown House, the Nightingale-Brown House, and the oldest Baptist church in the US, you can see why!
These might house museums now, but there are lots of other clapboard houses painted bright colors lining the road – so expect a lot of house envy! Strolling down here takes you through architecture from the 17th, 18th, and 19th centuries. Taking a tour will give you more background, but you can just as easily explore on your own.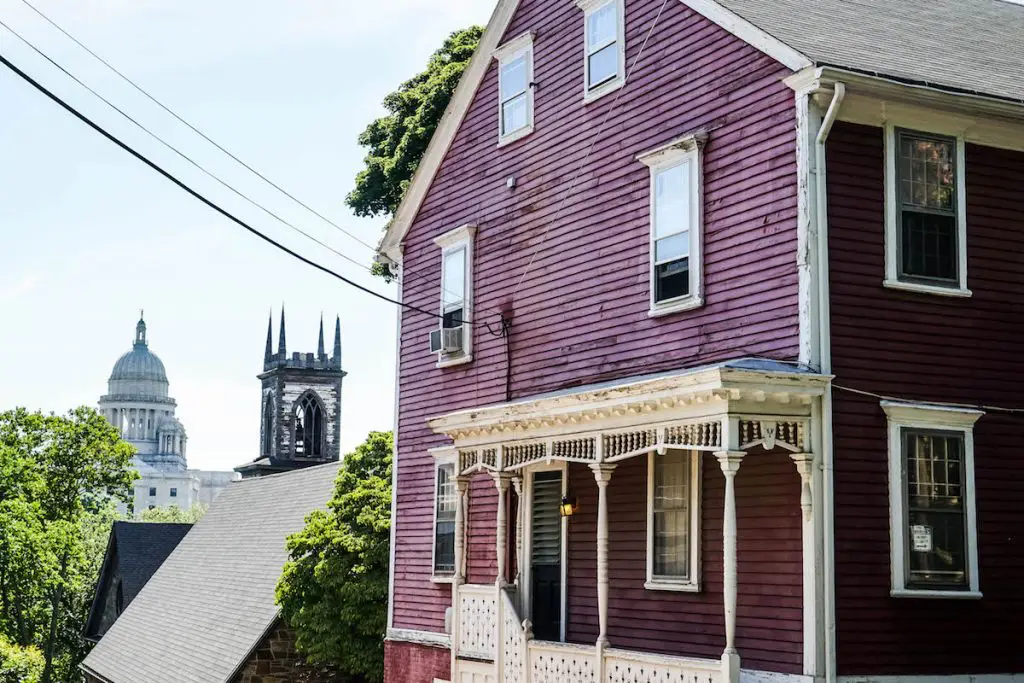 6. See Where History And Religion Combine At The First Baptist Church in America
If you're walking down Benefit Street, then we'd recommend checking out that Baptist Church we mentioned above. Even if you're not religious, there's no denying the fundamental role religion plays in American history – this white building with its towering steeple represents part of that. The First Baptist Church or First Baptist Meetinghouse was founded in 1638, but the current building wasn't built until 1774-75.
While the interior is modest as befits a Baptist church, the building itself was a departure from tradition, particularly the steeple and bell. Seeing inside is not necessary but is very pleasant, and if you sit quietly in the pews, you can really feel a strong sense of history. The gardens are attractive as well.
7. Enjoy The Views From Prospect Terrace
It might be a relatively small park in College Hill, but the modest home to the statue of Providence's founder Roger Williams offers some of the most spectacular views in the city. It's considerably elevated, so you get a gorgeous prospect of downtown Providence stretched out before you.
Coming at sunset is particularly romantic, or on a warm day, you could bring a picnic and a book. It's the perfect place for a quiet moment of contemplation and some panoramic scenery.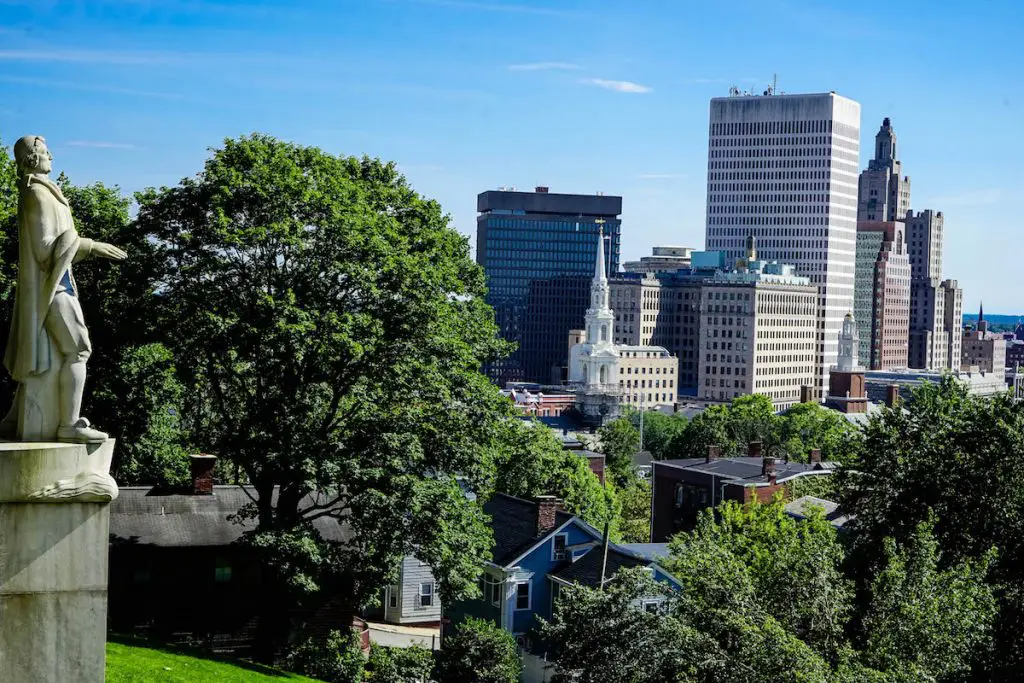 8. Eat Your Way Around Little Italy
In the heart of Providence, you'll find Federal Hill, home to one of the liveliest Little Italy in America. Migrants from Italy set up home here in the early 1900s and have established a neighborhood full of authentic shops, delis, and restaurants. A particular high point is a fountain at DePasquale Plaza that feels like it's straight from a Tuscan village. This is where everyone in the area converges to gossip, drink, and listen to live music.
The Old Canteen Italian restaurant will offer you robust family favorites like lasagne and rigatoni while somewhere like Siena is perfect for that romantic holiday meal. Despite the wealth of restaurant options, one of our fave places was the full-service deli in Venda Ravioli, where we were captivated by the spread of meats, cheeses, olives, and antipasti. You could spend your whole time in Providence tasting food in Little Italy – and we won't blame you if that's what you choose to do!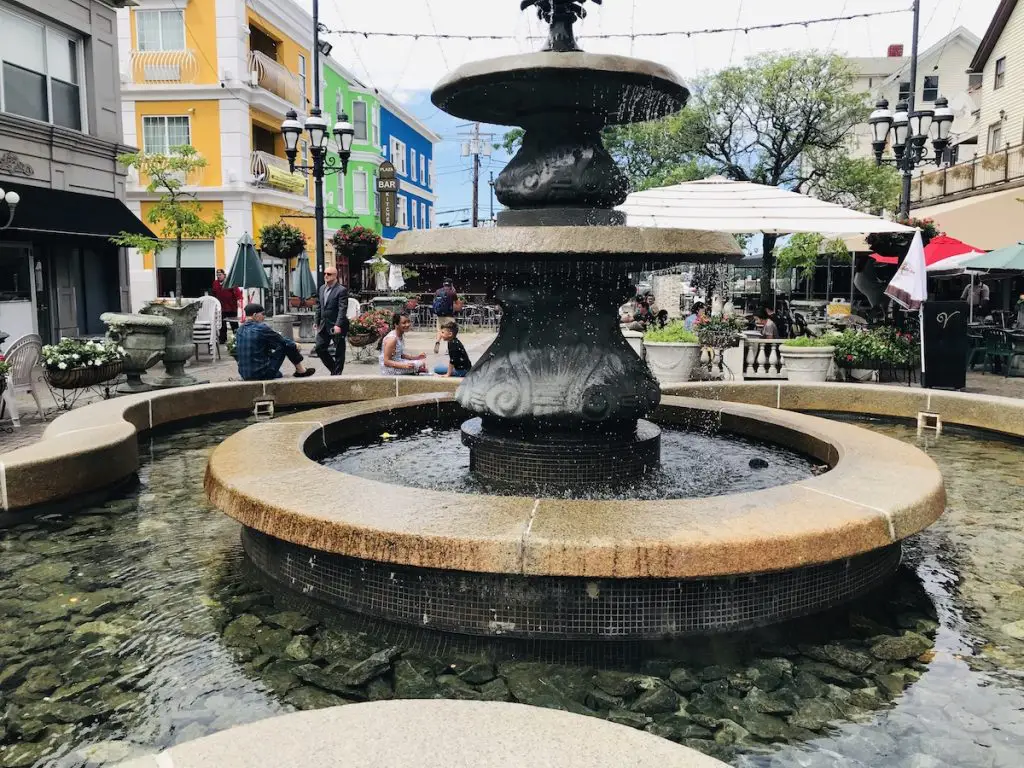 9. Explore Street Art In Downtown
You wouldn't think of a modest university town as home to innovative street art, but you'll be surprised. Vast, richly-colored murals adorn walls all over downtown, promoted by initiatives like The Avenue Concept. These murals are often unobtrusive, using earthy tones rather than neons and reflecting different aspects of life in this area and the country as a whole.
Sometimes it feels like walking around a living, breathing art gallery as the gorgeous murals weave into the tradition of the city perfectly. Again, you can take a tour of the public art if you want more details, or simply explore.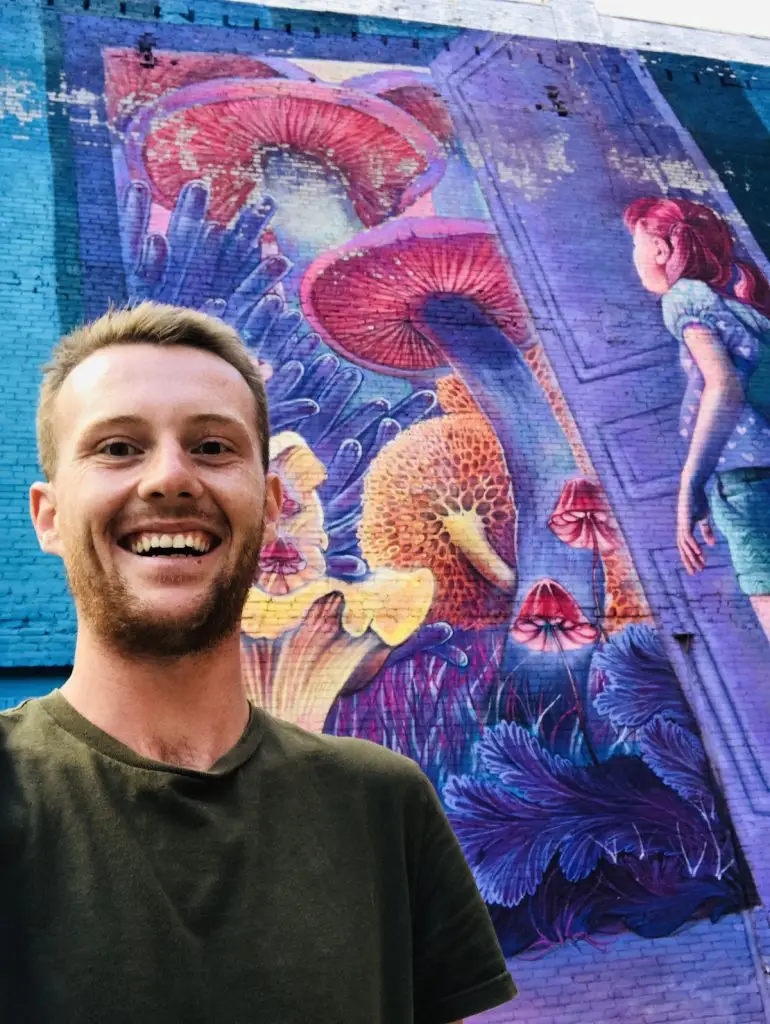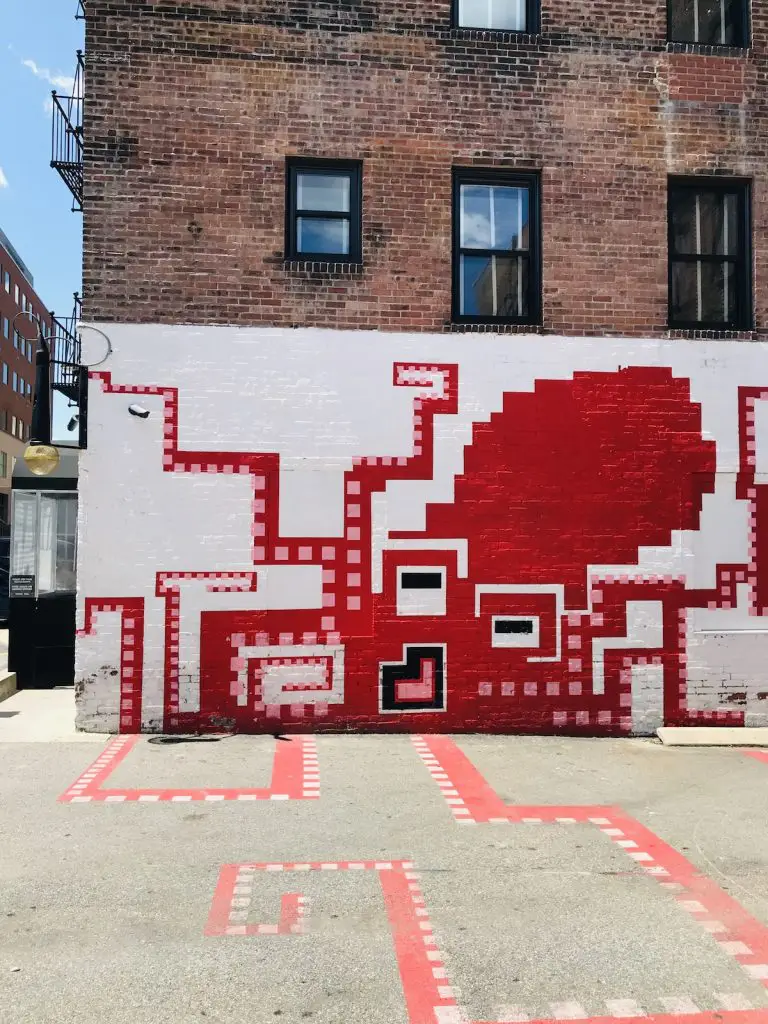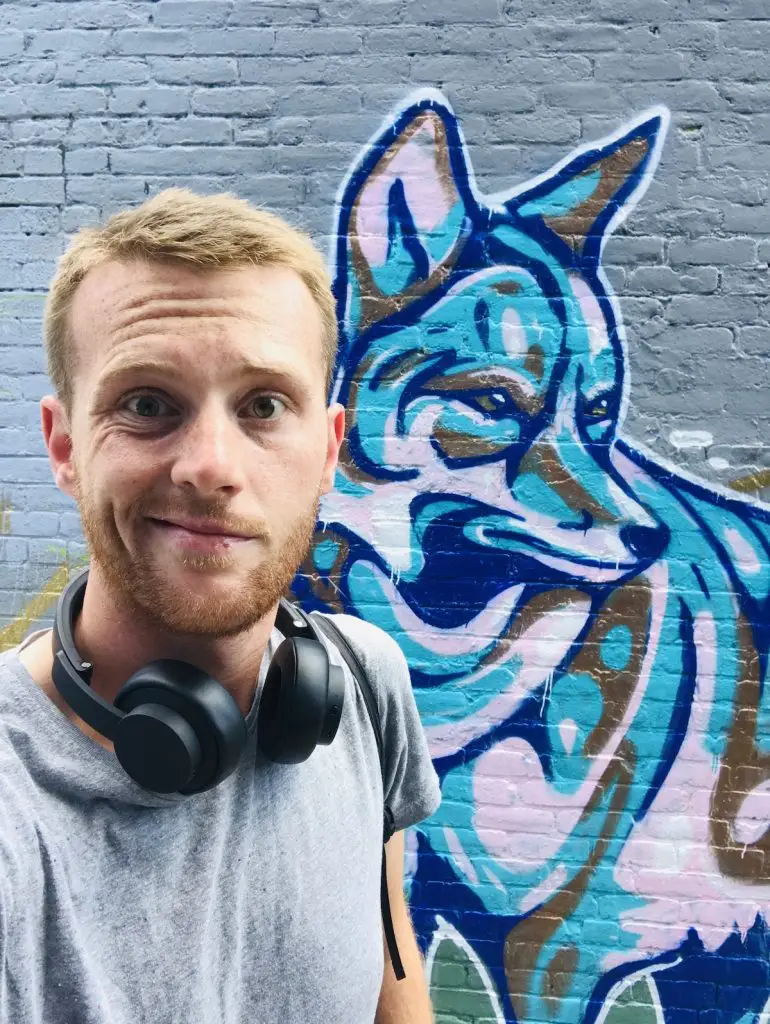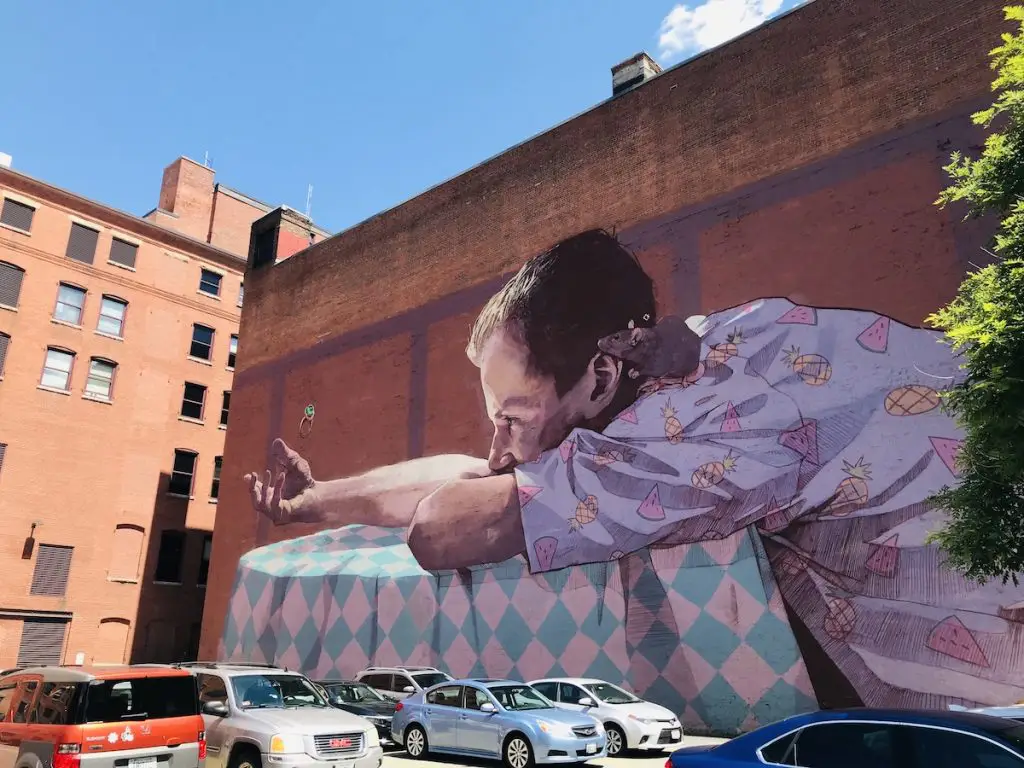 10. Let Your Imagination Go Free At WaterFire
We can't speak about unique things to do in Providence and not mention this incredibly striking public art phenomenon established by artist Barnaby Evans. It's hard to explain unless you see it, but essentially a string of fires are lit on the three rivers in downtown Providence, an effect created using burning braziers that float about the water. The 86 flames flicker throughout the evening and are accompanied by performers on boats and the shore, as well as music.
It's a truly magical experience that evokes different emotions from everyone. The atmosphere created by the sight, sound, and smell of the flames is exhilarating, feeling new and incredibly ancient at the same time. It happens about twice a month from May until November, so if you're in the city at that time, try to catch it – you won't forget it.
11. Weigh In On The Knead Doughnuts Vs. PVDonuts Debate
We all know American's are a little obsessed with donuts, and we usually would politely smile and nod along when they tell us their favorite spots. More often than not, we are left entirely disappointed by personal recommendations.
Not so in Providence, however, where we were stunned by the dedication, this city has to this fried dough confection – and two outlets, in particular, have taken the donut renaissance to the next level. And two local champions have emerged to lay claim to the title of Providence's best donut shop: Knead Doughnuts and PVDonuts. The winner? Well, now that is a deeply contested question.
Hidden in a historic 19th-century building in the Providence downtown is Knead Doughnuts, where seasonally inspired and traditional gourmet donuts made with locally-sourced, wholesome ingredients are made from scratch and served alongside outstanding coffee. Offering both old-fashion and cake style – they have free samples for you to try before you buy – and a gorgeous interior to enjoy them in. Our favorite flavors? Blueberry Lemon Basil and Passion Fruit, though if we are honest, they are all divine.
PVDonuts was Rhode Island's first specialty donut shop and is located a little out of the downtown in Fox Point, but is well worth the walkover. The menu changes every month, so you never quite know what to expect, but again – there are no bad choices here. Slightly more complex and perhaps a little too frosty for our tastes, we have to say we preferred the simplicity of Knead Doughnuts, but honestly, you need to try both to make up your own mind.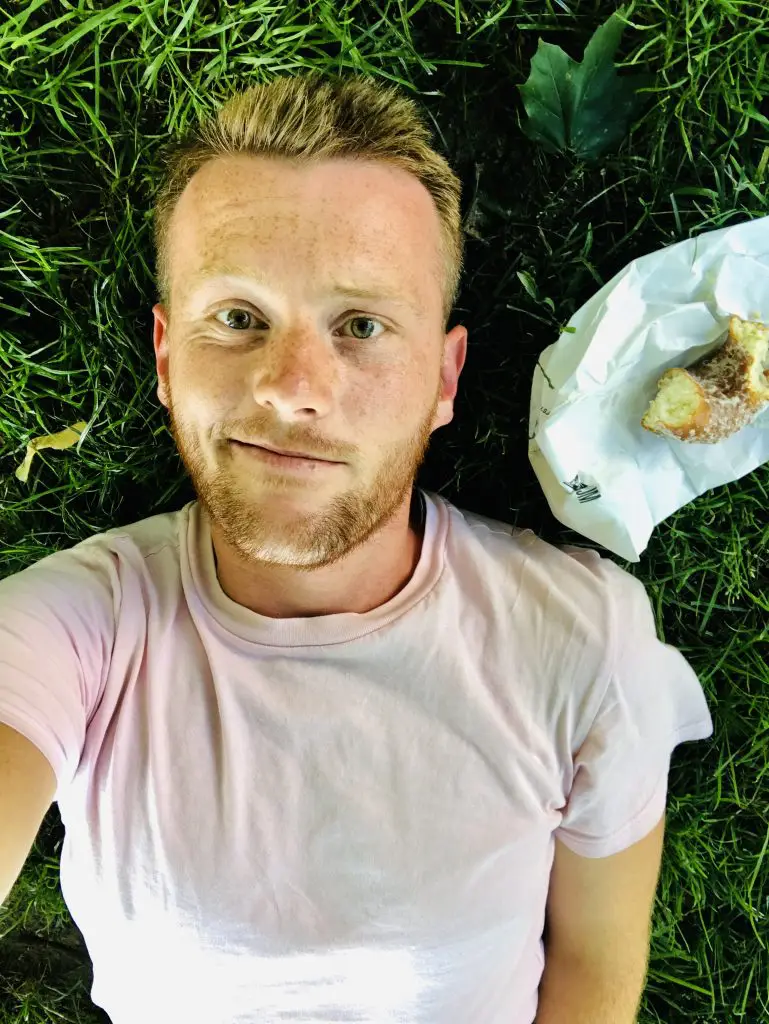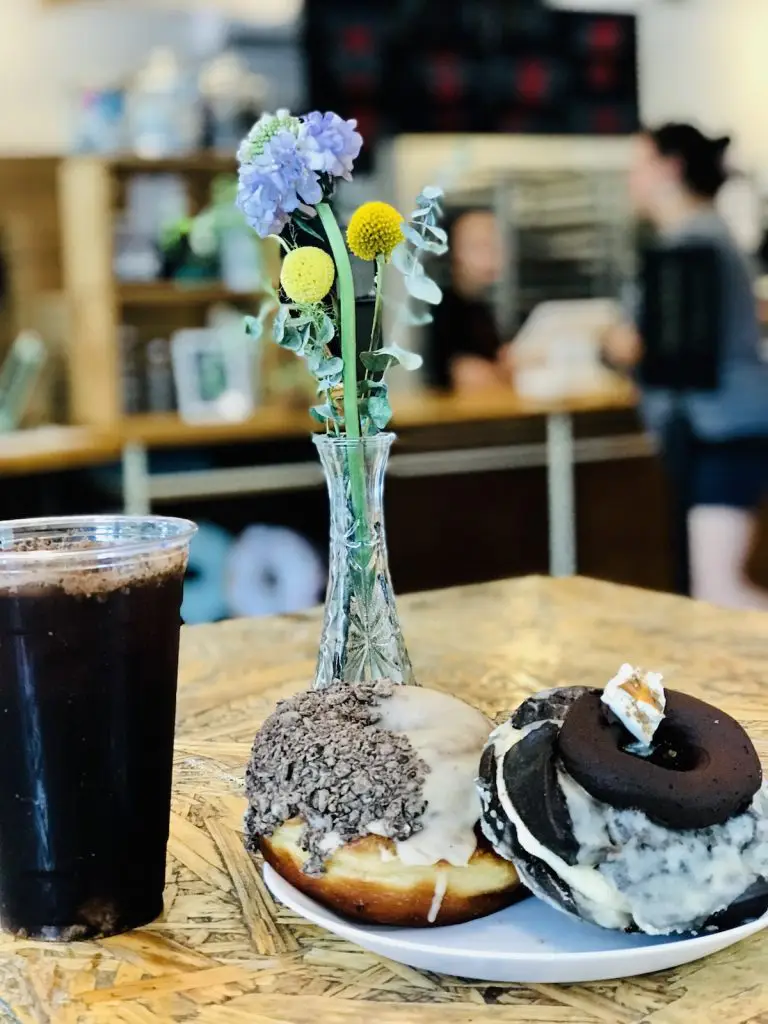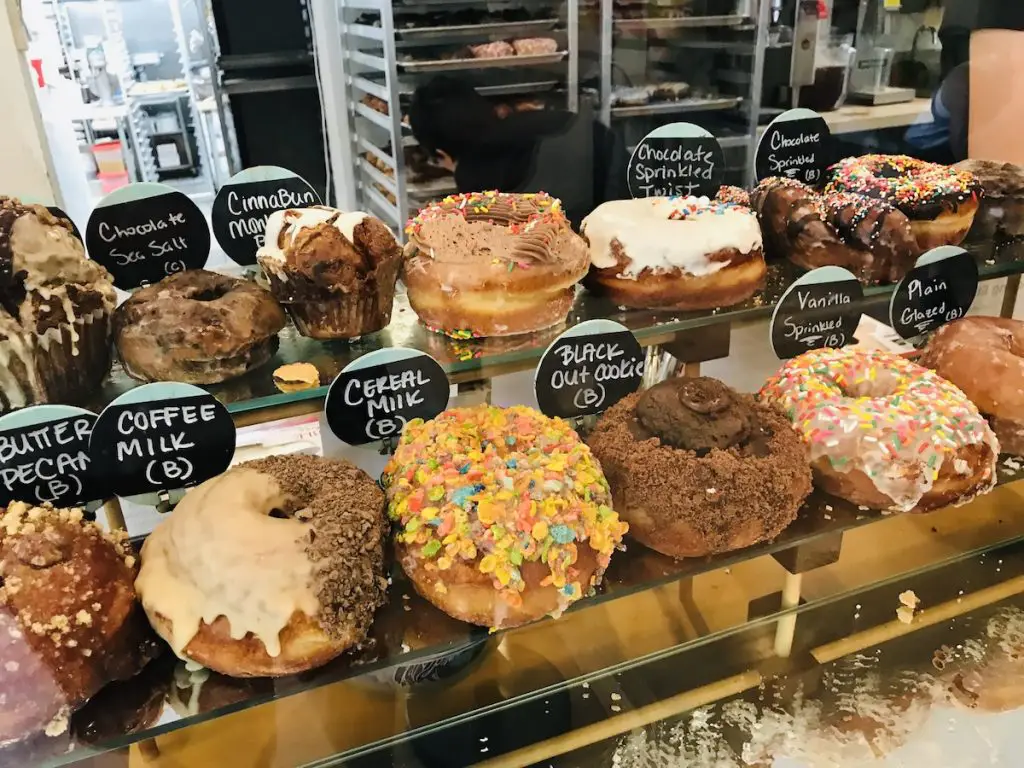 12. Get Inspired At The Eclectic RISD Museum
Another well-established attraction in Rhode Island, the Rhode Island School of Design Museum (RISD), is a testament to the range and quality of things to do in Providence. It was founded in 1877 to represent and support the creative community in the area and has done just that since then. The museum's five buildings on the RISD campus are home to almost 100,000 pieces of art from around the world.
If you're interested in ancient art, you'll be intrigued by the collection of Greek coins, sculptures, and mosaics, as well as Roman jewelry. The textiles exhibit is also one of the best of its kind, showing items from as early as 1500 BCE to now. Impressionist and Post-Impressionist paintings are another strong sections of the collections, although we found almost everything here interesting. It helps that it's a manageable size, so you don't feel overwhelmed while exploring!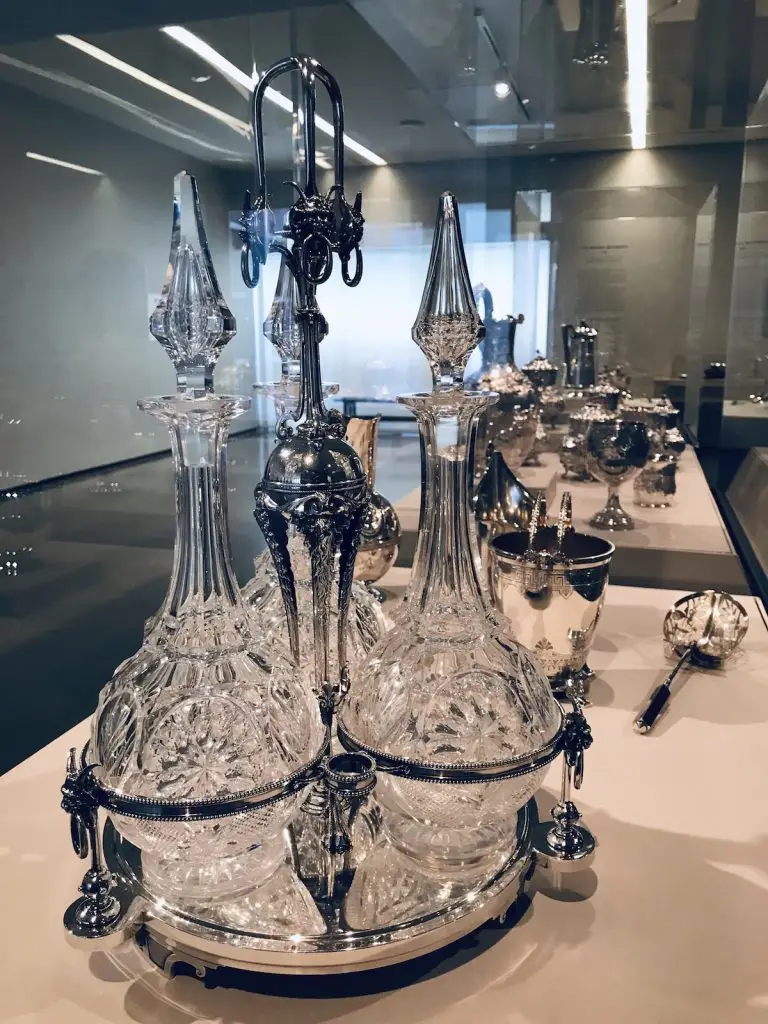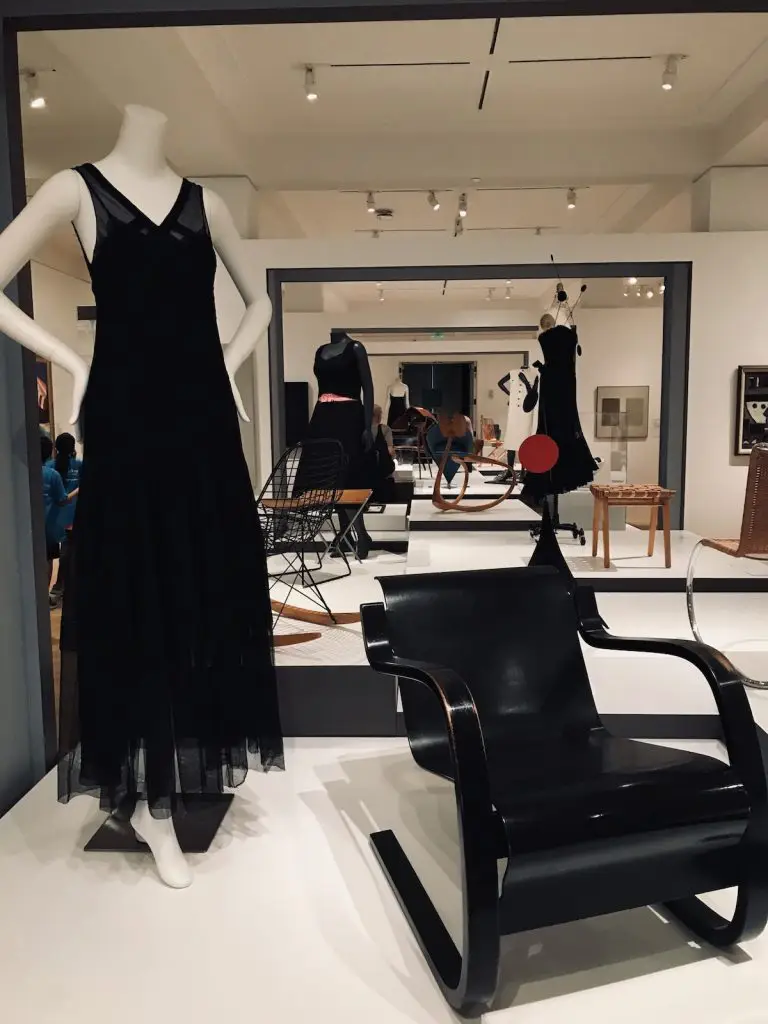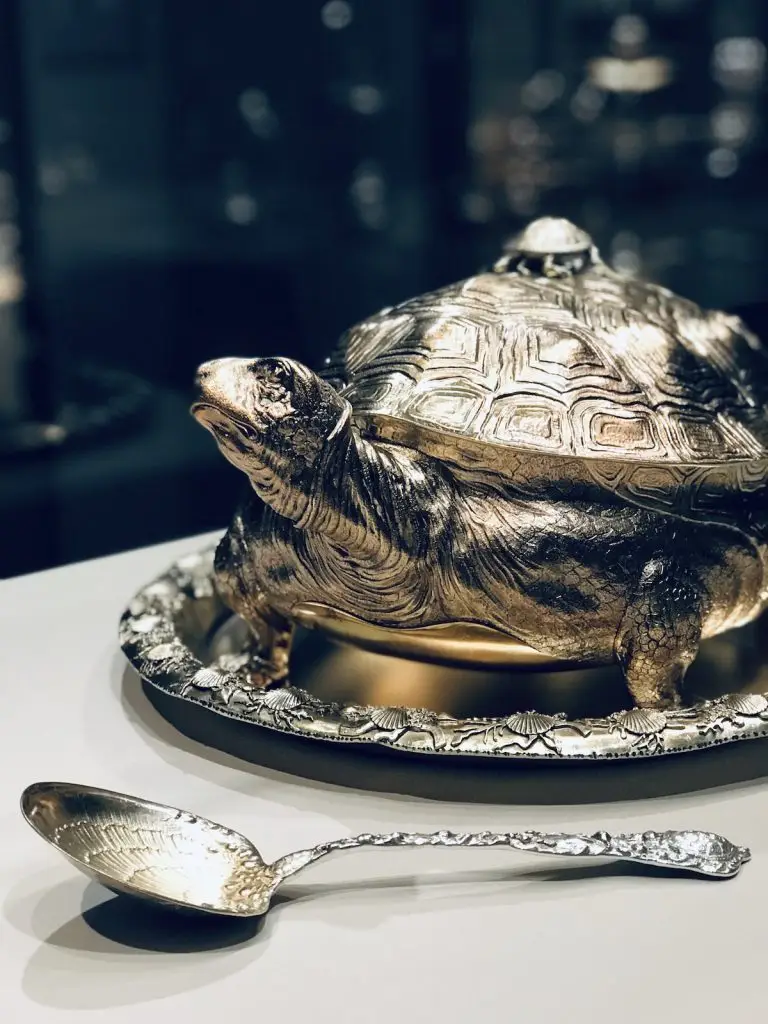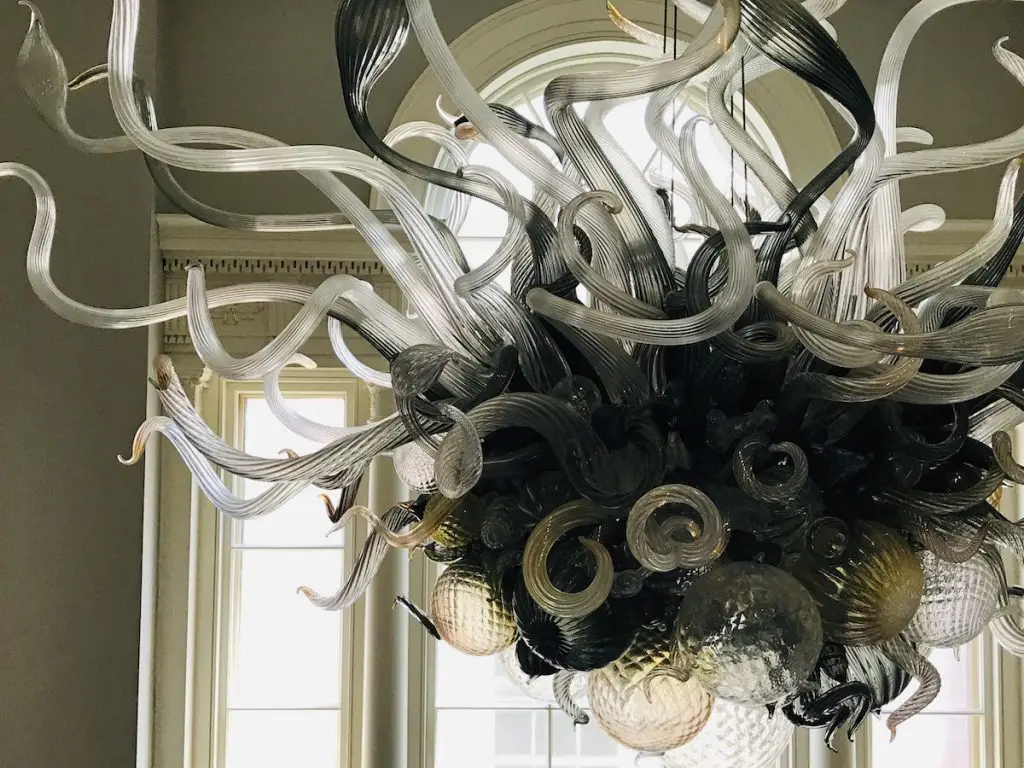 13. Grab A Bike And Explore Providence With Ease
As one of the United States' oldest cities, Providence has a far more compact layout than other sprawling towns like San Diego, Miami, or Las Vegas… meaning you have the chance to investigate the city's many diverse neighborhoods easily on a bike!
There is no need to hire a car or use a ride-share service; just look for your nearest Jump or Lime bike or stop by Dash Bicycle Shop. Once you have your wheels sorted, you can get around with breeze, including to the zoo, Federal Hill, Elmhurst, and more. Trust us, this is how you are really going to get local in Providence, and nothing is more than a 30-minute trip away. Plus, you be able to justify all the additional eating you will surely be doing along the way. Speaking of bikes, the ice cream taco at Tricycle Ice cream is one place you need to plan into your 2-wheeled itinerary.
If you want to go even further afield over the past 20 years, the state has built a remarkable network of bike paths, so today you have the option of more than 60 miles of off-road cycling taking you to practically every corner of Rhode Island….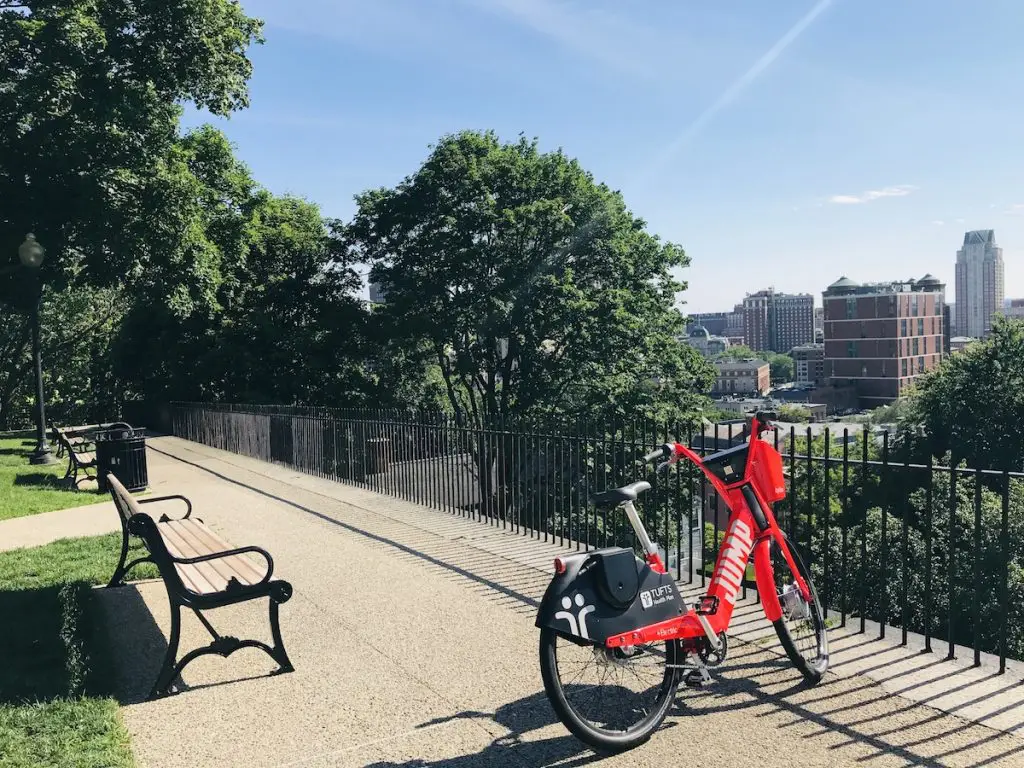 14. Stay At The Almost Painfully Hip Dean Hotel
Perfectly matching the cool vibes of Providence in the funky boutique Dean Hotel where old school meets new school. The Dean exudes masculine styling, effortless elegance, subtle collegiate references, modernist & contemporary design – in both the public spaces and in its 52 modern rooms.
If you love a hotel which inspired creatively and it's in touch with its local community, the Dean is going to be the place for you. Not quite as opulent as the luxury boutique hotels in Manhattan, but the Dean isn't trying to be either.. Filled with custom furniture, craftwork from local purveyors, and found objects from Europe and beyond, The Dean revels in the details. Not to mention, the Dean is supremely located in the Providence downtown with almost all the cities top attractions within easy walking distance.
Even if you are not staying here, stop by during the day to Bolt Coffee on site. Providence's finest purveyor of artisanal coffee. The barista here is very friendly and able to expertly craft the caffeinated beverage of your choosing from rich espresso to smooth lattes, and their specialty, Chemex, to share. While we can't recommend the baked goods here (they are good, but Knead Doughnuts are better) – we were slightly obsessed with the chic lounge fit-out and fun neon signs.
In the evening, head to the hip Dean Bar lounge, which crafts modern cocktails in a creative space that encourages you to stay for 'just one more' with cozy sofas and intimate lighting. Perfect for meeting friends, strangers, and lovers.
15. Head Back In Time With A Visit To The West Side Diner
It wouldn't be a trip to the USA without a visit to a classic diner, and the West Side Diner is about as classic as they get. This prefabricated diner car is considered Streamline Art Deco in character with its signature stainless steel, porcelain-enameled, and ribbed glass block elements.
The West Side Diner was the first in Providence to be individually listed on the National Register of Historic Places and has undergone a meticulous restoration with the assistance of the Providence Revolving Fund, the Rhode Island Historical & Heritage Commission and the National Park Service
Fun fact: The first "diner" ever was open just a few blocks away on Westminster Street in 1872 – and while long closed, the West Side Diner is still a fitting way to pay homage to this Rhode Island institution. The menu has typical diner far at very reasonable prices, but even if you are short on time (or meal slots in such a foodie city), make sure you stop in for a coffee at the historic chrome counter…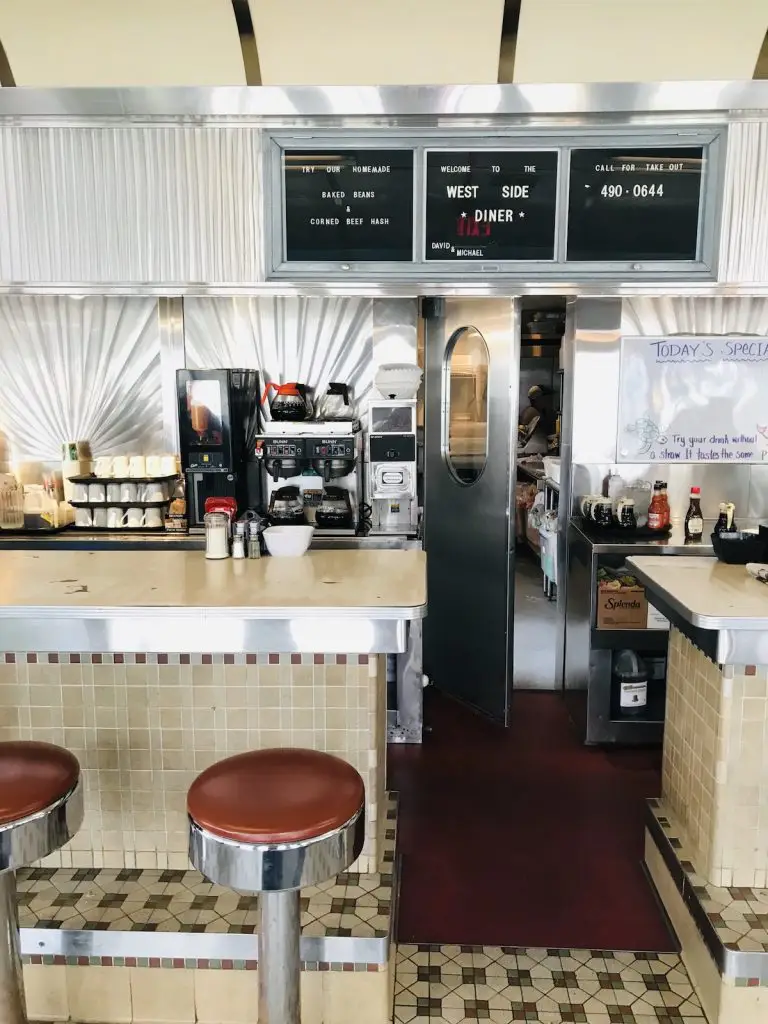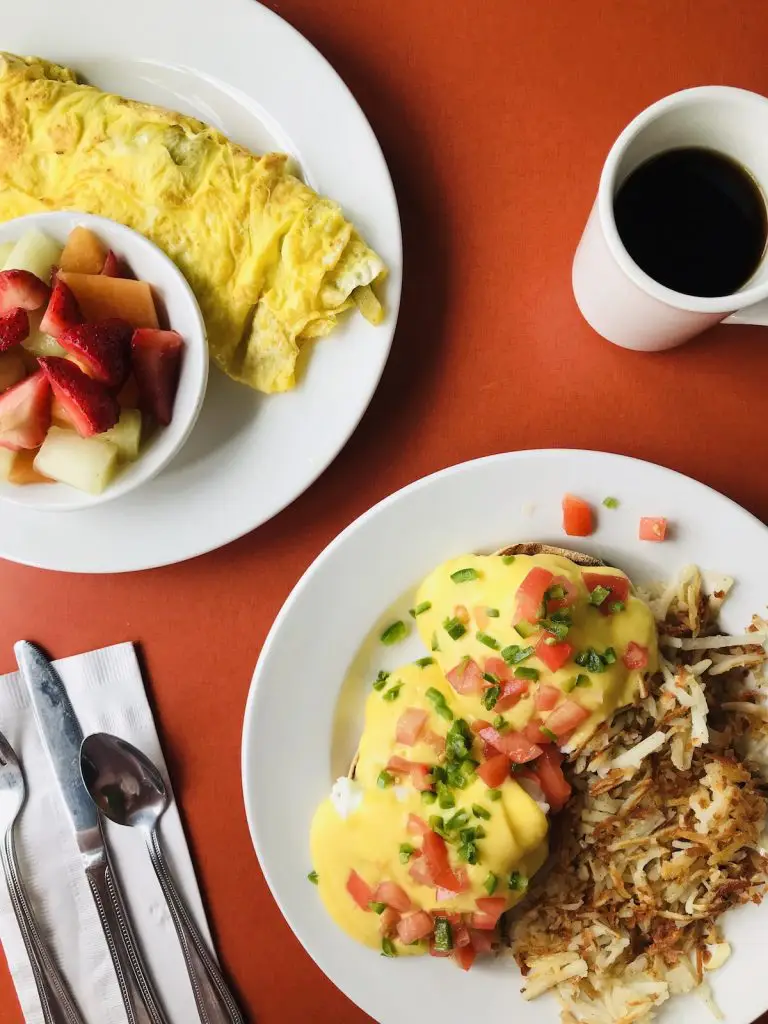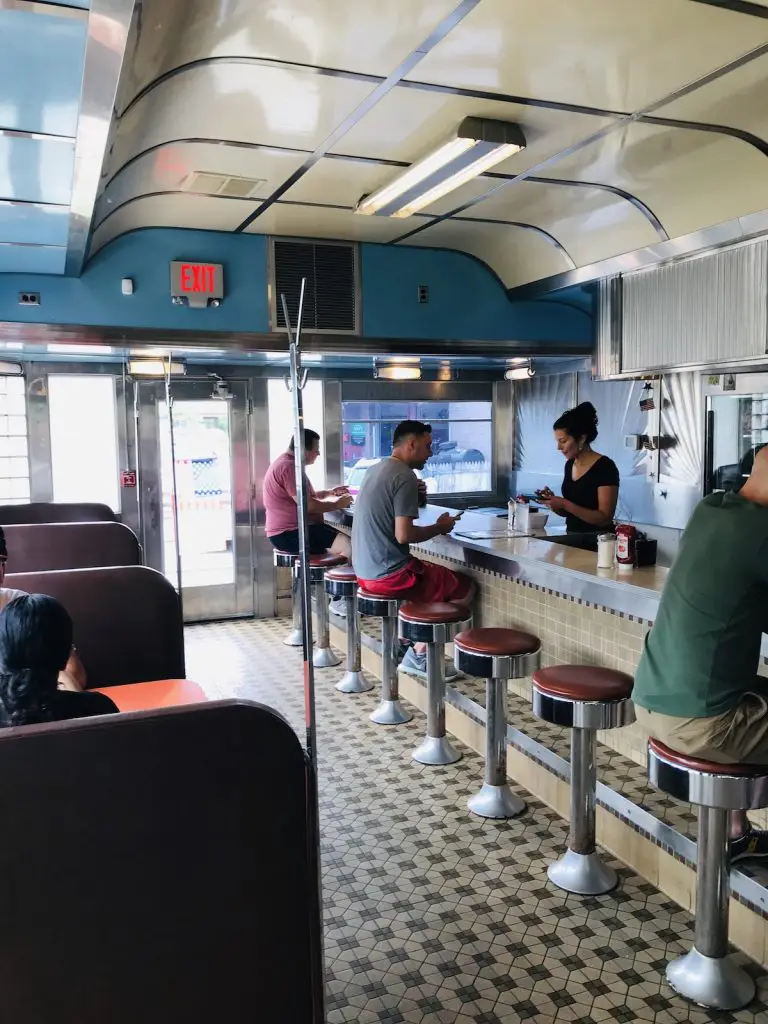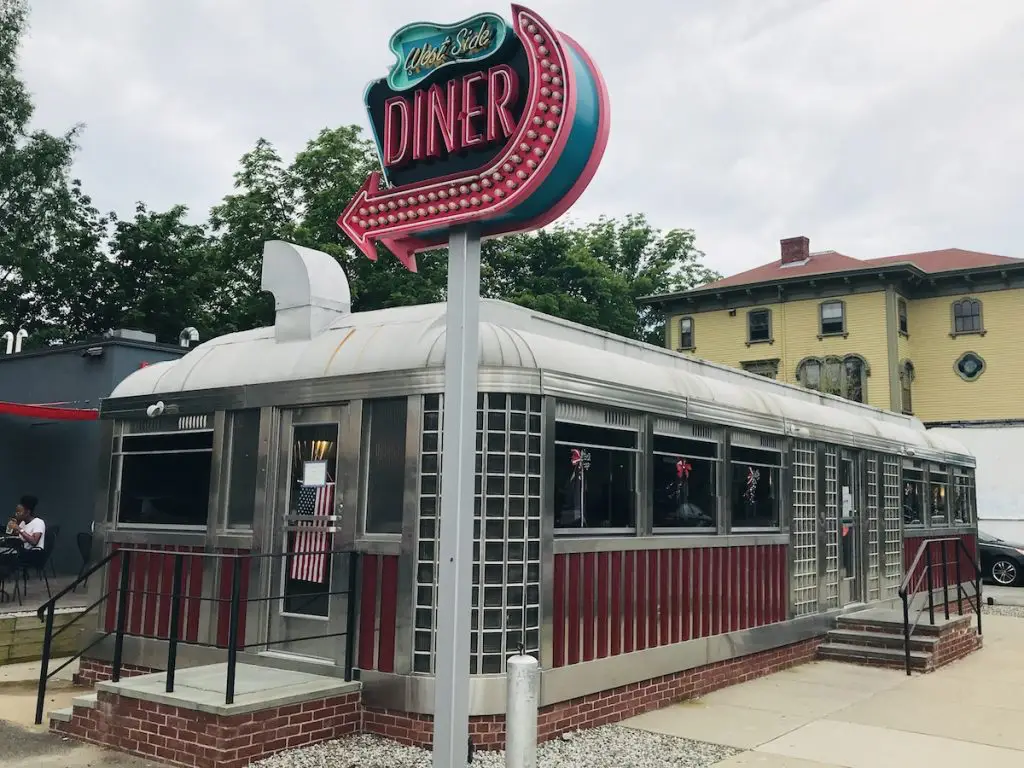 16. Get Your Geek Drink On At FreePlay
A spirited bar arcade offering over 150 classic arcade games, pinball, skee ball, air hockey, and Dance Dance Revolution – all set to, well, Freeplay! There is beer on tap, delicious pizzas, and fun cocktails to match the games, including our personal favorite, Mario Kart (3 Olives Loopy, Stolichnaya Razberi Vodka, Peach Schnapps, Orange Cranberry Pineapple Juices, Topped with Sierra Mist). There is always a $5 admission fee at the door, raised to $10 on Friday and Saturday nights, but we think it is entirely worth it.
Monday is always their GAYME Night, where funds raised go to Rhode Island Pride – and a great way to start your weekend out.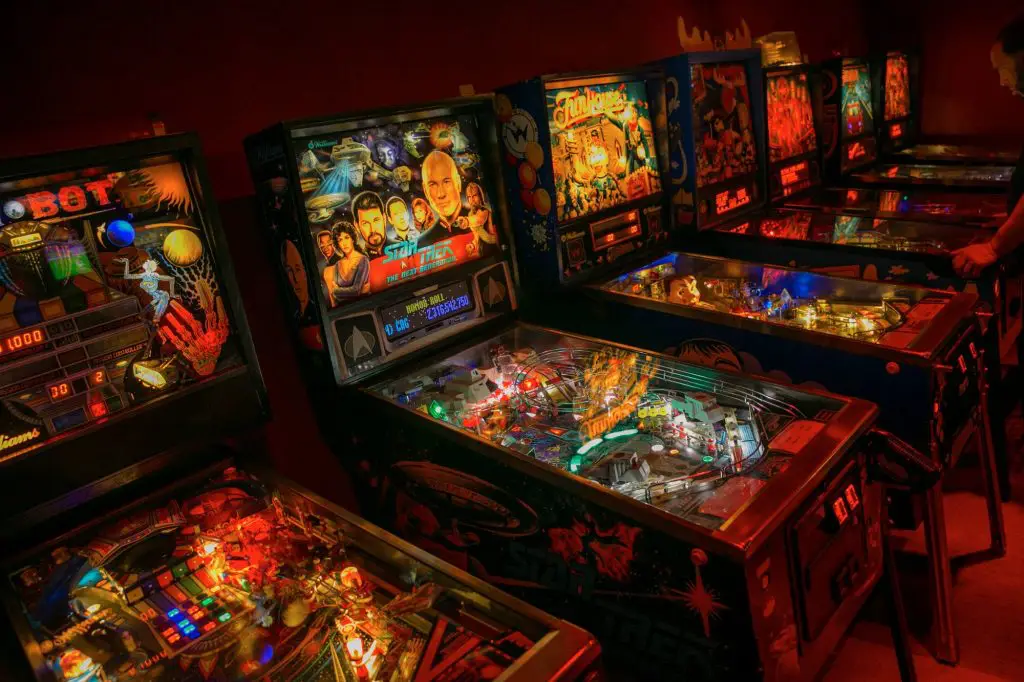 17. Get In On The Camp Action And Drag Fun With The Providence Gay Scene
Speaking of Rhode Island Pride (pRIde), Providence is perhaps the gayest state capital we have ever visited. A dynamic city that embraces love, respect, and joy, we were blown away by this community's commitment to diversity – including that of its LGBT population.
When it comes to the local gay scene, well, where do we even start. Not only are there more gay clubs, bars, and bathhouses here than nearby Boston – but there are rainbow flags flown across the city to let you know you are welcome absolutely everywhere you do. After all, Rhode Island was a state founded Roger Williams, a religious dissenter banished from Massachusetts Bay Colony for his radical advocate of religious toleration and separation of church and state.
This 'wall of separation' inspired the founders of the United States, who later incorporated it into the US Constitution and Bill of Rights. This condemnation of the orthodoxy of New England Puritanism and devotion to protecting individual "liberty of conscience" has left a tangible legacy today. As we said, Providence is the gayest state capital we have ever visited – only rivaled by Austin, Texas. On their State House, they even have engraved his commandment: "… to hold forth a Lively Experiment that a most flourishing civil state may stand and be best maintained with full liberty in religious concernments."
This is all to say; Providence is the definition of a sanctuary city before that term was applied to areas harboring undocumented persons. Persecuted people from the early 1600s on to now have found protection in Providence, including religious minorities, Catholics (back then), and Jews in particular, and also the Quakers and Unitarians – all of which have contributed meaningfully to the creation of Providence today.
Because the entire city is a sanctuary, there is no true gayborhood here, and members of the LGBT+ community can be found dispersed throughout Providence. Queer spirit is still strong here, and annual events such as the Rhode Island Pride Festival, the associated block parties, and more see the entire downtown city shut down in a spectacle, unlike anything we have ever seen. Even if you are not able to visit for these flagship events, there is all but guaranteed to be something every night of the week to pique your interest. Queer rooftop parties, drag shows, EDM raves, transgender safe hangouts, and more!
Gay Providence is weird, cool, wonderfully queer, and welcoming to everyone with open arms…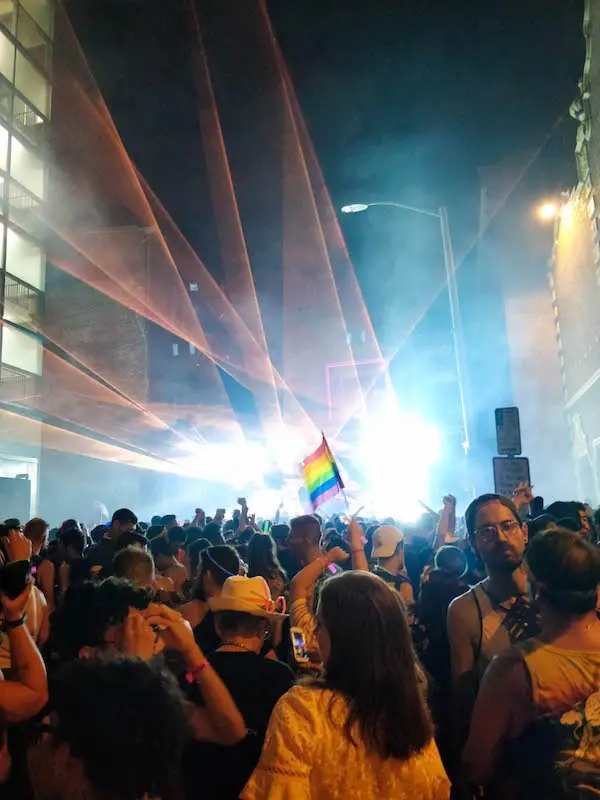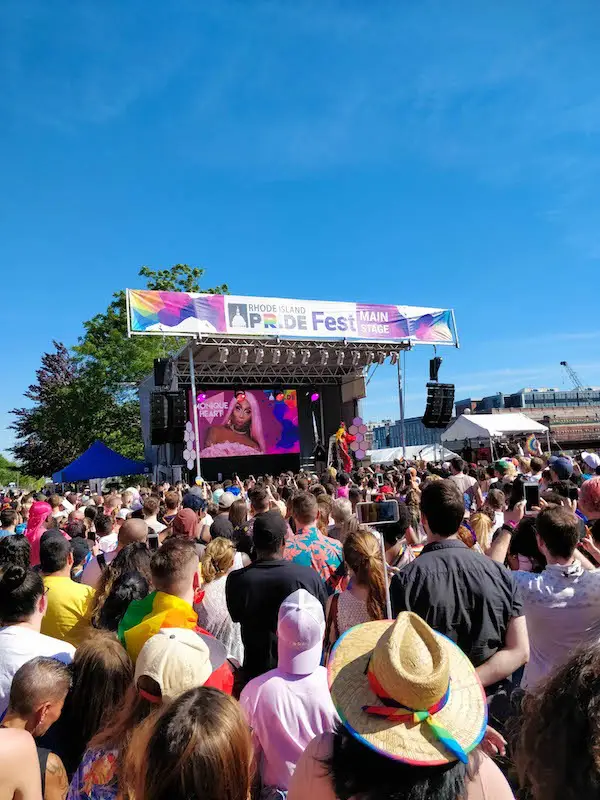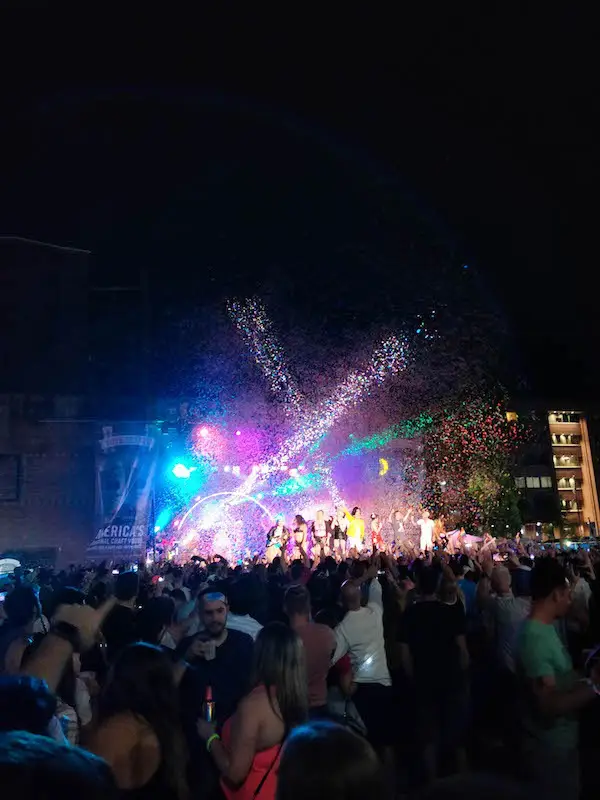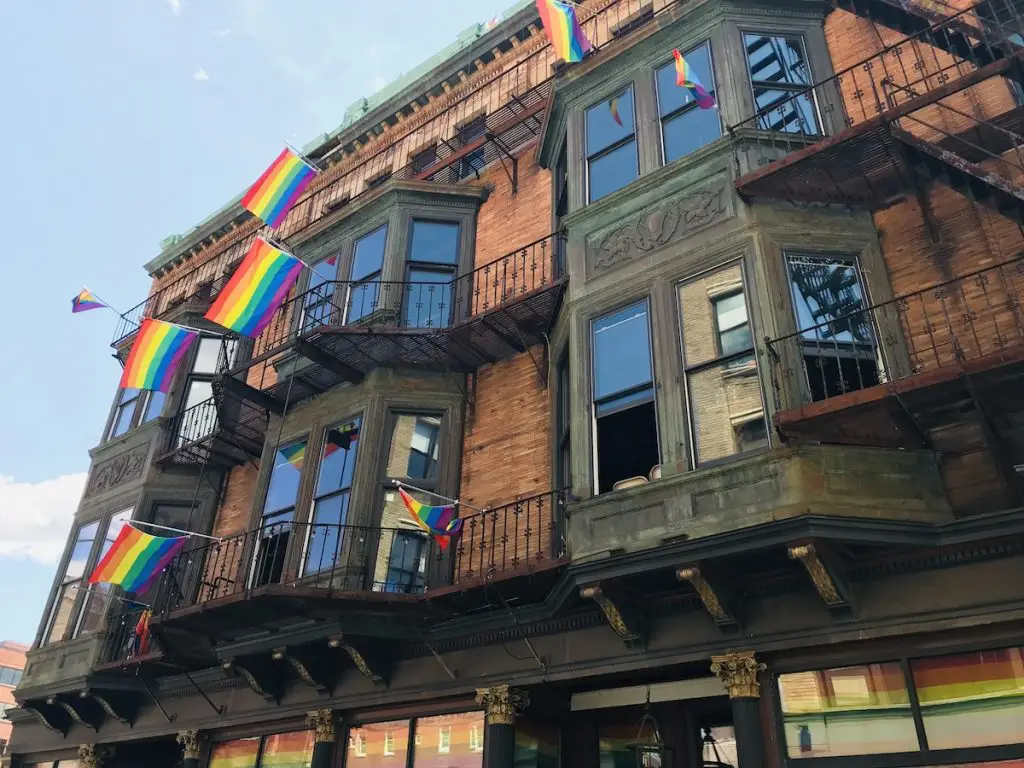 18. Try Rhodes Islands Famous Hot Weiners At A New York System Restaurant
The hot wiener, a.k.a the New York System wiener, is a staple of the Rhode Island food culture primarily sold through "New York System" restaurants… Yes, there might be a glut of high-end dining here and a lack of recognizable fast-food chains – but that doesn't mean Providence doesn't have its own go-to for high-calorie food on the go.
The traditional RI wiener is made with a small beef, veal, and pork hot dog with a slightly different taste than a regular beef hot dog. It is also served differently – still in a steamed bun, but always include celery salt and commonly with cumin, paprika, chili powder, and allspice.
If you are like us and wondering why they are served in "New York System" restaurants, this is all because of a marketing strategy in the 1900s to loosely associated the hot gods with those of the vastly more famous (at the time) dogs of New York's Coney Island. Over time, the distinctly Rhode Island Hot Weiner became established that bears little similarity to the traditional Coney Island hot dog but restaurateurs today still choose to use the term,
One of the most widely recognized spots to go for a Hot Weiner is the Olneyville New York System in Providence's Olneyville neighborhood that dates back to 1946. Sure, there are other locations around town – but we think this spot had fun service, delicious wieners, an old-timey fit-out – and was a great location to aim for when we hired our Lime bikes.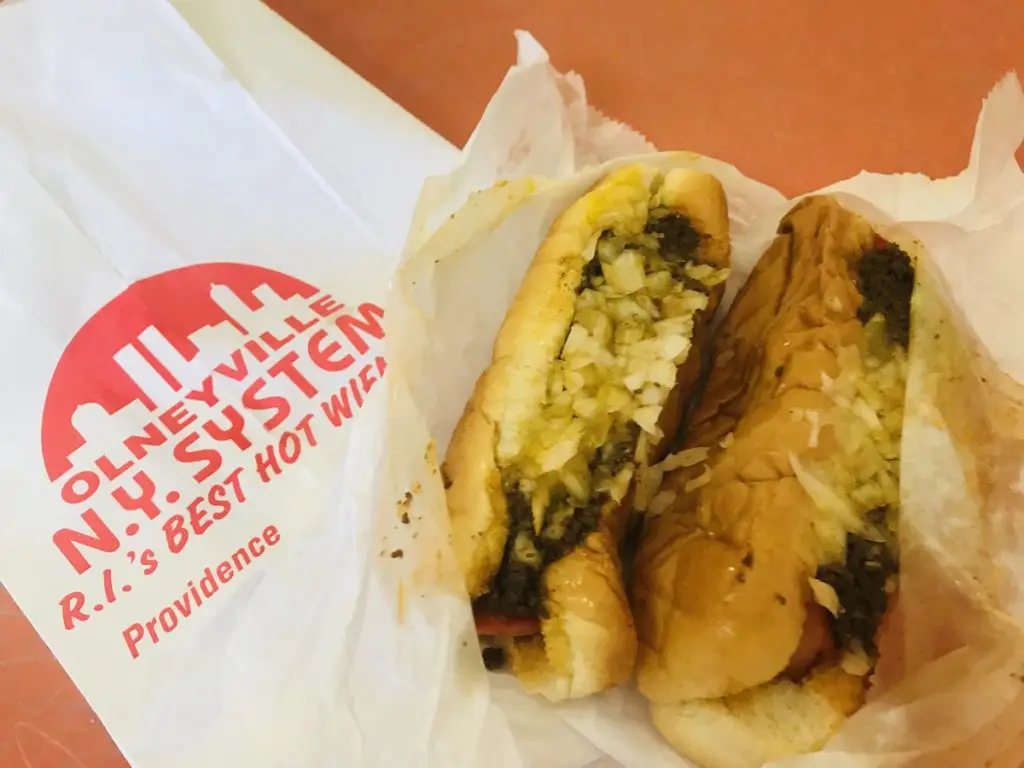 19: Enjoy A Night Out At Rhode Island's Original Brewpub: Trinity Brewhouse
First established in 1994 in the heart of Downtown Providence, the Trinity Brewpub was one of the first brewpub restaurants in New England – and was a herald of a microbrewery movement which would later sweep the city and the nation.
Conveniently located around the corner from Trinity Repertory Theatre – if you are thinking of a post-show tipple – the beers here are crafted with the finest quality ingredients and filtered with Scituate Reservoir water from none other than Rhode Island. As your bartender will happily tell you, this water is one part of the secret to their on-going success.
The beers, ales, porters, and stouts available at the Brewhouse are all brewed on-premises – and their Brewmaster takes great pride in providing Patrons with the freshest beer in the city. Served in a uniquely chill atmosphere and open seven days a week, the Trinty Brewhouse is perfect for dinner dates, casual business meetings, or meeting new friends. During the summer months, you could also try their newly opened Trinity Beer Garden, which features beers from local brewers alongside well-established Trinity favorites.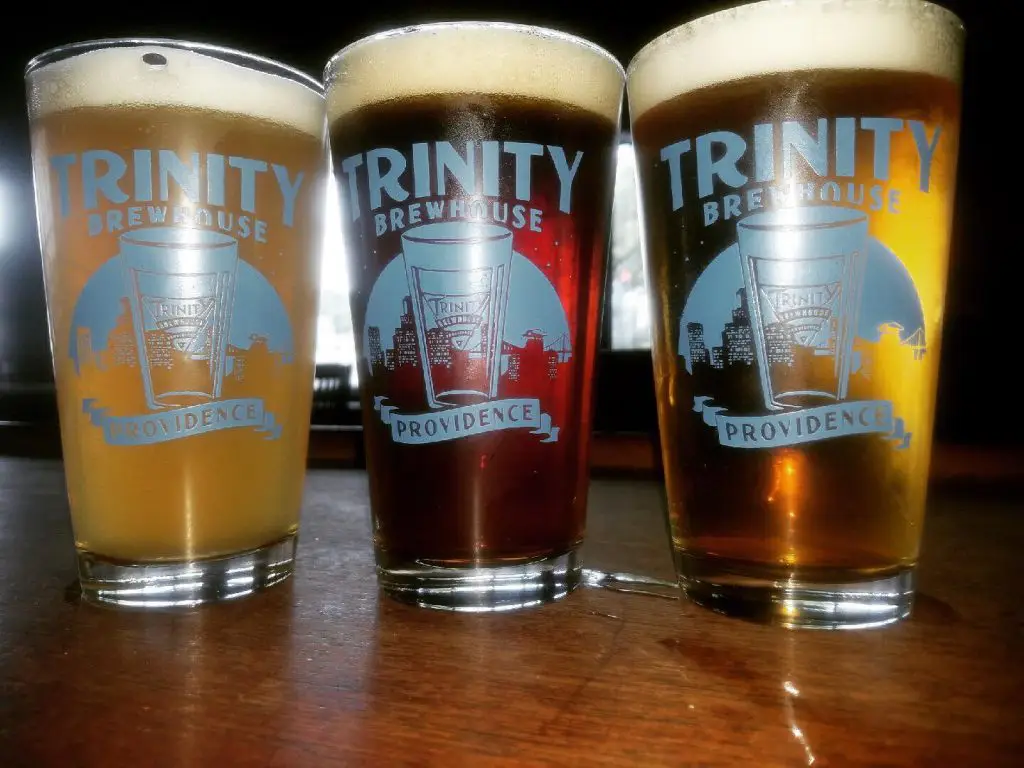 20. Get Lost In The Architectural Time-Warp That Providence Exists Within
Let's pretend you are not convinced already that Providence is the nation's best small city. Humor us…
Then all you have to do is wander around a few of its glorious neighborhoods and marvel at the combination of the old and new architecture that makes for such a fascinating cityscape – and then surely you will be convinced. This is one of America's oldest cities, after all – what else would you expect. And yet, somehow, the architecture of Providence doesn't seem to steal the spotlight in the news – but wow, is it full of style, spirit, and unique finds that makes you want to quit your job and move here.
Seriously, we told you we had already been mentally flicking through paint swatches on our exploration here. From the picturesque and quiet Benefit Street to the iconic towers of the Narragansett Electric Company in the Jewelry District, to the lesser explored Fox Point and Elmhurst suburbs – there are no cookie-cutter homes to be found here. Providence is home to many unique masterpieces, each of which you will want to claim as your own. And notice that superb art deco skyscraper aptly nicknamed "The Superman Building"? It is currently sitting unoccupied – so you can own that too.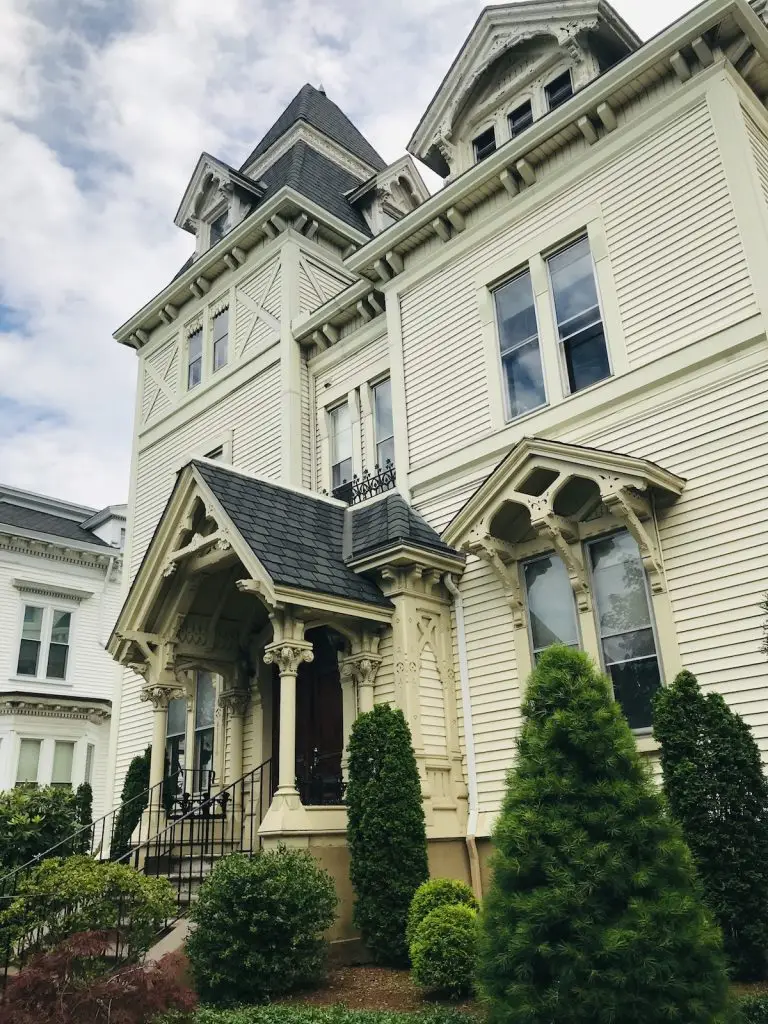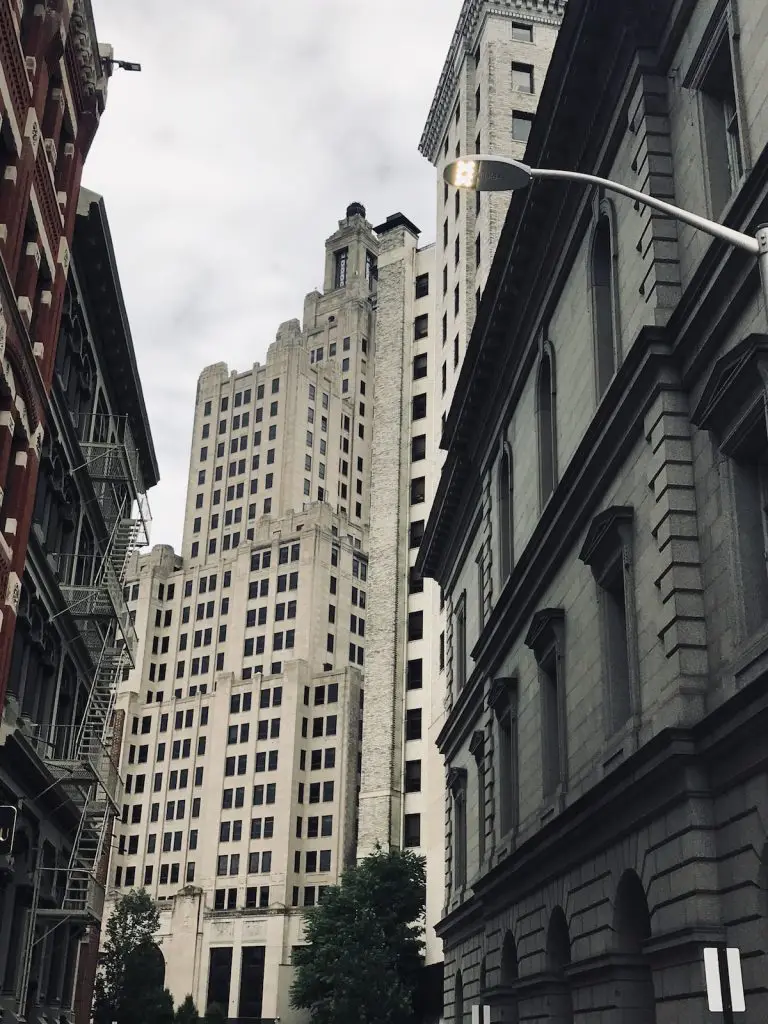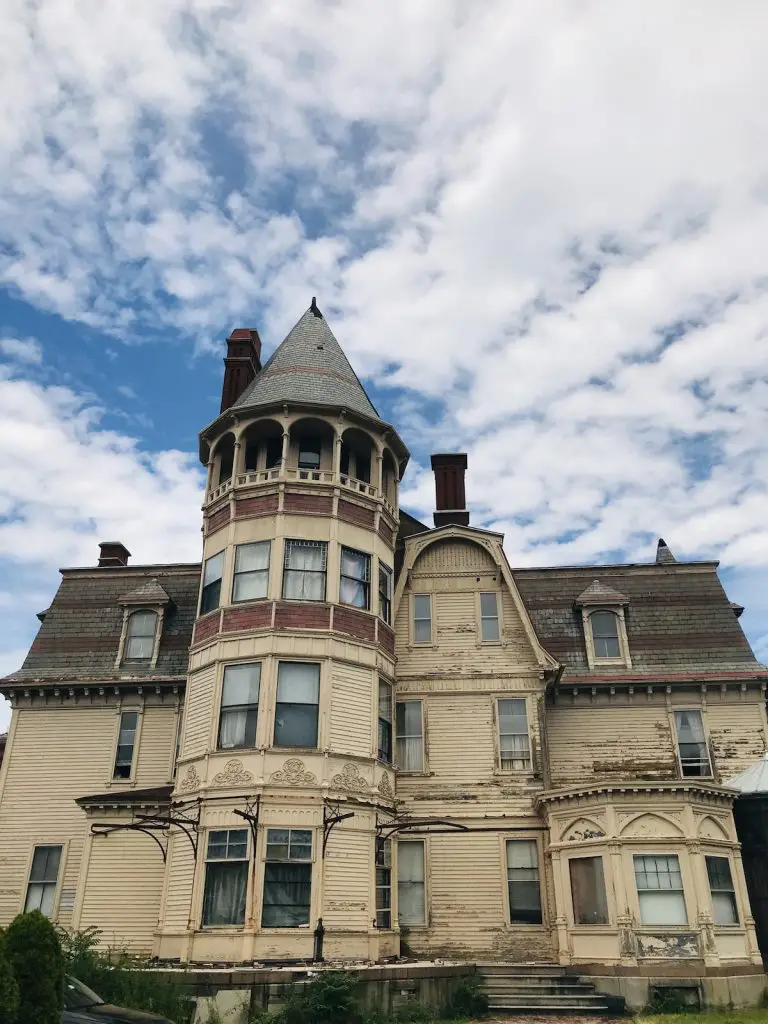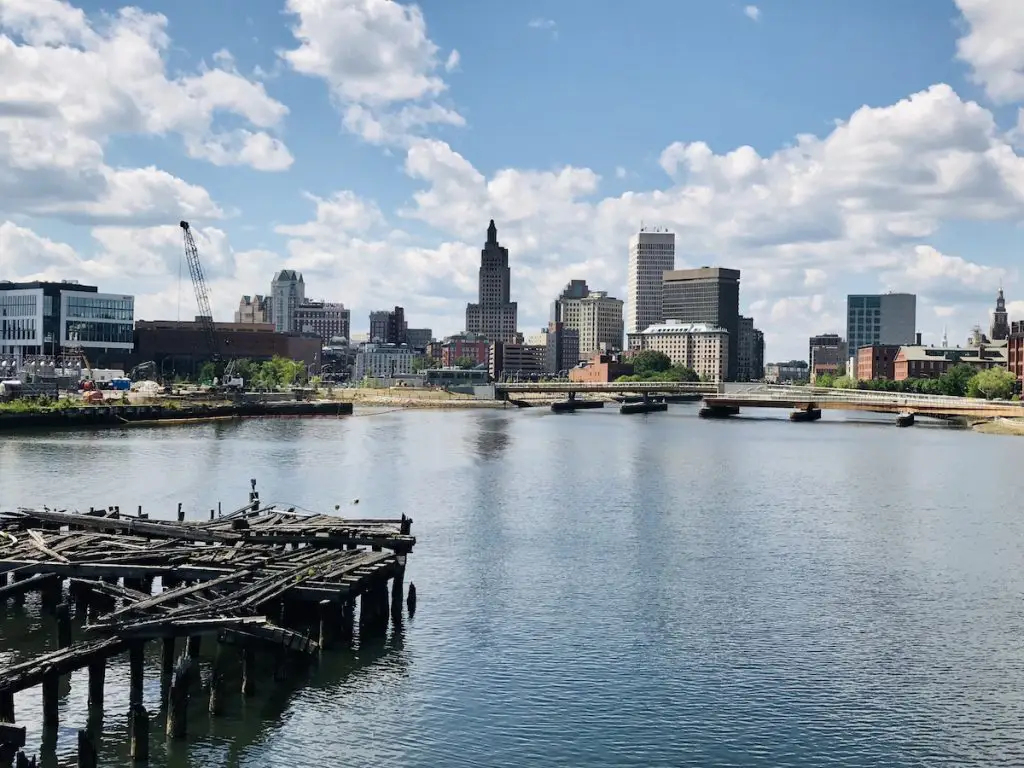 Staying Connected While Travelling
In today's increasingly connected world, staying online while traveling has become essential for a seamless experience. That's where eSIMs come into play, revolutionizing the way we access mobile networks during our global adventures. Say goodbye to hunting down local SIM cards at the airport; eSIMs provide instant activation the moment you land, sparing you the fortune usually spent on international roaming and allowing you to genuinely travel like a local (without getting hopelessly lost!).
With eSIMs, tasks like restaurant recommendations and reservations, up-to-the-minute public transport instructions, checking opening hours, and accessing further information become a breeze. And, of course, sharing your journey on social media is easier than ever. To stay connected wherever you roam, consider using either Airalo or Holafly. Airalo boasts the most extensive range of destinations worldwide, offering smaller data bundles tailored to your needs, while Holafly provides unlimited data packages and fantastic EU data deals.
So why wait? Embrace the future of travel connectivity with eSIMs and make your next journey effortlessly smooth.
Further Things To Consider Before Any Adventure
Now you're all set and prepared to explore our big wide world, why not sort out everything else out all in one go? If necessary for your travel plans make sure you have brought proper travel insurance, protected your privacy by getting a secure VPN, compared all the top hotel booking sites to find just what you're after, reserved an unbeatable rental car price and - of course - booked the best flight deals!
Or maybe just forget it all and go for a last-minute cruise or effortless tour instead?
Many budget travelers (including me) indulge in worldwide airport lounge access, so we can experience luxury while still slumming it in economy. Naturally, we would never leave home without a more general travel guide since we couldn't possibly cover everything here!
Just add an adventurous attitude and plenty of smiles - they go a long way - and that about covers it all! Now go out, find your own path and don't forget to share your best inspiration stories with me on Facebook, Twitter, and Instagram...I'd love to hear from you!