Sometimes you want trips where you explore the most ancient wonders of the world, where you tackle the challenge of bargaining at night markets or hiking to the top of a mountain. But sometimes you simply want to see somewhere new, somewhere lively and welcoming, under the blazing sunshine.
Voila, Palm Springs!
Rising from the Sonoran Desert in southern California like the best kind of oasis, this legendary hangout of the Rat Pack in the 1950s and 60s exemplifies retro-chic and can still show visitors a hell of a good time. While there's an increasingly hip crowd there, it's got an open-to-everyone vibe that makes it particularly appealing for tired travelers looking to unwind.
Perhaps that's because it's impossible to feel stressed when the sun shines 300 days a year?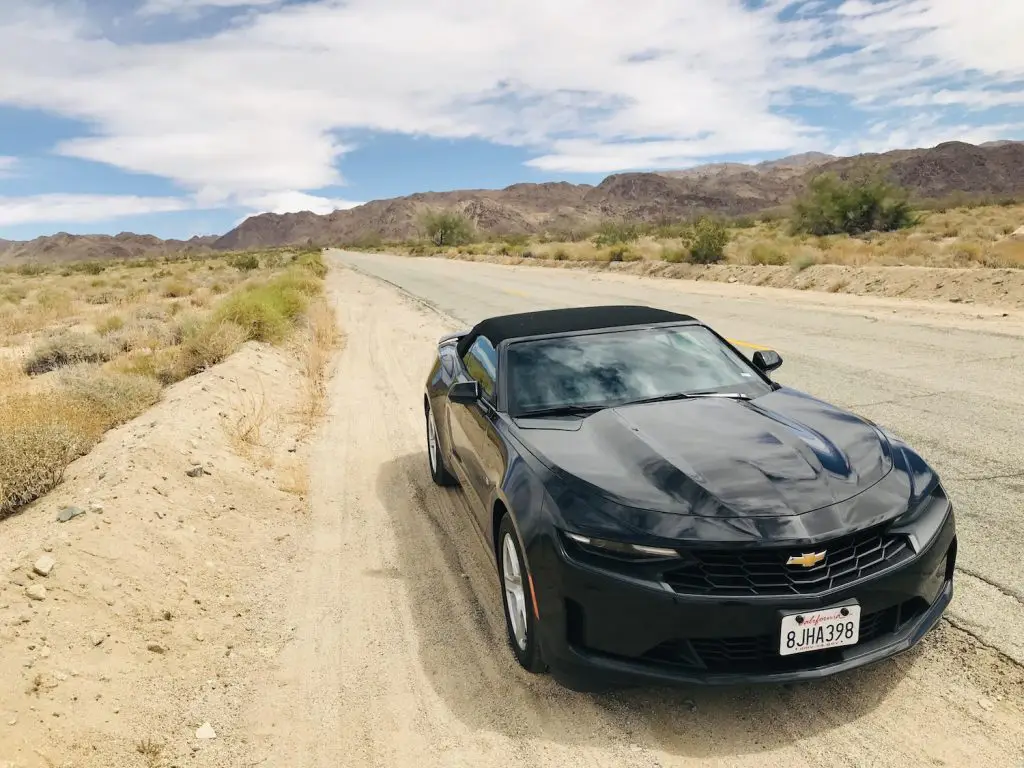 The amazing thing about Palm Springs is how relaxing it is. With the azure sky stretching endlessly above, time seems to slow down. Whether you want to hike, hop from coffee shop to coffee shop, admire the midcentury architecture or just lie by a pool, you'll be able to do that with a sense of your worries slipping away.
It might have the reputation of being home to golf-playing retirees, but the recent resurgence means that it's's bursting at the seams with trendy and colorful hotels, restaurants, and shops.
There's some truly great food to be eaten here, and we could easily spend the whole time going from restaurant to café to restaurant again. Much like Providence, Washington DC, and Lisbon, food was an enormous highlight of our time in Palm Springs, and should not be overlooked!
But the place isn't without culture or art. After all, a city that hosts an 11-day event dedicated to midcentury architecture (Modernism Week) and is moments away from the Coachella Festival Ground has to have a great culture scene. It's also one of the more LGBT friendly cities in America with the highest concentration of same-sex couples in the country.
With such great credentials, now you won't be surprised that there are loads of unique things to do in Palm Springs and the surrounding areas. Here are just a few to tempt you. And if you are traveling as part of a bigger trip, and hiring a car, might we suggest stringing together a trip to Palm Springs with San Diego, Santa Monica and Las Vegas for the ultimate road trip…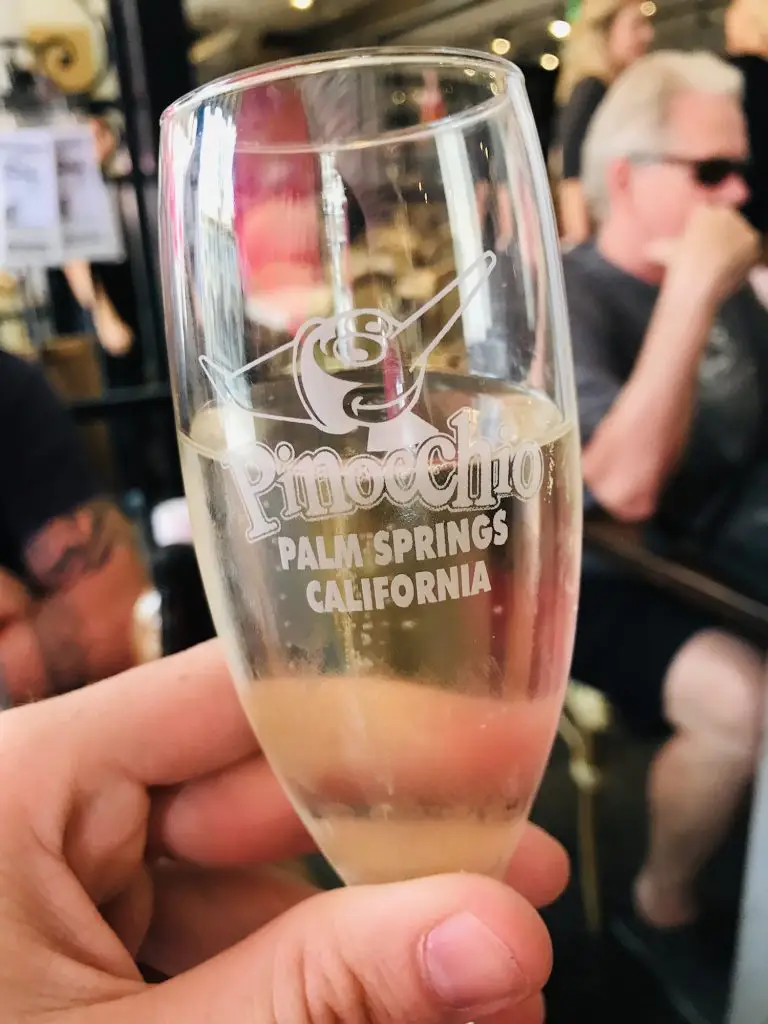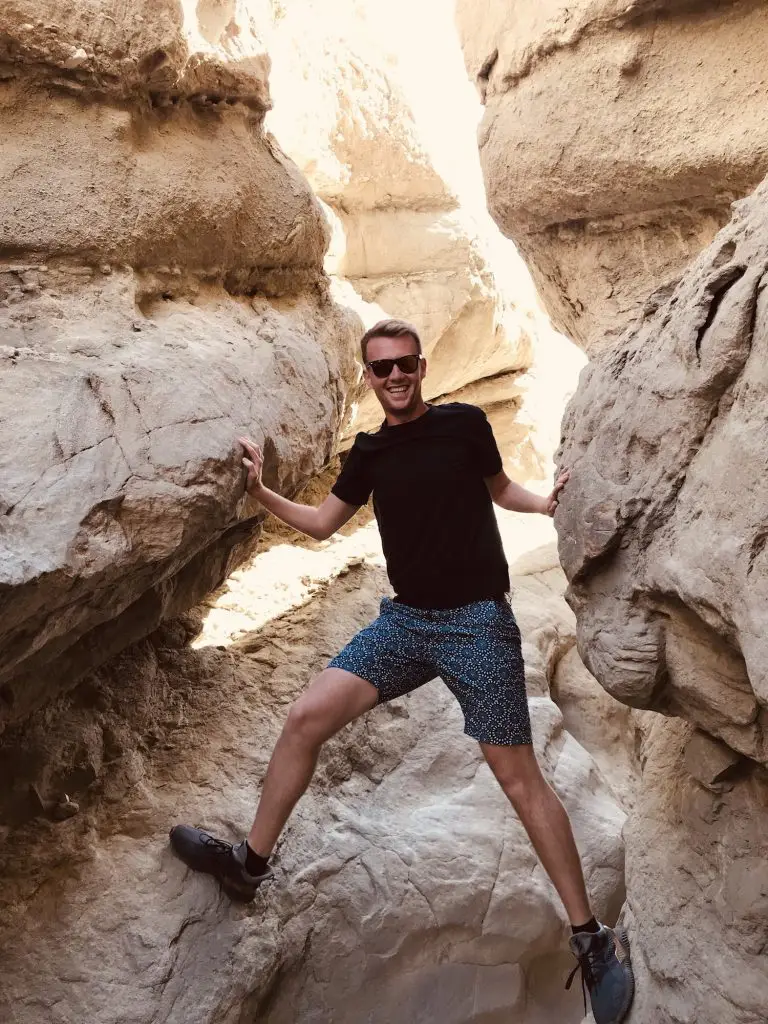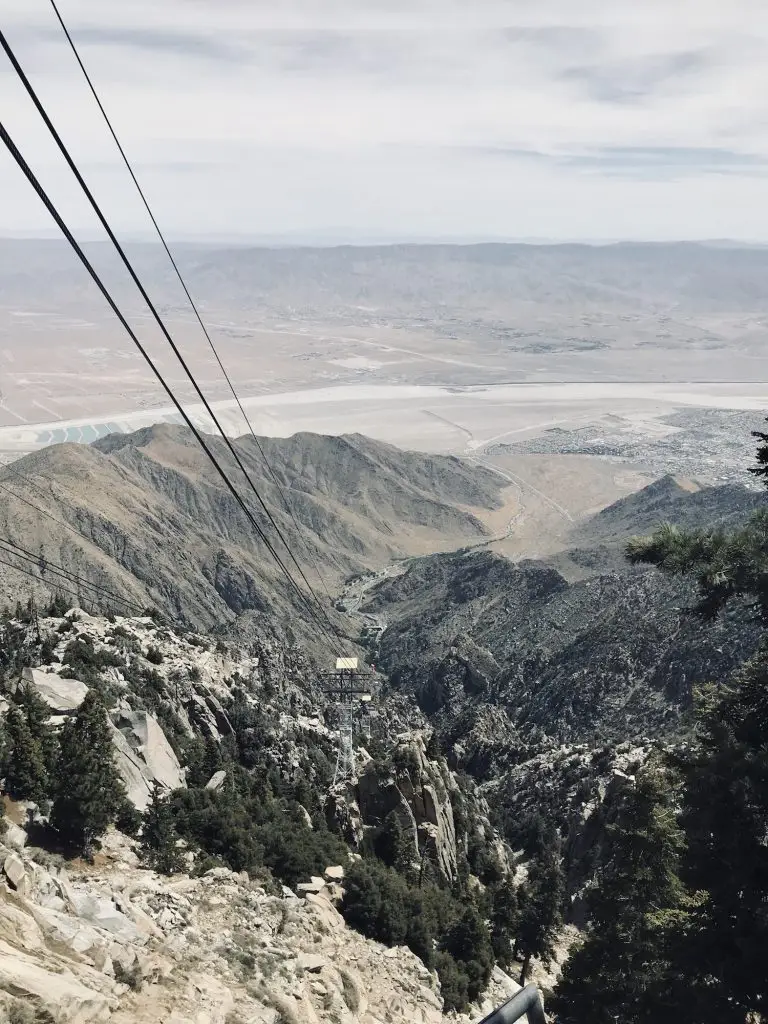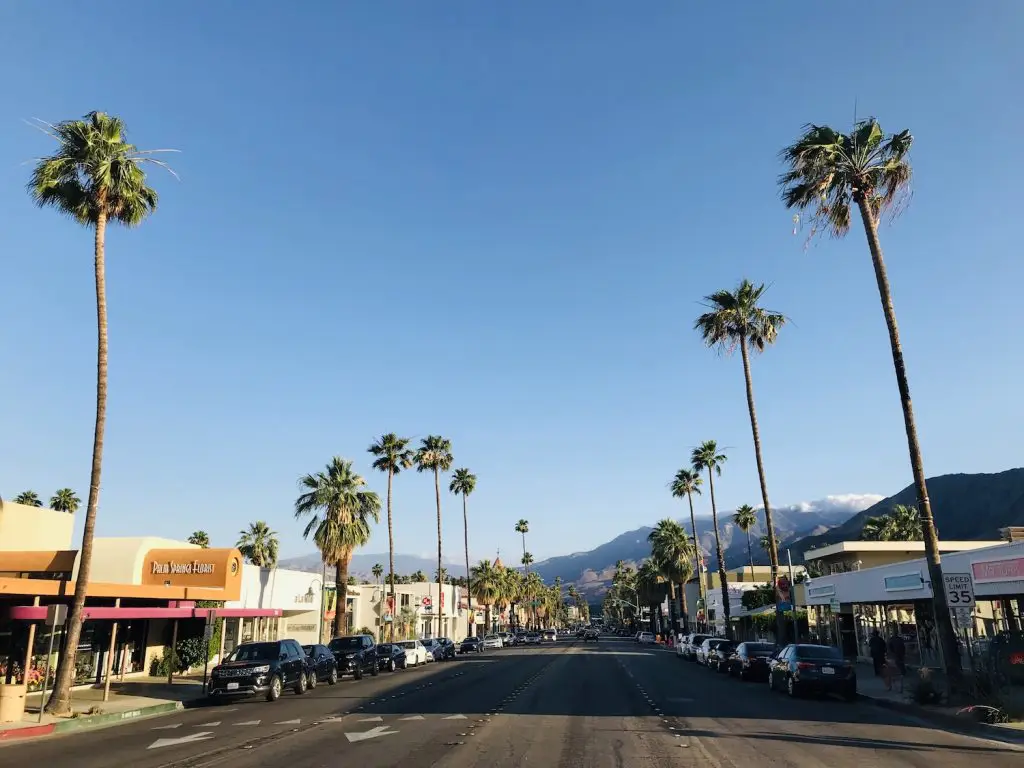 15 Unique Things To Do In Palm Springs: Retro-Chic, Glamorous, And Back Again! 🌴
Palm Springs has a reputation as a desert city for good reason (it is in the middle of the desert!), but this amazing feat of engineering gives you the opportunity to see the variety of landscapes that can be found nearby.
Open since 1963; this is the biggest rotating aerial tramway in the world. As you take the 10-minute journey up the cliffs of Chino Canyon, your tramcar will slowly turn to offer you spectacular views of the five different vegetation zones traversed.
From dusty desert floor to the cool pine forests in Mount San Jacinto State Park (often up to 22°C cooler than where you start), the Palm Springs Aerial Tramway takes you up 4 kilometers to a wilderness area where you can explore miles of mountain trails and the on-site museum. It's been a unique perspective on the area, and you're sure to see some incredible sights, such as waterfalls and rugged cliffs.
From the top, you can sometimes see all the way to Mount Charleston (north of Vegas). Bring a jacket for the chill air and grab a bite in one of the two restaurants.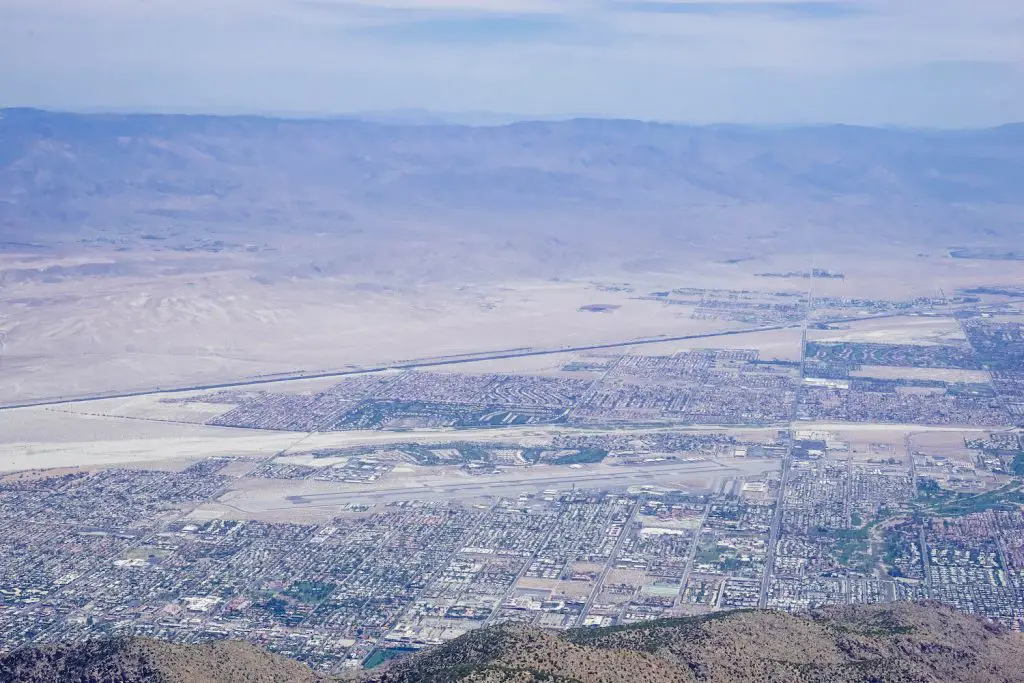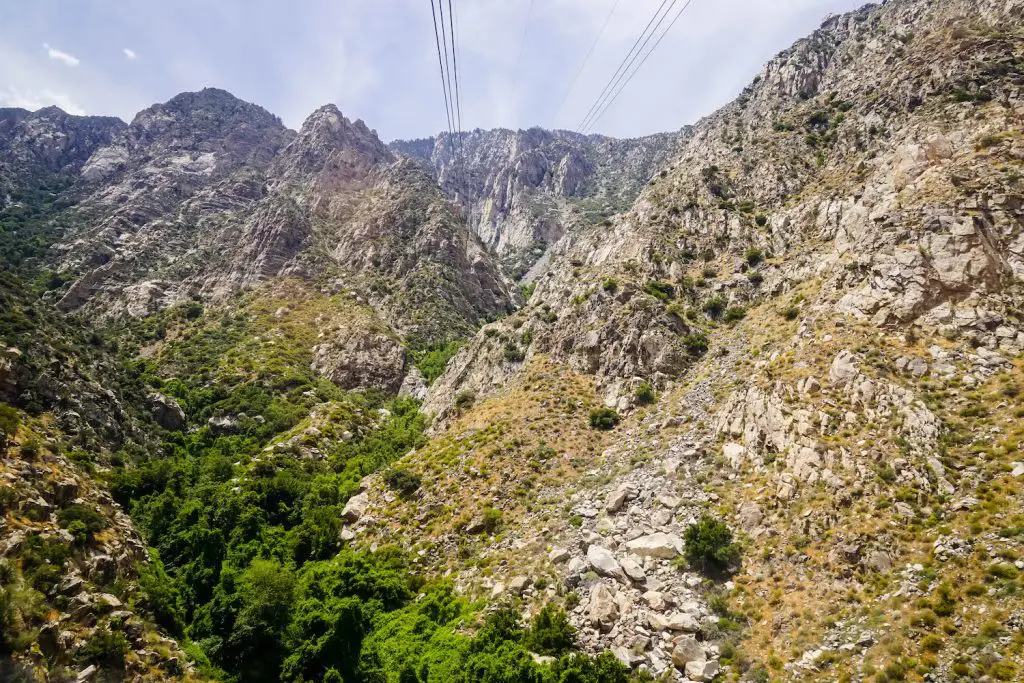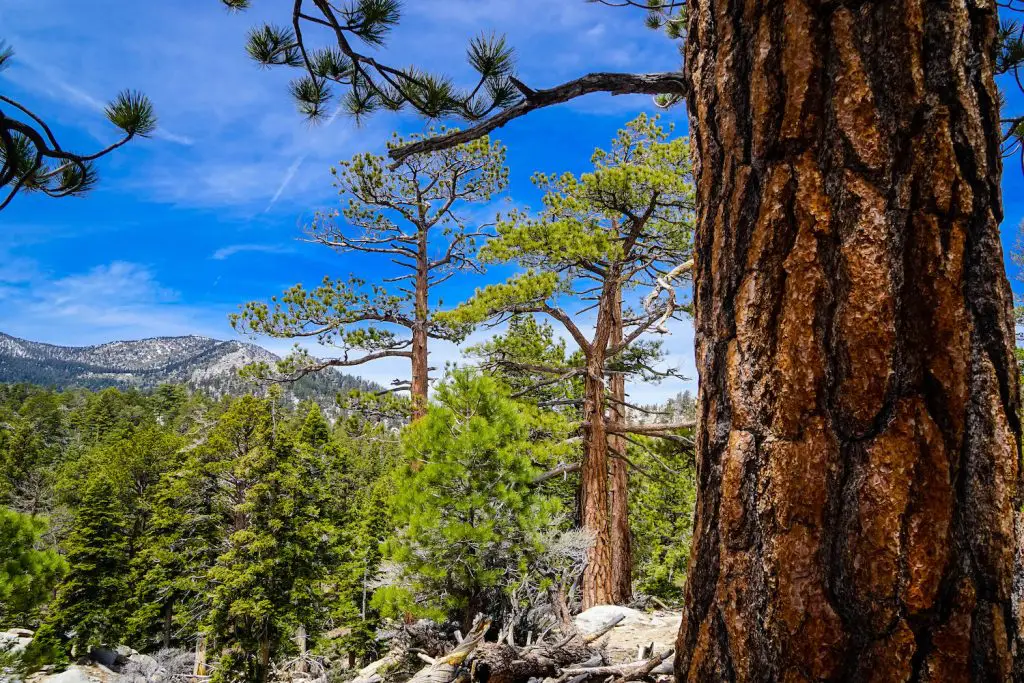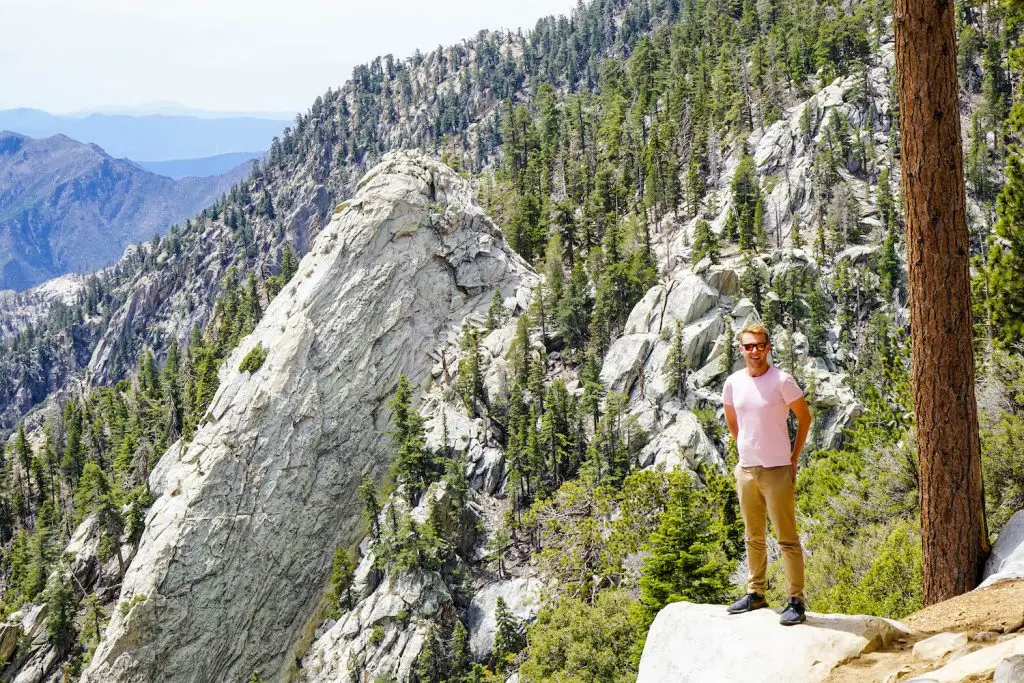 Palm Springs is a Mecca for those who love the sun, heat, great architecture, and healthy living, and the Saguaro Palm Springs offers all of that with exceptional flashes of color and modern design.
The Saguaro captures the full color and modernity of Palm Springs in a neat hotel-sized package. Into the mix of careful curves and shaded walkways, add in excellent food available at two separate restaurants, and your favorite cocktail mixes available by the pool, and you have a winning formula.
The Saguaro is the official hotel of Splash House 2019, which runs for two weekends during the summer. The festival takes place around Palm Springs, but The Saguaro is setting the stage for the most colorful house, disco, and Electronica. The festival runs from June 7th-9th and later in the seasons from August 9th-11th. If you have the likes of A-Trak, Justice, and Pete Tong in your Spotify playlist, there is simply no better to spend the summer and see them perform live. Think color, sun, great drinks, great music, and pool parties.
Even if you can't attend this iconic party, there is a happening pool social scene here every Saturday and Sunday, which is unlikely to disappoint – as long as you like wild music, meeting new friends, and get there early to snag a lounger.
At the Saguaro, everything is made ready for you to have the best possible time, Margaritas for breakfast? Why not!?
The pool bar is constantly stocked with your desired fruit punches or delicious, refreshing frozen drinks. The pool bar is open from 12 pm-5 pm Wednesday to Friday and 9 am-6 pm on weekends. Don't worry, however, if you can't grab your drink by the pool head on over to Rocco's Electric on the weekend or El Jefe in the week and ask the barkeeps there to fix you up with your favorite drink.
If you're looking for that extra bit of luxury when relaxing by the pool, you can book one of the eccentric poolside cabanas. These colorful hideaways come with a sofa, TV and are equipped with tables and even a small safe. These cabanas can become your home away from the hotel room when staying at the Saguaro. It's oh so easy to grab a drink out of your personal mini-bar, watch one of your favorite TV shows on the 49 inch TV and then take two steps and jump in the pool.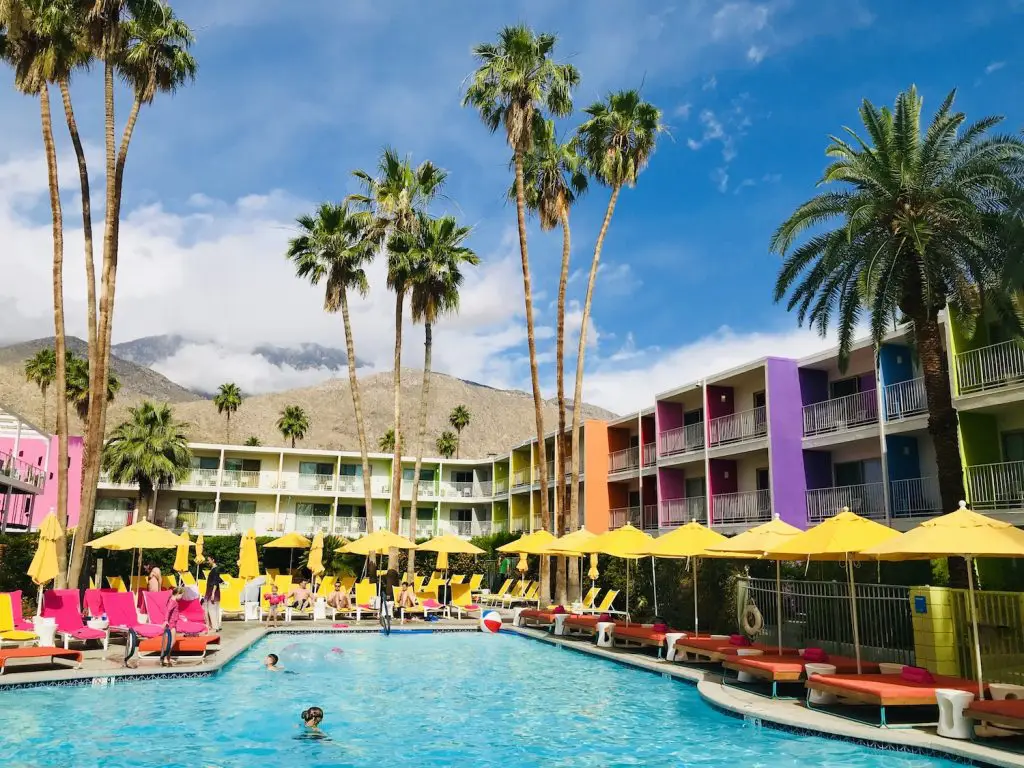 Offering American cuisine & specialty cocktails in an oh-so-modern space, Trio is the place where Palm Springs goes to eat. Snag one of the enviable patio tables and watch the world go by, and you indulge in craft cocktails, Happy Hour bites, or their Brunch-A-Go-Go menu.
We loved the Seared Ahi Tuna Salad and copious selection of sandwiches, though we didn't spot anything on the surrounding tables that didn't make our mouths water. For drinks, however, you cannot go past their Spicy Bloody Mary with Jalapeño-infused Stoli Vodka, Sriracha, Zing Zang, Tabasco, Horseradish, Worcestershire, topped with Jalapeños and Olives. Absolutely divine.
Located in a '60s modernist space with fabulous service, modern art, and an eight-hour Happy Hour, its no wonder Trio is the talk of the town and one of the most recommended dining spots with everyone we asked.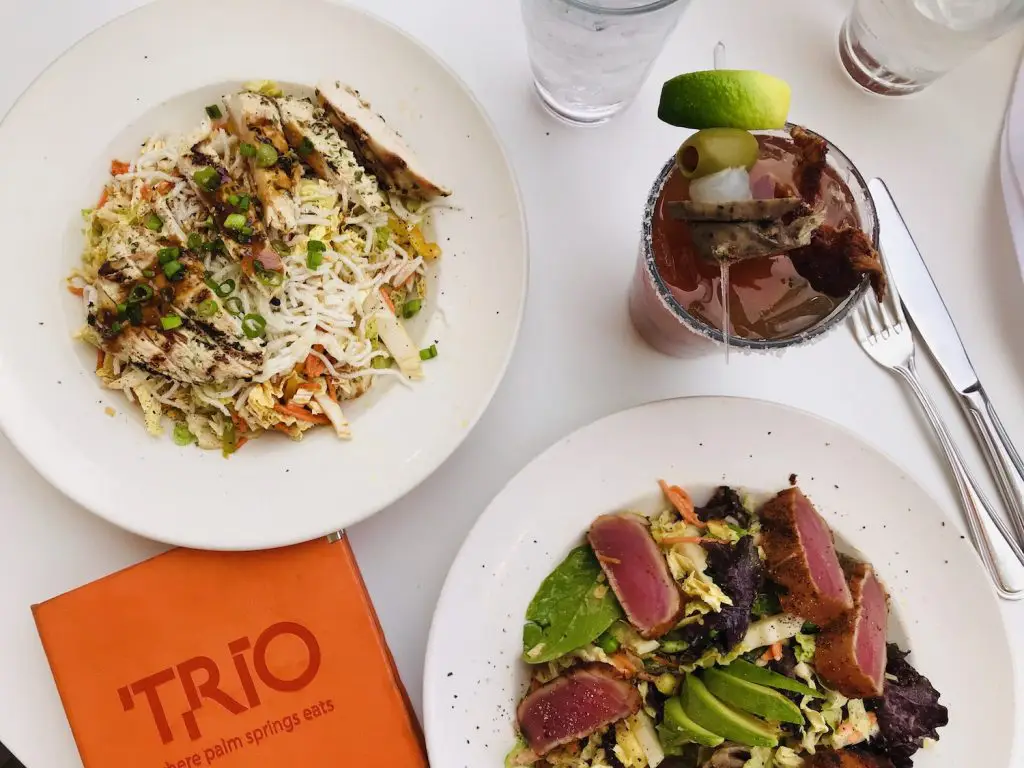 Be A Wizard, Rob A Bank, Catch A Killer or discover the secrets of the Titanic in one of the six award-winning escape room games on offer here. We will be the first to admit, an escape room was not what immediately jumped to mind when we considered unique things to do in Palm Springs, but after visiting: it has to be one of our favorite things.
Not only do you learn about yourself and your teammates, but you can enjoy unique memories and a true sense of discovery as you tackle your challenge head-on. Minutes from Downtown Palm Springs, at these private escape rooms, the staff will help you communicate, organize and succeed together as a group or couple against the noise, chaos, and the pressure of a ticking clock.
Utilize your wits, clues, and each other, to unlock the victory of success while working in a stressful but exciting environment. Perfect for a rainy day or to escape the heat, there are rooms here for couples or small groups, so don't be nervous about having too few or too little people. Go ahead, do it, what have you got to lose!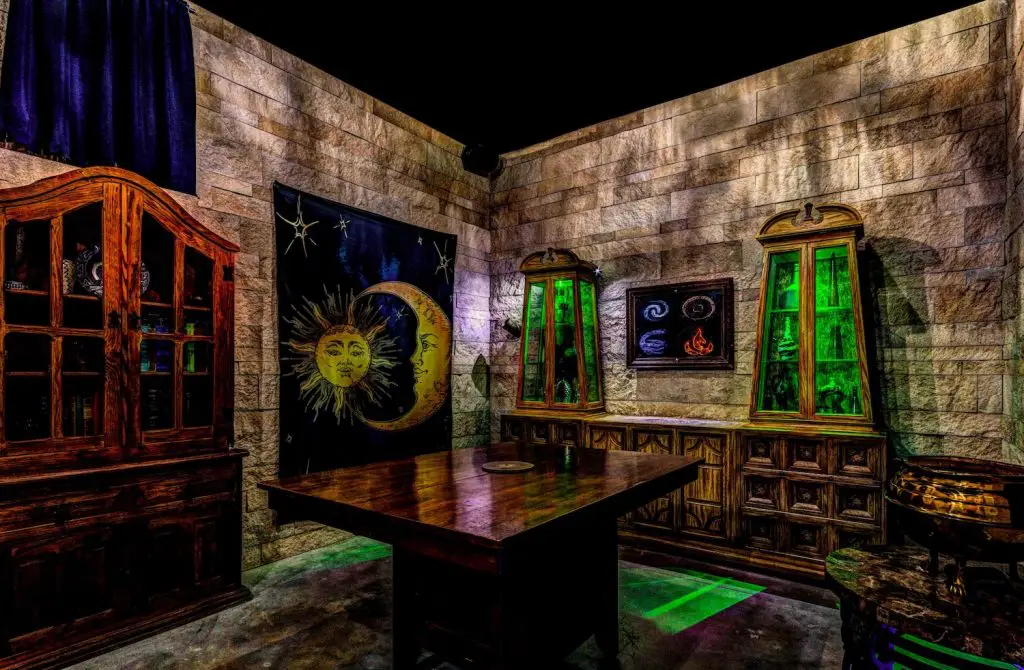 We're not talking about the U2 album here, but the 792,510 acres of desert paradise that makes up one of the best things to do in Palm Springs.
This vast expanse of almost otherworldly landscapes is where two types of desert – "low" and "high" – meet and demonstrate what a difference elevation can make. The Mojave "high" desert is on the west and is home to more vegetation – yuccas and the famous Joshua trees. The Colorado' ' low" desert is bare and dry by comparison, but with its own eerie beauty.
As you will have guessed, it's the native Joshua trees that gave the park its name; they got their name in turn from Mormon settlers who thought of the biblical story of Joshua reaching his hands to heaven when they saw the uplifted branches of the trees. The National Park is so expansive that you could spend weeks exploring, so how you enjoy it is up to you. The epic landscape makes your heart soar, and we love seeing the sky stretch vast above us when we walk here.
Come at night for breathtaking stargazing. Rock-climbing, photography workshops, "sound baths", museums, and outdoor sculpture are only a few of the many activities and experiences that happen in this beautiful natural space.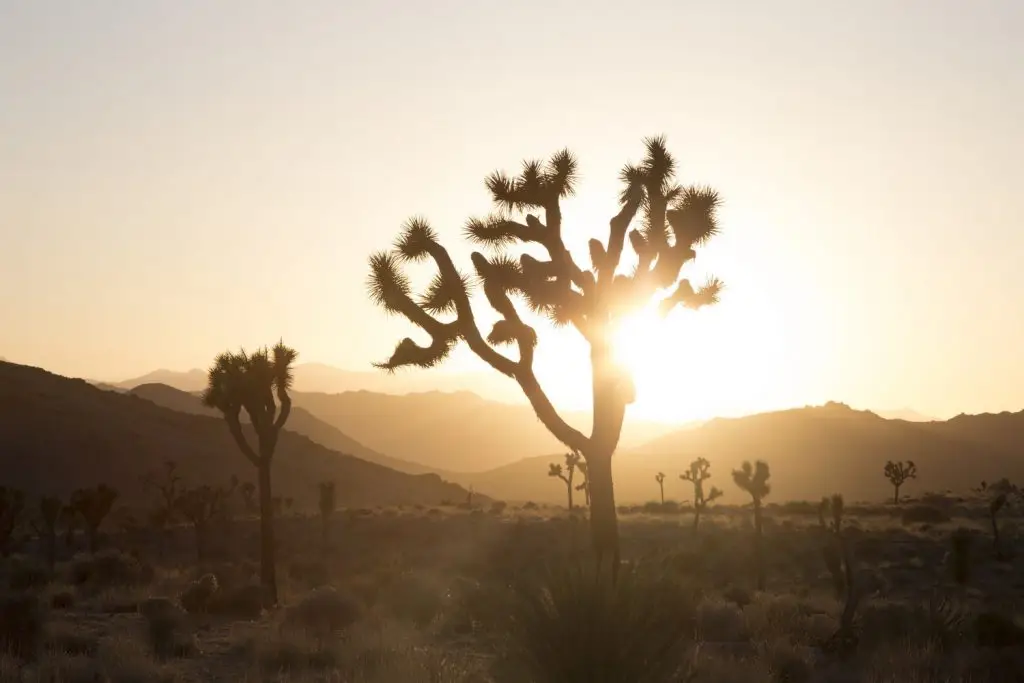 If you're normally not a big fan of traditional zoos, don't be put off this totally exceptional one. In the middle of the Palm Desert, about 15 miles from the city, the Living Desert Zoo and Gardens focuses exclusively on the habitats, wildlife, and plants from deserts around the world. Education and understanding play a considerable role in the gardens" mission, so you'll find lots of educational programs and learning opportunities.
It's also incredible to see animals like giraffes, cheetahs, and mountain lions in their natural habitat. You can interact with the animals (in a humane way) through activities like camel rides and giraffe feeding. One of the most fascinating parts is the wildlife hospital visitors can walk through; equally as absorbing are the nature trails through the untouched wildness of the desert botanic gardens.
Adults and kids alike will fall in love with the African village replica and its market.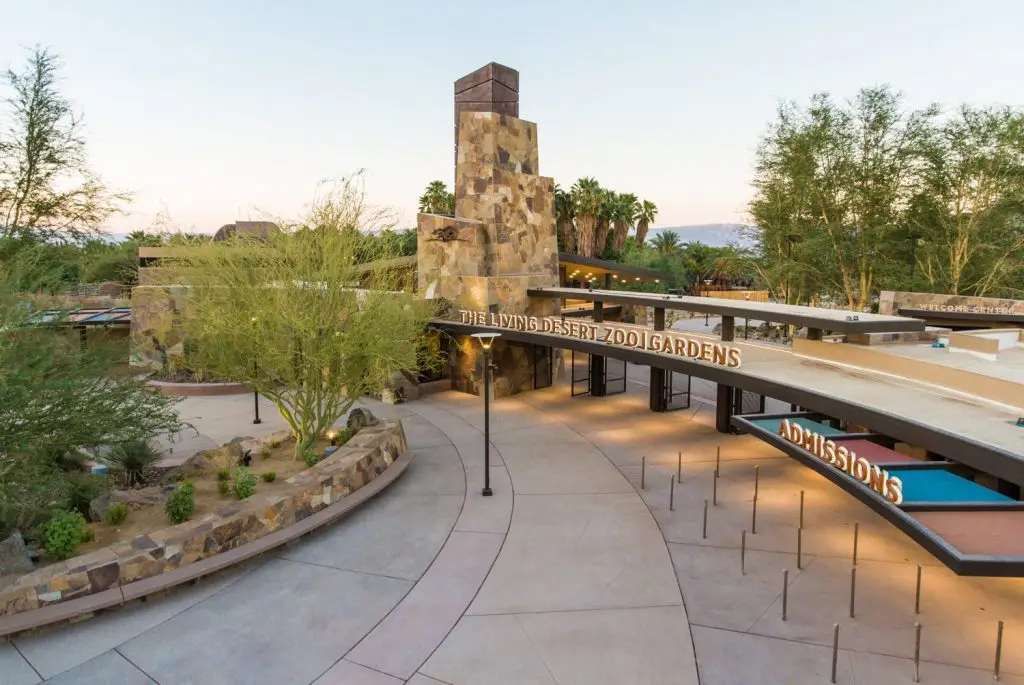 An energetic stop with kitschy decor for memorable eats, including copious breakfast options and sizable cocktails popular for weekend brunch.
Sit out on the airy patio and watch the world go by as you recover from the night before – accompanied by a huge Bloody Mary or endless champagne (for only $4.95) if you wish to indulge in a little hair of the dog.
Pinocchio In the Desert is a great place to start off your day with a bang, and whether you plan to retreat to your hotel pool or explore more of the attractions Palm Springs has to offer you won't regret a visit to this institution.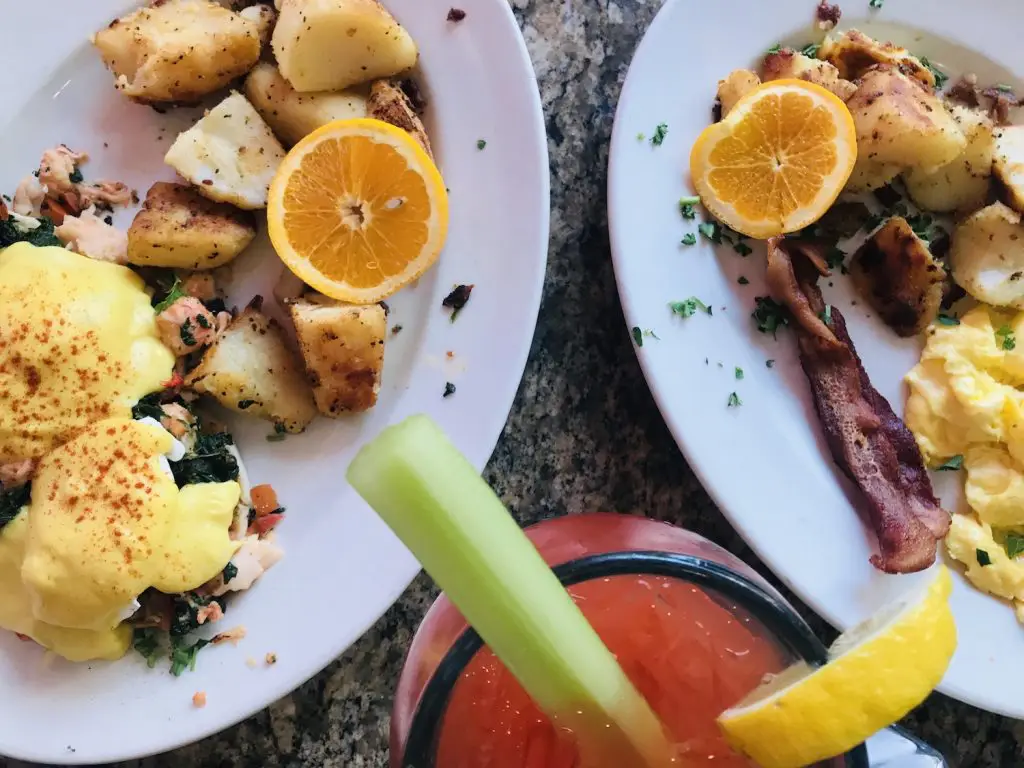 In the heart of downtown Palm Springs, you'll find this treasure of a museum, which has been serving a variety of Palm Springs and Coachella Valley communities since 1938.
While it began as a place focused on the surrounding natural environment and original local Native Americans, it has now broadened its scope to exhibits and areas focused on art, natural science and performance. There's an immersive permanent collection including pieces by Henry Moore, Helen Frankenthaler, and Sam Francis, among other contemporary artists.
It's a lovely place to wander around and get a break from the sun. The curation is careful and creative, with a clear dedication to ensuring visitors feel rewarded by their experiences here. There's also a commitment to community, with free community days and evenings, as well as art classes for kids and adults. It's a way of seeing the other side of life in a desert – the impact it has on culture and community.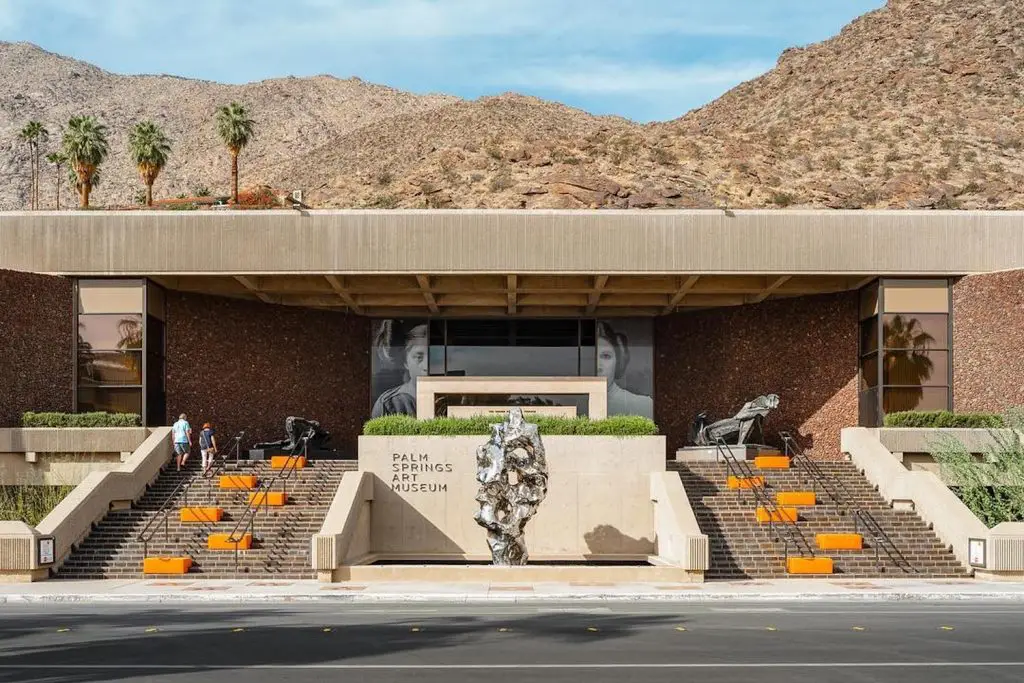 While all of Palm Springs is exceedingly LGBT-friendly for the inexperienced, the most significant concentration of LGBT owned venues in Palm Springs is on E. Arenas Road, between S Indian Canyon Drive and S Calle Encilia.
There is so much to see and do here – by day or by night – we couldn't possibly list it all, but some of the highlights have to be Hunters Nightclub, one of the most happening LGBT spots late at night or Blackbook Bar, a relaxed hangout for people-watching with outdoor seating and comfort food galore.
BIKE Palm Springs Rentals is also located here, with affordable rates and fun itineraries you can recreate as a do-it-yourself tour – and don't miss popping into Krave and Kulture for some truly vibrant, out-of-this-world gay fashion choices.
There is also a video bar, piercing shop, Paino bar, fetish stores, and more – plus plenty of annual rainbow community events that let everyone know that are welcome as they are 24/7. The Arenas Road Gaybourhood has a fabulous feeling about it – and no list of unique things to do in Palm Springs would be complete without a visit here.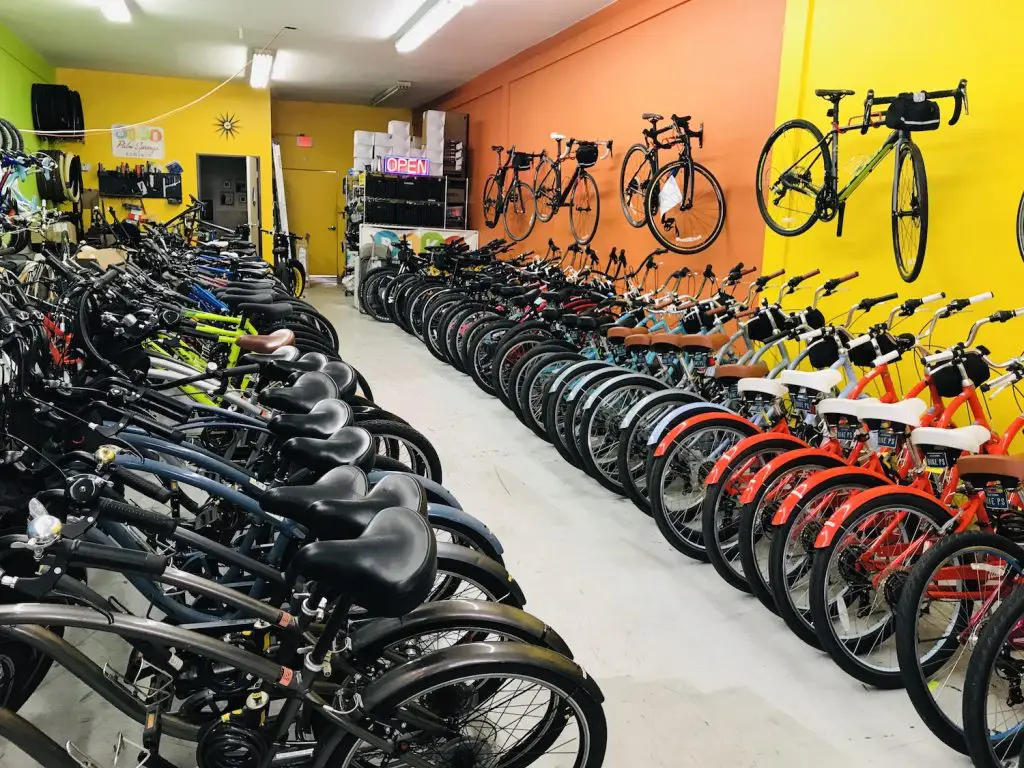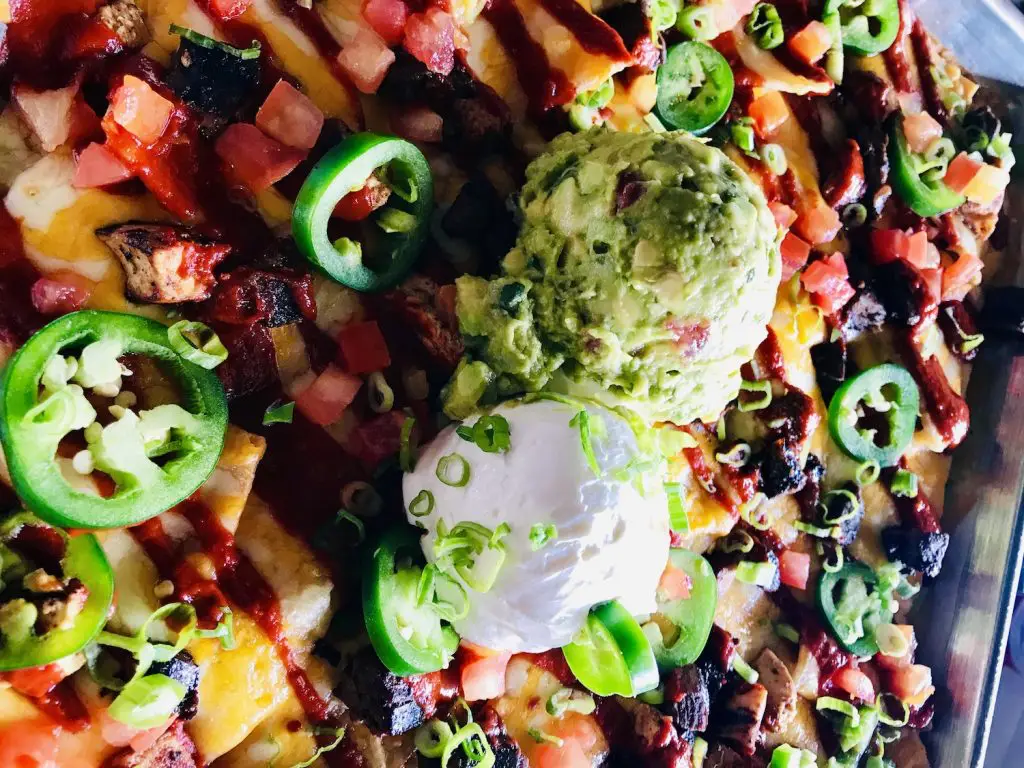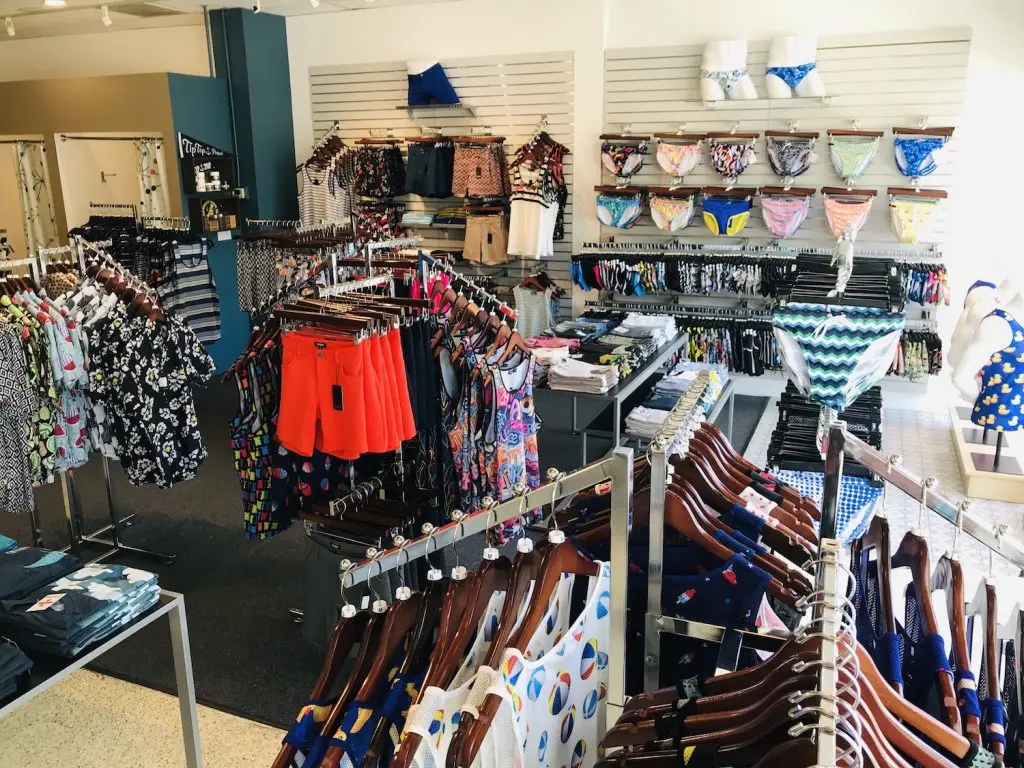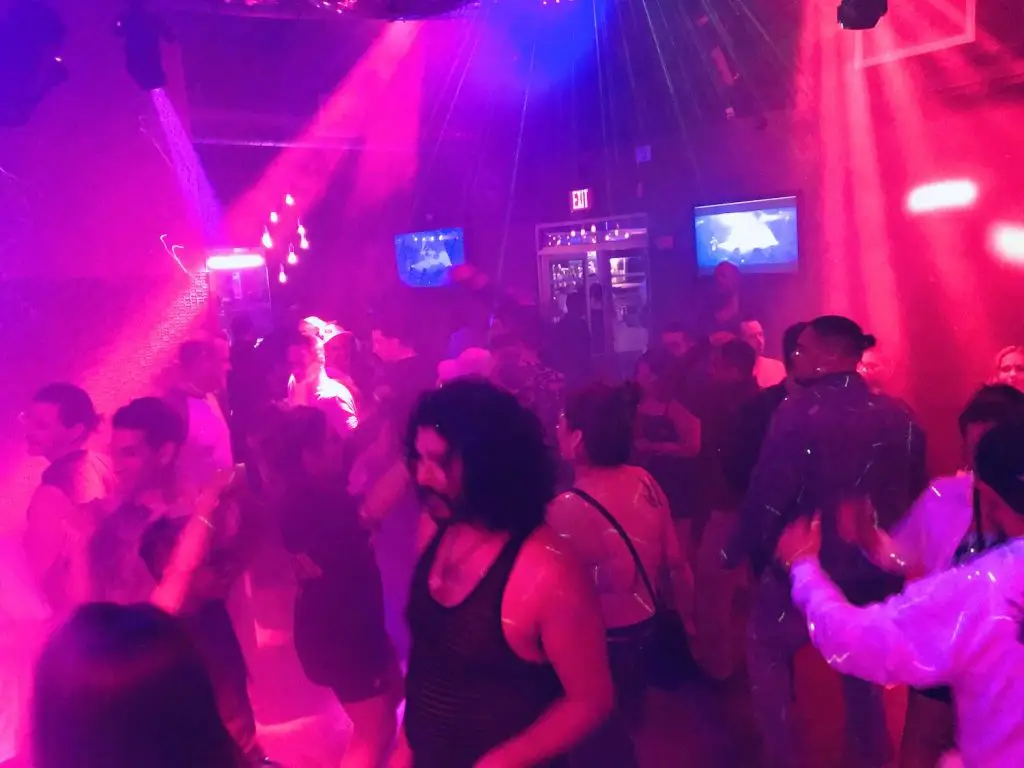 Even the most reluctant of hikers can't fail to be captivated by Indian Canyons, one of the best outdoor things to do in Palm Springs. After all, as great as the swimming pool waterfall at your resort is, we're willing to bet the desert waterfalls in these gorges and oases beat them hands down!
The Indian Canyons is the collective name for the narrow canyons in the mountain foothills near the city, so they're easy to reach.
There are various walking and hiking loops of varying levels of difficulty and scenic surroundings. Walk beside sparkling streams, between desert plants, beside intricate rock formations and underneath those waterfalls we mentioned. It's a lovely part of the country – you can easily go there and end up simply sitting in the picnic area by the creek watching birds swoop from place to place (although we'd recommend the hiking, of course!).
On Friday nights in Palm Springs, head down to Oscar's Café and Bar, where the patio will be buzzing, and Oscar's Cabaret will be warming up.
This riotous event epitomizes the city's atmosphere of an adult playground – the "celebrity female impersonation dinner-show" has been running for decades and is always a total blast. Hosted by the famous "Gypsy", a glamorous 86-year-old queen with energy in abundance, the Cabaret stars impersonate famous faces from now and the past.
It's colorful, glitzy, witty, and warm. The audience feels totally part of the family, and Gypsy makes everyone feel part of the fun. The dinner you have before is also scrumptious and good value – it's the ideal way to spend a Friday evening!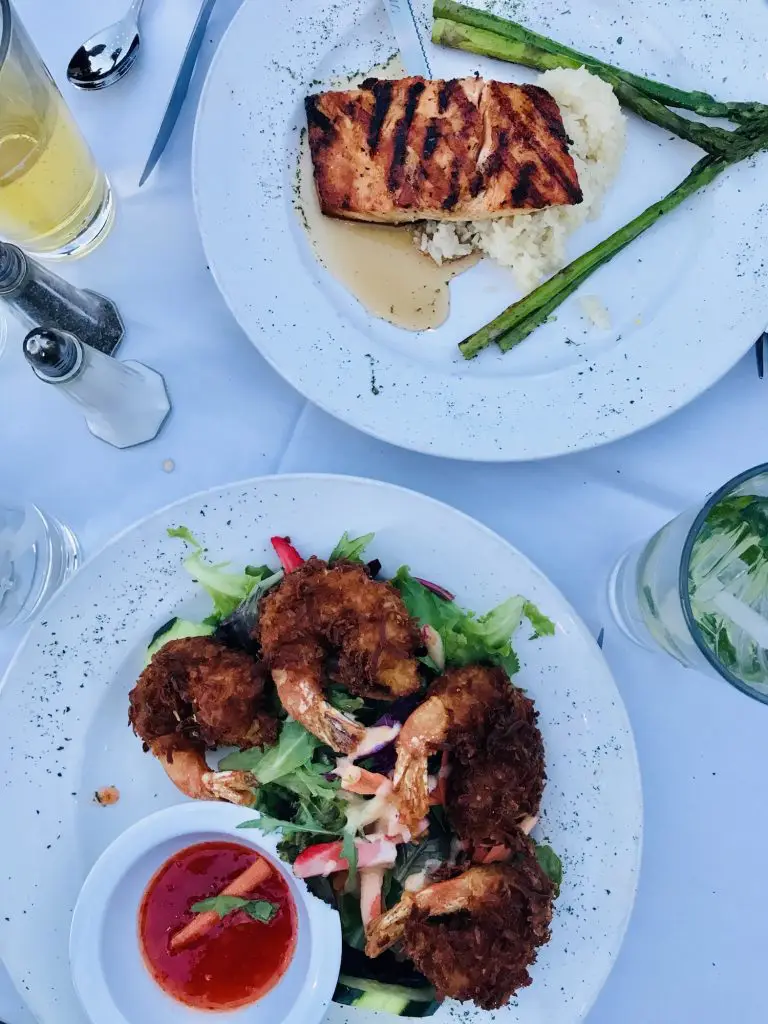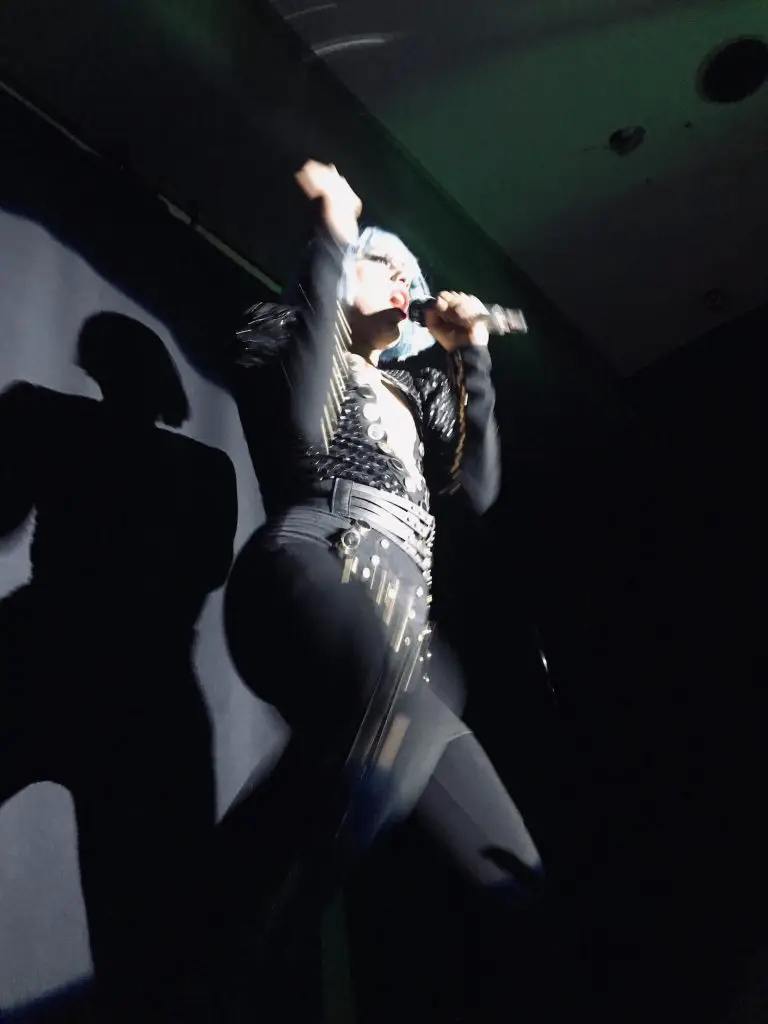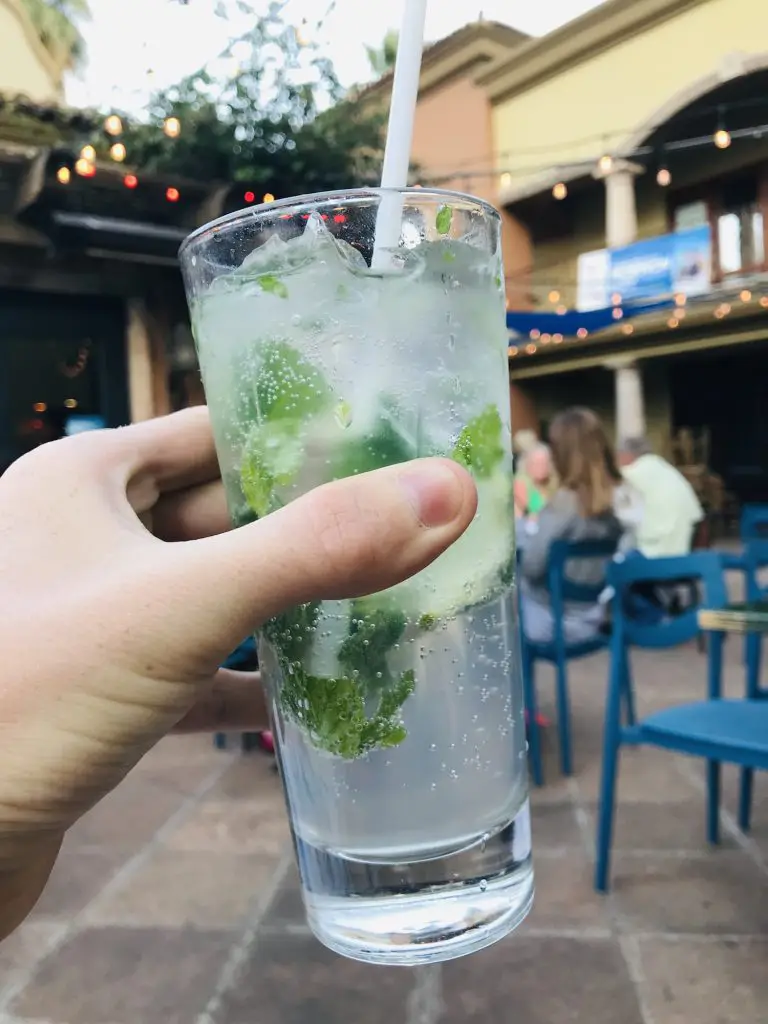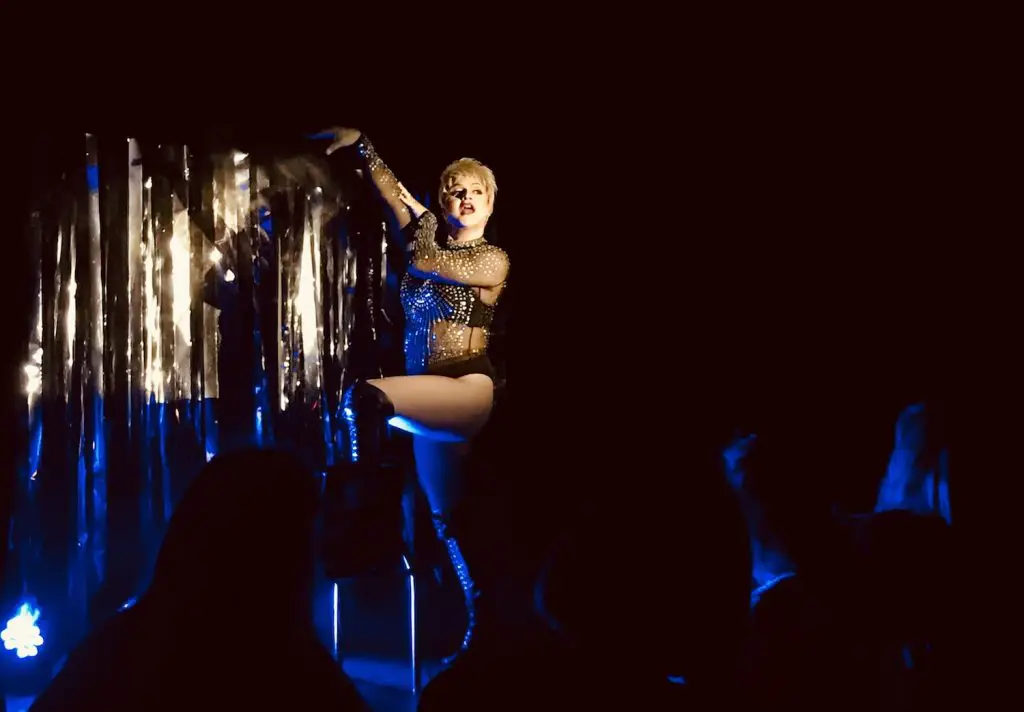 There are few things more badass than rolling around a beautiful desert in a spacious, cherry-red soft-top Jeep. Hiking is great fun, but joining a Desert Adventures Jeep Tour is definitely one of the more memorable and unique things to do in Palm Springs.
The professional set-up means that you'll have a totally smooth experience on your tour to Joshua Tree National Park, Indian Canyons, San Andreas Fault, or wherever else you feel like exploring.
One of our favorite options is the San Andreas Fault Nightwatch tour, where you can enjoy stargazing in the velvety nighttime desert. Your guides will be knowledgeable about the environment and the area's history and will definitely throw a few jokes in as well!
Don't miss this chance to get even greater insight into the mystery and history of Palm Springs.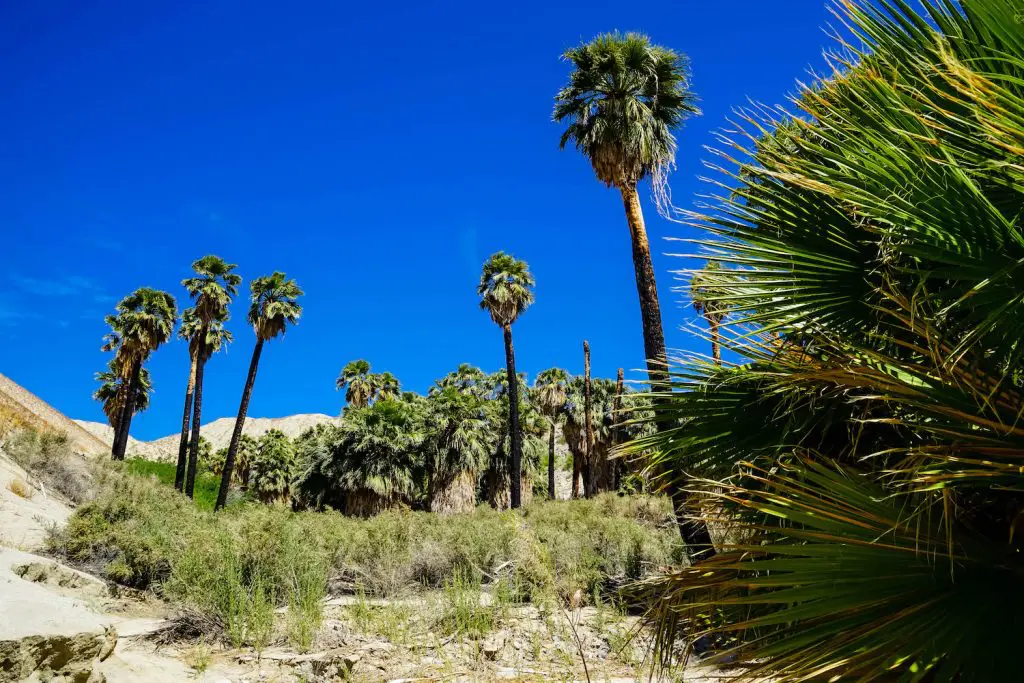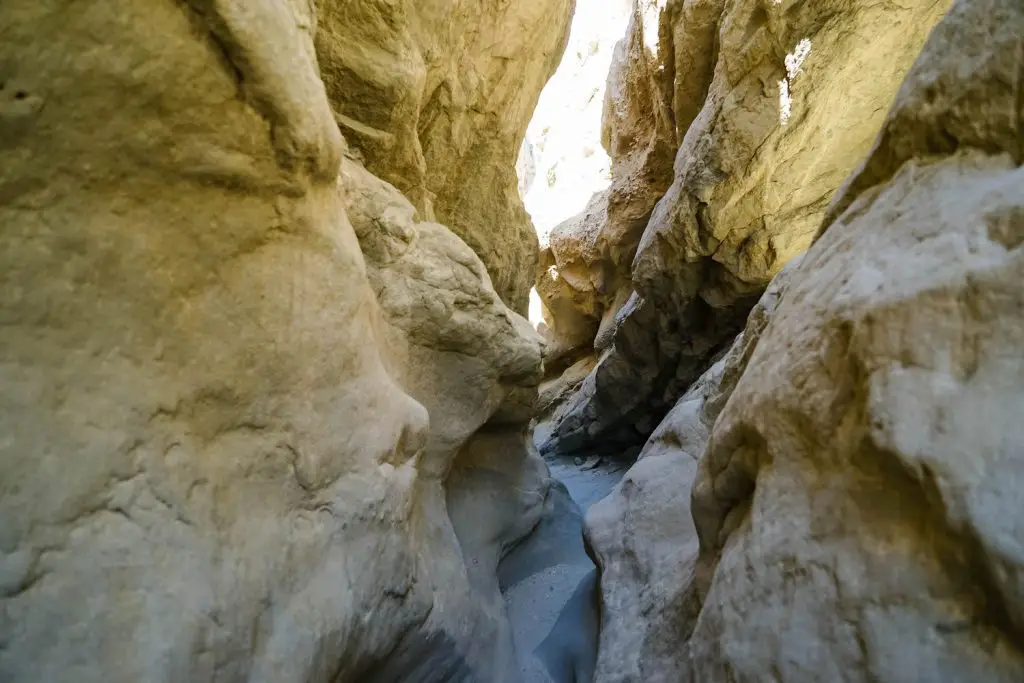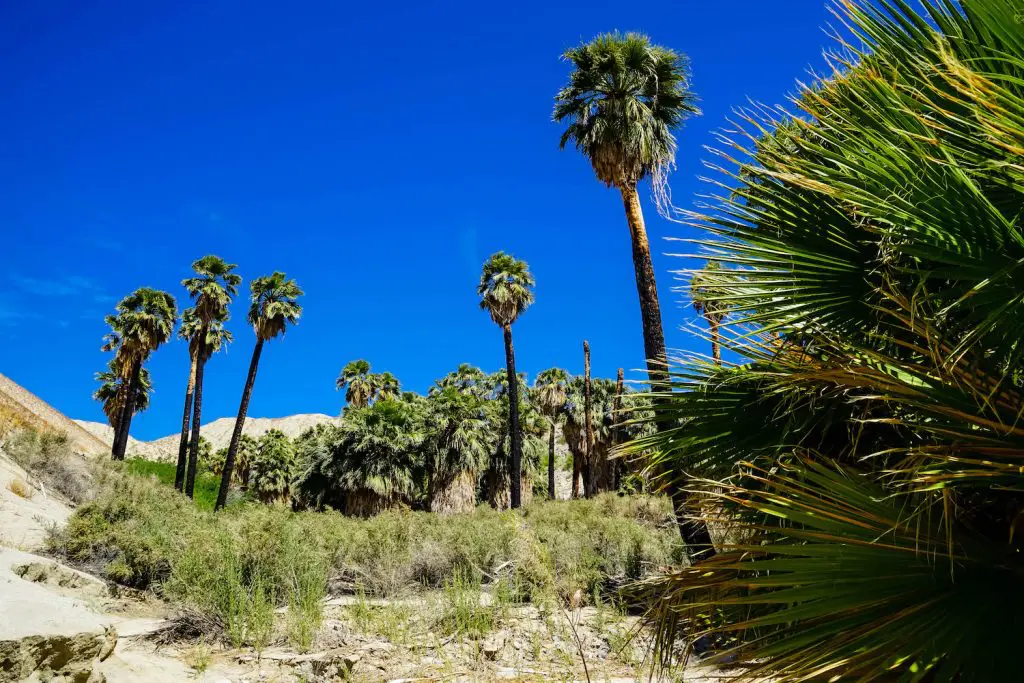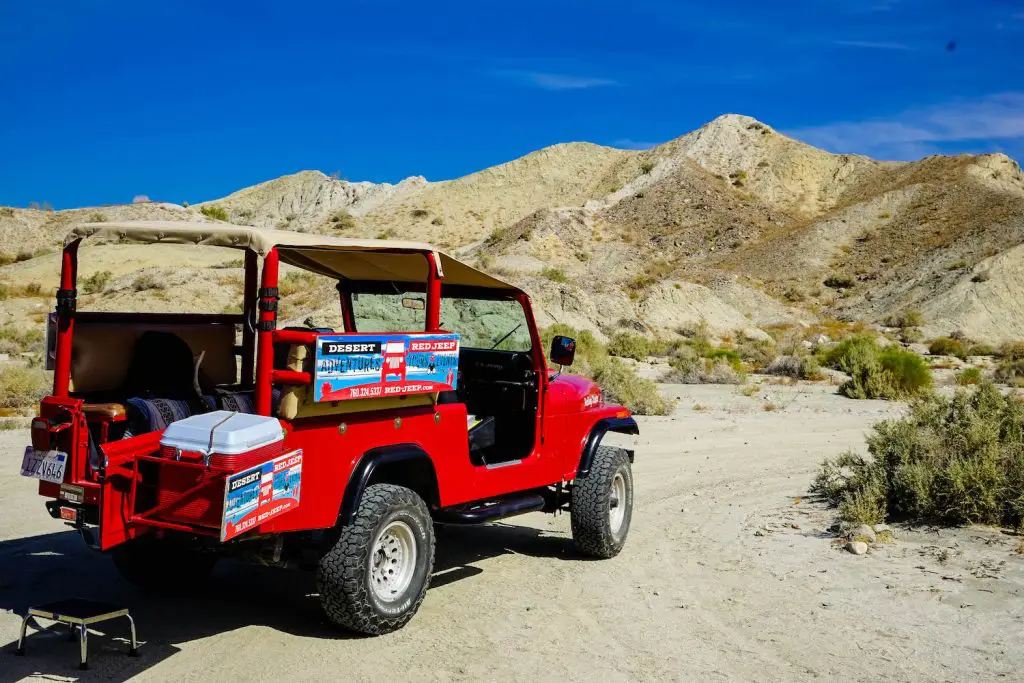 One of the stand-out destinations in the accomplished Palm Springs dining scene, EightFourNine is a contemporary eatery and art lover's restaurant offering sophisticated New American cuisine in a glossy setting with pops of color and incredible service.
Located in the uptown district of Palm Springs, this restaurant has already built a name for itself as the choice event space for charity galas and private events. Despite these exquisite credentials, eight4Nine seeks to provide quality crafted cuisine at a reasonable price for anyone who wishes to visit.
While prices are surprisingly affordable, this is not your traditional small dishes, and as head chef, Israel Jimenez will tell you: Everybody who eats here will be satisfied and leave saying that they ate for nine. You might be starting to see where the name comes from here, and get an idea of portion sizes.
Food, however, is just the cherry on top of the sensual experience cake at eight4nine. The decor and furniture are unmistakeably Palm Springs bold. You'll be met with white and pink Louis XIV ghost chairs, placed around a sturdy white farmhouse table. The chairs add an atmosphere of luxury while the tables assure customers that the food to come will be full and wholesome.
Walking through the dining area, you'll come across the spacious lounge and bar, which features another stylistic showstopper, the backlit Onyx bar. From here, you can sit and wait to be seated, or just grab your drink and gaze at the variety of incredible art up on the walls.
Their menu is focused on both presentation and flavor, incorporating diverse culinary influences while utilizing the freshest specialty produce, seafood, and meats available and aims at a reimagining of American Modern Cuisine, which arrives at the table an art piece in itself.
All dishes are prepared from scratch with creative flair and pair wonderfully with the extensive cocktail selection, including an unforgettable Minty Razz Margarita and Spiced Pomtini. The four-course dinner is particularly recommended – as is our server Sharleen, who deserves a shout-out for perhaps the best service we have ever experienced anywhere in the world.
There are four-course set menus available for $48, which will take you on a taste tour as impeccably crafted as the sculptures that stand amongst the tables. Both indoor and outdoor dining is available, so check out the pictures online and figure out where you would like to sit before you book – which you absolutely should as this mix of designer opulence and rustic comfort is ridiculously popular.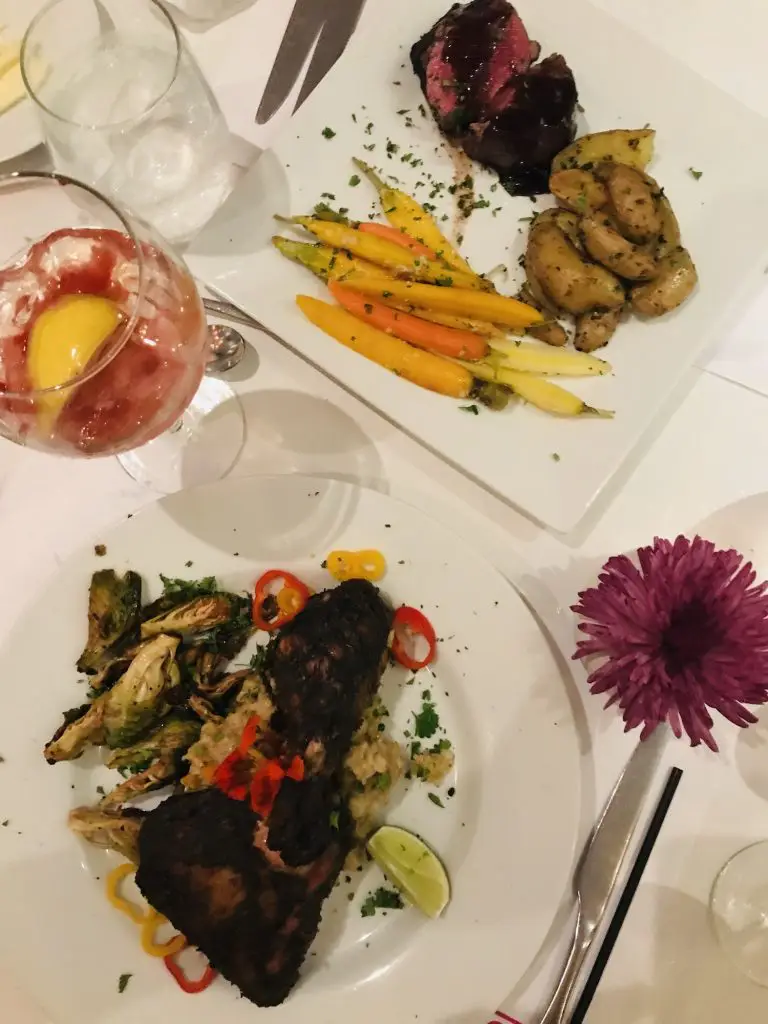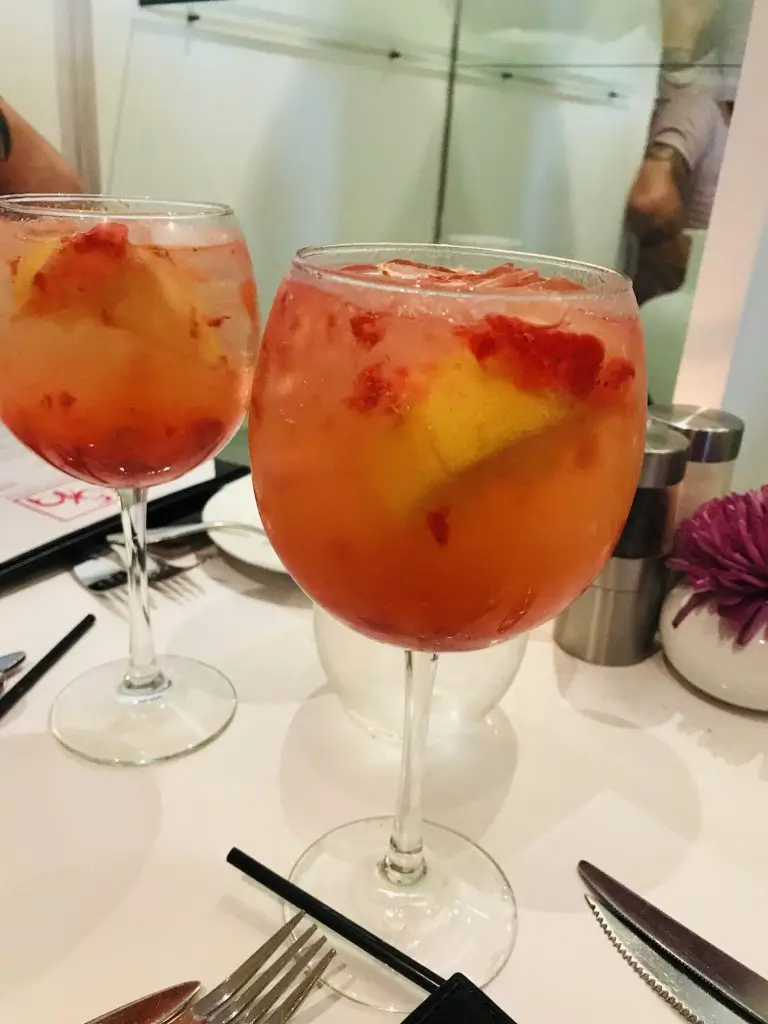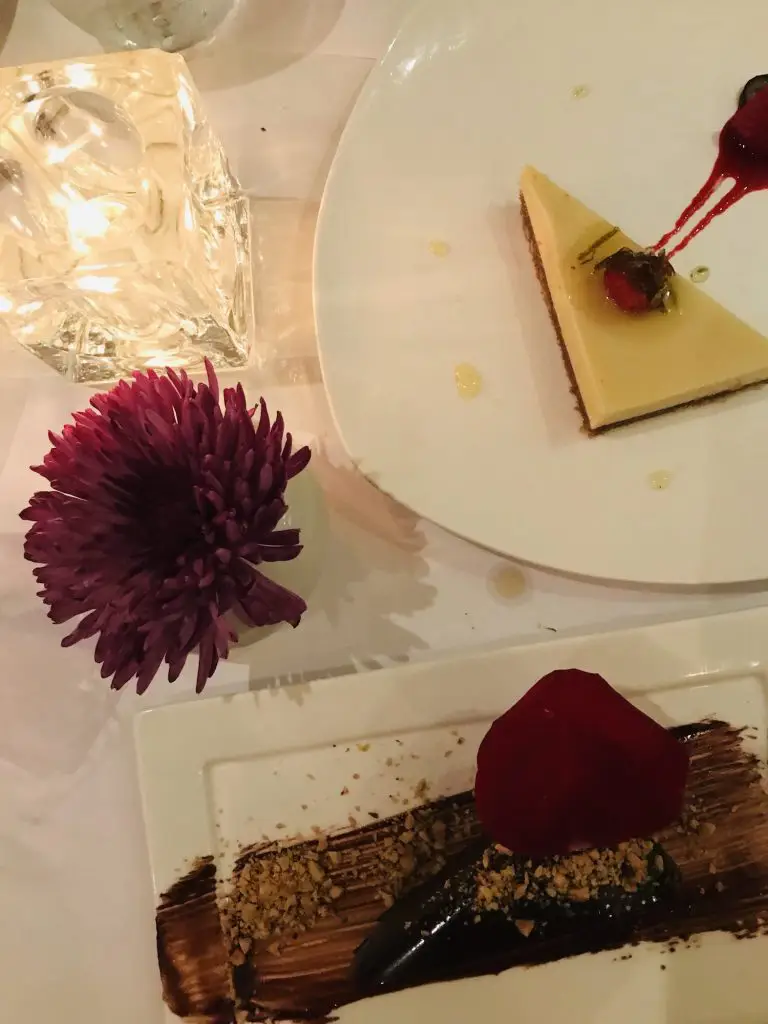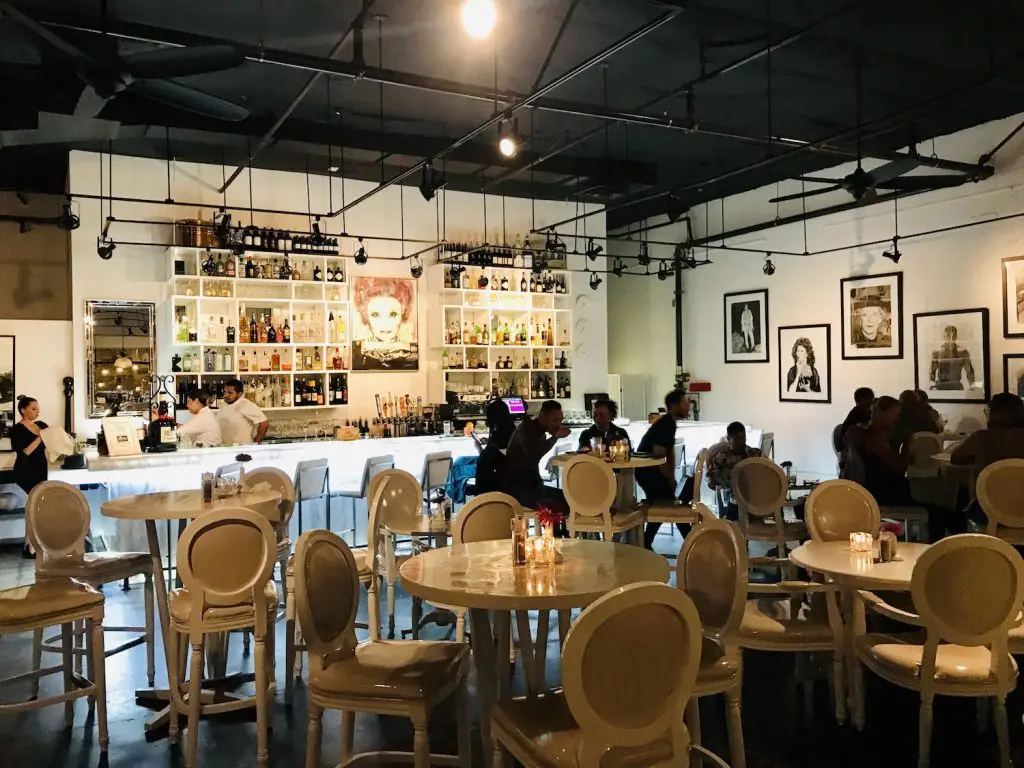 I'll be the first to admit – I am not a fan of Sake, even after numerous trips to Japan and extended stays in Tokyo, Kyoto, and Osaka. I've tried sake tasting tours before, and none have appealed to me… so when in Palm Springs I was dubious about this new tasting experience but thought hey, why not give it a go.
And I did not regret it for a second.
Wabi Sabi Japan Living is the incredible creation of Darrel Baum and Osamu Sagara, a dream team that travels to Japan annually to curate their impressive section of goods – including their fabulous sake selection, which is modern, fresh and perfect for storytelling. These guys love Japan and are hoping to show the countries cuisine in a completely new light. Here you'll be able to find exotic delights such as Shochu, a specialty Japanese distilled liquor famous for its sweet aromatic flavors.
Of course, Sake is available here, but the collection curated with intense care, and it's likely that the staff can help you explore and discover the new flavors. Finally, there is a selection of Japanese beers that offer a different take on your favorite drink.
Allow these boys to delight and surprise you with their extensive knowledge of each Sake, accompanied by hilarious stories and photos of their trips to each brewery – each of which adds to the experience. At the very least, you will leave with a more profound sense of what Sake actually is (hint it's not just hot and bold) and a desire to visit Japan, but more than likely, you will want to pick up a bottle or two!
The taste experience here is all possible due to the creators Darrell and Osamu's passion for Japan, so if you want to learn more about the country and the drinks, feel free to ask the staff. Ultimately Wabi-Sabi Japan living aims to be a little home for Japanese culture in Palm Springs, CA.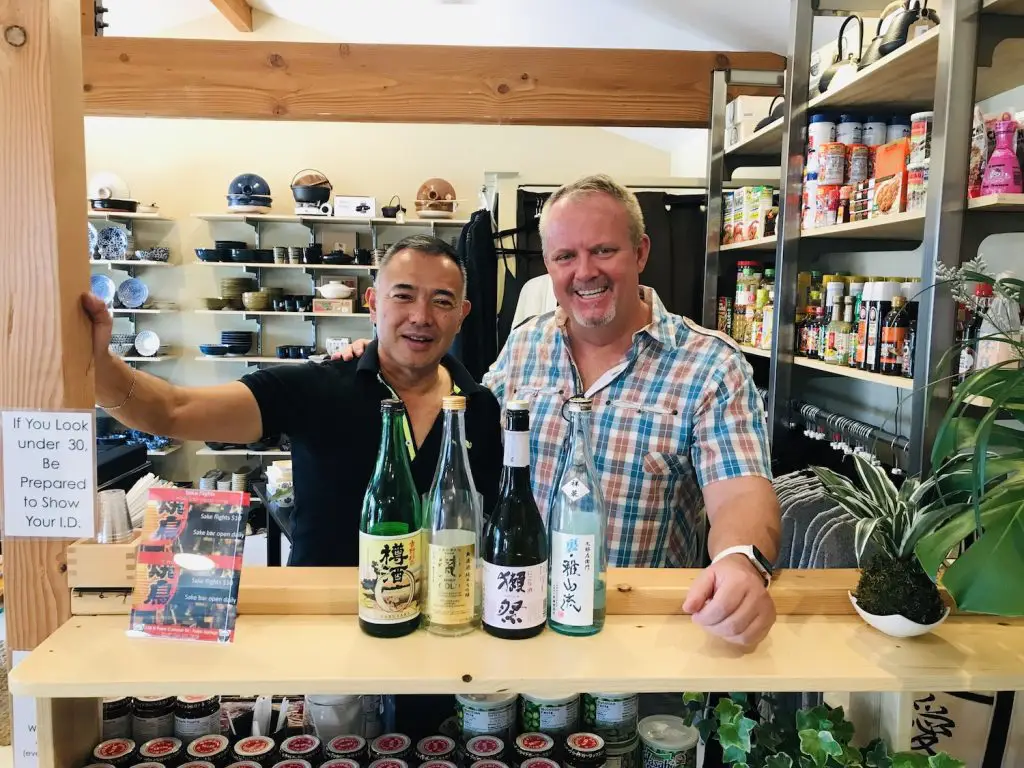 A stay at the luxe ACE Hotel and Swim Club is all about relaxing, recovery, and redemption. Originally the site of the classic desert modern buildings of the '50s is an intriguing twist on what regeneration could be for these American boom time buildings.
There are some fantastic clubhouse exteriors which just out from the sides of the building. Carefully selected color schemes and intriguing positioning mean that you'll constantly feel like you're sitting in a curated art piece. Your Instagram feed will thank you.
For style enthusiasts, as with so much in Palm Springs, this hotel is a must-see. The hotel is nestled just under the San Jacinto hills, and with bold edges and sharp shadows cuts into the hillside. The renovation of the hotel was directed by Commune, an architectural firm famous for transforming old 20th-century spaces into luxurious 21st-century accommodation.
There are, of course, nods to the building's foundations, with bare stone walls and slanted ceilings of the Golden Age of America, but the other overall feeling is of something completely different.
It's enough just to spend the day walking around this beautiful hotel, but once you're done taking pictures or basking in its wide-open spaces, know that you can head to the restaurant Kings Highway for ACE Hotels reimaging of the roadside diner. The food is built around local and fresh ingredients and tastes as synonymous with old California as rich mahogany.
Guests can also head to the Amigo room for artisanal cocktails and craft beers or Stumptown Coffee for coffee beans roasted with as much style as the architecture.
There are two big pools on sight, which are great from relaxing and all rooms come equipped with a garden patio. If you tired of sunbathing by the pool, head to your room and the patio for a more private experience. On the weekends local DJ's arrive at the pool, getting the party going with disco and house sets, whilst if you're looking for live music on the weekend head for the amigo rooms.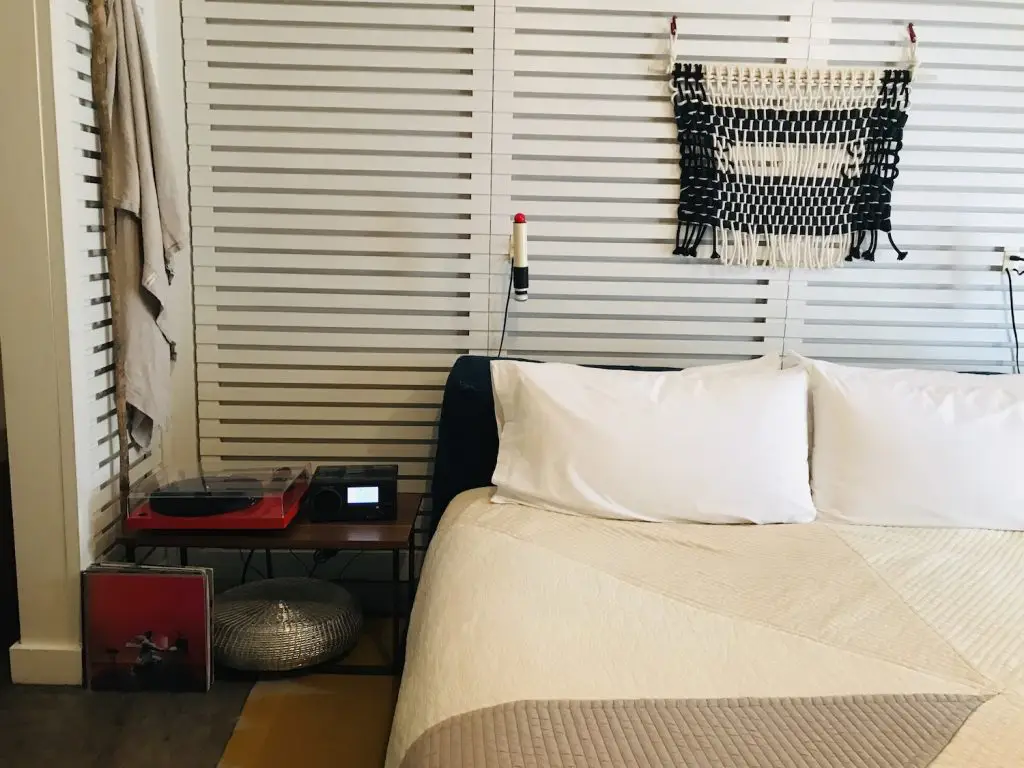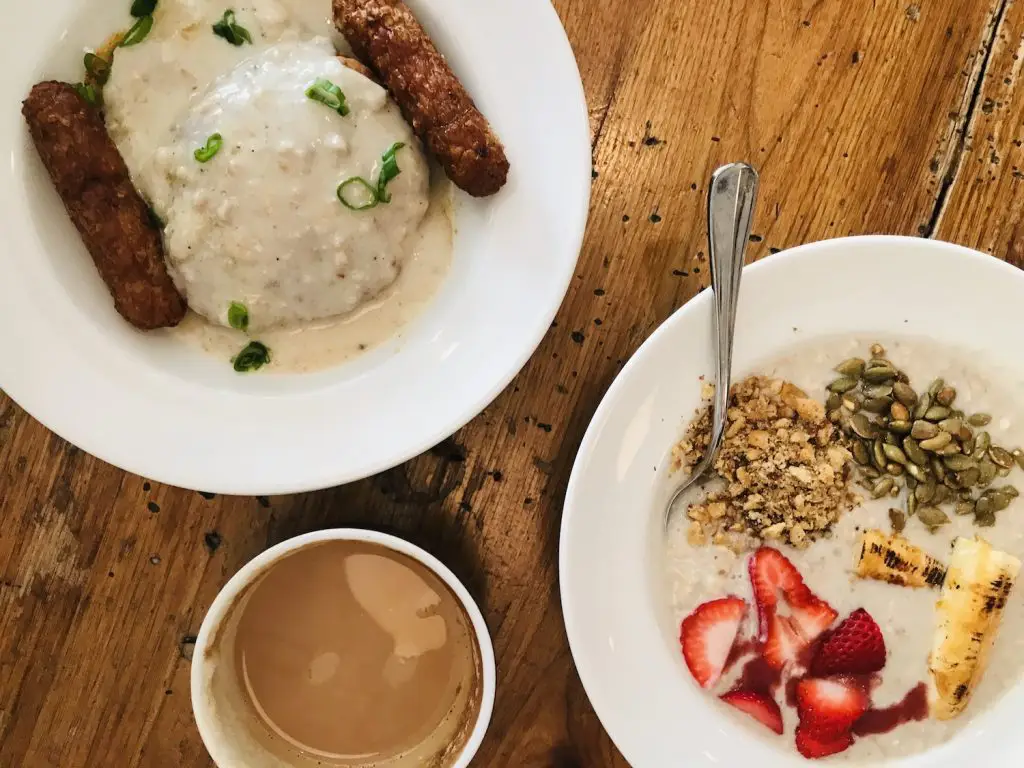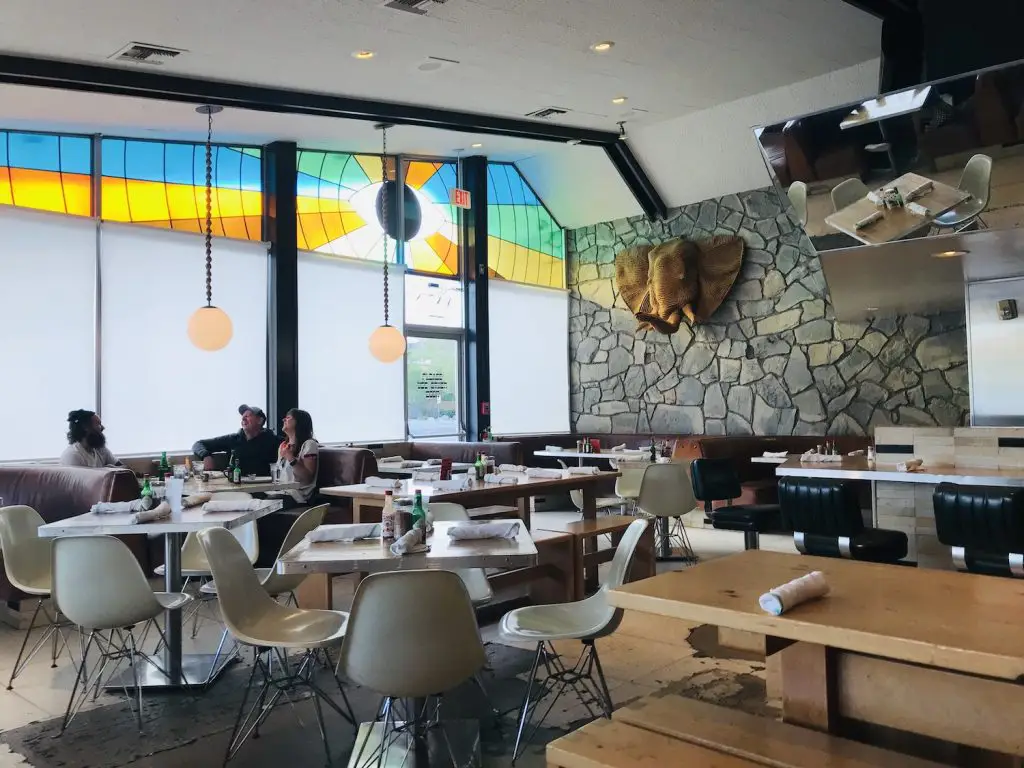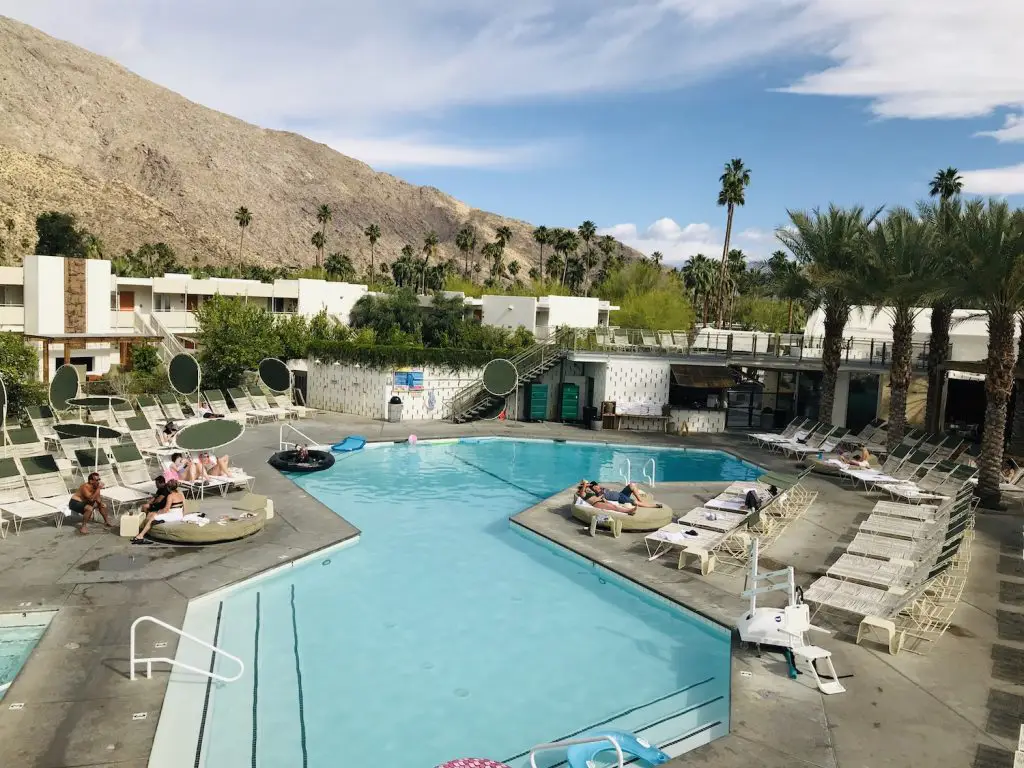 Staying Connected While Travelling
In today's increasingly connected world, staying online while traveling has become essential for a seamless experience. That's where eSIMs come into play, revolutionizing the way we access mobile networks during our global adventures. Say goodbye to hunting down local SIM cards at the airport; eSIMs provide instant activation the moment you land, sparing you the fortune usually spent on international roaming and allowing you to genuinely travel like a local (without getting hopelessly lost!).
With eSIMs, tasks like restaurant recommendations and reservations, up-to-the-minute public transport instructions, checking opening hours, and accessing further information become a breeze. And, of course, sharing your journey on social media is easier than ever. To stay connected wherever you roam, consider using either Airalo or Holafly. Airalo boasts the most extensive range of destinations worldwide, offering smaller data bundles tailored to your needs, while Holafly provides unlimited data packages and fantastic EU data deals.
So why wait? Embrace the future of travel connectivity with eSIMs and make your next journey effortlessly smooth.
Further Things To Consider Before Any Adventure
Now you're all set and prepared to explore our big wide world, why not sort out everything else out all in one go? If necessary for your travel plans make sure you have brought proper travel insurance, protected your privacy by getting a secure VPN, compared all the top hotel booking sites to find just what you're after, reserved an unbeatable rental car price and - of course - booked the best flight deals!
Or maybe just forget it all and go for a last-minute cruise or effortless tour instead?
Many budget travelers (including me) indulge in worldwide airport lounge access, so we can experience luxury while still slumming it in economy. Naturally, we would never leave home without a more general travel guide since we couldn't possibly cover everything here!
Just add an adventurous attitude and plenty of smiles - they go a long way - and that about covers it all! Now go out, find your own path and don't forget to share your best inspiration stories with me on Facebook, Twitter, and Instagram...I'd love to hear from you!