Japan's old imperial capital has history radiating from every building, every temple, and shrine, every blossom-filled garden. Kyoto is an altogether different pace to Tokyo and, as such, is the perfect complement to the hectic capital.
You can spend time visiting the thousands of temples and shrines (yes, there are literally thousands – about 2000, anyway!) to learn more about the spiritual heart of Japan. Here you'll find monks chanting ancient prayers, dazzling religious architecture, and the scent of incense in the air.
With this much spirituality, it's no wonder that a trip to Kyoto feels remarkably peaceful, despite the fact that it's a major city.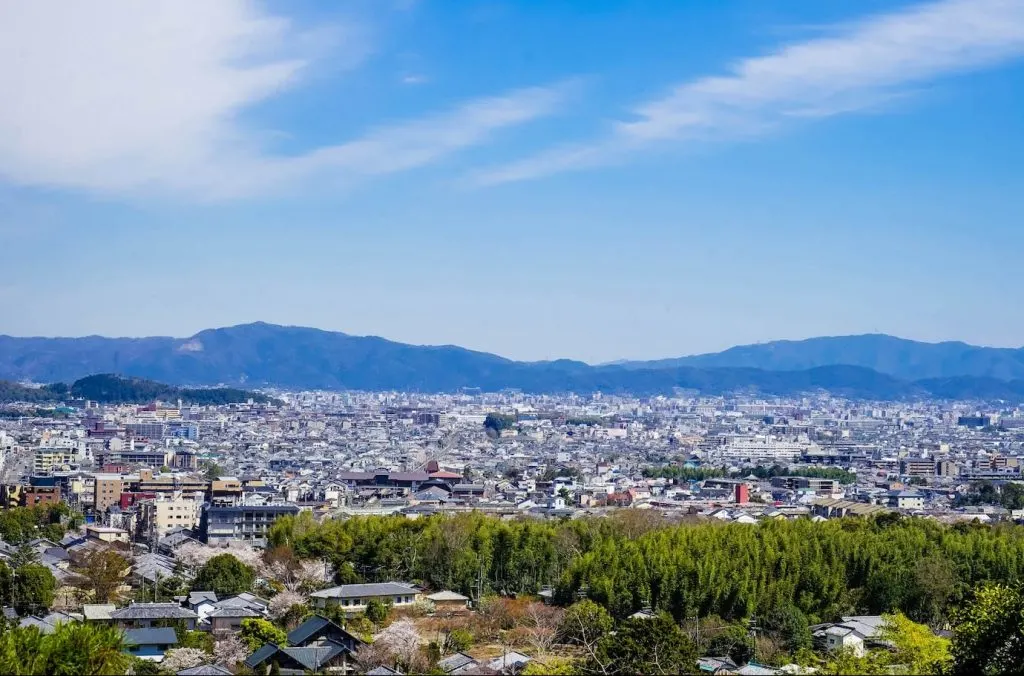 Aside from religious cognizance, Kyoto also offers you a great deal of cultural understanding of Japan. Home to any artisans whose trade has been passed down throughout the generations, areas like Gion and Nishijin showcase some of the most exquisite textiles, lacquerware, and tea sets in the country.
In between resisting spending all your money, you can enjoy some of the best food in the country. Nishiki Market is known as 'Kyoto's Kitchen' for good reason as you can find all the foodstuffs you can imagine among its historic lanes.
Aside from sampling things from the stalls and street vendors, you can also find high-end restaurants galore in Kyoto. There's enough here to keep foodies and culture vultures alike occupied for days. And it is so easy to reach with the JR Pass or explore from with quirky and fun spots like Toyama, Nara, Himeji, and Kanazawa nearby waiting for you.
You could always opt for an easier Japan tour company to show them all to you, but sometimes what we want is a little adventure and self-discovery. And that is where Kyoto is so perfect. So among all these treats, what are some of the best things to do in Kyoto?
---
Before exploring Kyoto, arrange an eSIM to avoid hefty international roaming fees. Staying connected while traveling is essential, and eSIMs have transformed mobile network access for globetrotters.
No need to search for local SIMs at the airport; eSIMs offer a hassle-free experience upon arrival. They save time and money while preventing loss or damage to physical SIMs. To stay connected, consider Airalo or Holafly, the biggest names in global eSIMs.
Airalo offers a wide variety of destinations and smaller data bundles, while Holafly has unlimited data packages and excellent EU data deals. Don't delay; enhance your travel experience with eSIMs for seamless connectivity.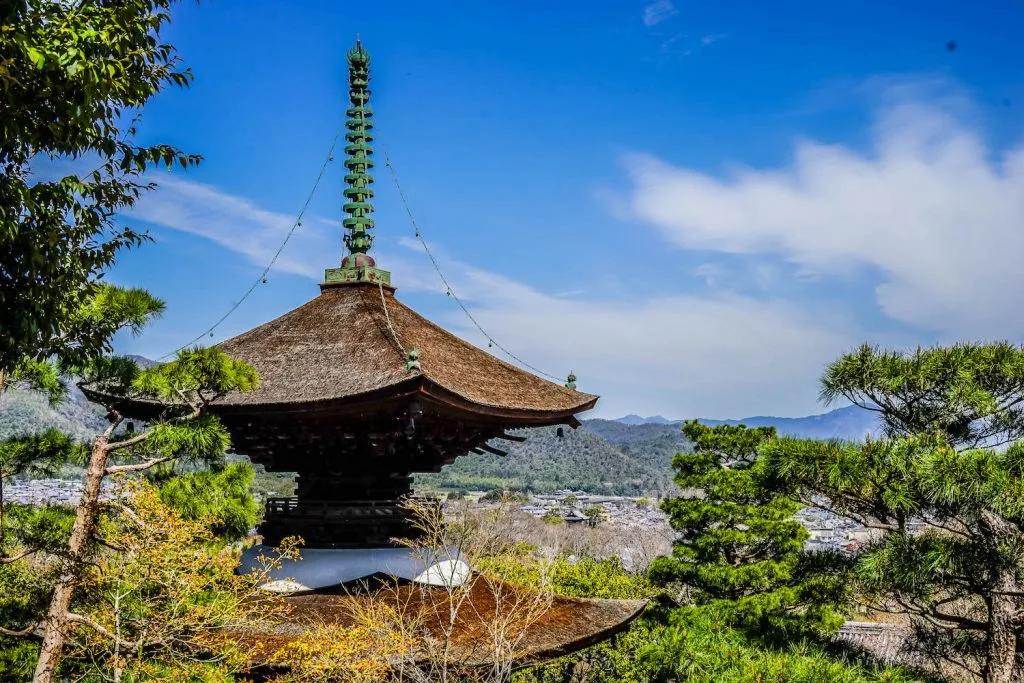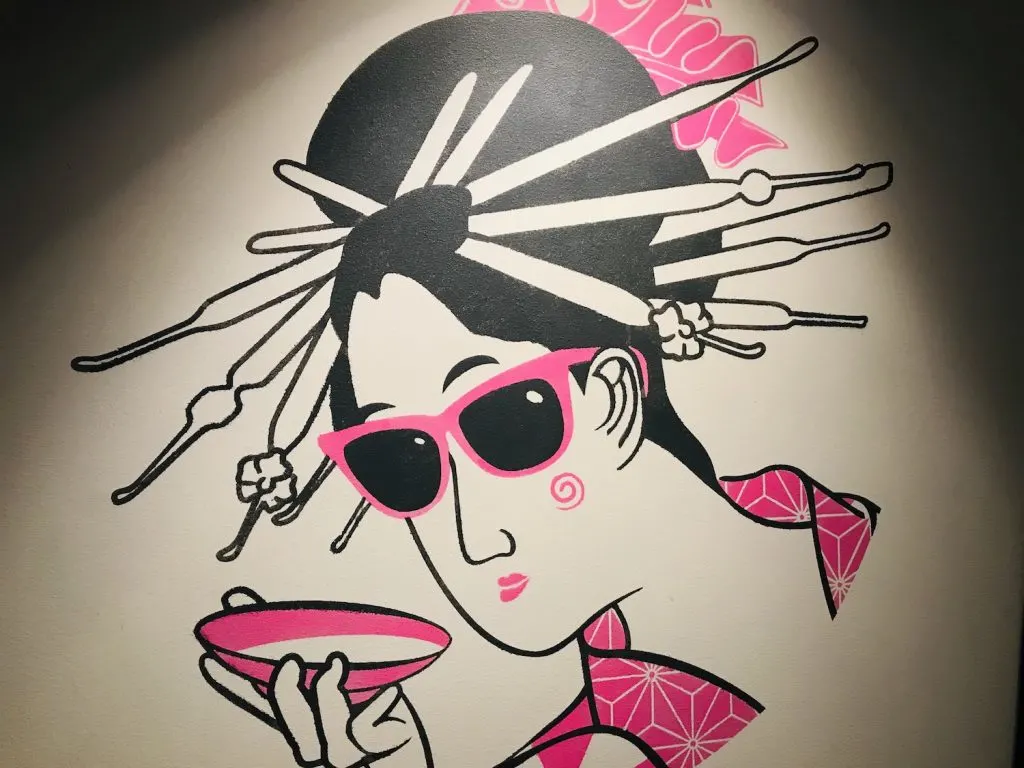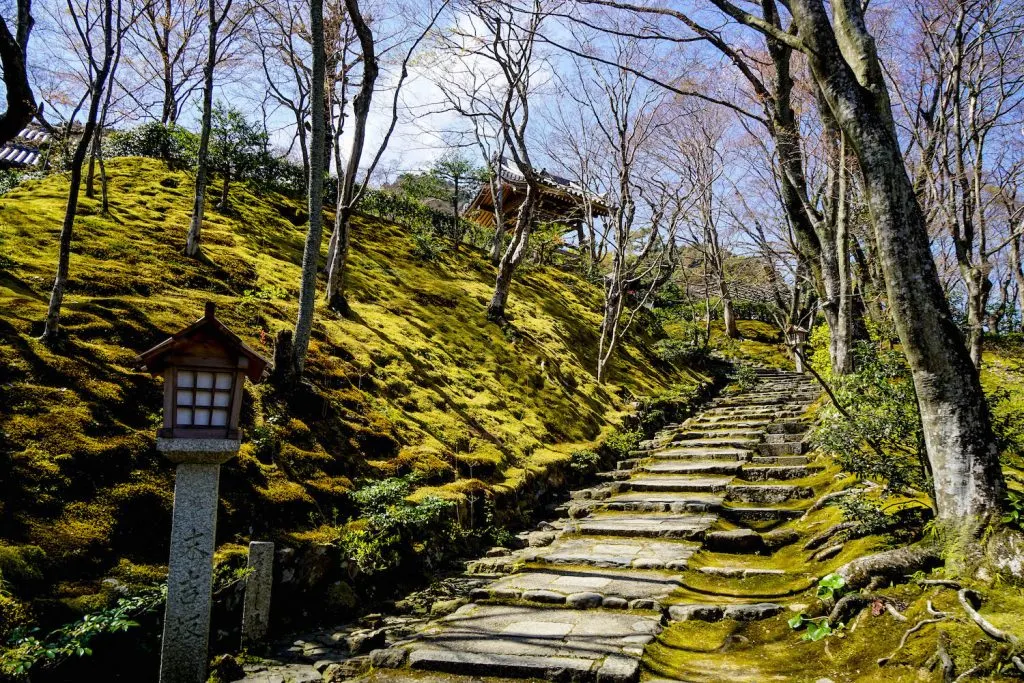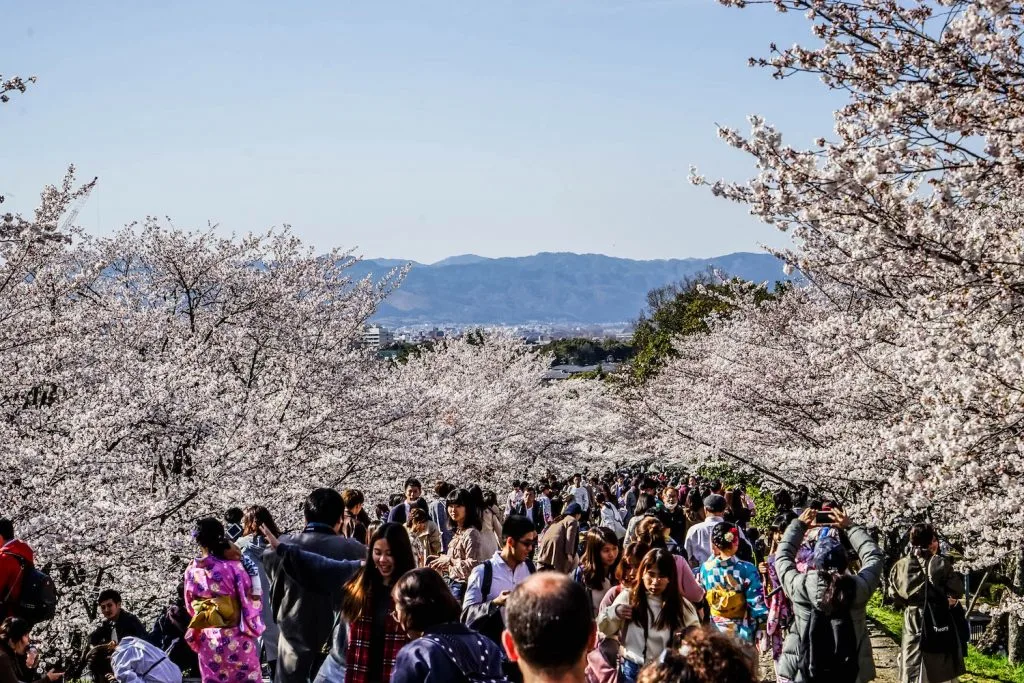 13 Fun Things To Do In Kyoto: The City of a Thousand Secrets ⛩
Whether you're traveling with a special someone, with friends or on your own, your heart can't fail to soar on this gorgeous train ride from Kameoka Station to Saga Station. Taking you on a 25-minute route through some of Japan's more stunning scenery, even the train is picturesque!
It doesn't matter what season you're traveling in; from the lush cherry blossom of spring to the vibrant green of summer, the landscape always delivers something spectacular. The perfect time for a proposal, perhaps?
Sadly, this train isn't covered in the JR Pass, so you'll have to buy a separate ticket which can sell out in advance. Still, for a memory like this, it is undoubtedly worth the extra coin!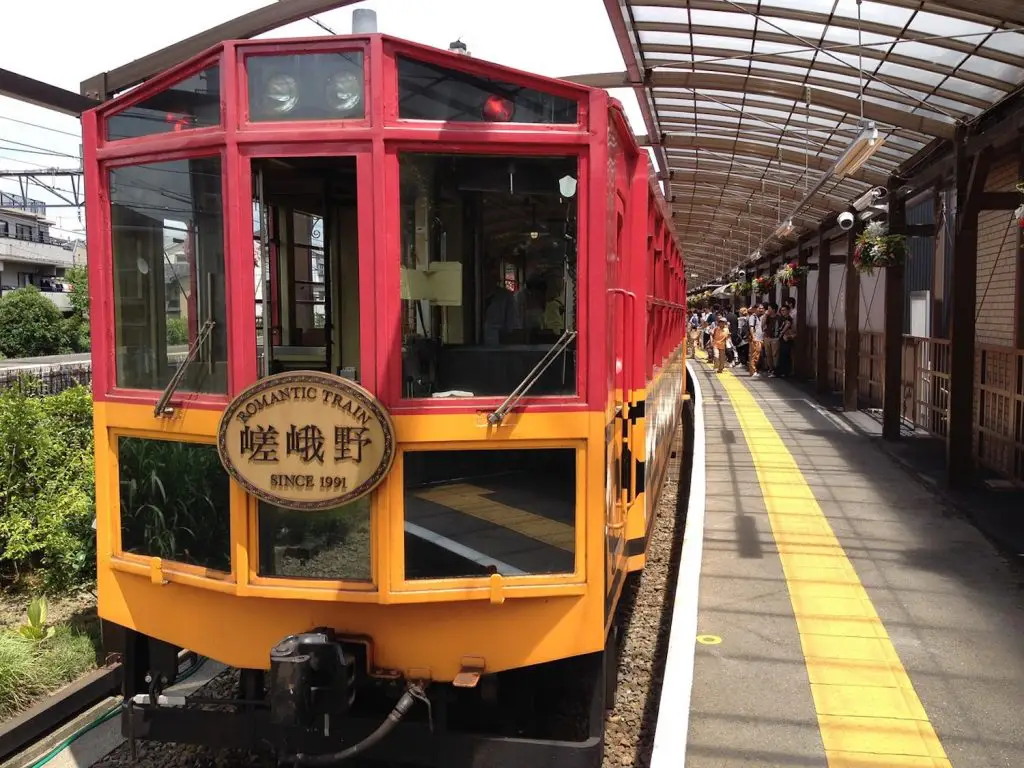 It can be challenging when you're traveling to really discover the backstreets of a city – maybe they're hard to find, or you don't know what's there.
Often this is where the most engrossing things happen, though, particularly in a city like Kyoto. This pub crawl to the local izakaya (informal pubs) bars and food places that locals go to will show you a totally different side to this quaint city. As much as we love the ancient tradition, you can discover here, that's not all that Kyoto has to offer!
Enjoy chatting with people over a few drinks under red lanterns watching the world go by and immersing yourself in the atmosphere. Whether you prefer a cold beer or sampling sake, this is a superb way to make friends and gain more insight into the Kyoto lifestyle.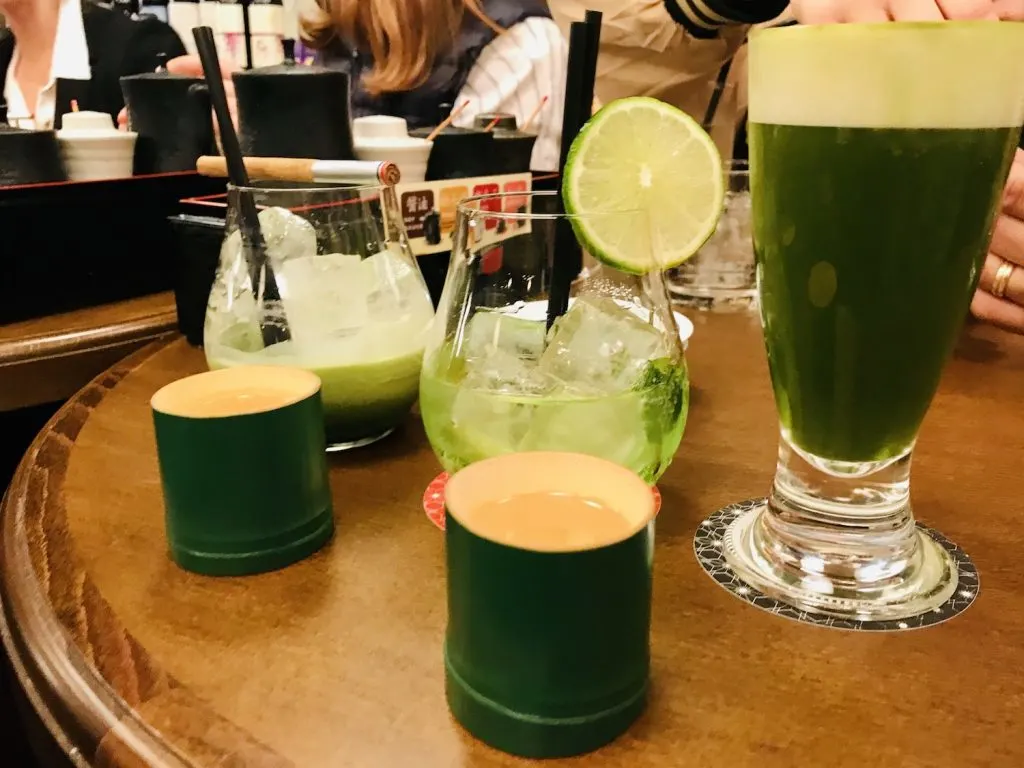 How many times do you hear people talk about 'feeling zen' but don't know where the expression comes from? Now's your chance to find out!
While many Japanese people would say they don't practice a specific religion, the principles of Buddhism run through life here; Zen is one of those principles. This tour will give you further insights into how to practice Zen meditation with guidance on breathing and posture before you give it a shot yourself.
Afterward, you'll visit a temple and garden to conclude this peaceful travel experience that helps you gain more insight into the root of Japanese culture. It's certainly one of the most tranquil yet fun things to do in Kyoto and will give you more energy for explorations ahead.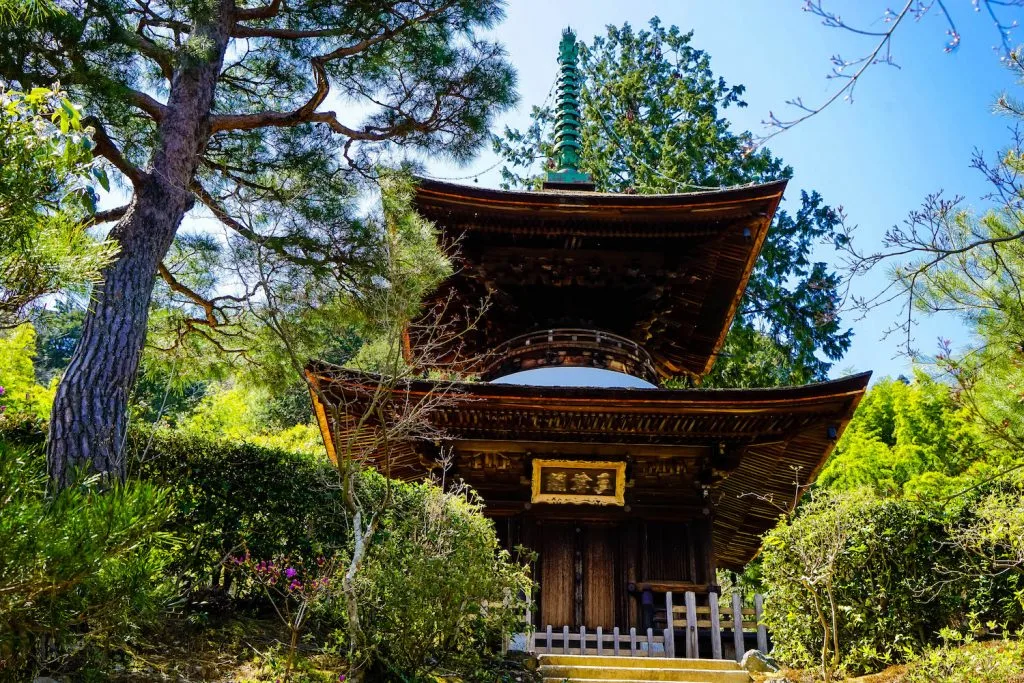 Perhaps you stayed out after the pub crawl too late and need a reason to get up, or you're just a fan of early mornings and great breakfast; either way, a walking-and-tasting tour of the famous Nishiki Market is the perfect way to start a day in Kyoto.
The peaceful atmosphere and crisp morning air are a lovely complement to the vibrancy of the evenings. Taste 4 or 5 different breakfast dishes recommended by your expert guide – make sure you come with an appetite!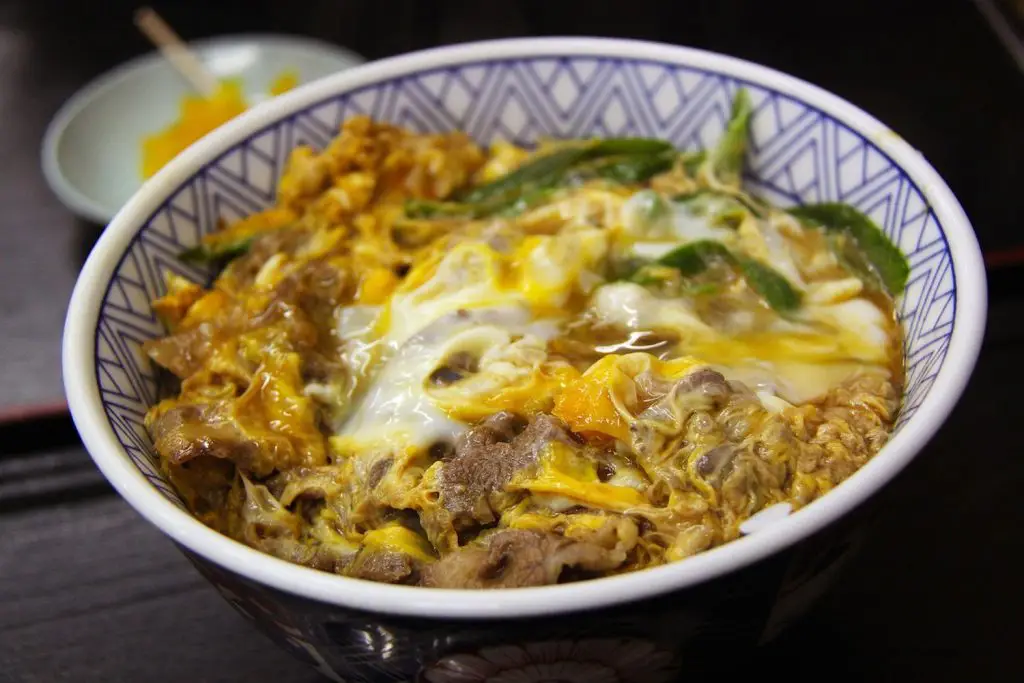 One of the best things to do in Kyoto is, of course, taking part in a traditional tea ceremony. It's both soothing and humbling to experience something that has lasted through the centuries, and as Kyoto is its birthplace, why not do that here?
This walking tour first takes you through the picturesque streets of Kiyomizu-zaka and where you can visit the colorful temple Yasakakoshindo, contributing to the worship by writing wishes on brightly-colored balls. This area also is home to stalls selling local delicacies, so sample some of these before moving on.
Kiyomizu-dera temple, the next stop, is built on Otowa Waterfall, a stream of pure water that brings good luck. It all rounds up with a cup of tea made using traditional utensils. You'll even get a chance to try your hand at making green tea with the powder, and get some traditional sweets to match the tea!
Enjoy this step back in time and come away, knowing more about the county you're visiting.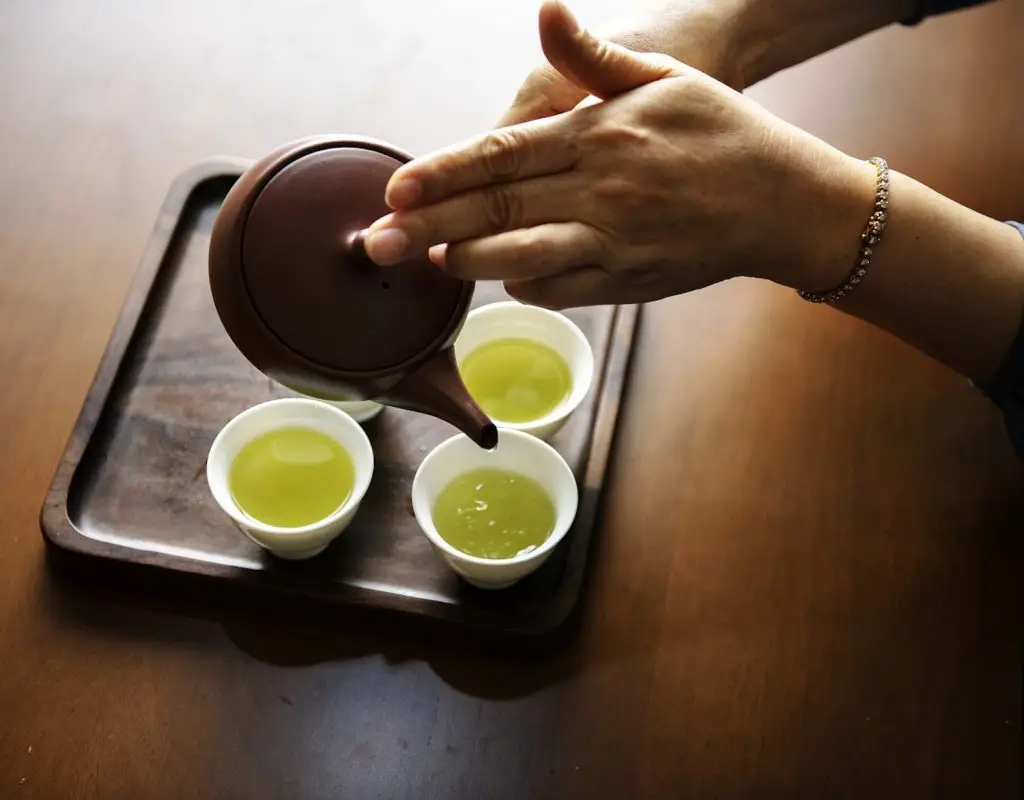 Be honest; you've always wanted to try wearing a kimono. The stunning patterns, the sumptuous material, the vibrant colors – they're gorgeous items!
Luckily, you now have a chance to spend a day exploring Japan's most history-rich city wearing the national costume. Whether you're male or female, there are plenty of options to choose from, and you can even get your hair done to match.
You can then discover Kyoto in style and get some lovely photographs done at the same time.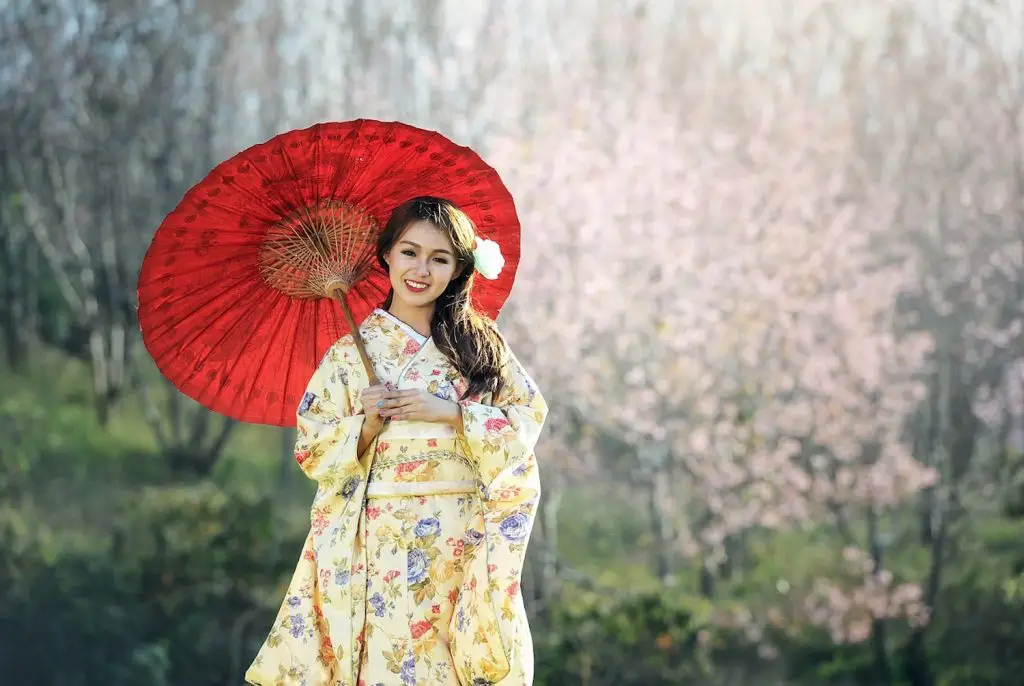 This wouldn't be a list of fun things to do in Kyoto if we didn't include a trip up this striking building to enjoy panoramic views over the surrounding city. One hundred meters above the ground, the observation deck gives you a beautiful vista of the various sightseeing spots, including many of the renowned temples.
There are even telescopes if you want to zoom right in! We'd recommend going at dusk, as the sun goes down and the lights of the city start to twinkle – it makes you even more excited to explore what's down there!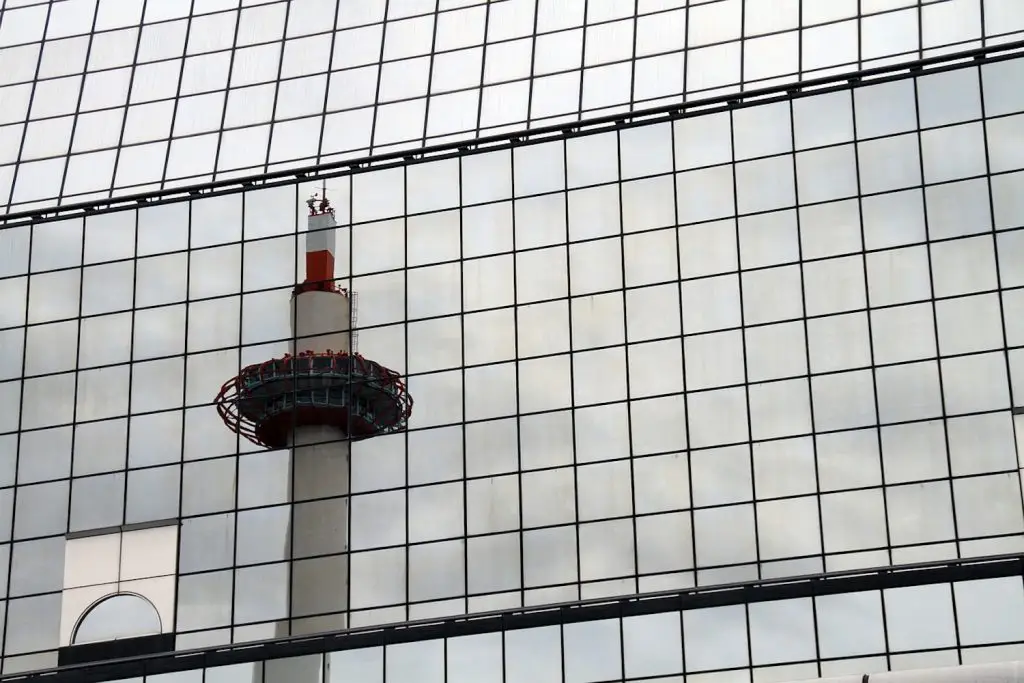 Ignore the scare stories and have a meal of Japan's famous fugu, a completely unique taste of pufferfish served up as sashimi, fried or with its eggs in a porridge (much nicer than it sounds, trust us!).
While it's true that if fugu is prepared incorrectly, it could be highly poisonous, there's nothing to be afraid of in Guenpin Fugu, where all the chefs are fully trained up with the required fugu license.
Let's be honest; it's a pretty great story to say you've tried fish that someone needs a license to prepare! While you're taking your tastebuds on a journey, you can also enjoy chilled-out surroundings, with wooden décor and warm light. A many-course meal with high-quality tiger fish at its center is an excellent treat for adventurous travelers.
As fascinating as it is to see Kyoto on foot, sometimes all that walking gets a bit too much. Handily, there are tons of these charming rickshaws around the city, and one of our favorite fun things to do in Kyoto is to take a rickshaw tour around the scenic area of Arashiyama.
It's a much more peaceful way to do a tour than roaring around in noisy cars and enables you to see the sights much better than if you're peering through a window all the time.
A friendly rickshaw guide combines their seemingly tireless ability to lead the rickshaw with a range of knowledge about the village and will take you to all the best sights. Choose from a 30-minute tour, which takes in the Bamboo Path, Rakushisha Poet's Hut and a shrine; a 1 hour one, adding in a temple; or a 2-hour tour which takes in the above plus another two temples or gardens.
In an area where nature and harmony seem in perfect balance, a rickshaw is the best way to see everything.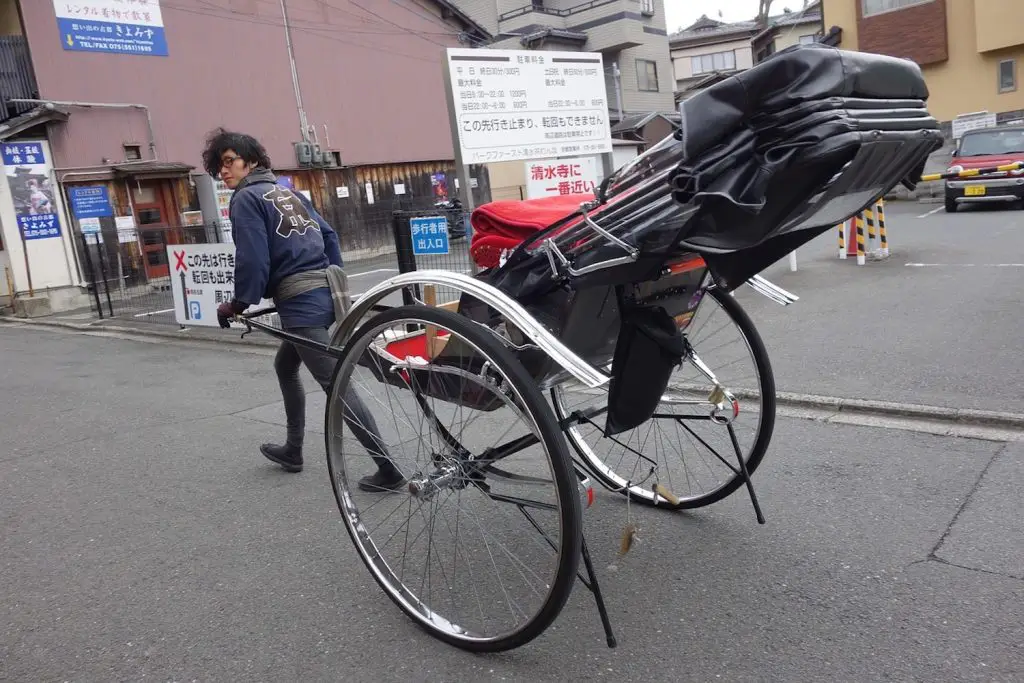 Few aspects of Japan capture the world's imagination like the Geisha culture that Kyoto is still famous for; however, it's often misunderstood or falsely interpreted.
Taking a tour of one or more of Kyoto's five Geisha districts is a good way to get the real picture of both the origins and the current state of the Geisha. All of these districts date back to the Edo era or before and are like pieces of history come to life, with mazes of cobbled streets lined with teahouses.
Geishas train for five years to become consummate entertainers, developing skills in Japanese dance, music, conversation, and pouring drinks. As you wander through the Geisha districts, you might see a Geisha crossing a bridge, dressed regally in ornate kimono and headgear – it's like being transported back in time.
Along the way, you can see some of the temples and shrines in these districts, as well as get more informed about the profession.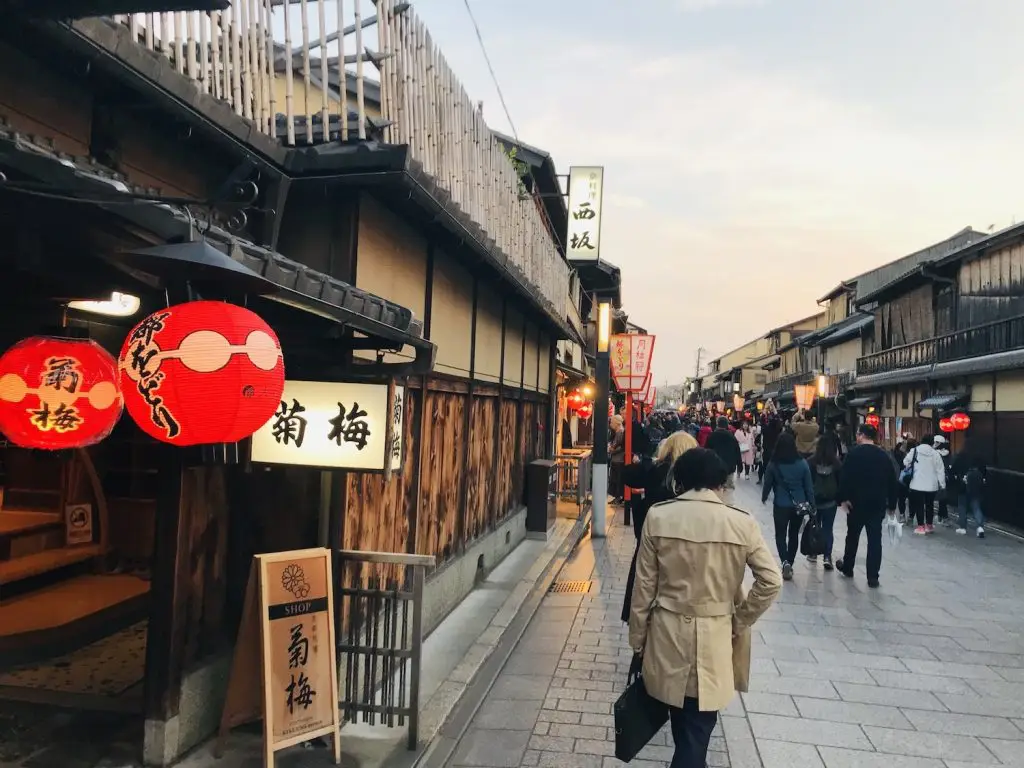 While fermented rice wine might not be your first choice of tipple, sake is a drink with a fascinating and intricate manufacturing process.
Learning more about this is a great way to spend your time in Kyoto as it is home to sake breweries still using the ancient methods to make their famous booze.
Here sake is made from water from Fushimi Hill, renowned for its purity and natural taste. As well as seeing the methods for brewing up close and its results encased in barrels in the cellar, you can taste the different flavors and see if you, too, can become a sake connoisseur.
Or if you don't have time — why not at least consider an all-you-can-drink Sake night out in Tokyo…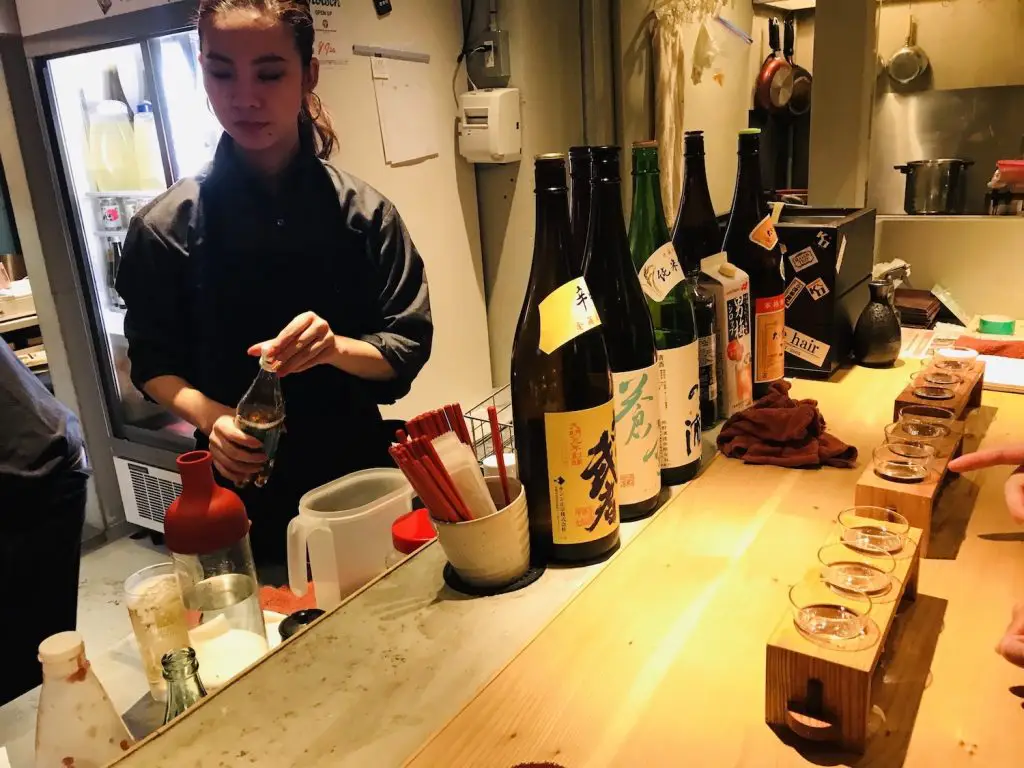 Surrounded by trails covered with thousands of bright red-orange tori gates, Fushimi Inari Shrine is a Shinto shrine and one of the most memorable sights in Kyoto. It's set among serene forest and has hiking trails up to multiple smaller shrines dotted up the mountain.
The tori gates are densely packed along the trails, making a striking sight. Each is donated by a business person or a company as Inari has traditionally been worshipped by manufacturers and merchants, seeing it as the spirit of business (technically Inari is the kami of rice).
The main hall is nearer the base of the mountain, and this is where you should make a small offering if you want the deity to bring you good fortune. As well as the tori gates, there are lots of fox statues around as they're supposed to be messengers. It might be crowded, but it's still a lovely place to visit (just try and avoid people photo bombing you inadvertently!) – and if you still are not done with the foxes, there is always the utterly unique Zao fox park.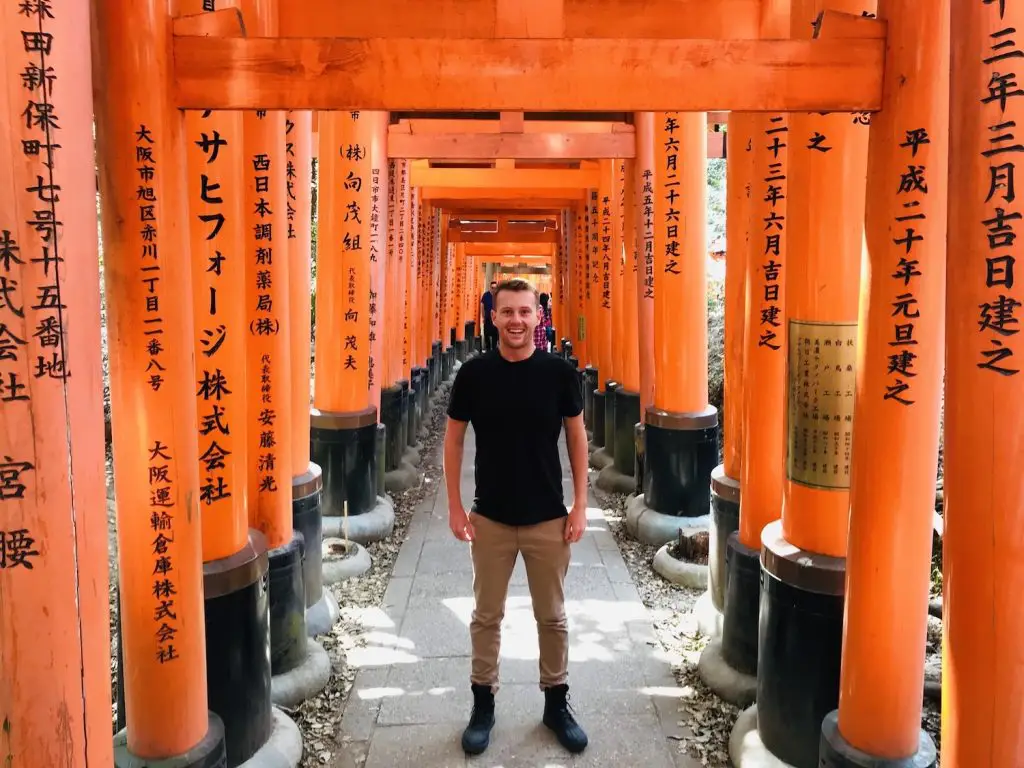 This natural grove of towering bamboo manages to be both surreal and calming at the same time. The sound of the stalks rustling and swaying in the breeze has been declared part of the soundscape of Japan, and when you hear it, you can understand why – the soothing noise almost reminds you of the sea.
The light shining through the green also contributes to the underwater feel. You feel as though you could wander in this magical place for days.
It's set in the heart of Arashiyama so you can combine your otherworld experience with a visit to the Tenryu-ji Temple. It's only a short distance away, and then you can stroll up the hill through the bamboo, marveling at the fantastic places nature can create.
So who needs Tokyo with all these amazing yet fun things to do in Kyoto?!