Japan might have a reputation for skyscrapers of glass and steel, neon lights and super-fast trains – in short, all the trappings of modernity-, but it also has some of the most beautiful gardens in the world.
Over the centuries the Japanese have relished their stunning and varied scenery, and sought to replicate the dense, green forests, sparkling streams and peaceful meadows in their intricately landscaped gardens. This has become an art form, not only because of the quest for natural beauty but also because gardens play a key part in the aesthetics of Buddhist culture.
They're places for quiet contemplation and appreciation of beauty.
If you're making a list of things to do in Japan then we'd 100% recommend seeing some of the country's stunning gardens for yourself – and the gorgeous Kanazawa Gardens are a good place to start.
Most signs are in English, but learning some signs in Kanji could help you immerse yourself further. Strolling here not only acts as a great escape from the hectic pace of life in some parts of Japan, but also gives you a deeper understanding of the cultural values here. Plus, great photos… many of which are now my Shutterstock top earners!
One of the best tips we can give you for exploring Japan is to order an airport travel SIM card for easy pickup and activation the moment you land so you will not pay a fortune for international roaming – and can truly travel like a local.
Restaurants recommendation and reservations on the fly, public transport instructions up to the minute, opening hours, translations and further information – and of course, social media posting, if that's your thing – all become just that much easier.
Easily accessible with the JR Pass on a Shinkansen from Tokyo (where you can, and should stop in the incredible Toyama)…or from mystical Kyoto, the Kanazawa Gardens is one of our favorite spots in Japan. And one place you will not regret visiting!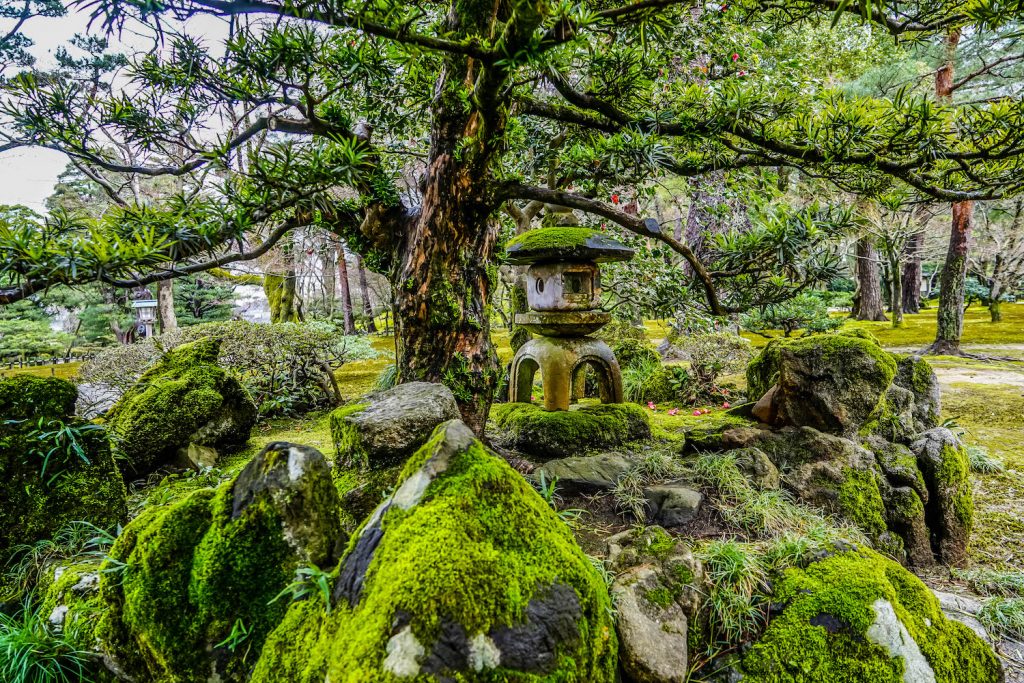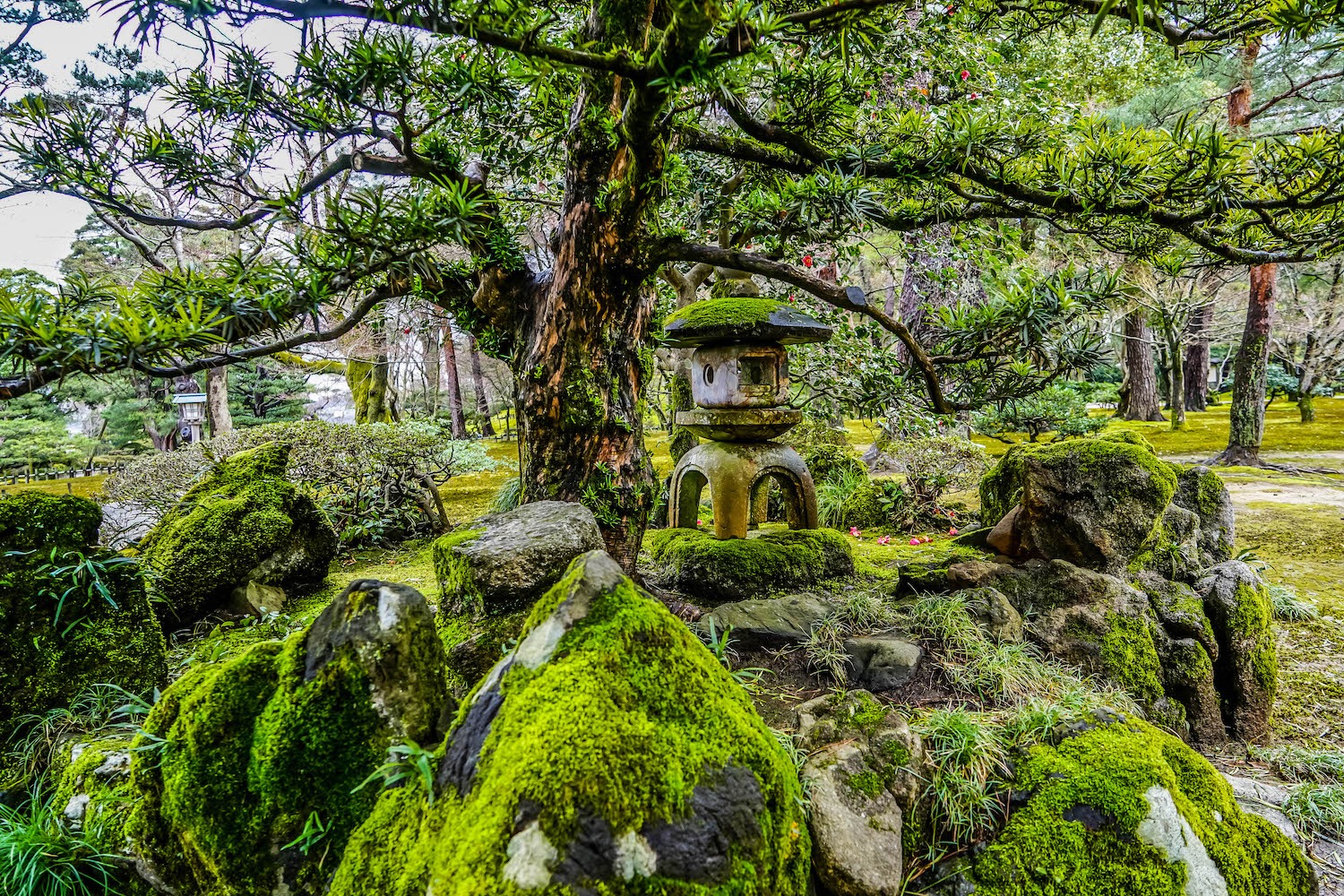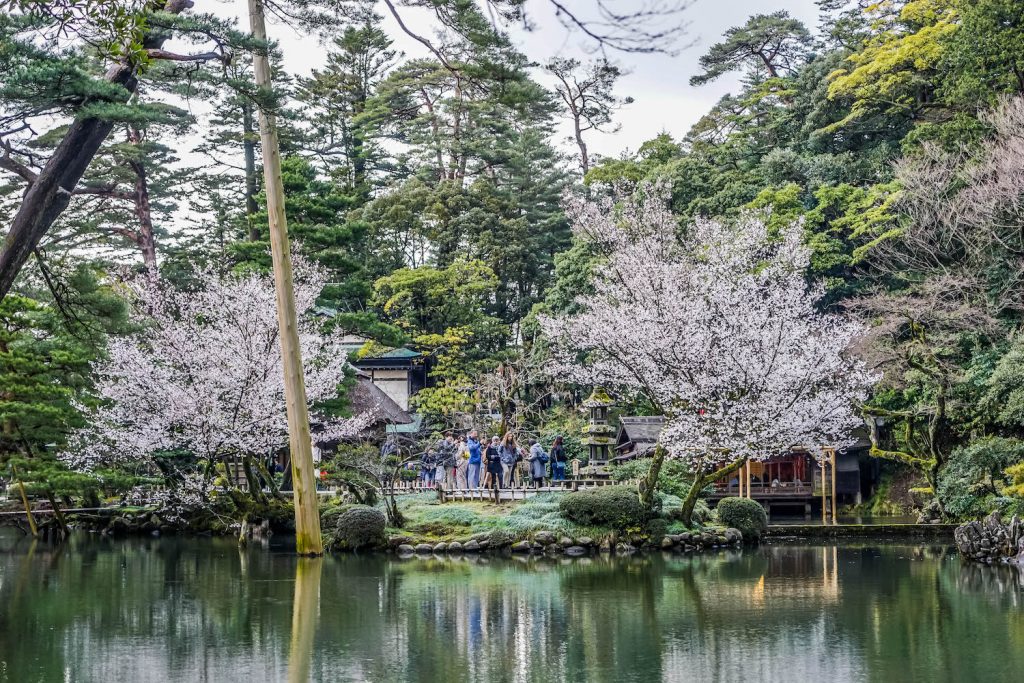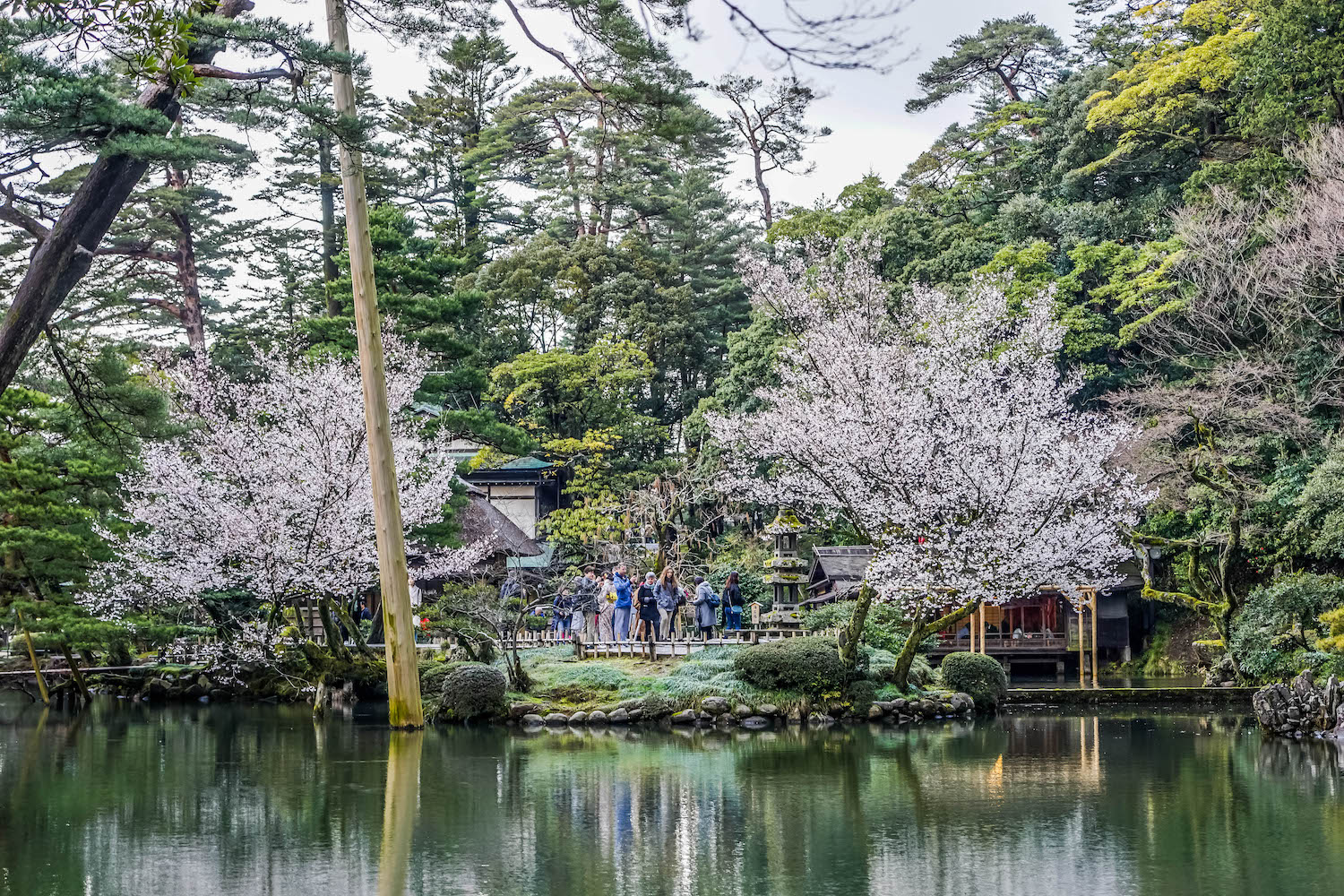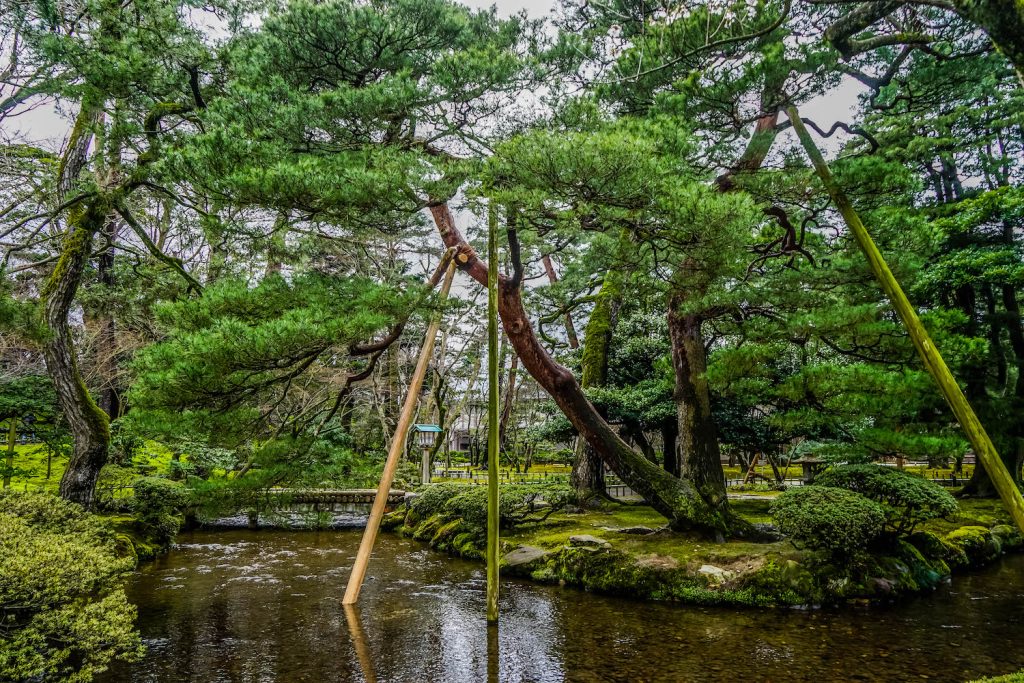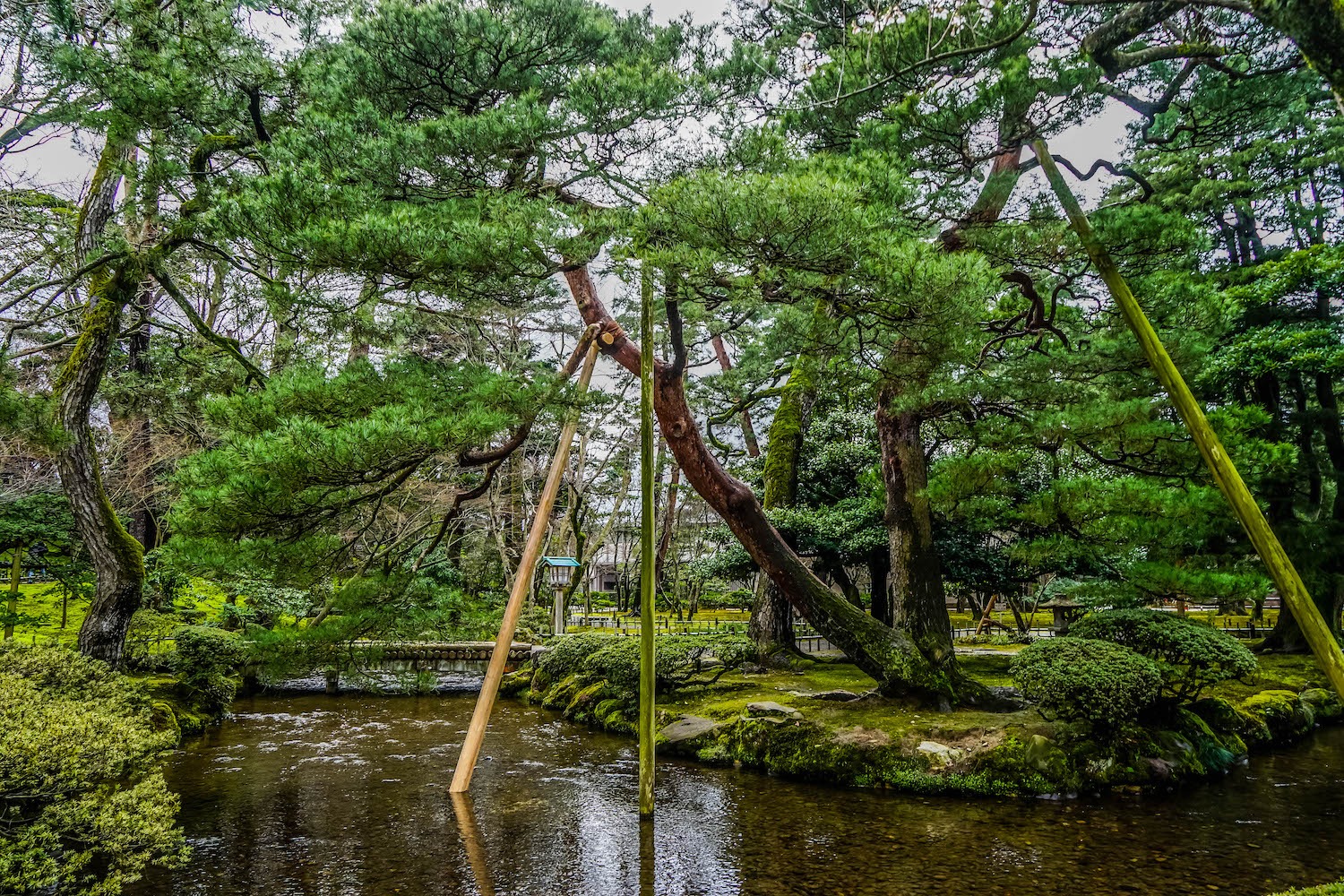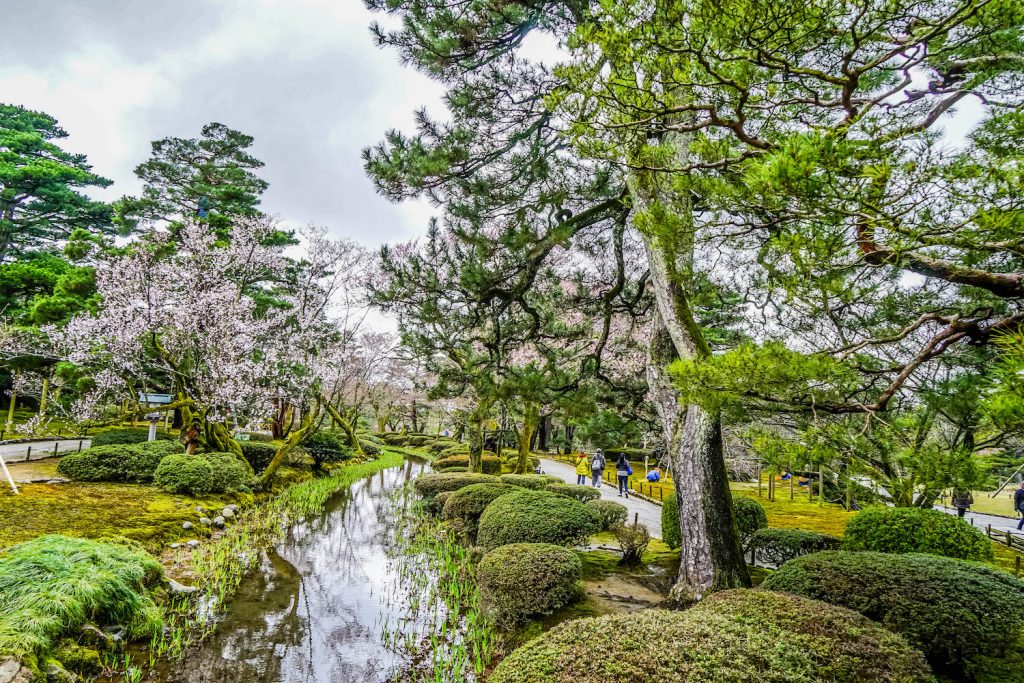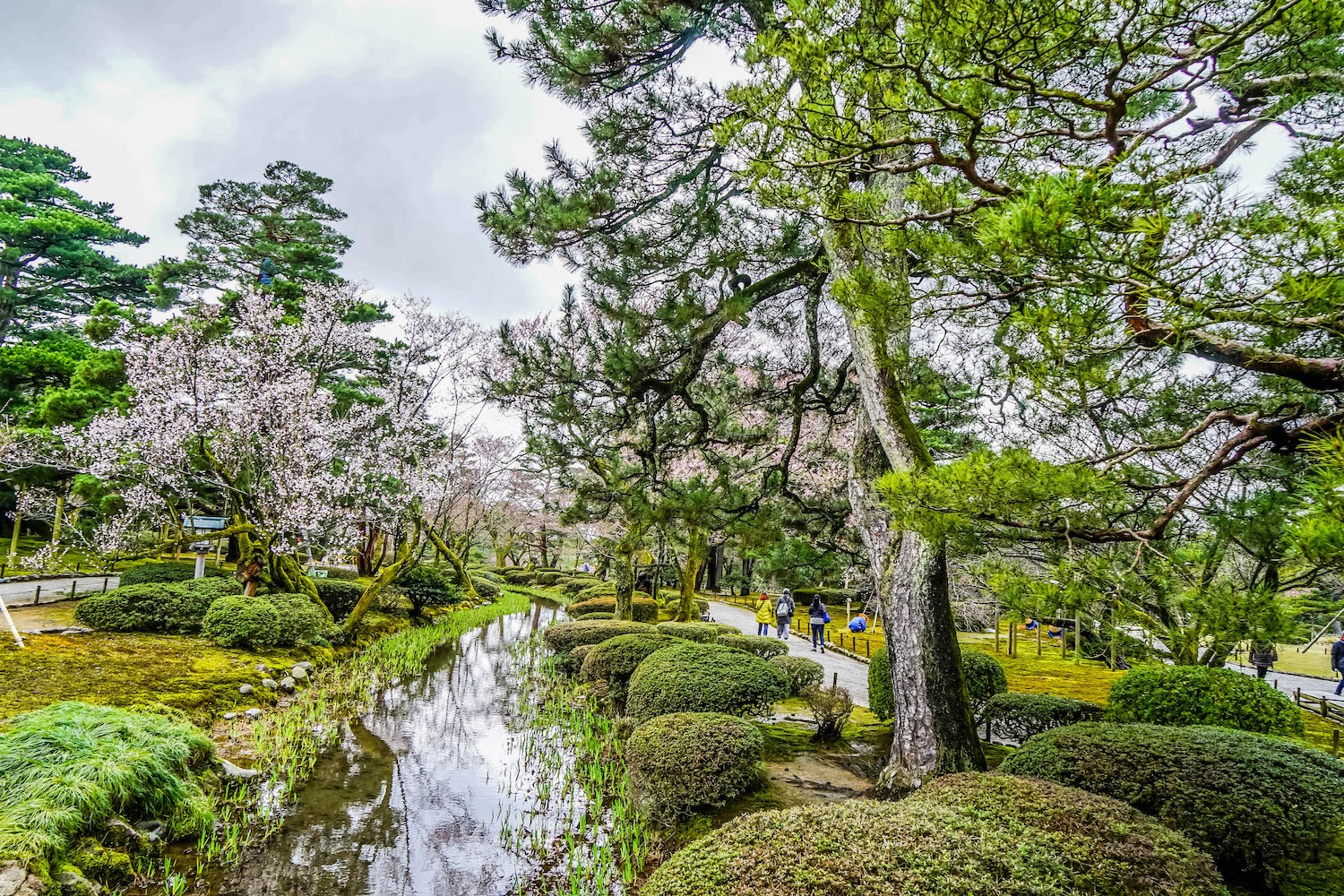 Why The Kanazawa Gardens Needs To Be On Your Japan Bucket-List! 🇯🇵
What Are The Kanazawa Gardens?
The Kanazawa Kenrokuen, to give the gardens their official name, is one of Japan's most famous landscaped gardens. Along with Kairakuen in Mito and Okayama's Korakuen, Kanazawa Gardens have been named one of the three most beautiful gardens in Japan, or the 'Three Great Gardens'.
It's a huge space (almost 25 acres) containing ponds, fountains, a range of plant and flower species, and walking here is breathtaking in any season. It's the perfect example of Chinese landscaping theory that believes that there are six essential aspects to a perfect garden – spaciousness, seclusion, artificiality, antiquity, abundant water and broad views.
Don't worry, our gardens at home don't have these either!
That's why we'll all just have to enjoy these attributes at Kanazawa instead! The name Kenrokuen actually translates to mean 'Garden of the Six Sublimities', so this is a thread that consciously runs through all features of the gardens.
Whether you're a landscape architect, someone with green fingers or neither, you'll fully appreciate the care and detail that has gone into developing the Kanazawa Gardens and helping them flourish. There are endless new nooks and crannies to discover, striking views and walking trails to meander along.
We also love the traditional teahouses where you can nibble on sweets and have a refreshing cup of tea – a good garden has to have a teahouse or café, after all!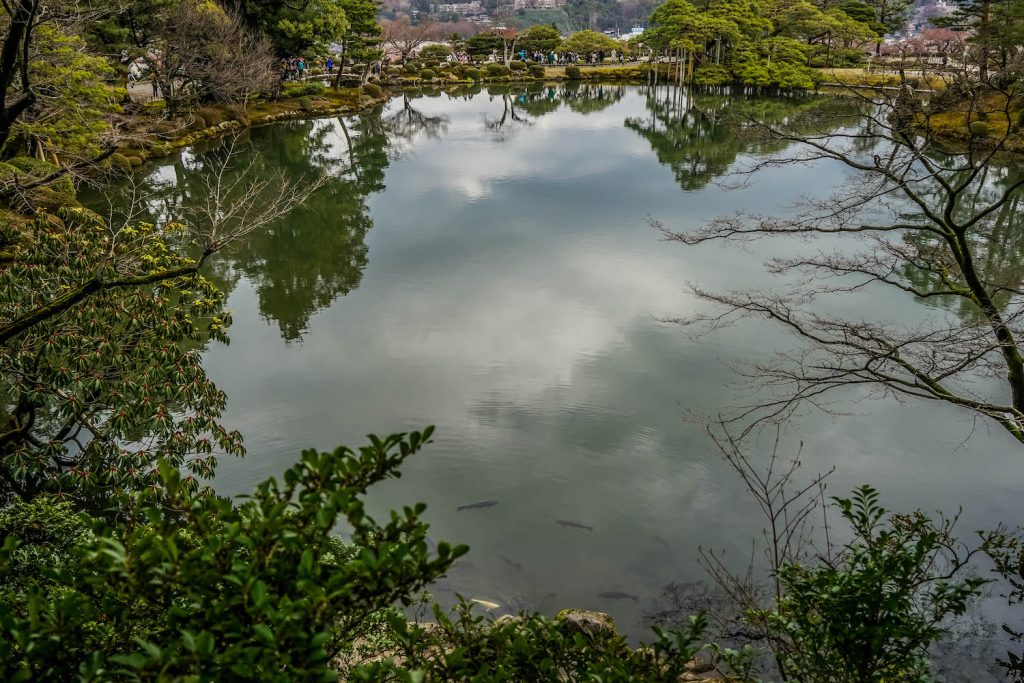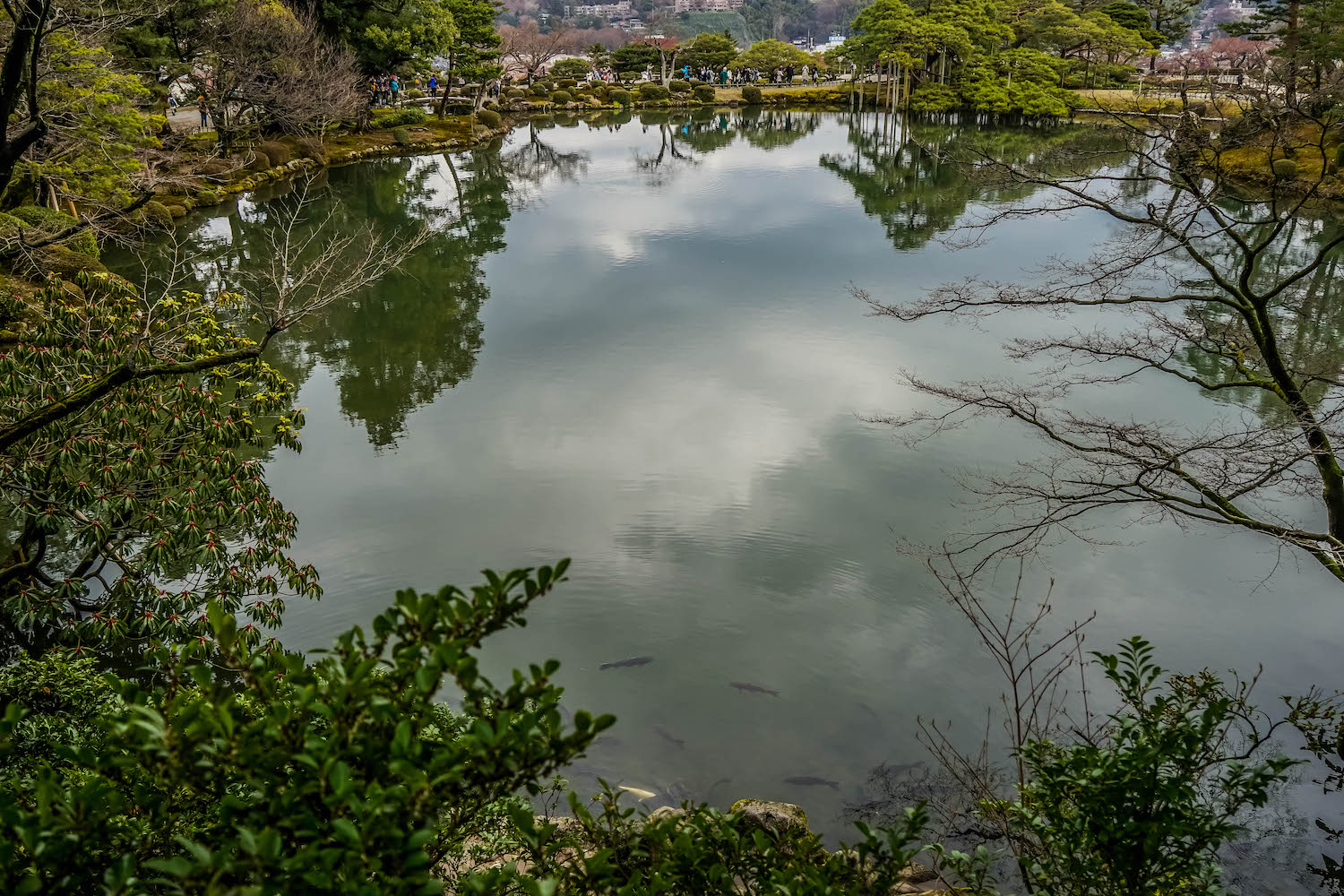 What Is The History Of The Kanazawa Gardens?
There's a rich history to Kanazawa Gardens and a lot of stories about their inception. It used to be the private gardens for an imposing castle owned by the Maeda clan. It was the fifth Maeda lord who actually began the development of the garden in the 1670s, although many believe that his predecessor set the chain of events in motion by building the water channel in 1620.
It took about 150 years to complete the gardens and naturally over the years various Meada lords made changes according to their personal tastes. These include the building of the Shigure-tei teahouse in 1725 (amazingly, it survived a fire in 1759), adding streams and the Emerald Waterfall, and expanding the Kasumi Pond.
One of the oldest structures in the gardens, Kaisekito Pagoda on an island near the centre of one of the gardens' ponds, probably predated the gardens themselves. Kanazawa Gardens have been open to the public since 1874 and visitors still flock there.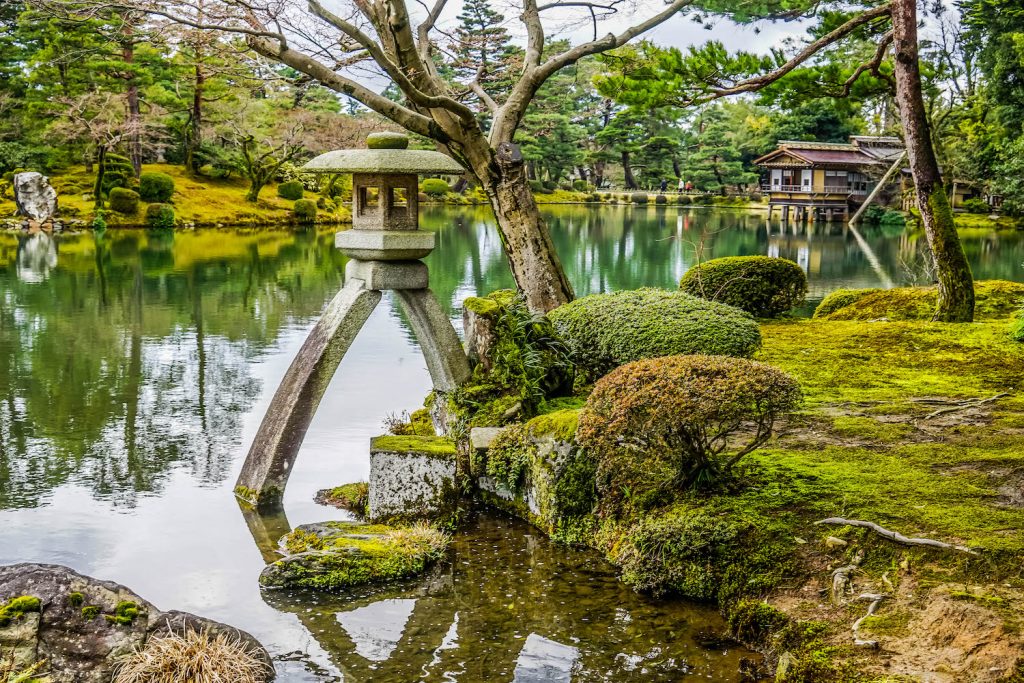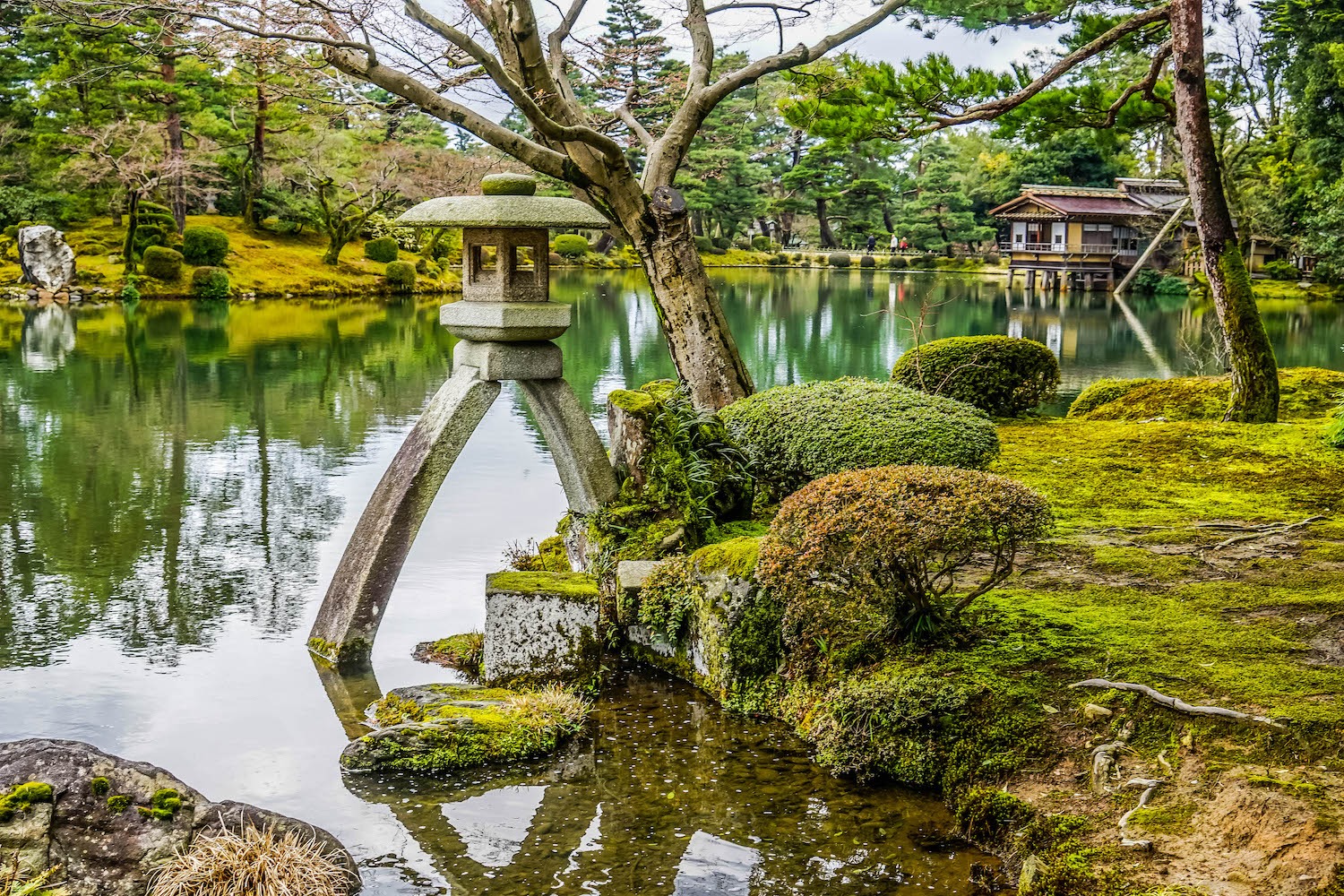 What Can I See At The Kanazawa Gardens?
There is masses to see in Kanazawa's beautifully landscaped gardens. Here all those six parts of a perfect garden work together in harmony to create a visually glorious environment. While most people recommend planning a visit of about two hours, you could easily become enraptured and stay even longer.
The water system that creates the abundant water required, for example, has been in place since 1632 and means that the various streams, ponds and water features are always well-supplied. There are two main ponds – Kasumigaike and Hisagoike – with the former having an island in the middle. Elegant bridges over these and the streams provide vantage points across rippling water.
At Kasumigaike Pond you'll see one of the oldest fountains in the world, naturally powered by the drop in the pond's elevation, causing a shoot of water into the air up to 3 and a half meters. Here's where you'll also find the famous Kotoji lantern, which has only two pedestals helping it maintain its spot on the edge of the water. Smaller Hisagoike Pond has an attractive waterfall, flowing from 6.6 meters high.
The two small hills in the gardens are often a bit quieter than the more popular spots (perhaps people don't want to struggle up the hills?) so head here for a tranquil atmosphere. There are benches to sit on and gaze down through the trees and you can easily get lost in your thoughts here.
Of course the most beautiful things to enjoy in Kanazawa Gardens are those that occur naturally (OK, with a lot of help from the gardeners maintaining the landscape): the blossoms and flowering trees. Often gardens have a peak season when it's best to visit, but that's not the case here.
Planting has been carried out so that different things are flowering at different times, so the gardens are spectacular all year round.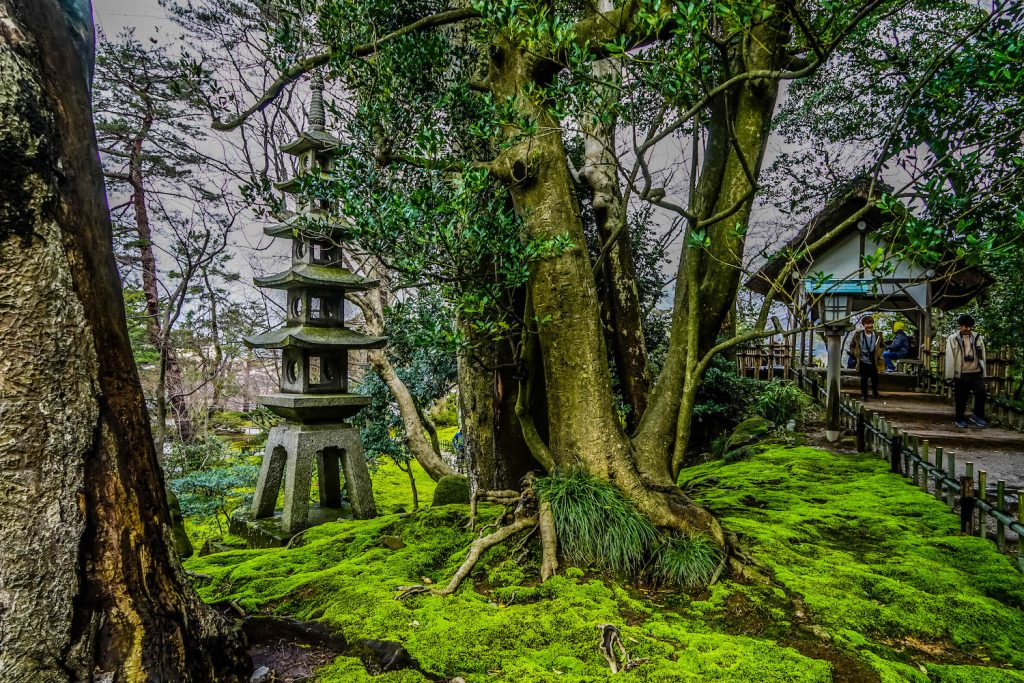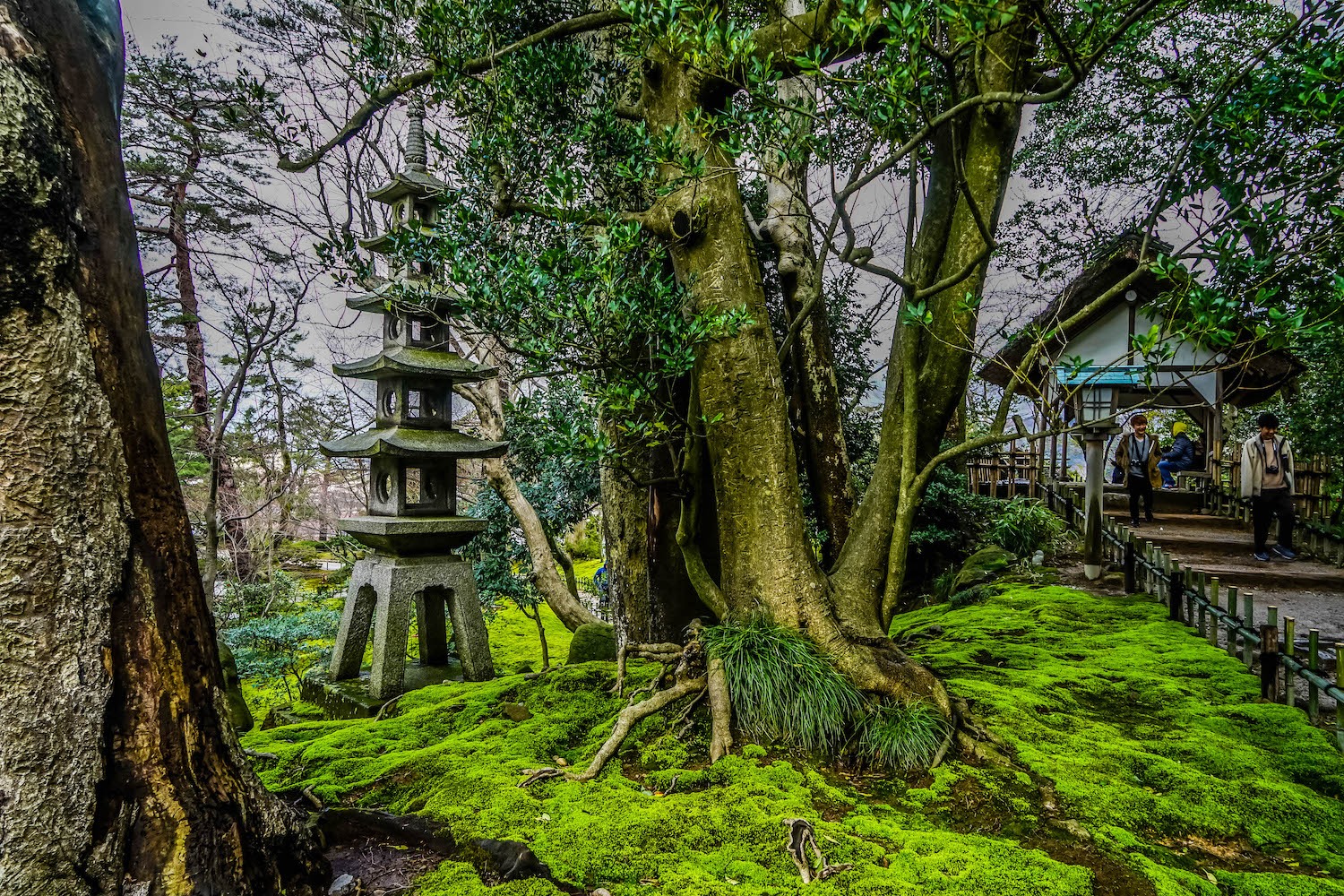 Tell Me About The Kanazawa Gardens Throughout The Seasons. When's The Best Time To Visit?
Much like the country as a whole, there's no 'best time' to visit the Kanazawa Gardens. Even in winter when the scenery often looks sparse, there is a lot to see. The gardens become full of what almost amount to art installations as tented rope structures are constructed to protect the pine trees from the snow.
One of these, the Karasaki Pine, is an enormous being that has branches stretching out across the water. When the gardens are coated in a covering of snow they take on an almost magical quality, completely still and quiet. The surfaces of the ponds seem completely motionless as they mirror the expanse of sky.
Spring, of course, brings with it an abundance of cherry blossom. Kanazawa Gardens is one of the best places to see Japan's famous blossom season as the gardens become full of gently floating pink petals. Not to be outdone, the plum trees get in on the blossom action as well. You'll feel inspired to dance, sing or write a poem about the beauty of spring!
Lush greenery fills the space during summer. Bask in the sun dappling through the trees and take plenty of breaks during your stroll for a cool drink and to gaze across the water. Other flowers come to life now, filling the gardens with colour and vibrancy.
Strangely, people don't often associate Japan with autumn, but boy, does Japan do autumn well. You can see this clearly in the rich oranges and reds that fill Kanazawa Gardens from October to December. Maple and cherry trees provide the canvas for your wanderings in the crisp, cooling air.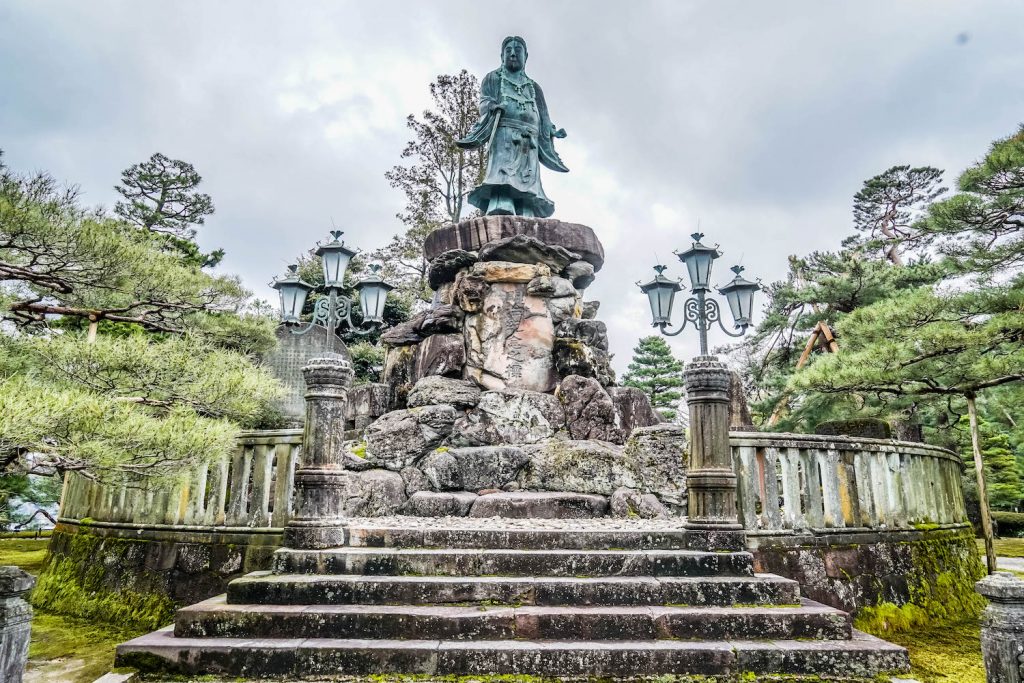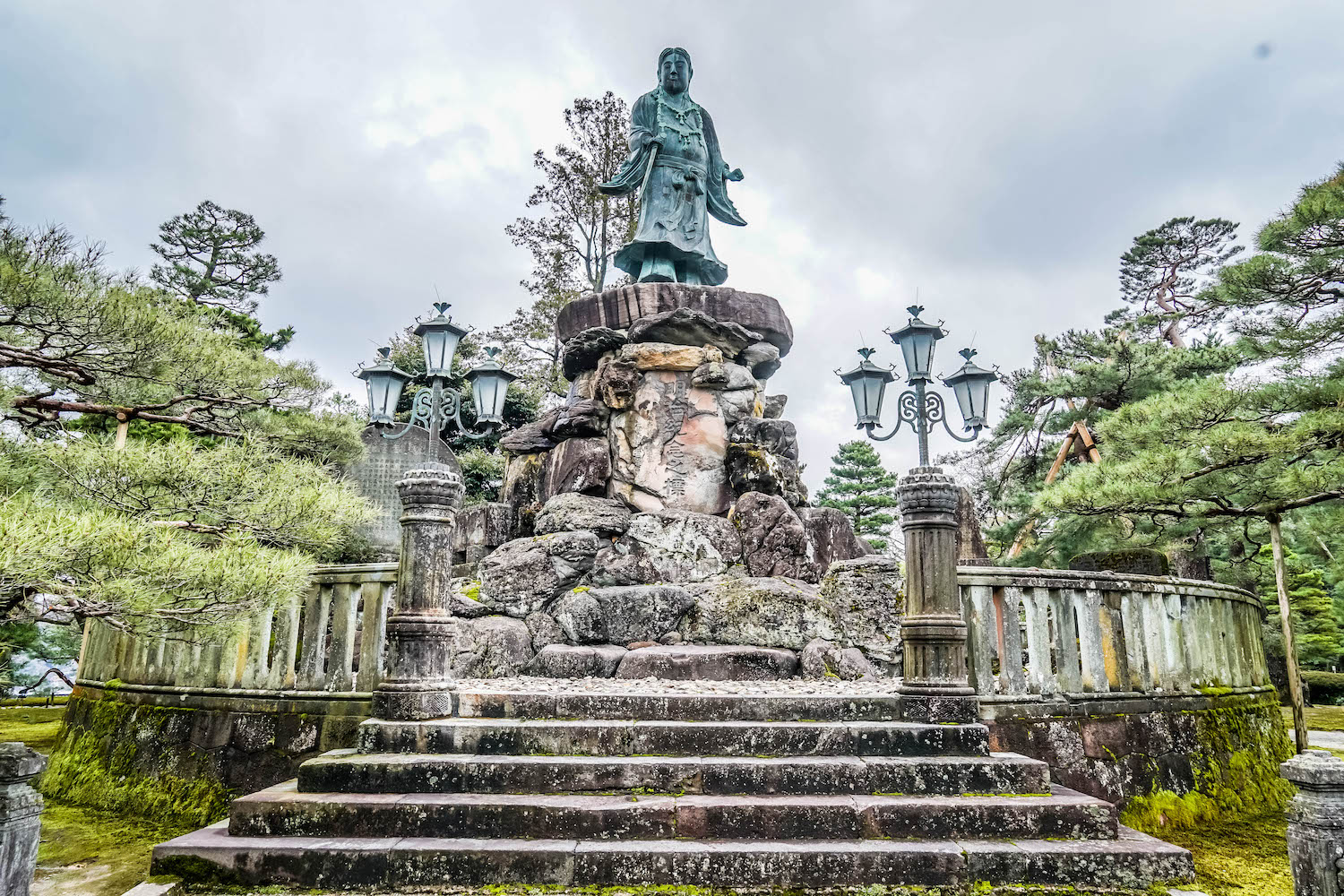 Where Is It And How Much Will I Have To Pay?
Kanazawa is a city on the east coast of Japan, a quick two and a half to three hour train journey from Tokyo. The gardens are the hub of the city's main attractions as there is a castle nearby to explore as well, so you can easily find them.
They're on the south-eastern side of the city and you can easily get a public bus from the station or hop onto the tourist Kanazawa Loop Bus. If you're a good walker then you can easily reach them on foot from most places in the city, although remember you'll be doing a lot of walking once you're in the gardens as well!
Kanazawa Gardens are open year-round, only closing between 29 December and 3 January. Most of the time they're open from 7am to 6pm, although between October and February they close an hour early at 5pm (trust us, it gets cold and dark after then!).
Expect to pay about 310 yen – although if you're on a budget you can get free access during early admission hours. This does mean you'd have to arrive at 5am (!!!) and leave before usual opening hours, so you'd have to be very committed to saving the money!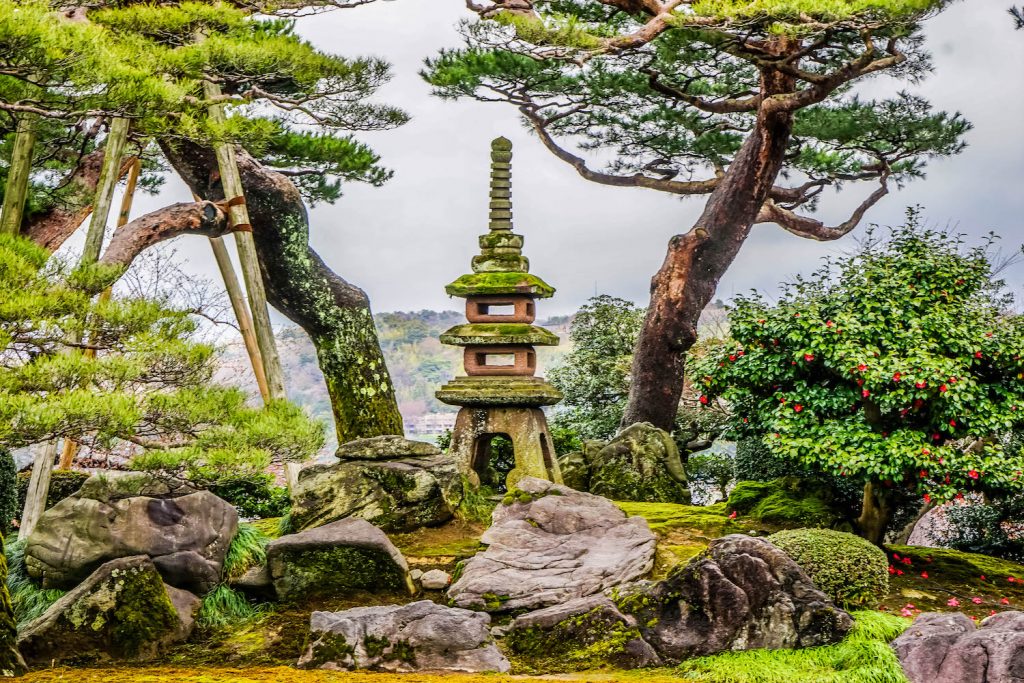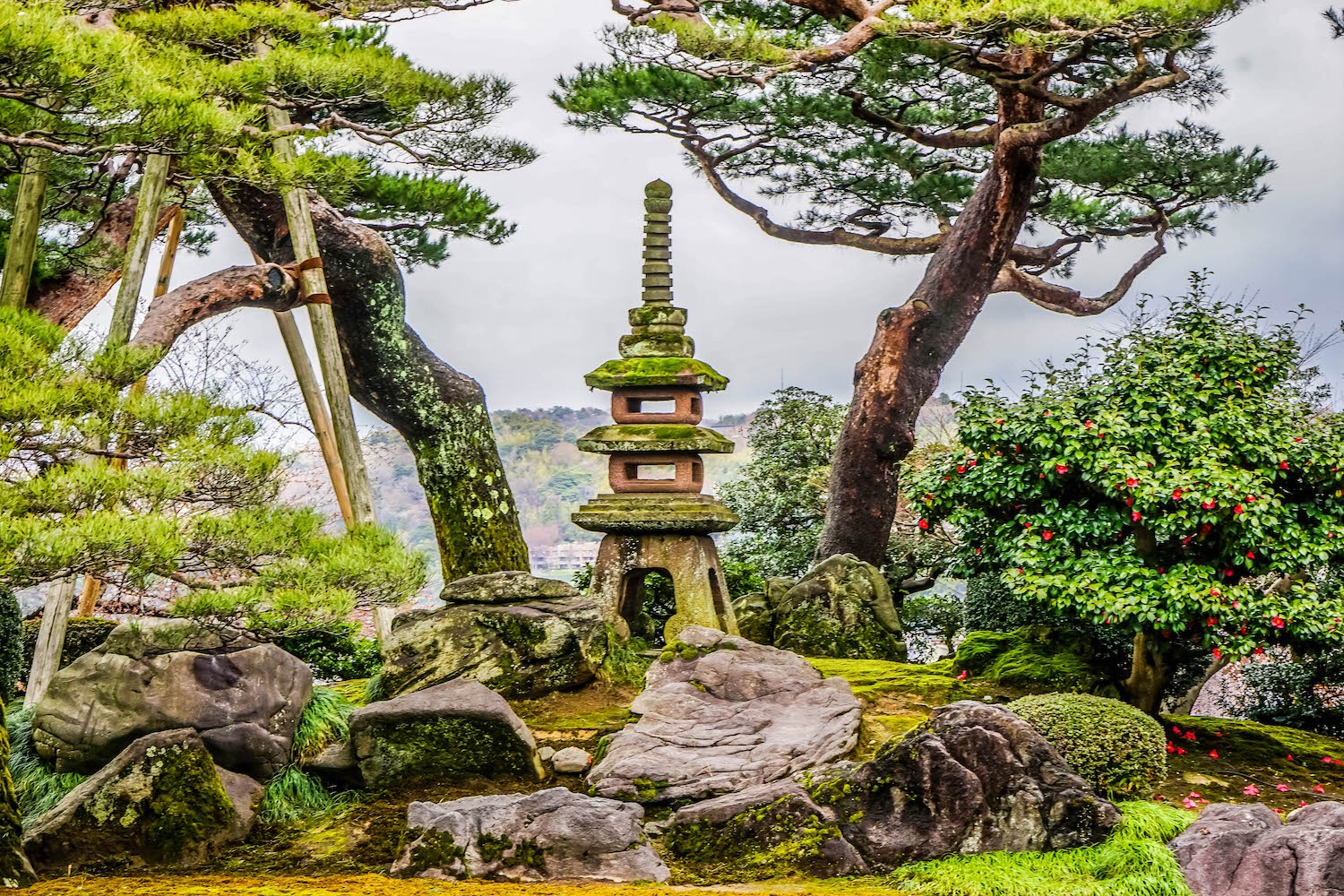 So Why Does The Kanazawa Gardens Have To Be On Your Japan Bucket List?
Nature is such an important aspect of life in Japan, so seeing one of the most beautiful gardens in the country is a wonderful way to experience this for yourself.
Exploring such well-nurtured and respected natural space is a unique experience, and seeing the exquisiteness of Kanazawa Gardens really is more than a little bit magical.
Don't leave it off your list!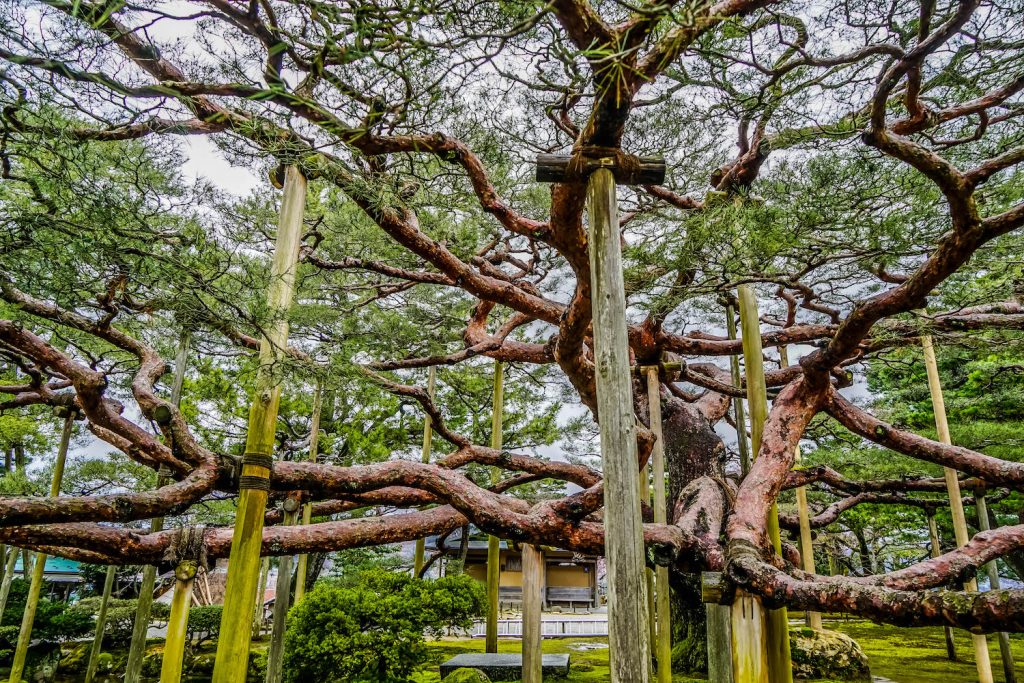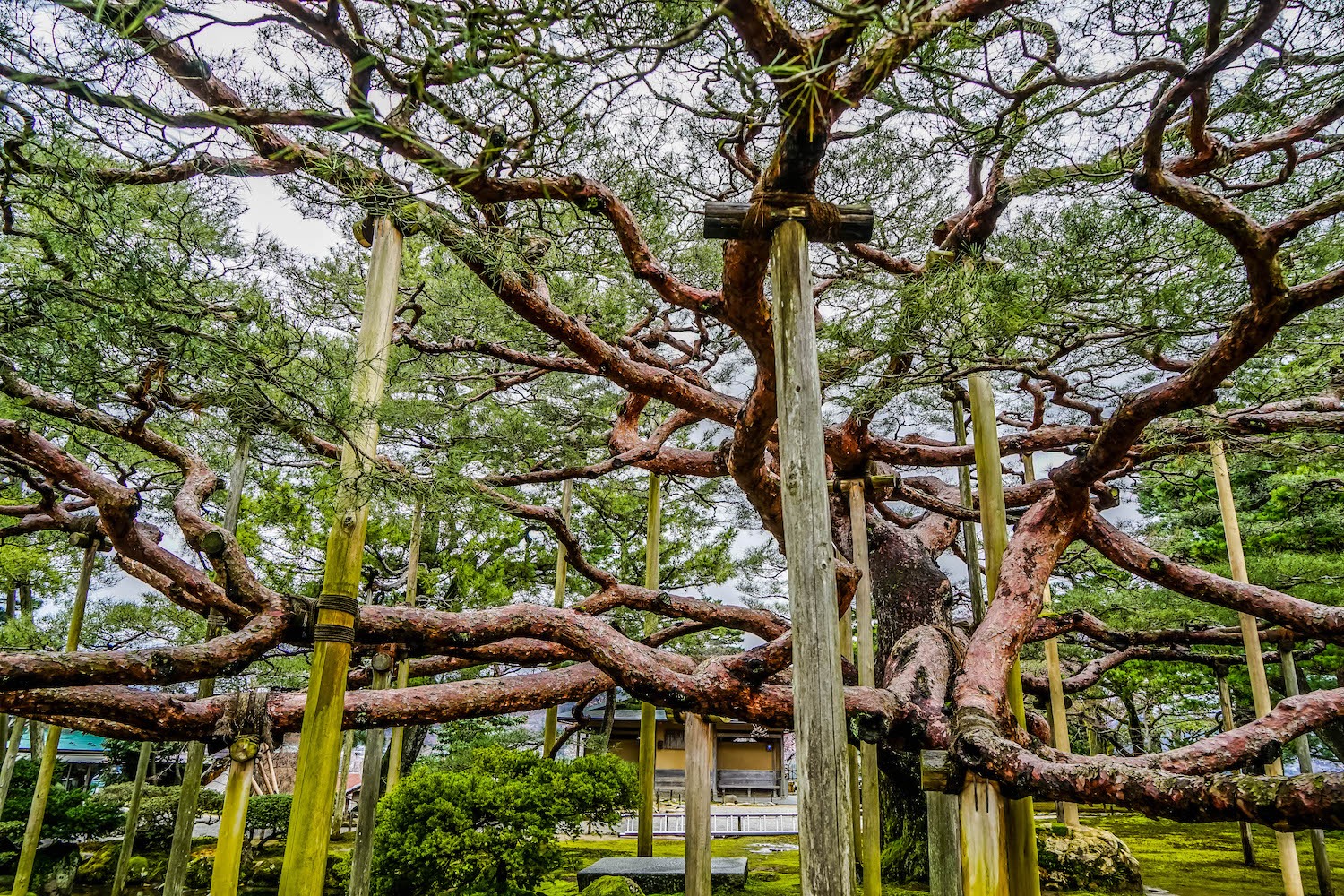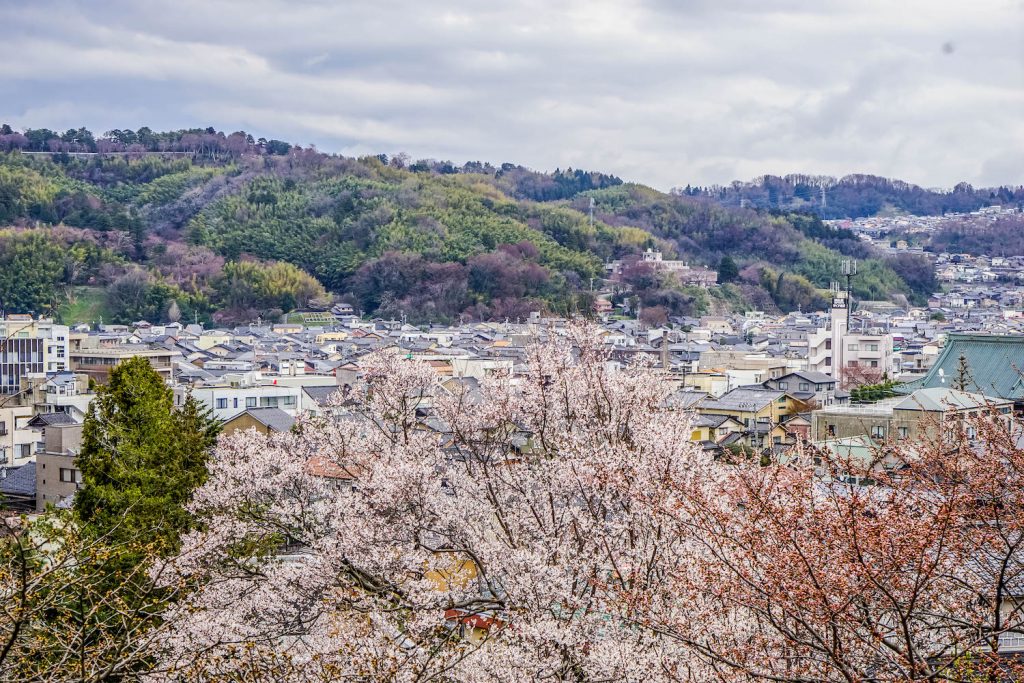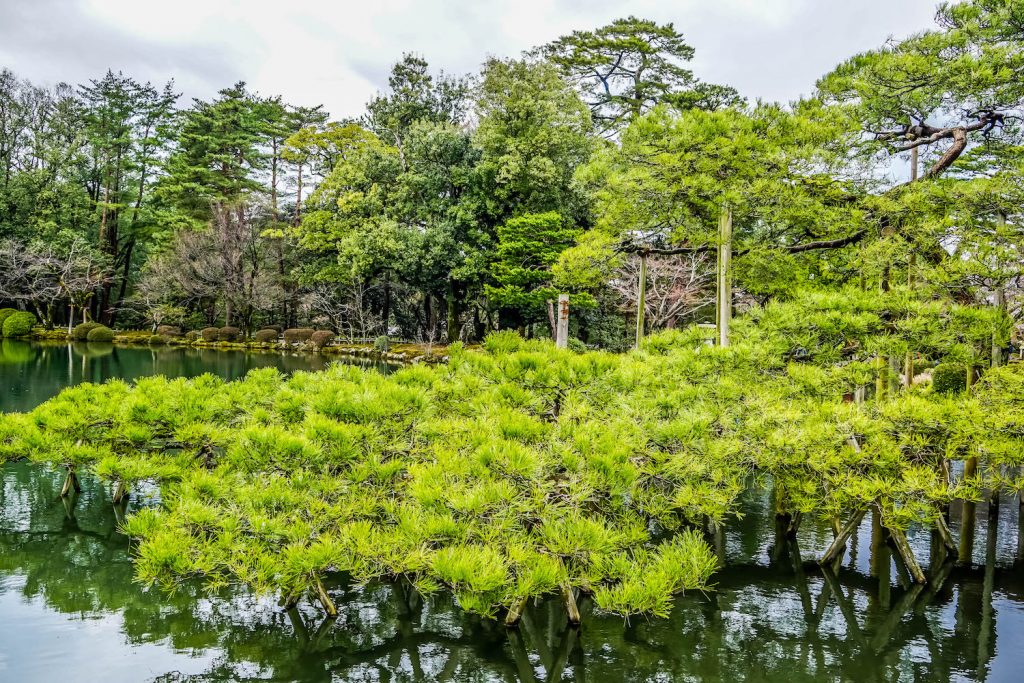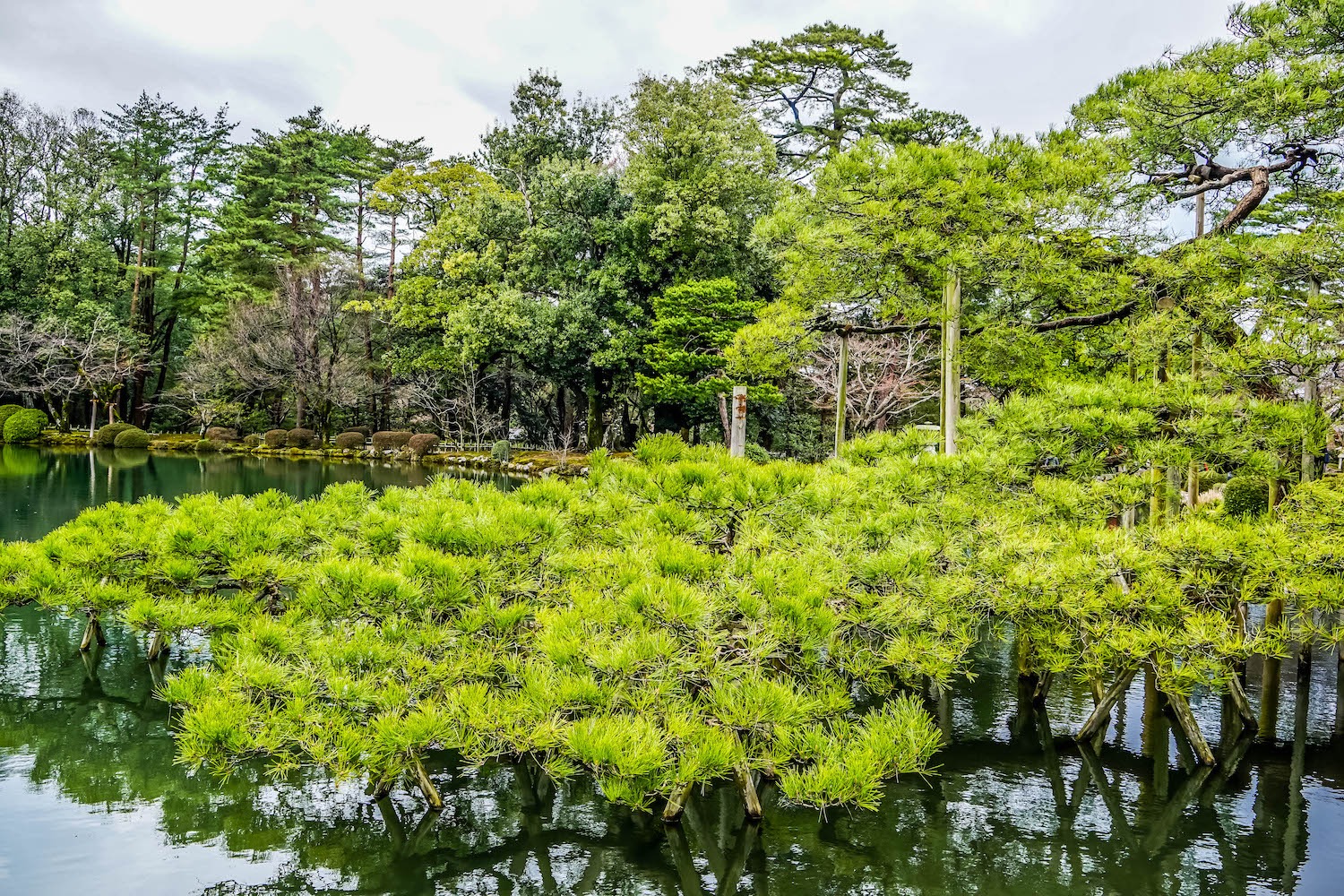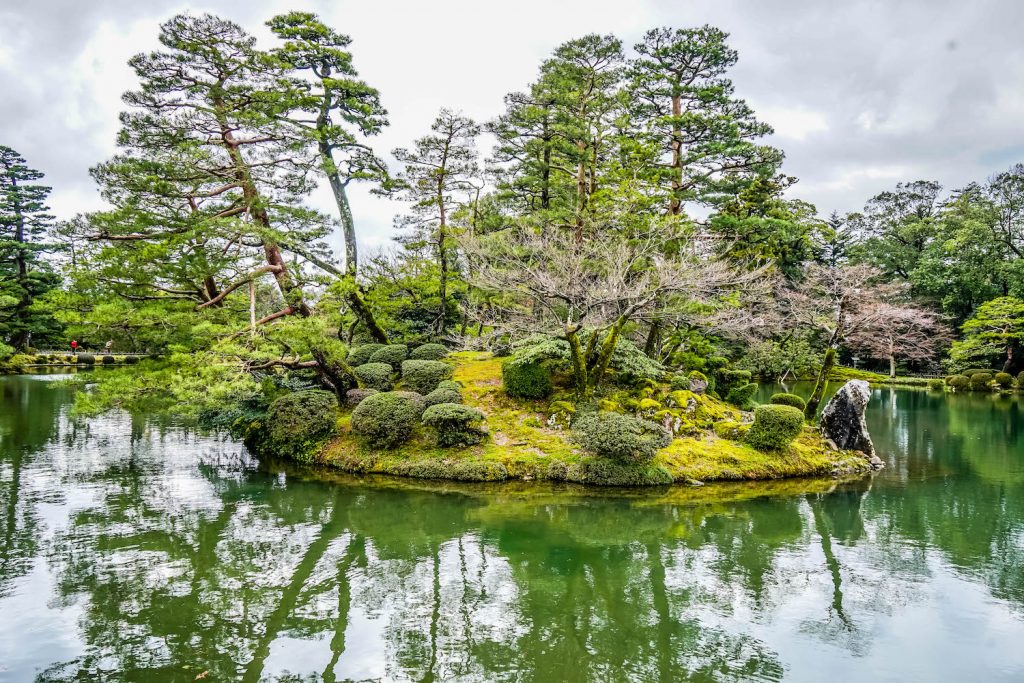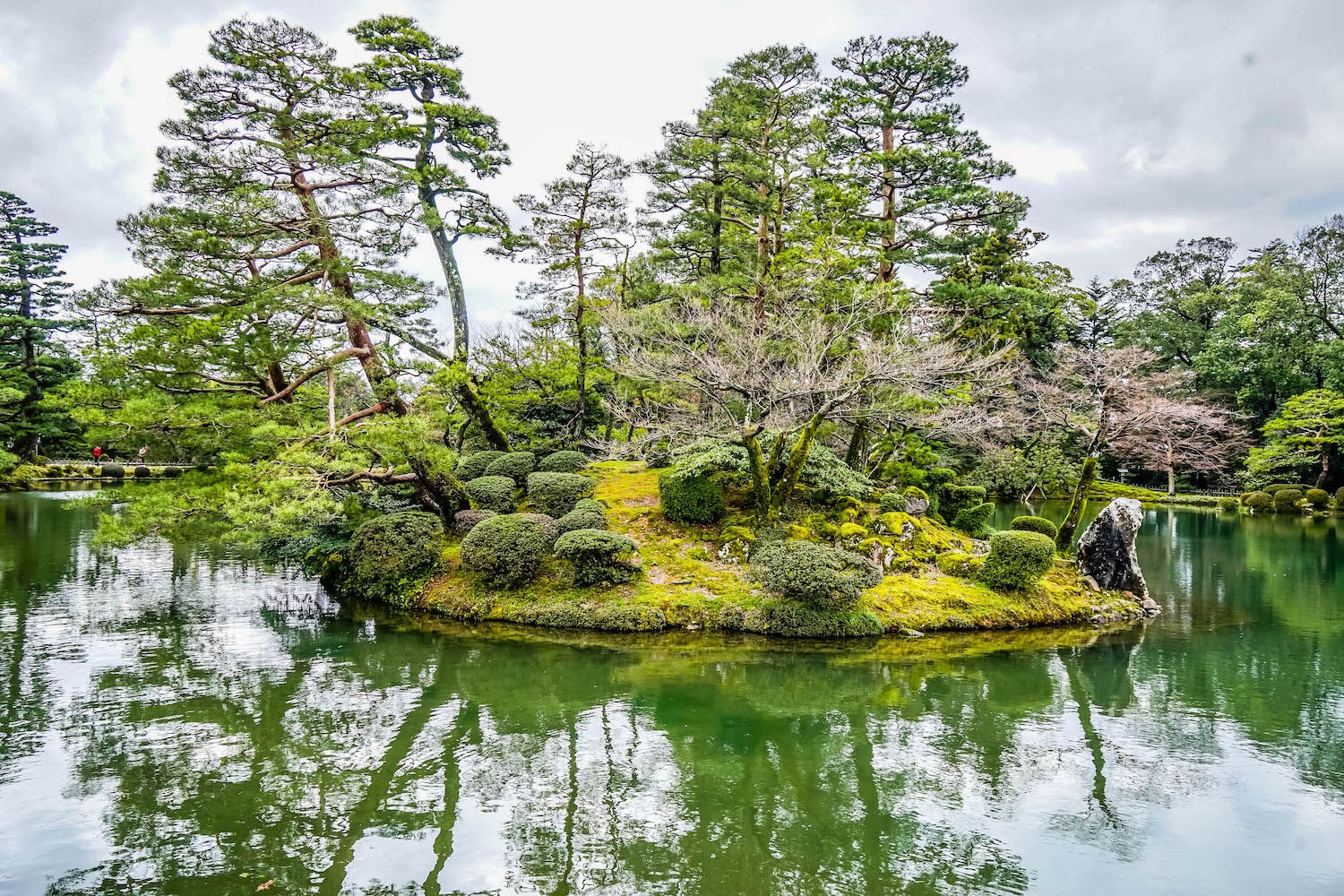 Further Things To Consider Before Any Adventure
Now you're all set and prepared to explore our big wide world, why not sort out everything else out all in one go? If necessary for your travel plans make sure you have brought proper travel insurance, protected your privacy by getting a secure VPN, compared all the top hotel booking sites to find just what you're after, reserved an unbeatable rental car price and - of course - booked the best flight deals!
Or maybe just forget it all and go for a last-minute cruise or effortless tour instead?
Many budget travelers (including me) indulge in worldwide airport lounge access, so we can experience luxury while still slumming it in economy. Naturally, we would never leave home without a more general travel guide since we couldn't possibly cover everything here!
Just add an adventurous attitude and plenty of smiles - they go a long way - and that about covers it all! Now go out, find your own path and don't forget to share your best inspiration stories with me on Facebook, Twitter, and Instagram...I'd love to hear from you!