If you're anything like us, you'll have a constantly-updating list of things you want to do in particular countries. Whether it's written down or not, those ideas are always there. In a country as endlessly fascinating as Japan, in particular, there are tons of things that we just have to do or see.
Sure there are the things like Mount Fuji, the famous shrines, the cherry blossom, and the bullet trains but we like to go beyond that to unique things like the Kawasaki Warehouse Arcade Complex.
And most conveniently, it can easily be reached just out of Tokyo with the JR Pass if you are continuing on to Kyoto / further south.
Not sure why we think an arcade should be on your Japan bucket list? Read on!
** Sadly as of November 17, 2019, the Kawasaki Warehouse Arcade Complex is closed with no intention of reopening. For now, we will leave this post live so you can see what once was**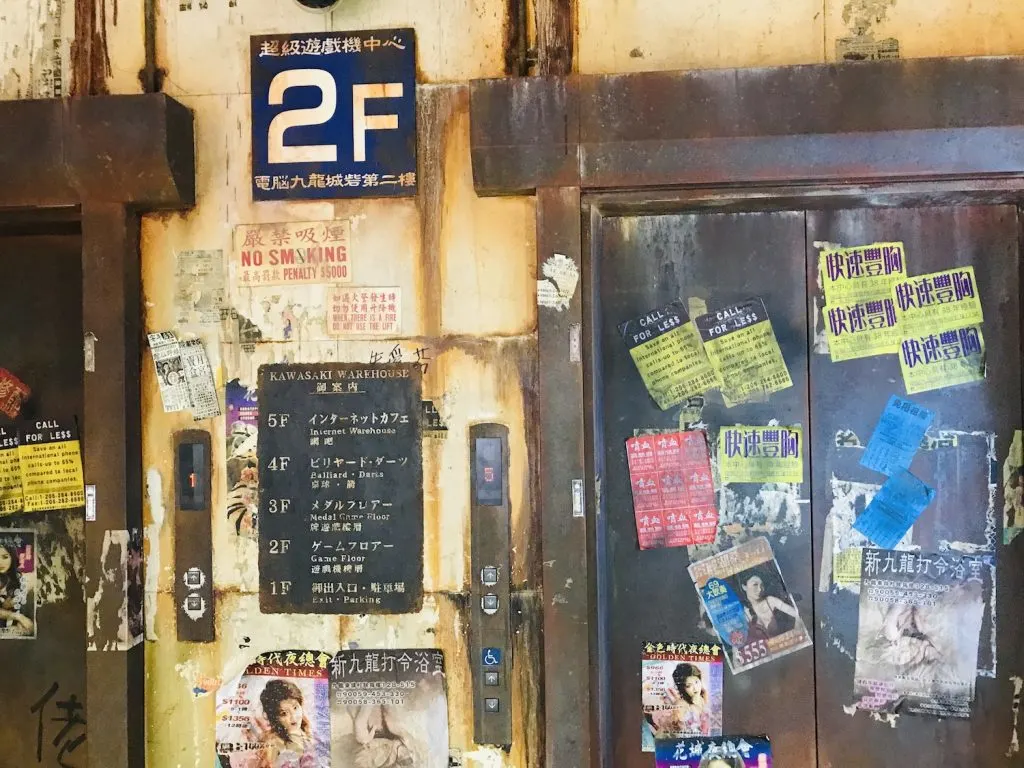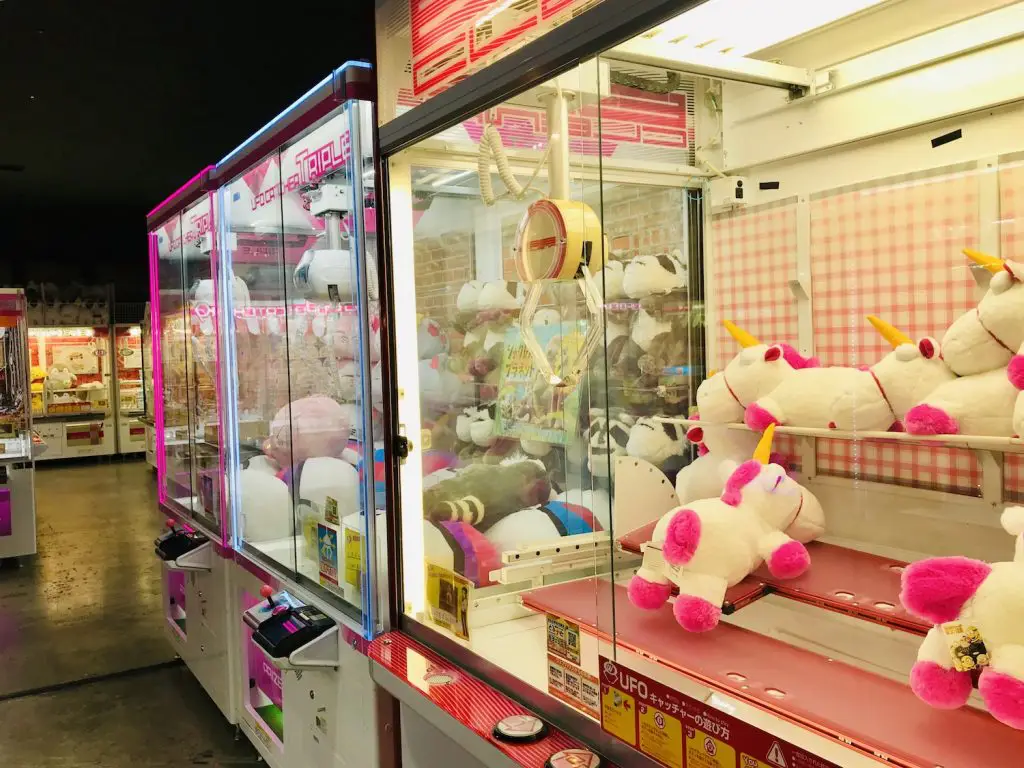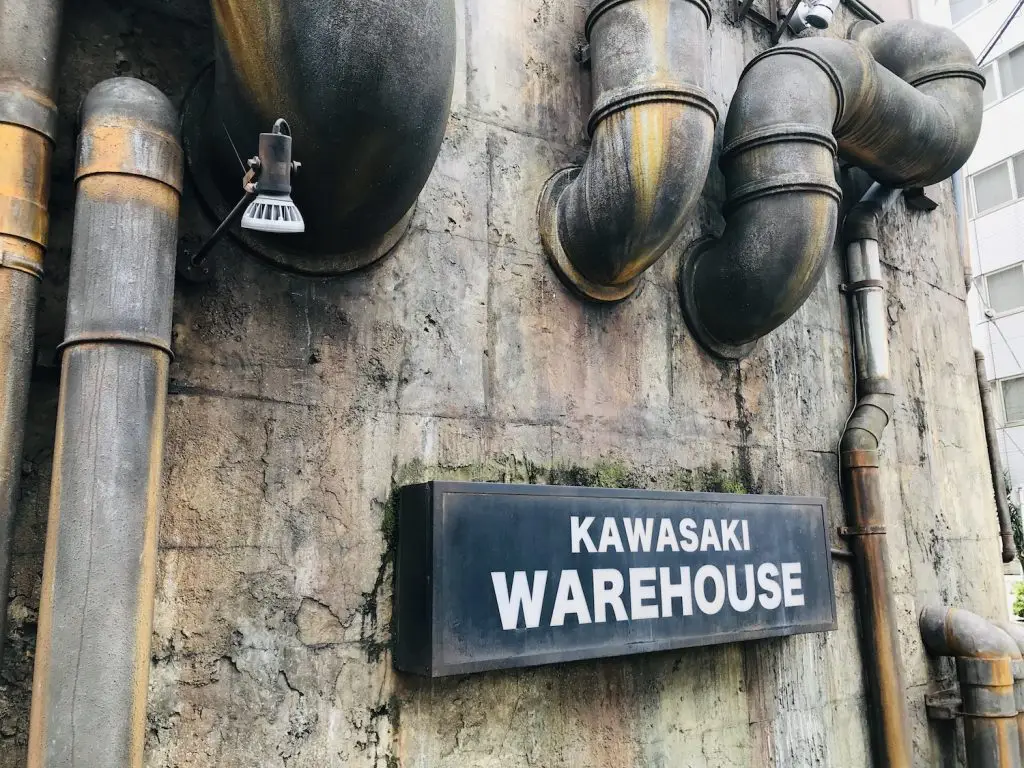 Why The Kawasaki Warehouse Arcade Complex Needs To Be On Your Japan Bucket List 🇯🇵
What Is It?
It's hard to know where to start with describing the Kawasaki Warehouse, but in short: it's a mammoth, three-story arcade game complex that has inside a fantastically detailed recreation of Hong Kong's Kowloon Walled City. We mean, seriously realistic!
For those of you who haven't heard of it, Kowloon Walled City was a lawless area of Hong Kong, governed by no one except local gangs and rife with prostitution, gambling and drugs. It was demolished in the early 90s and a park now stands in its place.
While many people would not have gone to the real thing, unsurprisingly it makes for a great atmospheric entrance to a games arcade!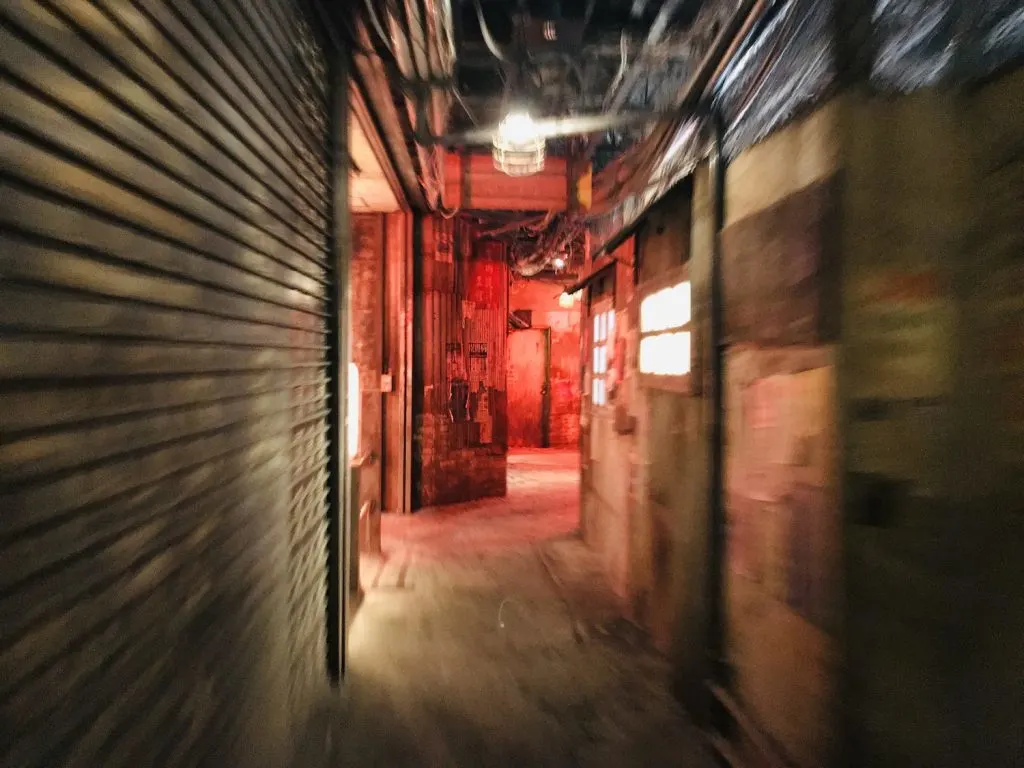 What the team at Kawasaki Warehouse have done is fantastic. The narrow alleyways perfectly replicate the dingy and dark alleys of Kowloon, with flickering lights and the feeling of dodgy deals happening around every corner. For games fanatics it's a dream as you feel like you're a first-person shooter, on a mission in these anarchic streets.
The signs and posters that adorn the slightly slimy-looking walls have been painstakingly recreated from old photos of Hong Kong and there are plenty of signs for doctors and dentists – a nod to the fact that Kowloon was also home to a number of unlicensed medical 'professionals'.
You'll also see the open-fronted chicken shops that can still be found in HK today – although they don't appear to be open for business!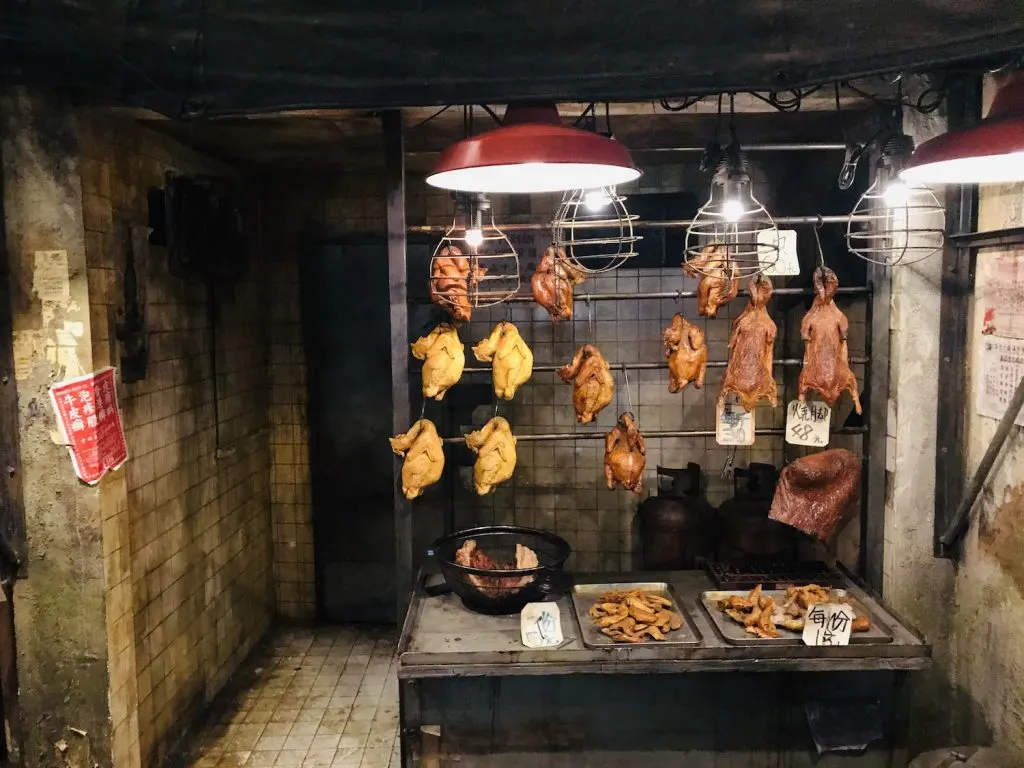 No one is quite sure why the Kawasaki Warehouse was modelled on Kowloon. Perhaps it's the Resident Evil vibes, a game that's popular in Japan? Perhaps it was an artistic challenge? Perhaps the owners just thought 'why not'? Whatever the reason, we're glad they decided to as it makes for a much more interesting gaming experience!
Once you've woven your way through the lanes of the notorious neighbourhood, you'll find the rather incongruous sight of three levels of arcade games, with a darts and billiards room at the top.
Game to your heart's content and then on the way out enjoy a rather more sci-fi vibe as you head into a deep red tunnel with eight sides and hop over stepping stones in an illuminated pool (seriously, anyone would think they never want you to leave).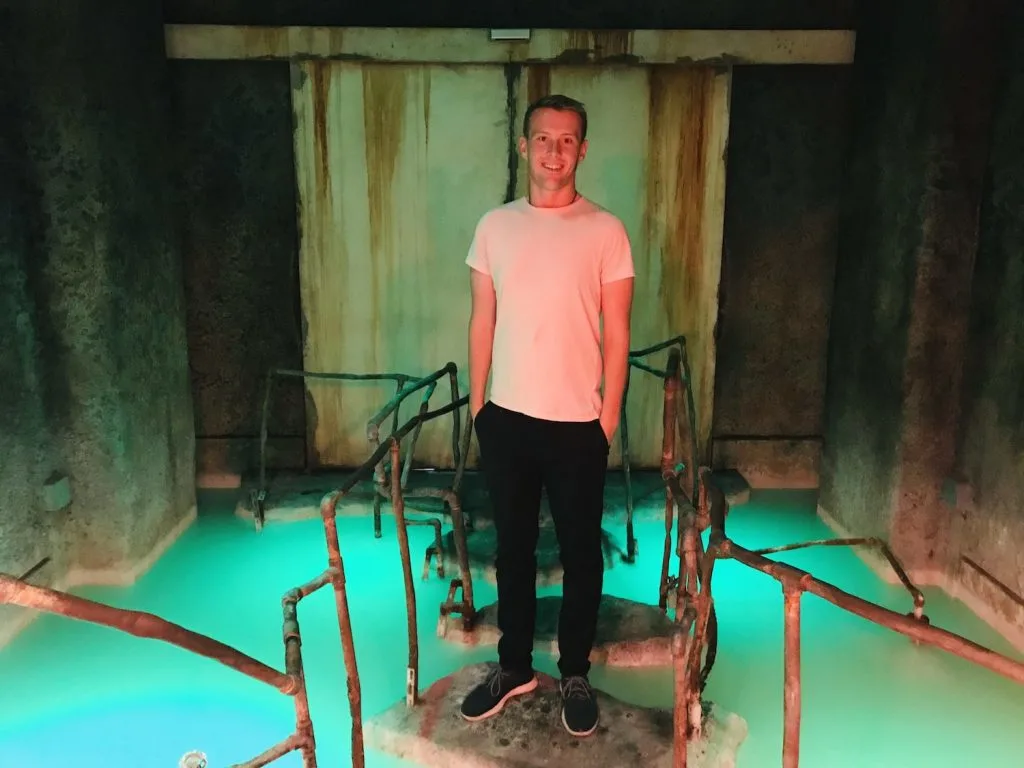 Where Can I Find The Kawasaki Warehouse Arcade Complex?
Kawasaki Warehouse can be found, naturally, in Kawasaki, an industrial city on the outskirts of Tokyo. It's not the most aesthetically pleasing Japanese city with its heavy factory presence, but it's still an interesting enough place to spend a day – and now you know about the warehouse, it should head straight to the top of your bucket list!
You don't even need to spend a night here as the train journey from Tokyo only takes 30 minutes.
The building is on Kawasaki Avenue and immediately sticks out as it's not exactly sleek and modern! With rusty-looking pipes crawling up the outside and imposing metal doors, passers-by are immediately intrigued to know what's inside. Unfortunately for you, youngsters, it's over-18s only.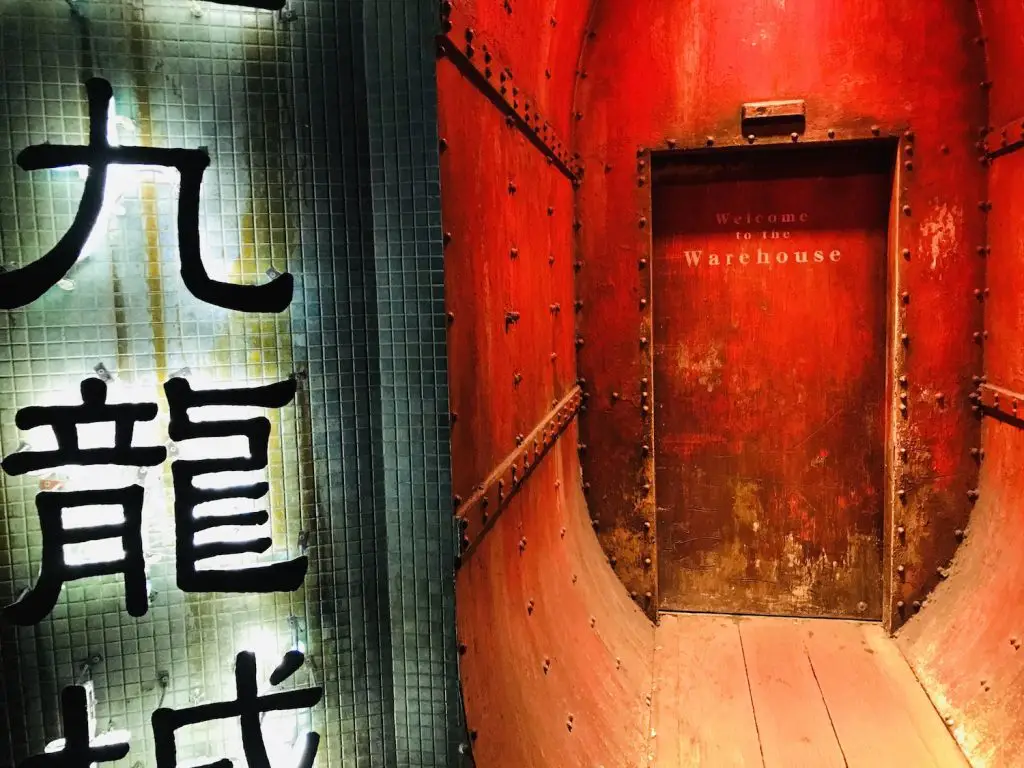 What Games Does Kawasaki Warehouse Have?
Honestly, a better question would be what games doesn't it have, because there is something here to make every type of gamer happy. From the ubiquitous Mario Kart to Street Fighter to some seriously cool retro classics, the choice and quality of games more than matches the artistic interior.
The retro game corner plays host to options that can barely be found anywhere else in the world, like the 1985 original 'Gauntlet'; at the other end of the room are all the fighting games.
For those of you who like to put money on your skill, there's a collection of gambling games like Mahjong. Naturally, there are simulation pods, Ping-Pong tables, and dancing machines as well; plenty to distract you from the incredible surroundings if that's what you're looking for!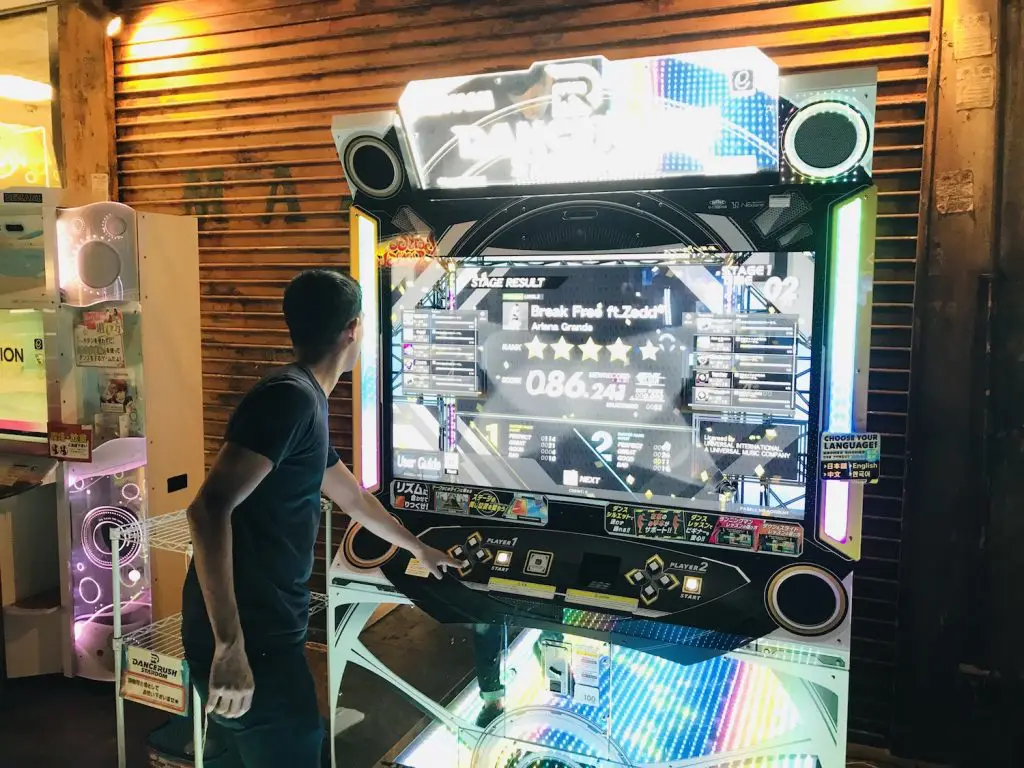 What's The Atmosphere Like?
What we really love about Kawasaki Warehouse is just how different it is from your average arcade complex. Even if you're a game devotee you get a bit bored of how similar each arcade is – shiny surfaces, bright lights, and faux-futurism.
That's why the deliciously eerie atmosphere at Kawasaki really stands out.
There's something spine-chillingly fascinating about standing in what feels like an abandoned alleyway – laundry strung up above you, neon lights flashing – and hearing the chirpy beep-bop-beep-bop of arcade games in the background. Come on, who doesn't want to play video games in a seedy Hong Kong back alley?!
We're sure the atmosphere isn't exactly the same as in the 'real' Kowloon, but we love the dedication of the artistic team to get it as close as possible – they studied old films, photos and even had rubbish brought over to Japan for real-life examples of signs and leaflets!
It is so realistic that many of my photos here are extremely popular on stock photography websites (answering the question of can you make money on Shutterstock?). This is all to say, the Kawasaki Warehouse Arcade Complex is extremely photogenic.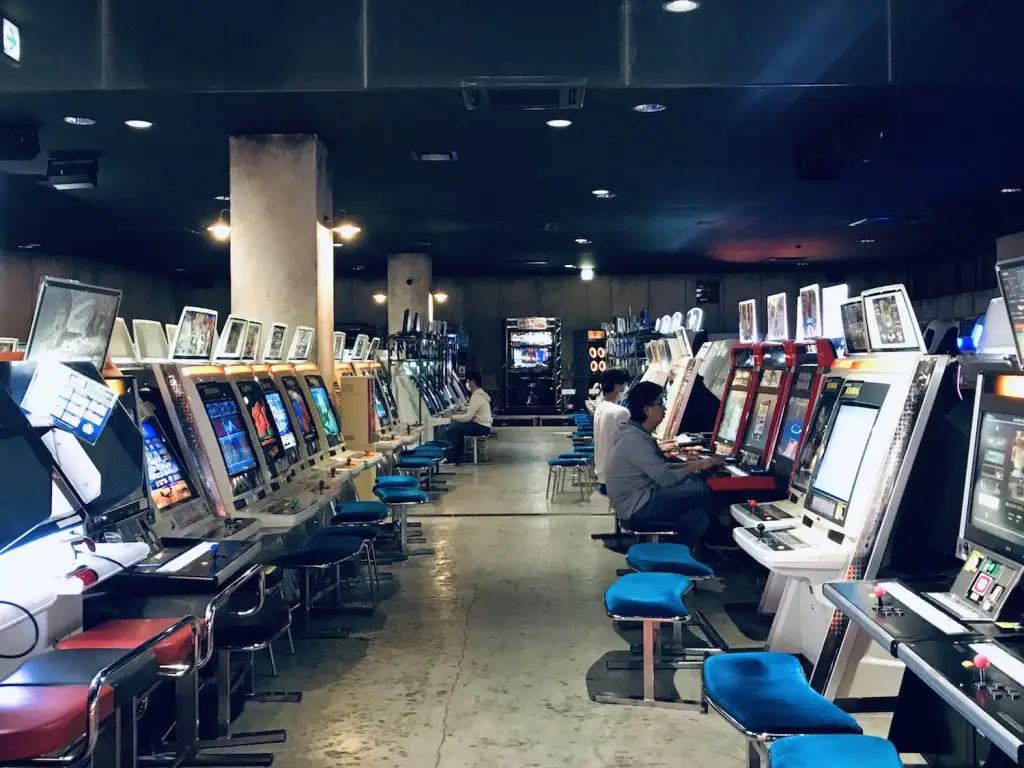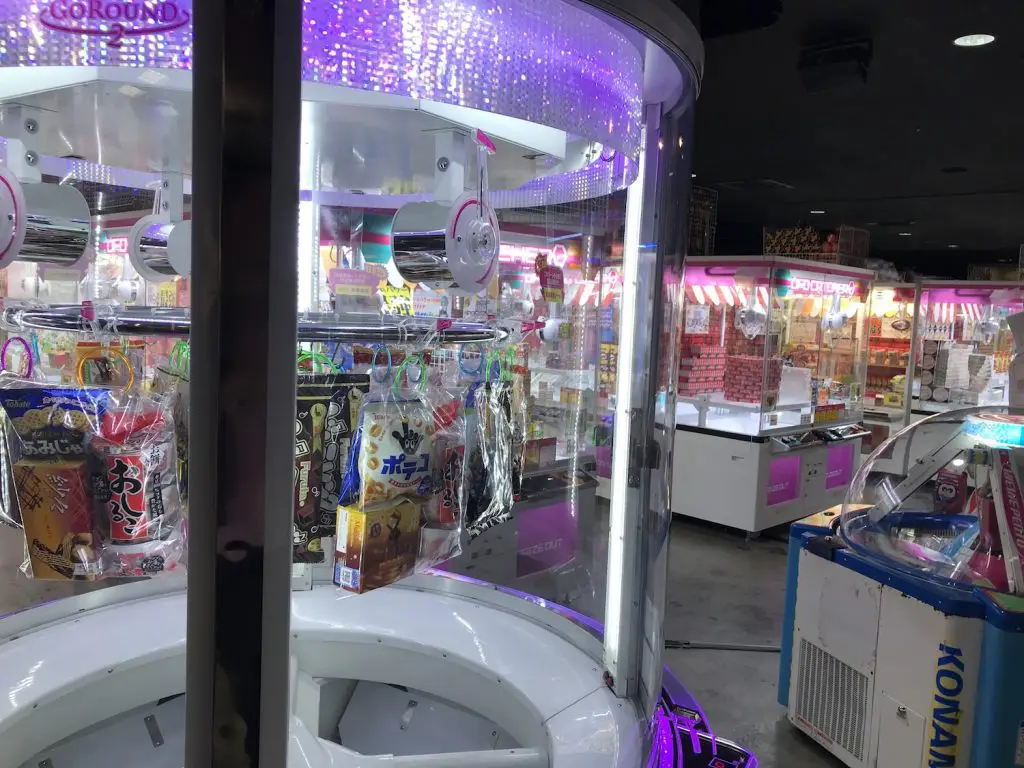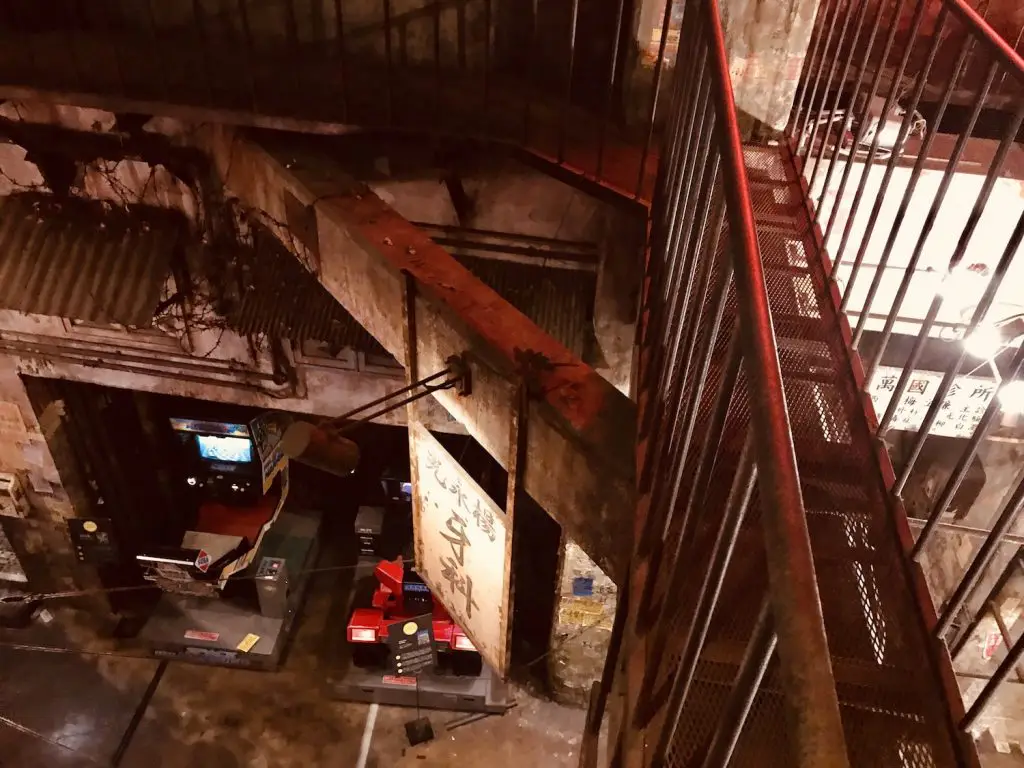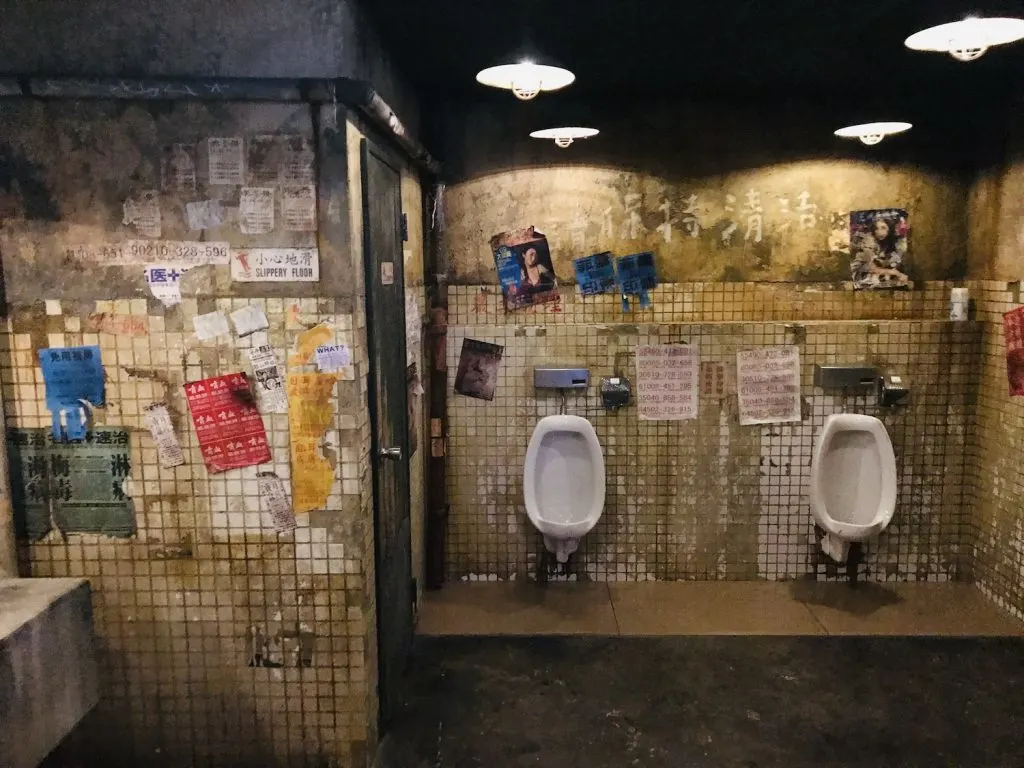 So Why Should The Kawasaki Warehouse Arcade Complex Be On Your Japan Bucket List?
Japan is all about unique experiences, and the Kawasaki Warehouse is certainly one of those! It's like wandering in a film set, or a post-apocalyptic dystopia. You don't want to miss the thrill you get when you first walk through those sliding doors to find yourself in another city entirely.
Enjoy the video games or perhaps do some role-play in the shabby streets (Blade Runner, anyone?). The real Kowloon might be gone, but this gets surprisingly close for an entertainment complex!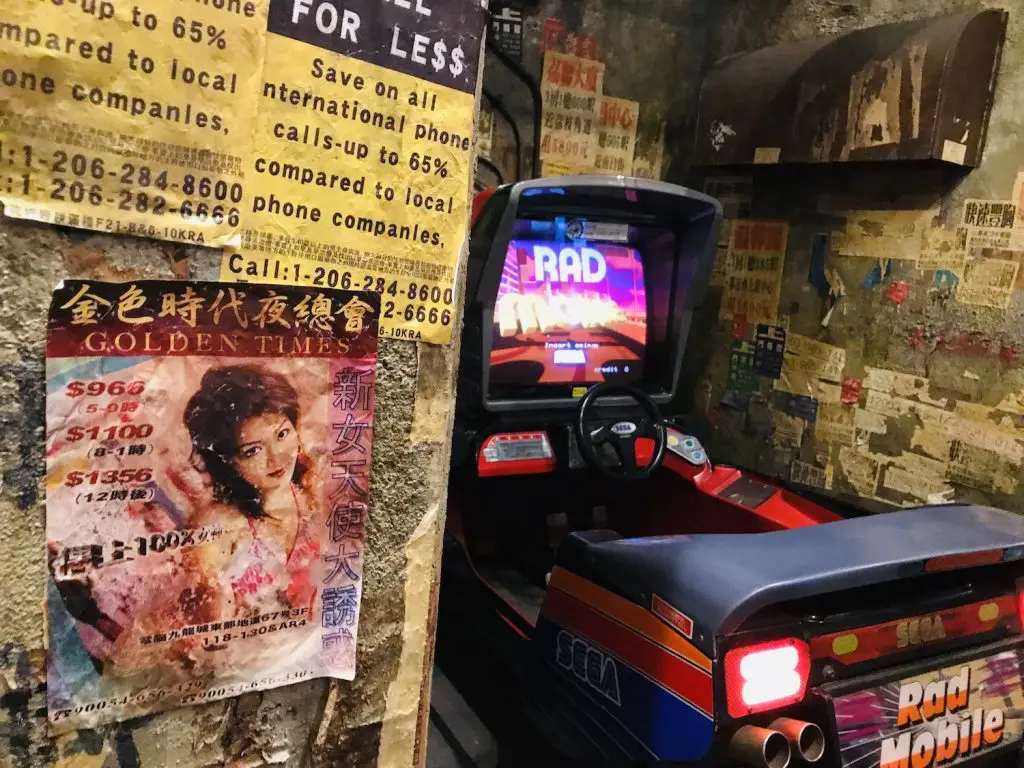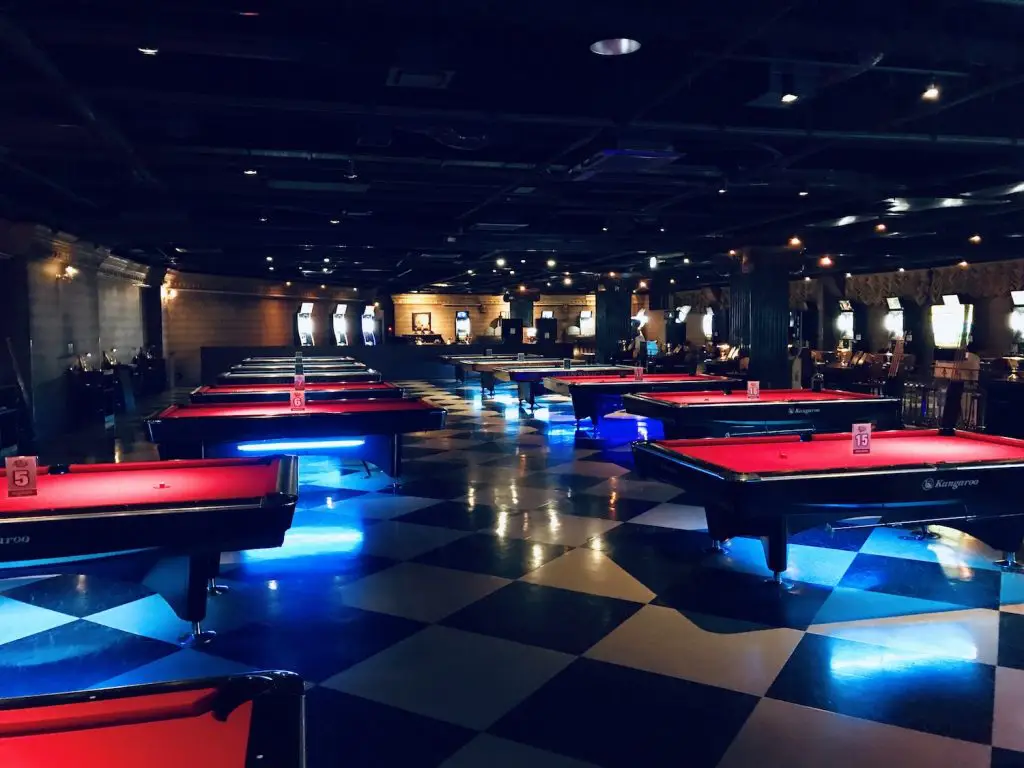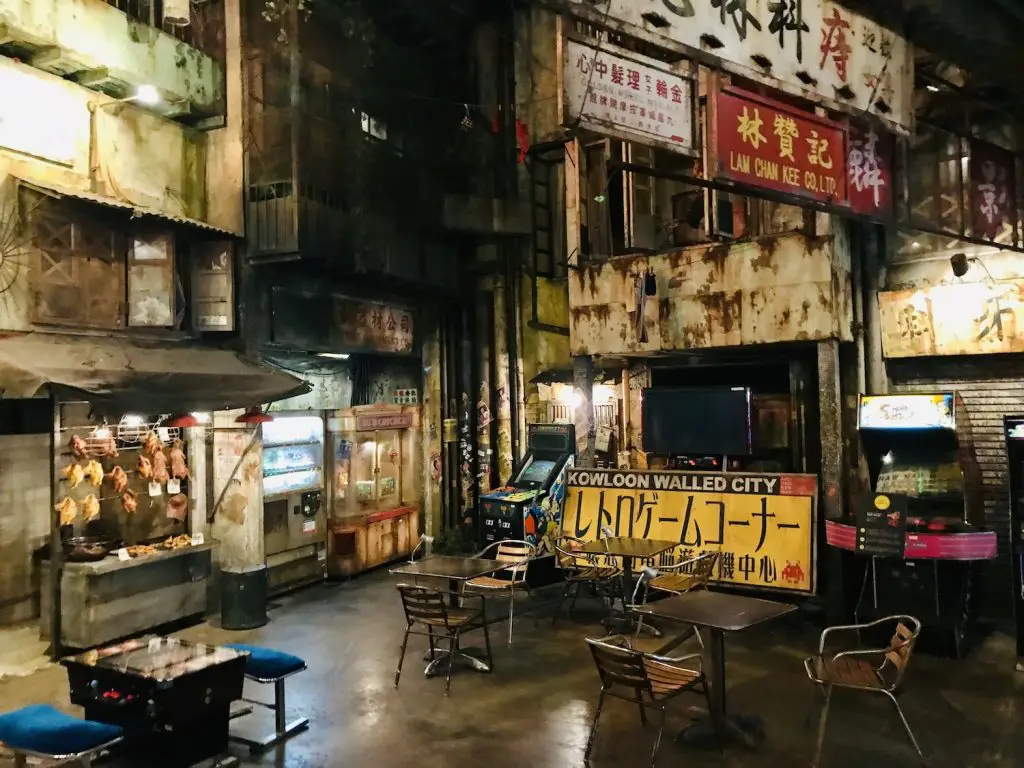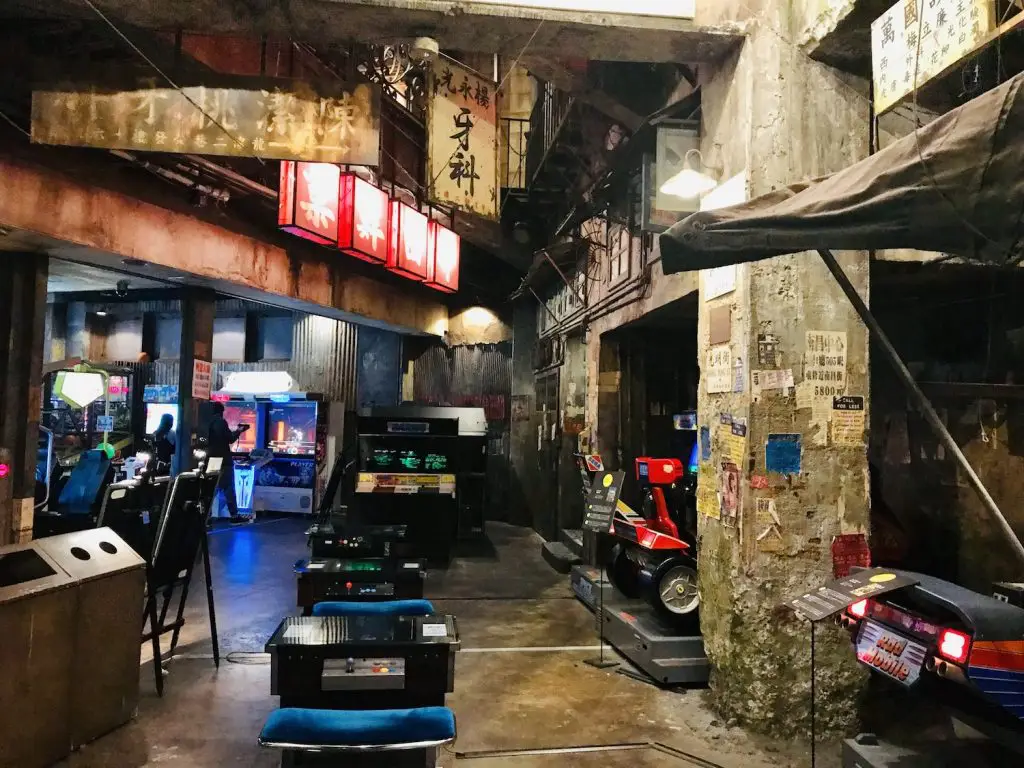 Staying Connected While Travelling
In today's increasingly connected world, staying online while traveling has become essential for a seamless experience. That's where eSIMs come into play, revolutionizing the way we access mobile networks during our global adventures. Say goodbye to hunting down local SIM cards at the airport; eSIMs provide instant activation the moment you land, sparing you the fortune usually spent on international roaming and allowing you to genuinely travel like a local (without getting hopelessly lost!).
With eSIMs, tasks like restaurant recommendations and reservations, up-to-the-minute public transport instructions, checking opening hours, and accessing further information become a breeze. And, of course, sharing your journey on social media is easier than ever. To stay connected wherever you roam, consider using either Airalo or Holafly. Airalo boasts the most extensive range of destinations worldwide, offering smaller data bundles tailored to your needs, while Holafly provides unlimited data packages and fantastic EU data deals.
So why wait? Embrace the future of travel connectivity with eSIMs and make your next journey effortlessly smooth.
Further Things To Consider Before Any Adventure
Now you're all set and prepared to explore our big wide world, why not sort out everything else out all in one go? If necessary for your travel plans make sure you have brought proper travel insurance, protected your privacy by getting a secure VPN, compared all the top hotel booking sites to find just what you're after, reserved an unbeatable rental car price and - of course - booked the best flight deals!
Or maybe just forget it all and go for a last-minute cruise or effortless tour instead?
Many budget travelers (including me) indulge in worldwide airport lounge access, so we can experience luxury while still slumming it in economy. Naturally, we would never leave home without a more general travel guide since we couldn't possibly cover everything here!
Just add an adventurous attitude and plenty of smiles - they go a long way - and that about covers it all! Now go out, find your own path and don't forget to share your best inspiration stories with me on Facebook, Twitter, and Instagram...I'd love to hear from you!