A city like no other, Hong Kong offers so much more beyond its bold glass and steel commercial persona – you just need to take the time to look. Intensely vibrant, densely-populated, and with adventure around every corner, Hong Kong can be daunting, but with a little preparation and knowledge, it can also be extremely fun…
Here, in Asia's World City, a colonial past melds with ancient traditions and Chinese roots to create something utterly distinct. Gastronomical delights are everywhere you look, with everything from freshly steamed dim sum, a piping hot bowl of wonton soup, a pineapple bun wedged with butter, or the latest modern food craze—Matcha French Toast or Charcoal custard buns anyone?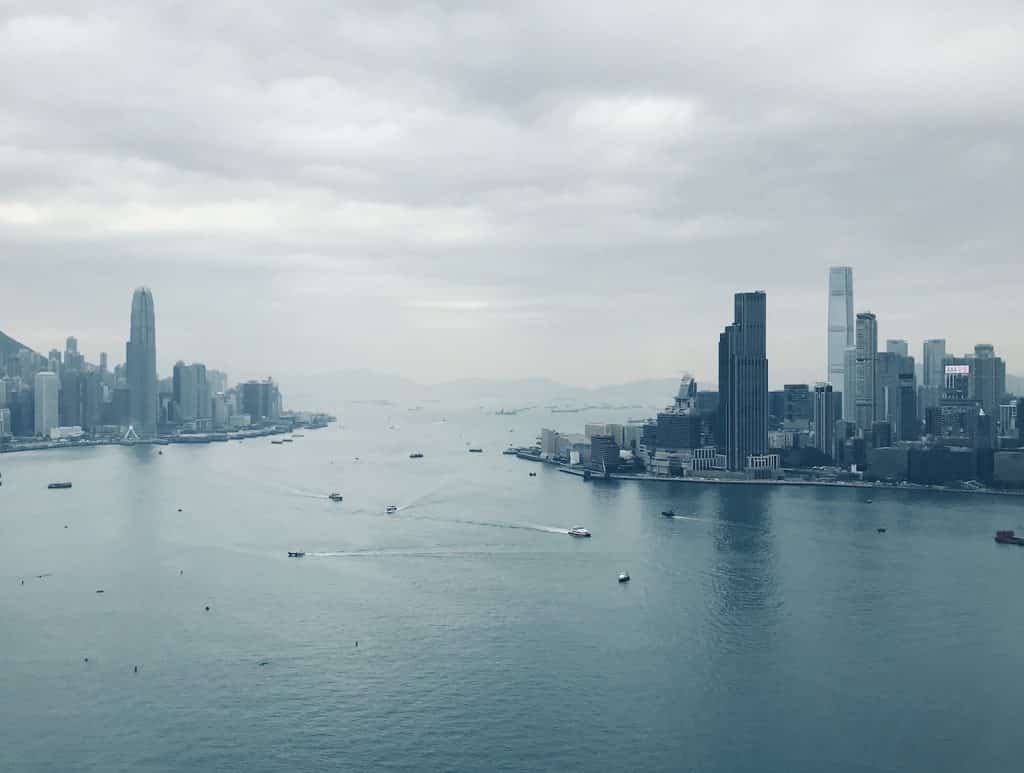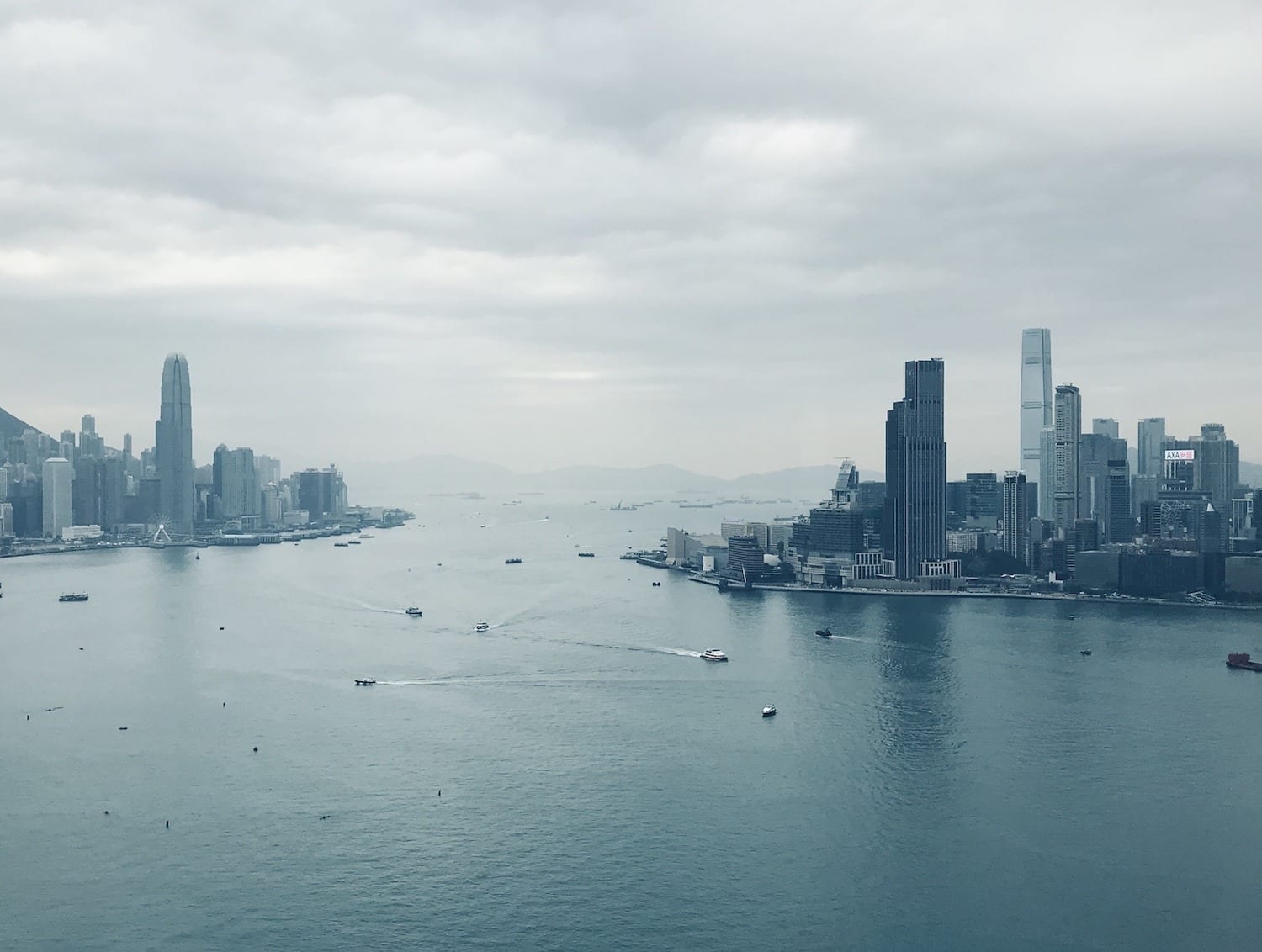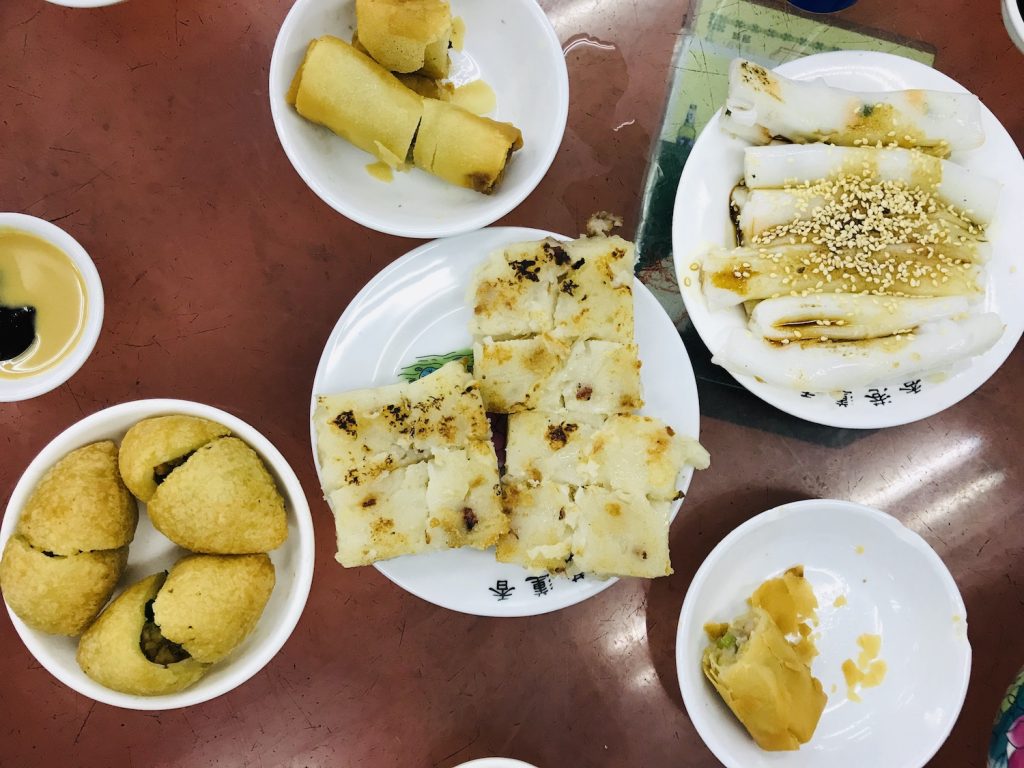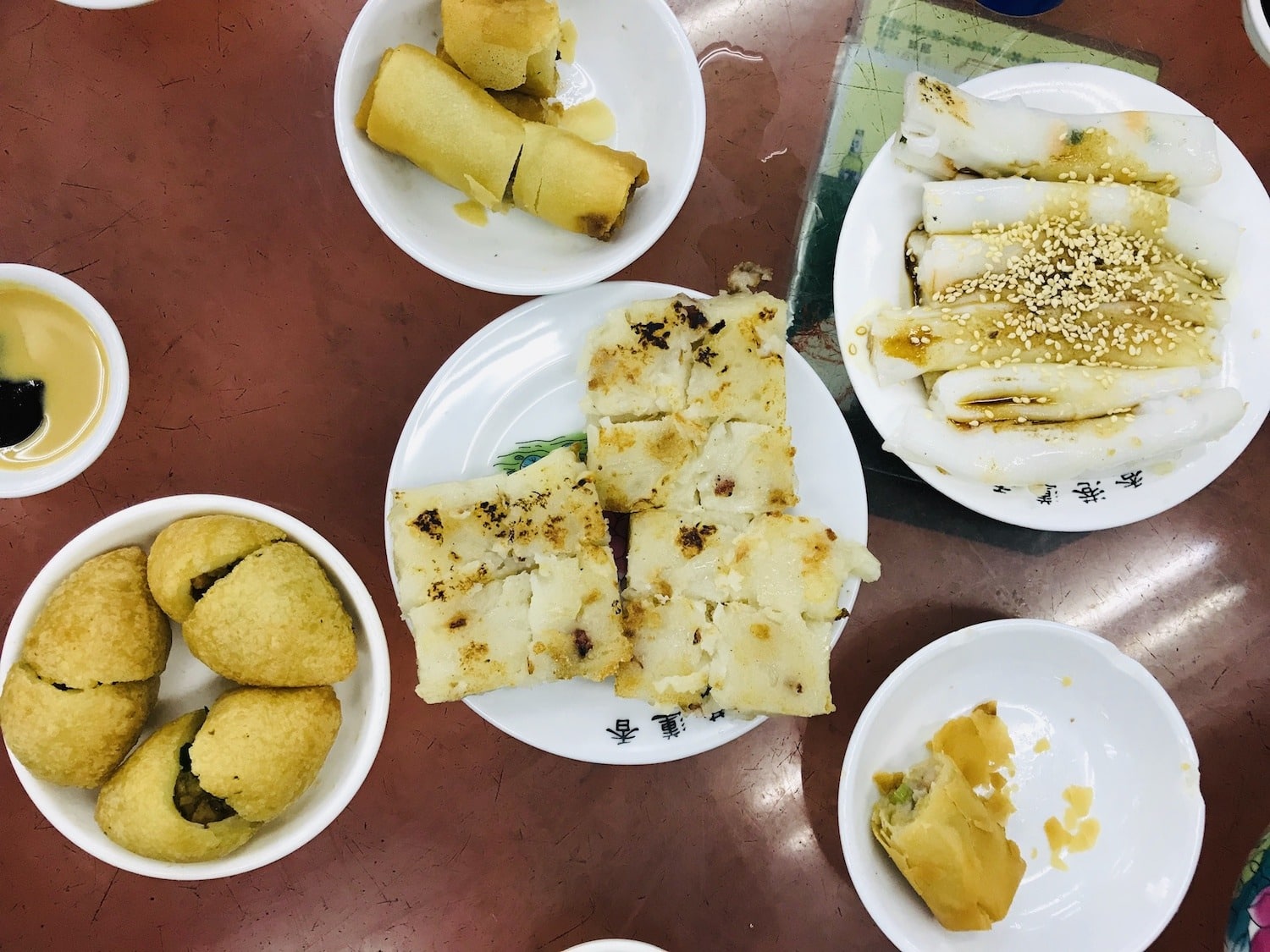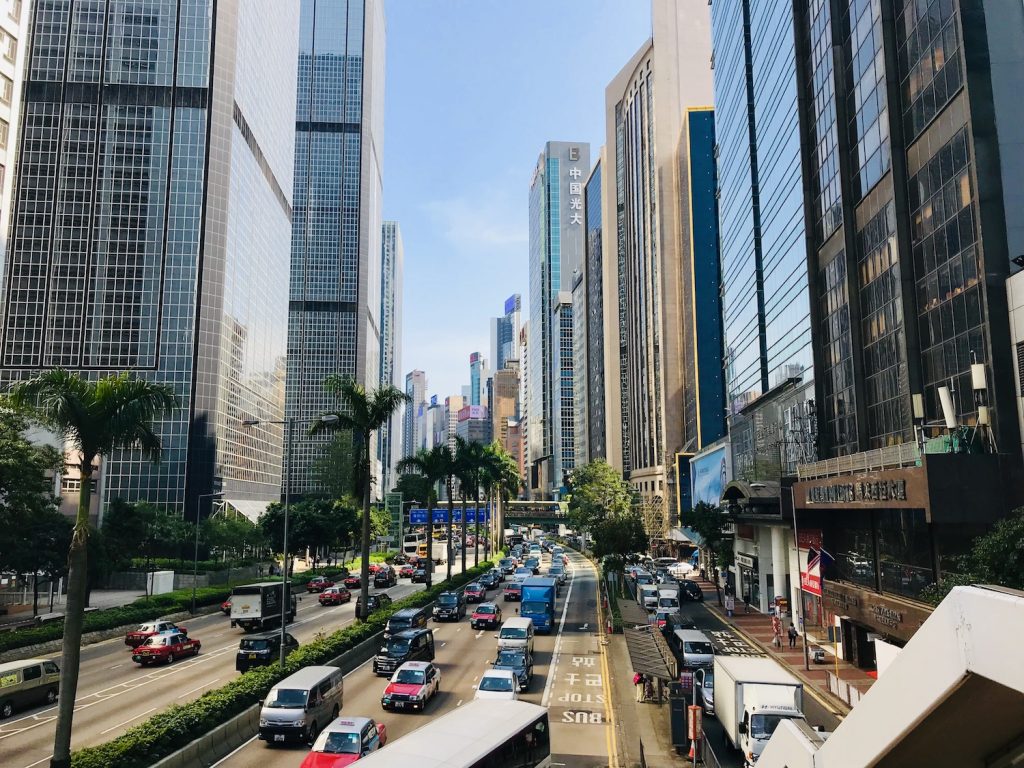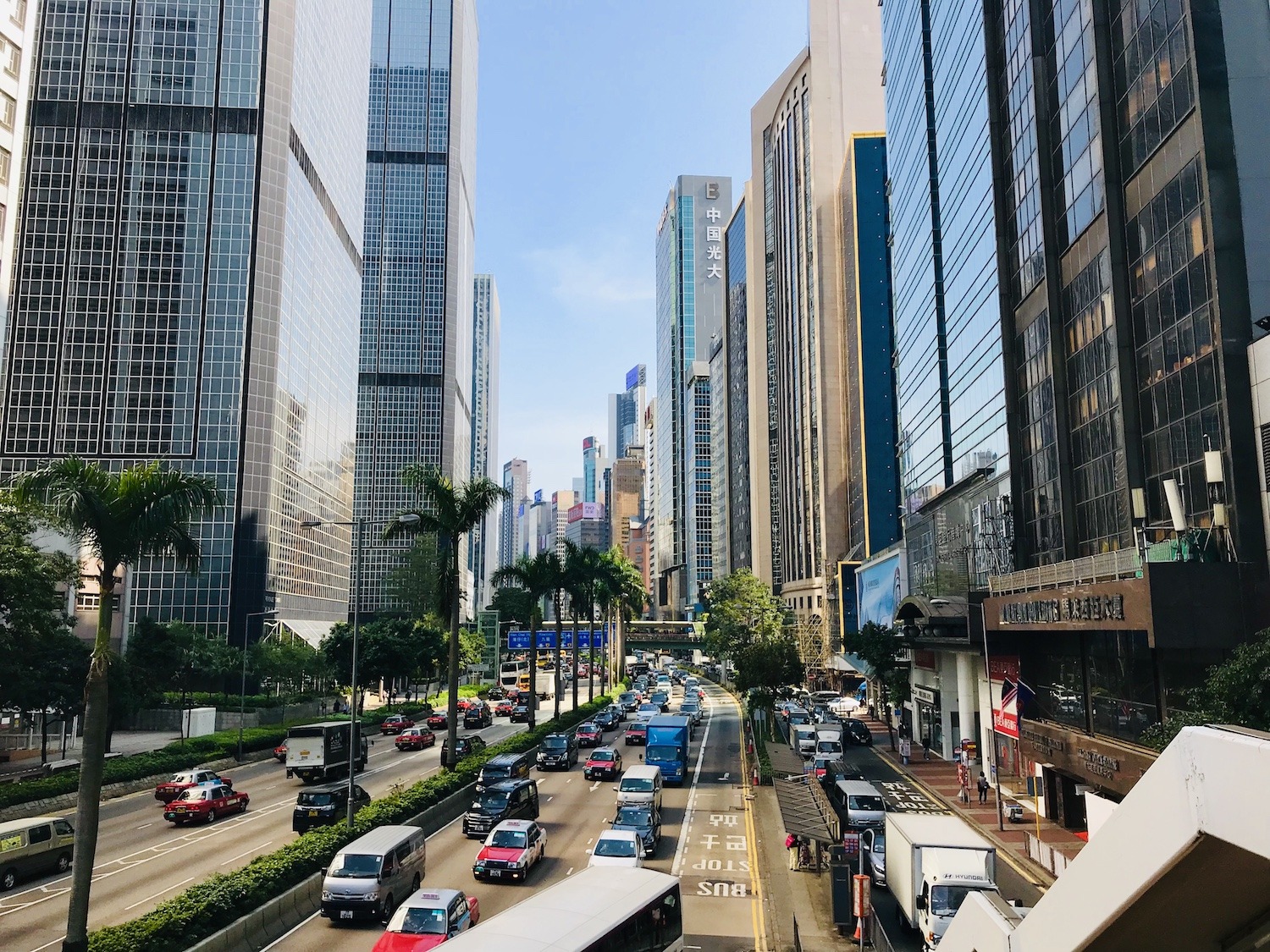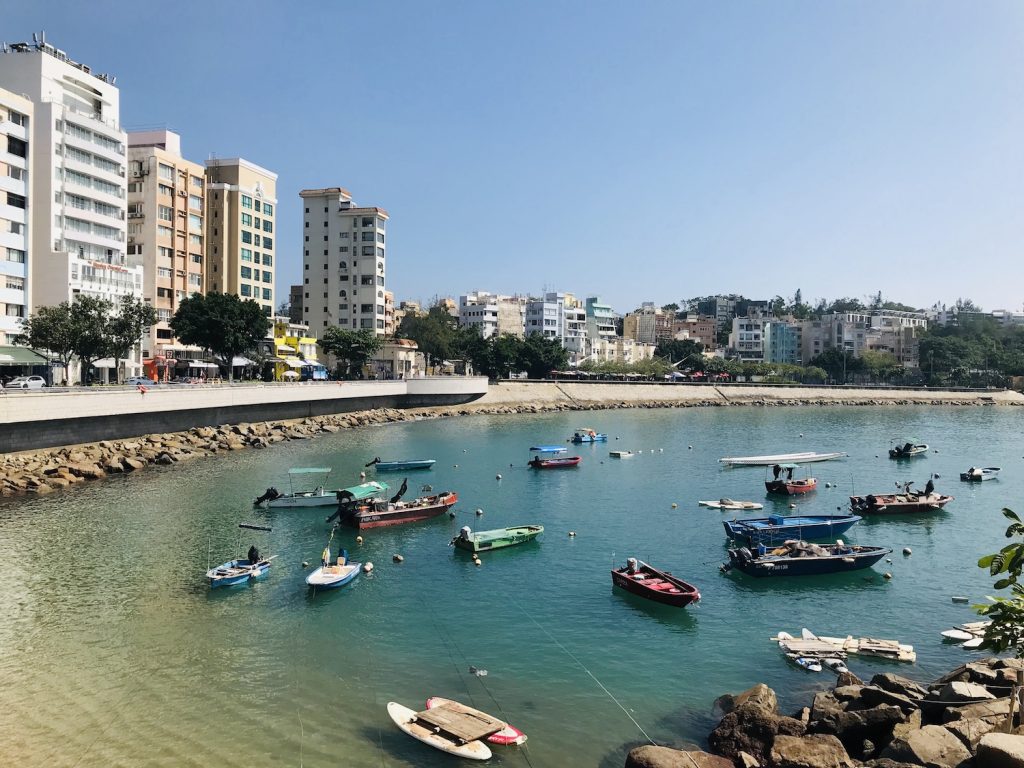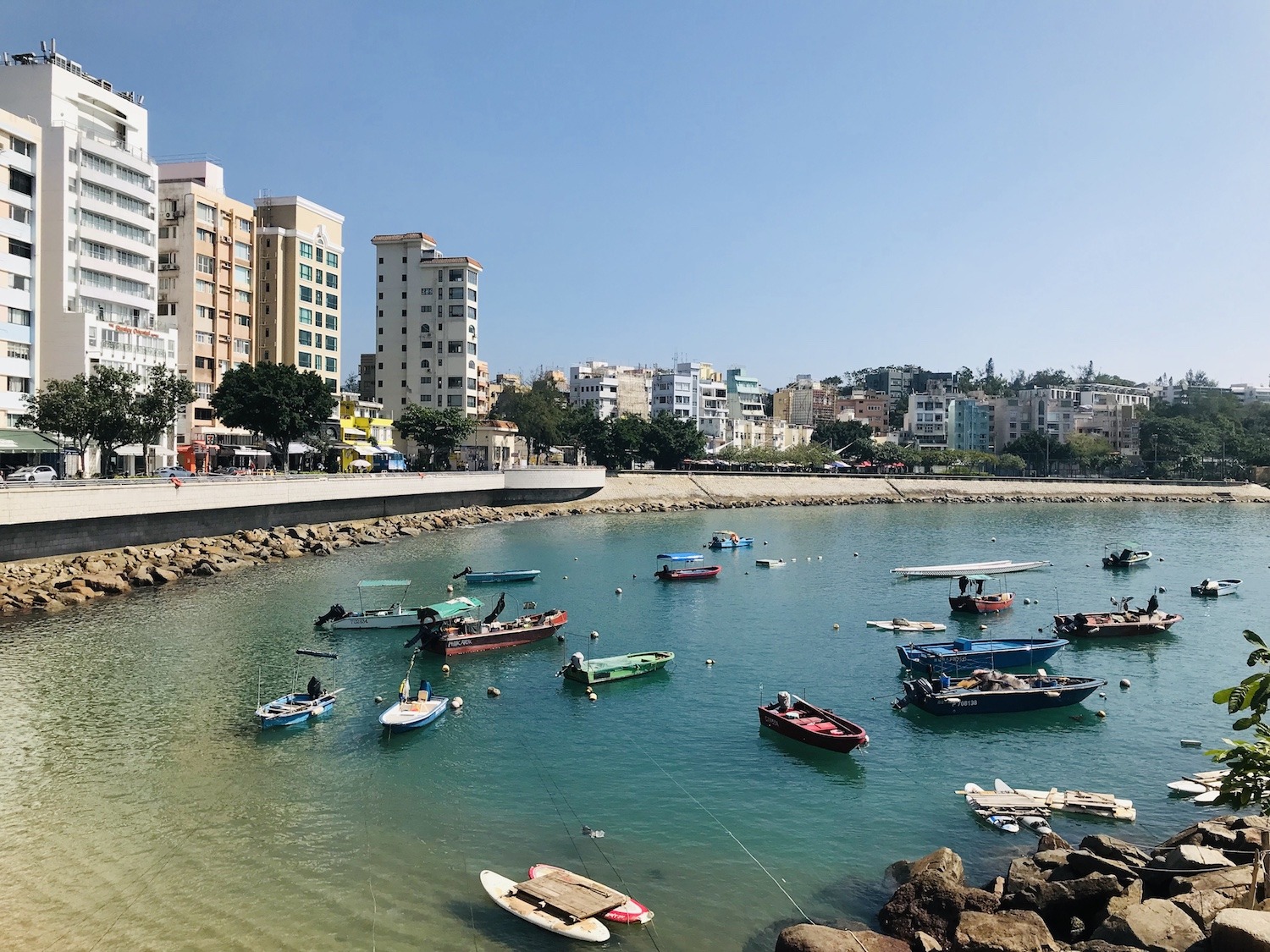 And if you want to escape it all, you can be lying on a golden beach or hiking in the lush forest in no time because somewhat unbelievable 70% of Hong Kong is actually mountains and sprawling parks. Back in the urban jungle, there is also a dizzying array of fun things to do in Hong Kong from mega-shopping malls, contemporary art galleries, classical temples, and wild nightlife – often all on the same street!
Many Asian mega-cities like Seoul, Shanghai, Osaka, KL and Tokyo offer food, culture, nature, and a splash of chaos. But none do it quite like Hong Kong. This city is utterly unique, as you will soon find out.
One of the best tips we can give you for exploring Hong Kong is to order an airport travel SIM card for easy pickup and activation the moment you land so you will not pay a fortune for international roaming – and can genuinely travel like a local. Restaurants recommendation and reservations on the fly, public transport instructions up to the minute, opening hours and further information – and of course, social media posting, if that's your thing – all become just that much easier.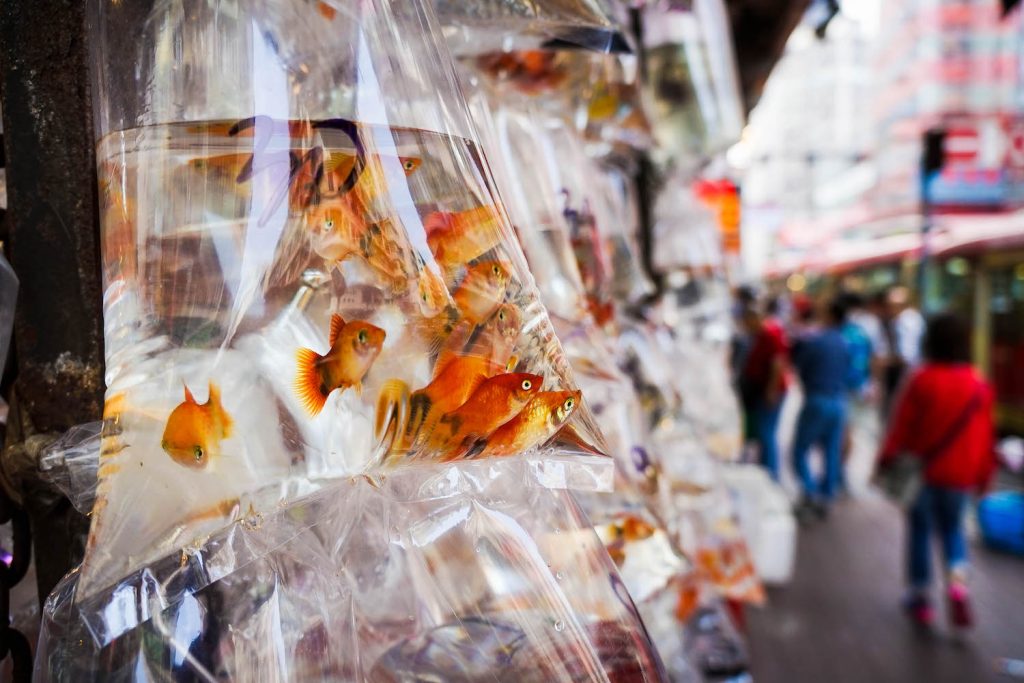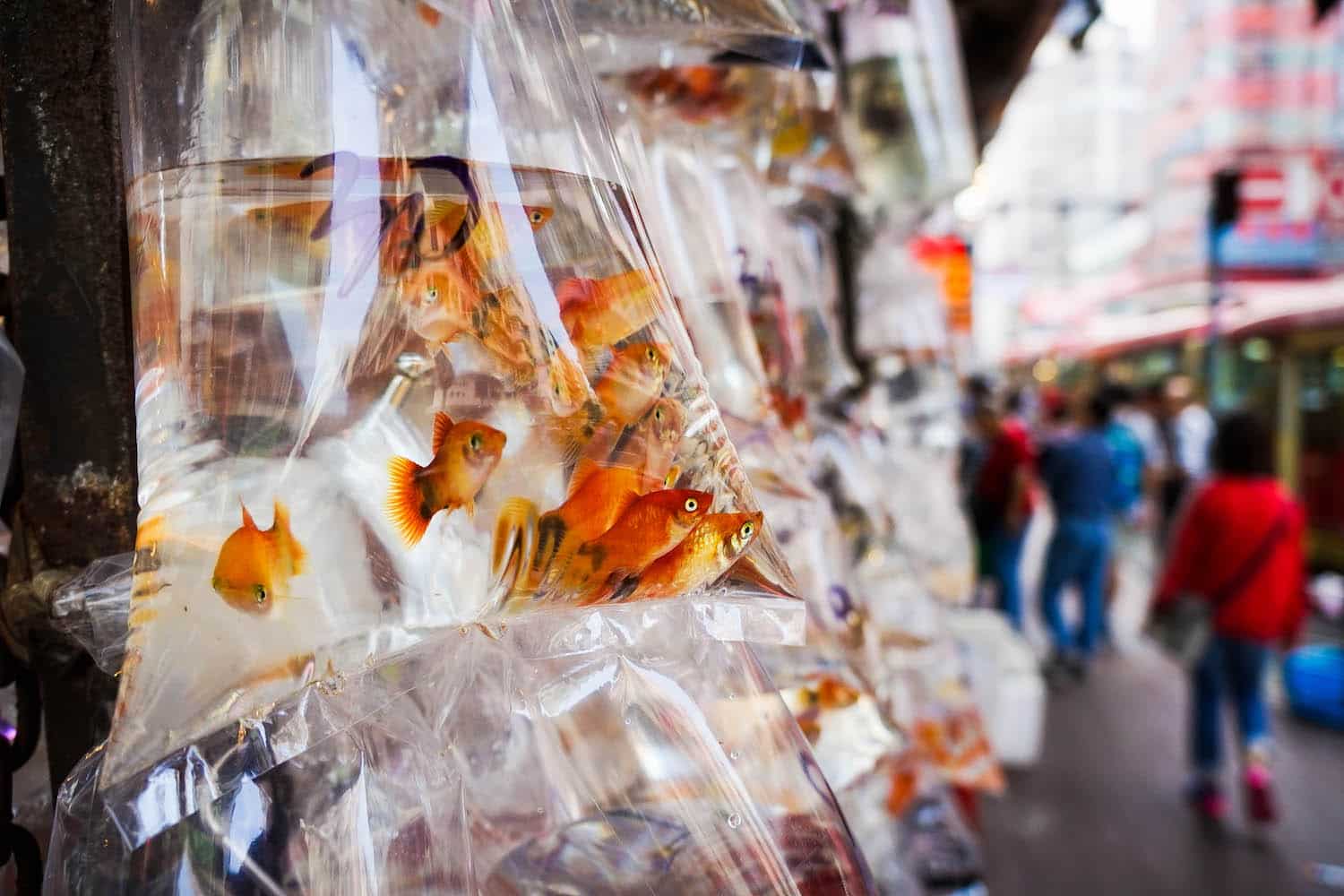 Mobile data is fast, cheap, and available almost everywhere in Asia, so it is no wonder the only way to explore like a local, and to get off the beaten track (without worrying about ever being lost) is to get connected. So why wait? Discover more in Hong Kong by sorting out the best local SIM card now.
Another pro tip is to book your Airport Express train in advance to save time and money on arrival. You can then use the free in-town check-in service offered when you leave Hong Kong to drop your bags whenever suits and then to explore the city for longer before skipping check-in at the airport and going straight to your flight.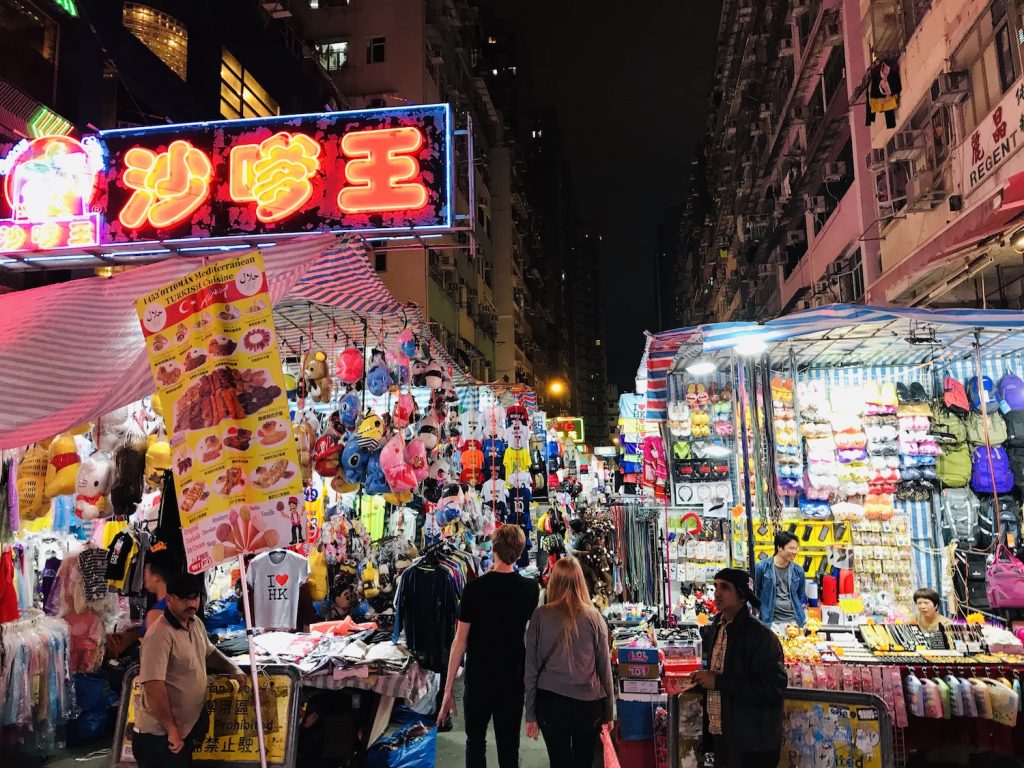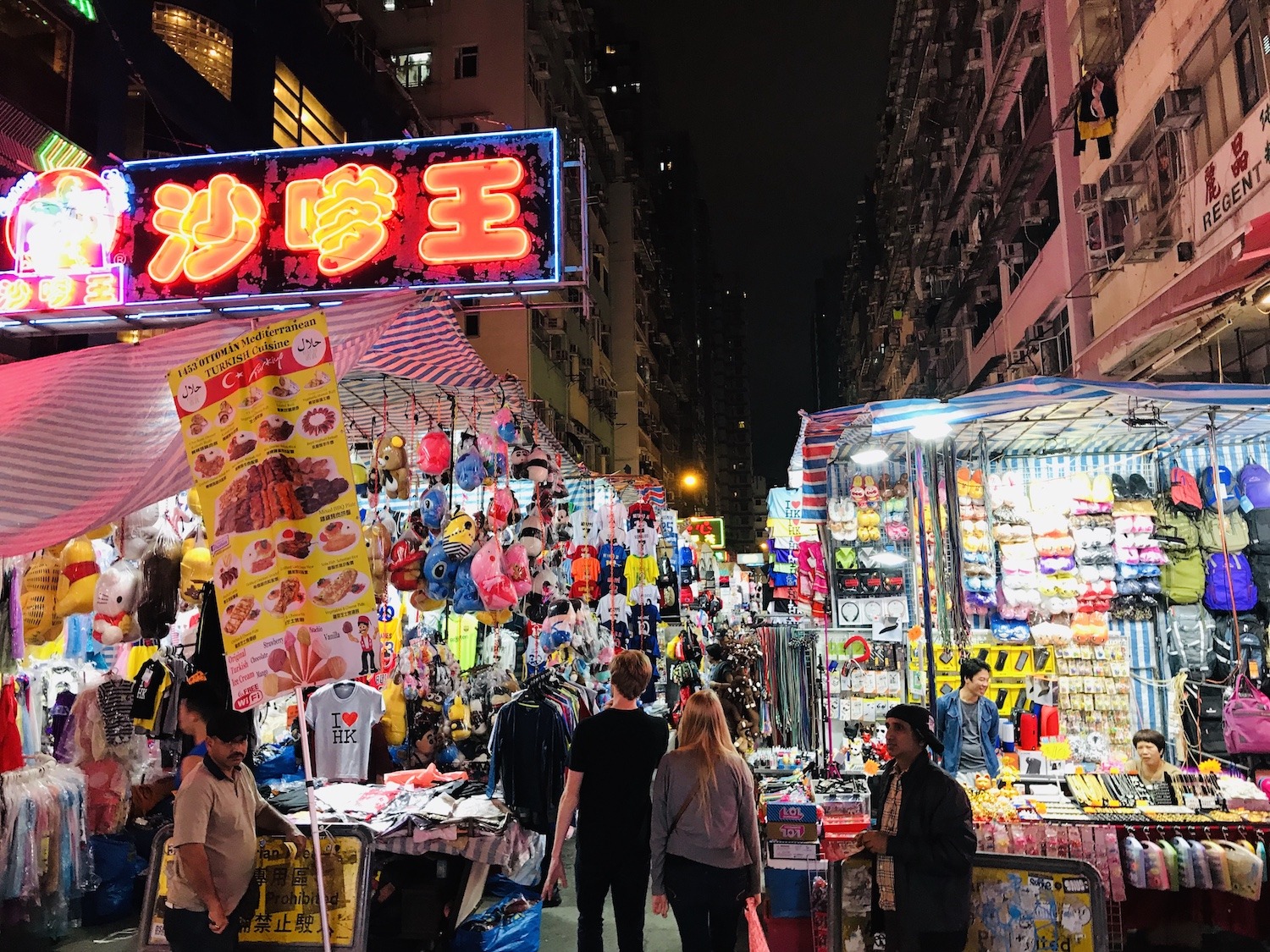 Complex, passionate, and full of possibilities, Hong Kong is the perfect blend of chaos and organization for tourists to explore – thanks in large part to its extensive public transport network and the ubiquity of English. So get ready for the trip of a lifetime and let us guide you through the most fun Hong Kong attractions covering cuisine, culture, history, and more.
No one can cover it all – and we don't suggest you try to, but don't forget to let yourself get a little lost in the madness; after all – half the fun in Hong Kong is finding your own special place!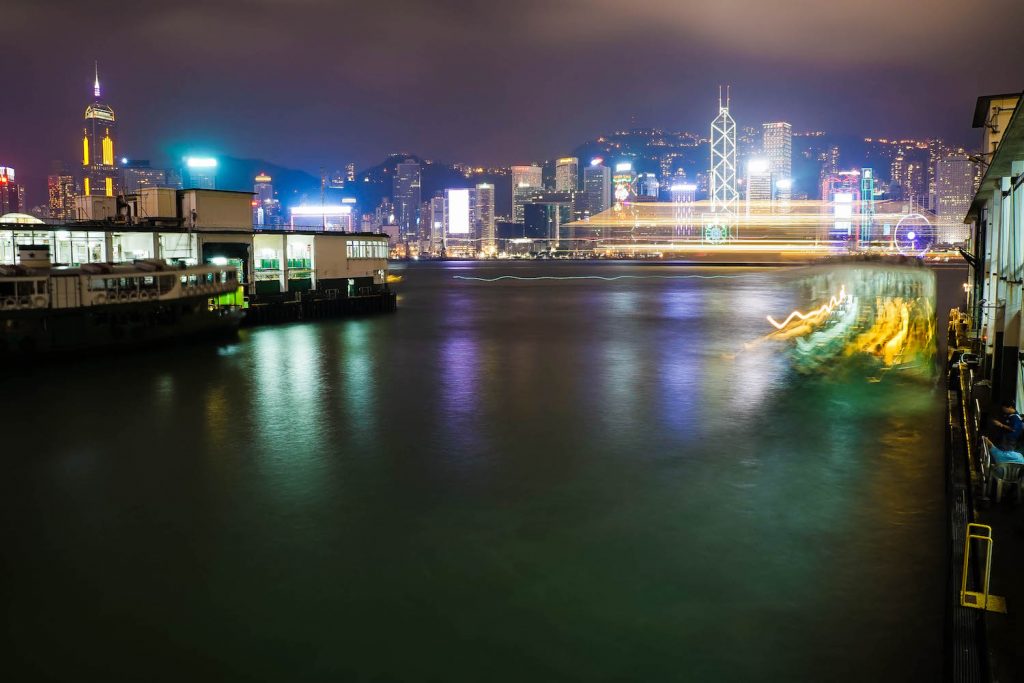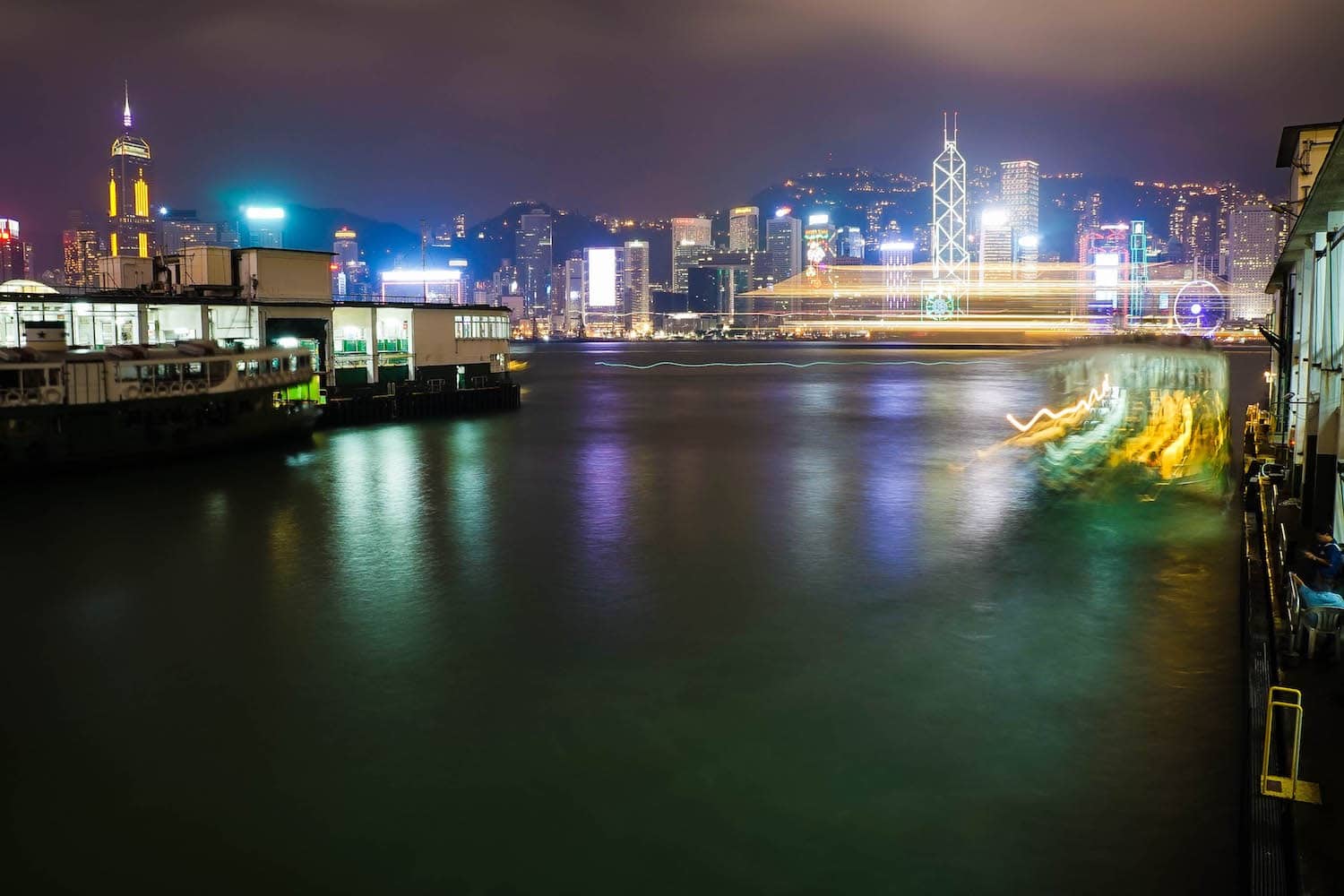 1. Marvel At The Vista From The Avenue Of The Stars
The Avenue of Stars, something like Hollywood's Walk of Fame, is located along the stunning Victoria Harbour waterfront in Tsim Sha Tsui. Recently reopened after a multi-million dollar renovation, which took almost five years, it honors celebrities of the Hong Kong film industry, the most famous of who is undoubtedly Bruce Lee.
Even if you don't have any interest in the glorious history of Hong Kong cinema, the entire area is perfect for a long stroll and to lose yourself in the sights of the Hong Kong skyline rising up towards the sky. If you have the time, try to visit it multiple times to really soak it all in. During the morning, the promenade is quiet and intimate, while in the afternoon, it is busy and full of excitement.
If you are short of time, then plan your visit to coincide with the Symphony of Lights show held here each night. An inspiration multimedia show has set the harbor alight with a synchronized display spread across Hong Kong Islands skyscrapers, this is easily one world's most spectacular light shows – and is totally free for you to enjoy. Day or night, follow up your avenue of the Stars trip with a trip on the Star Ferry across the bay.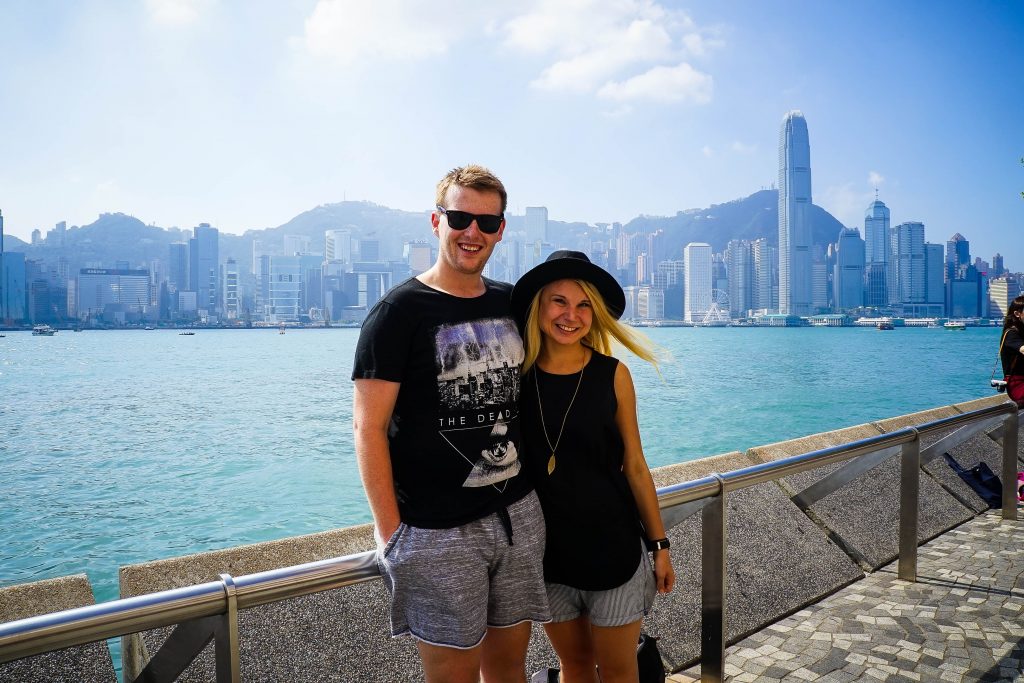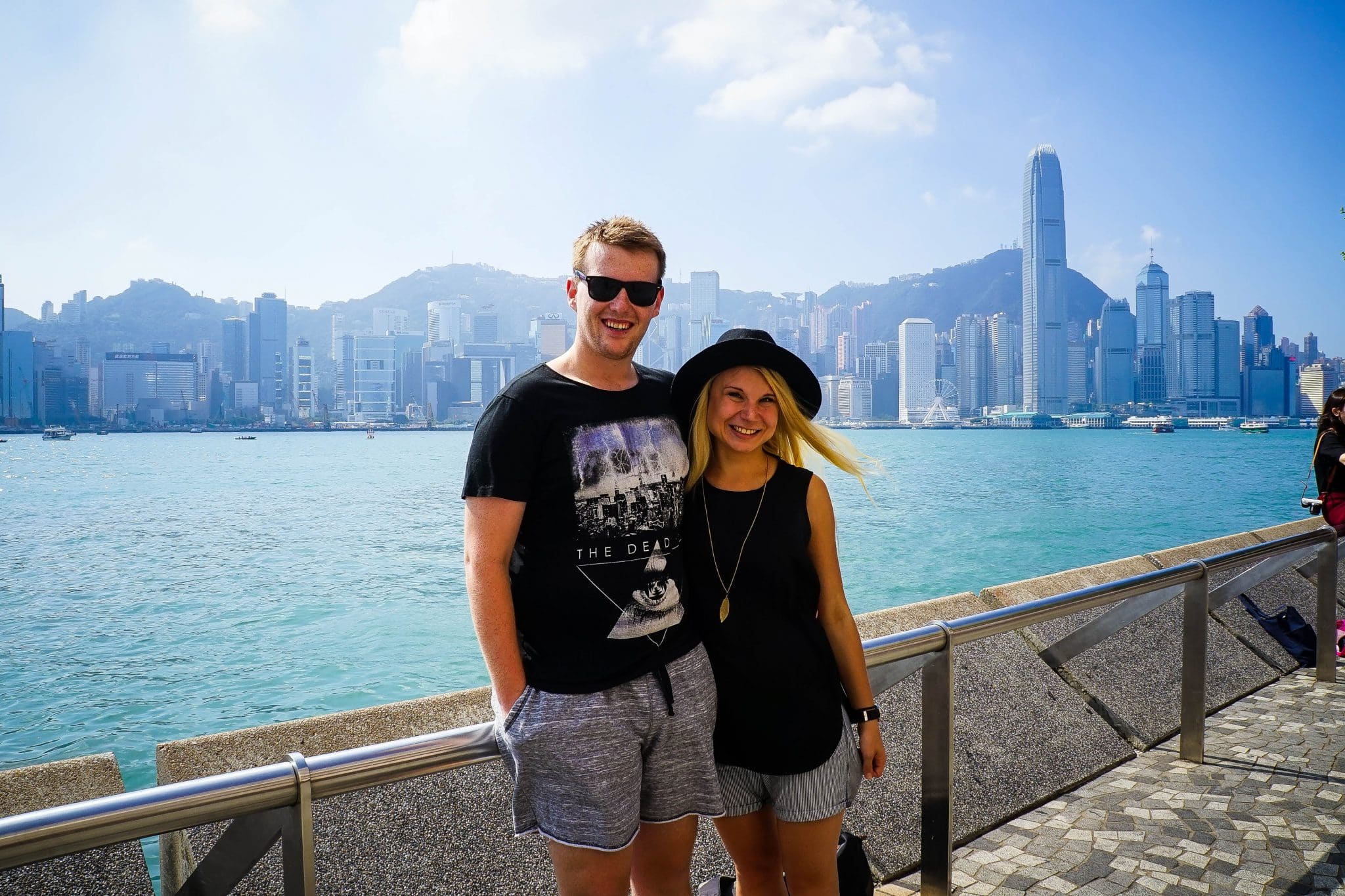 2. Spend The Day Relaxing In The Outlying Islands
Hong Kong can get hectic and overwhelming so one day when the weather is good, and you have just had enough take a ferry to one of Hong Kong's laid-back outlying islands – There is more than 260 of them, but the four main ones are Cheung Chau, Peng Chau, Lamma Island, and Lantau. Yes, this last one is also 'that Hong Kong airport island', but you wouldn't even notice as it's so laid back!
These islands and their villages embody serenity and make an alluring destination to enjoy a seaside lunch, explore temples, to get lost in old pirate caves, take a dip in the ocean, or just people watch. Out here, it's all so relaxing and seems a world apart from the city but is actually less than an hour ferry trip away – all of which conveniently depart near Central Station on Hong Kong Island. There is also an inter-island ferry if you wish to do a bit more exploring – which we highly recommend.
There are simply too many highlights to list, but we would be remiss to recommend the Rainbow Seafood on Lamma Island, a 30-year-old Hong Kong institution frequented by both locals and celebrities from around the world. For a more alternative way to experience Hong Kong off-the-beaten-track, you could also try night sea kayaking in Cheung Chau.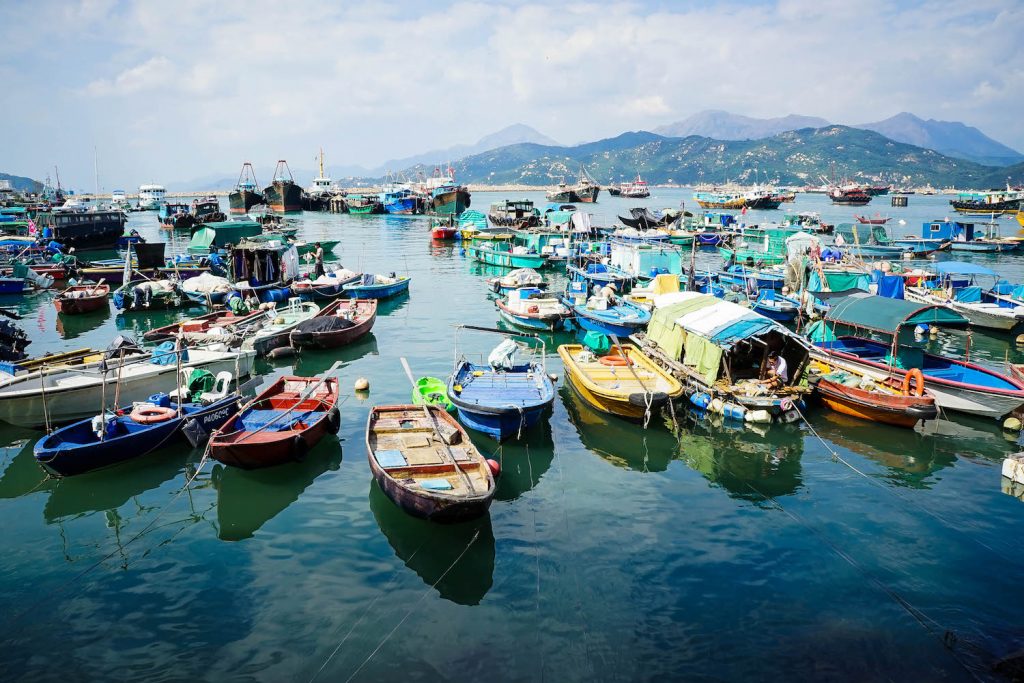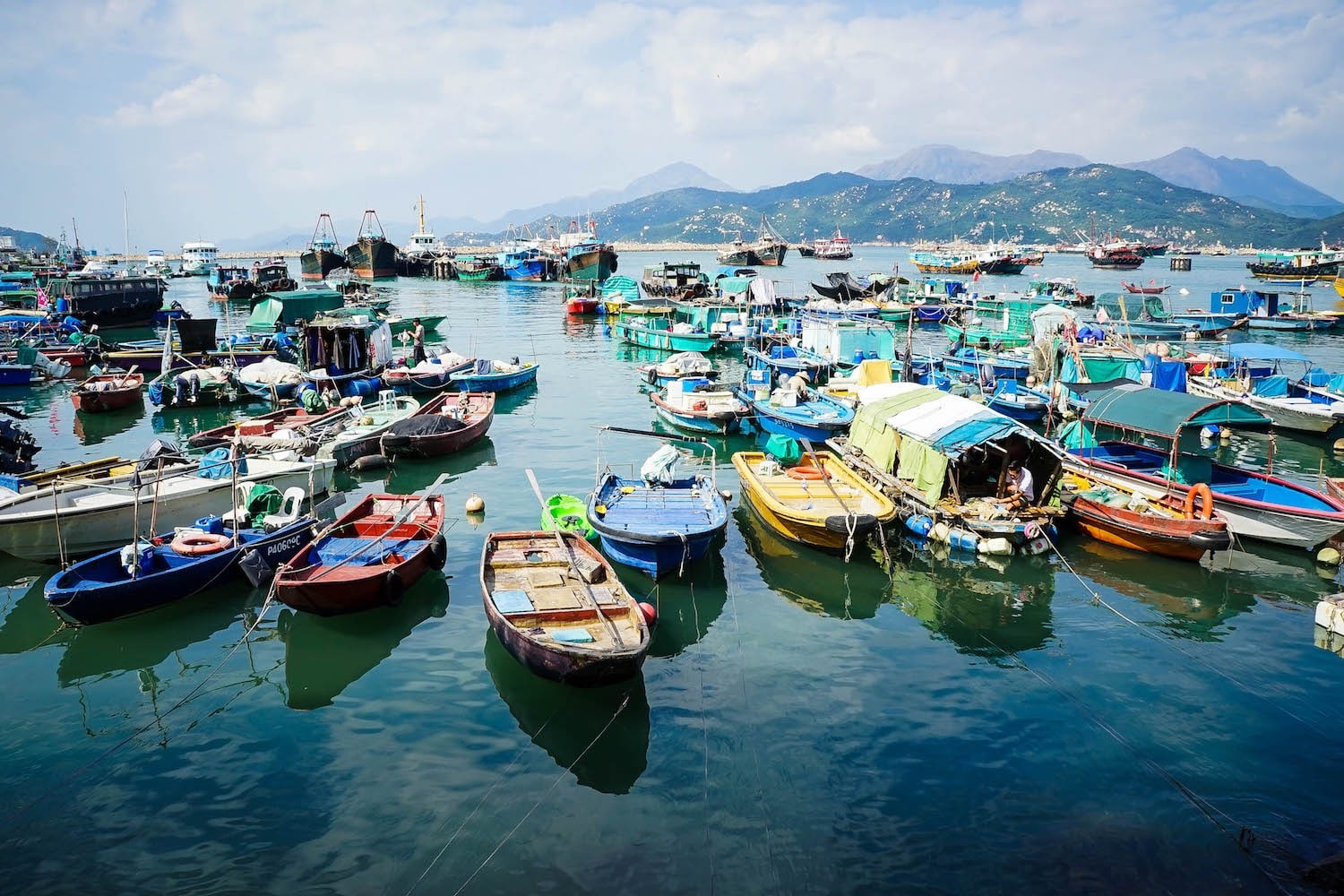 3. Hike The Jaw-Dropping Dragon's Back Trail
After you've spent time exploring the streets of Hong Kong, you might want to explore the fantastic natural surroundings, and this hike along the Dragon's Back is the perfect way to do so. Walk along secluded forest trails on the ridge of the mountains, then go down to Tai Long Bay, where you can jump into the water to wash off the sweat. You deserve it!

Part of the longer Hong Kong Trail, this zigzagging path really does make you feel like you could be traversing the ridges of a Dragon's Back – and that he (or she) might wake up at any second. Give the outstanding views of southern Hong Kong Island and its golden shoreline, its no wonder this is not only known as Hong Kong's best hike – but one of the best urban walks in the world.

It is widely hailed as one of Hong Kong's best urban hikes. Besides its attractive name, Dragon's Back has a sightseeing platform near the peak that provides truly spectacular views of southern Hong Kong Island and its shoreline. Right at the trail's end is Big Wave Bay. Take a dip or surf the waves for a relaxing finale to this hike.

It's a great unique, and entertaining thing to do in Hong Kong, as long as you are in relatively good shape. The fact that you get to enjoy incredible views while burning calories is just a bonus. Getting out of the bustle of the city is also a way of refreshing yourself and clearing your head.
4. Luxe Out With A Stay In The World's Highest Hotel
One of the world's most famous hotels – and the tallest in the world, the Ritz-Carlton Hong Kong offers unparalleled views in which you often wake up above the clouds. What could be a more fun thing to do in Hong Kong then to feel like a god as the skyscraper below poke their heads up to greet you in bed on the 117th floor…
Not sold? There are copious amounts of modern design, a fabulous pool, and a lavish bar. There is also a rooftop lounge, Michelin-starred restaurants, and a world-class spa to relax in. Here, guests have both high-energy city life and sought-after serenity at their disposal – and as you would expect, all rooms and suites feature large windows and contemporary yet subtle décor.
There really is no stay like it in the world, and they sometimes run great promotional rates if you're lucky. Located in Kowloon, we wouldn't leave our hotel once we had checked-in!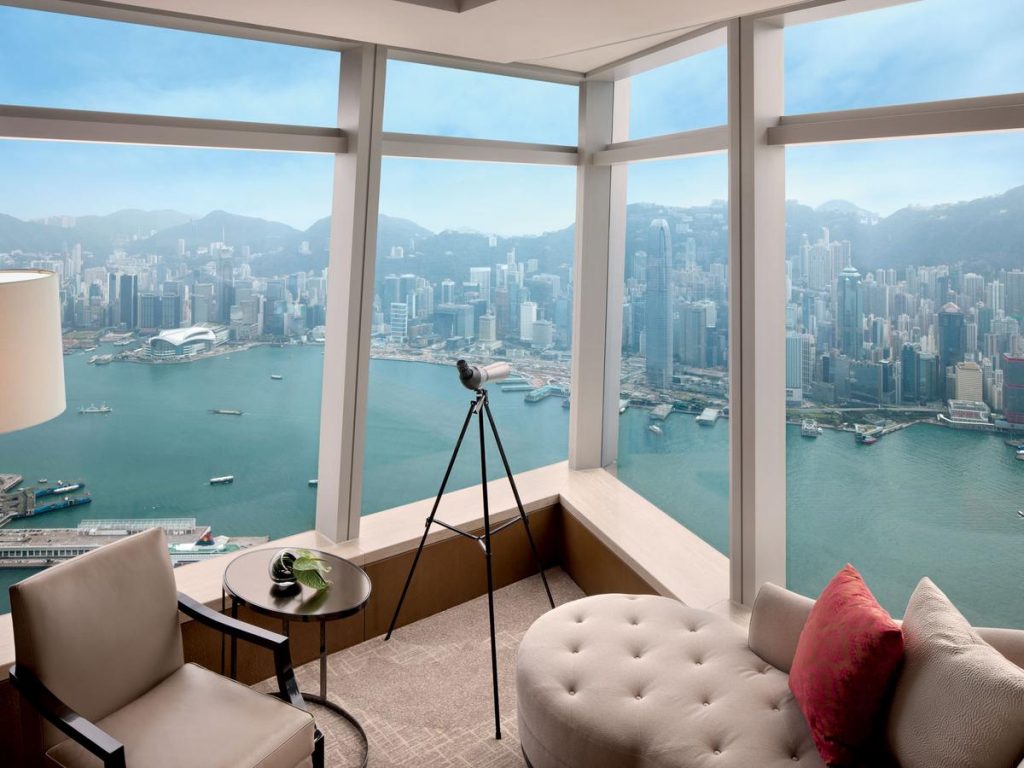 5. Try Dim Sum At The World's Cheapest Michelin Starred Restaurant
If there is one stand-out place you need to check out for the traditional dim sum in Hong Kong, it is Tim Ho Wan. Ok, locals are going to send us hate mail over this bold claim we are confident, but we won't be backing down. We love Tim Ho Wan and are not the only ones…
Dim Sim is a style of Cantonese cuisine prepared as small bite-sized portions of food served in small steamer baskets or on small plates – and here you can enjoy a back-to-basics-yet-still-incredibly-enticing menu that has won the plaudits of food critics and hearts of foodies around the world. It is also the world's cheapest Michelin-starred restaurant, something we could typically never afford with our entire meal came to less than USD 10 each!!
Tim Ho Wan was started by a former chief of Hong Kong's Four Seasons Hotel in 2009 with a tiny 20-seater top dim sum restaurant in Mongkok. Within just one year of opening, it had earned a Michelin star. More branches opened across Hong Kong, each receiving its own Michelin star and yet still offering delicious food at affordable prices. Today, Tim Ho Wan has 46 outlets in seven countries including Taiwan, Singapore, Macau, Japan, USA, and Australia.
While all of their Hong Kong locations are incredible, most locals will still recommend you visit the original humble 'hole-in-the-wall' eatery in Mong Kong to enjoy their delicious offering. Guaranteed to be packed to the rafters, it's worth the wait to get in, and the atmosphere along makes Tim Ho Wan one of the most fun things to do in Hong Kong. And don't, they have an English menu – you just have to ask.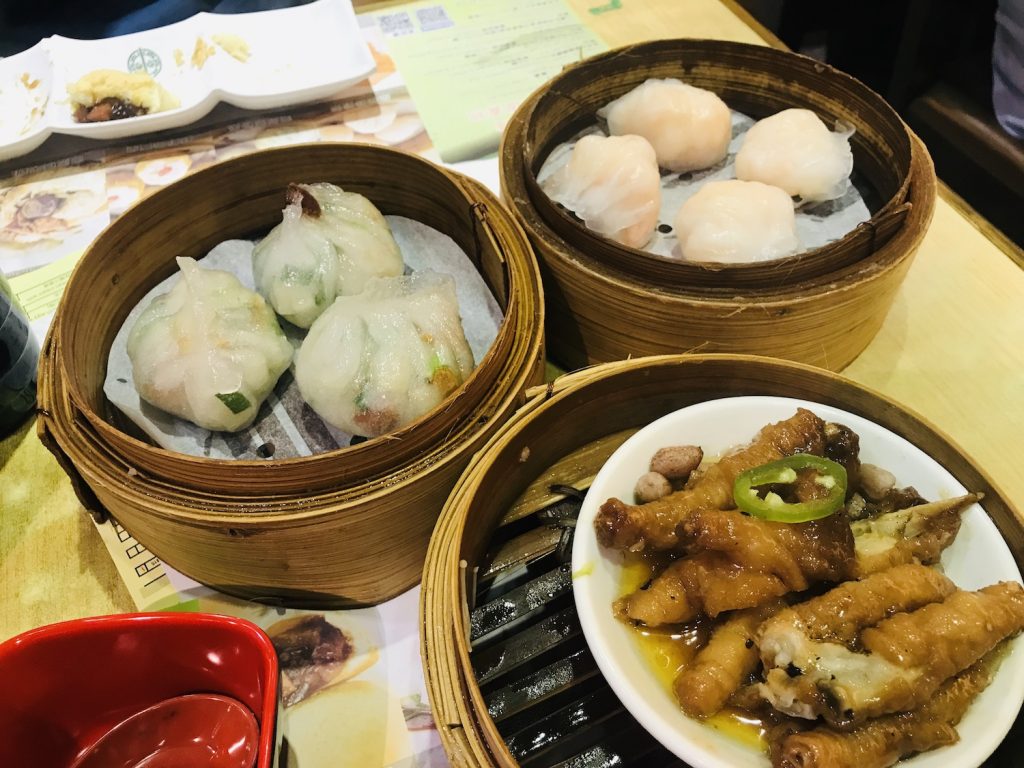 6. Let Loose For The Day At Ocean Park Hong Kong

Opened in 1977, Ocean Park is today the world's 13th most visited theme park, and one of the largest theme parks in Asia covering an area of 226 acres and actually located in two sections is separated by a large mountain.
The more significant section of the park (the Summit) is accessed via a cable car or underground train and is absolutely out-of-this-world, located on a hilltop with superb views out across Hong Kong Island and the surrounding sea. The rides here are the main attraction, but we found ourselves lost in the vistas at multiple points—including while riding one of the four roller coasters.
The theme park has numerous attractions, animal exhibits with diverse themes, such as a giant panda habitat, rainforest, and polar displays, and an aquarium featuring the world's largest aquarium dome. Thankfully Ocean Park no longer has a killer whale here, though they still have dolphins and live animal performances.
Easily accessible via a new MTR line, Ocean Park is a unique hybrid of a theme park and zoo and a persistent staple of fun in Hong Kong. Popular with locals and tourists alike and perfect for a day of hair-raising rides, thrills, and discovery.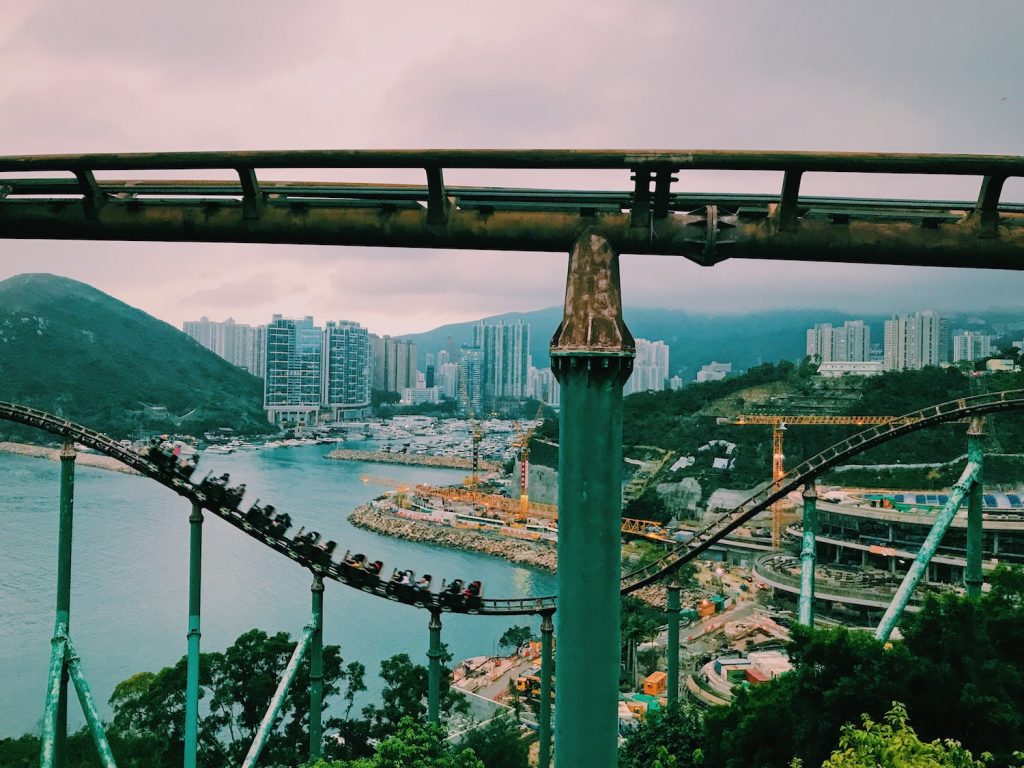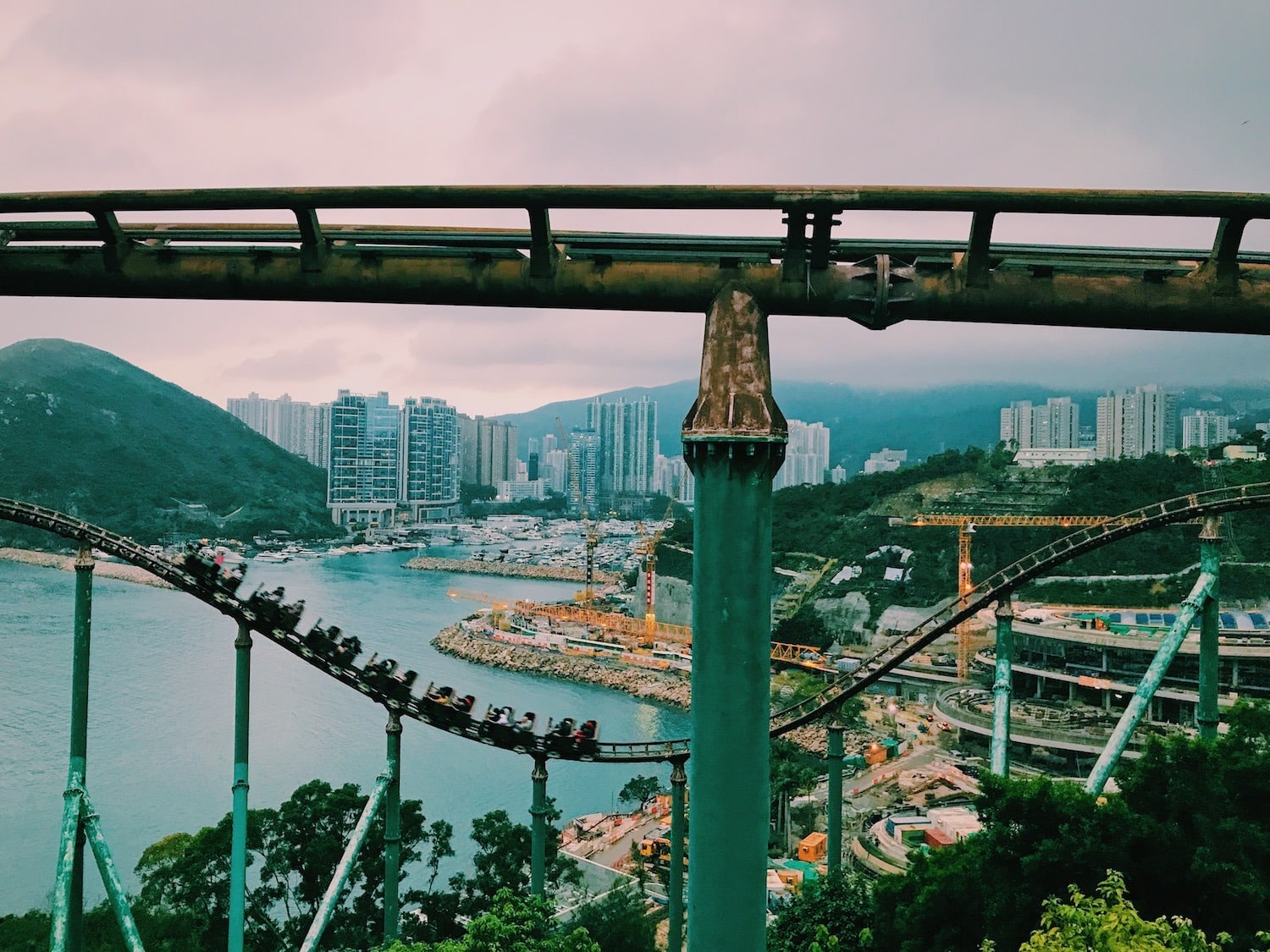 7. Get Pretty In Pink With A Day Of Dolphin Spotting
What could be more fun than a day out on the water searching for the beautiful Pink Hong Kong Dolphin? Yes, they are real, and yes, you have a very high chance of seeing them on this fun yet educational tour where you can gain insight into this unique species and learn about the threats they are facing in part due to Hong Kong's rapid economic development.
Pink Dolphins were first spotted in the waters around Hong Kong and the Pearl River Delta over 400 years ago, but no one really paid attention to them until the start of the new Chek Lap Kok Airport construction project in the late 1980s. Today, they are the most famous of Hong Kong's wildlife though sadly, there is believed only to be a population of 61 left.
These trips are designed to minimize disturbance on the Pink Dolphin, which already lives in one of the busiest harbors in the world and provides a way to enjoy and observe these wild creatures as they play. 96% of trips have successful sightings, and most offer a free return trip if you don't see them – but even without these colorful critters, the boat trip makes for a scenic break from the hectic pace of Hong Kong life.
8. Succumb To Your Temptations In With A Macau Day Trip From Hong Kong
Macau, the 'Las Vegas of the East', is pretty much Disneyland for adults. Portuguese colonial architecture mingles seamlessly with ancient Chinese temples and laneways, which themselves give way to gaudy neons and megalithic casino complexes….
Throw in the Macau Grand Prix and some delicious egg tarts that were as good as those of Lisbon and Porto, and you have the ingredients for an exhilarating, if somewhat spatially challenging, Macau day trip. And it is only a 55-minute boat ride away from Hong Kong. Actually, on second thoughts, we would totally never recommend going during the Grand Prix again as it was basically Tokyo subway station at rush hour but on steroids. Never, ever again! But for the remainder of the year, there are plenty of Macau attractions and a little something for everyone.
Book your ferry tickets to Macau in advance for significant discounts, and to avoid waiting in long lines – a common theme in Hong Kong. This way, you can enjoy the quickest and most convenient transfers from either Hong Kong Island or Kowloon to Taipa terminal in Macau with travel at a time that suits you. There are generally departures every 30 minutes during the day and into the night.
If you are not feeling particularly adventurous, or just want someone to do all the organizing for you, there is always the option of a Macau Cultural Tour from Hong Kong. Hitting all the top spots including Kun Iam Statue and A-Ma Temple (Macau's oldest temple), the Macau Tower and the Venetian Macao, the world's largest casino and hotel in Asia, just to name a few – this action-packed day gives you a taste of this vibrant, extravagant and rapidly-transforming city!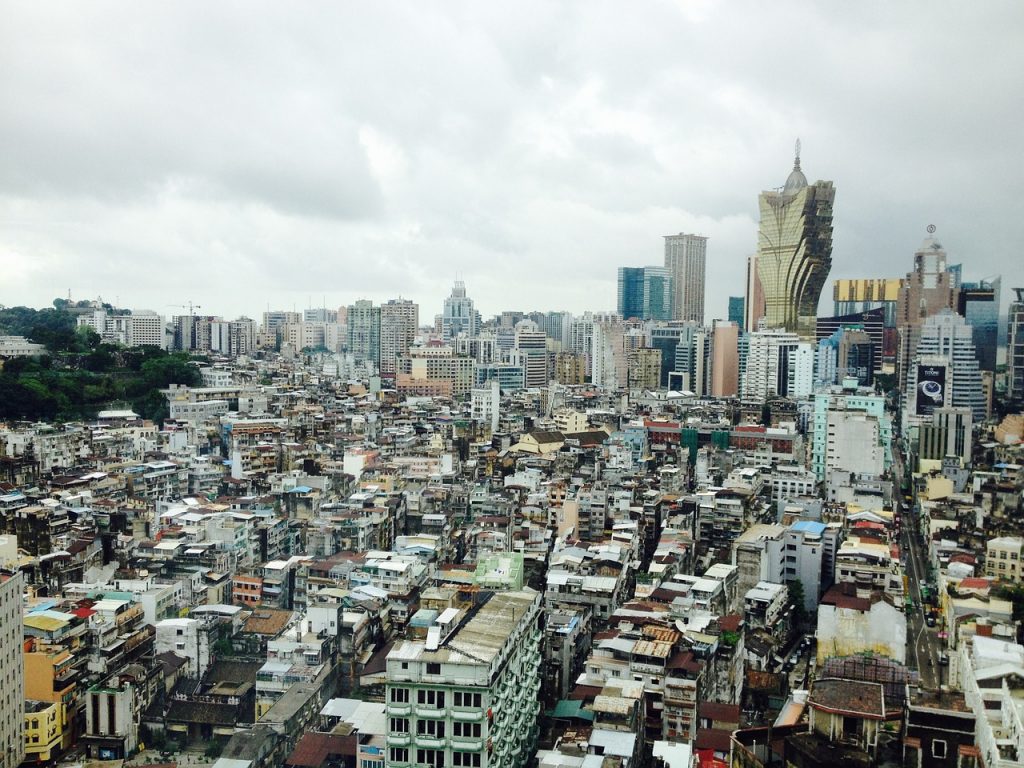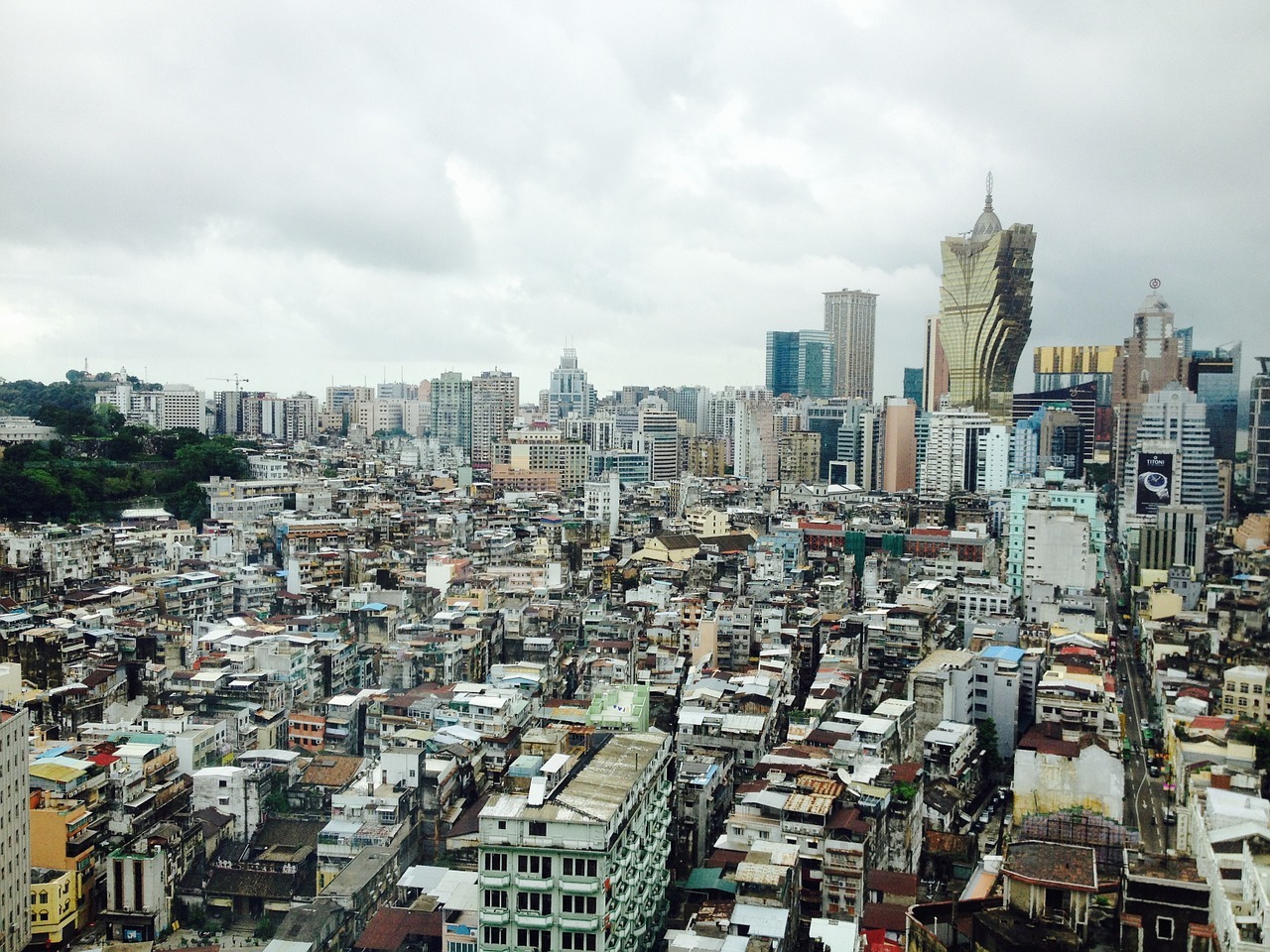 9. Try Your Luck At The Happy Valley Races

The Happy Valley Races is a horse racing track in Hong Kong that attracts both locals and tourists, and it's definitely one of the best places to check out on your trip to the city. In particular, the Happy Wednesday event is the place to be – not only is there horse racing, but it's a giant party that brings together everything that's great about Hong Kong.
Happy Wednesdays are very popular among locals and tourists alike, and it's a perfect destination for travelers wanting to mingle with people from all over the world. You'll see people from all walks of life, and you'll probably notice right away that there are travelers from around the world. The crowd is generally on the younger side, which you wouldn't normally expect at horse races. Instead of a stuffy, buttoned-up vibe, these races are lively and accepting, so they are the perfect entree into the world of horse races.
The betting is fun, and there are plenty of people to help you make your selections as it is kind of confusing – luckily, they know foreigners love these races and make it as easy as possible to spend your money. Even if you get lucky on the tracks, however, you'll probably end up in the negatives as drinking is the main reason to go!
Traveling solo or just want to join a bigger group? Join the Horse Races Pub Crawl, a great way to meet new and like-minded locals, travelers, and ex-pats whilst discovering some of the best bars in the Wan Chai area.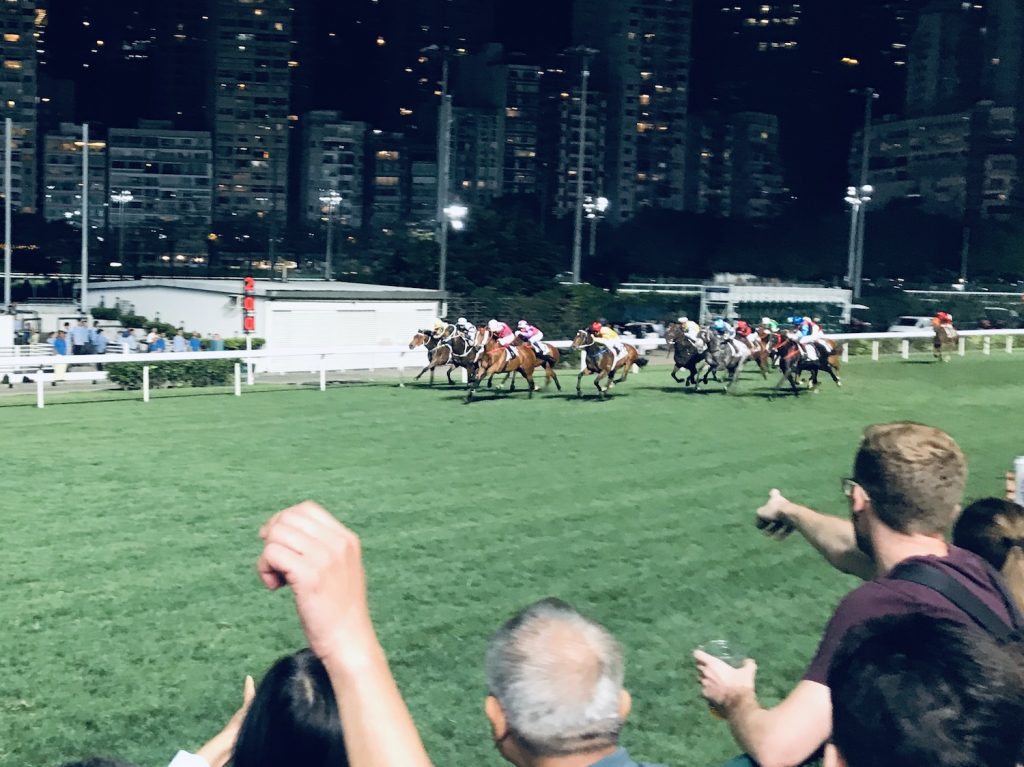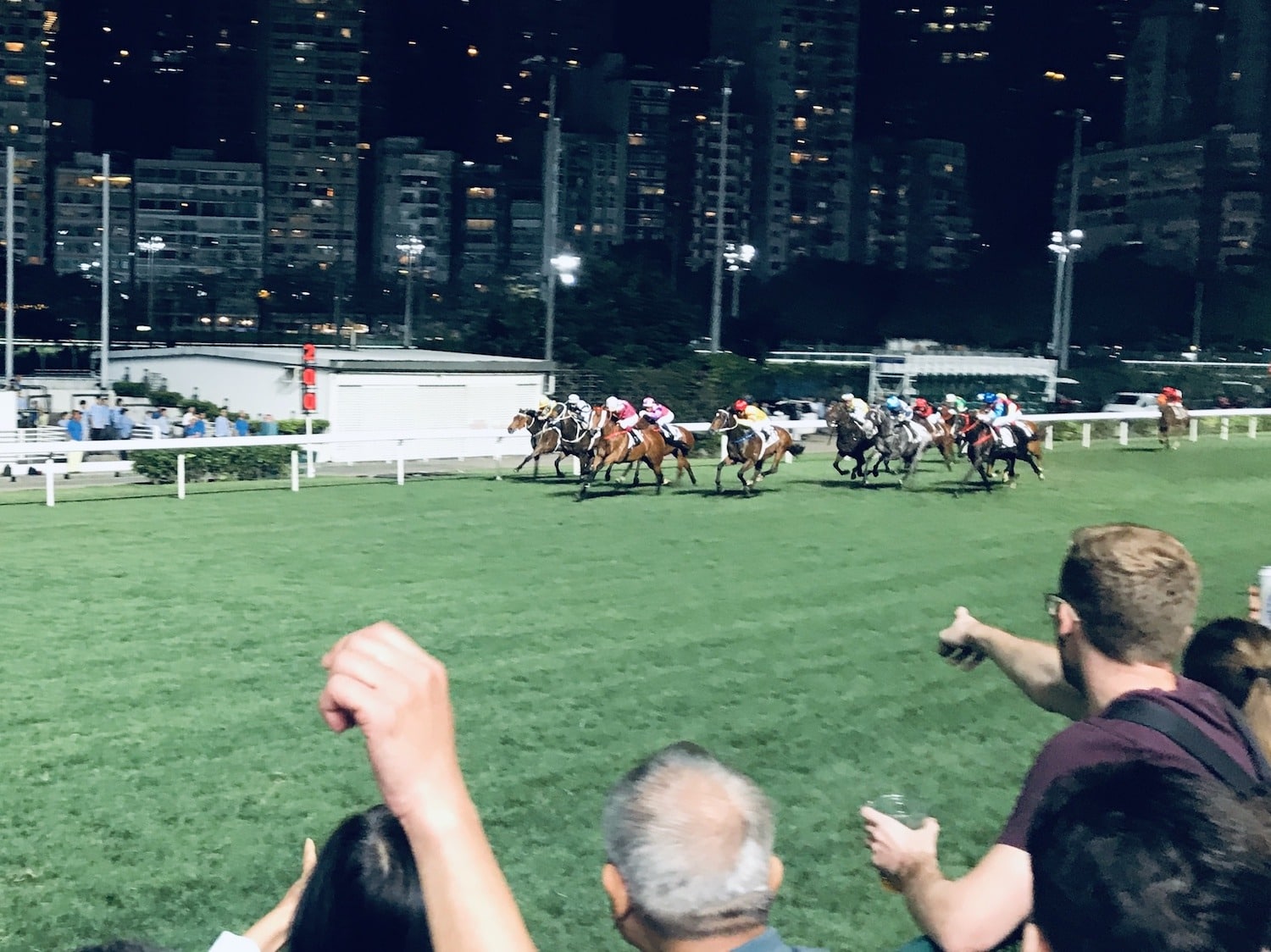 10. Enjoy The Unparalleled Vista At Victoria Peak At Sunset
If a single photo could encapsulate the essence of Hong Kong, it could arguably be that of the almost other-worldly panorama from Victoria Peak.
From high above at this popular vantage point, you can admire one of the most magnificent harbors on Earth and consider a skyline so improbable, grand and daring it makes Manhattan look almost quaint in comparison. At Victoria Peak, you can admire these soaring monoliths with a view like no other, where the energy and vigor of Hong Kong lies exposed for all to see. As the sunset and the lights slowly flicker on across the city, it's ridiculously magical, and even a cynic could not doubt its majesty.
Should the regular views from the top not be enough, you can get even better with 360-degree panoramic views of Hong Kong from the Sky Terrace 428. And if you are feeling peckish – or want to enjoy more time here, we can highly recommend a visit to Kala Toast with their Instagram-worthy colorful and irresistible cheese toast. For a more refined dining experience, you should look no further than the Peak Lookout, a 19th-century Grade II Historic Building offering upscale dishes and uninterrupted views of Hong Kong's superb skyline, from Aberdeen all the way to the South China Sea.
There are many ways to get up to Victoria Peak, including a somewhat enjoyable hike – depending on your fitness level -, taxi, bus, or the iconic Peak Tram. The Tram is a Hong Kong attraction in and of itself, and as such, can demand insanely long waits – but thankfully, there is now an advance ticket sale system in place that allows you a special lane and hassle-free access by avoiding the long queue on the regular lines!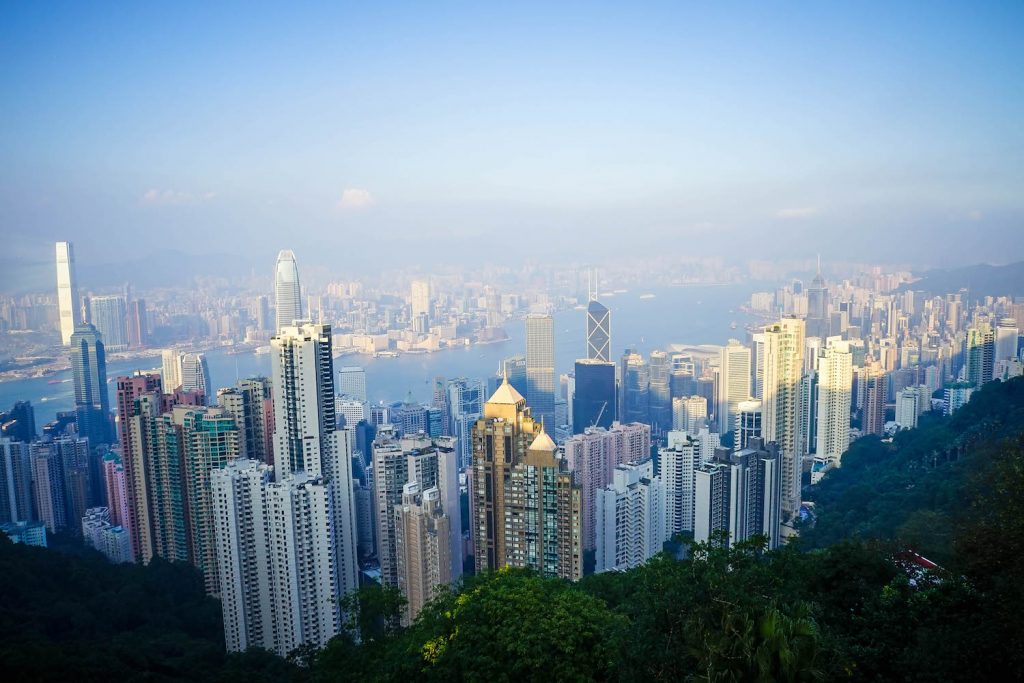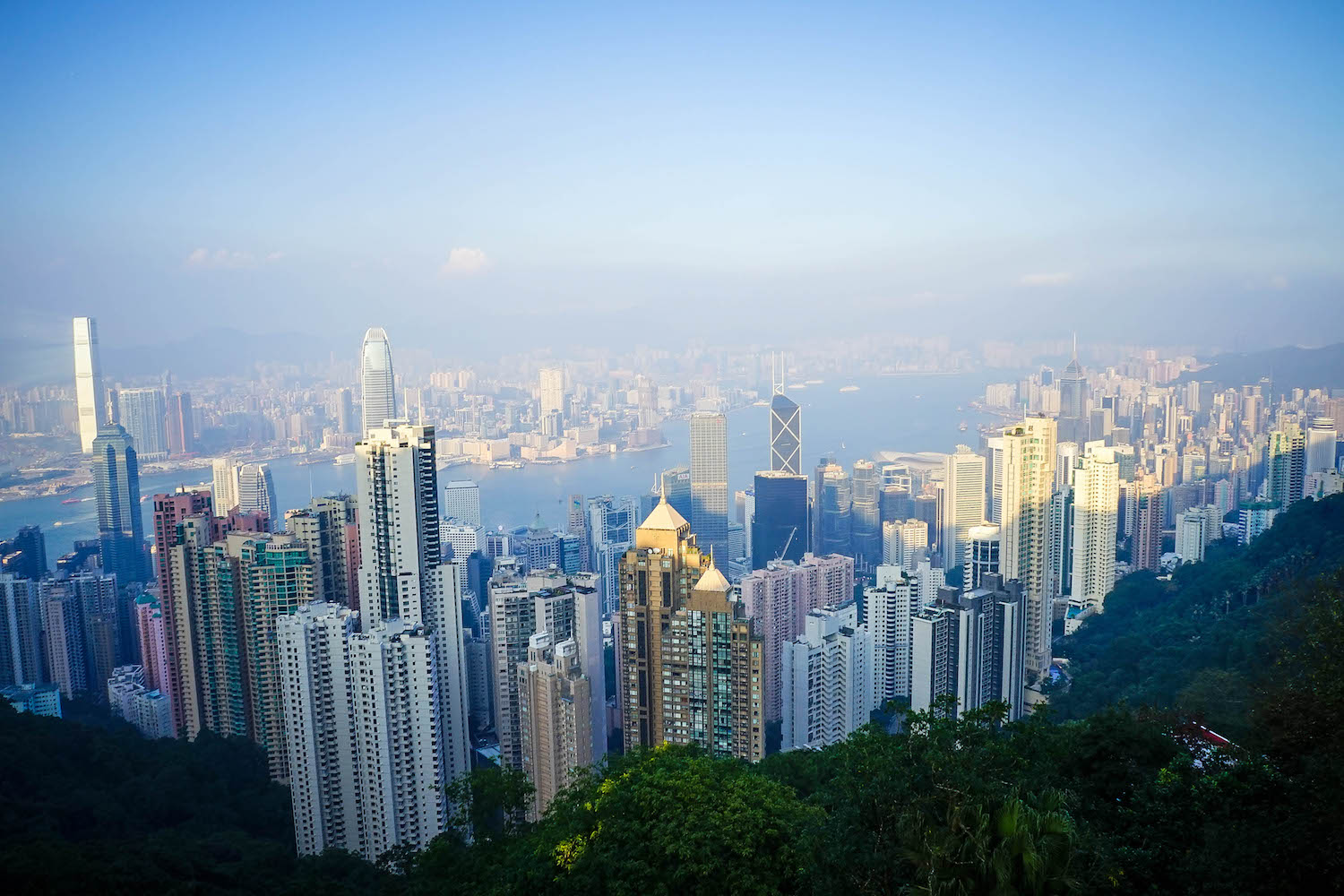 11. Relax With A Magical AquaLuna Evening Sailing Trip
So now you've seen Hong Kong from the air, it's time to see it from the sea, with this intimate cruise in a traditional Chinese junk boat. All aboard the Aqualuna!
There's something so magical about seeing the city alight from the water, relaxing on a lounge bed and experiencing the calm of the night. It's one of the most enchanting and fun things to do in Hong Kong. It's sure to be a memory that lasts a lifetime and an experience you'll want to share with, well, anyone special! You know that the crowded streets you're watching from afar are alive and bustling, but the hush of the harbor casts a spell around you.
Let the ambiance wash over you and enjoy a complimentary cocktail among the boat's charming décor. You can either go as the sun is setting, or later, once the lights are already shining across the bay. Our pro tip would be to board at Tsim Sha Tsui early, so you get first dibs on the best seats on the junk boat before guests boarding at central – and of course, you can enjoy the full cruise rather than a slightly shorter version.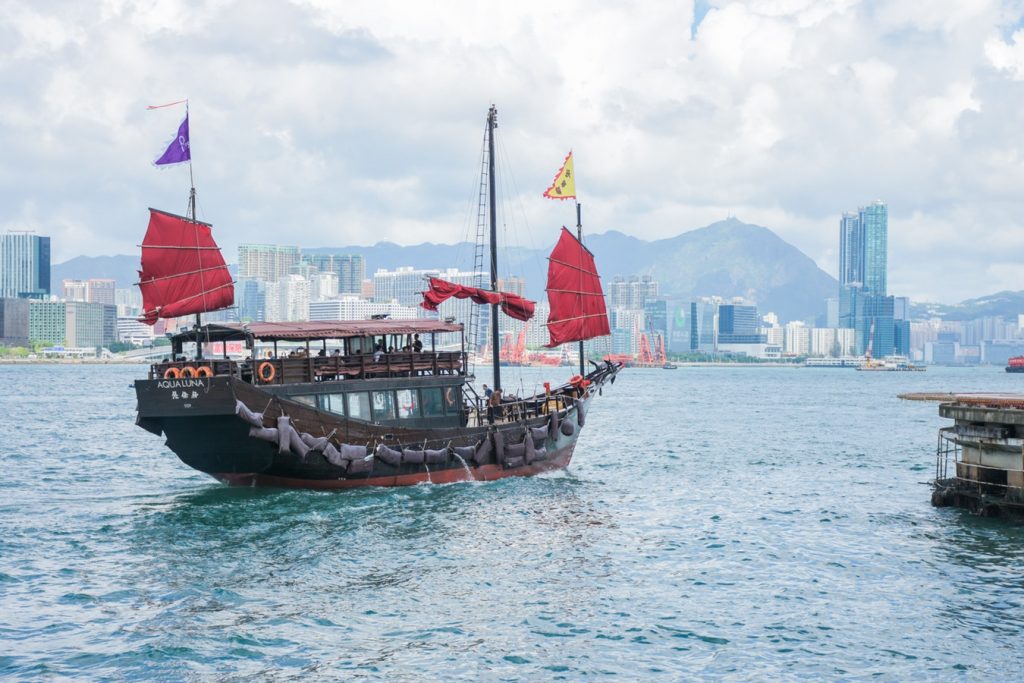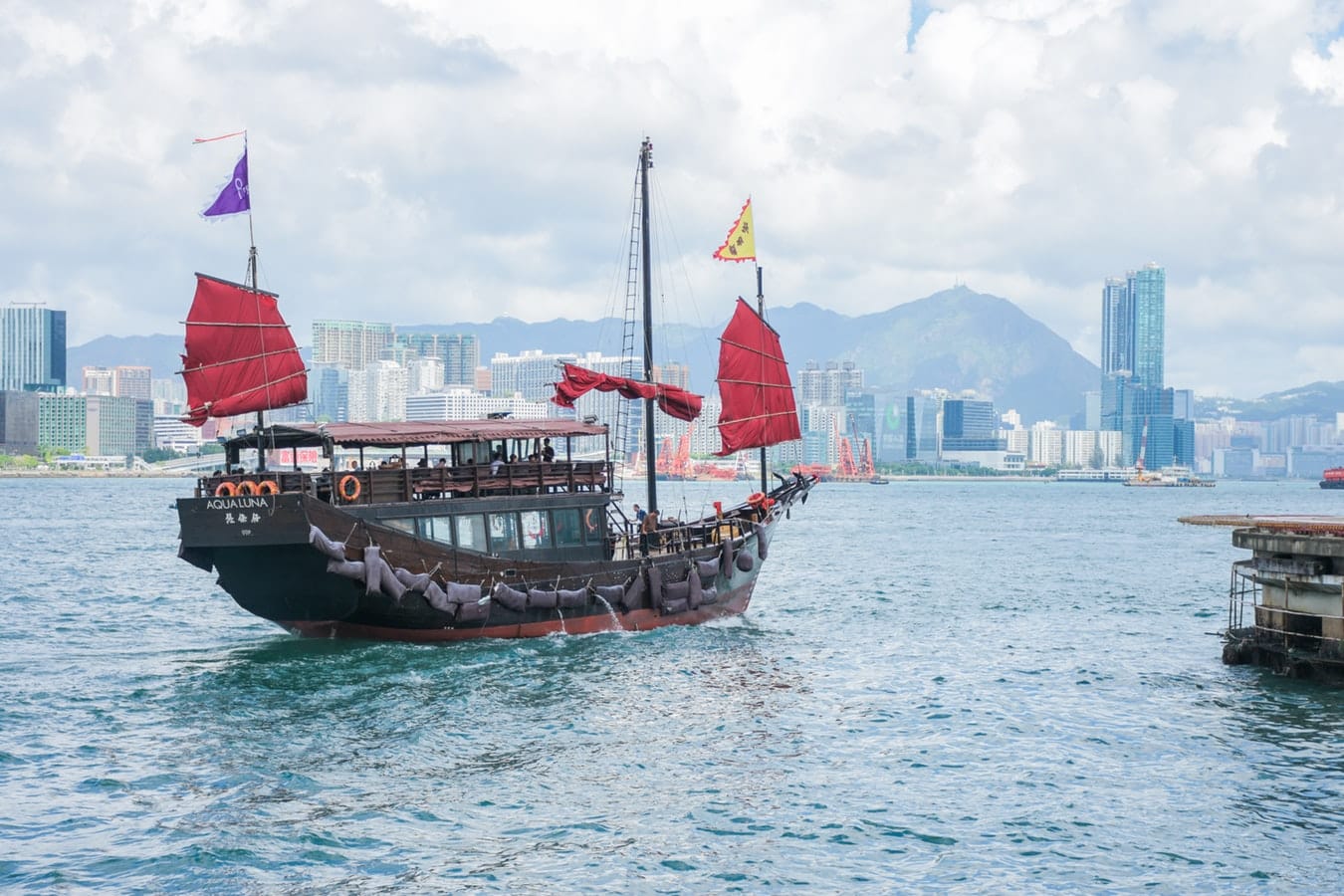 12. Hit The Ground Running With A Hello Hong Kong Walking Tour

There is so much to see and do in Hong Kong, and sometimes you just need to throw your hands up in the air, admit defeat and let a knowledgable local help you out. And this is where a Hello Hong Kong walking tour comes.
All you need to do is turn up and be whisked away into a world of glittering skyscrapers and grand colonial buildings, discovering hidden gems and top attractions and being regaled with quirky stories of Hong Kong history along the way. Discover how the mix of colonial buildings and futuristic architecture in Central shape the lives of Hong Kong people today and hear stories of elderly stallholders who have literally watched this city transform around them.
There are too many highlights to list, and we don't want to spoil all the surprises. You'll get the chance to marvel at the variety of produce on sale in Hong Kong's oldest open-air bazaar, see Chinese folk religious beliefs in action, take a short ride of the famous 'ding ding' tram and hear stories and anecdotes that you won't find in any guidebooks.
Perfect for first-time visitors and solo travelers to Hong Kong, or those on a short stopover – plus if you are smart, you'll make use of your local guide to ask questions and get tips for the remainder of your stay. Or, if you prefer to explore more with your stomach, why not try a foodie tour instead.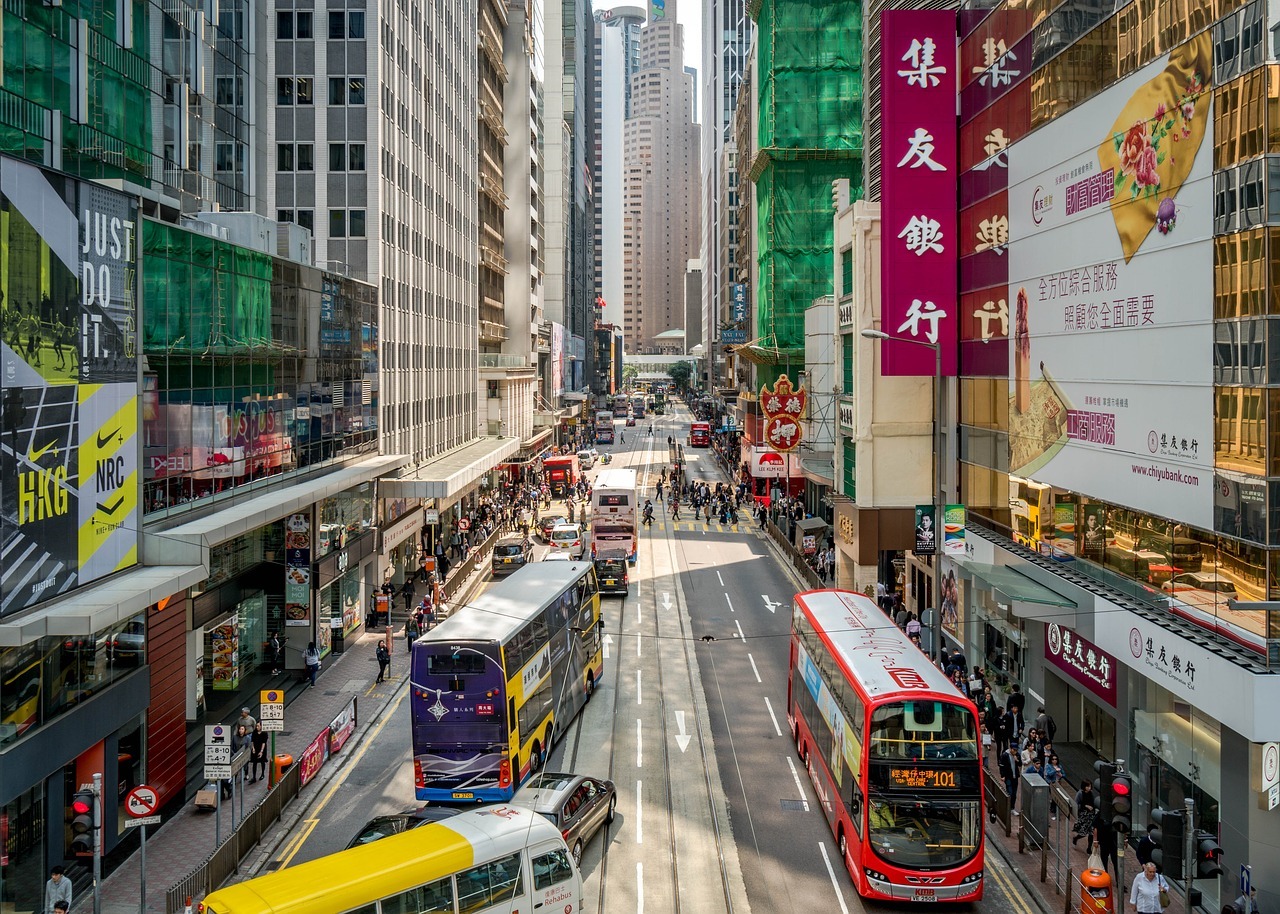 13. Embrace The Crazy, Weird And Wacky Cafes Of Hong Kong
Hong Kong is known as the land of 10,000 restaurants, and we would believe it! However, make sure you also take some time to skip the delicious, refined, and more traditional dining options to explore the 'crazy, weird and wacky'. They might not offer the best food in the city, but trust us: a visit to any of these bizarre cafes in HK is an experience you are unlikely to forget.
We have already talked in-depth about the Hong Kong Dog Cafe, but also be sure to check out something more unique and personal to you. There is a Hello Kitty Cafe, Rabbit Cafe, Hello Kitty, and even a Snoopy / Charlie Brown Cafe. Then there is 9¾ Cafe catering to Harry Potter fans, the Instagram worthy" dim sum restaurant, Yum Cha and the Moomin Bakery & Cafe for those who fell in love with the bizarre creations of Tove Jansson in Finland.
Really whatever you are into, we are sure there is the perfect cafe for you, so get out there are find it. They frequently are not as expensive as you would imagine, and you are generally not expected to order food – a coffee or drink will suffice. Not only will these experiences add to your collection of unique Hong Kong memories, but merely the act of finding these cafes will help get you off the beaten track.
And don't be afraid if you're the only foreigner there—it will just make your visit all the more fun!
14. Live The Life Of Luxury With A High Tea At The Peninsula Hong Kong

Possibly the most famous hotel in Hong Kong and renown around the world, we love staying at The Peninsula Hong Kong to experience the timeless glamour of travel reimagined in modern Asia.
Building on its 90 years as a global beacon of hospitality, the esteemed "Grande Dame of the Far East" continues to set hotel standards worldwide, offering a blend of the best Eastern and Western hospitality in an atmosphere of unsurpassed classical grandeur and enduring opulence. We loved experiencing high tea in Kuala Lumpur, but this. This was something else.
This oasis of calm makes for an ideal place to stop and rest between ticking things off on your Hong Kong itinerary, and even if you can't afford the hefty price tag that rooms command here – there is always the much more affordable high tea. In fact, there is nothing more quintessentially iconic of Hong Kong than experiencing the acclaimed Peninsula Classic Afternoon Tea. Served daily in The Lobby, which has long been recognized as one of the most elegant meeting places in Hong Kong.
The elegant décor, muted colors, and high ceilings combine for a sophisticated dining experience and revered local tradition, and a band playing soothing music adds to the atmosphere. Enjoy a delicious lunch here with a set menu made from fresh and seasonal ingredients. The dishes look as good as they taste, with great care going into ensuring every guest has an excellent culinary experience.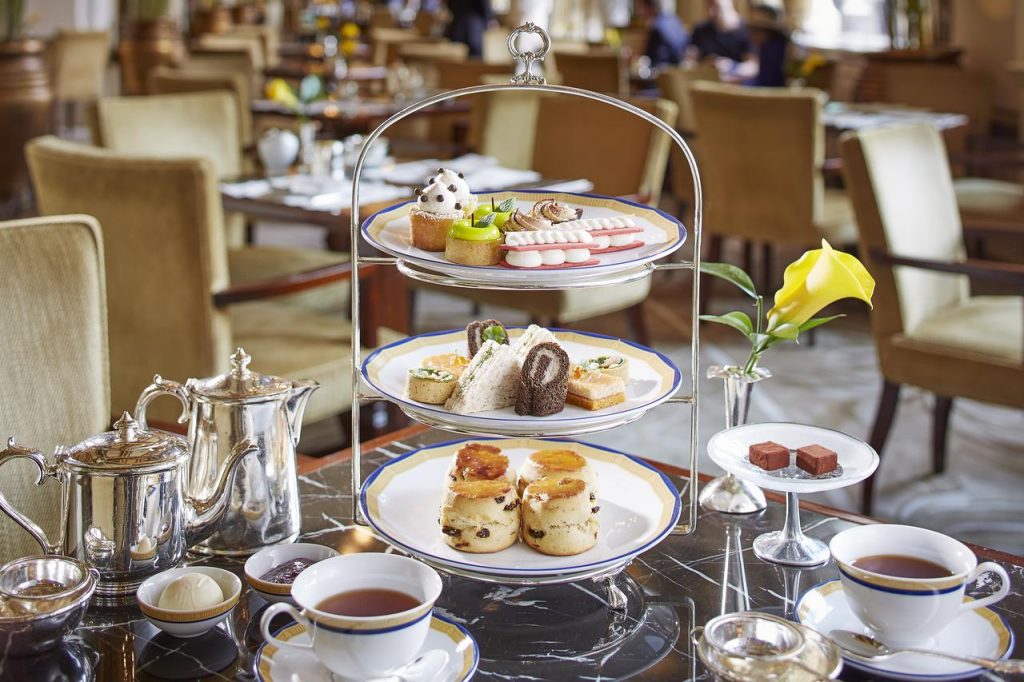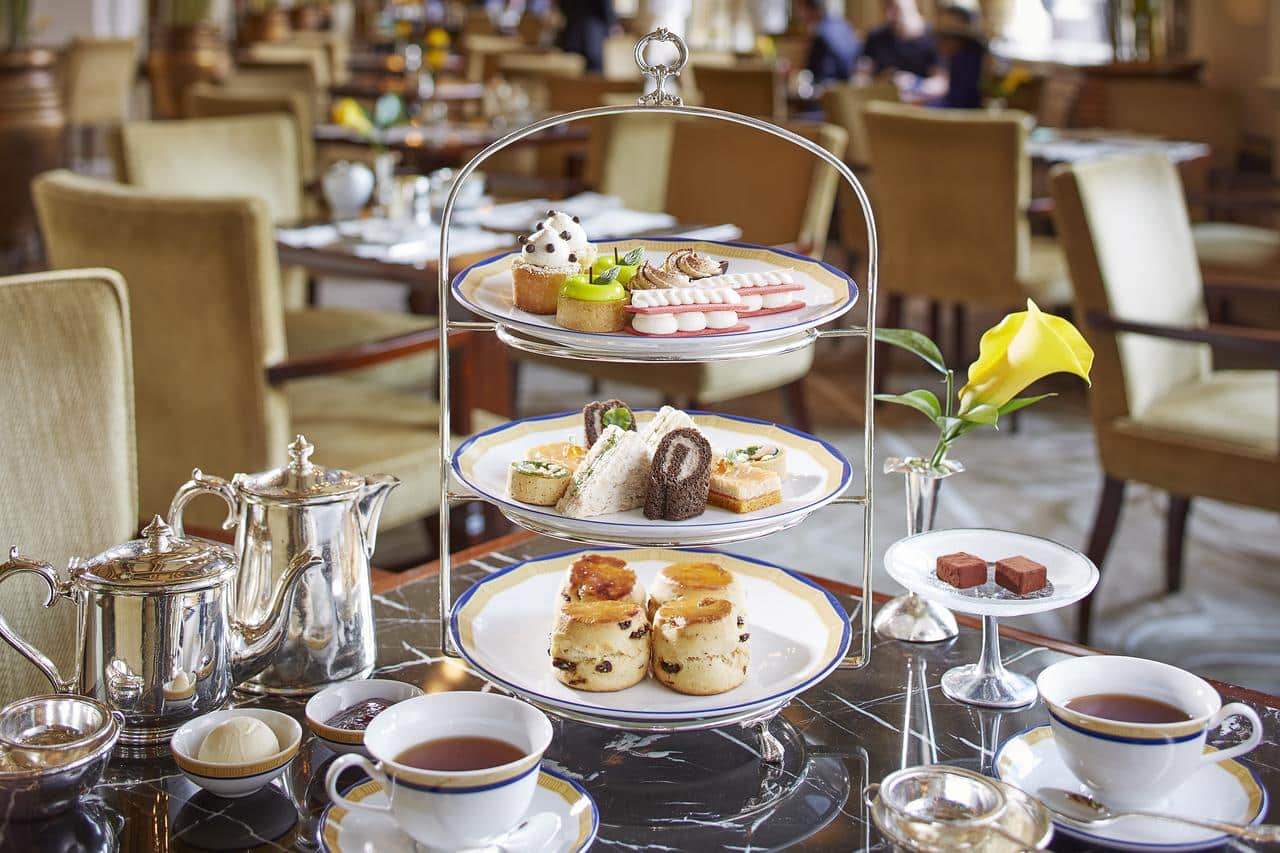 15. Practice Your Bartering Skills At The Ladies Market
The Ladies Market Hong Kong is one of the most popular, but by no means the only market for inexpensive clothes accessories and knick-knacks.
Despite its name, it is not only for the ladies, here you will find a wide variety of men's clothing, and just about all kinds of merchandise. Even if nothing here screams out at your (besides the ladies hawking their wares obviously), the experience and atmosphere are palpable and worth the visit alone. The Ladies Market is primarily frequented by tourists but still managed a very "local" atmosphere in what used to be known as the heartland of the Hong Kong triad gangs: Mong Kok.
This is one of the highest density districts in the world, so come mentally prepared for the squeeze! Some more Hong Kong travel advice? Make sure to haggle!!! Walk away if the price is too high to start with and decide what you are willing to pay before they even tell you a price. We frequently walked away with items at 70% of their original asking price, though it will very much depend on your personality if you consider this a fun HK thing to do…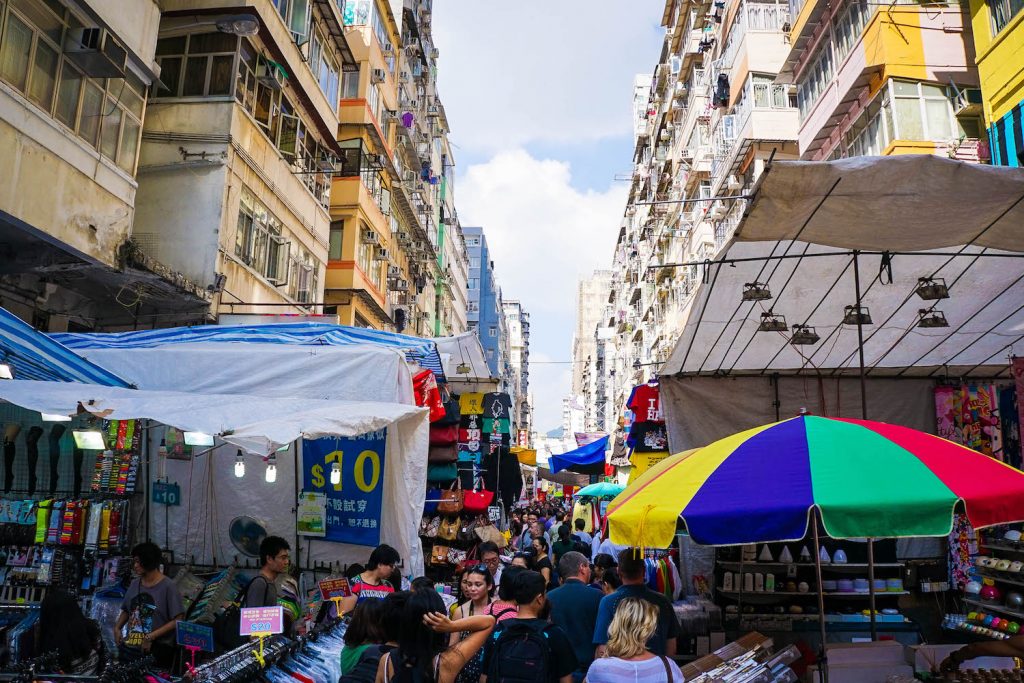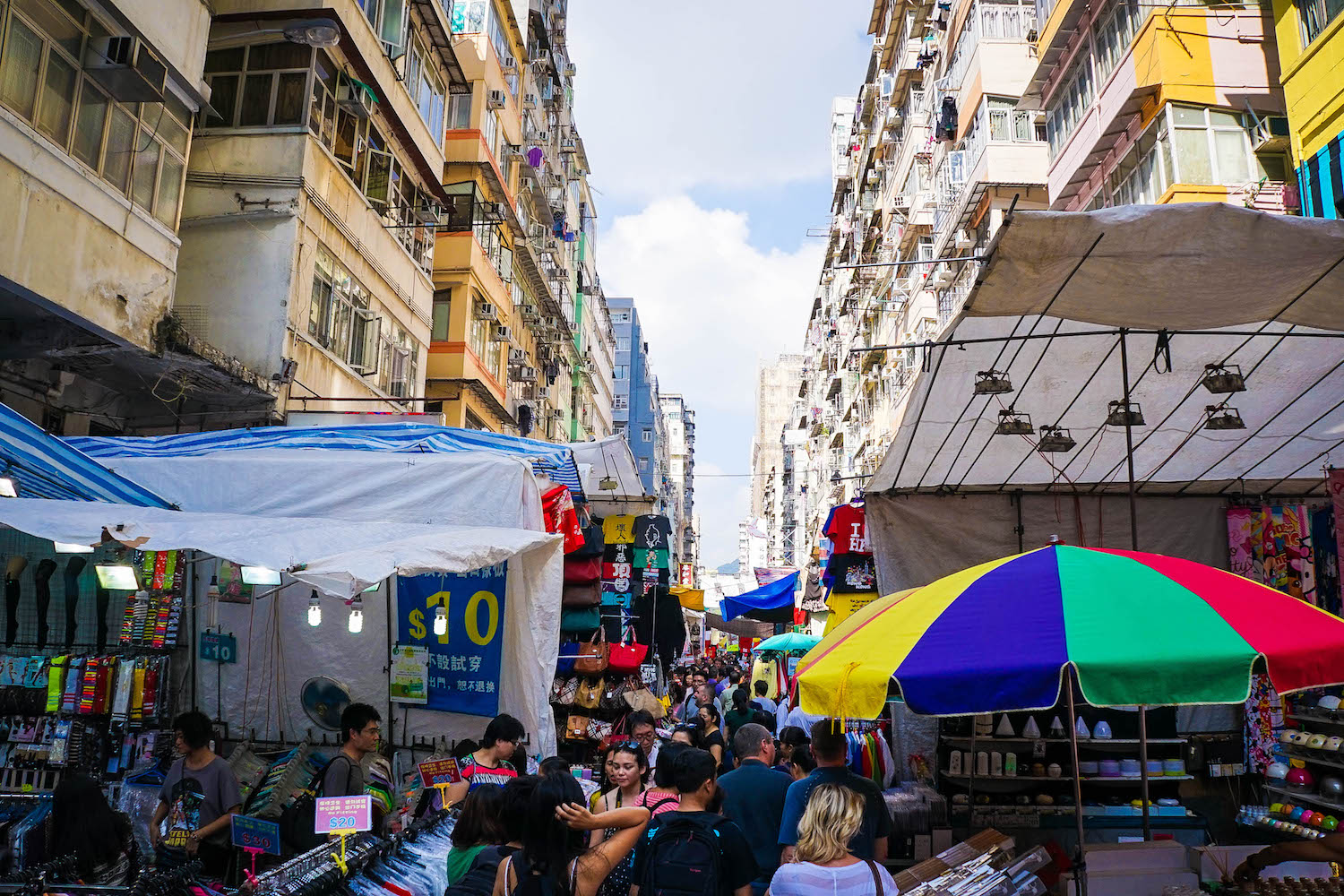 16. Soar Over Lantau Island With The Ngong Ping Cable Car
One of the most famous tourist attractions in Hong Kong – but with good reason, the Ngong Ping 360 cable car trip is the easiest way to start your Lantau Island adventure. Connecting downtown Tung Chung with Ngong Ping on Lantau Island is this safe and reliable bi-cable ropeway which crosses Tung Chung Bay before heading to North Lantau with a total ride time of 25 minutes.
Along the way, you can take in the panoramic view of the vast South China Sea and the rolling greens and lush, mountainous terrain of North Lantau below – as well as a unique perspective on the enormous Hong Kong International Airport. Opt for a glass-bottomed crystal cabin for astonishing views just below your feet or experience both types of cabins by getting a ticket for one type of cabin each way.
The journey is only half the fun though, as once you arrive at your destination, the Ngong Ping Village with photo spots, dining, shopping, and more. There are also plenty of attractions to explore nearby including the Big Tian Tan Buddha – the tallest outdoor statue of a seated Buddha in the world, the historic Po Lin Monastery, the Tai O fishing village and the Wisdom Path, a landscaped installation of wooden columns inscribed with the calligraphy of the complete verses of the Heart.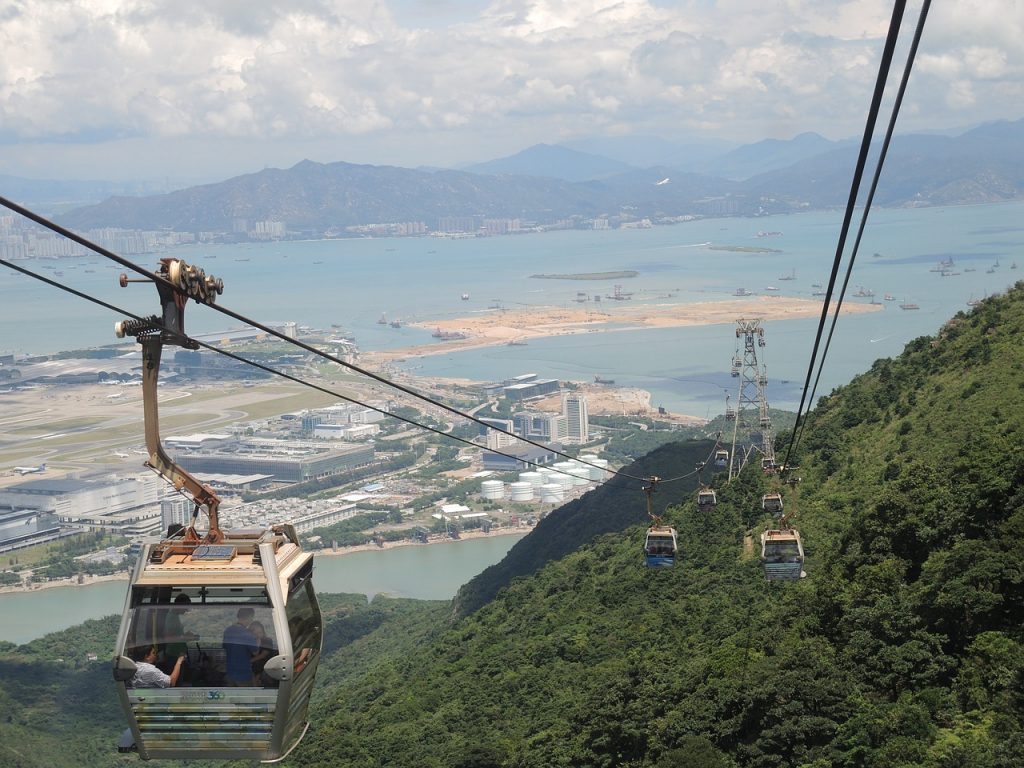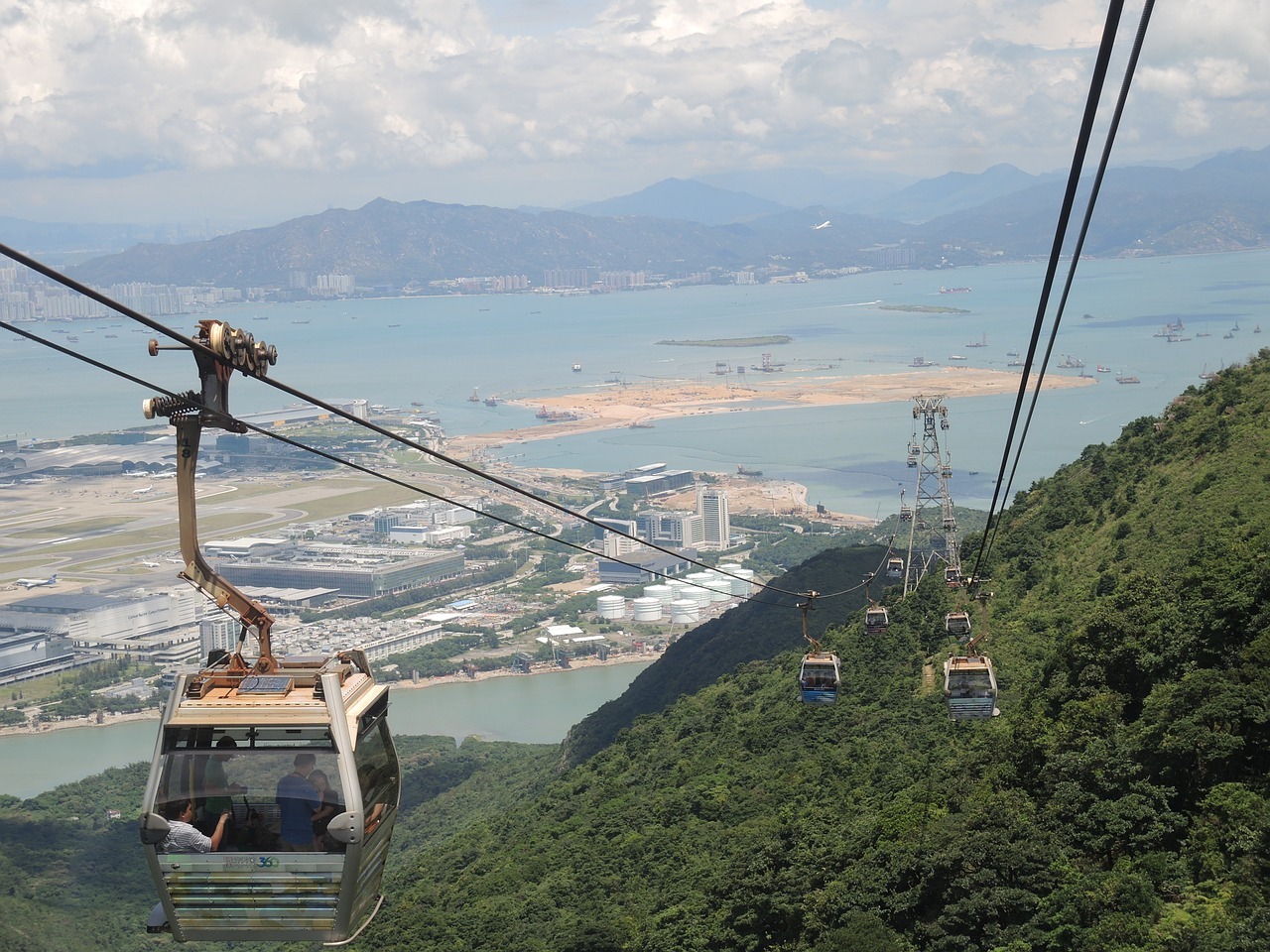 17. Skip Town For A Day At The Stanley Seaside
When the dense and often overwhelming concrete jungle of Hong Kong gets too much for you, we know precisely what the antidote is: a day trip to the relaxing and picturesque Stanley Village, of course!
Only about 40 minutes from Causeway Bay by inexpensive minibus, Stanley offers cute coffee shops, relaxing shopping, quiet bays and beautiful beaches on which to lie and forget all your troubles. After the annexation of Hong Kong in 1842, the British made Stanley the temporary administrative center, before moving it to the newly founded Victoria City (present-day Central).
It is most famed throughout the world as the location of Stanley Fort where British and Canadian troops once mounted a last stand during the Battle of Hong Kong in WW2.
It was in this fort where the survivors surrendered to Japanese forces in December 1941, and the fort today still stands, though it has been used by the army of the Republic of China since 1997. Today things are a lot more placid with cute markets to explore and two glorious beaches – Main Beach, located on the eastern side of the peninsula, and St. Stephen's Beach, on the western side to lie on.
Both beaches are sandy and have perimeter nets to protect swimmers from sharks (like many beaches in Hong Kong), making them perfect for relaxing the day away – possibly with a beer or picnic.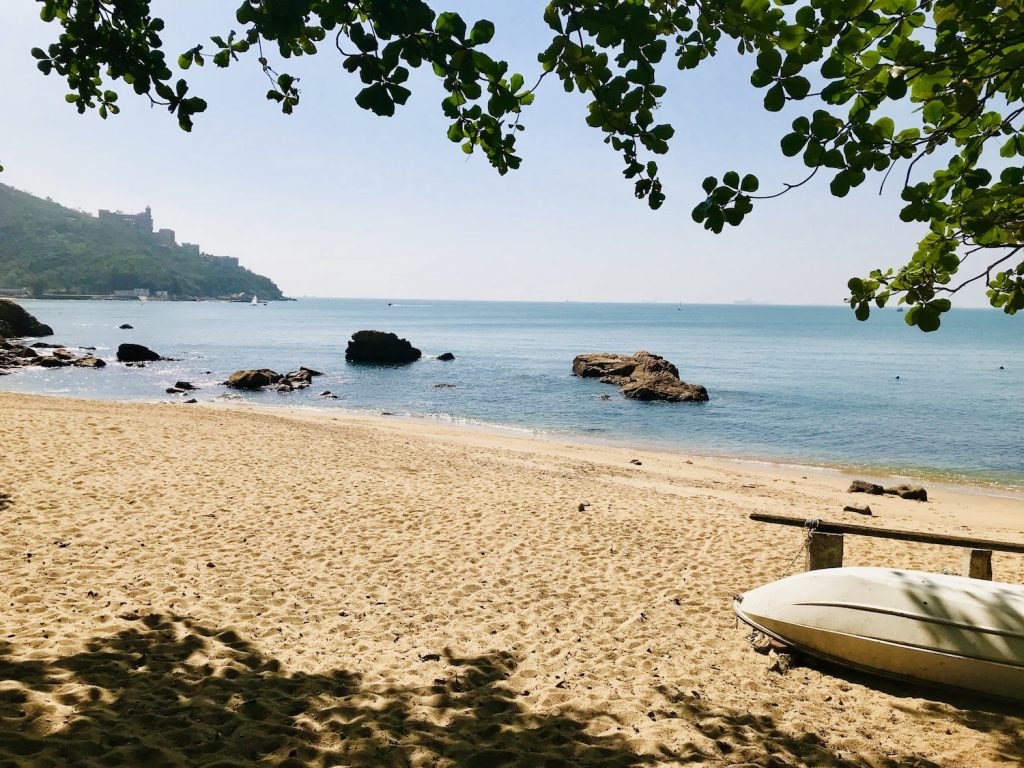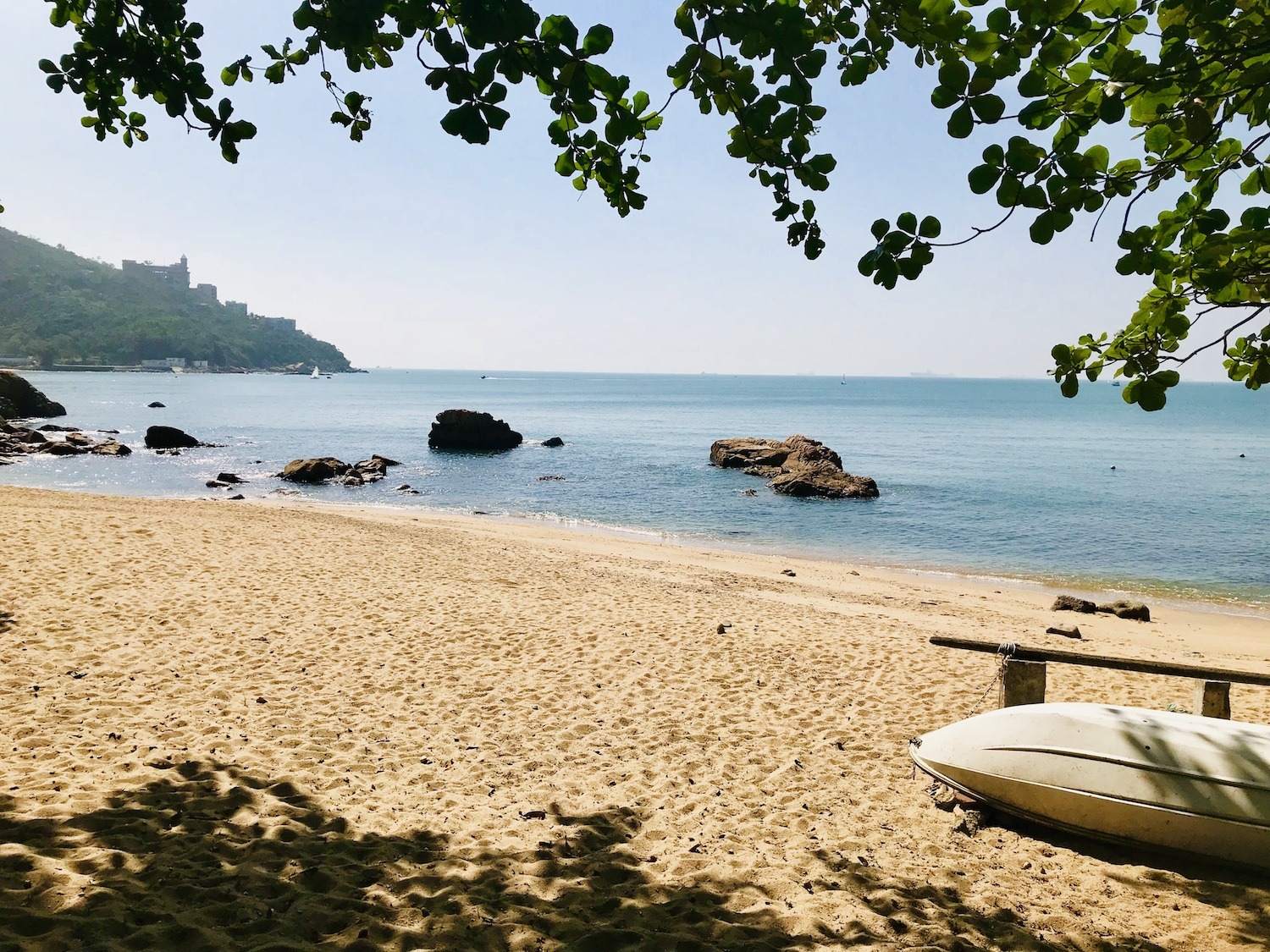 18. Release Your Inner Child At Disneyland Resort
Don't knock it till you try it because once you have, it would be impossible not to love! With fabulous entertainment and thrill rides to enjoy during the day, and nighty light show extravaganza projected on the castle and – of course, fireworks – Disneyland Hong Kong is perfect for making new memories with friends, families or romantic partners!
Inside there are seven themed lands to explore, and while some of the rides can be a bit dull, the shows are out of this world. One must-see is the Lion King performance, which is almost as good as that on Broadway NYC! The daytime parades are beautiful too, but the night parade is incredible and really, really well done.
Being Disney, you just know the whole park is joining to be an exercise in perfection, and everything from the gift shops to the food was flawless. Dining here can be a little pricey, especially compared to DisneySea in Tokyo, but that can be primarily alleviated by purchasing a Hong Kong Disneyland Meal Coupon in advance, which offers unbeatable value at Disney's delicious food outlets. And if you have small children in tow, you can also organize for them to enjoy a princess experience for the day, which seems to be very in trend currently – and ridiculously cute!
A fabulous day and a relative bargain price (compared to Orlando Disney at least) make Disneyland Hong Kong of the most fun things to do in Hong Kong! One day is enough to see and do in all, and if you book your tickets in advance, it is not only cheaper, but you can avoid long lines for the ticket booth on the day and skip straight through to the main gates simply by flashing your QR code.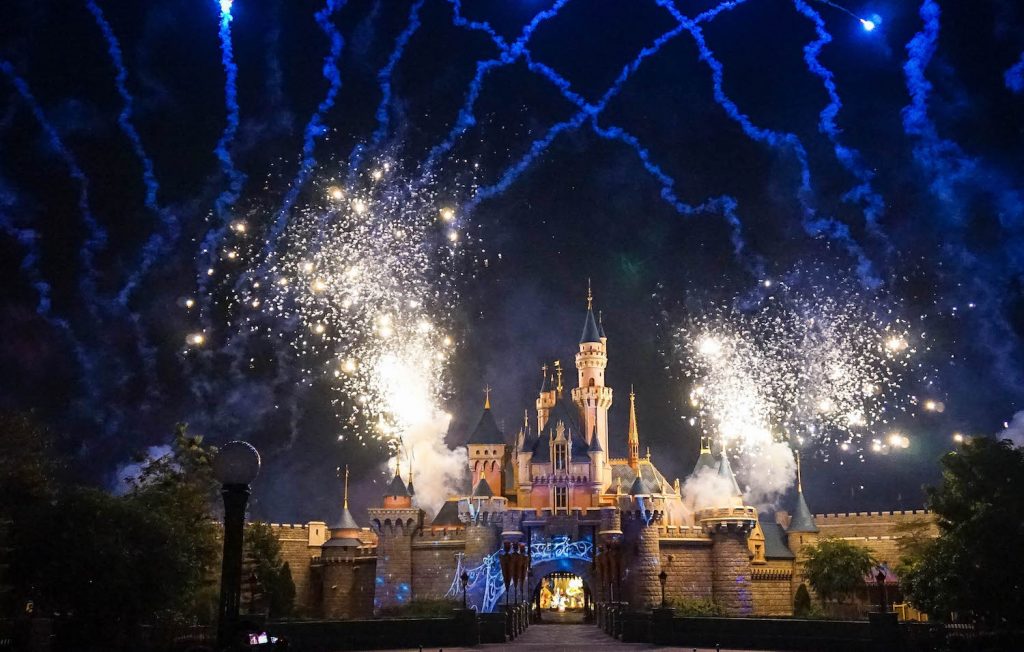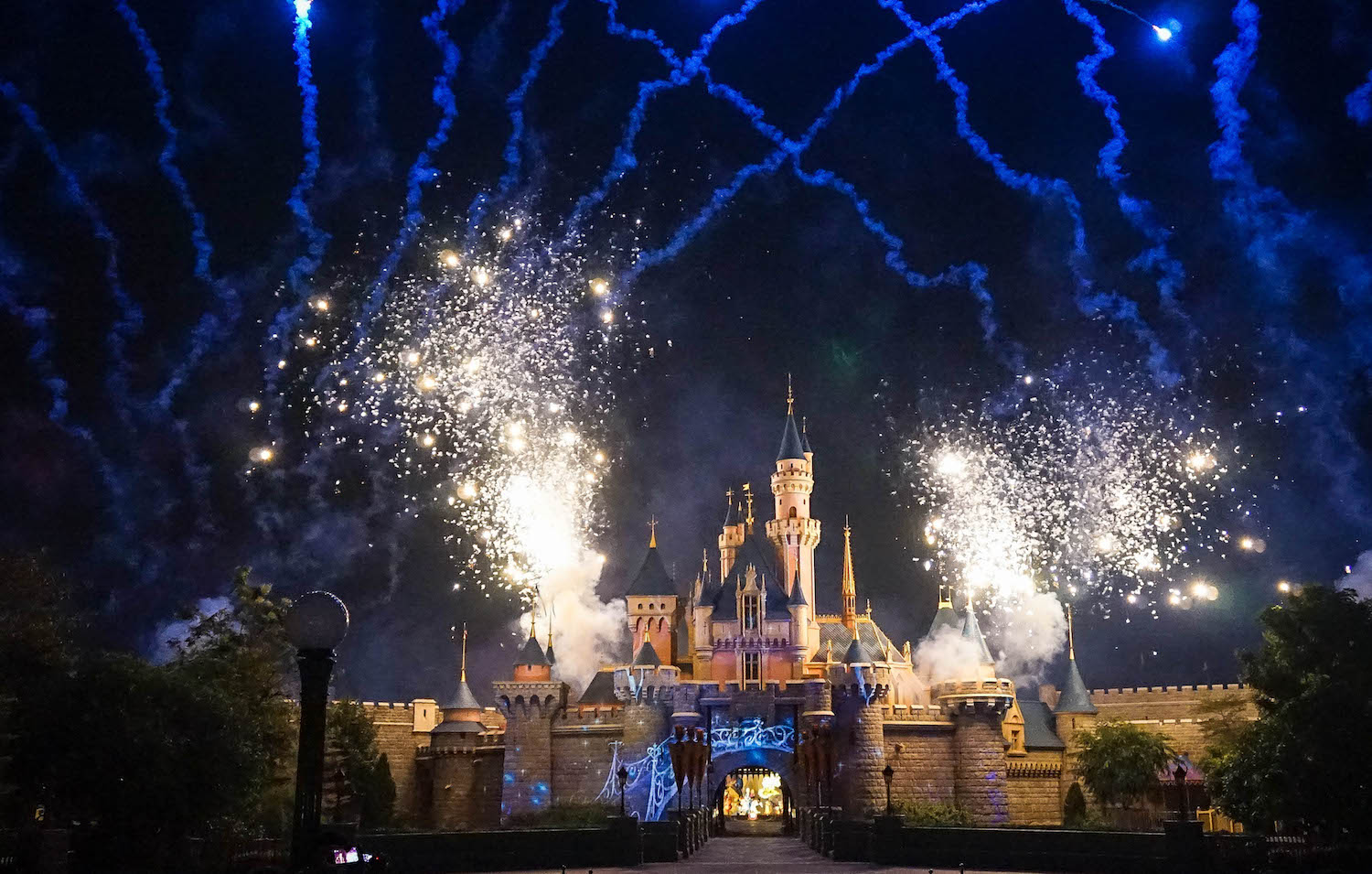 19. Investigate The (Oddly Specific) Fish, Bird And Flower Markets Of Hong Kong
These zany markets are super cool and interesting; how they make any money, we will never know but pleasant to look around for a few hours.
Each one leads on to the other one so best to visit all at once. Take photos and smell the flowers, literally, while utilizing the chance to fill your lungs with fresh smells of nature after days of city air. The Fish, Bird And Flower Markets Of Hong Kong are the perfect place to practice your photography skills as well, though we cannot recommend buying anything here unless you are planning on moving to Hong Kong (which you just might have to if you don't get through all these fun things to do in HK on one trip).
One of those quaint, charming corners of Hong Kong busting with local character, each market might not be worth a visit on their own – but being tightly clustered together in Mong Kok in Kowloon means you can easily hit them all in one visit, and make a fun day trip out of it!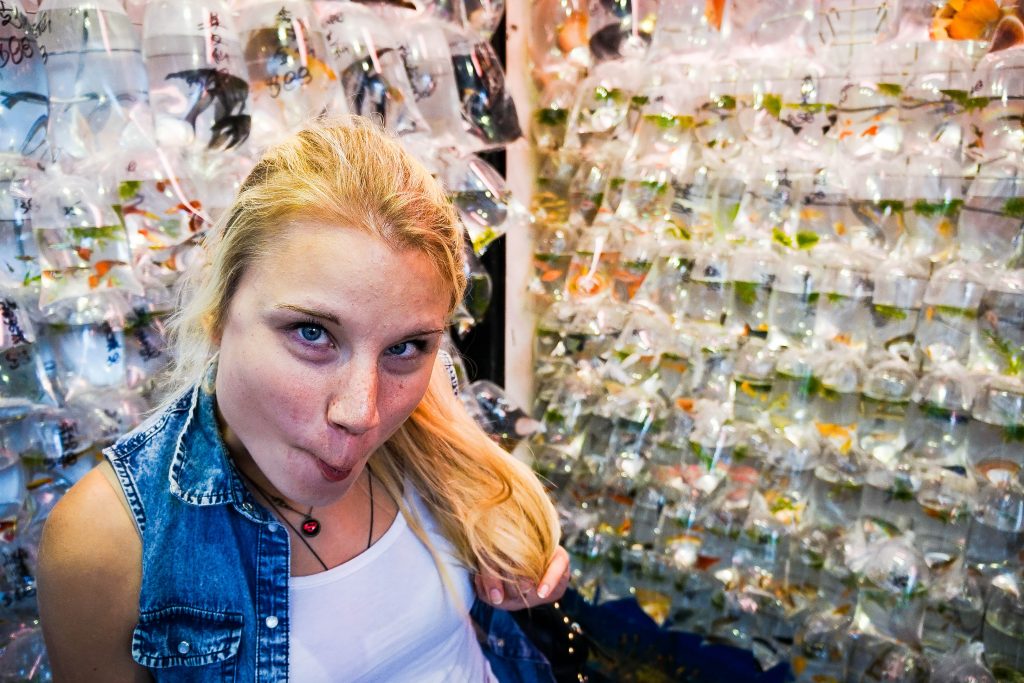 20. Look Down On Everyone From A Outstanding Hong Kong Helicopter Tour
We can't pretend this is the cheapest activity on a Hong Kong itinerary, but it is one of the most spectacular. And really, what could be a more fun thing to do in Hong Kong that embracing life like the 1% and looking down on this mega-city from high above.

As you can probably imagine – there's nothing quite comparable with soaring above an iconic city like Hong Kong in a helicopter, seeing all the vibrant streets from above. Of course, it's not just the cityscape you see from above; it's all of the natural beauty surrounding the metropolis. It might not be possible to rush around on public transport or on foot to see all of the natural wonders on the island, but this helicopter journey helps you see them all.
We won't pretend it is for everyone, it's clearly not (though with the number of helipads in Hong Kong you might think it is), but there is no denying this is an experience you will never forget. If you have ever been tempted by a helicopter tour anywhere in the world, this is the place to do it!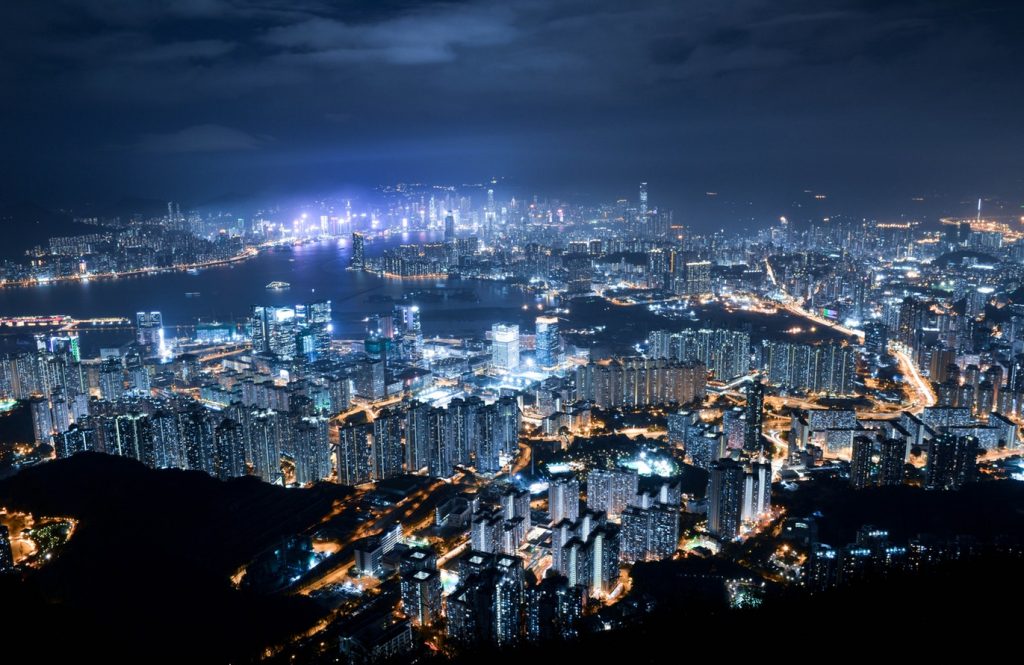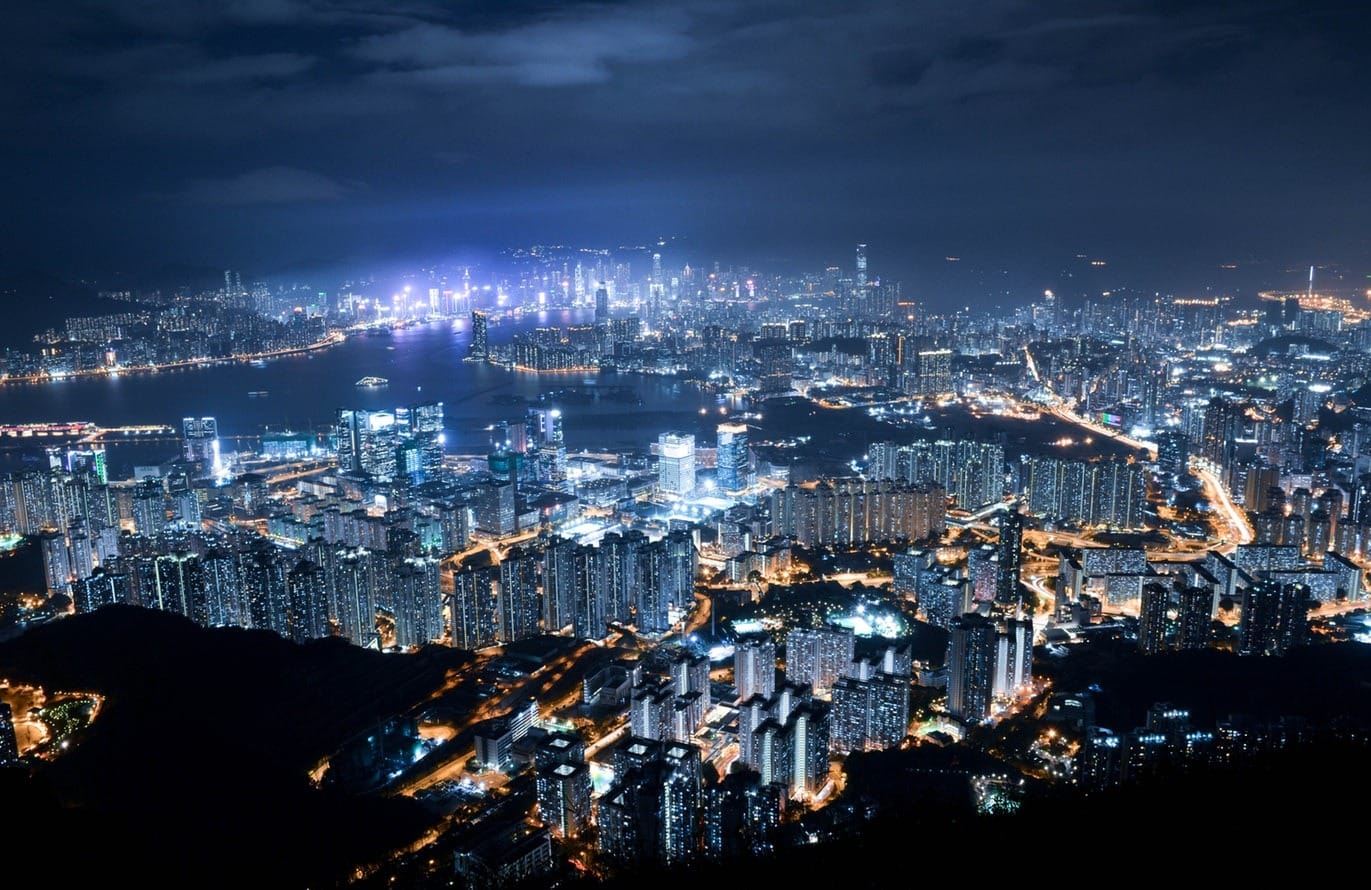 21. Get Hyper-Local With Some New Territories Exploration
Sure, everyone goes to the escalators at Central and Peaks, but how often do you hear about anyone adventuring into the New Territories. So why not shock your friends back home, and plenty of Hong Kong locals, by discovering this largely ignored area for yourself.
By far the largest area of land in Hong Kong, the New Territories (north of Kowloon), were the last part of land ceding to the British during the Opium Wars – thus their name 'new.' Mostly a region of wetlands, parks, and mountains (that also encompasses the outlying islands), what better fun thing to do in Hong Kong could there be that getting to know the city's lesser-known countryside and to earn more about rural Hong Kong.
Yes, you read that right: rural Hong Kong.
Out here – away from the constant droning noise of the city – you can actually hear bird songs on the breeze and finally take a deep relaxing breath.
Uncover centuries-old villages, a legendary wishing tree, a timeworn monastery, and (probably most miraculously) untouched fields in the rolling hills of the New Territories. Soak in the peace and quiet of the countryside and get acquainted with the village of Shui Tau Shui Mei Tsuen, known as the birthplace of clan-based village culture and the source of evolving rural life in Hong Kong.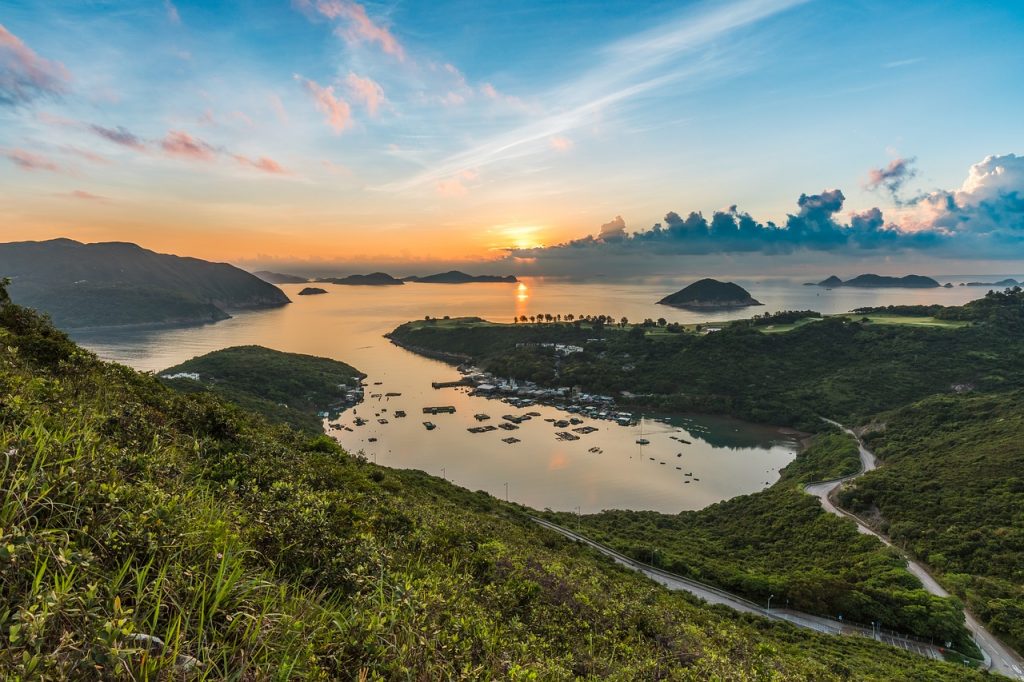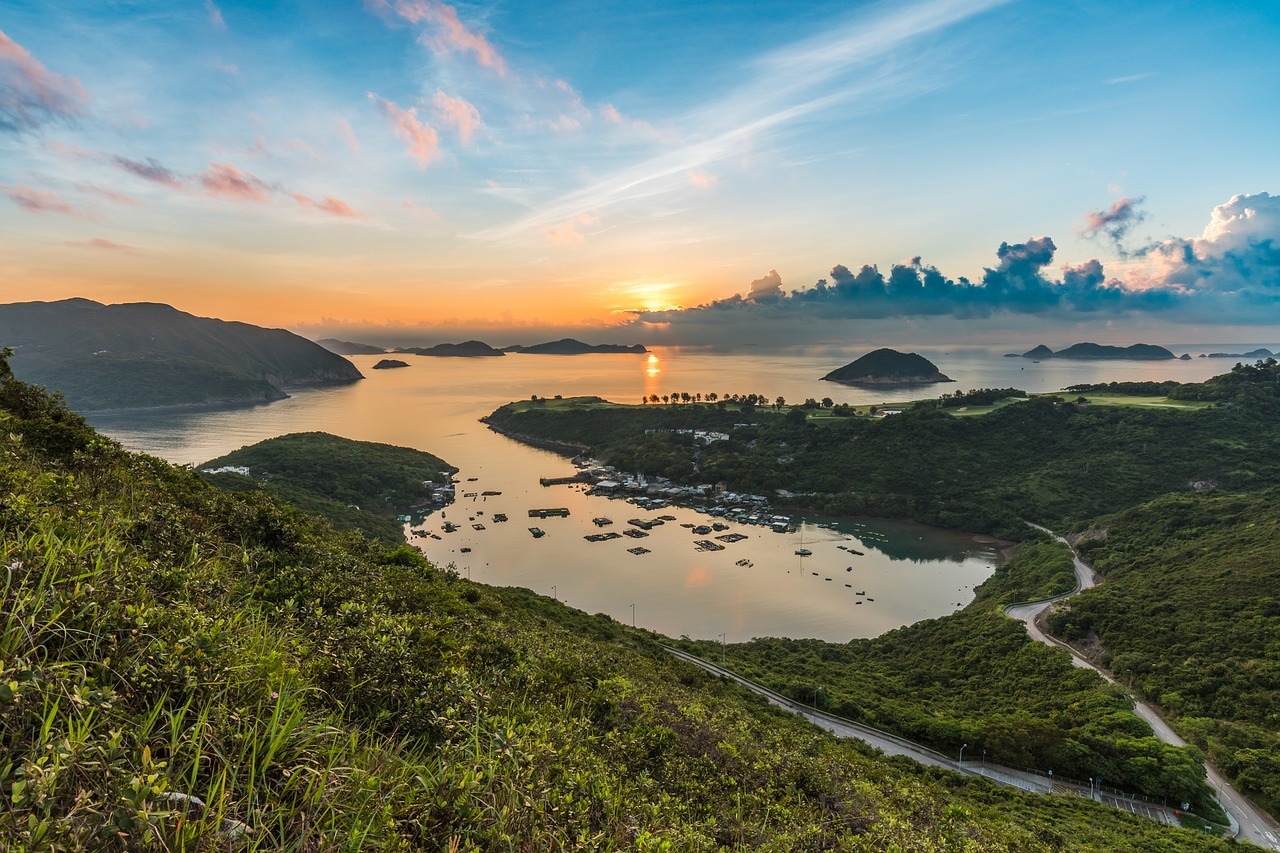 22. Experience Literal Designer Dining At Alto Restaurant
Under the creative direction of Tom Dixon, the London-based legendary interior designer, the inspiration interiors for ALTO (Aspires to Great Heights), a new contemporary grill in Causeway Bay were born. Being long-time fans of his work, we had high expectations – and not just because of this restaurant's lofty location on the 31st floor. Thankfully, they were not only meet by exceeded.
Motivated by the ancient practice of alchemy, the four established elements of earth, air, fire, and water, were used to inspire the dramatic interiors of this sky-high altar to design, evoking the darker side of nature. Each and every furnishing and fixture has been carefully selected for its association with the natural elements and combine to create a monochrome backdrop for the expansive views – and to transform an otherwise ordinary dining experience into the extraordinary.
The restaurant's expansive canopy of 230 gold mini Melt lights – the biggest installation of its kind in the world – are hyper Instagrammable, but what isn't here from the molten metal of the restaurant's brass fittings and fixtures to the all-embracing use of green marble and terrazzo stone paying homage to ALTO's mountainous Hong Kong home.
There is an enviable daily brunch and happy hours cocktails from 5.30 – 8 pm daily, but with so much food on offer in Hong Kong – you might just feel like dropping in for a coffee and to take in the spaces infinite beauty.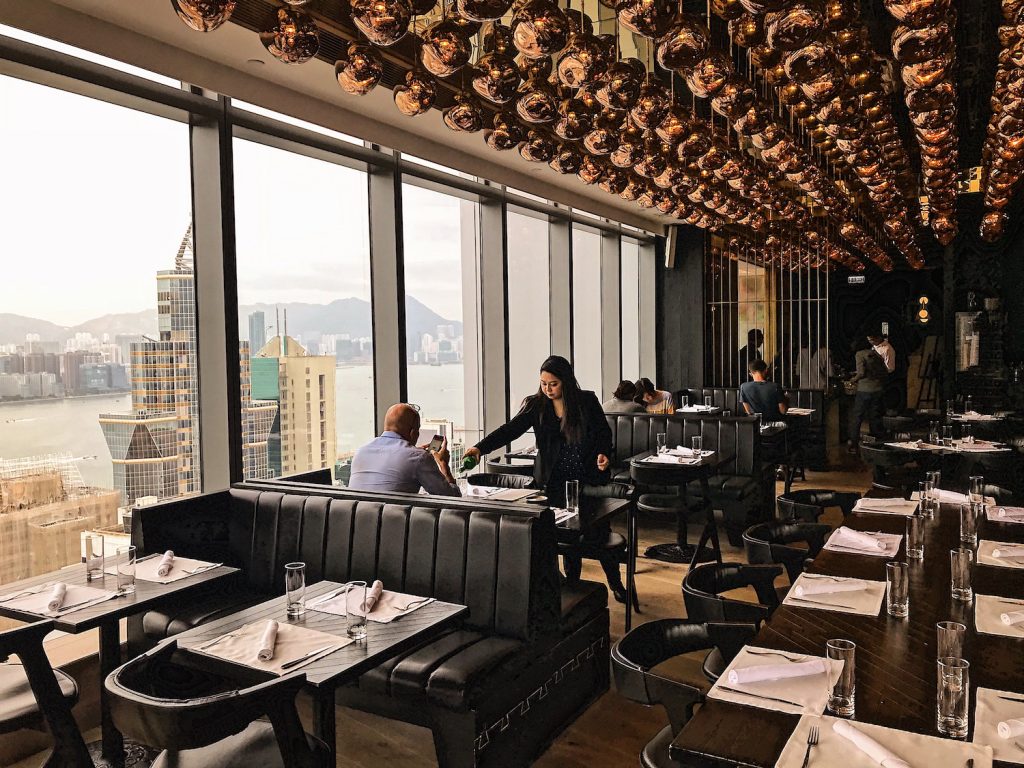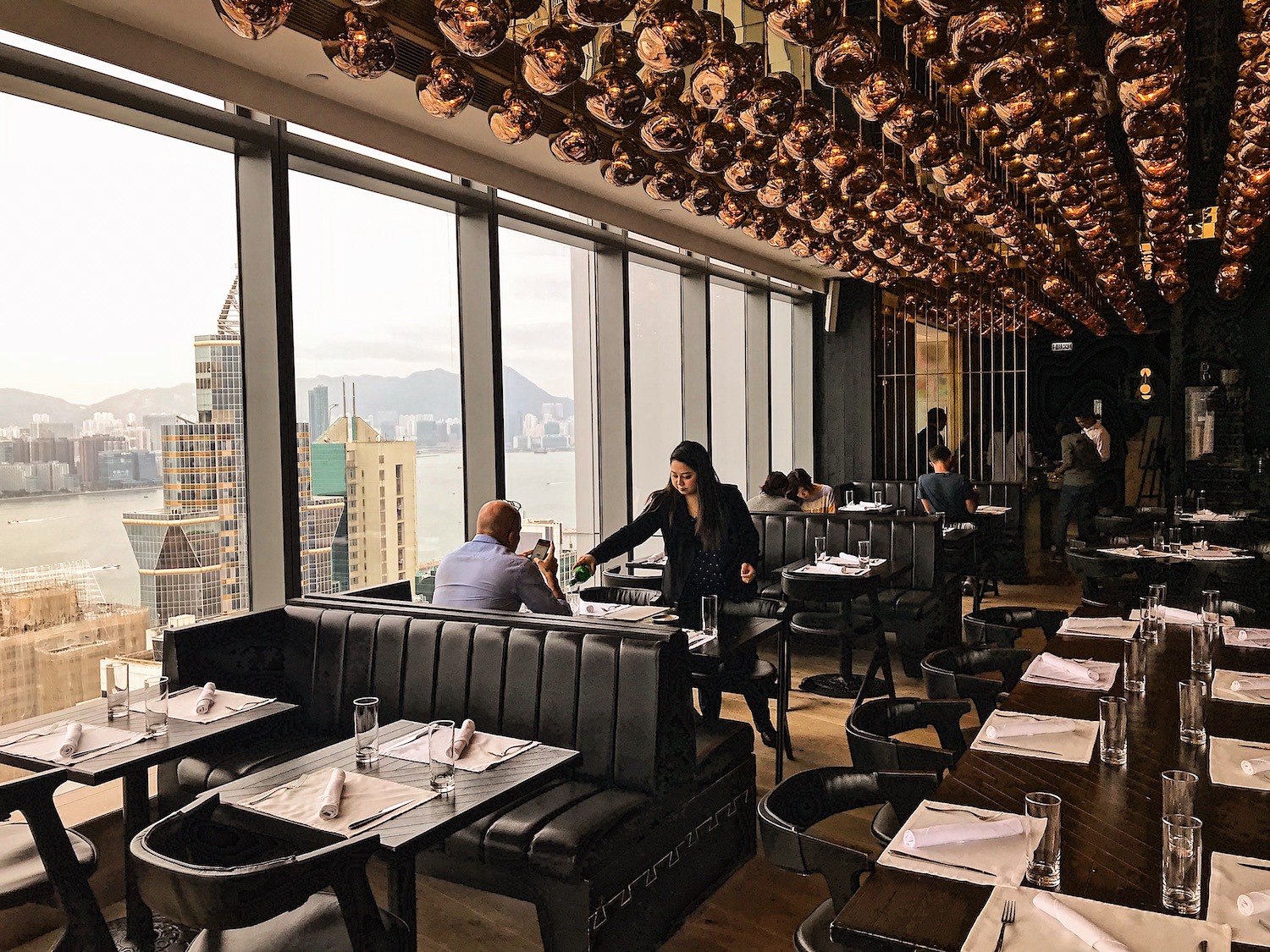 23. Explore Your Spirituality At The Western Monastery
This tranquil Buddhist monastery is tucked away in the quiet 'suburbs' of Hong Kong as it is rather challenging to reach, but it is well worth the hassle. We were the only tourists on this day and explored the complex, both architecturally and spiritually.
Surprisingly, this mammoth complex is not as old as it seems only opening around 50 years ago. It is composed to replicate the glory of Chinese palaces right down to the traditional yellow tiled roofs and flying eaves. There is still a tangible air of mysticism here – added to by being enveloped by Hong Kong's lush mountains. The Western Monastery is still in active use, so watch the monks so about their daily life and be sure to take a moment of reflection by the koi pond under the pagoda with the Hong Kong skyline visible in the distance: An quiet sanctuary from the chaos. You may even hear the monks chanting mantras, which will make it all the more special.
Want some free Hong Kong travel advice? Don't trust Google Maps to take you here. We made that mistake already, so you do not have to. It leads you through slums and some dead-end roads, just go to MTR Tsuen Wa and then follow the main streets off the map, it looks like it takes longer, but it doesn't… When you get close, you will start to see signs just follow this. It's there, trust us, and it is totally worth the effort to get here!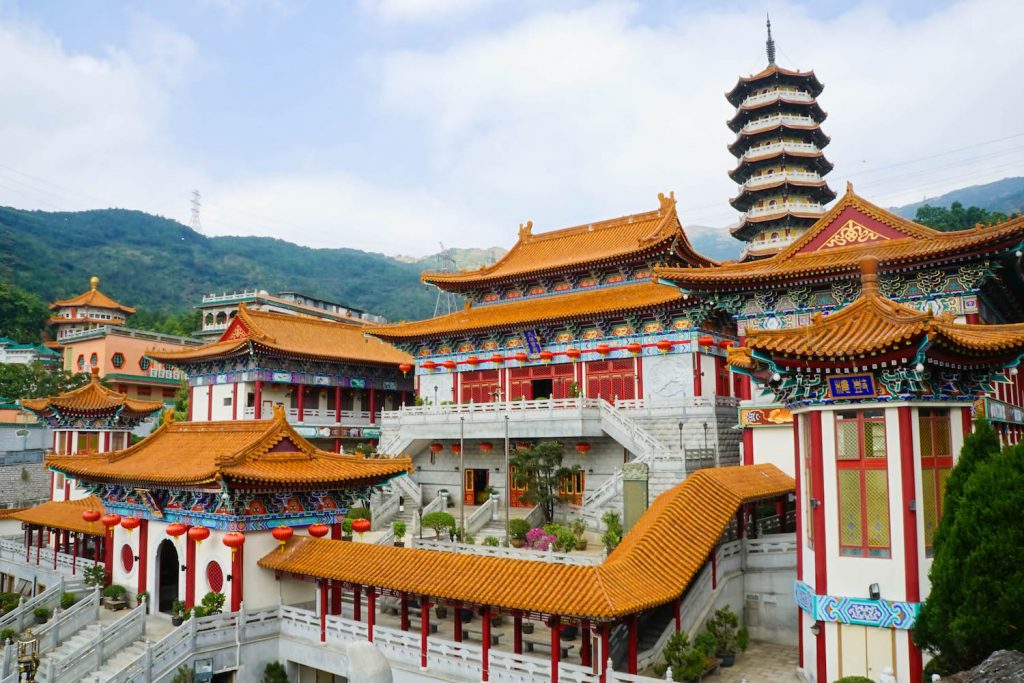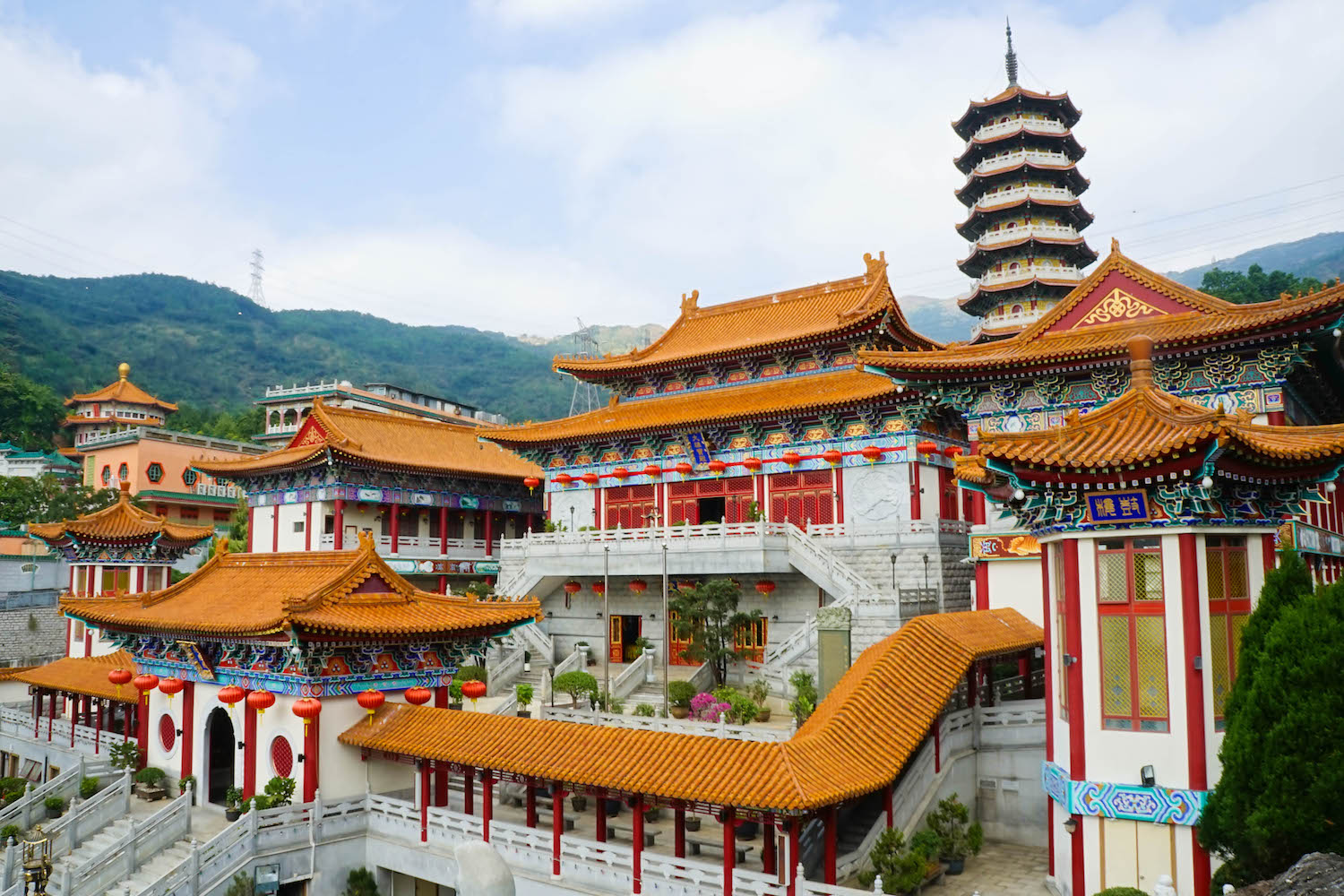 24. Go Hard Or Go Home With A Night Out IN LKF Pub Crawl

Lan Kwai Fong (LKF) is one of Hong Kong's most prevalent nightlife hot spots for shaking of the working day or welcoming the weekend.
Home to over 90 restaurants and bars with atmosphere ranges from elegant wine pairings to boisterous jelly shots, with the clientele being just as diverse. Things start off orderly, but at the end of the night, it is guaranteed that the party has spilled over into the streets outside, and everyone mixes and mingles together.
If you are traveling alone, want to make new friends or just are not sure where to go – why not try the epic LKF Pub Crawl. Search for Hong Kong's best nightlife with experienced pub crawl guides on hand to get you free shots at each bar and who knows where to go to find the best drink deals Hong Kong isn't exactly cheap and has alcohol prices only slightly less expensive than those of Copenhagen and Olso.
Your guides will then help you end the pub crawl on a high note with free VIP entry to the hippest club in town with more discounted drink deals. Perfect!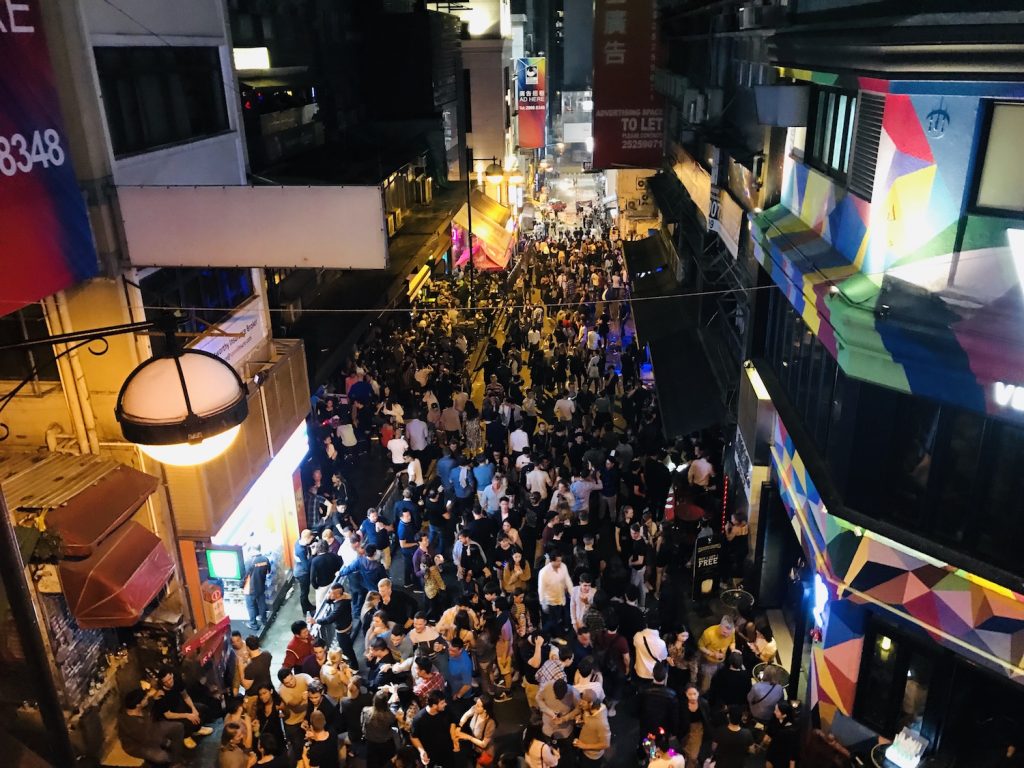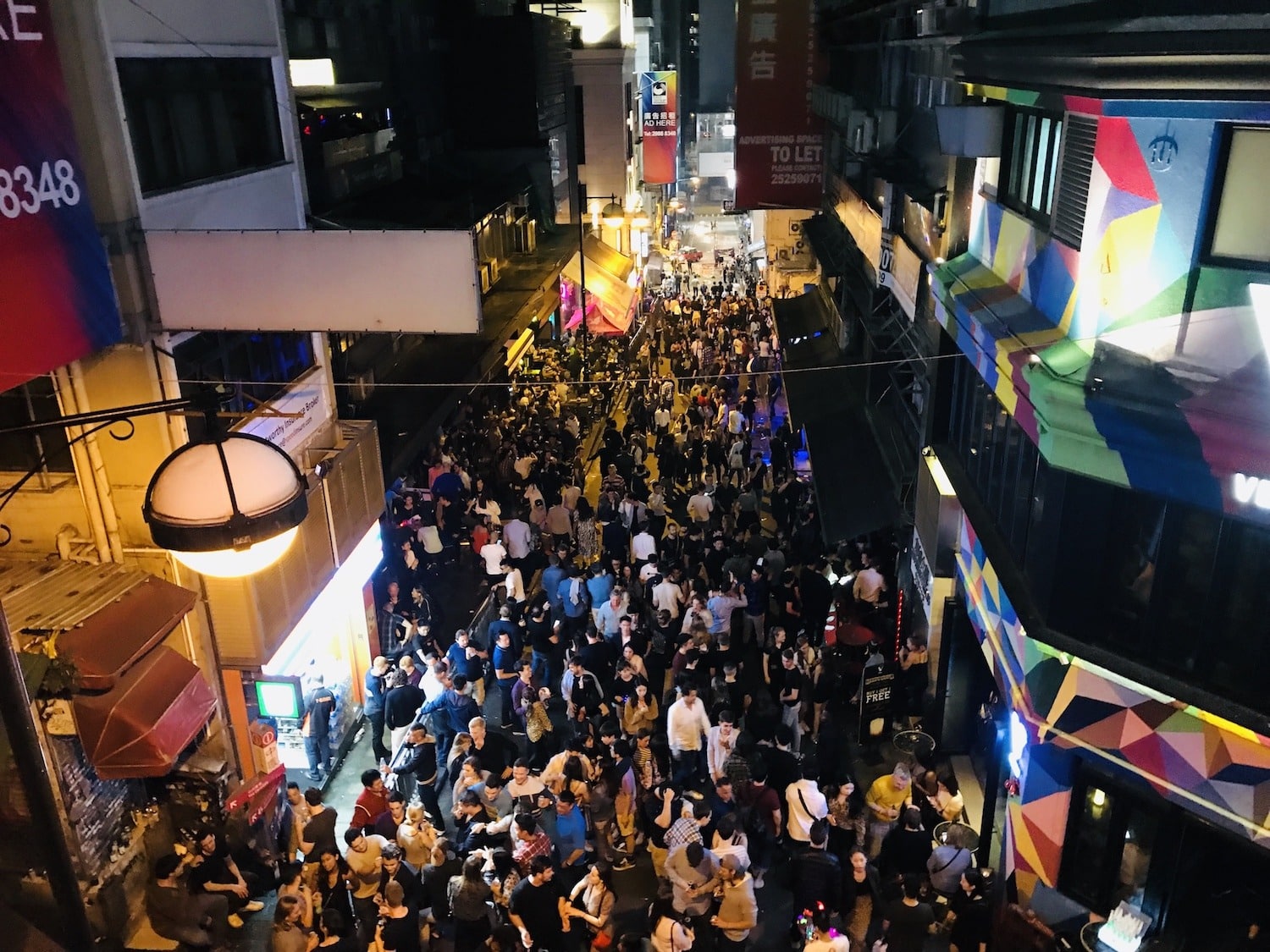 25. Bliss Out For the Day In Urban Spa Hong Kong
Hong Kong is exhausting, there is no denying it, but thankfully its citizens recognize the need to relax and love to indulge in a little spa pampering day. This means for intrigued tourists, perhaps jet-lagged or just tired of days of pounding the pavement; there is a multitude of spa options to de-stress with, ranging from the affordable to the outrageously expensive.
One of our go-to places in Urban Spa Hong Kong. This contemporary and elegant spa is located in Central, so it's a good stopping point after a long day tour to rest your aching feet and enjoy a personalized massage, then enjoy a short stroll to many of Hong Kong's more refined restaurants and hotels. The space is minimalist and calm – the perfect retreat.
We relished the Foot Reflexology treatment (it's like it was designed for travelers), which can be 50, 75, or 100 minutes long. It's so blissful; don't be surprised if you feel like you are floating afterward. The therapists are experienced and professional; you'll feel like a new person after a session here.
We also loved the natural spa therapy available at Massada Spa in Causeway Bay. If you are short on time and want to be fully rested before onwards travel, you can also indulge in little luxuries and experience wellness treatments at the Hong Kong International Airport!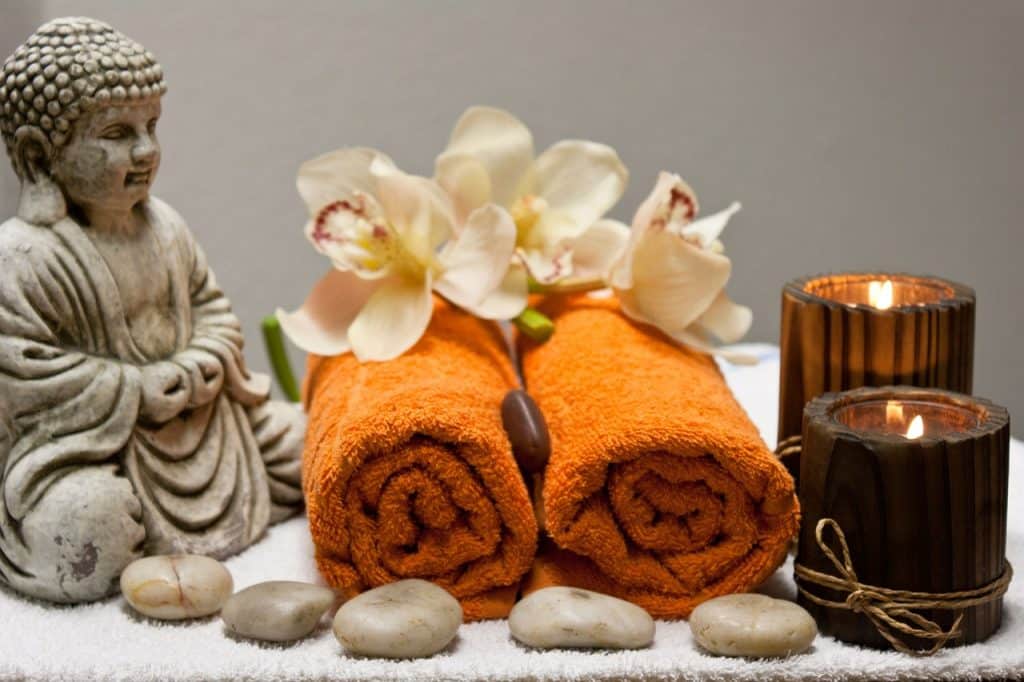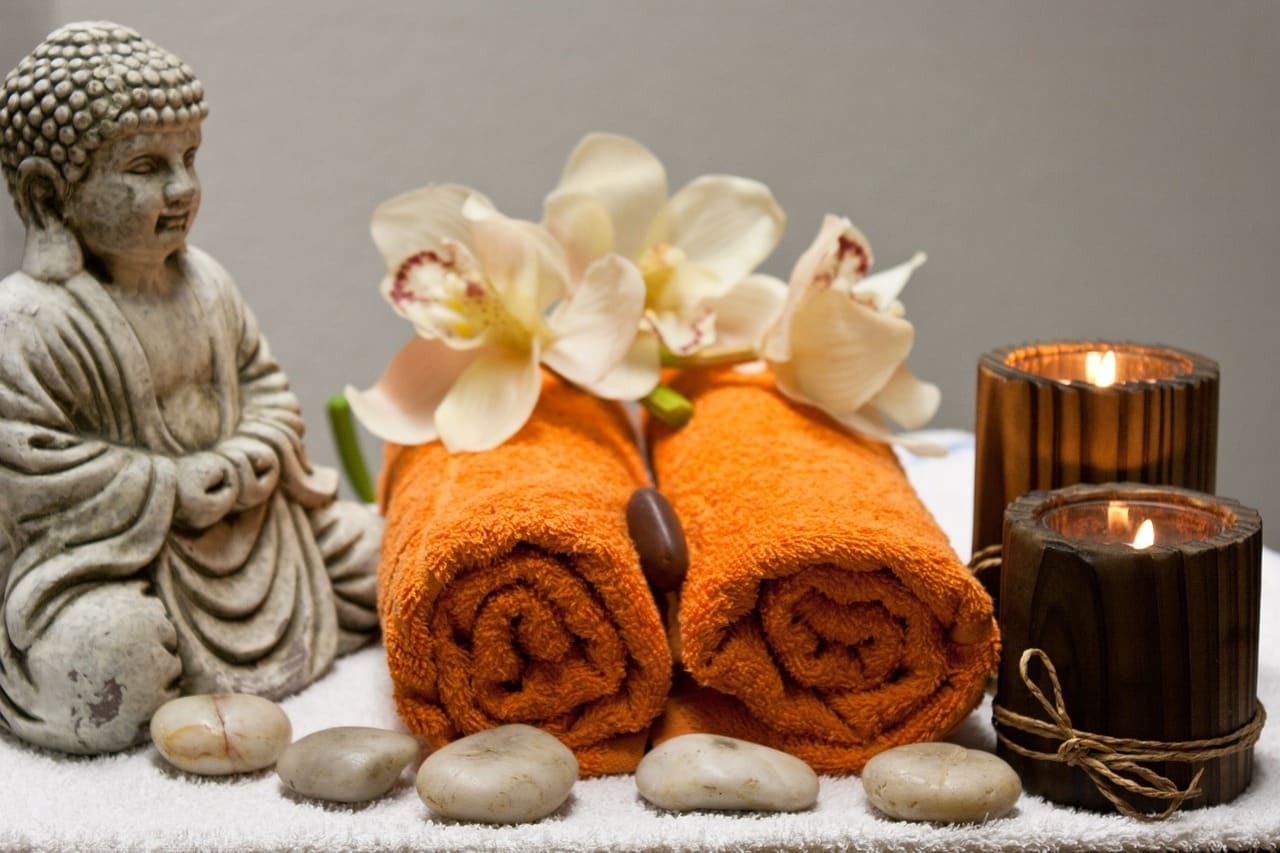 Further Things To Consider Before Any Adventure
Now you're all set and prepared to explore our big wide world, why not sort out everything else out all in one go? If necessary for your travel plans make sure you have brought proper travel insurance, protected your privacy by getting a secure VPN, compared all the top hotel booking sites to find just what you're after, reserved an unbeatable rental car price and - of course - booked the best flight deals!
Or maybe just forget it all and go for a last-minute cruise or effortless tour instead?
Many budget travelers (including me) indulge in worldwide airport lounge access, so we can experience luxury while still slumming it in economy. Naturally, we would never leave home without a more general travel guide since we couldn't possibly cover everything here!
Just add an adventurous attitude and plenty of smiles - they go a long way - and that about covers it all! Now go out, find your own path and don't forget to share your best inspiration stories with me on Facebook, Twitter, and Instagram...I'd love to hear from you!