There are hundreds of brilliant things to do in Kuala Lumpur, from getting lost in the old town to soaring to the top of the Petronas Towers to sampling all the delicacies at the food markets.
It's a mega-city with a little bit of everything. Past and present merge in this multicultural place, often with great results. One example of this is the custom of high tea. Delicious treats, a soothing cup of tea and possibly a glass of champagne? Count us in to this tradition!
So why are high teas in Kuala Lumpur such a popular activity? Well, historically it has a lot to do with British colonialism, as the custom of afternoon tea started by the 7th Duchess of Bedford came across to Asia with the British fleets.
Countries like Malaysia and Singapore, once British colonies, picked up the habit of snacking on scones while sipping down refreshing tea and gave it a glamorous facelift.
In a city with such a taste for luxury as KL, it will come as no surprise that there are some pretty fabulous places to enjoy three tiers of sandwiches, cakes, and other delicacies. So are you ready for opulence and an unforgettable afternoon like no other? No matter if you are only in KL for 3 days, or live here, read on for our favorite high teas in Kuala Lumpur…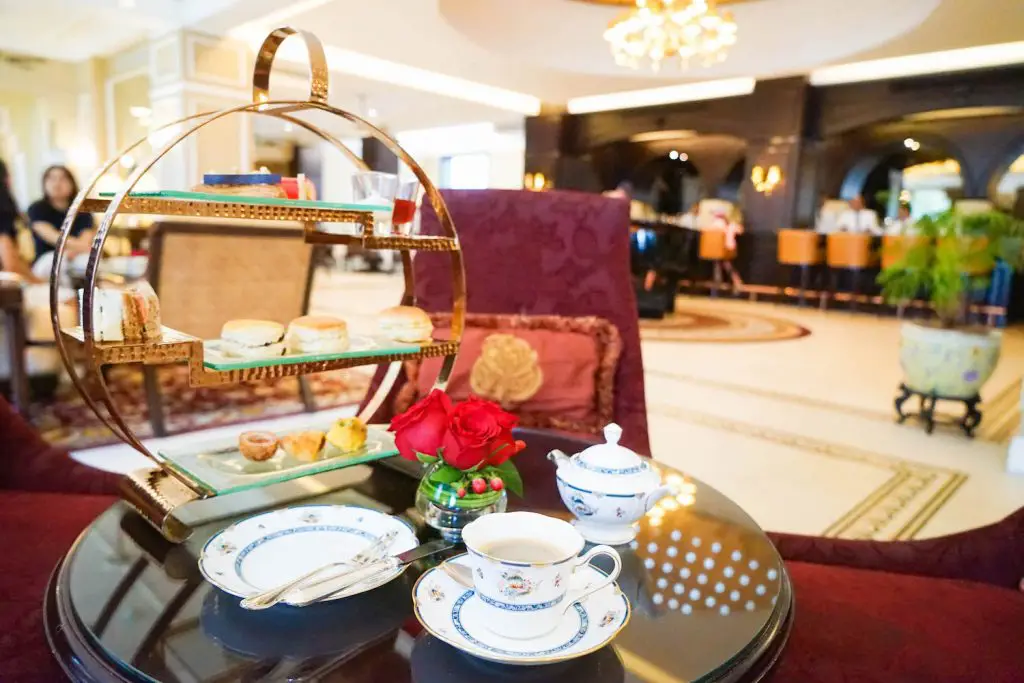 Let's start with something traditional, elegant and classic. This is a model high tea experience, from the buttery, light scones to the cucumber finger sandwiches. While the Lobby Lounge used to be a rather more sombre setting, a 2016 refurbishment left it a bright and welcoming setting to enjoy your three tiers of titbits. There's even a live harpist.
The KL location of the Ritz-Carlton has its own blend of tea (something for the connoisseurs!), a green Oolong steamed with milk. If that doesn't tickle your fancy, don't worry – there are over 40 tea choices. Quiches, tartlets and cheesecakes add variety to the options and leave you hankering for more.
It's a popular place to go, so we'd recommend making a reservation in advance – and wear something smart-ish, as ripped jeans will not go down well in such a luxe setting. Trust us, we know.
Price at time of writing: RM80 per person.
Includes: Tea with all the trimmings – three tiers of tartlets, scones, finger sandwiches and quiches.
It will come as no surprise that these specialists serve on of the more popular high teas in Kuala Lumpur. It might not be the most luxurious experience but we'd highly recommend it not only for the high quality but for the flexibility.
There's a set menu of tea and 2 scones or muffins if you're on your own as well as bigger ones for groups. You also have the option to go vegetarian, which isn't always a given. The service is very efficient and it's a quiet place to enjoy some snacks, particularly if you need a break from a busy day of sightseeing.
It's also considerably cheaper. Sure, we'd love if that wasn't a factor we have to consider, but sometimes it is so we thought we'd mention it here!
Price at time of writing: RM28.50+ for the 1837 set menu for one, RM48+ for the 'chic' set and RM55+ for the 'fortune' set.
Includes: 1837 set menu is a pot of tea with 2 scones or muffins and one patisserie. The 'chic' and 'fortune' set menus also include pastries and savoury items.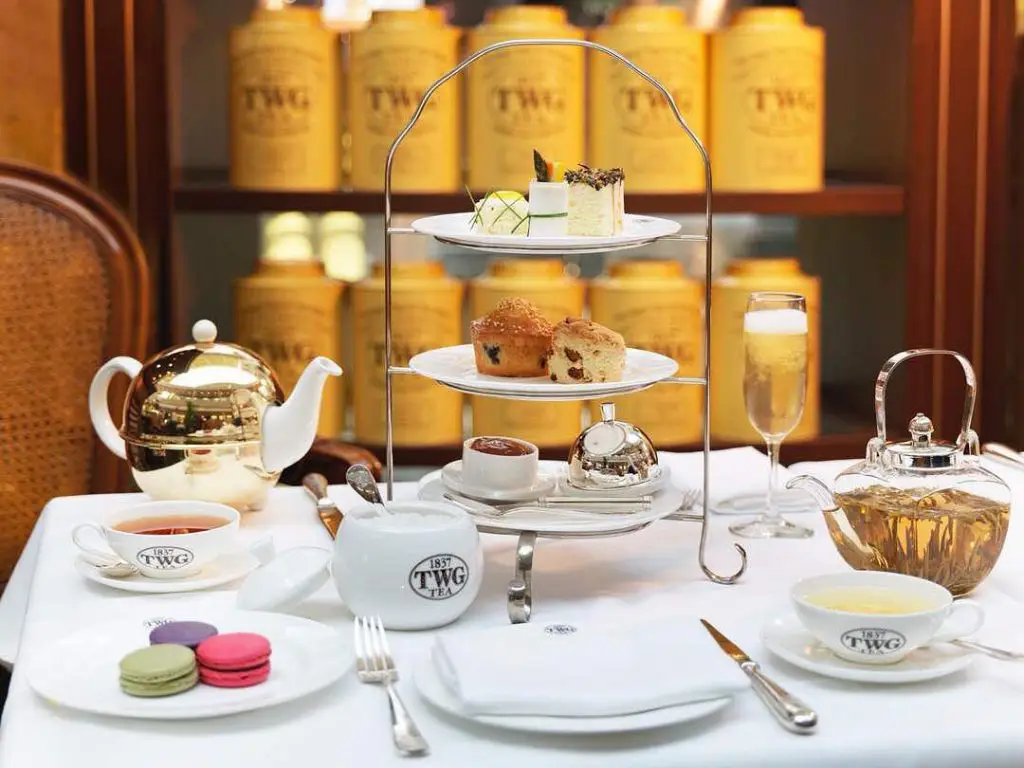 From a hotel with a restaurant run by a Michelin-starred chef, you'd expect nothing less than sheer perfection from its high tea. Luckily, The Drawing Room delivers. When you walk in, you can't imagine anything drawing your attention away from the glass walls and sculptures, but the high tea is a feast for the eyes as well as for the belly.
Delicate creations of pastry, fruit and cream look almost too good to eat, but you'll be glad when you do tuck in. Extra touches like foie gras finger sandwiches add something special to the usual suspects in an afternoon tea and the scones are to die for.
You also know you're somewhere fancy when they have an on-site tea sommelier to help you choose your (refillable) brew. Definitely book in advance. High tea is served on weekdays between 3pm and 6pm while weekends have two slots to choose from.
Price at time of writing: RM130 per person.
Includes: Tea with unlimited refills and a range of savoury and sweet delicacies.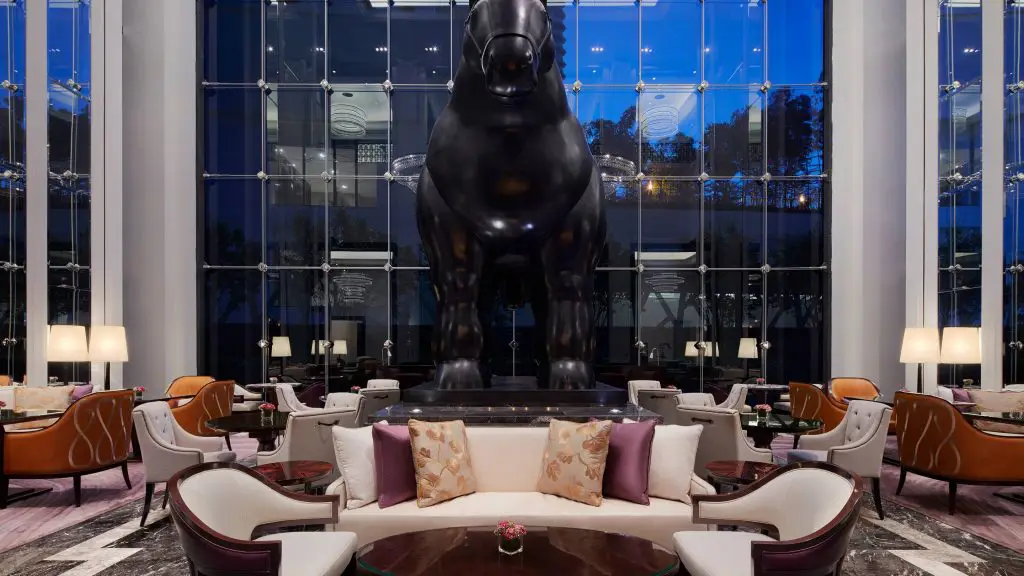 A haven of calm in the midst of KL's swanky Starhill Gallery, this sumptuous lounge has a legacy of British tea houses behind it and also boasts their famous Maids of Honour tarts, apparently King Henry VII's faves. Whether or not this is true, they're certainly worth a trip as they are de-lish! Light, crunchy and full of flavour, you'll intent to have "just a nibble" of one and end up eating the whole plate.
Aside from divine tarts, Newens also serves up huge high teas with scones, quiches, finger sandwiches, macaroons, cakes and more. It's a hefty portion, which is perfect after all the designer shopping you'll have done in Starhill! There's also a huge selection of teas to choose from – over 60! – with their signature green tea as the star of the show.
The decadent setting makes it feel cosy and the piano playing adds a pleasant air to proceedings. It's the kind of place you can easily while away an afternoon in – and why not? Holidays are a time to indulge yourself, after all!
Price at time of writing: RM140 for two people.
Includes: Your choice of 60 teas, maid of honour tarts, sandwiches, scones and French pastries.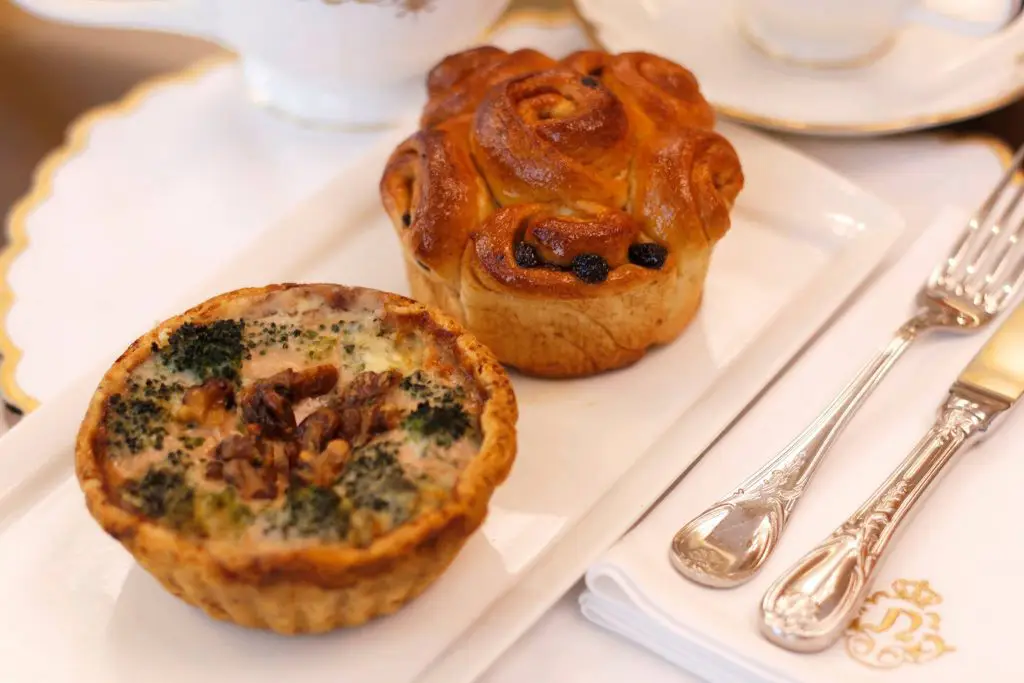 This is a slightly left-field idea as Nobu actually serves a Japanese afternoon tea – but why not? After all, Japan is just as much an expert in tea as the UK is! If you want to be adventurous with your high teas in Kuala Lumpur then Nobu is the place to go, just don't blame us when it has you looking up the next flight to Tokyo…
We love that you can choose between a savoury option ("hanami") or one for the sweet-tooths ("signature high tea set") and enjoy imaginative treats like the green tea chocolate squares.
It's also a fantastic location, high up in a cosy restaurant with incredible views of the city. Your food comes in a bento box and it's a great way to sample a range of Nobu's famous dishes.
Price at time of writing: RM148 for the savoury set and RM98 for the sweet version.
Includes: Green tea and a range of sweet or savoury snacks.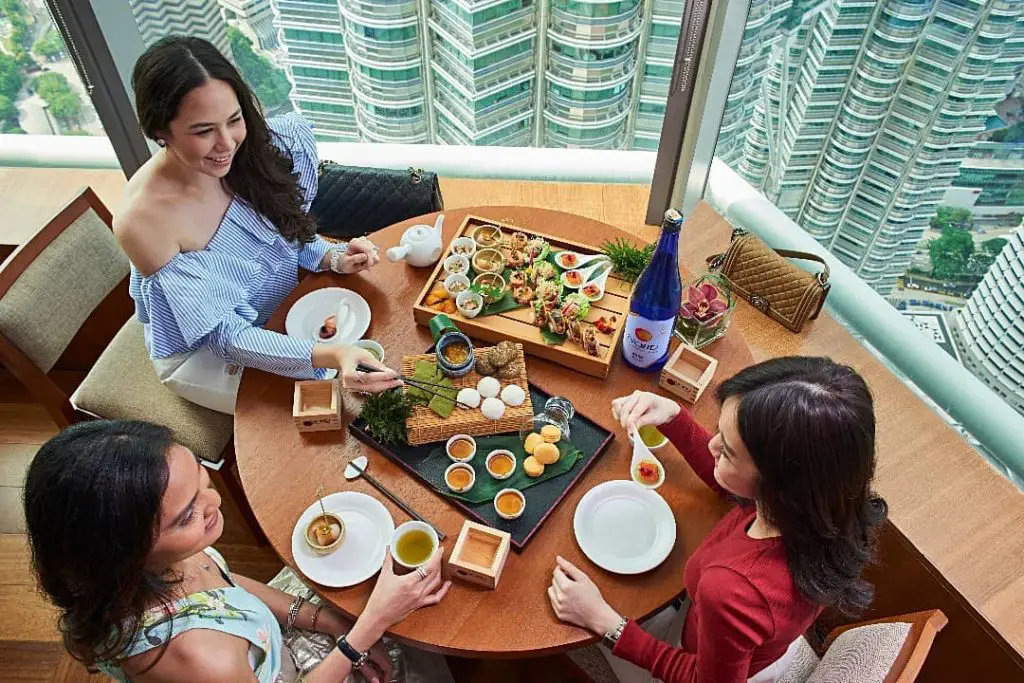 Our second favorite high tea location in Kuala Lumpur, combining old world elegance with modern design and service. There is something terrible sophisticated about the red brick and wooden setting of the French High Tea at Brasserie 25 – as there should be, really, given that it's French and we expect nothing less than sheer sophistication.
So what's the French take on the classic high tea, then? Well for one thing, you can swap the tea for coffee, which is a switch we can get on board with. There are also delicious fruit-stuff macrons among the many elegant pastries.
As well as the French pastries, you can also enjoy Malaysian savoury treats like curry puffs and spring rolls. There are unlimited servings of the hot items so it's a good place to come if you're hungry! And while we are at it, we would be remiss not to mention that relaxing at the fabulous rooftop pool at Hotel Stripes is also one of our favorite things to do in Kuala Lumpur.
Price at time of writing: RM75
Includes: Tea or coffee and a range of sweet and savoury items, with unlimited hot items.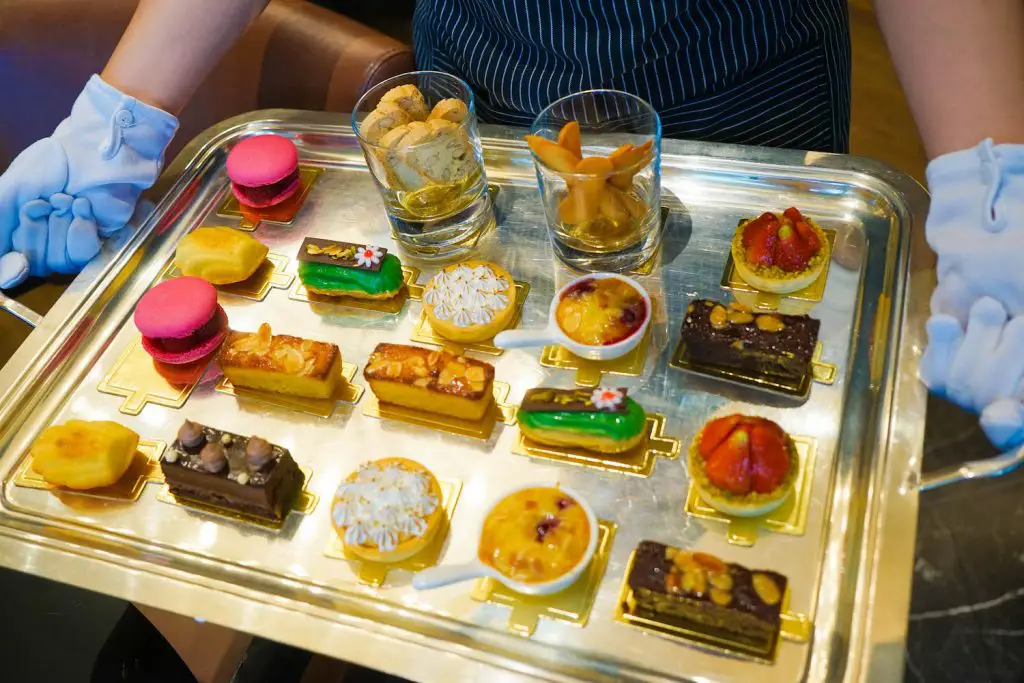 The absolute best-of-the-best. To understand why this is our favourite place for high tea in Kuala Lumpur, you have to understand that 'Majestic Orchid Garden' is not just a pretty name. The Majestic Hotel high tea is actually served in a breathtaking orchid conservatory.
This hanging garden of sumptuous blossom is a beautiful location to enjoy the varied delicacies on offer as part of the delicious high tea. Treats include toffee tart, Pavlova, cheesecake and panna cotta; if you prefer something savoury then you'll be filling up on the finger sandwiches with the traditional cucumber and smoked salmon.
As you might expect, the Majestic Hotel Orchid Room books up quickly so if you want to enjoy this unique experience, make sure you reserve far in advance! Trust us, it's worth it when you walk into that burst of colour and scent (and taste the food!).
Price at time of writing: RM110 (weekdays) or RM120 (weekends).
Includes: Pot of tea, three-tier stand of savouries and sweets. So what are you waiting for? Treat yourself today…
Staying Connected While Travelling
In today's increasingly connected world, staying online while traveling has become essential for a seamless experience. That's where eSIMs come into play, revolutionizing the way we access mobile networks during our global adventures. Say goodbye to hunting down local SIM cards at the airport; eSIMs provide instant activation the moment you land, sparing you the fortune usually spent on international roaming and allowing you to genuinely travel like a local (without getting hopelessly lost!).
With eSIMs, tasks like restaurant recommendations and reservations, up-to-the-minute public transport instructions, checking opening hours, and accessing further information become a breeze. And, of course, sharing your journey on social media is easier than ever. To stay connected wherever you roam, consider using either Airalo or Holafly. Airalo boasts the most extensive range of destinations worldwide, offering smaller data bundles tailored to your needs, while Holafly provides unlimited data packages and fantastic EU data deals.
So why wait? Embrace the future of travel connectivity with eSIMs and make your next journey effortlessly smooth.
Further Things To Consider Before Any Adventure
Now you're all set and prepared to explore our big wide world, why not sort out everything else out all in one go? If necessary for your travel plans make sure you have brought proper travel insurance, protected your privacy by getting a secure VPN, compared all the top hotel booking sites to find just what you're after, reserved an unbeatable rental car price and - of course - booked the best flight deals!
Or maybe just forget it all and go for a last-minute cruise or effortless tour instead?
Many budget travelers (including me) indulge in worldwide airport lounge access, so we can experience luxury while still slumming it in economy. Naturally, we would never leave home without a more general travel guide since we couldn't possibly cover everything here!
Just add an adventurous attitude and plenty of smiles - they go a long way - and that about covers it all! Now go out, find your own path and don't forget to share your best inspiration stories with me on Facebook, Twitter, and Instagram...I'd love to hear from you!