Nestled on the Baltic Sea at the mouth of Latvia's River Daugava, Riga is so much more than the picturesque Gothic city it initially appears to be. Of course, those spires and the medieval Old Town are part of what makes it so attractive, but there's also a lot going on beneath the surface.
Behind the wooden buildings and cobblestones, you'll find a vibrant cultural center full to bursting with contemporary art, hip bars, and innovative food offerings.
It's an architecture buff's dream destination; walking along streets lined with candy-colored buildings and art Nouveau creations makes you feel like you're in a film set. The new national library, by local architect Gunnar Birkerts, is another arresting sight.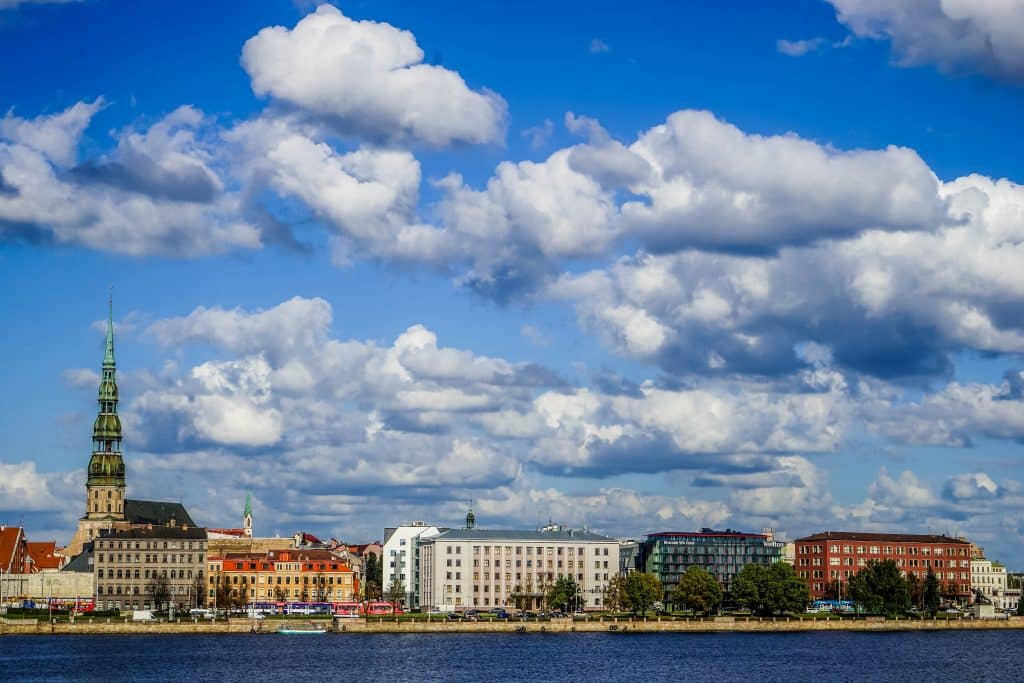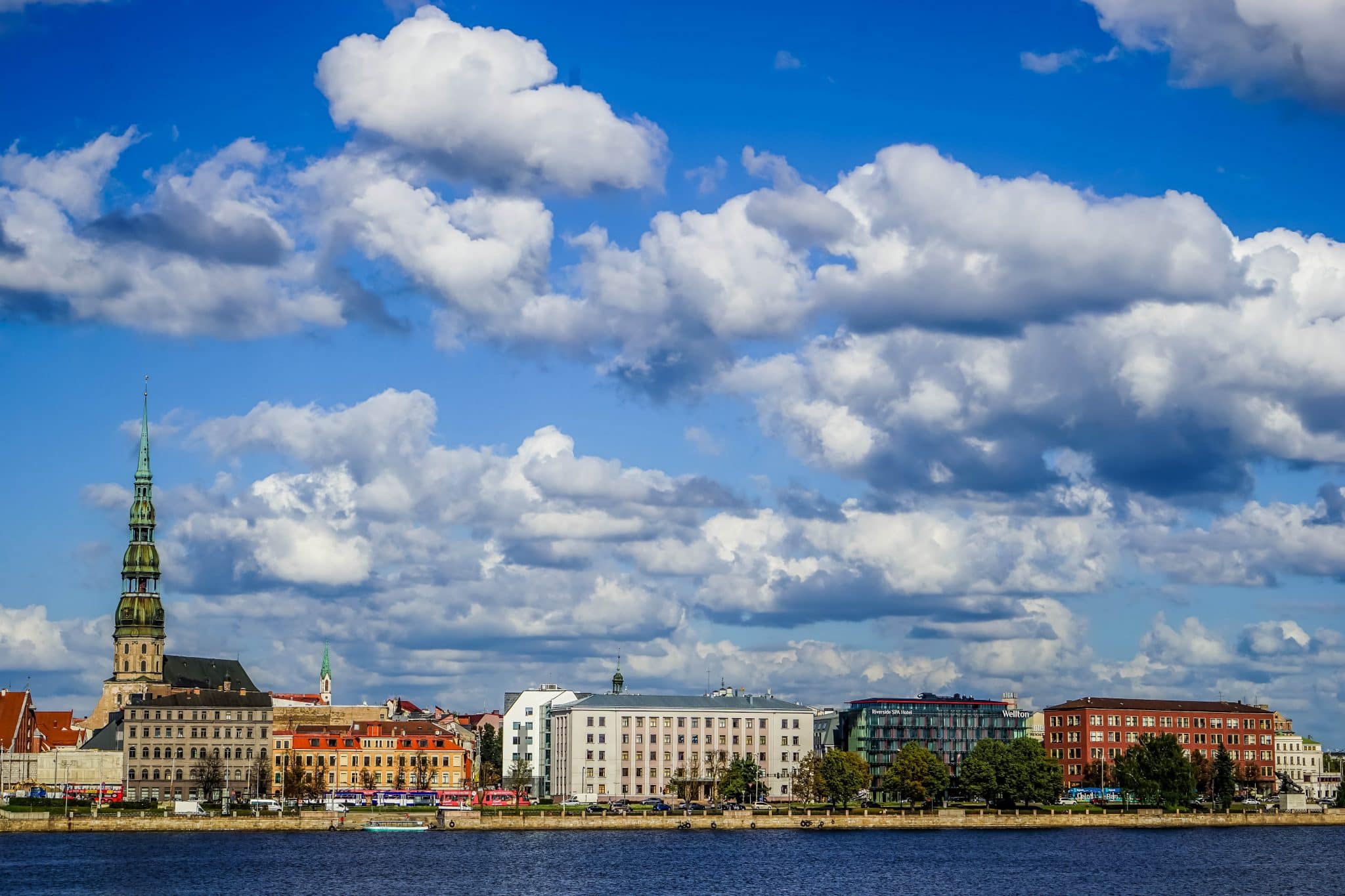 Aside from the living museum of the city itself, you'll also find tonnes of fascinating museums telling you more about the history and culture of Latvia and its capital.
Spend your days here, or in the many art galleries, soaking up the surroundings and stopping the bar at the Kanepes culture center or famous Café Osiris for refreshment. Not for nothing is it (occasionally) dubbed the 'Baltic Berlin.' Edgy bars doubling as art spaces, techno clubs, and innovative pop-up eateries abound, particularly in the Old Town.
With the rise of Air Baltic making Riga a growing aviation hub, increased cruise connections to Scandinavian ports, and its central location in the region is it any wonder Riga is experiencing a modern-day renaissance with travelers?
Not to mention all the fabulously quirky concept hotels with very affordable price tags…
Make no mistake, though – this is a city with a difference. It's quirky, eclectic, and 100% itself. What else would you expect from a city that stakes a claim to the first-ever public Christmas tree? It might get comparisons to Tallinn or London, but Riga has a totally unique character. You'll find a whole wealth of unusual things to do in Riga, which is why we'd encourage you to embrace the strangeness.
Why go to the same places as everyone else when there are things like the following options on offer?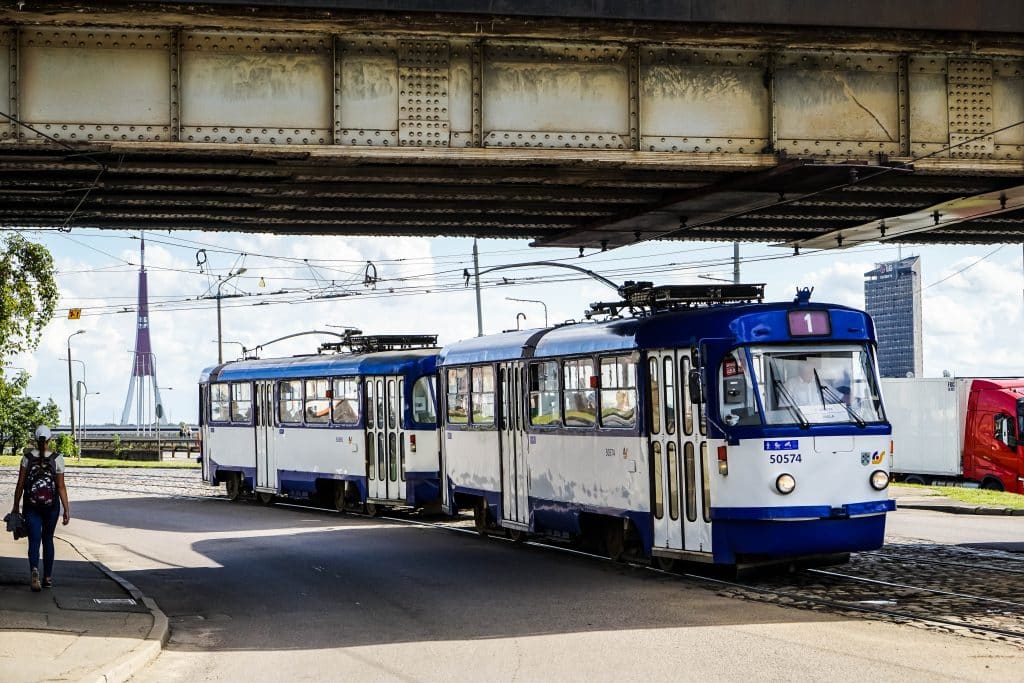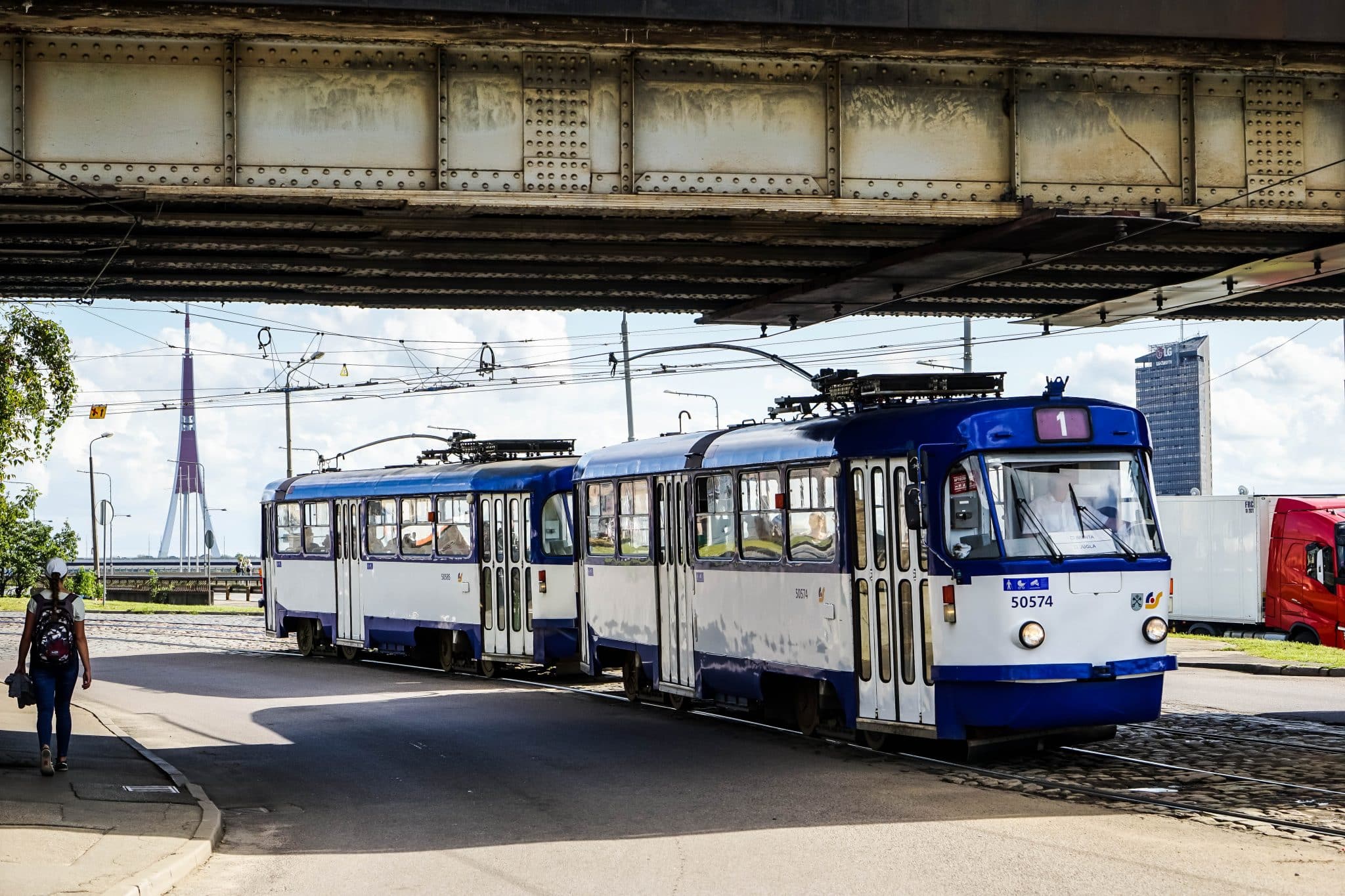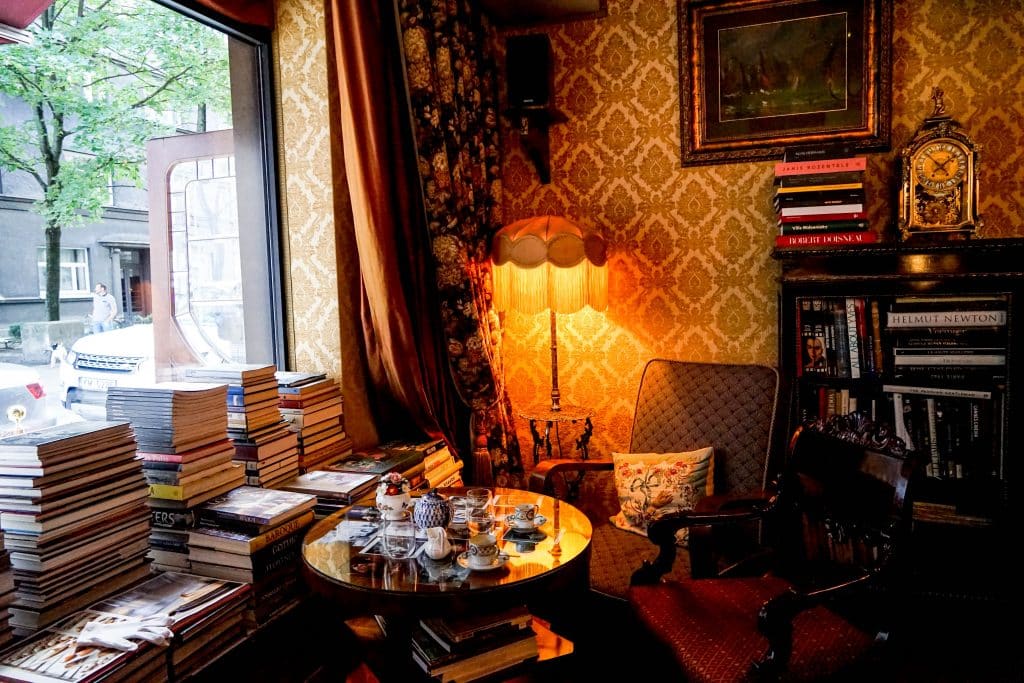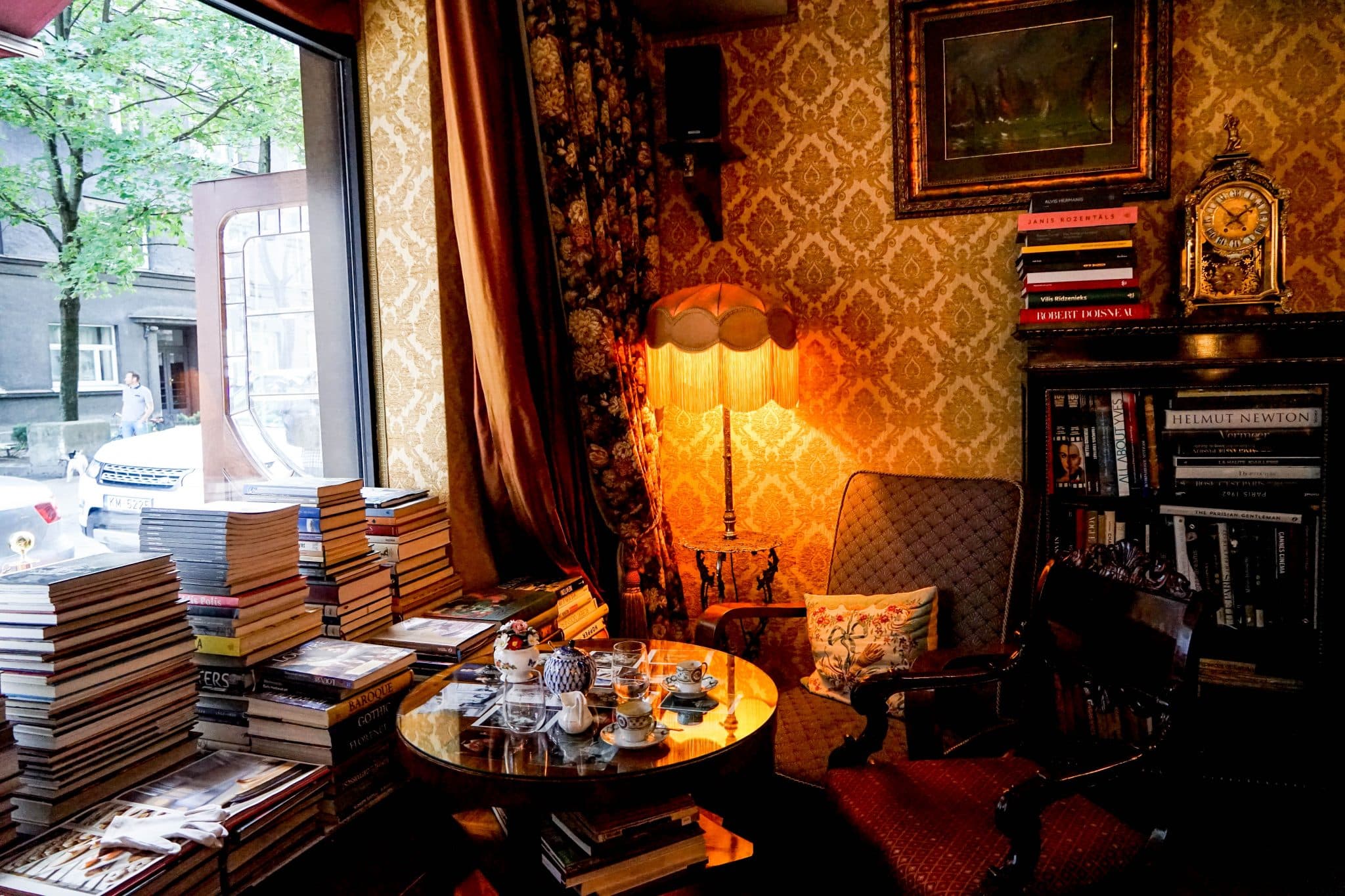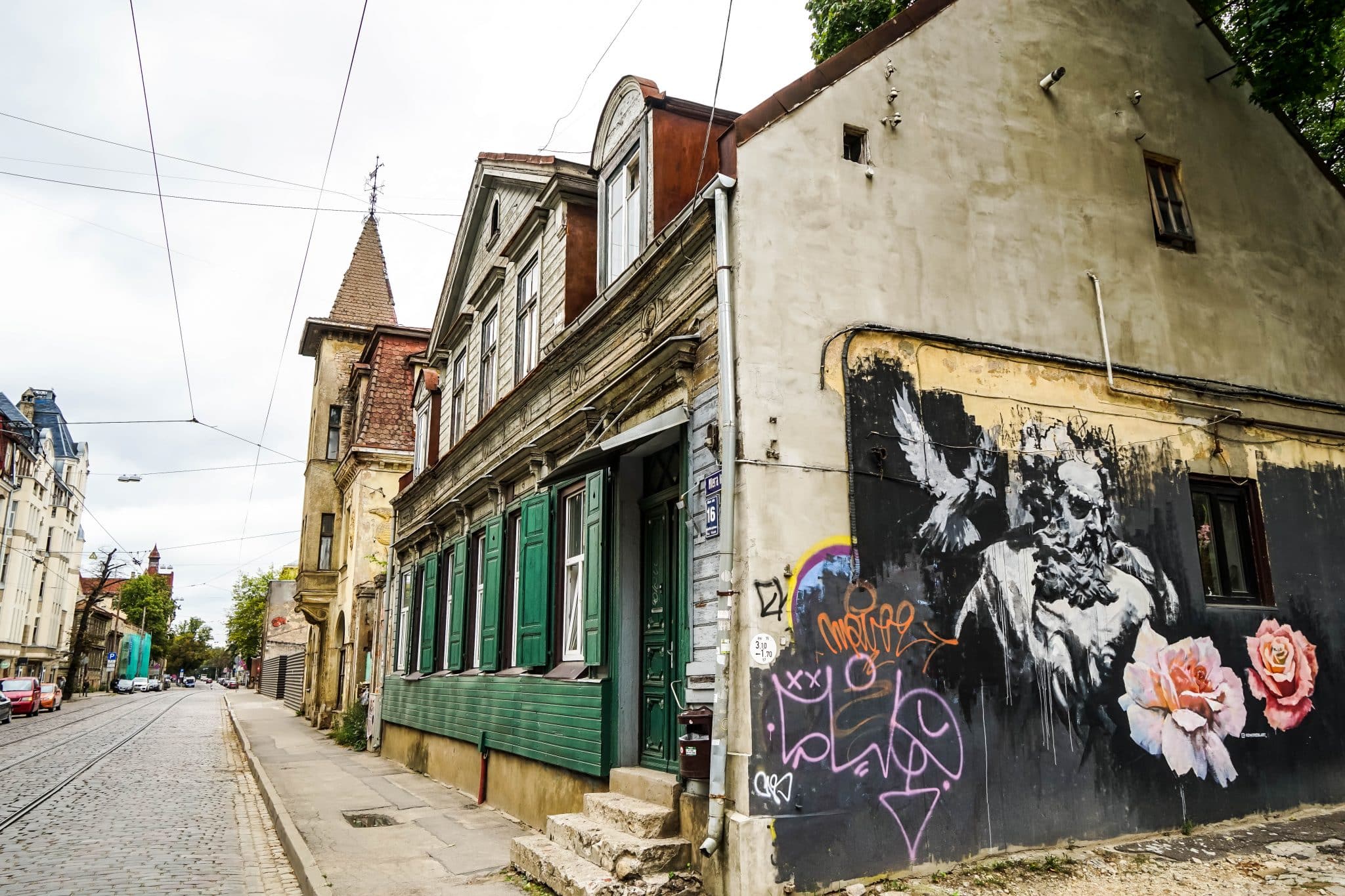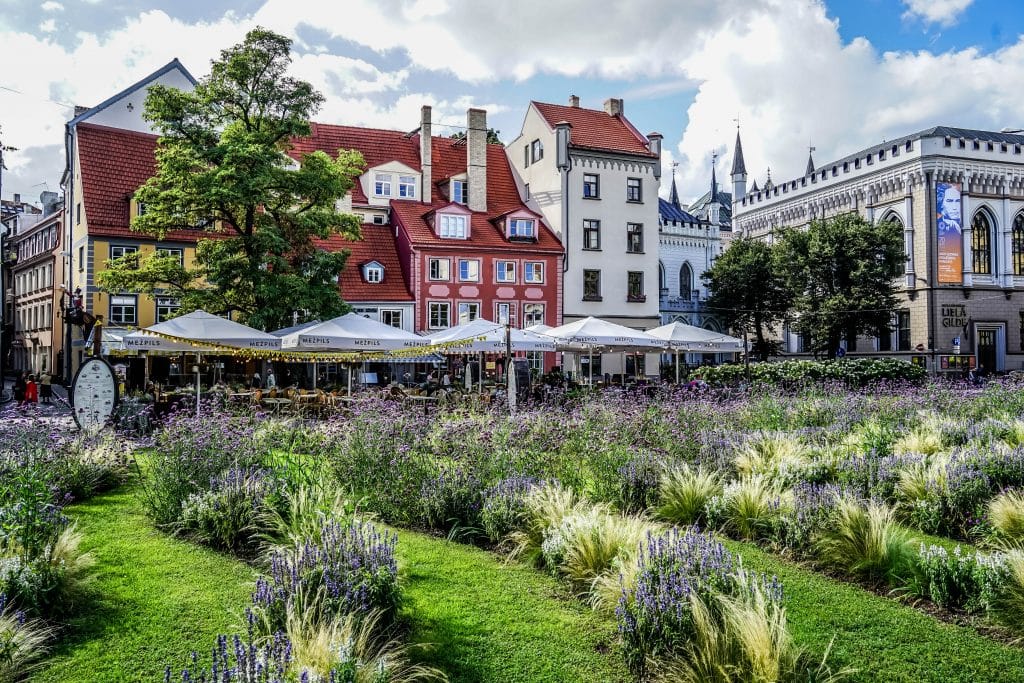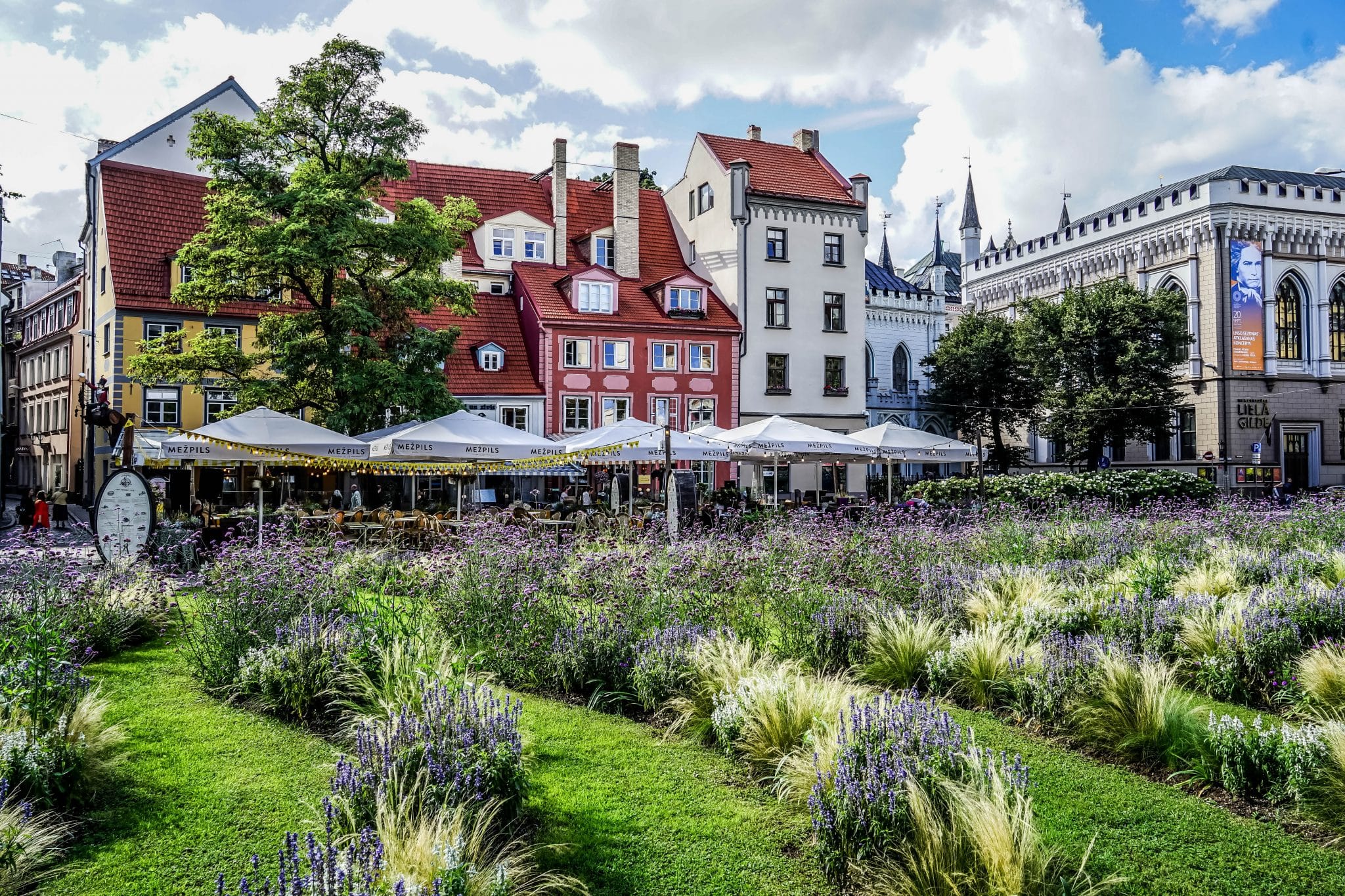 1. Gaze In Awe At The Impressive House of the Blackheads
OK, this isn't as weird as it sounds, but it's certainly unusual. The Blackheads were a guild of unmarried German merchants who built this ornate building in Riga's old town 1344. Meant as a venue for celebrations, meetings, and conferences, it could arguably be described as an early form of fraternity house (with fewer games of beer pong, we're guessing!).
The façade is famously opulent, and the interior gives it a run for its money, with gilding, crystal chandeliers, and coats of arms.
What's totally fascinating about visiting the House of the Blackheads now is that it's actually a new building. After being destroyed by bombing during the Second World War, an exact replica was rebuilt during the 1990s using the original blueprints.
Even more amazingly, this fulfills a prophecy once written on the building's doors: If I am destined to ruination, I will be rebuilt by you. It is worth visiting to learn more about this story alone!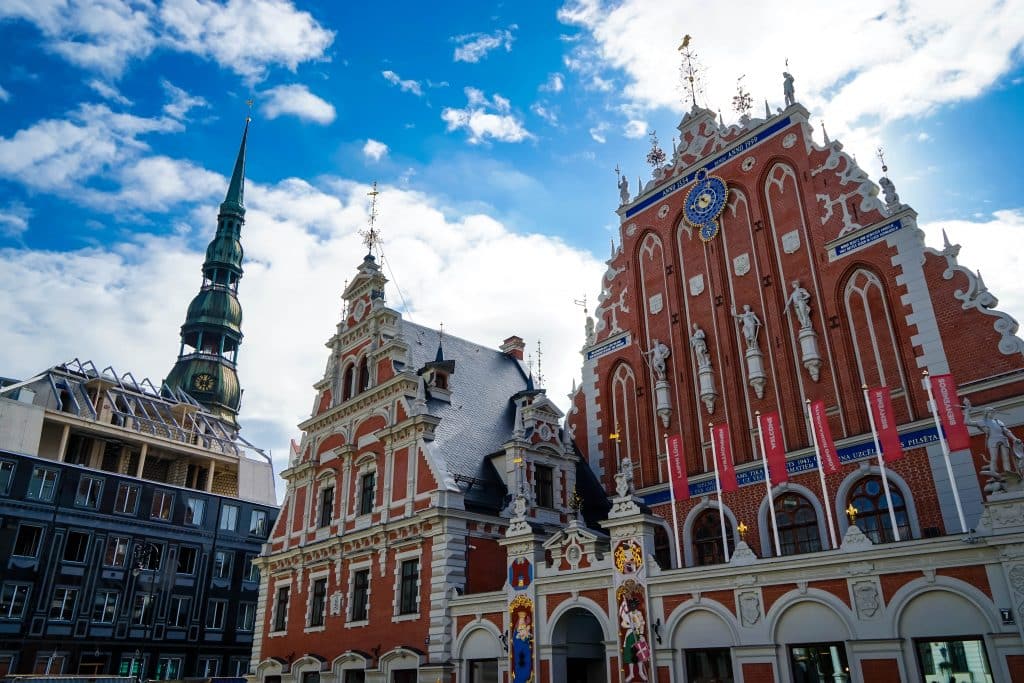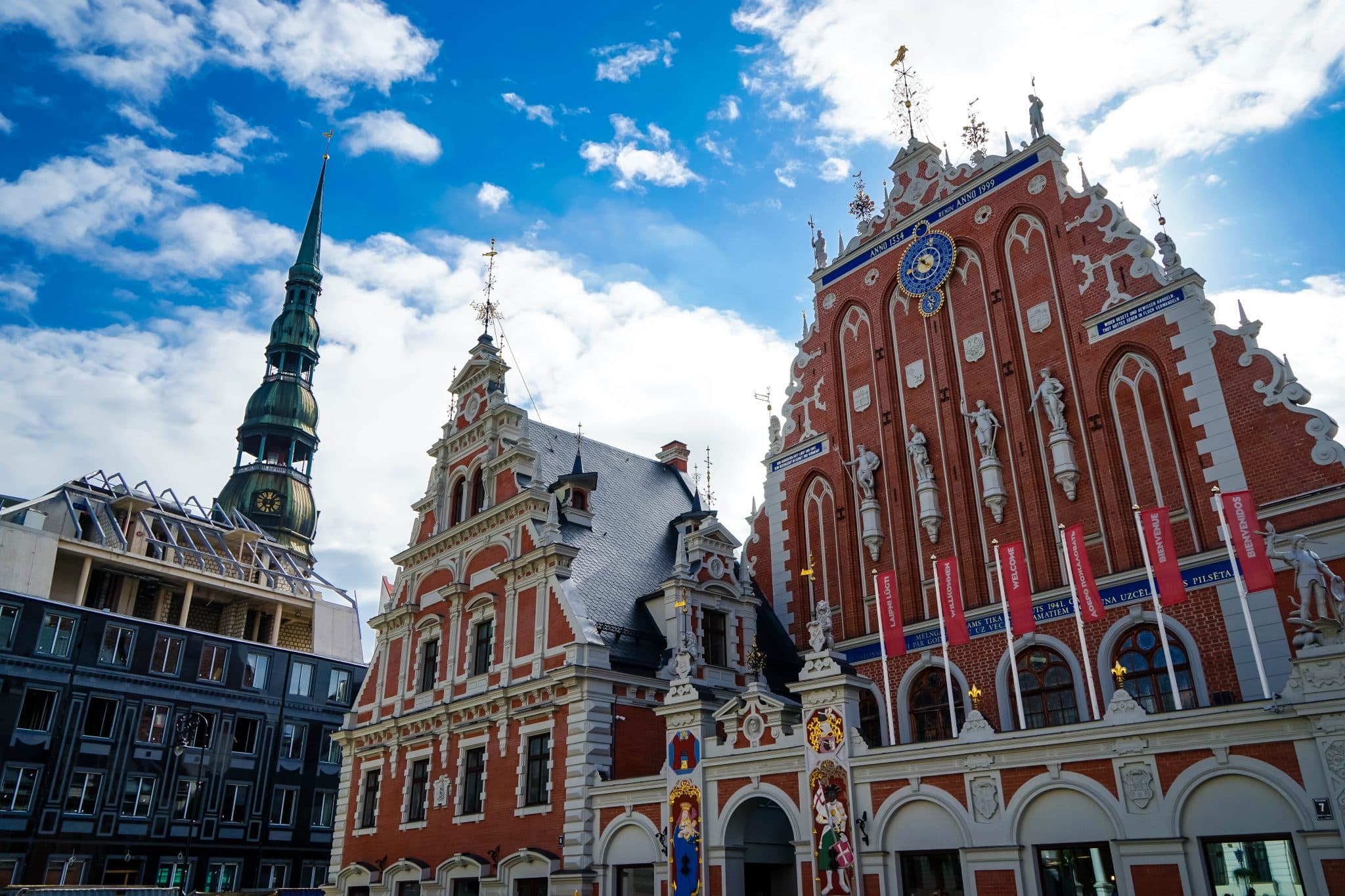 2. Understand The Country's Past At The Museum of the Occupation of Latvia
While this might not sound like the most cheerful museum, it makes a significant impact. Established in the early 1990s in a Soviet-era building from 1971, the Museum of the Occupation of Latvia documents the 51-period of occupation that started with the USSR in 1940, continued with Nazi Germany from 1941 to 1944 and ended with the USSR again from 1944 to 1991.
It might be unusual to see such a singular focus in a history museum, but these occupations were a significant part of the country's history.
The exhibitions (temporarily housed in the former US embassy until the official building reopens in 2020) are fascinating but often disturbing. They include a recreation of a gulag cell, first-hand accounts of deportations and imprisonments, and evidence of the resistance.
There's a critical audio-visual archive that contributes to documentary films. The stated aim is to remember victims of occupation and remind the world of the crimes Latvia suffered; visiting is a mark of respect and understanding.
For those seeking further interest in this sad period of history, you might also consider this Dark Years walking tour.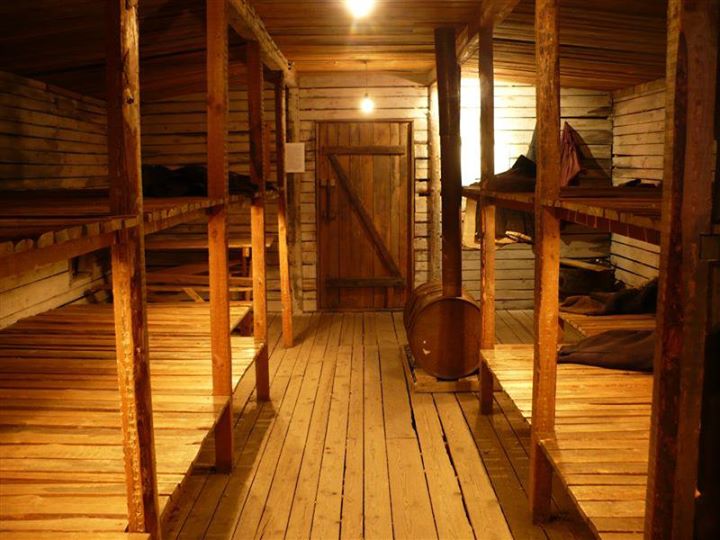 3. Explore The Spirited Riga Central Market
One of the largest indoor markets in Europe, the Riga Central Market, is located just outside the Old Town. It is one of the most distinguished structures built in Latvia during the 20th century and has such has been included on the UNESCO World Heritage Site list together with Old Riga in 1998.
The central constructions of the market are five sheds assembled from the metal frameworks of old German Zeppelin hangars that then incorporate Neoclassicism and Art Deco motifs. Indeed a sight to behold — and five of only nine Zeppelin hangars remaining in the world.
Take the time to immerse yourself in local life here as you explore the lively market — or why not opt for a food tour if you want to learn more about Latvian cuisine and cultural traditions. Either way, you can explore a variety of local specialties like smoked meats, cheeses, herring, and hemp butter – or taste modern gourmet cuisine in the new food hall.
Much like Riga, the Central Market is currently experiencing a considerable revitalization project, so while it may be in flux, it is still unquestionably worth a visit.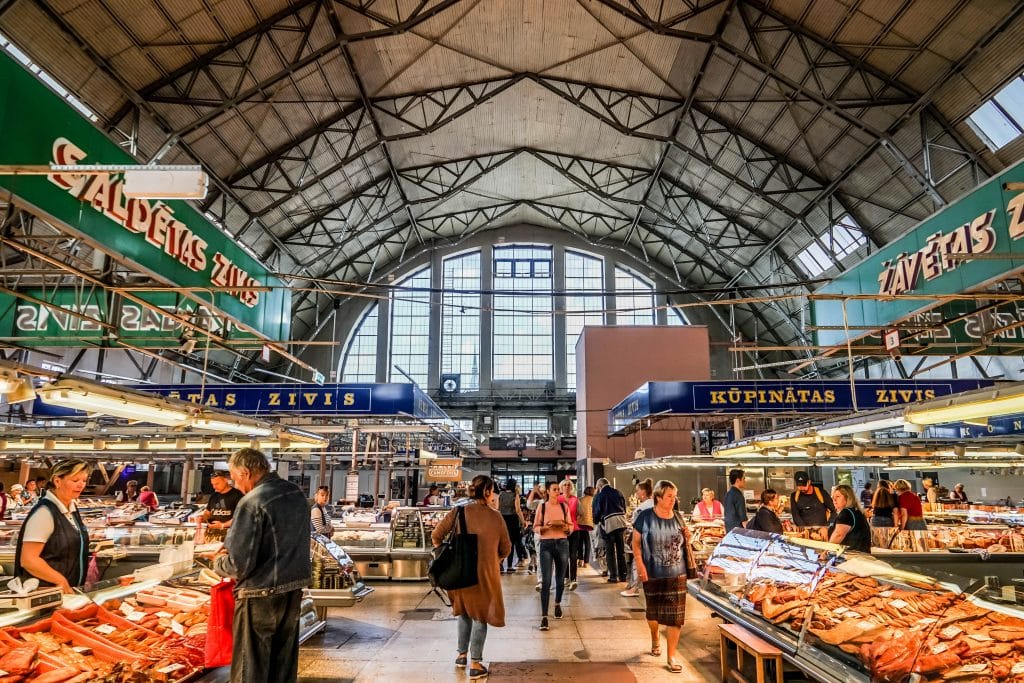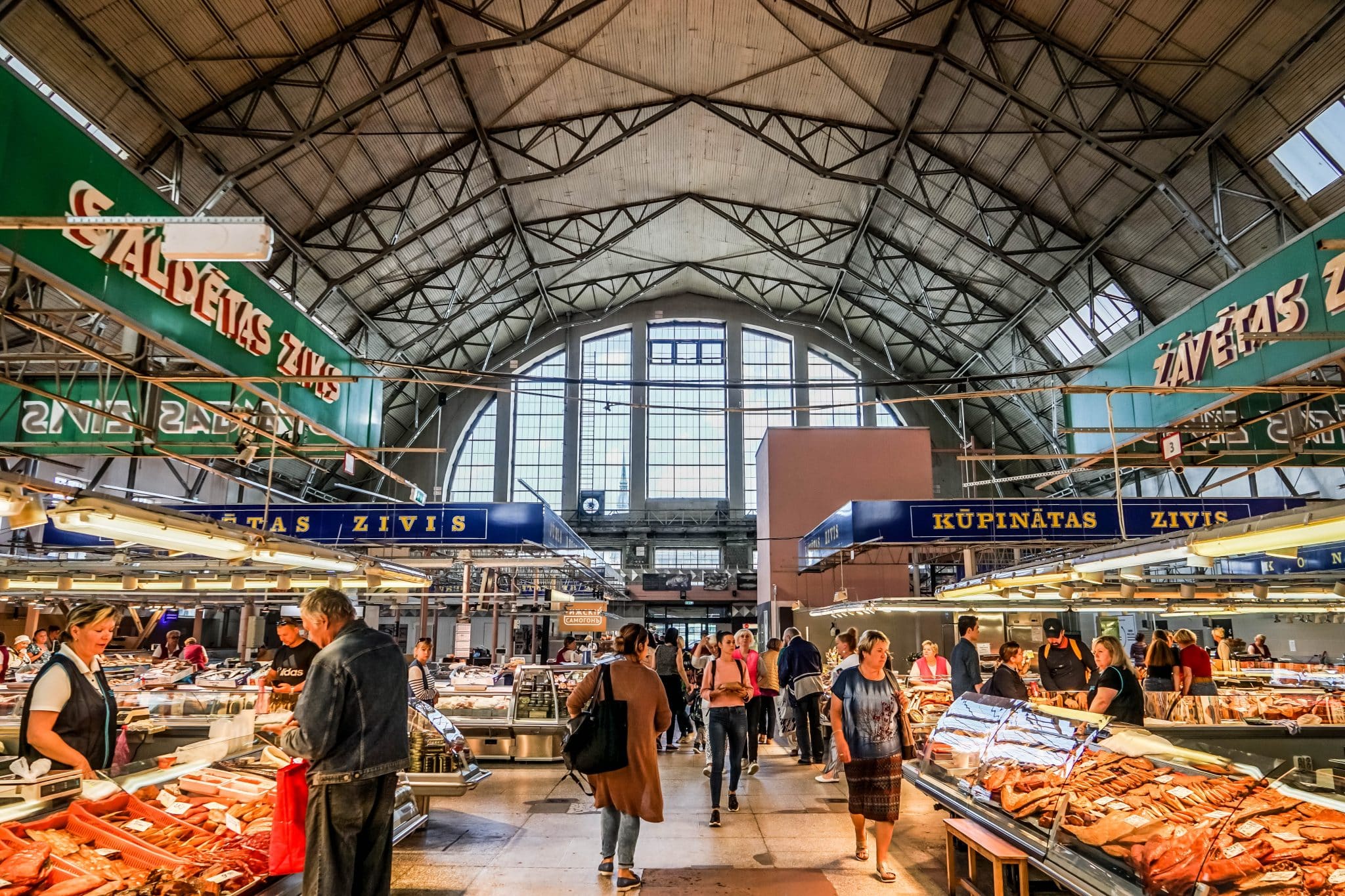 4. Get Cultured At The Latvian National Museum of Art
Over 52,000 works of art reside in this beautiful Baroque building on the Esplanade. Recently renovated to add an underground exhibition space, much-needed upgrades, and an attractive restaurant, this 1905 building is an impressive spot even when you don't factor in the extensive art collection within.
It shows the development of Latvian art from the 18th century to the present day and includes works by masters of the Latvian painting school such as Purvītis, Rozentāls, Annuss, and Valters (don't worry if you haven't heard of them!).
There are also often exciting temporary exhibitions to supplement this education in local art.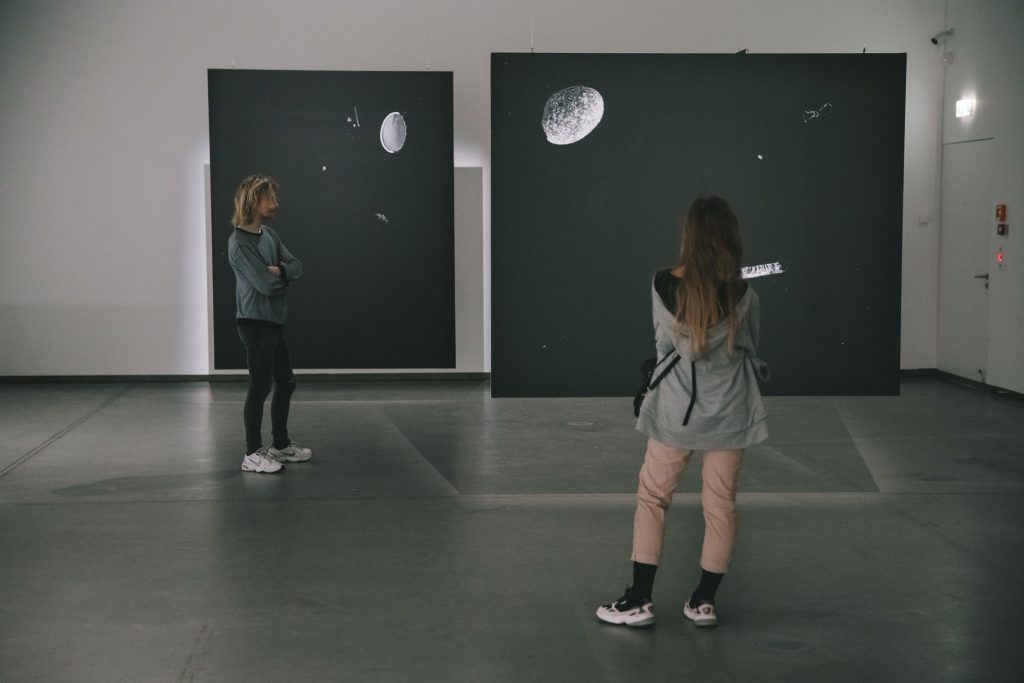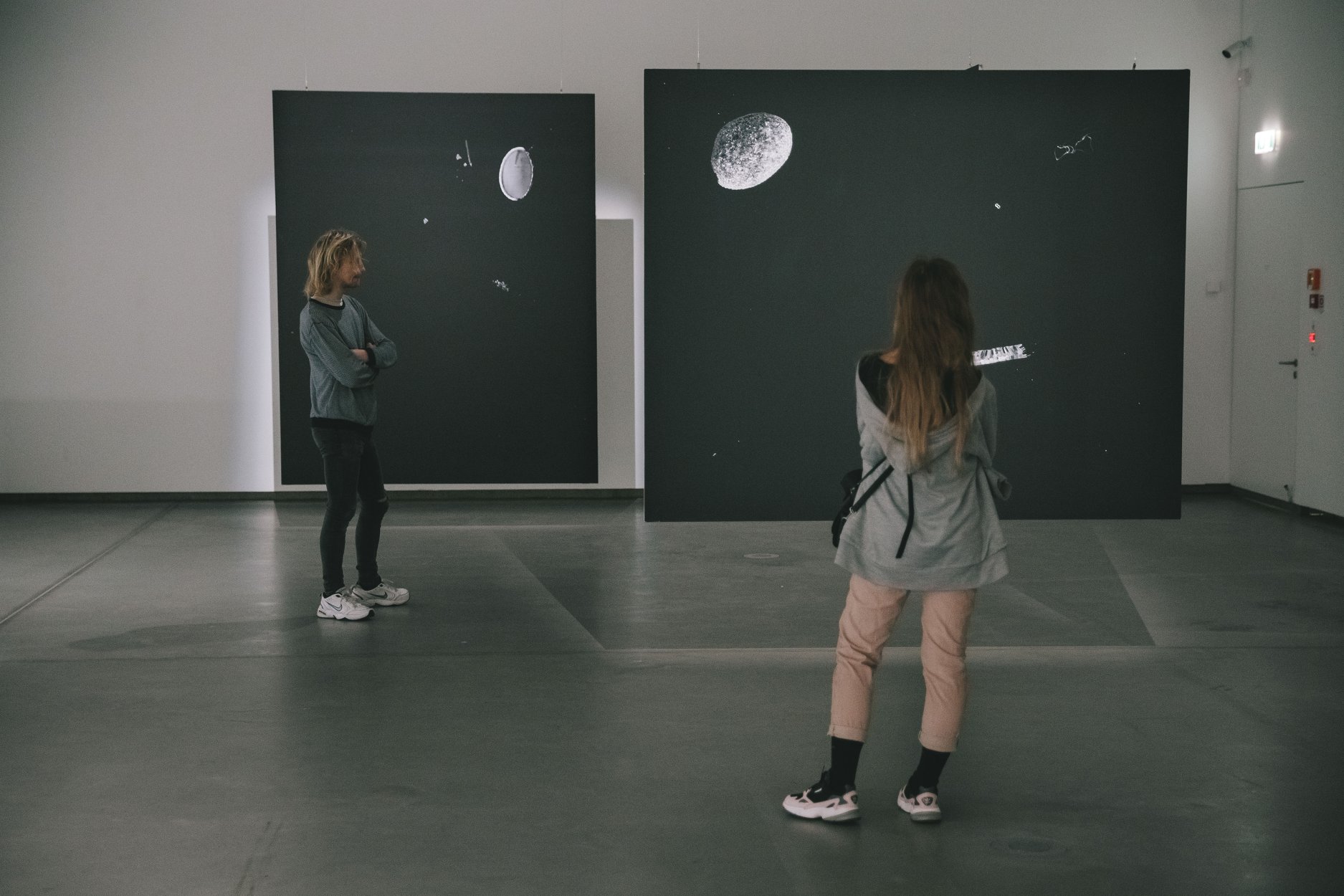 5. Learn About Riga's History Of Conflict At The Powder Tower
This cylindrical tower is the sole survivor out of 18 that was built in the 14th century to strengthen the defense of the old city wall.
It now proudly stands firm as home to the Latvian War Museum, having acted formerly as a prison, a torture chamber, a gunpowder store, and a frat house (not sure which is the most gruesome, really!). The walls are 2.5m thick, which was obviously effective as there are nine Russian cannonballs that didn't make it through built into the walls by the stonemasons – clearly ones with a sense of humor!
As you'd expect from a country so unfortunately ravaged by war, the Latvian War Museum has an extensive collection covering the struggles of the 20th century, from the occupations to the fight for independence and the development of the country's army.
With photographs, memorabilia, and life-size wax figurines, the inside of the Powder Tower is as impressive as the exterior.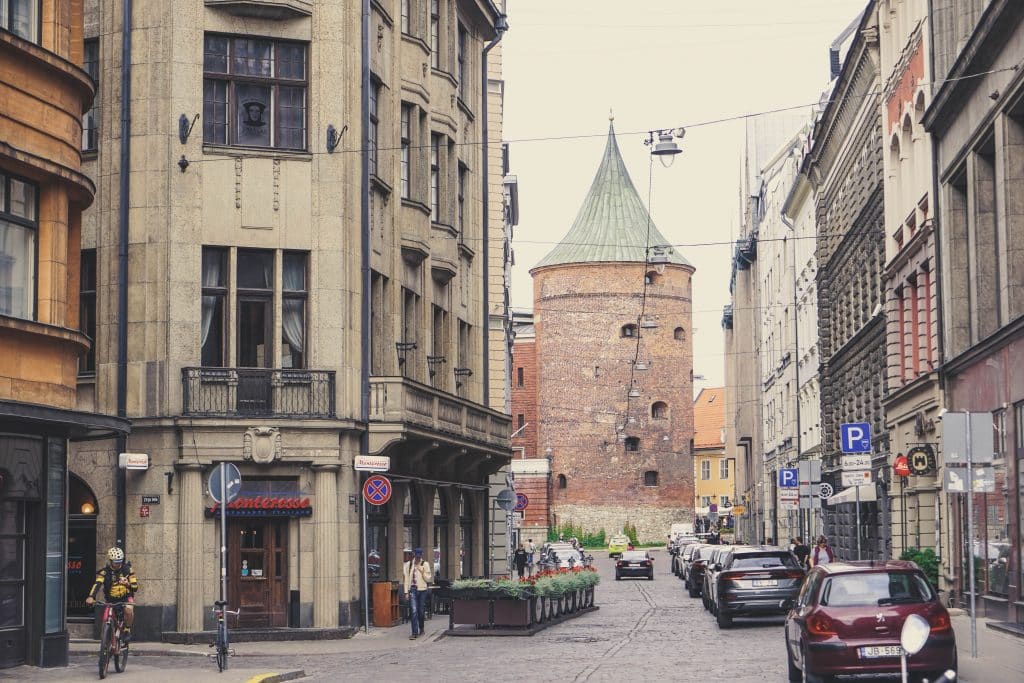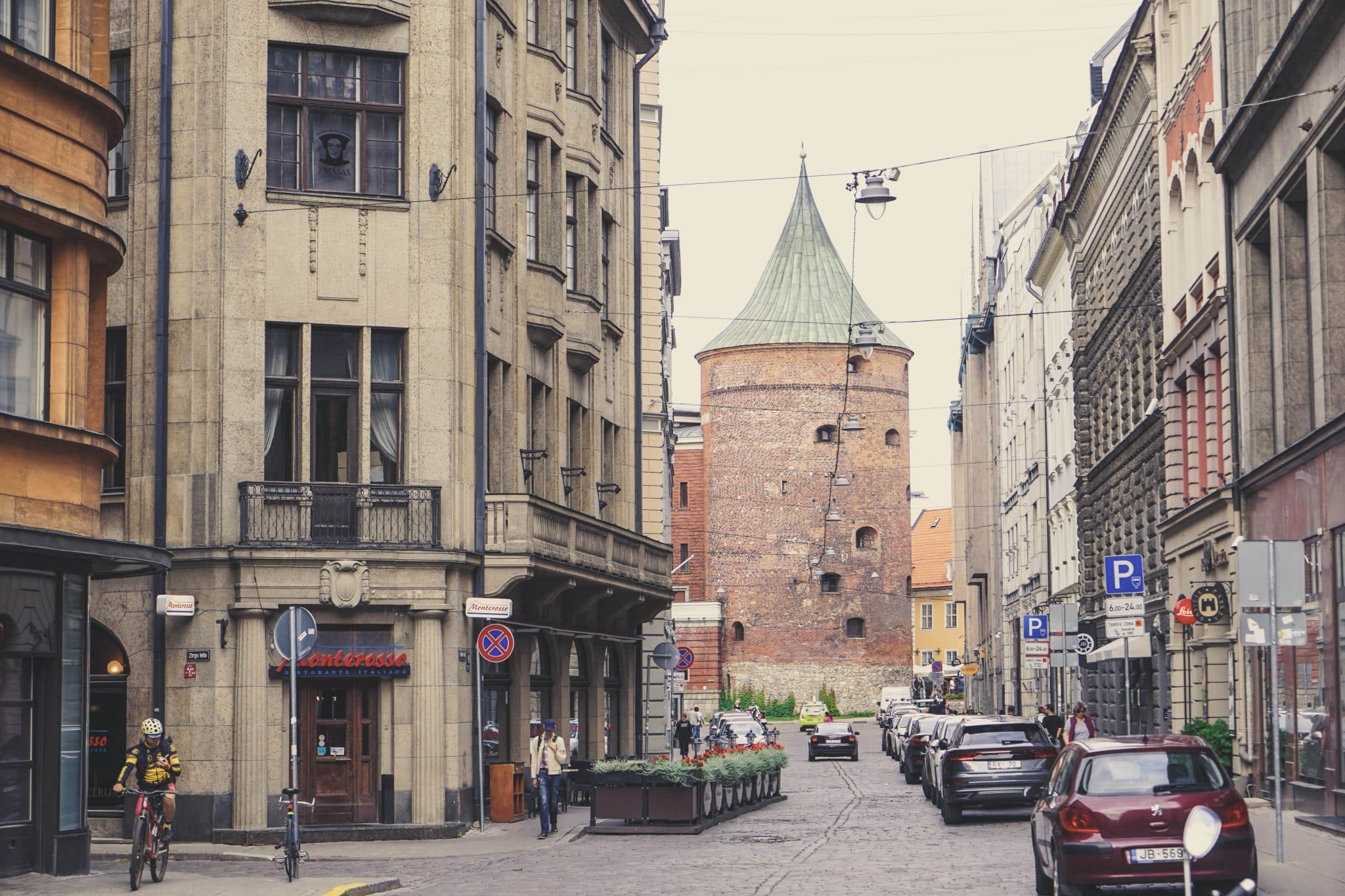 6. Visit The Animals At Riga Zoo
Founded in 1912, Riga Zoo offers you the opportunity to get out of the city and into the hilly pine forest where it's located. It's not the biggest zoo we've ever been to (understatement), but it's in a gorgeous location and has over 400 species of animals living there. Among the trees of Mezaparks and along the side of Lake Kisezers, a range of wildlife coexists.
Local Latvian animals hang out in the petting zoo where visitors can cuddle or pet them. More exotic animals include carnivores like the Amur Tigers, Galapagos Tortoise, a Red Kangaroo, and playful seals. Regular feeding shows provide you with extra information about these animals and their lifestyles.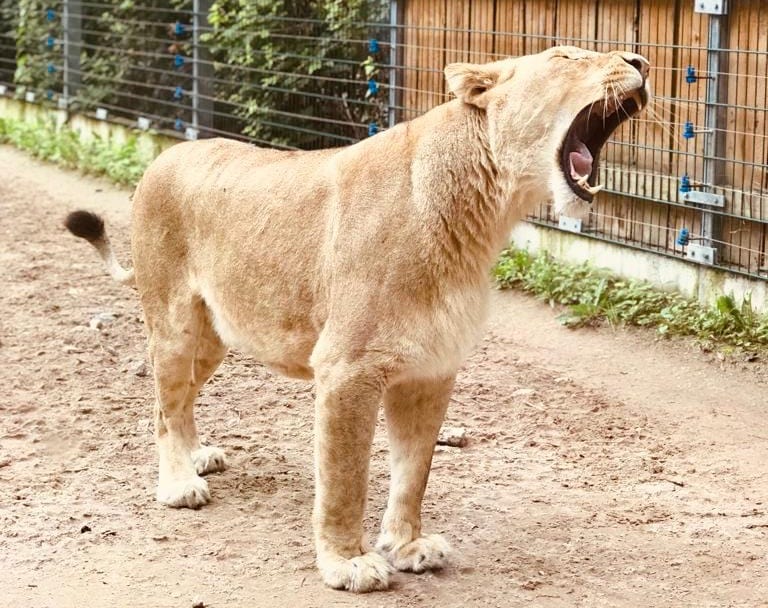 7. Feel The Need For Speed At The Riga Motor Museum
Whether you're interested in cars or not, this is an absolute gem of a museum. It's actually the most extensive antique vehicle museum in the Baltic countries and boasts an extremely impressive collection.
It's a little bit outside the city center, but the journey to get there is worth it when you get to see not only the cars that belonged to USSR dignitaries like Stalin, Gorky, and Khrushchev but life-sized models of those men as well (warts and all).
You'll also find vintage Rolls Royces and BMWs alongside the oldest car in the world – the Benz Patent Motorwagen. When you get tired of looking at these cars, have a go on one of the interactive driving games or get a picture of you at a Soviet parade using a green screen.
The quirky touches are classic Riga!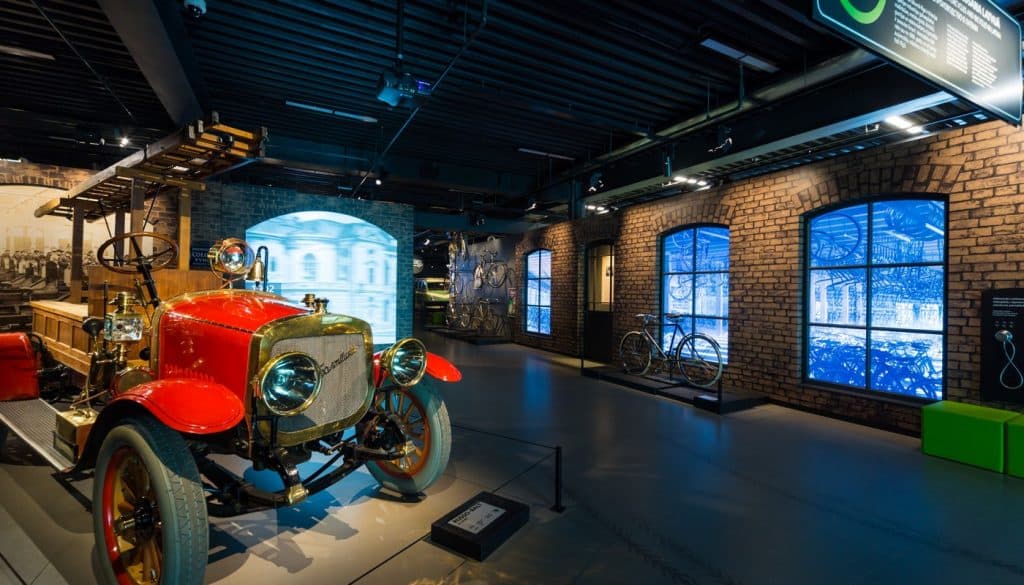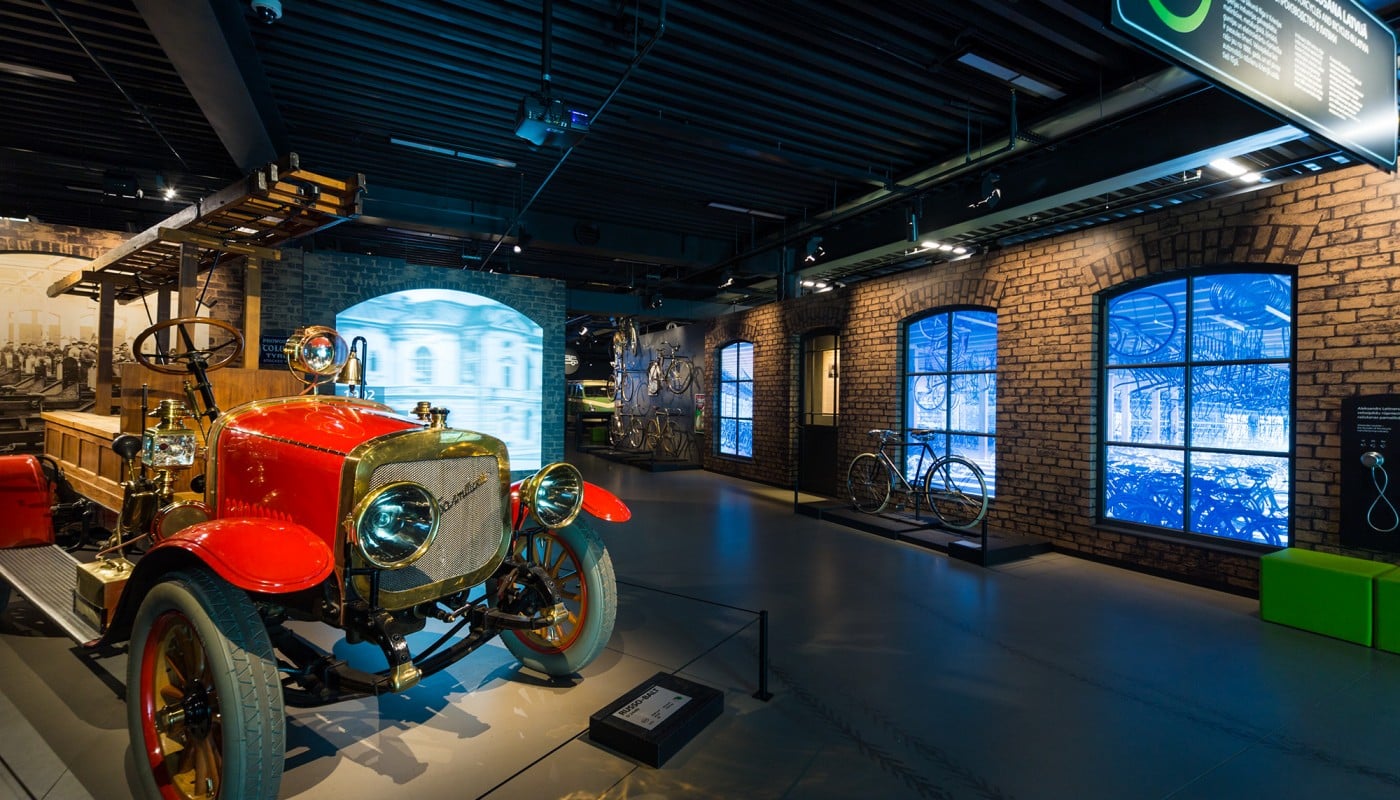 8. Splash About At Līvu Akvaparks
When you want a break from all the historical sightseeing, Livu Aquapark is the place to come. Located on the edge of a lake, this water park boasts both indoor and outdoor fun (outside is summer only, of course!).
There are three areas – one for all the splashing around, one for families and one spa and sauna area to relax in. Between these, you'll find Kamikaze, a slide for adrenalin junkies that's the height of a 5-story building, a 45-meter water loop, an almost too realistic wave pool, and a tornado pipe.
If all this sounds a bit overwhelming, or you like to relax after going on all the slides, then Livu's got you covered. With a Tropic Wood Zone for more sedate playing, four different saunas, and a vast range of spa treatments, you'll definitely leave feeling ready to take on the world!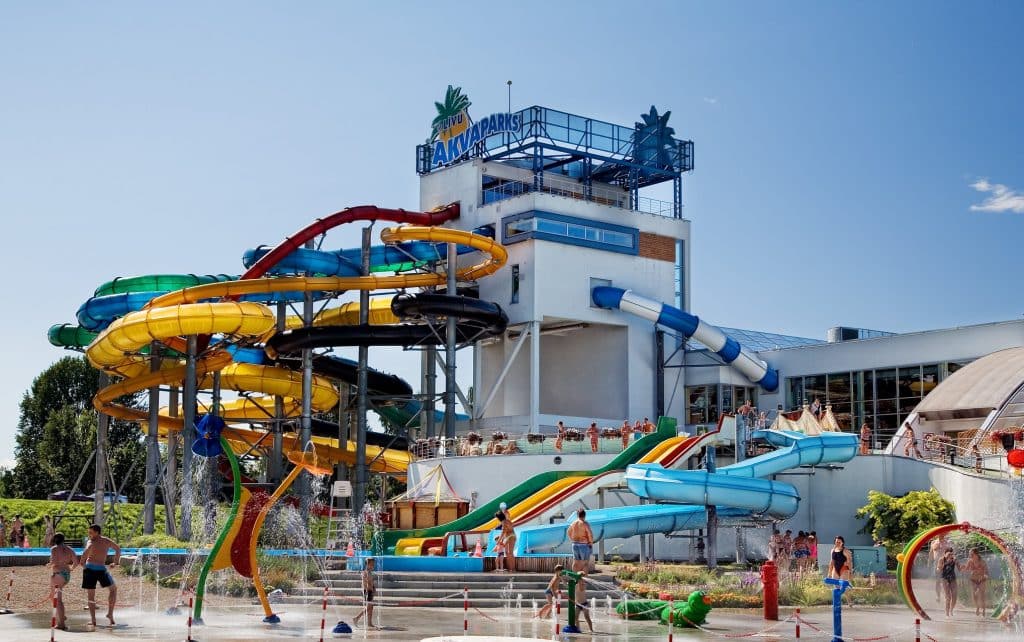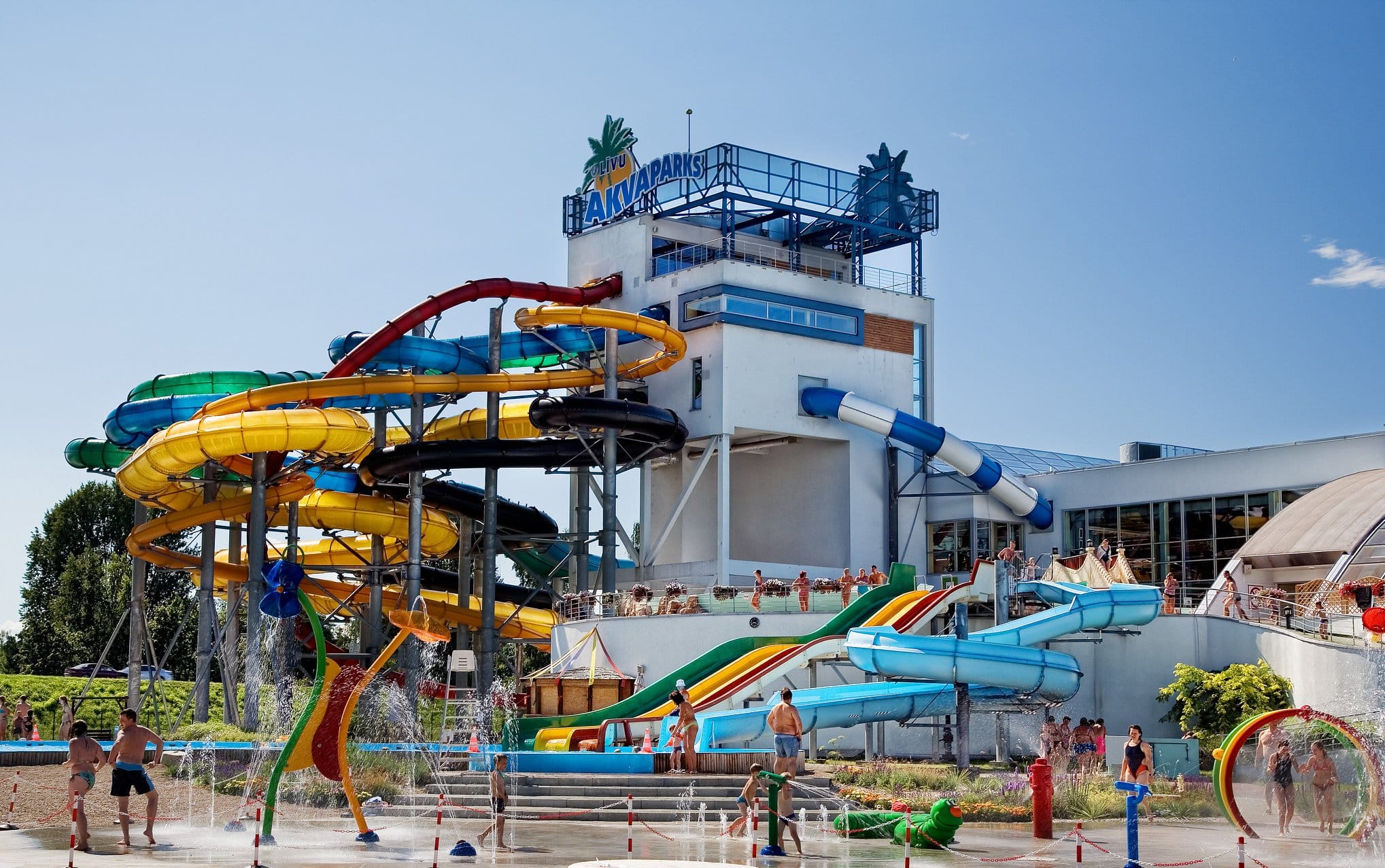 9. Dive Into A Storybook-Fairytale At The Latvian Ethnographic Open-Air Museum
One of the oldest and largest open-air museums in Europe is located on the lightly wooded banks of Lake Jugla, just a 30-minute drive from downtown Riga.
This museum is unique even when contrasted to similar museums around the world since it began to collect its exhibitions before the war. Thus many of its exhibition objects are still in outstanding condition and the only remaining examples left in many cases. The idea for the new museum was motivated by other open-air museums in Scandinavia, but particularly Skansen in Stockholm.
One hundred eighteen historical buildings from all four of Latvia's provinces – Kurzeme, Vidzeme, Zemgale, and Latgale, were put on display at the museum with most of them were originally constructed between the 17th century up until the 1930s.
Sadly, however, after WW2, the new Soviet powers that be didn't understand the nature of the museum and declared it ideologically incorrect. Many documents were also lost during this period, as were most staff as they were repressed or forced into exile. In the late 1960s, the museum saw a small renaissance, and when Latvia regained its independence in 1991, the museum was expanded. More high-value objects were placed into the museum resulting in the exceptional offering available today.
You can spend a few hours wandering around here in the vast, silent forest – stuck in a sort of magical time-warp – and if you get hungry, there is a beautiful café hidden in the middle with traditional delights and cute picnic tables. The Latvian Honey Cake here is simply not to be missed.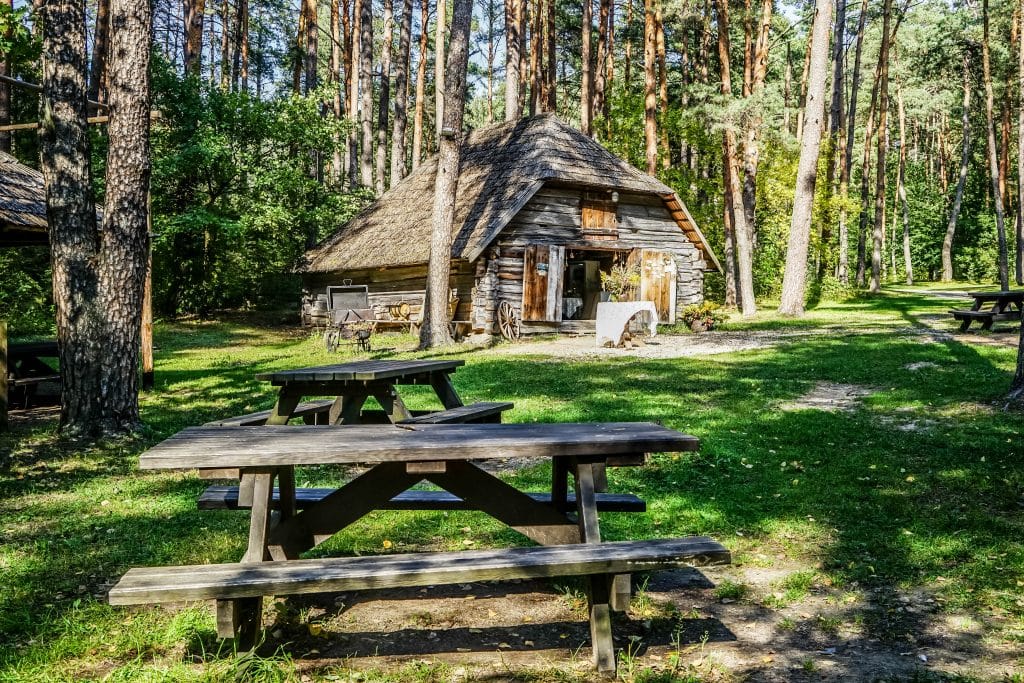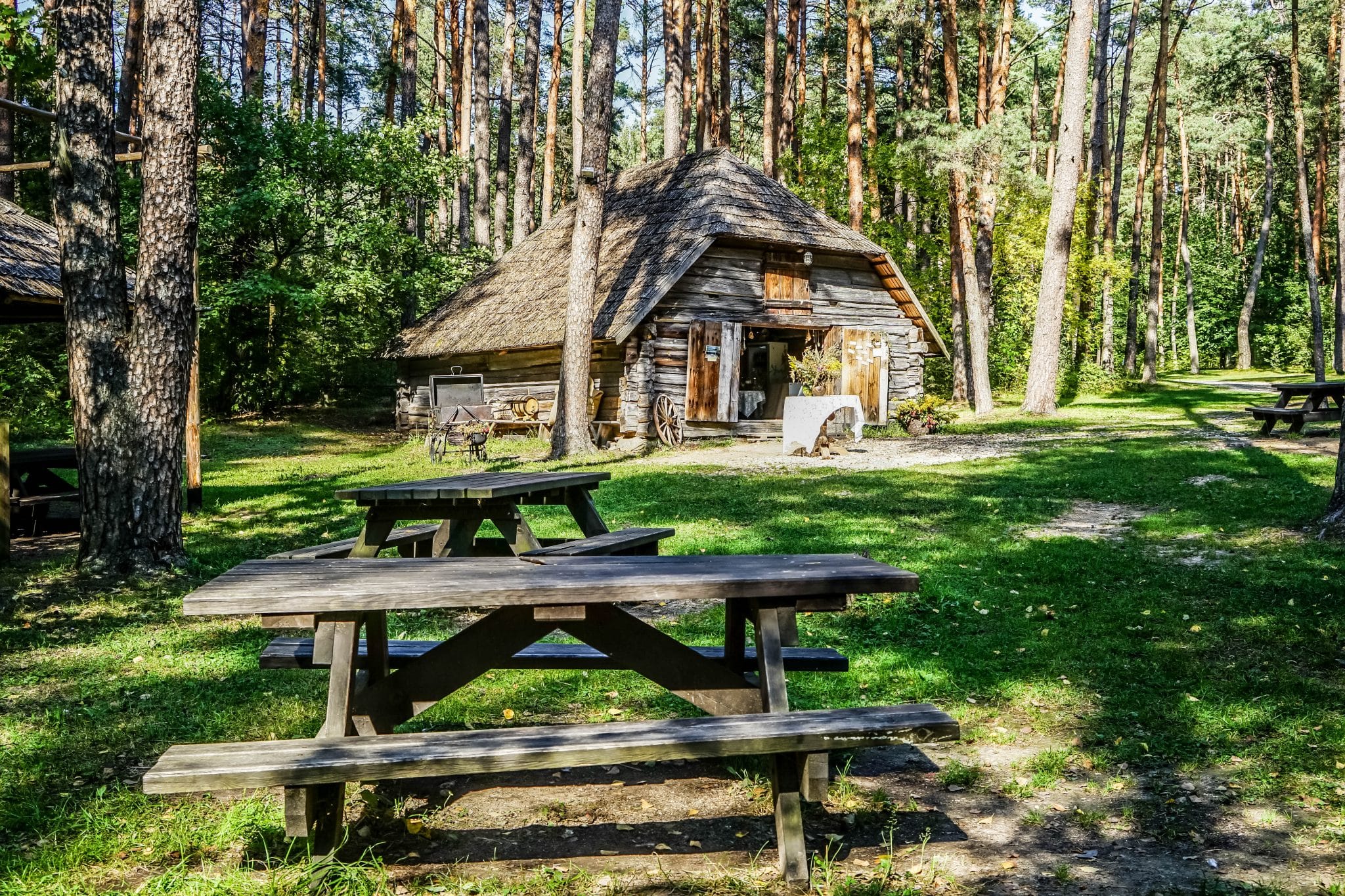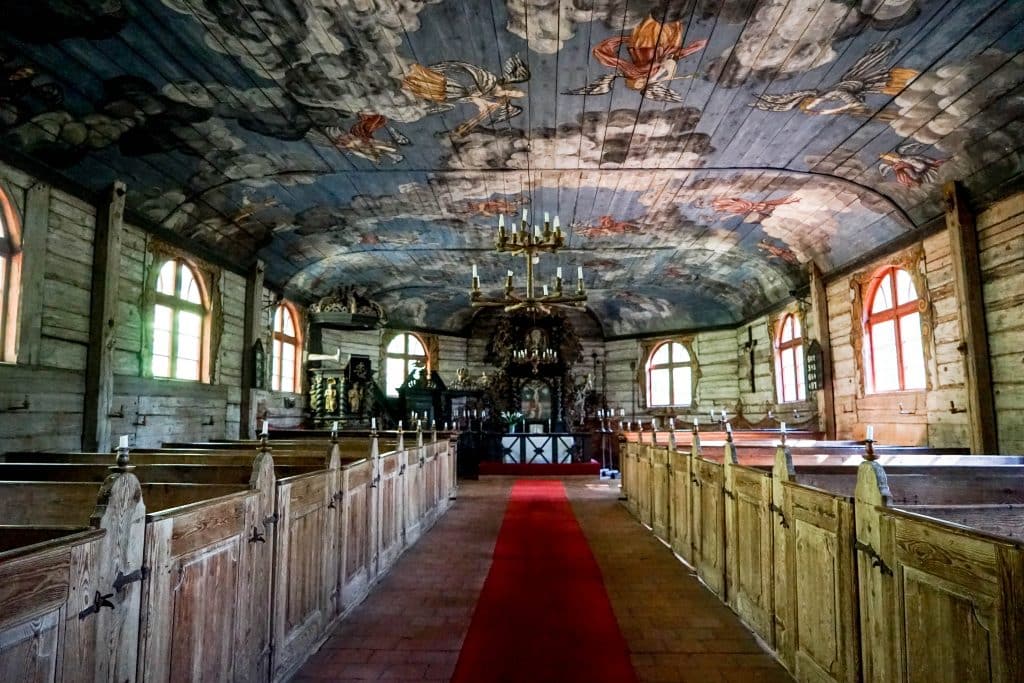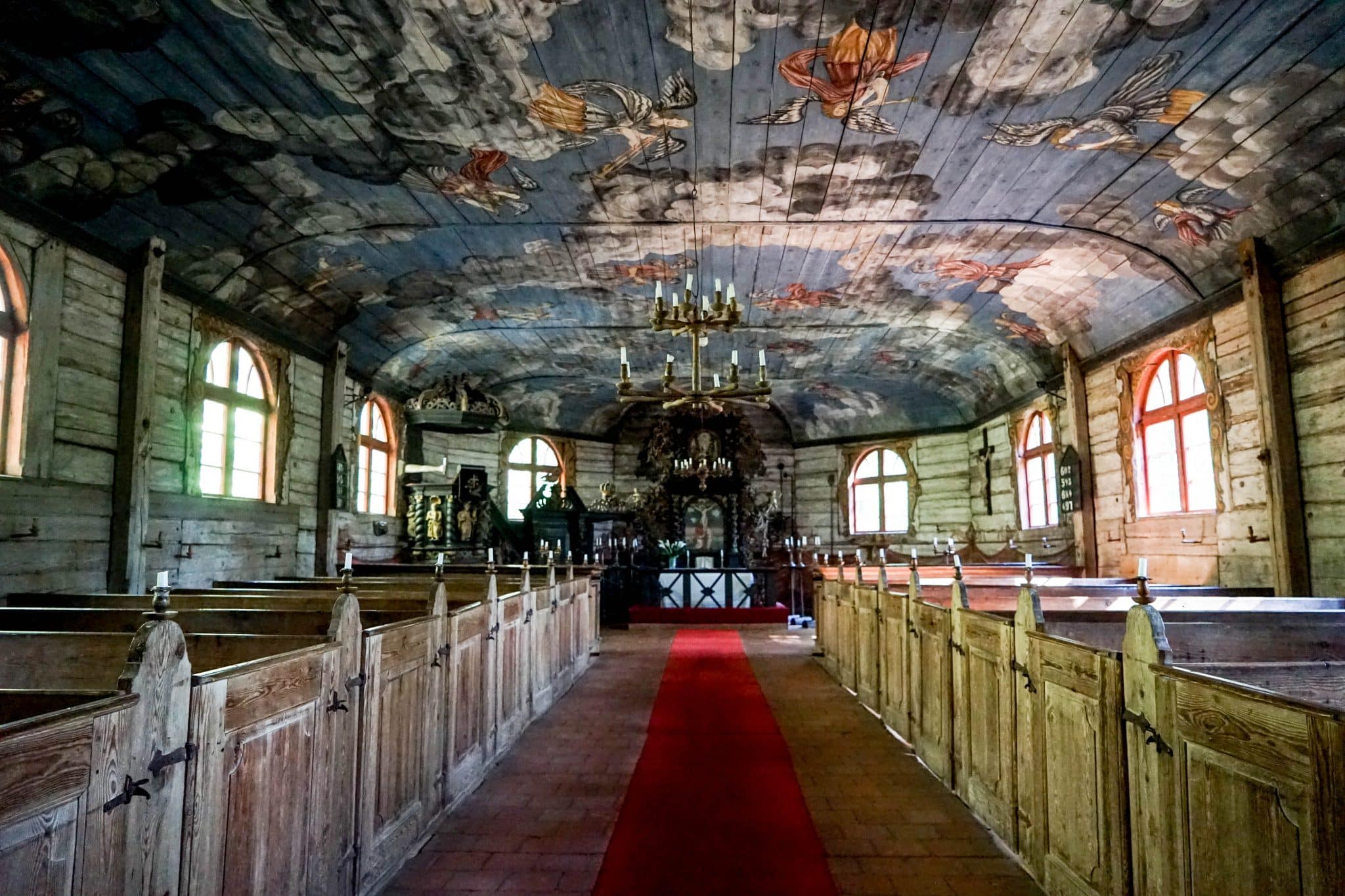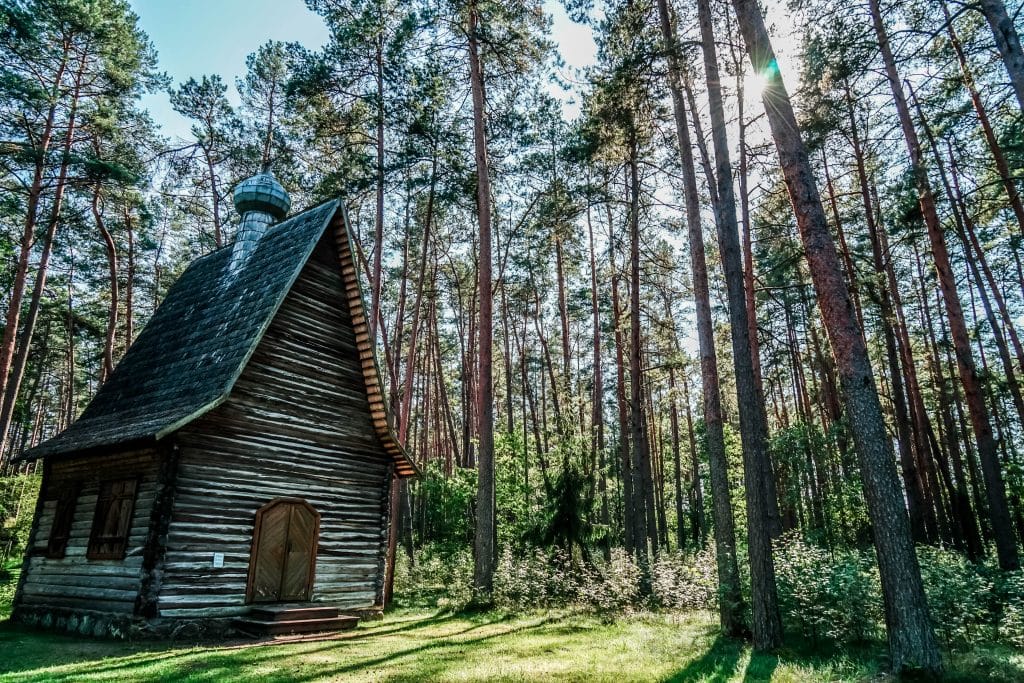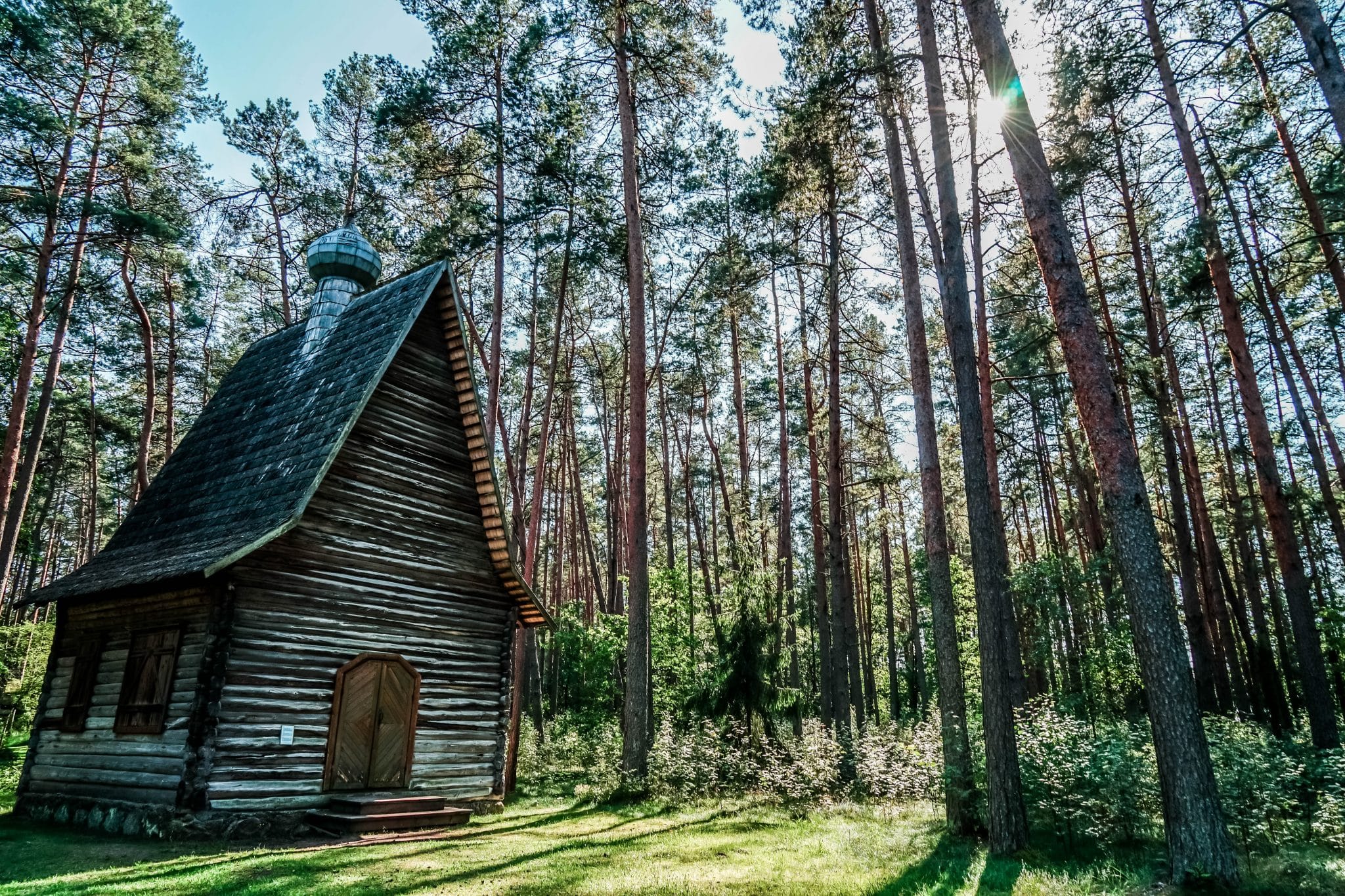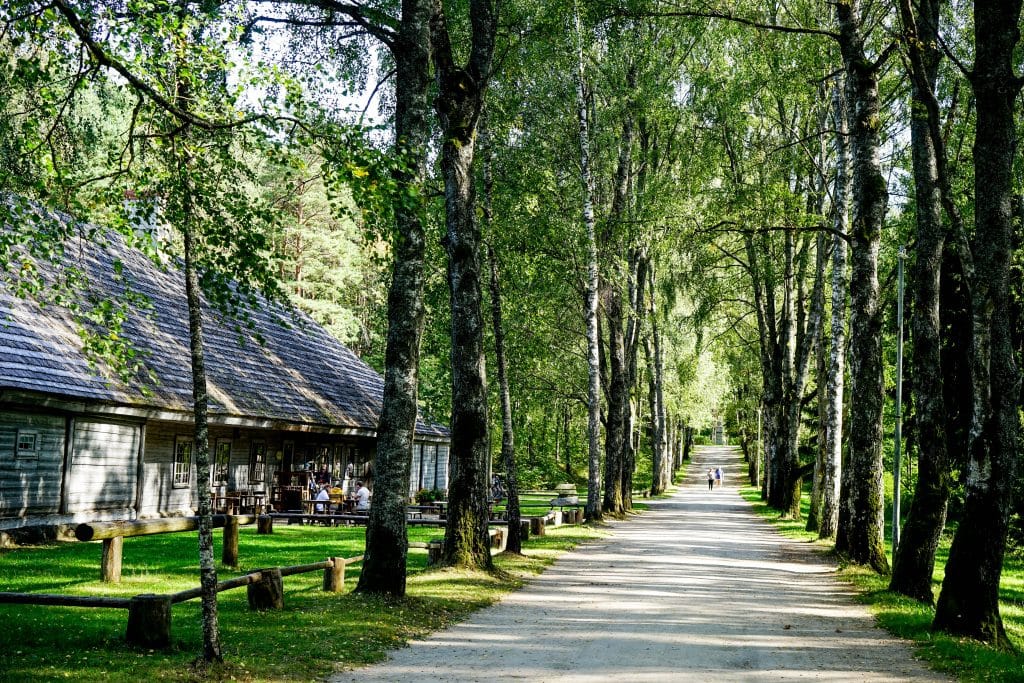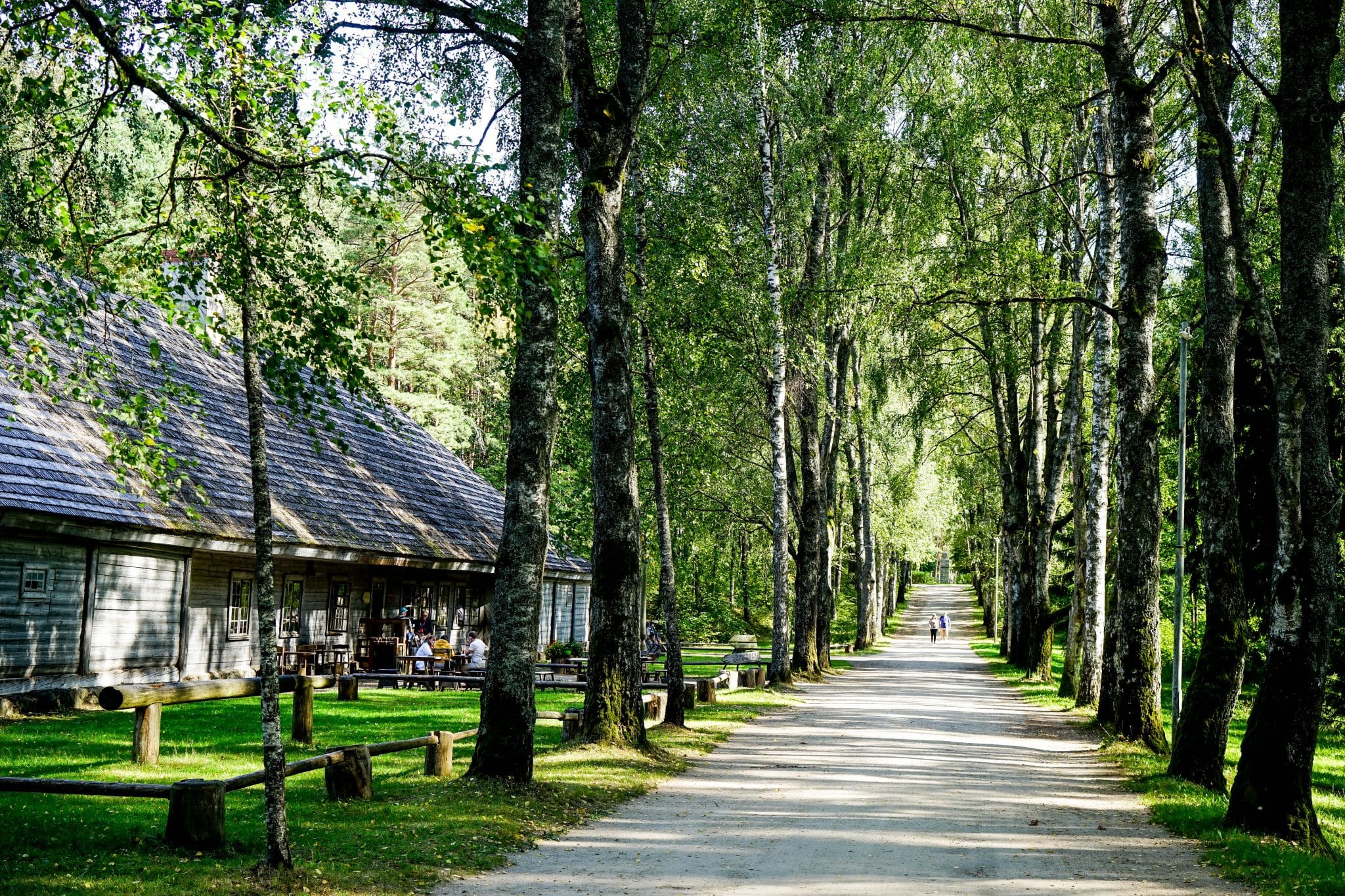 10. Soar Above The City At The Riga Radio and TV Tower
Hold the phone, did you know this was the tallest tower in the European Union (and the 3rd tallest in Europe)? For some reason, our minds still thought it was the Eiffel Tower!
Unfortunately, it's currently closed until 2023 due to an extensive renovation project. Yet, when that's complete, there will be a restaurant at about 100 meters, a Foucault pendulum, and the opportunity to see the tower's bomb shelter.
It began transmission in 1986 and has a projected service life of 250 years, so it will be interesting to see how the use of Riga Radio Tower changes as technology develops. For visitors to Riga, it's mainly interesting to see the incredible views from the observation platform at 97 meters.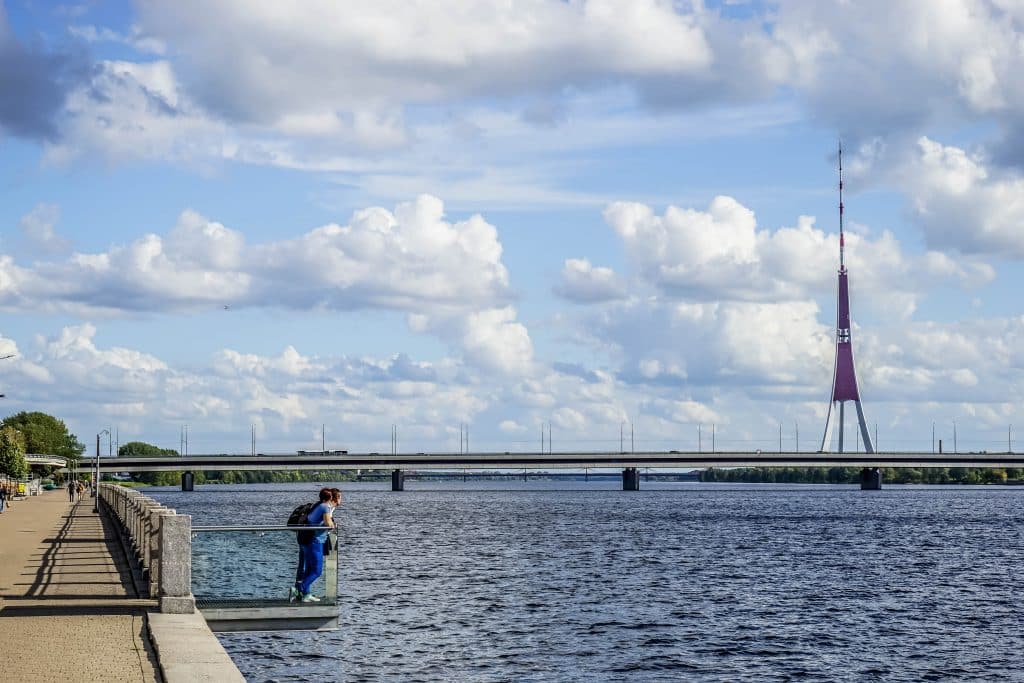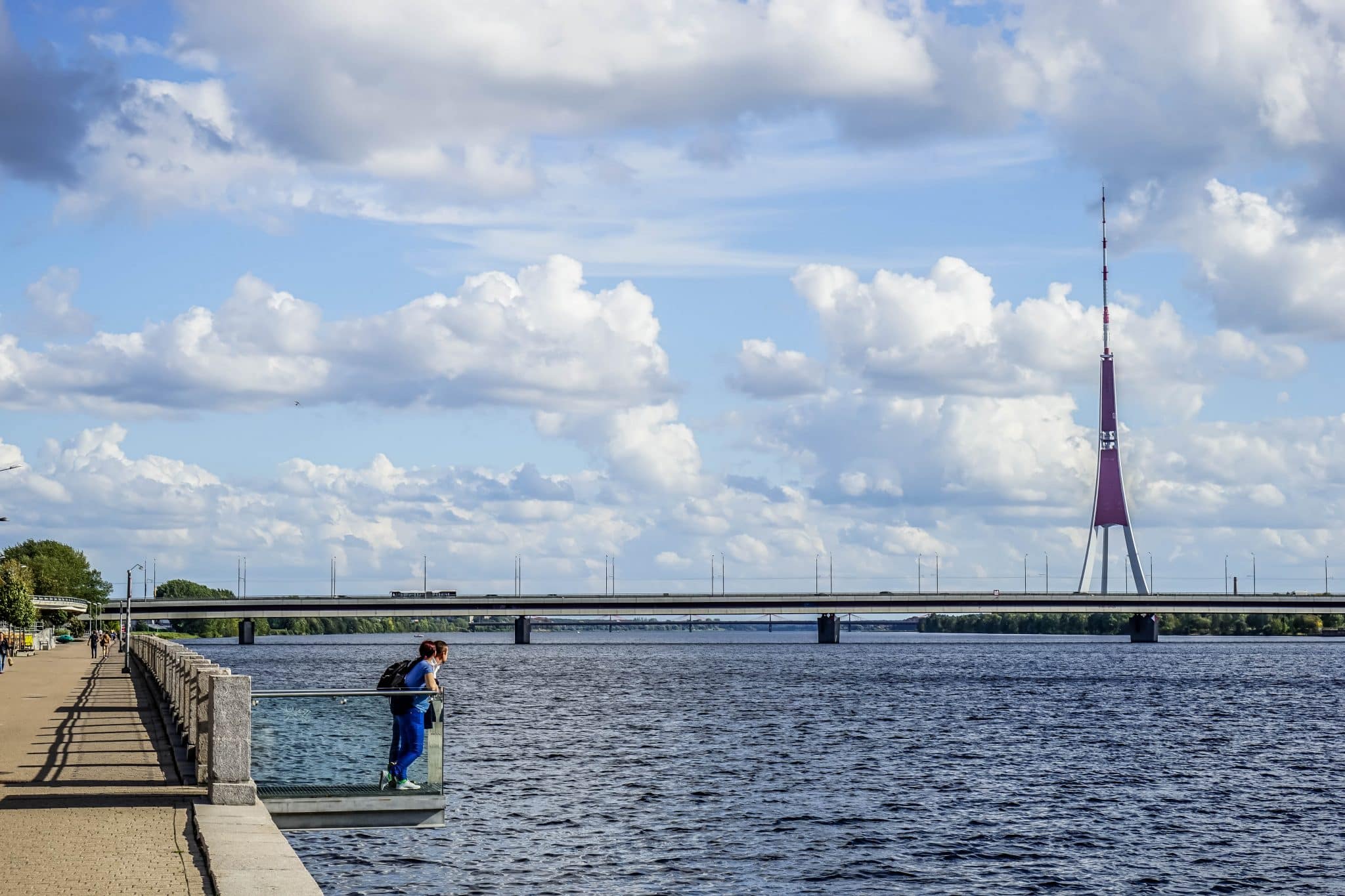 With its slightly convoluted name, this is the oldest public museum in the Baltic. It's located in the old cathedral monastery, which gives the historic collection an even more exclusive feel. It started life in 1773 as the private collection of a local doctor and has since grown into a substantial exhibition showing the history of Riga.
Artifacts date back to the Bronze Age with examples of pre-Christian jewelry and continue up to World War II. The navigation aspect of the name refers to the collection of instruments, ship models, maps, and plans that give an insight into how people found their way in times gone by.
The combination of the unique setting and the large group of pieces make it one of the most unusual things to do in Riga.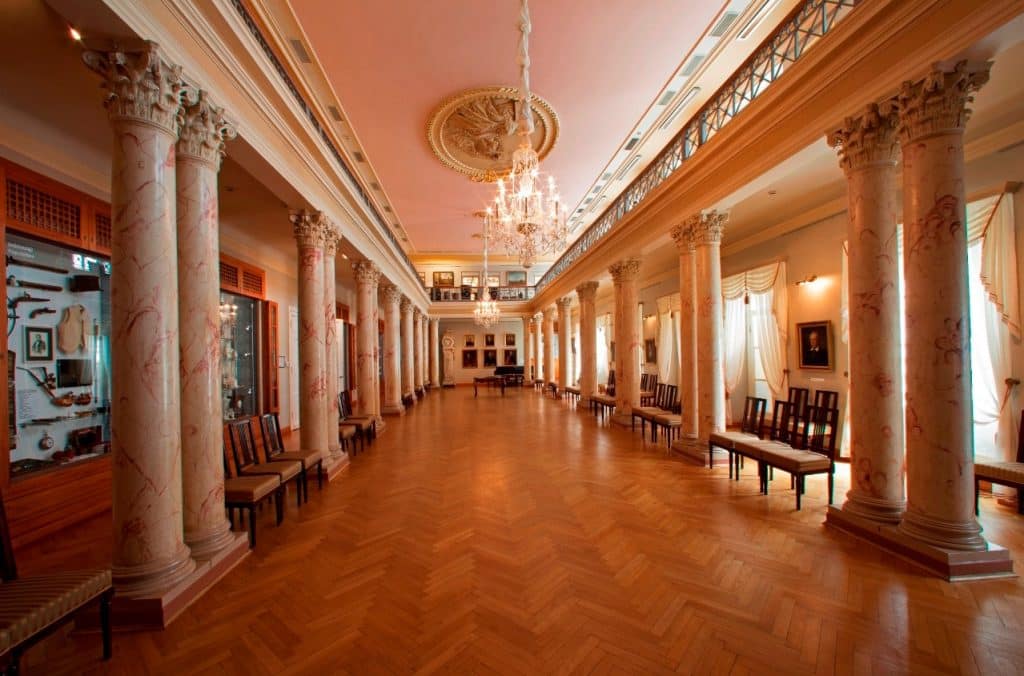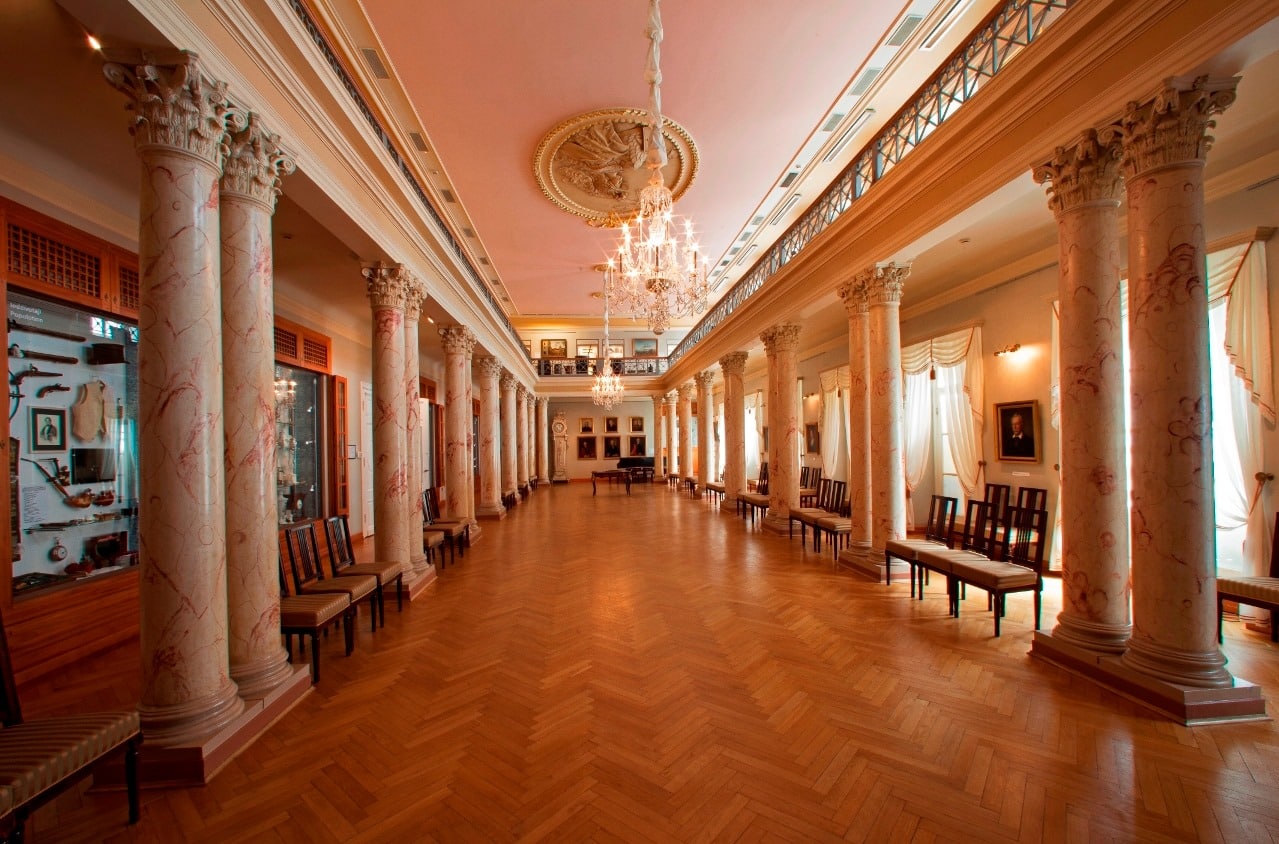 12. Make A Pilgrimage To The Transcendant Hill of Crosses
Not technically even in Latvia, but easily reachable on a day trip so worth a mention. The Hill of Crosses, or Kryziu Kalnas in Lithuanian, is a compilation of over 250,000 wooden crosses established on a small hill in Šiauliai in Northern Lithuania.
It is one of the most sensational sights in the Baltic countries — it is extraordinarily eery to wander around its crowded pathways, examining the mountains of crosses placed over time here.
The Hill of Crosses signifies the peaceful endurance of the Lithuanian people despite the threats they faced throughout history. The tradition began after an unsuccessful rebellion against Russian authorities in 1831 as families could not locate bodies of perished rebels. Hence, they placed symbolic crosses in place of a former hill fort instead.
The site took on a particular significance during the Soviet Occupation as Lithuanians left crosses at the site to manifest their devotion to their original identity, religion, and heritage – although the Soviets endeavored to remove new crosses, and even bulldozed the site on three separate dates. Its importance to Lithunains was fixed; however, in 1993, when Pope John Paul II visited and declared it a place for hope, peace, love, and sacrifice.
There are many ways to make a pilgrimage to this site. Still, one of the easiest is to enjoy a comfortable round-trip tour by private vehicle, learn more about the fascinating historical sites from your driver, and stopping as many times as you like to admire the views and take photos.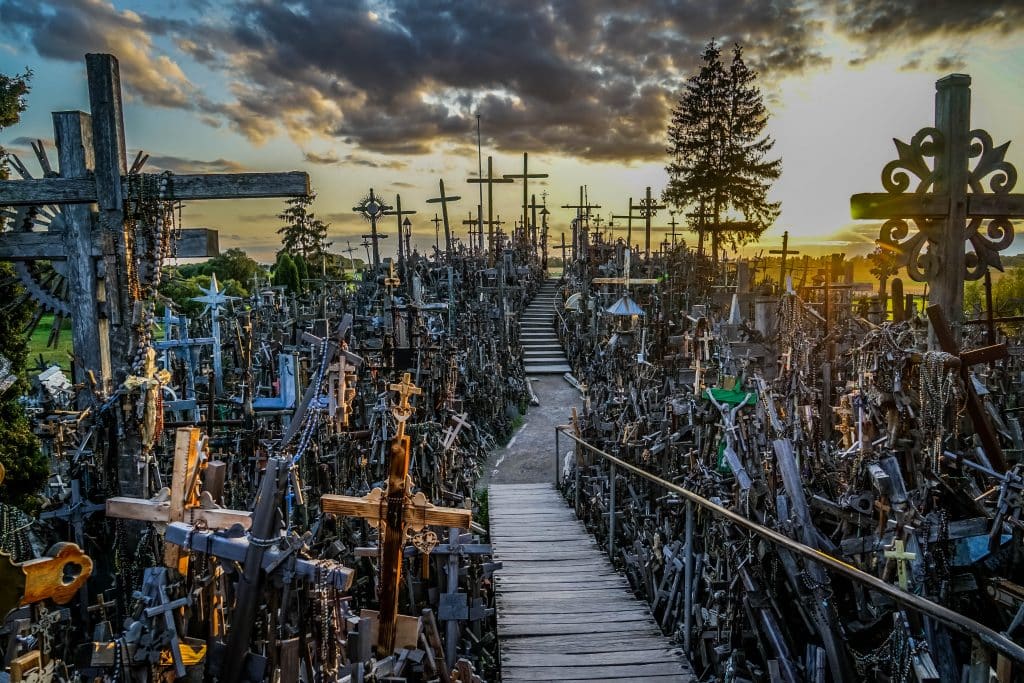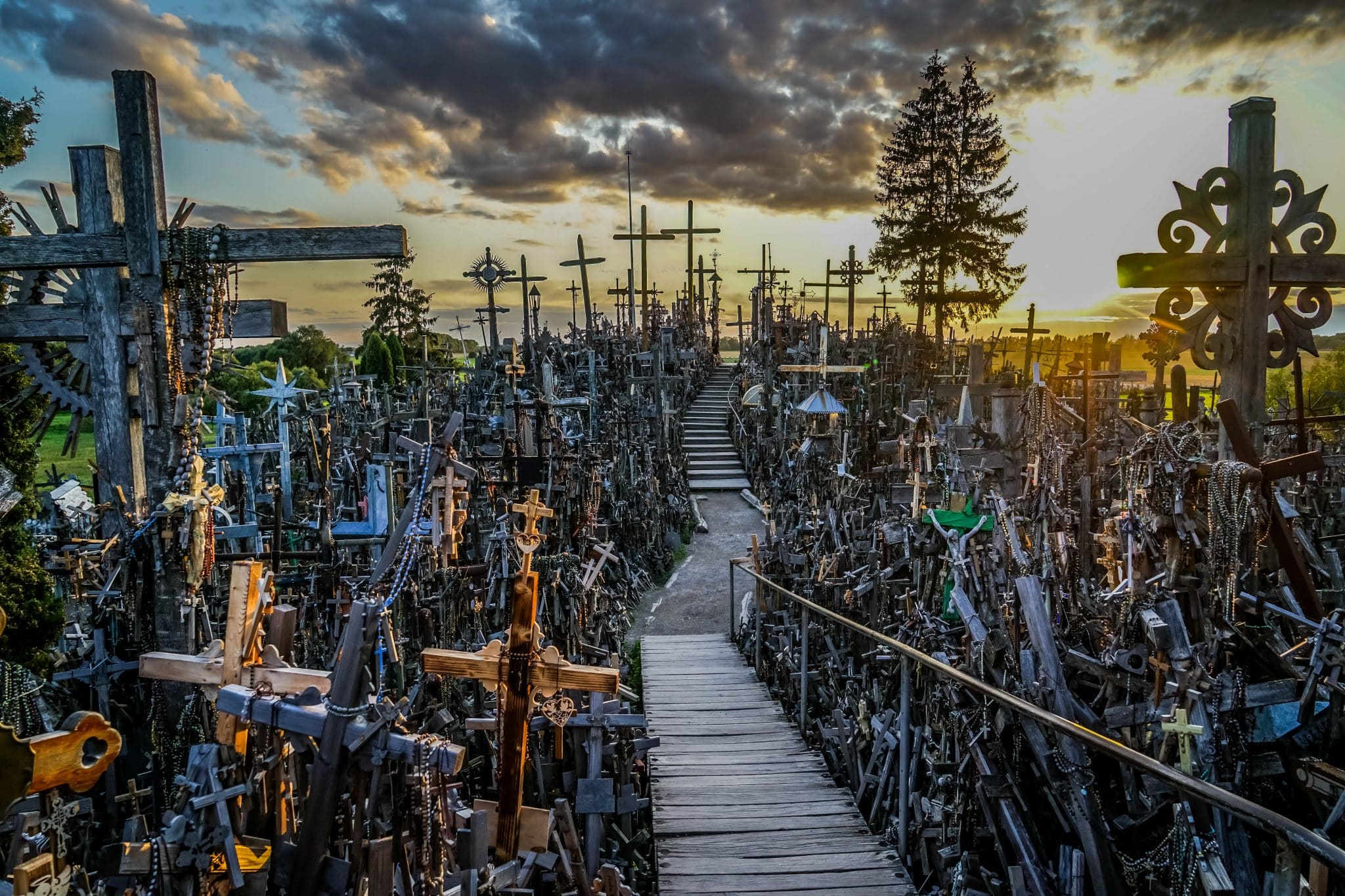 13. Take A Dip In The Baltic At Jumala Beach
Head out of town to Latvia's biggest and most famous beach resort, less than an hour from Riga by train or car. Spend the day taking in the glittering Baltic coast, relaxing on the white sand beaches of Jurmala, and roaming by bike around the old wooden neighborhoods. If you are feeling a little more wealthy, you could also indulge in a luxuriating spa day, or treat yourself to a meal at any of the area's fine restaurants.
When Latvia was part of the Soviet Union, Jurmala was a popular holiday resort for high-level Communist Party officials. Beach-houses and concrete hotels remain from this era, although many have fallen into disrepair.
In the past decade, the fortunes of Jurmala have once again risen as the town became a well-known bolt hole of wealthy Russians looking to hide their fortunes. If for no other reason, a trip is warranted here as the contrast between Jurmala and Riga is fascinating in and of itself.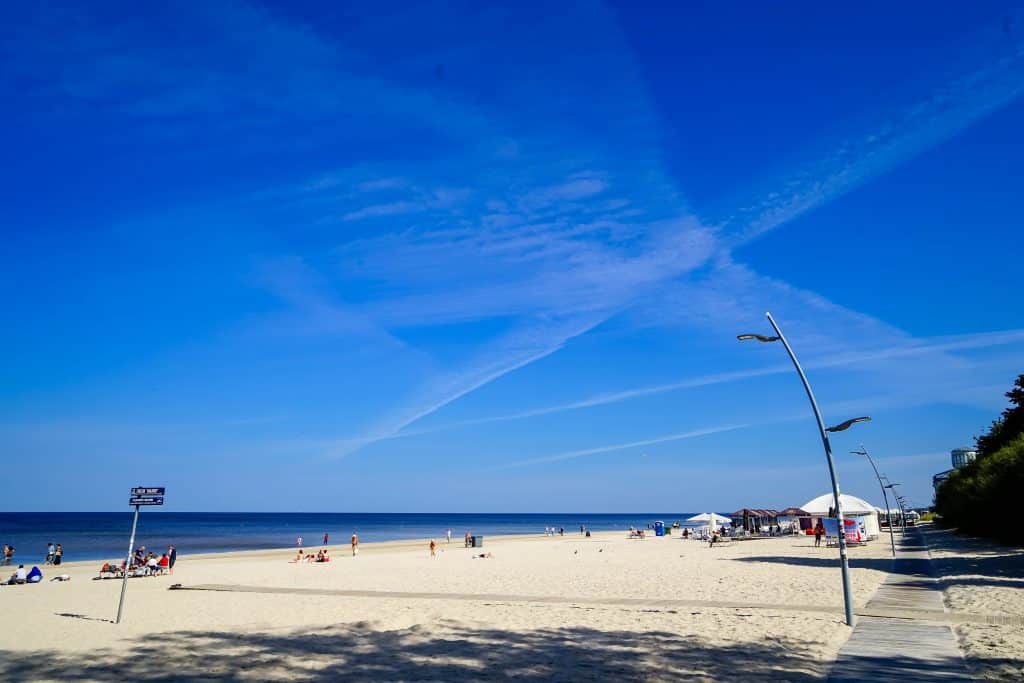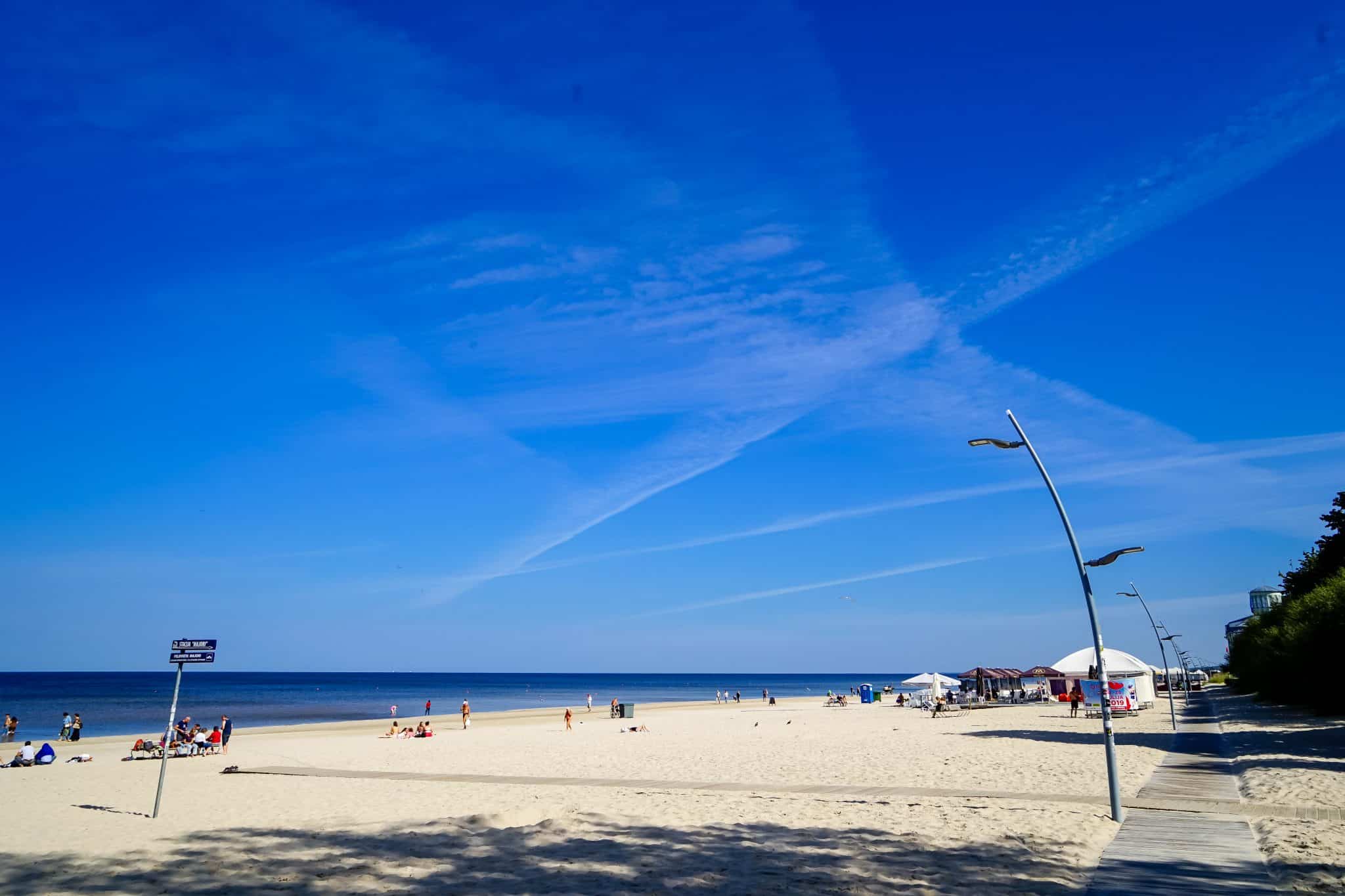 14. Indulge Your Sweet Tooth At Laima Chocolate Museum
Don't tell your dentist you're coming here, of course, but the historic Laima Chocolate museum is too much temptation to resist.
You can smell the cocoa from several streets away, so simply follow your nose to find yourself in this interactive museum dedicated to all things chocolate. Laima started in 1870, is Latvia's biggest chocolate producer, and the owner opened the museum on the site of the factory to entice more people in.
Here you'll learn about the chocolate-making traditions of the company through exciting videos, create videos of your own, learn how to make some of the treats the company produces, and even get a message printed on a chocolate bar. It's great for kids – or adult chocoholics!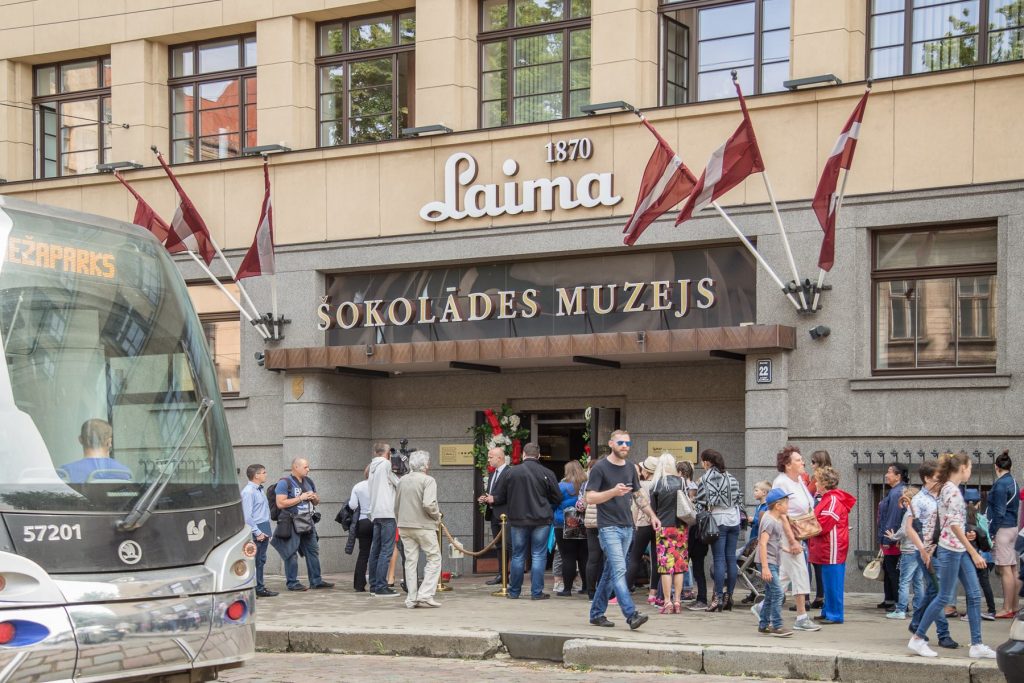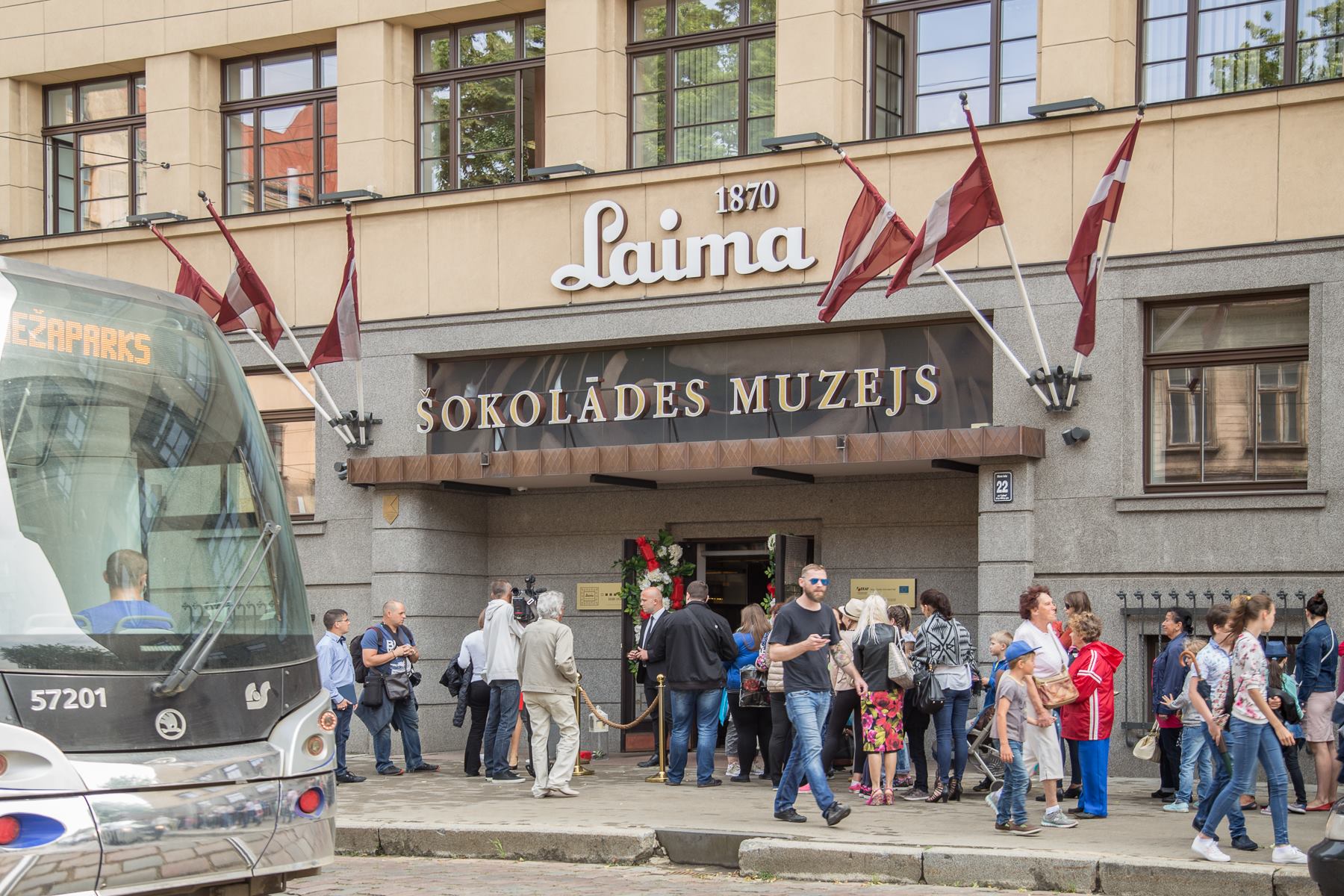 15. Dream Of Taking Flight At The Riga Aviation Museum
Whether you're a fan of the world in the skies or not, this eclectic outdoor museum is a fun place to visit. It's logically located on the grounds of Riga International Airport, meaning that while you admire the collection of aircraft from the past while the present-day versions zoom overhead.
What's even more fascinating about it, is that it all exists because of one keen aviation engineer, Victor Talpa. As well as building one of Europe's more unique collections, Talpa also established a Young Pilots' Club for aviation-keen teens.
In 1997 the museum was fully privatized and opened up to the public. All the exhibits are outdoors, so are slightly weather-worn, but for those interested in the Cold War or engineering, it's a must-see. The planes range from the huge Mi-6 helicopter to MiG fighter jets and demonstrate the evolution of aviation. Given its location, it's the ideal place to visit when you've got an hour or so to kill before your flight.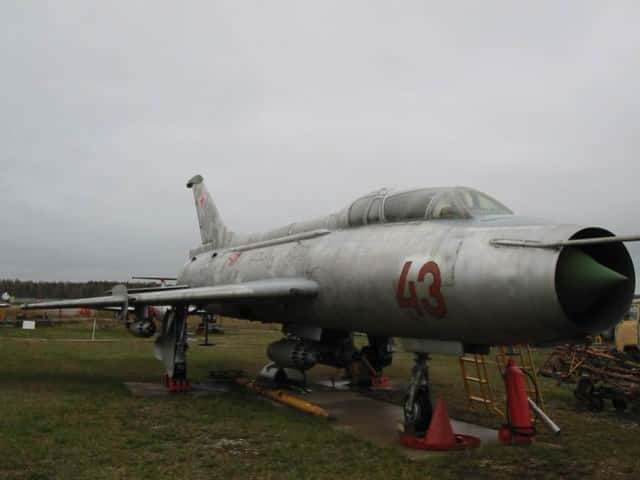 16. Embrace Your Inner Train Enthusiast At The Latvian Railway History Museum
Reading this list, you'd be forgiven for thinking that Latvians have a bit of a thing for transport; however, the museums on this theme do tend to be among the most quirky and unusual things to do in Riga. The Latvian Railway History Museum is no exception to this rule.
Located in a former engine warehouse from the 19th century, it features a reconstructed waiting room, offices for the station master and ticket counters, and a train platform. You can also get a look at diesel and electric locomotives, including a 1930s passenger carriage and a prison car from the Tsarist era.
As well as these delights, you also inspect the vast collection of memorabilia, which includes photographs and postcards, uniforms, and tickets. Something about this patchwork of items from history makes the exhibit more real, as you get a sense of all the people who used to go about their daily lives on the Latvian railways.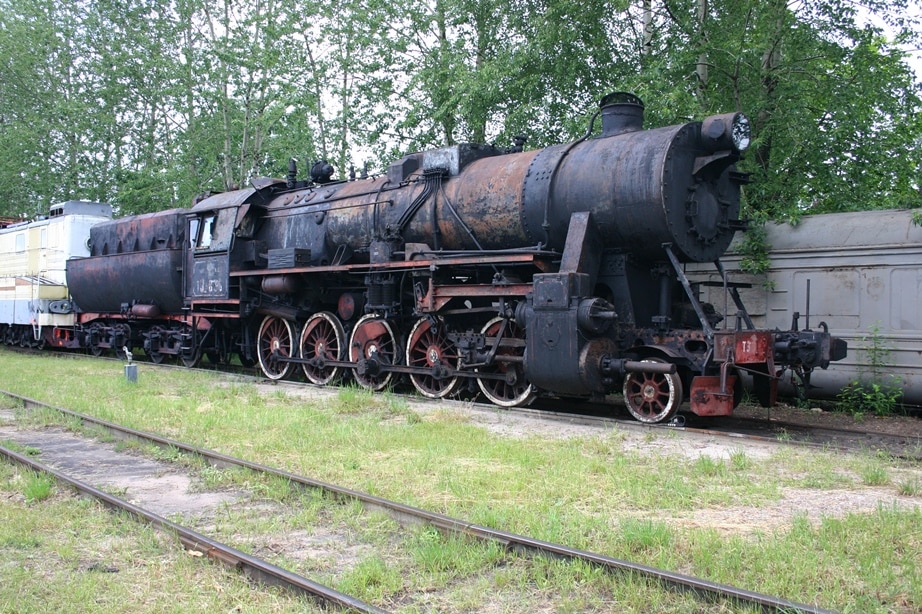 17. Hang With Local Hipsters At The Tallinn Street Quarter
One of the current hotspots of hipster Riga, this industrial zone, was used as a depot for ambulance cars in Soviet times but is now finding a new lease on life thanks to several bars and art venues.
Head by during the day to admire the range of street art and post-industrial decay vibes (or just grab a coffee from the newly opened Rocket Bean Roastery) – but for maximum effect head in the evening or night to enjoy food, craft beer, and a buzzing nightlife scene of Tallinas Kvartāla Ezītis Miglā.
Known for endless summer parties, long conversations, and beautiful encounters, this utterly hipster spot found in a former mechanics garage offers food, refreshing delicious cocktails, and an environment where everyone can feel at home well into the night. Various arts, music, and other events take place here regularly – and the outdoor terrace in summer is one of Riga's hidden gems.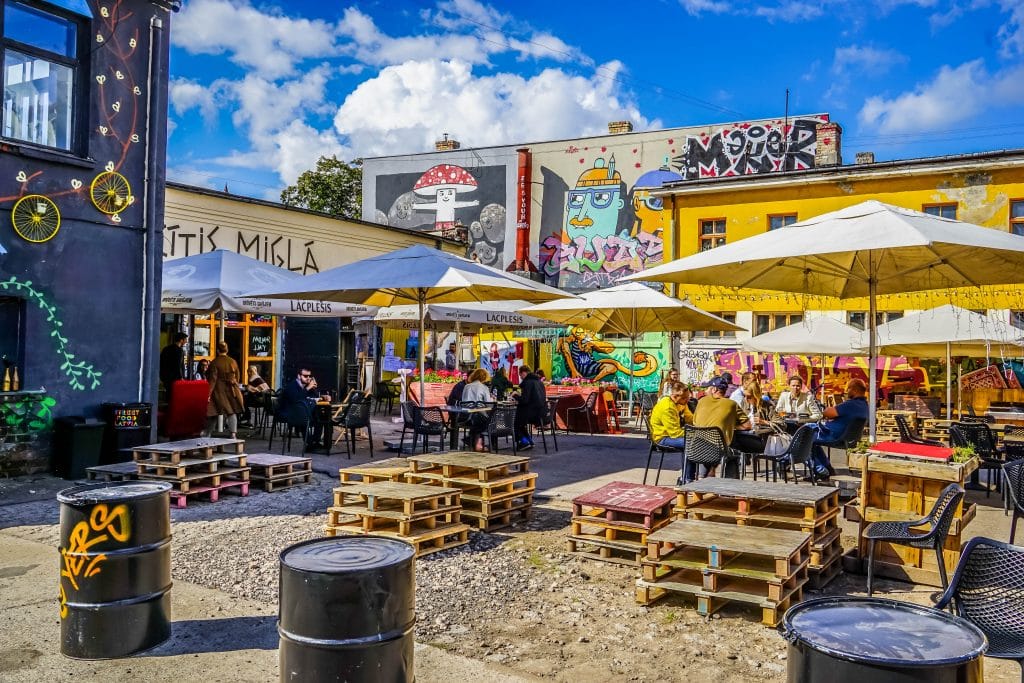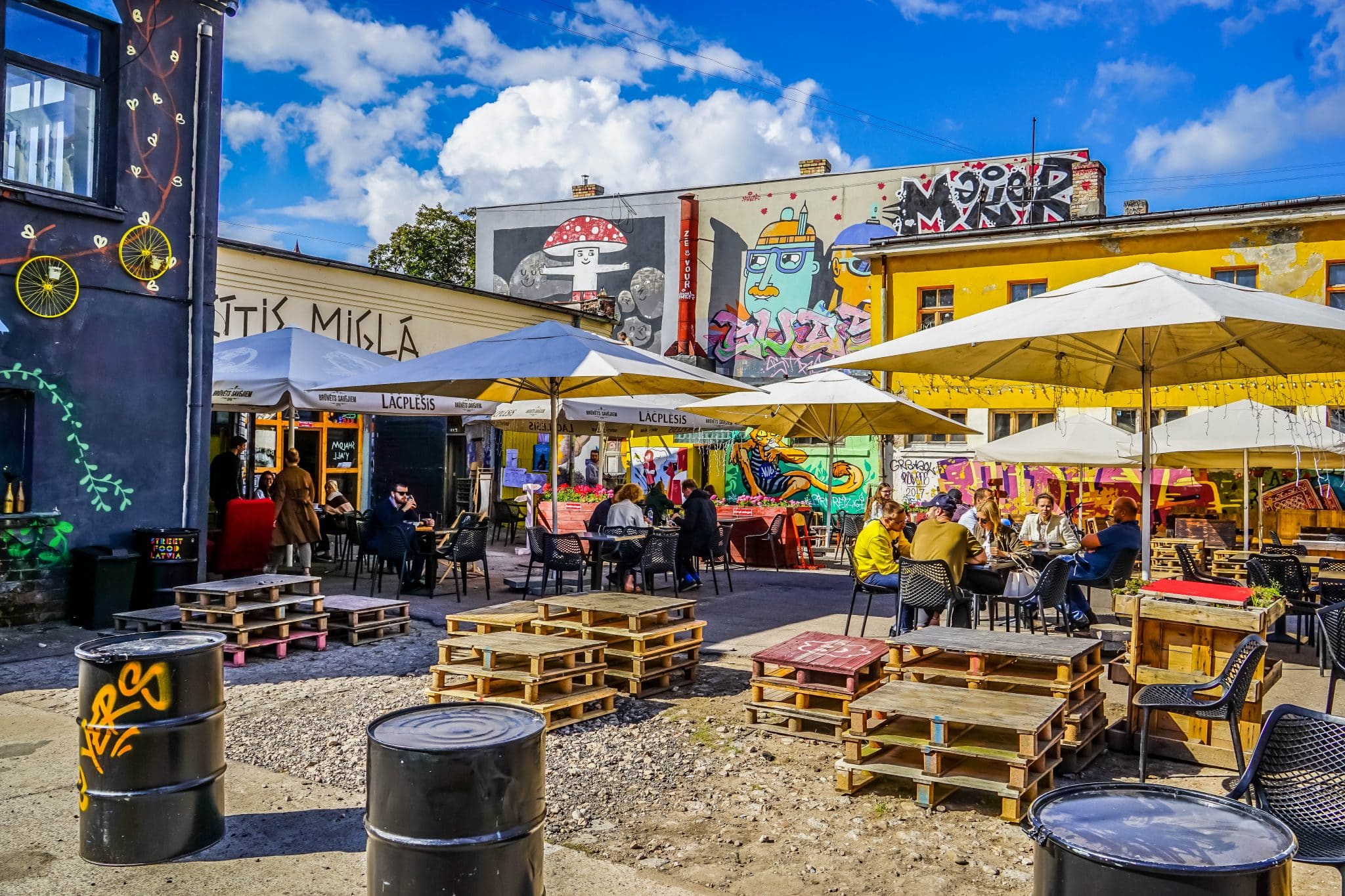 18. Drop-In To The Kalnciema Ezītis Miglā Tram Bar
Another in favor location of the Ezītis miglā hipster chain of bars. Tucked away on the other side of Riga across the river, in a lively art and entertainment enclave surrounded by beautifully restored wooden buildings.
Explore the area, before settling in with a glass (or bottle) of wine in their outdoor seating area with old hipster trams or inside if the weather is refusing to co-operate. Opened in 2018, the Ezītis Miglā Tram Bar is an absolute must-visit and adds to the creative spirit of the surrounding Quarter.
The Ezītis Miglā chain is wildly popular with locals, as each location offers an entirely different concept and design theme. While currently, these locations are our favorite, this is likely to change as Ezītis Miglā expands.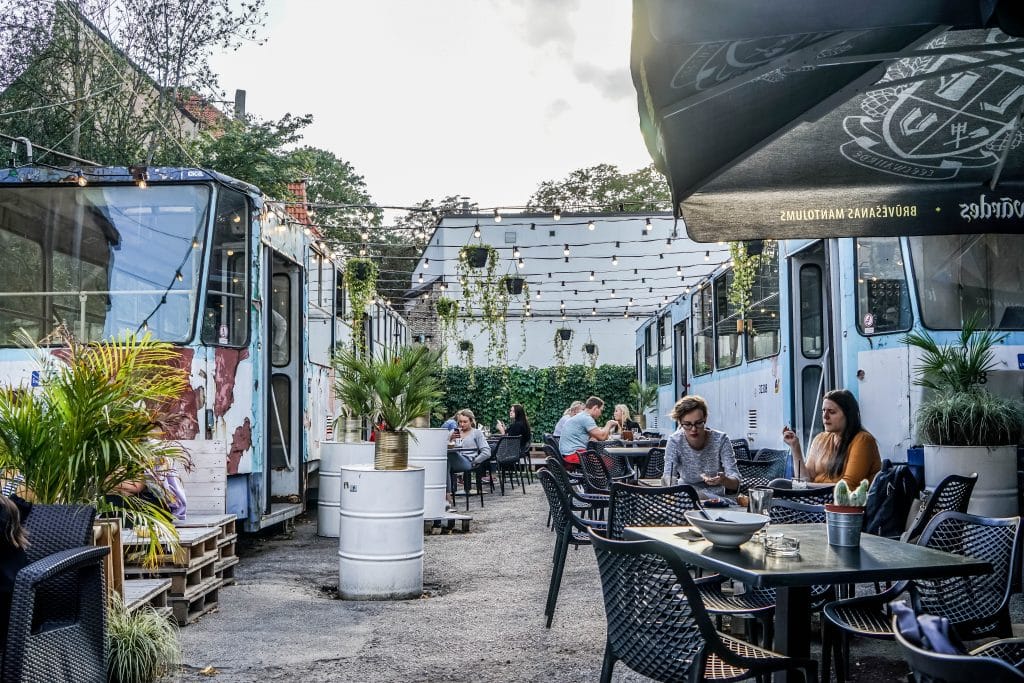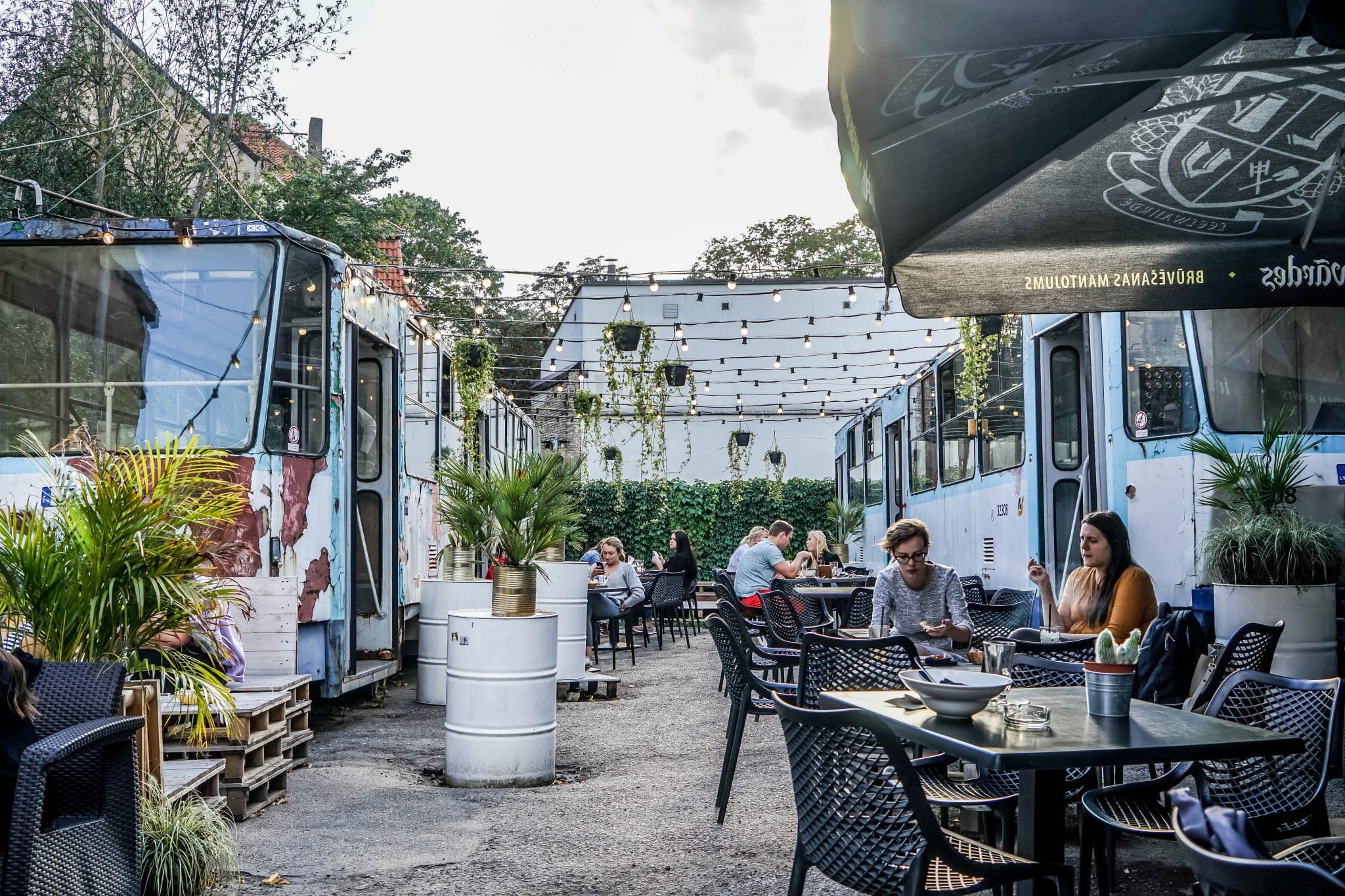 19. Get Really Off-The-Beaten-Track in Sabile
Sabile is a gorgeous little town around 1.5 hours from Riga that was formed in the ancient valley of the River Abava in the 13th-14th century by traders and craftsmen. Today, the Old Town of Sabile mesmerizes its sightseers with an exceptional mix of history, wine, and visual delights.
A place to pause, take time and let small-town life take you over, Sabile allows you a glimpse into what life in Latvia is like outside of Riga. Sabile Wine Hill is the most famous attraction in the city and was previously listed in the Guinness World Record Book as the most northerly vineyard in the world – before Norway overtook it. Thanks, global warming…
There is also a wooden toy museum, beautiful hikes, cute restaurants, and the infamous Doll Garden of Sabile, a somewhat disturbing garden chock-full of hundreds of endlessly smiling doll people. A wonderful day trip from Riga, reachable either by public bus or by hiring a car. We recommend combining it with the nearby Pedvale Open Air Museum.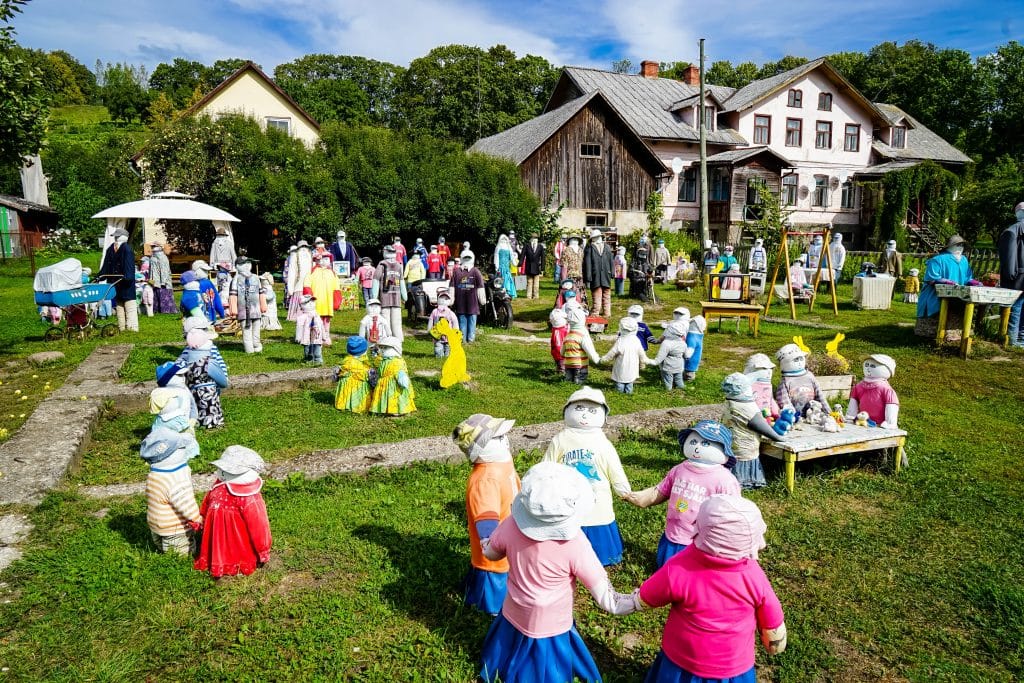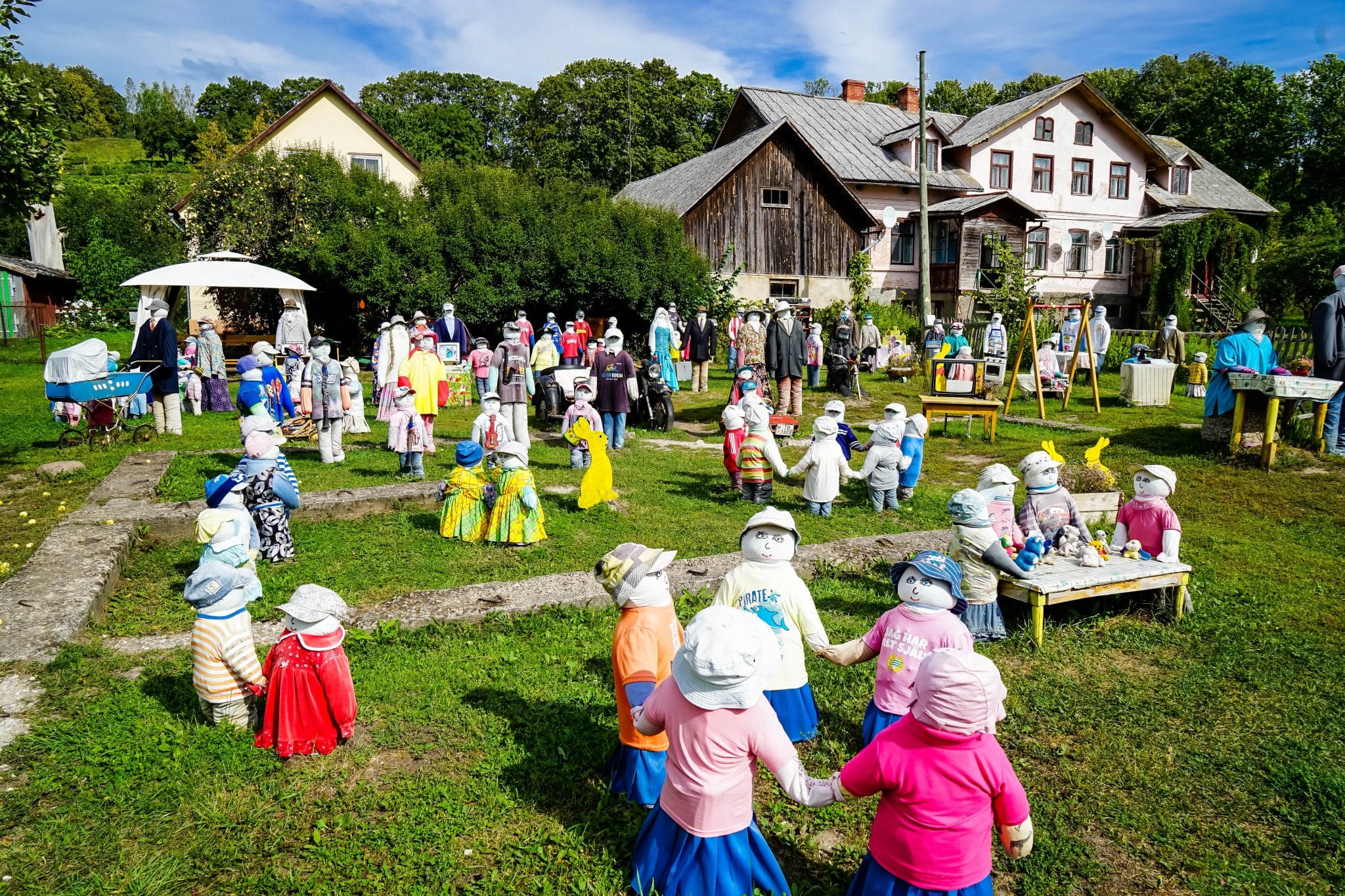 20. Discover Modern Art In A Beautiful Setting At The Pedvale Open Air Museum
In the northwest part of Latvia, next to Sabile town, you will find the curios Pedvale Open Air Museum – one of the most wonderful and unexpected attractions we visited in Latvia. After the restoration of the independence of Latvia, in 1991, the sculptor Ojārs Arvīds Feldbergs obtained the manors of Firckspedvale and Brinkenpedvale and started developing the Open-air Art Museum and in 2018 opened the Pedvale Art Park to the public.
The terrain of the Art Park encompassed almost 100 hectares of meadows, bushes, steep slopes, deep valleys, streams, and a winding river – all of which visitors are free to wander around and visit. The conception of the Art Park is to integrate the natural landscape, cultural heritage, and art into a single space, and artists who participate in the museum's creative projects are encouraged to get inspiration from the surrounding area and to use the natural materials available there.
You will need to hire a car to get here or take a bus and walk from Sabile, but there is no way you will regret the extra effort as you spend hours in awe of the interaction of art and nature in this exceptional space.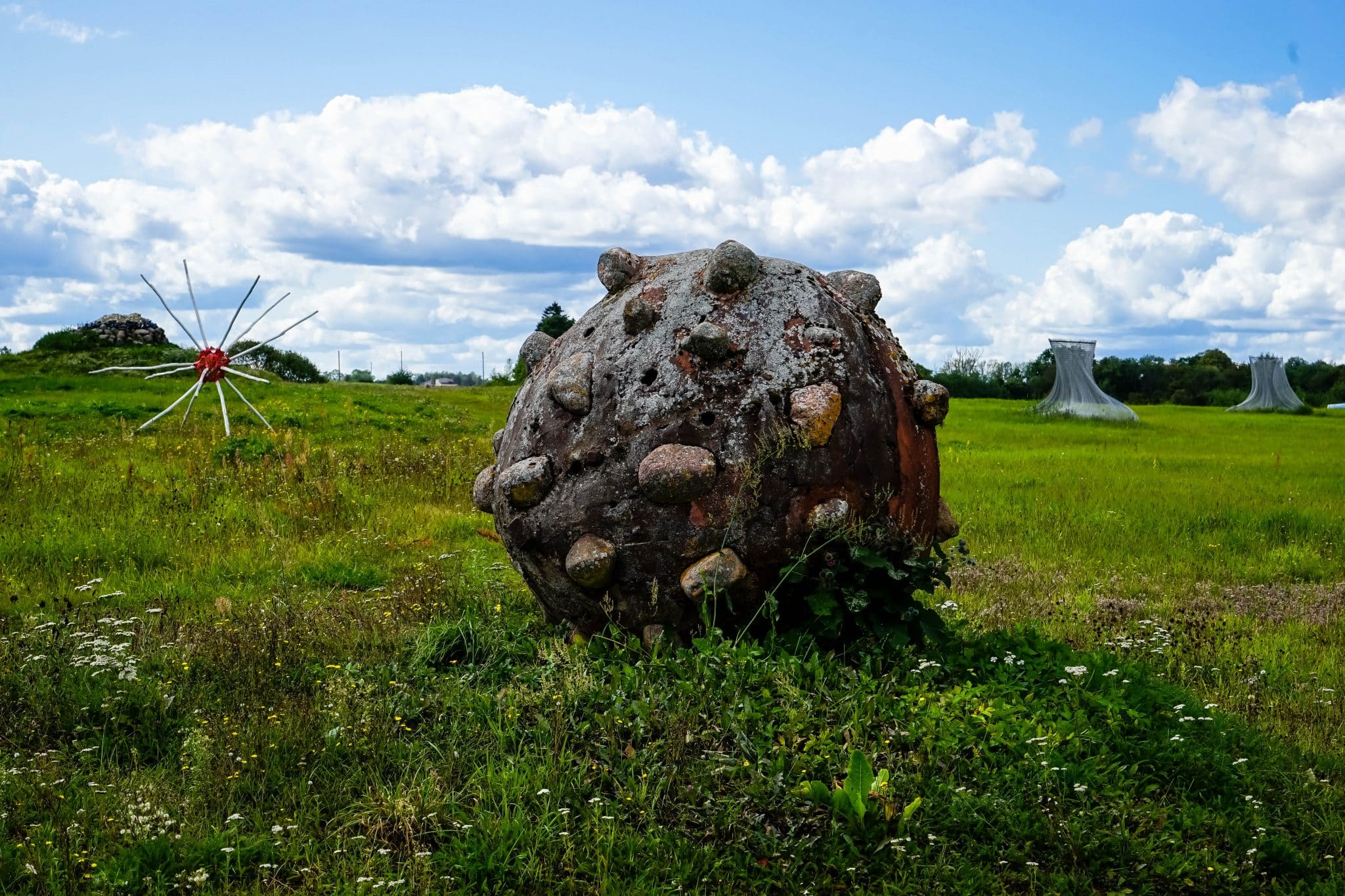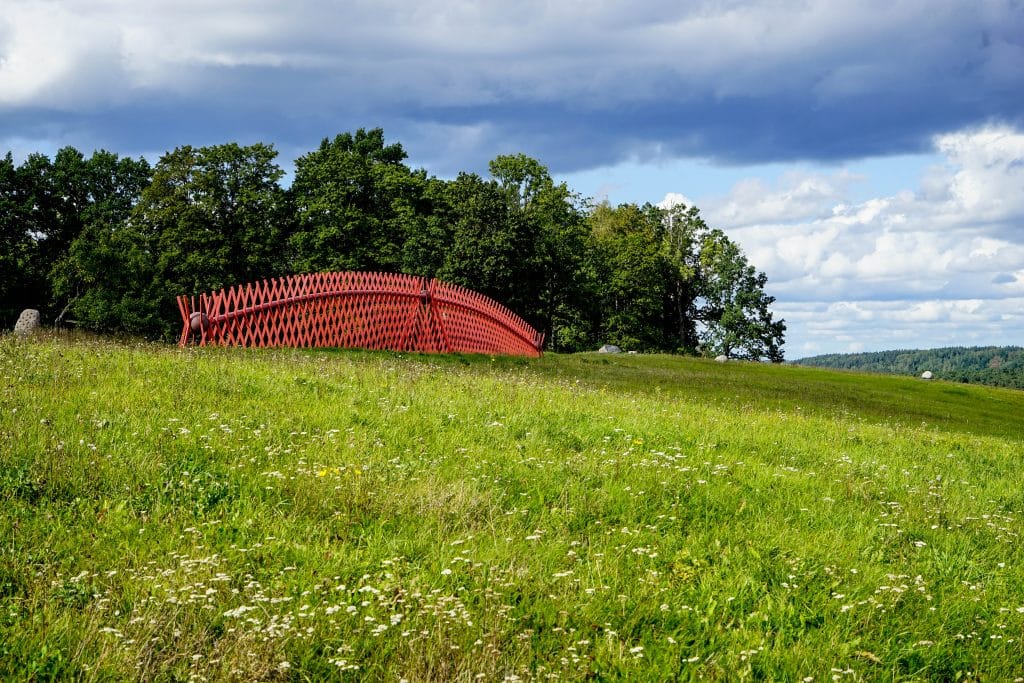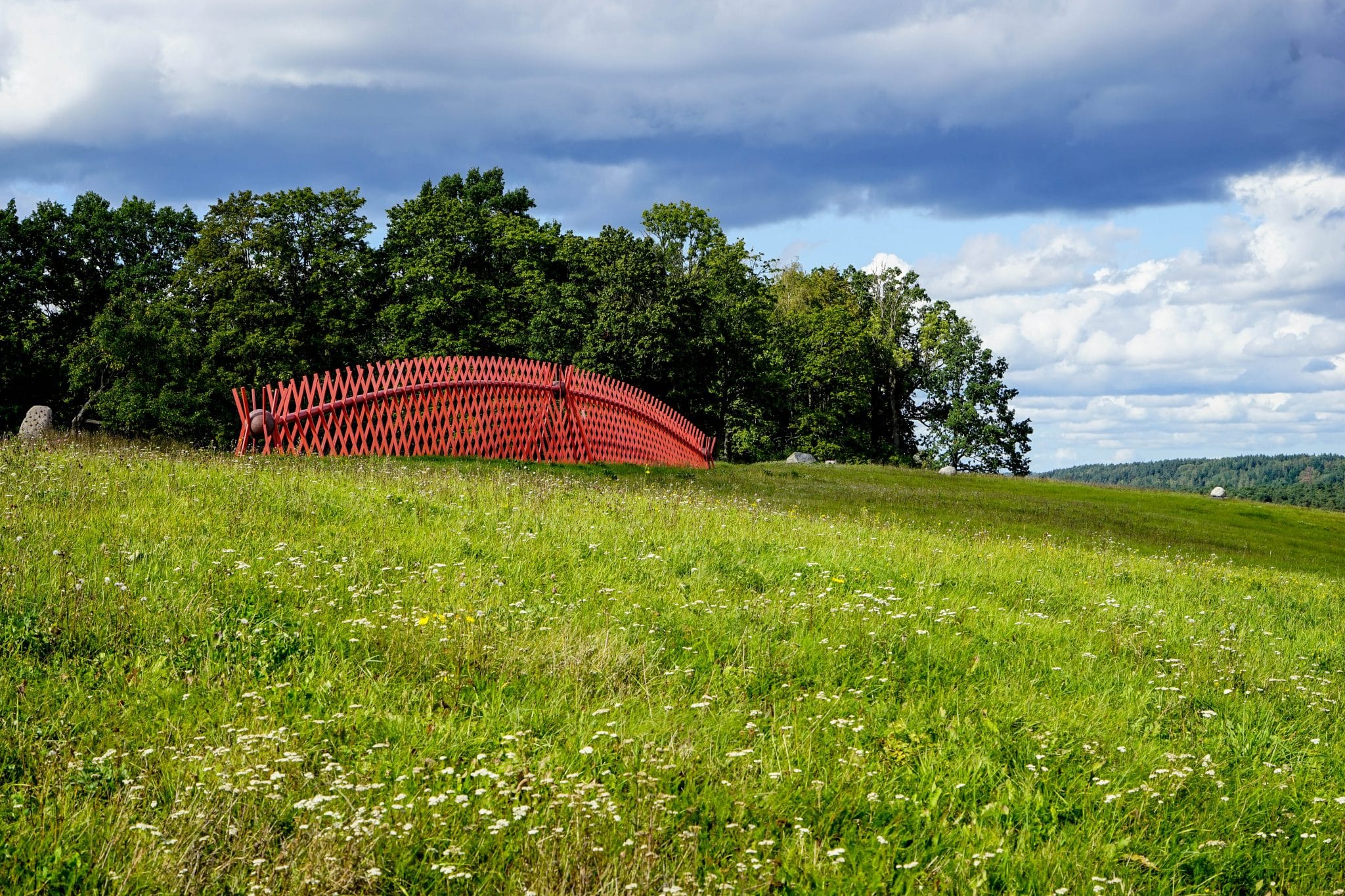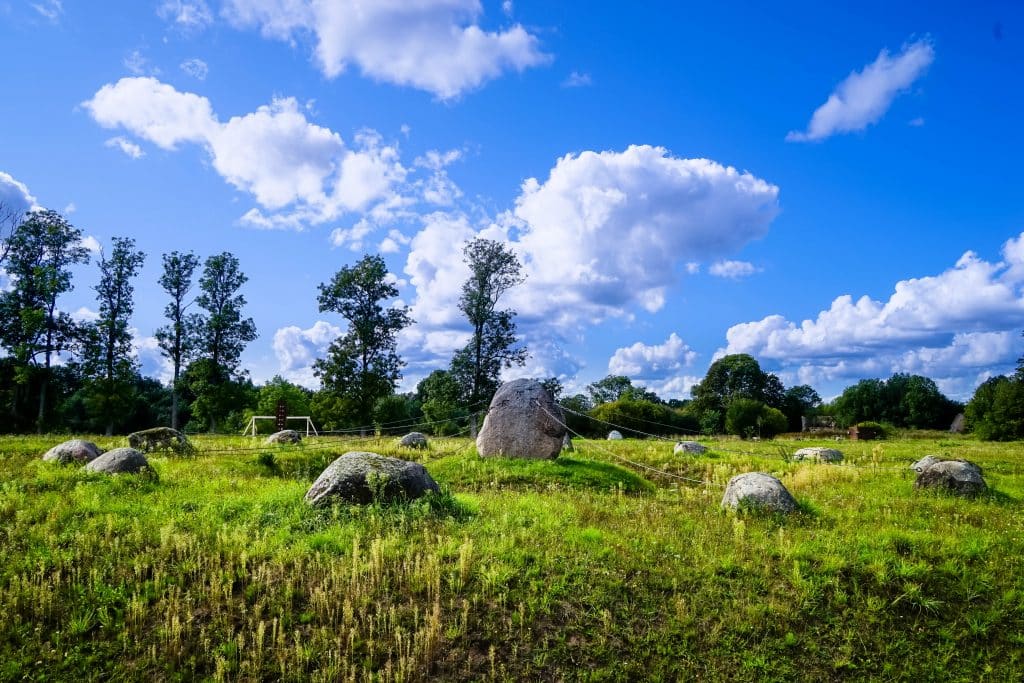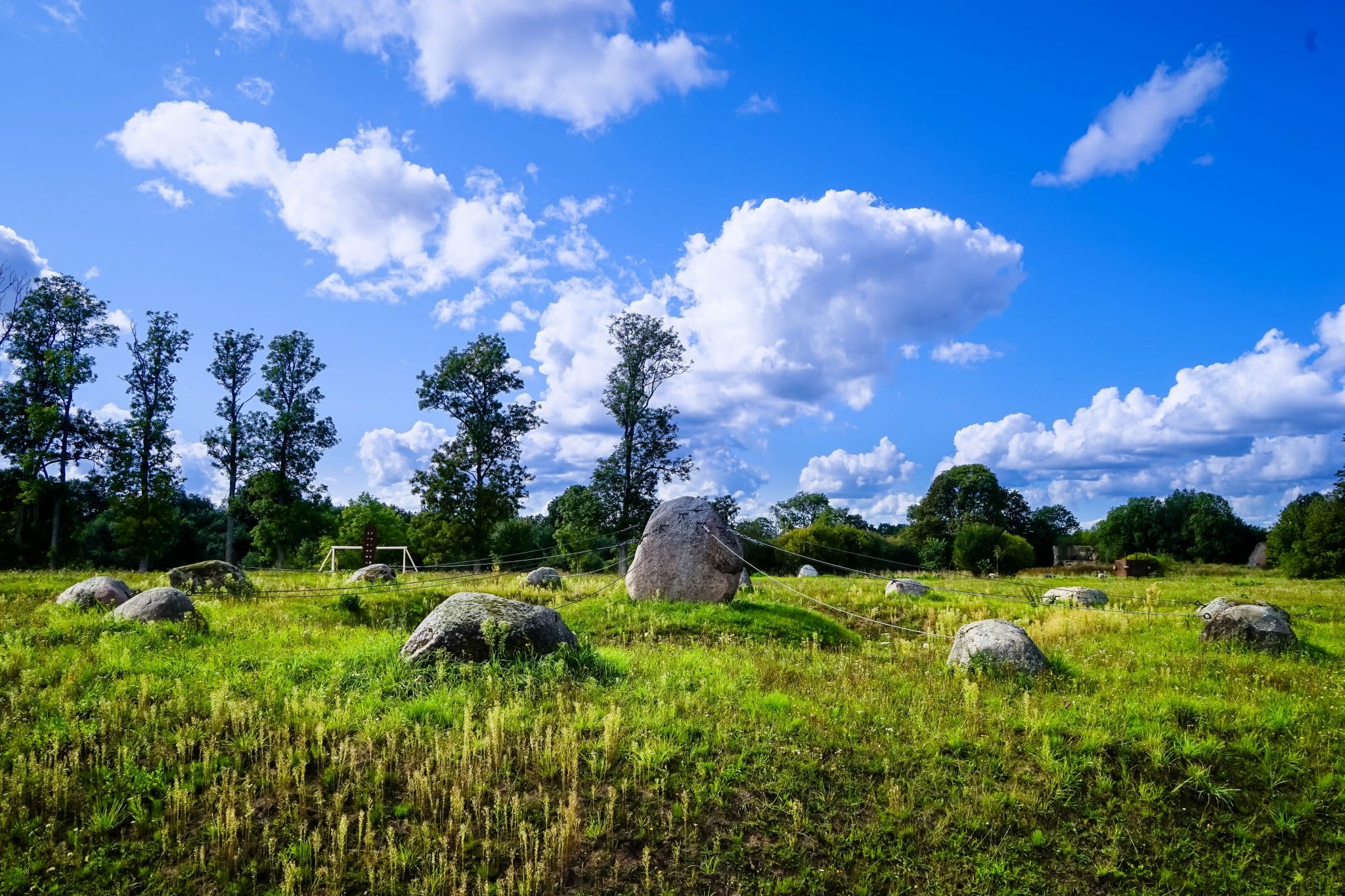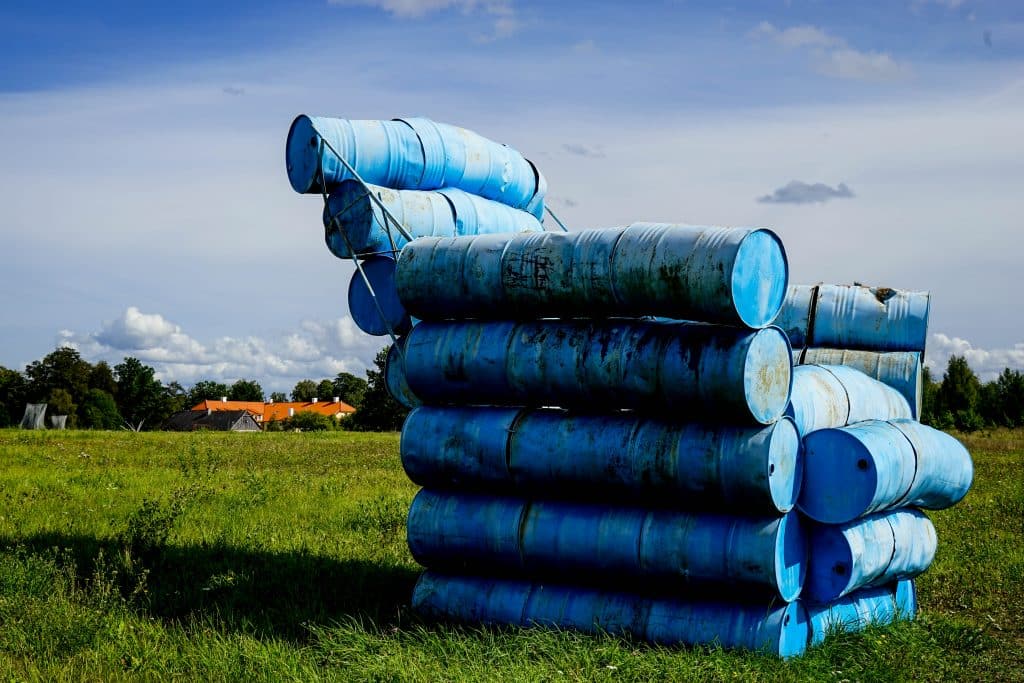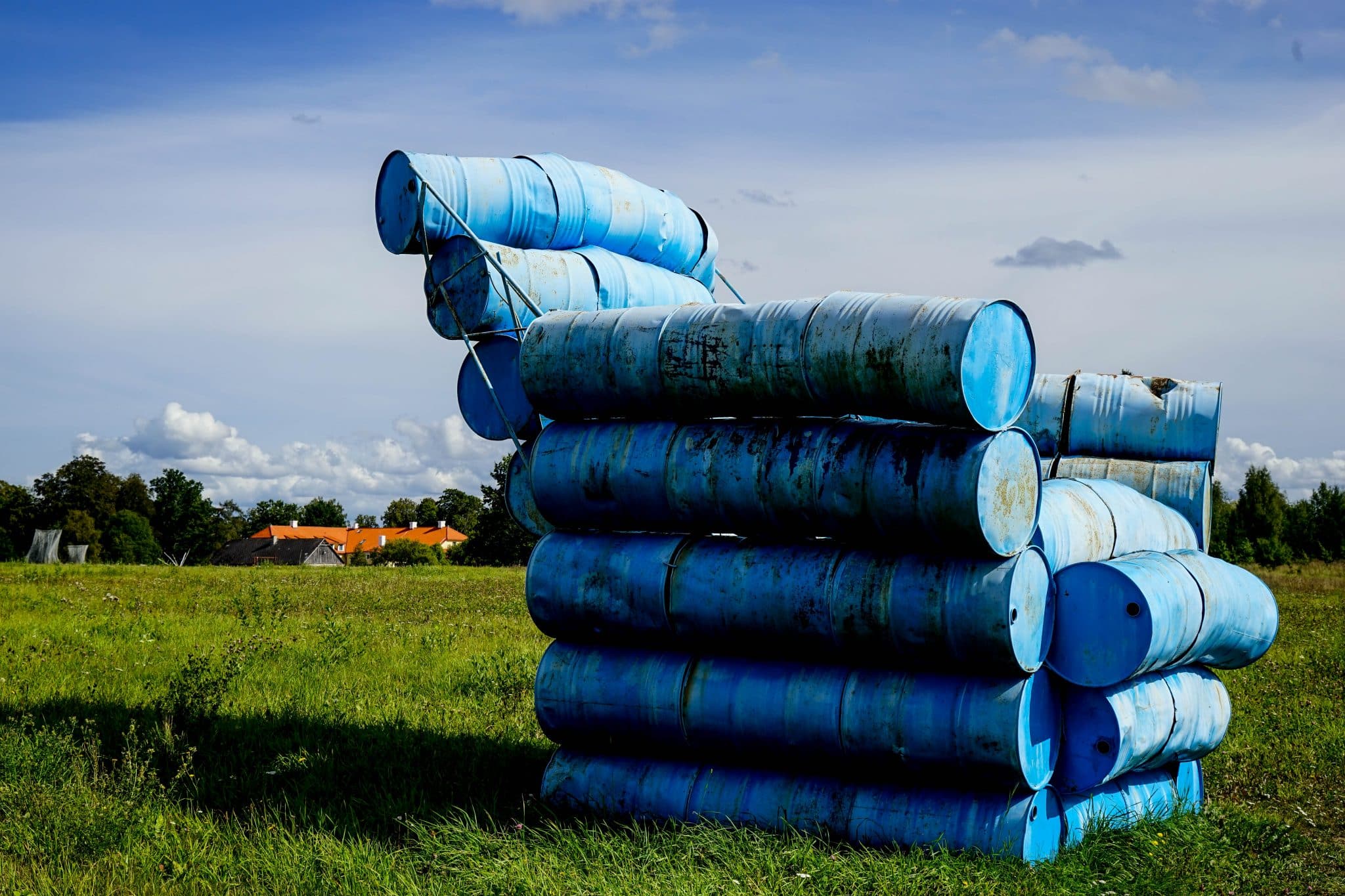 21. Relax In Bourgeois Opulence At The Art Cafe Sienna
A hidden gem of Riga that you will either love or hate, the Art Café Sienna offers an escape from the modern world and a return to centuries-old values.
Step back into a bygone era, complete with antique furniture, porcelain, and attentive butler service. This is a 'café' to simply be leisurely and enjoy the atmosphere with high-quality coffee, teas from around the world, French-style desserts, and cakes.
It's like drinking in someone's lovely living room, and the service here is second to none. Unique, but certainly not to everyone's taste. It is seriously expensive, though, so unless you are a Russian oligarch, we recommend staying away from the champagne and cognac and just going for one of the more affordable coffee or tea sets.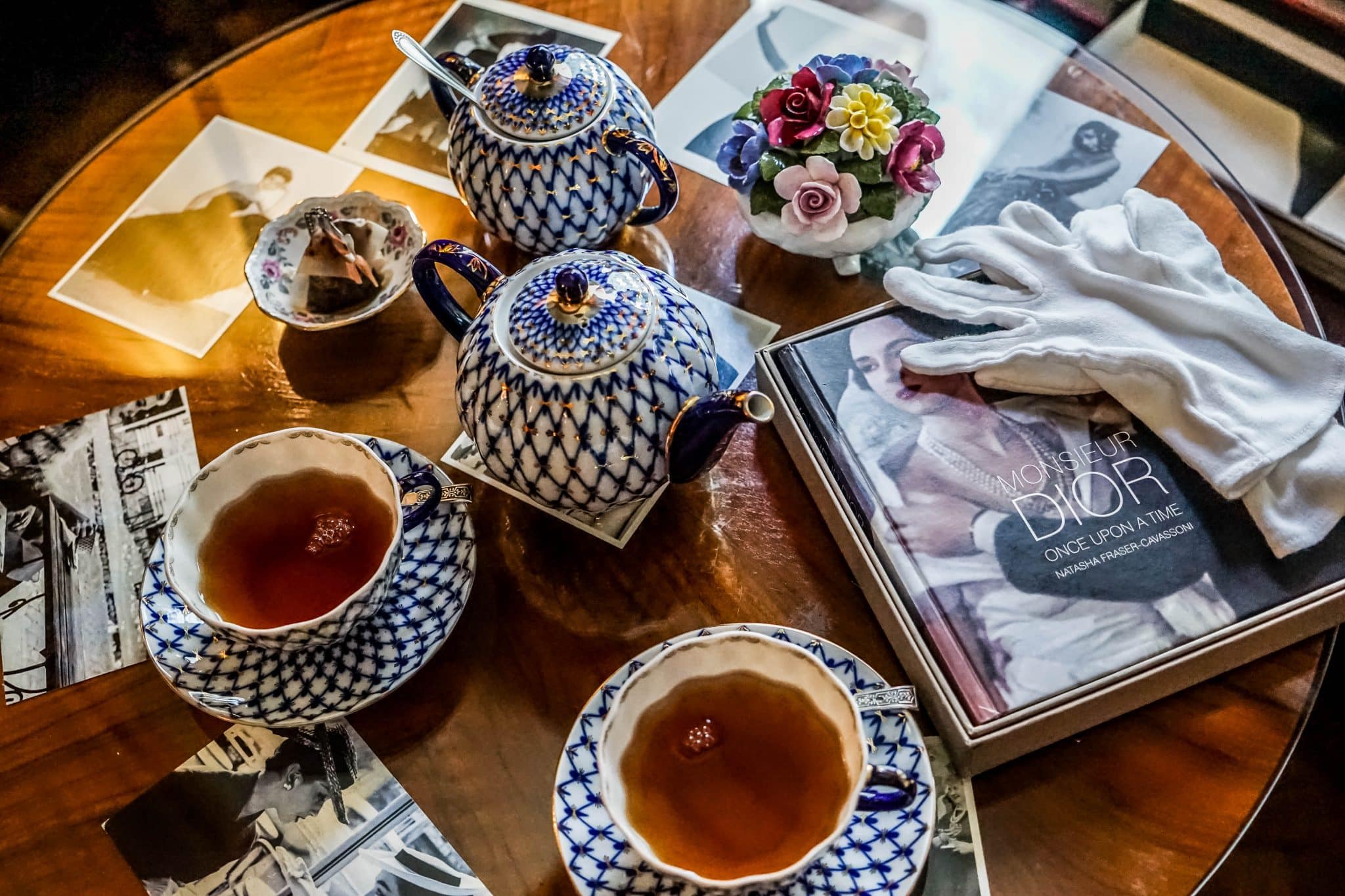 22. Wallow In Literary Magnificence At The National Library of Latvia
A commanding landmark on the Riga cityscape, the National Library of Latvia was open in 2014 and yes — is equally impressive inside and out.
Since the re-establishment of Latvian national independence in 1991, there have been calls for a National Library of Latvia to provide internet access to residents and supporting research and lifelong education. This building, designed by noted Latvian-American architect Gunnar Birkerts, ensures such needs are met.
In the past, it appears they were only open to locals, but that is no longer true. Non-residents just need to borrow a guest pass at the front desk. From there, head up to the 7th floor for magnificent views of the Old Town. Also, there is a rotating array of exhibitions here which may also capture your attention – not to mention the unsurpassed collection of Latvian literature housed within.
The Library's collection today comprises more than 5 million titles, including approximately 18,000 manuscripts from the 14th century up to modern times.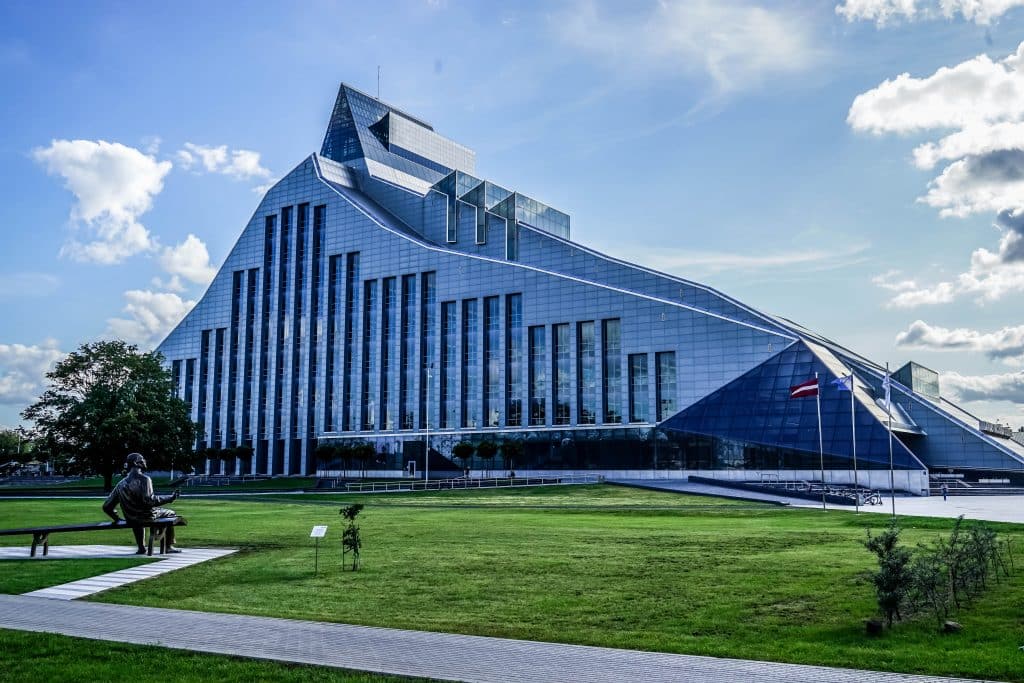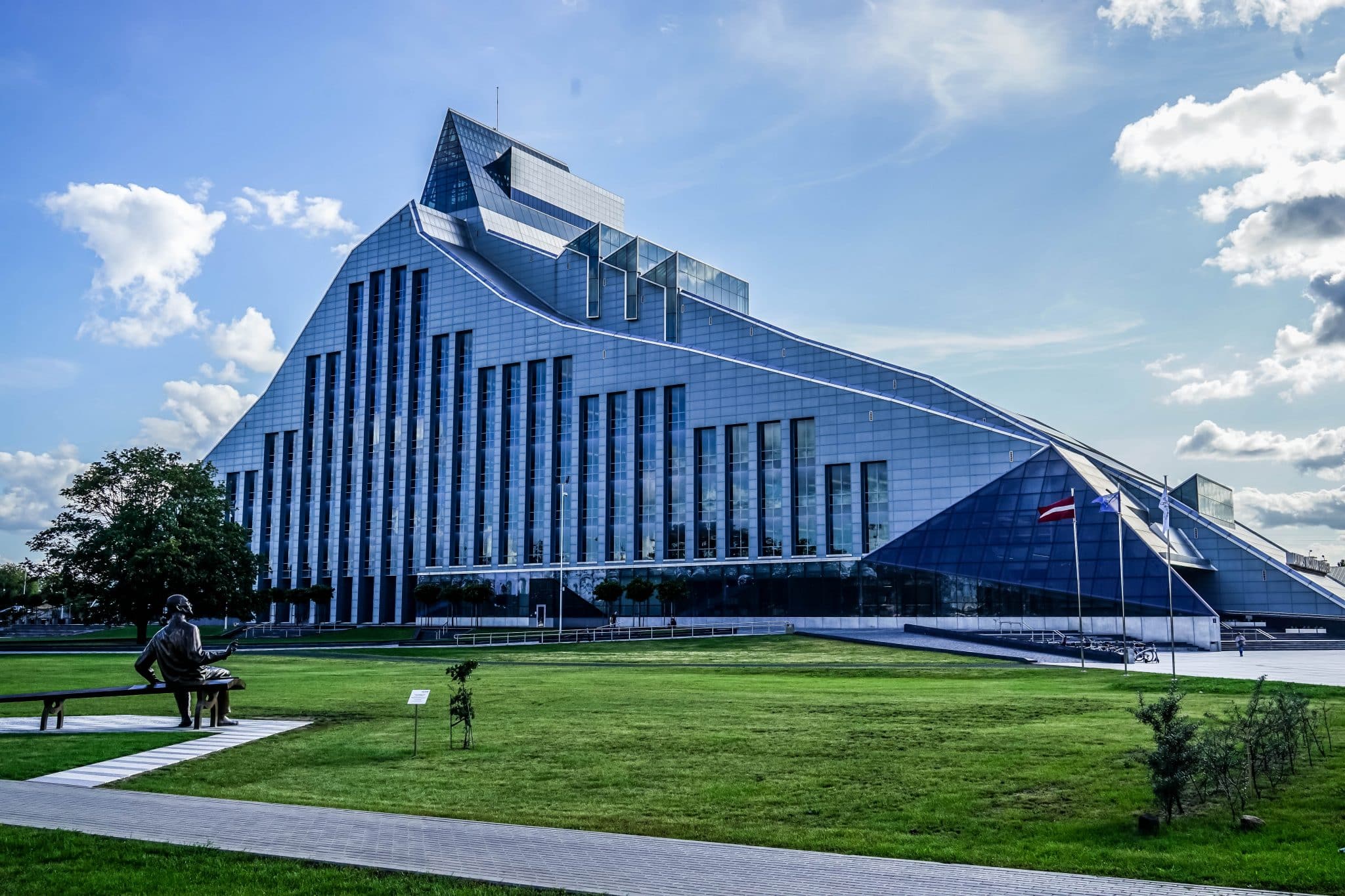 23. Sip Sophisticated Cocktails Above It All At The Radisson Blu
The highest bar in Riga, and one of its most sophisticated, is the Skyline Bar, located on the 26th floor of the Radisson Blu Spa Hotel. Levitate your senses amidst modern surroundings with specially crafted signature cocktails or Asian tapas. Entrance is free most weeknights or before 10 pm on weekends — and prices are very affordable, given its premium location.
If you are looking for a more classic drink, why not consider a Tanqueray Martini with a twist or a Prohibition-Era White Lady…
For non-drinkers, their mocktail menu is also one of the best in town, all of which are perfectly matched with tantalizing dishes the likes of shredded duck spring rolls and Vietnamese sliders.
We found Skyline Bar to be surprisingly empty around sunset, so either come early or late at night to enjoy your libations here without the crowds. Occupying the entire floor, you can perch yourself on either side of the room for panoramic views over the Old Town or out over the sprawling suburbs of Riga. Sure, the building itself is something of a monstrosity and a blight on the skyline – but since it's there, you might as well use it!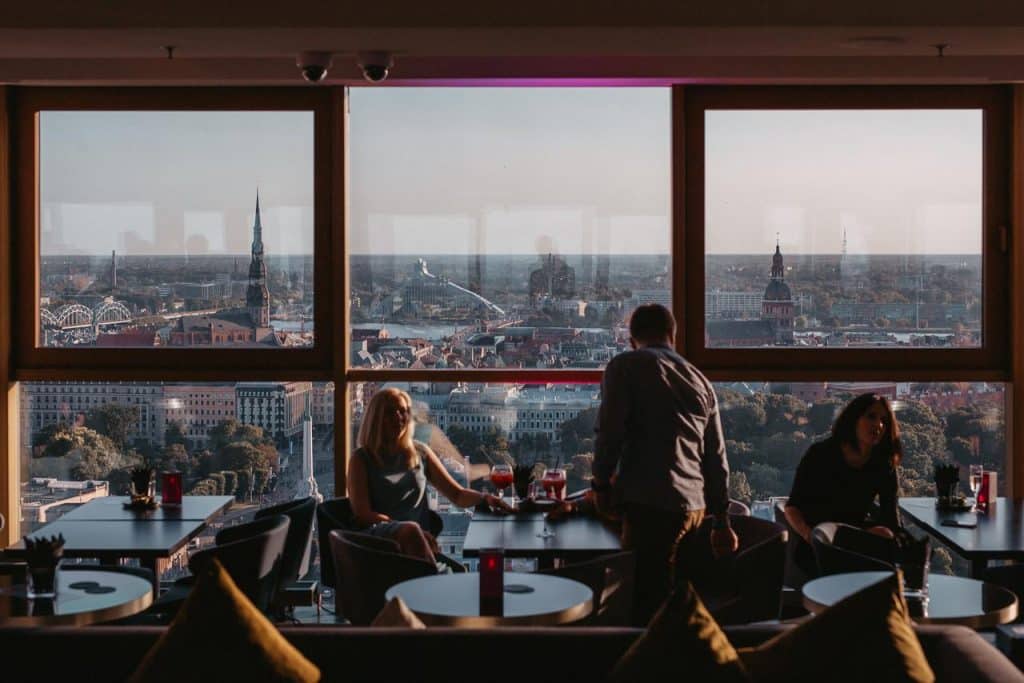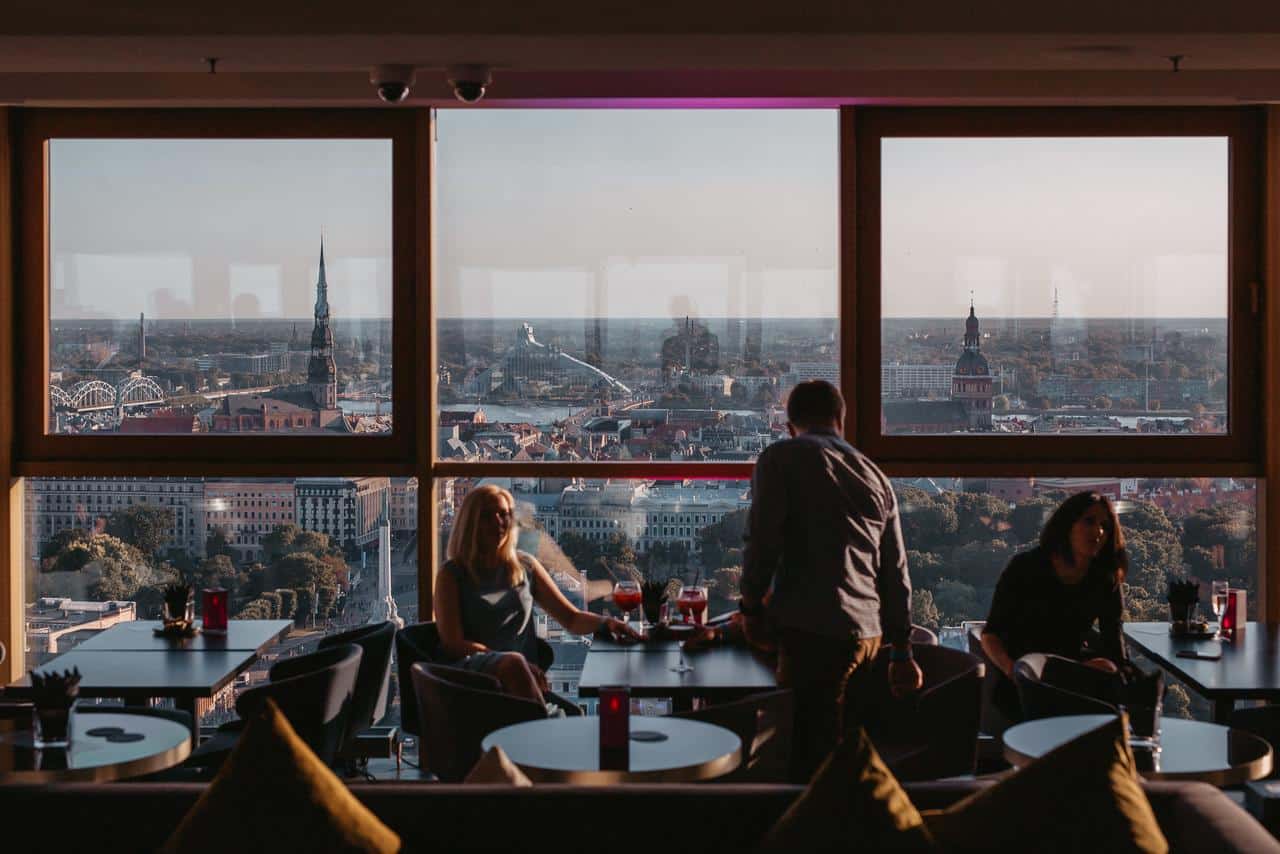 24. Unearth Cold-War Era Treasure At A Soviet Junk Yard
Thrift shopping doesn't exactly have a chic reputation in the post–Soviet Union. Whereas in prosperous Western nations you might find cast-off couture and designer homewares, in the junkyards of Latvia you are more likely to come across gas masks, hyper-outdated electronics, hammer and sickle memorabilia, war medals — or 1980s clothes so wildly outrageous you couldn't even wear them ironically.
Secondhand shopping in the USSR was the ultimate sign of poverty, and today, these junkyards that dot the inner suburbs of Latvia are a reminder of many of the economic crises and hardships of the past. Things are by no means easy here today, but the Latvia of today is not that Latvia of twenty years ago — the time in which these junkyards seem perpetually stuck.
Still, as far as cultural discovery and urban adventuring go, an inquisitive tourist should not pass up on the opportunity to poke around and see what you find. Flea markets, after all, are possibly as crucial in understanding a country's history as any museum — something we discovered at the Campo de Santa Clara Flea Market of Lisbon.
Where else can you find parts for a hundred-year-old Russian Samovar or a military lighter made from a cartridge case? One man's junk is another man's treasure. The Latgale Tirgus flea market is the easiest of these junkyards to find for your average tourist, but keep your eyes peeled while exploring Riga as there are plenty more.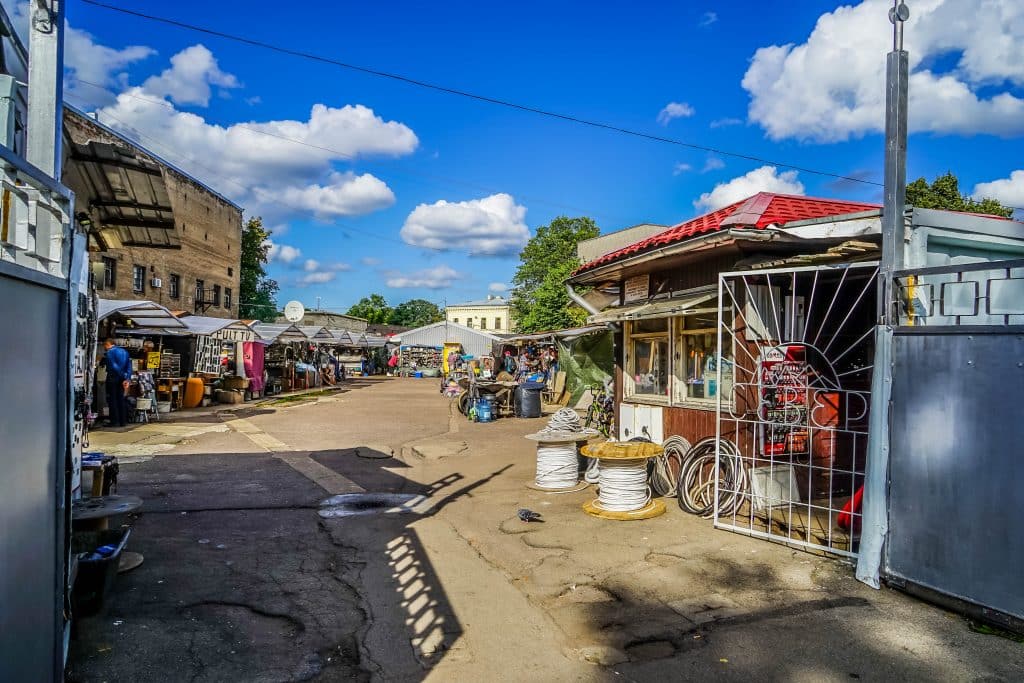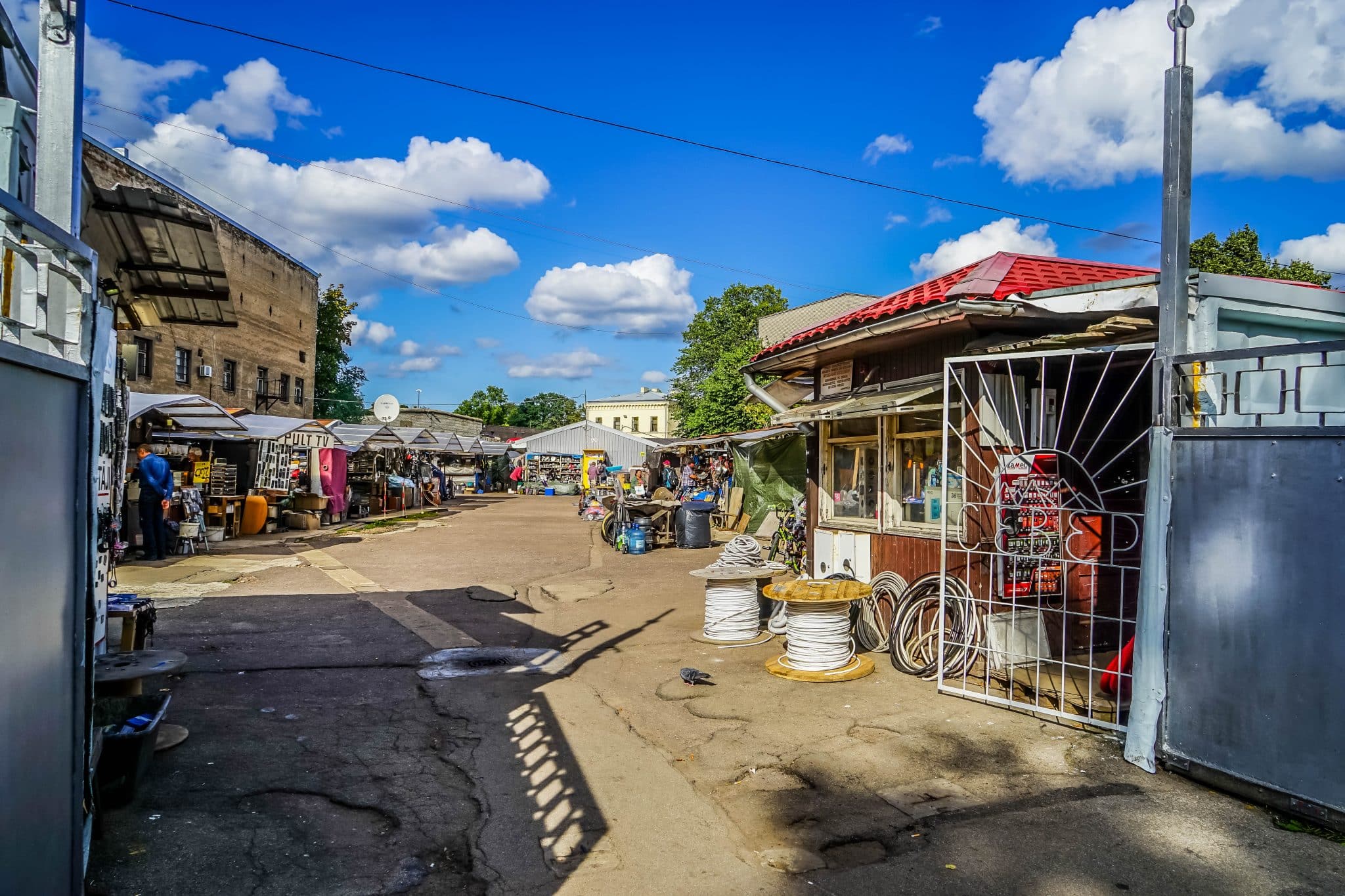 25. Stand Atop The Protrusive Latvian Academy of Sciences
One of the most divisive buildings in Lativa, people will either love it or hate it – but there is no denying: The Latvian Academy of Sciences 107-metre building stands out from the crowd.
The first high-rise in Latvia, the official science academy of Latvia, has been a dominating fixture of the Riga cityscape since its completion in 1961. In large part-financed from "voluntary donations" deducted from the salaries of the Latvian rural population, the building was intended as a dormitory for collective farm workers who come to Riga – but was never used for the purpose.
The tower has a total of 766 rooms on the 23 floors, which today are occupied by scientists, researchers, historians, and various companies. The spire's five-pointed star was removed in 1991 after Lativa Independence, but inside you can still see hammer and sickle decorations as well as Latvian folk ornaments and motifs.
For anyone who has traveled to other post-Soviet destinations, it may be no surprise The Latvian Academy of Sciences is a cousin to similar Stalin-era skyscrapers built at the time – most notably the main building of Moscow State University. The view of the Riga cityscape is now open to the general public, who can pay a few euros to view the city panoramas available from the 17th-floor balcony. The ground floor also houses a concert hall with occasional performances for audiences of all kinds.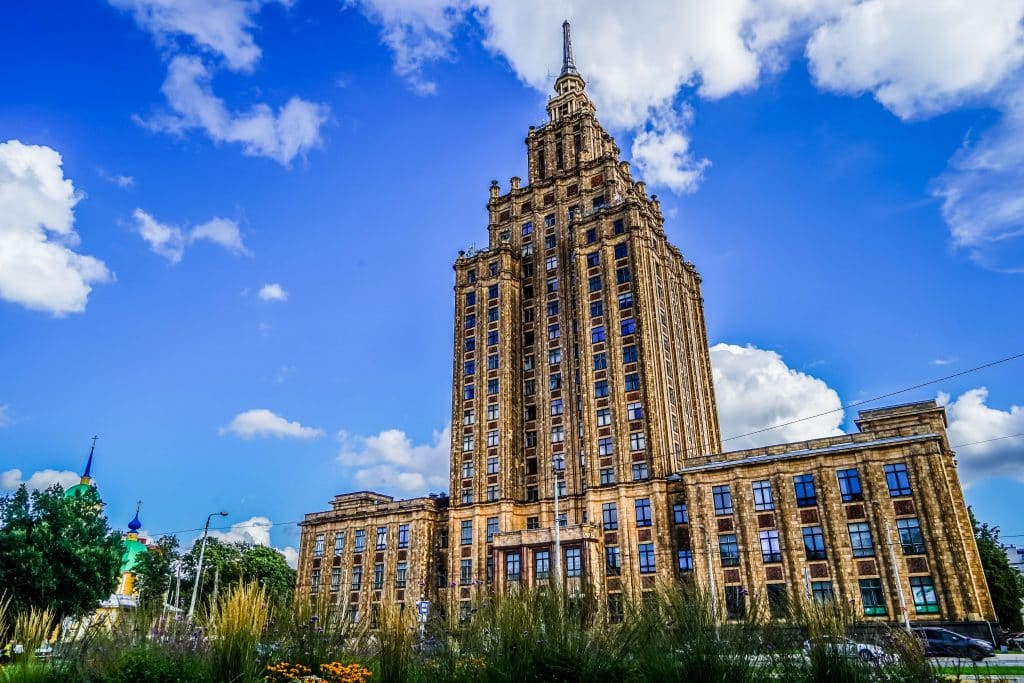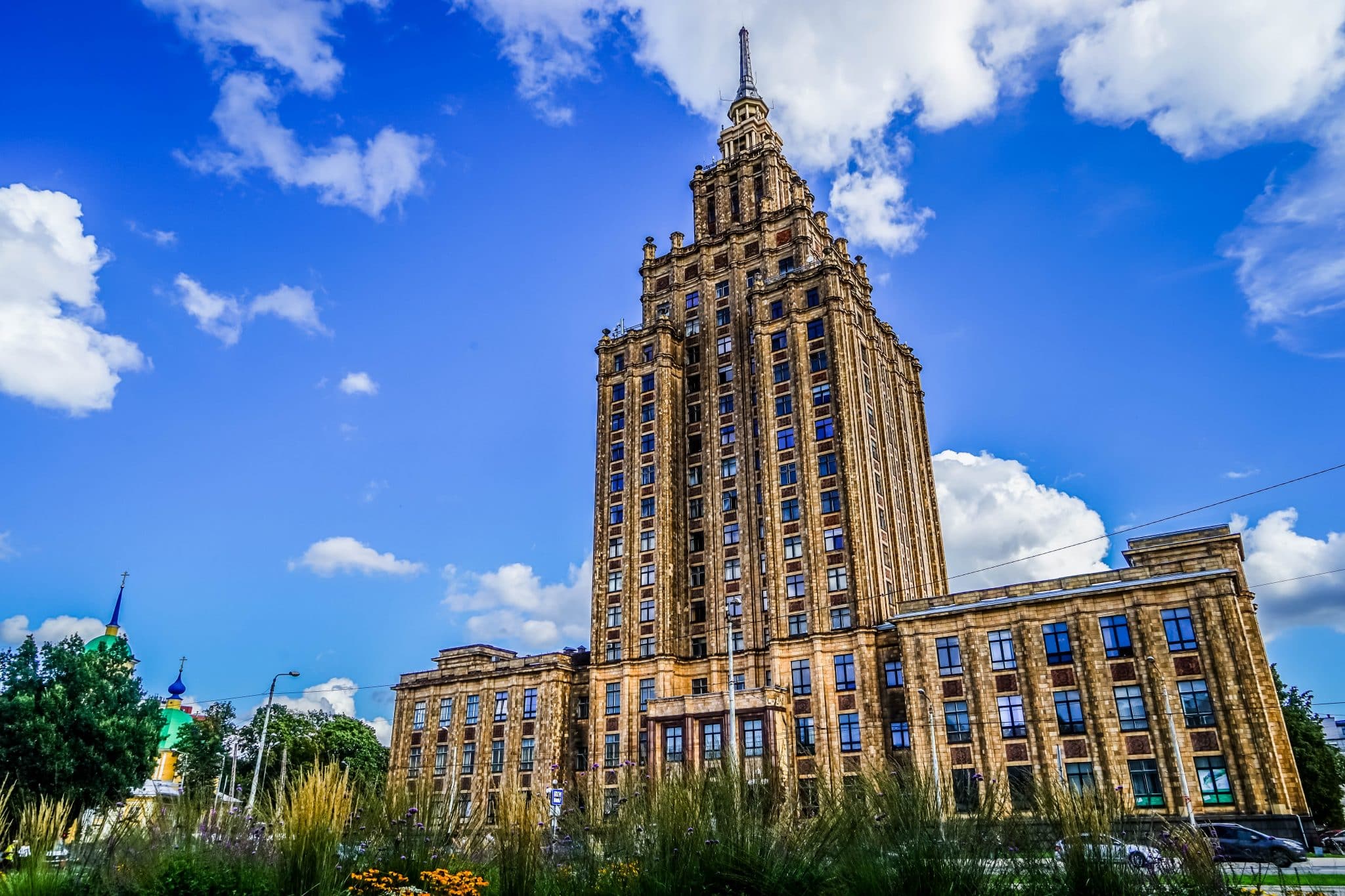 26. Treat Yourself To A Night At The Latvian National Opera
The National Opera House of Lativa was constructed in 1863 for the then German-speaking City Theatre and has been refurbished several times. After independence in 1995, the entire building of the Latvian National Opera underwent large-scale reconstruction and restoration to bring it up to modern standards. In 2001, a modern annex was added in 2001 with a smaller 300-seat New Hall.
Today the noble Latvian National Opera can accommodate audiences of up to a thousand people and showcases an excellent range of modern ballet and exquisite operas. You can buy official tickets to Latvian National Opera for a little as five euros, so there really is no excuse not to go. Much like we discovered in Minsk, in the Soviet Union ballet was taken away from the autocratic caste and given back to the masses, and fostered as 'art for the people.' This also helps explains why opera and ballet remain so popular here today — and at such affordable prices.
At the Latvian National Opera, aka Riga's White House, an average of seven new productions are offered each year, preserving a balance between ballet and opera. In total, there are around 200 performances and several concerts a season at the Latvian National Opera. So chances are, there is a show of some sort when you are visiting Riga.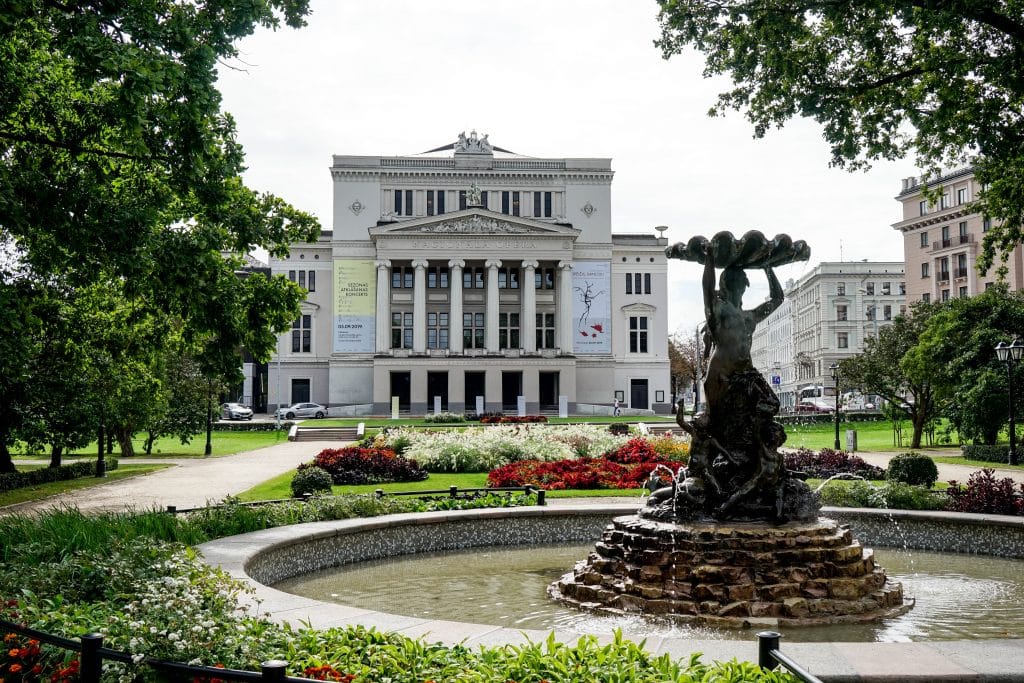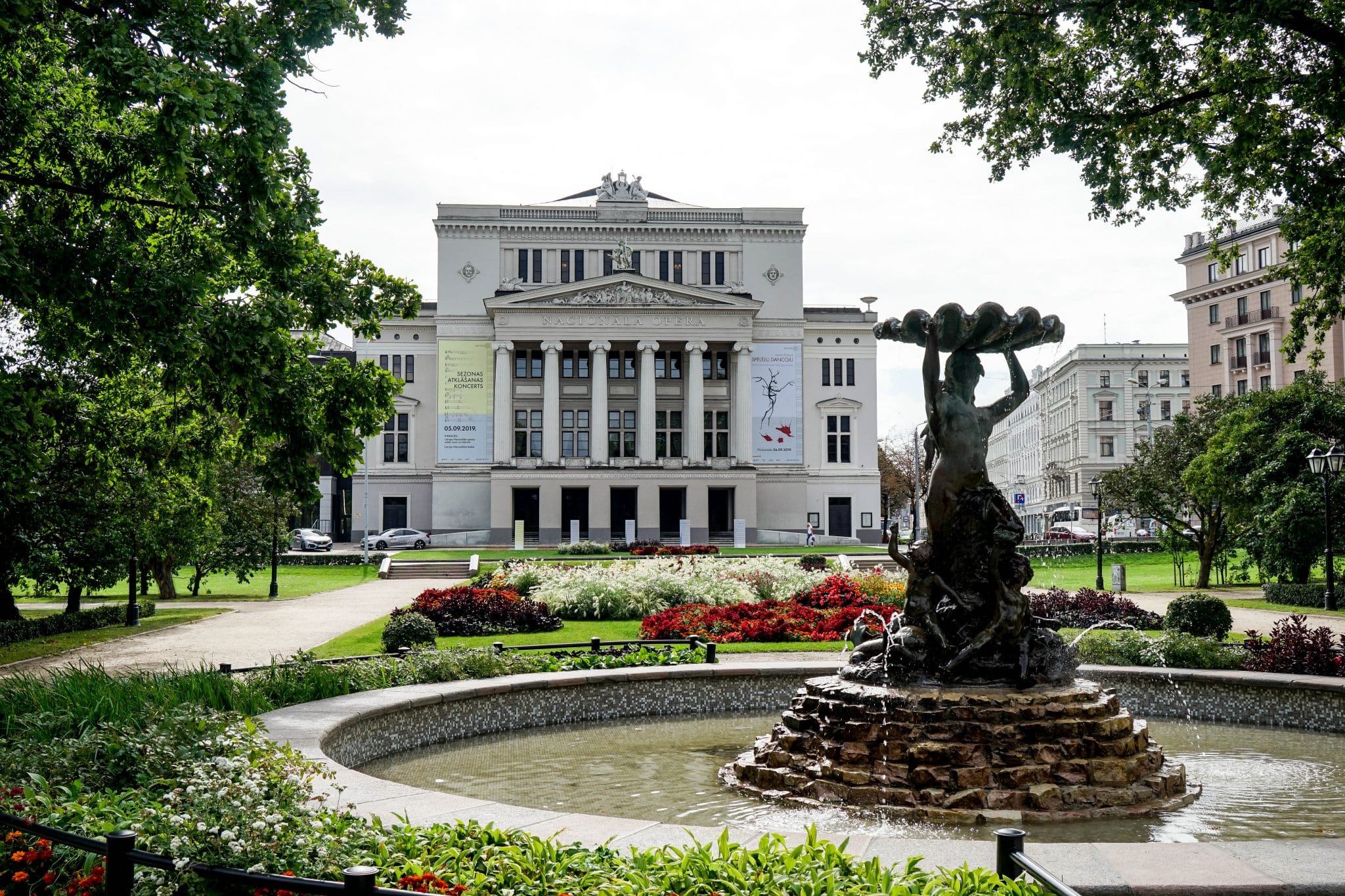 27. Meader Through The Kronvalda Urban Park
Kronvalda Park is the oldest park in Riga and remains one of its most beloved – in large part due to its easily accessible location just outside of the Old Town. 11.92 hectares in total, Kronvalda Park is filled with 100 species of exotic trees, 22 local plants, beautiful sculptures, and even a city canal that splits the park into two parts. It is also home to the largest willow tree in Latvia.
The park encompasses the area once used by the Riga City Wall, which was removed in 1863 – and given to the German Riflemen Society, which used it as a training and hunting ground. Over the years it hosted numerous cultural events, but it wasn't until 1930 when the modern park was set in motion.
In 1938 it was expanded over to the far side of the canal when a pedestrian bridge was built to connect the two banks. It was also during this time the park was named after a member of the Young Latvians Movement – Atis Kronvalds.
Nowadays, Kronvalda Park is filled with families and couples on a summer day, enjoying the beautiful surroundings and facilities, including a playground, a café, roller skating tracks, and water bicycles available for rent. An excellent area to people watch, take a book and relax in the sunshine, or go on a leisurely canal cruise.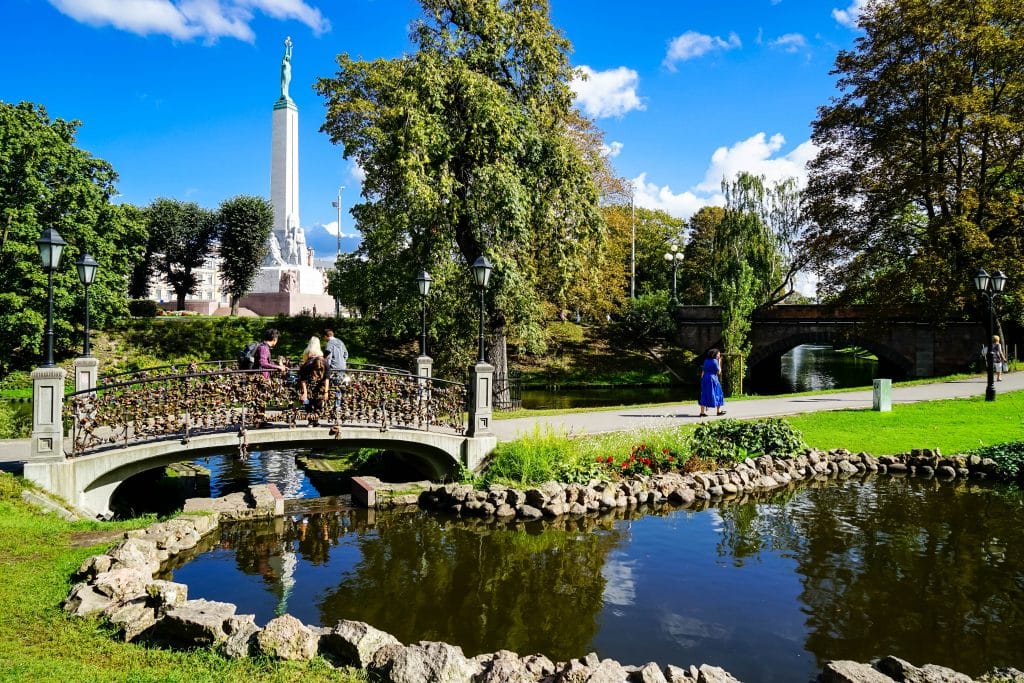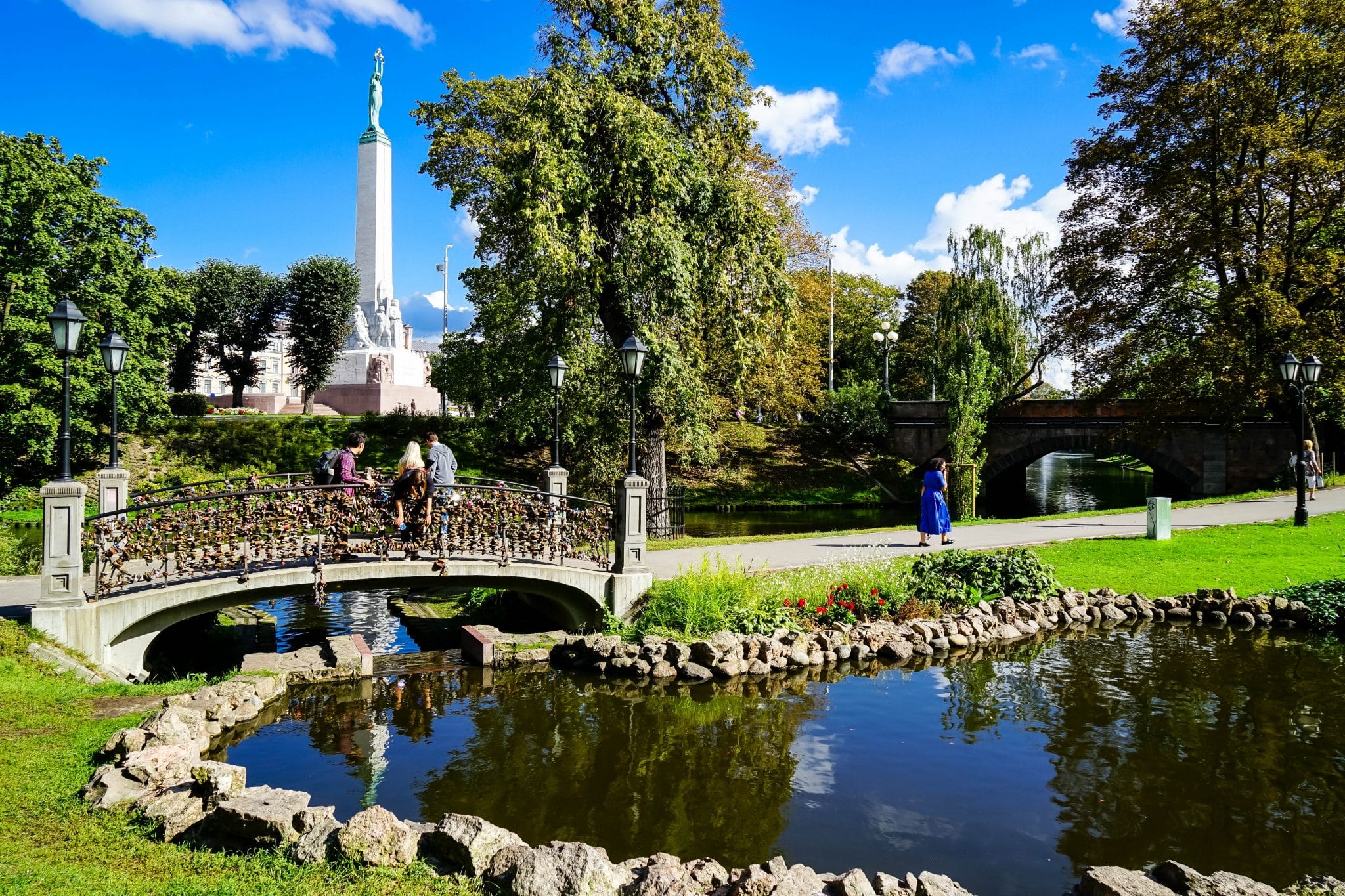 28. Show Someone You Care At The Sakta Flower Market
Latvians love flowers, and the tradition of giving flowers in Latvia is still strong. This probably explains the size and diversity of offerings of the recently renovated Sakta Flower Market, the largest flower market in the Baltics occupying a long stretch of flower shops by the side of the charming Vermanes Park
You might be traveling – but that doesn't mean you can't drop by, pick up some flowers, and brighten up someone's day. If you have some Latvian friends and they invite you to their home, flowers will always be appreciated – or you could just surprise your travel partner-in-crime.
Even if you have no use for them (though does anyone really), you can forever wander around and treat your eyes to a colorful feast. If you don't believe us about how essential flowers are to Latvian culture – the Sakta Flower Market is open 24/7.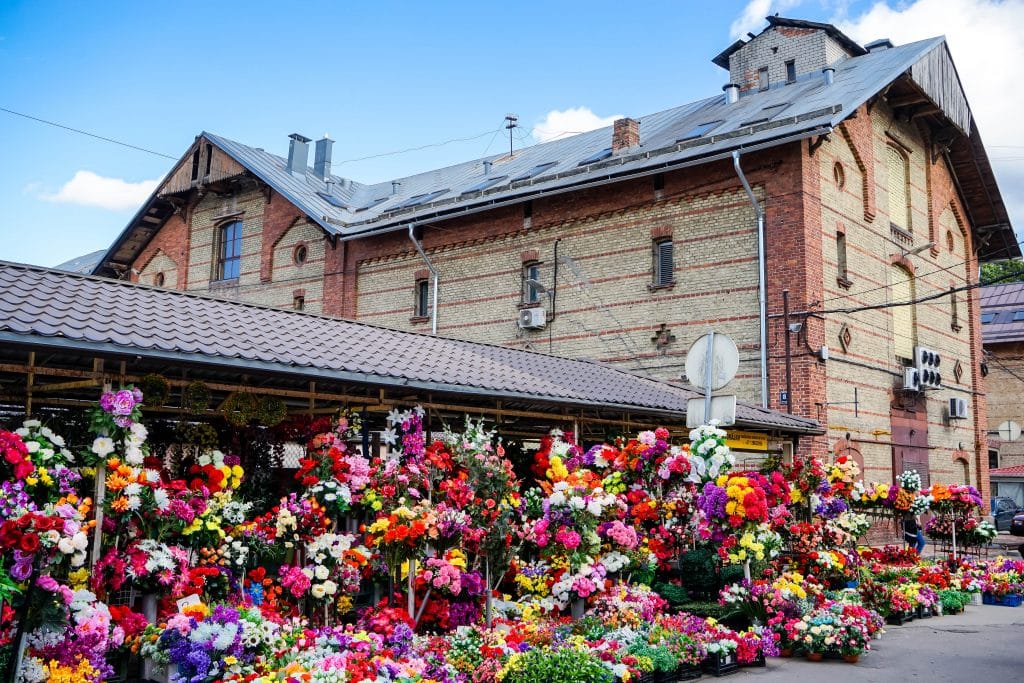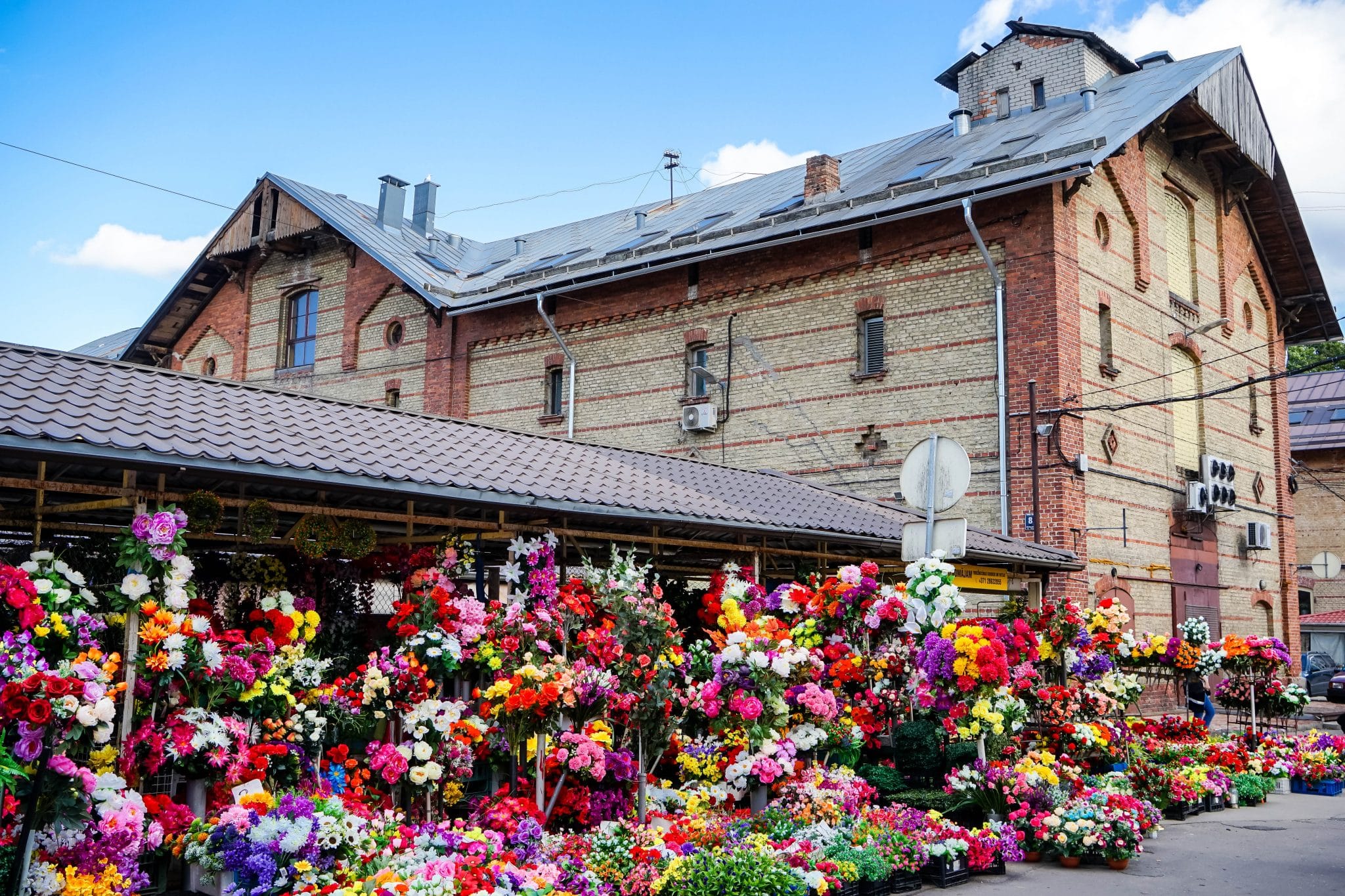 29. Study The History Of Art Nouveau In Riga
Art Nouveau architecture is undoubtedly a calling card of Riga, making up roughly one-third of all the buildings in the center of Riga. In fact, Riga has over 700 art nouveau constructs built during a period of rapid economic growth between 1904 and 1914, mostly consists of multi-story apartment buildings.
This abundance is even great than other Art Noveau hotspots like Prague, Budapest, Helsinki, securing Latvia's capital bragging rights as the city with the highest concentration of Art Nouveau architecture anywhere in the world.
To learn more, the best place to go is the Musee Art Nouveau in Riga (Riga Jugendstila Centrs) built in a historic apartment where, Konstantīns Pēkšēns, one of Latvia's most renown art nouveau architects once lived. The distinguished artist who was responsible for the conception of more than 250 buildings in Riga also composed this impressive building. The façade of the monumental building boasts ornamental reliefs with stylized motifs of plants and animals occurring in Latvia.
Inside is a modern digital exposition – as well as an intriguing collection of period furniture and artwork from Riga's most creative era. Don't miss a photo opportunity on the impressive grand staircase – one of the most magnificent masterpieces not only in Riga but also in Europe.
The only museum in the Baltic States dedicated to the Art Nouveau heritage – and one of the best things to do in Riga. If a visit here is still not enough to satiate your inner architect, there is also this wonderful Art Nouveau Walking Tour in Riga.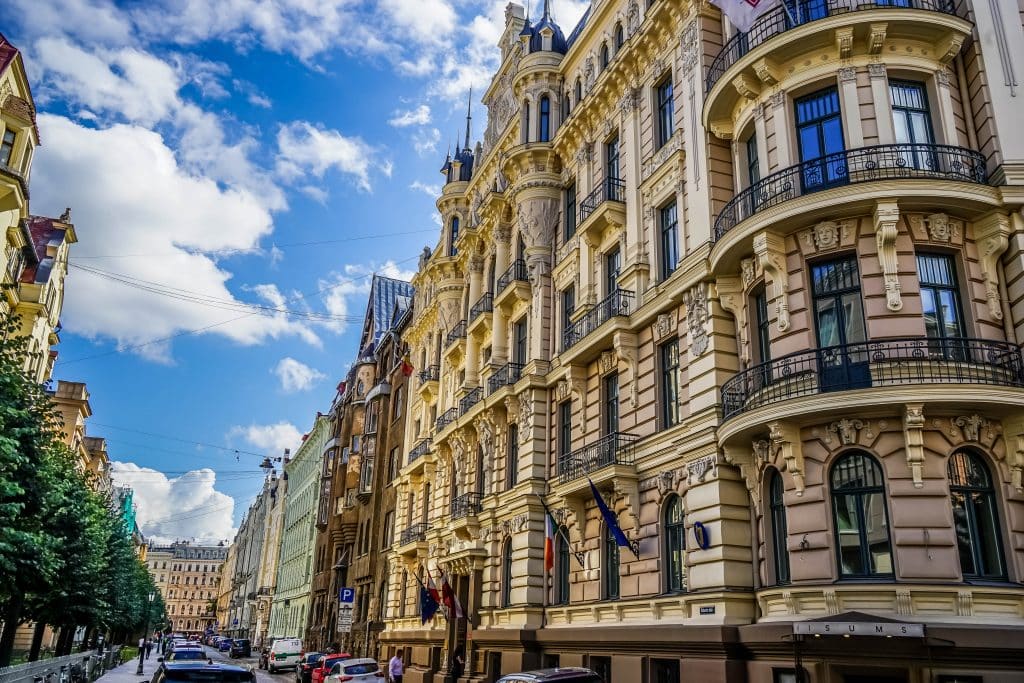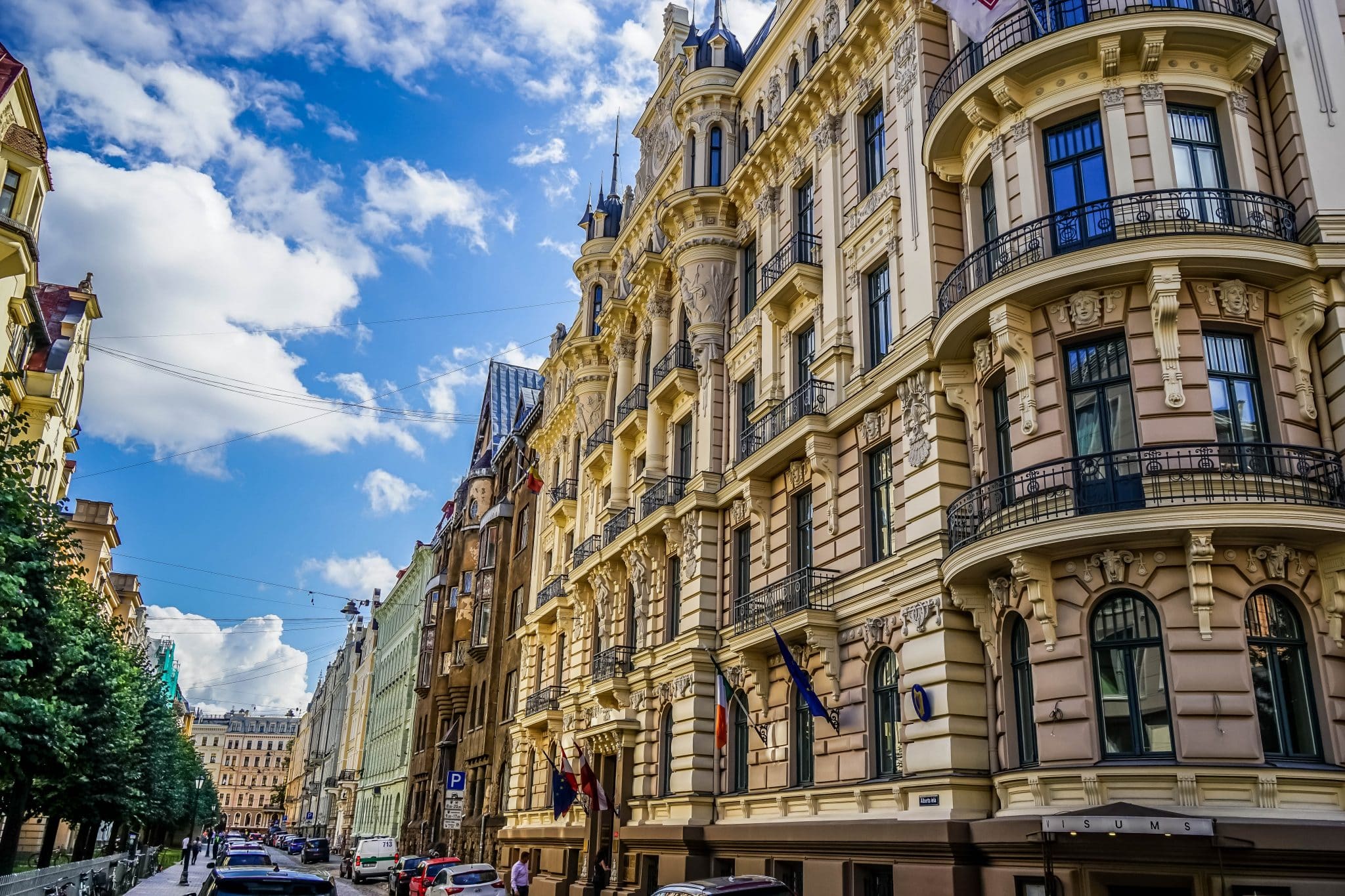 30. Treat Yourself To Sheer Opulence At The Grand Hotel Kempinski Riga
Hotel prices in Riga are low, especially compared to Western European destinations like Vienna and Copenhagen, so why not splurge a little. And the best place for an extravagant splurge? The most fashionable hotel in Riga, the Grand Hotel Kempinski Riga, is full of utter opulence and intriguing history.
Initially built in the 19th century, this regal hotel is situated in the heart of the Latvian capital just opposite the National Opera House and by the entrance to the town's historic center. Discover the most exquisite collection of 141 luxury rooms and suites along with an all-day-dining and a rooftop restaurant, a bar, and a cigar lounge.
Indulge in Kempinski The Spa, featuring six treatment rooms, a swimming pool, and a health club with a fitness center, relax in your spacious room or head for drinks and the undeniable pearl of the hotel, the stylish rooftop restaurant, and bar, Stage 22.
If the Grand Hotel Kempinski Riga is a bit too exorbitant, we can also recommend the Wellton Riverside SPA Hotel; a modern hotel newly opened in Riga right on the waterfront and on the edge of the old town. And for budget travelers, the Wicked Weasel Hostel is the place to be.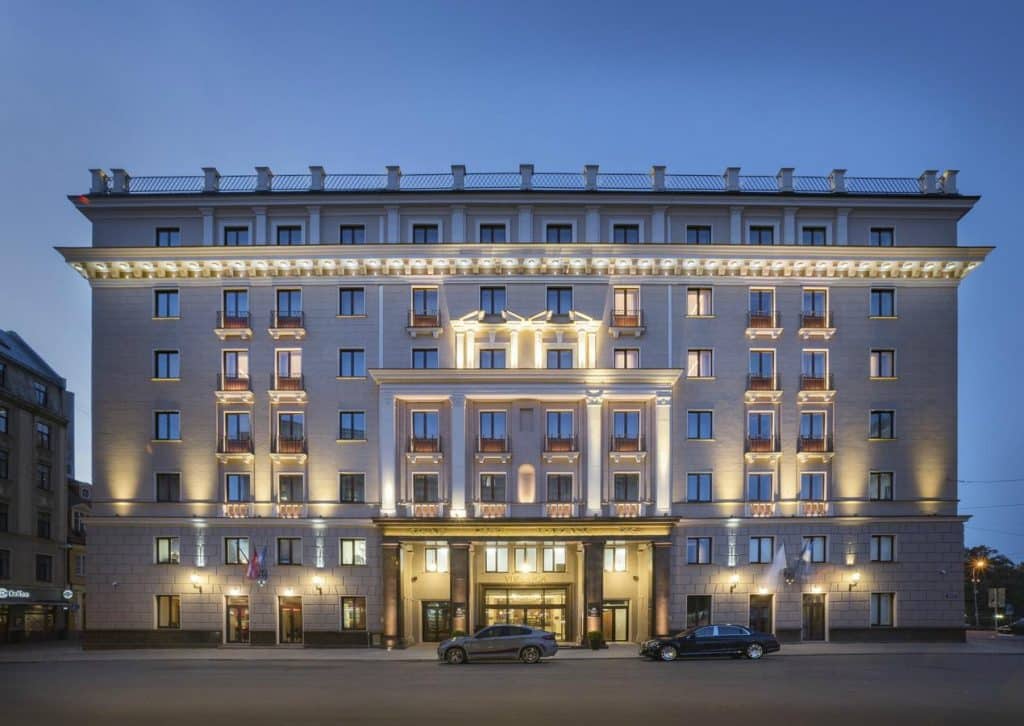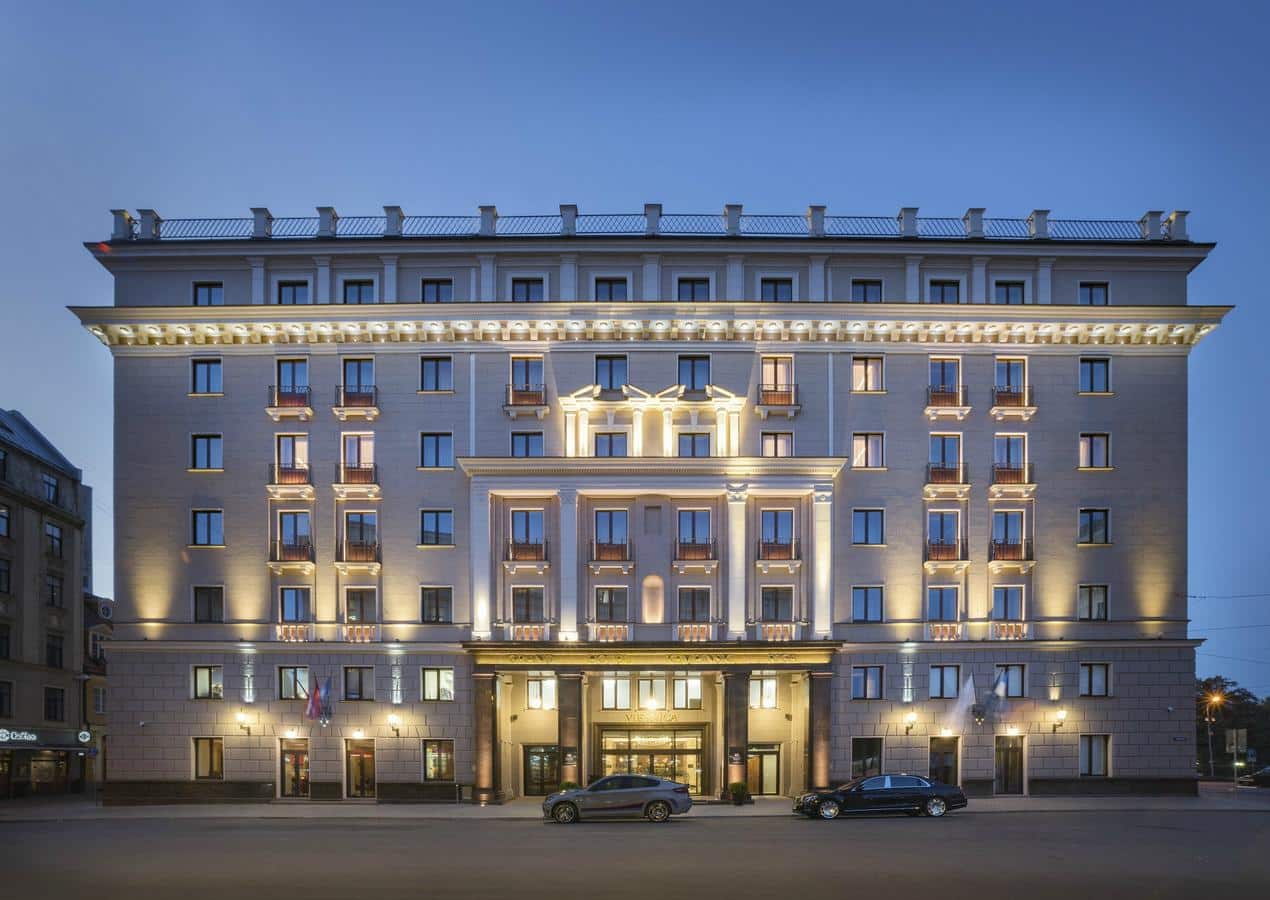 Further Things To Consider Before Any Adventure
Now you're all set and prepared to explore our big wide world, why not sort out everything else out all in one go? If necessary for your travel plans make sure you have brought proper travel insurance, protected your privacy by getting a secure VPN, compared all the top hotel booking sites to find just what you're after, reserved an unbeatable rental car price and - of course - booked the best flight deals!
Or maybe just forget it all and go for a last-minute cruise or effortless tour instead?
Many budget travelers (including me) indulge in worldwide airport lounge access, so we can experience luxury while still slumming it in economy. Naturally, we would never leave home without a more general travel guide since we couldn't possibly cover everything here!
Just add an adventurous attitude and plenty of smiles - they go a long way - and that about covers it all! Now go out, find your own path and don't forget to share your best inspiration stories with me on Facebook, Twitter, and Instagram...I'd love to hear from you!