The White Lady cocktail is a classic prohibition-era drink that is made with gin, Cointreau, or Triple Sec, fresh lemon juice, and an egg white. It's a sophisticated, citrus-forward sour – or a riff on a sidecar with gin replacing brandy (depending on who you ask) – that is easy to make and is equally pleasing to the eye and the palate.
Concocted by esteemed bartender Harry MacElhone in 1919 while working at London's Ciro's Club in London, the original recipe called for crème de menthe, triple sec, and lemon for an intriguing combination of ingredients, but it didn't last.
In fact, it was MacElhone himself who changed the recipe himself in 1929 while working at his own bar, Harry's New York Bar in Paris. The reasons for this dramatic change are not clear, but it has persisted today and produces a drink that is perfectly poised, uniting stimulating botanicals with gentle orange and tart citrus. It reminds us of a lemon meringue pie cocktail.
The use of egg white is somewhat contentious, and many prefer to omit it for a more citrusy drink that allows the gin's botanicals to feature more. However, we like to make it as intended and think the egg white softens and spreads the cocktail's flavor through the volume and produces that mellow, silky body we love so much.
While Harry MacElhone's version is much beloved, we found that the orange liqueur could often overshadow the gin, so we have replaced some with simple syrup and upped the gin ever so slightly. It is still that traditional citrus blast that makes this sour ghostly-hued cocktail so beloved – perfect for those who don't mind a little face scrunching.
We use Tanqueray, the original London Dry Gin that dates back to 1830, for a juniper-heavy base with just a hint of spice for this classic white lady recipe. If you want to lean into the citrus vibes of this cocktail, you could also substitute in the more premium Tanqueray No. Ten gin which adds in notes of white grapefruit, lime, orange, and camomile flower, and is a gin of choice in citrus-based cocktails.
In reality, most gins will bring their own characteristics to this sour White Lady cocktail and allow you to experiment with it more; however, we do recommend staying away from many of the more contemporary gins as their diverse flavor profiles tend to eschew convention. In this sense, they are better utilized in custom cocktails that work backward from their unique flavor.
If you don't have any of the liquor ingredients on hand, you can get these delivered – along with beer, wine, and other essentials in under 60 minutes using a service like Drizly covering 1500+ cities in the US.
Finally, a note on the fresh ingredients: lemon and basil. For years we have traveled the world and wondered how the same cocktails could taste so vastly different. A mojito in Cuba tastes nothing like that of one in Greece, for example.
We initially chalked this up to the romance of an exotic locale, the view, the scent of the air – or the longing for home, but then we realized it actually might come down to something far more tangible: the fresh ingredients. While spirits are largely standardized around the globe, a lemon grown in Sydney will taste nothing like those produced in Florida.
For this reason, it is hard to make blanket statements regarding quantities required, and we recommend tasting the juice first to make sure it isn't a great deal acidic or sweeter than average. If making multiples, you might even want to test your first white lady cocktail and add a little more or less lemon juice, depending on your desired taste.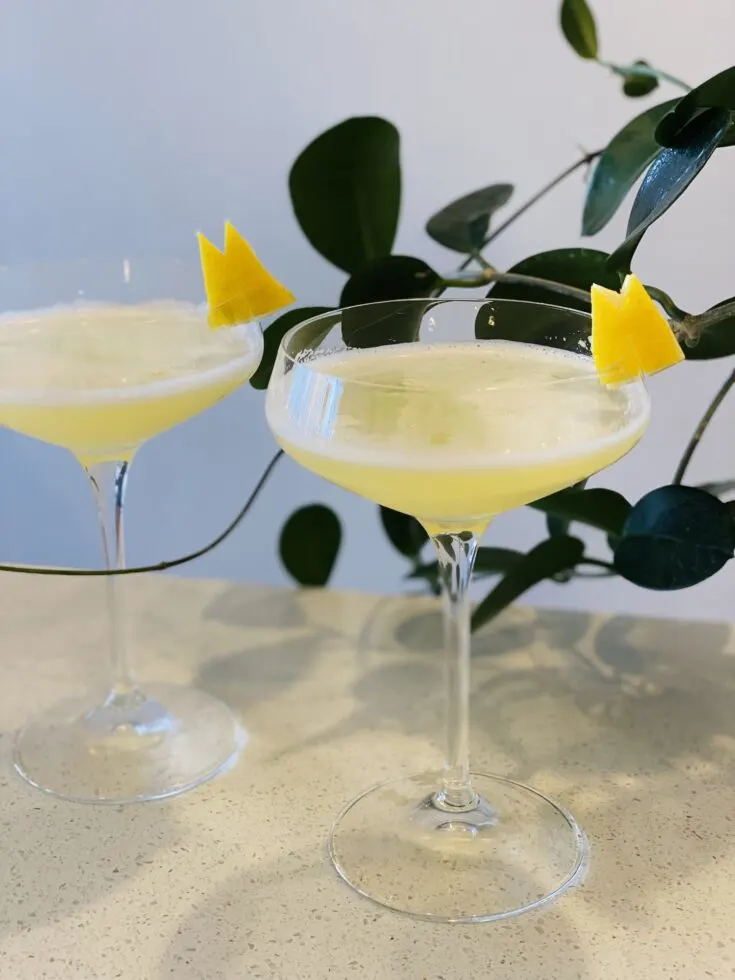 Yield:

1 cocktail
Prohibition-Era White Lady Cocktail Recipe
A complex, citrus-forward sour - or a riff on a sidecar with gin replacing brandy (depending on who you ask) - that is simple to make and is equally delightful to the eye and the palate.
Ingredients
2 ounces London Dry Gin
1/2 ounce Cointreau
1/2 ounce fresh lemon juice
1/4 ounce simple syrup
1 egg white
Garnish: a lemon twist
Instructions
Dry shake all the ingredients
Add ice and shake again.
Fine strain into a chilled glass.
Express lemon zest twist, and place on the side of the glass.
Notes
To best combine the egg white with the liquid ingredients, you need to "dry-shaking" all the ingredients without any ice before shaking again with ice included. This first shake, delivered at a higher temperature, serves to emulsify the egg and gives you a more cohesive, flawlessly blended drink.
[/sc]