Drinking alcohol doesn't make you an alcoholic; it makes you smart! Just kidding. But the point is, everybody loves to have a drink now and then… but sometimes, you aren't in the mood for an unapologetic martini. Sometimes you want something a little sweeter, a little more herbaceous, a little – different.
And it is with this in mind that today we will be covering how to make a lemon basil martini, one of our most requested cocktails to review by you all. We have covered how to make a classic Tanqueray martini with a twist in the past, so now it's time for something new. We won't say the lemon basil martini is an improved version of the original, but rather a martini that goes down a little easier.
It is equally perfect for after-work drinks with the gals, drinking poolside in the sun, or for sophisticated soirees where you really want to impress your guests. It reminds me of summer and lazy days in Italy, and like most things that the Italians do – it is not overly complicated once you figure it out.
Another thing I really love about this lemon basil martini is that it uses both gin and dry vermouth – unlike so many of the "tinis" of the 1990s that sullied the name of a classic while having absolutely nothing to do with it or its ingredients. You can also replace gin with vodka in this recipe – though we do not recommend it because, with the vodka's neutrality, you'll be bringing more booze to the party without adding anything to the drink.
We use Tanqueray, the original London Dry Gin that dates back to 1830, for a robust juniper-heavy base with just a hint of spice for this lemon basil martini. If you want to lean into the citrus/ herbaceous vibes of this cocktail, you could also substitute in the more premium Tanqueray No. Ten gin which adds in notes of white grapefruit, lime, orange, and camomile flower, and is a gin of choice in citrus-based cocktails.
In reality, most gins will bring their own characteristics to this lemon basil cocktail and allow you to experiment with it more; however, we do recommend staying away from many of the more contemporary gins as their diverse flavor profiles tend to eschew convention. In this sense, they are better utilized in custom cocktails that work backward from their unique flavor.
The other collaborator in a classic martini is dry vermouth (a neutral white wine that has been aromatized with citrus, barks, or other herbs and fortifies with additional alcohol) and is not missing here. This 'proofing' of the wine prolongs its shelf life and allows it to stand up to the gin in our cocktail while fusing magnanimously with our citrus and basil notes.
Do note that vermouth can last for weeks in the fridge but decays due to oxidation once open and so you might want to consider buying a small bottle, so there is less to use once you have opened it. We prefer to use the classic Martini & Rossi Bianco, but you might also want to consider trying it with a Dolin Dry or Noilly Prat Extra Dry.
Our other two liquid ingredients are limoncello and simple syrup. Lemoncello is an Italian lemon liqueur mainly produced in Southern Italy (though we are using a wonderful New Zealand one) and simple syrup, which you can make a few hours beforehand with just water and sugar.
If you don't have any of the liquor ingredients on hand, you can get these delivered – along with beer, wine, and other essentials in under 60 minutes using a service like Drizly covering 1500+ cities in the US.
Finally, a note on the fresh ingredients: lemon and basil. For years we have traveled the world and wondered how the same cocktails could taste so vastly different. A mojito in Cuba tastes nothing like that of one in Singapore, for example. We originally chalked this up to the romance of an exotic locale, the view, the scent of the air – or the longing for home, but then we realized it actually might come down to something far more tangible: the fresh ingredients. While spirits are largely standardized around the globe, a lemon grown in Brisbane will taste nothing like those grown in Panama City. And the same goes for basil.

And for this reason, it is hard to make blanket statements regarding quantities required, and we recommend tasting the juice first to make sure it isn't a great deal acidic or sweeter than normal. If making multiples, you might even want to test your first lemon basil cocktail and add a little more or less lemon juice, depending on your desired taste. The same goes for the muddling of the basil.
It sounds like a lot of work, but it isn't really. And trust us – you are going to want to perfect this lemon & basil martini recipe, and there's nothing better than sitting back and indulging in this divine cocktail after a long day of work—an instant favorite.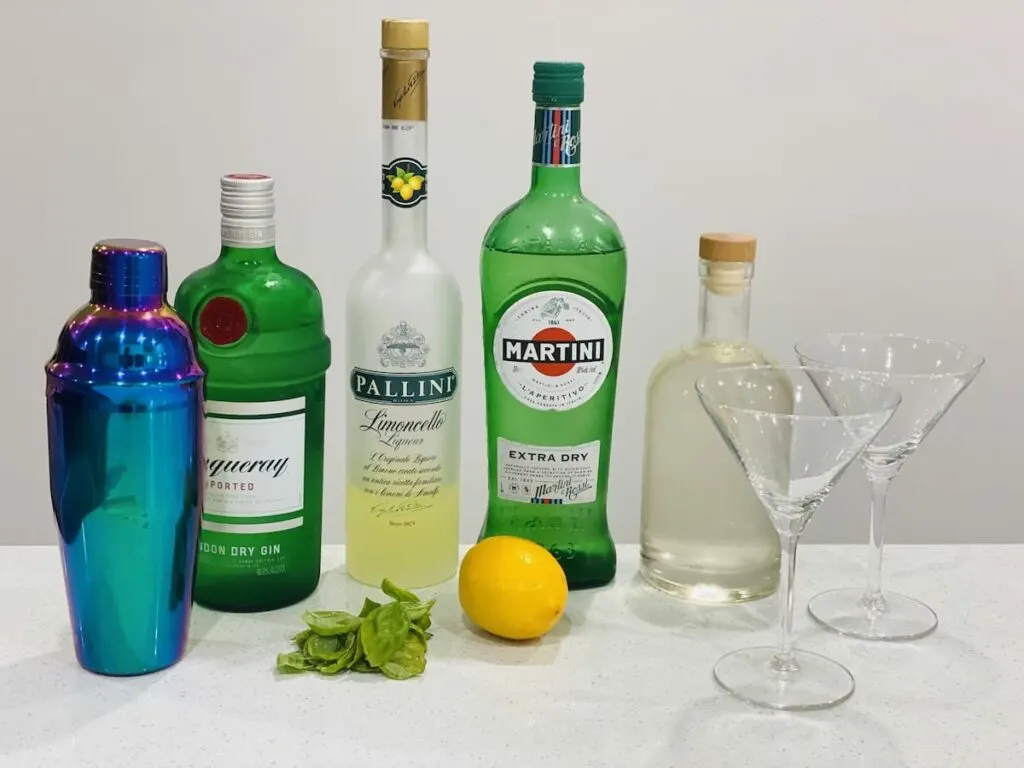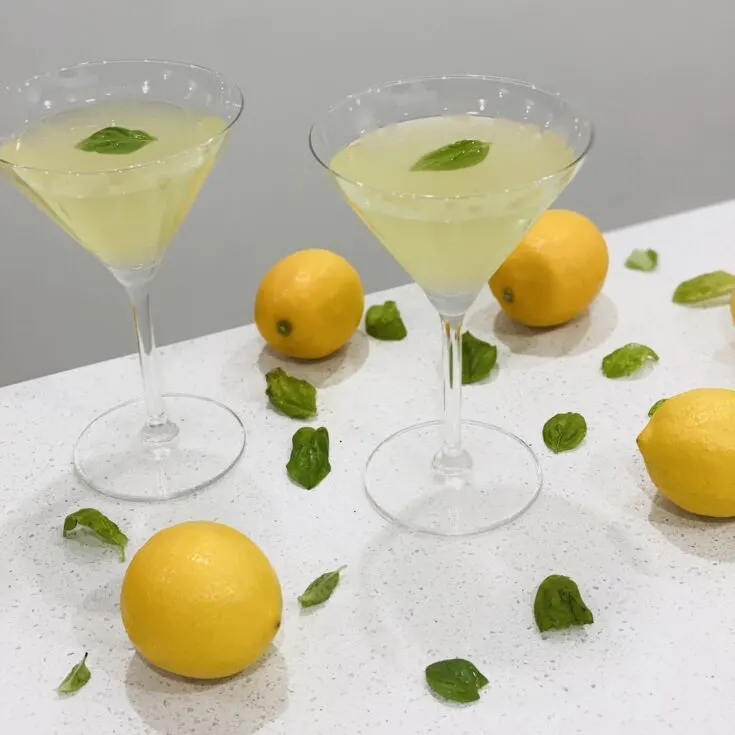 Yield:

1 cocktails
Revitalizing Lemon & Basil Martini Recipe
Total Time:
7 days
5 minutes
Sometimes you want something a little sweeter, a little more herbaceous, a little - different.
Ingredients
2 ounces London dry gin
1/2 ounce limoncello
1/2 ounce dry vermouth
1/2 ounce fresh lemon juice
1/4 ounce simple syrup
8 basil leafs
Instructions
Muddle all except one of your basil leaves with the simple syrup in the bottom of a cocktail shaker.
Add the remainder of the ingredients with ice and shake.
Strain into a coupe and garnish with a single floating basil leaf. Perfecto!
Notes
Vodka can be used instead of gin for infusion.
Infused gin is best used within a few weeks (flavor gets slightly worse over time)
You can infuse less gin should you wish to trail, with each cocktail requiring around 75-100 ml
Nutrition Information:
Yield:
1
Serving Size:
1
Amount Per Serving:
Calories:

222
Total Fat:

0.2gg
Saturated Fat:

0.1gg
Cholesterol:

0mg
Sodium:

9mg
Carbohydrates:

12.6g
Fiber:

0.4g
Sugar:

5.7g
Protein:

0.7g
[/sc]