Crazy, chaotic, surprising at every turn – Tehran, the smoggy capital of Iran, is more than just an eternal traffic jam.
The political, cultural, and economic heart of the Islamic Republic, one can not truly experience this dynamic country without spending at least a few days here…And don't worry, there is no shortage of things to do in Tehran!
While many travelers make the mistake of rushing past Tehran in a race to the more historical cities of Iran, there is so much more here than meets the eye. With 14 million inhabitants, Tehran is one of the most dynamic and interesting cities in the world.
With glorious museums, huge bazaars, captivating people, and yes – even the notorious former US embassy, that was the focal point of the Iranian hostage crisis.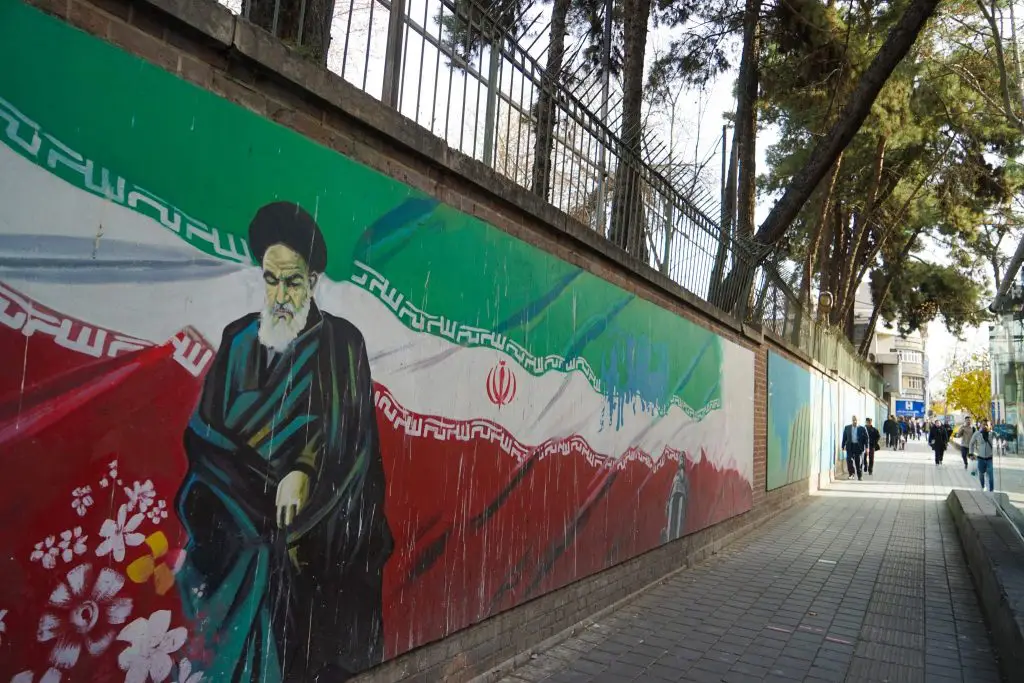 Thankfully today, Tehran is the most liberal and secular place in Iran, a city whose inhabitants are constantly pushing up against authority, whether it's at one of Tehran's many universities, in a contemporary coffee-shop or a modern art museum.
Through Tehran, you can get an idea of what the future of Iran might look like if many of the regimes more progressive elements get their way.
Throw in a spectacular mountain range, a few architectural gems, delicious food, and some of the friendliest people in the world, and you begin to see why Tehran is one destination in Iran you absolutely cannot miss!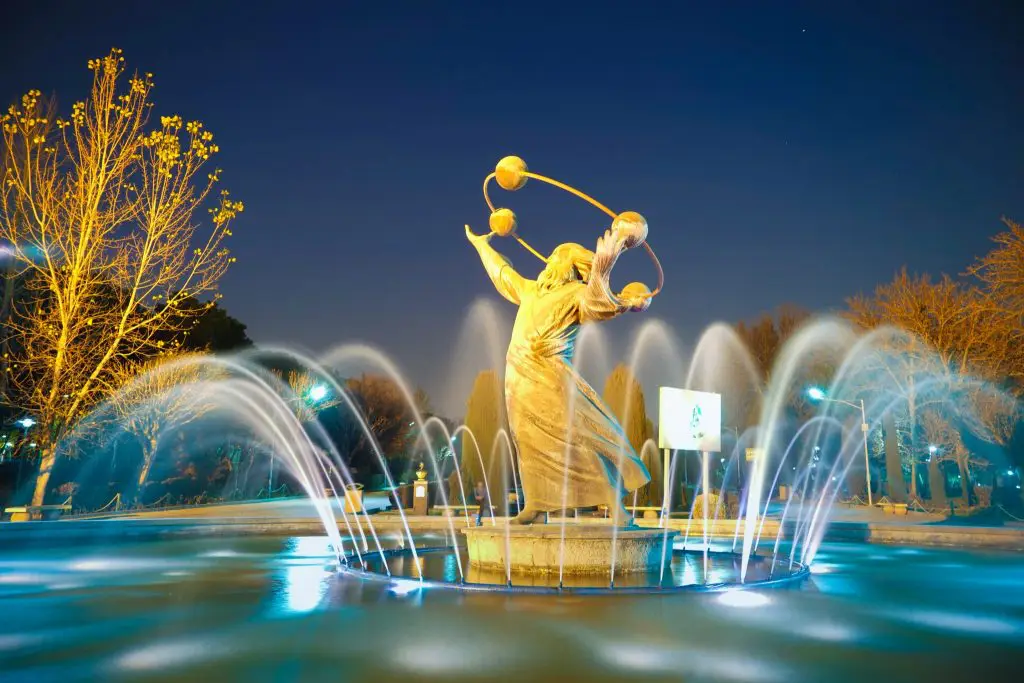 25 Unmissable Things To Do In Tehran: Iran's Chaotic Capital 🇮🇷
1. Tehran Grand Bazaar
Characterized as an old historical bazaar, but the Tehran Grand Bazaar is so much more than that, still to this day acting as a vital economic center of Tehran where everyone comes to buy anything.
You name it; you can find it here if you wander for long enough through its seemingly endless labyrinths of covered alleys. Make sure you have a map on your phone and then get as lost as you can, safe in the knowledge you will somehow find your way back!
Incredibly photogenic, be sure to visit the Tehran Grand Bazaar in the morning before all the stock gets refilled in the afternoon by scary fast-moving haulage equipment, which somewhat distracts from the experience.
Iranian carpet sellers will undoubtedly try to befriend you. They can make an interesting guide if you don't mind the hard sell at the end (although in our experience they knew Westerners generally couldn't afford their outrageous prices and were just happy to chat!)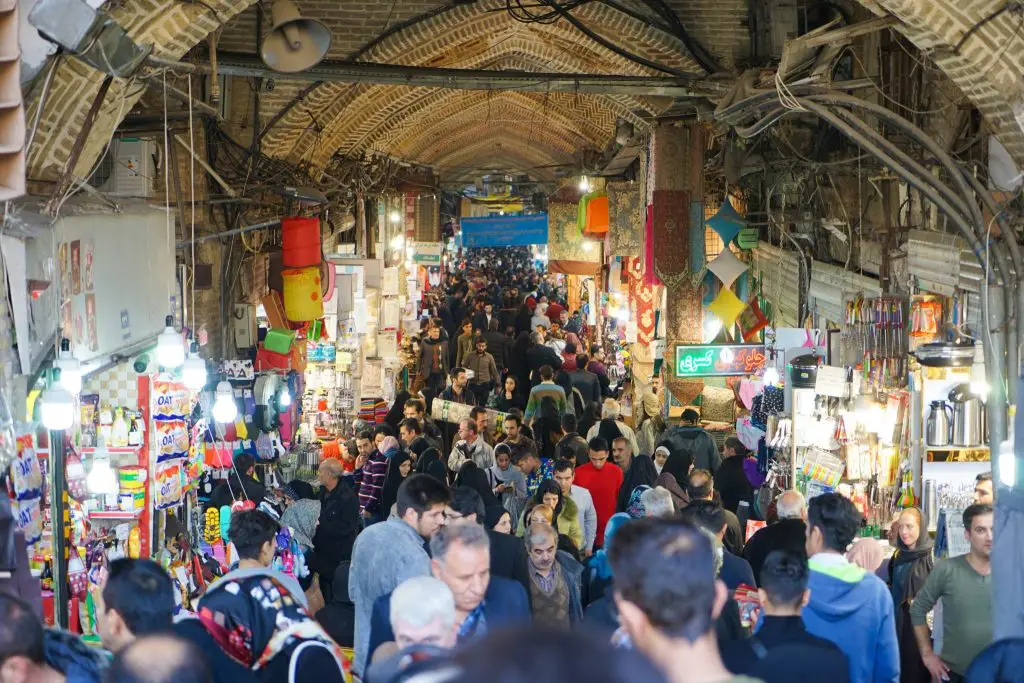 2. Tabi'at Bridge / Nature Bridge Tehran
A 270-meter three-level bridge connecting two parks in Tehran, the Tabi'at Bridge is probably the most beautiful piece of urban architecture built since the revolution.
Opened in 2014, the Tabi'at Bridge (also known as the Nature Bridge in Tehran) is a popular hang out for Iranian's who come to enjoy a variety of dining options, views, and relaxation areas. Even more incredibly- the Tabi'at Bridge was the brainchild of an Iranian architecture student, Leila Araghian, who was only 26 at the time.
Winning design competitions all over the world – the Tabi'at Bridge should not be missed, and we can't wait to see what Leila Araghian comes up with next!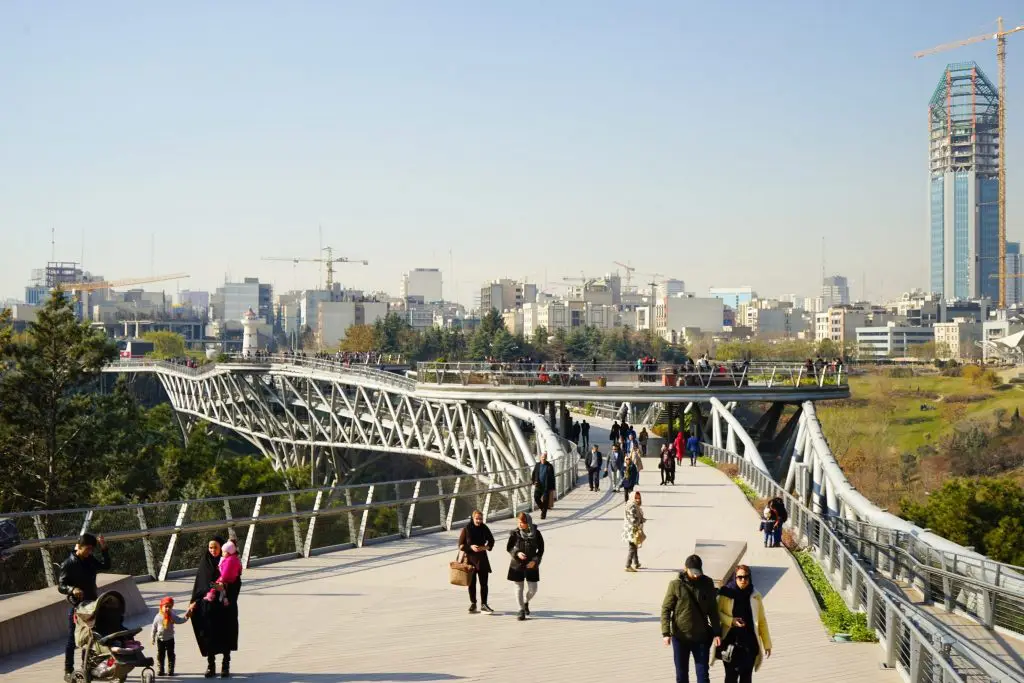 3. Azadi Tower
An icon of Iran known around the world, the Azadi Tower – known as the Shah's Memorial Tower before the revolution – marking the west entrance to Tehran and is part of the Azadi Cultural Complex.
There is a museum underground which is included in your ticket are you can either walk or take two elevators up the 45-meter tall structure. And yes, the entire thing is clad in cut marble so you can imagine how incredible it looks at sunset (though the views at the top are pretty incredible too!).
The Azadi Tower was built to mark the 2,500th anniversary of the foundation of the Imperial State of Iran by architect Hossein Amanat who based the design upon classical Iranian architecture. The entire grand design was financed by the huge wealth generated by Iran as a major oil-producing nation before the revolution; however, as a member of the persecuted Bahá'í Faith, Amanat fled Iran to Israel during the 1979 Iranian Revolution.
He went on to design the equally famous Bahá'í Arc buildings in Haifa, Israel, and weirdly enough – the House of Worship in Samoa.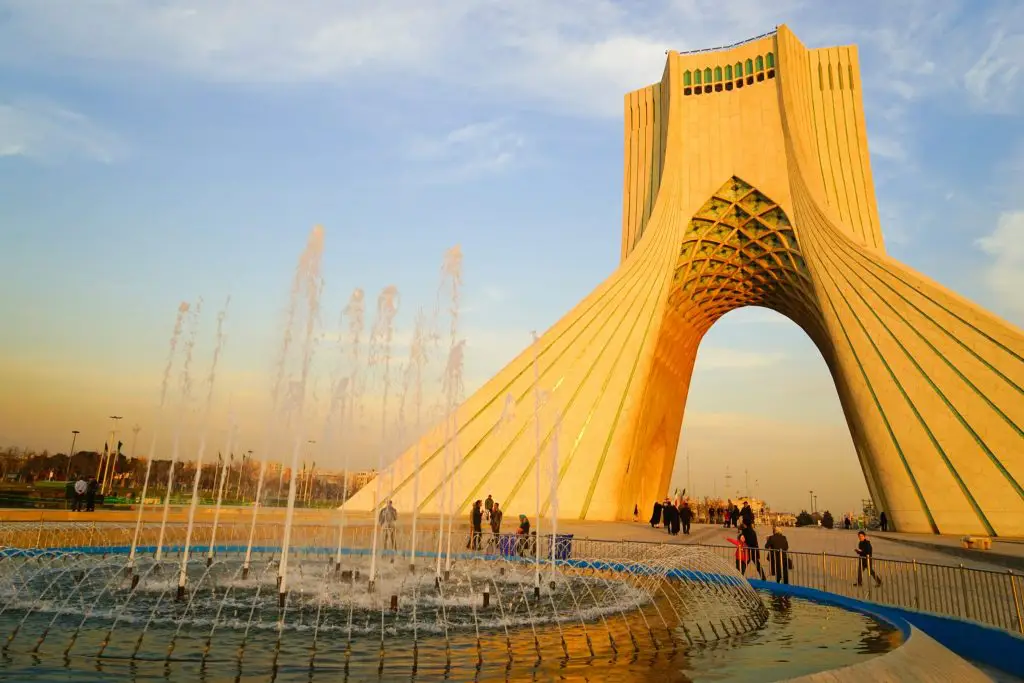 4. Golestan Palace UNESCO World Heritage Site
The incredibly lavish Golestan Palace is widely regarded as a defining work of the Qajar era thanks to the marriage of Persian craft architecture with Western influences.
That is why it was rewarded UNESCO World Heritage Status, and quite rightly, I think!
The Palace is one of the oldest buildings in Tehran, and when the Qajar family came into power here in 1779, they made this remarkable the capital of Iran – where it has stayed ever since. Glorious and outrageously excessive, the Golestan Palace is one thing to do in Tehran you absolutely cannot skip.
However, be aware that with a total-ticket price of 850 000 rials (app. 25USD), it is tied with the far less-worthy Sa'd Abad Museum Complex for the most expensive museum in Iran.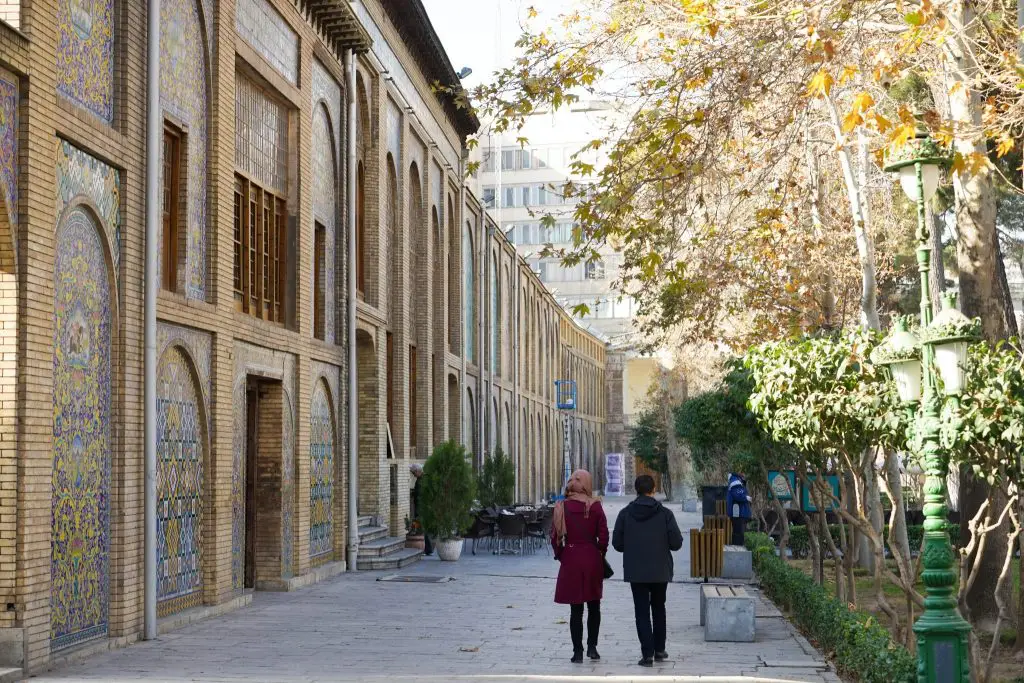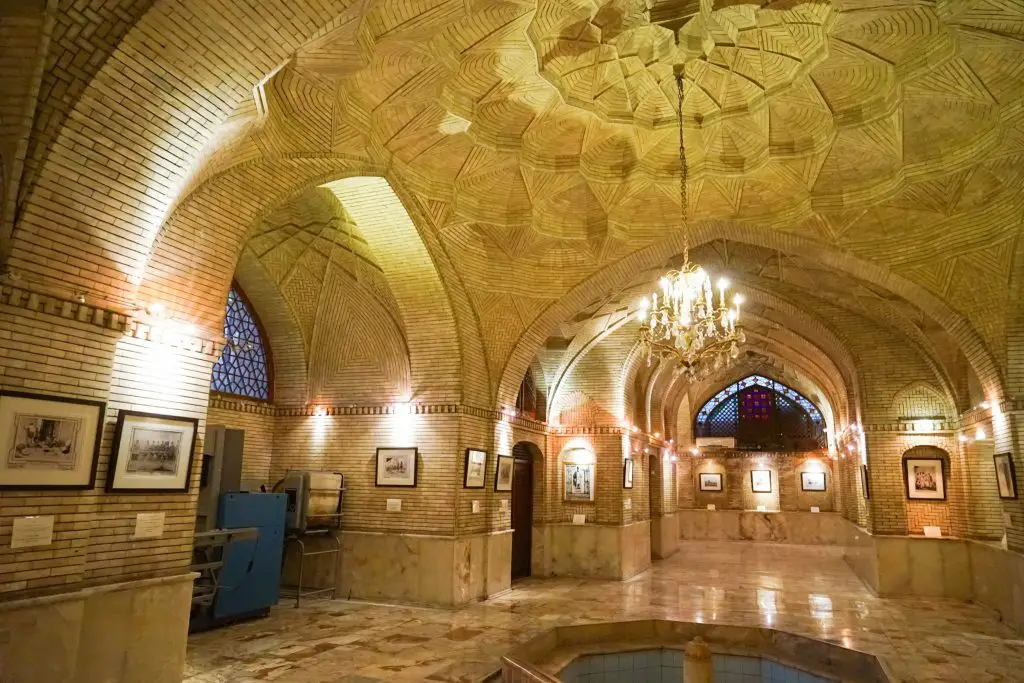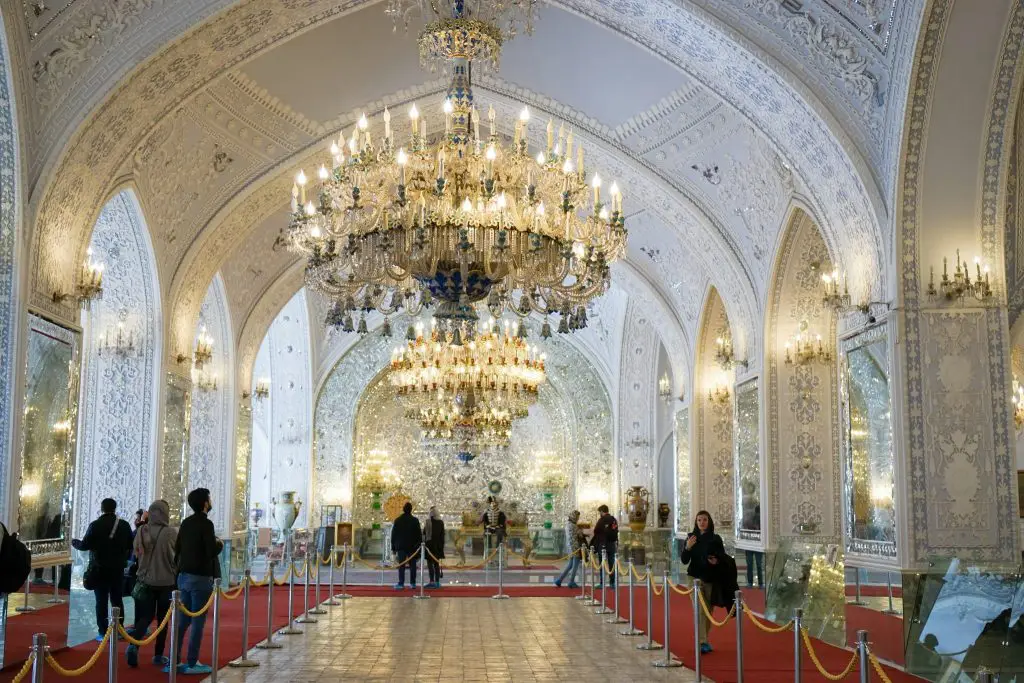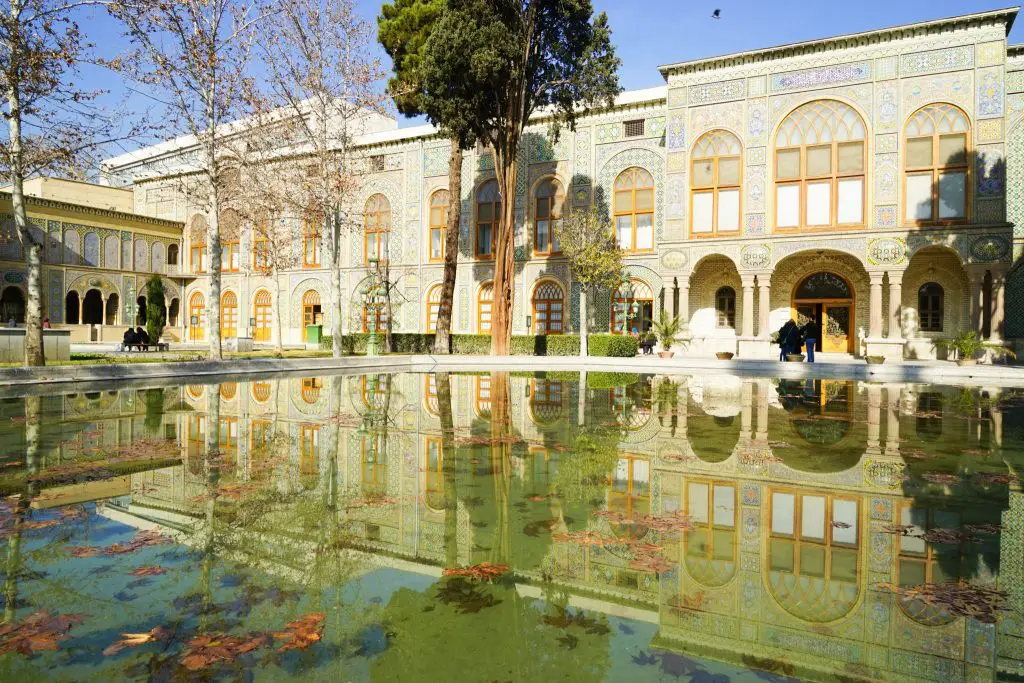 5. HI Tehran Hostel

Information about Iran can be hard to come by outside the country, so it pays to have a super-reliable place to connect with travelers with helpful locals on hand when you arrive.
This is why I loved staying at HI Tehran Hostel, a full-renovated hostel in a quiet street just minutes from many of Tehran's top tourist attractions and a Tehran Metro Station. While the modern facilities, spacious dorms, and private food and free breakfast were excellent, what I loved most was the atmosphere as the staff would always be chatting at the communal breakfast table and answering everyone's questions.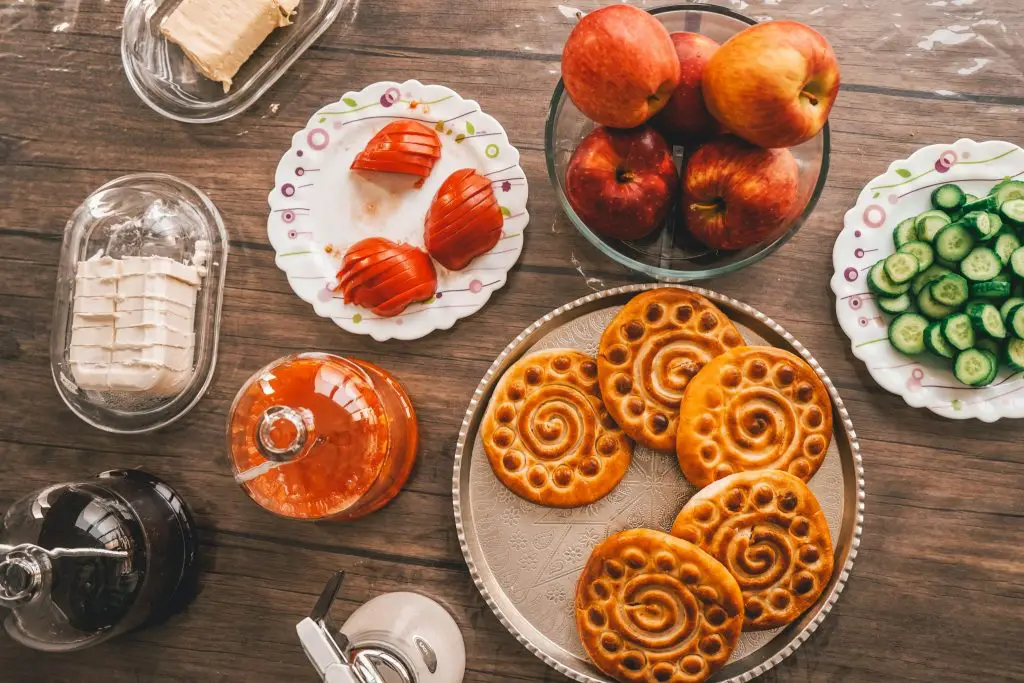 It's also a great place to meet other travelers, either beginning or ending their trip to exchange money, find companions, get ideas, or just to swaps stories! I stayed here both at the beginning and end of my journey and would return to HI Tehran Hostel in a heart-beat!
Oh, and another nice bonus: HI Tehran Hostel provide an invitation via email needed to get the Iran visa on arrival at Tehran Airport, and the immigration staff seems to be so familiar with the hostel they didn't even bother calling to confirm.
This meant I was out of the airport while other travelers were waiting for their hostel to answer the phone in the middle of the night (though I later called the hostel at 3 AM when I was lost, and they responded in a few seconds – they really are 24/7)
6. US Den of Espionage / Embassy of the United States in Tehran
The famous former US embassy in Tehran, where 52 diplomats were taken hostage for 444 days by students during the 1979 revolution!
Even today, the massive compound is still controlled by the Student Basij Organisation, who are tasked with defending the revolution and have turned the building into a museum. Be sure to take the free tour to make the most of the colorful propaganda both visually and spoken.
It is also absolutely fascinating to see the once-secret rooms used for spying now embarrassingly on full display – and to get a real sense of the work undertaken in the US embassy before the revolution.
Truly like walking back in time and straight onto a movie set, you can't miss the opportunity to visit the historic US Den of Espionage.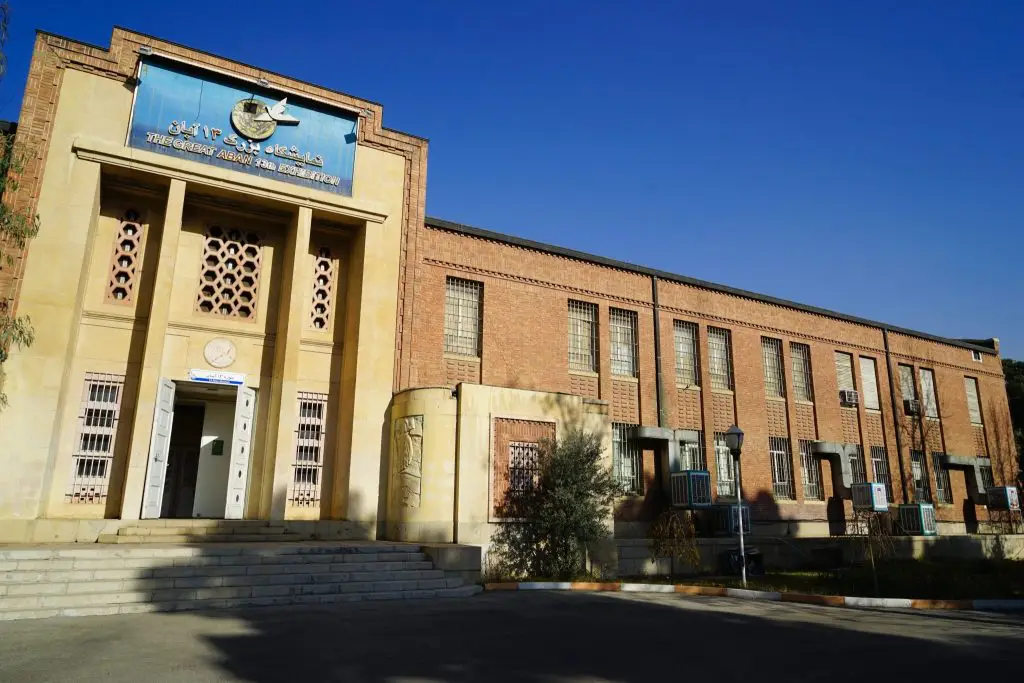 7. Museum of the Qasr Prison
Newly opened, the Museum of the Qasr Prison in Tehran is a dark look into the Pahlavi-era prison complex, renowned for psychological and physical torture.
Former prisoners still guide here somedays and will share memories of their torture, including broken teeth and amputated limbs. The former Qasr Prison gardens have been turned into a beautiful park, and while the main historic prison building may be the focus (with stunning brickwork none the less) don't miss the much darker and newer concrete building at the back of the complex where recordings still play the screams of torture.
Here you get an intensely real look into what life was like in this prison just before and during the revolution here, but it is not for the faint-of-heart.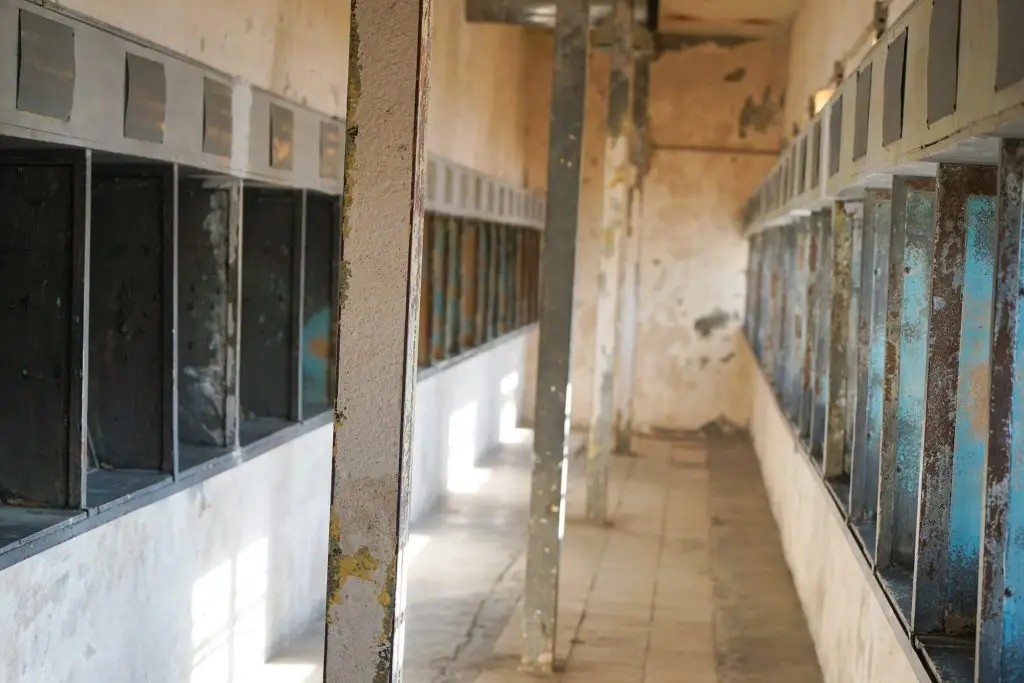 8. Tochal Telecabin Tehran
If the inevitable smog of Tehran gets a bit too much for you – why not head to the mountains with the Tochal Telecabin / Sky Lift! Located in the north of Tehran.
You can make a 45 minutes trip straight up and then couples with a short scramble you can easily summit Mt Tochal (3933m). As you would expect, the views are out of this world – both of the mountains and back down over the chaos that is Tehran – and if you're feeling fit, there is plenty of hiking opportunities at the different stations along the way!
Super popular with local Tehranis during the weekend, but don't make the same mistake as us and try to visit the Tochal Telecabin during the week – We were told it is closed for the first three days after the weekend, every week?! So that means the Tochal Telecabin opening hours are supposably Wednesday – Saturday, but best to call ahead before making the trip out there (best reached by taxi) and to go early as the last car back down is apparently 3 PM…
Like many things in Iran, it's better not to question it!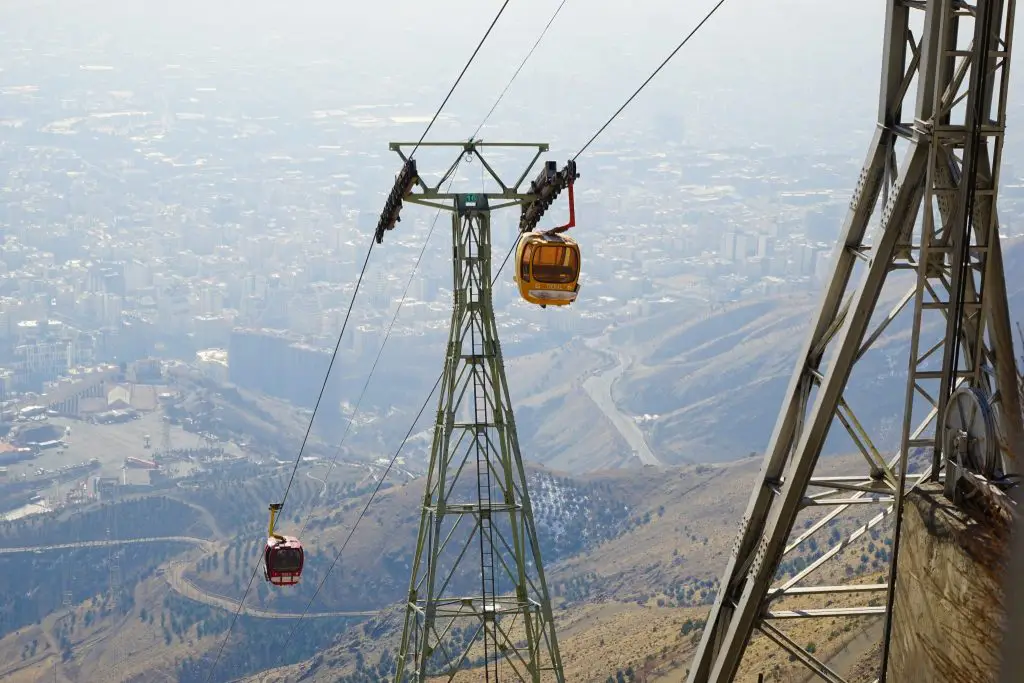 9. Skiing In Iran
Even though the majority of Iran is pretty much a desert, there is still some great skiing in Iran – and some of the cheapest skiing in the world!
While global warming seems to be shortening the season for skiing in Iran, you can get some pretty good powder for skiing in Tehran from January. The Tochal Ski resort is located at the end of the above cable car and makes a great day-trip, but if you are really serious, you are going to want to head to the nearby Dizin Ski Resort or Shemshak Ski Resort from Tehran. Not what you were expecting to do in Iran, right!
Just make sure you have everything you need for your first time skiing as you won't be able to buy in Iran.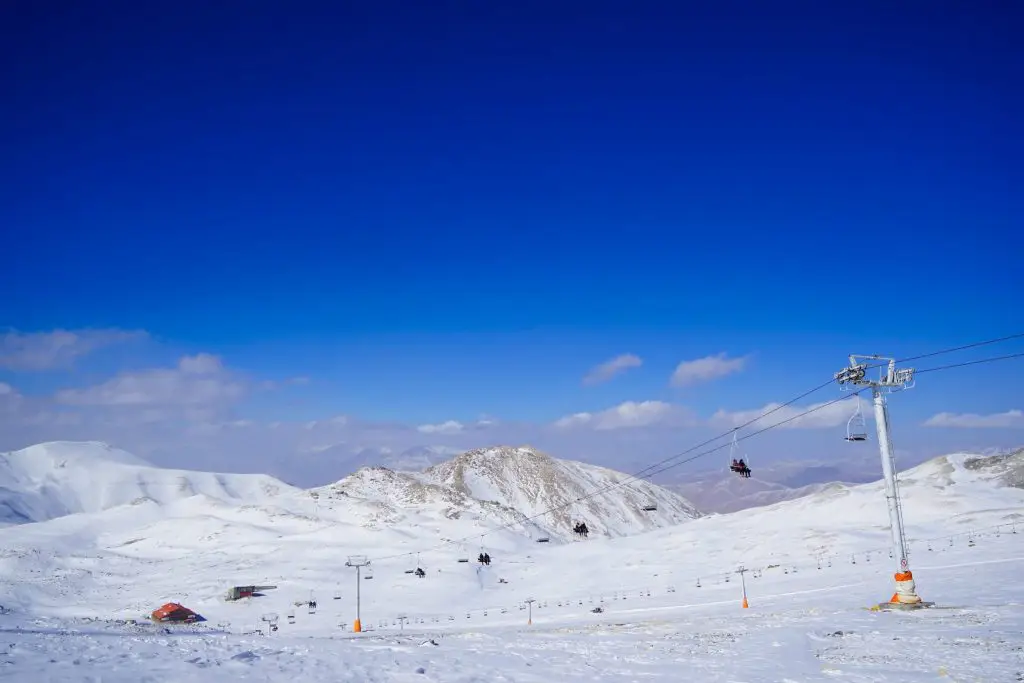 10. Tehran Metro Art
Continually expanding, the Tehran Metro is the lifeline of Tehran and carries over 3 million passengers a day while the streets above are in near-constant grid-lock.
Cheap and easy-to-use, there is also a bonus for tourists – if you pay attention, the Tehran Metro is the best place to see propaganda in Iran!
Constantly changing, pay special attention to the platforms, or the long entrance corridors to see cartoons and artwork depicting everything from the morals taught in the Quran and daily life in Iran to rather harsh and graphic anti-US and anti-Israel pieces. It doesn't have as much artistic merit as the Stockholm Metro Art or Msheireb station in nearby Doha, Qatar … but it arguably more interesting!
While these Tehran metro cartoons make a great picture to share with friends back home, be discrete when taking photos and remember that the views expressed are directly from a government department and by-and-large not reflective of Iranian society at large (or at least many of the more liberal Tehranis)…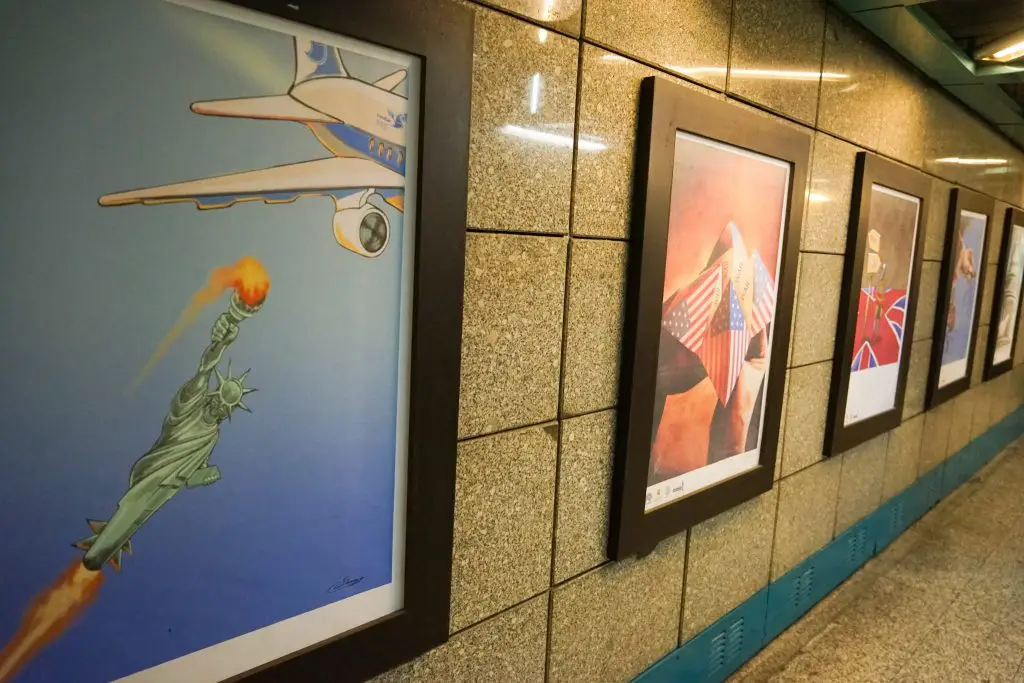 11. Wander Tehran
While each time crossing the road might be a near-death experience, there is no better way to get to experience the social fabric and stumble upon hidden gems in Tehran than to simply wander.
Instead of taking a taxi or heading a few stops on the Tehran Metro, why not get your walk on and see what you come across! Small parks, street food, intriguing shops, and hidden bazaars, there really is no telling! Expect a great many people to stop, and thank you for visiting Iran — and question you on your experiences in Iran so far.
Besides, if you ever are lost these people are great to help you find the nearest Metro, coffee-shop, museum or restaurant!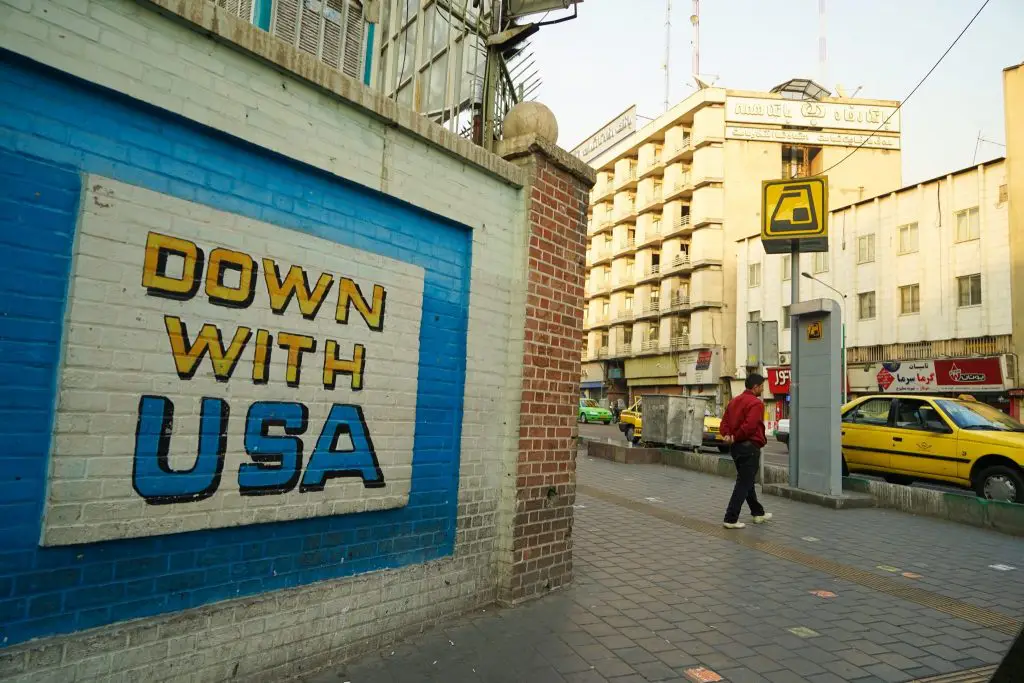 12. Tehran Museum of Contemporary Art (TMoCA)
While Iran might not be a world leader in contemporary art today, you should still visit the Tehran Museum of Contemporary Art to see the stunning collection of 19th and 20th century's world-class European and American pieces.
Opened by Empress Farah Pahlavi in 1977 – just two years before the Revolution – TMoCA is said to hold the most valuable collections of modern Western masterpieces outside Europe and North America. However, most were hidden away until recently when they have again been put on display.
Possibly even more intriguing, however, is the liberal Tehranis that are drawn to the Tehran Museum of Contemporary Art. Inside you'll find many people rebelliously removing their hijabs, and you could easily imagine yourself in an art gallery in Western Europe or the US!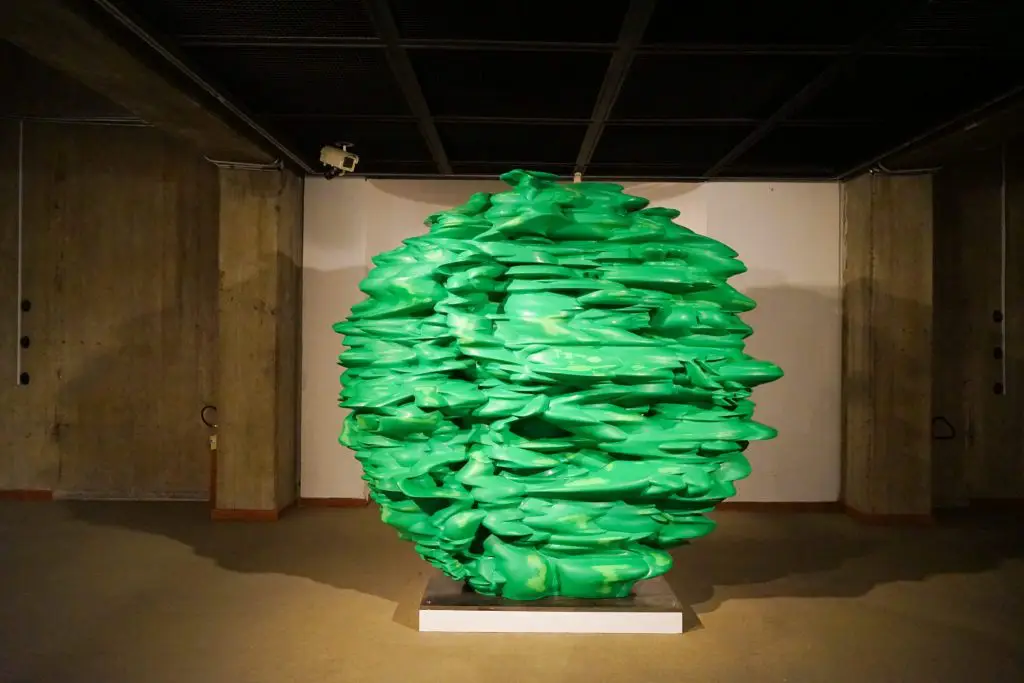 13. Sa'd Abad Museum Complex
A sprawling 300-hectare complex built by the Qajar and Pahlavi monarchs in a similar pattern to the oil-rich rulers of Saudi and the Gulf States today…
Now open to the public, the Sa' dabad Complex, while expensive by Iranian standards, is a beautiful place to wander and admire the natural forest, qanats, and buildings. Each museum is individually chargeable and, in our opinion — not at all worth it. Except, perhaps, for the famous Green House (with its outlandish hall of mirrors) — which is currently under renovation.
There is also a collection of royal cars if you have a passion for vintage sports cars, but you can see them in only a few minutes. Look out for the President of Iran who has taken up residence in a private section of the Sa' dabad Complex.
Don't worry; there are plenty of armed guards to stop you accidentally wandering in!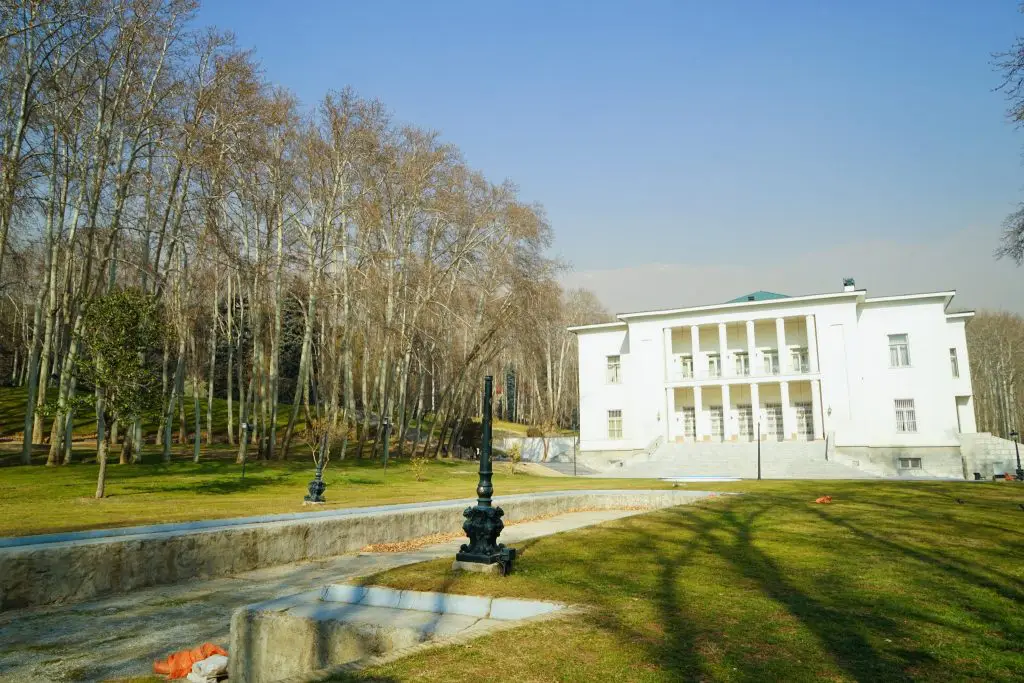 14. Park e Shahr / Tehran City Park
A sprawling park in central Tehran near to all the major museums in the district. Take a wander through and admire the bizarre bird park, aquarium, and library.
The Tehran Peace Museum is also located here with strange opening hours – take a peek in if it is open. You can also find plenty of cats roaming around and can join in a game of ping-pong with the locals who gather here to relax and unwind.
The Park-e Shahr is probably the only place big enough to escape the constant traffic and honking in Central Tehran!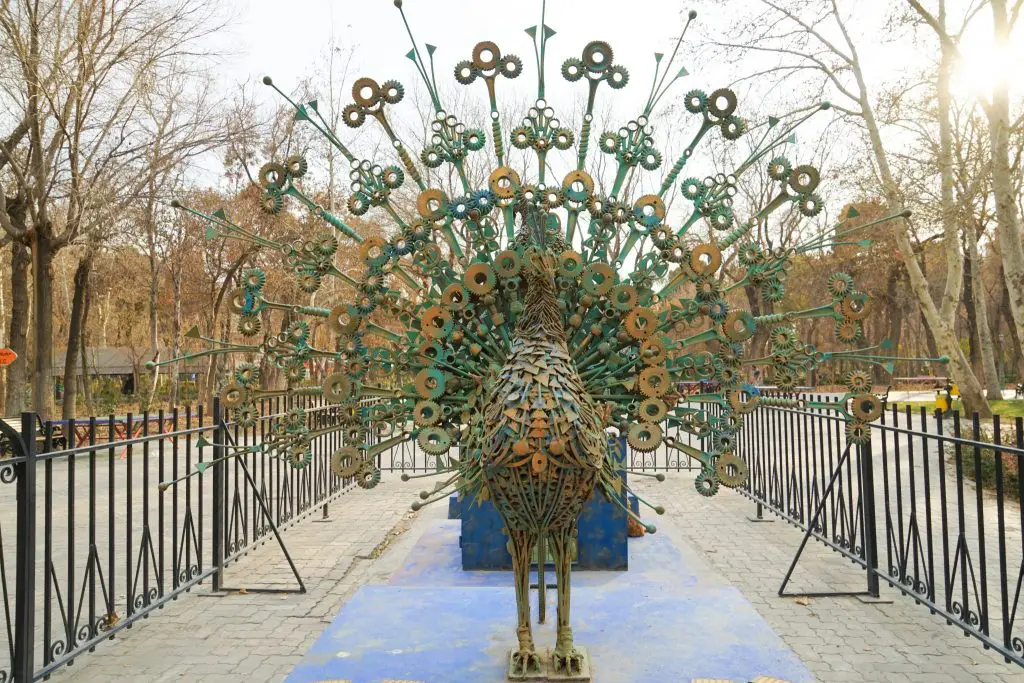 15. Museum of Ancient Iran
Housing historical objects from Iran's pre-Islam, you would expect the Museum of Ancient Iran to be one of the most glorious in the country – but sadly, it is entirely underwhelming and a wasted opportunity.
Housing objects from the Shah era, the museum was opened after the revolution, and you get the feeling that the government did not want to venerate any part of Iran's past before Islam. Still, if you're interested in ancient history, you should still take a wander through.
Islam's post-Islamic history is displayed next door and charged separately (and weirdly enough, the Museum of Ancient Iran is almost twice the price but nowhere near as good…)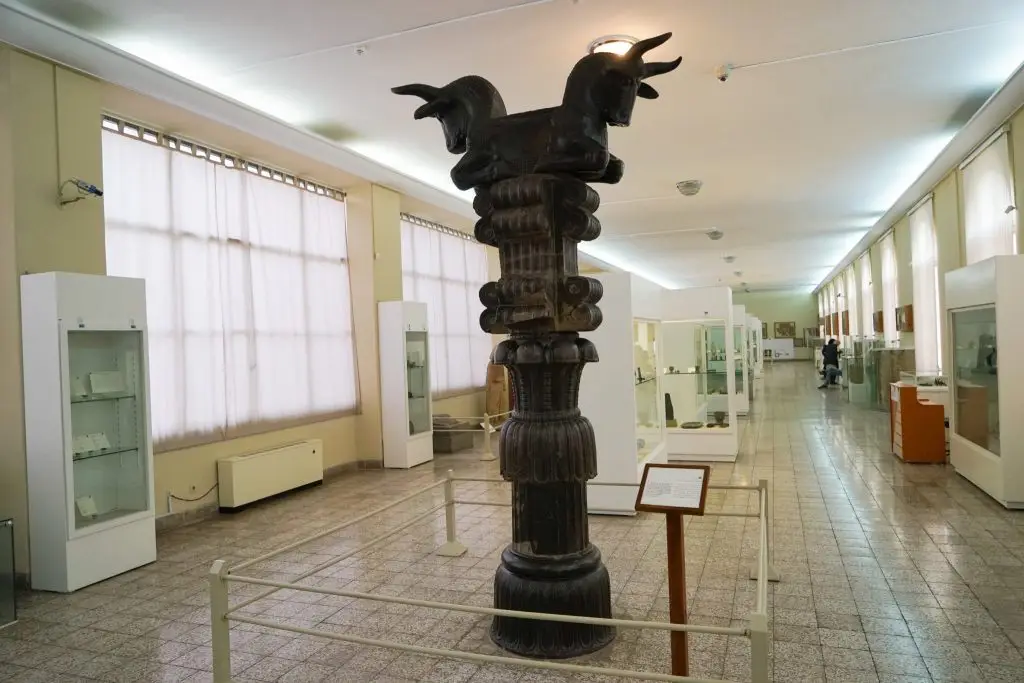 16. Museum of the Islamic Era
Next door to the above Museum of Ancient Iran and far better, the Museum of the Islamic Era is one of the top museums in Tehran.
Recently reopened after a nine-year renovation, this three-story building displays over 1500 items and relics from the early Islamic period as well as Seljuk, Ilkhanid, Teymurid, Safavid, and Qajar eras. Beautifully done, you won't want to rush through as you take in all the details of the ancient rugs, painting, plates, pots, and more.
There is also a temporary exhibition space on the ground floor changing every six months.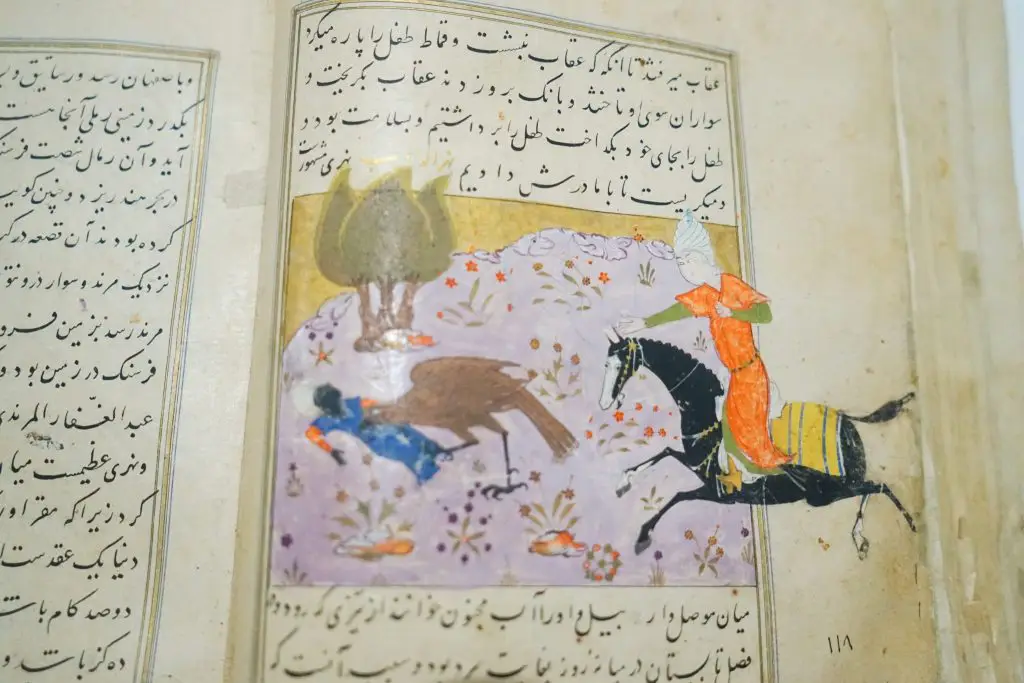 17. Islamic Revolution & Holy Defense Museum
An outsized experiment in glorification with more than a hint of propaganda, the Iran Holy Defense Museum is easily one of the things to do in Tehran.
Focussing on the bloody Iran-Iraq war, which left over a million lives lost, there are over seven halls here going into minute details of every imaginable aspect of the conflict – though mostly through displays, walk-through models, visual effects and more. This is a very high-tech museum – if a little surreal – after which you might have a better idea of this harrowing episode in modern Iranian history.
The bridge of the martyrs here is especially fascinating — and there are huge tanks, rockets, and planes outside.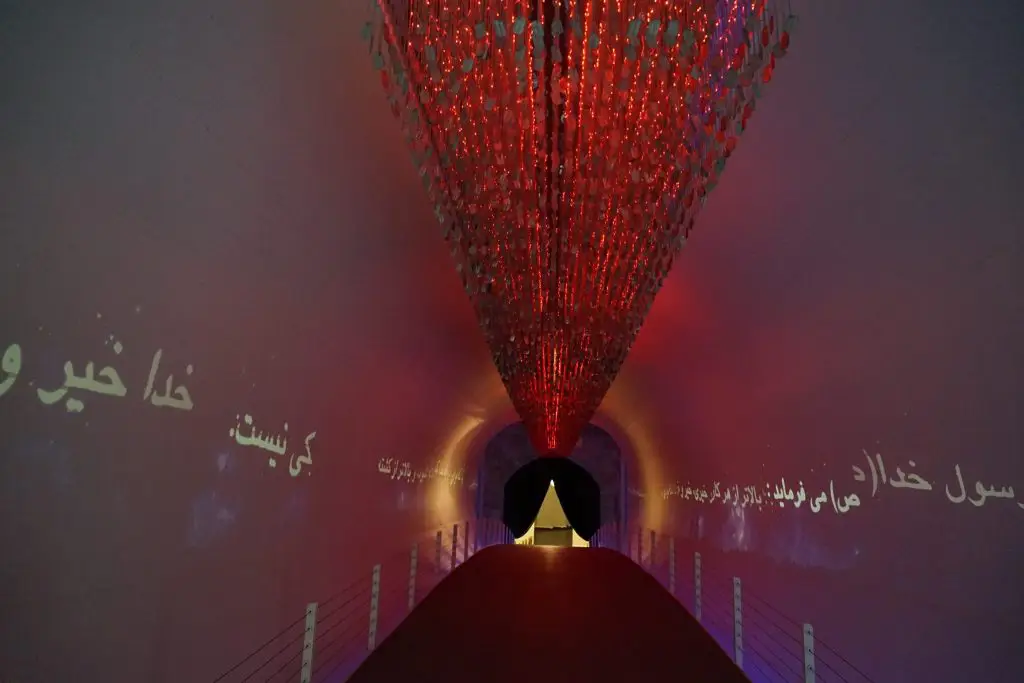 18. Imamzadeh Saleh / Tajrish Mosque
Visit the beautiful Tajrish Mosque officially known as the Imamzadeh Saleh to see the entombed remains of Saleh, a son of the Twelver Shia Imam, Musa al-Kadhim.
One of the most famous shrines in Tehran, the interior is particularly spectacular and was our favorite mosque in Tehran. Make sure not to visit during prayer as it is far too busy, and you are likely not to be let in – but during other times, we found foreigners were welcomed, and someone is likely to take an interest in you and offer you a tour!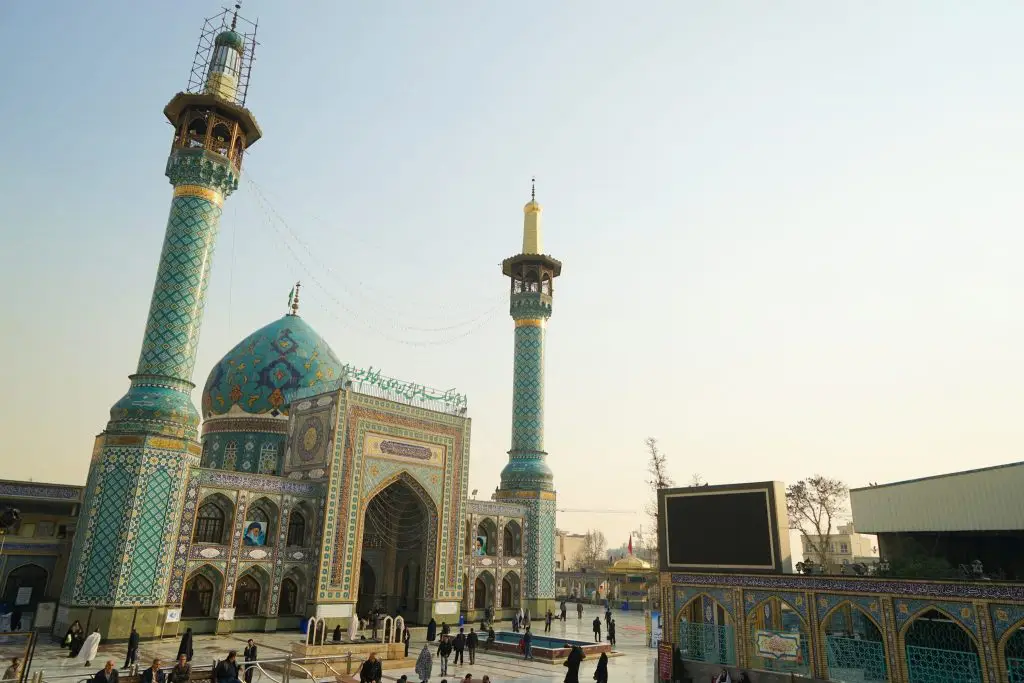 19. Tehran Shopping Malls
So as a tourist, you're probably not going to Tehran for the shopping – and especially not given that you need to bring cash for everything you buy!
But a visit to the Tehran Shopping Malls is not just about shopping!
With giant food courts, arcades, and plenty of Iranian / independent stores, they are a socializing space for Tehran rising middle-and-upper class and a great place to meet young, educated Iranians.
While most Tehran Shopping Malls are mega-monstrosities and impressive to wander around for a bit, the best is the Palladium shopping center (with the largest toy store in the Middle East), the Arg Commercial Complex (with its luxury stores and beautiful outdoor interactive facade)and the Sam Commercial Complex.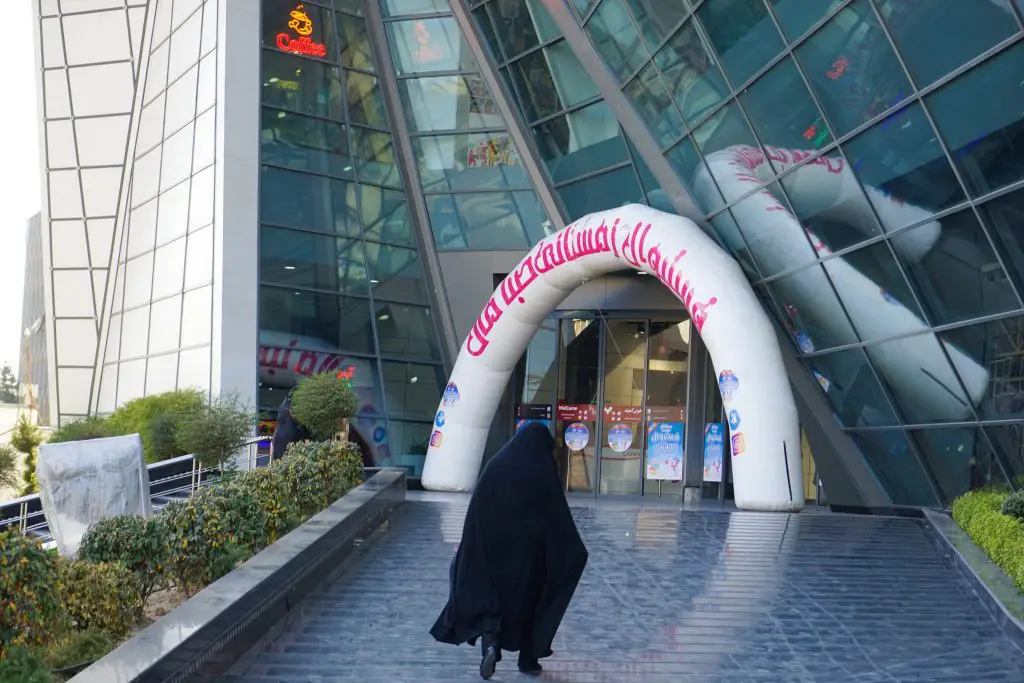 20. Saint Sarkis Cathedral
The largest church in Tehran, the Saint Sarkis Cathedral of the Armenian Apostolic, was completed in 1970.
While a Cathedral might not be top of your list of things to do in Tehran, you should not miss the opportunity to see Christian life play out in the Islamic Republic – complete with imposing giant walls, barbed wire, and strict security, though as a foreigner you will be welcomed in.
Forbidden from practicing their faith in public, the spires of the church are barely visible outside the compound. The surrounding area is intensely covered in pro-Islam murals and billboards.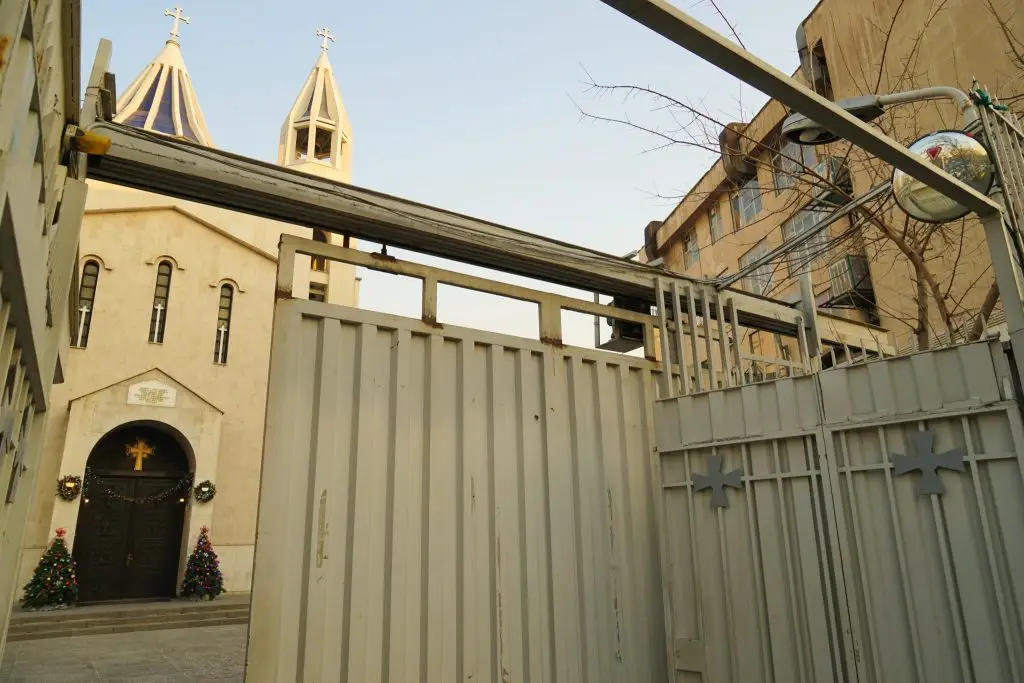 21. Sharaf Al-Eslami Restaurant
This historic restaurant is hidden away in the Tehran Central Bazaar, but you can find Sharaf El Islam by following the throng of people until you see a line heading into a crowded basement.
Here you can try some of the best traditional food in Tehran in a crowded and frantic setting. The service is rushed, and people will hover to get a table — and it all adds to the atmosphere! If you make it here, you'll really be in the know, and 99% of the time, you'll only be joined by locals.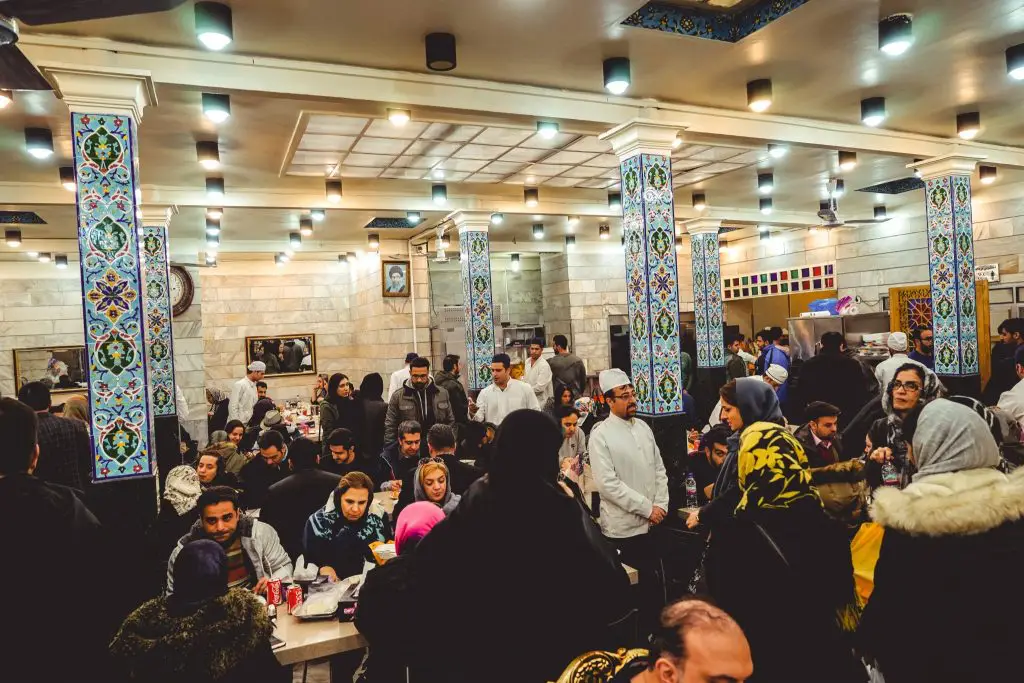 22. Cinema Museum of Iran
Located in the north of Tehran is a stunning Qajar-era mansion complex with historic garden, the Cinema Museum of Iran is a curious mix of equipment, posters, and photos from the Iranian movie industry dating back over the last century – and all in English!
There is even a beautiful working cinema with ornate molding showing new and classic Iranian films – though without subtitles, but still intriguing.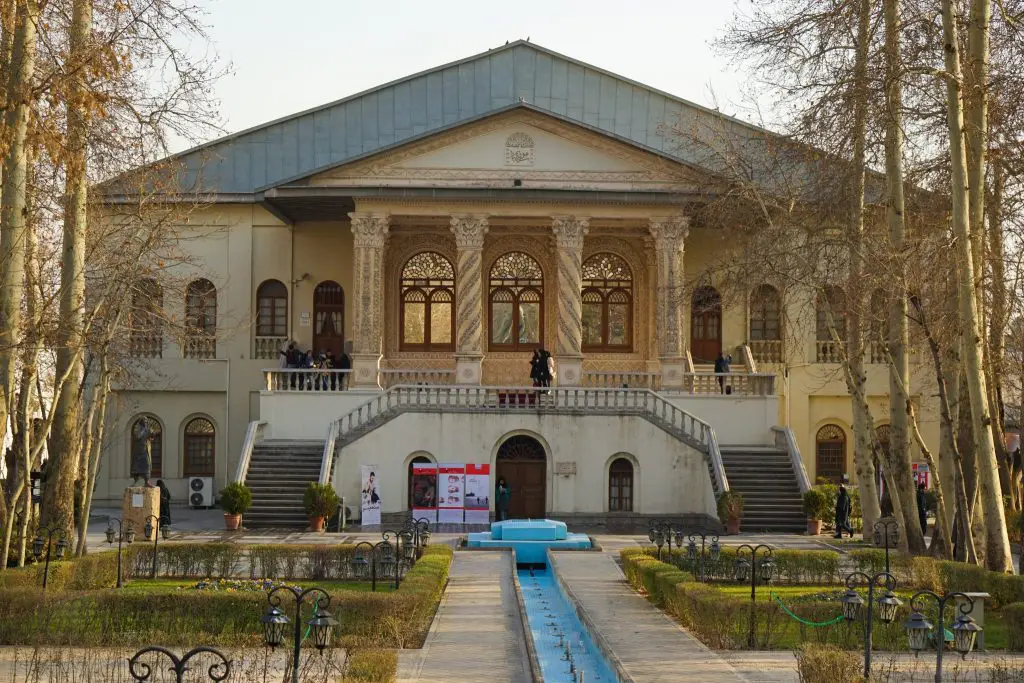 23. Snapp / Iranian Uber
So not really a thing to do, but everyone traveling to Tehran should have Snapp downloaded on their phone as it halves the price of taxi's – and lets you get where you need to go without language barriers.
While it might be blocked on the Apple App store, you can still download Snapp for iPhone with this handy workaround. Basically, Uber in Iran, Snapp let you explore the more remote attractions of Tehran that are not easily reached via Subway, and is helpful if you're a larger group – though prices are set and very low!
Though you will get a first-hand experience of the insane driving in Tehran.
I recommend sitting in the back-seat and potentially blindfolding yourself as some things are better not seen!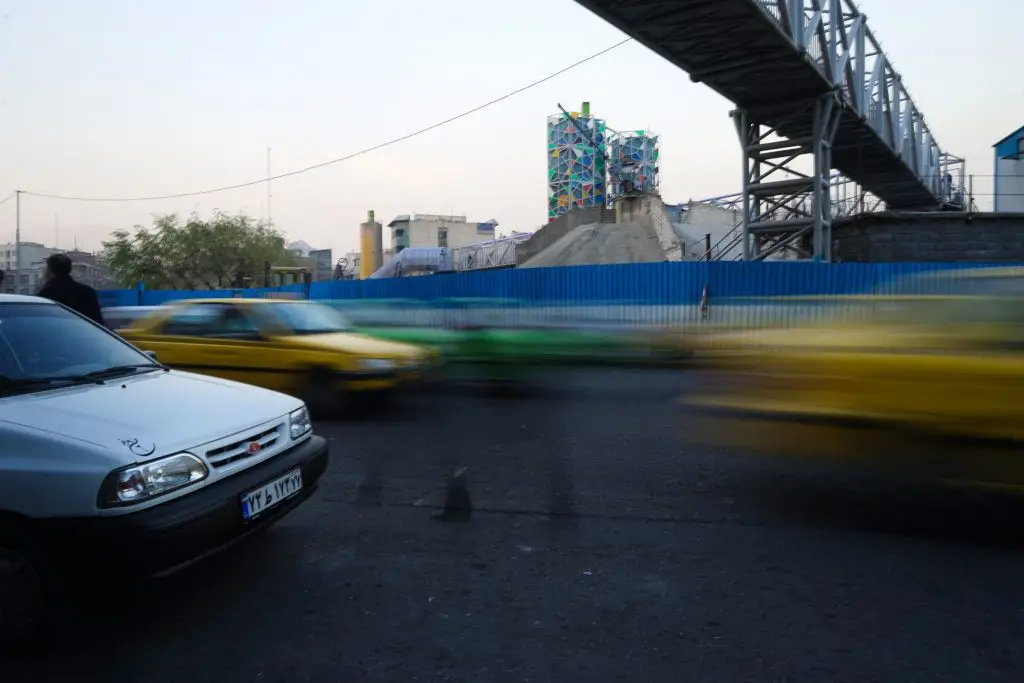 24. Tehran Coffeeshops
A hotbed of liberalism in Iran since the removal of sanctions — a café culture has exploded across Tehran as many more wealthy Iranians got a taste of Western culture and cosmopolitanism.
With some pretty decent views, coffee shops in Tehran are also a great place to meet young Iranians, engage in open discussion, or just to watch the unique culture that takes place here. A few years ago, many were raided as women were known not to wear hijabs inside.
Still, the authorities seem to be looking the other way again – but the morality police crackdown of 2013 makes for an exciting read. Lamiz Coffee is the Starbucks of Tehran with multiple locations (yet annoyingly no WiFi), but you should also stop by the historic Gol Rezaieh Café or the Tehran Museum of Contemporary Art Café.
To be honest, so many have opened up over the past year it's hard to keep track of the best – so just ask your hostel in Tehran for their recommendation nearby, or better yet just stop someone young and trendy on the streets!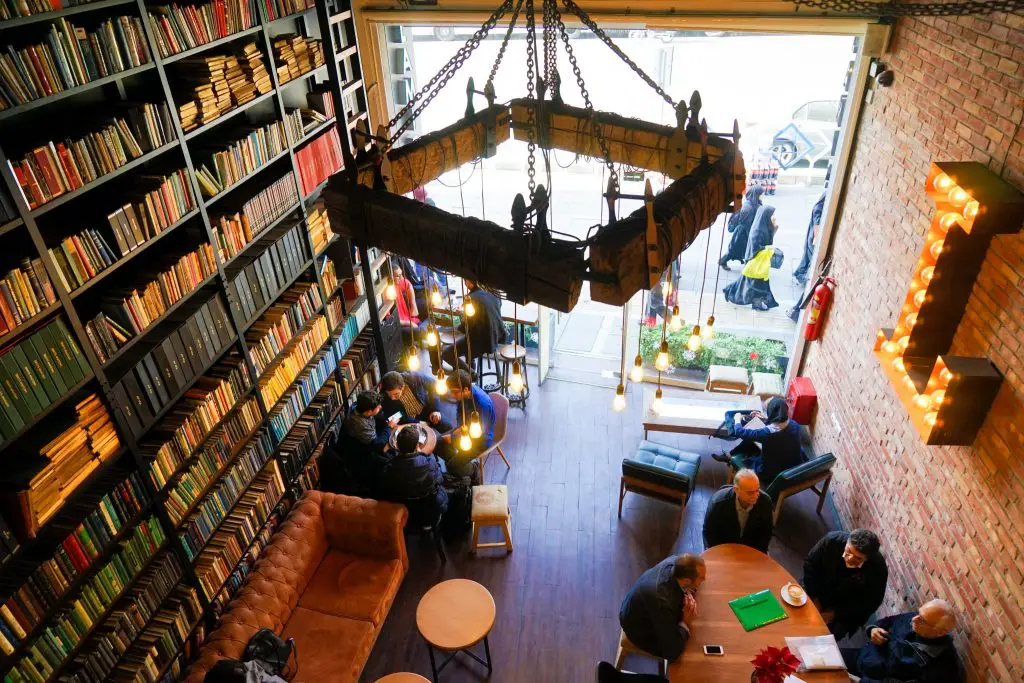 25. Tehran Street Food
While all over Tehran you will find plenty of traditional street food – and you should try as much as you can (check here for Iranian street food to watch out for) – we are specifically talking about the street food of 30th Tir Steet outside the National Museum of Iran. Trendy and oh-so-cool, swing by here in the afternoon or evening for a lively atmosphere, intriguing food trucks + carts, and some nice outdoor seating.
You will surely be joined quickly by locals who will be quick to recommend their favorite spots, to help you with a translation and let you know all their favorite things to do in Tehran!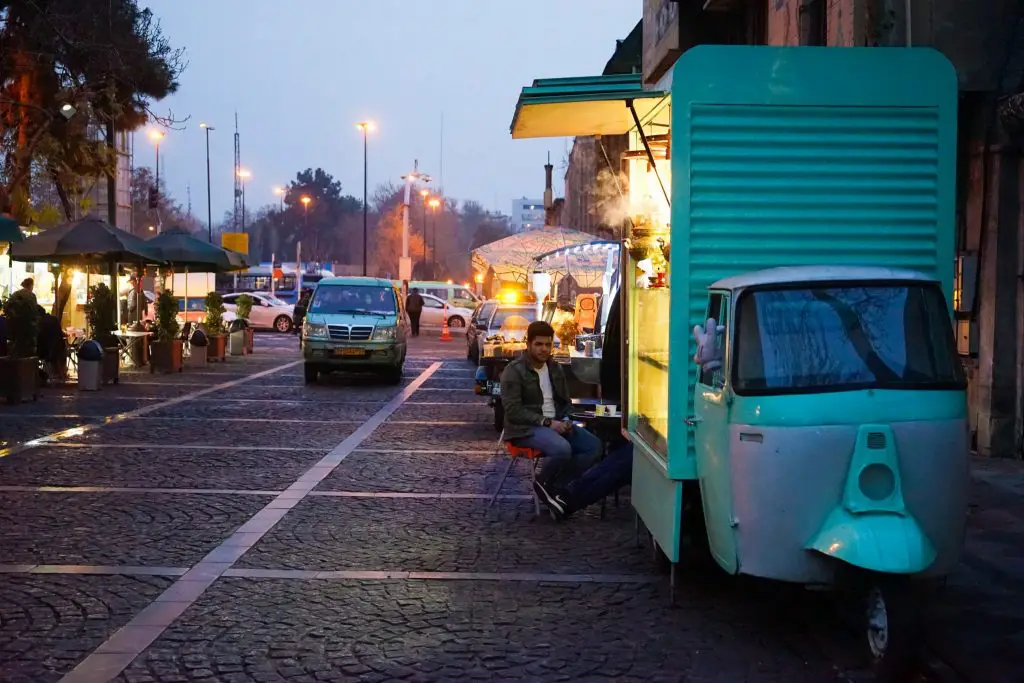 How To Get To Tehran Iran
The undeniable hub and main entry point of Iran getting to Tehran is easy via bus, train, and flight.
There are direct flights to Tehran daily from all over the Middle East, Europe, and even with Air Asia to Kuala Lumpur if you're coming from that direction. You can also find direct flights to most major cities in Iran at least a few times of the week, multiple times daily for major cities.
You can also get overnight sleeper trains to and from almost every major city in Iran. As a major transport hub in Iran and the greater region, you should have no problem getting in and out of Tehran.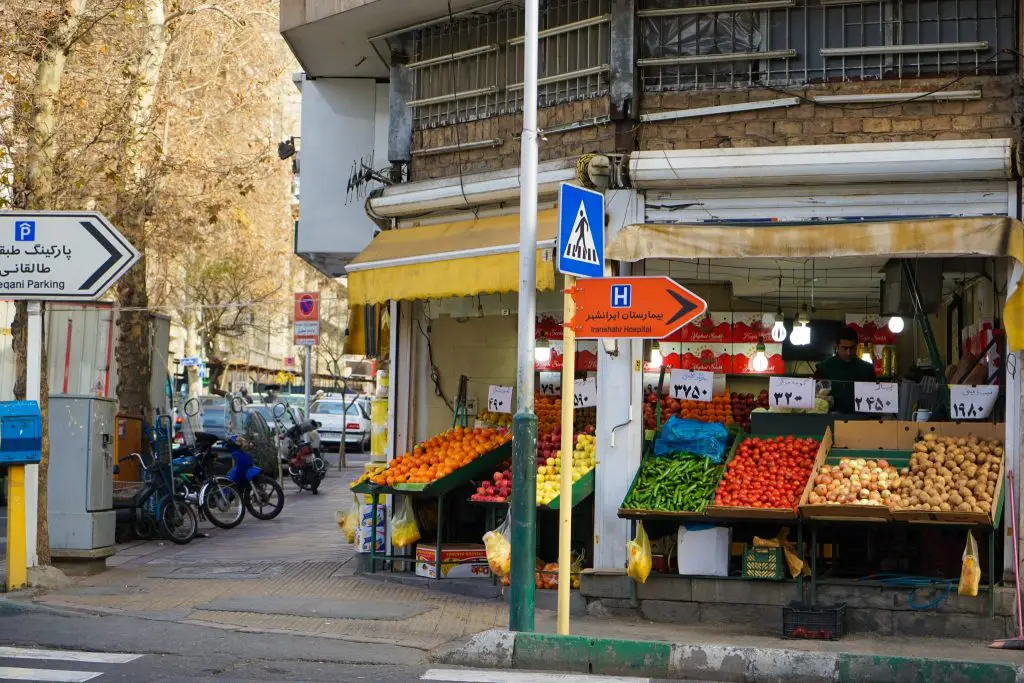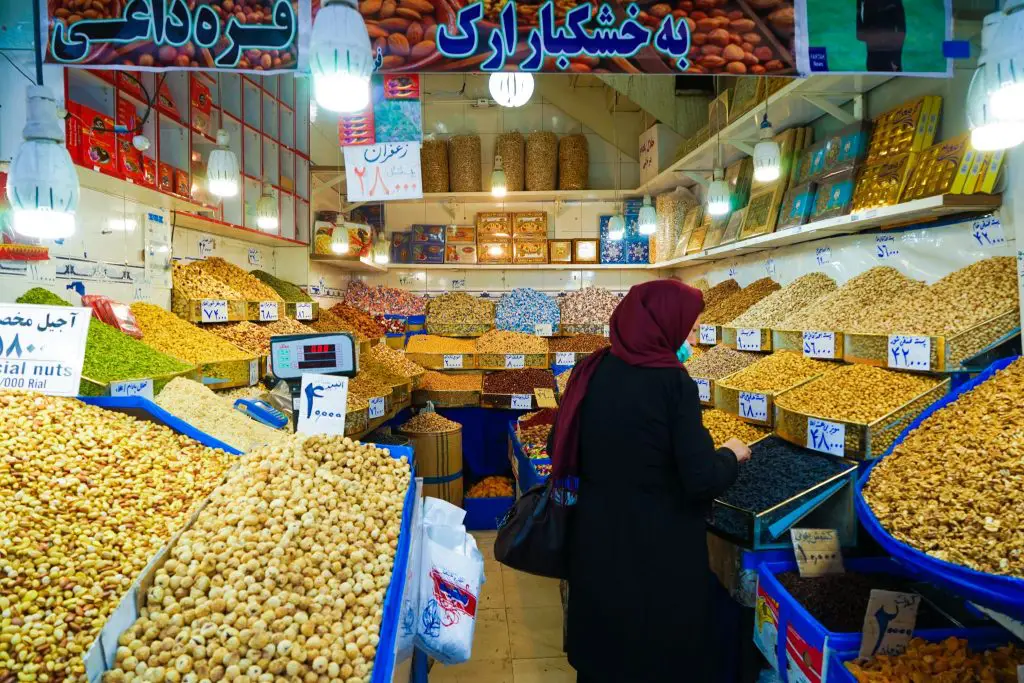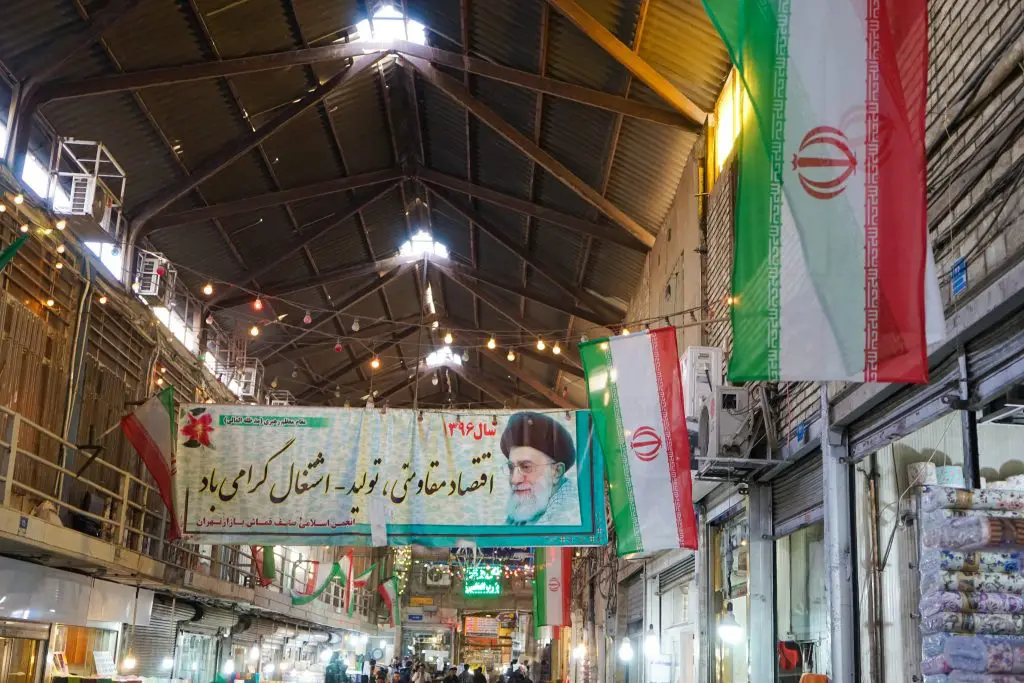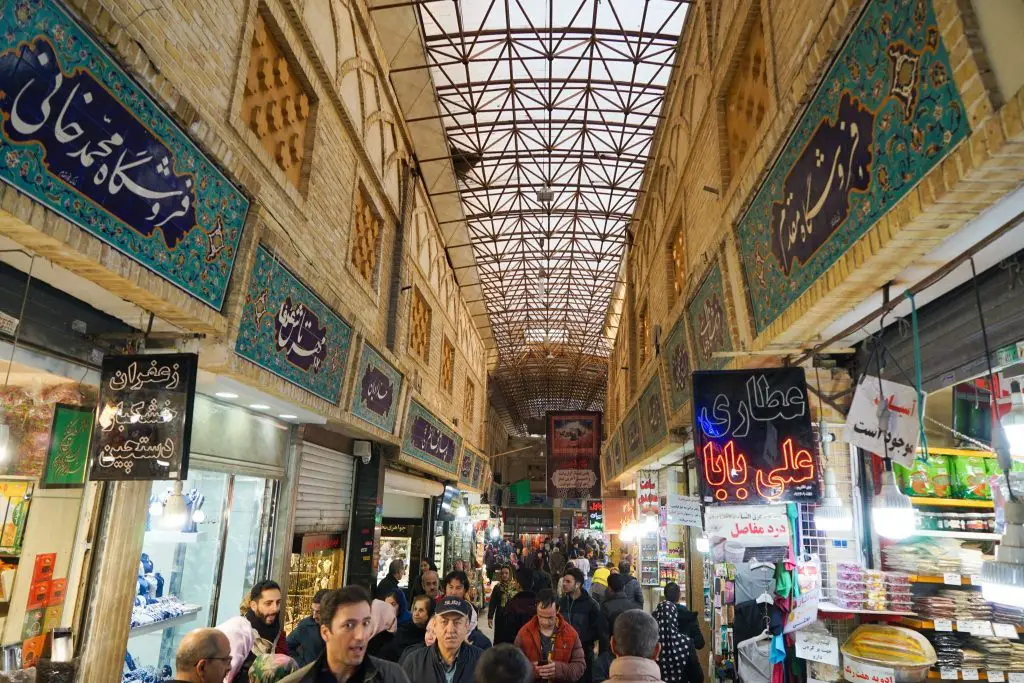 Where To Go After Tehran When You Visit Iran
Are you planning on exploring more than just one city in Iran? Here are some excellent other guides and cities to continue on your trip around Iran – or you can just check out these top things to do in Iran.
And if you want even more adventure – and to get out into nature while exploring off-the-beaten-track in Iran – why not consider hiring a rental car in Iran? What could be better, right!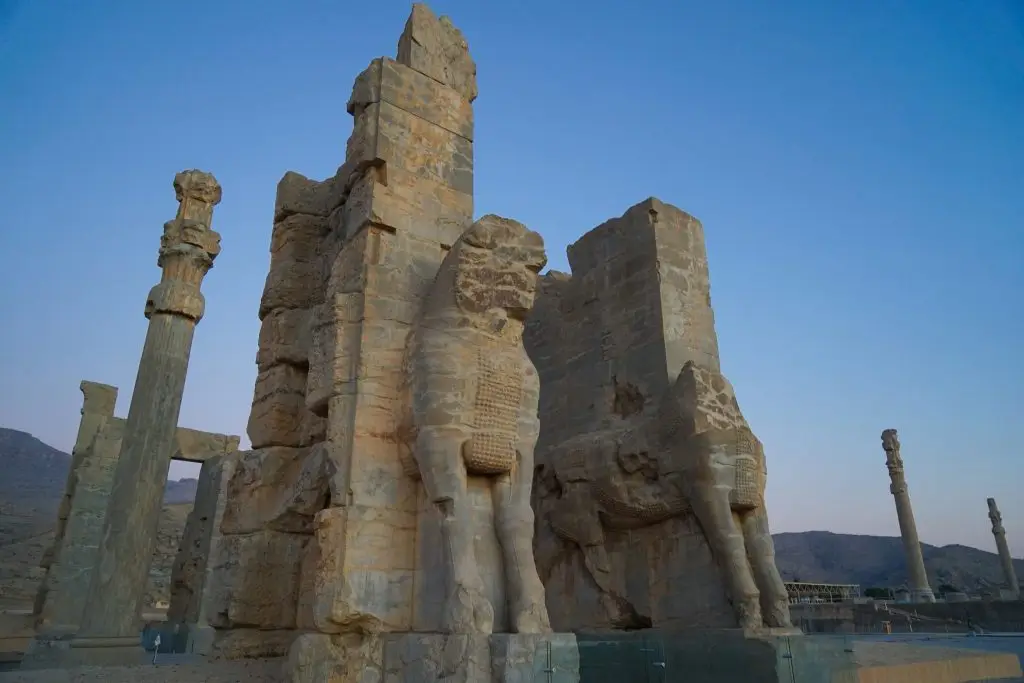 Bam – A UNESCO World Heritage Listed Fortress in South Iran. This famous desert castle was devastated by an earthquake in 2003, but after a 15-year renovation is now back and open for business. Find out more in this Arg-e Bam Travel Guide 2018: Now The Most Quake-Proof City in Iran
Kerman – A rather dull city, surrounded by some of the best desert landscapes in Iran. Get off-the-beaten-track and see Iran without the tourists with these 10 Things To See And Do In Kerman Iran.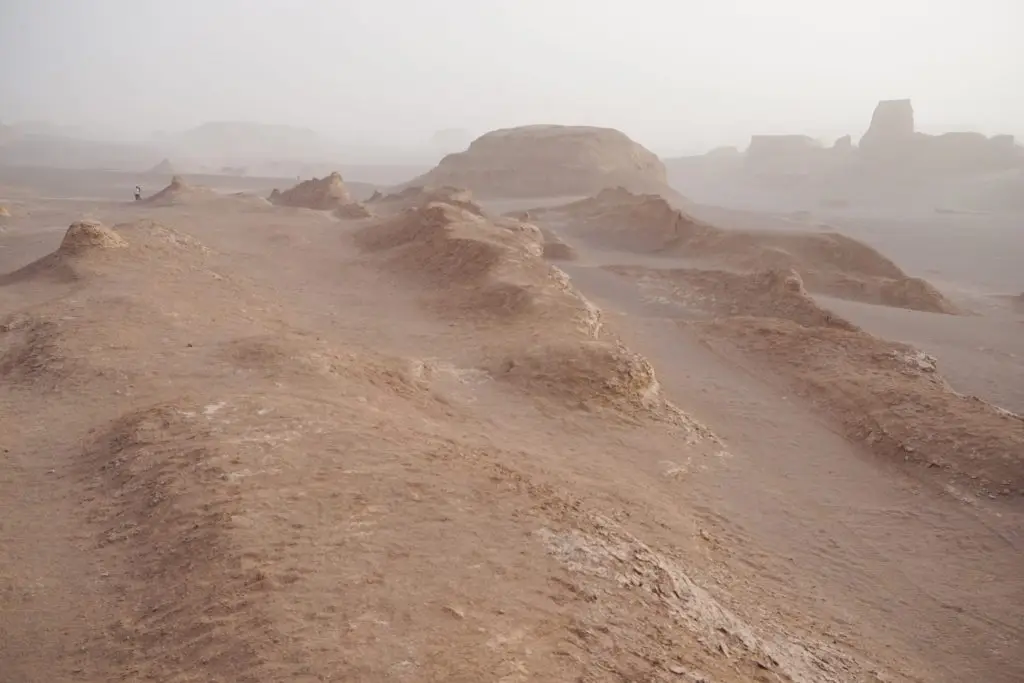 Isfahan – The most beautiful and grand city in Iran, with 3 UNESCO sites and stunning architecture – This is one city you just cannot miss. On Iran's Golden Triangle, read the ultimate guide to Isfahan.
Shiraz – Often referred to as the cradle of Persian civilization, explore multiple ancient ruins, beautiful mosques, delicious food, and surreal natural landscapes. Intrigued? See these 12 unmissable things to do in Shiraz, Iran.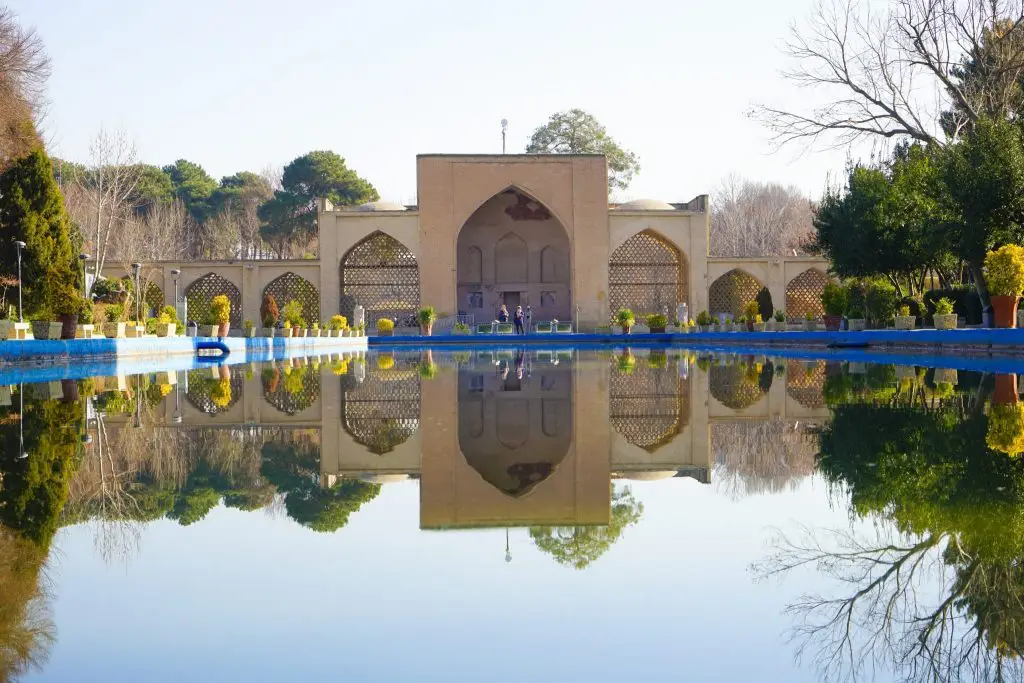 Shushtar – A hidden gem if ever there was one, Shushtar is really in the proverbial backwood. If you make the effort, however, you will be rewarded by some of the friendliest people in Iran, incredible ancient structures, and delicious food! Find out everything you need to visit Shushtar in Iran.
Tabriz – The largest city in Northern Iran with unique Azari culture, the most beautiful bazaar in Iran, and with a spectacular mountain backdrop. Read these 12 Epic Things to do in Tabriz, the 2018 Tourism Capital City of Islamic Countries
Yazd – An ancient city that appears miraculous out of a desert plateau. Yazd is one of Iran's biggest highlights and one of the most unique cities on Earth. Check out these ten amazing things to do in Yazd, Iran.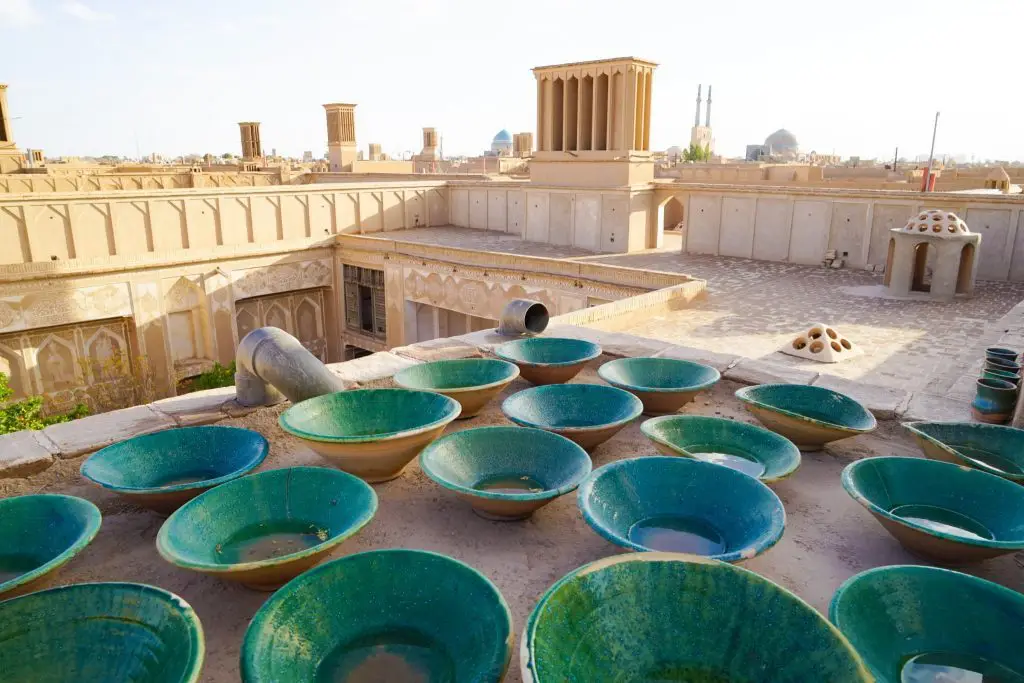 Staying Connected While Travelling
In today's increasingly connected world, staying online while traveling has become essential for a seamless experience. That's where eSIMs come into play, revolutionizing the way we access mobile networks during our global adventures. Say goodbye to hunting down local SIM cards at the airport; eSIMs provide instant activation the moment you land, sparing you the fortune usually spent on international roaming and allowing you to genuinely travel like a local (without getting hopelessly lost!).
With eSIMs, tasks like restaurant recommendations and reservations, up-to-the-minute public transport instructions, checking opening hours, and accessing further information become a breeze. And, of course, sharing your journey on social media is easier than ever. To stay connected wherever you roam, consider using either Airalo or Holafly. Airalo boasts the most extensive range of destinations worldwide, offering smaller data bundles tailored to your needs, while Holafly provides unlimited data packages and fantastic EU data deals.
So why wait? Embrace the future of travel connectivity with eSIMs and make your next journey effortlessly smooth.
Further Things To Consider Before Any Adventure
Now you're all set and prepared to explore our big wide world, why not sort out everything else out all in one go? If necessary for your travel plans make sure you have brought proper travel insurance, protected your privacy by getting a secure VPN, compared all the top hotel booking sites to find just what you're after, reserved an unbeatable rental car price and - of course - booked the best flight deals!
Or maybe just forget it all and go for a last-minute cruise or effortless tour instead?
Many budget travelers (including me) indulge in worldwide airport lounge access, so we can experience luxury while still slumming it in economy. Naturally, we would never leave home without a more general travel guide since we couldn't possibly cover everything here!
Just add an adventurous attitude and plenty of smiles - they go a long way - and that about covers it all! Now go out, find your own path and don't forget to share your best inspiration stories with me on Facebook, Twitter, and Instagram...I'd love to hear from you!