If you're looking for a trip with a difference, Qatar's capital might just be it. We can't pretend it's a 100% relaxing experience (any place with an average temperature of 33°C is never going to be chilled, if you pardon the pun), but we can guarantee a fascinating trip.
What makes Doha particularly captivating at the moment is the monumental changes that are continually happening. As the country prepares for the 2022 World Cup and the government keeps investing in cultural landmarks and programs, Doha is a dynamic and multifaceted city.
Amidst the futuristic skyscrapers and vast air-conditioned shopping malls, you can still find traditional souqs such as the bustling Souq Waqif with its hotchpotch of stalls, alleys, and vendors.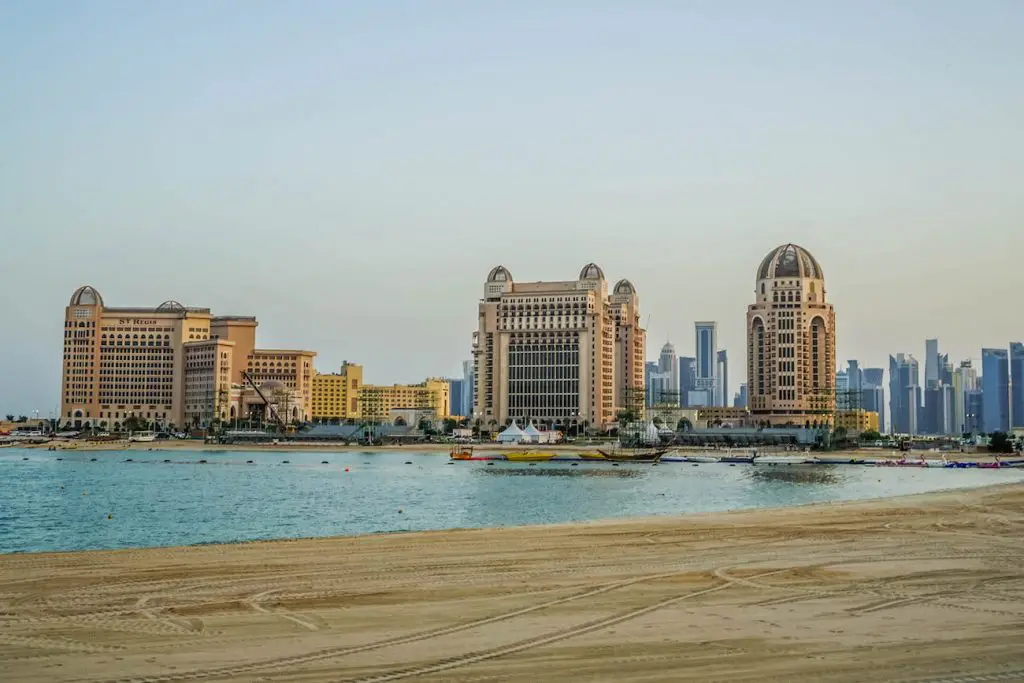 Aside from shopping (which is practically a Qatari pastime undertaken in the modern malls and the stalls of the souq), visitors to Doha can also take advantage of the recently developed emphasis on the arts. The Museum of Islamic Art is justifiably world-famous, and Katara cultural village is a hub of galleries, concerts, and events.
That is to say; these cultural powerhouses ensure that Doha stands out from other cities in the region like Dubai or Kuwait.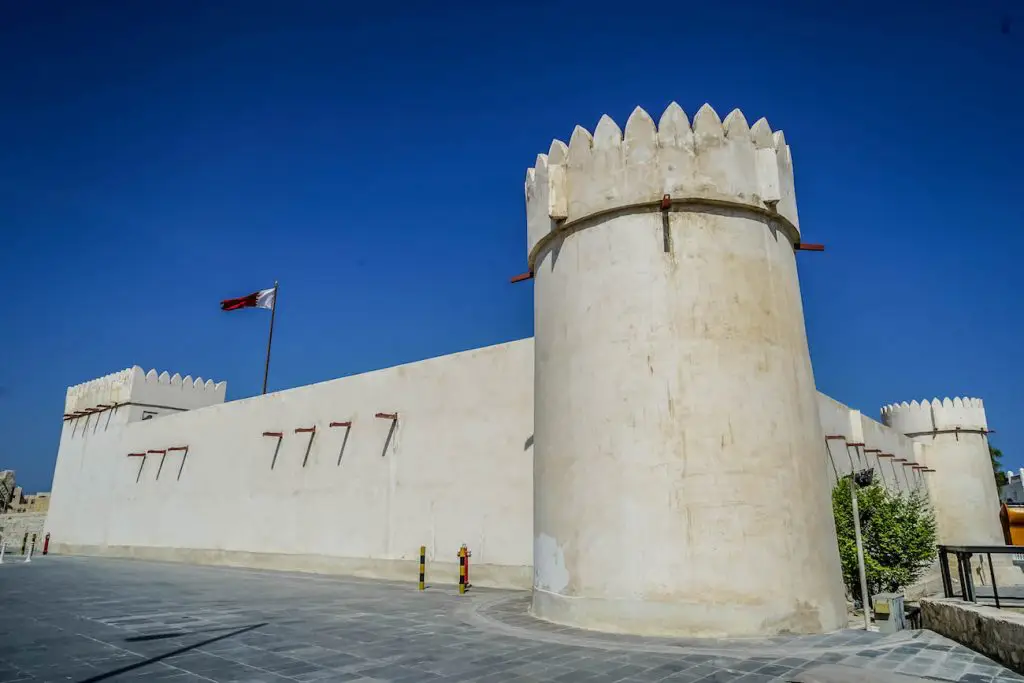 When it comes to the culinary scene and nightlife, options are not wide-ranging but also not as limited as you might think. Most big-name hotels have shiny new bars where you can enjoy some delicious cocktails, and brunch is a seriously big thing here, especially among ex-pats or wealthy, Westernised locals. If you start your eggs and mimosas at 10 am, there's a good chance you'll still be going at 4 in the afternoon!
There are definitely surreal moments as you navigate the clash of conservative values and decadent consumerism, but as a visitor, you shouldn't encounter any problems, and people here are very approachable and welcoming. Plus, this is a chance to see a city 'in the making,' an opportunity that's rare in well-established Europe.
So, what's going to be on your itinerary? Let's have a look at some of the best things to do in Doha…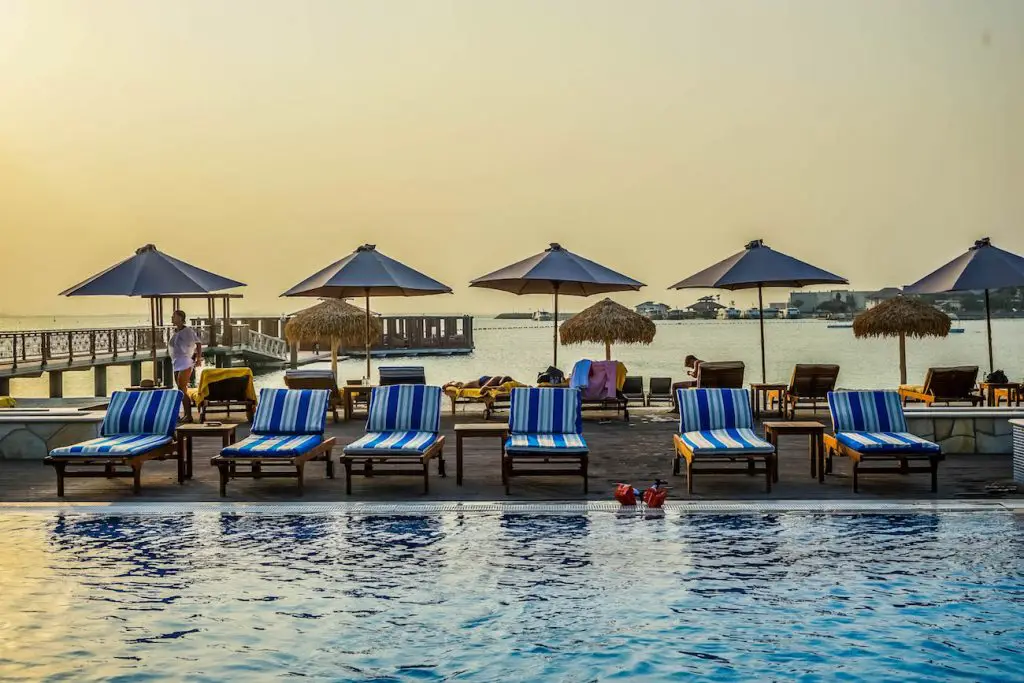 10 Unique Things To Do In Doha: Qatar's Booming Modern Capital! 🇶🇦
#1. Get Inspired At The Fire Station Art Centre
As you might be able to tell from the name, this creative space started life in 1982 as a civil defense building that housed the fire brigade. In 2012, all the fire engines left, and it needed a new purpose; enter, Qatar Museums. The industrial nature of the building lent itself well to a very minimalist aesthetic that still has a lot of the original features. Now, the garage is a 700-meter squared exhibition space that showcases works from around the world. In addition to this, you'll also find a café, art shop, cinema and other facilities for artists.
The Doha Fire Station Art Centre was conceptualized as a way of promoting emerging talent and creating a space where new artists can learn from established ones. There are residency programs as well as the exhibitions (in case you're a budding artist with a desire to move to Doha!). Recent, well-received presentations include avant-garde Russian artist Kazimir Malevich, Picasso, and Ai Weiwei. Check there's something on before making the drive out there, but if there is, it's well worth the trip.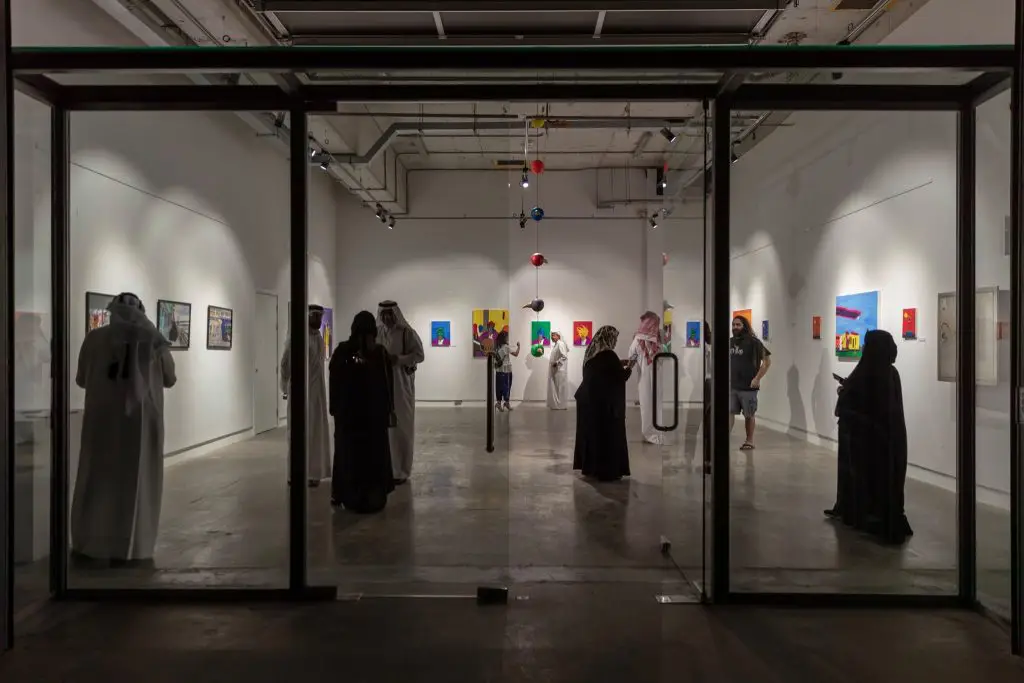 #2. Gaze At The Epic State Mosque Qatar
Otherwise known as the Imam Muhammad ibn Abd al-Wahhab Mosque, this phenomenal structure is the largest mosque in the country and manages to combine the clean lines of Qatari architecture with a traditional style. Towering above its surroundings, it looks incredibly striking, especially at night when the 90 domes are lit up with white light. There's something fortress-like about the building, although it is only a place for prayer. While it doesn't quite have the charm of the ancient mosques of Shiraz or Tabriz in nearby Iran, it is still stunning and absolutely worth a visit.
Up to 30,000 worshippers can fit inside at any one time, gathering in the vast prayer hall under the minimalist chandeliers. If you want to see inside, visits need to be booked in advance or through a tour agency. We'd say that seeing the exterior is enough, especially when you know about some of the controversy surrounding the sermons that have taken place here.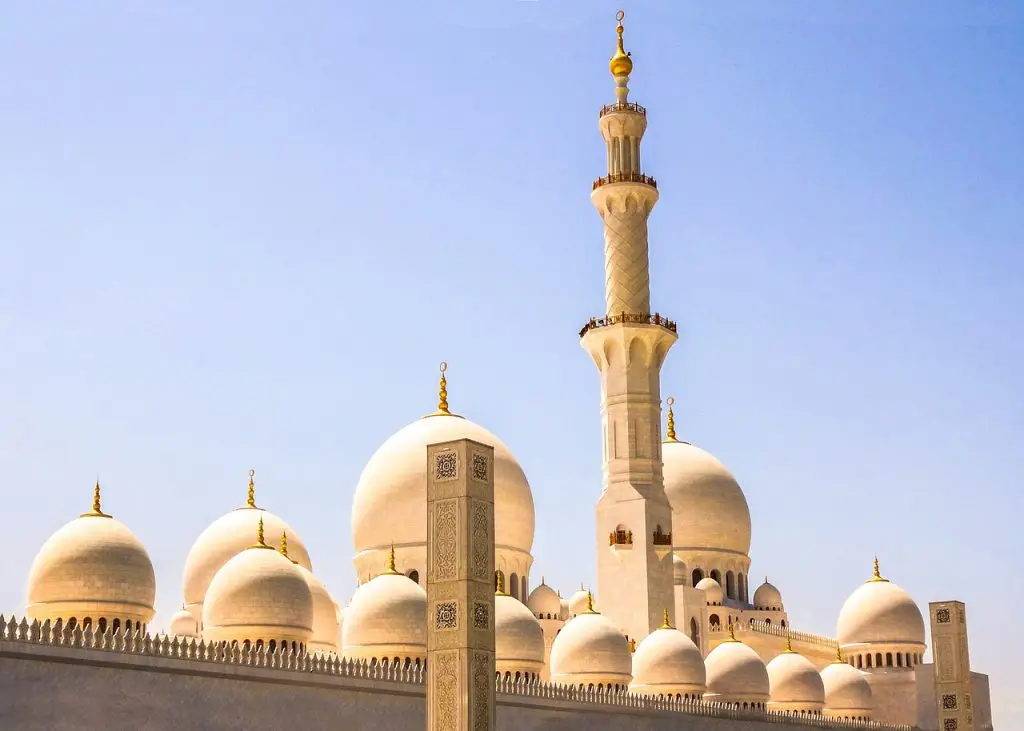 #3. Soak Up Creativity At Mathaf: Arab Museum of Modern Art
Founded in 2010, this former school building now educates in a different way with a range of historical and contemporary exhibitions. The Arab Museum of Modern Art is actually located in Education City (warning: this can be difficult to find) and really lives up to its ambition of connecting Arab art with the international stage and providing a space for visitors to learn about modern Arab culture. The futuristic building was redesigned by a French architect to become a sleek backdrop for the varied exhibitions.
The permanent collection, gathered over 25 years, has over 9000 pieces, both from the Middle East and other geographically connected places such as Turkey and India. These include paintings and sculptures, as well as more modern works like installation and video. Alongside this comprehensive collection, you'll be able to see temporary exhibitions which in the past have featured artists like Iranian Shirin Neshat. Revolution Generations was another highlight, an examination of art and social change. With art this interesting, who needs football?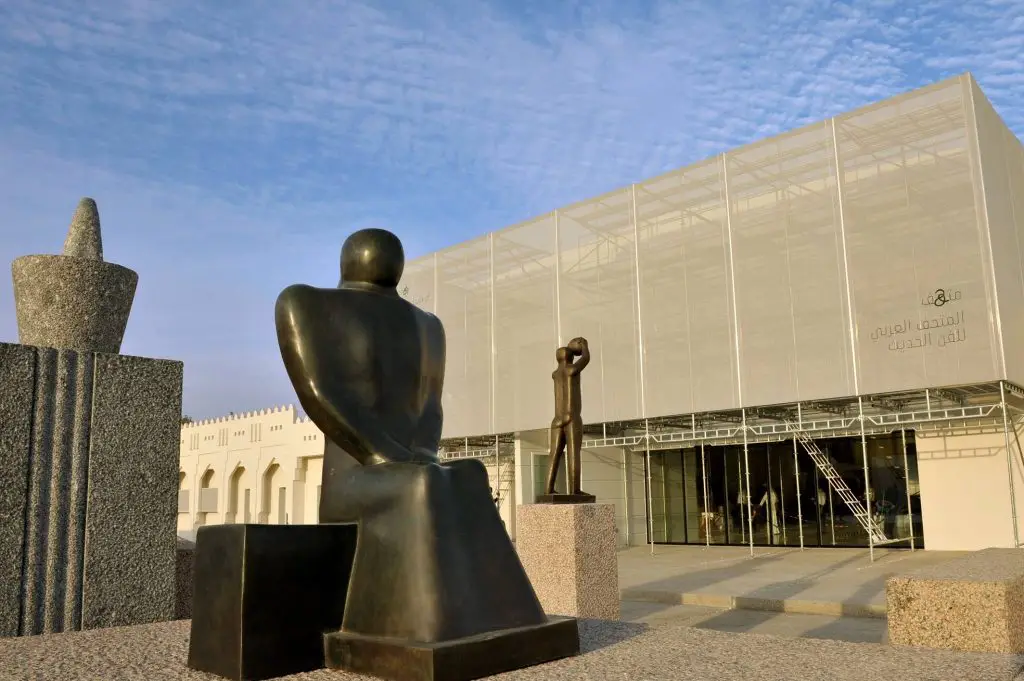 #4. Chill Out On A Banana Island Day Trip
So named because of its crescent shape, this human-made island off the coast of Doha is the perfect break from dusty city sightseeing. With temperatures this high, you need to give yourself a break – enter Banana Island Resort Doha by Anantara Resort. The luxury starts with the transport as you hop on a catamaran or private yacht to head to the resort. Once there, you'll find a golden beach, palm trees, and lush greenery.
You don't need to be staying at the high-end hotel to enjoy the facilities here. Stretch out on the beach, visit one of the six restaurants, indulge yourself at the spa or partake in one of the many activities on offer. Diving, bowling, Segway rides, and golf are among the active options. While it's all pretty fancy, a day trip won't set you back too much and will certainly refresh you, so you're ready to take on Doha again!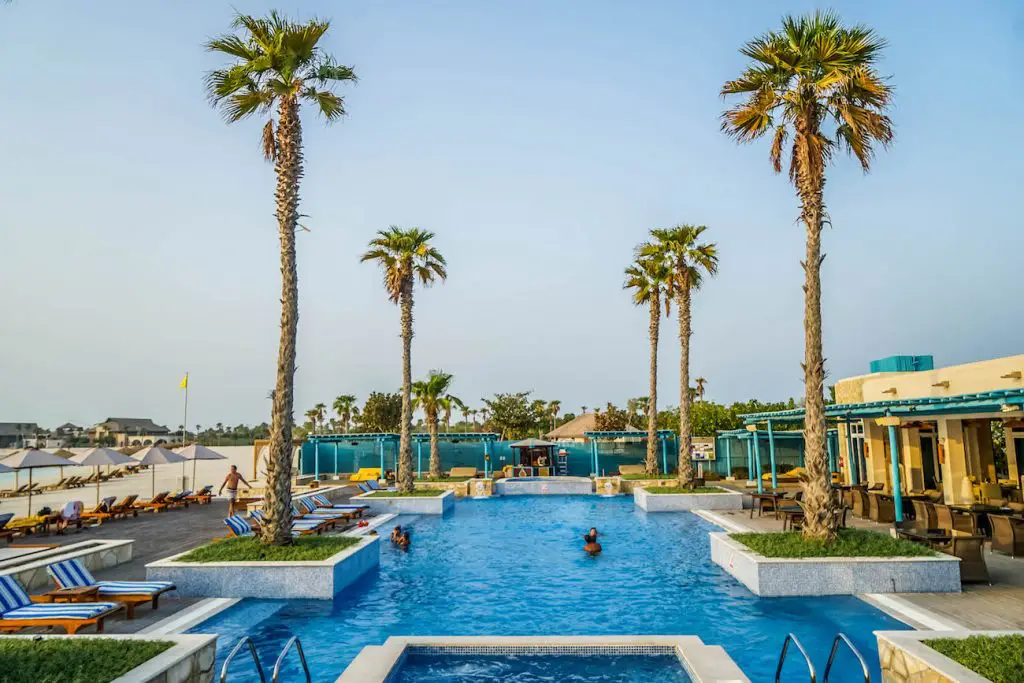 #5. Explore The Katara Cultural Village
Another vital part of Qatar's drive to break into the international arts and culture scene, this waterfront area opened in 2010 and has grown into an attractive and lively cultural hub. It was designed to look like a traditional Qatari village, with narrow twisting alleys and waterways, although there are some contemporary twists. Along these alleys, you'll meet young artists honing their craft, and there are regular exhibitions.
The enormous amphitheater designed in a Greco-Roman style hosts musical and dance performances. Other shows take place in the drama theatre and the opera house. Film festivals, poetry, jazz, and craft markets also fit right in here. Even if you're not fussed about the arts and craft side of things, Katara Cultural Village is simply a lovely place to pass the time. In fact, it's one of our favorite things to do in Doha, mainly for the people-watching and the spiced Karak chai.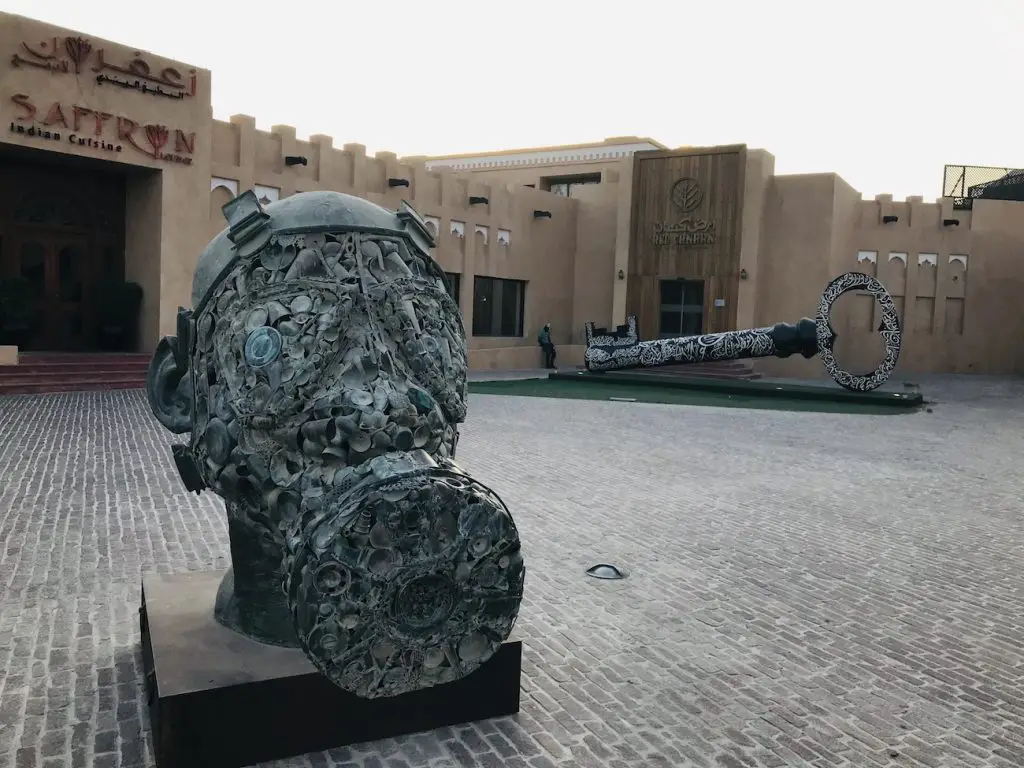 #6. Be Enthralled At The National Museum of Qatar
Wow. Even if you know nothing about architecture, there's no denying that the brand-new National Museum of Qatar is awe-inspiring. When you first see it, it's hard not to stand and stare at it. Designed by French architect Jean Nouvel to represent a desert rose, the layers of interlocking discs surround the restored historical palace at its center. Luckily, the interior more than lives up to the promise of the fascinating exterior.
Inside, you'll find galleries arranged into 'chapters' that interlock much like the discs of the structure do: Beginnings, Life in Qatar, and Building the Nation. There's a whopping 1.5 km of gallery space, and not once does it get boring. In fact, we consider it to be among the most captivating museums we have visited in the world, along with the Canadian Museum of History in Ottawa and the RISD Museum in Providence.
The National Museum of Qatar is a wonderfully immersive experience that incorporates huge video screens, dioramas, over 8000 artifacts and installations. We love it when museums manage to be both informative and engaging – and the National Museum of Qatar achieves that many times over!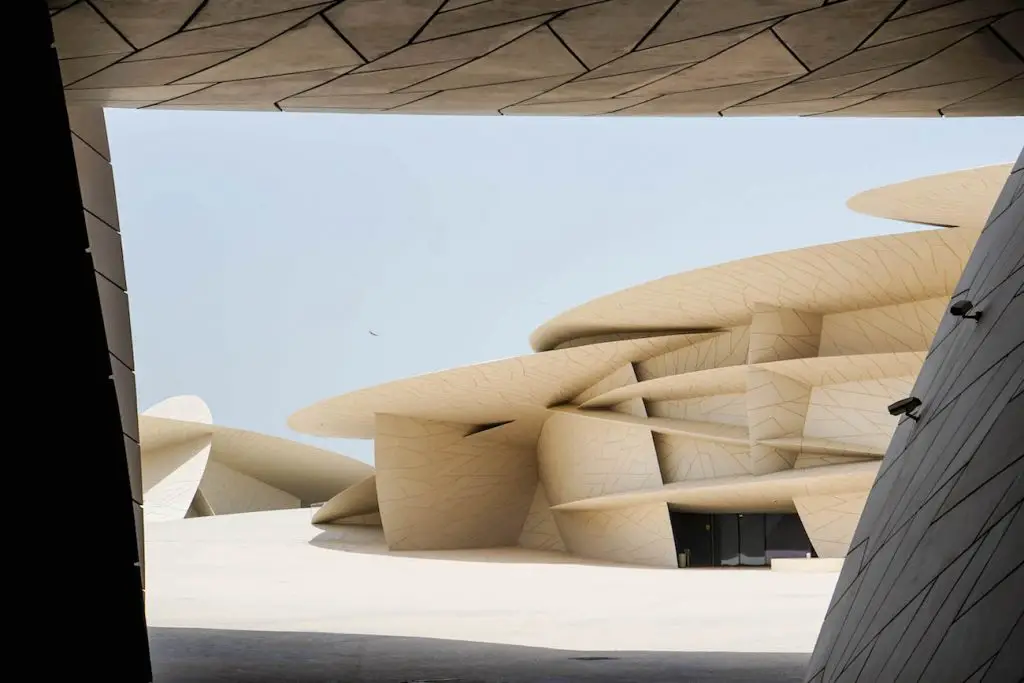 #7. Stroll The Doha Corniche
You only need to spend a day here to realize that one of the most popular things to do in Doha is to wander the Corniche promenade. You only need to spend a day and a half here before you're tempted to get out there any join everyone (unless the temperature has pushed 40 – in which case, stay indoors!). On Fridays, in particular, the Corniche is buzzing with people, usually families out for a weekend walk. It's fascinating people-watching and gives you an insight into life in the city.
As you stroll along the 4-mile pavement by the water, you'll pass the Museum of Islamic Art, the MIA park, several cafes and restaurants, outdoor exercise equipment, and lots of dhow boats on the waterside. Various sculptures and photo opportunities line the route, including Orry the Oryx, the Arabic coffee pot and the Oyster Fountain. You'll also see some spectacular sea views, especially in the early morning or at sunset.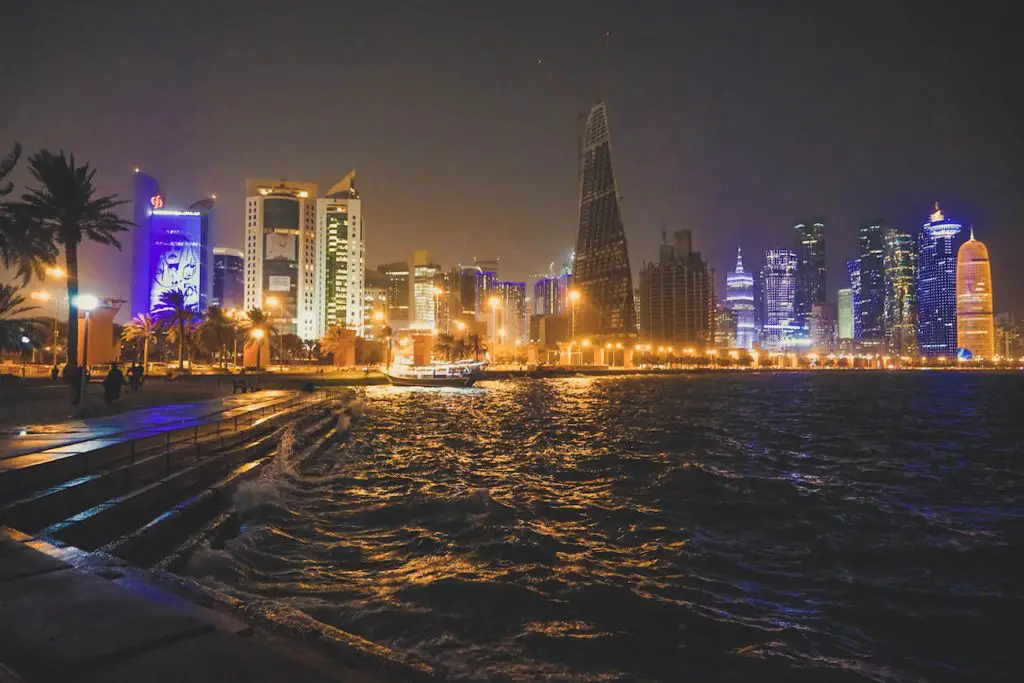 #8. Get Lost In Souq Waqif
It can sometimes seem quiet when you wander around Doha – but not at this vibrant market complex! Operating since the 1750s, this colorful maze of alleys and stalls was restored in the early 2000s after a period of decline and a fire in 2003. The restoration has been very successful, and the exposed beams and original buildings add to the atmosphere. It's busy, lively, and easy to get lost, so take a deep breath and dive in!
What can you buy here? It might be better to ask what you can't get here! Spices, dates, jewelry, and pots were the main trade in the past and that continues today. The national Qatari dress, perfumes, and incense are also on offer in many of the shops. You even might stumble across the Falcon Souq, stables with Arabian horses and a pen of camels chopping on feed. Of course, most of us won't be there for purchasing, but for the atmosphere – you can experience that best with a minty refreshing drink and a shisha pipe at one of the many outdoor restaurants.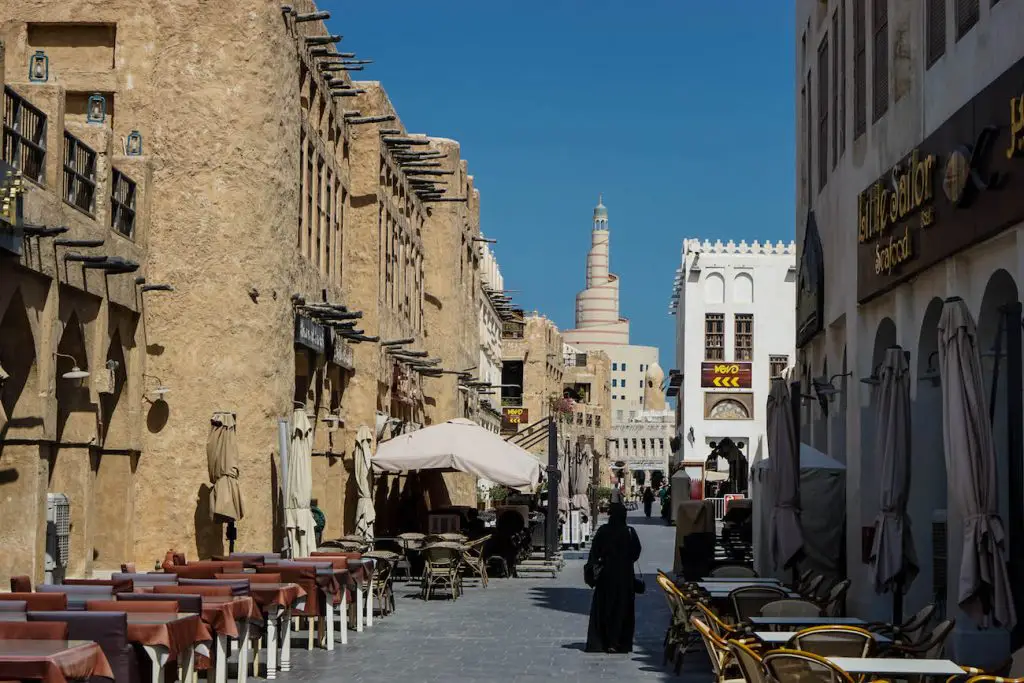 #9. Don't Miss The Museum of Islamic Art.
For everyone in the know, this is top on their list of recommendations for things to do in Doha (although now the National Museum is open, that might give it a run for its money). The imposing building was designed by world-famous architect IM Pei, who also designed the Louvre pyramid. The soaring white walls enclose a structure that puts light and space at the center of its aesthetic. It's on its own island, adding to the sense that you're visiting somewhere really special.
Inside The Museum of Islamic Art, you'll be able to explore a wealth of treasures – the biggest collection of Islamic art in the world. Taken from three continents, these artifacts date back to the 7th century. Textile and glass pieces, metalwork, ceramics and jewelry, woodwork and enamel are all exhibited conceptually, rather than chronologically, so visitors can see how a motif repeats itself across items. There's so much to appreciate that it's worth pacing yourself – luckily, there are the café and the IDAM restaurant to help with that!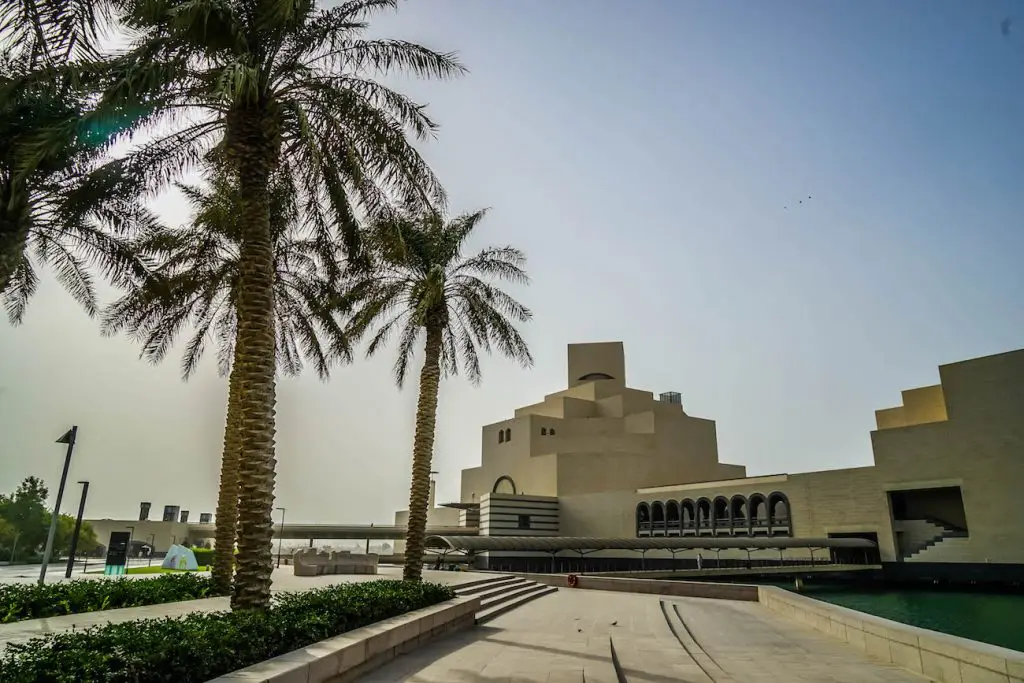 #10. Explore The Dunes On A Desert Safari
OK, this is what you picture when you think about a Middle East holiday, isn't it? Dune bashing (i.e. driving up and down sand dunes) deep in the desert in a 4×4. As you can see from the rest of this list, it's not the only thing Doha has to offer, but it's definitely something we'd recommend. It's a really fun activity and a good balance with all the art and cultural exploration you'll be doing!
Desert scenery can be surprisingly spectacular, particularly in the late afternoon. The sight of all that vast space is rather magical, and the sky seems to stretch forever. The dune bashing itself can be pretty heart-racing, but exhilarating at the same time, and the drivers are totally professional. You also get to see the Inland Sea between Qatar and Saudi Arabia, a World Heritage Site. It's the perfect way to let off steam and get out of the city.