Singapore, the legendary garden city-state located in the heart of South East Asia, is a melting pot in the truest sense of the word. An incredible fusion of cultures, foods, architecture, and passions Singapore is energetic, beautiful, and always changing.
The world's ultimate stopover destination for a few days – or more -there is always something new, exciting – and unique – on offer here, no matter how many times you have visited before!
Singapore is, of course, a fabulous destination even when considered alone – but many travelers find themselves only considering the city-state while on long haul flight around the globe that pass through the renown Changi Airport. And we think not incorporating a stopover would be utterly unconscionable if you are already there – especially with so many unique things to do in Singapore.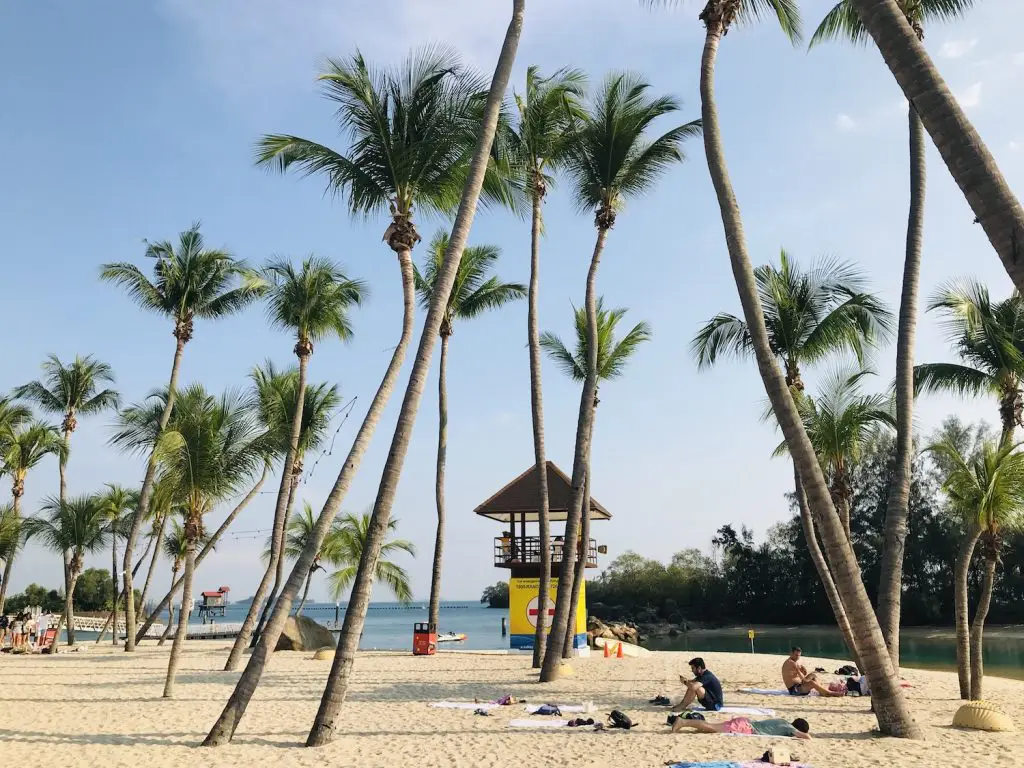 Despite being world-famous as a global mecca for finance and opulent living, a stereotype bolstered by the recent success of Crazy Rich Asians (one of the best films set in Singapore), there is so much more to discover in Singapore. One of the most harmonious and plural nations on the planet, this diversity of cultures, ethnicities, and religions, brings that all-important spark to life here, and it is also in this multifariousness that their strength lies. If only they would be so accepting of their LGBT community as well.
Since Singapore's colonial days, immigrants from India, China, and all around the Malay Archipelago have flocked here in search of a better life – similar to New York City, these vibrant communities that live, work and play harmoniously together is what makes living here so fascinating. Sure, there are the traditional ethnic enclaves to explore like Little India, Chinatown, and Kampong Glam, but in general, this is a country that knows how to remain united for a better future.
And perhaps there is no better manifestation of that in modern Singapore than its mouth-watering cuisine, an ethnic tapestry, and a mish-mash of cultural traditions and ingredients. Best sampled in any one of the over 100 hawker centres (open-air food complex's set up by the government to remove street vendors from the streets) scattered islandwide, eating out every chance you can get is an absolute must here.
It can all be a bit overwhelming, and there are so many delicious 'must-try' dishes here, so a Singapore food tour really should be a priority!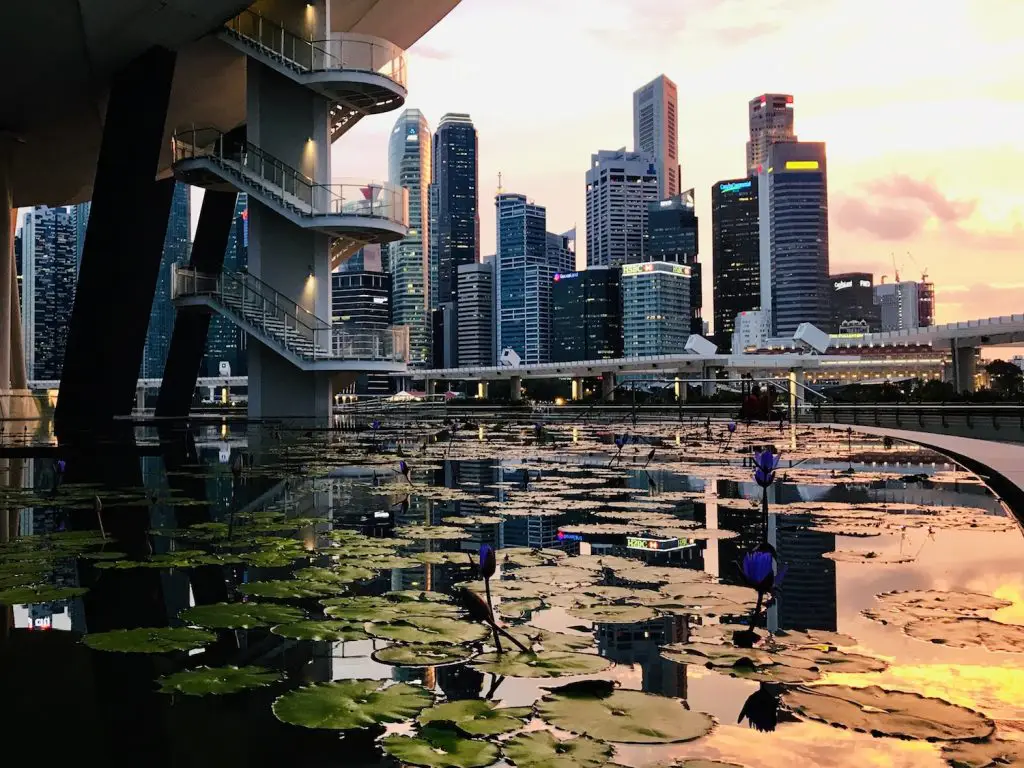 In addition to the distinguished food scene, Singapore also offers marvellous shopping, an inspired skyline, pockets of hidden nature, invigorated temples, architectural spectacles, more temptations than we could count – and a public transport network that can whizz you around to everywhere you need to be in no time.
And, despite what you may have heard, you don't have to spend up large to enjoy your time here with cool budget solutions to accommodation like the Pod Boutique Hotel popping up. You can also get cheaper tickets to almost anything in advance, including bars and restaurants on Klook. Don't worry – we have peppered a few of our other tips for Singapore on a budget throughout to ensure you get a taste of the good life too!
A vibrant garden within a city, Singapore embodies the work hard, play harder concept, and if you know where to look, it is impossible ever to be bored here. Whether it is your first visit or your 100th, let us inspire your travels here with these 50 unique things to do in Singapore. We are pretty confident you'll want to extend your stay after this list – or be planning your next visit.
---
Before exploring Singapore, arrange an eSIM to avoid hefty international roaming fees. Staying connected while traveling is essential, and eSIMs have transformed mobile network access for globetrotters.
No need to search for local SIMs at the airport; eSIMs offer a hassle-free experience upon arrival. They save time and money while preventing loss or damage to physical SIMs. To stay connected, consider Airalo or Holafly, the biggest names in global eSIMs.
Airalo offers a wide variety of destinations and smaller data bundles, while Holafly has unlimited data packages and excellent EU data deals. Don't delay; enhance your travel experience with eSIMs for seamless connectivity.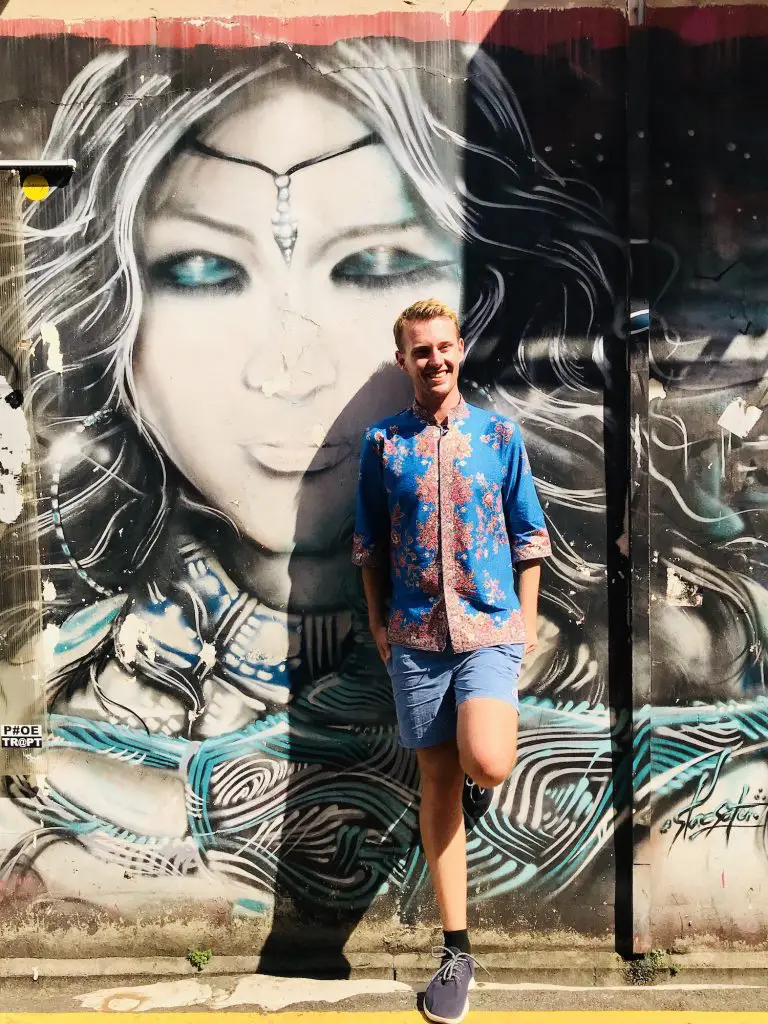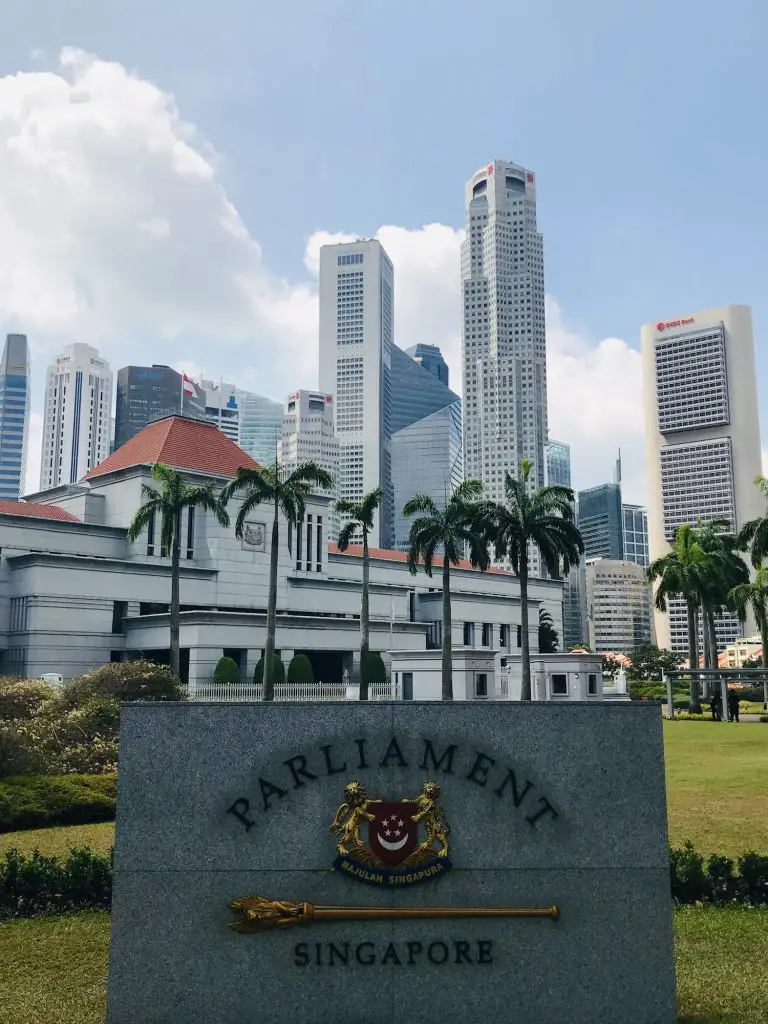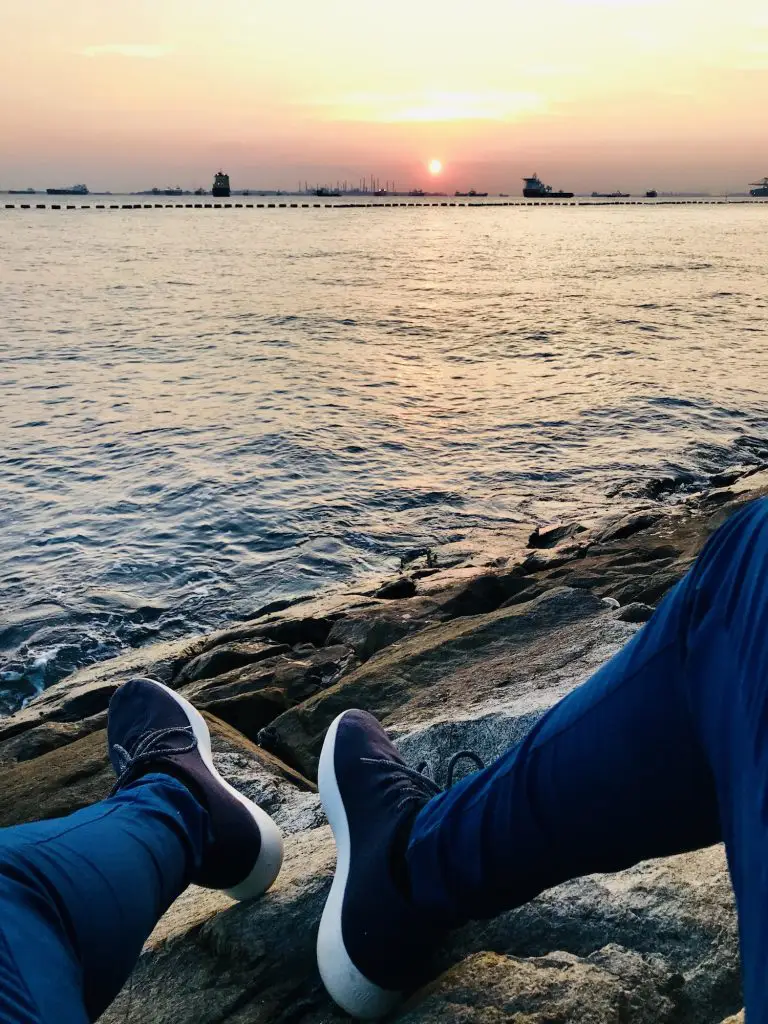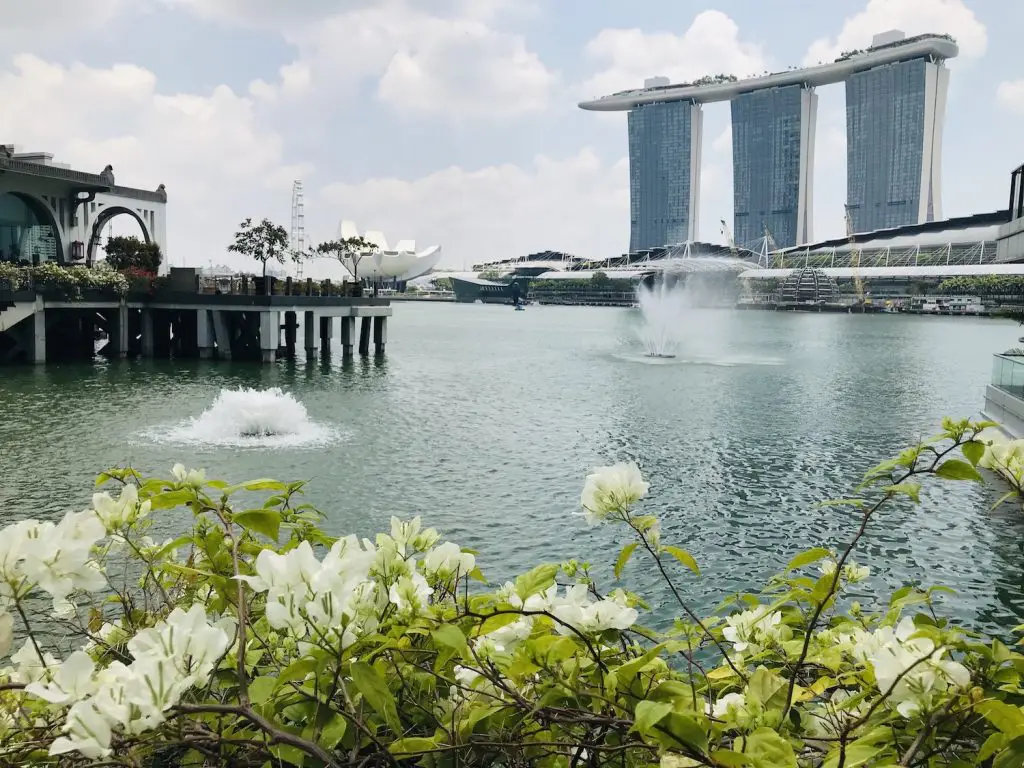 50 Unique Things To Do In Singapore: The World's Ultimate Stopover Destination!🇸🇬
1. Enjoy All The Thrills On Offer At Universal Studios Singapore
Whoever said Singapore was all food and no excitement hadn't made a trip across to Sentosa Island and explored Southeast Asia's first and only Universal Studios theme park! Spread across 20 hectares, visitors can find a total of 24 attractions here, including both rides and show, of which 18 are original or specially adapted just for here. The park consists of seven themed zones adjoining a large lagoon, with each zones being mostly based on movies or television such as Madagascar and Jurassic Park.
If you are lucky enough to be visiting in September or October, Universal Studios Singapore has their own Halloween Horror Nights events, but open all year round are magnificent rides like the Puss In Boots' Giant Journey, TRANSFORMERS: The Ultimate 3D Battle, Jurassic Park Rapids Adventure and more to indulge every thrill-seeker or movie buff's fantasies.
2. Watch Day Turn To Night At One Of Singapore's Rooftop Bars
What trip to an Asian mega-city would be complete without seeking out the best rooftop spots for jaw-dropping sunsets, dazzling city lights, selfie, and buzzing nightlife? While drinking in Singapore is surprisingly expensive, many of the sky-high places are only slightly more costly the drinking on the ground – but everyone knows your favorite cocktail tastes just that much better with a view and swanky surroundings!
So in our opinion – it is totally worth it…
There are numerous remarkable rooftop spots in Singapore to enjoy the wind in your hair – and a cocktail that much closer to heaven, that we could dedicate an entire guide to them, but for now, we will recommend to you a few of the most unique! 1-Altitude offers 360-degree views of Singapore from 282 meters up in the air, the cities highest rooftop bar, which offers quirky cocktails and vertigo-inducing glass walks. In contrast, LeVeL33 offers craft beer brewed in-house in the cities highest microbrewery – and has lower prices before 8 pm, perfect for sunset watching.
We also loved the Mr. Stork Rooftop Bar with its tee-pee huts, and cobbled pathway around the building – but if you have time for only one spot, it would have to be CÉ LA VI atop the Marina Bay Sands. Sure, it is touristy, and there can be a wait to go up at the peak sunset hours – but the views over Singapore are phenomenal, and entrance is only SGD 22, including an SGD 22 bar voucher! Who would pay to go to the Marina Bay Sky Park when this almost free option exists.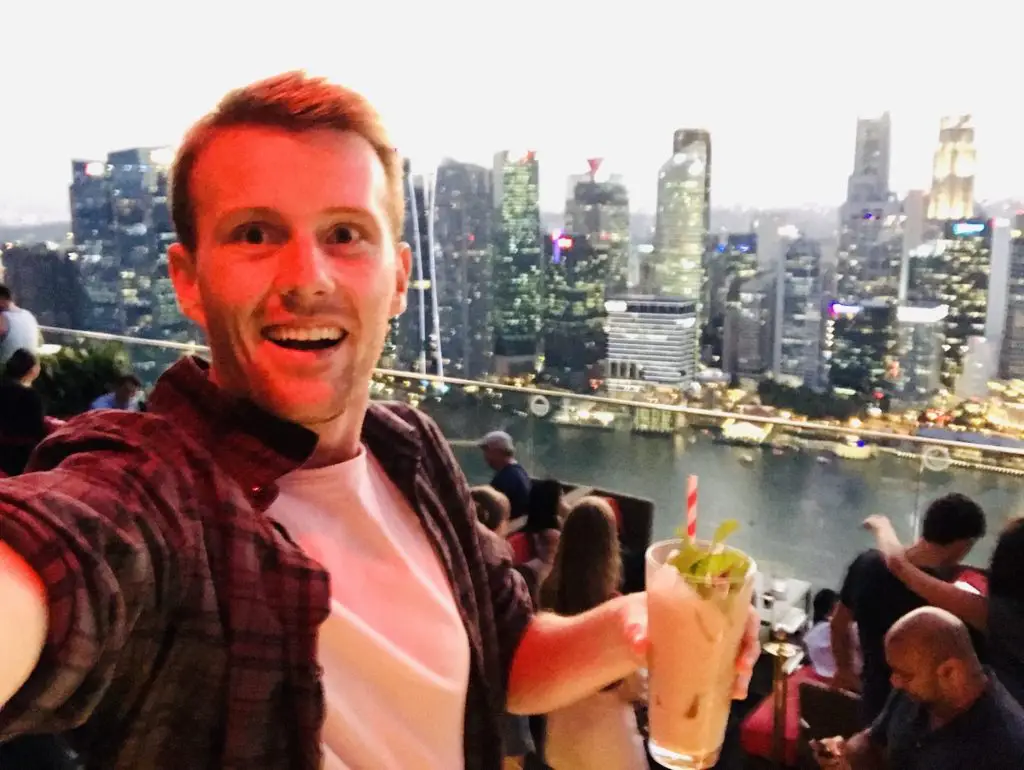 3. Refresh Yourself With A Fun Li-Ho Bubble Tea Creation
Yes, the global phenomenon that is bubble tea (which we fell in love with in its homeland of Taiwan) is crazy widespread in Singapore – although not quite as frenzied as it was when it first reached the islands. This means today the lines are not generally too long, thankfully. Fickle Singaporeans get on-and-off food fads quicker than any guide could ever keep up with, but a few places seem to have weathered the storm and continue to draw a loyal fan base.
We heard great things about Bobii Frutii with its stunning multi-colored and multi-layered inventions, and I Love Taimei, but if you don't feel like seeking out locations all over town then try out Li-Ho – a homegrown brand famed for its cheese tea and fruity brews with toppings such as pearls, custard pudding, and coconut.
Li-Ho is a friendly Hokkien (Singaporean dialect) term that means "Hello" or "How are you?" and with more than 90 locations across Singapore, their smooth Milk Tea with Pearls is an excellent way to escape from the tropical heat.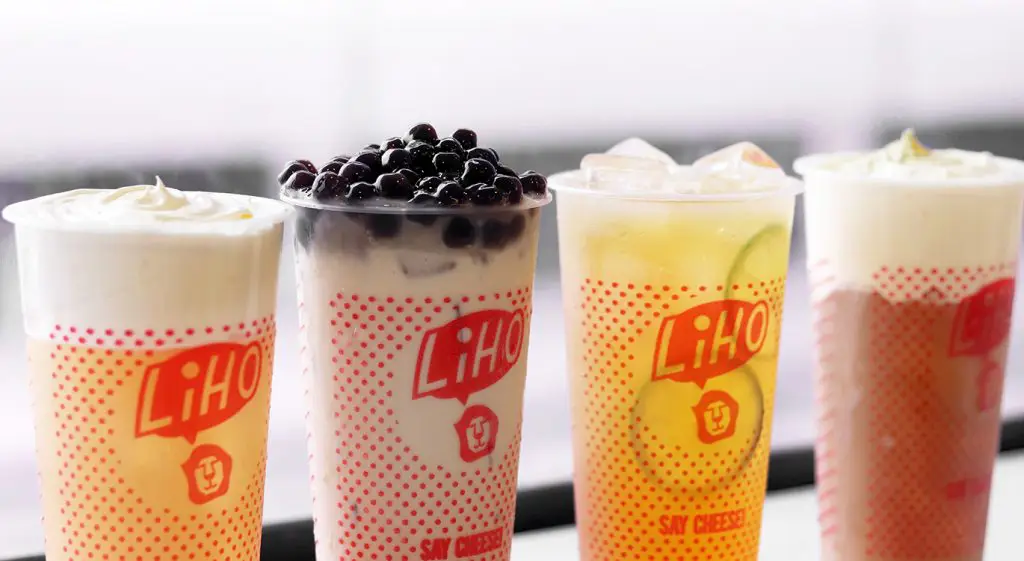 4. Stay At The Unique (And Super-Social) M Social Singapore!
The first M Social Hotel in the world, M Social Singapore is a 293-room lifestyle design hotel that was opened in 2016 and conceived by none-other-then Philippe Starck (a French visionary designer). Creating a space where friendship, community, and new experiences interact is at the core of the M Social experience, and as such, there is an appeal to both Singapore's socially active residents and international travellers with a millennial mindset.
Intended to be an experimental space in the thriving neighbourhood of Robertson Quay, here the Singaporean spirit is fostered in an environment where harmony between people, ideas and food from across the globe is championed. The hotel believes everyone should have the freedom to be themselves, thus whether you are just looking for the best things to do in Singapore or want to explore LGBT Singapore, you know that you have the freedom to do what you want, how you want, with whoever you want, whenever you want.
The hotel's location is like the centre of a spider's web. The strands of the web to attractions such as the Natural Museum of Singapore are equidistant and all equally engaging meaning it is the perfect place to base yourself for a successful stay in Singapore.
The entire hotel is popping with unique interiors that delight at every turn, from bare-bones stainless-steel and concrete to whimsical one-of-a-kind elements in furnishings that create an appealing experience and represent the classic chic yet cosy house away from home. Add to that the lush rooftop pool, Singaporean fusion restaurant, luxe loft rooms and uber-friendly staff and we can't think of anywhere else we would rather stay.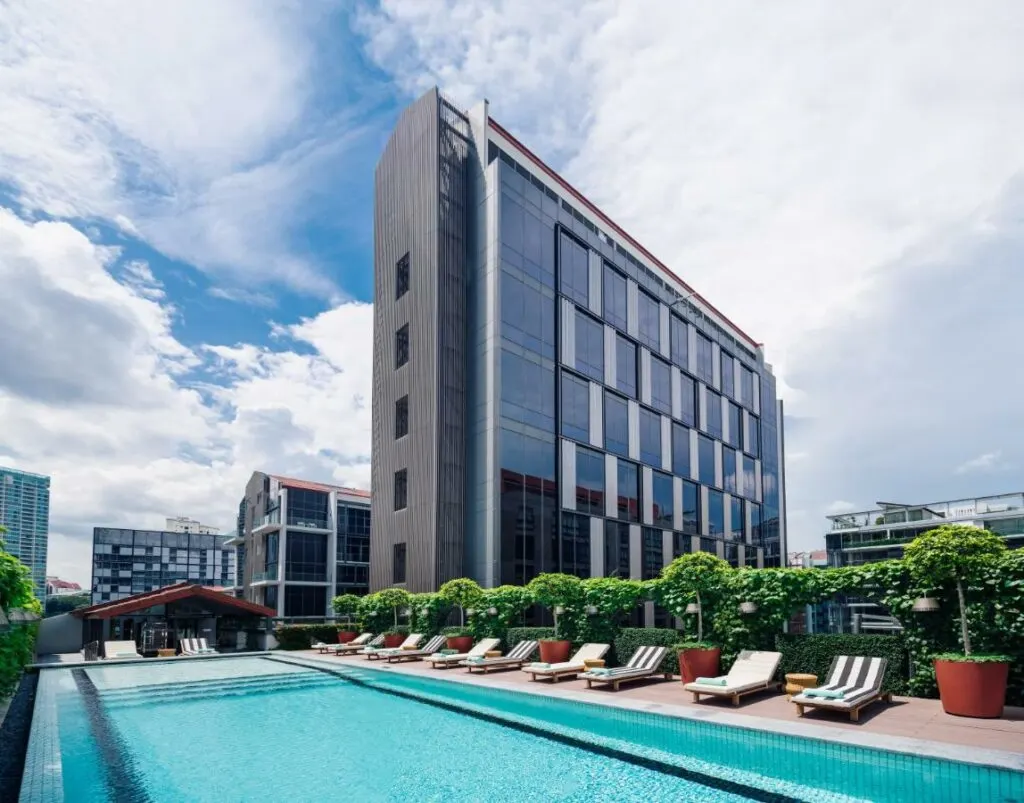 5. Be Amazed By The Journey Of Modern Singapore With Spectra – A Light and Water Show
The garden-city can be an expensive place if you don't know what you are doing. Thankfully there are quite a few free highlights of Singapore, and discovering the ephemeral magic of Spectra – A Light & Water Show is one of them. A nightly outdoor spectacular on the Event Plaza's water edge (just outside The Shoppes at Marina Bay Sands), be amazed and in awe as the 15-minute outdoor extravaganza unfolds rights before your very eyes.
Relax as you are immersed in a wonderful symphony of dancing fountain jets, vivid visual projections, exceptional lasers, lava, and mist effects in this four-part origin story of Singapore's transformation into the cosmopolitan city of today – all accompanied by an orchestral soundtrack.
Taking place at 8 pm and 9 pm every night (and 10 pm on Friday's and Saturday's), you can also enjoy the visually astonishing universe of Spectra from the alfresco dining of three restaurants, Bazin – Bistro & Bar, Dallas Cafe & Bar and JustIN Flavours of Asia for an even more romantic evening!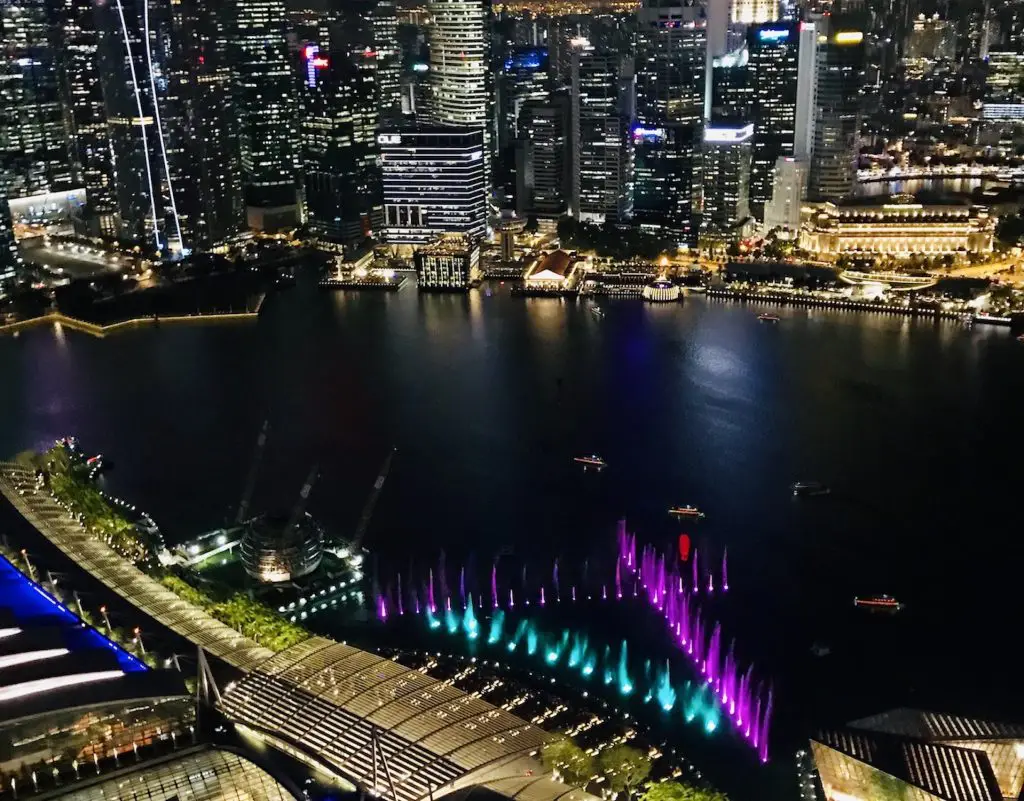 6. Taste The Best Of Singaporean Cuisine On A Hello Singapore Food Tour
Finding the best of the Singaporean food scene on your own would an almost impossible task – even for knowledgeable locals! There is just so much to taste and explore. Michelin starred hawker restaurants might get all the international attention, but – as with most cities – it's the hidden gems that you have more than likely never even heard of that end up being the most memorable.
This is why we recommend that everyone tries to take a food tour with Hello Singapore, easily one of the best culinary adventures in the world.
Fun, small-group sustainable food experiences led by local food experts and a passion for gastronomy, people and sharing their culture, you are never sure exactly what stops you will make on one of their food tours But what we do know is you will become intimately equated with the complex and delicious food scene/culture here with 10+ stops over 5.5 hours across three neighbors in Singapore (Little India, Kampong Glam & Katong).
A herculean odyssey to be sure, but Singaporean food requires your full and undivided devotion. And we promise that there will be no stops at over-hyped three-year-old guidebook recommended spots here!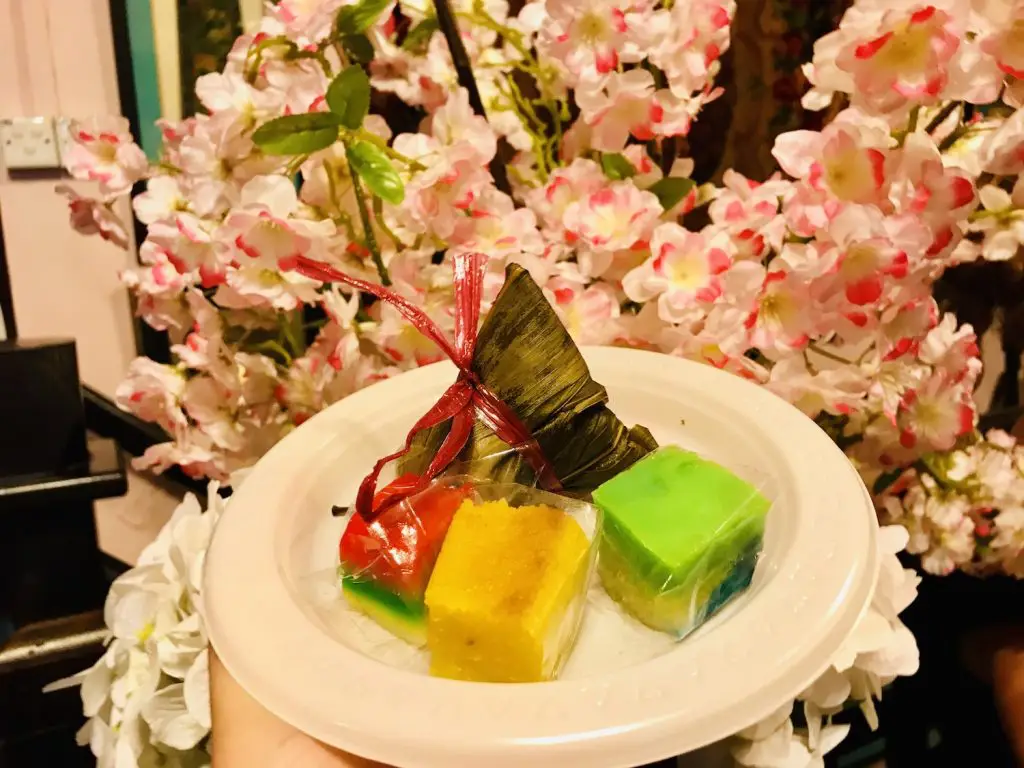 I don't want to ruin the surprises they have in store for you – though given the frequency at which they update their tours that would be hard–, suffice to say their fabulous Singapore food adventures are all characterized by a diversity of delicious regional cuisine, must-try dishes, and like-minded hungry, travelers.
And don't worry – this isn't a giant coach tour, group sizes are kept small meaning at each venue you feel more like a group of friends dining in style rather than a large crowd following the flags and drones of microphone speakers! This also means you get more time to ask questions of your guide, get tips for future explorations in Singapore, and – well – more food in your stomach!
Easily one of the best things to do in Singapore, be sure to book far in advance as Hello Singapore is focussed on quality over quantity and frequently sells out. If you are like me and obsessed with fascinating stories, incredible cuisine, and traditional dining, then this is the experience for you!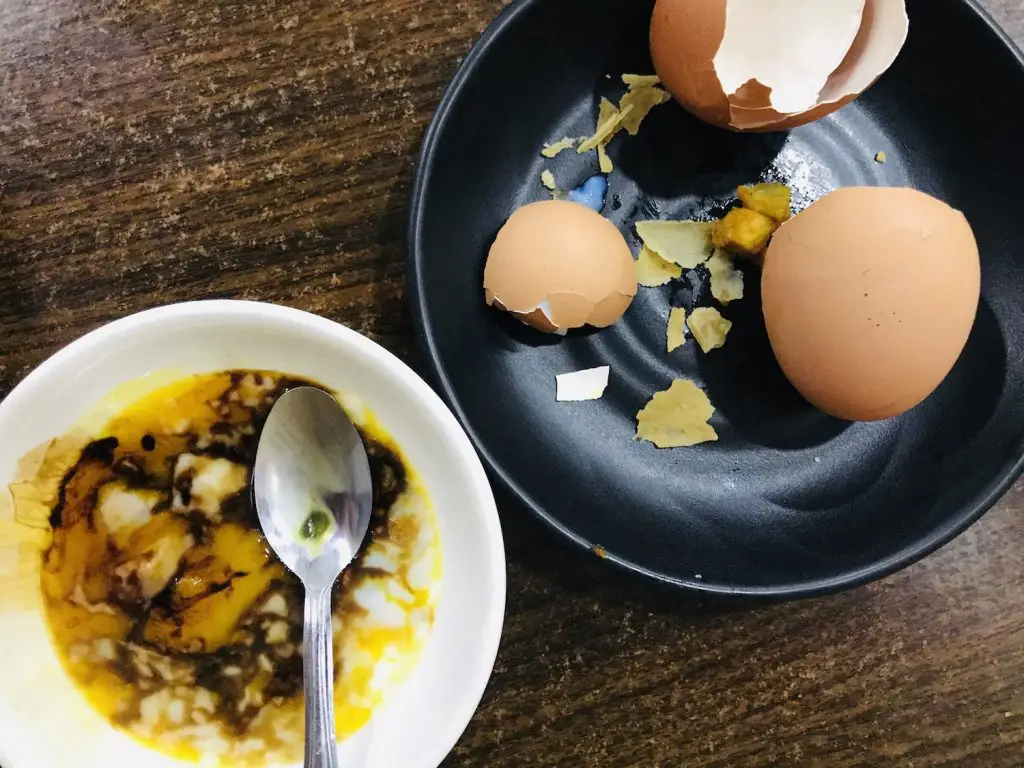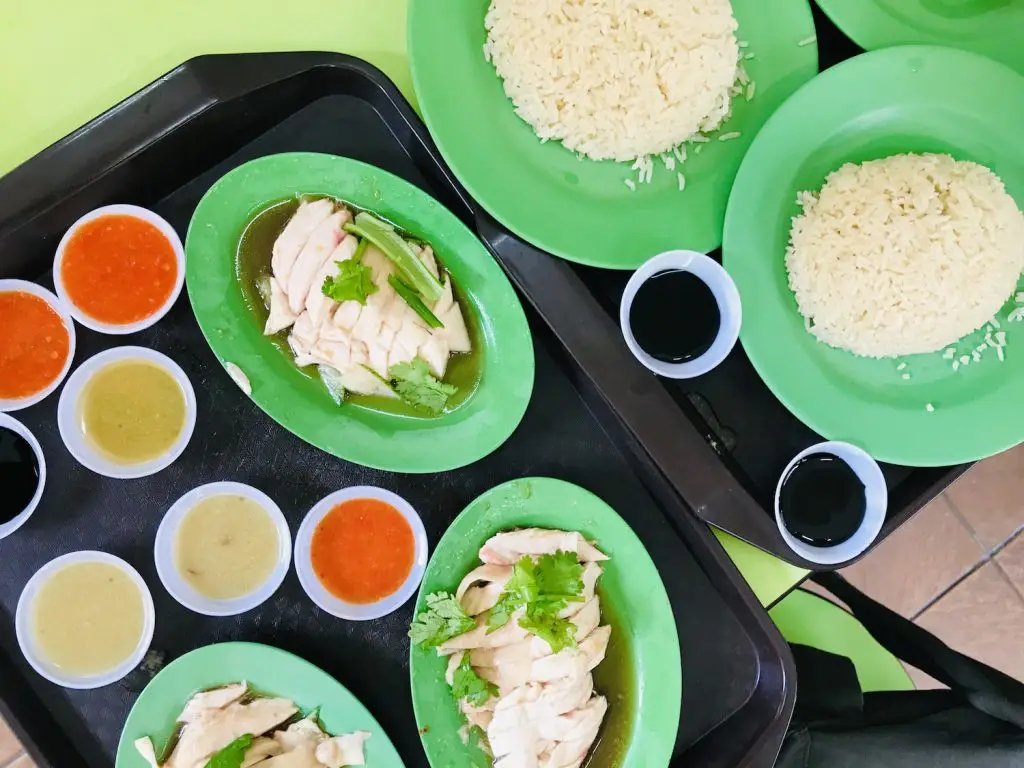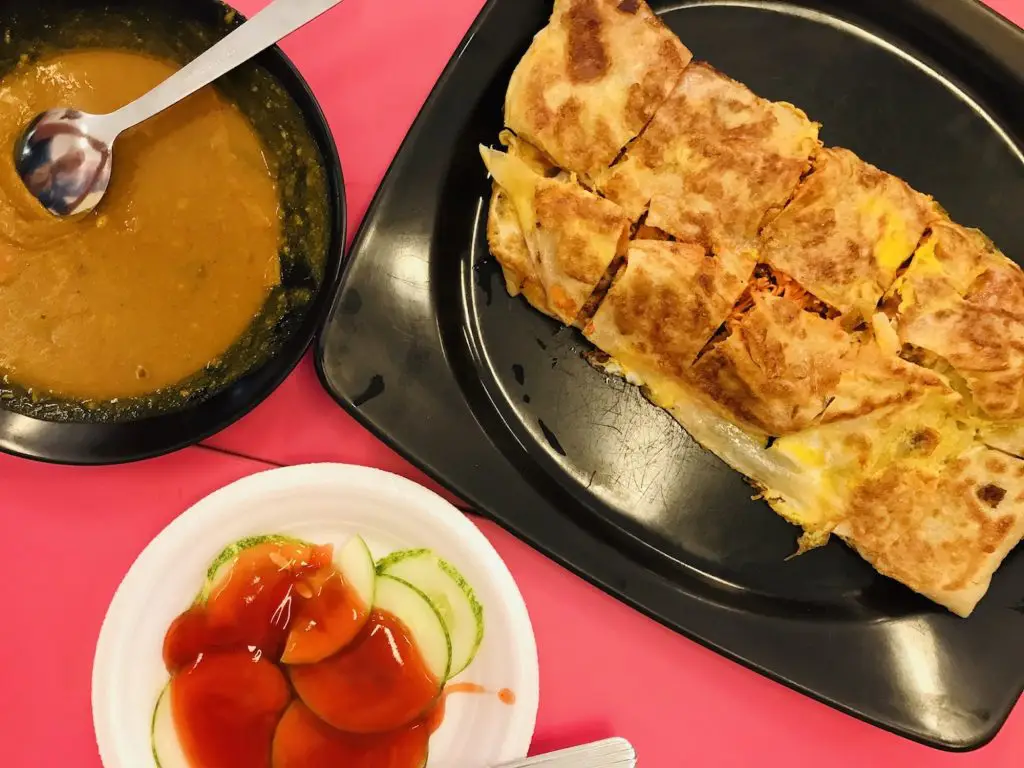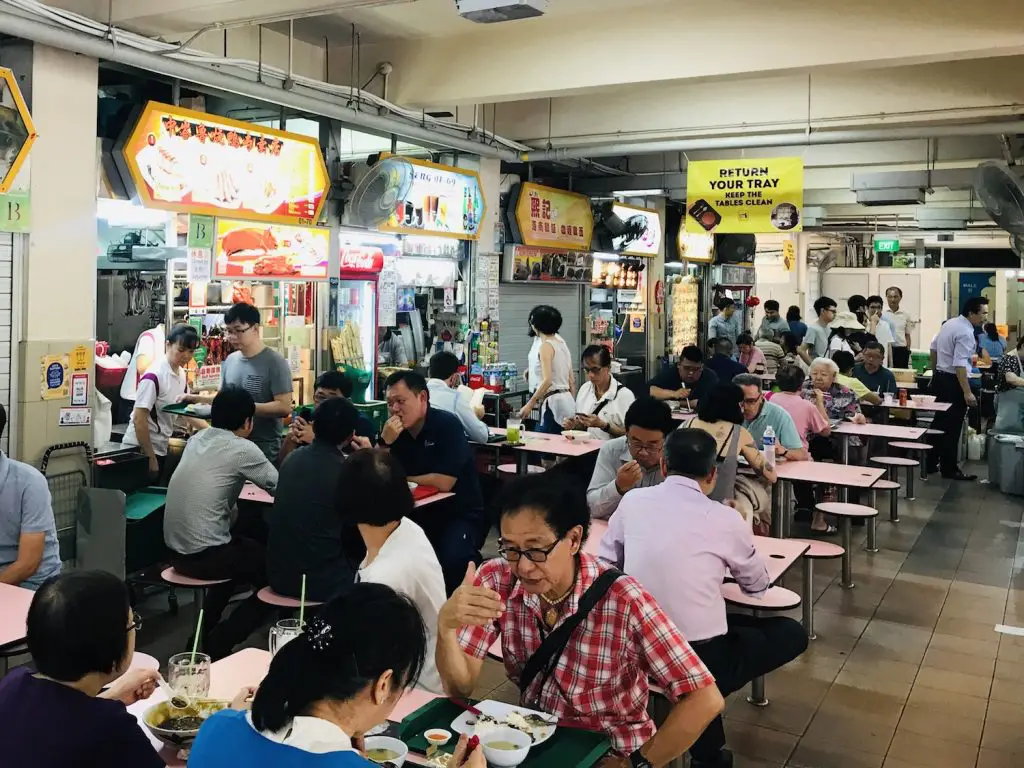 7. Stay Cool And Spend Up Large In Singapore's Shopping Malls
There are so many unique and fun things to do in Singapore, but we have to be honest: one of the biggest attractions of this city-state is the shopping, and people fly from all over the world to shop til they drop here. The range of shopping malls in Singapore is mind-boggling. In fact, Singapore has more luxury shopping per capita than anywhere else in Asia… in this way, Crazy Rich Asians was not an over-exaggeration!
But for those on more of a budget, there is still plenty of options with a mall to meet every price range and demand. Even if you are not a shopaholic, Singapore's shopping malls are a memorable experience filled with dining options and various entertainment for you to explore – as well as being a welcome escape from the often oppressive heat and humidity outside. Thank you air conditioning!
Not to be missed from any true shopping tour of Singapore malls is the ION Orchard – a futuristic architectural wonder and beacon for luxury shoppers, the 24/7 Mustafa Centre with affordable prices and everything under the sun for sale and the Far East Plaza, an older mall filled with bargains from unknown designers and outrageous fashion.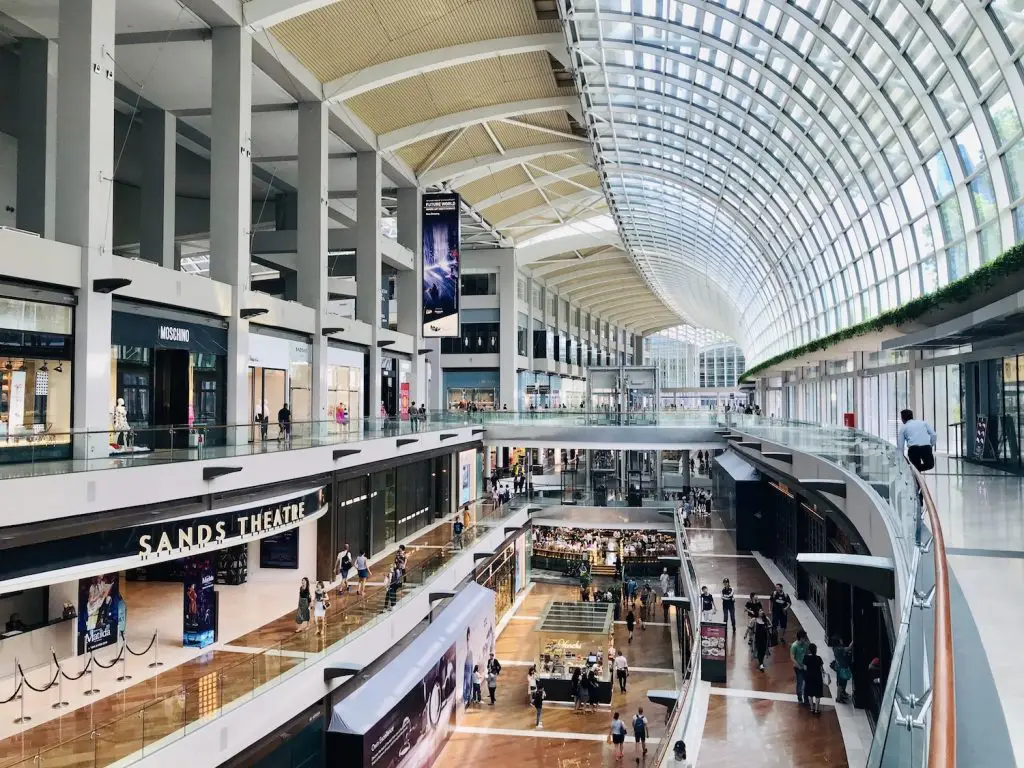 8. Sample Delicious Indian Cuisine At The Tekka Market
A landmark of Little India, no visit to Singapore would be complete without chowing down at one of its culturally rich markets. Famous for its array of food, diversity of languages, and wet market, Tekka Centre is Singapore in a microcosm.
Chinese stallholders who speak Tamil, Halal butchers, North Indian food wrapped in banana leaves, Taoist and Buddhist paraphernalia crabs from Sri Lanka, and weird and beautiful vegetables imported from Malaysia and India…just to name a few. Getting now why we are a little obsessed with Singapore's diversity?
All possible grocery needs are met with 284 different stalls, making Tekka Market the largest wet market in Singapore, and with some of the most extended operating hours of any market island-wide. This means Tekka can still be positively buzzing in the afternoon when most other spots wrap up around midday. If you are short on time, Tekka Centre also offers a 3-in-1 experience with the wet market, hawker food center, and shopping upstairs, meaning you can get more out of your Singapore stopover.
We recommend going for the food alone, which is extraordinary, and you should specifically look out for the chicken or fish biriyani, roti prata, and hot ginger tea, which are the standout local favorites.
Bring cash and an empty stomach!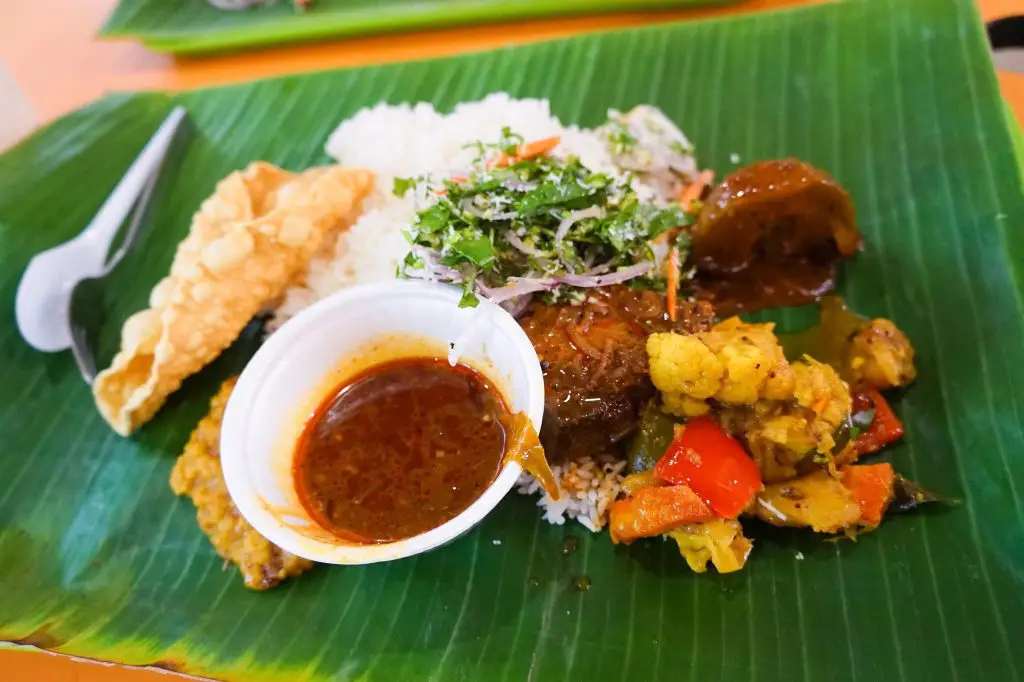 9. Try The Odeh Odeh Cake At The Malayan Council
A beautifully charming Halal cafe with two locations, one tucked away in Little India and the one in the oldest street in Singapore close to the unique Pod Boutique Capsule Hotel.
Fabulous service and the perfect spot to relax with Malaya-fusion food and delicious food such as salted Egg Softshell Crab Linguine and Roti Kirai Beef Ribs. To be clear, however, the standout highlight has to be their contemporary Ondeh-Ondeh cake.
Ondeh-Odeh, also know as Klepon in Indonesia is a traditional green-colored ball of rice cake filled with liquid palm sugar and coated in grated coconut. Still, the Malayan Council has come up with a version for the modern age in cake form: a moist panda cafe base, layer with gula Melaka bits and coconut drizzle, and frosted in coconut cream. You'll be in a sugar coma afterward, but hey, you are on holiday.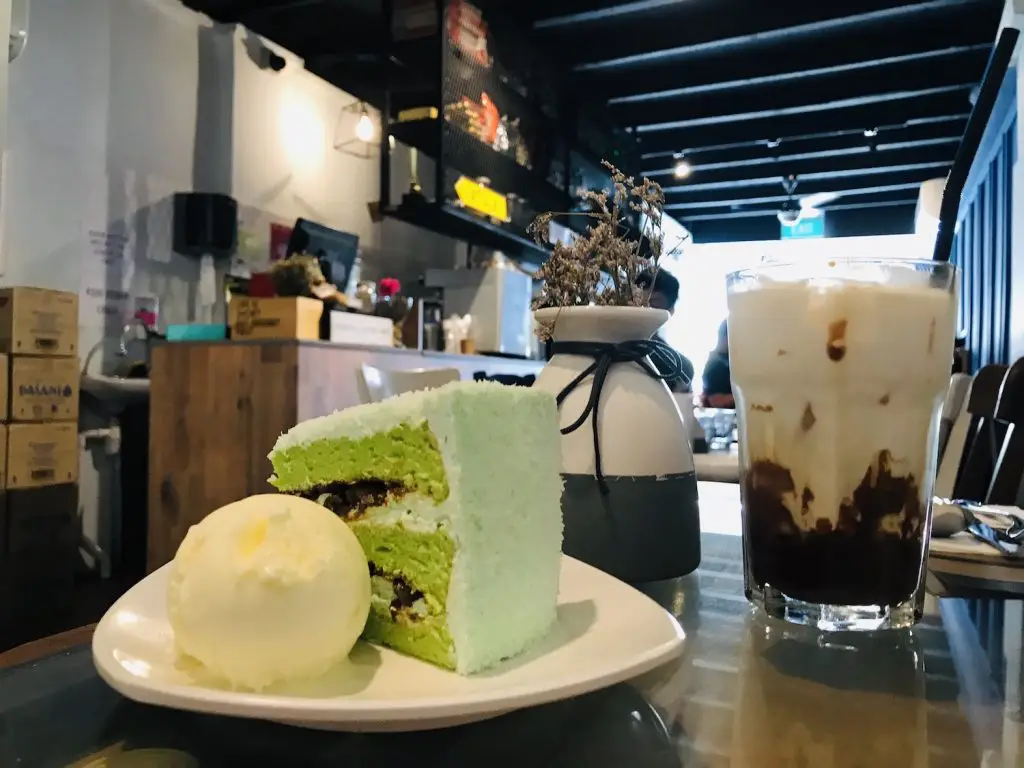 10. Hunt Out The Peaceful Rooftop Orchid Garden Of The Buddha Tooth Relic Temple & Museum
Singapore might be considered one giant shrine to capitalism, commerce, and banking – but don't let that fool you into thinking there are no other spaces of worship worth exploring here.
One of the most impressive is the Buddha Tooth Relic Temple, a Buddhist temple and museum complex based on Tang dynasty architectural designs and purpose-built to house the historical Buddha's tooth relic. Recently completed in 2005, the remnant of Buddha was supposedly found in 1980 in a collapsed stupa in Myanmar and can now be viewed on the 4th floor.
There are plenty of other reasons to visit, however, from the spectacular orchid rooftop garden to seeing monks going about their daily routines. Don't forget to take time to admire the inside of the temple, with its beautiful seated Buddha Maitreya flanked by two Bodhisattvas. There is also basic vegetarian food served in the basement for a nominal donation.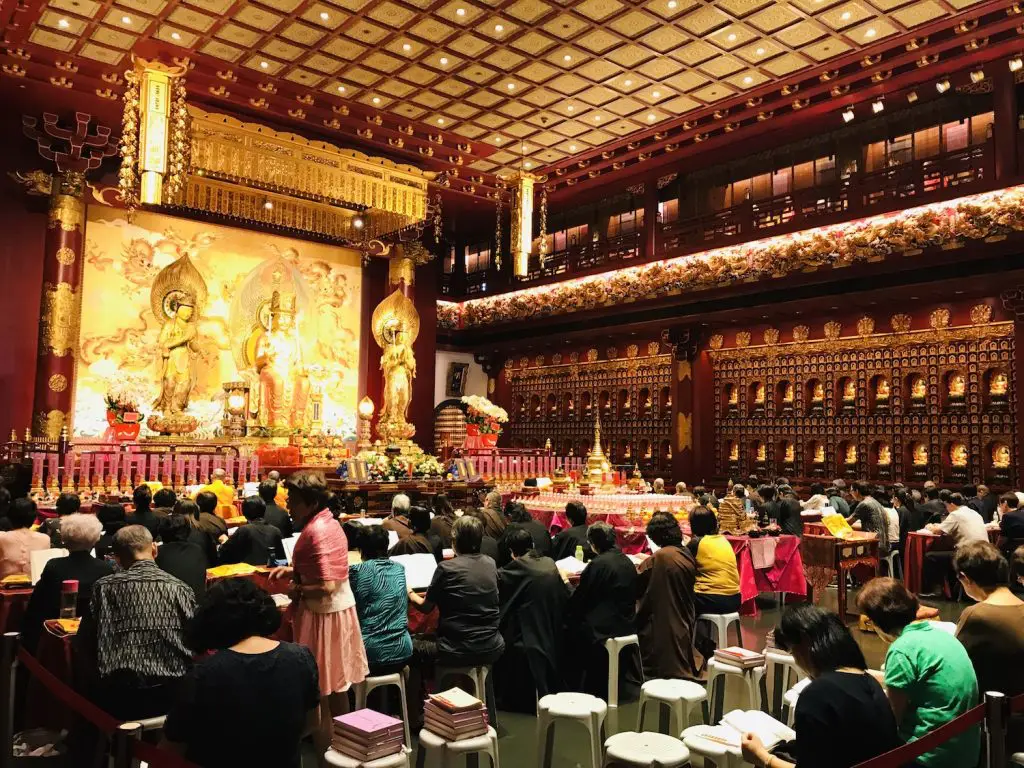 11. Discover What's On At Singapore's Home For The Performing Arts, Esplanade – Theatres on the Bay
Get your creative fix at this central location performing arts center where you can catch a non-stop line-up of distinguished performances all on the edge of the scenic Marina Bay. Located in the Downtown Core, the venue consists of a modern concert hall with capacity for around 1,600 and a theatre which seats 2,000 for the performing arts and is affectionately known as the Durian to locals based on its bold design.
Look up the schedule for Esplanade – Theatres on the Bay in advance, or wander by, as a notable focus here in the provision of free programs, including music, dance, and theatre, in various public locations in Esplanade.
The offerings here frequently cut across traditional lines of culture and genres. On any given night, you are just as likely to see a performance by the Vienna Philharmonic Orchestra as you are an imposing visual arts display or an open-air modern Chinese opera interpretation. All real examples we have stumbled upon here!
If you are a true art aficionado, an architectural buff, or merely an inquisitive visitor, you might also consider the daily guided tours which delve deeper into Singapore's burgeoning arts scene and take you behind the scenes of this iconic Singapore landmark building.
12. Treat Yourself To The Luxe Life At Changi Airport
Frequently voted the world's best airport, no list of fun things to do in Singapore would be complete without mention of Singapore Changi Airport – and let us tell you, it truly lives up to its hype.
If you are visiting Singapore on a stopover, you will need to visit the airport at least twice – but don't be so quick to rush to the exit. We counsel allowing additional time before departure to explore the whole complex properly. Because Changi is an airport like no other…
Changi Airport serves more than 100 airlines flying to 400 cities worldwide. Each week, about 7,200 flights land or depart from one of Changi's four terminals – that's about one every 80 seconds. And there is a reason so many people chose to fly through here, including the luxe amenities like a butterfly house with over 1,000 tropical butterflies, sculptural art installations, lush gardens, a bouncing net/thrilling suspended trampoline and a swimming pool. We can't make this stuff up!
Not to mention all the incredible dining and shopping options – and they are not finished yet with an indoor waterfall, more park spaces, and mazes set to open in the coming months in a massive renovation.
If you want to enjoy and relax at Singapore Changi airport truly, then we recommend signing up for Priority Pass, the world's original and biggest lounge access program, which not only gives you access to 11 opulent lounges in Changi but hundreds more globally in basically every major airport worldwide. You'll never complain about having to go to the airport again!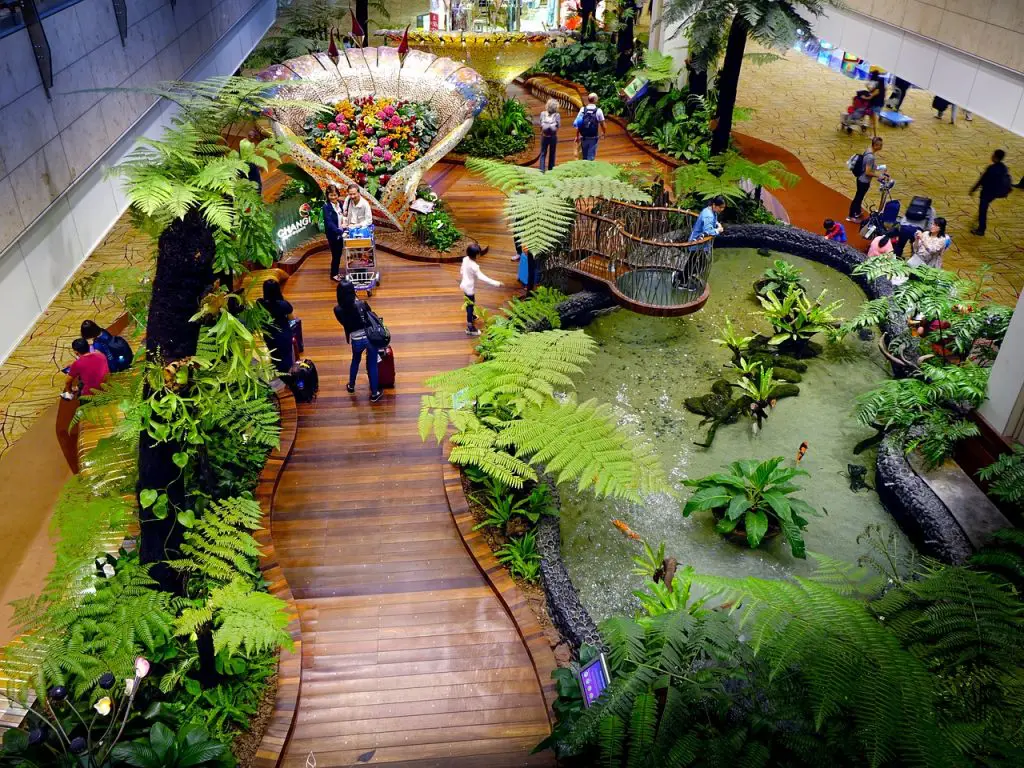 13. Rub Shoulders With Busy Office Workers At The Lau Pa Sat Food Court
Combining delicious food and impressive architecture, Lau Pa Sat Food Court is one of the most popular hawker centers – conveniently located in the heart of Singapore's financial district and well utilized by office workers in peak periods. One of the oldest Victorian design structures in South-East Asia and one of the first built in pre-fabricated iron in Asia, Lau Pa Sat Food Court is one of the only surviving markets that was built initially served the residents in the central district of early Singapore.
The contrast of this unique heritage building being dwarfed by the tallest skyscrapers in Singapore is impressive, but even more impressive is the local delicacies on offer: chicken rice, satay, and kaya toast, are firm favorites. Why Lau Pa Sat Food Court is unique, however, how many examples of the cities varied cuisine it manages to host under one roof – although prices are generally higher than other hawker centers.
Romantic, clean, and frantically busy at times- try to visit outside of peak periods, e.g., office lunch hours if you don't like crowds – or on the weekends in the evening when the more laid-back atmosphere is set by the local live band.
Oh, and a pro tip: bring a business card to save your seat before heading off to find your meal. A simple yet effective solution that everyone seems to respect.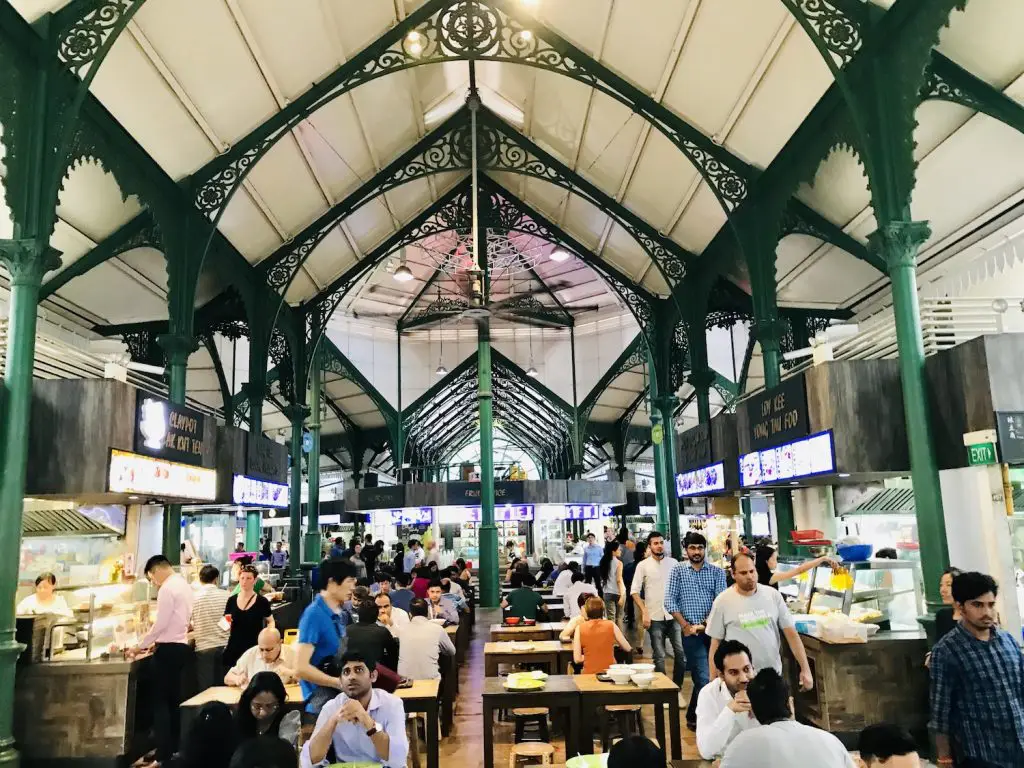 14. Let Your Inner Diva Shine Bright With A Night Of Singapore Karaoke
While in the Western world, singing is mostly reserved for the shower and long car journeys – in Asia, and Singapore, karaoke is practically a national past-time. There are some key differences, however, with karaoke in Singapore often taking place in sound-proof rooms with just close friends or co-workers rather than in a large bar filled with strangers – and the song selections are much, much more extensive with well over 30,000 songs at most places we tried.
Even accounting for an insane amount of Cantonese Pop music (C-POP), there is probably still around 10,000 English songs in general – and more than enough for a few hours of fun. So why not grab together some friends and unleash your inner diva over some drinks with flashing strobes and echoey mics?
Some of our preferred, non-sleazy, locations for karaoke in Singapore are the oh-so-Instagrammable K.Star, a favorite with local millennials, and Cash Studio Family Karaoke Box with its traditional disco aesthetics. One of the most affordable options is Party World KTV, which, while not as cool – is one of the oldest players in town and somewhere we feel in love within Taipei.
You could also get your fix at one of the mini KTV concepts now entering Singapore, – small, soundproof, and air-conditioned booth placed near MTR station or shopping malls. But this was a step too far for us!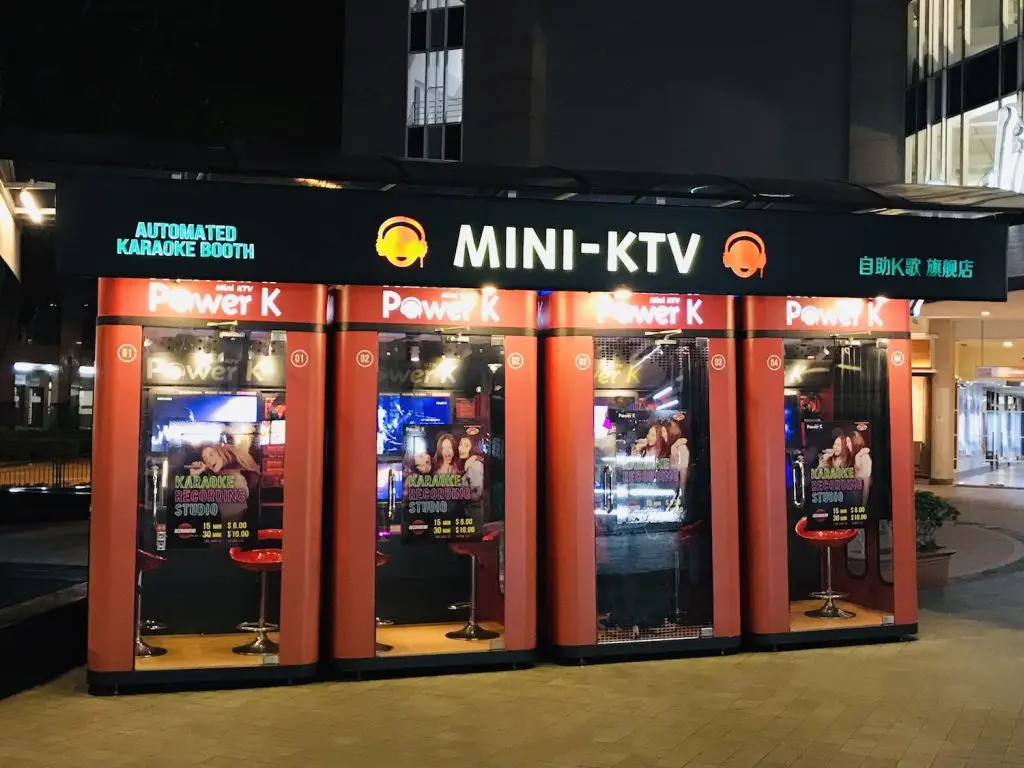 15. Be Inspired By The History Of This Small Nation At The National Museum of Singapore
History buffs shouldn't pass up the chance to spend a few hours exploring this nation's oldest museum, which seeks to inspire with stories of Singapore and the world.
With over 1,700 historical and cultural artifacts, special exhibitions, guided tours, and more information than you can process in one visit – this is the best place to go to understand how modern-Singapore came to be and what makes this island so unique.
There are too many displays to name them all but two highlights for us were the Story Of the First, a fabulous mixed-media / digital presentation exploring life in 20th century Malaya or Magic and Menace, a newly refreshed look into the world of magic and supernatural beliefs of the traditional SouthEast Asian societies that once lived in the area.
And, if by some chance you still have a thirst for more knowledge after visiting the National Museum of Singapore, is the Malay Heritage Centre, Indian Heritage Centre, or the Sun Yat-Sen Nanyang Memorial Halland, which are more focussed explicitly on Singapore's local communities.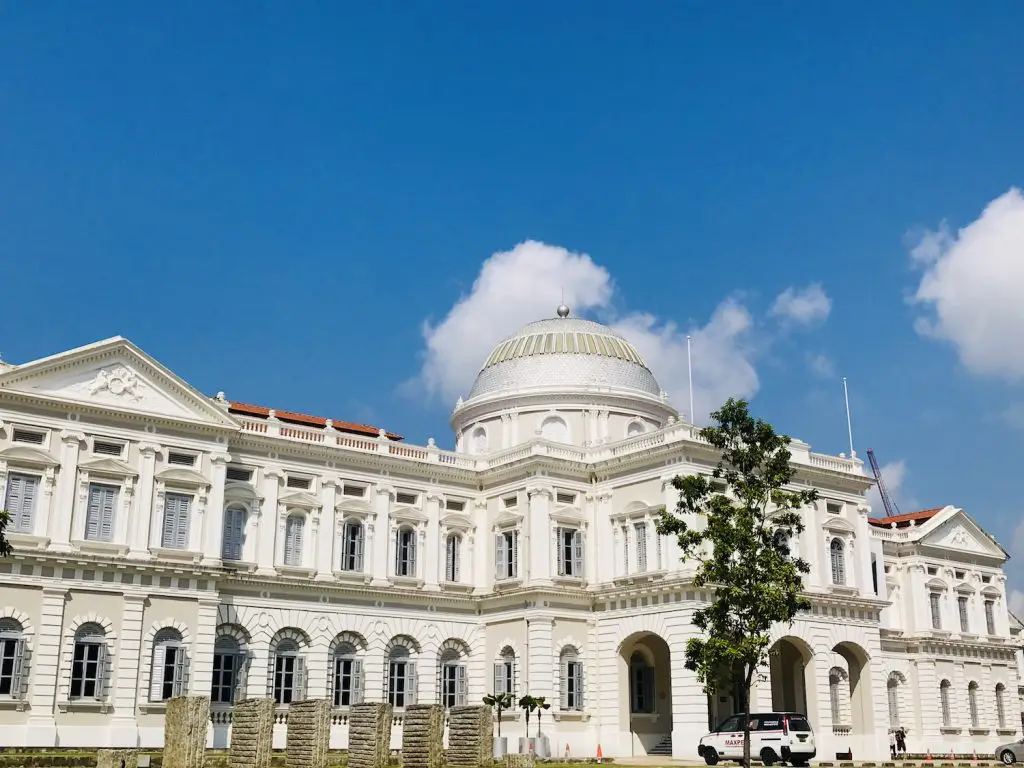 16. Visit One Of Singapore's Oldest Temples, The Sri Veeramakaliamman Temple
Another spectacular temple that could not be skipped from any list of unique things to do in Singapore Sri Veeramakaliamman Hindu Temple is conveniently located in the middle of Little India and dedicated to the goddess and destroyer of evil, Kali.
This distinctive landmark is one of Singapore's oldest Hindu temple, and its history is interwoven with that of colonial Singapore. Early migrant workers from India worshipped here feel safe in a new foreign land while later, during the Japanese air raids in World War II, many sought refuge here from the relentless bombings. Miraculously, the temple and all its statues escaped unmarked.
Having undergone significant renovations in the 80s, in 1999 and most recently in 2017, this colorful temple is still renowned for its exquisite detailing, whimsical statues, and mystical air. A visit here is one experience you will not want to miss.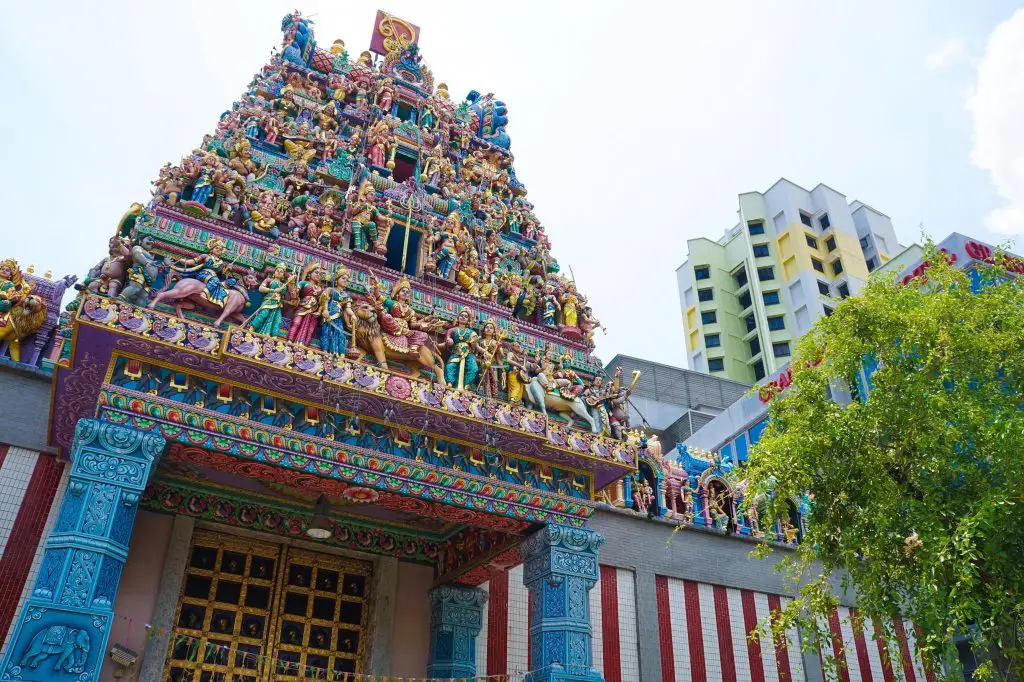 17. Wander Singapore's Only UNESCO Site, The Singapore Botanic Gardens
As avid UNESCO hunters, we were excited in 2015 when Singapore had its first site inscribed – and what more fitting tribute to this garden city could there be than recognizing its verdant and cherished 158-year-old tropical gardens as a World Heritage Site. It is one of three gardens, and the only tropical garden, to be honored as a UNESCO World Heritage Site – so you know it has to be special.
Situated at the heart of the city of Singapore, the site demonstrates the evolution of a British tropical colonial botanic garden that has become a modern world-class scientific institution used for both conservation and education.
The cultural landscape includes a rich variety of historical features, plants, and buildings that demonstrate the development of the garden since its creation in 1859. It has also been an essential center for science, research, and plant conservation, notably in connection with the cultivation of rubber plantations, in Southeast Asia since 1875.
Some of Singapore's most expensive real estate borders the gardens, and no matter when you visit, you can see families, couples, joggers, and more out explore the lush pathways or relaxing in the green spaces perfect for picnicking. There is also the incredible National Orchid Garden here – which is well worth the admission, although everything else here is absolutely free!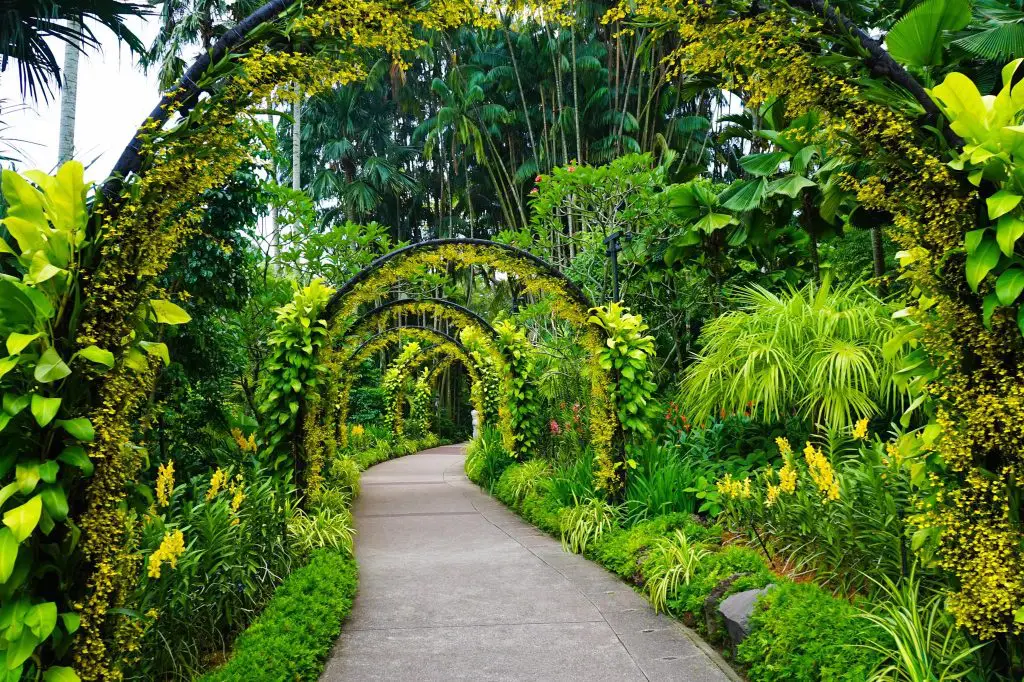 18. Pamper Your Inner Bookworm At Kinokuniya
Book nerds and lovers of obscure finds won't want to miss a visit to Singapore's largest bookstore offering books, magazines, music, CD, Manga, and much, much more. If you can imagine a topic or book, chances are you will find it here – and we love nothing more than browsing their bargain alley with book specials and unexpected finds.
A Japanese bookstore chain that we fell in love with after previous visits to outlets in New York, Kuala Lumpur, Sydney and Taipei – though the original store was founded is located in Shinjuku, Tokyo – Kinokuniya is beautifully designed, wonderfully peaceful and perfect for exploration. In Singapore, Kinokuniya has three stores, but their main store is hidden in Ngee Ann City on Orchard Road and is the best to visit, in our opinion.
If you are looking for the perfect souvenir, the stock one of our favorite children's books ever: 'The Amazing Sarong' and follow up 'The Incredible Basket,' which promotes tolerance, diversity, and local culture to the young of Singapore through storytelling.
What better lessons could we hope to impart on the next generation – than that there is no place for religious hatred or racism in this world – and that we are stronger together when we embrace each other's cultures, customs and different ways of life.
And what better place to take this lesson from than Singapore, one of the most harmoniously multiracial and multi-religious societies that we have ever come across.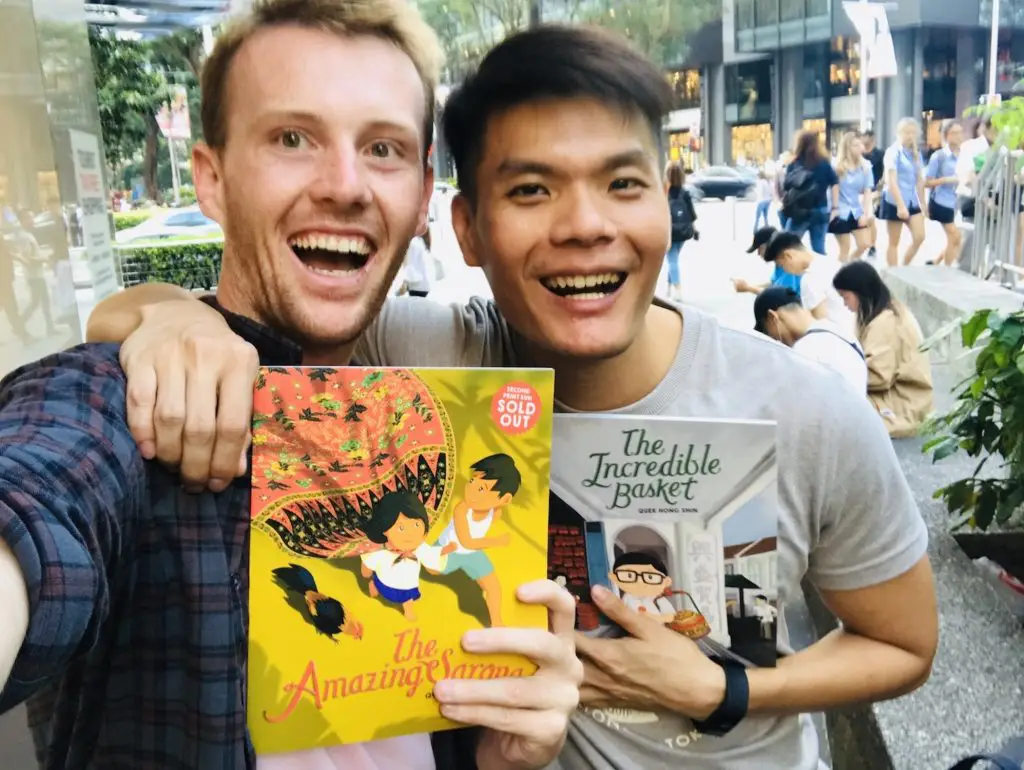 19. Be Amazed By The World's Tallest Indoor Waterfall
Enter the Cloud Forest, a mysterious world veiled in mist and be amazed at the breath-taking mountain views surrounded by diverse vegetation and hidden floral gems – all in air-conditioned luxury. Part of the Gardens By The Bay development, the highlight is seeing the world's tallest indoor waterfall fall from a 35-meter mountain of lush vegetation. Still, entrance also is included to the Flower Dome next door with its Mediterranean-like climate and an array of plants from around the world.
Gardens by the Bay are undoubtedly going to be at the top of every visitor's itinerary to the city. Still, many people decide to avoid the paid component, thinking it is just like another botanical garden, but let us repeat this: it is not. Featuring some of the most incredible human-made structures built to house flora and fauna from all over the world, you can learn about the powerful interconnectedness of ecology and get up-to-close to rare plants, all while escaping the Singapore heat in these incredible few hours of fun.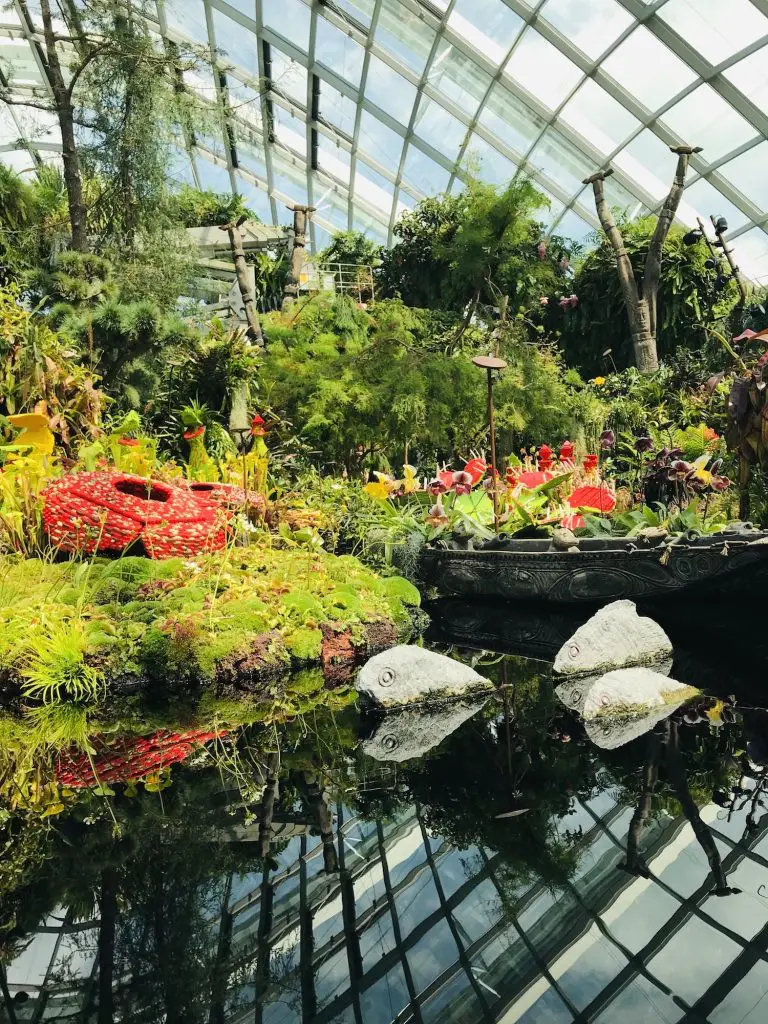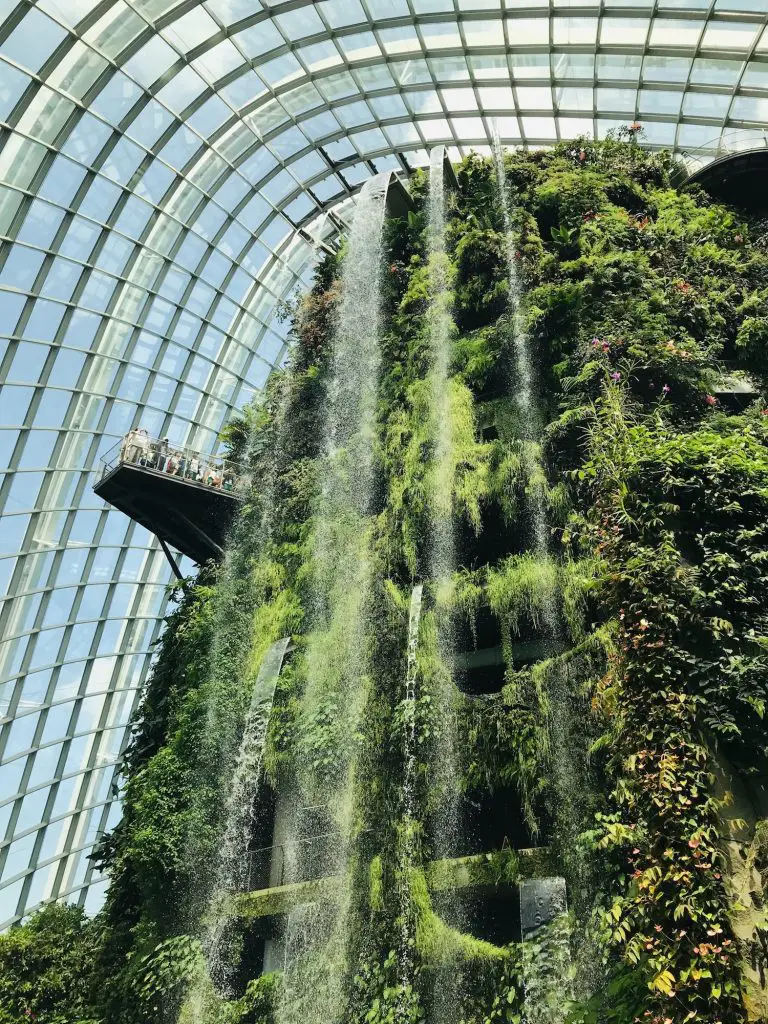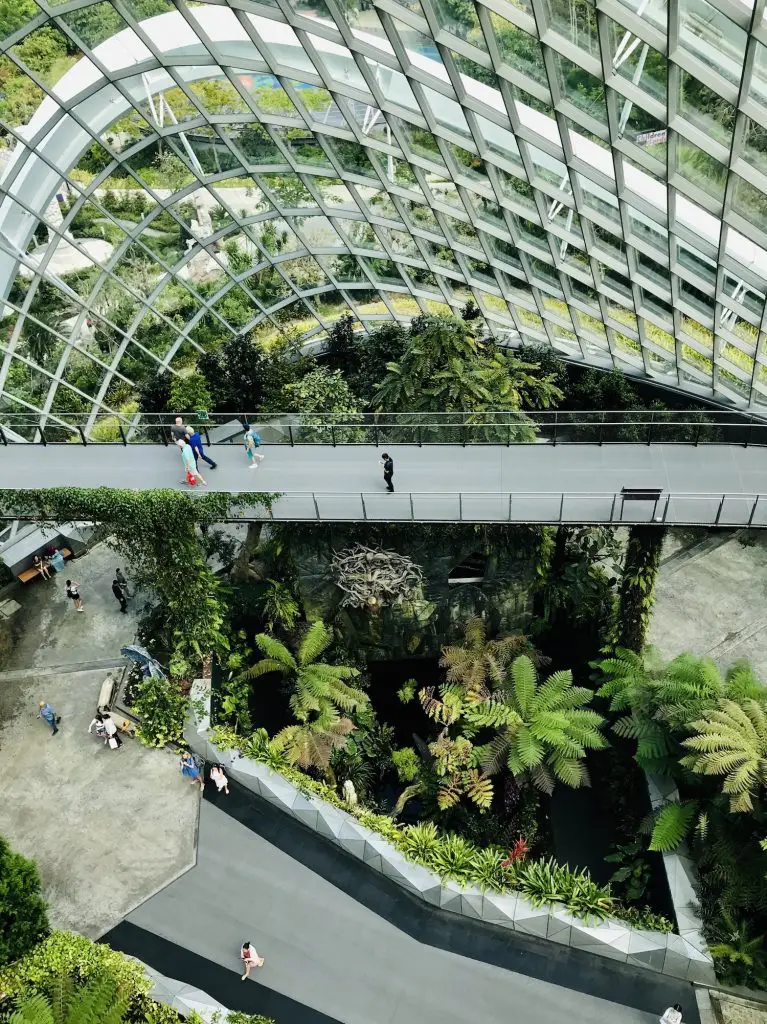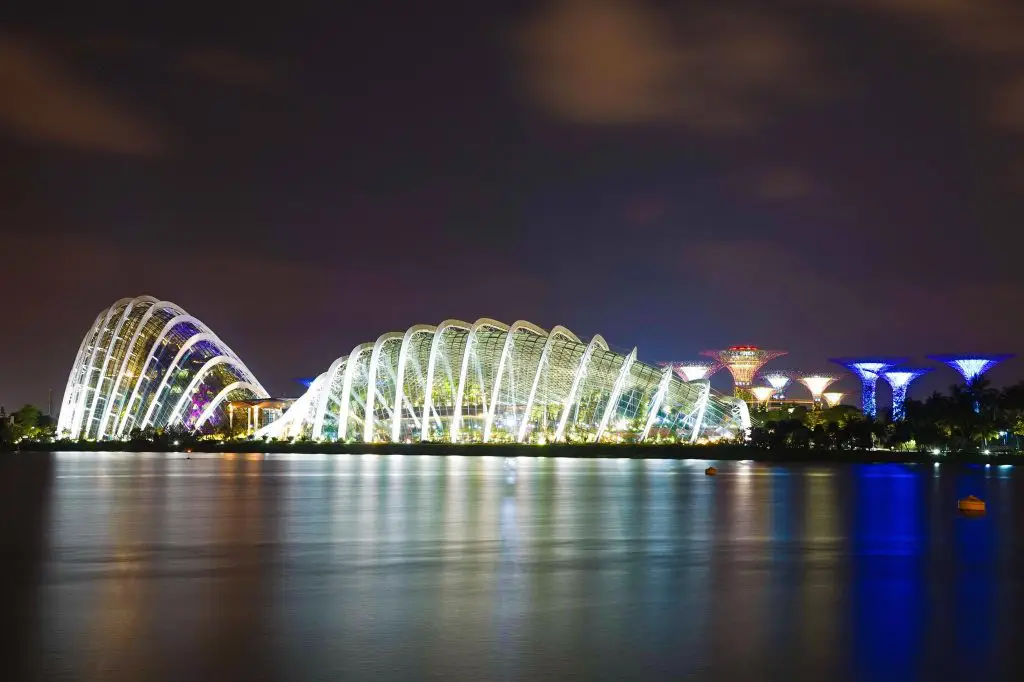 20. Seek Out The Uber-Instagrammable Hipster Haven Of library@orchard
Undeniably one of the most unique things to do in Singapore, a visit to the library@orchard, is a must for any lovers of design.
Recently opened in 2014, the library@orchard is centered on lifestyle, design, and the applied arts and divided into two unique spaces, The Studio, and The Loft, which spoil visitors with its vast array of programs and reading choices. Approximately 100,000 titles are held in this beautiful space, which is both a community space and a contemplative cavern – as well as an occasionally Instagram model photoshoot spot.
"Design is as much about creating solutions for people, as it is about space, form, and details."
Built on the ideals of design behind for everyone, there is a mix of modern technology, including a vivid digital wall, and physical features like the contoured acoustic ceiling, ambient lighting, and natural bamboo flooring to make a unique library experience unlike any other. There are also curved bookshelves, hidden reading nooks, ironic futuristic DVD racks, and fast WiFi if you need actually to get some work done.
Whether you are a hardcore bibliophile or just seeking out one of the most Instagrammable spots in Singapore, this award-winning designer library should be on your list!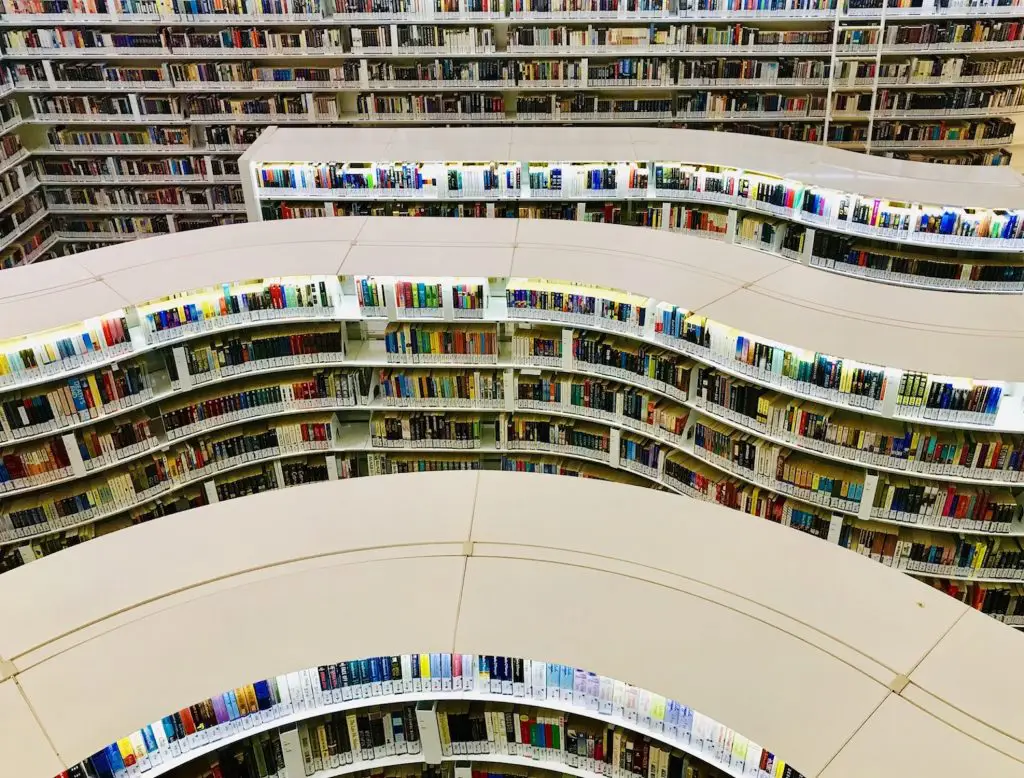 21. Embrace Child-Life Wonderment At The Nightly Supertree Grove Show
Possibly our favorite and most unique thing to do in Singapore after a long day exploring is head behind Marina Bay Sands and be dazzled by the marvelous sight of the Supertrees come to life with music and lights nightly with the Garden Rhapsody show.
Towering 25 to 50 meters in the sky, these tree-like structures covered in gorgeous ferns are a focal point of the Gardens By The Bay development and a symbol of modern Singapore – and while they look amazing any time of day, the best time to visit is the nightly show. Better yet, it's free! Taking place every night, at 7:45 pm and 8:45 pm, the Supertree Grove comes alive and is enjoyed by thousands of happy couples, families, and travelers. The accompanying music to the show changes every month or so, ensuring you have a reason to visit no matter how many times you have stopped over in Singapore.
If you want to take the magical experience further, you could also buy tickets to the elevated walkway, the OCBC Skyway, between two of the larger Supertrees where you can enjoy a panoramic aerial view of the Gardens. Be warned, however, in the evening, the wait times can be rather long.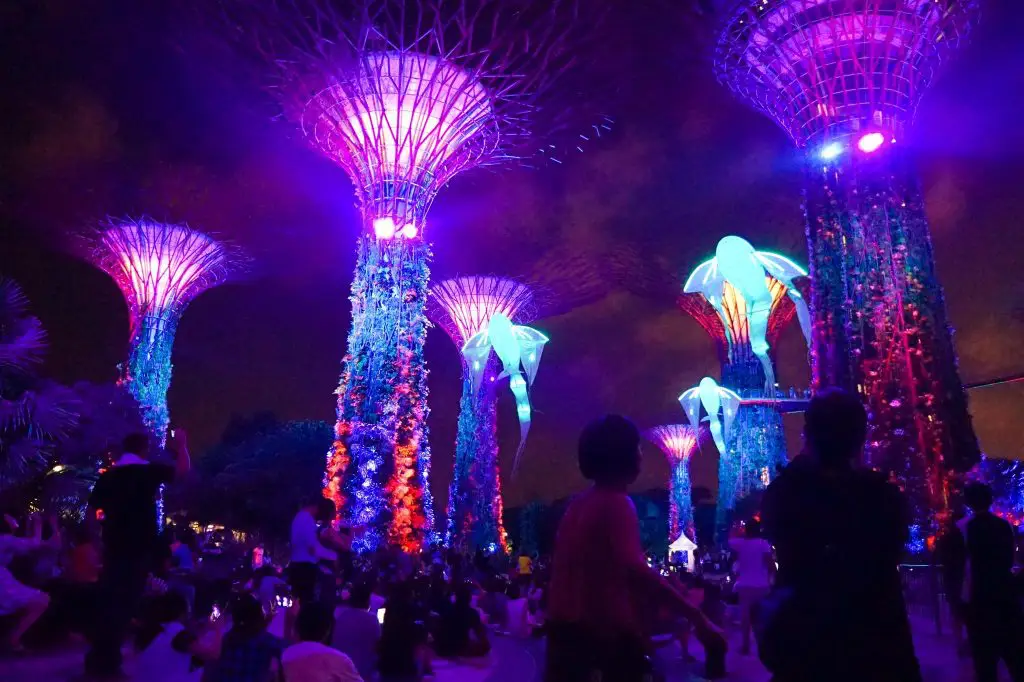 22. Let Art Surprise You At The National Gallery Of Singapore
Art lovers cannot miss the opportunity to explore the world's largest public display of modern Southeast Asian art at the National Gallery Singapore, conveniently located and only recently opened in 2015. Plan at least a few hours to explore the vast, massive collection of over 8,000 artworks that explores various themes while remaining focussed on Singapore's culture and heritage and its relationship with other Southeast Asian cultures, Asia, and the wider world.
Housed in the former Supreme Court Building and City Hall, it is a labyrinth to explore – but well worth your time, and hosts frequent international exhibits which are also worth checking out.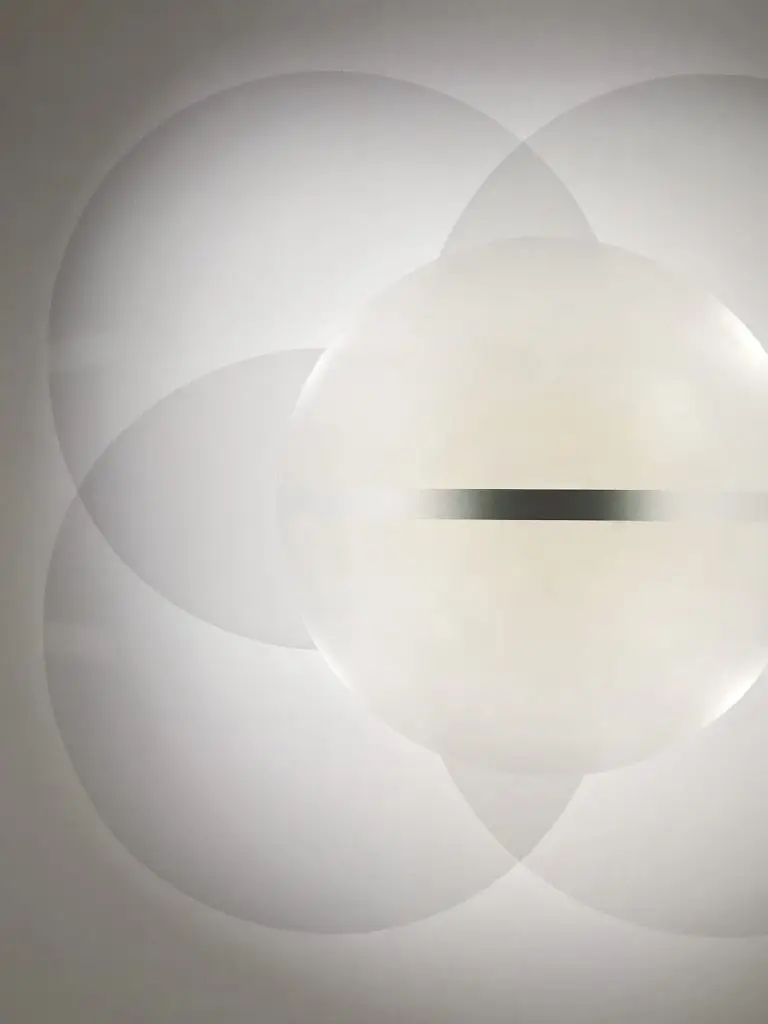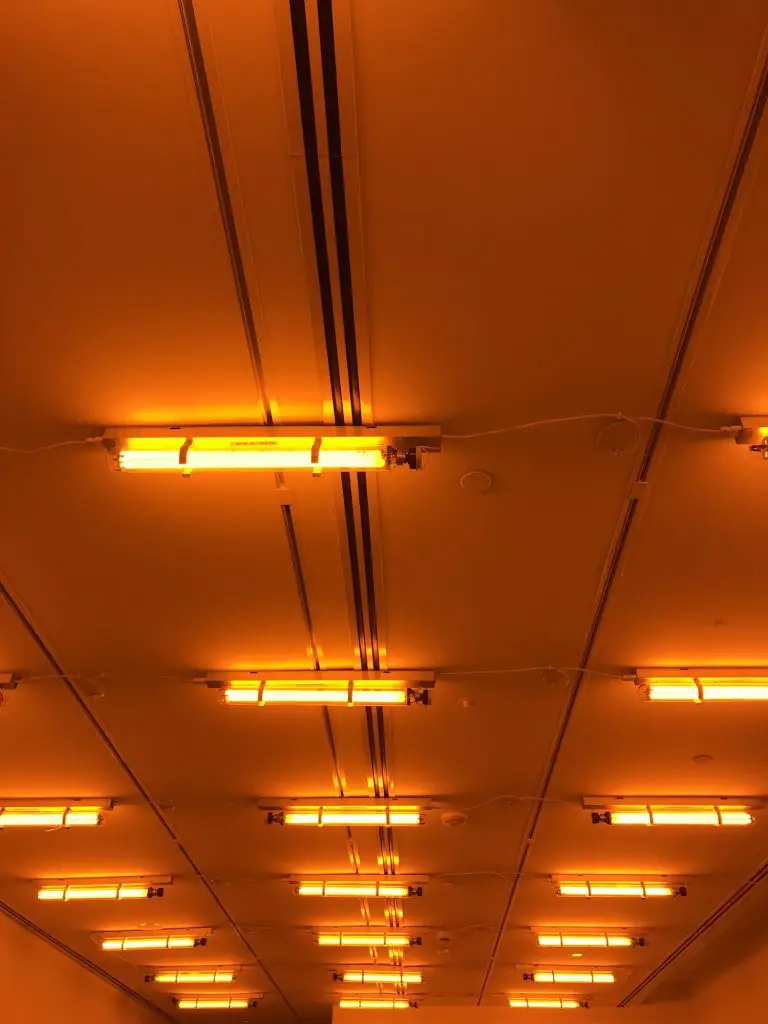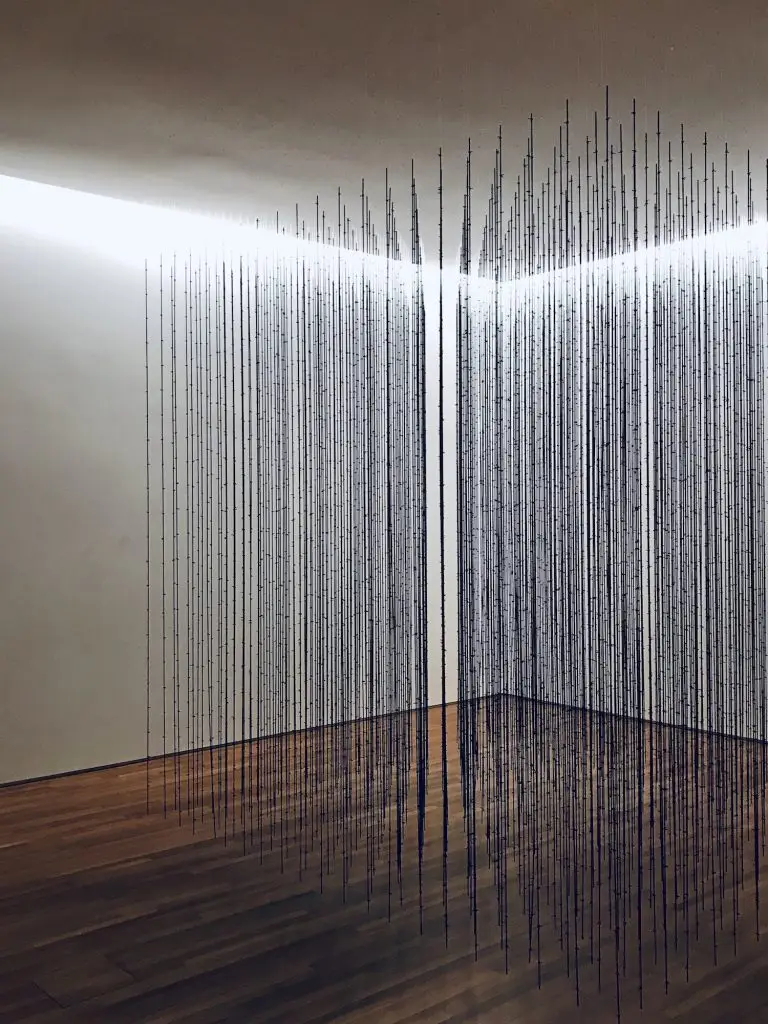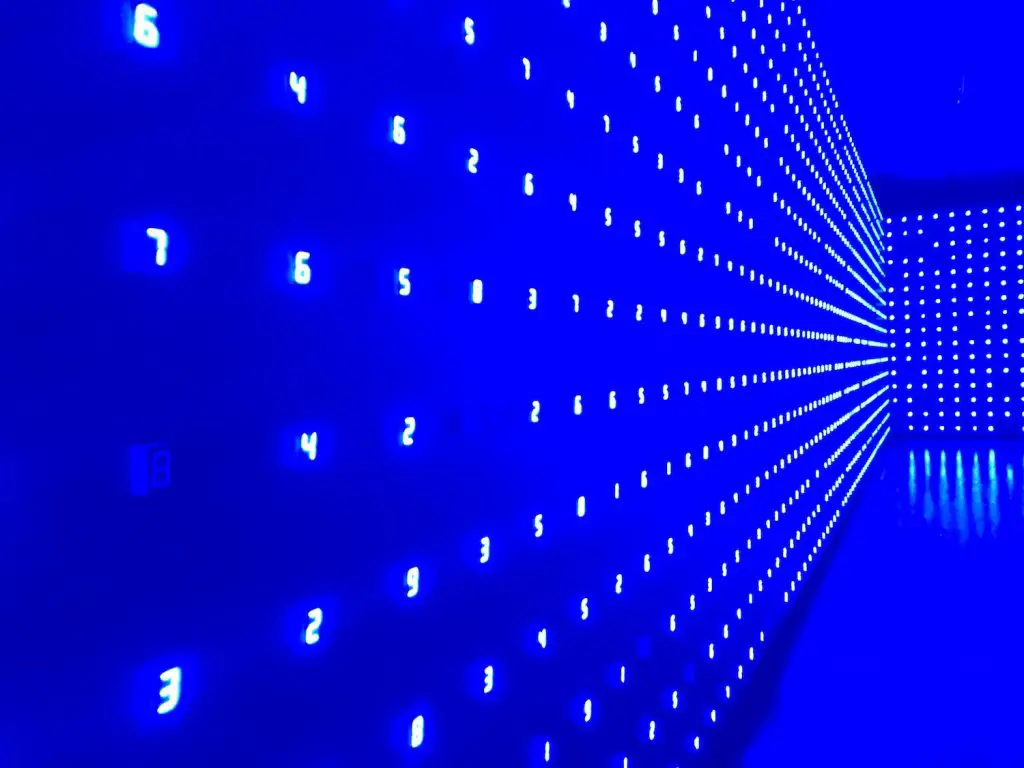 23. Sample The World's Cheapest Michelin-Star Meal
We debated whether to include this here, as honestly unless you have extensively explored the Singapore food scene in the past, there are better places to go, but just for the sheer novelty of it: why not seek out the world's cheapest Michelin-star meal in Singapore?
Sure, you will have to contend with hordes of elite, trophy-hunting gastrotourists who are obsessed with the star-rankings. Still, it is all worth it to taste Singapore's Liao Fan Hong Kong Soya Sauce Chicken Rice & Noodle, from a humble hawker stall – and all it will run you roughly $3.
Hong Kong's Tim Ho Wan and Seoul's Hamo are also often named the world's cheapest Michelin-star meal, but make no mistake; it is here, in the Chinatown Food Complex, that you will find it. This spot is also one of the first two street food locations in the world to be awarded a star in the Michelin Guide.
There are over 6,000 food stalls in Singapore alone, but this one has been proclaimed the best – and while it is delicious, most locals will quickly tell you their favorite spot. It's up to you if you accept the advice of a food-obsessed Singaporean local or a French tire manufacturer.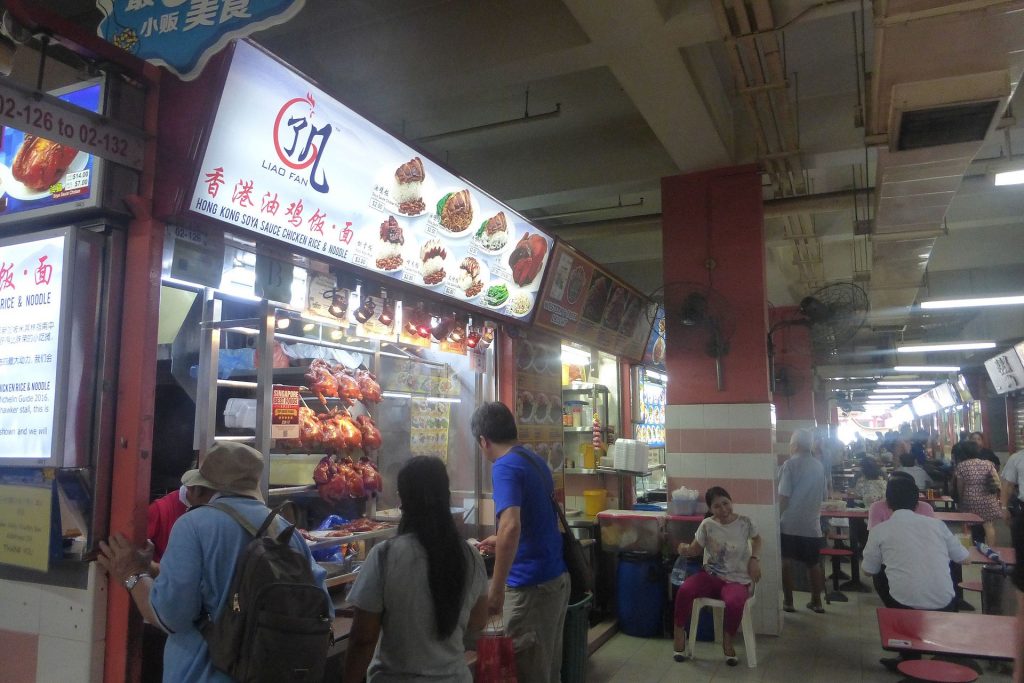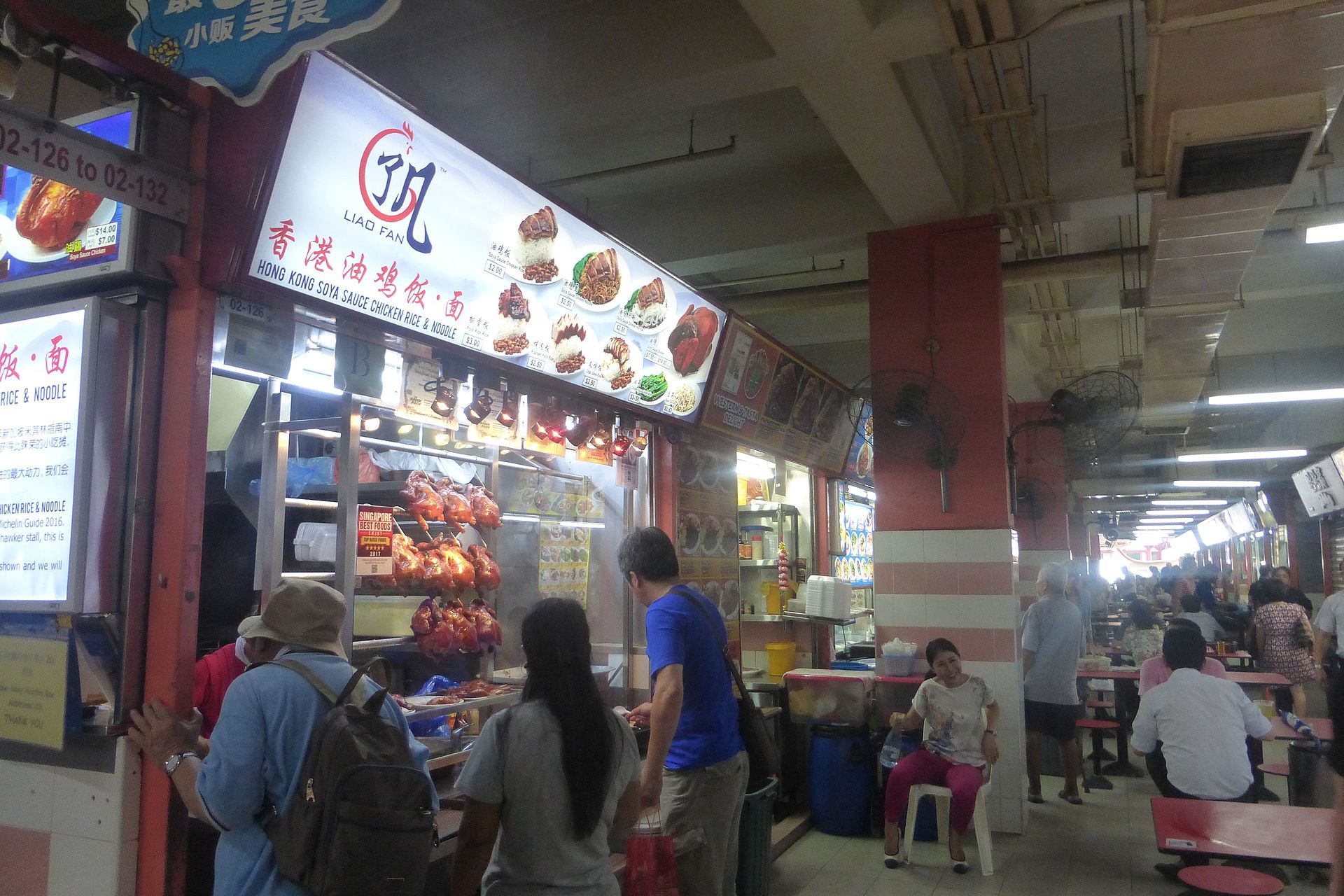 24. See Art Come Alive On The Little India Art Trail
Little India's energetic streets are already a well-known hotspot for tourists, but this fascinating trail, which covers most of the neighborhood's foremost landmarks, helps give direction to your exploration. From the colorful rows of shops which draw you in with the enchanting aroma of spices, to rickety tables covered with delicious foods sprawled along footpaths and overflowing shops selling sari's and more, Little India is one of the most beguiling of Singapore's areas.
All up, the walking tour should take four hours – and a complete guide to the diverse street artworks on display (with optimal walking directions)can be found here. Just don't forget to plan plenty of time for water breaks and to stop in at least a few of the delicious restaurants to let your taste buds do some exploring.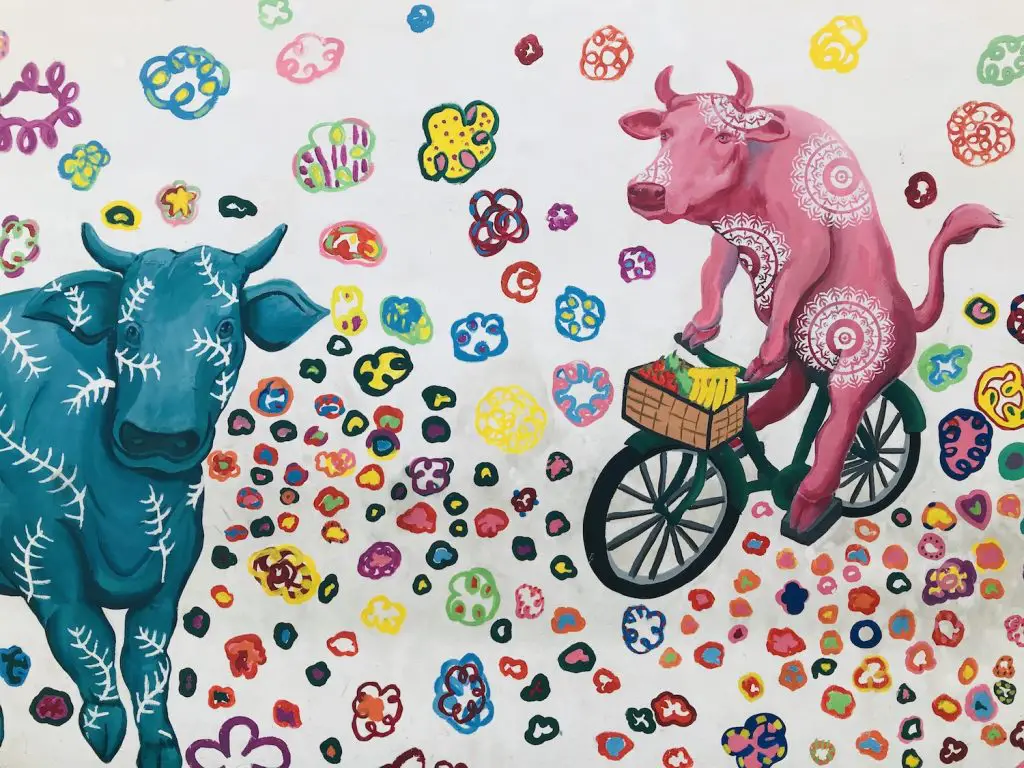 25. Appreciate The Collision Of Old-And-New Combine In Singapore's Chinatown
Once an important enclave for Singapore's Chinese immigrant population, the Chinatown of today is no longer a squalid, ramshackle enclave but instead a happening quarter renown for its fusion of old and new- and thankfully, large sections have been declared national heritage sites protecting it from rampant development.
A place where the historic temple and traditional medicine shops rub shoulders with hidden bars and soft-toy shops, there is never a dull moment here – day or night – and always a new experience to be had. Stop by the Jamae Mosque, Sri Mariamman Temple and Buddha Tooth Relic Temple- all a stone's throw from each other – to gain insight into Singapore's main religions, or let your taste buds doing some exploring with diverse food offerings from street food to fine dining – and everything in between.
To hot to eat? Why not wander into the stunningly renovated storehouses for a touch of shopping, Jade Buddhas and textiles anyone?, or escape the heat at the Nutmeg & Clove, a low-key but atmosphere bar offering artisanal cocktails inspired by Singapore's complex history.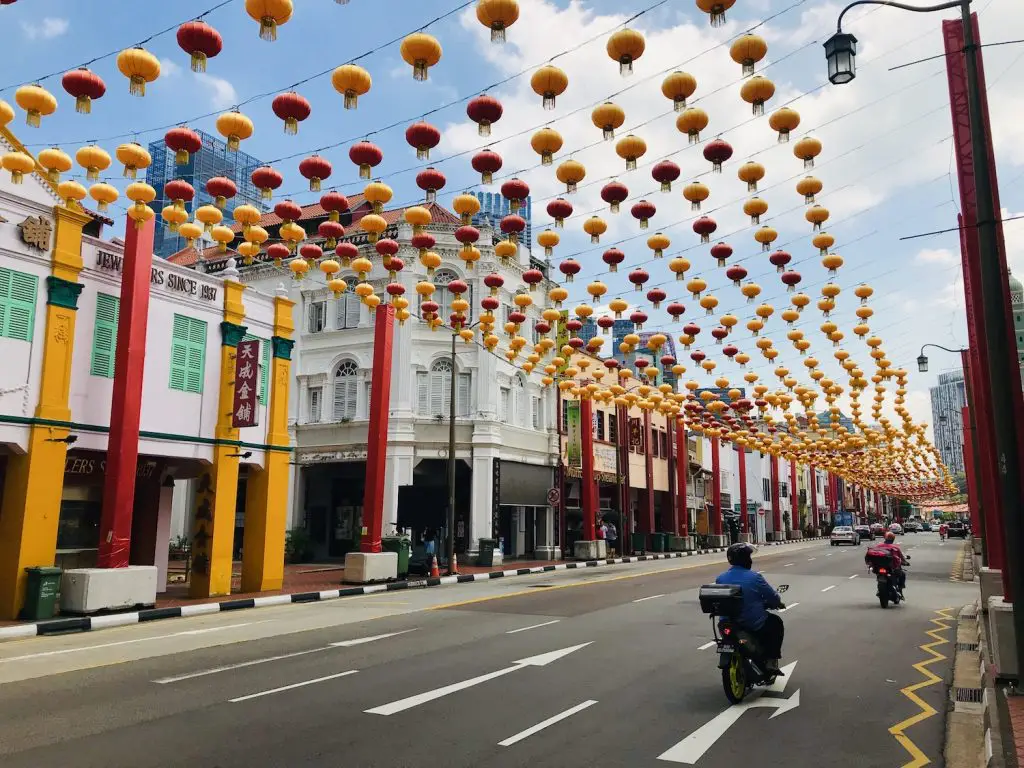 26. Discover Sentosa Island, The State Of Fun
There is a lot to love on Sentosa Island, and we will cover a few of the incredible attractions here separately – but being located only 15 minutes from the central business and shopping districts of Singapore, there is no excuse not to pop in and see what all the fuss is about.
Thrilling attractions, beaches, nature, dining, shopping, hotels, and spa – Sentosa is the ultimate human-made themed park-like island. Bungy jumping, cocktails by the beach, cable car rides, theme parks, and more – you are only really limited by your own imagination, and a visit to Sentosa can be as relaxing or as adrenaline-filled as you want it to be. Political junkies will perhaps know the island as the location for the 2018 North Korea–United States summit between the United States President Donald Trump and Kim Jong-un of North Korea – but for everyone else, Sentosa is more famous for hosting Universal Studios and Resorts World, an upscale resort with a collection of 6 themed hotels, plus a spa and outdoor pools.
There is so much more to discover on Sentosa Island, however, and it can get pretty pricey, but to make a day – or more – of your time here the Sentosa FUN Pass offers unlimited fun at an affordable price with loads of alluring attractions await you: from 4D Adventureland to Megabounce and the world-famous S.E.A Aquarium.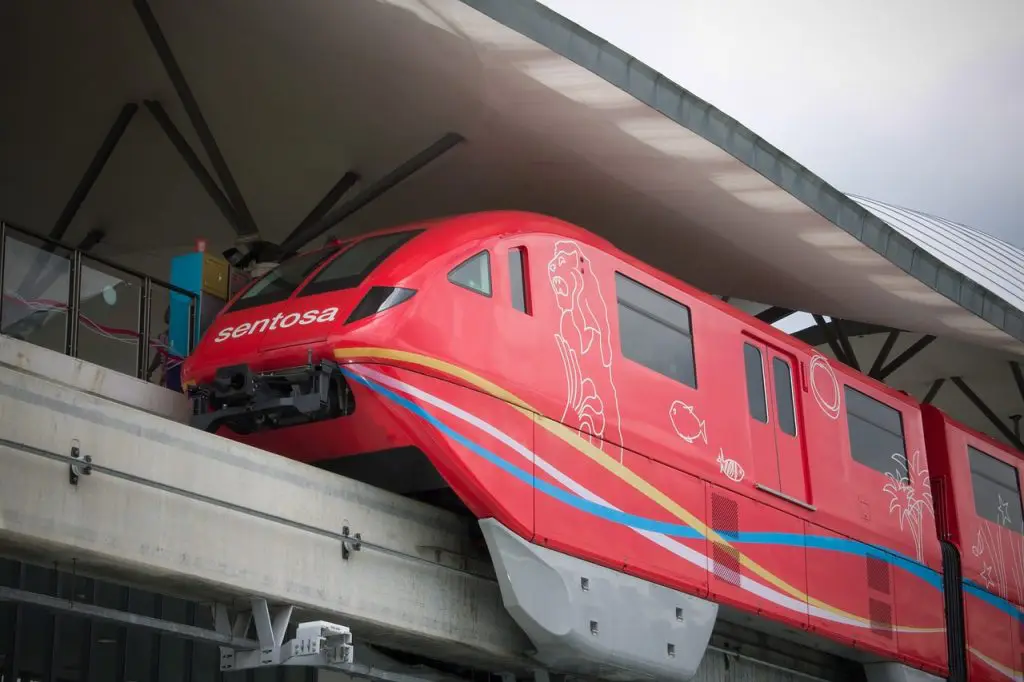 27. Indulge Your Sweet-Tooth At The Delightful Sunday Folks
Desserts in Singapore are serious business, and no one knows that more than the guys at Sunday Folks – a charming café with modern design, and an array of artisan desserts from soft-serve ice cream to cakes. Beautiful stories and flavors inspire the handcrafted ice creams and sweets from around the world – and always changing, so there is a reason to visit no matter how many times you stopover in Singapore.
Whether it is a rare single-origin cacao harvested from Madagascar or sea salts hand-drawn by salt-makers in England, every ingredient kindles their passion for bringing back the craft of dessert making – and we have yet to try anything on the menu that left us disappointed. On our last visit, the Earl Grey Lavender Ice Cream was life-affirming, but for a beloved classic, you can't go past the Sea Salt Gula Melaka Ice Cream on some freshly-baked waffles!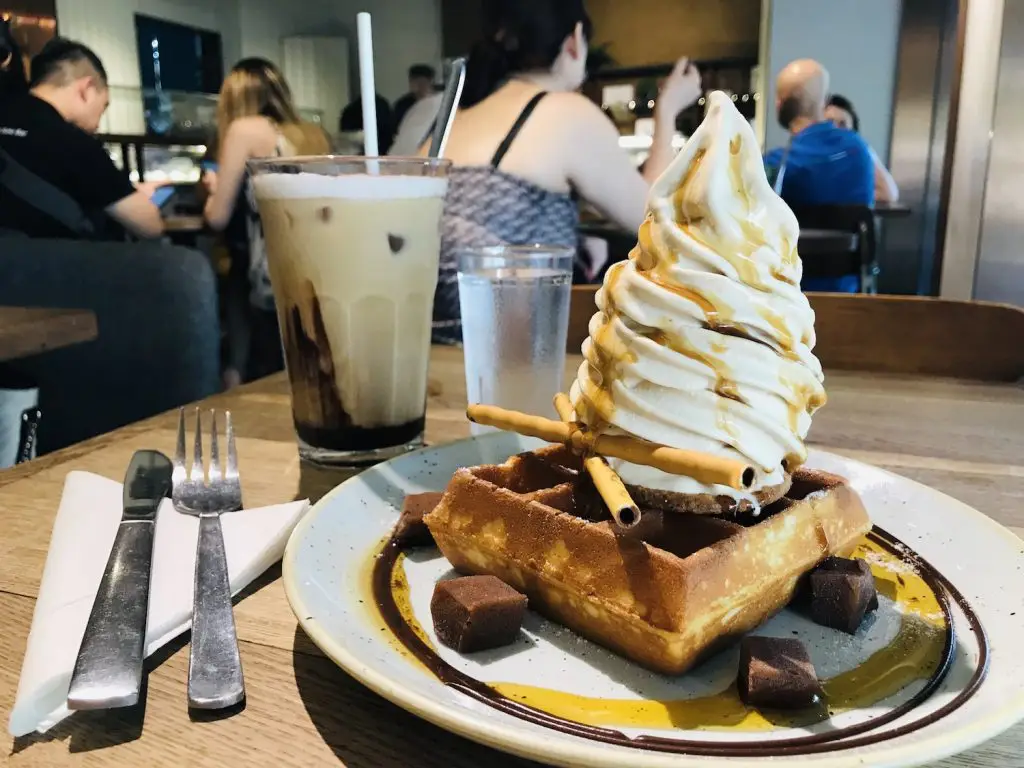 28. Travel Back In Time With A Day At The Pulau Ubin Nature Reserve
Step into your time machine and get ready to head back to 1960s Singapore with an adventure to the rustic, unspoiled charm of Pulau Ubin, Home to leafy green, wild, nature, distinct habitats and the last authentic kampong ('village' in Malay) in Singapore, Pulau Ubin is an island apart that provides travelers with a glimpse into The Lion City's past.
Shaped like a boomerang, this 1,020-hectare island is home to the Chek Jawa Wetlands, one of Singapore's richest ecosystems outside of Orchard Road, but is so easy to get to – just a 10-minute bumboat ride from Changi Point Ferry Terminal. Hike or hire a kayak and explore to your hearts content the rich ecosystems here, including the famous intertidal flats comprises coral reefs, which are home to extensive marine wildlife, such as octopuses, starfish, sand dollars, sponges and cuttlefish.
Best avoided on the weekends when hordes of locals flock here to escape the city, but a perfect weekday day trip offering a captivating, largely authentic experience right down to the occasional whiffs of wildlife. You can explore on your own, opt for biking adventure on the quiet country roads and tracks or follow certified instructors along with a sea-and-mangrove route in kayaks. There are no wrong choices here!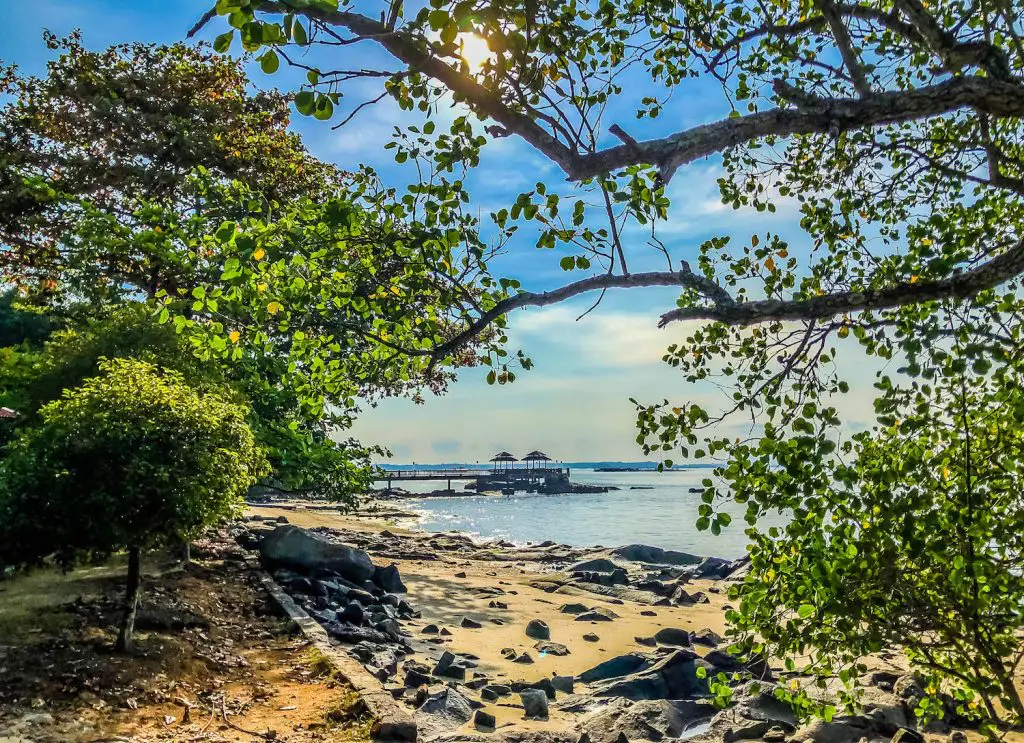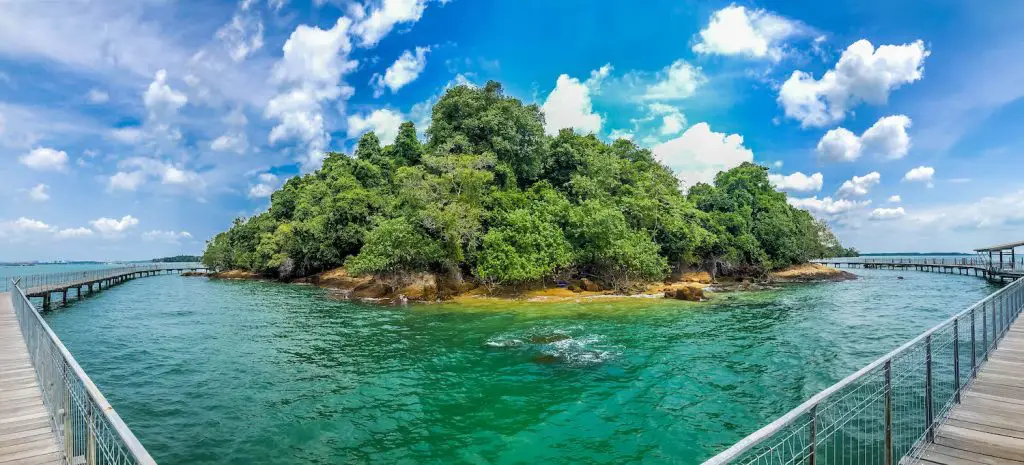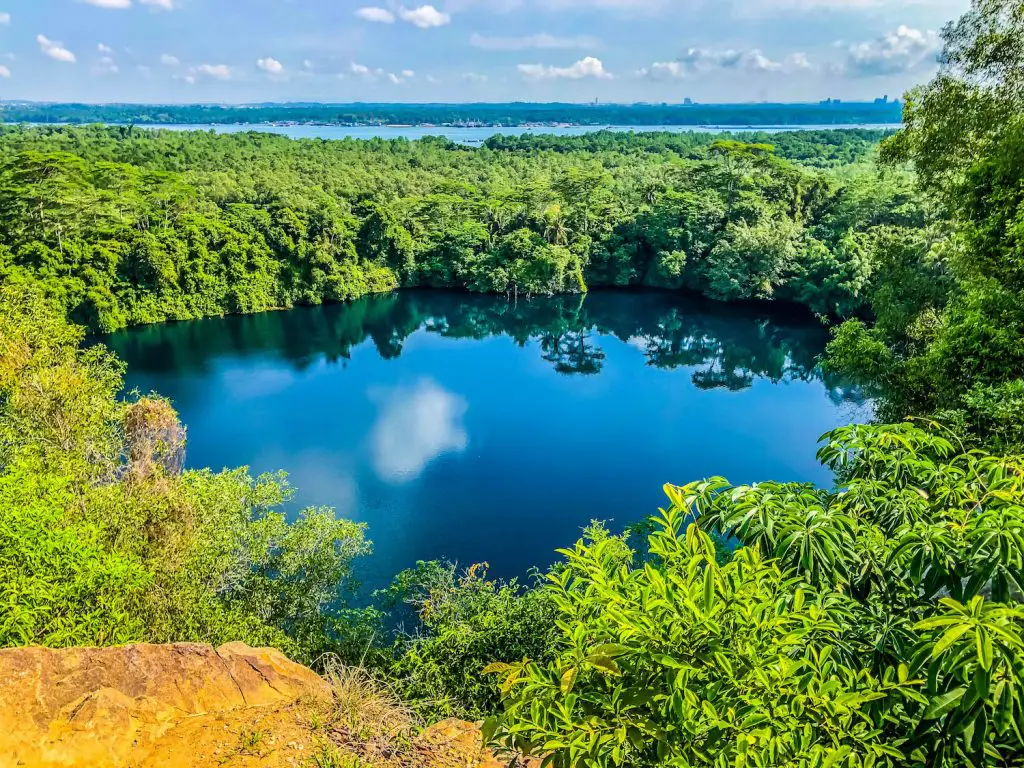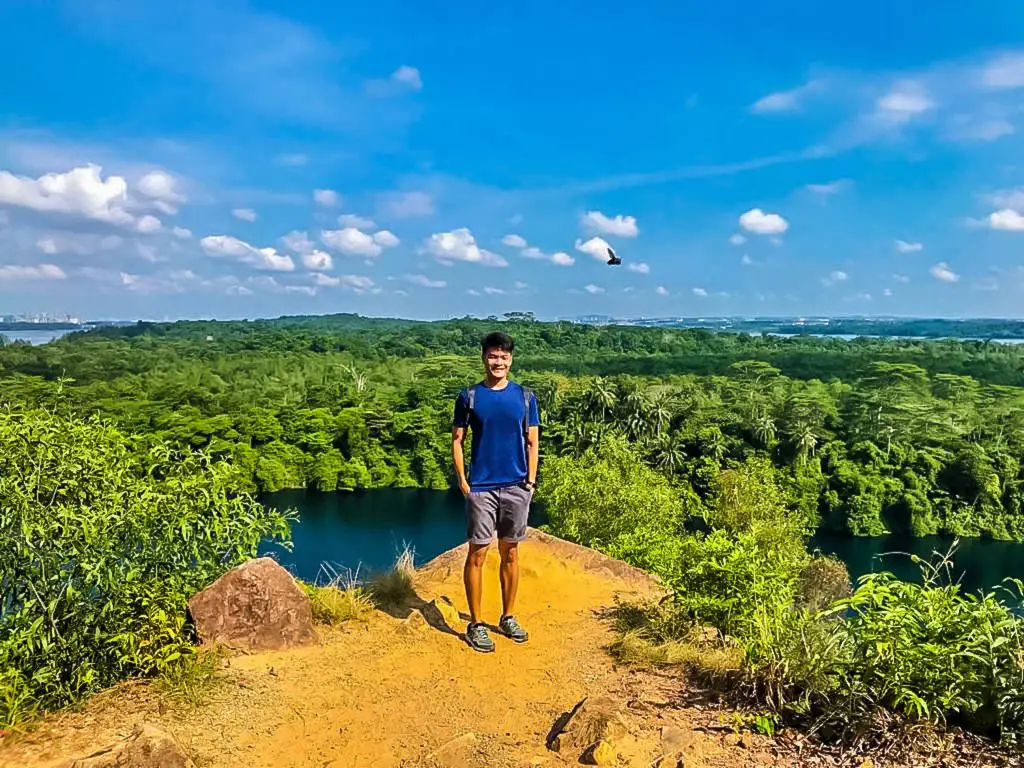 29. Cool Off At One Of Singapore's Water Parks
Water parks in Singapore are perfect for a fun-filled adventure for friends, couples, or families, who want to cool off from the oppressive heat. Not only can you find a vast array of water rides, there are plenty of activities and dining to enjoy here, meaning you can go for just a few hours or the entire day. Whether you want to jump into the deep end, will thrilling rides, or splash around the shallows, Singapore has a range of water park and swimming complexes to have you covered, but two, in particular, are our go-to favorites.
First is Wild Wild Wet, one of Singapore's largest water parks perfect for thrills and spills and conveniently located in Downtown East, and second is Adventure Cove Waterpark, one of the best water parks in the world conveniently located in the entertainment hub of Singapore, Sentosa Island.
30. Make Your Way To The Supposed Southernmost Point Of Continental Asia
Another unique attraction in Singapore is the ability to stand on the cusp of Continental Asia at Palawan Beach on Sentosa Island. Reachable via fun and very swingy suspension bridge, the Southernmost Point of Asia, we are told, it this cute palm tree covered island with beautiful water and two fun towers to climb up for a view.
But let's be clear here, Singapore is an island attached to Continental Asia by a causeway, and then Sentosa is an Island, and then this Palawan Beach islet is the third island. So – it cannot possibly be considered the Southernmost Point of CONTINENTAL Asia. It's just smart marketing on Singapore's behalf. But hey, the water is clean, the views are stunning, and the island is free. So why not head across anyway!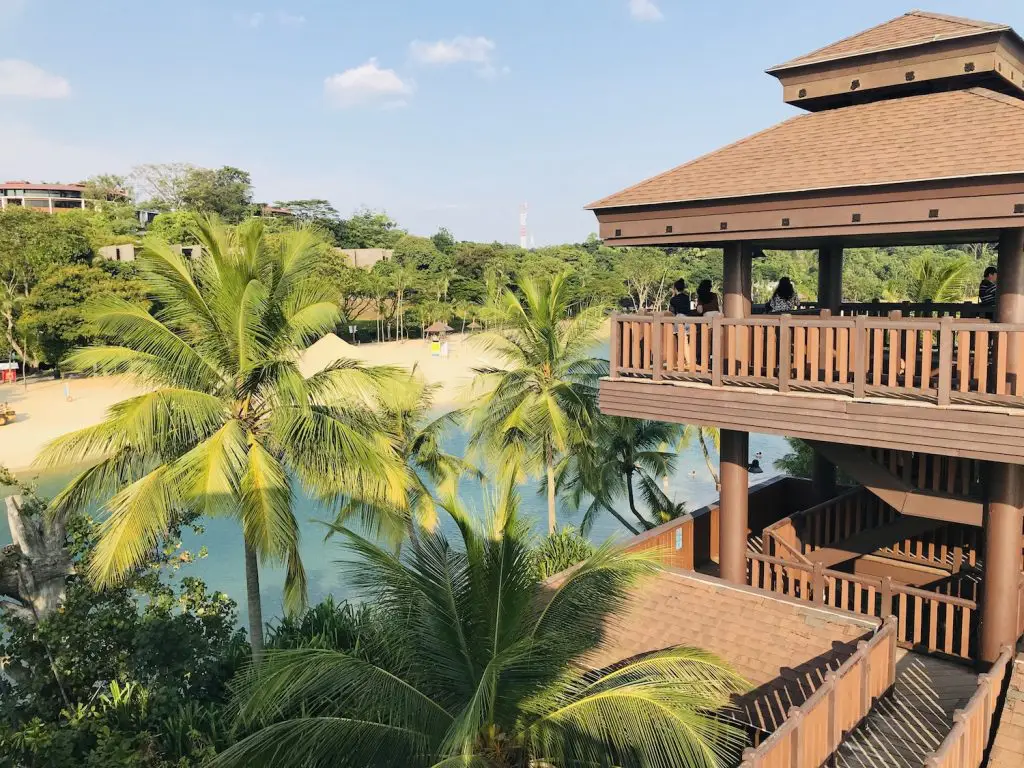 31. Take A Selfie With The Kitschy Merlion
More than likely before even visiting Singapore on a stopover, you have seen images of Singapore's national icon, the mythological Merlion with the head of a lion and the body of a fish? Well – don't miss your chance to get a photo, and fabulous views with the larger than life statue in Merlion Park, in front of Fullerton Hotel and overlooking Marina Bay.
With a head representing Singapore's original name, Singapura, or 'lion city' in Malay, and the body symbolizes Singapore's humble beginnings as a fishing village, this icon is a 'must-see' for tourists visiting Singapore, similar to a cigar shop in Cuba or dungeon dining in Tallinn. You have to do it.
If you fancy yourself a bit of a hipster, there are actually four more Merlions official recognized and dotted around Singapore. These are the smaller two-meter-tall statue standing behind the original statue in Merlion Park, a 37-meter-tall gigantic replica capable of shining laser beams from its eyes at Sentosa Island, a three-meter-tall statue at Tourism Court and another smaller statue at Mount Faber's Faber Point.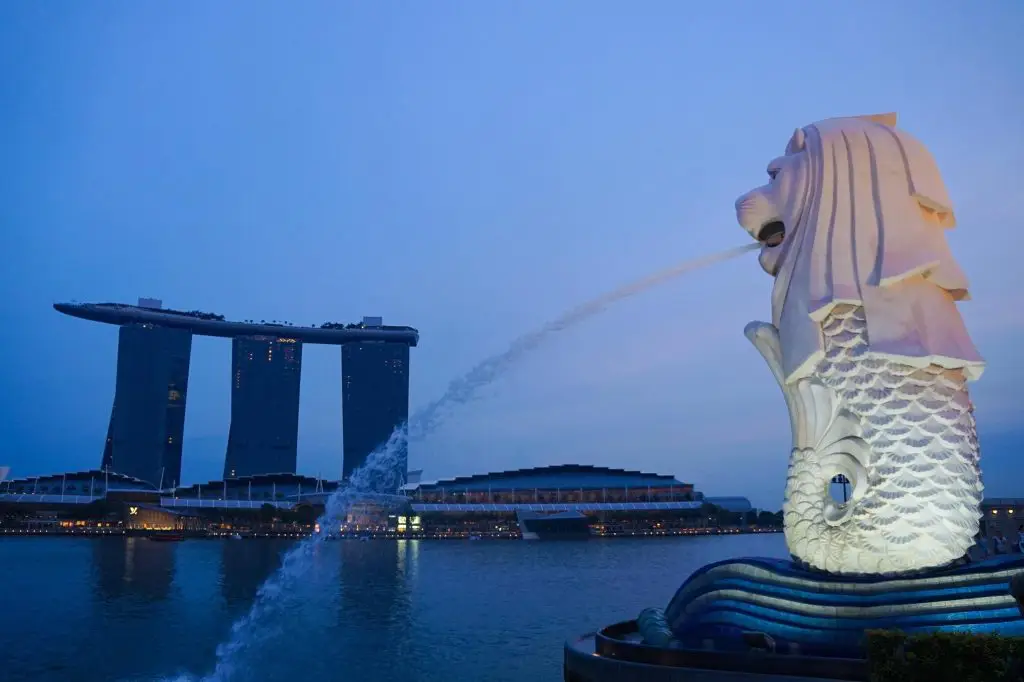 32. Seek Out The Secret Drinking Dens And Speakeasies Of Singapore
We have always been suckers for that kind of Prohibition era-style hidden bar room, and are consistently on the lookout for some of Singapore's best-kept (or worst-kept) secret bars. Appreciate a sidecar of secrecy with your cocktails? So do we. Head to one of these cheeky cocktail bars hidden away out of sight. If you can find them, that is…
One of our absolute favorites was Catchfly (now closed), serving killer cocktails in a basement with intimate space that fuses plush interiors with industrial edges. A good alternative is to try Maison Ikkoku, a contemporary art gallery in a chic restaurant that combines art, culture, and lifestyle to deliver a unique experience. We are also more than a little obsessed with Bitters & Love, a snug standby offering inventive craft cocktails, along with unique bar snacks.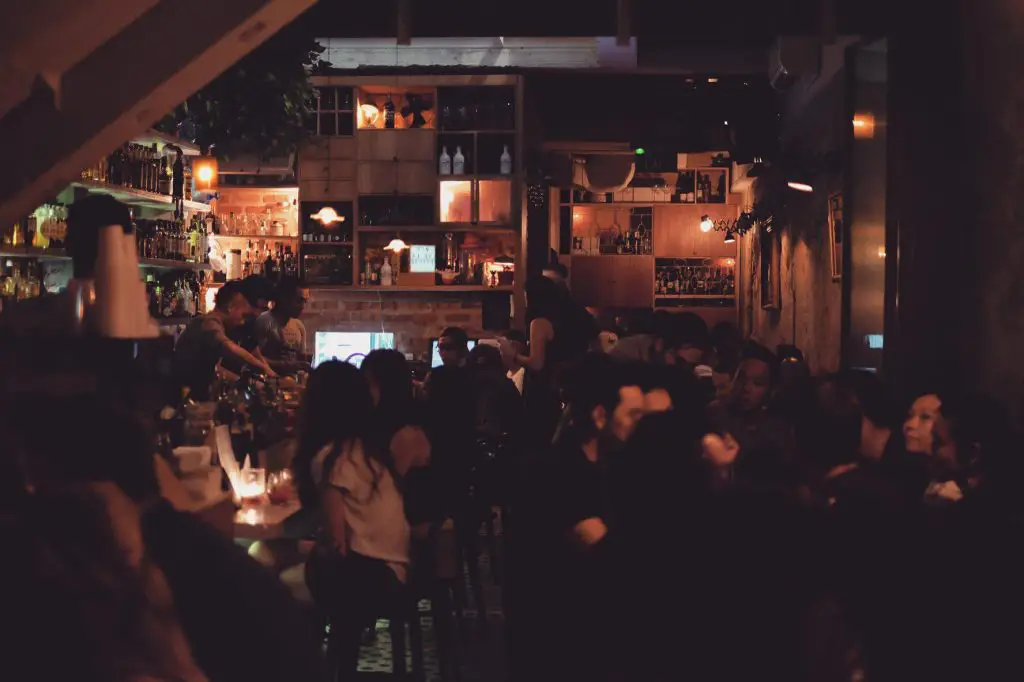 33. Get Lost In The Vast Complex Of The National Library of Singapore
At this point, you will probably recognize how much Singapore caters to book worms, and so you would likely expect the National Library of Singapore to be a highlight of the city. Naturally, like the rest of the city – it does not disappoint and competes with the Oodi Helsinki Central Library and the Library of Congress in Washington DC for a spot in our heart as the world's best library.
The National Library traces its history back to the establishment of the first public library as a result of suggestions by Sir Stamford Raffles, the founder of modern Singapore. Conveniently located close to the Bugis Junction shopping mall, this 16-story, two-block development situated in the city's Civic District not only boasts two libraries and stunning views over Singapore – but a drama center, art exhibition places and quiet spaces for digital nomads to get some work done!
The Lee Kong Chian Reference Library covering seven floors is the place to do for anything related to Asia – with rare books, exciting displays, and plenty of hidden gems to discover on a rainy day.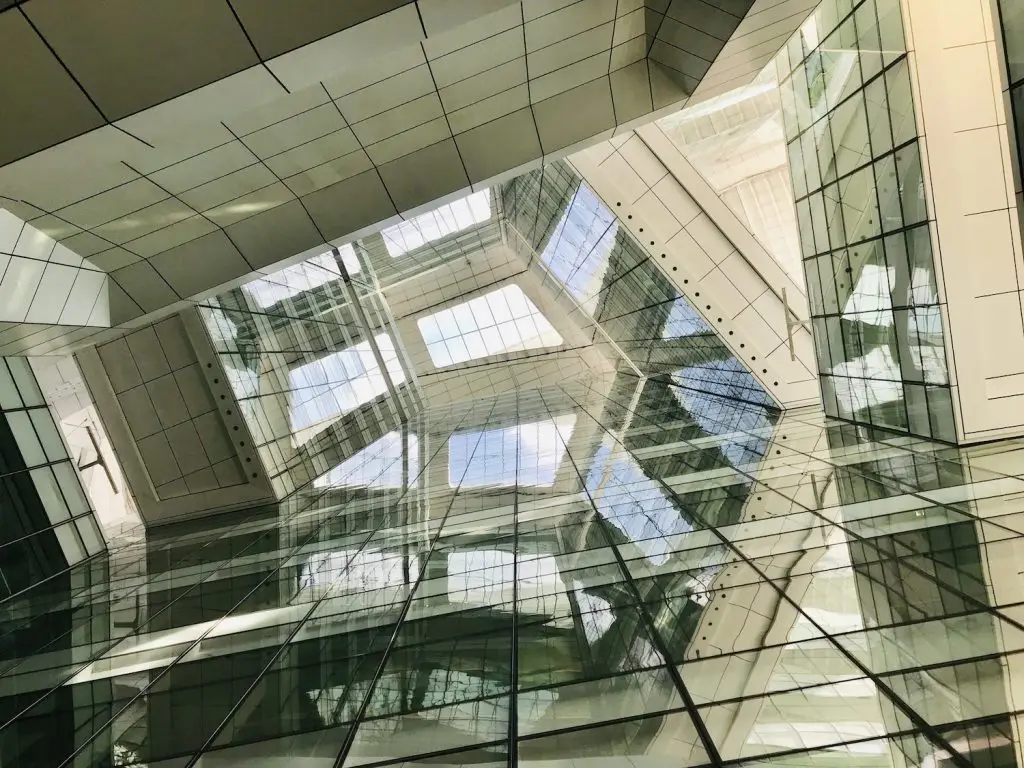 34. Discover Creativity At Its Best At The ArtScience Museum
Uncover creativity at its best – through art, science, design, media, architecture, and technology at the iconic ArtScience Museum.
Housed in the striking lotus-inspired building in front of Marina Bay Sands and designed by Moshe Safdie, inside, you will find 21 gallery spaces spanning nearly 5000m2 with an array of permanent and temporary exhibitions. Since opening in 2011, they have held large-scale exhibitions by some of the world's best-known artists, including Leonardo da Vinci, Salvador Dalí, Andy Warhol, Vincent Van Gogh, and M.C. Escher. They have presented significant exhibitions that explore aspects of science, including big data, particle physics, paleontology, marine biology, cosmology, and space exploration.
To be clear, the ArtScience Museum is not a big place, so it doesn't take long to explore. Still, the building is inspiring, the art is intriguing and different, and its location makes it easy to add on to any Singapore itinerary since chances are you will visit Marina Bay Sands at least once on your trip.
If you can, however, it is highly recommended to visit on weekdays and arrive early, especially for popular temporary exhibits otherwise be prepared to line up during peak hours.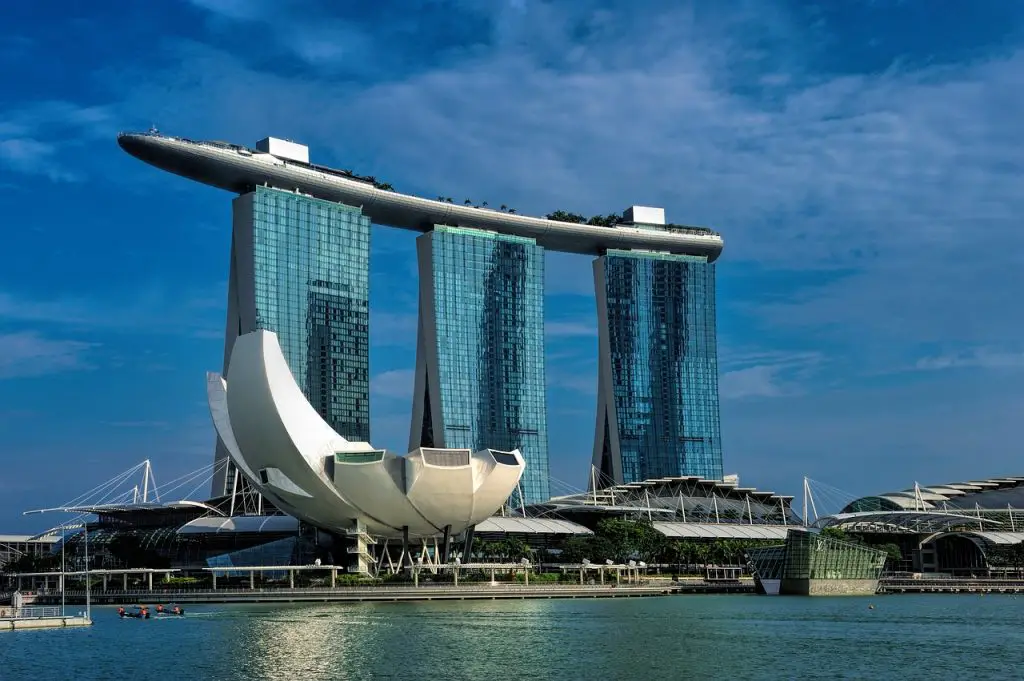 35. Traverse The Marine Realm Of The Singapore S.E.A. Aquarium
Let yourself get lost in the deep-embrace of the marine realm of S.E.A. Aquarium where more than 100,000 marine animals from over 1000 species away you in 49 different habitats. Try seeing all those on one scuba diving trip!
Come face-to-face with Pacific Octopus, Reef Manta-Ray, Clownfish, and Bottlenose Dolphin – or for a truly unique memory why not sign up for the shark encounter and put yourself in the water inches away from some of the ocean's stealthiest predators, such as the hammerhead, silvertip, and sandbar sharks. There are even diving programs, a fun 'sea trek' and much, much more.
A great way to escape the heat of Singapore and to see a variety of sea creatures, you might never get the opportunity to spot in the wild.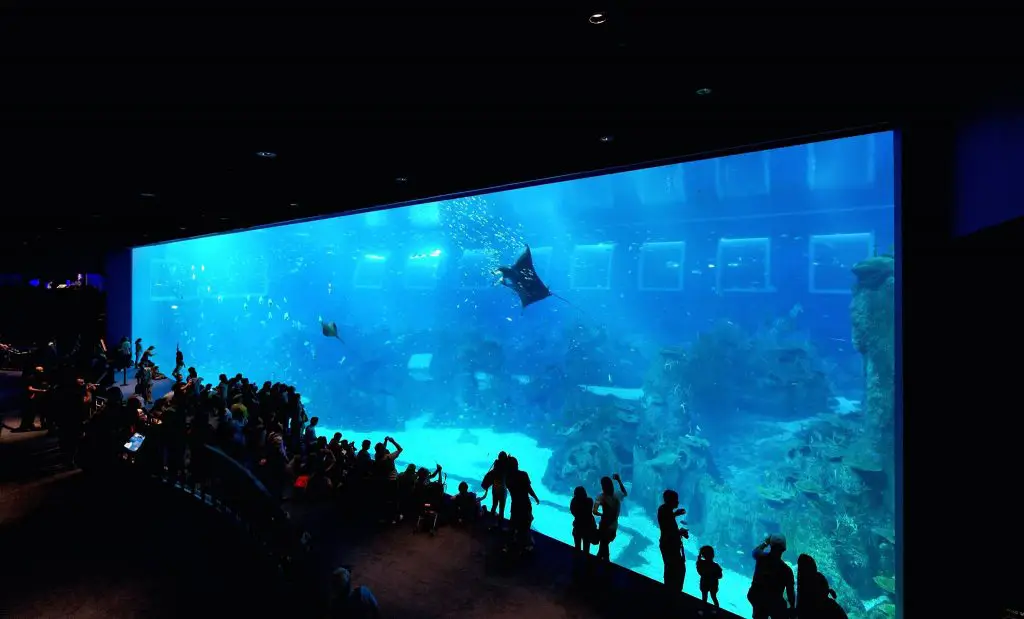 36. Put All Your Money On Red At The Singapore Casino
Casino gambling is a relatively new phenomenon in Singapore – only being legalized in 2006. As one of the banking capitals of the world with plenty of high rollers, however, it's not surprising the industry has exploded here – though not quite reaching the insane levels of Macau just yet.
While there is also a casino over in Resorts World Sentosa is aimed more at parents on family vacations, the real place for risking all your hard-earned cash has to the Sands Casino. Contained inside one of the world's most iconic – and expensive – structures, the casino at Marina Bay Sands is the world's most expensive standalone casino property. Incorporating more than 15,000 square meters of gaming space over a mind-boggling four levels, with over 600 game tables, 1,5000 slots, and plenty of bars and restaurants – this is a place to get lost for the day or night. In fact, they plan on you doing just that!
The tone is smart-casual so no shorts of flip-flops and foreigners will need to show their passport to gain entrance while locals are required by law to pay a daily or annual fee to discourage their attendance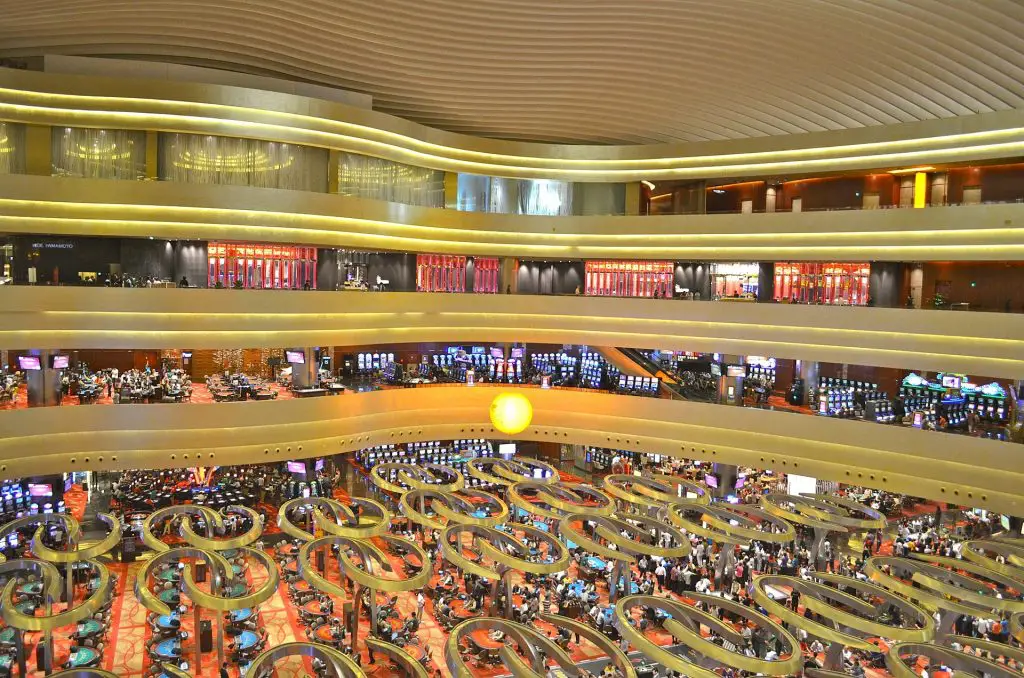 37. Be One Of The Cool Kids At The Tanjong Beach Club On Sentosa
We have said it once, and we will repeat it again, Singapore can be expensive! But thankfully, there are some life hacks to enjoy the Crazy Rich Asian lifestyle here without maxing out your credit card – and the Tanjong Beach Club is just one of them.
The ultimate escape from the urban jungle, on one of Singapore's most excellent sun-soaked stretch of sand, the Tanjong Beach Club is a tranquil sanctuary only a 15-minute cab ride from the CBD – and yet a world away. Why pay hundreds per night for a luxurious resort when you can enjoy an oceanfront infinity pool, fantastic service, out-of-this-world sunsets and comfortable loungers for just the price of a cocktail or smoothie!
Sure, drinks are expensive in Singapore – but the Tanjong is no more so that your average watering hole and the opulent amenities make a visit here so worthwhile. Frequently voted one of the best beach clubs in the world (seriously, who has the job of deciding and how do we sign up), the Tanjong Beach Club straddles the line between indoors and outdoors, taking its design influences from the seaside homes of yesteryear, mid-century modernism, and nostalgic maritime influences.
On weekdays, it is a serene hideaway from Singapore's hustle-and-bustle, offering a slice of tropical paradise where you can relax, take a deep breath and enjoy the moment – but on weekends, this spot is utterly transformed into an almost unrecognizable celebration of hedonistic living. We loved both vibes, and could have spent days on end here! Bring your casual beach fashion and your sexiest swim attire and get ready to live the life most can only dream of – without the price tag!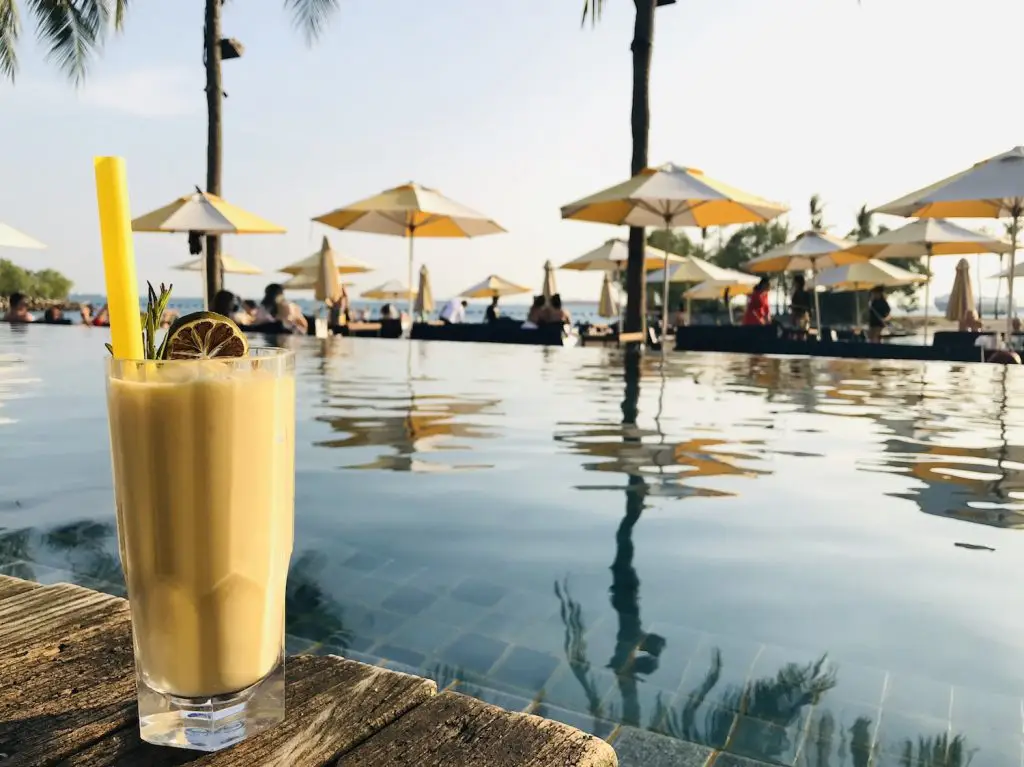 38. Relax And Take It All In On A Singapore Harbour Cruise
Calming sea breeze? No walking? Jaw-dropping vistas without traffic congestion or getting lost… Count us in!
Yes, one of the most popular things to do in Singapore has to be to take a relaxing ride on an electric bumboat – snapping photos and making memories while cruising past all of the must-see highlights on a single 40-minute boat cruise. Uncover the intriguing history behind the river sights, including Raffles Landing Site, The Merlion, The Esplanade, Marina Bay Sands, and more!
You'll also enjoy unique views of the soaring modern skyscrapers of the Central Business District and Marina Bay and a different vantage point of the colorful traditional shophouses of Clarke Quay and Boat Quay that you can't get from land.
And even better – if you see something you love, you can hop off your Singapore Harbour Cruise at any of the jetties along the route and continue your adventure in Singapore on foot!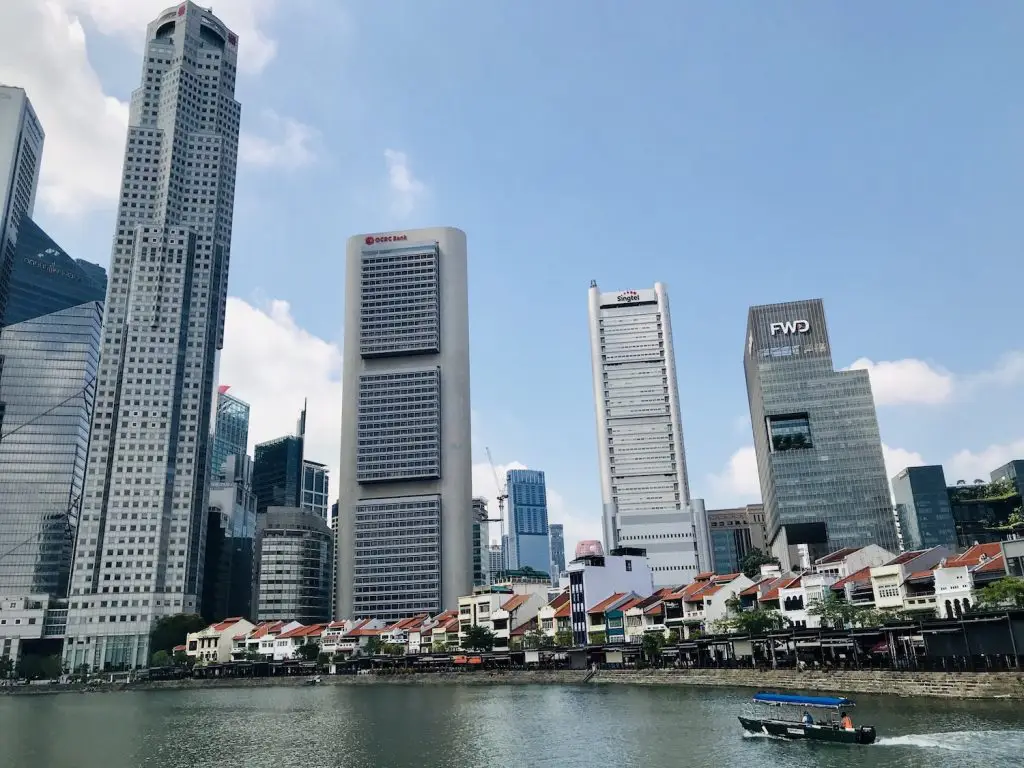 39. Make New Furry Canine Friends At We Are The Furballs
Singaporeans are never ones to miss a trend, and with the growing trend of dog cafes around the globe, including in Kuala Lumpur, Hong Kong, and Tokyo, it was only a matter of time before a facility solely dedicated to dogs opened on the island!
And when it did open – it was an overnight success! We Are The Furballs is absolutely everything you could dream off – delicious coffee, über-clean and modern faculties, and, of course, DOGGOS! With ten delightful resident canines – there is plenty of dogs to go around, and the staff is well-trained at helping guests interact with the dogs without either party getting overwhelmed. Trust us, after you meet your new furry friends like Waffles the Corgi, Lulu the Toy Poodle, and Bui Bui the French Bulldog you'll never want to return to a regular coffee shop ever again
Located on the 7th floor or Bugis+ shopping mall (connected to Bugis MRT station), the cafe is centrally located and easily accessible by both public and private transportation. Prices are affordable, the dogs well training and the experience wonderfully unique – so why wouldn't you give it a go!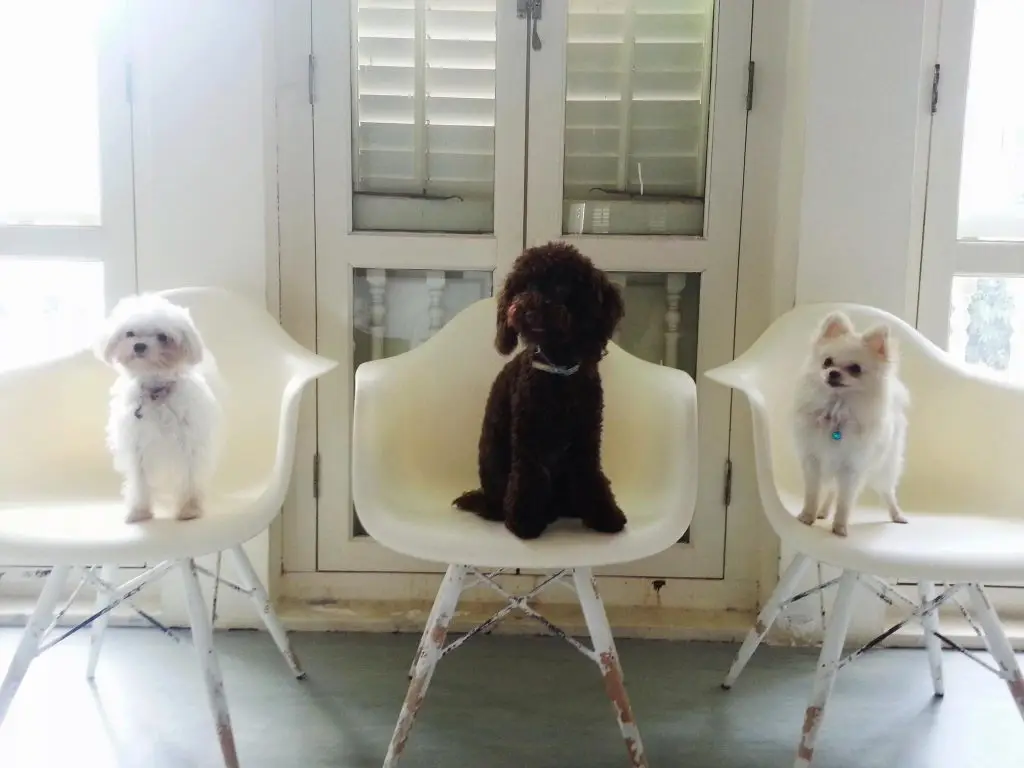 40. Stay Young, Wild And Free With The Singapore Nightlife
By day this garden city might be all suits and business, but after sundown, Singapore is transformed into one of the most unexpectedly wholly party destinations on Earth. Work hard, play harder…right?
To get out and experience the best of Singapore nightlife, you just have to pick your poison – do you want refined cocktails in hidden bars, cozy pubs for quiet conversations, karaoke sessions, or a dance-til-dawn all-night clubbing extravaganze. No matter what you desire, you can find it here in the Lion City. Busy executives make a beeline to the thriving bars around Clarke Quay. At the same time, students head to Orchard Road and LGBT travelers to the small queer scene around Chinatown – but there are plenty of other hotspots that remain hidden for locals only to discover.
For inspiration, why not consider starting your night at Nineteen80, an arcade game bar filled with nostalgia and sing-along throwback hits from the 80s and 90s, or Holey Moley, a mini-golf bar concept with vivid designs and plenty of potential Instagram shots that are also making waves in Auckland and Sydney. Later at night, there is always the world-class nightclub, Zouk, with two floors and frequent international guest DJs or Lulu's Lounge, a dark tavern with a speakeasy vibe, live jazz, burlesque shows, and strong cocktails.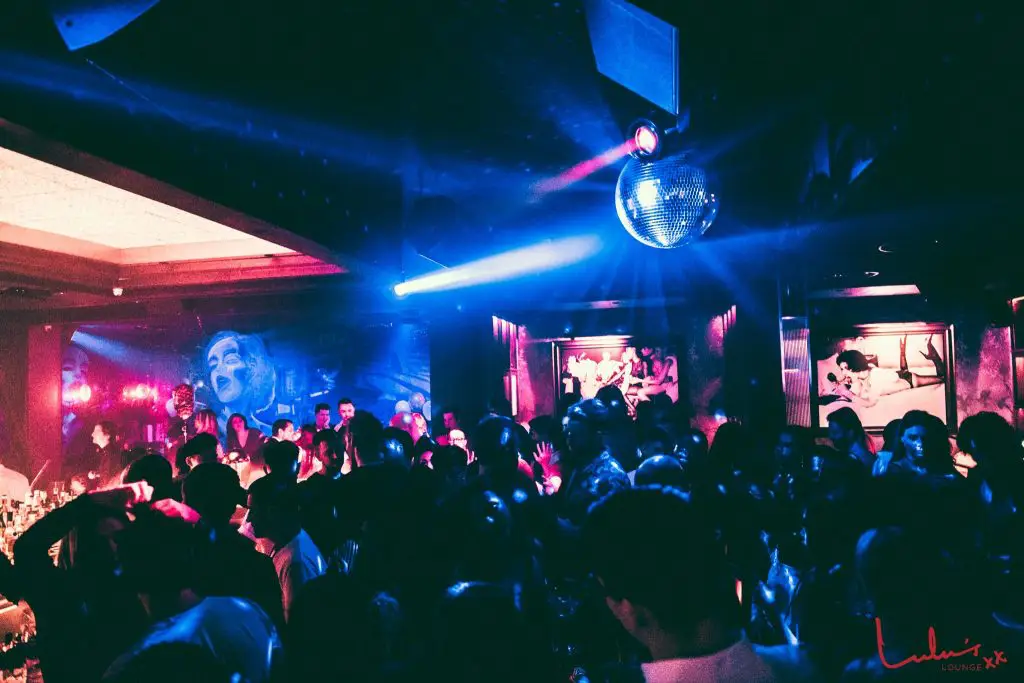 41. Swim On Top Of The World At Singapore's Marina Bay Sands Infinity Pool
One of the most iconic sights of modern Singapore has to be the Infinity Pool at the Marina Bay Sands. Officially the world's largest rooftop infinity pool, what could be more unique than spends a day soaking up the sun's rays here or returning at night to gaze down on the glittering expanse of the city from 57 levels above. Not into swimming? Stretch out on one of the luxurious poolside loungers or enjoy a divine cocktail-in-a-coconut under the relaxing shade of a palm tree.
Now the bad news?
This unique experience in Singapore is exclusively available to hotel guests of the Marina Bay Sands Hotel. No if, and's, or buts. Security is under strict instructions to check all guest's room cards at the door, and one room card is needed per person, so forget whatever else you have read. You cannot sneak in or pay a day rate. You are going to have to splash out for a room darling – and they do not come cheap.
We recommend exploring Singapore while staying at more budget accommodation then switching for one or two magnificent nights here so you can make the most of the infinity pool and other facilities. Rooms can be surprisingly affordable if booked out-of-peak season or in advance, so why not check them out now? Trust us, staying here is an experience you will never, ever, forget.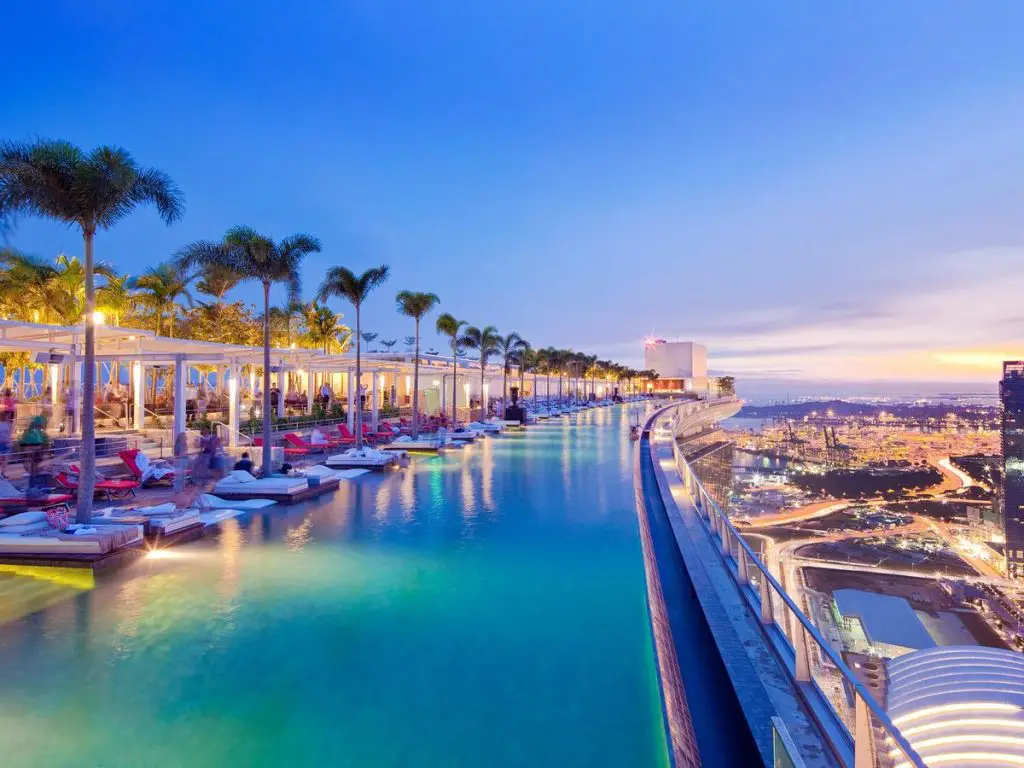 42. Unleash Your Inner Crazy Rich Asian On Orchard Road
A shopper's paradise with more luxury retail malls and world-class international cuisines than we could count, Singapore's most celebrated shopping precinct has a wealth of exceptional experiences to offer. Wealth being the optimal word.
Named back in the 1830s when the area was home to fruit orchards, nutmeg plantations, and pepper farms, this bustling boulevard has undergone a rapid change since the opening of its first department store in 1958. It now is home to over 5,000 stores and some of Singapore's most expensive real estate.
Devout fashionistas, epicurean explorers, and caffeine adits will find a lot to love here with over 20 malls, plazas, and shopping galleries to explore along this 2.2 kilometer-long major road, comparable to Causeway Bay in Hong Kong, Tokyo's Ginza district and Sydney's Pitt Street Mall. Orchard Road has lost a bit of its shine in recent years with locals as more centrally-located places to hang out have opened, and hipster neighborhoods have arisen across the city – but for splashing money, opulence and lavish style there is still no other place quite like it in Singapore.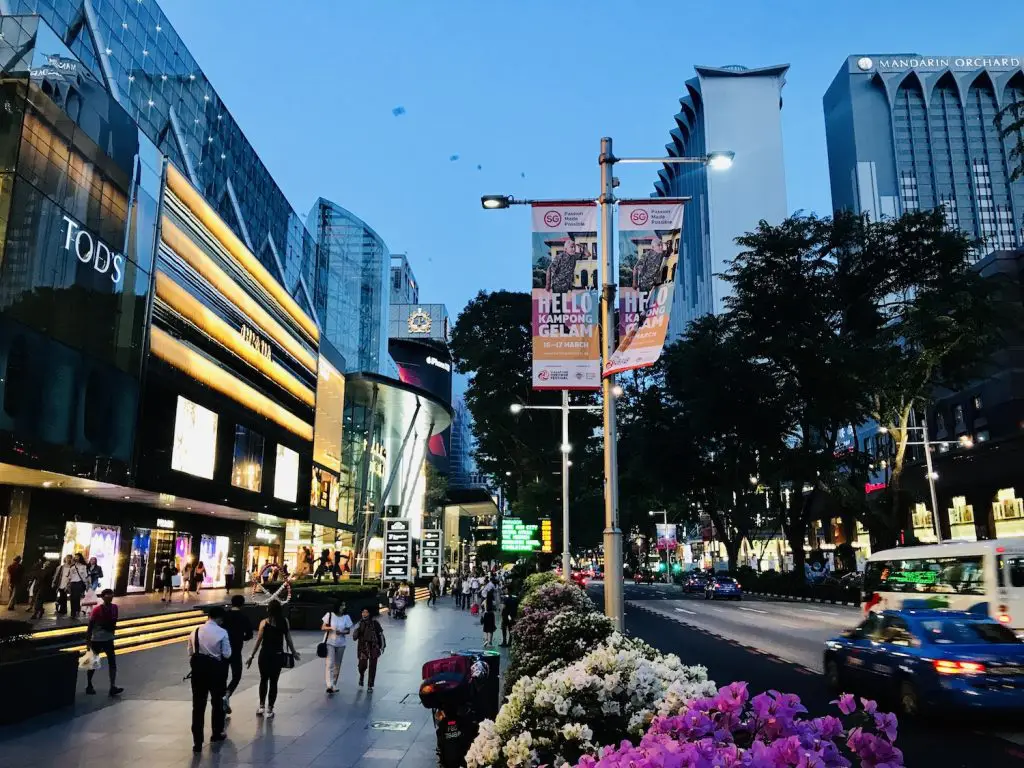 43. See Inside the Peaceful Historic Monument And Operated Mosque, Sultan Mosque
Otherwise known as the Masjid Sultan, the extraordinary Sultan Mosque in the historic Little Arabia / Kampong Glam area is the principal point of worship for many in Singapore's Muslim community. An outstanding structure with a large prayer hall and towering golden dome, this is one of Singapore's most important religious structures built back in 1824 for Sultan Hussein Shah, the first sultan of Singapore.
Rebuilt in 1932 and declared a national monument in 1975, be sure to look up close at the onion-shaped domes – the base of which are decorated in glass bottle ends donated by lower-income Singaporean Muslims ensuring that all Muslims could contribute to their place of worship.
Guided walks are available in English, and non-Muslim guests are welcomed as long as they are respectful of cultural norms and are appropriately covered.
A shining example of the multi-culturalism and racial harmony we came to love in Singapore, this spiritual space is not to be missed – nor is eating at any of the incredible Middle Eastern restaurants on Arab Street with picturesque views through palm trees up to the front of the Sultan Mosque.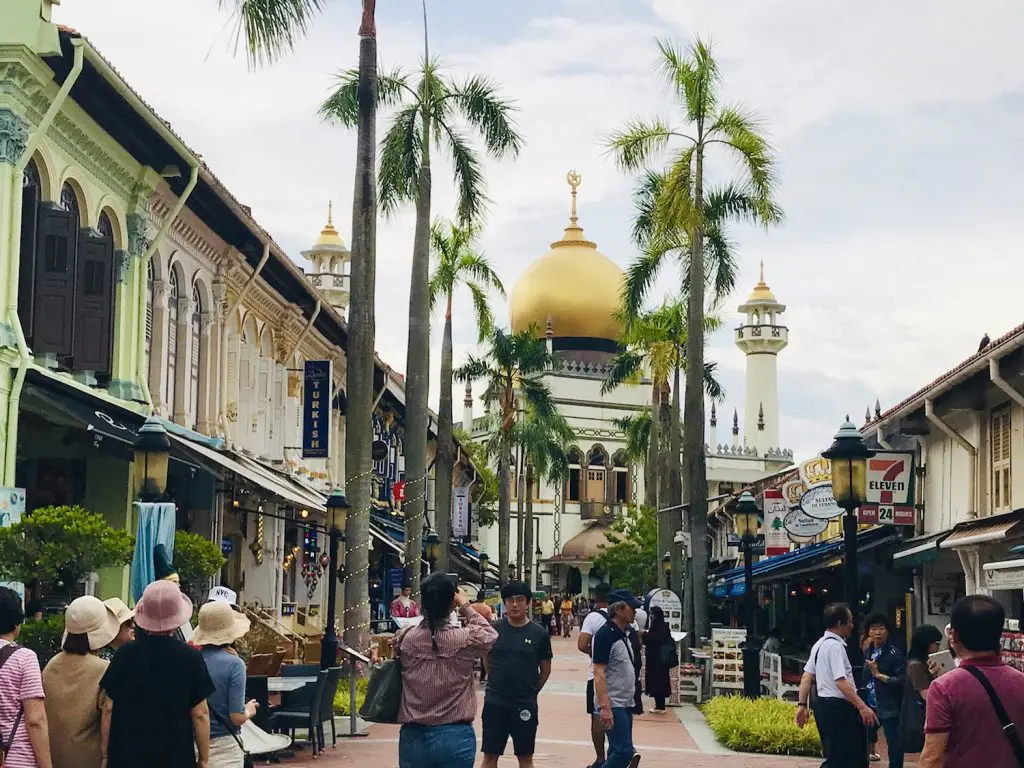 44. Hang Out In Singapore's Hippest Street, Haji Lane
The current hip street in Singapore, Haji Lane is a wonderful kaleidoscopic mix of vibrant street art, independent fashion boutiques, Middle Eastern food, and snug coffee shops. There is truly something here for everyone, and it is impossible not to fall in love with its quirky and eclectic vibes.
Visit by day for some of the best Instagram shots in Singapore, to sip on a Selfie coffee – yes, they will print your face on the coffee or rummage around for unique apparel finds to show off back home. Return later at night for fusion food and buzzing streetside dining complete with local musicians, and finish the night on a sweet note with soft, smooth, and tasty soft serve ice creams from the 100% Halal certified Moosh!
The original street name came because many Arab pilgrim-brokers who would arrange the haj for Muslims in Singapore and from the nearby islands such as Java came to stay here – the Masjid Sultan mosque is only a few streets away – but today all of these upstairs accommodations have been completely converted into other purposes.
Luckily the uber-cool and modern Pod Boutique Hotel is only two blocks away from Haji Lane, so we were able to return to this lane time and time again over our stay!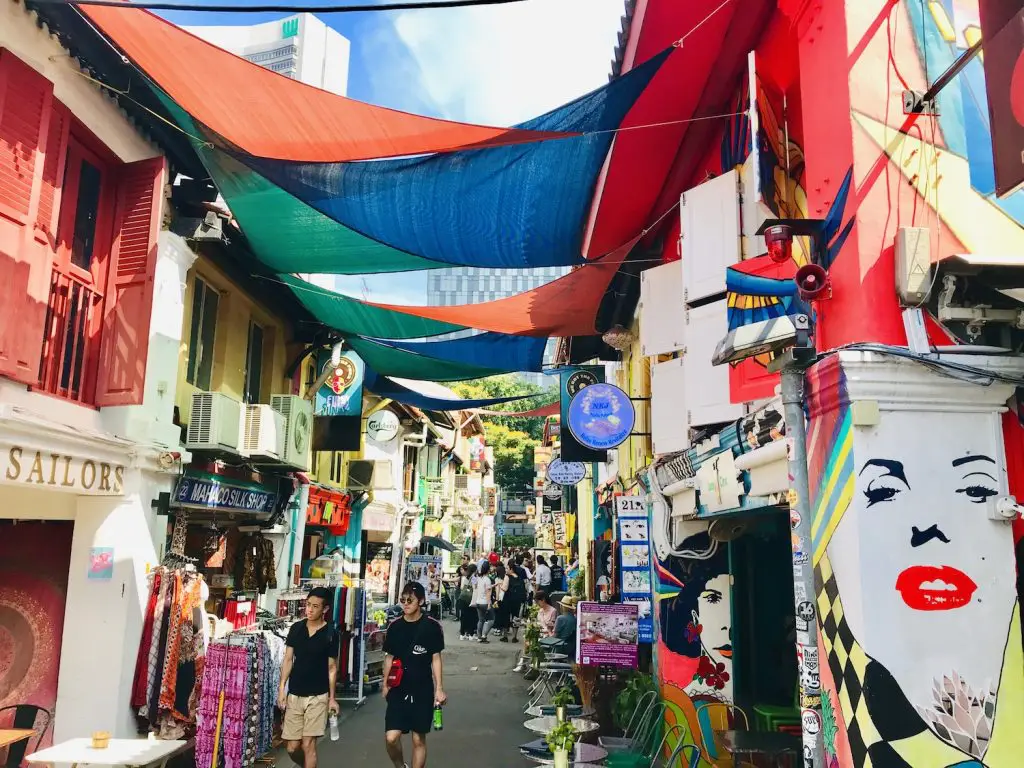 45. Fly Into Jurong Bird Park, Asia's Largest Bird Paradise
Fancy yourself a bit of an ornithophile? Then you won't want to miss a visit to Asia's biggest bird park and all its avian fun.
Opened in 1971, the Jurong Bird Park is a 20.2-hectare hillside sanctuary for over 3,500 birds from across 400 species – including many threatened species you are unlikely to see anywhere else in the world. There are many highlights at Jurong Bird Park. Still, it is perhaps most celebrated for its four large and immersive free light aviaries, including the famous – and recently reopened – Waterfall Aviary.
However, there is plenty to explore here, including unique exhibitions such as Penguin Coast and Pelican Cove. Yes, penguins. In Singapore!
Everything at Jurong Bird Park is designed as much as possible to mirror the simulating natural habitat of birds from all over the world, and the park is committed towards conservation, being the first in the world to breed the Malayan black hornbill and the twelve-wired bird of paradise in captivity.
World-class in every respect, the Jurong Bird Park also hosts a variety of educational programs, overnight camps, night safaris, guided tours, workshops, and wildlife publications ensuring visitors walk away with a deeper appreciation of Avian wildlife – as well as more than a few new vivid and unusual photos!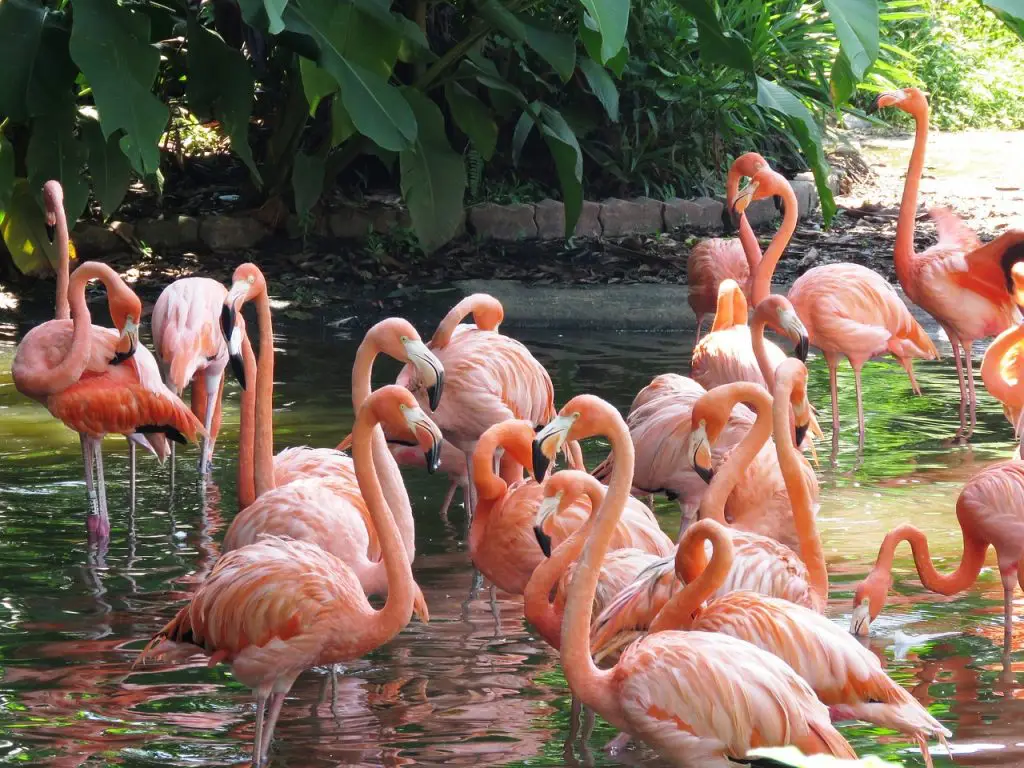 46. Hang Out With The Gang At Central Perk Café
One of the most unique attractions in Singapore – and a great place for any Friends addict, Central Perk in Chinatown is the only official Warner Brothers licensed café outside of the United States – and the perfect place to relive your nostalgia.
Pull up a chair, order a mug of freshly brewed coffee – with beans inspired by your favorite character – and snuggle into the iconic orange couch for a good-old gossip session. Feeling peckish, then why not feast on dishes that were inspired by the characters of the show, including the Monica Garlic Aglio Olio and Mrs. Braverman Cheesecake – and watch re-runs of all the best episodes play out on screens around the shop.
There is even an official merchandise store to pick up any swag you might desire, or why not make a truly unique memory and sign up for a basic barista course here…No matter what, you can't be a worse waitress than Rachel!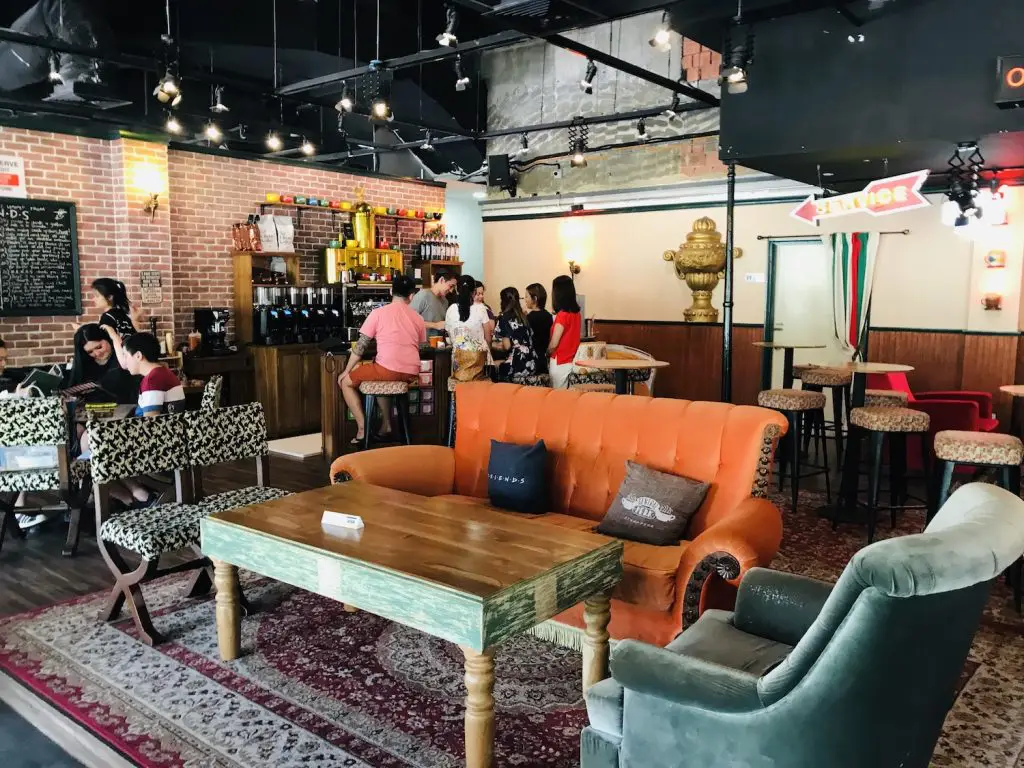 47. Escape The Urban Jungle With A Cooling Dip In The Ocean
Yes, even in this urban city-state famed for its gigantic skyscrapers and urban development, you can still enjoy a refreshing dip in the ocean – and its surprisingly idyllic if you know where to do.
Ok, much like everything else in Singapore, the most popular beaches here are now 100% human-made from white sands important from the neighboring Southeast Asian countries of Indonesia, Malaysia, and Cambodia… but hey, we are not complaining. Sentosa Island has most of the best beaches today, with Tanjong Beach and Siloso Beach being our favorites – with soft sand, wavy palm trees, relaxed beach clubs, and turquoise waters. Just ignore all the vast ships waiting offshore.
Most of the beaches on the Singapore mainland have been wiped out by urbanization and development of the harbor, but if you do not care much for swimming, you can still enjoy the leisure park that is Changi Beach (close to the airport). Or why not consider taking a ferry to St John's Island or Lazarus Island, for less built-up beaches and even a tropical jungle to explore.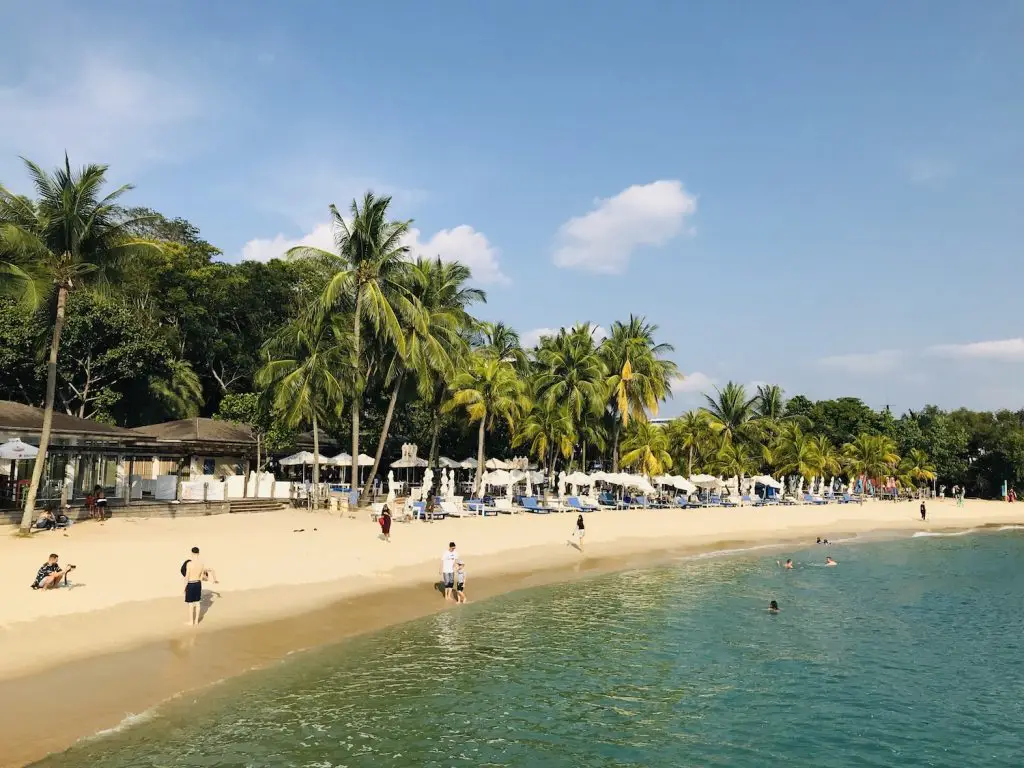 48. Sample The Best Of Singapore Hawker Food At Makansutra Gluttons Bay
Ok, before all the locals scream at us that there are better places to eat in Singapore, we know – but hear us out first!
Makansutra Gluttons Bay is a wonderfully simple dining concept where numerous Asian food stalls are crammed into a pedestrian street, and all are vying for your patronage. What makes this unique is that firstly, street dining like this is uncommon in Singapore and more often associated with Hanoi or Hoi An. Secondly, all the alfresco hawker stalls here are specially selected by the Makansutra Food Guide – meaning this a great place indulge your Singapore food odyssey if you are short on time.
And even better, Makansutra Gluttons Bay is located just of the Singapore Esplanade so you can easily enjoy a bit here after watching a nighttime show at Marina Bay Sands. Whether your craving chicken rice, Hokkien mee, nasi lemak, or roti prat – you will find it here.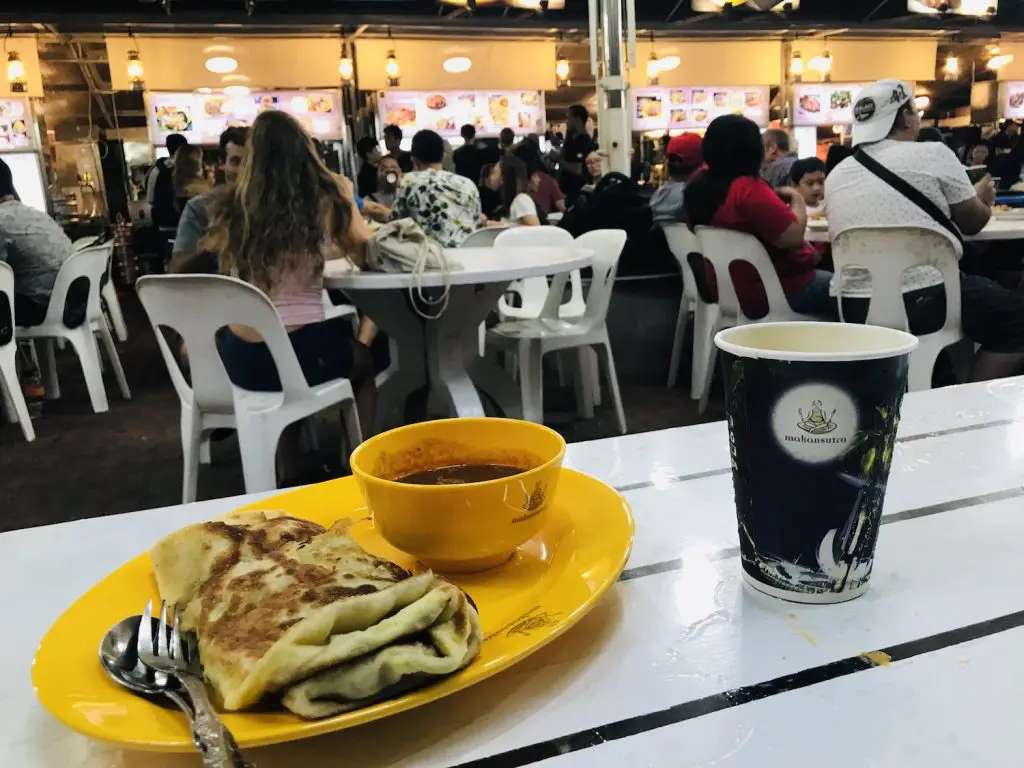 49. Get All Your Tech Needs Meet At The Sim Lim Square IT Mall
Tech lovers should not miss Sim Lim Square IT Mall, which has all the chaos and wonder of an Asian product market – except with cameras and laptops instead of carrots and cabbage.
Commonly referred to by locals as SLS, this mega six-story retail complex offers a wide variety of electronic goods and rows of dazzling gadgets from laptops, palmtops, PDAs, webcams, handy IT gadgets to storage solutions, zip drives, re-writeable CDs, thumb drives and mundane peripherals—even computers can be assembled from scratch—you will be spoilt for choice.. though you may have to do a bit of digging to find exactly what you are looking for!
While this place is crazy, we do not recommend buying expensive items here such as phones or laptops as rogue operators have been known to rip tourists off through warranty contracts or shady deals. If it sounds too good to be true, it often is as they say.
50. Experience The Phenomenal Singapore Zoo Or Night Safari At Night
You just knew it had to be on this list somewhere, because much like the Marina Bay Sands, the Merlion or Chicken Rice, the Singapore Zoo is a symbol of modern Singapore and one one the most popular attractions in the entire city.
Winning rave reviews internationally for their conservation work as well as design and wildlife environments, the Singapore Zoo is in a class on its own hosting over 2,800 animals from over 300 species of mammals, birds, and reptiles that are completely roam freely in open enclosures resembling their natural habitats, separated from human guests only by moats and wooden fencing.
The park also boasts the world's first free-ranging orangutan habitat in a zoo, though if you are in South East Asia for longer, you should consider skipping across to Uncle Tan's Wildlife Camp in Borneo to see them in the wild!
If you are not an early bird, you should consider The Night Safari, the world's first nocturnal zoo with four walking trails, the famous Creatures of the Nights Show, and a multi-sensory wildlife adventure on the Safari tram. Or why not just do both!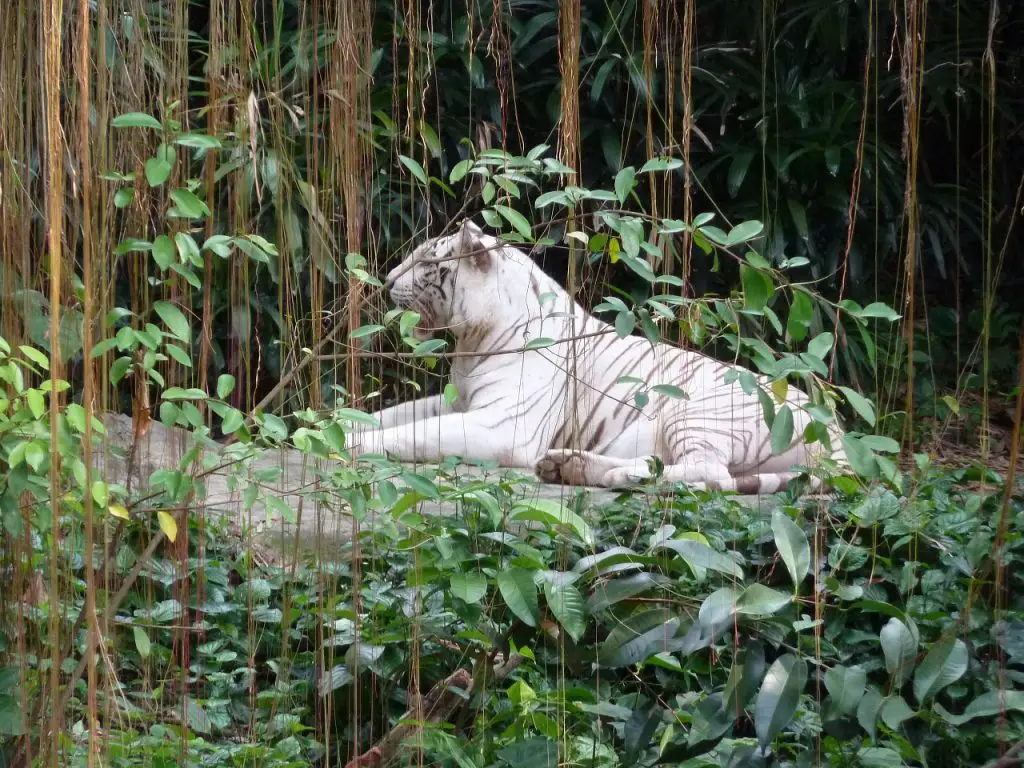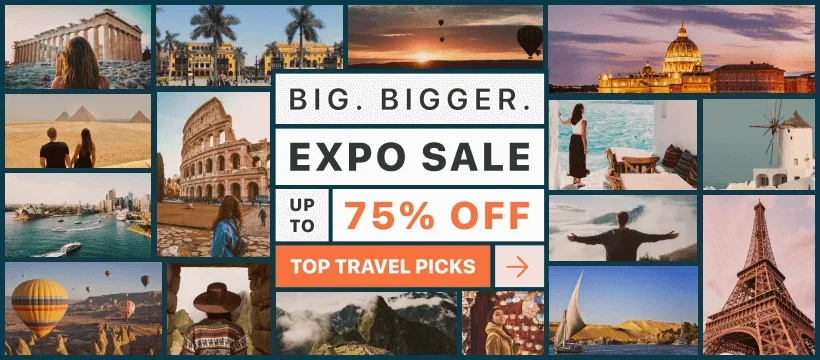 Staying Connected While Travelling
In today's increasingly connected world, staying online while traveling has become essential for a seamless experience. That's where eSIMs come into play, revolutionizing the way we access mobile networks during our global adventures. Say goodbye to hunting down local SIM cards at the airport; eSIMs provide instant activation the moment you land, sparing you the fortune usually spent on international roaming and allowing you to genuinely travel like a local (without getting hopelessly lost!).
With eSIMs, tasks like restaurant recommendations and reservations, up-to-the-minute public transport instructions, checking opening hours, and accessing further information become a breeze. And, of course, sharing your journey on social media is easier than ever. To stay connected wherever you roam, consider using either Airalo or Holafly. Airalo boasts the most extensive range of destinations worldwide, offering smaller data bundles tailored to your needs, while Holafly provides unlimited data packages and fantastic EU data deals.
So why wait? Embrace the future of travel connectivity with eSIMs and make your next journey effortlessly smooth.
Further Things To Consider Before Any Adventure
Now you're all set and prepared to explore our big wide world, why not sort out everything else out all in one go? If necessary for your travel plans make sure you have brought proper travel insurance, protected your privacy by getting a secure VPN, compared all the top hotel booking sites to find just what you're after, reserved an unbeatable rental car price and - of course - booked the best flight deals!
Or maybe just forget it all and go for a last-minute cruise or effortless tour instead?
Many budget travelers (including me) indulge in worldwide airport lounge access, so we can experience luxury while still slumming it in economy. Naturally, we would never leave home without a more general travel guide since we couldn't possibly cover everything here!
Just add an adventurous attitude and plenty of smiles - they go a long way - and that about covers it all! Now go out, find your own path and don't forget to share your best inspiration stories with me on Facebook, Twitter, and Instagram...I'd love to hear from you!