Macau, the 'Vegas of the East', is pretty much Disneyland for adults as we found out on a recent Macau day trip from Hong Kong.
Portuguese colonial architecture mingles seamlessly with ancient Chinese temples and laneways, which themselves give way to garish neons and megalithic casino complexes…
Throw in the Macau Grand Prix and some delicious egg tarts, and you have the ingredients for an exhilarating, if somewhat spatially challenging, Macau day trip that's only a 55-minute boat ride away from Hong Kong!!
One of the best tips we can give you for exploring Macau is to order a travel SIM card for easy pickup and activation the moment you land so you will not pay a fortune for international roaming – and can genuinely travel like a local.
Restaurants recommendation and reservations on the fly, public transport instructions up to the minute, opening hours and further information – and of course, social media posting, if that's your thing – all become just that much easier.
Mobile data is fast, cheap, and available almost everywhere in Asia, so it is no wonder the only way to truly explore like a local, and to get off the beaten track (without worrying about ever being lost) is to get connected. So why wait? Discover more in Macau by sorting out the best local SIM card now.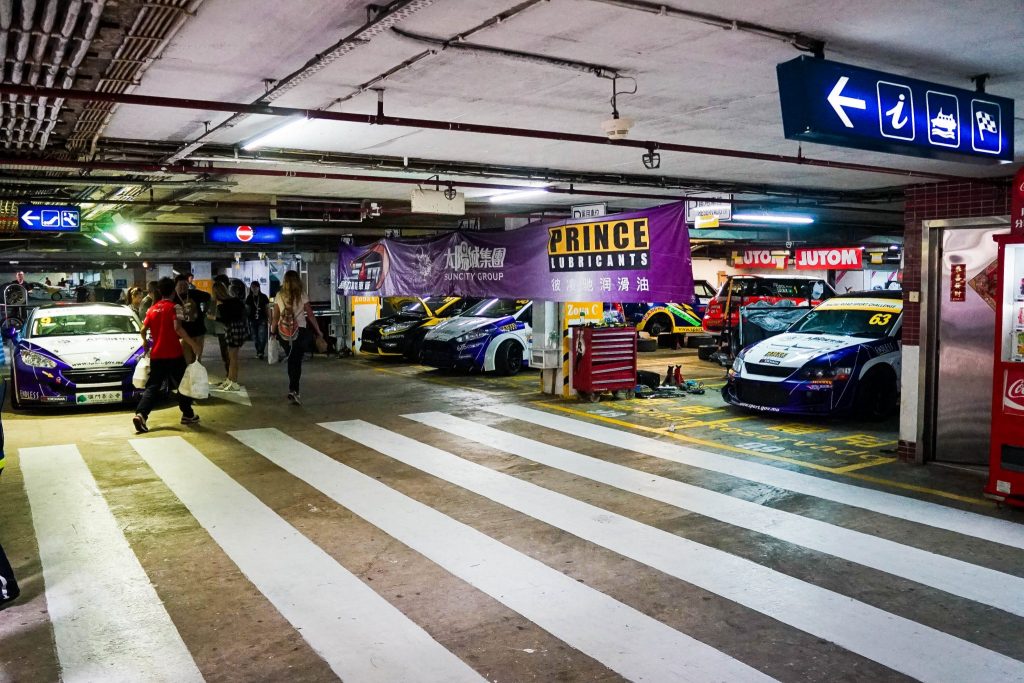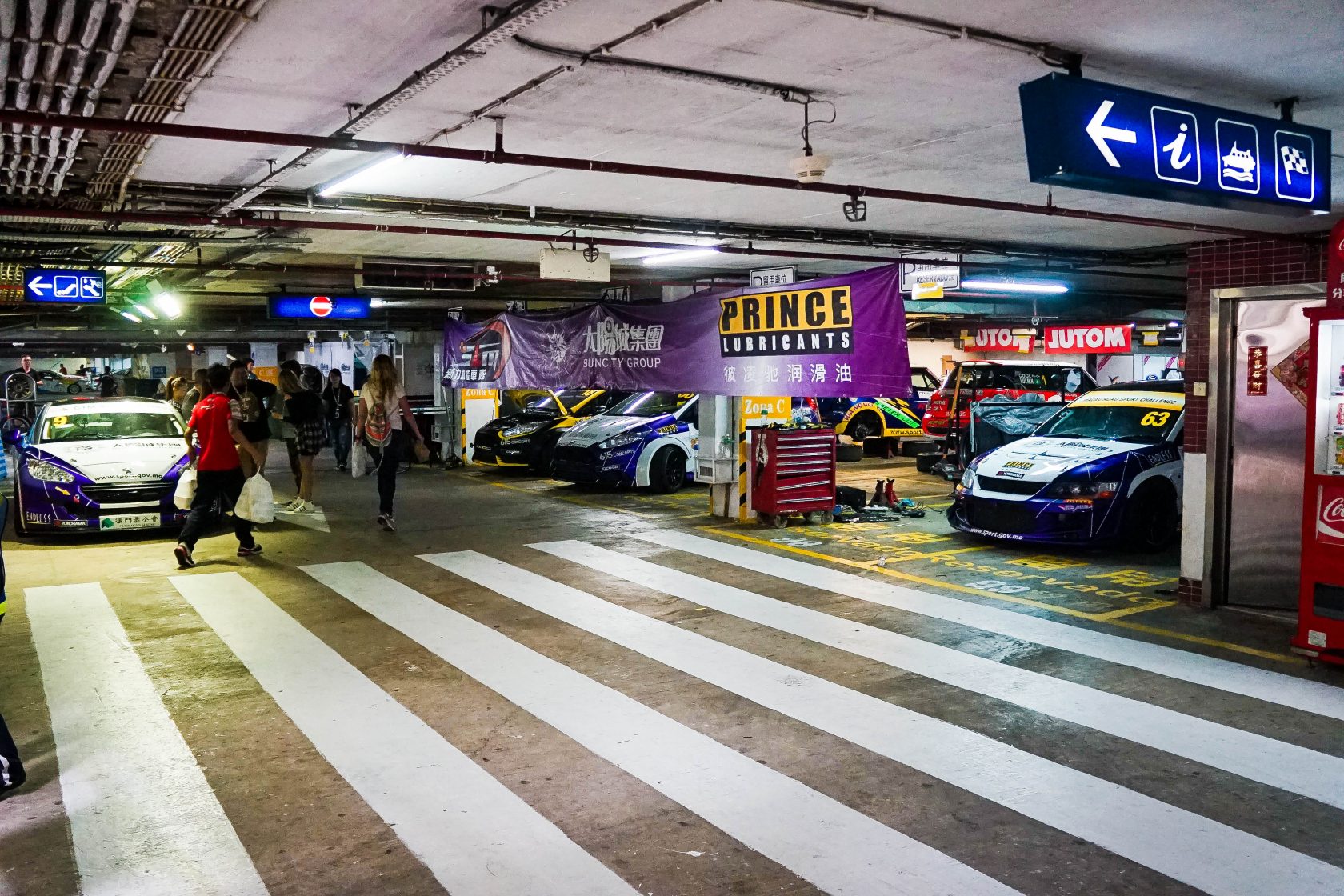 How to Plan The Perfect 1-Day Trip to Macau from Hong Kong By Boat 🇲🇴
What To Do In Macau In One Day Without Staying Overnight??
Macau has a lot to offer. I would have liked to send more than 24 hours, but unless you have more than a week in Hong Kong, it would be hard to justify more than just a day trip. For a one day itinerary, I would recommend an early start, as early as you can manage and focus on the colonial UNESCO sites during the day and then in the evening taking in all that casino glitz and glam…
I have outlined the main sites by day and night below, but the Grand Prix was on when we were there, which slowed things significantly, so you will likely have time for more! You might also want to read my more recent Macau Itinerary for fresh ideas.
However, if you do fancy making it more than one night – Macau books up fast! Especially with all the events and conventions it hosts, not to mention the weekend!
Book early to get the best rates. You can find the best deals for Macau accommodation here – and many have free cancellation if your plans change closer to the time!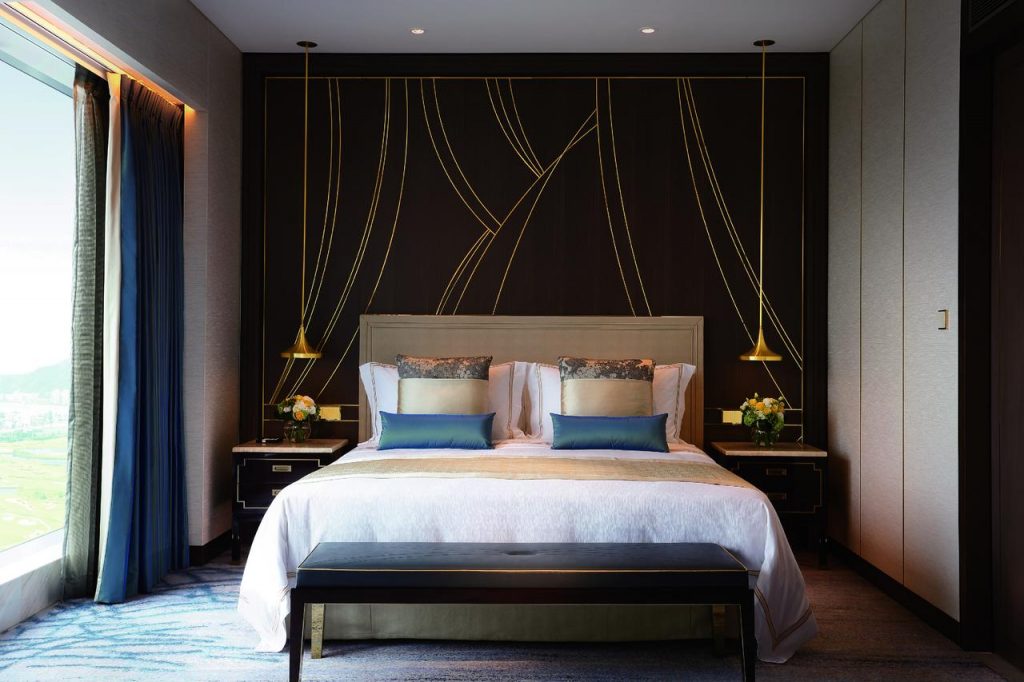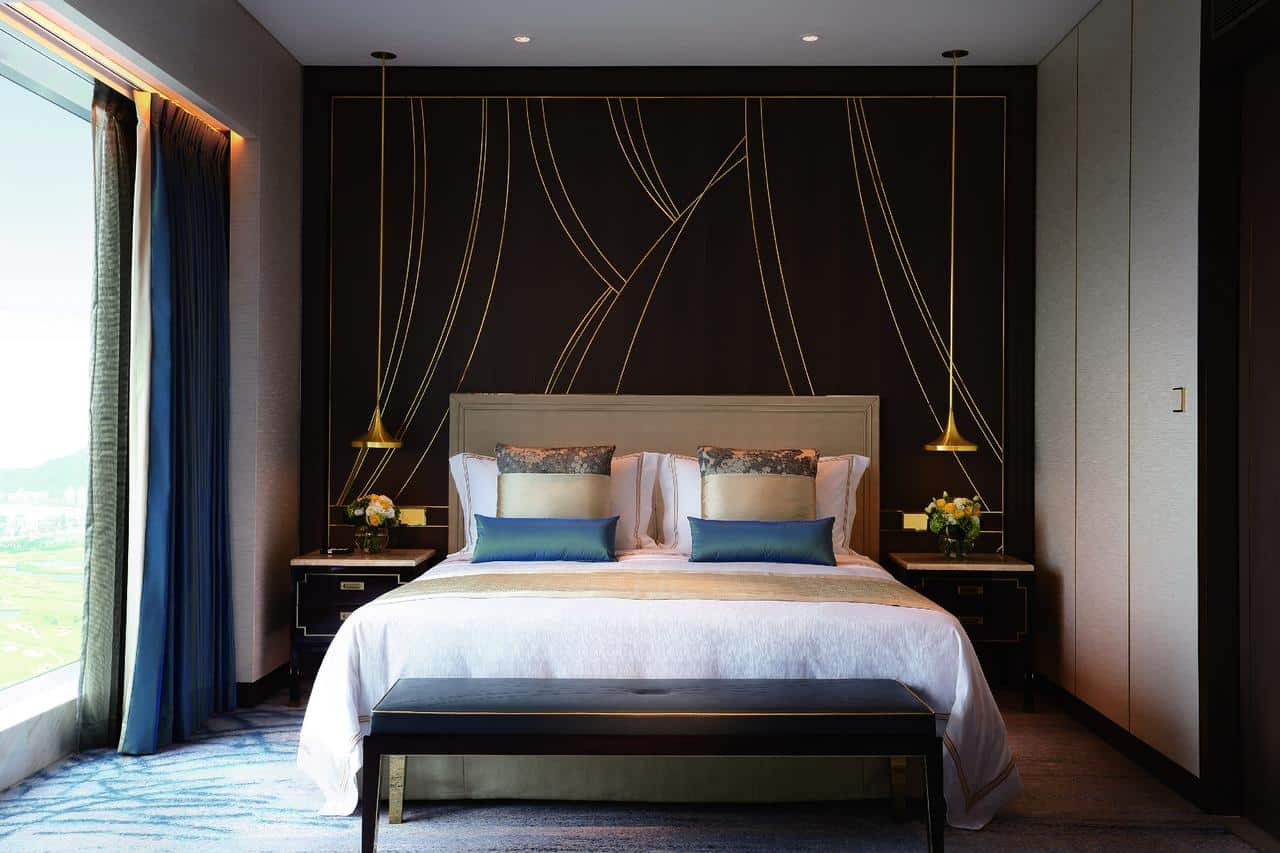 How To Get To Macau From Hong Kong By Ferry
This is the easiest way from Hong Kong, though the new Hong Kong–Zhuhai–Macau Bridge has recently opened and now offers bus services.
Ferry prices are higher for return sailings in the evening and highest late at night. You can always return earlier but not later than the ticketed time, but you will be on standby, which we found out was a long and arduous process. Best to try stick with the time that suits you (remembering that some parts of Macau are best seen after dark!) and book you Macau Ferry ticket in advance.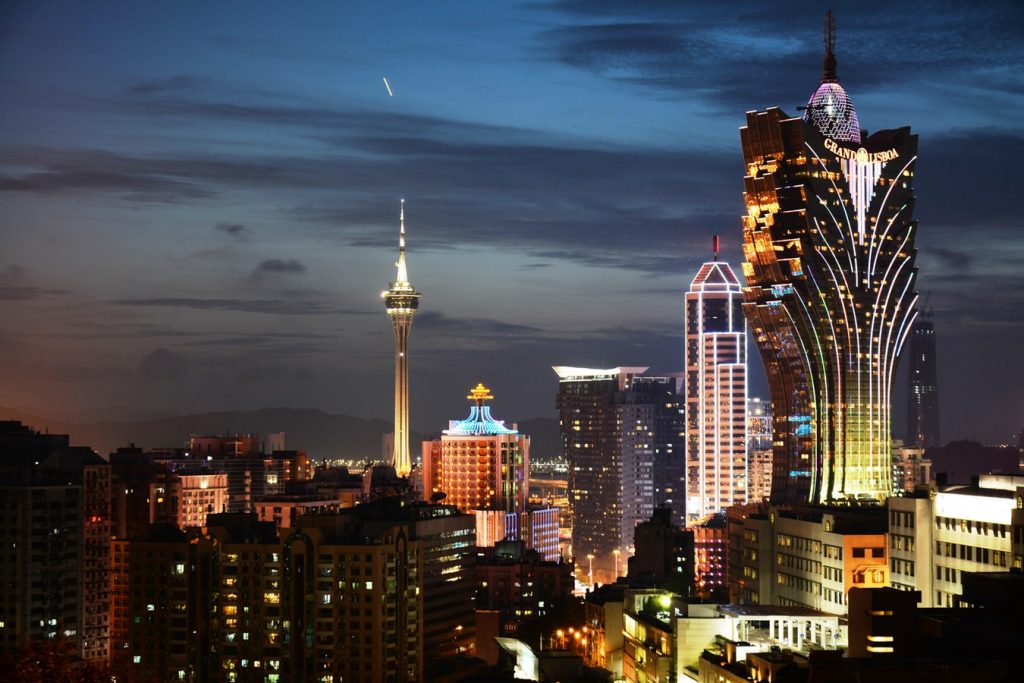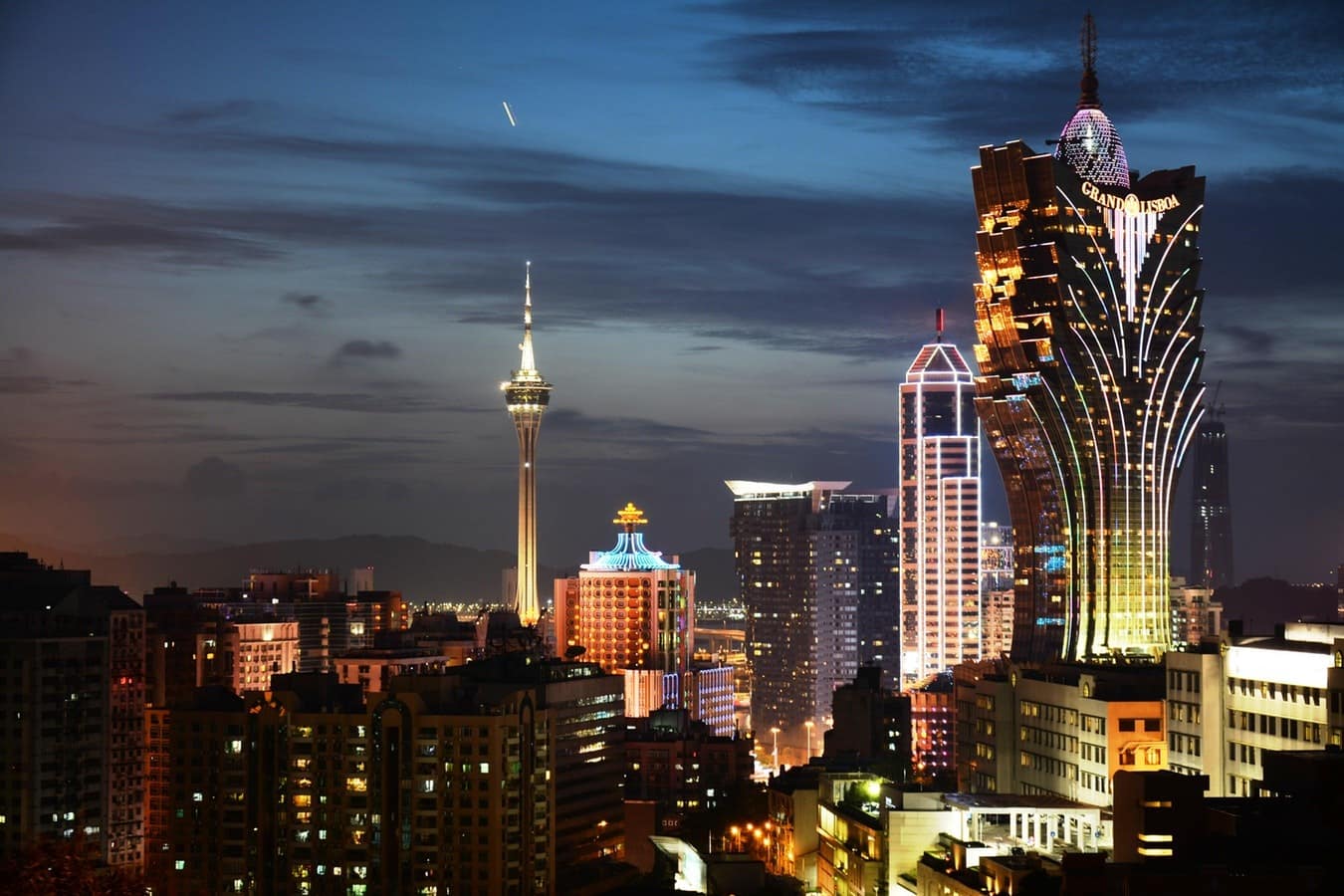 How to Get to Macau From Hong Kong:

Hong Kong Terminals
China Ferry Terminal is in Tsim Sha Tsui, or Hong Kong Macau Ferry Terminal is near the IFC Towers in the Shun Tak Center on Hong Kong Island. Price: 132 to 172 HKD (single trip, economy class).
The ferry also departs from the Sky Pier at the Hong Kong International Airport but is for transiting tourists only.
How to Get to Macau From Hong Kong:

Macau Terminals
Macau Maritime Ferry Terminal is the main northern terminal closest to the old town while Cotai Terminal is to the south, closest to the Cotai Strip area with the biggest casinos. Ferries rarely sell out, but I would recommend trying to enter the Macau Maritime Ferry Terminal and leaving out of Cotai.
Still, it doesn't really matter as Macau is a rather small place and is plied by free casino buses!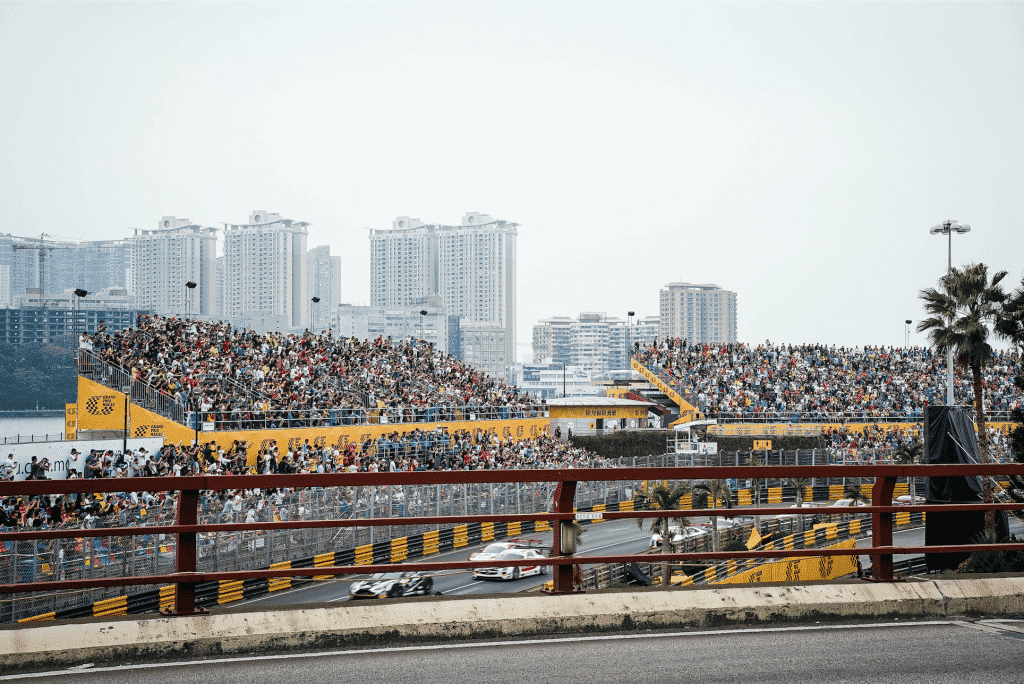 Yes, best not to plan your Macau day trip from Hong Kong when the Grand Prix is on – Unless you actually want to be part of the chaos!
What To Do After You Arrive In Macau
On arrival, we stumbled across the Macau Grand Prix, a global motor racing series event that is held in Macau in November. It takes place in Montreal, Melbourne, Mexico City – and soon, nearby Hanoi, among other places annually.
If you are interested and in the area, in November, I would highly recommend getting tickets and going across for the night, so you still have a full day to see Macau. If you are not concerned, I would avoid or re-plan to avoid the weekend as Macau will be so packed to the brim and clogged up with traffic jams – it's not worth it!
Start your Macau day trip from Hong Kong at the Grand Lisboa – The tallest building in Macau! One of the best things to do in Macau in one day is also just to wander the streets!
We took advantage of the Grand Lisboa Casino shuttle on arrival to take us to their casino. It is also near the Wynn, the MGM, and StarWorld if you want to check those out.
This group is located close to the historic Macau. In contrast, the other casinos are located on the Cotai Strip, across the bridge, and somewhat inaccessible due to being on a different island!. As we had limited time, we could only see one group at night, but I would highly suggest trying to come back here to view these casinos at night too!
Plus, if you have more time, there are so many more things to do in Macau!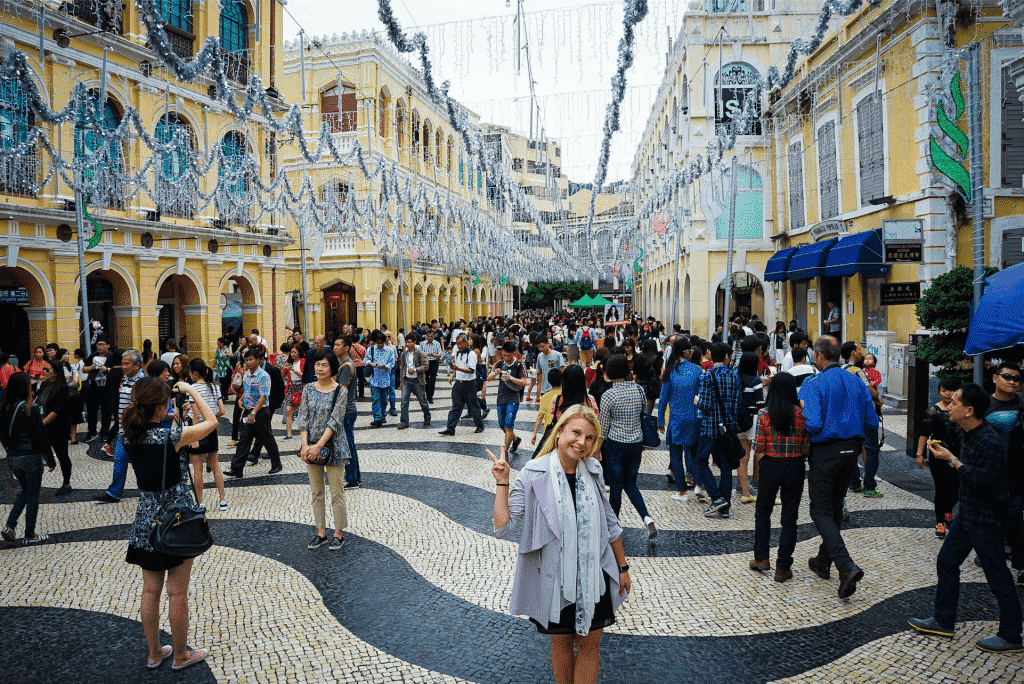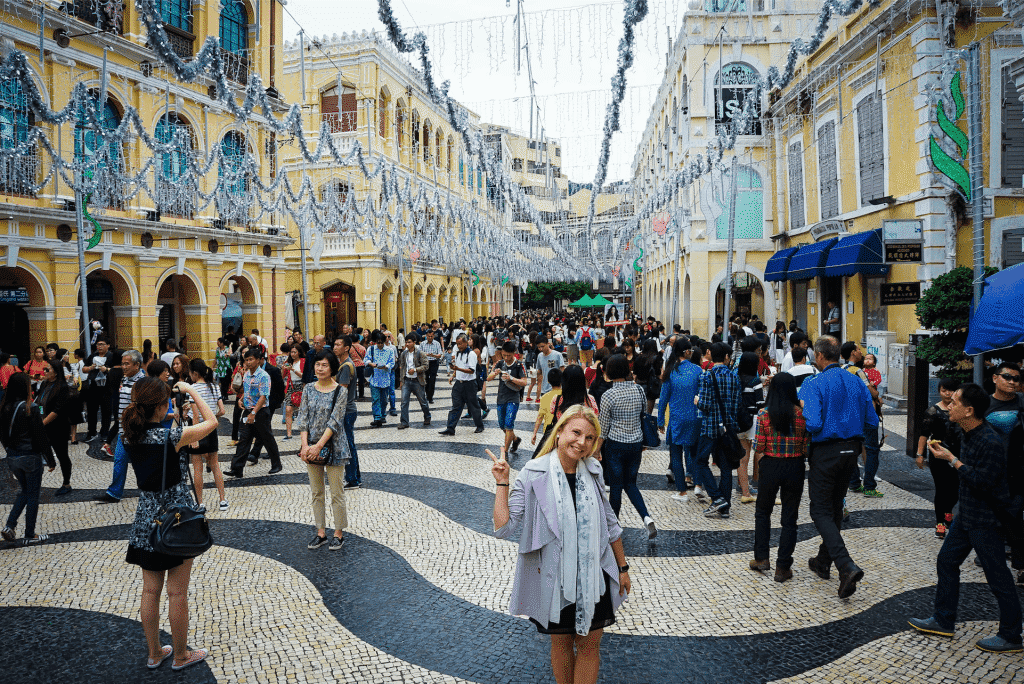 Amazing colors and look at the pavement!! – We were, however, very easy to spot as one of like three westerners there. What is Macau Famous For? This incredible tile plaza for sure!
From here, it is a quick 15 min walk to a highlight of Old Macau – Senado Square (Largo do Senado). This is the public square of Macau and a great introduction to the area. It is located in the central area of the Macau Peninsula, and in 2005 it was inscribed on UNESCO's World Heritage List as it forms part of the Historic Centre of Macau site.
Around Senado Square, there are also plenty of other attractions. To the east of the square is Macau Cathedral, and at the end of the paved road is St. Domingo's Church. The Lou Kau Mansion is found in the northeast of the square.
The Macau Tourism Board actually has made some beneficial walking tours based on interests. They also have produced a comprehensive iPhone app to make your trip go more smoothly, which you might want to grab before you go!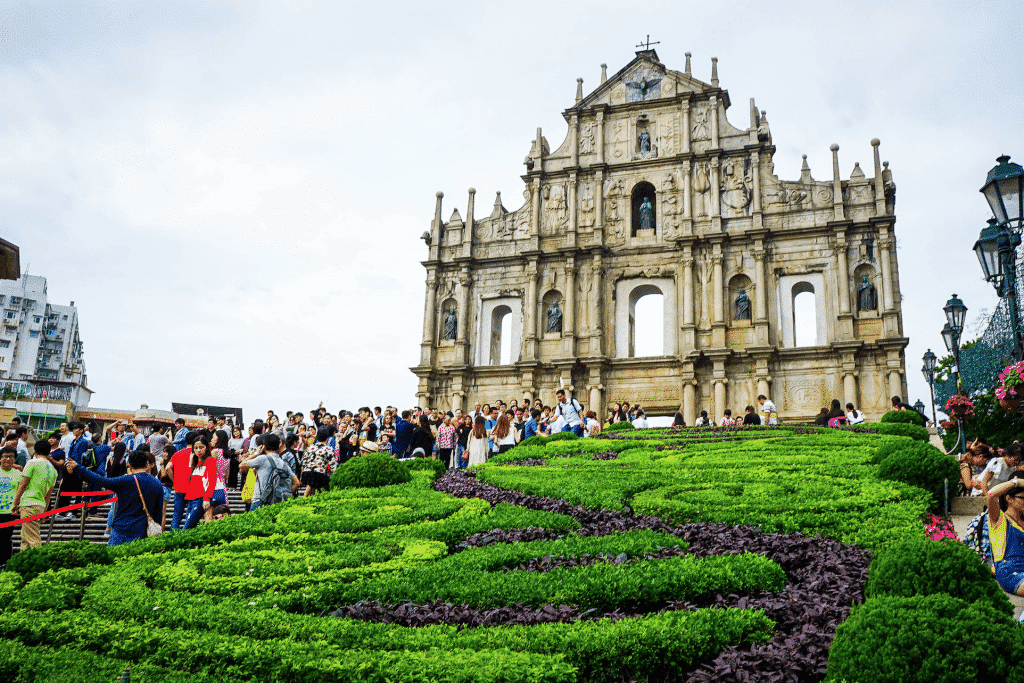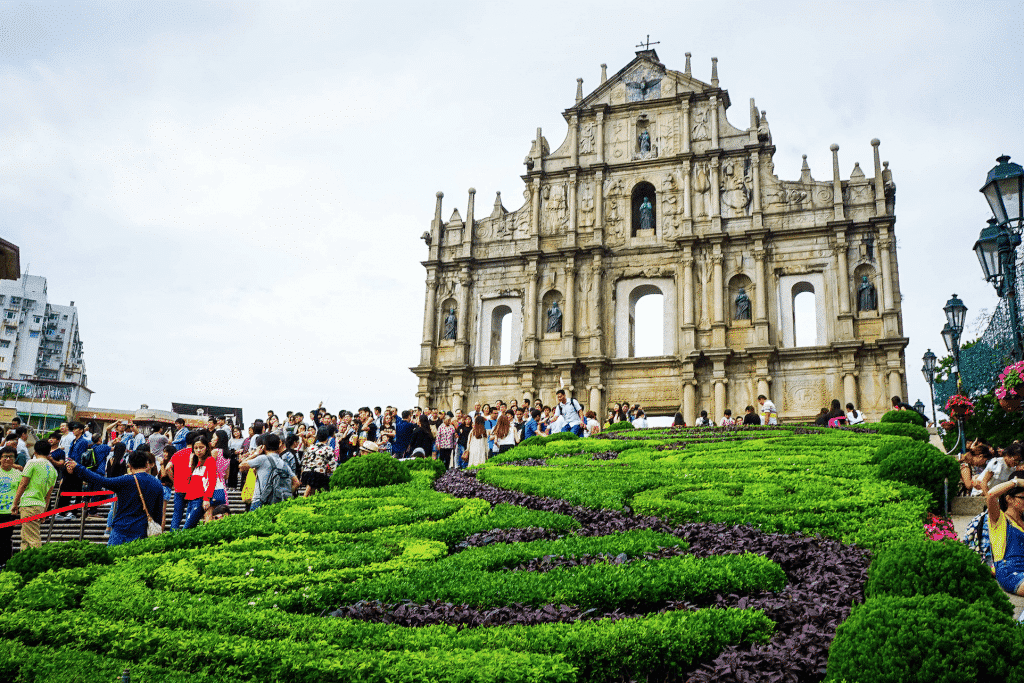 What is Macau Famous For?…. In a Word …This! Oh, to see this on a sunny day would be a thing of beauty – But oh well, grey and overcast, it is still lovely!
Walk to the north of the church, and you will arrive at the Ruínas de S. Paulo (Ruins of St. Paul's). This is the most famous landmark in Macau. Right at the east of the Ruínas de S. Paulo is the Museu de Macau (Macau Museum), in which historical relics of Macau are exhibited.
On the day we visited, it was insanely crowded – Like ridiculously crowded, fight your way through oblivious masses of selfie stick-wielding tourists, makes you want to go home crowded. Hopefully, this is just to do with the Grand Prix…
Either way, I still have to say it was worth it !!… The Ruins of St. Paul's are simply amazing, making for great photos and have a stunning view to take in of the old town from its steps. It would be a great place to enjoy lunch on the weekdays too!
What is Macau Famous For? The Margaret Egg Tart Macau, of course. Such deliciousness must be proof of sorcery and that witches live among us … Top of the list for things to do in Macau in one day
Speaking of lunch, you have have HAVE to try the Portuguese Macau egg tart – They are so delicious that you will buy 3 to share … and then just eat them all yourself. Not that I would do that — but they do make an excellent reward for surviving the masses. I think this is the definition of stress eating.
The egg tart is found all over Canton and China, but there at subtle differences in taste between Cantonese and Macau Portuguese style egg tarts. The visible traits are quite apparent due to the slightly burnt top, which creates a hint of caramelization (think crème Brulee), that you only get with the local Macau egg tarts. Its also quite different then those you might be familiar with in Lisbon or Porto.
You can read more about the baker behind Macau's famous egg tarts here.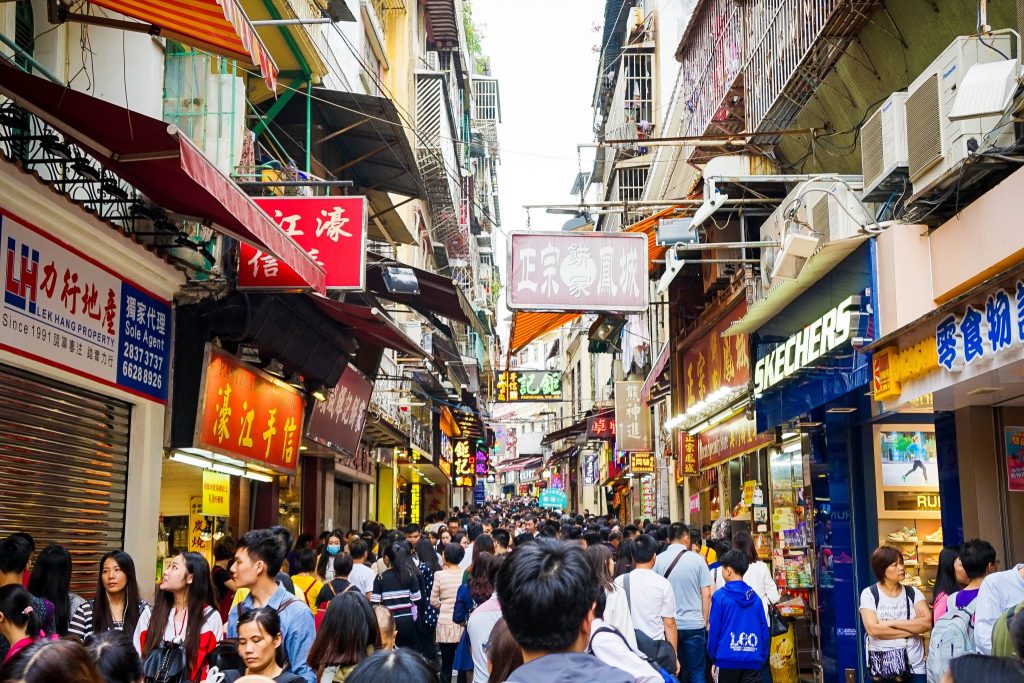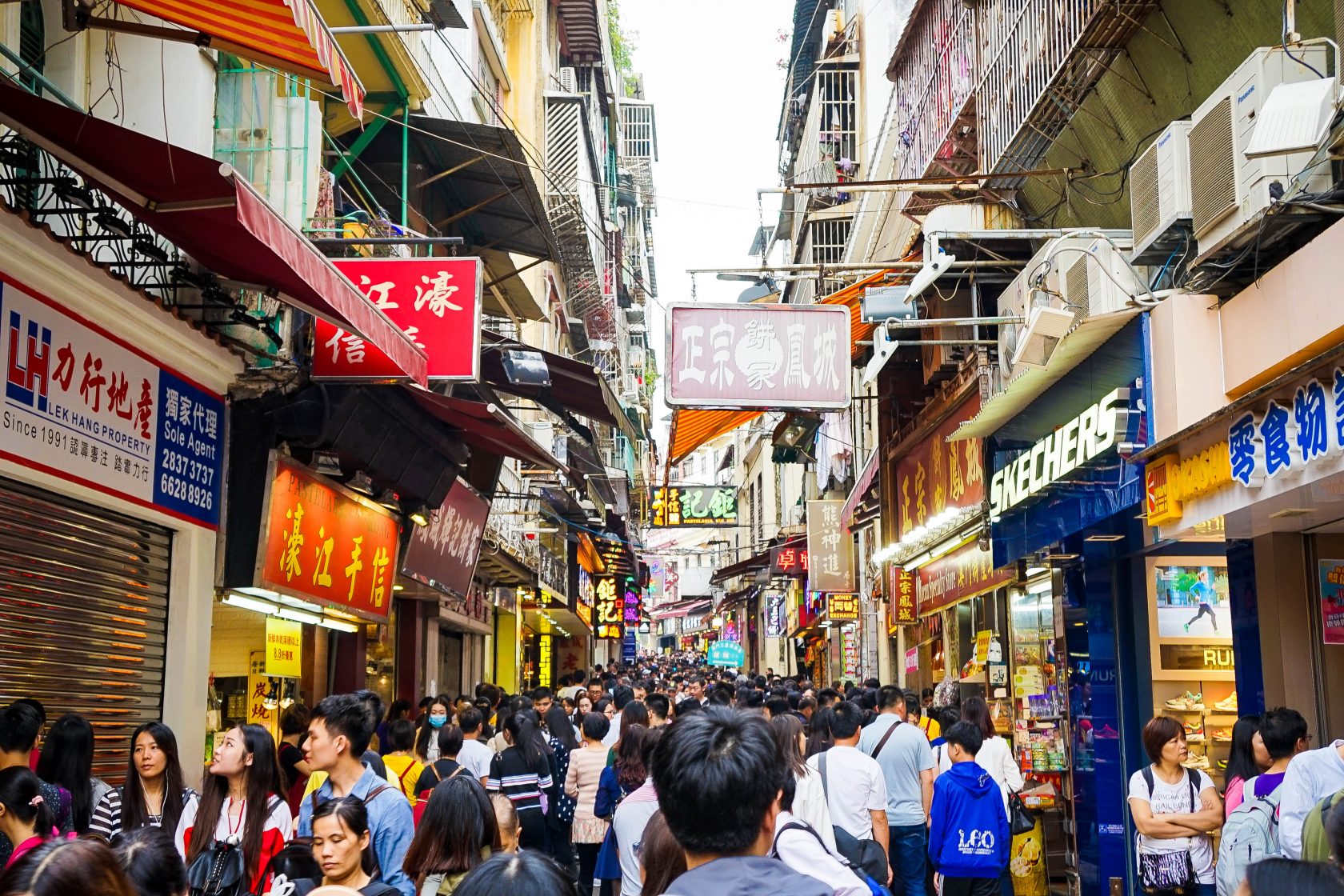 While they have egg tarts on every street corner in Macau, there are two clear standouts: Lord Stow's Bakery, founded by Andrew Stow, or Margaret's Cafe / Margaret Egg Tart Macau, found near the Historic City Centre in Macau.
Interestingly enough, founder Margaret was formerly married to Andrew Stow. At some point, they parted ways, and now there are two separate egg tart giants in Macau. So which is best, Lord Stows or Margaret's?
This is a long-running debate among locals and fans of the Macau egg tarts. Most have a preference for one over the other, but in the end, they are both excellent choices and far out-shine the competition, so go with whichever is closest – better yet, try both!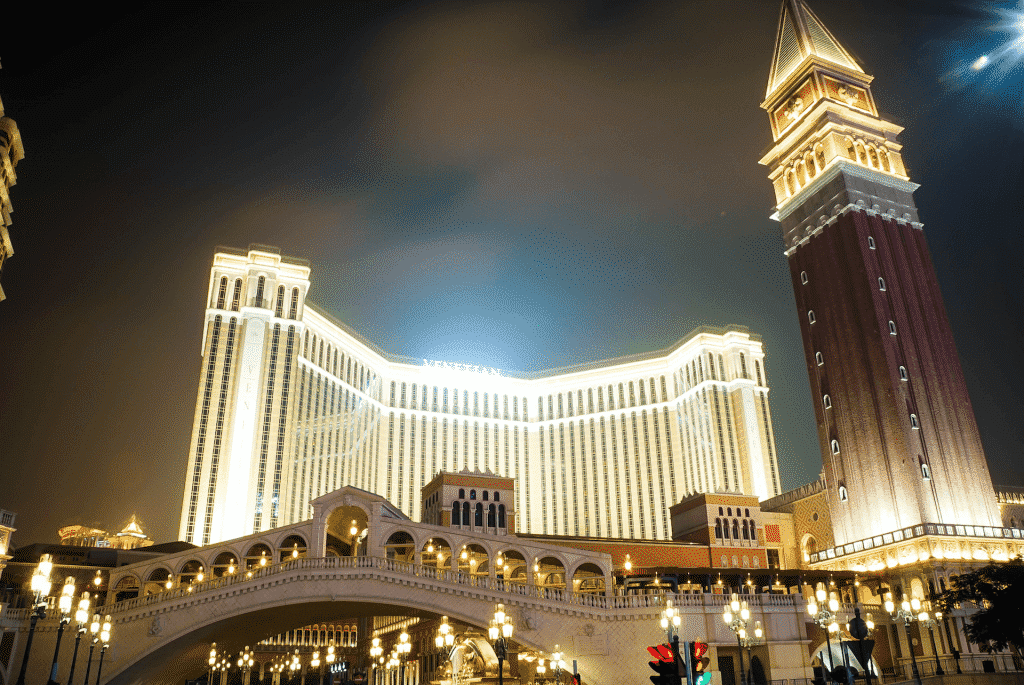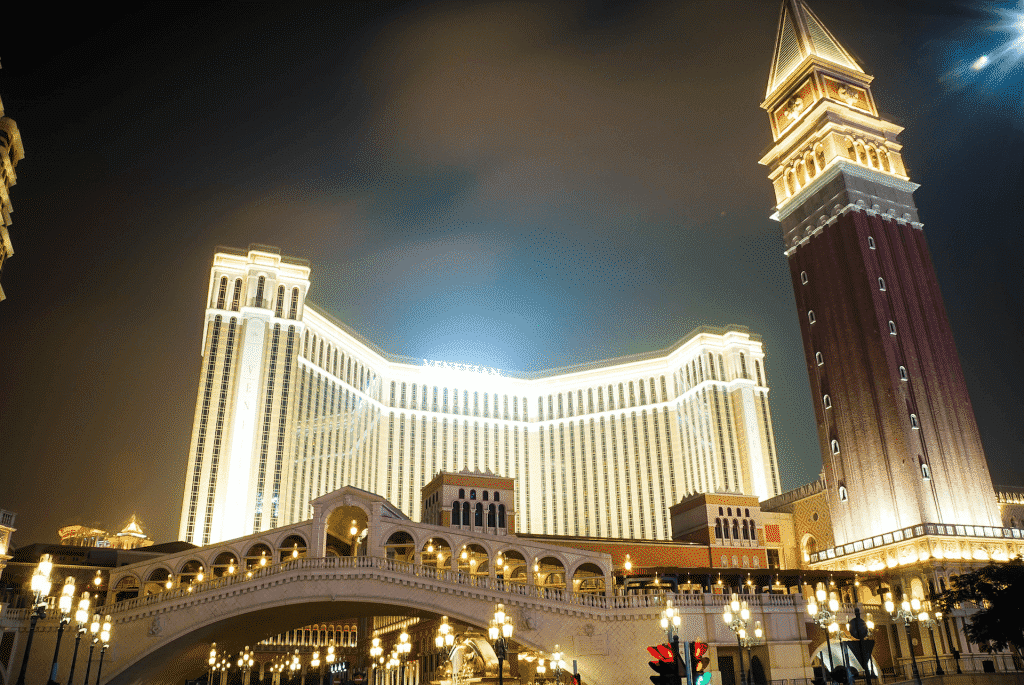 When the sun goes down, the lights come out … And boy oh boy, do they come out! What is Macau Famous For? PARTY TIME!!!!
After you have enjoyed an egg tart (or 3), be sure to work it off with a brisk walk through nearby Casa and Camoes Garden. This is a hilly, heavily wooded garden formed part of the grounds of the house, which was occupied by the Chairman of the British East India Company and finish up in Temple Tou Tei. From here (on nearby Rua da Ribeira do Patane) catch the 26A towards Hac Sa Beach to the Venetian and City of Dreams!
This is the end of the historic tour part and now time to see the new Macau – The one whose gambling takes in 6 weeks is what Las Vegas makes in an entire year!! Though before you switch islands, you could be tempted by the Macau Tower Bungy Jump.
Any takers?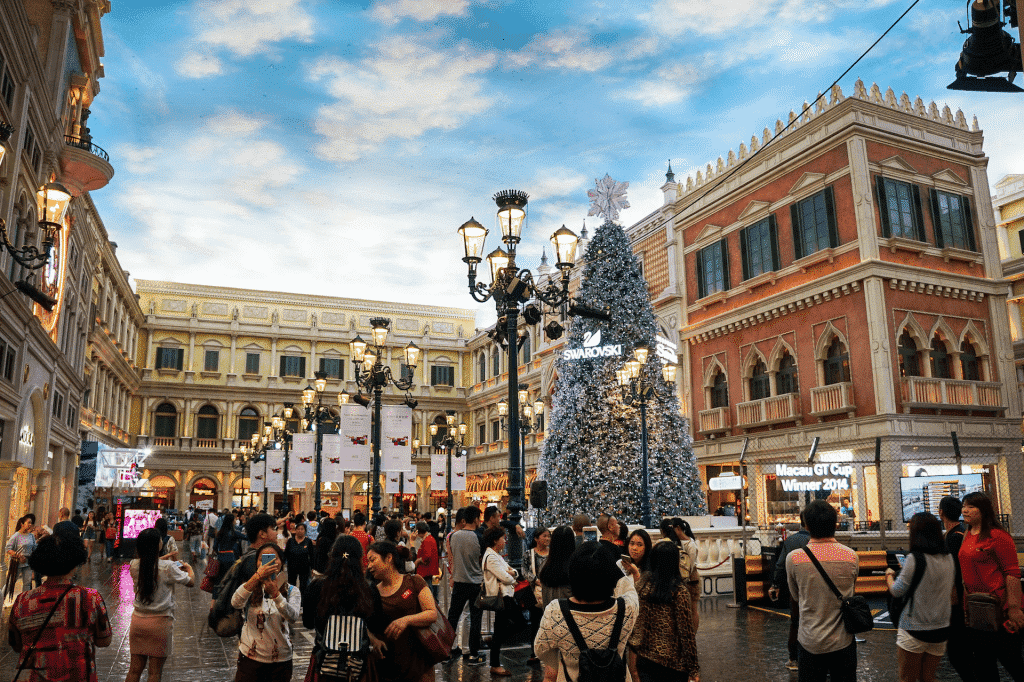 This is crazy – Look at that sky! Its never get that blue outside (at-least in Macau or Hong Kong!!), and you get to enjoy air-con! WIN! Helps make your Macau Day Trip From Hong Kong a little more relaxing!
The Venetian Macao is a 39-story, $2.4 billion anchors for the seven hotels on the Cotai Strip in Macau. It is modeled on its sister casino resort, The Venetian Las Vegas, and is the seventh-largest building in the world by floor area. The Venetian Macao is also the largest casino in the world and the largest single structure hotel building in Asia — because, the Marina Bay Sands in Singapore is technically multiple buildings.
Officially opened on August 28, 2007, the casino welcomed its eight millionth customer in just 133 days after launch – That is just insane number! Over 2x the population of New Zealand in 8 months!!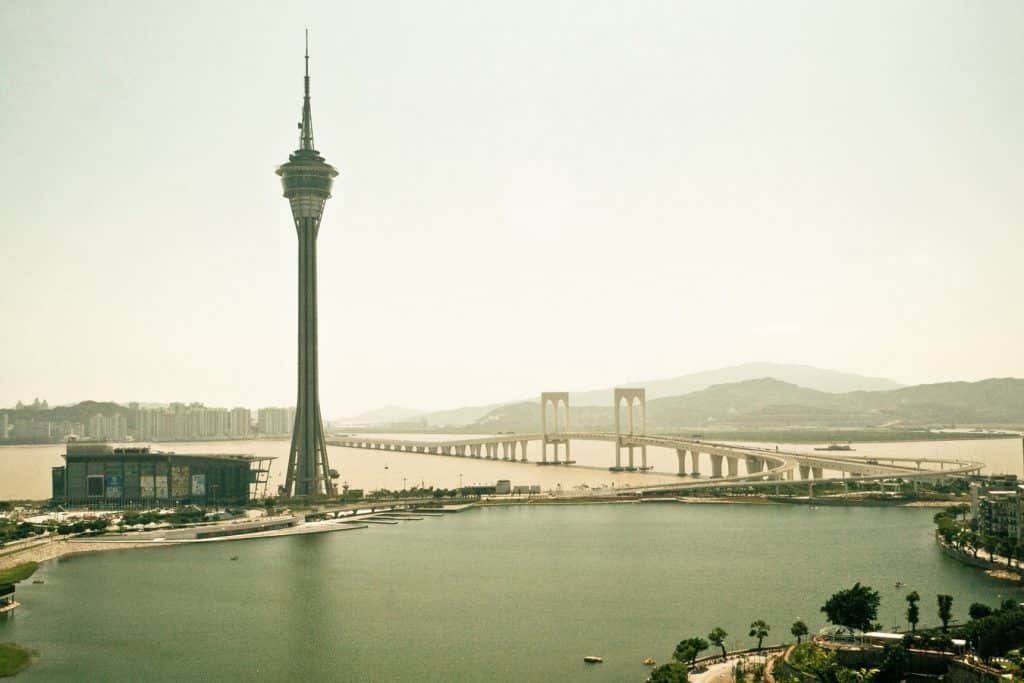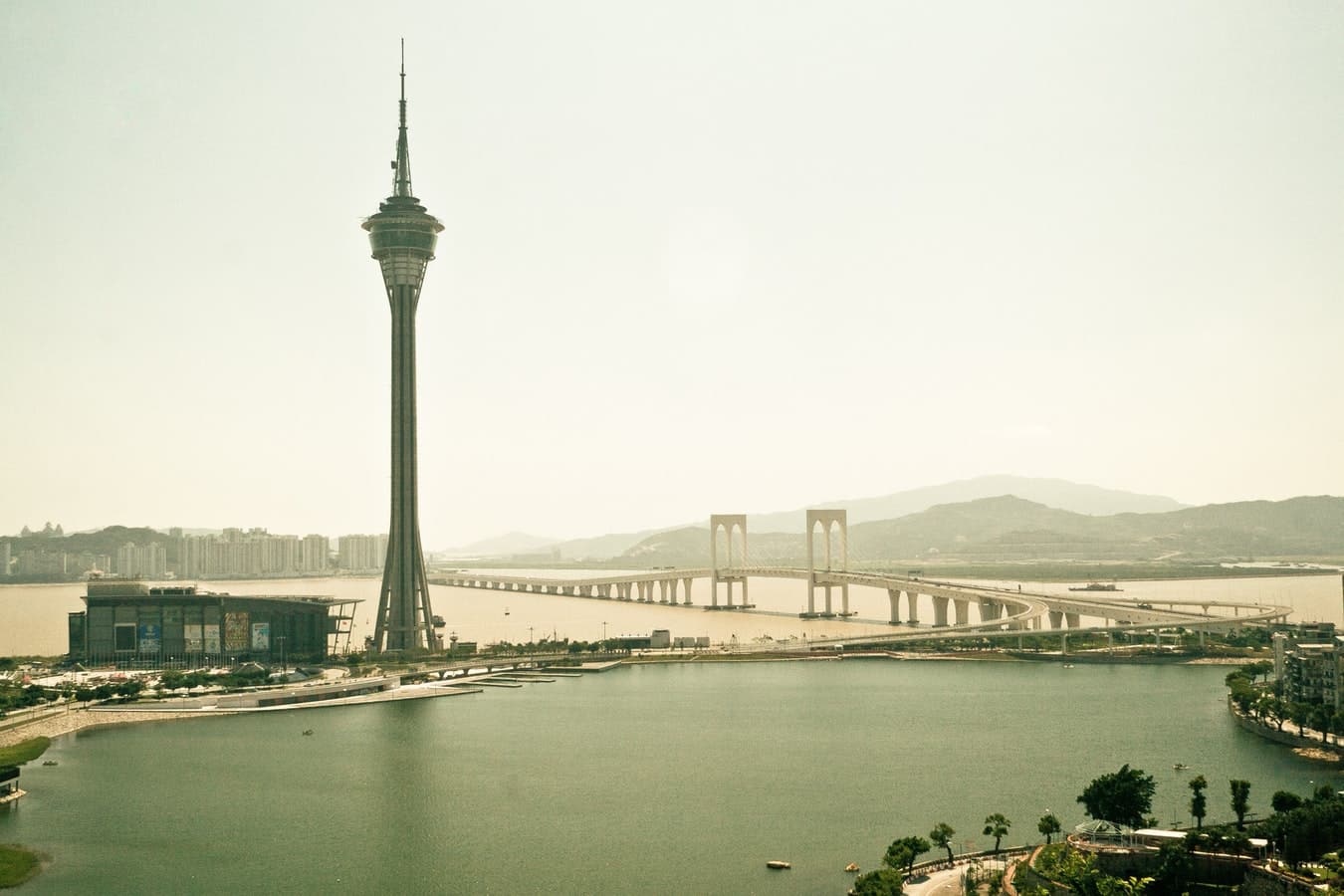 And that is why it is so hard to decide what to see in Macau in one day!
The Venetian offers over 30 restaurants with cuisines from around the world, and the Grand Canal has 51 gondolas with serenading gondoliers that ply the waters of the Venetian's three indoor canals and outdoor lagoon. It's nowhere near as stunning as the real thing but is still nice…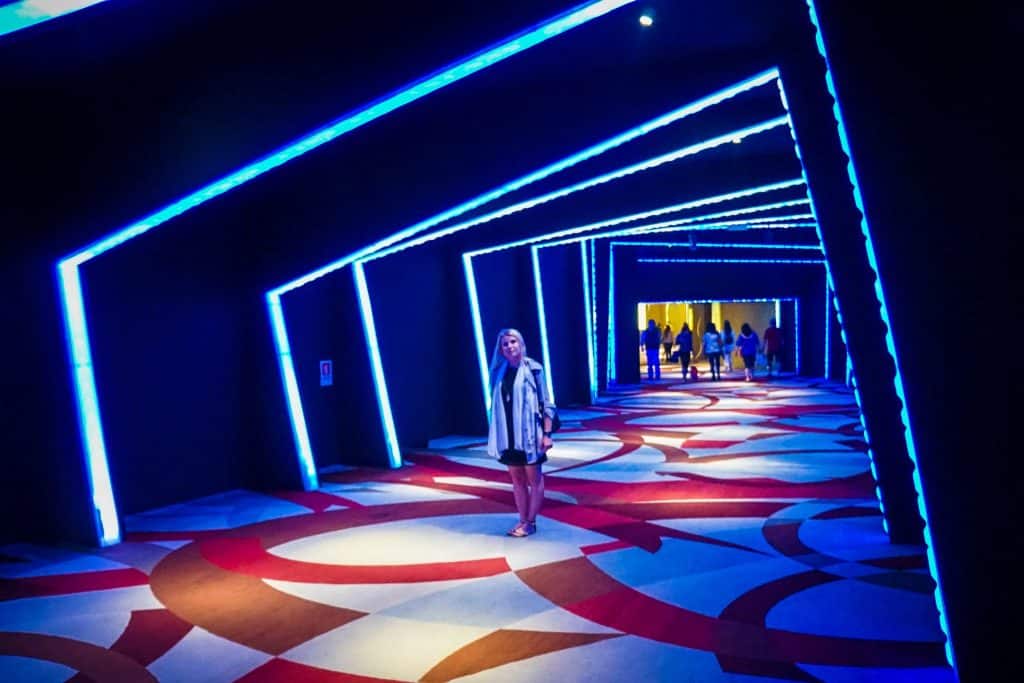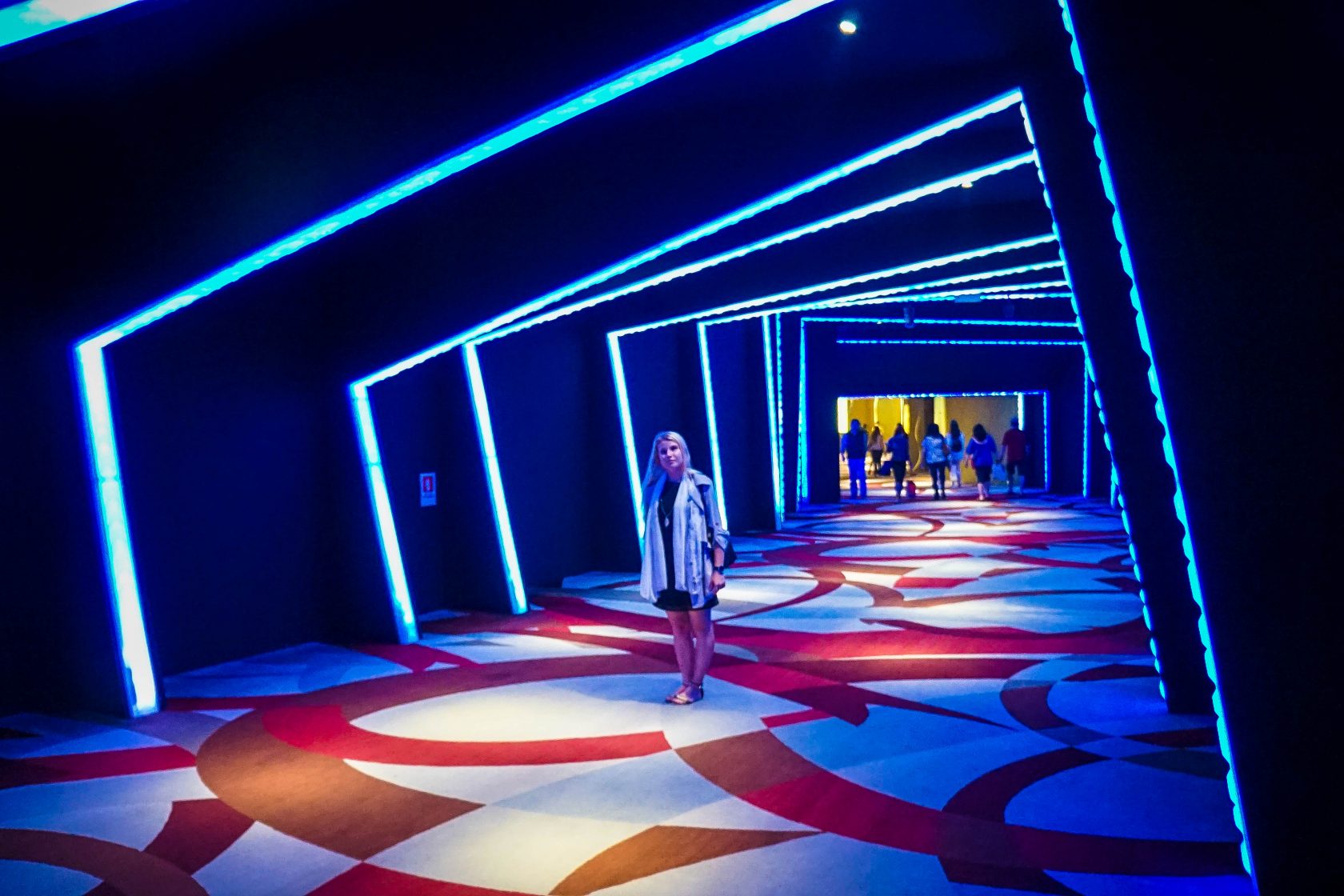 There are also over 350 brand name retail stores at the Grand Canal Shoppe – nowhere in Asia is there more luxury shops crammed into a single space.
You'll want to extend your credit limit to go shopping with a red carpet line up that includes COACH, Calvin Klein, and Tiffany…I skipped on this to save funds and time, but if you're interested, this would be the spot for you!
Well actually almost every store we saw was empty except for staff, but my friend reckons they must only need to sell one or two handbags, etc. a day at that price to be profitable. Still, it's all amazing to check out and be in awe! You can even place a bet though from my experience I'd advise not, and I can testify that the house does always win!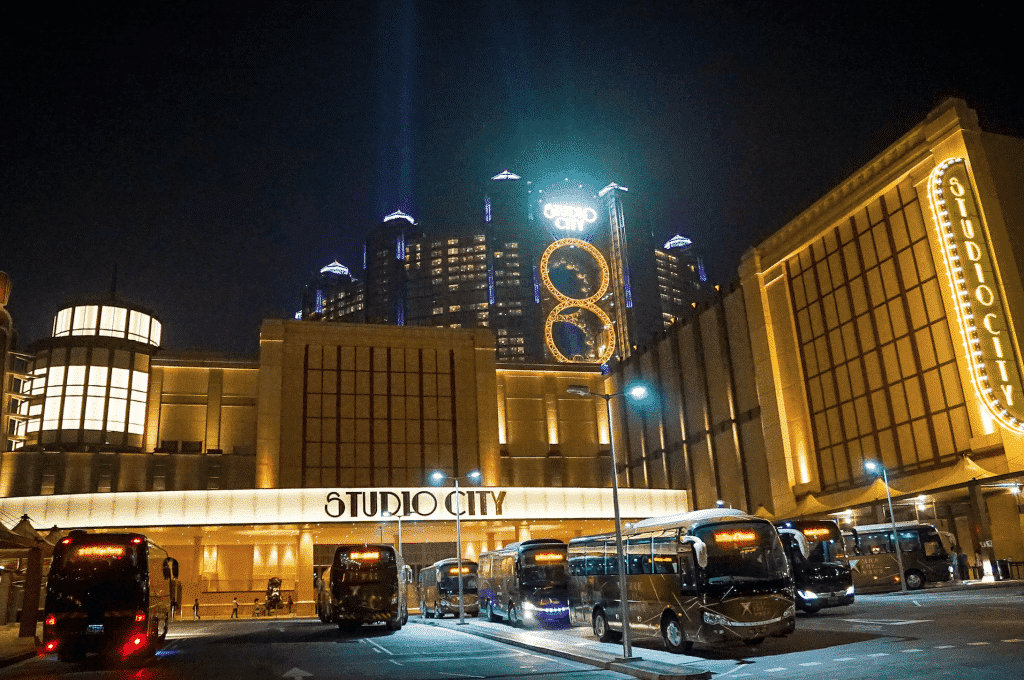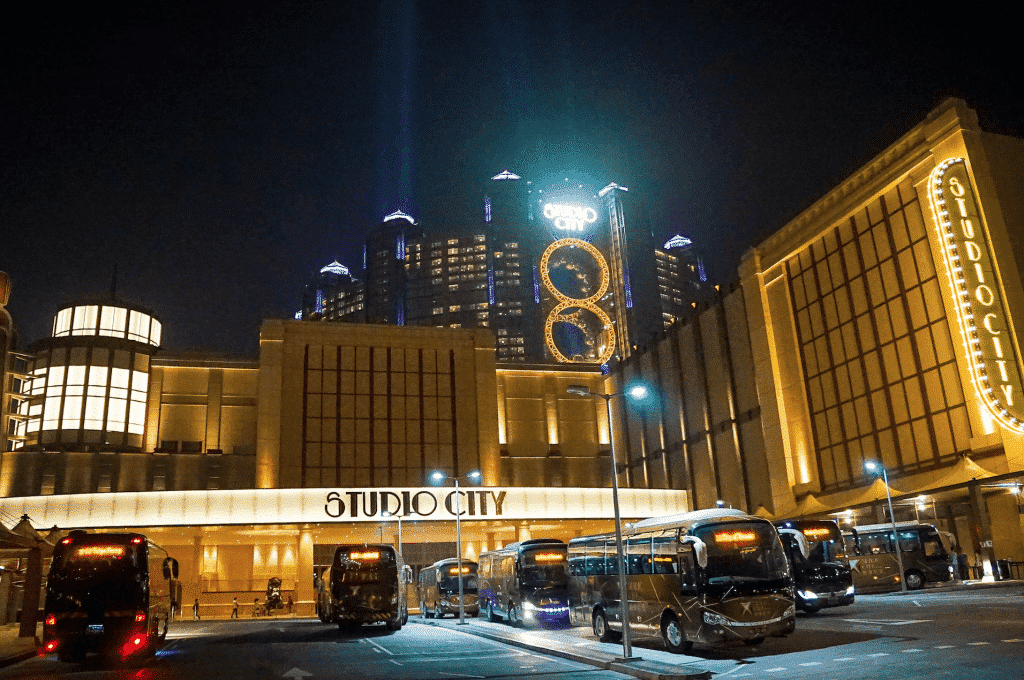 What to See in Macau in One Day? STUDIO CITY – Brand new, as it only opened up two weeks before our Macau Day Trip From Hong Kong!
From here, you just wandered around all the other mega-casinos, including Studio City, Galaxy Macau, Sands Cotai, and City of Dreams. They are all amazing, but Studio City here is the one to watch. When we visited had only been open for a month, so was not all 100% yet but has already become world-famous for its Batman ride and a Ferris Wheel in the shape of a figure-8 …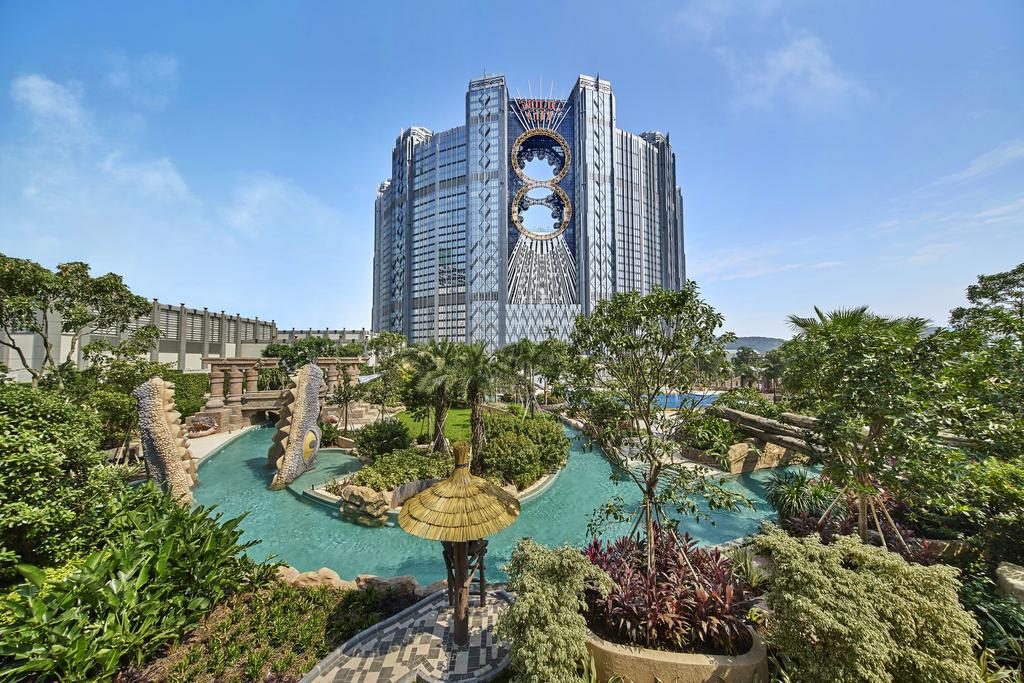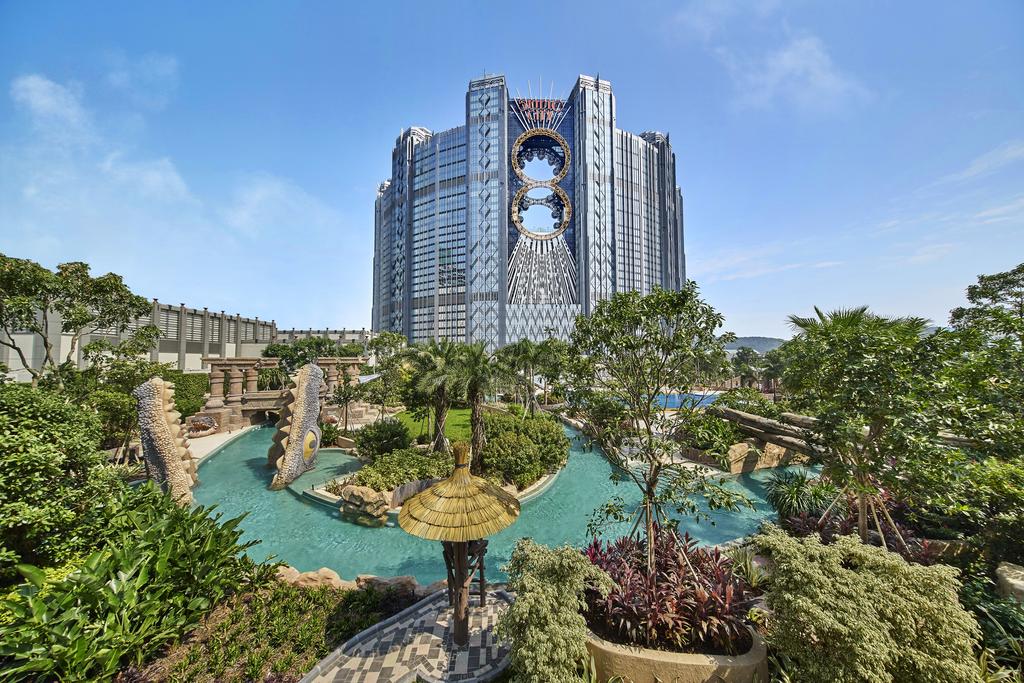 These non-gambling features are a result of Macau's casino industry's worst downturn on record as China's slowing economy and its crackdown on corruption.
China's President Xi Jinping in December ordered the city to diversify its economy from gambling, on which it relies for about 80 percent of revenue and the results of this should be seen more in the future – The Parisian Macao which has recently opened and many existing casinos are busy creating shows and other entertainment events…
Expect to see Macau look more like Vegas in the future – which isn't a bad thing. While gambling can be fun, I for one, would love to see a proliferation of entertainment options when I come back in the future to draw me in few days (as Vegas does) rather than the current day trip option may take. And I would absolutely love to check out the Macau SkyWalk!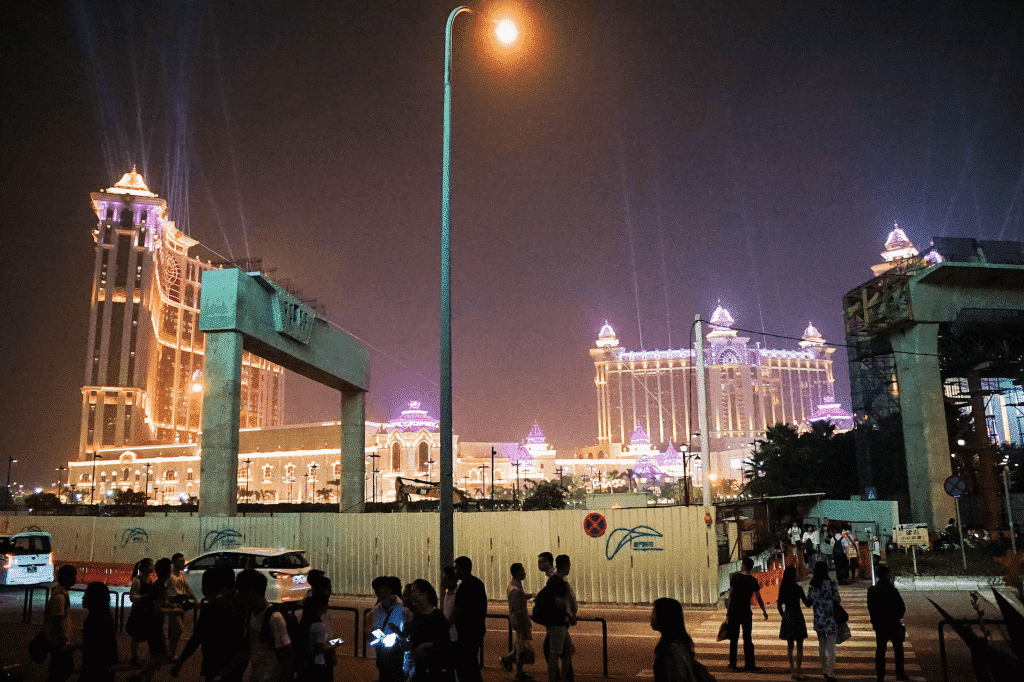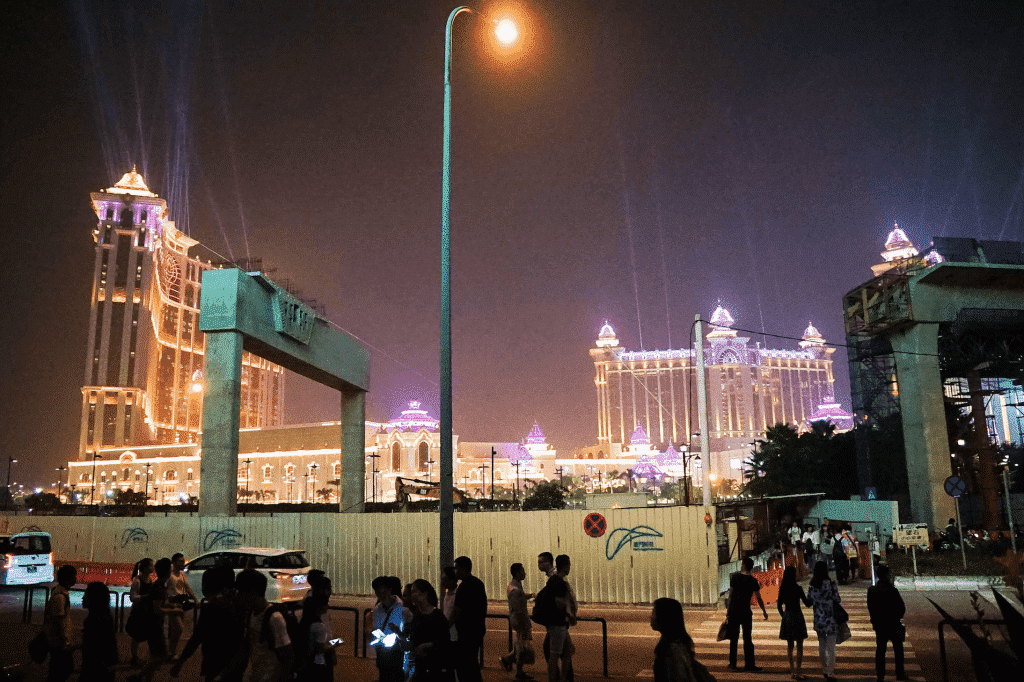 One giant construction zone … Bigger things to come, watch this space as I'm sure there will be a new addition or two to the What to See in Macau in One Day list very soon!
An exciting future development that would add to the appeal accessibility (user-friendliness) is the Macau light rail transit (planned to be complete in 2019).
It will serve the Macau Peninsula, Taipa and Cotai, serving major border checkpoints such as the Border Gate, the Outer Harbour Ferry Terminal, the Lotus Bridge Border and the Macau International Airport connecting major entry-exit points at the Macau Peninsula and the Taipa Island with residential and tourist areas.
Exciting times for Macau and with the growth it has had in the past and a supposed resurgence (which may or may not be occurring as we speak), you can be sure to add Macau into your future travel plans! I will be going back to explore further in the future when I get the chance!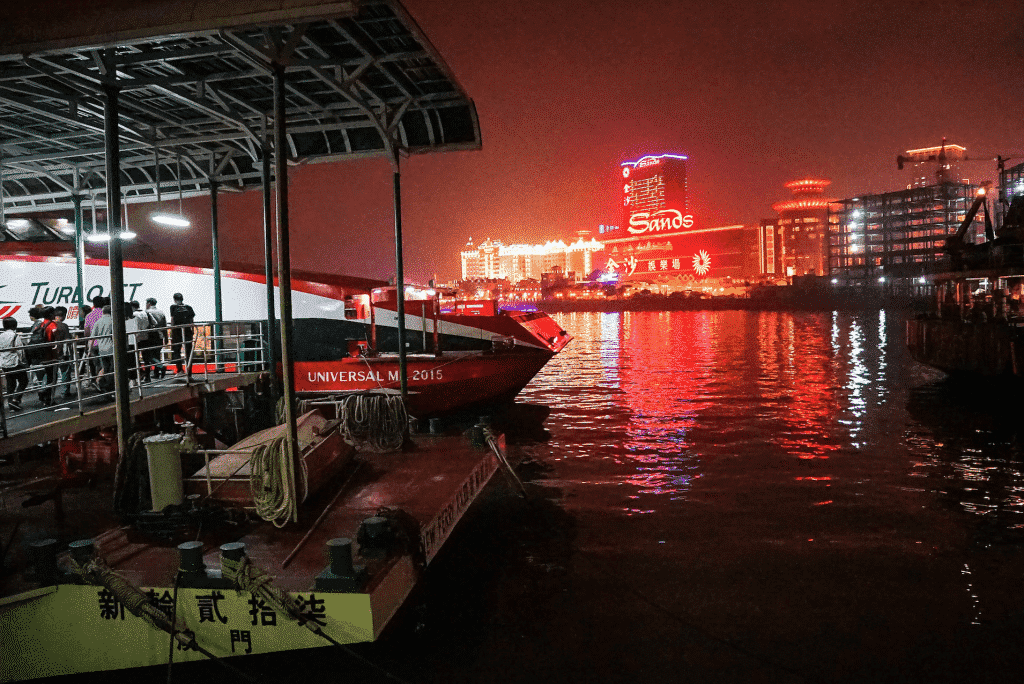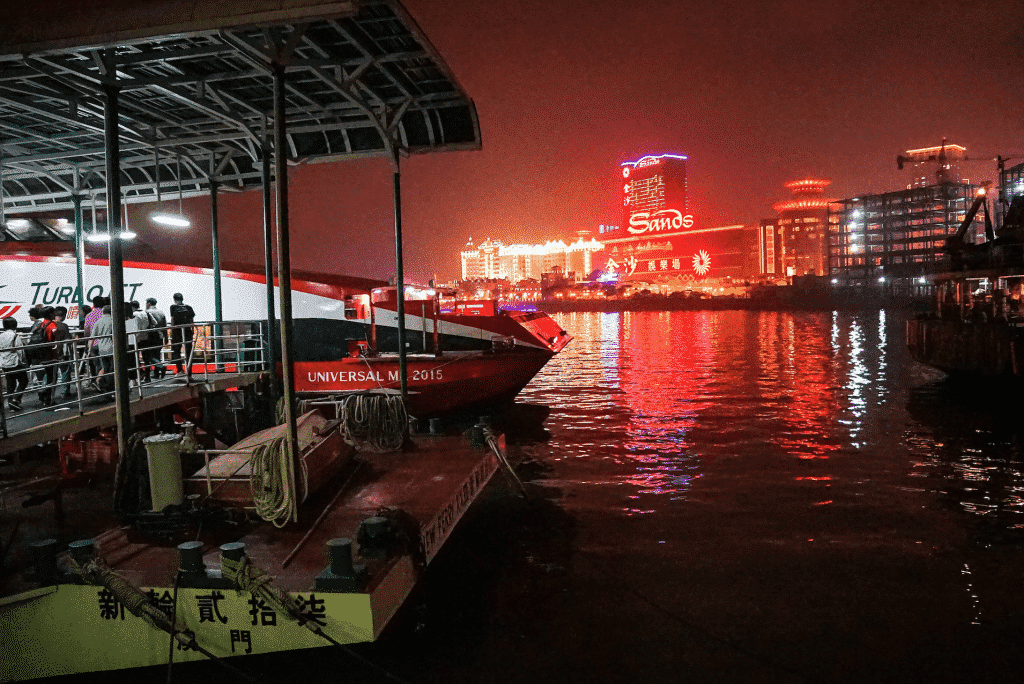 Hometime – I was exhausted from our Macau day trip from Hong Kong and slept the whole way back. I barely made it onto the boat as was not functional at all by the time I got back to Hong Kong… But well worth it!
A fantastic day trip with history, food, vice, and modern extravagance. I can highly recommend anyone to check Macau out — though maybe just look a going on a quieter day!
Hopefully, this helps you answer the question of what Macau is famous for and helps you plan all the things to do in Macau in one day. Just don't miss the Margaret Egg Tart Macau!
Further Things To Consider Before Any Adventure
Now you're all set and prepared to explore our big wide world, why not sort out everything else out all in one go? If necessary for your travel plans make sure you have brought proper travel insurance, protected your privacy by getting a secure VPN, compared all the top hotel booking sites to find just what you're after, reserved an unbeatable rental car price and - of course - booked the best flight deals!
Or maybe just forget it all and go for a last-minute cruise or effortless tour instead?
Many budget travelers (including me) indulge in worldwide airport lounge access, so we can experience luxury while still slumming it in economy. Naturally, we would never leave home without a more general travel guide since we couldn't possibly cover everything here!
Just add an adventurous attitude and plenty of smiles - they go a long way - and that about covers it all! Now go out, find your own path and don't forget to share your best inspiration stories with me on Facebook, Twitter, and Instagram...I'd love to hear from you!