You find this gem of a city in the northwest of Portugal, colorful buildings tumbling down the hillsides to the banks of the Rio Douro.
Once an important port for merchant ships, Porto nowadays boasts a UNESCO-listed historic center, a burgeoning cultural scene, and an infectious laid-back vibe.
The beauty is in the discovery here. It's a city that was made for walking – although the steep hills might make you sometimes think otherwise! Strolling along the cobbled streets, weaving your way through narrow alleys or across its landmark bridges, stopping for breath at one of the soaring miradouros (viewpoints); these are the moments that you'll remember and the times you'll get to the heart of Porto.
Much like Lisbon and Lagos, Porto is a city with a lot of heart and a lot of charm. You can feel it in how friendly its inhabitants are, in the slow pace of life, and in the pride they take in both Porto's past and its present. We were also surprised to find out that Porto is not all stunning historic buildings and tiled churches (although there are plenty of them; the city also has an edgy side.)
Contemporary architecture is seen in the Museum of Modern Art, or Koolhaas' Casa de Musica. Hip restaurants and bars pop open along the river banks – and everywhere else for that matter. There's always a new exhibition to see or concert to attend.
Porto isn't a place that relies on its past…as glorious as it is!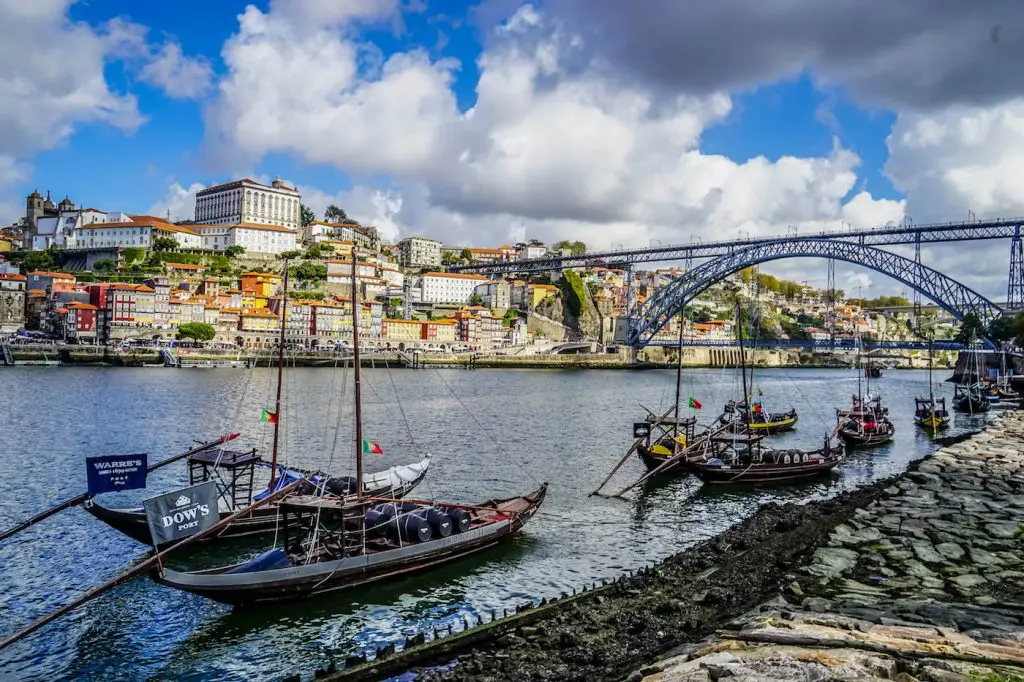 In between exploring the city on foot, enjoying the rejuvenating Atlantic views and admiring the street art, you might want to take some breaks. Luckily, you're in the right place for that.
You can sip on the local port on a roof terrace, nibble on Portuguese-style tapas in a petiscarias or sample every dish at one of the many food markets. If you're feeling fancy, plenty of top chefs have made Porto home to their restaurants.
We know we said that Porto is best discovered by accident, stumbling across new things on meandering walks, but there are definitely some things you should aim to see and do in order to make the most of your time here fully. After all, you're going to be raving about this place to everyone who'll listen, so you want to have some recommendations to hand.
Have a look at some of our favorite things to do in Porto. Then look forward to adding your own discoveries once you've visited it!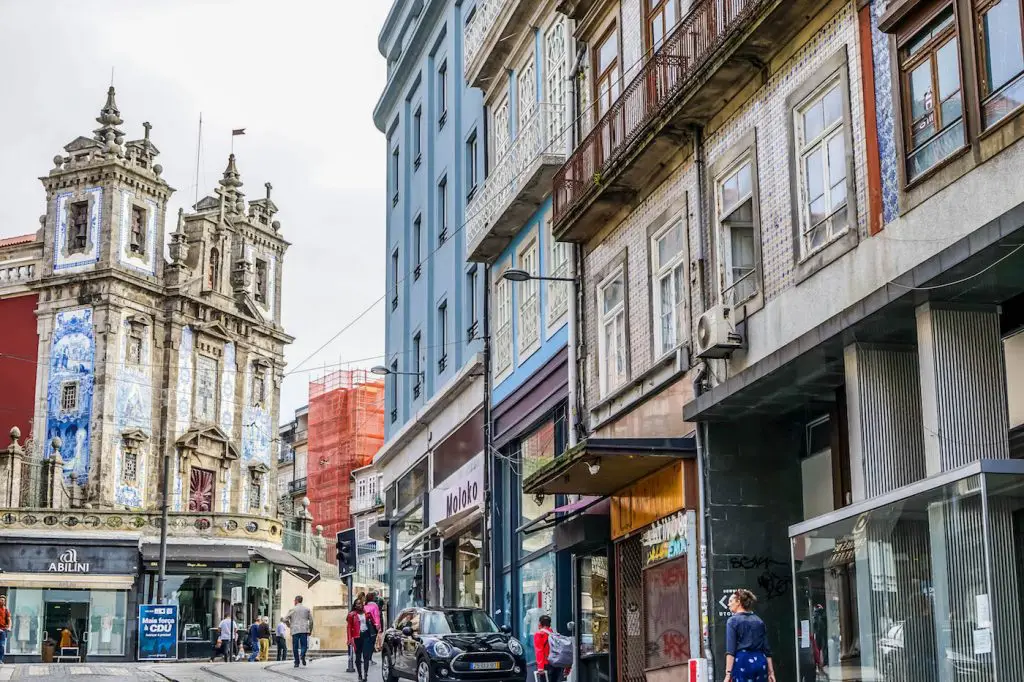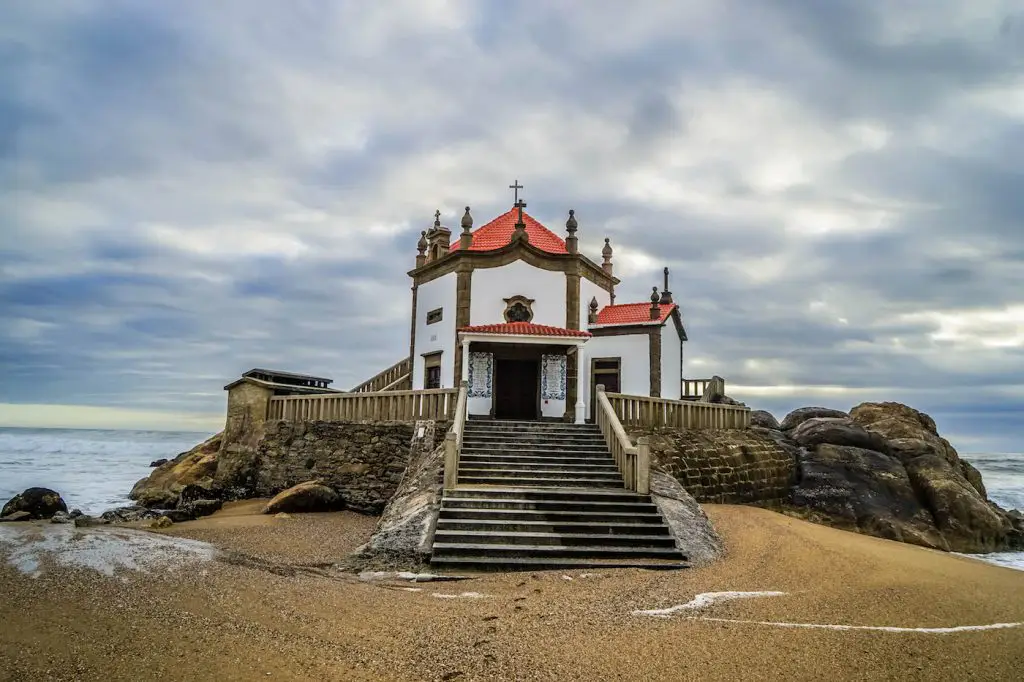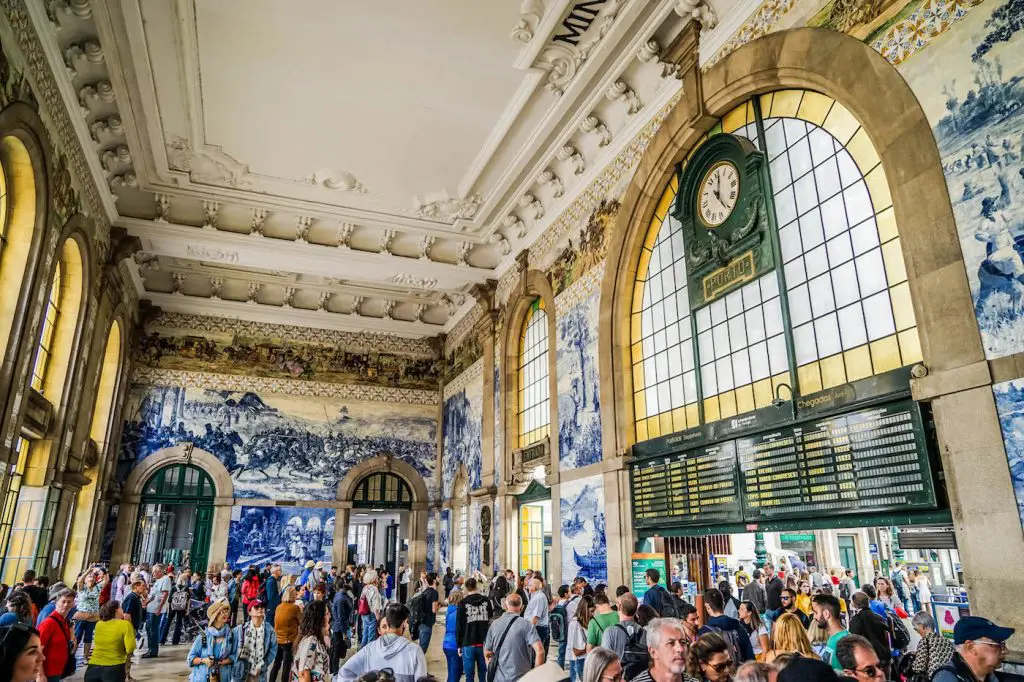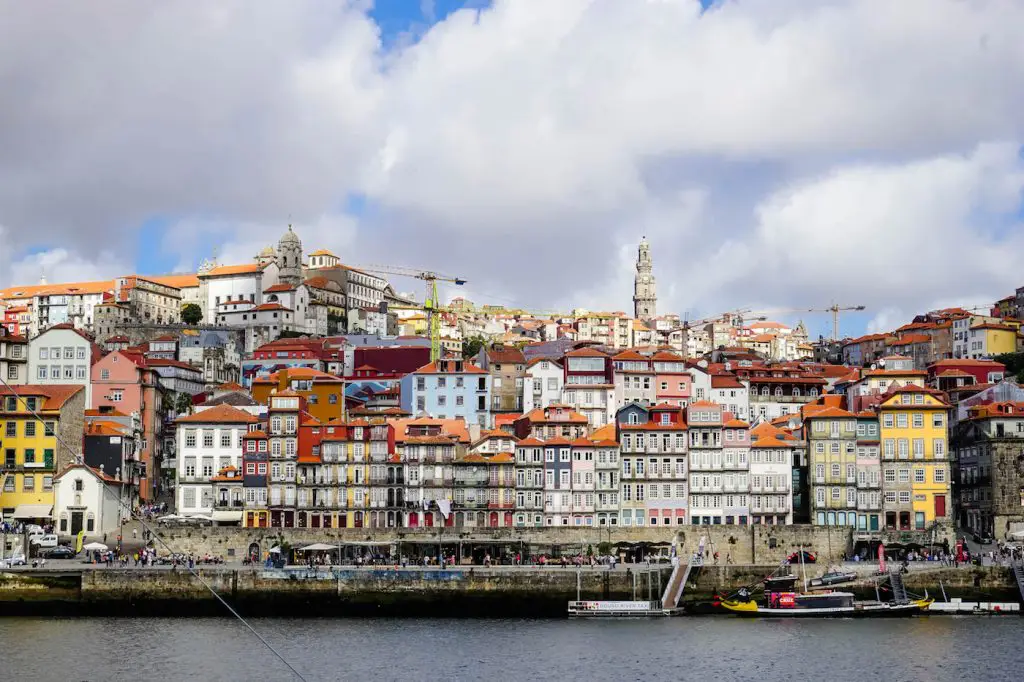 15 Unique Things To Do In Porto: History, Wine, Fun, And Unparalleled Beauty! 🇵🇹
1. Marvel At The Magical Lello Bookstore
Bibliophiles, prepare yourselves for your new favorite place in the world. This neo-Gothic bookshop has been delighting lovers of the written word since the beginning of the 20th century.
When you first walk in, however, you might not even notice the walls of books because you'll be so enraptured by the enormous stained-glass skylight and intricate wooden walls. The façade is every bit as lavish as the interior, with carvings representing 'Art' and 'Science' and intricate carving.
The centerpiece at Lello Bookstore is the twisting art nouveau staircase leading up to the second floor, said to be the inspiration for the stairs in Hogwarts. JK Rowling taught in Porto for a couple of years and apparently frequented Lello. Whether this is true or not hardly matters, as nothing takes away from the magnificence of this bookshop.
It gets a bit busy, but you can easily hide in a corner with a few books and soak up the atmosphere. While you have to pay a fee to get in, this is redeemable if you buy a book – so you might as well take your time choosing!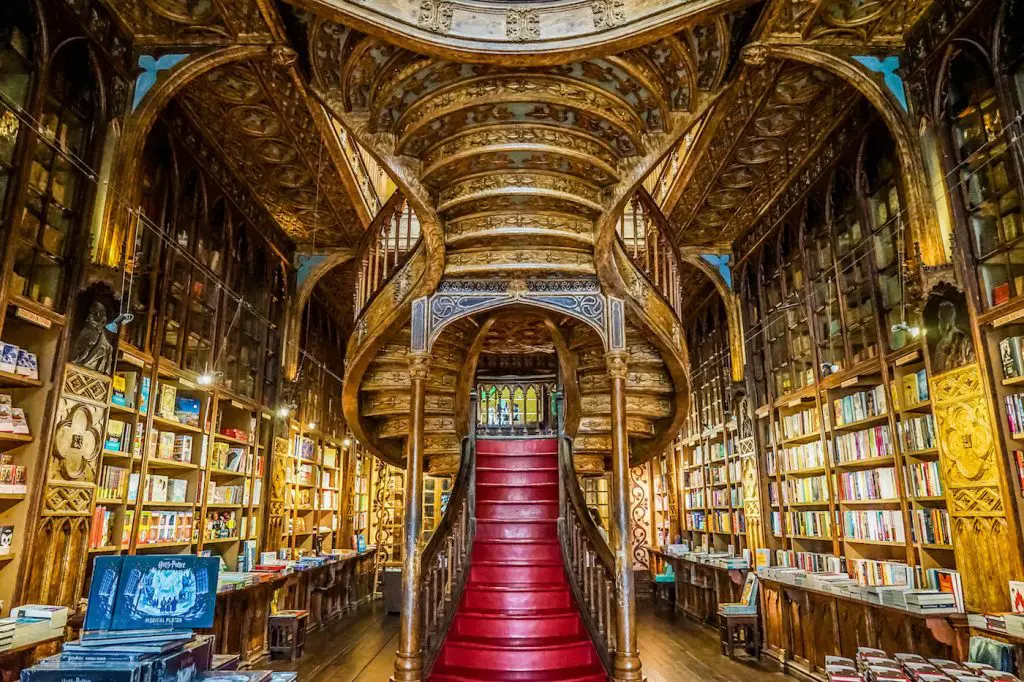 2. Eat, Drink And Be Merry At Mini Bar Restaurant
It's hard to imagine a more prolific chef that José Avillez, who has seventeen restaurants and counting. You'd think with this many, the quality would start to drop, but it's not even close.
As you'll see at the Porto branches of Mini Bar, his theatre-inspired restaurant that specializes in 'mini-doses,' and the relaxed Cantinho do Avillez, the restauranteur is always finding new ways to surprise and delight.
At Mini Bar, you can indulge in reasonably-priced tasting menus alongside delicious cocktails. The surprise menu is a real treat, perfectly fitting the restaurant's concept of 'nothing is what it seems' without being pretentious. Cantinho do Avillez could be seen as more traditionally Portuguese, both in terms of décor and menu, but there are an international twist and a warm, bustling ambiance.
Very different spots, both well worth visiting.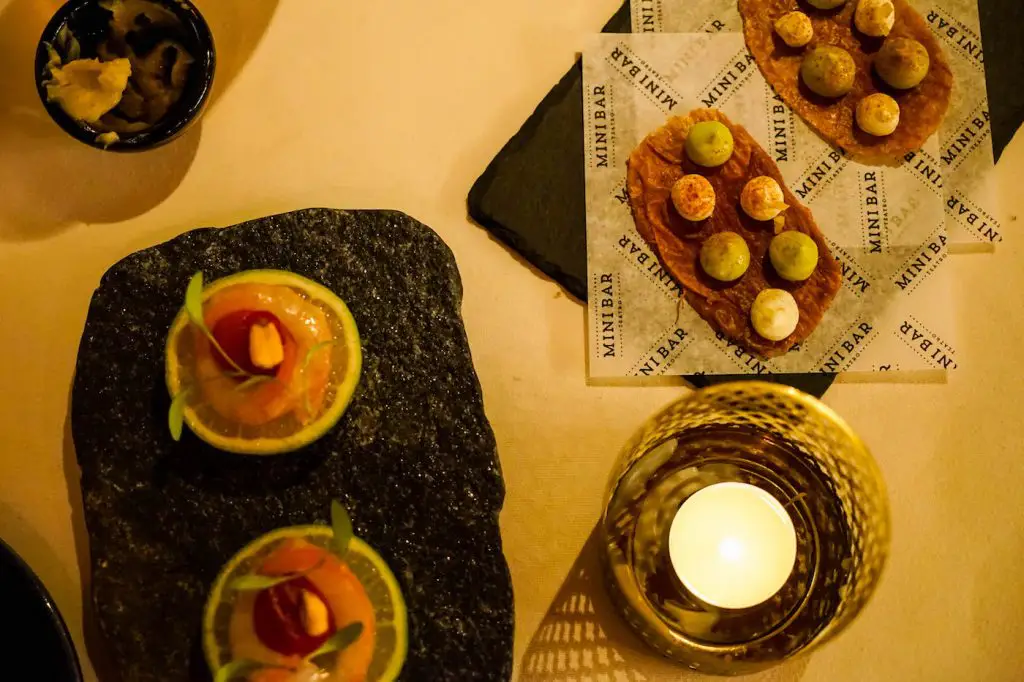 3. Tour The Remarkable Palácio da Bolsa
Given its past as a merchant port, it should come as no surprise that one of the most impressive buildings in Porto is the historic Stock Exchange, where the Commercial Association has had its headquarters since the latter half of the 19th century. It's no longer used as the stock exchange but mainly for events and receptions.
It's a truly stupendous building, even for those who know nothing about architecture. Its neoclassical style is clear in the focus on symmetry.
Inside you'll find the vast Hall of Nations with its glass dome ceiling. Here is where people used to trade. All around the interior, there is a huge range of artwork, from paintings on the walls and ceilings, sculptures dotted around and national coats of arms.
The opulent Arabian Hall with its gilded walls of Moorish design is a clear highlight. To visit rooms beyond the Hall of Nations, join the regular half-hour guided tours; it's well worth it.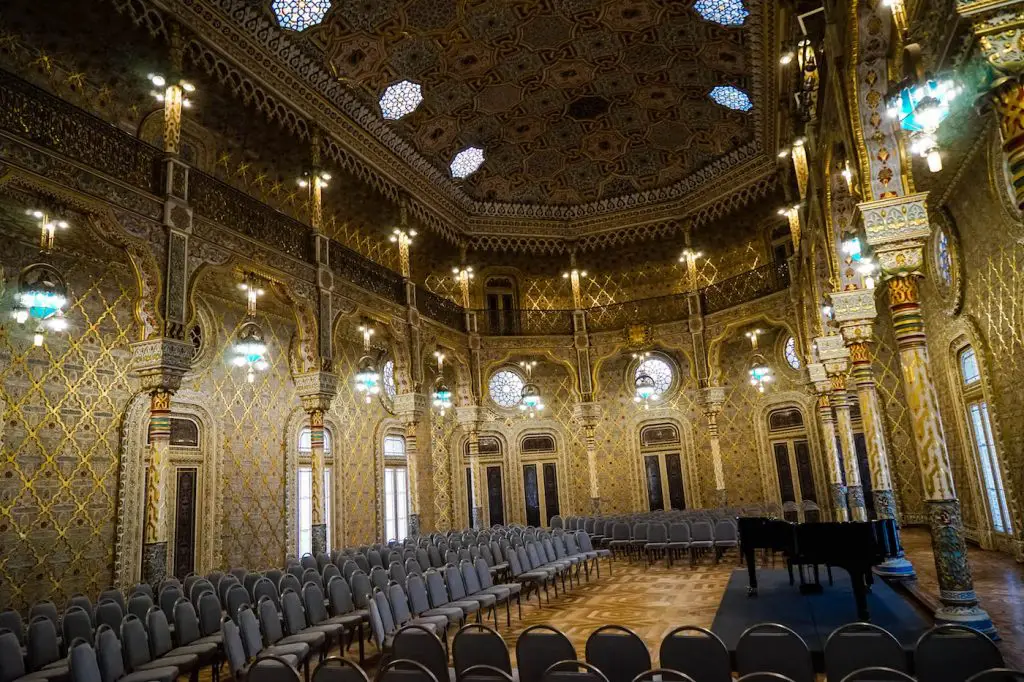 4. Sip Your Way Around Calém Port Wine Cellar
Rich and sweet, Port is the original after-dinner drink, although many of us might never have tried it. This changes on your trip to Porto, where it's basically obligatory to sample it at least once. Where better to start than one of the traditional port wine cellars around the city?
Calém is a renowned producer of port and offers a unique wine cellar experience. It's not simply a tour, a tasting, and a goodbye. Here the focus is on interactivity, with features like a 3D map, a 5D movie, and a 'guess the aroma' game.
This engaging experience means that even wine novices feel involved in the cellar tour. It also adds an extra layer to the port testing, as you've got a much deeper understanding of the production process by the time you get to that stage. Calém also offers live Fado concerts in its bar.
This unmissable combination of two iconic parts of Portuguese culture is definitely one of the best things to do in Porto.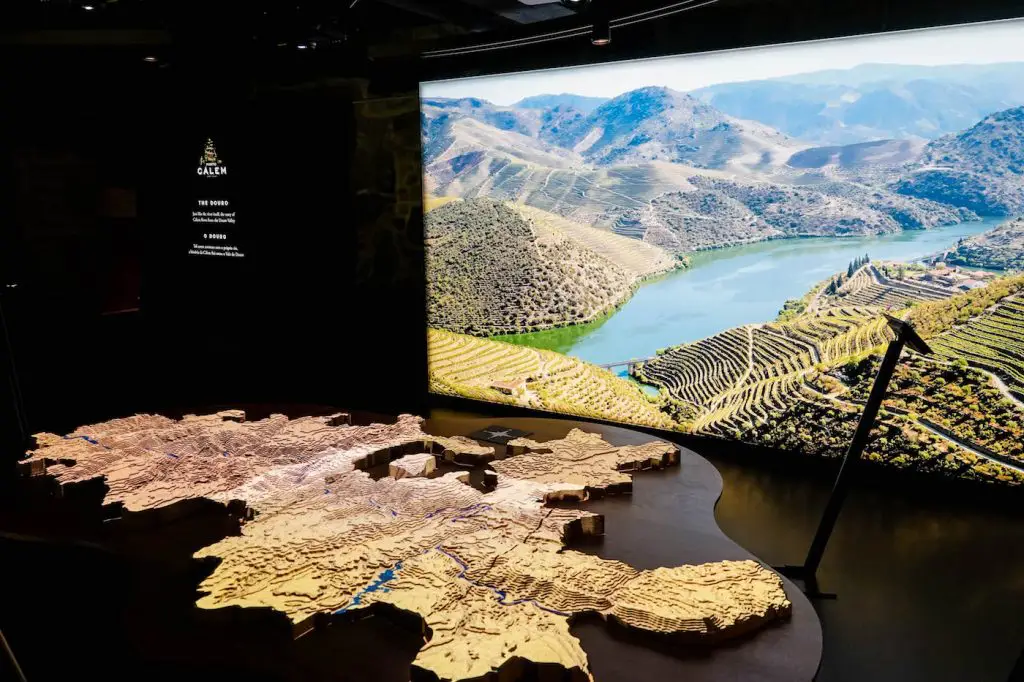 5. Combine Great Food With Great Port At Espaço Porto Cruz Restaurant
Giving Calém a run for its money is the stunning Espaço Porto Cruz complex in an 18th-century riverside building. It's a celebration of all things port, with two floors of exhibition space, a shop for the tastings, a gorgeous roof terrace bar, and an incredible restaurant.
This last feature, the famous De Castro restaurant, is a must-visit for any foodies in Porto.
Streamlined and sleek interior design provides a minimalist backdrop to the creative menu. It might look super-sophisticated, but it offers great value for money and food you won't forget in a hurry. The focus is on sharing, so order lots of snacks for the table and all tuck in – octopus fillets, pork cheeks in red wine, and cod iscas are some of the top choices to fight over.
Otherwise order mains like mussels or beef ribs. It's all perfectly pairs with wines and ports.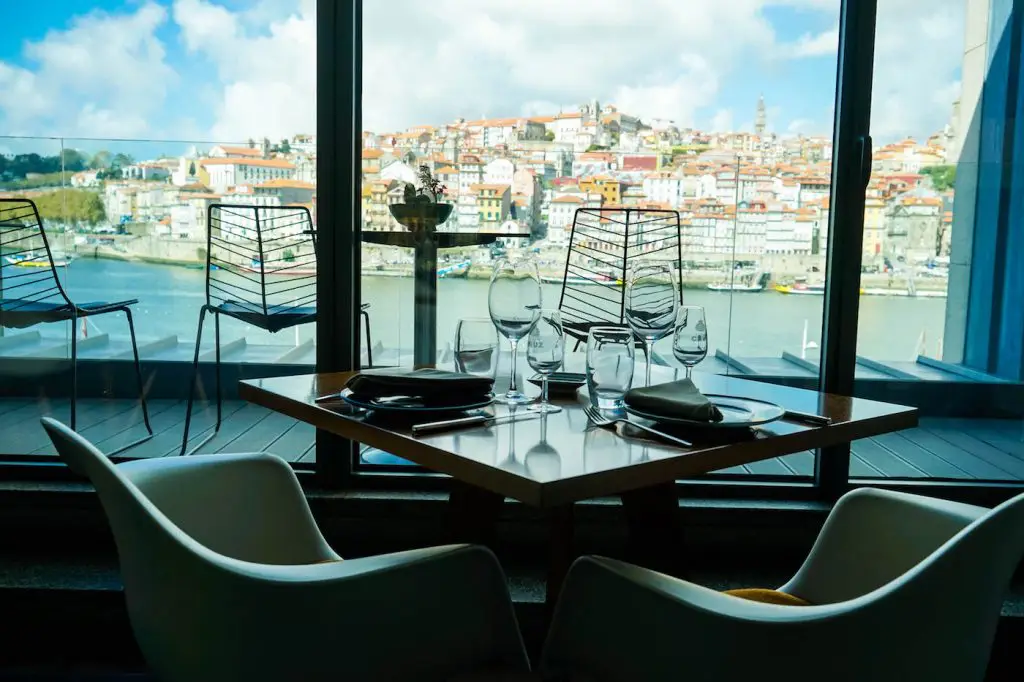 6. Enjoy A Classic 6 Bridge River Cruise
As you glide down the River Douro on a river cruise, it's thrilling to think that you're following the route that merchants took for centuries.
Sure, many changes might have taken place in the city since then, but the river and bustle on its banks remain the same. The six bridges that connect Porto and Vila Nova de Gaia are familiar sights as you explore Porto, but there's nothing like seeing them from the water.
Starting either at Ribeira's quay or Vila Nova de Gaia's quay, a 6 Bridge river cruise lasts just under an hour and gives you a new perspective not only on the feats of engineering that straddle the water but also on the city itself.
From the most recent Infante Dom Henrique's bridge and its record-breaking arch to the two designed by brilliant engineer Edgar Cardoso (São João and de Arrábida), all six bridges are design marvels that push the boundaries of engineering.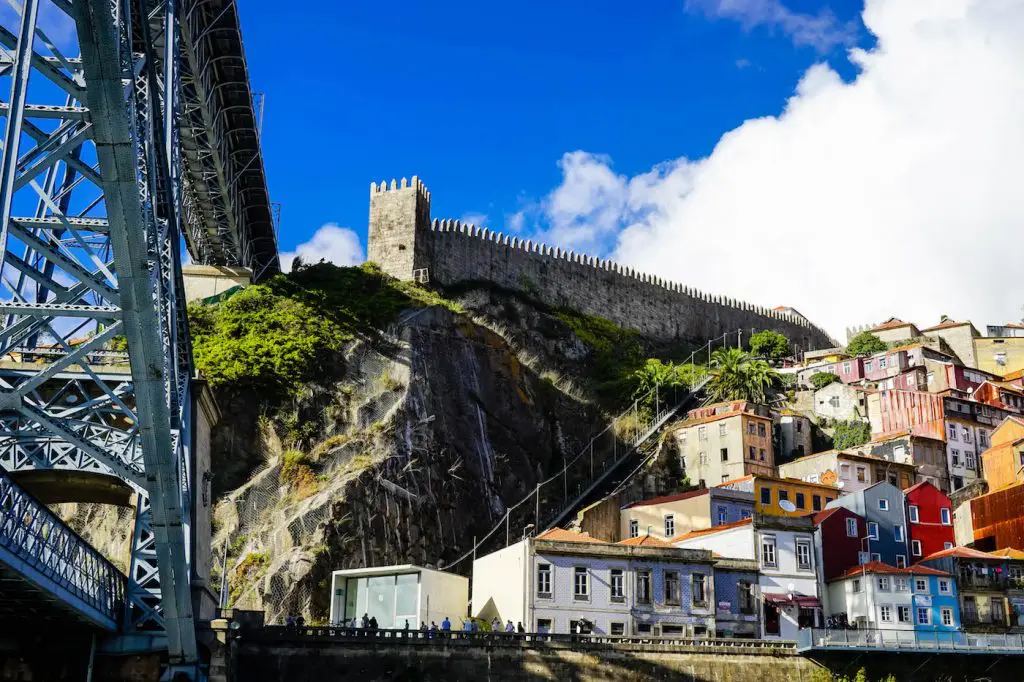 7. Explore The Clérigos Church and Tower
It feels like there aren't many places around Porto where you can't see the Clérigos Tower. At 76 meters, it's one of the most iconic landmarks in the city and boasts some absolutely epic views (if you can heave yourself up the 225 steps, which we'd recommend even if you decide you hate us halfway up).
Designed by an Italian architect in the mid-1700s, it's a Baroque masterpiece in granite, elegantly decorated and topped with a clock house.
The church itself was also built in the Baroque style, although its location on an uneven street means that it has its own quirks. It looks quite funny with the massive tower sticking out of it, but the carved façade shows off the skill of the architect. Head there in the morning to climb the tower before the crowds and then possibly catch a pipe organ concert in the church while admiring the polychromed marble altar.
A museum gives you more information about the history of the building.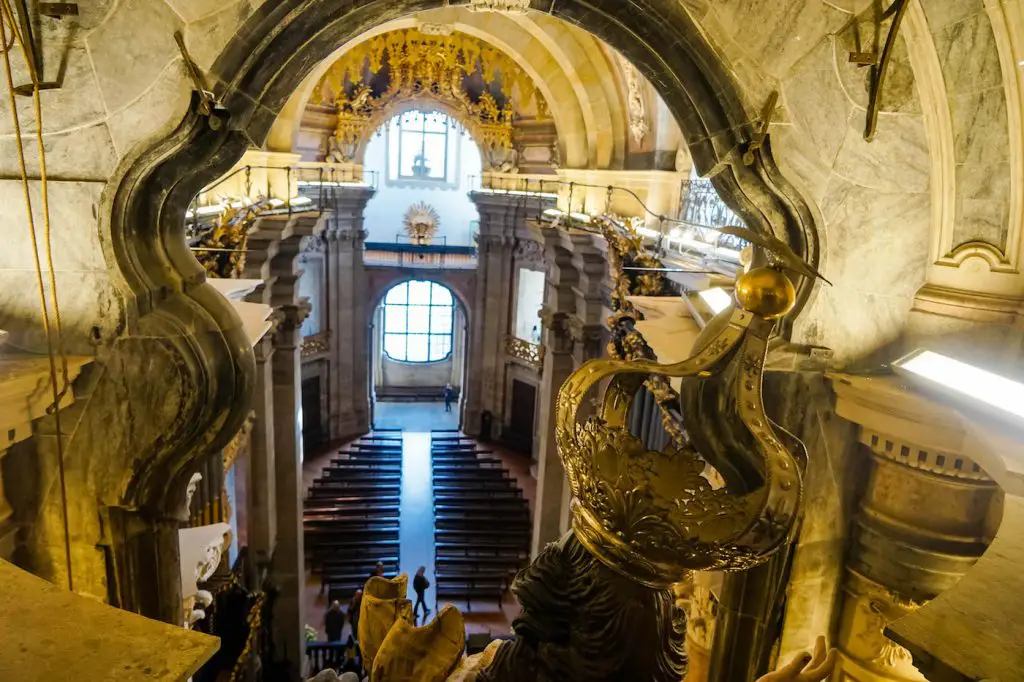 8. Feel Inspired By Award-Winning Casa da Música
This cultural venue is one of those contemporary buildings that are so staggeringly bold in their design that they hardly seem real.
The 'House of Music' is a slightly off-kilter cuboid of concrete and glass, designed by Dutch architect Rem Koolhaas, that houses the Porto National Orchestra. It won the RIBA Stirling Prize in 2007 for its "intriguing" and "dynamic" composition and for what an effective space it is for its purpose, the performance of music.
Conceived as part of Porto's European Capital of Culture project, Casa da Música has become part of the city's cultural heart, hosting a massive variety of concerts, from fado to jazz, international productions to experimental shows. There are two concert halls, eight rehearsal rooms, educational facilities, and a shop.
Guided tours give you more information and might even give you a glimpse of the view from the roof terrace.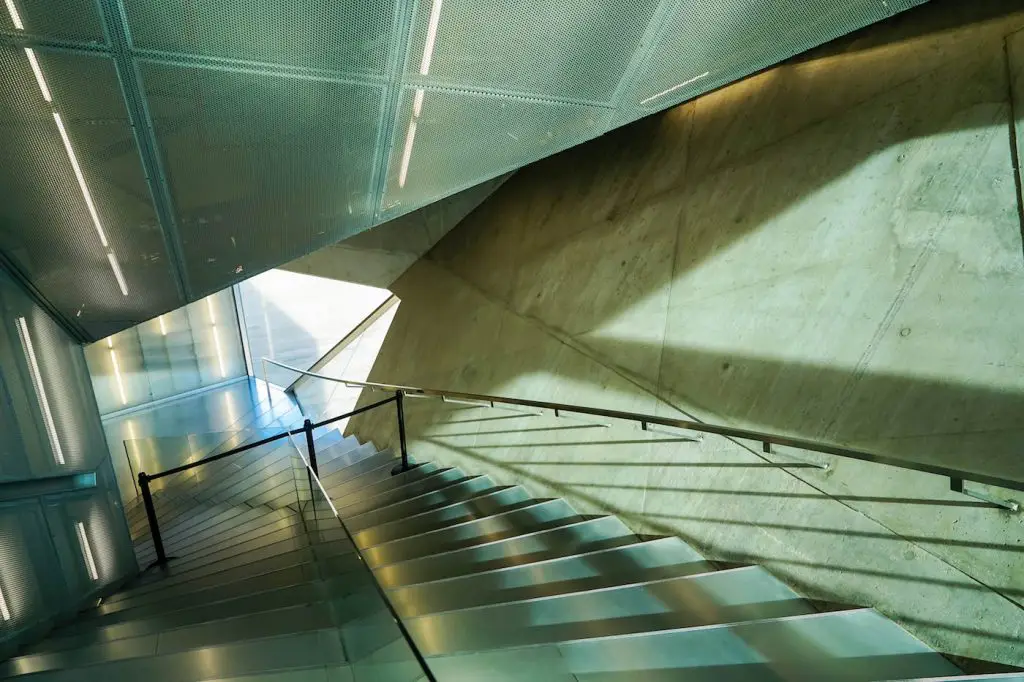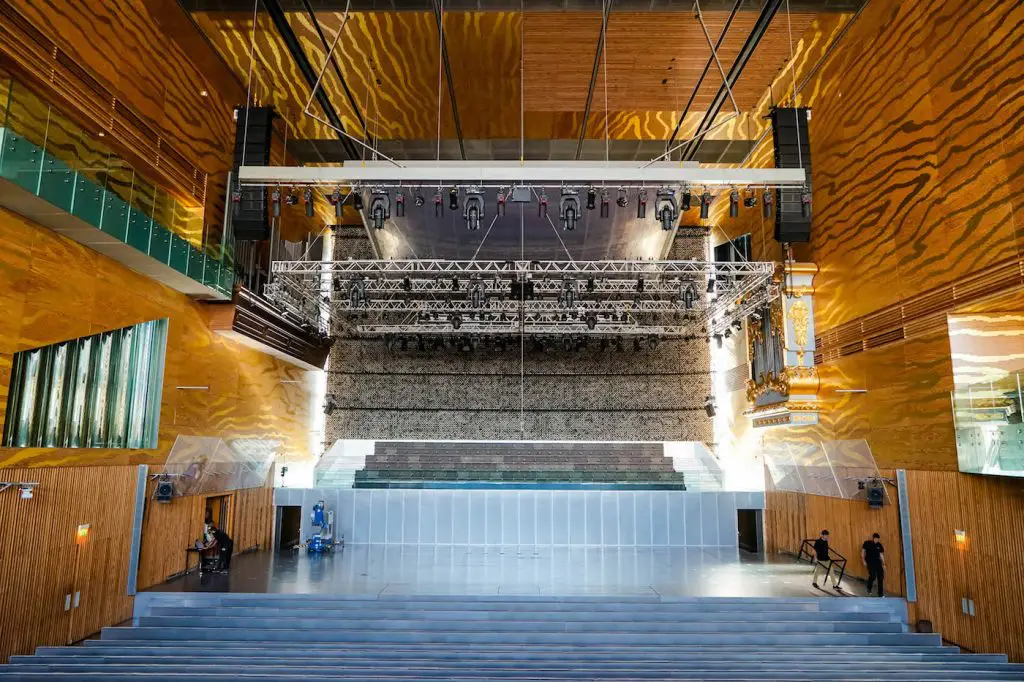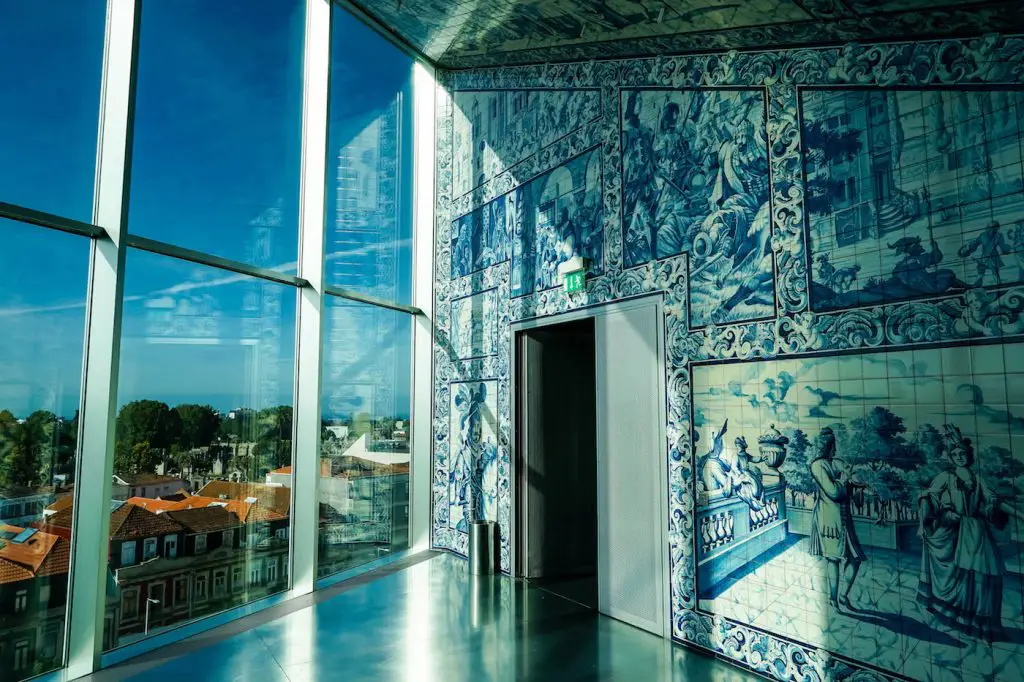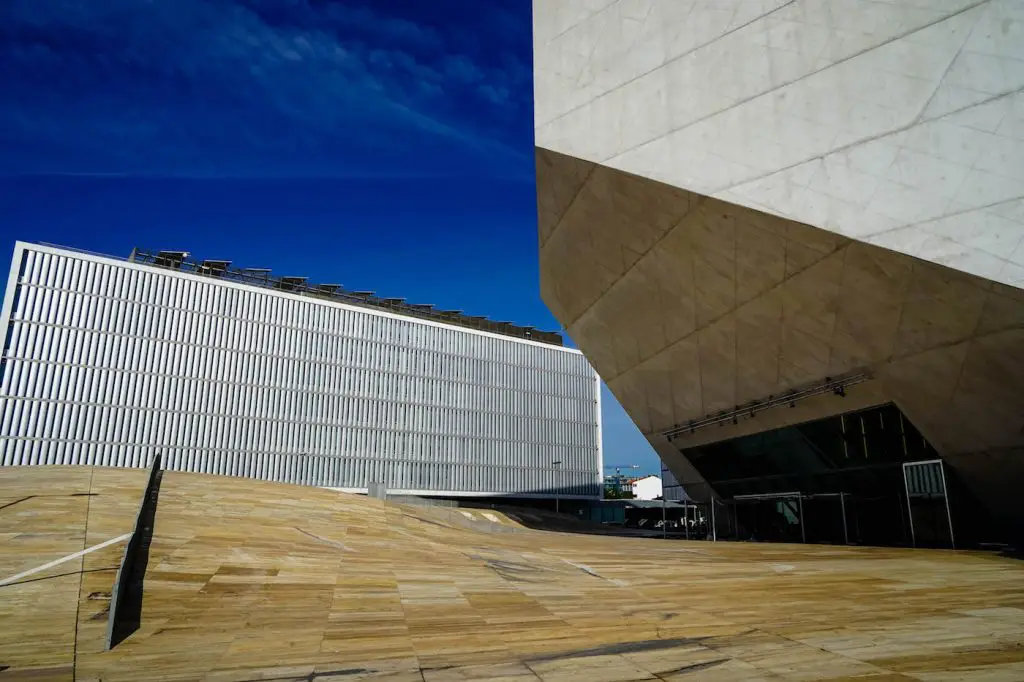 9. Try The World's Best Seafood At Restaurante Os Lusíadas
In Matosinhos, just a short trip from Porto, the upscale restaurant "Os Lusiadas" is the perfect place for a memorable meal with a partner or friends.
The freshest fish and seafood awaits you just mere minutes from where the land where sea, and you know it is a good option when Os Lusiadas is as beloved by travelers as it is by locals. From the live lobsters in a tank at the entrance to the range of shellfish on ice outside the kitchen, the team here is proud of their offerings, and for three generations, the owners here have been choosing and preparing unique dishes out of the bounty of the ocean.
Matosinhos is known throughout Portugal as a prime seafood destination, but to the locals here – their fish is not just the best, it's an essential piece of their identity. And after our night here, we can see why they would be so proud.
Probably our favorite meal in all of Portugal and a distinctive space with quality service that we would return to time and time again.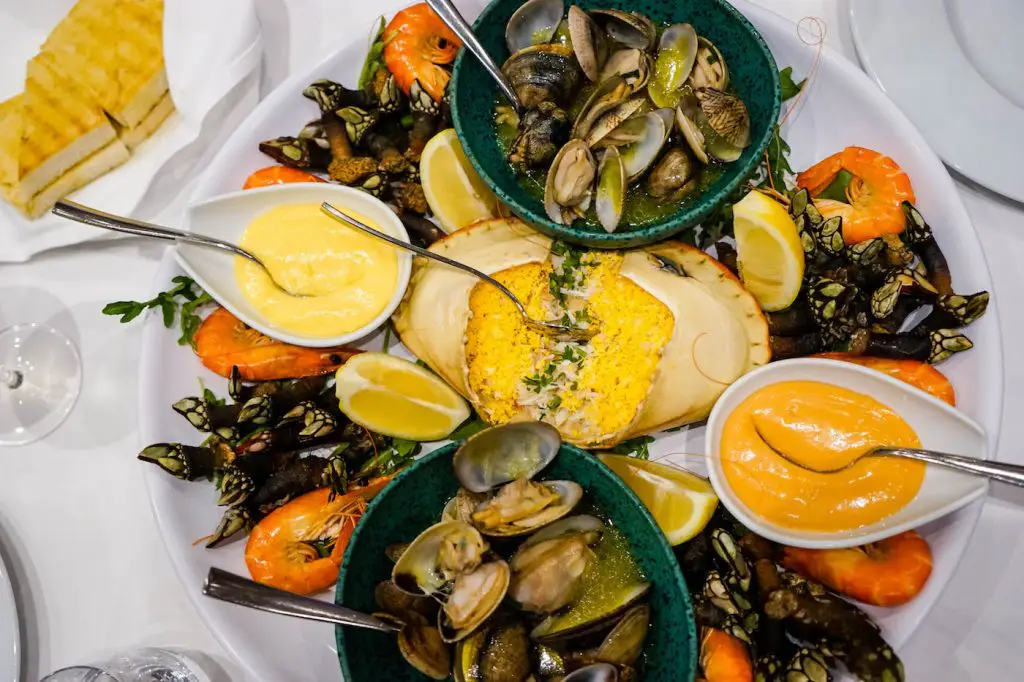 10. Treat Your Inner Gastronaut With A Porto Food Tour
If we have said it once, we have said it a thousand times: the best way to get to know as culture is through its food, and in Porto, that means heading out on a food tour.
There are quite a few operators to choose from – but generally, they are run by a passionate group of locals who are dedicated to showing you the best hidden Portuguese food treasures. What better way could there be to explore new surroundings than with food after all?
On these food and cultural walks, you are going to be exploring off the beaten path in the real Porto and experienced foodie hot spots that brilliantly link tradition with modernity.
All food and beverage tastings are generally included, and you will also get an expert guide who will fervently pass on their knowledge on the history of the food you try, the neighborhood, the city, and – well, anything else you might be interested in.
We do not want to give too much away but suffice to say you try to fit in a food tour at the beginning of your trip to Porto as you'll then be inspired and empowered to sample more of this cities amazing cuisine on your own after.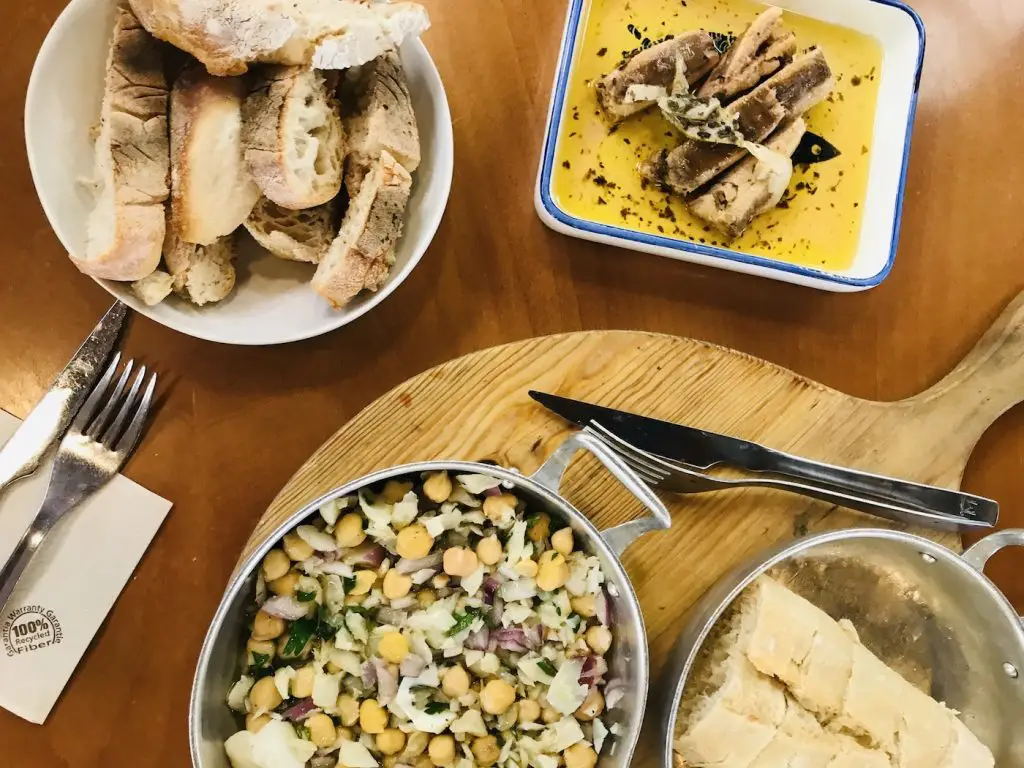 11. Discover The Grandious Museu Serralves
Spending time at this beautiful cultural complex is definitely one of the best things to do in Porto. Two complimentary museums sit within 18-hectare gardens complete with lily ponds, fountains, landscaped paths, and elegant rose gardens.
It's the perfect place to spend a summer's day if you need to escape from the city streets. It's about 6km out of the city center, so it's not a quick trip, but we'd definitely recommend it if you're in Porto for more than a weekend.
Glowing pink against the lawn is the art deco Casa de Serralves, a stunning mansion open to visitors. The most significant space is the Museu de Arte Contemporânea, a 4500-meter square exhibition area that makes the most of the light and view of nature coming from the other side of the windows.
This minimalist background showcases a collection dating from the 1960s and a dynamic rotation of temporary exhibitions. The aim of the foundation is to promote Portuguese and international contemporary art, something it does in a pleasant and innovative way.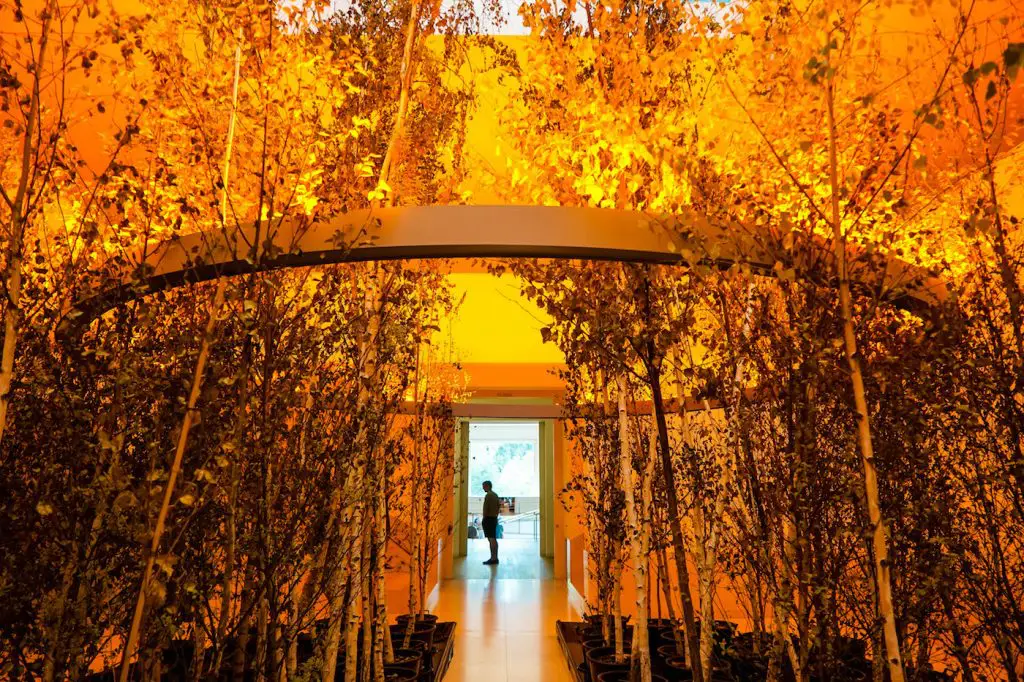 12. Experience The Extreme Beauty Of The Douro Valley
No trip to Porto or the north of Portugal could be complete without a visit to the Douro Valley, a magical UNESCO World Heritage site filled with gorgeous views and delicious port and wine.
Wine has been produced by traditional landholders in the Douro region for some 2,000 years, making it one of the world's oldest wine-producing regions – and since the 18th century, its main product, port wine, has been world-famous for its quality. This long tradition of wine production here has produced a cultural landscape of exceptional beauty, and everywhere you look are met with jaw-dropping landscapes.
You can take a train or hire a car, but from Porto, we would recommend a nice and simple day tour that will generally ensure you see all the best highlights of the Douro Valley, two wineries, and includes a river cruise. There is a wide variety of options, but we loved the personal touches and affordably prices of My Porto, who offer private tours for the same price as more prominent group tour companies.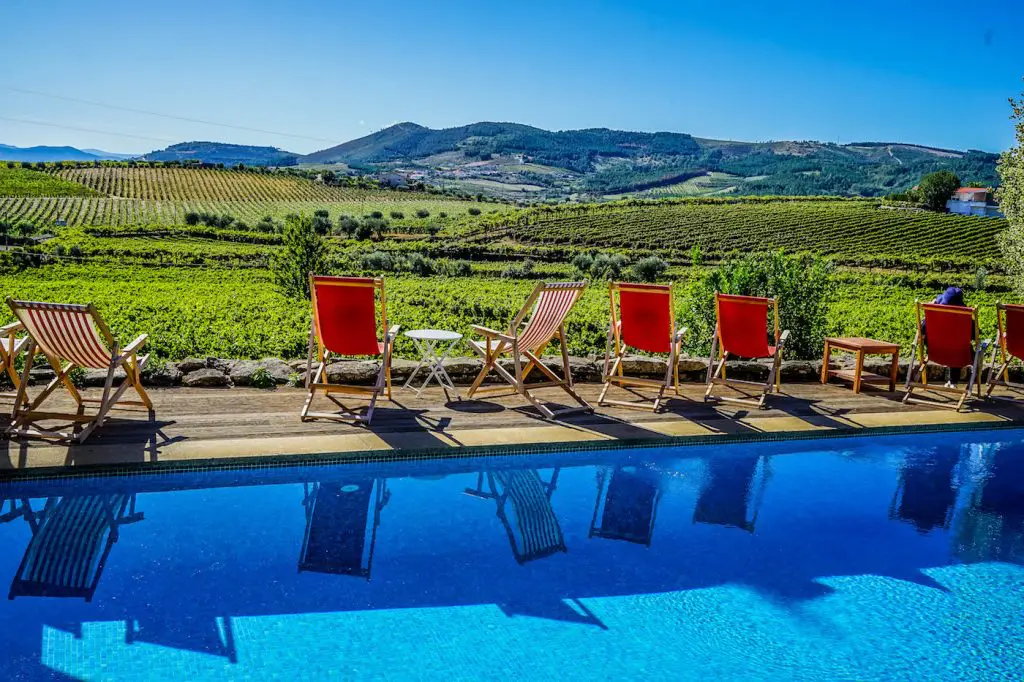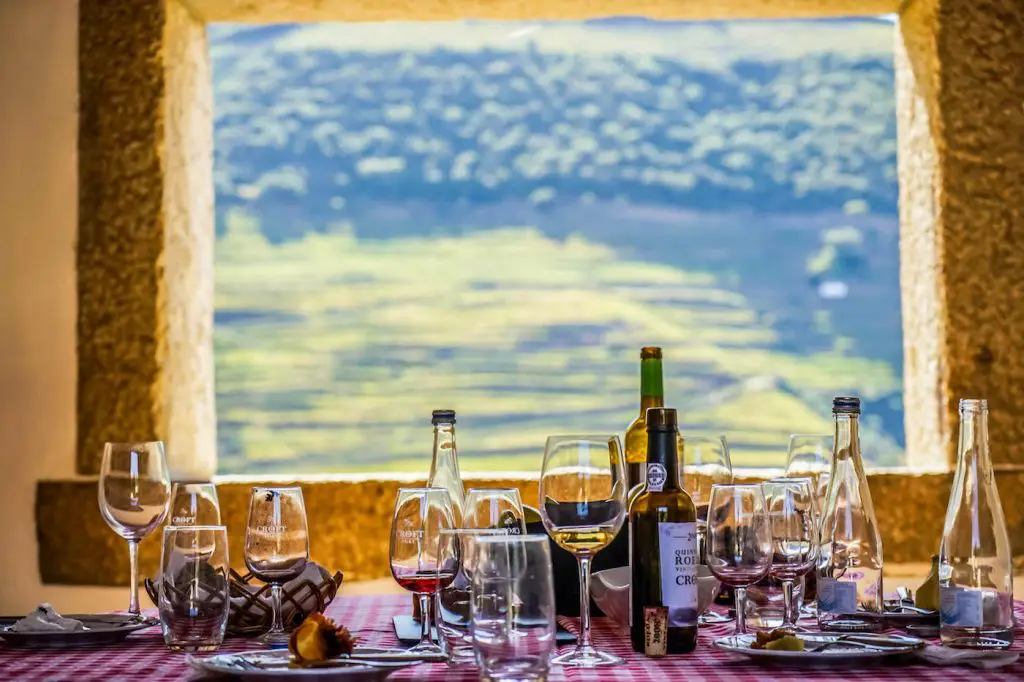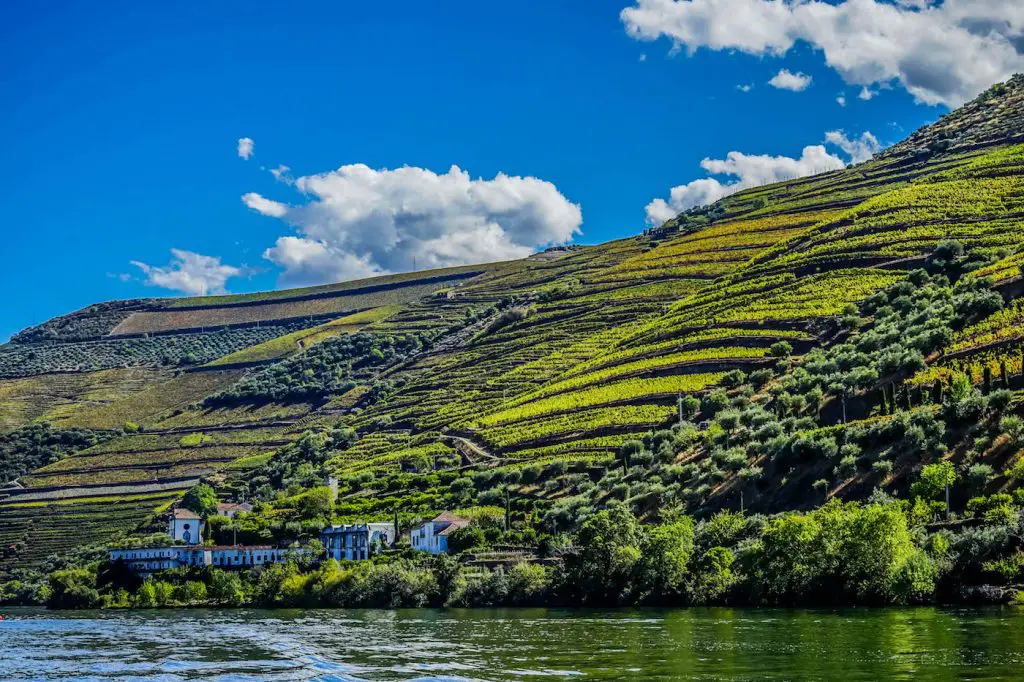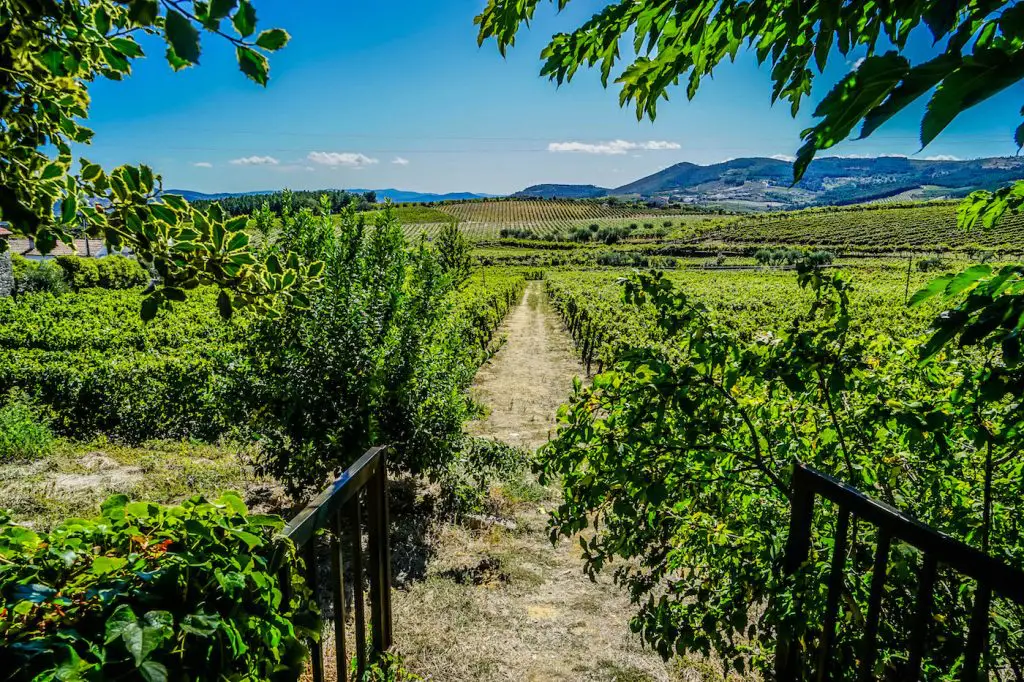 13. Brave The Arrabida Porto Bridge Climb
If gliding beneath the six bridges on a boat tour wasn't enough for you adrenaline junkies, a bridge climb on this 65-meter structure is one of the more unique things to do in Porto. When it was built in 1963, the Arrabida Bridge was the biggest concrete arch in the world.
It might not be that anymore, but it is the only bridge in Europe that allows visitors to step into a harness and climb 262 steps to get to the top.
From here, enjoy the breathtaking views out to the Atlantic Ocean or over to the jumble of tiled rooftops in the old city. Going up late in the day means you might catch the sunset over the water; a truly unforgettable experience. The Porto Bridge Climb the perfect end to a trip in this city of adventures, and there is even a little surprise waiting for you at the top…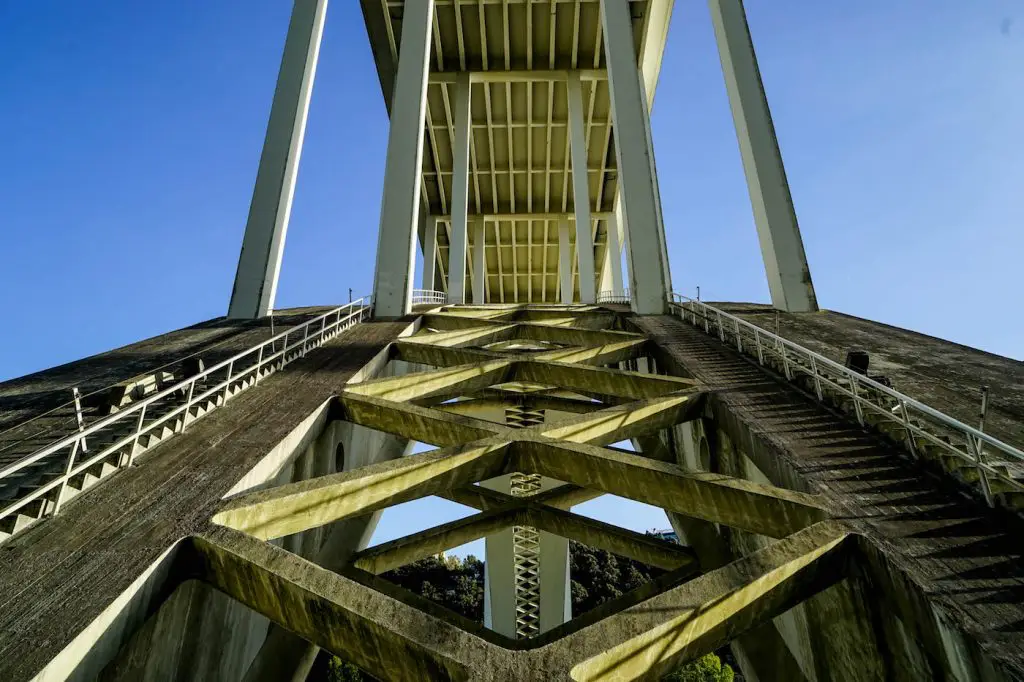 14. Forget About Your Diet And Gorge Yourself On Francesinhas in Porto
No trip to Porto could ever be complete without tasting one of its most famous dishes, the absolute king of sandwiches, the Francesinha.
Originally invented in Porto, this Frankenstein-esque creation is made with bread, wet-cured ham, linguiça (a Portuguese sausage), steak or roast meat, and covered with melted cheese and a hot thick tomato and beer sauce. You would also typically have with French fries on the side for good measure. Imagine a croque-monsieur adapted to the Portuguese taste.
As horrid as it might seem, it is actually surprisingly wonderful and must be tried at least once – though we would not blame you for splitting one between two.
Locals argue for hours about where to find the best Francesinha in town, and debate on the quality of the sauce – which is normally from a secret recipe held by each restaurant – size, and the quality of the meats but we have to say Santiago Cafe does indeed have one of the best around. And the often long wait times attest to this…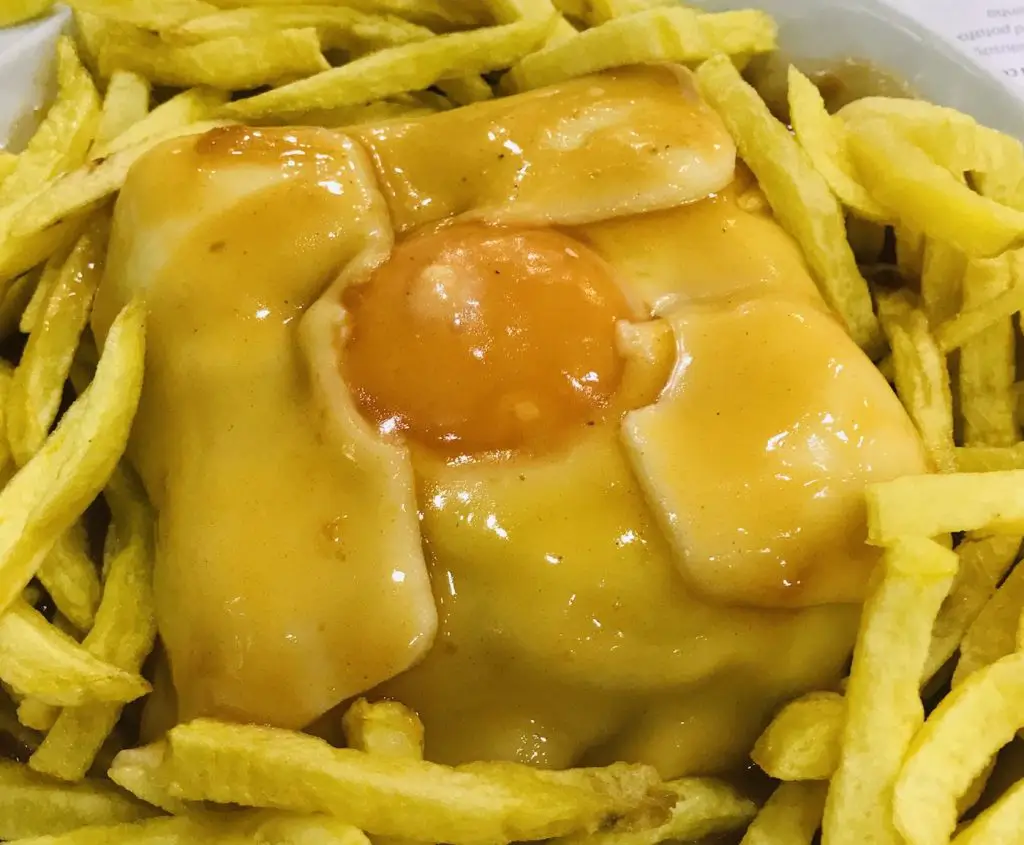 15. Treat Yourself To A Little Pampering At Vila Foz Hotel & Spa
Travel can be exhausting, and visiting Porto is no exception – there is just so much to see here. Sometimes it is important to just take a break, slow down and pamper yourself. And Vila Foz is the perfect place to do this.
Set on the edge of the Atlantic, Vila Foz Hotel & Spa is as majestic as it is unique, providing a unique oasis for beauty and moderation. You can opt for a stay here for the ultimate indulgence, but otherwise, there is you might simply consider planning a spa day here in their peaceful sanctuary created from elegant and contemporary décor, inspired by nature.
There is also Vila Foz and Flor de Lis, two on-site restaurants with elevated décor and food – and a very modish bar. The completely refurbished palatial building is a homage to the bourgeoisie heights of Porto's past and has been exquisitely restored, maintain all the original traces of the luxurious architectural details of the 19th century, but now proving rooms and spaces fit for 21st-century purposes.
Recently opened, this Vila Foz Hotel & Spa has won a host of awards, and we expect more are on the way. So, why not pay them a visit…