Filled to the brim with Imperial architecture, first-rate museums, refined Kaffeehäuser (coffee houses), and an air of elegance, it's easy to see why Vienna is frequently called one of the most beautiful capitals in the world.
In Vienna, you can also find modern dining, high-fashion, a cutting-edge art scene, and a nightlife scene to rival the best in the world.
A city as much in touch with its past as it is looking to the future, it's guaranteed you will find something to love about Vienna and will return time and time again.
As you might be able to tell already, I absolutely love Vienna. It is one of my favorite cities on earth, and besides living here for a short stint in my student years, I return frequently – be it for a short stopover, three days, or even longer.
Captivated by its modern elegance and rich history – yes, Vienna was for a long time one of the most influential cities on Earth! – as head of the Hapsburg and then the Austro-Hungarian Empire. Vienna is often overlooked for the cheaper Eastern Europe capitals of Prague and Budapest, but there is no other city on early like it.
Vienna holds close it's past and incorporates it into everyday life, keeping the good and reinventing traditions which no longer are fit for purpose while retaining a deep sense of self.
In Vienna, imperial trappings still linger in the air, people still greet each other with a casual Grüß Gott (May God be with you), and many grand palaces and museum complexes still dot the skyline.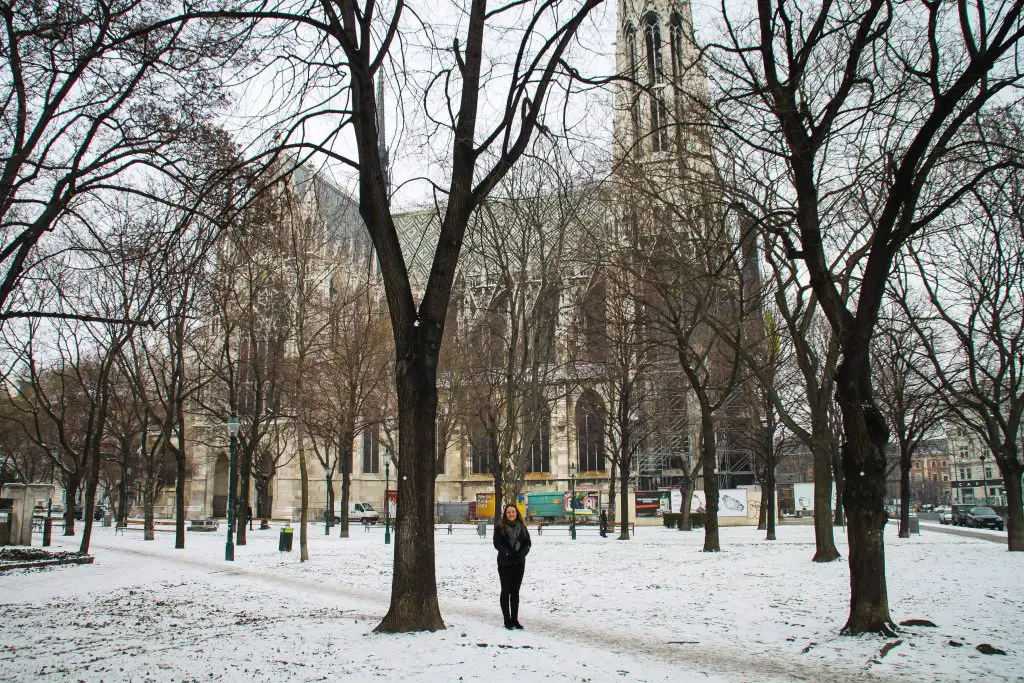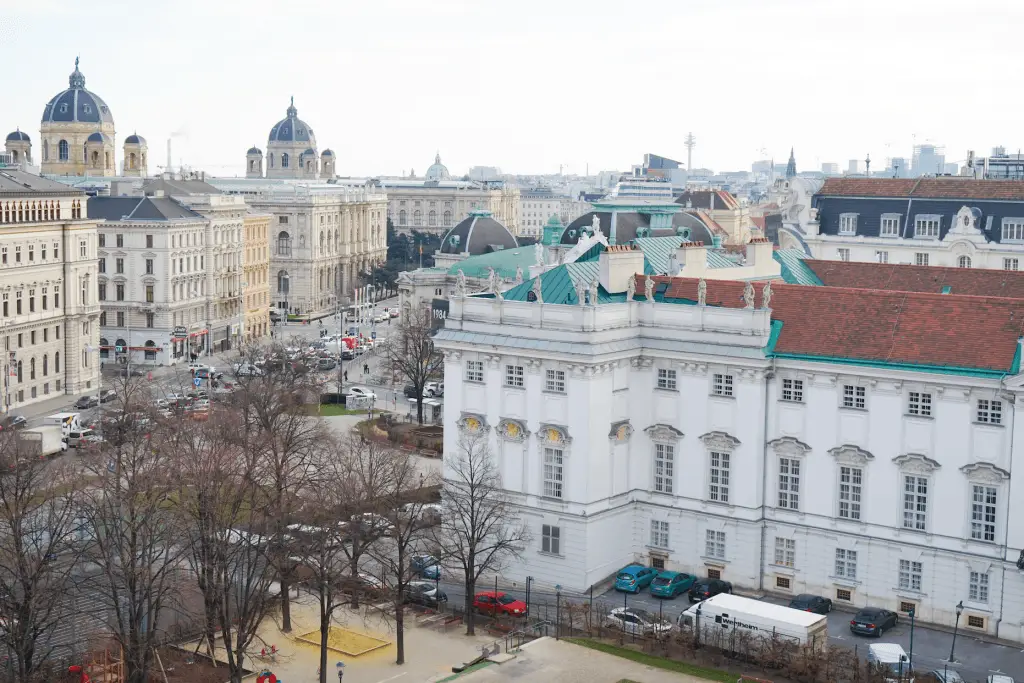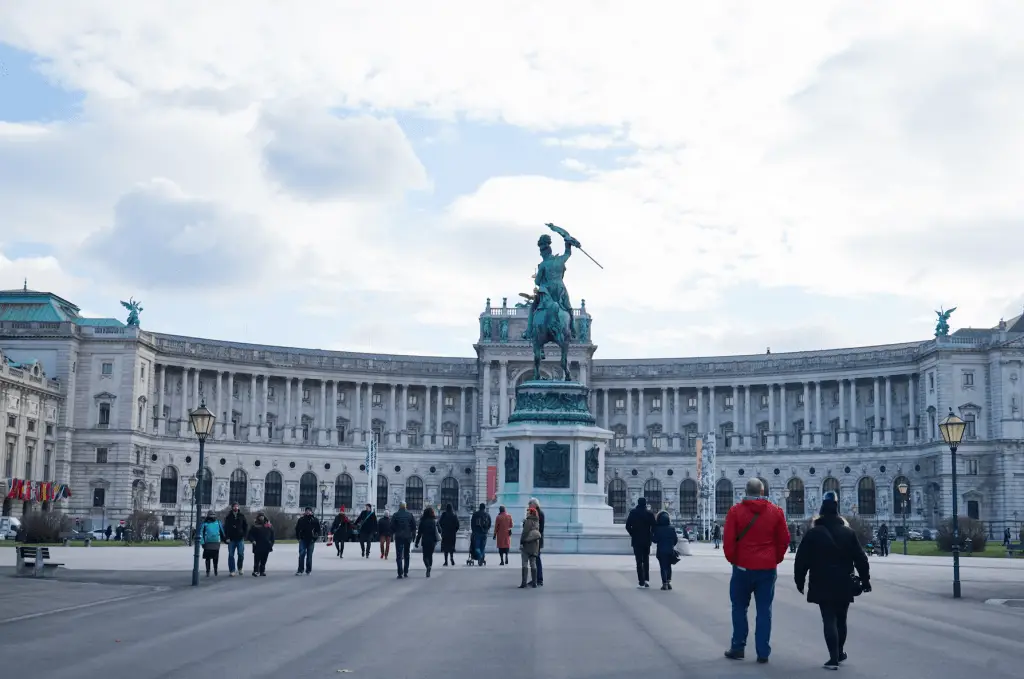 Yet hipster cafes and galleries inflict every inch of this city -reaching contagion level in Freihausviertel neighborhood. Art, fashion, and food are simultaneously trendy yet reverent; pop-up markets take over old hidden courtyards and nightclubs hold sway in abandoned subway stations.
Expectations are meet, destroyed, unearthed, and forgotten – often all at once.
Exhausted? Confused? So was I – in all the right ways!
Vienna is a city so full of contradictions, refusing to let itself be boxed into any one category. At once, Vienna is both thoroughly modern yet ridiculously orthodox. And I think this is what has lead to my love for it.
I had an exchange semester here in 2013 and have now been back every year since. History is what infuses this city with universal appeal, whether you come to hear a classic rendition of Mozart, wander the world-class MuseumsQuartier, or attend epic clubbing parties in the City Hall.
A truly global city that has not only stood the test of time but prospered – But in such a city you can be overwhelmed, so without further ado, I give you my take on the Top 50 Things to Do in Vienna! Enjoy…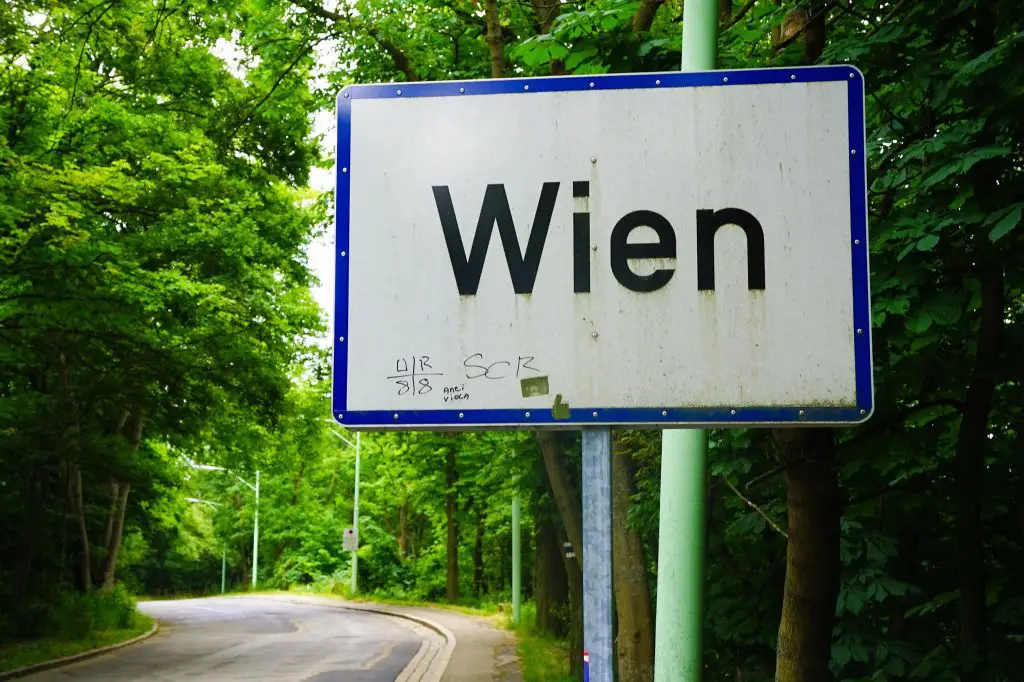 50 Top Things to Do in Vienna When You Visit Austria's Imperial Capital! 🇦🇹
1. Visit The World's Top Museums At MuseumsQuartier
Conveniently located all in one compact area, Vienna's MuseumsQuartier houses most of the must-see museums – in the old Hapsburgian Imperial stables of all places. The top finds here are the Art History Museum (Kunsthistorisches Museum), the Natural History Museum (Naturhistorisches Museum), and the Leopold Museum with the world's most extensive Schiele collection.
If modern art is your thing, you can't go past the MUMOK (Museum of Modern Art) filled with 20th and 21st-century contemporary art, including a large collection of nouveau realism and pop art. If you tire of some of the huge art collections, you can find plenty of designer boutiques and trendy bars in the surrounding nearby backstreets.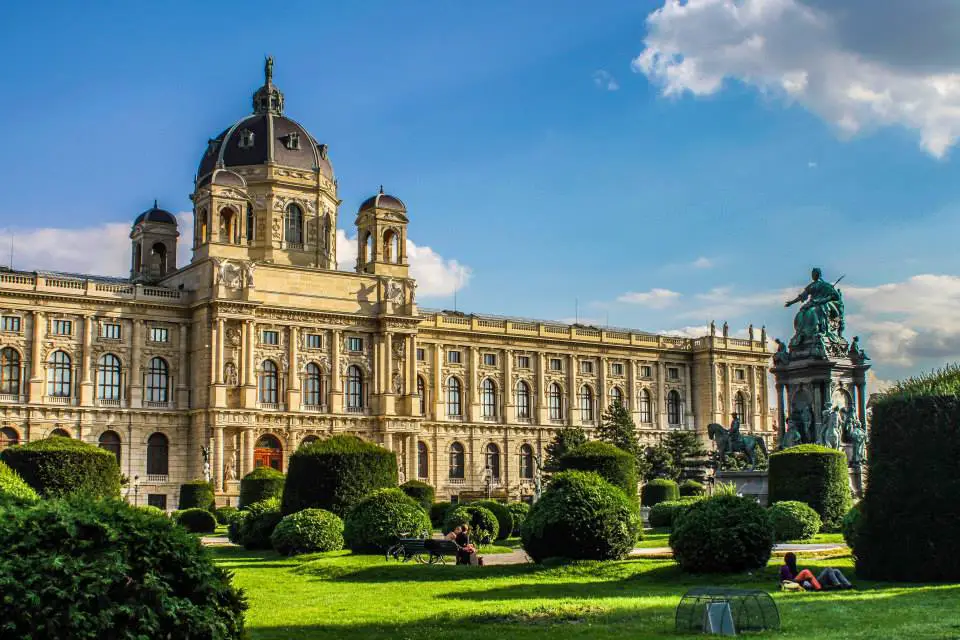 2. Shop Up A Storm On Mariahilferstraße
Forget the luxury boutiques – with price tags to match – off Kärntner Strasse and Kohlmarkt in the inner city, Mariahilferstraße is where the Viennese head for all their shopping needs. Going for what seems like miles and miles, this is Vienna's High Street with practically every big name you could want, and corresponding crowds on the weeks.
There are also plenty of ornate window displays, pop-up stores, and dining options on Mariahilferstraße. If it all gets too much, you can duck down Kirchengasse, Lindengasse, or Neubaugasse for more hipster concept stores and hidden gems without the crowds.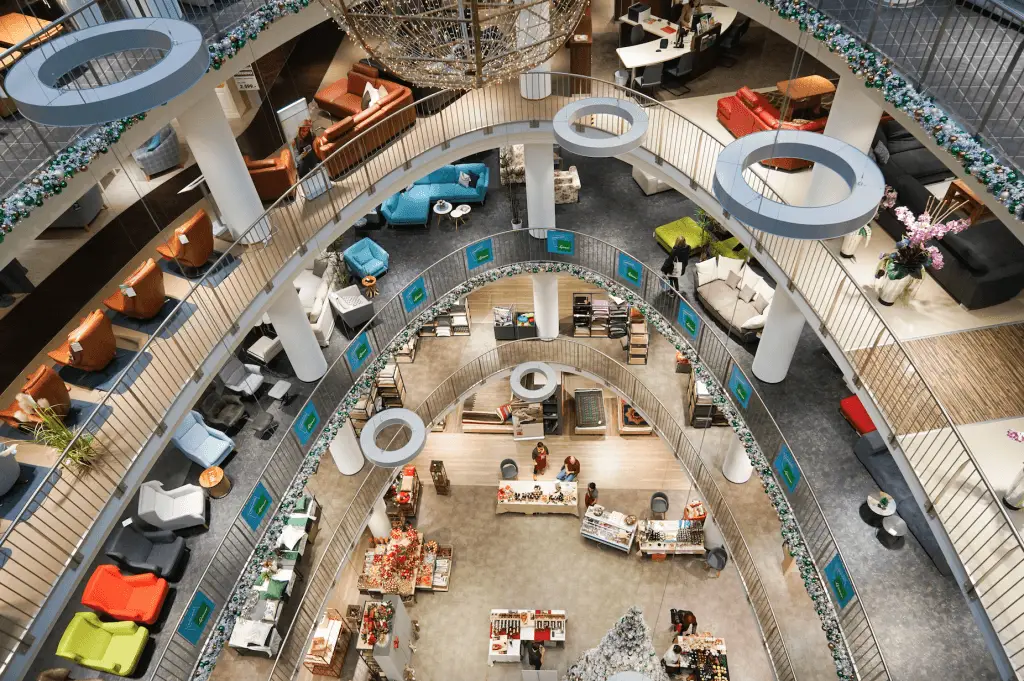 3. Stay In The Uber Trendy 25hours Hotel Vienna
Locally known as the 'it' spot, the 25hours Hotel Vienna is a perfect antidote to Viennese Classism – young, hip, irreverent and fun. Themed around the Viennese Circus of old, the location of 25Hours Hotel Vienna truly cannot be beaten just a stone's throw from the Museums Quartier and Old Town while overlooking the Austrian Parliament.
With spacious, modern rooms and fun amenities like complimentary use of a Mini, access to the mega-popular Dachboden rooftop bar, and Mermaid's Cave sauna area. With bold colors, zany catch-phrases, and over-the-top design, the staff are quick to say they are not 'luxury.'
Still, I can't imagine a more romantic escape in Vienna than their designer suites with exterior bathtubs with views of the Hofburg. Classy without pretense, come as you are, and discover the best place to stay in Vienna!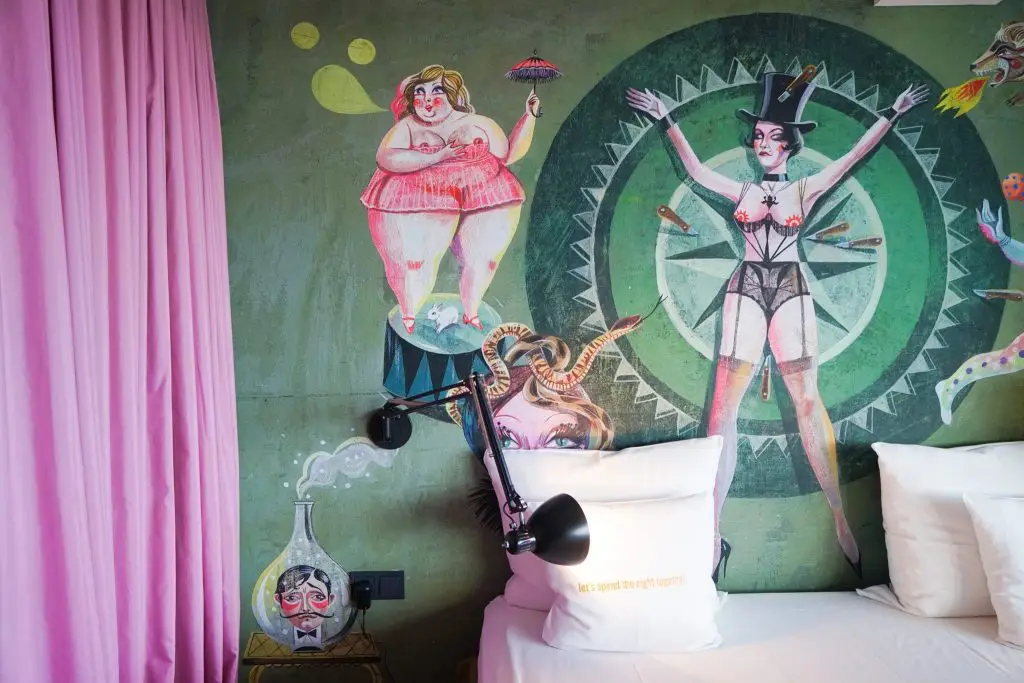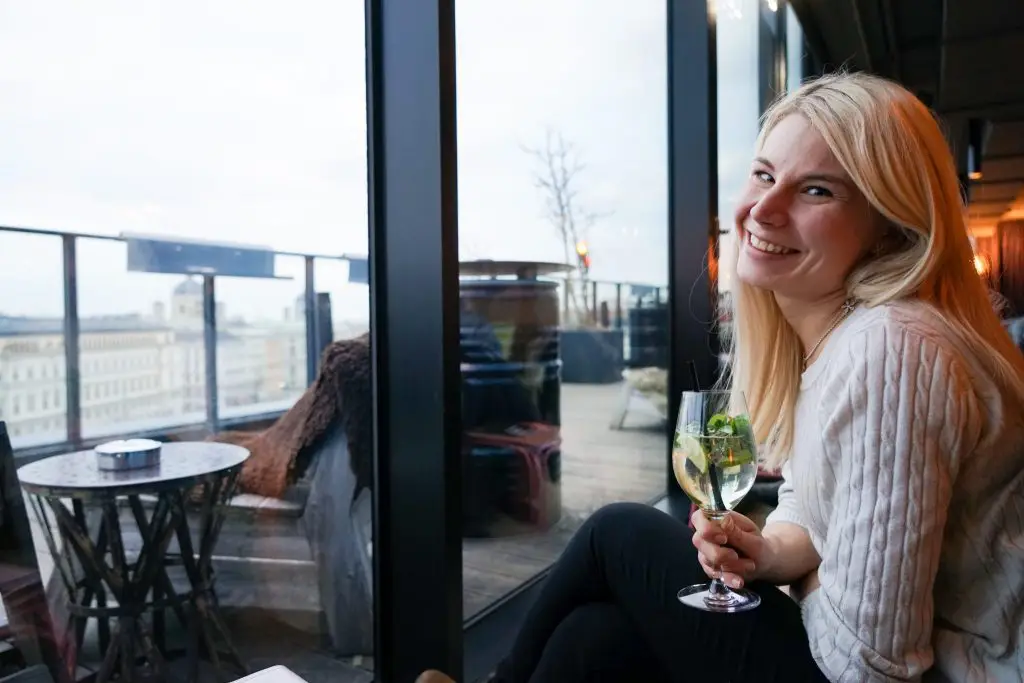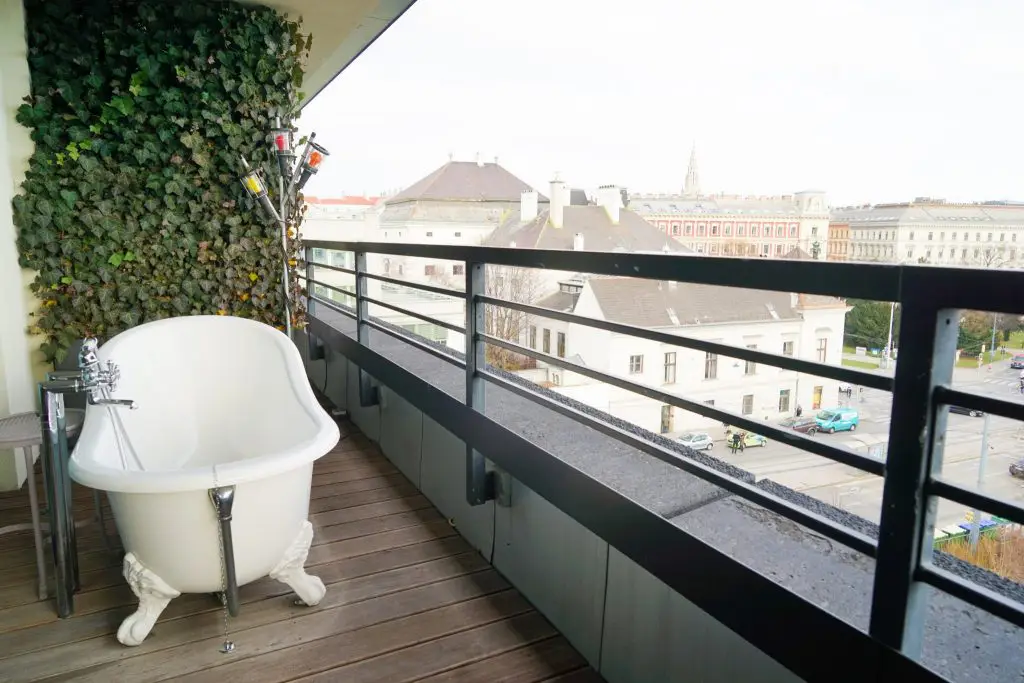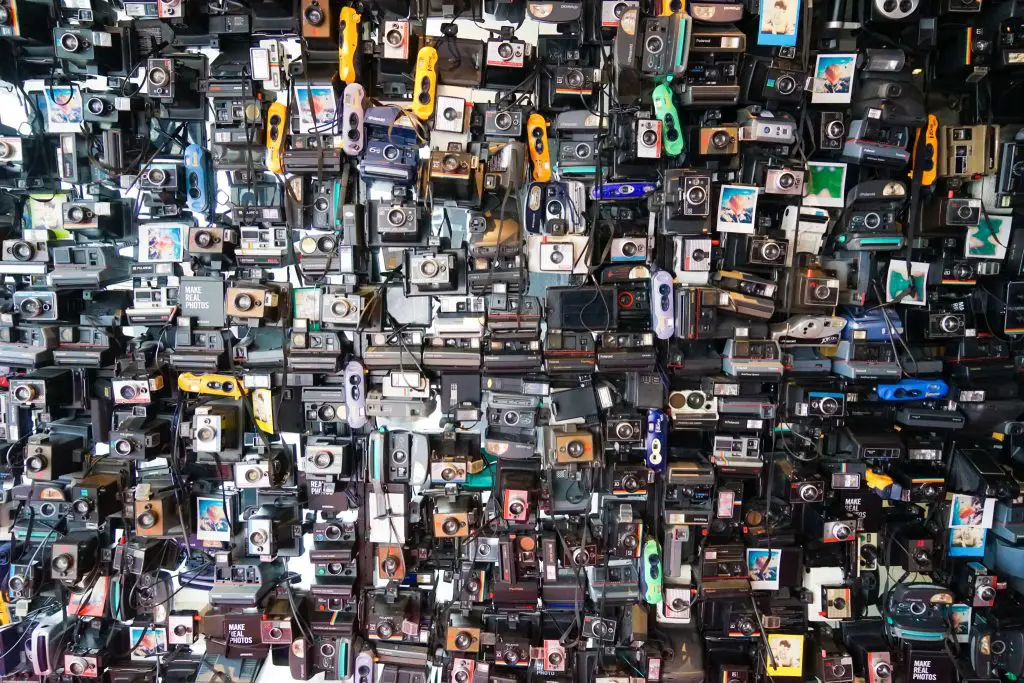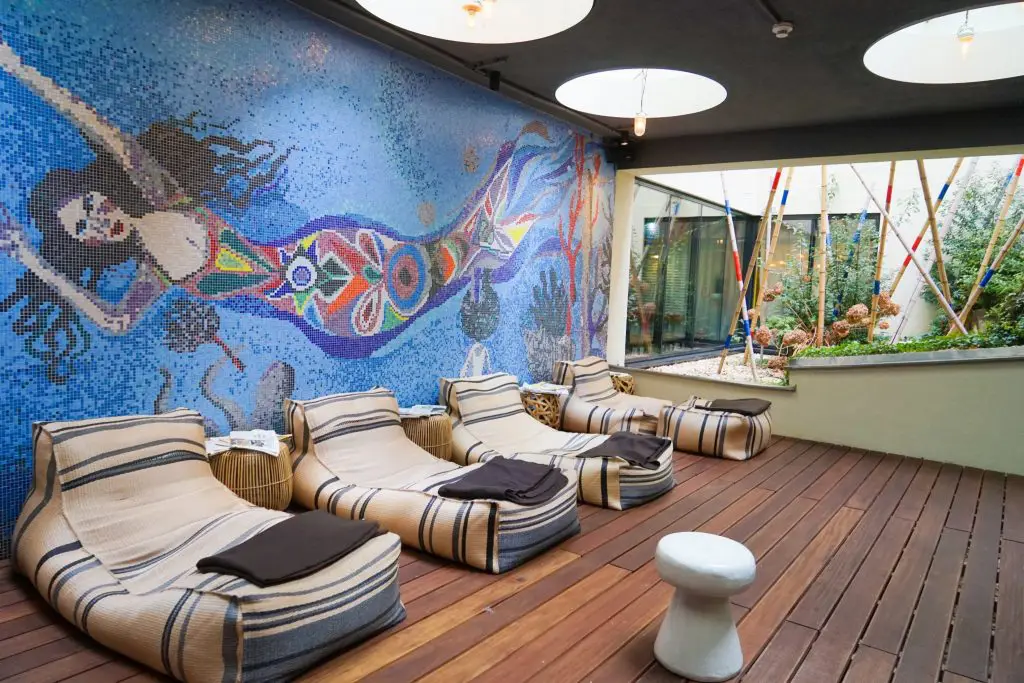 4. Get Excited At A Game Of Ice Hockey In Vienna
The excitement is palpable here, and if you are lucky enough to get to see an ice hockey game in Vienna, you can watch on with glee while the locals forget their usual reserved ways and scream their hearts out for the home team – The Vienna Capitals.
Wondering where to watch Ice Hockey in Vienna? You can see games played at the Albert Schultz Eishalle. The Austrian Hockey league (also including teams from neighboring countries) starts from mid-September and really is one of the top things to do in Vienna.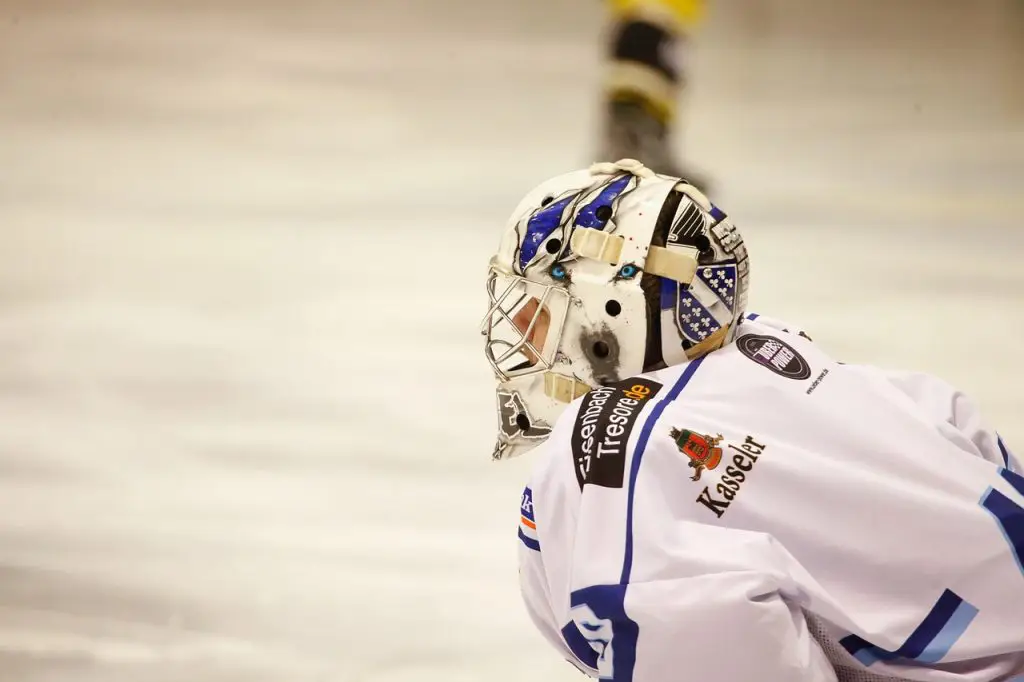 5. Cultivate A Taste For The Classics In St Anne's Church
Few buildings in the world come close to St Anne's church. Completely with frescos painted across its broad soaring ceiling, there may be no better place to soak up the music of Austria's past glory.
Many of the great classical pieces that classical music fans love today were composed in Austria. Sitting and listening to orchestras play the great classical pieces in a setting with so much history will have you forgetting that it's the 21st century.
Whether you just want to close your eyes and allow the music to echo around the hollow space of St Anne's or you're looking to enjoy the full pomp and circumstance of the occasion, visitors are sure to be amazed by the sweeping grandeur.
Watch black tie-clad guests take in the sounds of some of Europe's finest composers plaid by an exceptional orchestra.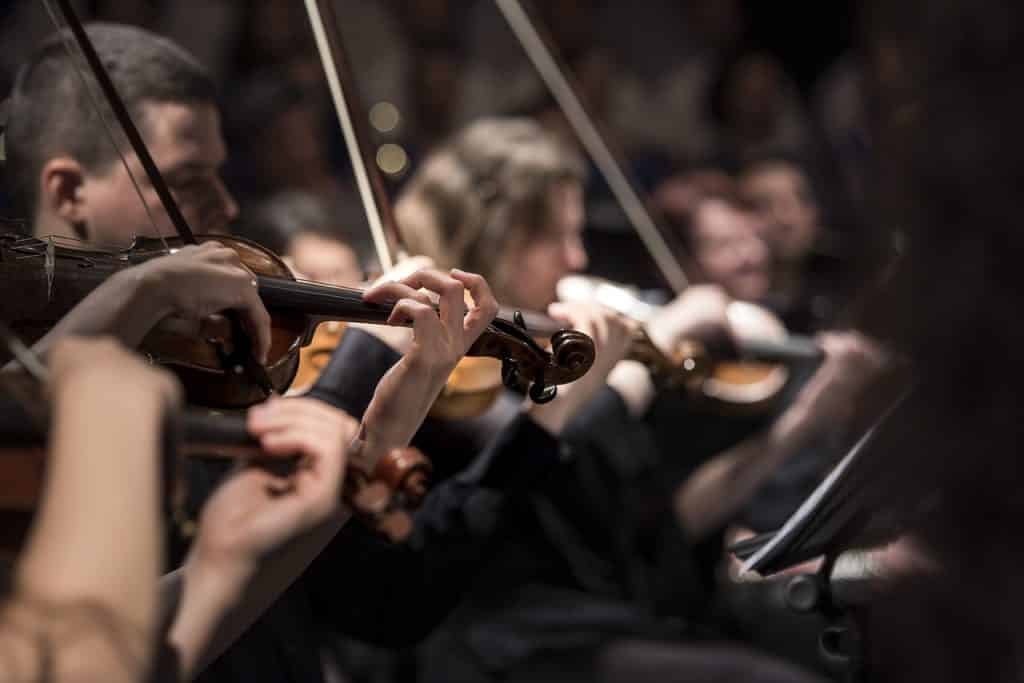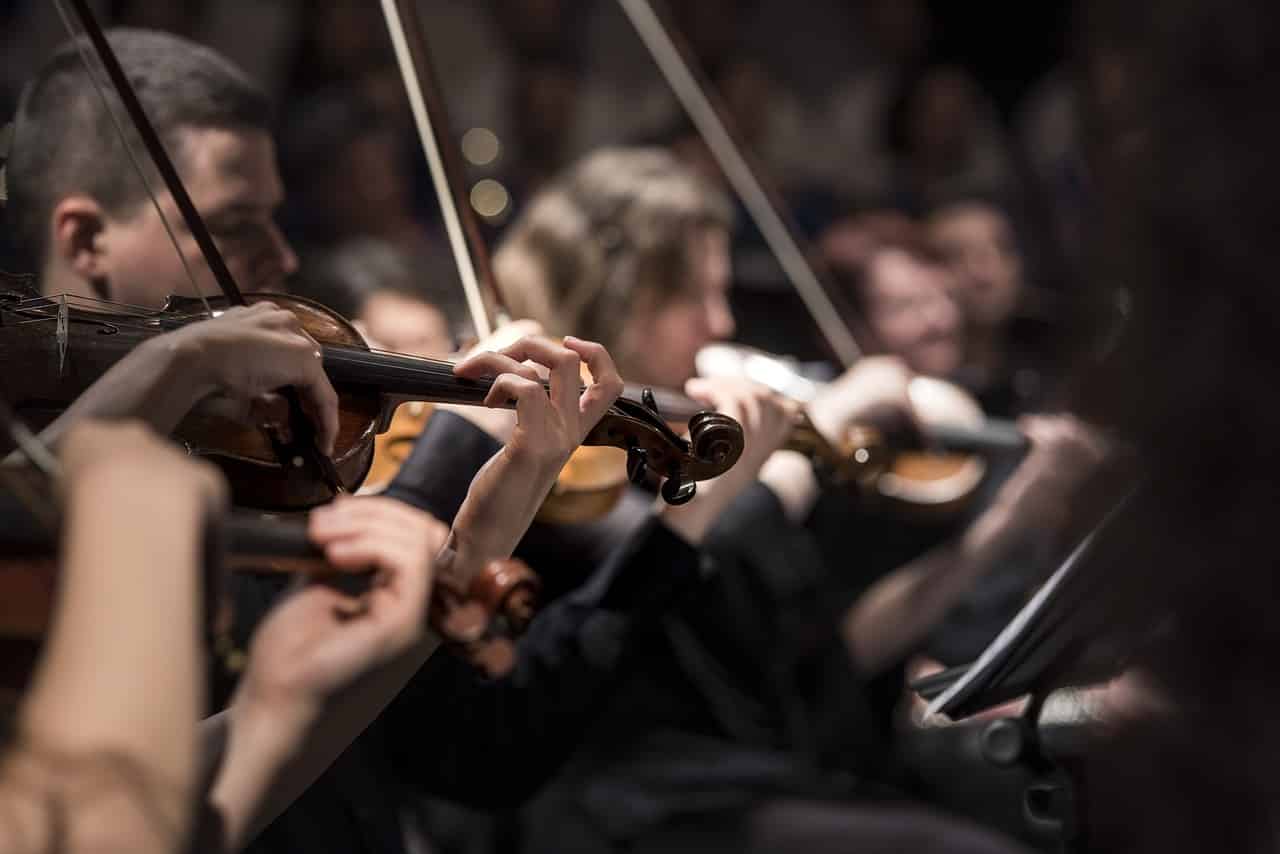 6. Experience The Spice And Sizzle Of Austria's Markets
There are loads of classic coffee houses, pastry shops, and hotels dotted throughout the Vienna, and you can join a delicious walking food tour to explore the best of them. You may know Austria for its exceptional chocolatiers.
Still, at the height of its imperial power Austria and especially its capital, Vienna was hosting flavors and tastes from around the world. But to find the best ones, you will need a guide – and honestly, with the proliferation of tourism here, you won't want to chance it with one of those high street imposters.
Many great artists, poets, philosophers, and politicians would have been found soaking up the smells and tastes of Austria's markets and coffee houses. Mozart, Klimt, and Freud all lived in this grand city at one time or other and surely would attest some of their creative genius to the wonderful taste of its coffee.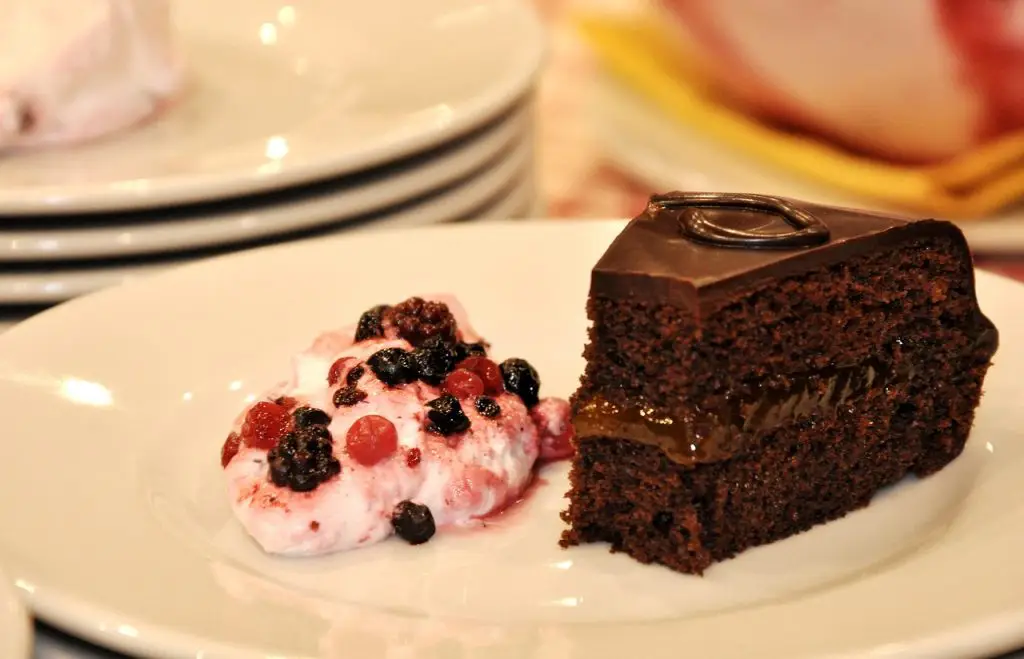 7. Pop Into The Stephansplatz Manner Concept Store
As cliched as it might seem, you really can't miss the opportunity to visit the flagship store of Vienna's favorite sweet snack – Manner – a delicious hazelnut cream wafer dating back to 1989.
Somewhere between an eye-sore and a city icon, missing the Manner store's trademark peach-pink color would be rather tricky – even in the crowded Stenphanplatz. Once inside you will be immersed in every conceivable variant of the product, most you will never find anywhere else.
Think cereals, liquors, new flavor combinations, and more. It's all at prices similar to an average store as well, which makes it great for getting your Vienna souvenirs.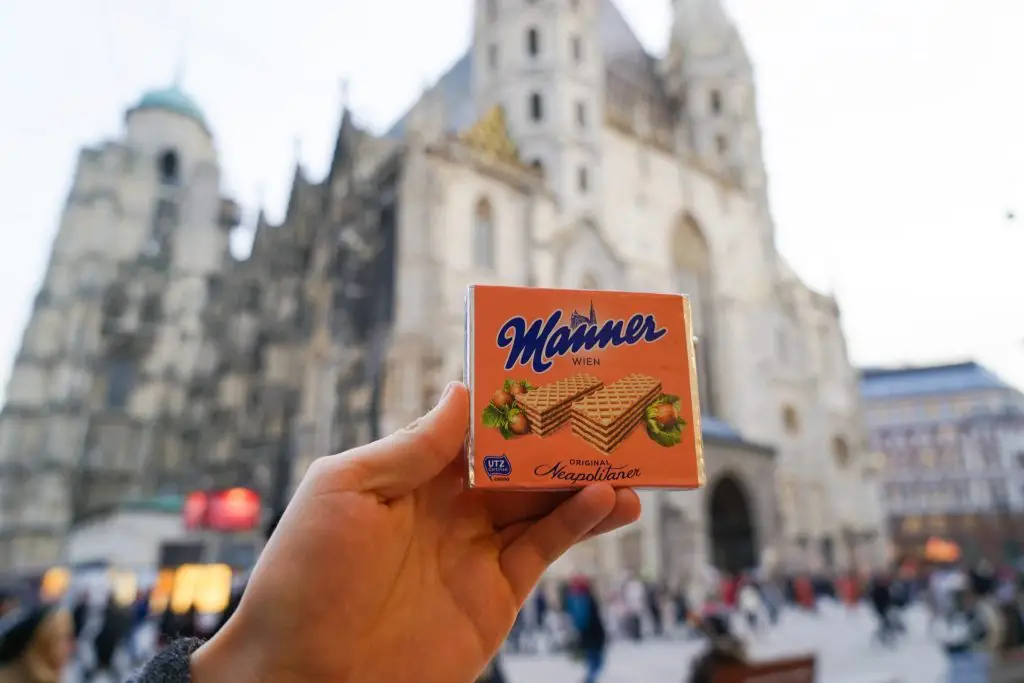 8. Try The Famous Vienna Schnitzel For Yourself
Wiener schnitzel, possibly one of the best-known specialties of Viennese cuisine, is a national dish of Austria and no visit to this time-warped city would be complete without enjoying a meal of this thin, breaded, pan-fried veal cutlet
Traditionally served in Austria with Kopfsalat (lettuce tossed with a sweetened vinaigrette dressing), potato salad, cucumber salad, or parsley potatoes. In essence, you can now find as many variations are places serving it, which is to say many. It can also be served with rice, french fries or roasted potatoes, but a good restaurant would always serve it with a slice of lemon, to give the breadcrumbs more taste, and a sprig of parsley.
A popular variation – both locally and globally – is for schnitzel to be made with pork instead of veal because pork is significantly cheaper than veal. Still, an authentic Wiener Schnitzel must be made of veal. Which begs the question, with so many options and types – where is the best place for Wiener schnitzel in Vienna?
This is going to be controversial, but I'd recommend (based on local tips) Lugeck, in the heart of the Vienna downtown, which offers Austrian cuisine in one of the most picturesque buildings in Vienna, lovingly restored and now famed for its modern style. For something more traditional, you could also try nearby Beim Czaak, a Rustic tavern with a large garden offering classic Austrian dishes, including Wiener schnitzel with local draught beers and wines.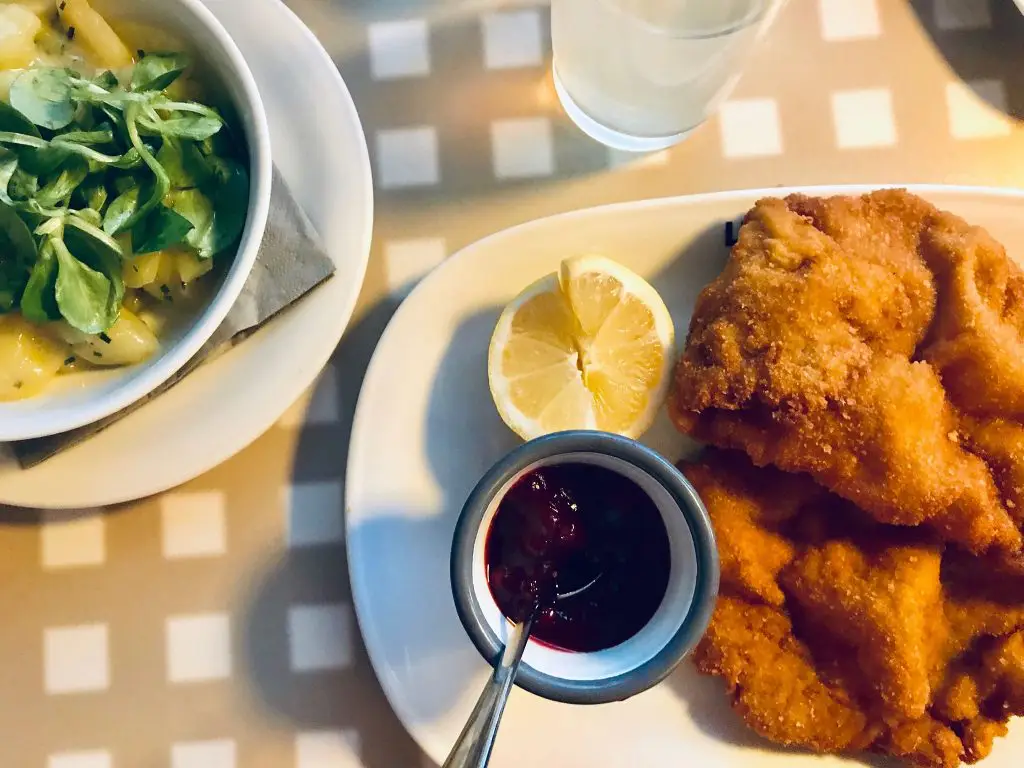 9. See A World-Class Vienna Opera Performance
Check out a world-class opera or ballet at the Vienna State Opera at a fraction of the price. Standing room tickets here go for as little as 3 euro and are relatively easy to get – Just follow this easy guide to getting Vienna Opera standing room tickets on the cheap!
The city has a strong musical history that continues today, and its performances reflect this. The building itself is stunning, and a night here will be absolutely unforgettable. Be sure to dress up and get ready to see how seriously Austrians take their opera!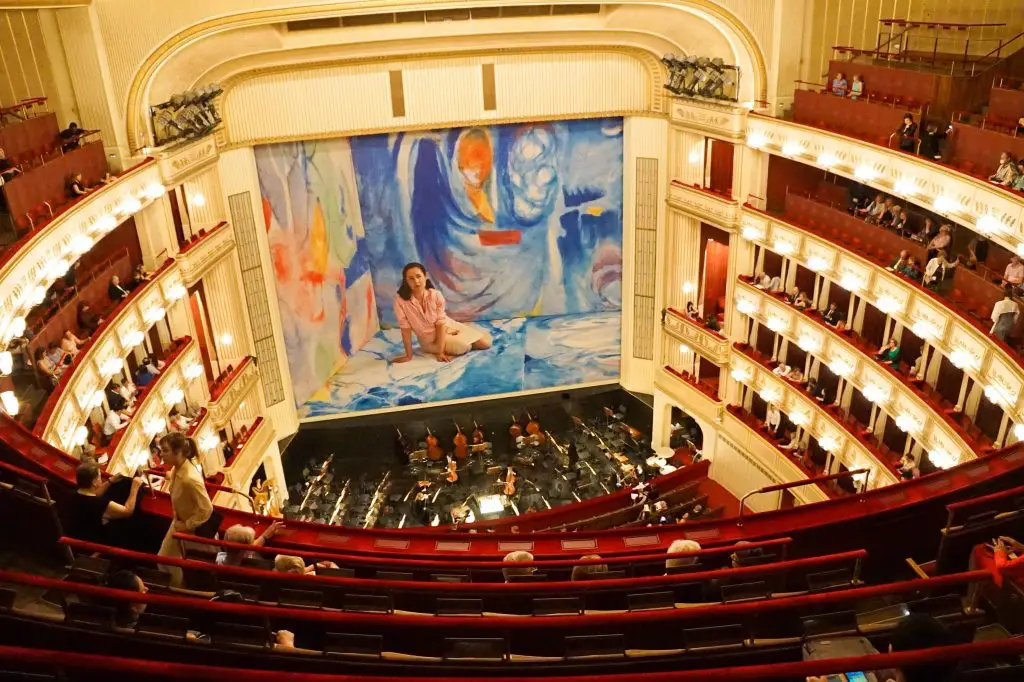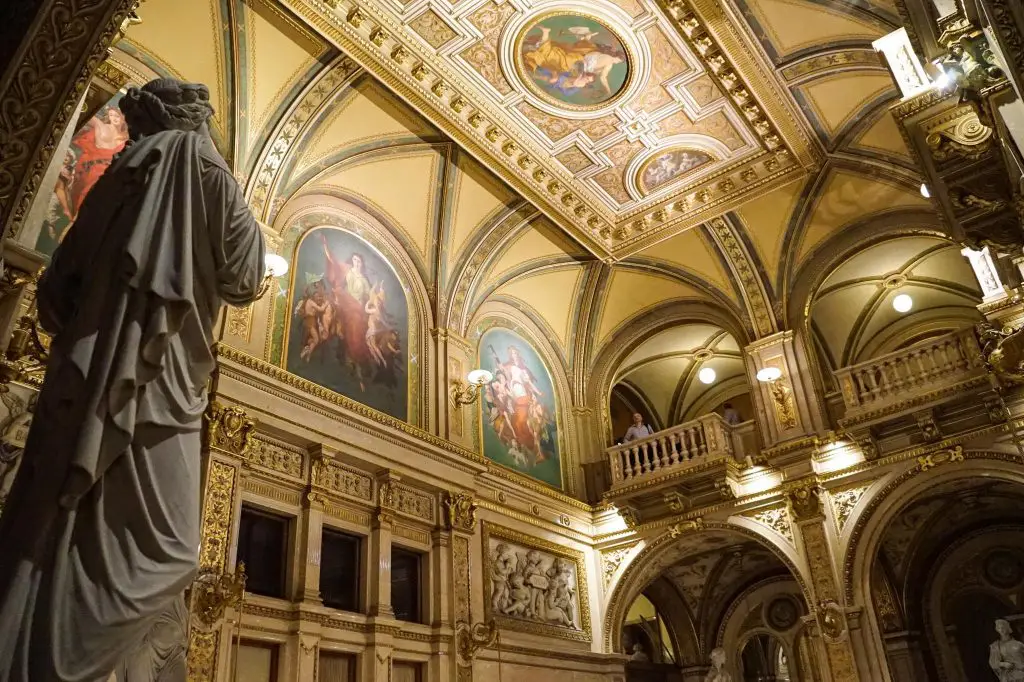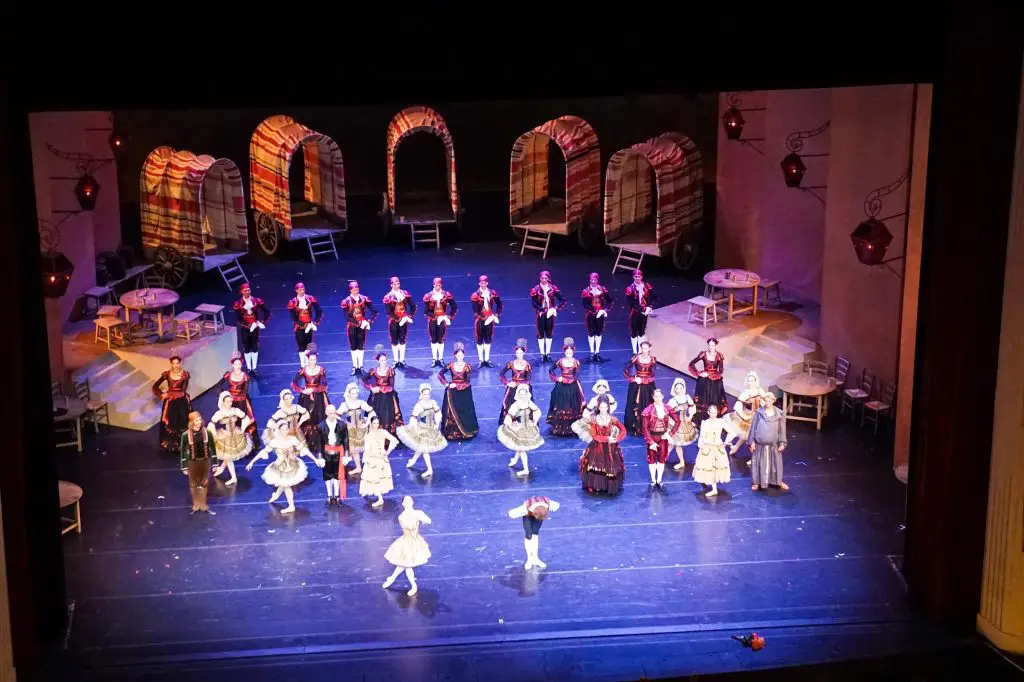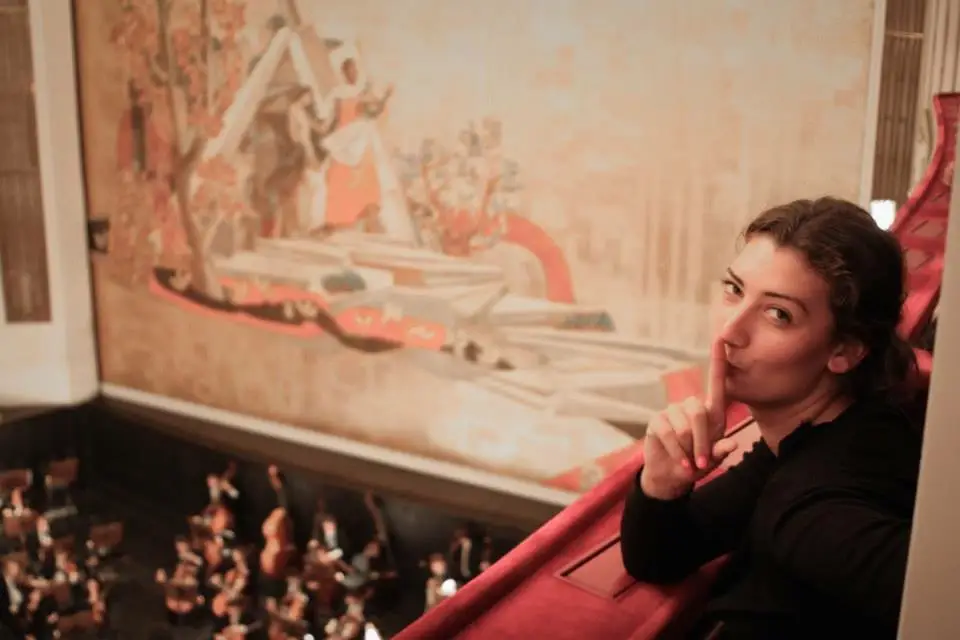 10. Walk Between The Mountains And Lakes In Ancient Hallstatt
Hallstatt is a small mountain village in Western Austria, roughly an hour from the second city of Salzburg as you head through the mountains, you will be confronted with stunning forests and cliffs. In the winter, the snow-tipped peaks of the alps are tempting for those looking to ski and snowboard in the small Austrian resorts, but in the summer, they show their true beauty.
The small town of Hallstatt has gained a reputation as one of the most beautiful villages in the world. You may recognize images of it from guide books and travel articles. The town has become an Instagram goldmine, and it's easy to see why.
The classic wooden buildings overhang the lake, tucked precariously between the blue water and soaring cliff faces. In summer, this town is a paradise, just be aware of the other visitors who are looking to grab a piece of this mountain utopia.
Sure, we will admit this is not in Vienna – but with an easy day trip possible, how could we not include this fantastic spot!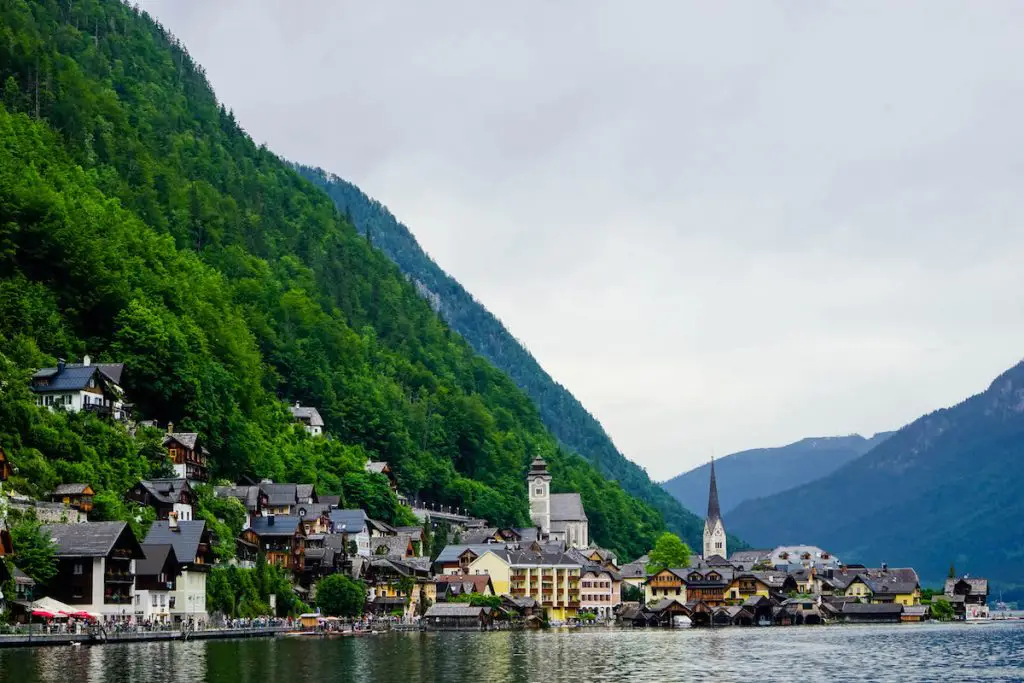 11. Take A Walking Tour Through The Ancient Beauty Of Vienna's Centre

There are few cities in the world, where classical buildings still stand alongside cobblestone streets, so really, it's a must to take a walking tour through the city center.
Whether you imagine yourself in the mind of a great composer or the grandfather of psychoanalysis Sigmund Freud, you can walk down the streets as they did. It's a strange feeling to stand in a place and know that as you look around, you can see all the same sights as people standing there over one hundred years ago.
The best way to explore the streets is with a guide, who can help draw your attention to notable spaces and landmarks, and fill you in on information and history that you have no idea about. There may be some famous residents that you know, but there are bound to be many more you don't.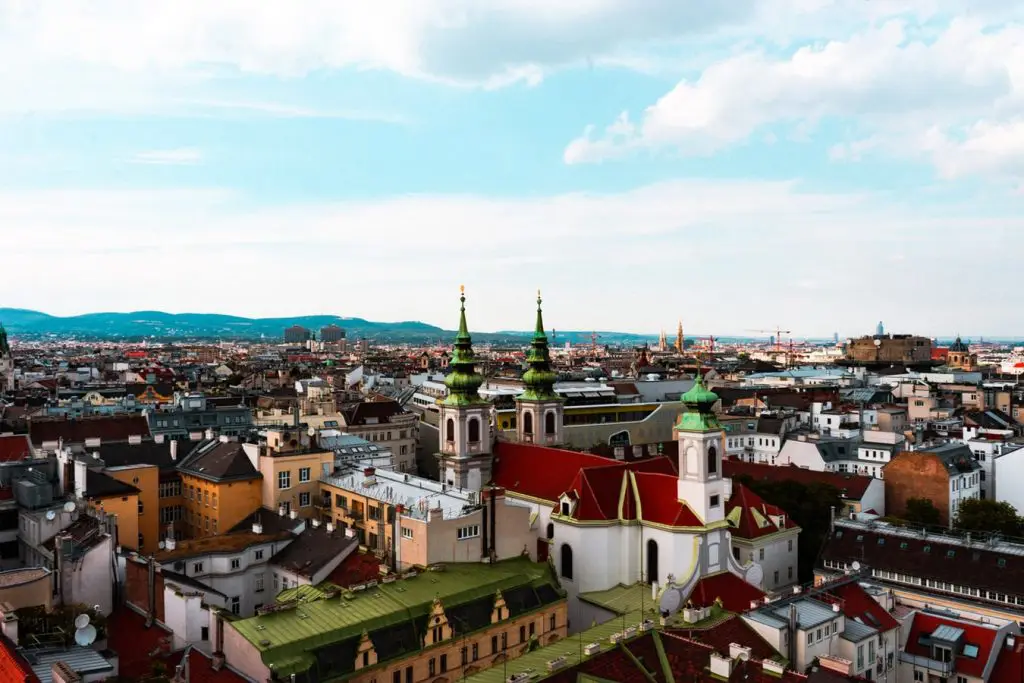 12. Tour The UNO-City
UNO-City, or the Vienna International Centre, houses the third largest UN offices in the world. The UNO-City is worth a visit if only to see the wholly modernist design constructed in 1979 when Vienna was seen as somewhat of a neutral point between Soviet and NATO powers.
Whatever your views on the current functionality of the UN, a guided tour of the Vienna UN do give an intriguing glimpse into the work done here behind closed doors and the relevance of the UN today, be sure to bring your passport for the curious experience of entering the extraterritorial complex.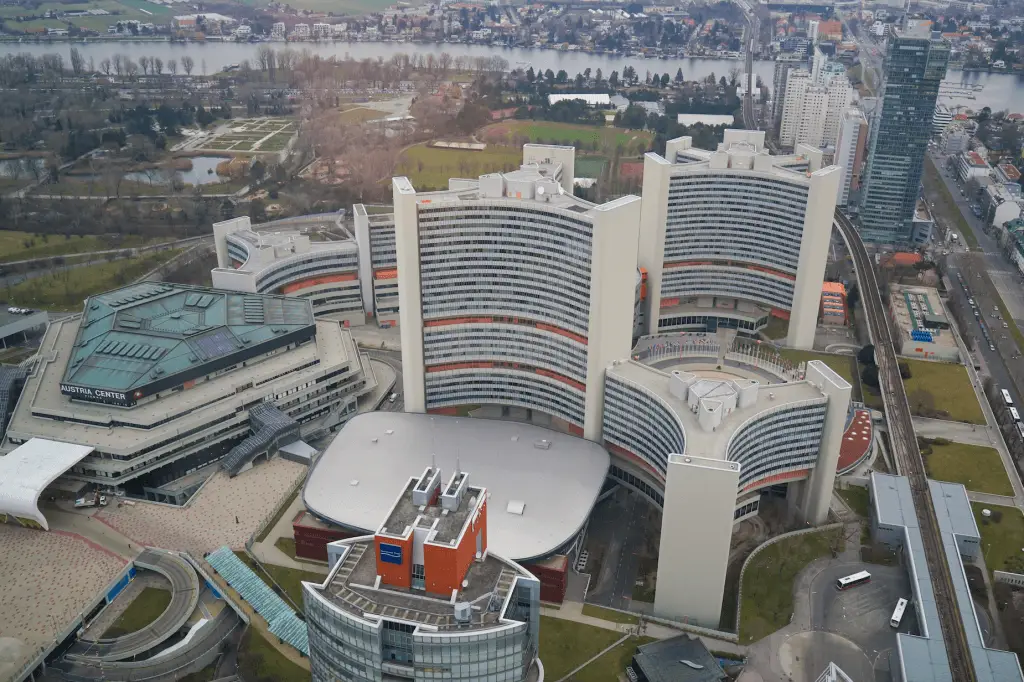 13. Indulge Your Sweet Tooth At The Sacher Cafe
Probably the most famous cafe in all of Vienna, the Sacher Cafe houses in the historic Sacher hotel, is famed for the Sacher Torte, invented by the hotel creator and beloved by Emperor Franz Josef.
A delicious iced-chocolate cake with a layer of apricot jam, the Sacher Cafe with its opulent interior and elegant old-world charm is undoubtedly the best place to try the Sacher Torte – best enjoyed with a melange coffee.
Recently renovated, the Sacher Eck spinoff has just opened its doors within the same building as beautifully modern space with traditional styling, helping to secure the relevance of Sacher for the next 100 years.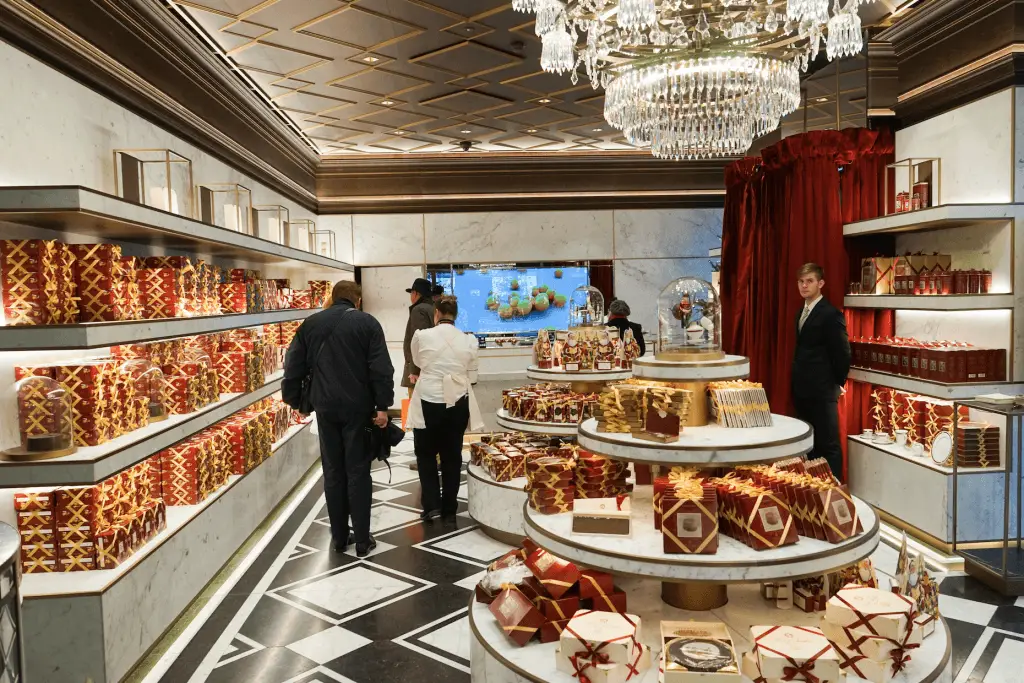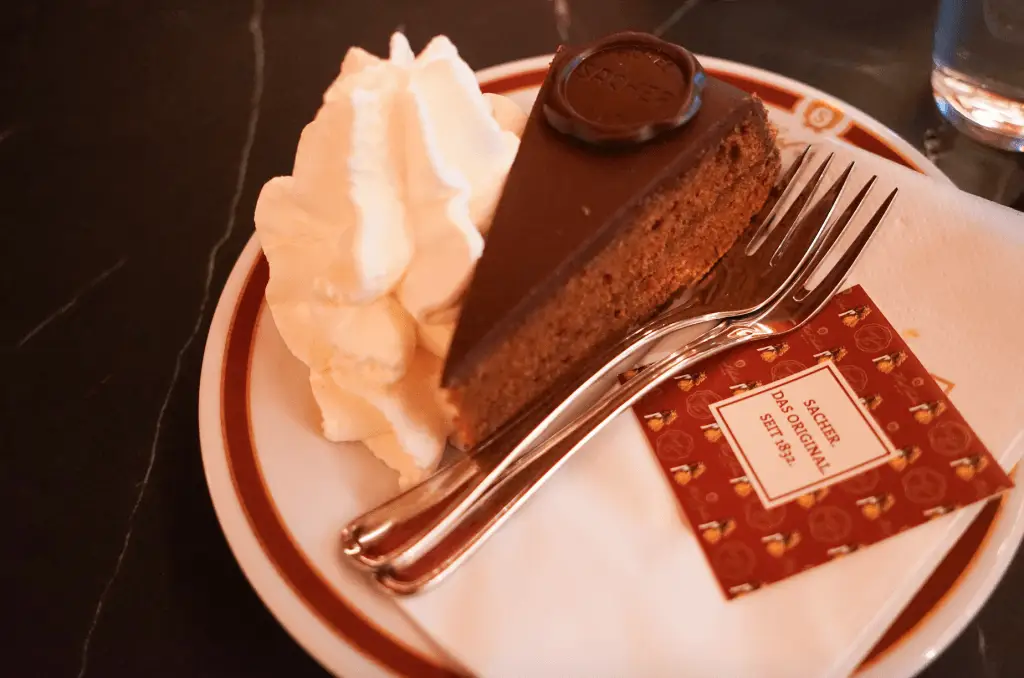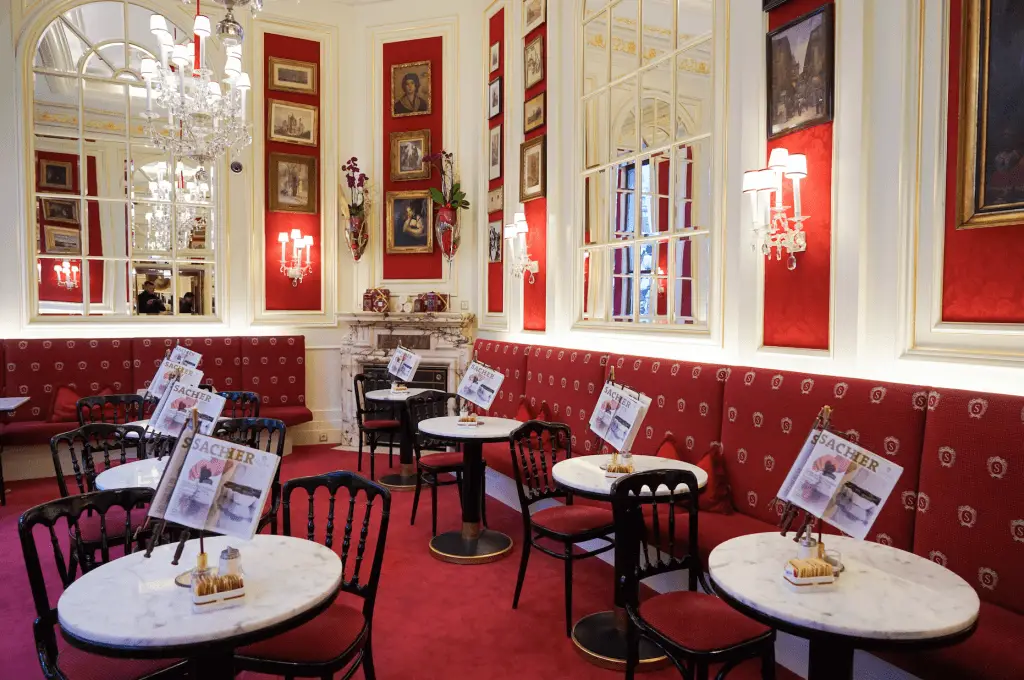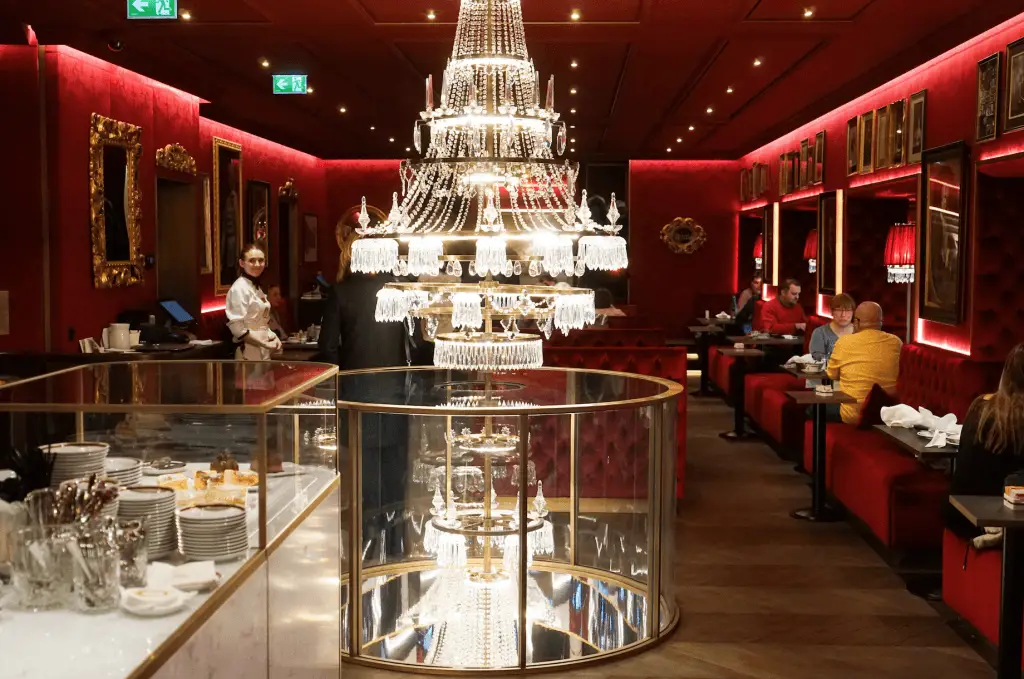 14. Admire The Classical Beauty of Belvedere Palace
Probably the most beautiful baroque palace in existence – and gives Versailles a run for its money – there is no excuse for not visiting the Belvedere Palace and Gardens being so close to the city center.
The Belvedere Gardens are free to walk around day and night, offering a jaw-dropping view of the Vienna skyline – but for a complete visit, you need to pony up to see it's famed frescoed halls adorned with works by Vienna's own Klimt and Schiele.
If you're visiting Vienna in December, the Belvedere Christmas markets are amongst some of the most beautiful -, and yet somehow local secret tourists have yet to find while in the summer the Belvedere Gardens come alive with bright flowers and is perfect for a romantic stroll.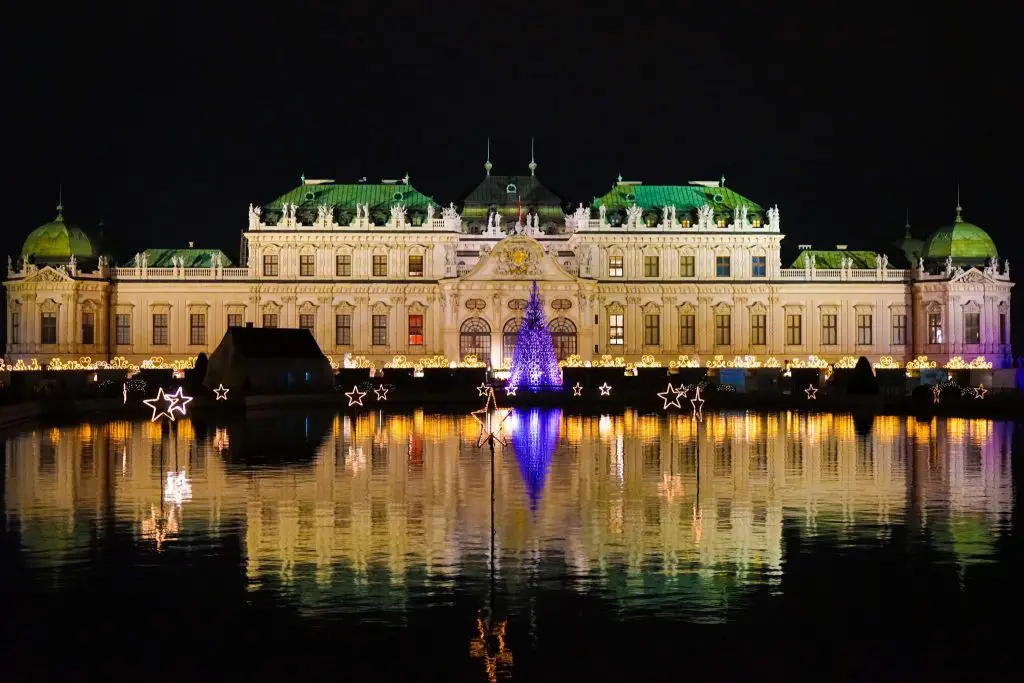 15. Immerse Yourself In The Musical Styling Of Mozart
Austria is not short of beautiful locations to host incredible live music; you could fill a week in the city just heading to classic performances in incredible buildings.
Vienna's Musikverein is one such setting that harks back to Austria's glorious past. A highlight of the music calendar and likely to sell out so pick up tickets fast is the Vienna Mozart Concert at the incredible Wiener Musikverein.
Take your seats and let the orchestra, all dressed in period costume, take you on a journey back through Mozart's most famous works. The event can also be paired with a four-course meal and a carriage ride to the concert for those looking to bask in the period drama of Mozart's Vienna.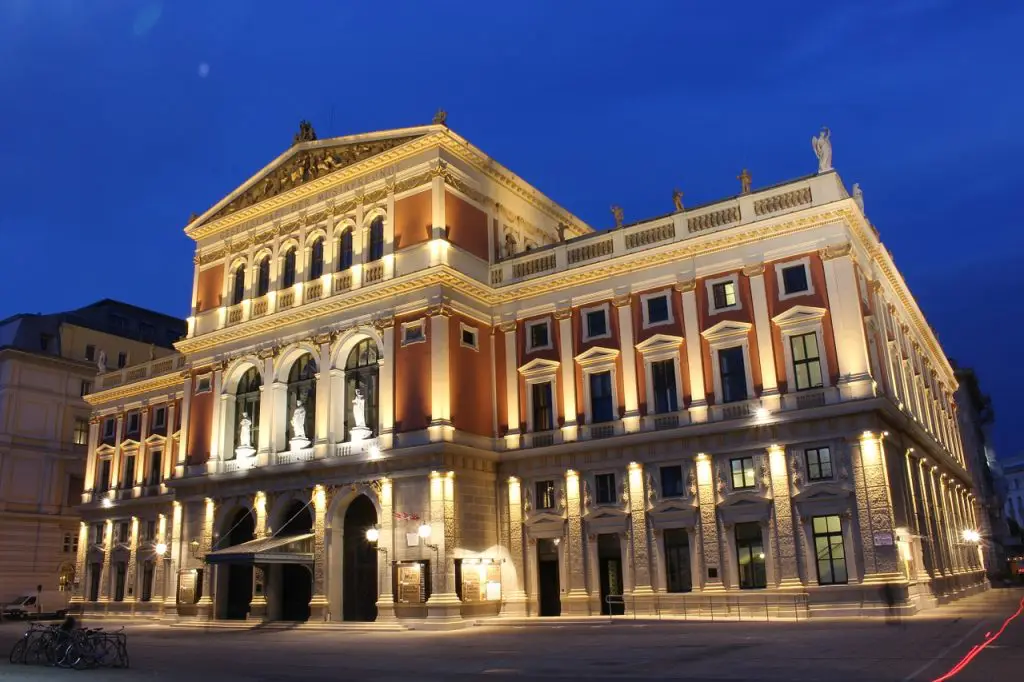 16. Meander Around The Historic Ringstrasse
All of Vienna highlights on one street; you can't miss a wander along the Ringstrasse – one of the most beautiful roads in the world. Encircling the Old Town of Vienna, you can find plenty of grand palaces, hotels, and stately buildings on this land once used for walls to protect against invaders.
The great divider between the inner and outer suburbs in Vienna, you can't miss the Hofburg Palace, the State Opera, and the Vienna Rathaus, amongst many others. The best way to see it is by walking, but there is a Ring Tram complete with commentary if you prefer.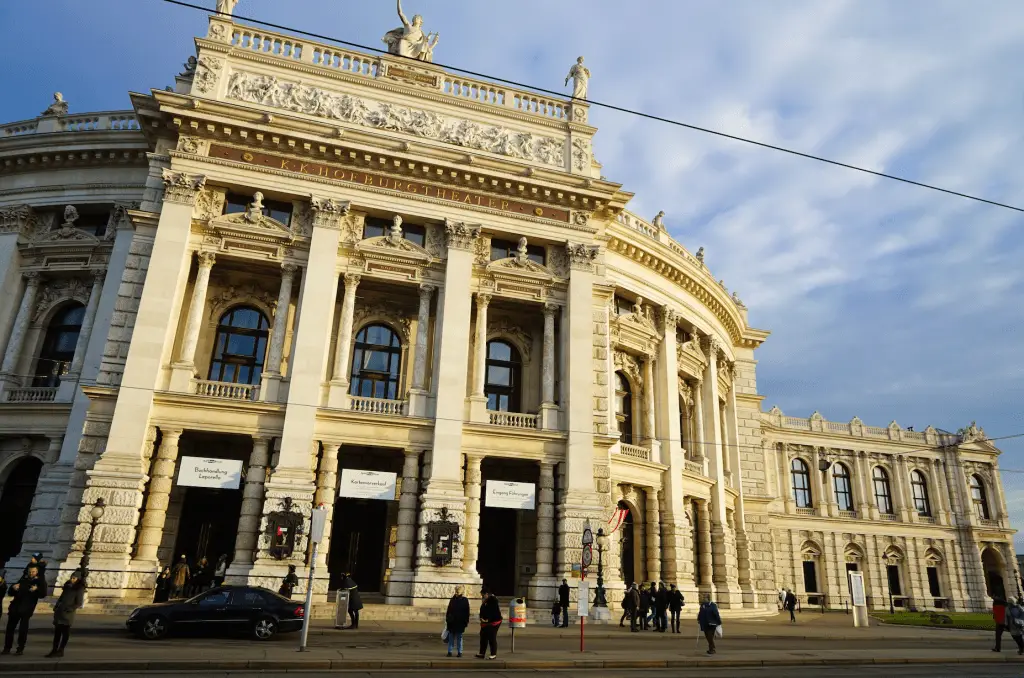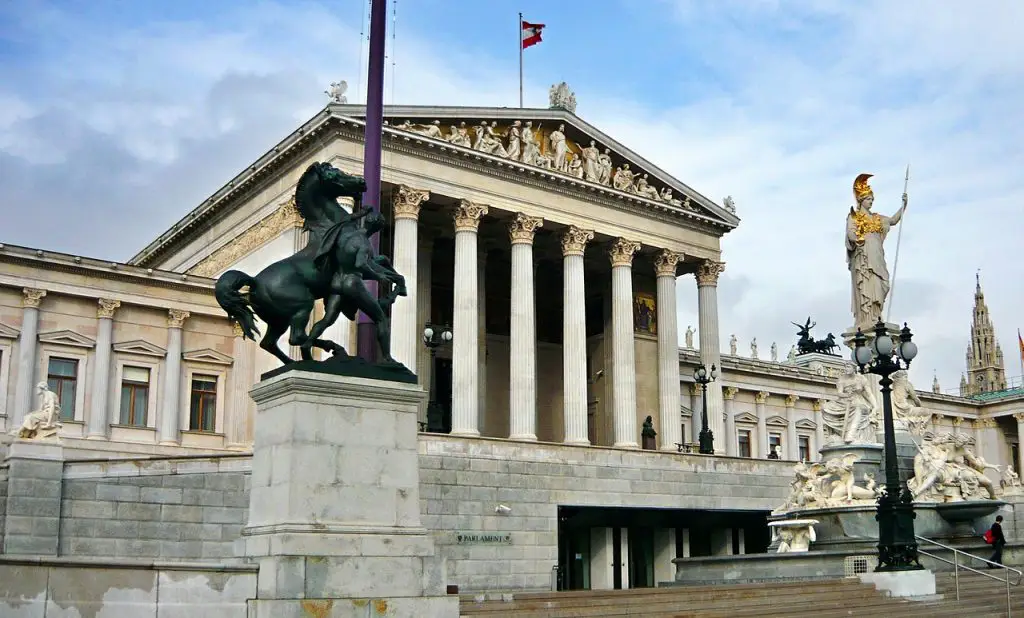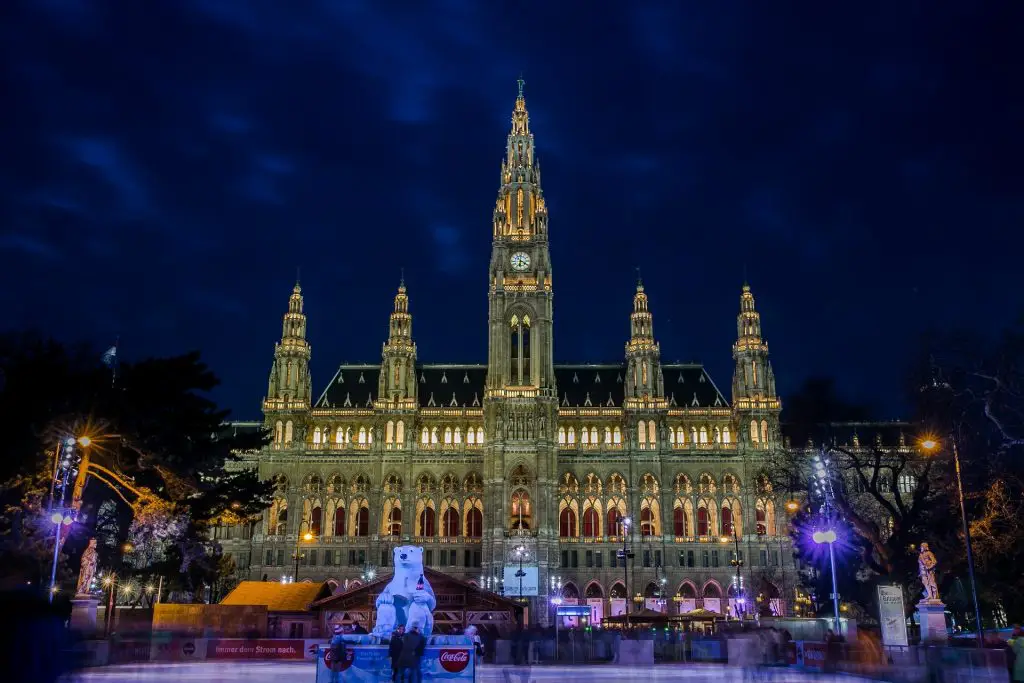 17. Discover The Decadent Vienna Old Town
A true wonder of Europe, the historic old town of Vienna – now a UNESCO World Heritage Site – still maintains the feel of the great age of Viennese Classicism, and it's almost as if no one told the Austrians about the fall of the Austro-Hungarian empire.
Expect plenty of tour groups and crowded streets, but it's worth it to admire the rich architectural ensemble largely unchanged over the centuries (bar a few glaring exceptions thanks to World War Two). Try to get off onto a quiet side street to experience the pedestrian streets, and don't forget to look up; the level of detail here is truly astounding.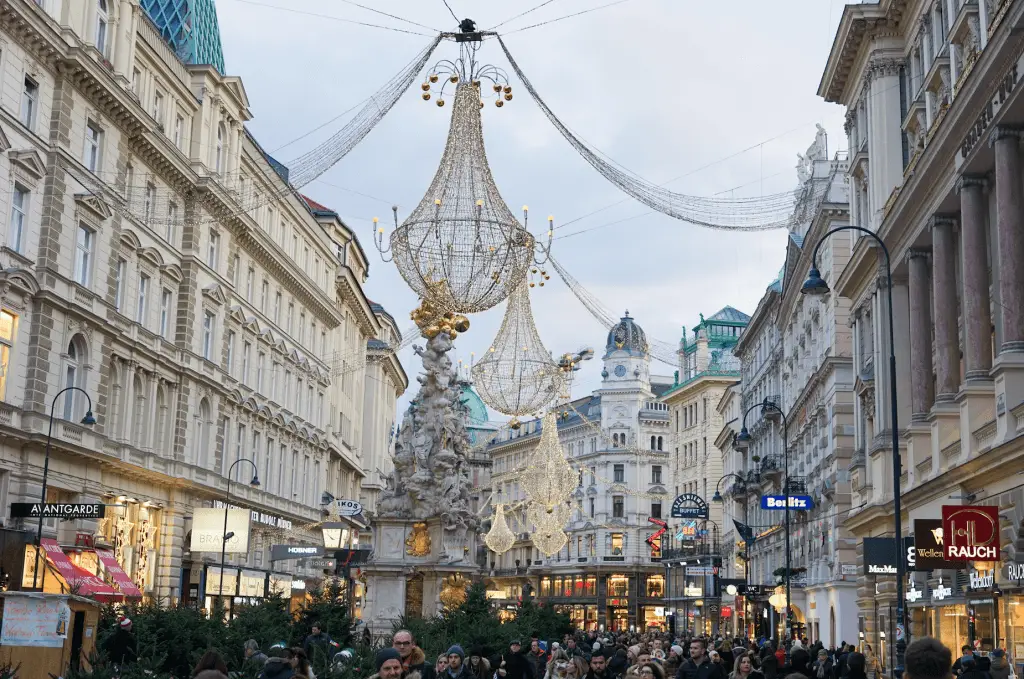 18. Unleash Your Inner Hipster At The Naschmarkt
Sample exotic foods and drinks at the Naschmarkt, a Viennese tradition since the 16th century! Fresh fruit and vegetables from around the world arrive here every day and are joined by exotic herbs, cheese, baked goods, meats, and seafood.
There are around 150 stalls with colorful owners and a mouth-watering variety of treats. There are also many small restaurants and don't miss the Naschmarkt flea market on Saturday that is somewhat of a cult event.
Oh, and the Naschmarkt district is home to much of the Vienna gay scene – if you are interested!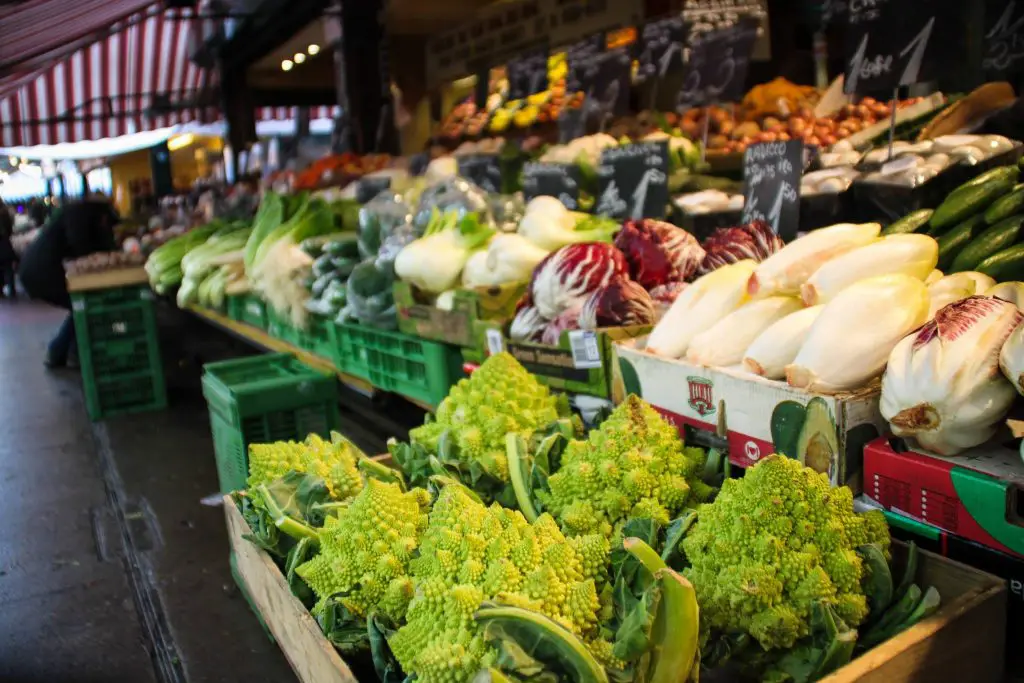 19. Call In On The Bizarre Hundertwasser House In Vienna
Marvel at the Hundertwasser House, one of Austria's architectural highlights. The house designed by Friedensreich Hundertwasser draws visitors from around the world and is renowned for is colors and unusualness – There are hardly any straight lines to be found here!
Grab a coffee and admire the view or catch up on this famous artist's history at the nearby Kunst Haus Wien. Also by Hundertwasser in Vienna is the Spittelau waste incineration plant – quite the sight to behold at sunset and a landmark of the city.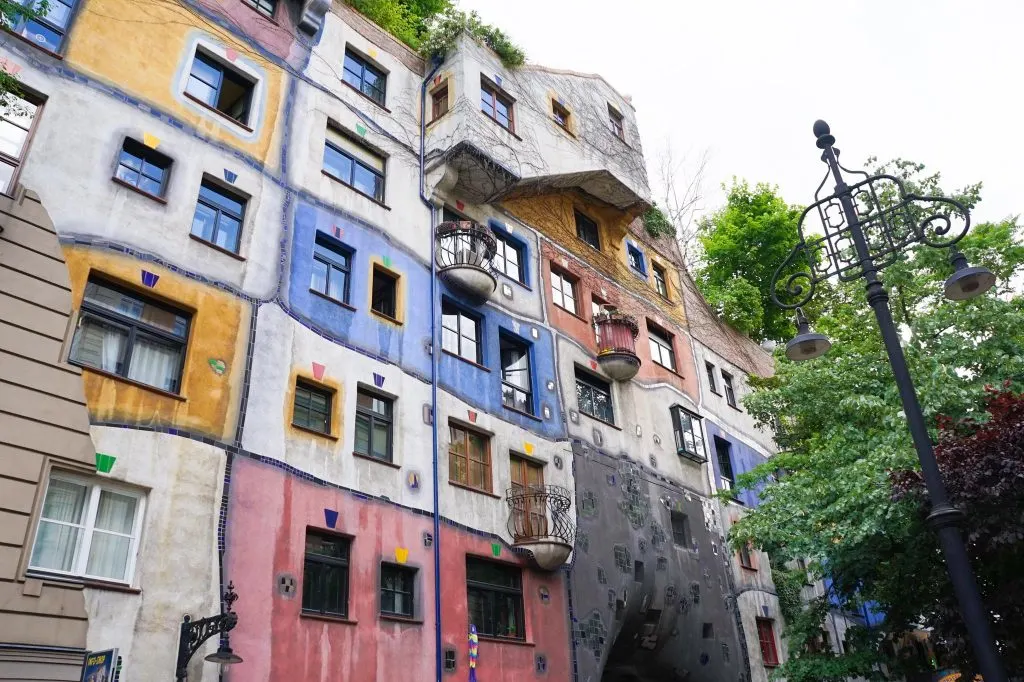 20. Enjoy Trendy Food On A Budget At 1500 Foodmakers
Looking for a special meal in Vienna, but don't want to splash out too much? 1500 Foodmakers is the perfect fit serving up relaxed grub in a trendy and exciting atmosphere that will make you feel part of the 'hip Vienna' scene.
With innovative cocktails from €6 and modern Italian dishes from €10, it's a great night out without breaking the bank.
Even better, the staff doesn't seem to take themselves too seriously and have a great laid back attitude, which makes you feel part of the fun. My new favorite 'go-to' in Vienna in a central location with prices cheaper than most bars!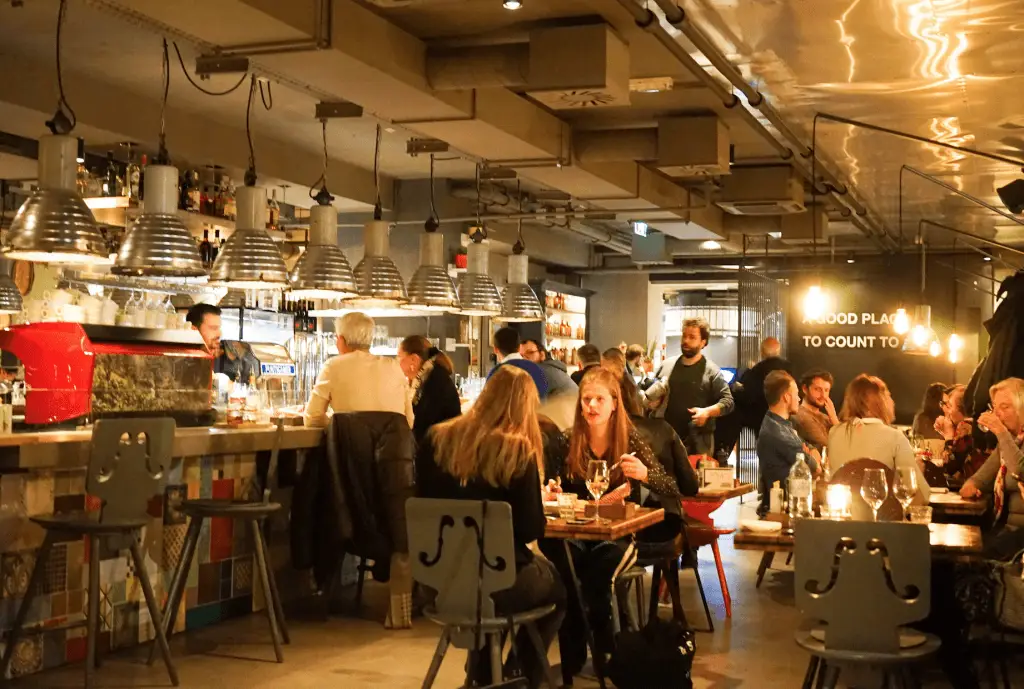 21. Go On Your Own Private Vienna Wine Tour
Spend the day sipping wine in the Viennese vineyards on a do-it-yourself Vienna Wine Tour. Vienna is one of the only cities in the world where wine grows within the city limits, and on a summers day, there is nothing better than wandering between the Vienna vineyards – sampling the best food and wine at incredibly low prices.
The fit-out is rather cheap and basic, but the wine is top-notch, and the festivities can go all day and into the night. It's your own Vienna Wine Tour, so you decide when it ends! Be sure to try the Grüner Veltliner…And to not miss your last bus home!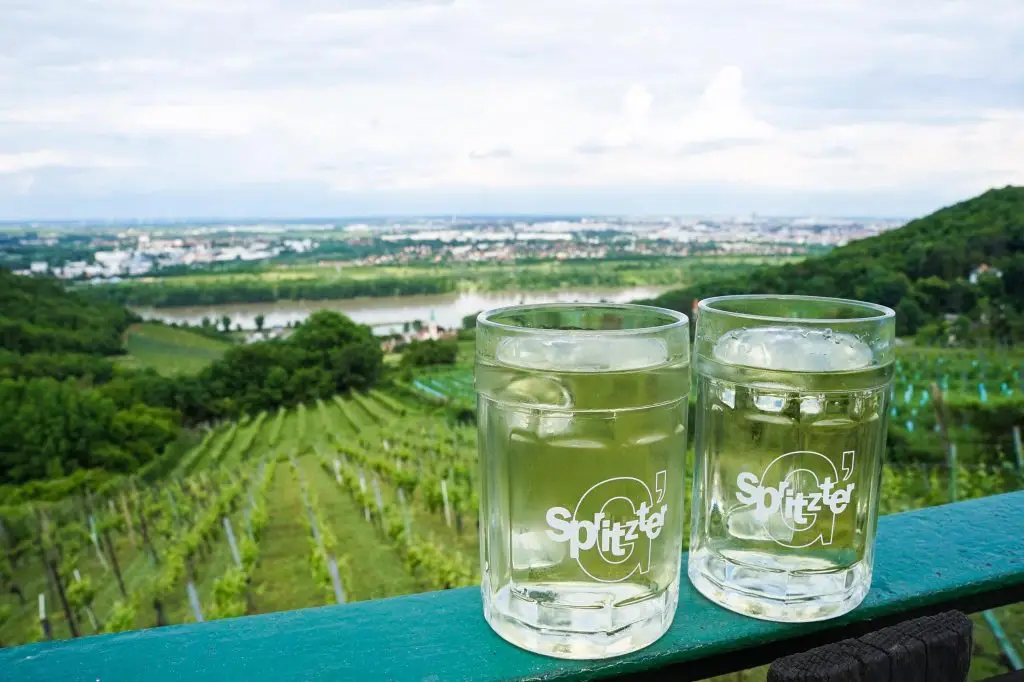 22. Appreciate The Many Historic Viennese Coffeehouses
Sip a Wiener Melange and enjoy Apfel Strudel at a Viennese coffee house " where time and space are consumed, but only the coffee is found on the bill." It could be argued that nothing is more quintessentially Viennese than the coffee house's which played such an essential part in shaping their culture, and it's now listed as "Intangible Cultural Heritage" by UNESCO.
Spend as long as you like; there is no need to rush out and order more, relax and listen to the sounds of Piano and conversation as the afternoon turns into evening. My favorite is Café Central [pictured] located at Herrengasse 14 in the first district of Vienna, because of the architecture and history.
In 1913 alone, Josip Tito, Sigmund Freud, Adolf Hitler, Vladimir Lenin, and Trotsky were all known to have frequented here!
For a quieter, less flashy experience, you can also check out Café Sperl in Mariahilf district. Far more local, with a truly old-world vibe, it's a close second!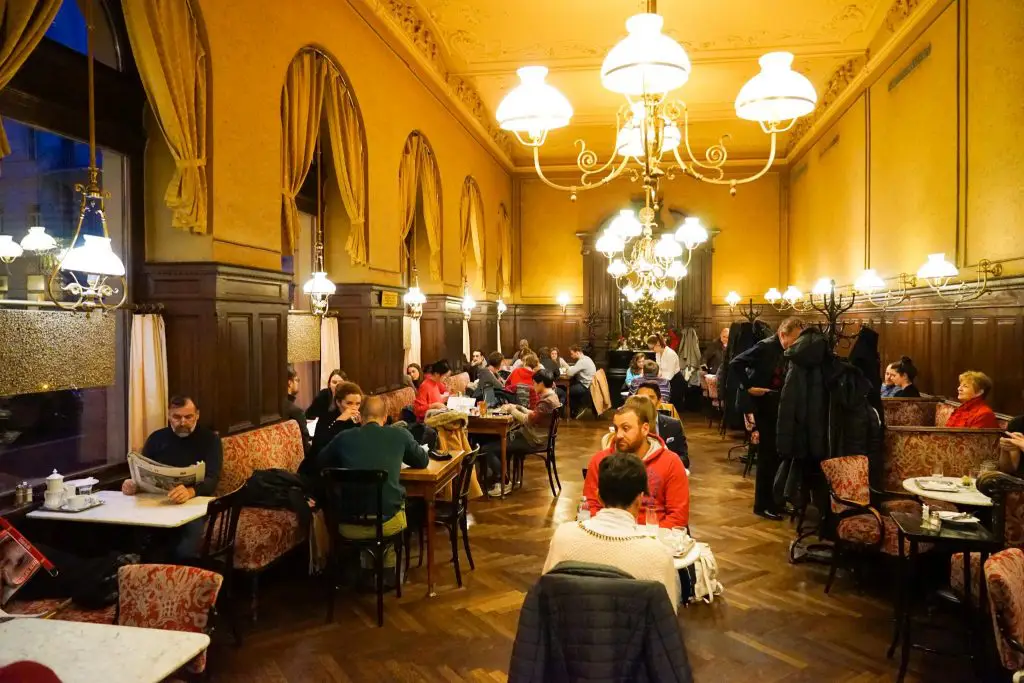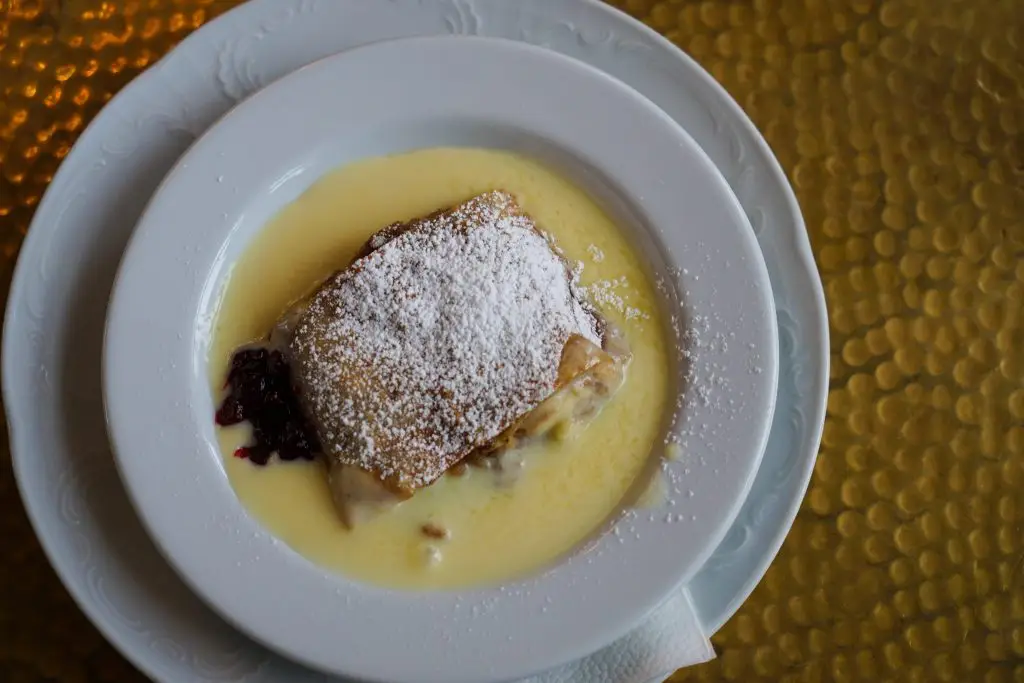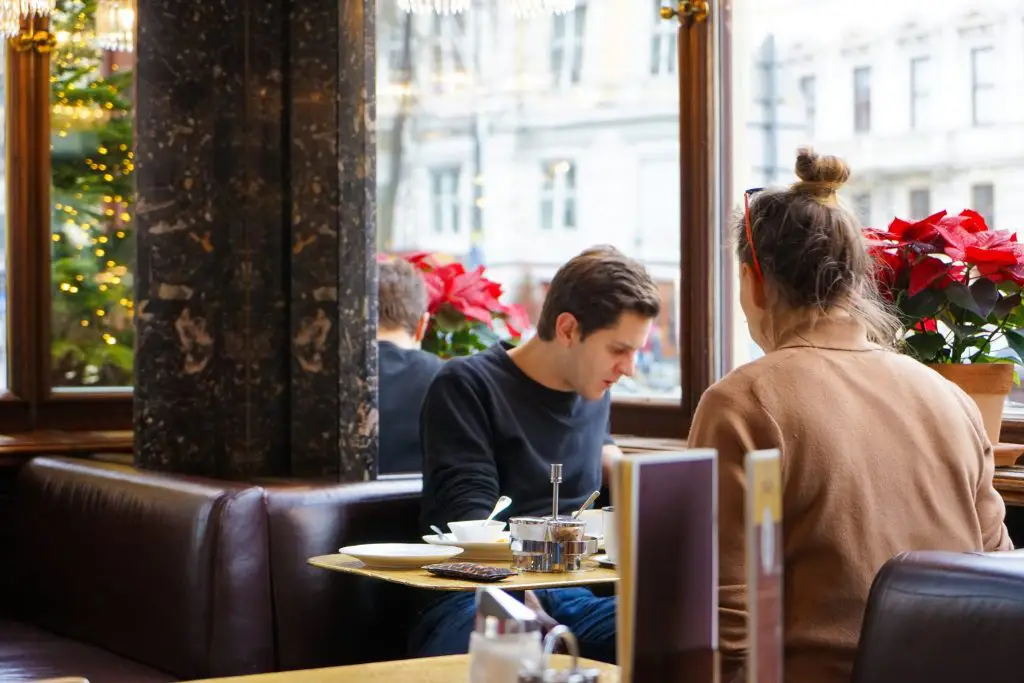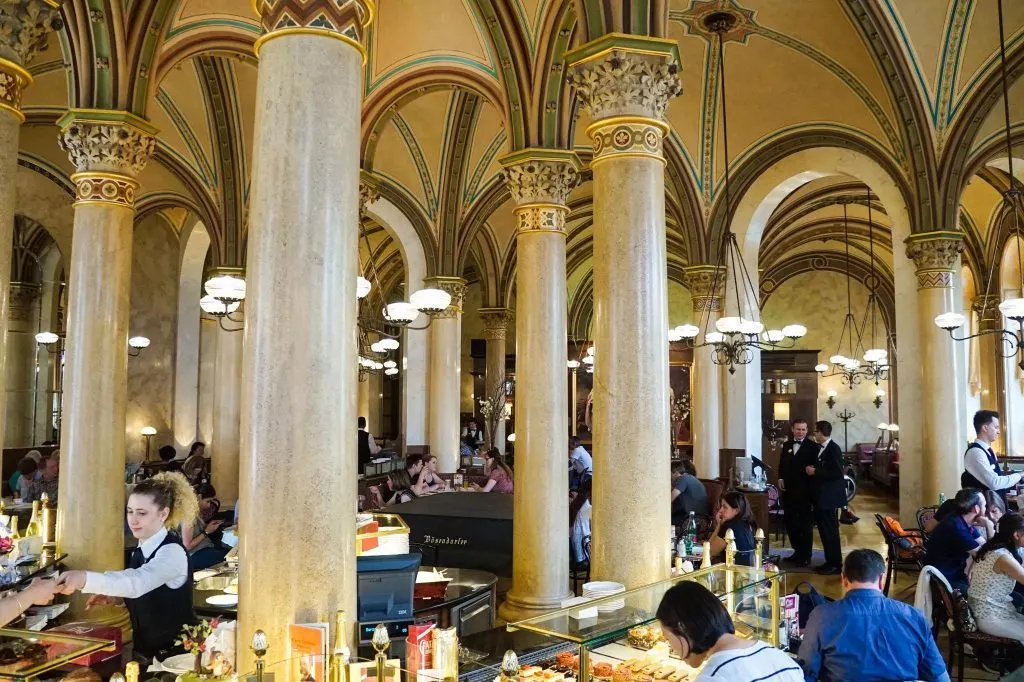 23. Wander Along The Magical Danube Island
Spend a day in the sun at the Danube Island. Easily accessible by U-Bahn or Bike, the Danube Island is a 21km island in the Danube River, which provides the perfect opportunity for swimming, boating, cycling, skating, beach volleyball, and of course, – picnicking.
A trip here is never boring with many free concerts throughout the summer, and plenty of different groups meeting here, including musicians, boxers and singers, so people watching is also at its best.
The water is crystal clear in places, so be sure to bring your swimming trunks and admire the skyline from a new vantage point! The Danube Island is also home to some amazing EDM festivals throughout the summer if you want less relaxing and more excitement!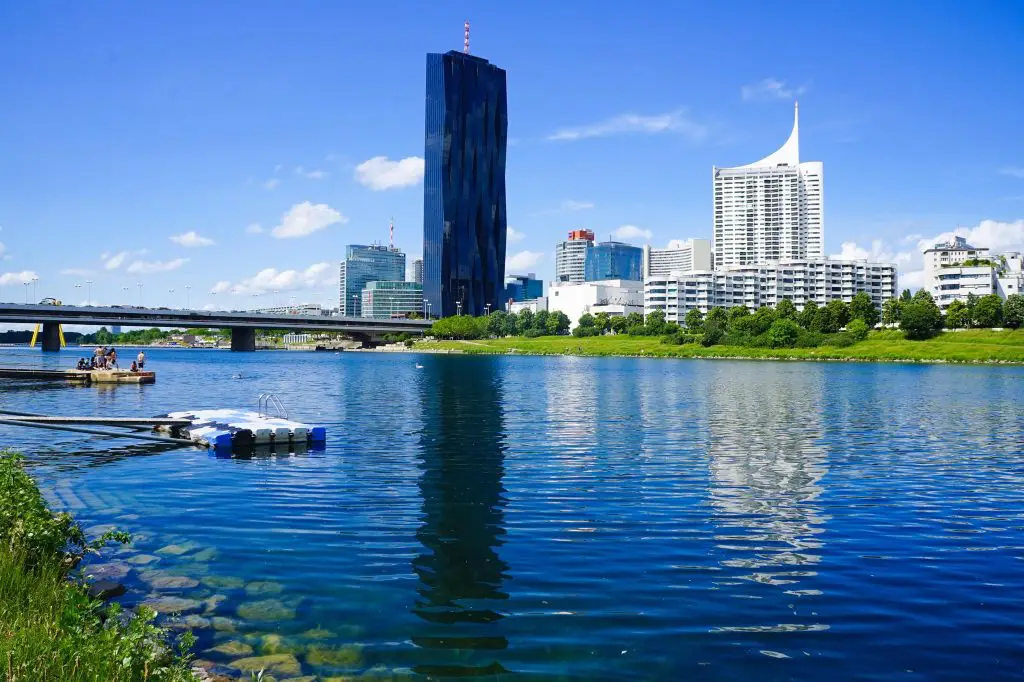 24. Watch Experts In Their Craft At The Spanish Riding School
You may not have gone to Vienna to find some Spanish culture, but that doesn't mean you shouldn't check out the Lipizzaner horses at Vienna's Spanish Riding School. You don't need to know much about Dressage to appreciate this incredible performance, where riders and beast work in unison to create a stunning display.
The riders train with their horses for two hours every morning, buy a ticket and you can either stand or take a seat in the viewing gallery and watch these masters of their craft put their horses through their paces. The horses are trained to follow the direction of classical Viennese music.
Riders need to train with their horses every day to maintain their stamina, flexibility, and athleticism in order to perform the dances to the highest standard.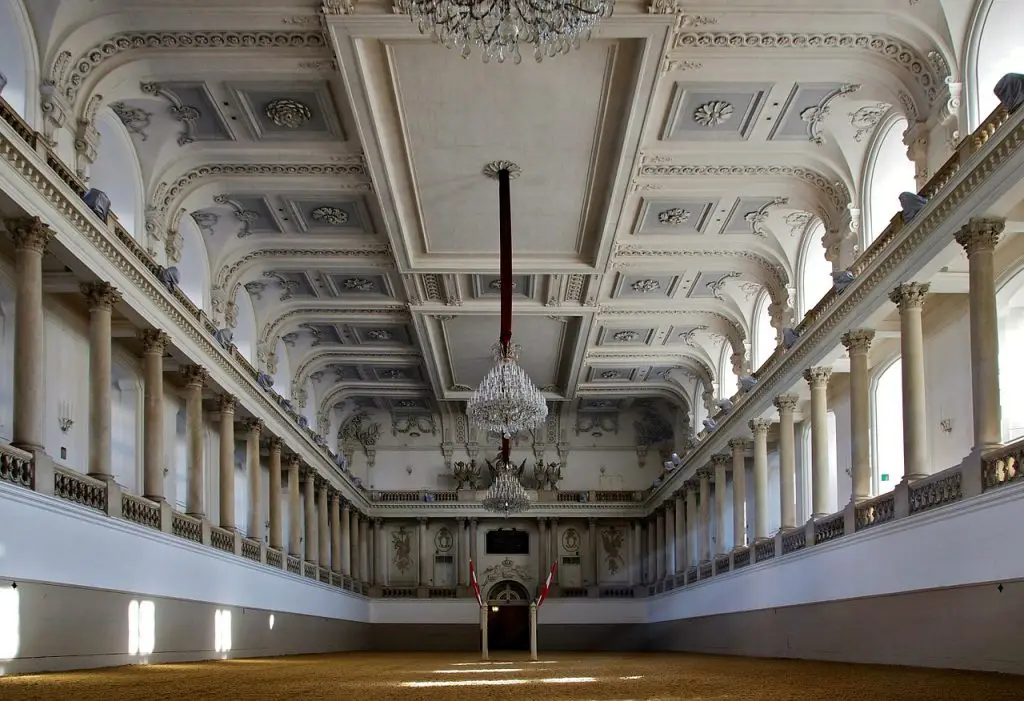 25. Explore The Schönbrunn Palace Gardens
Marvel at the Baroque splendor that is the Schönbrunn Palace Gardens. A 1,441-room palace that is probably the most important architectural, cultural, and historical monument in Austria that has a 300-year history deeply intertwined with successive Habsburg monarchs, most significantly Franz Joseph and Maria Theresa.
The whole site, including the Schönbrunn Palace gardens, has been listed on the UNESCO World Heritage List since 1996 and is one place you absolutely cannot miss come rain or shine. If you have kids with you, a visit to the Schönbrunn Zoo [the oldest zoo in the world] is also a must – not least as they have Giant Panda!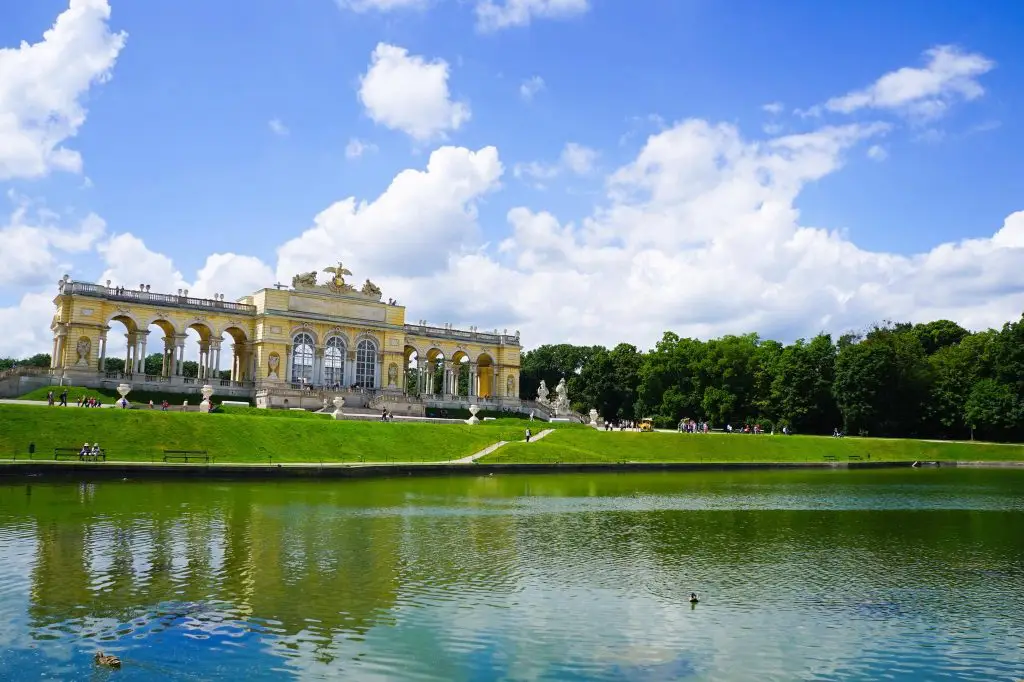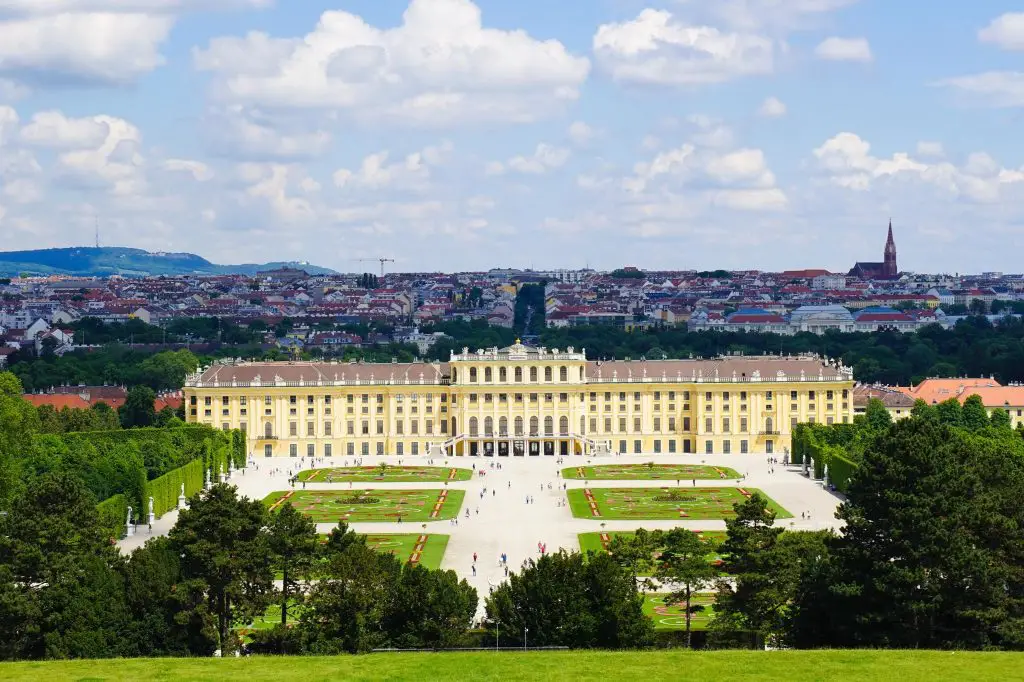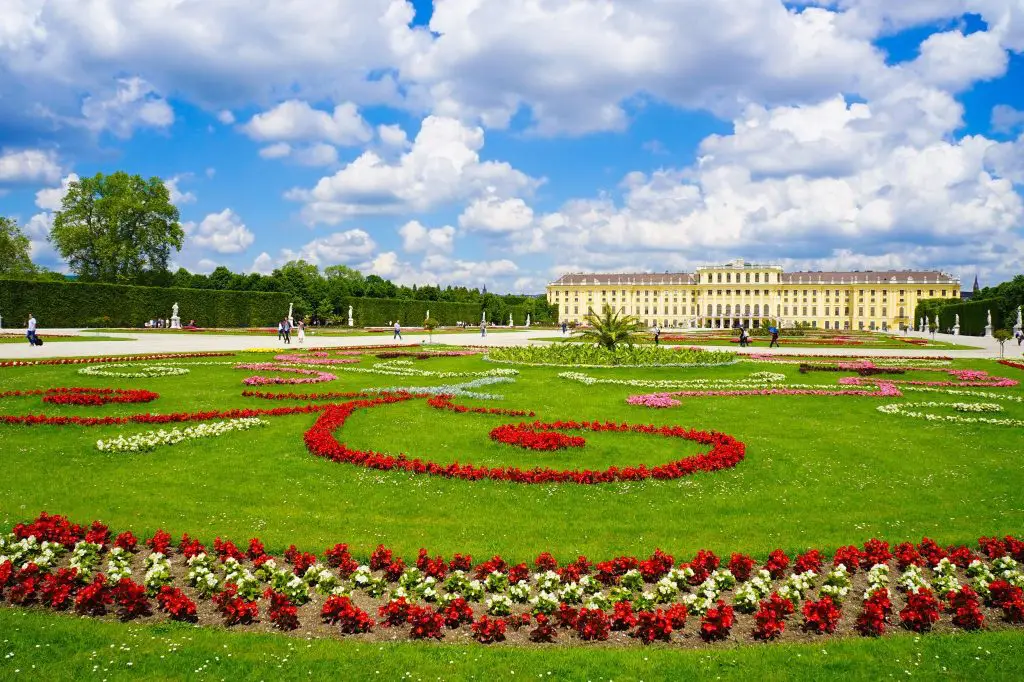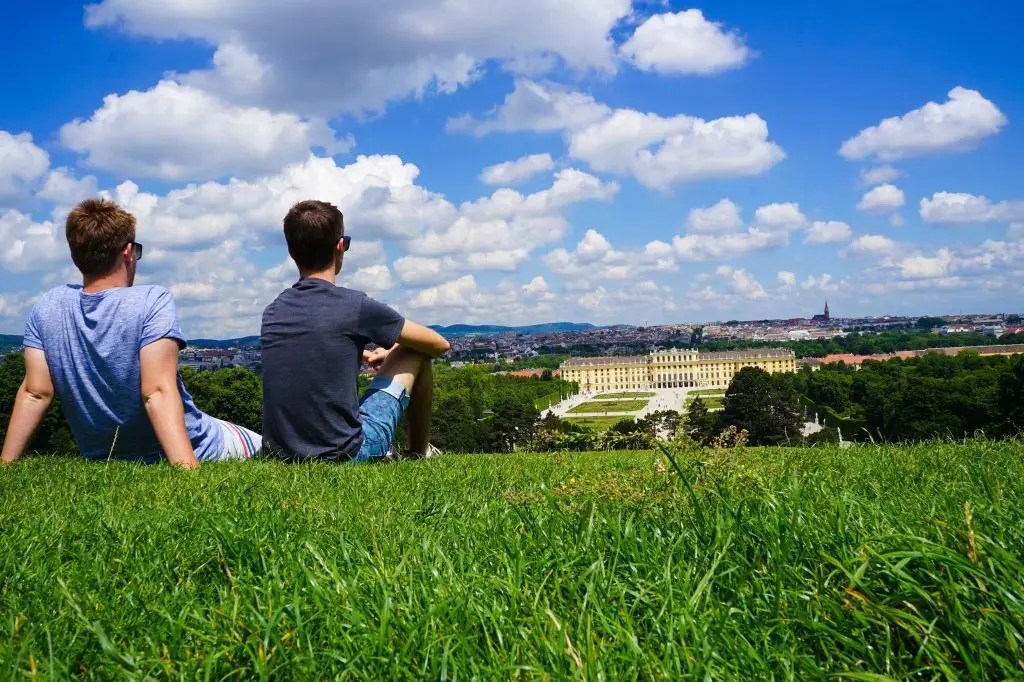 26. Relax And Enjoy The Sights On The Danube River
If you want to escape the crowds and rest your feet, there are few more charming places to do that on the HMS Danube. Hop on to this pleasure boat from … and spend your afternoon gliding down the Danube river. Not only is this a great way to get a break from the hustle and bustle of the crowds, but it's a spectacular way to view some of the city's most magnificent architecture.
Boat journeys are just over an hour-long, which means you can drift serenely through the (almost) center of Vienna, avoiding the crowds and traffic and with only the sound of the water gently lapping the hull of the boat. There are several departure times to choose from throughout the day, but the boat routes are always the same.
The best time to book is just before dusk – if you can manage it. You'll be able to watch the sunset over Vienna's incredible skyline before watching the city lights bring the buildings to life…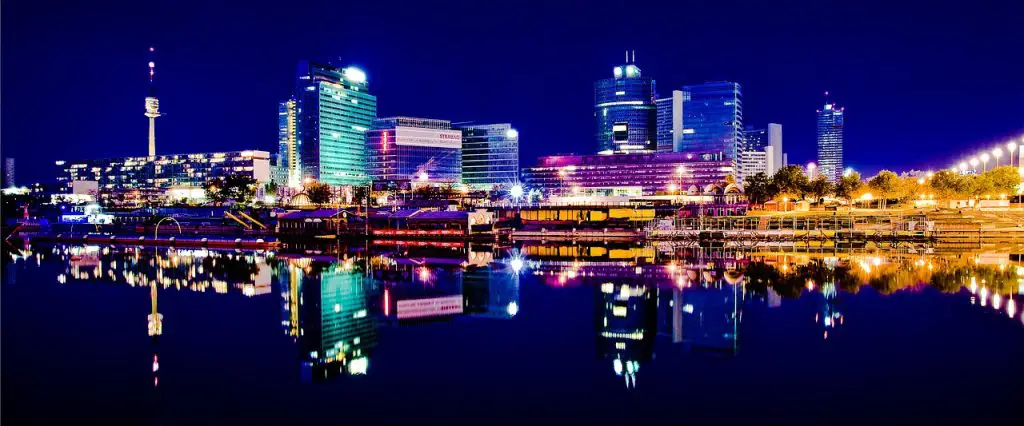 27. Glide Through The Streets Of Vienna On A Classic Bike Tour
If you'd rather not take the boat and would instead make your way around Vienna under your own steam, look out for the guided bicycle tours that operate throughout Vienna.
You will be led by a local guide past favorite attractions such as the Stadt Park and Vienna State Opera buildings. You'll also get the chance to leave the city streets and take a relaxing cruise through the colorful gardens of Hofburg Palace, the old imperial seat of the Austrian monarchs.
There are morning, afternoon, and evening departures to choose from, but we'd recommend setting off in the morning. This will ensure you've still got a spring in your step as well as helping to avoid the crowds. Overall the bike tour normally runs over a distance of around 10km, but that's all easy when you're on two wheels.
The bonus of the cycling tour is, of course, that you won't have to feel guilty if you normally hit the gym; you'll be burning calories as you see the city.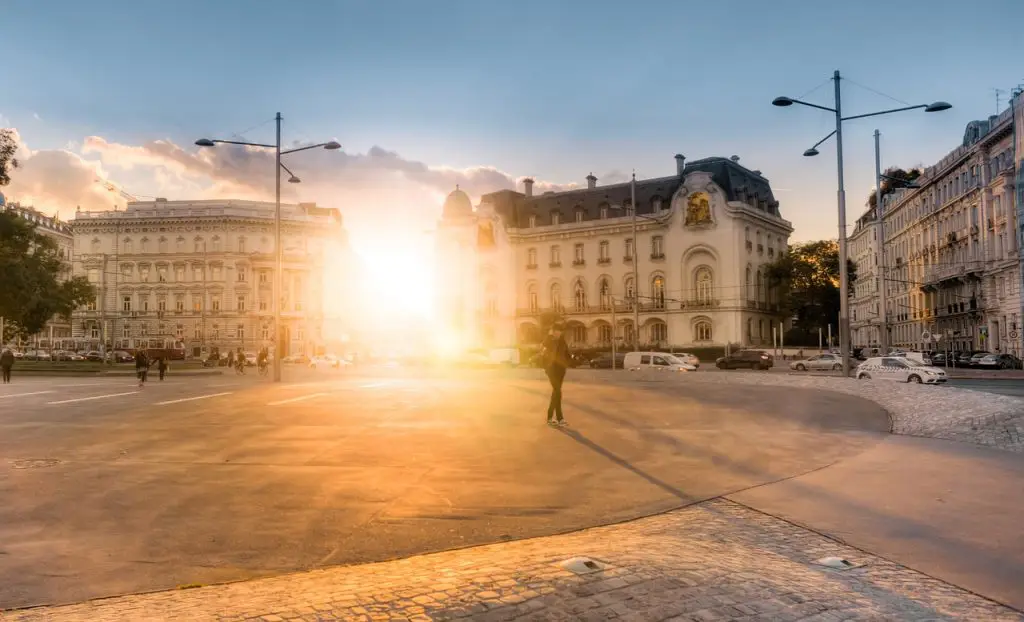 28. Get Out Of The City And Enjoy The Enchanting Vienna Woods
The Wienerwald (Vienna Woods) like 24 km southwest of Vienna and are home to the small but beautiful village of Mayerling. The trip to the Vienna Woods and the town takes typically around half a day from door to door but is a great way to step outside the city if you're only visiting for a few days.
Of course, it is easy to find peace here, but these Woods have ghost stories to tell. If you join a tour to the town of Mayerling, you are bound to hear the tale of the infamous hunting lodge that once occupied the Woods.
Although the actual course of events is not fully known, the Mayerling incident as it has come to be known haunts the old forest and village. It was on the 30th January 1889 that the Crown Prince Rudolf of Austria was found here with his mistress Baroness Mary Vetsera apparently as a case of suicide.
The mystery was never solved; however, pieces of evidence have slowly come to light over the years. We won't tell you the whole story, but make sure to visit the Vienna Woods if you want to learn more.
Just, maybe don't use it as a place for wild camping in Austria… Vienna might be obsessed with the macabre, but that would be a step too far.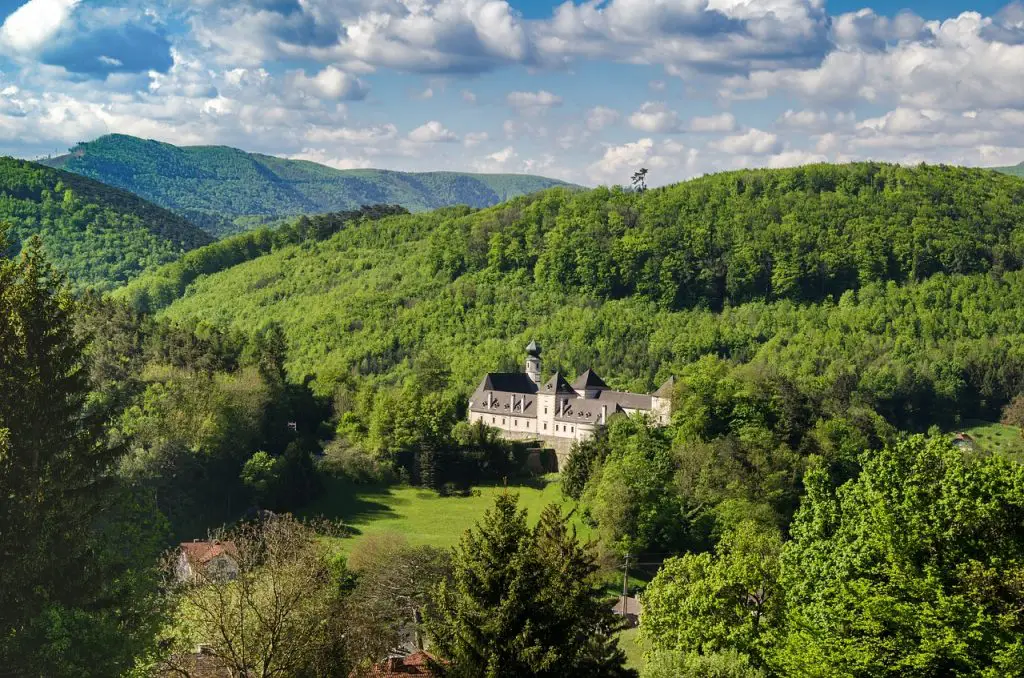 29. Feel Traditional And Festive At The Wiener Rathauskeller
This is the place to come if you're looking to enjoy regional delicacies from across Austria – though it is one of the more popular activities in the entire city, so in peak seasons, you are going to want to book in advance.
The meal lasts roughly 2 hours and features a full period costume delicious foods and more classical music from your favorite Austrian composers. There are dances, songs, and a delicious three courses to be had, as you sit through an immersive Austrian holiday dining experience.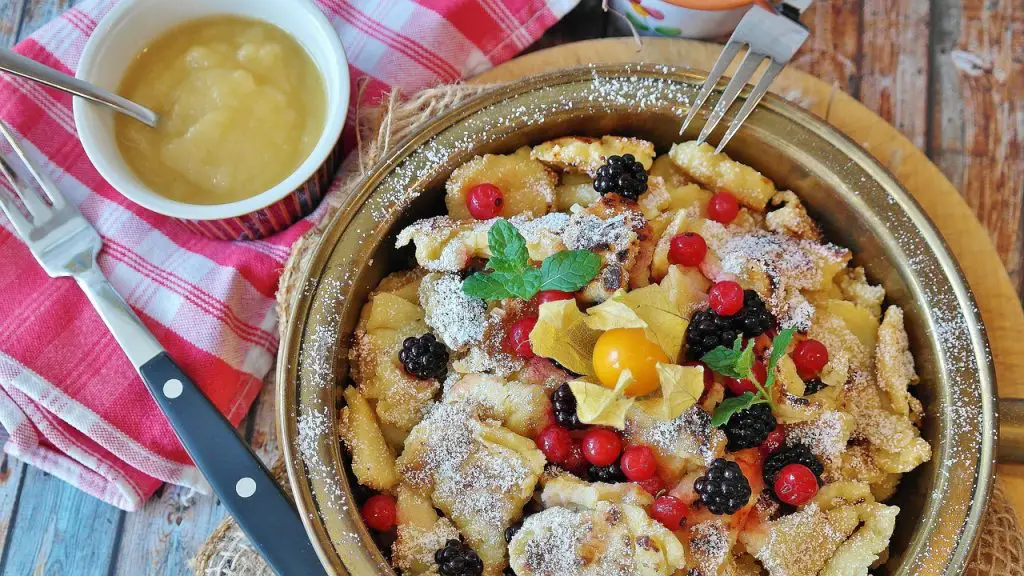 30. Take a Dip At The Glitzy Krapfenwald Pool
Escape the heat and take in some of the best views of the city at Krapfenwald Pool. A place you won't believe is public and on the weekends has a very 'seen and be seen' vibe. Take a picnic, pack your best swimming trunks and lap in the nostalgic flair of the 1930s Krapfenwald Pools – all for only €4!
The woods nearby have some excellent mountain biking and walking trails if you are feeling extra energetic. Are you visiting Vienna in Winter? Head to the Oberlaa Therme Wien, Austria's most extensive hot pools with luxurious whirlpools and grotto-pools.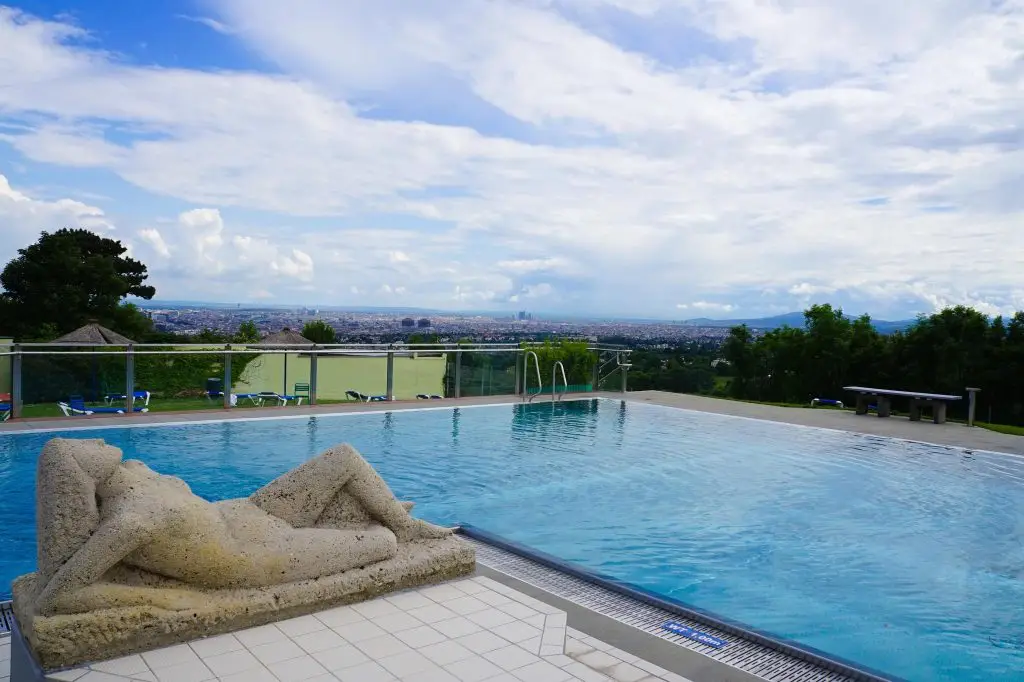 31.Marvel At Europes Best Christmas Markets In Vienna
Everyone knows the best Austrian Christmas Markets are found in Vienna, so shop [or drink] till you drop at some of the best Christmas markets in Europe. From mid-November through to Christmas, Vienna's most scenic spots are filled with the aroma of baked goods and hot punch getting everyone excited for Christmas.
Stalls upon stalls selling the most intricate decorations you have ever seen, but window shopping can be just a nice! My favorite is the traditional Vienna Magic of Advent, where the Rathausplatz becomes a magical fairytale oasis in the dark.
However, it can be incredibly popular so if you wish to avoid the madding crowd you can find dozens of (slightly) less crowded markets scattered around the city.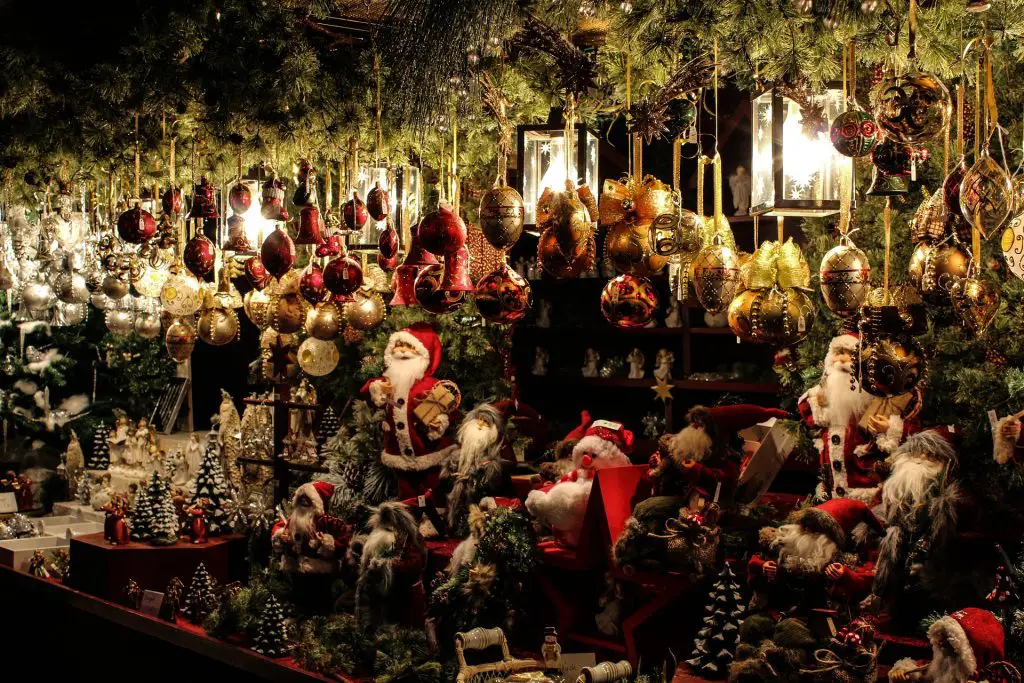 32. Revel In The Atmosphere Of The Luminous Würstelprater
A trip to Vienna would not be complete without wandering the Würstelprater / Prater Fair Grounds and gazing upon Viennese Icon, the 1897 Risenrad Ferris Wheel. The perfect place for people watching day-or-night, for me, the real highlight is not the birds-eye view from the Wheel but having a beer and partaking in all the merriment.
Rides are individually purchased for around €3-5, and at night expect everything to be lit up in a kaleidoscope of color and sound. There is also an expansive green parkland next door, and many of Vienna's biggest clubs and bars are found around here.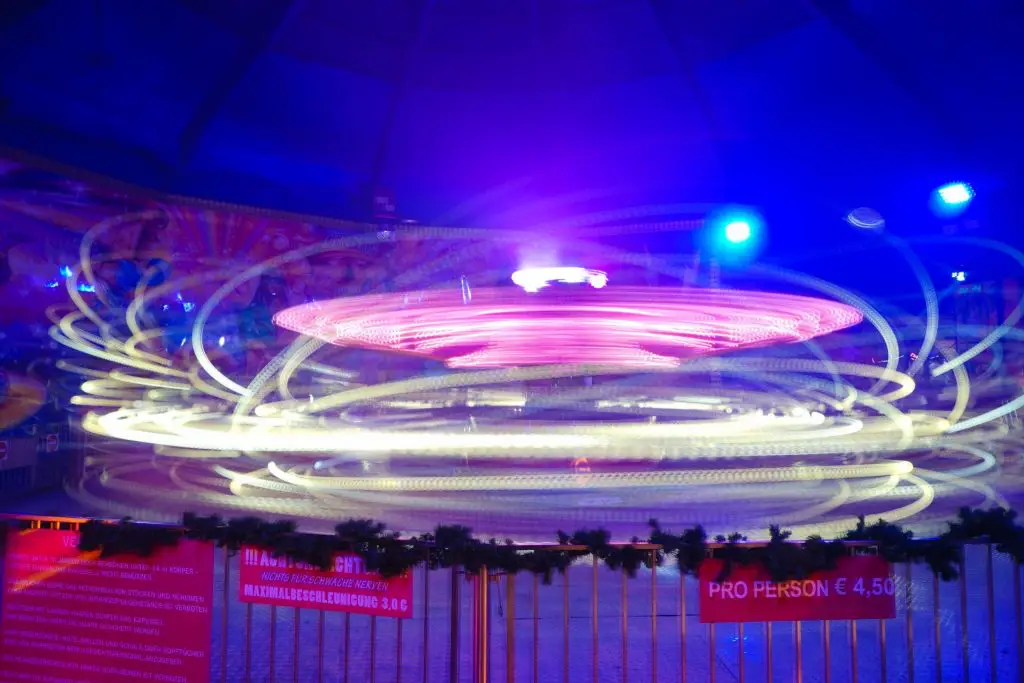 33. Carouse With Panoramic Views At The 57 Lounge And Restaurant
The best views of Vienna from the tallest building in Austria – and with delicious cocktails and gourmet dining. Occupying the top two floors of the 220m Melia Hotel Vienna building, the chic black marble decor with floor-to-ceiling windows and the outdoor terrace is a welcome addition to Vienna's dining scene. It offers a far superior experience to the dingy Danube Tower next door.
On a blue-sky day, the 57 Lounge & Restaurant is one of the best things to do in Vienna…but it still looks beautiful in the gloomy winter!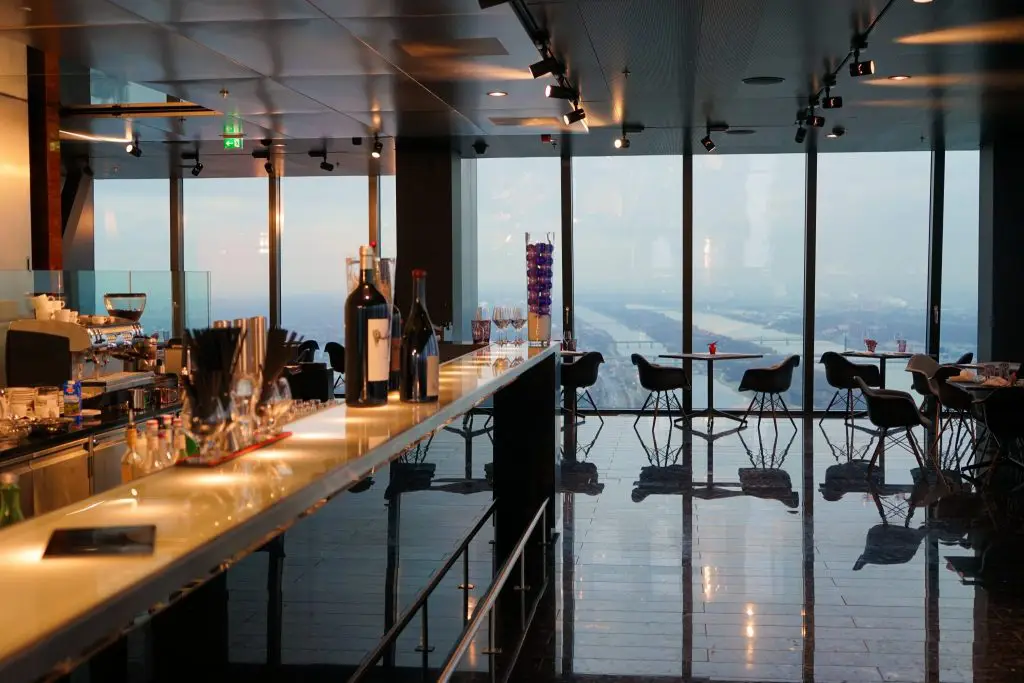 34. Have a Night Out In True Viennese Style
While Vienna might be more famous for its waltz balls than all-night club scene, there is plenty to be discovered here – if you know where to look.
Nights out start late here as locals love to pre-drink at home (or in parks in the summer), and it's not uncommon for venues to not get pumping until 2 am. Refreshingly for Europe, lines are often short and bouncers friendly with a pretty relaxed dress code.
Look out for Facebook events at the techno club Donau and Club U in a repurposed subway station. For cocktails head to the retro Le Troquet or Loos American Bar. Expect plenty of new concepts, time-traveling, and incredible repurposed spaces (though none that can compete with the ruin bars of Budapest).
35. Go Ice Skating At The Vienna City Hall
Go ice-skating in front of the Vienna Town Hall (Wiener Rathaus), the cities neo-gothic crowning jewel. In how many cities of the world can you skate your worries away in front of the town hall – – let alone one as beautiful as this! Music flows through the air, and good vibes ensue at the Vienna Town Hall (well outside at least!).
There is also an ice path through the surrounding forest to enjoy and traditional drinks such as Glühwein to keep you warm inside. It feels just like a fairytale! If you're visiting in the summer, don't worry, you can take a free guided tour of the Vienna City Hall.
Or look out for the famous all-night parties hosted periodically within (they are kind of hard to find, but you can start looking here for upcoming events).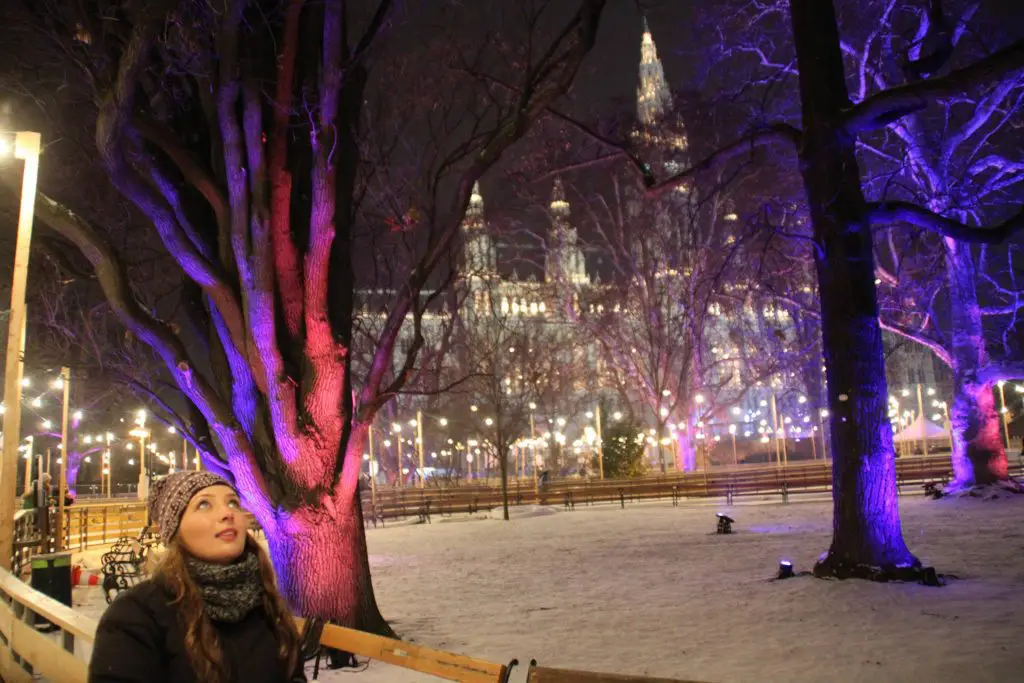 36. Get Inspired In The Unique Vienna Design Shops
At first glance, Vienna feels like a fairy tale come to life with opulent luxury, and old-world crafts mingle side-by-side in store on the winding cobbled lanes of the Old Town. But take a second look, and you will quickly find many young designers on the cutting edge of design and art, incorporating their past and channeling that creativity in new and unexpected directions.
This is to say all the funky crafts, sustainable fashions, handmade designs, and avant-garde design stores that you would expect to find in say, Copenhagen or Taipei, are all on offer here. If you know where to look.
I could dedicate an entire article to design stores in Vienna – and often think of starting a blog just to cover Vienna – but for now, just head to Neubaugasse, Lindengasse, or Kirchengasse, home to Vienna's most creative design shops and the highest concertation of boutiques.
Why not stop in the garbage upcycling design store to marvel at ingenious upcycled furniture, lamps, fixtures, bags, and jewelry, or the HABARI Design Store with affordable African inspired textiles and unique artisan crafts from around the world. Marco Simonis Urban Appetite is also another must-visit, with artisanal foods and homeware, and an impressive selection of gin with dirt-cheap tastings.
I could go on and on, but just take a wander and see what you find for yourself. Oh, and be on the lookout for the latest pop-up stores. For a city whose reputation is built on age and history, design things here often move at a breakneck pace.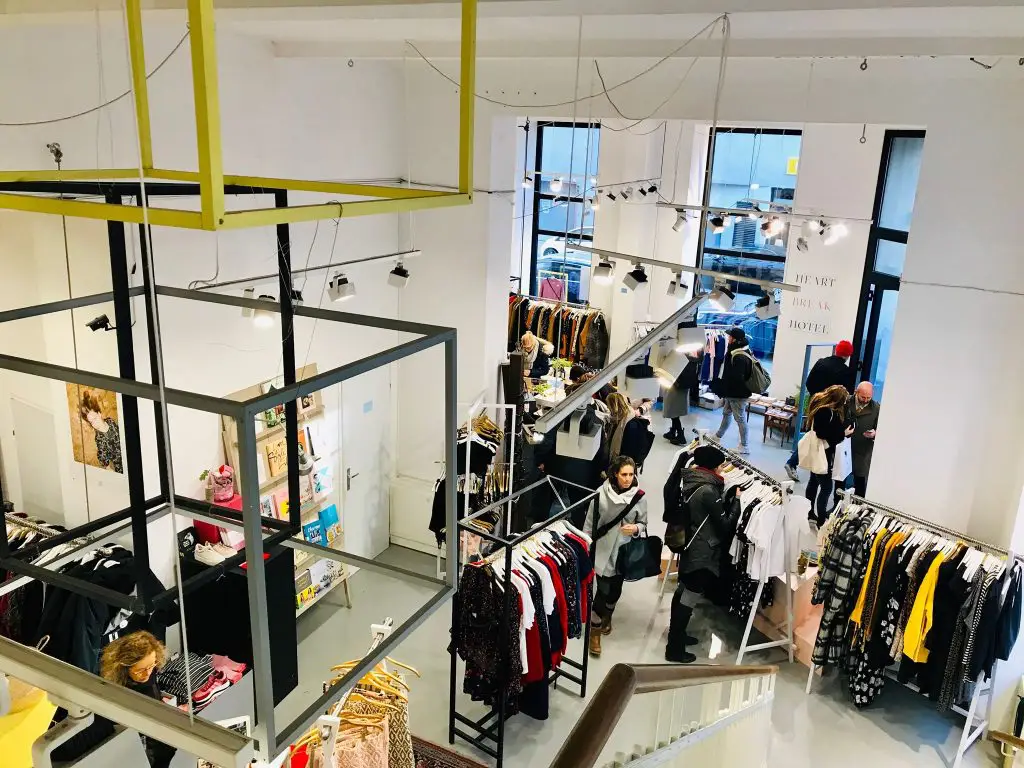 37. Relax Amidst Gorgeous Surroundings At The Palmenhaus
I could kick myself for missing this place on my previous ten or so trips to Vienna but hidden in plain sight amidst the cities imperial landmarks in this ethereal coffeehouse and bar.
A pulsing space filled with botanicals, chic design, excellent service, and wonderful coffee, the Palmenhaus is found in the former Emperor's glasshouse, tempting you with the unique experience of sipping Viennese coffee inside a lush rainforest setting. There is nothing else like it!
For an even more exciting time, visit this iconic 1882 Art Noveau steel and glass structure in the evenings when the colorful interior lights are in full effect, and Vienna's high society indulges in the Palemnhaus first-class culinary creations, diving cocktails and – of course – the famous Vienna Schnitzel.
During the warmer months, tables spill outside, and crowd fight for a spot at sunset overlooking the statue-filled Burggarten.
The Art Nouveau movement bloomed in Vienna at the turn of the 20th Century as it did in other European cities like Riga and Helsinki which experimented with the style characterized by lavish and organic ornamentation. One of the many architectural movements to leave its mark on Vienna, the Palmenhaus remains a significant contribution to Art Nouveau's portfolio not just in city but around the world.
A striking café worth of a place on any list of Vienna attractions, the Palmenhaus is waiting for your – breakfast, lunch, dinner, or even later!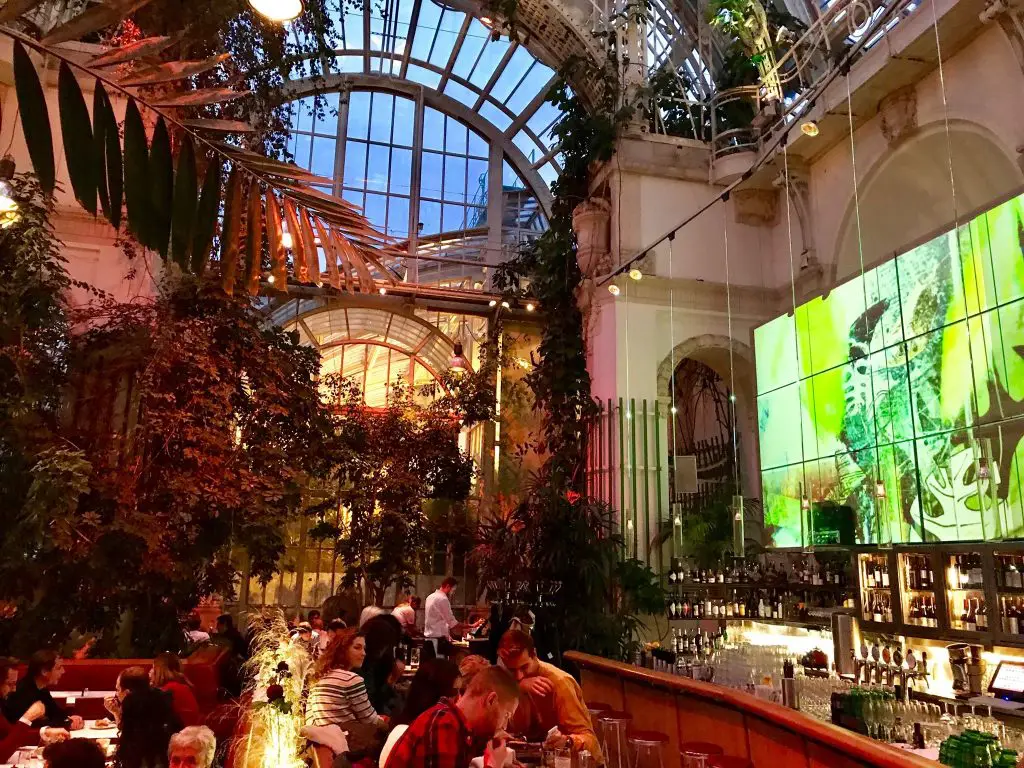 38. Wander The Peaceful Zentralfriedhof Cemetery
Pay your respects to the dearly departed in one of Europe's biggest and most beautiful cemeteries, with over three million souls resting at the Zentralfriedhof. Far from a morbid attraction, it is surprisingly peaceful to wander through the maple-lined paths here and admire the different architectural styles spanning different eras.
If your into celebrity spotting – and no judgments as I visited Fidel Castro's new grave in Cuba – you can find composer Beethoven, artist Hans Makart and pop icon Falcon in the Tombs of Honour, amongst many, many others.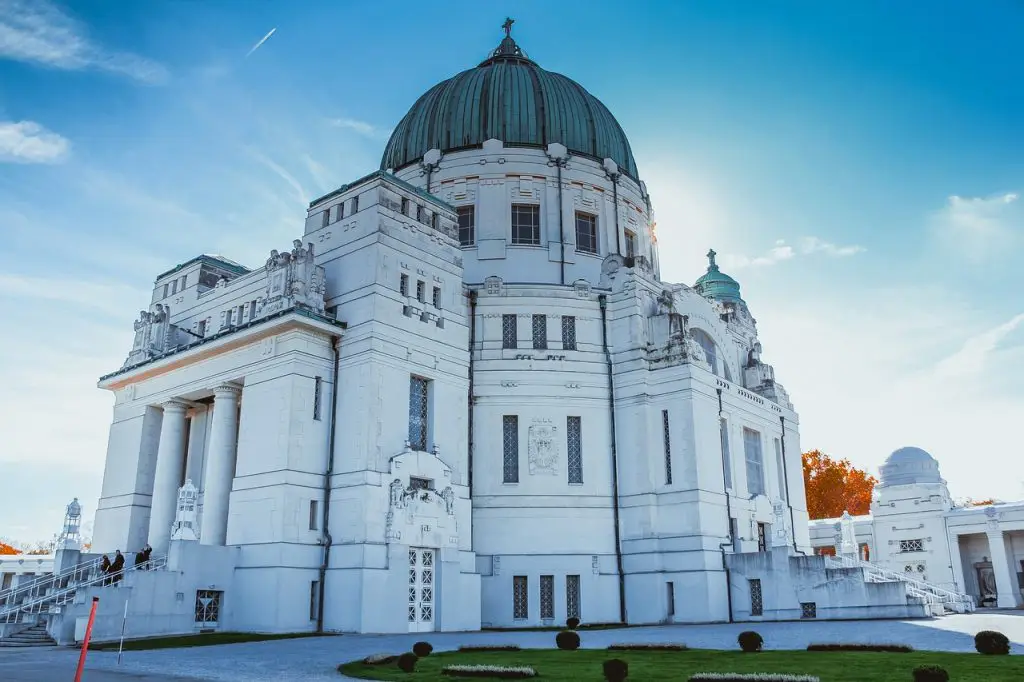 39. Combine Cocktails & Design At The Award-Winning Krypt.bar
The latest underground hotspot in Vienna that everybody is talking about, Krypt.bar, is the perfect way to see the more modern side of this city.
Located in an 18th-century cellar, an inconspicuous door on a side street and narrow stairway lead you down to this 250 square meters award-winning cocktail bar. Krypt.bar not only offers marvelous cocktails but an inspiration for your soul with fabulous interior design (it was even awarded the 2017 American Architecture Prize, amongst many others).
Try sipping a 'Bunny daiquiri' on the seven-meter long bar of marble and walnut or enjoy in a 'Smokey Pear' in the intimate booths or hidden lounges. It's all very 1920's speakeasy/prohibition-style and like nothing else on offer in Vienna. Great design, great cocktails, great atmosphere, and non-smoking, what else you ask for!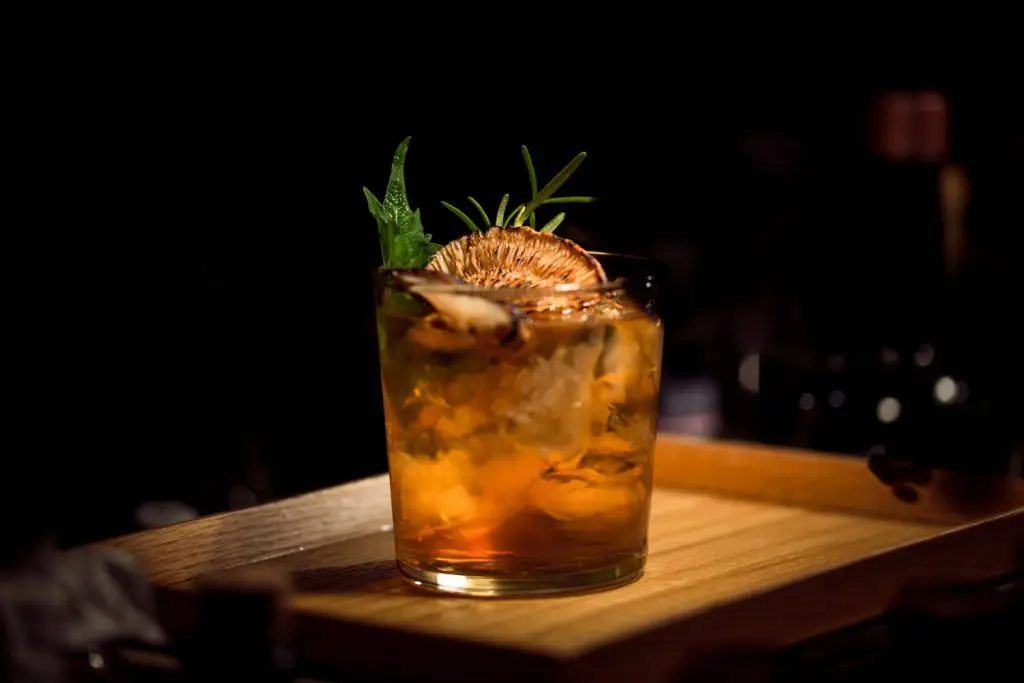 40. Participate In The Grand Tradition Of The Würstelstand
While Vienna might be more famed for its ostentatious hotels and refined cafes, the Würstelstand (sausage stalls) that dot the city are held in just as high regard by locals. Devour debreziner (paprika-spiced sausage), käsekrainer (sausage with cheese) along with various side dishes.
Ubiquitous in Vienna, movable stalls were initially created during the period of the Austro-Hungarian Empire to provide a source of income for disabled veterans. Still, it wasn't until the 1960s that they become fixed in place – and especially concentrated near mass transit points.
Today, the Würstelstand is more than a 5 am haven for revelers looking for something greasy to finish a night of partying. In essence, they are an important part of Vienna's identity and a meeting place for everyone from politicians and pensioners.
Stop by the Bitzinger Würstelstand Albertina, with its iconic pink bunny rabbit, where polished elites sip Joseph Perrier champagne with gourmet sausages or for a more traditional experience you can't go wrong with Würstelstand Alles Walzer Alles Wurst.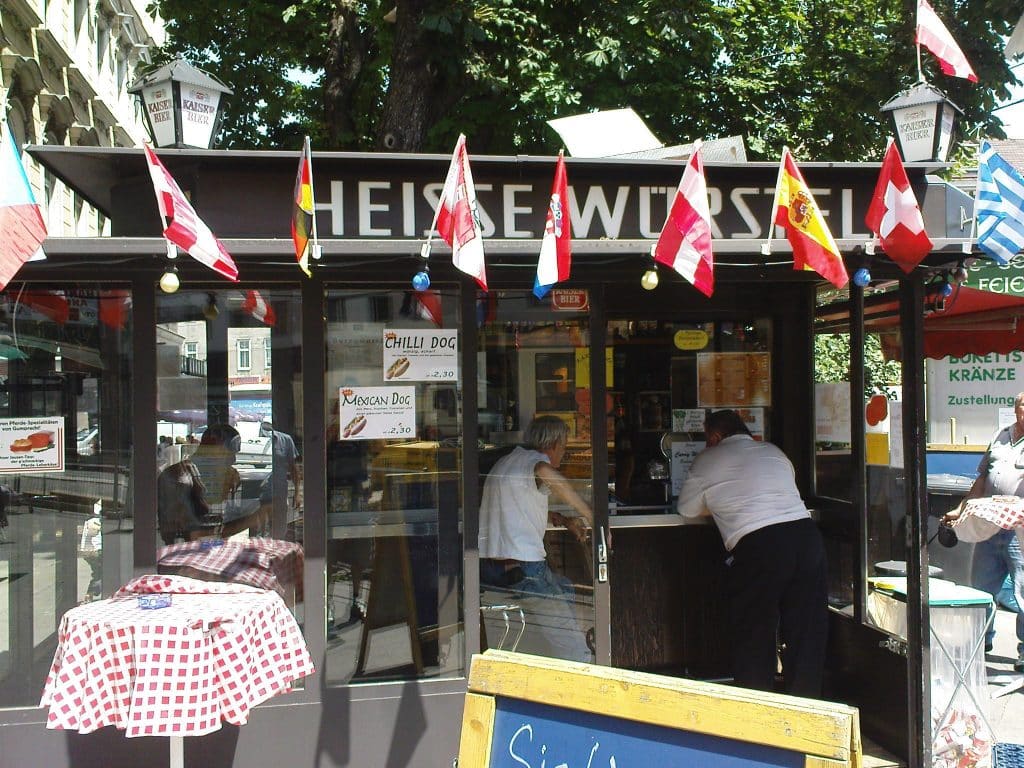 41. Make A Splash At The Amalienbad Swimming Pool
Vienna has had a large number of public baths since the Middle Ages, and visiting the baths had always been widespread across the various social classes, be it for grooming, therapy, or entertainment.
Their popularity has waxed and waned over the proceeding centuries – with multiple outbreaks of epidemics causing decline at different times, yet increasing industrialization always leading to a rebound.
Today Vienna still has many municipal baths, and in fact, the bathing offer was expanded considerably – indoor, outdoor, for children, for therapy – the choices are seemingly endless. One of our favorites, however, is Amlienbad, which visually dominates Reumannplatz and has recently been refurbished.
Opened in 1929 as a result of a policy to construct 20 municipal bathing establishments and turn Vienna into a "bathing city," Amlienbad was one of the most significant such constructs and still, today offers enough space to accommodate over 1,200 people
. Not only can you take a refreshing dip, but you can experience a landmark of Viennese architecture which stands as a monument of working culture in "Red Vienna." However, with telling details with harking back to Jugendstil decadence and the mythical Roman baths – all of which combine to create something truly magnificent.
For those who want to complete this time-honored social tradition as a local would, there is a nude sauna with specific times allocated for male and female bathing.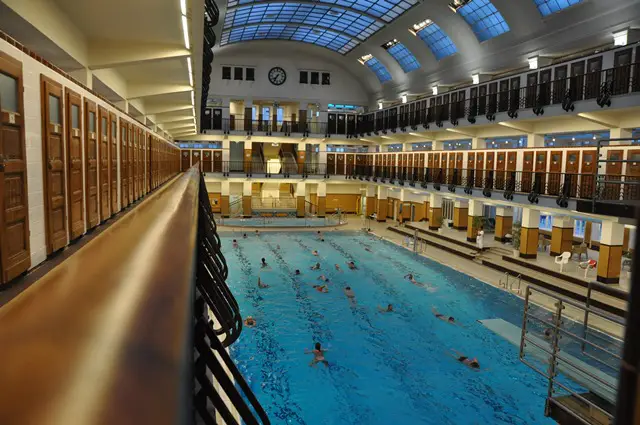 42. Explore The Role Of Social Democracy In Vienna

Vienna is consistently voted the most livable city in the world (along with Auckland, Sydney, and Tokyo), and this is primarily due to the achievements of Red Vienna back in the decades after WW1.
At this time, Vienna was a city plagued with misery and hunger after losing the war and having her empire crumble around her. Living spaces were too small, tuberculosis ran rampant, and the masses were not happy.
On the back of this, the elections of May 1919 delivered the Social Democratic Workers' Party an absolute majority, and just a few years later, citizens were eating well, going to movies, enjoying gardens, receiving medical care, and engaged in intellectual life.
Nothing short of a complete transformation, the policies of this time still impact Vienna today and are best explored at Karl Marx Hof, a "Superblock" of 1,4500 social housing units over 1.2 kilometers in length with massive oriels and towers – constructed during this ere.
Visit the onside exhibition Laundry Room No. 2, to learn about this attempt to create a new society that could face up to the capitalist bourgeoisie.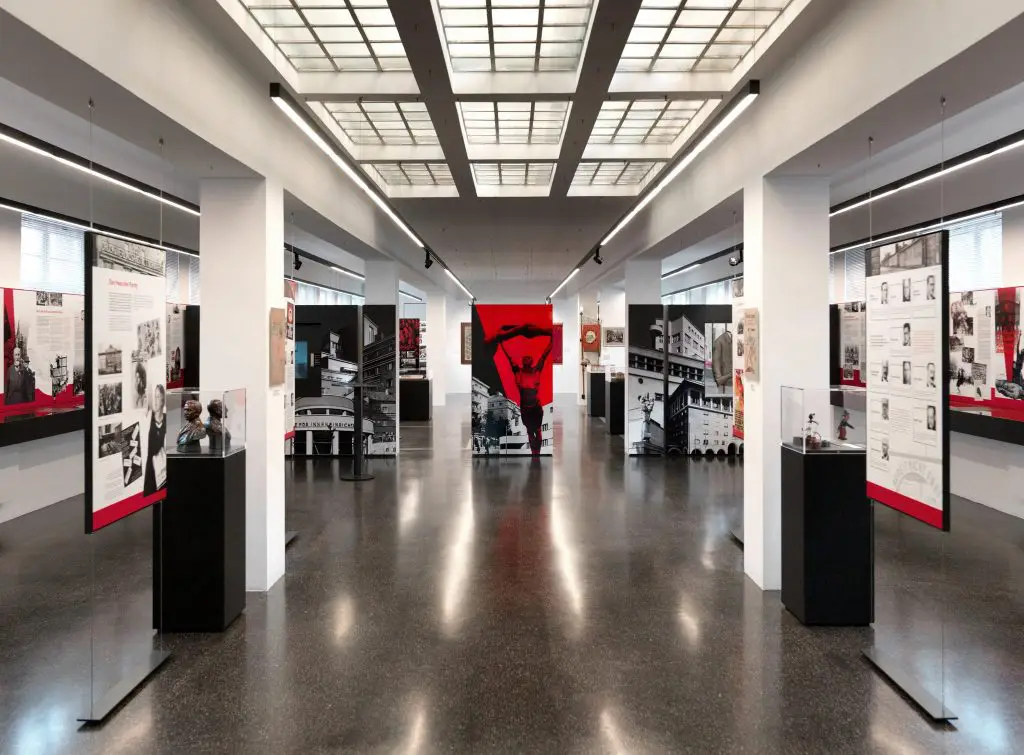 43. Expose Yourself To The Contemporary Art Of 21er Haus
A stylish contemporary art museum converging on Austrian art in an international context, the 21er House is run as part of the Belvedere Castle and Museum – but in reality, it is a world apart.
Built at the Austrian Pavillion for the 1958 World Exhibition in Brussels, the building's functional architecture with light-flooded open spaces necessitates equal attention to the monographic exhibitions help within. While the building languished in obscurity for years, it was recent revamp in 2011 has seen it become the "it place" for performative interventions, film screenings, lectures, concerts, and artist talks.
There is also a cafe, basement library, cinema, bookshop, and sculpture garden.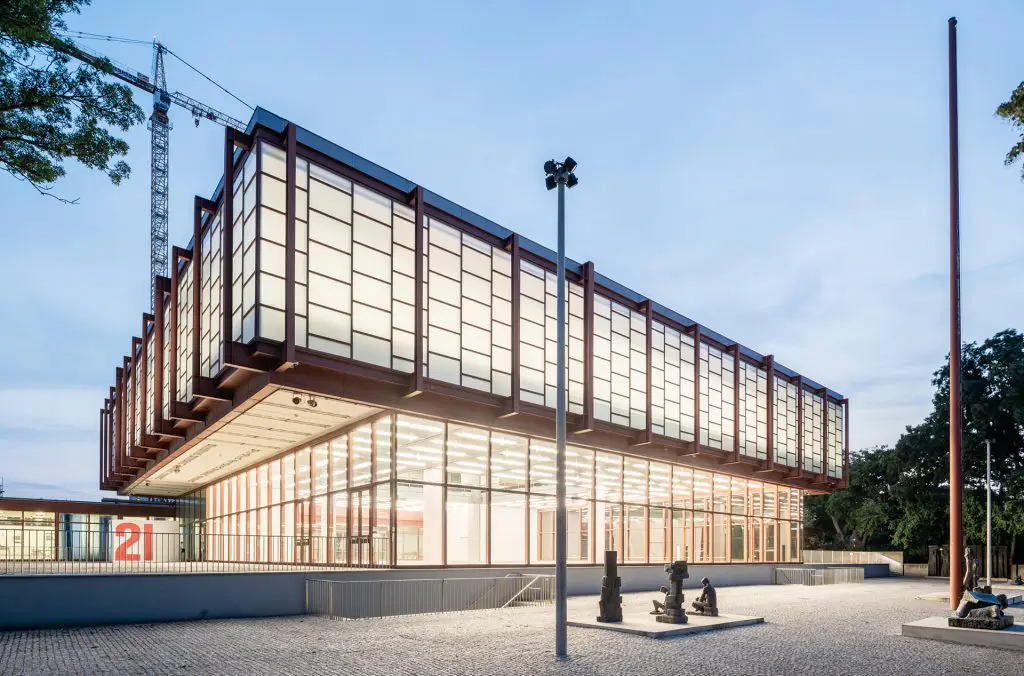 44. Yield To Your Sweet Tooth At Eis-Greisller


Vienna has over 110 ice cream parlors dotted across the city, meaning by some measures, it has the highest concentration of ice cream shops in all of Europe. While the first gelaterias came from Italy in the 19th century, the popularity has skyrocketed over the years, and today you can find everything from rustic shacks to experimental parlors serving cool sensations for the masses.
While our previous favorite was the Ice Dream Factory in Neubau, they are since closed, and so this award now goes to Eis-Greissler in the Inner City. Here, owners Andrea and Georg Blochberger offer a piece of serenity amidst the busy city using fresh.
Lines form early for their ice cream crafted from delicious organic milk from their own 50 cow dairy farm in Lower Austria with both traditional and novel flavors, including elderflower and pumpkin seed.
Fiercely popular, they now have stores all over Austria – but unless you are taking an Austrian road trip (in which case you must visit their farm!), the original store is the place to go!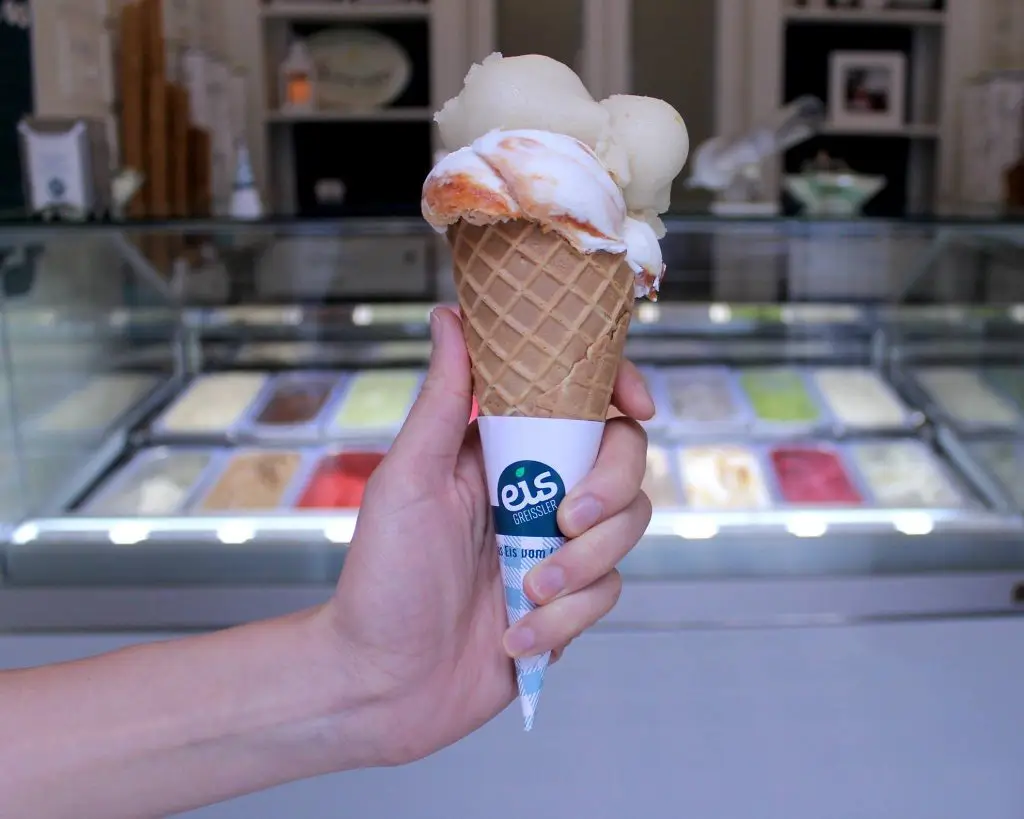 45. Satisfy Your Inner Spy At The Third Man Museum
A meeting point between East and West, Vienna has long been a focal point for Cold-War espionage sagas – and still, today is a 'spy hub' of international renown. While the old days of codes and conspiracies, moles, M16, and missing embassy floors are long gone – Vienna still today is home to the highest density of foreign intelligence operatives in the world.
Fans of a good spy story will already be familiar with The Third Man, a 1949 legendary spy thriller film from UK novelist Graham Greene and shouldn't miss a visit to the museum of the same name. However, the Third Man Museum is perfect for not just film fans but anyone with interest in the history of Vienna pre- and post-war.
A comprehensive exhibition within the museum demonstrates the historical backdrop of the film and showcase the everyday realities of living in a city occupied between 1945 and 1955 by the Allies: Americans, British, Soviets, and French.
The city makes its first official Bond appearance in John Gardner's 1986 James Bond continuation novel Nobody Lives For Ever and is subsequently featured on-screen in the 1987 film The Living Daylights. Amidst all the horse-drawn carriages and Baroque palaces, it is easy to forget the intrigue and secrecy which enwrapped Vienna until recently, and the Third Man Museum is an exceptional way to relive it.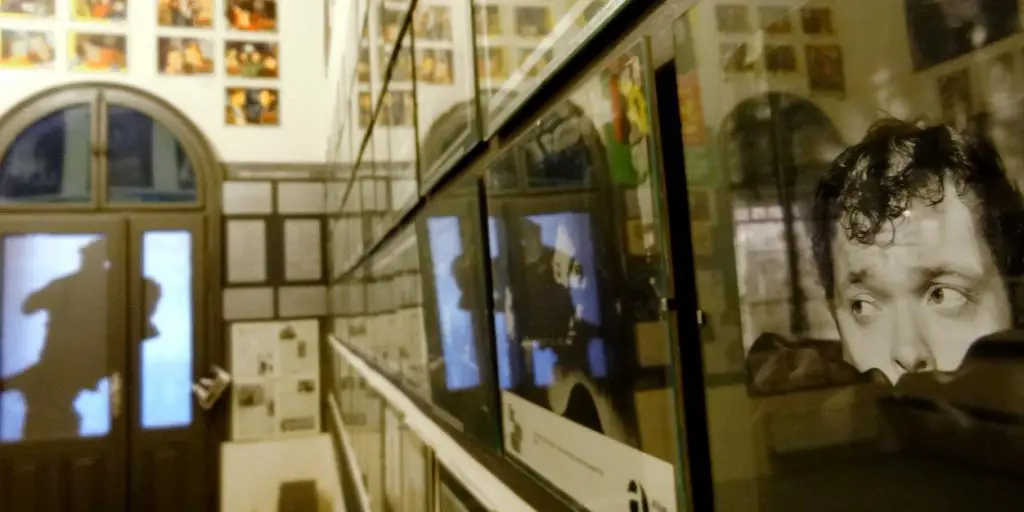 46. Admire, But Don't Touch, The Wares Of J. & L. Lobmeyr
Founded in 1823 by Joseph Lobmeyr, this esteemed glasswares company has a long and storied history – including having produced the crystal chandelier for Schönbrunn Palace and having a partnership with Thomas Edison in which they developed the first electric chandeliers in the world.
Additional clients included the Vienna State Opera, the Metropolitan Opera, the John F. Kennedy Center for the Performing Arts, and the Kremlin.
Today, the 200-year old store of J. & L. Lobmeyr in the Inner City is more akin to a museum of glass making than a purveyor of fine crystal – but a stop is essential to admiring the dazzling craftsmanship and treasure trove of opulence and proficiency. Weather pieces on display here are suited to your price range is a decision you will have to make yourself.
Still, the heritage, beauty, and utilization of increasingly rare techniques are appreciable by everyone.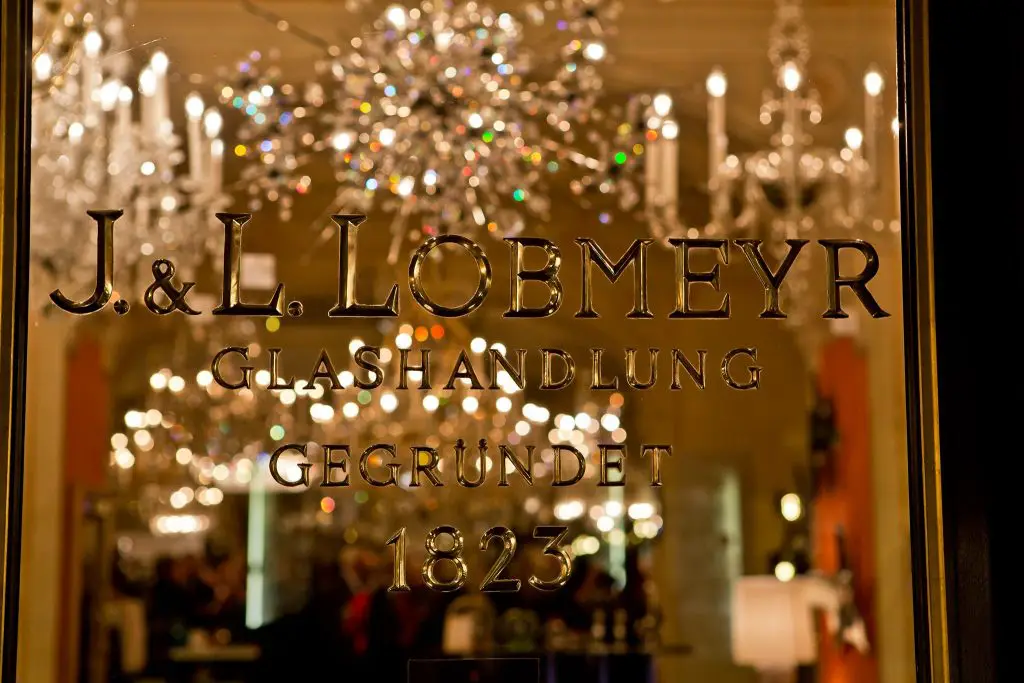 47. Learn How Vinegar, Oil, And Beer Are Made At Gegenbauer
Famed around the world, this famous vinegar brewery founded n 1929 is the source of oils and kinds of vinegar used by many of the finest chefs. Today Erwin Gegenbauer, son of the original owner, creates and markets over 60 assorted vinegars from fruits and vegetables such as fig, asparagus, and tomato, along with beers, cider, flavored oils and balsamic varieties from grapes.
More than just a fabulous souvenir idea for lovers of all things gastronomical, you can also undertake a guided tour of the brewing and production process at their main location in Favoriten. Or just drop by to try their signature espresso with a drop of vinegar as a quick pick-me-up while exploring the surrounding area.
For those without the time to leave the city center, there is also a cornerstone in the Naschmarkt with a smaller offering.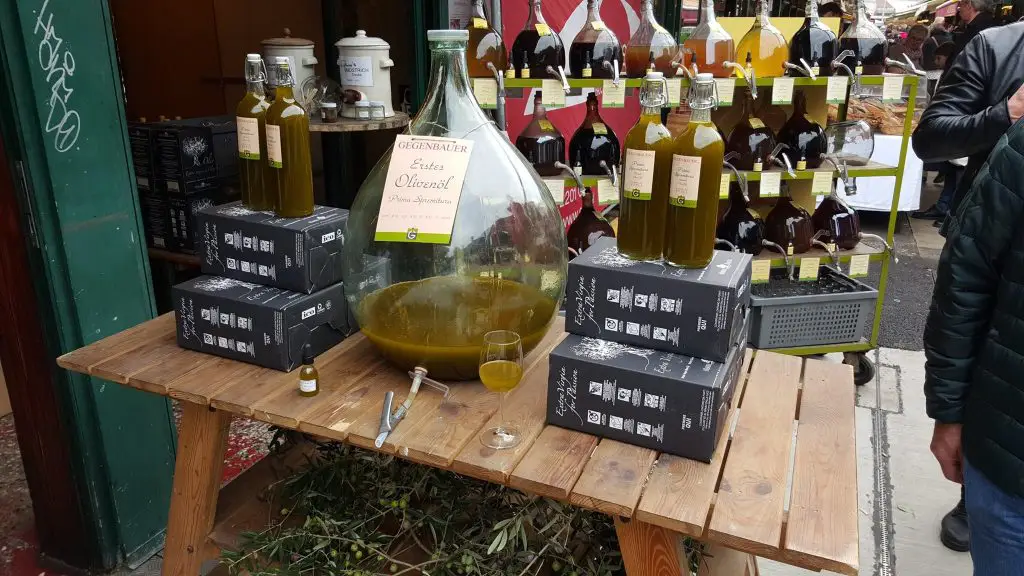 48. Marvel At The Raw Looks Of The Wotruba Church
Hidden in Vienna Woods is the gloriously brutal Kirche Zur Heiligsten Dreifaltigkeit, better known as the Wotruba Church. Strikingly at odds with the vast majority of Viennese architecture, you can imagine why the city might seek to hide this startling deviation from the norm.
At first glance, this ecstatic pile of blocks resembling more an enlarged abstract sculpture that a temple to the almighty, which is probably unsurprising given it is the only architectural work by the famous Austrian sculptor Fritz Wotruba.
Entirely constructed of reinforced concrete, the 152 block pieces come together to offer framed views of the woods outside and allow visitors an extraordinary opportunity to enter and interact with the art form, rather than experience it from the exterior.
One man's vision of a temple to God in today's modern world, this testament to concrete belief allows for a break from the Gothic to Baroque if nothing else.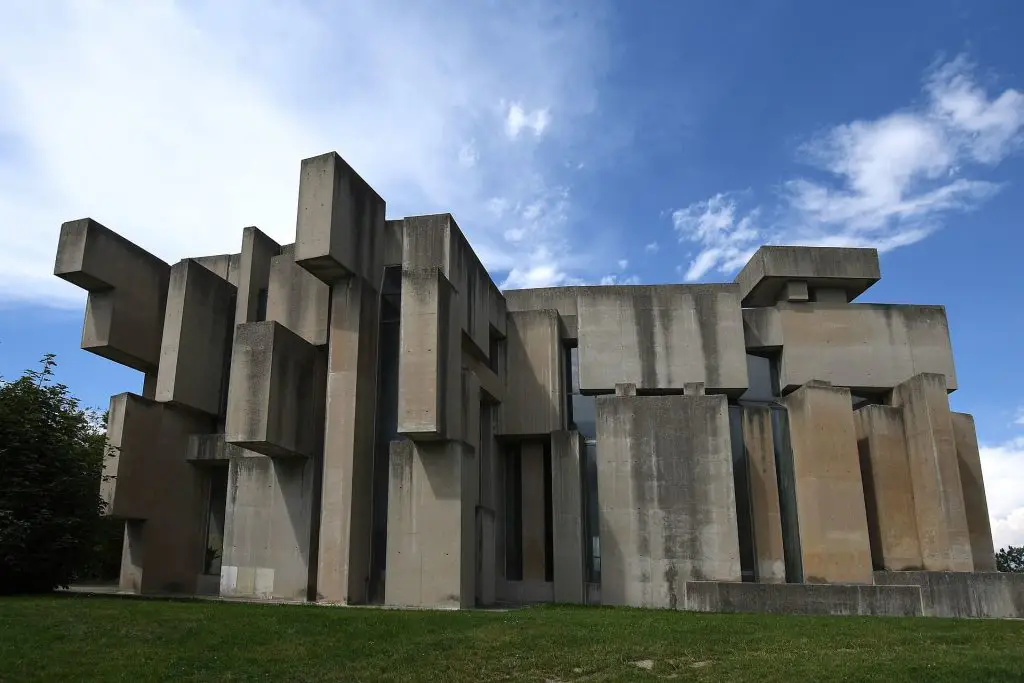 49. Escape To Stuhleck, Where The Viennese Ski
Not technically in Vienna, but when you can escape the city for an afternoon of skiing – why would you not?
Most people associate Austria with its more famous ski resorts to the west, but for those without the time or inclination to venture as far, the ski resort of Stuhleck – Spital am Semmering is located only a hours drive away from Vienna.
For skiing and snowboarding, there are 24 km of slopes and nine lifts available on the highest peak in the Eastern Alps. Stuhleck is most popular with locals meaning that midweek day-trippers are rewarded with half-empty slopes and a very relaxed feel.
You can hire a car and drive, or take a combination of trains and buses like Flixbus to the resort if you are traveling with the Eurail Pass. It's only slightly longer. There is also a variety of transport and ski pass options for those who want to keep things as simple as possible.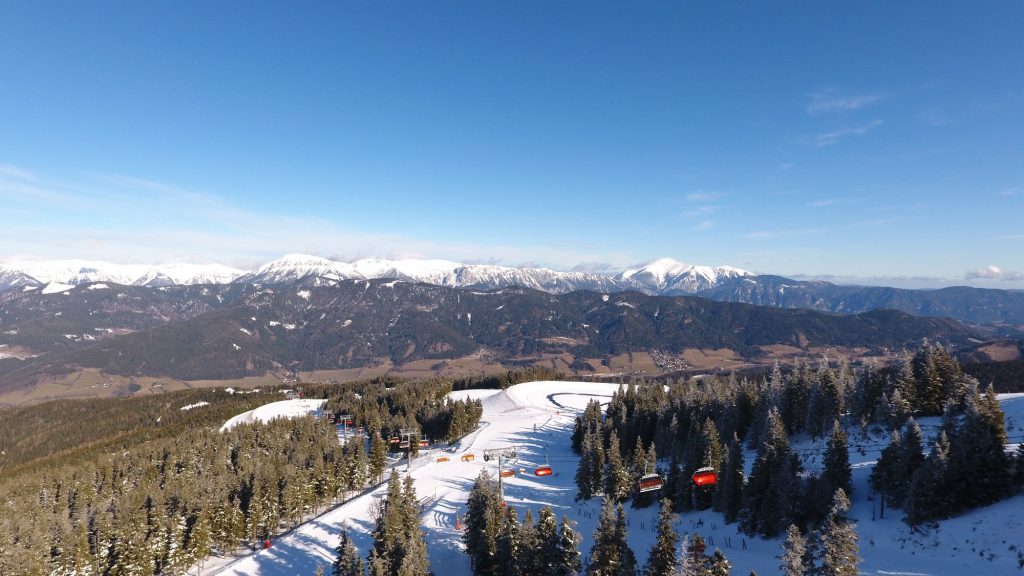 50. Get The Most Out Of Vienna With The Vienna Pass
One of the biggest shocks to most people when they visit Vienna is finding out how expensive attractions are here. This might be central Europe, but prices are not on par with Budapest or Prague – Vienna can be pricey, and museums often have ticket prices more comparable with Copenhagen, London, Tokyo, or New York. And there are a lot of museums!
The best solution I have found to this is to grab the very affordable Vienna Pass which gives you free entry to over 70 of Vienna's most admired attractions and museums, including the Imperial Palace, Schönbrunn Palace, and the Natural History Museum.
Not only that, but there is no need to wait in ridiculous lines that seem to be prevalent year-round now as Vienna Pass grants you Fast Track Entry to most of Vienna's top attractions. You should also go for the optional Travelcard available to cover all of your transport needs, which is excellent value and allows you to zip between attractions at easy.
I don't always recommend a travel card like the Vienna Pass, but in a city with such a wealth of attractions, sights, art galleries, museums, palaces, and exhibits – it can all be overwhelming. The Vienna Pass means you can pop into small micro-museums you might never have tried otherwise, and if you don't like them, well – thank you, next! Then there is always the Vienna Card, which we compare but found to be lacking.
Take a ride of the Vienna Giant Ferris Wheel, unwind on a river cruise, drop by the Spanish Riding School, attend an Apple Strudel Show, or go to the Danube Park Miniature Railway. Or why not try your luck at the Papyrus Museum, the Globe and Esperanto Museum or the Imperial Carriage Museum. It's all included, so you really can get so much more out of Vienna while no worrying about your budget.
Even better is if you get the Vienna Pass in advance, you get additional discounts and savings while having everything on your mobile – no time wasted!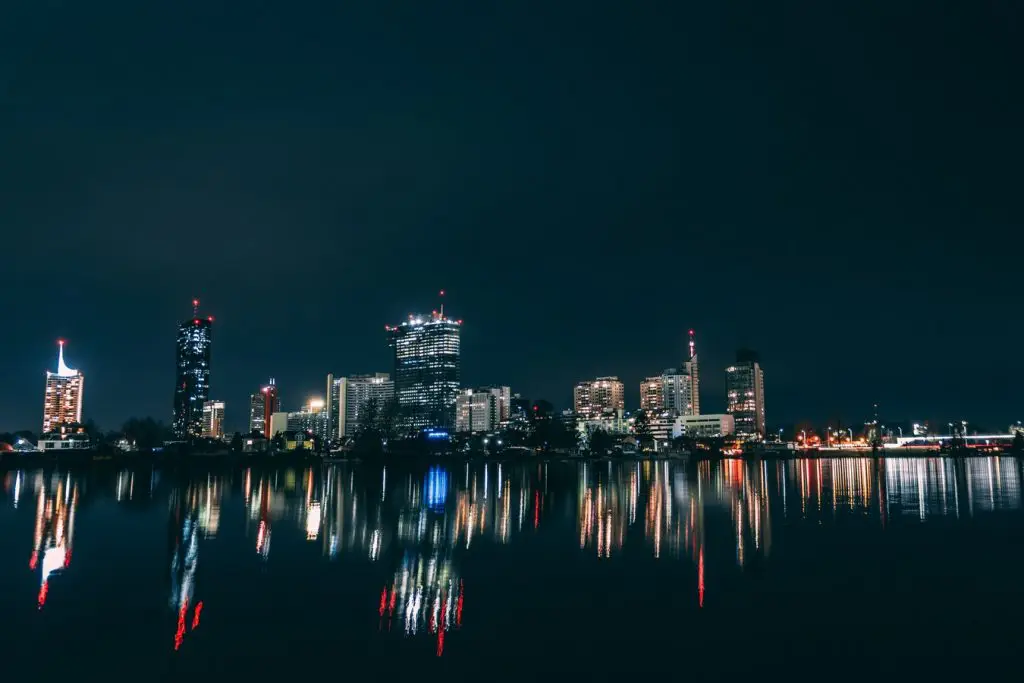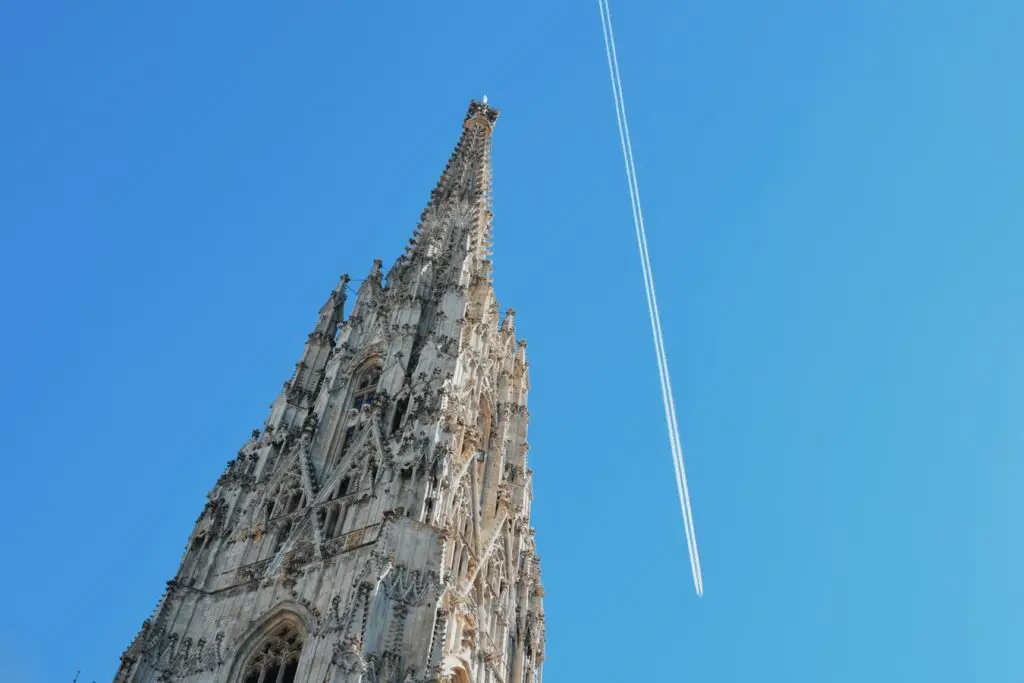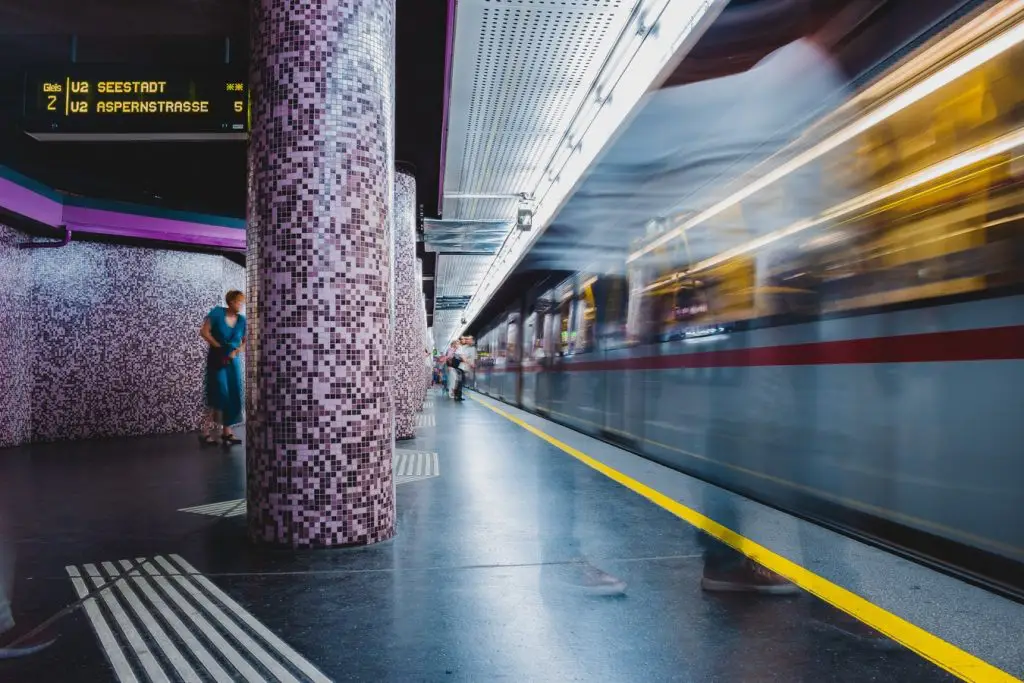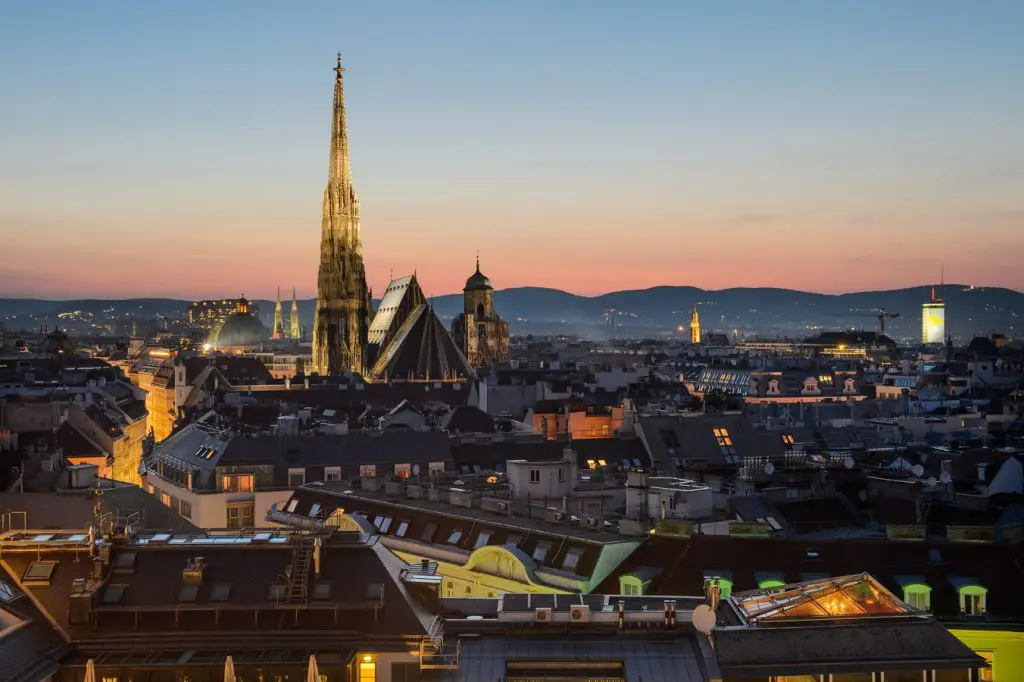 Wachau Valley from Vienna – Enjoy a day trip out to the Wachau Valley, where the Danube River winds its way toward Vienna. This historic valley [also a UNESCO site] is covered with vineyards and cute villages, while the hilltops have the highest concentration of castles in Europe. Head to the small town of Melk and then catch one of the ferries plying the scenic 24-mile stretch down to Krems, where you can enjoy the vineyards and easily make your way back to Vienna. You can get to the Wachau Valley from Vienna by driving your own car, taking the modern high-speed train – or if you are more relaxed for time – as part of a wider European river cruise.
Graz From Vienna – The second-largest city in Austria, Graz is predominantly a university town but is worth visiting for the modern vibes and different architecture – and the hilltop fortress Schlossberg (and its stunning view) alone make the trip worth it. Also of interest is the Old Town, the famous Glockenspiel clock, and the newly opened award-winning Kunsthaus exhibition space. The town is also the birthplace of Arnold Schwarzenegger and has connections every hour from Vienna Central Station.
Bratislava From Vienna – Vienna, and Bratislava are the two closest capitals in the world, so why not hop on a train and be wandering the streets of Slovakia in just over an hour? Bratislava has lower prices, a winding medieval city, a castle-fortress with killer views, and try bryndzové halušky (small dumplings filled with sheep's cheese and covered with pieces of meat) – it's the national dish of Slovakia.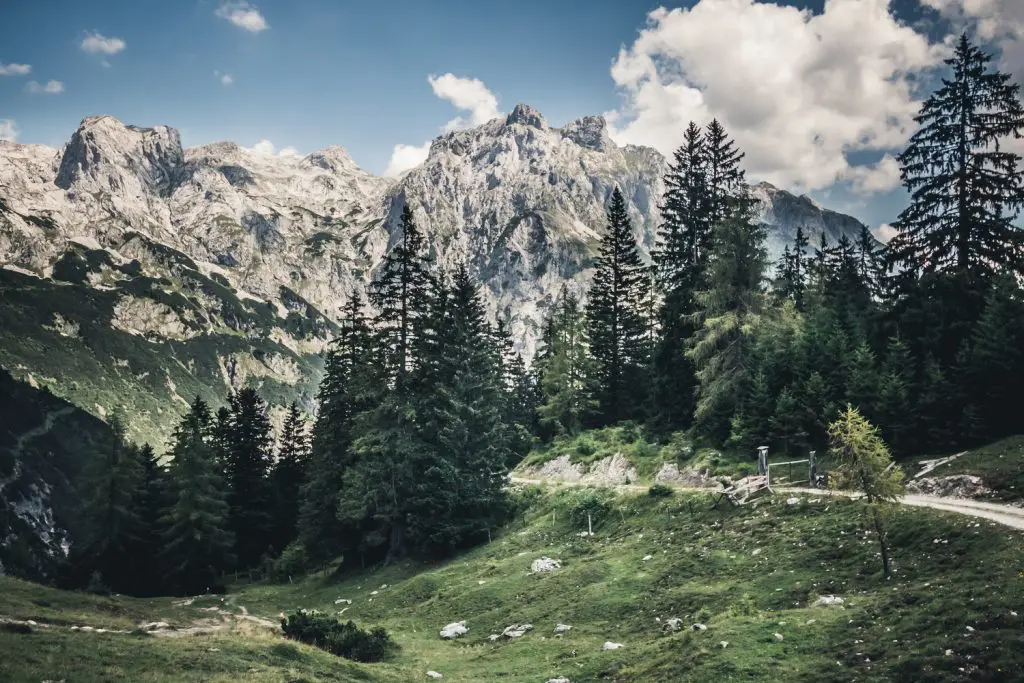 Salzburg From Vienna – Ideally, you would head to Salzburg at least for a few days (with cheaper hotels in Salzburg than in Vienna), but many travelers do opt to see it in only one day. The historic old town is pretty compact with its hilltop fortress as a focal point and can easily be seen on foot in a few hours. There is, of course, from Salzburg the obligatory Sound of Music tour (which is surprisingly not beloved by locals) as well if you can squeeze it in. Hallstatt is also nearby as is much of Austria's best hiking. Trains depart Westbahnhof for the intercity service to/from Salzburg every half-hour and take 2.5 – 3 hours on a modern high-speed train.
Znojmo From Vienna – A medieval town just across the border in the Czech Republic, its compact core and historic center date back to the 11th century make it an iconic landmark of Czechia, and the surrounding hills are part of the famous Znojmo Wine Region. With a long and rich history as part of Moravia and then the Hapsburg Empire, you can expect lower prices, few tourists, and plenty of beautiful buildings all within 10-15mins from the train station. A great cheap day trip, Znojmo can be reached from Vienna in 90 mins with departures every 2 hours – but if you have time on your hands, why not stay a night and take advantage of those much cheaper Znojmo hotels.
Where To Go After Vienna On A Eurotrip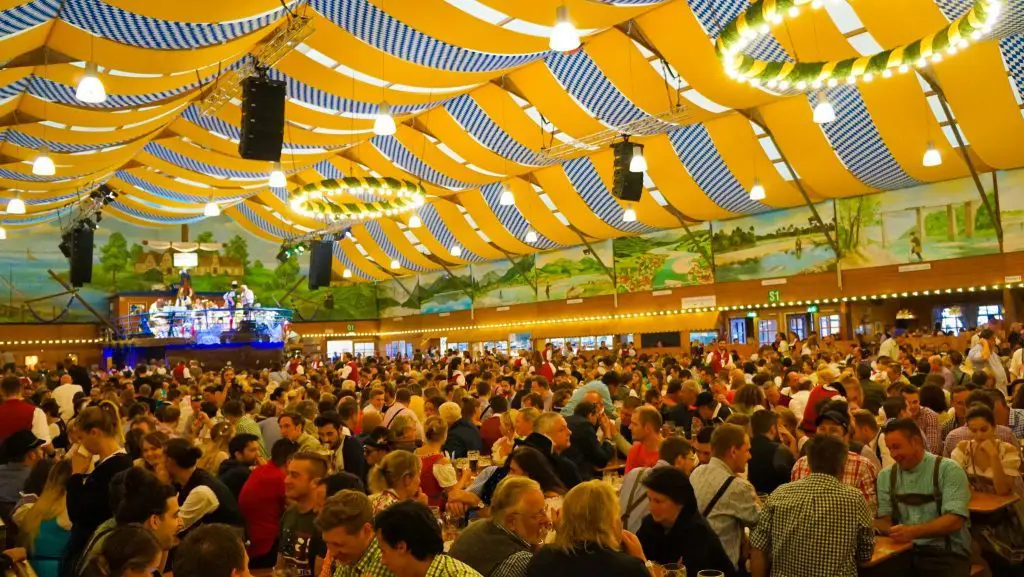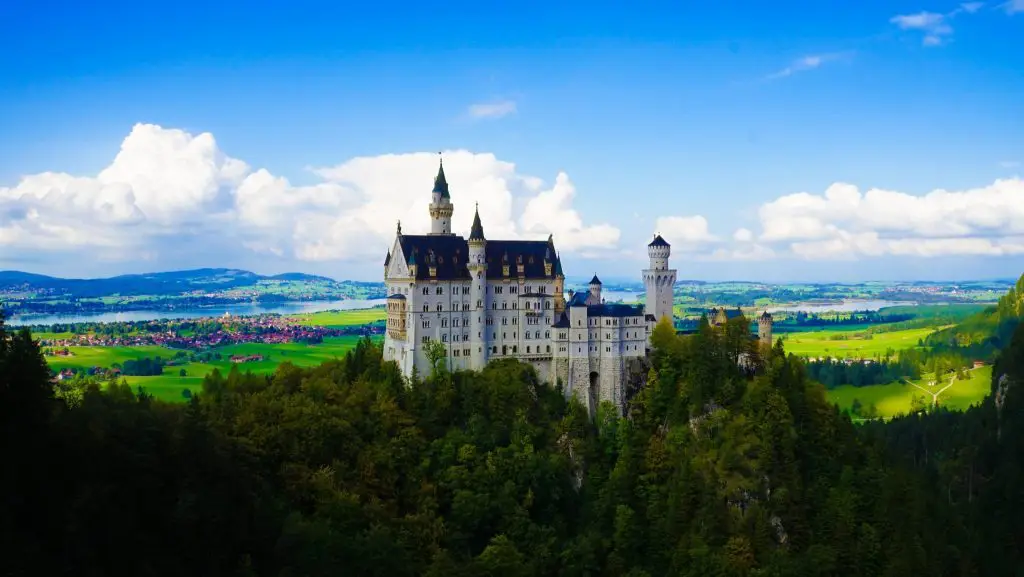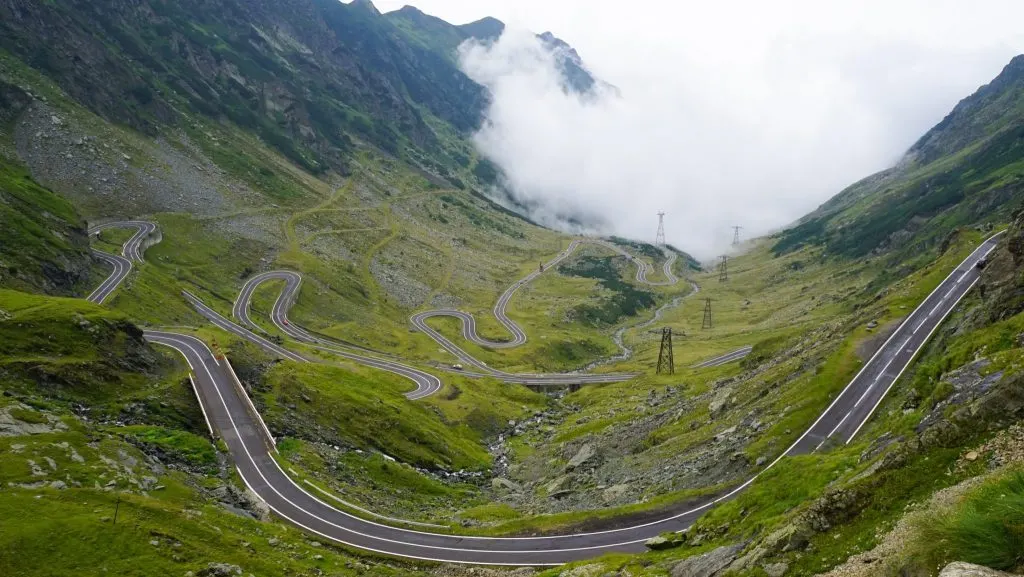 Not just in Europe for the glorious imperial wonders and modern nightlife of Vienna? Here are some great other guides and cities to continue on your Euro Trip From Vienna. Make sure you get your Eurail train ticket before you enter Europe for big savings and the freedom to hop on and off almost any train in Europe on a whim! What could be better, right!
Prague – Beloved by all, Prague may be one of the most well-preserved cities in all of Europe because it somehow managed to escape the destruction of WW2 and decades behind the Iron Curtain unscathed. For a fairytale experience (and perhaps some snow), why not visit Prague at Christmas… Or check out Gay Prague?
Budapest – The joint capital of Vienna under Austro-Hungarian rule, Budapest, is famed for its ruin pubs, lower prices, spa culture, and Parliament building. Find out everything you need to know for the perfect Budapest weekend away!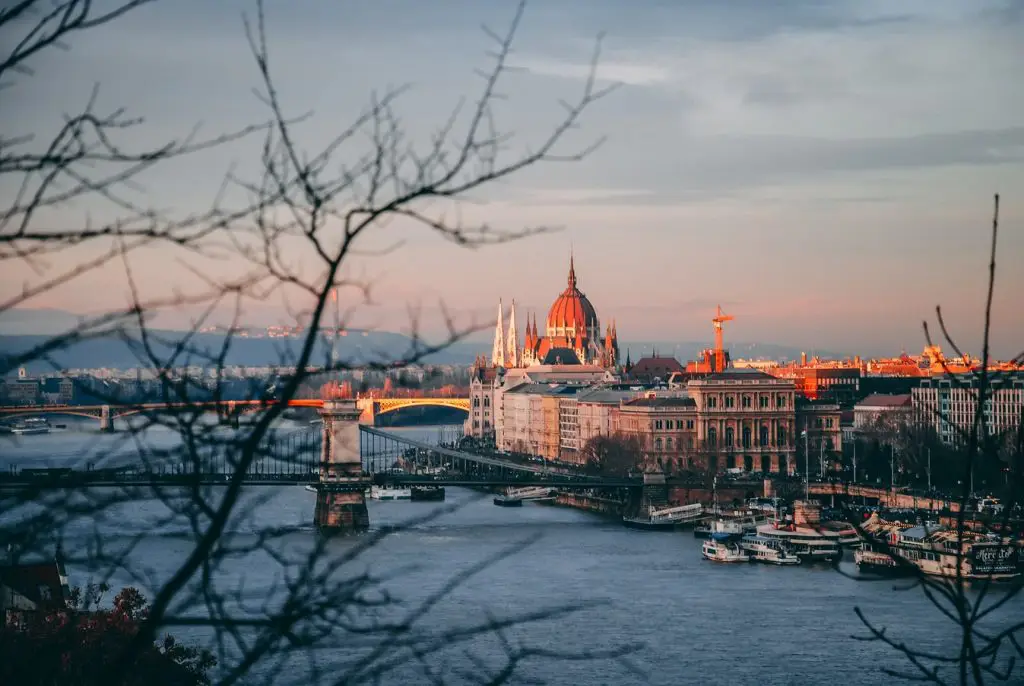 Romania – Ok, so it's an entire country over, but Romania is probably one of my favorite countries in Europe and deserves to be on every adventure travelers' bucket list. Not convinced? See these 50 incredible places you can't miss on an epic Romania road trip and then tell me I am wrong! And then, of course, you're only a short hop to Chișinău, Europe's ugliest capital!
Munich – A more boring version of Vienna in my mind, there is still a lot to love about Munich, and it does have almost as much history. If you can plan your visit around the one-of-a-kind Oktoberfest or the German Christmas Market season. Otherwise, a day trip to Neuschwanstein Castle is always a winner, no matter which season you visit it.
I hope this list has inspired you to put Vienna on your travel bucket list – or if you have already been to head back and explore more the city that keeps on giving – either as a local or as a tourist!
You can't possibly say you don't know what to do in Vienna now, at least, and even if you're not a city person, there is always the Krapfenwalk Pool and plenty of beautiful natural places to relax, especially in the summer!
Or all that cake & coffee. MMMMMMMM.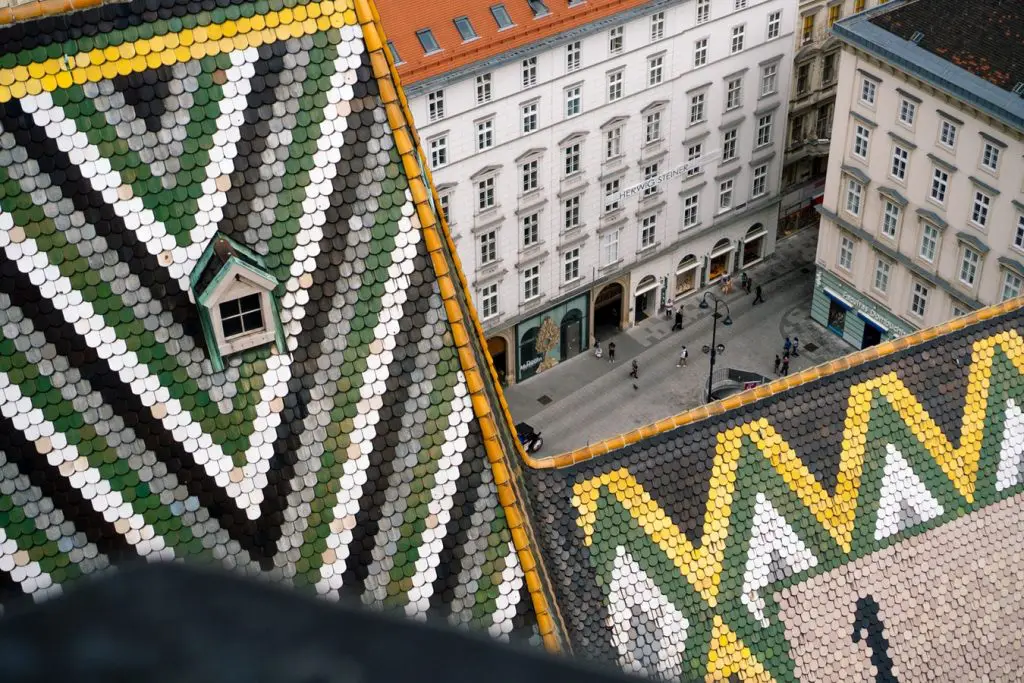 Staying Connected While Travelling
In today's increasingly connected world, staying online while traveling has become essential for a seamless experience. That's where eSIMs come into play, revolutionizing the way we access mobile networks during our global adventures. Say goodbye to hunting down local SIM cards at the airport; eSIMs provide instant activation the moment you land, sparing you the fortune usually spent on international roaming and allowing you to genuinely travel like a local (without getting hopelessly lost!).
With eSIMs, tasks like restaurant recommendations and reservations, up-to-the-minute public transport instructions, checking opening hours, and accessing further information become a breeze. And, of course, sharing your journey on social media is easier than ever. To stay connected wherever you roam, consider using either Airalo or Holafly. Airalo boasts the most extensive range of destinations worldwide, offering smaller data bundles tailored to your needs, while Holafly provides unlimited data packages and fantastic EU data deals.
So why wait? Embrace the future of travel connectivity with eSIMs and make your next journey effortlessly smooth.
Further Things To Consider Before Any Adventure
Now you're all set and prepared to explore our big wide world, why not sort out everything else out all in one go? If necessary for your travel plans make sure you have brought proper travel insurance, protected your privacy by getting a secure VPN, compared all the top hotel booking sites to find just what you're after, reserved an unbeatable rental car price and - of course - booked the best flight deals!
Or maybe just forget it all and go for a last-minute cruise or effortless tour instead?
Many budget travelers (including me) indulge in worldwide airport lounge access, so we can experience luxury while still slumming it in economy. Naturally, we would never leave home without a more general travel guide since we couldn't possibly cover everything here!
Just add an adventurous attitude and plenty of smiles - they go a long way - and that about covers it all! Now go out, find your own path and don't forget to share your best inspiration stories with me on Facebook, Twitter, and Instagram...I'd love to hear from you!