Regal and grand, yet with a fun and modern side to it, Austria's capital is one of our favorite places in Europe, if not the whole world.
There is history lining every street with imperial palaces and fascinating museums abounding; you'll also find a buzzing contemporary art scene and some great food places for all budgets.
But it's the café culture in Vienna that has us doubly as enraptured (coffee is one of our main food groups, after all!).
This café culture is so much a part of Viennese life that it has acquired a UNESCO status all of its own – in 2011, 'Viennese Coffee House Culture' was named as part of Austria's 'Intangible Cultural Heritage' for its integral role in Vienna's past and present.
So what is the history of coffee in Vienna? Amazingly, this soothing beverage came to Vienna on the heels of potential war in 1683, when invading Turkish armies laid siege to the city. They were fought back, but when they fled the country, they left sacks of coffee beans behind.
You can imagine the Austrians were a little perplexed by these odd, strong-smelling beans; rumor has it that they thought they were camel feed and wanted to burn them.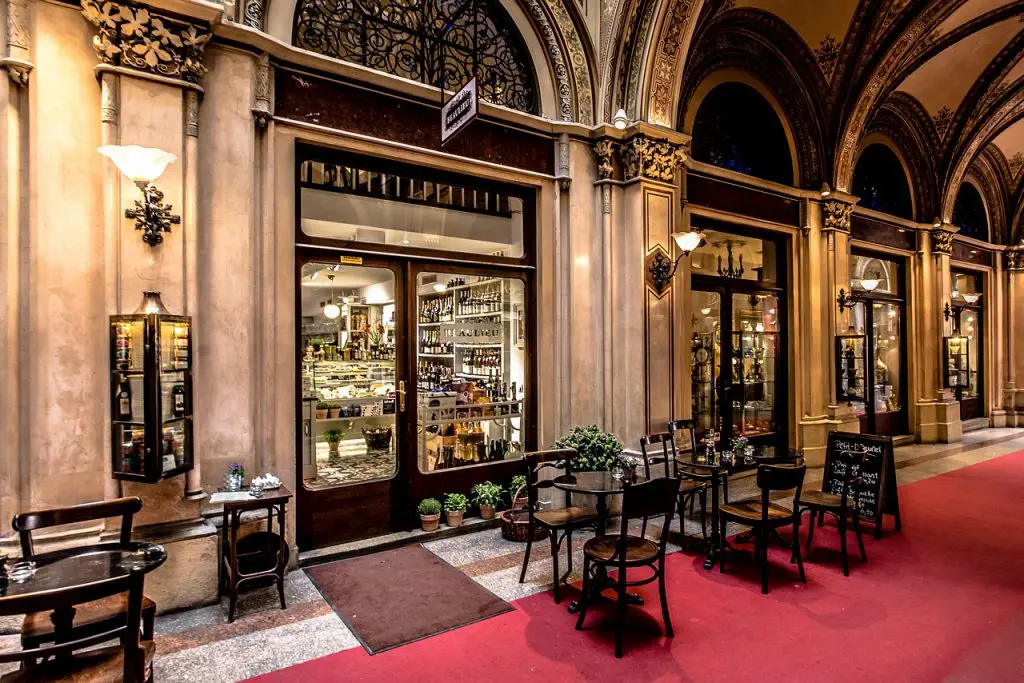 Thankfully, they didn't burn all this precious coffee; instead, they let one of the officers experiment with them, adding sugar and milk. Voila, a delicious hot drink was brought to Vienna. This man, Jean Franciszek Kulczycki, then apparently went on to open the first coffee house in the city (a contested claim, by the way).
Incidentally, Kulczycki also apparently spent a couple of years as a prisoner of the Ottoman Empire. Hence, it's likely that he encountered coffee then and knew exactly what those beans were, tricking his army superiors into gifting him the sacks they thought were worthless but were a goldmine for him.
Whatever the truth is, there's no debating the fact that coffee's popularity boomed in Vienna from then on, with new coffee houses popping up constantly. Certain aspects of these early coffee houses still exist today, for example, the habit of serving coffee with a glass of water and recreational accessories like card games.
The heyday of these cafes was in the 19th and early 20th centuries when the crème de la crème of writers and intellectuals at the time would gather to exchange ideas and scribble away at their work.
Over time, Vienna's coffee houses have seen many changes: the introduction of alcohol and warm food; allowing women to enjoy the space as well; the introduction of the espresso machine; even the addition of gardens. What they are now, as they've always been, are "public living rooms," places where people can spend entire days kicking back with a newspaper or chatting with friends.
It's a concept modernized and taken around the globe – with places as far off as Brisbane and Auckland having great cafe scenes. But in Vienna – for the most part – modernization never took place..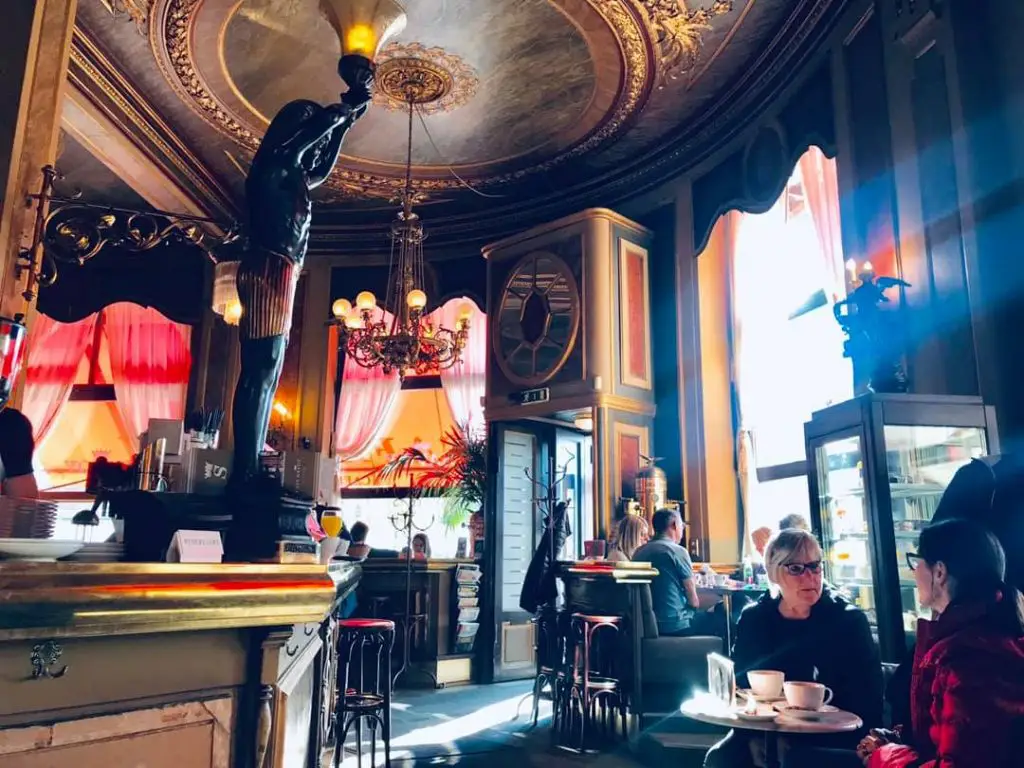 Many of the coffee houses you see around Vienna today are in the same buildings they've been in for 300 years, and they retain the same atmosphere of grandeur, elegance, and respect. Tabletops made of marble, wooden chairs, arched ceilings, and newspapers were strewn around add to the atmosphere of tranquility and intellectualism.
In fact, author Stefan Zweig believes that the cosmopolitan nature of Vienna owes a great deal to the coffee house as a place to exchange news and discuss ideas of the time.
There are no Frappuccinos or Pumpkin Lattes here – imagine the shocked gasps of the patrons if these were introduced! – although you'll still find an extensive menu to peruse.
If you want to fully embrace the café culture in Vienna, then your drink of choice should be a Weiner Mélange, the classic Viennese drink. It's also the nearest you can get to a cappuccino option. A half-filled cup of coffee is topped up with frothy milk and finished up with a perching tower of foamy milk on top.
Sip your coffee slowly while people-watching or leisurely doing a crossword; enjoy a gently warmed apple strudel with cream on the side. More than any sightseeing, this is how you'll truly get to know Vienna. You'll learn that everyone has a personal favorite among the coffee houses, particularly locals who become 'stamgast' (regulars).
But before you become a stamgast, you'll have to try a few out – that's why we've got a list of the best cafes in Vienna to start you on your journey of coffee house discovery. As iconic as Schönbrunn Palace or the Vienna Opera, these cafes are not to be missed.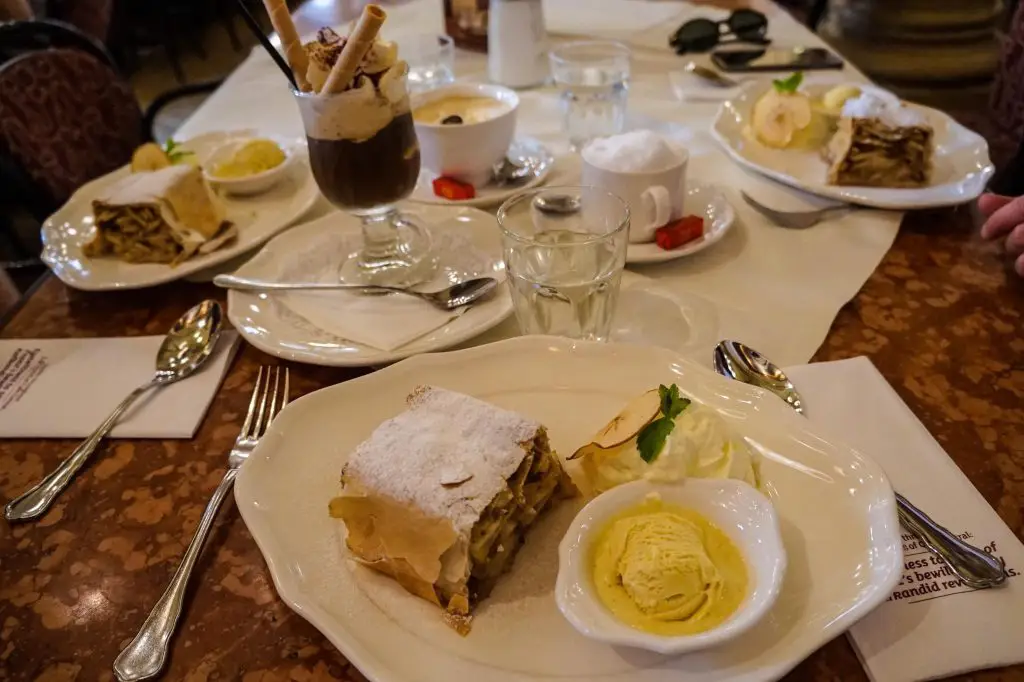 The Best Cafes In Vienna — Where To Go, What To Drink ☕
Café Schwarzenberg
A gleaming, bright space with huge windows out onto the street, Café Schwarzenberg gets its fame from its location rather than circles of intellectuals, making it their second home. It was the first coffee house to open on the Ringstrasse, beginning its history in 1861.
Then, as now, it catered mainly to businessmen who wanted to read their newspapers over a coffee and ponder being masters of the universe – businessmen are still there today. However, their pondering might be interrupted by the tourists who flock there or ball attendees in the early mornings of Viennese ball season.
As well as the elegant interior, virtually unchanged since the 19th century, where you can sit on leather chairs and watch the goings-on in the long mirrors, there is also a large terrace outside. Here you can watch Ringstrasse pedestrians bustle past while enjoying traditional Austrian dishes.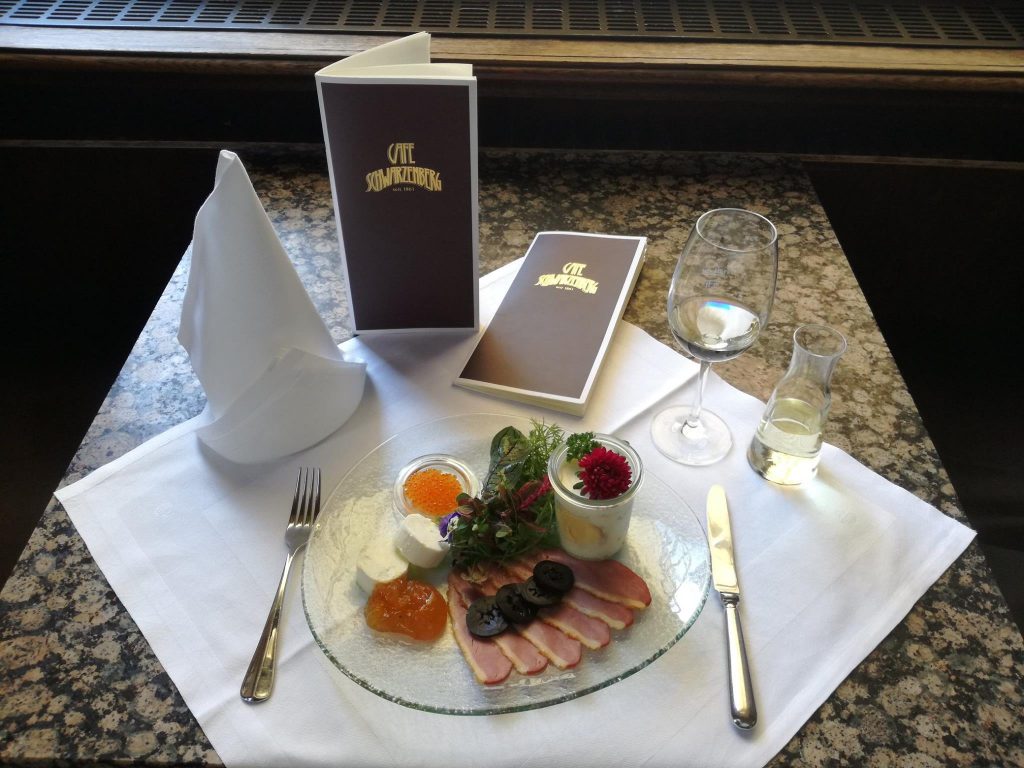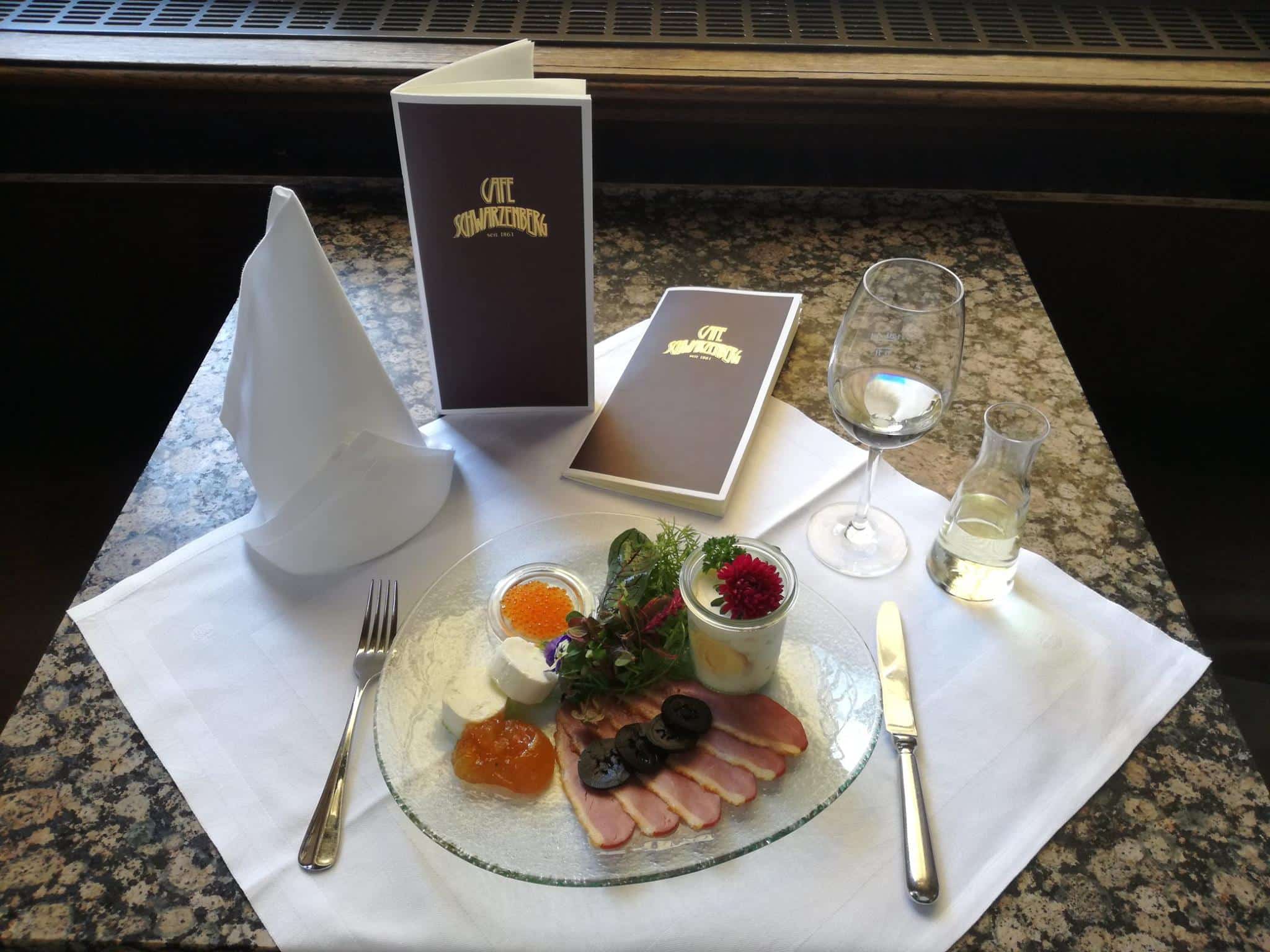 Cafe Central
Nowhere epitomizes Viennese coffee culture as much as Café Central, a vast, opulent space on the grand Herrengasse Street. Formerly the Bank and Stockmarket Building, Café Central takes up the ground floor.
Here you can sit beneath the pillars and vaulted ceilings, listening to the tinkle of cutlery and the hum of conversation, admiring the golden finish on the counters and cornices. There's even a grand piano center-stage, and if you're lucky, you might enjoy your mélange with background music.
This Vienna institution is famous for being the place where scholars and revolutionaries would sit and while away the days – these 'Centralists' included Lenin, Trotsky, Freud, and essayist Alfred Polgar who wrote a Theory of Café Central. It was also home to many chess players, who used to practice on the 1st floor.
It has a very clear idea of its own importance in Vienna's history; it has to be said, but when you visit, you can see why. Plus, the pastries and coffee are impeccable, so you wouldn't want to miss that – even if you are only on a short stopover in Vienna, this is probably the best cafe in Vienna. So make it a priority!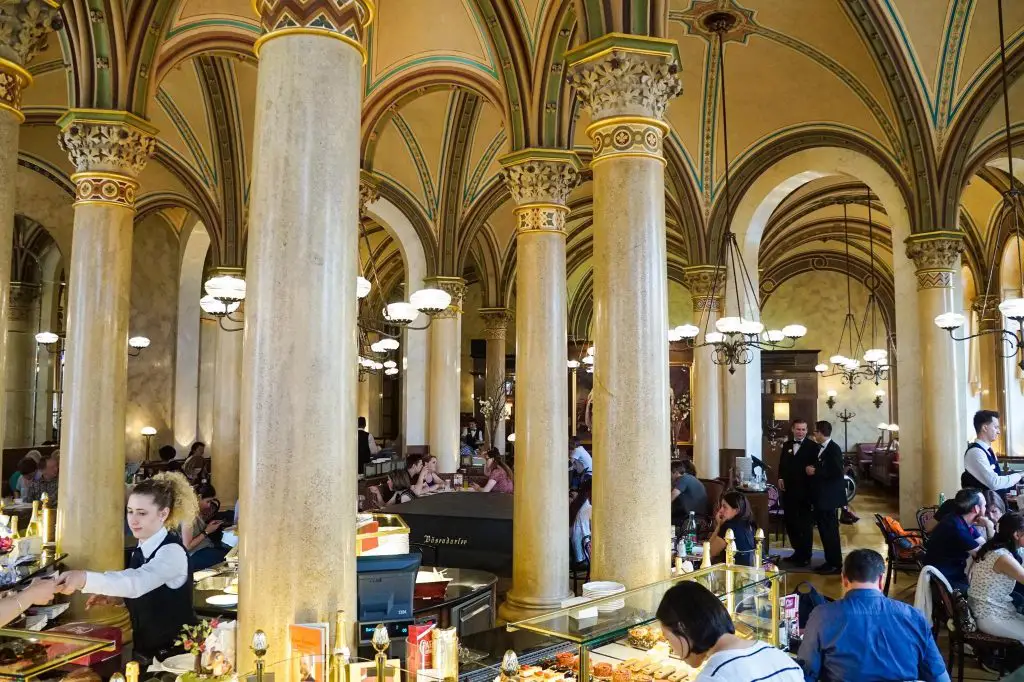 Cafe Prückel
We know that every historic coffee house in Vienna lays claim to being the most iconic, but in the case of Prückel, it might actually be true! We love the 1950s interior, which is pure mid-century glamour; it's also a bit of a change from the 19th-century vibes in most coffee houses (much as we love that). Perfect for a romantic date in Vienna.
On a corner near the center of town, the neon light signs mean it's difficult to miss. Once inside, you feel like you're on a quirky movie set, with its pink and green colors, house plants, and brass lamps.
Luckily, the coffee more than matches up to the surroundings; you'll get a very good mélange here, and it will be served with a bit more relaxed friendliness than you might find in the more traditional cafes!
Here is where Vienna's creative community would gather in the past, making the most of the in-house theatre, but there's a wide range of patrons now from all walks of life – drawn by the allure of hanging out in one of the best cafes in Vienna!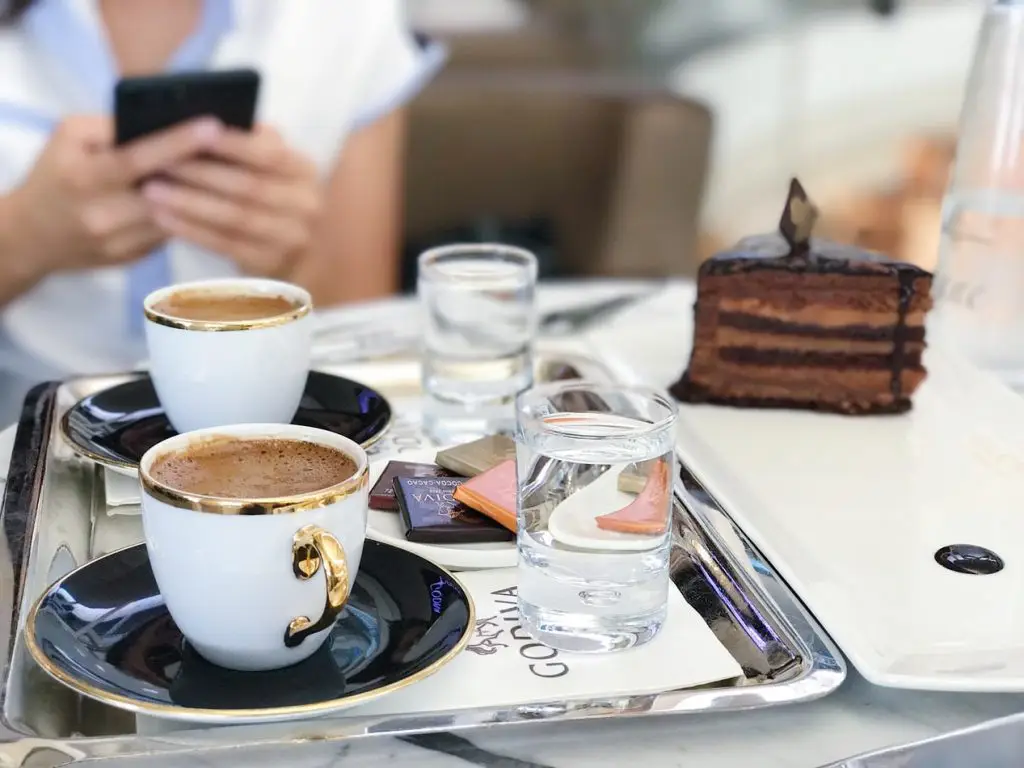 Balthasar
Moving into a more contemporary age, Balthasar is one of the best cafes in Vienna if you want somewhere you can have a perfect cup of coffee and feel cooler at the same time. This is part of what's known as 'third wave specialty coffee,' which we think basically means hipster coffee – not that we're complaining!
The light wood tables, soothing grey walls, and blue tiling on the counter create a pleasant atmosphere where you can unwind among the students and professors before moving on to explore more of this multifaceted city.
We spent a few hours here planning how to make the best use of the Vienna Pass, then our hiking trip in Austria we had coming up and can promise you: the staff will have no issue with you setting in!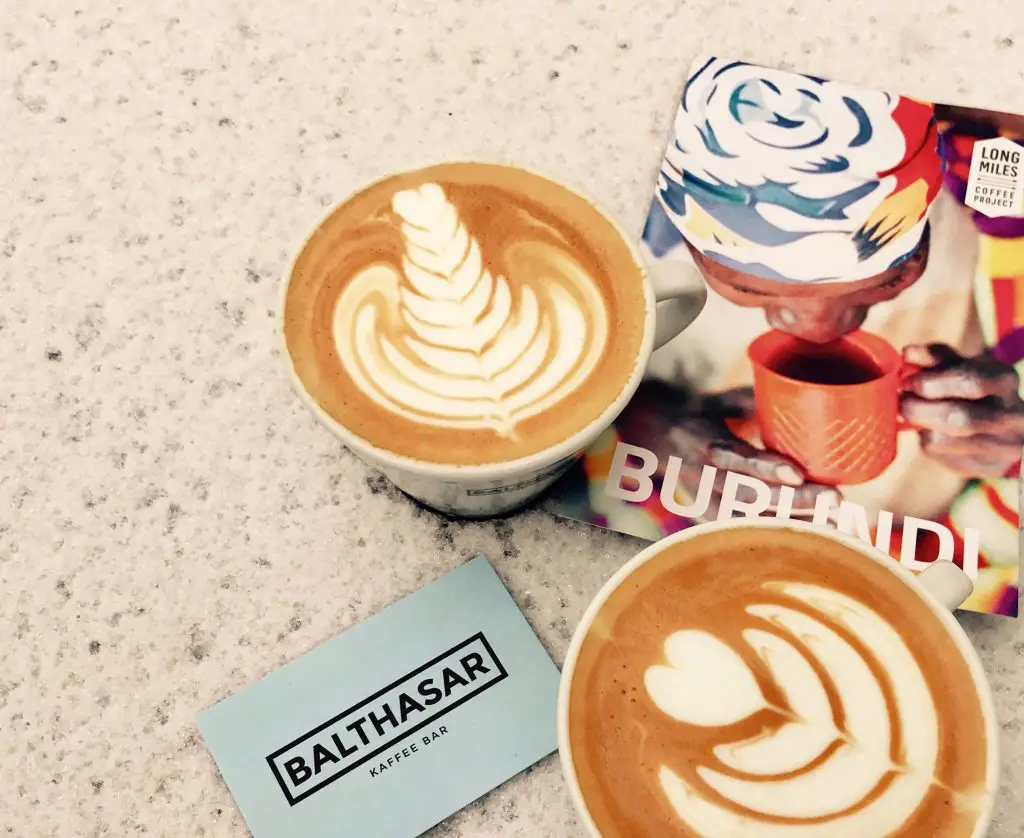 Café Landtmann
One of the most famous cafes in Vienna, Café Landtmann, was first opened in 1873 and was Freud's café of choice. Its central location near the Burgtheater, city hall, and the University means that it's continued to be a popular meeting place for politicians, journalists, actors, and other city officials. So for a tourist, it's one of the best cafes in Vienna for people-watching!
The dark wood décor with brass trimmings and dim lighting adds to the regal atmosphere, and you can imagine people putting the world to rights over the delectable apple strudel and fragrant coffee.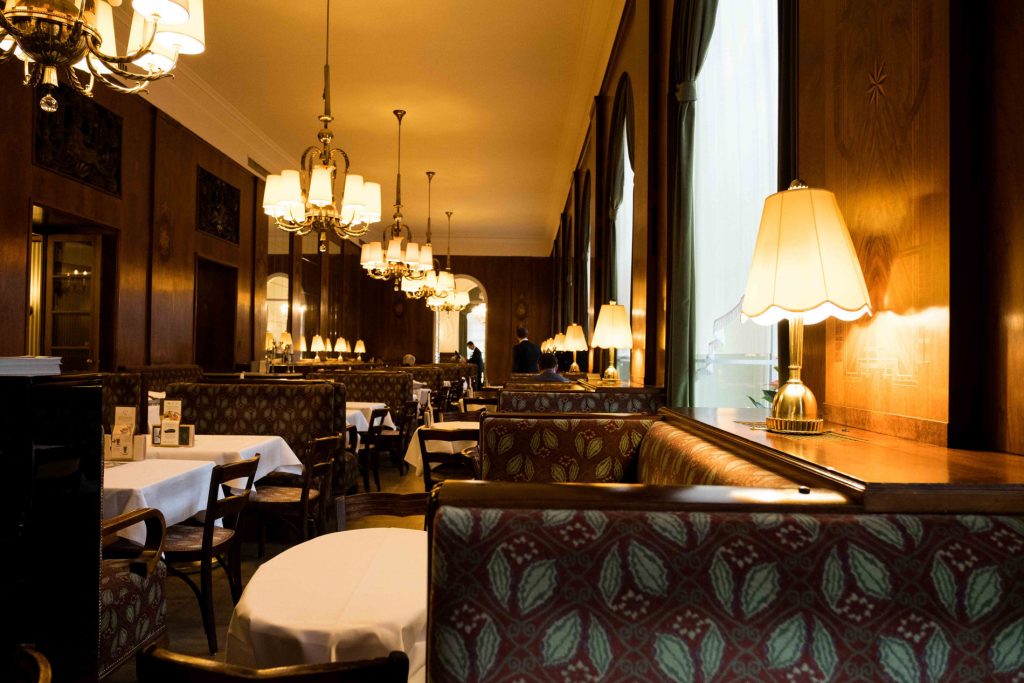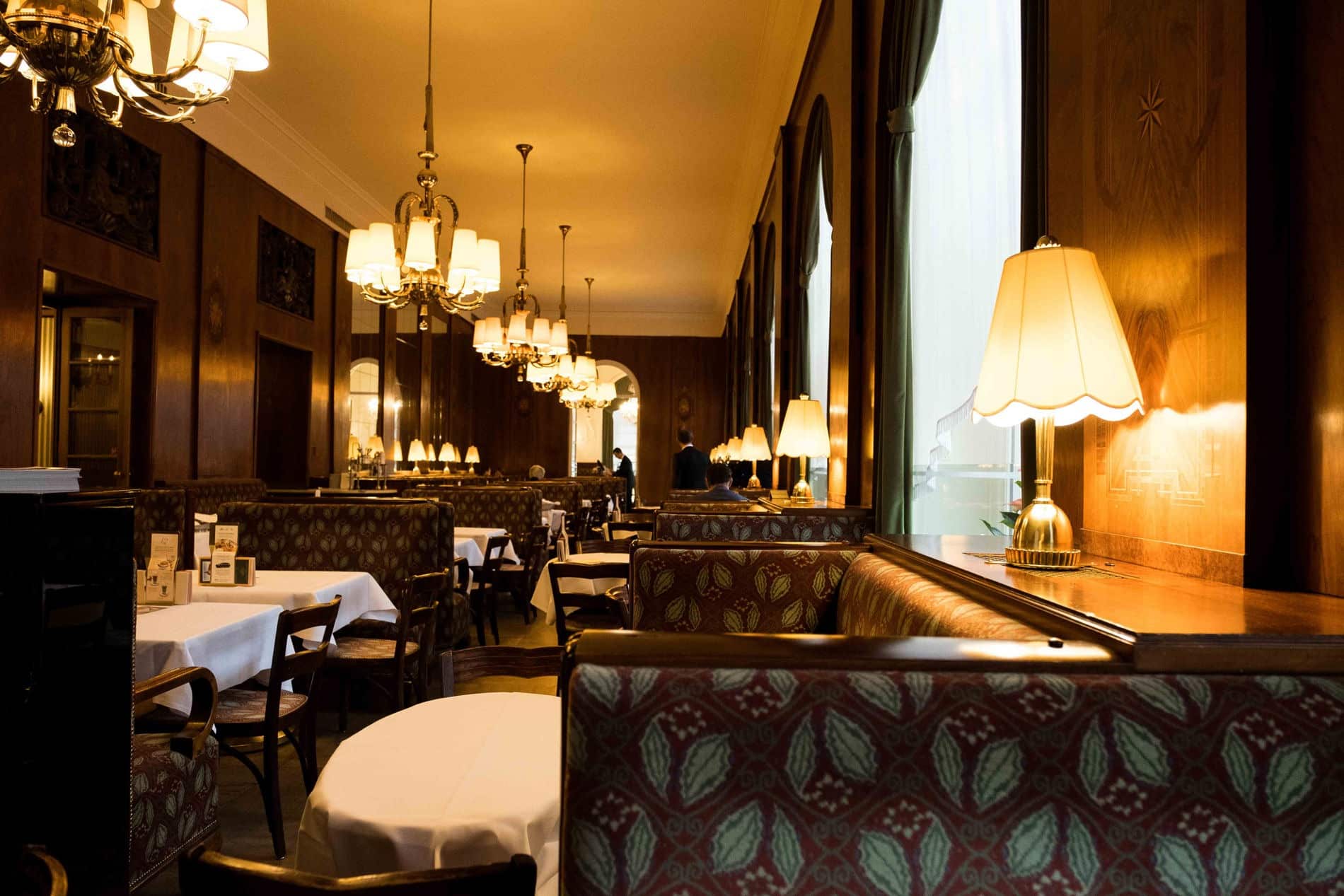 Café Sperl
Lovers of the 1995 romantic film Before Sunrise will recognize the high ceilings and intimate booths of this noble coffee house. There are no less than 34 types of coffee to choose from, as well as over ten daily newspapers provided – basically, you could be here all day!
Once you try their specialty, the almond-and-chocolate-cream Sperl Torte, you'll be totally convinced to never leave.
There's a leisurely air here which suits always-on-the-move travelers down to the ground; the various stamgast make people-watching a joy. It's the epitome of Viennese café culture and a must-visit on your coffee house tour.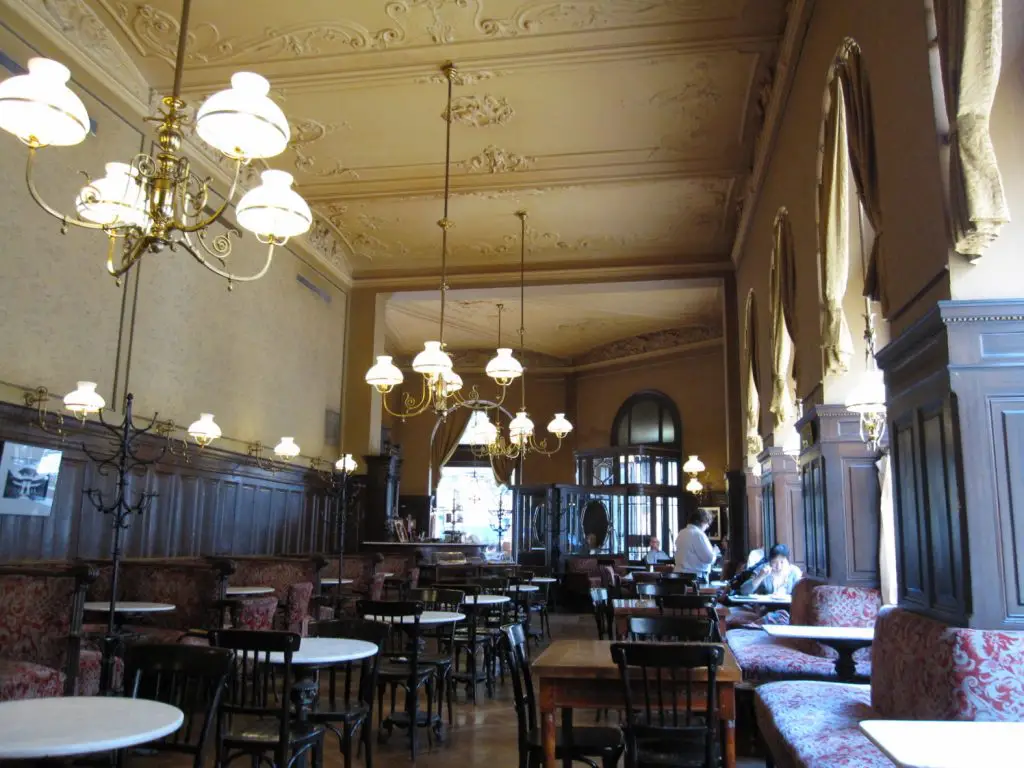 Staying Connected While Travelling
In today's increasingly connected world, staying online while traveling has become essential for a seamless experience. That's where eSIMs come into play, revolutionizing the way we access mobile networks during our global adventures. Say goodbye to hunting down local SIM cards at the airport; eSIMs provide instant activation the moment you land, sparing you the fortune usually spent on international roaming and allowing you to genuinely travel like a local (without getting hopelessly lost!).
With eSIMs, tasks like restaurant recommendations and reservations, up-to-the-minute public transport instructions, checking opening hours, and accessing further information become a breeze. And, of course, sharing your journey on social media is easier than ever. To stay connected wherever you roam, consider using either Airalo or Holafly. Airalo boasts the most extensive range of destinations worldwide, offering smaller data bundles tailored to your needs, while Holafly provides unlimited data packages and fantastic EU data deals.
So why wait? Embrace the future of travel connectivity with eSIMs and make your next journey effortlessly smooth.
Further Things To Consider Before Any Adventure
Now you're all set and prepared to explore our big wide world, why not sort out everything else out all in one go? If necessary for your travel plans make sure you have brought proper travel insurance, protected your privacy by getting a secure VPN, compared all the top hotel booking sites to find just what you're after, reserved an unbeatable rental car price and - of course - booked the best flight deals!
Or maybe just forget it all and go for a last-minute cruise or effortless tour instead?
Many budget travelers (including me) indulge in worldwide airport lounge access, so we can experience luxury while still slumming it in economy. Naturally, we would never leave home without a more general travel guide since we couldn't possibly cover everything here!
Just add an adventurous attitude and plenty of smiles - they go a long way - and that about covers it all! Now go out, find your own path and don't forget to share your best inspiration stories with me on Facebook, Twitter, and Instagram...I'd love to hear from you!