It is hard not to feel captivated by all the top things to do in Brisbane. This is a remarkably cosmopolitan outdoor-lifestyle city located in the climatic goldilocks zone (not too hot or too cold) with the best of what its more prominent and older siblings cities have.
This includes a wealth of arts and cultural attractions, modern architecture, lush gardens, dining options galore – and a peaceful, meandering river that provides the backdrop for so many quintessentially Brisbane moments.
Add to this a zesty, youthful attitude of Brisbanites, a culture of enjoying life in the present moment and the overabundance of natural attractions on the cities doorstep – including ancient rainforest and picture-perfect islands – and you would only just begun to scratch the surface of what makes Brisbane such an incredible destination.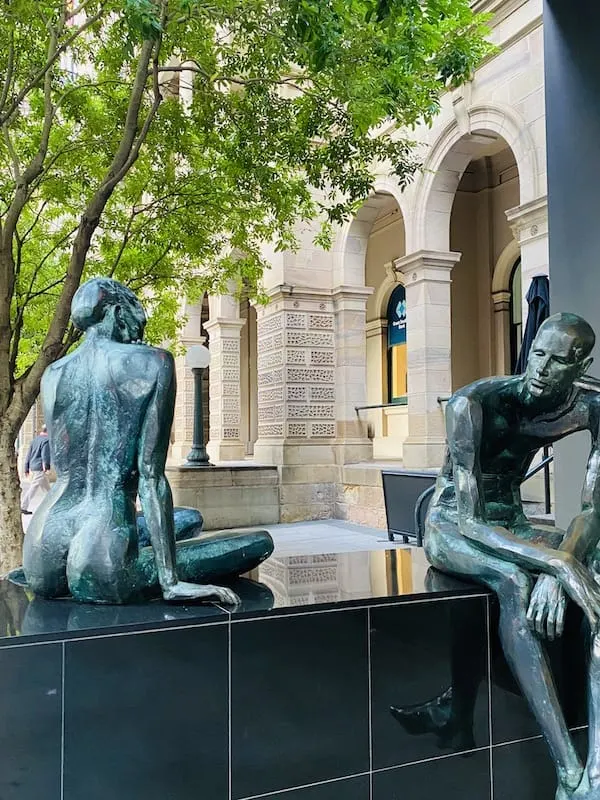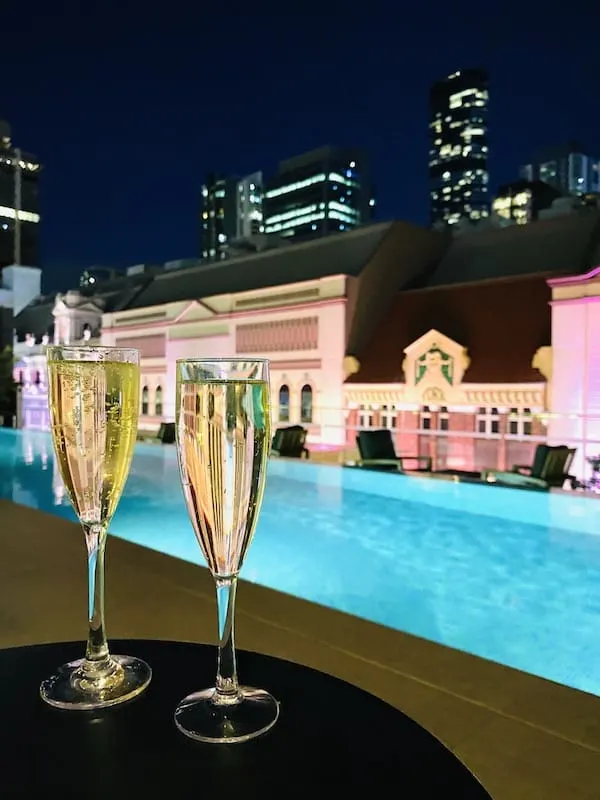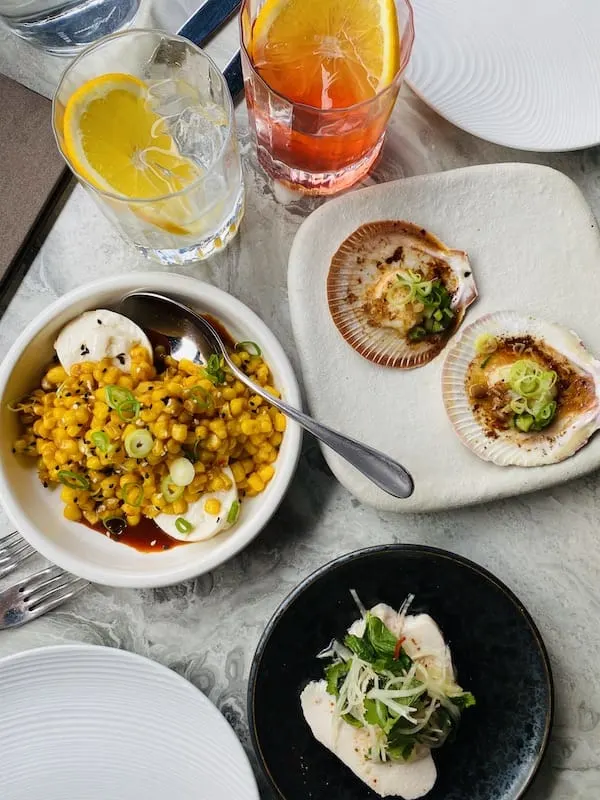 In curating this guide, we looked to unite all the best Brisbane attractions, from your typical tourist haunts to hidden gems, cliched (but still worth doing) activities to independent only-locals-would-know hotspots. Our list is an aggregate intended to give you a sense of Brisbane's past, present, and future — with everything from boutique cafes and major museums getting a mention.
We couldn't include all of Brisbane's rousing neighbourhoods, unusual markets, and clandestine watering holes, but we've got our favourites. And they are certainly enough to lure you in. We are sure you'll discover plenty more fun things to do in Brisbane along the way…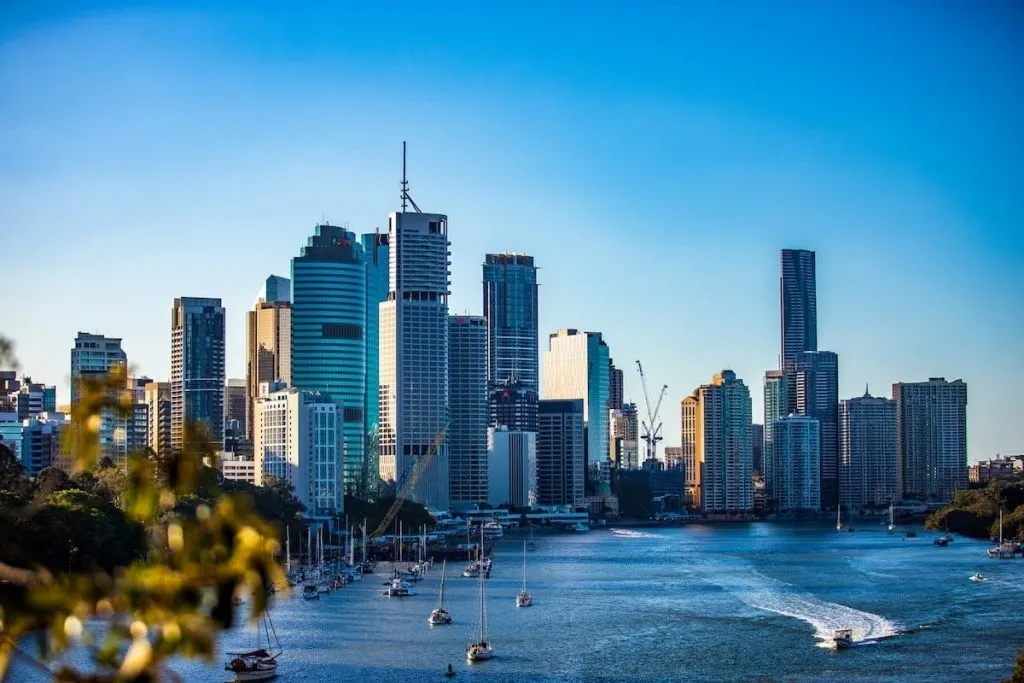 50 Things To Do In Brisbane That Feed Your Soul!
1. Queen Street Mall
Queen Street Mall is a bustling open-air pedestrian mall in the centre of Brisbane, home to more than 700 retailers over 40,000 square metres of retail space, including six major shopping centres.
The initial pedestrian mall was initially opened in 1982 prior to the Brisbane Commonwealth Games and has been so popular it has been expanded and refurbished many times since.
Extending for approximately 500 metres from George Street to Edwards Street, Queen Street is fronted with big names and flagship stores, while smaller boutiques and stores are tucked inside shopping centres and arcades just begging to be explored. We also loved that the heritage-listed building facades have been preserved and integrated into new buildings, giving the mall a restored yesteryear feeling.
Even if you are not in Brisbane to update your wardrobe, there is something for every taste here – from galleries to dining, movies to rooftop cocktails. A hub of local life, more than 1000 events take place here each year with brand tie-ins, live music and picnic spots aplenty.
For the ultimate experience, stop in for a drink at Jimmy's On The Mall – a glitzy split-level venue with a leafy exterior right in the centre of it all and open 24/7. The elegant pool bar at the Hyatt Regency Brisbane also offers a more subdued location to survey the street from – and the hotel is a central location to stay right on Queen Street Mall.
2. Fortitude Valley
Fortitude Valley, or simply The Valley, as it is affectionately known by locals, was Australia's first dedicated entertainment district and continues today to be a hub of nightlife and dining in Brisbane.
From the first early morning roasts of Bellissimo Coffee until the last dancers stumble out of the clubs and pubs in the early morning, Fortitude Valley is a suburb that never sleeps, a party precinct with the energy of Hell's Kitchen New York, the luxe clubs of Las Vegas and the friendliness of Florida.
It's a contradiction – grungy nightclubs sit next door to some of the city's most glamorous spots, and Chinatown eateries along with upmarket European restaurants vie for your attention.
The rise of the suburban shopping mall and closure of Brisbane's extensive tram network in 1969 led to some dark decades for Fortitude Valley when dilapidation reigned and illegal gambling houses and brothels set up shop. However, things began to turn around in the 1990s thanks to a united urban renewal campaign, and today around 50,000 people head to the Valley's clubs, pubs, and restaurants each weekend night.
Around 30 venues here are licensed to trade until 3:00 am – with the Valley's nightlife deserving of an entire article in itself. Though if you are going to twist our arms, we love Laruche and Ei8ht mega-club, or Fluffy – a queer Sunday night party!
Even if you are not a night-owl, the Valley offers plenty to tempt before dusk with hip laneways, leafy streets, coffee shops, record stores and more.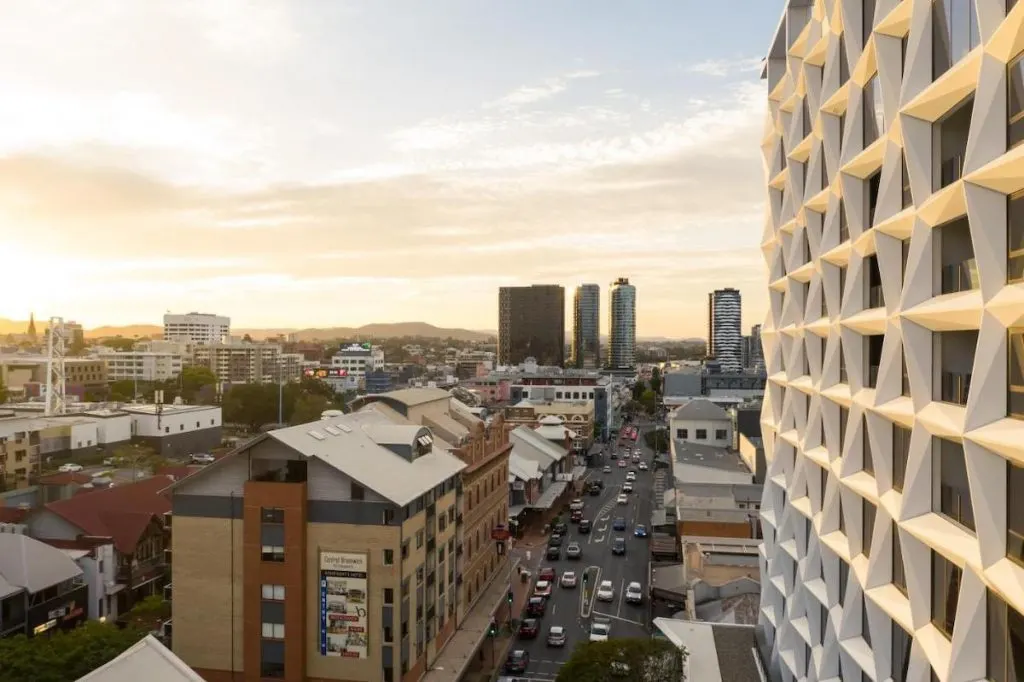 3. Lone Pine Koala Sanctuary
How could any list of the best things to do in Brisbane not include a trip to Lone Pine Koala Sanctuary for some quality one-on-one time with one of Australia's most famous animals.
Founded in 1927, this is the world's oldest and largest koala sanctuary in the world covering 18-hectares in the Brisbane suburb of Fig Tree Pocket. Not only is it home to around 130 koalas but around 70 species of other native Australian animals. So not only can you have a bonding moment with a koala, but you can hand-feed kangaroos and lorikeets or get a chance to see their Tasmanian Devils and two rare but very playful platypus.
Guests are allowed to hold koalas for a fee which is used to fund new enclosures, research projects and the extensive eucalyptus plantations needed to feed these fuzzy marsupials. Strict state and federal regulations guarantee that every koala is not held for more than thirty minutes on any given day – so you can be assured of their welfare.
If you have hired a car for your visit, there is on-site parking. Otherwise, Lone Pine Koala Sanctuary can be reached by public bus or arrive by boat on a Mirimar boat cruise departing daily from the Queensland Cultural Centre pontoon in South Bank.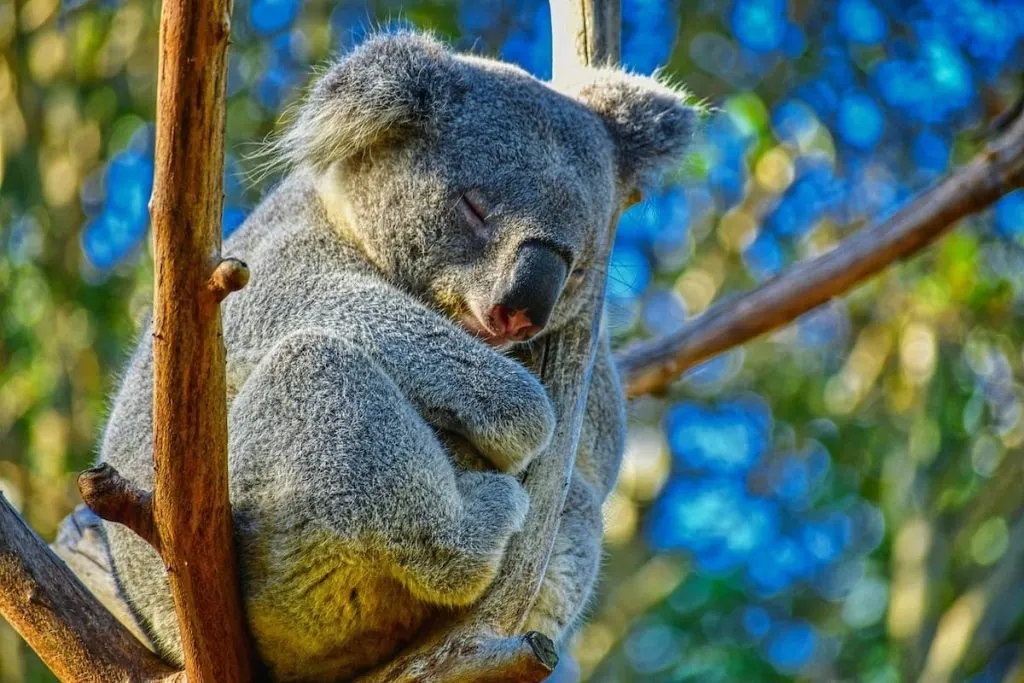 4. Brisbane Botanic Gardens
Brisbane Botanic Gardens are located around 7 kilometres from the CBD at the foot of Brisbane's tallest mountain, Mount Coot-tha but are well worth the effort to get to.
Open daily and free to explore, the 56-hectare gardens are recognised as Queensland's premier subtropical botanic gardens and also hosts a variety of events and workshops, displays, exhibitions and free guided walks. A living museum of native and exotic plant collections presented in various themed sections, the Bonsai House and Australian Plant Communities are particularly noteworthy.
The stunning Tropical Display Dome lattice structure showcasing plants from the tropics is also not to be missed.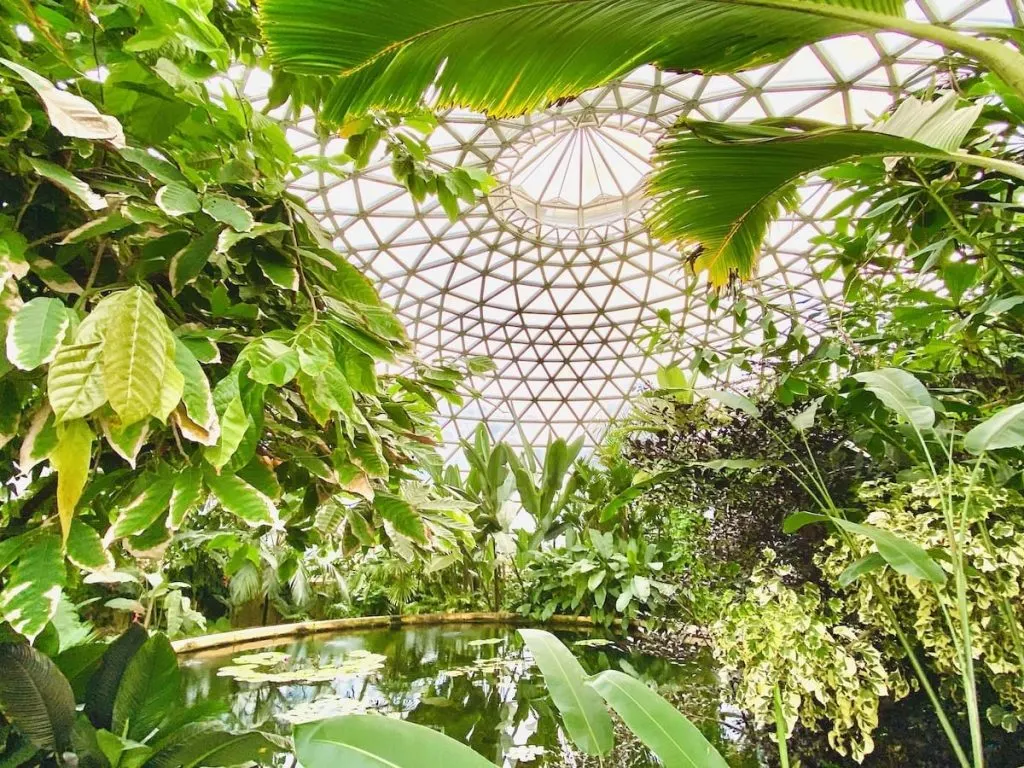 5. Brisbane River Cruises
The Brisbane River is undoubtedly a focus of local life, and residents and visitors alike adore its many waterfront parks, landmarks and walks. However, to get the full experience – you will need to take to the water – either utilizing the Brisbane CityCat public transport ferry network, or by heading out on a dedicated Brisbane River Cruise.
There is is just something ephemeral about gazing out at the city skyline and watching it light up as a sunset with shades of red, pink, and orange reflect from the water. There is numerous options including those that are limited to the winding Brisbane River or those that head out further into the expansive blue of Moreton Bay but one of our favourites has to be the Kookaburra River Queen Old Timey Steamer Ferry which has romantic lunch cruise, high tea and dinner options.
You can compare most of the Brisbane river cruise options here… you'll quickly see that they don't call Brisbane the river city for nothing.
6. The Gabba
The Brisbane Cricket Ground (commonly known as the Gabba because of the surrounding suburb in which it is found – Woolloongabba) is a major sports stadium in Brisbane and a top place to visit in Brisbane for any sports fan.
First established in 1895, the Gabba has hosted many major events in the past century, including cricket, AFL, baseball, rugby league, rugby union, Olympic soccer and major sell-out concerts. Today it is home to the Brisbane Lions, Brisbane Heat and Queensland Cricket and has a capacity of up to 42,000. However, the Gabba will likely be totally reconstructed for its role as the central venue for the 2032 Summer Olympics – assuming Brisbane is successful with its current status of preferred bidding city.
A true Aussie experience, check out what's on at the Gabba over your Brisbane holiday dates and book accordingly.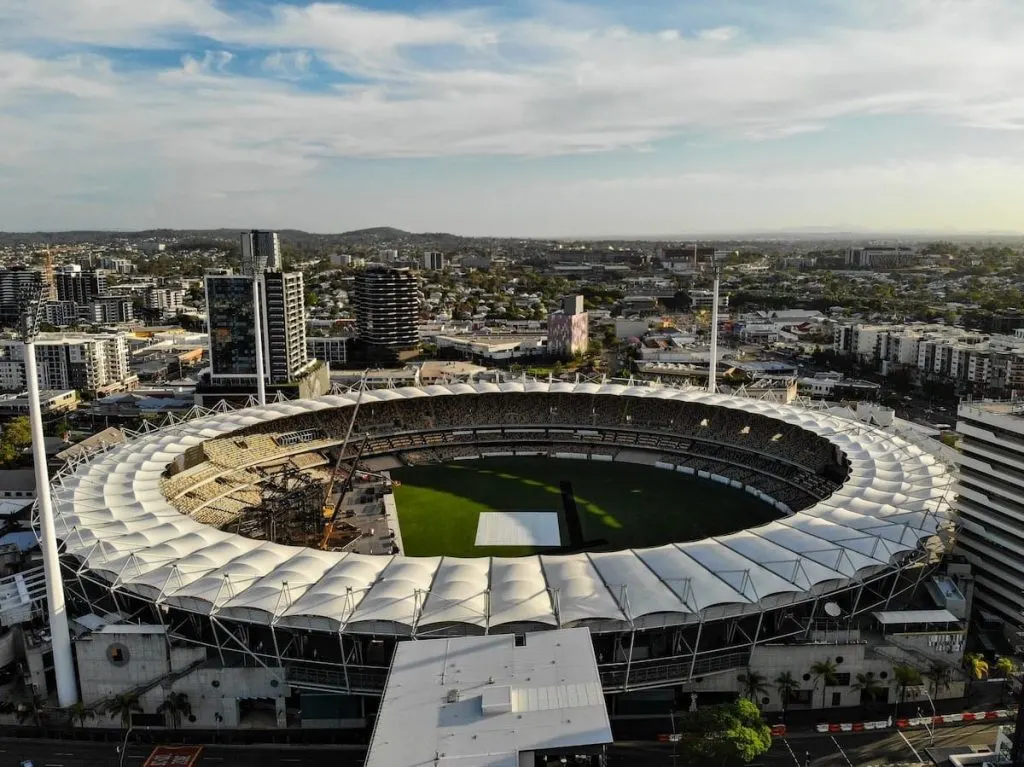 7. XXXX Beer Brewery Tour
XXXX Gold is undoubtedly one of Australia's most iconic and popular beers, first introduced in 1924 and still today brewed in iconic Castlemaine Perkins Brewery in the inner-suburb of Milton in Brisbane – itself a landmark of Australia.
Given its notoriety and legendary status both in Australia and abroad it is no wonder that one of the most popular things to do in Brisbane is to book onto a XXXX brewery tour which takes you through the 140+ year history of Queensland's most enigmatic brewery. You'll learn all about this classic brew, their world-class brewing methods, ingredients and, obviously, how to pour the perfect XXXX. The tour takes around 90 minutes and is aptly concluded with a guided 4 beer tasting session.
If you are short on time, you can always pop into the on-site Alehouse Restaurant or get your hands on a schooner, stubby or can of this emblematic Queensland brew at most watering holes around town.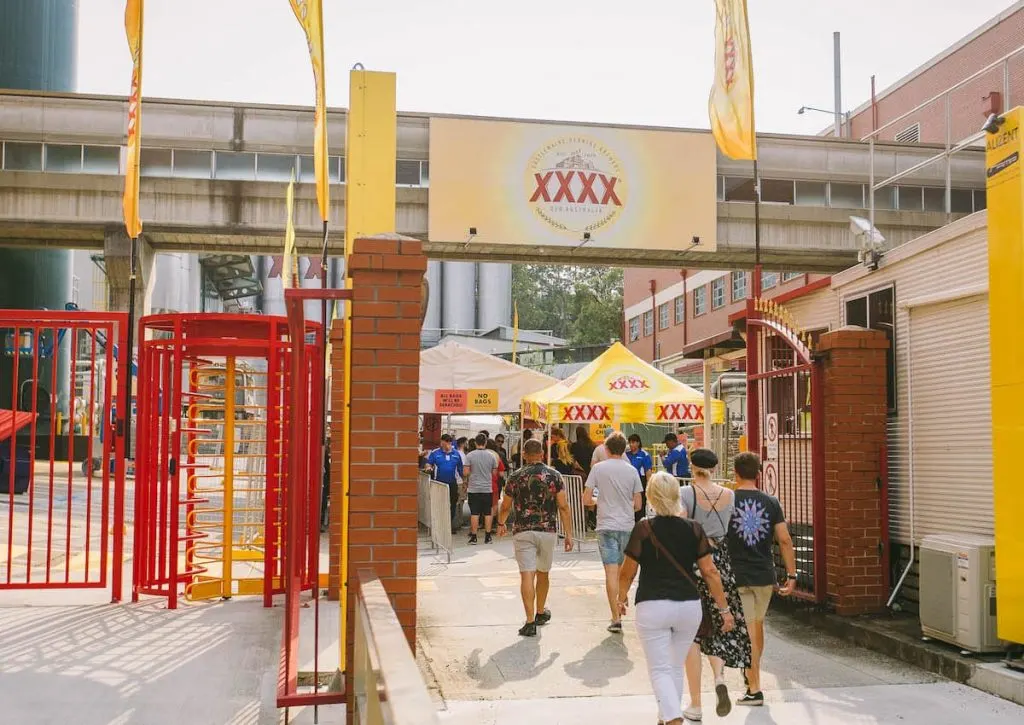 8. City Hall
Brisbane City Hall is one of Queensland's most elegant and grand heritage and cultural icons, and ever since its opening in 1930 has been a potent symbol of civic pride. Its symmetrical Italian Renaissance stylings, bronze awnings, and Daphne Mayo's tympanum cement its landmark status outside.
As you enter the majestic King George Square foyer, the eminence of the marble staircases and the vaulted ceilings, chandeliers, and mosaic-tiled floors are impossible not to appreciate. At the time, it was the second-largest construction project in Australia, second only to the Sydney Harbour Bridge and stepping inside invokes feelings more often associated with visiting old-world architecture in spots like Vienna or Lisbon.
The only administrative functions remaining in the city hall today are the Council Chambers and the Lord Mayor's and Deputy Lord Mayor's offices. However, functions, concerts and events still grace its main auditorium, while the modern Museum of Brisbane is located on a purpose-built facility on the rooftop.
Free tours of the building and clock tower are available daily to discover the secrets of the heritage-listed City Hall building and should be booked in advance in peak seasons.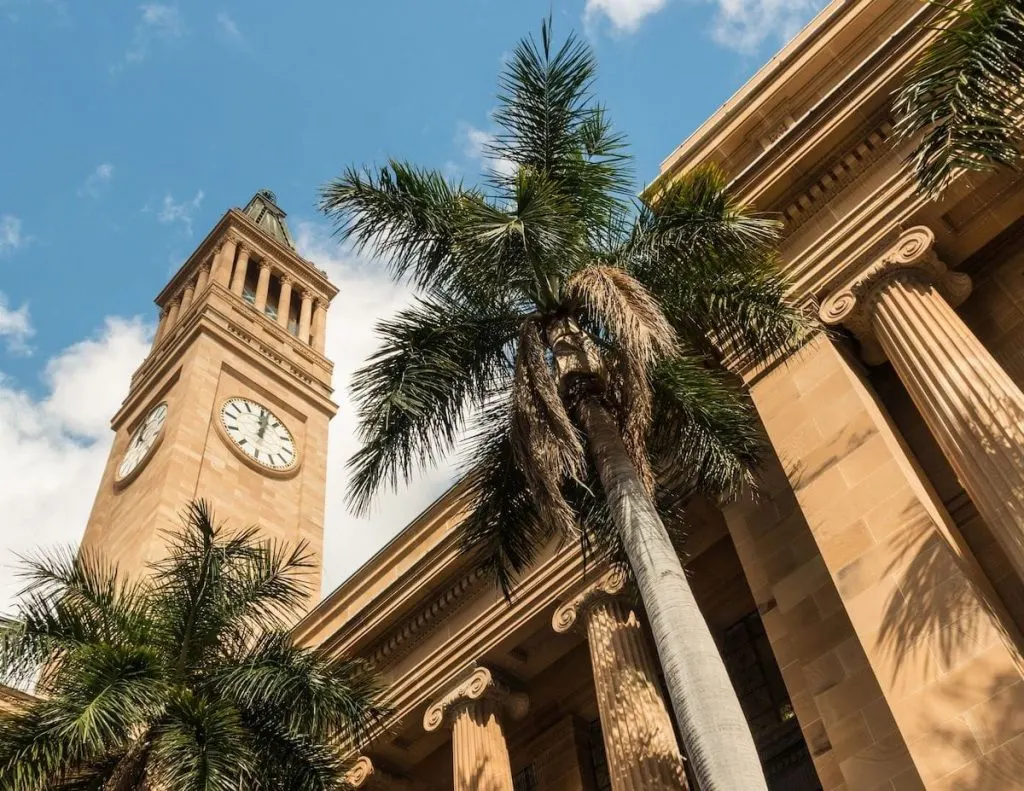 9. LGBT Scene Of Brisbane
Warm hospitality is what Queensland is known for (well, besides pristine beaches and tropical islands), so it should come as no surprise that Brisbane has a healthy and thriving LGBTIQ+ scene with a variety of venues, attractions and events to keep queer travellers busy.
79.51% of Brisbane voted yes to legalising same-sex marriage in Australia, the highest rate for any city other than Sydney and Melbourne. While we would have loved 100% of people to have voted YES, it does give you an indication of just how gay-friendly Brisbane is.
We recommend reading the complete guide to Gay Brisbane provided by Queer In The World. Still, some stand-out highlights include the camp-pop gay dance party that is Fluffy held on Sundays, the BEATS mega-gay club, the laidback Sportsman Hotel and the annual Melt Festival Of Queer Arts And Culture.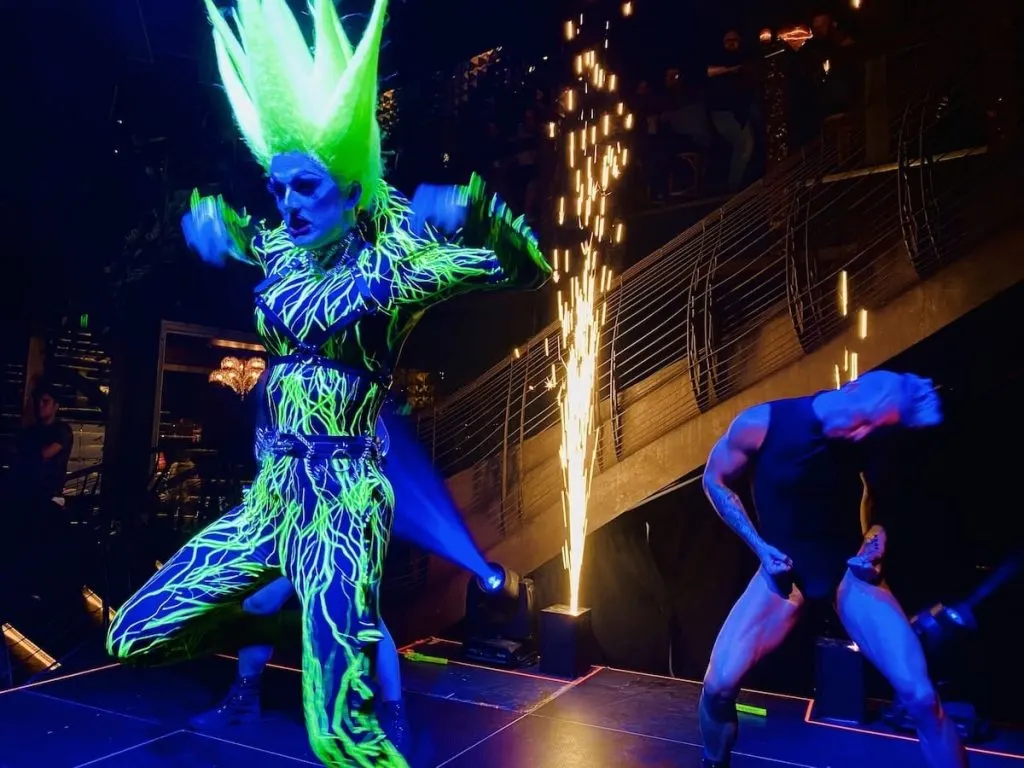 10. Queensland Performing Arts Centre
One of Australia's renowned centres for live performance, South Bank's Queensland Performing Arts Centre (QPAC) encompasses a range of famous, emerging, local & new performances each year.
Housed in a remarkable brutalist concrete venue opened in 1985, QPAC is most known for big-name theatre and music, alongside ballet and comedy. There are four stages inside, with a fifth due for completion in 2022 (the building was future-proofed to a degree with expansion in mind) and hosted more than 1.3 million visitors and 1,200 performances in 2019. Given the population of Brisbane is only around 2.4 million, this indicates just how seriously the city's residents take their arts and culture scene.
The Queensland Ballet, Queensland Theatre Company, Opera Queensland and Queensland Symphony Orchestra all the QPAC home and needless to say, a performance by any that tickle your fancy are worth planning your Brisbane itinerary around.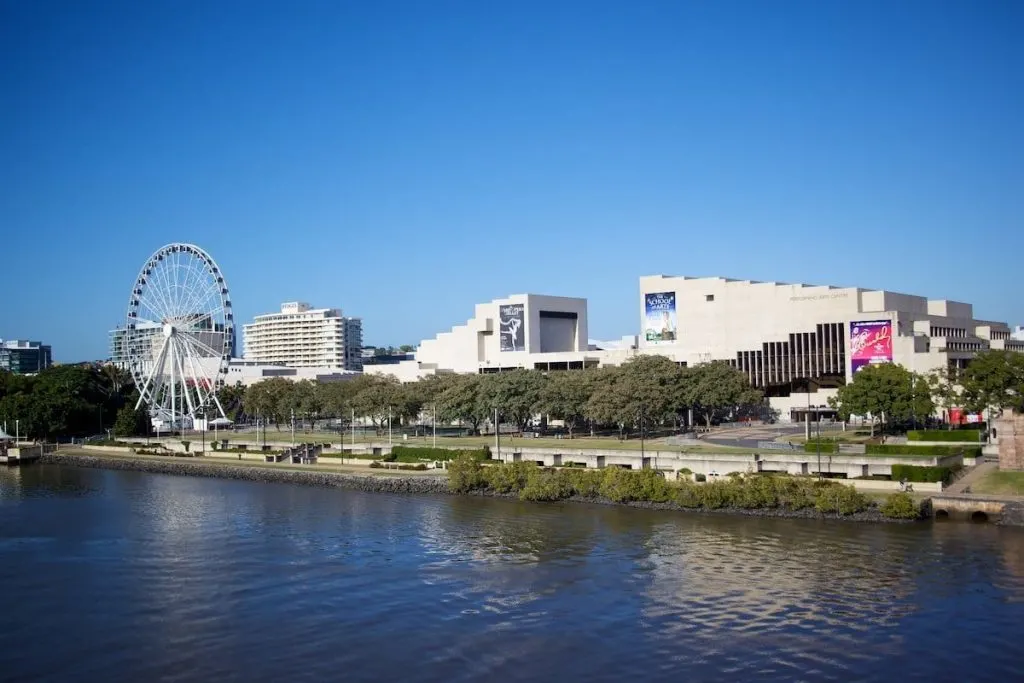 11. South Bank Parklands
While the Brisbane City Gardens are a bit lacklustre, the South Bank Parklands are anything but and provide the central CBD parklands Brisbane is deserving of.
Comprising 17 hectares of prime riverfront land, the South Bank Parklands offers shaded walking trails, glorious picnic spots, free-swimming facilities and a year-round roster of fun events. Highlights include Streets Beach, Australia's only inner-city, man-made beach, the Little Stanley Street foodie hub and the Arbour, a 1-kilometre curving patch with curling steel columns covered in bougainvillaea's which flower throughout the year.
The famous Brisbane Sign is also located here, while many of Brisbane's premier cultural institutions can be explored nearby, including the Queensland Performance Arts Centre, the Queensland Museum, the Queensland Art Gallery and Gallery of Modern Art and the State Library of Queensland.
Pro tip – don't miss the deluxe soft serves of Ice Dream located here, all begging to be posted on Instagram and with exotically decadent flavours like matcha, cherry ripe, fruit loops, choc birthday cake, dragon fruit and lychee.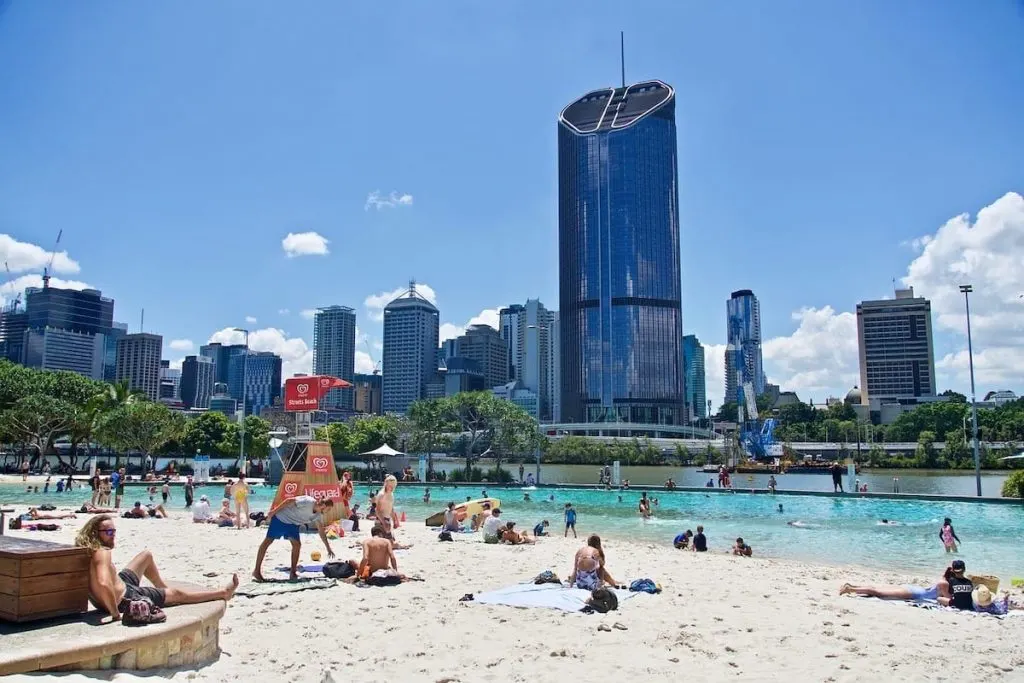 12. Brisbane Markets
Brisbane is a city that is obsessed with sunshine, the outdoors and shopping local, so it should come as no surprise that Brisbane simply buzzes with markets.
For delicious treats, unique designs, and great bargains, Brisbane's intense market scene has you covered – each of which reflect the character, passions and style of the communities they are hosted in. The only problem can be picking which to visit! Our favourite markets for tourists in Brisbane, however, has to be the Jan Powers Farmer's Markets held at the Powerhouse every Saturday morning held in an open park filled with dogs, live music and places to sit to enjoy your purchased snacks.
Other fun options include the Riverside Gardens Markets held in the City Botanical Gardens every Sunday or the legendary Suitcase Rummage flea market held on the first and third Sunday of each month in Reddacliff Place.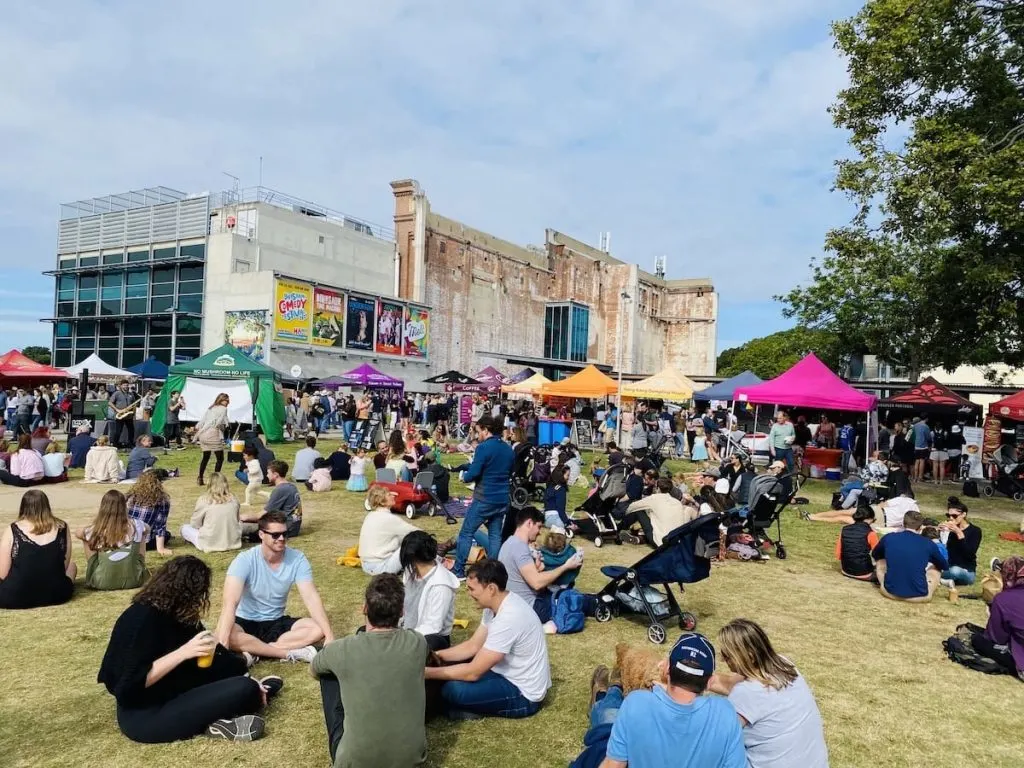 13. Spicers Balfour Hotel
If you are looking for somewhere decadent, different and iconically Queensland to stay during your Brisbane travels, the Spicers Balfour Hotel might provide the answer. Sublimely located on the edge of Brisbane's infamous Valley and posh New Farm with the CBD and Howard Smith Wharves easily accessible, this boutique accommodation offers luxuriously distinctive rooms and suites and a welcoming sanctuary to weary travellers.
Spread between a stately 1940's art deco style Simla building and a renovated iconic 'Queenslander' house, the Spicers Balfour Hotel has surprisingly affordable rooms, incredibly friendly staff and all the small design features you would expect of boutique accommodations. Think antique designer furniture, Bose sound systems, Nespresso machines and rain showers.
Even if you are not on the hunt for accommodation in Brisbane, the fairy-lit courtyard or breezy veranda of award-winning Balfour Kitchen should be on your list for Vietnamese inspired, locally sourced dining. The Satay Cauliflower breakfast dish (Cumin roast cauliflower, satay sauce, crispy wonton skins, house pickles, herbs, fried egg) is as innovative as it was delicious.
Alternatively, for dinner, the Taste It All menu option is the best way to let the chef showcase their skills with sustainably sourced seafood, ethically farmed meats and hero vegetables balanced with Asian aromatics and the unique sweet, hot, sour, salty flavour of Vietnamese cuisine.
For guests and non-guests, the upstairs bar is a must-visit with a picture-perfect view of the Story Bridge and bougainvillaea's and inspired cocktails like the avant-garde Negroni Shiro (Classic Brookies gin, Suze, Gekkeikan Sake and orange bitters) or the jolly Lychee & Pineapple Martini.
For rooms rates, restaurant reservations or more information, visit the Spicers Balfour Hotel website.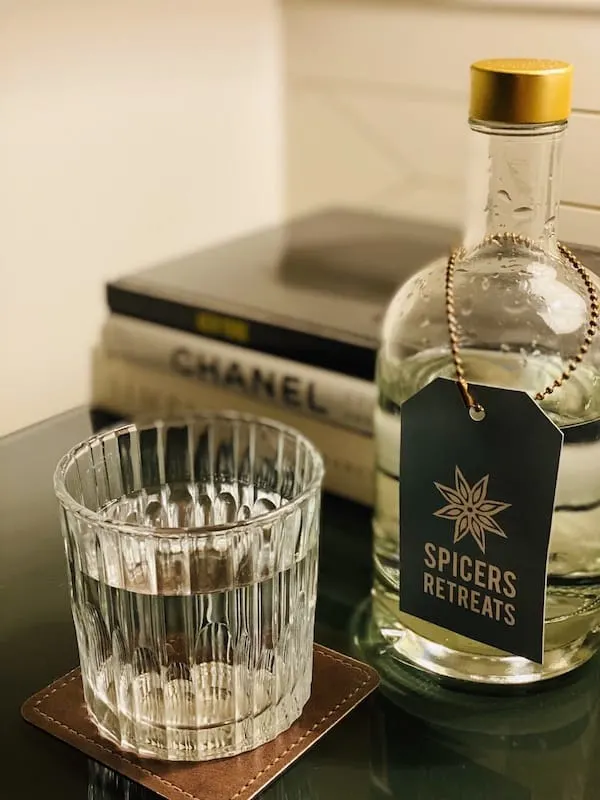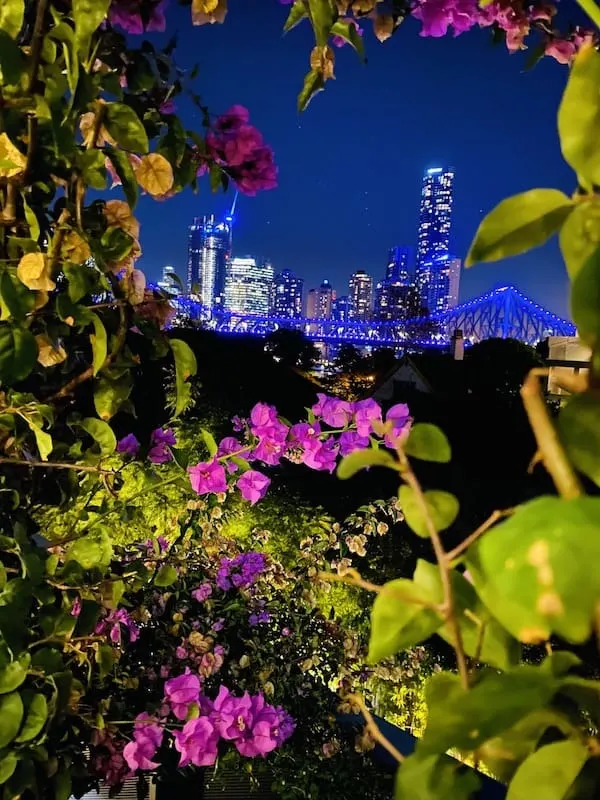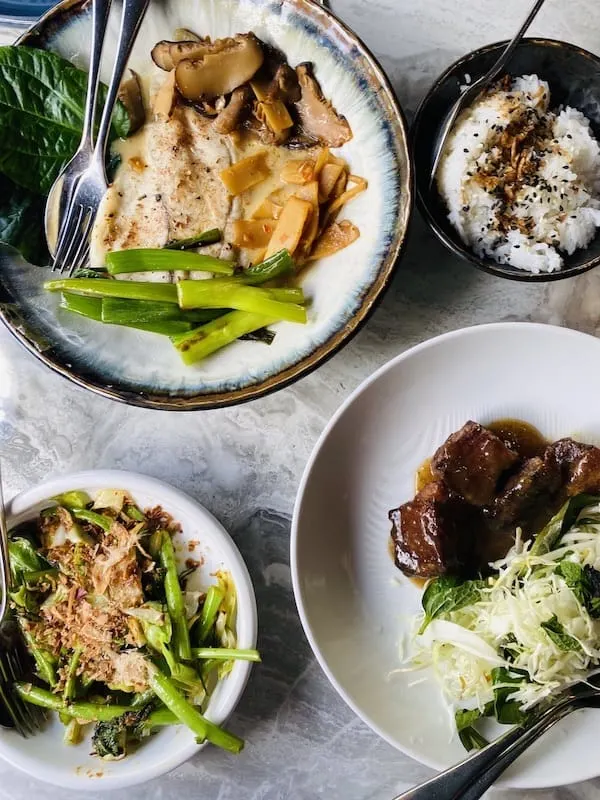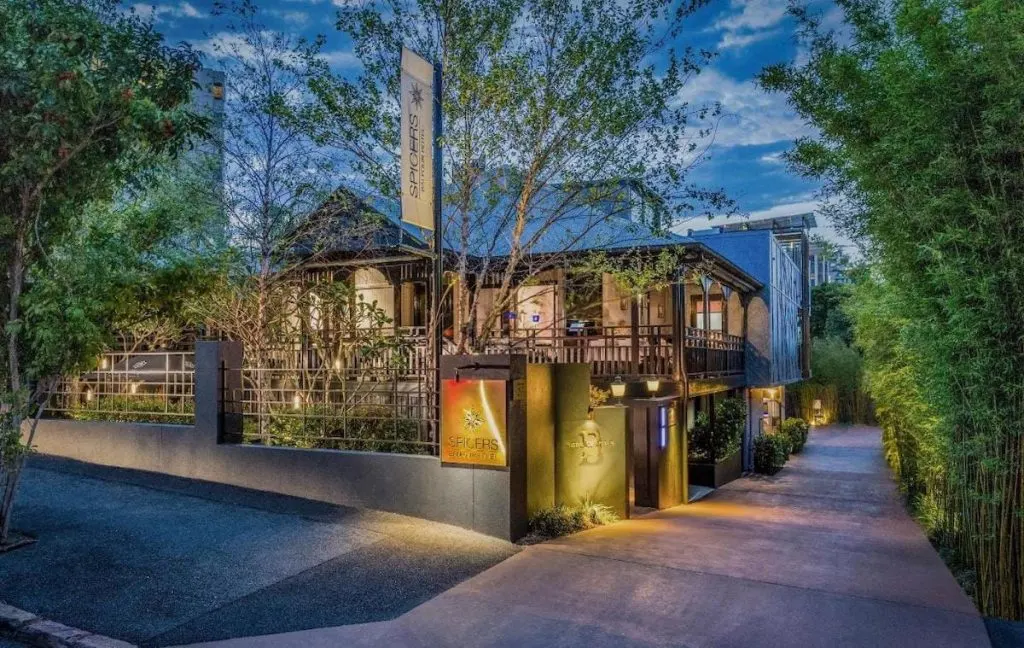 14. Surfers Paradise
While not technically one of the best things to do in Brisbane, a great day trip option we always love to recommend is heading down to world-famous Surfers Paradise, a seaside resort on Queensland's Gold Coast renowned for its soaring high-rise skyline rising above the golden Surfers Paradise Beach.
Surfers Paradise light rail station conveniently allows you to travel here from Brisbane central in around 1 hour 50 minutes, and from there, all the shops, cafes and lively bars of Cavill Avenue are just a stone's throw away. Then soak up some rays on the beach or head up the towering Q1 building, with its SkyPoint observation deck offering panoramic ocean and city views.
If you can time your visit for a Wednesday, Friday or Sunday wait and watch as night falls and the Surfers Paradise Beachfront Markets pop up with over 100 stalls selling food, produce and local bespoke artworks. All with the calming sea breeze and sound of waves.
Seaside relaxation paired with delicious food and a bit of adrenaline – what's not to love. Just don't get lured in by the nightclubs and miss your train home.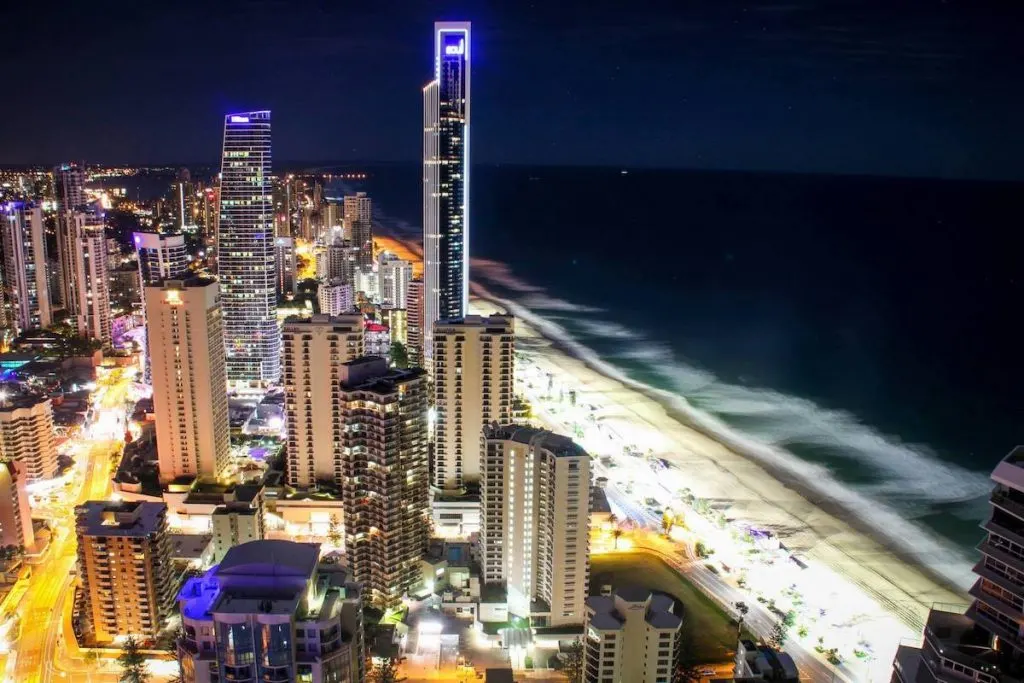 15. Queens Wharf Development
Technically not one of the top things to do in Brisbane yet, but considering it is due to be completed in 2022, we couldn't not mention what will be Brisbane's newest tourism, leisure and entertainment destination.
Queens Wharf is a 3.6 billion AUD world-class integrated resort development being constructed which will blend beautifully repurposed heritage buildings with stunning contemporary architecture into five new hotels, over 50 food and beverage outlets, a casino, shopping, apartments and more. There is also a new public bridge, a wealth of art and public spaces planned and a breath taking sky park intended (think Singapore's Marina Bay Sands) that all are intended to make the most of Brisbane's subtropical climate, blue skies and outdoor river-city lifestyle.
For visitors before opening, you can spot the soaring cranes from South Bank looking back towards the city or spot by the onsite visitors centre for more information on the completed Queens Wharf Development (with a large-scale model and video room).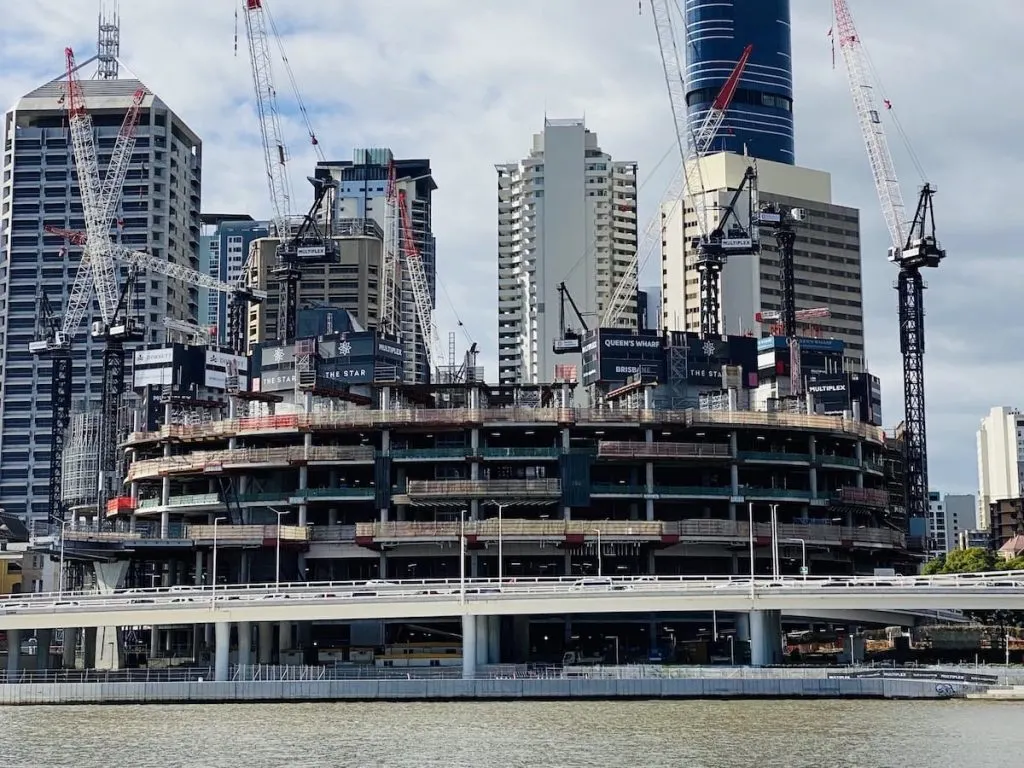 16. Howard Smith Wharves
Another fabulous indoor-outdoor public space that makes the most of Brisbane's tropical climate, the Howard Smith Wharves is a bustling, modern waterside development filled with eateries, bars and breweries. A heritage-listed wharf under the glorious Story Bridge between Brisbane City and Fortitude Valley, the redeveloped site was opened in late 2018 after being vacant since the early 1960s.
With a 180-degree vista of the city skyline and river and a pedestrian boardwalk perfect for people watching, the Howard Smith Wharves has plenty to draw in the crowds by day and by night. For a semi-casual affair, grab a craft brew and burger from the Felons Brewing Co in the late afternoon sun or join the glitterati of Brisbane at the uber-chic Hong Kong-inspired Stanley Restaurant for a dining experience you won't soon forget. Later at night, channel the energy of Tokyo at the split-level bar Yoko or dance along with the in-house DJ spinning decks above an iconic mirrored bar at Mr Percival's.
The best way to visit the Howard Smith Wharves is by foot, with kilometres of boardwalk joining the Wharves from Brisbane City through to New Farm. You can also access via two lifts from the top of the cliffs on Bowen Terrace, where the Wilson Outlook Reserve offers one of the best views in Brisbane.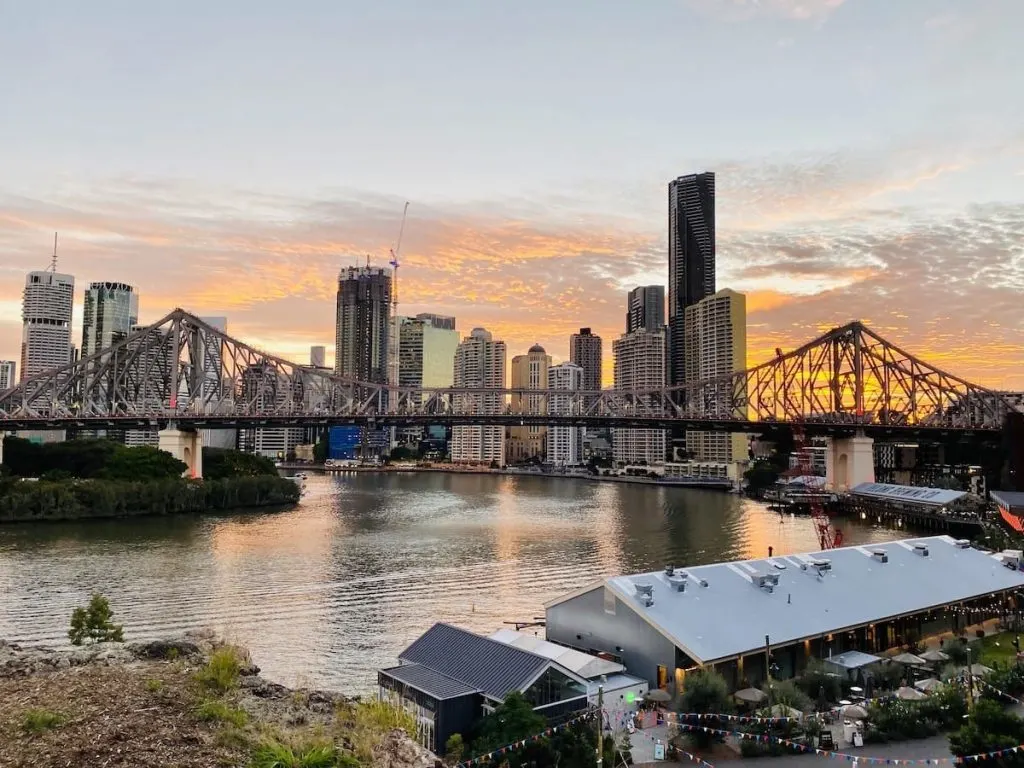 17. Story Bridge Adventure Climb
If you are like us, you will be utterly obsessed with Brisbane's most iconic structure, The Story Bridge, and want to take a closer look. Similar to the Jacques Cartier Bridge in Montreal, on which it was based, pedestrians can walk across on foot, but for the ultimate adventure, you have got to climb it. It's one of only three bridge climbs globally and the only one you can climb up and abseil down!
From the top, you'll get a unique perspective of the city and its surroundings, from the Glass House Mountains in the north to Moreton Bay in the east – not to mention the best views of the Brisbane skyline and its surrounds. There are eight different options to consider when booking. Still, we are particularly fond of the twilight climb, which allows you to experience the unique moment when the sun sets on the horizon, and the city comes to life with lights.
You'll then descend under the soft glow of the ever-changing Story Bridge multi-coloured lighting system.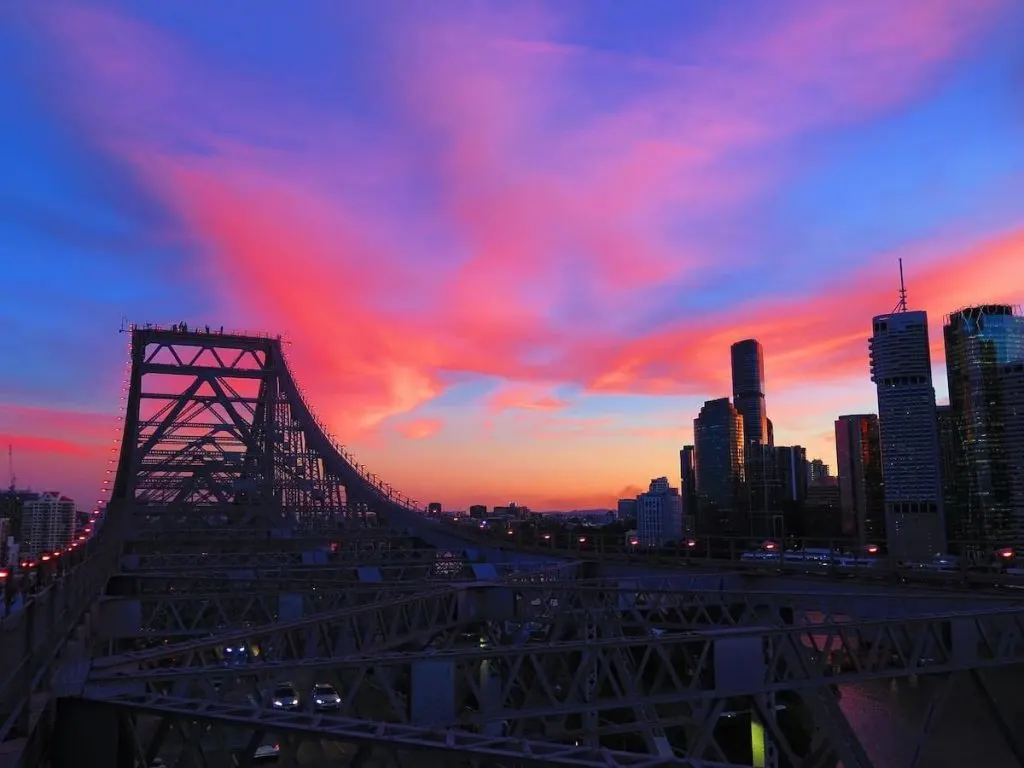 18. Brisbane Cycle Paths
There is no doubt about it; Brisbane is a cycle lover paradise with hundreds of kilometres of riverside and separated bike lanes just begging for you to put your foot to the pedal and explore.
While the CityCycle scheme that allowed bikes to be taken and dropped off at designated docks is being phased out, dockless e-bikes are currently being introduced and joining the expanding Brisbane scooter fleet, a move that makes a lot of sense given Brisbane's frequently humid climate. The 99 Bikes shop conveniently located on Elizabeth St in the CBD also does full-day and multi-day hires.
Our favourite bike paths around Brisbane include the New Farm Cycle trail (starting in bougie Teneriffe and following the river down to the Brisbane Powerhouse and around into New Farm Park) or the Boondall Wetlands trail, where you can ride through tidal flats, mangroves, salt marshes, grasslands and woodlands. There is also dedicated Brisbane By Bike tours which are a great way to experience the outdoor-urban lifestyle on offer here from a local's perspective.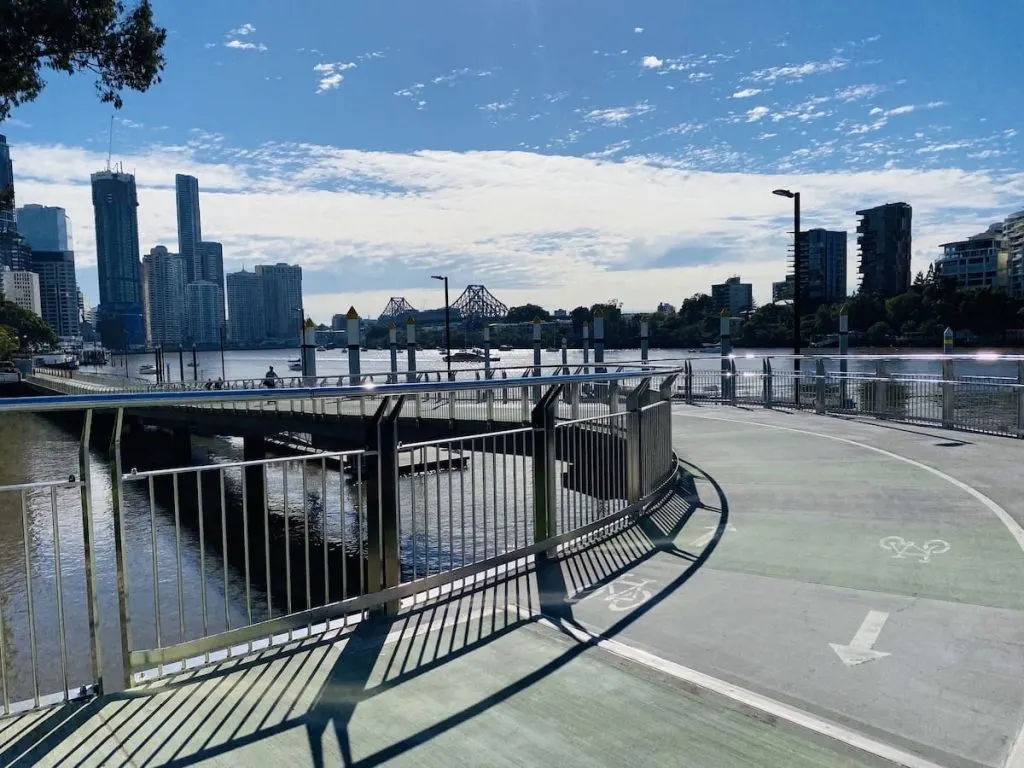 19. Mount Coot-tha
The closest elevation point to the Brisbane CBD, Mt Coot-tha, is an ideal destination for a panoramic view of Brisbane and the surrounding region of Moreton Bay. The Kuta cafe at the top offers average coffee with sublime views that more than make up for it, plus the dense bushland of the mountain allows for plenty of opportunities to explore on feet or by bike.
Australia's longest zip-line from the summit of Mount Coot-tha down to the Brisbane Botanic Gardens was proposed in 2017 but has been called off due to public protests. You have to settle on the more grounded Spotted Gum Trail, connecting the Brisbane Botanic Gardens to the Mt Coot-tha Summit through 2.4km of archetypical eucalyptus forest.
Our pro-tip? Take the free shuttle bus from the Gardens to the summit first and walk back down the trail – it is a lot easier. Just be sure to do it before mid-afternoon as you will finish at the back of the Botanic Gardens, where the gates are only open between 8 am and 4 pm daily.
Alternatively, the Mount Coot-tha sunset sees the city bask in a golden glow before transforming into a wonderland of twinkling city lights and starry skies.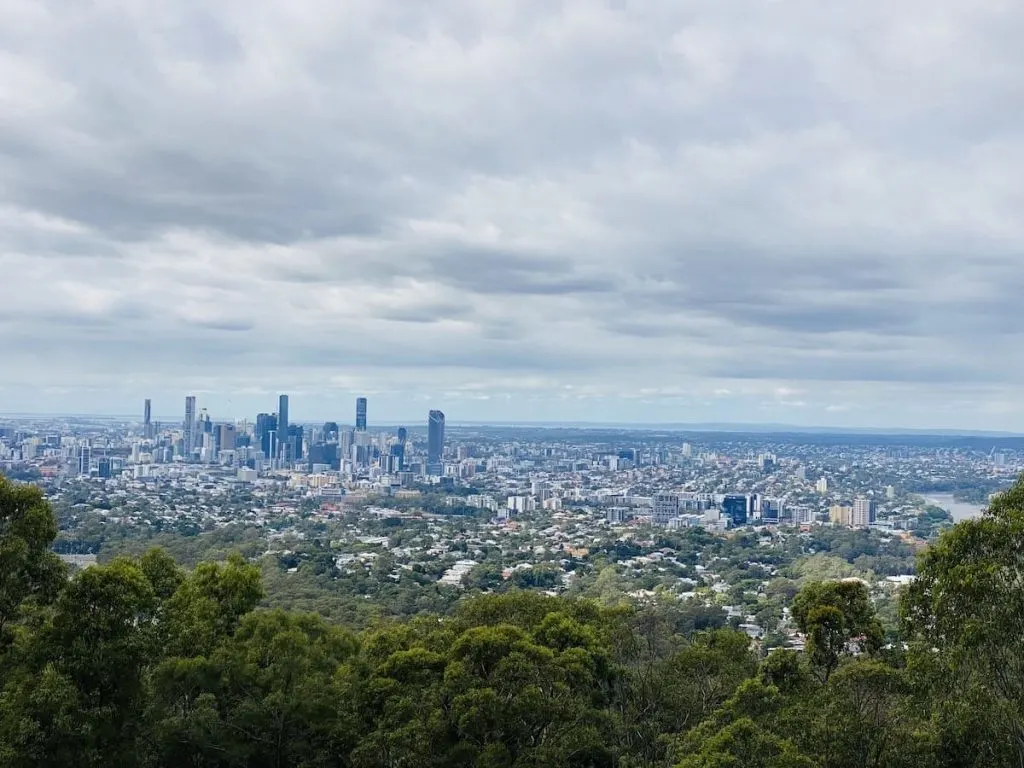 20. Miss Jones
A debonair New Farm cafe and coffee shop where the aesthetics are just as delicious as the food. Stop by the bath in the pastel pink walls and soft lights of Miss Jones before tucking into a blossom scented semolina porridge with almond crumble, blackberry marmalade and a ginger coconut mousse.
For those with a sweet tooth, the nutmeg caramel hotcake with rhubarb blossom custard, brown sugar poached apple and hazelnut milk gelato will not disappoint, but even the smashed avocado on local sourdough with sweet potato hummus and rainforest dukkah will not disappoint your eyes or your taste buds.
Miss Jones is exceptionally popular, especially on the weekends, so we recommend visiting on the weekday to avoid disappointment in their top dishes being sold out. If it proves a little too busy, there is always the equally heavenly Balfour Kitchen around the corner.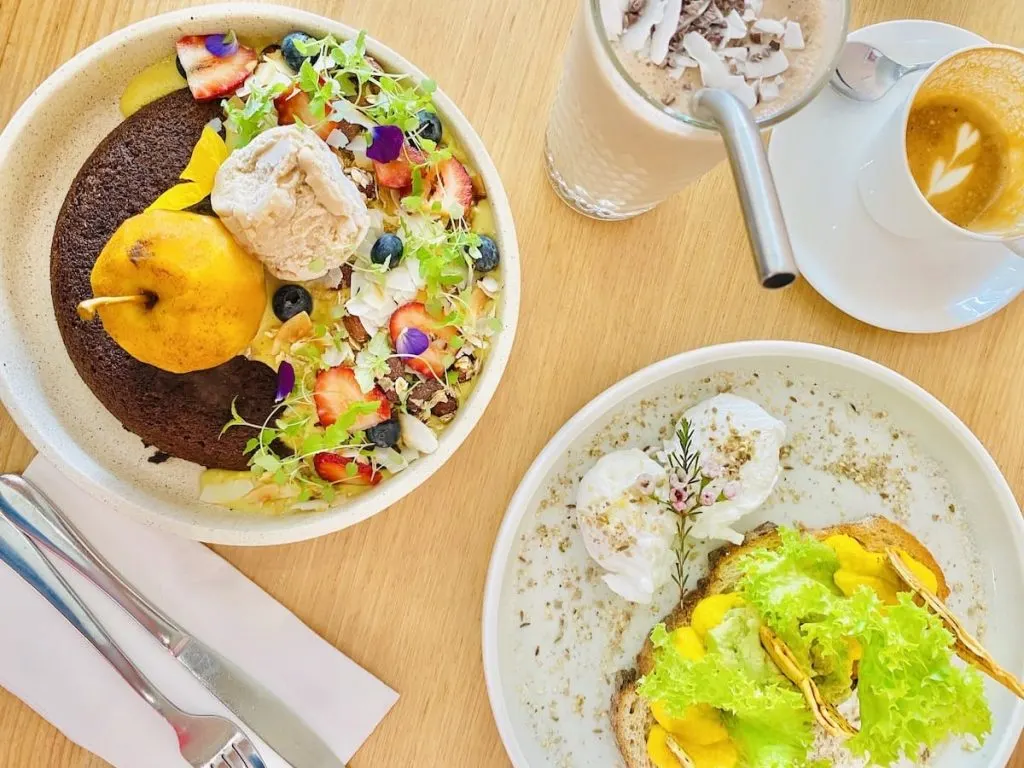 21. Brisbane Powerhouse
Brisbane Powerhouse is Queensland's headquarters for contemporary culture, a magnanimous power station of the 1920s reimagining as an arts centre right on the Brisbane River. With over 1,250 live shows taking place at the Brisbane Powerhouse each year, they are one of the busiest performing arts centres in the Asia-Pacific region.
Their year-round program features some of the best performing arts, visual arts, festivals, and free community events in Brisbane. The building is worth a visit on its own. The renovation keeps key elements that showcase the Powerhouse's history, such as the gantry crane and switch from its power station days and graffiti from when it was abandoned and provided shelter for homeless and a location for illegal raves.
Inside there is the main 536-seat Powerhouse Theatre, the more intimate 200-seat Visy theatre, Turbine Hall, rooftop terrace, bar and restaurant, all of which allow for a wide variety of events and uses. There is a dedicated CityCat ferry terminal, ensuring it is easily accessible from the CBD.
Look at the schedule of events early to avoid missing out as tickets sell out in advance for popular shows. Before or after the show dine at Mary Mae's, the onsite bar and restaurant whose riverside vibes epitomize the informal Brisbane lifestyle.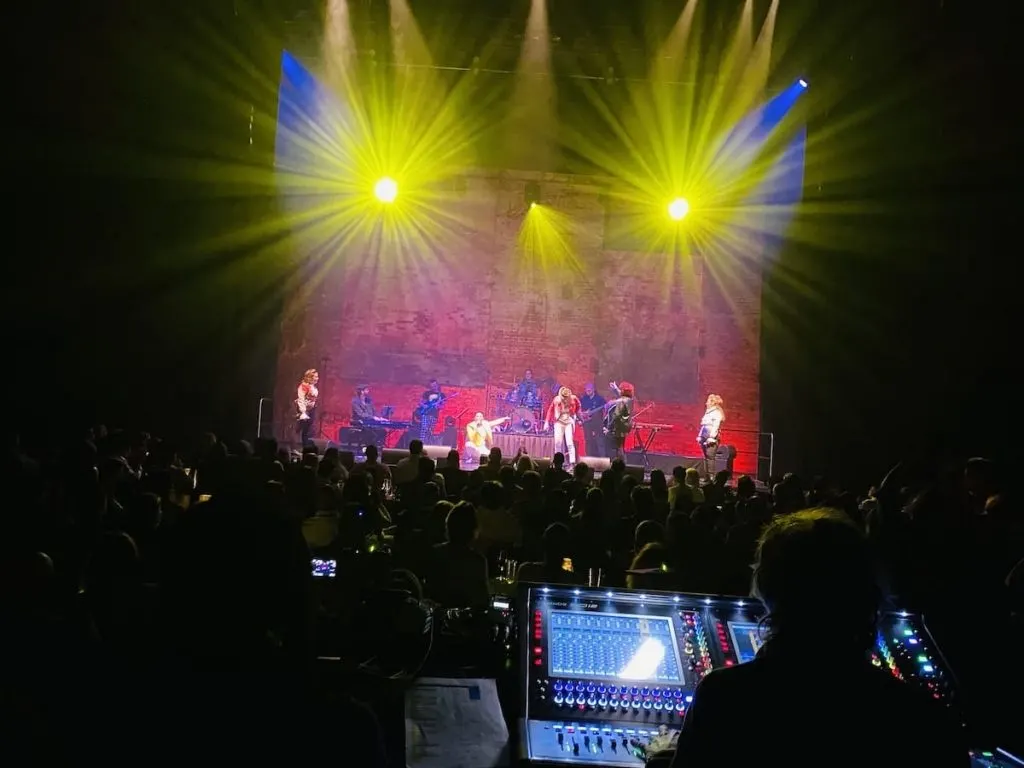 22. Hellenika
Fancy sipping on spritzes and partaking in saganaki in a sophisticated alfresco space? Now you don't have to jet-set to the Greek Islands; you can simply make a reservation at the oh-so-trendy Restaurant Hellenika, set within Brisbane's The Calile Hotel urban resort.
Entrees and small plates of kalamata olive-topped taramasalata, grilled saganaki, or the famous Hellenika zucchini chips with kefalograviera will undoubtedly get you feeling like you're living your best Euro-holiday life. More extensive share options include juicy grilled Junee lamb cutlets, eggplant moussaka, chicken souvlakia and grilled octopus. The 500-plus bottle wine list is as bias towards the Greek drops as you would expect – though the poolside vibes are likely to have you wanting to dine cocktail in hand.
A bucket list dining experience if ever there was one, this glamorous Brisbane restaurant is the jewel in the Fortitude Valley dining scene and open for breakfast, lunch and dinner seven days a week. Opa!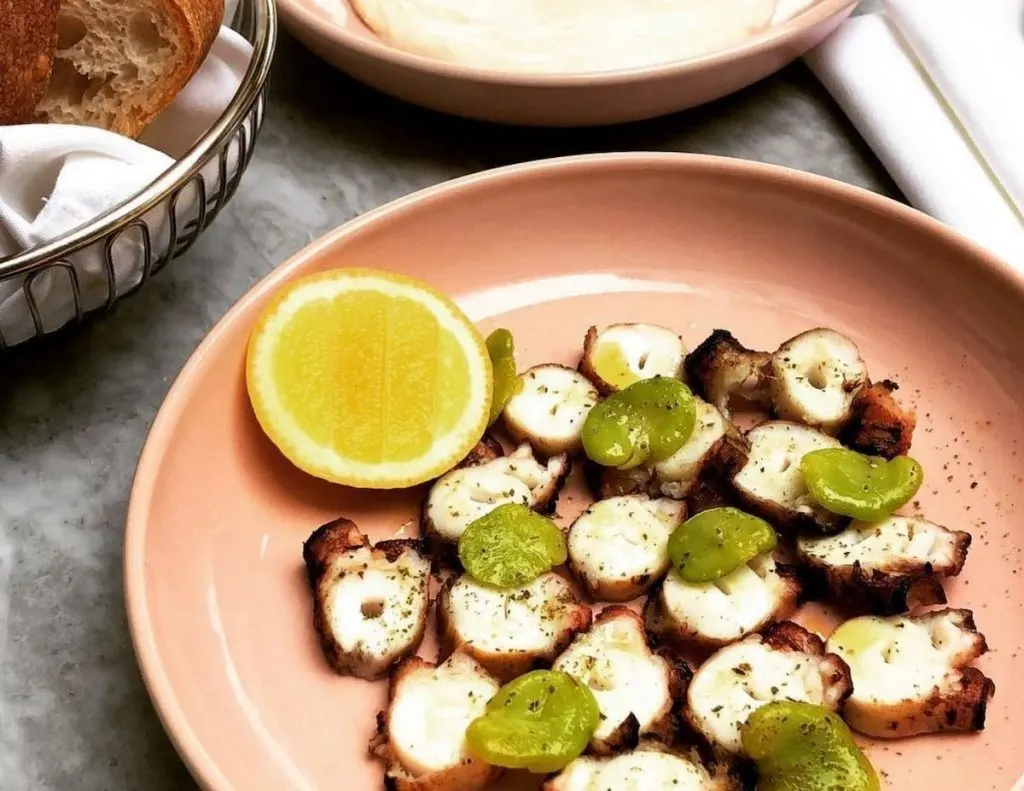 23. Queensland Museum And Science Centre
The Queensland Museum in South Banks Cultural Precinct is the network's flagship campus and is home to intriguing galleries dedicated to the natural history, cultural heritage, science and human achievement of Queensland.
The museum boasts permanent galleries including the Sciencentre; the Anzac Legacy Gallery; the Discovery Centre where guests can interact with hundreds of objects, animals and fossils; the Lost Creatures gallery about Queensland dinosaurs and megafauna; and the Wild State gallery focussed on Queensland's unique biodiversity. Then there are the regularly changing national and international touring exhibitions.
The result is an educational and fun space that connects visitors to Queensland, its people and Queensland's place in the world – past, present and future.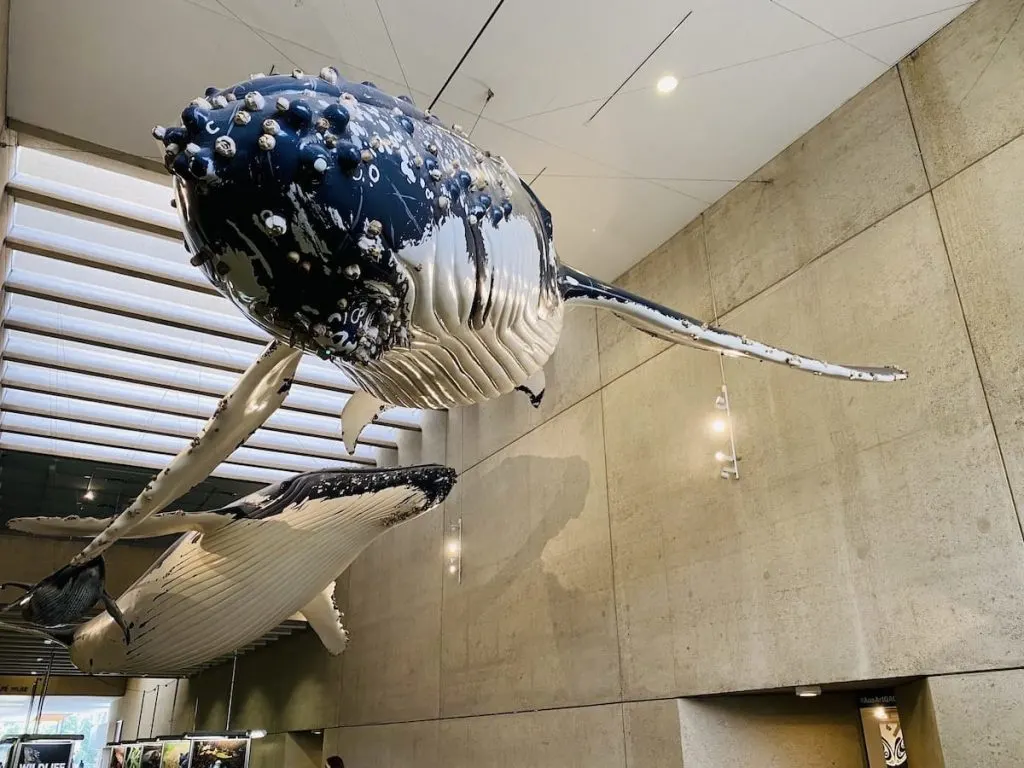 24. Brisbane Distillery
Gin is all the rage currently, and true devotees will want to make the pilgrimage to this city's first grain to glass artisan distillery top of their list of things to do in Brisbane.
Located in the West End, the Brisbane Distillers is crafting new and compelling gins, rums and botanical vodkas, which can be bought by the bottle of sampled through their inspired cocktail list in the very chic 23-metre long bar.
However, that is not all – the Brisbane Distillery offers one of the world's first gin school experience in a two-hour class where you get the chance to become a Master Distiller. Not only do you get to let your creative side run wild as you choose from over 120 botanicals to design and instil your one of a kind unique bottle of gin, but you will also learn first-hand about the history of gin, how to flavour it, and the Grain to Glass process.
Not to mention the four divine cocktails that are curated to showcase the versatility of gin (think an unexpectedly floral 'Clockwork Orange Gin' with notes of cocoa, rosemary, and orange served with clarified fruit juice and elder-flower infused strawberries) and will ensure you leave just a little tipsy.
A one-of-a-kind experience that we have yet to see repeated anywhere else in the world, any real gin aficionado will want to book well in advance as classes are limited and full up quick.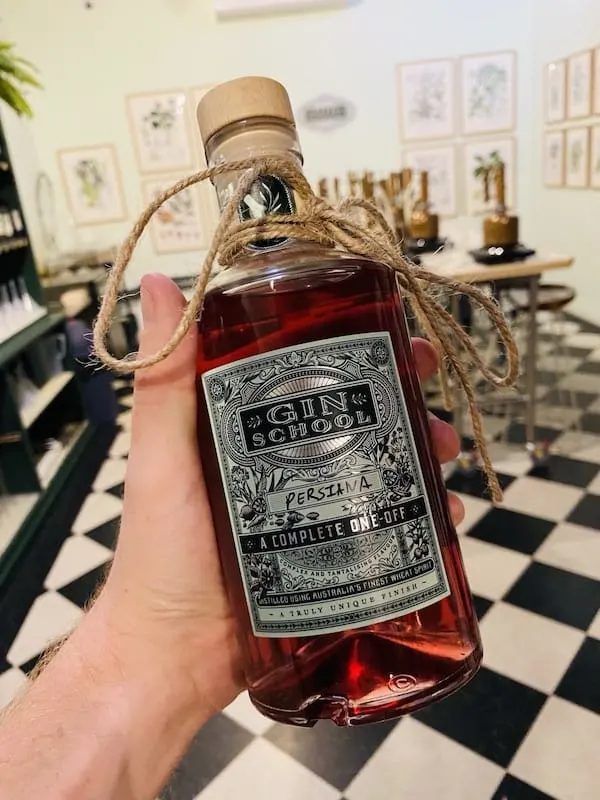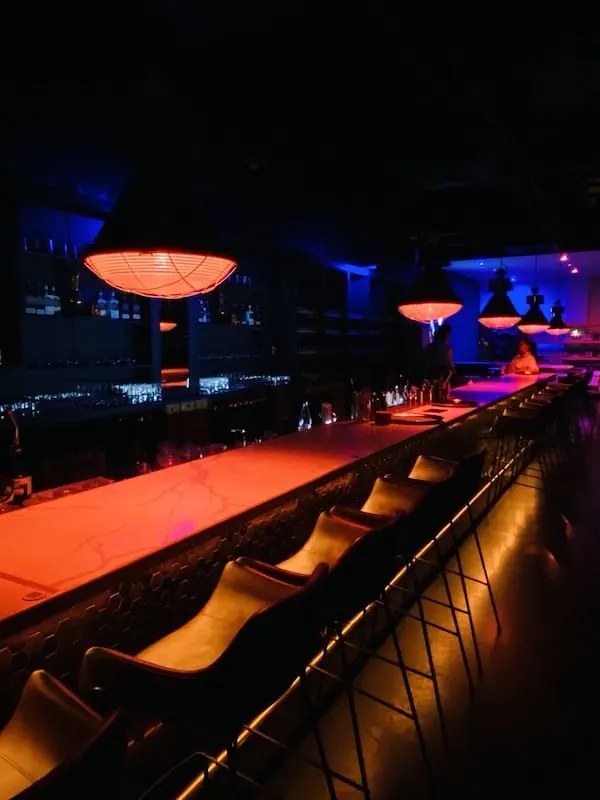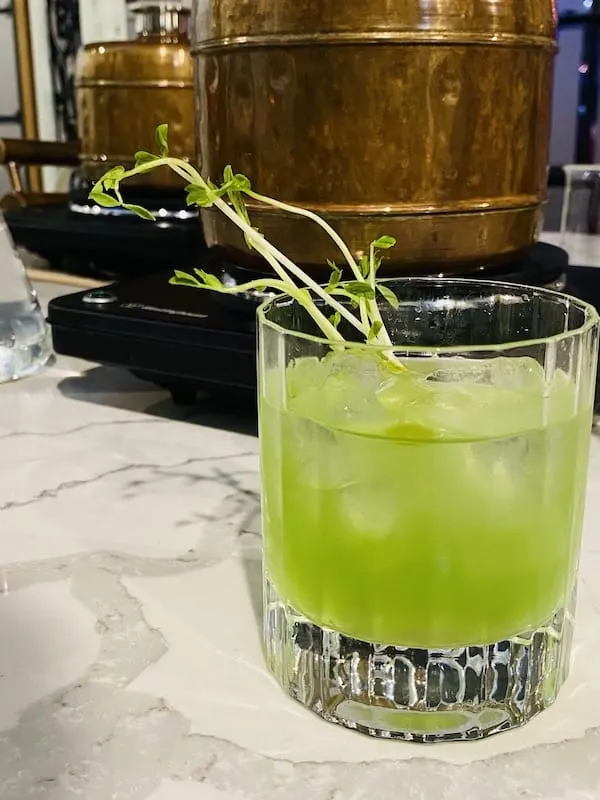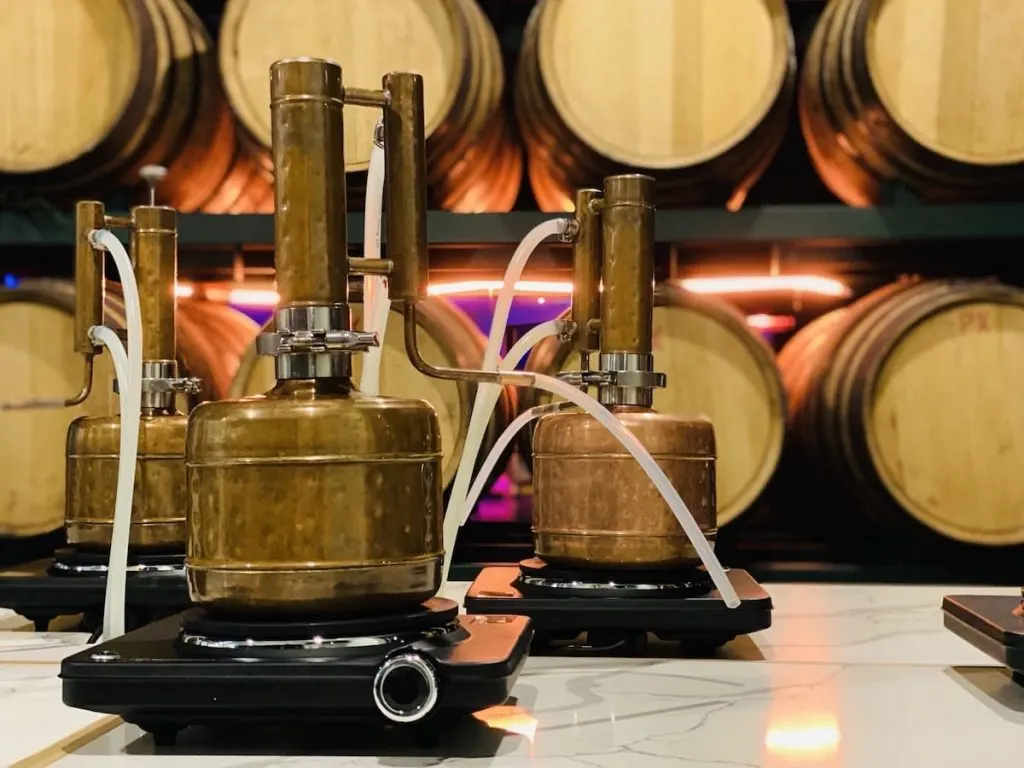 25. Australia Zoo
Located an hour north of Brisbane on Queensland's Sunshine Coast, this 700-acre zoo was opened by Bob and Lyn Irwin in 1970 and made famous by their son Steve (aka "The Crocodile Hunter").
Since childhood, he supported his parents since childhood to care for crocodiles and reptiles oversaw the expansion and growing number of animals at the zoo until his untimely death in 2006. Today the Australia Zoo ensures that Steve's legacy lives on with over 500 staff employed who continue Steve's mission of "Conservation Through Exciting Education".
It is still owned by Terri Irwin, his widow, who is involved in its day-to-day running along with their two children. Billed as the world's most interactive zoo, you can explore at your own pace and watch daily animal shows, including Showtime in the Crocoseum and hand-feeding the kangaroos at Roo Heaven. You can also pat the Koala's at the Koala walkthrough, behind-the-scenes at the state-of-the-art Australia Zoo Wildlife Hospital or visit the Tiger Temple, home to their magnificent Sumatran and Bengal tigers.
Those who have hired a car in Brisbane can self-drive; otherwise, there are guided day tour option from Brisbane. Alternatively, the Queensland Rail Citytrain has a seven-day service that operates between the Brisbane and Beerwah Station, from which Australia Zoo offers a courtesy coach.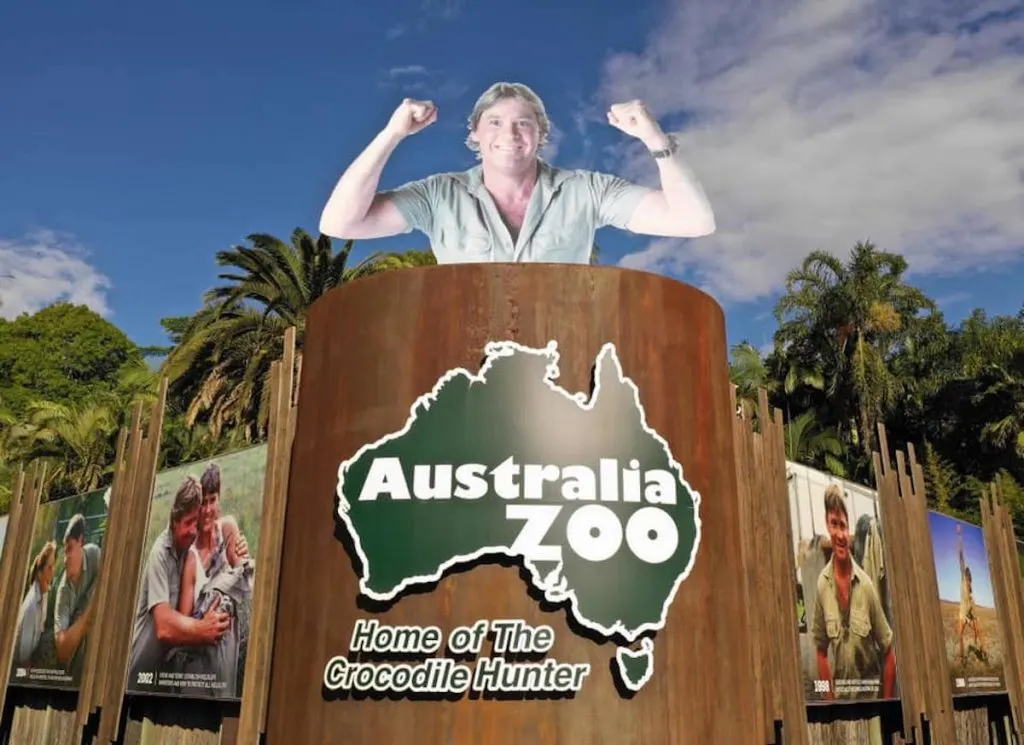 26. Iris Rooftop Bar
Brisbane is a city full of glorious and worthy rooftop cocktail bars, but the new Iris Rooftop bar inside the chic Hotel X would have to be our current favourite.
With a glitzy fit-out, glamorous cocktails and breath-taking views like no other of the Brisbane City Skyline, Fortitude Valley, New Farm and beyond, can you blame us? It is a true oasis in the clouds with Mediterranean vibes befitting Brisbane's climate. Our drink of choice has to be the Pink Pina Colada (Coconut, Pineapple, Bacardi Carta Blanca, Aperol, Pink Grapefruit) though the selection of sangria and watermelon daiquiri soda will surely prove worthy temptresses.
Bookings are accepted for lunch and dinner, but for drinks, only walk-ins are accepted (subject to availability). If you are looking for something similar on the other side of the city, the Terrace Rooftop Bar at the Emporium Hotel South Bank is a worthy alternative.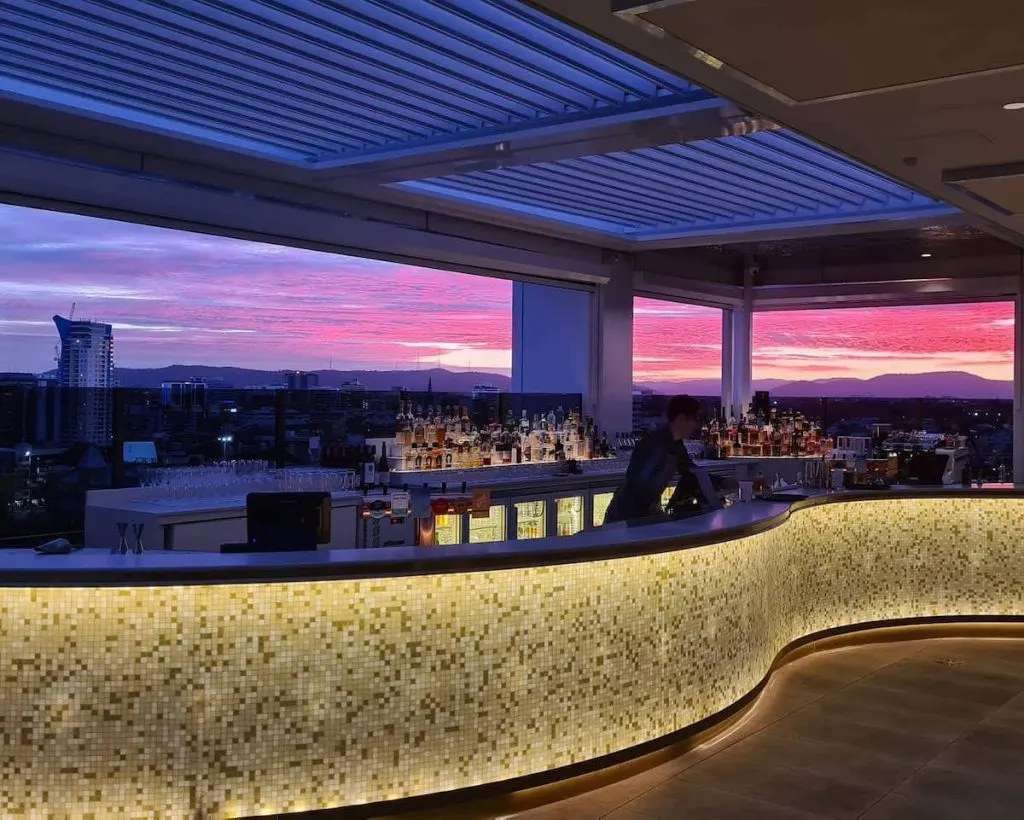 27. Stradbroke Island Day Tour
As much as we love the outdoor urban lifestyle that Brisbane does so well, sometimes you just want to escape the city on a holiday – and for that we recommend a Stradbroke Island Day Tour. North Stradbroke Island, or Straddie as locals affectionally call it, is an parasidical island that lies within Moreton Bay around 30 kilometres southeast of the centre of Brisbane.
A down-to-earth spot to exhale, a day trip will allow you to discover the beauty of this island for yourself including its endless beaches, local wildlife, and extraordinary scenery with a local guide and all transfers taken care of. Taking around 10 hours, some of the highlights will be a guided scenic walk along North Gorge, a lunch at a local pub overlooking Cylinder Beach, swimming in the crystal-clear waters (or sunbathing on the beach) or spotting koalas and dolphins at Amity Point.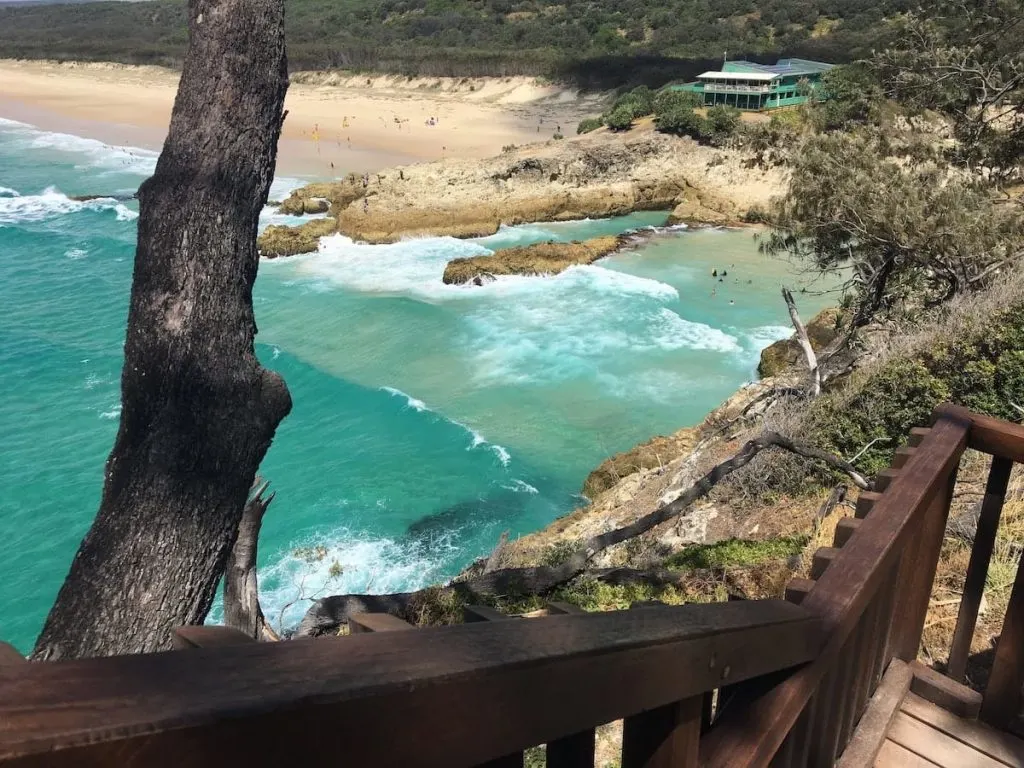 28. Museum Of Brisbane
The Museum of Brisbane is the place to go to get a fuller understanding of the vibrant art, culture and history of life in Brisbane through a schedule of art and social history exhibitions, workshops, talks and tours.
Found atop the Brisbane City Hall in a custom-built space, the free museum is not only central to conversations about the evolving life of Brisbane but also allows an unparalleled view of two of the building's heritage features – the Clock Tower and copper dome.
29. Tamborine Mountain Wine Trail
Located around an hour south of Central Brisbane, the Tamborine Mountain area boasts various award-winning artisanal wineries and breweries along with an exemplary distillery that makes it worthy of a day trip. Much like the vineyards of Queenstown and Central Otago, a self-drive winery tour is possible if you have hired a car.
Still, for the best experience and ability to drink without concern, we recommend a leisurely wine tour departing Brisbane, which stops directly at the cellar doors, where you can frequently meet the enigmatic business owner as you inspect their wares. Each venue will conduct private tastings on this tour, allowing you to try between 6 -10 varieties at each of the four venues, along with a stop at Tamborine Mountain Distillery and Witches Chase Factory for some cheese tasting.
Combine this with a delicious two-course lunch and spectacular views of rainforest and picturesque landscapes, and you have ingredients for a boozy and fabulous day trip you won't soon forget.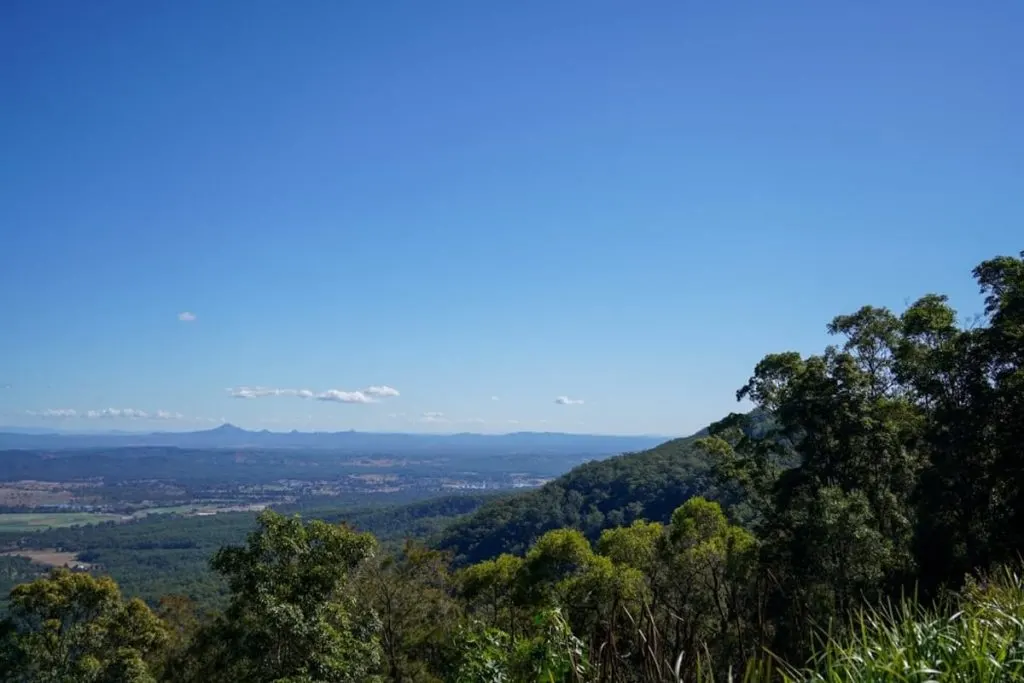 30. Bunker Coffee
A chic hole-in-the-wall coffee spot housed in a converted 1940s bomb shelter covered in lush figs vines and serving first-rate coffee and sweets – what's not to love?
Locals rave about Bunker specifically for their coffee. Still, non-caffeine consumers will also find themselves well catered for with a house tea, Byron Bay ginger nectar, the typical assortment of juices and indulgent hot chocolates. We will make a bold suggestion and say go specifically for a hot chocolate! There are around a dozen flavours on offer, including peanut butter, coconut, lemongrass, lavender, and even tahini – all made with real melted chocolate.
Bonus points for planning your visit to the nearby Milton Sunday Markets and the similar concept Plant Bunker (with …well, plants instead of coffee).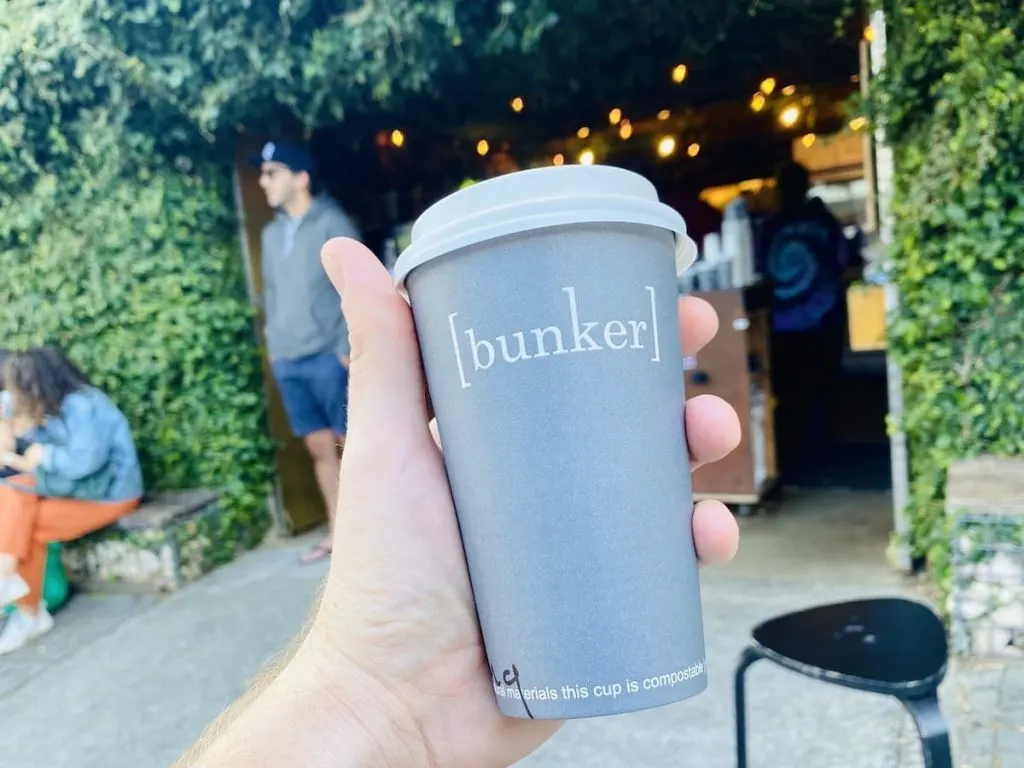 31. Roma Street Parkland
Snuggled just a 10-minute walk from Brisbane's CBD is the opulent Roma Street Parkland, the world's largest subtropical garden in a city centre. Established in 2001, the parkland stars a mixture of themed gardens and open recreational areas, with a network of shaded pathways and boardwalks crossing cascading waterways and by works of local artists – perfect for a delightful stroll.
Alcohol consumption is even permitted in designated areas, provided it is with a substantial meal, so why not pack a picnic and make the most of your visit. An open-air amphitheatre here is also used for various events during the day and as an outdoor cinema during the summer months annually.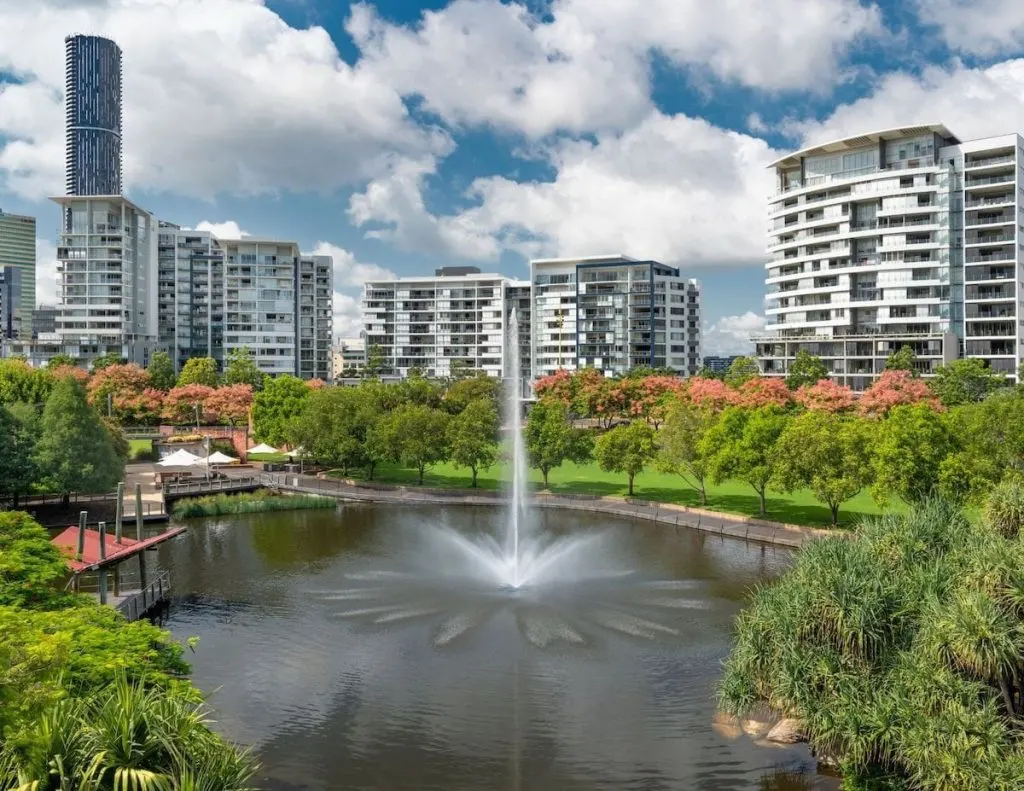 32. Ping Pong
Lovers of Asian food and hyper-Instagrammable spaces will not want to miss this exceptionally pink outfit located in the Gasworks Plaza in Newstead.
Anticipate a verified feast for the senses, from tongue-tantalising Thai street eats and delightful cocktail slushies to mood-altering light installations and plenty of pictures taking. The ingredients are fresh, the portions are large, and the vibe is oh-so-cool, making Ping Pong an excellent option for lining the stomach before a night out in Fortitude Valley.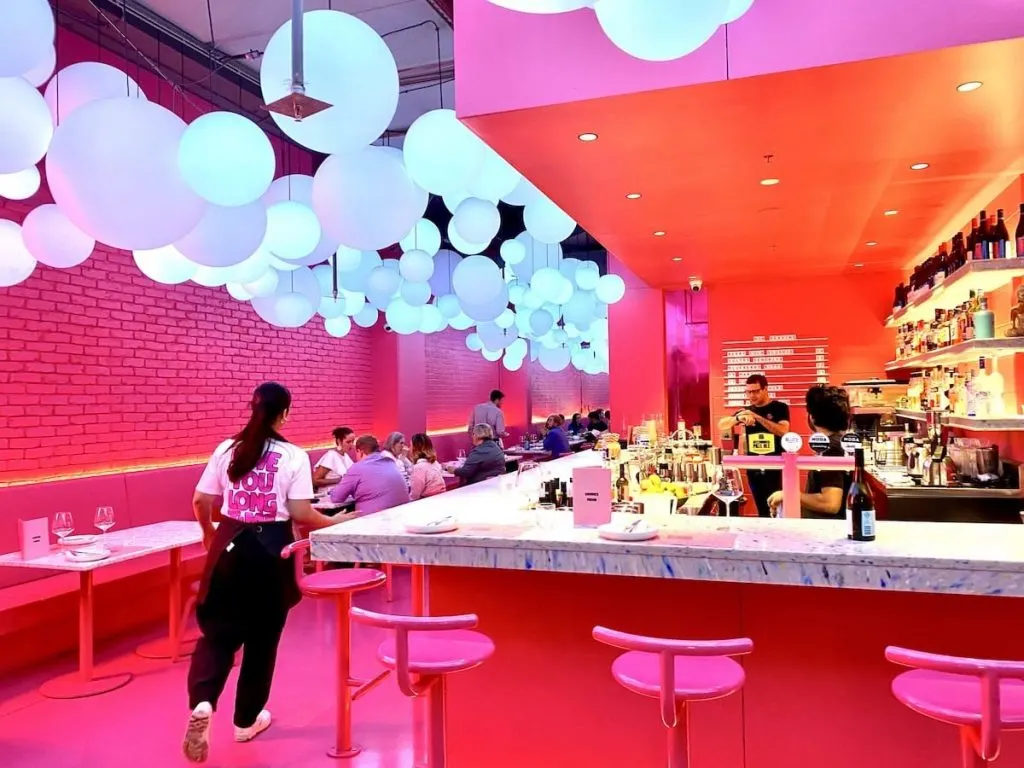 33. QUT Art Museum
A hidden gem of Brisbane that many locals don't seem to know, the QUT Art Museum is located on the edge of the City Botanical Garden and is an intimate university gallery showcasing rotating internally curated exhibitions, commissioned projects and touring exhibitions of modern and contemporary works by Australian artists.
Always thought-provoking, entry is typically free and visiting only takes around an hour. If you make it here, you should combine it with a visit to their sister gallery nearby in the stately Old Government House dedicated to the works of Australia's pre-eminent landscape artist, William Robinson.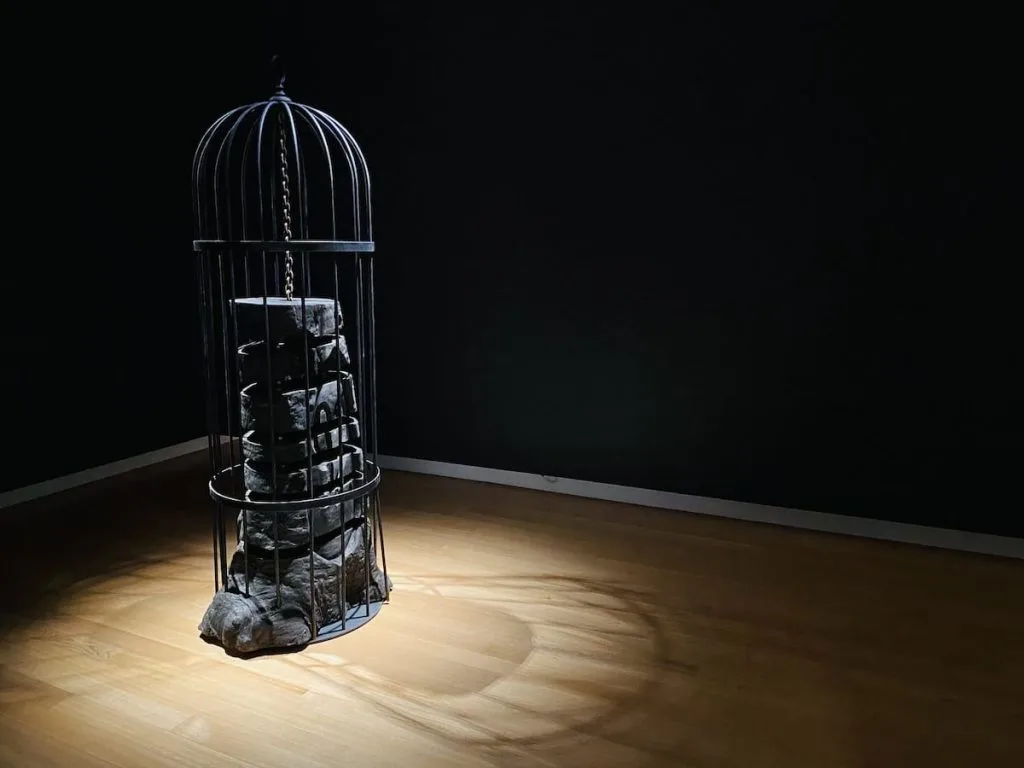 34. Moreton Island
Another island day trip idea right in Brisbane's backyard, Moreton island is a nature lovers paradise – an island made entirely of sand with no sealed roads, and covers 98 per cent of the island's area protected by the Moreton Island National Park.
White sandy beaches tempt visitors to the island's ocean side creating the perfect conditions for swimming, surfing and fishing, while the protected landward side is more subdued, with crystal clear blue water soothingly lapping along its shore.
Again, due to the logistical complexities of getting there, a guided tour is the best way to visit, with highlights being a snorkelling tour on the otherworldly sunken shipwrecks of Tangalooma, a buffet lunch, and the chance to spot bottlenose dolphins, giant loggerhead turtles and even dugongs.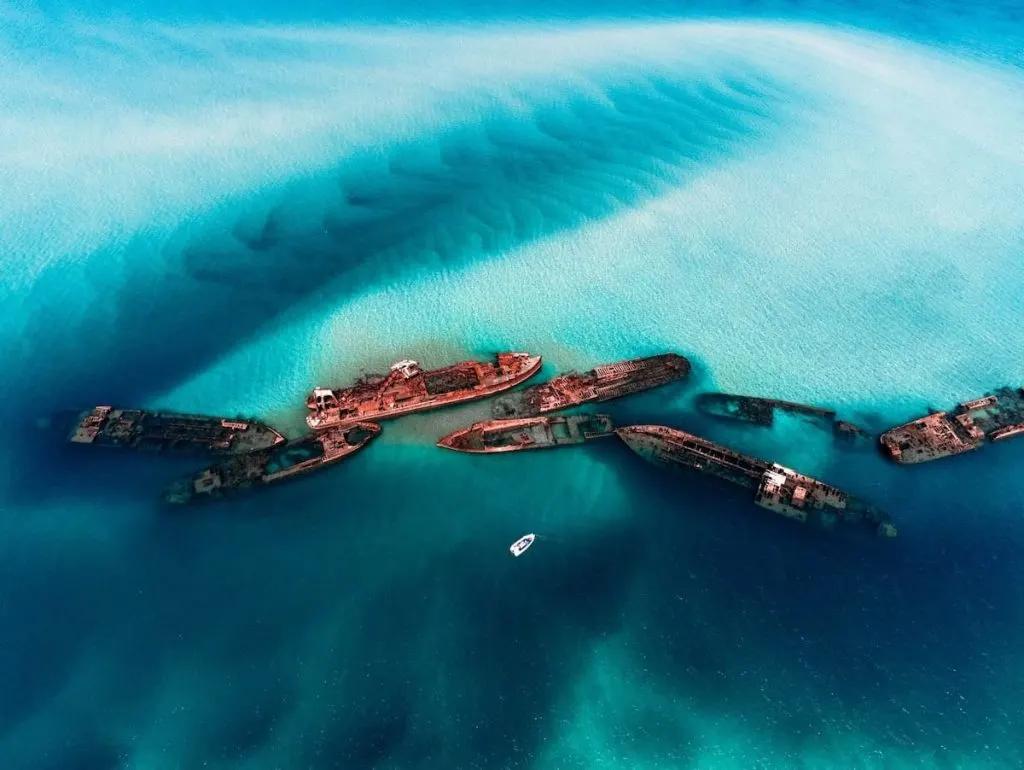 35. Queensland Art Gallery and Gallery Of Modern Art
Lovers of arts and culture will want to have the Queensland Art Gallery and Gallery of Modern Art (QAGOMA) top of their list of things to do in Brisbane. Not only is it the largest museum of art in Australia, but it is also one of the preeminent institutions in the Asia-Pacific, contributing a range of compelling modern and traditional art experiences that will move and astonish you.
The main building is the Queensland Art Gallery (QAG), established within the Queensland Cultural Centre in South Bank. The second gallery, the Gallery of Modern Art (GOMA), is situated only 150 metres north. Each of the two galleries has their own well-defined personalities, but are focused in their purpose to share extraordinary art. Both offer ever-changing exhibitions and programs along with impressive architecture and riverside views that are certain to inspire and delight.
Allow at least a half-day to explore them both, and be sure to fuel up at the divine QAG Cafe before, after or during. It is a rather contemplative space with a glorious mural inside and a shaded Sculpture Courtyard outside where you can experience the animated water feature and elegant bronzes from the collection.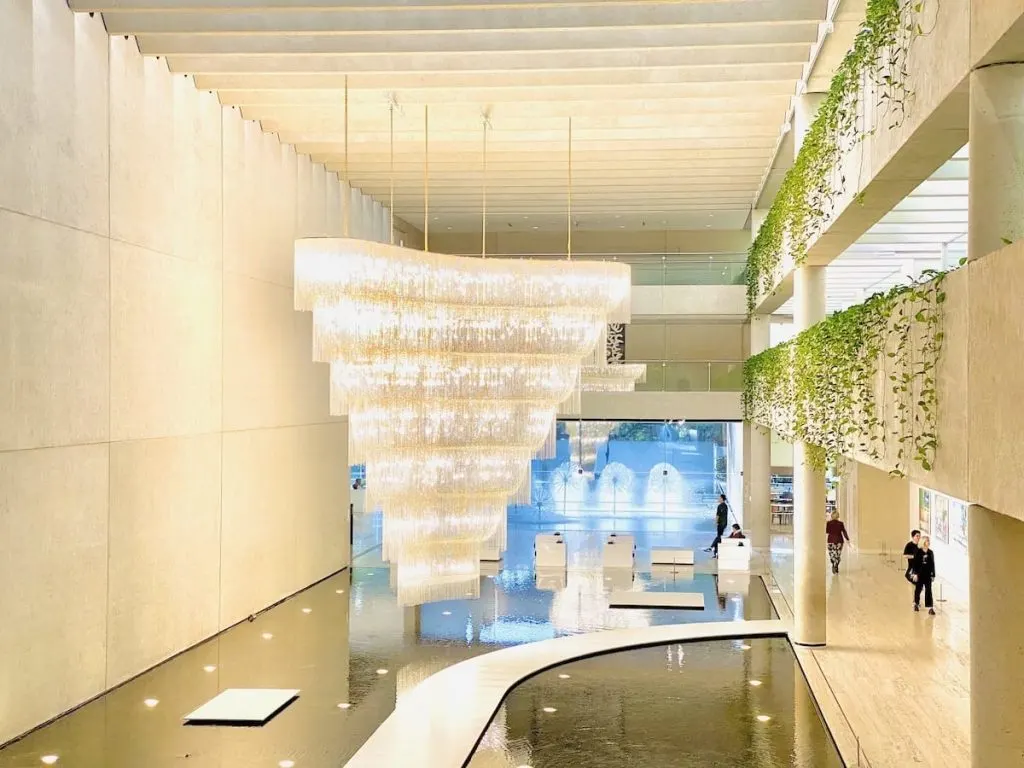 36. Street Artworks of Brisbane
Brisbane is pampered when it comes to energetic street artscapes presenting a burst of colour, culture and discourse on to what would likely be an otherwise unremarkable street, path or laneway.
From grand street art murals and stencilled graffiti to bronze sculptures, street light installation and everything in between, Brisbane has mastered the craft of enrichening its urban tapestry through art, and it makes exploring this outdoor city just all the more interesting. Given how good the weather is here – is it any wonder Brisbane has moved its art outdoors?
Street art tends to be clustered in three main areas around West End, South Brisbane and Fish Lane, but amazing Brisbane graffiti and street art to be found right throughout Brisbane city and its suburbs. There are numerous guides online, and you'll want to find an up-to-date one as programs like the Brisbane Street Art Festival, The Pillars Project and Airforce Traffic Signal Boxes ensure new works are constantly being created.
Many of the best sculptures and statues tend to be found in the CBD, and a few of which deserve to be sought out – including Confluence and the City Roos on George Street, a tree a rock a cloud on Eagle Street and the series of sculptures across the river in Kangaroo Point Park.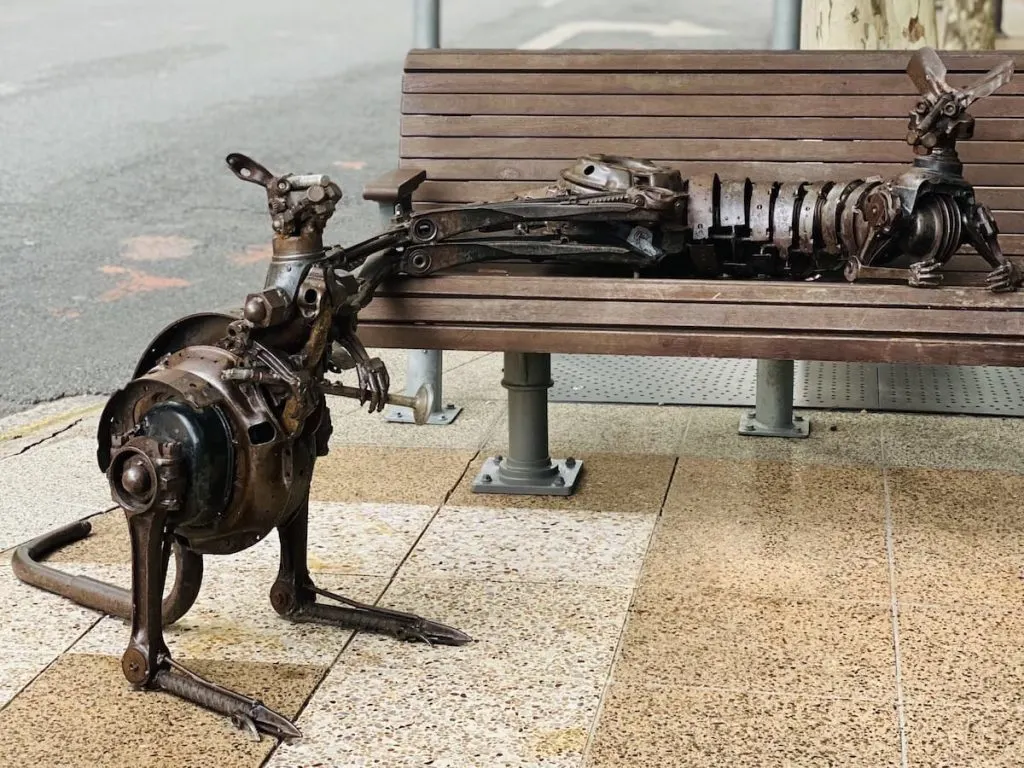 37. Birrunga Gallery & Dining
Aboriginal culture thrived in Australia for over 50,000 years, and a visit to the Birrunga Gallery and Dining in central Brisbane awards an opportunity to engage with it through indigenous art exhibitions, tours, classes and food.
Birrunga is the only Indigenous-owned and operated cultural hub in Meanjin (Brisbane) CBD and boasts an assemblage of mixed media artworks and handmade products by talented local First Nations Artisans found throughout the gallery. Should you be lucky enough to visit during the second Saturday of the month, you can support local and buy art directly from the hands that made them on market day.
In addition to great coffee, their cafe menu employs native herbs and ingredients to create unique flavours of Australia, which they describe as Native Bush Tucker, with a modern twist. Indigenous tourism experiences are an important way to gain cultural awareness and insights into the language and customs, history, native title and art of Indigenous Australia. While these opportunities are sparse in Brisbane, the Birrunga Gallery & Dining is a solid place to start.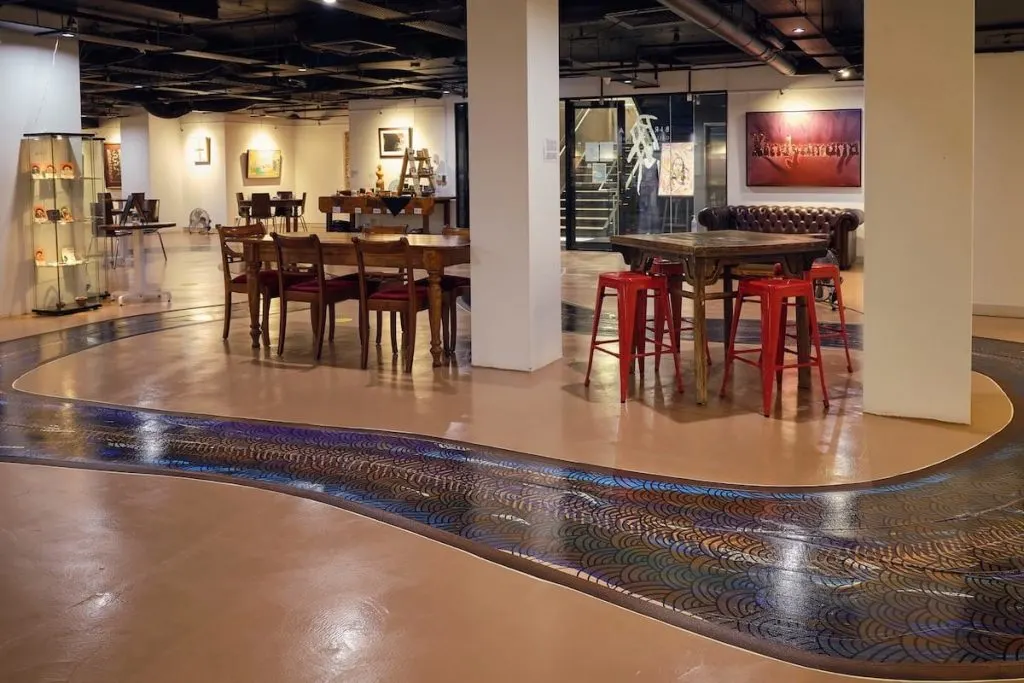 38. High Tea @ The W
Brisbanites seem to be obsessed with high teas, a British tradition crowning in bottomless hot tea and a three-tiered stand embellished with self-indulgent pastries and treats. It might have started in England, but it's a tradition we think pairs perfectly with travel and have since sought out around the world, including a dedicated guide to the high tea options in Kuala Lumpur.
In Brisbane, our favourite high tea option has to be at the W Hotel Brisbane, whose modern Australian high tea includes a stellar line-up of childhood faves reimagined, from the iconic 'Meat Pie', 'Lamington' and 'Milo', transformed into mouth-watering morsels with a quintessential twist.
Extravagantly served on a bespoke W stand, you be engulfed in an abundance of sweet and savoury treats infused with homegrown produce, including Toowoomba Free Range Eggs, Fraser Island Crab, Quandong, Native Finger Limes and an amazing finishing of Australian cheese to end High Tea on a high note.
No matter if you're celebrating a special occasion, catching up with an old friend or just looking to relax after a busy day of sightseeing, there's always time to indulge in this delightful tradition.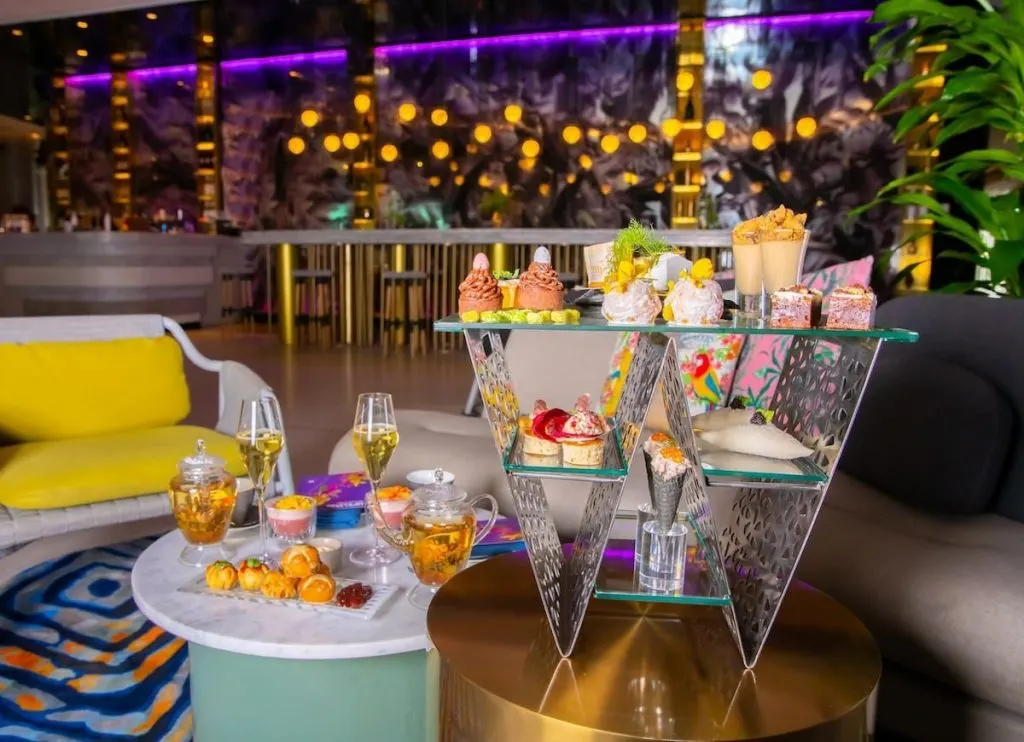 39. Brisbane Jazz Club
Showcasing a wonderful casual restaurant vibe that is neither stiff nor pretentious, the Brisbane Jazz Bar in Kangaroo Point is not only a place of elevated dining with delicious food and overflowing drinks, but it is also a bastion of marvellous live music attracting the best local, interstate and international jazz acts.
A community-driven, not-for-profit enterprise, the club is primarily run by fanatically devoted voluntaries and is one of the few jazz venues globally which boasts not only its own building and its own band; the 19-piece Brisbane Big Band, which, while independently run, has been the club's resident band since 1974.
Look up their schedule and book a table with gigs every Thursday, Friday, Saturday and Sunday, plus regular monthly events. Even the less-polished acts can become a memorable night when combined with the historic clubs riverside location and skyline views.
40. Brisbane Arcade
A heritage-listed shopping arcade that runs from 160 Queen Street through to Adelaide Street in the Brisbane CBD be sure to pop in and marvel at its beauty, history and sense of yesteryear.
From Terrazzo floors and wooden balustrades to dado panelling and its high-end jeweller and antique store, the Brisbane Arcade still reflects the elegance of its original design. Take a wander through and be sure to use the antique elevator, which is an experience in itself. For those with more time and less money, the classic and charming tea room, Room With Roses, is located on the top floor and invites you to stay a little longer and bask in the view.
Interesting, it has administered by a board of trustees acting on the wishes of the estate of the last owners (James Mayne and Mary Mayne), who passed away in 1940. Since then, all operating proceeds have benefited the University of Queensland School of Medicine (now known as the University of Queensland Mayne Medical School in honour of the endowment).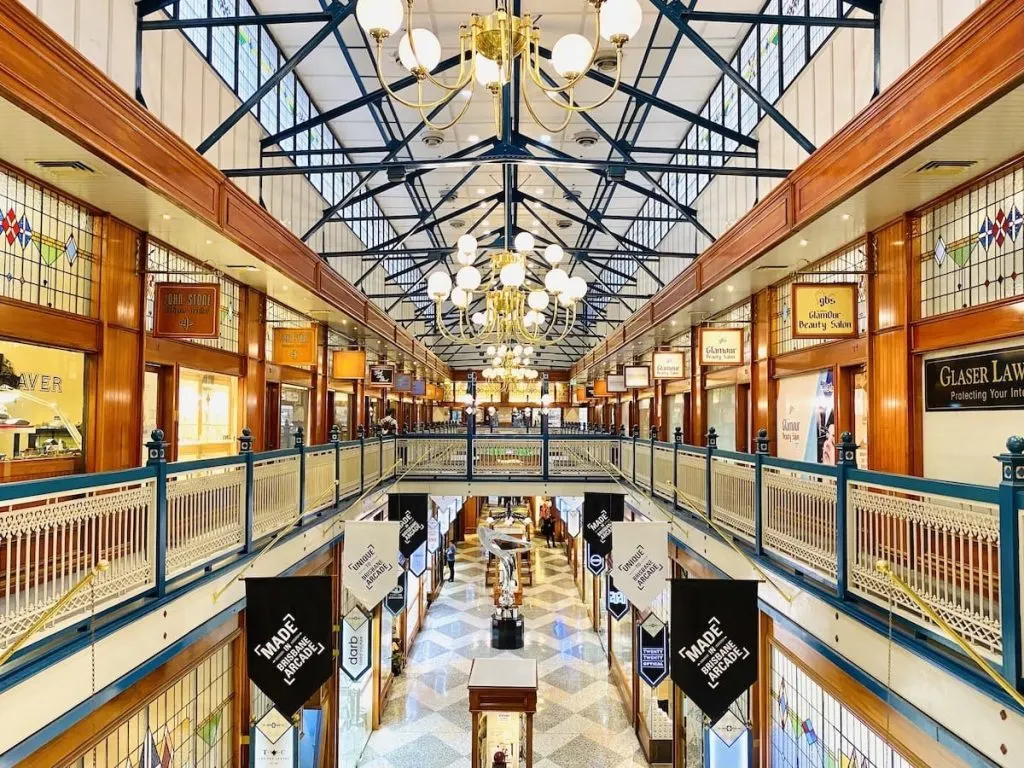 41. Springbrook National Park
Another intriguing day trip option from Brisbane includes exploring the ancient Gondwana rainforests of the Springbrook National Park, a World Heritage area just a short drive away. You can either self-drive, but one of the easiest ways to go is to take an organized day tour where you will be taken to see remarkable waterfalls and an improbable natural bridge.
As towering giants surround you, you'll have the opportunity to spot forest wildlife, including the shy pademelons, brush turkeys, goanna, and even water dragons. Following this, you will be treated to the glow worm caves at Cedar Creek and a remarkable winery lunch with a tranquil vineyard view.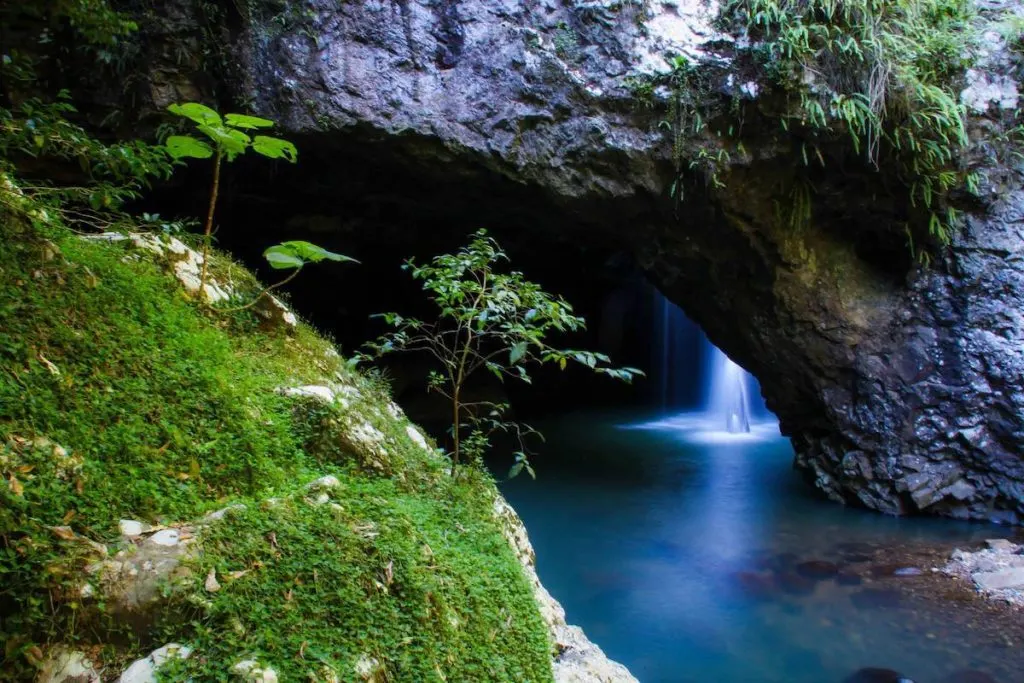 42. Saint John's Cathedral
While church visits are more typical of itineraries features European cities like Porto and Stockholm, Brisbane's Saint John's Cathedral demands to be seen – if only by virtue of being the only existing building with a stone vaulted ceiling in the southern hemisphere.
The cathedral is listed on the Queensland Heritage Register and was designed in the Gothic revival style, with the foundation stone laid in 1901. However, much like the Romanesque and Gothic cathedrals in the Middle Ages, the completion of the building design took place in stages over 100 years, and it was only finally completed in 2009. The wood-carvings, stained-glass windows and 350 million-year-old limestone are all worth stepping inside to view in their own right.
Thankfully entrance is free, and there are a few well-educated and passionate volunteers who will be thrilled to show you around. Make sure to ask them to show you the pillars of ancient fossiliferous life and the very last flag flown at the evacuation of the Anzacs from Gallipoli.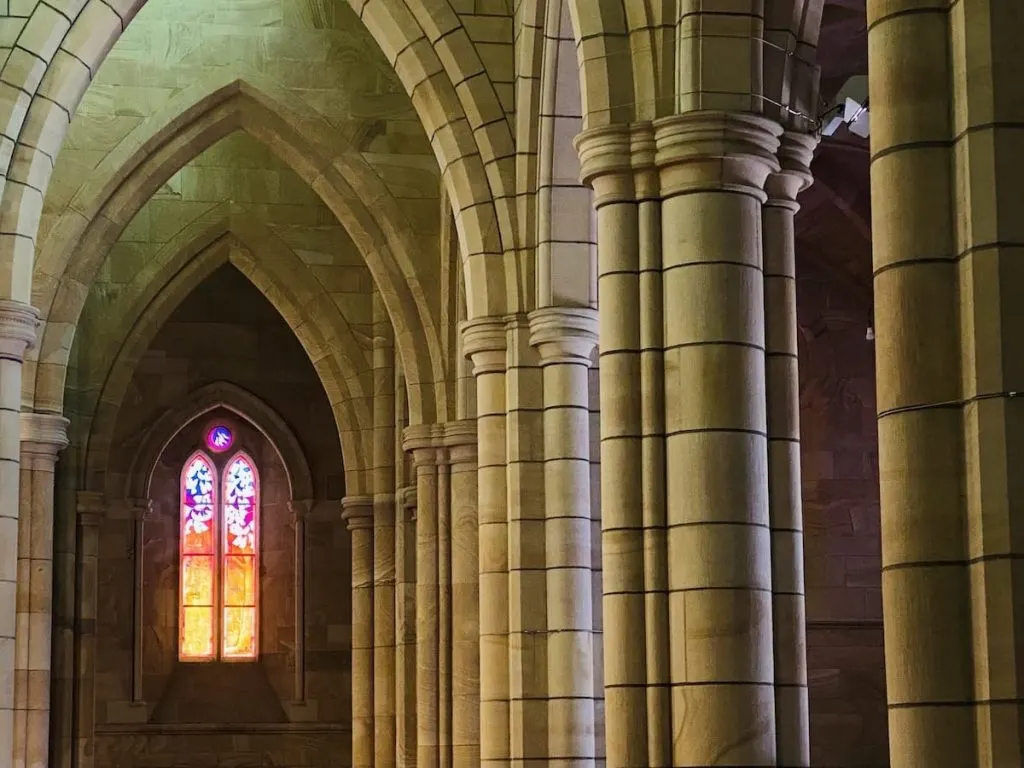 43. Dutch Courage Officers Mess
Another of the top Brisbane attractions for gin lovers has to be the Dutch Courage Officers' Mess on Alfred Street in Fortitude Valley. A recently opened cocktail, gin, and tapas bar was inspired by the British colonial outposts of the late 19th century. This hidden gem provides a friendly alternative to the pulsating nightlife scene just a few blocks away.
It is just the ticket for a late-night craft cocktail or gin safari. For the ultimate experience, book into their monthly Gin Degustation Dinner on Wednesday evenings, where five elegant and original courses are paired with five marvellous gin cocktails in a complementary yet informal style. Of course, the knowledgeable staff can always recommend a fabulous gin pairing to accompany your meal on any other night.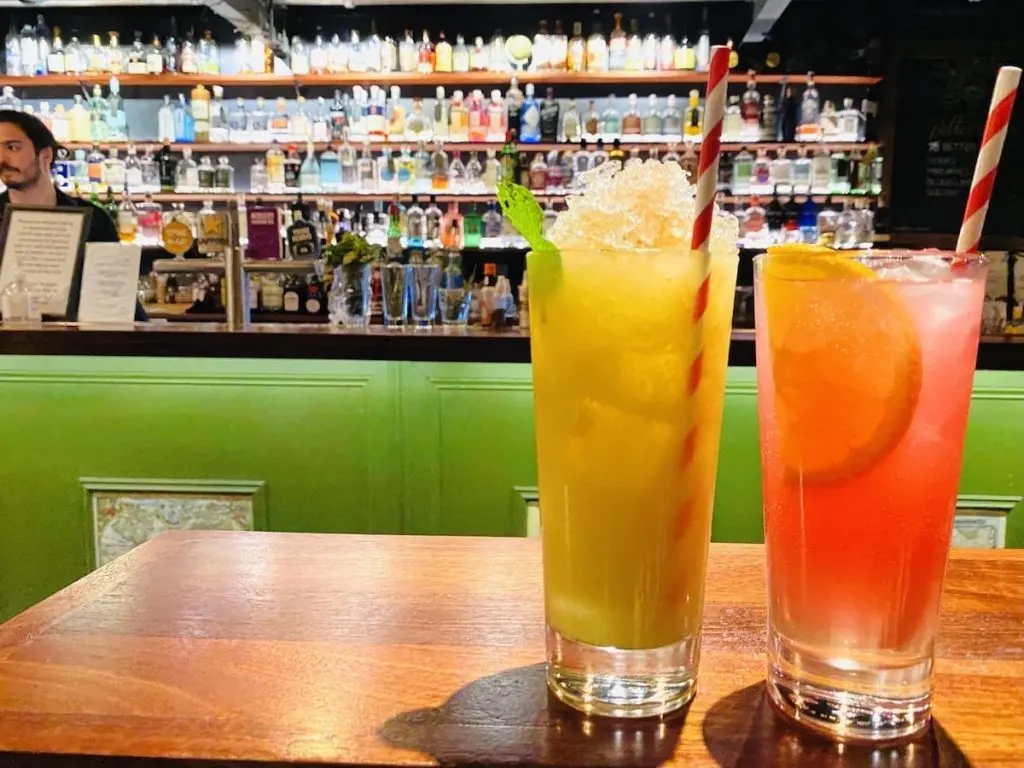 44. Theme Parks Of The Gold Coast
The Gold Coast is not just famous for its Surfers Paradise tourist hot spot but also for being the theme park capital of Australia. Don't miss the opportunity for a fun and adventurous day just because you are staying in Brisbane – you can quickly get down here for the day by hiring a car or getting a hotel transfer.
Zoom around on gravity-defying roller coasters at Movie World, relish marine life at Sea World and prepare to be thrilled on a variety of fantastic rides at Wet'n'Wild. Then there is also Dreamworld, Australia's biggest theme park with over 40 rides and attractions.
If you plan on a visit over a few days, you can save time and money with this convenient 3-day admission pass to 3 of the Gold Coast's most popular theme parks – which typically works out the same as one-day admission to a park on the gate.
45. The University Of Queensland Art Museum
You can never have too much art, and another space that cements Brisbane's status as an arts and culture hub is The University of Queensland Art Collection, one of Queensland's most significant public art collections.
Curated over 70 years, it highlights more than 4,400 works of art, comprised predominantly of Australian artists from the colonial period to the present. The Art Collection speaks to the Art Museum's distinguished place within the University setting and has a strong focus on research and learning in its many forms. New artwork acquisitions contribute significantly to the museum's identity as a place for progressive and contemporary creative inquiry, and it is now the second-largest public art collection in Queensland.
Located a short walk from the innermost extent of the City Cat river network, you can also take a bus from the central city, which is often faster – but not nearly as scenic.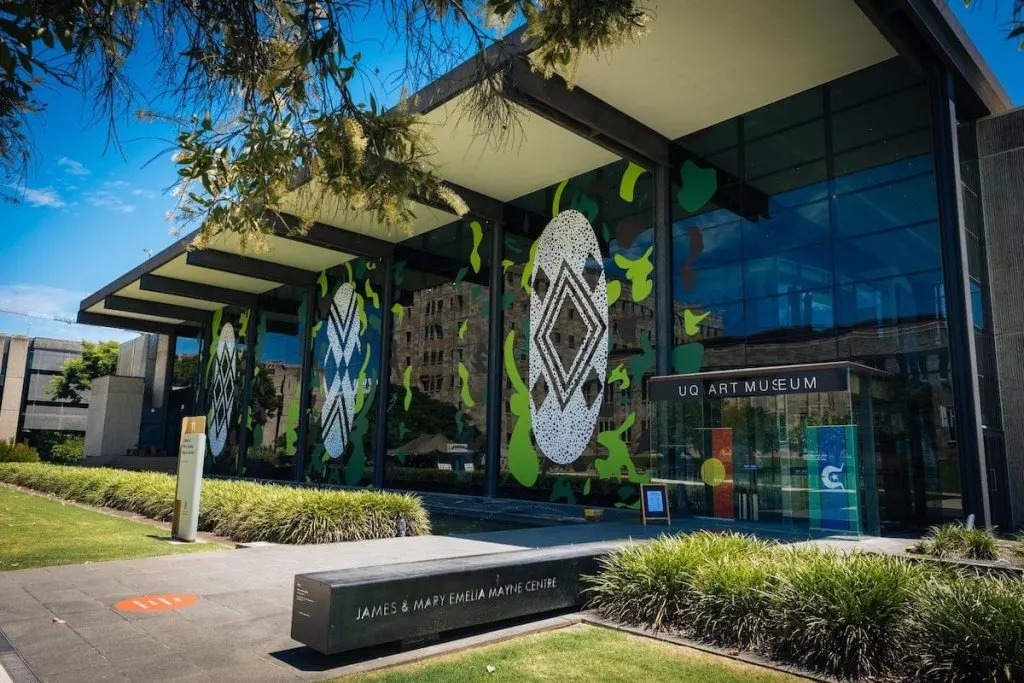 46. Eat Street Northshore
Eat Street Northshore is a complete sensory overload with neon lights, live music acts, delicious smells and a wide variety of street food from around the world. A magical fairyland world of street food set in converted shipping containers on a disused wharf, Eat Street Northshore is a must for lovers of good food & entertainment taking place every Friday, Saturday and Sunday nights.
You will be overwhelmed with over 70 food and beverage outlets to choose from, in addition to the four stages with 19 different bands on show and roving performers. No matter where you chose to dine, make sure to take time out for unique cocktails and to gaze up at the millions of fairy lights before heading for desserts at "KombiAlley" with hyper Instagrammable soft serve ice cream Cronuts, Funnel Cakes, Bombe Alaska, and creation replicated around the world like Doughnut Fries and Popcorn Doughnuts.
There is nothing else quite like it in the world, and you'll want to plan at least a few hours here to take it all in. Even better, the Northshore Hamilton Ferry Terminal is located right next to the entrance of Eat Street Northshore, so you don't need to bother with a bus or driving!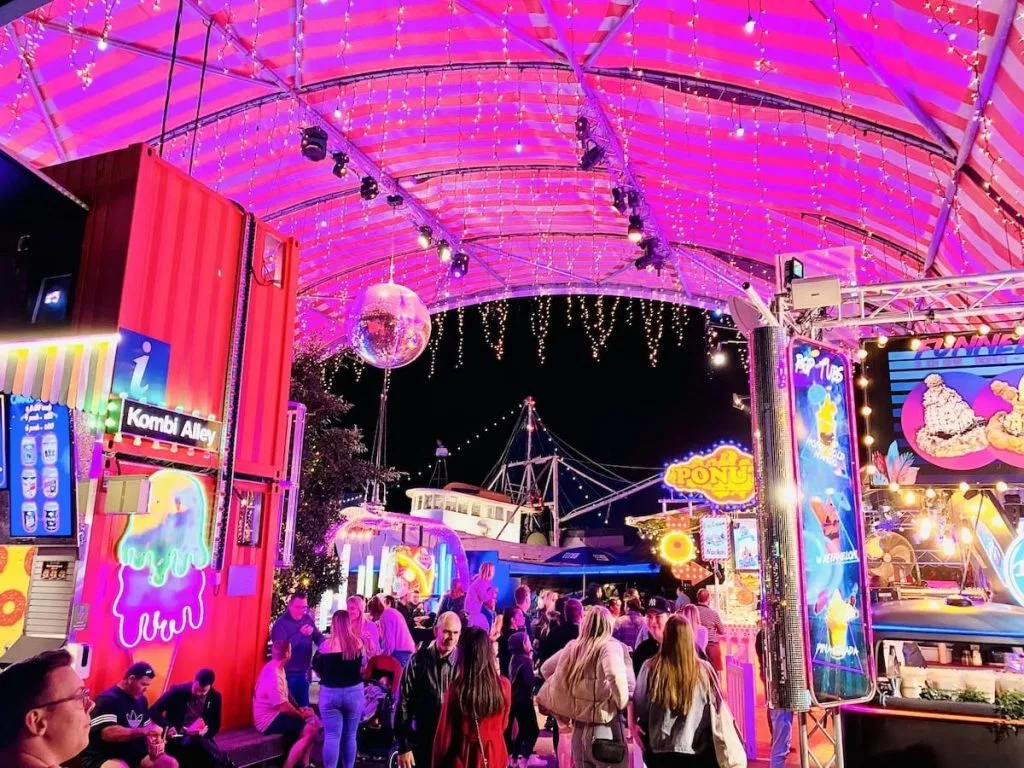 47. New Farm Riverwalk
Constructed in 2014 to reconstruct the flood-damaged floating walkway, the Riverwalk is a unique pathway over the Brisbane River, which connects New Farm with the Brisbane CBD. Emphasizing sweeping views of the city and the Brisbane river, it's a favourite route for locals who commute or enjoy running, as well as cyclers and visitors who want to promenade.
The start point is at the Eagle Street Pier ferry terminal in the city, which runs for 4.1 km through Howard Street Wharves to New Farm Park. If you are up for a longer walk, you can continue mainly along the river's edges past the Brisbane Powerhouse and then through to Newstead and Teneriffe.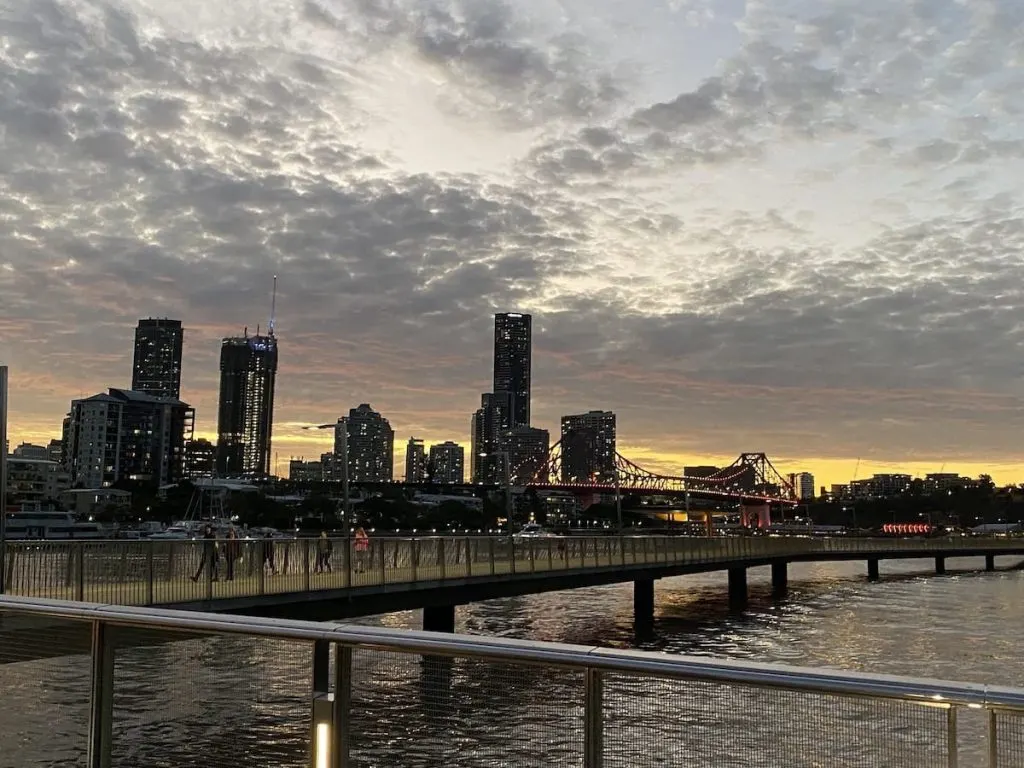 48. Hyatt Regency Brisbane
An ideal place to stay in the heart of Brisbane, the Hyatt Regency Brisbane offers a premium retreat adjacent to the Queen Street Mall with 292 guestrooms, a relaxed cafe, plus a rooftop infinity pool with a terrace bar and lounge overlooking the facades of the historic building.
If you love the idea of just nipping back to your room for a mid-afternoon siesta or a refreshing dip on the pool, the Hyatt Regency Brisbane provides a fabulous solution. It could not be any more central. At night, the infinity pool is lit up, allowing you to enjoy Brisbane's perfect year-round weather with a classic cocktail and intimate views.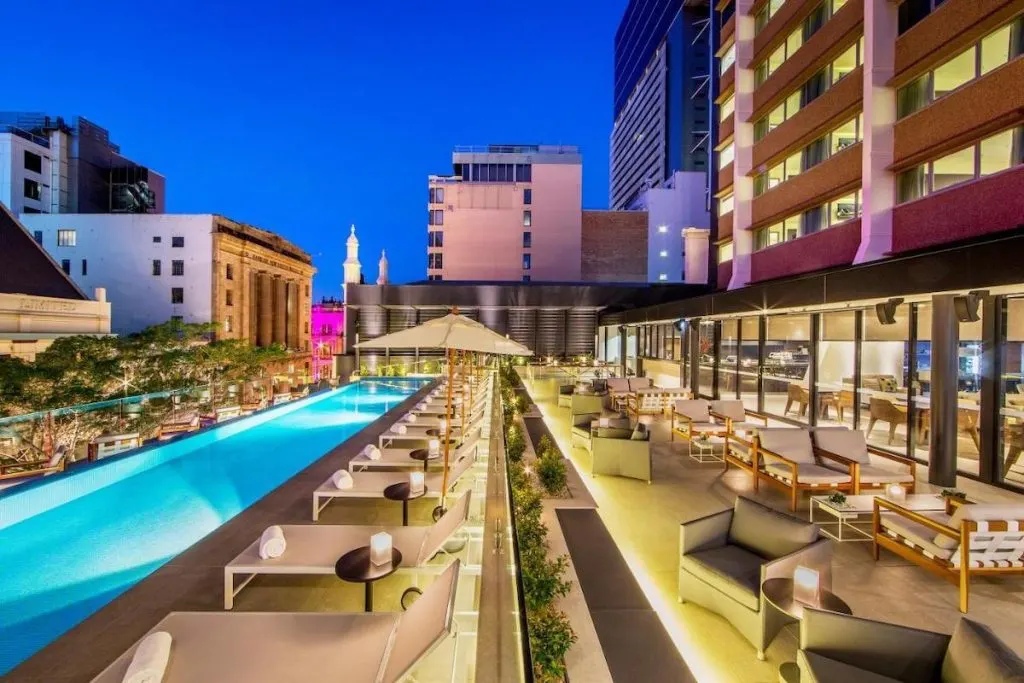 49. Paddington
Exploring the tranquil inner-city suburb of Paddington is one of the first things most locals will recommend when you ask them about the top things to see in Brisbane. An affluent residential neighbourhood, Paddington is known for its hip shopping scene, with antique stores and flamboyant boutiques rubbing shoulders with vintage fashion and fashionable homewares.
Another drawcard is the expansive views out across Brisbane from the area's many hills along with energetic brunch spots, gastropubs and contemporary restaurants. Start with a coffee at the adorable Lil Gypsy Caravan and keep exploring up Given Terrace, finishing at the mammoth Empire Revival antique emporium. Allow at least half a day.
50. Whale Watching Cruise
Just when you thought Brisbane could not surprise you anymore, you discover that it is one of the world's best whale-watching destinations. And who could possibly say no to a day of sunshine, salty sea breezes and see the magnificent humpback whale in its natural habitat?
The multi-million dollar vessel MV Eye Spy allows you to head out from Brisbane for a 5-hour whale watching extravaganza where you will enjoy a gourmet lunch while Captain Kerry Lopez (the only female skipper to own and operate a whale watching venture in the South Pacific) gets you to the best spots and vantage point in Moreton Bay. Even better, a portion of every ticket price is donated to ongoing whale research.
The only issue is that the cruise departs 30 minutes' drive to the north of Brisbane's CBD. You'll need to either drive/Uber or take public transport, which is 1.5 hours each way.