Beautiful, vibrant, and cosmopolitan, Sweden's capital is a by-word for cool in Europe for good reason. It also somehow manages to be hip, trendy, and 100% welcoming all at the same time – with plenty of photogenic spots thrown in for good measure.
Whether you're spending a weekend, a week, or a month here, it'll definitely be time well spent. There are masses of amazing things to do in Stockholm, whatever your holiday style is.
Lovers of the outdoors will adore the fact that the city is spread along islands at the Baltic sea, effortlessly incorporating the ever-changing water. This glorious location means you're never far from nature and a chance to swim in a lake, walk in the nearby forests or hop on a ferry to an island.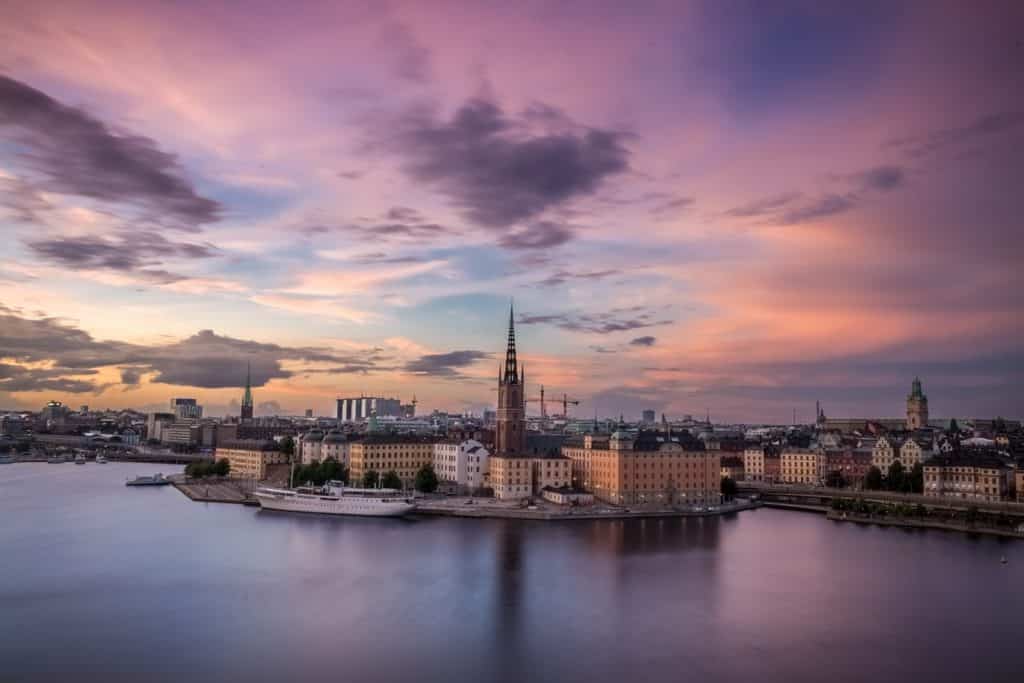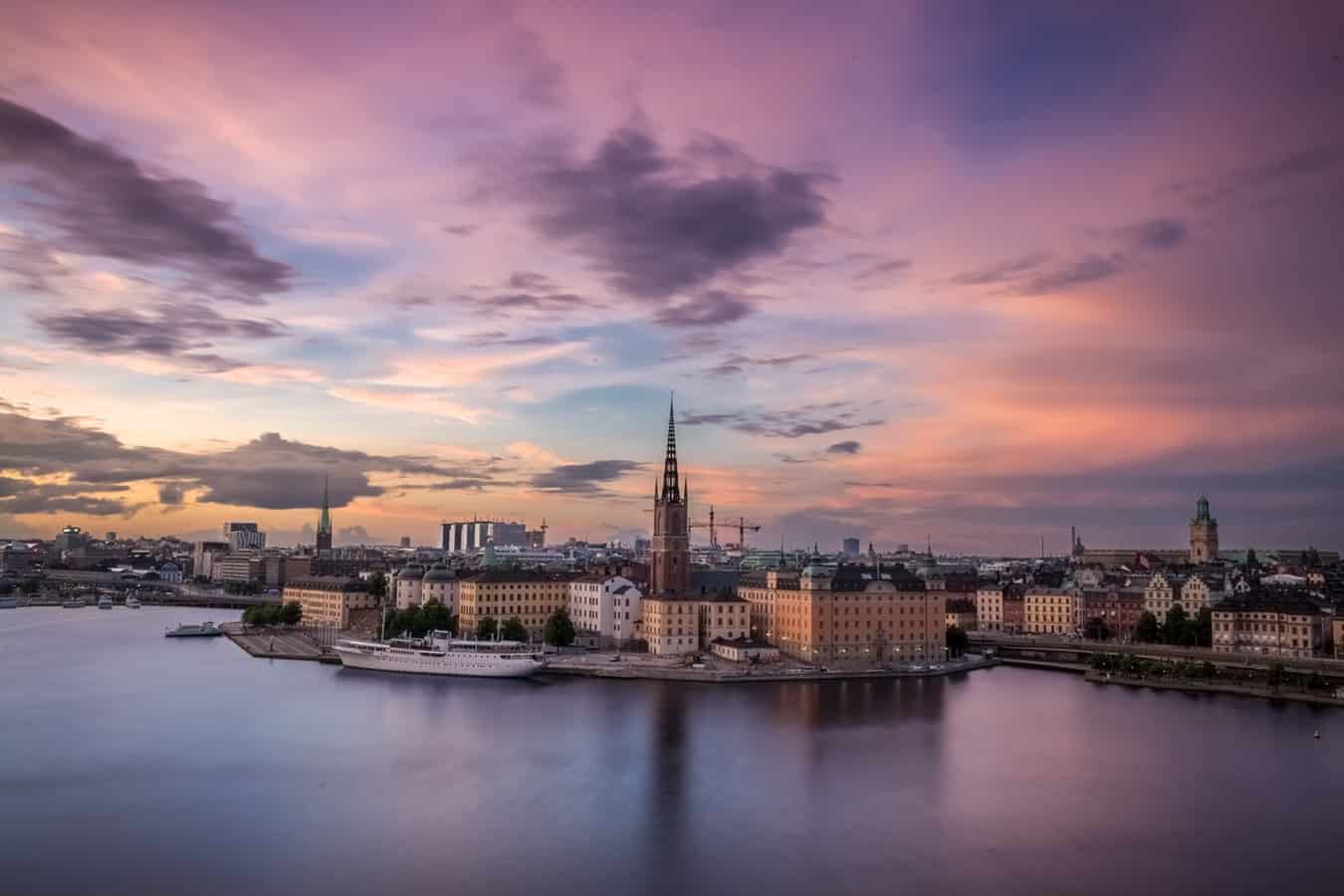 If exploring history is more your speed, then Stockholm's got plenty of cultural heritage to offer you. Its historic center is one of the best-preserved on the continent, and you'll be hard-pressed to find more charming cobbled streets. Then there's the wealth of museums and galleries on offer. You might want to see an impeccably salvaged warship from the 16th century or the original ABBA costumes – you can do both here, as well as much more.
Despite its depth of history, Stockholm is definitely no stick-in-the-mud city that relies on its ancient past to entice visitors. It's a thoroughly contemporary place where artists, designers, and creators are always pushing boundaries.
You'll see effortless style all over the place, whether it's in the hip coffee shop down the road from your hotel or the outfits you see on people in the street. It's a really inspiring place to spend time, and you'll leave feeling refreshed and creative.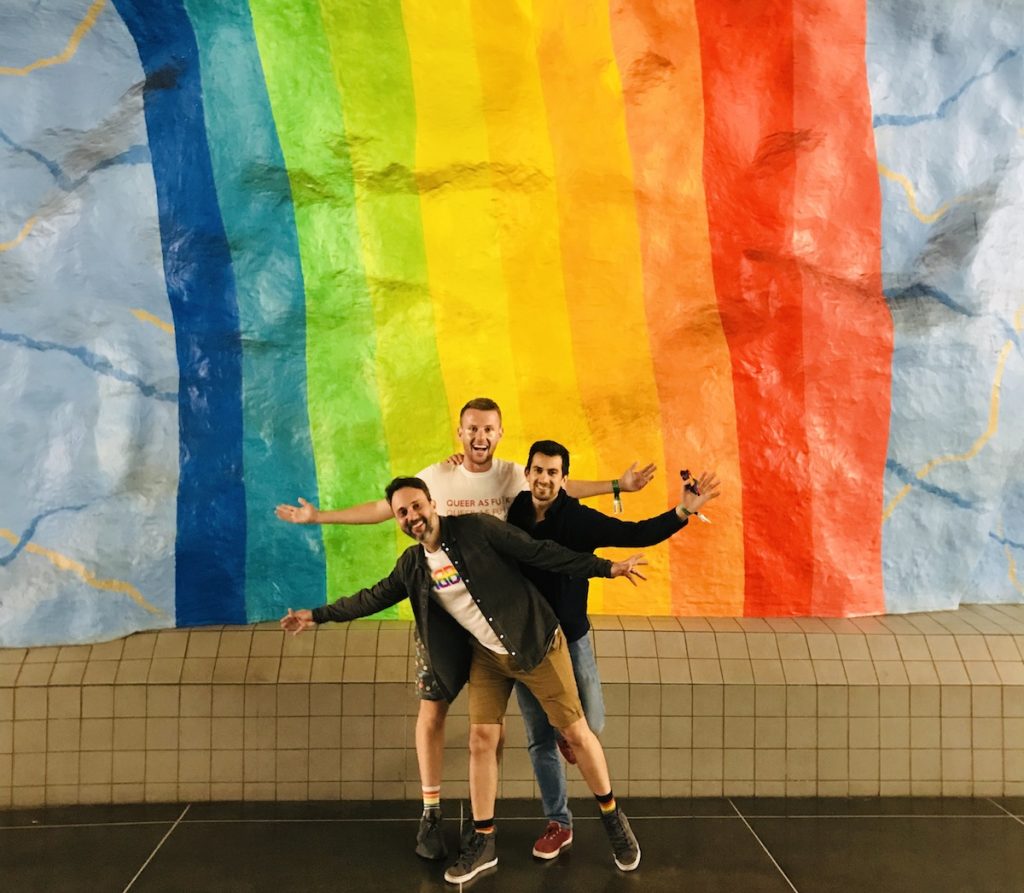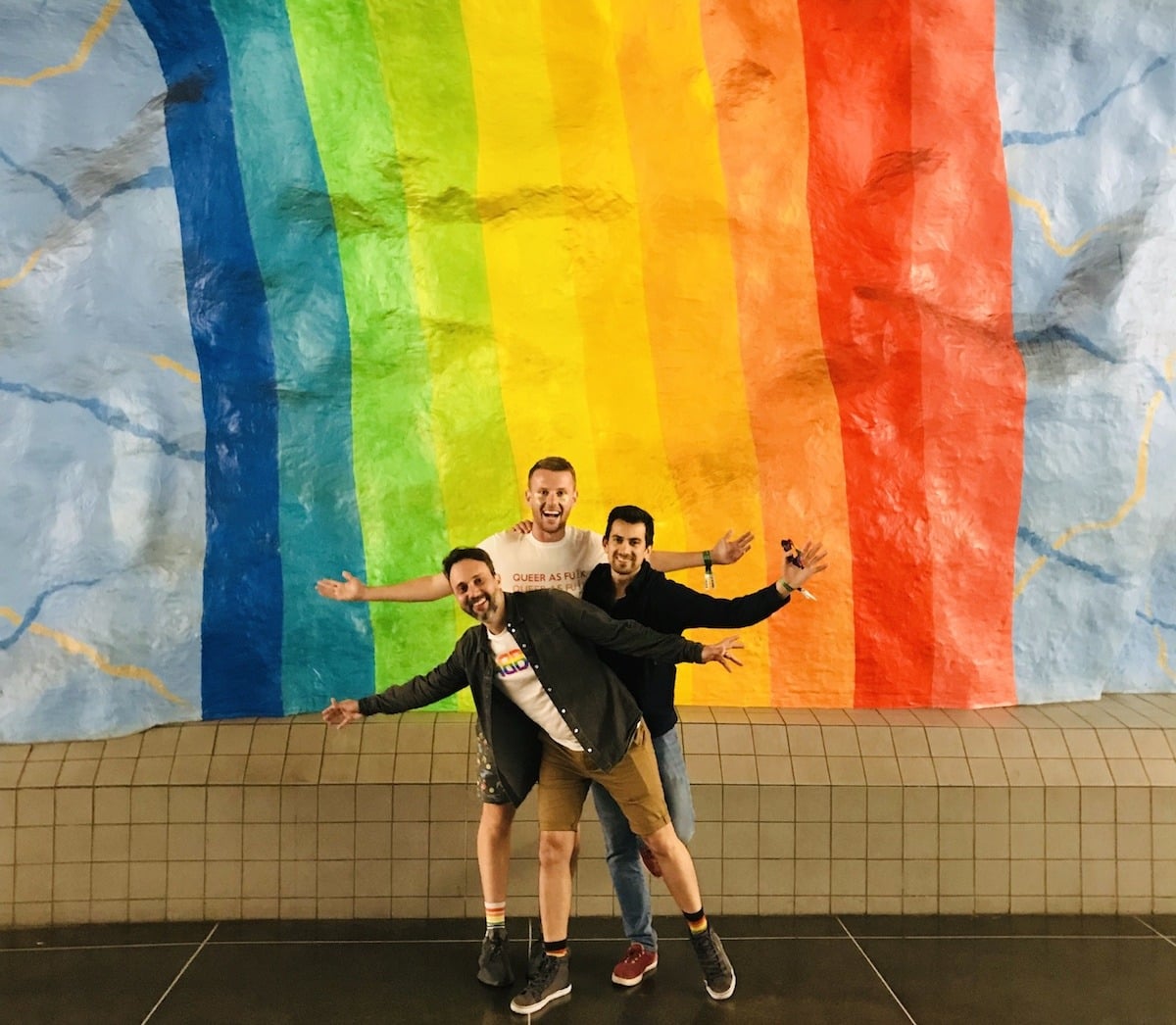 Speaking of creative, we have to talk about the food. 'Swedish cuisine' might not mean anything to you right now, but it will after your time in Stockholm. It's not all about meat and lingonberries, although these are sometimes incorporated. Classic dishes are given contemporary twists, or the hot chefs on the scene are creating something totally new. Wherever you're eating, you can be sure that the ingredients are fresh, and often local.
After all, when you're surrounded with so much nature, you've got to do something with that abundance of produce!
We can't pretend that it's a cheap place. Riga, Tallinn or even Helsinki this is not. And with so much to see and do Stockholm, it can be challenging to prioritize cost. We know you'll want to soak up as much as you possibly can, which is why we'd recommend a tourist card to help you save money and time.
Especially in a city as packed full of attractions as Stockholm, using a tourist card is one of the best ways to see as many of these as possible without breaking the bank. This is where the Stockholm Pass comes in, a discount card that helps you see much more and go much further than you otherwise could. We also found this was a good strategy in Gothenburg and Bergen.
Having said this, much of the joy of being in Stockholm will come from sitting in a trendy café watching the world go by, getting into the cultural practice of Fika. But in between Fikas, you might want to explore a bit. If you're in need of some inspiration to plan your trip, here are some of our favorite fun things to do in Stockholm.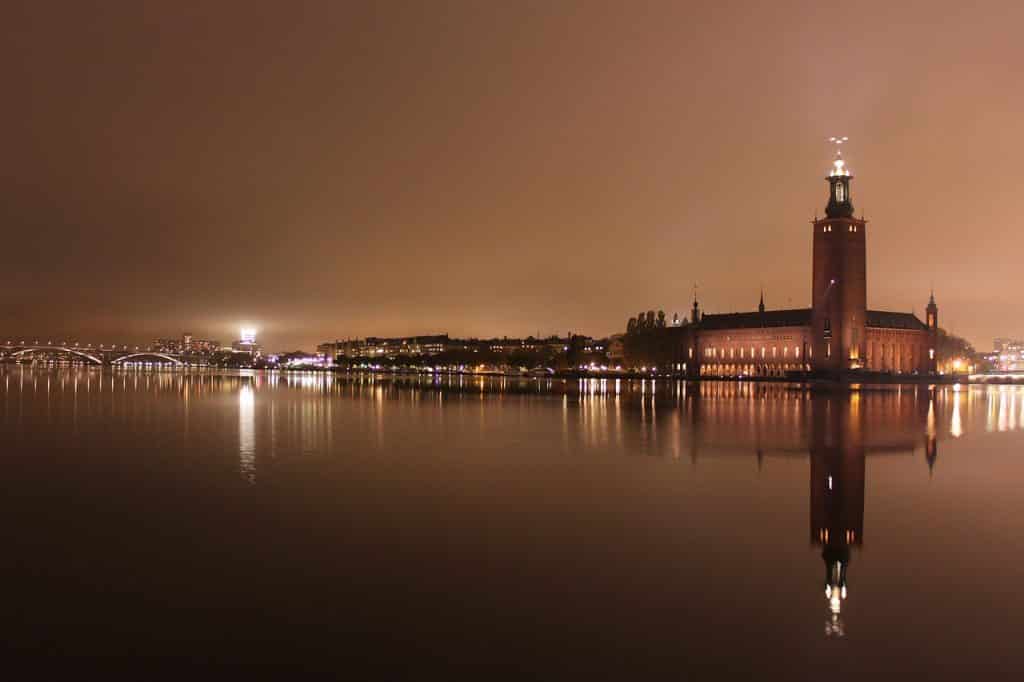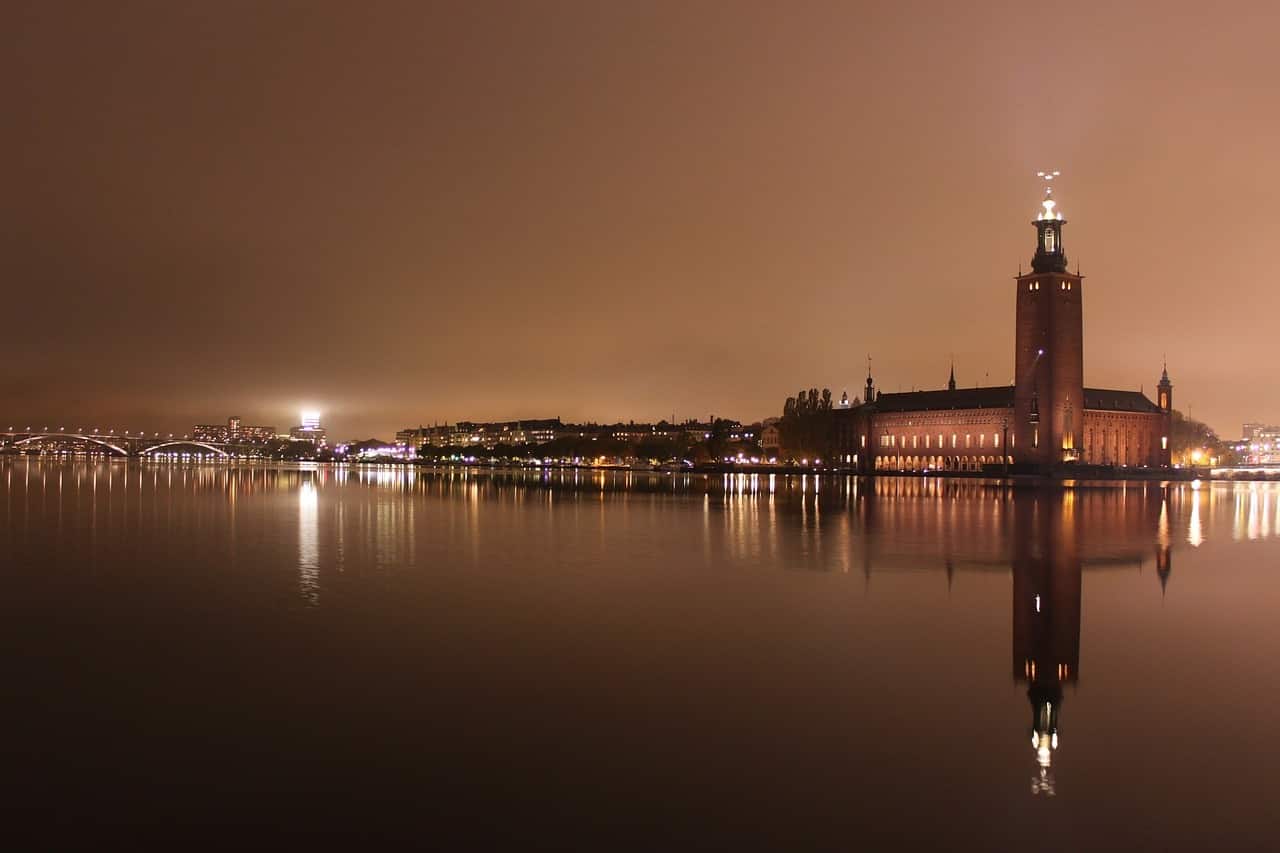 30 Fun Things To Do In Stockholm: Sweden's Majestic Capital City! 🇸🇪
1. Travel Back In Time In Gamla Stan, The Historic Core of Stockholm
Stunning Gamla Stan has stood at the heart of Stockholm since the 13th century and has been incredibly well preserved. Gabled buildings painted yellow, gold, and orange line atmospheric cobblestone lanes. Famously, Mårten Trotzigs Gränd narrows to a teeny 90 centimeters.
The area stretches across three islands. It's a gorgeous place to simply wander through, getting a sense of what Stockholm was like when it was one of the main ports on the Hanseatic trade route.
In summer, the houses seem to glow in the sunshine; on a snowy winter's day Gamla Stan is astonishingly picturesque (although those steep streets are harder to negotiate!). Amongst the unique frescos, you'll find various attractions, including Stockholm Cathedral, the Nobel Museum, and the enormous Royal Palace. As well as these places to visit, there are also lots of renowned restaurants, cute cafes, and independent shops to explore to your heart's content.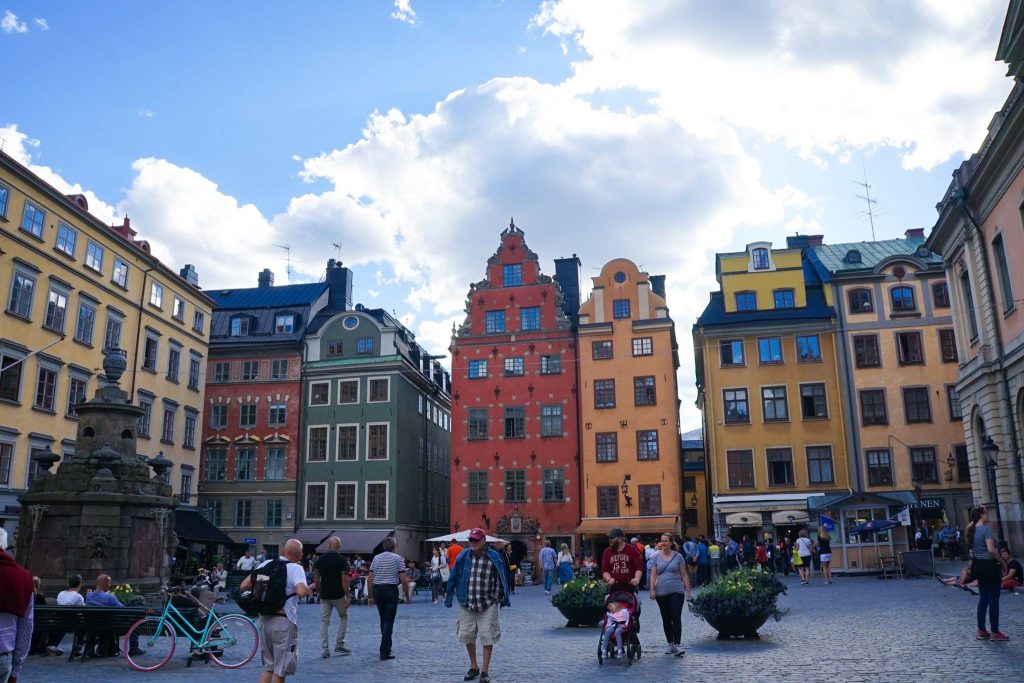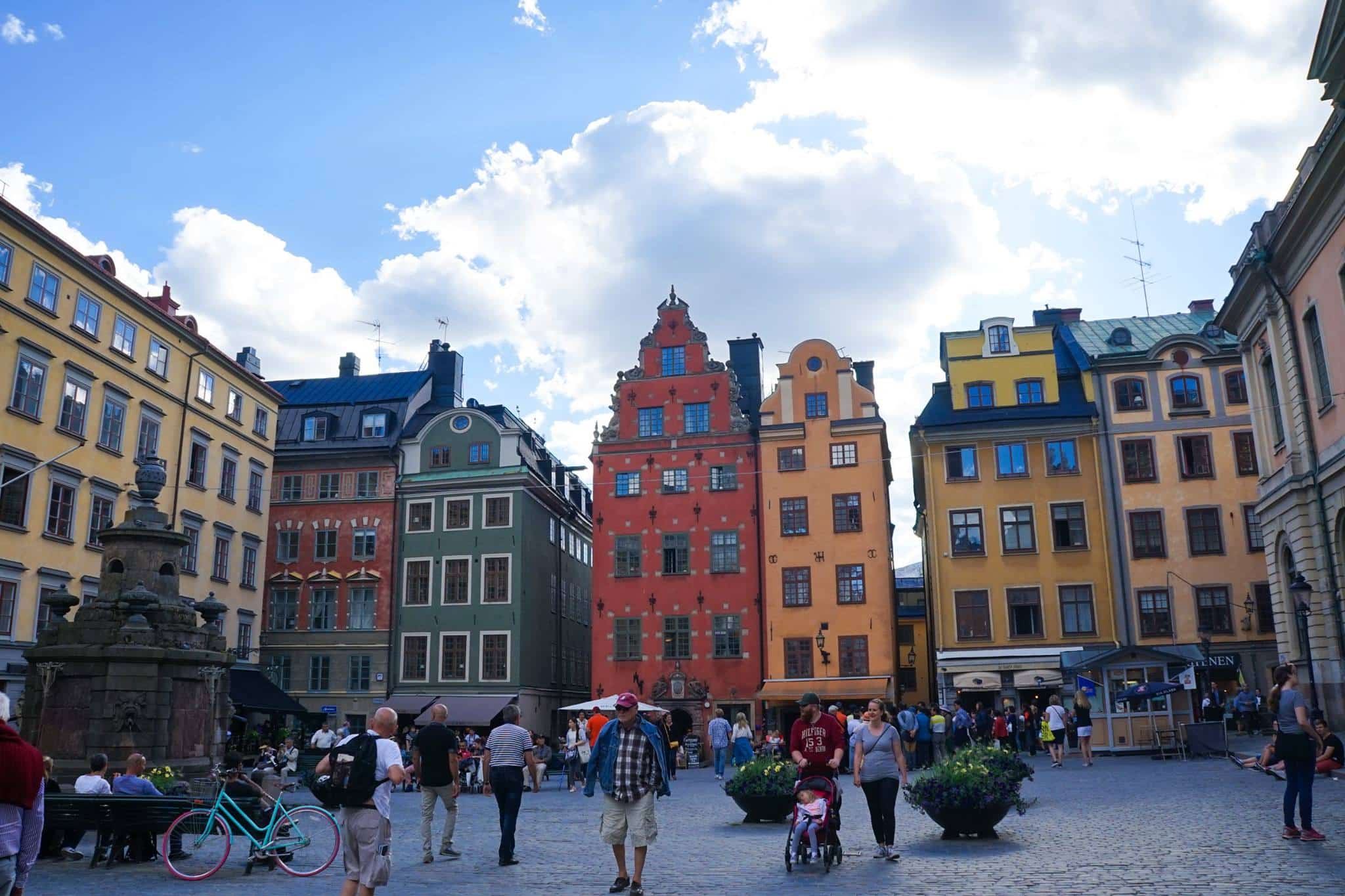 2. Dine In A Furniture Store At Woodstockholm
This incredibly chic furniture store, bar, and bistro concept is the talk of Stockholm and a great place to treat yourself for a night out.
Opened by local furniture designer Johan Edvardsoon this space is an extension of his divine showroom next door. As you can imagine, the interior is perfection, though the food doesn't disappoint either. Woodstockholm proposes an ever-charged themed menu, concentrating on organic wine and hearty food. The chef's inspiration changed frequently, so expect the unexpected.
You'll need to book in advance to ensure a seat. In the summer, the showroom doubles as a wine bar – if you want to just stop by and admire the space with a drink in hand.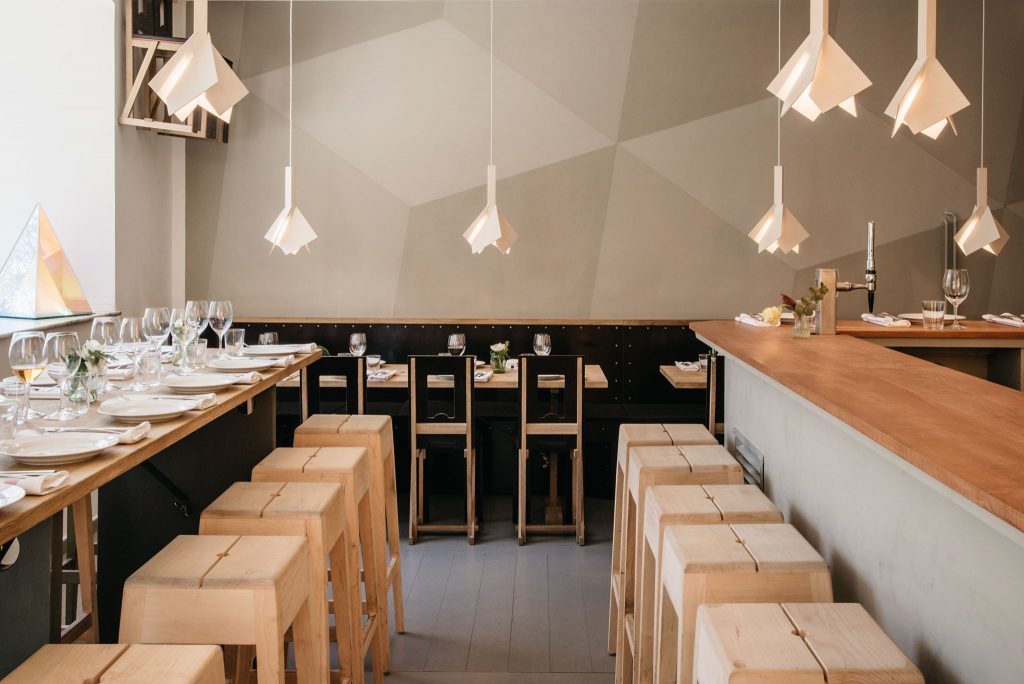 3. Get Regal At The Royal Palace
There's no way this enormous Baroque-style Royal Palace wouldn't be on our list of things to do in Stockholm.
Aside from the gorgeous rooms and five museums, it's actually still the King's official residence, so you could catch a glimpse of Swedish royalty (disclaimer: we are in no way guaranteeing this). With 608 rooms, this is the biggest palace in the world that's still be used by the monarchy. It was built in the early 18th century, incorporating the ruins of Tre Kronor castle, which stood on the site and burnt down in 1697.
As you can imagine, it's incredibly lavish both inside and out. Ornate gilded cornices decorate high ceilings, a silver throne looms over the Hall of State, and the Armory is full of armor (of course!), costumes, and elaborate carriages. The Changing of the Guard takes place every day at about lunchtime and is well worth seeing.
You could also see if you come across any of the ghosts that are said to haunt the palace if you dare! Guided tours will give you more information in a lively way.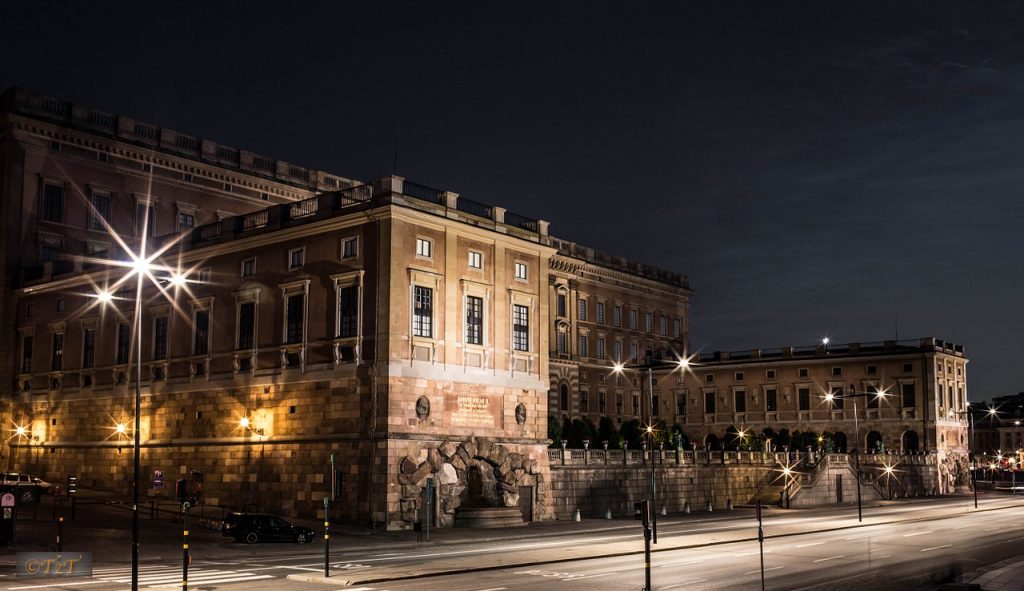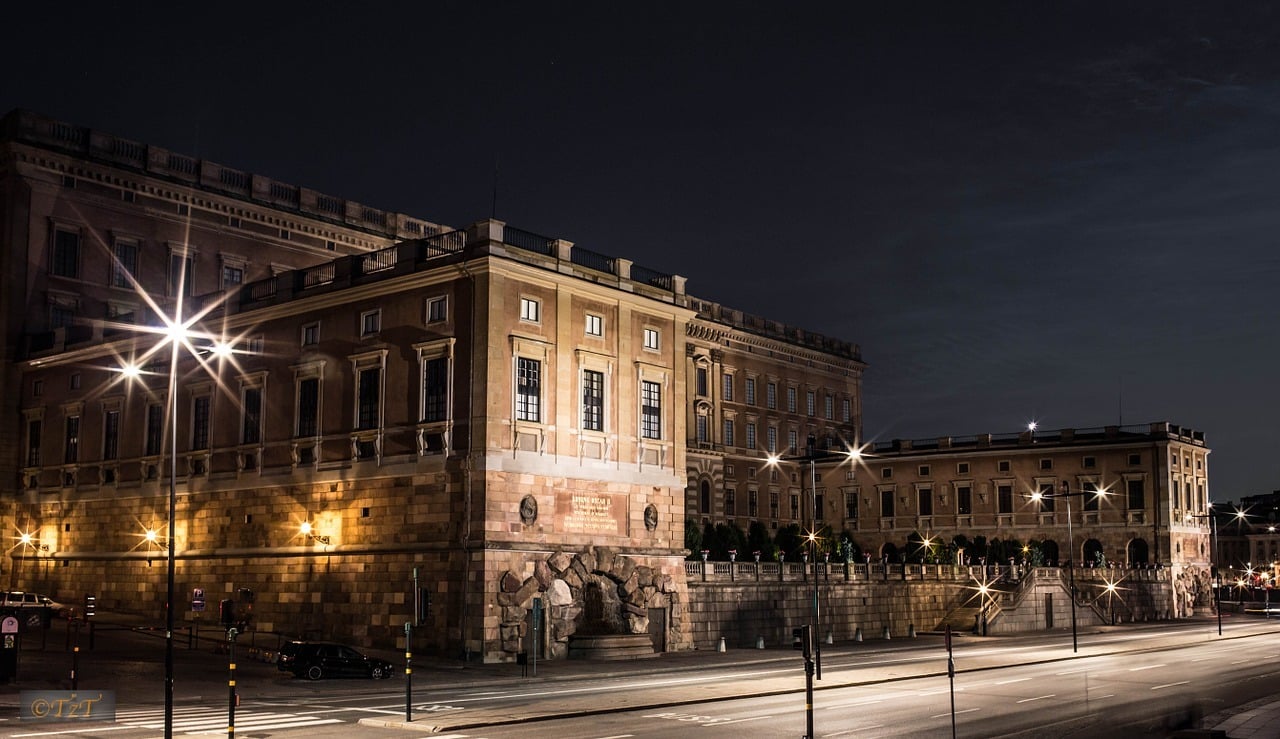 4. Expand Your Mind At The Moderna Museet
A museum for the future in Stockholm with one of the foremost collections of modern and contemporary art: Pablo Picasso, Salvador Dalí, Henri Matisse, Meret Oppenheim – you name it, you are likely to find it here.
The Moderna Museet opened in 1958 and since then has assembles, preserves, and sharing groundbreaking works. The art collection held within encompasses around 130,000 works in various media, of which only a fraction are on display at any one time. However, three areas of art are mainly focussed on: Swedish and Nordic art, French-oriented modernism, and American art from the 1950s and 60s.
There is also a fantastic sculpture garden. The Museum's acquisitions of the famous and obscure ensure it is always evolving and relentlessly relevant. Constant changes, thought-provoking insights, and unorthodox works are a given here
Even better? Touring the permanent collection is always free of charge. However, some of the temporary exhibitions do have entrance fees.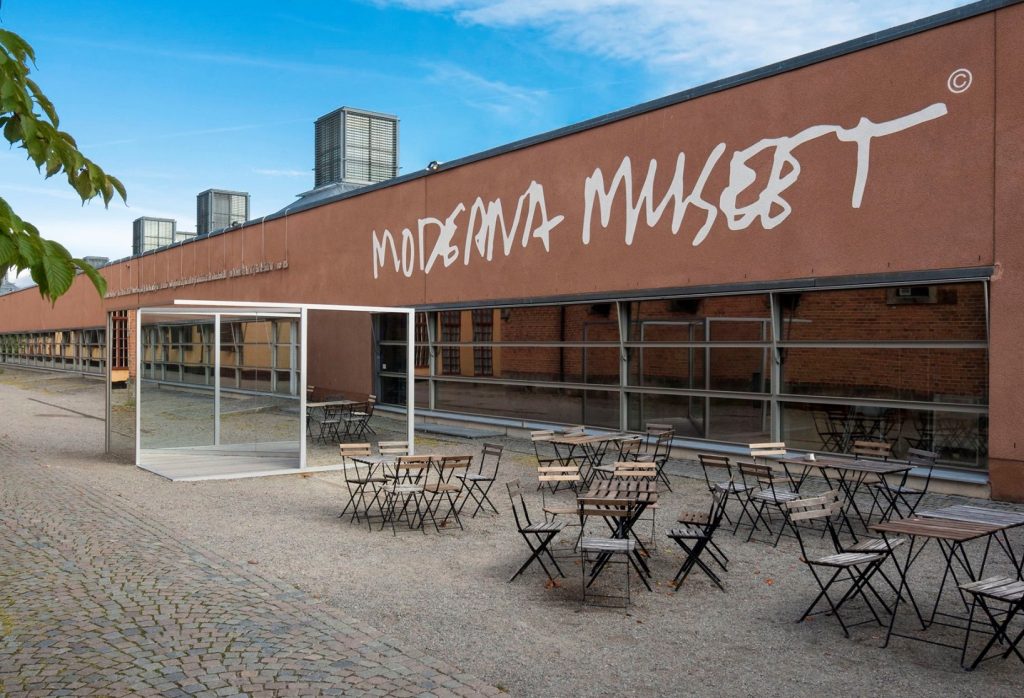 5. See Drottningholm Palace On Its Private Island
After visiting both the Royal Palace and Drottningholm Palace, the royal residence on its own private island, you'll be wondering how you can marry into the Swedish royal family and get to live here!
Like many royal residences of the time, Drottningholm was initially inspired by Versailles. Sidebar: is it just us who loves the thought of all these 18th-century monarchs trying to 'Keep Up With The Joneses'? Since then, Drottningholm has undergone many changes dependent on the tastes of Swedish monarchs over the years.
Now it stands as a gorgeous example of regal architecture, while also housing the royal family. It's absolutely beautiful, as well as being exceptionally well-preserved; no wonder it's a UNESCO World Heritage Site. Lavish salons, ornate bed chambers, a golden library, atmospheric galleries — all are on show to the public. For many, the gardens are the real attraction.
The Baroque Gardens are landscaped in the French style, while the area around the famous Chinese Pavilion is wilder and more natural. Keep your eyes peeled for the King lurking around the hedge groves!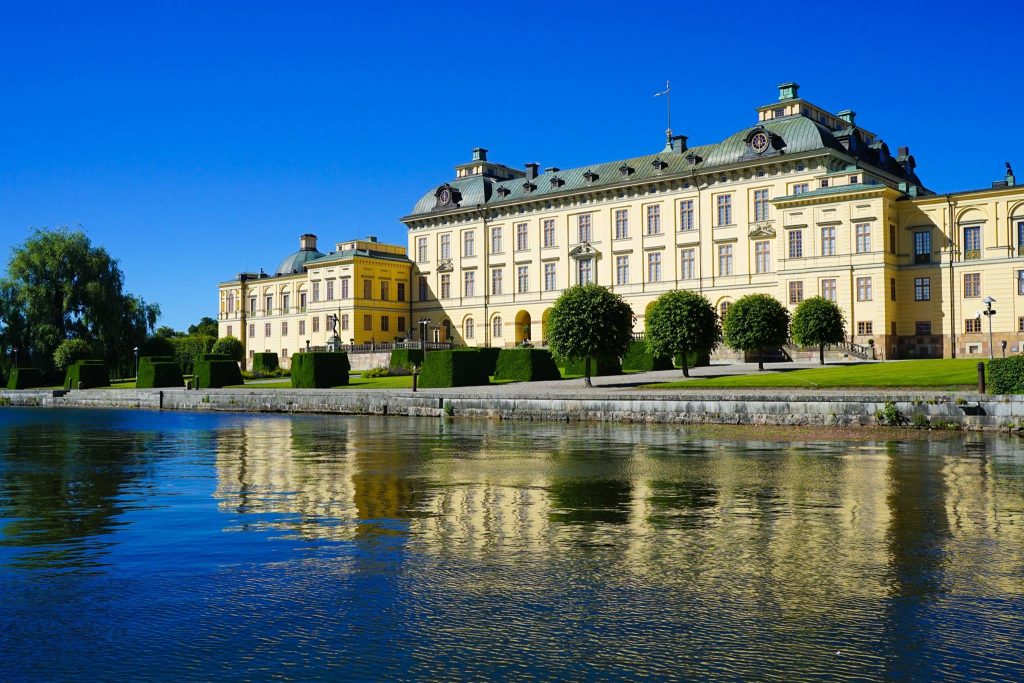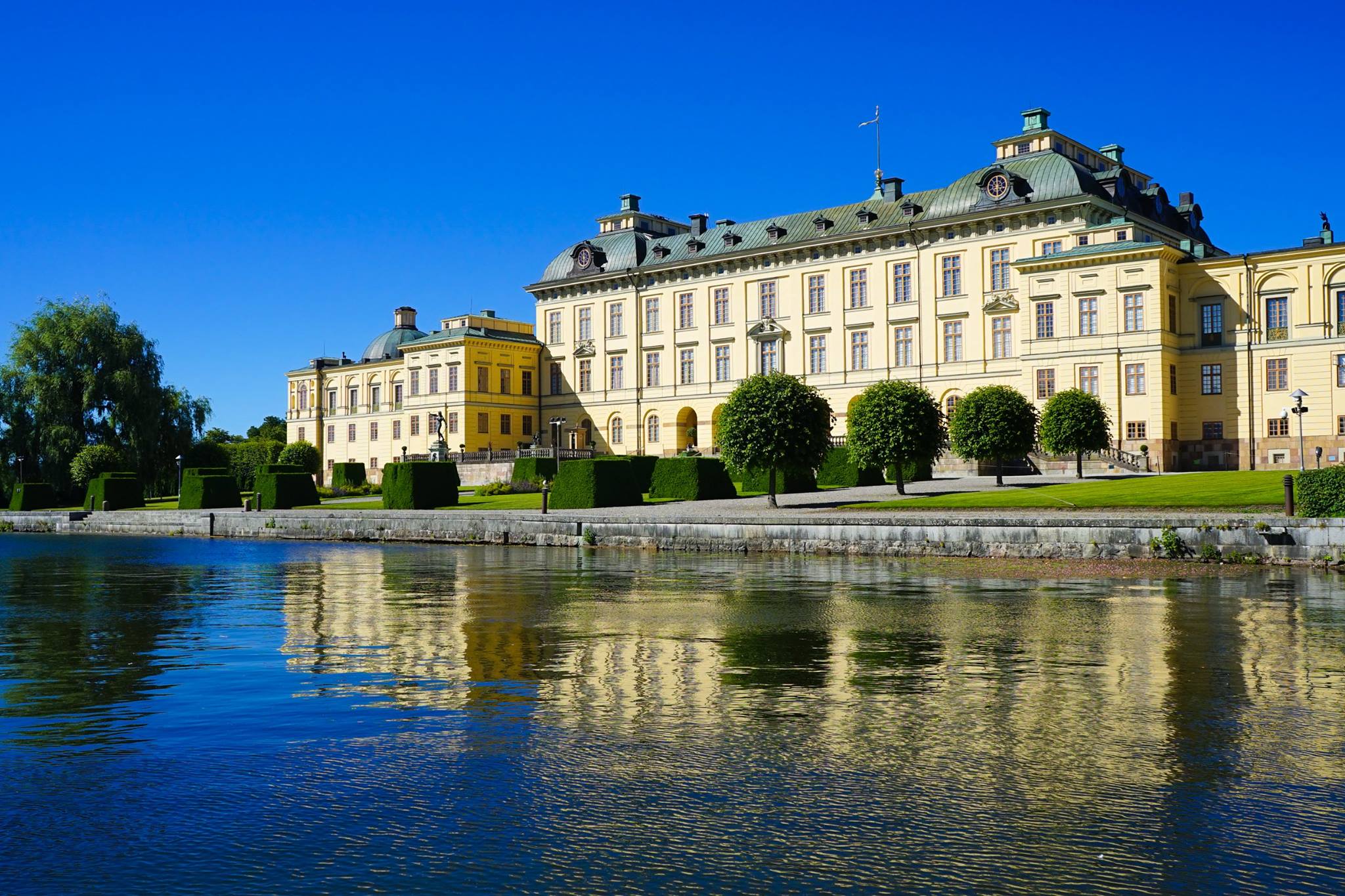 6. Admire The Grand Stockholm Public Library
Devised by world-famous Swedish architect Gunnar Asplund, the Stockholm Public library is one of the city's most distinguished structures. This vibrant orange ode to literature has become a hotspot for Instagrammers who relish it's "Swedish Grace" architectural style, but make sure you enter the rotunda of the building to revel in its full glory.
A haven for bibliophiles, the Stockholm Library is often listed amongst the world's most beautiful libraries along with Singapore's library@orchard or the Ottawa Library Of Parliament. Anyone is free to enter and explore their collection of over 2 million books. In fact, the building is specifically designed to ensure everyone feels welcomed.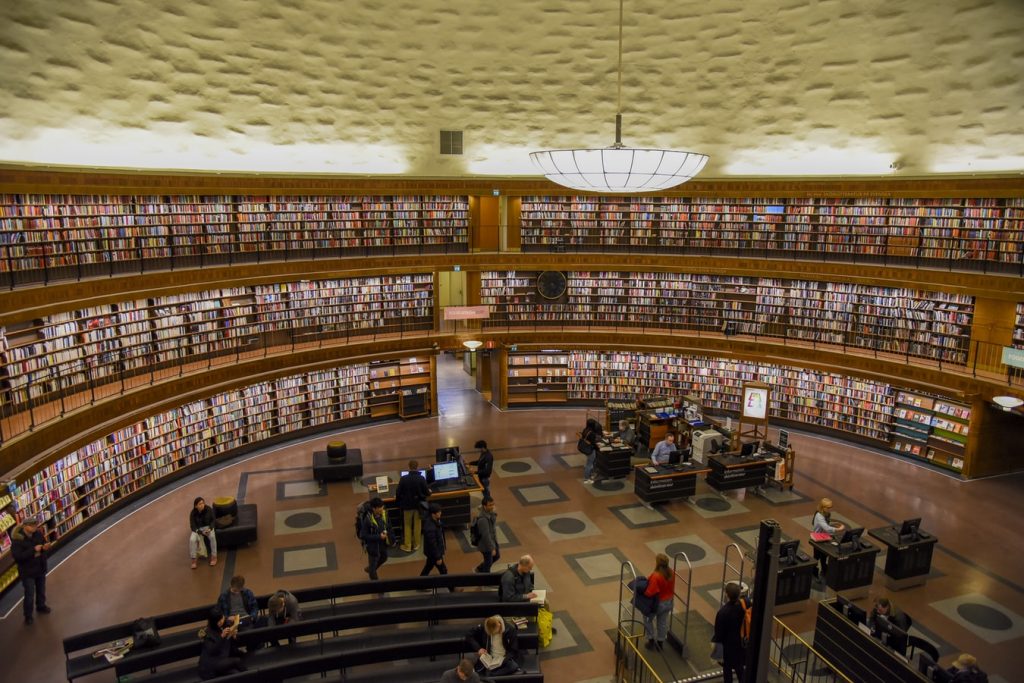 7. Have Fun At Gröna Lund Amusement Park
A ferry stop away, you'll find this magical fairyland packed with lights, color, and entertainment. It's a purely summer place, open from late spring to September, and has those summer vibes.
While it's small, this simply makes it feel more intimate and almost like you're in a retro fairground. It's been around since the 1880s, making it Sweden's oldest amusement park. The park was actually built around 19th-century buildings, giving it a unique feel.
There are about 30 rides. There are options for the adrenalin junkies – the Free Fall drops you 80 meters in six seconds, so don't eat before it – and for those of us who prefer something a little more chilled, like a pretty circus carousel. As well as these, you can go on classic rides like a tunnel of love or explore the funhouse.
There's even a rollercoaster built especially for families, the Kvasten. When you need a break, there are lots of places to stop and eat. The location by the water is also perfect for a stroll with some candy floss.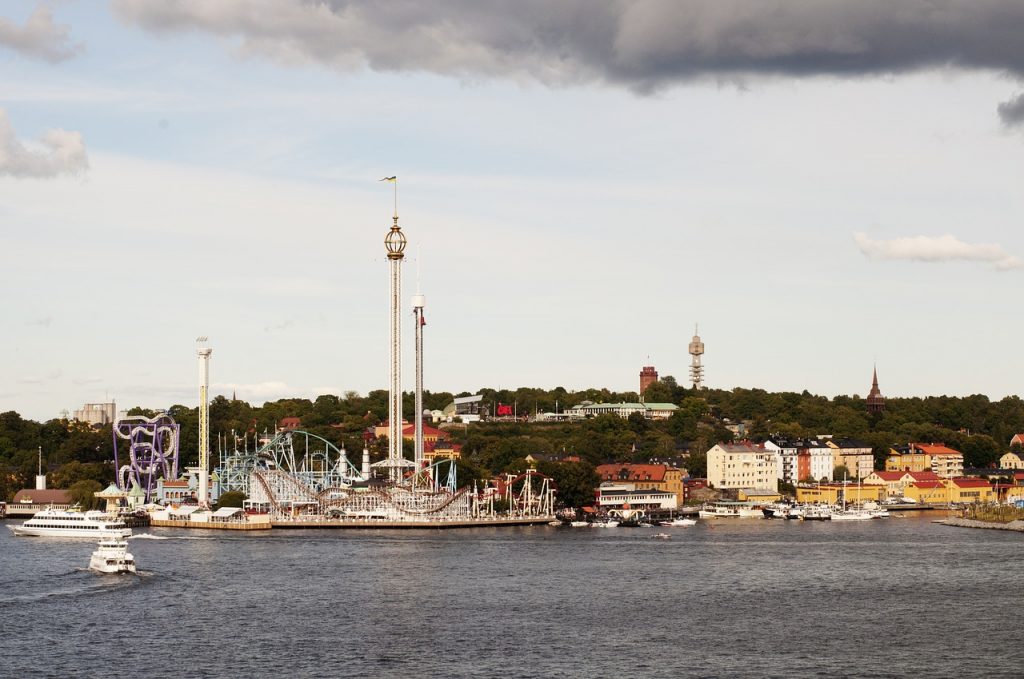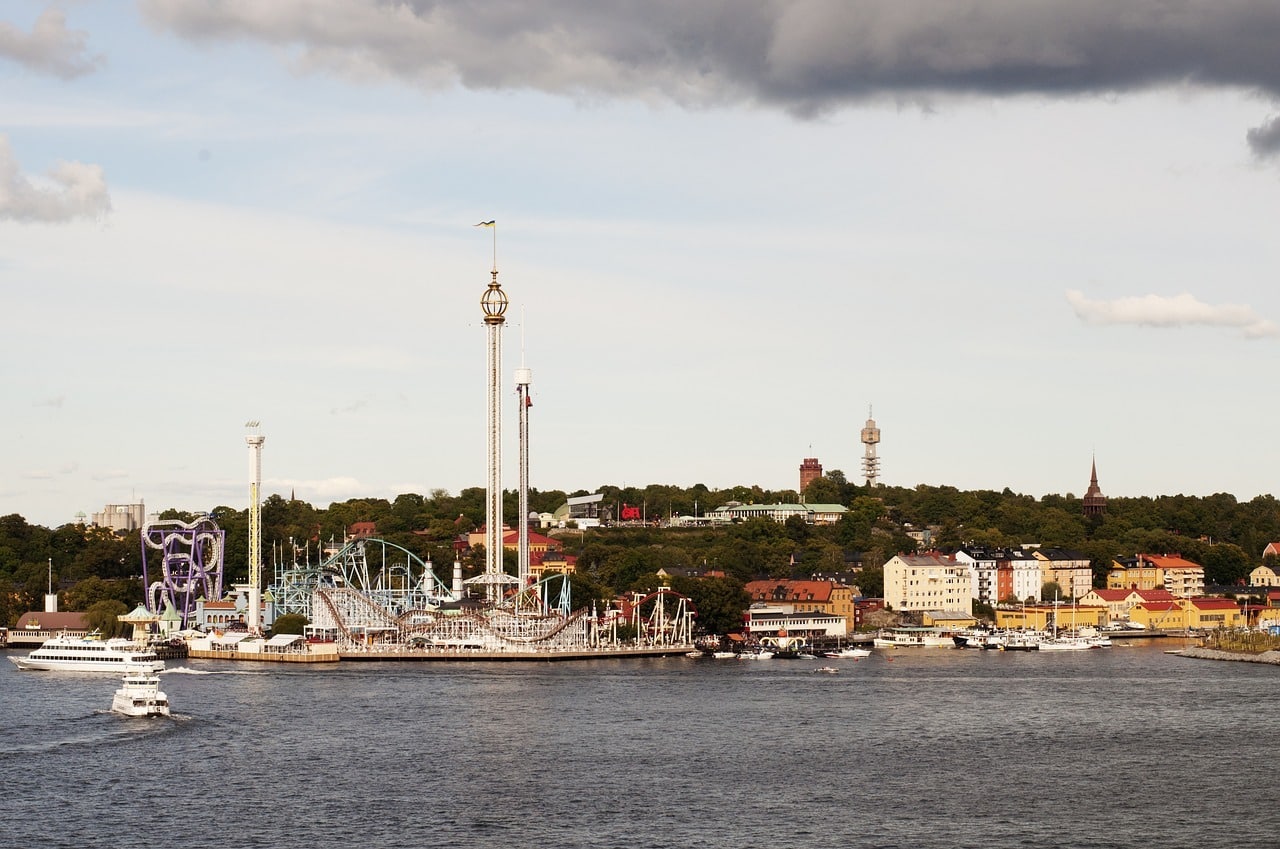 8. Take Your Time Exploring Fotografiska
Fotografiska opened in 2010 and quickly became one of the top things to do in Stockholm as word got out of its avant-garde photography exhibitions.
One of the world's most significant gathering places for photography, Fotografiska's vision is to inspire a more conscious world through social debate. They seek to achieve this by manifesting photography that generates commitment and converges on important issues of the day. There are typically 5 temporary exhibits at any one time in their 5500 m2 exhibition space, each looking at contemporary topics.
Housed at Stadsgården, an Art Nouveau style former customs house dating from 1906, the contrast between the past and present makes Fotografiska even more captivating. While it is not a museum (as it is for-profit and has no permanent exhibits), a visit here offers a unique opportunity to reconsider our world from new angles. There is also an award-winning restaurant and eclectic gift shop.
A confluence of art, good food, music, design, and open mindsets, the concept of Fotografiska has been so popular they have also recently opened a satellite gallery in Telliskivi, Tallinn.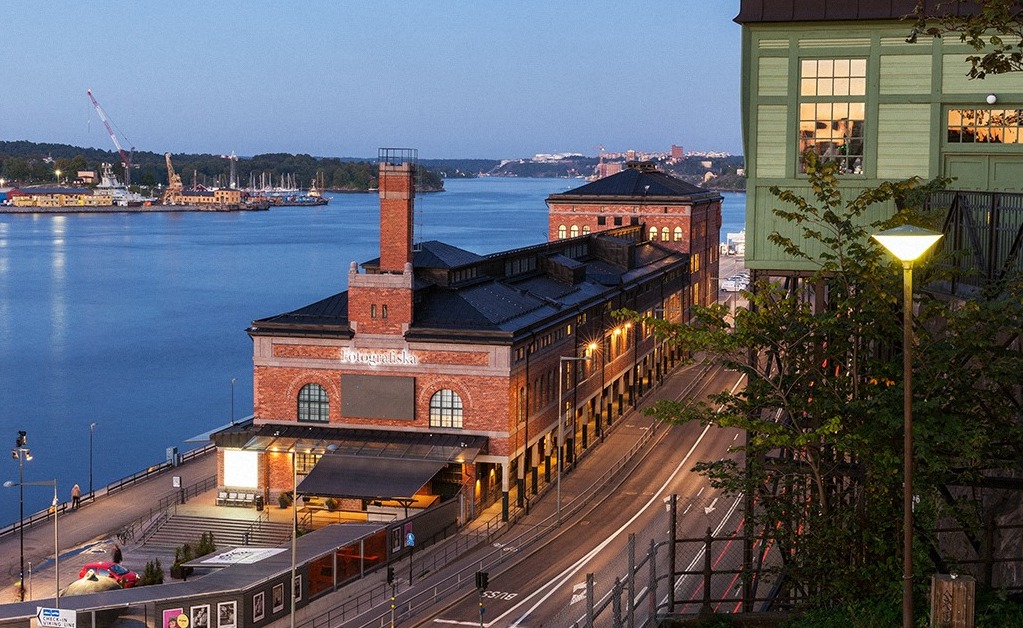 9. Find Some Peace In Reflection At Skogskyrkogården
Known in English as 'The Woodland Cemetery,' this beautiful World Heritage Site is both moving and architecturally fascinating. Here is where life and death come together, as the tombstones rest quietly amidst green grass under pine trees. It was built between 1917 and 1920 after two young architects won a competition to design a new cemetery. You can imagine that at this time, towards the end of the First World War, death was on many people's minds, and it has been treated here with gentleness and respect.
The cemetery consists of pastoral landscape, a grove of pine trees, a large pond, a meditation hill, and chapels and a crematorium in a functionalist style. Every detail was designed by the architects, and it reflects the development of architecture from Nordic Classicism to functionalism. There's an arresting black granite cross that you see immediately on arrival, which creates a vista based on a painting.
Skogskyrkogården is a unique place to visit, one where you can appreciate design but also take some time in the stillness to reflect on our mortality and what it means to be alive.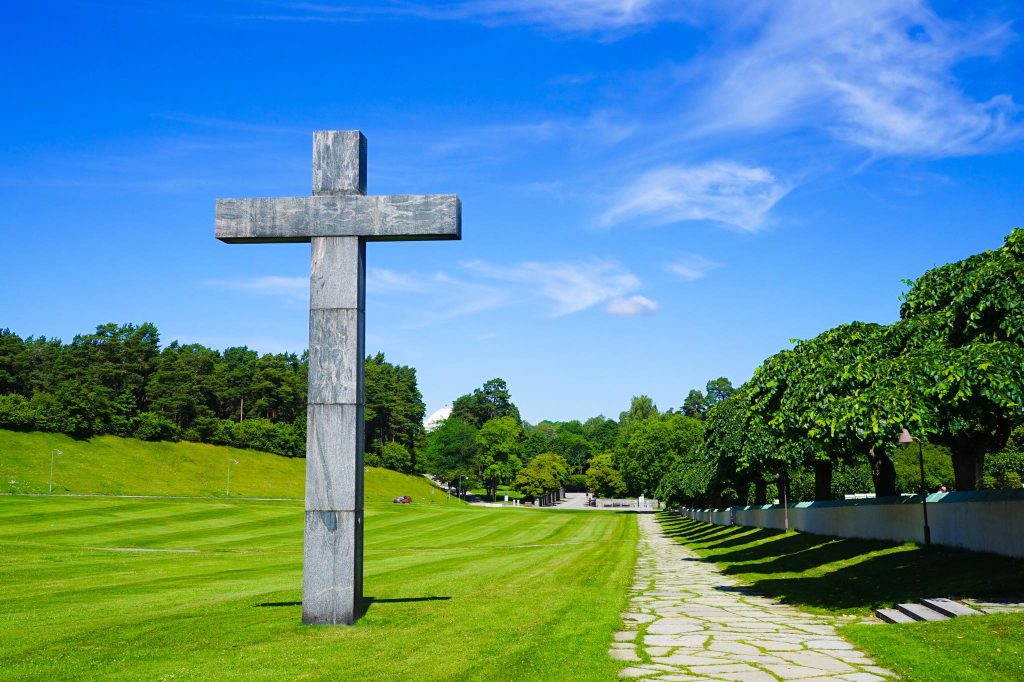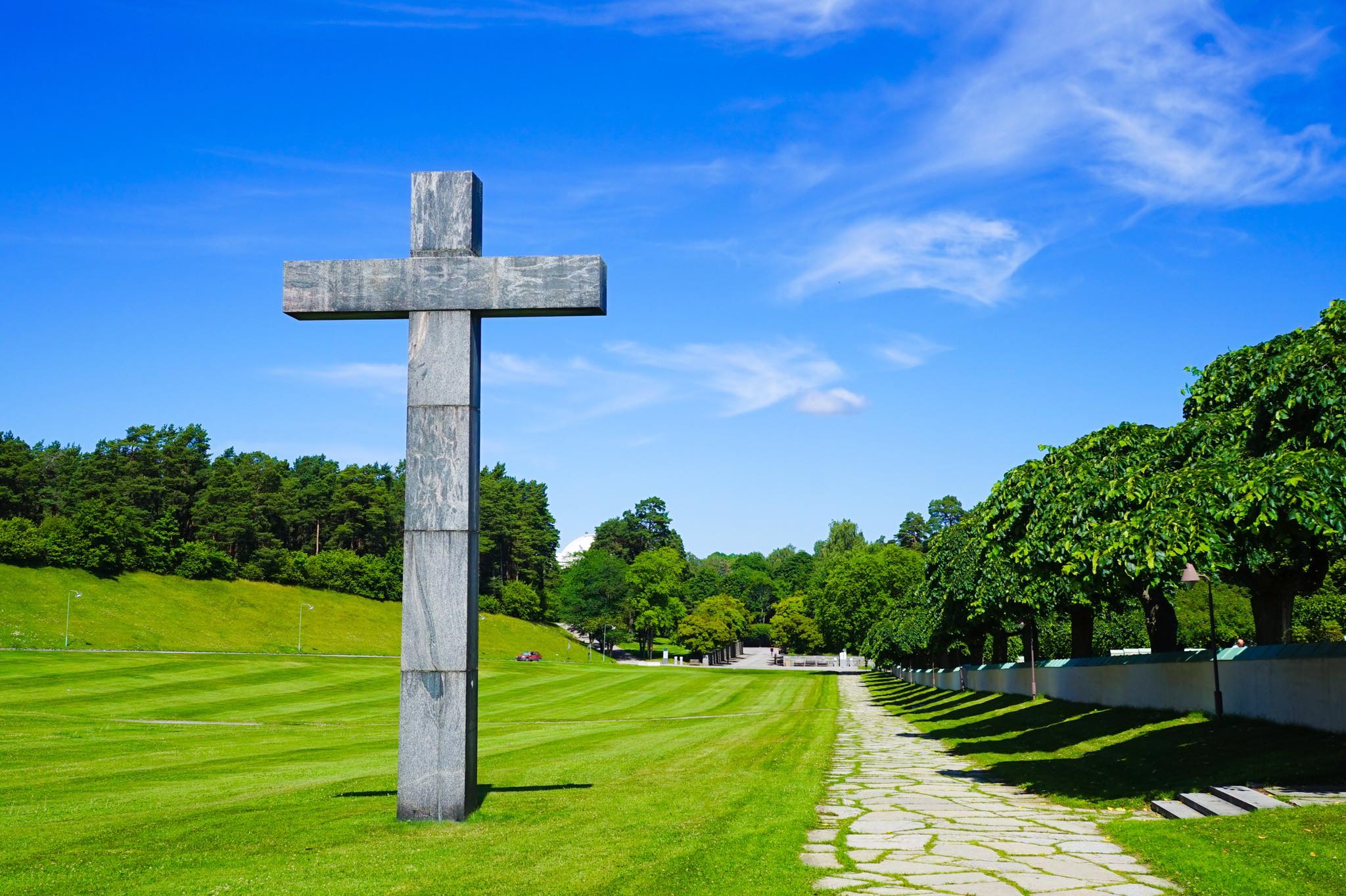 10. Relax For The Night With At The Nostalgic Victoria Cinema
Victoria is an absolute classic, a lovely vintage cinema in Södermalm which showed its first film back in 1936. The classic red neon sign outside has made it a local landmark for over 80 years and has its reputation for experimental film.
The interior fit-out harks back to the golden age of cinema with a mermaid fountain and marquetry cinema doors. However, a larger cinema chain has recently been taken over, and Victoria is decidedly less bohemian these days. Still, you can find some curious gems on their upcoming features, and enjoy a glass of wine in their beautiful glass-fronted cafe before the screening.
Be sure to get a seat towards the back, as the front row is only a few meters from the screen.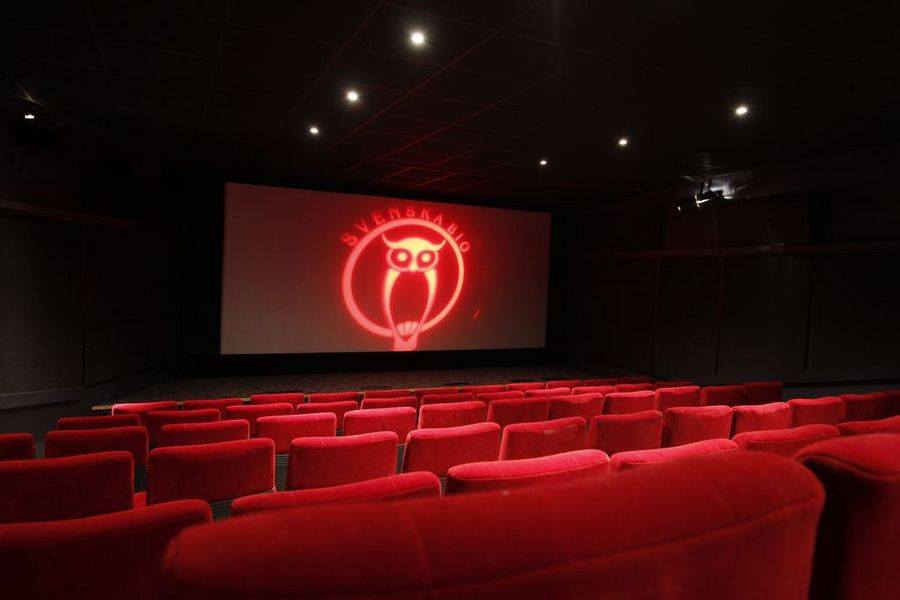 11. Delve Into The Viking Age On A Day Trip From Stockholm
Being honest, when anyone thinks of Scandinavia, they think of Vikings (it's hard not to when you get to Stockholm, and you're surrounded by tall, beautiful blondes, to be honest!). So why not embrace that association and actually learn something more about it at the same time? This 8-hour trip in the countryside surrounding Stockholm takes you into the wildness of Sweden and shows you some of the key relics from Viking history.
Bridges, runestones, grave fields, and more are included as a guide tells you more about this significant historical period. Visit Old Uppsala, where the famous grave mounds of Viking kings are, and its nearby city, where you can see the biggest church in the Nordic countries. You can also go on a guided walk of the oldest town in the country, Sigtuna.
There's even a Viking parliament ruin where you learn about the system of governance at the time. Enthusiastic guides ensure this is an excursion you won't forget.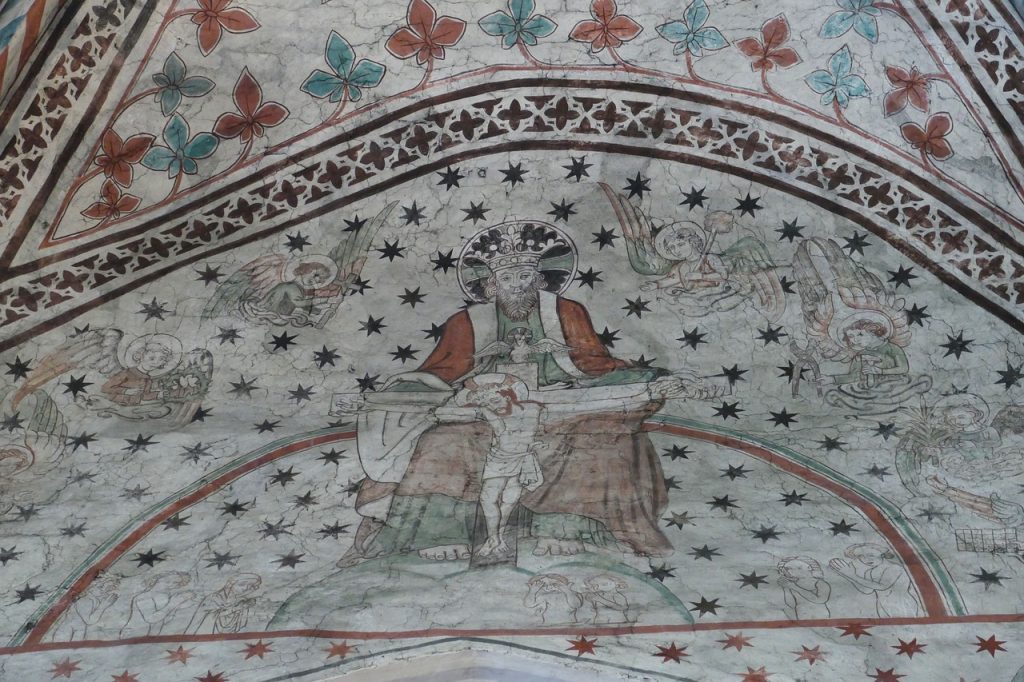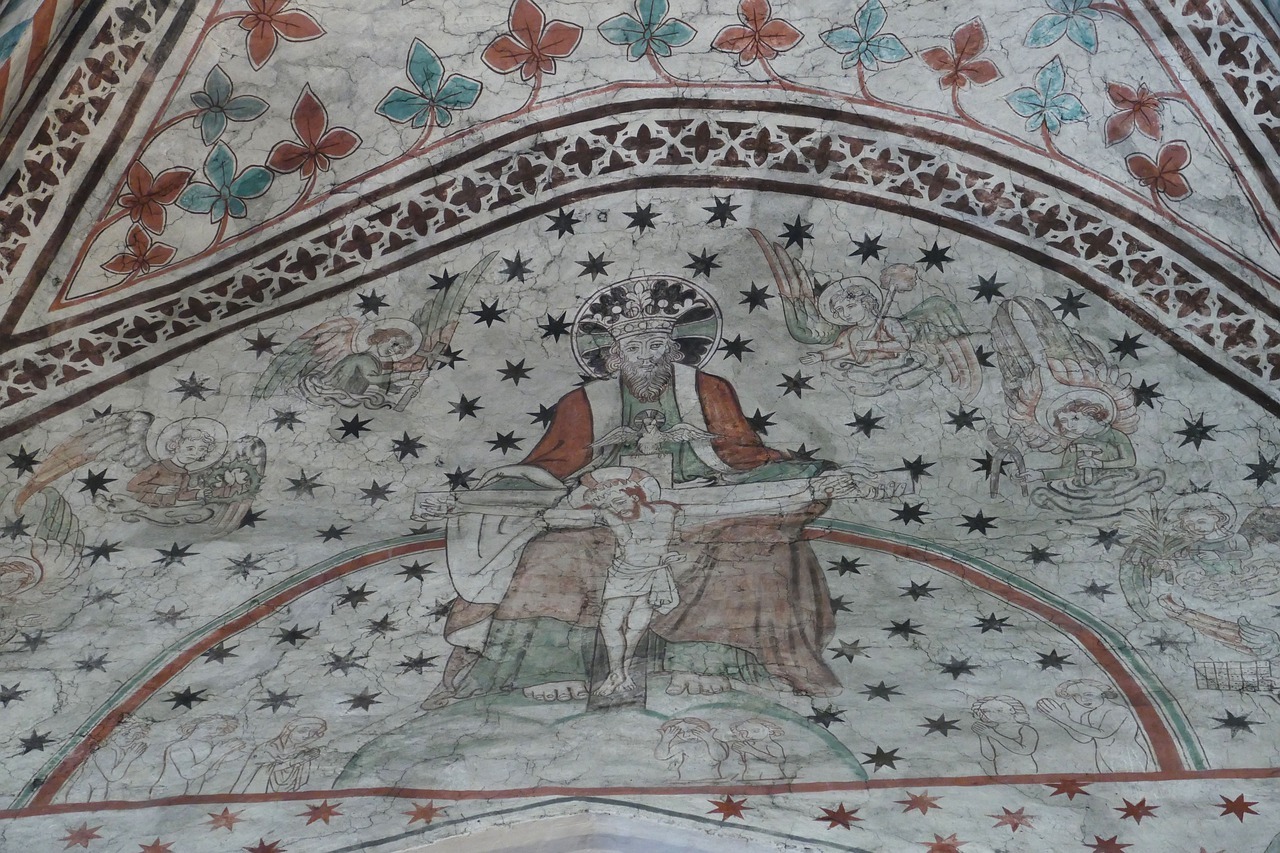 12. Wander The Historic Östermalmss Market
A charming and well-preserved market hall that speaks to Stockholmers' enthusiasm for great food over the last 130 years. A veritable sanctuary for connoisseurs and gastronomers, this brick cathedral on a corner of Östermalmstorg is one of the best places to shop, dine, take photos and let your tastebuds wander.
Recently closed for a four-year renovation, the Östermalms Market Hall reopened in 2020 its a stark, new modern addition. Quintessentially Stockholm, perch yourself at one of the chic counter service restaurants or try some delectable cheese, chocolate or pastries.
Run by a collective of 17 traders, many of who have run their stalls as family businesses for generations. However, all are united in their passion for delicious food and personal interactions with customers.
A little bit of everything, and an excellent spot for a quick meal on the go before exploring more of Stockholm.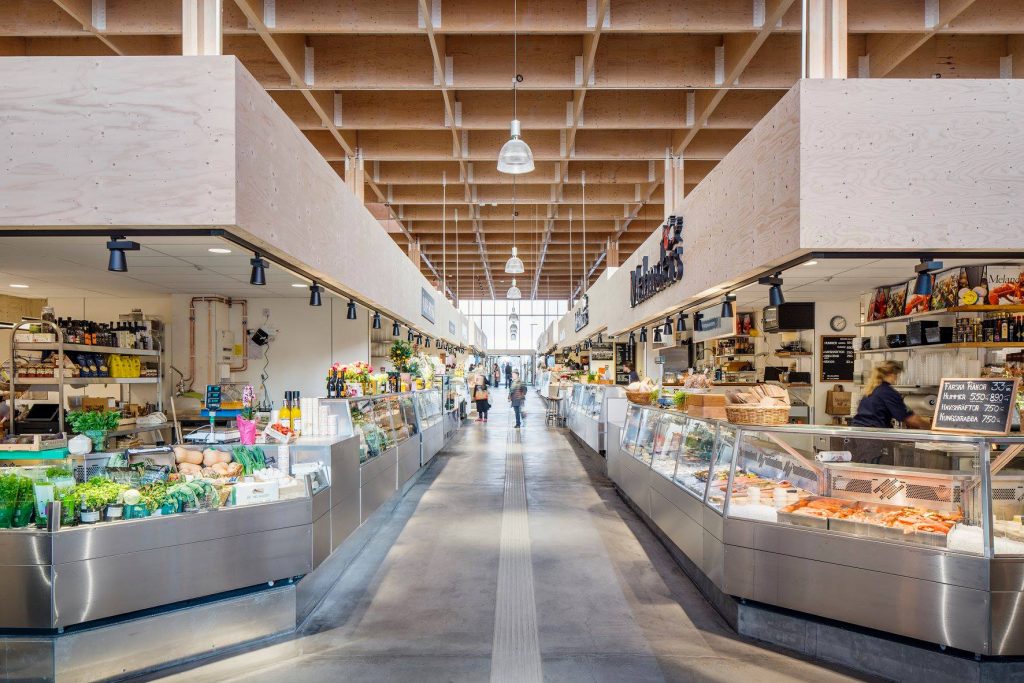 13. See Stockholm's Top Highlights On Two Wheels
One of the wonderful things about Stockholm is how easy it is to get around. Naturally, the public transport is great, but we're not talking about that. Cycling around the compact city centre is a lovely way to see the beautiful streets, pretty buildings and meandering coastline.
This engaging bike tour takes that cycling experience and makes it even better. A local guide takes you around the main sights, making sure you don't miss anything and telling you the stories behind all the places you glide past.
After meeting in the middle of the city, you'll spend two hours exploring Gamla Stan, the islands surrounding it, and the national port. It's great to be able to ask questions about everything you see (no more Googling obscure facts!), and your guide is sure to tell you even more than you expected! The only difficult thing about the tour will be giving your bike back at the end.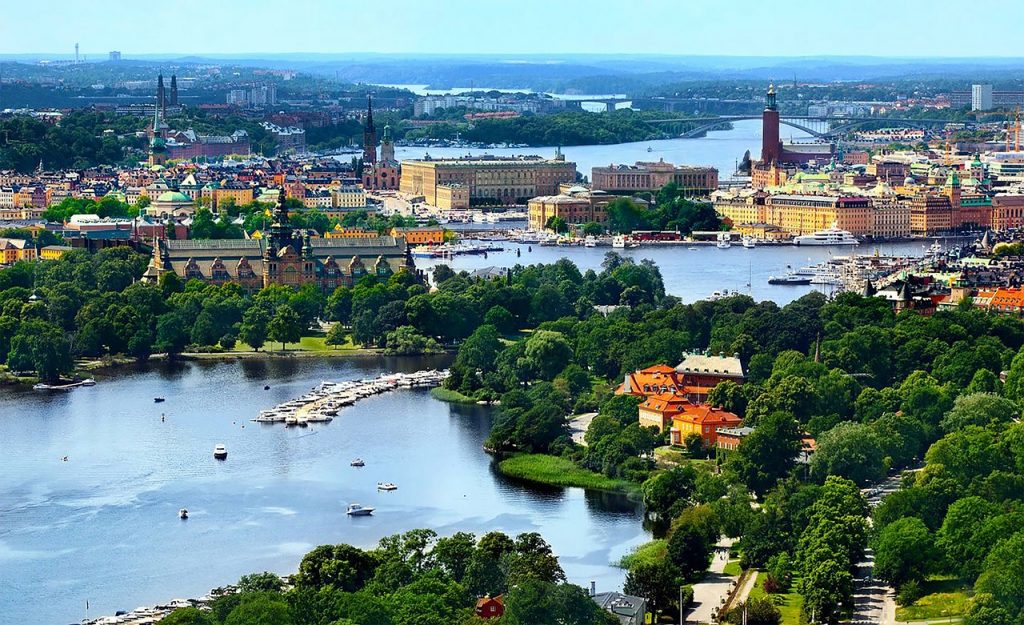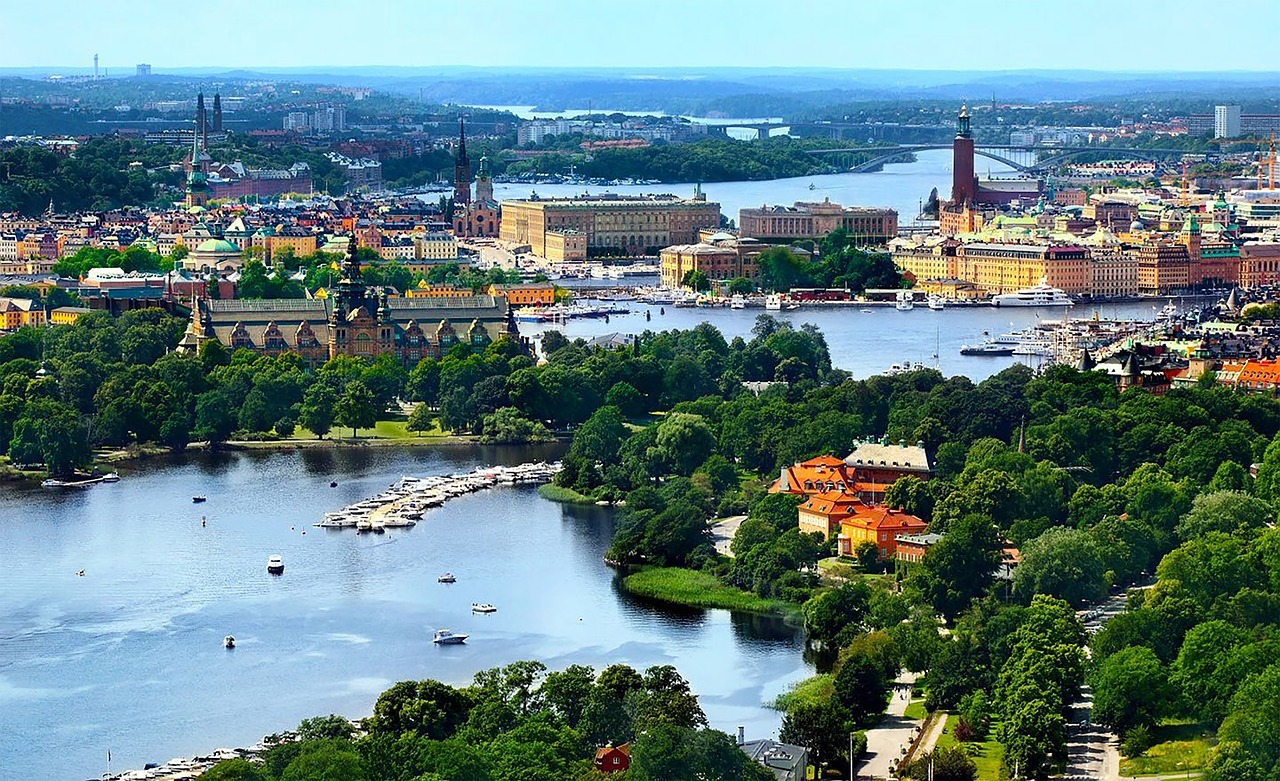 14. Shop In A Different Era At The NK Department Store
The Nordiska Kompaniet (NK) Department Store, founded in 1915, is Stockholm's most extravagant department store and is filled with timeless elegance. While department stores worldwide continue to modernize/ homogenize, NK has stayed the course and remains a bastion of class and sophistication.
Shopping here is a real experience from the moment you step inside its magnificent art nouveau building: marbled staircases, arched glass ceilings, traditional signage, and service beyond compare. While NK originally stated in Gothenburg in 1864, Stockholmers are understandably proud of it and continue to patronize it with zeal.
You'll find everything within its six floors from Swedish and international fashion to fine foods, cosmetics, tableware, and even an excellent collection of books in English.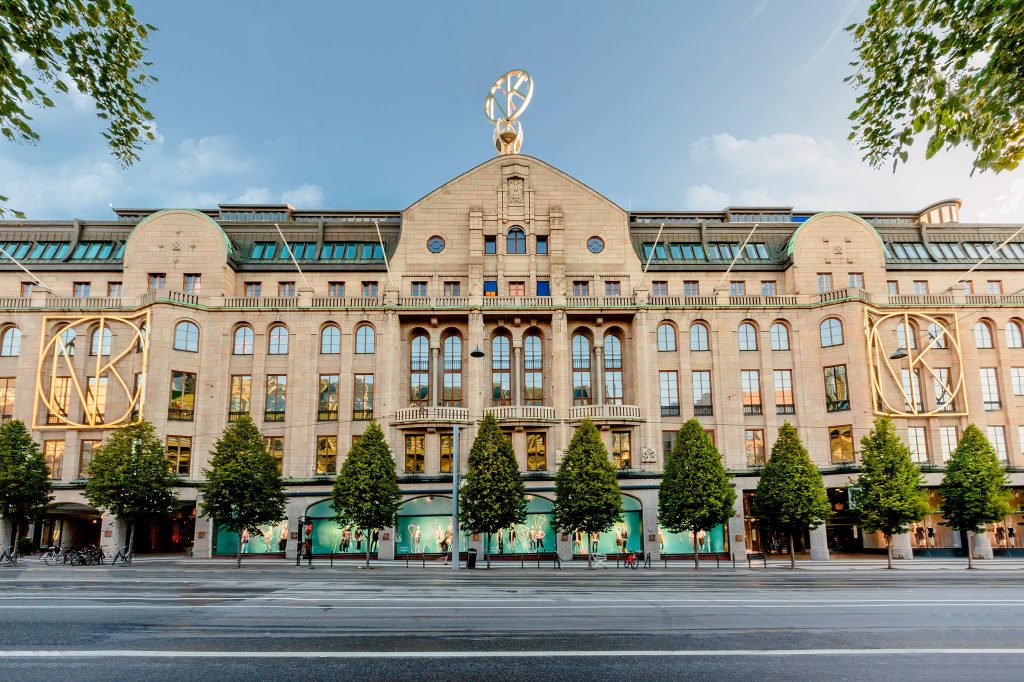 15. Explore The Re-imagined Hammarby Sjöstad

Hammarby Sjöstad, in the 1990s, was a run-down, unpleasant, and polluted inner city of Stockholm. Fast forward thirty years, and thanks to a thriving urban renewal plan, this is now one of Stockholm's most engaging residential districts. Located in a goldilocks zone between the hectic metropolitan core and the green, nature-filled periphery of the city
Hammarby Sjöstad offers a beautiful mix of apartments, cafes, offices, and boutique shops with a focus on culture and entertainment. It is undoubtedly one of the world's most outstanding examples of sustainable city planning solutions. It is worth spending a few hours investigating its modern architecture, hip restaurants, open spaces, and waterside walkways.
Try lunch at the minimalistic Kärlek & Mat or ice-cream at the fun Cafe Gården Hammarby Sjöstad before climbing to the top of Hammarbybacken for panoramic views over Stockholm. The more adventurous can rent a kayak and explore the canals on their own. Getting to Hammarby Sjöstad is easy. Just take the free ferry from Södermalm or the tram from the Gullmarsplan metro line station.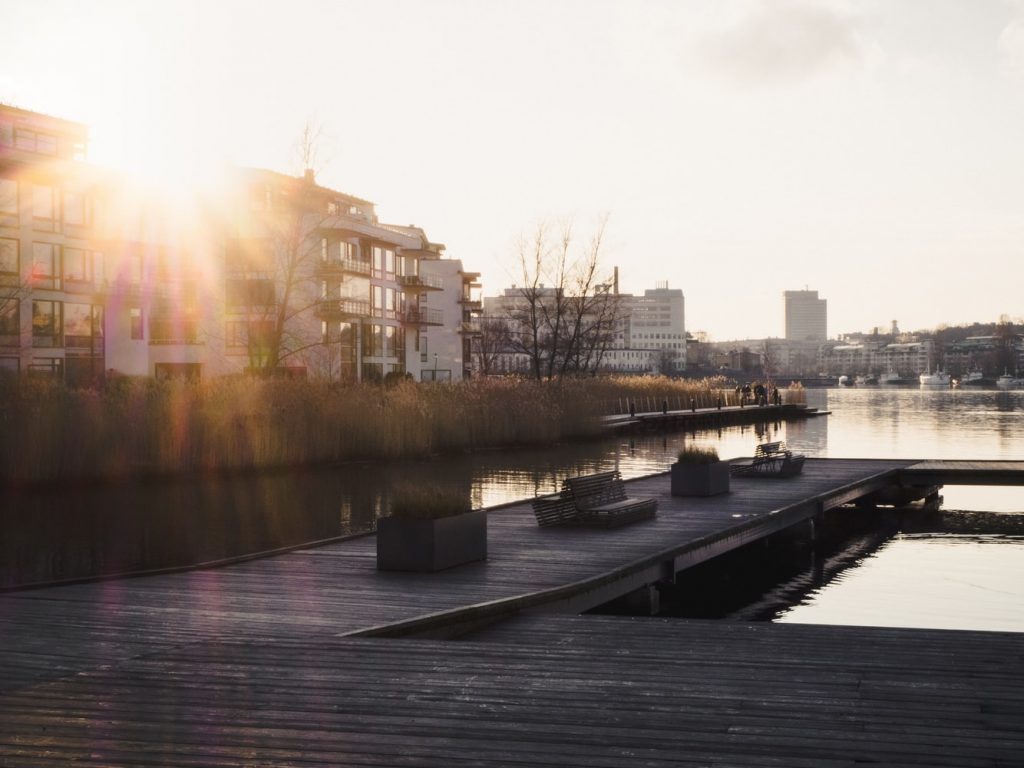 16. Get Jazzy With A Night Out At Fasching
A distinguished jazz club in Stockholm that hosts both emerging talent and international legends. Open since 1977, purchase a ticket for popular shows in advance or stop by the mezzanine bar on the night to try your luck.
Mondays are more impromptu with no agenda set, fewer crowds, and more locals, making it better to drop in. Dim, crowded, and always vibing, Fasching is a rare space with a genuine admiration for different types of jazz/blues that manages to remain simultaneously old-school and hip.
On the weekends, the area turns into a nightclub around midnight should you feel like staying out even later.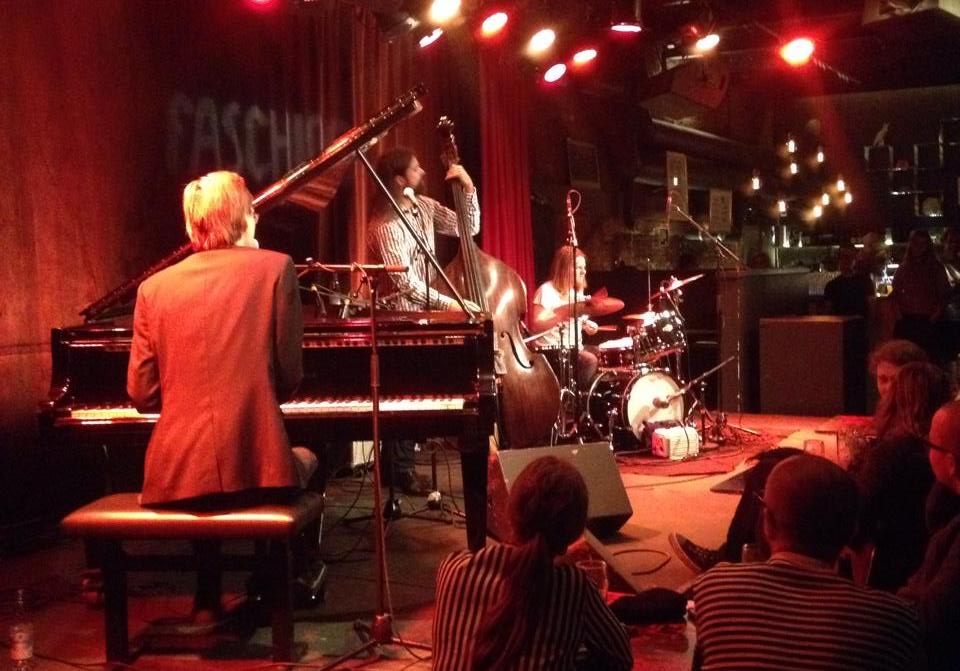 17. See An Icon From Swedish History At The Vasa Museum
The enduring appeal of this popular museum lies in its time-capsule-like quality. The 69-meter warship Vasa sank in front of hundreds of onlookers on its maiden voyage in 1628, dealing Sweden's economy and navy a heavy blow. It's now the striking centerpiece to the Vasa Museum, which is easily findable because of the three tall masts on the roof.
How did a ship go from a wreck to the middle of a museum you ask? Thanks to the pollution in the Baltic sea that managed to starve off any wood-eating microorganisms for the 333 years Vasa was on the seabed, and to a painstaking salvaging process in the early 1960s.
Nowadays, visitors reap the benefits of these efforts as they get up close with the remains. 95% of the ship we see today is original, and there's constant work ongoing to preserve it. Vasa represents a considerable part of Sweden's past; it also tells us a lot about shipbuilding and the navy at the time.
The exhibits include collections of items that were salvaged from the ship: the crew's personal belongings, navigational tools, and decorations. It's genuinely fascinating, even if you're not a maritime nut!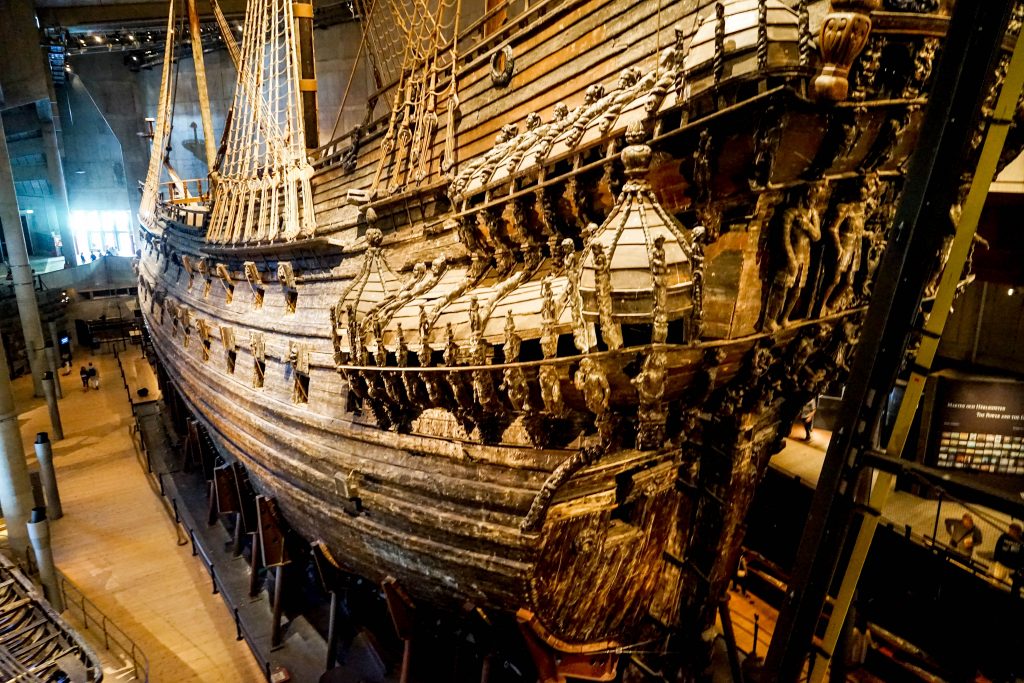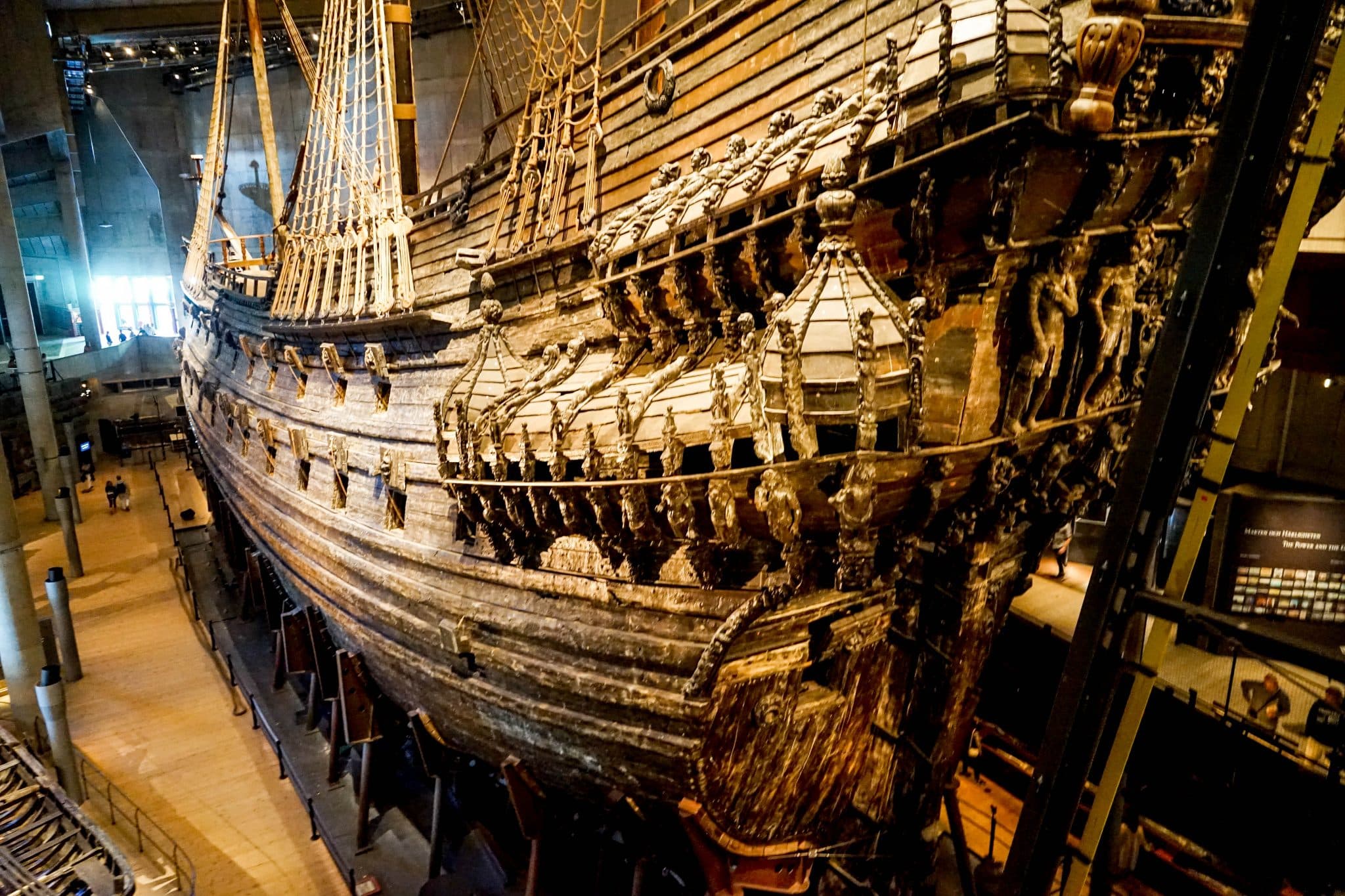 18. Escape Into The World Of Artipelag For The Day
Artipelag is an international venue for art and food – superbly positioned on Värmdö island in the Stockholm Archipelago, just 20 minutes from the city center of Stockholm.
The name 'Artipelag' is a combination of Art, Activities, and Archipelago and opened in 2021. The remarkable building covers an area of approximately 10,000 square meters, making it one of Sweden's largest museums. In harmony within its 22 acres of surrounding natural scenery with pine trees, cliffs, and nature paths – all of which are free to visit. The diverse exhibits require admission charges but are generally world-class and not to be missed by art lovers.
A boundary-crossing destination of art exhibits, energy, serenity, and food; there is something for everyone here. If you have the time, Artipelag should be high on your list of things to do in Stockholm.
Free entry and boat tour with the Stockholm Pass.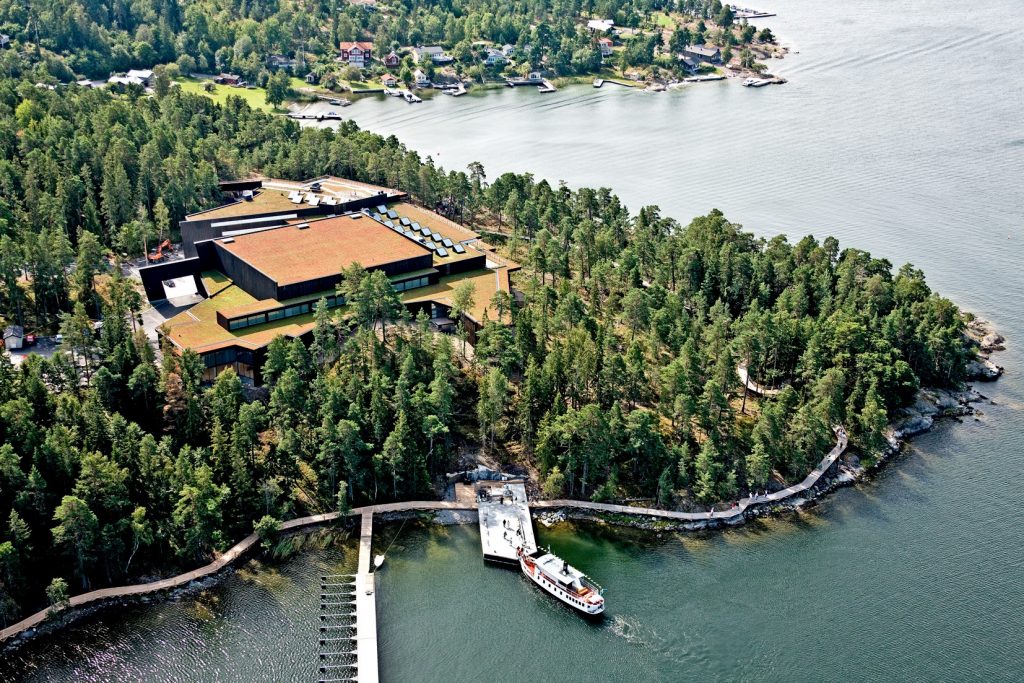 19. Explore Stockholm's Iconic City Hall
The 106-meter-high red brick tower of Stockholm's City Hall (Stadshuset in Swedish) is an integral part of the city's skyline. The golden Three Crowns at the top have soared above the waterfront since its completion in 1923; the building used over eight million bricks in its construction. On a calm day, the reflection in the water is striking, and the warm red of the building against a blue sky is mesmerizing.
While it is still the workplace for civil servants and politicians, Stadshuset is probably best known for hosting the Nobel banquet in its lavish Blue Hall. Similarly, lavish events are held in the Golden Hall, which has 18 million gold mosaic tiles (home décor inspiration anyone?). Guided tours are the best (and only!) way to see around the interior of the building; you should also make time to stroll around the neighboring park.
For an extra fee, climb to the top of the tower and drink in the incredible views.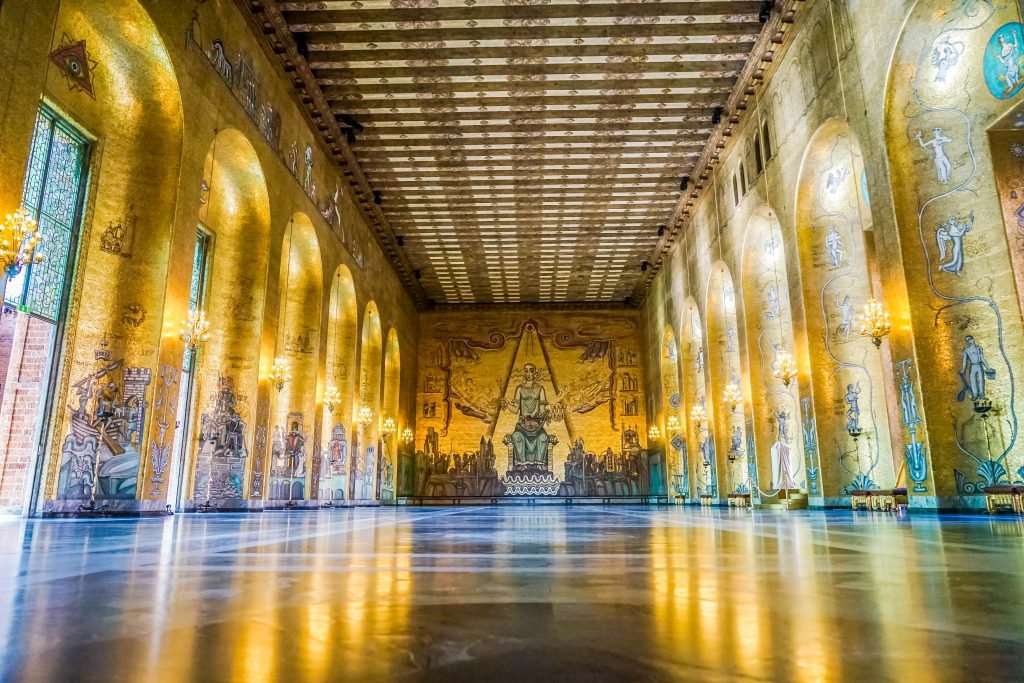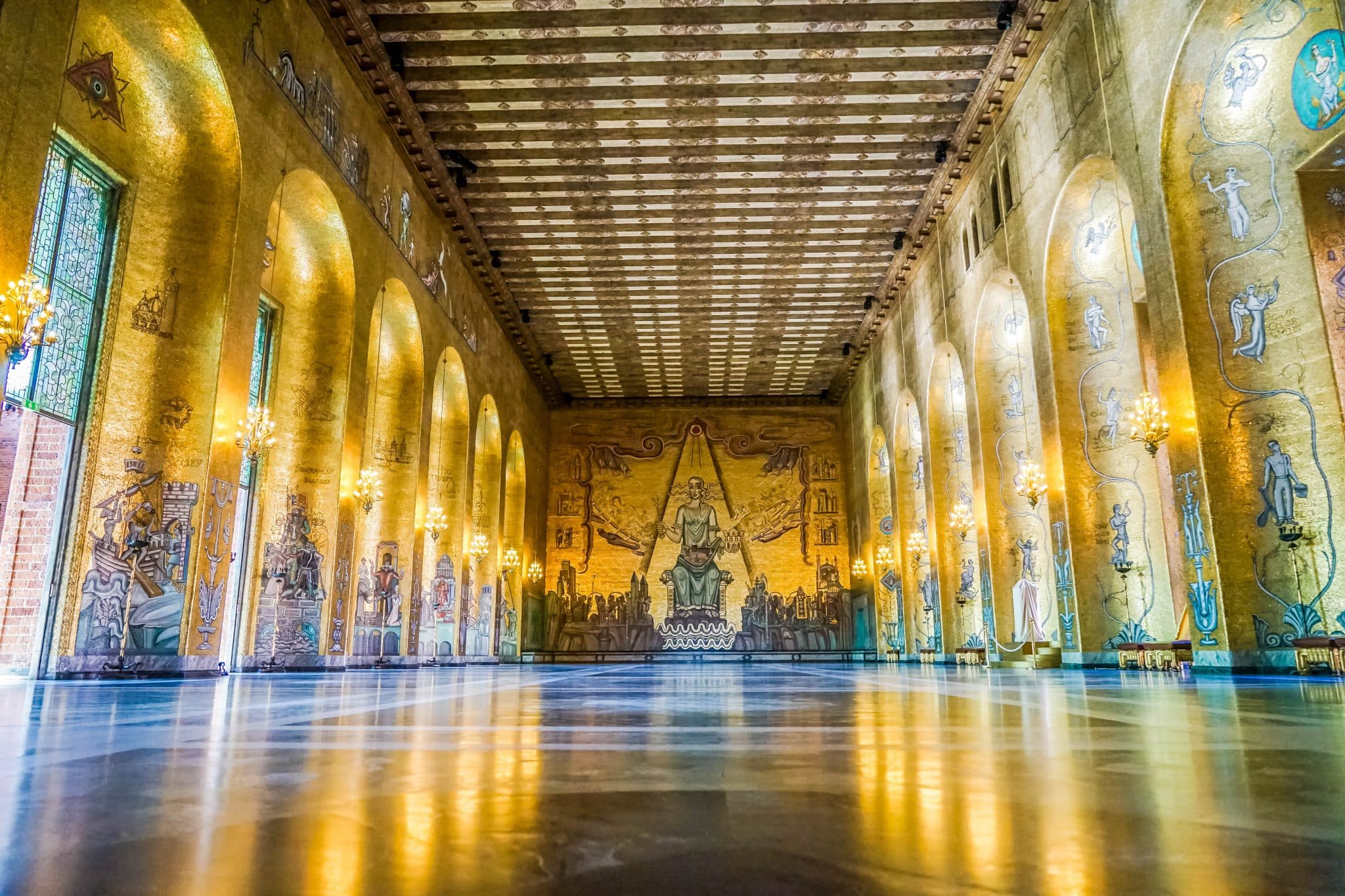 20. Fuel Yourself For the Days Adventures At Drop Coffee
Drop Coffee is a small coffee roastery founded in 2009 as a coffee bar by Mariatorget, focusing on delivering tasty and sustainably produced coffee. They visit all the producers they source coffee from around the world, including El Salvador, Nicaragua, and Bolivia.
And they then roast the coffee themselves ack in Stockholm with complete focus on the sweetness and vibrancy. It was an overnight success. They have won a bevy of awards – and have now opened a bigger roastery in Rosersberg, north of Stockholm, to keep up with demand. You can still stop by their minimalist cafe, to sample their punchy filter coffee or flagship cortados, served with an almost laboratory-like precision.
Stockholm has a range of beautiful cafes, but this spot is an absolute must for coffee and caffeine lover. Their tasting assortment of roasted beans also makes a great souvenir to bring home.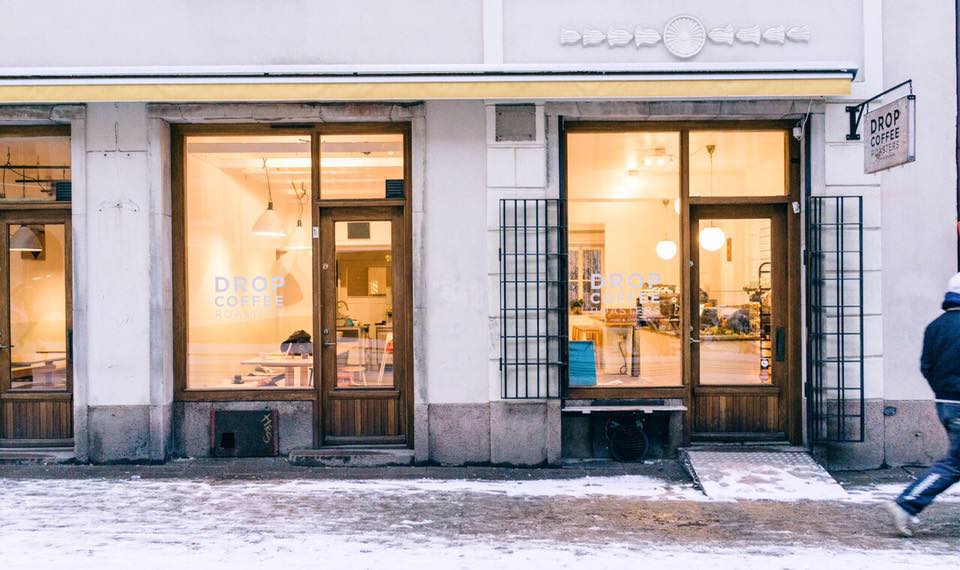 21. Take A Chance On ABBA The Museum
For fans of Sweden's most-loved Eurovision entry, this museum one of the first things to do in Stockholm. A sensory abundance, the interactive exhibits and fantastic collection of memorabilia is a gift that keeps on giving. As the website says, you'll walk in and dance out.
Even if it were only memorabilia here, we'd still enthusiastically recommend it. Seeing the platform boots, sequined jumpsuits, and instruments in real life is fascinating and really puts the band's achievements in a historical context.
But this isn't only about looking at things; you also get to take part! You can join the group as their 5th member in a hologram experience, trying on a virtual costume; you can even wear a replica of the shiny outfits they used to don for their performances. If you've got time you can watch movies about their story and there are temporary exhibitions like 'MAMMA MIA! Behind the movie magic'.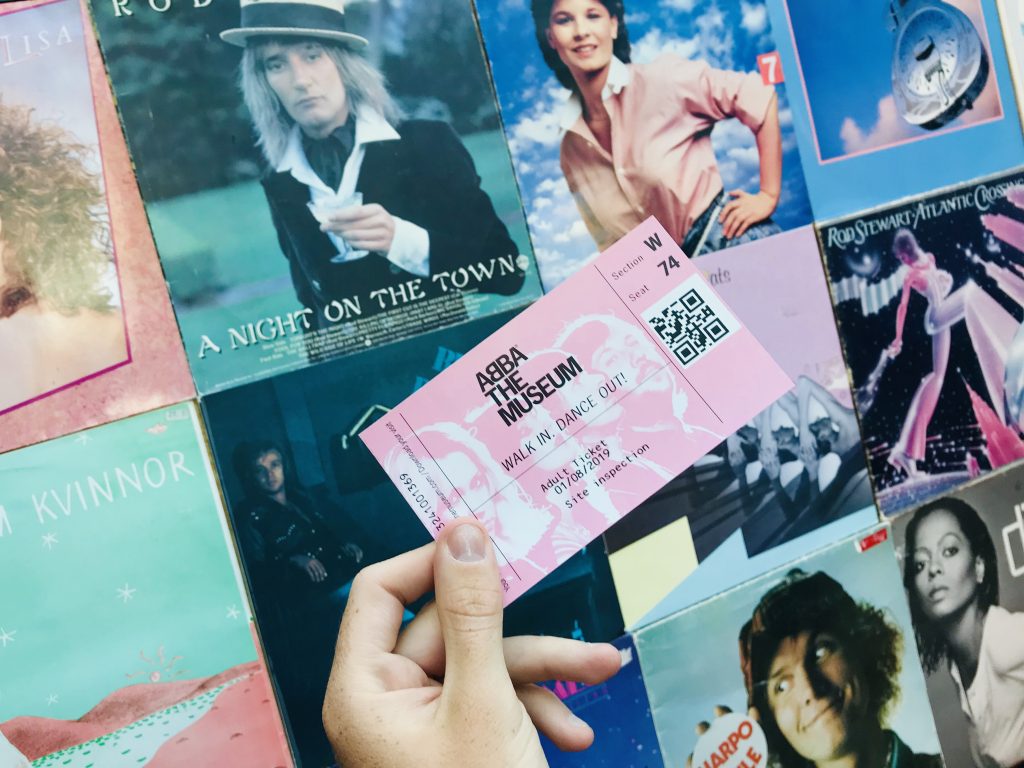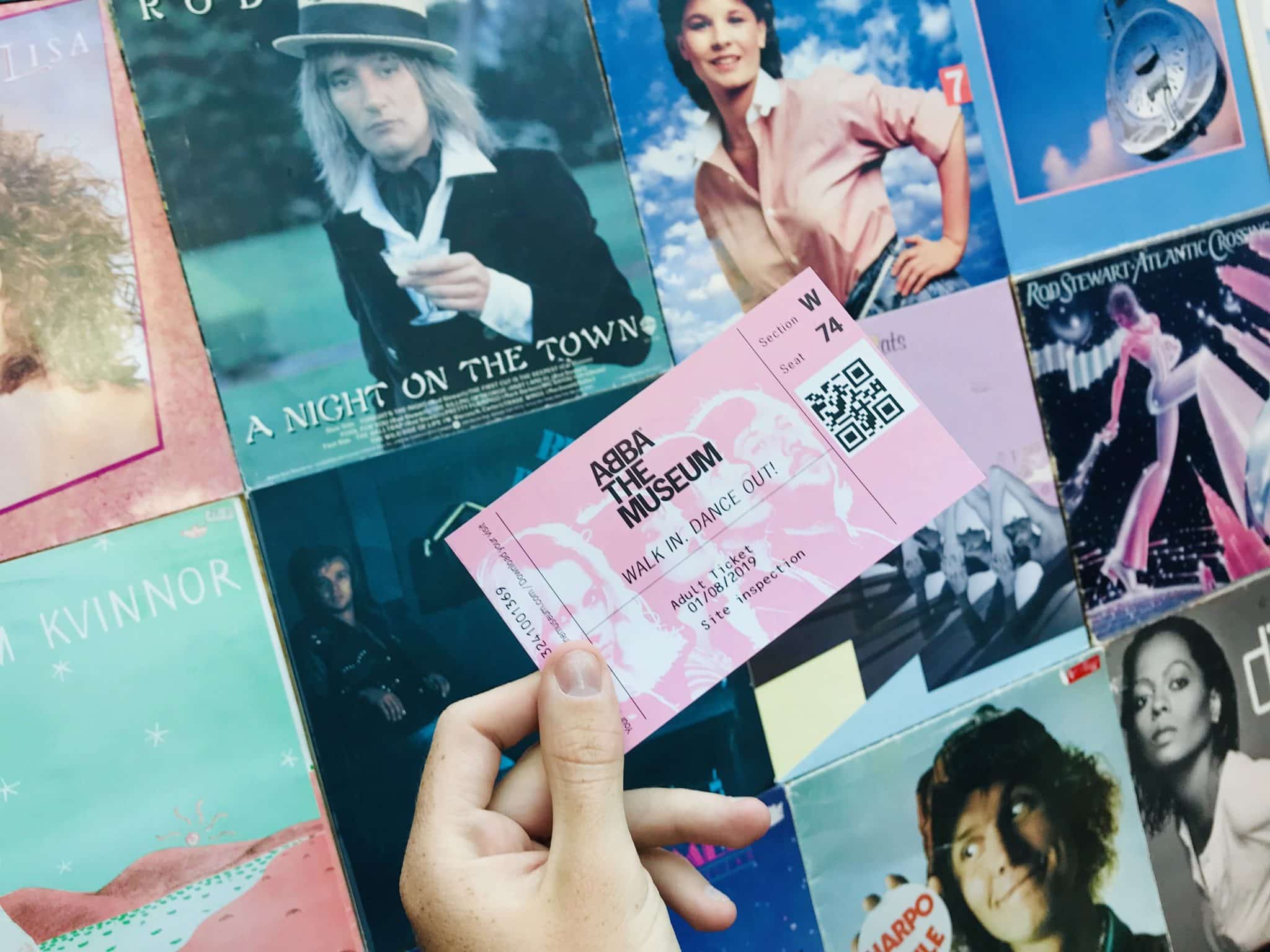 22. Tempt Yourself With The Gorgeous Works Of Kaolin
Kaolin is an artist-owned gallery / retail location for ceramics focussing on tableware and ornaments. Founded in 1978 near Mariatorget, the collective has around twenty-five potters who produce bespoke objects and sculptures in their own workshops and kilns all over the country.
In this beautiful gallery, they then show one-artist exhibitions by the members and frequently invite exciting exhibitors from both Sweden and abroad. Recently, they have focused on presentations from the Scandinavian countries, mainly Denmark.
Kaolin serves as an essential gathering place where the artists can exchange expertise and information while making connections to art societies, collectors, and those interested in ceramics. What making it of particular interest to tourists is that every member works in the shop so you can get stimulating immediate contact with the artists and their work.
Stop by to admire this unique works of art, just don't blame us when you leave with more than you intended.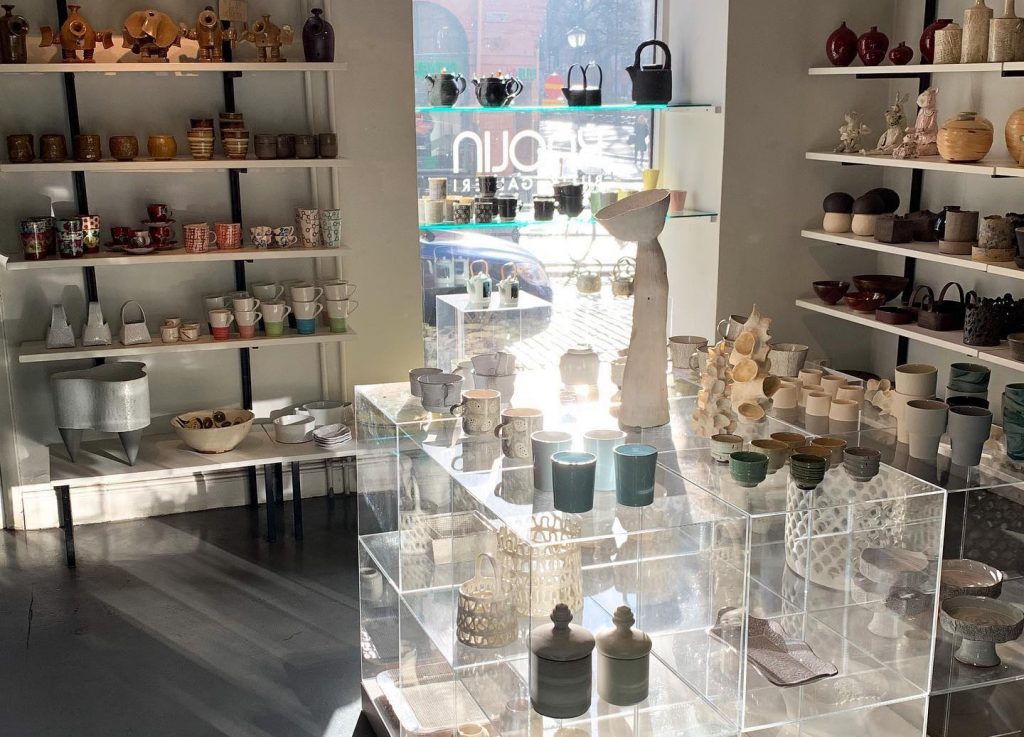 23. Be Inspired To Greatness At The Nobel Prize Museum
In Gamla Stan, situated in a building that was previously the Stock Exchange, the Nobel Prize Museum brings together the history of the prestigious Prize along with stories about its winners.
It was opened in 2001 to celebrate the centenary of the Nobel Prize and aims to be an engaging and thoughtful reflection on the achievements of the prize winners. In this aim, it definitely succeeds. We left feeling humbled and inspired by the intelligence, creativity, and compassion that exists in the world (we don't know about you, but sometimes we need to be reminded of that!).
Cultures of Creativity is the permanent collection that looks at what encourages creativity, prompting visitors to analyze the reasons for themselves. Temporary exhibitions focus on more topical issues, like the 2018/2019 exhibition about Martin Luther King Jr. The Nobel Museum also hosts film screenings, debates, performances, and workshops related to science. The kids' Bubble Chamber gets kids engaged with the concept of the Prize. Being totally honest, the shop is also one of our favorite spots – there are tons of exciting things to buy, so it's a great place for souvenirs.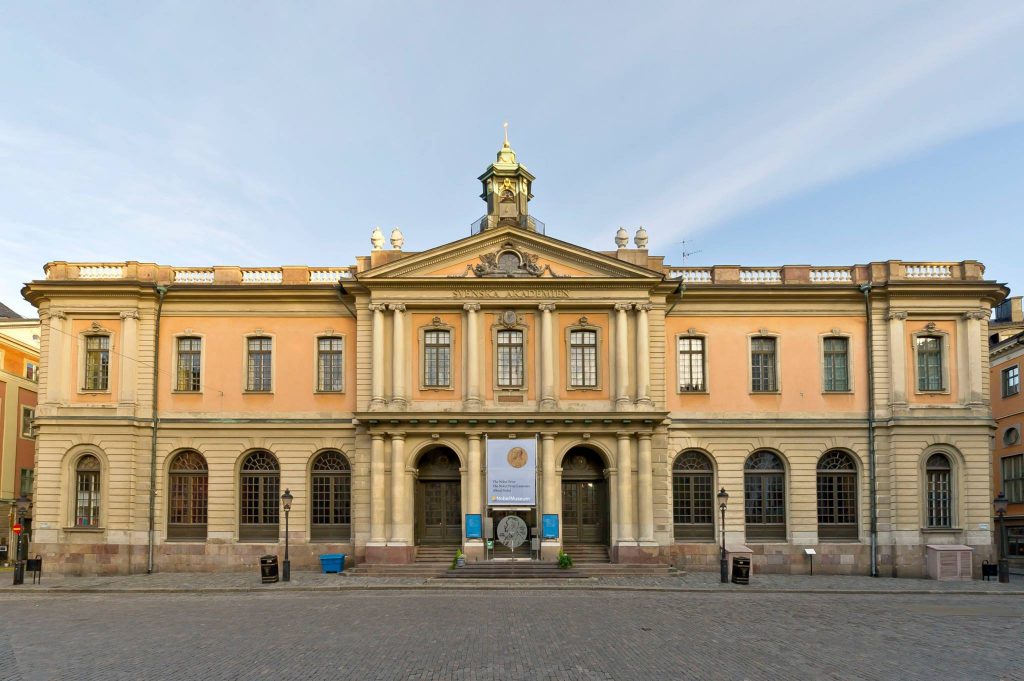 24. Hang Out With The Cool Kids At Trädgården
The mother of all outdoor summer clubs established under the Skanstull bridge in Södermalm. Between May and September, over 4,000 people gather here for most nights for club events that provide music festival feels without leaving the city.
But you can even visit Trädgården during the day for a more relaxed vibe with frequent live performances, food trucks, a cinema, table tennis and beer in plastic cups. Look out for their Daytime Sessions, which attract noted EDM, garage, and house DJs and are quite the sight to behold in typically mild-mannered Stockholm.
For any significant events, arrive early to avoid the insane lines (even if you have your ticket in advance). Or for something a little different – visit Trädgården on Sundays for their popular flea market.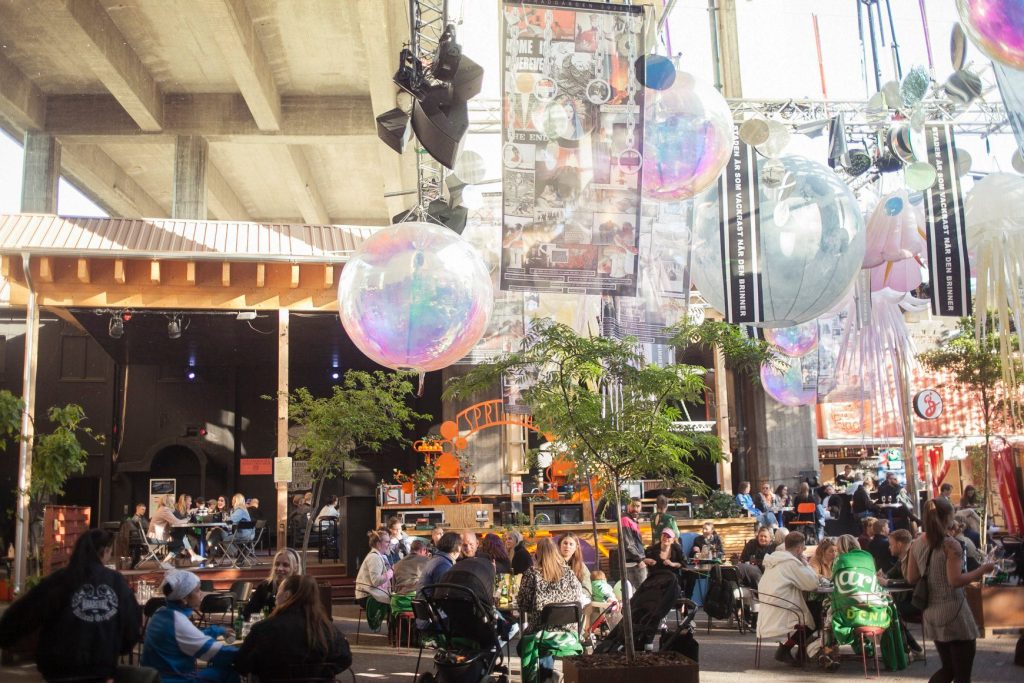 25. Enjoy The Nature On Your Doorstep With A Guided Archipelago Cruise
Stockholm's archipelago is easily one of the most beautiful coastlines we have experienced. Some of it feels so secluded and remote that it's hard to believe a capital city is only minutes away. Cute red houses dot the hillsides of the thousands of islands; wind rustles in the grasses and leaves, deep blue water laps the many shores.
You can enjoy all of these sights from the decks of a classic archipelago boat, built in the first half of the 20th century, for two and a half hours. A passionate and knowledgeable guide will add to the experience by telling you the history of the area and the different sights you pass along the way. The spectacular scenery combined with the interesting stories gives you a real taste of Sweden, particularly how people live outside the capital.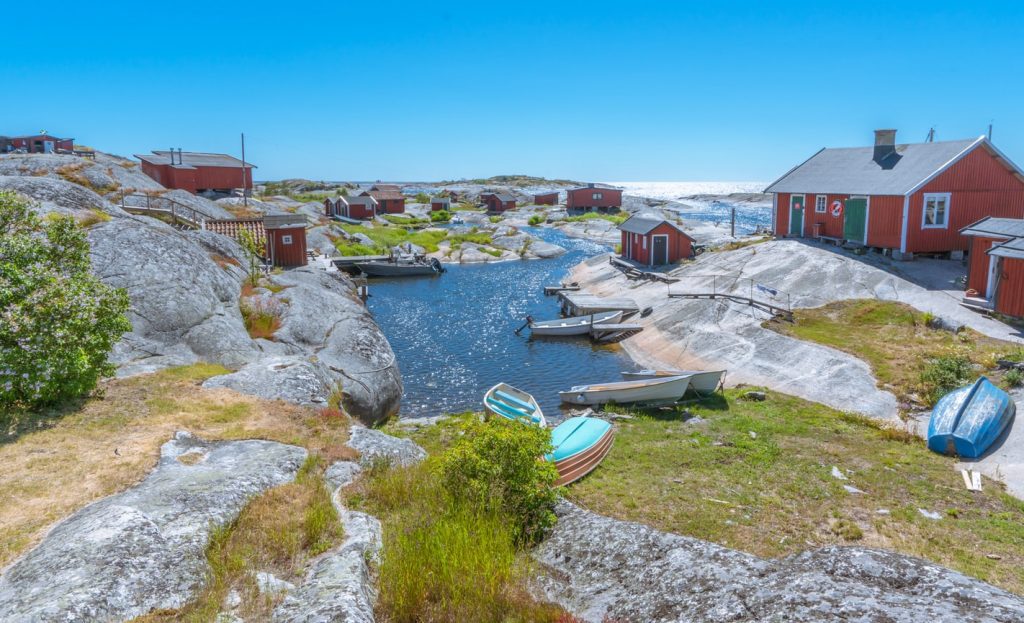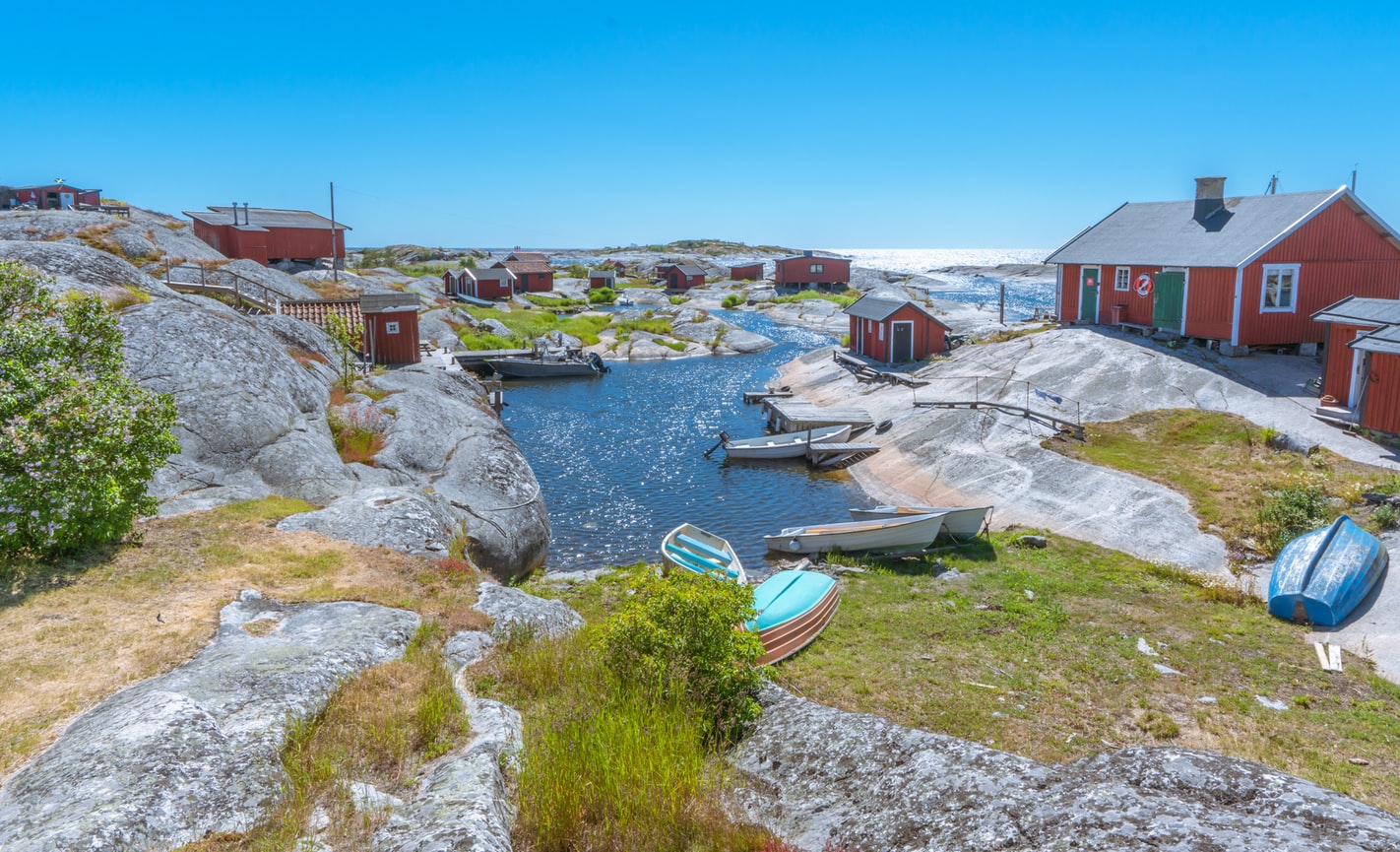 26. Head Underground To Explore Stockholms Metro Art
To add to its list of hip credentials, Stockholm's metro system boasts varied and fascinating artwork in almost every station. That's right – there's no bog-standard, utilitarian public transport here.
The underground in Sweden's capital has even been dubbed 'the world's longest art gallery.' You'll see murals, of course, but also mosaics, sculptures, installations, engravings, and reliefs. Over 150 artists have contributed, so there's a massive range of work to see. Around 90 of the 100 stations have some form of art – and each still manages to have its own unique appeal.
So how are you going to see the best of it (beyond going from station to station looking for the best pieces?). By following our separate Stockholm subway art guide – obviously!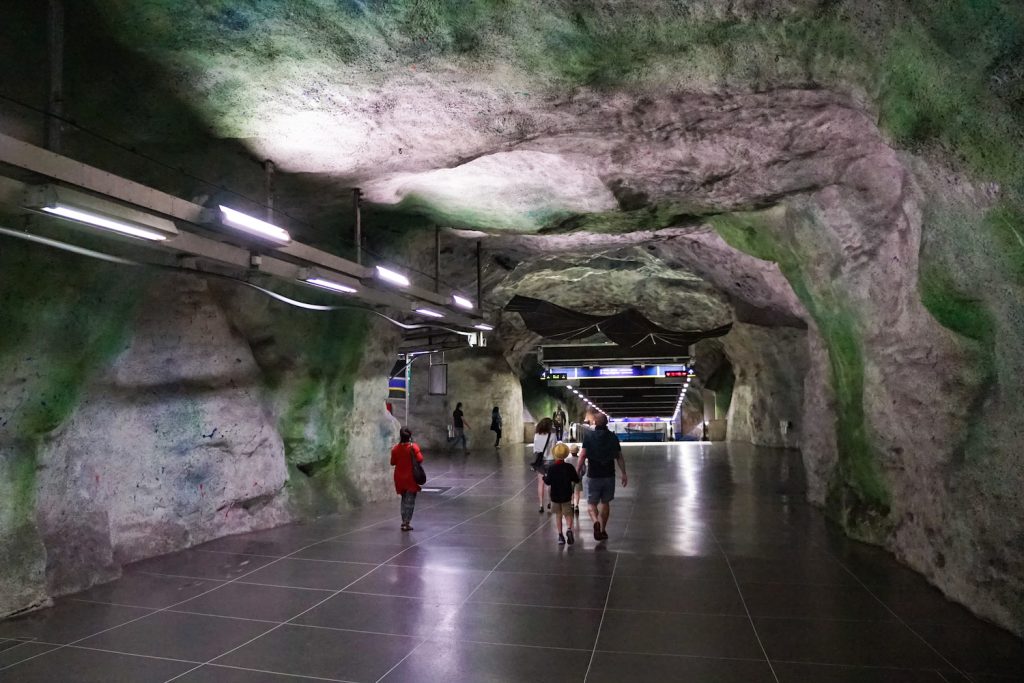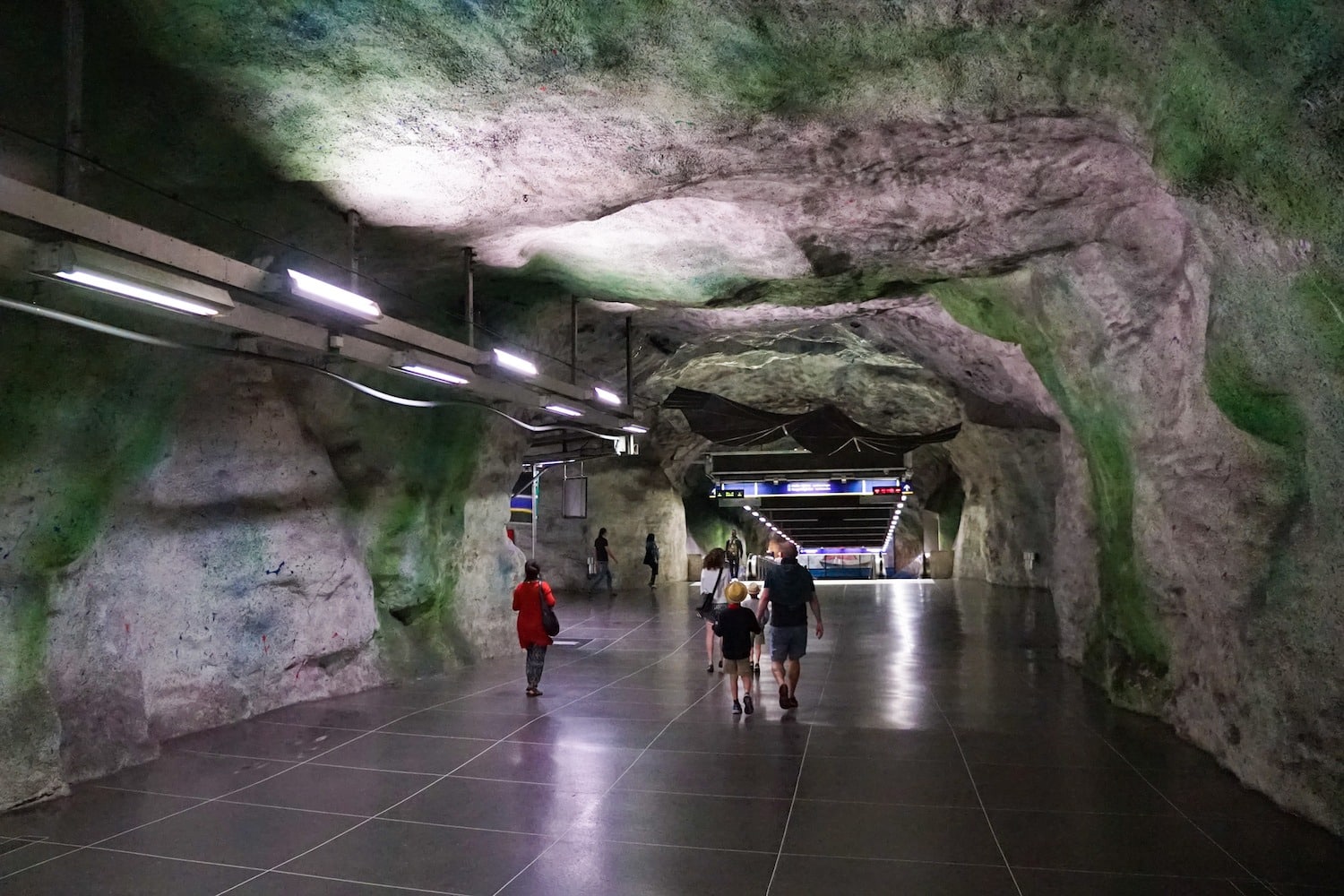 27. Try Out Those Famous Swedish Meatballs
Sweden's best-loved foods, meatballs, can be found all over Stockholm – in fact, if you told us you were not able to find them, we would probably say you ended up in another Nordic capital – Copenhagen, Oslo or Helsinki perhaps. And even then, they are rather easy to find.
If you are stuck for time, you could head to the nearest IKEA — ticking off two famous icons of Sweden at once. However, there are so many other places to try these deliciously flavored meatballs, smothered in the most amazing rich and creamy gravy. You could head to the famous Bakfickan, next to the Opera House, where each part of the dish is served separated so you can combine together for you preferred flavor profile – or head to the quirk Meatballs for the People with, well, meatballs served to perfection with in-season meat and sauces.
There is no one best place to go, but for our two cents head to Glashuset Restaurant and Bar in the hipster Södermalm area. Between the unique glass facade and the brick walls from the former metalworks, you'll find a hip spot where exotic flavors combined with updated Nordic classics – including meatballs – to tell a new story. Traditionalists be dammed, this is meatballs for the 21st century!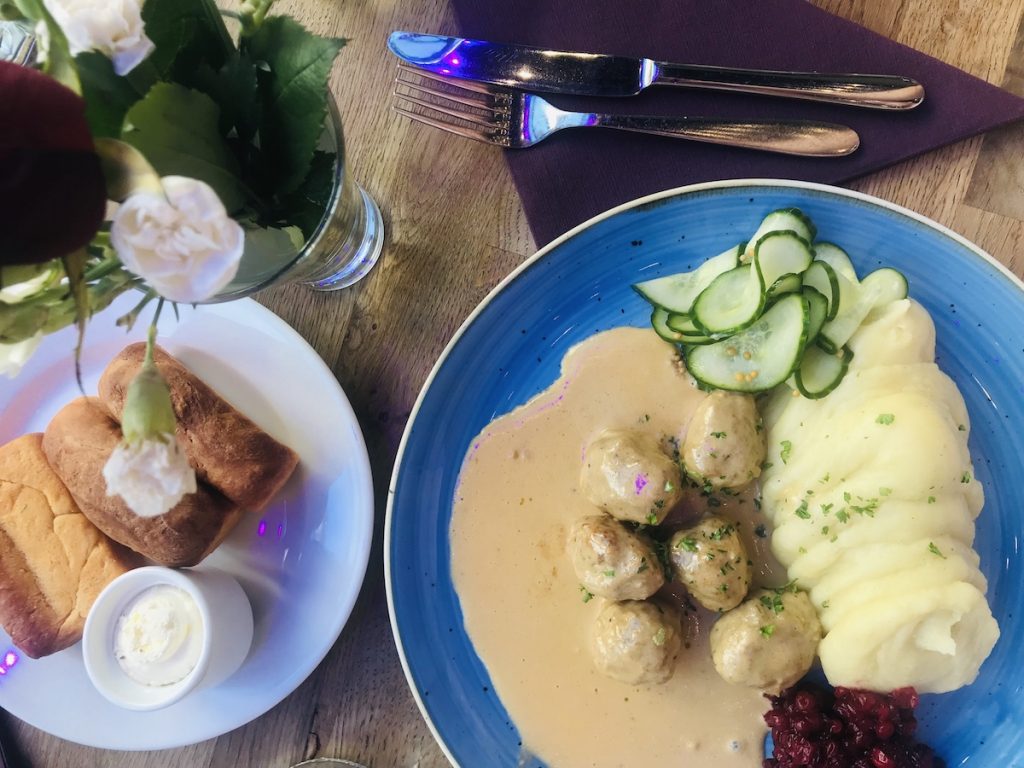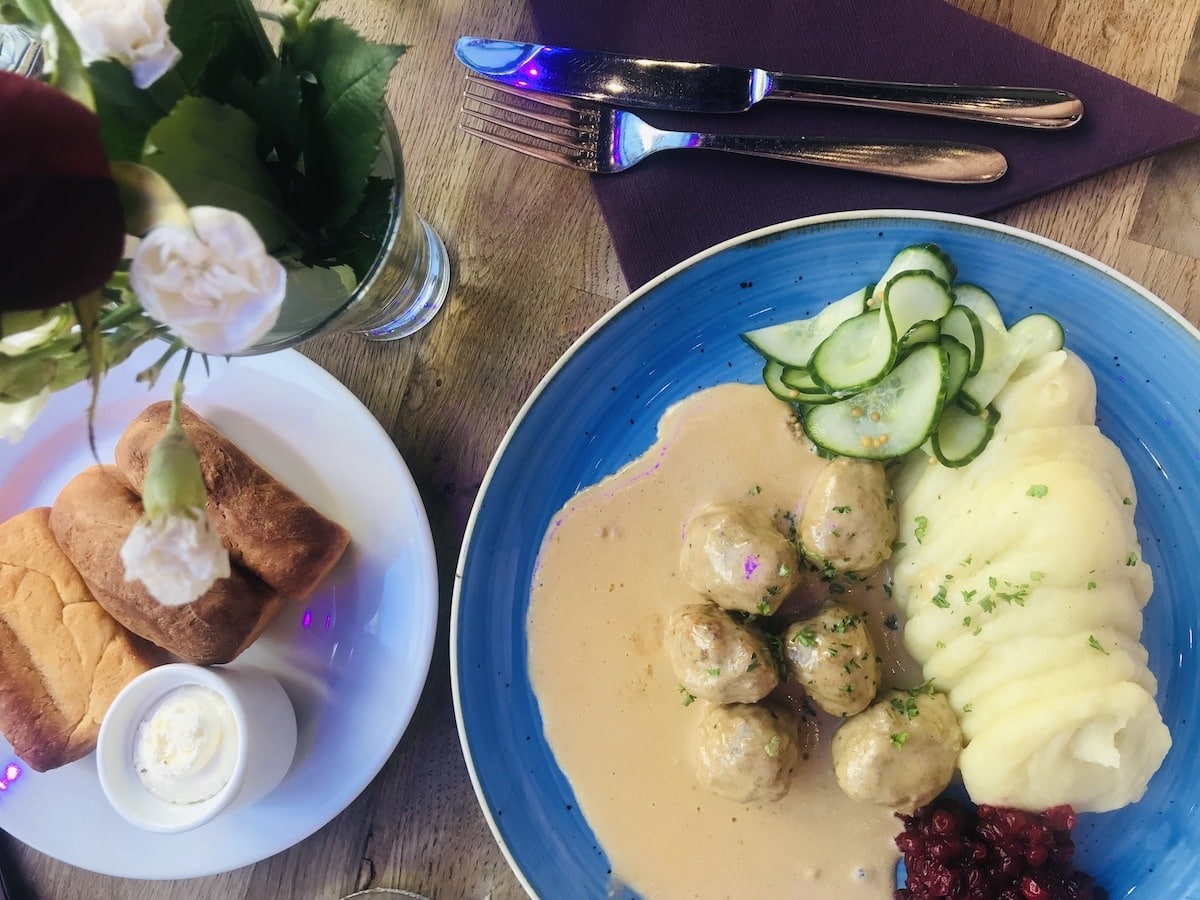 28. Visit Sven-Harrys Konstmuseum, A Home For Art And People
A multi-purpose space established by Swedish builder Sven-Harry Karlsson that provides a unique setting where guests can enjoy one of Sweden's largest private collections of Nordic art.
Inside the strikingly golden building are Sven-Harry's art museum, Sven-Harry's "home," a restaurant, apartments, and commercial premises. The Museum and gallery have a broad and varied spectrum of contemporary and classical art and continuously endeavor to expand the concept of art through exhibitions, collaborations, and discussions.
The 400 square meter art gallery consists of three large halls. On the lower ground floor, there is a media room, where they show films linked to the current exhibitions. On the roof, is the crowning glory, a replica of Sven-Harry's former home, the 18th-century manor Ekholmsnäs. It is surrounded by a terrace with sculptures and a fabulous view.
The collection includes works by Ernst Josephson, August Strindberg, and Helene Schjerfbeck while the art is complemented by furniture by Gio Ponti and Georg Haupt, and carpets by Märta Måås-Fjetterström.
As Sven-Harry says: "It all goes together, carpets, furniture, the room, and the art – it's a totality, and that is how it should be shown."
Free entry with the Stockholm Pass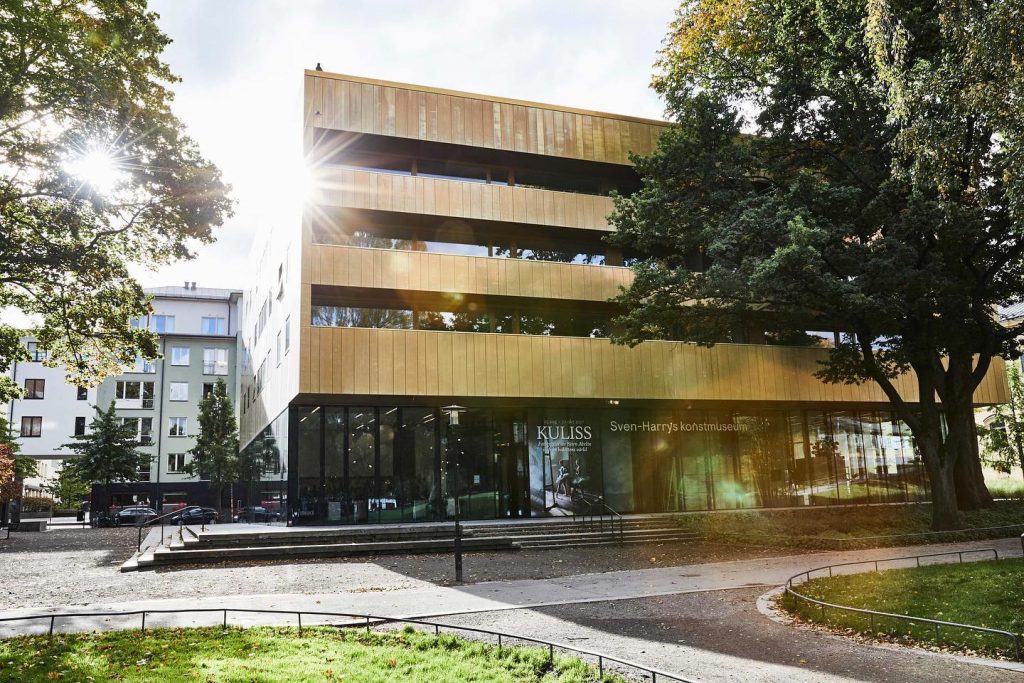 29. Enjoy The Summer Sunshine At TAK Rooftop Bar
We couldn't reach the end of our suggestions for things to do in Stockholm without encouraging you to spend time up in the rooftops. It's something that's mainly possible for summertime visitors but is well worth doing.
There's nothing like chilling in the sunshine with a cool drink in hand, looking out over this spectacular city. Tak Rooftop Bar is one of the best places to do this, offering creative cocktails, beer, wine, and sake. This last option links in with its Japanese theme and raw food at its restaurant.
A bright, airy space with minimalist décor, it's the guests that provide the vibrancy at Tak. There's a chilled-out atmosphere during the day, while in the evenings, DJ sets give things a livelier feel. You might think you're only stopping in for one drink – don't be surprised if you're still there 5 hours later. There's something hypnotic about the 360-degree view from this 14th-floor spot, especially if you arrive at dusk to watch the sun go down on the city. Oh, and did we mention the drinks were delicious?
Summer or winter, Stockholm is always a wonderful place to visit. If you can't fit all of these things into one visit, simply come back again!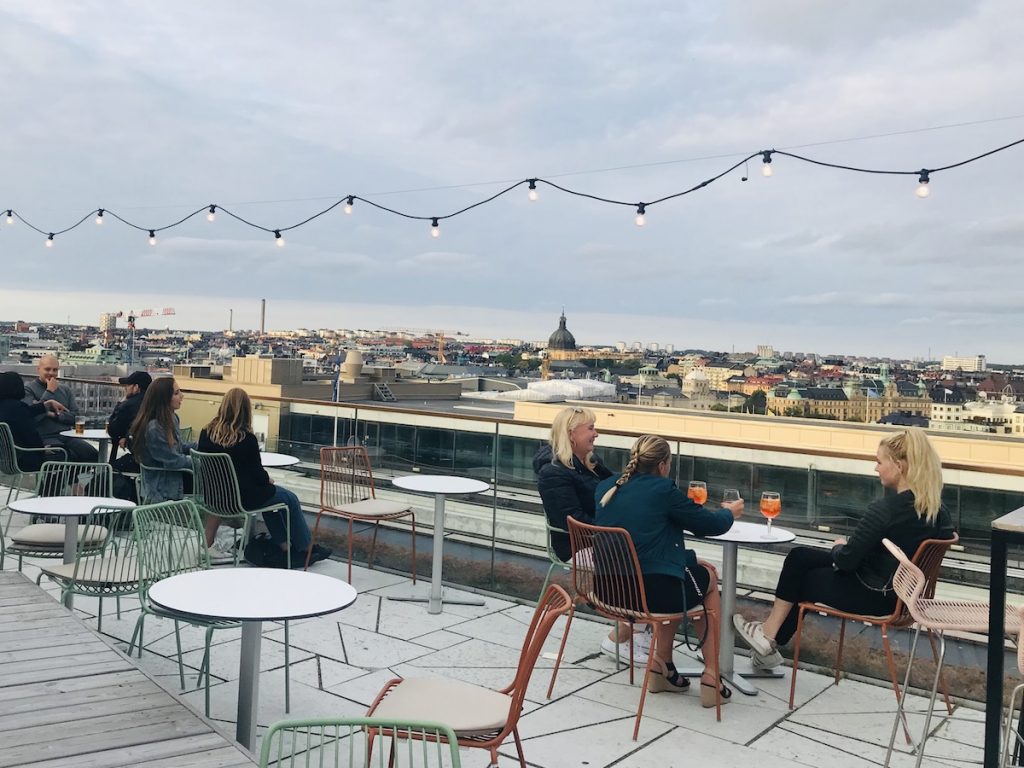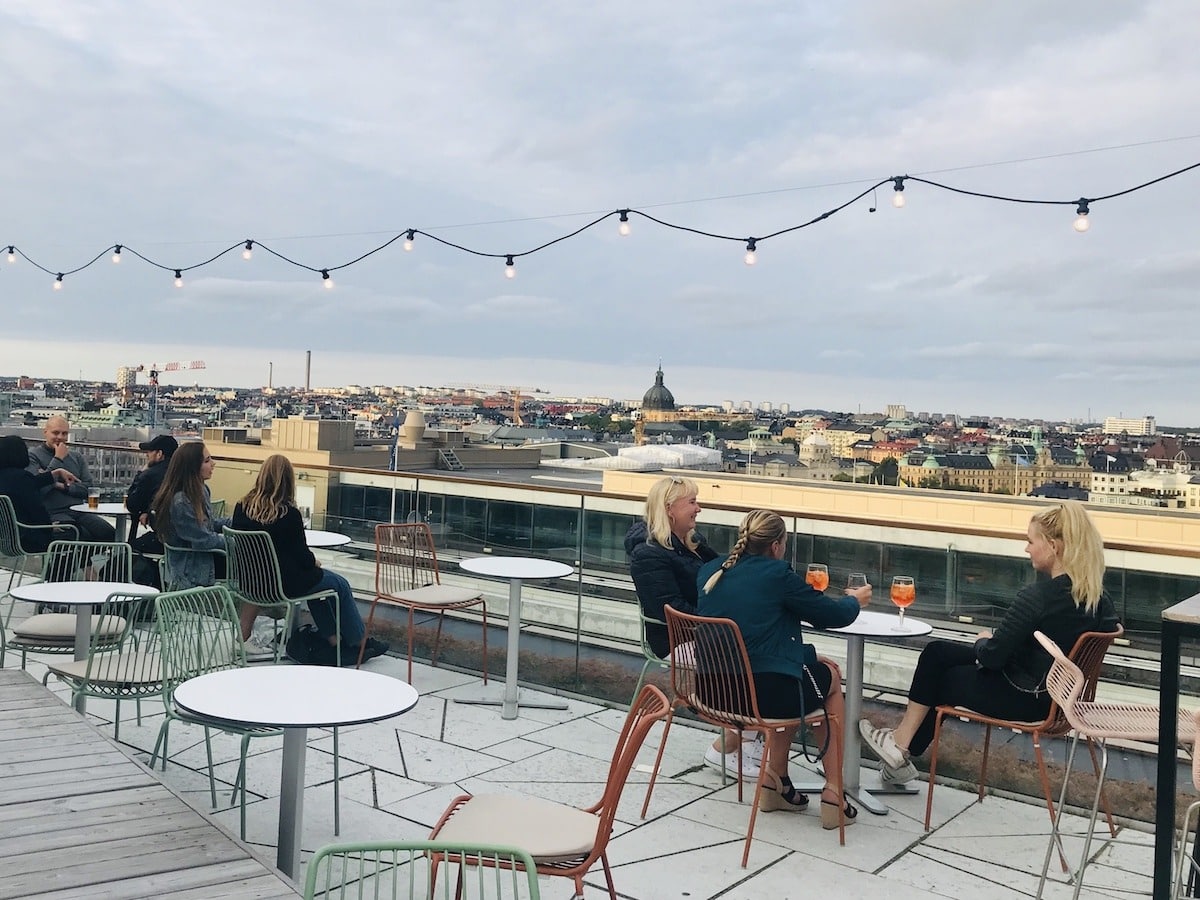 30. Stay At The Hip & Cool Hotel Berns
Hotel Berns is in one of those buildings that's so gorgeous; you can't believe you can actually stay there. But you can! This landmark hotel is right in the middle of Stockholm, in Berzelii Park, and right on the waterfront. The classic building is in pleasing contrast with the contemporary, minimalist interiors that are brightened up with splashes of color, compelling photography, and original features. The round windows give some of the rooms a ship feel, which we enjoyed!
All of the 82 rooms are exquisitely comfortable, well-designed, and equipped with everything you could possibly need. If you're feeling fancy, request the in-room bartending for a drink or two before dinner. The restaurant moves away from minimalist in interior design terms, boasting three extravagant chandeliers, a mirror covering a whole wall, and plush velvety gilded chairs.
Seriously, the breakfast dining hall has to be one of the best places to wake up in the world! To make it even better, the Asian-inspired food is also delicious. Summer guests can enjoy the added treat of music on the Terrassan bar (one of five in total).
With early breakfasts, long lunches, and never-ending nights at one of three Berns nightclubs, this fun hotel invites you to be seduced by their buzzing and vibrating atmosphere. Welcome to the house that never sleeps! There are three full-time club venues operated by Berns, and one Stora Salongen – The Great Hall – offering one of the most stunning dance floors in Stockholm!
What is not to love at Hotel Berns, right?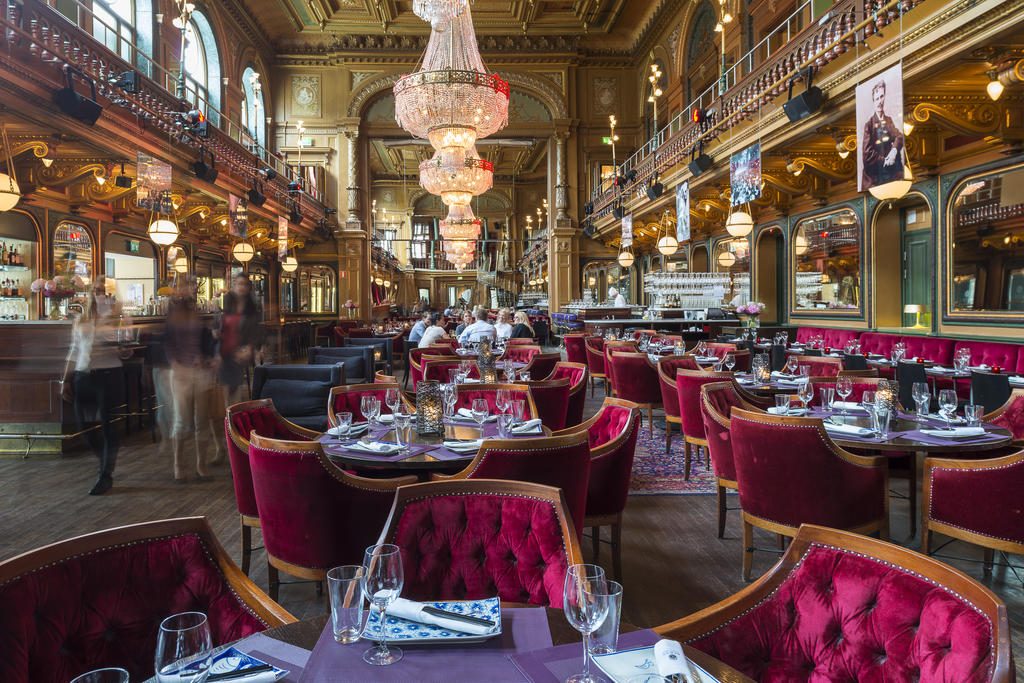 Further Things To Consider Before Any Adventure
Now you're all set and prepared to explore our big wide world, why not sort out everything else out all in one go? If necessary for your travel plans make sure you have brought proper travel insurance, protected your privacy by getting a secure VPN, compared all the top hotel booking sites to find just what you're after, reserved an unbeatable rental car price and - of course - booked the best flight deals!
Or maybe just forget it all and go for a last-minute cruise or effortless tour instead?
Many budget travelers (including me) indulge in worldwide airport lounge access, so we can experience luxury while still slumming it in economy. Naturally, we would never leave home without a more general travel guide since we couldn't possibly cover everything here!
Just add an adventurous attitude and plenty of smiles - they go a long way - and that about covers it all! Now go out, find your own path and don't forget to share your best inspiration stories with me on Facebook, Twitter, and Instagram...I'd love to hear from you!