Bergen – a picturesque, harborside city in Norway is suddenly the destination everyone is talking about. With beautiful fjords, colorful houses, plentiful museums, and innovative gastronomy all served up alongside a heavy dose of Scandinavian design; there are plenty of things to do in Bergen…if you can get past the weather that is!
Yes, there is no denying it, Bergen is allegedly either the wettest city in Europe or the entire world (depending on your internet source). You would think that much rain would put a damper on spirits, but no, these hardy Vikings have developed plenty of alternative activities for a rainy day.
The process created an international city filled with cozy coffee shops, world class-dining, twenty + museums, and plenty of other incredible attractions to fill a traveler's calendar for weeks or months.
Of course, the weather is not that bad, and even during my visit in one of the wettest month of the year (November), there were plenty of clear days – and everybody knows how to get out and make the most of it!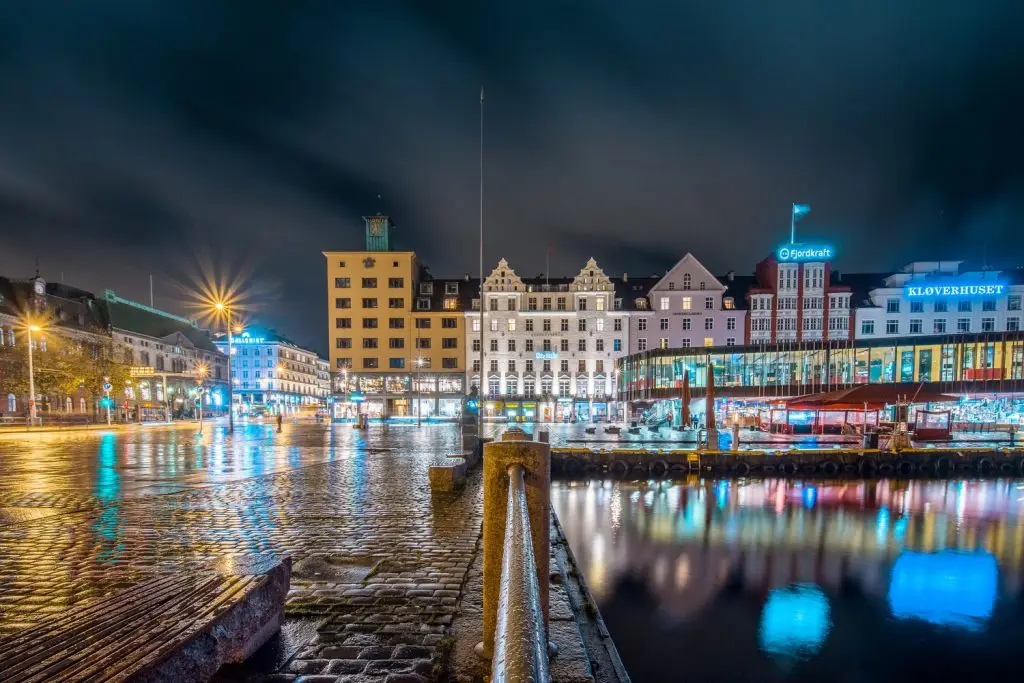 In other good news, Bergen Airport is the second-busiest in Norway and is rather affordable and easy to reach. There are regular serves to 63 destinations and a further 26 seasonal or charter destinations during the summer. Copenhagen, Stockholm, and London are served by multiple airlines and therefore are amongst the most competitive routes – but access from Europe and North America is generally pretty easy.
That isn't to say flight disruptions, delays, cancellations, and overbookings do not occur – as we unfortunately experienced. Thankfully there is significant EU flight delay compensation legislation in place that AirHelp, a claim management company, can help you enforce against airlines should you need to.
They ensure you get the refunds or coverage you are entitled to, with no hidden costs or upfront fees. Hopefully, you do not need their assistance, but let's face it – air travel isn't always perfect….
With so many things to do in Bergen, it's important not to miss the absolute highlights, which is where this Bergen In A Nutshell guide comes in with 20 Unmissable Things You Need To Do In Bergen. Of course, there is plenty more to do – but for 3-4 days in Bergen, this should keep you very busy.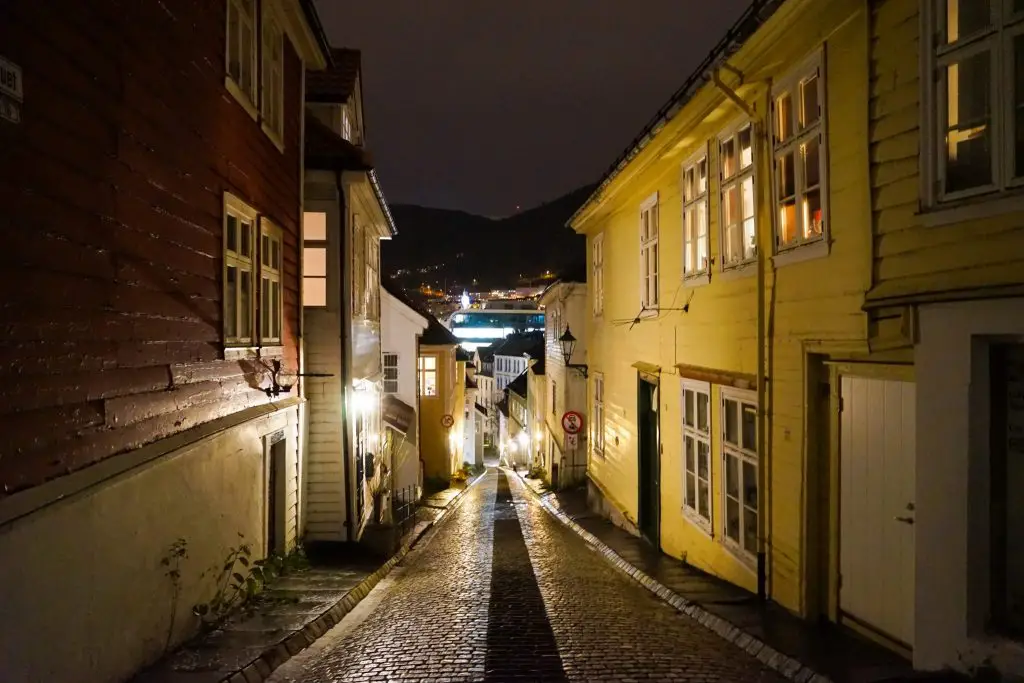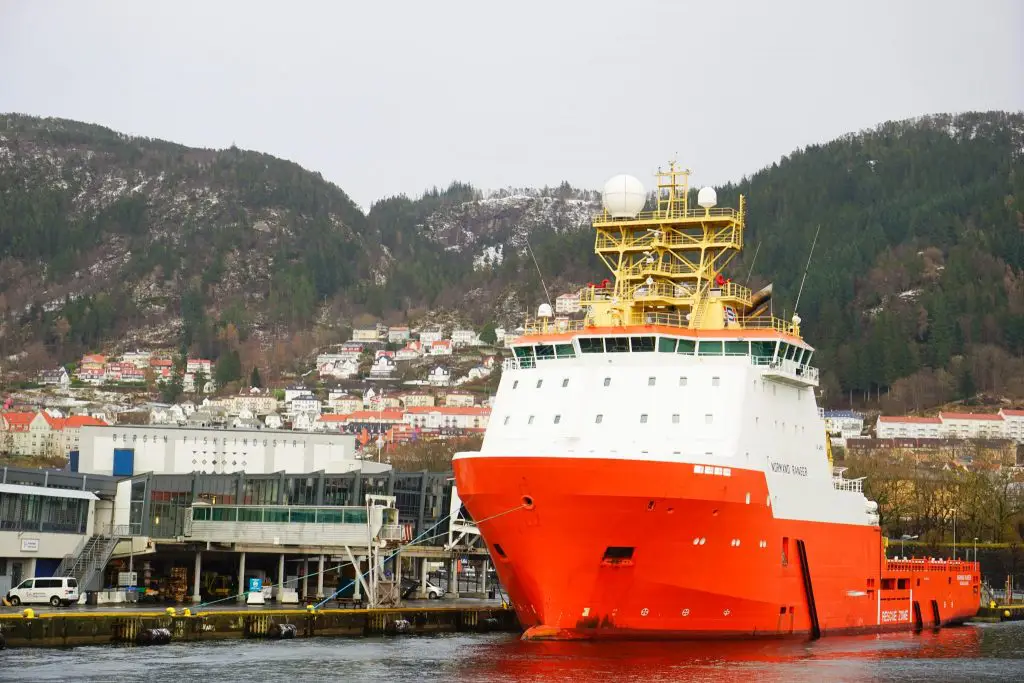 I found the Bergen Card very useful for making the most of sightseeing in Bergen – and saved me a pretty penny during my time here, so if you want to make the most of your time (and manage your budget in advance) this could be a great option (more on this later)…
And if you have more time after completing all these things to do in Bergen, why not consider conquering Oslo like a true Viking in only 48 hours.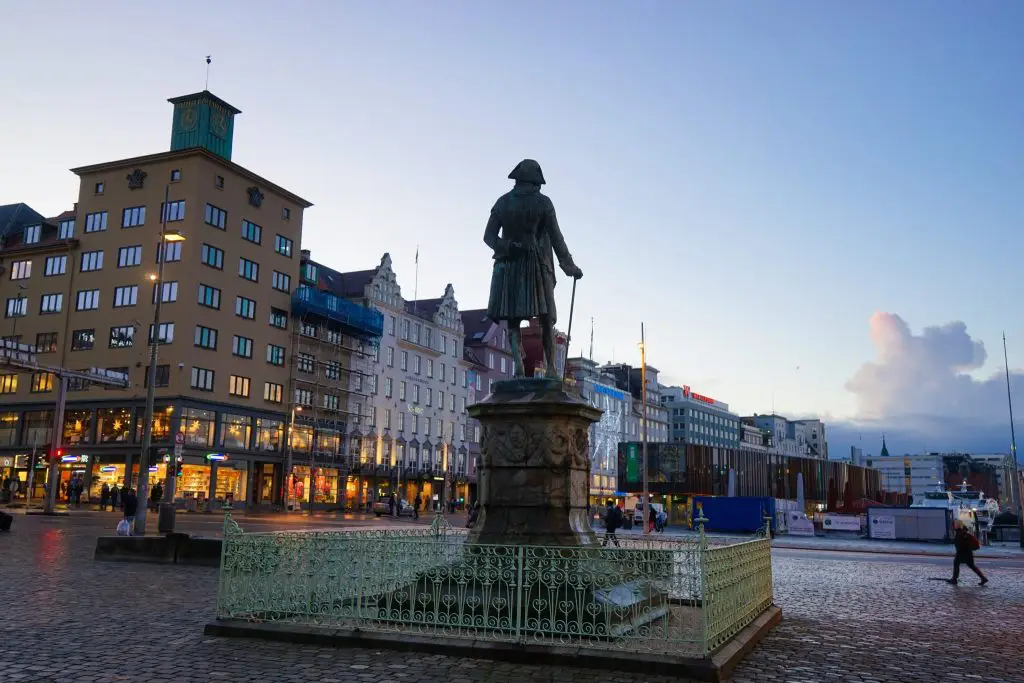 1. Take the Fløibanen Funicular To Admire the Views From Mt Fløyen
Wait for a break in the weather and head to the Fløibanen funicular, which whisks you up to the top of Mt Fløyen every 15 minutes for the best views of Bergen.
Bonus points if you can time it for sunset, as there is genuinely nothing else like it in the world. For the more adventurous/active traveler you can save yourself some coin and hike up / down or both ways – though it's about an hour up, and there are two pretty decent loop tracks on Mt Fløyen (1.6 km / 5 km) which take you past picturesque lakes and through the forest.
Probably best in the summer months, but the weather never keeps a true Norwegian off a hike…If you have time, why not try to do the hike from Mount Ulriken with a zip-line back down or the epic Kjerag hike?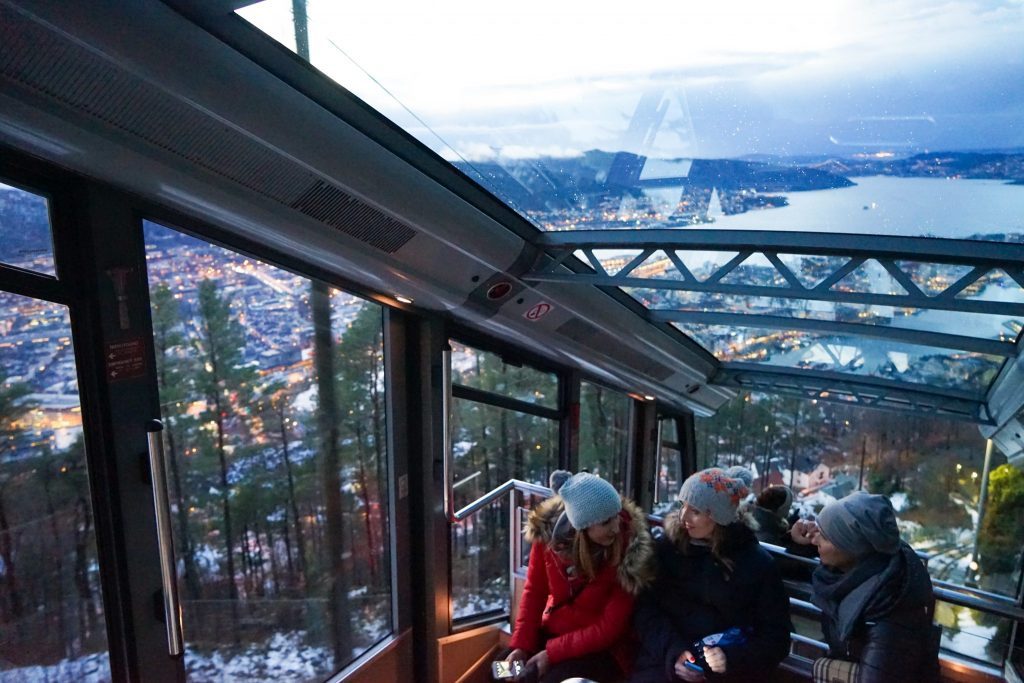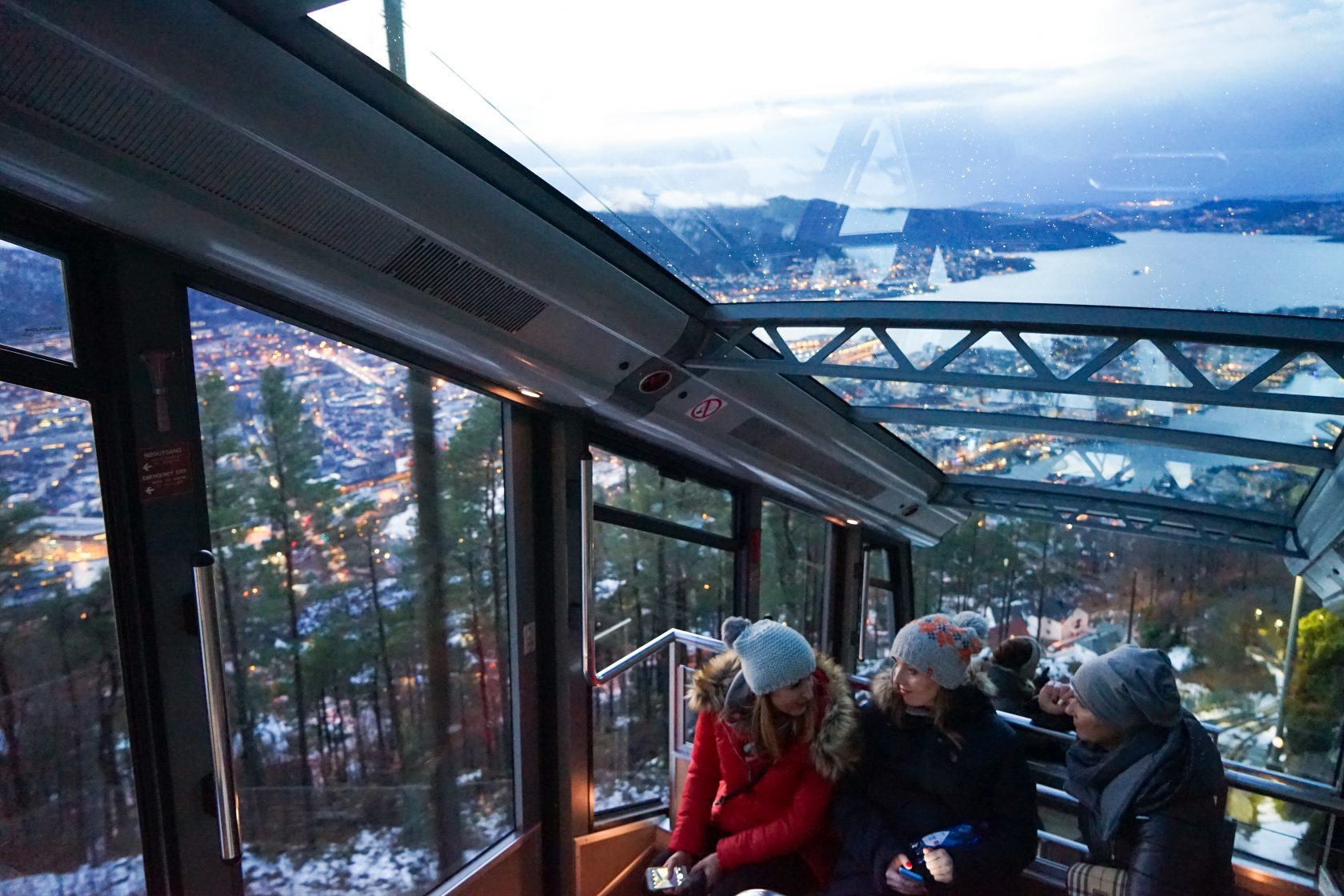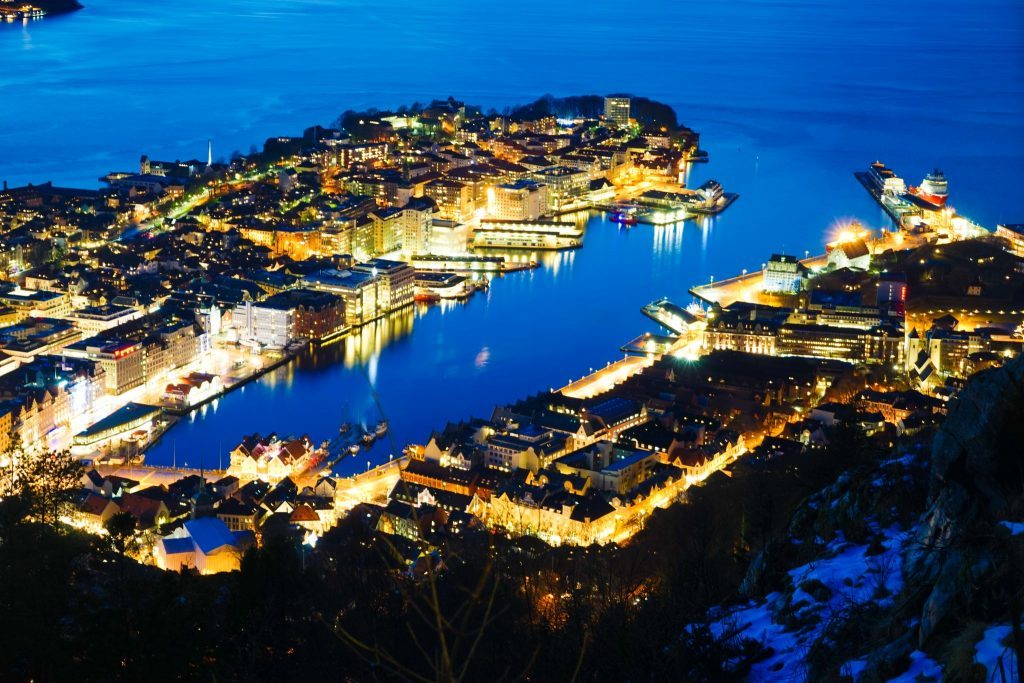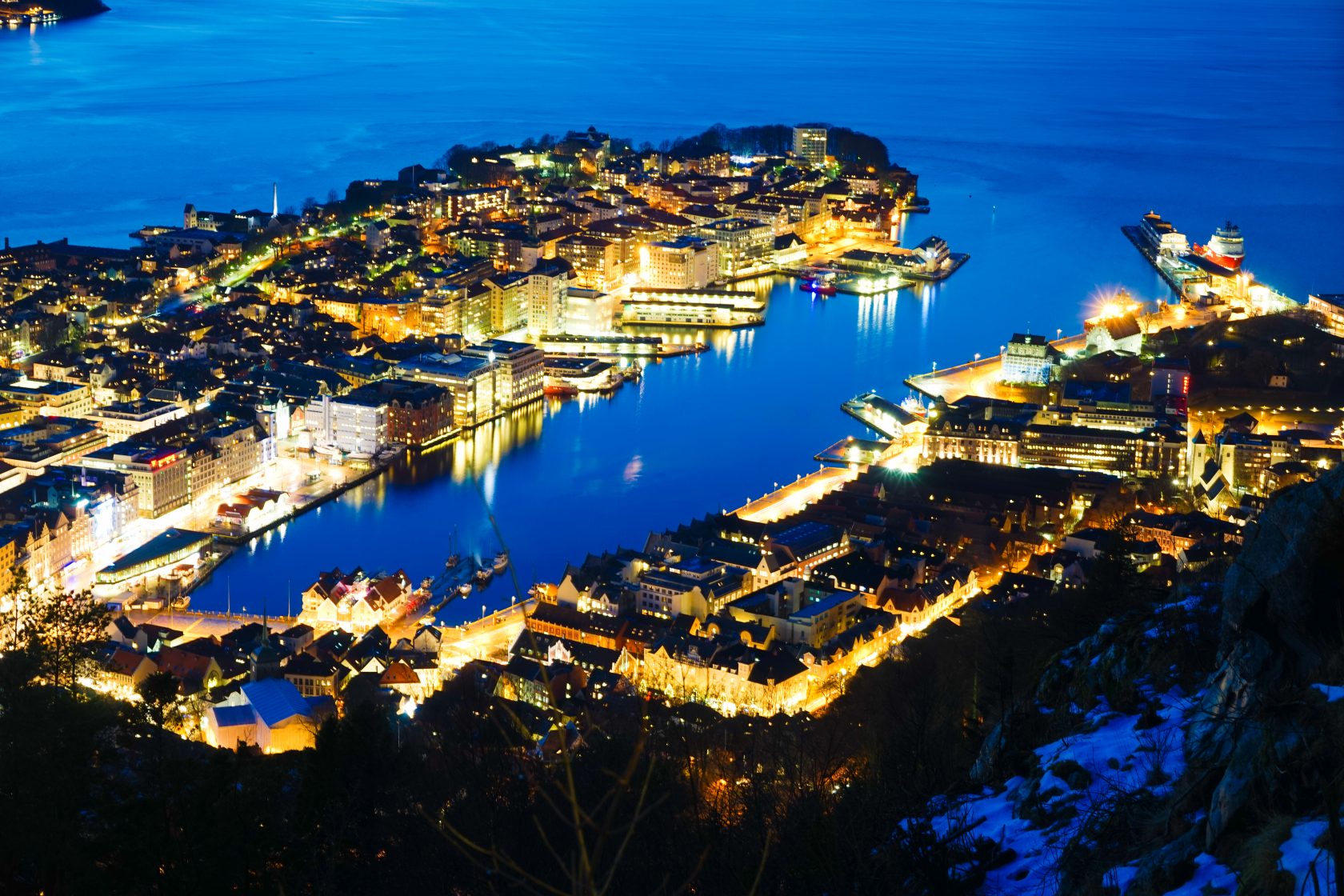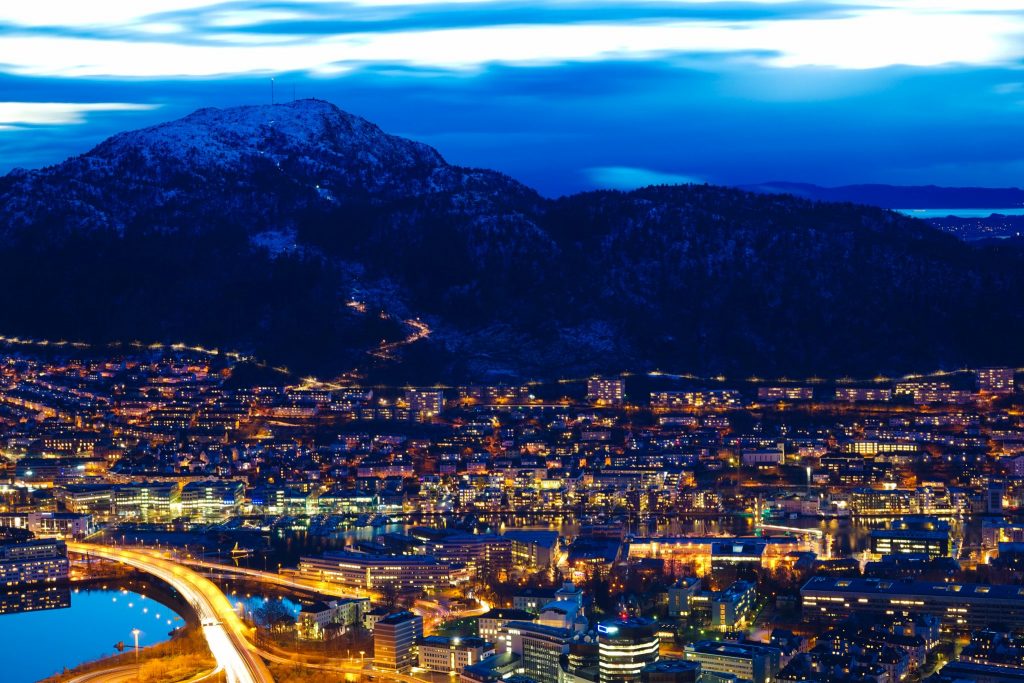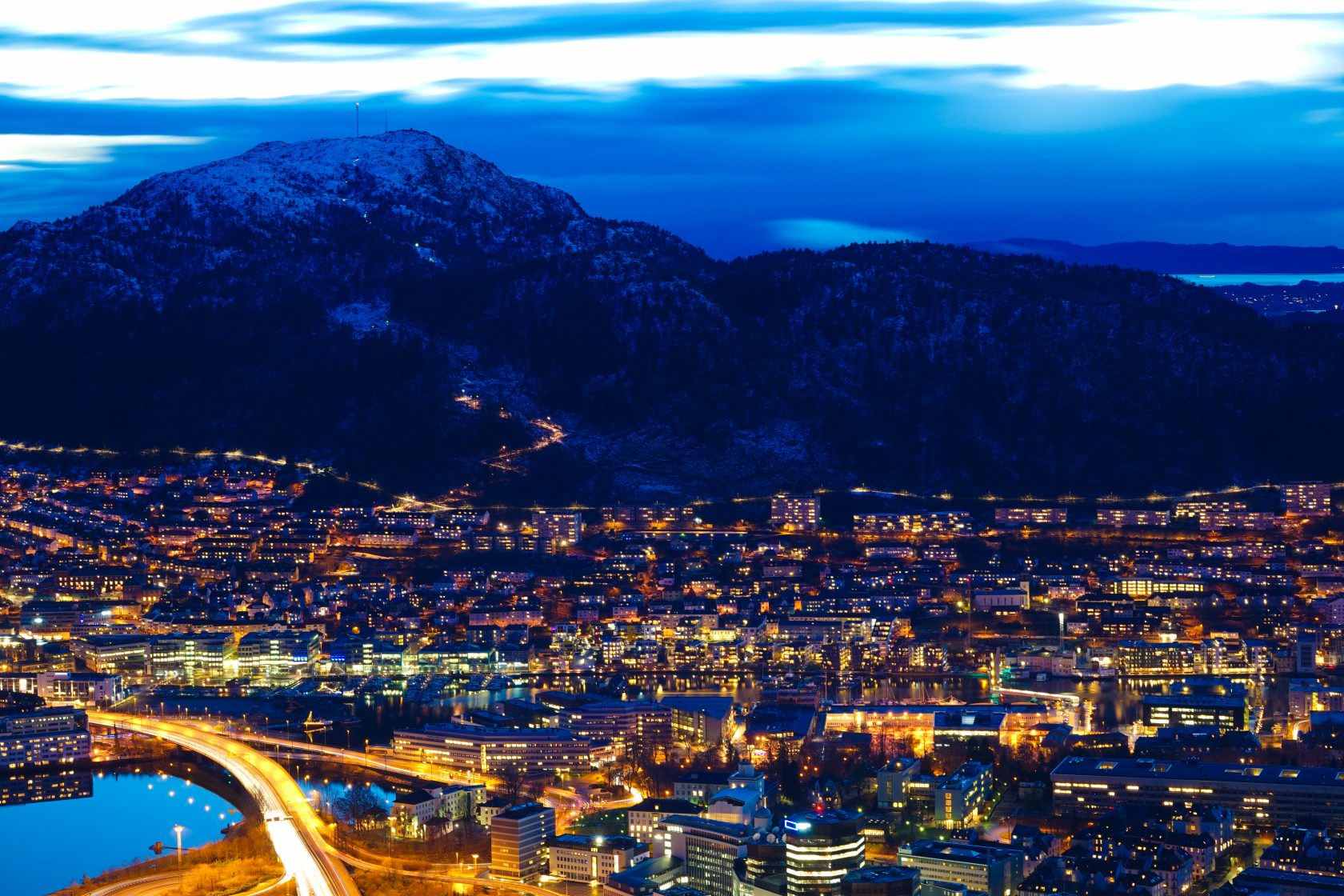 2. Admire the UNESCO World Heritage-Enclave of Bryggen
The legacy of the Hanseatic League's trading empire dating back to the 14th century, this tangled mess of wooden buildings and walkways right on the harbor front is easily Bergen's most iconic attraction.
Though it has been ravaged by fires many, many times over the centuries (I like to imagine they partied too hard every time), Bryggen is still the best example left remaining of the overseas Hanseatic Offices and is protected by UNESCO World Heritage Status.
Today it is filled with boutique shops, souvenirs, and cafe, but it still has plenty of charm – especially at night when the laneways are completely deserted, and you feel transported back in time.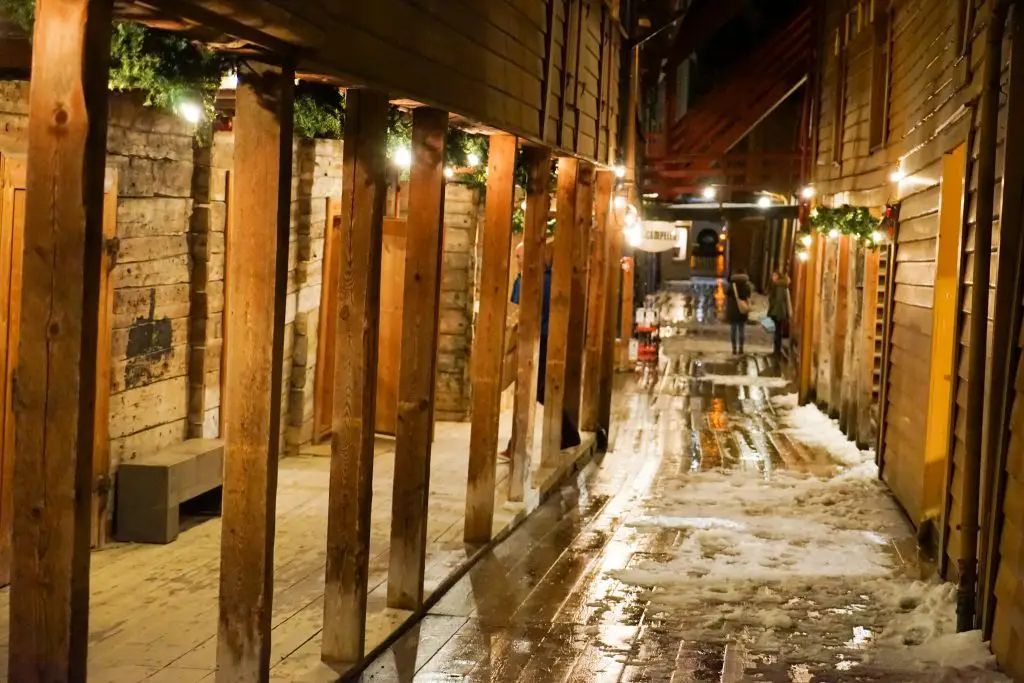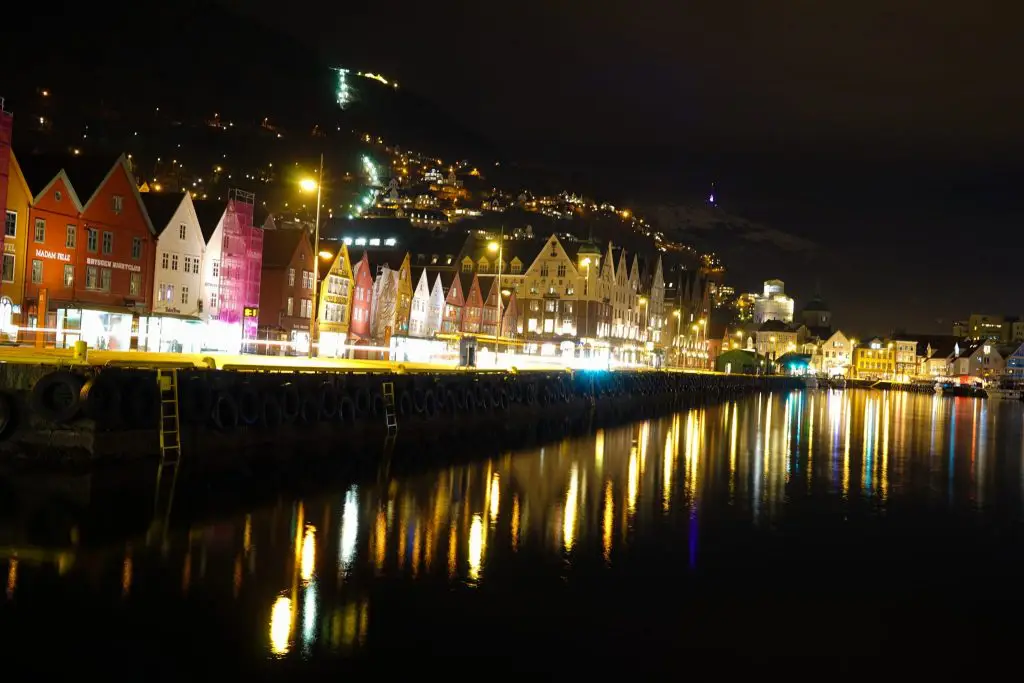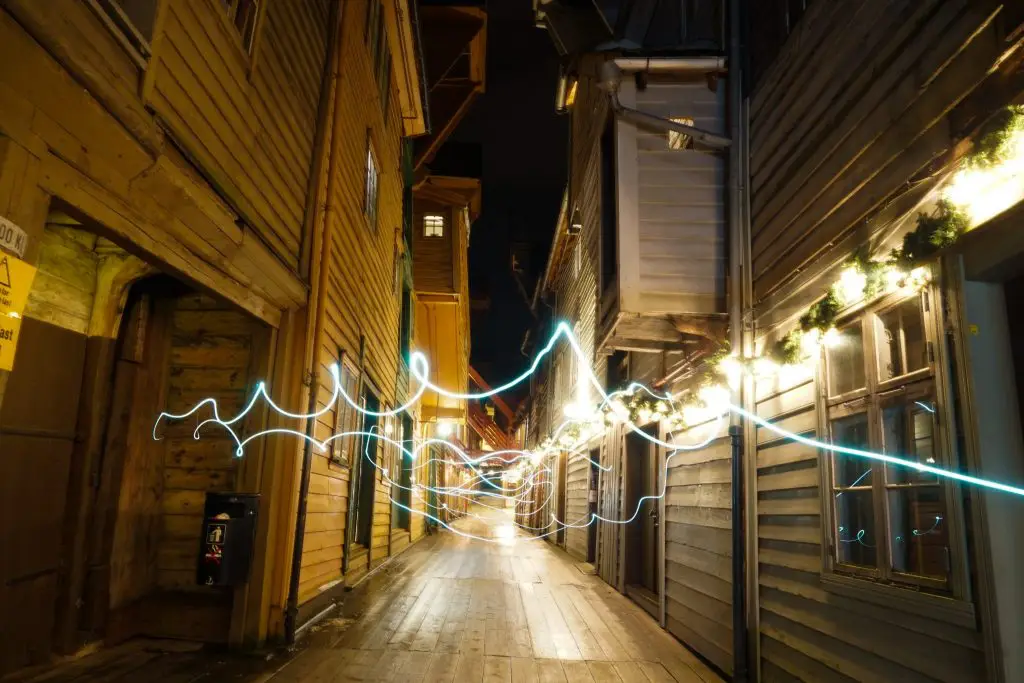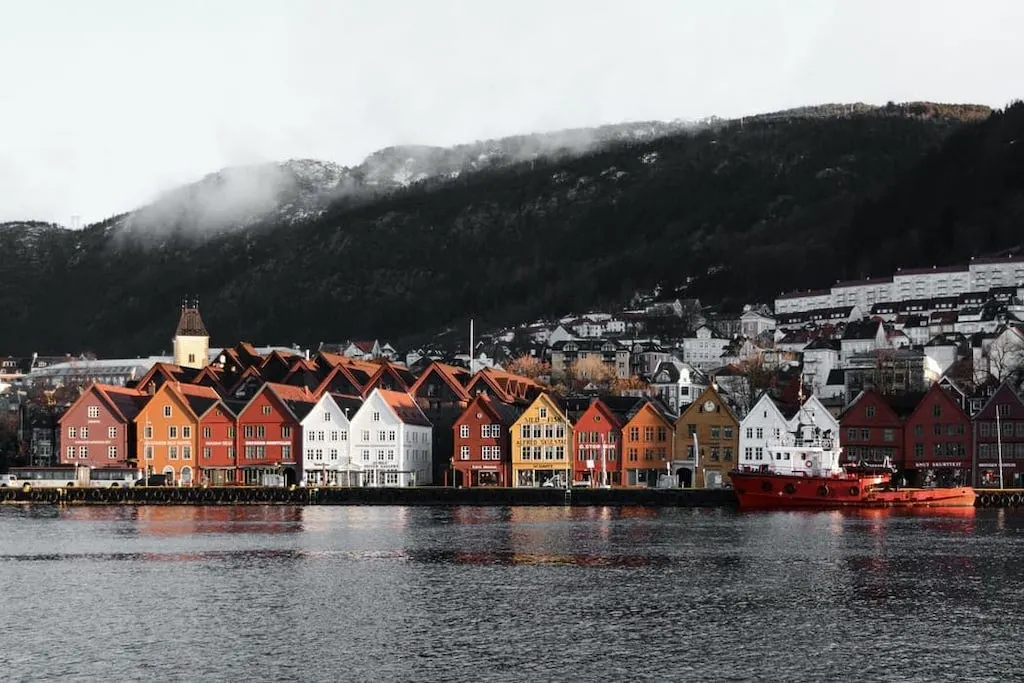 3. Take a Trip Back In Time At The Hanseatic Museum To Search Bergen's Rich Trading History
Never heard of the Hanseatic League? No worries – I'm sure you're not the only one! Luckily Bergen has the fantastic Hanseatic Museum on-hand to showcase how the German merchants of the Hanseatic League lived and worked within Bryggen and examines how the complex has changed over the centuries.
The Hanseatic Museum is also housed in one of the oldest buildings in Bergen (which survived the later fires) and has been perfectly preserved, right down the real dried stockfish and creaky wooden floors!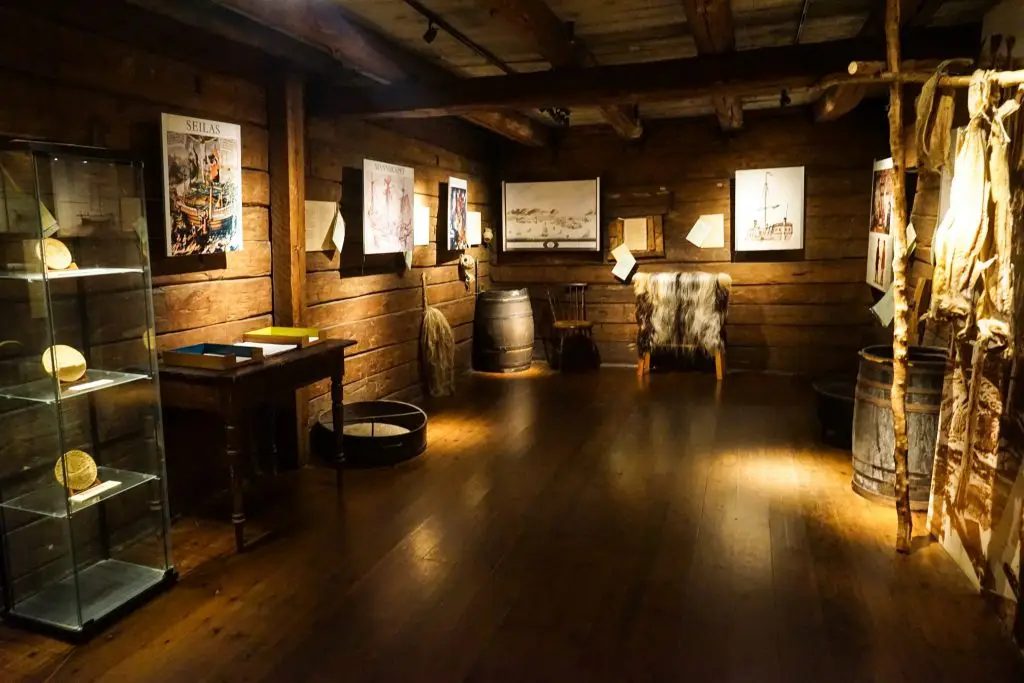 4. Stay in the Funky, Modern and Oh-So-Cool Hotel Oleana
Ideally located right off the famous Torgalmenningen square, the trendy Hotel Oleana Bergen is the only answer to the question of where to stay in Bergen!
One of the most captivating hotels I have ever stayed in, a luxury stay at the Hotel Oleana Bergen, enhances your time in Bergen by continuing the travel experience back to your hotel room with an innovative mix of Parisian Bohemian chic and Scandinavian style.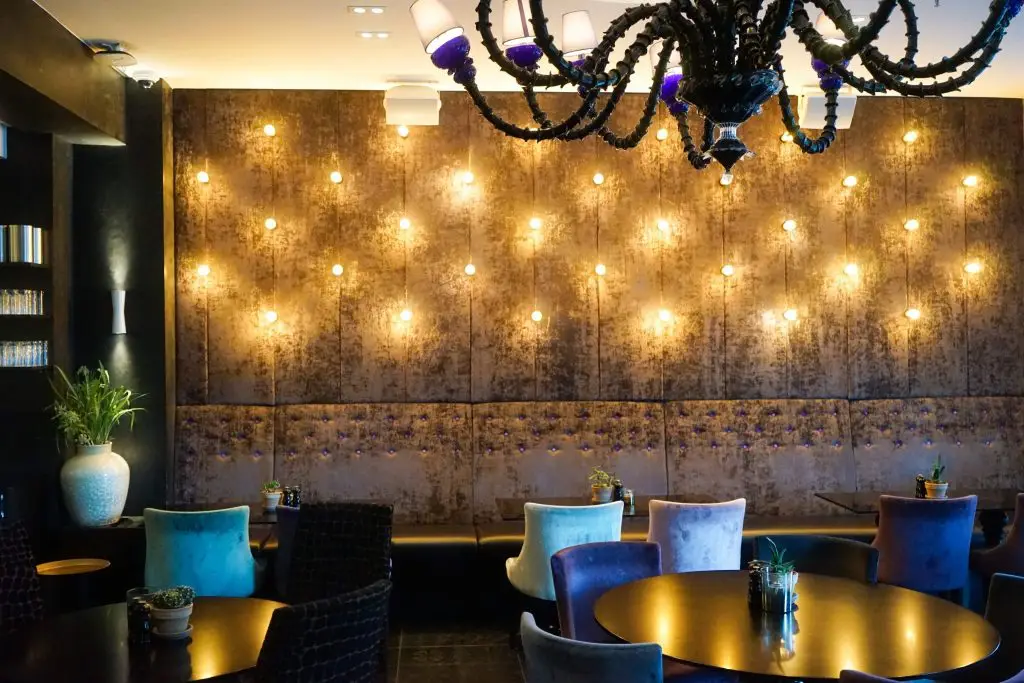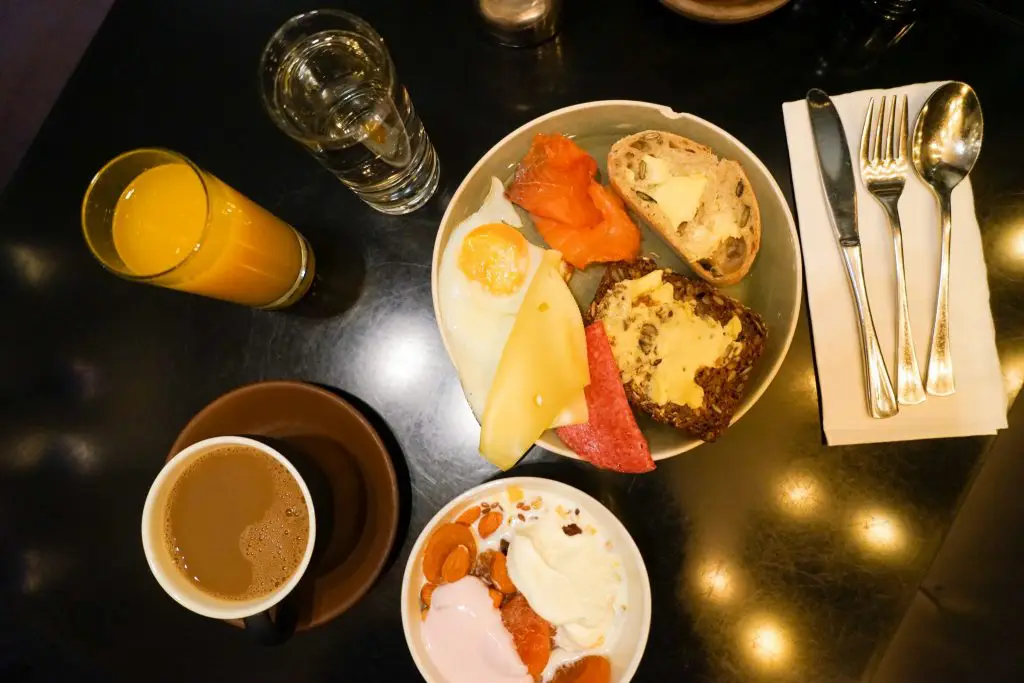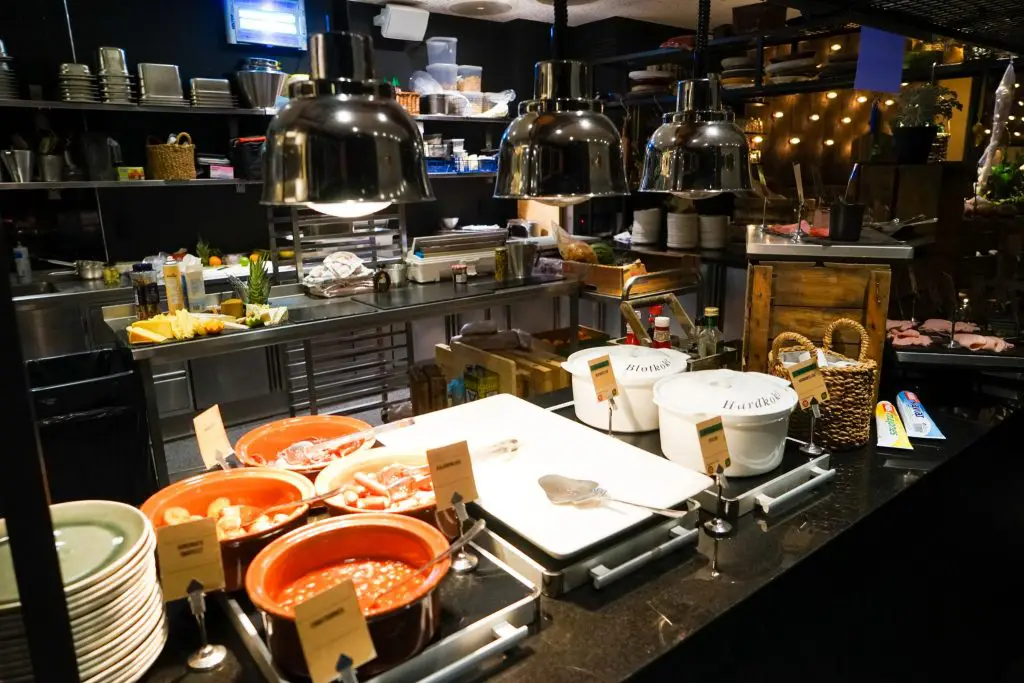 Inspired by Bergen's first superstar, the violinist Ole Bull, the Hotel Oleana has fun with its theme offering up 97 unique rooms and signature suites. An unforgettable stay in Bergen and a great space to escape back to when the rain inevitably comes down! Of course, if your budget does not stretch this far, I also would recommend the dorms of the YMCA Bergen Hostel. While in the wilderness of Norway, you can also try rough camping to save money, that's just not a viable option in Bergen!
Read my full Hotel Oleana Bergen Review here or just skip straight to the best prices and availability on Hotel Oleana now!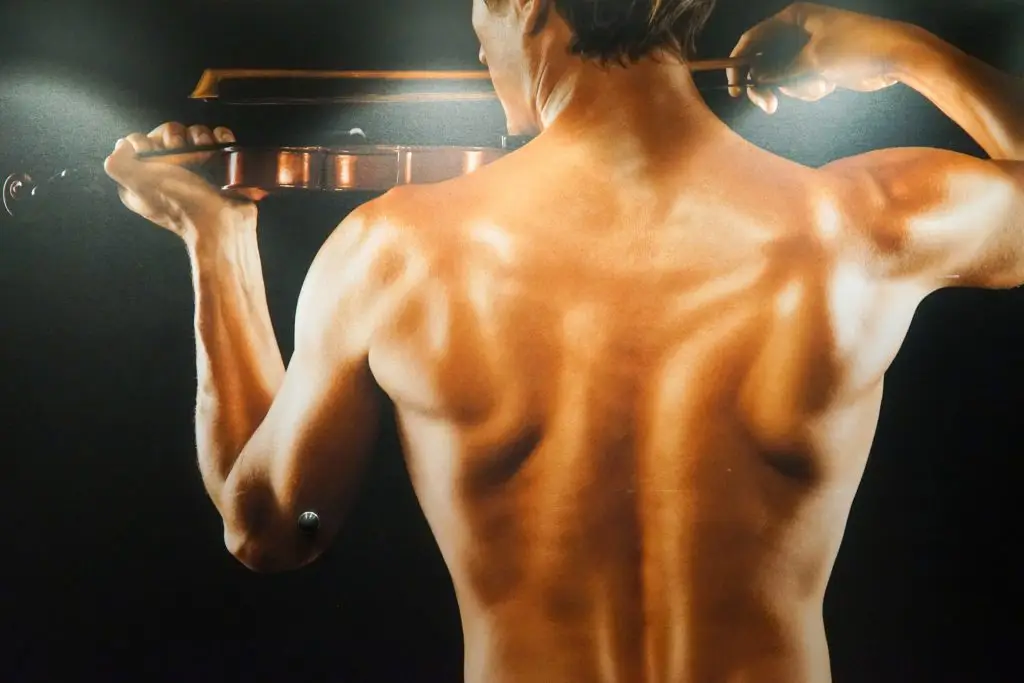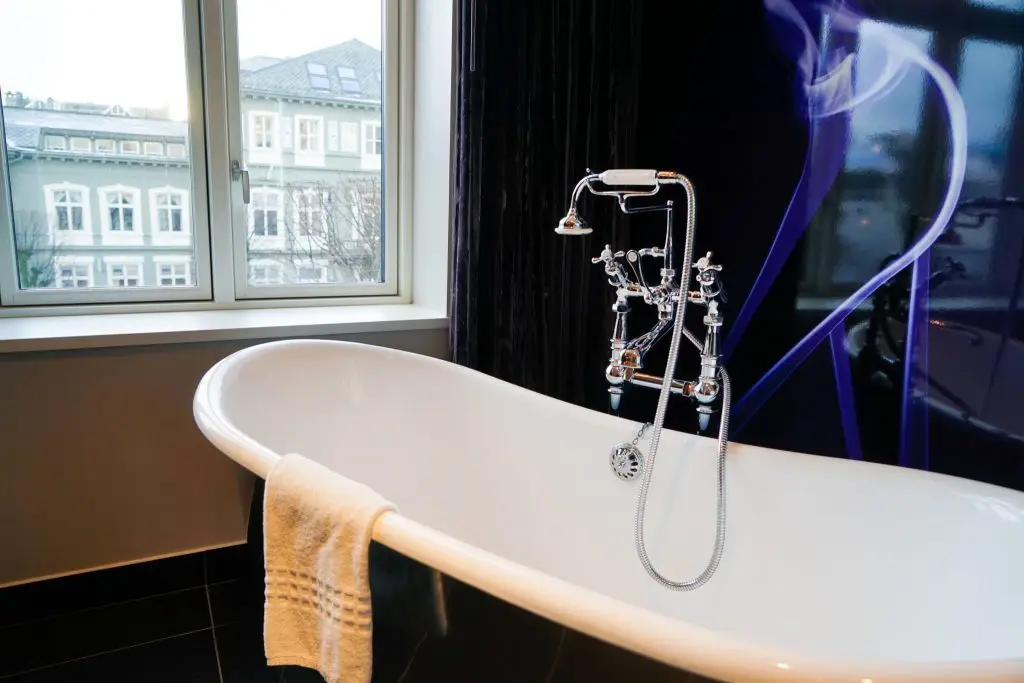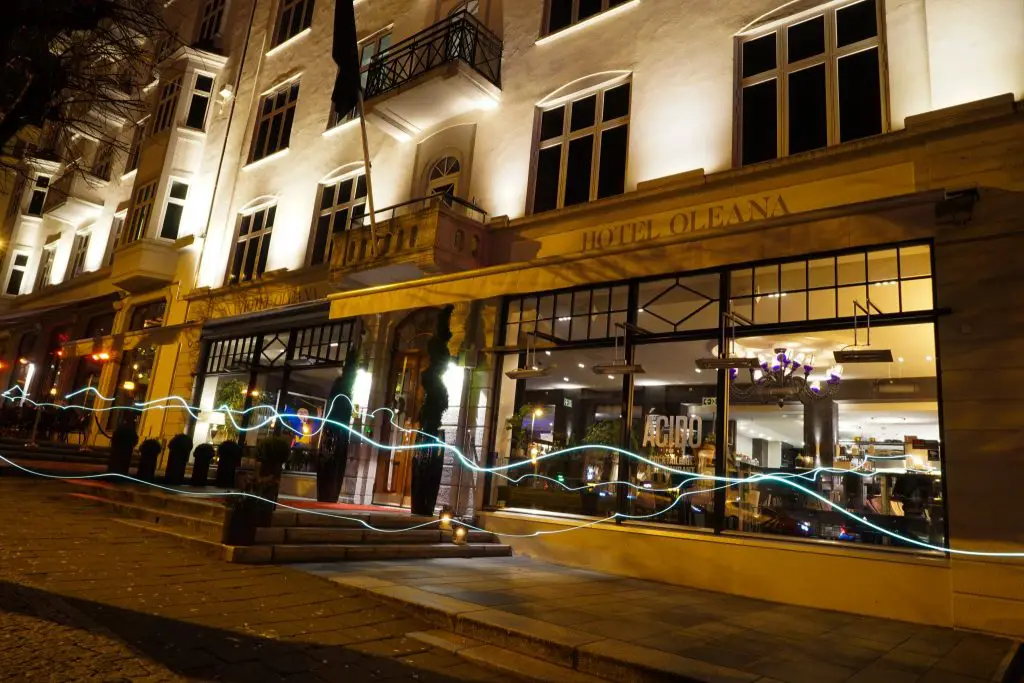 5. Dine In Style At Bare Vestland On Traditional Norwegian Dishes with a modern Tapas Twist
The best place to dine in style and experience modern fusion cuisine using traditional Norwegian ingredients. Tapas-style, the tasting menu at Bare Vestland, is raved about and will be a highlight of your trip!
If you're just in for a quick meal, you can't go wrong with the traditional 'Plukkfish': salted white fish mashed with potatoes and pickled leeks with bacon and chives on top, topped off with a local beer. Reservations are essential in the summer season as Bare Vestland is extremely popular.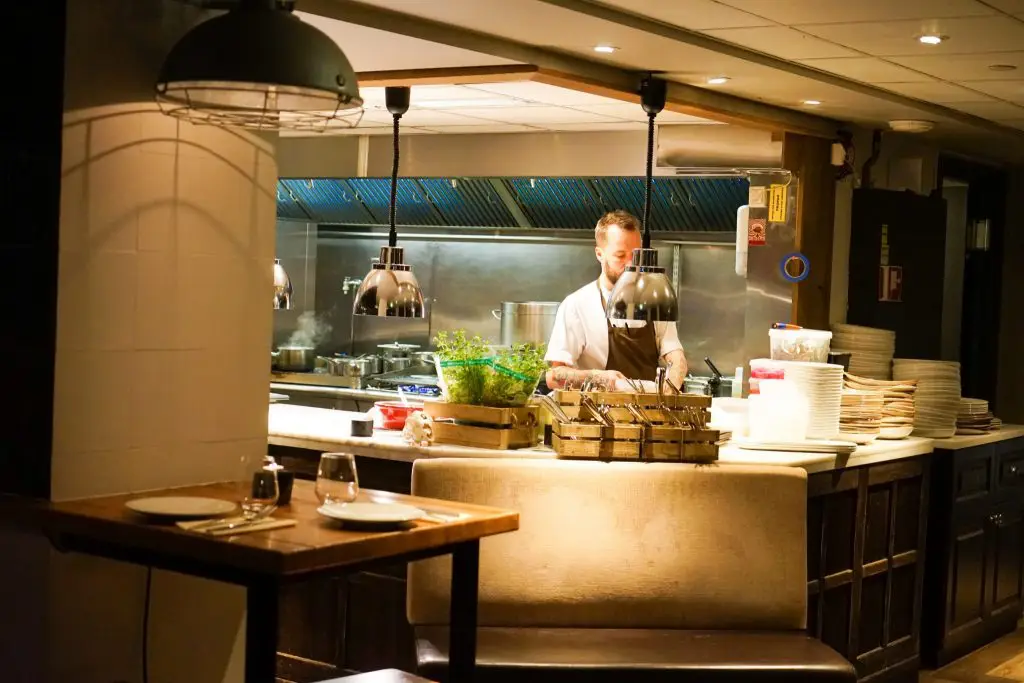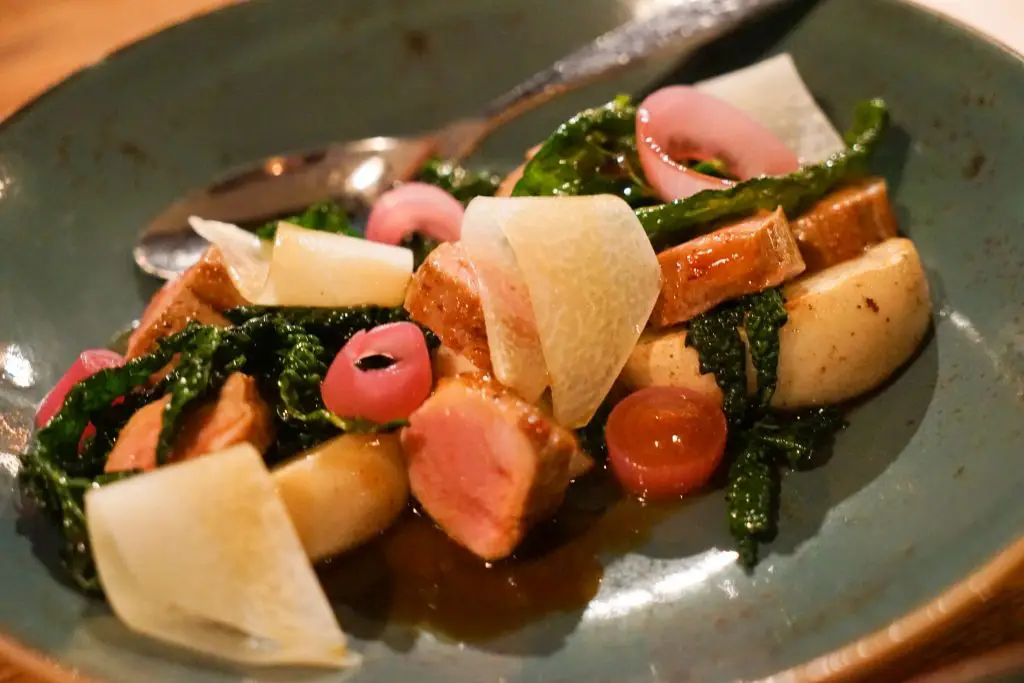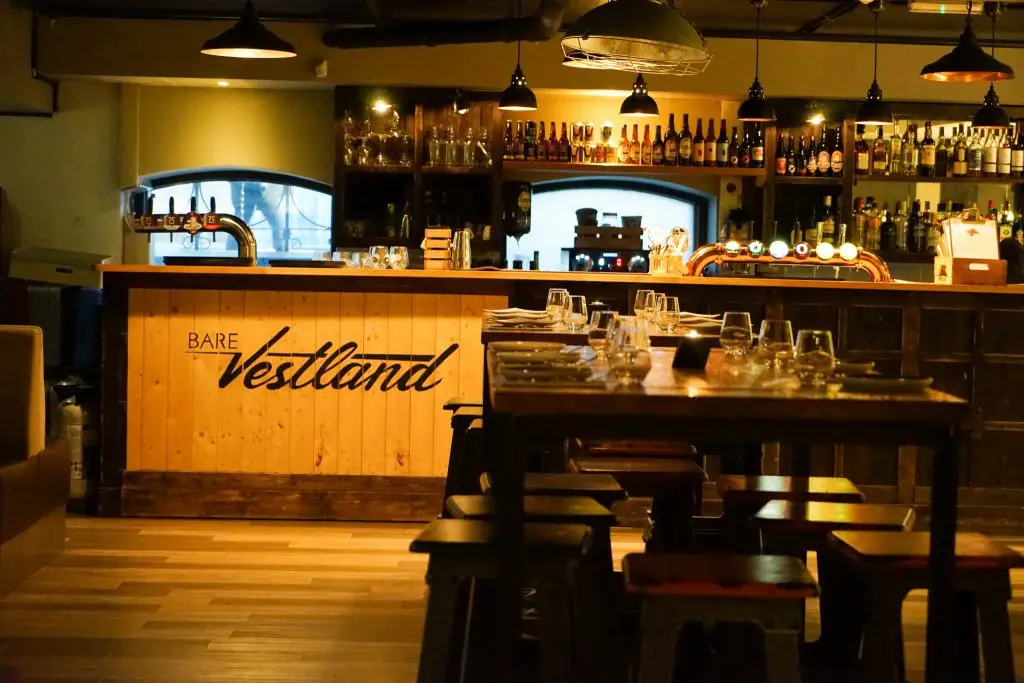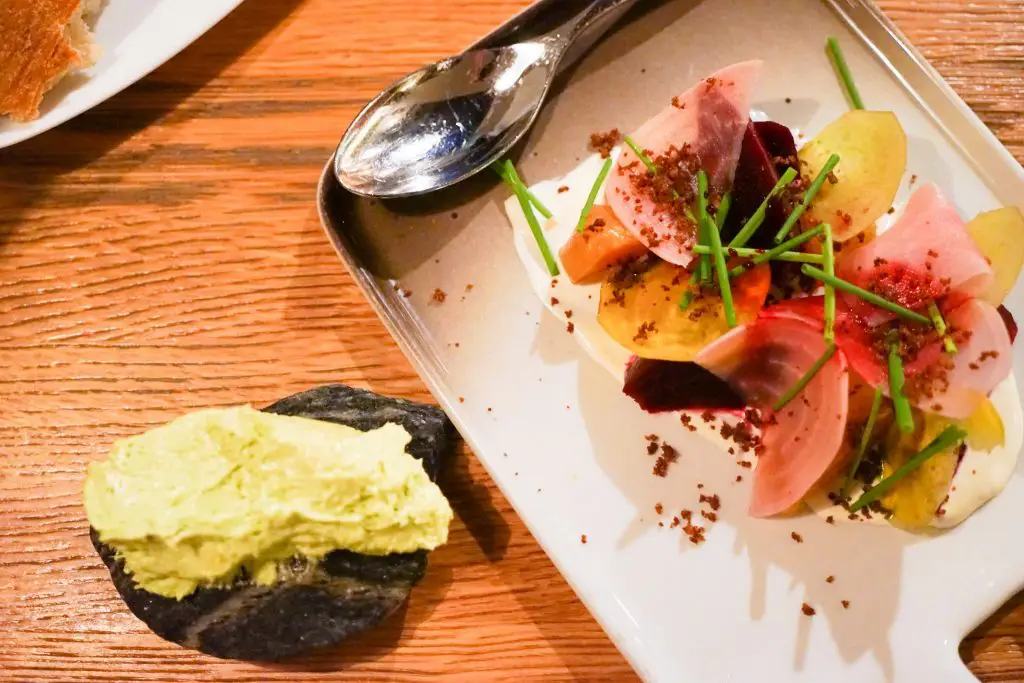 6. Marvel at the Gothic-Revival Johanneskirken (St John's Church)
The largest church in Bergen with 1250 seats – and the highest point in the city – a stop at the St John's Cathedral is essential to admire its bright-red gothic revival exterior details or pop in to see it's stunning interior frescoes. The surrounding neighborhood of Sydnes is rather residential and worth a wander around for more local Bergen life.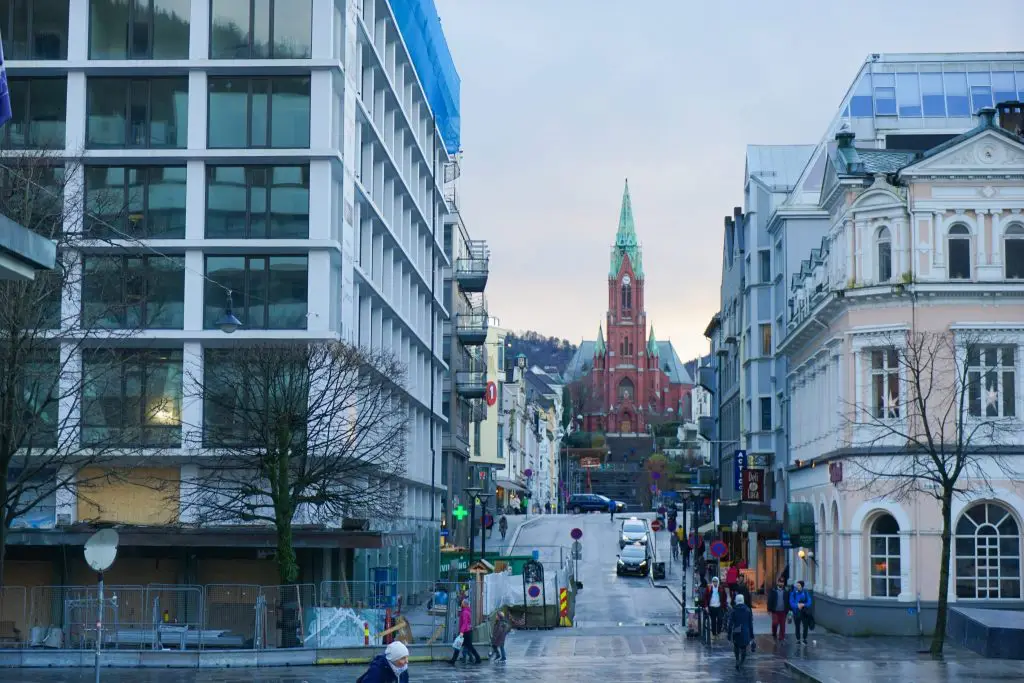 7. Head Out On An Awe-Inspiring Fjord Cruise to Mostraumen
While Bergen is located in its own stunning fjord, you need to get out of town to admire the most famous natural formations in all their glory.
An easy way to do this is on a 3-hour cruise through Osterfjord to the photogenic Mostraumen strait and Modalen town, and even better, it's available year-round. With soaring mountains, colorful villages, an ice-cold waterfall, and an onboard commentary on the history of the region, there is no better way to take in Norway's picturesque nature in such a short amount of time directly from the Zachariasbryggen quay in central Bergen.
Be sure to bring a fully charged camera and a wind-breaking jacket – You will need both!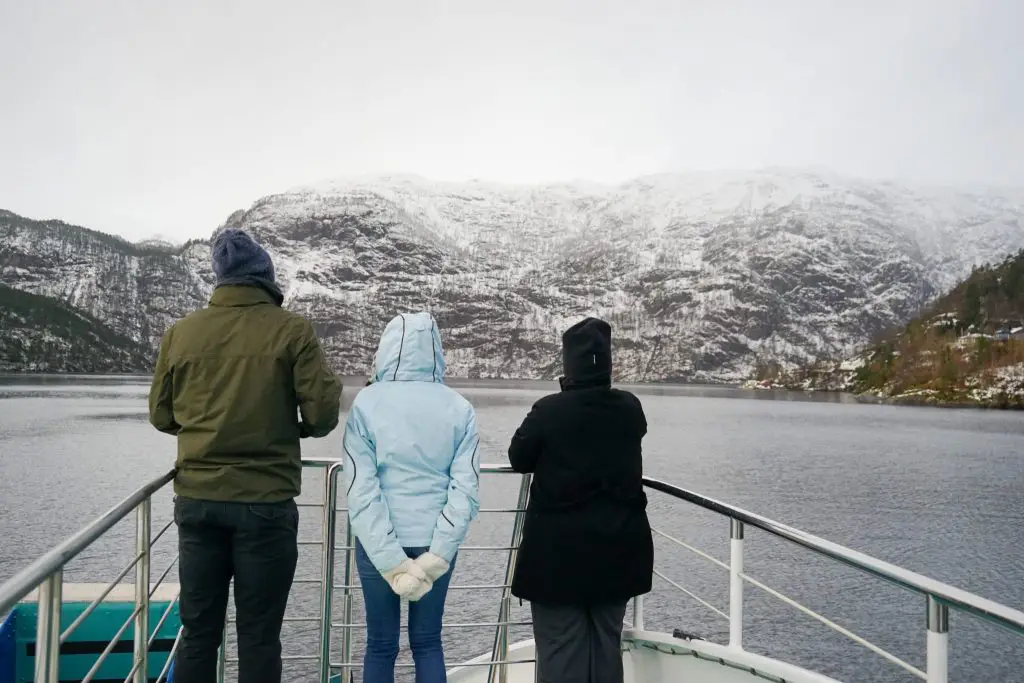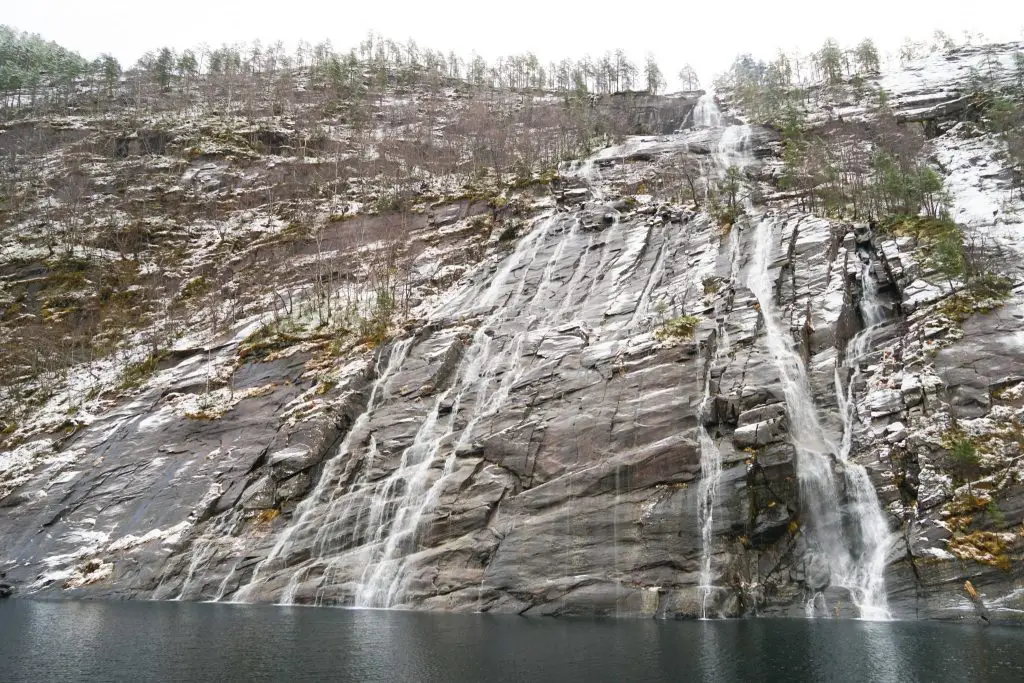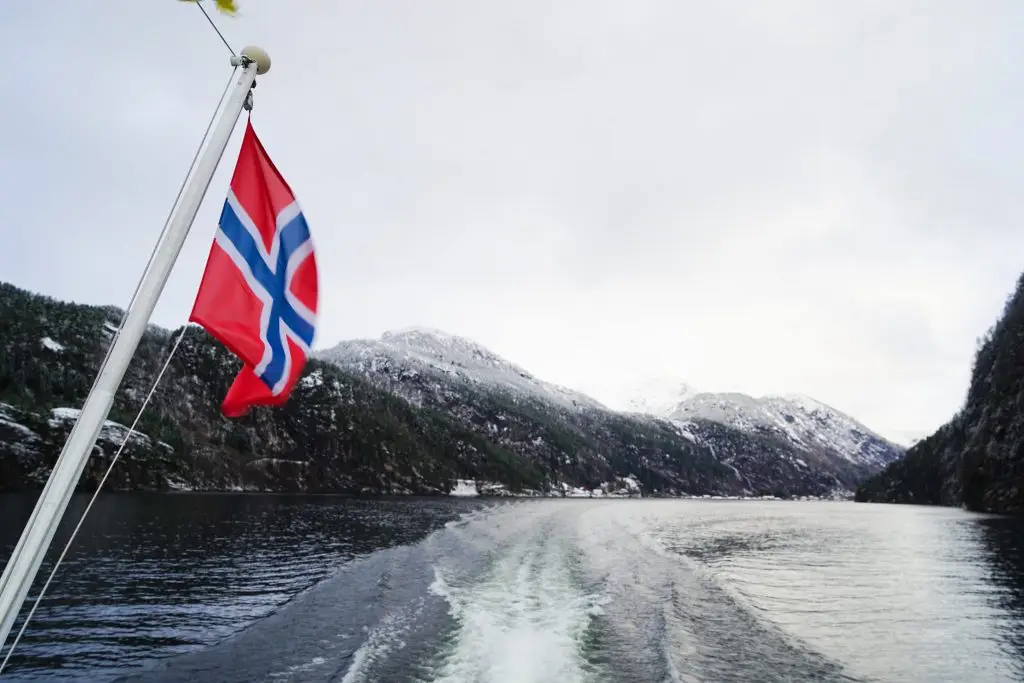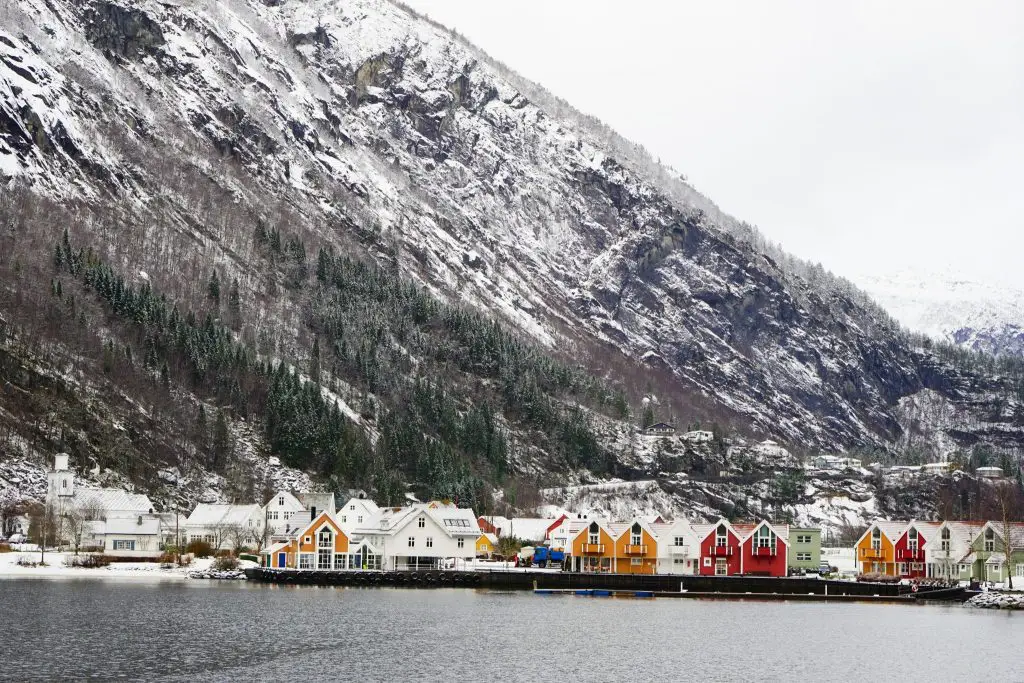 8. Marvel At The Worlds Biggest Gingerbread City, The Pepperkakebyen
Sadly a visit to the world's biggest Gingerbread City – the Pepperkakebyen in Bergen – is only a seasonal attraction. Still, if you're visiting Bergen in the winter months, you have to go.
Recreated every year by schools and businesses around Bergen, the Pepperkakebyen runs from mid-November until the end of December, and it's truly unique. Thousands of unique gingerbread constructions, this spectacle draws in most locals, and while designed for children, I think I enjoyed it more than any of them did!
This is something to plan your trip to Bergen around, and something the Bergen community can be proud of!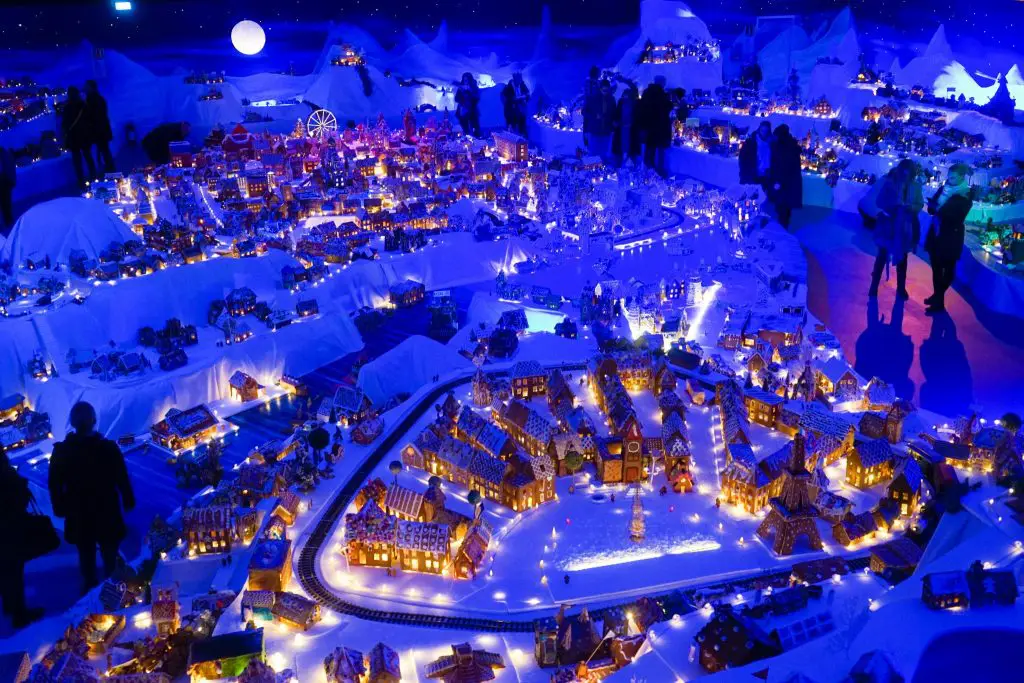 9. Try Classic Burgers and Pizza With Nordic Flare At No 13 Restaurant
If you want to enjoy a casual meal out in Bergen without breaking the bank head to No 13 Restaurant for innovative pizzas and burgers – all with fresh Nordic ingredients!
With a vibing interior and whimsical beers (seriously – ask your server to translate the names and watch their face go red!) without sky-high prices. They are most famous for their burgers of the month, and when I visited, they had a Christmas special inspired by the festive Norwegian dish, Pinnekjøtt (lamb ribs).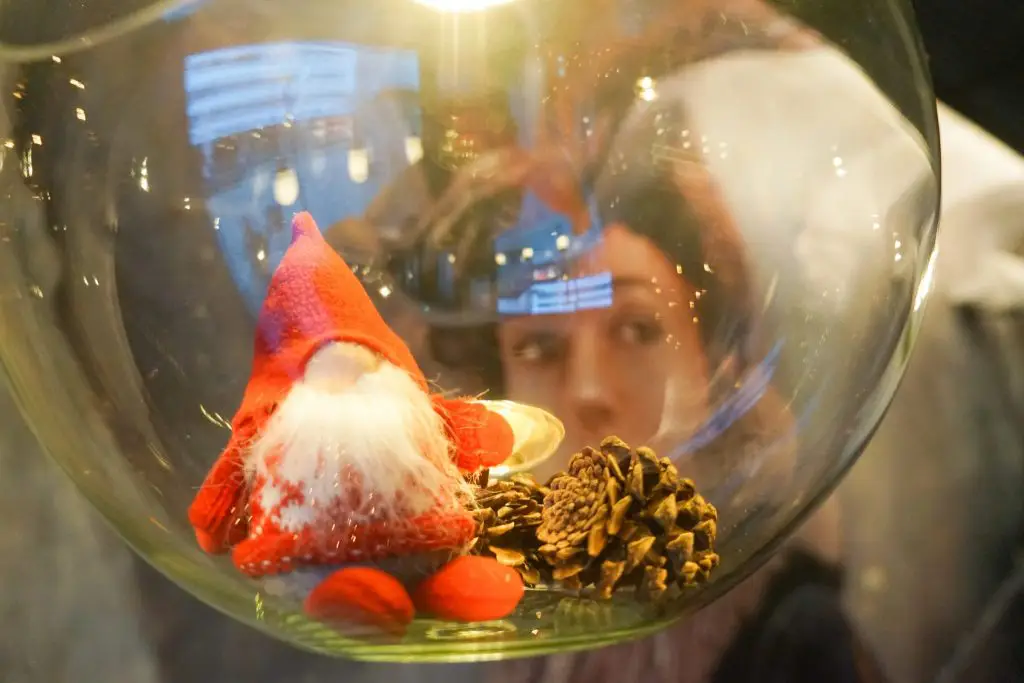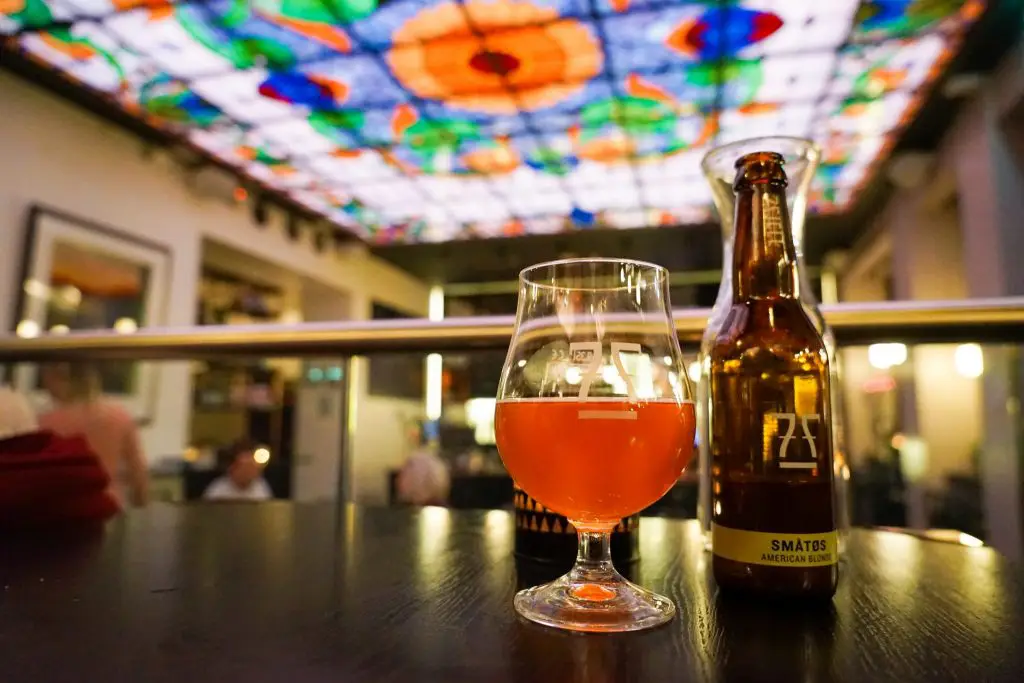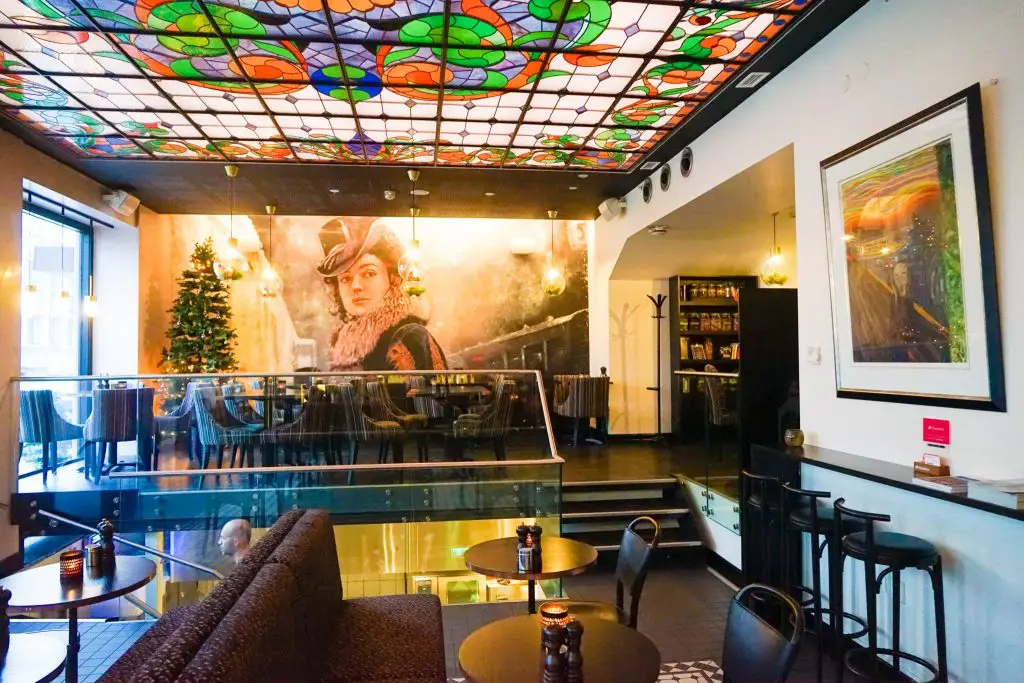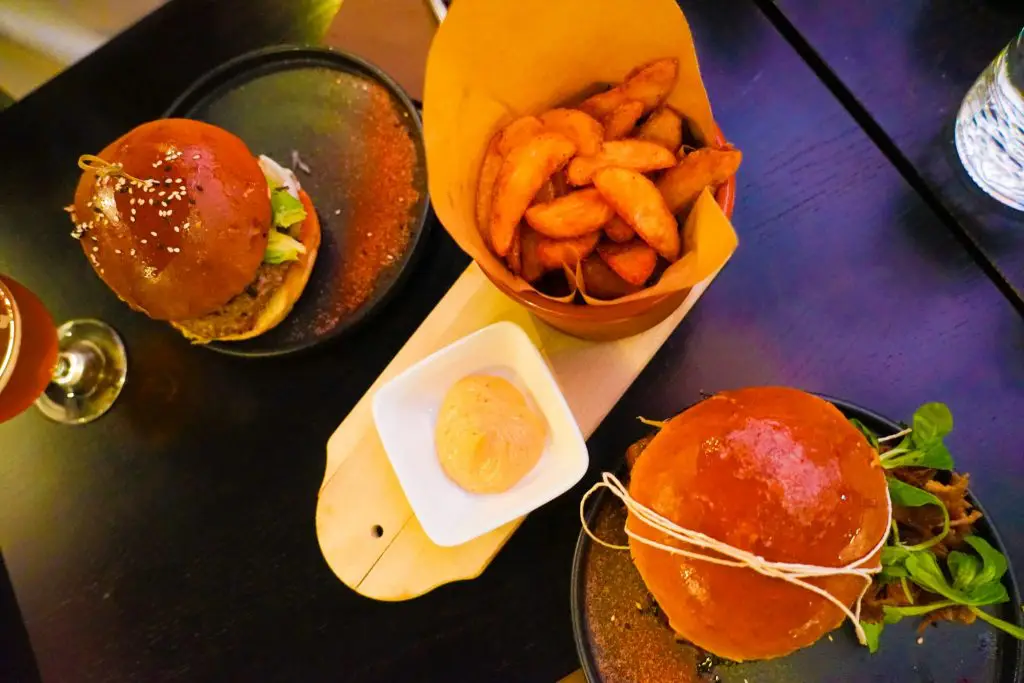 10. Spot Bergen Street Art In Hidden Corners of The City
More associated with historic wharves and colorful wooden houses than hidden artistic hot spots, I was surprised to find that the Bergen street art has burgeoned over the last decade, mostly thanks to a Bansky visit in 2000.
Vibrant and daring – seeking out the street art here is a fun and free thing to do in Bergen, you have to know where to look. Head to Sentralbadet to see one of Bergen's only legal street art walls or explore around the University of Bergen or the Skostredet neighborhood to spot more creative pieces of art (or for exact locations click through to the Bergen Street Art blog).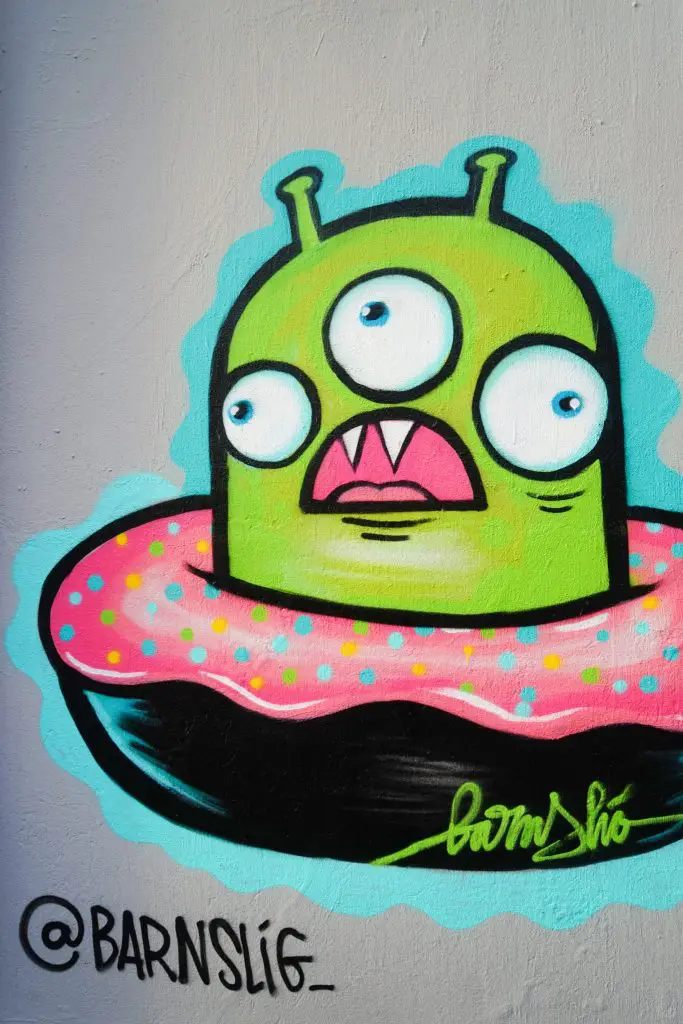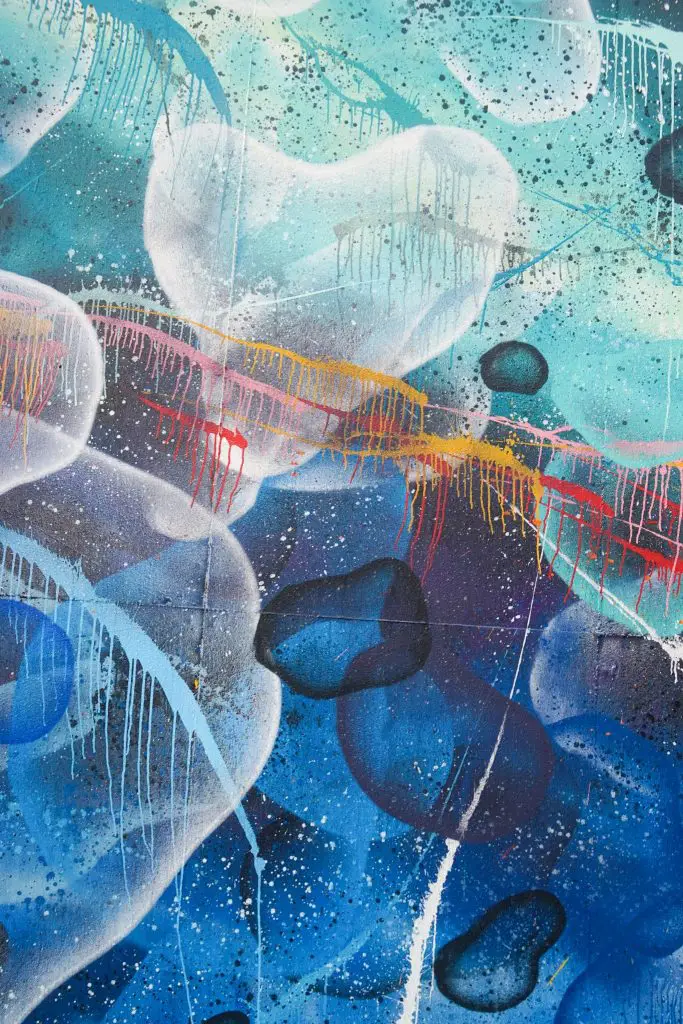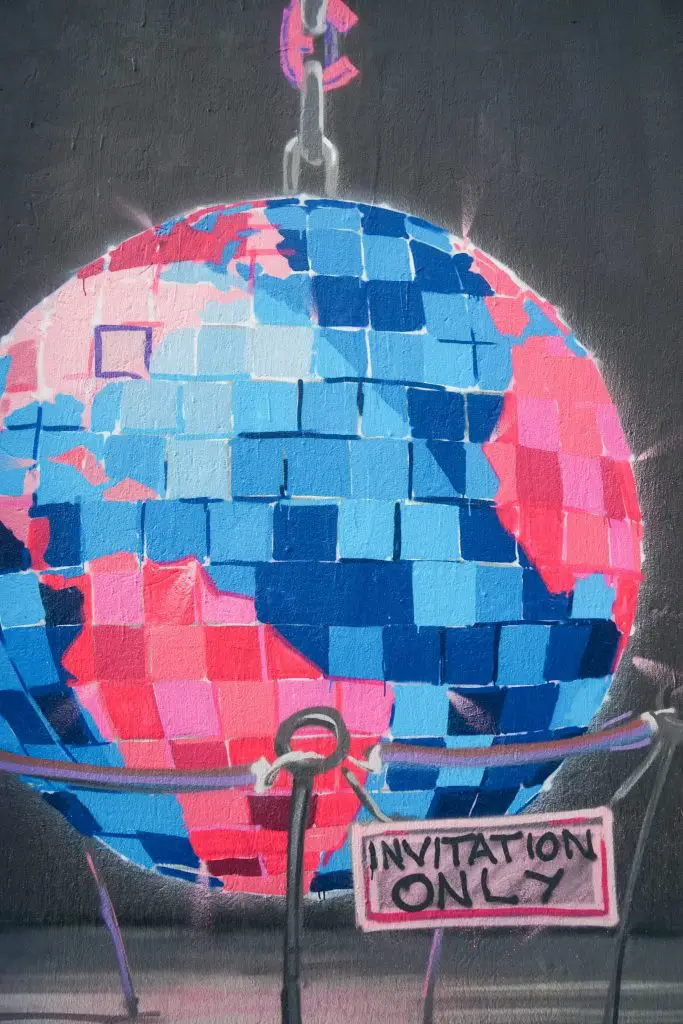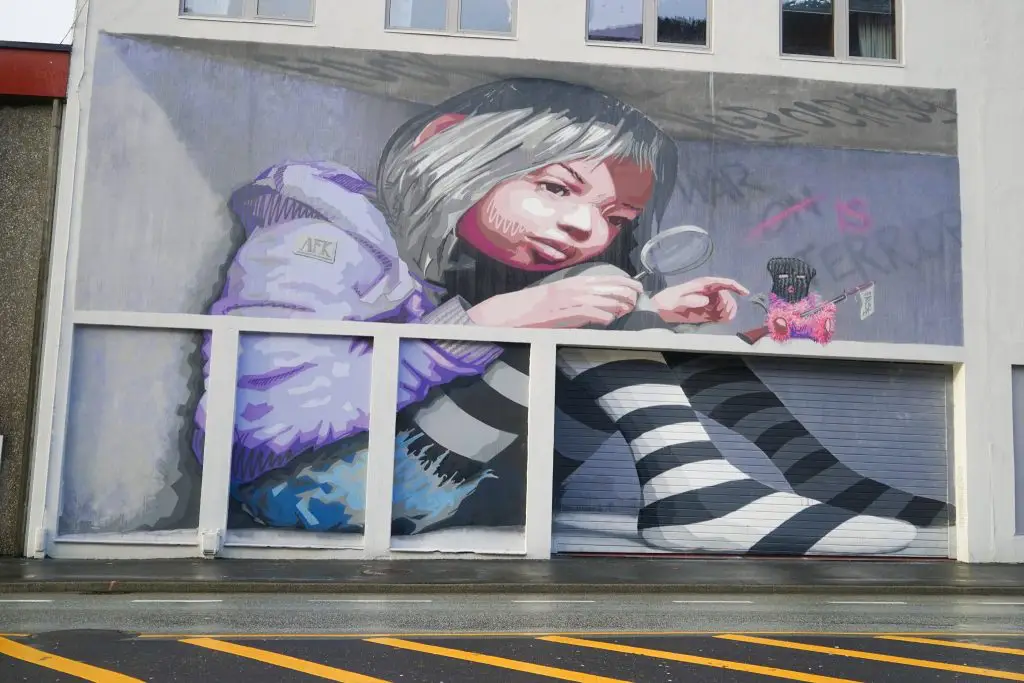 11. Sample The Freshest Seafood at the Bergen Fish Market
In a country known for the quality of its seafood, you can't visit Bergen without sampling its bounty from the seas – and there is no better place to try than the ultra-modern Bergen Fish Market with over 30 specialty shops and eateries selling small-scale Norwegian produce.
Enjoy a meal here of some of the freshest seafood anywhere in the world, or take a wander through and try spot as many weird fish species as you can. In the summer months, the surrounding area overflows with a large outdoor fish market that takes place every day, but in the winter months, there is only the iconic Mathallen Food Hall to keep you warm and dry.
One of the best things to do in Bergen, and given it's location – you would be hard-pressed to miss it!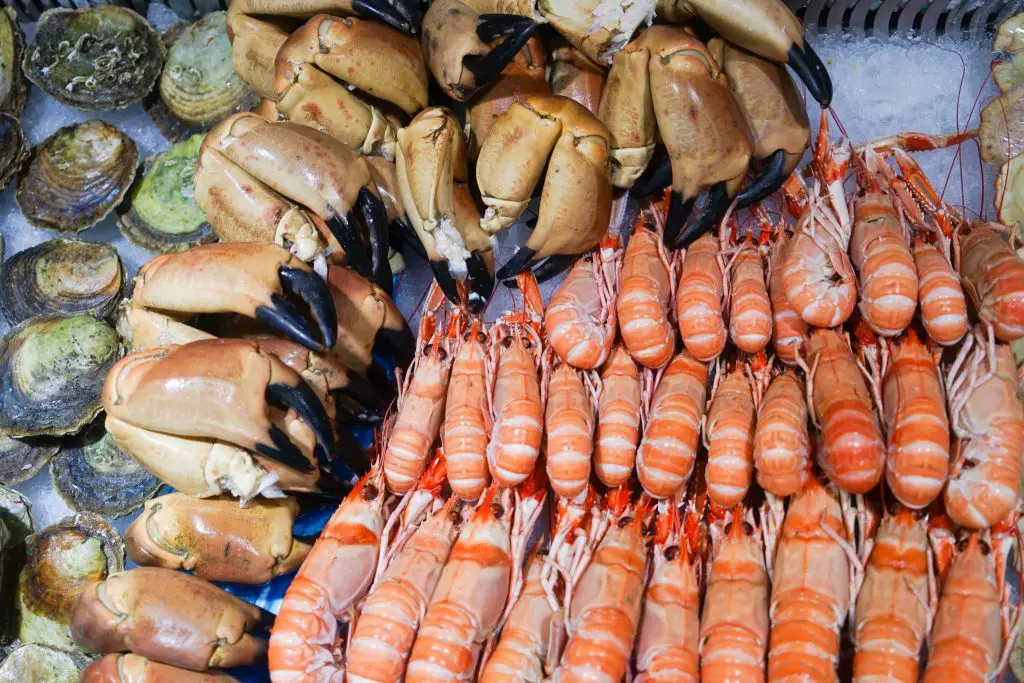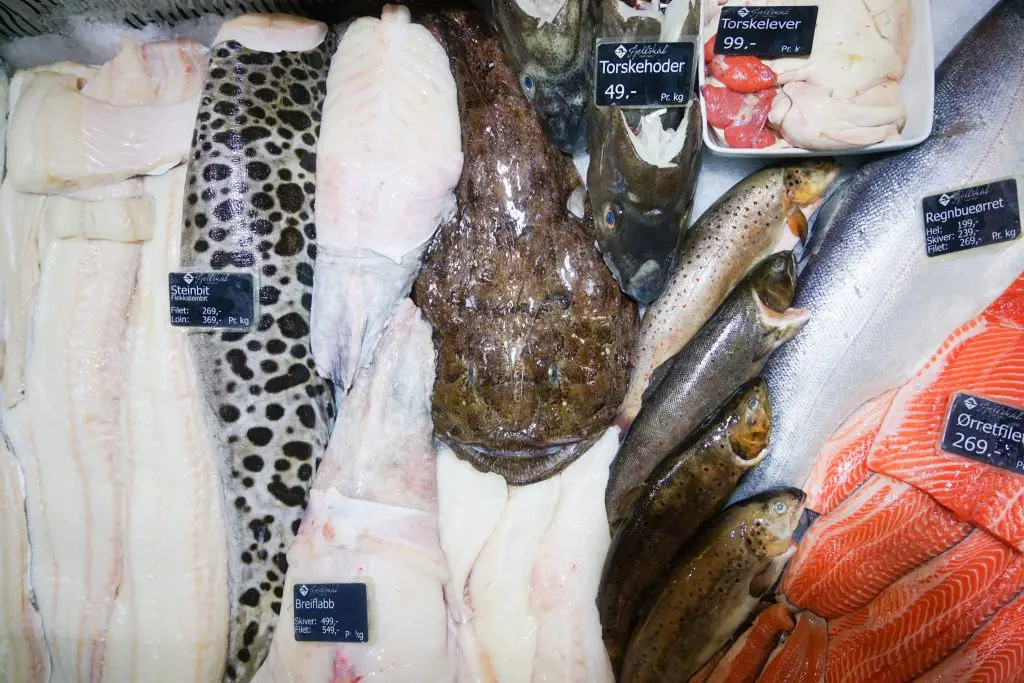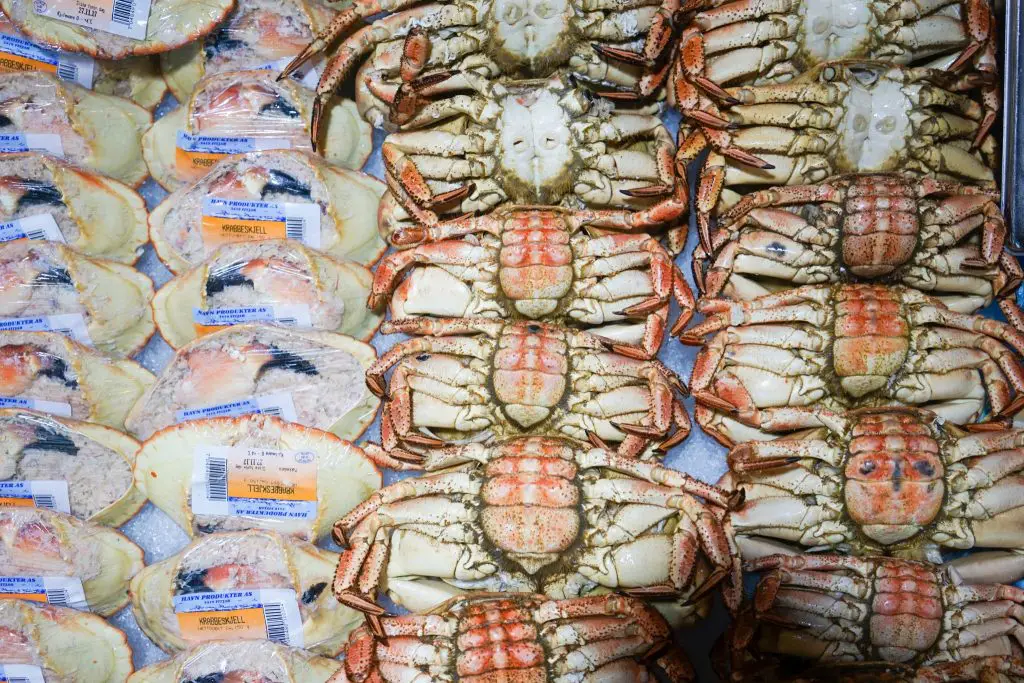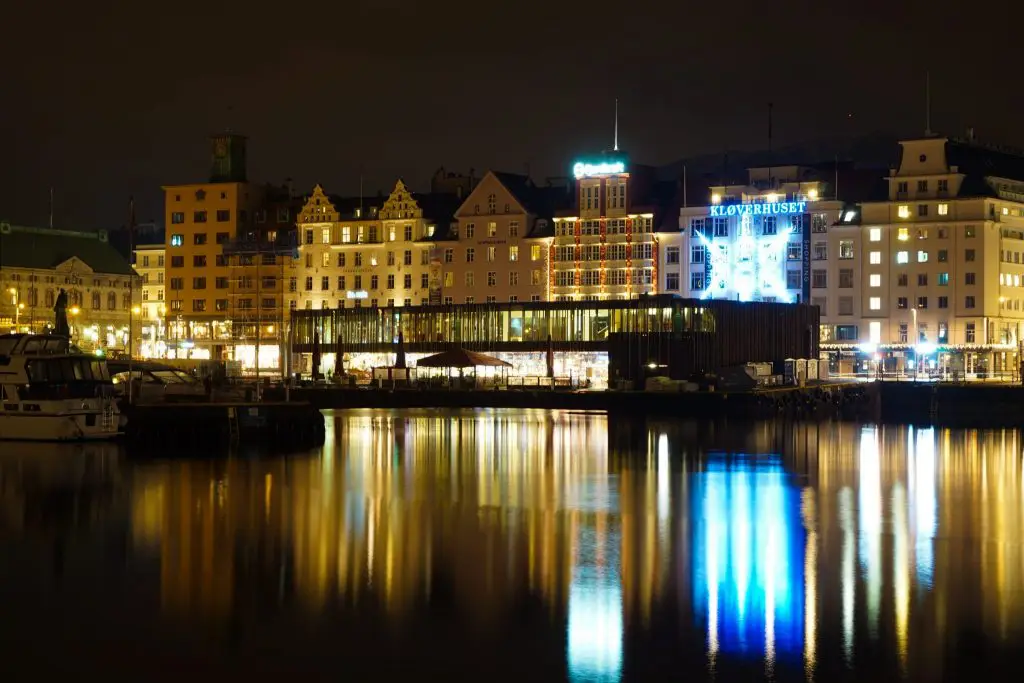 12.Chill With A Drink In The Magic Ice Bar Bergen
You can't have a visit to Norway without snow and ice, and luckily Magic Bar Bergen is on hand with its unique hand-crafted ice bar if you can't get your winter wonderland dream outside.
With 'cool' cocktails, a free welcome shot, and plenty of ice sculptures and artworks, a visit to the Magic Bar is a great thing to do in Bergen when it's raining – or before a night out. The staff is friendly; the bar is always changing (it has to be re-carved multiple times a year) and – well, there is nothing else like it in town!
Although entry prices are higher, it is best to visit on a Friday or Saturday night when it really gets going!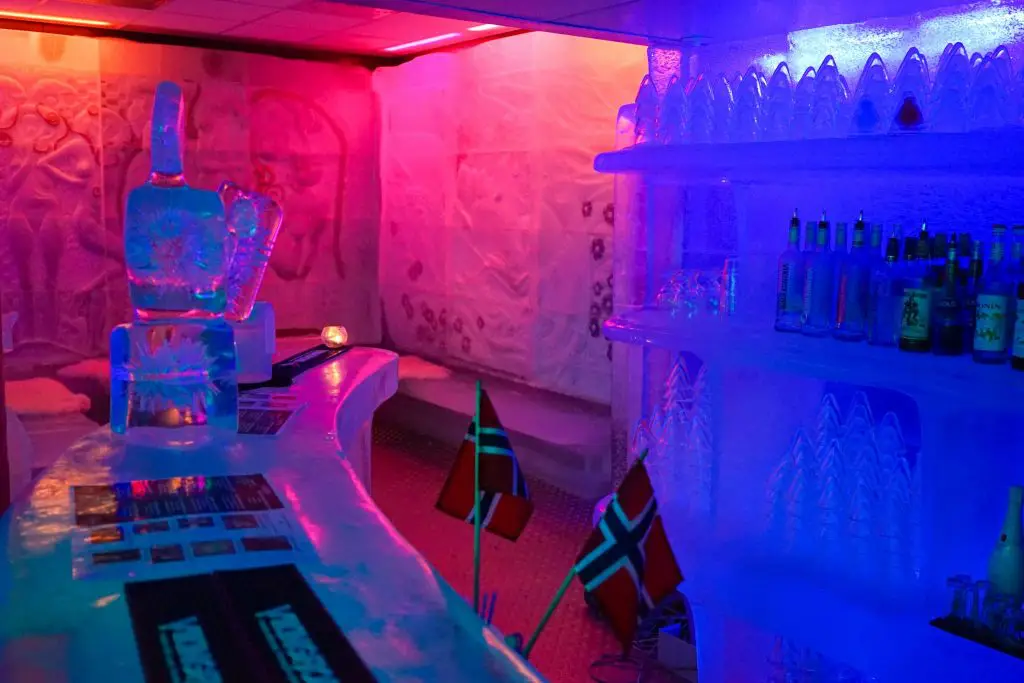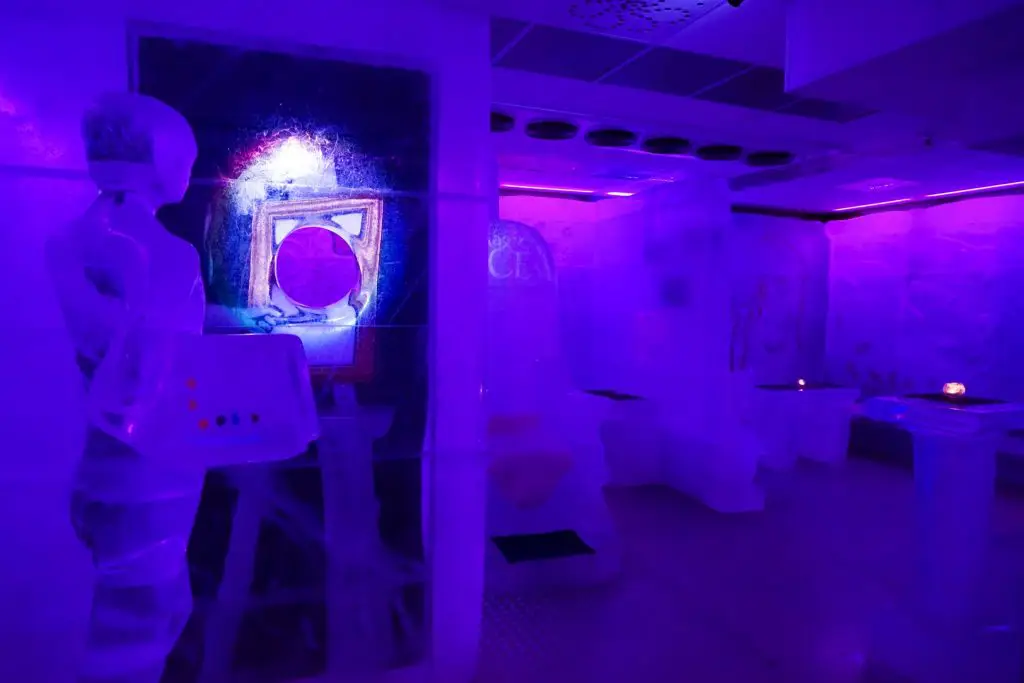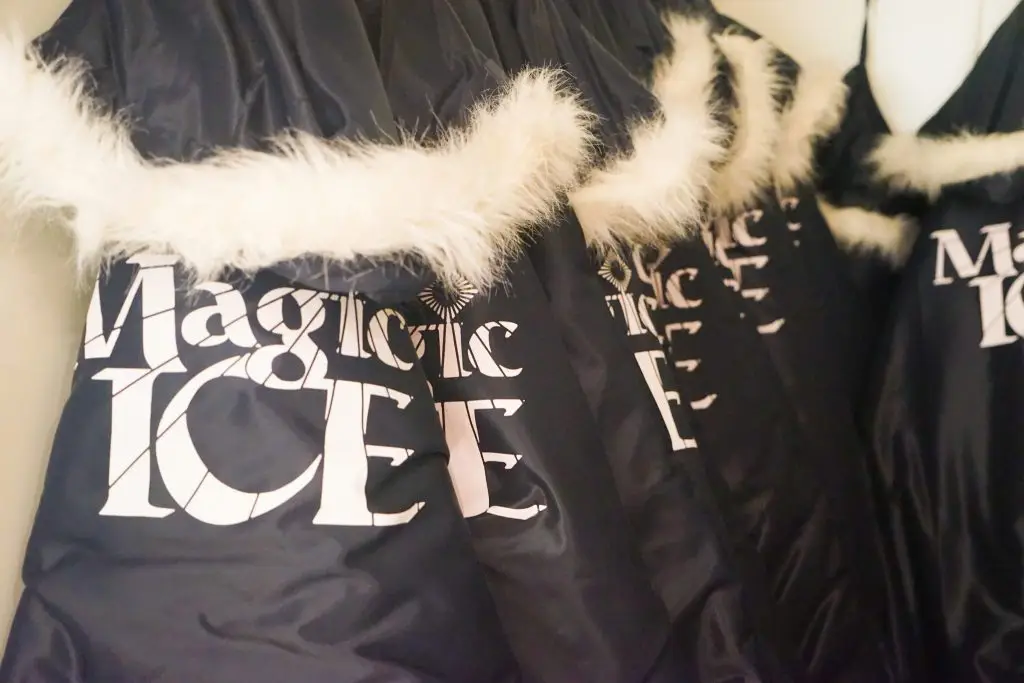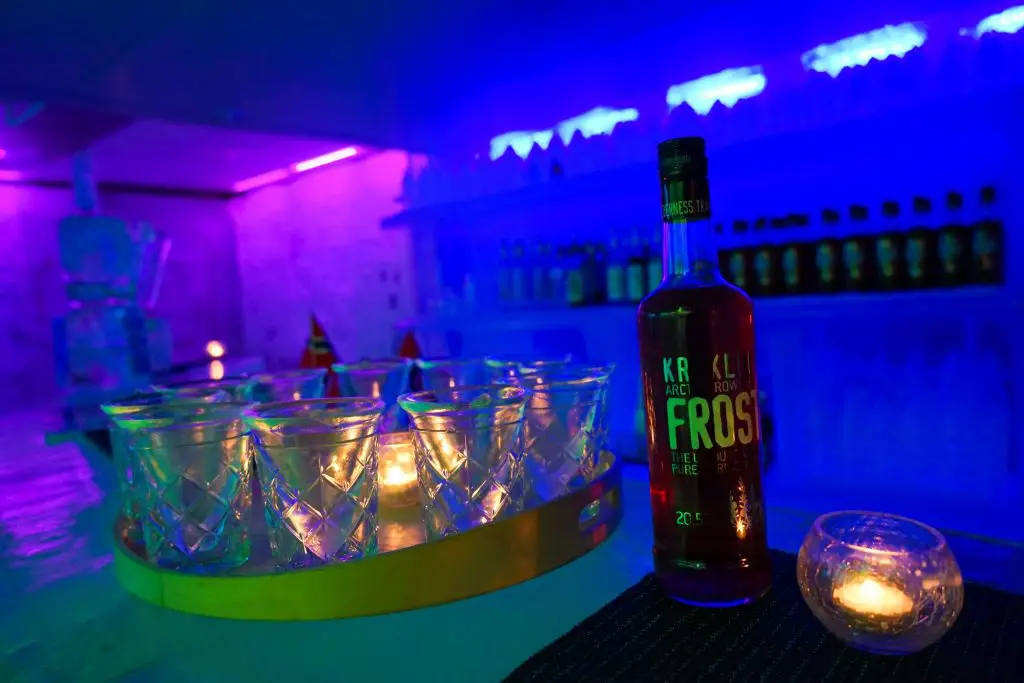 13. Check Out One Of Norway's Oldest And Best Preserved Castles At Bergenhus Fortress
Dating back to 1240, the Bergenhus Fortress stands menacingly over the Bergen Harbour entrance and has protected its citizens faithfully for hundreds of years.
Today only a medieval hall and defensive tower remain, but it is still currently used by the Royal Norwegian Navy and around 150 military personnel stationed there. Tourists can, however, visit Haakon's Hall and scale the Rosenkrantz Tower, which is open to the public, and be on the lookout for the frequent concerts that take place here during the summer, which are a favorite of the locals.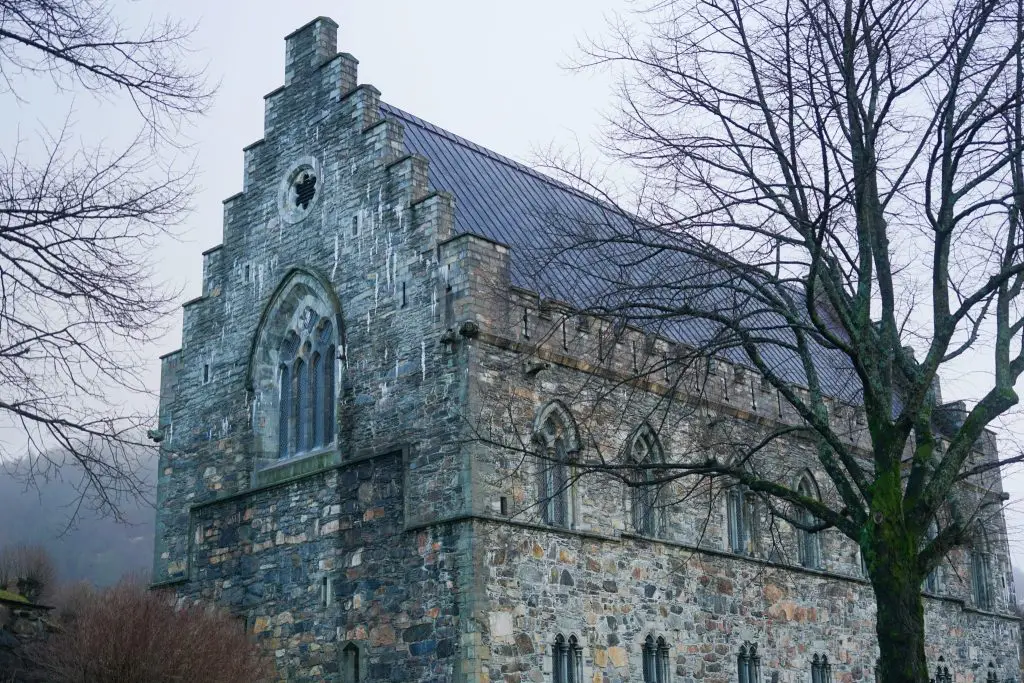 In a city with its fair share of rain, it's no wonder that a gloriously cozy coffee culture has developed here. Though the best places seem to be slightly hidden on side streets and down, unassuming staircases seeking them out will lead to a far better experience than the large touristy Starbucks off the main harbor.
My favorites were the minimalist-chic Kaffemisjonen just off the harbor or Kaffebrenneri, which has an on-site coffee roastery. Of course, Det Lille Kaffekompaniet (DLK) should also be top of your list if you can find it on the sloping hillside between wooden houses (and it's outdoor space is truly beautiful in the summer!).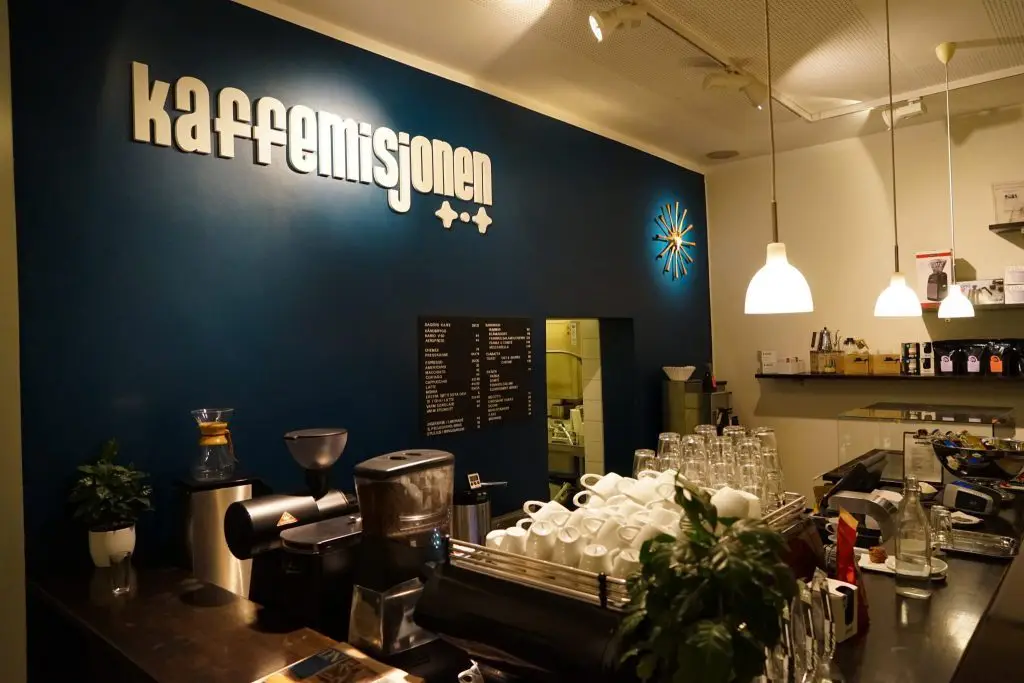 15. See What Bergen Used To Look Like At The Old Bergen Museum
If the historic streets of Bryggen aren't enough, you can hop on a bus and head only 15 minutes out of town, and yet somehow hundreds of years back on time!
The open-air Old Bergen Museum is a perfectly reconstructed small town consisting of around 50 buildings from the 18th – 20th century moved here from around Bergen and Norway. Become truly immersed in a different time and get an idea of what it must have been like to walk the steep streets of Bergen when it was Europe's largest wooden city.
With breath-taking views back to the modern city, plenty of fresh air, and nostalgia-filled actors during the summer months a trip to the Old Bergen Museum is a must-visit location in Bergen.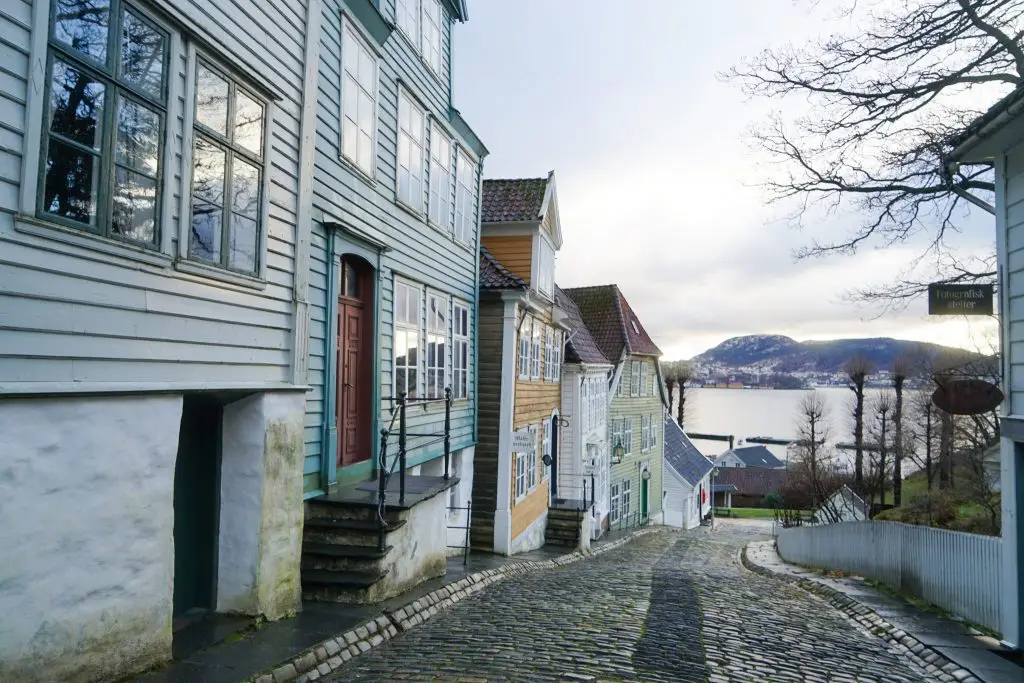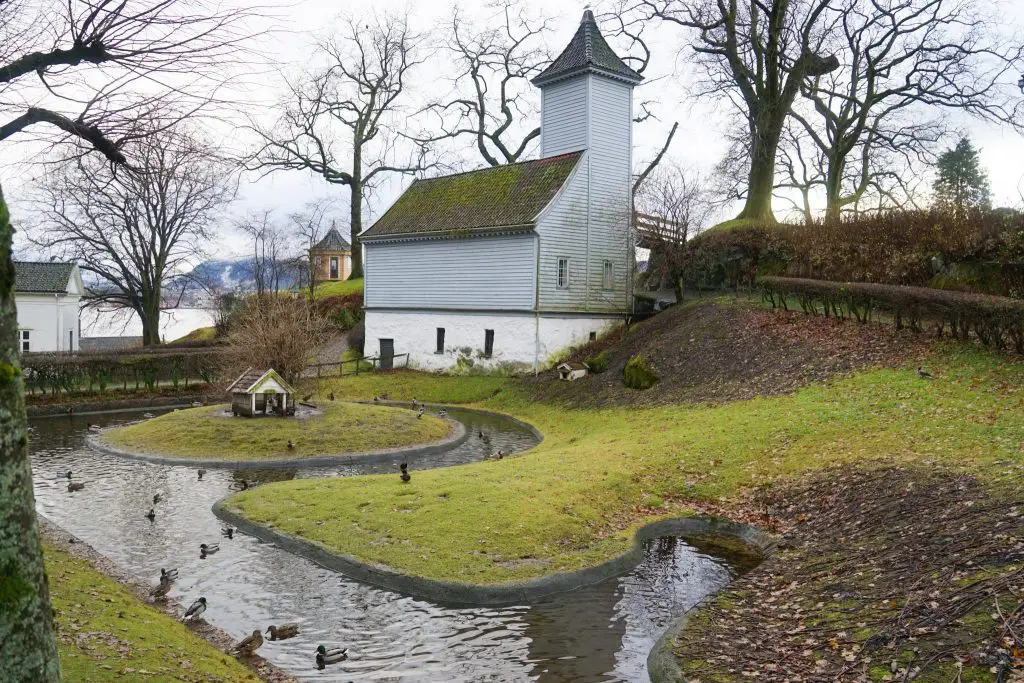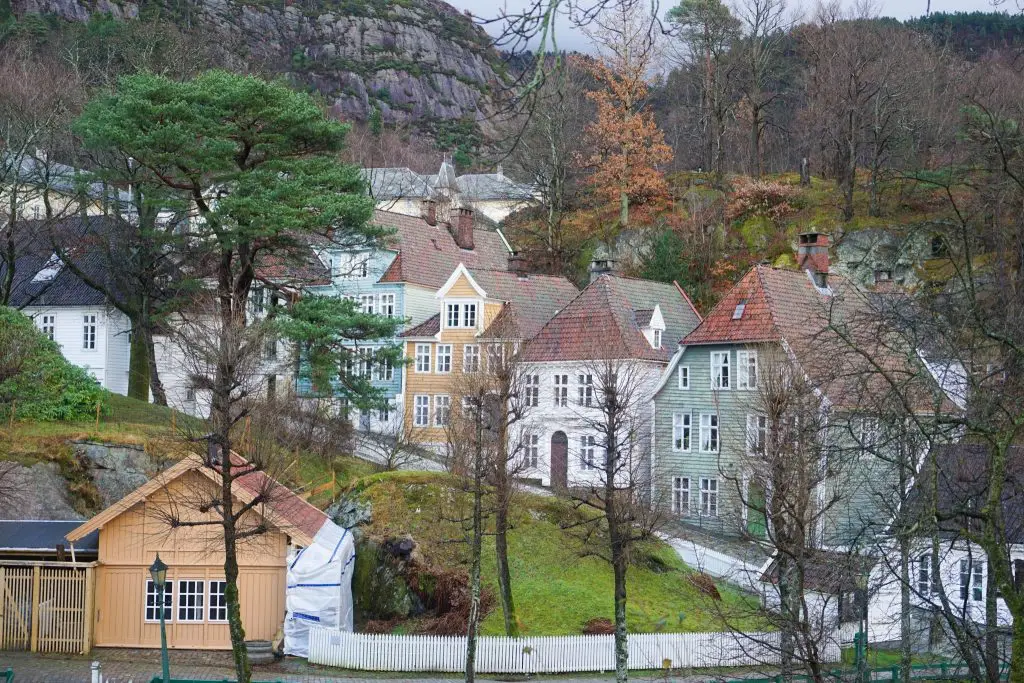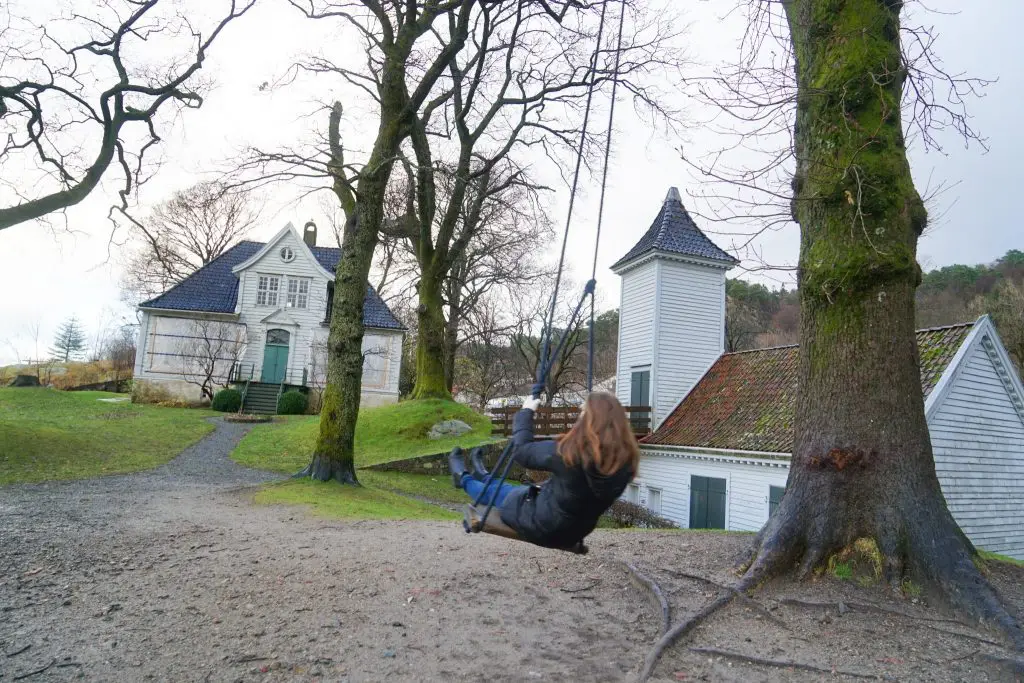 16. Find The Oldest Remaining Building In The Whole City Of Bergen, St. Mary Church
The oldest church – and building – in the city of Bergen dating back to 1140, the St. Mary Church is the only one of the 12 original churches built in the period to remain today. Ravaged by fires multiple times over the decades (but what wasn't in Bergen it seems!), the St Mary's Church was most recently renovated and reopened in 2015.
It's Romanesque two-towered, three-naved design is at the least worth a walk-by, but you really should try to get in during opening houses to see its glorious interior. The different shades of soapstone and admire the Baroque decorative art said to be amongst the best in Norway.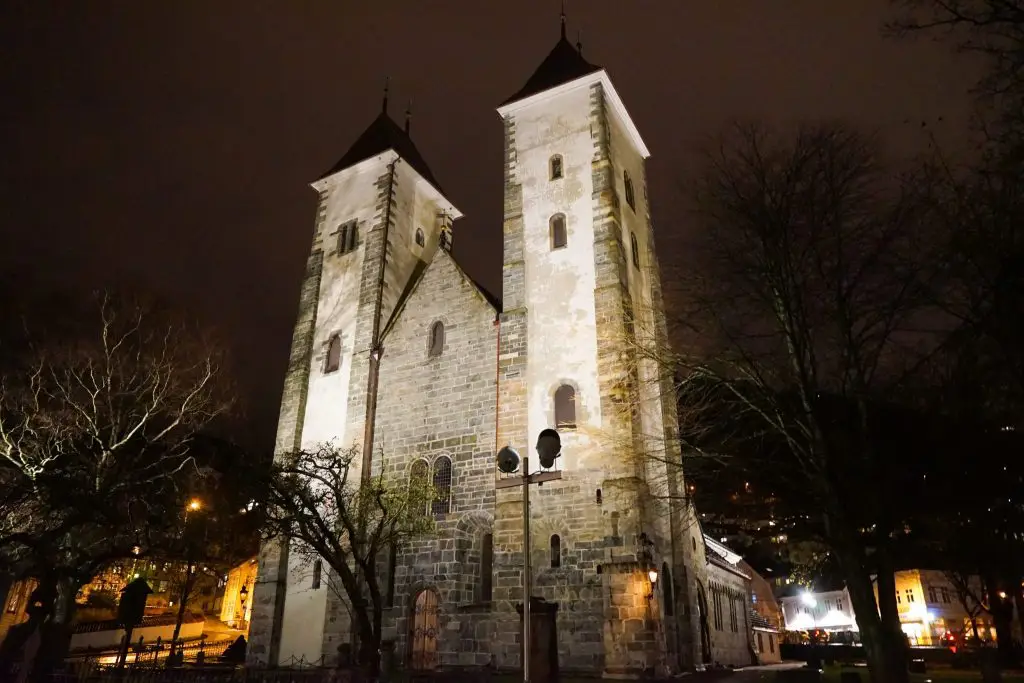 17. Shop Up A Storm On The Picturesque Strandgaten
Filled with Scandinavian-chic design and beautiful window displays that are sure to entice you in – the Strandgaten cobble-stone street is the perfect place for some light retail therapy.
With everything from small-designer boutique to full-scale department stores – and everything in between – shopping in Bergen is the perfect way to escape a spot of bad weather and admire all the beautiful minimalist products these cunning Vikings have designed.
Be careful; however, their eye for design is spot on, and you will quickly find yourself taking home far more than you planned!
Other great streets for shopping in Bergen include Kløverhuset, Galleriet, and Bergen Storsenter. It's not quite as good as the Turku or Tallinn design scene, but I still had a great time poking around and window shopping.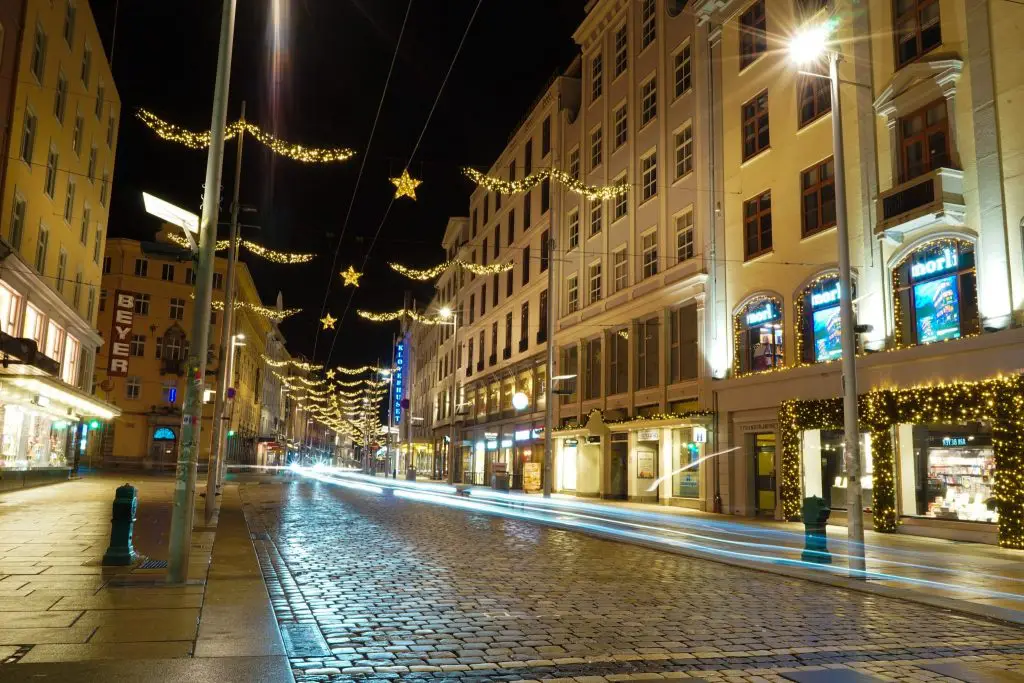 So I'm not even sure if I should tell you this secret (and was warned maybe not to include it here for everyone to see!), but I did check with the front desk, and he reassured me the hotel has no worries with tourists finding out that the best view of old Bergen is to be had in the Clarion Collections Tower right next to the historic Bryggen.
To access the Clarion Collections Tower head to the hotel front desk and ask very nicely, they will hand you an electronic swipe card to access the elevator, and you will quickly be rewarded with 360° panorama shots and the best views of old Bergen.
Try not to visit in large groups and be discrete; however, I don't need any emails from the Clarion Collection Hotel Havnekontoret asking me to remove this!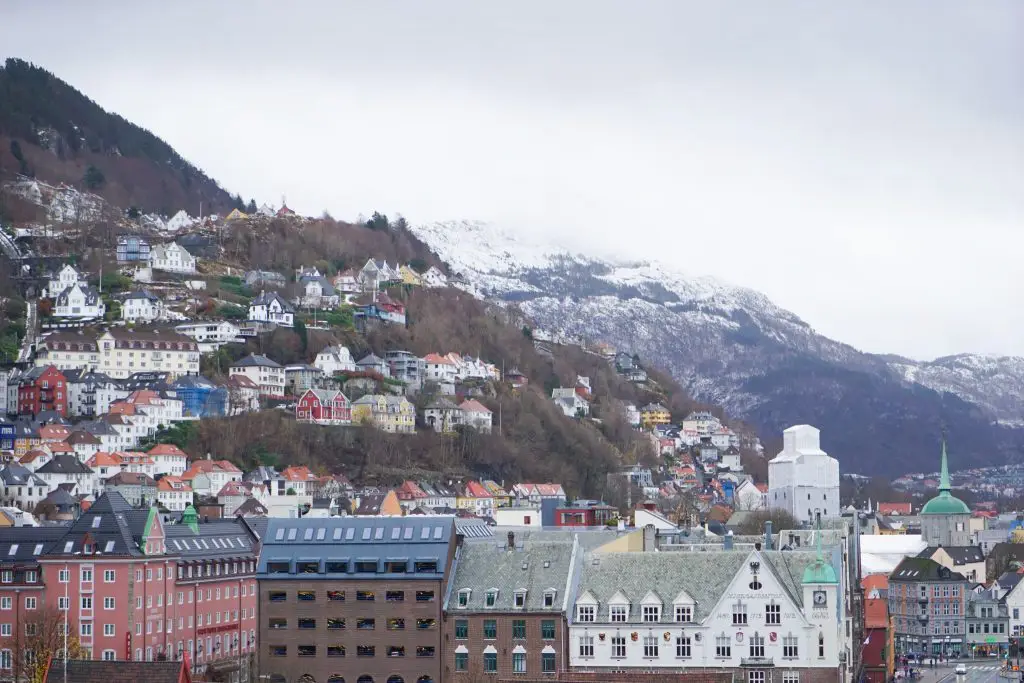 19. Learn All About Fish And The Important Of Sustainable Fisheries At The Norwegian Fisheries Museum
Norway today is synonymous with oil and fish. While Bergen has yet to get an oil museum, you can luckily learn all about the fascinating relationship Norway has with fisheries at the newly renovated Norwegian Fisheries Museum.
While you might expect this place to be only for children, it is one of the most cutting-edge museums in Bergen and well-worth the visit for the in-depth look at the history and contemporary context of Norway's marine harvest and fishing throughout the ages (including the great cod collapse of the 1980s).
A truly fascinating deep dive into an industry many don't give a second thought to, made all the more wonderful as it is located in a historic wooden warehouse on the waterfront filled with interactive exhibits.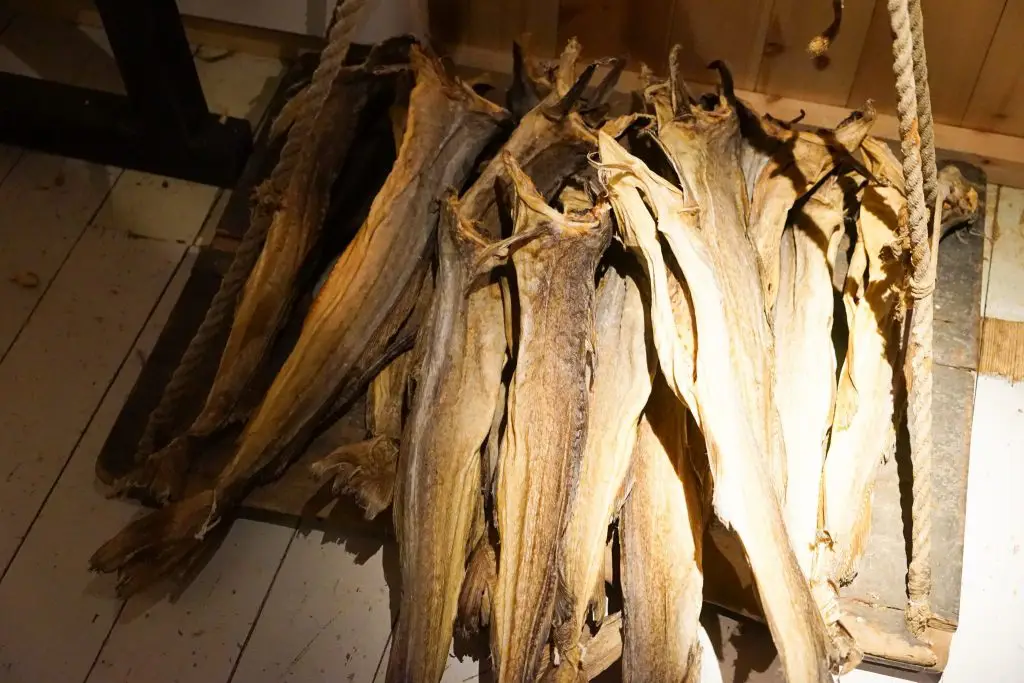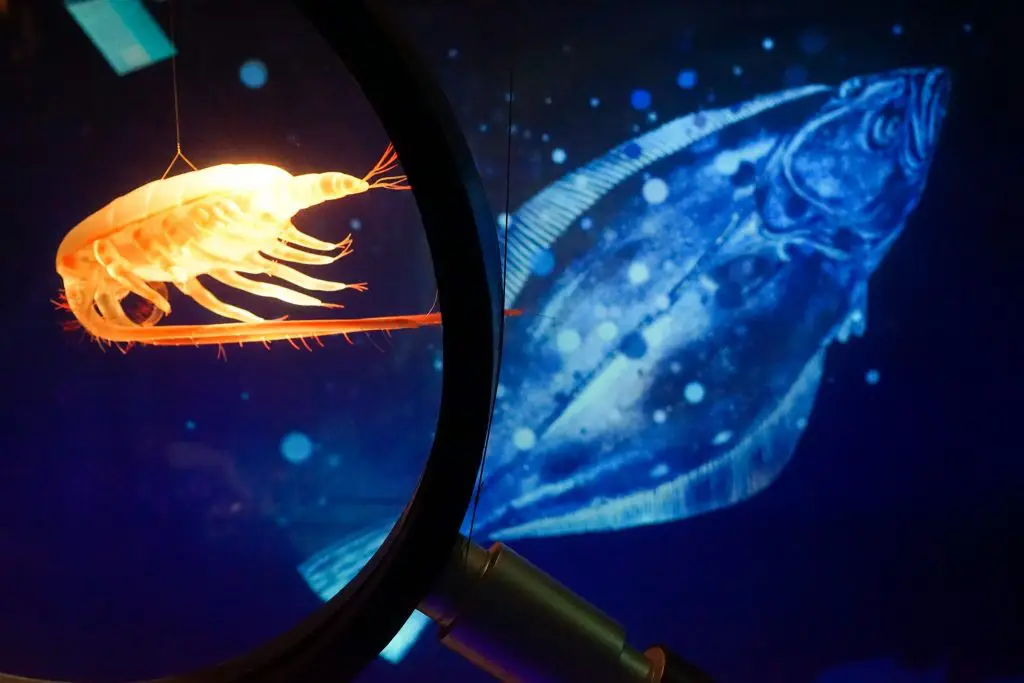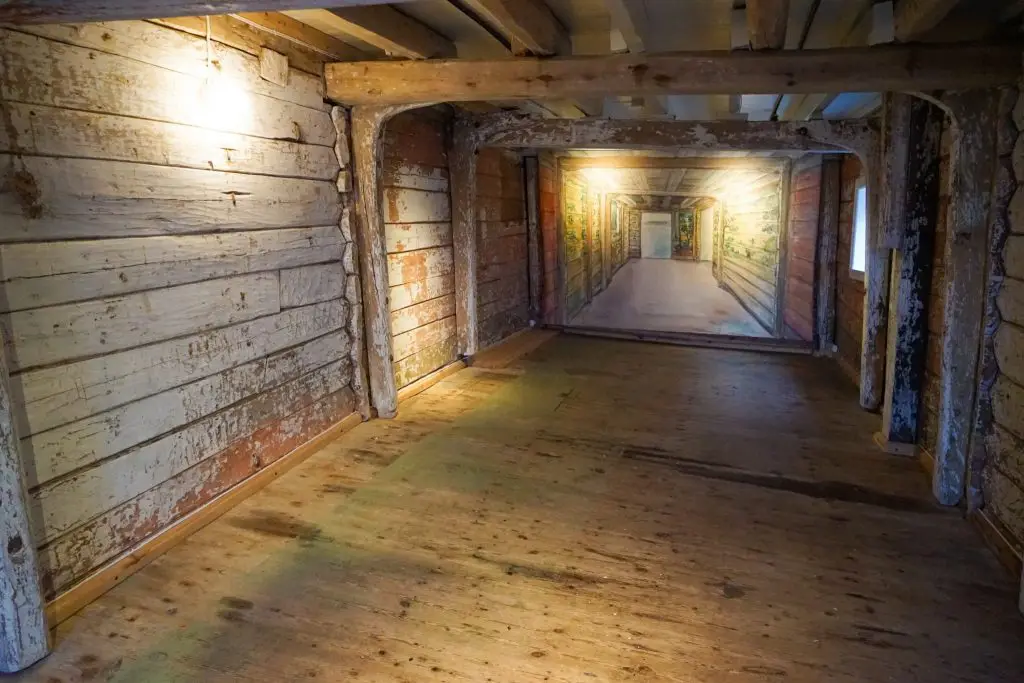 20. Meet With A Local, Have A Local Meal And Get Closer Acquainted With Norwegian Culture
A cheesy one to be sure, but, indeed, today's Norwegians are not quite the bloody-thirst marauders from which they are descended – but rather shy and quiet.
One of the top things you can do in Bergen is take the time to talk to them, ask about their lives and let them open up about their fascinating city and country…. Trust me, they are warm, caring and extremely funny people underneath their often emotionless exterior (I put that down to the weather!). One of the highest honors you can receive here is being invited to a locals house – as I was – where you might get to try the best Pinnekjøt of your life.
Either way, make an effort to chat with the locals here whenever you can, and you will quickly fall in love with Bergen and Norway as fast as I did!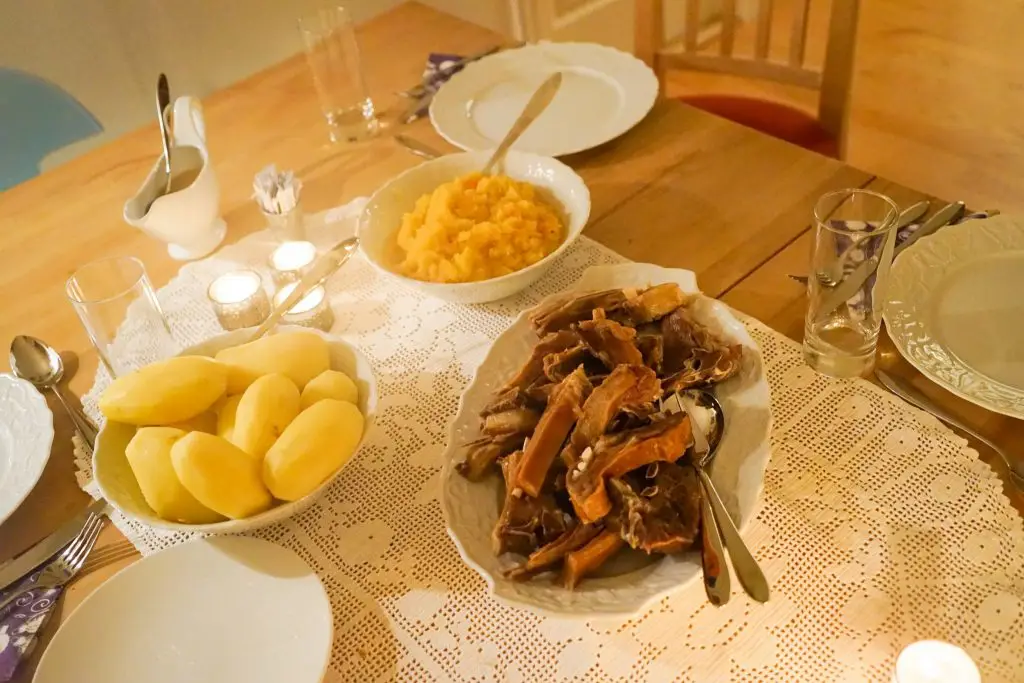 Other Top Attractions in Bergen Not to Be Missed If You Have More Time
Of course, there are far more than 20 unmissable things you need to do when you visit Bergen, and when you visit, you are sure to find your favorites.
If you need some more inspiration, however, here are a few places I was not able to get to during my stay – in part due to poor planning, seasonality and a lack of time – that I would have loved to visit and will hopefully be returning soon to see and experience.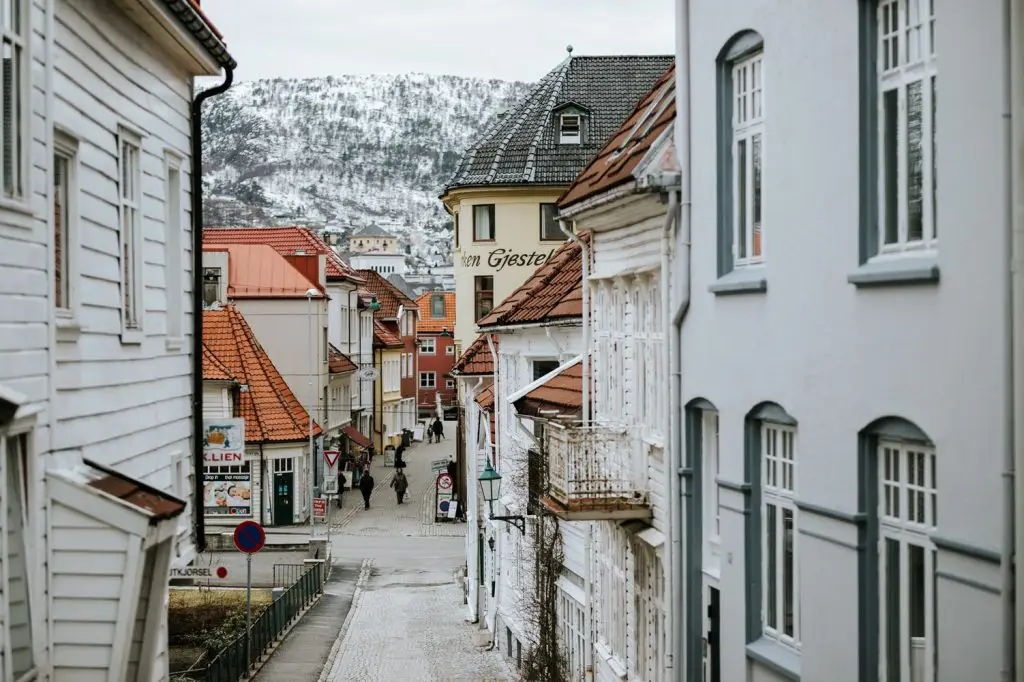 Norway in a Nutshell – A rail and ferry round-trip taking you to see the absolute best of Norway's most beautiful fjord scenery. Truly breath-taking, I am kicking myself so hard for not having planned enough time for this!
Fantoft Stave Church – Reconstructed after the original was destroyed by (you guessed it) fire, this magical church in the woods is the perfect place to live out your Frozen fantasies…
The Costal Museum in Øygarden – A modern museum in a stunning natural location following the lives of Øygarden's coastal inhabitants from the ice age until today. Highlights include a tour of oil and gas facilities and seeing working salmon farm pens.
North Sea Traffic Museum – A beautiful museum exploring the history of trading in the North Sea and Bergen.
Bergen Maritime Museum – Dating from 1914, this museum contains plenty of amazing ships, boats & films about Norway's proud seafaring past.
Is It Worth It To Get The Bergen Card?
In my mind, there is no doubt the Bergen Card is a great way to visit Bergen and keep your costs down, but of course, it does depend on how you are going to use it. I would have spent around three times more over my 72-hour visit without the card, but of course, usage can vary!
With free or discounted access to almost every museum in town (and there are a lot), free public transport access within Bergen City, and discounts at restaurants and other attractions, for 90% of travelers, this is going to be the best option.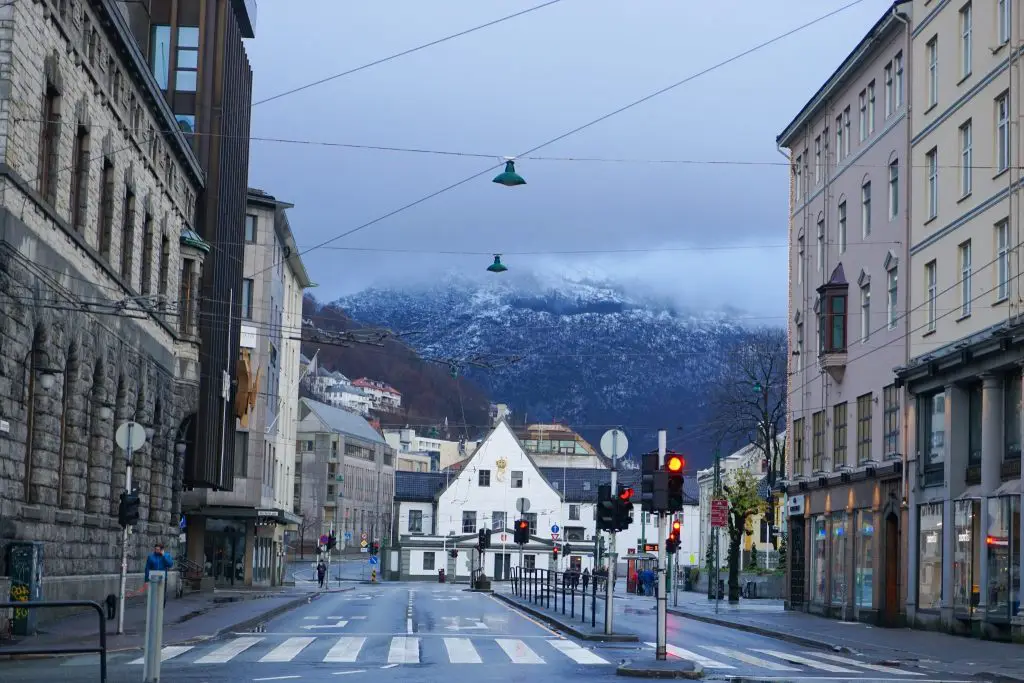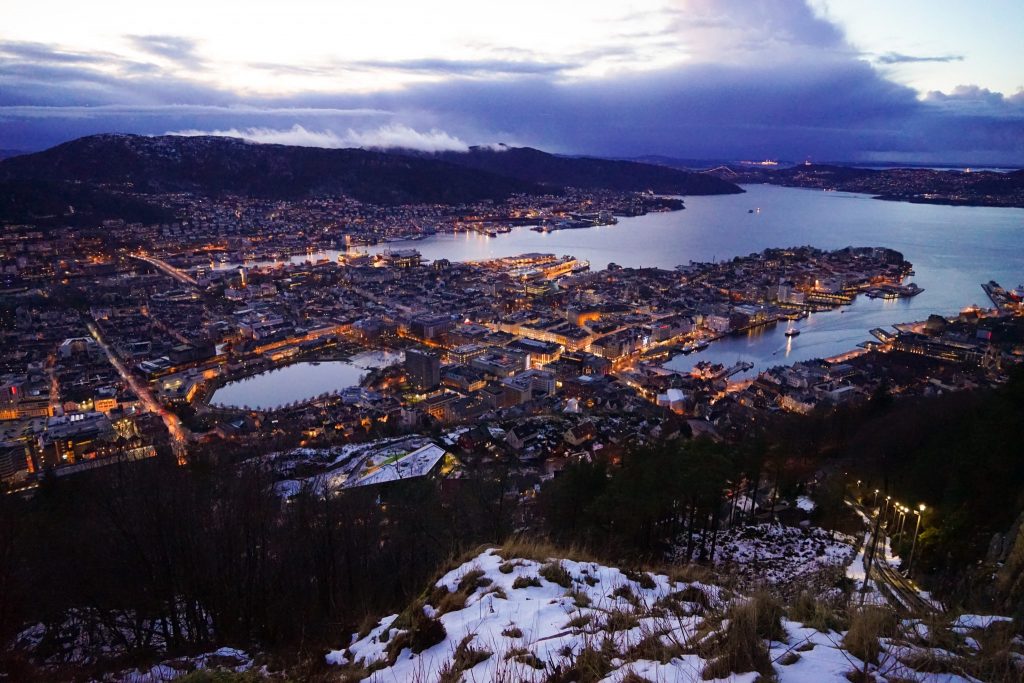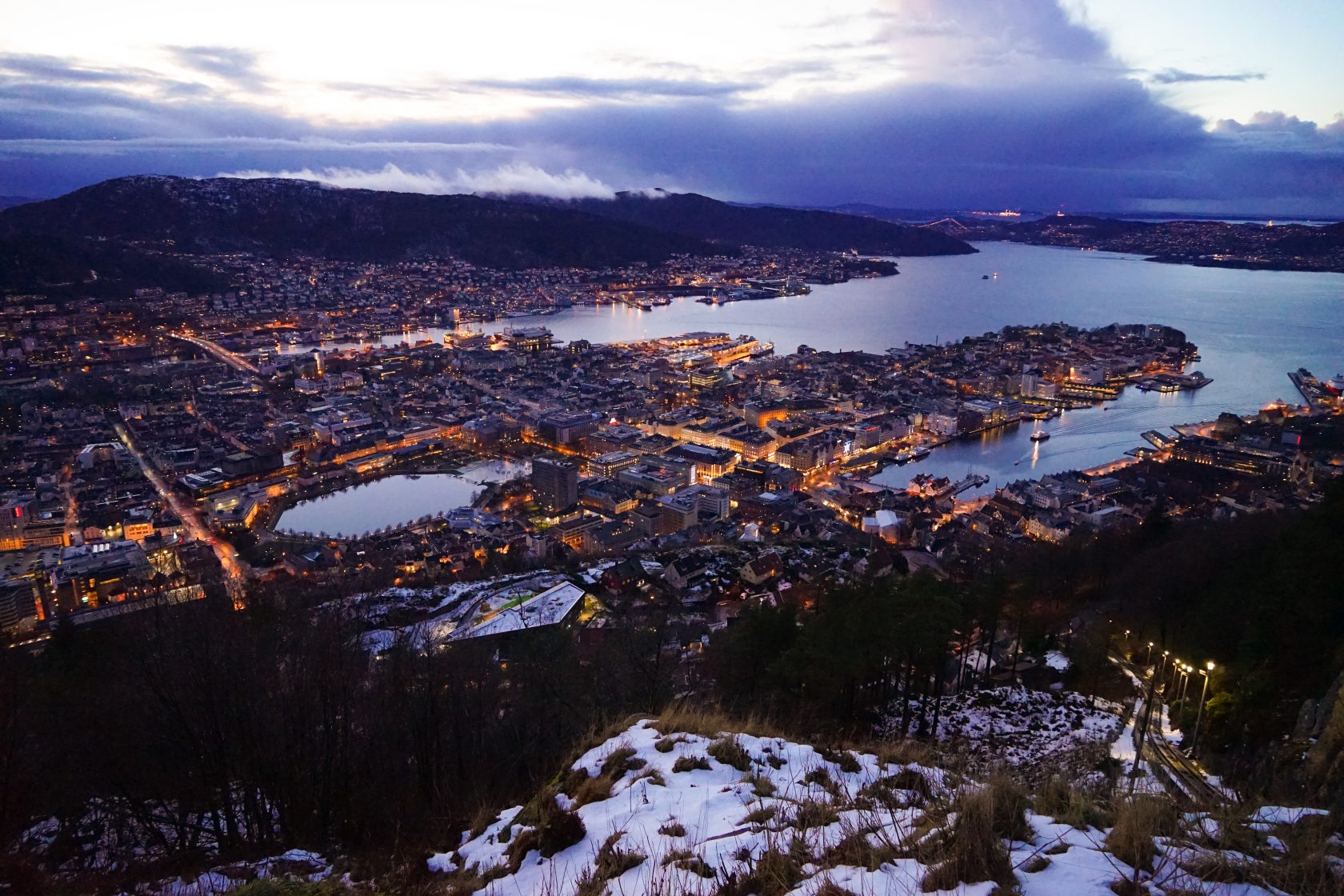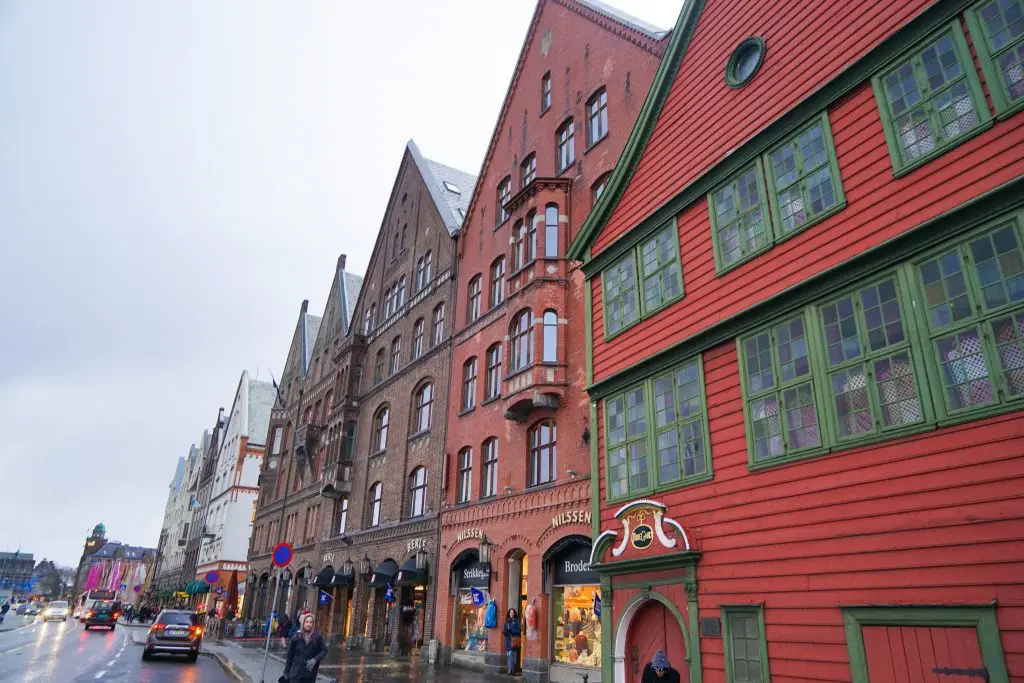 Many museums do not require more than an hour, so costs can quickly add up if you are hopping between places, and I enjoyed not having to count pennies every time I wanted to use the bus or light rail – even if it was just for a few stops.
The Bergen Card can be purchased online and used right from the newly built light-rail option at the Bergen Airport terminal directly into Central Bergen, making everything nice and comfortable.
You can find a full list of the Bergen Card inclusions here and purchase through the same link.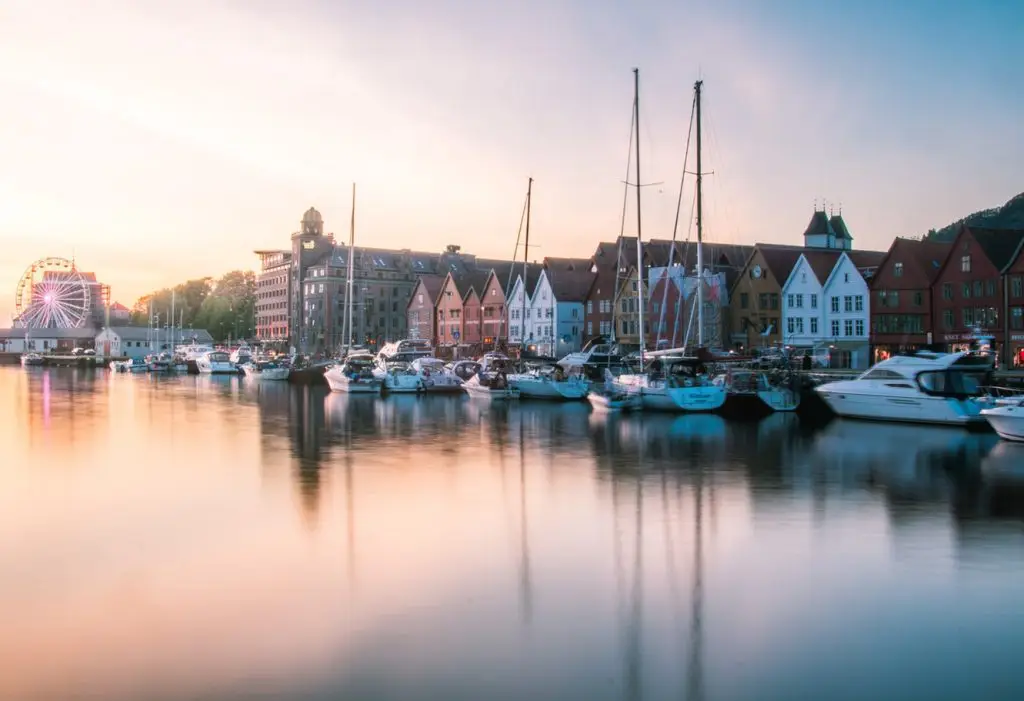 How To Get To Bergen Norway
Long gone are the days of arduous journeys via sea to reach the remote trading outpost of Bergen, today Bergen Airport offers air connections to 58 destinations with an additional 22 seasonal destinations mainly across Europe.
The largest international airlines are Scandinavian Airlines and Norwegian Air, with a growing number of flights to Eastern Europe from Wizz Airlines. Norwegian also offers an incredibly cheap flight from New York's Stewart Airport, which is being hailed as one of the biggest shake-ups in the Trans-Atlantic flight market in decades if that is an option.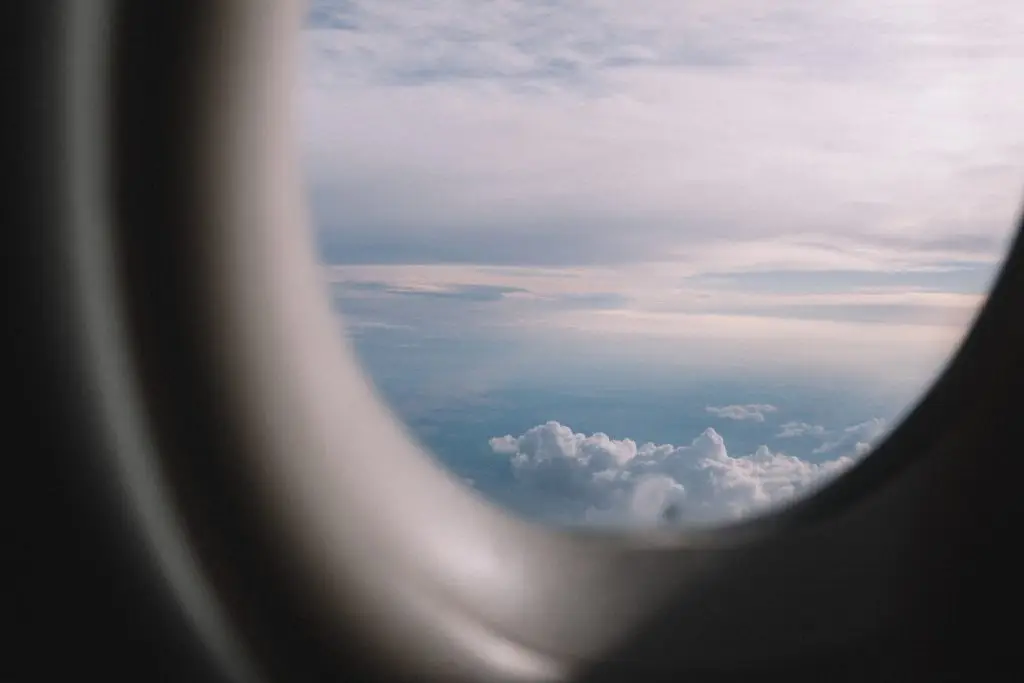 Bergen is also a significant hub of domestic travel within Norway for both flights, rail, and boats, so getting around should not be a problem. The train to Oslo is a six-hour odyssey through snow-capped mountains and fjords which is worth it for the scenery alone, and not too expensive if booked 60 days in advance when ticket sales for Norway trains go on sale – or why not tick off a bucket-list item with the Norway in a Nutshell trip on the way.
If you are on an extended trip through-out Norway, a Eurail Norway Ticket will be well worth it, giving you flexibility and can lead to massive savings if used properly. You can also get a scenic ferry from Bergen – Stavanger for a crazy €25, and regular ferries are heading up or down the stunning coastline if you have the time to see more of Norway (which I highly recommend you do!)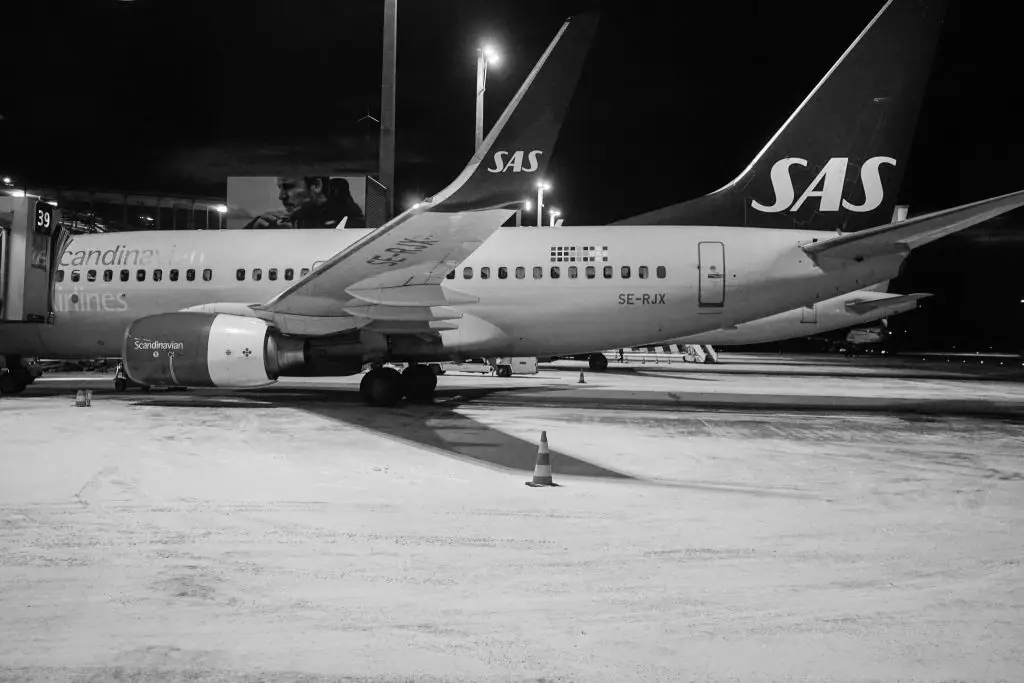 So there you have it! Bergen In A Nutshell. I truly fell head-over-heels in love with Bergen and found it had something to offer for everyone. With the help of the Bergen Card, it was pretty easy to manage my budget, and of course, there are a plethora of beautiful and unique attractions to visit here.
Summer or winter, foodie, or culture vulture – A trip to Bergen is guaranteed to be an unforgettable visit filled with historical charm and cosmopolitan vibes that will have you begging to stay longer! Go on, book your holiday now, you won't regret it!
A special thanks to Visit Bergen for helping me with my stay, including plenty of great local hints and tips that you can find included above and the unique Hotel Oleana Bergen for hosting me. As always, all opinions are my own, and I would have loved Bergen regardless!