A captivating mixture of Medieval fairy-tale charm, contemporary New Nordic dining and hidden hipster hotspots, splashed with a few cultural and architectural relics of the Soviet occupation.
There is something for everyone in Estonia's in vogue capital. And with these 30 Fun Things To Do In Tallinn, I am going to make sure you love this city just as much as I did!
Lying in the east of the Baltic sea, only 70 km south of Helsinki and 300 km north of Riga, Tallinn was founded almost a millennium ago and has centuries of history trading – and being traded by – Russia, Denmark, Sweden, and Germany.
The result is a rich cultural tapestry that has endowed Tallinn with many unique attractions. For most tourists, the top highlights are undoubtedly the beautifully preserved walled city at Old Tallinn's heart, concealing winding cobbled streets, photogenic medieval houses, and opulent churches.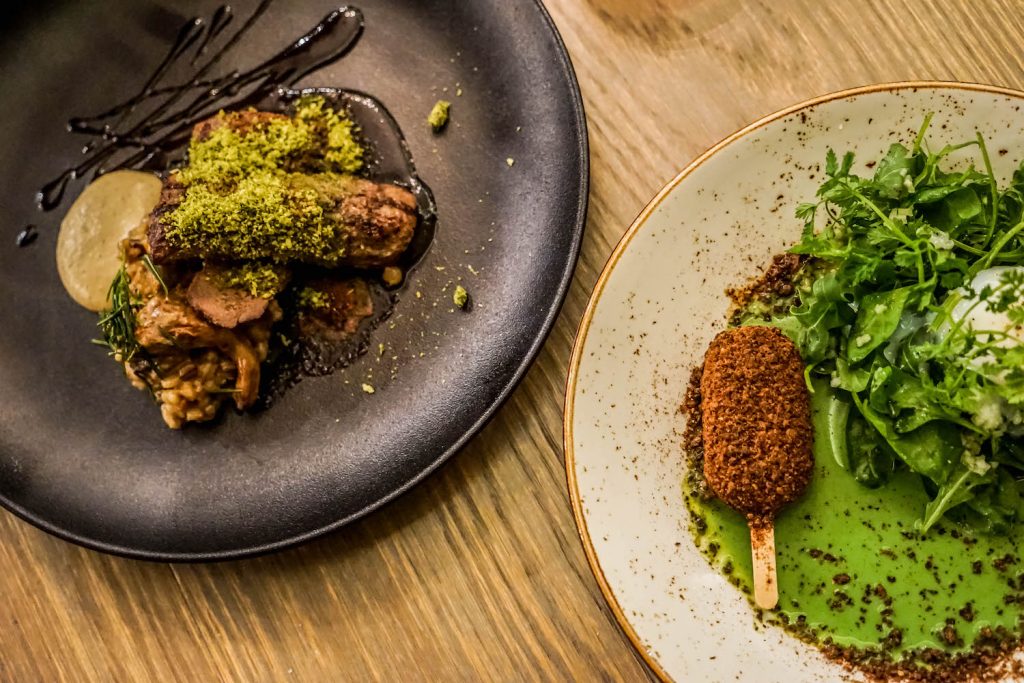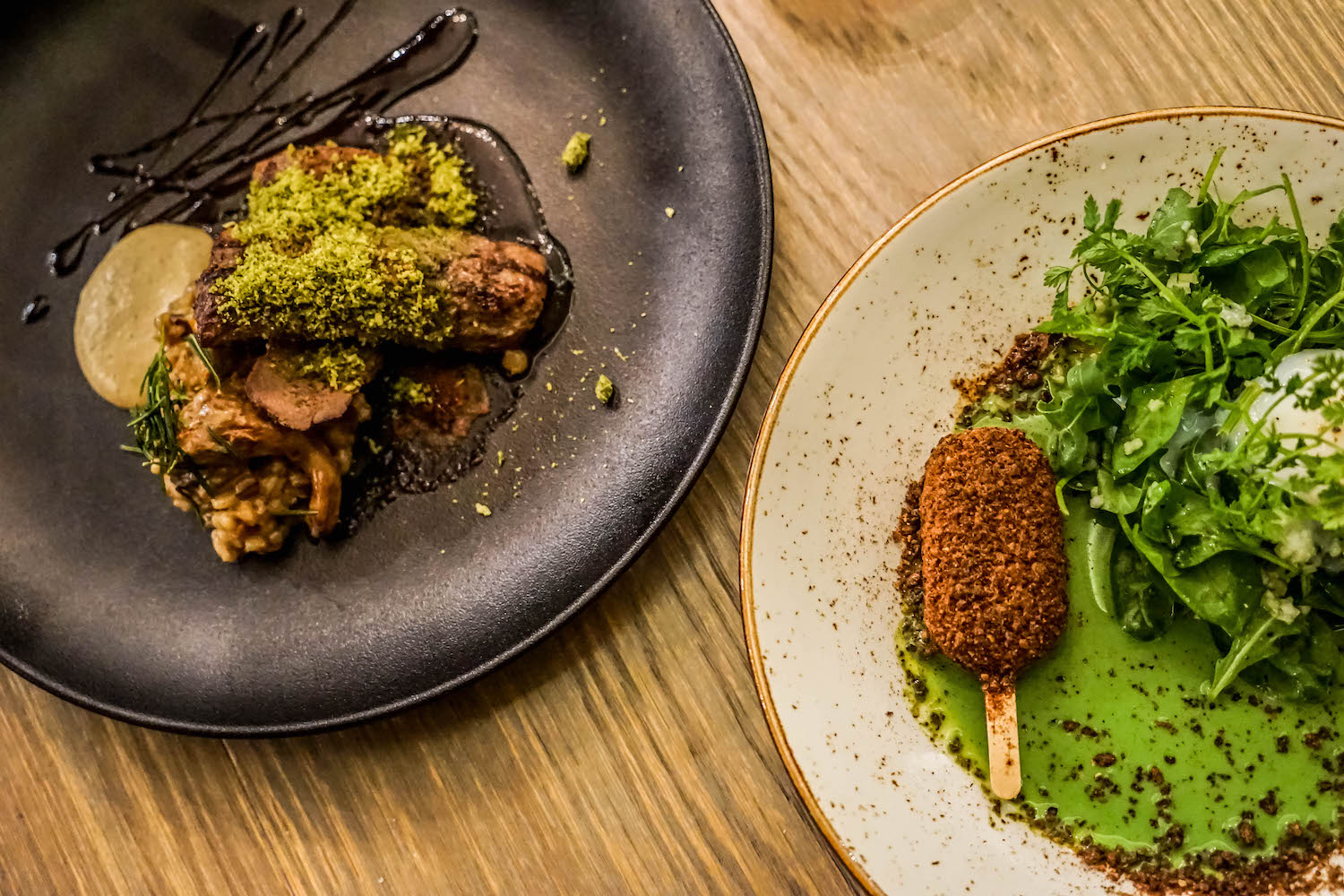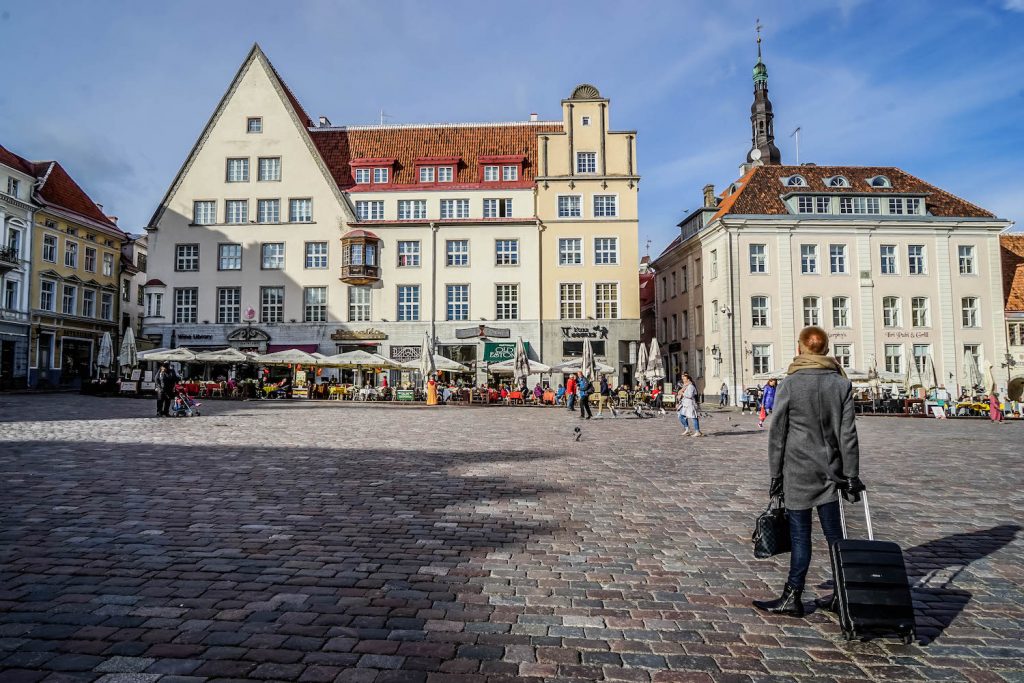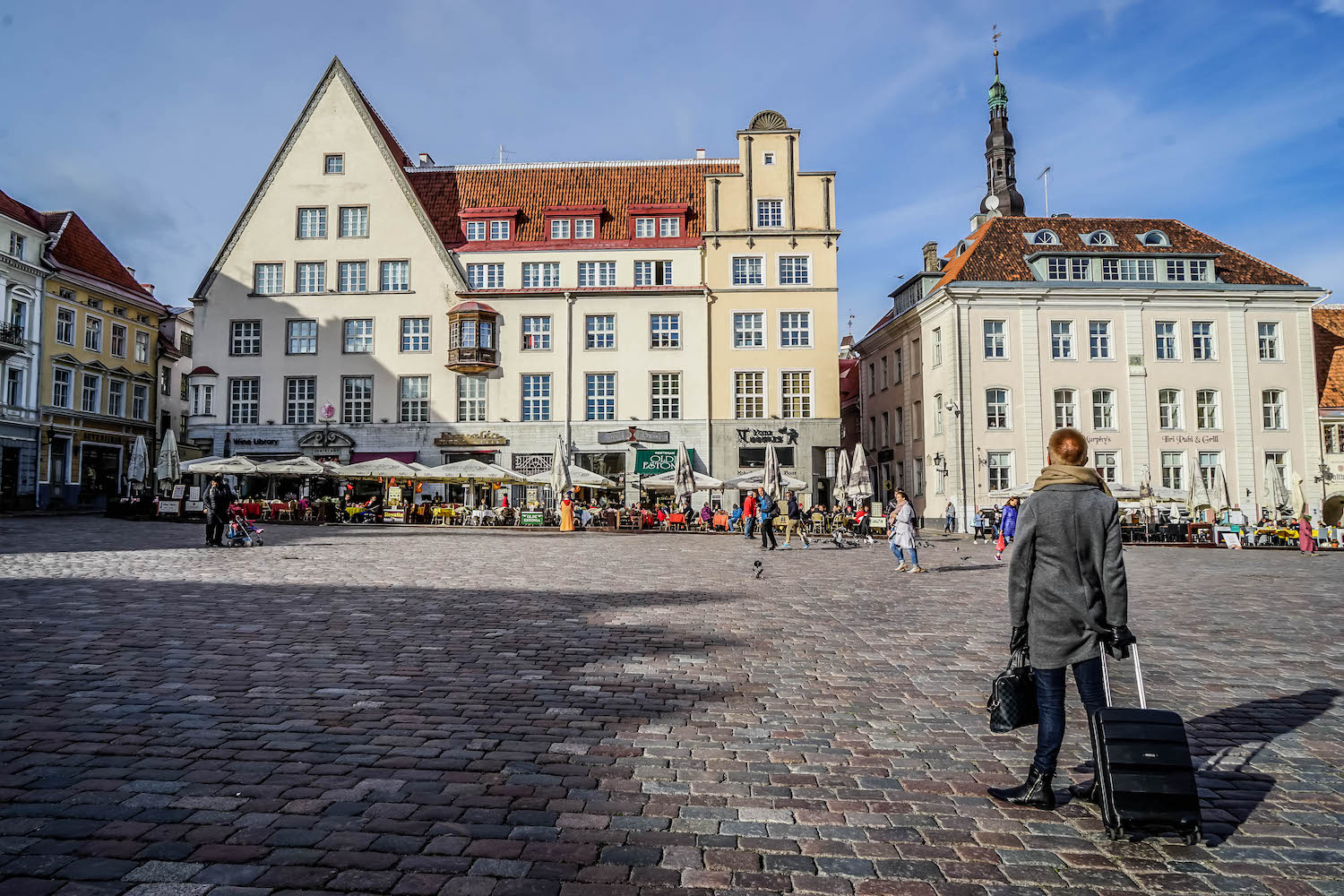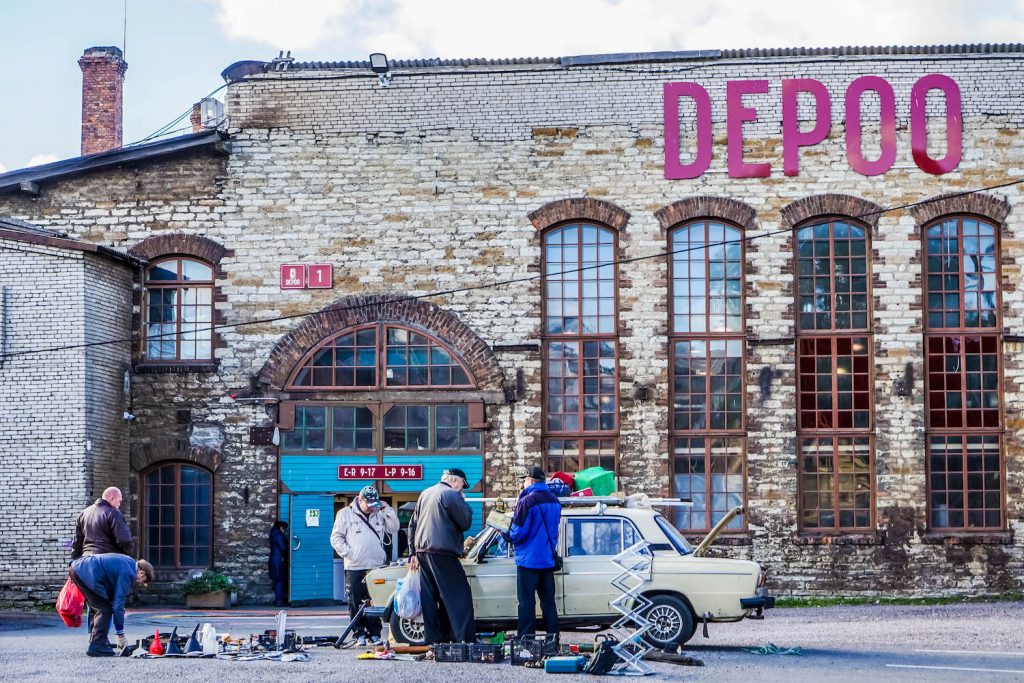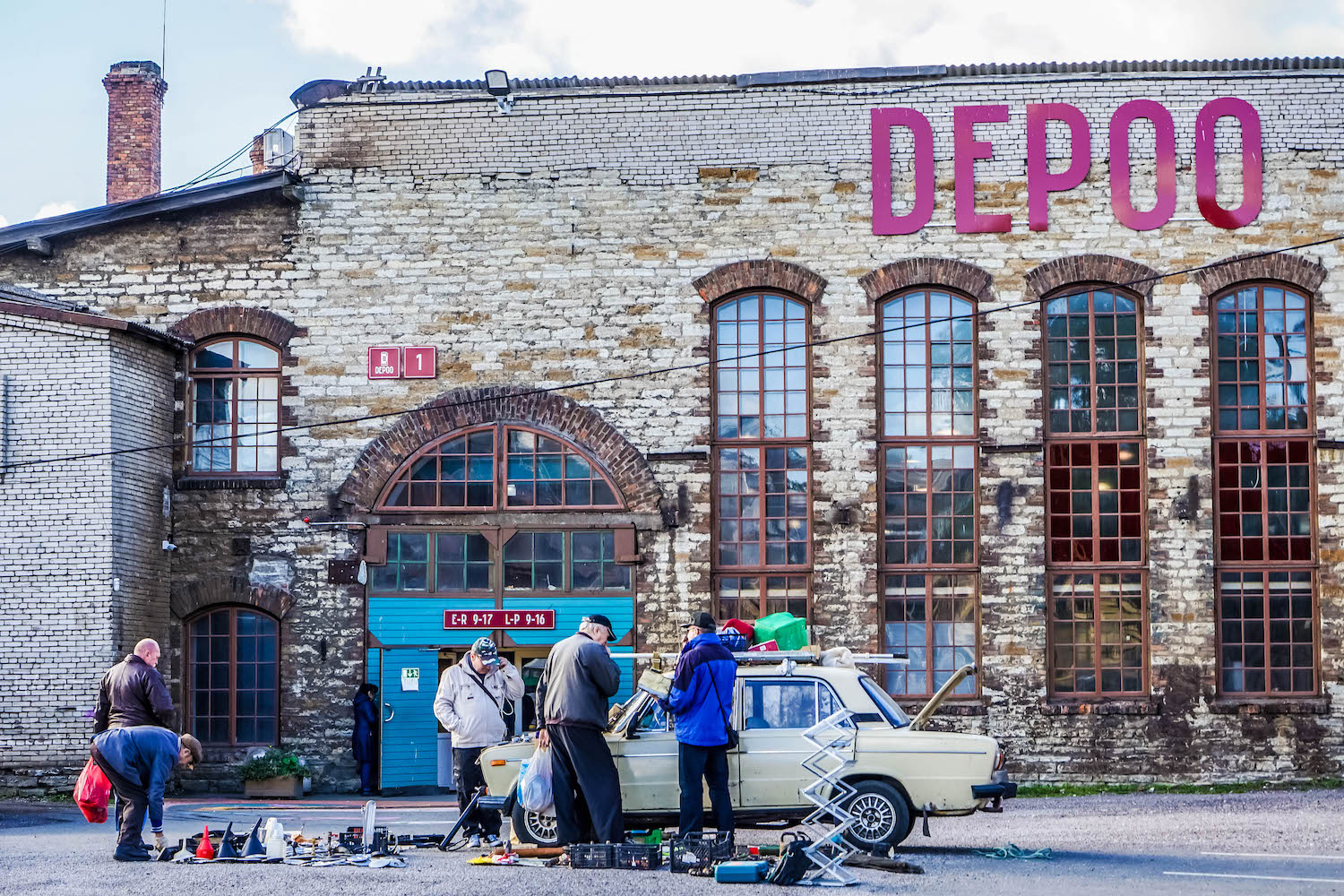 Given how frequently Tallinn was subject to ravages of fire and conflict by warring European powers over the years, it really is remarkable that the city has managed to respect and keep most of its historic architecture intact. So impressive in fact that the Historical Centre (Old Town) of Tallinn was rewarded UNESCO World Heritage Status in 1997.
If you ever tire of the converted medieval buildings of the Old Town, which now house trendy restaurants, relaxes hotels and fabulous museums, there is also plenty more to see. There is the entire Kalamaja neighborhood, famed for its wooden architecture and free-spirited cafes, to explore – or the Telliskivi Creative City, a design and dining precinct hidden in a converted industrial complex.
Still not enough?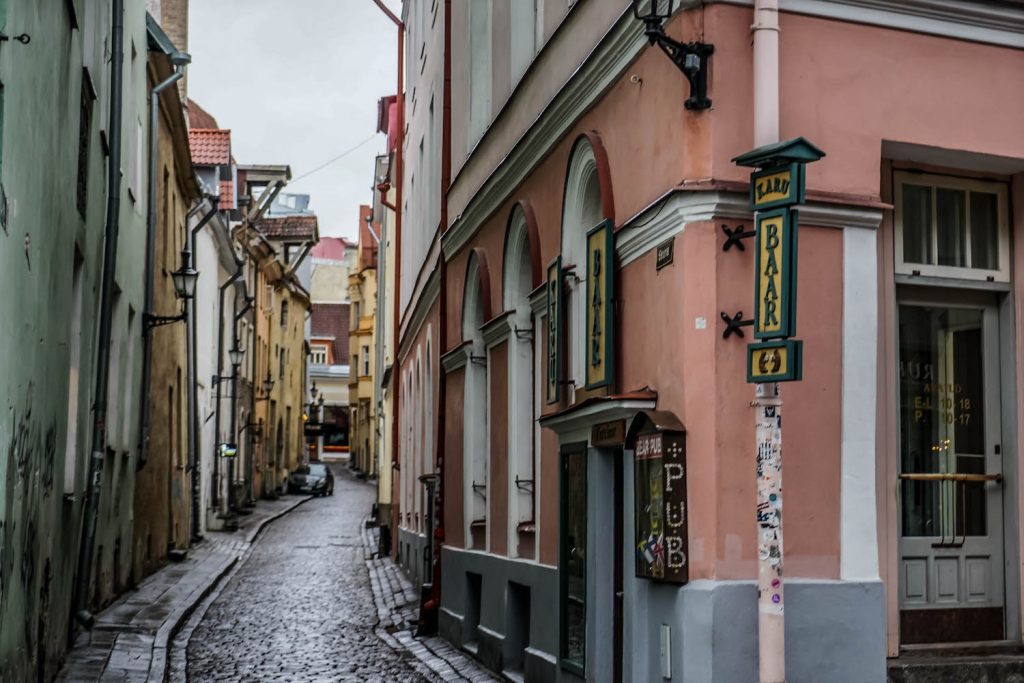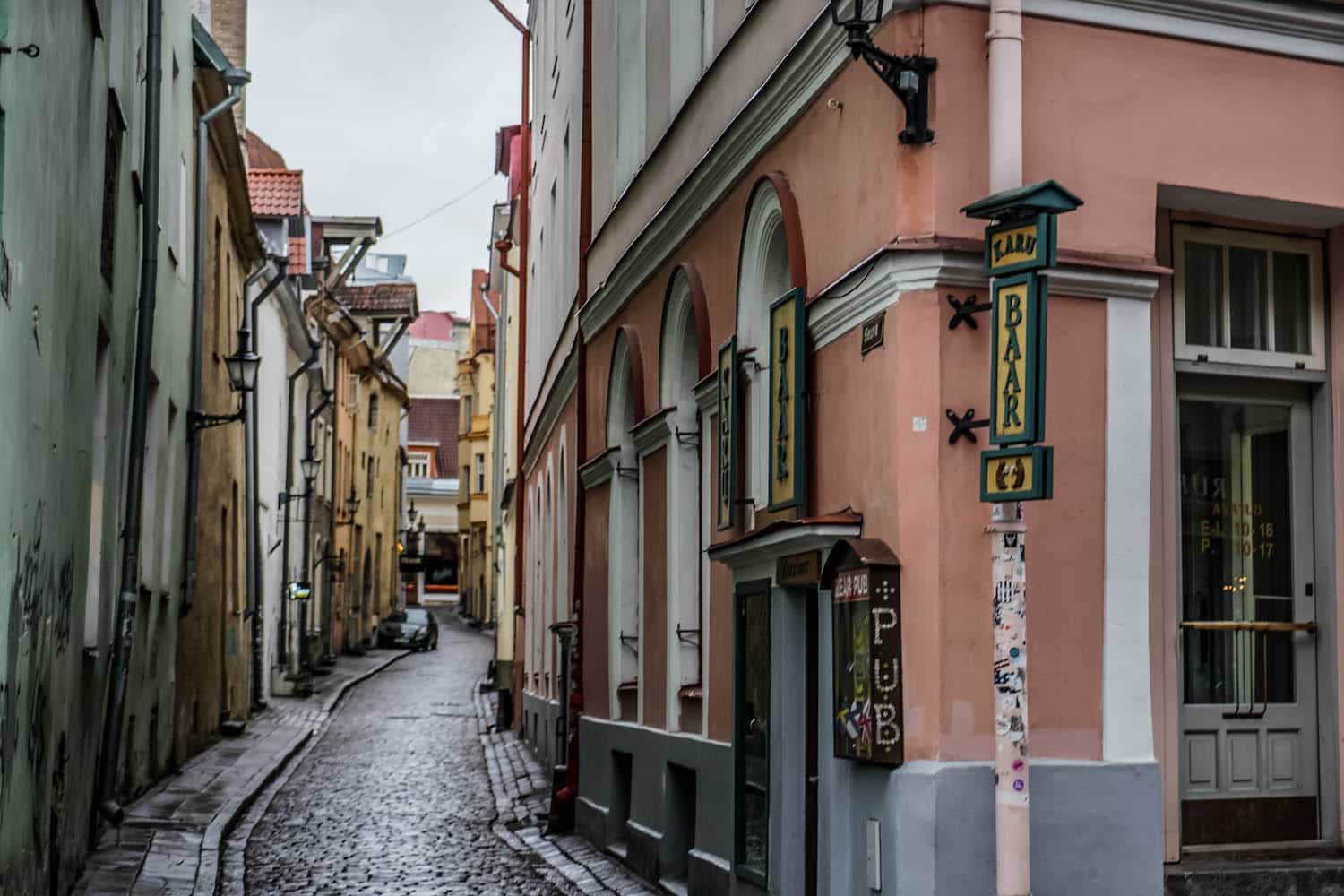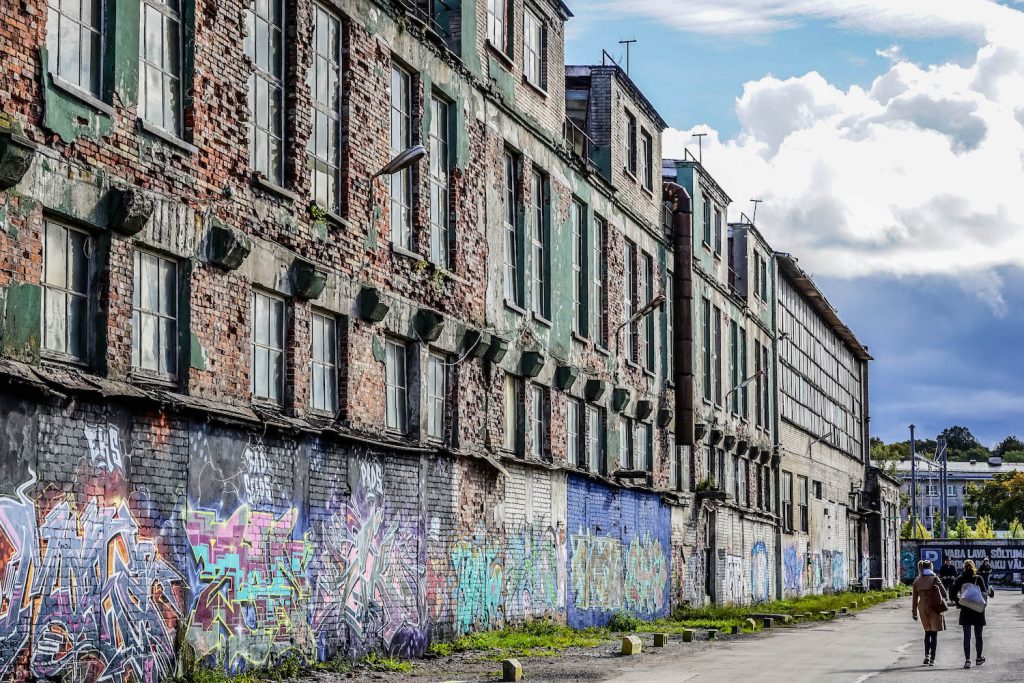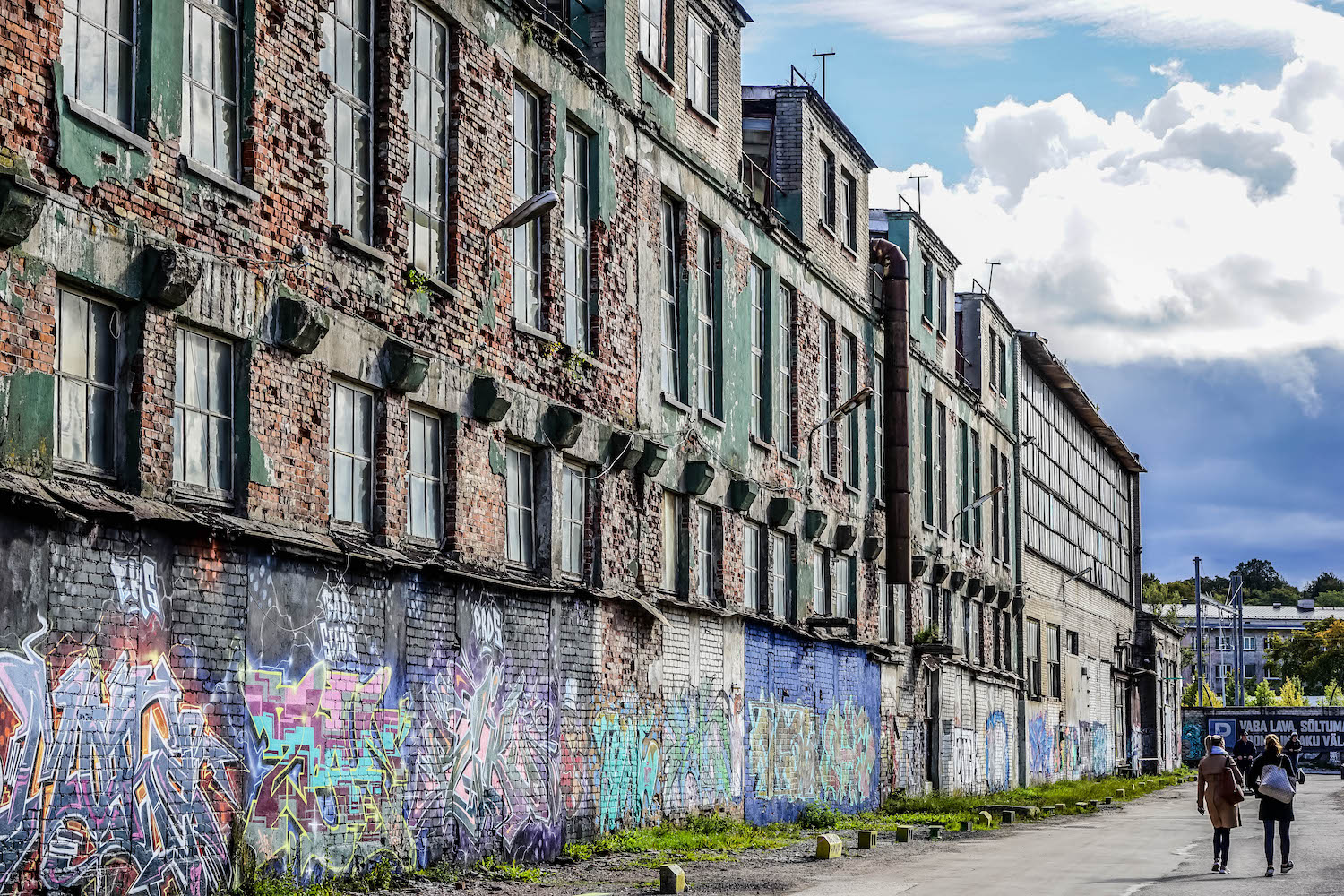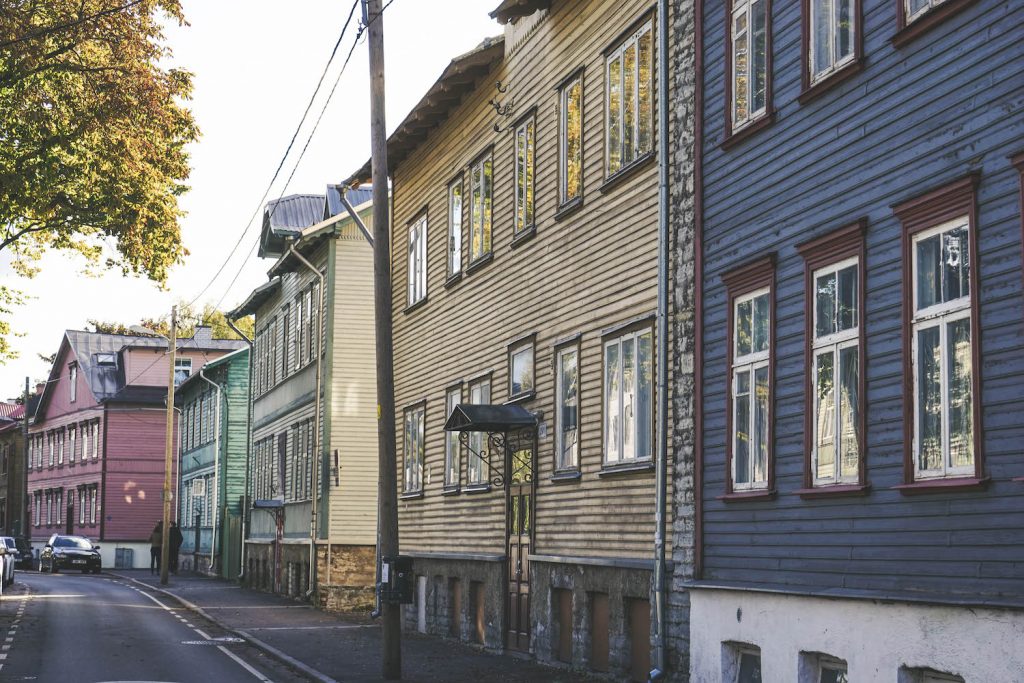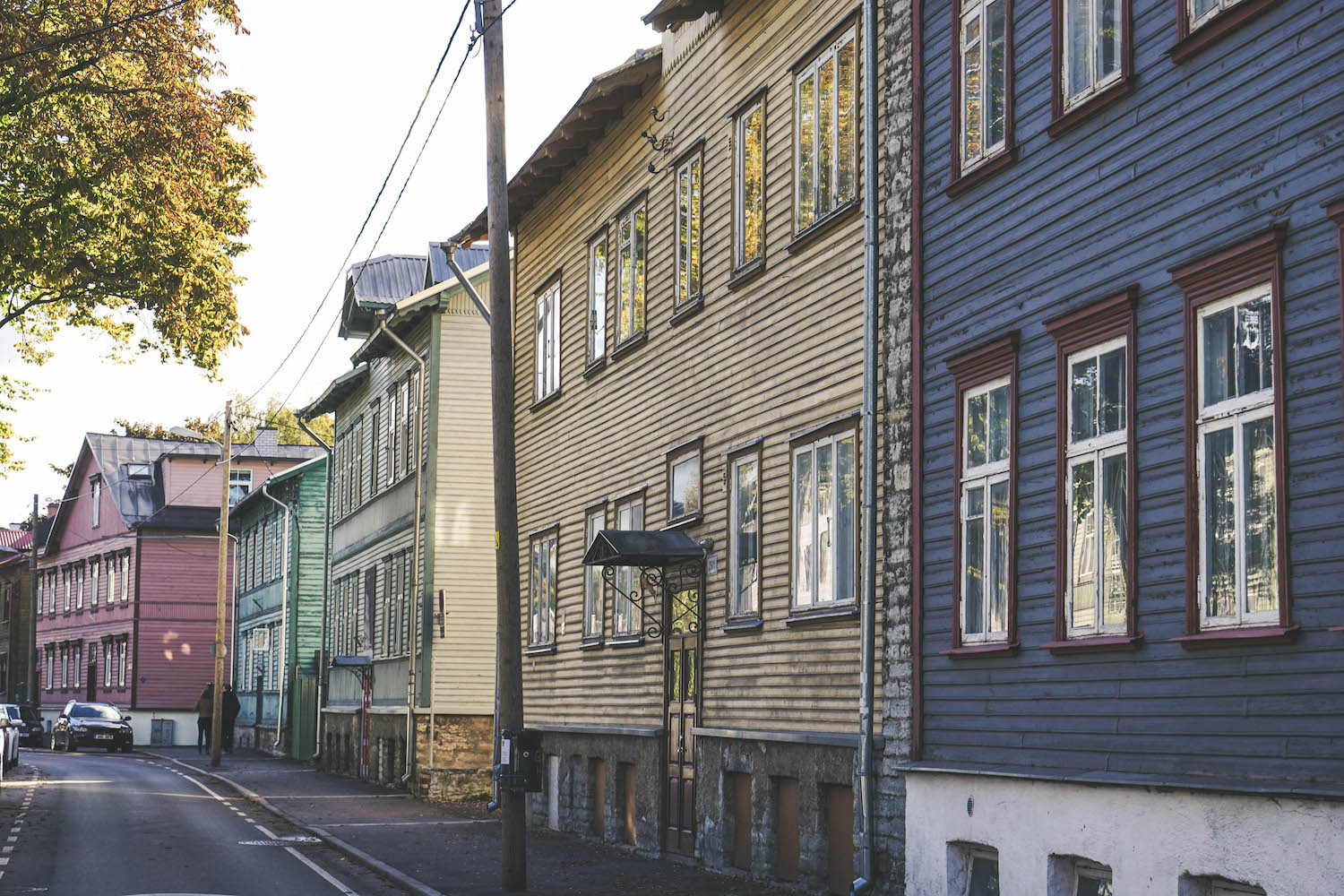 There is also a modern town with controversial examples of both concrete Soviet-style and glass Capitalism architectural monstrosities — and so much unusual nature and curious towns right on Tallinn's doorstep to explore if you rent a car in Estonia.
Culturally distinct from its Russia and it's Baltic neighbors, Latvia and Lithuania, and separated from its linguistic brother Finland by the Soviet occupation, today Estonia, a little country way up in the north, is embracing its independence and singular uniqueness.
Culture, gastronomy, design, and nature abound, but Tallinn, its treasured merchant's city, is still Estonia's crown jewel and is just as bustling, buzzing, and beautiful as ever.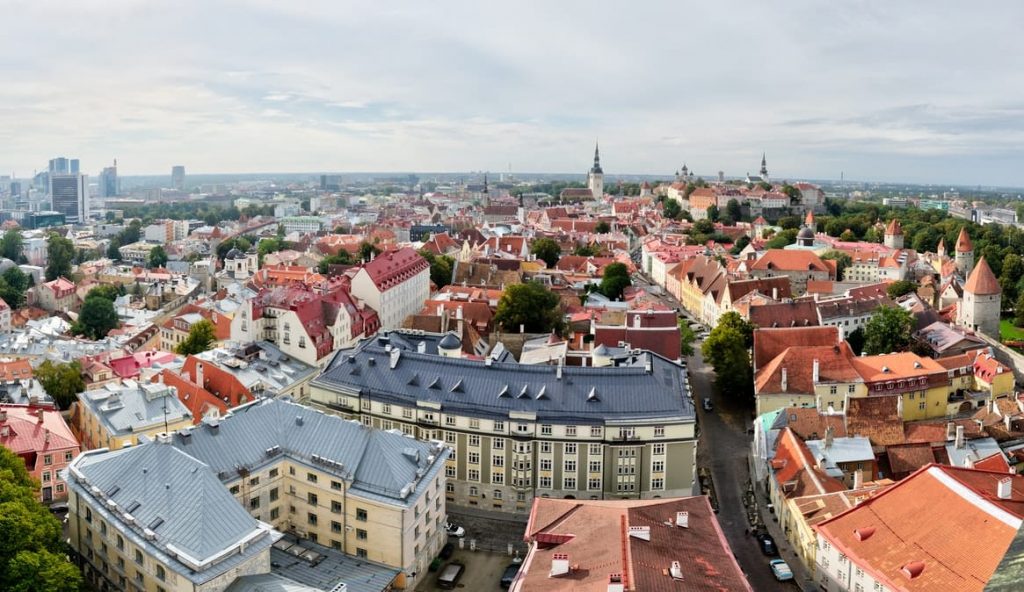 30 Fun Things To Do In Tallinn: Estonia's Medieval-Meets-Modern Capital! 🇪🇪
1. Embrace Your Inner Bond Villian At The Seaplane Harbour (Estonian Maritime Museum)
With the design aesthetics and WOW factor of a James Bond villains Lair, the converted Seaplane Harbour is easily one of the best things to do in Estonia – and possibly Europe's most exhilarating museums. I mean seriously, just look at it!
Separated into three levels: in the air, on the sea, and below the sea – the Seaplane Harbour is a fabulous example of a renovation done correctly. It protects one of the most valuable buildings of the 20th century in the Baltic States for generations to come.
There are around 200 different maritime objects houses within this historical seaplane hangar. However, the crowning jewel has to be the Lembit submarine, which was the oldest submarine still afloat in the world when he was brought ashore in 2011. You are free to explore inside the sub.
Still, there is so much more here including sailboats, special exhibits, the incredible cafe MARU, and an array of historically significant maritime boats outback you can wander aboard.
No matter where your interests lie – a visit to this one-of-a-kind museum in Tallinn should be a top priority!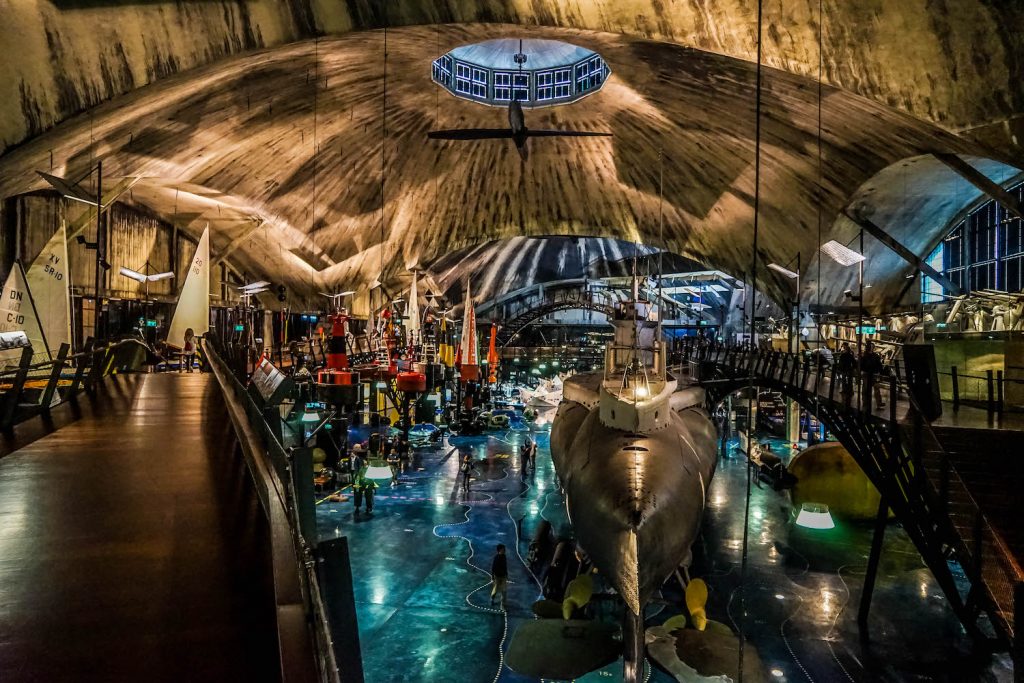 2. Learn About The Various Art Movements Of Estonia At The Kumu Art Museum

If you are a lover of art, you simply cannot miss visiting the KUMU, one of the most prominent museums in Estonia. It is even one of the largest art museums in Northern Europe.
Kumu presents both permanent collections and temporary exhibitions with a focus on Estonian art from the 18th century onwards, including seminal examples from the occupations period (1940–1991) and presenting both Socialist Realism and what was then Nonconformist art.
If that isn't enough to convince you, the temporary exhibitions often feature contemporary works, both foreign and Estonian artists, which juxtaposition nicely and avoids having the galleries feel like the stuff art museums of say – Vienna or Paris.
The building itself is designed by Pekka Vapaavuori – a Finnish architect and is equally impressive as the work it holds within. Despite its gargantuan size, it is very much hidden and in harmony with its splendid location in Kadriorg Park.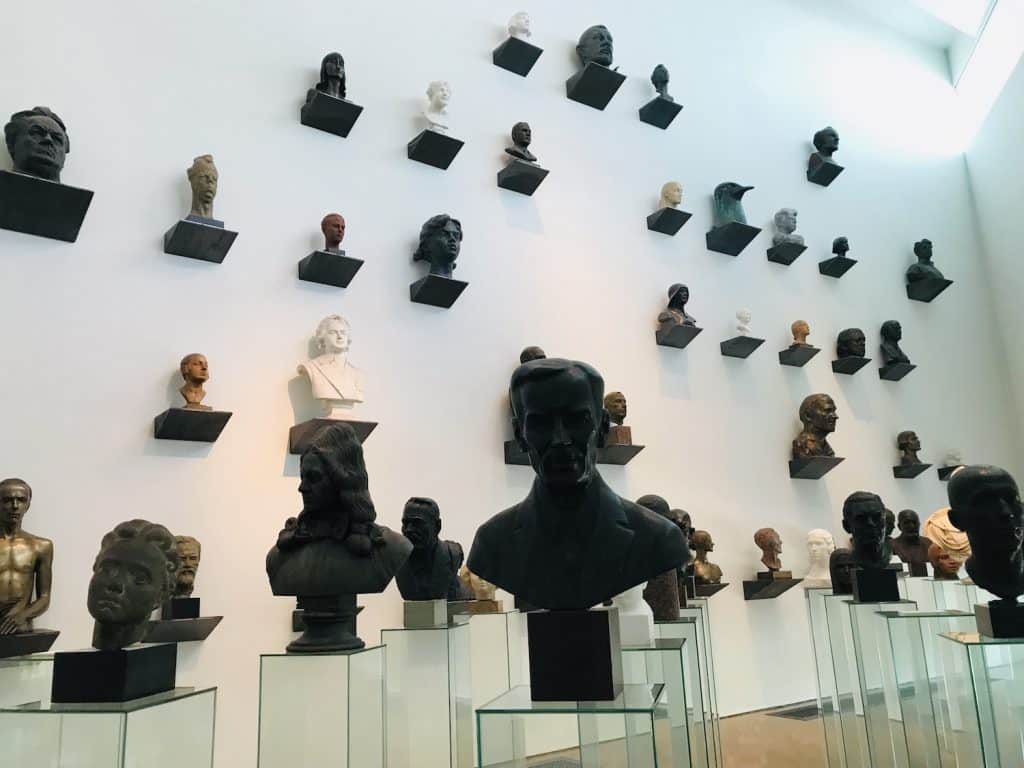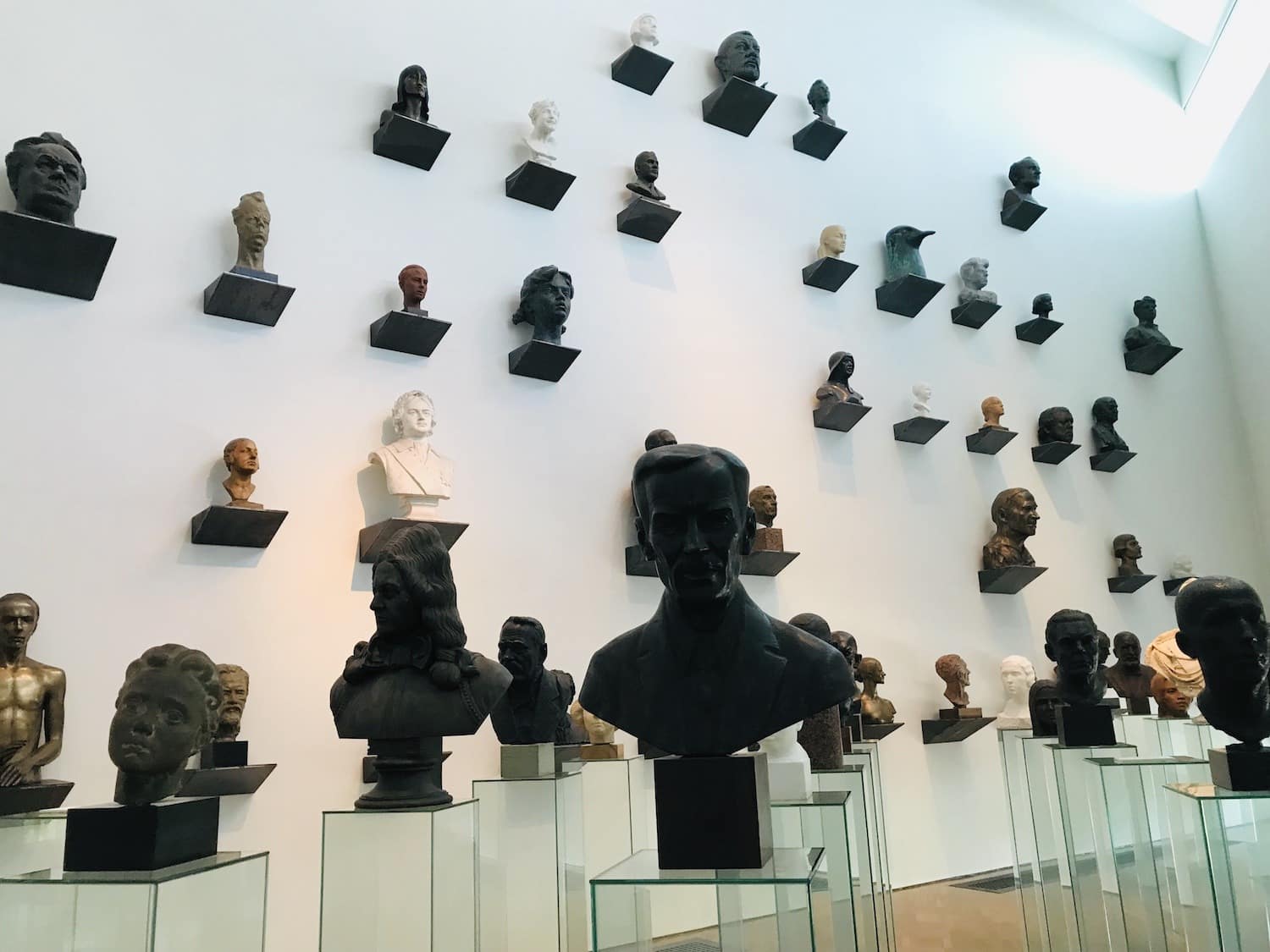 3. Delve Into The Sorrid Soviet Past At The Hotel Viru KGB Museum Or The KGB Prison Cells
While Estonia and Tallinn are very progressive and trying as hard as possible to forget about the Soviet Occupation, there are still a few places around the central city where you can go to learn about the effects this period had on Estonia.
One is the Hotel Viru and KGB Museum, which exhibits KGB artifacts from the Soviet occupation, including uniforms, cameras & spy gear that was used to spy on all guests at the hotel – including the many foreigners who stayed here.
Inside, you can learn about two parallel worlds: a fictional one in which all Soviet citizens lived in happiness, abundance, and bliss with no accidents, and another, the reality in which scare tactics, spying and interrogation was the norm.
You can only visit on an organized tour and should book in advance as the tours are top-rated and do fill up. Exhibits are located on the top floor – which Soviets claim never existed – where the KGB was based. Real fans can even stay at the Original Sokos Hotel Viru still today. However, the rooms have been extensively renovated and look nothing like they would have during the Soviet era.
You can also visit the small KGB Cells Museum in the Old Town, which is a reminder of the inhuman treatment Estonian citizens received under the Soviet regime. A visit will only take a half-hour, but you can see the cells prisoners were kept in, as well as some of the more chilling stories that help paint a realistic portrait of life under Soviet occupation.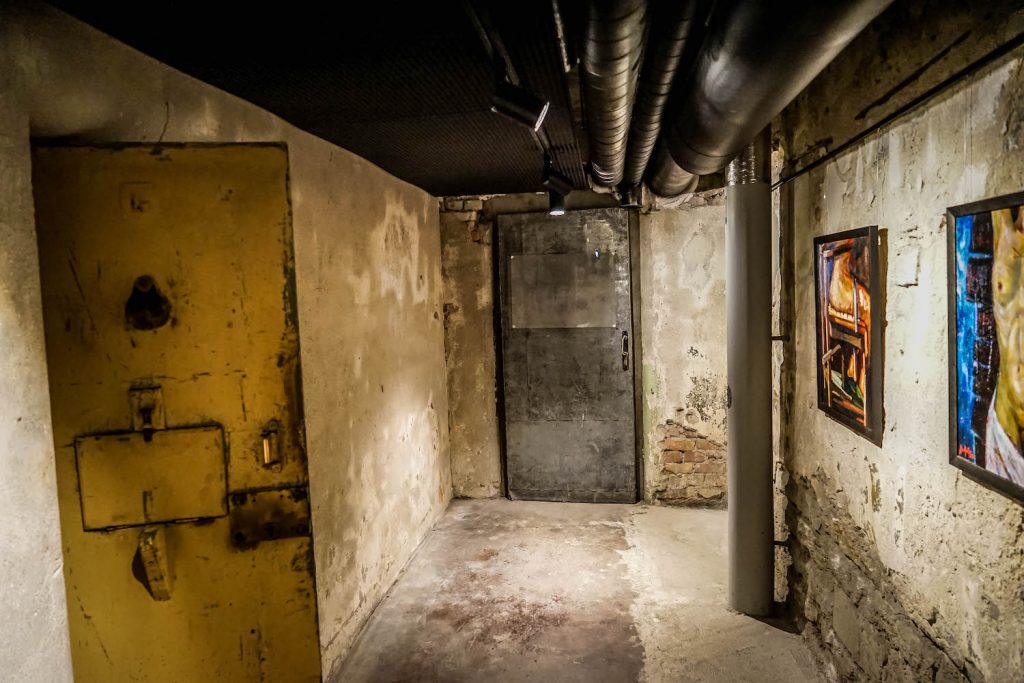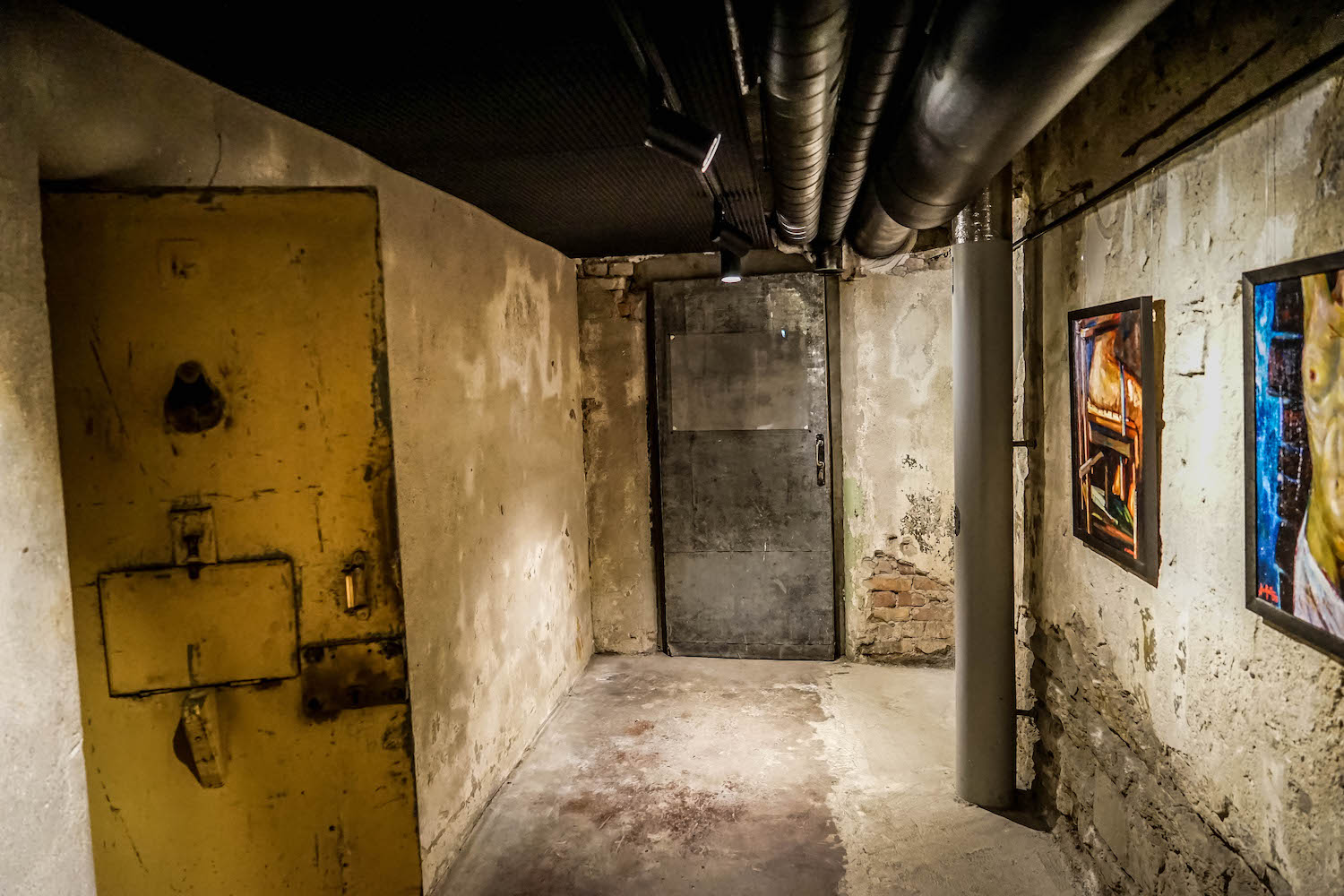 4. Taste World-Class Beer At The Newly Opened Põhjala Brewery

Põhjala Beer may have only started in 2014 but is quickly gaining an international reputation as thanks to its focus on porters, barrel aging, and rare botanical ingredients from the forests of Estonia.
Thanks to a considerable expansion in 2018 which saw Põhjala move their brewery to the Noblessner area of Tallinn, and open up a marvelous tap room which serves 24 Põhjala and guest beers on tap. The cuisine is centered around Texas BBQ that is smoked on the spot and features various sides, salads, sandwiches, snacks, and desserts – most of which is home-made – and perfect for enjoying with a tasting flight outside on the deck during those long summer days.
For real beer connoisseurs, we recommend signing up in advance for the 45-minute tour, which explains Põhjala beer production with information about beer making and the brewery and – obviously – tasting of 3—4 different beers. And if you are visiting in May, do not miss the Tallinn Craft Beer Weekend, an annual festival organized by Põhjala Brewery in May and featuring over 30 Estonian and international breweries who showcase around 300 beers.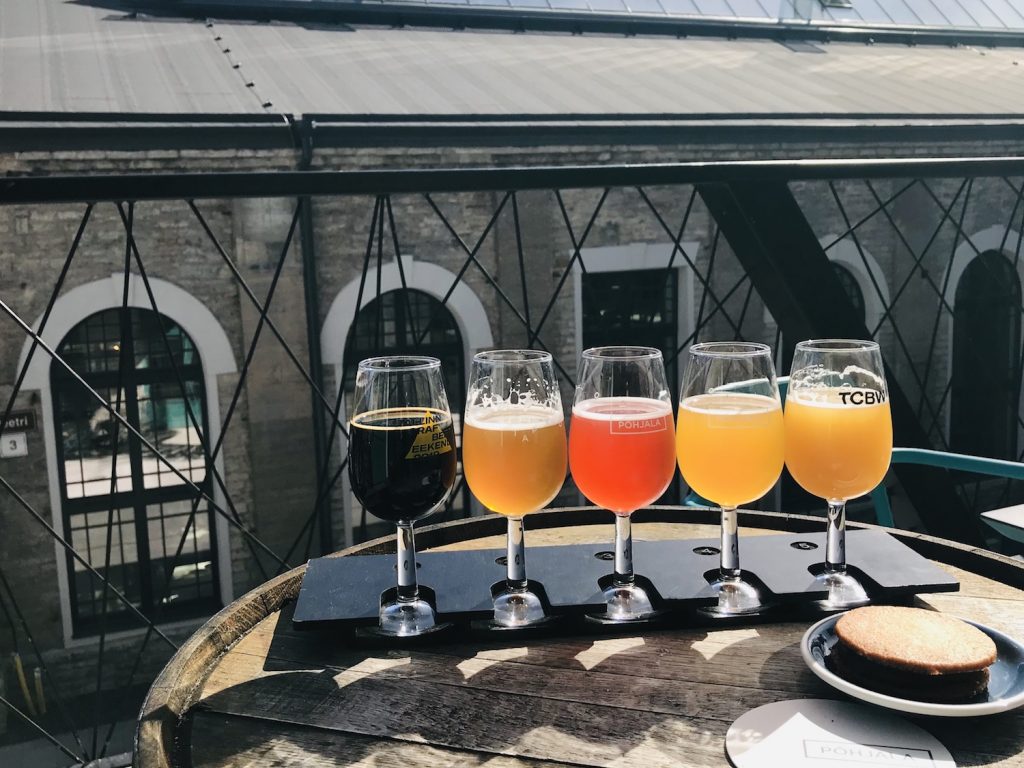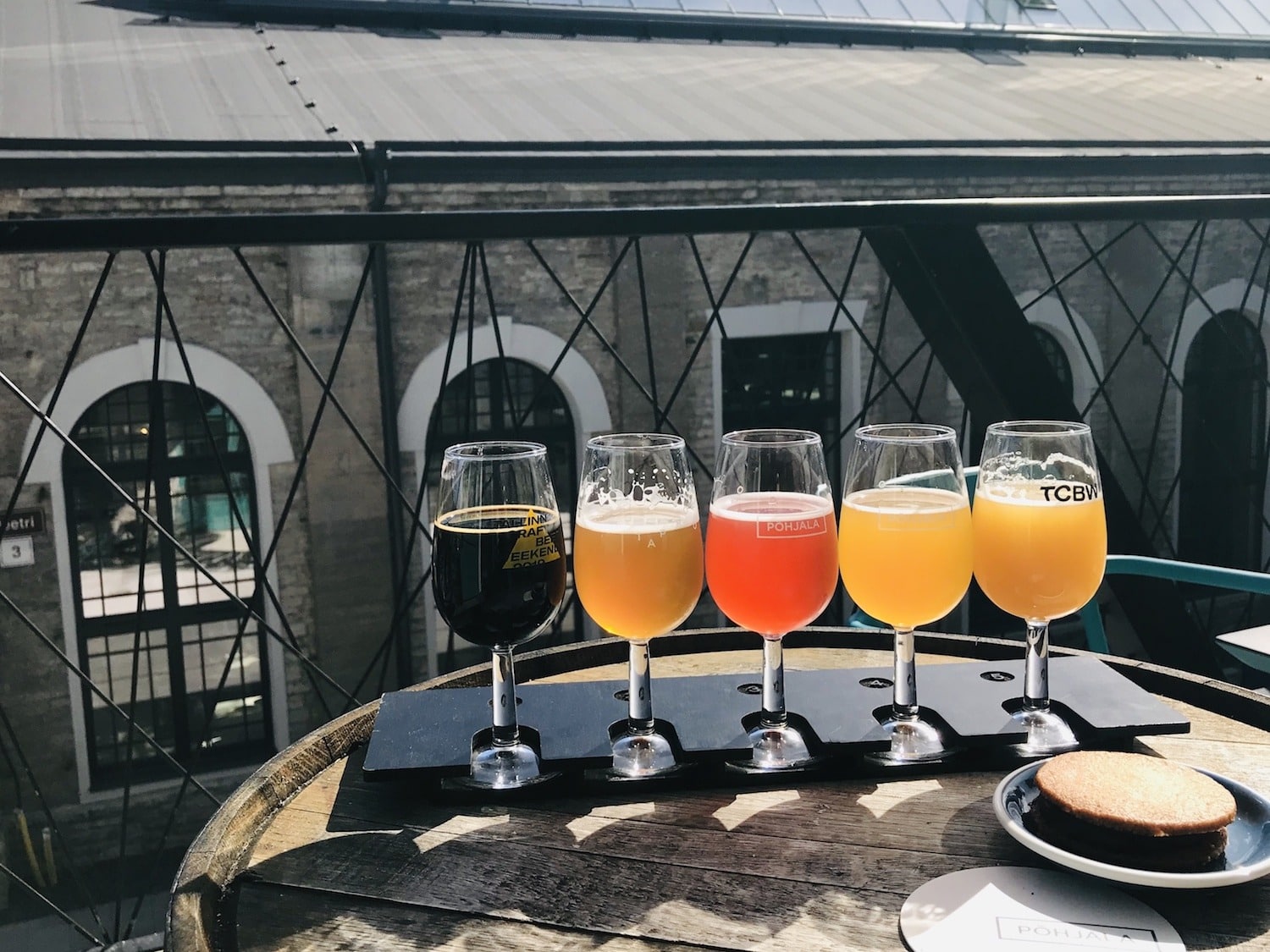 5. Get Lost In The Best Of Estonian Design At The Telliskivi Creative City
Skip all those over-priced and tacky souvenir shops in the Old Town and instead head to the Telliskivi Creative City – an uber-cool creative hub housed in a former industrial complex just a few minutes walk from the Old Town border.
Not only will you find vintage shops, fair trade products, hip restaurants, and design stores – just you can only find bespoke events here, especially on weekends, including coffee-making championships, dance performances, or pop-up stores and market which takes place every Saturday.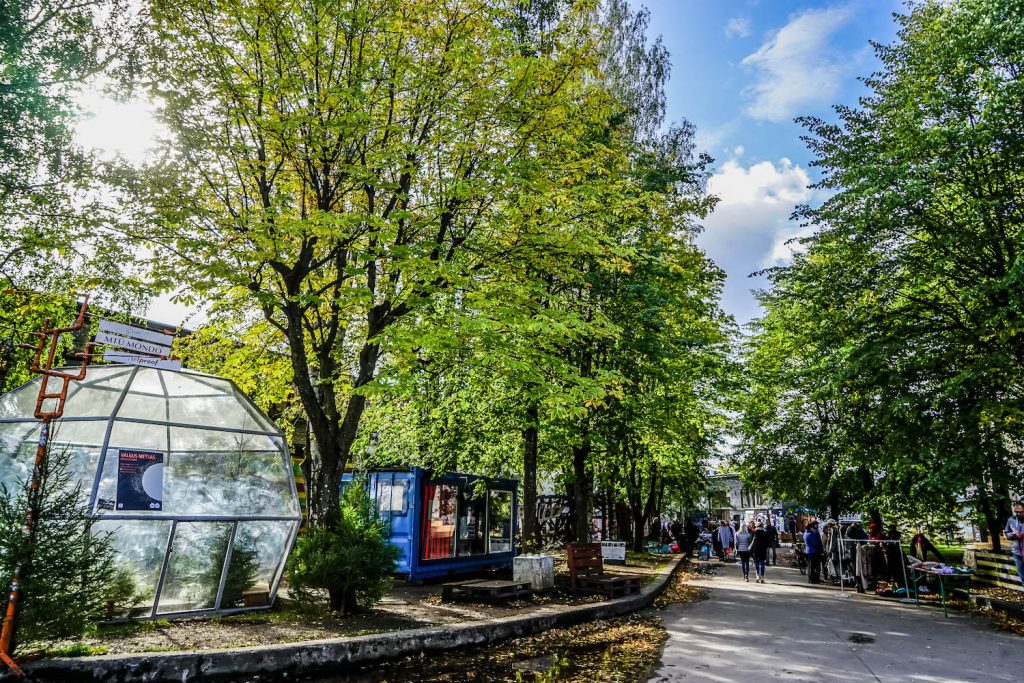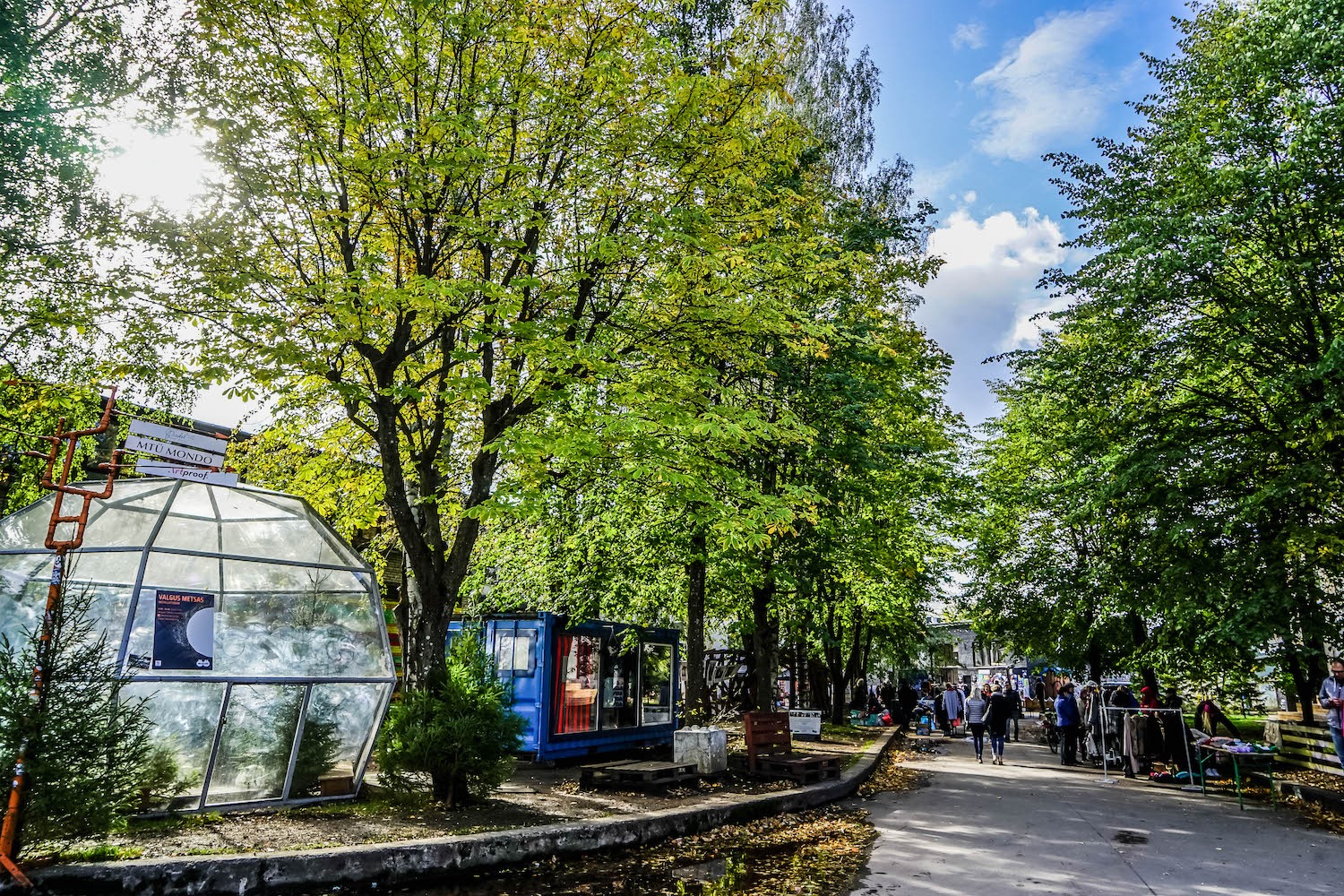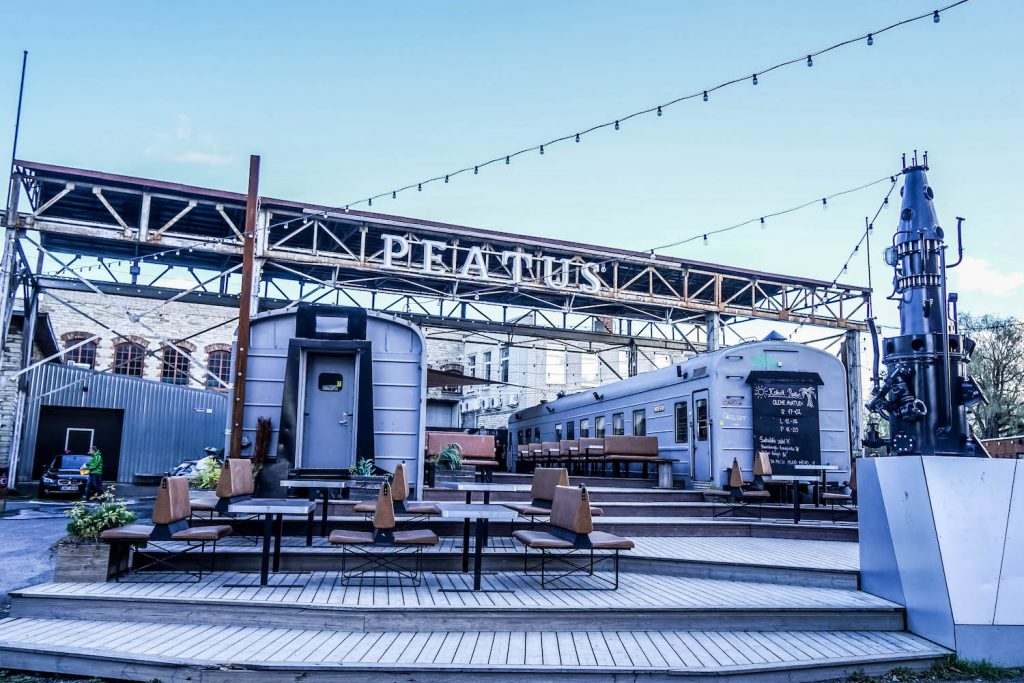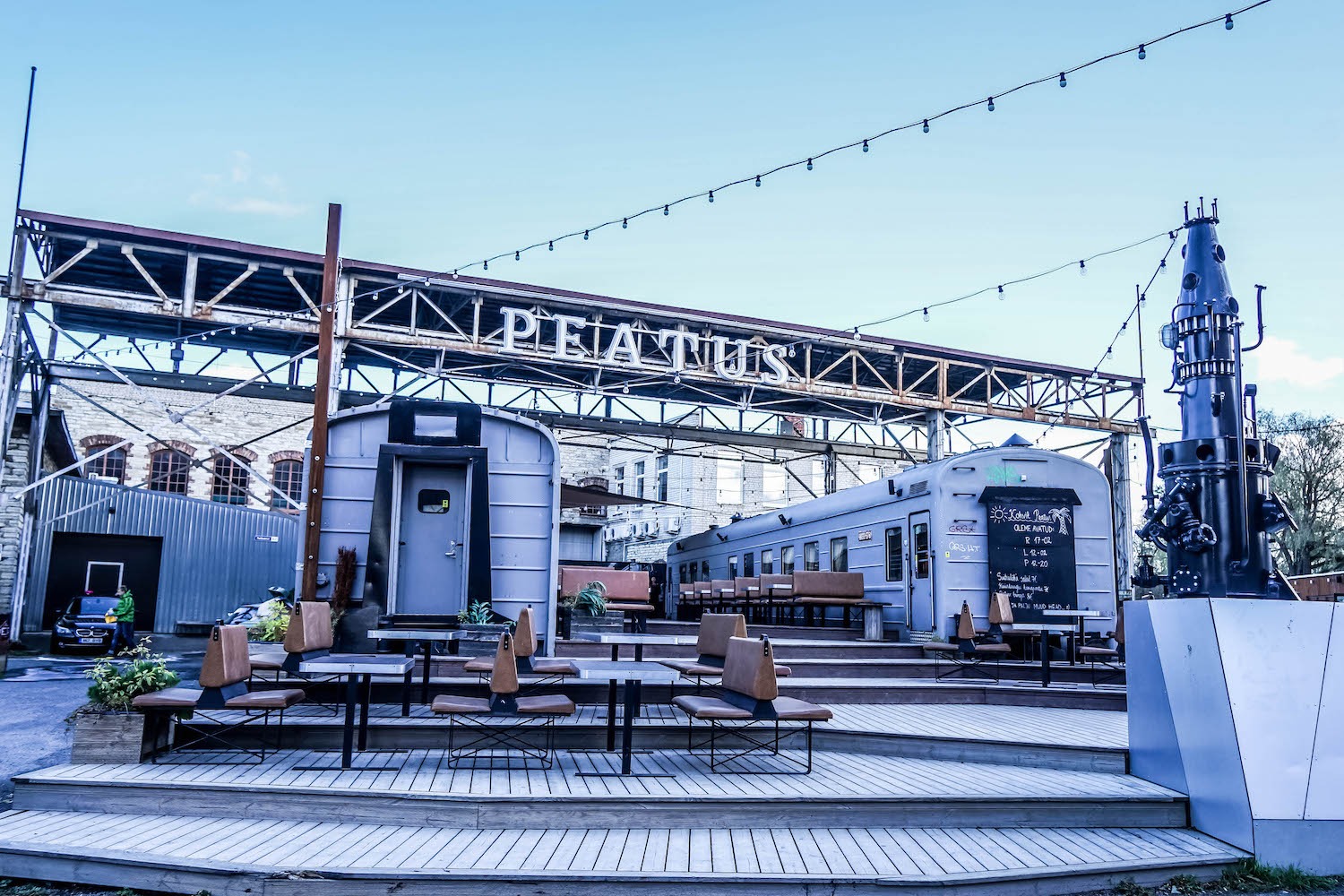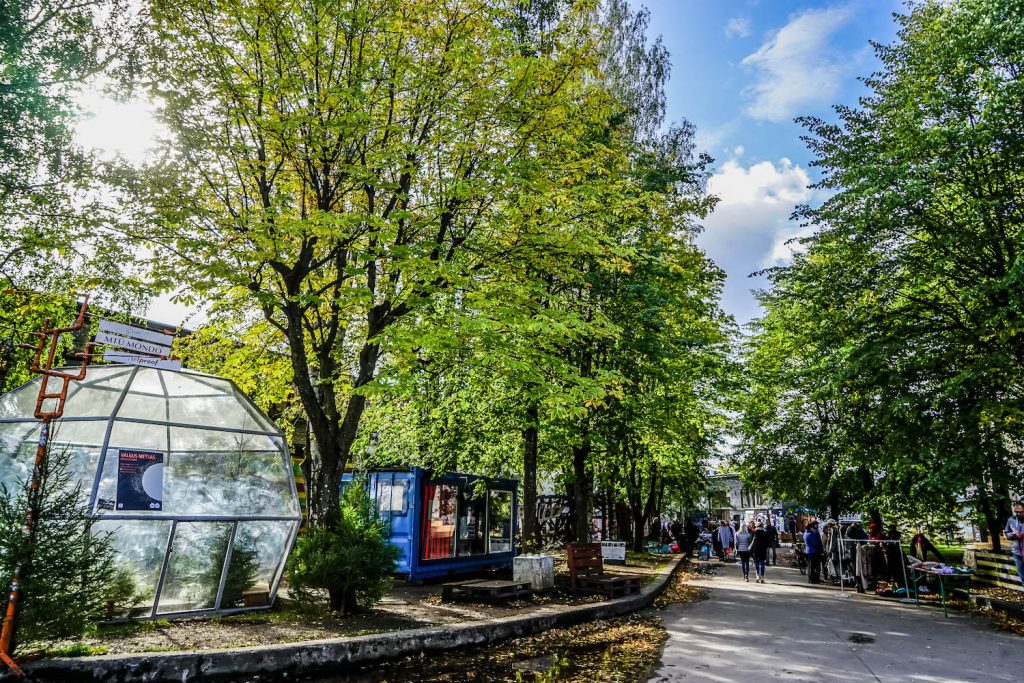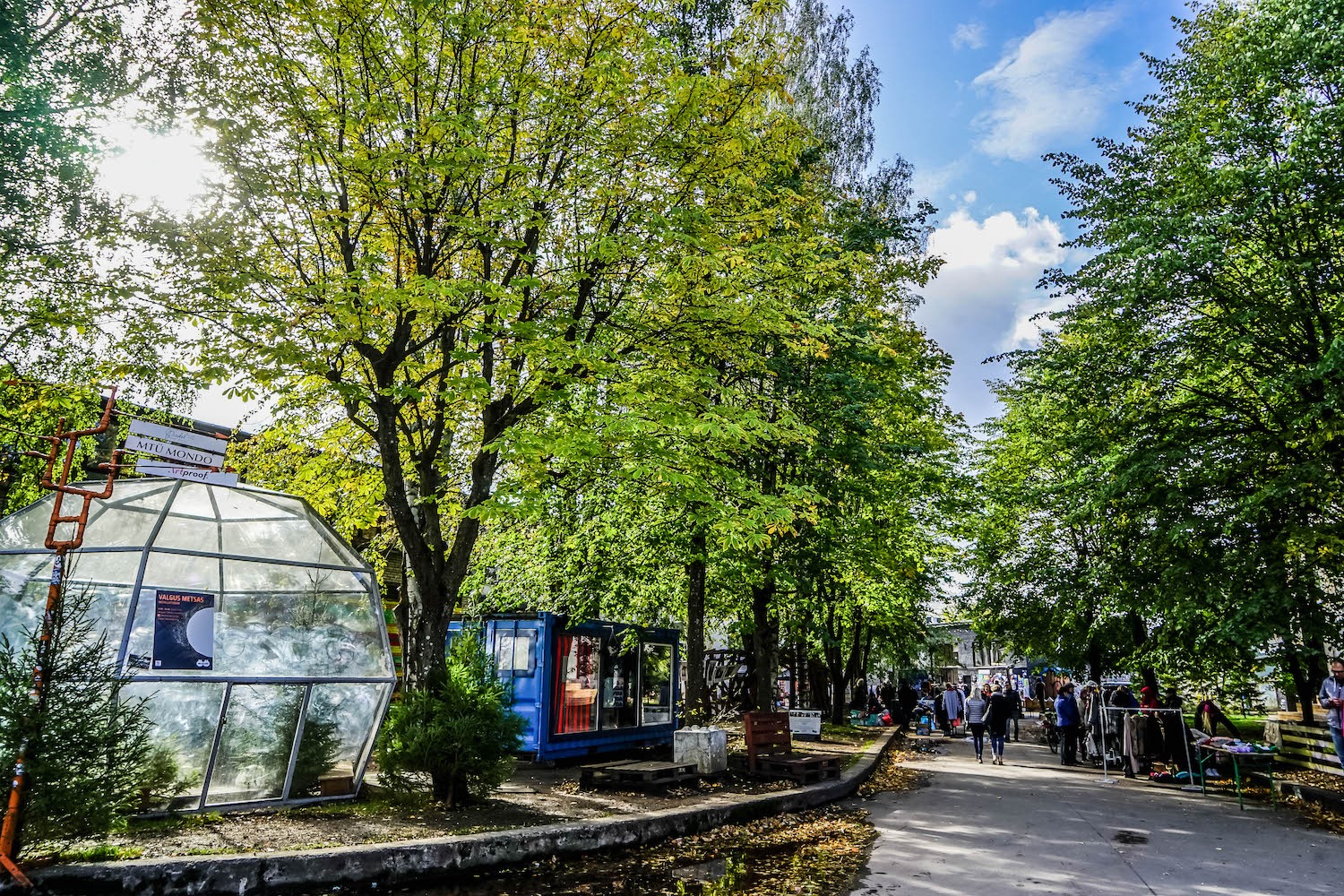 The Telliskivi Creative City is the perfect place to discover the beauty of Estonian contemporary art and design, which is similar to Nordic design ala Turku or Copenhagen and embraces simplicity, minimalism, and functionality.
Needless to say, whether you are window shopping or out for a wonderfully unique keepsake of Tallinn, you can lose hours in Telliskivi, exploring its many buildings and hidden treasures.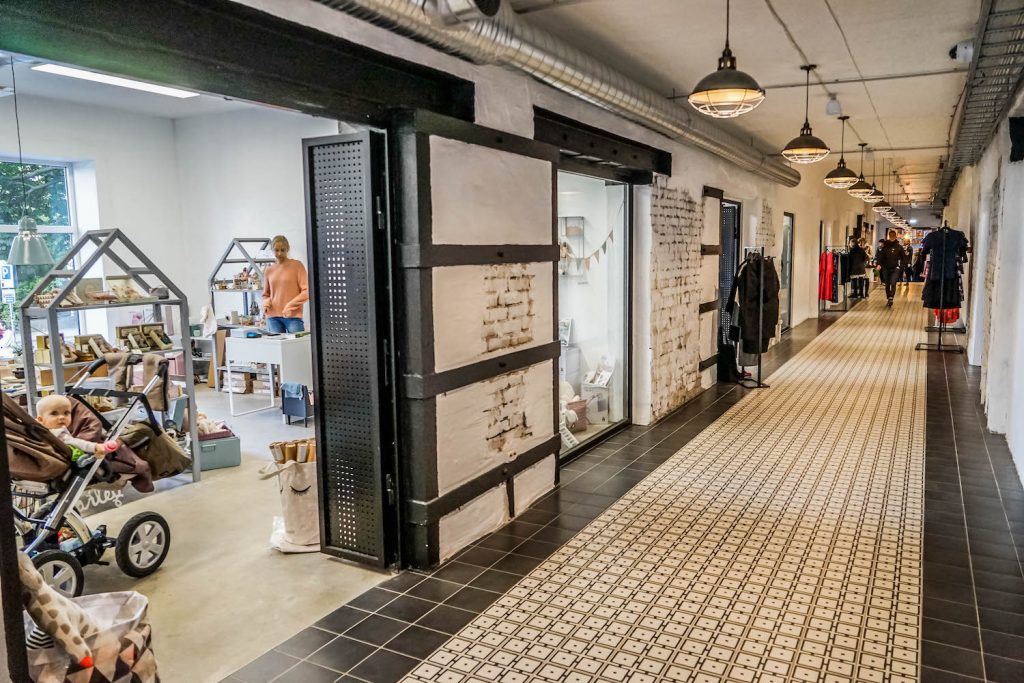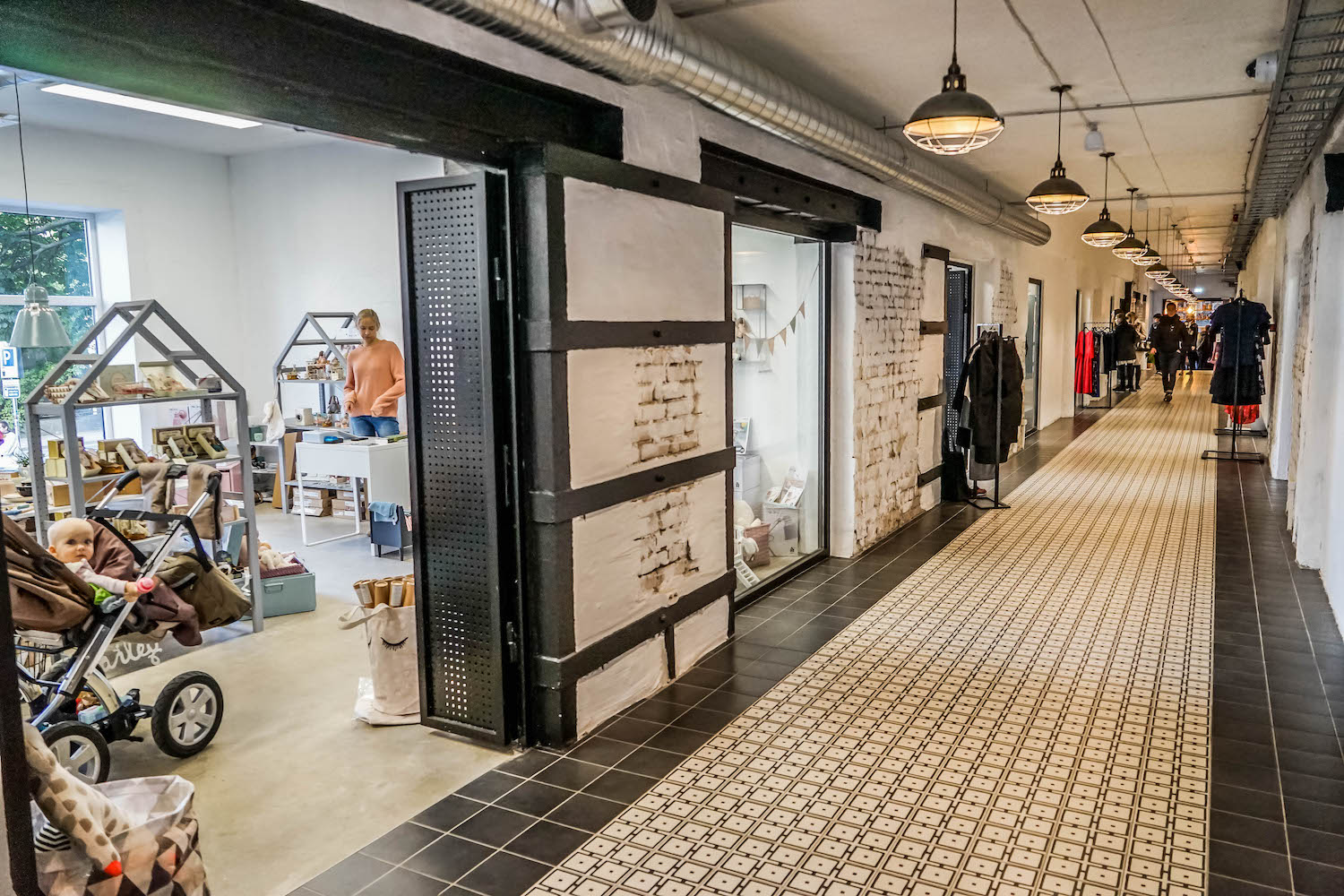 6. See The City From Another Perspective At The Tallinn TV Tower
Northern Europe's highest open viewing platform, this soaring 314-meter communications tower offers a glass-floored viewing platform on the 21st level where guests can stare out over the edge and out to Tallinn, the Gulf of Finland and beyond.
Construction at the TV Tower began in 1975, and it was completed just in time the Moscow Olympics in 1980 – during which Tallinn hosted the sailing events. The Tallinn TV Tower building was actually added to the official list of Olympic sites to ensure more accessible access to construction materials during Soviet Times – and as a result, had equipment intended initially for the Vilnius TV Tower in it, causing delays there.
Thoroughly modernized in a 2012 renovation the highest panoramic restaurant in Northern Europe is now open here and as of 2013 it also possible to get an adrenaline jolt by putting on a safety harness, and going out for a walk on the highest open deck in northern Europe – 175 meters above the ground!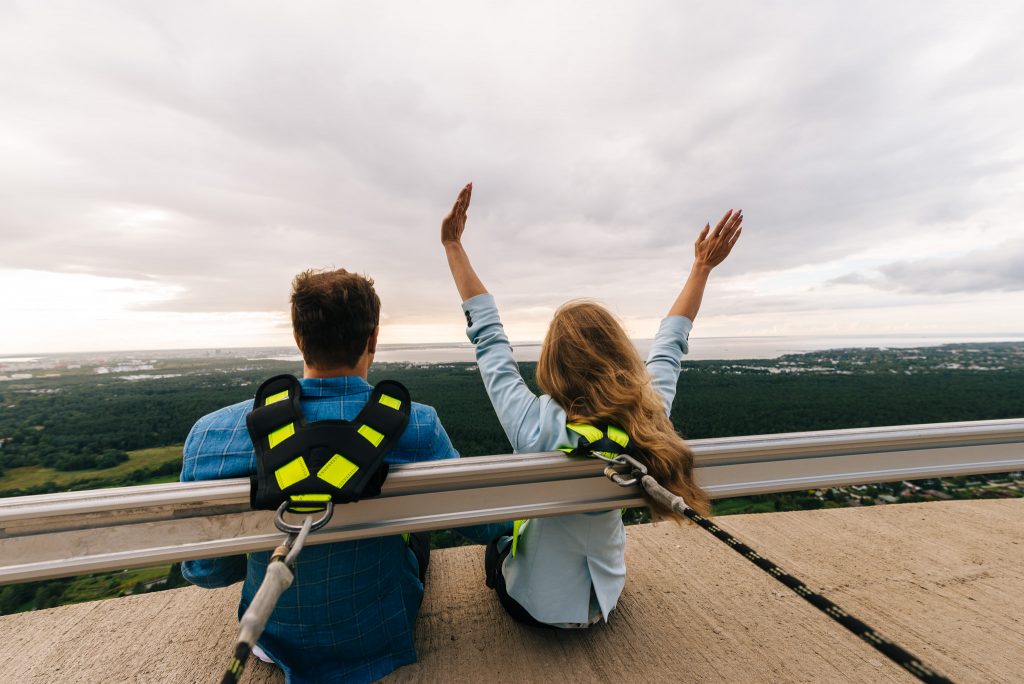 7. Get Snap Happy At The Multi-Sensory Manna La Roosa Pleasure Palace
Where do I even start?
Manna La Roosa is possibly one of the most unique places in Tallinn, and in an urban landscape littered with extraordinary wonders, this is no small feat. Tacky as hell, but somehow the Latino burlesque decor mixed with Gold Baroque works. Don't even ask me what that means – Manna La Roosa is simply indescribable!
One thing however is for sure; you will take plenty of pictures for Instagram and nothing after Manna La Roosa will ever seem to 'over the top.'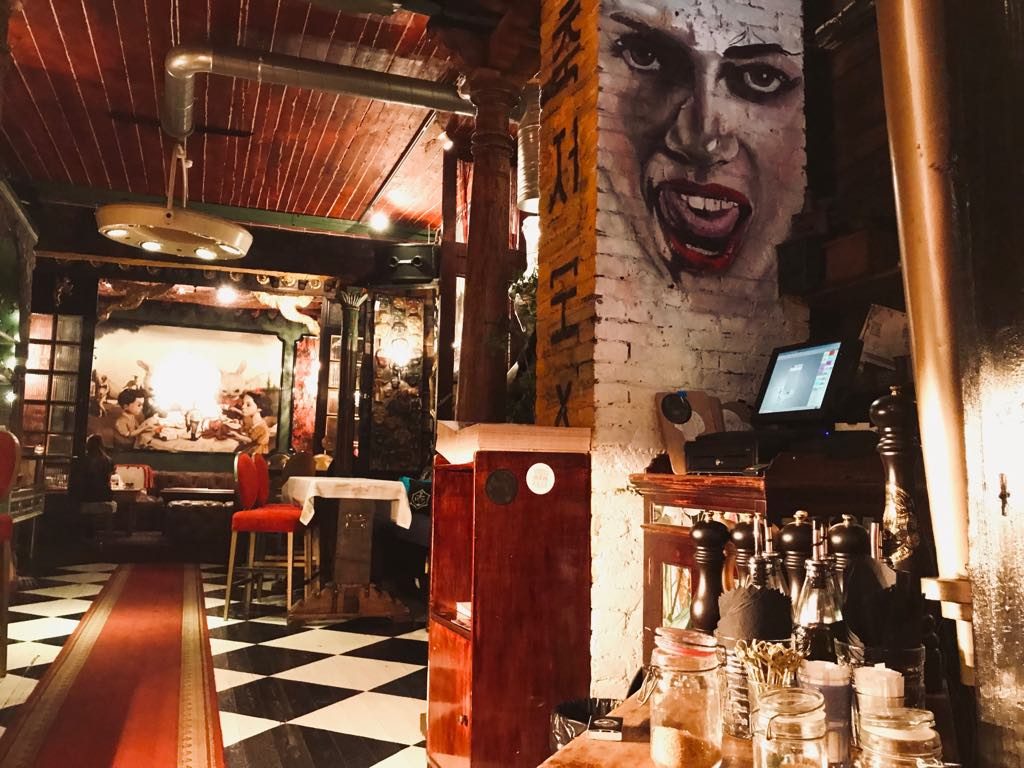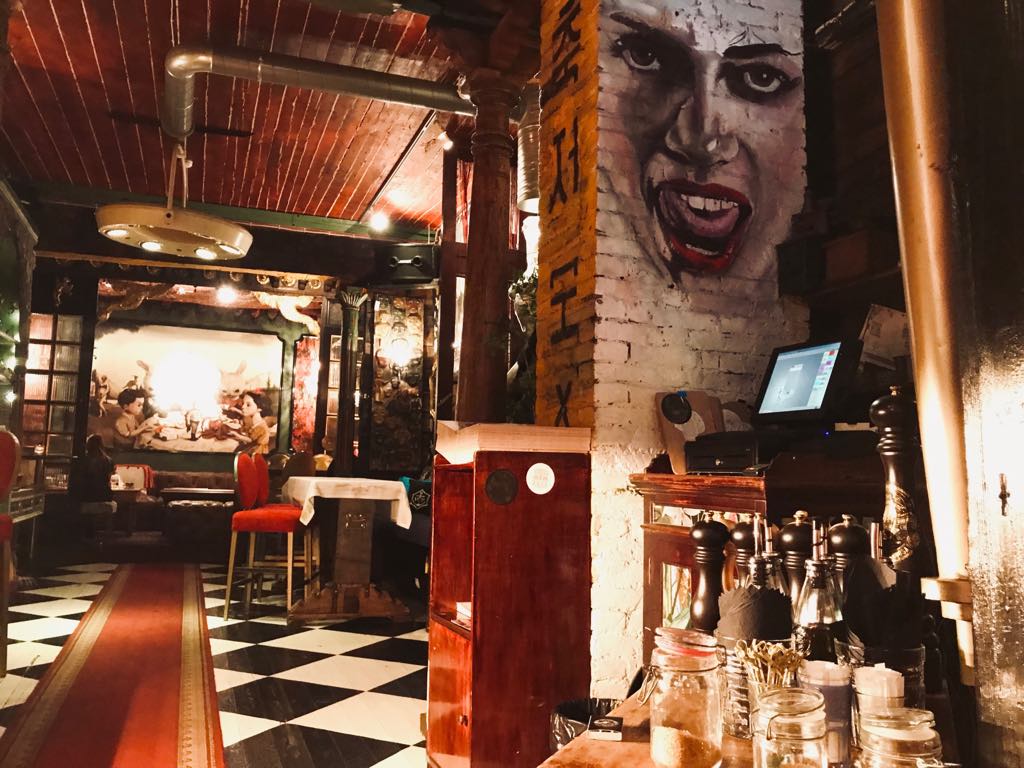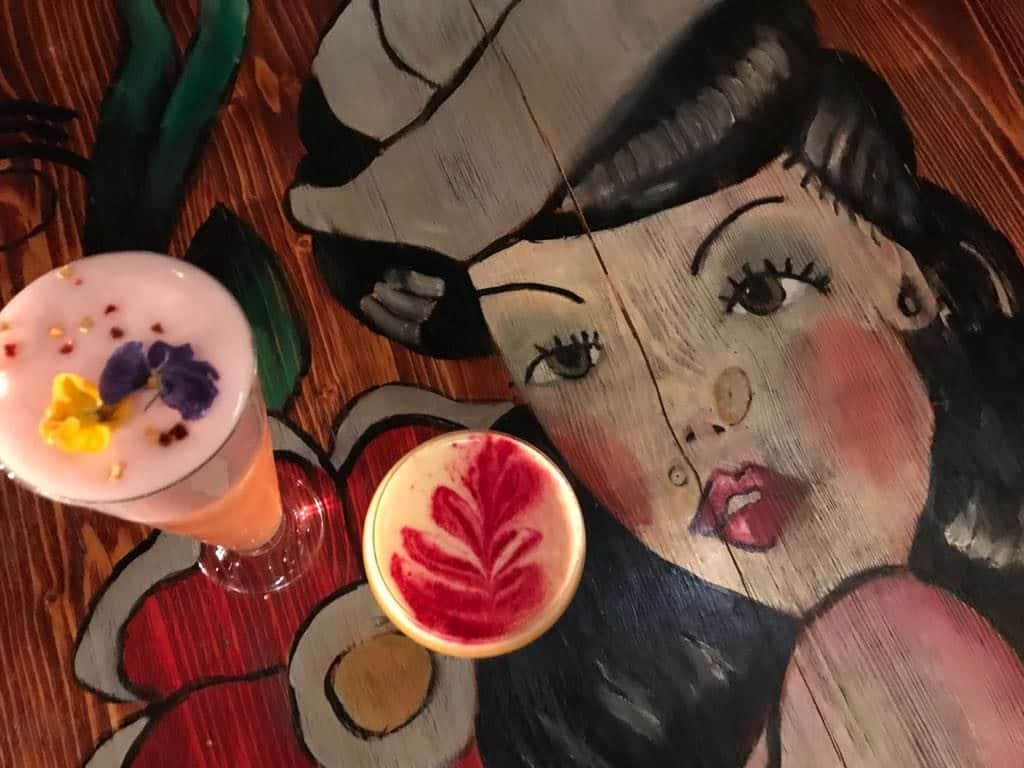 Even better? The food and drinks at Manna La Roosa are out-of-this-world, I mean, it has to be to complete with its loud and exuberant interior. The grilled octopus with tomato and asparagus was divine, as was the Ostrich Tartare with spicy alike and quail egg. The drinks here were even more standout, so good in fact; you can just pop in for a quick nip and to admire the psychedelic walls or gorgeous bar – even if you head on for dinner reservations elsewhere.
Housed in the same historic building, there is the equally beautiful Tai Boh upstairs with a similar LSD-inspired design palate but with an Oriental theme. Both are a must for foodies and design fans, but reservations are essential in summer months or weekends.
It's fair to say this self-created kitschy-freaky-crazy dining combo has been a massive hit!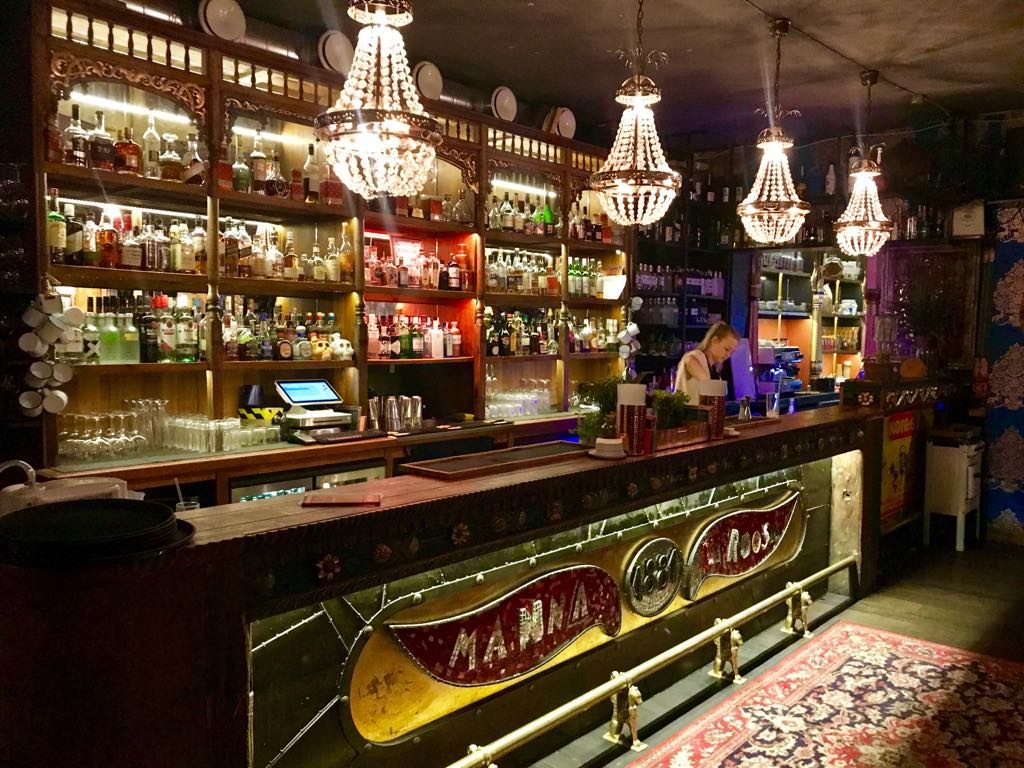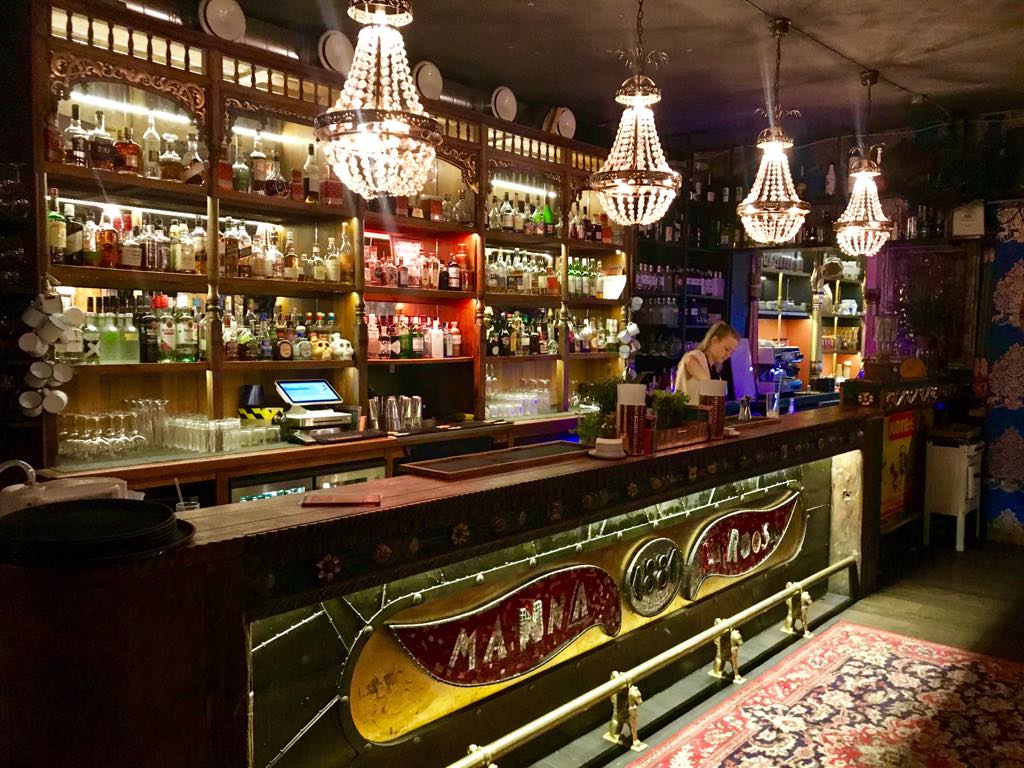 8. Saunter Through A Wooden Streetscape In Bohemian Kalamaja
If you ever get sick of the Old Town, then just know: Tallinn is more than medieval wonder.
A prime example, you ask?
The quaint neighborhood of Kalamaja, much beloved by hipsters, is known for its quiet streets, colorful wooden buildings, and increasingly its youthful, creative energy. This is part of Tallinn, where you will get an authentic feel of the locals' lifestyle – and promptly decide you want to move here!
While the best way to discover Kalamaja is wandering around and get lost, you should try to visit the modern Austrian-style café, Gustav, or later in the evening pop into the trendy TOPS bar for a drink. Kalamaja is also home to one of the oldest and best public sauna's in Estonia, Kalma, if you want to experience sauna the Estonian way.
Dignified architecture and traditions make Kalma sauna a soulful place, and quite a different experience than visiting Tampere, the sauna capital of the world!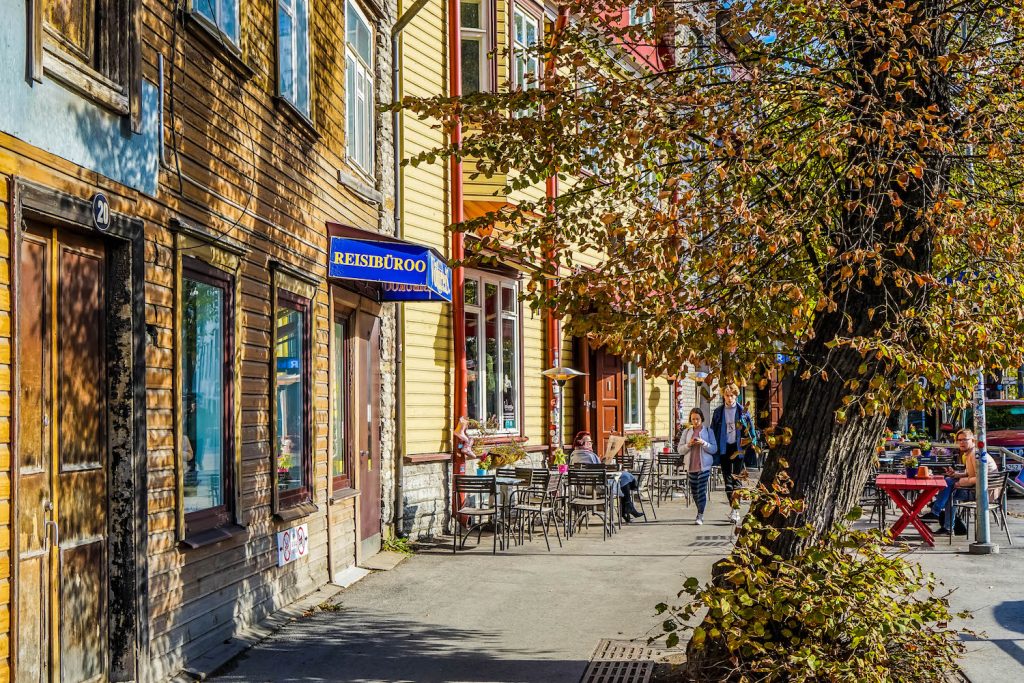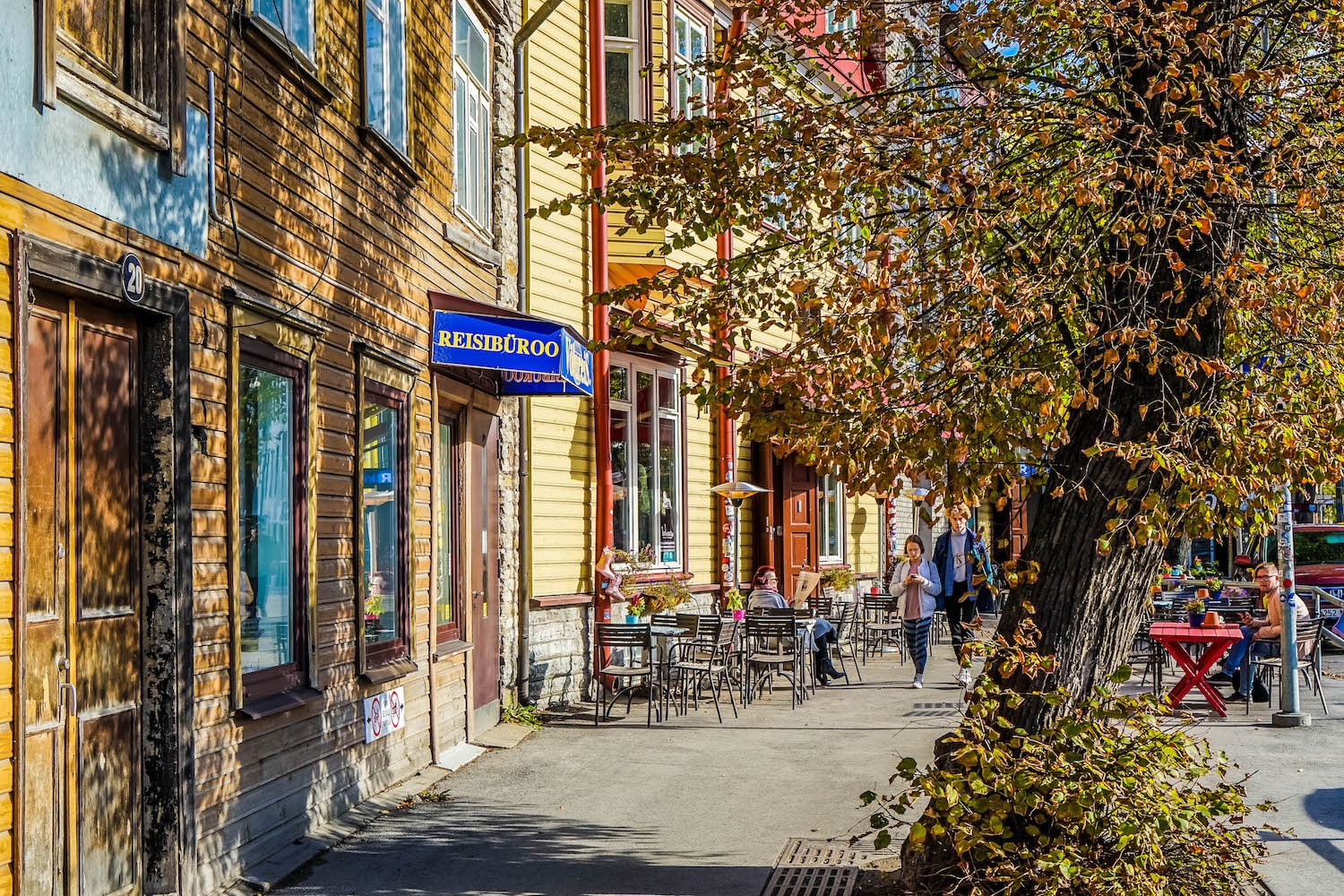 9. Relax In Estonian Oldest Cafe – Maiasmokk Café!
No visit to charming Tallinn would be complete without a relaxing coffee and sweet at Maiasmokk, the oldest operating café in Estonia. Yes, this unique café has been in the same location since 1864, and as soon as you walk in, you really can tell with its interior décor has been unchanged for almost a century.
While in 1941, Maiasmokk became nationalized during the Soviet occupation of Estonia, it was again registered as a private enterprise after Estonian independence, and in 2006 the Estonian Post Office even released a limited-edition postage stamp to celebrate the 200th anniversary of the Maiasmokk, so you know it's a big deal!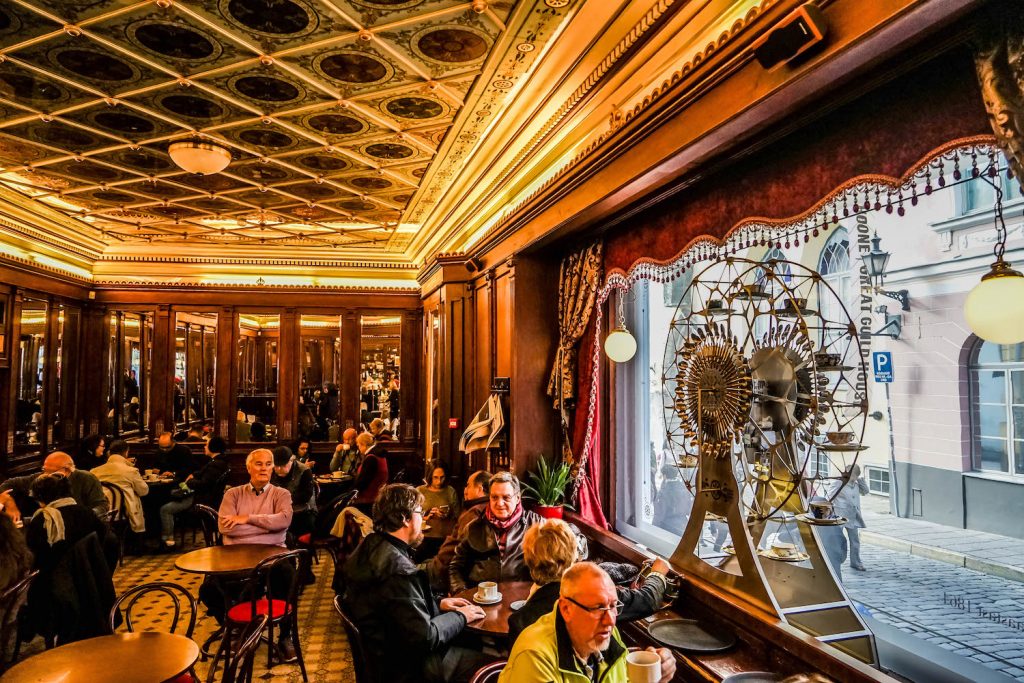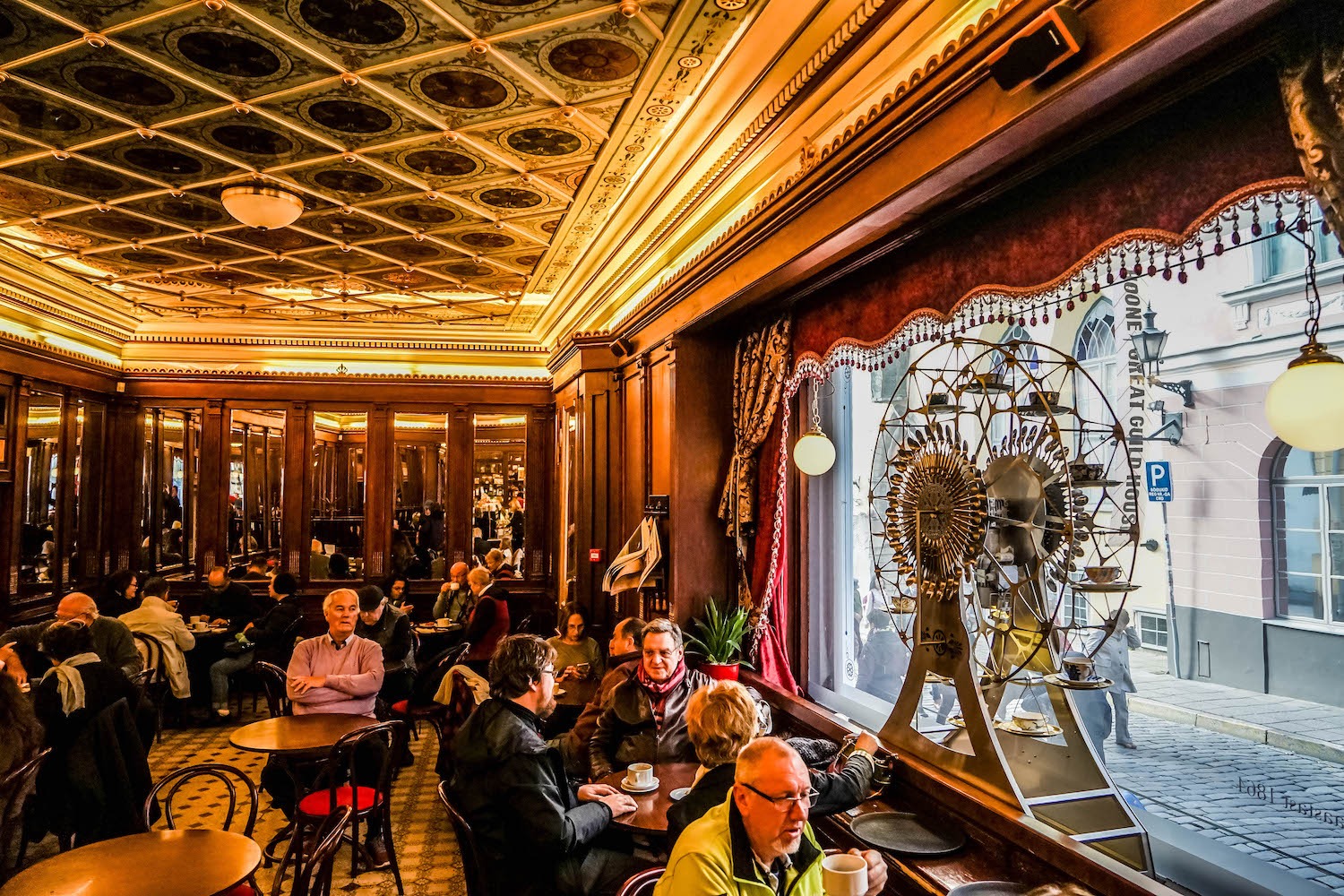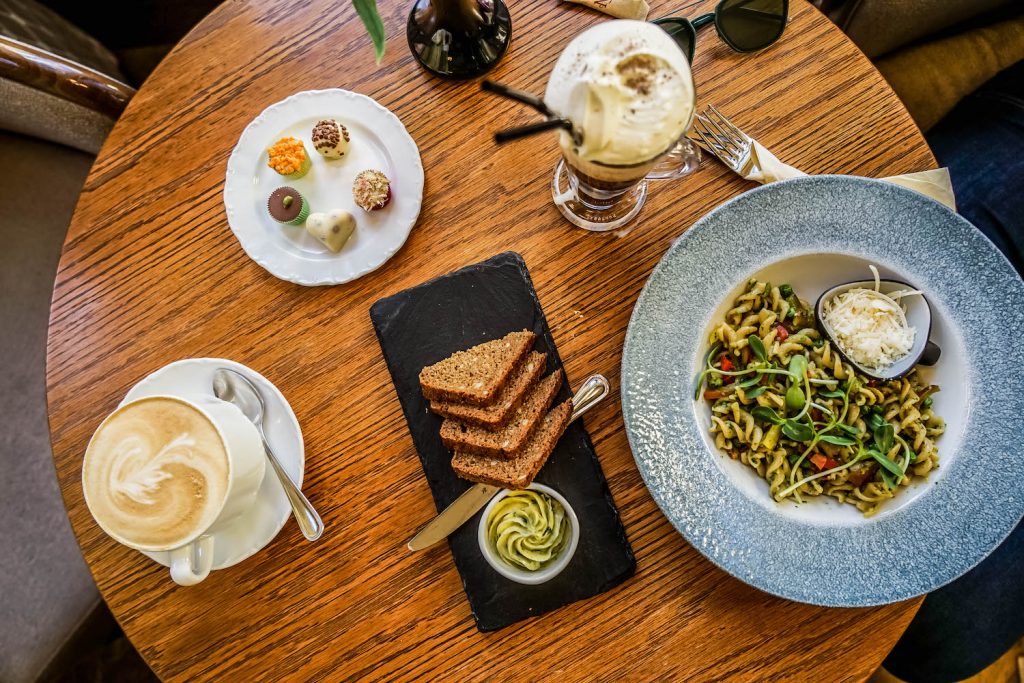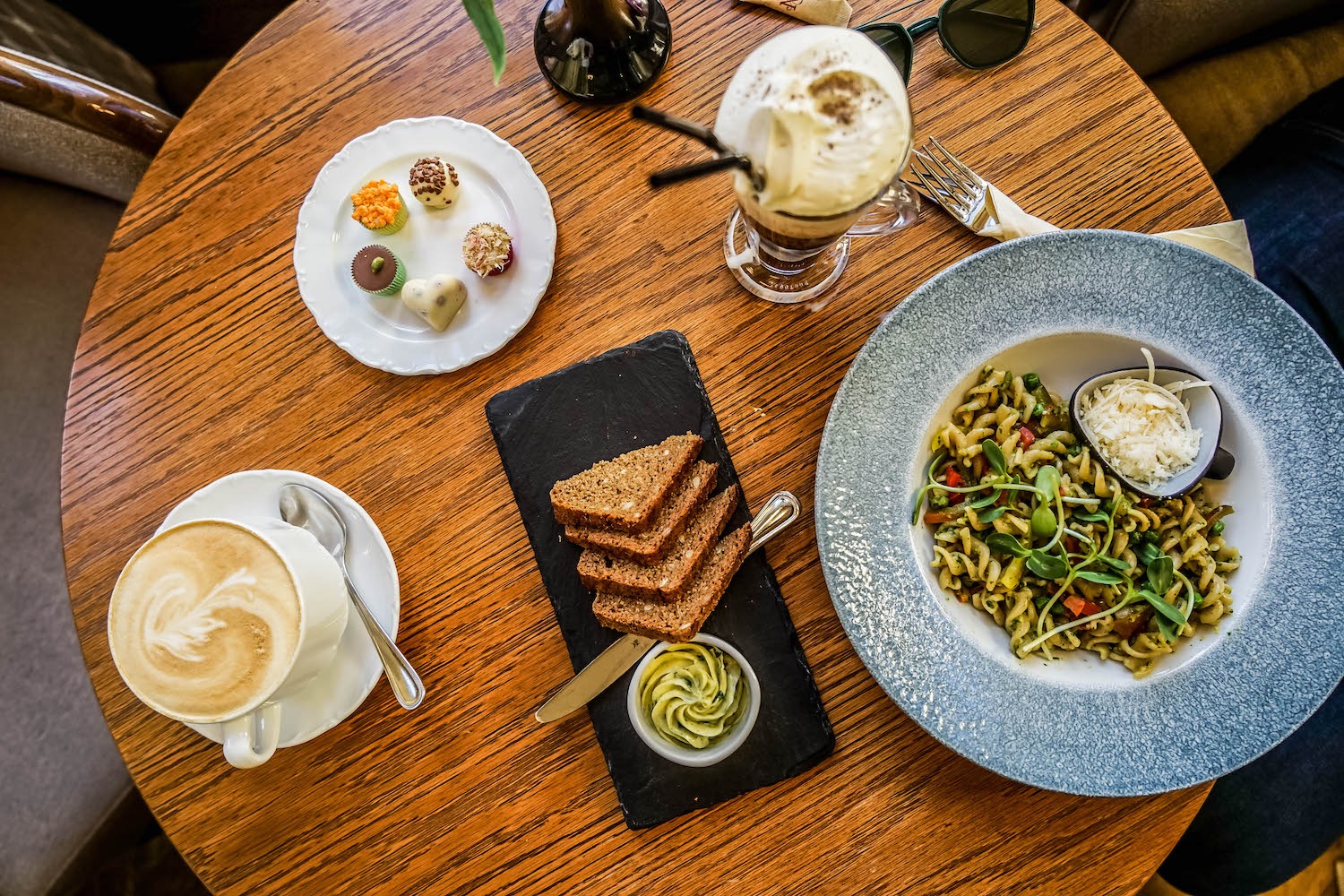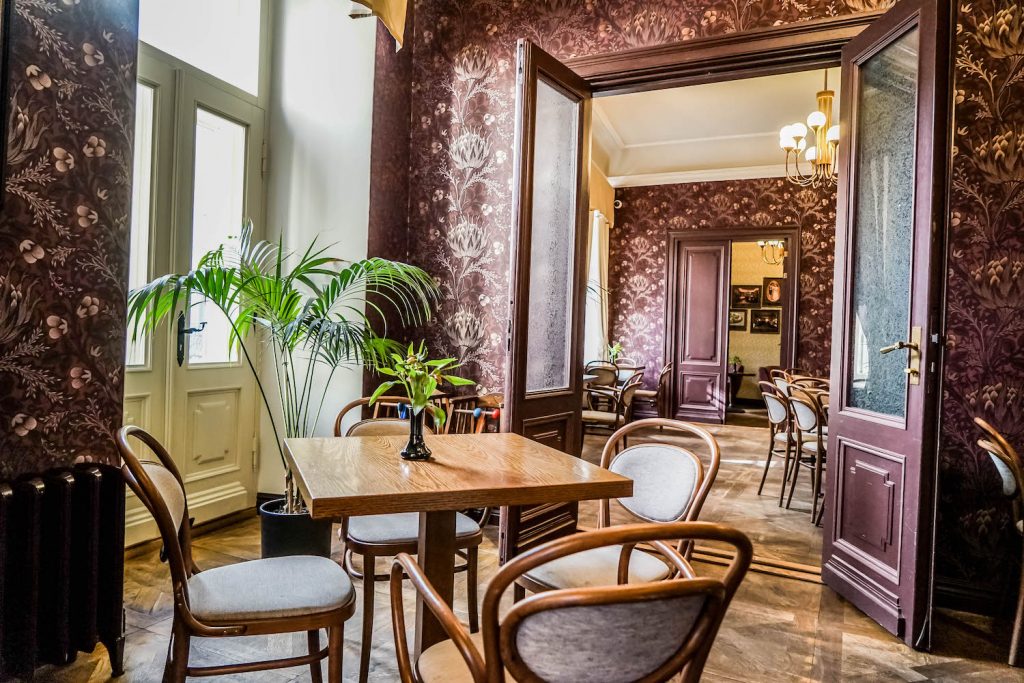 While the coffeehouse culture might have been perfected in Vienna and Budapest, here in this cozy little cafe, you can enjoy the experience with an Estonian twist while be served delectable and novel meals, fresh pastries, pies and cakes – and strong coffee of course!
If you arrive early enough, head upstairs for a divine almost private seat for two with world-class views out over the square and old town, but for the most authentic experience, the old wold downstairs – always crowded and brimming with conversation is the place to be.
According to locals, Tallinn is the birthplace of marzipan, invented way back in the Middle Ages as a remedy for lovesickness, and today – rather fittingly – there is also a marzipan museum on the premises of Maiasmokk café, giving you some insight into the history of the treat. You can also watch a local artist creating Marzipan art or enjoy the 200 -odd marzipan figures made from molds, which are themselves over 100 years old!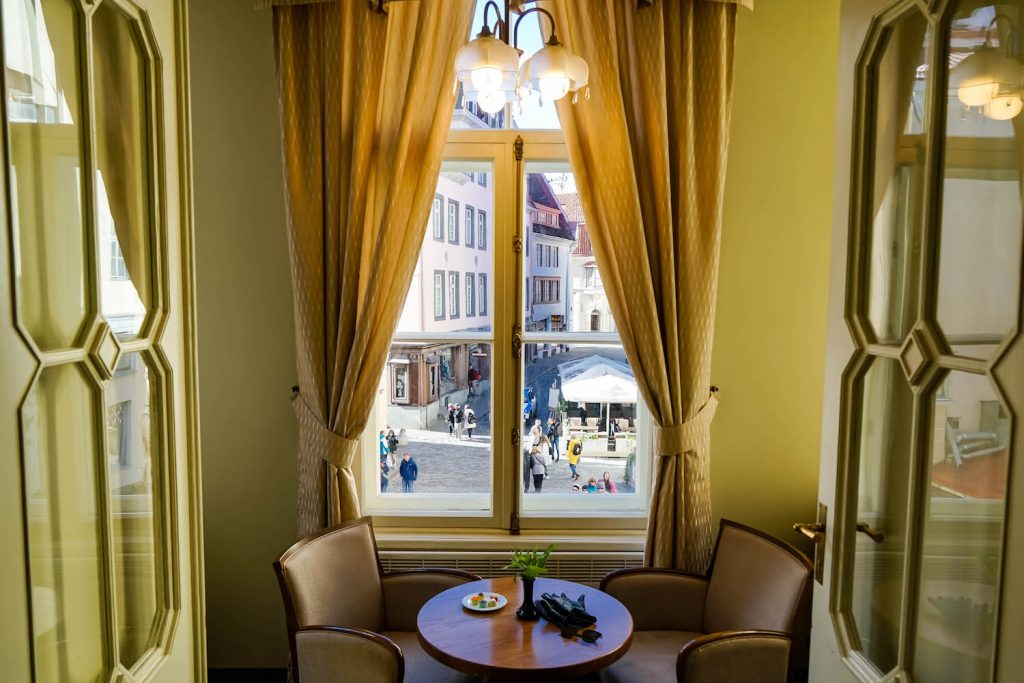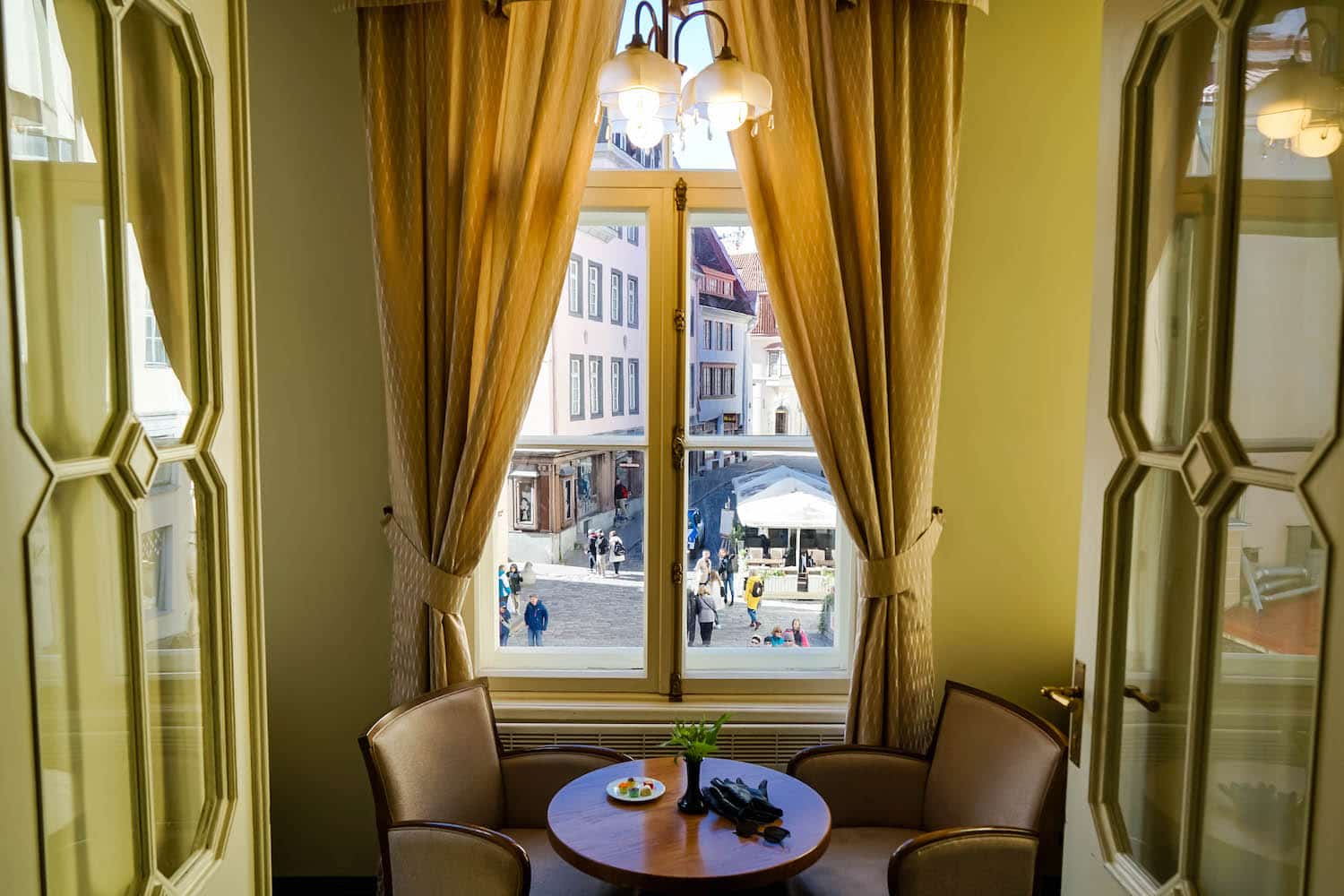 10. Visit The Birthplace Of The Singing Revolution At The Song Festival Ground
In 1869 the Estonian Song Festival was established while the nation was still a province of the Russian Empire, and what may have seemed someone significant then is today considered responsible for cultivating an Estonian national awakening. Initially held in Tartu with only men's choirs and brass orchestras, by its sixth edition, it was mixed and moved to Tallinn, where it is still retained today.
With over 30,000 singers performing to an audience of 80,000 – it is one of the largest amateur choral events in the world and considered by UNESCO to be a Masterpiece of the Oral and Intangible Heritage of Humanity. Held every five years in July in the Tallinn Song Festival Grounds, the last one was 2019, so you will actually have to wait until 2024 to have the opportunities to witness this unique performance again – but thankfully, the grounds are freely open to the public every day of the year.
In June 1988, during the Singing Revolution days, up to 300,000 people attended the Night Song Festival here, though those numbers have since been questioned -, it was certainly north of 100,000 people. The grounds are also used occasionally for more contemporary musical acts, including Iron Maiden, Red Hot Chili Peppers, and even Metallica, who have all performed here to sell-out crowds.


11. Dine At The Acclaimed And Very Hip TABAC
A hip French brasserie inspired restaurant and cocktail bar mixing Estonian ingredients and an ambitious beverage menu that comes alive with excellent music in the grand Golden Age dining room.
There is a natural, smooth, cool to the place – from the enormous smoky mirror to the Grand Hotel styled bar, so it is no wonder it is one of the cities most sought after-dinner spots – meaning reservations are recommended. Casual yet refined, we loved sitting at the window-side tables and watching the world outside go by – or why not consider a seat at the old-school bar to learn the secrets of the talented cocktail makers here.
The menu is chic yet simple and delicious. At the same time, the selection of wine, spirits, and cocktails will leave you spoilt for choice, Dive in and select a few of whatever takes your fancy, or simply let your wait staff make their recommendations based on your personal taste.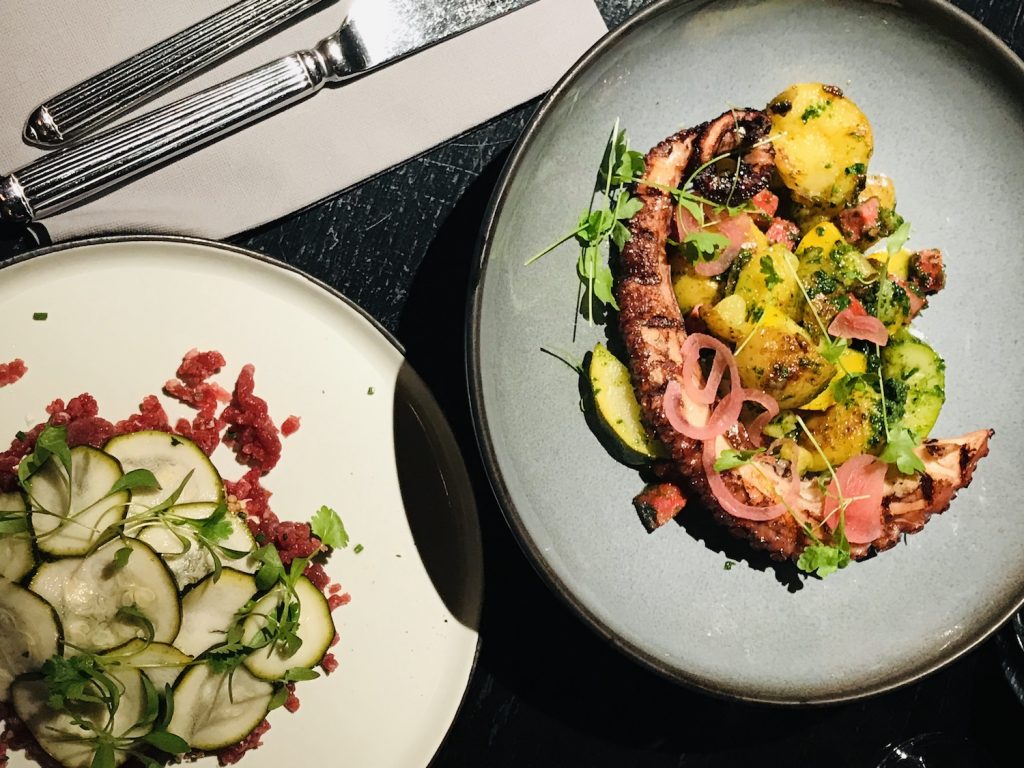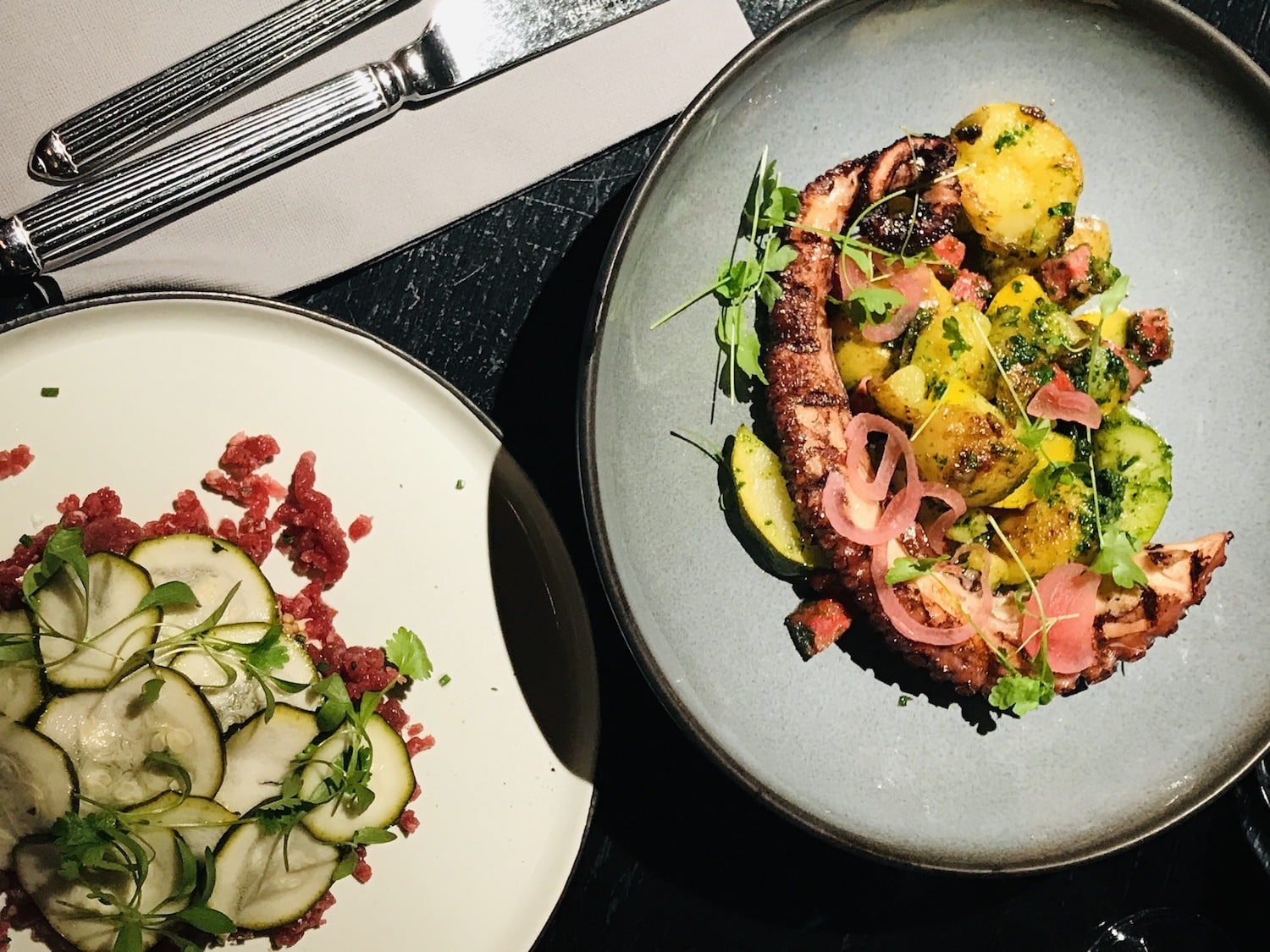 12. Marvel At The Colourful And Baroque At The Kadriorg Art Museum
The Kadriorg Art Museum is the only museum in Estonia devoted to foreign art. It houses the countries most extensive collection of western European and Russian art with about 9,000 works of art from the 16th to 20th centuries.
The museum is located in Kadriorg Park inside a Baroque palace built by Tsar Peter the Great of Russia as a summer residence. So even if you are not the biggest fan of art, the interior and grounds of the building make a visit worthwhile.
After 1944, during the Soviet occupation of Estonia, the palace served as the main venue for the Art Museum of Estonia. However, the buildings were neglected and, by the time of the restoration of Estonia's independence in 1991, completely run down. Restoration works, supported by the government of Sweden, began in 1991, and the palace re-opened in 2000.
The KUMU branch of the museum, showing Estonian art from the 18th century onwards, is located nearby in the park.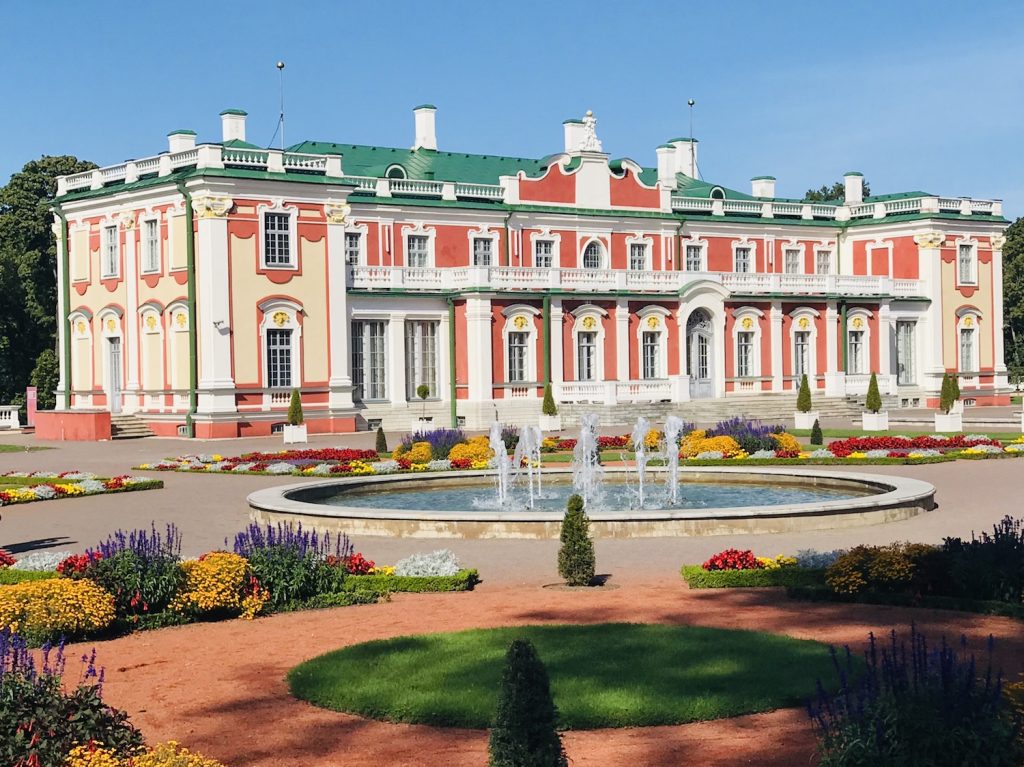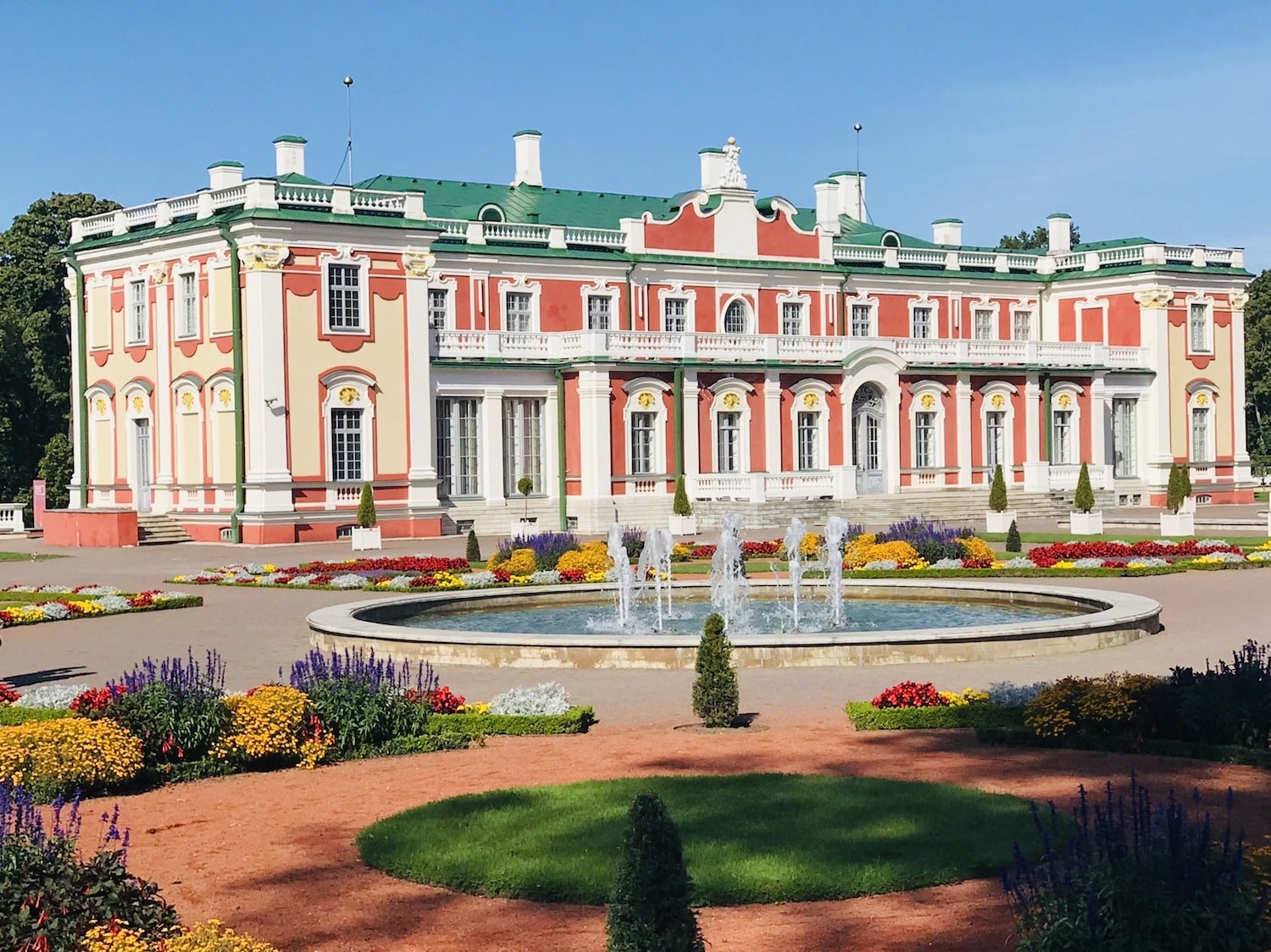 13. Sift Through Soviet Bric-A-Brack At The Balti Jaam Market
This newly-renovated market complex deserves it's placed on any list of Tallinn things to do, being the most modern of its kind in the Baltics and bringing high-quality dining, produce, coffee, and other items together under one roof.
As you will quickly see, the Balti Jaam (Baltic Station) Market is extremely popular with both locals and tourists, so you know you are onto a good thing!
While picture-postcard 'tourist Tallinn' was terrific, I thoroughly enjoyed exploring this market with a completely different feel to it. Take a wander through the shiny butcher, explore the variety of cafés or tempt yourself with delicious vegan food – but the highlight will undoubtedly be upstairs.
Why, you ask?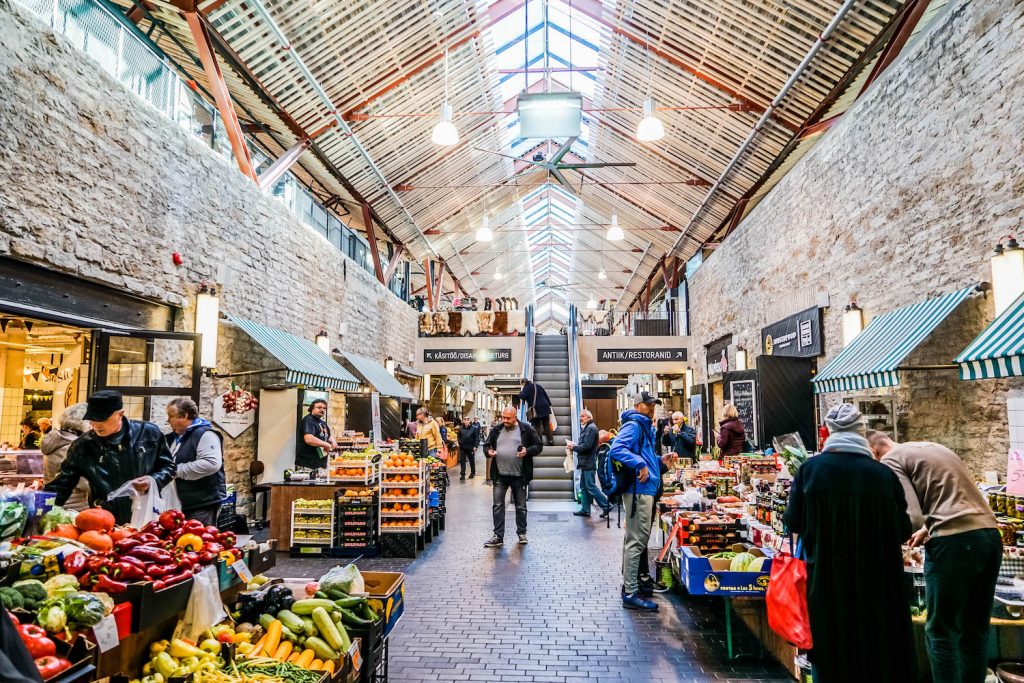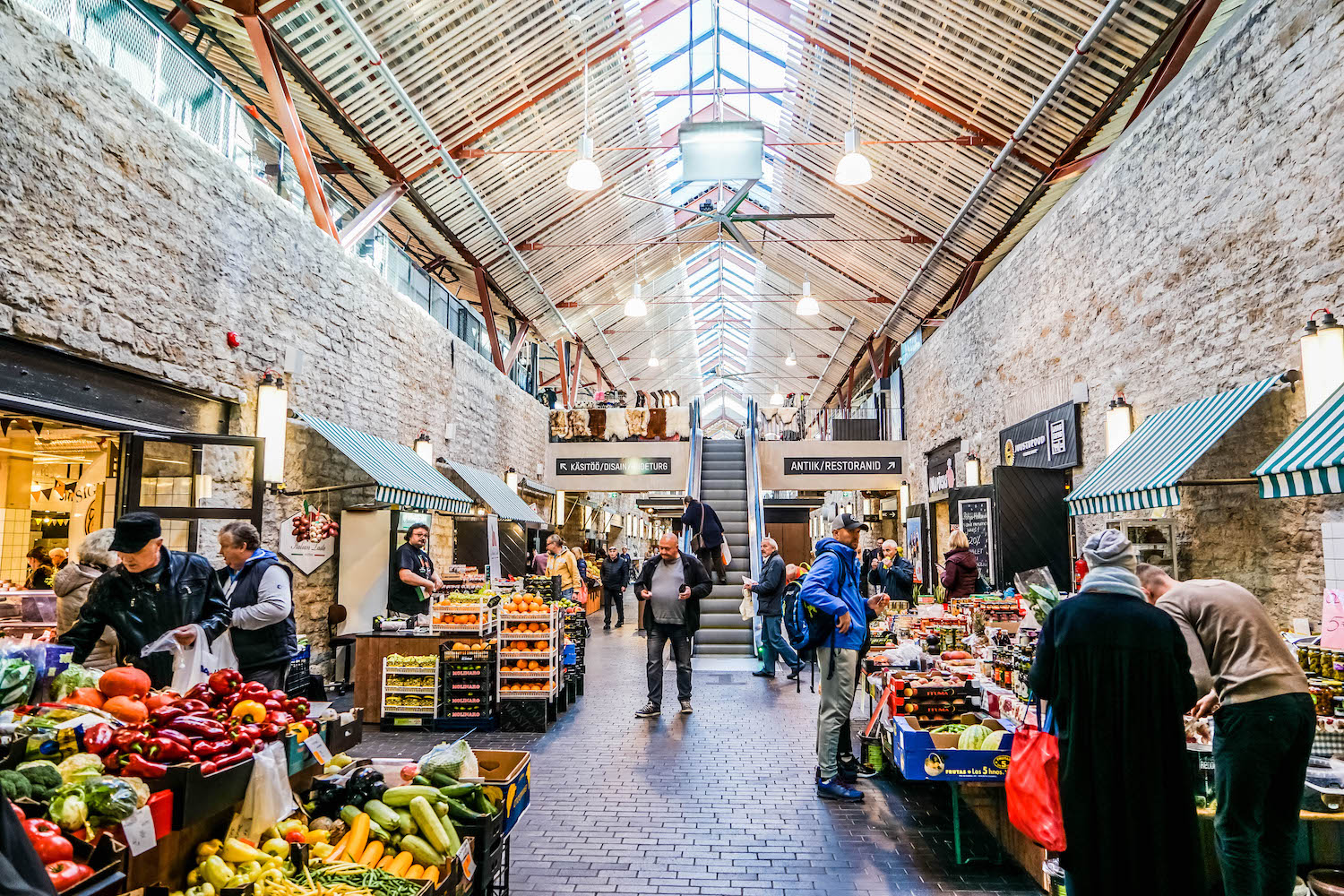 Because tucked away on the upper floor is store after store of old Soviet-era objects, basically a more civilized version of an Estonian flea market.
Second-hand antiques, toys, bicycles, matchboxes, pots, artwork, fur coats, military gear. You name it, and you are sure to find it here, although some hunting might be required. The walls are piled high, and space is at a premium, but you can spend hours sifting through the treasures here — much like the Campo de Santa Clara Flea Market of Lisbon.
A free museum where everything is for sale, if you want a unique gift or showpiece for your home – along with a fun story – chances are upstairs at the Balti Jaam Market is where you will get it!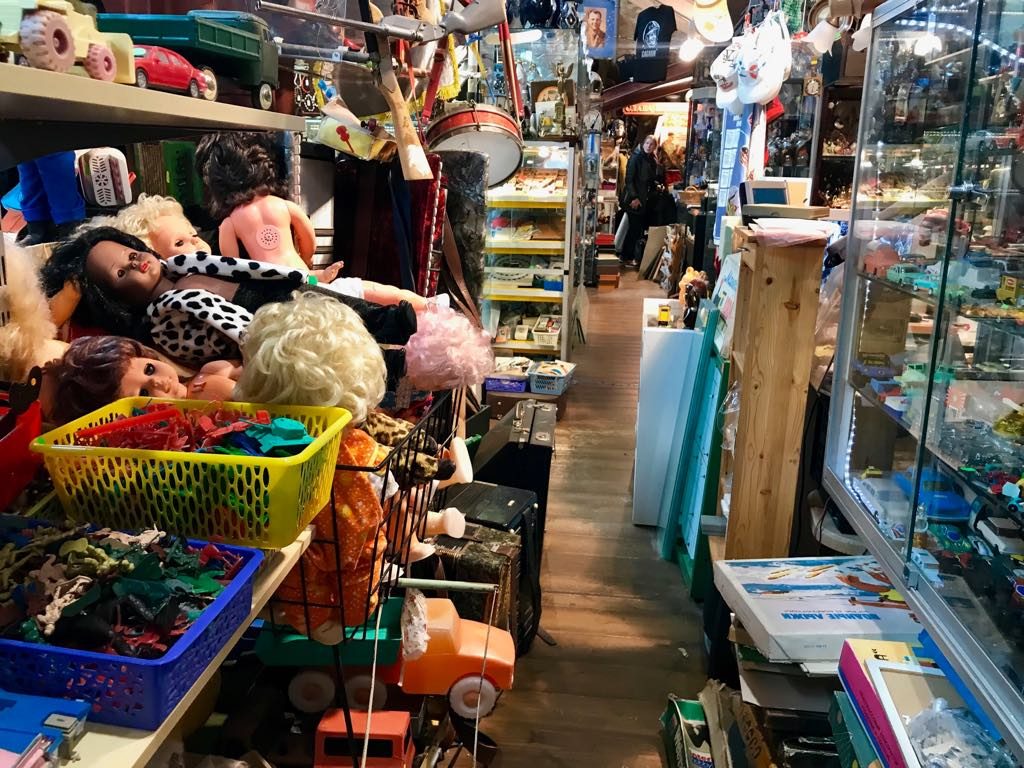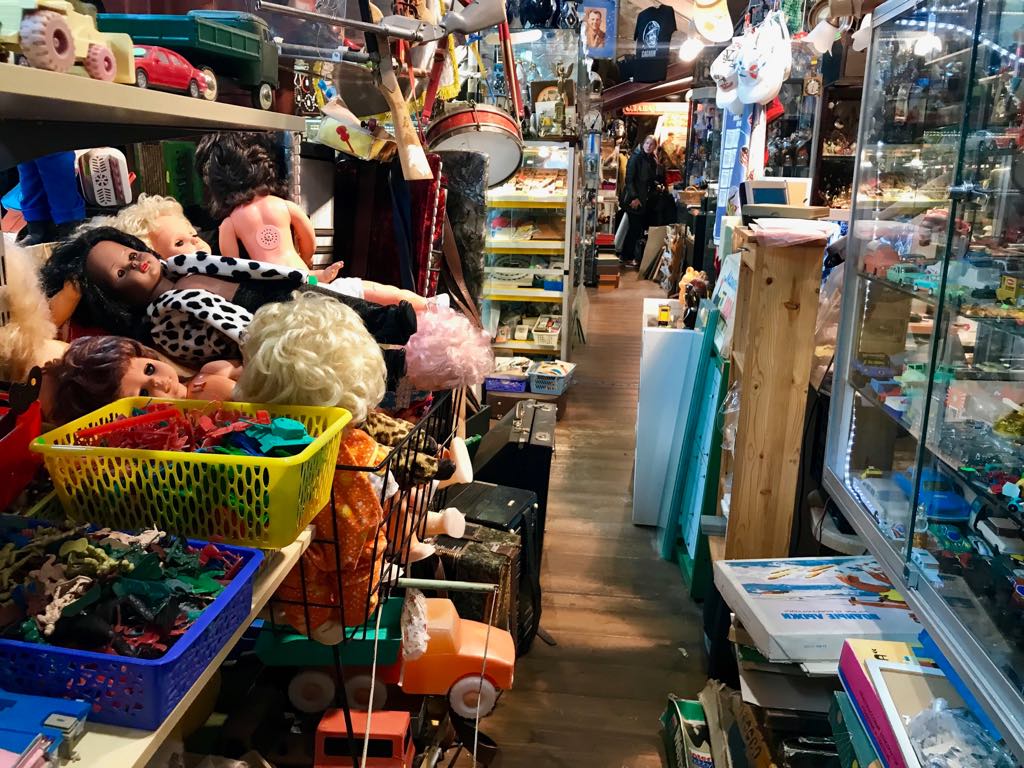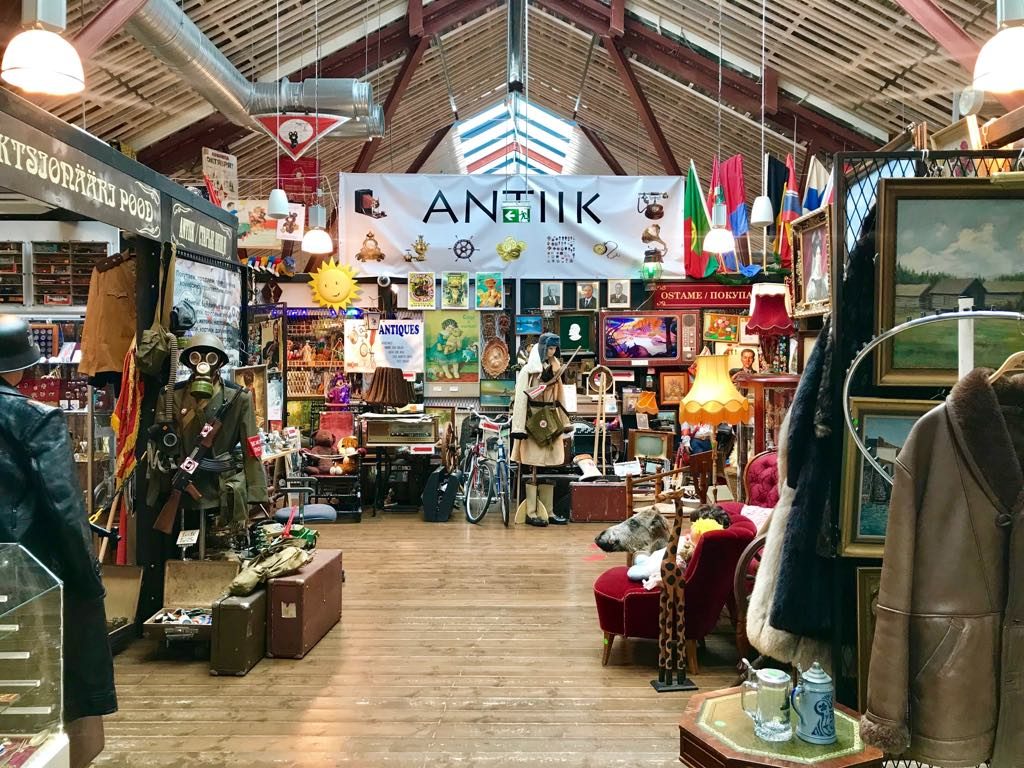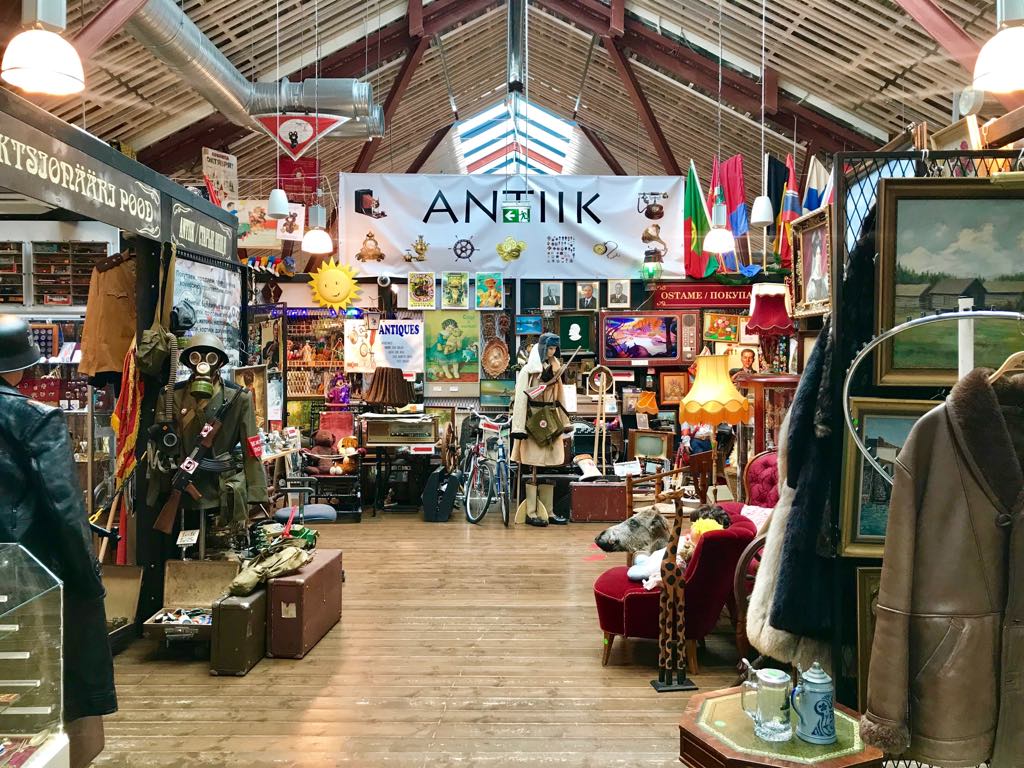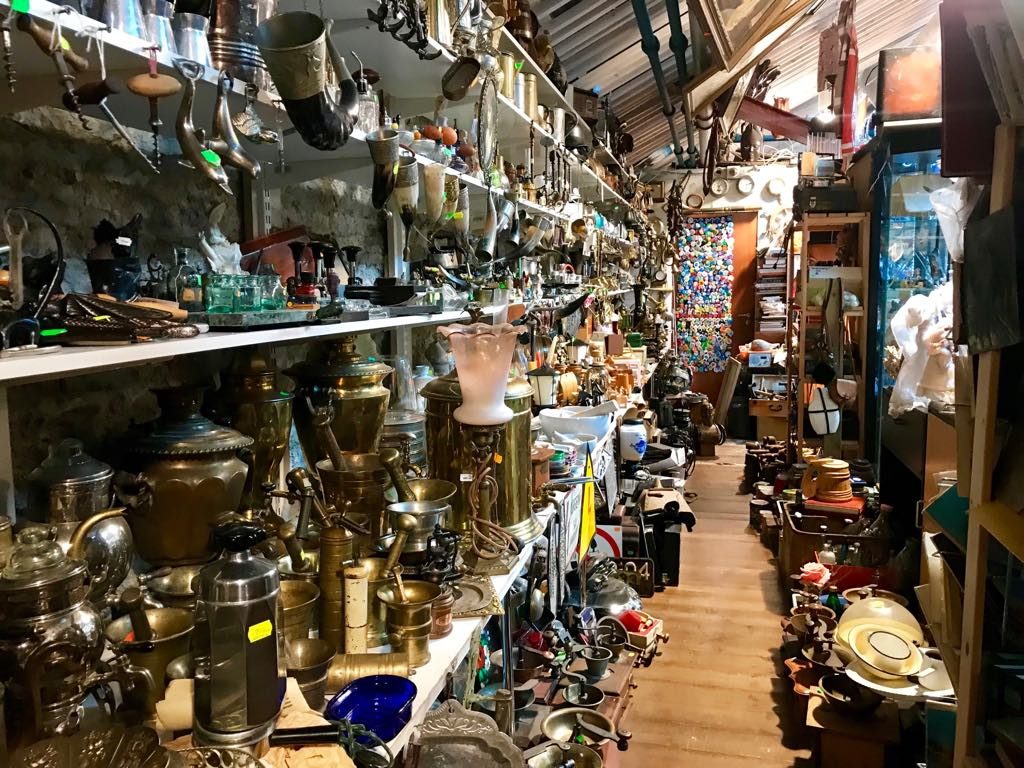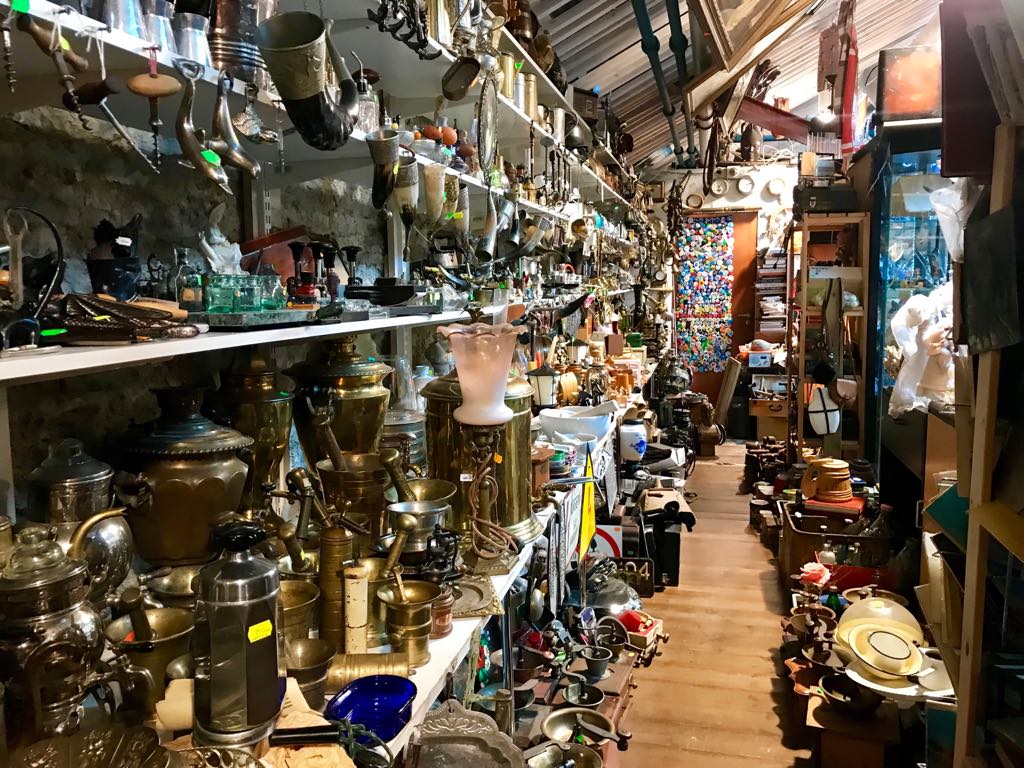 14. Sample Frozen Delights At The La Muu Cafe-Laboratory
Seriously, who doesn't love ice cream – and if you ask a local Talliner about their favorite spot for a scoop of sugary goodness, they will surely tell you the La Muu Cafe-laboratory—it is just that popular!
You can spot their logo and delightful products around town. Still, for the ultimate experience, you will need to drop by their laboratory-café concept located in the Telliskivi Creative City area. There are more than 20 different ice cream flavors on offer here, all of them so unique that they are not sold anywhere else, and you get the chance to be their personal guinea pig. Prices are affordable, and new flavors are announced every month, so you never quite know what you are going to get.
A perennial favorite, there are every quite a few vegan varieties and something for everyone – so sometimes there might be a little wait. But don't worry – it is entirely worth it!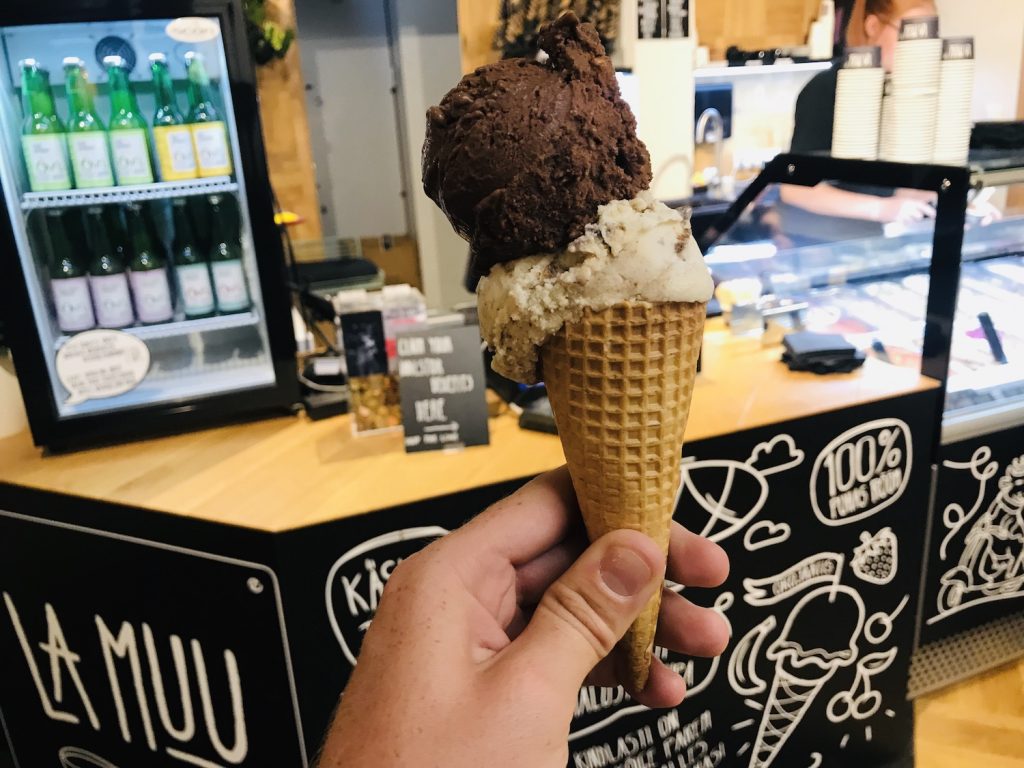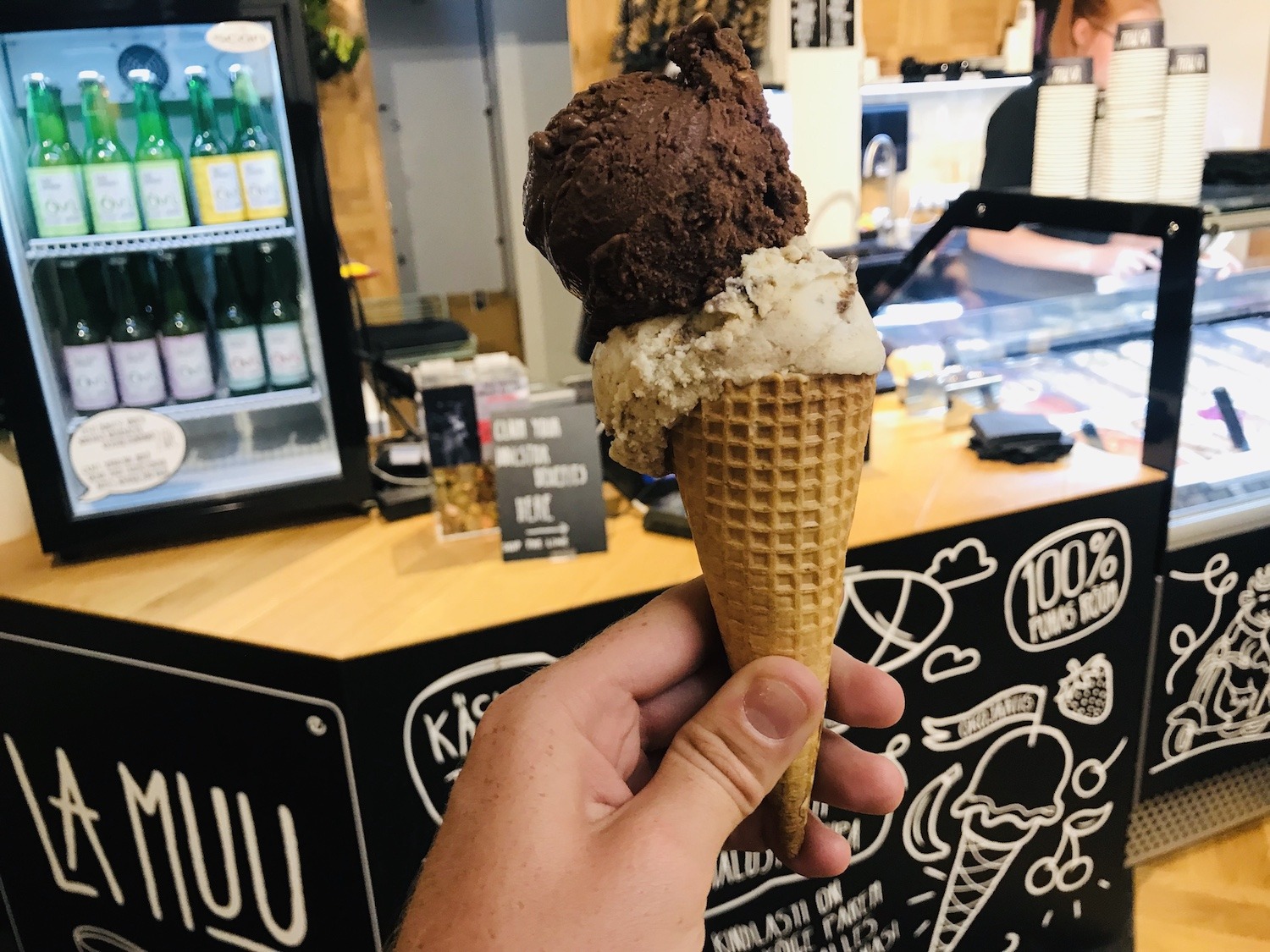 15. Hunt Down The Colourful Street Art In Tallinn
Looking for street art is one of my favorite things to do on an exploration of a new city.
In fact, it is fair to say I'm an addicted having gone hunting for these colorful contemporary art forms in Medellin, Sao Paulo, Bogota, Buenos Aires, and Palestine — just to name a few!
And while Europe tends to er more towards old-world charm than edgy graffiti works, Tallinn surprised me (yet again) with plenty of street art displays once you get outside of the old town.
Keep your eyes peeled if you are a fan, or a true connoisseur will, of course, want to seek them and should try along the Cultural Kilometer, a pedestrian and bike path that starts at the old Olympic venue Linnahall and goes for 2 kilometers (not one) to the Museum for Contemporary Art EKKM.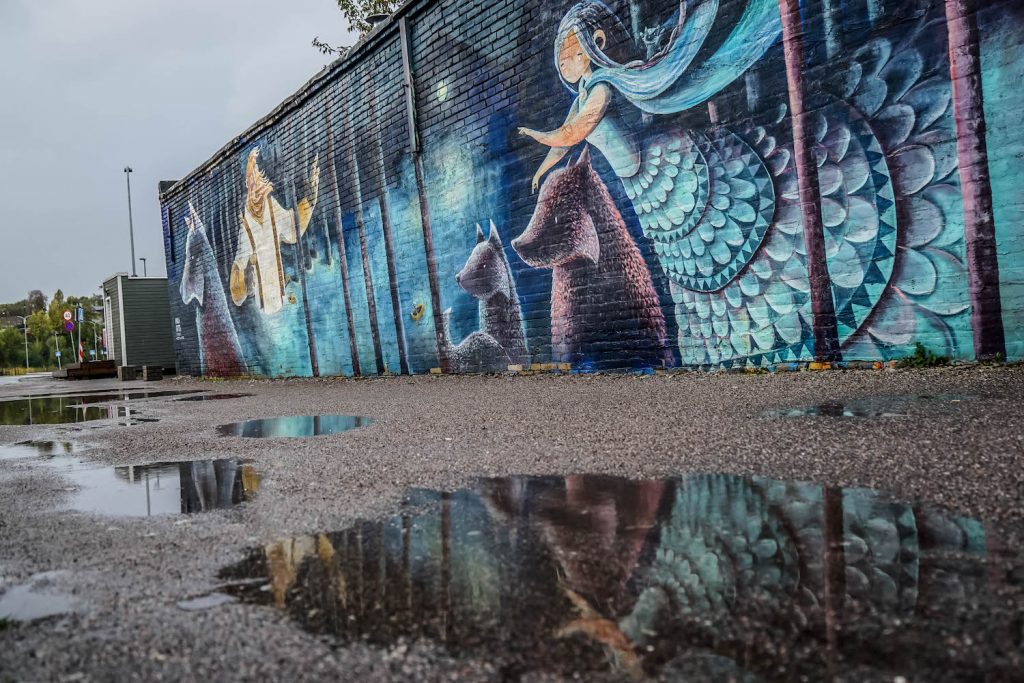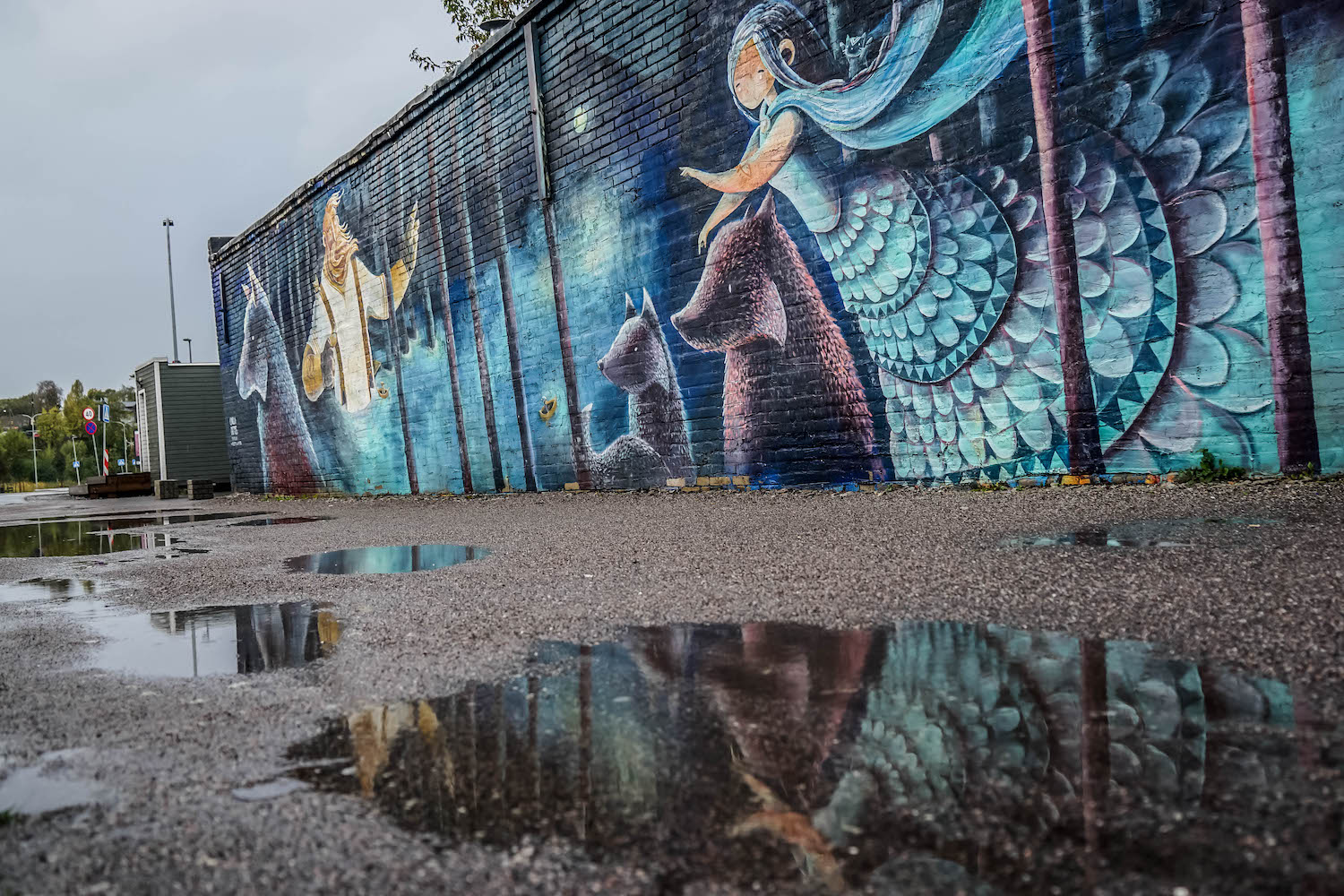 The Telliskivi Creative City is also another great place to try as it hosts the annual J-Street Baltic Street Art Jam, an ambitious street art and urban culture festival which ensures the city is topped up with creative, rainbow colors every year. The chief goal is to 'rescue' walls that are scribbled with ugly tags and to brighten up any blank and bleak spaces with gorgeous, striking, and often thought-provoking murals.
I could write an entire guide on the street art scene in Tallinn and the best pieces – but luckily, I do not need to as Visit Tallinn has this useful tool for sorting the latest artworks, including by suburb, their story and how to track them down!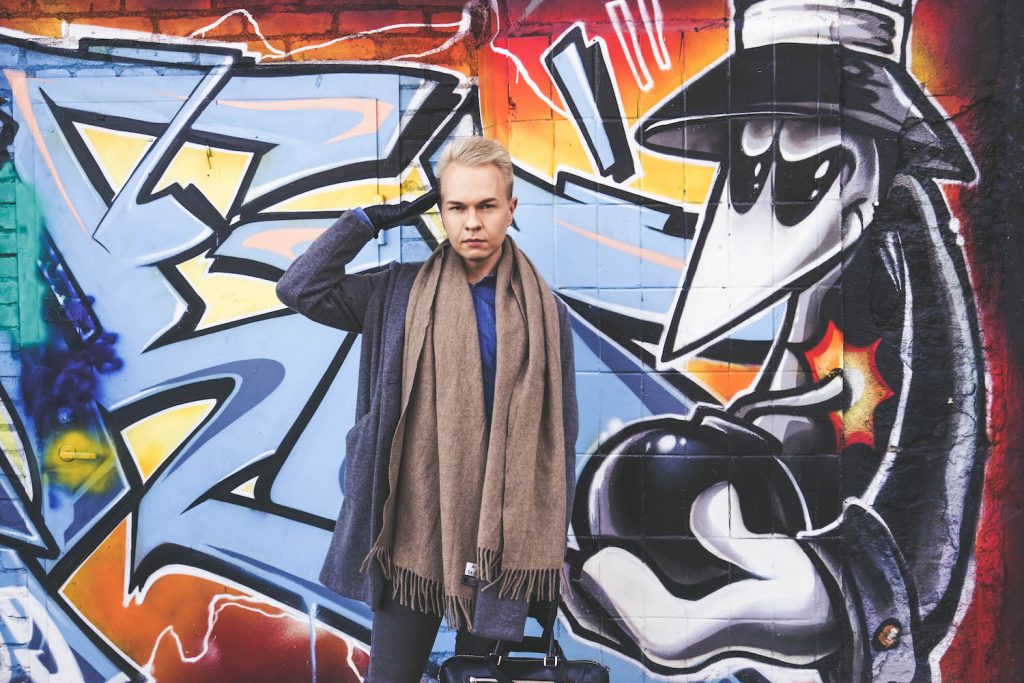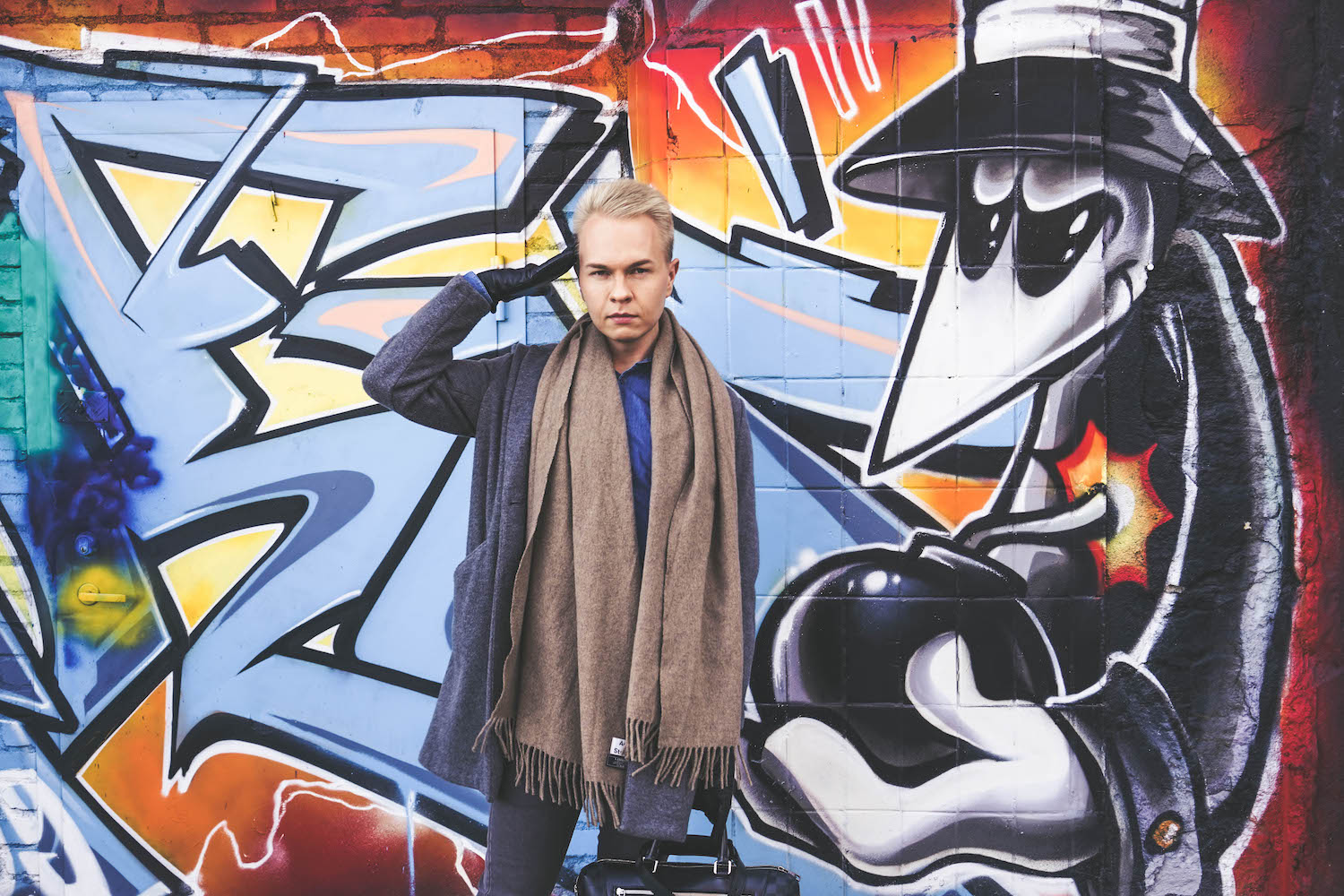 16. Appreciate Fine Craftsmanship At The Estonian Museum of Applied Art and Design
I'll be the first to admit applied art is not typically my favorite thing, but I decided to give the Estonian Museum of Applied Art and Design a shot, and it turned out to be the exception to the rule.
Easily Estonia's most notable collection of applied art from the early 1900s to today, all housed in a wonderfully converted 17th century Old Town granary. I was impressed by the variety and breadth of this design museum, and art lovers can easily spend two to three hours viewing the works of art by local Estonian artists here in different formats: Textile art, ceramics, porcelain, leather, glass, jewelry, metalwork, furniture, and product design.
There is also a clever upper walkway in one room to give a birds-eye view and to get up close to the hanging wall textiles. Well done! The ground floor does host more temporary exhibitions from international artists to inspire and focus attention on newer ideas. Still, with over 15,000 objects across three levels, I'm sure you will find at least a few curious objects to pip your interest.
I know I did!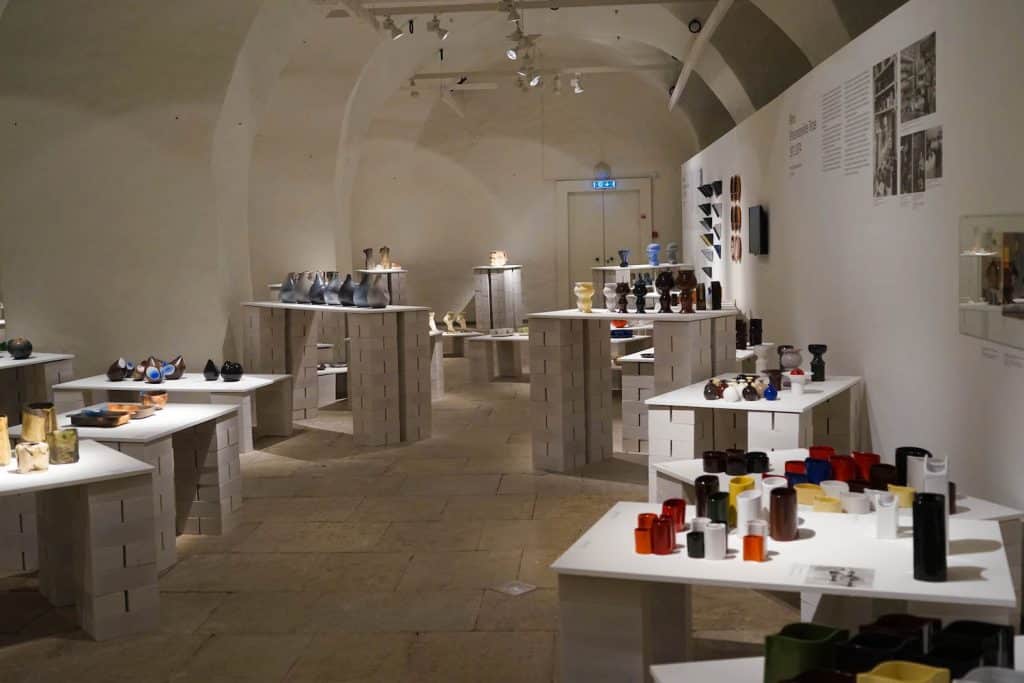 17. Be Surprised By The Cutting Edge Estonian Health Care Museum
Ok, ok, I know what you are are going to say: "An Estonian Health Care Museum? Come on…You have got to be kidding?" …but hear me out!
See, the Estonian Health Care Museum is included on the Tallinn Card. And since I was wandering past, I thought I would just nip in — if only to see how boring it could possibly be. But again, Tallinn surprised me, and I found one of the most intriguing museums I have ever visited and ended up spending two hours here.
This cutting-edge museum showcase the human anatomy and health care with interpretive displays and activities, all presented in a very visual and engaging manner. I swear if I had been a child when I visited, I would have studied a lot hard and become a doctor.
Practically dissecting the human body, each room in this labyrinth facility spread over three floors, and two internally connected buildings have a unique theme focusing on each organ.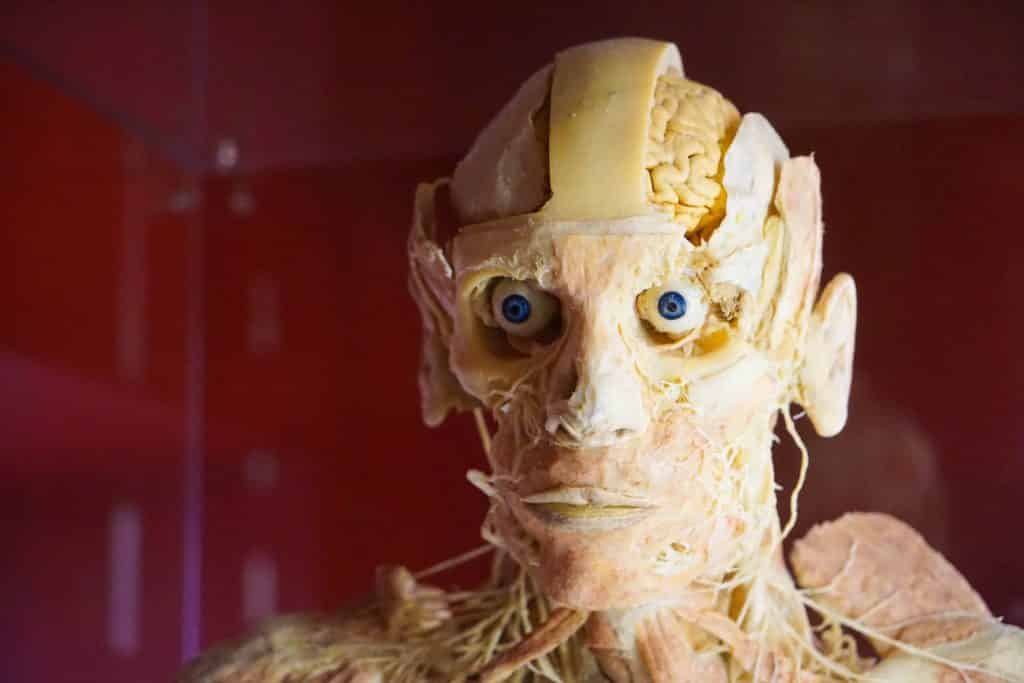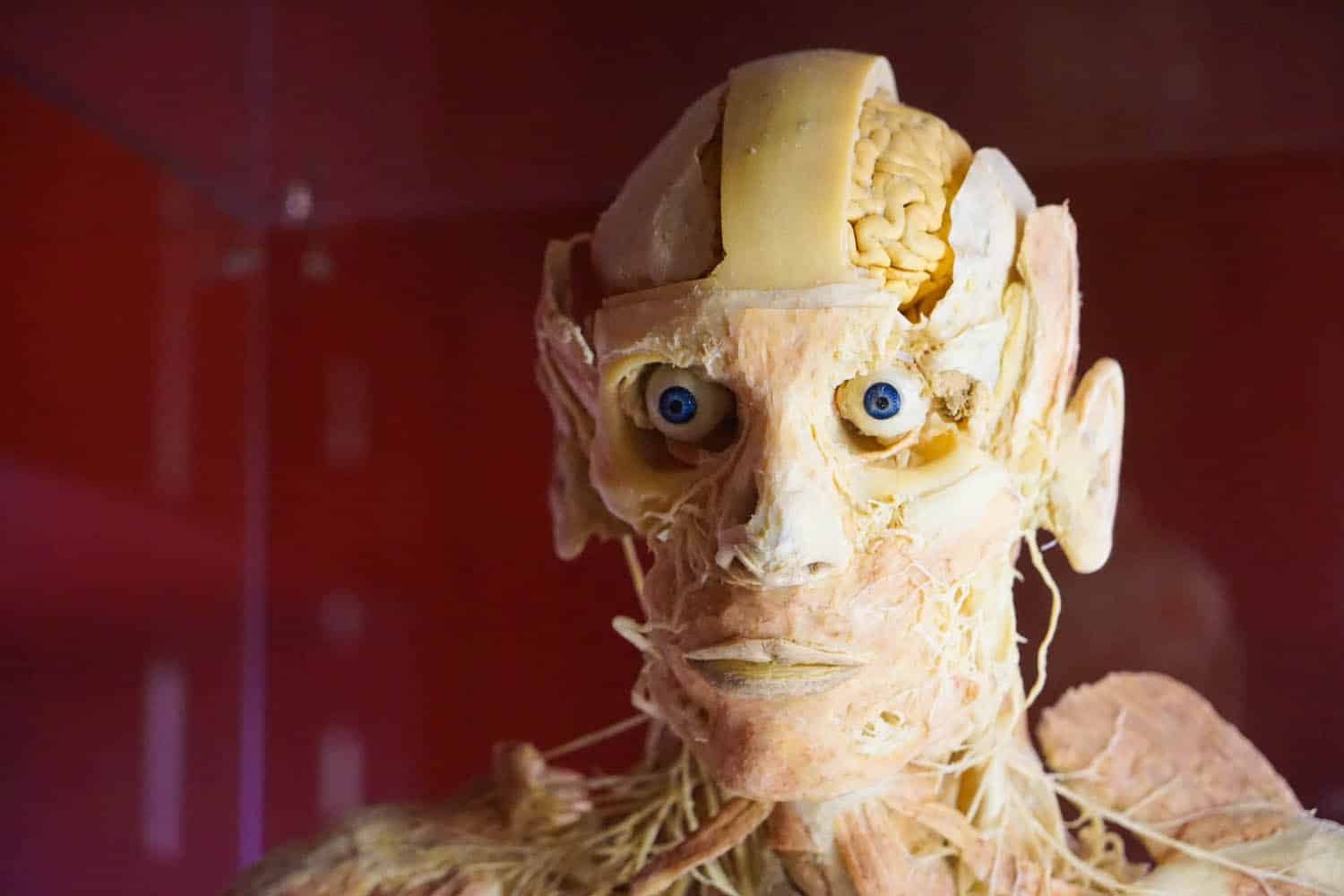 There are exciting, hands-on exhibit, fresh looks on new topics like human evolution, healthy eating, and modern disease diagnostics and a peppering of Estonia's medical heritage throughout. There are even two human bodies that have been preserved through a process called plastination and dissected to display bodily systems, similar to the famous exhibition Body Worlds, which moves around globally.
If it still sounds boring, that's on me – because this place is anything but! You could easily spend 4 hours and yet not read and do everything here. Perfect for children or curious adults who still like to learn, this has to be one of the best things to do in Tallinn on a rainy day – or even a sunny one.
One suggestion, though, guys?
A name change — the Estonian Health Care Museum just sounds plain boring and does not do the place justice!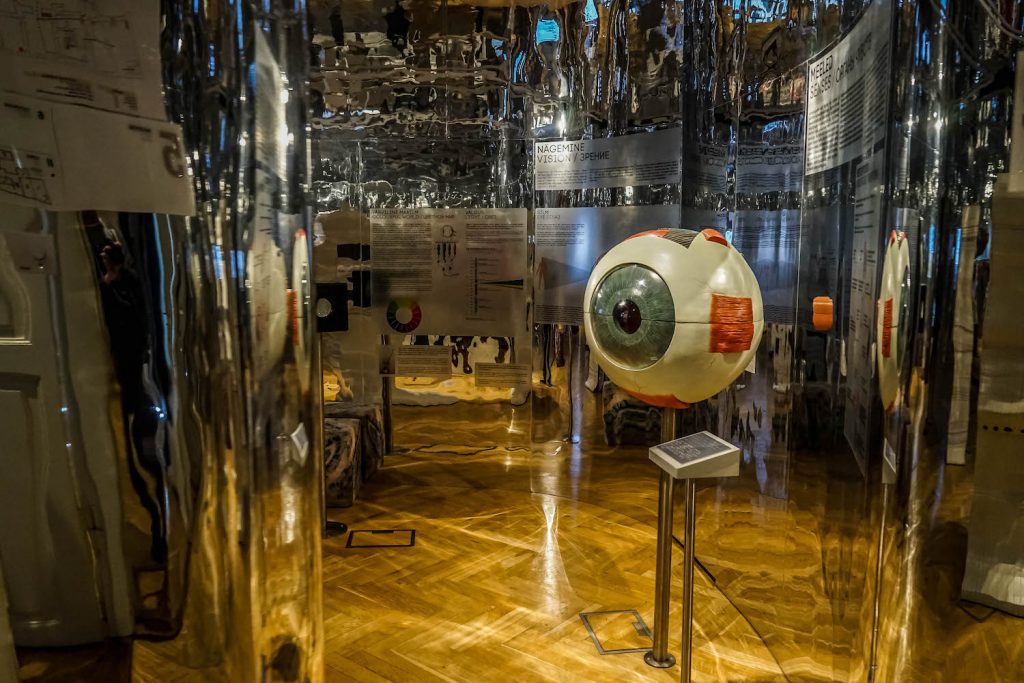 18. Enjoy Jaw-Dropping Views At The Lounge24 Radisson Blue Sky Bar
The ultimate contradiction perhaps, but yes, it is true: the best views of Old Medieval Tallin is to be had in the Lounge 24 Sky Bar of a capitalist glass-and-steel monstrosity. Go figure!
Still, no visit to Tallinn would be complete without heading up the lofty height of the city-center Radisson Blu Sky Hotel for glorious views, surprisingly affordable cocktails, and a casual yet refined atmosphere.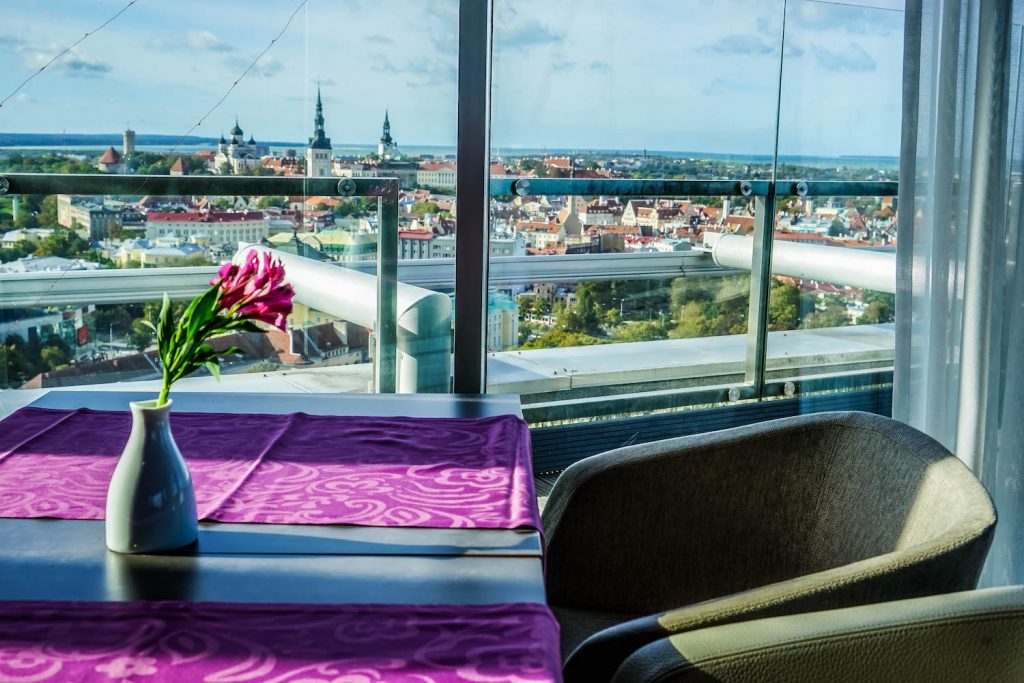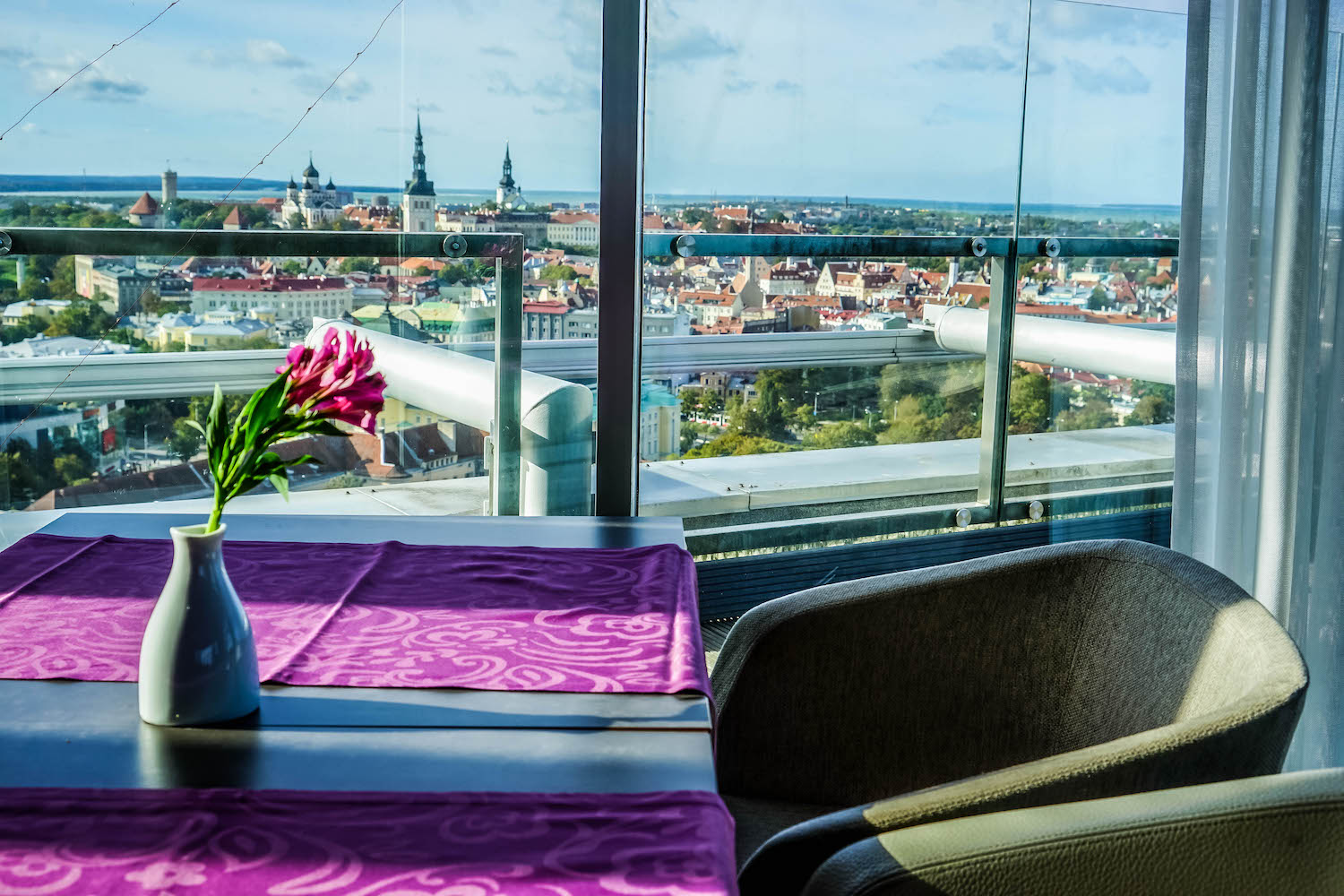 Honestly, the food was pretty terrible compared to the many, many, many other excellent dining options in Tallinn – but you can just pop up for a drink if you are short on time or money. In summer, they even have an outdoor terrace setting to relax in supreme elegance, so slip that margarita slowly and just lap it all in.
If you are as obsessed with great views as I am, you might want to consider staying at the Radisson Blu Sky Hotel. You get the outstanding view of the old town on one side – and on the other, you get those Baltic water views, especially if you stay on the higher floors.
While not our absolute favorite hotel in town – Hotel Telegraaf is far more deserving of that accommodation – the Radisson Blu Sky Hotel is very close to the old town and not far from airport and harbor if you are taking the ferry to/from Helsinki, and the room rates are very affordable for the services and quality on offer.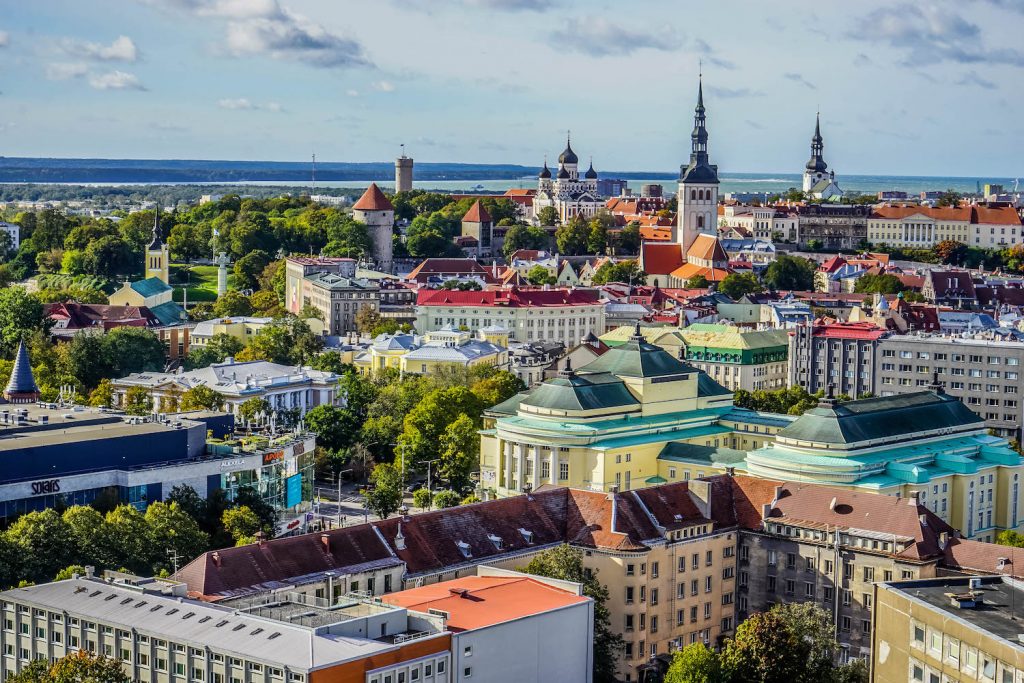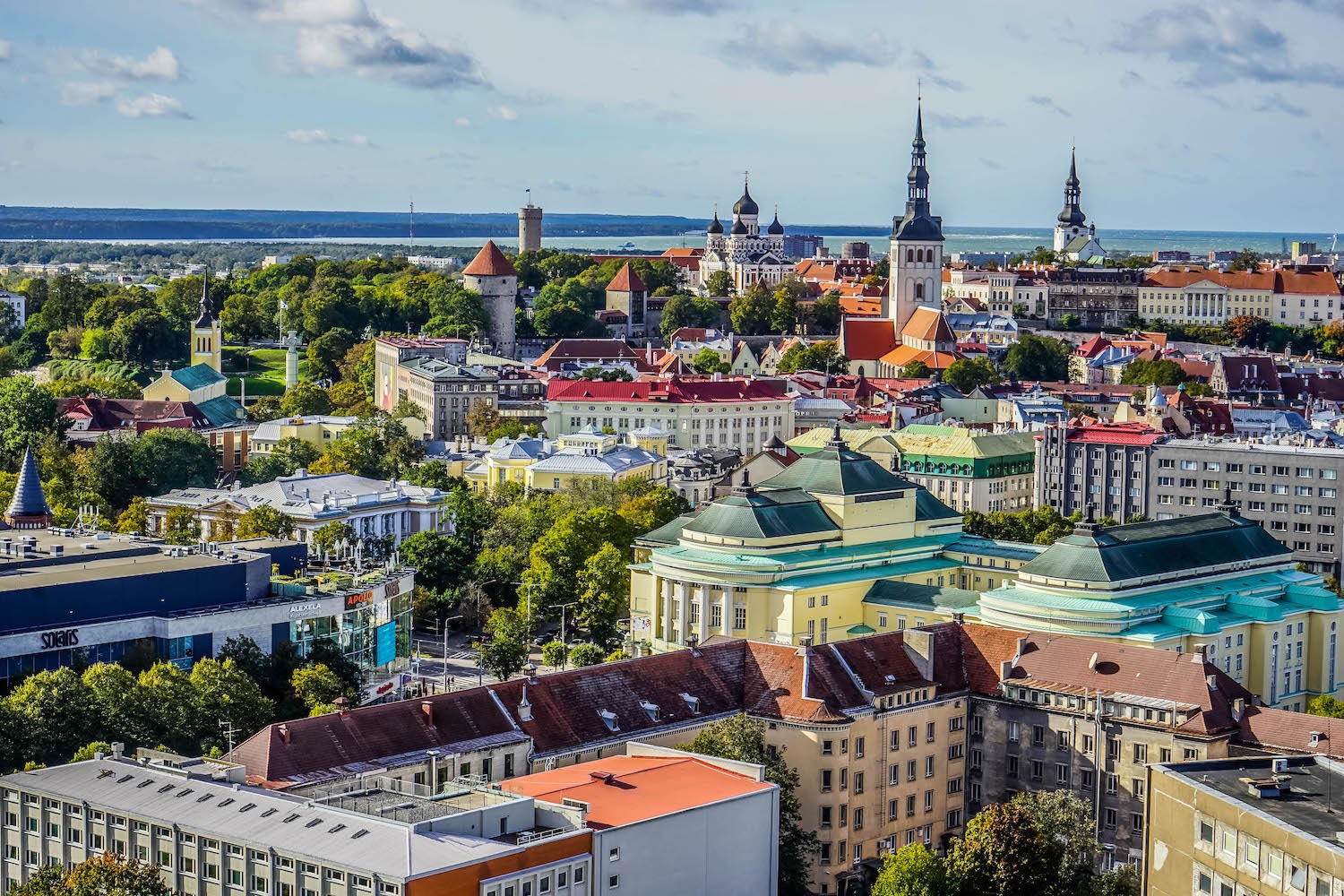 19. Get Close Up With Bizarre Puppets At The NUKU Museum
I had no expectations before visiting this museum – but let me assure you this is not just another puppet museum that showcases puppets and has way more to offer. Spread across multiple rooms and dungeons, the NUKU features exhibits on puppets, décor, and set design, light and shadow theater, horror cellar, history and much more.
Taking a peek behind the curtains and unveiling what usually is invisible is the concept behind the NUKU Museum experience. In addition to actually playing with some puppets, you are designing your own stage sets, creating sound designs, and learning about different materials used and yes, even the long history of puppet design. Hint: Surprisingly, puppetry didn't start in Europe!
A couple of hours went by quickly here, and I highly recommend it for parents traveling with children – or anyone who wants to experience this authentic part of Estonian culture and the recent renovations add a whole other level to things.
To complete the experience or as an alternative, ask when the next puppet theatre show is and plan to attend. Founded back in 1952, the Puppet Theatre has a quirky repertoire of plays & musicals. The onsite café is charming with great coffee too, but as I quickly discovered in Tallinn – all coffee was made to an exceptionally high standard.
Yet another thing I fell in love with this unconventional city!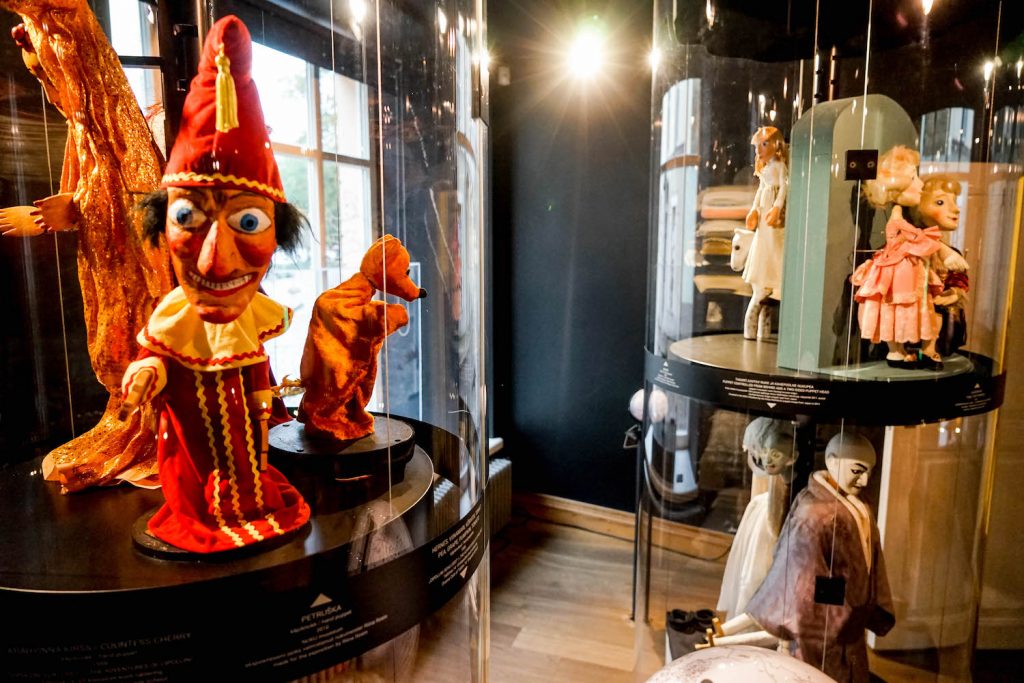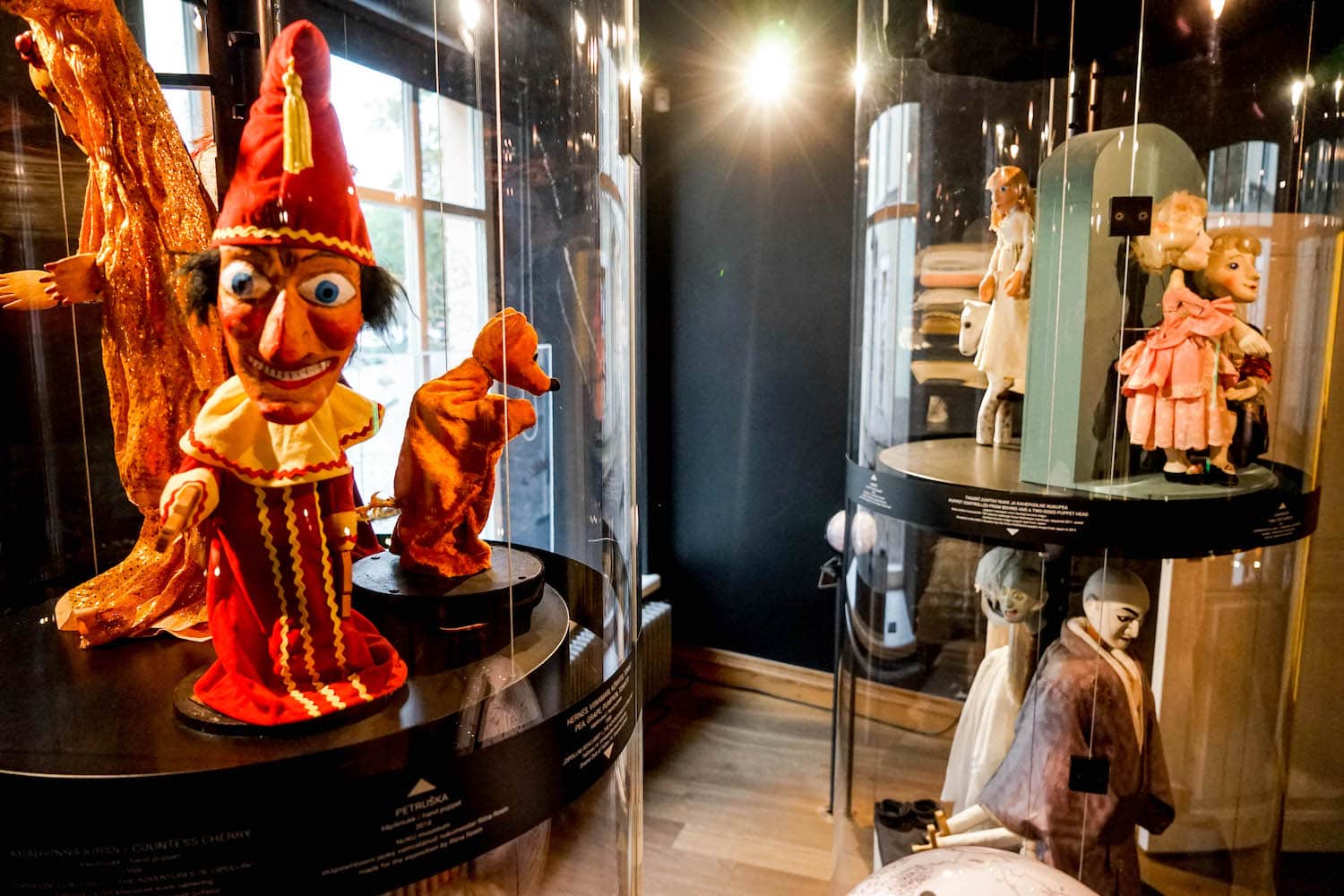 20. Go Back In Time At The Maiden Tower Museum-Cafe
A distinctive café positioned on three floors of a fourteenth-century defense tower, a great spot to perch with a partner (or book), enjoy a cappuccino and take in the panoramic views of old town roof tiles.
Probably the best café view in Tallinn, but the worst coffee and food – which is a shame as if the café could match the views it would shoot straight away to #1 on this list of things to do in Tallinn. Actually, I would find it hard to drag myself away from here to do anything else.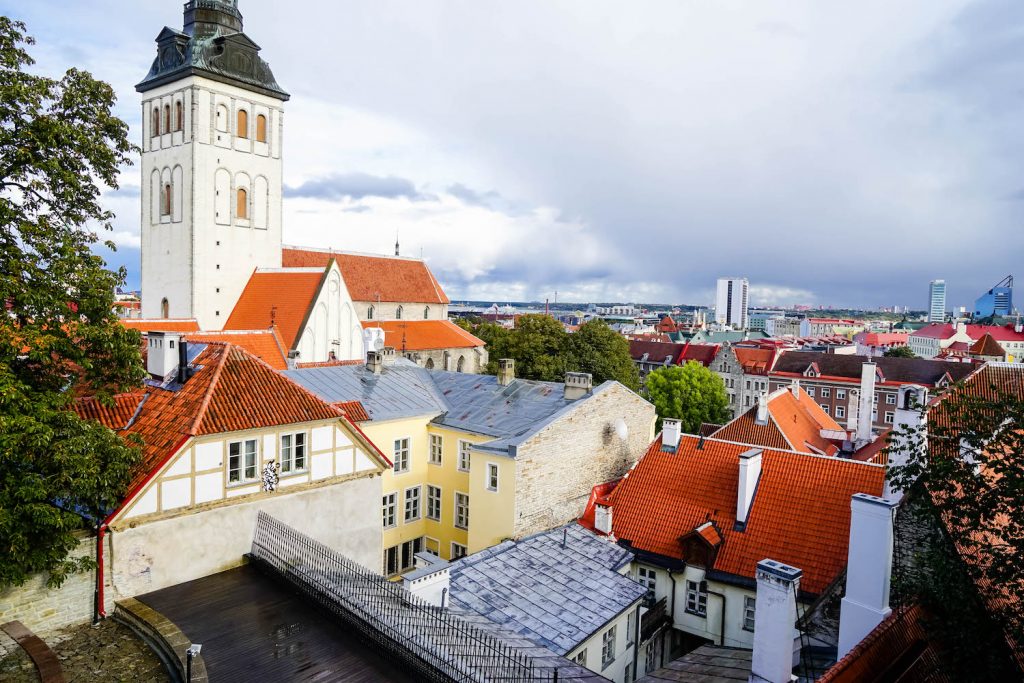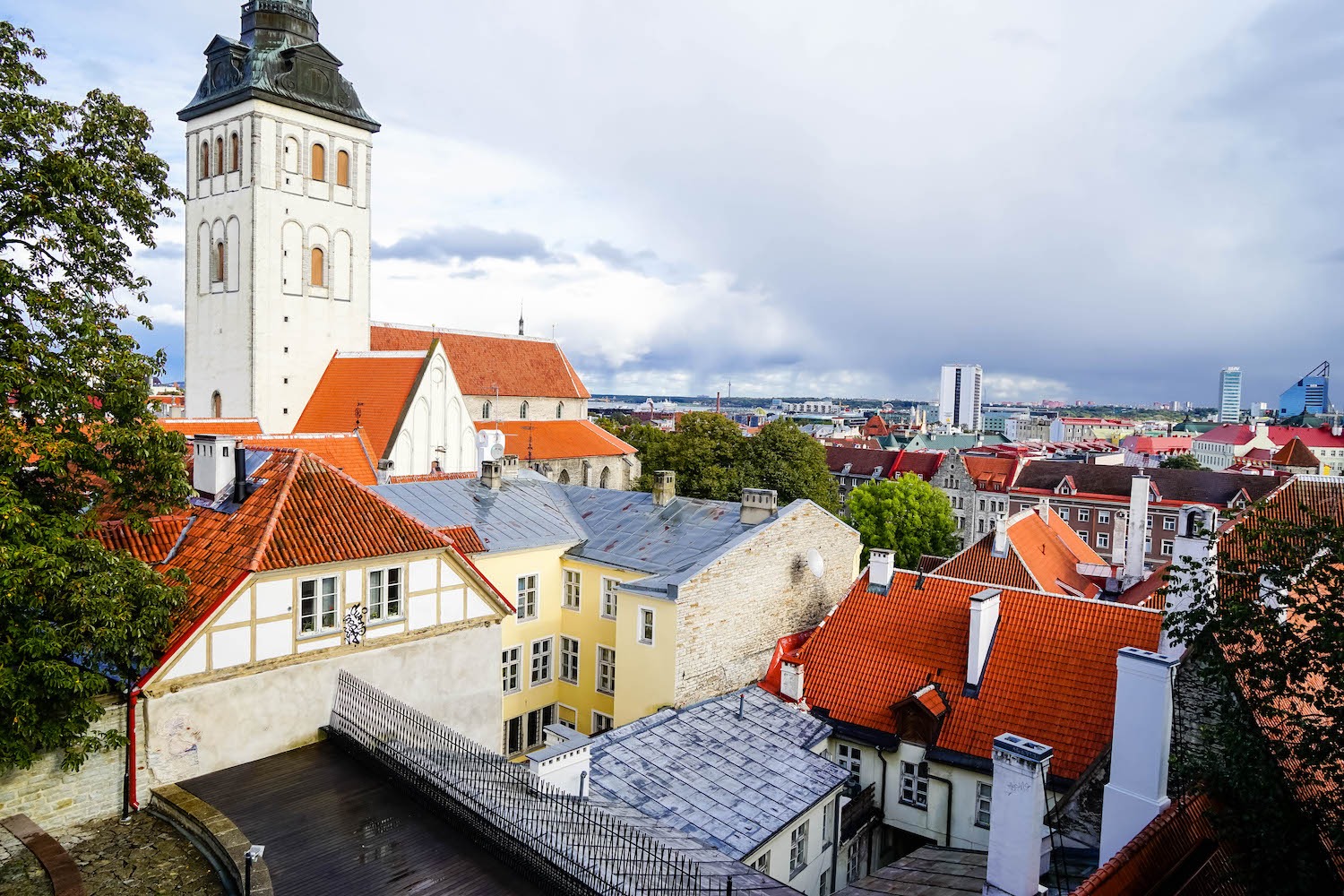 That is not to say the coffee is bad; it just comes from a machine rather than a barista. The décor is cute, and the enormous floor-to-ceiling windows are mind-blowing. Not only is it like going back in time to the middle ages, but the service and staff are a Soviet blast from the past.
The Maiden Tower Museum-Café is somehow attached via the external tower wall to the Kiek in de Kök Museum, a wonderfully restored cannon tower dating to the 15th century, which now houses a separate museum with exhibits & tours of secret tunnels.
The Kiek in de Kök Museum is actually by far the better of the two, but if you have the Tallinn Card, you can enjoy included access to both.
If you want to just get up on the Tallinn Old Town wall, explore and enjoy the view, then a visit to the Maiden Tower Museum-Café will suffice.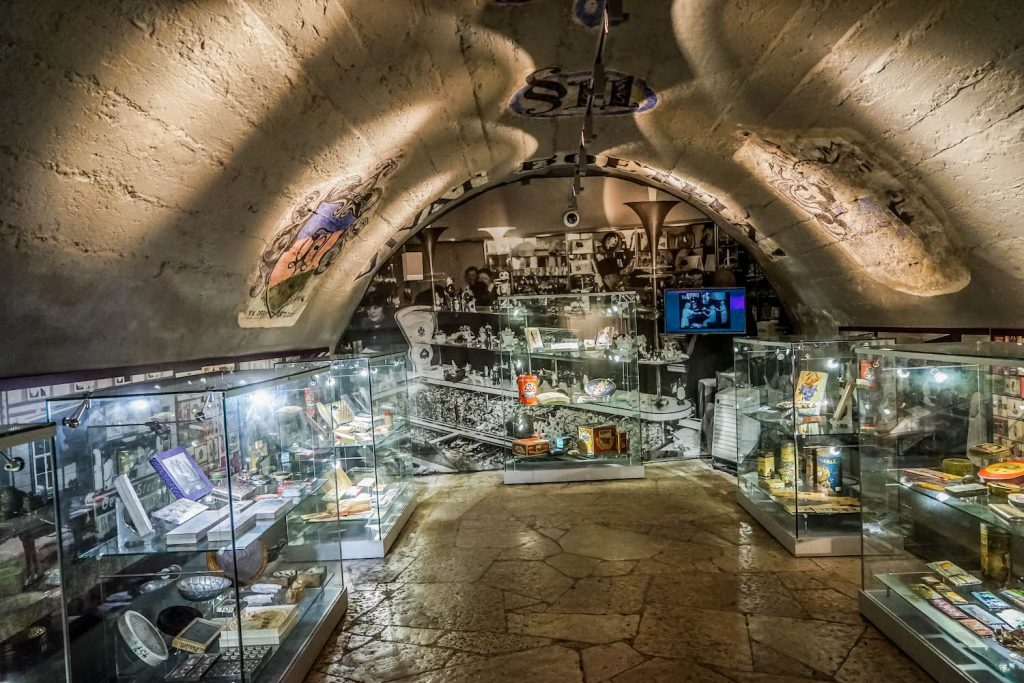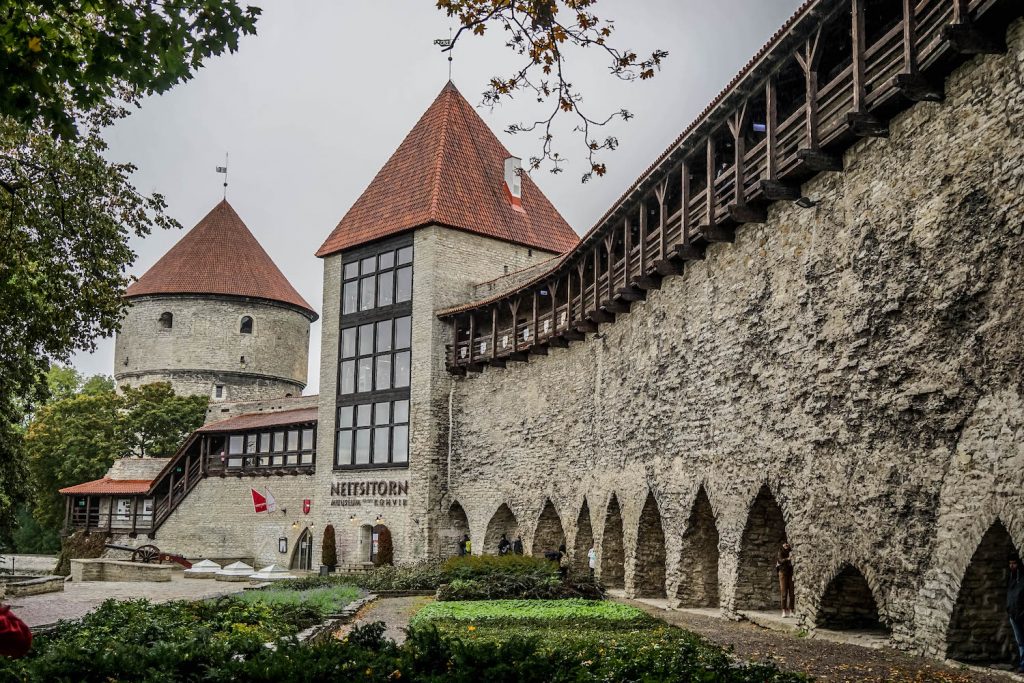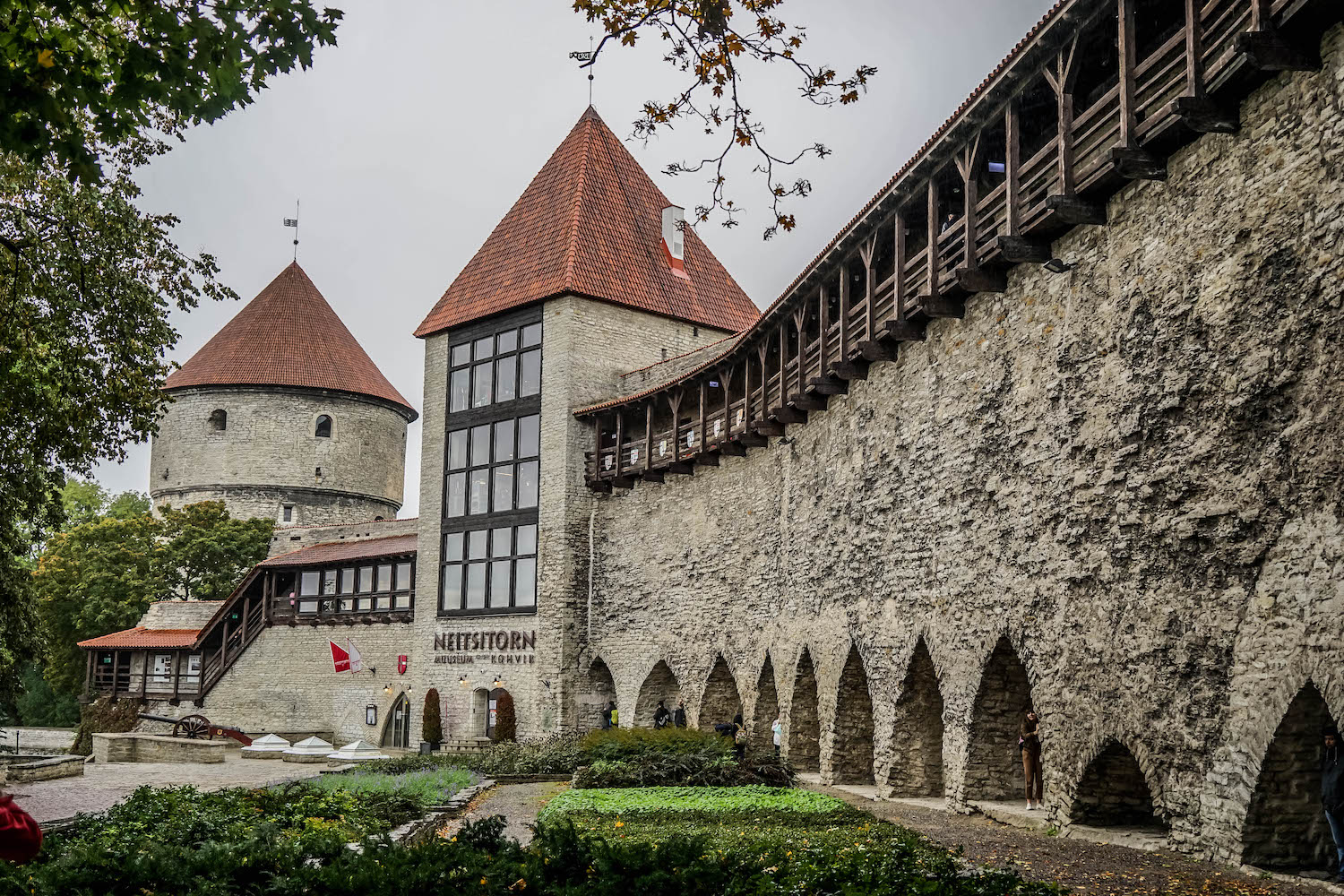 21. Unravel Estonia's Complex Past At The Estonian History Museum: Great Guild Hall
What is Estonia, this weird little country with a curious language, quiet people, and Skype?
If you are as curious about Estonia as a country and its long – and very complicated – history, then you absolutely cannot miss visiting the Estonian History Museum houses in the Great Guild Hall. Here, you can examine Estonia's history from prehistoric times' right up to the end of the 20th century under the arched roof of the glorious 15th century Great Guild Hall, itself a stunning relic of Tallinn's past.
Among the many highlights found here is an exhibition considering "If Estonia is Nordic?", a weapons chamber presenting various wars and arms through the ages and the permanent exhibition 'Spirit Of Survival: 11,000 years of Estonian' which helps visitors to truly understand the uniqueness of the Estonian people and how historical events have affected them.
Films and hands-on displays at this comprehensive museum explain how Estonian-dwellers lived, fought and survived through 11,000 years covering from prehistoric times' right up to the end of the 20th century—but for more information you'll need to head out of the Tallinn Old Town.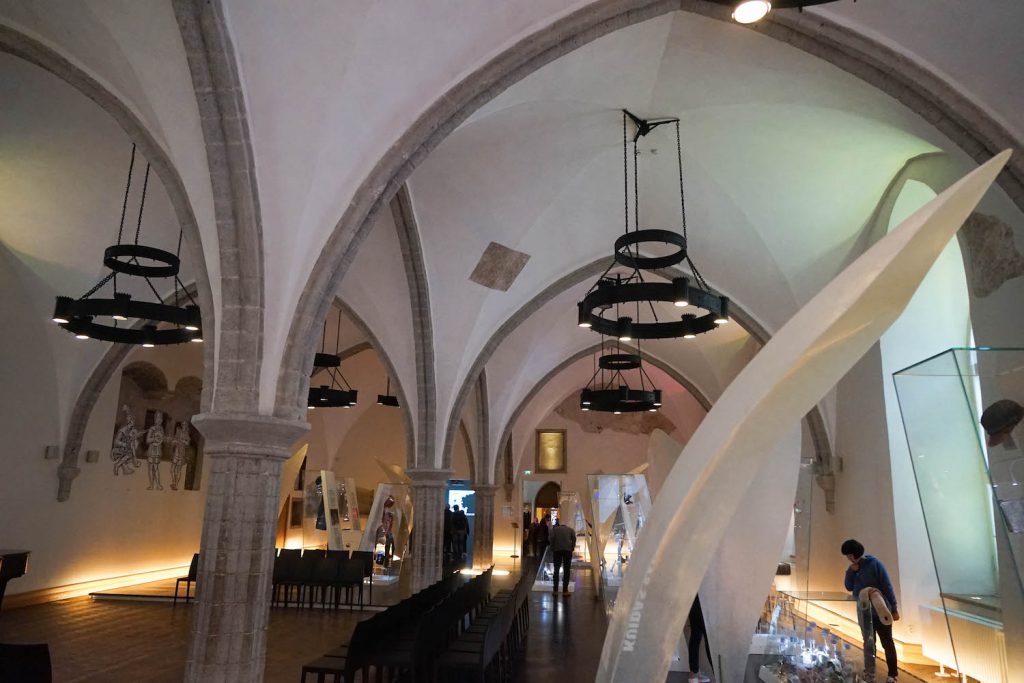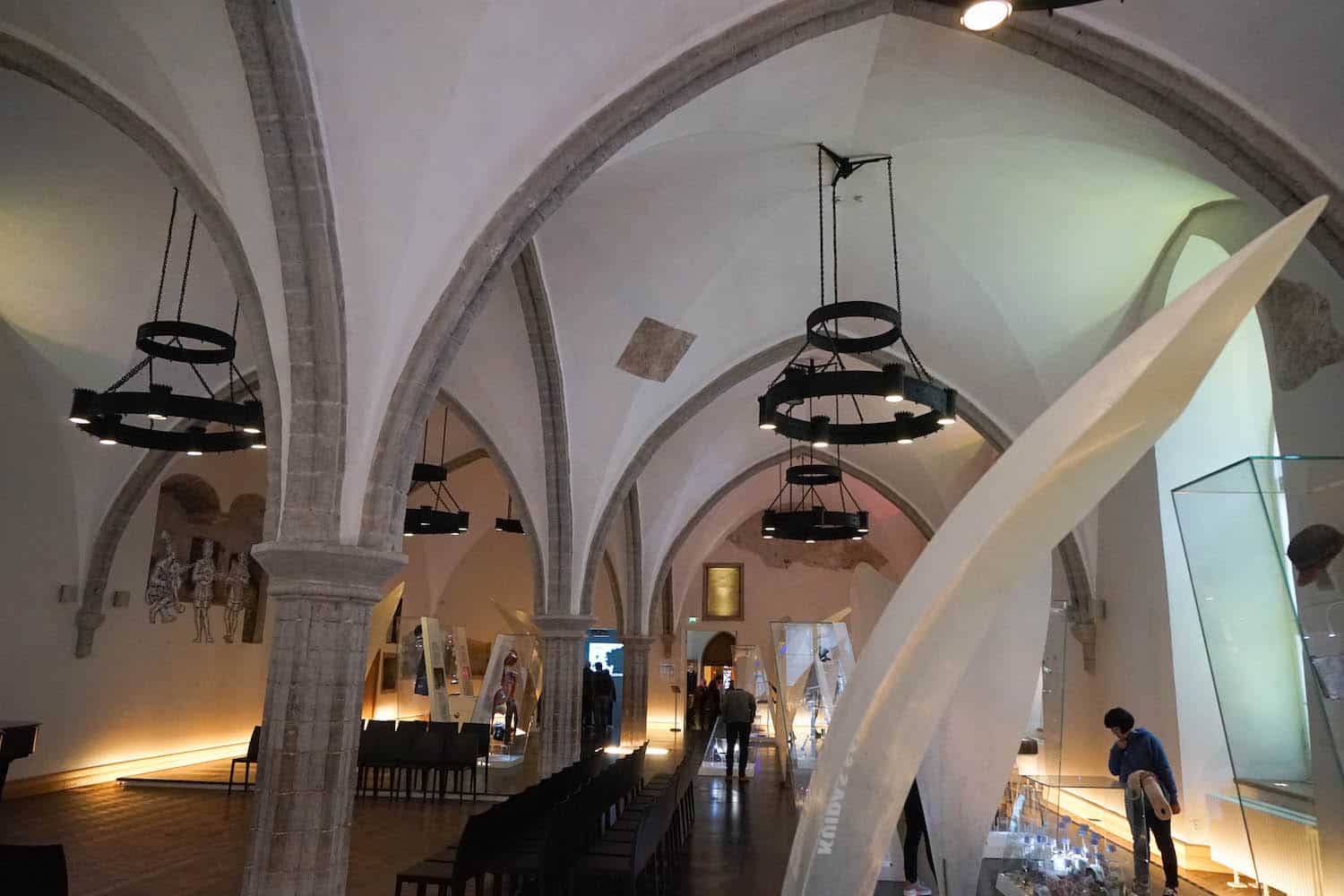 22. Dive Deeper Into Estonia's Recent Past A The Estonian History Museum: Maarjamäe Palace
In 2018, the 100th anniversary of the Republic of Estonia, another outpost of the Estonian History Museum's was opened at Maarjamäe Palace, termed a history discovery center. The historical palace was entirely renovated, and the Estonian Film Museum is added to the park.
There is a lot to cover here, so I won't even try – but for those of you who didn't already, Estonia achieved independence from the Soviet occupation with a four-year Singing Revolution, involving most famously spontaneous mass night-singing demonstrations at the Tallinn Song Festival Grounds. Through these actions, Estonia regained its independence without any bloodshed on 20 August 1991.
Another fun fact: Iceland was the first nation to recognize the newly restored independence of Estonia. You are welcome!
While the Great Guild location is centrally located and looks into the more distant history of Estonia, this location, with its permanent exhibition "My Free Country," focussed on the past 100 years of Estonian history. Hence, if you are more interested in Soviet times, Estonian's independence, and (re)independence, this is the spot for you. Personally, we think you should visit both!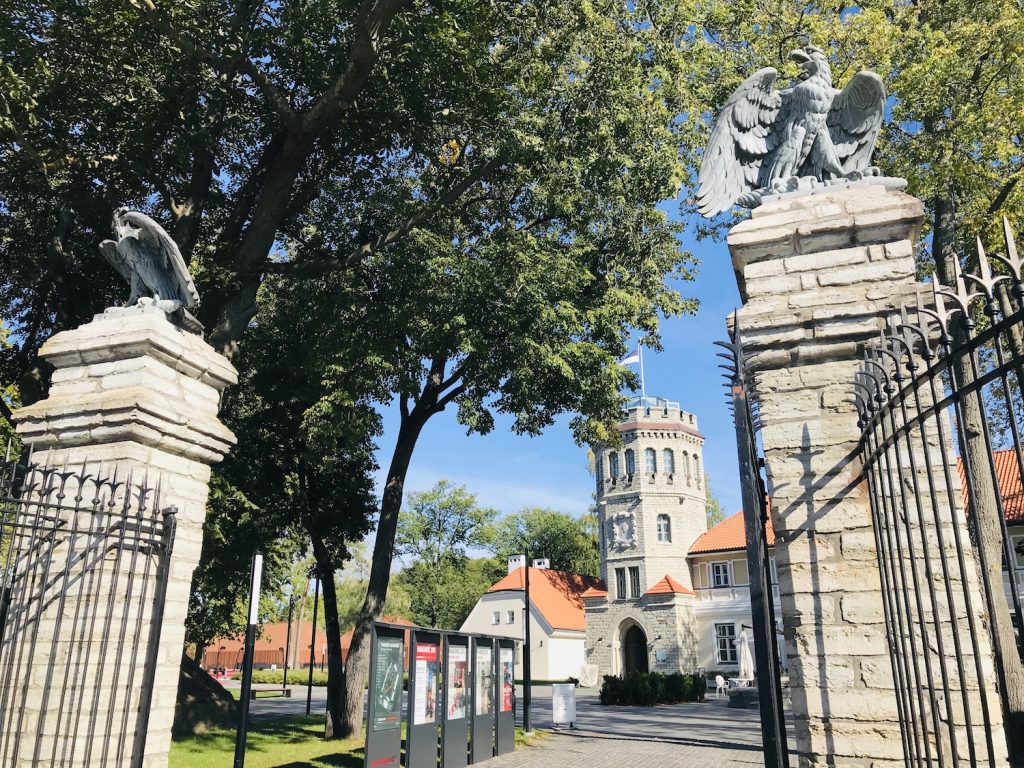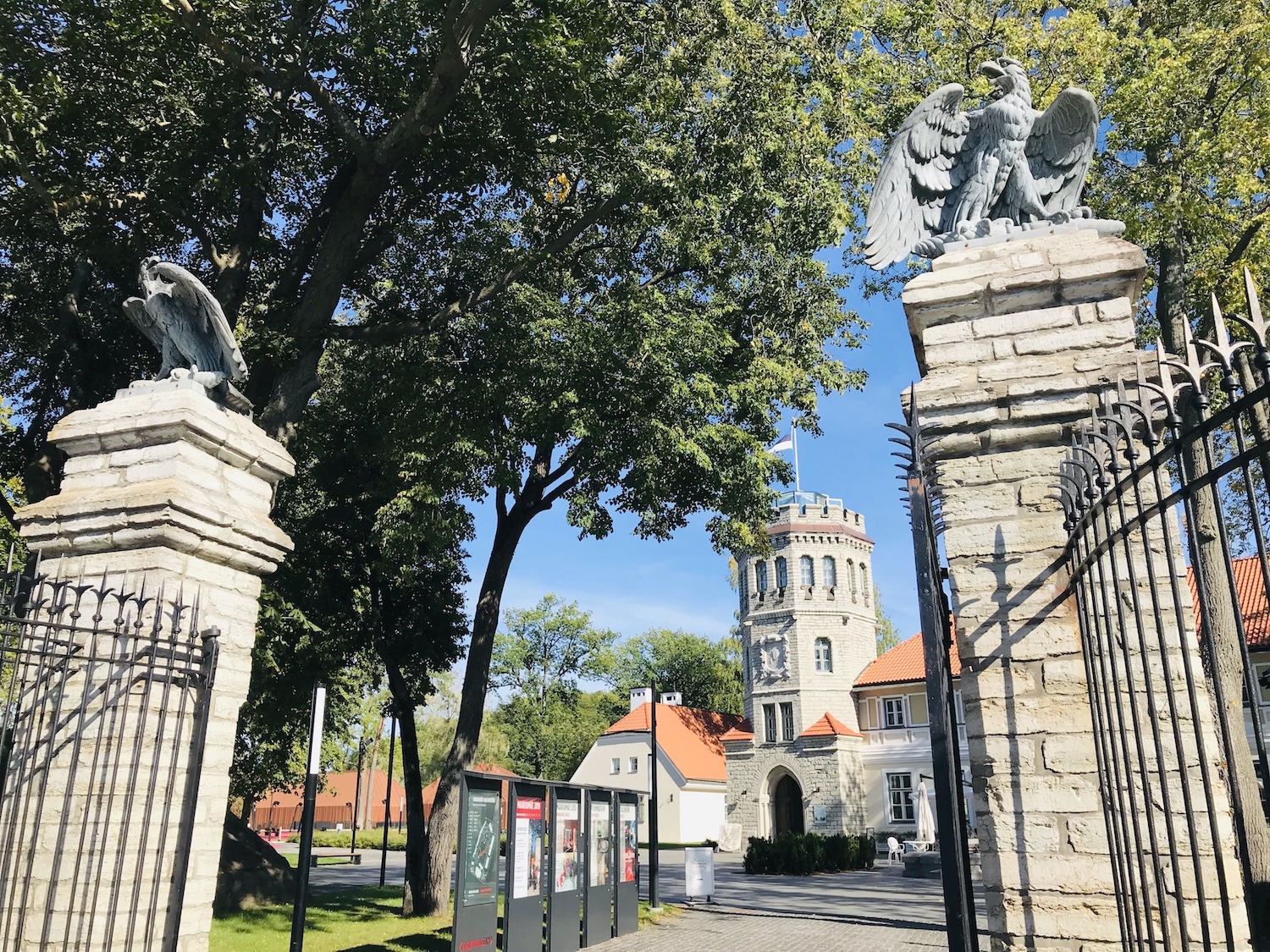 23. Splash Out At NOA, One Of The World's Top Dining Experiences.
For an over-the-top fine dining extravaganza, you will need to head out of town to NOA, one of the world's 50 best restaurants.
Only 15 minutes by taxi, NOA is famed for its seaside location, grand architecture, and chic interior design. Not to mention the original flavors and panoramic views of the Tallinn skyline and the sea.
A dinner at NOA does not come cheap, and you often need to reserve weeks in advance – especially during the busy summer season – but for your efforts, you will be rewarded with bold global flavors, delicious cocktails, an eccentric wine list and sea-views from every, single table.
This wood and glass architectural gem wouldn't look out of place on a Grand Designs episode, but once you have sufficiently appreciated the design and views you can move on to the menu. Why not start with eggplant caviar & cheese profiteroles or their signature green "taco" with caesar sauce, walnuts, celery, apple, and crispy panko?
Then for mains be tempted by juicy scallops with apple-zucchini salad, shisho leaves, and a lemongrass sauce or the warming red lentil curry with papadums, coriander, curry leaves, and coconut milk. NOA changes their menu seasonally to reflect the availability of local and international ingredients, so no matter when you visit, you are sure to find a delightful surprise.
One thing we hope that stays? The '#SEXWITHEX" dessert of goat cheese, crème brûlée, beeswax ice cream, and raspberries. It tastes are incredible as it sounds, but without the regret and emotional baggage afterward.
Overall, the architecture, views, food, drinks, and staff were all perfect – as you would expect at a restaurant of this caliber. We do wish NOA was a little more locally focussed regarding their menu, but still – dining here promises to be an experience you will never forget.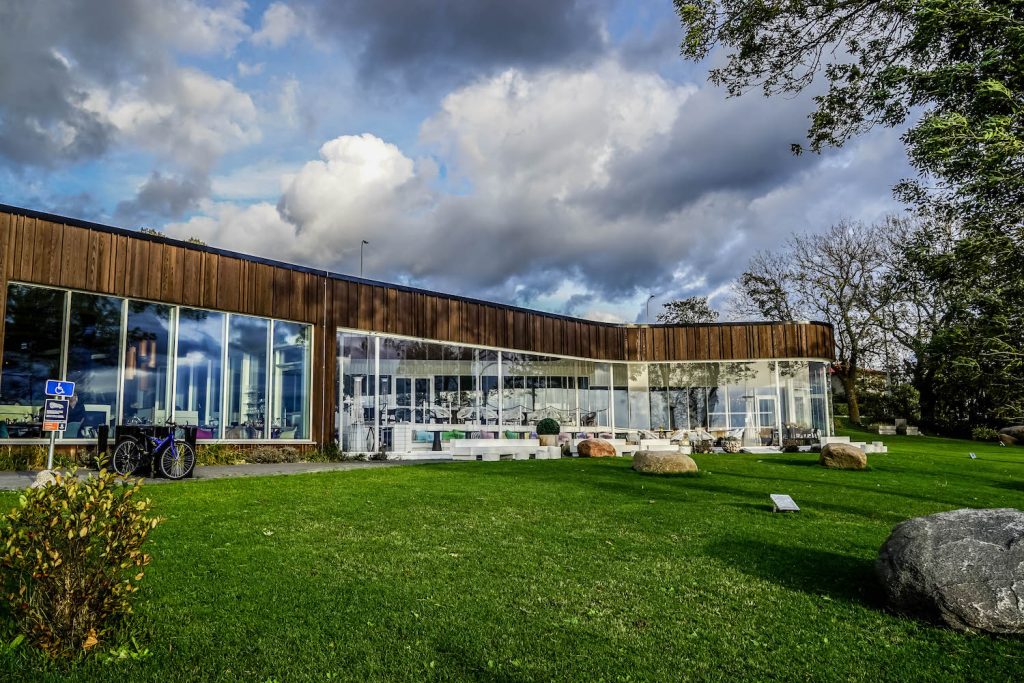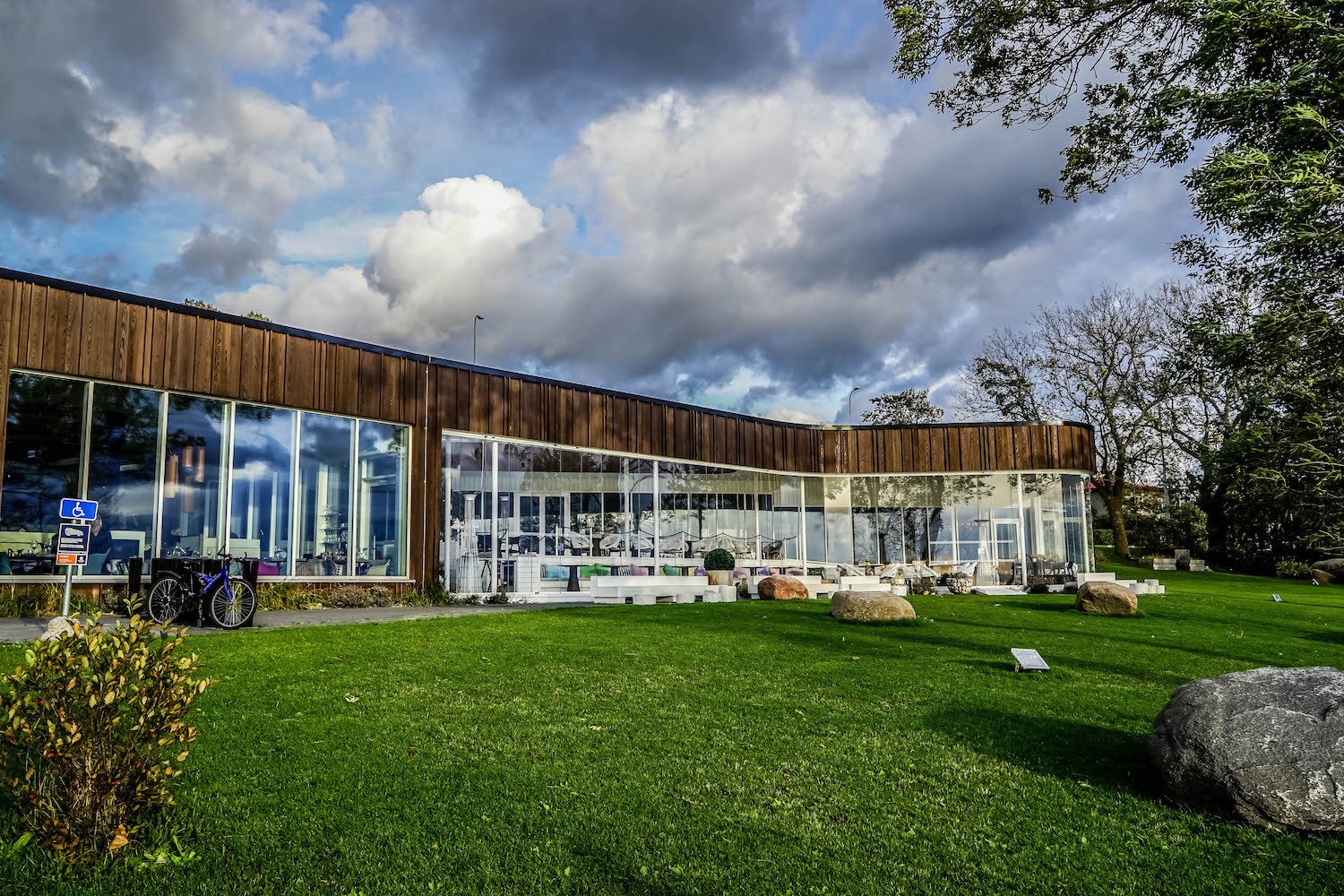 24. Literally Squeeze Into A Purist Speakeasy Bar, Whisper Sister
Tallinn is not a sleepy capital with history for days and zero nightlife – no matter what you might have heard.
To prove it, all you need to do it head out after dark and follow the steady stream of Estonians and foreigners gathering at their beloved bars, pubs, and nightclubs. Trust me; there are a lot of choices and something for everyone.
One of my personal favorite places to go is the uber-cool Whisper Sister.
How cool, you ask?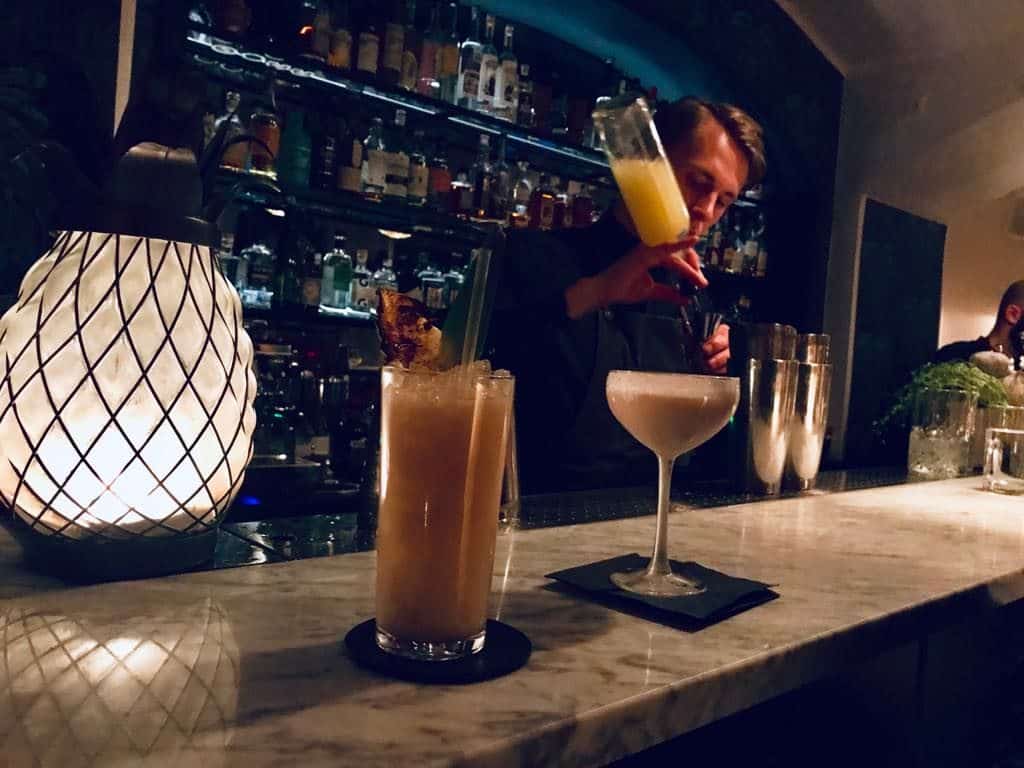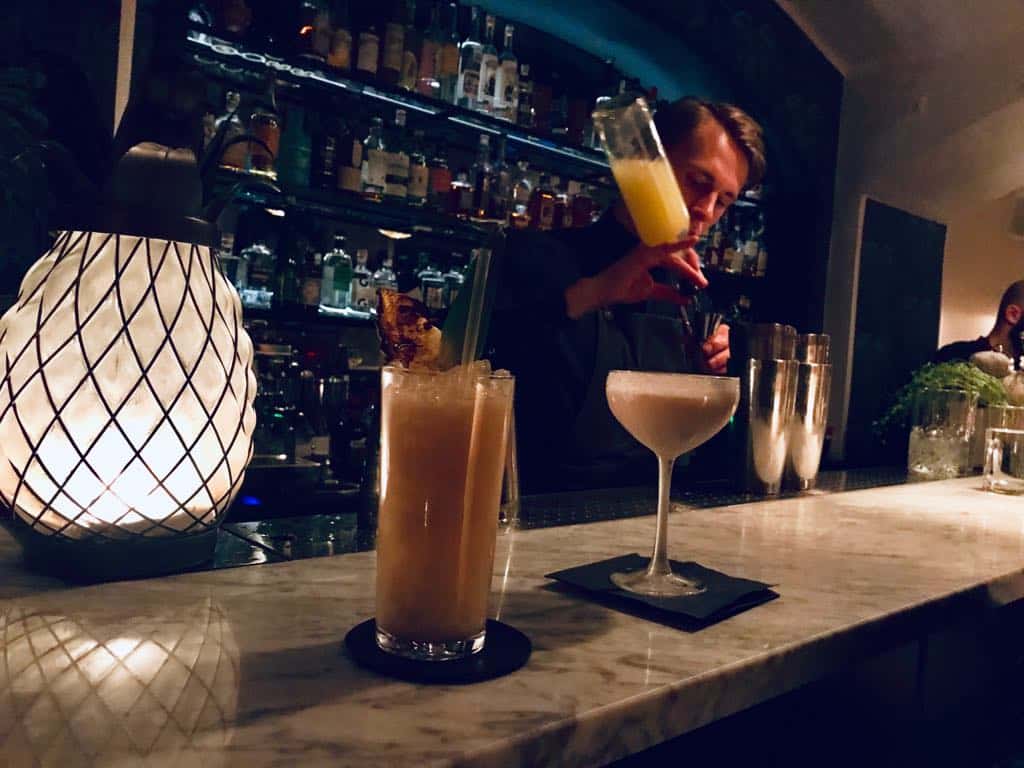 So cool, that there is no sign, a locked door, and no one out front. To get into this underground speakeasy, you need to call a discreet phone number listed in tiny letters by itself on the wooden door and wait for someone to let you in. In reality, if you are a tourist without a working phone, just wait for another patron to come by and tag along with them.
Inside is frequently packed, but even if you miss out on a table, you can grab a seat at the bar where the skilled bartender craft alcoholic works of art right in front of your eyes. The Match Gin Cocktail is simply divine- or why not try a Lemon Pie liquid dessert with Waqar pisco, aged Italian wine, Marsala, homemade whey, vanilla-lemon curd & melt-in-your-mouth meringue.
With a wide selection of though-out cocktails, excellent service, and a chic interior – this speakeasy is a must-visit when in Tallinn.
Oh, and the address? Pärnu maantee 12.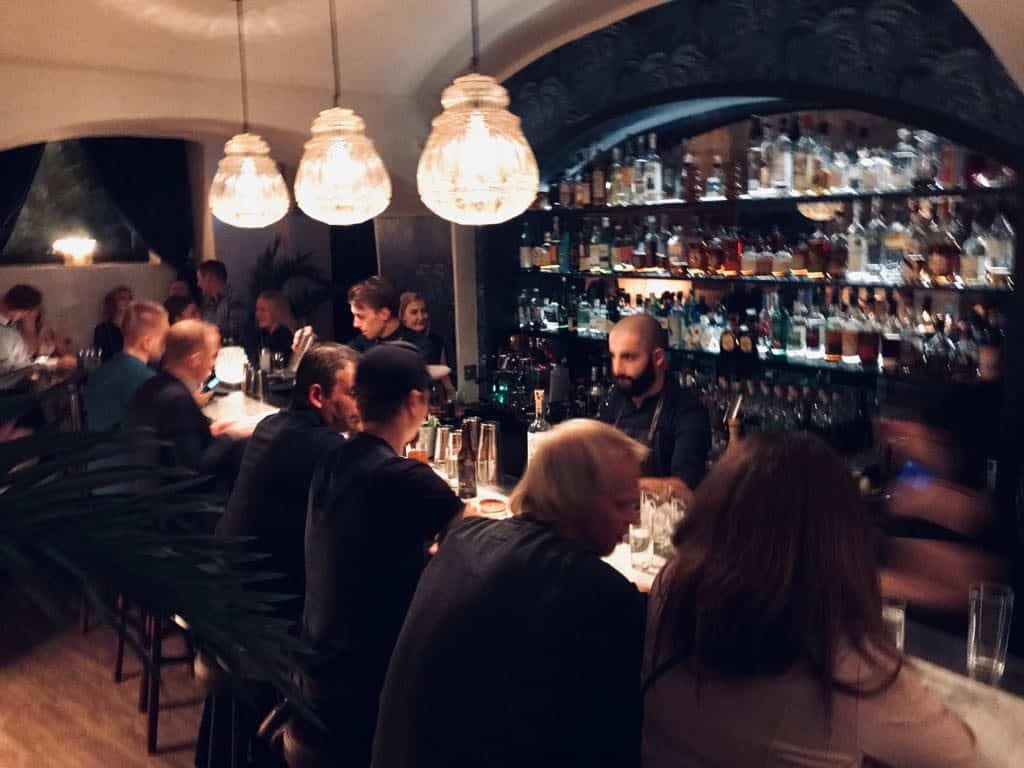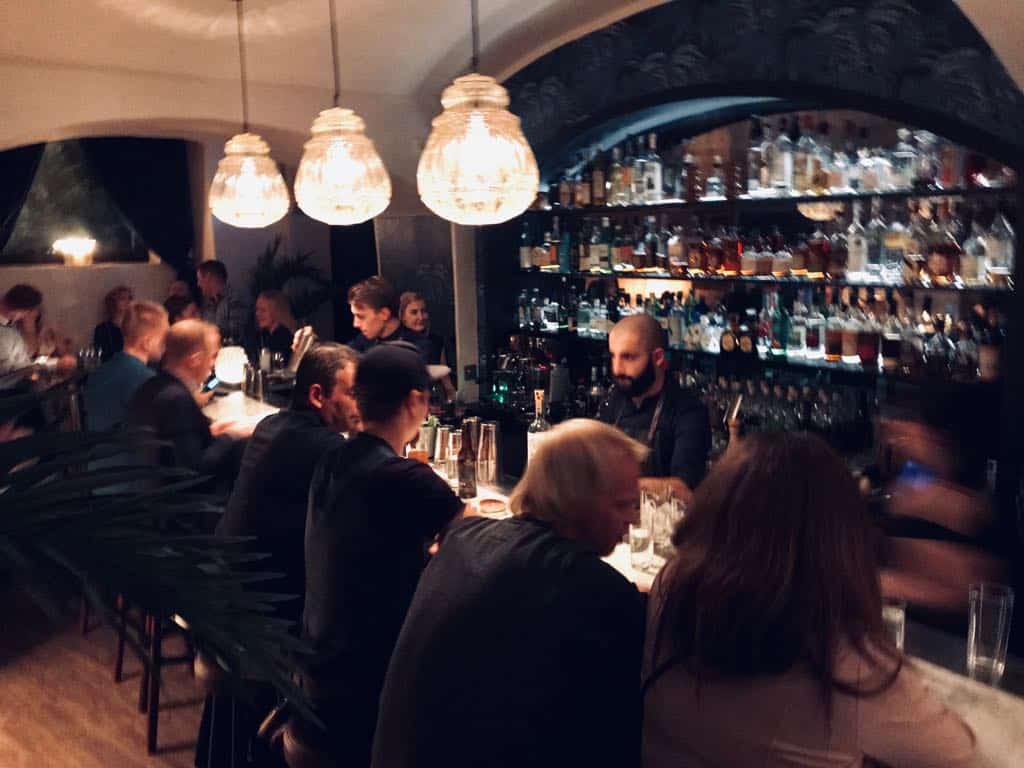 25. Sample Local Beers In A German-Style Beer Hall
Tallinn might have plenty of fine dining options, but something you just want good food, good beer, and good company.
That's where the Beer House comes in, an old school gastro-brewery just off Town Hall Square with seven in-house varieties of beer brews, hearty meals, indoor and outdoor seating and live music Thursday to Saturday! The waitresses and staff were even dressed in traditional Germany clothing and serving bratwurst and pork, given a somewhat artistic license to Tallinn's past merchant history with Hanseatic League.
The beer-making facilities are visible from their spacious beer hall where Beer House Tallinn is famously crafting 'living beer,' this is nonfiltered and nonpasteurized beer –simply where the yeast falls to the bottom, and the beer is then taken from the clear top.
Living beer is somewhat rich in vitamin B and minerals, which have positive effects on metabolism – so you could make the argument that the Beer House beer is basically a health food when consumed in reasonable quantities—Just not in the quantities, I consumed it!
What? Don't judge me… It was Autumn, so I had to bring a bit of the Oktoberfest spirit to Tallinn.
With more character and soul than any of the pricey and 'safe' options on the Town Square, the almighty Beer House has an almost cult following, and once you match the living beer with their garlic bread (fried rye bread in garlic oil with a garlic dip) you too will understand why!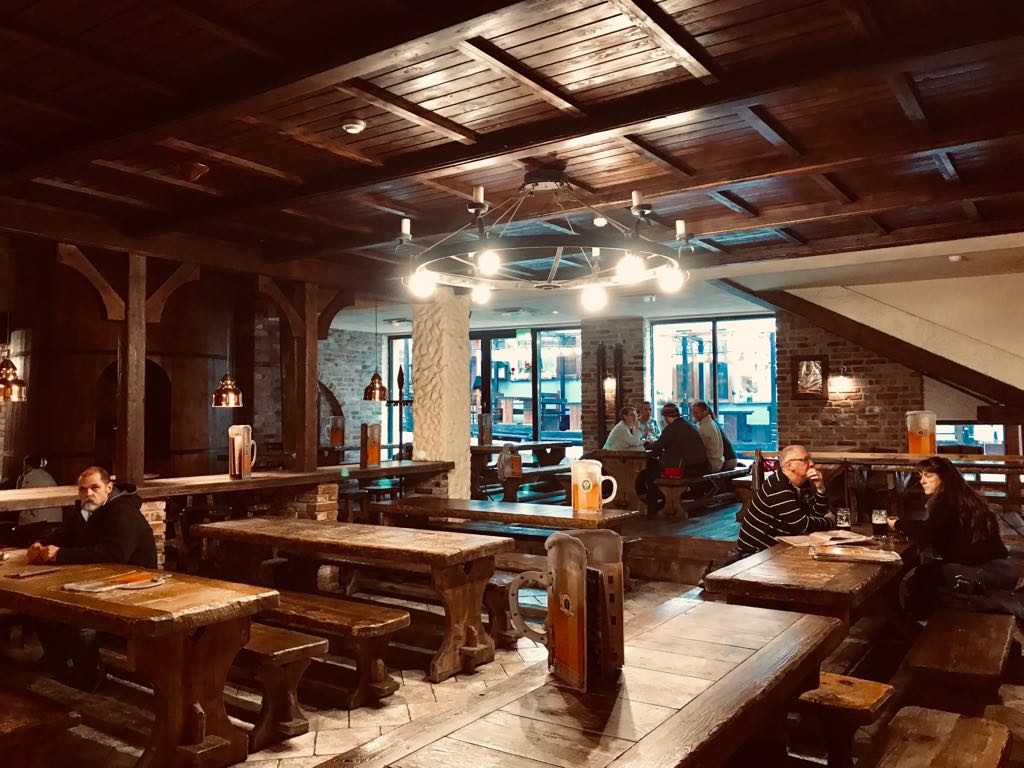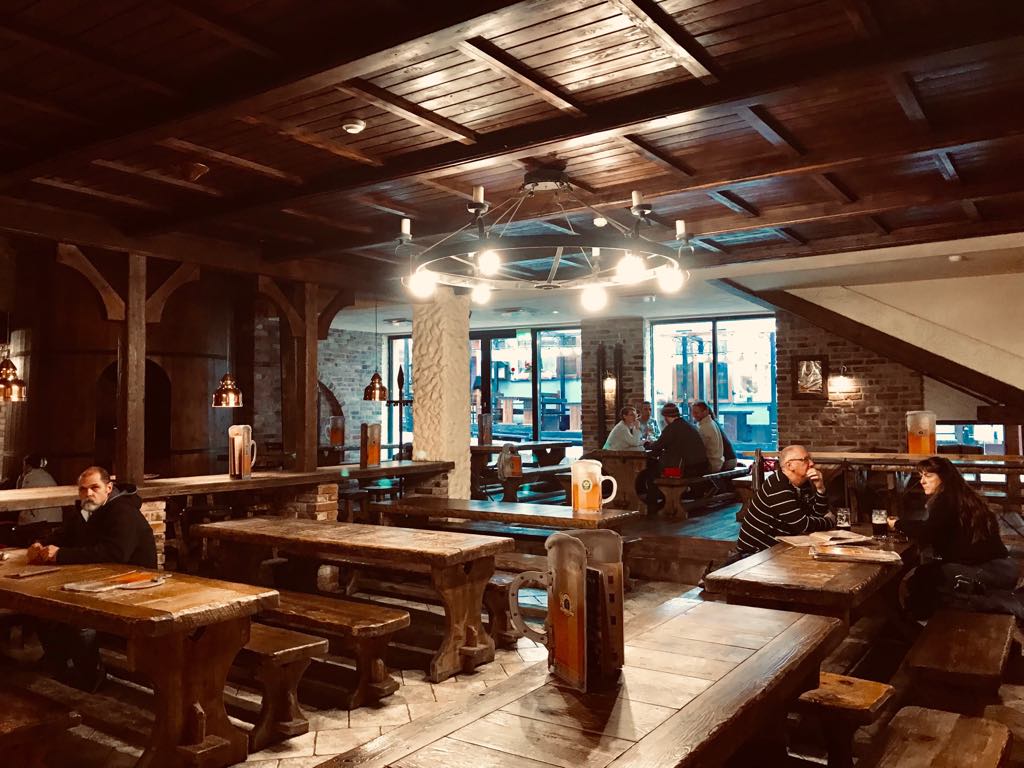 26. Take In The Panoramic Views From The Patkuli Viewing Platform
Situated in one of the most ancient parts of Tallinn, high on the Toompea hill, the Patkuli viewing platform has that postcard view of the Old Town and its towers and walls.
Something straight from a fairytale, and in comparison to the modern Radisson Blu Sky Hotel on the Patkuli Viewing Platform, you feel completely immersed in the legend of Tallinn as opposed to above it.
It takes 157 steps to up to Toompea from the old town below, but each step is worth it — if only because the view is free and the memory of the Church spires reaching skywards as the Baltic sea glistens behind will stay with you forever.
Expect tourist crowds taking a lot of photos and selfies in peak times – but you can quickly enhance the magic but visiting first thing in the morning or in the evening once the cruise ship passengers have all rushed back to the comfort on their onboard cabins bound for the next port.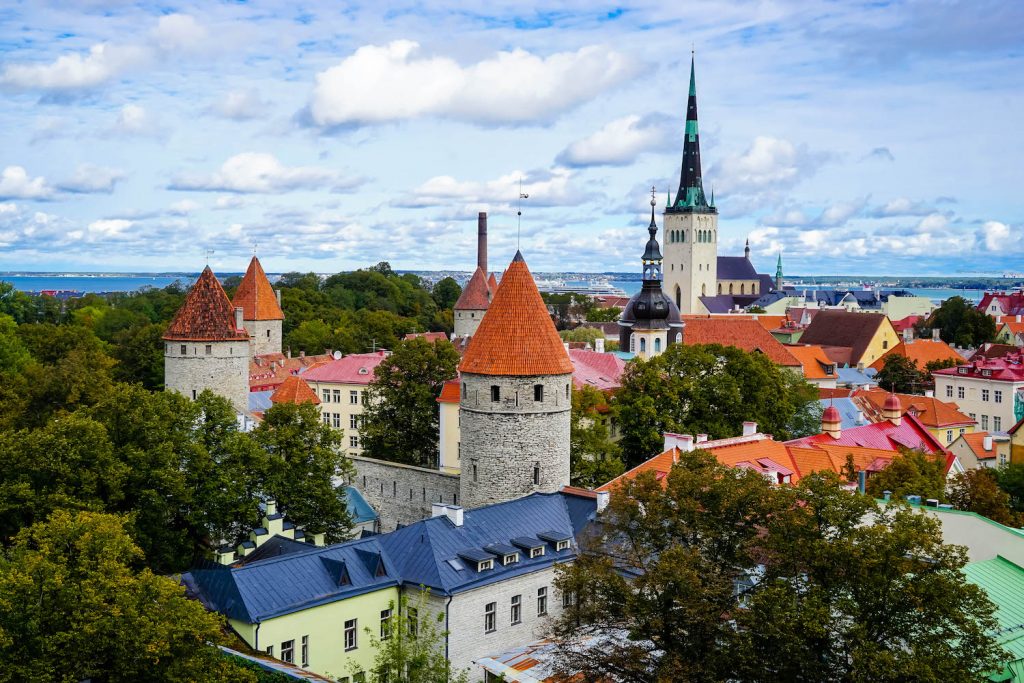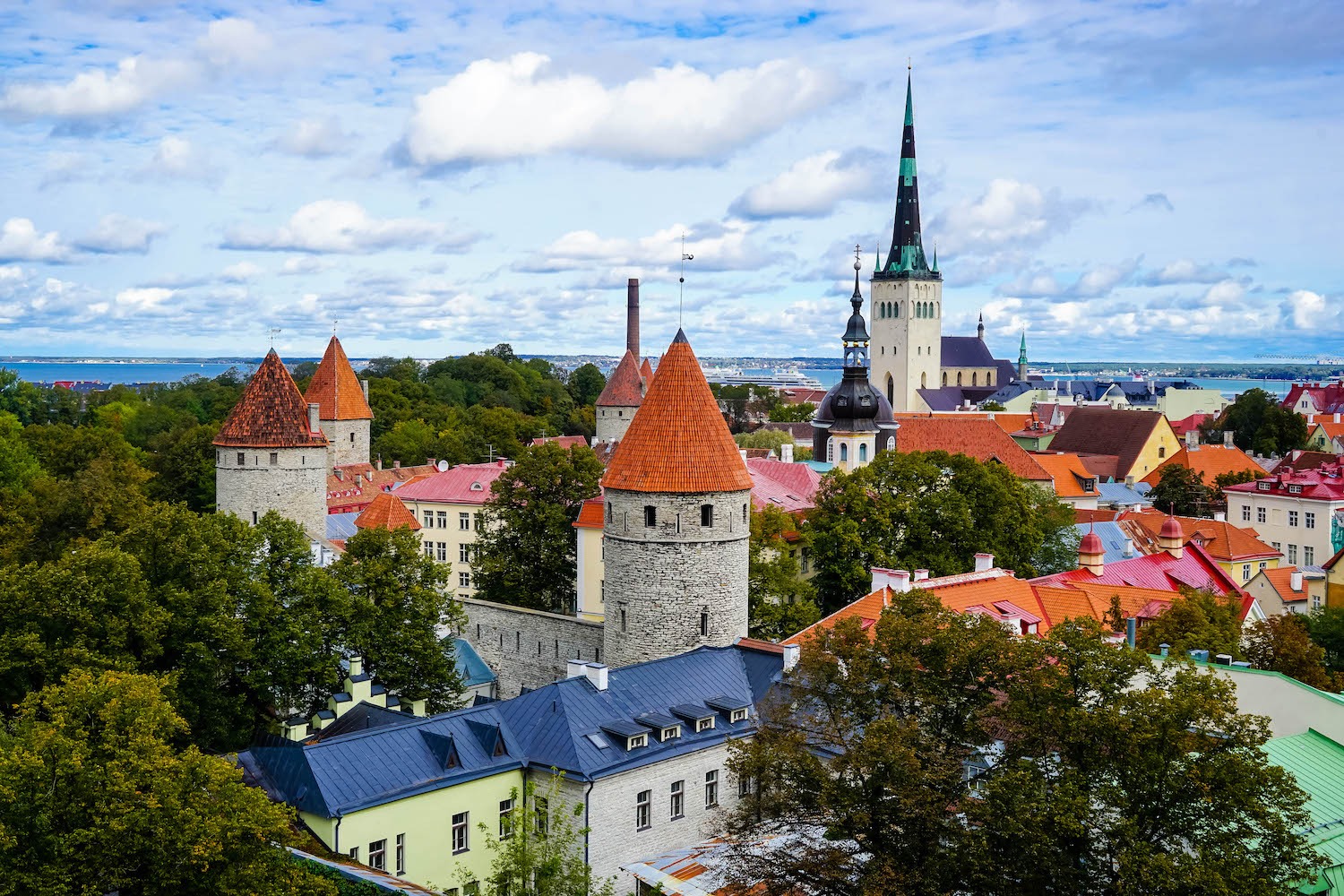 27. Wander The UNESCO Listed Old Town Of Tallinn
Obviously, in Tallinn, one of the best things to do was always going to be to wander on your own and get completely lost on the twisty, turny streets of its Old Town.
The Historic Centre of Tallinn is an extraordinarily complete and well-preserved medieval European trading city that developed as a significant center of the Hanseatic League during the 13th-16th centuries. As a result, almost every building is of interest here – and snap-happy photographers will have a field day.
The wealth of Tallinn's past is validated by the magnificence of the public buildings here – the churches in particular which you should feel free to wander into. Then there is the intriguing domestic architecture of the Hanseatic merchants' houses, which have persisted to a remarkable degree today, and now beg you to explore inside. You will be rewarded with cozy hotels, trendy restaurants, relaxed cafes, and – yes, tacky souvenir stores.
In life, death, taxes, and souvenir stores in touristy cities are unavoidable, it seems.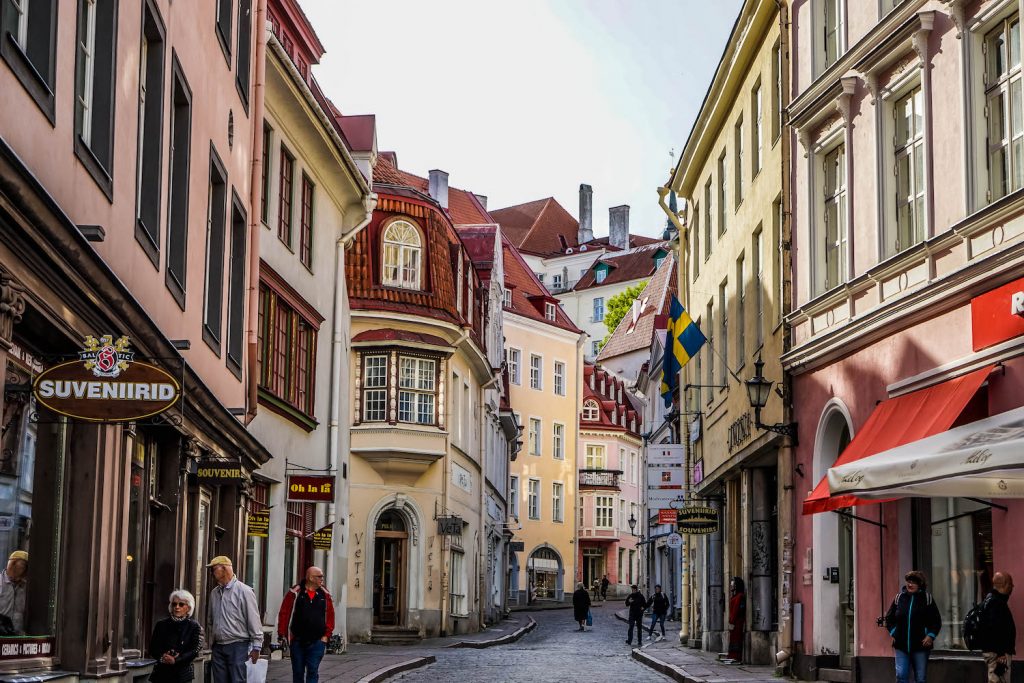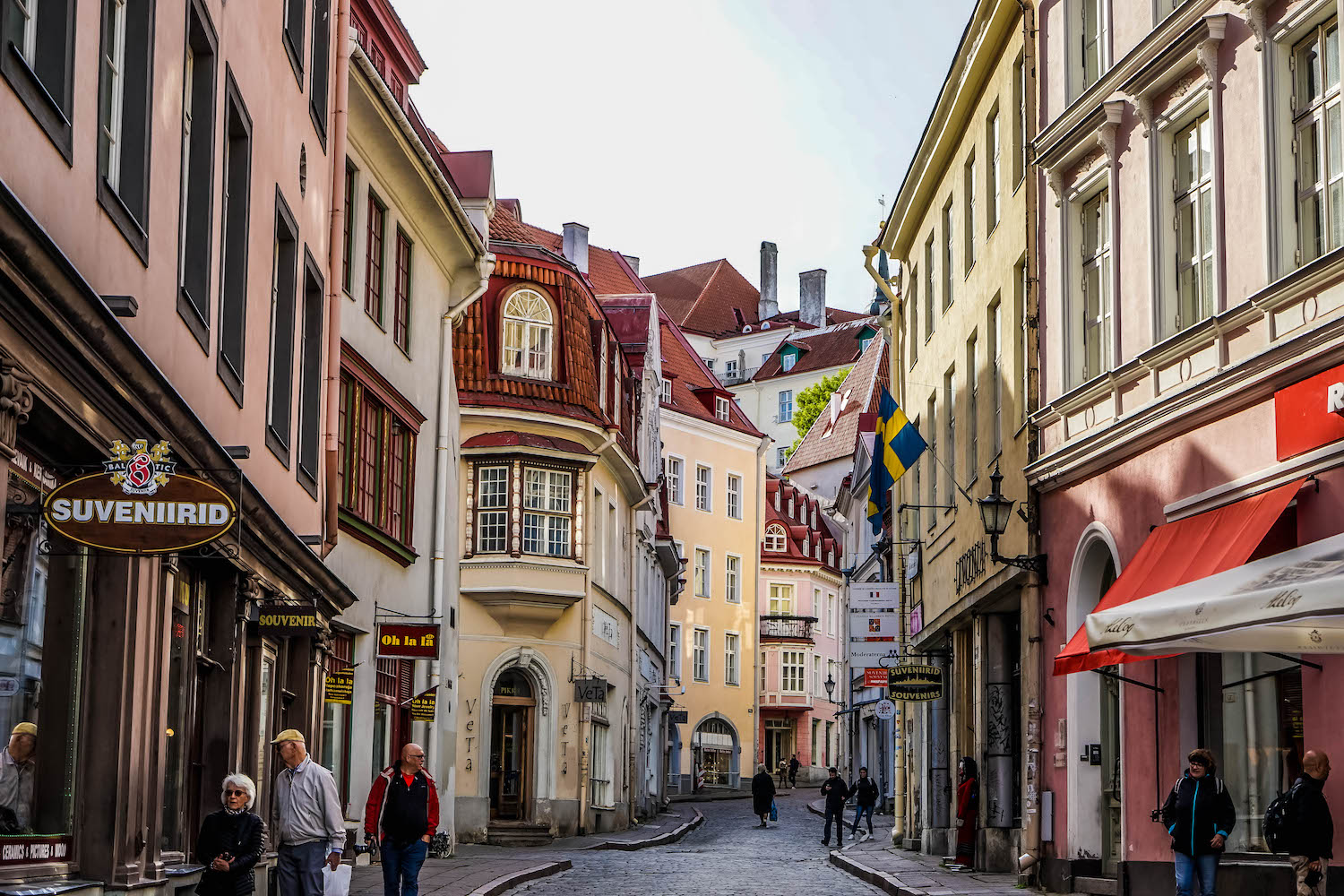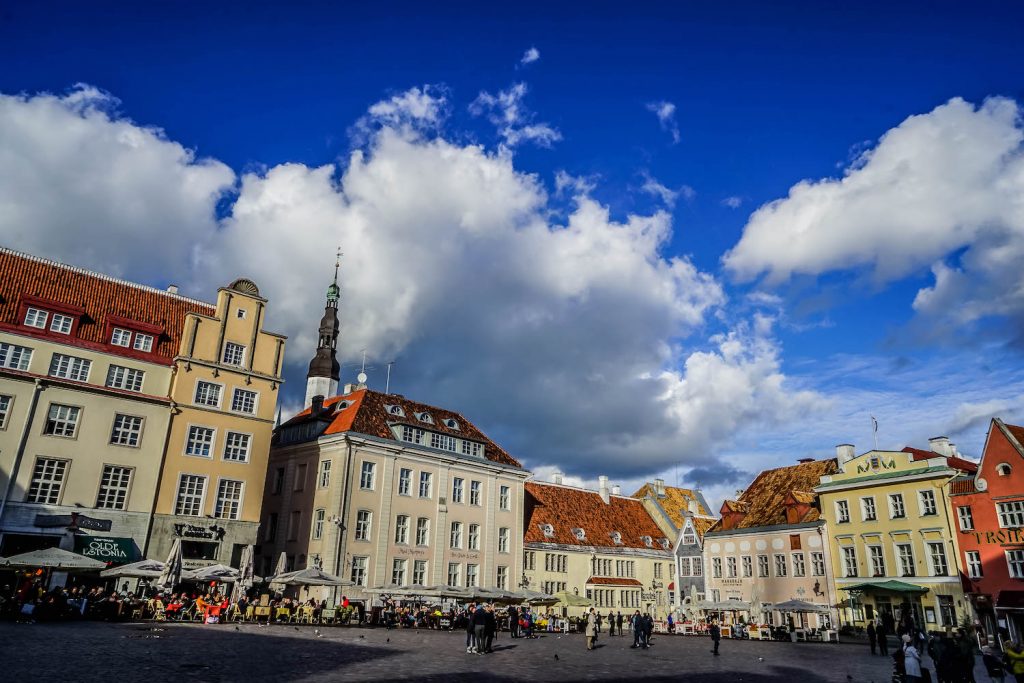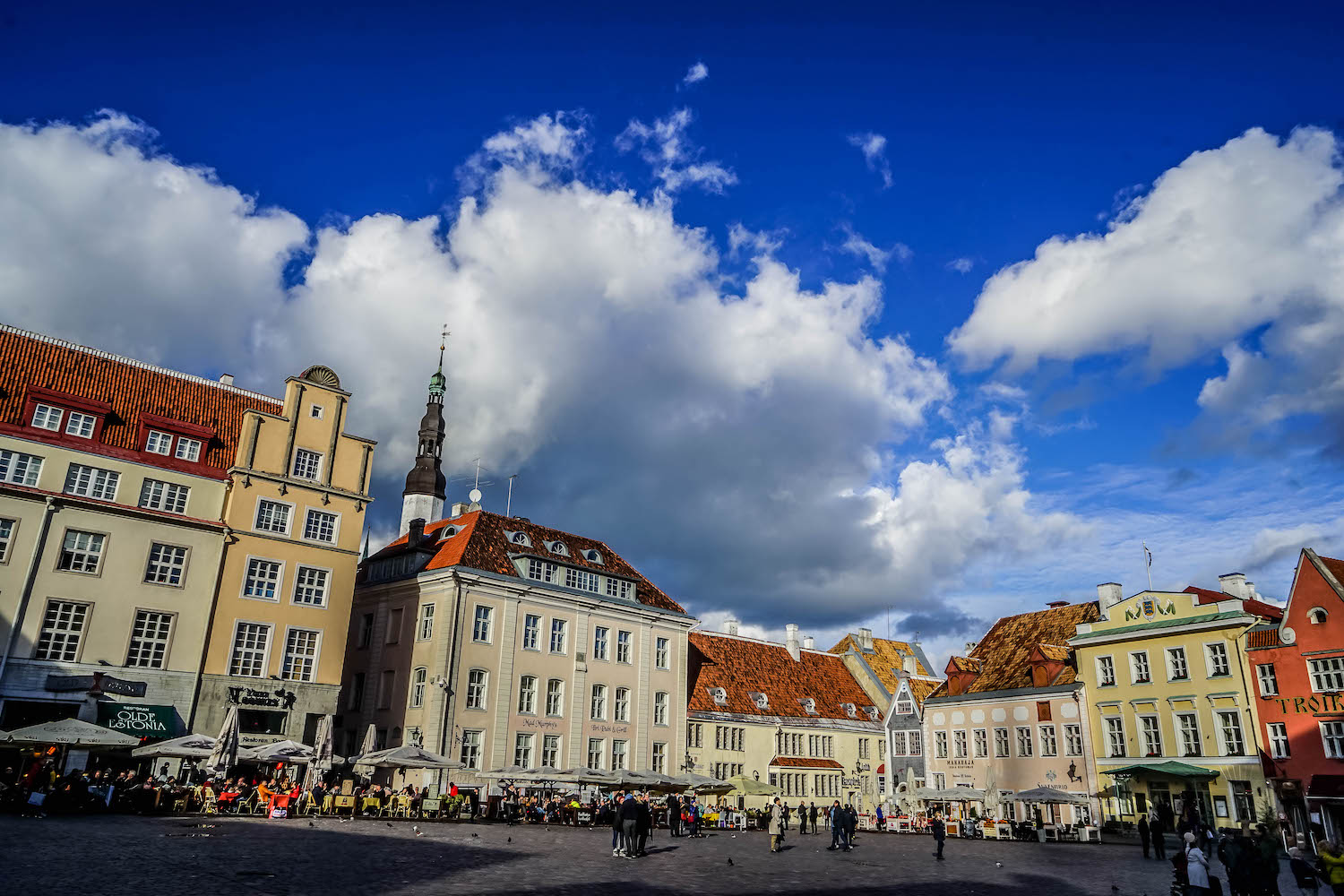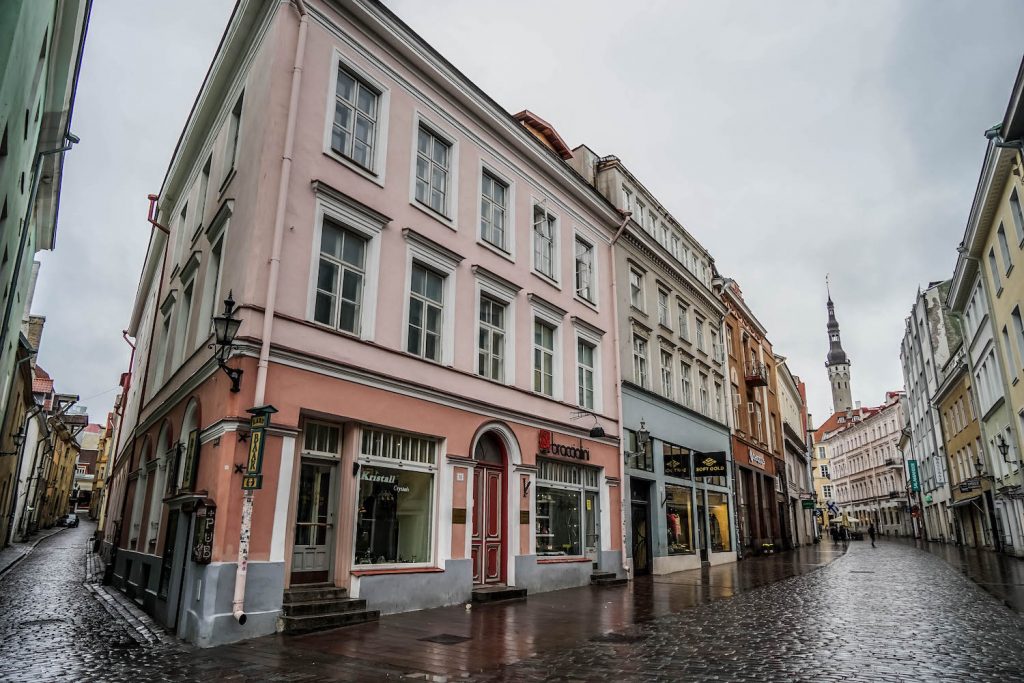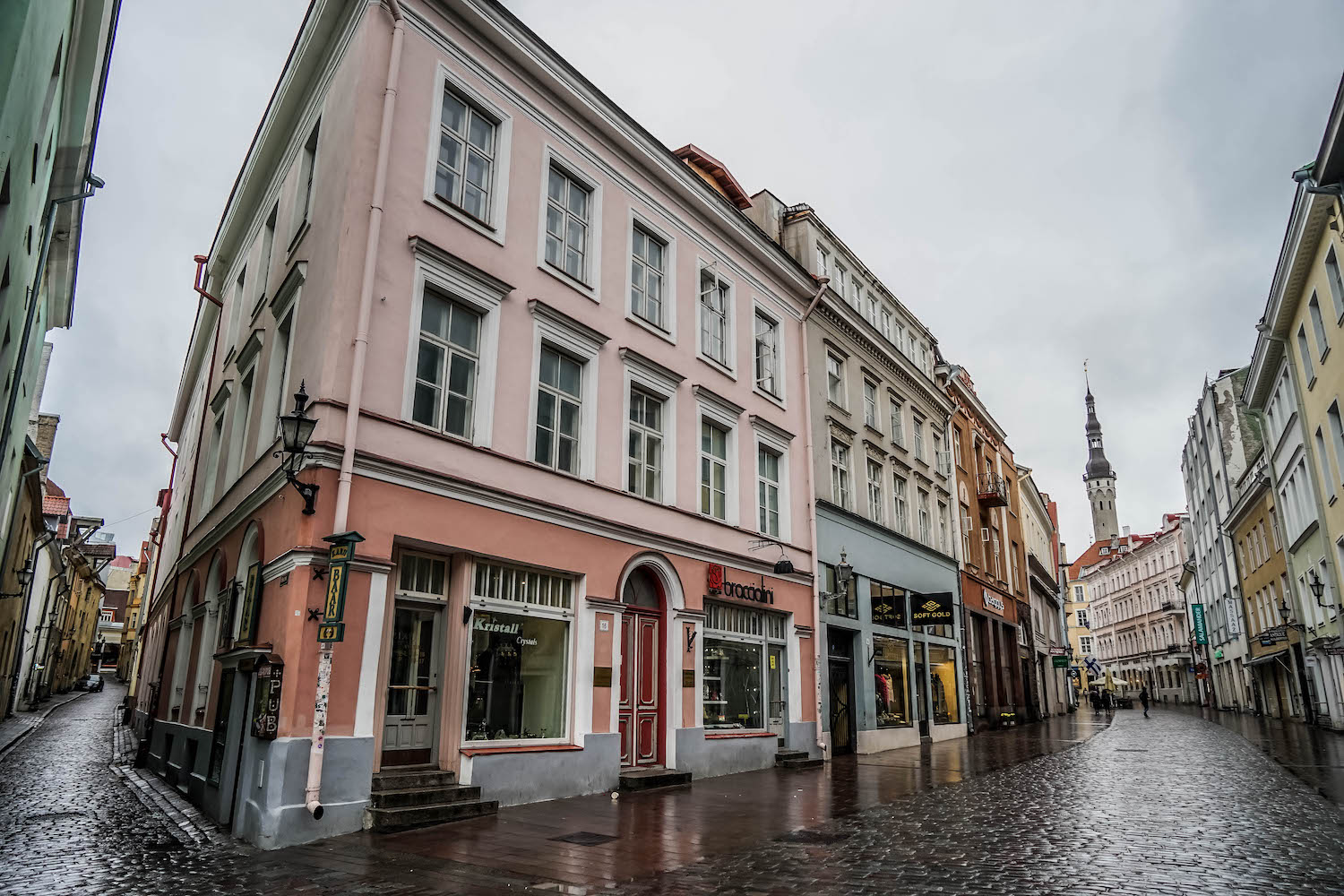 Have fun exploring a medieval urban fabric virtually intact from the 13th-14th centuries with narrow winding streets, many of which are still known by their medieval names, and spot iconic buildings like the town wall, Town Hall, pharmacy, churches, monasteries, merchants' and craftsmen' guilds.
I can – and did – spend hours wandering in Tallinn Old Town and never got bored. Different light, times of day, and weather present a new view – one of which I could never get bored.
Of course, if you are not into walking – there is plenty of outdoor terraces to relax, and people watch from. But that is another story…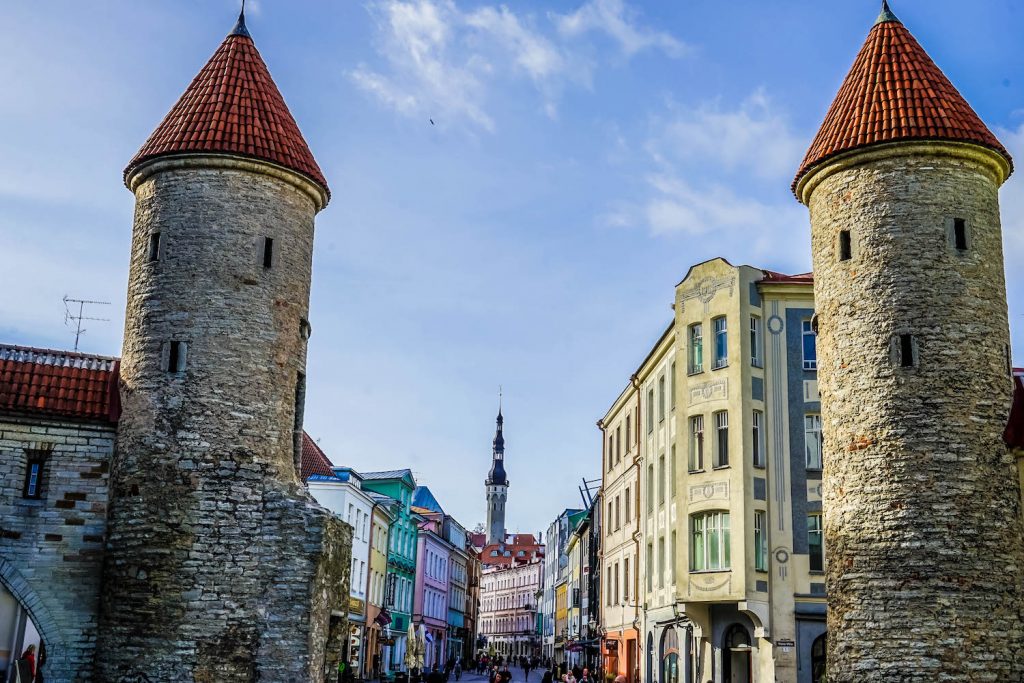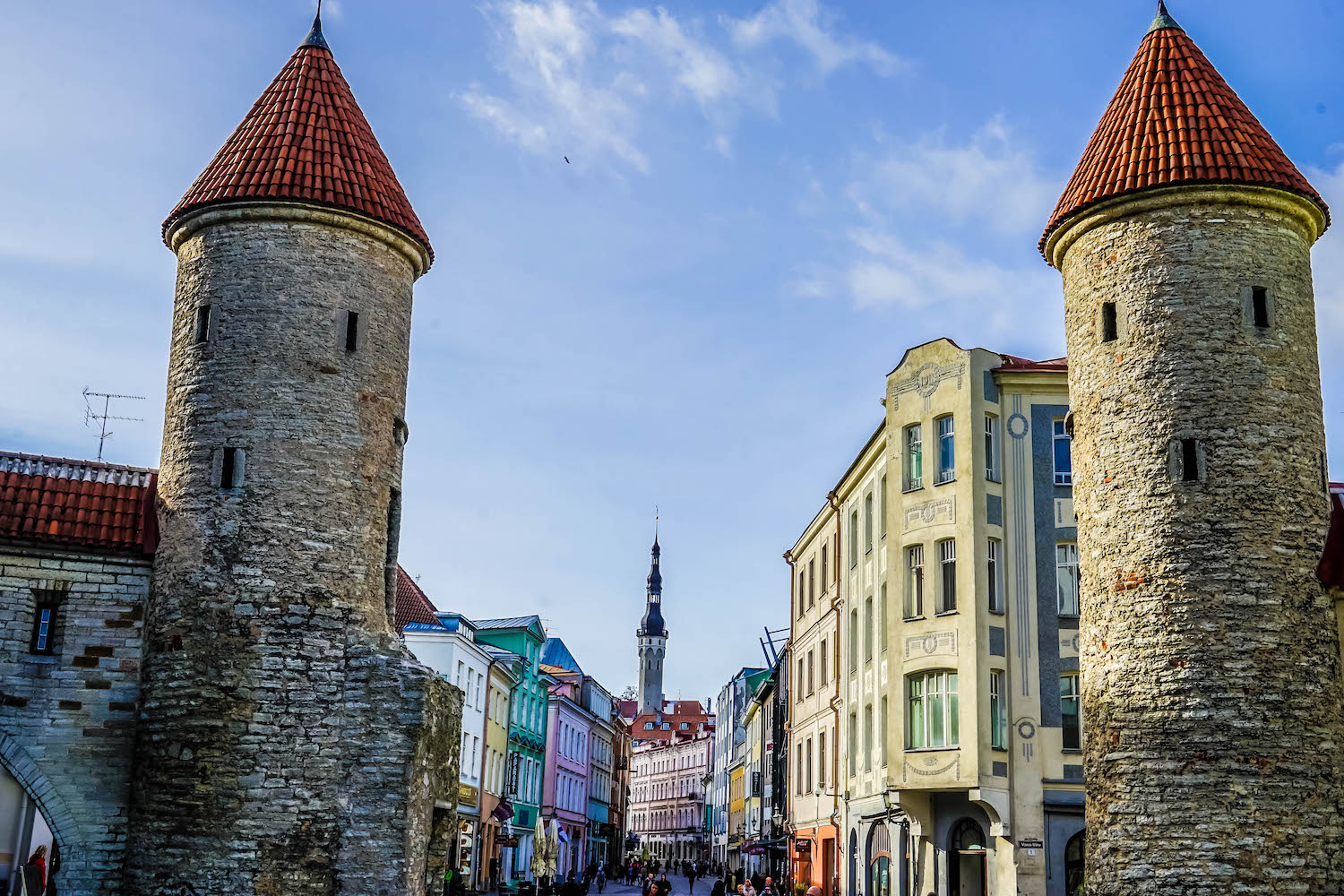 28. Stop By Fotografiska Tallinn, A Meeting Place For Photography
An internationally renowned photographic art center that is Stockholm-based but opened its fourth branch in Tallinn. They are also found in London and New York, so this tells you a little something about the quality of the exhibitions on offer here (and what cool company Tallinn keeps.).
A modern meeting place where art, good food, music, design, and open way of thinking come together, the concept of Fotografiska Tallinn includes exhibitions and events area, a café, restaurant, and photography art and gift shop.
To keep things contemporary and up-to-the-minute new installations are always being planned – but when we visited we spent hours in wonderment staring at the scandalous moments of Alison Jackson's "Truth is Dead" series and journeyed to some of the most remote corners of the world with Jimmy Nelson's "Homage to Humanity"…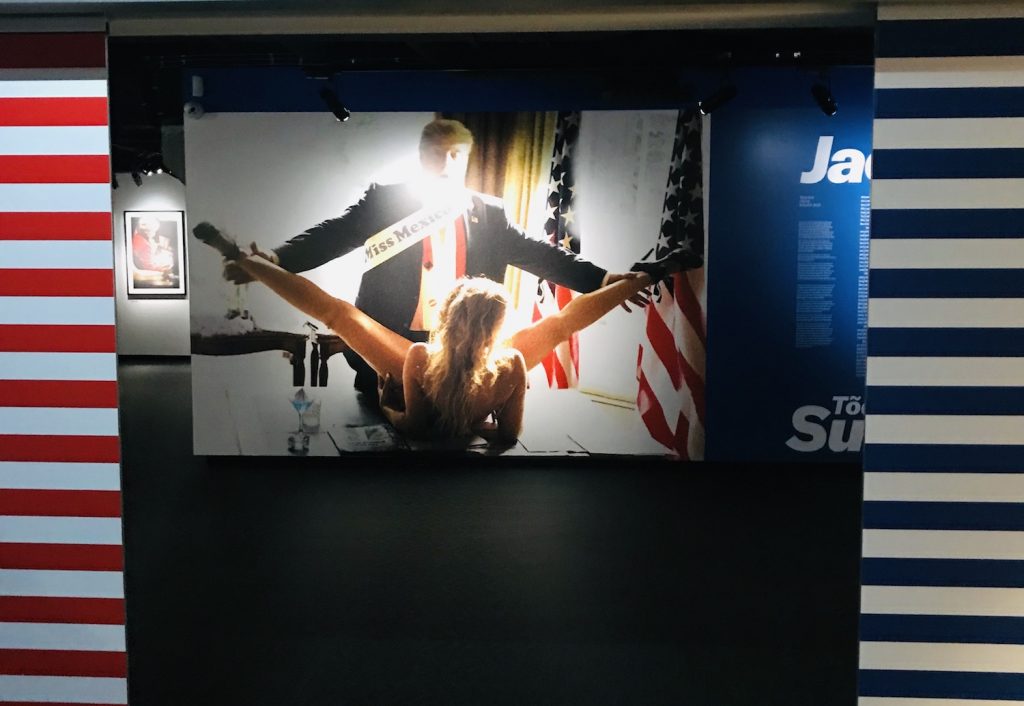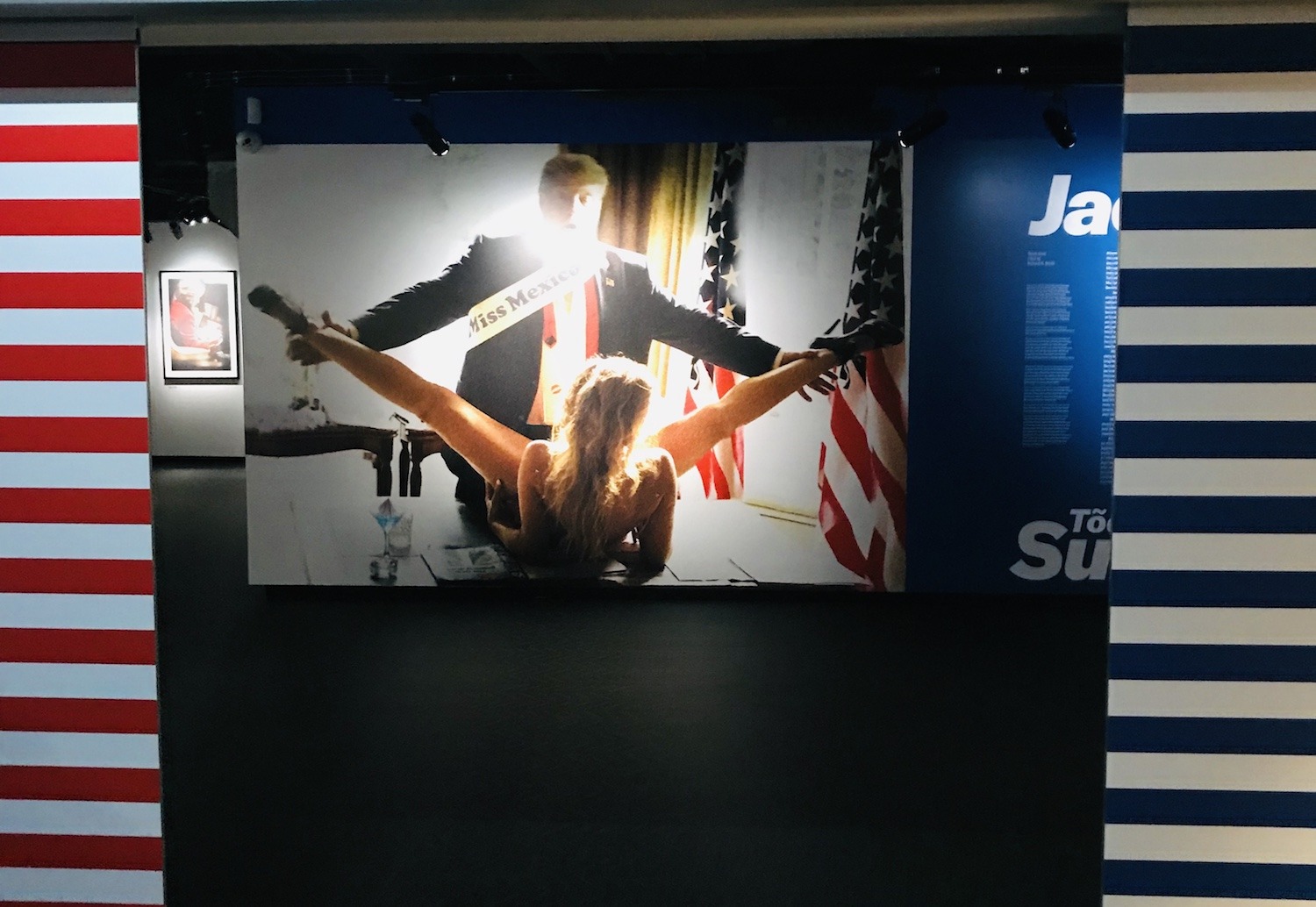 29. Discover The Best Of Estonian Modern Dining At Rae Meierei
As I've said before – one of the highlights of Tallinn is unquestionably the 'new Nordic' food scene – and there are far, far too many restaurants leading the way to list them all here.
As such, I have put together a separate guide to the best restaurants in Tallinn to eat, so you can best experience the diversity of talented Estonian chefs who are fuelling a culinary revolution by fusing Scandi-style cooking with fresh, local and seasonal ingredients. New Nordic dining with an Estonian twist.
The result is an exceptional dining scene brimming with innovative dishes at affordable prices. Yes, unlike eating out in Copenhagen, Olso, or Bergen, indulging here does not cost the same amount as a house in a third-world nation.
Still, if I were forced to choose just one place to recommend, it would have to be the newly opened Rae Meierei, from the creators of the already famous Farm and Rukis – all of which are in the Tallinn Old Town.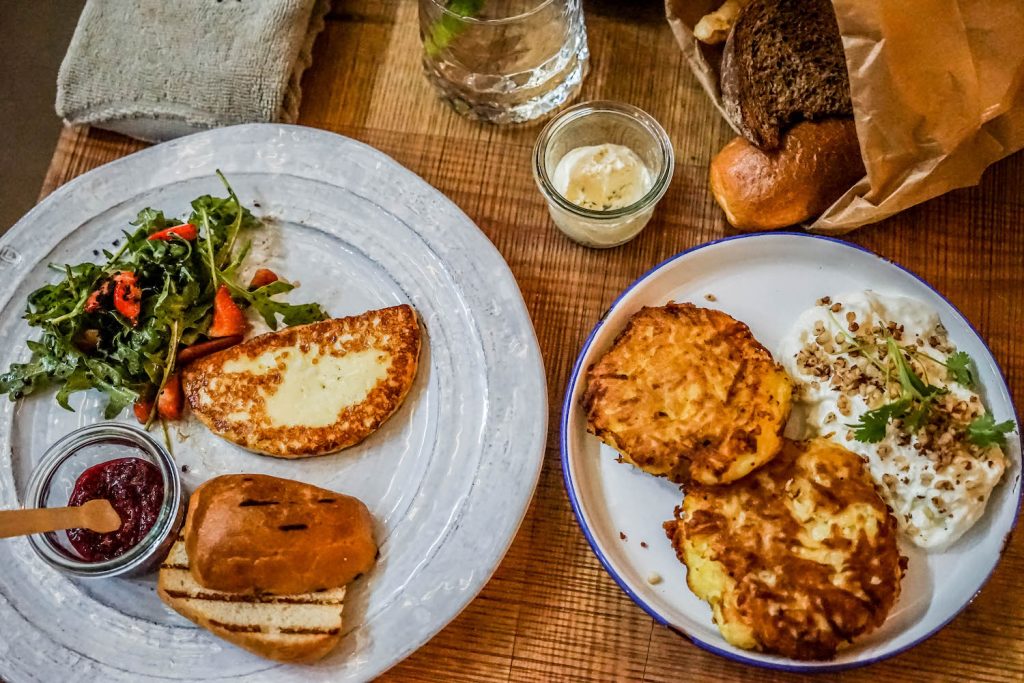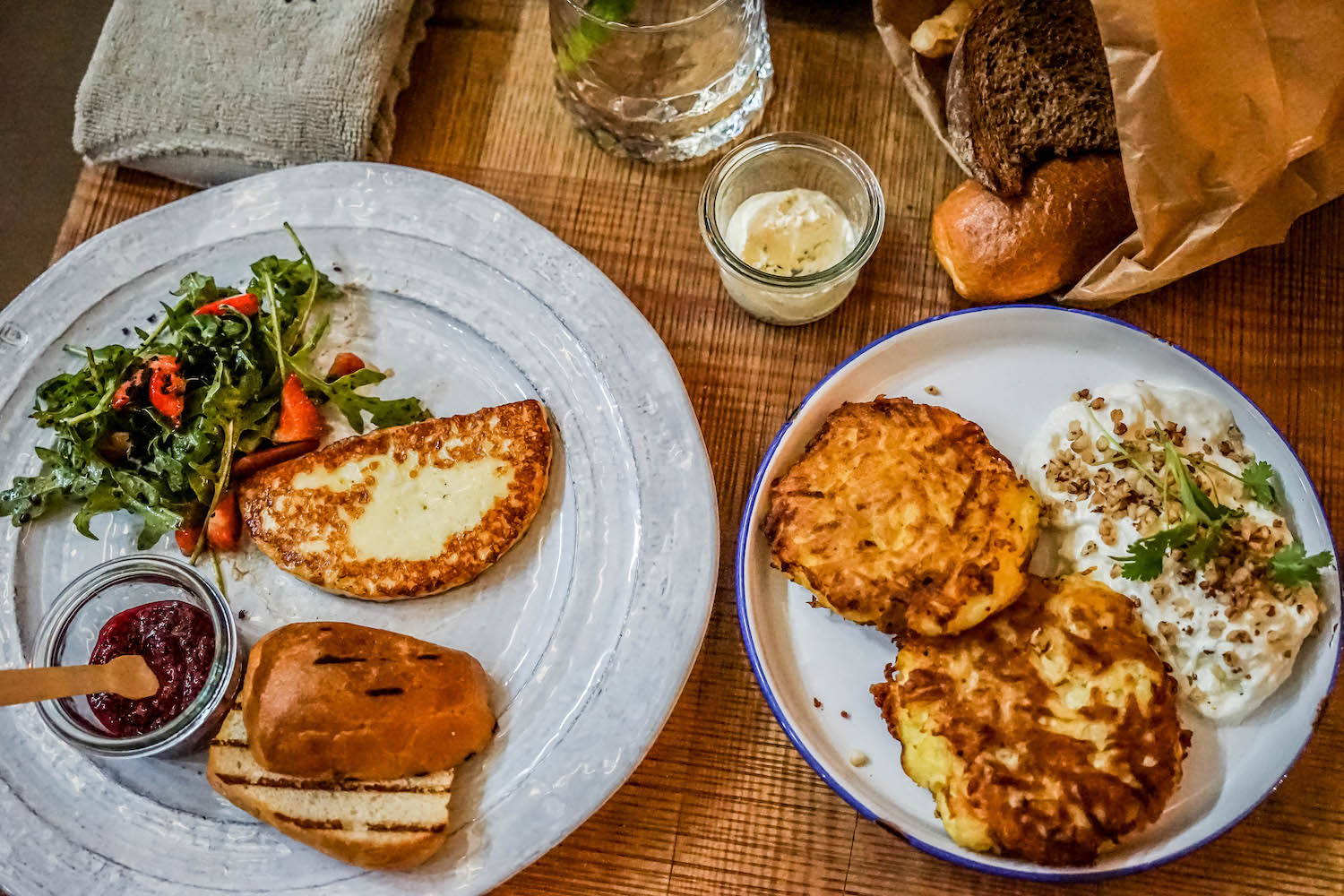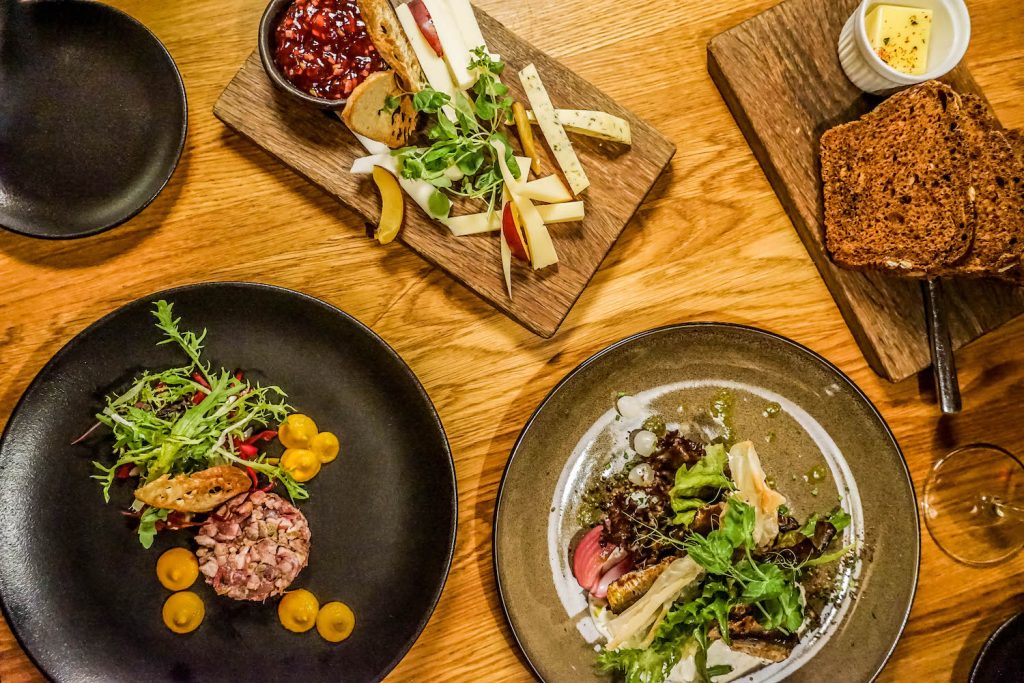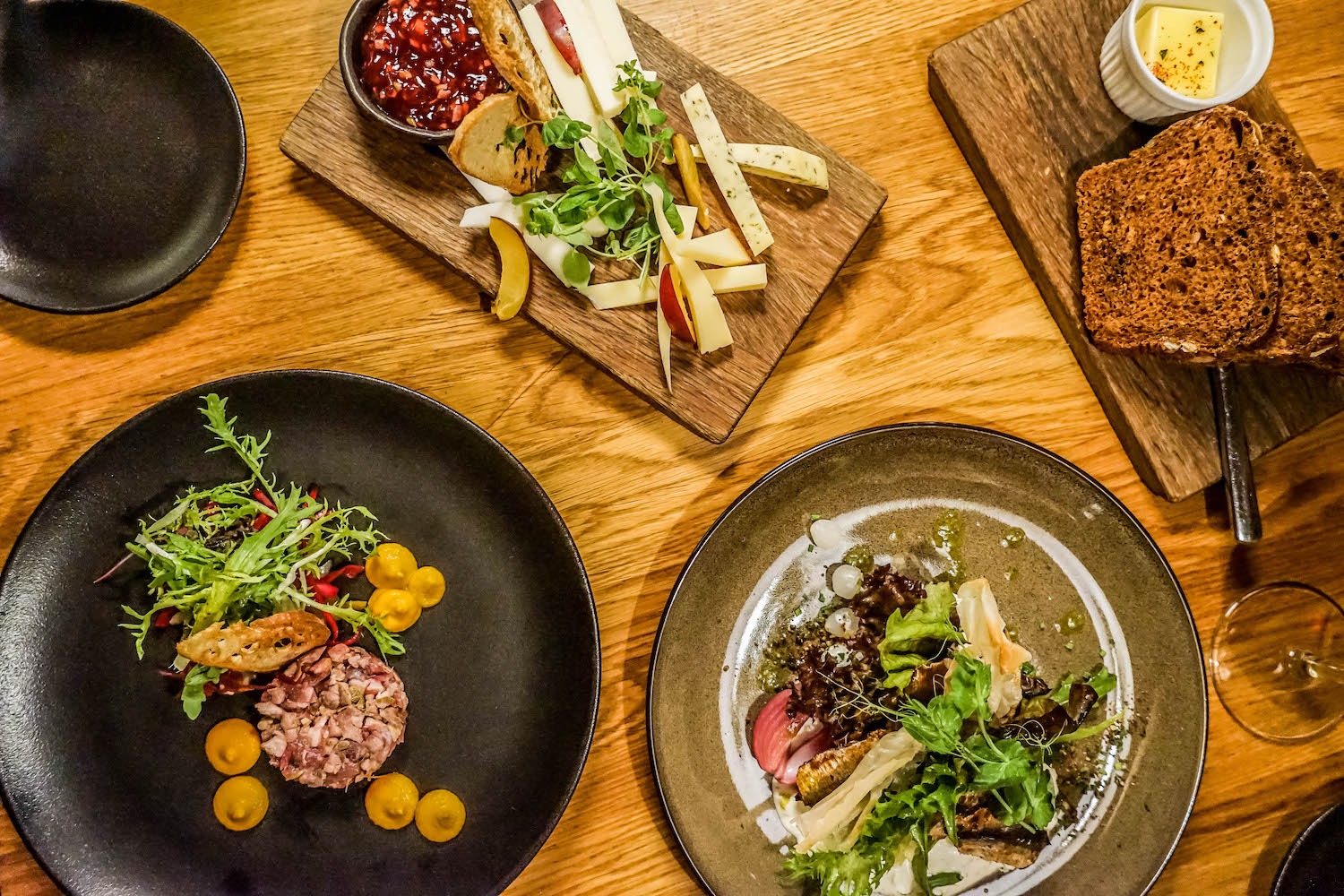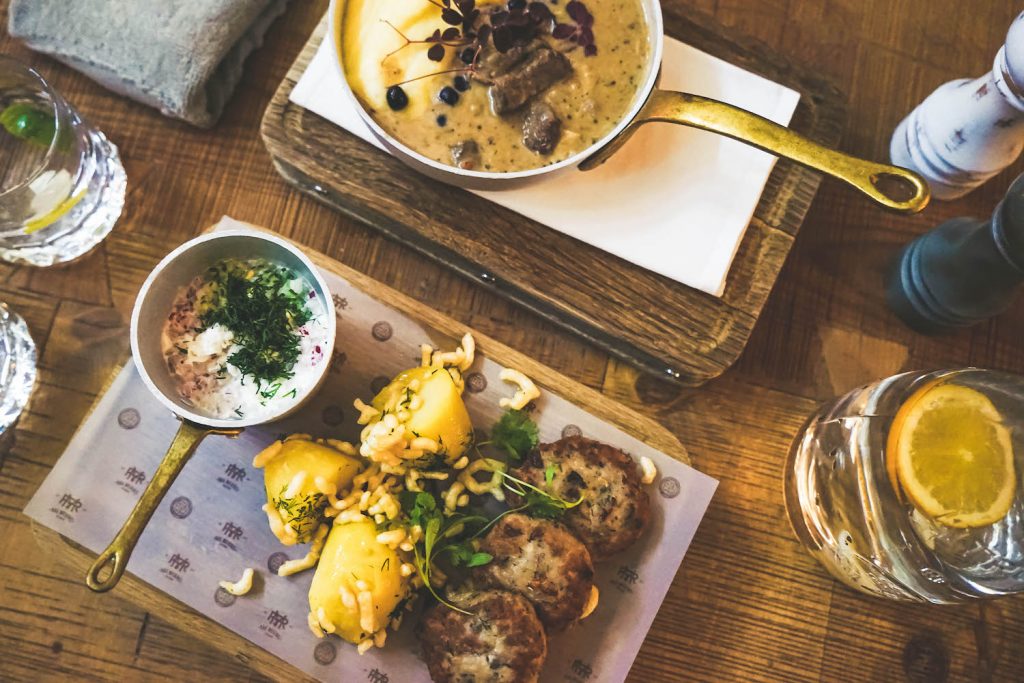 To start with, the interior of Rae Meierei is unique and utterly mesmerizing with industrial details, funky art, liberal – and slightly ironic – use of wooden palettes and an open kitchen where the real magic takes place. It is here that the talented chefs create authentic and distinguishing dishes embracing Estonian and international cuisine using most ingredients from small producers in Estonia.
Fresh, rustic, and oh-so-delicious, I loved the Duck fillet, lightly smoked with apple chips, honey pear, and cherry sauce and the catfish with dill and sour cream horseradish sauce was divine. The Potato pancakes with stracciatella cheese where also how I imagine a hug from my Estonian grandma would feel, if I had one. You should also try the adult Blackcurrant smoothie crafted cocktail with blackcurrant cognac, blackcurrant puree, orange juice, maple syrup, peppermint, and egg white.
Again, book ahead at peak times to avoid disappointment. Rae Meierei is justifiably popular.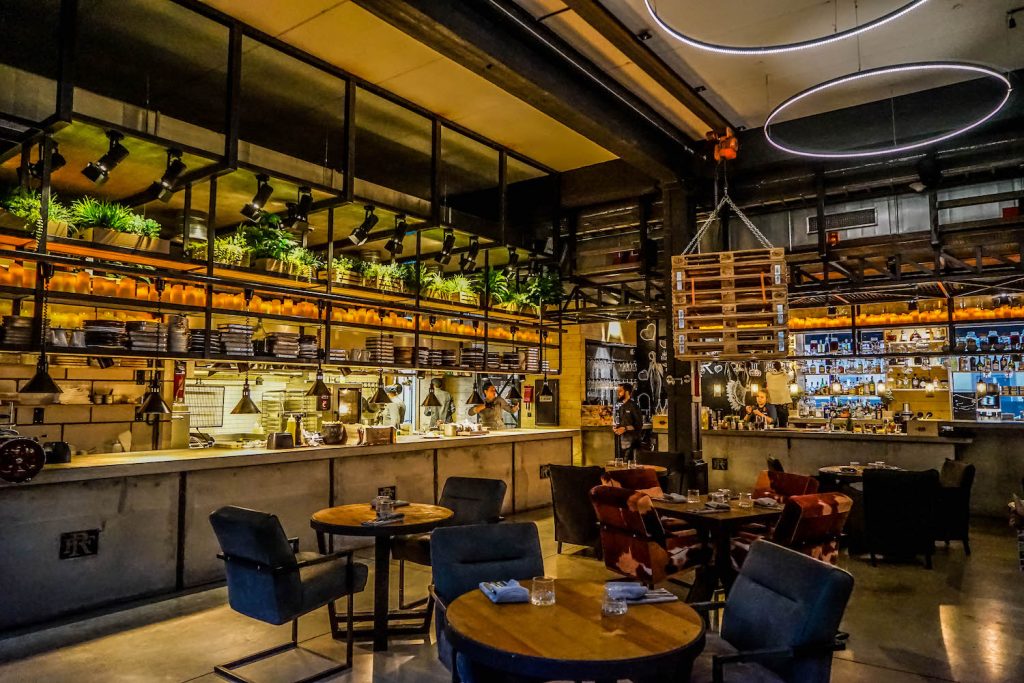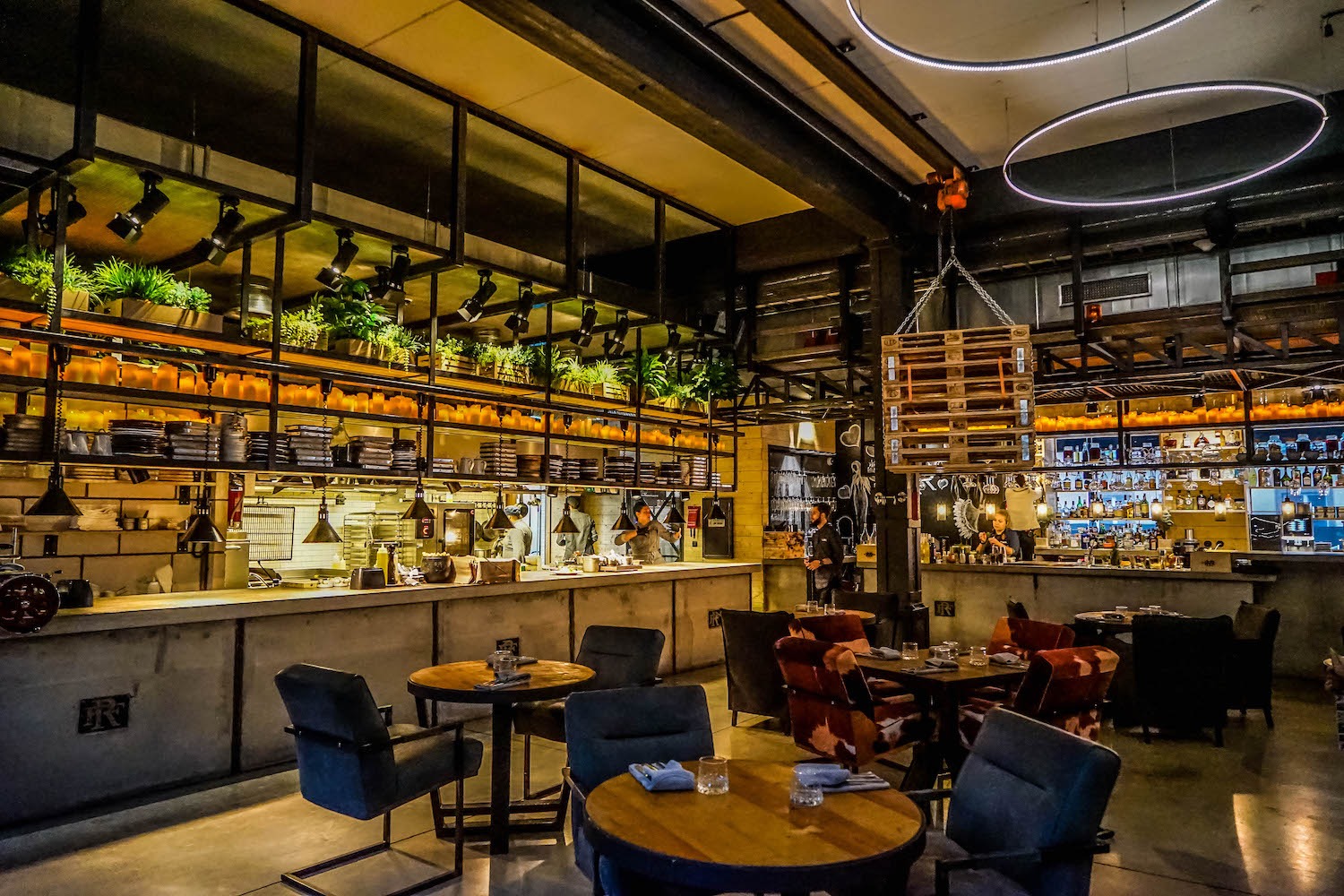 30. Head Out Of Town On A Lahemaa National Park Tour
Ok – I know this is cheating, but I cannot recommend highly enough to get out and explore the Lahemaa National Park only an hour away from Tallinn.
You can easily hire a car and head out yourself – or sign on to a popular day tour to make sure you hit all the top highlights that you probably would not stumble upon by yourself.
Either way, the Lahemaa National Park is a magical part of the Estonian countryside, home to gigantic pine forests, picturesque coastline, quaint wooden towns, and secretive bogs filled with stories. It is absolutely incredible, and there is just so much to see here it is hard to oversell it.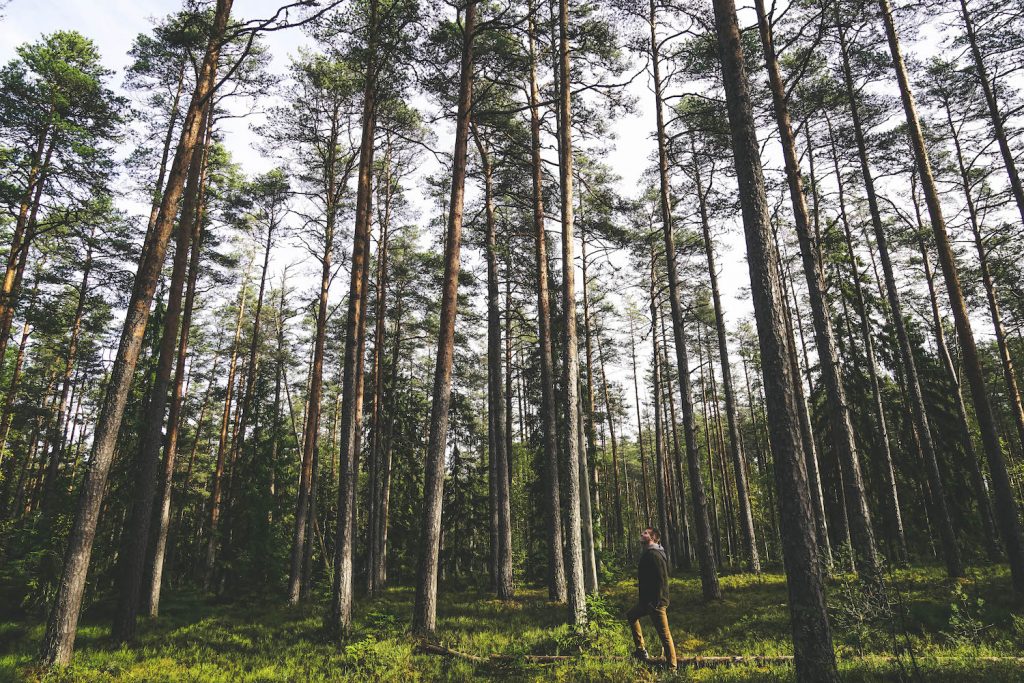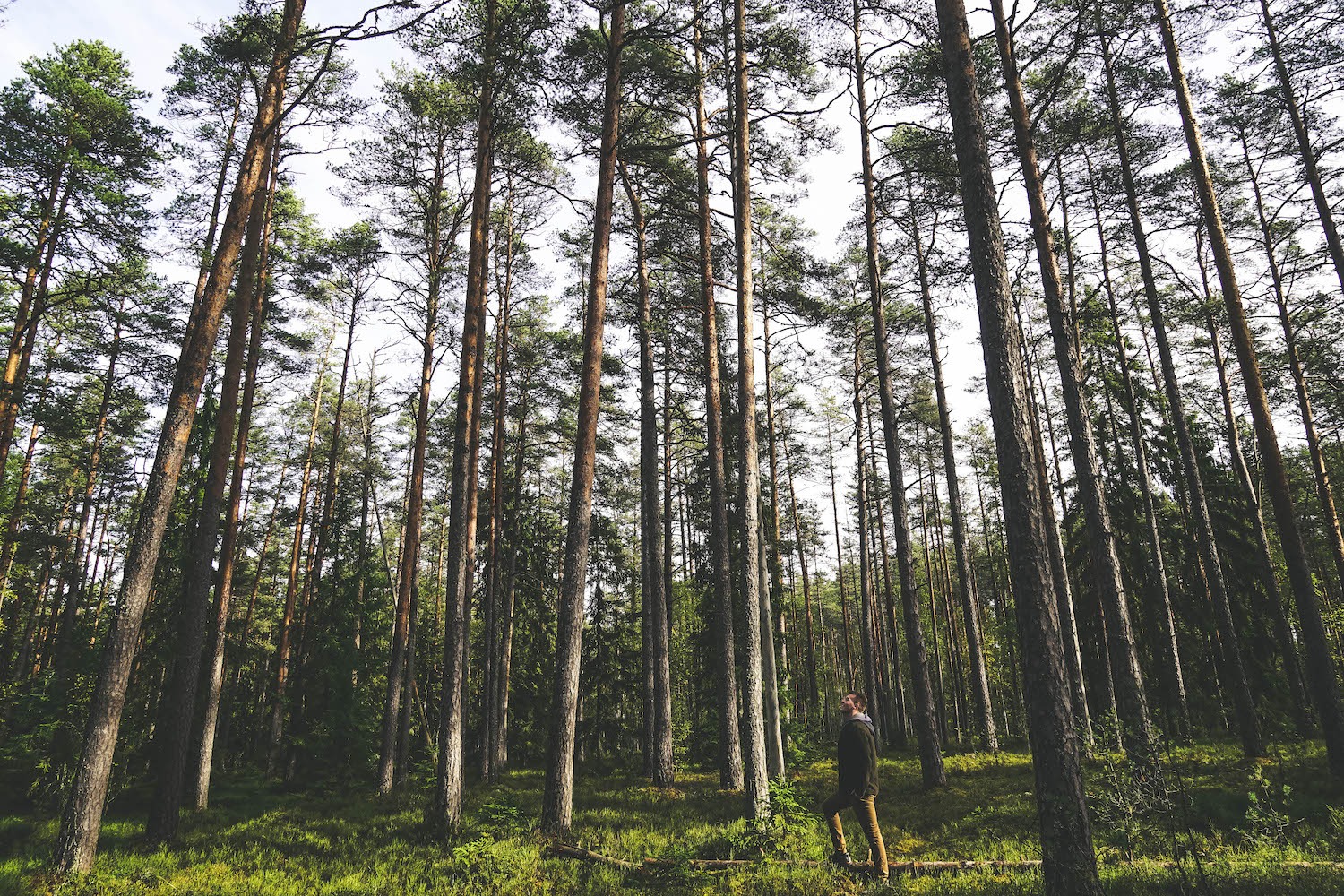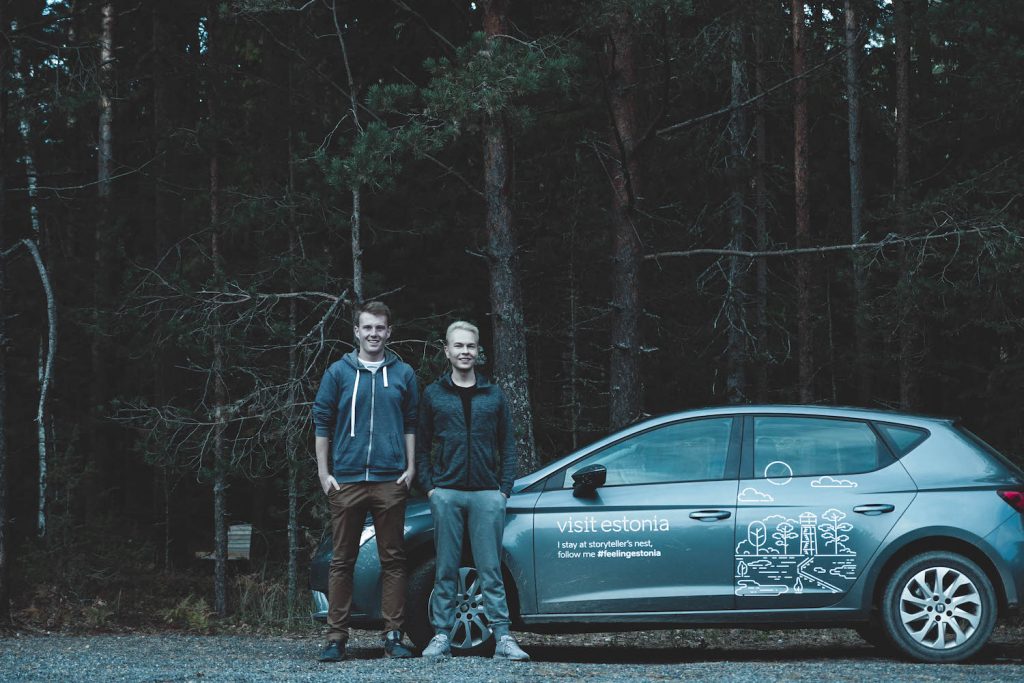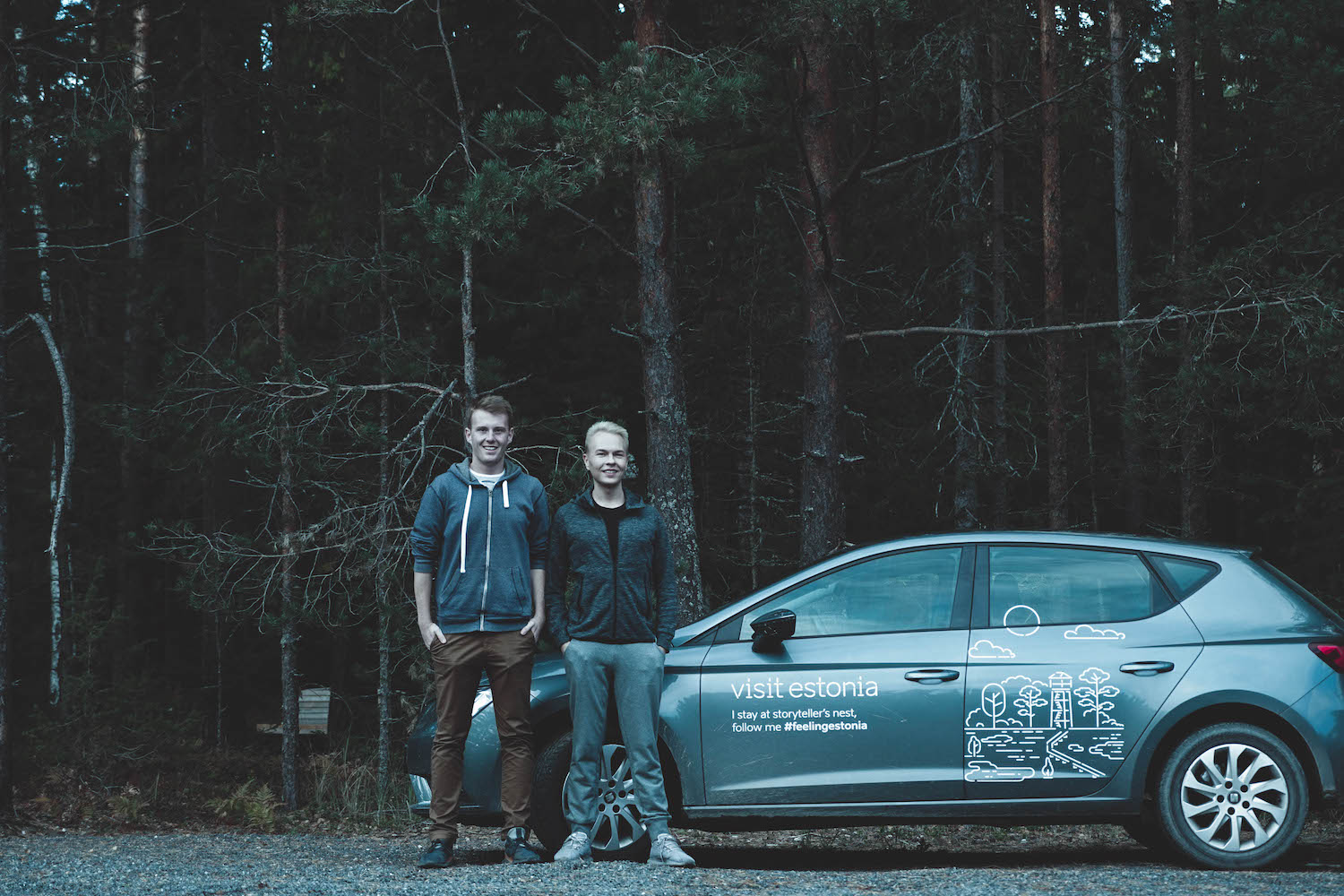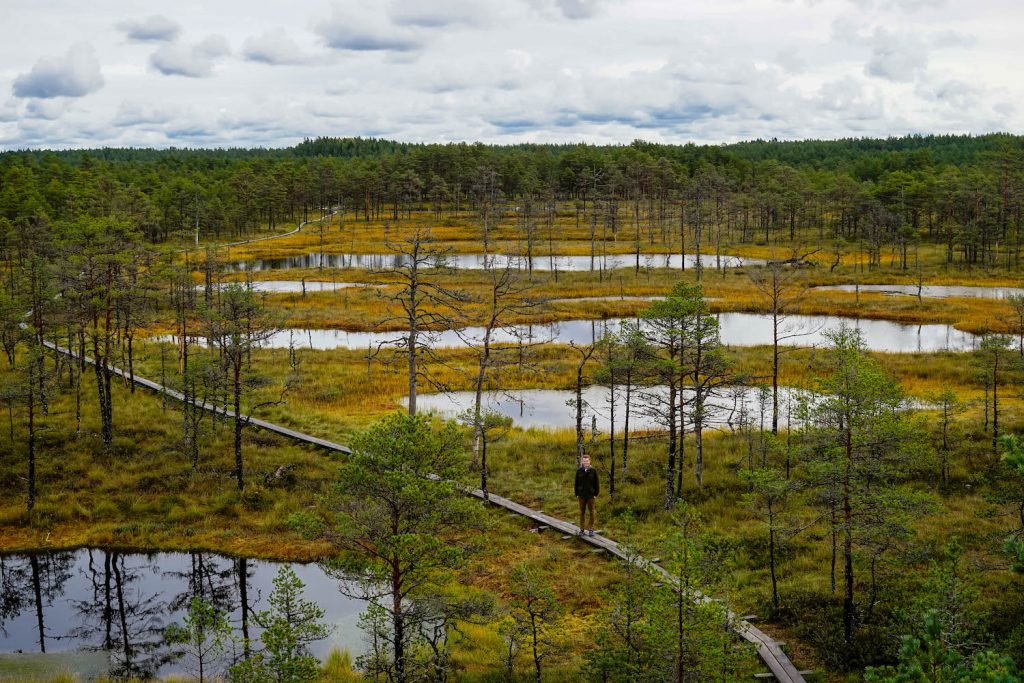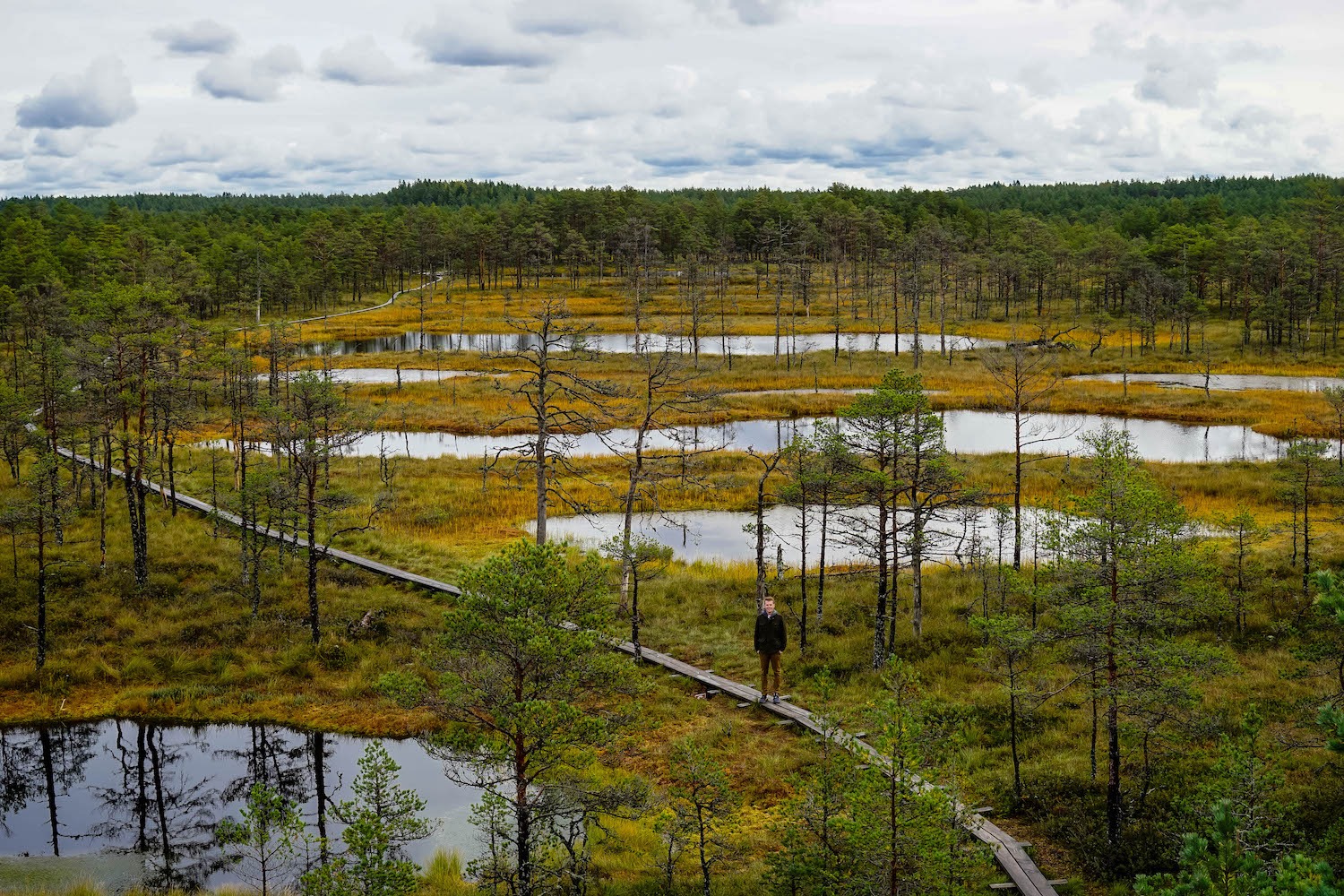 Stop by one of the biggest natural waterfalls in Estonia, visit old manor houses like Kolga or Sagadi once owned by wealthy Baltic German landlords, walk-in silent forests, or get lost in utterly mesmerizing coastal villages like Käsmu and Altja.
Unquestionably, the Viru Bog is the biggest drawcard of the Lahemaa National Park, where you can wander along a 3.5 km wooden trail over the wetland. Take your camera as the look-out tower has panoramic views in every tower, or in the summer, why not brave a swim?
There is so much to explore here, and I cannot stress enough how much I loved the Lahemaa National Park. No list of things to do in Tallinn could ever be complete without a visit here.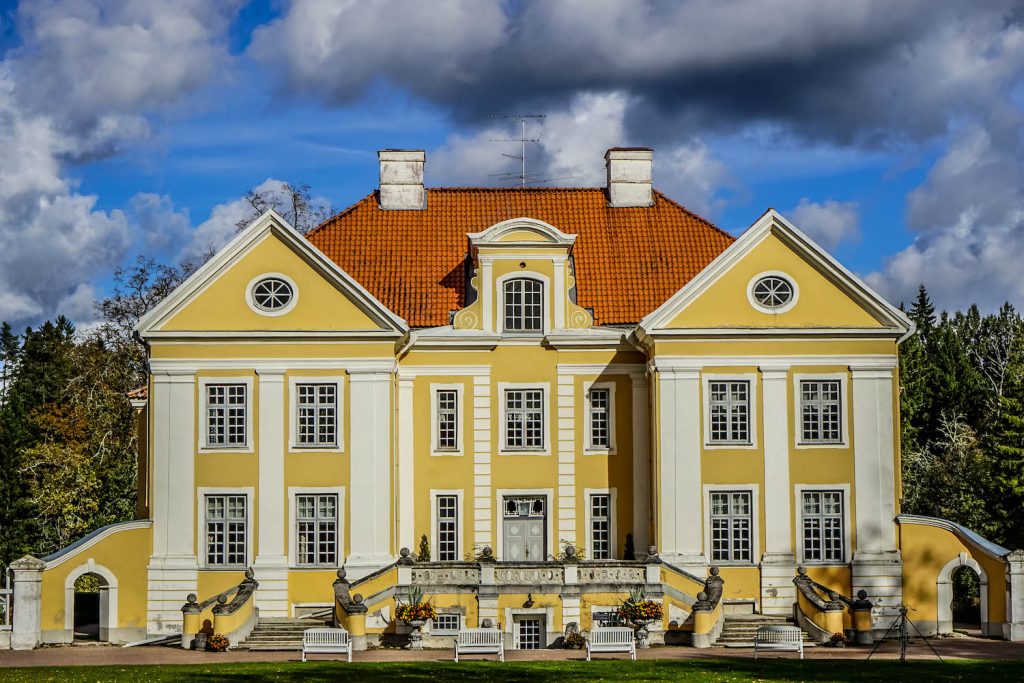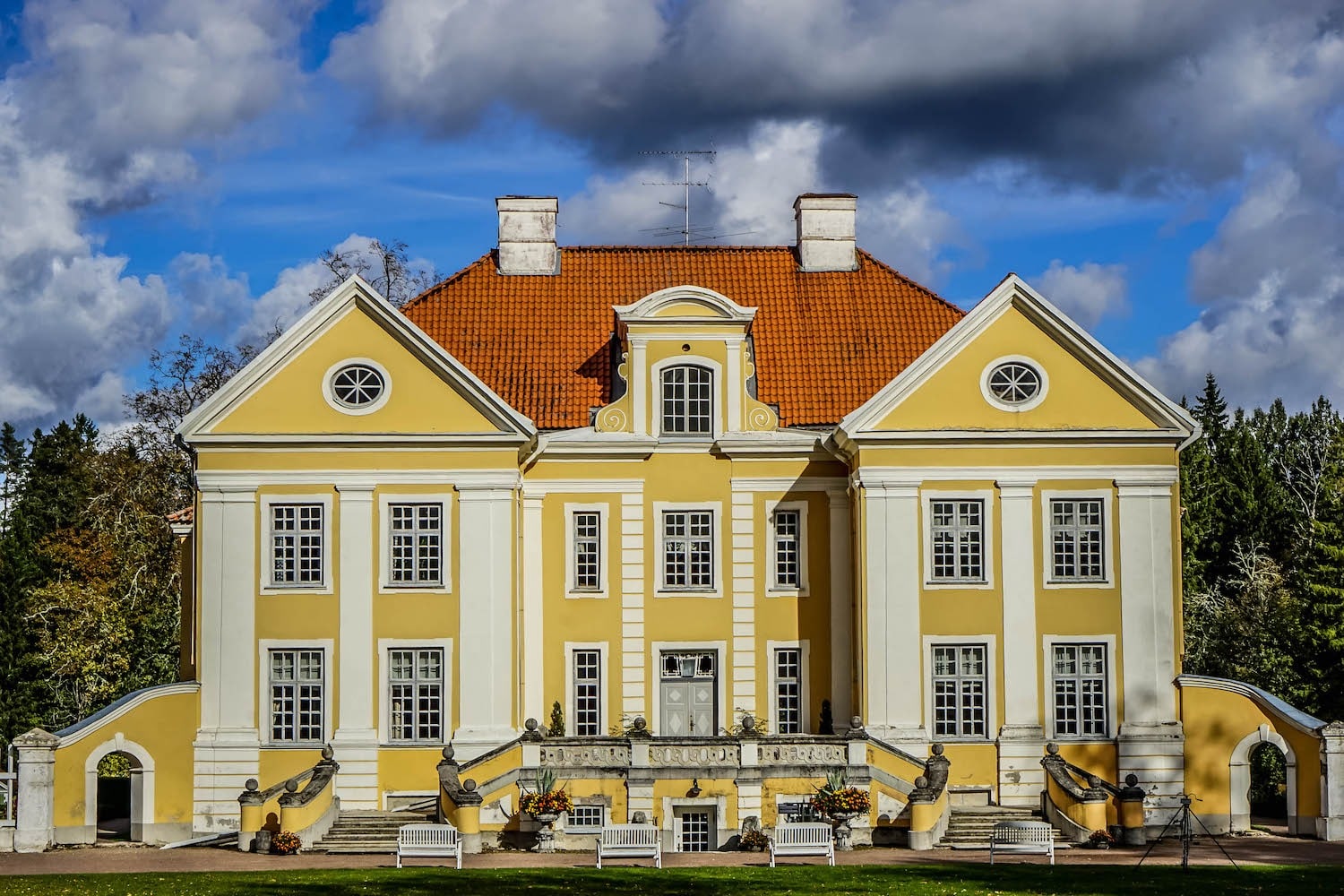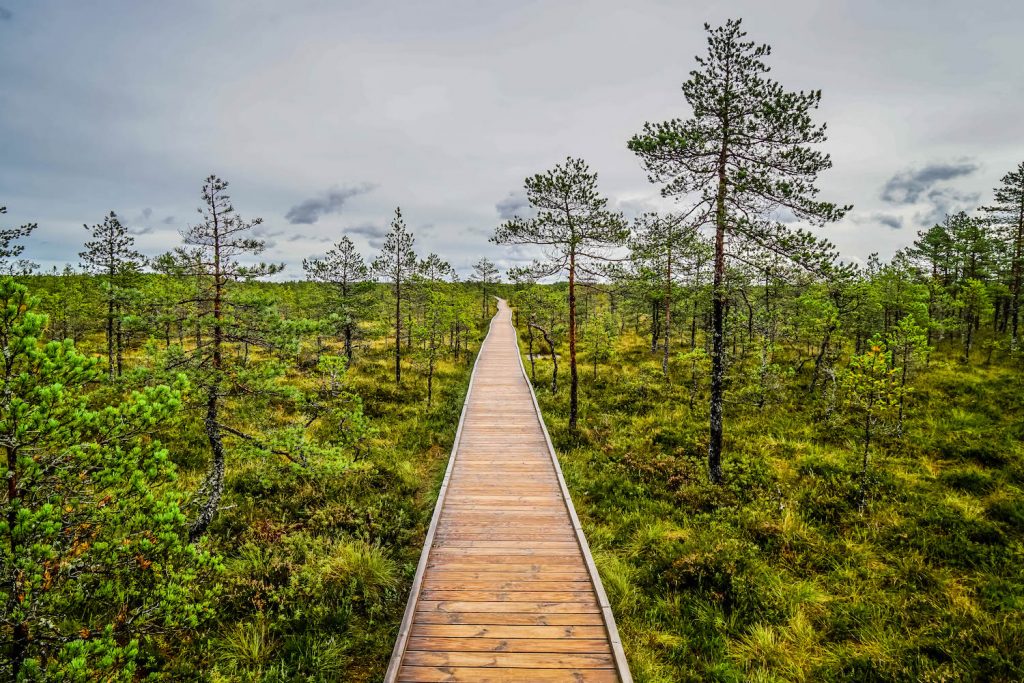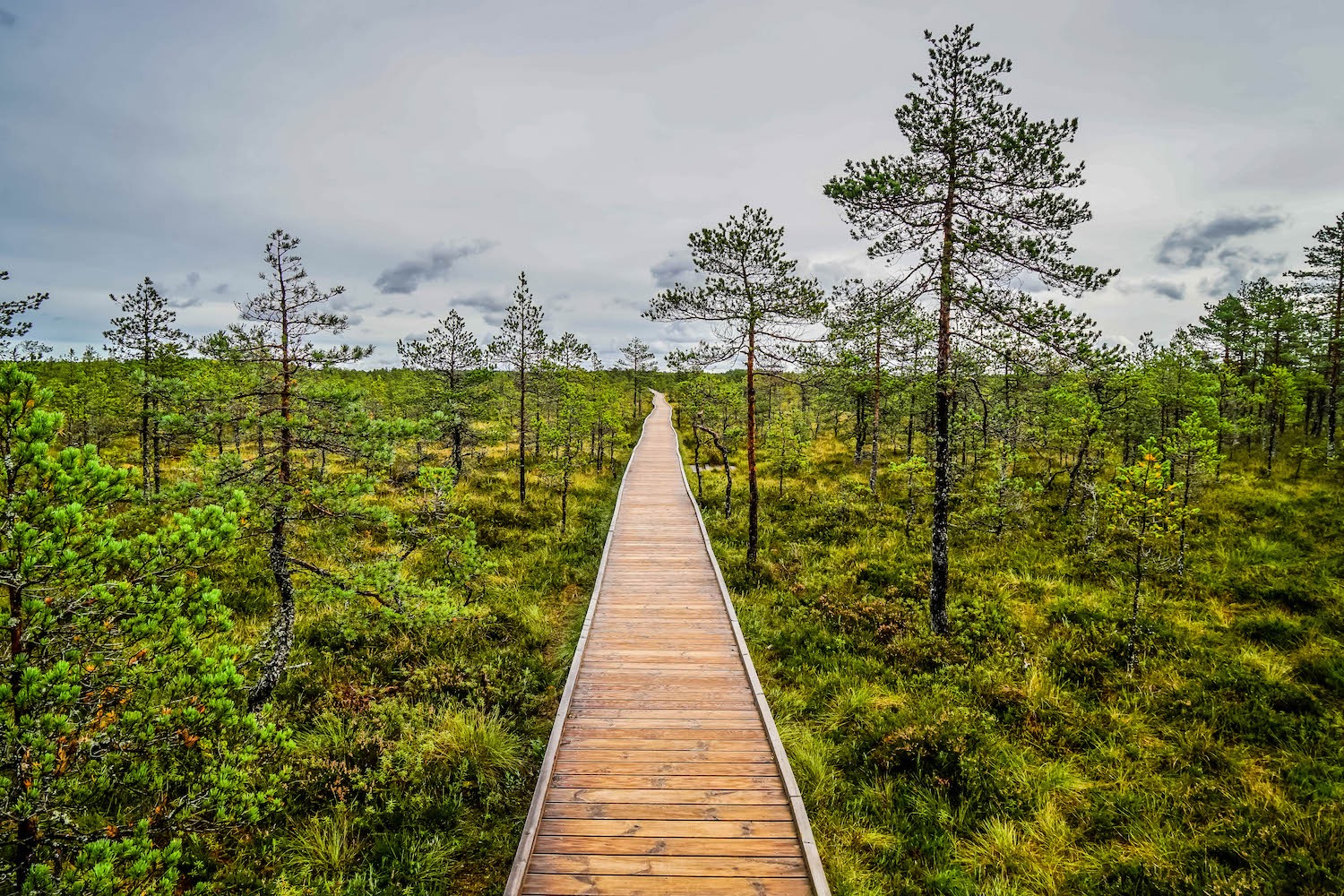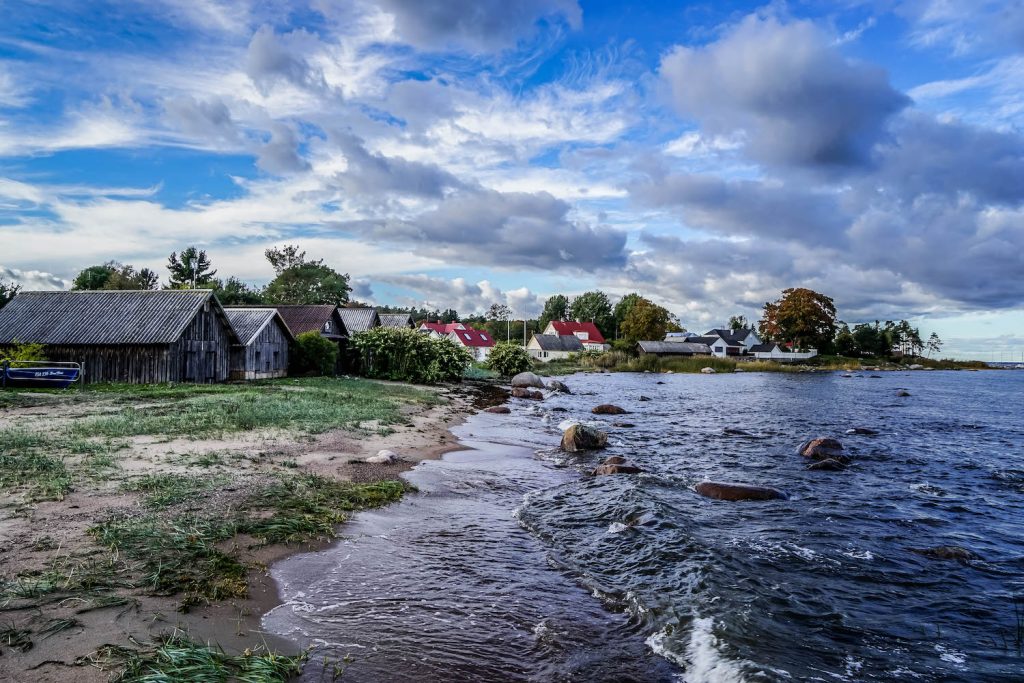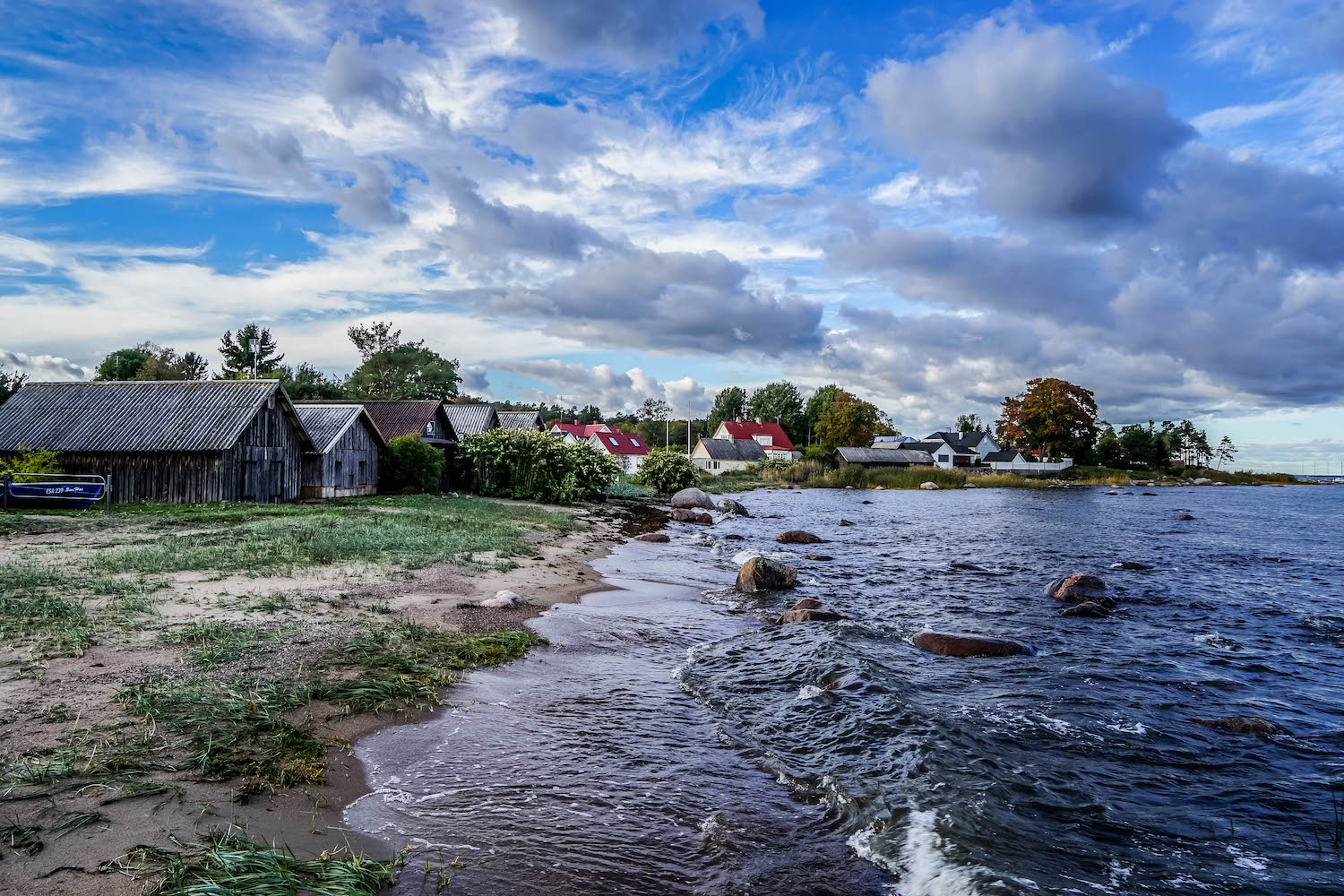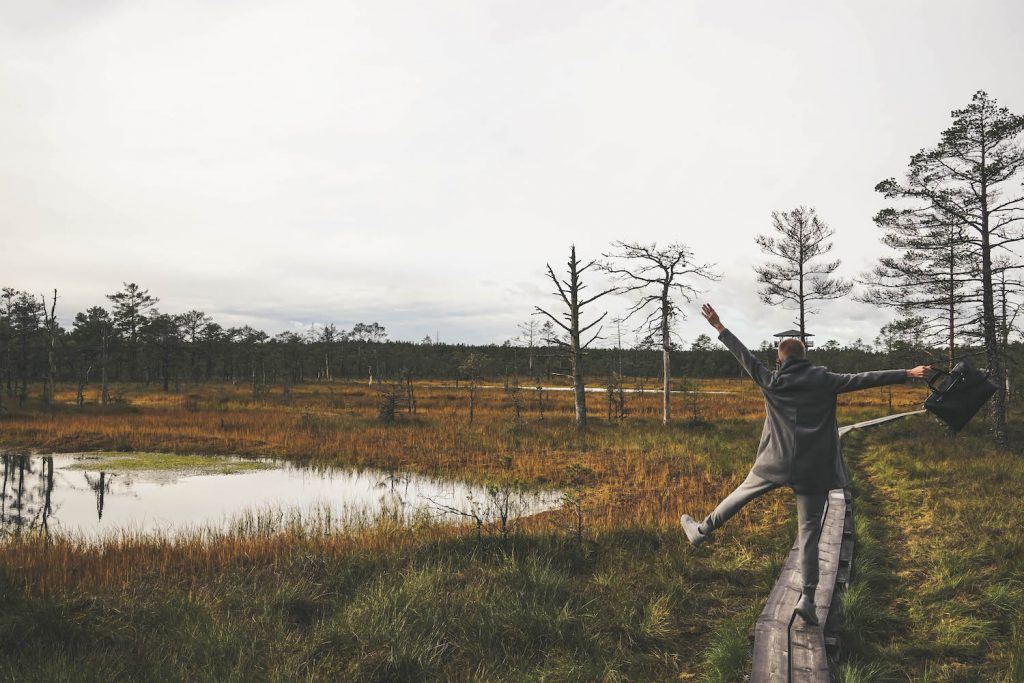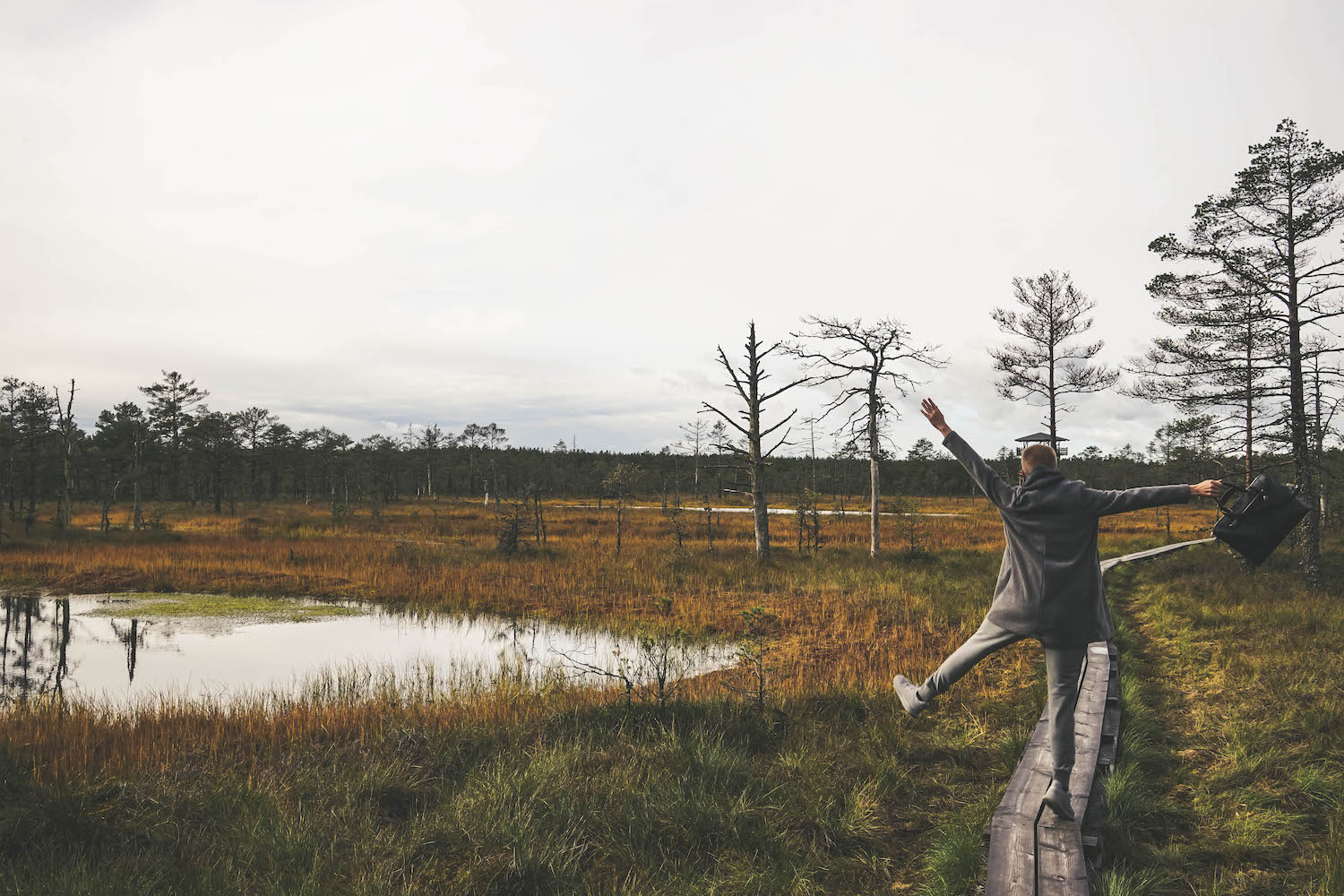 Where To Stay In Tallinn
LUXURY
A classic building dating back to 1878, this high-end luxury hotel offers stylish, refined rooms with art deco touches, a wonderful a la carte restaurant, a luxe lobby bar, indoor pool, Jacuzzi, a sauna and steam bath. What else could you want?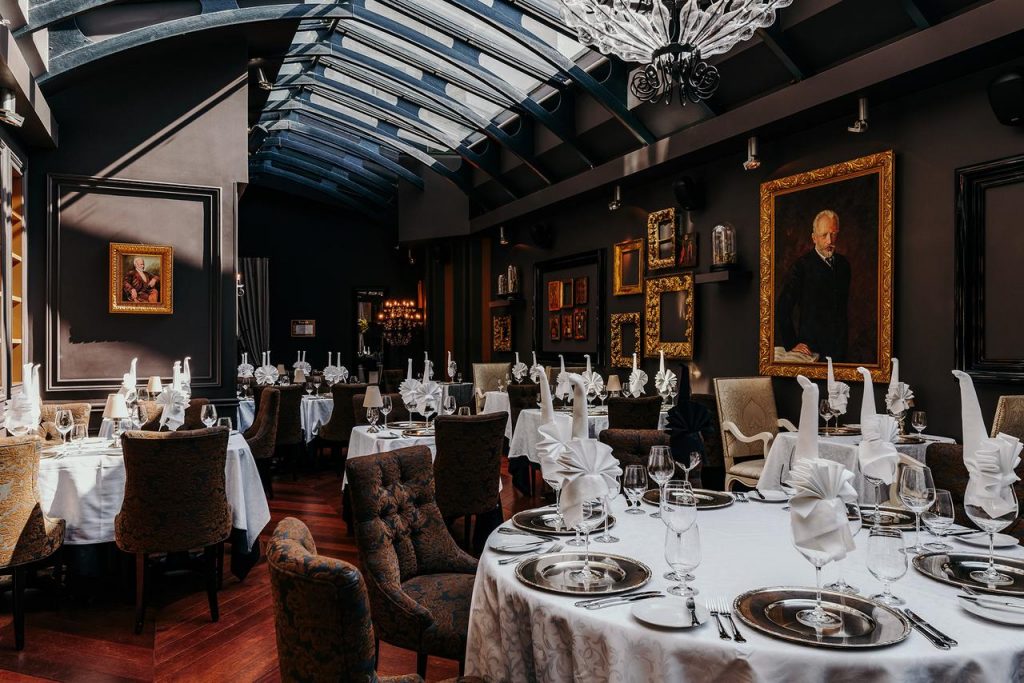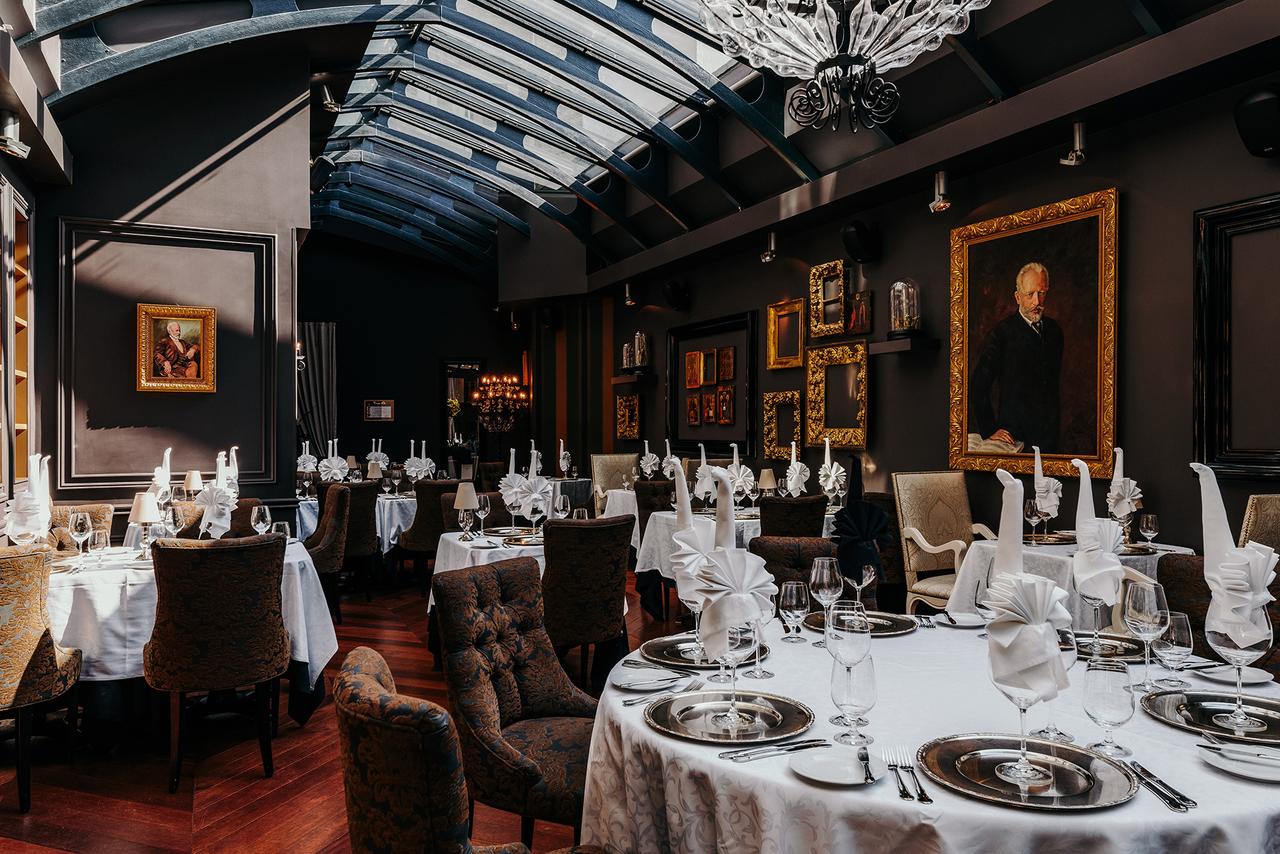 MID-RANGE
A unique yet surprisingly affordable hotel where historical atmosphere and four-star quality meet in one of the oldest houses in Tallinn. The intimate yet warm rooms are individually styled with an old-world vibe, many featuring wood-beamed ceilings!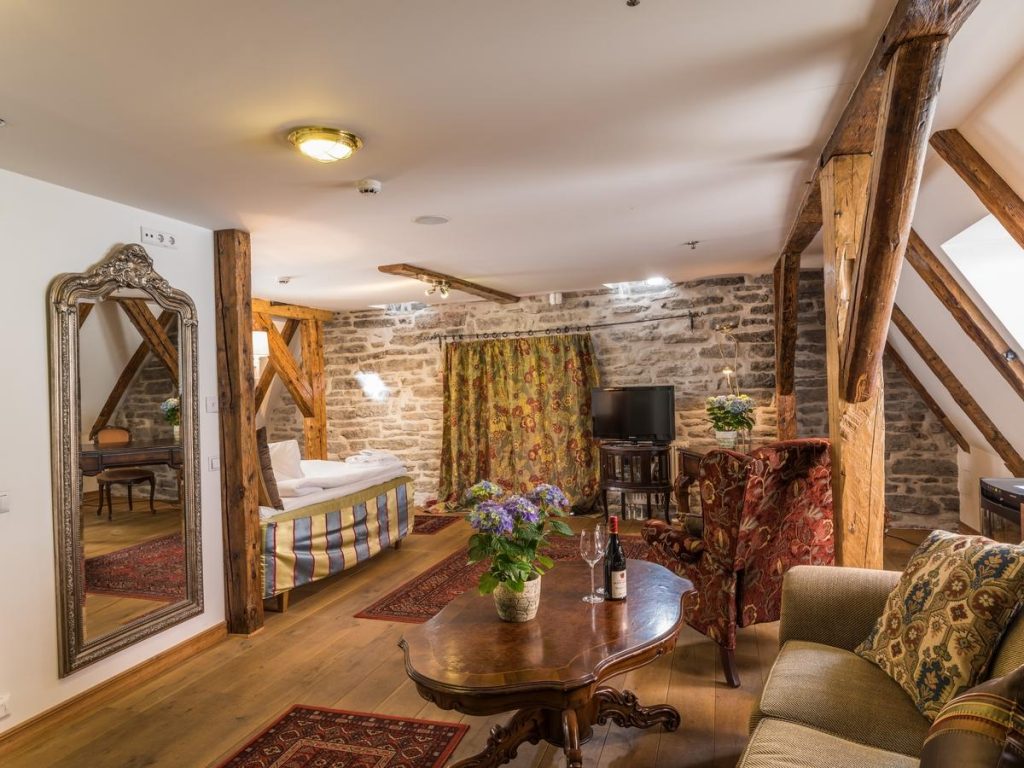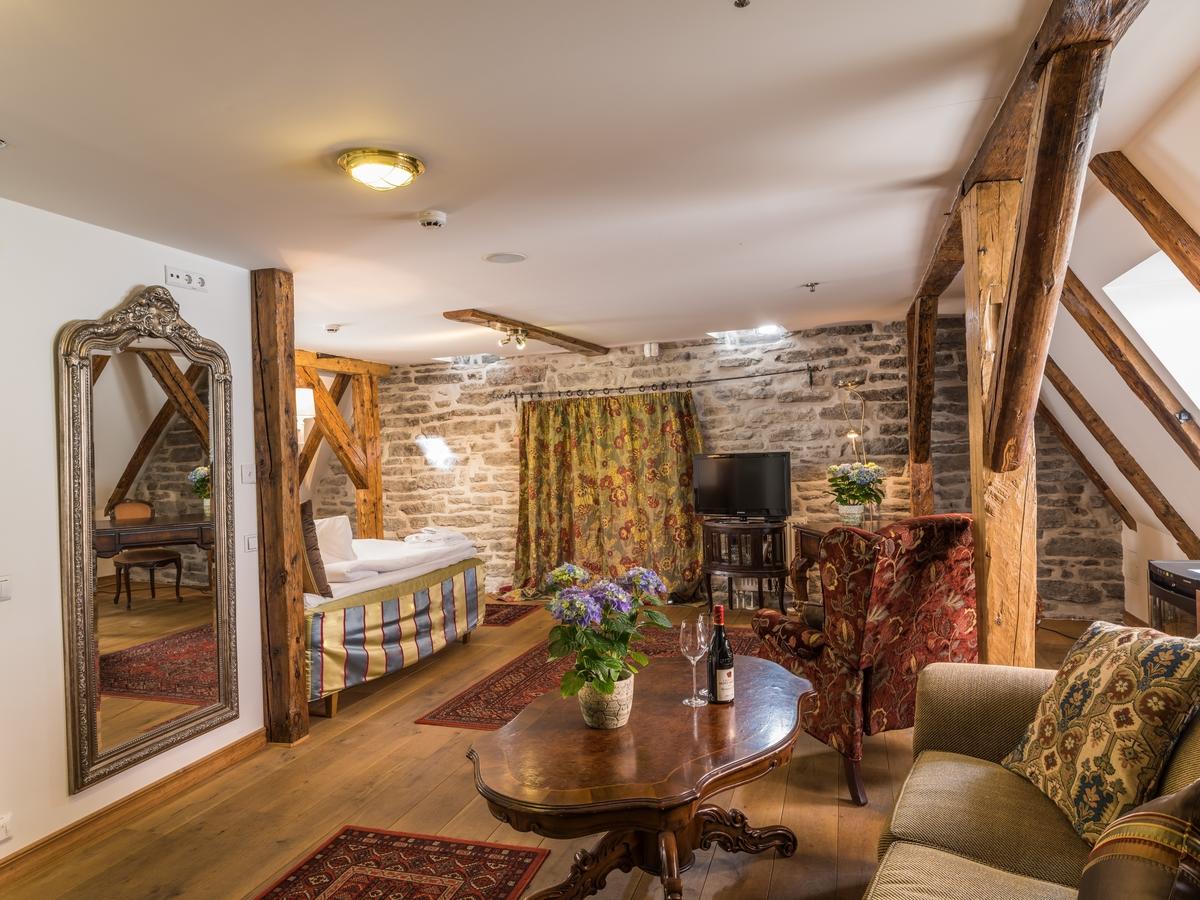 BUDGET
A laid-back hostel in the Tallinn Old Town, with fabulous reviews and accommodating staff. Basic dorms and private rooms with shared bathrooms are available, plus there is a guest kitchen, a TV lounge, and a terrace available.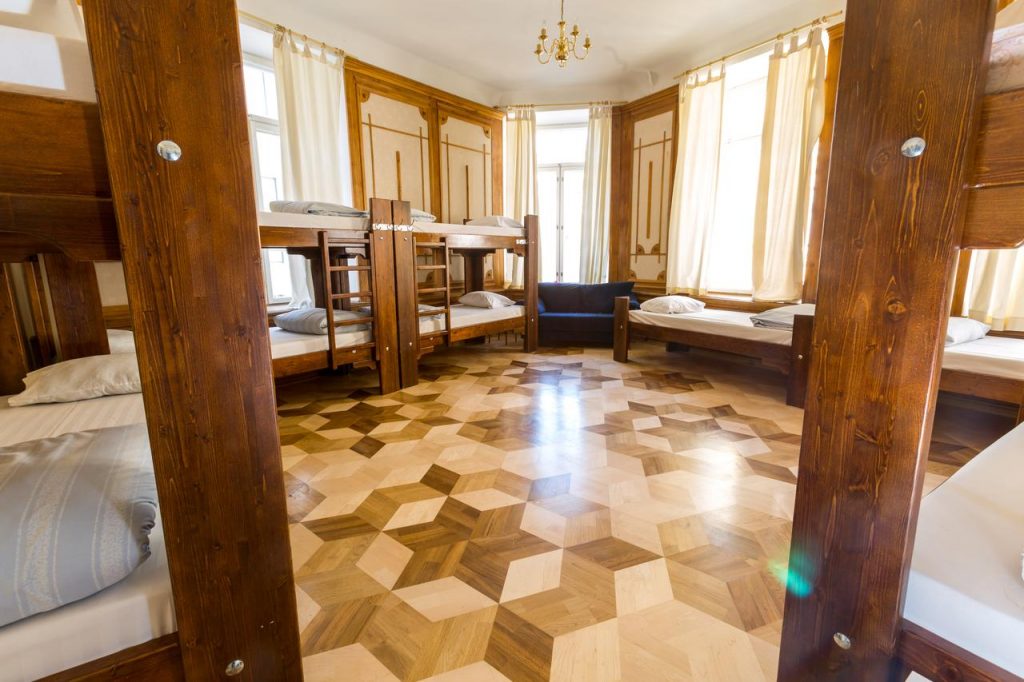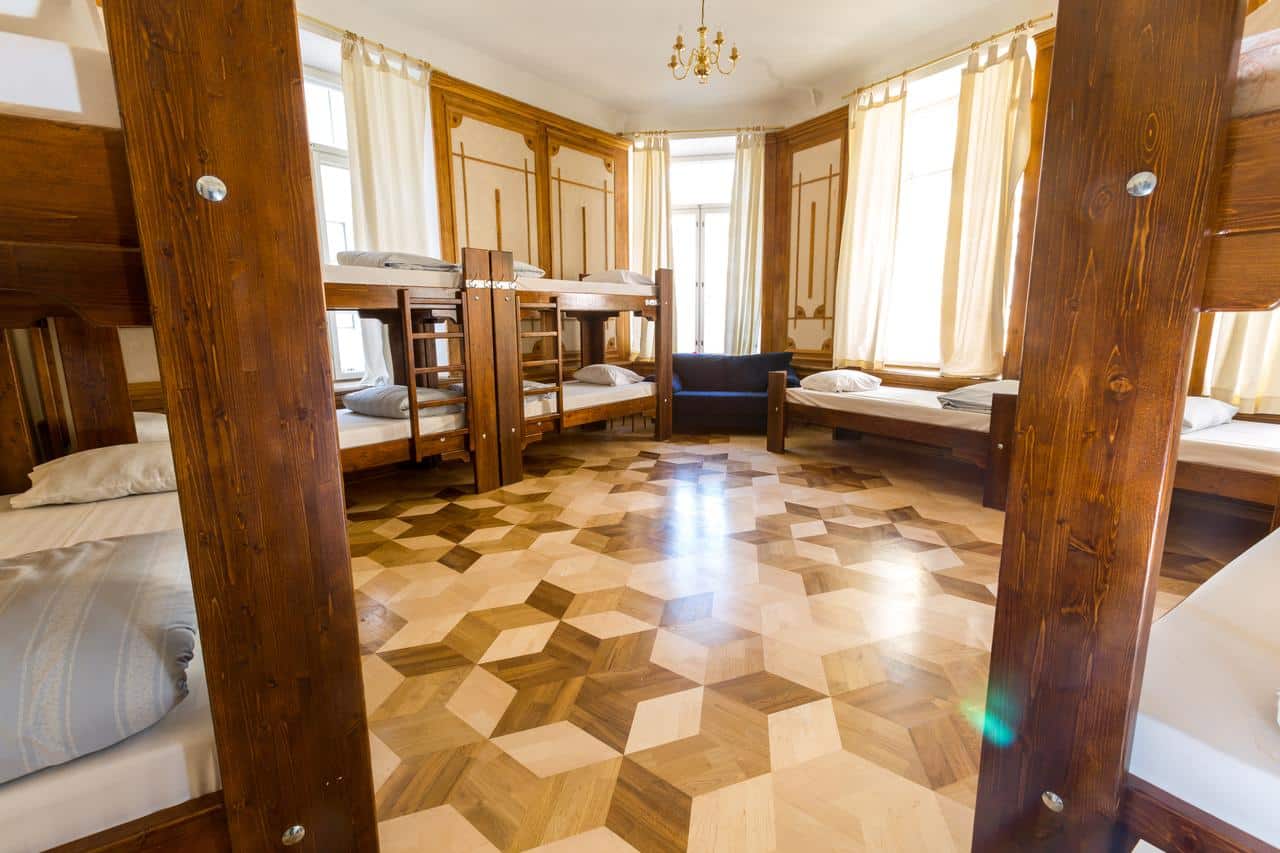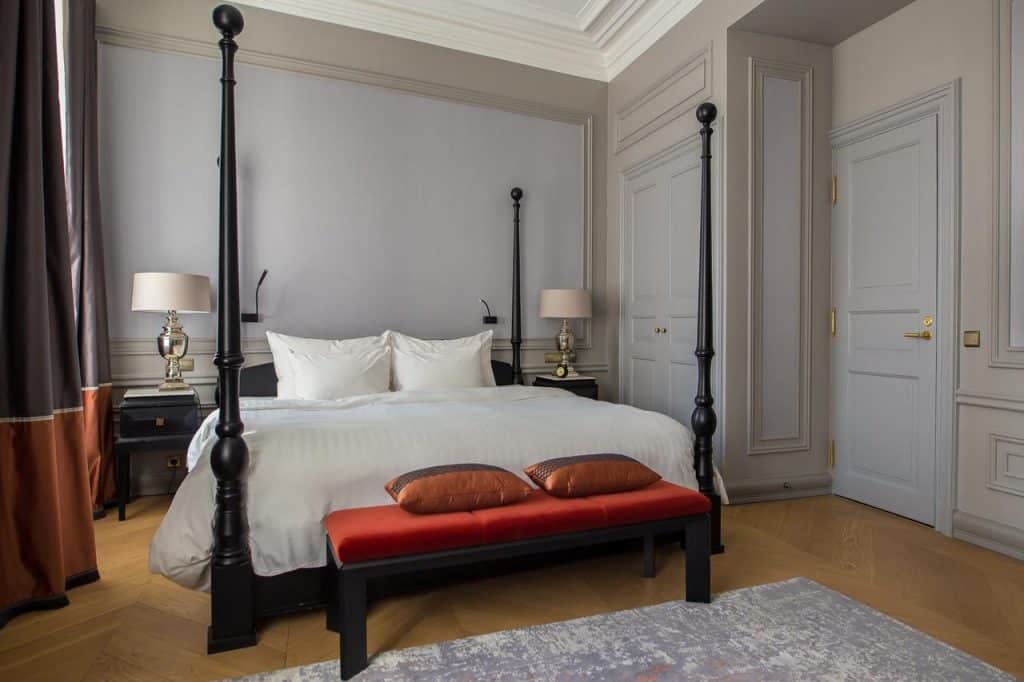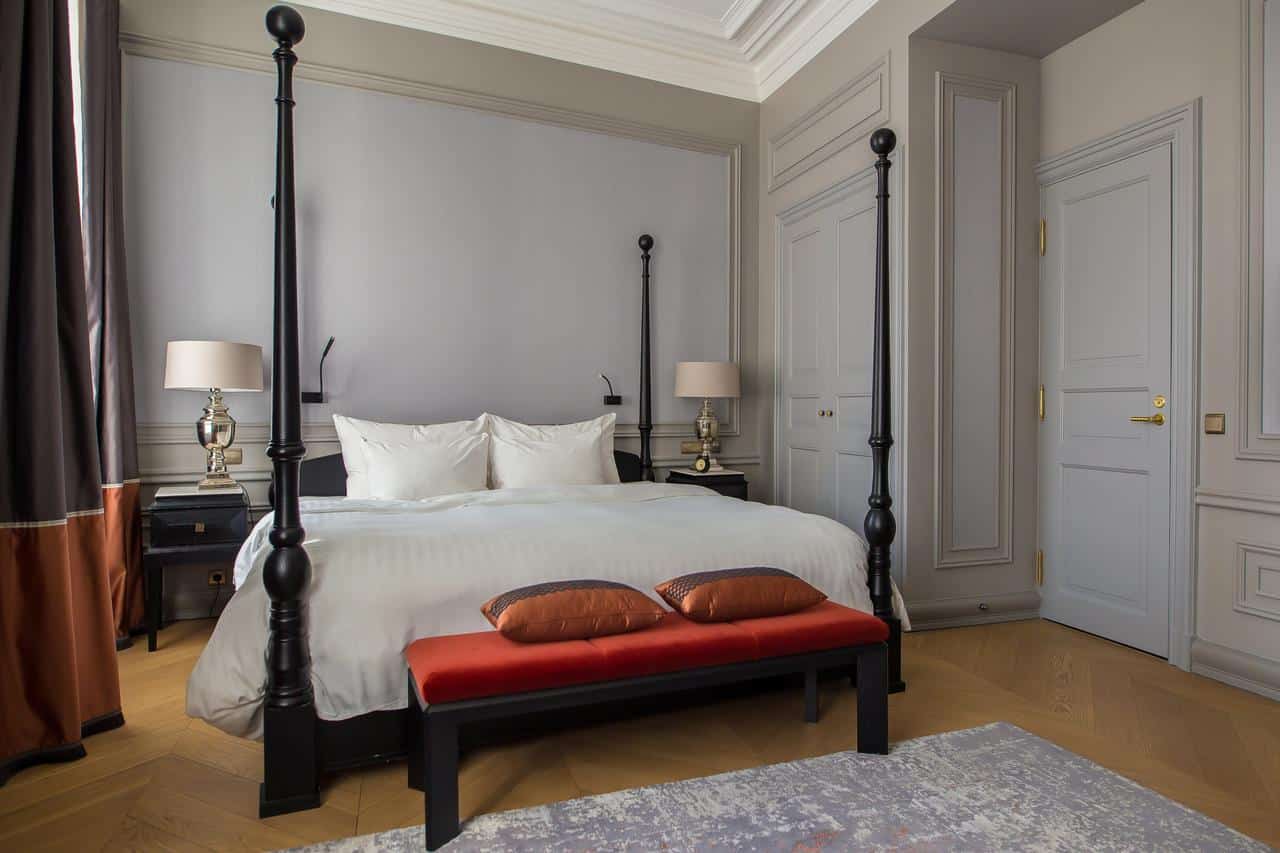 Further Things To Consider Before Any Adventure
Now you're all set and prepared to explore our big wide world, why not sort out everything else out all in one go? If necessary for your travel plans make sure you have brought proper travel insurance, protected your privacy by getting a secure VPN, compared all the top hotel booking sites to find just what you're after, reserved an unbeatable rental car price and - of course - booked the best flight deals!
Or maybe just forget it all and go for a last-minute cruise or effortless tour instead?
Many budget travelers (including me) indulge in worldwide airport lounge access, so we can experience luxury while still slumming it in economy. Naturally, we would never leave home without a more general travel guide since we couldn't possibly cover everything here!
Just add an adventurous attitude and plenty of smiles - they go a long way - and that about covers it all! Now go out, find your own path and don't forget to share your best inspiration stories with me on Facebook, Twitter, and Instagram...I'd love to hear from you!