If you're in Moscow and looking for somewhere a bit different to spend the day, escape the crowds or just venture from the city centre then the Russian Central Air Force Museum at Monino is definitely worth a trip.
Or perhaps you're more like me, somewhat of an aviation fanatic, where the opportunity to see these monolithic aircraft is an opportunity of a lifetime not to be missed.
Like this imposing Tupolev Tu-95 'Bear'…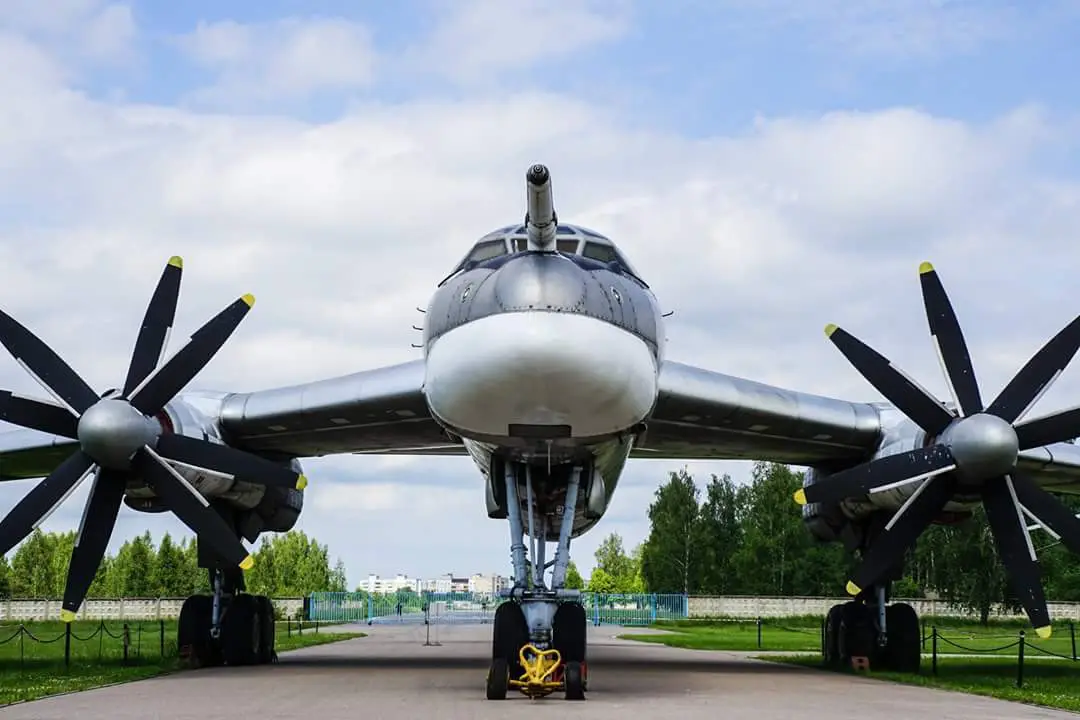 How To Get To The Russian Central Air Force Museum In Monino!
The Russian Central Air Force Museum at Monino is about 40 km east of Moscow. Also known as the Russian Federation Air Force Museum, it is the largest in Russia and the best air museum in all of the ex-Soviet Union. Sorry, Riga Aviation Museum…
It's collection features over 170 aircraft, including conventional planes, helicopters, gliders, and some unusual flying machines. Try counting the stars, you'll be here all day….
It really should be considered a landmark of Russia.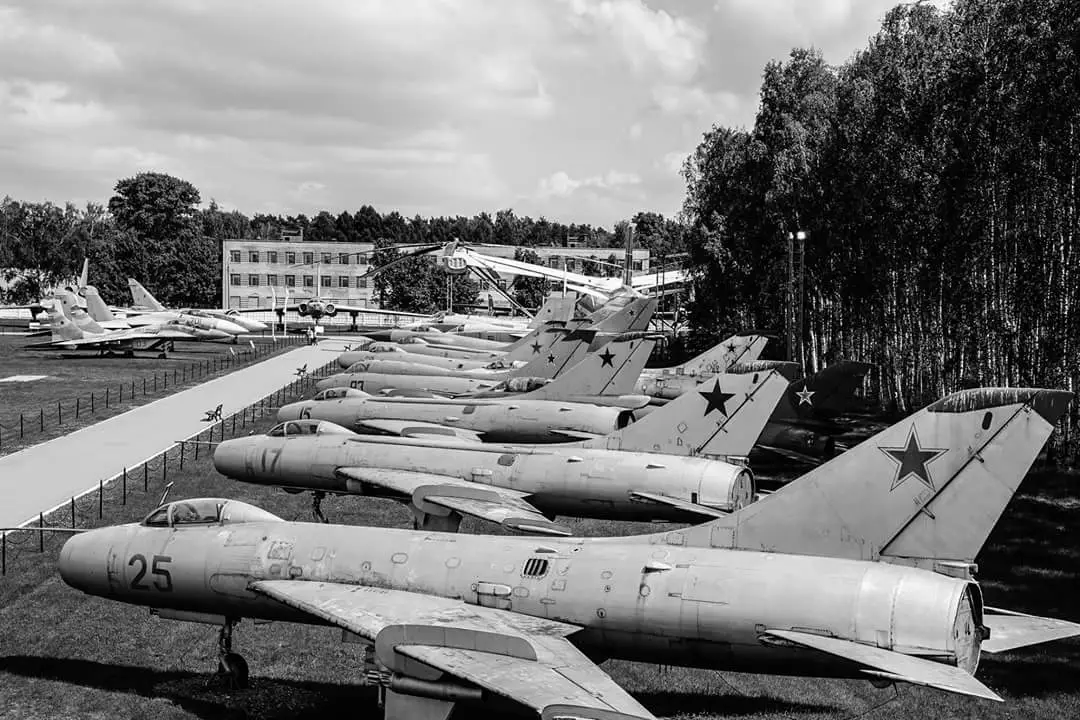 The Central air force museum in Monino consists of one main building where there is information on the history of Russian aviation (though mostly only in Russian) and an indoor hangar featuring a number of WW2 fighter aircraft.
Outside however is an enormous open air area where hundreds of post WW2 aircraft are stored which have to be the museums main attraction.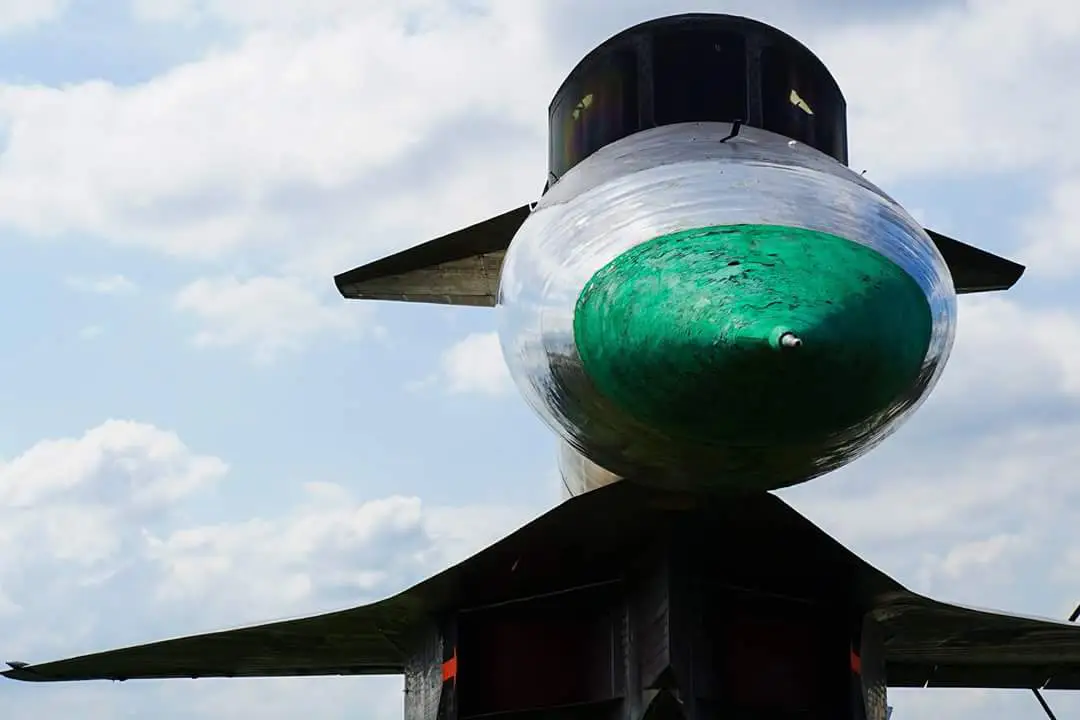 Many of the aircraft on display were top secret during and even after the Cold War.
Known only by their NATO code names, these aircraft were at the cutting edge of design and aeronautical experimentation of the time. A couple of aircraft on display at the Central air force museum in Monino are still types that are in active service.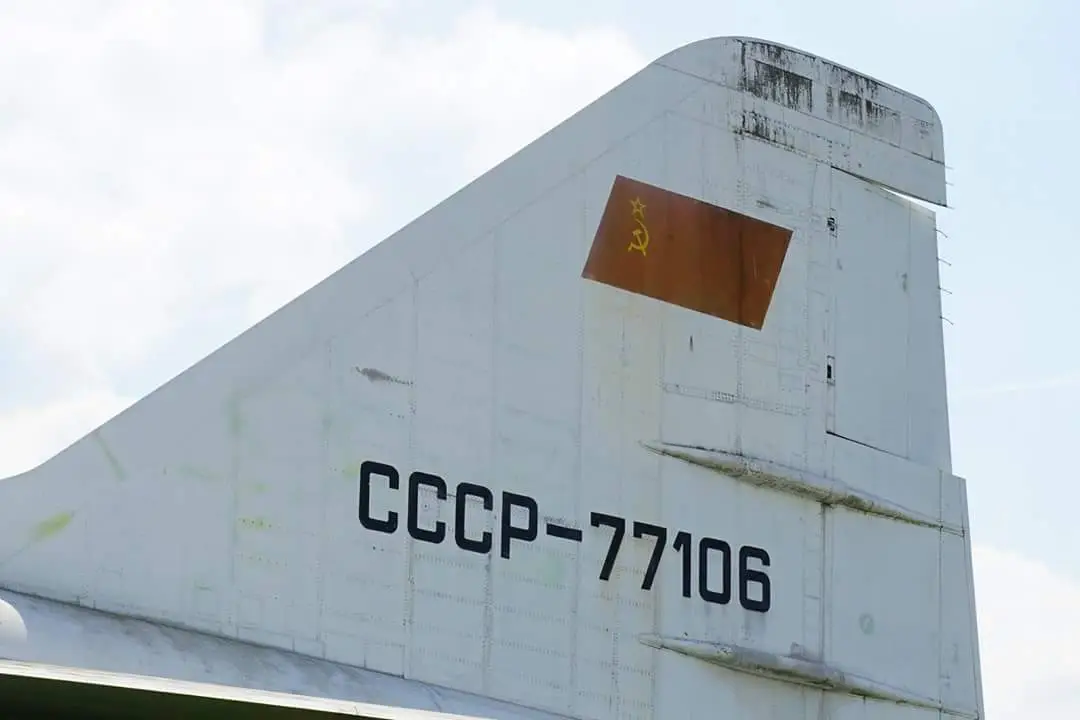 The Soviet's Concord, the Tu-144 'Concordski', still wearing the hammer & sickle
Along with military aircraft there is also a few civilian aircraft on display, one of particular note the Tupolev 144.
Not many people realise that it was actually the Soviet's who built & flew the world's first first supersonic airliner….they snuck in 2 months ahead of the Concorde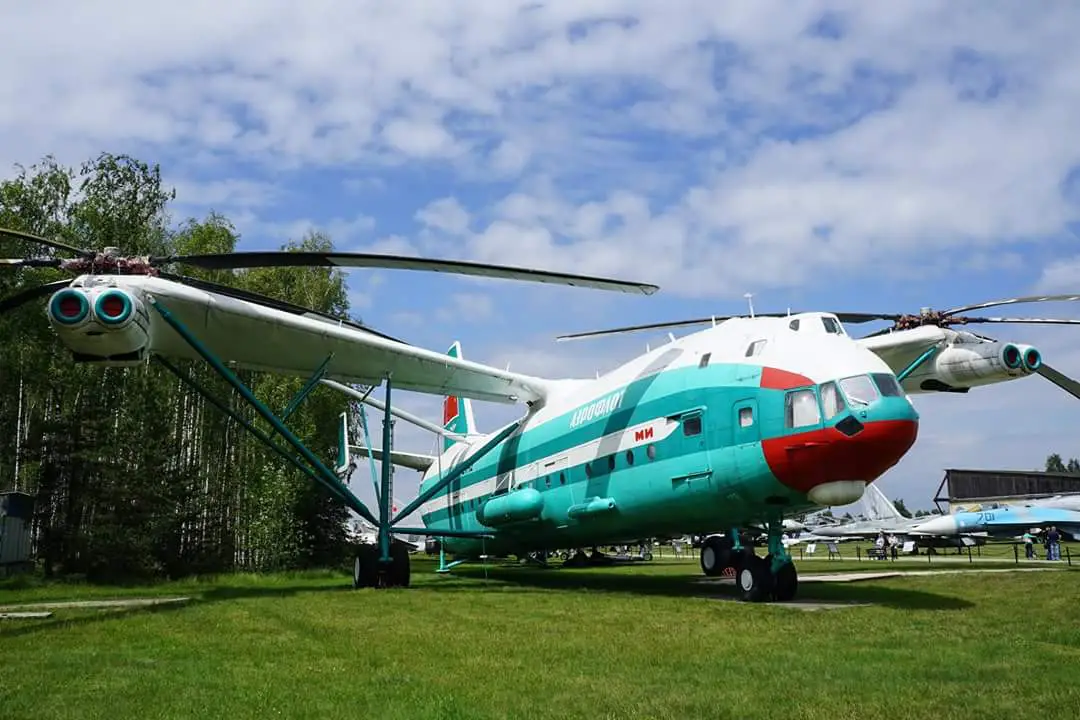 The Mil V-12, the largest helicopter ever built! The museum not only houses planes but a large number of helicopters too.
From attack to transport they're just as impressive. Greeting you at the gate you can't miss the Mil V-12, it's size is dwarfing and its longer than a Boeing 737.
It's almost unbelievable that this thing got of the ground with its strange design features, but it did and still holds records to this day.
---
Like this Soviet History? Why not check out these other stories:
---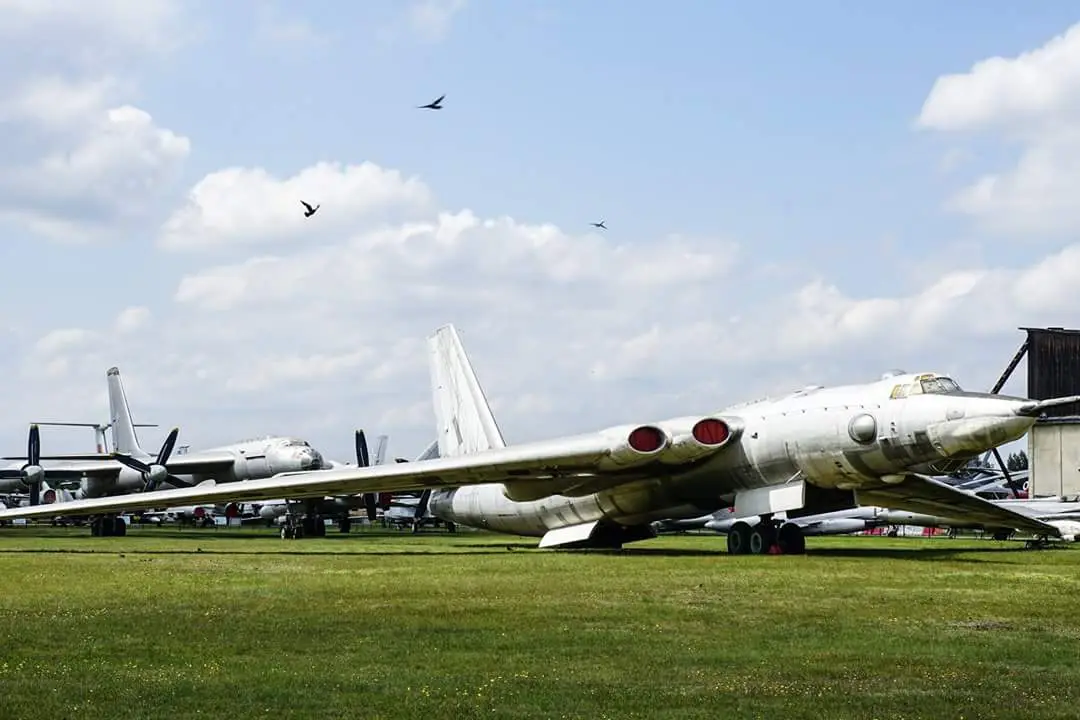 The museum is located next door to an active Air Force Base so you may be lucky enough to see some of the current inventory of the Russian airforce buzzing overhead.
Fighter jets and transports leaving their dark streaks across the sky, on the day I was there there were probably 7 or more circling around every few minutes or so.
Not many museums provide a free air show along with the ticket!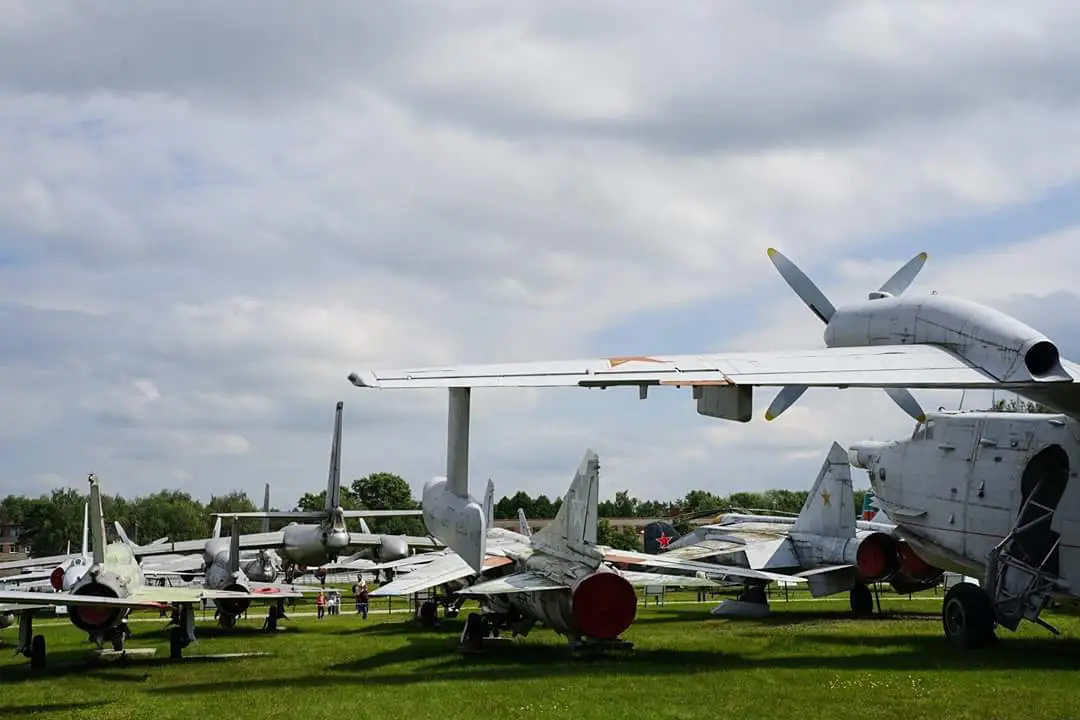 ---
A place with a difference and plenty of history. The Central Air Force museum in Monino is the only place in the world you can see some of these machines.
To visit the Monino air force museum simply head to Moscow's Yaroslavskaya railway station (Russian: Яросла́вский вокза́л, Yaroslavsky vokzal) and ask for a return ticket to Monino (Russian: Мо́нино). It's about 1.5 hours each way, leaving hourly and costs roughly $6 USD return.
When you get off the train just follow the signs for the Monino air force museum where the entry ticket is around $5 USD and if you need it the GPS is 55°49′58.05″N 38°11′02.41″E. Have fun!
Staying Connected While Travelling
In today's increasingly connected world, staying online while traveling has become essential for a seamless experience. That's where eSIMs come into play, revolutionizing the way we access mobile networks during our global adventures. Say goodbye to hunting down local SIM cards at the airport; eSIMs provide instant activation the moment you land, sparing you the fortune usually spent on international roaming and allowing you to genuinely travel like a local (without getting hopelessly lost!).
With eSIMs, tasks like restaurant recommendations and reservations, up-to-the-minute public transport instructions, checking opening hours, and accessing further information become a breeze. And, of course, sharing your journey on social media is easier than ever. To stay connected wherever you roam, consider using either Airalo or Holafly. Airalo boasts the most extensive range of destinations worldwide, offering smaller data bundles tailored to your needs, while Holafly provides unlimited data packages and fantastic EU data deals.
So why wait? Embrace the future of travel connectivity with eSIMs and make your next journey effortlessly smooth.
Further Things To Consider Before Any Adventure
Now you're all set and prepared to explore our big wide world, why not sort out everything else out all in one go? If necessary for your travel plans make sure you have brought proper travel insurance, protected your privacy by getting a secure VPN, compared all the top hotel booking sites to find just what you're after, reserved an unbeatable rental car price and - of course - booked the best flight deals!
Or maybe just forget it all and go for a last-minute cruise or effortless tour instead?
Many budget travelers (including me) indulge in worldwide airport lounge access, so we can experience luxury while still slumming it in economy. Naturally, we would never leave home without a more general travel guide since we couldn't possibly cover everything here!
Just add an adventurous attitude and plenty of smiles - they go a long way - and that about covers it all! Now go out, find your own path and don't forget to share your best inspiration stories with me on Facebook, Twitter, and Instagram...I'd love to hear from you!