Discover where land meet sea on a Cornwall Day Trip! The ancient Celtic kingdom of Cornwall in the southwest of England has wild coastlines and breathtaking beaches.
Yes as unbelievable as it is you'll want t to check your GPS to ensure your in England and not in Porto or Australia!
This proud peninsula packs well above its weight in terms of things to do in Cornwall, but if you can only manage one day and don't want to break the bank visiting I've put together a list of things to do on a Cornwall on a budget.
Trust me though, you will be begging for more time!
Cornwall's hallmarks of fishing, farming and mining have long gone and now tourism is the number one game, luckily it has all the right cards. Deserted beaches, cultural hubs, arts and history … Take time to unwind here, enjoy the day and know you will be back for more.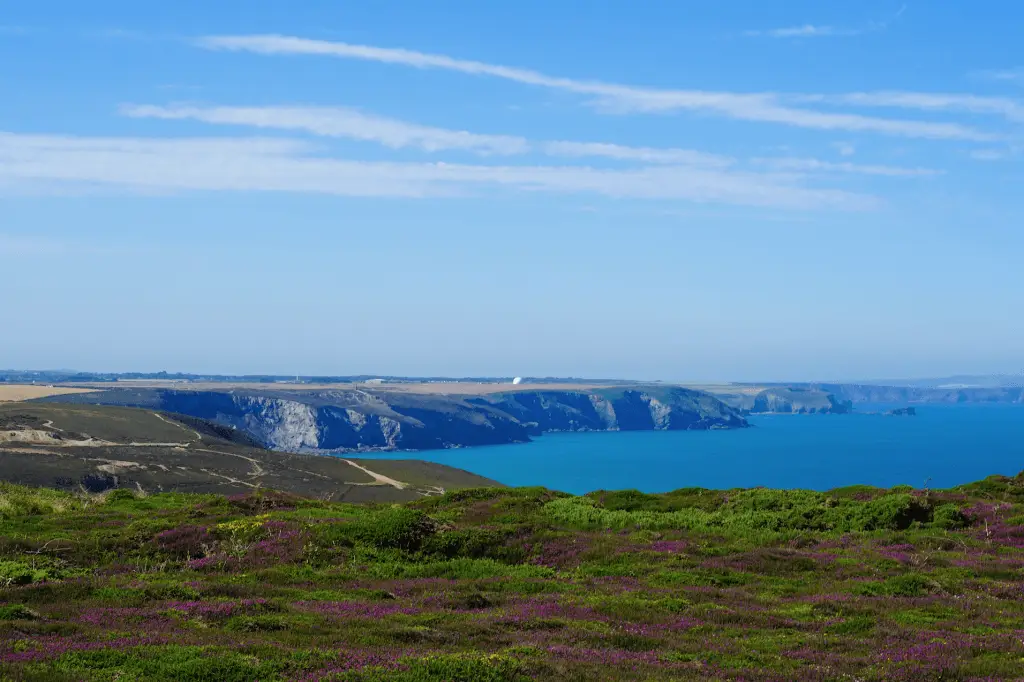 The Ultimate Things To Do in Cornwall On A Budget!
Gawk At The Picturesque Wheal Coates Tin Mine
Visit the iconic Wheal Coates mine which is found next to the stunning Chapel Porth beach. Trust me, with the right weather its hard to believe your not in Australia!
Open from 1802 until its closure in 1889 Wheal Coates Tin Mine is part of the Cornwall and West Devon Mining Landscape, a UNESCO site and an important part of the United Kingdom's Industrial history. The site features derelict engines houses and furnaces tucked up tight against the windswept coastline.
Amazing vista's in all directions and there is a coastal walk so your visit can be as long or as short as you like. It is not to be missed.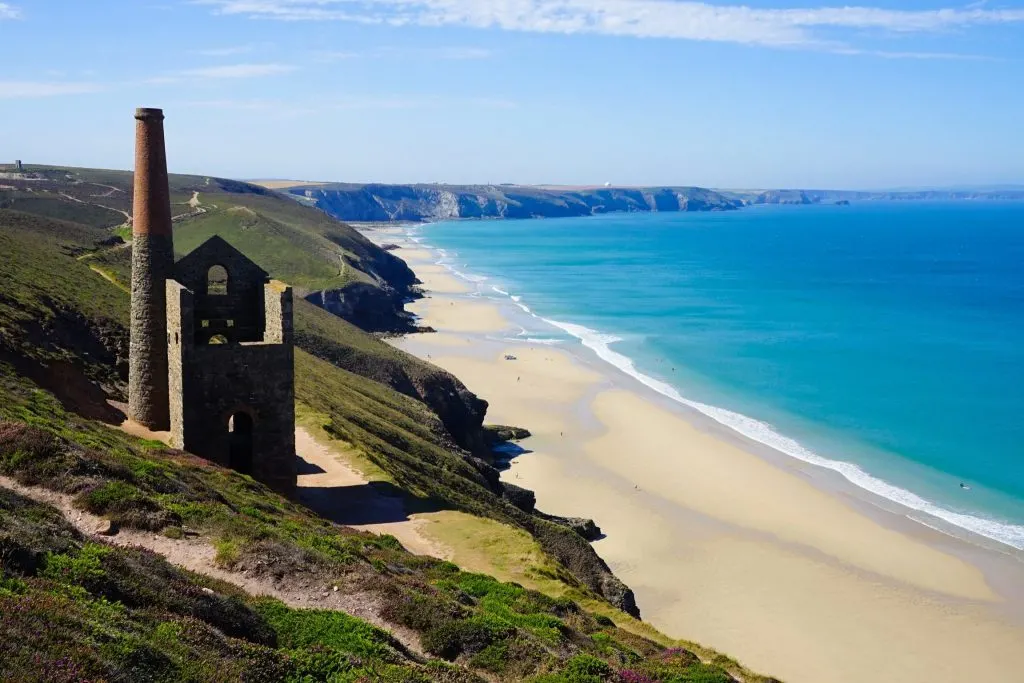 Swim In The Blue Bliss Of Porthchapel Beach
Quieter than its more famous neighbour,Porthcurno, Porthchapel Beach is a quiet paradise in the far west of Cornwall. Gorgeous fine soft white sand flows down into the inviting sea that turns turquoise in the summer sun (if your lucky – don't forget your in England!).
Sheer cliffs on both sides provide shelter to this oasis of stunning natural beauty and ensure its remains more of a local secret. Pack your beach umbrella and best swimming trunks, you're going to want to stay a while!
Best of all Porthchapel Beach is free so a great way to experience Cornwall on a budget!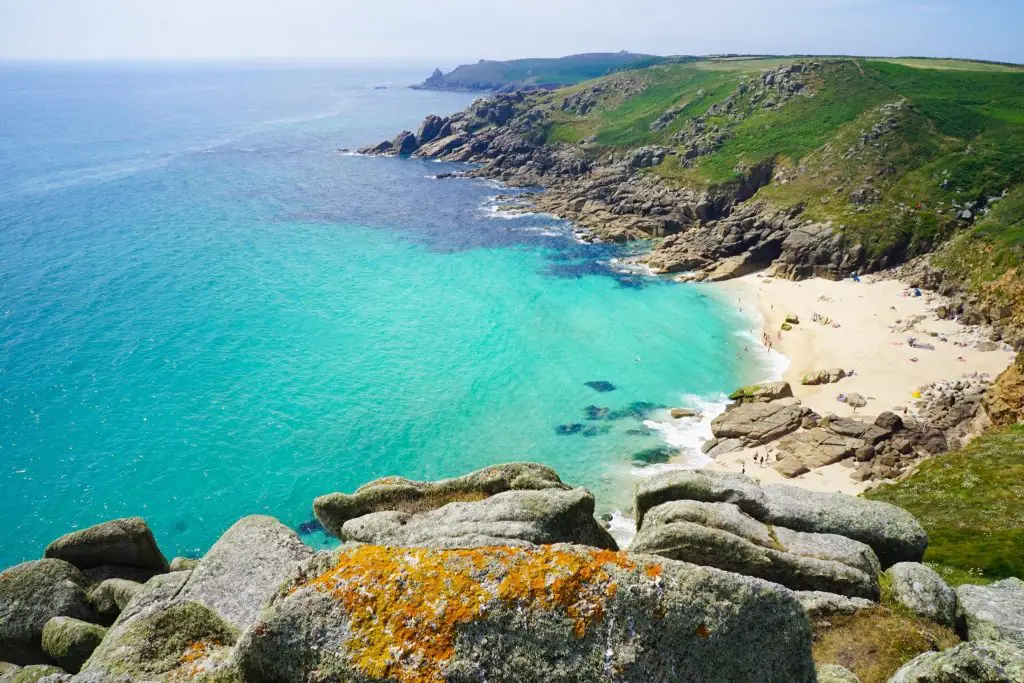 Discover The Medieval Treasures Of St Michael's Mount
Reminiscent of the same-named, yet more famous Mont Saint-Michel in France, St Michael's Mount in Cornwall is a rocky island crowned by a medieval castle-keep that is still maintained by its original family and a small community.
The island's buildings date back to the 12th century and at low tide you can walk across the causeway and immerse yourself in its architecture, feel its history wrap around you and be regaled with stories of Jack the Giant Killer…
Spoiler alert: The Giant was said to have lived on this island. Take a picnic and enjoy its breathtaking views!
Havn't looked at accomodation in Cornwall yet? Don't worry I've got all the best deals and price right here, and by booking in advance you can get the cream of the crop!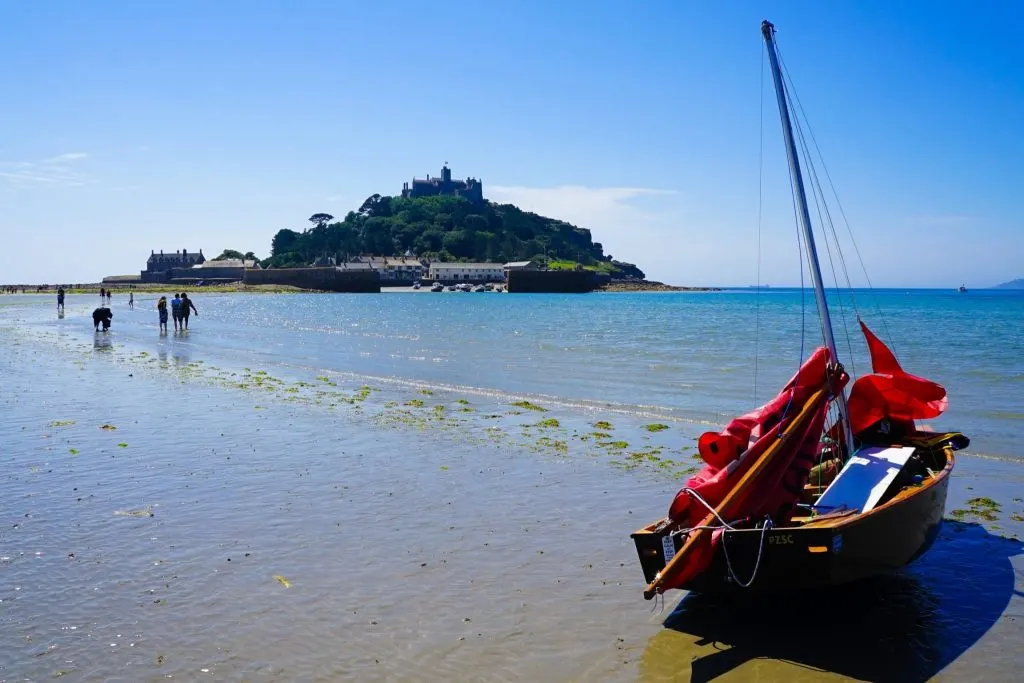 Enjoy A Incredible Show And View At The Minack Theater
Up there with the Cornish Pasty, the Minack Theatre is not to be missed, a world-famous open-air theatre reminiscent of the ancient Greece theaters but built only 80 years ago. Carved into a sheer granite cliff there is no better way to spend a summer day than admiring artists perform here overlooking the spectacular panorama of Porthcurno Bay.
The summer theatre season runs from May to September and tickets sell out well in advance so book early. A medley of shows are presented including drama, musicals and opera and I cant imagine a better end to a day than an evening performance here bathed in dusk's soft glow.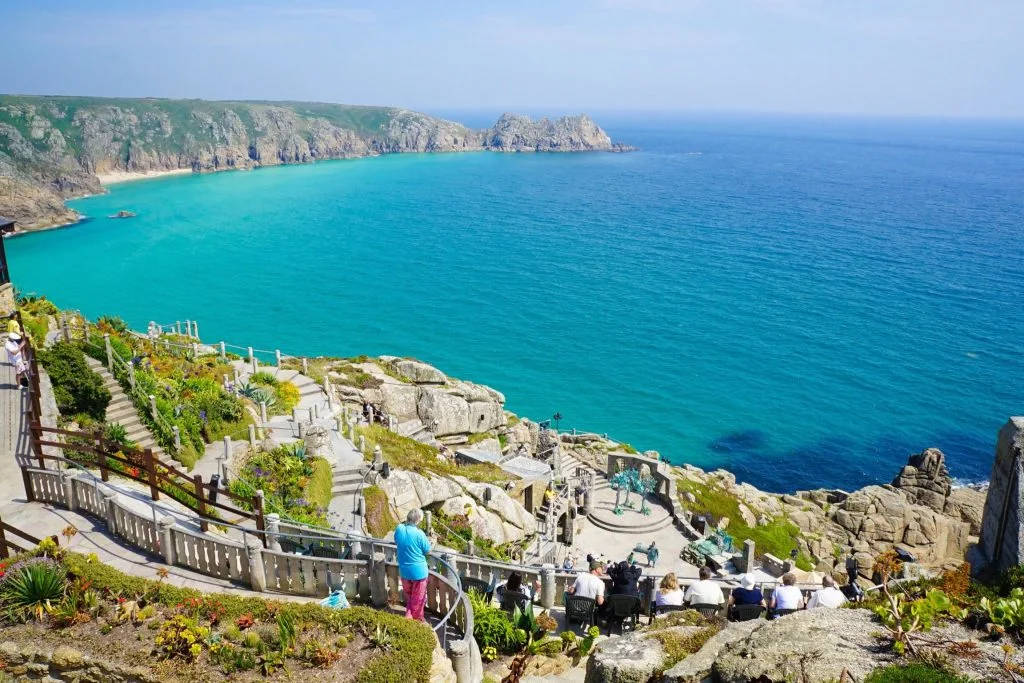 Treat Yourself On The Porthcurno Coast Walk
When the weather behaves be sure to check out the many rewarding walks along the cliff line and bays stretching out from Porthcurno, westwards towards Land's End and eastwards to Logan Rock and Mousehole.
This wind-swept environment is phenomenally beautiful and the many salt-tolerant succulents that grow here are a burst of colour. Be well prepared as you are sure to enjoy many picturesque coves and wide open vistas!
Take a book and find your own little spot for a perfect moment of reflection amongst this awe-inspiring geography.
It's tough getting around Cornwall with public transport – and having a car makes it so much easier to get off-the-beaten track! Have a look at the best car hire deals in Cornwall now and compare for yourself. It's simply much better, easier and more fun in a car!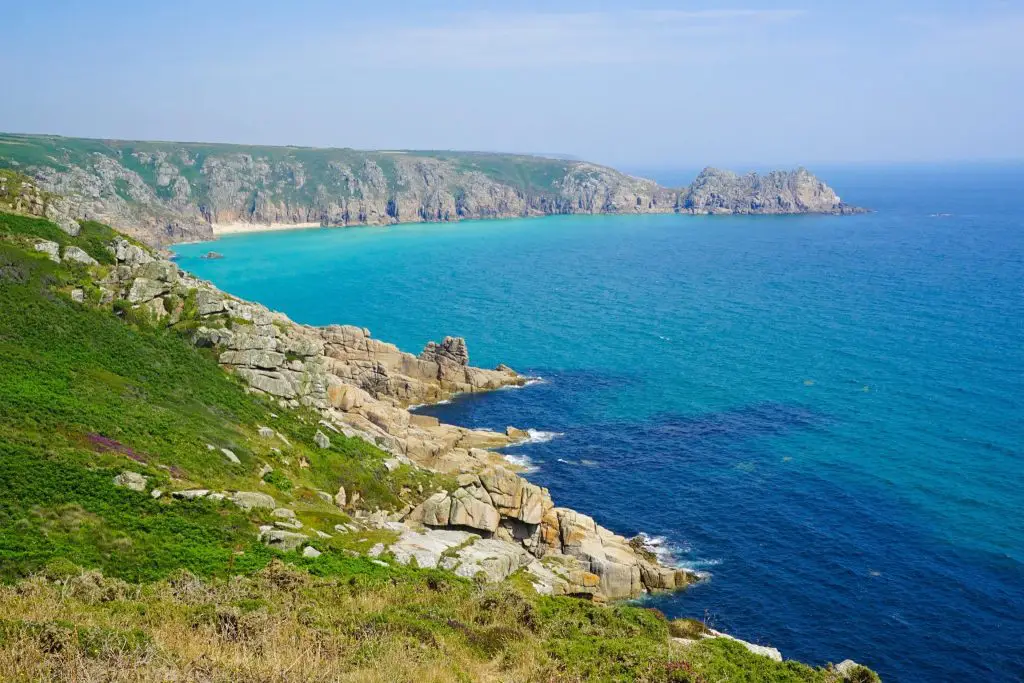 Explore The Levant Mine In Cornwall
Levant Mine is located close to the tourist trap which is land end. In my view its a far better alternative The mine is also part of Cornwall and West Devon Mining World Heritage Site and is notable as it is the only Cornish beam engine anywhere in the world that is operated by steam on its original mine site – a small engine house perched on the edge of the cliffs!!
Within this mine occurred one of England's worst mining disasters in 1919 when 32 miners lost their lives … The lower reaches of the mines are still closed and there is a silence in the air. A stunning location and chilling history makes this quiet area a must visit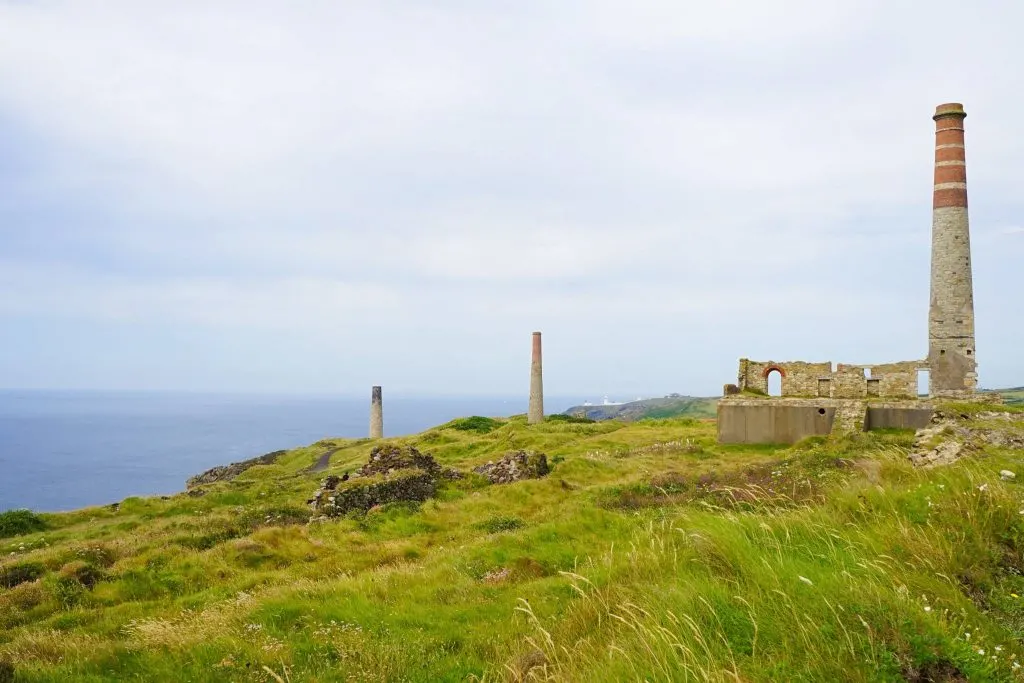 Don't forget this list of things to do in Cornwall is by no means exhaustive! There is so much natural and cultural history you can never be bored in Cornwall. A day trip is not enough time and perhaps you should be tempted to spend the night! Perhaps also check out the Jurassic Coast further north?
Either way please let me know your favourite sites to enjoy Cornwall on a budget or anything else viewers should know, in the comments below!
And don't forget to take a peek at the gorgeous little B&B's available in Cornwall – or weight up your options with car hire for a Cornwall Road Trip. You won't regret it!