Planning a holiday and not sure what things to do in Jurassic Coast or looking for things to do in Devon? Not even sure what is the Jurassic Coast? No worries – Read on and I have all the facts about the Jurassic Coast that you will need!
So first…what is the Jurassic Coast?
The Jurassic Coast in Devon, England's only natural UNESCO World Heritage Site, is a stunning 150 kilometer stretch of coastline in Dorset and East Devon Coast. It's appeal is endless with windswept cliffs, sheltered bays, and placid blue waters. However, unbeknownst to many visitors is a site of outstanding international importance for Earth Science!
Essential the Jurassic Coast is a Walk Through Time, layers upon folded layers of sedimentary rock can be read like a book revealing the Earth's secrets across 185 million years…All the way back to the dinosaurs (hence the name!). For a better explanation and some more cool facts about the Jurassic coast check out this video:
In such a large area it can be intimidating, and of course, you don't want to miss the highlights so I have compiled a list of the things to do in Jurassic Coast.
By no means, exhaustive this post is rather a guide to the highlights of this 95 mile stretch of coast between Exmouth in East Devon and Studland Bay in Dorset – Perfect for Jurassic Coast Walking Holidays!
It could all be completed in a well-timed day or an add on to a weekend in London but for the best experience, you should slow down and enjoy the region… I have heard fossil hunting in the Jurassic Coast can be very relaxing – and is easily on the the best things to do in Devon!
"It is above all an elemental place, made of sea, shingle and sky, its dominant sound always that of waves on moving stone: from the great surf and pounding … of sou'westers, to the delicate laps and back-gurgling of the rare dead calm…."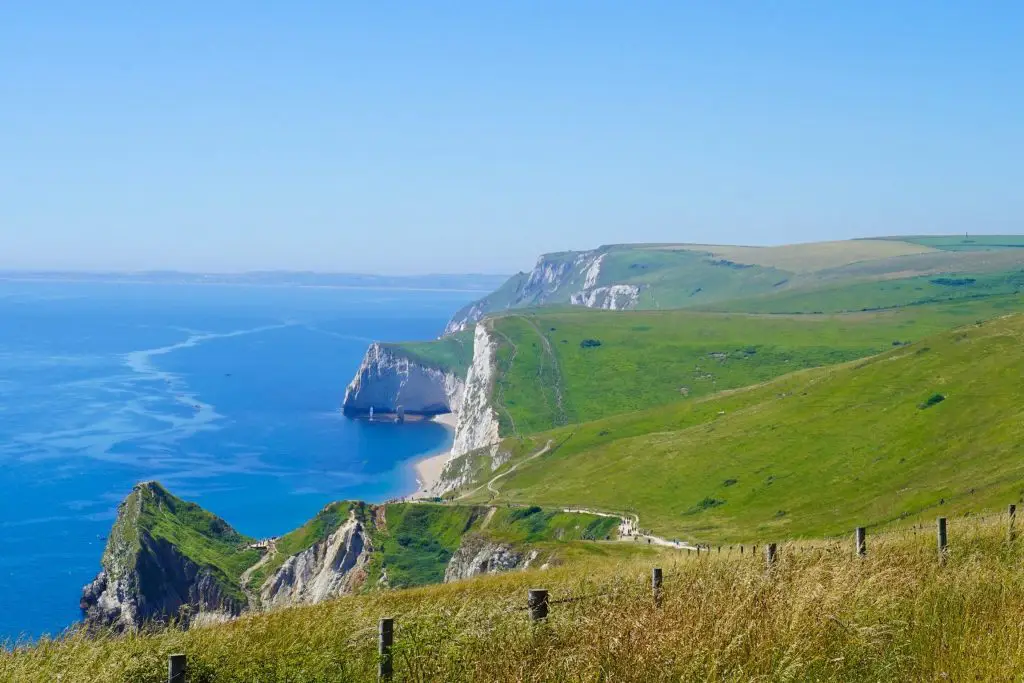 Things To Do In The Jurassic Coast: Dorset and East Devon Coast
Old Harry's Rock
First up, the massive Old Harry Rocks standing guard on the coast of England near Dorset for millions of years. The white outcroppings marks the most Northern extent of the Jurassic Coast.
Here all the fossil-rich line of cliffs come to an crashing halt with these glaring pillars.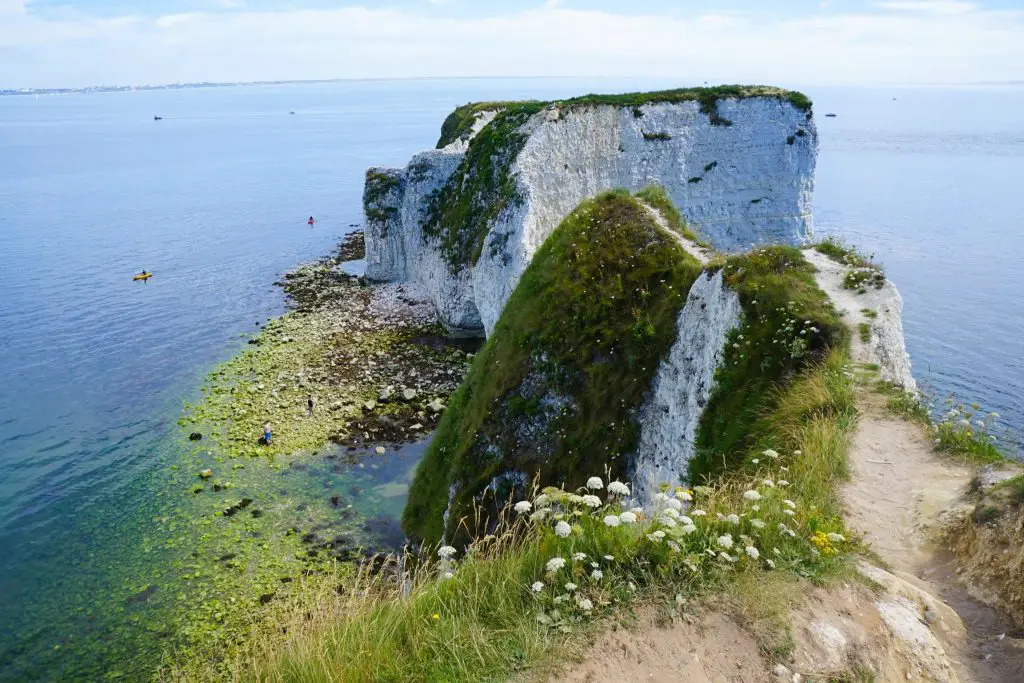 Lulworth Cove
A beautiful secluded cove with aquamarine water. One of the world's finest examples of such a landform. It looks exactly like a wine glass when viewed from above.
Which is perfect as fish and chips from the nearby shop and a glass of wine is exactly how best to enjoy this serene space!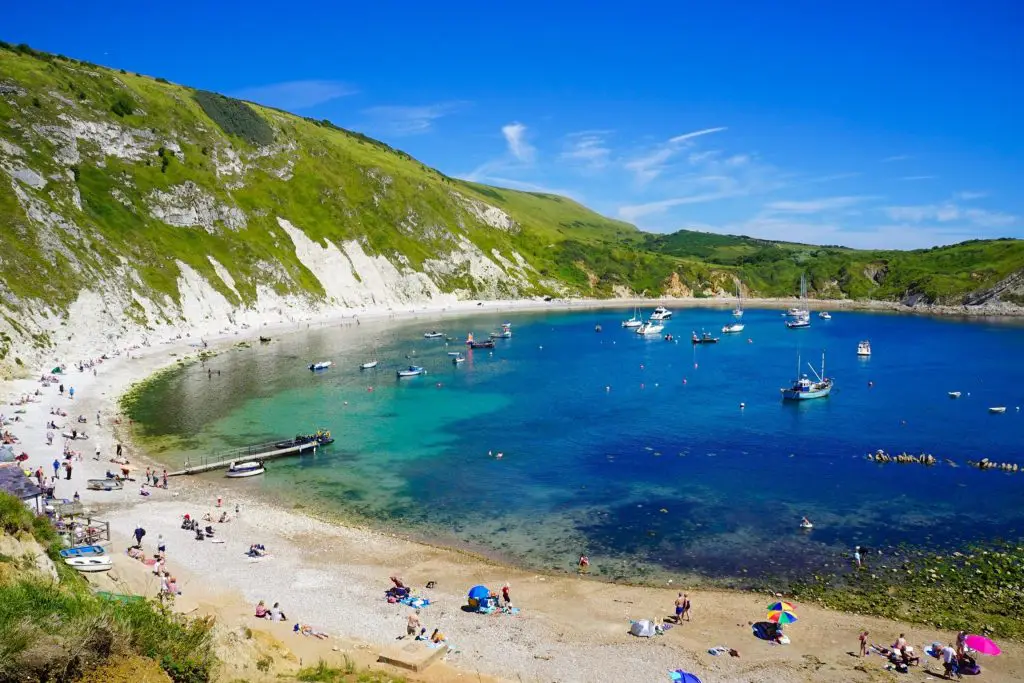 Stair Hole
Folded limestone strata, this is one of the best places to really understand how erosion has shaped this rugged coast. Probably more one for the geologically inclined, it also offers some pretty extreme climbing and its bottom is perfect for exploring with kayak on low tide.
It's tough getting around the Jurassic Coast by public transport – and having a car makes it so much easier to get off-the-beaten track!
Have a look at the best car hire deals in Devon and compare for yourself …. Trust us though, it's much better and more fun in a car!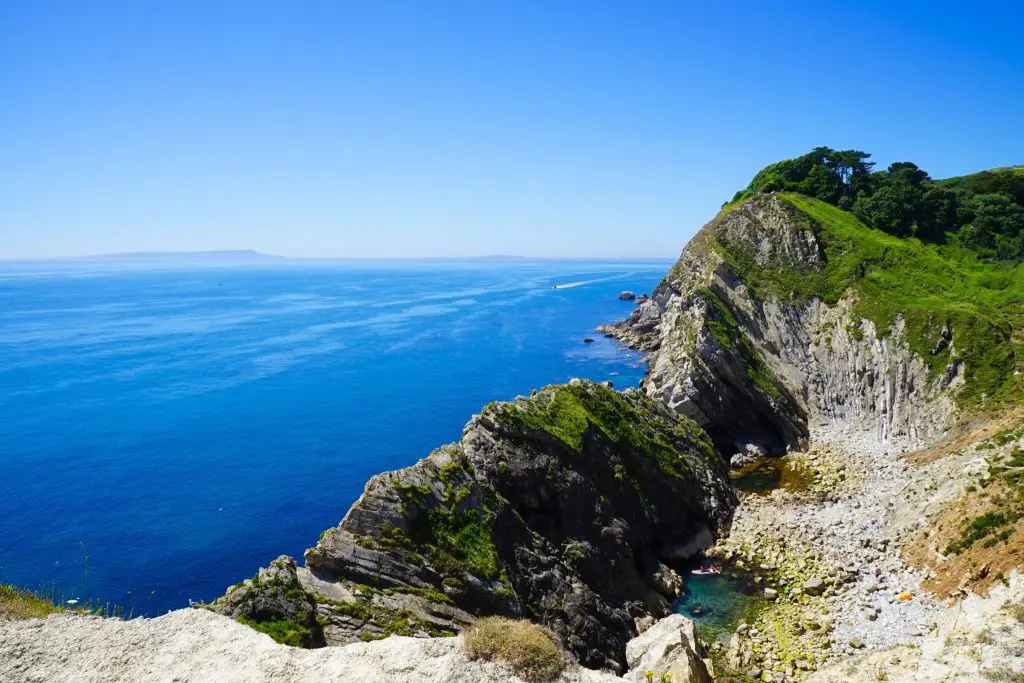 Durdle Door
Along along a steep coastal path lies the unmistakable limestone arch of Durdle Door, a gateway into paradise. Maybe sun lovers flock here for its desirable beaches but the more informed will note its geology— the beauty of the contrasting hardnesses of the rocks, and dizzying patterns of faults and folds.
A bit of a hike but thats what makes Jurassic Coast walking holidays so special!
Things to do in Jurassic Coast – Fossil hunting and wondering if you have arrived in Greece!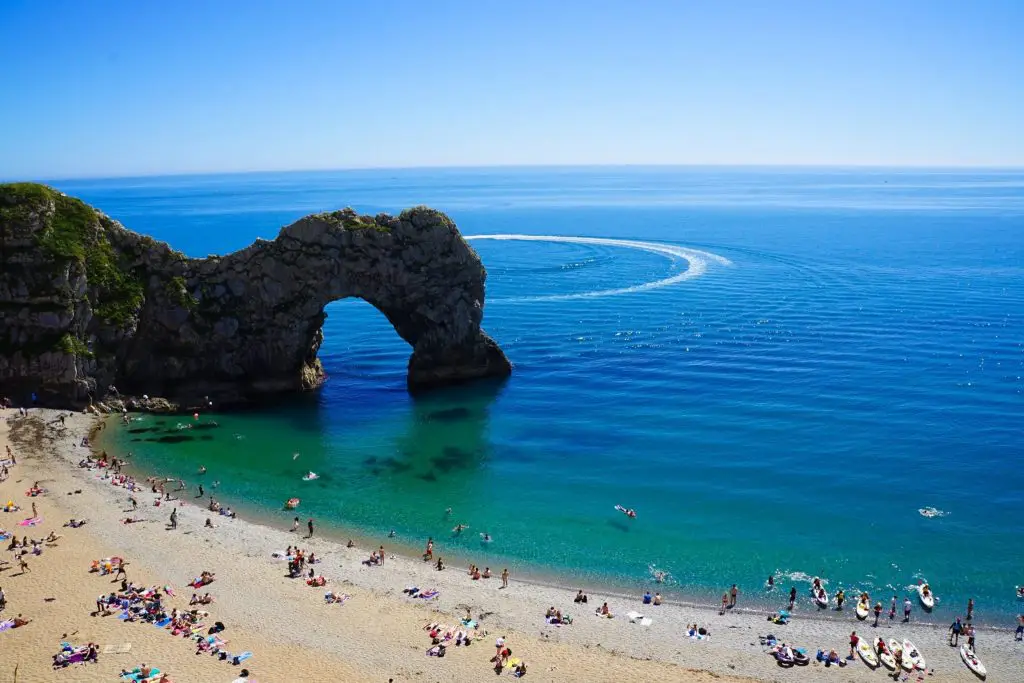 Portland Bill Lighthouse
.The Portland Bill Lighthouse has been guiding passing vessels through the hazardous waters of the Jurassic Coast and the East Devon Coast for over a century. It now has cult status and is considered a way mark for ships navigating the English Channel.
The third lighthouse to stand here in just over 300 years. The location also offers a stunning vista out into the boundless ocean.
---
If you like these things to do in Devon you might also be interested in:
---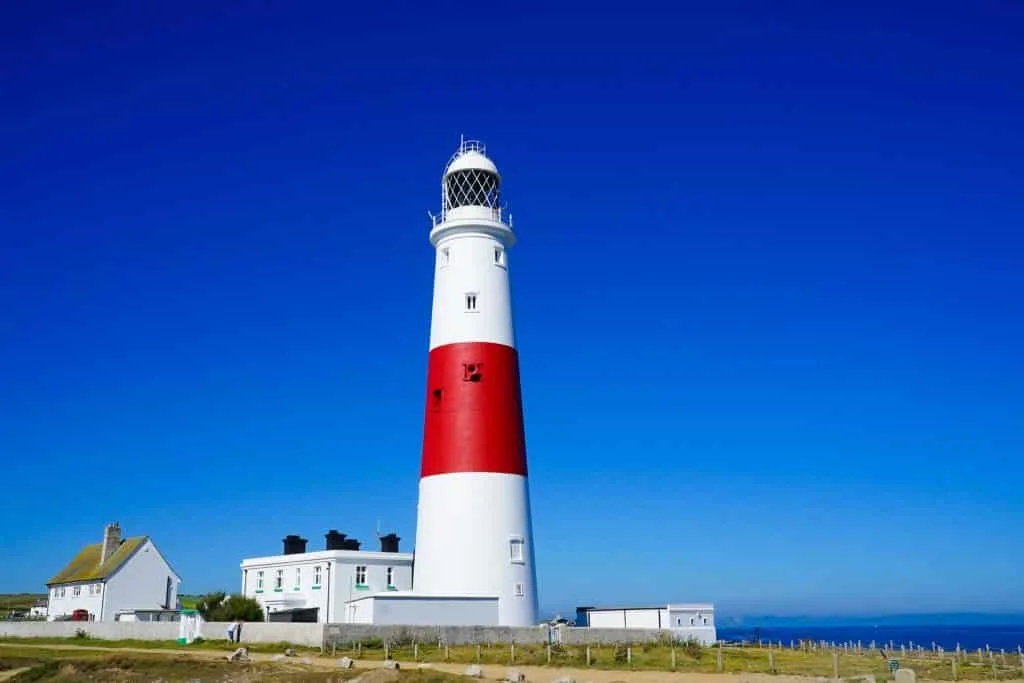 Chesil Beach
A 29 kilometre natural masterpiece, an embankment of impossibly well-sorted rocks washed up by the waves. This landscape is fleeting, likely to be re-claimed by geologic processes over time. Walking on this structure is also rather wild, your set sink in and making progress is like quicksand.
A different situation to be sure!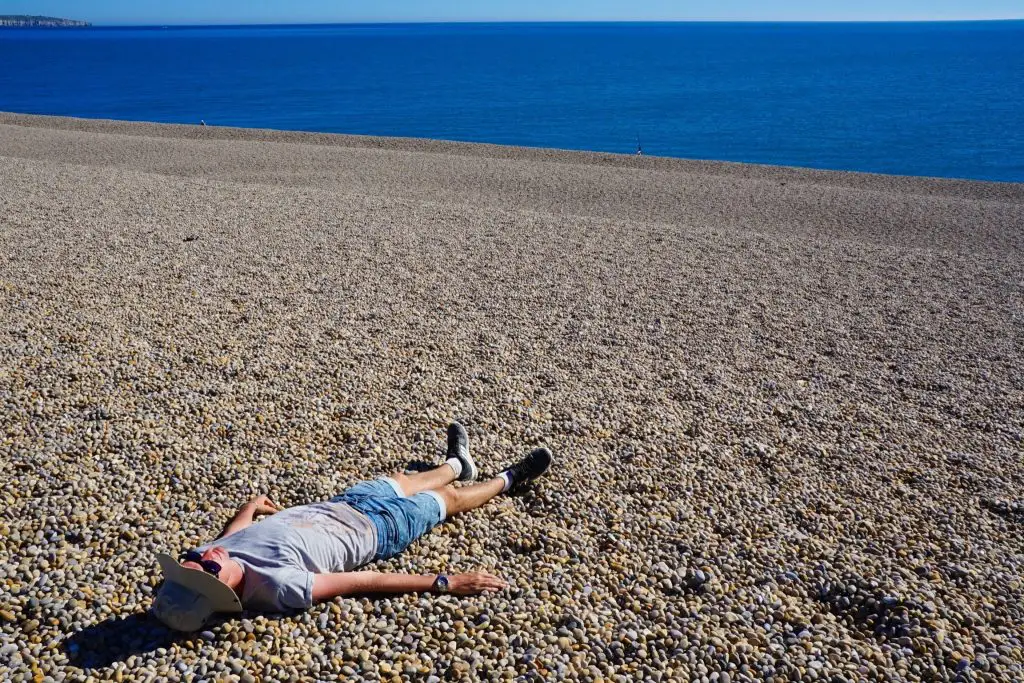 Stone Barrow Cliffs
A eroding shoreline that drops sharply into the sea. Don't be fooled by the swimmers and bathers the real prize here be fossils. As the cliff retreats rapidly it exposes millennium old fossils and other treasures.
Be vigilant, and if you don't find one you can always buy at the fossil shop nearby! Easily the best place for fossil hunting Jurassic Coast!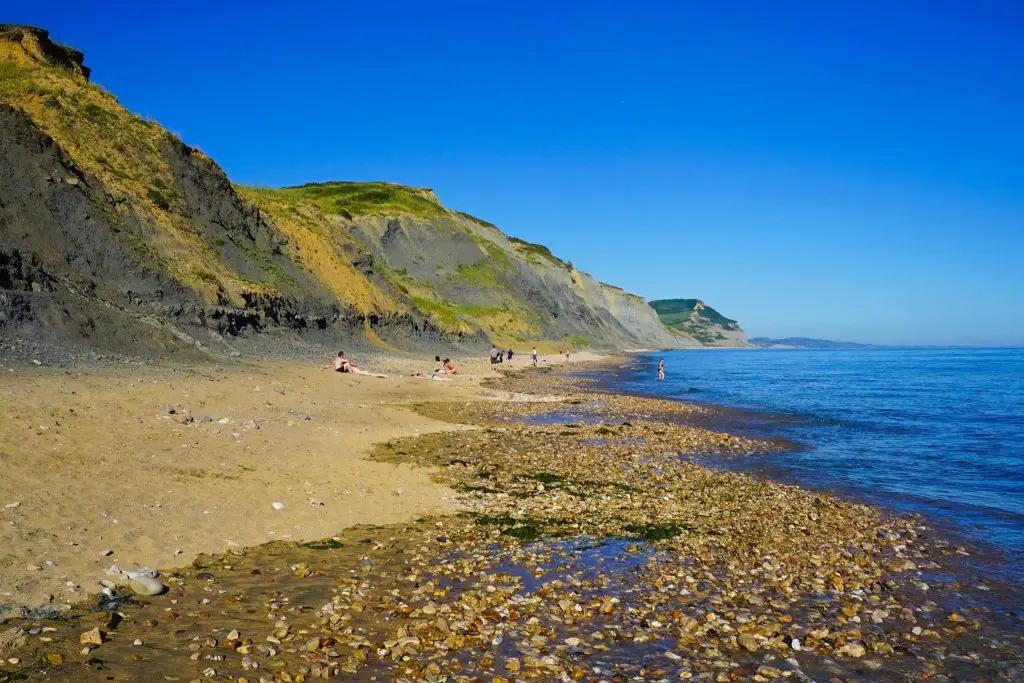 ---
In the Jurassic Coast nature is king. Hard forces rule complexity completely over the soft existence of living things. Continents are built up and then carved to dust just as it has for much of Earth's five billion years' time.
Hopefully you are inspired by these things to do in Jurassic Coast and will visit Dorset and the East Devon Coast in the future – this really is one of the best things to do in Devon. Don't forget to be on the lookout for fossils, and maybe the odd T-Rex!
Now you are obviously convinced on a holiday filled with things to do in the Jurassic Coast, Dorset and East Devon Coast why not take a gander at some of the beautiful little B&B's in Dorset and East Devon before they sell out – and get the best rates for rent a car's in Devon too!