Top of every adventure travelers bucket list, a visit to the time-warped Chernobyl Exclusion zone near Kyiv in Ukraine is one travel experience where even sky-high expectations are guaranteed to be exceeded.
There is just nothing else like it on Earth – and hopefully there never will be!
With so many iconic Chernobyl sites to see, including the abandoned fairground or creepy kindergarten, one day is simply never going to be enough to see it all.
The best way to fully experience the eerily deserted ghost city of Pripyat, the monolithic military radar Duga and, of course, the infamous nuclear power plant and newly installed 2nd sarcophagus is on an overnight tour from Kyiv…
Because there is nothing creepy at all about sleeping in a Chernobyl hotel, right?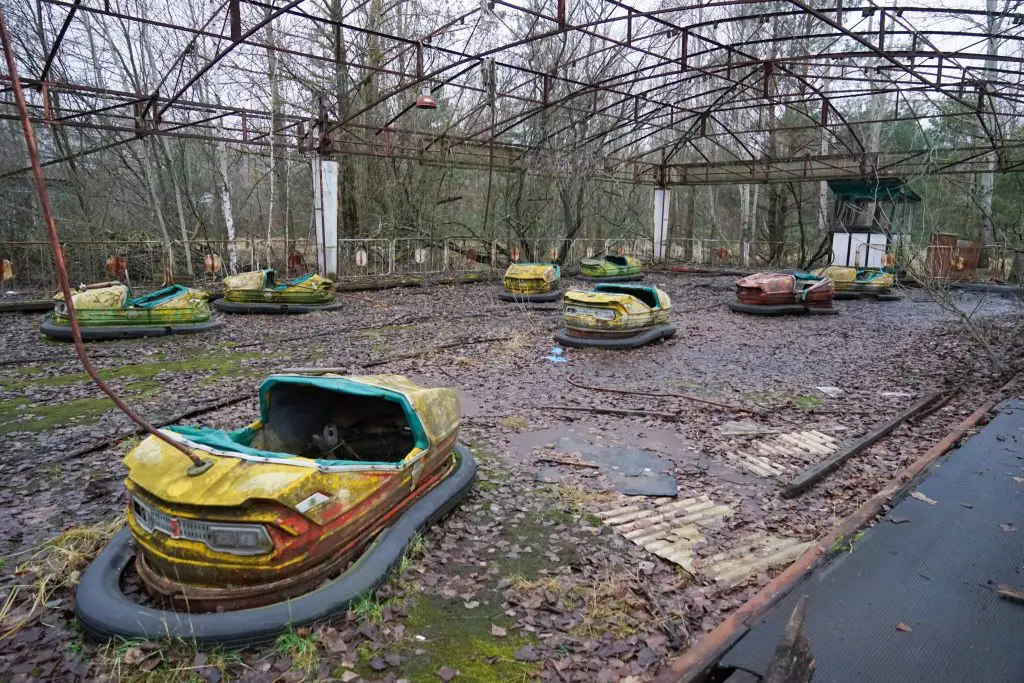 For such a once-in-a-lifetime experience, I dedicated hours reading reviews and talking to operators before trusting Go2Chernobyl.com with one of my biggest travel dreams. Suffice to say I was not disappointed *at all* as you can probably tell by all the epic pictures of Chernobyl and Pripyat here.
While there are plenty of amazing restaurants in Lviv, Chernobyl was still my favorite attraction in all of Ukraine! In fact, it was one of my favorite destinations in the world, up there along with the magical Isle of Skye, the ancient Tikal ruins, and fabulous Palm Springs.
Read on to find out more about the most severe nuclear accident in history, what to expect on a visit to Chernobyl overnight, vital radiation and safety guidelines and how to find out what you need to consider when picking a Chernobyl tour operator from Kyiv for yourself!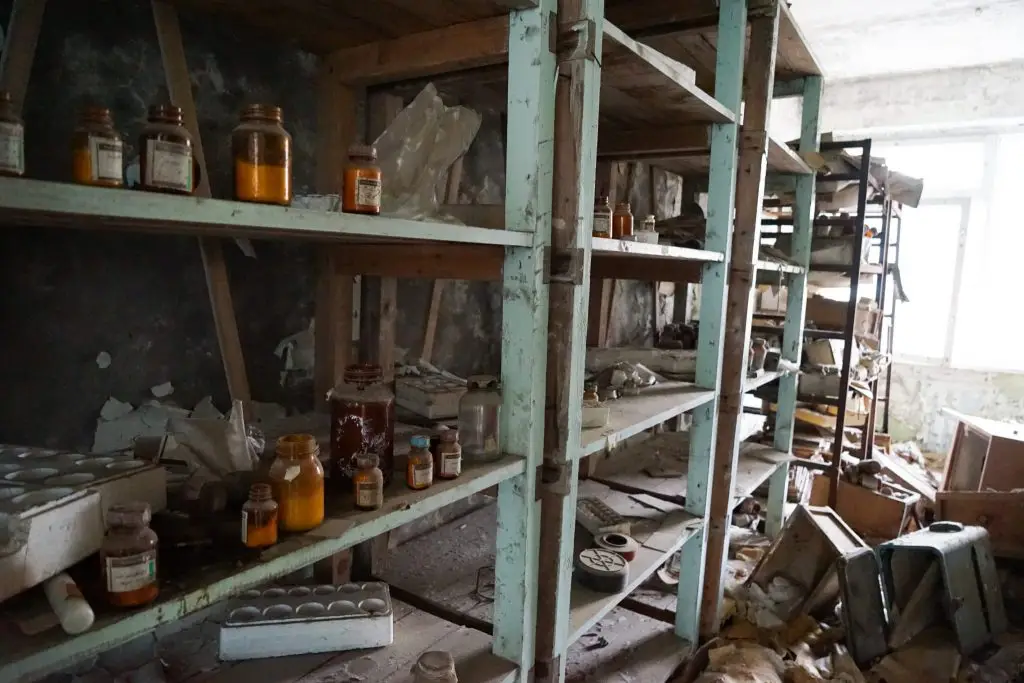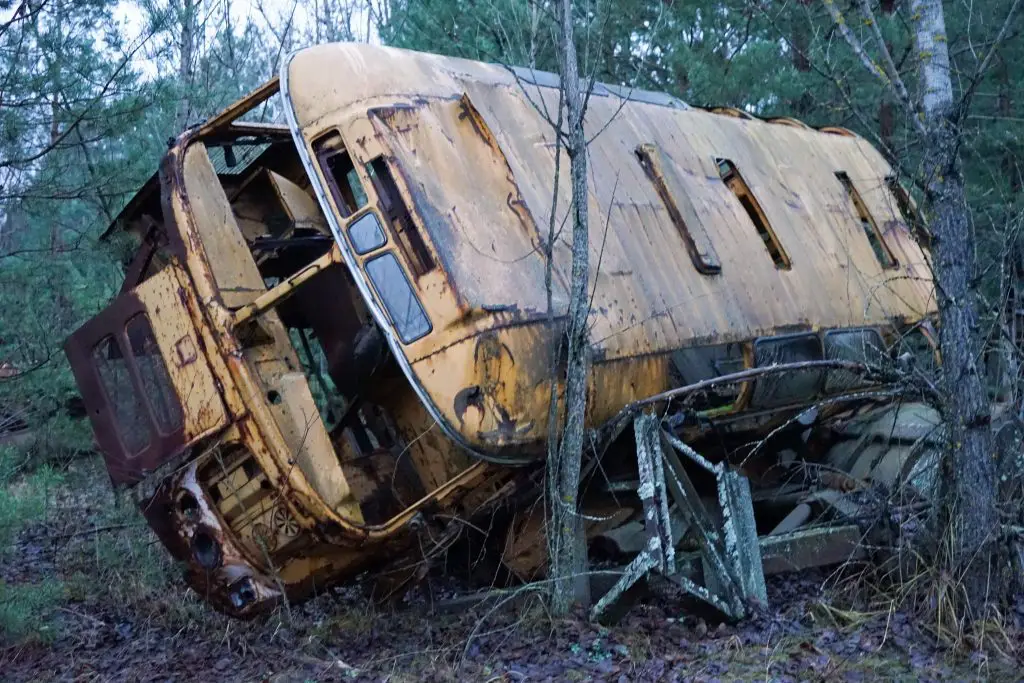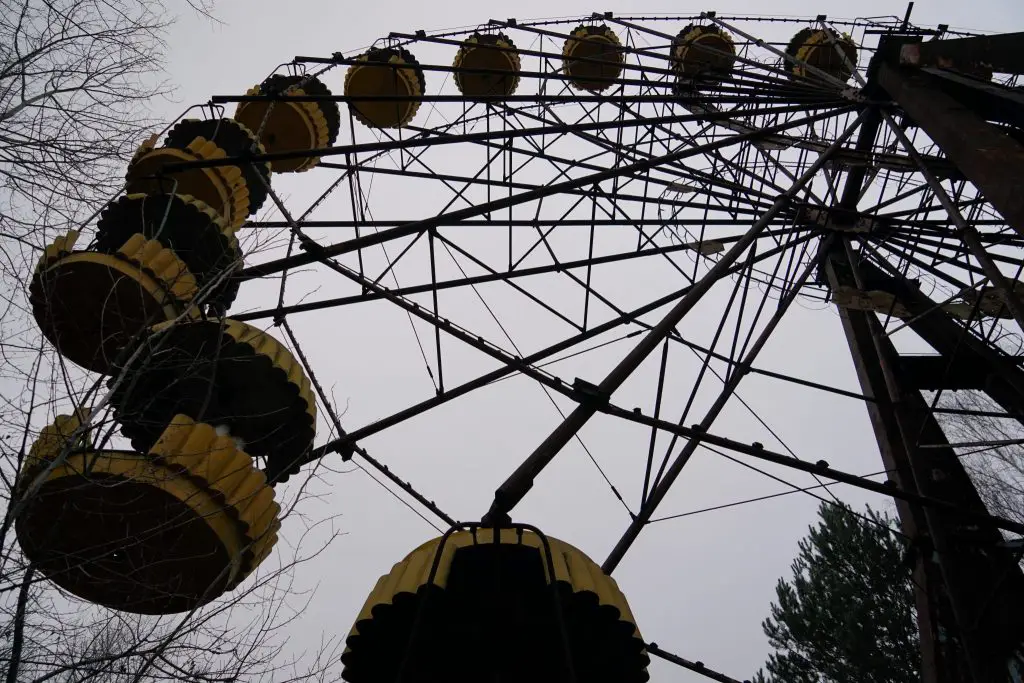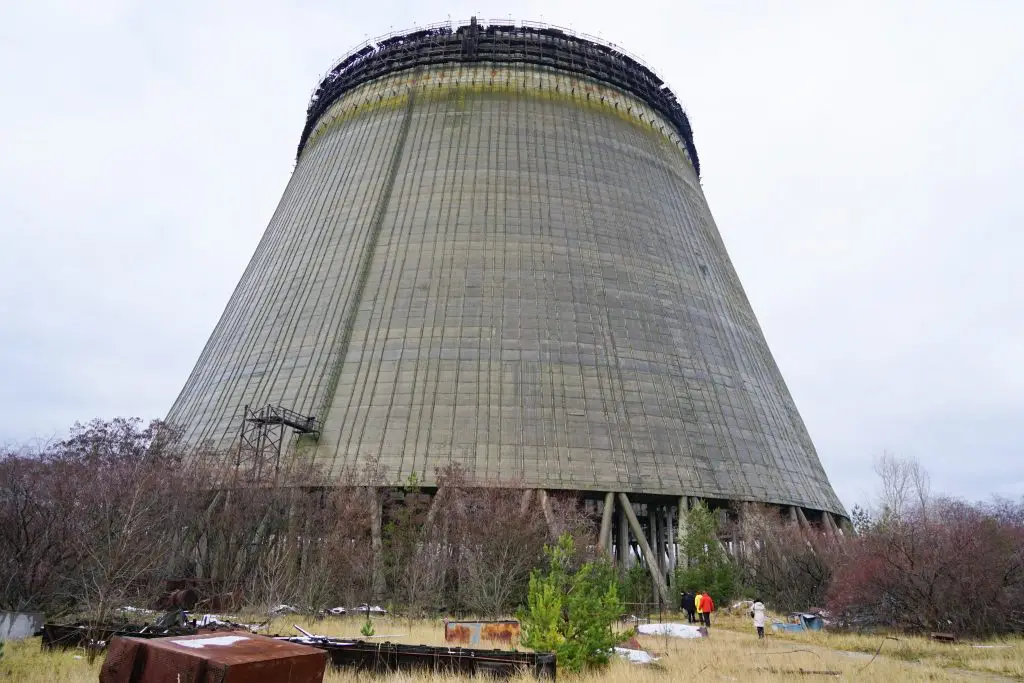 What To Know For A Overnight Trip Into The Chernobyl Exclusion Zone ☢️
History Of The Chernobyl Nuclear Disaster And Its Effects
On the 26th of April 1986, the world's most horrific nuclear incident occurred at the Chernobyl Nuclear Power Plant near Pripyat, a town in the northern Ukrainian Soviet Socialist Republic. It was a catastrophic nuclear accident in which the No.4 reactor entered uncontrolled reaction conditions due to inherent reactor design flaws and a late-night safety test, resulting in an explosion and subsequent open-air graphite fire.
For nine days, radioactive material from the reactor rose on the smoke plumes and was carried across Central and Western Europe, though most fell on what is now known as the Chernobyl Exclusion Zone.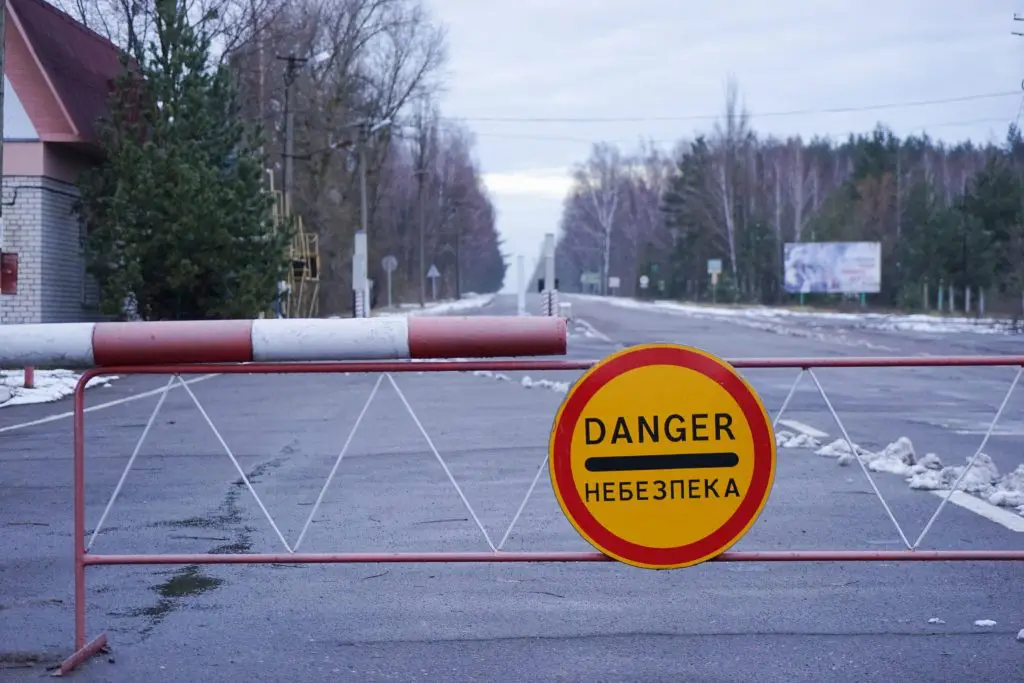 The Chernobyl incident claimed two lives in the explosion and 28 later deaths in the following months due to acute radiation poisoning. However, today it is estimated the number of deaths attributed to this disaster as much higher. Still, it is difficult to determine the causes of many cancers accurately – and Soviet research into this was hidden from the public eyes in the crucial years following.
Ultimately over 500,000 people were involved in the 'clean-up' immediately following the events, whole towns and villages abandoned. Even today, 2,500 people still work around the site, which will take until at least 2065 when the site will be closed off almost entirely. These Chernobyl "liquidators" or "clean-up workers" mainly came from Ukraine and Russia, but continents were brought in from other areas of the USSR like Estonia, Belarus, Latvia, and Moldova.
The Chernobyl accident was the most disastrous in history, in terms of both cost and casualties, and is only one of two level 7 International Nuclear Disasters, the other being Fukushima Daiichi nuclear disaster in Japan in 2011.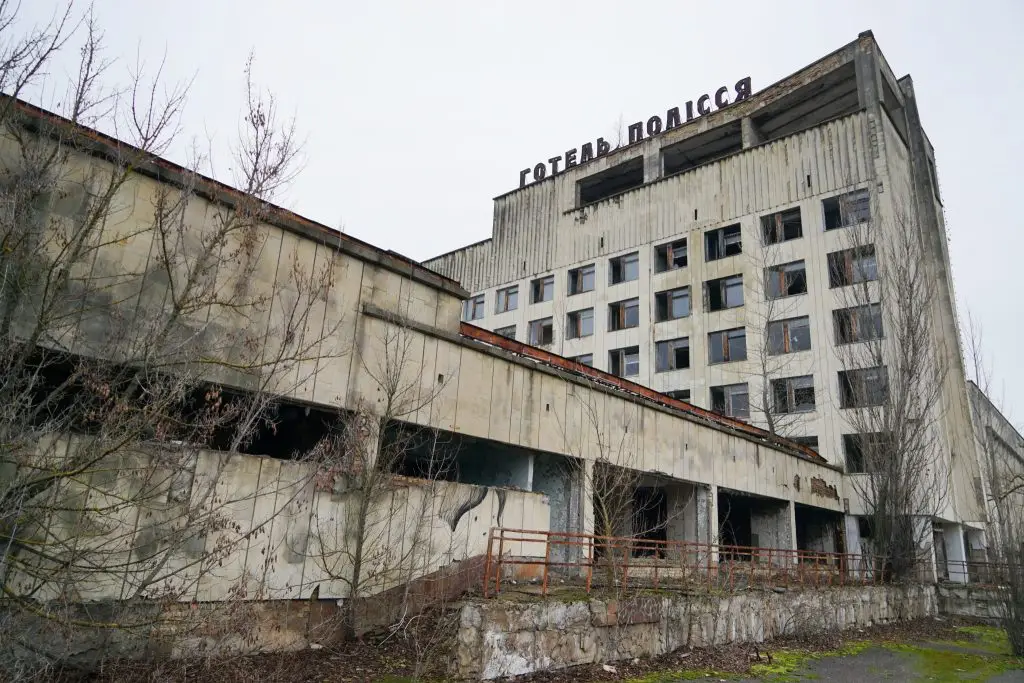 The remains of the No. 4 reactor were enclosed in a concrete sarcophagus to reduce the spread of radiation in the wreckage and to protect the operators of the other undamaged reactors. Yes, you read this correctly. The undamaged reactors continued to be used with No.3 reactor continuing to produce electricity into 2000!!
The Chernobyl New Safe Confinement was built directly over the old sarcophagus in 2017 at the cost of 1.5 billion euros, but even then is only expected to last 100 years, at which point something else will be needed.
In total, 95 villages and towns were deserted as a result of the disaster, and 135 thousand people rehoused or given compensation to live elsewhere. Much of the Chernobyl Exclusion zone has been totally deserted, with nature taking back over. Eerie and forsaken tourist attractions like the spooky Buchanan Castle in Scotland or abandoned Ho Thuy Tien waterpark in Vietnam have always been some of our favorite spaces to explore – but we have never seen anything quite on this scale before.
What to Expect On A Chernobyl 2 Day Tour
Below is what we did on our two day Chernobyl tour with Go2Chernobyl – but of course, each trip is different but should follow roughly this itinerary.
Diversions can, of course, occur to account for local conditions and daylight hours. However, the main highlights are listed below to give you an idea, but it's better to find out about every exact place when you are there yourself!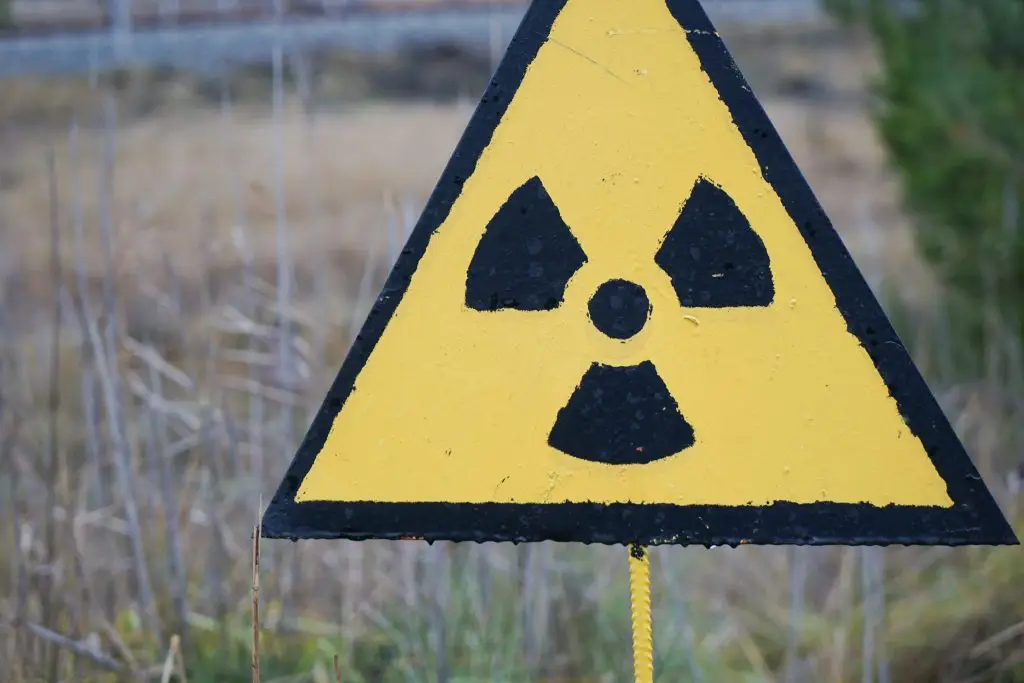 Day 1 Of Chernobyl Overnight Tour
Arrive at the Dytyatky checkpoint and complete check-in formalities.
Tour the city of Chernobyl, including the must-see city sign, memorial park, docks, and local shop to stock up on any supplies you might need.
Visit the Chernobyl Power Plant from a safe distance for photographing and visit the newly opened viewing area to see the freshly installed sarcophagus.
Head to the abandoned town of Pripyat for a walk. There is so much to see here, but highlights include the city sign, red forest, the bridge of death, the hospital, the old river port, the collapsed elementary school, the spooky cinema Prometheus, the palace of culture, a Soviet grocery store, the sports center, the famous amusement park (with Ferris wheel) and the football stadium turned to forest.
Continue your Pripyat sightseeing with a visit to the Police station filled with radiated machinery, and the old Firefighters station were the first responders to the Chernobyl blast left from (most of who did not return).
Overnight in a comfortable hotel in Chernobyl with WiFi!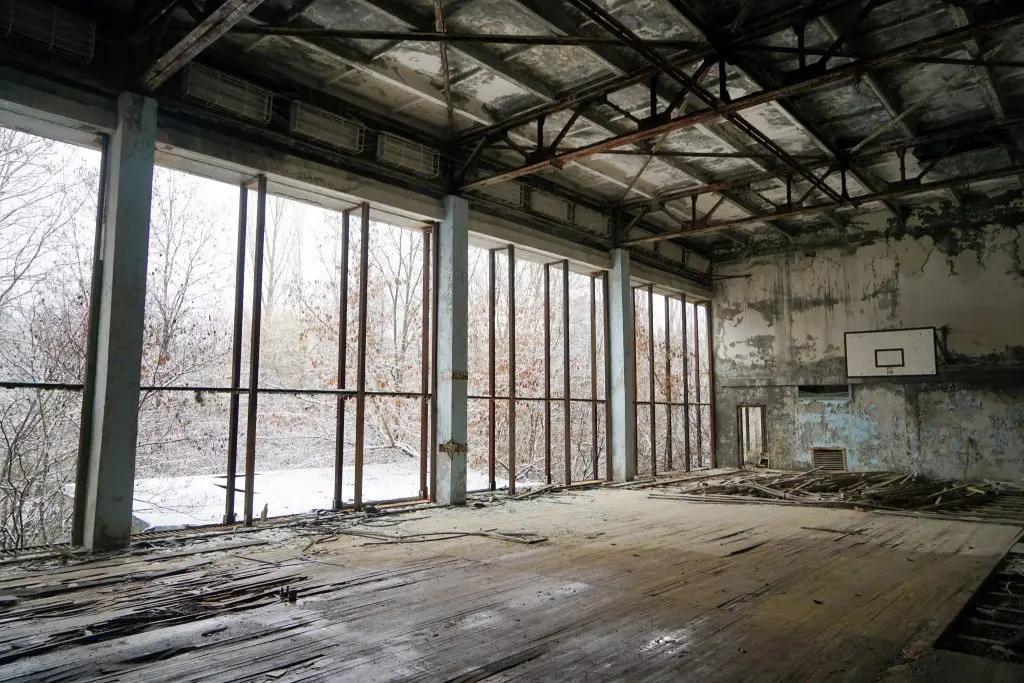 Day 2 Of Chernobyl Overnight Tour
Return for more in-depth Pripyat Sightseeing including the elementary school, the diving pool, apartment buildings, a roof-view of Pripyat city, the kindergarten filled with gas masks, a Soviet laboratory, and the high school.
Explore the long-secret military radar Duga (Chernobyl-2), which was planned to detect incoming missiles. We wouldn't be surprised if it ends up as a James Bond Film location in the future.
Wander the Rossoha military vehicle scrapyard and find abandoned tanks, trucks, helicopters, buses, fire trucks, and ambulances.
Check out the disused Fish Farm where after the disaster, Soviet scientists continued to use it for radiation experiments.
Visit the unfinished cooling tower, which was scrapped after the Chernobyl nuclear disaster.
Return to Kyiv exhausted, but having extensively seen all the sites Chernobyl has to offer.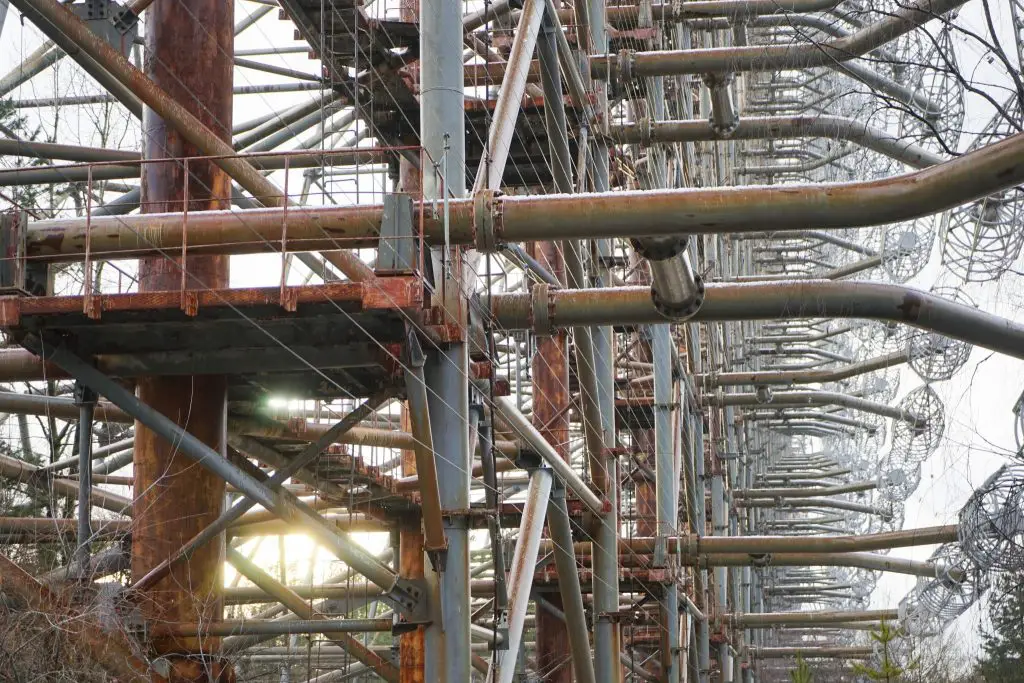 For our overnight accommodation, the Chernobyl Hotel we stayed in was modern, clean, and quiet and even came equipped with WiFi, which was a nice touch. Breakfast and dinner were served at a nearby 'pub' and was more than we could eat on every occasion.
Both lunches were served in the canteen near the Chernobyl Power Plant, which still serves workers involved in the decontamination and decommissioning of the remaining reactors.
So don't worry – You will not go hungry or have to sleep in any questionable places!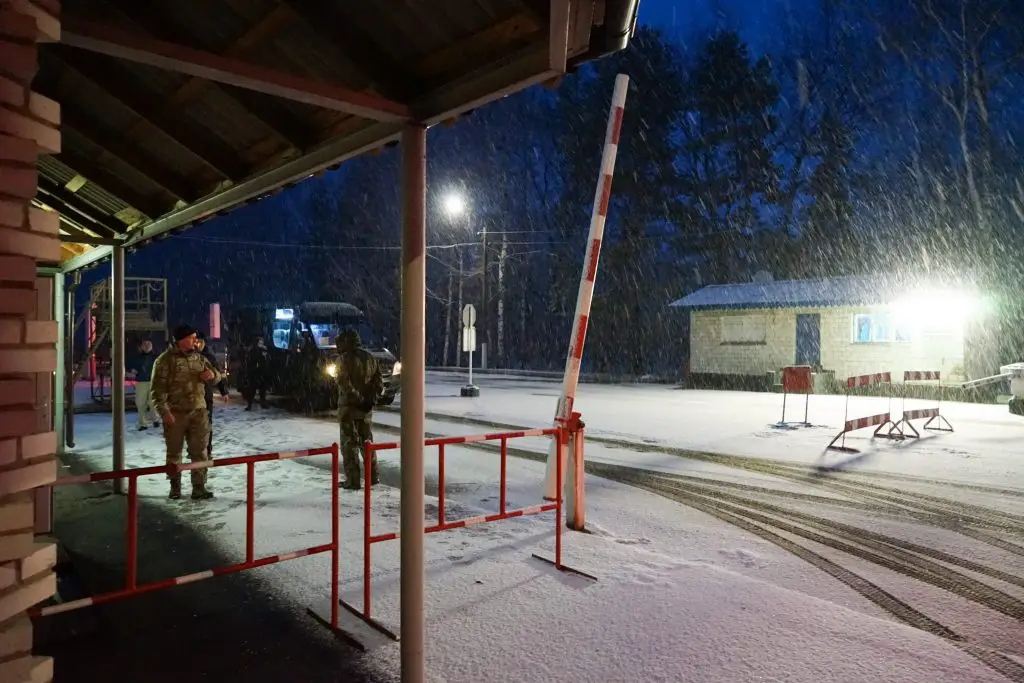 "So Should I Go on A 2 Day / Overnight Tour Of Chernobyl Or Only Visit For 1 Day"?
The question everybody wants to know …How long do I need in Chernobyl?
We one day is good, but two is so much better. Trust me, once your there, you will see why and won't want to leave. Especially given the amount of time it takes to get to the exclusion zone and through security!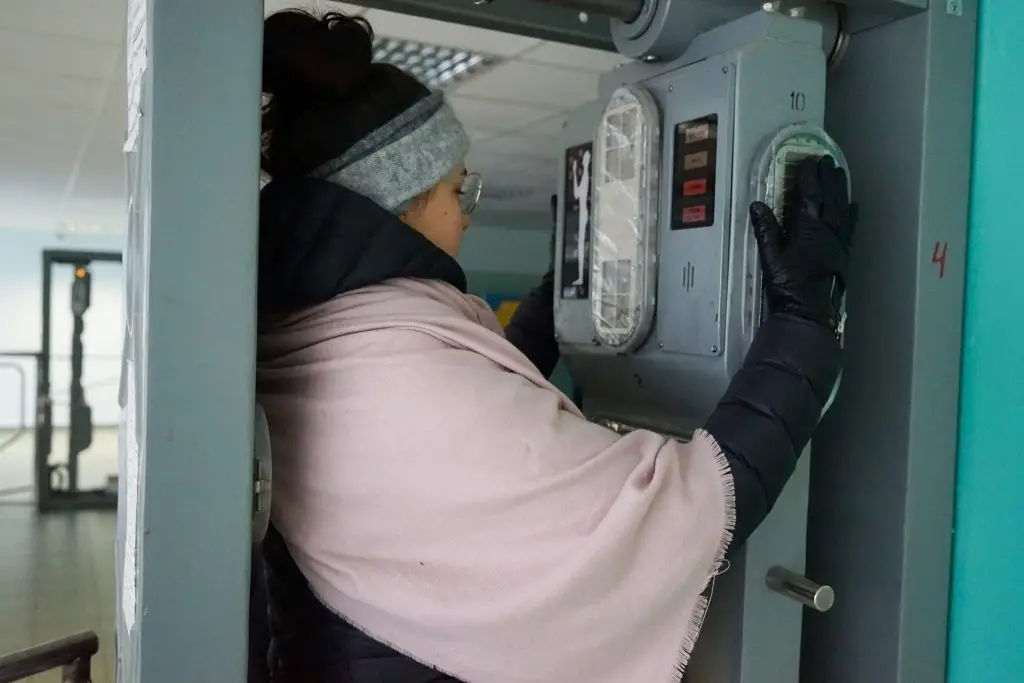 On a two day tour of Chernobyl, you get the opportunity to really explore the town of Pripyat and some of the less frequented sites. And here I mean *really explore* — if you know what I mean. Because, well technically, you are not allowed to go into any of the buildings at Pripyat at all. And on a one day tour with all those police around you have to follow the rules. On a two day tour, however, you are already in the exclusion zone and can arrive nice and early — if you get what I mean.
The distance between sites means you are rushed on a one-day tour, and to get the highlights, you're not going to be able to wander freely or ask all the information to get a real understanding of what took place here.
Just look at the whole day two itinerary for Chernobyl – and that's what you are missing out on. Not to mention the eerie experience of sleeping in a Chernobyl hotel (which was actually surprisingly pleasant, with WiFi no less!) and seeing the landscape under darkness or moonlight. It's a once-in-a-lifetime experience after all, and I never meet anyone who regretted going for two nights…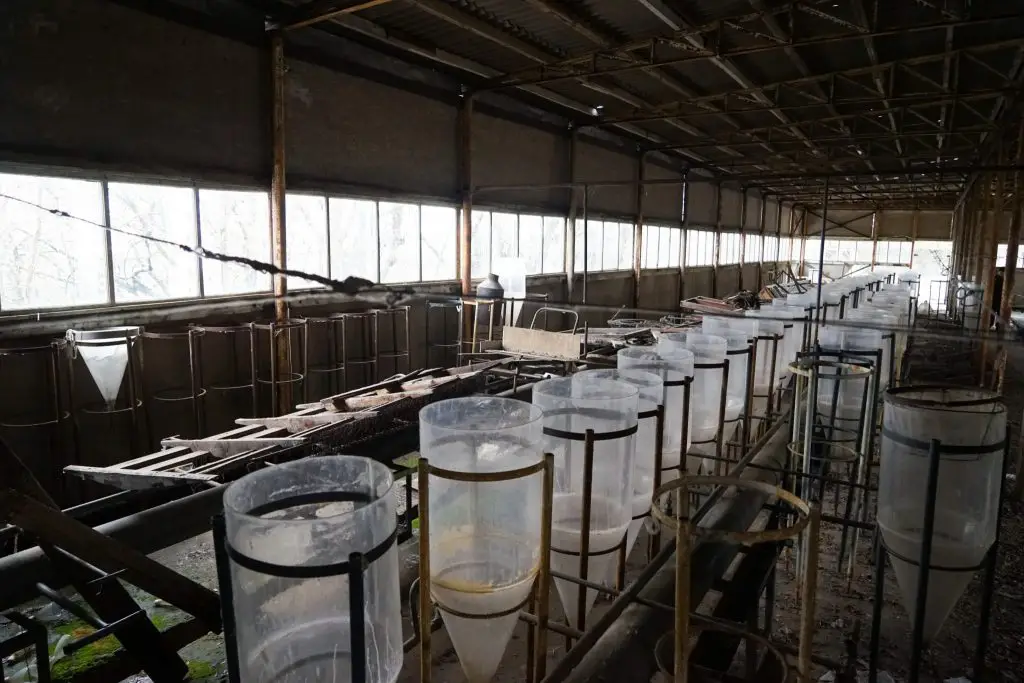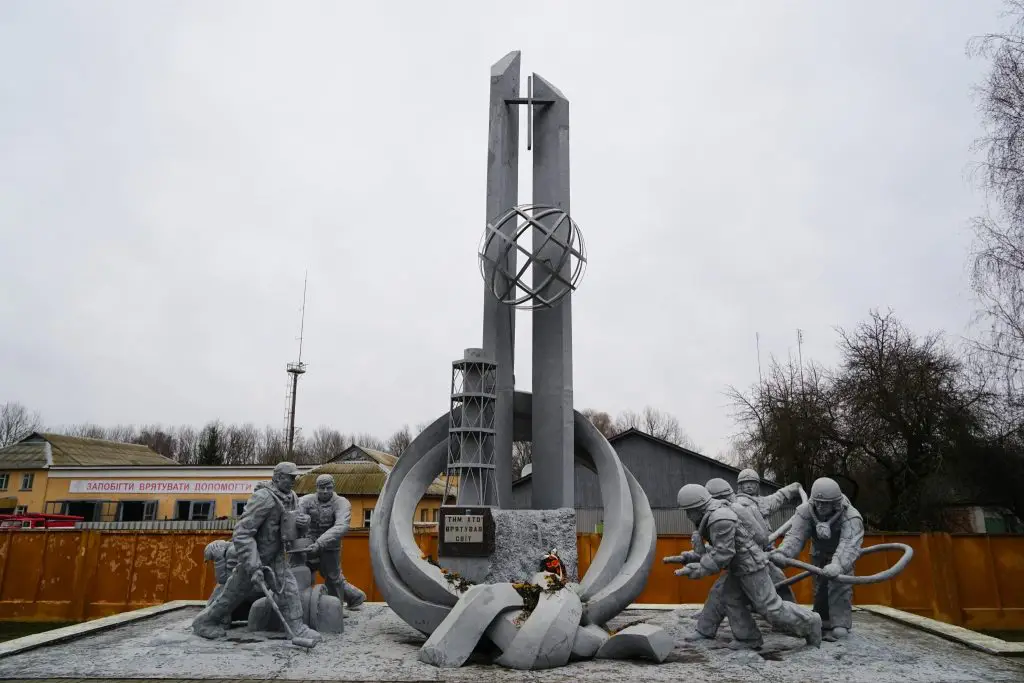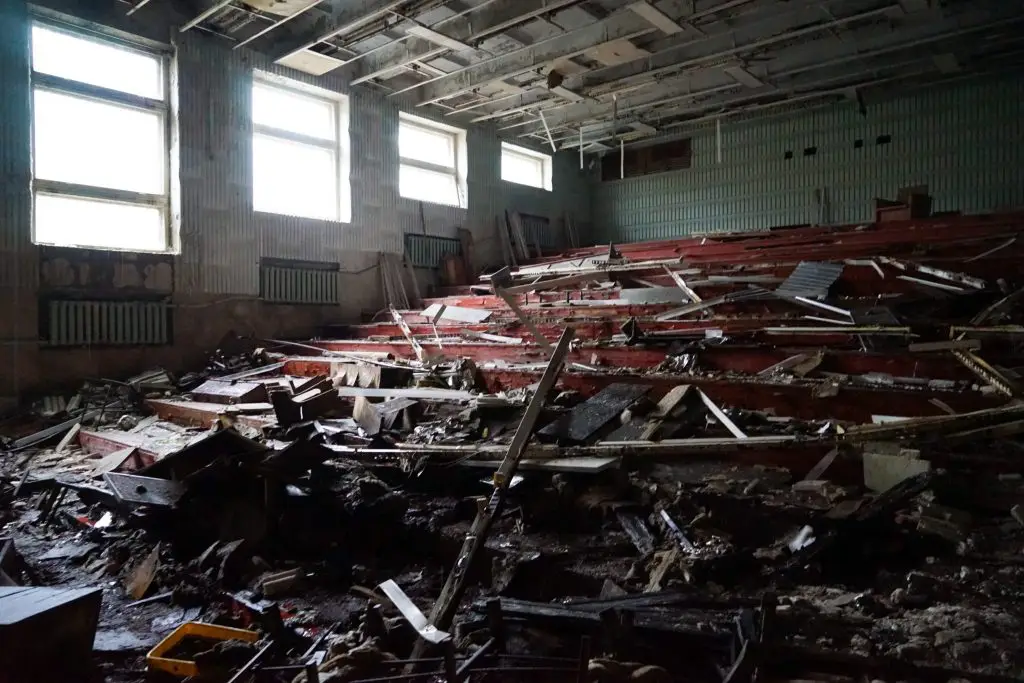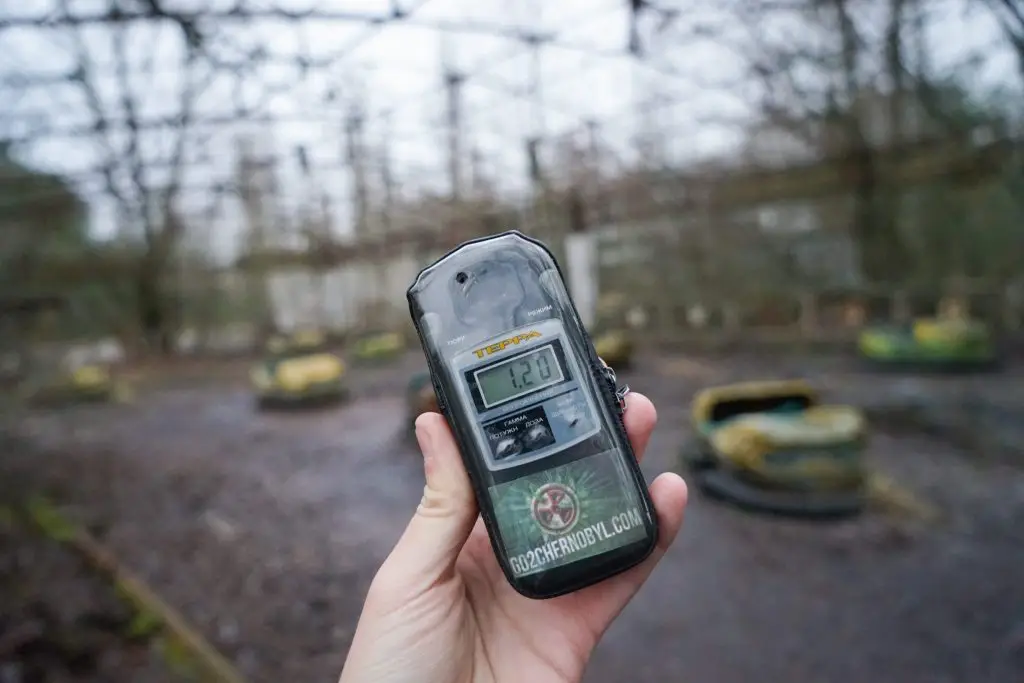 Safety Rules For Chernobyl – Don't Risk It!
While the dose of radiation received on an average two-day tour of Chernobyl is less than a transatlantic flight (and arguably less damaging than the air pollution of big cities) it is still imperative to follow all safety instructions given, to be on a safe side – and of course, radiation is not the only hazard you will encounter.
Consuming drugs and alcohol is prohibited during the trip (for common-sense).
Do not take *any* objects from the Zone, nor leave any sign that you were there. Keep yourself safe, and help preserve this unique place for future generations.
Do not stray from the designated path (or your guide). Every route is designed to minimize radiation exposure, and ensure your safety amongst the crumbling buildings.
Buildings can collapse here at any moment. Only go close and enter if your guide has given explicit permission.
Follow all directives from your guide without question—no exceptions or delays.
Wear clothes which cover most of the body: no shorts, skirts, open-toed shoes/flip-flops or short sleeves.
Don't eat or drink in the open air within the exclusion zone.
Do not place your belongings at any point on the ground, or sit on the ground yourself. If any of your objects are contaminated and cannot be cleaned, they must be left at the security checkpoints.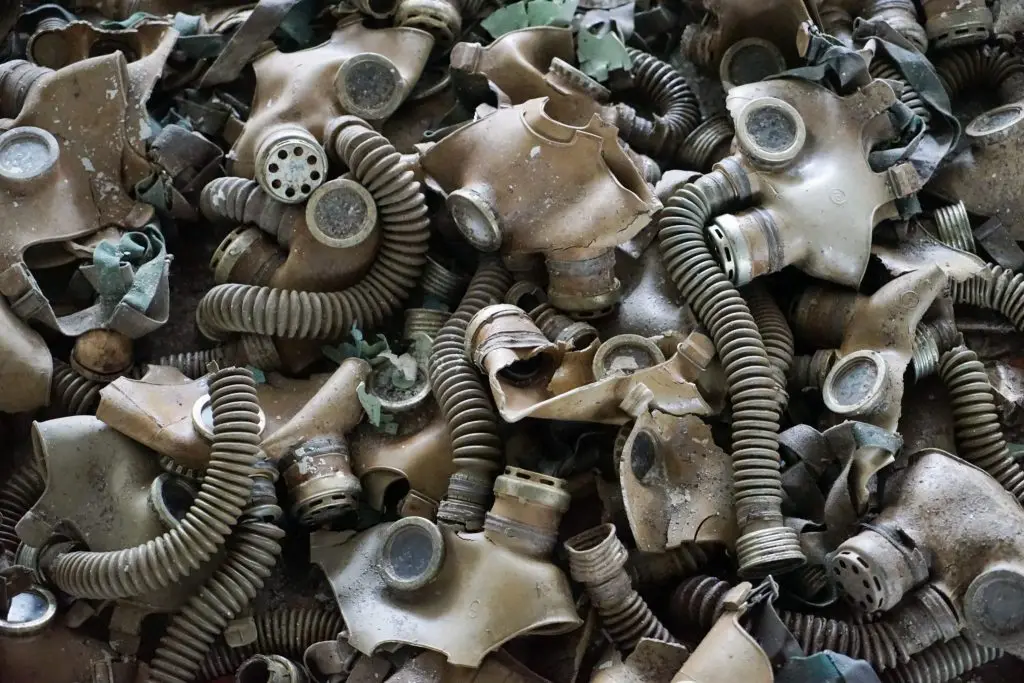 Above all, do not decide to try to enter the exclusion zone yourself, or 'make your own tour' illegally.
A few people have tried in recent years – thinking exploring Chernobyl is more of an adventure, but many areas have yet to be decontaminated. By sneaking around, you will be exposing yourself to vast amounts of radiation, potentially dangerous situations involving crumbling buildings and wild animals – and of course, be breaking the law, which is taken very seriously here.
One Belorussian Tourist recently died after attempting to climb the Duga Rader by himself. I repeat – do not try to visit Chernobyl without a tour, under any circumstances (and no matter what anyone else tells you).
Choosing A Trusted Chernobyl Tour Company
For this once-in-a-lifetime experience into the Chernobyl Exclusion Zone, you want to ensure you are in good hands.
Not only can it be incredibly dangerous (this is a radiation covered, abandoned town after all), but you want to trust your tour company of choice to show you all the best spots and experiences possible. Sadly, not everyone does this – and while I don't want to name and shame, let's just say we read plenty of horror stories online and heard stories of disappointment from other travelers in hostels in Kyiv.
Luckily our choice of Go2chernobyl.com was a smooth experience from beginning to end – so we had no issues what-so-ever!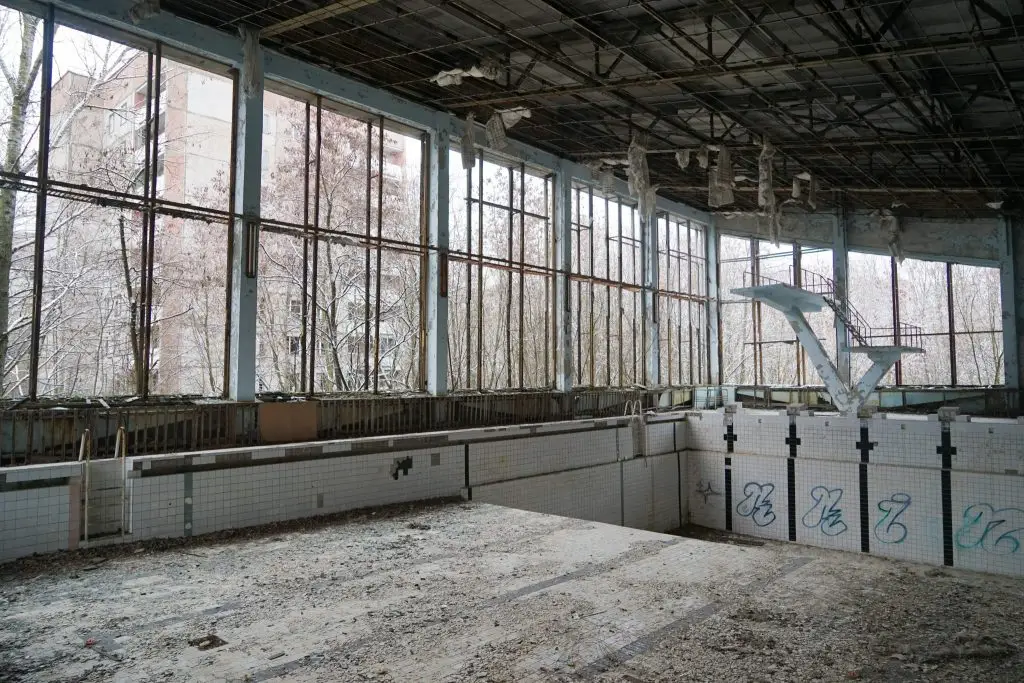 Go With A Reputable Company!
While all guides in the Chernobyl Exclusion Zone don't actually work for the tour companies but are part of a bigger collective (ensuring safety and quality amongst other things), it is well known that some tour companies get better guides due to long-standing relationships, and our's was absolutely fabulous.
Not only did he speak fluent English and could answer every single question we threw at him, he genuinely wanted to show us all the areas of Pripyat he could, while stopping us from entering any places that were genuinely dangerous (e.g., brick buildings are a no-go, but concrete structures tend to last longer).
We even left the Chernobyl hotel far earlier than every other group of the second morning, too, meaning we had the entire city to ourselves …..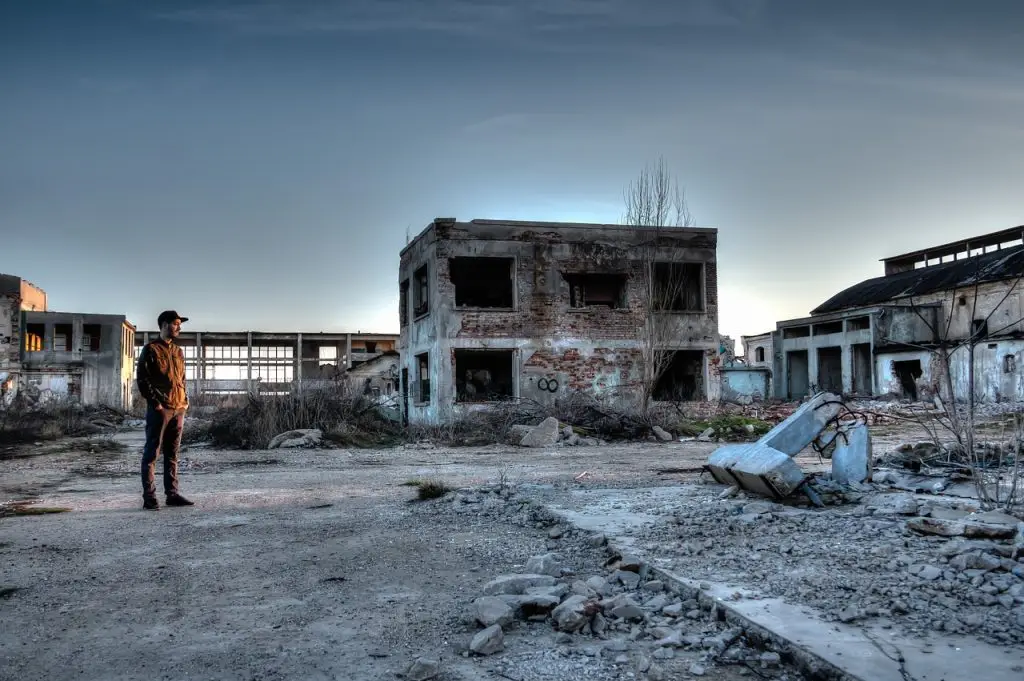 Paying More Does Not Get You More!
Ukraine is a pretty cheap country for Western tourists, which is excellent. Still, seemingly many internet-savvy businesses have realized they can charge up to double the expected price of a Chernobyl tour online with some slick marketing for *exactly the same produce*.
We stayed in the same hotel and ate at the same place (there is not exactly a lot of choices!) as people who paid a lot more than us and had a far bigger group of 15 versus our 7…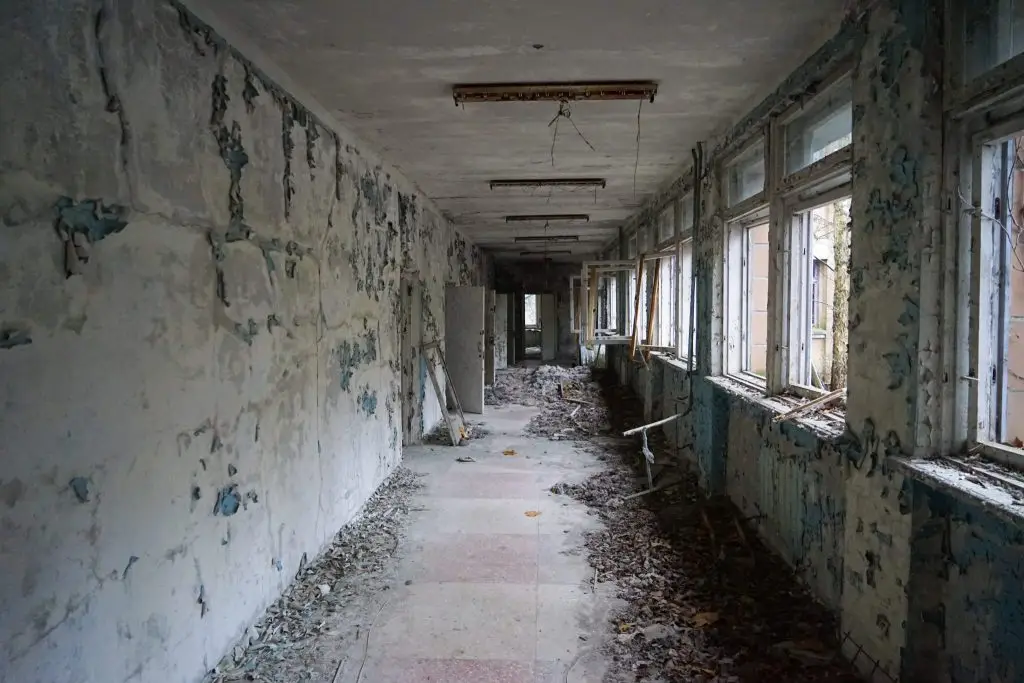 Make sure everything is clear and transparent upfront.
Of course, it can go the other way, and the price of a tour to Chernobyl is too low, with many things not included, so get everything in writing. We paid USD 224 each for our tour with Go2Chernobyl.com, including absolutely everything except the dosimeter/gigameter rental for Chernobyl, which was 300 UAH clearly stated upfront.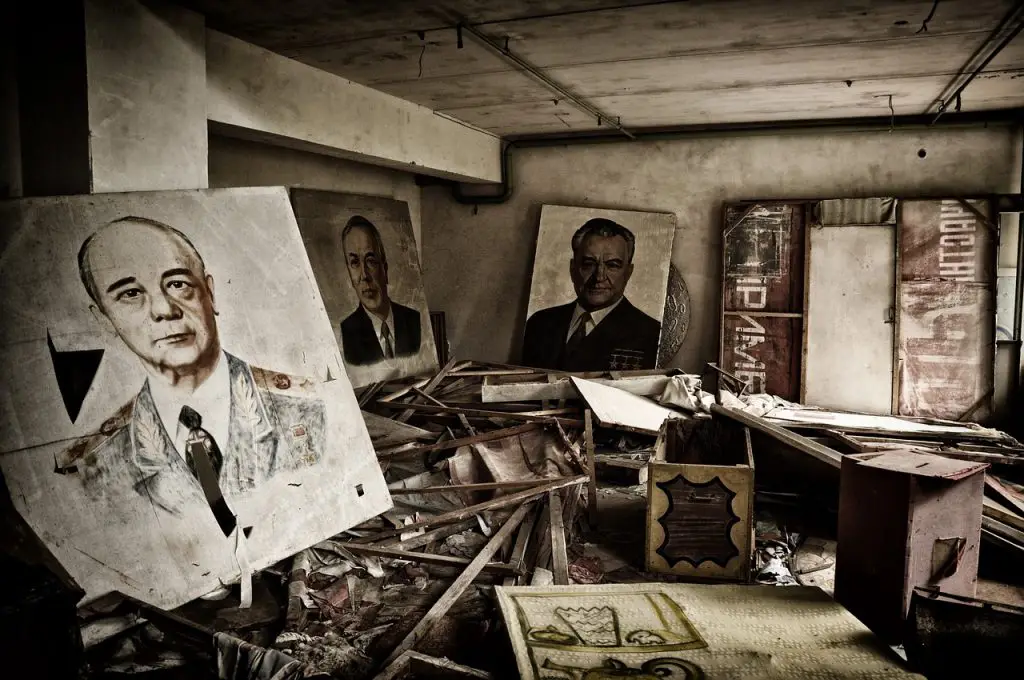 To be clear, you should make sure all of these things are included on your tour to Chernobyl overnight:
Full visit to Chernobyl exclusion zone
Transport in a heated/air-conditioned minivan
All Meals (Lunch, dinner, breakfast, lunch)
Overnight stay in a Chernobyl hotel.
Mandatory Insurance
Organization of permits required to visit Zone, including the 30 km zone, the 10km Zone the city of Pripyat, and the Duga radar station.
An authorized guide who is fluent in English
Permission is necessary to take all the photos and videos you like.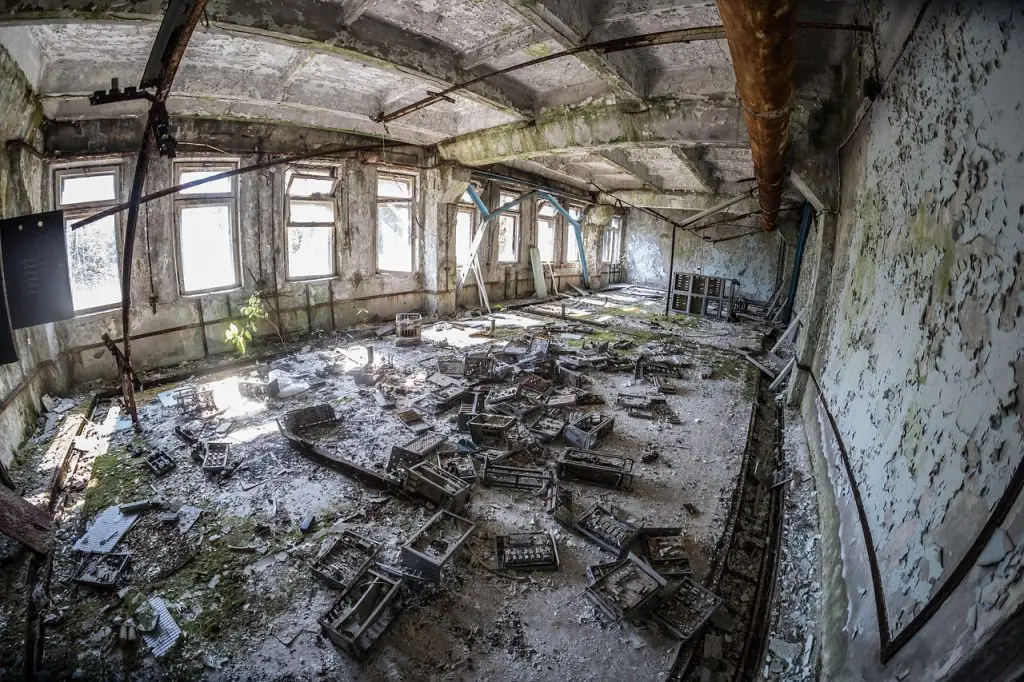 Based on my epic experience and their TripAdvisor reviews, I recommend you first check out Go2Chernobyl.com when looking for overnight tours to Chernobyl (or only a one-day Chernobyl tour if you're really short on time).
This is based not only on their rapid email response time and efficiency when booking but the quality of the guide they sourced for us, the transparency about all costs, the great price-point, and smooth-running operation at all points. They only seem to run tours in vans, not buses, however, which is great so you do not end up with tour groups of 25-30 people like other companies, but on our tour, we only had seven, which was great!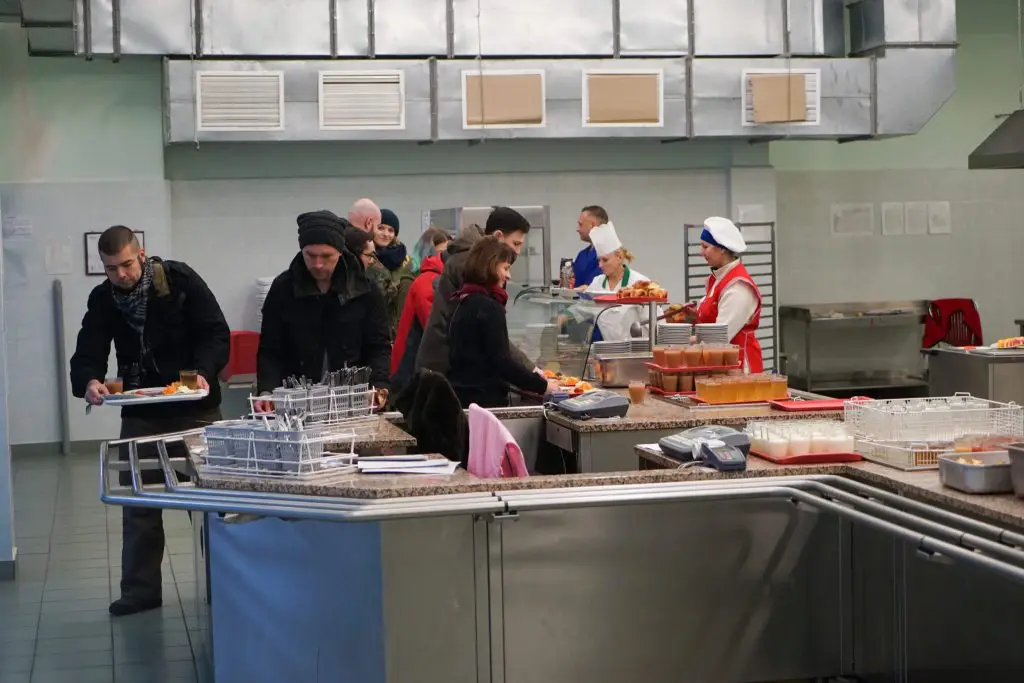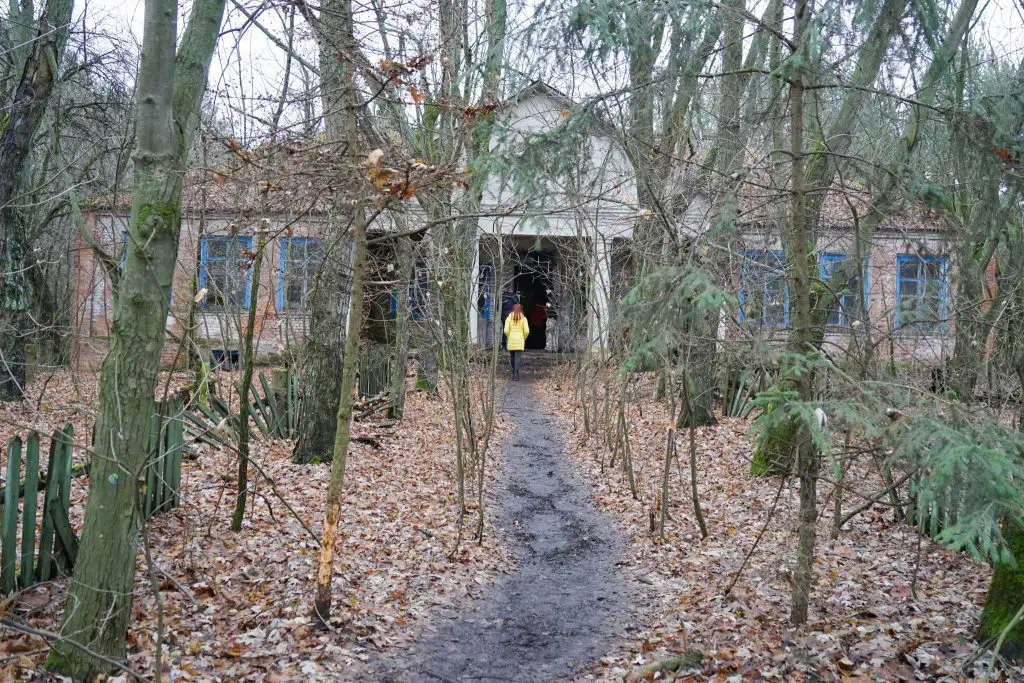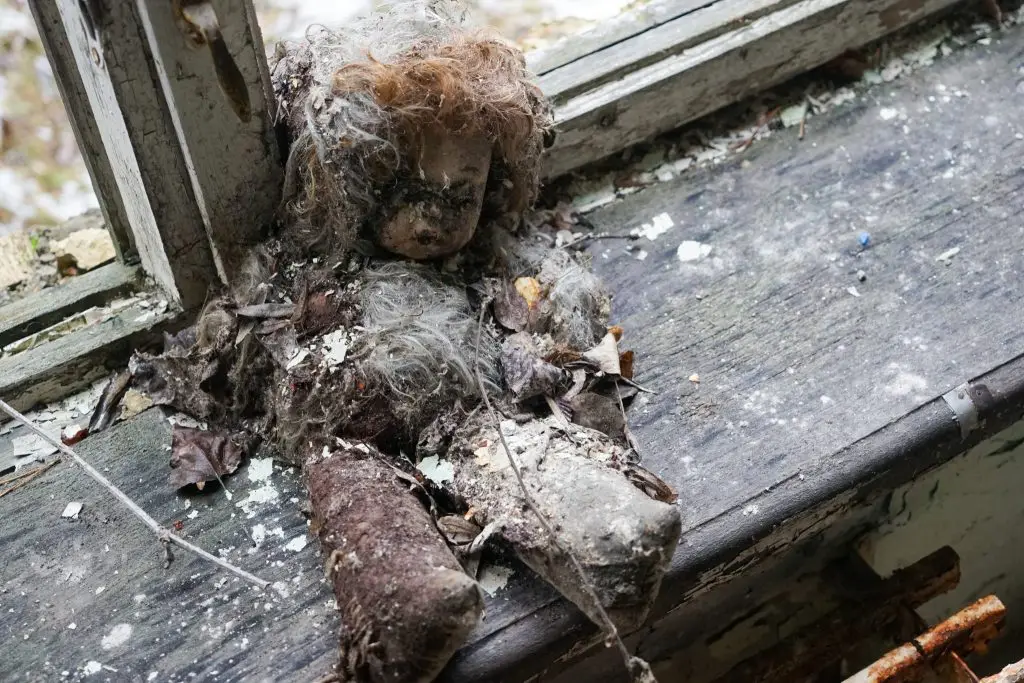 What To Bring For A Tour To Chernobyl Exclusion Zone
There are no particular recommendations or mandatory equipment you will need for a Chernobyl tour from Kyiv you might find this Chernobyl Packing List helpful (based on an overnight visit).
Chernobyl clothing should cover as much of your body as possible. In summer this means long sleeve t-shirts and pants, with covered shoes. In winter, this is layers as it can get freezing. Flip-flops and shorts are not acceptable and are potentially dangerous.
Drinking water and snacks. There are a few stops where you can buy things, but for specific snacks, you're best to bring your own.
A Flashlight (or light on a phone in this modern age)
Rainy weather gear. You never know what can happen, and you will be outside for a significant amount of time.
Wet wipes. As I said, be prepared for anything!
A radiation measuring device. Hiring a Geiger counter at Chernobyl is really interesting and worth it to see how measurements change through-out different zones. If you don't have your own (who knows — maybe you do!), I hired mine from Go 2 Chernobyl for 300 UAH., Or there is a very cool iPhone radiation attachment you could pick up quite cheap.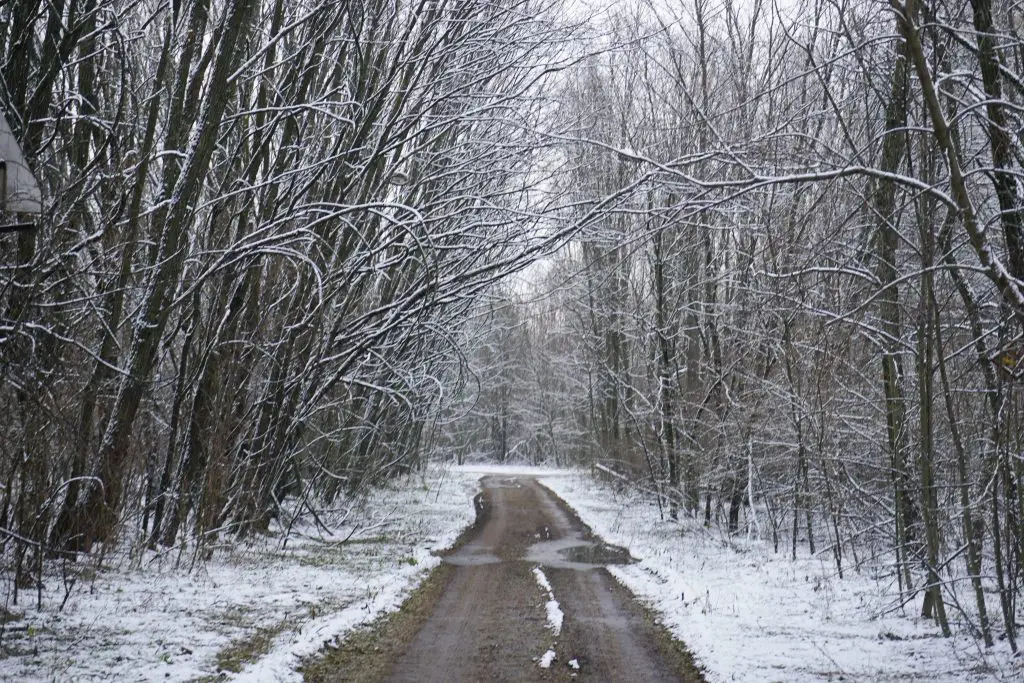 You do not need to throw away your clothing after the tour, but there is a slight chance you may be asked to throw away any items which have a particularly high radiation count as you exit the exclusion zone.
This is only really possible if you roll around on the ground, so it should not happen, but it's best you don't take your best clothes or anything you would miss into Chernobyl.
A proper wash when you get back is all your clothes should require, but if you are paranoid or want to take extra care you can also by a Full Radiation Protection Suit for Chernobyl from Amazon before your tour, or just buy cheap clothes and throw away after the tour (but I don't recommend this.)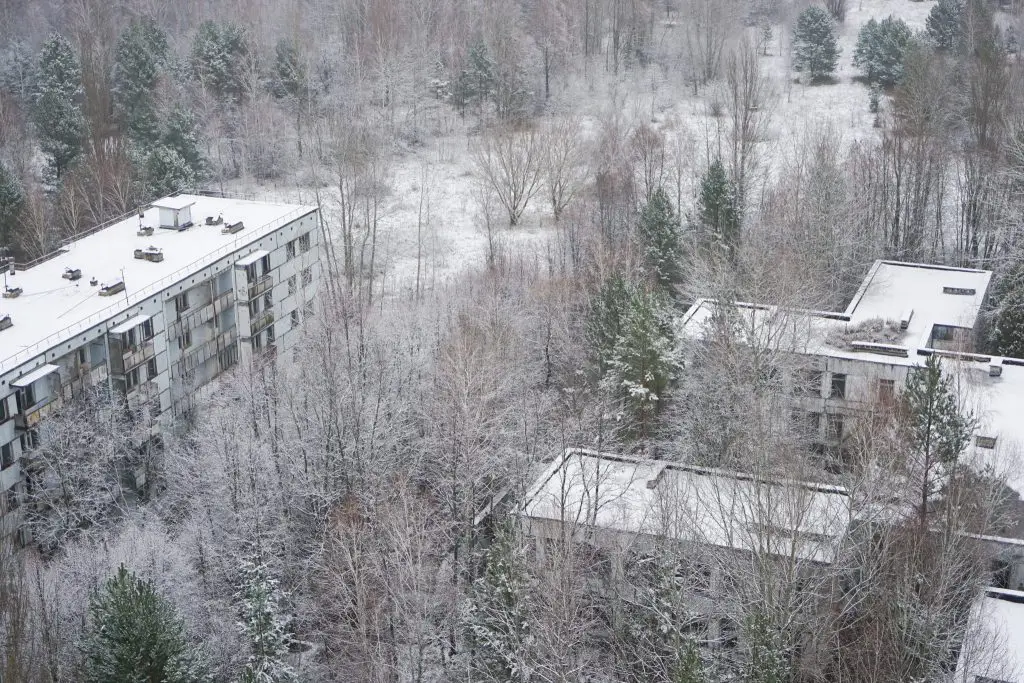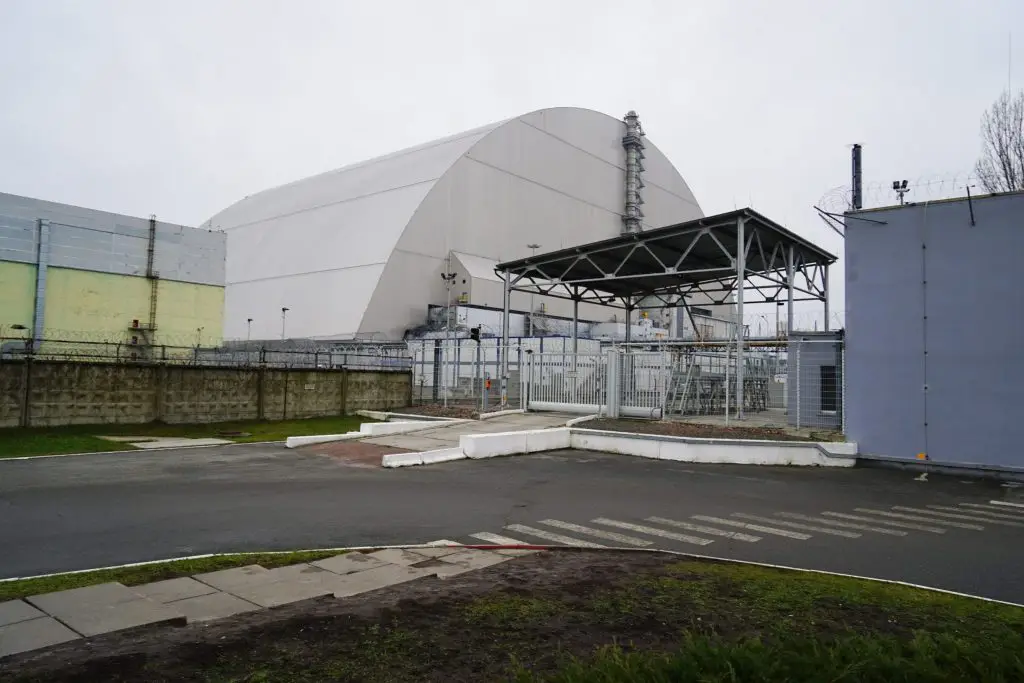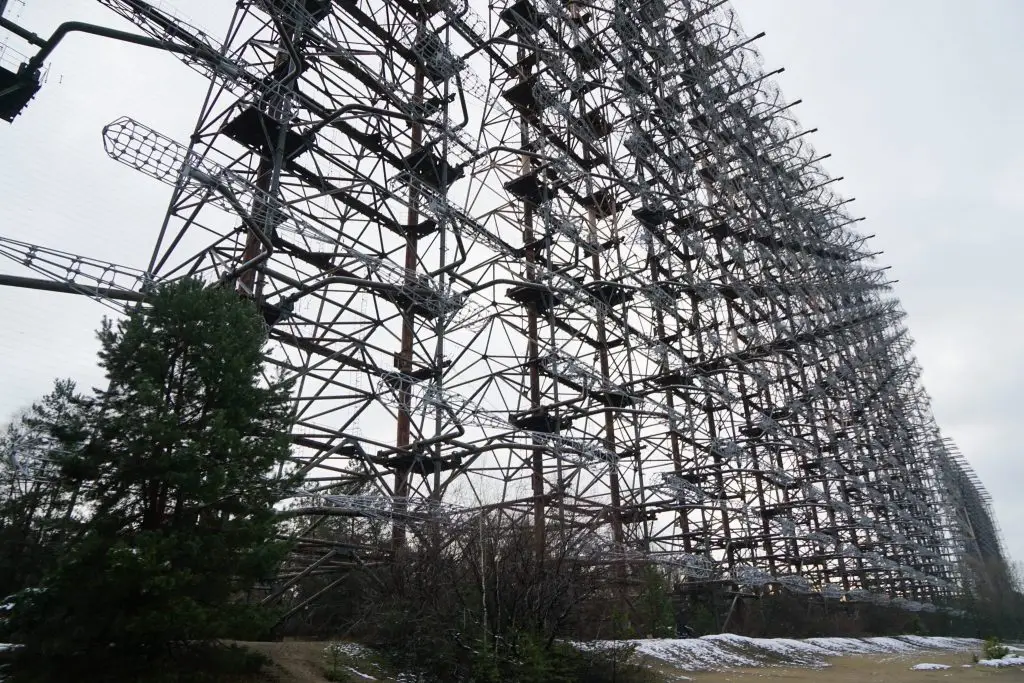 A visit to Chernobyl is like nothing else on Earth. The chance to simultaneously peak back into the secret world of the Soviet Union while also fast-forward into a post-apocalyptic future where the human race has all but vanished, and nature has taken back over.
Every day, the past fades more, however, as nature continues to reclaim what was so badly destroyed in 1986, and remnants of the past crumble and collapse around you.
There is no better time than today to visit and see first-hand the effects of the world's worst nuclear disaster, and no great company through which to explore it than Go 2 Chernobyl. But hurry, while the ground may be radiated for the next million years – the structures and secret spaces which stand above will barely survive a few decades more.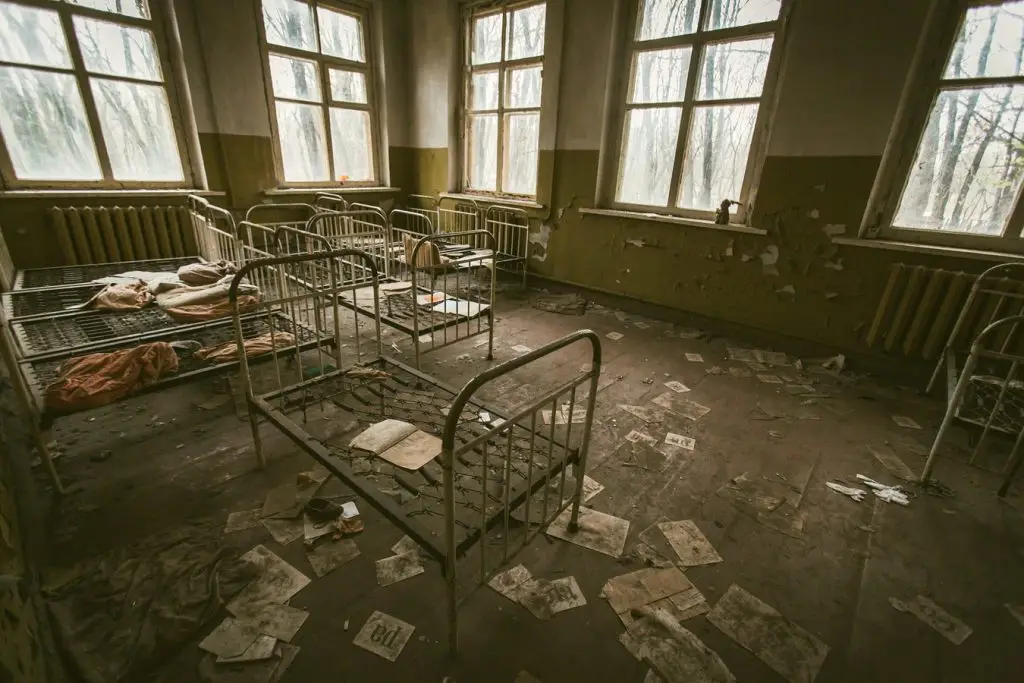 Staying Connected While Travelling
In today's increasingly connected world, staying online while traveling has become essential for a seamless experience. That's where eSIMs come into play, revolutionizing the way we access mobile networks during our global adventures. Say goodbye to hunting down local SIM cards at the airport; eSIMs provide instant activation the moment you land, sparing you the fortune usually spent on international roaming and allowing you to genuinely travel like a local (without getting hopelessly lost!).
With eSIMs, tasks like restaurant recommendations and reservations, up-to-the-minute public transport instructions, checking opening hours, and accessing further information become a breeze. And, of course, sharing your journey on social media is easier than ever. To stay connected wherever you roam, consider using either Airalo or Holafly. Airalo boasts the most extensive range of destinations worldwide, offering smaller data bundles tailored to your needs, while Holafly provides unlimited data packages and fantastic EU data deals.
So why wait? Embrace the future of travel connectivity with eSIMs and make your next journey effortlessly smooth.
Further Things To Consider Before Any Adventure
Now you're all set and prepared to explore our big wide world, why not sort out everything else out all in one go? If necessary for your travel plans make sure you have brought proper travel insurance, protected your privacy by getting a secure VPN, compared all the top hotel booking sites to find just what you're after, reserved an unbeatable rental car price and - of course - booked the best flight deals!
Or maybe just forget it all and go for a last-minute cruise or effortless tour instead?
Many budget travelers (including me) indulge in worldwide airport lounge access, so we can experience luxury while still slumming it in economy. Naturally, we would never leave home without a more general travel guide since we couldn't possibly cover everything here!
Just add an adventurous attitude and plenty of smiles - they go a long way - and that about covers it all! Now go out, find your own path and don't forget to share your best inspiration stories with me on Facebook, Twitter, and Instagram...I'd love to hear from you!