We know, we know; who would have thought that best-kept secret Lviv would become Ukraine's most popular tourist destination? It doesn't only stand out in Ukraine either, in our opinion – Lviv holds its own among Europe's most alluring cities.
Its myriad charms are only increased by the fact that they've been undiscovered for so long as well (think Budapest, Riga or Prague before the stag dos got there!).
The architecture is so beautiful and historically relevant that Lviv is actually UNESCO-listed; here you'll find cobbled streets, ice-cream-colored-brick buildings, and old-world trams shooting past you.
Formerly a Polish city, this is now where Ukrainian culture shines brightest (i.e. minimal Soviet influence) – a nice contrast from Chernobyl. It might be small, but there is a wealth of historical gems to discover.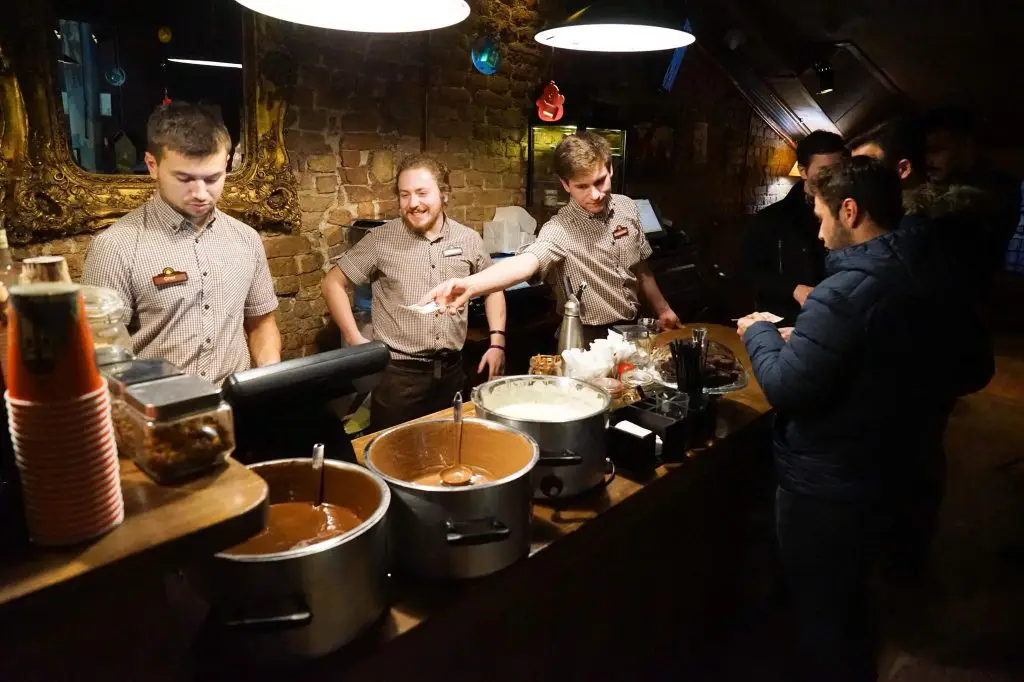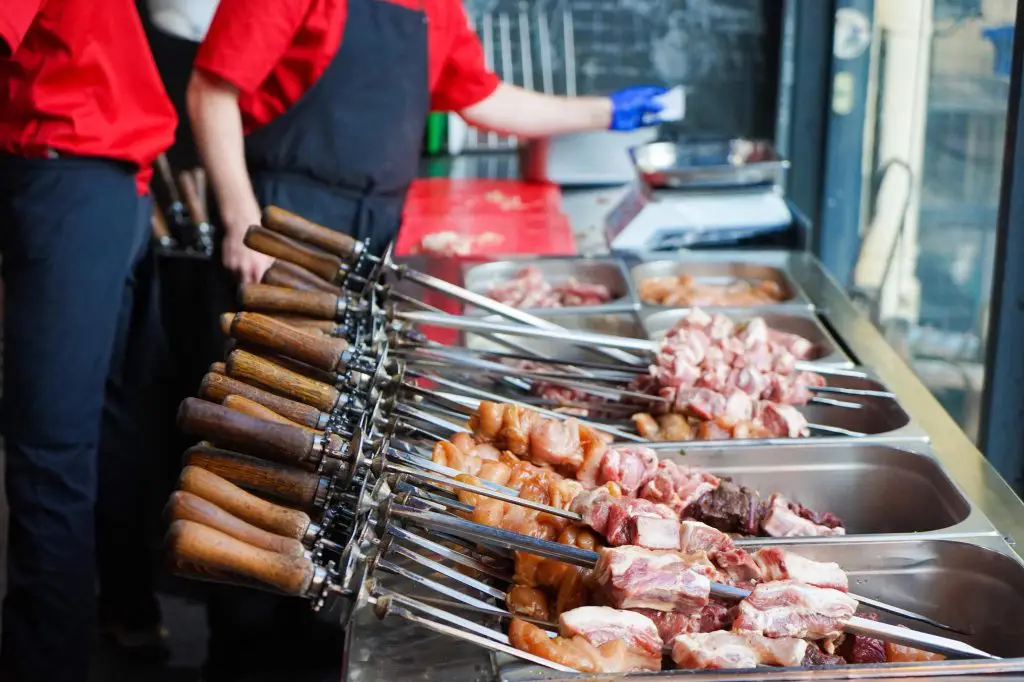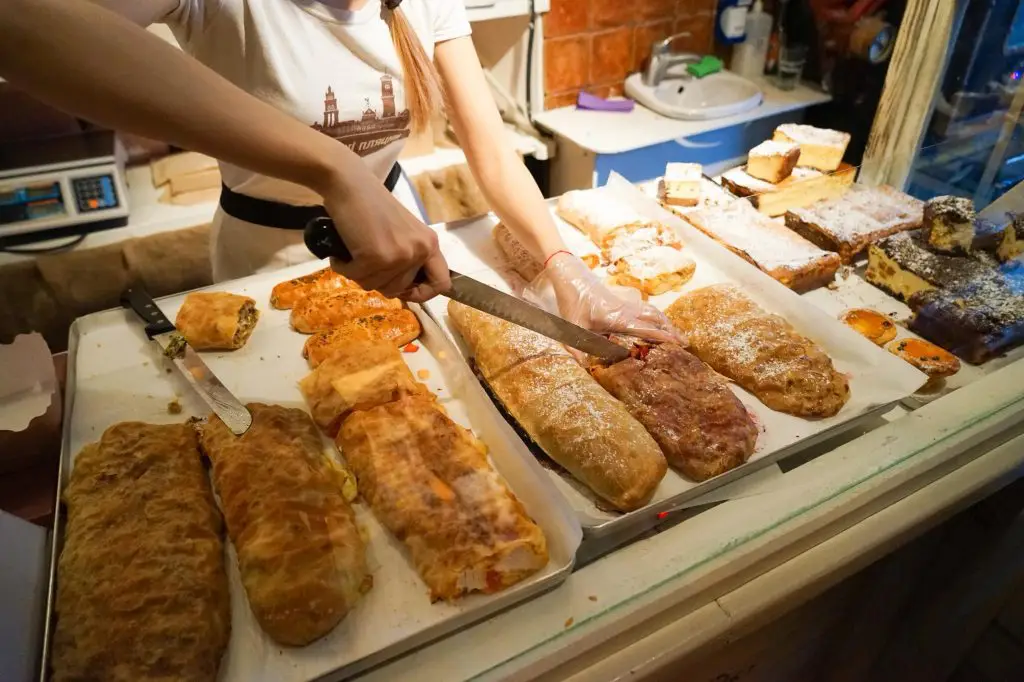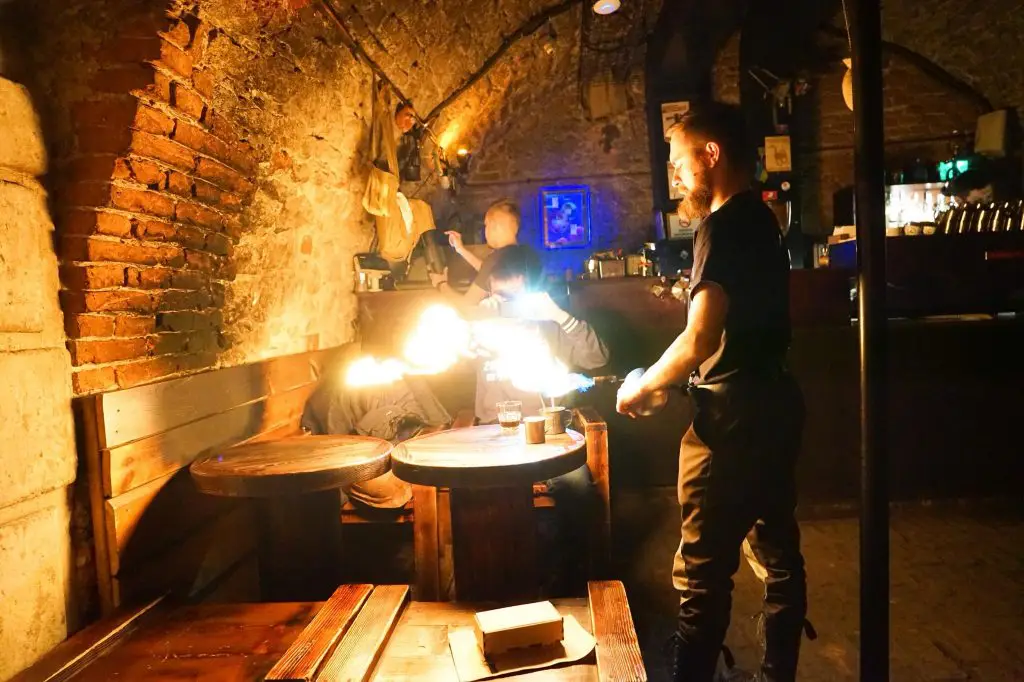 You could easily spend hours wandering the maze of streets and passages in the picturesque Old Town, but make sure you allow time to explore the opulent Opera House (or even see a performance there – the tickets are cheap), visit the stunning Lychakiv Cemetery or climb High Castle Hill.
The oddly-named House of Scientists is actually an old casino for the nobles and has a fairy-tale feel, while the interior design of the Museum of Ethnography and Arts and Crafts is every bit as fascinating as its exhibits. You'll quickly agree with us that Ukraine is one of the most underrated countries in Europe…
The other thing Lviv is justifiably famous for is its café culture. You'll find coffeehouses around every corner – in fact, rumor has it that there are about 1500 in the city – and the vast majority of them are sightseeing spots in their own right for their old-fashioned charm. Coffee in the Ukraine is not expensive, so don't limit yourself to only visiting one café a day!
Lviv also has a personality of its own, as our suggestions for eateries will demonstrate. These quirky Lviv restaurants show off the sense of humor and originality that you find all over the city. So come join us off the beaten track, and enjoy a good meal in one or more of these Lviv restaurants while you're there.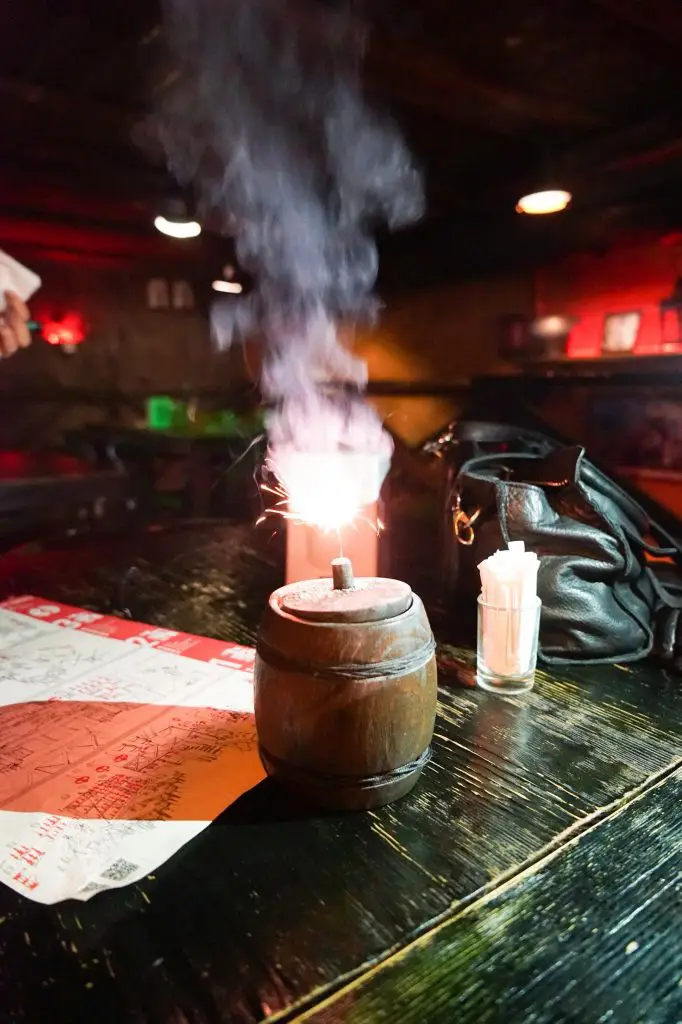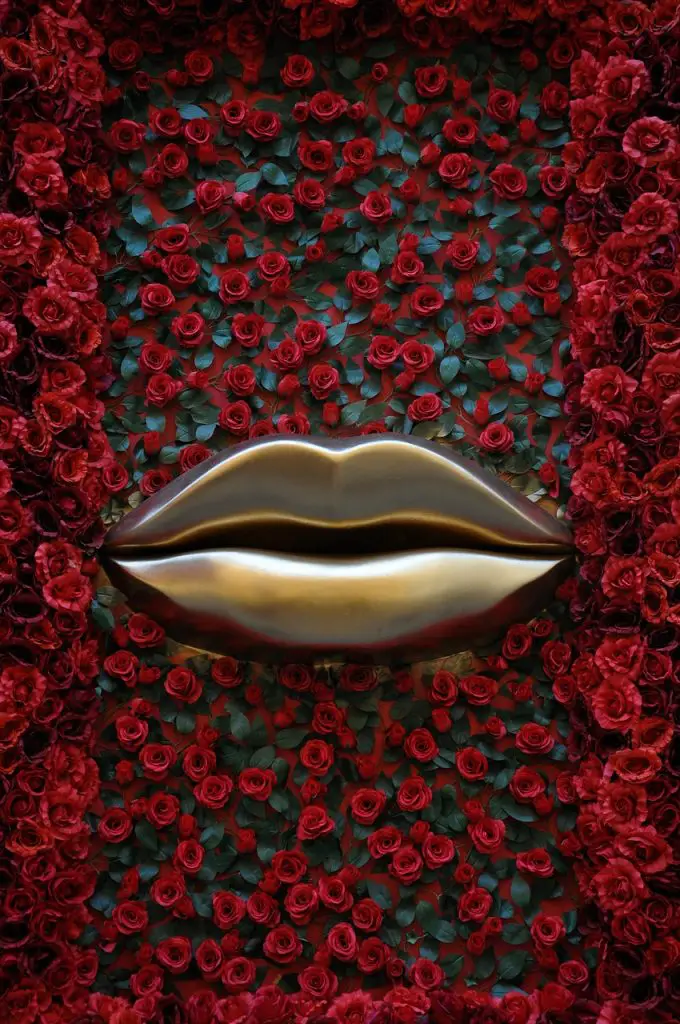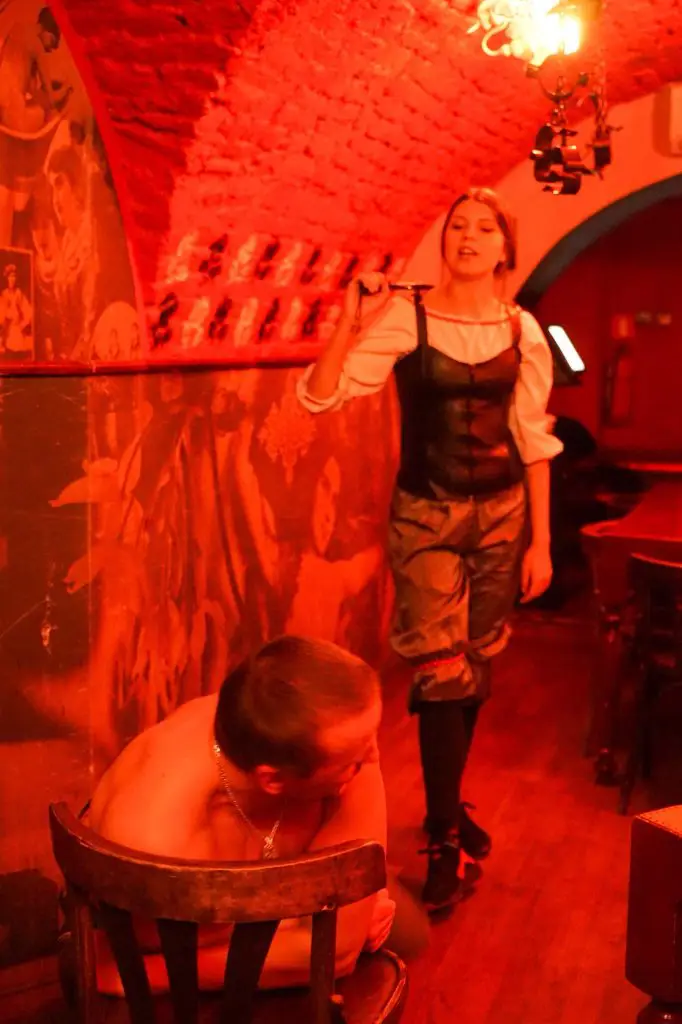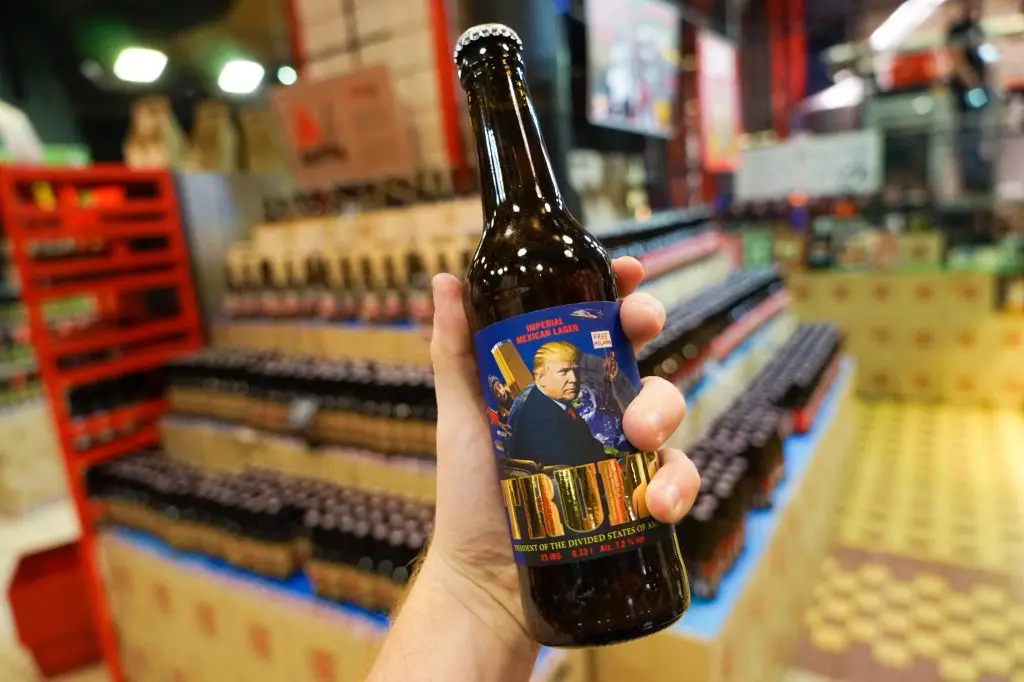 8 Wonderfully Weird & Quirky Lviv Restaurants You Need To Visit 😍
While the name and the description might mark this out as more of a drinking than an eating spot, this multistory structure houses a restaurant as well as the brewery, shop and live music.
It's basically a complex of entertainment all worshipping one deity: beer. Their aim is to give people the chance to drink 'true' beer and the brewers are always innovating, creating beer with a range of ingredients and throwing in some topical names ('Obama Hope', anyone?).
You can enjoy these Lviv beers to the sound of an orchestra playing everything from AC/DC to Ukrainian music, and the rattle of your food being prepared in the open kitchen. The vision is one of a theatre, where the patrons are also the audience, watching the food being made and the beer being brewed.
Hearty dishes like pork brisket, meat sausage in broth and a selection of fried items help soak up the alcohol and there are tasting notes for which beer you should be drinking with different dishes. Pravda is a great place to start (and finish!) the night.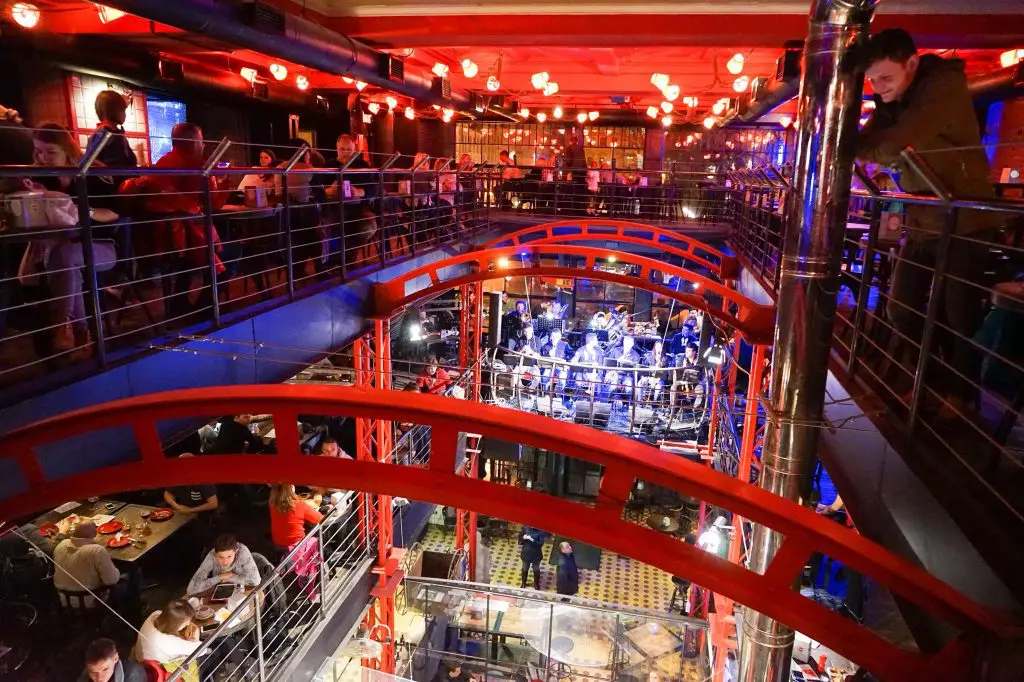 If you like to really work for your food, then this hidden restaurant with a sense of humour is the place for you. Don't be put off by the name – while the prices are high, you can ask for a 90% discount when you get the bill and ta-da, that total will shrink!
The other time your negotiating skills will be needed is when you arrive. You come to an apartment door that looks like your average flat in Lviv; when it's opened, the gatekeeper will try to turn you away. Persist (with politeness) and he'll eventually bring you through his kitchen to the secret door leading suddenly to a huge restaurant.
Once you've recovered from the oddness of your welcome, you can start enjoying the atmosphere. Masonic imagery forms a large part of the décor, as does a full-sized car (because why not?!). You may well be serenaded as you eat, and you'll definitely enjoy the food, which includes dishes like salmon terrine, meat and cheese platters, and plenty of imaginative things with potatoes.
Enjoy it by candlelight with some good wine and don't worry about the bill – just don't forget to ask for the discount!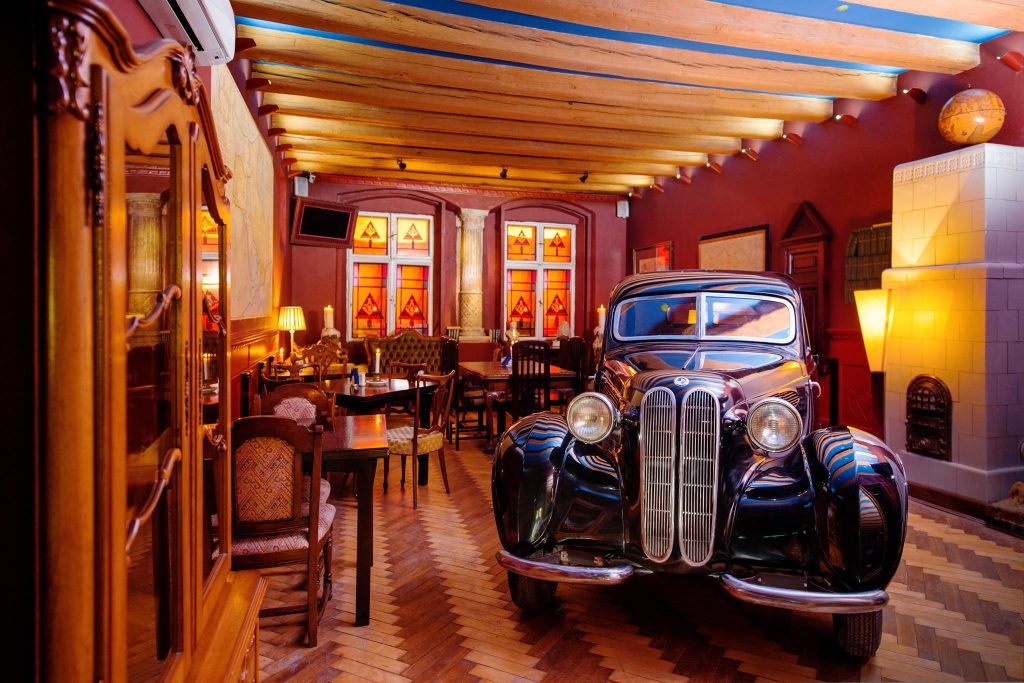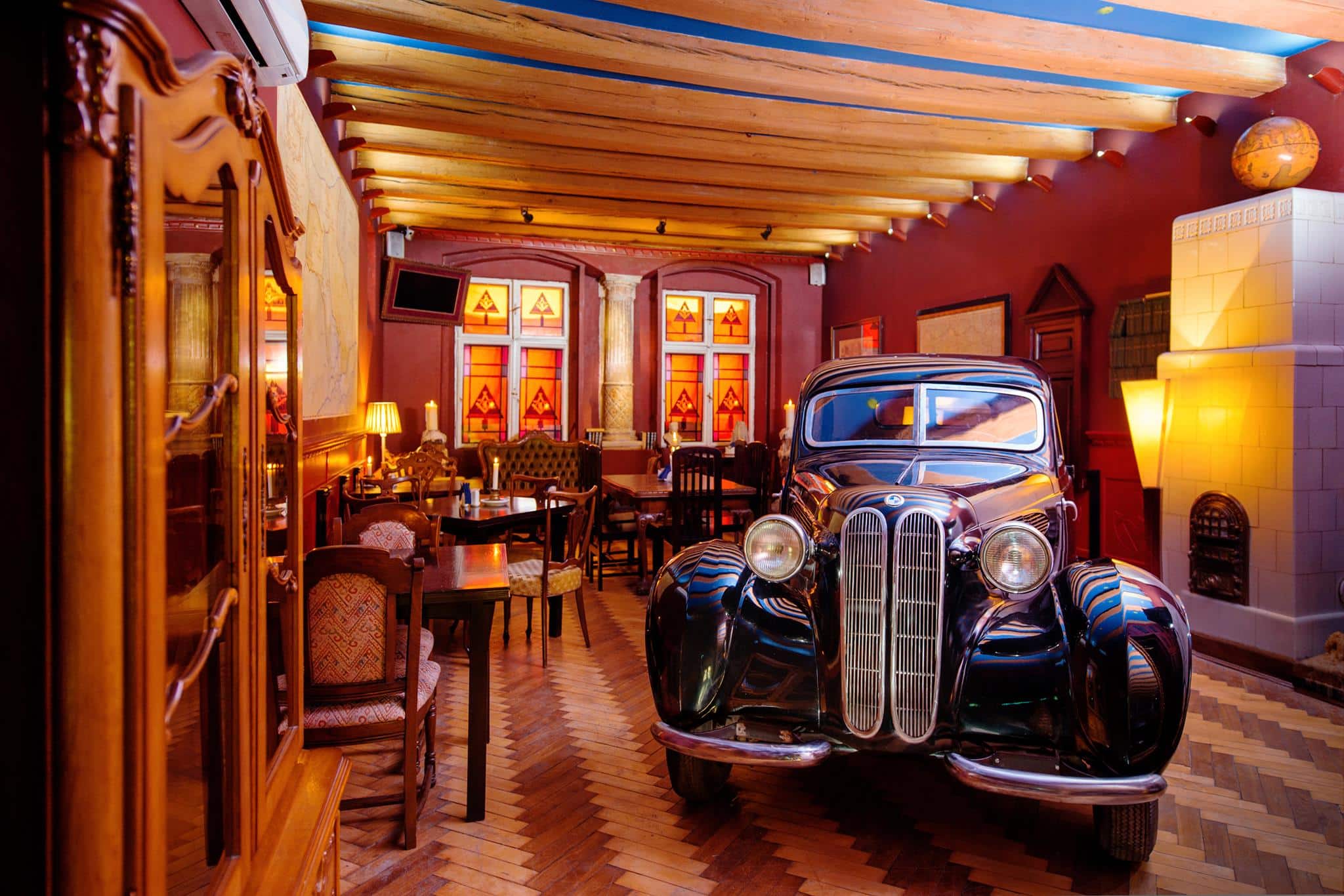 Yet another secret venue, located underneath The Most Expensive Galician Restaurant, this most-visited restaurant in Europe could easily top the list of quirky Lviv restaurants (if we were playing favourites).
Kryivka means 'bunker' in Ukrainian and when you give the password and get inside, you'll see why. There is an Insurgent Army in World War II theme, with the staff in uniform and a password required to get through the barricaded door (say "Geroyam slava" in response to their "Slava Ukrainy").
The walls are papered with weathered-looking posters, newspaper clippings and portraits of the esteemed leaders. Brick walls and low ceilings add to the atmosphere; you can even hop into an antique motorcycle or sidecar.
The food, naturally, is authentic Ukrainian fare like borsch and salo (sliced lard and garlic) – you also need to have a shot of honey vodka to get into the restaurant, but this doesn't feel like a test once you've sampled it!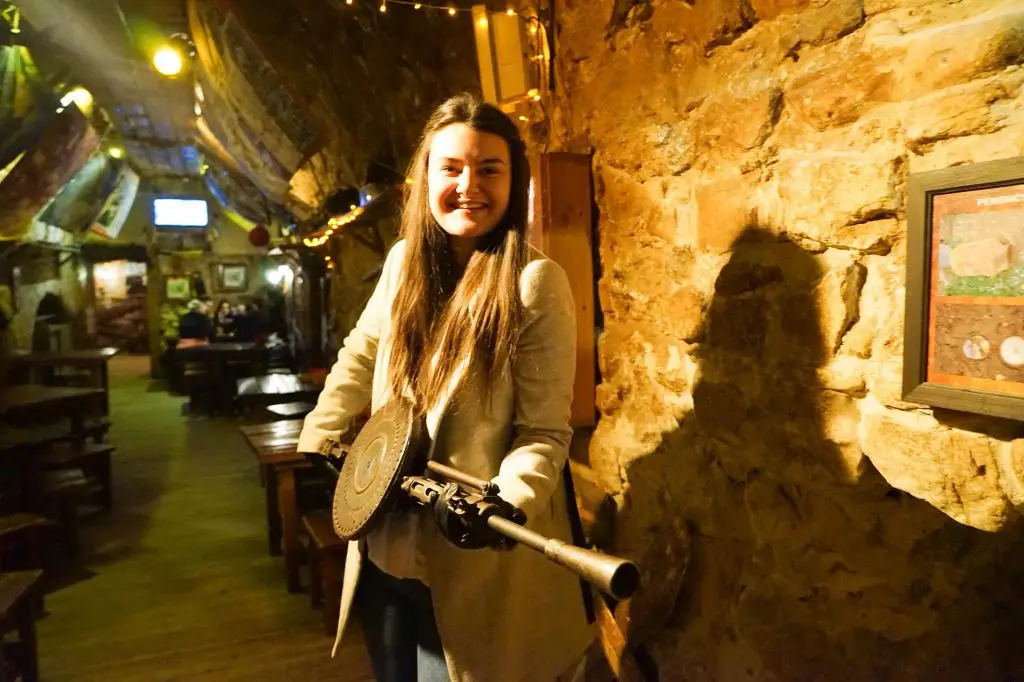 Coffee in Lviv is not only a drink; it's a way of life. Every care is put into the preparation and presentation of this elixir of life and nowhere is that better demonstrated than at Lviv Coffee Manufacture, a cute café that claims to be the birthplace of Lviv coffee culture.
What makes it stand out from all the other 1499 cafes in Lviv? For one thing, there's a mine underneath, where you can find the 'secret underground coffee workshop' and see the origins of your cuppa in fascinating detail.
The maze of tunnels underneath the café is very atmospheric, particularly when you have to add a hard hat to your ensemble. Above ground is slightly more normal, although you might get a shock when the waiters start setting fire to cups of coffee – this is their famous Flaming Coffee option. Heart-stopping flames aside, it's a pleasant and relaxed ambience sipping coffee under the wrought-iron arches.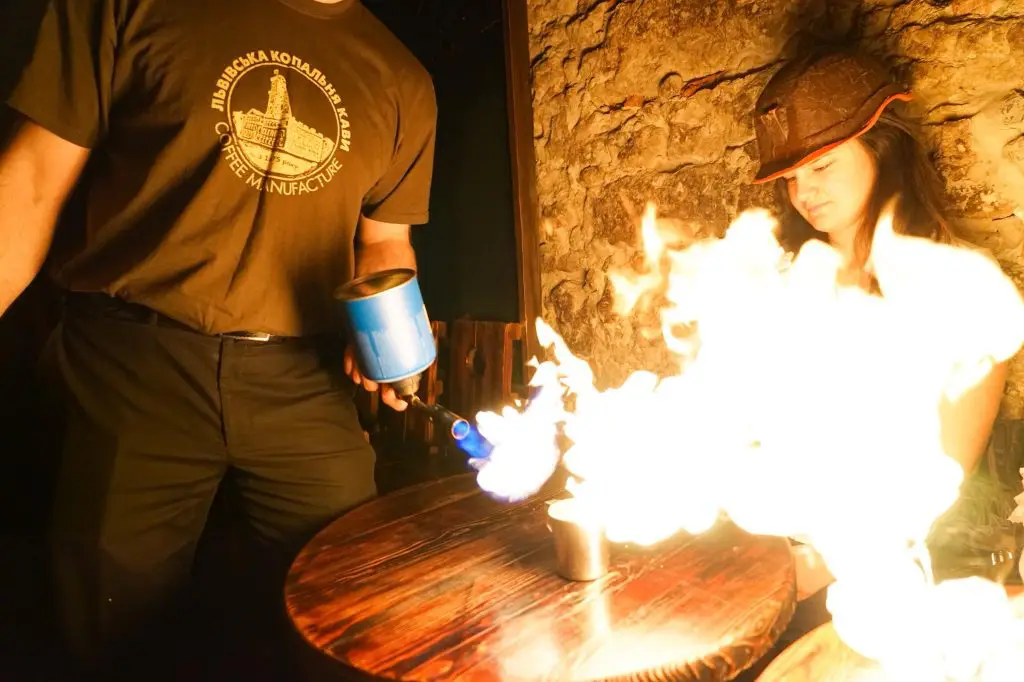 If you've ever fancied spending an evening in a classic speakeasy, pulsing with jazz music and with the clink of cocktail glasses in the background, Libraria is the place for you.
High on our list of quirky Lviv restaurants for its dedication to theme, sumptuous surroundings and great musical performances, Libraria is decorated as a traditional library. Dark wood, antique books and the smell of leather create an academic atmosphere, even if you're only there for the drink!
Another place that's difficult to find, this only adds to the slightly elicit thrill of being there – and there's nothing like opening what looks like a slightly shabby door in the city centre to find a buzz of noise and warmth behind it. Try an old favourite like a classic martini with a twist or see what the expert bar crew can whip up!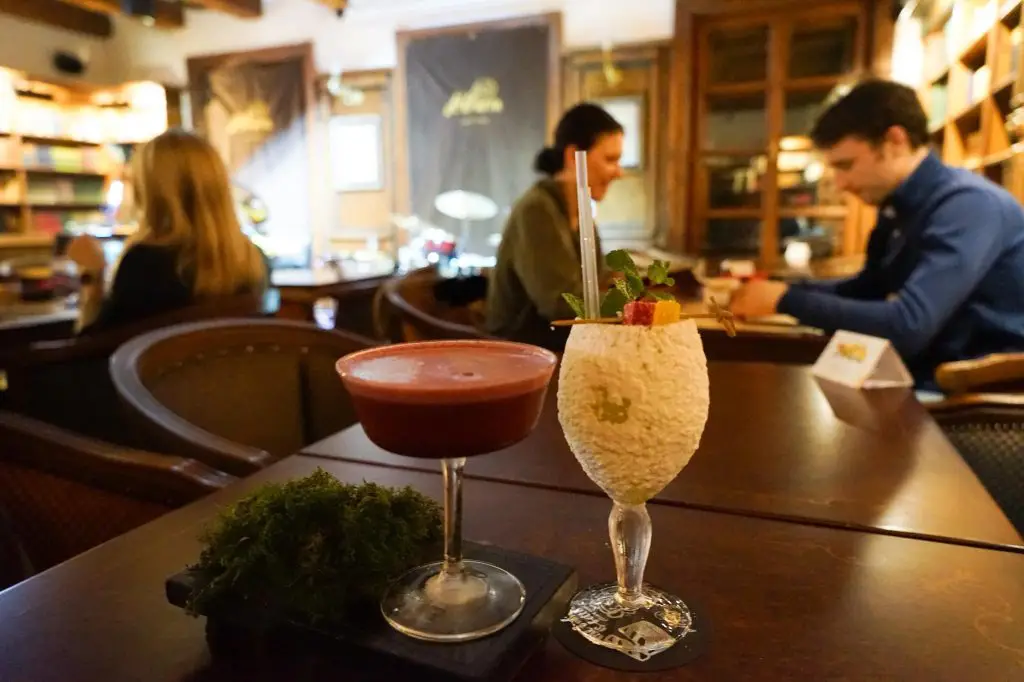 First things first: British readers, please do not get confused. This is not a restaurant in Lviv dedicated to the football team, but rather a barbecue place competing for the title of 'best ribs in the world' that happens to be located inside the city walls in a former arsenal.
Also known as Arsenal Ribs and Spirits, this fun eatery commits to the theme with medieval décor and decorations of historical weapons (some replicas, for safety we assume!).
If that wasn't intriguing enough, they also do not allow utensils, so you'll have to eat that juicy, perfectly-cooked meat with your hands. It tastes better this way, doesn't it? The real challenge comes with mashed potatoes or soup! Wash it all down with a local beer (then lick the hone and mustard glaze off your hands!).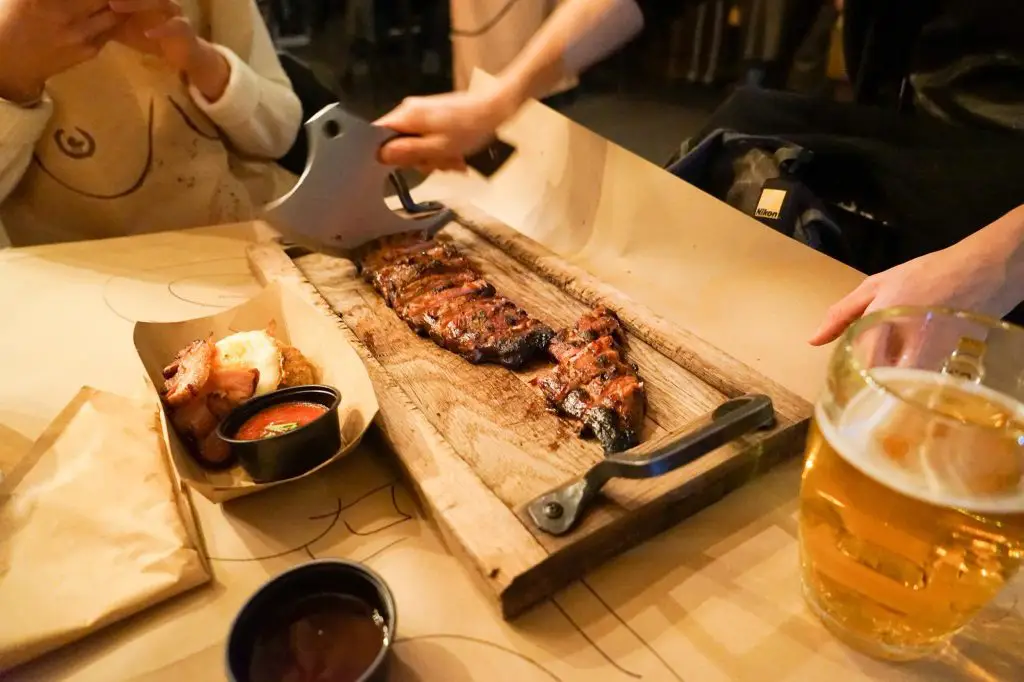 You'll have noticed by now that meat seems to be the predominant component of dishes in Ukraine, but if you can handle a little more, this is a quirky Lviv restaurant you won't regret visiting.
The name alone tells you that this will be somewhere unusual and its location in an old medieval courtyard heightens your anticipation. When you get inside, you'll find a cavernous space filled with heavy wooden tables, medieval torture items and plates of juicy meat cut by similar tools.
Why? Well, this is apparently the new business of the state executioner, who found himself out of work when a constitutional state was established. Whether this is 100% fact or not, it doesn't change the fact that the food is delicious with organic meat and the freshest ingredients.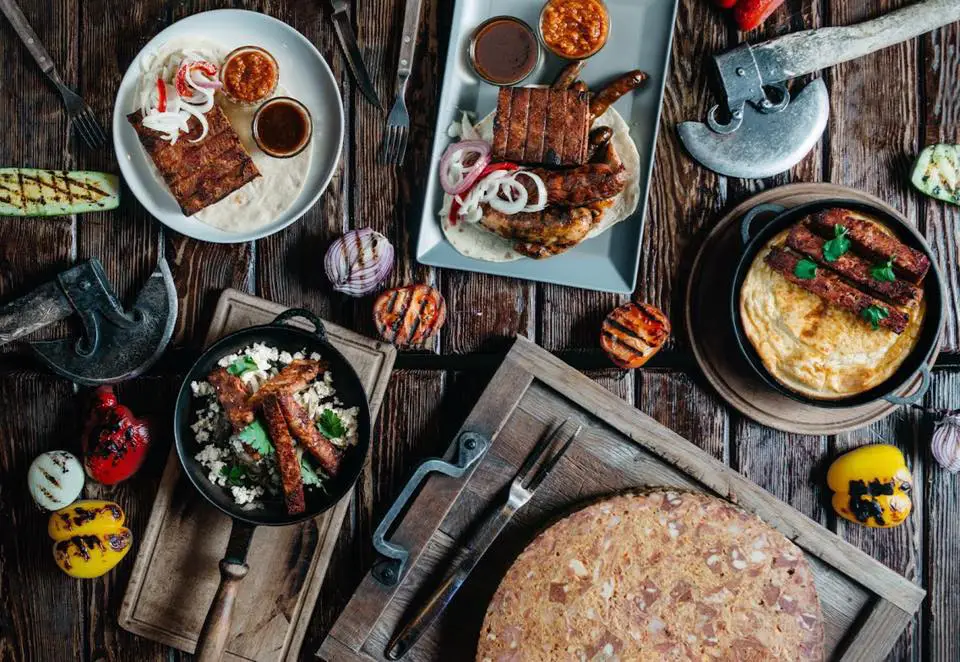 Hold on to your hats. You might have thought we'd reached the peak of originality on this list, but this kinky restaurant (yup, we mean 'kinky', not 'quirky'!) is something you've never seen before.
Let's just say that it's not somewhere for your kid's birthday! Leopold von Sacher-Masoch, the namesake of masochism, is the inspiration for this cocktail bar where patrons are given some light whipping by the staff, aphrodisiacs are on the menu and guests could even be blindfolded.
Don't be put off; it's very much all in good humour and in no way intimidating. Plus, the cocktails are delicious and the food's not half bad either. And think of the stories you'll be able to tell when you go home!