Perhaps the most beautiful of all European Capitals, Prague is an enchanting city that reels it's visitors in and tempts them never to leave.
Visiting Prague in Winter is even more enchanting as Squares are overtaken by Christmas Markets, and the lights come out in force…
Unparalleled in beauty, Prague first captured my heart many years ago and has lured me back time-and-time again.
While there is no single best time to visit Prague, it could be argued that a trip in December timed around Christmas – with the possibility of a sprinkling of snow – is the most magical time to visit.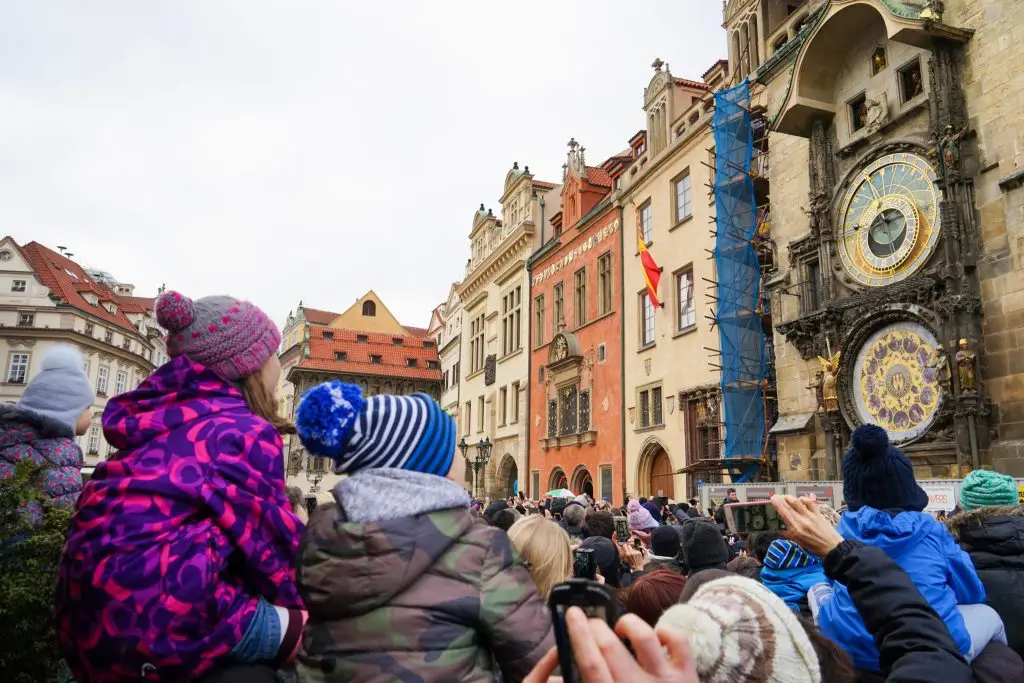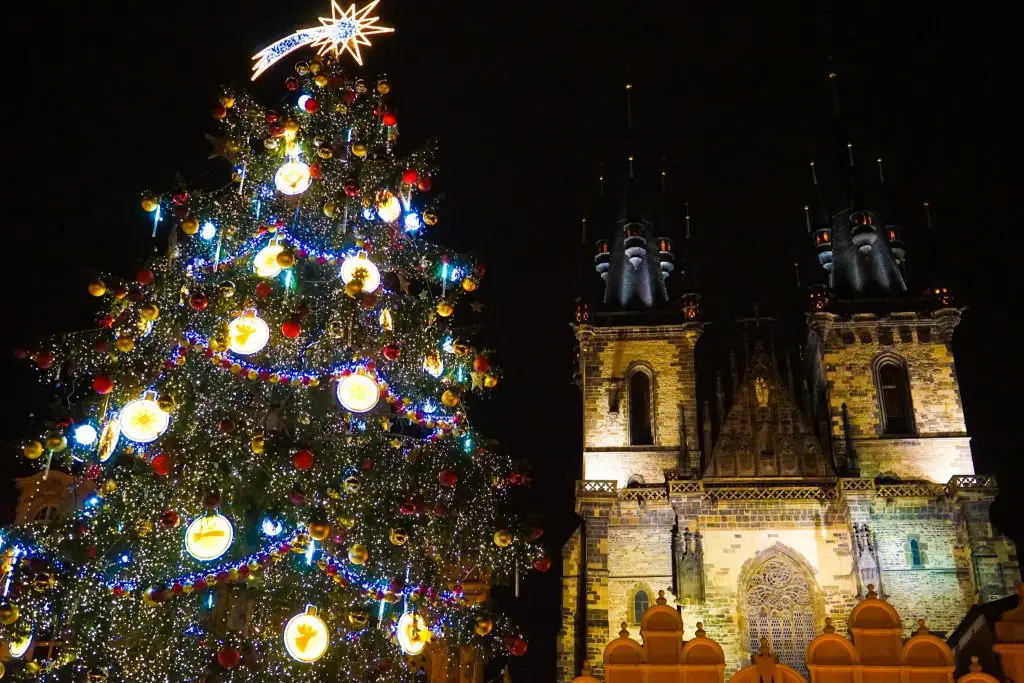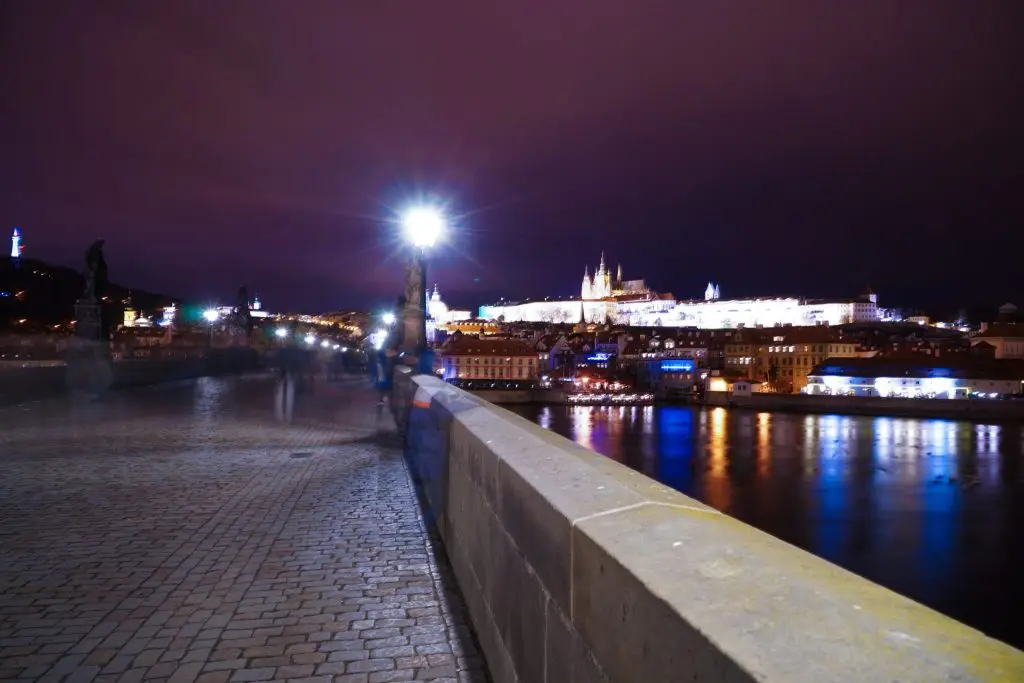 While Prague is famed for its cobbled lanes, hidden courtyards, cultural performances, museums, and of course, beer – these are certain things that make a visit to Prague in winter uniquely special.
Soviet-bloc grey Eastern Europe, this is not. Prague is one of the East European centers for Art Nouveau architecture – along with Riga, Budapest, and Helsinki, and today many outstanding buildings of the era are found in those cities.
Read on to see all the beautiful things to do in Prague in December and discover one of the best Christmas destinations in Europe!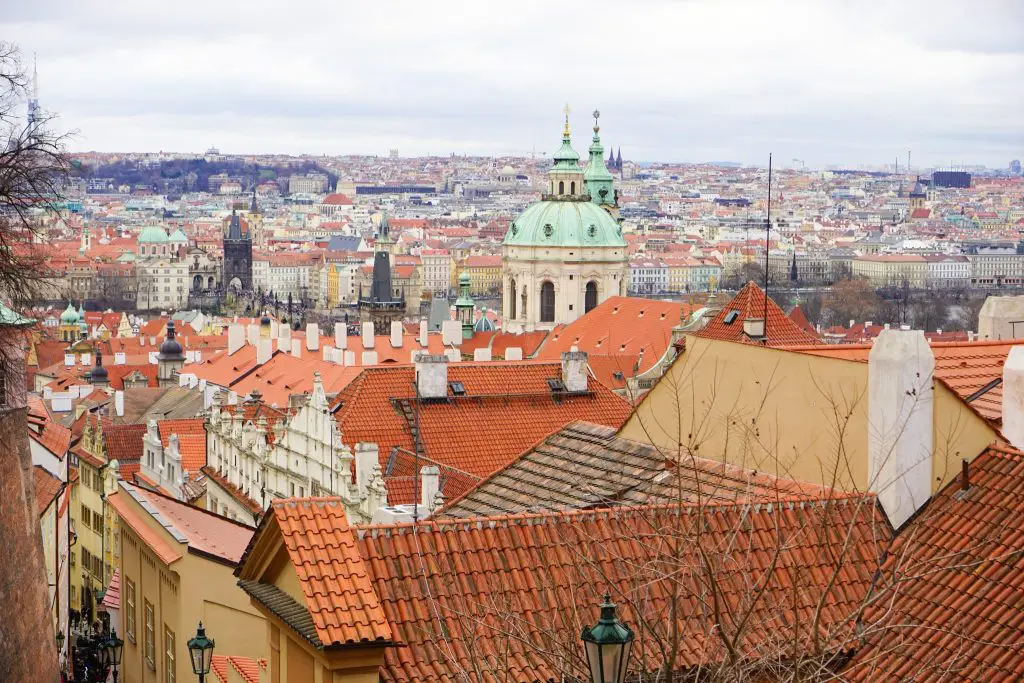 1. Try Prague Ice Skating In The Historic Old Town
One magical highlight of Prague in December is undoubtedly ice skating, which is popular amongst tourists and locals alike. Whether you're a seasoned pro and gracefully cut circles across the ice or are a slip-sliding first-timer, there is nothing like being out in the fresh air surrounded by beautiful lights and the historic buildings of Prague.
There are many places to try ice skating in Prague, but a perennial favorite is Ovocny Trh, a free skating rink operated daily until 10 pm by the Prague City Hall. If you don't have your ice skates, you can rent ice skates in Prague for around 50 – 100CZK, but for the most fun, you should, of course, bring your own! Check out this list for plenty of other cheap and fun things to do in Prague.
For an even more memorable experience when Prague ice skating, wait until it's well below 0 °C and the Vltava river freezes over becoming possibly the world's most beautiful ice-skating location. Sadly, however, this happens less frequently now as white winters in Prague are shorter and temperatures higher.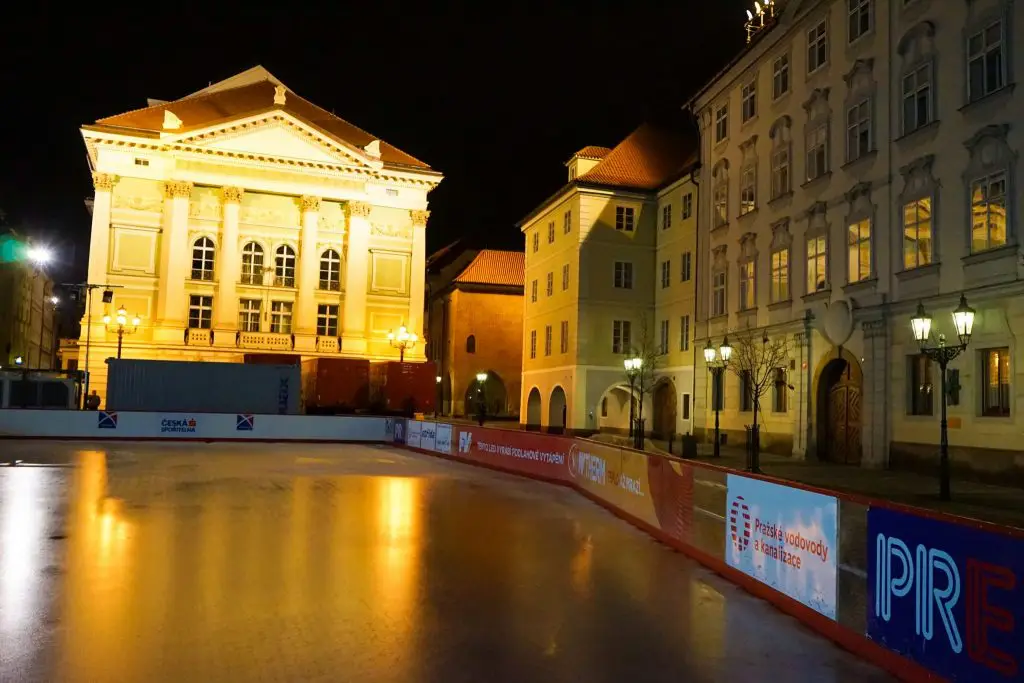 2. Explore The Picturesque Prague Christmas Markets
Christmas in Prague would not be complete without the festive Christmas Markets – and those of the Old Town Square and Wenceslas Square give the famed Christmas Markets of Germany a run for their money.
Open every day from the 2nd of December till the 6th of January, including all the big holidays; there is is no better place to experience the festive atmosphere of Prague in December.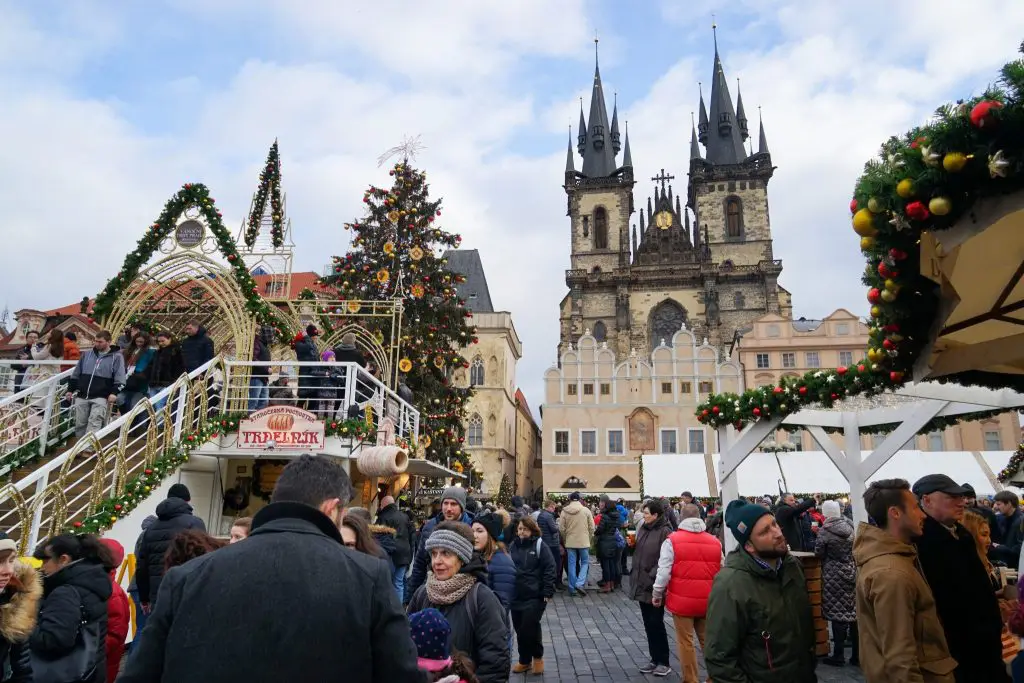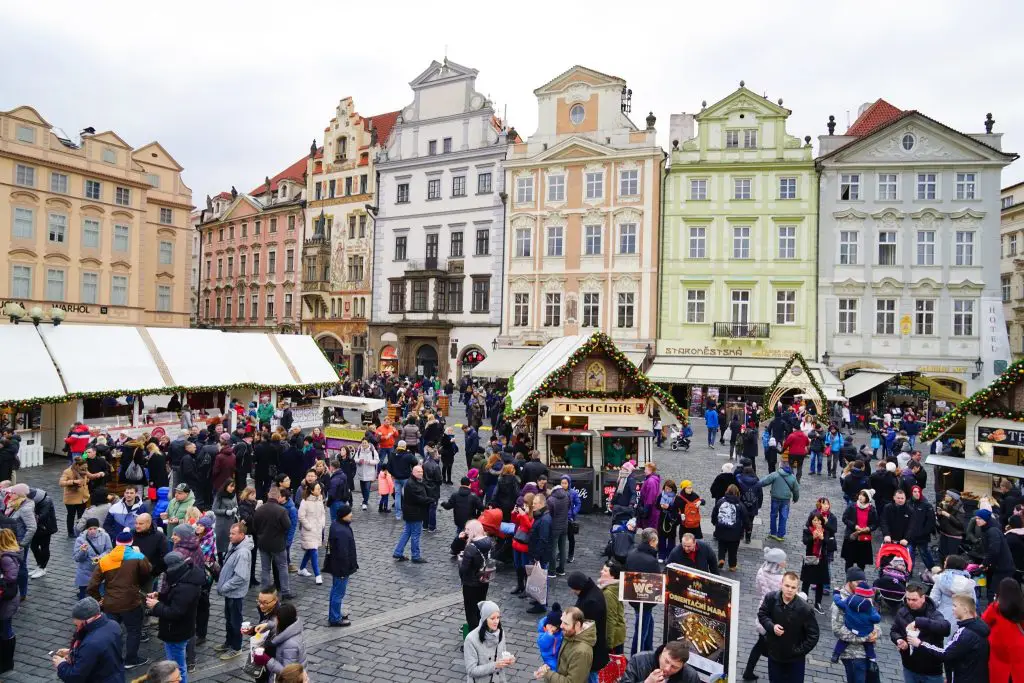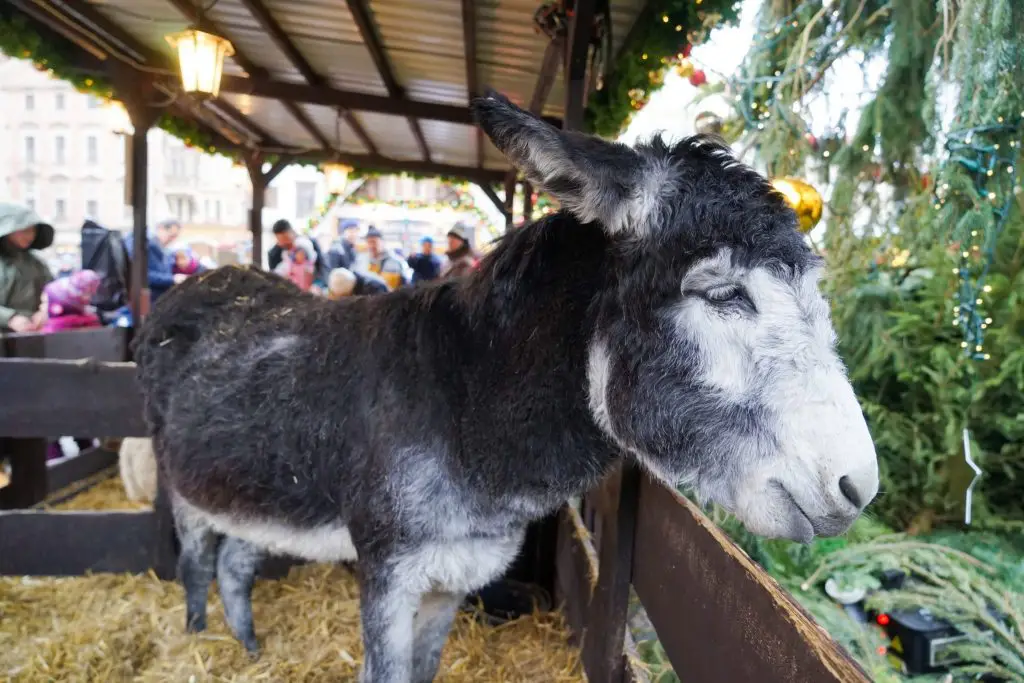 Browse the handicraft markets, partake in Christmas carols, indulge in delicious snacks, and warm up with hot drinks. The Christmas Markets of Prague is a winter wonderland.
But if the crowds at the main spots become a bit too much, you can also look for the smaller (yet equally enjoyable) markets at Prague Castle, Havel's Market, Kampa Island, or on the Republic Square…or better yet, just visit them all!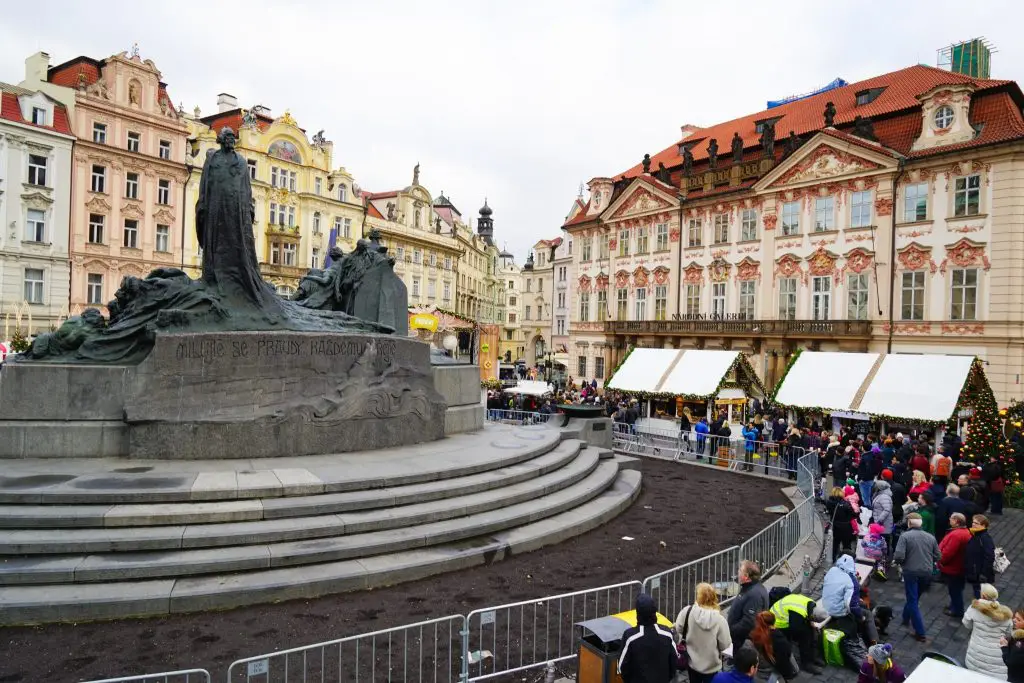 3. Get The Best Hotel View In Prague and Designer Digs At Hotel Josef
Wondering where to stay in Prague? Consider contrasting the historic beauty of Prague in December – or really any time of year – with a stay in the only designer hotel in Prague, Hotel Josef.
The antithesis of the old-world beauty of the Prague Old Town Square, Prague Castle or Charles Bridge, the Hotel Josef offers a modern-chic interior with plenty of instagrammable spots, so your entire time in Prague is filled with beauty….
And to truly indulge yourself, you just have to book into one of their Premium Josef rooms with unparalleled views out over the UNESCO-listed Old Town of Prague so you can enjoy the sights of Prague day-or-night from the comfort of your own bed.
It's also my favorite hotel for a gaycation in Prague.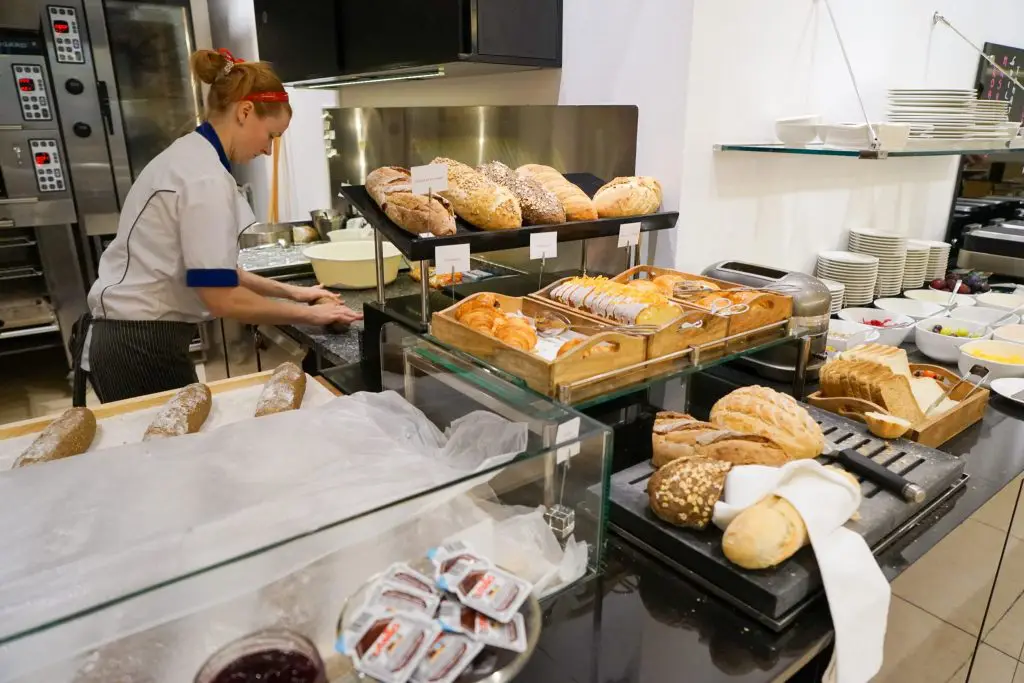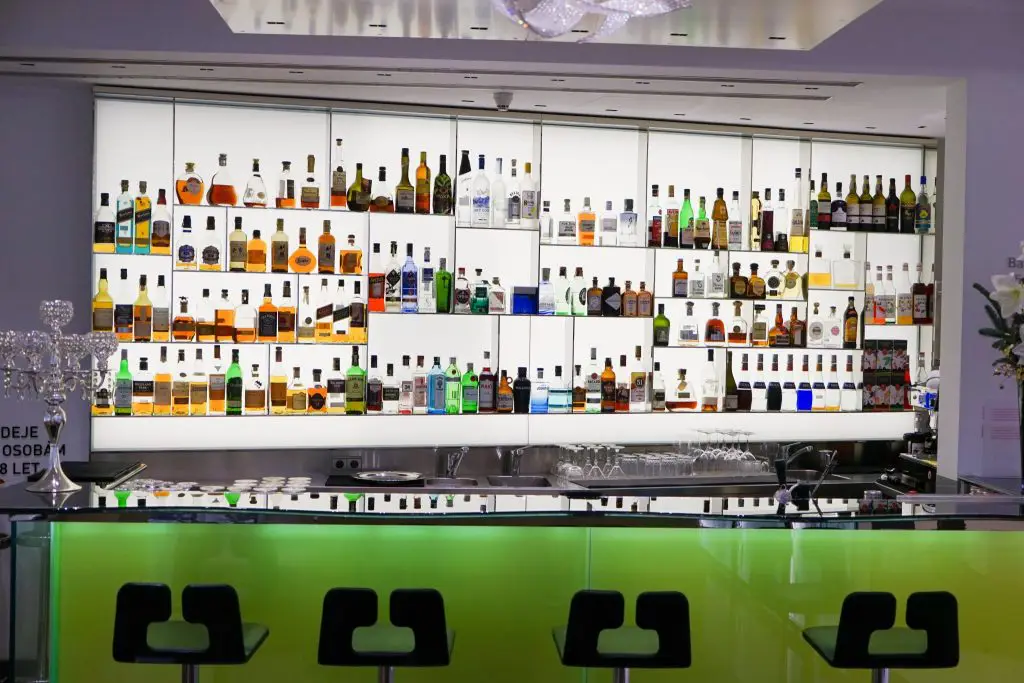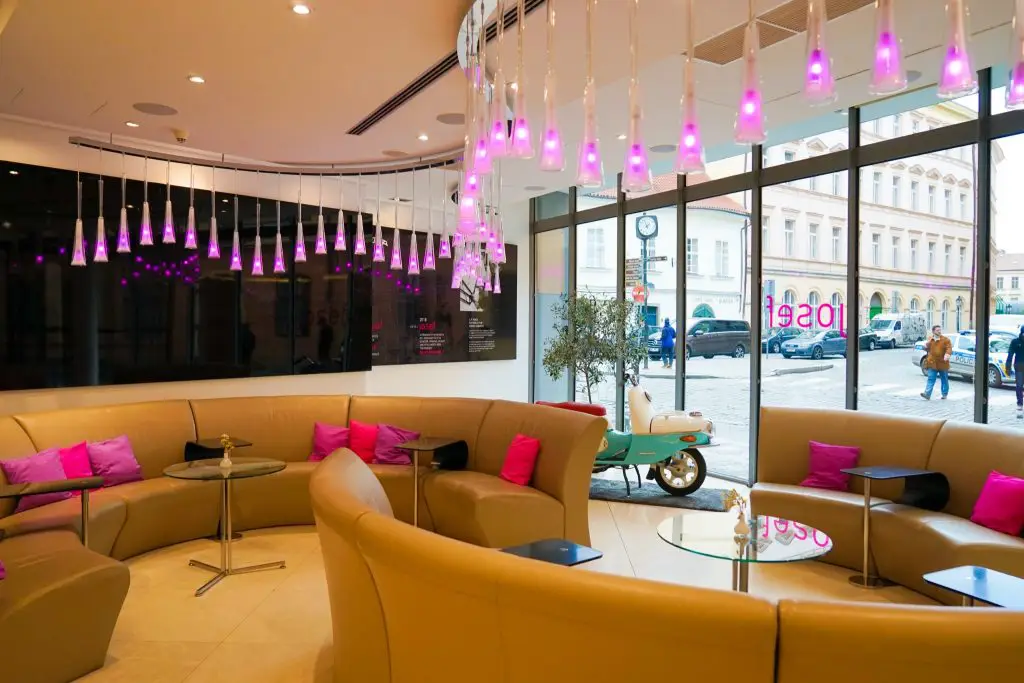 Hotel Josef in Prague is located on a quiet side street only a few blocks from the main square, yet in stark contrast to other bland shoebox hotels in the Prague Old Town here, you have modern architecture, plenty of natural light and a bold color scheme. With all the modern amenities you would expect in a designer hotel of this caliber, there are also a few surprises.
These include a complimentary mini-bar stocked with goodies for your arrival, both ala carte and buffet breakfast options, including a health corner and fresh-baked bread made right in front of your eyes. There is even a penthouse gym and sauna – complete with the rather handsome private fitness coach Lukas who is on hand to provide free advice and work-out routines for guests.
Hotel Josef is the best place to stay in Prague and ensures that even after a long day of sightseeing Prague off the beaten track, you are still surrounded by beauty.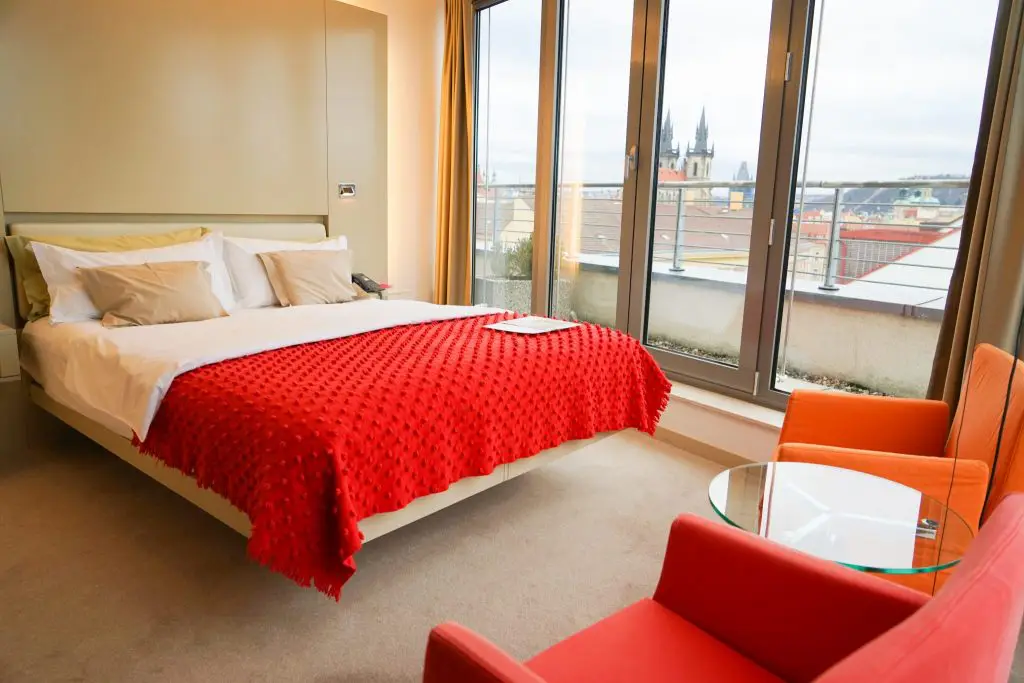 4. Watch The Nutcracker Ballet and Other World-Class Performances
Just as stunning as watching the Opera in Vienna but at a much lower price. Prague has a long musical history, and when you visit in December, you cannot pass up the opportunity for an evening of breath-taking orchestras, choirs, and dance performances.
Tickets book out far in advance, especially for shows on and around Christmas Day, so you should plan ahead and consider shows at either the prestigious National Theatre of Prague, the Estates Theatre, or Karlin Theatre.
Prague in December means theatres are guaranteed to trot out the classics like Swan Lake and the Nutcracker Ballet. Still, you can also find more modern performances of ballet and Opera by both local and foreign authors in this Czechia landmark if you look hard enough.
And even if the ballet is not quite your cup of tea, the Neo-Renaissance and Rococo interiors put Prague's theatres amongst the most beautiful theatres and opera buildings in Europe and are worth seeing in their own right. There are many ticket re-seller sites for Prague events, but in most cases, you should go directly through the venue website to avoid paying any extra fees.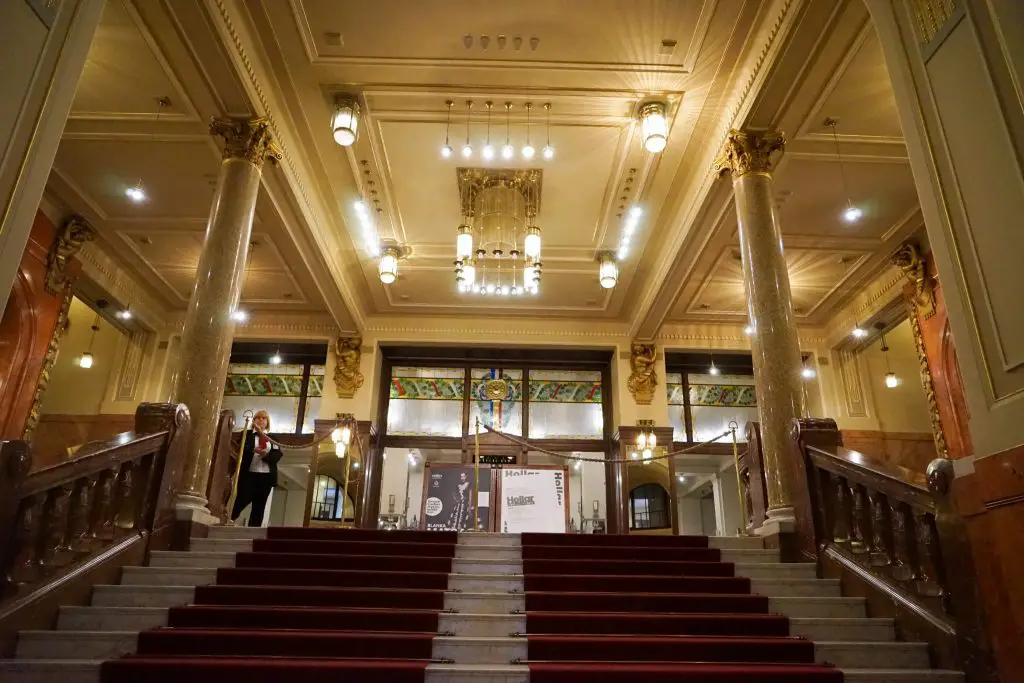 5. Slow Down The Pace On A Relaxing Prague River Cruise
Prague at Christmas can be rather hectic on-land so why not opt for a romantic Prague river cruise to take in all the top highlights of Prague from a different perspective as you cruise along the Vltava River.
With a full commentary along the way, the short cruises departing hourly offer the chance to take in the City of a Thousand Spires with a coffee in one hand and a camera in the other, no need to even get up. Don't worry – there is full heating in winter and air-conditioning in summer, plus an onboard bar if you need any help getting in the festive spirit!
This, however, is not going to satisfy any adrenaline seekers out there who want to sightsee while there is blood is pumping 100 miles a minute. For you thrill-seeking junkies, I suggest throwing yourself out of a plane with a tandem skydive from 15,000 ft in Prague.
Enjoy the sightseeing flight and admire the Czech countryside outside of Prague, and after jumping out of the plane, you will fall for almost 60 seconds before your parachute opens, and you glide smoothly for another 5 – 7 minutes in the air.
What? Now you can't complain I haven't given you options…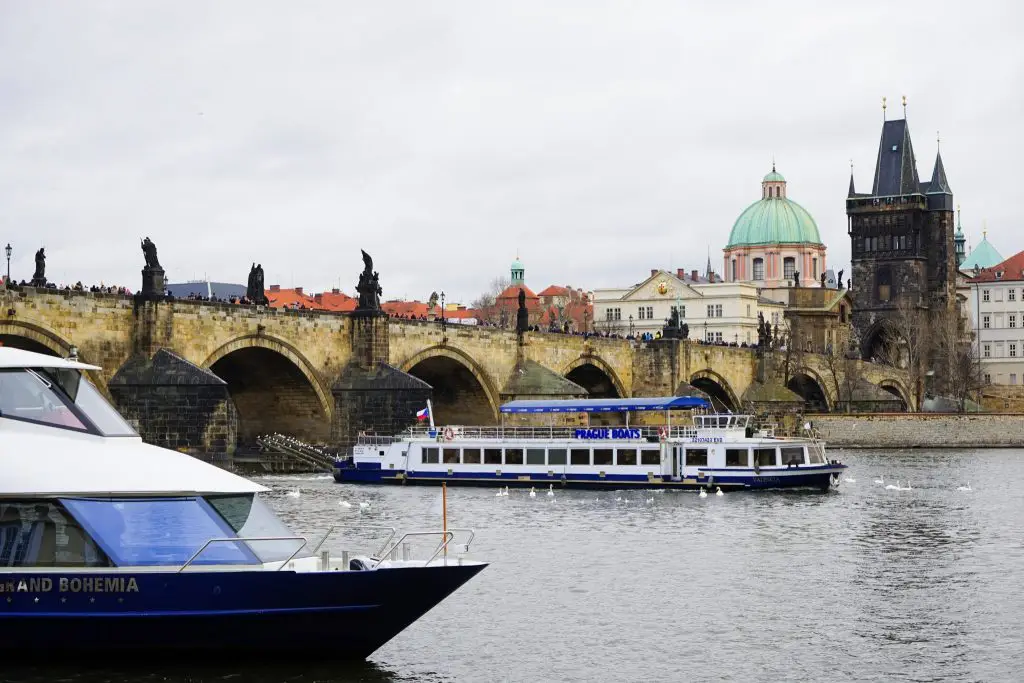 6. Partake in the Advent Tradition With Music At The St Salvator Church
Get into the Christmas mood by attending the Advent and Christmas concerts, which take place regularly at the St Salvator Church in Prague – one of the most highly rated in Prague. Many of Prague's historic churches, however, also have concerts taking place, so ask for help from your hotel when visiting Prague in December to locate the best options for you.
There are also seven Prague Advent Choral Meeting weekend's throughout the year, where groups from all over the world come together to perform at the churches in the Old Town of Prague. All concerts are open to the public and free of charge. Check out Prague Festival for dates and more information.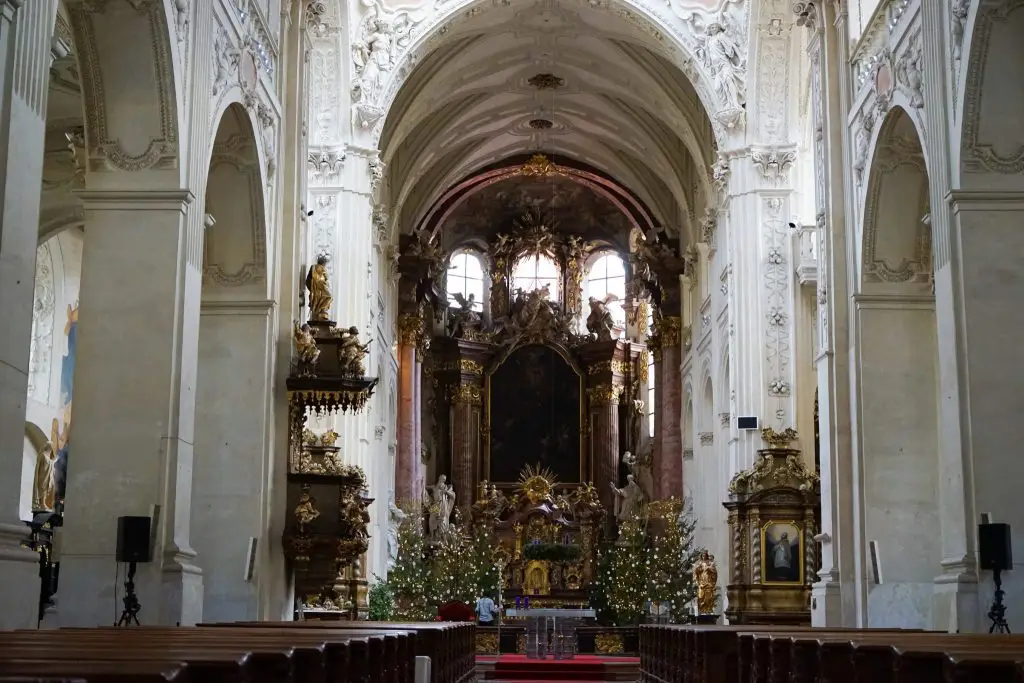 7. Indulge In All The Glorious Czech Traditional Food Stands
The abundance of delicious street-food is a massive highlight of visiting Prague in December, which is not readily available in most other months of the year. But as Christmas (or Easter) rolls around each year, the streets of Prague are filled with a smorgasbord of options to eat, so many in fact that the average tourist might never step foot in a restaurant or cafe.
The top food to try in Prague has to be langose (a kind of fried bread with tomato sauce and grated cheese), chlebicky (an open sandwiches with cheese, ham, egg, salami, and gherkins), Czech sausages (like German bratwurst) and Palacinky (French-style pancakes).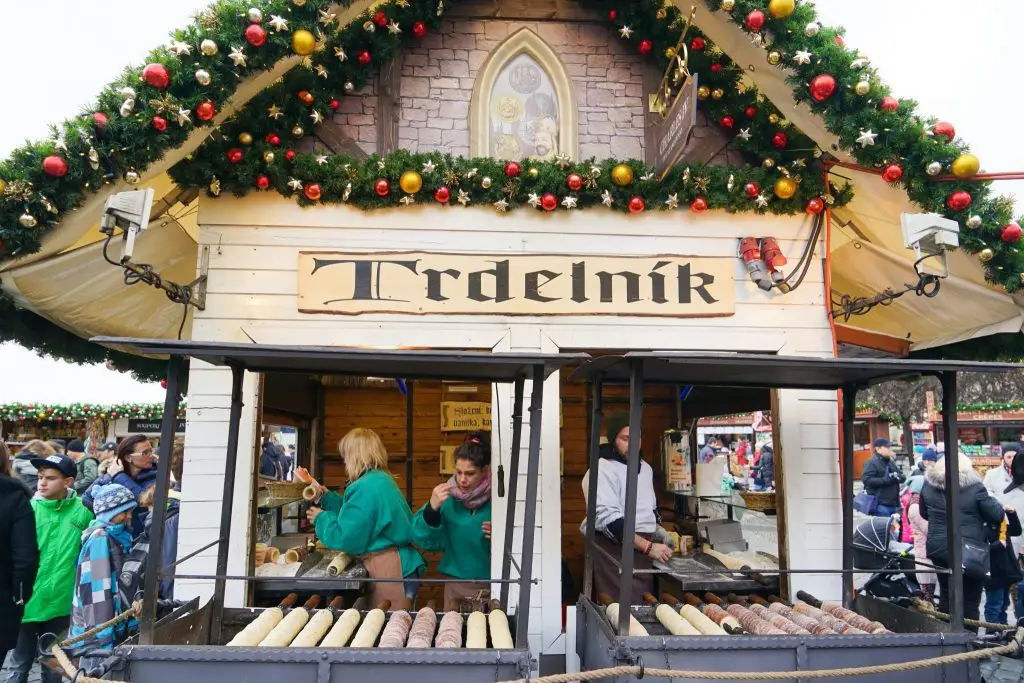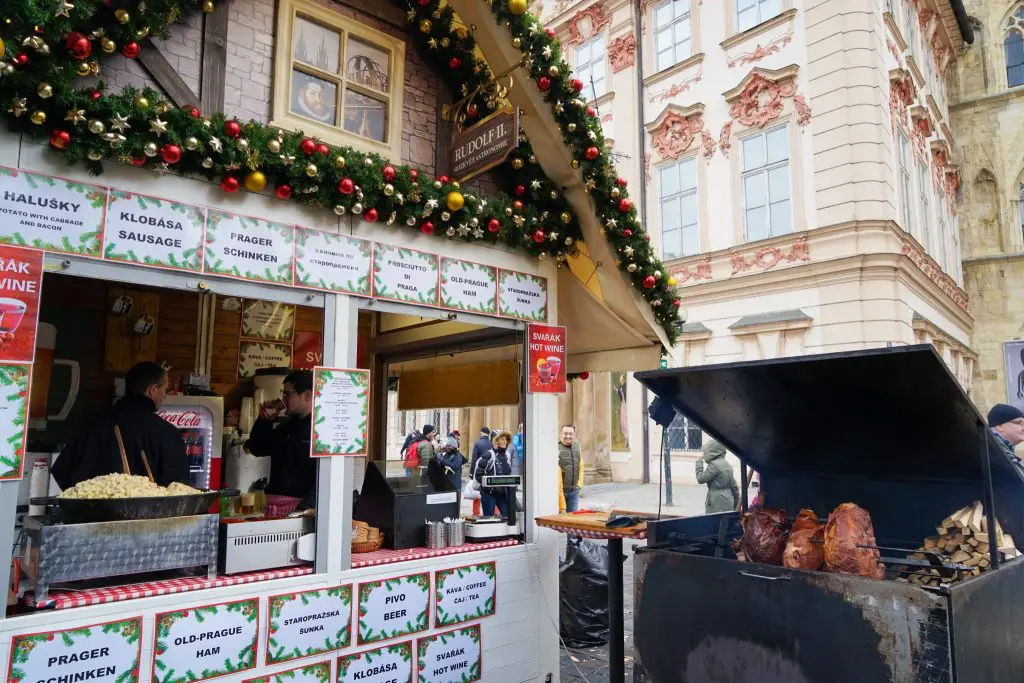 To drink you cannot go past svarak (Czech mulled wine with apples instead of lemons or oranges), and of course, you must try the current food sensation in Prague, Trdelnik – a soft dough in a cylinder form with cinnamon and sugar- stuffed with ice-cream and chocolate.
There is nothing like it in the world. Don't worry about where to find them — they seemed to be on every street corner in Prague now!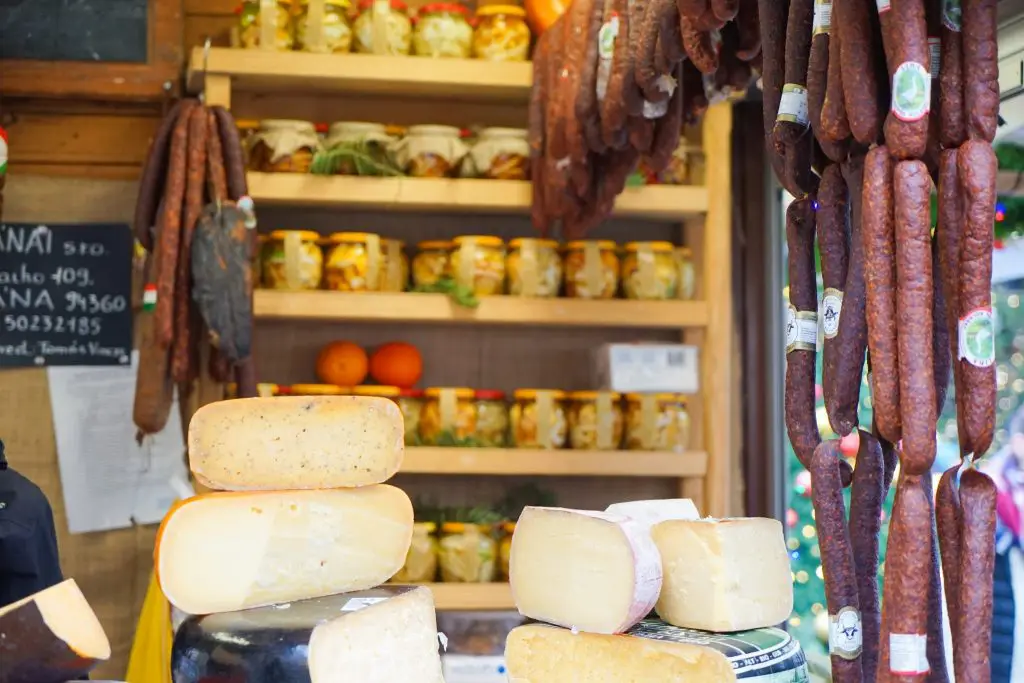 8. Shop Up A Storm On One Of The Charming Prague Shopping Streets
Take advantage of the lower prices and abundance of high-quality handicrafts to get all your gift buying done in Prague at Christmas. Of course, there are plenty of generic mugs, magnets, and kitsch items on display, which could make a lovely present.
Still, for an authentic Prague souvenir, you really can't go wrong with Marionettes, Becherovka Herbal Liqueur, or Bohemian Glass.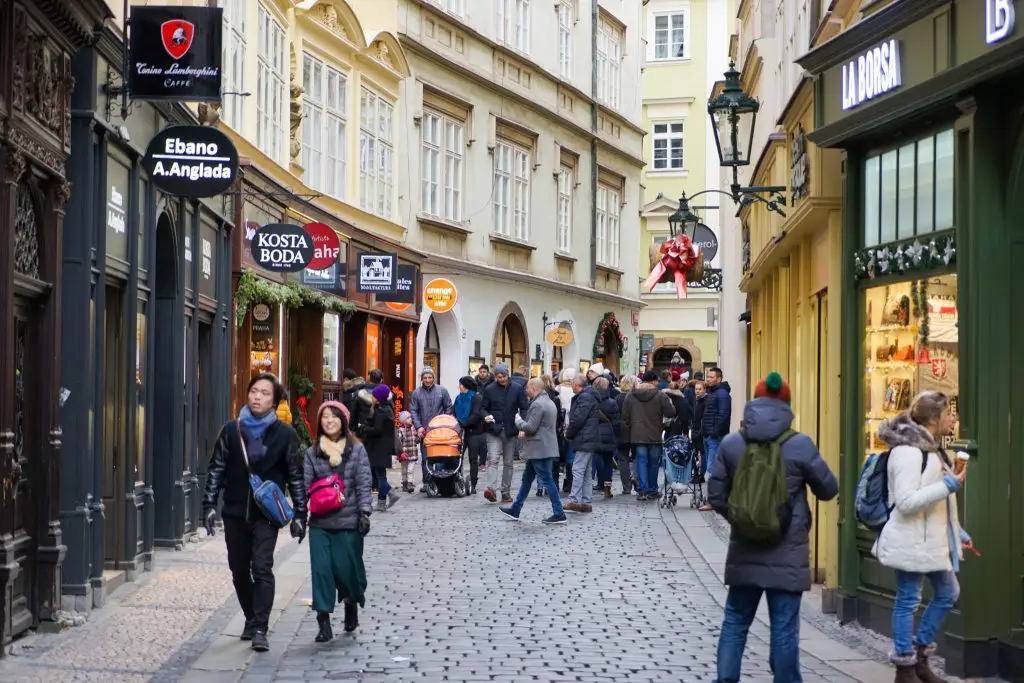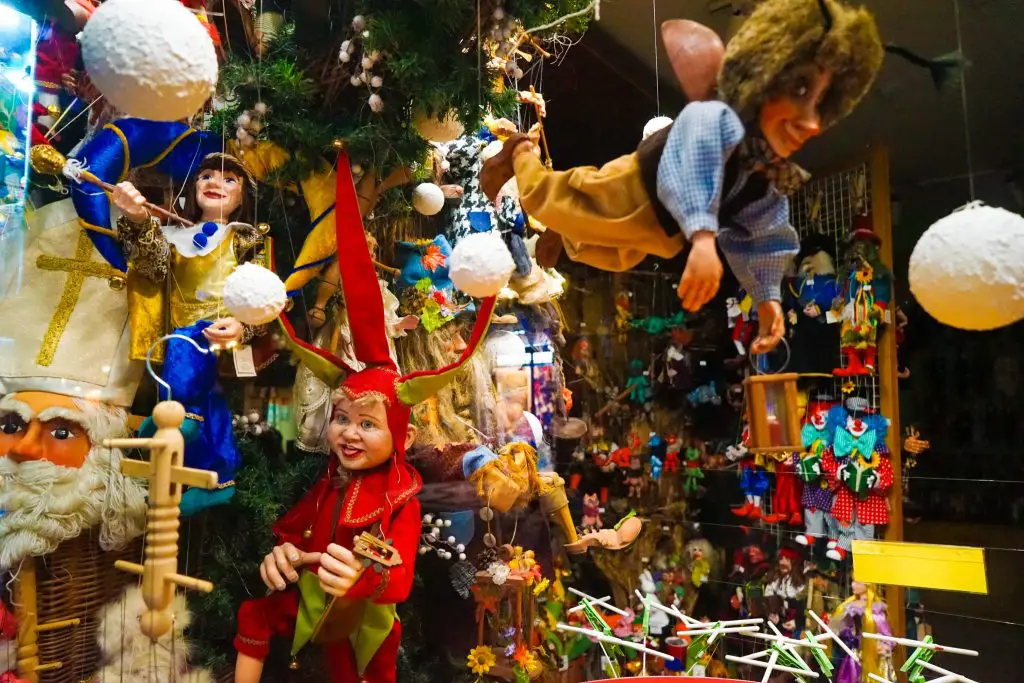 Hand-crafted and hand-carved marionettes are a serious business in Prague, and you can find plenty of high-quality stores around Charles Bridge with pretty much every size and theme you can imagine.
If these beautifully creepy puppets are not for you, there is always the famous Becherovka Herbal Liqueur with its delightful tastes of ginger — which is the most famous drink in the Czech Republic. Or you could consider Bohemian glass, cut and engraved in small factories for generations with the best pieces sold through the official Moser store.
Prague is a big place, so to save time you should focus your efforts on the main Prague shopping area. It runs from Wenceslas Square to Republic Square, and in the Old Town Square, and here you can find a plethora of small shops selling art, crystal, and tourist knick-knacks. For international brands and chains, you can either head to Myslbek Shopping Gallery or Wenceslas Square – but I mean honestly, how could you go past the Marionettes??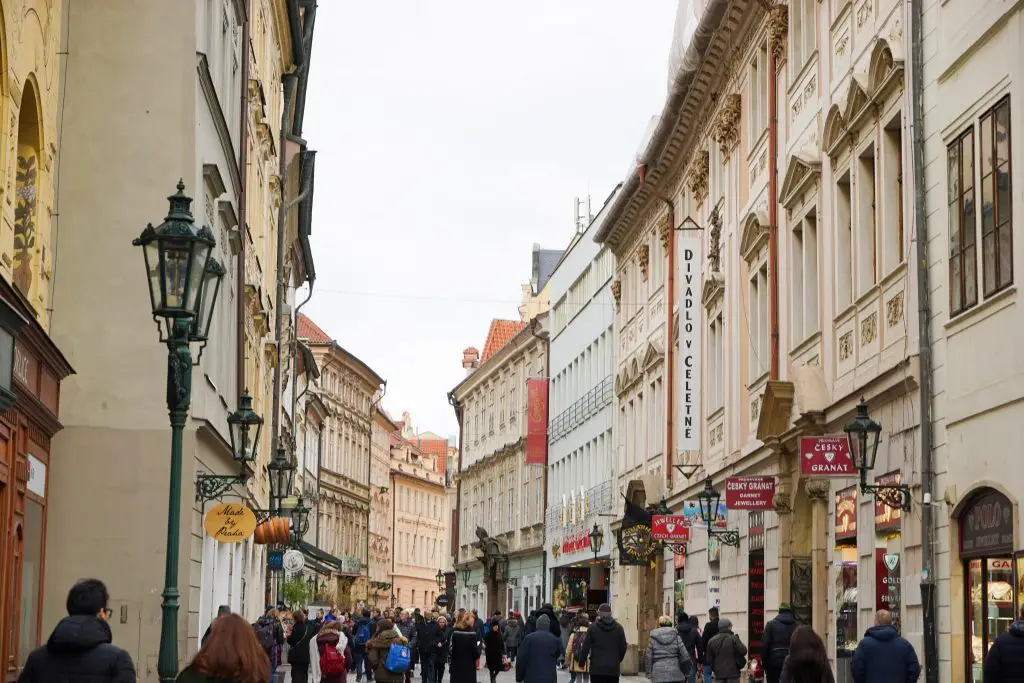 9. Enjoy Gourmet Food At Mlynec Or A Coffee At Café Lávka Wrapped Up By The River
For a stylish and contemporary Czech restaurant with a stellar reputation and views to die for, you can't go past Mlynec with its large windows with views out over Charles Bridge and live jazz evenings.
With a seasonal menu reflecting traditional dishes of the region with an 'oh-so-modern' twist, Mlynec restaurant is probably the best place to eat in Prague. If you are lucky enough to organize reservations for their Christmas dinner special, you will not be disappointed.
For those on a budget – or just looking for a more relaxing environment Café Lávka next to the Smetana Statue is a friendly alternative just around the corner.
Right on the river with heaters and blankets, you can enjoy a simple coffee or snack while the swans gather on the river below you. Or you could try the Prague Beer Spa instead…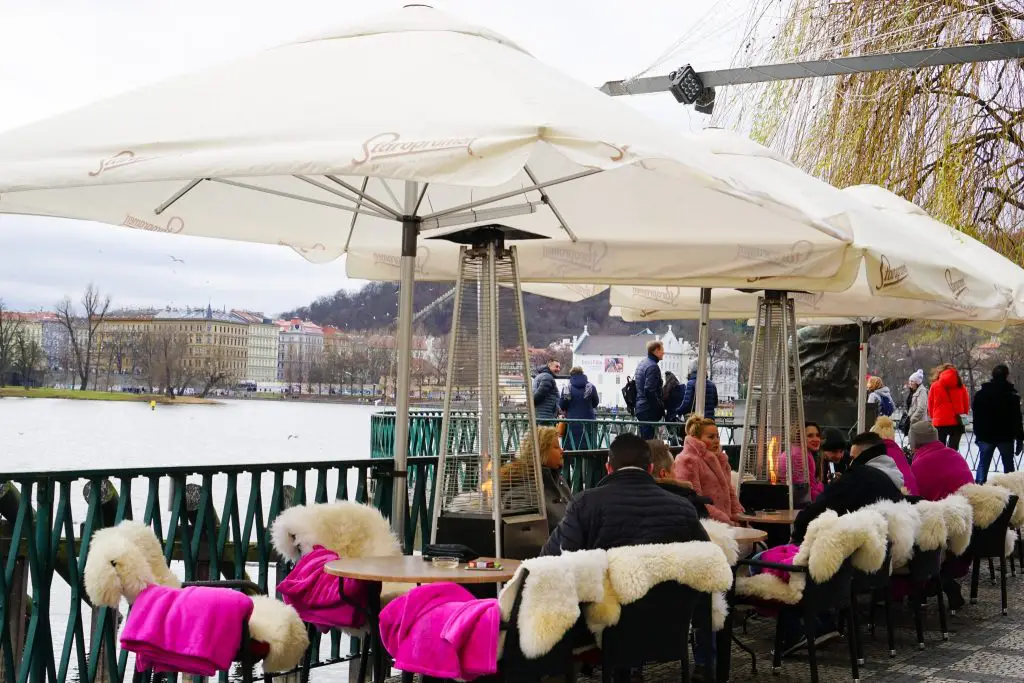 10. Discover The Unique Christmas Atmosphere in Prague
Yes, as cliche as it might sound- one of the most beautiful things to do in Prague in December is to wander around, get lost in the narrow cobblestone streets, and enjoy the unique Christmas atmosphere in Prague.
Plenty of buildings have beautiful shop displays, there are lights aplenty, and the city does come alive after dark, so don't think about skipping out early – unless you have one of the Josef Suites at the Josef Hotel then I would completely understand!
Take the side-street, avoid the crowds, wander by the river, stop to listen to the Christmas carolers, and head up to the castle at night to take in everything Prague Xmas has to offer.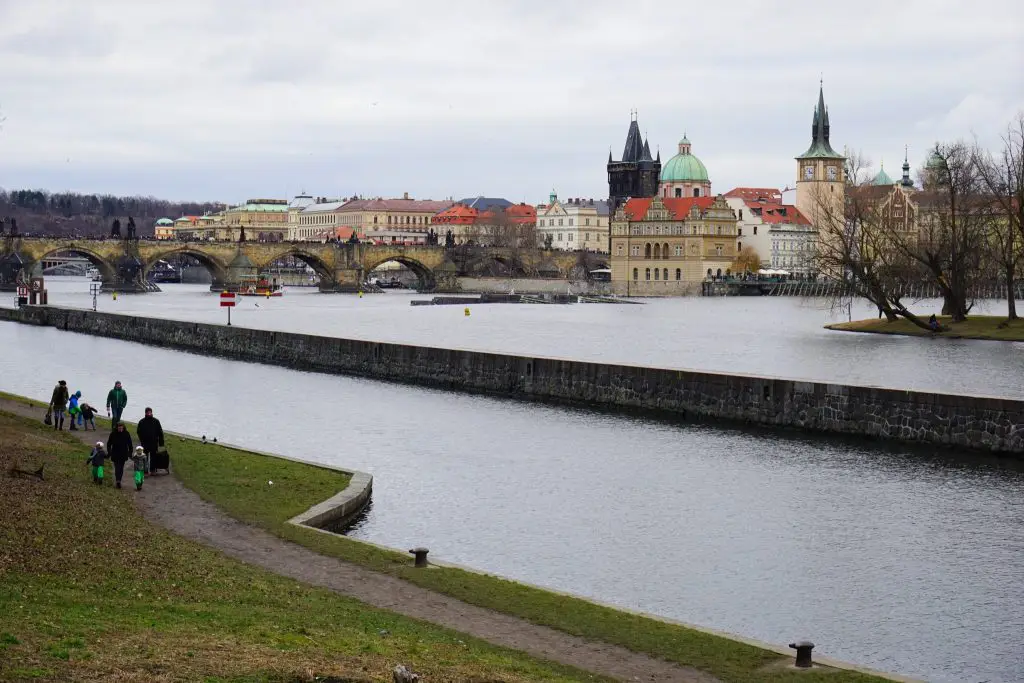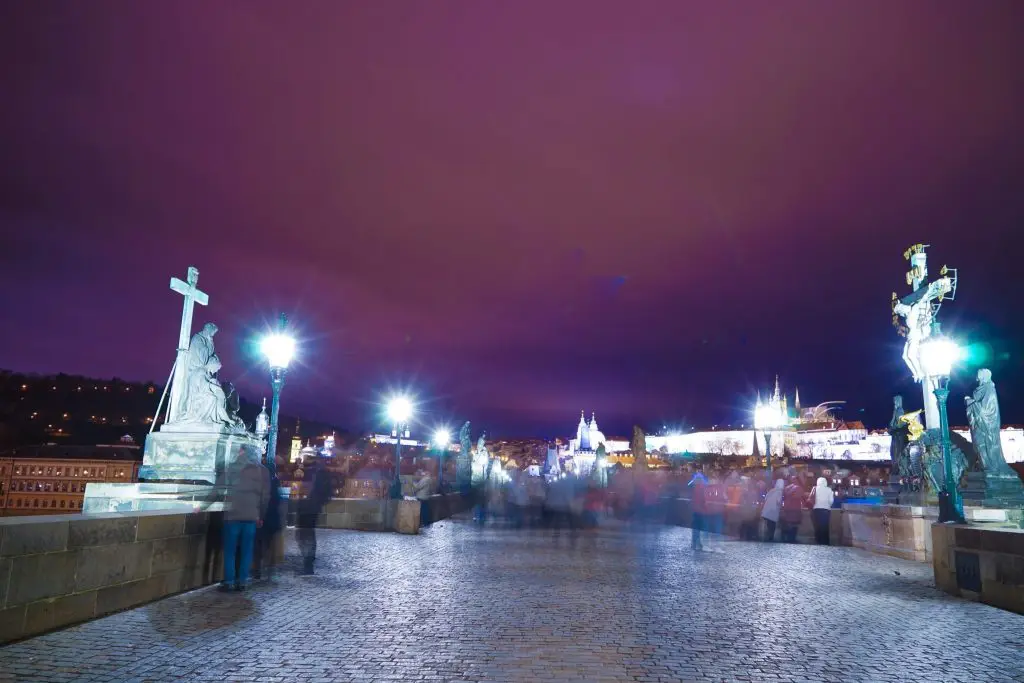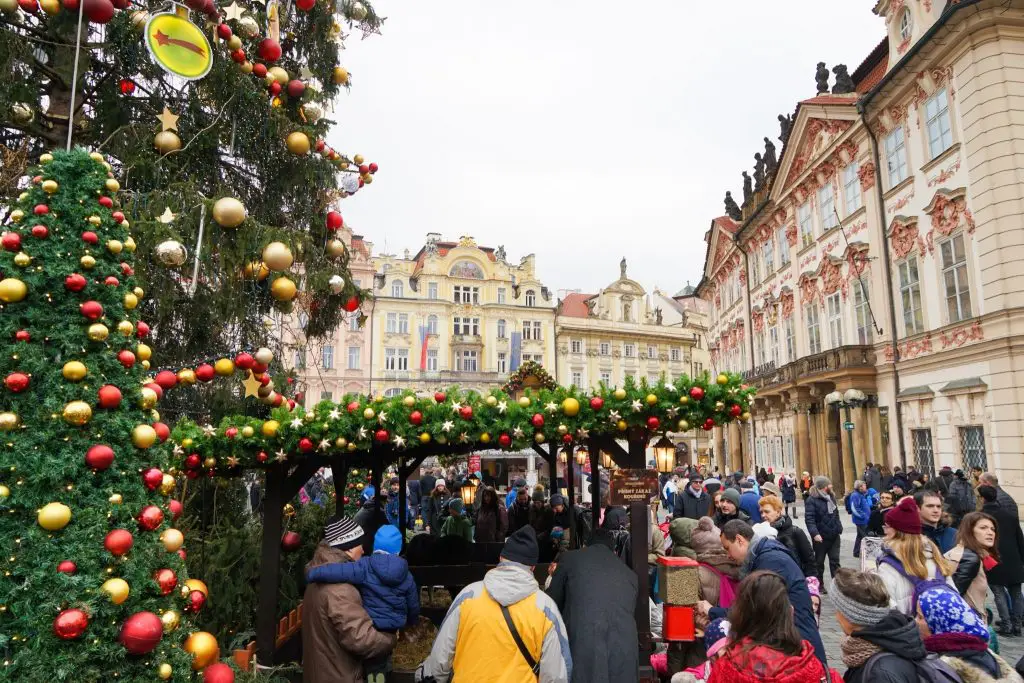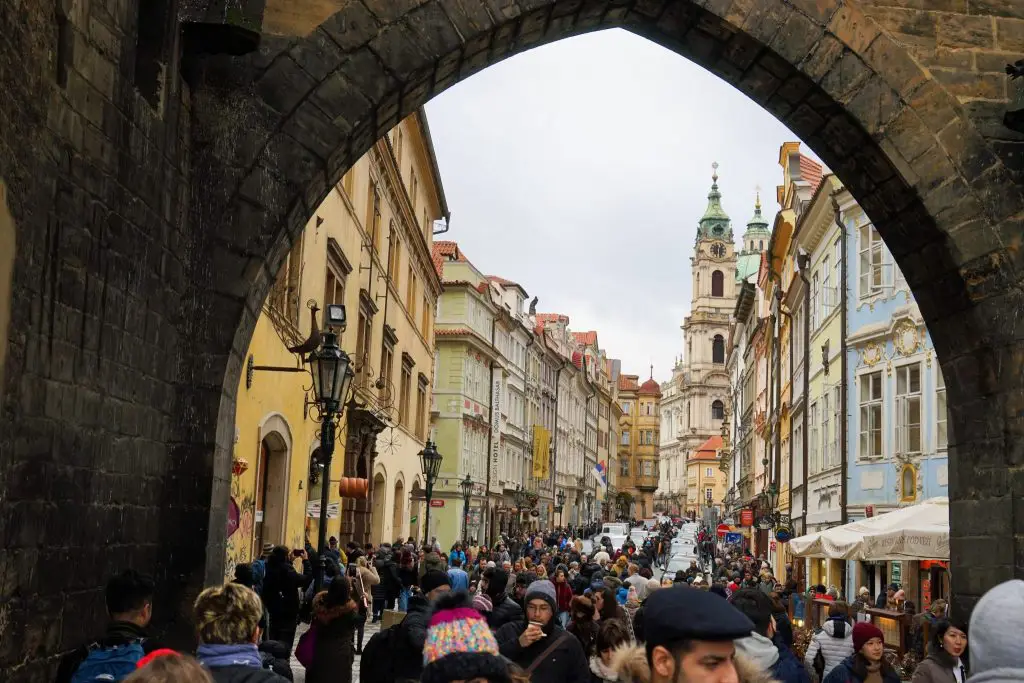 ---
Where To Go After Visiting Prague On A EuroTrip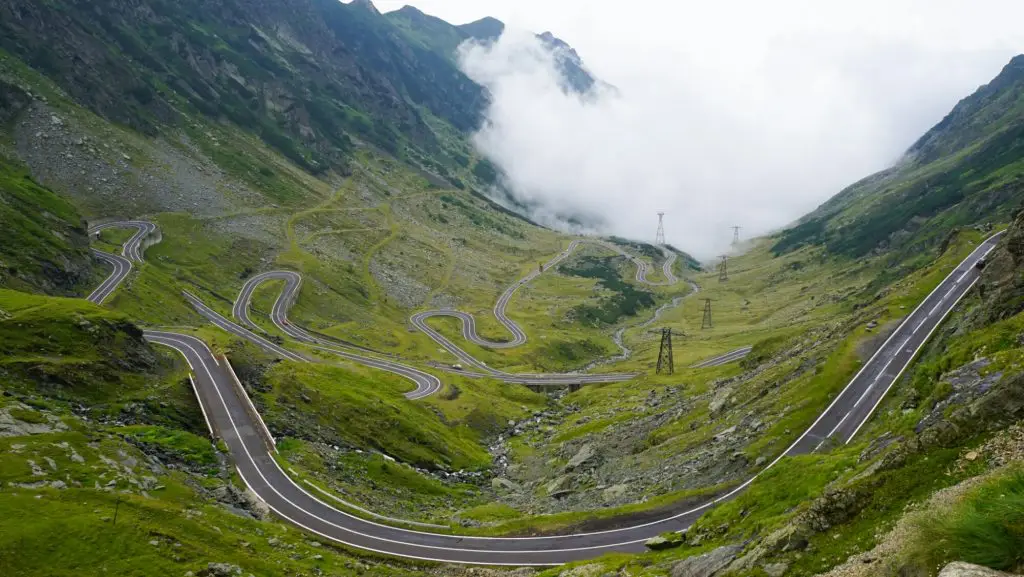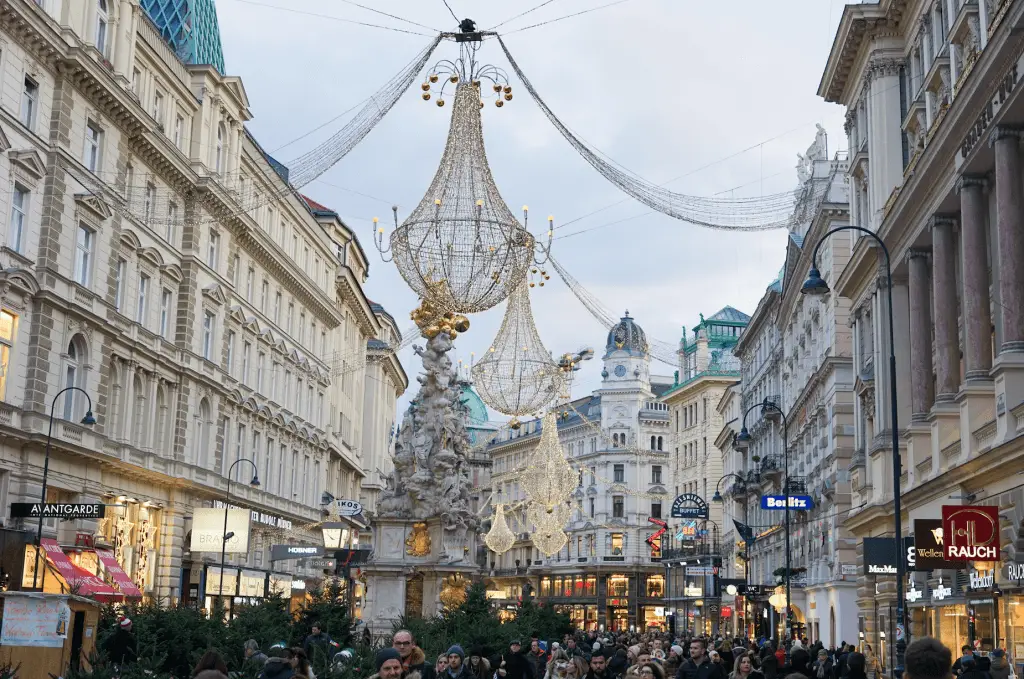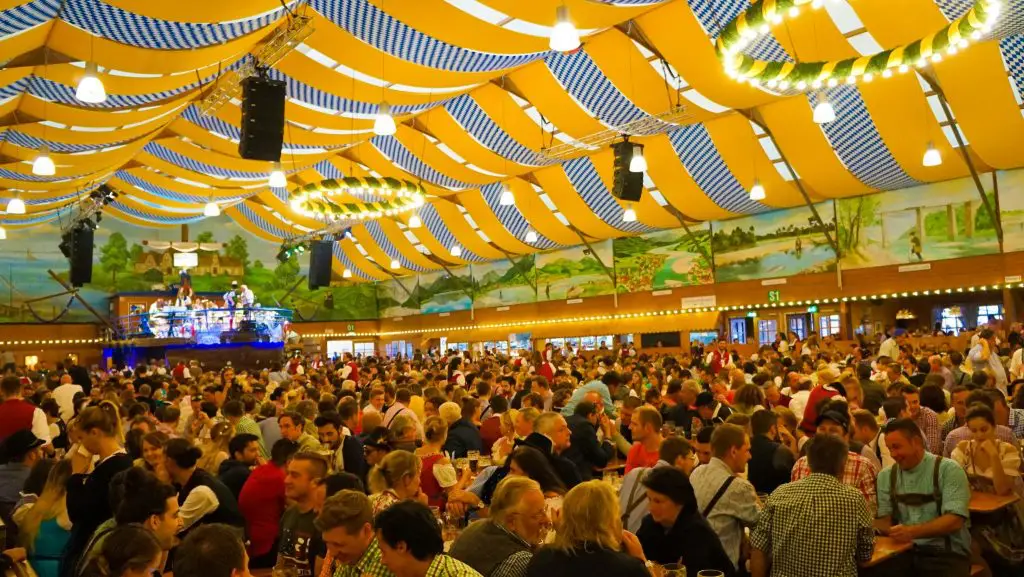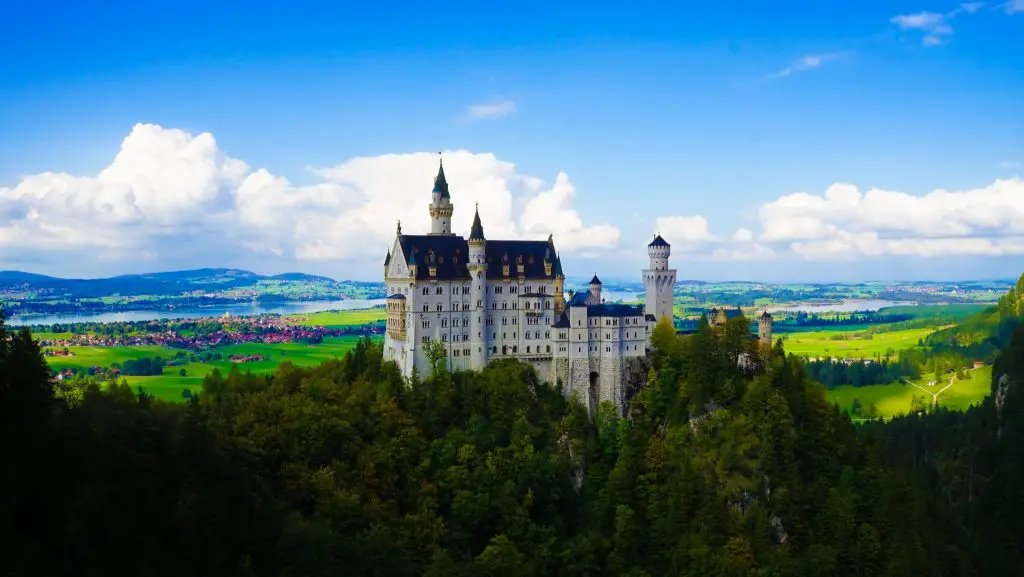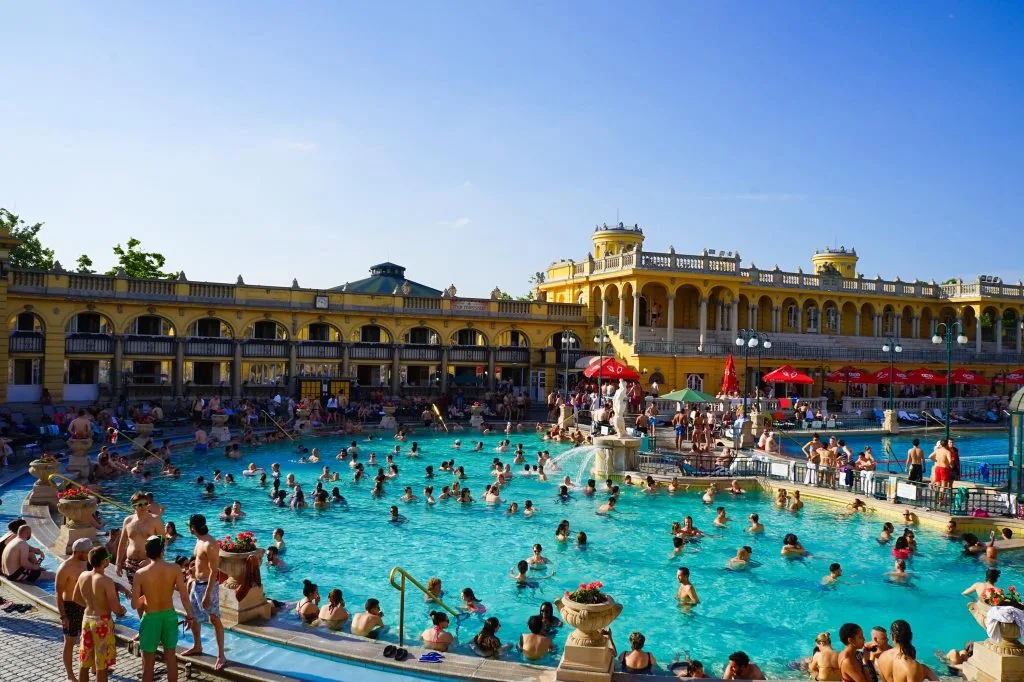 Not just in Europe for the glorious Old Town of Prague and it's incredible Christmas Markets? Here are some great other guides and cities to continue on your Euro Trip From Prague. Make sure you get your Eurail train ticket before you enter Europe for big savings and the freedom to hop-on and off almost any train in Europe on a whim!
What could be better, right!
Vienna – Filled to the brim with imperial architecture, world-class museums, refined Kaffeehäuser (coffee houses), and an air of elegance, it's easy to see why Vienna is world-renown for its old-world charm and as one of the most beautiful capitals in the world. But there is also a modern, contemporary scene here like no other in Europe. Find out all Vienna's secrets with these Twenty-Five Top Things to Do in Vienna!
Budapest – The joint capital with Vienna under Austro-Hungarian rule, Budapest is famed for its ruin pubs, low prices, spa culture, and Parliament building. Find out everything you need to know for the perfect Budapest weekend away!
Romania – Ok, so it's one country over, but Romania is probably one of my favorite countries in Europe and deserves to be on every adventure travelers' bucket list. Are you not convinced? See these 50 incredible places you can't miss on an epic Romania road trip and then tell me I am wrong! And then, of course, you're only a short hop to Chișinău, Europe's ugliest capital!
Munich– A more boring version of Vienna in my mind, there is still a lot to love about Munich, and it does have almost as much history. If you can plan your visit around the one-of-a-kind Oktoberfest or the German Christmas Market season. Otherwise, a day trip To Neuschwanstein Castle is always a winner, no matter which season you visit it, and all these awesome things to do in Salzburg are right on your doorstep!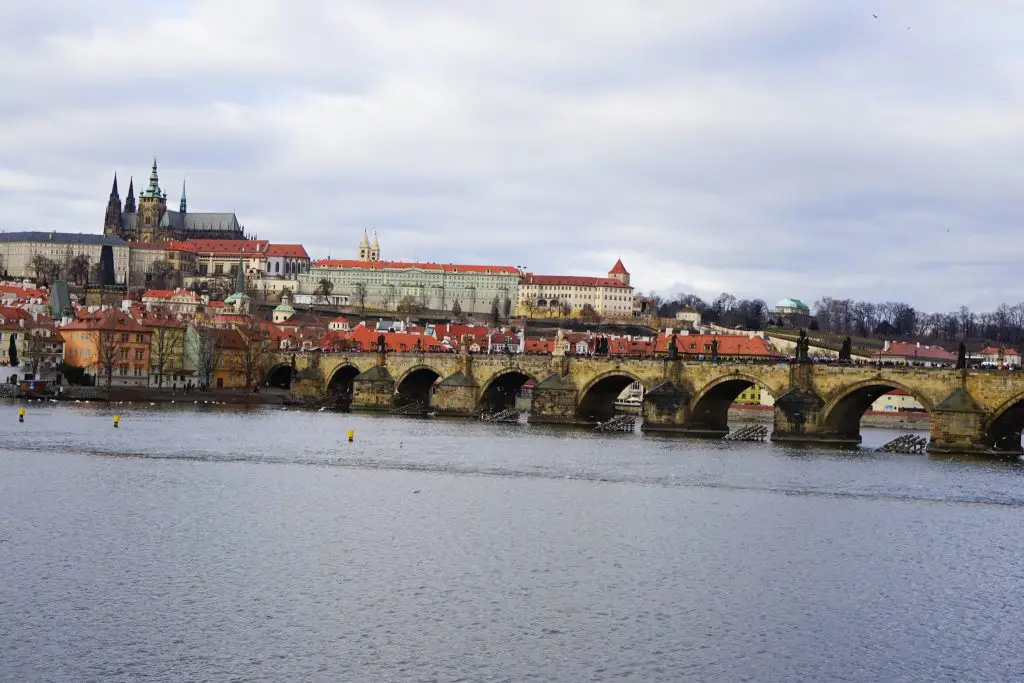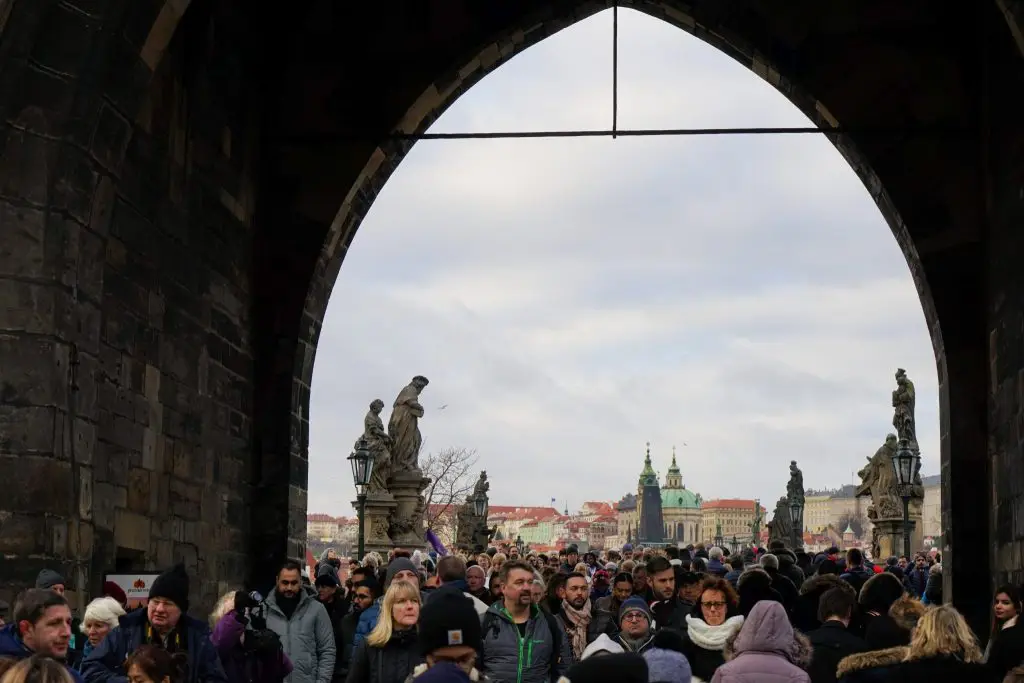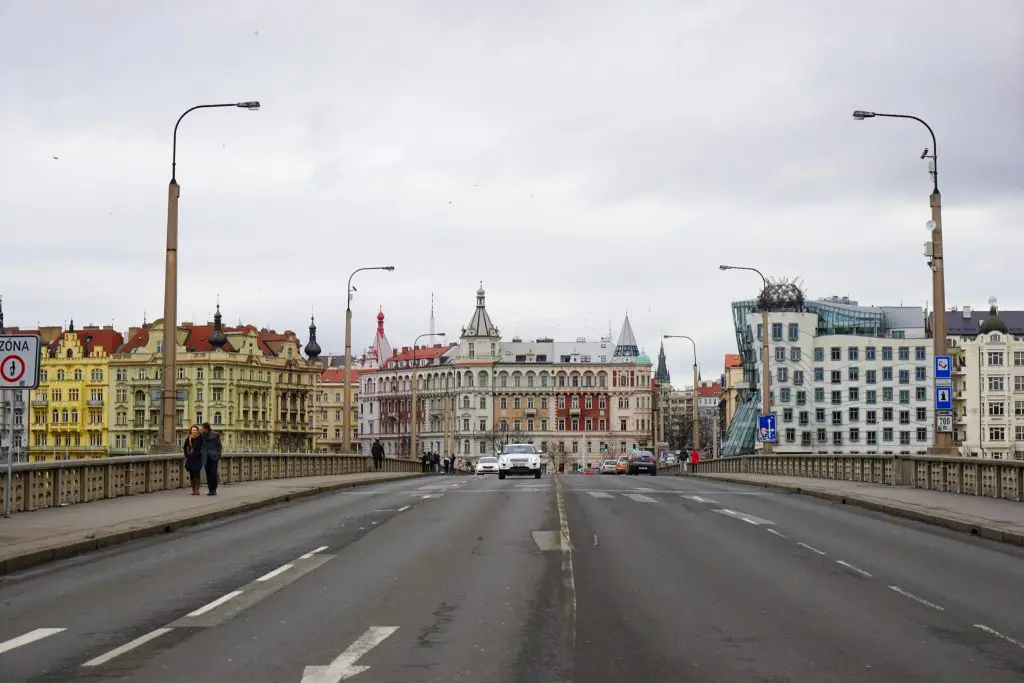 ---
I hope this list has inspired you to put a visit to Prague in winter on your travel bucket list, even if you have visited before – there are so many reasons to come back time and time again.
While the Prague Christmas Market is a highlight all in itself – There is so, so much more to see and do here, and even if you're not one for ticking off sights – the atmosphere in Prague at December is just electrifying and simply wandering its cobble-stoned streets will be enough to keep you occupied for days on end.
Let me know your favorite things I may have missed in the comments below so I can have new idea's for next time I visit!
A special thanks to Hotel Josef – the best place to stay in Prague – for helping me with my stay, including hosting me and providing plenty of great local hints and tips that you can find included above. As always, all opinions are my own and was in love with Prague even before my most recent stay!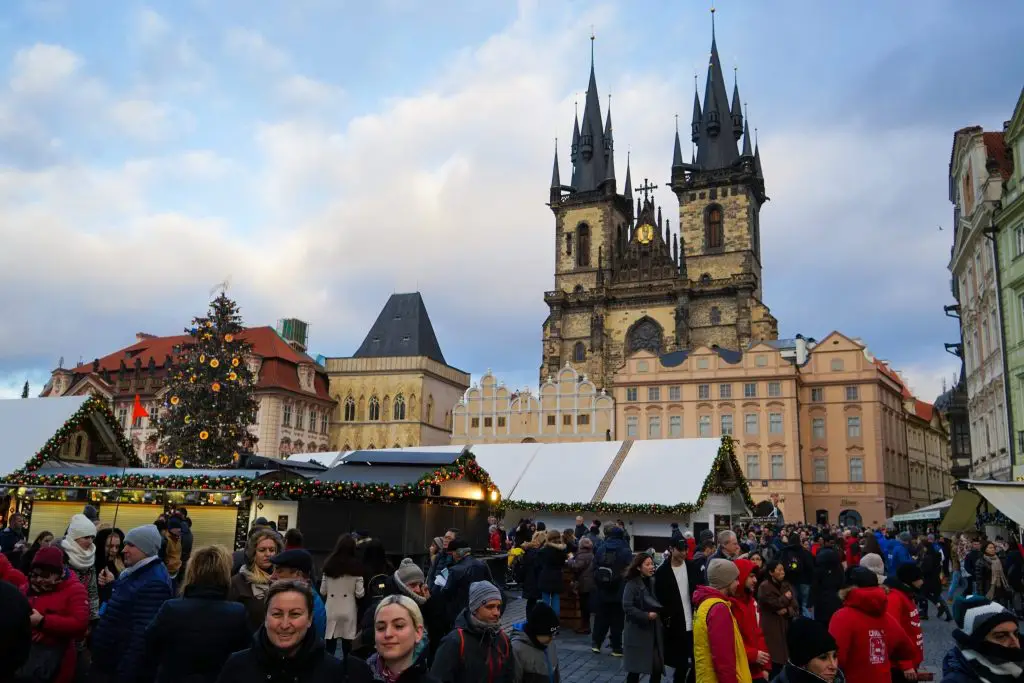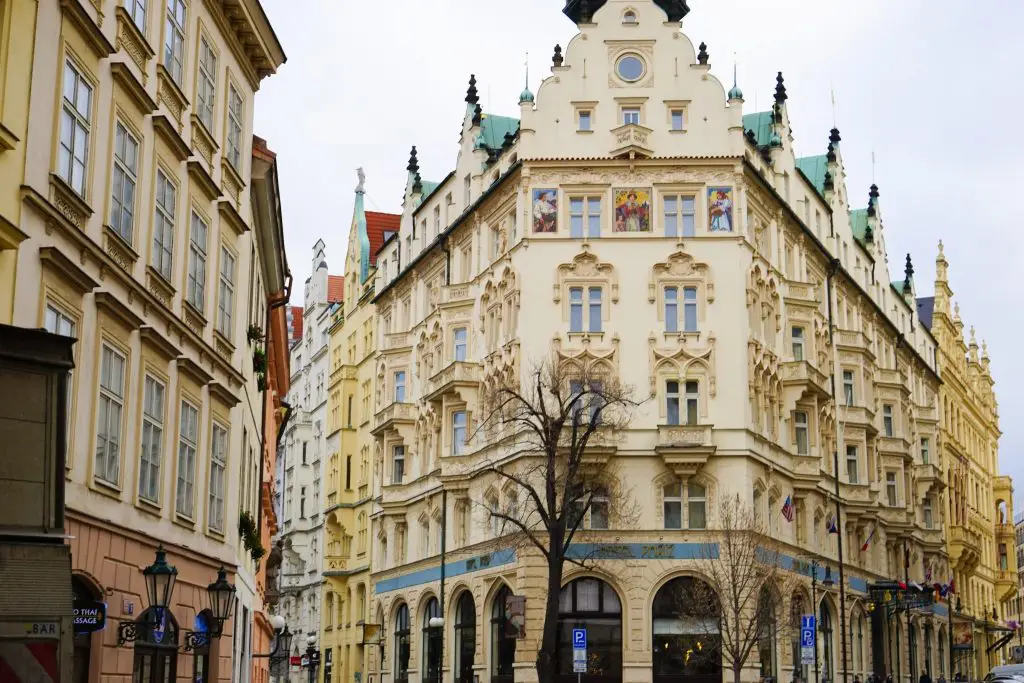 Staying Connected While Travelling
In today's increasingly connected world, staying online while traveling has become essential for a seamless experience. That's where eSIMs come into play, revolutionizing the way we access mobile networks during our global adventures. Say goodbye to hunting down local SIM cards at the airport; eSIMs provide instant activation the moment you land, sparing you the fortune usually spent on international roaming and allowing you to genuinely travel like a local (without getting hopelessly lost!).
With eSIMs, tasks like restaurant recommendations and reservations, up-to-the-minute public transport instructions, checking opening hours, and accessing further information become a breeze. And, of course, sharing your journey on social media is easier than ever. To stay connected wherever you roam, consider using either Airalo or Holafly. Airalo boasts the most extensive range of destinations worldwide, offering smaller data bundles tailored to your needs, while Holafly provides unlimited data packages and fantastic EU data deals.
So why wait? Embrace the future of travel connectivity with eSIMs and make your next journey effortlessly smooth.
Further Things To Consider Before Any Adventure
Now you're all set and prepared to explore our big wide world, why not sort out everything else out all in one go? If necessary for your travel plans make sure you have brought proper travel insurance, protected your privacy by getting a secure VPN, compared all the top hotel booking sites to find just what you're after, reserved an unbeatable rental car price and - of course - booked the best flight deals!
Or maybe just forget it all and go for a last-minute cruise or effortless tour instead?
Many budget travelers (including me) indulge in worldwide airport lounge access, so we can experience luxury while still slumming it in economy. Naturally, we would never leave home without a more general travel guide since we couldn't possibly cover everything here!
Just add an adventurous attitude and plenty of smiles - they go a long way - and that about covers it all! Now go out, find your own path and don't forget to share your best inspiration stories with me on Facebook, Twitter, and Instagram...I'd love to hear from you!