Don't know anything about Romania beyond Dracula and a national love of stuffed cabbage leaves?
That's OK! We are going to introduce you to 50 of the Best Places to Visit in Romania and convince you this incredible country should be top of your bucket list! With a fairytale landscape, fortified churches, and painted monasteries, there is a lot to love in this mountainous nation.
A strong yet mysterious country that is full of contrasts with vibrant western cities and villages that seem stuck in a wonderfully nostalgic time warp. Dacia's rule the road here and dense primeval forests provide shelter for the wolves and bears, which call the Carpathian mountains home.
There is so much to discover here, so book your flight now, sort out your rent a car Romania and get planning your visit to Romania – You won't regret it!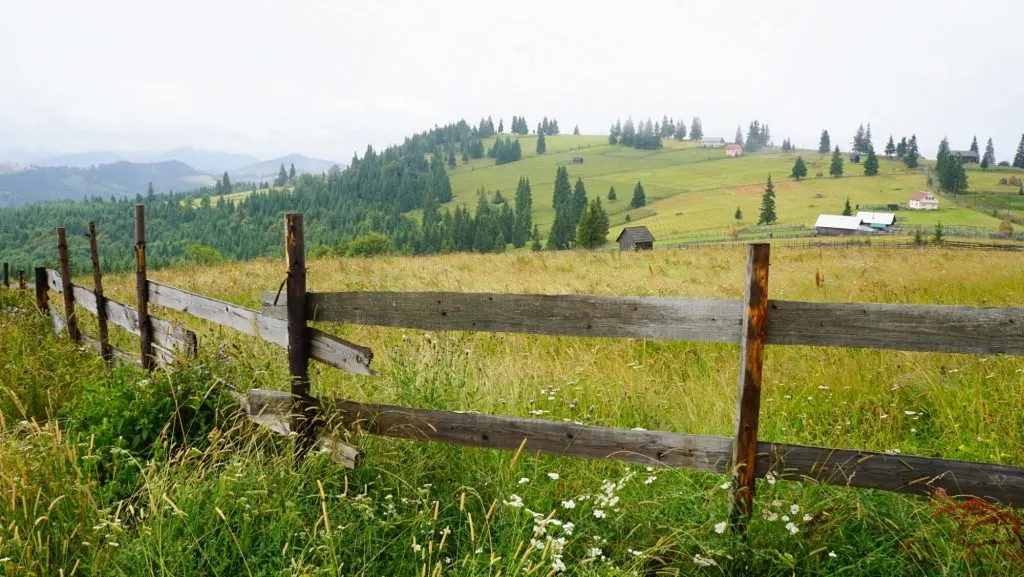 #1. Brasov
Wander around a medieval town preserved in time at the base of the Carpathians. And of course, stay in the charming hotels in Brasov.
The 7th most populous city in Romania, Brasov was formed in 1211 when King Andrew II of Hungary ordered the Teutonic Knights to fortify the borders of what was then the Kingdom of Hungary. The knights today are long gone, but thanks to the cities position as a significant hub on the trade roads between East and West, Brasov continued to grow.
Today Brasov is filled with gothic, baroque, and renaissance architecture and plenty of curious historical attractions – like the Black Church, the largest gothic church between Vienna and Istanbul. Like stepping back time, the medieval vibes exuded here make Brasov an intoxicating and not to be missed attraction in Transylvania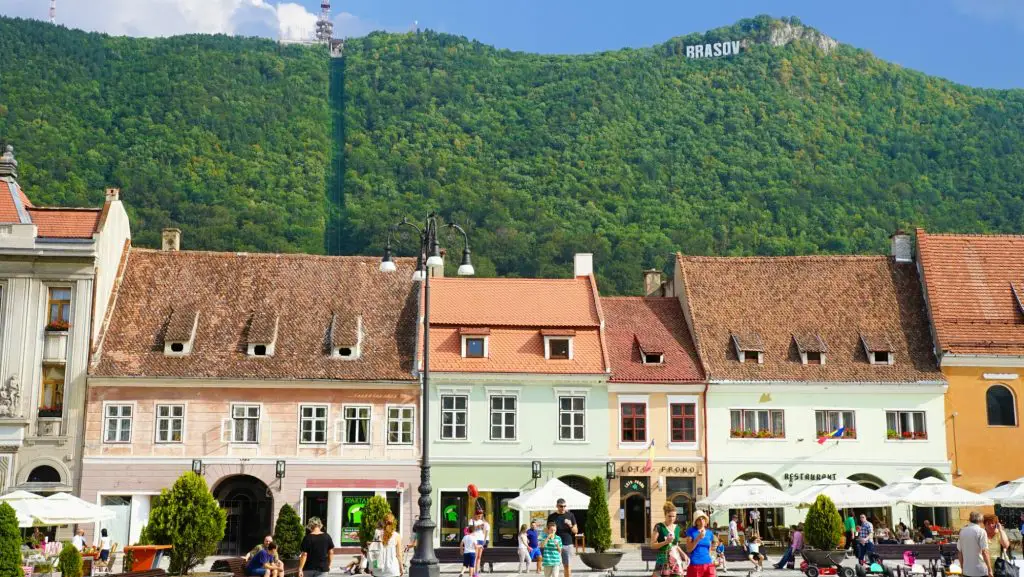 #2. Râșnov Citadel
Climb up to one of Europe's best-preserved Citadel, which still keeps a watchful gaze over the plains below.
A grand mountain fort built to protect the outer borders of the historic Hungarian empire, Râșnov Citadel has a long and intriguing history just begging to be explored. Its location at the mouth of the Bran Pass was chosen as invading armies had to pass through Râșnov before heading west – and over the years, it was besieged by the Tatar, the Ottoman, Hungarian revolutionaries, and the Austrian imperial troops – just to name a few.
As a result, it is probably no surprise that the people of Râșnov and the nearby villages grew weary of continually leaving their homes to be ransacked and so simply turned the Râșnov Citadel into their long-term home for decades – meaning there is now an entire village within the fortification left to explore. There is also a museum worth visiting with exhibits, including weapons and period objects worth exploring.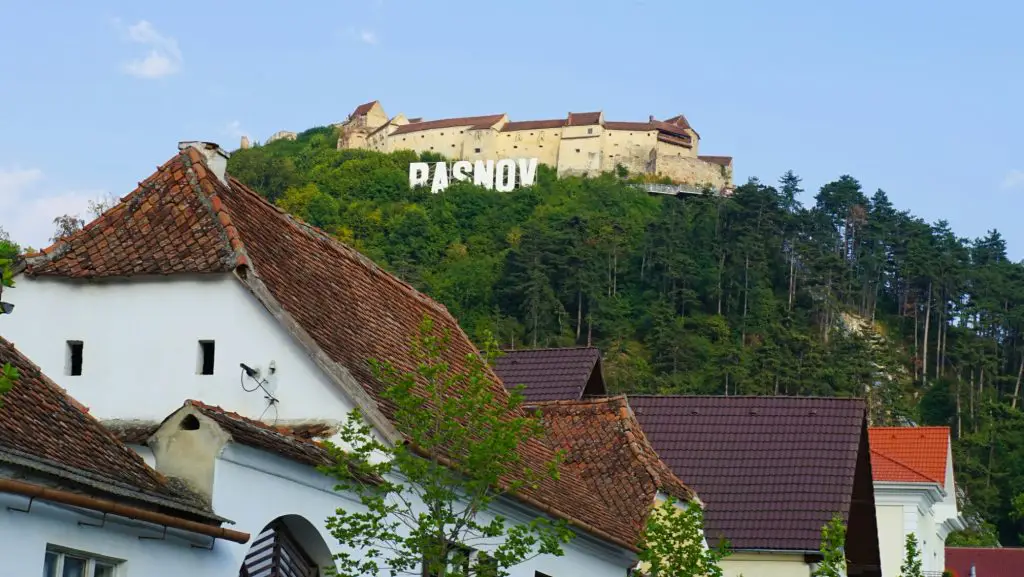 #3. Peștera Valea Cetății
Climb into a huge limestone cave carved out by water and time under the mountains.
The Valea Cetăţii Cave and surrounding natural protected area are all exceptional beautiful – however, the standout highlight has to be the jaw-dropping Cathedral Hall reached through a short walk through an ancient forest. Within this 30,000 cubic meter cave are small pools of water that perfectly mirror the extraordinary calcite formations and white arches that hang from above.
A rare chance to get up close to this natural geological formations – and without undertaking a claustrophobic expedition of abseiling as in many other places. It is conveniently located only a few kilometers from the city of Râşnov, though for some reason international tourists have yet to discover the Valea Cetăţii Cave – meaning a more enriching experience for those who wind up at this magical place!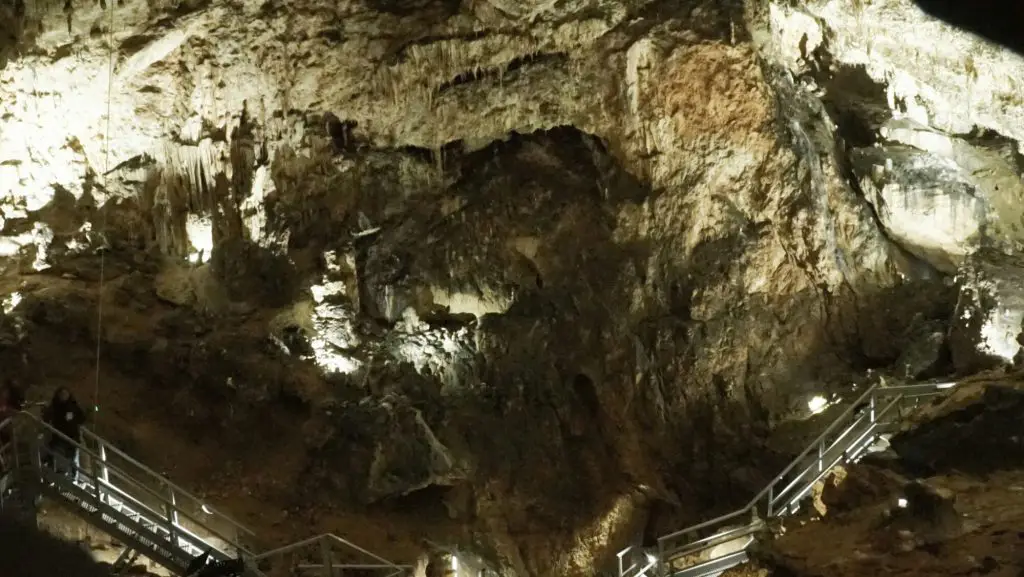 #4. Zărnești LiBEARty Bear Sanctuary
Come face to face with nature in this safe space for the rescued brown bears of Eastern Europe.
A beautiful bear sanctuary hidden in the historic oak forests above the town of Zarnesti in Transylvania is now open to guests. The Libearty Bear Sanctuary Zarnesti was founded in 1998 by a Romanian woman, Cristina Lapis after she witnessed three bears in a small cage in a restaurant being used to attract customers. Sadly, in the past, this practice was all too popular. She then made it her personal mission to rescue bears who were languishing in small and rusted cages at restaurants and petrol stations and create a sanctum for them. Thus Libearty Bear Sanctuary Zarnesti was born.
Only open in the mornings, onsite guides take you around the sanctum informing you of each of their personal stories – and giving you a unique opportunity to see over 50 rescued bears. Be warned. Some of their accounts are very sad, but supporting this shelter helps to ensure the remainder of their life is as peaceful as possible.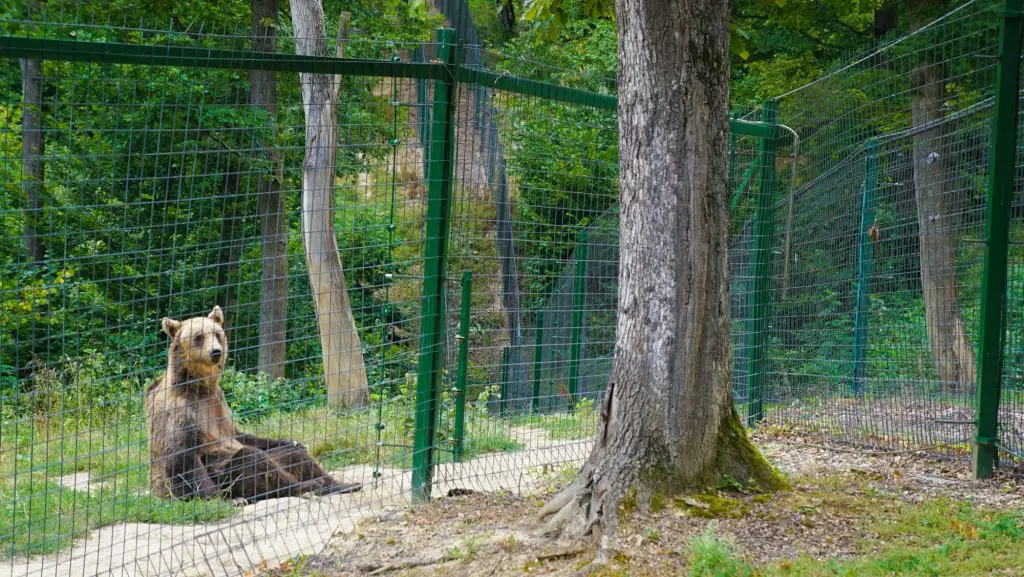 #5. Bran Castle
Get goosebumps exploring the famous castle-keep that didn't actually inspire Bram Stoker's 'Dracula.'
One of the most famous castles in Romania – if not the world, initially built-in 1212 and destroyed just a few decades later in 1242 by Mongols. It was rebuilt and destroyed many times over the centuries taking its dramatic form we see today in the 14th-century.
Commonly known outside Romania as 'The Real Dracula's Castle,' Bran Castle is frequently alleged as the inspiration for the famous Count Dracula in Bram Stoker's famous book. However, in reality, the description of Dracula's crumbling fictional CastleCastle bears almost no resemblance to the immaculate Bran Castle, and there are only tenuous associations with Vlad the Impaler, the presumed inspiration for Dracula. In fact, there is no evidence at all that Bram Stoker was even aware of the existence of this castle.
Still, this association was one that the Communist Party of Romania used in tourism in the 1970s to encourage tourism as they sought to develop a closer relationship to the West. Today, Bran Castle's private owners are happy to keep playing this up to keep tourists flowing in. Regardless of this, the medieval dramatic architecture, intriguing history, and a well-stocked museum displaying art and furniture collected by Queen Marie mean Bran Castle is not to be missed on any Romanian road trip. There is also a cute little open-air museum displaying classic Romanian peasant structures such as cottages and barns, which is worth a look in.
Wondering the best film to see before you travel to Romania? You guessed it, the 1991 movie Dracula where Gary Oldman and Winona Ryder star in a tortured tale of a charismatic vampire, based on the tale of the Prince of Darkness.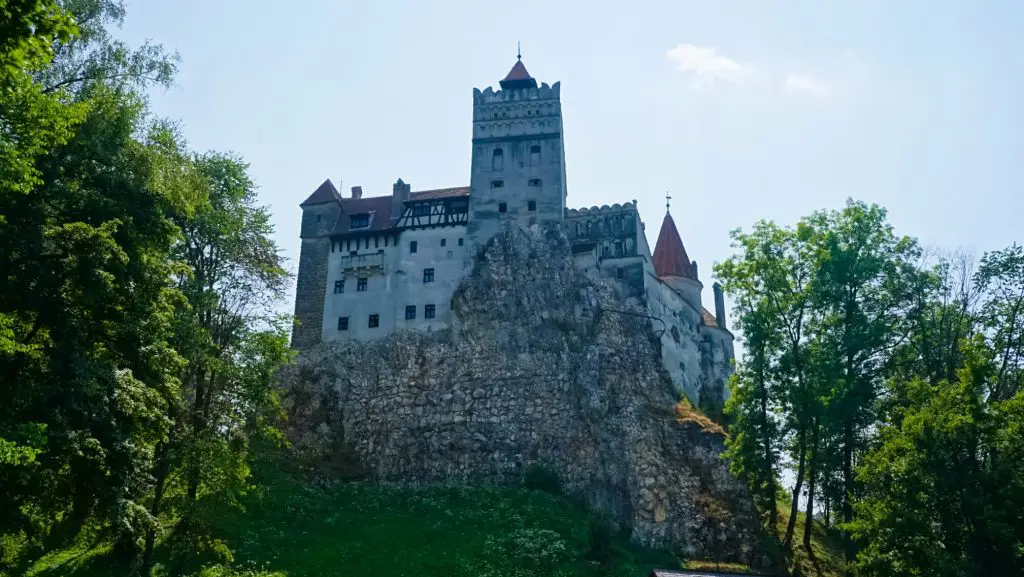 #6. Curtea de Argeș Monastery
Marvel at this Tentative UNESCO site and one of Romania's most important churches where the royals are buried.
Built in the early 16th century, this Romanian Orthodox cathedral is dedicated to Dormition of the Mother of God and is regarded as one of Romania's most prestigious religious sights. The cathedral boasted a pastel grey limestone exterior while the interior is of brick, covered, and embellished with sublimes frescoes. Much of the marble and tiles used in its construct hail from Constantinople, resulting in Curtea de Argeş Cathedral resembling a mosque more than a conventional Orthodox church.
The site also houses a grand Neo-Romanian style Royal Palace and a necropolis – the final resting place of many medieval princes and royal family members of the centuries, including most recently in 2017, when King Michael I was buried here with a full state funeral.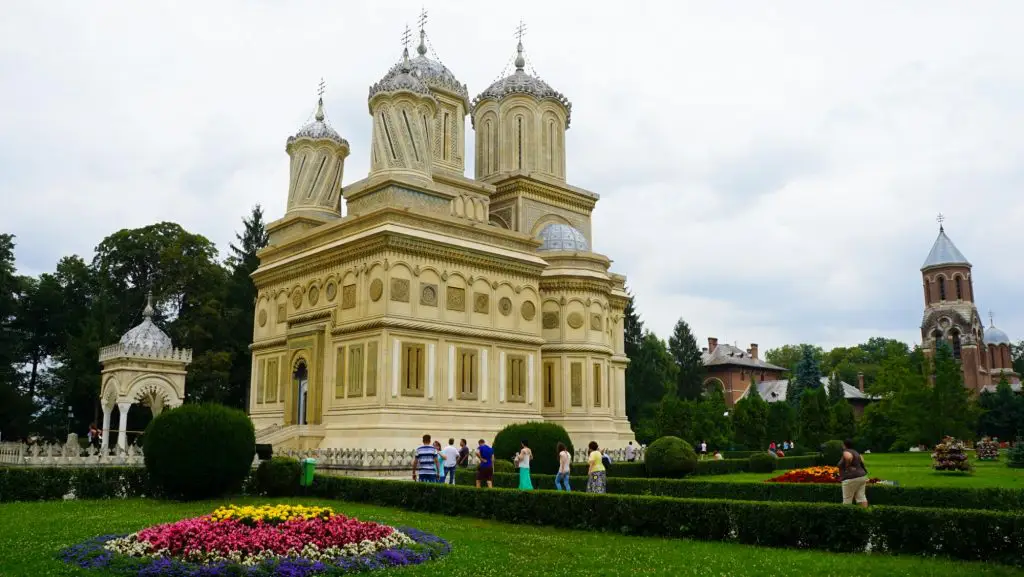 #7. Palace Of The Parliament
Feel tiny standing in front of one of the world's biggest buildings, which consumes as much electricity as a medium city!
The Palace of the Parliament is the current seat of the Parliament of Romania, found in the capital, Bucharest. Built over 13 years from 1984 to 1997, this grand moment to socialist realist and modernist neoclassical architecture was ordered by Nicolae Ceaușescu, the dictator of Communist Romania and designed by a team of approximately 700 architects. Today it is still the world's largest civilian building with an administrative function, as well as being the heaviest and most expensive building.
Its interior constitutes 23 orant sections, and today has been repurposed to house the two houses of the Parliament of Romania: the Senate and the Chamber of Deputies. In addition, there is also an international conference center and three museums, including the National Museum of Contemporary Art, the Museum of Communist Totalitarianism, and the Museum of the Palace. Even with these extraordinary uses, 70% of the building still remains empty.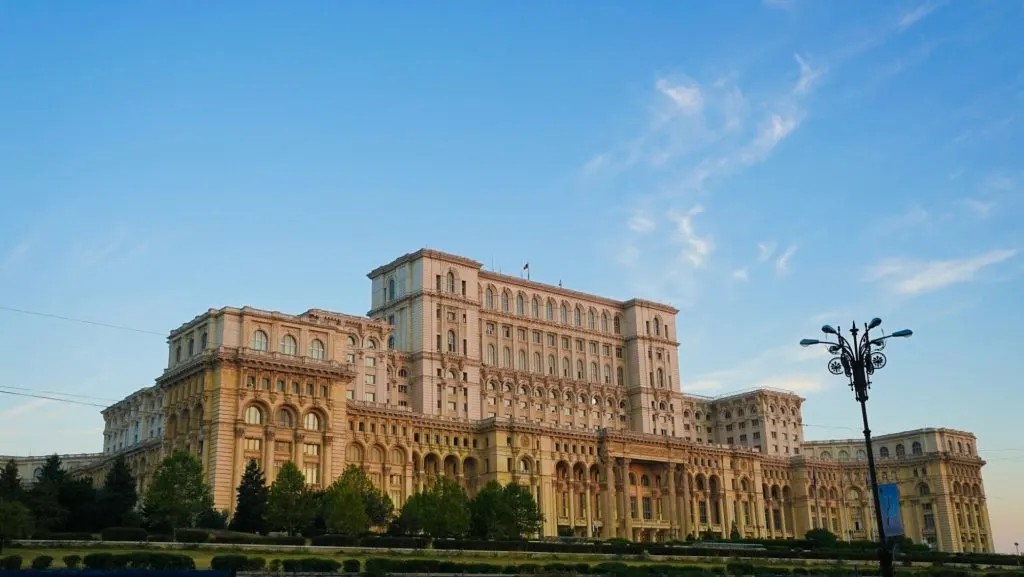 #8. The Middle Of Romania
Find your way into the middle of nowhere and the middle of Romania at 45°59′06.81″N 24°41′09.87″E
Ok – We are not going to say this is one of the top Romania tourist attractions, but if you are on a road trip, chances are you will pass close by, so why not make the stop. Located in complete obscurity, there is a small sign to mark the spot – and plenty of gorgeous countryside around. And we will bet you a good meal there won't be another tourist, or soul, around for miles.
Sighișoara is probably the closest large town in Romania you are likely to visit – but mark the spot on the map, and you never know when you'll be nearby. It is all part of the adventure, after all!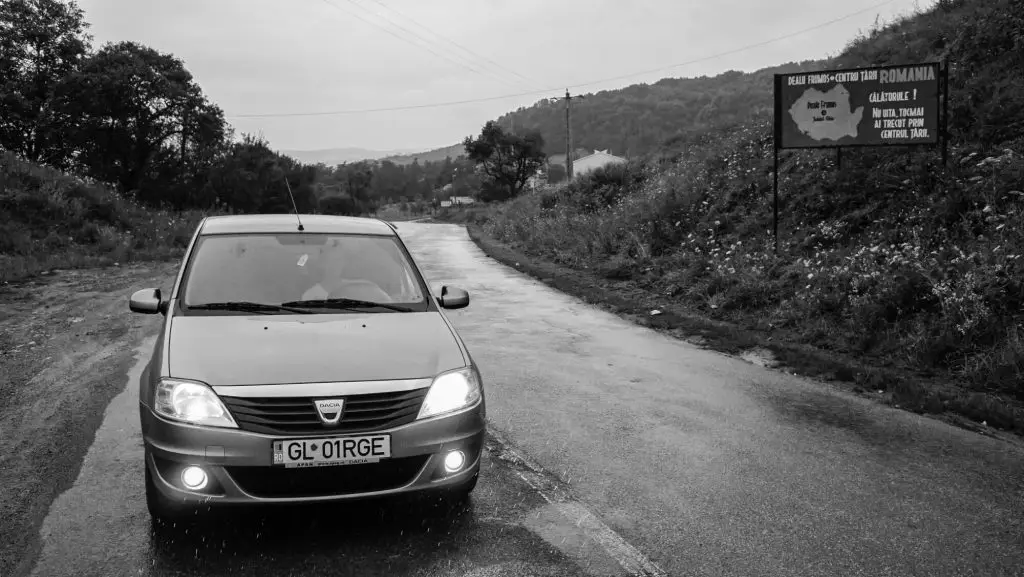 #9. Densus Church
Tune into your spirituality in the oldest church in Romania, most of which are still standing.
Another idiosyncratic spot for those wondering what to see in Romania without being swarmed by tourists. Legend has it that the Densus Church started life as a Roman pagan temple in the 4th century – which makes sense given the hodgepodge of architectural styles present here, including Byzantine design mixed with Roman columns.
Proving great things come in small packages, the importance of this church's story was acknowledged as far back as the Hungarian Empire when Densus Church was afforded traditional protection. This ensured it was not destroyed to build a more lavish and grand church – as was standard at the time. Even today, religious services are still held regularly here as they have been for over 700 years.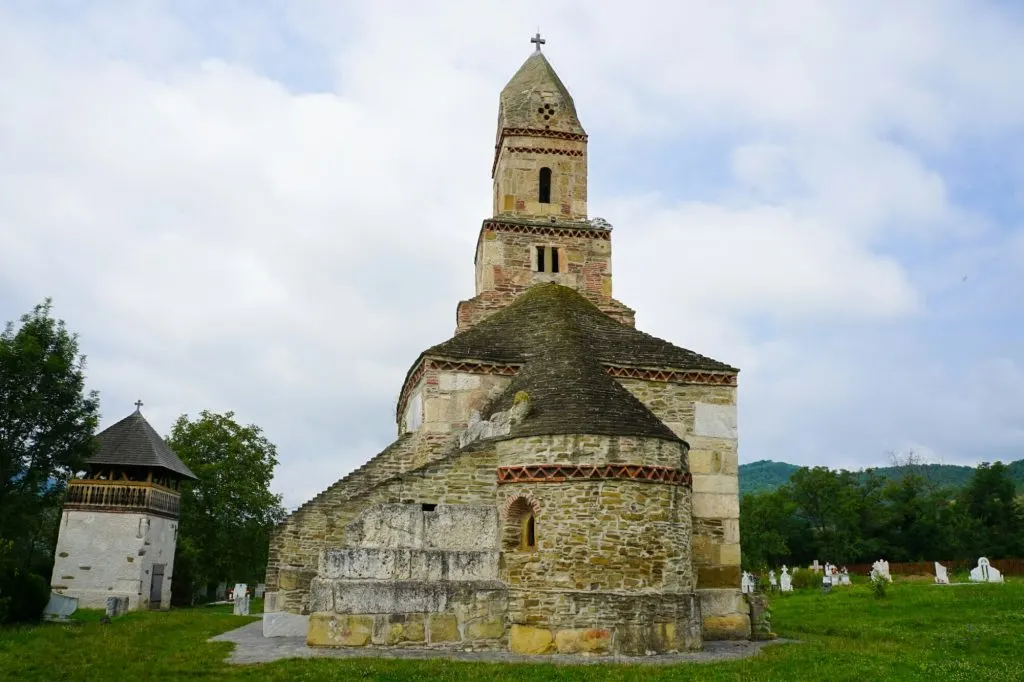 #10. Transfăgărășan Highway
Be transfixed by this seemingly impossible highway, which was gouged out in the steep mountains through the sheer folly of Nicolae Ceaușescu.
One of the most famous places to visit in Romania, in large part thanks to a specific Top Gear episode, the Transfăgărășan Highway is unlike any other road on earth. Built-in the early 1970s as a strategic military route ( in case of a Soviet invasion) the construction of this paved mountain road crossing the southern section of the Carpathian Mountains was once thought impossible due to its extreme alpine environment. Turns out, it was possible – however its creation came at a high financial and human cost, including hundreds of lives, and over six million kilograms of dynamite.
Even today, the Transfăgărășan is only traversable during the summer months and average speeds are around 40 km/h. Expect plenty of winding road, abrupt hairpin turns, long S-curves, and sharp descents – though this may be the attraction for many motorists, including Top Gear Host Jeremy Clarkson who blazoned it the "best road in the world." For others, the jaw-dropping scenery and history are the allure. No matter your interest, the Transfăgărășan will not disappoint.
This trip is only possible with a car…Take a look now at the best rental car prices in Romania so you can compare and save!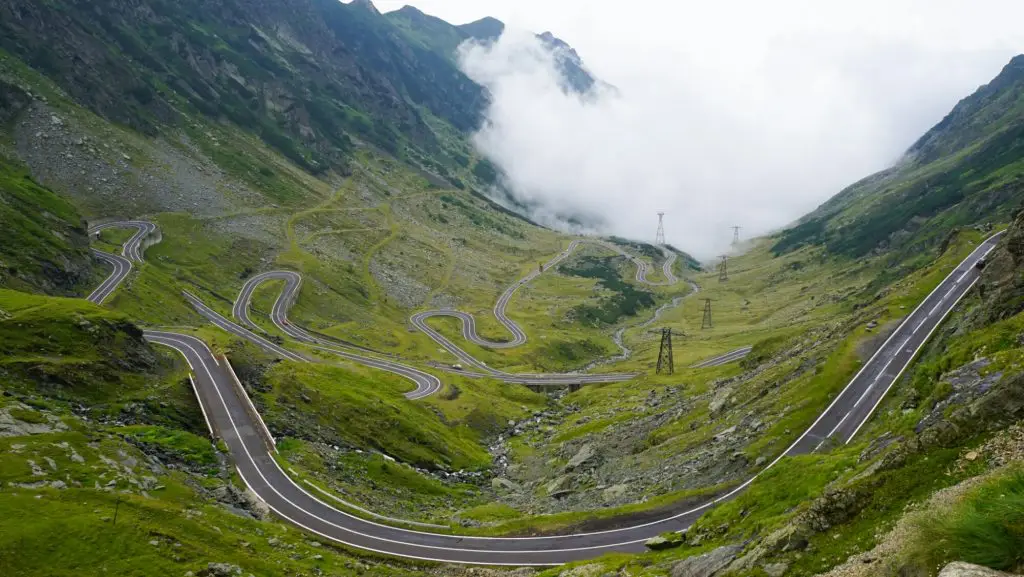 If this were a Top Ten Places To Visit in Romania, we would be done now, but luckily it's not, and we have another 40 beautiful places in Romania to explore…
#11. Corvin Castle
Relive your childhood at this fairytale fortified castle protecting the Western Carpathians. Yes – The Corvin Castle is also the closest you will get in real life to living out your Hogwarts dreams.
Initially constructed in the 14th century, with its fourth and final phase of construction being complete in the 19th century, the Corvin Castle, stands as a Gothic-Renaissance masterpiece that was worth waiting for. Today is has stood the test of time and is still standing amongst the largest castles in Europe, in large part thanks to a recent (fancifully) restoration effort after a calamitous fire and decades of neglect.
Despite being besieged by modern steel mills and industrial buildings, Corvin Castle still offers a spellbinding attraction from its fairytale location atop a rocky bluff connected by only a thin bridge for access. Like seemingly every castle in Romania, some legends associate this place with Vlad the Impaler – but the elaborate architecture and endless rooms and courtyards to explore ensure Corvin Castle is one of the best places to visit In Romania.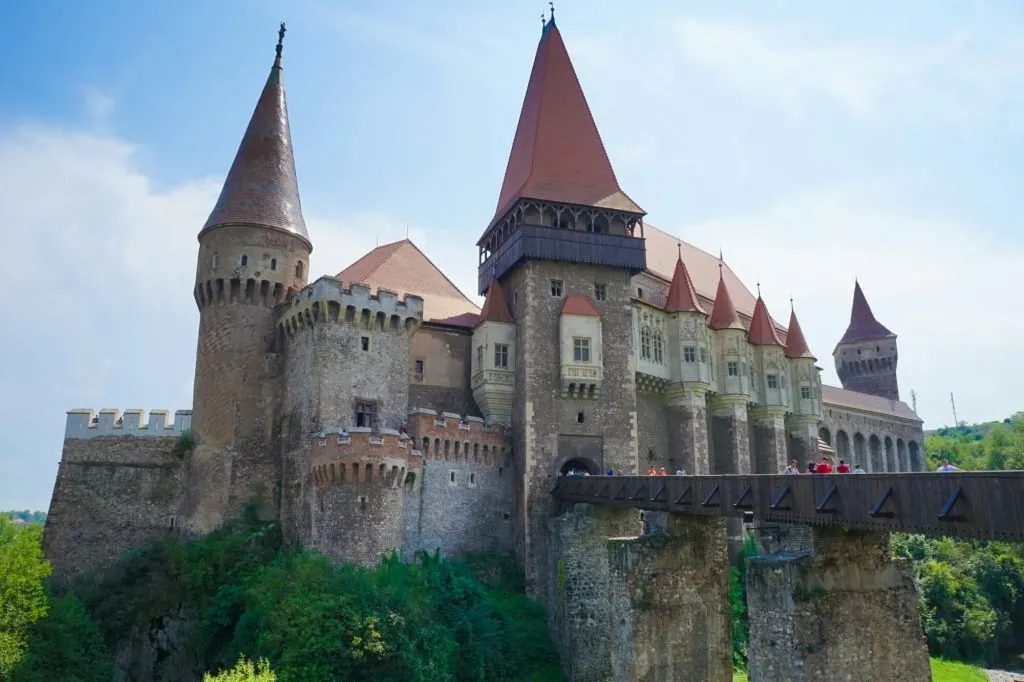 #12. Lacul Roșu (Red Lake)
Feel time slow here at this picturesque holiday spot high in the mountains, popular with families and hikers.
A large natural dam lake formed by an earthquake in 1838. Today the Red Lake and surrounding area are known for its temperate microclimate that encourages health tourism. Everything from physical and mental exhaustion to insomnia and neurasthenia is said to be helped here.
The clean air in the valley is likely to aid in relaxation, especially as many of its visitors are escaping the crowded and polluted air of Bucharest. Either way, this is a tranquil location worthy of exploring for a few days if you have time – and offers a chance to experience Romania as Romanians do.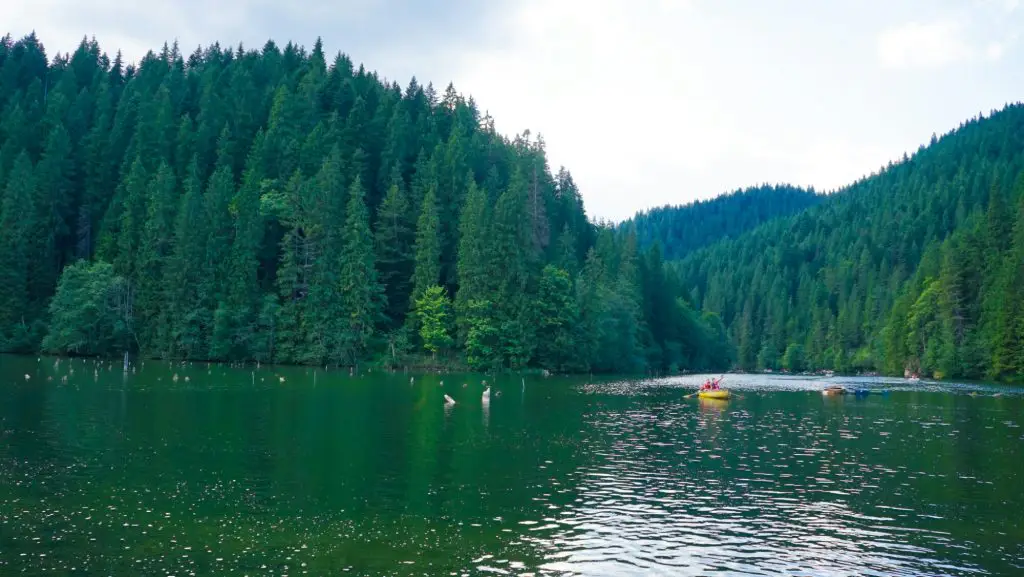 #13. Merry Cemetery
Ponder this colorful and humorous reinterpretation of life and death in a small rural cemetery.
An open-air museum and a national tourist attraction that has somewhat recently rose to prominence due to one specific unusual feature of this cemetery. The Merry Cemetary, as the name suggests, does not treat death as something indelibly solemn but instead that death should be a moment overflowing with joy and expectation of a better life.
This belief is connected with the local Dacian culture and results here in bright illustrations and dark humor being exhibited on gravestones. "Underneath this heavy cross. Lies my mother in law poor… Try not to wake her up. For if she comes back home. She'll bite my head off."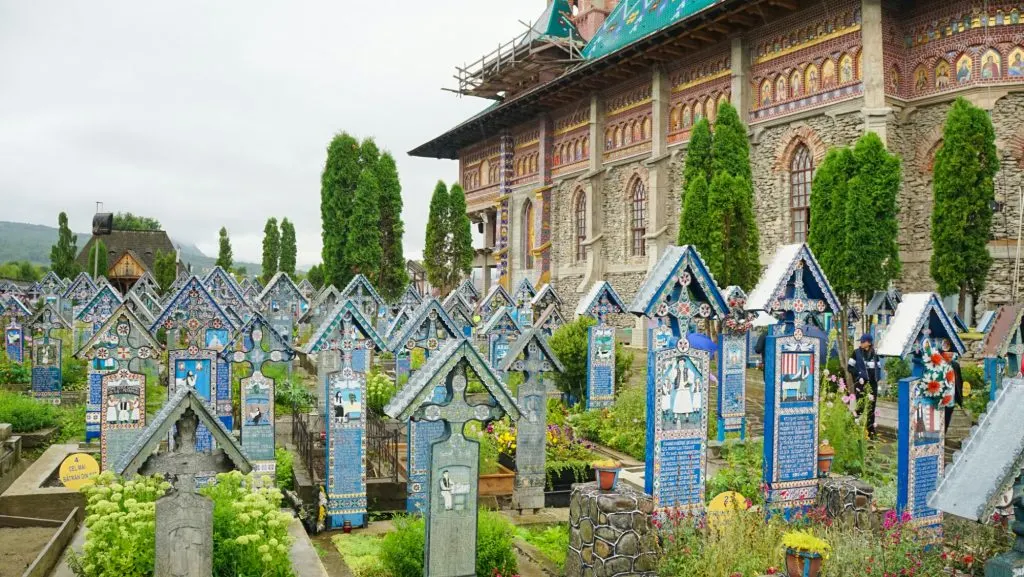 #14. Sibiu
Soak in the vibes of this bustling city in the heart of Transylvania with cobbled streets and imposing churches still protected by a grand city wall.
One of the most important artistic centers of Romania, the medieval city of Sibiu today, has successfully reinvented itself as a livable home for beatnik artists and those who what the culture of Bucharest without the fast-pace of life (and sprawling traffic jams).
Indulge in the cities growing coffee culture, wander historic plazas, explore art in baroque palaces, or be reinvigorated by the unbridled creativity of its residents. A fusion of old and new Romania, it is no wonder the cosmopolitan Sibiu is one of the most popular tourist destinations in the country. Plan to stay at least a few days to take in its highlights, or use it as a great jumping-off base for exploring the surrounding region of Transylvania.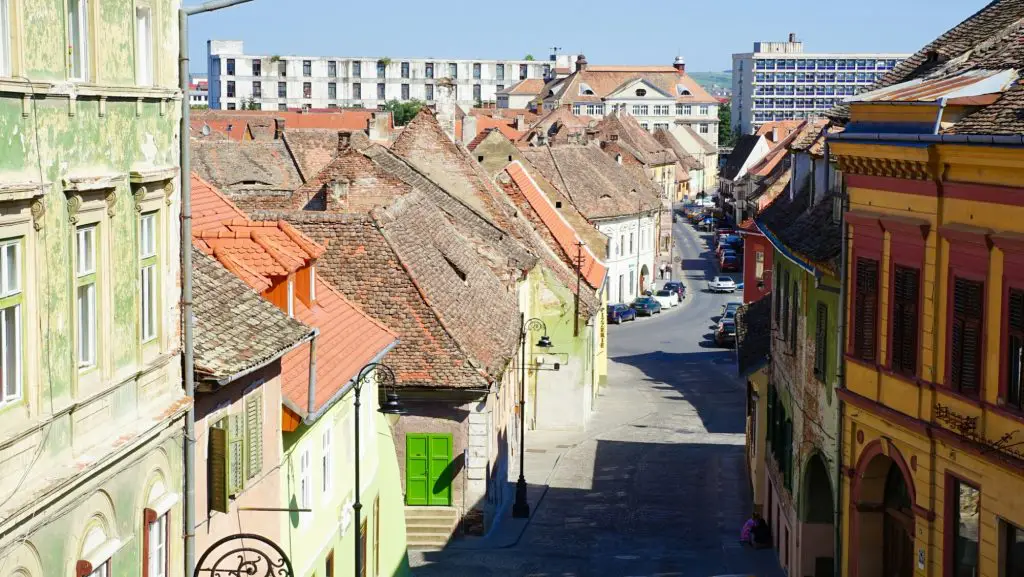 #15. Transalpina Road
Traverse the highest mountain pass in Romania where you touch the clouds and follow in the footsteps of a 13th century noble and traders.
While the Transfăgărășan Pass might be the most famous Romanian Road – the Transalpina or DN67C is actually the highest road in the country with an elevation is 2,145m above sea level. And yes, it is equally exciting. While a mountain path at this spot in the Carpathian Mountains is said to have existed for millennia, it was the Germans during WW2 who initially turned it into a road for military reasons. However, it took until 2007 for the modern 'Transalpina' to develop after an enormous project, which was a 148 km dirty road transformed into a modern highway.
In many ways, the Transalpina is more majestic in terms of sheer natural beauty and allows tourists a peek into landscapes untouched by technological advances. The journey across its Urdele Pass plateau is particularly impressive – where you are quite often driving above a sea of clouds. It would be impossible for us to chose a favorite amongst the (many) mountain pass roads of Romania, so all we can do is suggest you visit them all. Yes, there are more coming up!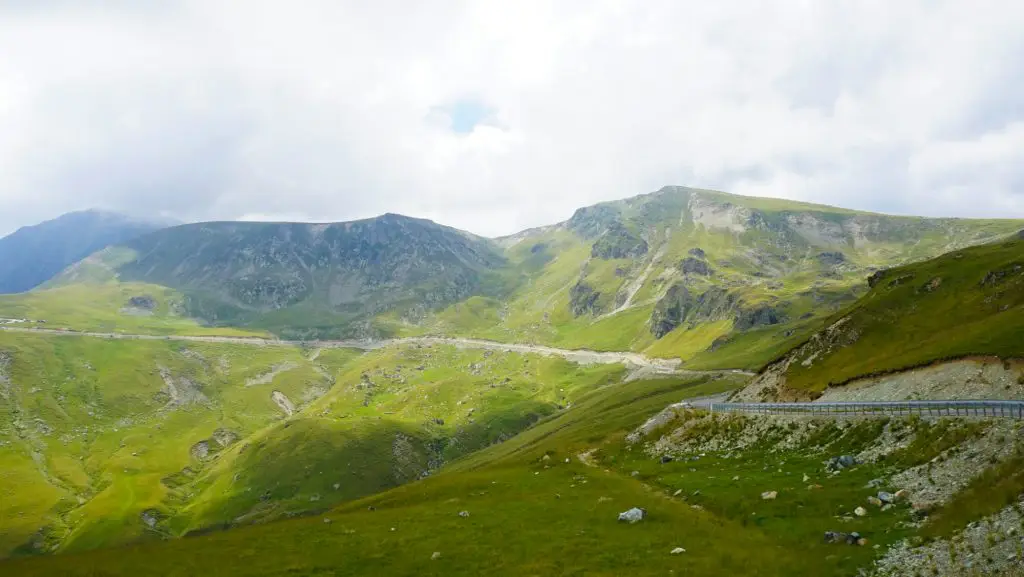 #16. Bicaz Gorge
Feel smaller than an ant in this deep valley gorge that weaves its way between ancient boulders and sheer cliffs.
Yet another magnificent road that adds to the appeal of Romania as an exemplary road trip destination, the Bicaz Gorge serves as a (narrow) passageway between the provinces of Moldova (not the nearby country of Moldova) and Transylvania. The Bicaz Gorge allows access to the famous Red Lake as noted above, into which the Bicaz River discharges.
Created by the torrid waters of the below, the 8-kilometer road here winds through steep canyons and ravines with 300m-high limestone rocks towering on one idea and precipitous drops on the other. Not for the faint of heart, this dramatic drive also offers a peerless view of the Ceahlau Mountains.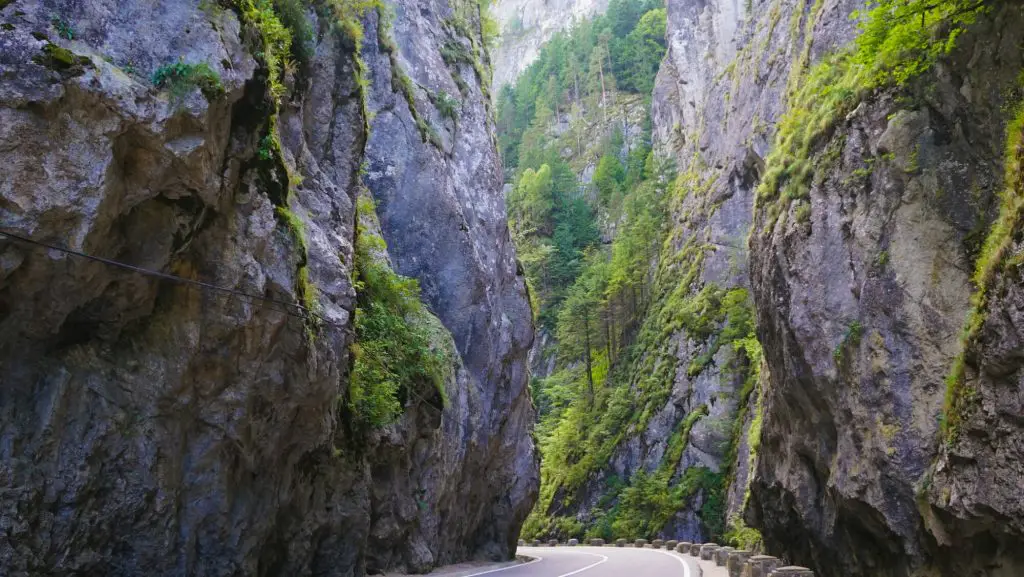 #17. Biertan
Marvel at the fortified church keep which protected its villagers from pillaging invaders over the centuries.
Charming Biertan, one of Transylvania seven villages with Fortified Churches protected by UNESCO, feels lost in time. Horse-drawn carriages, a mess of Saxon-style buildings, a looming fortified church, and cute medieval inns are all found here. With three tiers of 35-foot-high defensive walls and an intricate system of towers and gates, it should come as no surprise that Beritan was never conquered in medieval times. As a result, the village remains to give a striking and authentic picture of the cultural landscape of southern Transylvania.
The village is also famous for another reason, there was only one divorce amongst its residents for over 300 years. This is because inside the fortified church was a 'marital prison' where couples were locking to divorced for six weeks were locked up to solve their issues. To find out more, visit the phenomenal museum onside.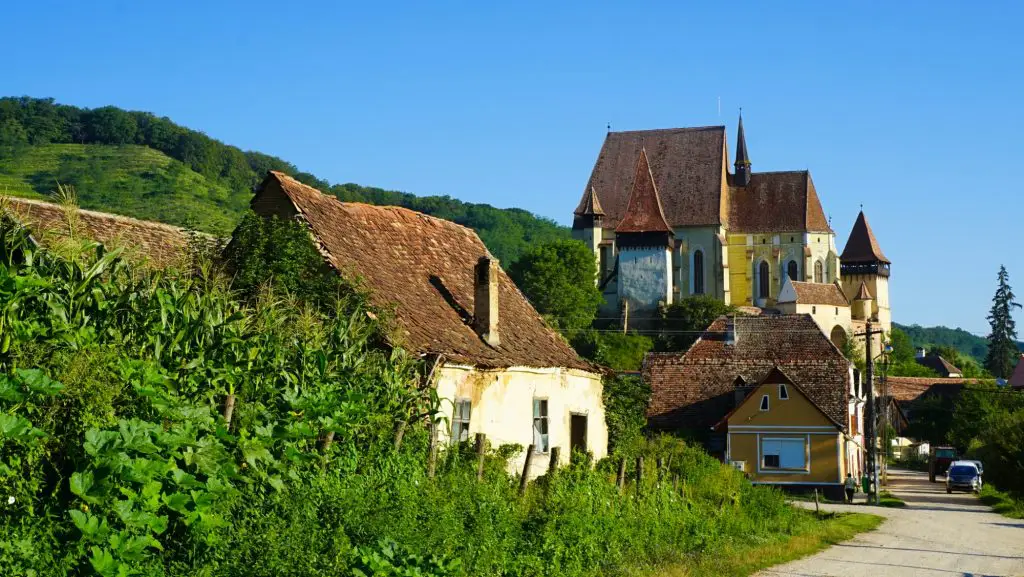 #18. Han Pescăresc
Catch your own fish or enjoy a traditional meal with a stunning view in this small Transylvanian-Hungarian community.
A quaint fishing inn in the heart of the picturesque mountain village in central Romania, perfect for lunch or an overnight stay. The basic idea of the Han Pescaresc Inn is fish-farming using the knowledge from several generations of the same family who have lived here. This means you can hire a fishing net and all you need for fishing.
Still, we recommend going more for the unique gastronomic experience that is oh-so-typically Romanian. Enjoy a freshly roasted trout caught in the lake right in front of the restaurant, and then grab a beer or explore the picturesque grounds further. Another hidden gem most popular with locals, making it even more worthy of a spot on your Romanian road trip itinerary.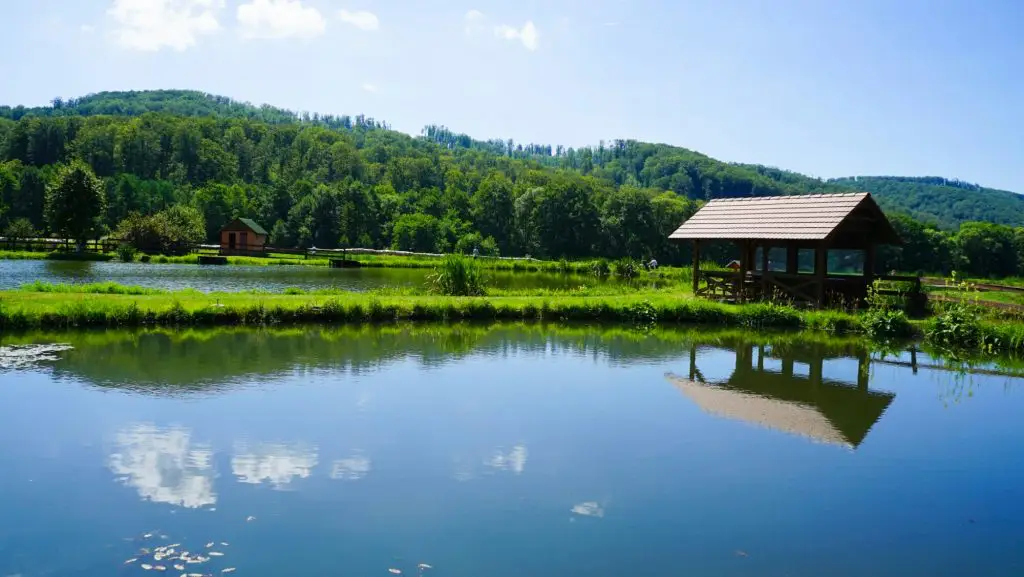 #19. Praid Salt Mines
Escape the heat and enjoy the healing abilities of this vast abandoned mine.
Romania isn't just all mountain passes, castles, and medieval villages – there are also underground salt mines. And boy, are they popular – in large part due to the unique microclimate that is said to help with different diseases. And one of the most famous is the Praid Salt Mine, home to one of the largest salt reserves in Romania.
Hop on one of their shuttle basses and head down to "Level 50" – 120 m below the surface where you will find… basically a small underground village? It's weird. Really weird. And that's why we love the Praid Salt Mines. The salt deposits here have been exploited since Roman times, but today its offering is slightly different. Light shows, Wi-Fi, television, playgrounds, amusement rides, 3D Cinema, a coffee shop, and a naturist drugstore can all be found down here. There is also a restaurant and wine tasting program. Because, why not?
The average annually underground temperature is 16 degrees Celsius, and during the summer months, around 3000 people visit per day. Yes, Praid Salt Mines is wildly popular – and one visit there, you will see why. There is (almost) nothing else like it…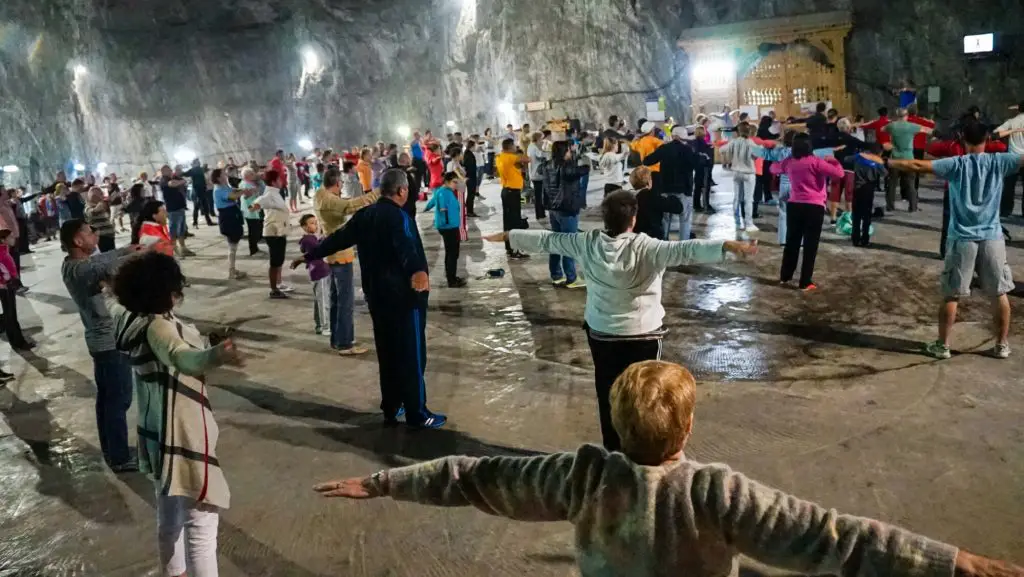 #20. Pelisor Castle and Peles Castles
Explore one of Romania's most beautiful castles, which are still home to their royal family today!
Constructed built between 1873 and 1914, by order of King Carol I, under whose reign the country gained its independence, after visiting the adjacent town of Sinaia and falling in love with the magnificent mountain scenery. The more immense Neo-Renaissance Peleș Castle was constructed first, later followed by Pelisor Castle, which is a glorious example of Art Nouveau style combined with Byzantine and Celtic elements.
Peleș Castle was nationalized after King Michael was forced to abdicate and fled the communist government in 1947. It was returned to the Royal Family in 1997, along with many other properties. Still, it was then subject to a decade-long court case. Today, both are accessible to the public through onsite museums but are also occasionally used events organized by the former royal family.
Interestingly, Romania is one of the few countries in the world actively considering restoring its monarchy with recent polls showing half of the population believes monarchy to be a better organizational form than a republic. For now, the Royal house here is exceedingly popular, yet have no position in government. Not that that should preclude Pelisor Castle from being one of the best places to visit in Romania.
With so many beautiful places to see in Romania, how can you be expected to find them all on yourself?

You can't, of course, but this list will help, and so does the Romania Lonely Planet. Get it now in print or on a PDF for your phone, so you are never stuck on the road in Romania… Now 30 more to go!
#21.Saschiz
Discover a traditional village watched over by a crumbling church.
Another of the seven villages with fortified churches in Transylvania protected by UNESCO, though Saschiz literally stands out. The sheer size of the church ensures its attracts attention even amongst this venerable group, and is worth a visit alone to marvel at its immense arches, extensive buttresses, and ornamental stone and brick aspects.
Located very close to Sighisoara, this towering defensive outpost is not the only reason to visit Saschiz however. The town is also famed as a center of carpentry and wood-painting. Take some time to try the local cheese, explore artisan shops, wander the cobblestone streets, and enjoy the picturesque view of the village from the hill above.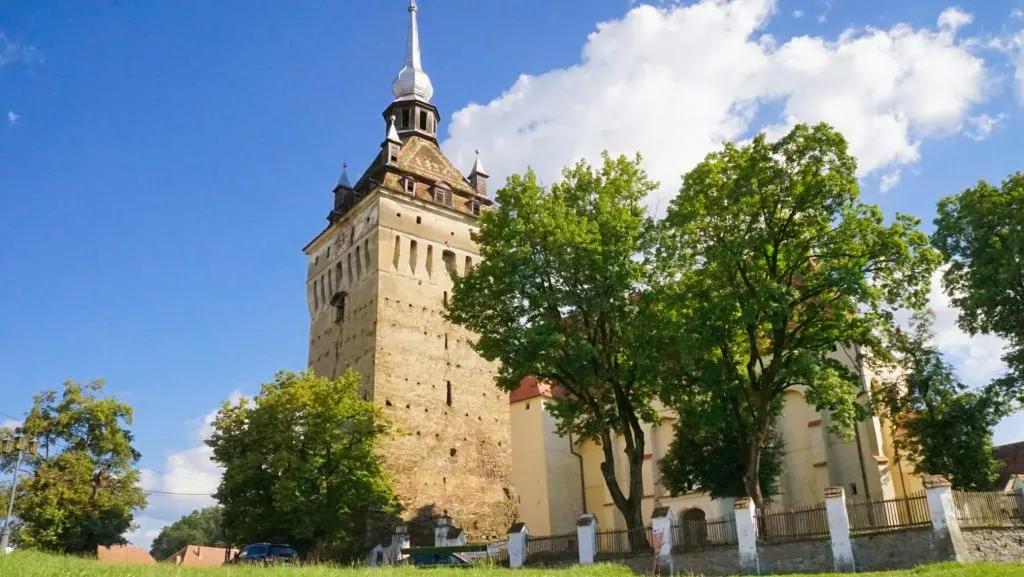 #22. Pensiunea Agroturistica Casa Coliniţa
Experience life as a traditional farmer in this secluded valley with evening cow milking and farm-fresh gastronomy.
The farm complex Pensiunea Agroturistica Casa Coliniţa is located in the hills outside of Vatra Moldoviţei and offers home-made products and demonstrations of the farm activities. All rooms feature traditional Romanian decor and furniture, but thankfully WiFi is also offered. Meals prepared with the own farm products are on offer – and should not be missed. It would not be an exaggeration to describe dinners here – and our entire stay in genera – as a highlight of Romania.
The ideal place to go to see and encounter rural Romania, where dazzling landscapes and ancient traditions combine to create something utterly magical. Owned and managed by Loba Ion and his mum, you will immediately feel at home here and are guaranteed an experience like no other. If you are lucky, you'll be offered an adventure like picking mushroom, wandering the hills to milk show, or listening to the bellowing of the deer stag at nights. If you are, "Yes, please!" is the only acceptable answer.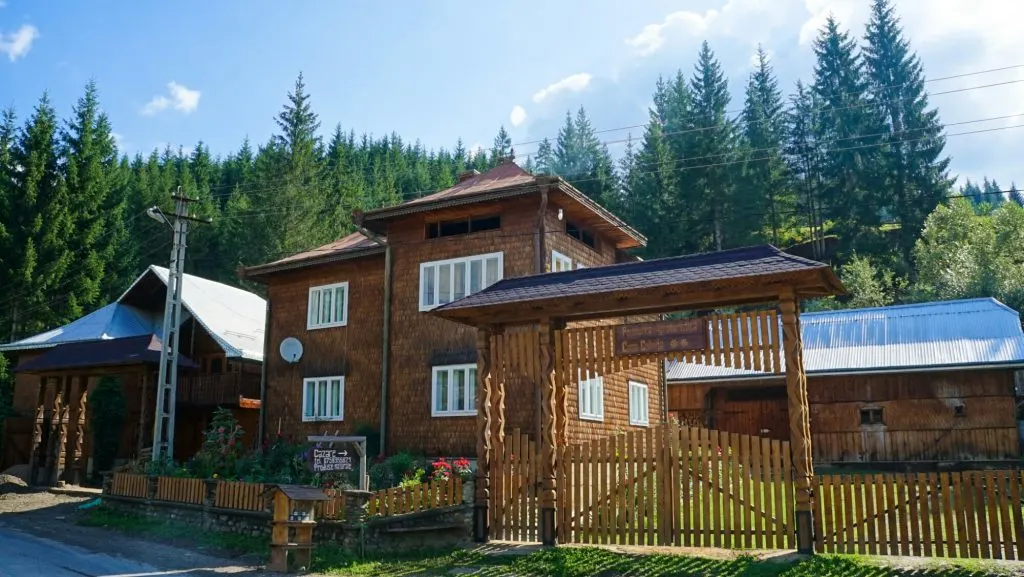 #23. Mănăstirea Corbii de Piatră
Find this ancient church perfectly hidden in a rock face to protect worshippers from nosey pagans.
Translated as the Stone Ravens Monastery, this miniature ancient place is exceptionally peaceful and mysterious – even if you don't need to stay long. In dire need of repair, this Monastery was first documented in 1512. Still, the style of the carving on the wall gives a clue of its actual age, with art harking back to the 10th century Byzantine Empire.
It might even date back to one millennium early to the 2nd century due to its camouflaged hatch entry popular with persecuted Christians of the time. There is also evidence that it was used as a point of worship of the Dacians, the original people who occupied this region. Much like Easter Island or Tikal, we may never get answers. Still, a visit here is undeniably moving and intriguing – and you are likely to enjoy this enigmatic place all to yourself.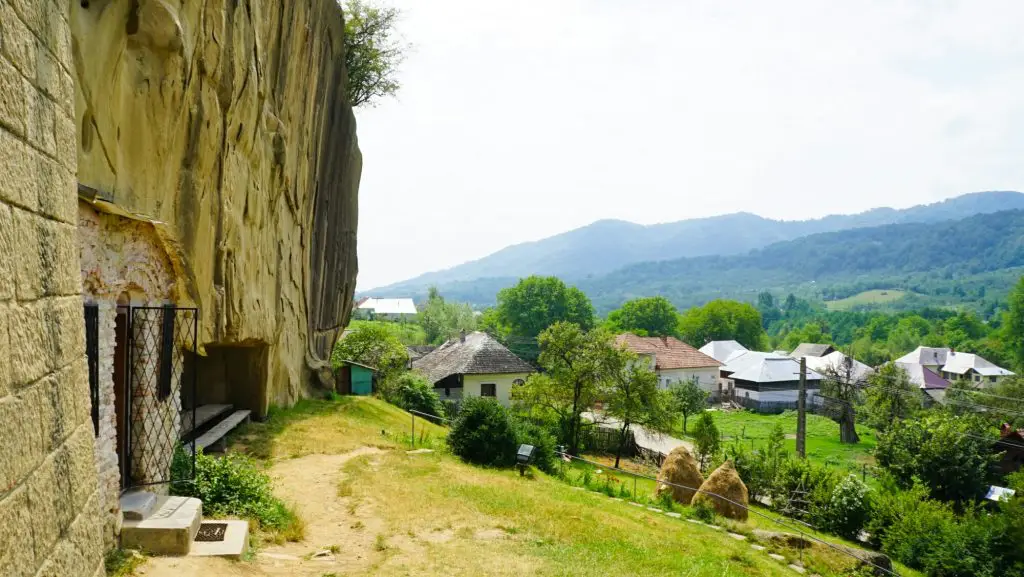 #24. Horezu Monastery
Discover a hidden monastery tucked into the foothills of the Carpathians.
Established in 1690 by Prince Constantine Brancovan, the monastery of Horezu is a masterpiece of the 'Brancovan' style. As such, it has been recognized as one of the 25 UNESCO World Heritage Sites in Romania. The Brâncovenesc style is the only authentic and original Romanian style to ever develop. It formed as a result of the constant tug-of-wall between world powers in the surrounding area and a desire to put cultural development of the country above everything else.
Horezu is renowned for its bounty of sculptural detail, its committed portraits, and its painted decorative works – as well as its architectural purity. The school of mural painting instituted here in the 18th century made it famous throughout the Balkan region.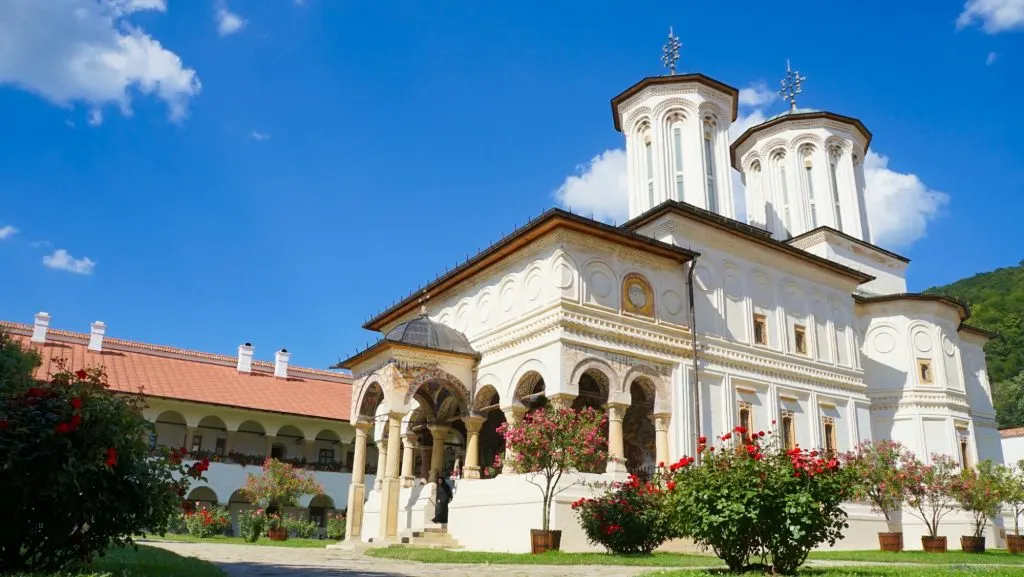 #25. Targu Jiu
View the artworks of Constantin Brâncuși, which are influenced by geometrical designs and representational art.
While there is plenty to discover in the town, Târgu Jiu is famous as the home of Constantin Brâncuși, a pioneer of modernism and one of the most influential sculptors of the 20th-century. The apex of Constantin Brâncuși's career was when he commissioned to contribute to a memorial monument to the fighters of World War 1 in Târgu Jiu.
The result, completed in 1938, was called Calea Eroilor, "Heroes' Street," which is a series of sculptures now famed throughout the world: The Table of Silence, Stool Alley, The Gate of the Kiss, and The Endless Column. In the 1950s, the Communist mayor proposed to destroy Brâncuși's "bourgeois" art. However, thankfully he was unsuccessful, and they are still here and free for you to enjoy. Of course, Targu Jiu has more to offer than this – but I'll let you discover them for yourself!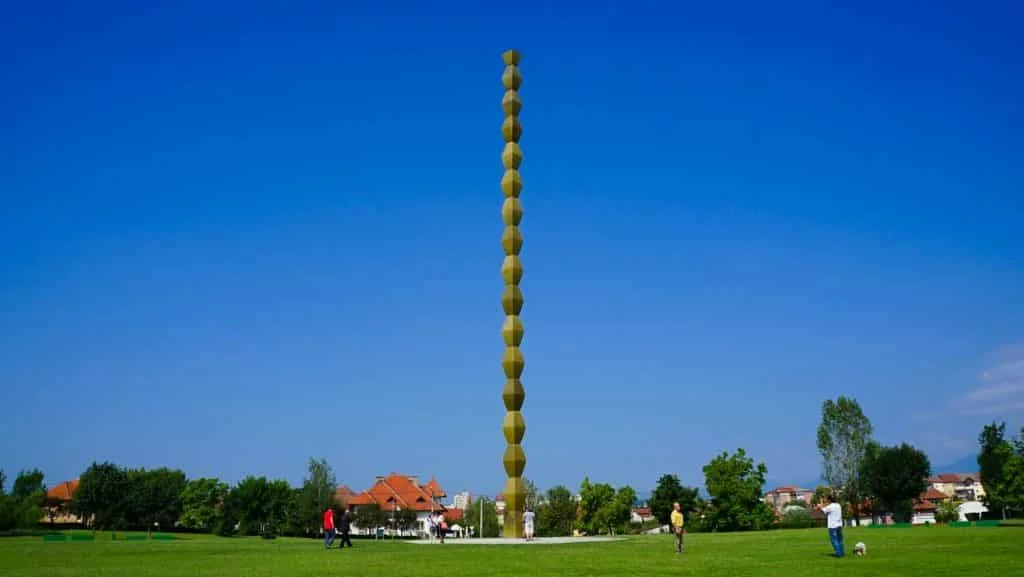 #26. Pensiunea Muntele Alb
Bath in a panoramic visit like no other while you enjoy traditional Romanian hospitality at this wonderful guesthouse.
Breathtaking views, great rooms, and outstanding service – what more could you ask for? After adventuring up 13km of paved road, you are rewarded with mountain top tranquility, starry skies, unbelievable vistas, and smiling hosts. All at over 1650 m altitude…
At night, there are communal areas to cook food and a fireplace to meet other guests around. Another authentically Romanian experience, this guest house is popular with locals with love to get away and enjoy nature – along with the hearty food on offer here.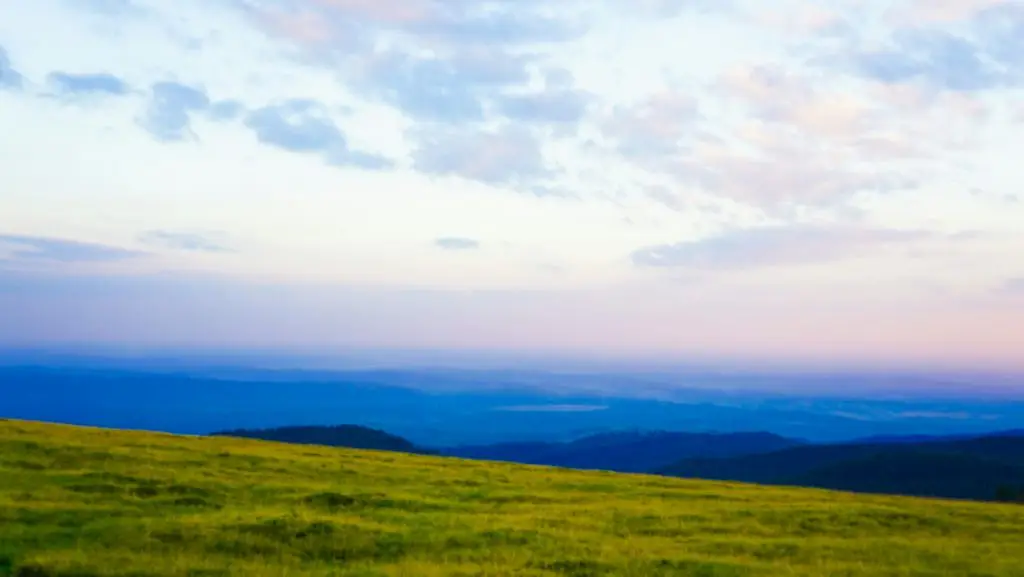 #27. Wooden Gates Of Bârsana
Wander around a village unchanged by the modern world and marvel at the wooden craftsmanship on display.
Located in the Maramures region, often referred to as the 'land of wood,' a visit to rustic Bârsana promises verdant green landscapes, a slow-paced atmosphere, and, most famously, glorious wooden oak gates. Proudly crafted by generations of inhabitants, the gates are said to help connect with a different world, a realm hidden from all that is evil. Thus behind these guardian gates carved with pre-Christian pagan motifs full of deep meanings, the house and its inhabitants are protected.
The Bârsana gates are often much larger than the property behind; providing a defensive wall that cannot be bypassed and passing beneath it is a ritual act of purification. Historically gates were reserved for noblemen, but today they are raised as a sign of wealth and pride across the entire Maramures region. Still, in Bârsana, their crafted beauty and prominence are particularly majestic.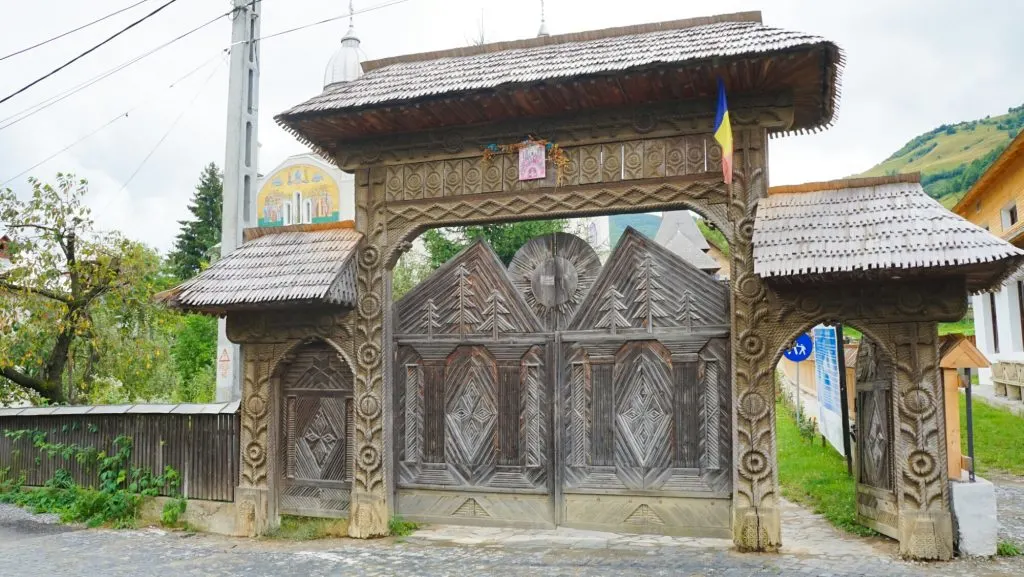 #28. Sarmizegetusa Regia
Step back in time and unravel the secrets of the ancient Dacian people and their hilltop fortress, often described as the Machu Picchu of Europe. Yes – Sarmizegetusa Regia is as ancient as it is mysterious!
Concealed in the impenetrable forests of the Carpathians, Sarmizegetusa Regia is one of the most magnificent and enigmatic sites in Romania. Founded on top of a 1200 m high mountain, the fortress, containing six citadels, was the capital and the most important religious, military, and political center of the Dacians – before the Roman conquest in the 2nd century AD.
Its location, even today, remains difficult to access, which explains how the comprehensive and well-preserved remains which stand in magnificent natural surroundings have lasted into the modern era. An exceptional wonder that gives a dramatic picture of an innovative civilization from the classical world / late European Iron Age. If you have time, check into a local guesthouse and spend a few days hiking in the surrounding Gradistea Muncelului-Cioclovina Nature Park within its glorious vistas and various other Dacian ruins. You are likely to have these awe-inspiring and powerful spaces all to yourself.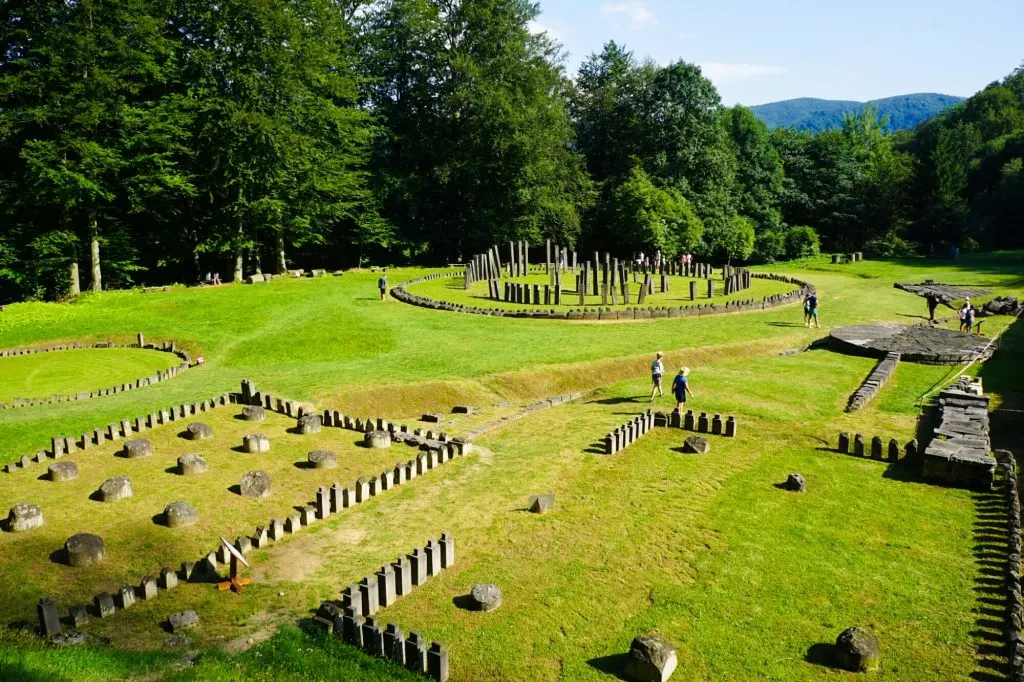 #29. Salina Turda
Eschew sunlight and fresh air for this subterranean labyrinth complete with a sci-fi theme park, health spa, and Ferris wheel.
Another salt mine in Romania that should not be missed. Salina Turda bills itself as a halotherapy center and well as a veritable destination to discover the (surprisingly fascinating) history of salt mining. But it is so much more than that. Located 120 meters below the ground, this is one of the oldest salt mines known to man and today houses a futuristic modern art theme park complete with an underground lake with rowboats, spa treatment rooms, a bowling alley, and mini-golf.
We have no idea who came up with this bizarre concept. Still, with over 500,000 people visiting annually, it is fair to say the modernization and reinvention of Salina Turda has been a resounding success. With five cavernous mines to explore, swimming pools and more – Salina Turda is most assuredly one of the most astonishing places found on or IN the planet. Don't miss it.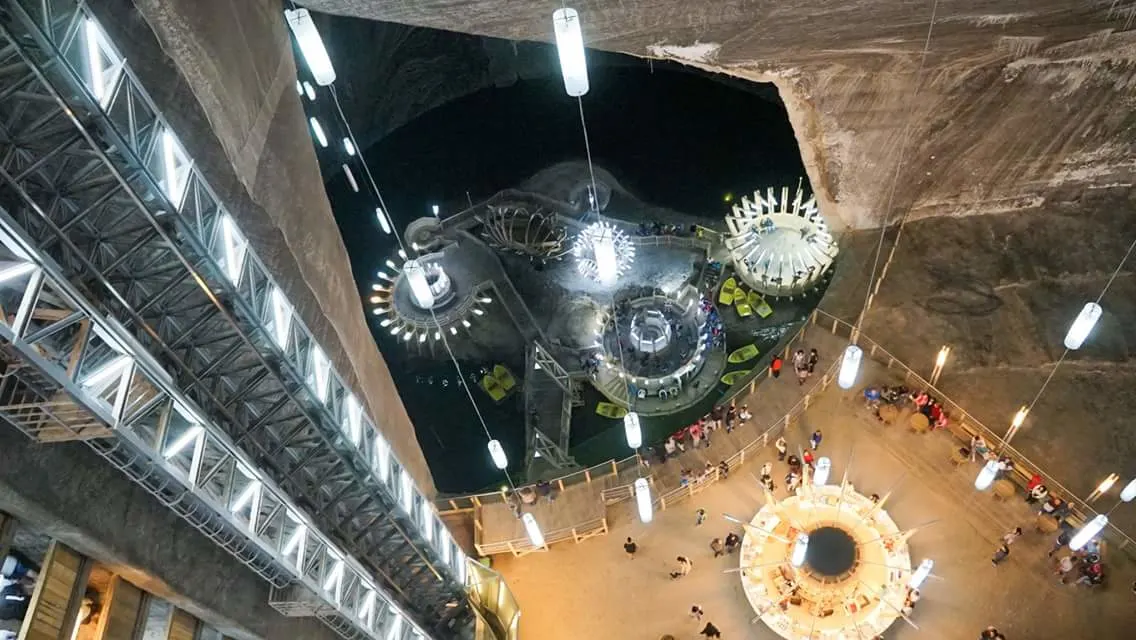 #30. Cluj-Napoca
Delight in the historical and culinary highlights of this cosmopolitan city with far more than meets the eye.
The unofficial 'capital' of Transylvania, Cluj-Napoca, has a considerable student population leading to its arty vibe, uninhabited nightlife, and some of Europe's best-loved electronic music festivals. The second most populous city in Romania is also blessed with a cornucopia of primarily Renaissance, Baroque and Gothic architecture and a remarkable set of mid-century styles buildings that make wandering its neighborhoods even more appealing.
While there are pockets of utilitarian Communist-era architecture, there is far less than other urban centers in Romania. Add to this the lively old town, peaceful green areas, modern cafes, and long-list of cultural institutions, and you have a vibrant destination worthy of at least a few day's investigations. Most travelers lament not allowing enough time to explore Cluj-Napoca fully – don't be one of them!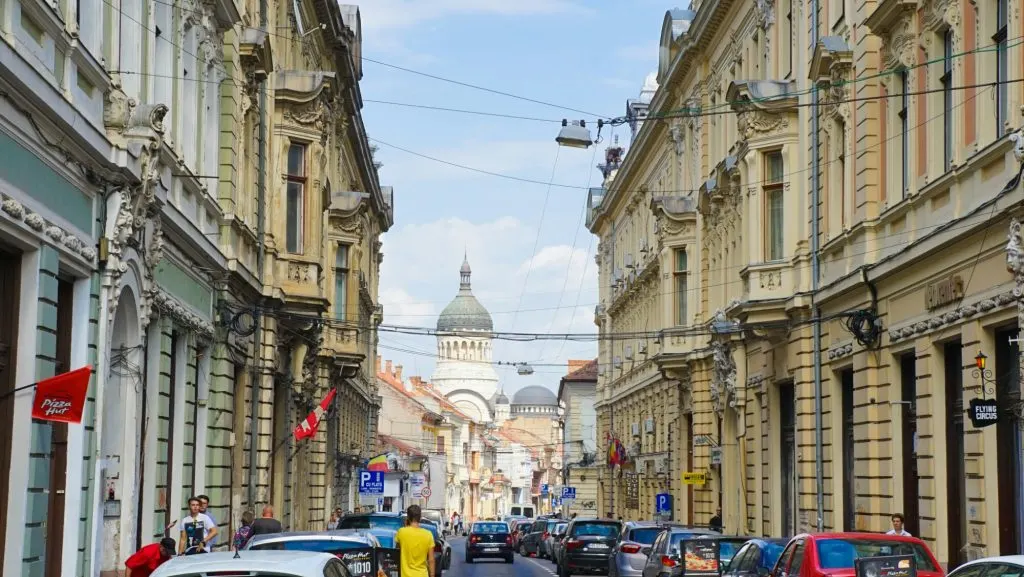 It's impossible to choose the best places in Romania to visit…But you have to try, right! Even narrowing it down to 50 was tough! Twenty more to go…
#31: Wooden Churches of Maramures
Look on with wonderment at these ornately crafted Wooden churches with have survived unchanged for centuries. But be warned – the distance Maramures region is even more mysterious than Transylvania …
There are almost one hundred Orthodox churches, and a few Greek-Catholic ones, wooden churches in this remote region of Romania. While each is worth visiting, eight have been selected as leading examples that showcase the diverse range of architectural solutions using to build these churches. You would be hard-pressed not to see at least one while exploring this region, as these high timber constructions are characteristically tall and tower over the fields and small villages in which they are found.
The entire Maramureș region has been semi-autonomous since the Middle Ages, meaning the people have their own traditions and way of life of here. This distinct way of life has also been ensured in the modern era due to its remote location in a mountainous area of northern Romania and a general lack of visitors. Besides the iconic churches, the Maramureș boasts well-preserved wooden villages and a visibly traditional lifestyle. This, along with the colorful outfit many locals still proudly wear, ensure the Maramureș is often referred to as a living museum of Old Europe.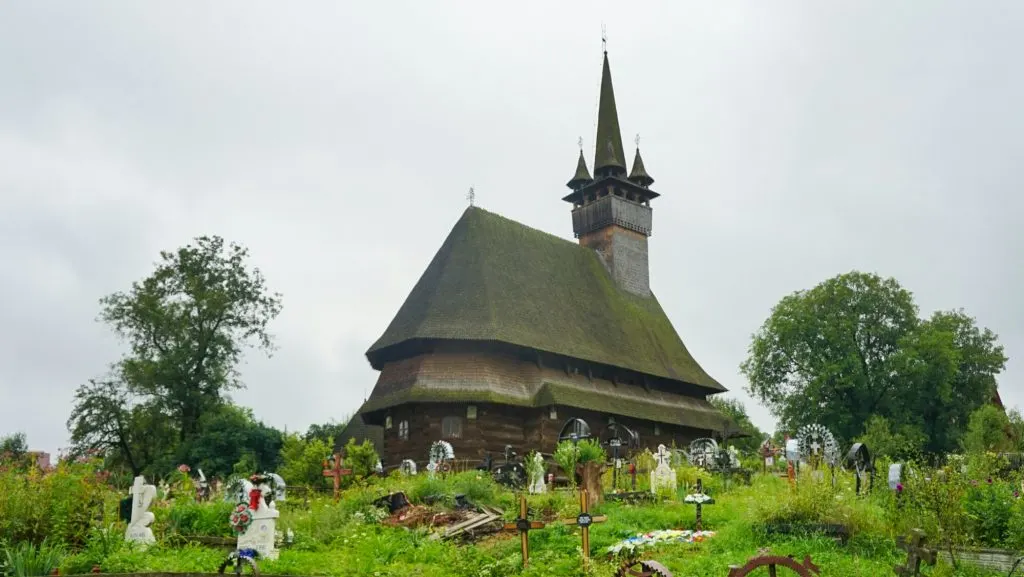 #32. Borgo Pass
Follow in the footsteps of Stokers Dracula and transverse the scenic mountain pass between Transylvania with Bukovina.
At this point, you'll probably be getting a sense of just how epic the roads and highway passes of Romania are. And this spot is no exception. This "Borgo Pass" was made popular thanks to a reference in Bram Stoker's novel Dracula as the entrance to the domain of Count Dracula. However, as we saw previously, Bram never actually visited the area and presumably found the name on a map.
For the record, the pass is officially known as the Tihuța Pass – but its literary claim to fame does not mean its sheer natural brilliance should be underestimated. Located at an elevation of 1,116 m, the pass reveals excellent unspoiled views of the Carpathian mountains and the traditional villages that dot the hillside here. The pass is also home to the Hotel "Castel Dracula," built-in 1974 in a medieval castle-type style and a popular place to stay the night for true fans of Romania's most famous novel.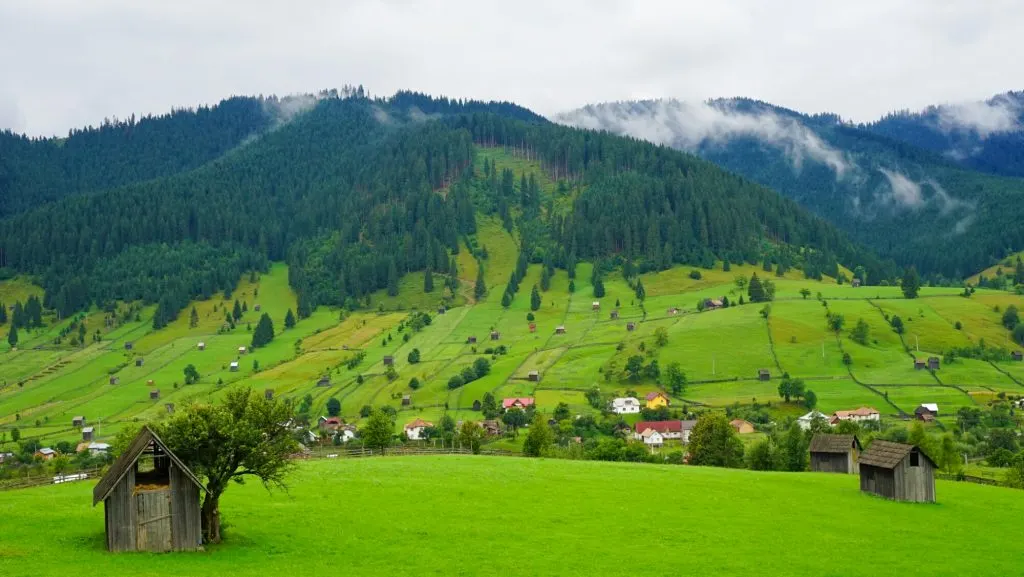 #33. Ciocănești
Enjoy a coffee in this quaint town renowned for its individually decorated houses and valley setting.
While it might not be the most spectacular highlight of Romania, the charming village of Ciocanesti is worth stopping at as your route towards the Maramures on the other side of the Eastern Carpathians will undoubtedly take you nearby. The 500 or so houses of Ciocanesti form something of an outdoor museum as the walls of each is painted in traditional motifs, similar to those you would normally find on Easter Eggs. This is no coincidence as in the 1950's one imaginative owner thought to brighten things up to attract people to this small town by painting her entire house. In time others would note her success and join in. Today the local authorities coordinate and finance all these artworks.
Every motif is said to reflect the personality of the house's inhabitants – so we will leave you to guess what some of those colors and shapes say about the occupants. The aesthetic transformation village of Ciocanesti is nothing short of astonishing and has ensured its place as a pearl of the region of Bukovina that no tourists should miss.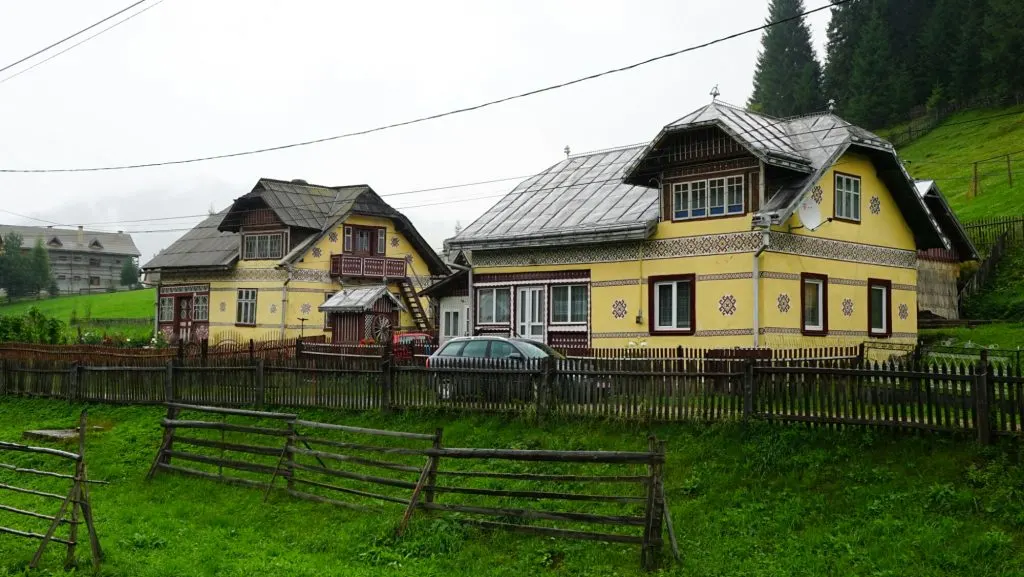 #34. Churches of Moldavia
Gaze upon the timeless frescos and colorful churches of the Moldavia region, a World Heritage Site.
A set of eight churches in northern Moldavia designated as UNESCO World Heritage in Romania. Constructed in the late 15th and 16th centuries, they are remarkable due to their external walls being blanketed in unusual Byzantine-style fresco paintings. Yes, the outside! Far from being minor wall decorations, the compositions create a methodical covering on all the facades and outline complete religious themes and ideas dominant at the time.
Their outstanding construction, the balance of the characters, and the arrangement of the colors mingle perfectly with the surrounding countryside. More in common with the majestic yet simple churches hidden in the countryside of Georgia and Armenia than the dominating cathedrals of Copenhagen and Lisbon, the Churches of Moldavia are essential sightseeing for even the most 'church'd out' of European travelers.
Just to be clear, we are talking about the Romanian region of Moldova. Not the country next door – which is worthy of a visit in and of itself (just be careful as most rental cars and some insurance policies will not cover you if you cross the border!).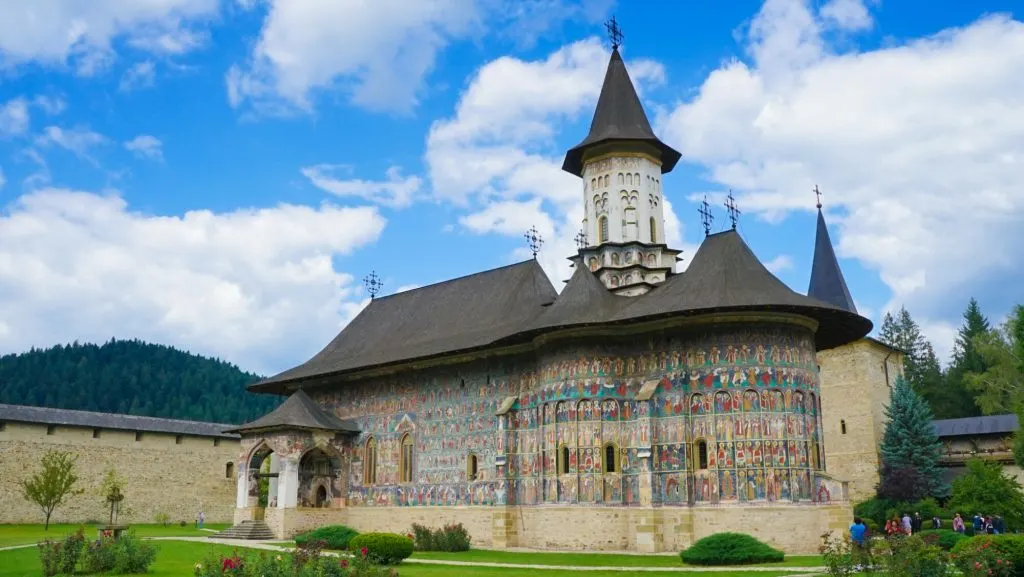 #35. Viscri Village
Follow in Prince Charles's footsteps and explore every inch of this exemplary fortified church, which is protected by UNESCO. Viscri has strong Saxon roots, and if you're lucky, the Prince of Wales may be visiting his house here!
Yes, the Prince Charles of Wales did indeed buy a house here, but there is plenty of reasons to visit even for non-Royalists. The exalted fortified church, the adorable local guesthouses, and the famous barn restaurant serving traditional Romanian specialties all spring to mind. You can also hike or bike the many paths around the town, which give sweeping landscape views of the 13th-century village surrounded by green pastures and dense oak forests.
If you decide to stay the night in Viscri, don't miss the evening 'cow parade' where the 300 cows return from the surrounding fields in which they graze. This is about as local as it gets!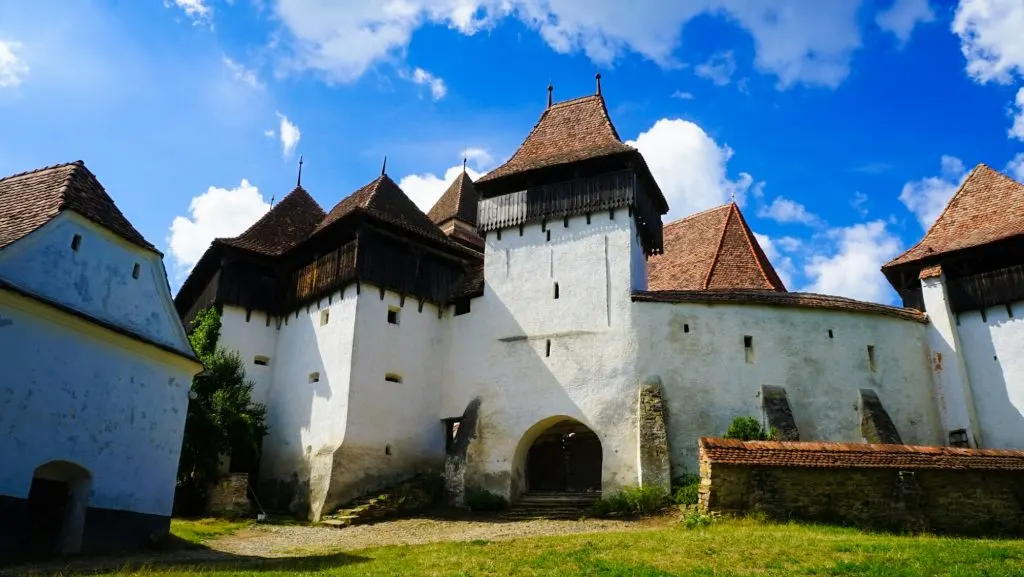 #36. TransRarau Pass
Breath in crisp Mountain air and survey this untouched TransRarau alpine environment from above. New infrastructure development here ensures that while the TransRarau maybe is less popular than other passes in Romania, it will not stay that way for long!
TransRarau, yet another gorgeous high altitude alpine road in Romania that crosses the Rarau Mountains. Famed as the third most beautiful road in Romania, though in all honesty, the passes here are each so exceptional we gave up trying to rank them. Just incorporate them all into your road trip!
Also known as Treasure Road or, more simply DJ175B, this crossing is 26 km long, reaches an elevation of 1,400m, and connects the village of Chiril and Pojorata. In the past, the road was narrow and filled with pothole but has recently been renewed at great expensive – and ensuring an easygoing drive for you. Just pay attention to the curves!
Much less popular than all other Romanian mountain passes we visited, the entire trip is full of jaw-dropping panoramas – though annoyingly with a distinct lack of parking places to enjoy them. One place, however, you will want to stop for a photo is the 'Lady's Stones,' a famous natural rock monument with unmistakable silhouettes – and thankfully, there are a few safe places to park here.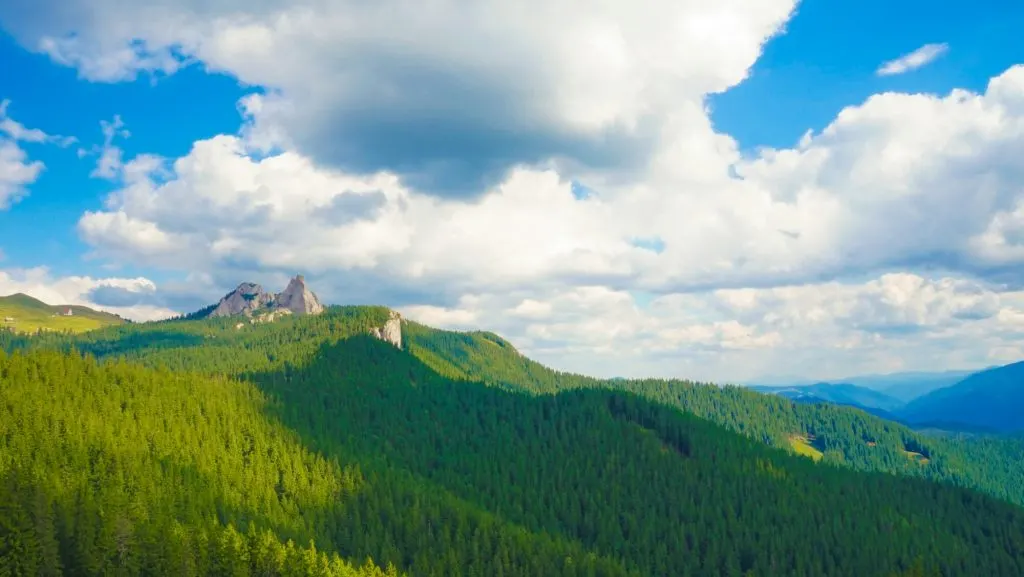 #37. Mausoleum of Mărășești
Pay your respects to Romania's fallen from the first World War, located near the battlefield of Mărășești in which Romania achieved its first decisive victory.
It might not be one of our favorite Romania tourist attractions – but being found in Mărășești in Vrancea County makes this site a great way to break up a long stretch of rather boring driving as you head back to Bucharest or to the Black Sea. The Battle of Mărășești was a battle fought during World War I between Germany and Romania in which German attempt to crush the last Romanian army failed, but the Romanians also failed to regain their territory.
Sadly Romania lost over 27,000 men, though the tenacity of their spirit was also shown as Germany lost almost twice as many soldiers (47,000). The motto of the Romanian Army during the battle was "Pe aici nu se trece" ("They shall not pass") – which we would also apply to this moment today as it sits conveniently on the side of a major highway. The memorial took 15 years to build and was unveiled on 18 September 1938 by King Carol II, just in time for WW2.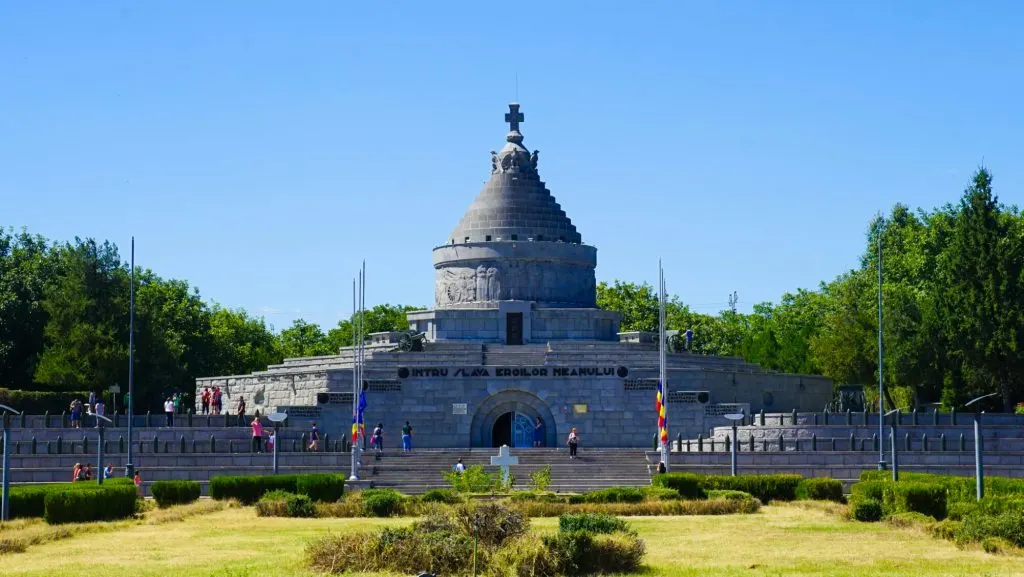 #38. Danube Delta
Test your ornithologist skills in Europe's largest protected wildlife zone, with over 5,500 species
Romania isn't just all mountain passes and unique churches; there are also almost unbelievable natural landscapes to be discovered here – including the exceptionally underrated Danube Delta.
The waters of the Danube, which flow into the Black Sea, form the largest and best-preserved of Europe's deltas. Located on significant migratory routes and providing sufficient conditions for nesting and hatching, the Danube Delta is a sanctuary for birds from six major ecoregions of the world, including the Mongolian, Arctic and Siberian
. Over 320 species of birds can be spotted in the Delta during summer, of which 166 are hatching species, and 159 are migratory – and over one million individual birds winter here. While most international tourists head to Transylvania or the beach resort towns south of the Delta, the Danube Delta shouldn't be overlooked by bird lovers or those who have an interest in exploring one of Europe's last remaining expanses of pristine nature.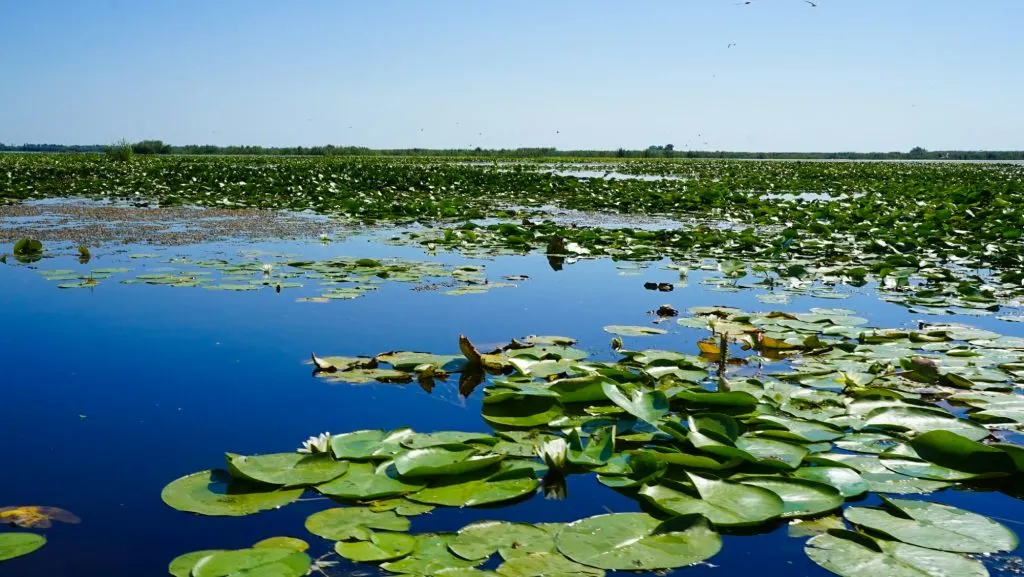 #39. Letea Forest
Wander around this bizarre forest, which springs out of a rolling dune system.
Letea Forest is the oldest natural reservation in Romania, established back in 1938, and is famous for its 500-year old oaks, wild horses, sand dunes, tropical creeping ivy, and abundance of birds. With a different feel to the rivers and islands of the delta, there is also a small restaurant in a village here served delicious trout.
Yes, it is technically located within the Danube Delta, but worthy of its own spot on this list of things to see in Romania.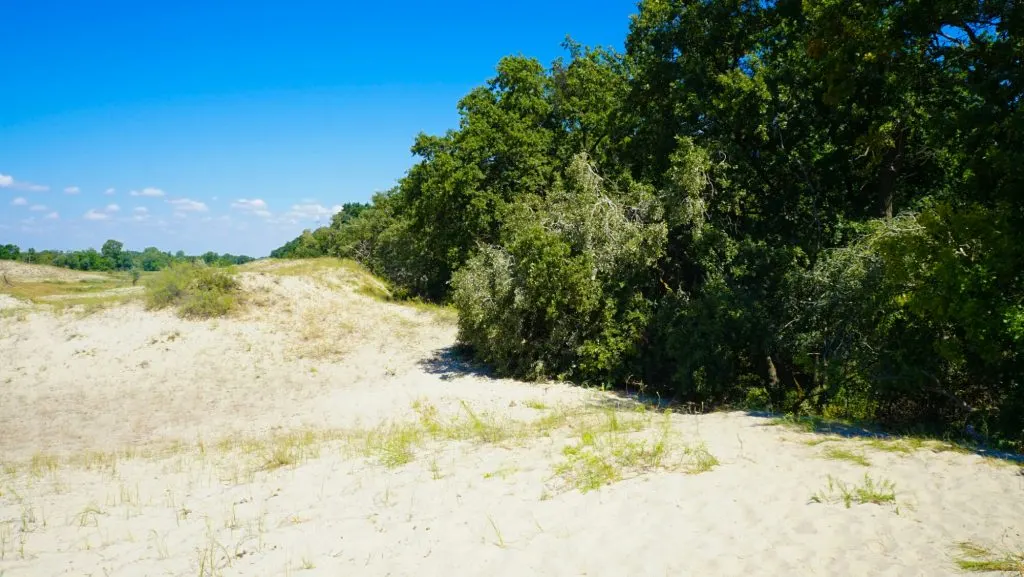 #40. Lake Vidraru Dam
Pack a picnic and enjoy this stunning dam set high in the Carpathians.
Created in 1965 as a result of the construction of the Vidraru Dam on the Argeș River, which at times was the fifth largest dam in Europe and 9th in the world. It is hard to convey the true magnitude of this project at the time as 40,000 toiled over six years to mammoth construction, a first of its kind in Romania, and as much of a monument to the countries communist past as the Palace of Parliament in Bucharest or the Transfagarasan Highway. Today this achievement is still marked by the communist 'Energia' statue, representing Prometheus with lightning in his hand, which can be spotted standing guard here.
If the community history, unnatural beauty of the location, and picnicking aren't enough, you can go for a swim, though even in the summer months, the water is only ever between 5°C to 15°C. There is also small boat rides possible – and for bunging jumping off the 166m dam face for those who are braver.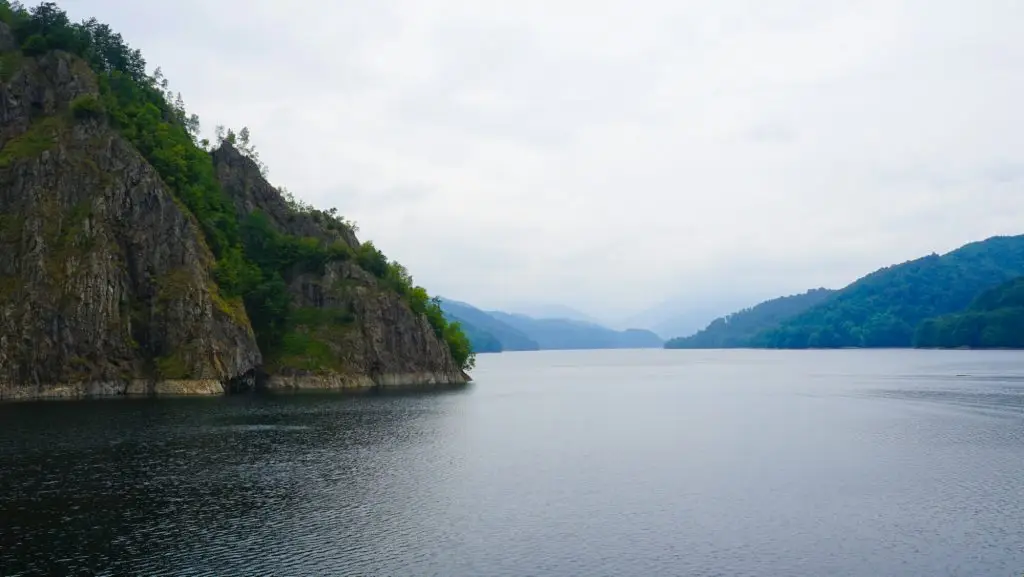 On the home stretch now of the top 50 most beautiful places in Romania. Stay with us now. We promise you we have saved some of the best for last!
#41. Constanta Casino
Admire Romania's crumbling ghost, once known as the Monte Carlo of the east!
Once considered Romania's Monte Carlo and a symbol of the city of Constanța, the most-recent and modern version of the now-defunct casino was built in Art Nouveau style and inaugurated in 1910. It was in operation for 38 years, with interruptions and bombings during the wars, until in 1948, it was taken over by the Communist government.
It was abandoned in 1990 due to large operational expenses and remained to this day a haunting sight on the seafront. Numerous plans have been floated for its redevelopment over the year, but litigation and political frenzy have so far ensured no project has ever progressed beyond the drawing board.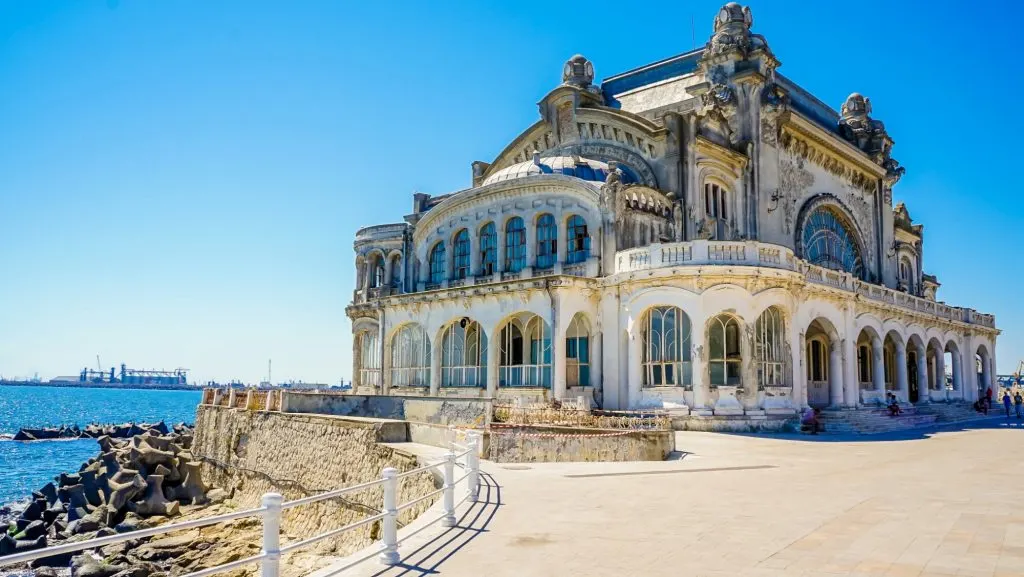 #42. Moldovița Mountains
Commune with nature and the shepherds as you enjoy a day hiking between picturesque villages.
The countryside in Romania enchants tourists from all over the world with its fairytale landscapes, Saxon villages, fortified churches, and rural life. Competition is fierce between regions but Moldovița, in the north-east of the country, might be the best place to escape for a few days, live like a local, fully relax and indulge yourself with ancestral food.
A truly Romanian experience in slow living – Moldovița has only four villages: Argel, Demăcușa, Moldovița, and Rașca, but plenty of gorgeous mountains, cute hikes, hospitable locals and a 'Land That Time Forgot' quality. For countryside will take your breath away, unblemished mountain scenery and fascinating traditional villages located in valleys and on green hills – Moldovița is where you should go.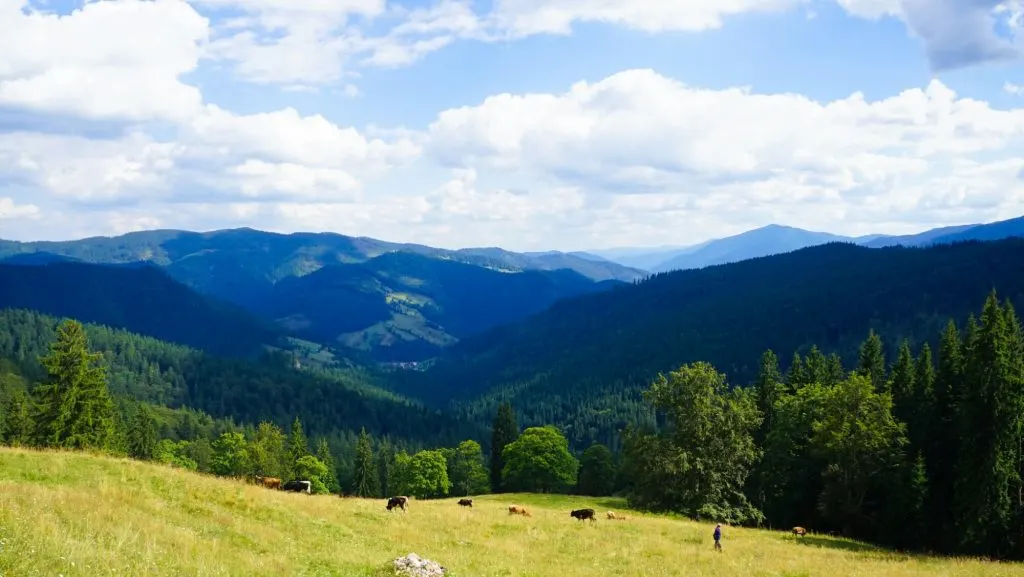 #43. Romanian Bonfire
Dance the night away around a Bonfire with folk dancing and plenty of music.
Ok, not technically a place in Romania – but an experience you should seek out. Romania is one of the poorest countries in Europe, meaning when you are on holiday here you will often be sharing accommodation and guest houses with locals as well as international travelers – because, for Romanians, the cost of traveling abroad is simply too exorbitant.
While recognizing this is is a sad situation, it means as a traveler you have even more opportunities to interact with locals. We would encourage you to use it. On our travelers here we meant many Romanian families, couples, and solo travelers who invited us to enjoy drinks with them, visit their towns and join for meals and dancing around more the bonfire on more that one occasion. The hospitality and charm of the Romanian people is infectious – and a large part of why we loved visiting Romanian. A smile and a friendly hello will go a long way.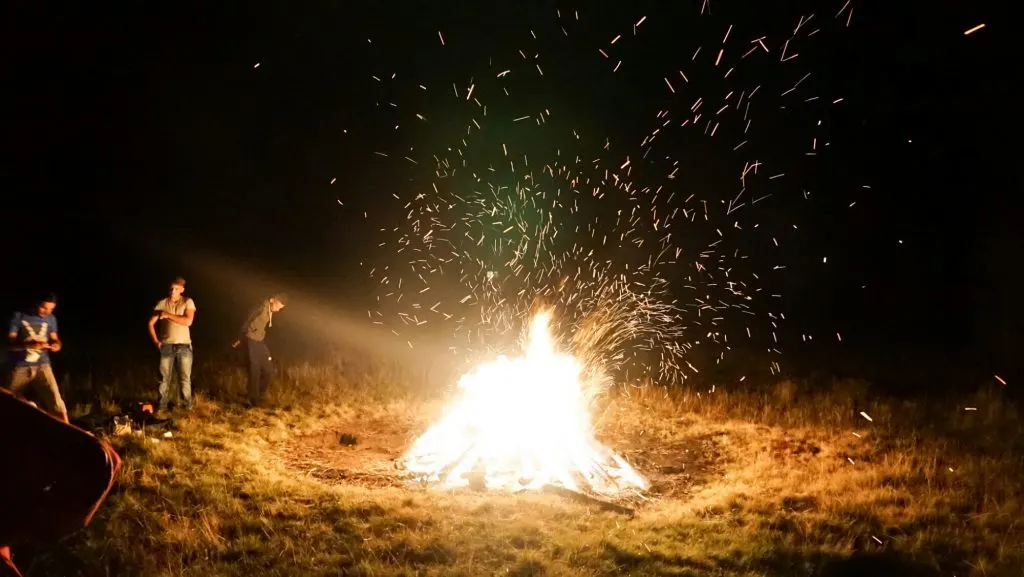 #44. Jina
Admire the beauty of this small village, which looks like it was transported from the Mediterranean. Kind of.
A small commune in Sibiu County only 40 km west of the county capital Sibiu, Jina sites on the edge of the Cindrel Mountains and sprawling farmland below. There is nothing exceptionally extraordinary about this city, but its location and lack of tourists make it a great spot for photos and a picnic on your Romanian road trip.
Again – on the greatest joying of exploring this mysterious country is taking the road-less-traveled and discovering your own hidden gems. For us, Jina was exactly this sort of discovery.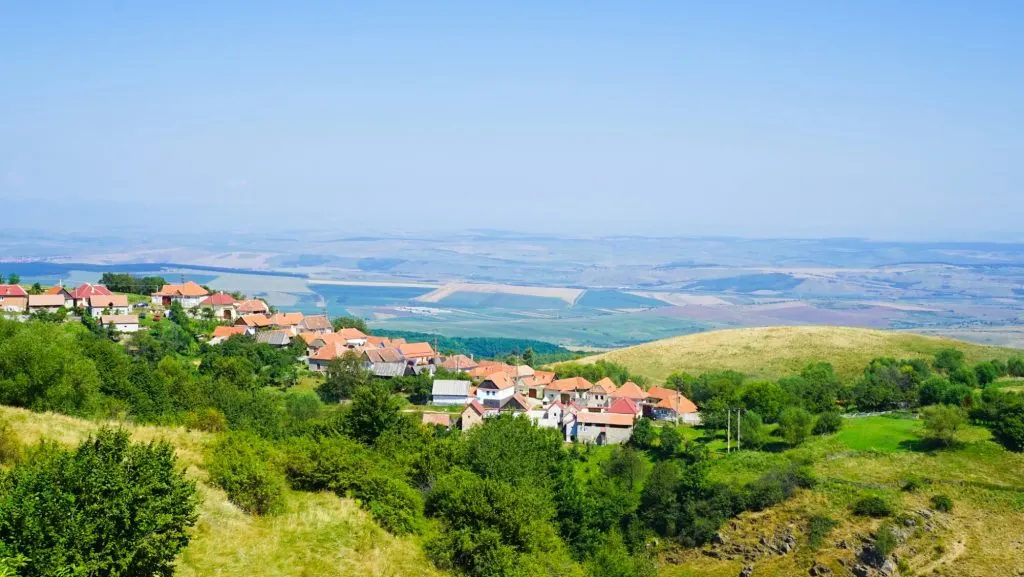 #45. Sunflower Farms
Bask in summers warm embrace and admire the fields upon fields of sunflowers that cover the countryside.
Again, not an exact place in Romania, but on your road trip here, you are bound to notice an unusual abundance of sunflower farms dotting the roadside. This is because Romania is the largest producer of sunflowers in Europe, with around 1 million hectares sown, although interesting Romania also has some of the least productive farms in Europe.
They are everywhere – but life is short, so don't forget to slow down and smell the …sunflowers. In travel, it is often the little things you remember anyway.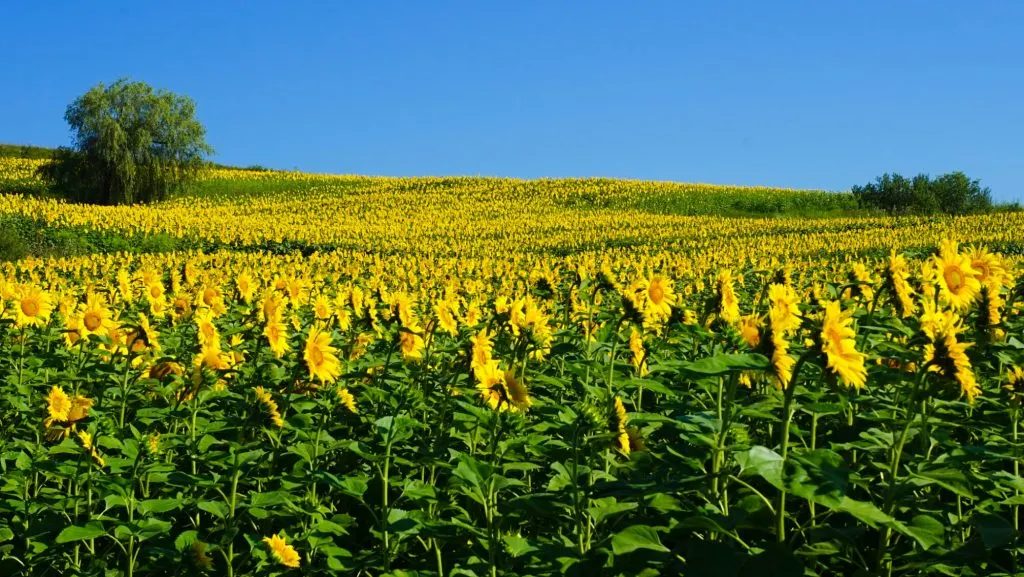 #46. TransBucegi
Take in a new vista at every turn on this windy TransBucegi mountain pass through rural villages and traditional farmscapes. The TransBucegi is one trip you will never forget!
The last of the great Romanian highway passes, you should add to your bucket list but by no means the least impressive. Positioned in the south-central part of the country, the TransBucegi, well – traverses – the Bucegi Natural Park offering crisp mountain air, extensive vistas, and the chance for wildlife spotting if you are lucky. The road is 20 km long filled with bends and hairpin curves, and plenty of hiking trails should you wish to take a break and get even closer to nature.
The third highest altitude road in Romania, after the Transfăgărăşan and Transalpina, the construct of the highway only began in 2010 -meaning it hasn't yet reached the fame of other highways in the country. Linking Sinaia with the Bucegi Mountains Plateau, ensure time to make stops at the "The Old Dames" (Babele) and the "Sphinx" (Sfinxul) rock formations, and for a short visit to the Caraiman Heroes Monument.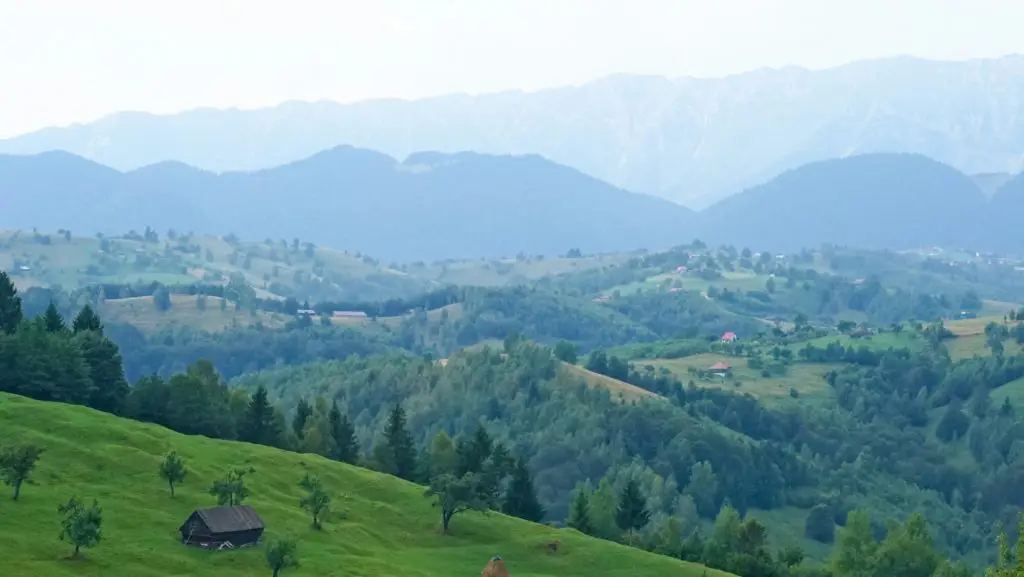 #47. Maramures Hostel
Rest your head in a converted barn set on a traditional farm in the middle of this mysterious region.
A new campsite and hostel in the beautiful village of Breb in the hills of Maramures in northern Romania that was one of our favorite accommodations … in the world! Babou Maramures is a small-scale rural hostel located in the traditional barn with as little changes made as possible. The only big change made was on the roof, which was renovated with thin pieces of wood -11,000 in total- according to the traditions of the region and the inside decorated with a mix of the local traditions and our owner's own touches.
Inside is common areas, dormitories, and bathrooms. There is also an extensive garden, of which parts are used as a campsite where you will find chairs, hammocks, and places to enjoy a fire at night. Rustic and homely, Babou Maramures is the perfect place for travelers full of energy, lovers of activities, and hiking to experience the wild nature of historic Maramures.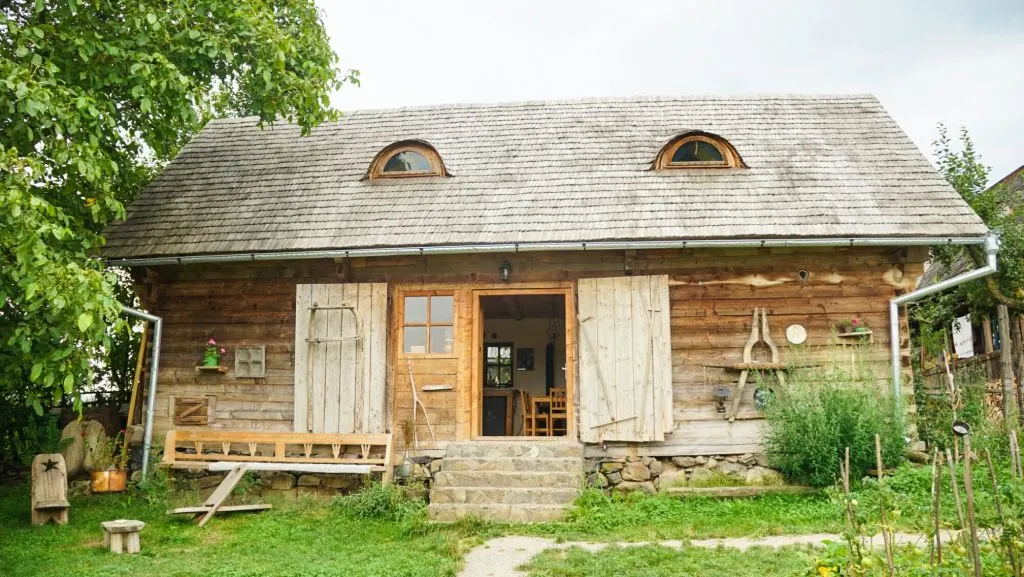 #48. Bâlea Lake
Take a moment to enjoy your surroundings, and a hot drink, at the serene Bâlea Lake below the highest mountain in Romania. Or in winter, enjoy the Frozen Bâlea Lake Ice Hotel!
Yet another of Romania's astonishing natural wonders, Bâlea Lake is a magnificent, must-see landmark – even if it might be just a little too cold for swimming. The glacier lake is carved 2,034 meters up near the peak of the Făgăraș Mountains, aka 'Transylvanian Alps.'
Its location in the Făgăraș Mountains means you'll pass it if you take the TransFăgăraș Highway, but Bâlea Lake is worthy of a spot on this list in its own right. In the winter there is a ski resort next to the lake, but in the summer it is a great spot for hiking. There are a few hikes, but our favorite is the 10-kilometer route between Bâlea Lake to Bâlea Waterfall peppered with breathtaking scenery.
Ensure you have the right gear and checked the weather conditions before heading out. Or you can always just take a picnic lunch and enjoy its peaceful tranquility without the physical exertion.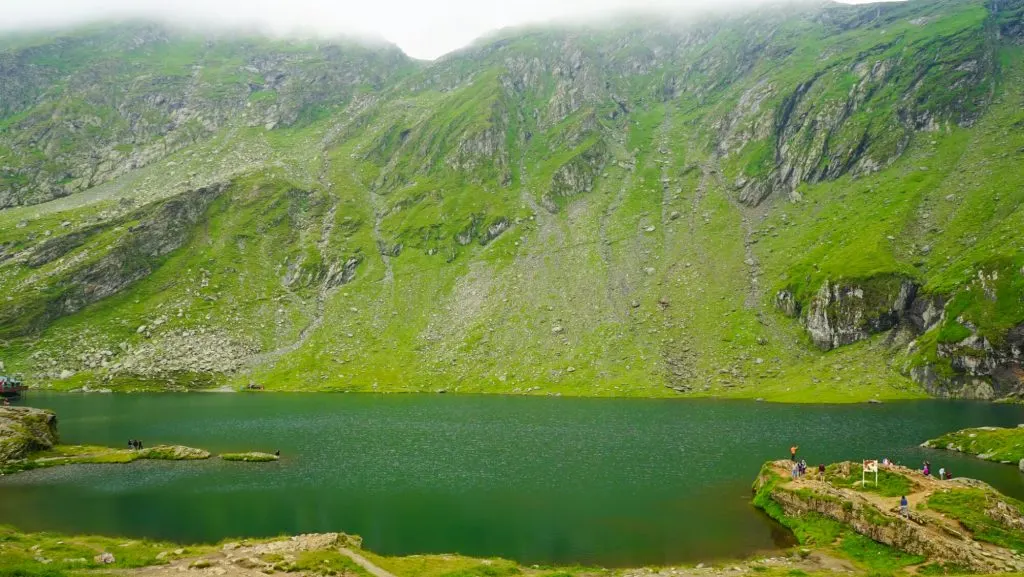 #49. Hay Stacks
Be transported back in time as you amble around the countryside and are transported back to a pre-industrial way of life.
Another weird and wonderful attraction of Romania is the seemingly endless fields of haystacks. But not just any haystacks. Romanian haystacks – yes, they are different! Over the centuries, this unique method of haystack building has become a bit of an art, meaning that haystacks of Romania have their own individual characteristics and are found nowhere else on earth. In the cold Romanian winter, animals and people would die if these haystacks didn't survive, so great care is taken in constructing these stacks – some of which tower over four meters in height. They may look haphazard, but the methodology is very meticulous, and you can read about it here.
Seriously, it is fascinating, and these haystacks are a bit of an unsung hero, having embedded themselves deeply into Romanian culture. The 1989 demonstrations against Nicolae Ceausescu with led to bloody revolution, are referred to as the spark over a very dry haystack, and in the past, freedom fighters would hide in the haystacks to escape Turkish forces. It is also said that farmers had to be careful what their daughters got up to with the hired help, and suspicious fathers would often pitchfork the stacks to ensure their daughters', ahem, modesty remained intact. Therefore many young men in the past bore a scar known as the love fork.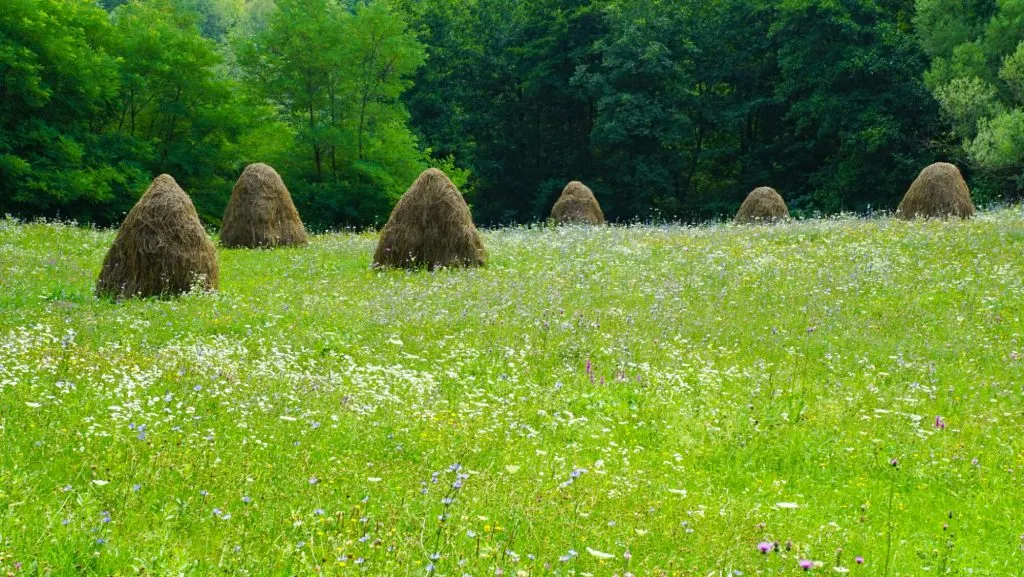 #50. Bucharest
Tie up your shoelaces and get exploring the old town of Bucharest – one of the most liberal cities in Romania with a growing gay scene.
No guide to visiting Romania could be complete without mentioning it's dynamic capital – though its suitability for a road trip is debatable.
For those who are less confident driving in hectic streets, use either pick up or drop off your rental car for your Romanian road trip in Bucharest and explore the metropolis on foot. We could produce an entire article on the highlights of Bucharest alone but suffice to say there are trendy cafes, grand villas, communist scars, and museums to keep you occupied for a few days.
A long way off the almost Disneyland-esque appeal post-communist capitals like Tallinn and Prague, the grit of Bucharest adds to its appeal and ensures its pockets of hidden glory are only found my the deserving. A mix of old and new, with art aplenty and a growing foodie scene – Bucharest is one of the last cities in Europe you can enjoy without hoards of tour groups spoiling it for everyone.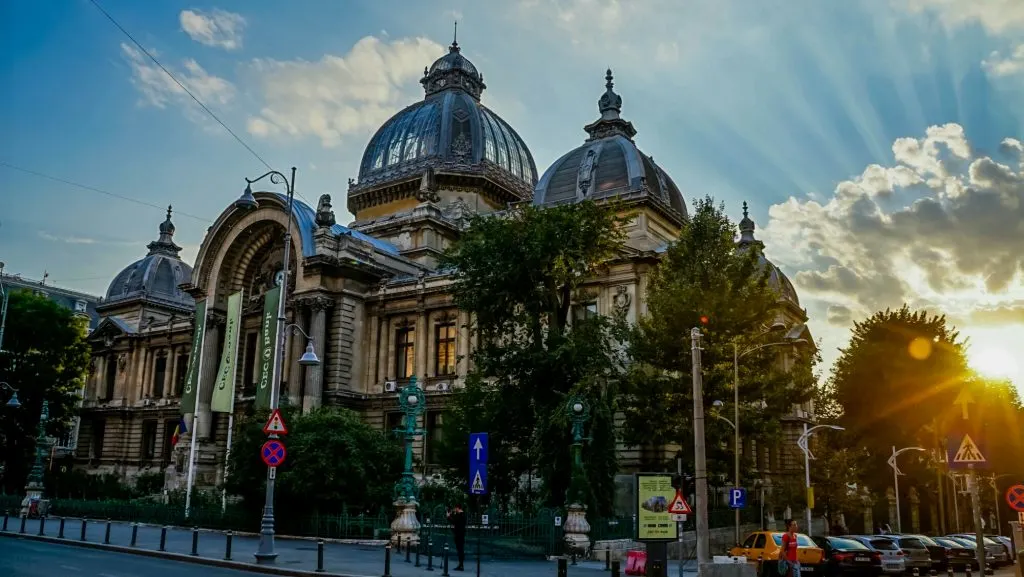 ---
So there you have it – 50 of the Best Places to Visit in Romania! Perfect for a road trip and a few weeks of nature-loving. If you loved this, you might also like:
Let us know what you think and the most beautiful places in Romania – We could easily have made this list Top 100! This is a place where you are going to want to take your time to enjoy an epic Romania Road Trip (and sort your rent a car Romania) – and we know you are going to love it as much as we did!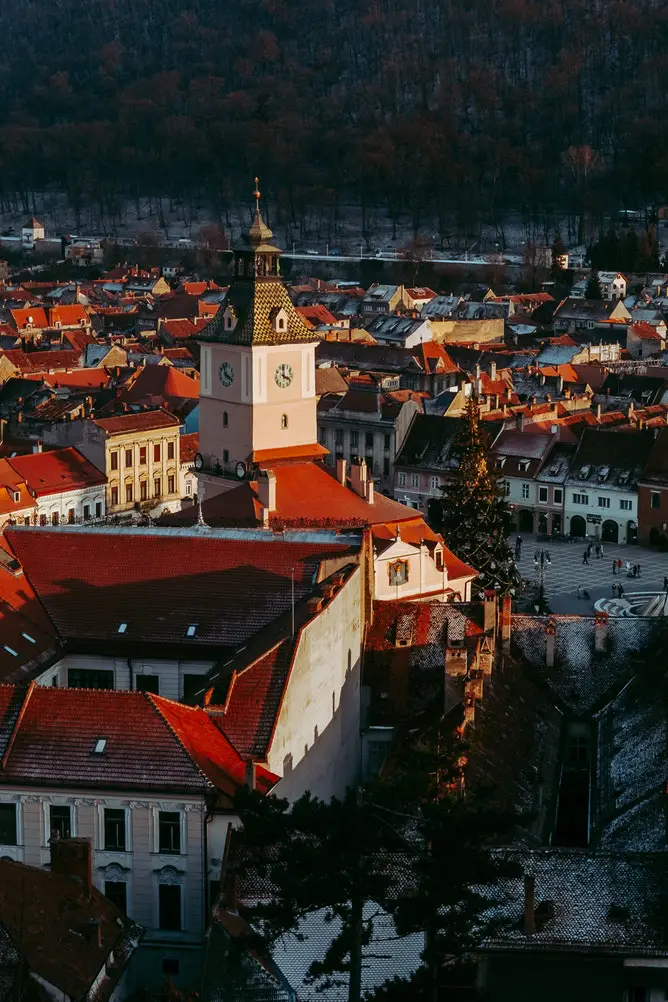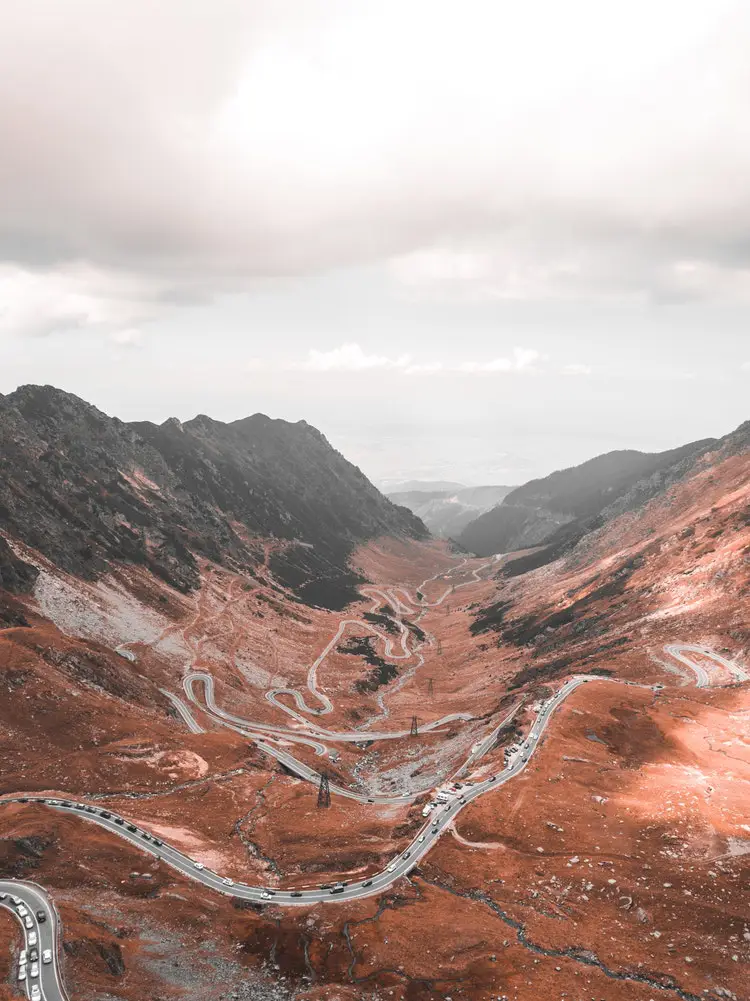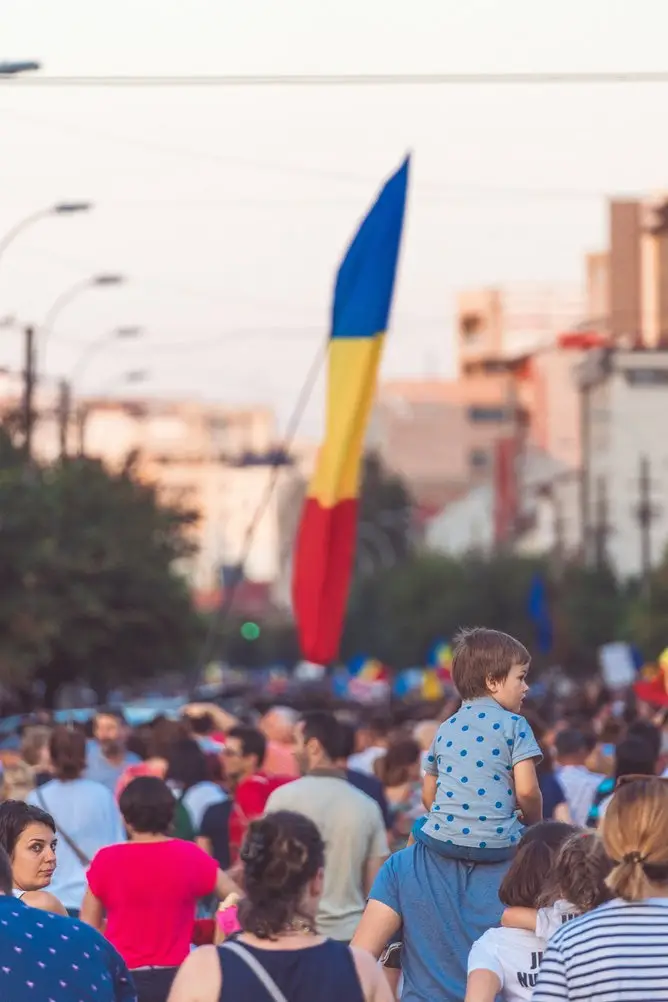 Staying Connected While Travelling
In today's increasingly connected world, staying online while traveling has become essential for a seamless experience. That's where eSIMs come into play, revolutionizing the way we access mobile networks during our global adventures. Say goodbye to hunting down local SIM cards at the airport; eSIMs provide instant activation the moment you land, sparing you the fortune usually spent on international roaming and allowing you to genuinely travel like a local (without getting hopelessly lost!).
With eSIMs, tasks like restaurant recommendations and reservations, up-to-the-minute public transport instructions, checking opening hours, and accessing further information become a breeze. And, of course, sharing your journey on social media is easier than ever. To stay connected wherever you roam, consider using either Airalo or Holafly. Airalo boasts the most extensive range of destinations worldwide, offering smaller data bundles tailored to your needs, while Holafly provides unlimited data packages and fantastic EU data deals.
So why wait? Embrace the future of travel connectivity with eSIMs and make your next journey effortlessly smooth.
Further Things To Consider Before Any Adventure
Now you're all set and prepared to explore our big wide world, why not sort out everything else out all in one go? If necessary for your travel plans make sure you have brought proper travel insurance, protected your privacy by getting a secure VPN, compared all the top hotel booking sites to find just what you're after, reserved an unbeatable rental car price and - of course - booked the best flight deals!
Or maybe just forget it all and go for a last-minute cruise or effortless tour instead?
Many budget travelers (including me) indulge in worldwide airport lounge access, so we can experience luxury while still slumming it in economy. Naturally, we would never leave home without a more general travel guide since we couldn't possibly cover everything here!
Just add an adventurous attitude and plenty of smiles - they go a long way - and that about covers it all! Now go out, find your own path and don't forget to share your best inspiration stories with me on Facebook, Twitter, and Instagram...I'd love to hear from you!