Have you seen the awe inspiring photo of the Kazbegi Mountains towering over Gergeti Trinity Church aka the famous Kazbegi Church!
If so I'm sure you will have already booked a one way ticket to Georgia, an alpine treasure of the Caucasus' which is so often overlooked by western eyes but who's allure was well known throughout the Soviet Union.
To help you decide which of the many wonders of Georgia you will visit I will tell you why an Overnight Trip to Kazbegi National Park cannot be missed!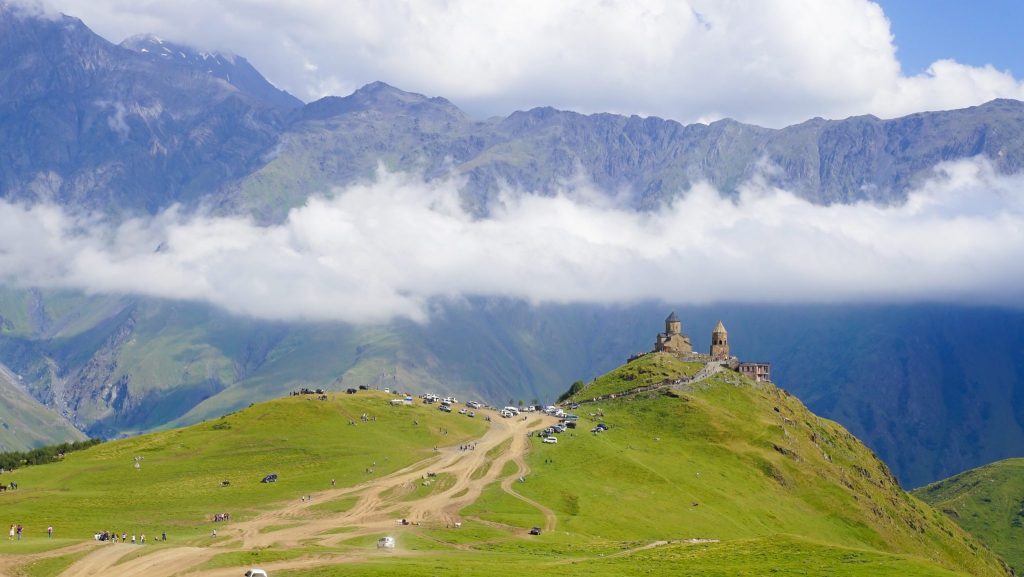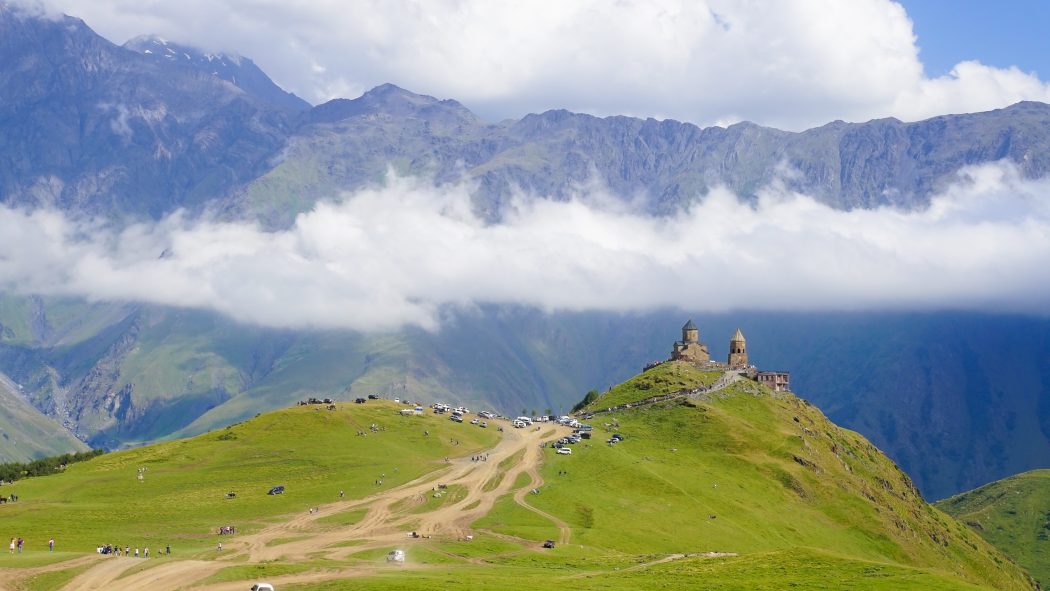 Searching For Gergeti Trinity Church: How To Reach Kazbegi From Tbilisi Georgia!
Photos of the Kazbegi Church are used to advertise Georgia, its wine, mineral water and holiday resorts all over ex Soviet countries…Except without all the cars (It was a religious holiday when I visited!)
Kazbegi National Park is located on the northern slopes of the mighty Caucasus range and at 5047 metres above sea level it is the third highest mountain in Georgia! The mountain road up here is one of the most breath-taking in the world but the passage, which now leads to Russia, was once also one of the most important in the world and has been fortified since at least 150 BC.
Today the pass is still heavily guarded because of issues with nearby South Ossetia and since the 2008 Russian-Georgian War but unless you were looking you wouldn't even notice!
All you will see is pure, unadulterated nature – Take a big breath in, you'll feel better trust me!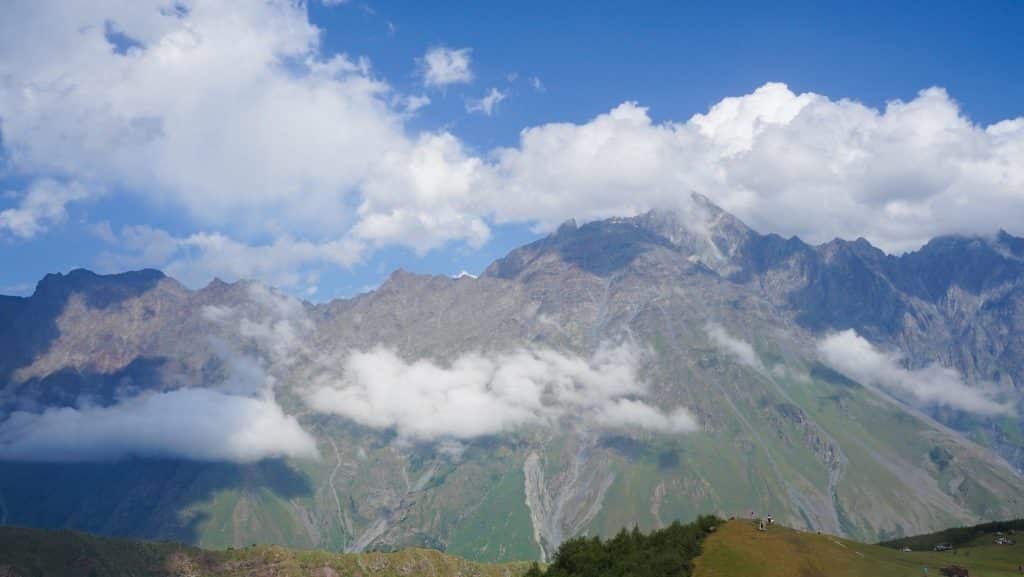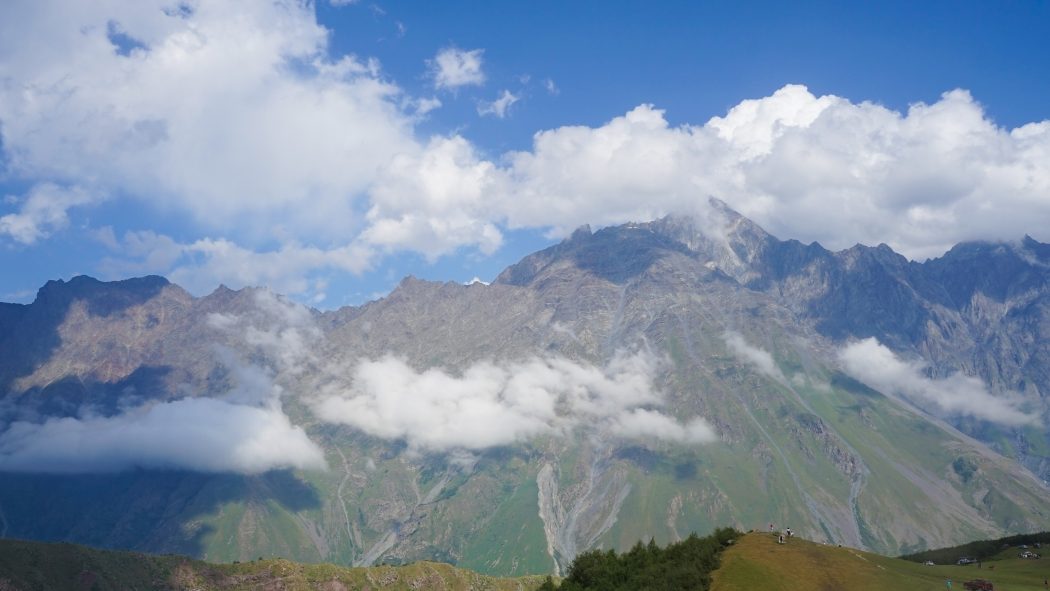 The Kazbegi Mountains also have a special place in Georgian and Greek mythology as the Titan Prometheus was chained to a mountainside in the Caucasus for all eternity as punishment for teaching mankind how to make fire.
Given the hot springs and acidic lakes which populate the mountainside, and the frequent earth tremors, I can see why this myth persists even today!
The mountain is even home to 3 glaciers for those that care to seek them out! Not as pretty and blue as I would have expected mind you!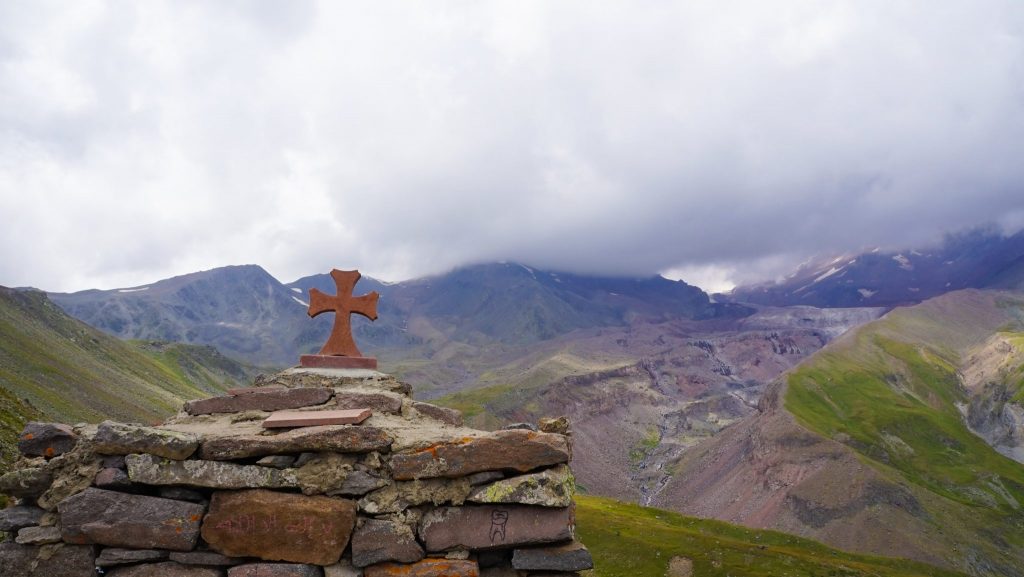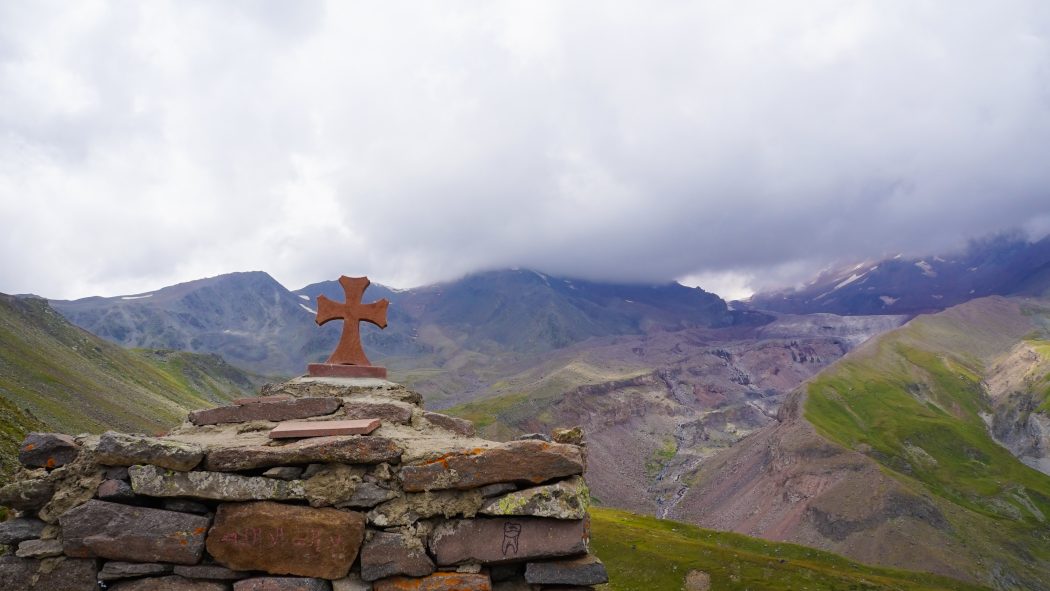 Gergeti Trinity Church, however, is the main undeniable attraction here, and while I implore you to explore wider afield on an overnight trip to Kazbegi, it is undeniably gorgeous. One of the best places to visit in all of Georgia!
An architectural feat of the 13th century perched at 2200m above the town watching over the passageway while being watched by the solitary mountains. The location is more of the attraction than anything else but of course, pop your head in to admire the frescos and smell of burning incense!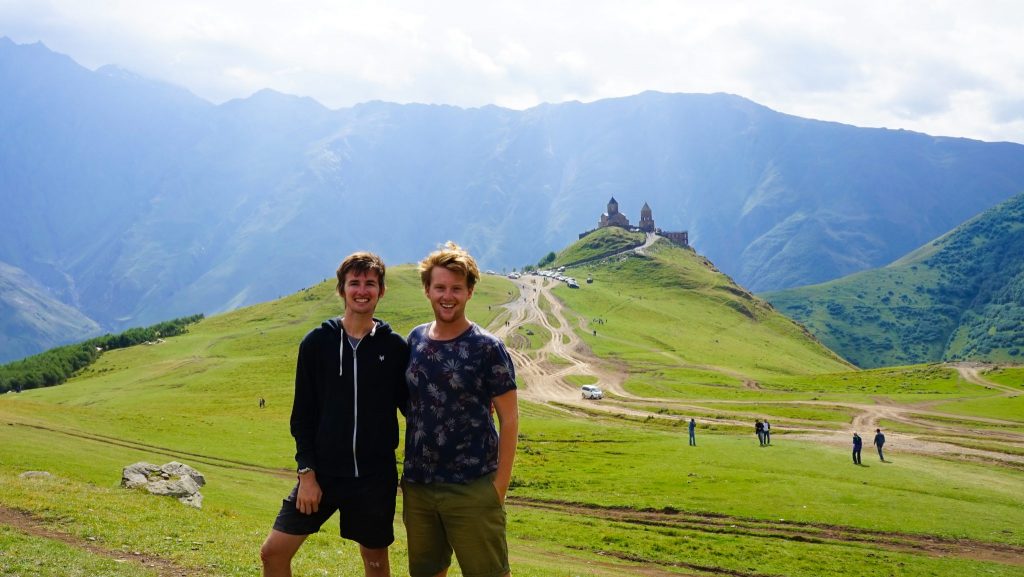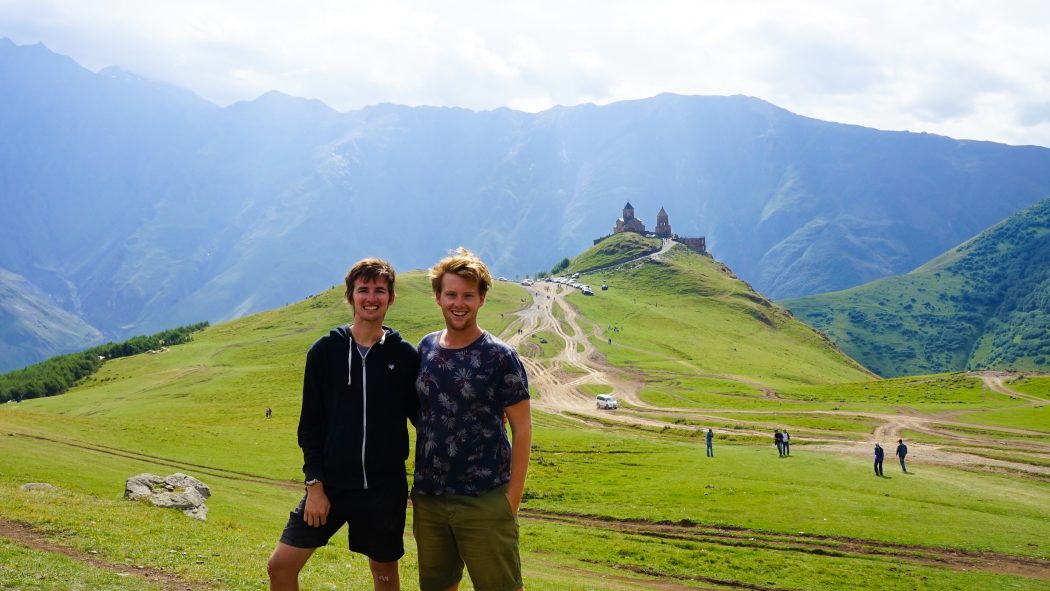 How To reach Kazbegi From Tbilisi
Getting to Geghard Monestary is rather straightforward. You can catch either a taxi or bus from Didube Metro station (დიდუბე) in Tbilisi to the town of Stepantsminda however it's most well known just to say Kazbegi. Marshrutky (minibuses) will cost 10 GEL and taxi is negotiable.
It should be 50 GEL per car including a few stops along the way at the attractions but be prepared to bargain hard and walk away. Both options take around 2.5 hours without stops.
If you enjoy reading about the Kazbegi National Park you might also enjoy these other similar articles!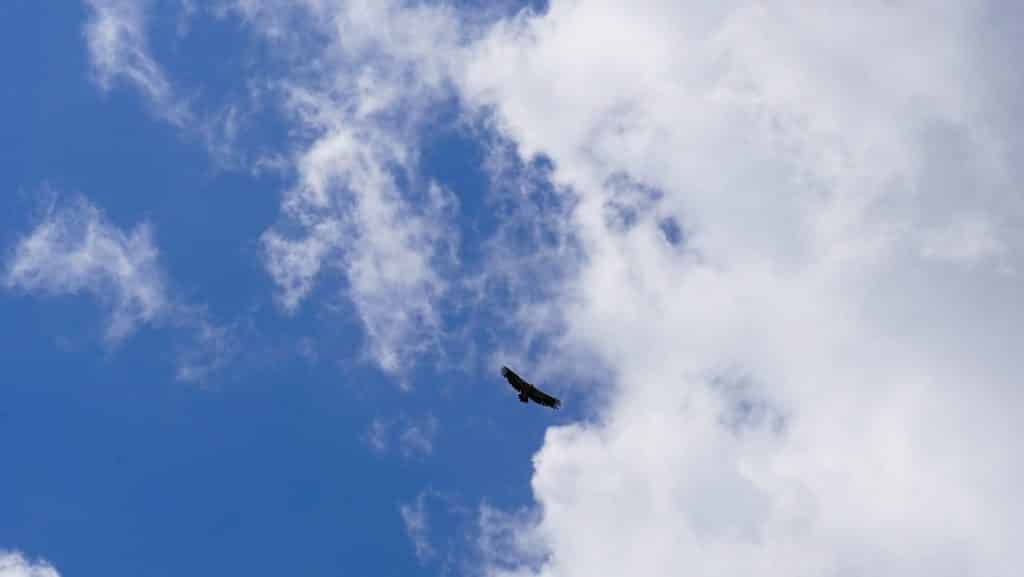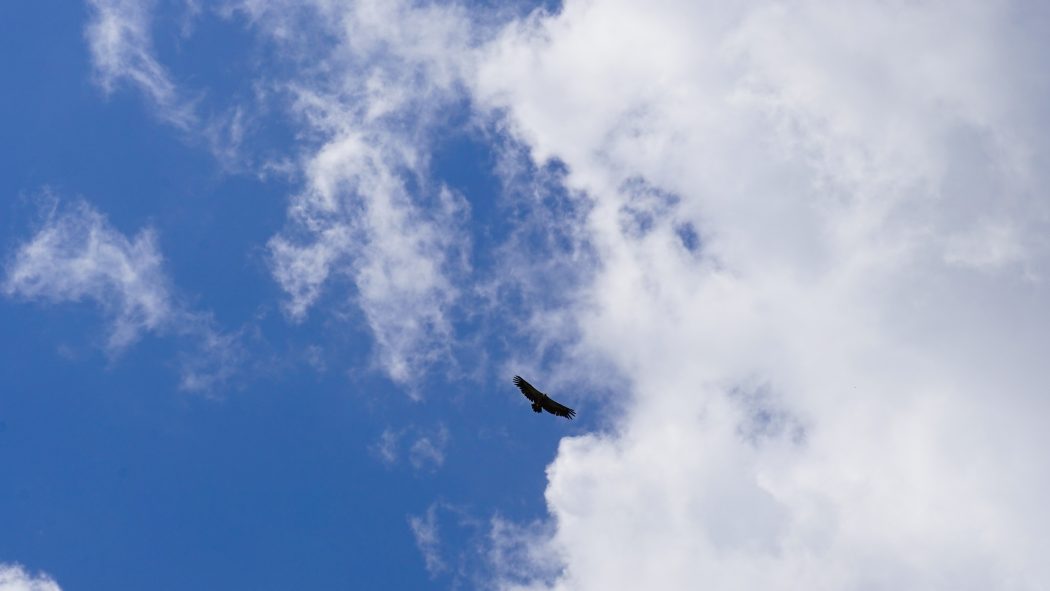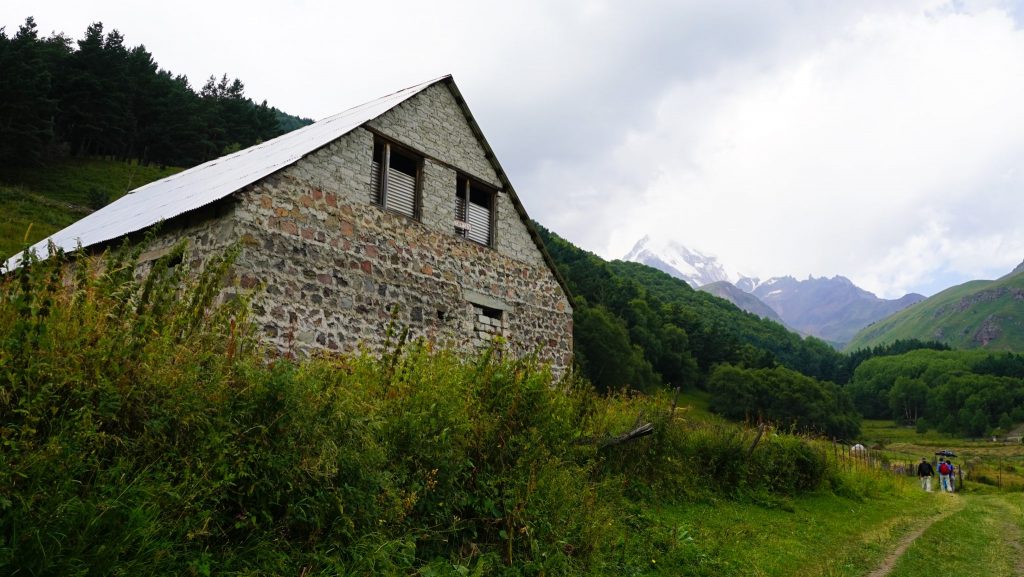 If you have even more time to extend your overnight trip to Kazbegi National Park, the area also offers longer glacier hikes, paragliding or trekking over mountain passes to remote villages!
It's really up to you, as much or as little as you want…I for one can't wait to go back and hire a horse, galloping across the hilltops! Or more likely sipping wine from the guesthouse…But with a view like this who can blame me!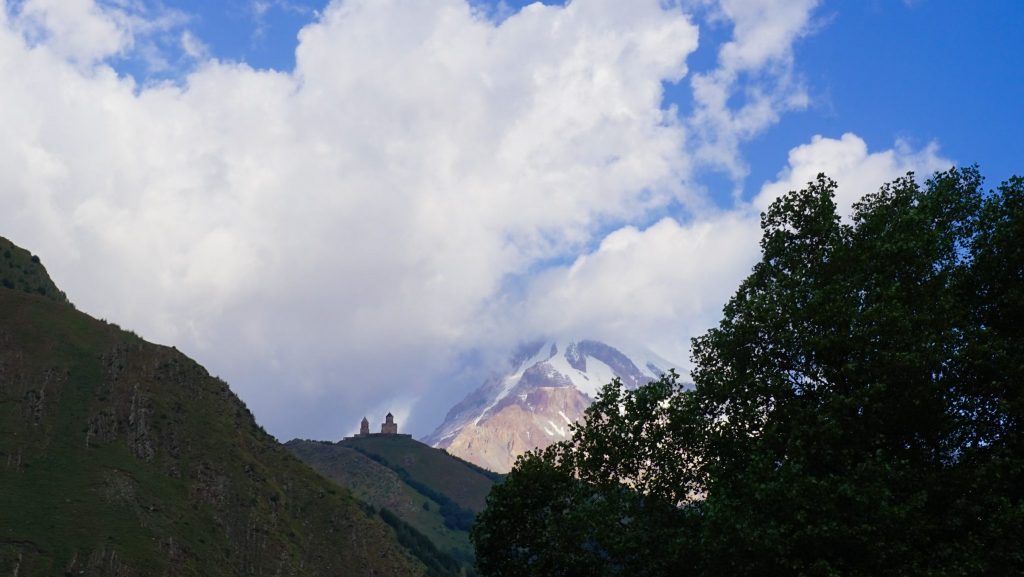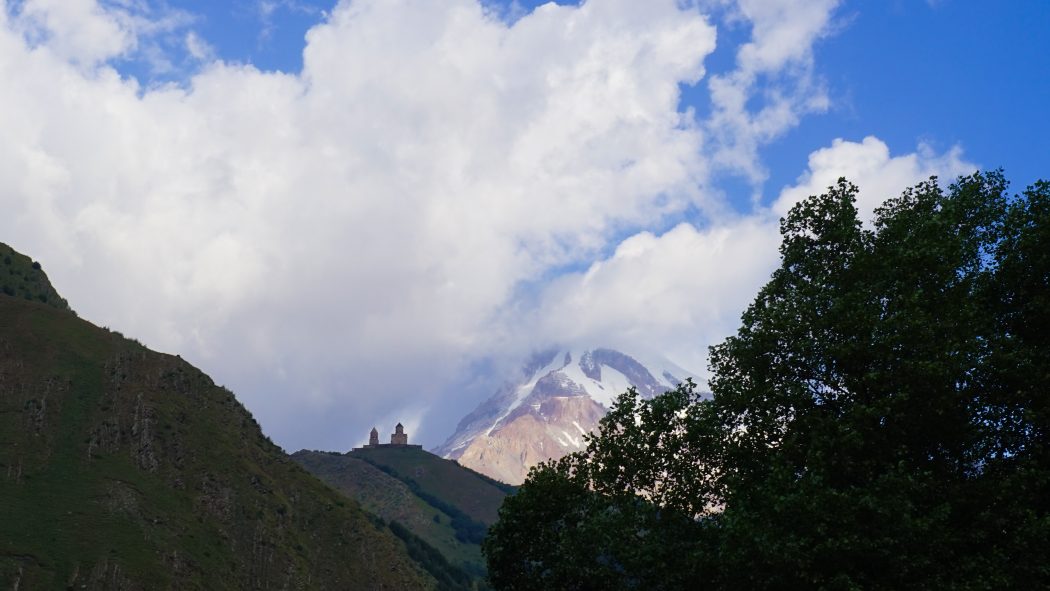 ---
Hopefully this guide has encouraged you to take an overnight trip to Kazbegi National Park in Georgia and you now know how to reach Kazbegi from Tbilisi.
If your trip happens to take you further afield in the Caucasus' you might also like to read about the Enlinking Caucasus Envoy Tours from Armenia to Georgia. Or discover your Essential Armenia stops with things to do in Yerevan and Armenia…Either way be sure to enjoy your trip!
Further Things To Consider Before Any Adventure
Now you're all set and prepared to explore our big wide world, why not sort out everything else out all in one go? If necessary for your travel plans make sure you have brought proper travel insurance, protected your privacy by getting a secure VPN, compared all the top hotel booking sites to find just what you're after, reserved an unbeatable rental car price and - of course - booked the best flight deals!
Or maybe just forget it all and go for a last-minute cruise or effortless tour instead?
Many budget travelers (including me) indulge in worldwide airport lounge access, so we can experience luxury while still slumming it in economy. Naturally, we would never leave home without a more general travel guide since we couldn't possibly cover everything here!
Just add an adventurous attitude and plenty of smiles - they go a long way - and that about covers it all! Now go out, find your own path and don't forget to share your best inspiration stories with me on Facebook, Twitter, and Instagram...I'd love to hear from you!