One of the highlights of Georgia, and indeed the entire Caucasus, has to be hiking in Svaneti, the remote mountain valleys of Georgia's northern border filled with epic peaks, lush alpine meadows and towering koshkebi (ancient stone defensive towers).
But it's not all camping and baked beans up here, there are many day hikes from Mestia (the region's capital) or better yet, a 4-day guest house hike perfect for anyone looking at getting into the remote nature that Georgia's very identity is defined by.
Have you booked a room in Mestia, the Svaneti gateway, yet? The best places tend to sell out fast…. Compare great deals for hotels, hostels and B&B's now with a best rate guarantee, so you can splash out on other things instead!
Not to mention that the area has the highest peak in Georgia, skiing in Georgia Caucasus, the best trekking in Georgia and some truly beautiful Georgian guest house offering delicious Georgian food (well not all of them, some Mestia hotels and hotels in Svaneti can also be laughably basic – but Hotel Old House was a rare except and one of the greatest hotels in Mestia we saw).
In order to encourage everyone to visit this little country tucked between Asia and Europe I thought I'd put together a Photographic Exploration of Svaneti Trekking, because really – a picture paints a thousand words!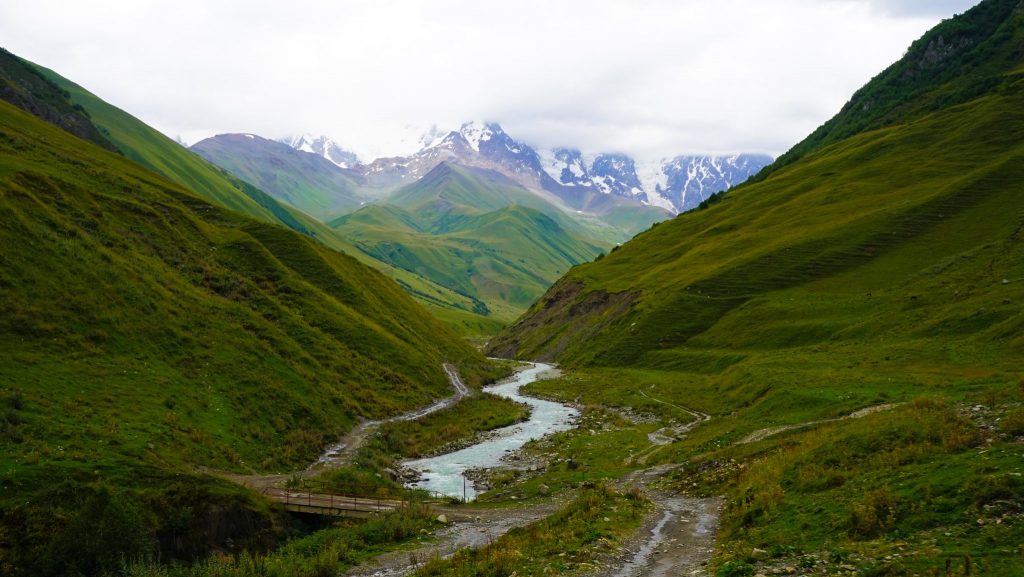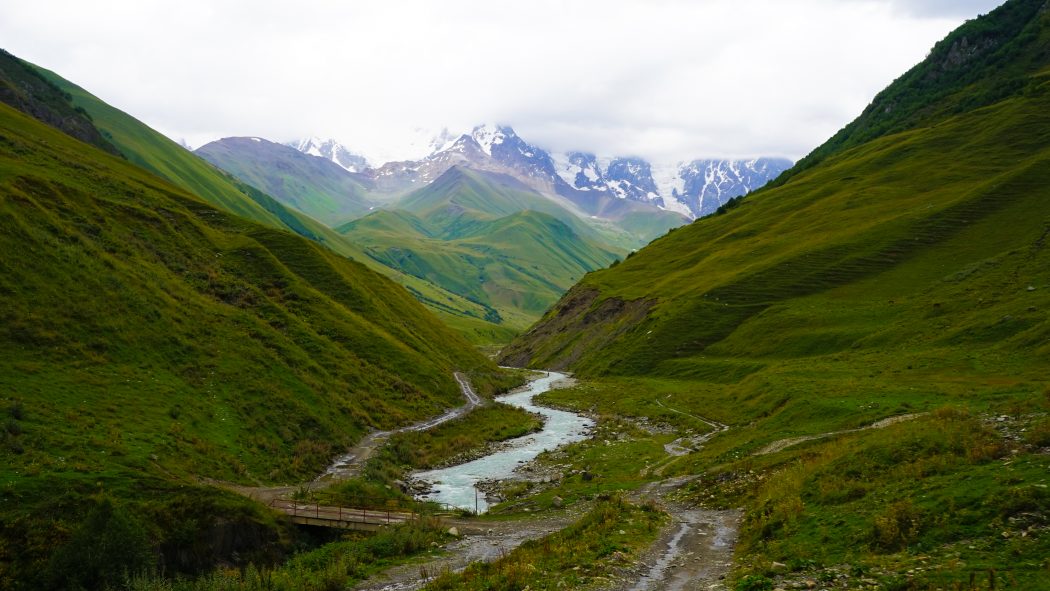 And really….Could there be any better endorsement than this!
To read about an easier trip into Georgia's great mountains read my guide to

Kazbegi

, a few hours along the dramatic Georgian Military Hwy from Tbilisi.
But first, a little introduction! Svaneti is infamous within Georgia as an ancient land of wild landscapes (and people) hidden deep within the Caucasus peaks. This region has never been tamed by any ruler and in times of crisis the relics and jewels of Georgia were sent high up into Svaneti's mountain valleys for safekeeping.
The koshkebi are emblematic here, with Svaneti's villages being dotted with around 175 of these UNESCO protected buildings. They were designed to protect villagers from invasion. With most built around 1,000 years ago it is impressive they are still standing, although many are crumbling and covered beautifully in moss and trees. And coincidentally its perfect for new profile pictures!
There just is no way you won't love trekking in Georgia – except I guess in the winter, but then there are always plenty of other things to do in Georgia in the winter. The shoulder season is always a good time to try, except you might want to take a good cold weather sleeping blanket, just in case…
Want to read more stories? Why don't you check out…
---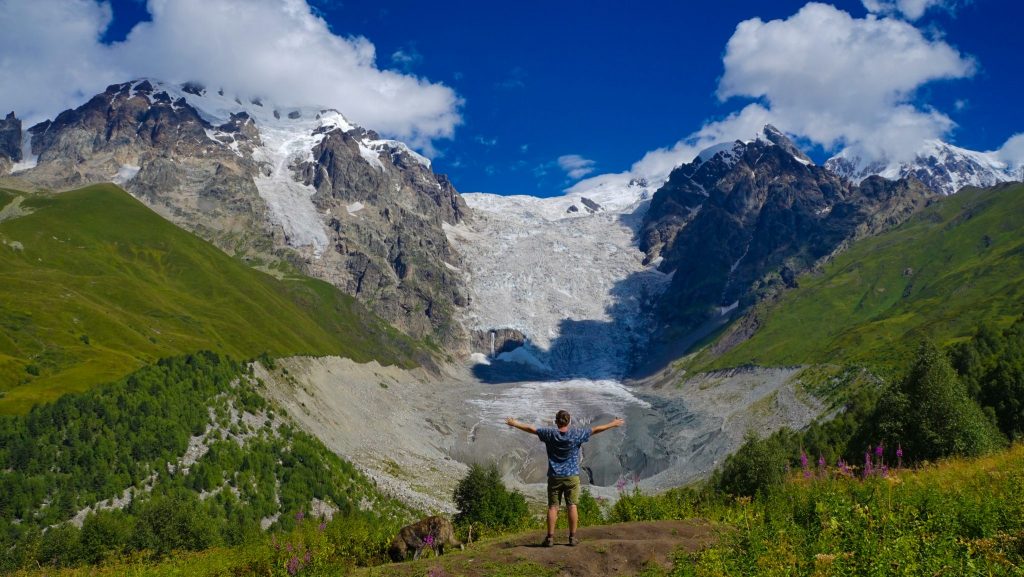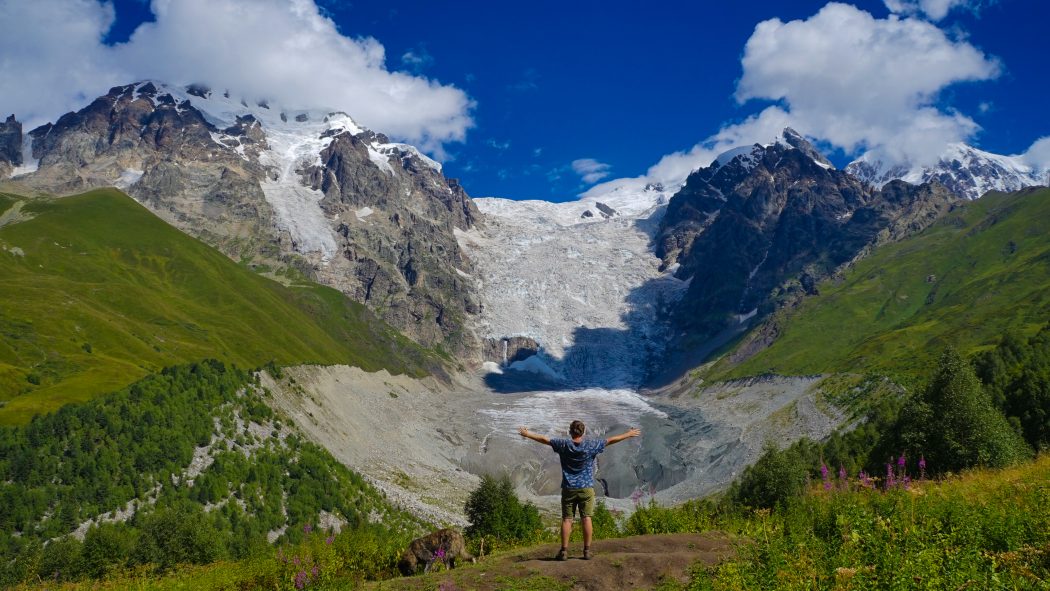 The four day Svaneti Trekking trip I would recommend is from Mestia to Ushguli via Zhabeshi and Adishi. The best guide I could find is available at Trekking Caucasus's, however the Svaneti Tourism Information in Mestia has incredible [free] maps which I found just as useful – but that's it!
There is certainly no need for any Svaneti tours as trekking in Georgia, at least on the established path – is safe and easy for any experienced hiker. The best season to walk here is between June and September, just be sure to take all weather gear as when it rains, it rains!
An if you can afford it the Mestia to Tbilisi flight really is a great option and saves a lot of time – though I did really like the train in Georgia!
Picturesque villages, glacier streams, Svaneti hospitality and crisp mountain air await you – Svaneti is truly one of those hidden places that remains remote and inaccessible, keeping its charm and beauty for only those willing to put in the effort! But enough of the boring words – as promised here is my photographic exploration of Svaneti Trekking!
Glaciers cracking and crashing around us; echoing down the valley. The only other sound is crickets and the gushing river far below us. Lilac wildflowers light the path ahead, curving and bending to match the mountains will. Barely visible in the distance is Adishi, just a dot that we left behind that morning. 

The journey ahead leads up and over the valley, my legs ache but the vista beckons ahead. I wipe the sweat from my brow and trudge on upwards to meet the bright blue sky.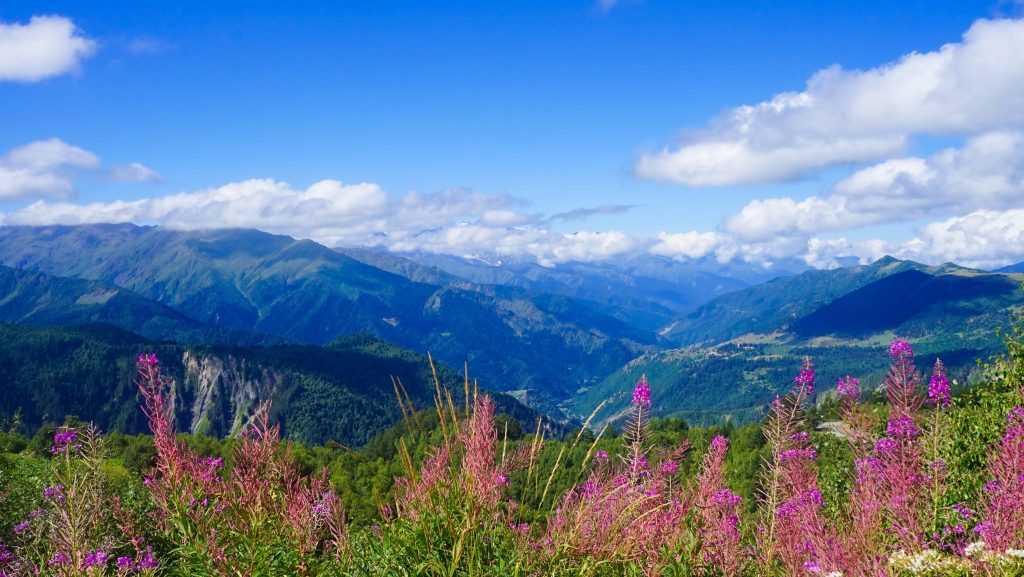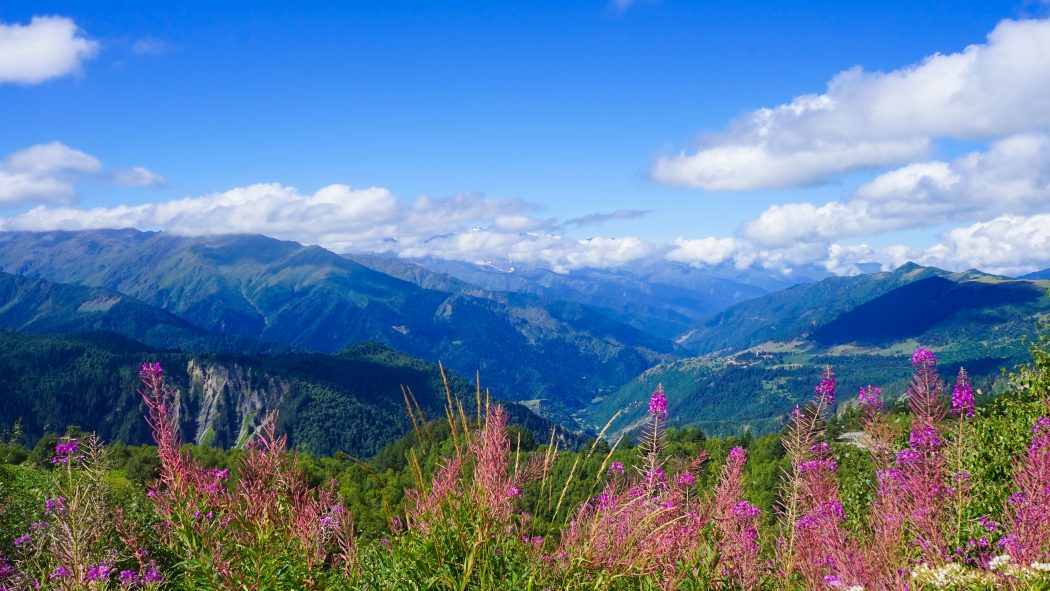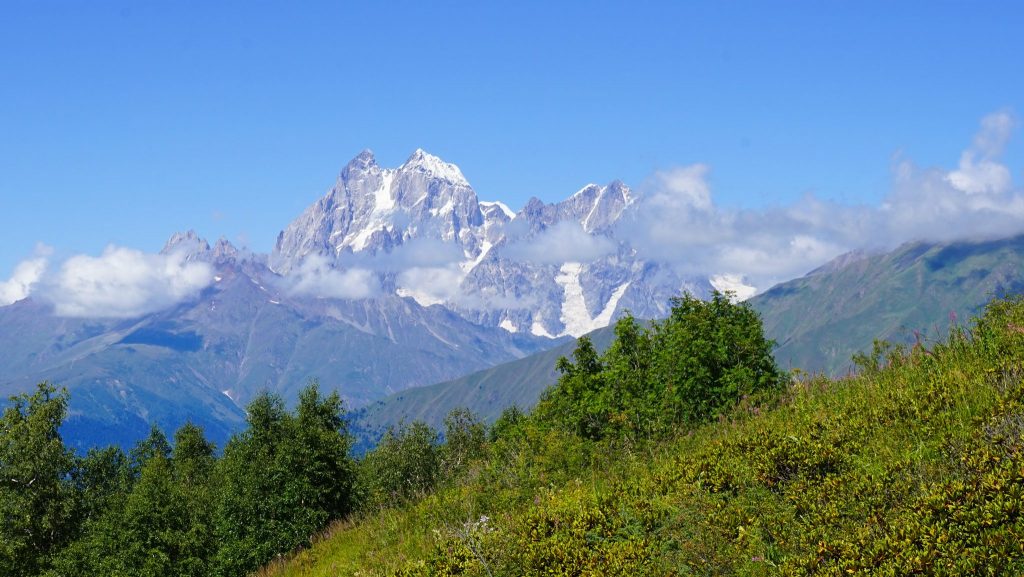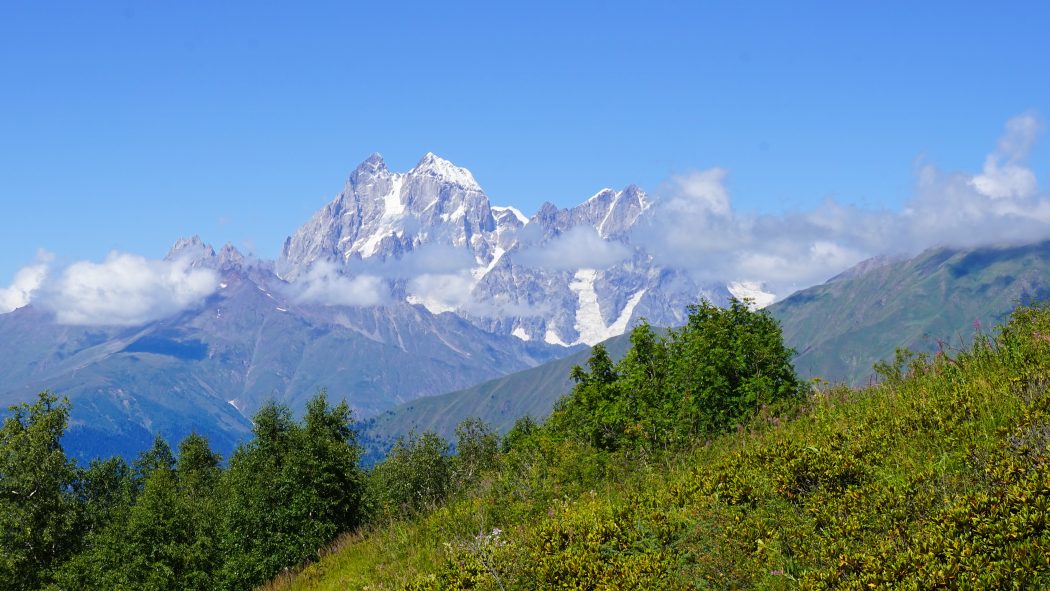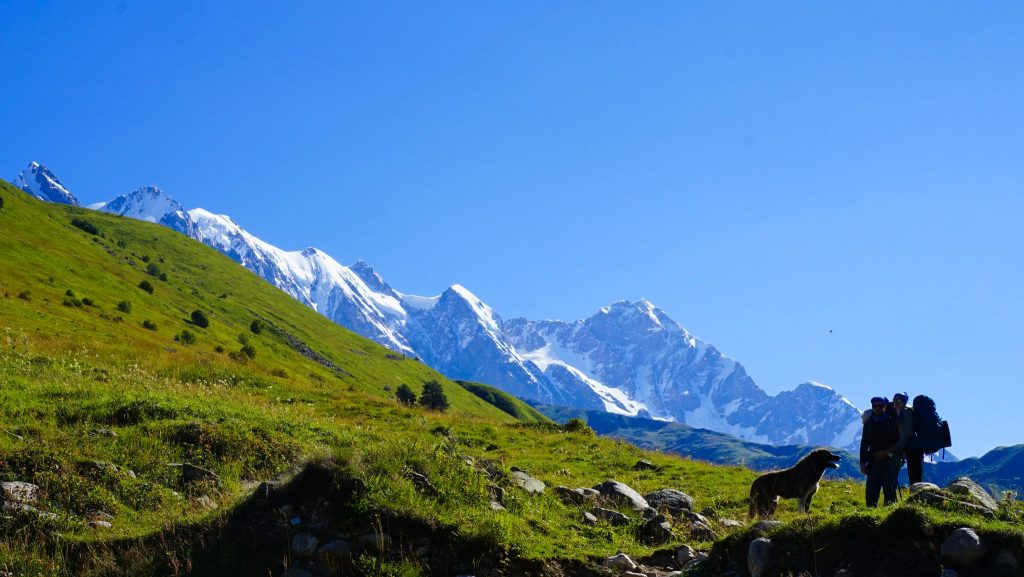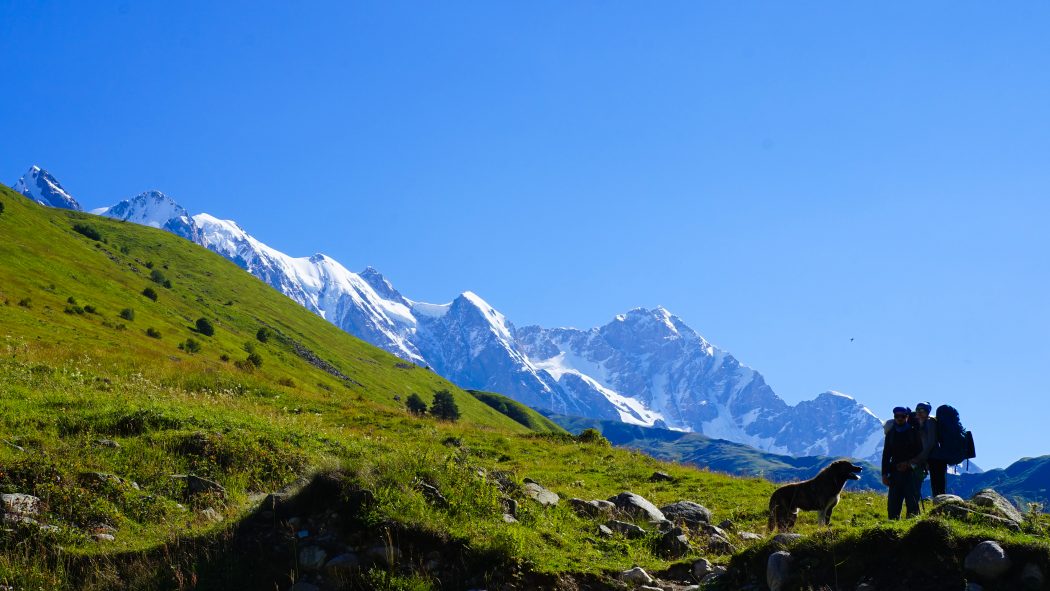 ---
So what do you think about trekking in Georgia? Ready to book your trip to Georgia and your flight from Tbilisi to Mestia to experience Svaneti Trekking?
Since you're in the area be sure to check out the things to do in nearby Armenia and if you're already heading there why not check out this awesome tour from Yerevan to Georgia! Or if this is not mysterious enough for you how about organising a visa and travelling to Abkhazia?
Have you booked a room in Mestia, the Svaneti gateway, yet? The best places tend to sell out fast…. Compare great deals for hotels, hostels and B&B's now with a best rate guarantee, so you can splash out on other things instead!