Visiting Nepal and want to fit in some cheeky trekking in the Himalayas but don't have too much time or the gear for a gruelling base camp trip? Then the Ghorepani Poon Hill trek in the Annapurna Region could be perfect for you. This short Ghorepani Poon Hill  4 day trek takes you up steep trails through traditional villages and into the Annapurna Conservation Area. Read on to find out why  the Ghorepani Poon Hill is the best trek in Nepal for beginners, and to see why it is one of the most beautiful treks in the world! 
Take a look at the best Pokhara Nepal hotels now! There are some amazing options lakeside and with views making it a great place to splurge and relax a few days after your trek!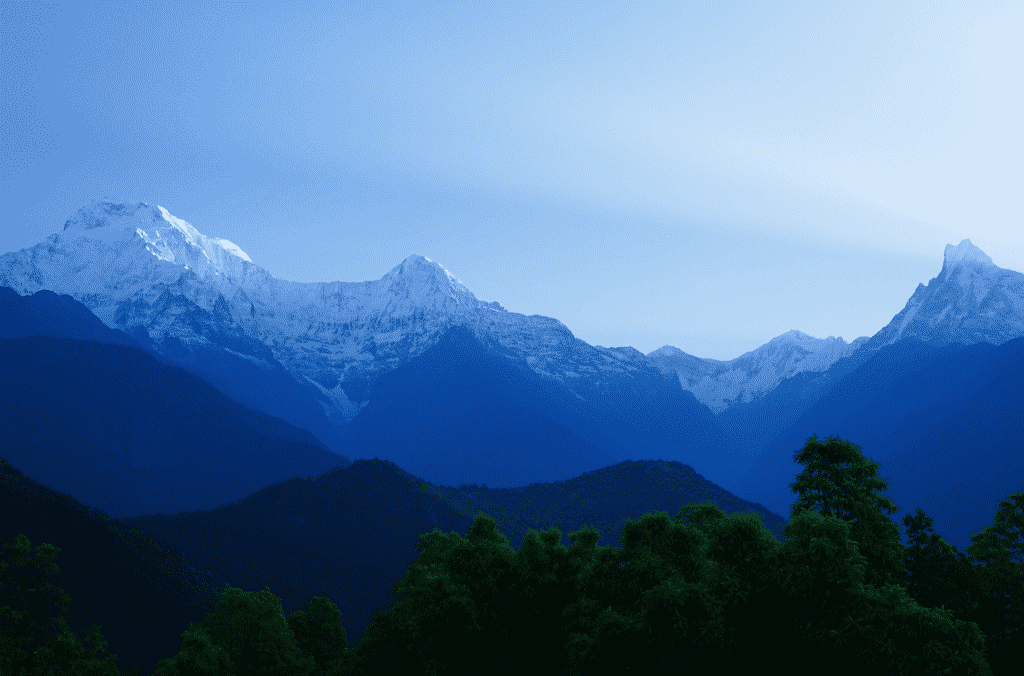 ---
Nepal Tea-House Trekking: The Ghorepani Poon Hill trek
The view at sunrise from the Poon Hill view point stars two of the largest mountains in the world – Annapurna I (8,091m) and Dhaulagiri (8,167m), the trips ultimate highlight but there is plenty more along the way! From Poon Hill you can enjoy the splendid Himalayan views including  no less than 9 epic mountains including Dhaulagiri, Annapurna I, Machhapuchhre Himal (6998m), Nilgiri (7041m), Annapurna South (7219m), Annapurna II (7939m), Annapurna III (7555m), Annapurna IV (7525m) and Lamjung Himal (6988m).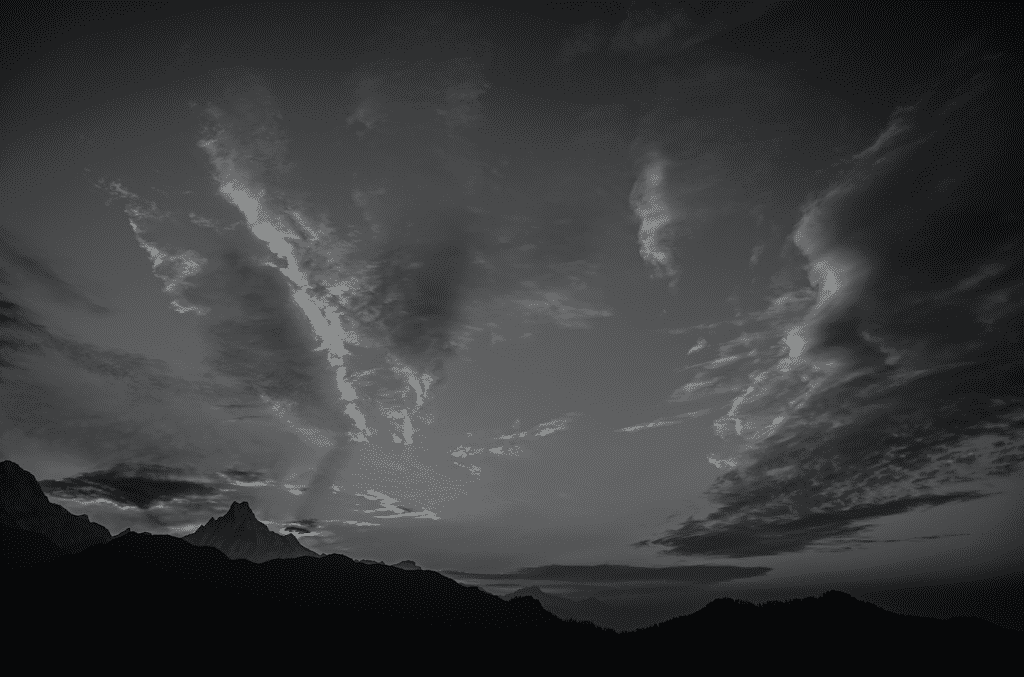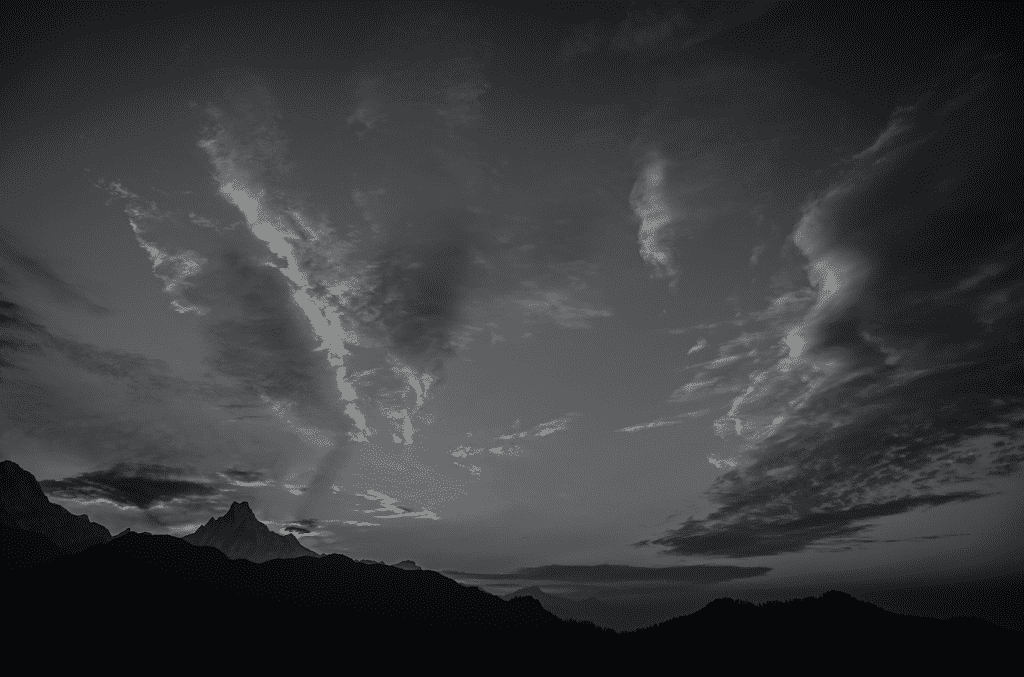 As well as some seriously amazing cloud porn!
The worlds largest rhododendron forest, tiny hillside settlements, giant waterfalls, cloud and tussock covered peaks and glimpses of the tallest mountains in the world. If your into animals the track is also littered with friends horses, donkeys, goats and dogs to keep your spirits up along the way – Clanging bells announce the imminent arrival of brightly coloured mule and yak caravans which force you to stop for a break so they can pass!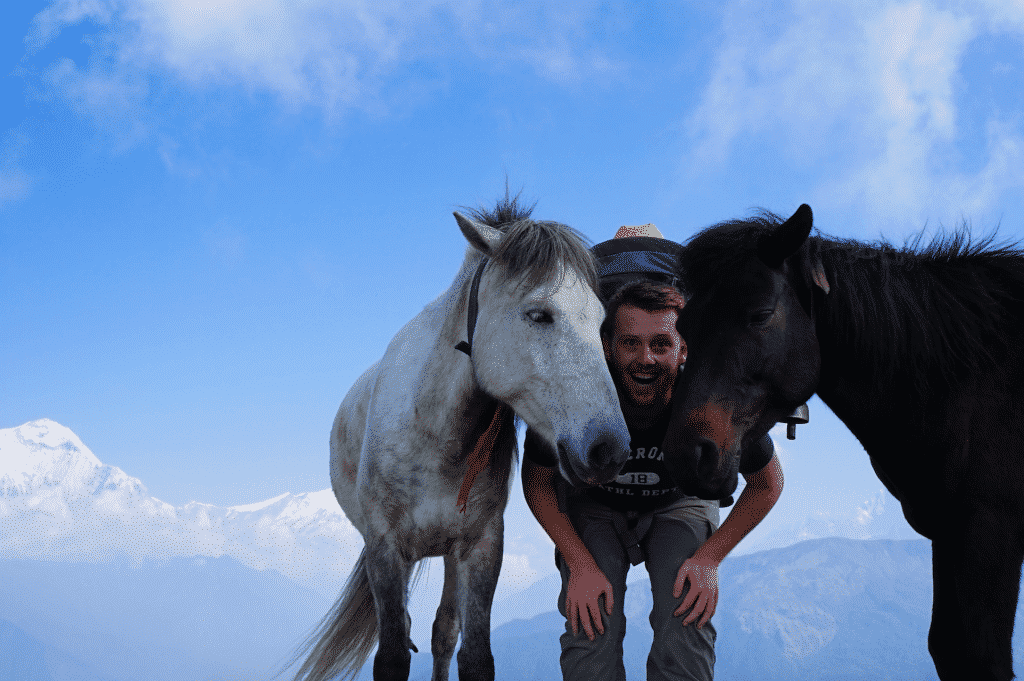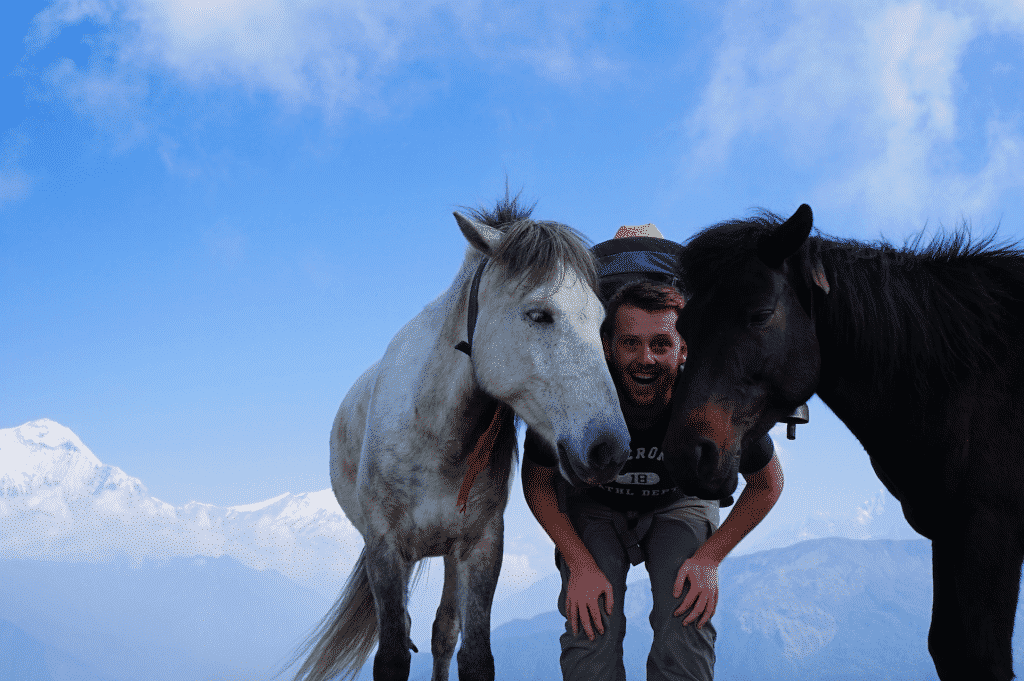 What do you think – Easily one of the most beautiful treks in the world, right! Just make sure you have a good travel backpack and travel power bank to charge your camera!
We started at Naya Pol (1070m), about a hour taxi ride out of Pohkara, and continued on to Tikhedhungga in the first day but you should go past stone steps to Ulleri – Ban Thanti if you can manage it and stay at Heaven View or Anna Purna Guesthouse . You have a gorgeous view done the valley then – I would recommend either …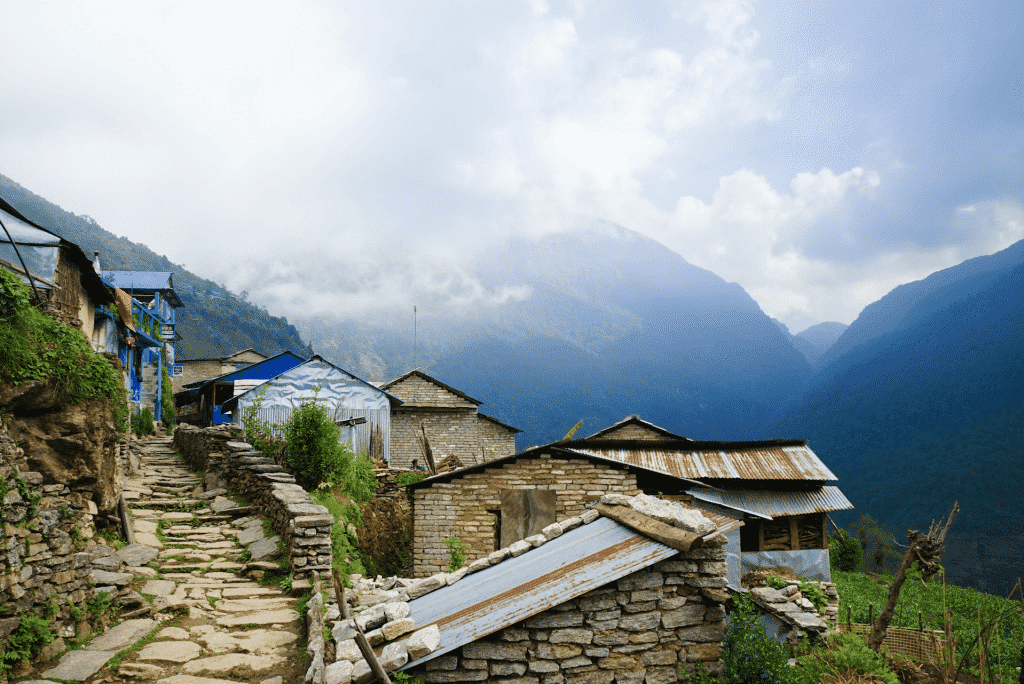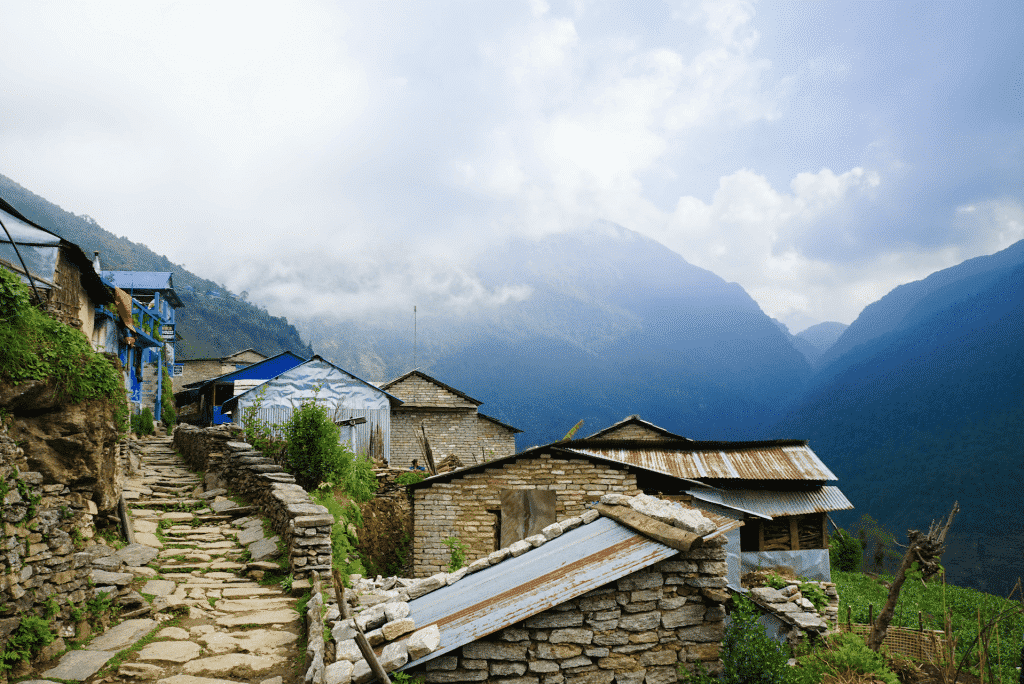 When tea house trekking in Nepal pretty much just pick the place with the best view and settle in …
The next day we continued on to Ghorepani (2860m) then to Poon Hill (3210m) the next morning. It's such a nice place here high in the mountains you could even stay two night, then on the second morning having sunrise at the second peak of Deurali (3090m) which is on the way anyway but would be less crowded! Plenty of places to chose from but we loved the feel of Nice View Lodge – Its name says it all really…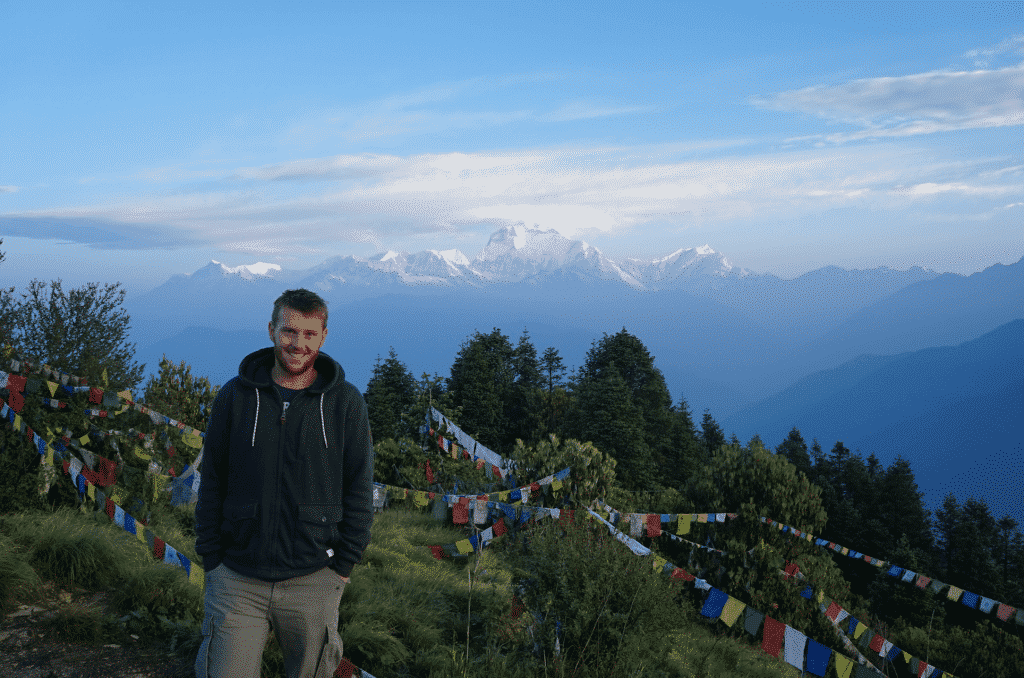 But the view from the top is best … Even worth the 3am wake up call! 
From here it is flat or downhill along the valley wall to Tadapani (2630m) except for one step 20 min climb then we stayed 30 minutes out of Ghandruk (1940m) at Hotel Lonely Planet. This was our favourite place we stayed with amazing views of Annapurna ranges rivalling that of Poon Hill and a nice relaxed vibe, with a giant fire roaring at night!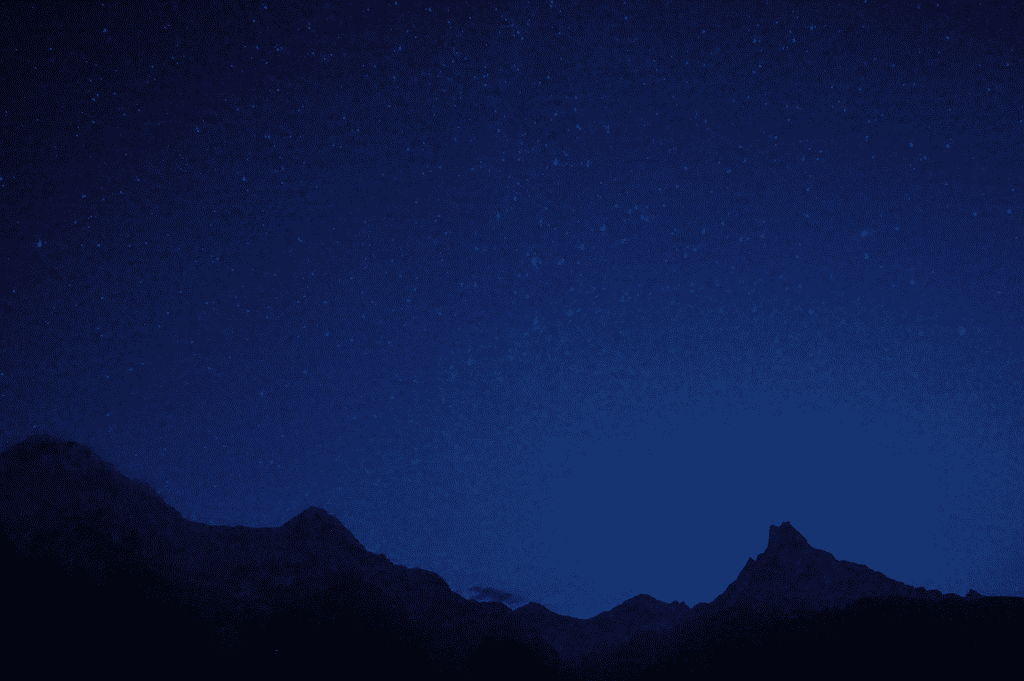 And the show doesn't stop at night … Don't forget to leave your Nepalese tea house get a peek of those stars and the Milky Way!
From here we finished our incredible 4 day trek at Naya Pol (1070m), were we completed our 57 km trek having climbed and then descended over 2000m! Woo-Hoo! My legs are killing me and begging me to stop, but my eyes don't want the journey to ever end…
---
If you like reading about the Poon Hill Trek 4 days you might also like: 
---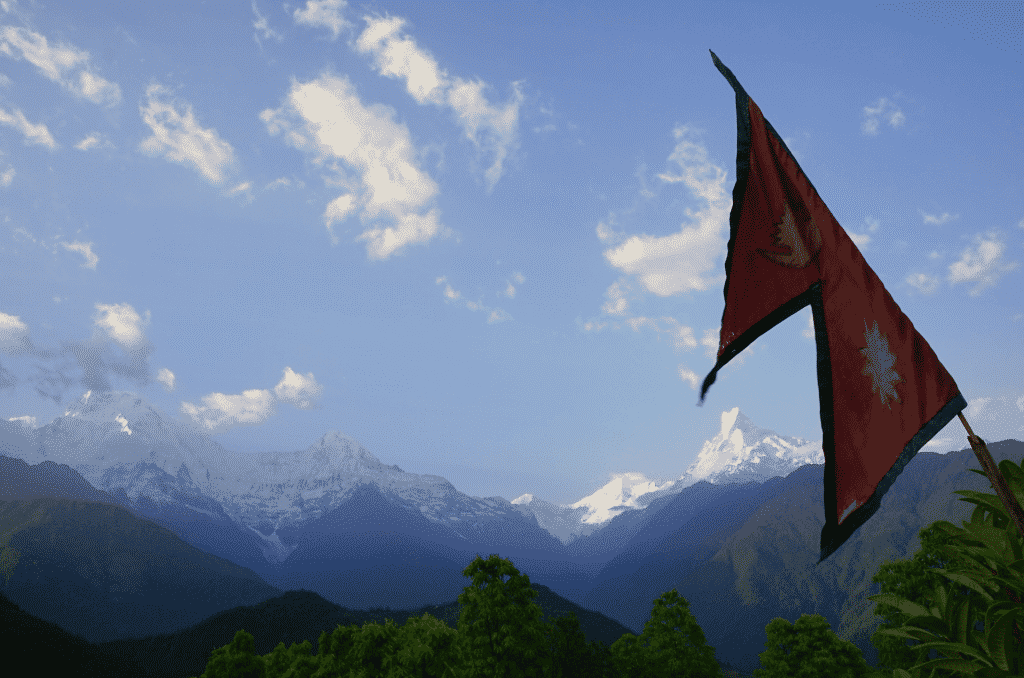 I will be back … For sure! Also side note – How cool is it that Nepal just decided screw the world we are gonna have a different flag!
This Poon Hill trek 4 days is very easy to do yourself, and although you can take a guide I would recommend against it as for the price we didn't really get much out of it. You will need a permit and TMZ card which can be organized at local office in Pohkara the day before [more information here]. Unless in peak season hotels are not likely to sell out and advertise rooms for 500 rupees or below as all prices are fixed along the way by and large by a central organization. If you wondering about Nepal after the Earthquake check out this post 'Nepal Now!'.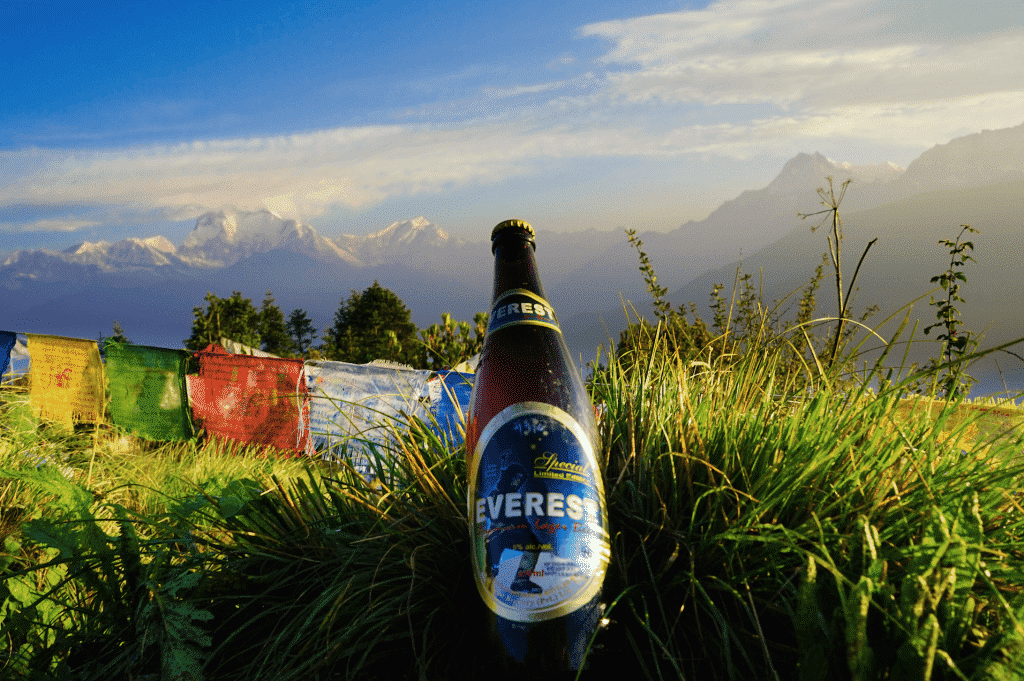 Prices are a bit higher than down the mountain (quite understandably!) but nothing was going to stop me enjoying my 6am beer at the top! A good budget for food per day  on the Poon Hill trek 4 days  is around 1500-2000 rupees per person, depending on what you eat and drink, but perhaps take biscuits, chocolate or fruit with you to keep costs down. Safe drinking water is available the whole way along. We are also told there is a unwritten rule if you have dinner and breakfast somewhere they will give you the room for free, so perhaps try that out.
Nepal has very limited WiFi and sporadic power. If you are looking at exploring further afield I highly recommend you get a copy of the Lonely Planet on your phone to avoid any issues on the ground. They are a life-saver sometimes!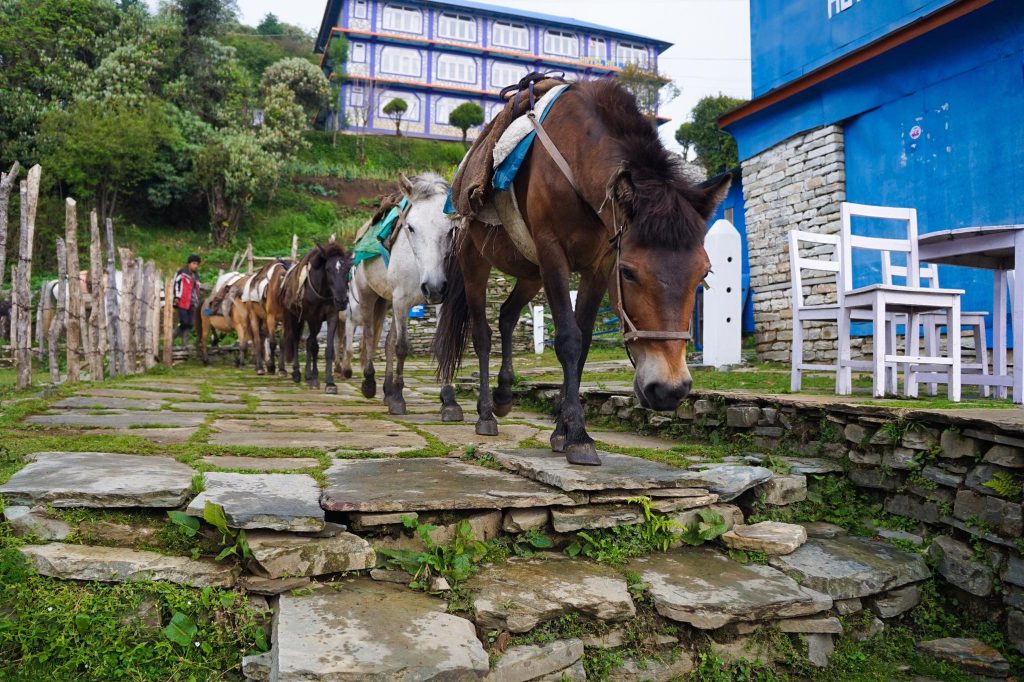 Getting from Kathmandu to Pokhara
Most Annapurna circuit  trekking begins in Pokhara, so first you need to get yourself from the capital, Kathmandu to Pokhara, the second largest city. To do this you have the option of private bus, car and flying. Tourist buses (600-900 rupees) depart between Kathmandu and Pokhara throughout the day and take around 7 hours. Night buses are available, but are not recommended – and neither is travel by land in the wet season. With winding roads and switchbacks, the drive from Kathmandu and Pokhara is beautiful however in good weather and offers a glimpse of rural life in Nepal. You can also make this trip via private car which might be better if you are in a group. Prices are based per trip and can be organized through many local agencies and hotels.
The quickest option from Kathmandu to  Pokhara is flying with three airlines, Yeti Airlines, Buddha Air, and Simrik Air, offering regular flights taking around 40 minutes and can be purchased online. You get an incredible birds eye view you will never forget with these but they are the most expensive. The best option for those not short on time might be to travel Kathmandu to Pokhara on a bus and return Pokhara to Kathmandu via flight to mix it up.
Don't forget to take a peak at the best Pokhara Nepal hotels now! There are some amazing options lakeside and with views making it a great place to splurge and relax a few days after your trek!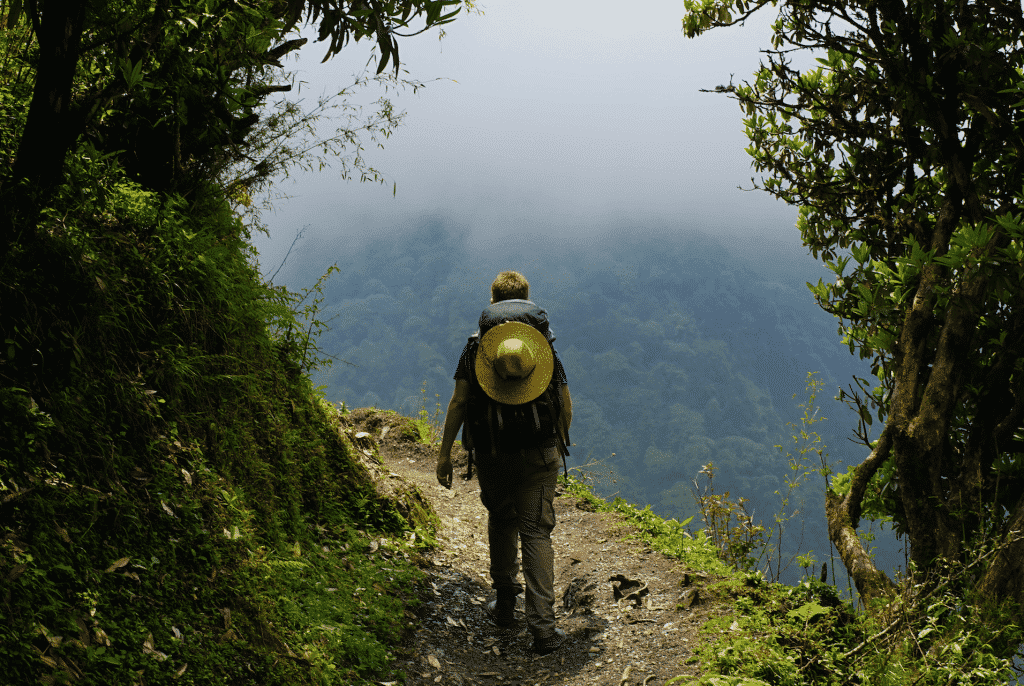 ---
So what do you think? I honestly would have to say the Poon Hill trek 4 days is the best trek in Nepal for beginners, after those photos I'm sure you agree it is one of the most beautiful treks in the world! When doing any Pokhara trekking check be sure to check you are going with a reputable trekking company in Nepal 
and don't be afraid to look elsewhere as they all have same prices but wildly different quality. Take your time, enjoy, don't stress and take in the serenity that is the tallest mountain ranges in the world in comfort and style. 
Further Things To Consider Before Any Adventure
Now you're all set and prepared to explore our big wide world, why not sort out everything else out all in one go? If necessary for your travel plans make sure you have brought proper travel insurance, protected your privacy by getting a secure VPN, compared all the top hotel booking sites to find just what you're after, reserved an unbeatable rental car price and - of course - booked the best flight deals!
Or maybe just forget it all and go for a last minute cruise or effortless tour instead?
Many budget travelers (including me) indulge in worldwide airport lounge access, so we can experience luxury while still slumming it in economy. Naturally, we would never leave home without a more a more general travel guide since we couldn't possibly cover everything here!
Just add an adventurous attitude and plenty of smiles - they go a long way - and that about covers it all! Now go out, find your own path and don't forget to share your best inspiration stories with me on Facebook, Twitter, and Instagram...I'd love to hear from you!