I just had the perfect Volcano Day. Literally. It could not have been any better…but I'll let you be the judge! I recently signed up for two tours in Leon, Nicaragua – Cerro Negro Boarding Tour and Sunset over Telica Volcano with Volcano Day Tours.
Why?
Because everyone knows that Nicaragua is home to some of the world's most active volcanoes! Our epic adventure with Volcano Day involved climbing two active volcanoes on one day, hurling down the side of one at breakneck speeds, crazy photo opportunities, real lava, the sunset of a lifetime and plenty of adventure.
As I said – the perfect volcano day with two of the world's Greatest Volcanoes! Keep reading to find out for yourself about the crazy Volcano day I had in Nicaragua and how to make one for yourself!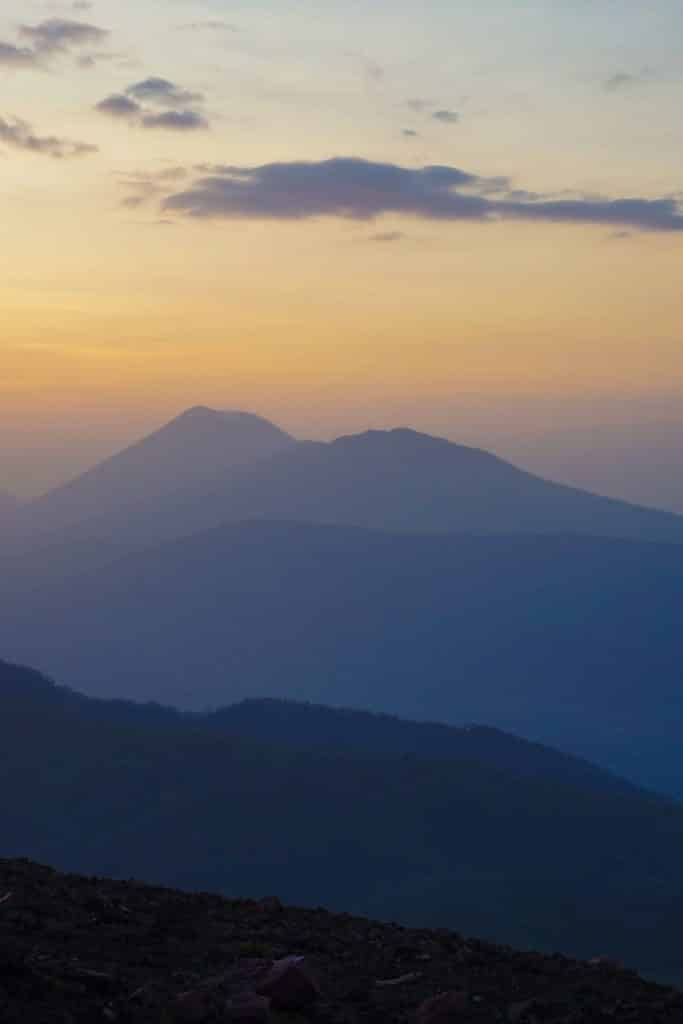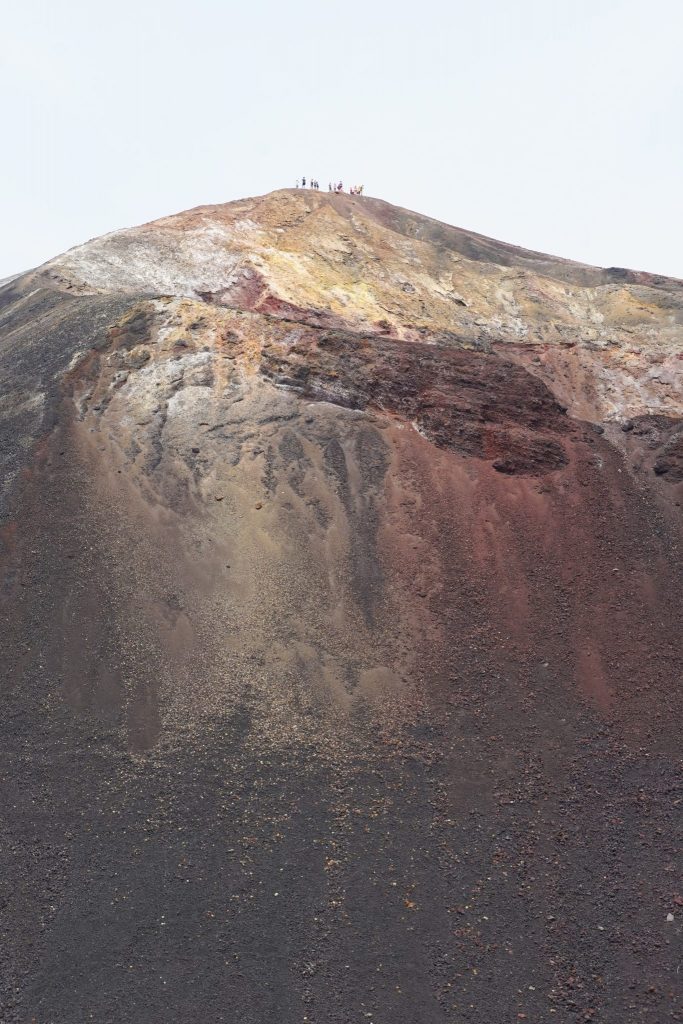 Active Volcano Boarding on Cerro Negro in Nicaragua
Part One of our epic volcano day was a Nicaragua Volcano boarding tour that began with a bumpy 4×4 trip across a rugged lava field to arrive at Cerro Negro – the youngest volcano in Central America having first erupted in 1850.
While Cerro Negro is also one of the most active volcanoes in Nicaragua, with its latest eruption occurring in 1999, this is surprisingly not actually it's major draw card – Yup, as I'm sure you already guessed, Cerro Negro is home to the infamous Nicaragua volcano surfing (or more accurately, volcano boarding!).
Due to the unique topography and prevailing wind at Cerro Negro there is one entire side of the volcano covered in only light ash and very fine rocks, perfect for hurling yourself down at break-neck speeds like a hooligan.
Whoever tried this idea first must have been certifiably insane but let me tell you – this is a thrill seekers dream and 100% should be on your epic adrenaline activities bucket list!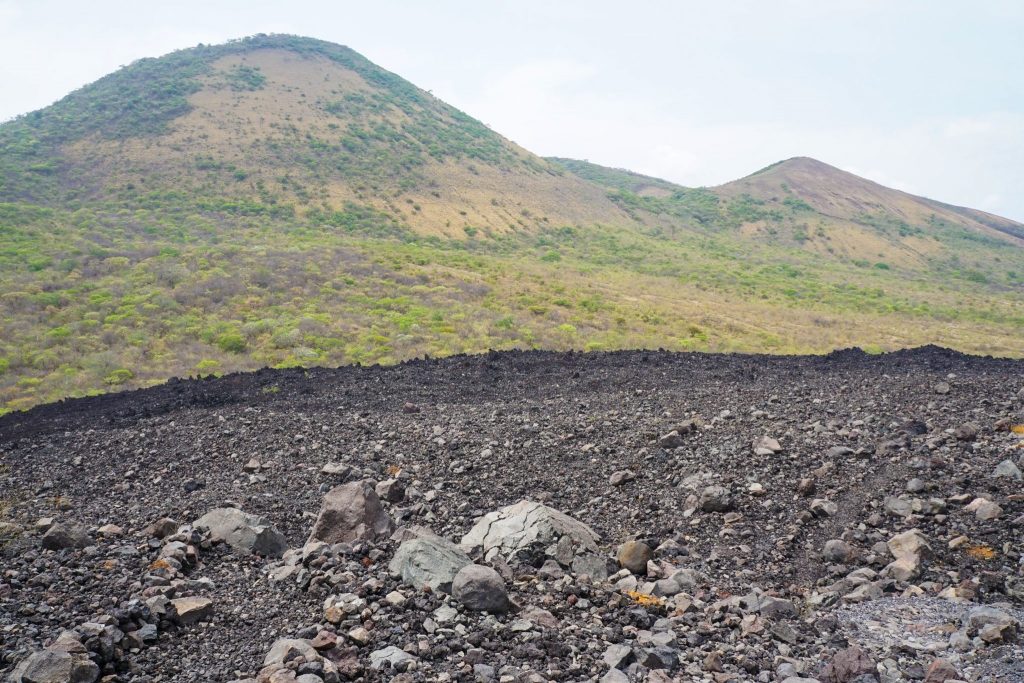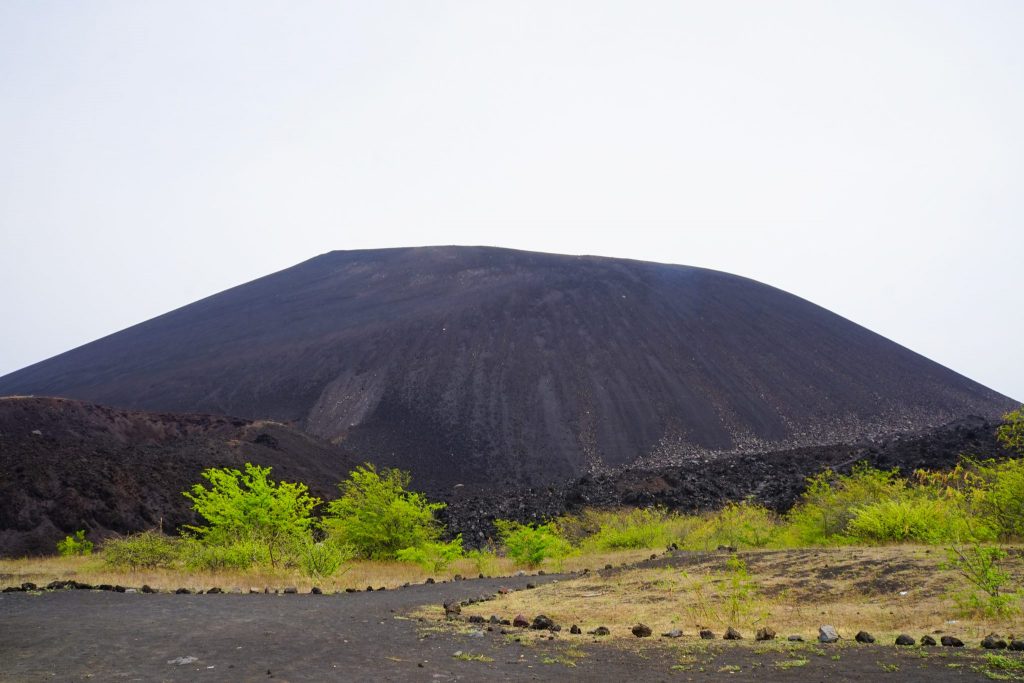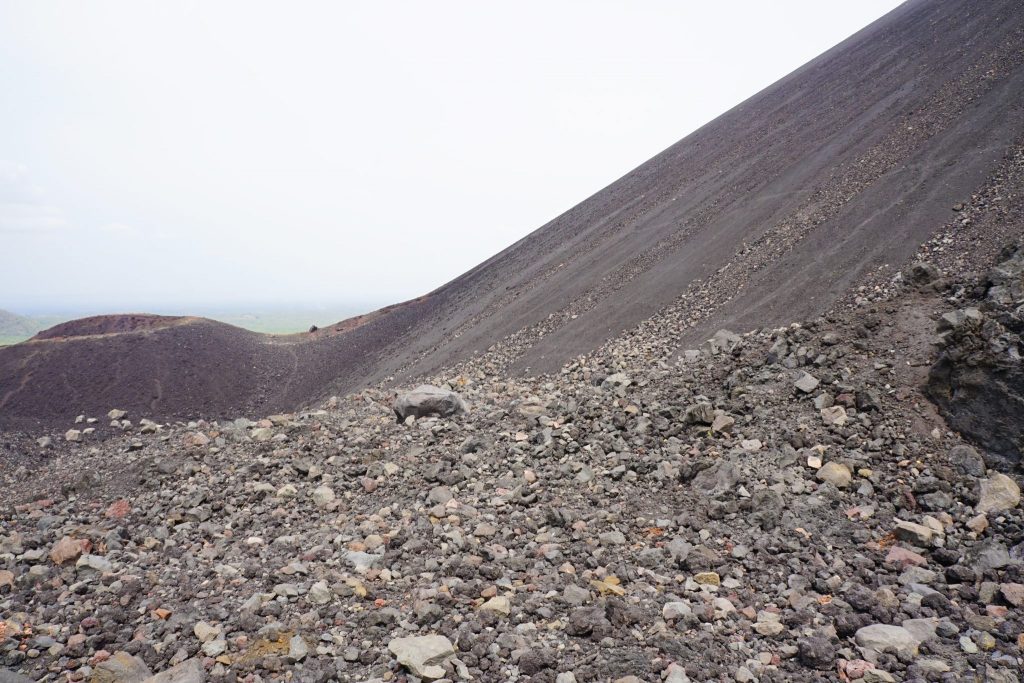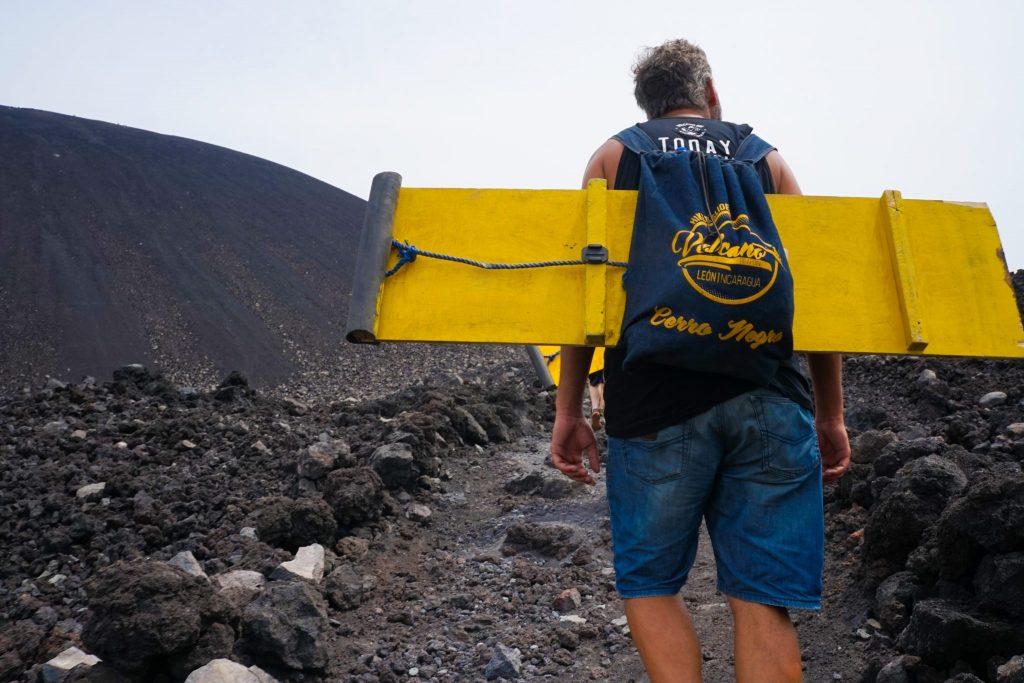 Peering over the edge of the crater, the volcano seems to drop-off into mid air! It's intense, it's nerve-wracking and after a quick safety lesson and gearing up – It's all YOURS! 3
0 seconds is all it takes (if you really go for it!) but it's an experience you will remember for a life-time. Ash and dust flying up at your face as you tear down the crater side like a bat out of hell. Remarkably, this is not as dangerous as you would think – in large part due to the safety lessons, 'operating guidelines' and gear provided by Volcano Day.
No one in our group of 12 sustained any injuries, but let me tell you … If you go with many of the less scrupulous operators, you could easily end up worse for wear. Fair warning!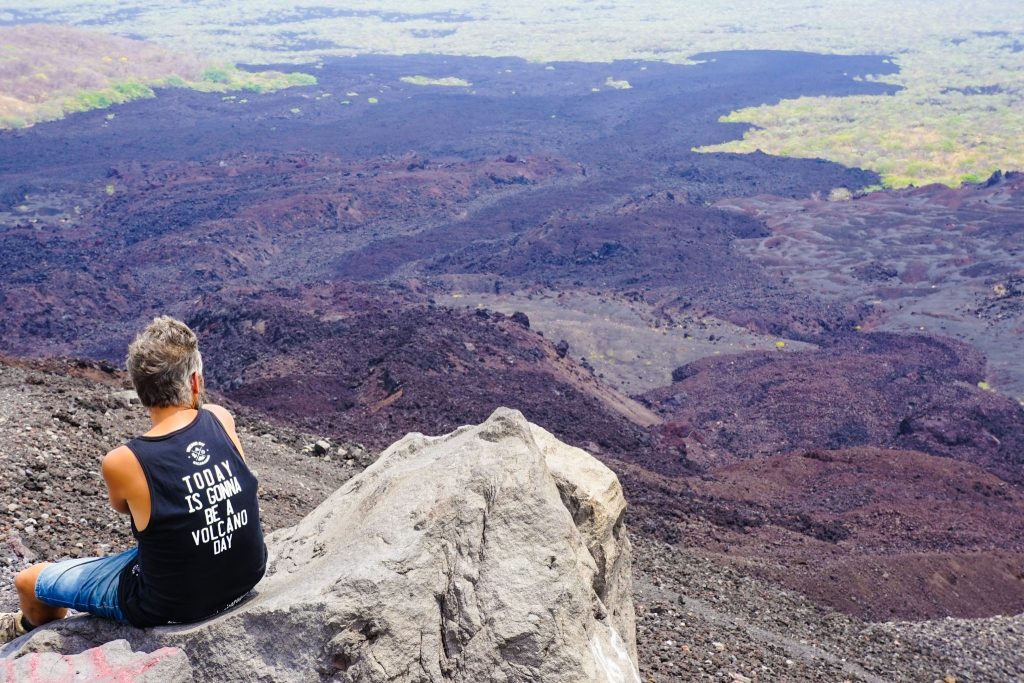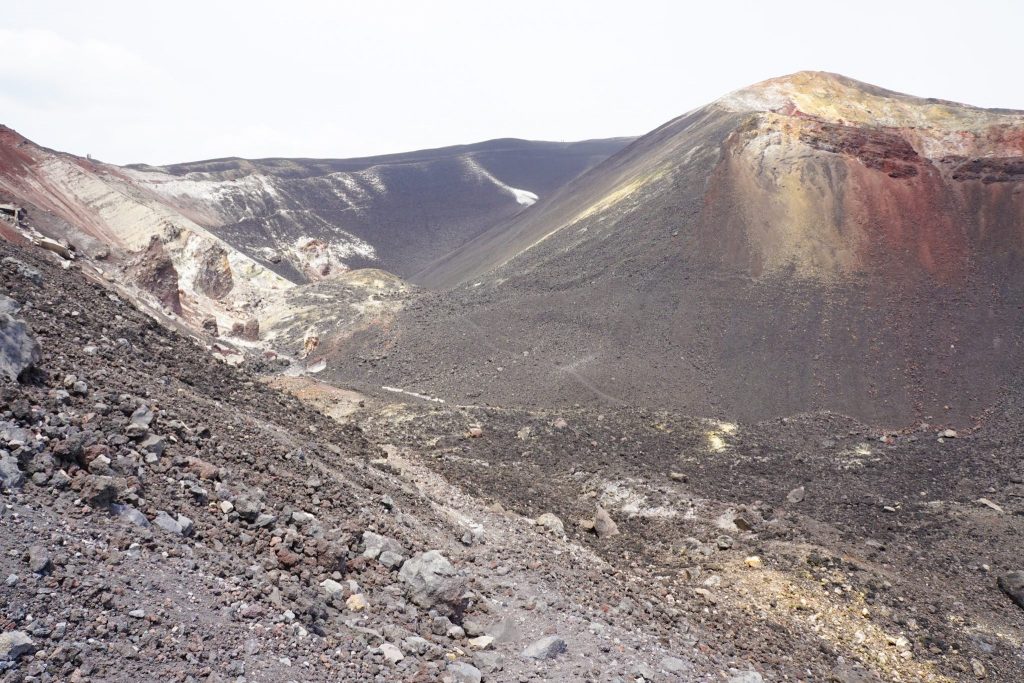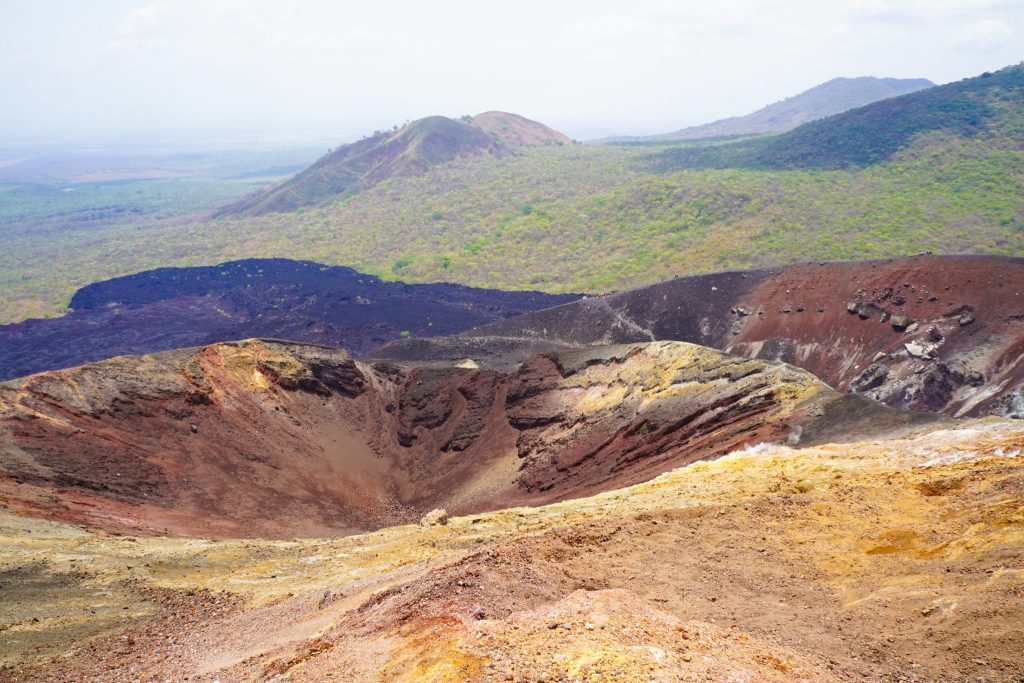 The hike up is beautiful and breezy in the morning, complete with plenty of rest-stops, hilarious information and one of the best guides around (Said!) – not to mention Volcano Day have a high-quality DSLR camera *and know how to use it*, ensuring everyone gets some great pictures going up and down the volcano!
This is really important as, trust me, you do not want to take a camera or phone up with you. Not only is the volcanic cone magnetised but the fine, black sand from Nicaragua volcano surfing will get everywhere. In you mouth, your hair, your socks, your underwear. E-V-E-R-Y-W-H-E-R-E!!
Which is why it's great we had time when we got back to town for a free beer, a quick shower and a bite to eat before continuing on to the second volcano of the day (a.k.a how to see lava at an active volcano!)….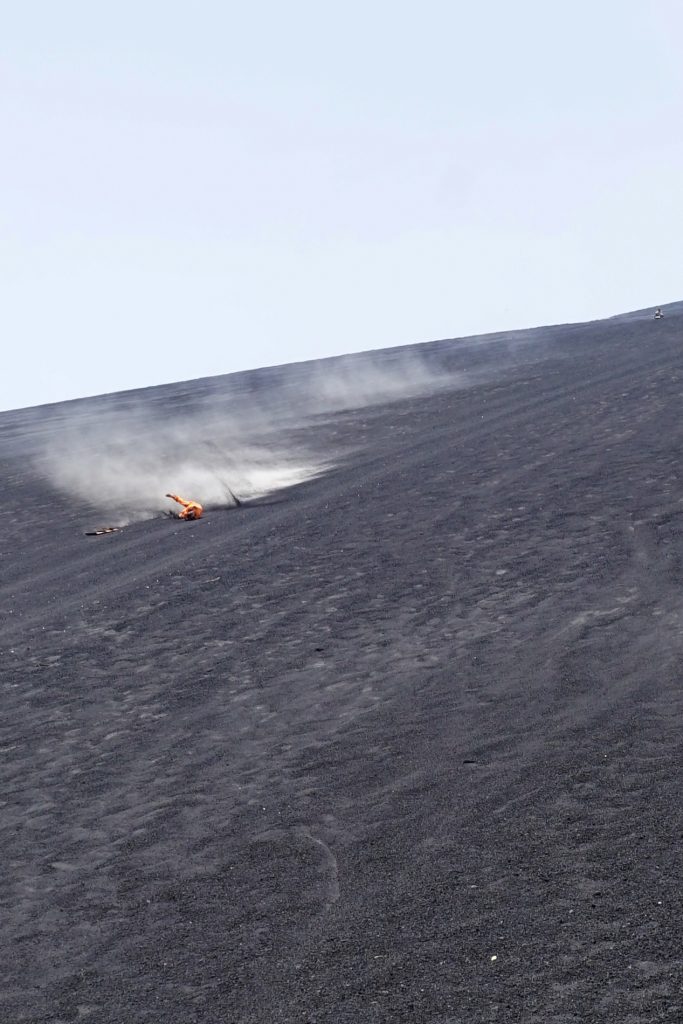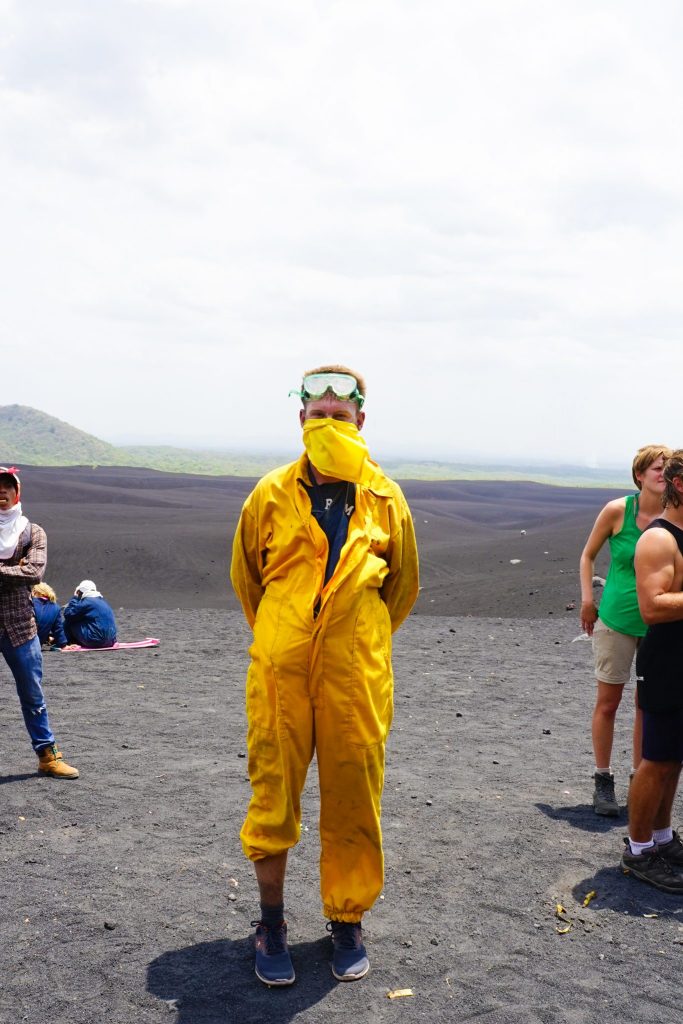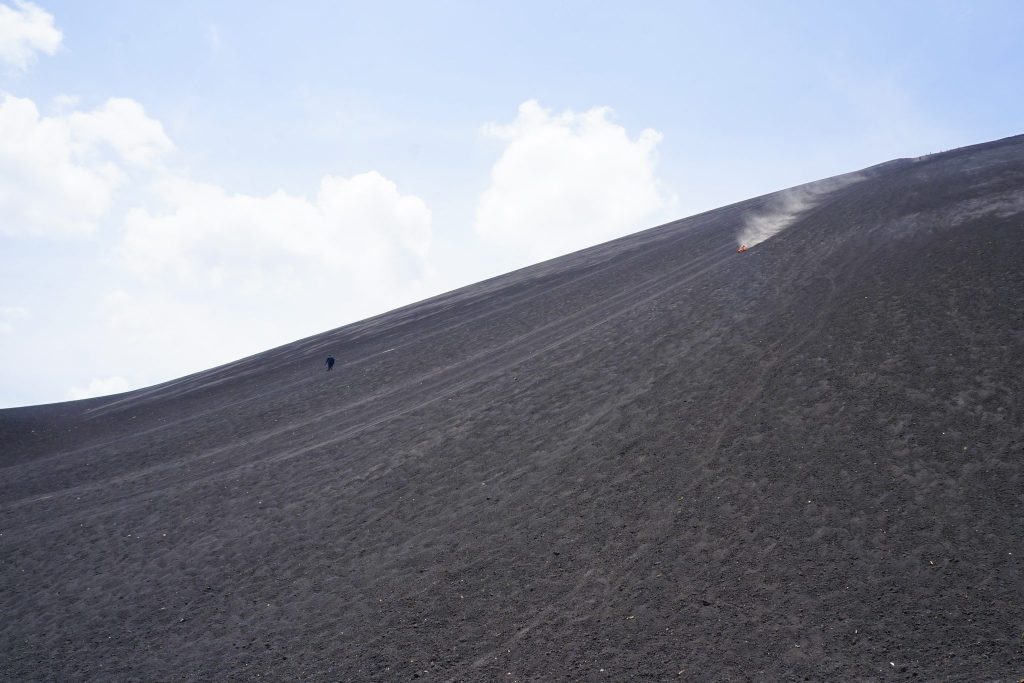 Telica Volcano sunset hike

with real lava!
Next up on our epic Volcano Day – another of Nicaragua's most active volcanoes – Telica!
Having most recently erupted in 2015 (and having a few small burp's since!) Telica reminded me of Mt. Ijen and it's blue lava in Indonesia, except Telica actually had bright red lava and thanks to the prevailing wind – we were only breify covered in the steam coming off this gorgeous beast.
Telica is about 1.5 hours away from Leon so by the time we arrived the scorching midday heat was starting to subside and we had a nice, casual walk of around an hour up to the crater. The cone is devoid of almost all vegetation thanks to those frequent eruptions but you can still find the odd lizard and spider if you look hard enough.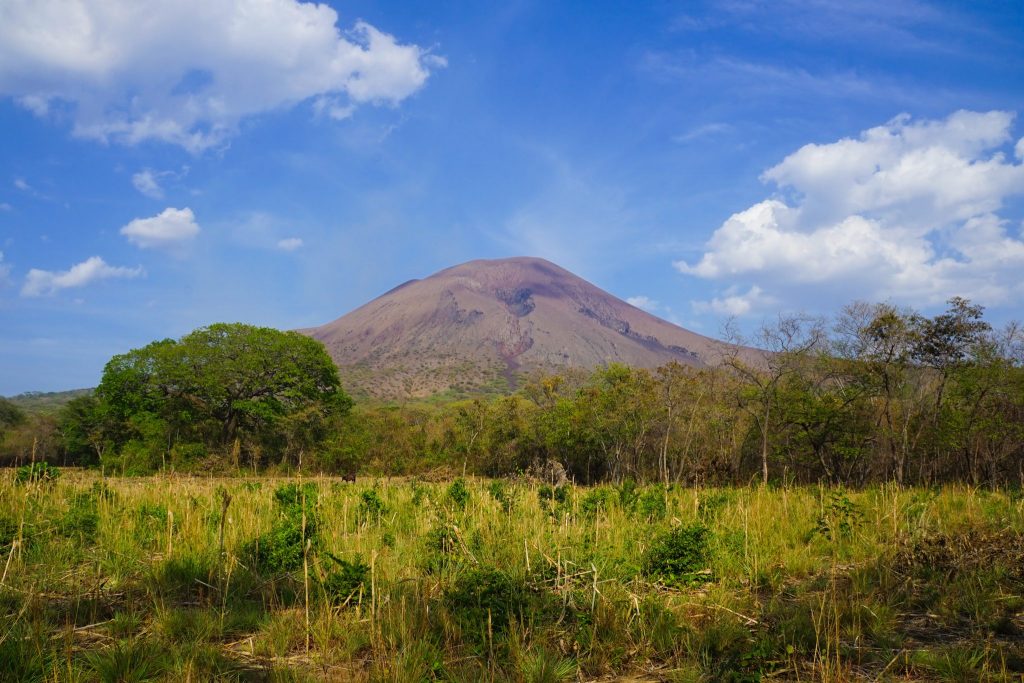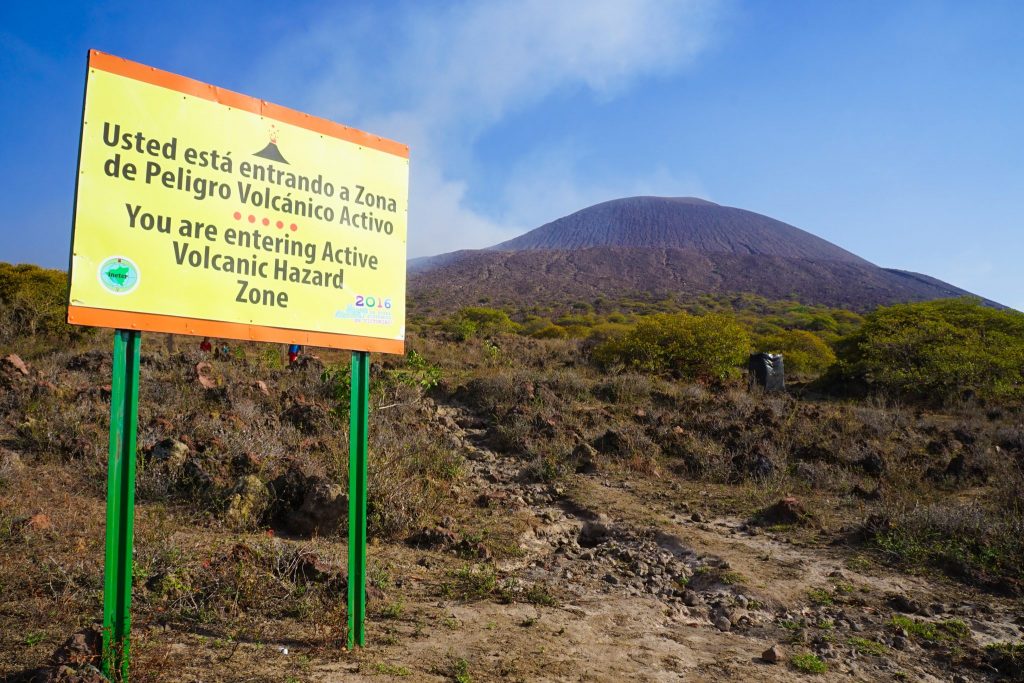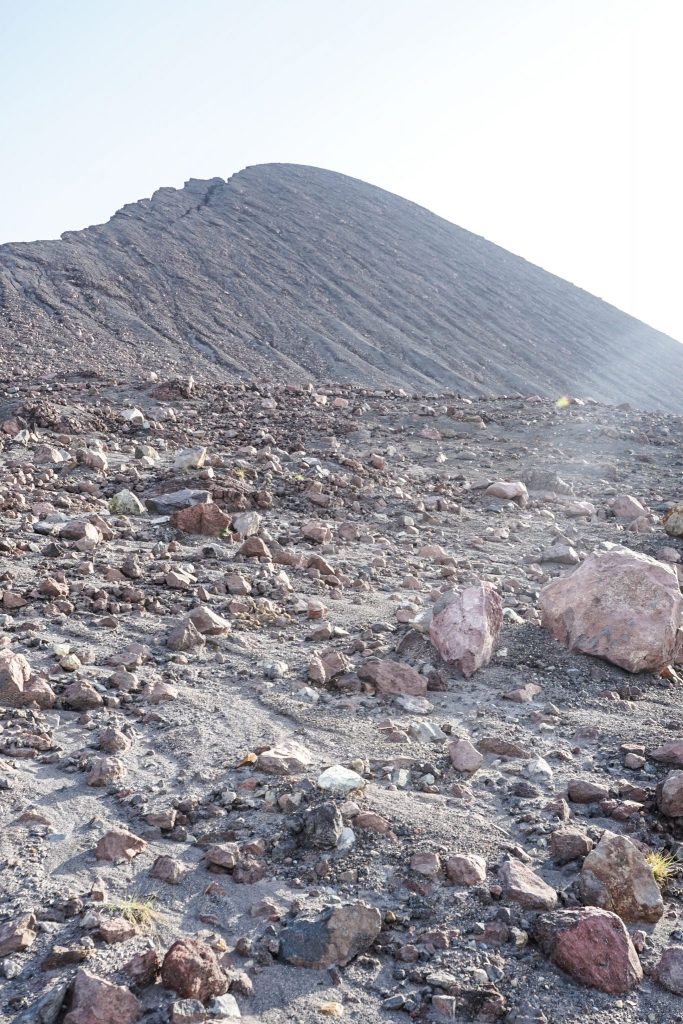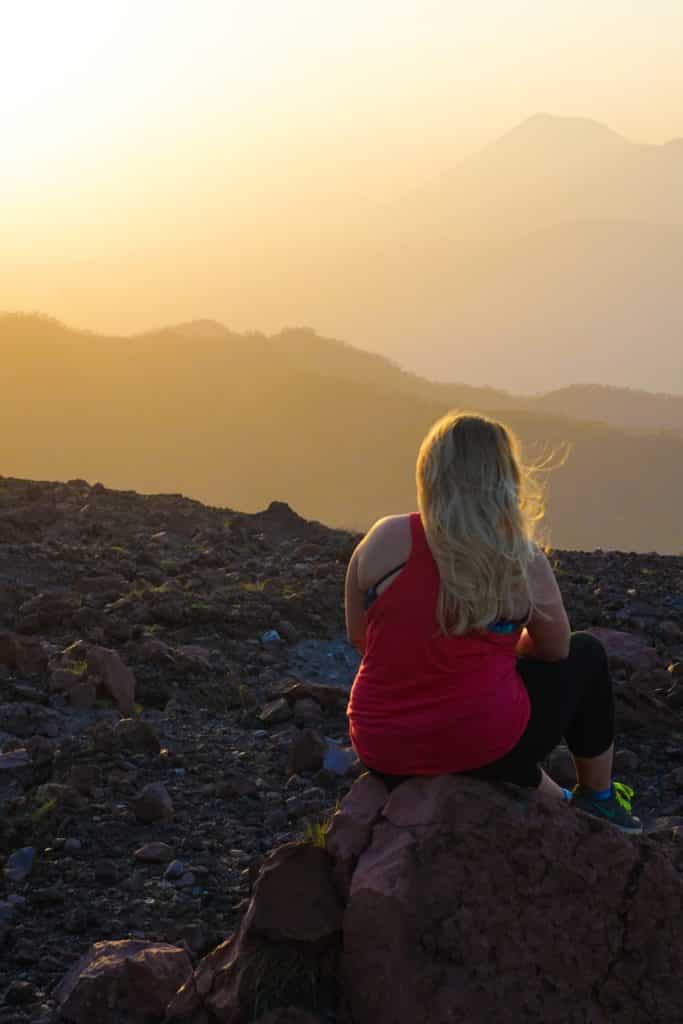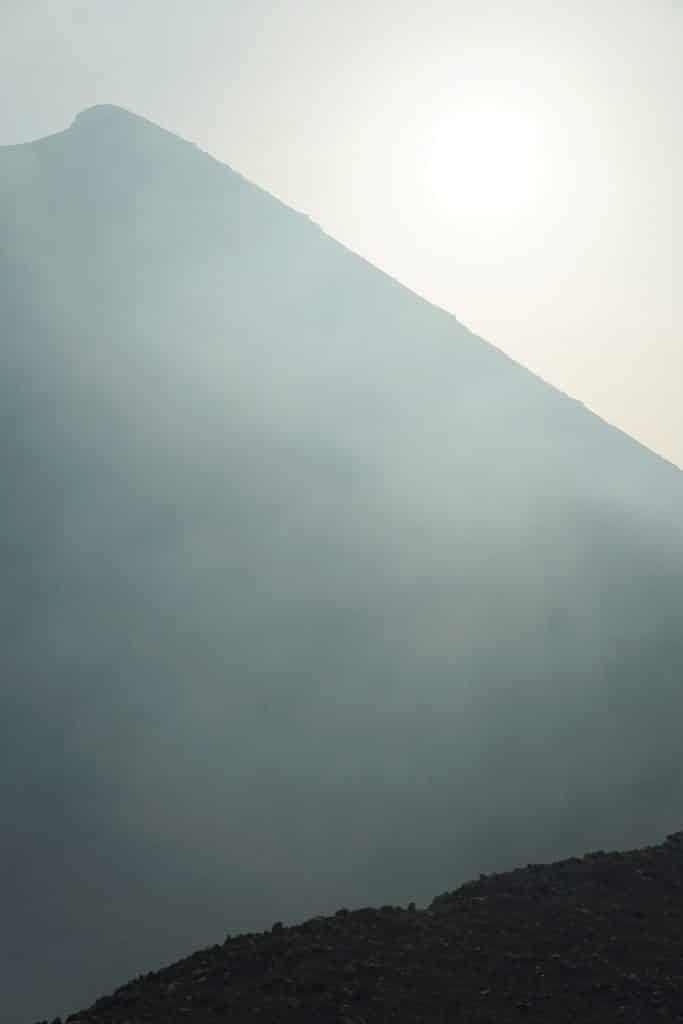 We reached the top of this spectacular volcano still in daylight so we were able to get an *incredible* view down into Telica's crater. And it was really erupting!
Gas and steam vents clouded the air, the mountain rumbled consistently and you can make out the blackened lava oozing out from deep within the earth's core. Yup, now you know the secret of how to see lava at an active volcano!
This isn't even the scariest part – it's that there is no barrier to the crater and a precipitous drop down to almost certain death if you get to close. A spectacular and unique experience like no where else in the world…but it's not over yet!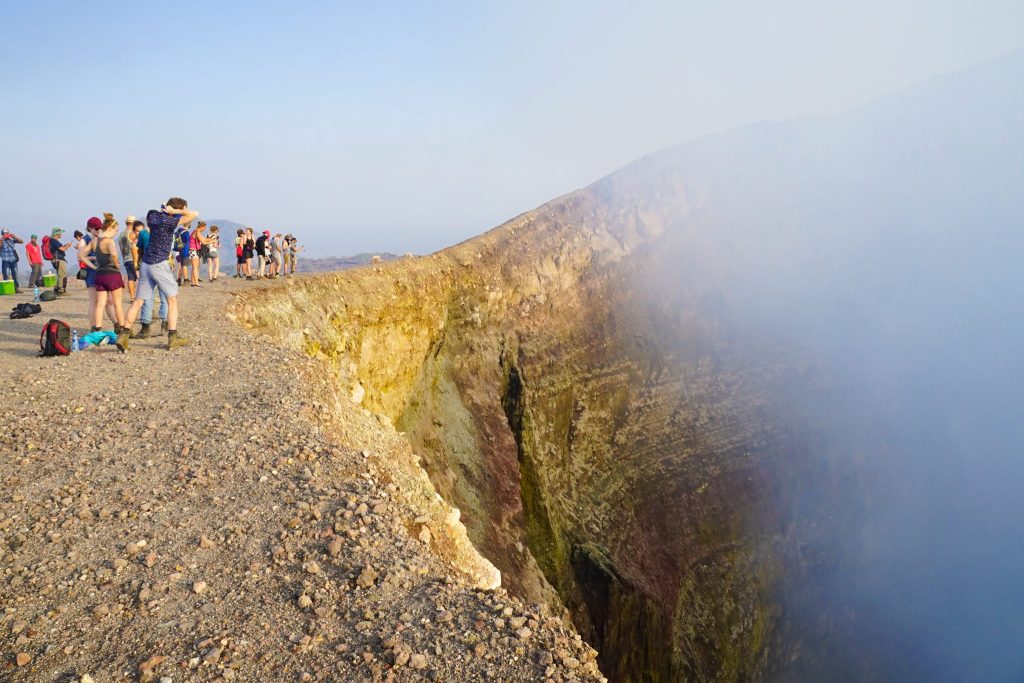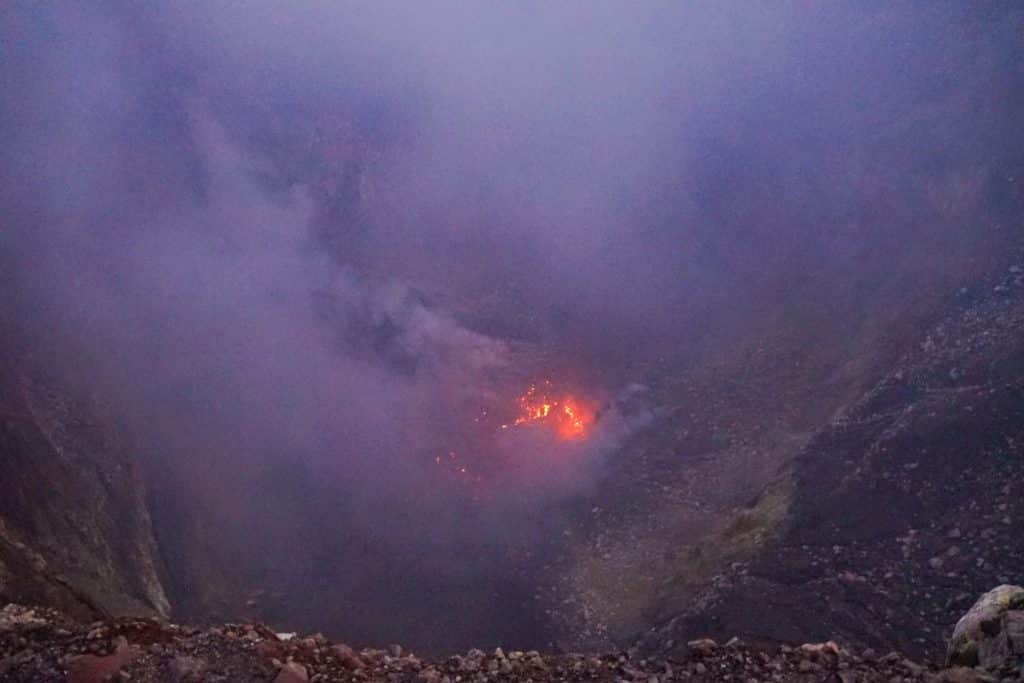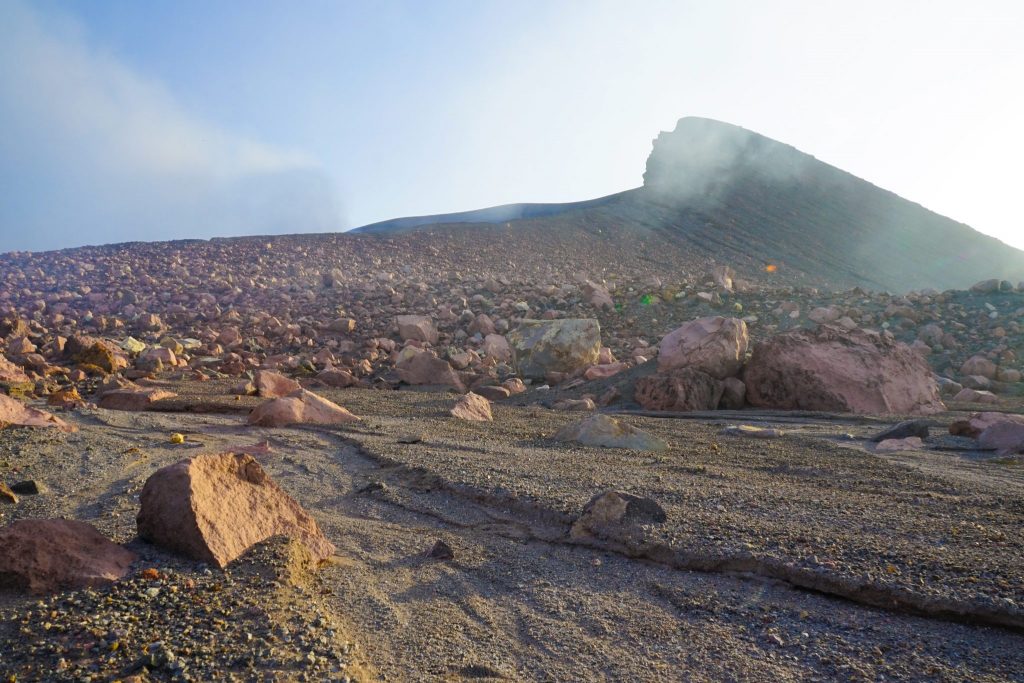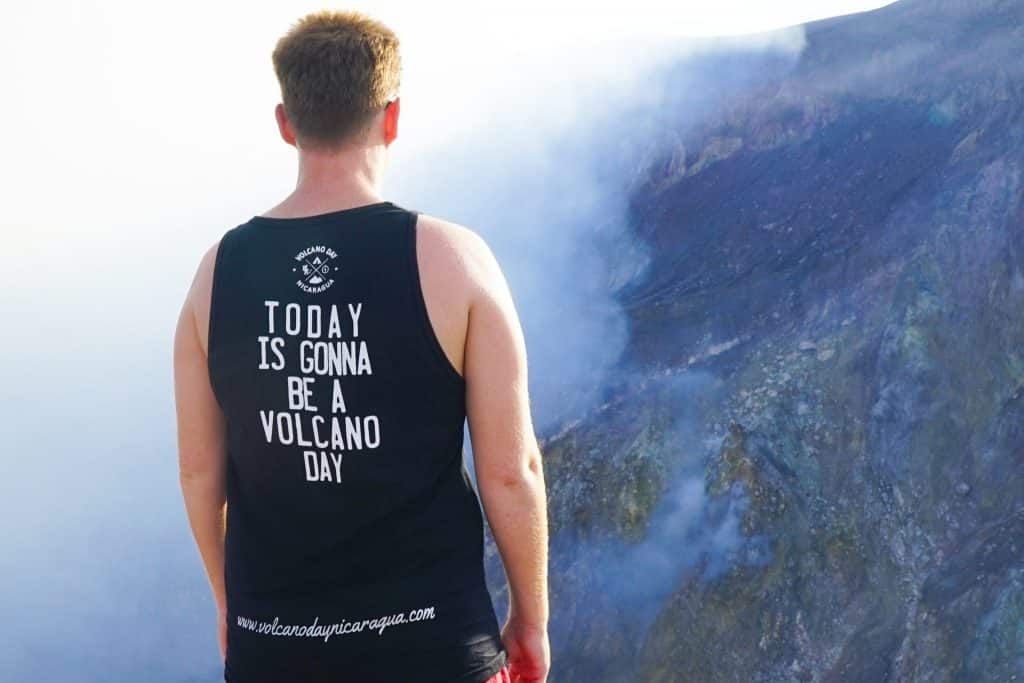 As the sun begins to set, we head around the side of the crater to have an earth-shattering sunset over the Nicaraguan volcano chain – including the tallest, San Cristóbal Volcano.
Check out the picture's if you don't believe me, there's a reason why many a people propose to each other here. With the Pacific Ocean in the distance, a consistent breeze and no mosquitos, I honestly cannot think of any better sunset in the world.
Big claim right, but I am supremely confident your Telica volcano sunset hike will live up to it!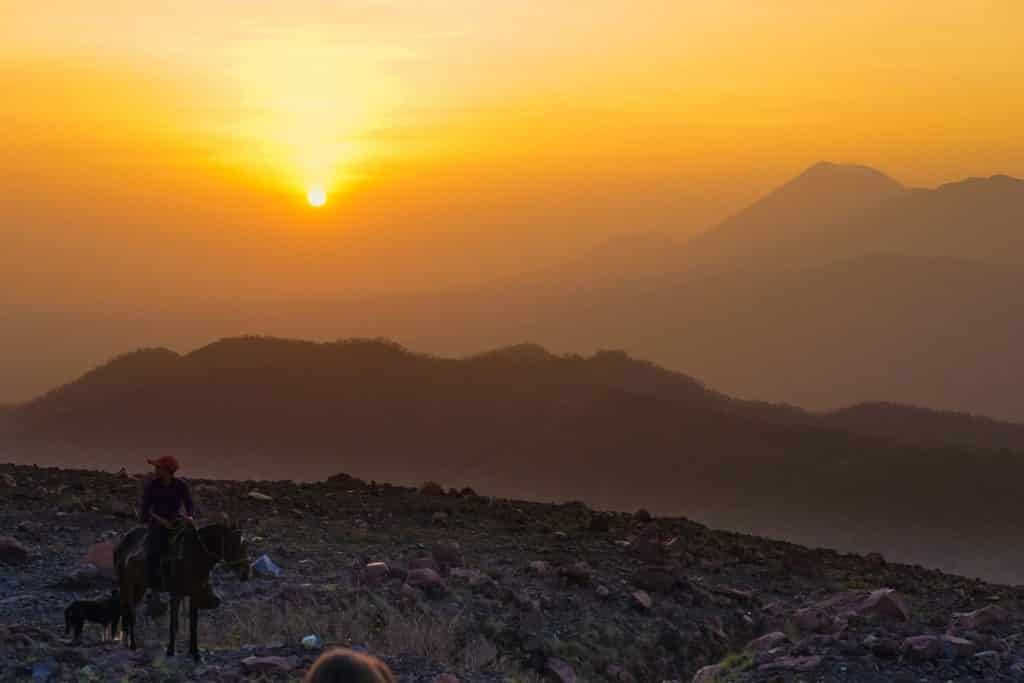 After one of the best sunsets in the world, we made our way back to Telica volcano and managed to see the erupting lava at night. The night sky was tinged with red and the lava became far more visible, similar to Masaya Volcano near Granada, but closer and far, far less touristy!
If you're not ready for the adventure to end here, you can also opt for an overnight Telica Volcano Experience and wake up to the lava and sunrise too! So I guess that makes it an epic Volcano Day and Night! If you only go for the day however, now is time to come.
We were a little sad to leave the fires of hell behind us, but completely exhausted from two volcanos in one day we headed back down in the dark, back to Leon and fell straight asleep at the uber-tranquil Luna B&B!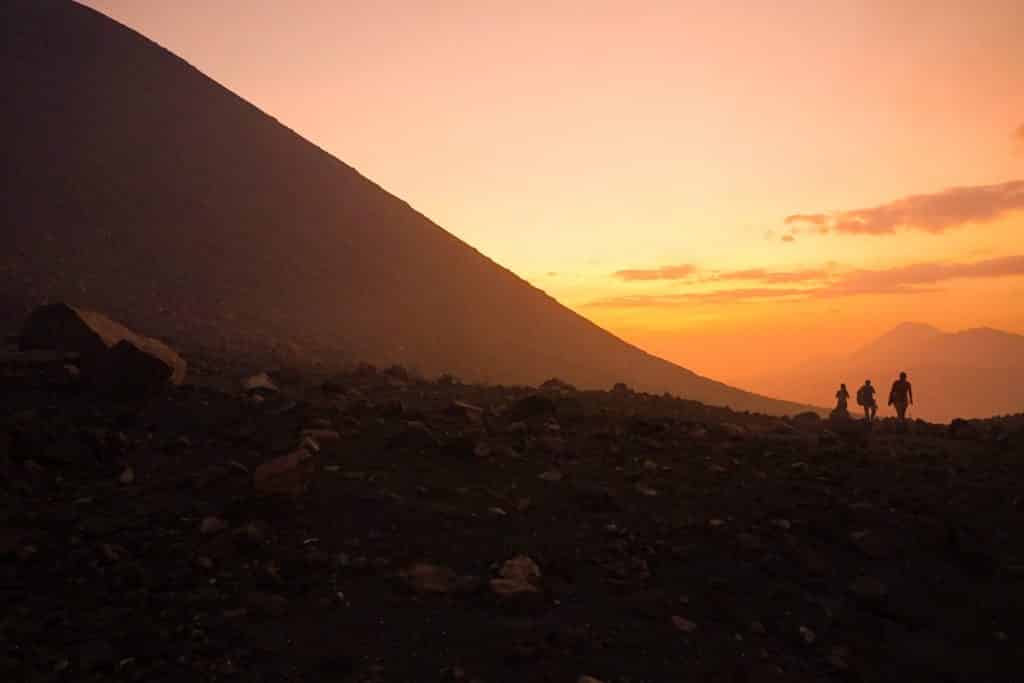 To have your own epic two active volcanoes in one day, and an adventure of a lifetime, I recommend going with Volcano Day – an experienced tour operator located in Leon with friendly guides, great prices, free t-shirts + beer and professional photos.
I genuinely loved the passion of their guides, their easy-going attitude and their professionalism. If you want to tick off some bucket list experiences at some of the world's greatest volcanoes, see lava at an active volcano, go volcano surfing or see one of the world's best sunset's … Then these are the guys for you!
Further Things To Consider Before Any Adventure
Now you're all set and prepared to explore our big wide world, why not sort out everything else out all in one go? If necessary for your travel plans make sure you have brought proper travel insurance, protected your privacy by getting a secure VPN, compared all the top hotel booking sites to find just what you're after, reserved an unbeatable rental car price and - of course - booked the best flight deals!
Or maybe just forget it all and go for a last-minute cruise or effortless tour instead?
Many budget travelers (including me) indulge in worldwide airport lounge access, so we can experience luxury while still slumming it in economy. Naturally, we would never leave home without a more general travel guide since we couldn't possibly cover everything here!
Just add an adventurous attitude and plenty of smiles - they go a long way - and that about covers it all! Now go out, find your own path and don't forget to share your best inspiration stories with me on Facebook, Twitter, and Instagram...I'd love to hear from you!