Jaipur – The historic capital of Rajasthan is colourful, chaotic and ripe for exploration. Hurling down the street on rickshaws between bazaars, hill forts, regal palaces and, every once in a while, a surreal pocket of calm. Jaipur, also known as the Pink City of India, is around 260 km from the Indian capital New Delhi, and forms part of the Golden Triangle tourist circuit along with Agra. Every building within the walled historic centre is painted a terracotta "pink" colour and there are few exceptions to this uniformly colour scheme. It may be hot, crazy and overwhelming but with a few chai breaks you will soon fall in love with this cities style and panache – . Whether you are booking train tickets in India or hiring a driver to explore, here is my guide to a few days in Jaipur to inspire you to visit. Let me know what you think!
---
Highlights of Jaipur: The Colourful, Chaotic and Surreal Pink City of India
Jantar Mantar
There are plenty of observatories all over the world, but the Jaipur Jantar Mantar (a UNESCO site) is one of the largest observatories ever built and feels a bit like a weird theme park to explore. Combining religion, science and art, the Jantar Mantar was built during the 1720's by the Maharaja and houses the world's largest sundial. The various architectural and astrological instruments here will largely be of interest to astronomers, historians and architects but it is a nice park to be enjoyed by all – And of course its interesting for anyone to see how they studied the skies in the past! Who would have thought maths would be one of the highlights of Jaipur!

Albert Hall
Albert Hall, the oldest museums in  Rajasthan, is found amid the gardens of Ram Niwas Bagh in Jaipur. It is based on the Albert Museum of London and showcases a fusion 'Indo-Saracenic' style of architecture quite different than the rest of Jaipur. Albert Hall exhibits a rare collection of ancient arts including miniature paintings, carpets, metal and wood crafts, toys, dolls, arms and weapons and, weirdly enough, an Egyptian mummy. Worth it just to check out the building, the museum is definitely dated but still has some rather interesting pieces.
Havn't looked at accomodation in Jaipur yet? Don't worry I've got all the best deals and price right here, and by booking in advance you can get the cream of the crop!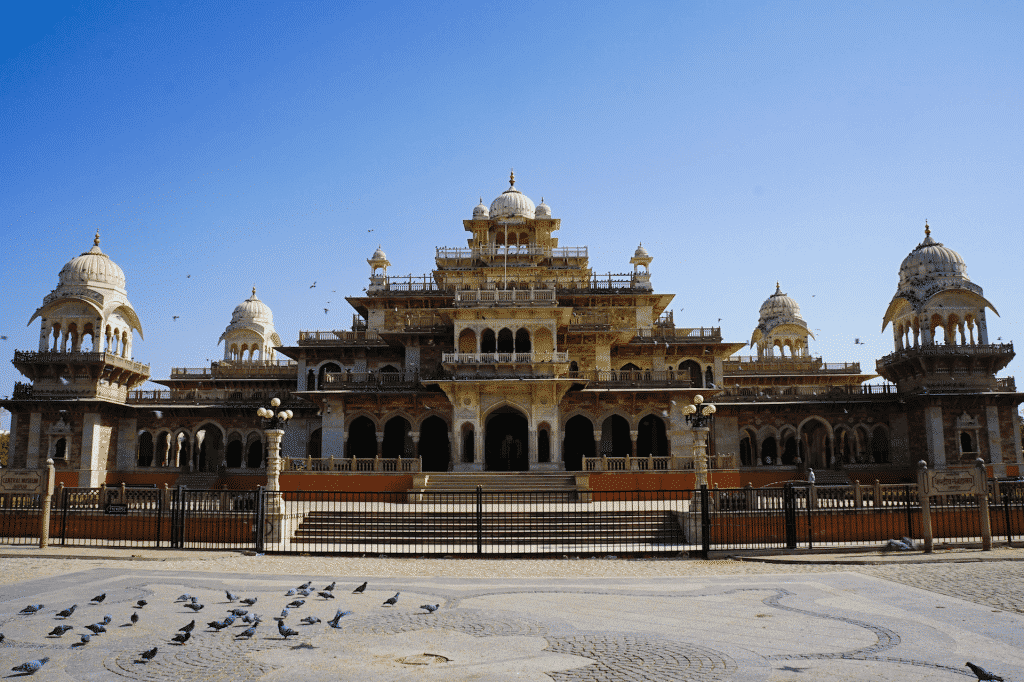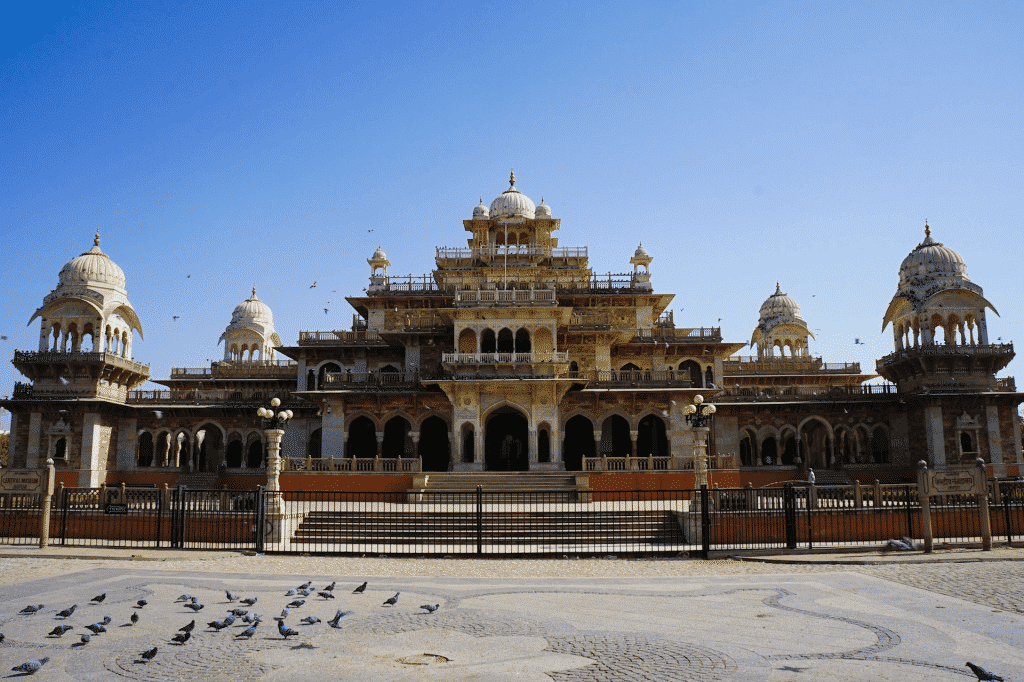 Nahargarh Fort
The Indian state of Rajasthan is famous for its royal heritage and its many forts and palaces. Nahargarh Fort, along with other two forts [Jaigarh Fort and Amber Fort] historically formed the key defense for Jaipur city.Situated in one of the oldest mountain ranges of the world, the Aravalli Hills, this Nahargarh Fort gives you a truly breathtaking view over Jaipur and the surrounding countryside.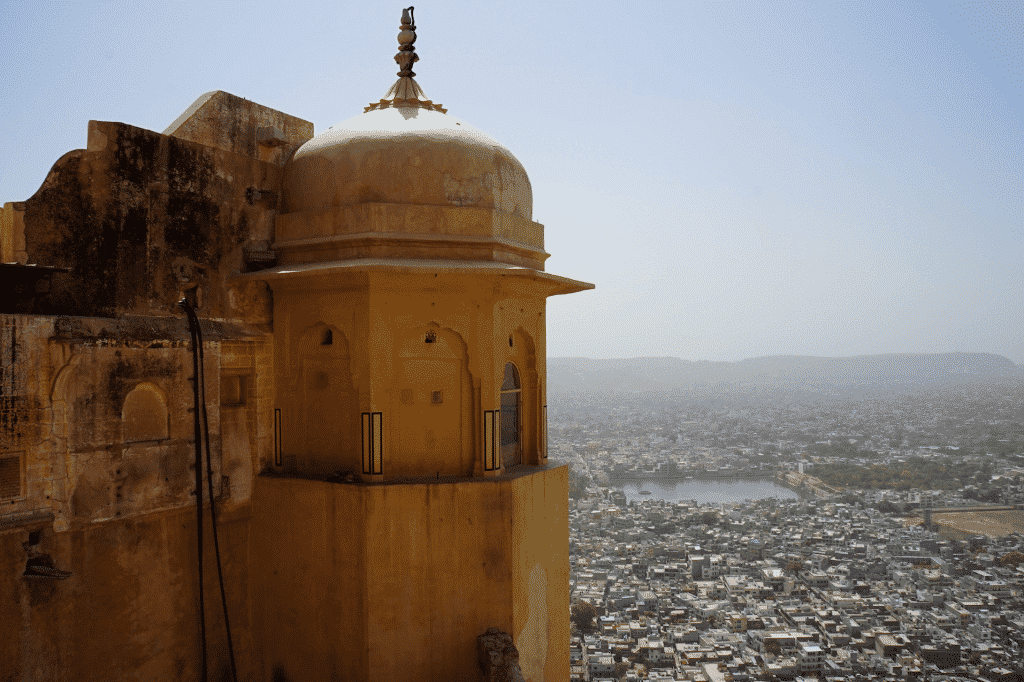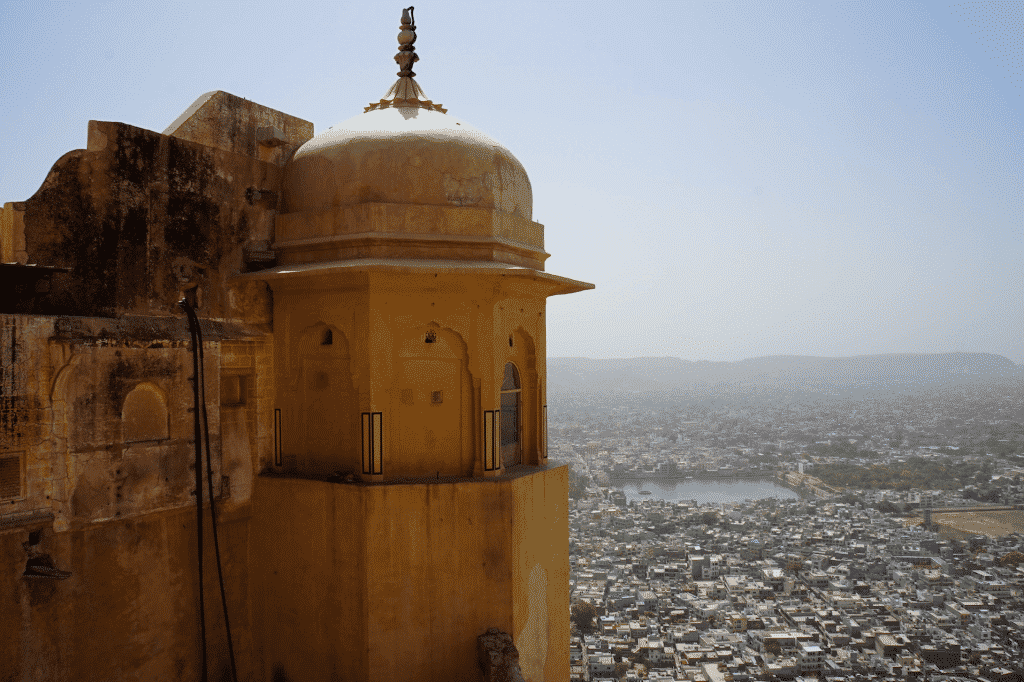 Jaigarh Fort
The Jaigarh Fort is a majestic stronghold, a largely-intact fort connected to the Amber Fort via subterranean passages for quick escape. The fort claims to have the world's largest cannon on wheels (um..OK??). Probably the weakest of the three forts discussed here but still worth it as in the same area. Also has a group of rare black-faced macaque monkey out the front if you get bored. Finally the fort is apparently famous for having a huge treasure trove buried within the fort…Share with me if you find alright guys!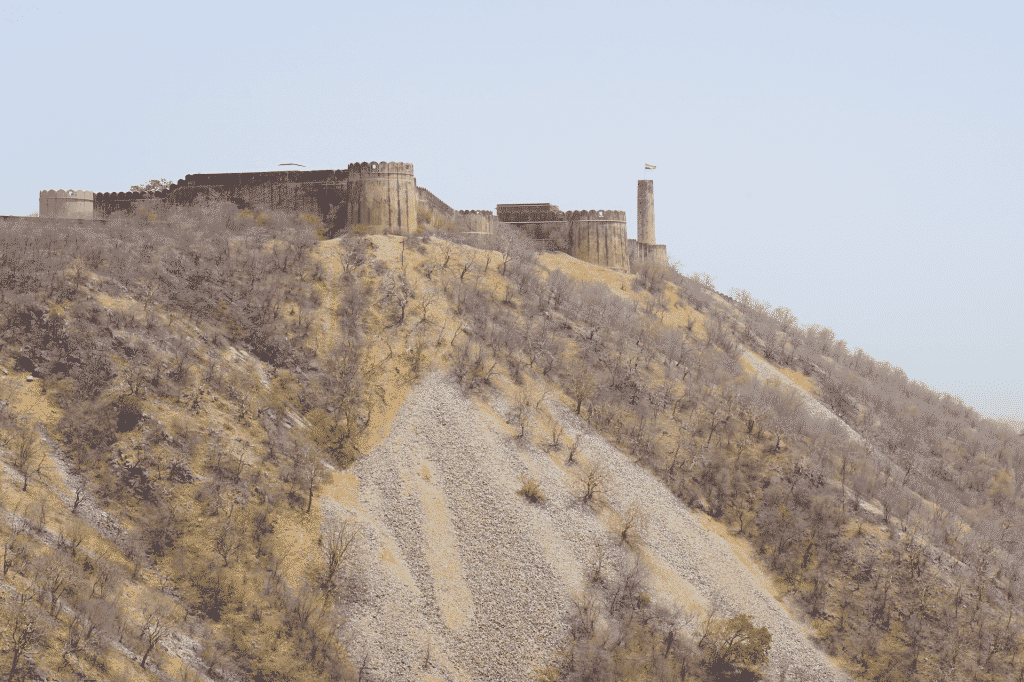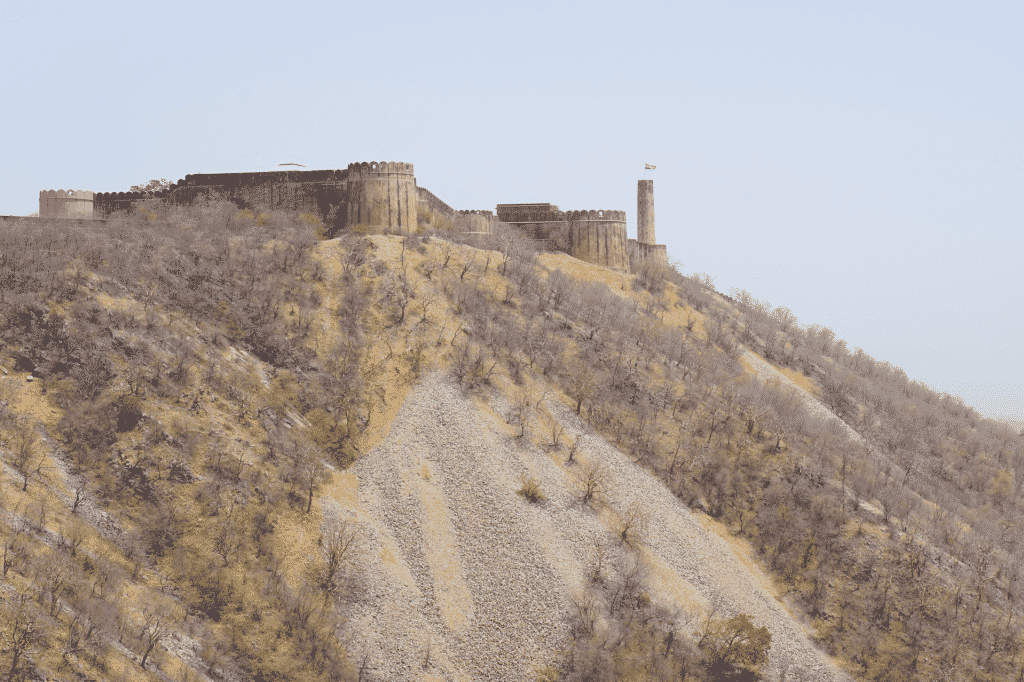 Jal Mahal
One of Jaipur's pockets of serenity, the beautiful Jal Mahal [the Water Palace]. is a smallish palace, that once was a shooting lodge for the Maharajah, 'floating' in the centre of Sagar Lake. The light sand walls contrast against the deep blue water with peaks of foliage luring you in. Unfortunately admiration from the roadside is currently the closest you can get to the actual palace as it is currently being transformed into an ultra exclusive restaurant, but hey – maybe its open when you go?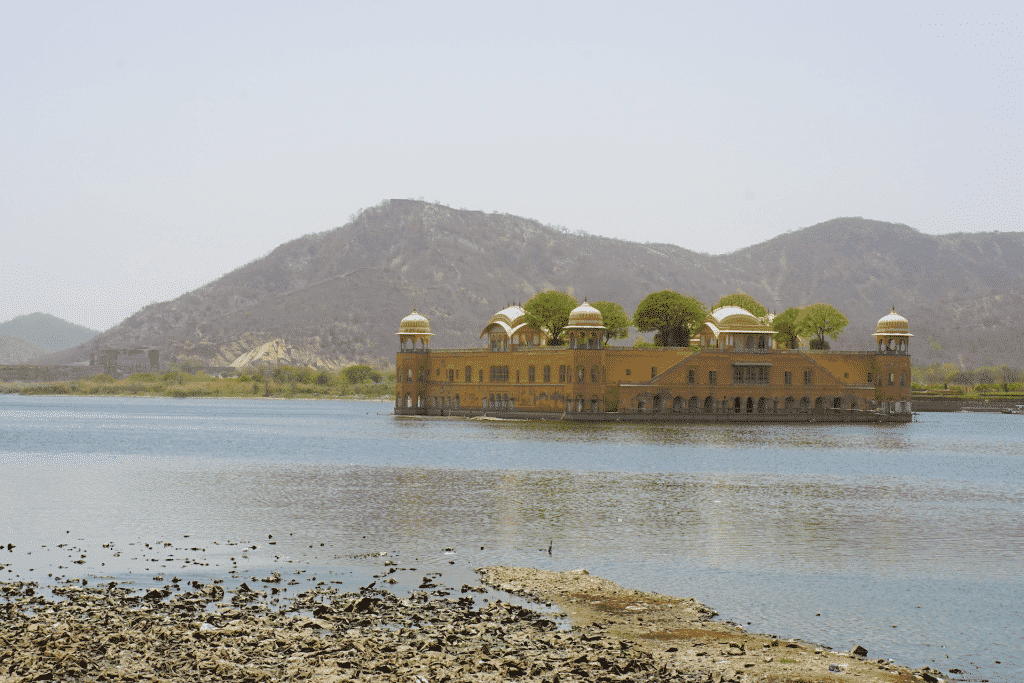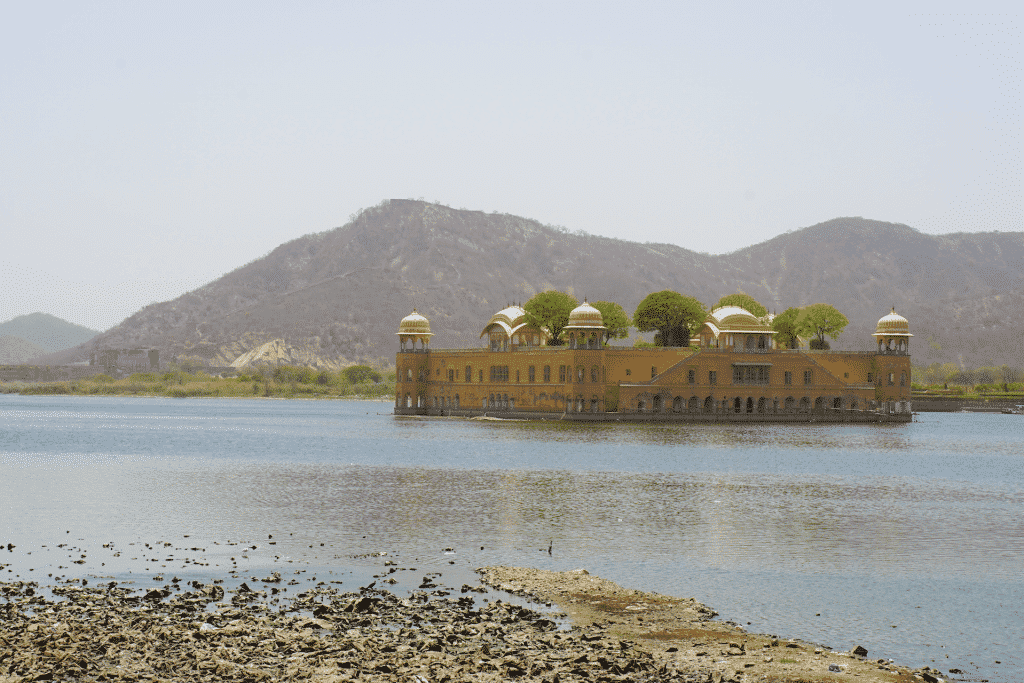 Hawa Mahal
The Hawa Mahal [ the 'Palace Of The Winds'] is the most famous site in  Jaipur city. A beautiful five-storey palace built  in 1799 at the heart of the city its red and pink sandstone are iconic and help make Jaipur the 'pink city'. The Hawa Maha was created to allow royal women to view everyday life through the windows and today you might wish it could hide you, but pluck together your courage and be sure to check out the bazaar in front along the street which has some great textile designs and is 100% worth a look…One of my favourite Jaipur highlights I could have spent hours at!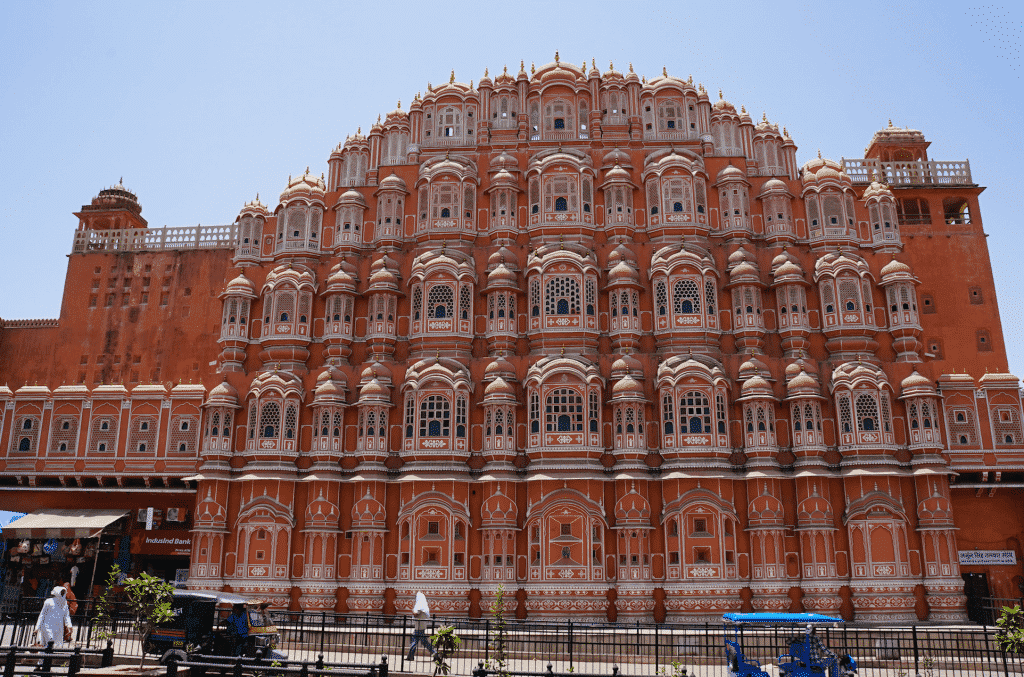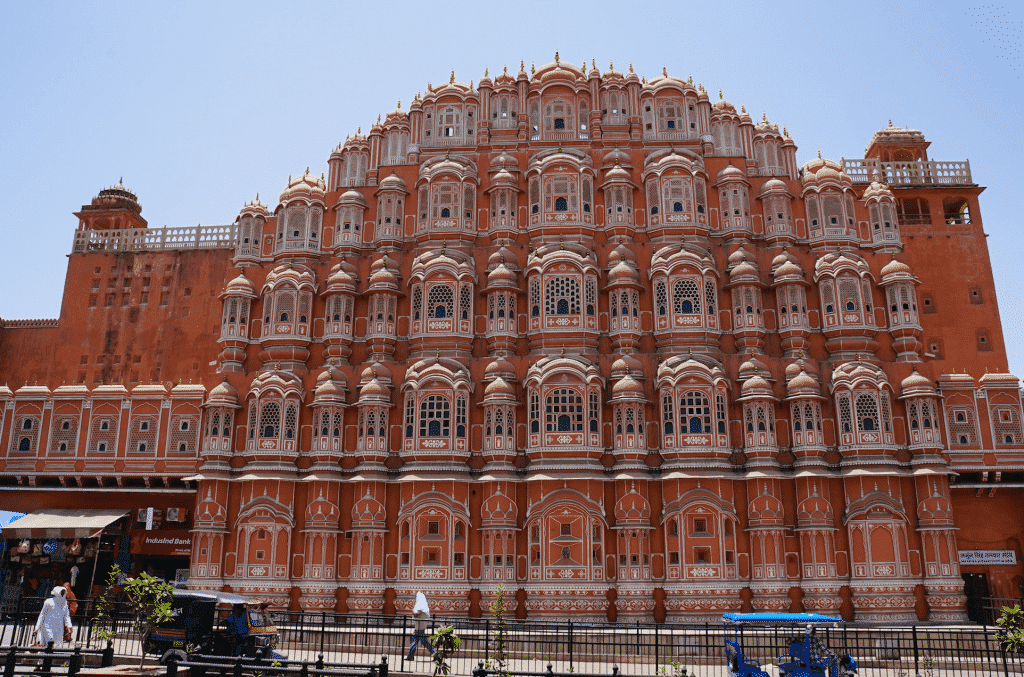 Tapri – The Tea House
Tapri, The Tea House, is a small café in Jaipur which describes itself as a humble tea stall…Its centrally located and is super popular with locals for its laid-back Starbucks type vibe but serving up amazing chai and other traditional Indian street food. Cheap by Western standards and a easy way to try cheap street-food it makes a nice mid-day break. I recommend the Chai and Maggi mix's but probably don't go for anything too Western as these didn't look great… If your gluten-free you might struggle here, but read this guide to being gluten-free in India and you will be good to go after!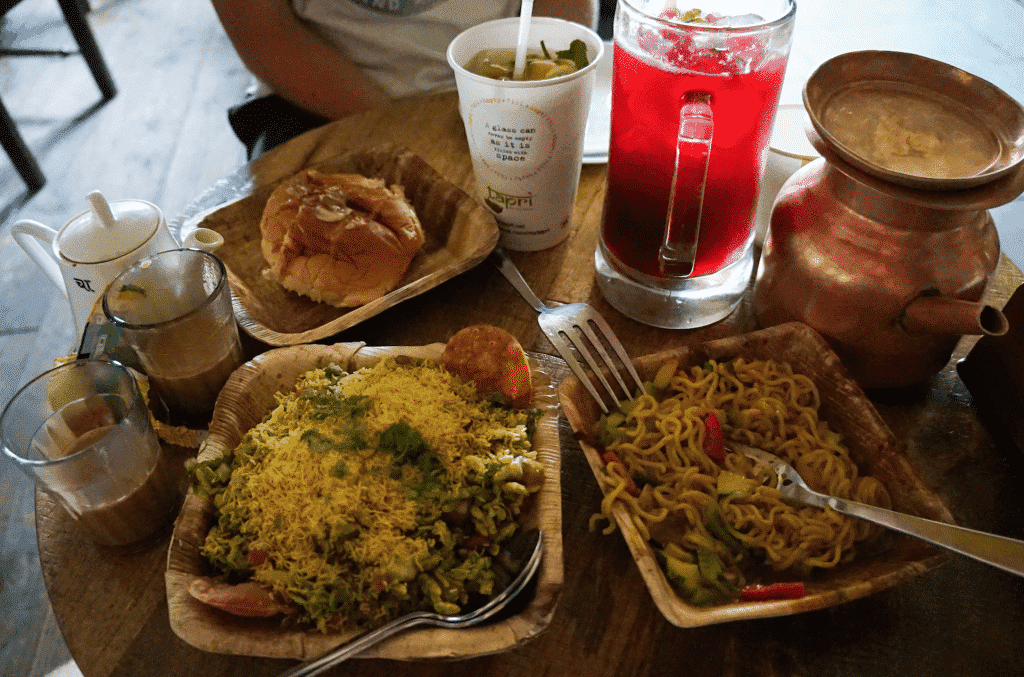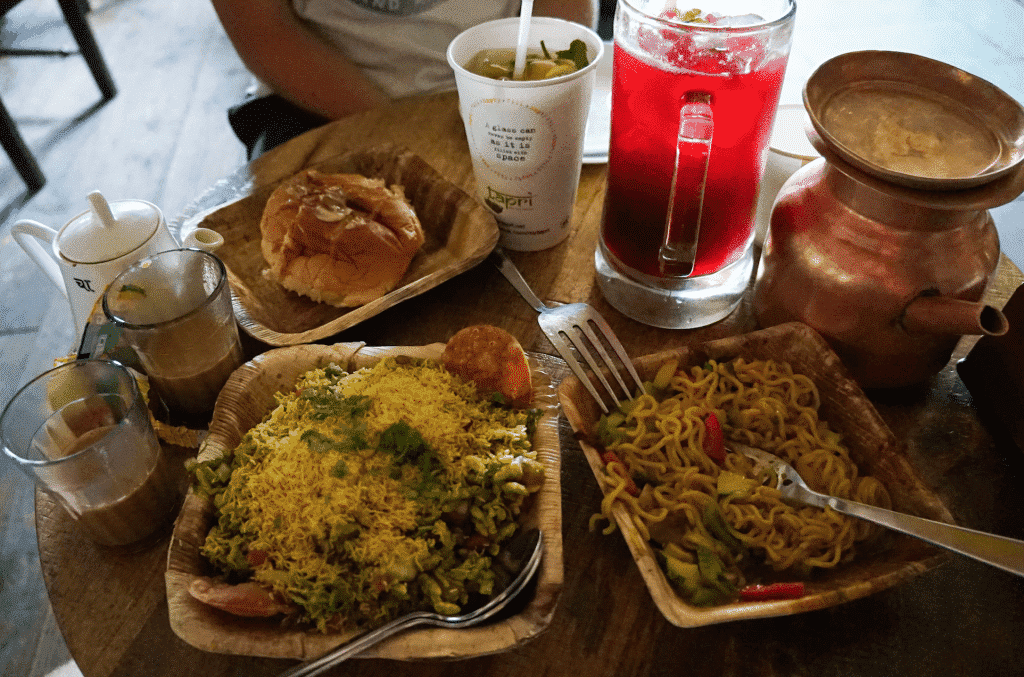 Rajmandir Cinema
The Rajmandir is a beautiful film hall which blurs the boundary of traditional cinema and will showcase more than just movie. Home to many Bollywood movie premiers,this cinema makes for a great night out and can showcase a taste of Bollywood. Be careful however that the film you are watching has subtitles, as ours did not and we were left guessing what happened the entire time. Not bad for a few dollars in the cheap seats however and those Bollywood dance scenes need no translation! This is definitely one of the untouristy Jaipur highlights!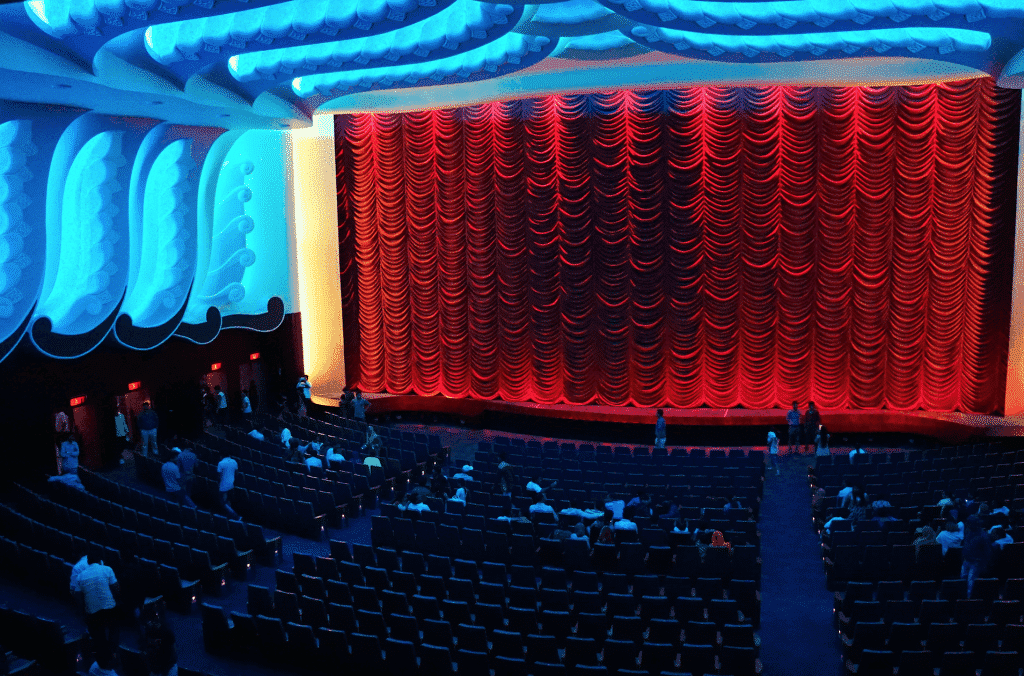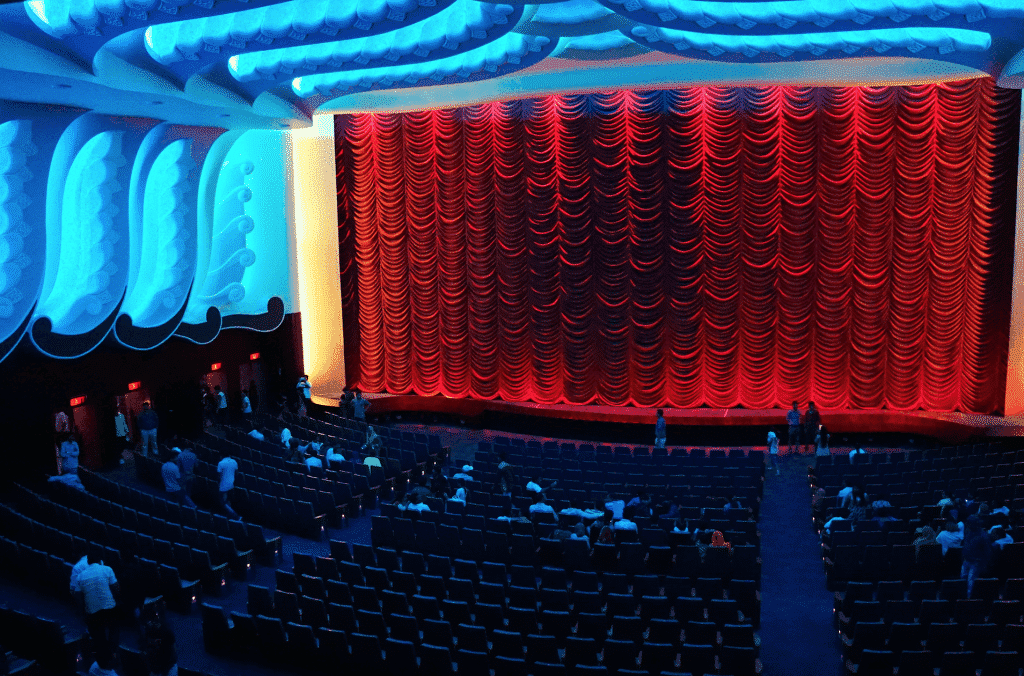 Peacock Rooftop
Serving "extra-special"Indian selections the Peacock Rooftop is an amazing place to spend the evening at a great price. Amazing atmosphere and tasty drinks and food made this one of my favourite places not just in Jaipur but the whole of India! The restaurant is themed after the national bird of India – The Peacock, and provides a calm place where you can sip a chai tea or have a bite, admiring the old Hathroi Fort only meters away. The quirky decor and the talented chef surely makes this Jaipurs best rooftop! Call ahead for a reservation to ensure you are not disappointed and check out this guide to getting a SIM card in India if you haven't got one already!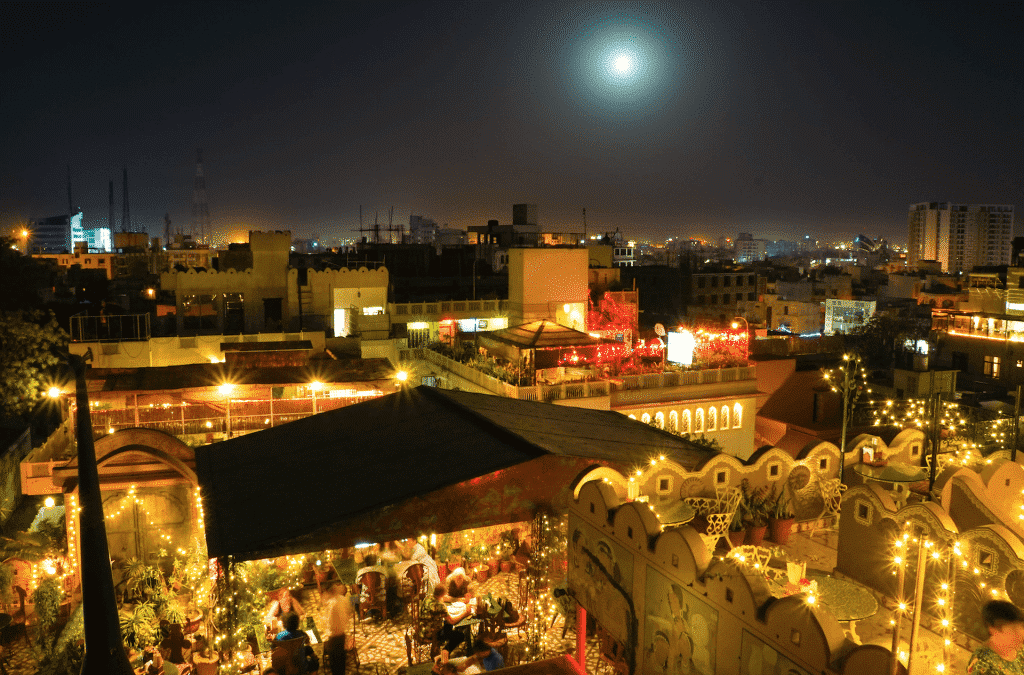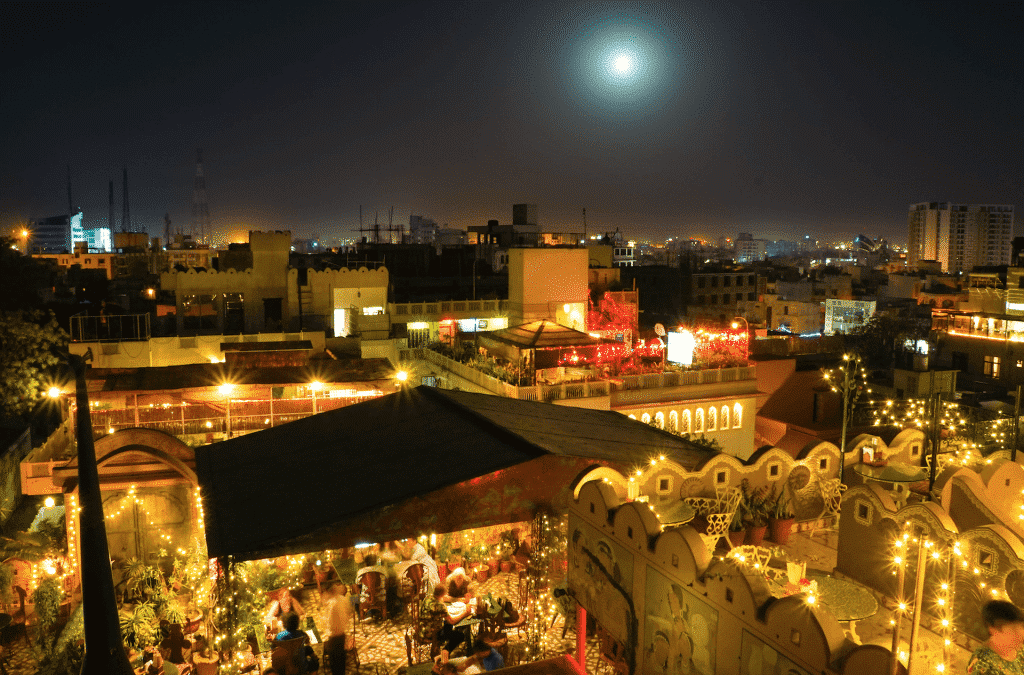 Amber Fort
OK I saved one of the best Jaipur highlights for last … The 'Amer' or 'Amber' Fort located 11 kilometers from Jaipur, is the most famous fort of Rajasthan and was originally the capital of the state. It is the oldest of the three forts, and the most impressive, being built in 1592. It is built in red sandstone and marble which glisten in the sun and the Maotha Lake at its front add another dimension to the entire place. It may look old from the outside but is well worth exploring the rooms inside to see how it has undergone the influence of both Hindu and Muslim architecture. Half a day minimum to explore this gorgeous beauty as is not something you want to rush but please, please don't support the elephant riding here…Looked horrible and almost made me cry!

---
So what do you think, ready to book tickets now after seeing these Highlights of Jaipur? Let me know what you think of these Indian UNESCO Sites – If you have been before I would love to here what you think should be added or if you have another favourite city in India! If you need more information on Jaipur or the Amber Fort check out this local's perspective and look at your Jaipur accomodation options before all the best ones sell out! 
Further Things To Consider Before Any Adventure
Now you're all set and prepared to explore our big wide world, why not sort out everything else out all in one go? If necessary for your travel plans make sure you have brought proper travel insurance, protected your privacy by getting a secure VPN, compared all the top hotel booking sites to find just what you're after, reserved an unbeatable rental car price and - of course - booked the best flight deals!
Or maybe just forget it all and go for a last minute cruise or effortless tour instead?
Many budget travelers (including me) indulge in worldwide airport lounge access, so we can experience luxury while still slumming it in economy. Naturally, we would never leave home without a more a more general travel guide since we couldn't possibly cover everything here!
Just add an adventurous attitude and plenty of smiles - they go a long way - and that about covers it all! Now go out, find your own path and don't forget to share your best inspiration stories with me on Facebook, Twitter, and Instagram...I'd love to hear from you!