Have you heard about the famous Ranthambore Tiger reserve safari, where it is possible to see tigers in one of the best national parks in India!
If you haven't – you are missing out. Because it is true, at the Ranthambore Tiger Reserve you can spot regal tigers in the wilds of India, have a personal up close up the encounter and explore an extremely gorgeous landscape!
Located only a few hours off the major tourist trail e.g. the 'Golden Triangle' with Ranthambore tiger safari hotels aplenty what are you waiting for!
This incredible place is often touted as being one of the best places to view tigers in the world, and while it is fair to say when I made my Ranthambore Tiger Reserve safari booking was skeptical (to say the least) I am now a total convert! Thankfully a lot of India's best tour companies also offer tours here, so you won't miss out.
I'm sure you will be too… I mean look at this, who could have imagined you could be this close to a tiger outside of a zoo!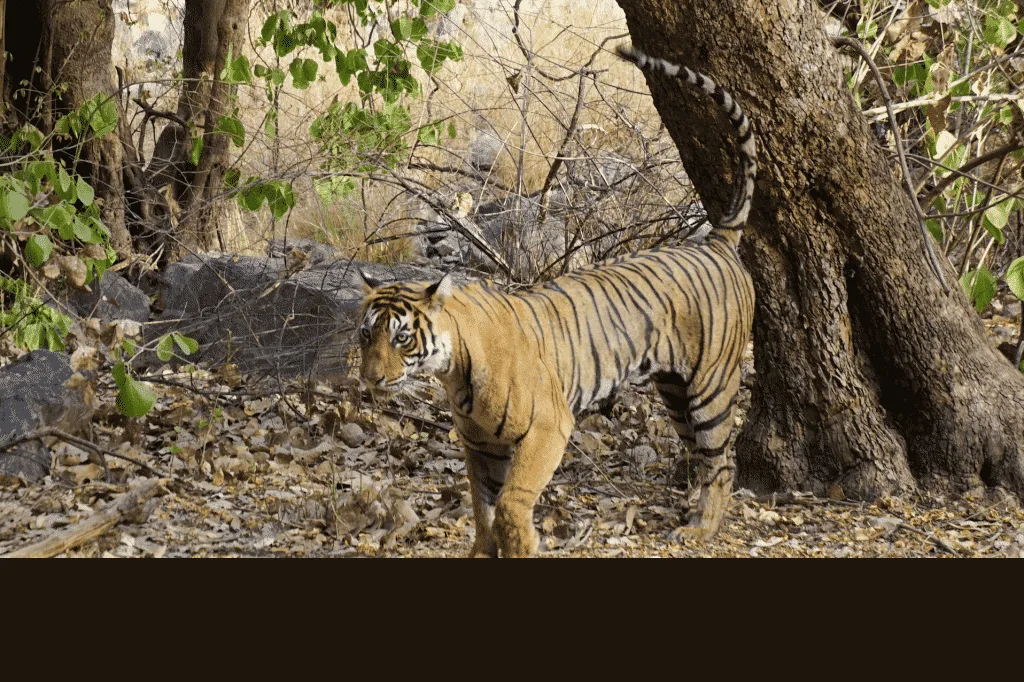 Ranthambore Tiger Reserve: The Best Tiger Sanctuary In India? 🐯
Tigers here are used to be stared at and they seem to just take it in their stride [I mean if you have got it, flaunt it right?], and makes such a great contrast to Chitwan National Park in Nepal where everything is skittish and difficult to see!
Here in Ranthambore National Park, we were able to get right up close (from the inside of our Jeep, tours on feet are strictly forbidden for good reason!) with a mother tiger and her three cubs, along with two other male tigers!
Such an incredible experience and it felt almost too easy to spot these gorgeous creatures as the dry, rocky outcrops covered in low grass meant you could see everything for quite a distance.
Ranthambore is part of India's "Project Tiger" and has been a National Park in 1981.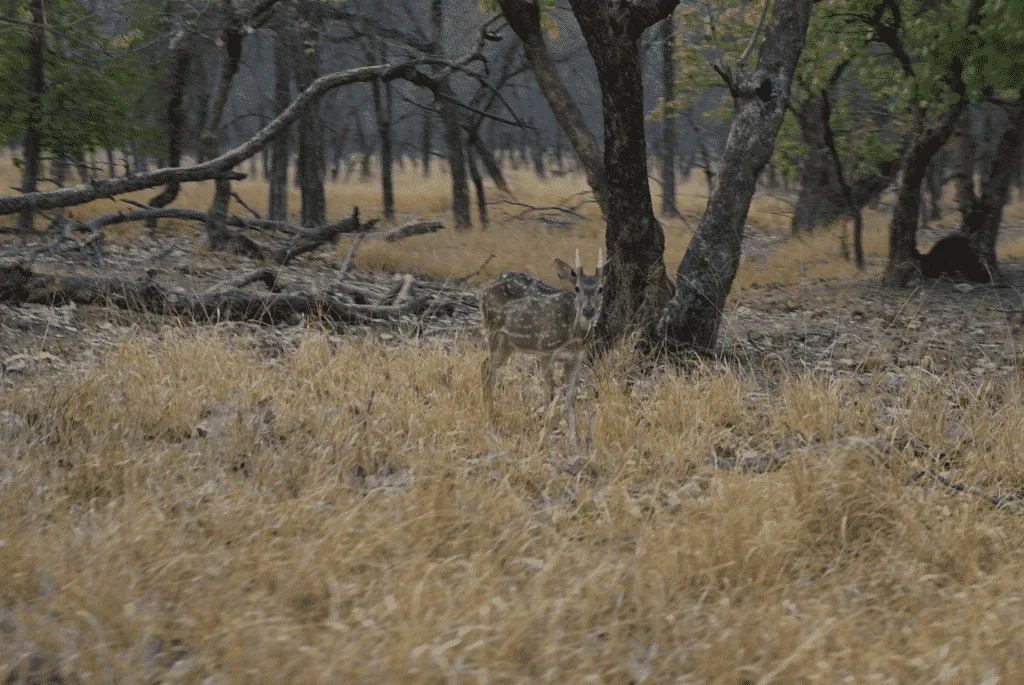 Going on a Ranthambore National Park safari is like the cheat code for the National Parks of India – but you won't be left feeling guilty as you will be too busy staring on one of the most beautiful creatures on Earth… and a few other animals as well!
It's not all about the tigers here though and we saw on our short trip plenty of deer, wild pigs, mongoose, monkeys, crocodiles and gorgeous, gorgeous peacocks (which gave the tigers are run for their money in the "Sexiest Animals of Ranthambore" category…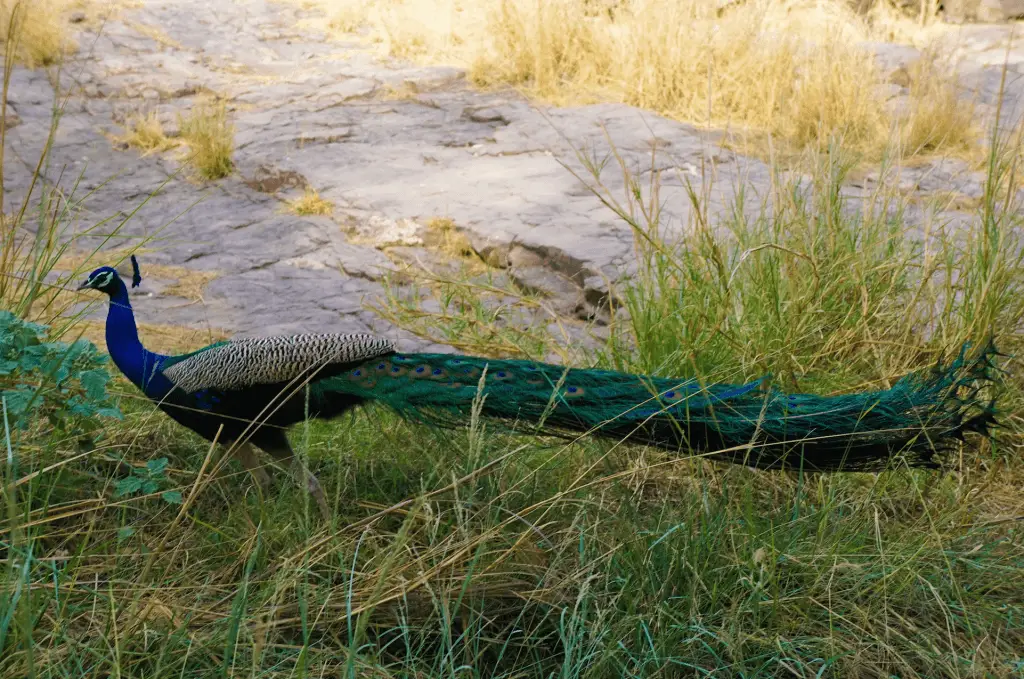 The park has been used in bygone areas by many humans and a huge, derelict Ranthambore fort [UNESCO certified even!] towers over the park reminding you who really is the top of the food chain. This fort is actually UNESCO certified and must be one of the world's most under-rated UNESCO World Heritage Sites.
Similar smaller historic features dot the park providing a tantalizing mix of nature, history, and wildlife. Yes, while the animals in Ranthambore National Park are exciting and exotic, they are not the only highlights…
Tigers here are therefore relatively used to human interaction and don't seem to be bothered by the jeeps, crossing the road in front of us multiple times.
In fact these tigers are even famous for hunting in full view of humans and being seen during the daytime – This lack of fear worked to our advantage as we were able to see a mother leaving her cubs to cool off elsewhere, the cubs play-fighting along in a refreshing water pool and another tiger strutting and marking her range.
We even managed to get in a few minutes of face pulling time…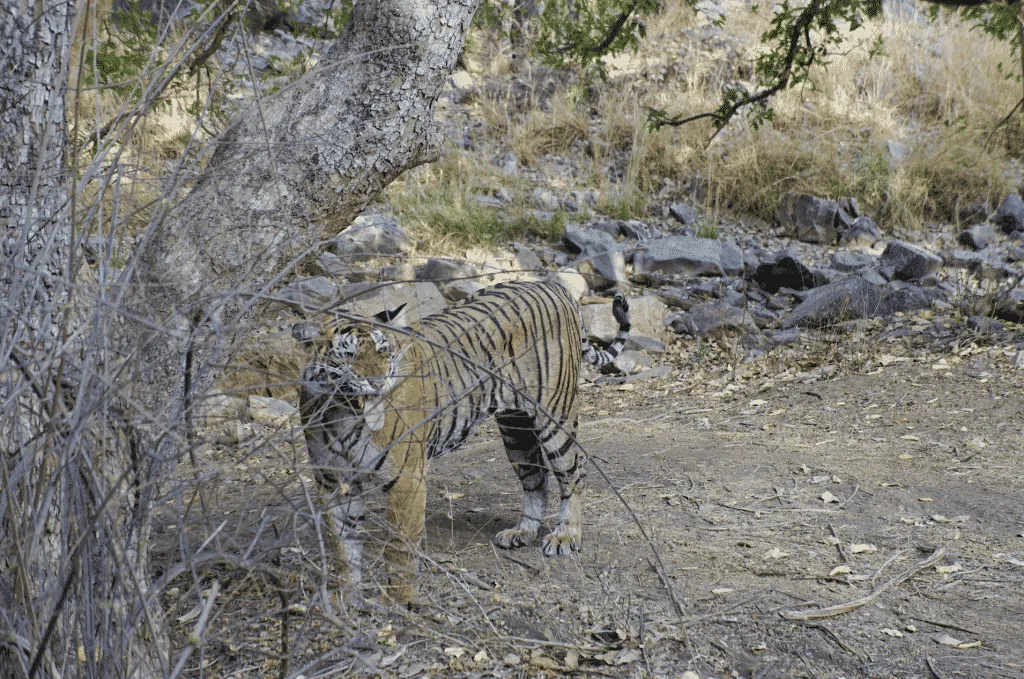 The tigers were only a few meters away at time and we had an open-top jeep and nothing to protect us if these striped hunters decided we looked tasty!
A little daunting, but I liked that it also put me closer to them – I was able to make out their gorgeous marking and watch them yawn, admiring their pure perfection without the need for binoculars or imagination. Not something I will ever forget I am quite sure!
I really couldn't have imagined how great an experience seeing Tigers in Rajasthan would be.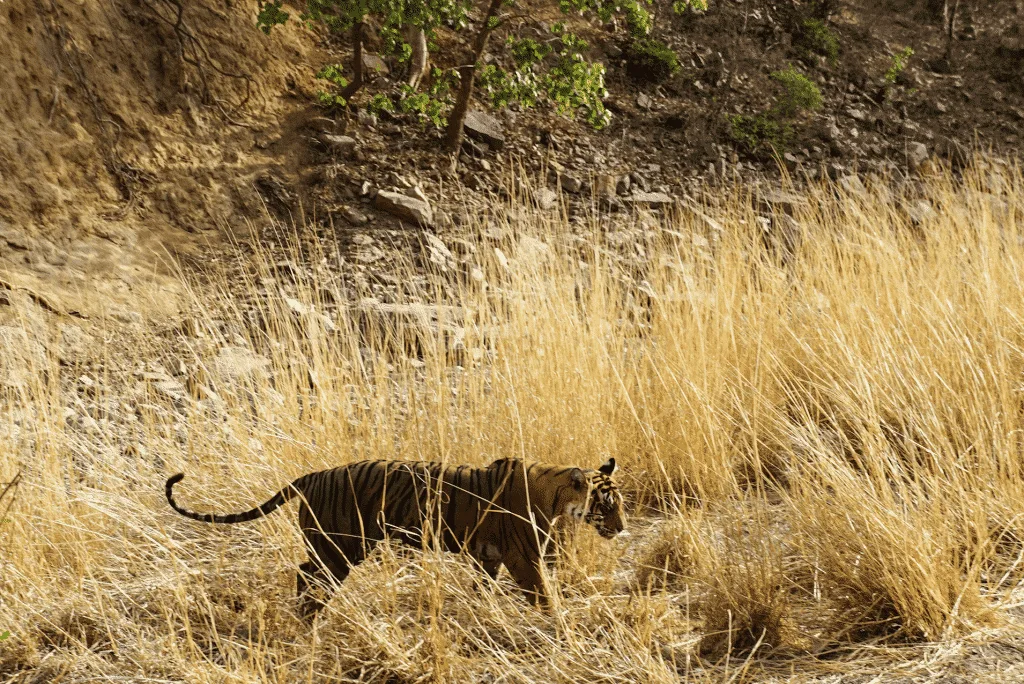 The Ranthambore tiger reserve is truly excellent for tourists who want a high payoff with little risk [of coming all this way to see nothing] and is a wildlife enthusiast and photographer's dream.
It still seems relatively unknown to forest tourists and about 85% of the people we saw were domestic tourists, though it was local school holidays! According to the latest census I could find there are currently 62 tigers in Ranthambore National Park Rajasthan, up from 25 in 2005!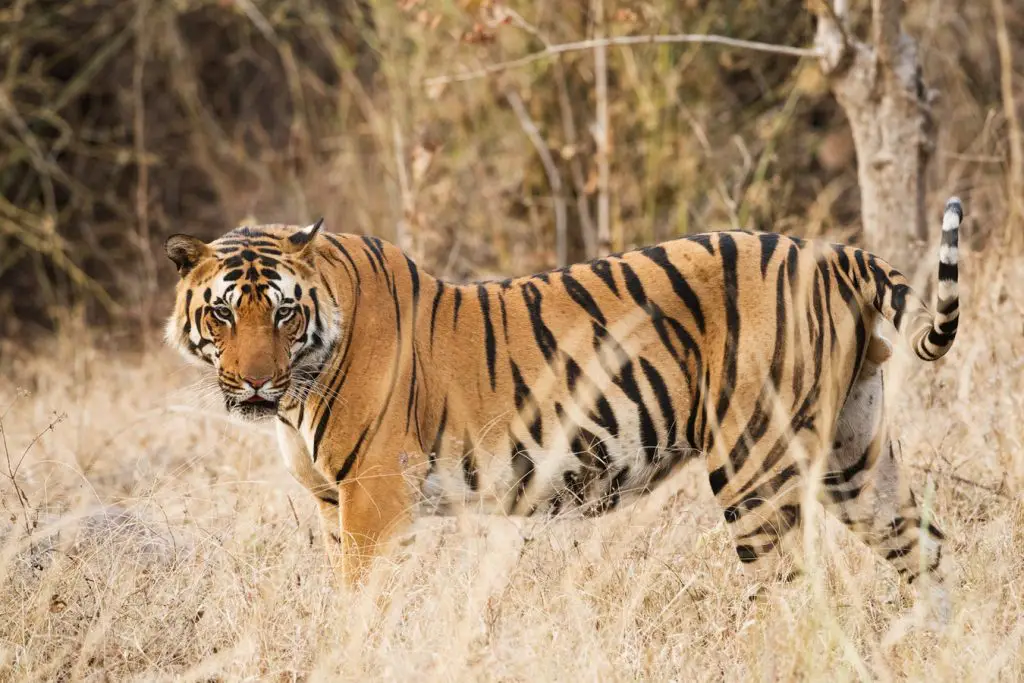 For many years this park has suffered from poaching and human encroachment but it seems locals have finally realized how special this place is, or at least how lucrative it can be, and forged together to protect it. Let hope they continue to and if you can support them by visiting on your next trip to India!
Trust me, you will not be disappointed by the Ranthambore National Park tigers…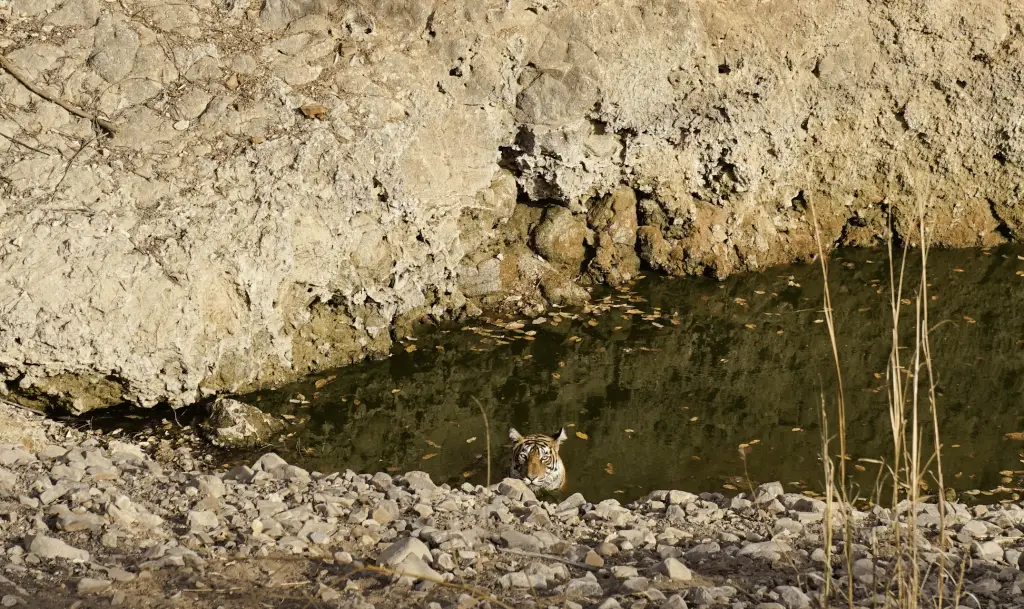 Plenty of Ranthambore hotels can be found around the park area and easy transport is available to the Sawai Madhopur Railway Station, which lies on the Delhi to Mumbai trunk route (though if you make your Ranthambore safari booking in advance you can get plenty of help with this).
The best time to go is from November to March while it is closed during the Monsoon season (July – August). The Ranthambore National Park Tigers will see you now…
Don't forget to look at all the reviews and options for Ranthambore Hotels and Ranthambore Resorts – In India it pays to know what you want in advance, and more importantly…To know what you are getting!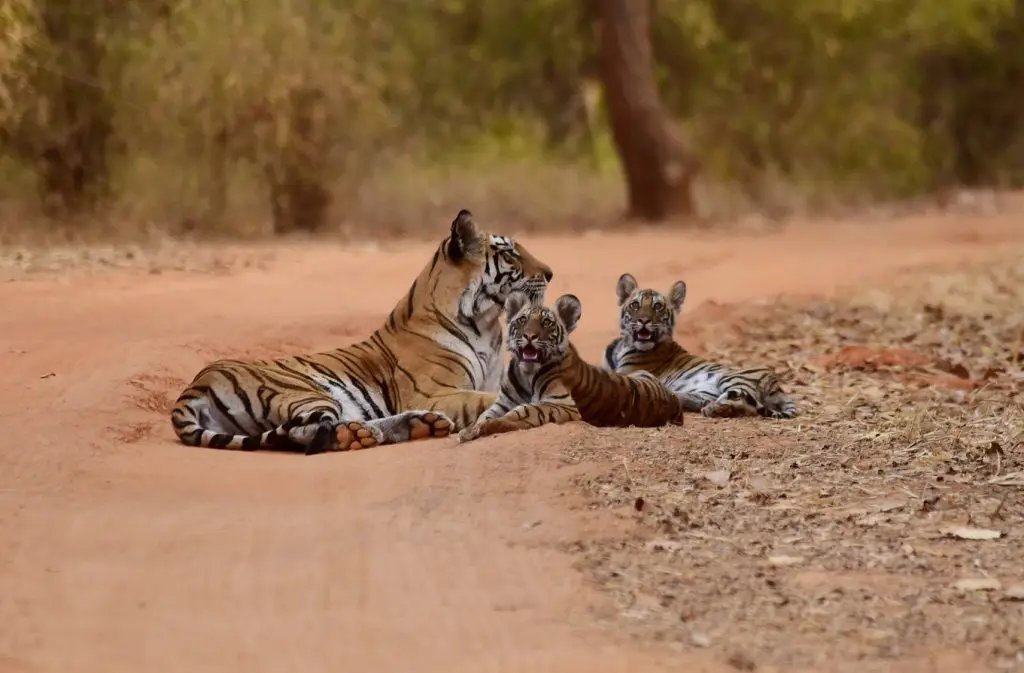 Staying Connected While Travelling
In today's increasingly connected world, staying online while traveling has become essential for a seamless experience. That's where eSIMs come into play, revolutionizing the way we access mobile networks during our global adventures. Say goodbye to hunting down local SIM cards at the airport; eSIMs provide instant activation the moment you land, sparing you the fortune usually spent on international roaming and allowing you to genuinely travel like a local (without getting hopelessly lost!).
With eSIMs, tasks like restaurant recommendations and reservations, up-to-the-minute public transport instructions, checking opening hours, and accessing further information become a breeze. And, of course, sharing your journey on social media is easier than ever. To stay connected wherever you roam, consider using either Airalo or Holafly. Airalo boasts the most extensive range of destinations worldwide, offering smaller data bundles tailored to your needs, while Holafly provides unlimited data packages and fantastic EU data deals.
So why wait? Embrace the future of travel connectivity with eSIMs and make your next journey effortlessly smooth.
Further Things To Consider Before Any Adventure
Now you're all set and prepared to explore our big wide world, why not sort out everything else out all in one go? If necessary for your travel plans make sure you have brought proper travel insurance, protected your privacy by getting a secure VPN, compared all the top hotel booking sites to find just what you're after, reserved an unbeatable rental car price and - of course - booked the best flight deals!
Or maybe just forget it all and go for a last-minute cruise or effortless tour instead?
Many budget travelers (including me) indulge in worldwide airport lounge access, so we can experience luxury while still slumming it in economy. Naturally, we would never leave home without a more general travel guide since we couldn't possibly cover everything here!
Just add an adventurous attitude and plenty of smiles - they go a long way - and that about covers it all! Now go out, find your own path and don't forget to share your best inspiration stories with me on Facebook, Twitter, and Instagram...I'd love to hear from you!