So you have found yourself in the city of Huaraz and looking at escaping into the Cordillera Blanca mountains (part of the Huascaran National Park UNESCO site) to view some of those famous Andes glaciers?
But perhaps you're not quite the fully equipped, death defying, intrepid mountaineer?
Or your too short on time for the famous 4 day Santa Cruz Trek or prefer to sleep in a bed at night! Maybe you're just looking for an easy day trip to acclimatize to the extreme altitude and want to see something incredible at the same time… Well look no further!
I've got one of the best tourist attractions in Peru for you!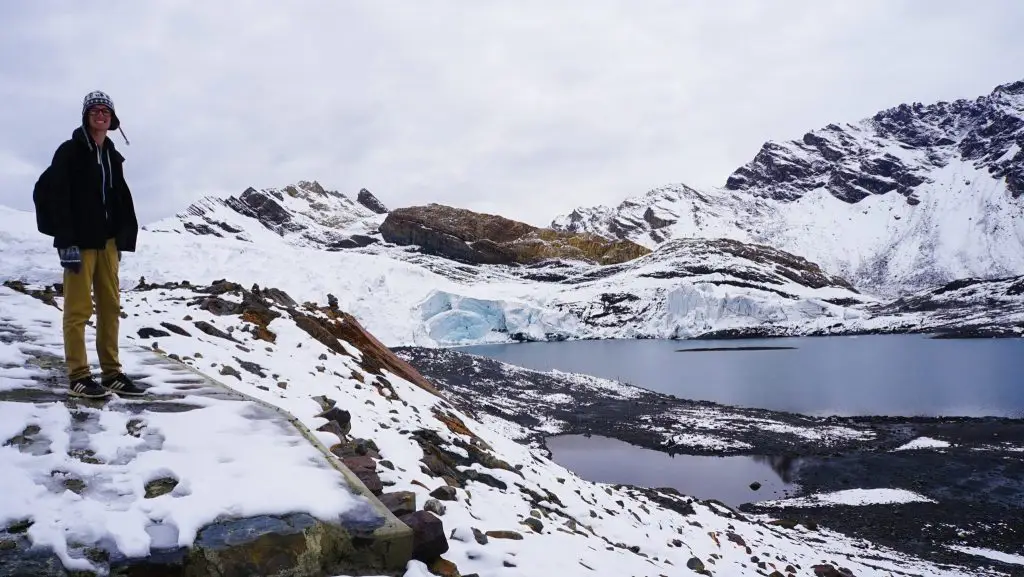 Introducing Pastoruri Glacier – The Most Famous Andes Glacier!
A day trip to the Pastoruri Glacier will not only fulfil your yearning to feel as if you're in the middle of the mountains, it can easily fit into any time frame while not being too rough on the body!
Most people who spend some time in Huaraz will most likely also make a day trip to Laguna 69 – the stunning aquamarine lake you will see photos of all around town. I took plenty myself – and these images are part of the reason I started to make money with Shutterstock. It is just so photogenic!
From personal experience if you plan to do both walks I would suggest Pastoruri Glacier be your first. Though it may seem rather counterintuitive as Pastoruri Glacier is located at an altitude of 5000m it is actually far more intensive and a steep 6 hour return walk at 4600 meters for Laguna 69, compared to the Pastoruri Glacier casual one hour stroll.
The effect of altitude will be more of a little nibble compared to a bite the other way around – but it is cold so take a packable rain jacket or something to protect yourself if / when it rains!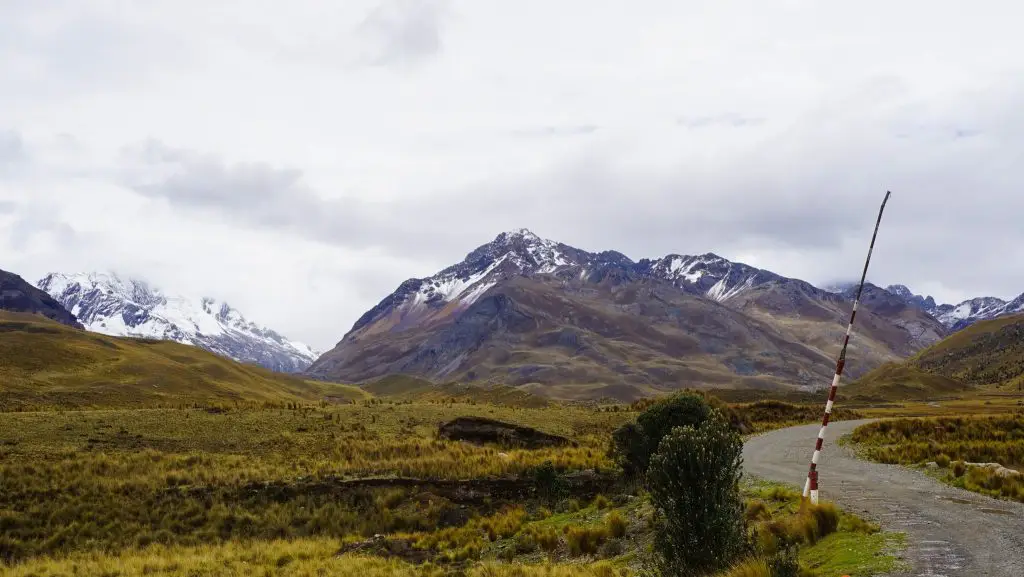 The Pastoruri Glacier is about 80km south-east of Huaraz and is one of the few glaciers left in the tropical areas of South America. Yes, glacier global warming is a thing – please don't leave any hate comments below with your pseudo-science!
On a Pastoruri tour you will be treated to mind-blowing scenery as soon as you leave the city. And the best bit is that the views will continually get better and better the closer you get and the further into the Huascaran National Park you go.
About half an hour before reaching the Pastoruri Glacier we made a stop to witness the gigantic Puya Raimondi.
These amazing & endangered plants are the largest bromeliad in the world and grow to heights of up to 15m tall! And no – no matter what other bloggers say they are not a cactus! They are only found in the Andes between an altitude of 3000-4800 m and can be up to 100 years old!
100 YEARS! Just consider that when you are admiring their majesty!
They take 40 years to mature and only flower once in their lifetime so unsurprisingly we weren't lucky enough to see one in full bloom, but they were insanely impressive nonetheless!
And trust us, you are going to want to make sure you have a good travel camera here…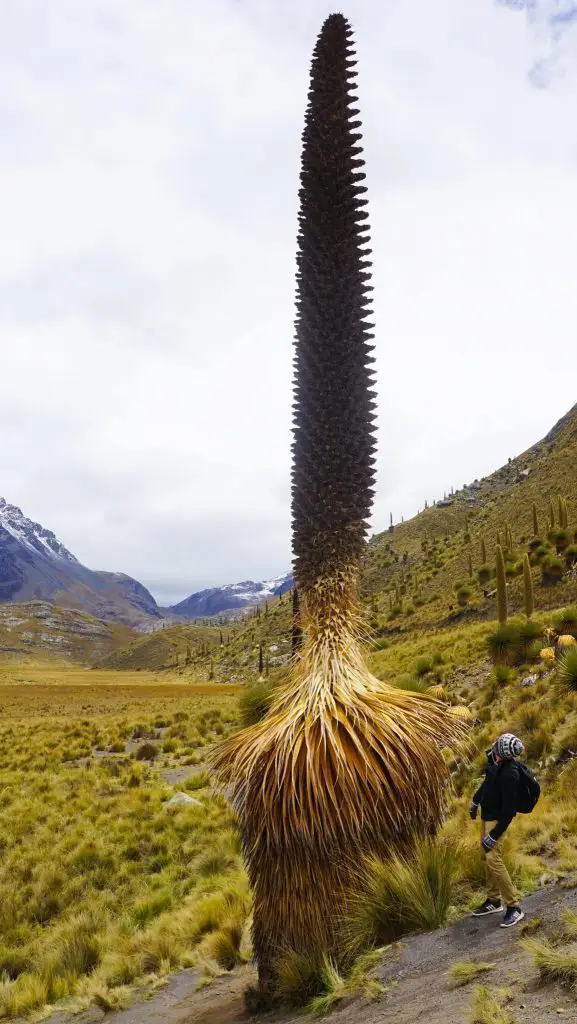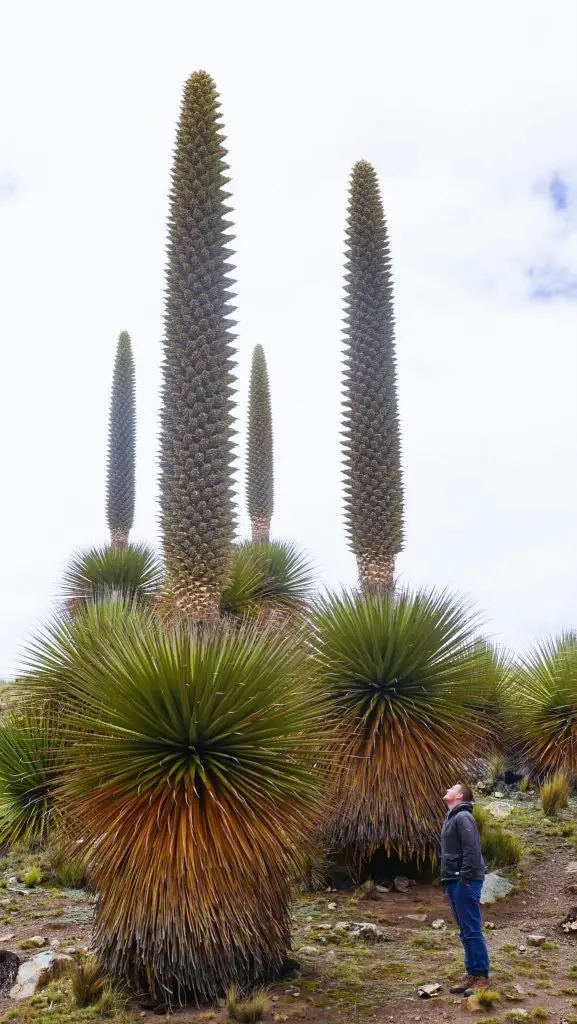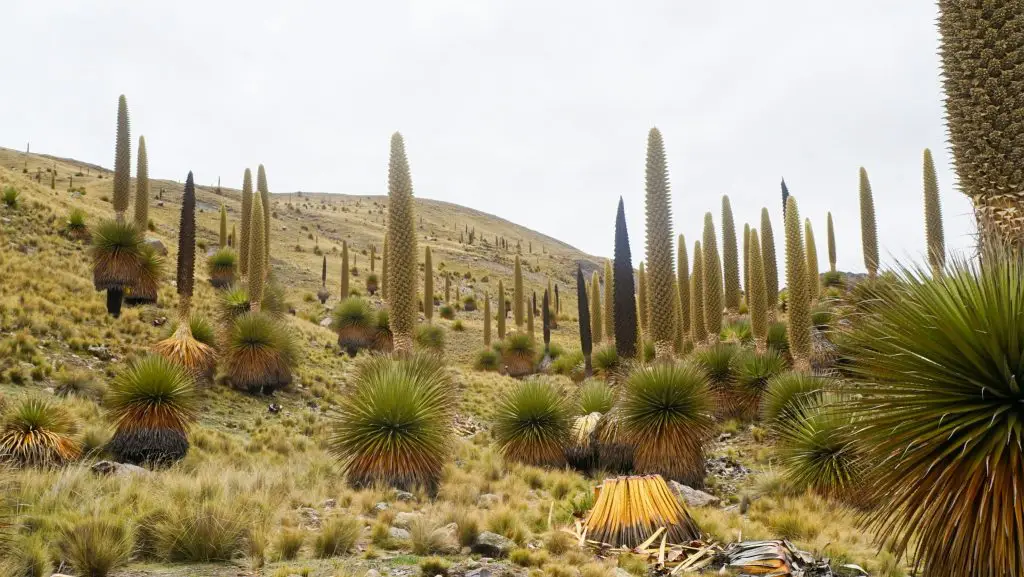 On our Pastoruri tour we reached the glacier around midday and during the last half hour of the drive, as we gained height to the 5000m high glacier, more and more snow started to cover the ground and the soaring mountains around us.
By the time we were at the end of the road we were in a winter wonderland, in the middle of the picture perfect snow covered mountains. My kind of place! We visited on the 24th of December, Christmas Eve, and though we were still in the Southern Hemisphere it was the closest we had ever come to a white Christmas!
Take that Finland!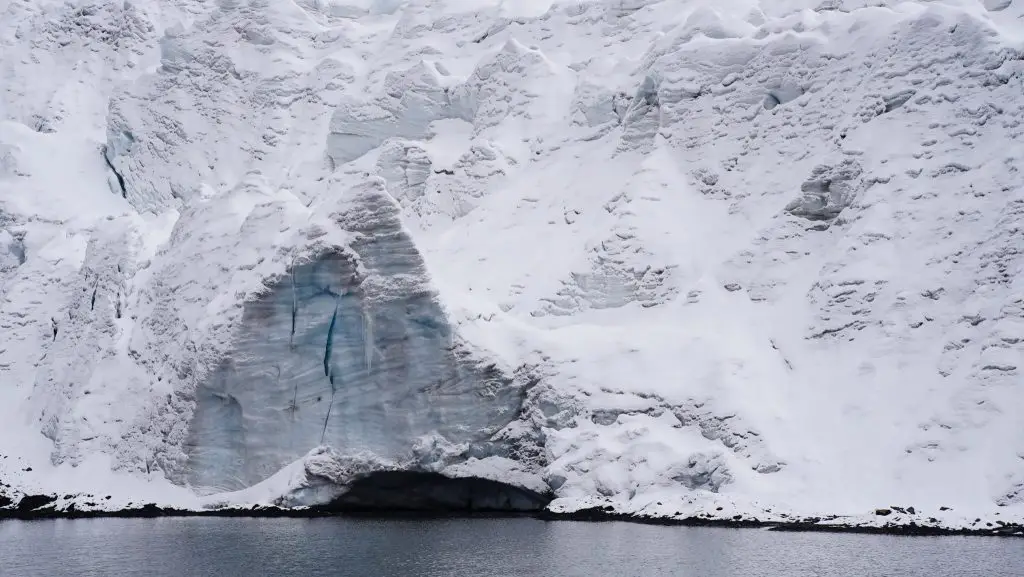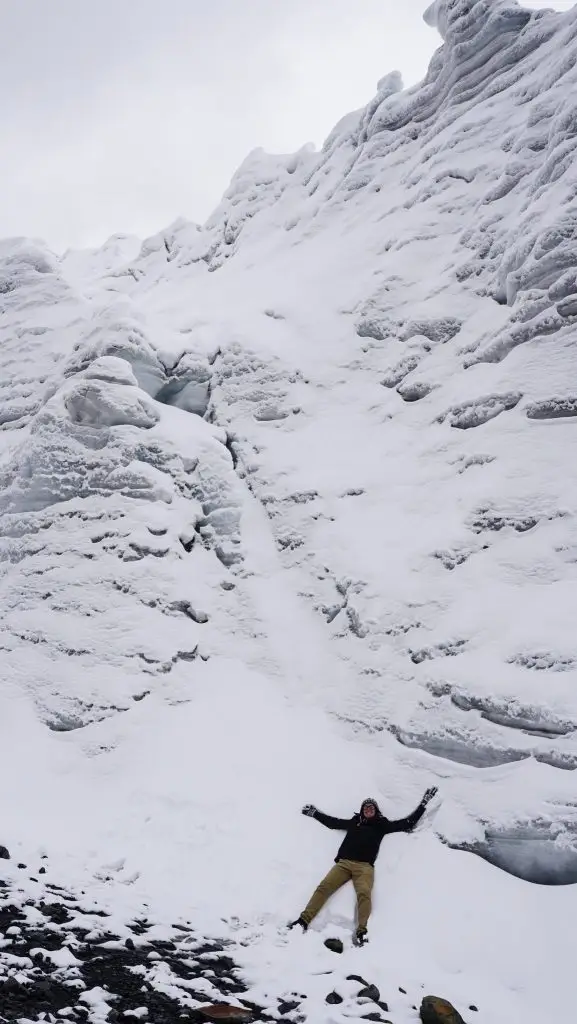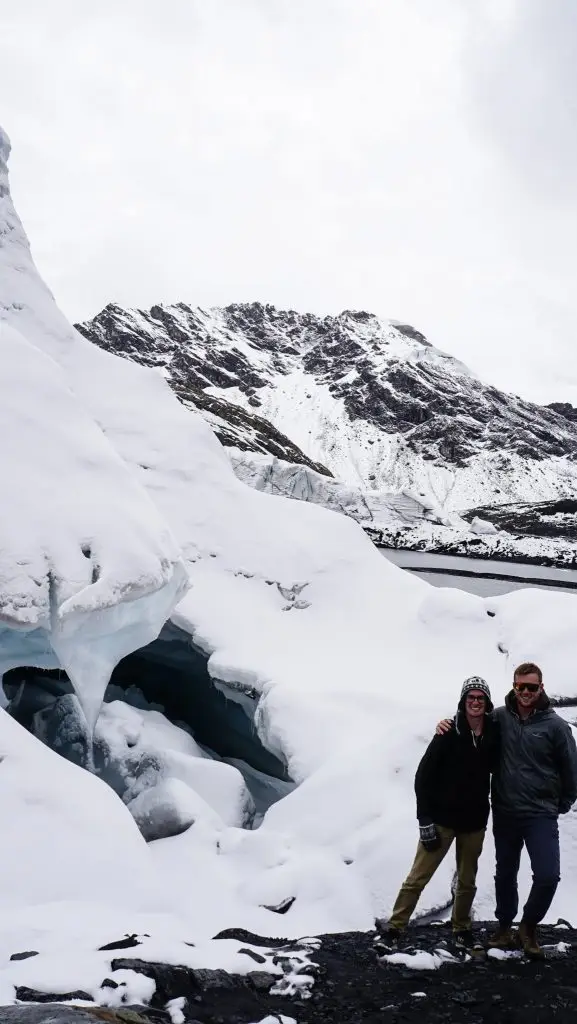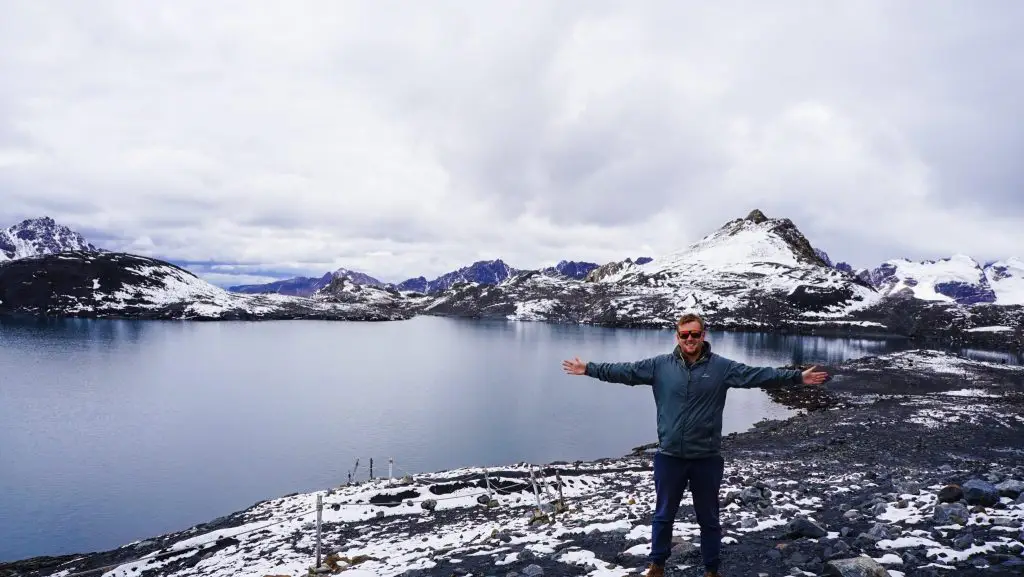 If you're concerned about how you'll cope with the height there are plenty of local ladies selling everything coca imaginable to help get you through it – leaves, sweets, teas and chocolates galore!
The walk to Pastoruri Glacier and its ever-growing lake – a sad result of glacier global warming – takes around 40mins along a winding path that blends in seamlessly with the glorious surrounding landscapes.
It's not too strenuous, even with the altitude, though if you wish you can pay to take a ride most of the way on horses!
---
If you like this you might also like these other places in Peru:
---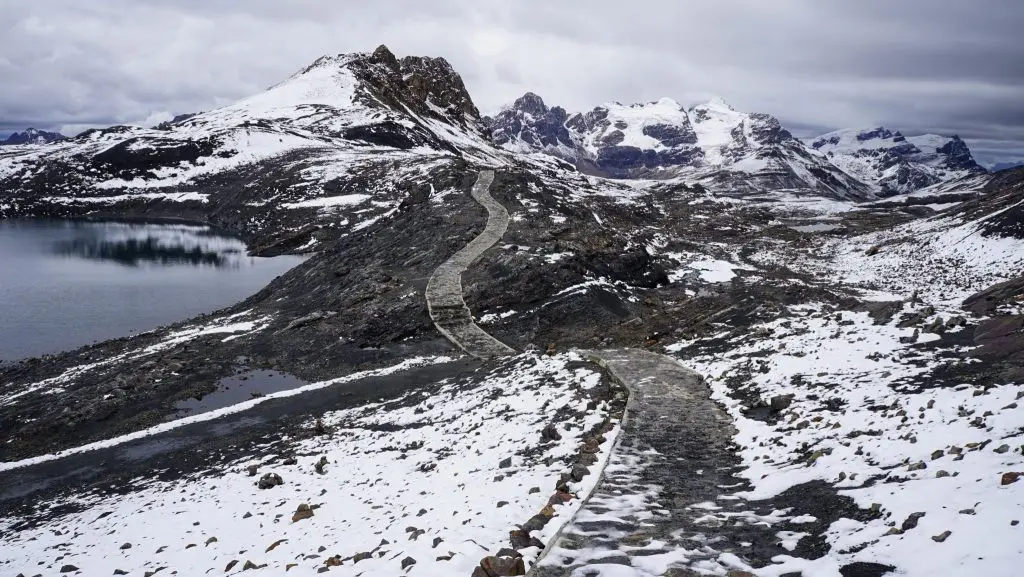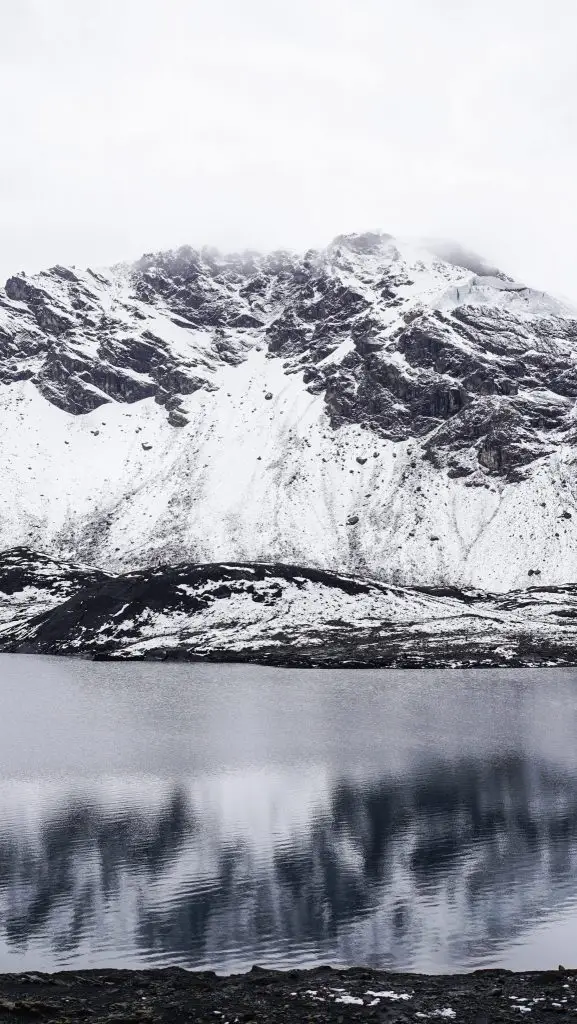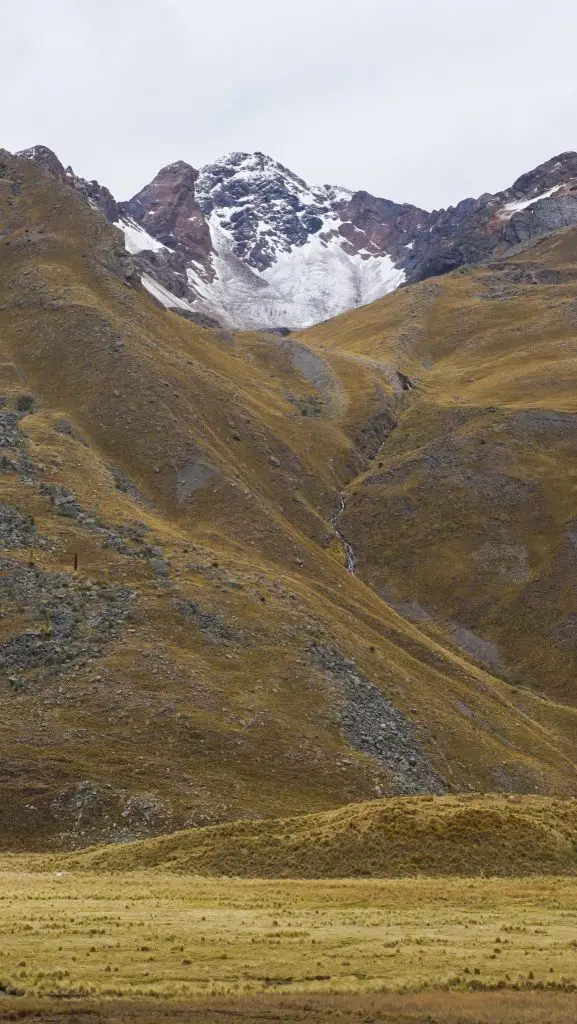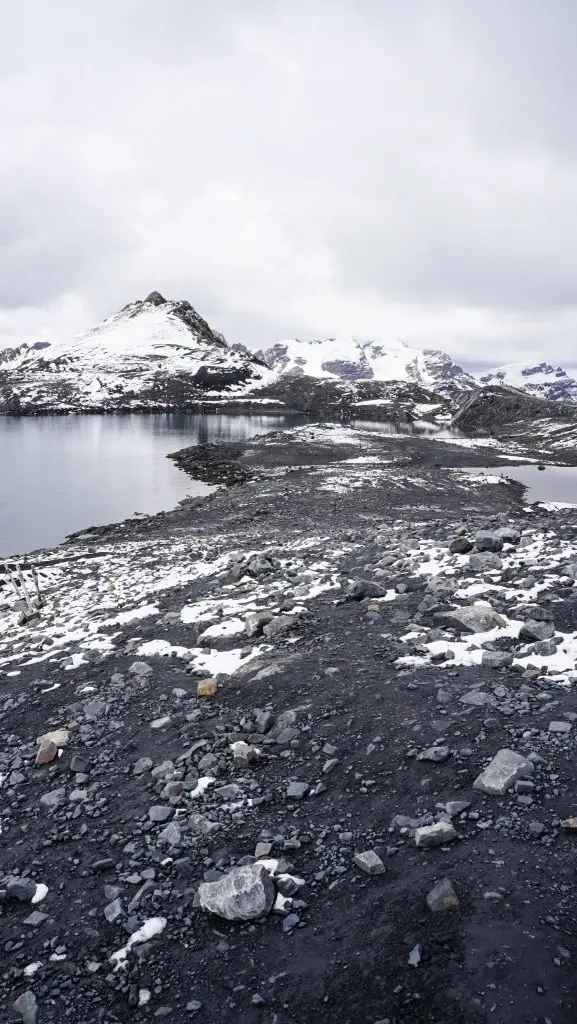 Once at the top of the path you'll experience a magical panorama of the scenery around you and you will catch a glimpse of the most beautiful Andes glacier!
About 100 meters further and you will find yourself up close and personal with the Pastoruri Glacier itself. If you're feeling keen you can even grab a bit of ice to taste to appreciate the 2000 year old vintage. Try not to think about how as a result of glacier global warming your children will likely be unable to experience this.
After about another 40 minutes of taking photos, making snow angels, and simply taking in the view amidst the occasional snow flurries, we were ready to head back.
An easier 20 min walk back down and you're back at the carpark where there's also the opportunity to grab a nice hot coca or muña tea before your Pastoruri tour sets off back to Huaraz.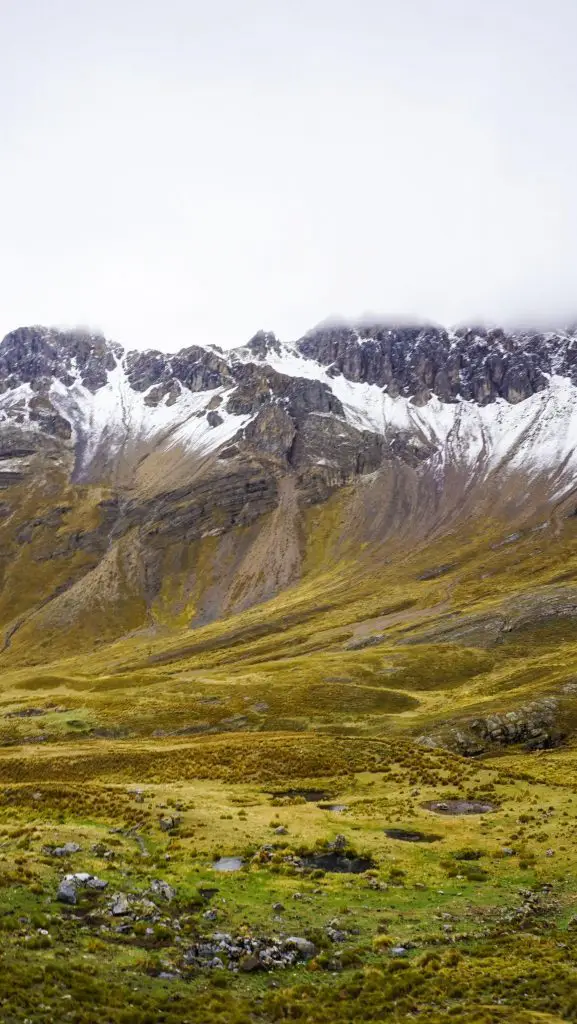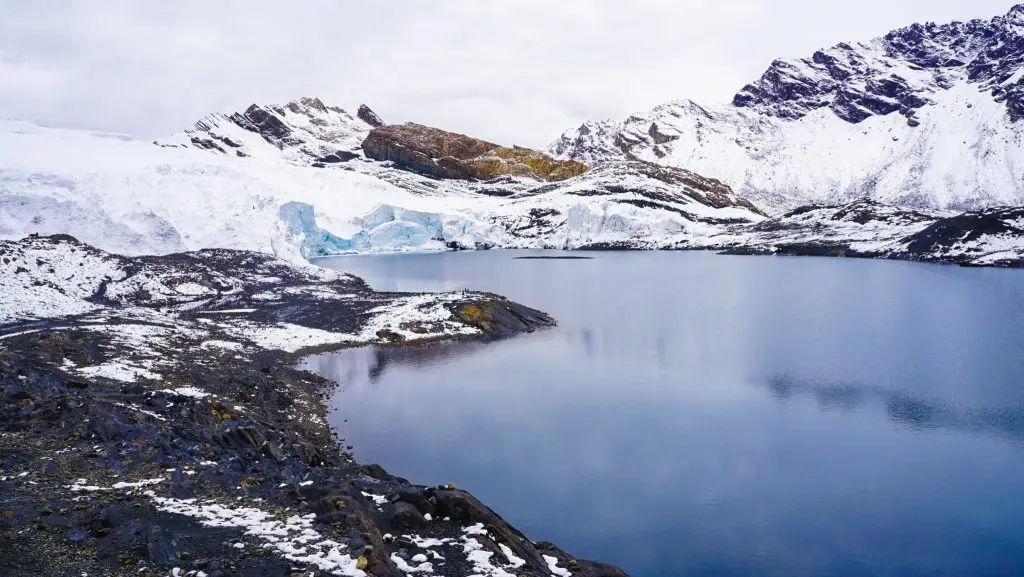 ---
And boy – what a day it was with absolutely unsurpassed views and stunning natural scenery! Easily one of the best tourist attractions in Peru!
There may be other glaciers around the world that are a little easier to get to, but I doubt there are many – at least no other Andes glaciers – that will give you such a spectacular experience in the middle of the mountains for only this much effort! I am completely in love.
If you want to experience your own natural high on a Pastoruri tour I recommend you talk to the guys at Galaxia Expeditions which helped us organise all our accommodation and tour needs in Huaraz. Run by a seasoned professional called Aldo these guys can not only help you with day tours but also longer trekking in the Huascaran National Park!
They are one of the best Peru tour companies to discover Peru with!