As any regular reader might know, traveling to UNESCO World Heritage Sites around the world is a bit of an obsession of mine. As of writing, I have been to 250+ odd UNESCO Sites, and I'm sure this will increase in the future.
I love the diversity of landscapes, the cultures, and heritage on display, the famous, the obscure, and the utterly undiscovered. And getting there is half the fun! From Tierradentro in Colombia to Huascaran National Park in Peru and even Rio de Janeiro in Brazil.
I have my top picks and personal favorites, but I want to know what others think! So to celebrate the end of my eight months in South America, I have reached out to my fellow travel blogger community to ask their opinions, what are the best UNESCO sites in South America – the place that really made their jaw drop – and why?
These are the responses below to inspire you to visit South America, and hopefully, to put these UNESCO Sites in South America on your bucket list! Enjoy!
I present….the best UNESCO sites in South America as told by other travel bloggers!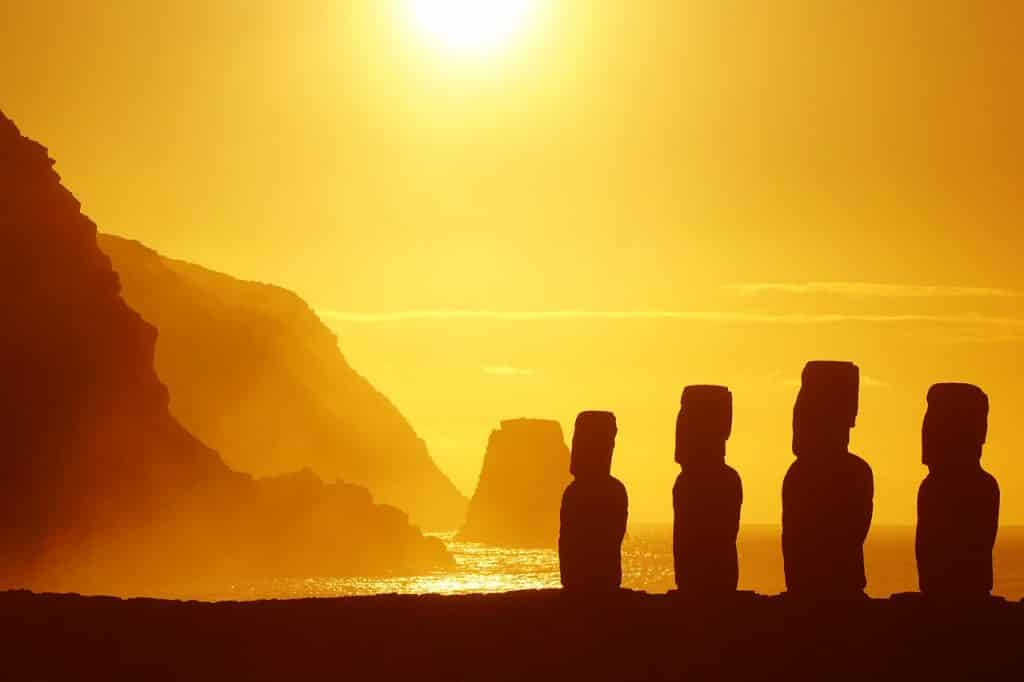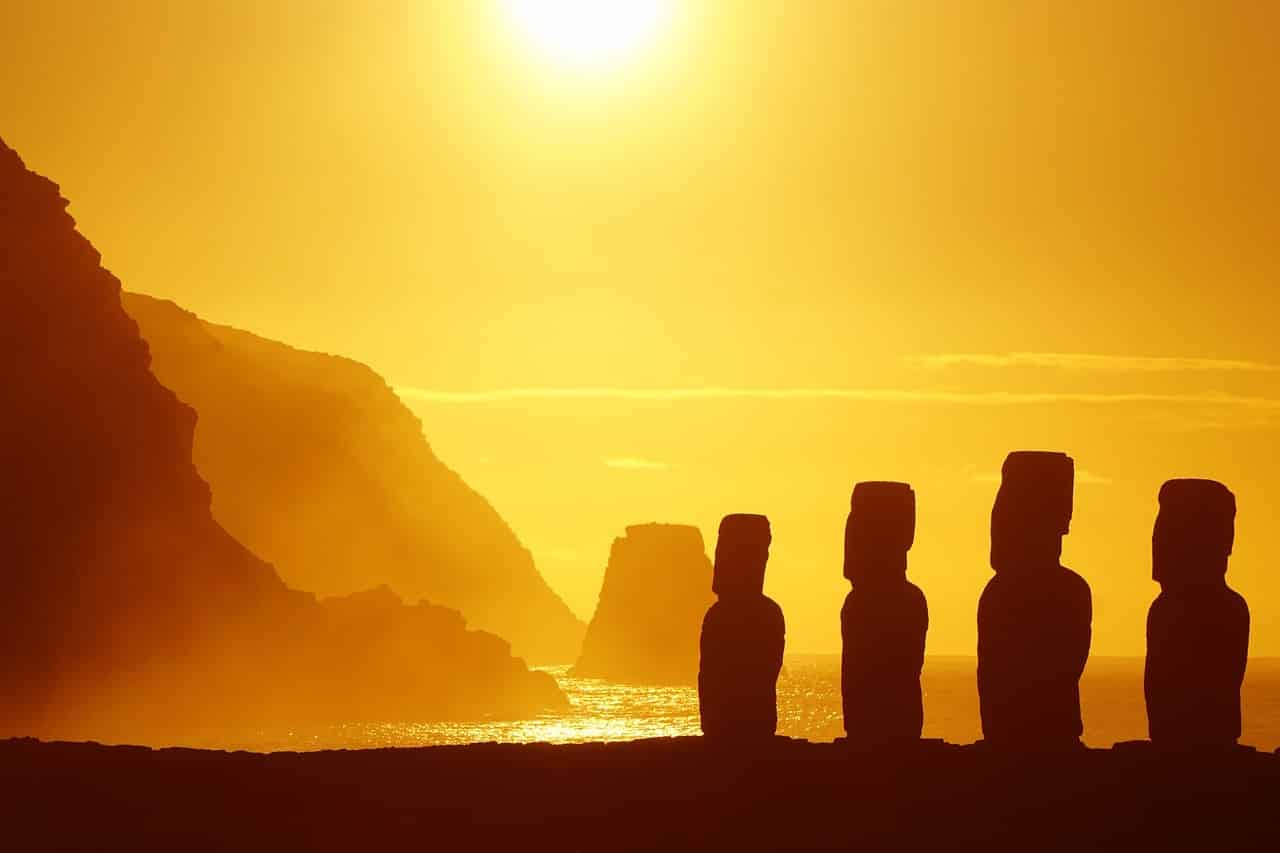 One can't even think of South America without thinking of Machu Picchu.
Thanks to its ancient history and exquisite beauty, Machu Picchu has become one of the most famous sites on Earth. Although it's always quite busy, Machu Picchu is a must-visit when in Peru. There's no picture that compares to the feeling of being there, with the clouds drifting by and the sun shining down.
While Machu Picchu can be easily reached from the nearby town of Aguas Calientes, it's much more rewarding to sign up for one of the various 3-4 day treks. My wife and I decided to take the Inca Trail, which brought us over the ancient path of the Incas and by other smaller archaeological sites along the way.
The entire area is beautiful, and waking up to coca tea each morning was a wonderful experience. On the morning of our last day, we were woken up in the middle of the night so that we could make it to Machu Picchu for sunrise.
Along the way, we skirted a couple of cliffs and saw through the mist thousands of feet below, the headlights of a train snaking its way through the mountains. It was so mystical. We then continued, and after reaching Machu Picchu, my wife and I decided to spend the entire day there marveling at its beauty.
P.S. Check out more from Matt on Instagram: @

MatthewGBailey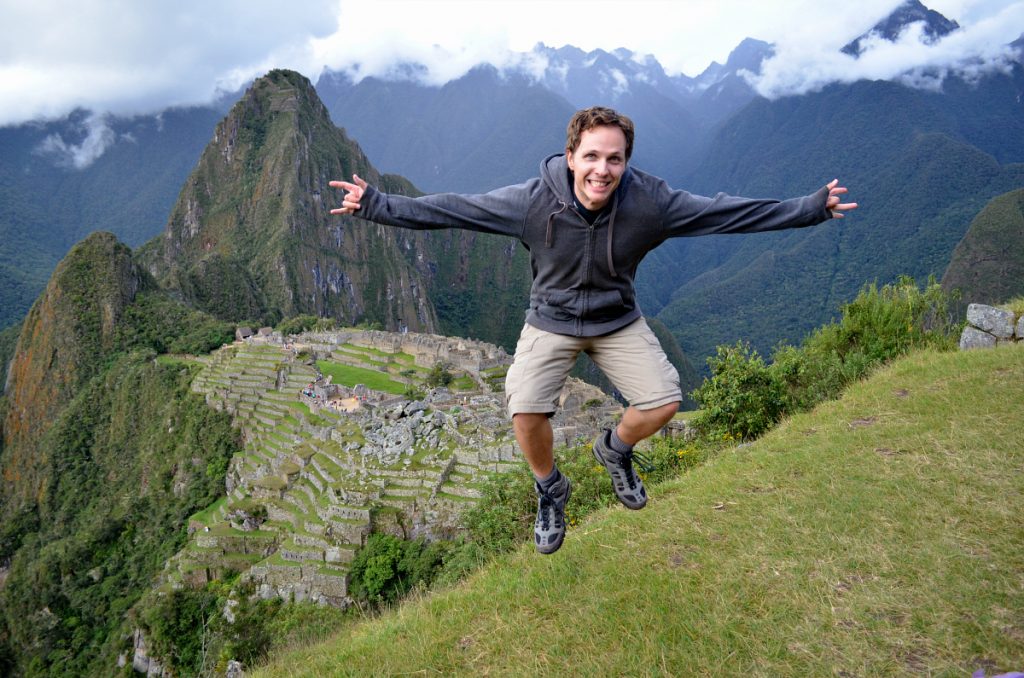 Sucre is a beautiful colonial city, and although it is the constitutional capital of Bolivia, you might never realize it. The pretty streets are lined with white painted houses with red-tiled roofs, and Bolivian culture seeps through every stone.
Awarded UNESCO status in 1991, Sucre was one of the first cities I visited in Bolivia, and I fell in love with it! I was there in 2015 and happened upon a local festival where all the people joined in street parades and celebrations. It was wonderful to see that the indigenous culture is still so strong here, especially given its capital city status.
Mainly from the Aymara, Quechua, and Guarani cultures, the indigenous people of Sucre know how to party! 'Cholitas' wear their layers of skirts and finest bowler hats with pride, and the gentlemen too scrub up well wearing beautifully sewn ponchos and hats. Elaborate dances to lively music paraded through the streets. Everywhere sights, sounds, and smells brought together an evocative mix to enjoy.
Away from the festival, I found sunny plazas, and wonderful views of the city below. The people here were warm and friendly and inquisitive about why I was there. Mass tourism still hasn't arrived in Sucre, and that is part of its charm. Bolivia is often overlooked as a destination, but it was one of my favorite countries in South America.
Be sure to visit Sucre, and see for yourself!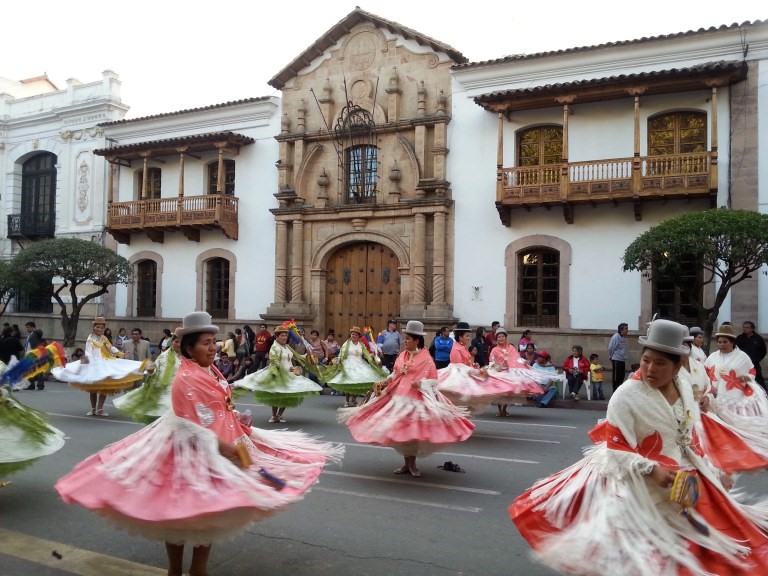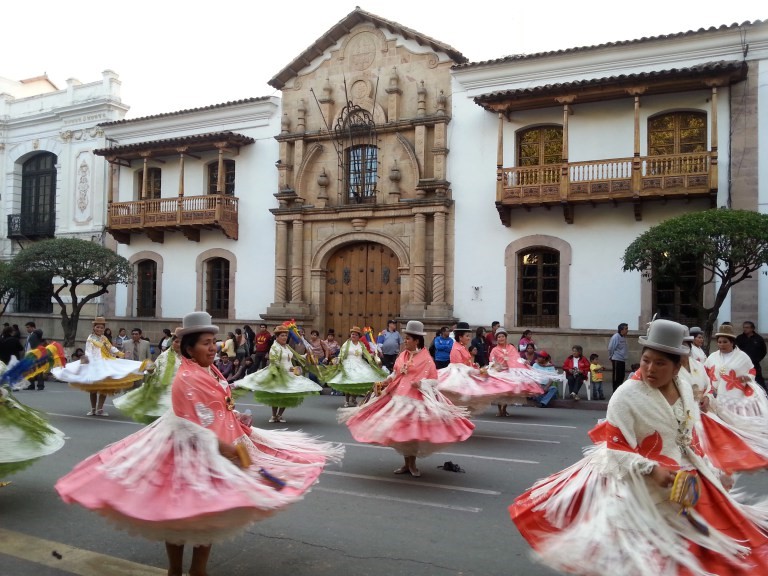 This photo of a large chunk of ice breaking from the front of the Perito Moreno Glacier illustrates at least in part why it's become one of the most important attractions in Argentine Patagonia in general and in the country's Los Glaciares National Park in particular.
Because it's a non-stop sensory spectacle in a visually stunning landscape of whites and blues with an equally compelling soundtrack of cracks, breaks, splashes and crashes served up in all-natural surround sound.
At times it seems ethereally other-worldly. When that chunk crashed through the still water of the Canal de los Témpanos (Iceberg Channel), the wake it produced was large enough to topple small boats. Which is why none are allowed too close. Perito Moreno is one of the world's most accessible ice fields, but please don't let that accessibility and the inevitable crowds turn you off.
Instead, consider yourself fortunate that you're able to see and visit one of the world's few glaciers that are actually growing –that in itself is astounding– and that it can be appreciated with such relative ease.
In the four hours I visited the five-kilometers wide glacier that towers an average of 74 meters above the surface of Lake Argentino, I saw at least half a dozen calvings and several smaller breaks. All were humbling and unforgettable experiences.
Located less than two hours from El Calafate, there are plenty of options available for reaching the park's southern sector where the glacier calls home; the cheapest is to take a bus from the central bus terminal. But book as soon as practically possible: tickets do go fast.
Just in love with this photo? I am, and trust me; there is more where that came from. Check out the Piran Cafe Facebook account for some serious wanderlust!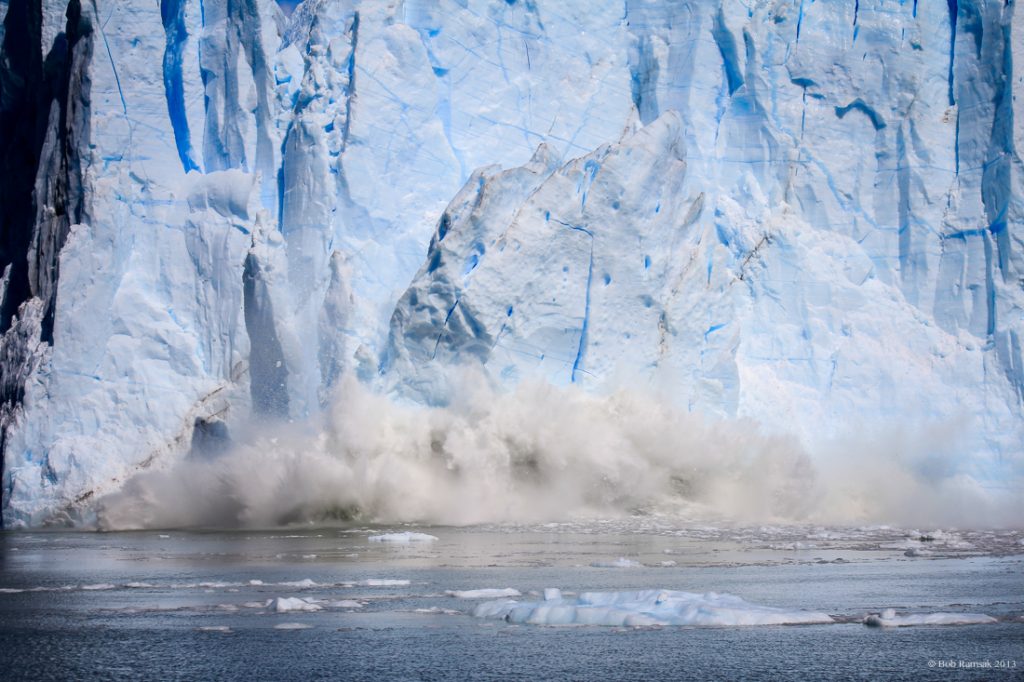 One of my favorite experiences in South America was visiting the Galapagos Islands in Ecuador. It's little wonder that Charles Darwin made some of his most important discoveries there!
The diversity of wildlife and their faith in humans make it such a special destination. I mean, where else can you find sea lions lounging on the public beaches, oblivious to humans around them. If you're lucky, you can even swim with them as I did! It's honestly quite a surreal experience swimming around in circles with another mammal. Moments like these remind me that we truly live in an amazing world.
Sea lions aside, there are tons of unique wildlife from whales, giant tortoises, to the adorable blue-footed boobies. If you love animal watching or getting close to wildlife in their natural habitat, this is the place to be. The volcanic landscape and fauna found on the different islands also seem to transport you to another world.
Go island hopping, explore ancient lava caves, or even cliff jump into an earth fracture at Las Grietas. For food lovers, you can find some of the freshest and best seafood in the region as well. Just watch your wallet, though, you can easily spend a lot if you're not careful.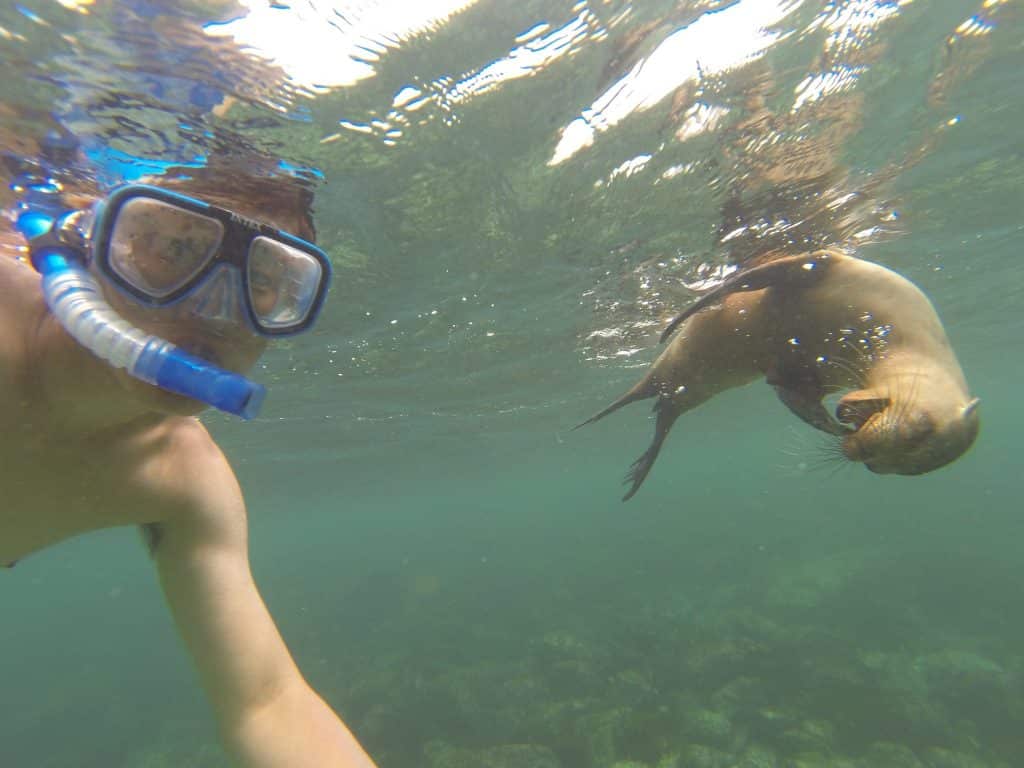 Olinda is a small historic city in Northeastern Brazil, just outside of Recife. Despite being famous for its colonial architecture and an artistic vibe, this little gem is often missed by visitors to Brazil.
Olinda was founded in the 16th century by the Portuguese, although most of the modern-day buildings in the city date back to the 18th century.
The historic downtown area, listed as the UNESCO World Heritage Site, is home to numerous churches, convents, art galleries, museums, restaurants, and shops. A lot of the buildings maintain the original Colonial character, and many are also painted in vivid colors or faced with ceramic tiles.
Walking around the historical center to admire the architecture and the city's unique character is an activity in and of itself. Olinda is known as one of the best places to celebrate Carnival in Brazil, as unlike the big party in Rio, Olinda's celebrations are free of charge and are open to anyone visiting the city.
Want to see more from these nomadic travelers? You can follow their adventures around the world on Facebook here!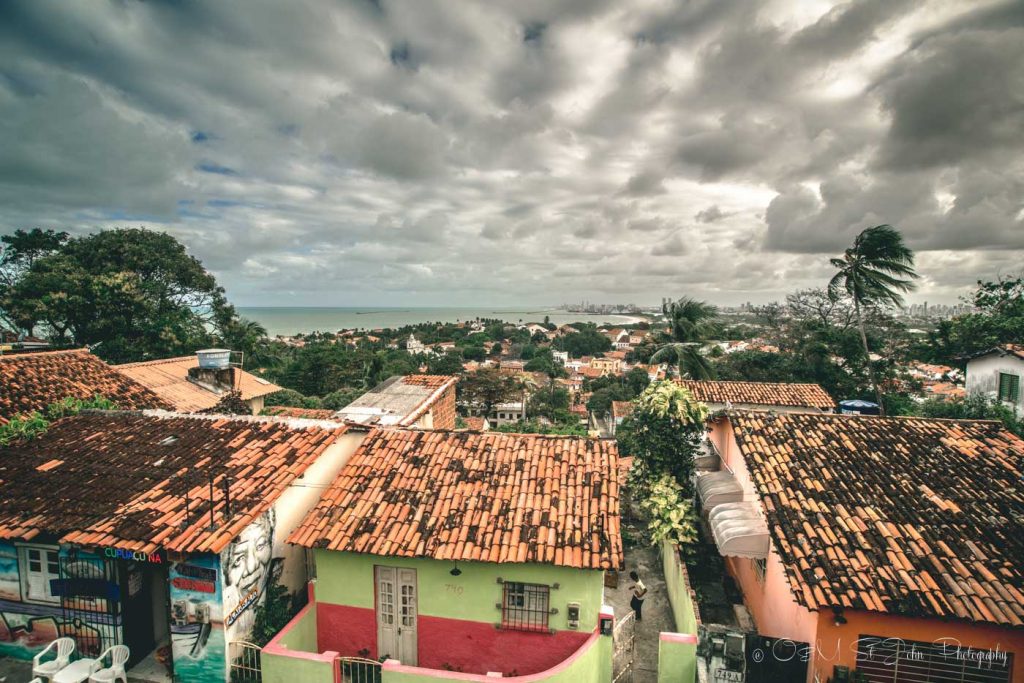 The Jesuit Ruins of La Santísima Trinidad de Paraná and Jesús de Tavarangue in the south of Paraguay are stunners! They have completely converted me to visiting historical sites. I'd say they are actually a combination of nature and architecture, along with a fascinating and somewhat brutal history.
They are beautifully set in rolling pastureland surrounded by ancient palm trees – and are incredibly peaceful. Founded in 1609, these buildings took some 150 years to be completed, developed with churches, kitchens, accommodation, and sustainable farmland surroundings.
Taking a day to wander the ruins, capture some beautiful photos and learn about the history of the Jesuit movement in South America generally, and in Paraguay's Guaraní community, in particular, is a day well-spent.
These sites were named a UNESCO site in 1993 and declared a Cultural Patrimony of Humankind. They are preserved carefully so that an important piece of the continent's history doesn't just crumble to dust.
The Jesuit movement was a feature of the Spanish and Portuguese colonization of the South American continent but, by contrast with the many atrocities committed in the name of the Kingdoms of Spain and Portugal, the Jesuits seemed to have had some force for good in the indigenous communities across Brazil, Argentina, and Paraguay.
I did say some good!
The history is fascinating and, if you're a movie fan, you might have seen The Mission starring Jeremy Irons and Robert De Niro, which explains (in a compact 125 minute, stunningly shot package) all about the missionaries and their missions in the area surrounding Iguazu Falls. Well worth a watch and well worth a visit!
Love Emily's style? So do I! Luckily, you can follow her adventures around the globe on Facebook!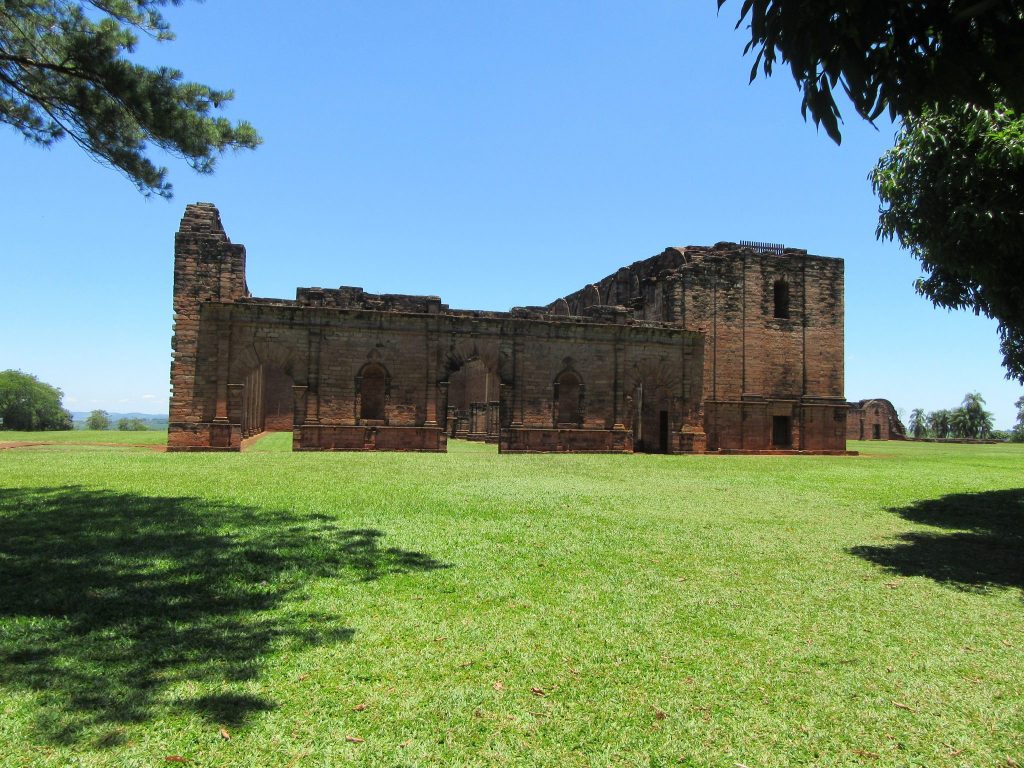 I hadn't heard much about San Agustin before I visited, so I was pleasantly surprised when I found a treasure trove of ancient statues and sculptures.
There are heaps of them, possibly as many as 600 throughout the region, with the tallest standing at around four meters. Some of them seem to be smiling, and some look quite frightening. I actually bought a small ornament modeled on one of the sculptures, and it's sitting on the windowsill staring through my soul as I write this.
Not much is known about the ancient Andean civilization which built them. It is thought that the bulk of structures, including around 40 burial mounds, were constructed between the 1st and 9th centuries A.D. The town of San Agustin is a great base for visiting the archaeological site as it's only a short distance away.
San Agustin is very different to the other historic sites that I visited in Latin America. The artistic and surreal qualities of the sculptures and relatively off the beaten path nature definitely make it one of the best places to visit in Colombia.
Check out more photos from Jon's adventures around the world on Instagram: @Jonistravelling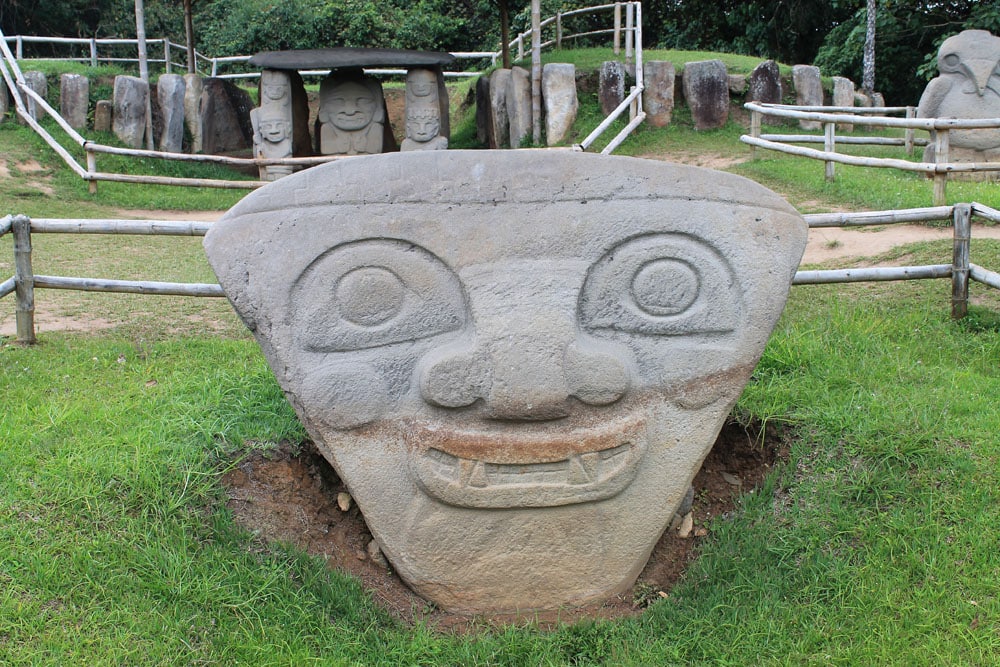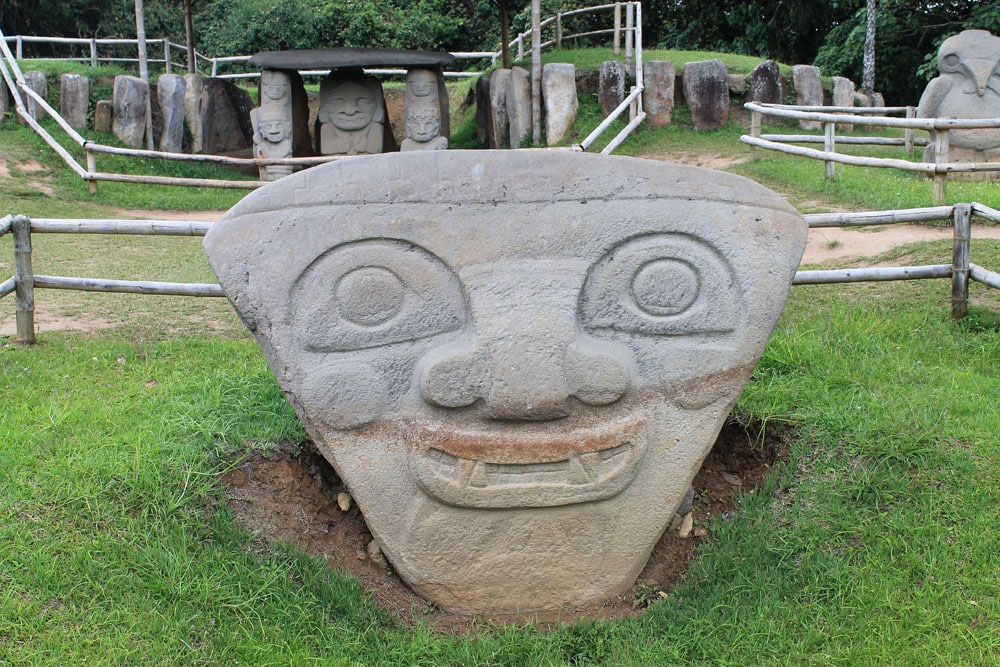 One of the best-kept secrets of the Chilean Patagonia, which can also be one of the highlights of your travel to Chile, is Chiloé Island.
It's a beautiful island where everything seems to move very slowly apart from the clouds on the sky that make the weather change constantly during the day.
On this island, you can find spectacular old wooden churches, which were declared "World Heritage" sites by UNESCO in 2000. What makes these churches special is the unique architectural technique that was used to build them. A style that was born by the carpenters of the ocean, and was influenced by techniques used during the evangelization era.
This includes special techniques of connections of wood that was reinforced using dowels. Some of the churches are very old, while others were rebuilt several times after they were burnt down, for instance. There are many churches on the island, but only sixteen of them are "World Heritage."
Most of them are found on the Big Island, while others in the smaller islands of the Chiloé group. The best part of the year to visit Chiloé is between November and March when the temperatures in Patagonia are milder.
It's worth dedicating at least three days to the island in order to have time to explore it.
If you want to see more stunning pictures from Gabor why not head over to his Insta account: @surfingplanet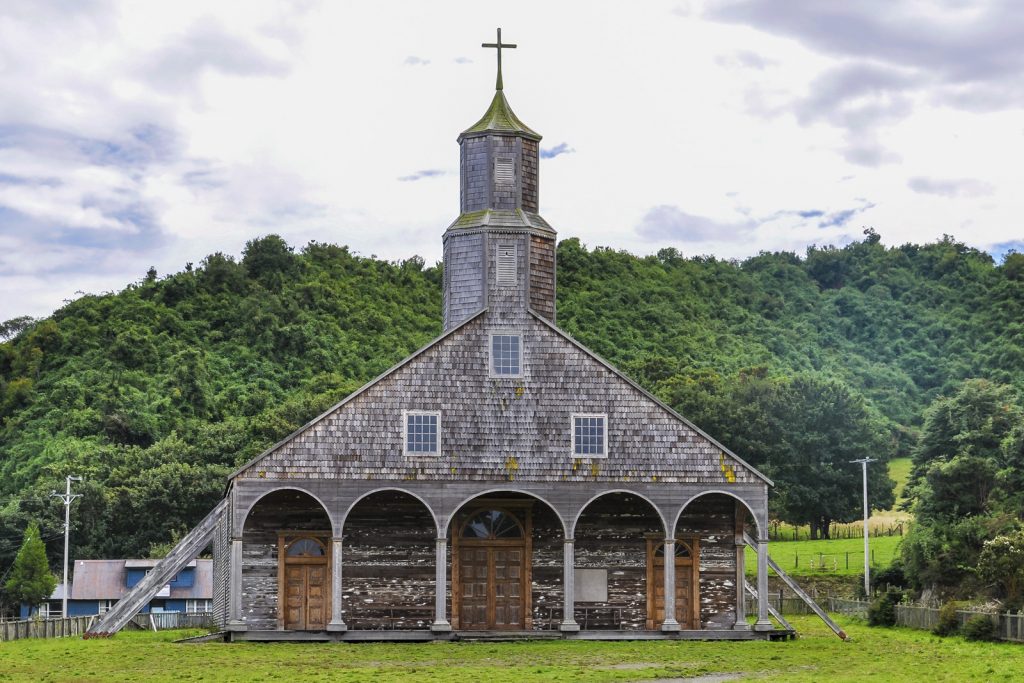 Three years ago, I turned 26 and didn't expect to celebrate it in one of the most famous landmarks in the world — the Iguazu Falls. I was crossing borders from Brasil to Uruguay, but if I wasn't, I would have never visited this place.
Often skipped because of its location (also not very easy to go here), the Iguazu Falls should be in your South American backpacking adventure list because it is the largest waterfalls system in the world. It is nearly twice as tall as Niagara Falls and wider than the Victoria Falls.
Compared to the Niagara that is surrounded by Western food chains such as Starbucks, rest assured that the Iguazu experience will be pure nature. Also included in the 7 Wonders of the World, the Iguazu Falls became a UNESCO World Heritage Site in 1984!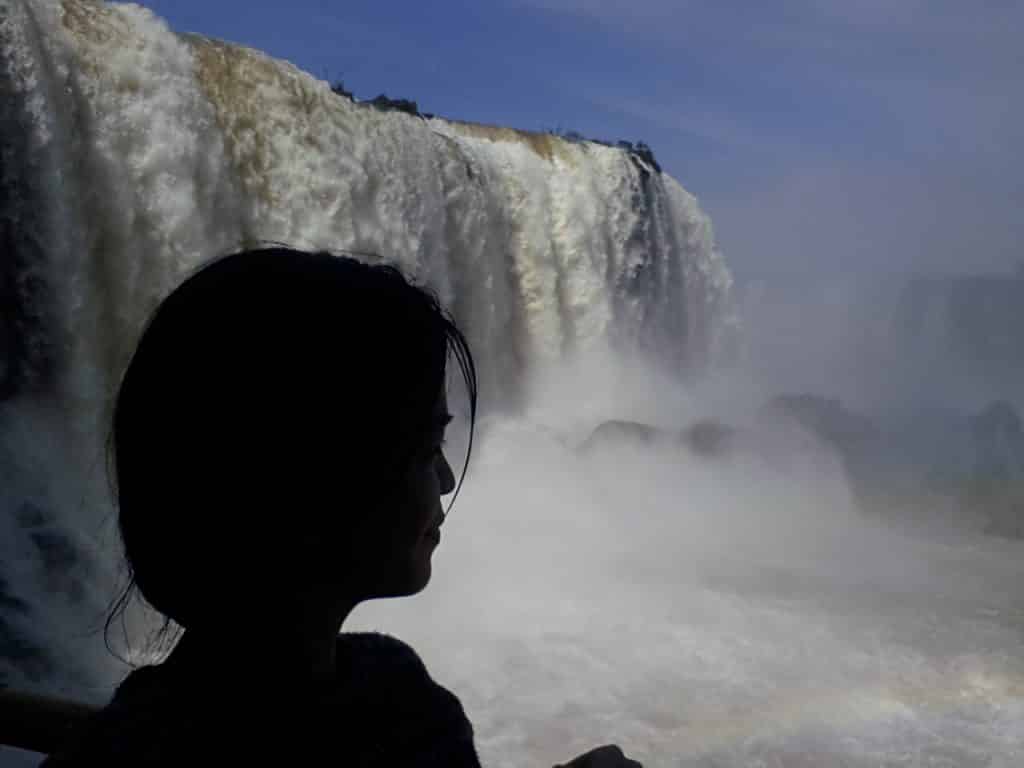 While not officially a UNESCO World Heritage Site just yet, Torres del Paine is on the tentative list, and still a must-see of South America.
In fact, you've likely already seen photos of Torres del Paine as screensavers or stock photos because Chilean's Patagonia is one of the most stunning landscapes on Earth. Icy glacial lakes feed the verdant land that snakes with streams and rivers, breathing life into the area.
The jagged peaks stand protectively overhead, shielding the region from what feels like the outside world. Basically, the edge of the planet, the national park is massive (826 square miles to be exact) and has more gems than anyone guidebook could ever do justice with simple prose.
The most notable sight of is, of course, the towering Torres, both impending and intimidatingly majestic, a constant reminder of nature's unwieldy power.
For more amazing photos like this, check out @lmonitz on Instagram. If you're debating between the W trek in Patagonia or Machu Picchu, this article may help make the decision a little easier.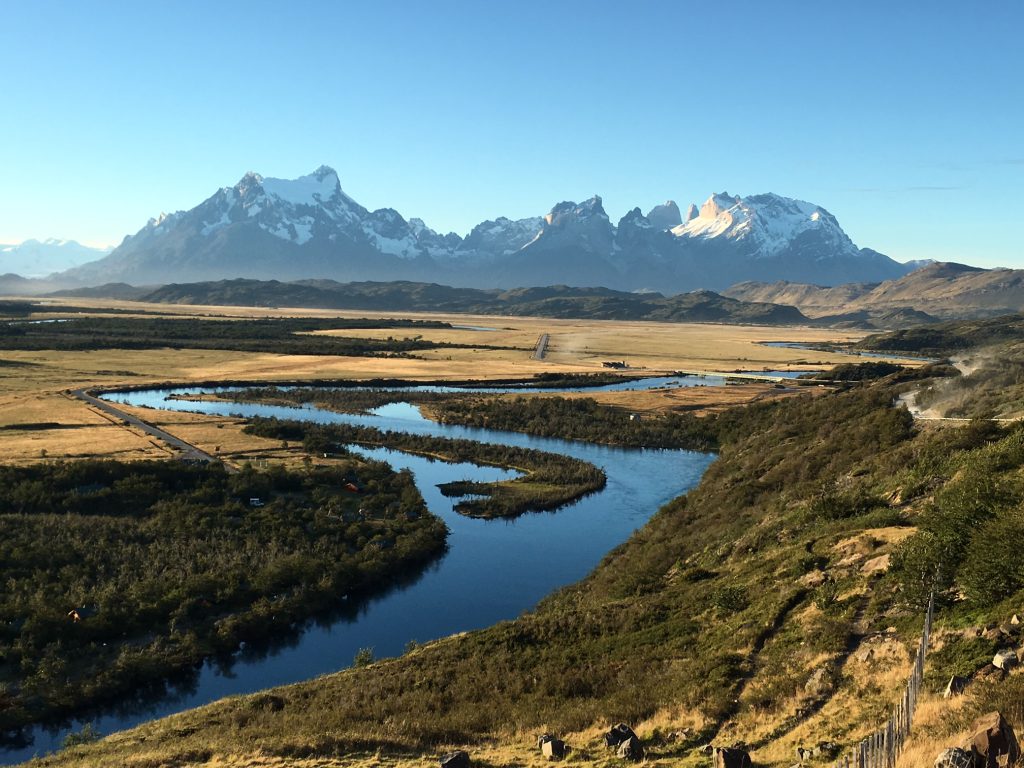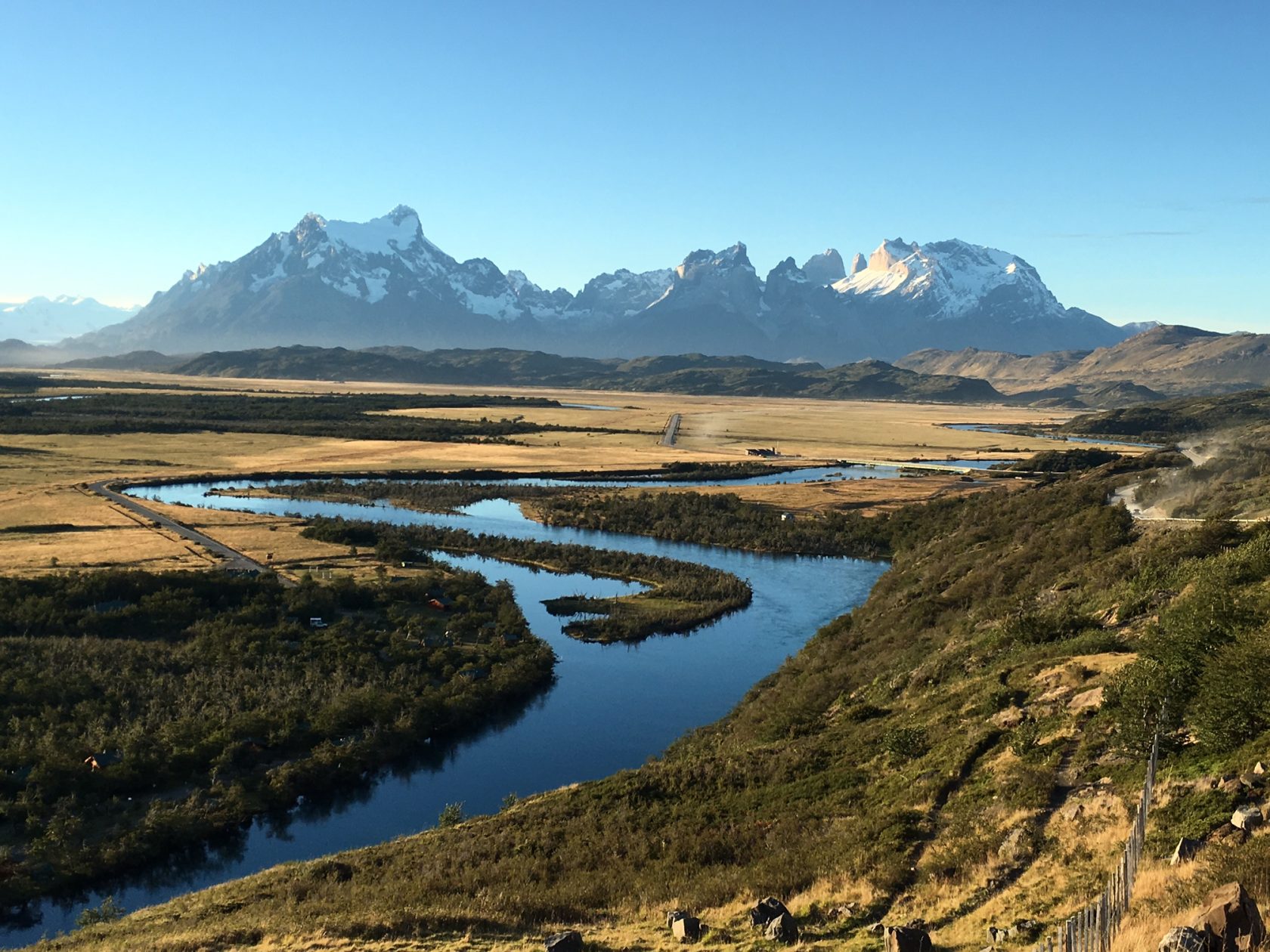 Further Things To Consider Before Any Adventure
Now you're all set and prepared to explore our big wide world, why not sort out everything else out all in one go? If necessary for your travel plans make sure you have brought proper travel insurance, protected your privacy by getting a secure VPN, compared all the top hotel booking sites to find just what you're after, reserved an unbeatable rental car price and - of course - booked the best flight deals!
Or maybe just forget it all and go for a last-minute cruise or effortless tour instead?
Many budget travelers (including me) indulge in worldwide airport lounge access, so we can experience luxury while still slumming it in economy. Naturally, we would never leave home without a more general travel guide since we couldn't possibly cover everything here!
Just add an adventurous attitude and plenty of smiles - they go a long way - and that about covers it all! Now go out, find your own path and don't forget to share your best inspiration stories with me on Facebook, Twitter, and Instagram...I'd love to hear from you!