The National Archaeological Park of Tierradentro in Cauca, Colombia is one of the most important archaeological finds in South America, which is surprising – because ask almost anyone who has visited Colombia and I can guarantee they haven't even heard the name before.
Located well away from civilization, in a remote valley in Southern Colombia's Andes Mountain chain, is Tierradentro – a series of over 100 Hypogea (underground tombs) dating from the 6th to 10th centuries, and the only examples of their kind in the America's!
There are so many places to go to Colombia, so it can be hard to narrow the list down. Yes we also loved Popayan, San Blas, El Rio Hostel and Cartagena…. But, trust us, the Tierradentro ruins are one place you are not going to want to miss!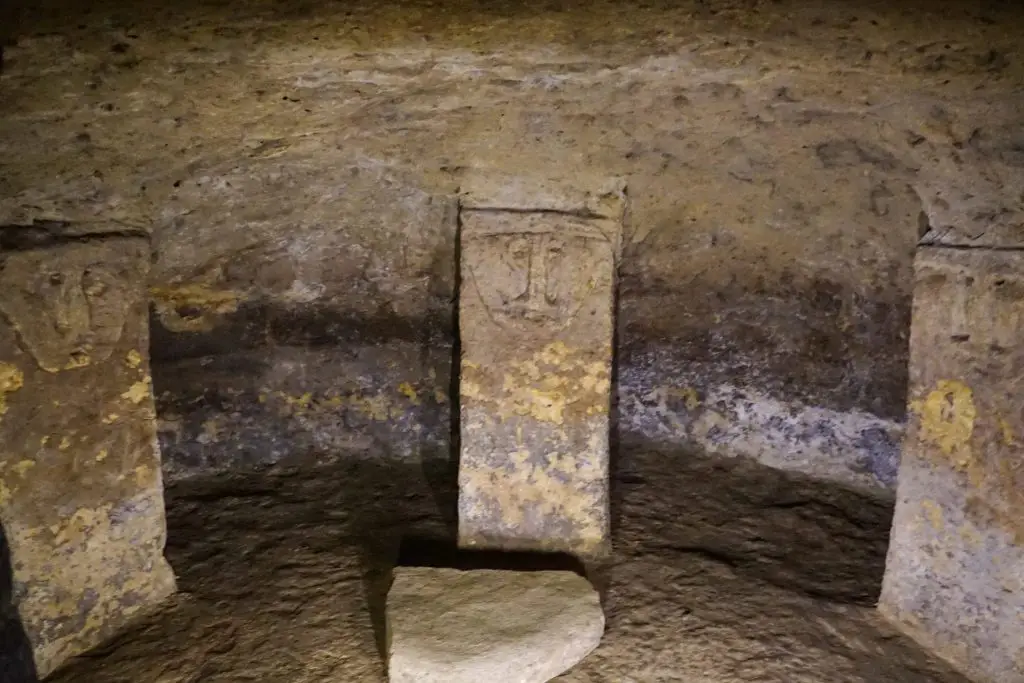 Your Guide To The Wonders of Tierradentro National Park – An Ancient Untamed Landscape Deep In The Colombian Mountains!
Some of these Tierradentro tombs are huge, up to 12 meters wide and buried up to 7 meters deep, while being carved directly into volcanic rock!
Many have sadly been deteriorated over time due to grave-robbers looting in the past, but some still have visible red and black design motifs inside which are thought to reproduce the internal decoration of houses from that time.
In fact in some tombs there exists a symbolic symmetry with the houses of the living, including rectangular floor patterns and slanted roofs, suggesting whoever built them placed a lot of importance on the continuity between life and death, and between the living and their ancestors.
Sadly the pre-Hispanic society that built these wonders has since disappeared, but the Tierradentro tombs leave an important trace of their everyday life, burial rituals and customs which is why the National Archeological Park of Tierradentro Cauca in Colombia has been inscribed on the UNESCO World Heritage List as a testimony to their cultural traditions.
---
If you are interesting in Tierradentro Cauca you might also like:
---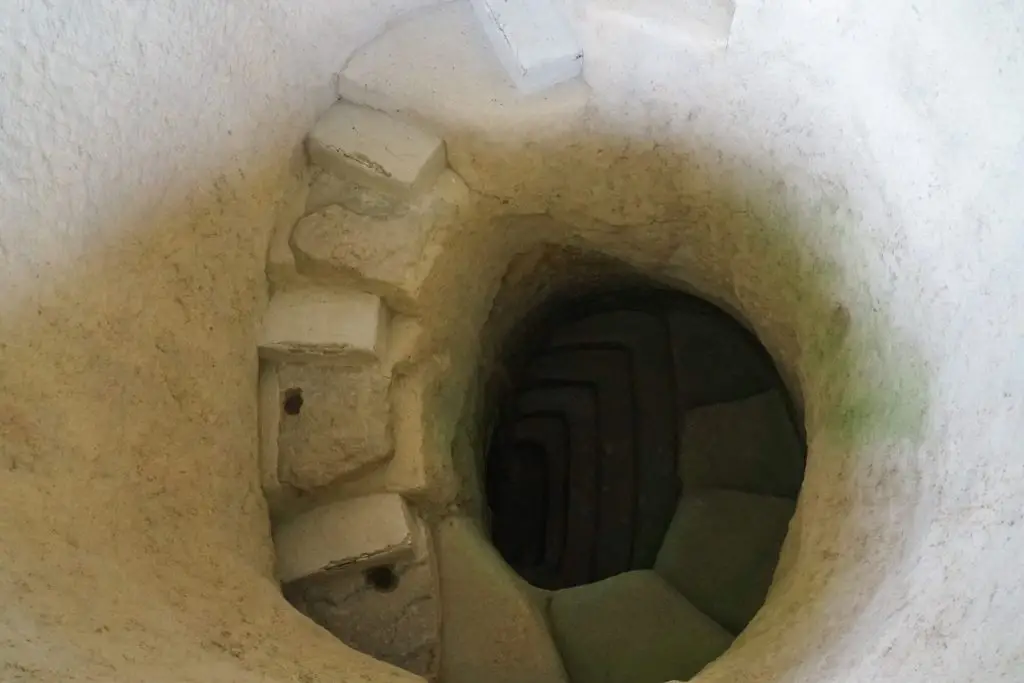 In addition to the architecture of the Tierradentro tombs, there are also some eerie anthropomorphic representations carved directly into some tombs, and stone statues depicting humans, which bear resemblance to the nearby-by San Agustin Archaeological Park.
The Páez indigenous people who currently inhabit this area bear no relationship to the earlier tomb building culture, and it is actually thought the tomb building civilization was distinct from the civilization which built the statues, who probably inhabited the area around 500 years after the tomb builders and could be related to the San Agustín culture.
In any case the relationship between the tomb builders of Tierradentro and San Agustin statue carvers is still unknown but it is remarkable how two groups in such an inhospitable, mountainous environment which has no obvious concentration of economic wealth, were able to organize and devote the manpower required to build such supremely unique archaeological wonders.
And there is more to see in the National Archaeological Park of Tierradentro than just ruins ….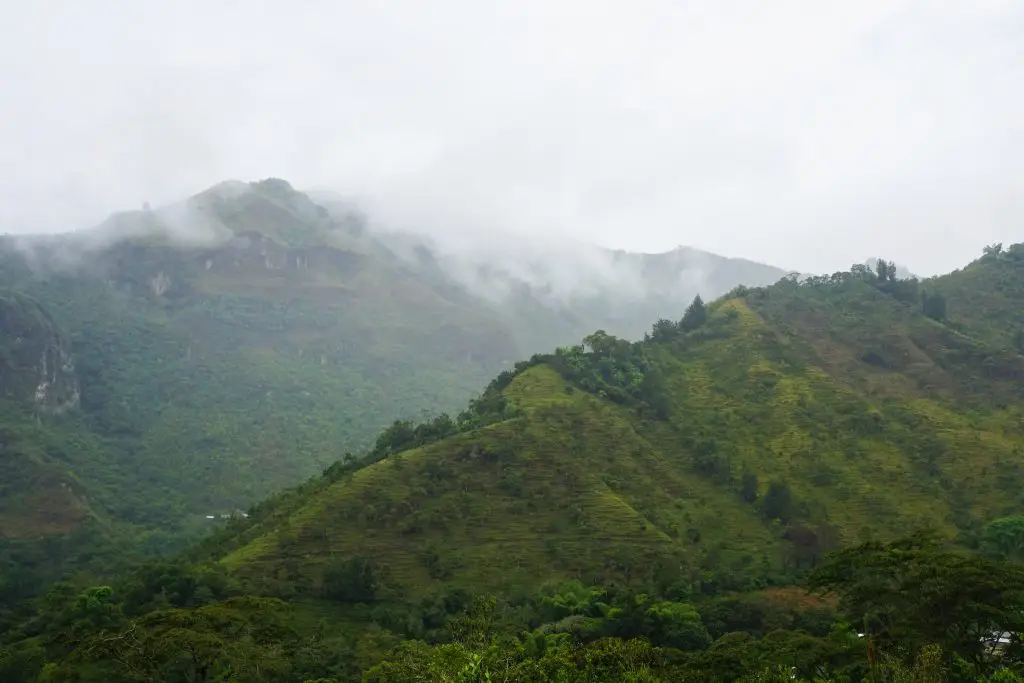 The ruins of Tierradentro National Park are in 5 distinct locations and are found dotted around the picturesque hills that make up this steep valley.
This archaeological treasure trove has yet to see mass tourism – probably due to it's rather inaccessible location – and there are only half a dozen accommodation options here, most of which are spare rooms managed by elderly residents.
And this is a huge part of the appeal!
With only a few daily jeeps to there, you are likely to not even see another tourist if you come in the off-season. In three days here we meet 3 other people and never had anyone visiting the tombs with us! It's a quiet sleepy town, no WiFi, basic hot water, no cash machines or credit cards – just a huge natural landscape, hospitable locals and a dog or two, which if you're lucky might tag along on your loop walk to the different tombs.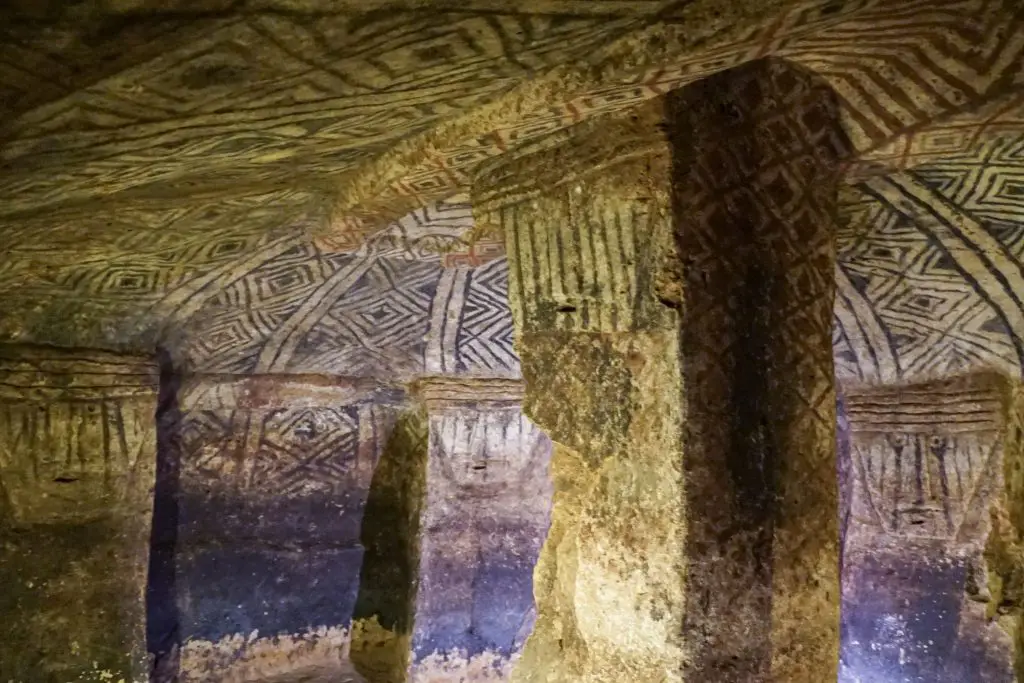 You can visit all the hypogea of the National Archeological Park of Tierradentro in a full-day, 14 kilometer walk but I would recommend to break it up over two half days and enjoy the incredible scenery and quiet rural life on show here.
Starting from the Tierradentro Park office there is a loop track going up one side of the valley to the small town of San Andrés de Pisimbalá and then coming back down the other side of the valley, but you can do one half on one day (coming back down the main road) and the other the next.
There is some tough uphill climbs and conditions can be muddy! Make sure to check out the Tierradentro National Park Museums at the bottom before heading out and don't forget to bring a torch incase the electric lighting is not working!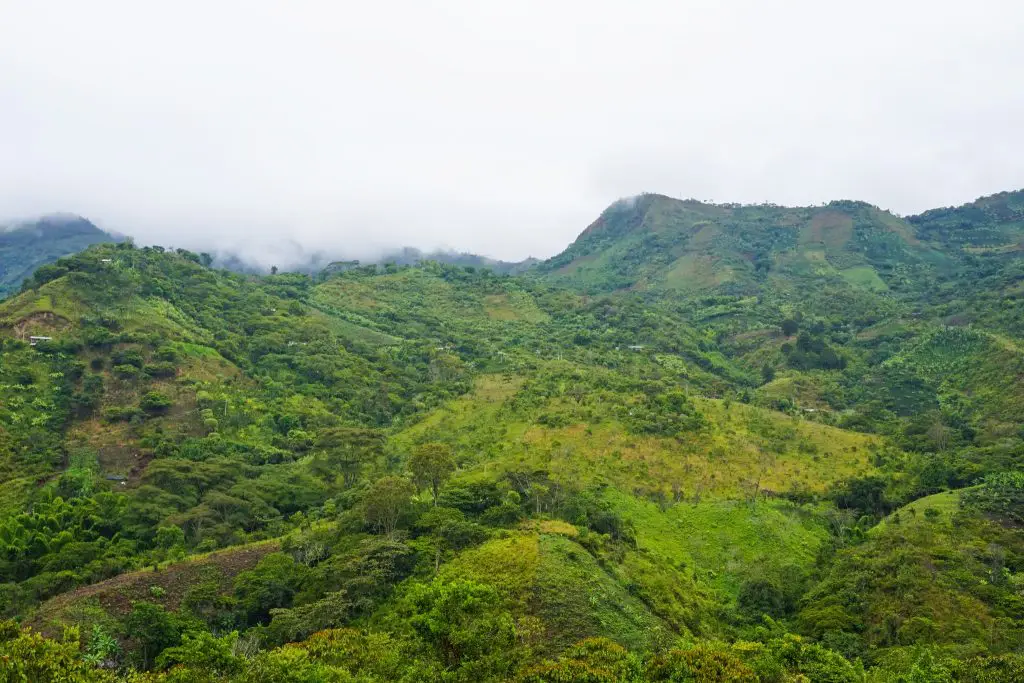 Accommodation in Tierradentro National Park Colombia
As previously mentioned there are a few basic Tierradentro accommodation options in the surrounding area but the best one is easily Hotel La Portada Tierradentro, located in the small town of San Andrés de Pisimbalá.
A beautiful wooden lodge with well-kept rooms, the owner also has the only restaurant in the area with some of the best-set menus I've had in South America. Expect fresh juice, delicious salads and a warm smile. Every room at Hotel La Portada Tierradentro has a view over the mountain and there are hammocks to take advantage of.
I recommend staying at least two nights at Hotel La Portada Tierradentro or any other Tierradentro accommodation, but if you are drawn in by the quiet rural life there are also plenty of other day hikes in the surrounding area.
Oh and the homemade ice-cream is amazing!!
Getting to Tierradentro Cuaca Colombia
A direct Tierradentro bus leaves Popayan's main bus terminal 6 times a day with Sotracauca, however only one at 10.30 am drops you directly in San Andres.
The others drop you at a junction where it is a tough 5-kilometer up-hill walk or you can try catch a ride with one of the local public transport jeeps. If you are going between Tierradentro and San Agustin you will need to take the 6 am not-direct Tierradentro bus via Garzon.
From there transfer to a waiting jeep/ pickup truck to La Plata where you again can transfer to the National Archeological Park of Tierradentro or the town of San Andres. Or if this is all too confusing Popayan Tours offers customizable, mutli-day group tours which are a lot easier!
Don't forget to bring in all the cash you need as there are no cards accepted or ATMs in Tierradentro – not even for your Transferwise credit card sadly…