Popayan is perhaps one of the most underrated tourist attractions in Colombia. Nicknamed La Ciudad Blanca, or 'the White City' Popayan is one of South America's most impressive colonial cities, with white-washed facades covering the entire old town, trendy cafes and imposing churches around every corner.
This under-the-radar city even has two UNESCO designations, one for intangible cultural heritage of humanity and one as a City of Gastronomy. The intangible cultural heritage of humanity designation offered in 2009 protects Popayan's Semana Santa (Holy Week) Procession during Easter which has been celebrated for the last 460+ years (book your accommodation well in advance for this one!).
This is something not to be missed if you get the chance!
In addition Popayan was declared a UNESCO City of Gastronomy in 2007, and is famed for its traditional food and production methods. Three distinct culinary styles form the fusion of flavour commonly tasted in Popayan today, pre-Columbian, African and Spanish cuisine.
And trust me – It's all delicious!
I also personally believe Popayan should be a UNESCO World Heritage site for the city itself, as it's far more original and beautiful than similar towns such as Cuenca in Ecuador or Potosi in Bolivia – but surprisingly it is not even on Colombia's Tentative List, so unfortunately it's not likely to happen any time soon.
Due to its location in the often skipped 'South Colombia' tourist pricing and associated 'hustle' has yet to reach here. With a small population of 266,000, a mild year-round climate and not a McDonalds or Starbucks in site this is the perfect sleepy town to lay back and explore at your own pace.
Come night however there is a thriving bar culture to cater for the local universities, so there really is something for everyone. To encourage you to visit this less-touristy region of Colombia I have decided to put together a list of the top ten things to do in Popayan! Hopefully you get to experience them soon!
Have you booked your accomodation for the white city of Popayan yet? Take a look at all the best accomodation options now to secure the best deal!
Top Ten Things to Do in Popayan: Colombia's Hidden Southern Gem!
Explore the Gorgeous White-Washed Old Town
The old town is one of the most extensive and well-preserved in South America and for many years was the capital of Southern Colombia before Cali overtook it.
Though badly damaged by an earthquake in the 80's you couldn't tell these days. Wander in the splendor, poke your head into building doorways and courtyards and take it all in.
Lace up your hiking boots and make a day trip to the Purace Volcano in Purace National Park Colombia
Often called Colombia's most beautiful volcano, Purace Volcano in the Purace National Park Colombia can be climbed independently but requires some luck with buses and a good level of Spanish.
For those who want an easy option to Purace Volcano and to go with new friends check with Popayan Tours if they have a trip scheduled! They run out of Hostel Trail, one of the best hostels in Popayan!
Take a Bike Tour to Explore the Colombian Countryside
Nothing beats the feeling of wind in your hair and fresh air in your lungs! We took an amazing bike trip in Popayan and was one of our favourite memories in South America.
Rural, untouched, Colombian life is on displace with plenty of warm smiles to go with it!
Relax and Soak Away Your Worries in the Popayan Hot Springs
The Coconuco thermal pools are located a short one hour bus trip from the city center, deep in the mountains.
Let hot water warmed deep in the Earth's crust wash away all the stress and grime that day-to-day travel inevitably brings!
Enjoy the Cities Free Concerts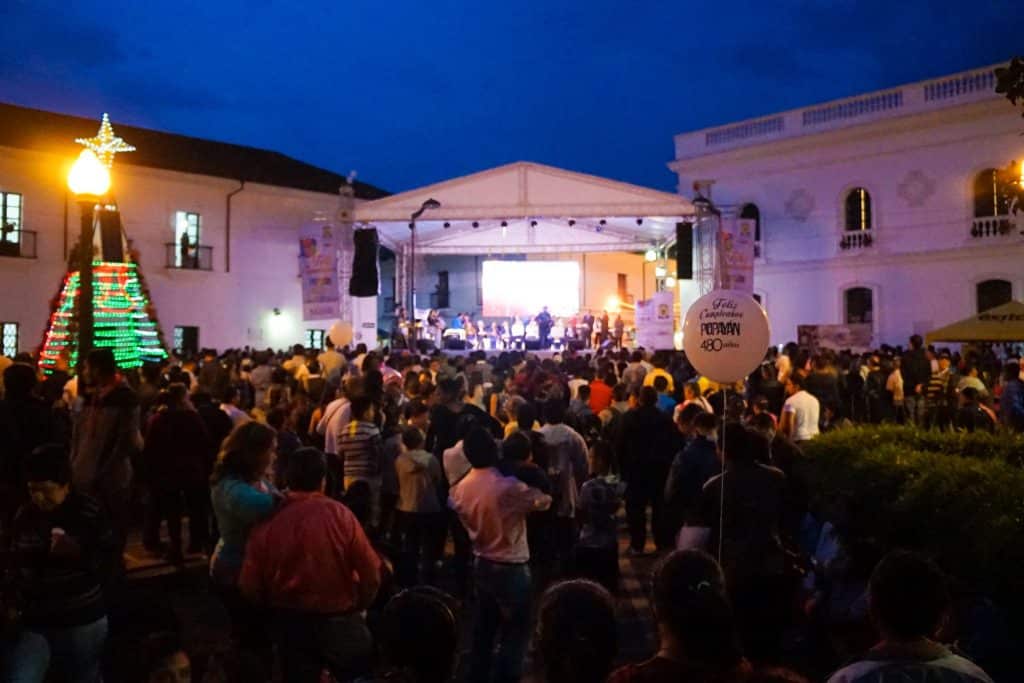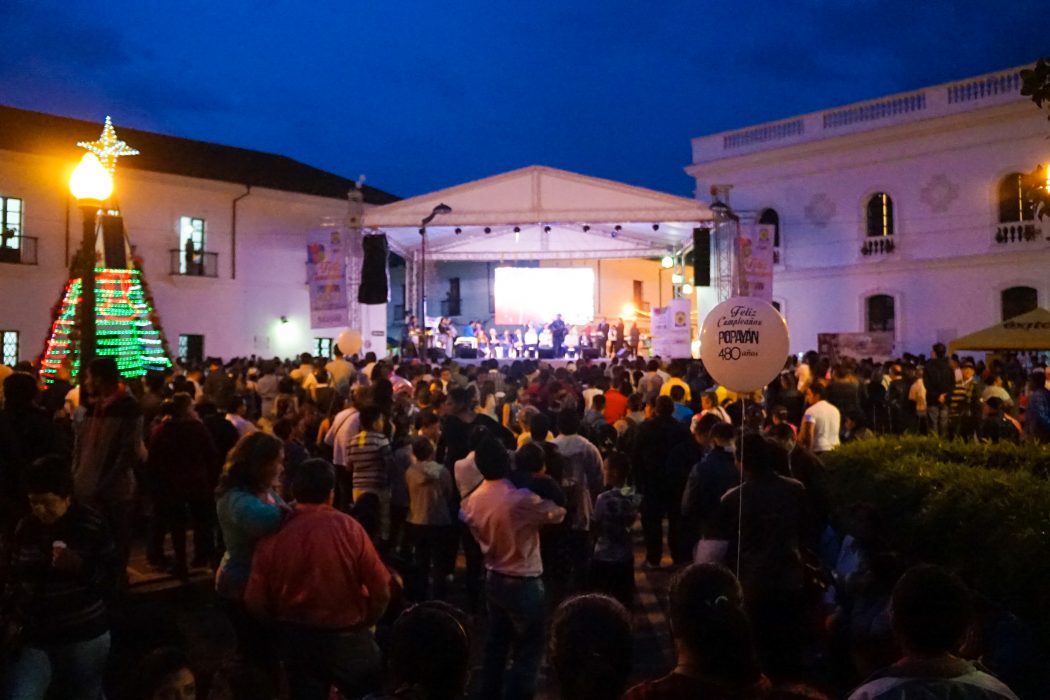 It's not exactly a secret that Colombians love their music and – even more so – love to dance! Popayan is no exception and there are plenty of free festivities year round to interest travellers and locals alike.
The city hosts a free concert in the main square on the first Thursday of every month but there are also plenty of other ones that pop up.
We were lucky enough to arrive in time for the 480th birthday celebrations of this gorgeous city! Obviously hard to force onto a things to do in Popayan Colombia list but if ask when you arrive at your hostel and something might be on to fit in with your time here!
Expand your mind at the Museo de Historia Natural
Apparently Colombia's best natural history museum…While the claim is dubious, its certainly cheap and cheerful!
A good chance to acquaint yourself with the local wildlife and laugh and some of the ridiculous poses the taxidermist chose all those years ago.
Lap up the View from El Morro de Tulcán
El Morro de Tulcán is a 'hill' crowned by a statue of the town's founder, Sebastián de Belalcázar, and offers unparalleled views of Popayan.
It's also said to be the site of a buried pre-Columbian pyramid, so consider that while you marvel atop it at the regions strikingly red sunsets.
---
You might also like to read:
---
Marvel at the Humilladero Bridge
The Humilladero Bridge was once the major entrance into Popayán and was supposedly built so that priests in the city center could cross the river to help out the poor.
It may no longer be the main city entrance but is still one of the most important historic monuments in Popayan. Will be even better with the planned riverview park Popayan takes action!
Try the Local Cuisine on Offer
You know what they say – When in Rome! This town is full of great food finds both on and off the streets, and don't be afraid to try everything!
One of our weirdest finds was hot chocolate with cheese…Yes they mix them together! While it's not exactly life affirming, it's an interesting combination that's not to be missed.
Gawk in awe at the extensive collection of the Museo Arquidiocesano de Arte 
Religioso
A collection of religious art that is sure to impress even the most avid atheist.
The tour in Spanish is worthwhile, but even if you don't speak the local lingo the sparkling gold and silver and impressive artworks are enough to make you stay for hours on end!
Look out for Mummies at the Iglesia de San Francisco
The most beautiful colonial church in Popayan. Only open during mass but be sure to pop in and check out the stunning alter and ornate architecture.
A must do on any things to do in Popayan Colombia list! Also ask to see the ossuary where six mummies were discovered after the 1983 earthquake. Spooky!
So what do you think of these top ten things to do in Popayan? Surely one of the most beautiful cities in South America and an undiscovered diamond-in-the-rough of Colombian history! And that Purace Volcano – WOW!
While you are in the area also don't forget to check out the country's two most important archaeological sites – San Agustín and Tierradentro. You won't regret it!
And don't forget to take a look at the accomodation option on Popayan … Most have free cancellation so you can book in advance secure in the thought that you booking is as flexible as your plans!