Adrenaline filled mountain biking and a calm and tranquil walk amongst a secluded palm forest… Not exactly a likely mix right?
But somehow it works, perfectly, in the itinerary offered by Salento Cycling – a wild and crazy yet beautiful and peaceful day trip into one of Colombia's greatest secret spots: the Carbonera Forest, the world's biggest palm forest!
The Carbonera Forest is quite simply incredible! Located in a rugged, mountainous region just 25 kilometers from Salento it is the largest palm tree forest in the world!
With over 1.5 million palm trees you'd expect it to be one of the main attractions in Salento but somehow, the Cocora Valley, with only 900 palms gets all the visitors.
Go figure right?
Well, the good news is that this means you will have the Carbonera Palm Forest all to yourself.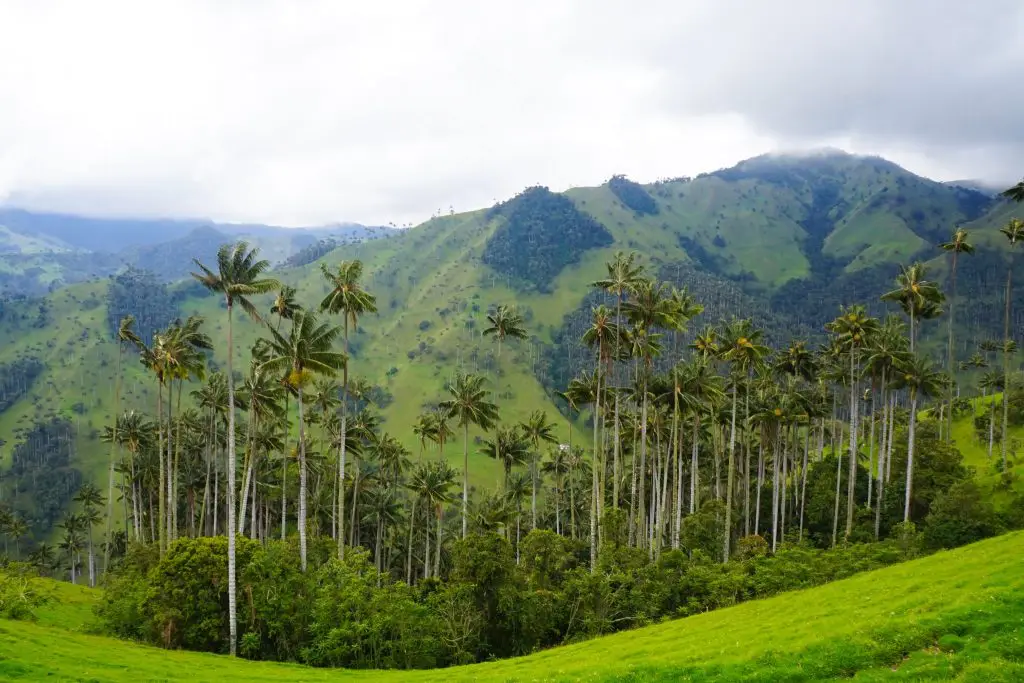 Salento Cycling Colombia: Mountain Biking In World's Biggest Palm Forest! 🌴
This unique spot is still barely mentioned in any guidebooks, there is no public transport here and no-one selling anything. How we got so lucky as to stumble upon this open secret I'll never know.
You can simply wander between these giant trees and relax surrounded by pristine nature. As one of my favorite travel quotes goes: Study nature, love nature, stay close to nature!
Also, did you know that Colombia´s national tree is this same wax palm which is one of the highest growing palm trees in the world and can reach a height of up to 70 meters!! Neither did we, but lucky the guys at Salento Cycling are well trained in the area's history and ecology, as well as cycling!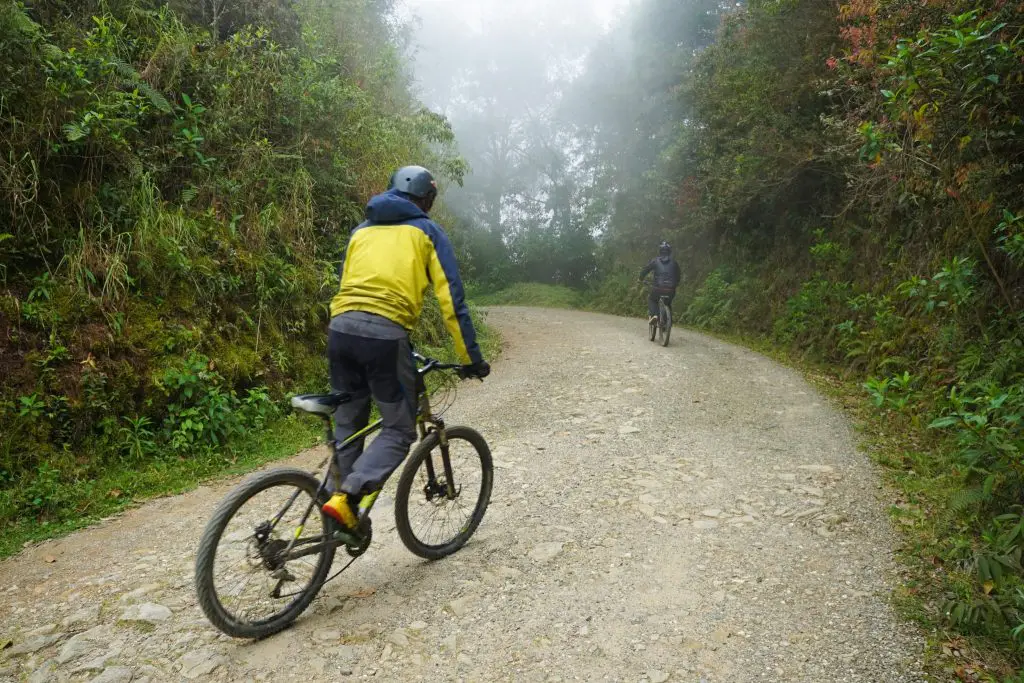 To begin our Salento Mountain Biking adventure we left their office in the morning and headed up into the mountains. The road/trail you head up is the one you will come back down later in the day, and we never came across another car the entire day!
The drive up offers some of the most spectacular views of the Cordillera Central, the highest of the three branches of the Colombian Andes. We headed up for about an hour in our little pick-up truck, chatting away with our small group and getting comfortable together.
Out of the 8 of us, 5 were Dutch if you can believe it, and it seems to be a common trend in Colombia…
Well, I guess they are also just attracted to cycling!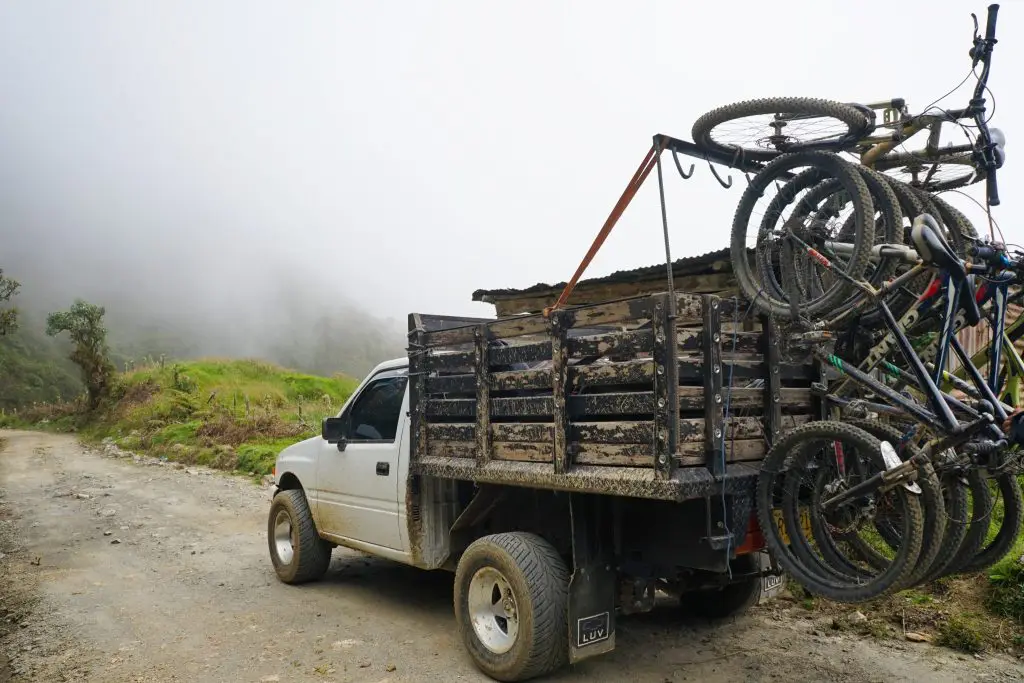 At 3,400 meters above sea-level, we stop at what feels like the top of the Andes while the guys set up our bike for us and we got snap happy with the incredible view. What can I say, it was completely transfixing!! I swear, every day in Colombia we see something amazing but on our Salento Mountain Biking tour it was more like every few minutes!
And that might still be an underestimation… This area of the world is truly mind-blowingly gorgeous.
We jumped on our bikes and began the first section of our Salento Mountain Biking trip, an 8 kilometer ride down to the Carbonera Palm Forest where you can get familiar with the bike and check everything is in working order. As we headed along the road the wax palm trees started to appear in the valley around us and got progressively thicker and thicker.
We had to resist the temptation to stop every few meters, but the view just kept getting better and better until we arrived at the Carbonera Palm Forest. And boy – was I impressed!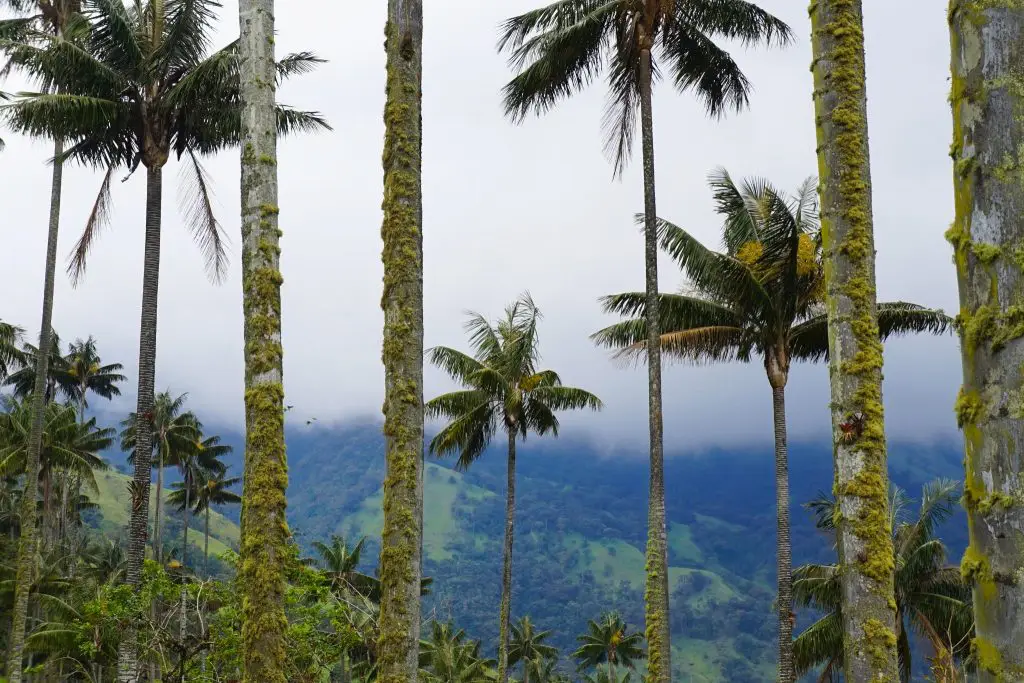 Welcome To The World's Biggest Palm Forest!
It sadly is extinct in Ecuador and can only be seen in the cloud forests in this area of Colombia where it lives in the hollow trunks of the palms.
Even today however it is rare to see these guys, so to see a flock of 30 was an incredible memory and a reminder that it is never too late to turn it around!
Sadly I was too mesmerized by their sight and sound to get a photo but I did get one of a couple of gorgeous Black-billed mountain Toucans which landed just meters in front of us shortly after…
Nature sure does provide to those who seek out her splendor!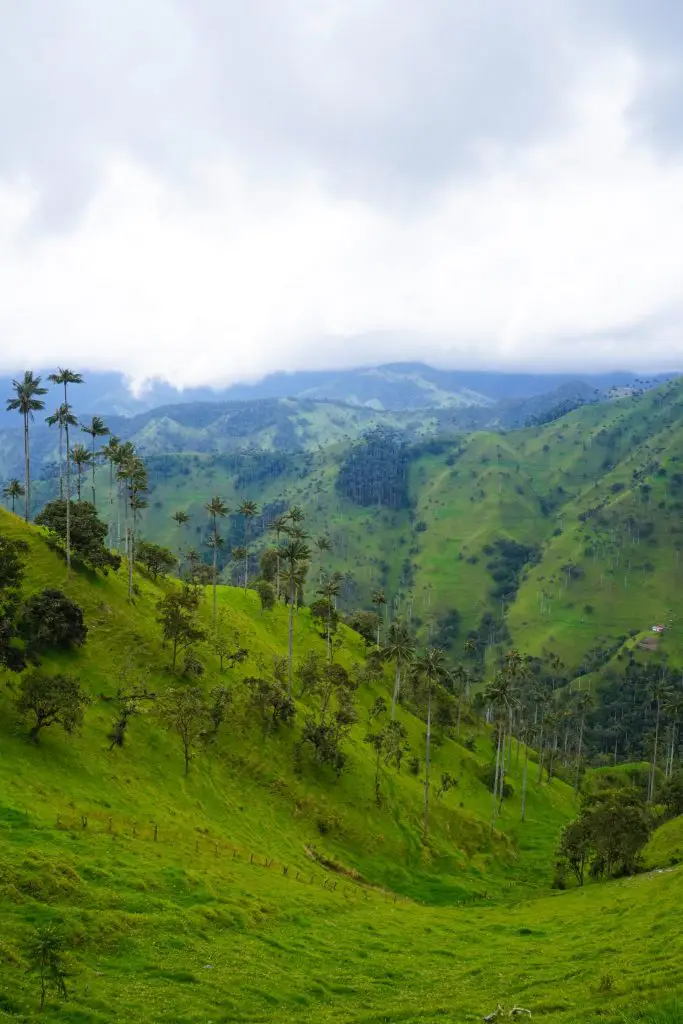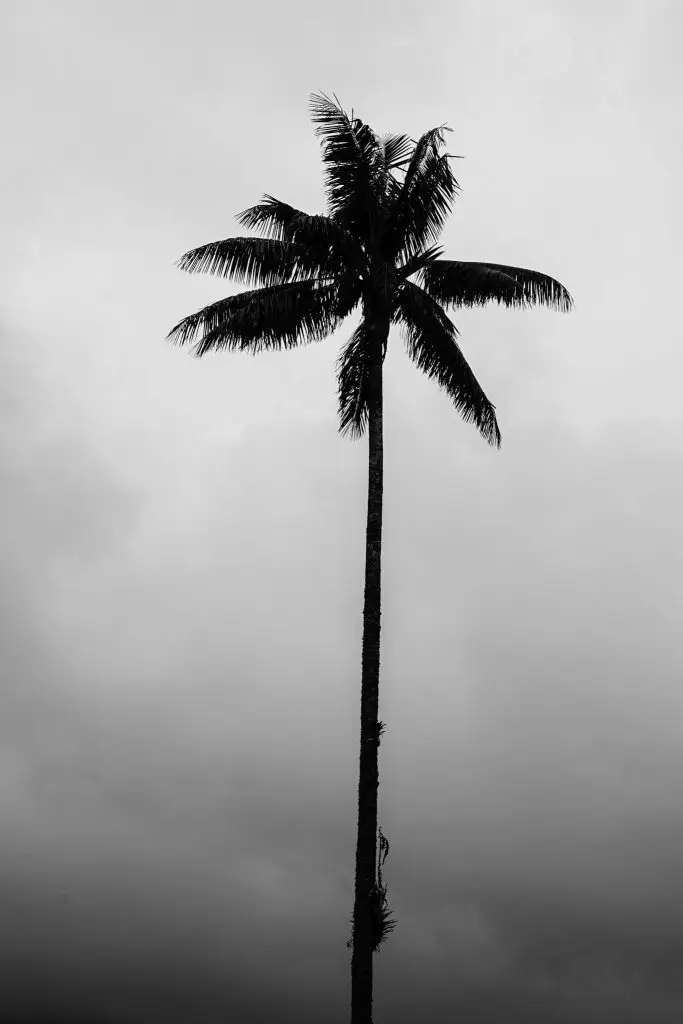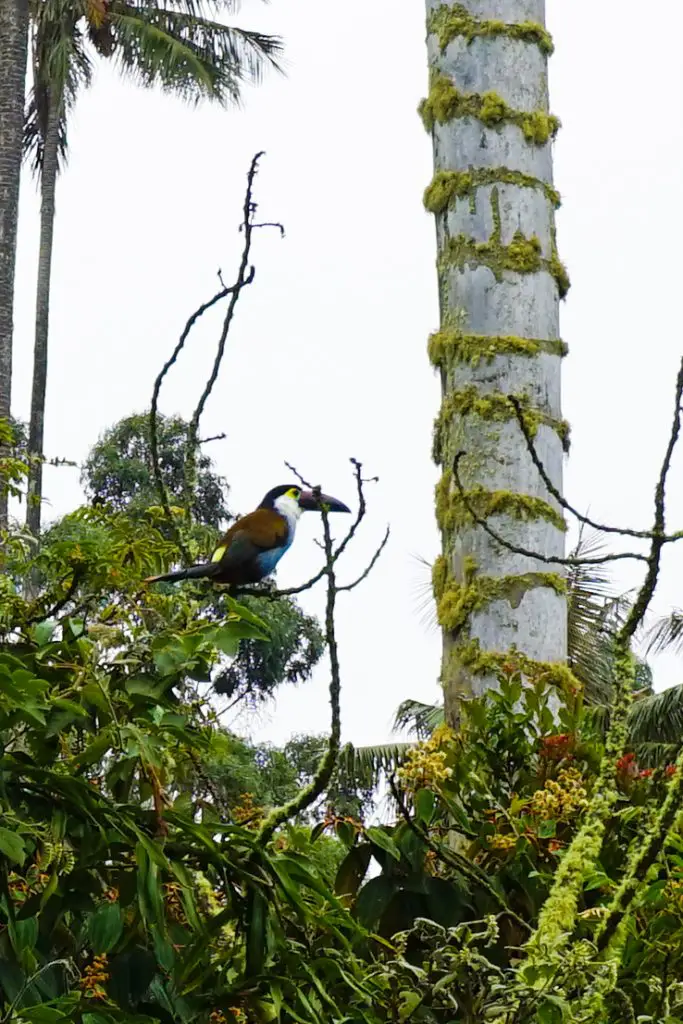 On our walk we also got the learn about the long term sustainability of these Palm forests and learned that their biggest threat is habitat disturbance, over-harvesting, diseases and – surprisingly – cows!!
Previous there was extensive harvesting of wax palm, which were traditionally cut down each year for the Catholic celebrations on Palm Sunday, but the wax palm is now a legally protected species in Colombia.
While the Carbonera forest is seen as largely sustainable in the long-term the same cannot be said for the Cocora valley where cows routinely eat the young palm tree sprouts, therefore there are now only 900 left there and will likely all gone in the next 50 years with no new trees able to grow!
Luckily the Carbonera Forest with its 1.5 million trees is likely to be around for a long time as cows have been removed from large areas and with the increase of sustainable tourism initiatives. Like those of Salento Cycling, it is expected they will be fully removed and the forest will likely expand in the future.
After our information (and other-worldly!) walk a lunch was served on a perfect hilltop out-look. I dare you to find a better setting to fuel up before a bike ride.
Better yet, the food was incredible – prepared by Brunch (A Salento institution!!) and included a slice of their legendary peanut brownie. None of your stock standard cardboard tasting tour lunches here!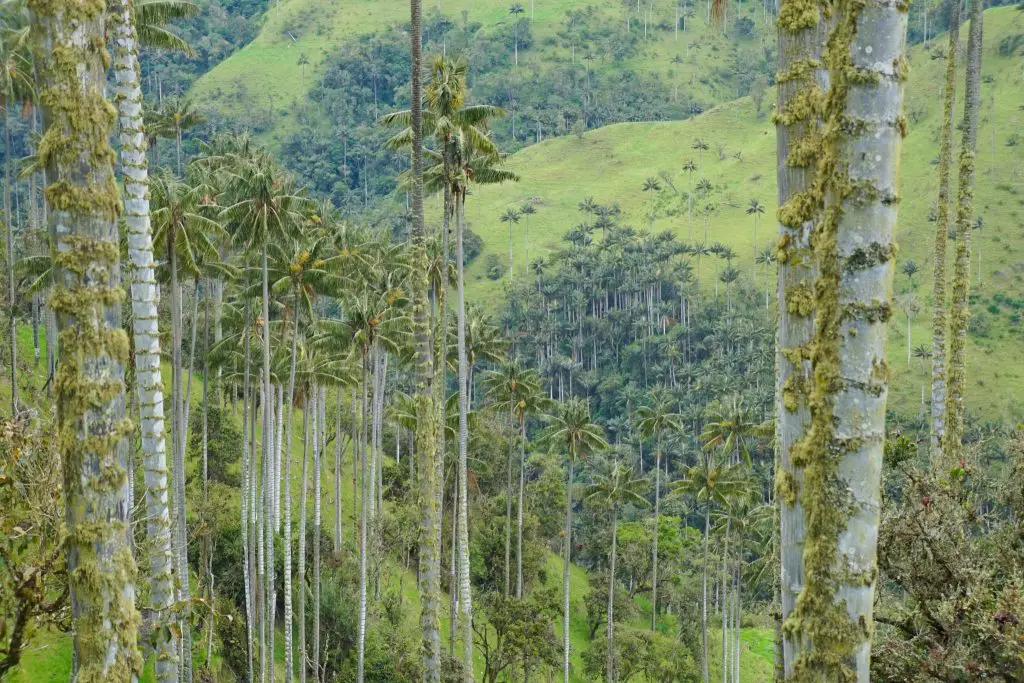 Following lunch, the real adventure began as we headed back to the top of the Andes and began our 31-kilometer descent down the other side to Salento, and for those who are skeptical – YES!
It truly is entirely down-hill so if your not too fit don't worry, you can just let gravity do its thing. The scenery as we whizzed by was absolutely mind-blowing as the clouds rolled over and covered the dense forest, allowing for spectacular views over the mountains when they cleared for a few fleeting minutes.
Here you can go as quick or as slow as you want and there is no time limit.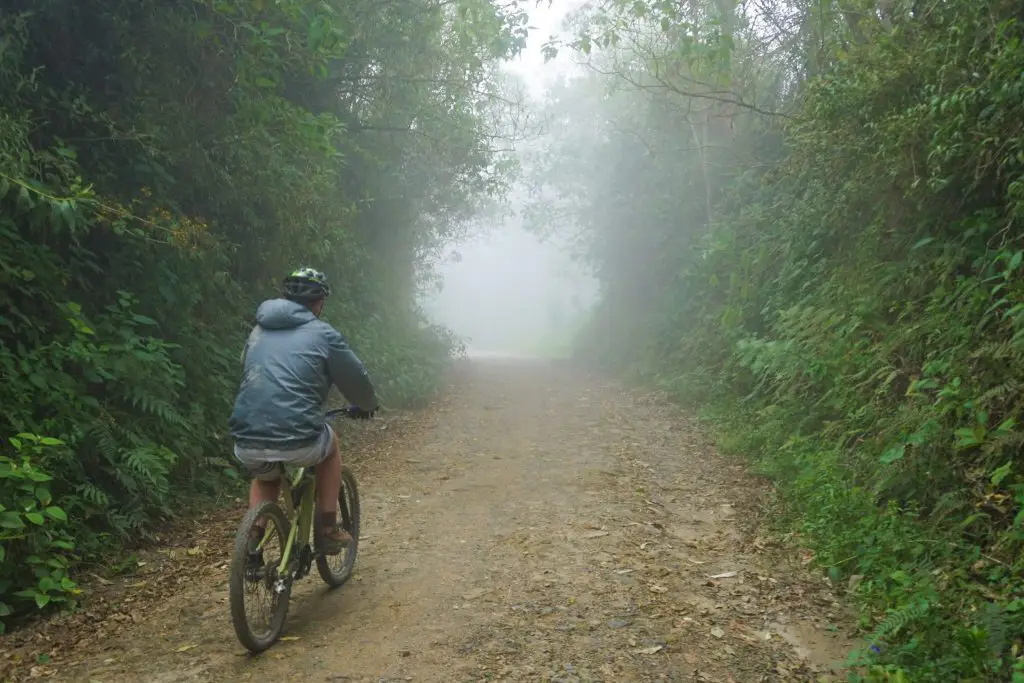 Your guide will stop every 3-5 kilometers to allow everyone to catch up where you can enjoy a nice breather with the view! In the entire downhill section, we didn't encounter any traffic and felt completely safe.
The bikes were also great, the best bikes we have hired so far and you can tell these guys take great pride in providing high-quality gear, to be specific they were nice Giant Talon bikes with hydraulic brakes and air suspension… Yup, no rusty bikes that are going to fall apart on the first bump here!
For those interested in the spec's or for peace of mind as to how good the bikes are you can see the exact model and specs here. They even have a few soft tail bikes which, if you're more of a pro, you can organize to do some really extreme off-roading. Not for the faint-of-heart or those with no experience, but if your interested ask them about it!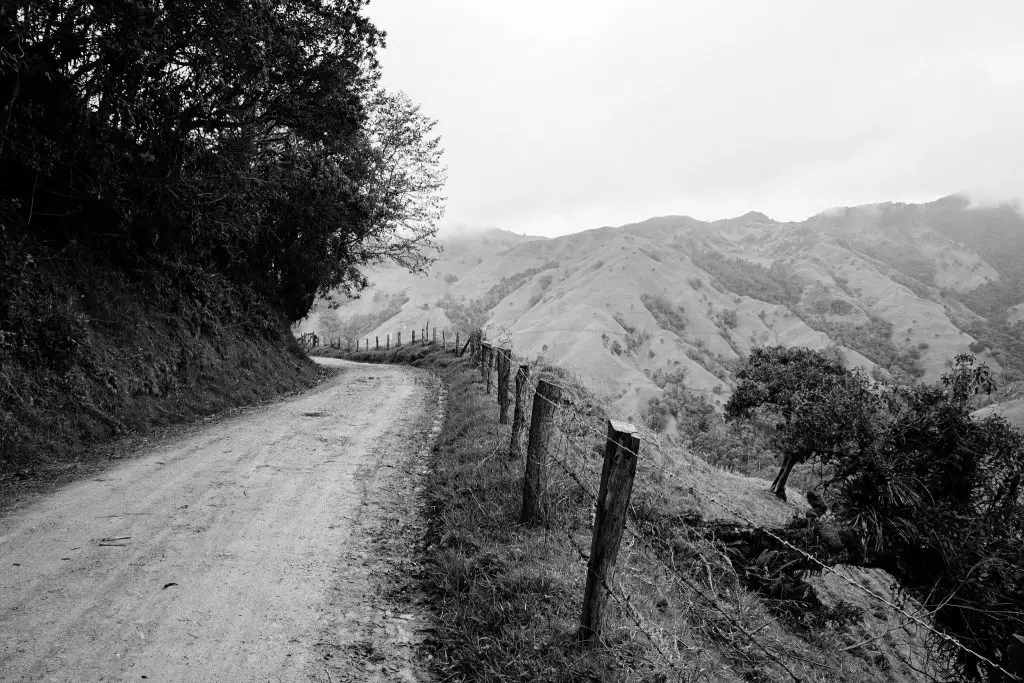 Back from our adventure at the Salento Cycling office, heart still pounding, we were immediately greeted with an ice cold beer and lazy hammocks beckoning for a casual gossip and de-brief of the day.
Edwardo and Santiago passionately showed through again here as we all shared photos. They endeavored to find more information for us on birds we had seen that day, they let us use the bikes to run a few quick errands around town and then gave recommendations for food, drinks and – honestly everything else we had been wondering about Salento and the surrounding area.
A well-oiled operation from start to finish, it's still hard to believe they have been operating for only six months and have reached a level of professionalism most companies quite simply, never reach.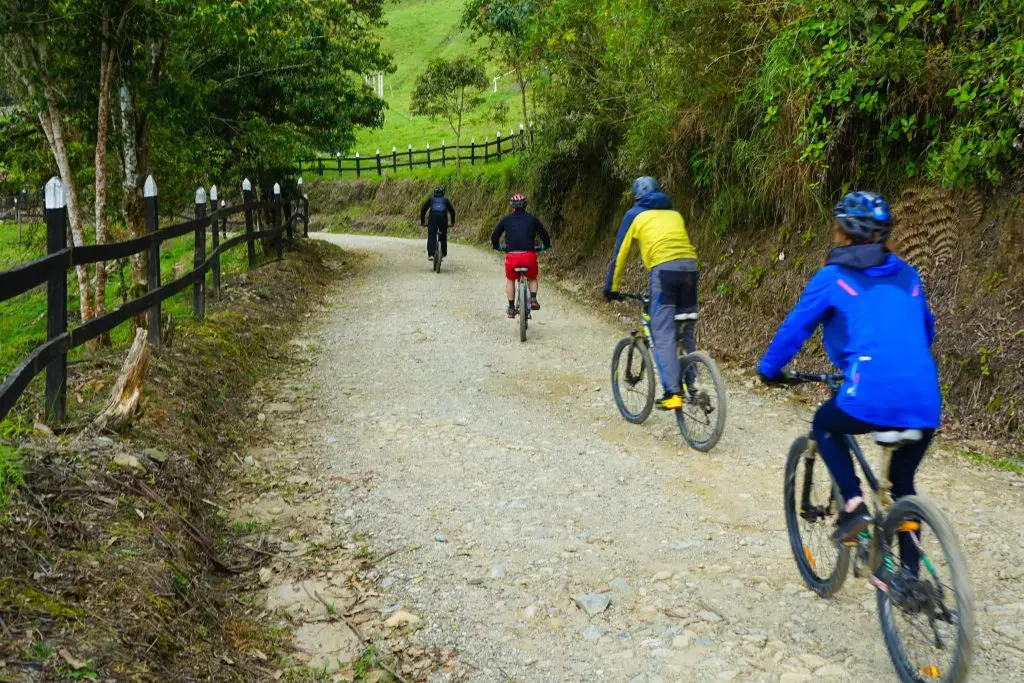 Passionate, informative, easy going and safety conscious – the guys at Salento Cycling provide a rare mix of cool and relaxed, while you can rest assured knowing that if anything goes wrong, they have a plan and will be there to help.
Their Salento Mountain Biking tour is, quite simply, the best thing you can do in Salento!
A unique opportunity to see a wonder of the world that remains undiscovered by practically everyone, including Colombians for some bizarre reason, and combines it with a heart-racing, adrenaline-filled 31-kilometer bike ride.
Guaranteed to keep your endorphins pumping for days, though assuming you next head to all the wonderful things to do in Medellin – that won't be the only hit you get!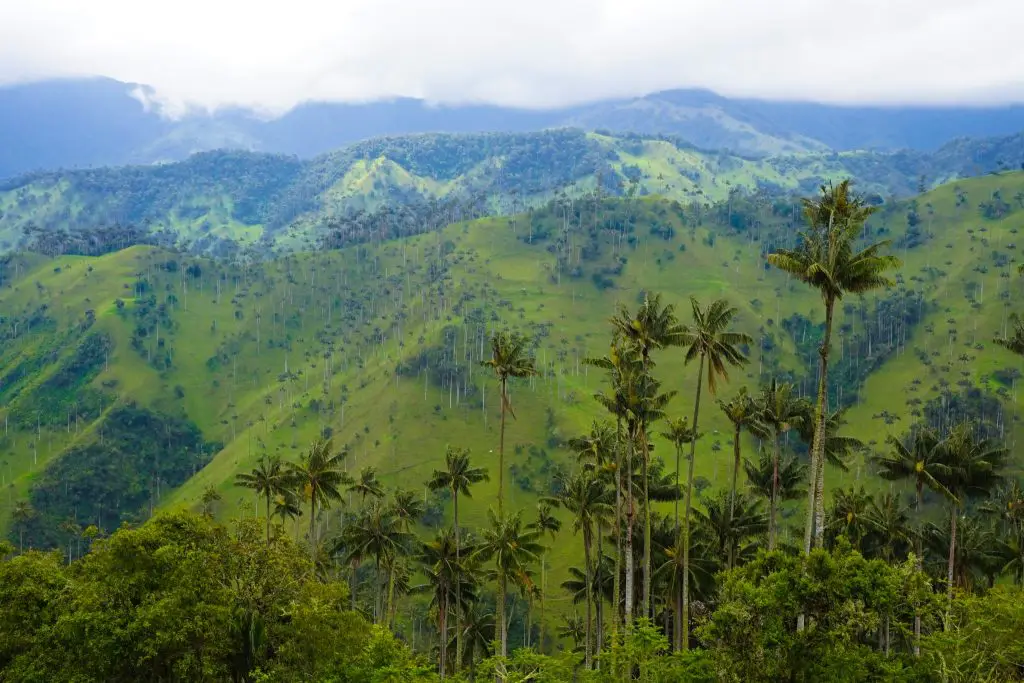 Staying Connected While Travelling
In today's increasingly connected world, staying online while traveling has become essential for a seamless experience. That's where eSIMs come into play, revolutionizing the way we access mobile networks during our global adventures. Say goodbye to hunting down local SIM cards at the airport; eSIMs provide instant activation the moment you land, sparing you the fortune usually spent on international roaming and allowing you to genuinely travel like a local (without getting hopelessly lost!).
With eSIMs, tasks like restaurant recommendations and reservations, up-to-the-minute public transport instructions, checking opening hours, and accessing further information become a breeze. And, of course, sharing your journey on social media is easier than ever. To stay connected wherever you roam, consider using either Airalo or Holafly. Airalo boasts the most extensive range of destinations worldwide, offering smaller data bundles tailored to your needs, while Holafly provides unlimited data packages and fantastic EU data deals.
So why wait? Embrace the future of travel connectivity with eSIMs and make your next journey effortlessly smooth.
Further Things To Consider Before Any Adventure
Now you're all set and prepared to explore our big wide world, why not sort out everything else out all in one go? If necessary for your travel plans make sure you have brought proper travel insurance, protected your privacy by getting a secure VPN, compared all the top hotel booking sites to find just what you're after, reserved an unbeatable rental car price and - of course - booked the best flight deals!
Or maybe just forget it all and go for a last-minute cruise or effortless tour instead?
Many budget travelers (including me) indulge in worldwide airport lounge access, so we can experience luxury while still slumming it in economy. Naturally, we would never leave home without a more general travel guide since we couldn't possibly cover everything here!
Just add an adventurous attitude and plenty of smiles - they go a long way - and that about covers it all! Now go out, find your own path and don't forget to share your best inspiration stories with me on Facebook, Twitter, and Instagram...I'd love to hear from you!